Kohl's
Kohl's Complaints Continued... (Page 4)
349+ reviews added so far. Upset? Call Kohl's corporate: 262-703-7000

I am disappointed that I can not online shop from Canada. I wanted to buy a wedding ring set, only available online, and spent an hour on the phone with a customer service rep that could not help. Kohl's needs to update their system so Canadians can shop and use credit cards with Canadian addresses. Lots of other retailers are set up for this, call them and ask how it is done. Kohl's missed out on a $1200 sale. Very disappointing because I love your store. Will someone please respond to my email address and let me know what is happening in this area. I would appreciate it very much.

All Canadians beware of Kohls!! We live north of the border and frequently, a large group of us head south for 2.5 hours to shop. In August, I was badgered into getting a credit card to save on my purchase. The purchase was for less than 40 dollars. When I received the bill, I called Kohls to pay for my purchase with another credit card or debit and was denied. I was told I would have to pay at the store or purchase an international money order. I was told that it was now 50 dollars because of the late fee. By the time I had purchased the money order, I was told another late fee of 5 dollars had been added. Now, I owed 55 dollars.
So, I put the money order and a 5 dollar American bill in the envelope and mailed it in. I was not going to purchase another money order as they are 3 dollars each. The store had no problem getting the unusual payment BUT they told me I was late again and now owed another 52 dollars in late fees! What the hell??? I have talked to the Kohl's billing department and they tell me I still 52 dollars even though I paid 55 dollars on a 40 dollar purchase!!! All told, my 40 dollar purchase was to be 107 dollars!!! Are you kidding me?? This all took place in the span of 4 months!! My wife got a toaster as a gift at Kohl's Canada. When i plugged it in for the first time,it popped and a small flame shot out of one of the toaster slots.We returned it and the returns dept had us get another one off the shelf of the same brand. We plugged it in to see if it was going to work.
The one toasters wont stay down plus the power light dont stay on. At this point im getting mote disgusted with the garbage this country imports from china.The inspection sticker is on this appliance indicating it passed inspection. Obviously the inspector was taking a nap that day.I think kohls should give away a fire extinguisher for every food network toaster they sell. I would appreciate a response to this e mail. 107 dollars for a 40 dollar purchase!! Me nor my friends will ever shop at Khols again and I will BE warning all Canadians....
DO NOT SHOP AT KOHL'S CANADA... THEY DO NOT TELL YOU THE STRICT PAYMENT METHODS AND YOU WILL BE PAYING 100% INTEREST IN LATE FEES.!!!! FELLOW CANADIANS....STAY AWAY FROM KOHLS!!!

patricia swearingen
from Normal, IL
I made a purchase of $l6.47 on 12/20/2014. Received my bill for this on after the closing date of 1/20/15 stating the due date of 1/15/15. Number one I don't understand the due date? Today I received my bill showing you charged me $15.00 late fee, what is going on? I understand $1.00 maybe for interest but $15.00 service fee, I am retired and pay my bills the 1st of each month after ss is received. Needless to say I was quite upset to see this charge on my bill of $15.00 late fee. You need to get your dates in order, always thought you had 30 days after receiving a bill to get it paid, in this case it wasn't so., I have mailed my $16.47 along with my cut up card and you can take your late fee and put it you know where. I refuse to pay nothing more than what I owe, sue me if you want. Word will be passed around about your procedures.

I have called the Kohl's customer service numerous times about a refund I'm owed on a lost order. I have a received a different answer each time. I ordered 4 curtain panels on 10-6-13 which were lost in the mail. Since I still wanted the curtain panels I was told to reorder them, pay again and then i would be refunded for the first set which I never received. I was told I would receive the refund(credit) in 4-6 weeks. It's been 2 months now and today I'm told "it's still under investigation", whatever that means. I think it's ludicrous that A. I can't get a Kohl's representative to give me a straight answer on when I'll be credited or refunded and B. that it's takes 2 months plus to do your "investigation". I have a Kohl's credit card which I'm planning on cancelling if I can't get a refund with the next few days. The order number for this is 734802637.

My husband and I visited Kohls to exchange a Sirena necklace that broke. The necklace was originally purchased as a six month anniversary gift on February 28th, 2011. The clasp kept opening up and I was afraid to wear the necklace, so I exchanged it in April, 2011. The jewelr service lady, Nancy at store #0238 in Rocky River, Ohio, told me I could not exchange just the chain. Nancy said "store policy is an even exchange". Reluctantly I exchange the whole necklace, pendant and chain. I had to give the pendant that my husband picked out and surprised me with, with such enthusiasm and elation against my heart felt feelings. Although it was the same pendant, it was not to me. This chain later broke December 29th, 2012. I again visited Kohls to exchange the chain on December 30th, 2012.
Once again I was told to exchange the whole necklace. My husband picked out a Sirena necklace with a completely different pendant. I am happy with this pendant even though it is a different style. September 3rd, 2013 my new necklace chain broke. My husband and I went to Kohls to exchange once again. We were met with two jewelry associates named Ruth, an elder woman with a British accent and an elder woman named Nancy, whom I have dealt with two times before. I explained my situation and the history of the problems, provided the receipts of the exchanges, the broken chain and asked to replace the chain. I did not want to lose this pendant . I did that and it upset me very much. The response from Nancy and Ruth was "since you have already exchanged this three times we cannot exchange again".
Then Ruth asked me "why do you want to keep exchanging for something that keeps breaking?". I do not believe this is appropriate behavior nor any of her concern of my personal feelings. Being a Manager of a Department Store myself, this behavior, crossed armed body language and actions of her demeanor were out of line, completely unprofessional and warrant for a right-up. My husband was also appalled by their behavior, and asked to speak with a Manager. Kurt was called over and to much to their dismay gracefully exchanged just the chain, so that I may keep my pendant. I walked out of Kohls unhappy with my experience.

Okay this is a major complaint. Yesterday I had an emergency with my nephew. The school calls me because they could not reach his mother. She is a kohls warehouse worker in desoto texas 75116. My nephew had to be taken to the emergency room . The school called the ambulance and fire department. My boyfriend, friend, and I all tried to call kohls for 3 hours, we tried calling my sisters cell phone also but since they are not allowed to answer phones because if they do they can get fired is unacceptable. This could of been a life and death situation.
I do not understand how people can enforce this rule and not have a phone operator. As a business it needs to change their policies or give an active phone number to someone that will be on the other end. Next time some one may die or be in serious danger. My nephew is 16 years old and he has dislocated his knee. The hospital could not do anything until an adult got there. I am a very upset and angry aunt right now because kohls could not or did not have any away In reaching my sister.

My family knows that I shop at Kohl's all of the time and therefore they buy me gift cards for most occasions. The problem I have is that I am a frequent shopper and receive discount coupons which I want to use. The problem is that you cannot use these discounts with the gift cards. WHY?? Can't that policy be changed? I am sure there are many people who feel the way that I do. I would appreciate a response.
Suann McCollum

Why are gift cards and kohls cash not allowed to be used when purchasing a gift card. I am using the money at kohls, so why am I not able to purchase a gift card with a gift card or kohls cash. When I asked an employee they didn't know the reason. I believe kohls cash and gift cards should be able to be used when purchasing a gift card. Disappointed!

I was personally at your store in Harrisburg, Pa. I tried this item #884094 69291 0. After I tried the item which was small and with Chaps you never
know which size will fit. Your clerk was nearby and was very helpful, as there was not another, we ordered a M which arrived today and is smaller
than the small . I do not know how they do the measurements for clothing in China but your Companies should come back to the USA where people
care and the materials we use is of better quality. Even the Tex Gear hooded sweatshirt looked like they have been worn already and the material is already piled. They cannot make their clothing any cheaper but the tag price is high. No wonder you have price break, the merchandise is not even worth the bargain price.
I have returned more items this Christmas from Kohl and the quality is very inferior.
That is how you lose your clients.
Yours Truly,
Gail M. Boire
710 Charles Rd.
Dauphin, Pa. 17018
Yours

My husband was given a shirt for Christmas by his daughter….it was too small. She bought the shirt on sale for $19.50. We went to the store (without the receipt first) and they said we would have to take half that amount unless we could find something else in the store for "exactly $19.50″ . Not one penny more or less…… They were out of that particular shirt and we could find nothing else for that amount. She informed us she could only give us "half" that amount in cash back…We call the daughter and she found the receipt.
THEN….we went back to the store and presented the shirt with the receipt back to the clerk. She said, "All I can give you is $10.00 on it since she use Kohl's "cash" for part of the purchase…not even a store credit for the $19.50.
We are very disappointed in this return policy….It is a total rip off.

I ordered items on 11/22/12 for Christmas. Now it is 1/11/13 and no items for Christmas and Khol's has no idea where my package is. I have called them multiple times and finally the last two times they put tracers on the package only to tell me to keep waiting. Now, all I want to do is speak to a manager to see if they could escalate my tracer since this was ordered 7 weeks ago. This is my second time on hold for a manager. The first time I had to wait over 30 mins and then the line just disconnected. This call has been over 30 mins again and no one is on the line. I have been told they can reimburse me and then buy the items again. The problem is 2 items I received and the basic customer service people are not smart enough to add. They want to reimburse me but then charge me a higher amount for their error. Plus I was told they cannot simply send out new items. If I have already paid for them then just send me new items and we are even. Instead, either I have to end up paying more for the items or I have to keep on waiting for them to find my package. 7 weeks is inexcusable to not have my package and to not even be allowed to speak to a manager is ridiculous. As much as I enjoyed Khol's, this horrible experience and the lack of knowledge by the customer service has led me to never order or go into the Khol's store.

Here is my complaint, the issue is addressed in the response below:
I can't begin to express how disapointed I am to read your response. I spent several hours choosing those items, and spent $50 in Kohls cash to boot. I shopped on Christmas day, to take advantage of the Christmas sale, and clearance holiday items. I can guarantee that many of the items in that order are not even available anymore. I have been eagerly anticipating the arrival of my order, and am horrified that I won't be recieving ANY of it.
If the problem was with FedEx, that would mean that the box containing my items is still out there. I don't understand why it can't be located and shipped to me. If it can't be, someone in customer service should spend their time recreating my shopping list, and getting all the items sent to me.
I regularly shop at kohls online. To just say "whoops, sorry, we'll give you a credit…in a couple weeks" is not an acceptable response, and is far below the standard of service that Kohls purports to have.
Please work on a solution to this problem, or direct me to somebody who will.
Thank you,
Mari
— On Thu, 1/10/13, Kohl's Customer Support wrote:
From: Kohl's Customer Support
Subject: Your Kohls.com Order # 548928508 [Incident: 130110-005235]
To: mari_l_newell@yahoo.com
Date: Thursday, January 10, 2013, 2:47 PM
Subject
Your Kohls.com Order # 548928508
Discussion Thread
Response Via Email (Amanda F.) 01/10/2013 04:47 PM
Dear Mari,
Thank you for taking the time to contact us regarding the status of your order. I understand your concern and will be happy to assist you.
I am sorry your merchandise was not received. Upon reviewing your order, I found an error occurred with FedEx that prevented your package from shipping properly. Our Kohls.com Fulfillment Center is unable to reship your items. We will process a return for your order. Please allow 10-14 business days for your credit to post to your Kohl's Charge account.
If you would like to place a new order for the item, please visit Kohls.com. We will be happy to honor the original sale price and free standard shipping on a replacement order. Once you place your new order, please reply with your new order number so we may process the necessary adjustments. If you find you need assistance replacing your order you may contact us at 1-866-887-8884. You can reach us Sunday through Saturday from 7am to 10pm Central Time.
I forwarded this issue to the appropriate management teams at our corporate office and Kohls.com Fulfillment Center. Please be assured that we will identify the problem and resolve this issue for any future orders. I apologize for the inconvenience this matter has caused.
We appreciate the time you took to contact us and look forward to serving you again at www.kohls.com.
Sincerely,
Armanda F.

i purchased $113.00 in merchandise on dec. 23. i received $20 in kohls cash. my son went to return his comforter which i bought for xmas and we had a gift receipt, they would only give him $58 back which it cost me $79.99. i tolod him to bring it back and i would return it with the receipt. well, that was a mistake. i only received $51.10 back. they said i used a $20 kohls cash and 15% discount . WRONG ANSWER. i used the $20 kohls cash the following week for a camera. so in other words, they take the $20 off when they give you the so called reward therefore they really aren't out of any money. so, for me spending $80 on that comf. i get screwed out of $30 for having a receipt. never the less we were 2 very unhappy customers that use to like this store alot.

I bought 3 tablets for my grand children for Christmas. The Meep that I bought for my grandson was too complicated for him so I returned it to our local Kohls store in Horseheads, NY. They credited my Kohl's charge for the return, but also deducted the 30.00 dollars in Kohl's cash that I used. I earned that Kohl's cash with purchases that I have made and am very shocked that this was taken away, especially since I spent over 300.00 dollars for these tablets. I have been a loyal Kohl's customer for several years and I love the store, but now I am told that the Kohl's cash that I earned, and is to be used the same as cash is no good. I wish to have this reinstated. I would appreciate your attention to this matter and expect a timely response. If further information is needed, you can contact me at 607-734-5475. I do not wish to put my charge card number in this email, so this will be available upon request. Thank you, Susan Gryska

I have shared this with the store multiple times but they always say "It's just policy". I truly understand that… but you offer the Khols cash to get you into the store to buy and then if you have to return something just because its wrong size or for whatever the reason may be then, you take the Khol's cash away.
To me that is unfair to say the least I understand if you returned it and didn't purchase something but to need to exchange 45.00 and get Khol's cash deducted the turn around and purchase 76.00 more.
For Example: I bought my grandson 3 pair of windsuit pants and he wanted fleece so I brought them back yestereday and exchanged. They were 14.99 each – Khol's cash left me with 23.46 then I turned around and purchased 72.18.
Then the second problem is the very beginning I spent 279.31 paid 100.00 with a visa gift card and the balance of 179.31 on my Khol's charge.
Then when I exchanged items she made me put the 23.46 on my visa and then when I purchaed the 72.18 I could not apply that because she said it took a few days to get bk on my card !!!!!! PATHETIC !!!! I ask her why she could just apply it back to the card knowing I was purchasing much more than I brought back…. "AGAIN" store policy.
I have spent several $$$ in your store and you can pull up my Khol's charge to see for yourself…. Please don't take my word! But this is very unfair – if you give someone something (you don't take it back) ! Obviously you care about getting customers in to give them the Khol's cash but if they have to come back for exchange you take it away.

I have already gave two complaints, and we were NEVER going to come back(Once they ignored my husband at the jewelry counter, another time, they followed ME around like a thief, when another woman was stealing in the shoe aisle(I may be many things,but a thief is not one of them!) anyhow, the lady wee spoke too was awesome about our complaints, i did NOT return call, because we didn't WANT anything out of the deal(WE both have worked in customer service, and we know how many people scream for scams!) but this Kohls cash bull, is just that, a bunch of bull, first of all, the lady at the counter said we couldn't use it til after Xmas, we didn't know we only had 5 days to spend it? What kind of crap is that? if you earned it, you should be able to spen it ANYTIME! KOHLS sucks(19th and Bell Road, PX az) we are done! Old navy, yeah, that is right

Purchased 5 pair Croft Barrow corduroy pants from No. Kingstown RI Kohls within the past 60 days. These pants were made in Bangladesh and are defective. The stitching gives way at the back pockets and creates holes in the fabric. Thus far 3 pair are affected within the past 60 days. The remaining pants are starting to show the same defect. No I do not have receipts and yes I am a Kohls credit card holder. Perhaps you can look into this as I am certain that the pants are defective in their entirety and Kohls should be aware of the problem. Peter Leary.

Ordered a Keurig coffee maker in a color on December 18th…my first time ordering from Kohls. I will NEVER order or shop there again. Today is December 31st and the "guaranteed arrival for Christmas" came today! My grandaughter sat while others opened their gifts…which were ordered at the same time from Target, Sears, Walmart and Sierra.
I called of course, and the operators were polite, but "clueless". They had no instruction on how to enforce said guarantee. Their response was to blame Fedex, because, according to their management, the responsibility fell on the delivery service once the product left the warehouse! Because the Keurig physically left Kohls, it was now in the hands of the delivery service to fulfill the promised holiday delivery…I also called Kohls department store and was told that Kohls.com and the department store were two completely different businesses and totally unconnected. My advise is to never shop at Kohls.com. They do not stand behind their online promises.

I paid off my kohls card when I got my tax return money and when I talked to the lady on the phone she said it was all paid off then I get a call saying I owe 300 dollars! I tried paying more money down and now you want 422 dollars! I can't afford that and I had it paid off!

I was at the Kohl's in woodberry on white bear avenue. I was at the store returning a shirt and fixing a watch band. The watch band was fixed by a team member, with effency and a very customer friendly attitude. I went to return a shirt and find something to replace it. I went to customer service where I waited 15 minutes and this was aro9und 8:30 pm, the store was almost empty. There was only one person in the return area doing returns and an eldely man returning a cart full of items. I went to the front register and waited in line for 10 minutes. It was so slow therer I went back to customer service and they whrer still half way trough the cart of returns. At least three Kohl's employees went by and none stoped to help. I went back to the front register and waited in line, the was only on person checking people out. Ther where at least two other Kolh's workes in the area. A supervisor came by to check the registers and I stated they should get some people to help out to reduce the line. The supervisor laughed and walked away. This is when I decided that Kohl,s is not for me. I will be glad to relate this to all my friends and others who ask how I feel about kOHL'S.
It is sad when empoyee just want to leave instead of giving good customer service and the supervisors laugh at the customers.
Sarting out my new year with a bad Kohl's experence was not my plan today. I wanted you to know what my experience with Kohl's was today so you can do something about the problem
Respectfully,
Shawn P.Garry

I ordered on line a picture fame collage to be delivered to my son's family in NV. It arrived on time at the front door in a package that was two boxes put together with insufficient taping, not bubble wrap and the box was open when it was found. Due to the packaging the frame was damaged. My order number is 545540708. I would like the frame replaced and shipped appropriately. Upon receipt the other frame will be returned. Please notify me of the action to be taken.

We purchased St. Nicholas square Christmas china on line. It was terribly packed in a box far to large and without adequate filler. Much of it arrived broken. I called Kohl's customer service, spoke to Regina, who took copious notes and was very responsive. Order #548392977, damage file #121229-001545, I was on the line with her for 20 to 25 minutes.
I wanted to replace the broken pieces and she checked inventory in the only Naples store. There was stock and I intended to replace and buy more. She said I did not need to carry back a large box of broken china since she took careful inventory and notes and I had my packing list. I took photos on my phone in case proof was needed.
I got to the store, the store manager was absolutely adamant that she was unable to consider a return without the mdse., unable to contact customer service, and unwilling to help. I called customer service again from the store, waited for 25 minutes with another agent who agreed that carrying back the mdse. was not necessary with the notes and the photograph.
He said he would get a supervisor to call Ms. Curto. After 25 minutes I got the survey opportunity and was then disconnected. I had given my mobil phone number in case we were disconnected but did not get a call back. Very very disappointing and frustrating!

I went to the Kohls in Gilroy CA on 12-27-2012, I wanted to look for clothes in the women's department, an employee was there that was putting clothes back in the department and she had so much perfume on that it made the whole department smell of perfume.
I get migraine headaches and breathing problems when I am subjected to perfume like this and had to leave the department quickly, then was not able to shop in other departments because I became ill because of the perfume exposure, I called the store and talked to a manager on 12-30-2012 to describe the situation and hope that the employees could be schooled regarding the wearing of strong perfume.
dsHer answer to me was " that would be discriminating and we could not do that and we sell perfume" I did not give the name of the employee wearing the perfume, I wanted an over all problem solved. I do not feel that my probem was resolved

I was furious with Kohls today when browsing their toy section. All the toys where advertised as being 30%~50% off. I noticed all the toys prices were insanely high and when taking the discount off you end up paying the regular price. So you don't get a discount.
They trick you into thinking you do. I was furious that they could think consumers are so stupid as to not catch on to that. I am not shopping for toys there again. That is for sure. I used to like Kohls and now I don't trust them.

Honestly I feel like someone is punishing me when they give me a Christmas gift from kohl,s. The return process is horrendous. There is usually only one line and it takes hours. Literally! not only that but u have to return the gift before trading it in.most times I will trade for something of equal or greater value at any other. Store that is. For kohls it usually goes to the salvation army or garbage. I go out of my way and tell my family not to get me a gift from kohls. U should really think about how poorly u treat your customers

I was recently in the store few days after christmas and practically every shelf was buy one get second one half off . The prices were too steep for some low income families who love to shop there such as my self. Also I did not find any thing for myself in plus sizes I was very disapointed I recently before christmas purchased over 500.00 dollars worth of items. I help support the store, but the store seems not to support me.

On December 22, 2012 I purchased a pair of boots. I brought them home as a gift. To my surprise they were two left feet. The cashier (which I understand should have checked when purchased) obviously did not do her job. I could not return them until today. I was working. When i returned them today, the manager said..Oh I will tell the cashier that she needs to pay more attention in the future. The manager was very cold to me when speaking with me today. she had an attitude. I said…. do to the cashiers neglagence my gift was a disaster. The manager gave me no incentive to come back and purchase anything ever again at kohls. She obviously did not care. I think it would have been good customer raltions to have at least offered me even a small discount on my next purchase. Something?? But obviously she did not care. Her name is Christie.

On April 30, 2012, I purchased a Pandigital Tablet from the Hillsboro Kohl's Store on sale for $159.99 regularly $229.99 plus a $30.00 rebate. I sent in my rebate form along with the rebate receipt I received upon check out on May 4, 2012. This was a gift for my granddaughter for her birthday. My daughter thought this was such a great deal that she asked if I would go back and purchase another one for her other daughter for Christmas. The 2nd Pandigital Tablet was purchased on May 2, 2012, my daughter reimbursed me and sent off her rebate form plus the 2nd rebate receipt on May 5, 2012. On Christmas Day she asked me if I had ever received my rebate check for $30.00 and I told her no. So we started doing some checking and found that we are not alone – there are many of us who have been involved in the "Rebate Scam". My question to you is, who is going to make this right?
As of right now, both my daughter and I are out $30.00 each which is part of what made this such a great deal and a price we could afford. I have done quite a bit of shopping at Kohl's, but sadly if this is how they back the product they sell, I may not be back as a customer. I was given the run around today calling 4 different phone numbers with each of them telling me to call someone else.
My next step is to submit a copy of this complaint to Oregon's Attorney General and one to the Better Business Bureau. Kohl's never should have been selling a product offering a rebate knowing that it wasn't going to be honored.
We await your reply, Pam Farr Andrea Griffin
4158 Ne Azalea St. Hillsboro, Oregon 97124 11228 SW Pintail Loop Beaverton, Oregon 97007

I love to go to Kohl's, however I have a hard time walking and need a motorized wheelchair to have an enjoyable time looking around Kohl's. I know I speak for all the disabled we would like to have wheelchairs in all the Kohl's store. What can we do to get them in the stores. The fact is because Kohl's does not have motorized wheelchairs I instead go to Walmart or Target because they have wheelchairs, some have more then others, for example it is very hard to find a unused wheelchair at walmart over Target where I never have to wait for a wheelchair. Please consider putting at leas four wheelchairs in all the Kohl's stores.

Good Afternoon, I just wanted to express my disappointment with the logan Utah. store. Recently I broke my leg, it's a pretty bad break. In order for me to go shopping I have to use a wheel chair. on Dec 23rd my husbund and I went to the Kohl's in Logan Ut. to finish up our shopping and my first complaint is that you do not have automatic doors. 2nd complaint is that everything is so squished together that I was unable to go down any aisle other than the main aisle so I couldn't shop. 3rd complaint we left to go to Kmart which is next door to Kohl's and the side walk was only shoveled in front of Kmart this was about 11am so the employees there at kohl's had plenty of time to shovel the snow. I am only temporarily in a wheel chair but
for those who are in them permently I have no clue how they shop at your store. This is in my opinion discrimination and I am extremely disappointed.

A worker named SHELLY, who works at Madison heights, Michigan, behaved very rudely to me. When I was trying a jacket she came upto me and shouted at me and asked me to put the jackets back on the rack after trying, I had no clue why she was so rude because I was still there trying to get my size. I complained about her to the assistant manager because I couldnt speak to the manager. If people like this work in Kohls nobody will want to go there to buy stuff.

I have been a customer at Kohl's for approximately 5 years. I have always received excellent service from the employees and have been happy with my purchases there… Until recently.
I put some Christmas presents on hold at the Southeast Tucson Kohl's, customer service department. The supervisor who initiated the hold slip was very nice and said no problem extending the hold for a couple of days until I could come back to purchase the items (one item was an exchange that I didn't have with me at the time), just call and request that the 24-hour hold be renewed. So I did that the next day and spoke to an employee named TIA. She was very rude to me about it and hung up on me! The next evening when I went into the store to pick up my items, they were NOT on hold. Management said they didn't think that she extended the hold per my request and the items were put back out on the floor. The items were apparently sold out (none could be found), so I ended up not having two gifts for Christmas. It was very upsetting to me!!!
I hope the management at Southeast Kohl's in Tucson figures out that this employee named TIA is not Kohl's material and takes the appropriate action to correct the situation before she upsets anyone else.
Thank you.

i was hired on to kohls on nov.7th 2012 as a POS asscoiate for the holidays. I have an excellent work ethic. recors will show Im not late and I dont call in. The store manager asked if I would like to stay on after the holidays. Approx. one week later I was suspended then subsequently fired, from what LP amounts to as "hooking my firneds up". two friends of mine both women, in on a friday afternoon. Applied for a kohls card as I checked them out. So I give them 30% plus 10$ as we do. they both also handed me a 10 off coupon that I scanned as well. On the 2nd transaction the second item I scanned was a shirt 17.99 she asks for a price check cause it wis on a rack for 6.99 so I delete it, move it to the side and continue after I radio for a price check. Items got moved on top of the shirt and it was bagged with the rest of the merchandise. I was called in by LP next monday. I felt that they put words in my mouth, they would not let me see any video, so I felt I was somewhat co-ersed into writing a statement that may have not been completely accurate. The supervisor was very pushy and continue to bully me into writing what she was telling me happened. I dont remember the entire transactions as I go through 500 ppl a day. I have just gathered what I have stated from what I remember and what my friends told me. The other LP associate sat in the corner and didnt say anything until the end and was very rude stating I hooked my friends up and thats all there is to it. I was suspended and the file sent to HR. I was then formally terminated on friday. I just feel it was very minor and an honest mistake on my part yes. But I feel LP was very rude, bullied me into a statement without showing me the video. So I get fired for a shirt that was 17.99. I really liked working their , all associates and the managers are really awesome no doubt. It was the loss prevention supervisor and her goon. I just thinki their should have been some other disciplinary action taken than termination. I just wanna stay working thats all. I offered to pay the 17.99 my friend checked her stuff and brought the shirt back.

Please if you are going to use sensors on your clothing, make sure your employees are trained to look for them and remove them when items are purchased. I had to return to your store last night to have a sensor removed from an item i had purchased. Now, tonight as i am doing last minute wrapping, i am noticing a sweater with a sensor still attached. Do you know how aggravating this is? I am giving the gift but will have to tell the person that the sensor is still on and will have to return it to the store to remove the sensor. Now the person will not be able to wear the sweater on Christmas day. This is the second time this has happened to me in 2 days …. just not acceptable.

I went shopping earlier and bought alot of stuff from kohl's and used my 30% off coupon. Later in the evening I went back to Store #481 Shelby Creek and forgot my coupon at home. I told them if I called my house and my son would give them my barcode on the card if they would honor it. They said no cause there is no barcode. Then there was a customer at customer service that over heard our conversation and she offered me her coupon and the guy (David) at customer service said "no its non transferable" I can't believe this guy is in retail. What kind of store hires idiots like that. I could have let the lady purchase the items and gave her the cash…………Instead ThEY LOST ME AS A CUSTOMER AND I WILL BE RETURNING APPRX $950 THAT I SPENT THIS YEAR AT KOHL'S and NOT ONLY WILL I NOT SHOP THERE ANYMORE, BUT I WILL TELL PEOPLE WHAT KIND OF IDIOTS KOHL'S EMPLOY. I will be shopping at JCP….. at least there I don't have to get a 30% off coupon to get things at a fair price. You guys jack up the price that even you 50% off is a joke. So unless you get a 30% coupon it isn't worth shopping at Kohl's. For instance your hanes mens boxers were $36 for a pack of 4. And they were buy 1 get 1 at 50% off so 36 + 18 = $54 At walmart the same boxers are $13.89 for a pack of 4. So that would make it $27.78 so even if I had 30% off of $54 it was still cheaper at Walmart…I'm am soooooo done playing your games and will never freaking shop at your stores again……………………And tell David thanks for the great customer service and making my freaking Christmas a happy one…………

In November 2011 I tried to open an online bank payment option on the Kohl's website. I never received a confirmation so I called Kohl's and paid on the phone. In December I received a statement saying I owed a late fee of $25 and a returned check fee of $25.
After 2 calls to customer service thinking everything was taken off of what I owed, I received a letter saying I still had to pay the bank fee of $25. The letter stated I should call my bank and see why it wasn't processed. After a call to my bank they told me no transaction was acknowledged and the fee was for Kohl's bank.
Today I called customer service explaining for the 3rd time what had happened. I was told because I put in the wrong account # I would have to pay the returned check fee. This is totally wrong! After being told the fee would be taken off they used a lie in their letter to make me think it was my fault. People are not perfect..especially when filling in numbers on a website. Needless to say I am no longer a KOHL's customer! There should be a warning when you sign up on their website. I thought I was helping by going paperless!!What a headache for 3 months!!

I am disgusted that Kohl's has decided to open at Midnight for Black Friday. Sure, maybe the shoppers like it, but how about those poor workers!!! The workers should be able to enjoy their Thanksgiving with their family without having to get to sleep so they can be at work by midnight. This is an abuse of workers. (I don't even work there and I am outraged.) The shoppers can and will wait until morning. This really makes me think less of Kohl's and the other stores choosing to do this. What has happened to thanksgiving and black Friday that stores are open at these hours now?

I recently attempted to purchase 3 items totaling $104. I gave the cashier my coupon for $10.off 30,a family and friends 20% discount coupon and 2 Kohl's cash coupons. The clerk was new and didn't know what to do with the coupons. She asked the manager who was standing close by and training another cashier what to do. The manager didn't look at me or address me. She simply stated "Tell her we don't take those." I felt like I had been slapped. Absolutely shocked. I simply picked up my coupons and Kohls cash and left. I bought my items at Kohls in Hiram Ga without any problems. I love Kohls and will continue to shop them; just not the Albany Ga. store.
Kohl's prides itself on great customer service and I have always received wonderful service, but the Albany Ga store clerks could use some additional training. What these ladies mothers didn't teach them in manners, maybe Kohl's could train them.

Attention all Kohl's credit card customers!!! When you use your Kohl's Cash in conjunction with any other discout coupon; such as a "Reveal coupon-you peel of to see what percentage off you can use-typically 15, 20 or 30%–THE CASHIERS HAVE BEEN INSTRUCTED TO SUBTOTAL YOUR ITEMS, THEN SUBTRACT YOUR KOHL'S CASH, THEN THE PERCENTAGE OFF COUPON!!!!!!!!!!!!!THIS IS SUCH A SCAM!!!! Most folks do not take the time to calculate what & how Kohl's has cheated them. For example: For a $50.00 purchase, with $10 Kohl's Cash & a 30% off coupon–using their deceitful method noted above–YOU WOULD PAY $28.00 PLUS TAX ON $40-(I'LL USE 5% tax for example).
Your total would be $28.00 + $2.00 TX= $30.00 (YOUR PERCENTAGE OFF COUPON). IF THEY RANG THE SEQUENCE LIKE THEY SOULD–YOU WOULD PAY $50-LESS YOUR PERCENTAGE OFF $35, THEN DEDUCT YOUR KOHL'S CASH OF $10–GIVING YOU A GRAND BALANCE OF $25.00 PLUS TAX $1.25-grand total of $26.25 (THE TAX WOULD ONLY BE RATED AT THE LOWER VALUE, TOO)
SO—KOHL'S CREDIT CARD CUSTOMERS–WHAT WOULD YOU RATHER PAY FOR THE SAME $50 OF MERCHANDISE–$30 or $26.25???????
Sure-the $3.75 doesn't break the bank-but add that up with every transaction and with larger purchases-and NOTE: the more Kohl's cash you redeem- the more you lose!!!!!!!!!
Example: If your purchases were $50, with $30 Kohls cash, & a 35% disc. coupon- their way you would pay $14 + tax (on $20) Versus $5.00 plus tax (on $5) This is really when you are scammed!!!!!!

I purchased a package of 3 pairs of childrens socks last evening at Kohl's in Forked River, NJ. What is Kohl's dept store return policy on broken items? When I got home I realized that one of the pair of the three was missing the matching sock. I went back to Kohl's to replace the socks. The girl at the register was rude, and directed me to customer service desk.
I went to customer service and explained to them that I wanted a credit for the socks, because they were defective and had no more on the shelf. She said fine, and credited my account. Well, the socks were $4.99 and I was credited $4.25 because they had the ordasity to charge me a transaction fee of .74.
I returned the item because the item was inferior. I should not be charged a tranaction fee because they sold me an inferior product. I am not upset about .74 cents, but more so to the fact they had the nerve to charge me a transaction fee when it was their fault from the get go.
I have been a good customer, but now I will do my shopping somewhere else. Poor customer service and poor attitude abounds in the store. Shame on Kohls and customer beware.

Kohls tried to rip me off. Remember credit card companies are thieves, they make they're money from adding unnessary fees. I made a purchase and apllied for a kohls card April 15,2011. I payed with my Debit card inwhich they did not charge but instead, added it towards the kohls card I applied for. I'm a college student who's just getting into the credit card thing to bill up my credit. I thought they would subtract the total from my Bank of America Debit account Or atleast my Bank Of America Credit Account since I have both & used my Bank Of America Debit Card.
Me not knowing this, I moved to a different city never receiving a bill until two month later in june. The maximum they can charge for a late fee in a one month billing cycle is $35 dollars. My kohls items where $34. 89 which the bill stated due on May 4,2011 when the bill collector call, the bill was now $89.54 cents, and the bill wasn't even a full month late from its due date, which was due may 4, 2011, I didn't get notice of the bill to june 2,2011.. & I don't do paper bank statements from Bank of America, I do online statements to save paper usage so I was unaware they did not charge my bank of america account.
The late fee they tried to pin on me where outstanding..beware of kohls charge card scams. When I asked the bill collector how did the bill jump from $34. 89 to $89.53? (Almost a wopping $54 dollars she tried to pin on me in a one months late fee notice when the max fee in one month is $35) She started telling me how I signed & authorized the charge so they have a right to charge me, I explained to her I know that. But they sent the bill to the wrong address & charged me on a card I haven't receive nor have activated yet instead of charging my bank of america account in the first place. Kohls is a rip off.
I would never buy from kohls again. I ended up paying $36.54 after she corrected they're mistakes. That was still $2 dollars over but its not about the money. Its about the principal. If they're overcharging every unknowingly kohls customer just $2 dollars here, or $54 dollars they're, that could be thousands or even millions they're racking up on from ripping customers off…You have been warned. (So sorry this is poorly writting, I'm typing on my cellphone)

I visited kohls in hendersonville tn. on may 20th. It was my husbands birthday so I was picking up a couple things he wanted. I purchased a metal cooler that was on sale for 164.99 and the antigravity lawn chair on sale for I think about 55.00. O also purchased two shirts for myself 4.00 on clearance. This was a very busy day and I was on my lunch break so was really in a hurry. I didn't realize that the lady didn't give me my kohls cash till later that night When I called the next day they pretty much said too bad. Customer service is really bad at kohls.

I was just at the Kohls in my town. Too bad I left empty handed as they wouldn't take their own coupon. The coupon comes into anybodies email through SmartCouponSaver, which anyone can get, without giving your name. A day ago when I had my email open, I printed an extra coupon for a lady who I work with, since they go to anyone's email or even multiple emails one person has. I don't have a charge card at Kohls, nor does Kohls, or my email even, have my name- it's just a random coupon, and this one was for $5 off any purchase over $5. I've used one several months ago, last year, without problem.
This time they wouldn't take it, as apparently the woman I gave one to used hers yesterday when I printed it, and I was going the next day, today. They were good until the 23rd, so that's 2 more days from now. In the store the supervisor came up cause the girl couldn't figure out why the register wouldn't take it, as that hadn't happened before. I couldn't imagine what the hold up was, with my money out of my wallet standing there. The female supervisor came and after looking a bit, said, "it has already been used." I was dumbfounded, wondering how that could be, but did recall printing a coupon for the lady at work, as I had from Office Depot before, etc, and never had a problem.
She further stated "the coupon was only for you." I looked at it, looking for my name, trying to figure out how this was since I don't have my name signed up for anything. Not even in my email, since it isn't even a name on the account, just a couple letters. And of course I have more than one email. I left irritated, and mentioned to 2 women in the parking lot that they don't even take their own coupons. I went home and opened my email seeing that no it had not come from Kohls direct to me, but just went to thousands or maybe millions of emails through SmartCouponSaver, who also didn't have my name, and anyone could have coupons coming to one or many emails themselves.
I called the Kohls up to point this out to the same supervisor there, who claimed to be the highest one there. After she feigned stupidity to how email and most other things about the situation happen, I felt more upset than before, so I decided to let her know I was now going to press it further, since I had to give up the last 2 individually different 5 pack sets of matchbox cars in those particular makes in the store, as I had looked through the toy section for several minutes (they can check their cameras) and one pack was even slightly damaged, but i wanted it. I pointed out that she needed to point out to people higher up in the company, the foolishness of not taking my coupon, when it could go to everyone everywhere, and the problems that can emerge from irritating customers by refusing to take their own coupon that goes to anyone, because someone gives one to a friend.
It'll be a long time, if ever before I go back there. She hung up on me after maybe 3 minutes, topping off my irritation, even though I never yelled, nor swore- she just couldn't deal with the situation, yet has the postion in which she is supposed to. Typical, especially around here in Harlingen, TX. Well, now they won't satisfy me even if they decided to do the transaction, that I would have to spend $4 in gas to drive over there to do. I wouldn't get my same 2 packages of Matchboxes anyway. If they even gave me $20, free I wouldn't bother- they could bring the exact items to my house is the only thing I would accept.

I am 63 and my mom is 87 and we shop at kohls in faifield ct. they have no carriages. How do they expect us to buy anything. I cant put stuff in a plastic carry , how do you fit anything in there. Most old people also need carriages to walk better when they are purchasing. You are going to lose customers if your carriage problem is not resolved. I have walked out of kohls twice now because they dont have carriages. I have noticed that other kohls customers walking around in the store are griping about the same problem. please look into this matter, thank you!

Kohl's in Livermore CA has a terrible reputation for calling out there Loss Prevention Employee's if they see more than two African American customers shopping together. One item I picked without trying on and clearly on there store camera took directly to the cashier at the checkout to pay for gets a call from another Kohl's employee who directer her to look up the price the clearance skirt I was purchasing, who then informed me that the skirt was not the listed clearance tag price that was attached to the freaking skirt and not tampered with!!!!!! embarrassing me and my family not to mention the two kids i treated to their first kohl"s shopping day!!!!!
I then calmly took the item to customer service and asked for a manager. The CR then brought over a teen who she tried to pawn on me as a manager! I calmly told them I knew the cashier and she was not a manager so please call over a manager, as they both giggled. A guy approached and said that they were not going to give me the skirt for the listed tagged price and ripped the tag off and said " you wouldn't believe the stuff that you people bring back here!!!!!! i was blown away and totally blindsided by the blatant racially charged comment. i had family and kids shopping with me through this horrible shopping experience so i kept a smile, paid full price for the skirt and kept it classy even though i was passed offended and three steps passed livid!
i have never in my 35 years of life experienced such ignorance as i am of biracial ethnicity, but show more features of my African American heritage, that i am as equally proud of. as i left the store there was a crowd of employees waiting by the door as if i was going to go postal, starring and whispering as we left! i am a child of god and have never harmed a fly and don not loose my cool easily, but i can see how if i was the type of ignorant person they prejudge and treated me like how this incident could have went another way as my dignity was taken away. i love deals and coupons, but i will shop full price elsewhere before i ever step foot in kohl's ever, ever again!
no where, no how, not another city, nor state…i'm done. i am one customer and to a big corporation like kohl's i know it does not matter, but with there blatant, out right, unfair practices of doing business i hope others will catch on and take the time out to report these instances of in your face ignorance and force them to play ball on an even court!

I experienced racial discrimination today, March 15th, 2011 at your Kohls store on 1248 Broad St. Wallingford, CT Store #60 at approximately 1:30pm from cashier named Ron, who upon seeing us head his way, told us to go to the other register & put the closed sign on the belt! Not 2 minutes later he removed the closed sign & told people to come over to his lane! We checked out with Susan at 1:35pm & I went up to him to see his name & he had a HUGE smile on his face, grabbed his shirt & showed me his tag & told me his name was Ron! I asked Susan to speak to the Kohls manager & while waiting for her to come out, a Spanish woman was approaching his lane & again he told HER to go to the other lane & threw the closed sign up, only to remove it again!
I'm African-American by the way! So Lauren the Kohls manager comes out, we tell her what happened, & all she did was make excuses & said she'd talk to him about it, when clearly there's NO excuse for what he did & since she saw no reason to discipline him, I'm writing this complaint & will NO LONGER shop there at Kohls ever again unless justice is served! There was no lines, he wasn't taking a break, didn't clean out or lock his register & leave, nothing at all! I don't not sure but I'm having someone checking for cameras in store because you will clearly see what happened! Thank you for this outlet of communication!

I bought an anniversary ring about two years ago from Kohl's and since then the diamonds have fallen out a total of four times. When I first bought it, I had a warranty. During this time, a diamond fell out. After my Kohl's warranty was up I had three other different diamonds fall out of it. Because I don't have the warranty anymore, I keep having to go spend money at a jeweler to get the diamond replaced. I should not have had diamonds replaced this many times. This is the result of poor craftsmanship at Kohl's. The diamonds don't even look right either. The clarity is very poor. I had my rings together (my wedding ring, and the two anniversary bands) and I can tell the difference in the quality. The coloring in these diamonds do not look like what real diamonds should look like.

KOHL's Hassle Free Return Policy is a FARCE. My daughter purchased my husband Nike Shoes for Christmas that were on sale for $29.99 plus tax. The shoes were too small, so my husband took them back to KOHLs. We waited in line a while, then was told to just keep the shoes and find a replacement. So we thought great, we will see if they have them in his size. Well they didnt. But he saw a pair for $39.99. He took them back to the service desk and the gentleman there deducted $7.00 because he had no receipt and a $5.00 restocking fee. If the store gets $12 for EACH refund with no receipt, they are making money!!! This is a FARCE !!!

Is this refund transaction within Kohls Policies for refunds and good Customer Service? I explained that I paid in CASH (After the Kohls Discount Card was deducted from the balance) and would like CASH refunded. Kohls CSR stated that I did not understand; since I used a Kohls Gift Card I must get a Kohls Gift Card for the same amount. After debating this point, the Kohls CSR repeatedly said that this is what her computer showed and "the computer does not lie." After speaking with 2 CSRs I tried to find some Christmas gifts within Kohls to use the card. I did not find anything within the Kohls store that I wanted to purchase and now wish to take my business and money elsewhere.

dale kistner
from Englewood, OH
i would give u a "o" star if i could. i have been on the phone for about 2.5 hrs trying to redeam your kohls cash and even calling a supervisor to redeam $20.00 of kohls cash with no results. they were asking me for a credit card when the item was less than $20.00. i will never buy from KOHLS AGAIN! What a bate and switch.

Donna Jenkins
from Rome, NY
I ordered the 55 inch TV on Wednesday 11/23 at 101am which was 1201am Cst, paid for this with my credit card. The order number is 4164817745. I called on Thursday 11/30 as I could not see when my package was shipping and I got one part of my order that day. When i spoke to customer service I was told the package was lost and the associate was going to file a report and that I would receive an email about the report. I received no such email. Today 12/2 I called and spoke to a customer associate female who said well there are no more TVs so call back in 7 days to get your credit card credited. I called back and spoke to a male customer associate and was on the phone with him for over 45 minutes with him telling me Oh I am trying to resolve this please hold, then I would be placed on hold for another 15 minutes and he would come back on and say oh i am still trying to resolve this then after about 50 minutes of this the phone is suddenly disconnected and he does not call me back. This is extremely poor customer service and I expect a call from someone with an appropriate resolution. I want the product I stayed up half the night to buy asap. This is ridiculous that I have to go through this to buy a product from your company. I will be calling corporate and I have no problem contacting the CEO if I need to. My phone number is 315-269-5836.

donna r stitzer
from Brownsburg, IN
kolhs refused to listen corporate kevin mensell and moncia I reported the problem over 19 months they never did nothing I have not gotton a new card that expired from 2010 and it was issued 1994. they have not sent bill out for 19 months. I was robbed id stolen. cards to stolen they had no idea what going on because the billing and fraud department is not in the same billing or state. I talked to several people and they told me not to pay anything until it was settled. then a mary from corporate said it was are fault and we will close out the account and not charge you a dime.wipe the 2,000 out with a new account number and card. she was ready to do it but a monica said no she lied so many times. even the ceo hasnot written back. they do not know what going on now i'm getting bills

Kym Prater
from San Antonio, TX
Kohls had a steam mop for sale $49.99 regular $100. I got to the store yesterday and they said it was a national ad. I was told I would have to shop online that the mop was not stocked in the store. I drove there first to get the mop and beat the crowd. Several other stores had sales (as you all know) but this was my first experience where a store advertised a sale and then told me it was not in their store to shop online. They should of said only available online in the advertisement for our area. Bad customer service for Kohls. The in store manager did nothing yesterday except told me to shop online. . There was not a steam mop in that store. I thought it was false advertising. I would like to know why the managers only solution was to send me online for a mop that was advertised on sale in the store . I wanted my mop yesterday so I could get some housework done this week. It would of been fine if the mop sold out but this was not even in stock. I would lose my Avon business if I treated people this way. I was there at at 5 am for the Black Friday sale. This was the Springfield location. The managers name was April.

Patty Etheredge
from Corsicana, TX
I do not understand why I speak English but No one at kohl's.com does!! I placed an order of two sets of dishes, but only received ONE!!!! Then when I called them....they cancelled one set..reordered another one recharged my card for one, then did a refund on the missing set. A bunch of retards in customer service because no one knew what to do or how to handle the screw up. And I have not received my refund YET!!!! I called again today & got another retard that cannot speak proper English. She did not have a clue on a solution to the problem. I will call my daughter & let her handle it. They will not want to hear from her but one time. Thanks, Kohl's for hiring a bunch of retards. I'm sure it saved you a lot of money & customers a lot of aggravation!!! I rate my experience a big fat 0.....

Worst Customer service I have ever had to deal with. I will never shop online or in the store or ever give them a dime of my money again. I hope that they realize that Amazon is there's and a lot of others competitors and they have a lot to lose with them. I will stick to Amazon and enjoy there customer service and products

The customer service I received over the phone was the worst I have ever had. I received an email that an online order I placed did not go through, so I called the number given and was told it was a verification issue. The first woman I spoke with finally supposedly got it figured out then transferred me to someone else to supposedly make sure I still got the coupons I originally used. When I was transferred (mind you at that point I had already been on the phone 45 minutes) the man was incompetent and basically needed me to start all over with the process I also don't understand how a verification issue is possibly when I used Apple Pay! I asked him but he didn't know either, then I continued to hold and he hung up on me. So I called back and the person I spoke with that time told me she couldn't verify because of my phone number which makes no sense since apparently the first woman could since she had sent me the text verification and told me I had to go into a store with a bill in my name! First of all the purchase I made was online only with coupons that were for that day only and even if it wasn't online only I made the purchase online because I don't have the time to go into a store. These people were so incredibly uncaring and not at all helpful! All three of them! My issue never got resolved, the last woman would not transfer me to anyone else like I asked and I wasted two hours of time I really don't have to spend all over nothing!

Lisa Green
from Oswego, IL
I ordered 4 Yankee candles online. I received 4 Sonoma candles, and the packing slip indicated it was supposed to have been shipped to Indiana. I called "customer service" Thursday evening. This person was VERY difficult to understand. I was given a reference number, and was told I would be contacted within 24 hours. I called again Friday evening as I had not been contacted by anyone. I spoke to 2 different people that evening, and was given still another reference number. I was told to return what I received to the store for credit. Really? The credit will go to Jessica in Indiana, while I still do not have what I ordered (and have been charged for). I was told I could re-order. Really? So I can pay again for something I've paid for and didn't receive? Plus, I used special offers I'd had to reduce the cost. Those offers are no longer valid. I am livid. I ordered these early as they are for my daughter and son in law who live in Guam as he is in the Navy. I need to ship them early, so they have them in time for Christmas. I felt like I wasn't being believed by the customer service reps. Even after I read off she shipping order number from the packing slip in the box delivered to me. I have been a customer for many years, but after this still unresolved fiasco, I'm not so sure that will continue to be the case. It has been STILL another 24 hours, and NO contact. Very disappointed.

Sue Munoz
from Lake Elsinore, CA
Well, Love shopping at your store but probably not any more. Get coupons and discounts in mail or online all the time. The generally are not useable
for not too many items. On the back of coupons are quite a list on non-useable merchandised we can't use them on. Why bother. Sorry but use to by K-cups for coffee (now can't) Can't really by any name brands either. I'm sure there are quite a lot of things we can't buy, but why limit us. Sorry not a real big spender but probably won't be back. Discount and coupons help us little people. Amazon is my place now.

amy jones
from Norfolk, VA
Not even sure where to begin... For the first time ever I made an online purchase of 2 pair of shoes, 2 pillows and a shirt. I received part of my order and the shoes where not the correct ones, so I had to wait 4 days to get my money back. The 2nd pair of shoes were sent back supposedly because they were unable to deliver them. It is now almost a month later I cant get anyone to help me find out where these shoes are, I can't get my money back and have wasted a lot of my time trying. I needed these shoes for work, never laid eyes on them yet paid for them.

Lyle Stokes
from Battle Creek, MI
I received my Kohl's statement for the period 08/28/2017 - 09/26/2017. It shows a credit balance of (58.53), telling me Do Not Pay and yet again a statement saying the Minimum Due is $0.00.
This month my Kohl's statement for the period 09/13/2017 - 10/13/2017 shows that I spent $108.47, which is true. Instead of showing the credit balance reducing the amount owed by $58.53, it states that I failed to make a payment! Now I am being charged the $58.53 ( which is actually a credit balance) + $27.00 late charge, + $1.91 interest fee, for a whopping $195.91.
This is one big increase from the $49.94 bill I expected to receive.
I put both bills in front of me and called Kohl's Customer Service 1-800-564-5740.
A nice young man explained that I was wrong. I hadn't paid the bill. Even though I have the statements in front of me, his computer says it isn't so. I was a bit irate, but I think I kept my temper under control.
He then told me he would have to send the matter to another department for their investigation. I was still keeping my temper, until he told me that I would have to call them to see what they decided.
At that point I'd had enough, an said rather irately, "You're telling me I have to guess when the investigation is complete and call whoever to see what they've done." At this point he said "Yes, sir."
He was always polite, and I know he didn't invent the system. The call ended with him asking if he could help with anything else. Since he really hadn't helped me with anything at all, I said nope, and we hung up.
I am angry for two reasons:
1. Apparently Kohl's can't see the printed statements they have actually sent me.
2. I was not provided a case reference number to track what's going on, or, use when I call back.
3. I am expected to guess when they have finished the investigation and call Kohl's - they won't be calling me. He did provide a rough time frame, but frankly that still is very poor customer service.

Patricia Dimola
from Forest Hills, NY
It started last week I called to place an order told the person all the information a pair of sketchers that were on sale for $54 had $10 Birthday Kohl's cash a 30% off and free shipping so ask for the total of my charge he tells me $47 I'm like WHAT felt like I was dealing with a 5 year old. Said let me talk to a manager and cancel the order he says ok it's canceled and he hangs up on me . Fine I go to my Kohl's store and with the help of a worker order the shoes on the kiosk. I get the package yesterday not even in a sketchers box a plain brown box with the information written in marker and inside the wrong shoes . I bring them back to my Kohl's and talk to the young man who helped me last eeek ordering them I asked him if I should reorder he said no because if they are screwing around it's going to happen again . I am totally disgusted what is going on with Kohl's used to love shopping there but no more and it isn't only me my friends feel the same way. Oh and here is what I ordered
Sketchers EZ Flex 3.0Msjesty Woman's shoes
Ski 77385805
Size 6 black $54.99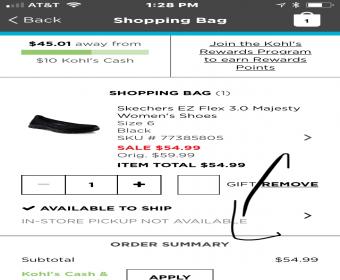 C.F.Frances
from Saint Paul, MN
On October 13, 2017 I visited the Kohls store in Apple Valley MN after checking online that they did indeed, have in stock in the store the item I was searching for.So I drove 40 minutes to this Kohls. I could not find it in the store, so I went to Customer Service. The woman at Customer Service said to check "over there", and pointed in a vague direction. When I questioned that ,she snickered and called the manager and asked about the item I was looking for. The manager said that the item is still on their truck and will be available sometime next week. The customer service woman shrugged and then the manager came out, raised her voice to me, lectured me, that it wasn't their fault etc. No "i'm sorry for the confusion". They are very rude at this Kohls. Not to mention it is fraud and false advertising to list that something is available in a store, when in fact, it is not.

barbara
from Eatontown, NJ
today I purchased over $100 in-store. when I went to check out my card was denied. the salesperson told me she did not have an explanation and I had to use another card. when I called customer service at home they told me I could use a photo ID and would send a new card in a couple of weeks because the old one is no good again no explanation how this happened. I have been a customer in good standing since 2009--now I can't shop until a new card arrives because your store employees do not know that they can accept a photo ID. I hope I never have to shop at your store again

EILEEN SHANE
from Phoenix, AZ
I RECEIVED AN EMAIL FROM KOHL'S ASKING ME TO CHANGE MY PASSWORD. I CALLED THE 1-800-564-5740 NUMBER ON THE BACK OF MY CHARGE CARD AND ASKED THE REPRESENTATIVE IF IT WAS A SCAM. HE TOLD ME TO GO AHEAD AND DO IT, IT WAS NOT A SCAM. I THEN ENTERED A NEW PASSWORD AND WHEN I CLICKED IT CAME UP IN THE EMAIL BOX AS MY EMAIL ADDRESS AND I WAS UNABLE TO GET INTO MY ACCOUNT. I CALLED THE 1-800 NUMBER BACK AND GOT A DIFFERENT REP. (PATRICK) WHO SAID I SHOULD NOT HAVE CHANGED MY PASSWORD. ITS A SCAM. I HAVE NOW CANCELLED MY ONLINE ACCOUNT AS WELL AS MY KOHLS CHARGE CARD. SOMEONE POSSIBLY NOW HAS MY INFORMATION. YOUR REPRESENTATIVES NEED BETTER TRAINING. I'M TROUGH WITH KOHL'S.
EILEEN SHANE

Gerald R. Robey
from Toledo, OH
I have been trying to buy a suit for 2 weeks now. For my brothers wedding. Now after several messed up orders and 8 phone calls to try and straiten things out. I tried today and made an order. The man assured me it was in stock and correct. They have at this point. I got the email back and it all looked good EXCEPT. He did NOT put the jacket on 1 day shipping. I had 3 weeks before the wedding to buy a simple jacket and pants. now I have less than a week. Im told Ill get the pants in time but not the jacket. I called a few minutes ago. I told them all about it. They said even though it was his mistake. they CANNOT change the order. So I will NOT get the jacket in time for the wedding. They would NOT even let me cancel the order so I could place another order to fix it. I have no choice now because I am OUT OF TIME. I will simply return the pants and jacket when and if they come in. I will have to take my business some place else. My wife swears by your company. This was my first order and my last. I will contact the attorney generals office and make a large post on a social media site. I am over 50 yrs old and I have NEVER had such a hard time about trying to purchase a jacket and pants. The last phone call I talked to a supervisor and said he could do nothing and would NOT give me his supervisor because now there are none available. because its 4:00pm on a sat. All I want is a jacket and pants, or a suit by the 19th. Ive only tried for 2 weeks to get one from your store.

Cheri Owens
from Milwaukee, WI
I bought a Dana Buchman purse a year ago, only used it for the fall season, it was a pumpkin orange color. Absolutely love it. I just got it out this weekend and noticed that both straps our tearing out. I no longer can use it. I'm very disappointed that I could only use this beautiful purse for one season. Thank you. My phone number is 414-581-0584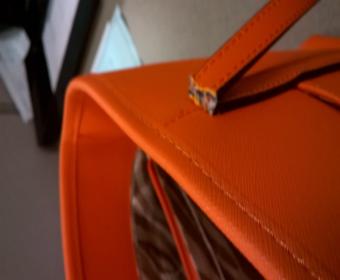 April Abaray
from Apopka, FL
On Friday, September 1, 2017 I went to Kohl's.com to pay off my balance of $205.39. Three times an error message came up, telling me that "our systems are having problems", call customer service. After that, I called customer service at: 855-564-5740 so I could pay off my balance of $205.39. A helpful gentleman in Customer Service helped me and took my full balance payment, confirmation #182021349. I noticed in my bank statement today, September 5, 2017, that two payments went through for $205.39. I called the customer service number immediately and spoke with Love. She said that Kohl's would refund the amount and it would take 2-3 days to show up in my bank account. After the phone call, my husband called me and said that the landlord put our rent check in the bank tonight, which would mean that it would clear tomorrow morning and it will bounce! I called Kohl's back when I got home and spoke with Love again. I told her that the money needed to go back into my bank tonight or my rent check would bounce. I also said that if it bounced, Kohl's needed to pay my bank fees. She said she could mail me a check.... Really?!? That would take 5-7 days! I told Love that I didn't want to speak with her anymore and wanted a manager to assist me. She left me on hold for 8 minutes and then she came back on the phone! She again told me that a manager told her that a check could be mailed to me. What?!? She assured that the money would be refunded in 2-3 days and I told her that doesn't help me. It was the original customer service rep who took my phone payment that made the mistake. He never told me that I had already paid my balance in full! I asked again to speak to someone else and she told me everyone else was too busy. I hung up and called back and got Luan on the phone. I repeated my story again and requested that she give me the time each payment cleared so I could see where the real mistake was made. My online payment went through at 4:46 p.m. and the customer service rep took my payment at 4:54 p.m. Luan asked me, "Why did you do that? It was your fault." My fault? The customer service rep never told me my payment went through 8 minutes earlier! Had I known, I obviously would not have made another payment! I asked Luan, "Why would I do that?" Luan's response was, "I've seen sillier things!" I told her that this was in no way my fault and requested to speak with a manager. She had me on hold for 12 minutes with elevator music in the background... Then, Marcos, a customer service manager came on the line. I told him my story and said that my money needed to be in my bank account tonight. He said that is was already electronically through and would take 2-3 days. His hands were tied and there was nothing he could do for me. I told him that I love shopping at Kohl's but the phone customer service sucks and if my check bounces, Kohl's is paying my bank fee. He told me to feel free to file a complaint and see what happens. This is the second time I've had a problem with Kohl's lack of customer service on the phone.

Kathy Syphers
from Avon, OH
Women's plus department in Avon Ohio is a joke. Unorganized. Have been unable to find Lee blue jeans in over a year and go weekly (16-18 size). I want to try on not order every option from catalog. Who shelfs are empty always. I should not have to drive all over to try and find selection. Have talked to shoppers in department who agree selection is terrible at this store. Provide more room and options like Medina, or Rocky River!

Jennifer Falbo
from Raymore, MO
I went into Kohls on 9/2/17 around 3-4pm CDT and by the entrance where the Kansas City Chiefs t shirts were. As soon as I walked in I heard and saw the manager SCRRAMING LOUDLY at an elderly customer. The elderly customer was always calm and had a soft voice but the manager just kept screaming at her at the top of her lungs. I was shocked!! I always believed in customer service and I'm aware that the customer sometimes is not always right but to scream at a customer in a voice so loud that it even embarrassed me in just unexceptable!! This went on for at least 10 minutes and when the elderly customer turned and started to leave the manager then yelled loudly and sarcastically "Have a nice day"! The elderly customer didn't even turn around she just kept walking out the door. Then the manager says to the sales associate "some people just like to argue"!
To me, the only person that did the arguing was the very unprofessional manager!! this manager needs to be reprimanded!!

phillip e gamble
from Las Vegas, NV
I ordered apple ear pods with lightning connector on 8/5/17 online inside kohl's. the address for my earpods was p.o. box 752332 las vegas ,nv 89136.this p.o. box is inside of the united states post office where all package delieveries are hand to you across the counter by a united states postal clerk. I waited until 8/18 17 for the ear pods I still hadn't received them so I called kohl's customer service. Customer Service gave me two very confusing stories to what happened to the earpods. first UPS attemped to deliever to the United States Post Office around 9:00am on 8/11/17 but couldn't .Later that day the UPS delievery person supposedly gave earpods package to a person who appeared to have lived at the address. Here is where they lose me I didn't think any body lived at the United States Post office. The address I gave was the United States Post Office p.o. box number 752332 las vegas nevada 89136. How could the United Postal Service just arbitrarily hand this to some mystery person on the streets and claim it was properly delievered. This sounds like some poorly concocted tactic to cover up the deceitful ,treacherous,unscrupulous underhanded behavior by the person or persons claiming to have delivered the package.On top of all this mess Kohl's Customer service has been very disappointing. after making four calls to rectify the situation all I'm given over a period of three weeks is a deaf ear It's like I have a personal problem. I don,t see any genuine effort to right the ship all I get is we're going to investigate we,re going to email you
wer're going to put up a red flag for over three weeks! Between United Postal Service and the United States Postal Service somebody dropped the ball and it seems as if Kohl's is indifferent to my situation. United Postal Service was contracted by Kohl's to deliver the package I paided hard earned money for. you can remedy the problem by sending earpods to my physical address,I really wanted the earpods. but I guess somebody else did too.

Penny Rincavage
from Washington, DC
When I was at Kohl's tonight there were already two people in front of me in line. The lady who was at the checkout was having trouble with the customer because she didn't bring her Kohls cash that she wanted to apply it to her order. So the cashier called somebody else up to help her with this problem. That person had to call somebody else to figure it out. Meanwhile there are three more people behind me in line. I'm not complaining about having to wait. When it was my turn to be served, I was explaining that I wanted my order into orders I was going to use the Kohl's cash on the one that I knew I was keeping. the second order I wasn't sure which items I was going to keep. The cashier rang everything together because I'm sure she was feeling pressure because of all the people in line.
So I said excuse me did you hear what I said and she said no I didn't I am deaf in my left ear. Because there were people in line I did not ask her to re-ring it because I did not feel like going over to the service desk right now I did not have this taken care of tonight. But now I'm going to have to go back to have it running into two orders the three things I definitely know I'm keeping and want to work with my Kohl's cash and the six placemats three sets of two that I wanted to bring back to the house to see which one I like best. It is just a pain in the butt that I have to make an extra trip When this could've been rung as two separate orders. I would prefer someone contact me about this.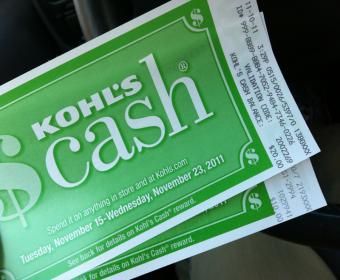 Marie DeGayner
from Port Orange, FL
I just got off the cell phone after calling Kohl's Customer Service. I spoke with a person who was not helpful. I have been a Kohl's customer for many years. I was attempting to order "on line" but my email and password would not go through. (kept telling me incorrect). I have had this problem with Kohl's several times and always end up getting a new password, which I write down for next time. However when "next time" comes around, my password or email or username, I'm sent "incorrect". I am at my "wits end" with Kohl's. While on the phone, I used up a lot of my minutes just trying to get satisfaction and order.
The person I talked to said "Are you sure you have an account with Kohl's?"I wasted over a half hour trying to explain what I needed and who I am. Finally ordered two pair of men's Croft and Barrow (which he could not get Barrow straight) side elastic shorts for my husband. I explained to him that I would like to pick up at the store. I gave him my address in Port Orange, Fl where I live. He told me to pick up the order at some other store that I had no idea where it was. I finally ended up after over half an hour, canceling the order. I had a promo code which I tried to give him.
He said it could not be used at this date. I received a 30% coupon in the mail yesterday and that was the reason I thought I could save money. After all this, the coupon could not be used until Wednesday. I will try to order again on Wednesday, the 24. I hope I have better luck. It is difficult for us to get to the store as we are seniors and the traffic some times gives us trouble. But we did not want to pay postage. I will try again another time. My husband loves the shorts and has several pair that we purchased at the Kohl's store in Port Orange and needs more.
We have always "loved" Kohl's and shop there often when we get good prices as we are on Social Security only and have to watch our money.

Beth DeLay
from Stroudsburg, PA
I purchase several hundred dollars worth of Patio furniture three years ago and it oxidized and rusted. Coronado style furniture(chairs, chaise lounges and a table) The patio furniture is a mess and now when it rains the rust from the furniture is staining my pavers. I am extremely disappointed in the patio furniture and the condition that it is in. The furniture is stored inside all winter. I would be happy to share pictures once I am contacted by someone.

Debbie
from Poughkeepsie, NY
I am trying to get into the Wedding Registry on Kohl's site and I keeps getting a code that says pmpSearch_header_tmpl. It will not bring anything up for me. I contacted customer service and they told me it was my browser. It is not my browser, I have tried others and they too do not work. No help there with C.S.! Please have your computer services department look into the problems you are having, as I have seen other people are experiencing the same thing. I have filed a complaint with Kohl's site and still no word back from anyone. Guess KOHL'S doesn't want to make money.

Lola Richards
from Willard, OH
Was just at Kohl's in Delaware Ohio. Wanted to purchase a aqua colored jacket on a display because it was the only one left in that color. They refused to take it down. Never heard of a store refusing to sell an item. Extremely disappointed because I'm not from this area anyway.

Bertha M. Ward
from Mastic, NY
Kohl's sent me a Happy Anniversary card for owning a card for 16 years and it said to check under for another offer. But the date on the extra offer was only a few days, and it was not as long as the gift for having a credit card . It said please take an extra 30%, but you would have thought to use both gifts at the same time. But you did not give out the coupon being the same date. It expired sooner than the original gift. I felt that was unfair that the extra gift was not the same. They would have made me come to Kohls at different times just to use the additional gift.
Believe it or not the coupon was for an additional 30% off but it had expired. I also heard others complaining but I guess they did not write you a disappointment complaint. I thought the gifts should have been ran with the same date on the gift card as the extra surprise. I do not have a Kohl's where I live and I have to travel to Kohl.s. The promo code was RAIN30. I know this complaint is late but I still wanted to make my position as to why I feel this was unfair.

Ormonde Butler
from Encino, CA
I ordered an iRobot Roomba 620 Vacuum Cleaning Robot from Kohl's.com as a gift for someone. Problem #1: There was a problem with the kohls.com website and I was charged twice for the same item. Ultimately, I was able to get one of the charges removed. This was my first hint that Kohls.com does not run a functional online business.
Problem #2: The order was taking a long time to be delivered, so when I checked on the order and was shocked to discover it had been cancelled without my knowledge - I was unaware that this had happened. I thought the item was being shipped because the amount of the item remained deducted from my bank account (via debit card). I called Kohl's to find out what was going on. The kohls' customer service person routed me to a Kohl's fraud specialist who grilled me, particularly about the shipping address. He looked it up on Google maps and quizzed me on the cross streets and what the building looked like. After this lengthy and humiliating experience, the costumer service person placed a new order (with a new small discount applied) and assured me the order went through and everything is fine and the order will ship. This leads me to Problem #3
Problem #3: Today, I check on the order and am flabbergasted to find out, once again, IT HAS BEEN CANCELLED. I WAS NOT NOTIFIED OF THIS AND THE AMOUNT OF THE ORDER STILL SHOWS IT WAS TAKEN OUT OF MY ACCOUNT. Now I am angry and very upset (because the gift recipient will not be getting their present anywhere close to a reasonable timeframe). Again, I talked to a customer service rep who routes me to a Fraud specialist - who again interrogates about the order. Once again, the Customer Service rep re-submits the order and assures me it will go throughI have no confidence this will happen, and now my bank account shows that I am once again paying twice for this item. I cannot afford to have an additional $244 taken from my account - for any length of time.
I feel disgusted, humiliated and defeated by this experience.

Candace Knight
from Evansville, IN
I bought a 3 piece suit last week at the Evansville In. Kohl's west side store. The seams on the jacket were not properly sewed, Places where the seam was not sewed. I have always shopped at Kohl's store because of the quality. The brand was Elle. I did return it and was treated very nice but was very disappointed that I had to return it. The suit was on sale but I still spent almost $90.00 on the suit. I'm not the type of person that normally complains, but from now on I will have second thoughts about buying anything from Kohl's. Thank you for your time and listening to my review.

Vickie RIchmond
from Topeka, KS
I was at Topeka Kohl's over the weekend I found Bra's on sale, the Olga's were nice, I had four. When I went to check out, two of them rang up for 13.99 and two for 29.99. I was told two should of been back on clearance. I said ok, so you'll price match your own product? She said no. She called Manager up and she said NO, sorry it was just a mistake, were sorry. I said, ok, but not my mistake, I can't help it if your employee's can not do the job right. That is your fault not mine. You still need to make this right. She said No I don't, it was only a error. I told her, fine, take the rest off, and I won't be back, and as I work for the school's I'll be sure to let them know as well.
She said sorry to hear that, have a good day! Then I get rang up and she said, well what I can do is give you ten dollars in Kohl's cash, really I'm sure you know what to do with that. So your manager's call of a twenty dollar difference cost you a lot more in the long run, as I have spent over a thousand dollars there in the last three of four months. I had done my Christmas shopping there, but never again. Sorry you lost a good shopper, because I as the shopper should of been right! Not your young smart ass Manager! Have a great day!

Joann Chiarini
from Sicklerville, NJ
I purchased an Armitron watch (ladies) sometime ago (maybe 2 yrs. ago) and wore it a few times. I recently pulled it out to wear and both sides of the watch fell off. I took it to the Kohl's in Turnersville, NJ to replace or give me credit (had no receipt) and they said they didn't have a skew no. so they couldn't do anything. They didn't even try. I believe I should get some kind of credit for the watch. At the time, I paid $40 for the watch on clearance. Thank you for hearing this complaint. I hope you can accommodate for this complaint. I usually don't have ay problems with Kohl's.

I was attempting to return or replace a belt which I bought from kohls a few months ago as its leather material was falling apart and degrading. I walked in the store, walked to the belt racks in the men's dept, looked at the choices like any normal customer would. I looked At several choices, picked out two new belts, one of which was Identical to the belt I bought and one new one of a different brand which I was going to trade my old one for if possible. At this point I took off my own used belt during the time period which I was trying others on and set it on the belt rack; deciding on which one fit the best as I compared several choices. Including my used belt, I walk over to customer service with it and two new belts for my refund or return process. Loss prevention then promptly walks up to me as I'm in the process of returning my item to the customer service desk and accuses me of return fraud.
They said I took the belt I was wearing off the rack and that it was not my property originally, and they had proof on camera That it wasn't mine and I didn't walk in with it on. They said there was no proof I was wearing my belt prior to walking in the store, while evidently it had wear marks and degrading due to my use and in the video you could literally see me take off my belt and put it on the rack, which they skipped and overlooked as they only played the beginning part of the surveillance video when the police arrived.
They re arranged the story to their benefit as they used the cameras footage to their advantage only showing me try belts on and not the whole footage of the actual process. They said I was attempting to return kohls property as the used belt was theirs and that is called return fraud. I never attempted to return one of their belts. It was my belt. It was evidently a worn belt with use and wear markings, although they argued I took the used belt off the rack and was attempting to return a used belt which I wasn't wearing when I walked in. I've had this belt for a few months and it's already starting to fall apart so I was hoping I could return or refund it for one of better quality or for my money back.
I'm a poor college student with no extra funds besides financial aid so I can't afford to keep buying belts that are going to fall apart but that's not the worst of it, I was brought into the LP office as they pulled me out of line at which point they asked to search me. I was then fondled and griped by your loss prevention workers. They had no reason to search me but they continued thoroughly, feeling me in my crotch area extensively as if I was a terrorist with a bomb or something stashed by my penis. Like I mean they didn't just pat me down, they took advantage of this opportunity to feel me up and grab my private area. They were then very assertive and rude when letting me explain my side of the story because they we're so confident in their "Evidence".
They were not even willing to show me the video evidence even after the police arrived, as they claimed they would, because as they know, they needed to use the footage to their advantage by only playing certain segments, rearranging the perception of what I was doing Through a camera which did not display the bottom half of my body as it was blocked by another shelf. Is this legal for your loss prevention crew to fondle innocent customers? This made me feel very uncomfortable as it violated several of my rights as citizen. They had no right to falsely accuse me of return fraud. It's sickening that these workers have the nerve and ability to make false accusations and claims which they back with no real evidence. They took my belt from me and my store credit which I was going to be refunded for the defective, bad quality belt I purchased months ago.
After the cop arrived he was even convinced that this was my property due to the visible wear although LP were certain of their assumption That I randomly took a used belt off the rack and attempted to return it so he wasn't going to pick sides. This is not right. This has no morality to it. Im just so broke right now barely making ends meet in college this is the last thing I need to worry about. I cannot afford to Purchase a new belt, that's why I was attempting to return or refund my pre existing one for one of better quality or equal value. Your workers should not have the ability to make false claims like this and get away with fondling innocent customers.
I could understand if I was trying to return a new belt already off the shelf actually belonging to Kohl's, but for Christ's sake it was obviously used and my belt. The video recording shows this proof, but like I said they only played certain segments when police arrived and for some reason didn't want to play the full footage or for me to view the video as they said I would be able to

Brenda Love
from Newton, KS
Was in shoe department found a pair of boots I liked was looking for box couldn't find it so I took the one on display along with another pair. I was looking around store I forgot about the two different size boots I had got to check out and cashier says I got the pillows code I guess didn't think about it until I got home and looked and wow I had both the size 8 boots. I thought I was being watched I spent over hundred dollars. I'm not a thief and I don't appreciate being treated like it.

Janet Borowski
from Spring Hill, FL
I placed this order below and found out the next day via email that it had been cancelled by your Fraud Dept for some unknown reason. A simple phone call to me and any issues Kohls had with the order would have been resolved I'm sure. I have been holding my gift cards to use on this vacuum as I was recently widowed and am supporting myself and my grand daughter on just my salary. Your Fraud Dept asked me what city I opened up this charge card?
Really? I have moved several times. Then I was asked when was the last time I used my card. Again, Really? I do not have this information at my fingertips. I have two stores I can go to and neither one is close to my zip code. I spoke with a Supervisor and it said it was unfortunate that this is a hot fraud item. The email said I had to wait 2 days to get my gift cards filled again but the coupons I used had expired. It would have been nice if the supervisor offered to reinstate the the coupons and give me something for my trouble. This is not good customer service and I am disappointed that I was not able to get my merchandise.

Alexandria Banuelos
from Fresno, CA
My boyfriend purchased a sonic clean plus spin brush for Christmas, and not even one month later I had to return it when the brush would not stop spinning till it died. When I went back all of the brushes were broken in the box(see attached), the girl at the counter was very rude and the manager was of no help, they would not give money back. All I got was an attitude and the girls were staring me down the whole time as if I should not be returning a broken product. I do not want to come in every month to waste my time returning this product.
I love khols and I loved my spin brush until it broke. My family and I have been loyal customers for a long time. When I asked, the girl said that if it broke again I would have to come in and return it every time it broke in a snarky way. I do not think I should have to keep buying broken products, and I would like my money back to get a brush of quality. I also think that maybe these employees could learn how to treat customers with respect and kindness to portray kohl's in a way it should be as if it was their own company. Thank you.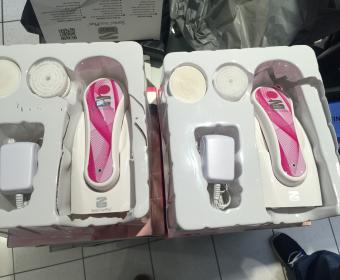 Danna Strong
from Melville, NY
I returned a Christmas gift and the young man who processed the return suggested if I were unhappy to contact Kohls Corporate...so I am. I did not have a receipt but the tag was attached and read $50.00. I was offered a fefund of $8.00. That would mean the item was discounted by almost 85%. I find that hard to believe.This means Kohls "earned" $42.00 for nothing. I have been in retail a long time and am aware of return policies but this seems very inequitable to me. My cousin is a very smart woman and I would be gratified to know her loyalty to Kohls is not misplaced. I have been happy to share my good customer service experiences on social media. I would like to be able to add Kohls to that list.

Donna Foreman
from San Antonio, TX
I placed an order for Christmas gifts. I realized that I used the incorrect delivery address (former address as we moved in May 2015). So I called Kohl's customer service to change the address (3 pkgs being shipped). The order had NOT been shipped out yet so the agent said he corrected and submitted the NEW address. Next thing I receive email that pkgs are all shipped to OLD address. I call Kohl's customer service department 4 times on Dec 19. Long holds on wait with NO updates as to where I am in the Que. Finally I get through and explain my issue again. The agent says he will put me on HOLD for just a minute to get approval. After 10 minutes he has not returned to me so the system gives me the option to redial him. The system re-ring him and it goes to voice mail then hangs up.
I had been on the line for 45 minutes when I was disconnected. He never even called me back. My former neighbor was able to retrieve 2 of the pkgs. 2 of the pkgs the new home owner took back to FedEx to be returned. (I rec'd one of those....FedEx redelivered to her again) The other pkg is out to be redelivered as well. I called Customer Service today and she finally took care of me. This entire ordeal was very frustrating and the 2 agents who were no assistance at all need to find new jobs. I have worked in Customer Service and the protocol was that he should have called me back when we were disconnected. I am THANKFUL I finally got someone to assist me properly but her first line of instruction was that I had to call FedEx which I had already done and they said I had to call Kohl's.
So the run around is never fun either. Hopefully is ALL resolved now.

D. Mills
from Janesville, WI
Received a discover card ($250) for my 25 year bonus at work. Decided to get a set of Circulon pots and pans (lame, I know). Found a great deal at Kohl's and about 4 days later the package came. Only problem was it was a set of ear buds ($25), not my pots and pans. No problem, I can live with the delay a few more days although I really wanted them for the holidays. Called customer service, I was informed that they WOULD NOT send out a new set until I either dropped that package delivered erroneously at the store or waited 3-5 extra days for a UPS label to come my then, THEN for the package to be returned and processed.
It's a week before Christmas and there is NO WAY I am going to the mall to return their screwed up order. So you are talking a few weeks at best. When I asked the lady who would know I returned the erroneous order so I could get what I actually ordered, she had no clue.Then she put me on hold FOREVER, came back and informed me they were now out of those pots and pans and I was basically out of luck. I will NEVER, EVER shop at Kohl's again. This happened once at Lands End and they apologized profusely, thanked me for being so honest and immediately shipped out the proper order. I don't get this. And nobody there seems to care.

Joy Ellison
from Glen Burnie, MD
I placed an order online for my sister n laws birthday. It was very important that she received this present, as I won't go into detail. Bottom line she did not get it and it was canceled, no explanation no notice. Needless to say I am very upset over this and I will be closing my account. This might not seem important to you but it was to me.

The rating was really a zero (0). I received two t-shirts as a gift that did not fit me and both still had the Kohl's tags attached to the merchandise. I did not have a receipt because it was a gift. I found two t-shirts that were EXACTLY the same, just a different size and all I wanted to do was swap tee shirt for tee shirt. Nope. The computer system couldn't do that. The lady at customer service could of swapped shirts. No. Instead I received $1.60 in credit. Really? I feel ripped off. All I wanted was a tee shirt that fit correctly. I recently purchased a timer from a local hardware store. I didn't work. So I went back and wanted to swap for another time, the exact same timer. So they did. Easy. Not at Kohl's.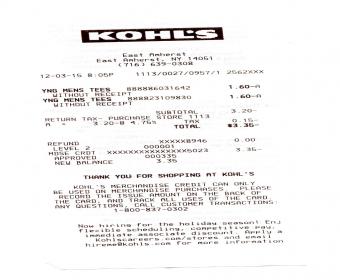 Kathryn Lenz
from Long Beach, CA
Ordered merchandise they duplicated the order and charged e again. When I told them about it I would have to return the duplicate once I received it and then wait for the money to be returned. it hadn't even shipped yet and I noticed it 10 minutes after I placed my original order. They were rude and refused to give me my money back. Told them I would initiate a fraud claim and they laughed and said they didn't care.
The original order took forever to receive and multiple items were severly damaged. I still have not received refunds or replacements yet. The duplicate order was received but so damaged they told me to throw everything away as it had so much broken glass in it that it was dangerous to even try to take items out or to reship. Have not received my money yet for that duplicate damaged package. They then credited my account for $130.49 and then charged me twice that same amount. Could not tell me what the charge was for after being on the phone for 4 hours with them. Each instance they had me on the phone for at least 3 1/2 hours and I was disconnected and treated like dirt when I had to call them again.
I called corporate who then transferred me back to customer service even though the complaint was against customer service. I keep being harassed regarding the items I returned via Fed Ex per their instructions and I have been waiting for my money for 2 weeks. Finally I went to my bank and initiated fraud proceedings against them.

Michael
from Franklin, MI
I have been a long time customer at Kohls. The other day I received a few emails about an order that I did not place. I copied and pasted just one example below. I immediately notified your fraud department and was told that no one would be allowed to use my email again. I did not know that also included me. I placed an order today only to get an email stating that Kohls cannot process my order. I called customer service again and was told that my email account was suspended and that I would have to use a different email. I do not like the way your customer service department handled this situation and I think that I have been inconvenienced more then enough. I need to know that my account and charge with Kohls is cancelled. I also no not want to receive any further emails from your store. My next email will be to the CEO of Kohl's, the corporate headquarters, and the Attorney Generals Office If I do not receive confirmation that my request is completed.

Diane Hollingsworth
from Anniston, AL
I bought two sweaters at Kohl's in Oxford, Alabama. They were for a trip to New York to visit my family. I wore one of the sweaters on my trip to the city and it shedded all over everything. Everywhere I went I left lint on the floor. I have never been so embarrassed in all my life. I couldn't wait to get that sweater off but had to wear it all day as we were in the city. They need to take all these sweaters off the shelve. I couldn't believe the poor quality of these sweaters. I returned both of them when I got home and received my money back. I told the girl behind the counter about it. She could see it for herself when she pulled the sweater out of the bag. There was lint everywhere. I am so disappointed with this store.

Suzanne Youngberg
from Saint Paul, MN
My ex-husband changed his e-mail address to mine. I talked to Kohl's customer support and reached Neal ID # 823K. He was not helpful at all. I was told to contact my ex-husband. There was nothing he could do to help me out. I want no part of his account at all! Kohl's support staff needs to be trained by corporate to help customers out, not give them the run around. I see more complaints in the future for this company.

V.D. Harris
from Reisterstown, MD
The Store Manager at Kohl's suggested I placed Sonic toothbrushes on a display to get a lower price. He was very loud and stated in front of a store full of customers you cannot expect to get 139.00 dollar toothbrushes for 34.99. I showed him the display where the toothbrushes were and there were several Sonic toothbrushes on this particular display. When asked where I could find the toothbrushes on sale he stated near the luggage department. He did not try to help me locate the right toothbrushes he dismissed me as if I was a thief. He was very rude and dismissive. I had never been treated this way before and I wonder if the color of my skin had anything to do with how I was treated. I understand he is new to the Westminster Store ad several employees did not know his last name.

Melissa Baker
from Austin, TX
I am contacting Kohl's corporate in regards to a dispute and a rude manager. I went shopping Thursday evening Nov 26th. At the Kyle, TX store at the market place. I want to inform you of a few things. I have been in sales for over 12 years. I have 3-5 family members are originally from the Wisconsin area including myself whom are Kohl's card holders. I am also very intrigued by always getting the best bang for my buck. Of course concluding why i went shopping on black friday.
I was on the hunt for an Xbox 1; so i did my online research, my black friday paper hunting and decided kohls had the best deal for my dollar. I call the store after my thanksgiving dinner and was told they had 3 x box 1's left. I get to the store the store manager or employee was highly rude to me and very unhelpful just by saying your store was out of the $99 black friday tv and $299 xbox game. First alarming thing in my head if i wasnt so determined to get this system. Is for one her rude and unhelpful demeanor, 2 i would have left the store not purchasing $400 in merchandise and 3 i took initiative to go browse the store to find that both the TV and Xbox were still there.
I then have the store manager or assist manager take the items to the front, i wanted in line patiently like everyone else for 45 minutes. I get up to the front to use one of the 3 following items. My $10 off coupon, my 15% off coupon from my mail flyers and the 3rd i tried to use the 15% off online for "turkey day" The register clerk was super calm, friendly and happy and was willing to scan all three items for me. Unfortunately to tell me none of which would work on my xbox 1 item. So i go ahead and go the Kohls.com/exclusions WHICH the Xbox 1 is NOT listed in your exclusions. I asked the boy to ask the front clerk assistant what she thought, so she then in turn called the store manager.
The store manager storms up to the register i am located at disgruntled and argumentative. She is like throwing around the "electronic sign" that says its an exclusion. I explained to her that was not on the counter where i received and found the X box one, I told her in my phone on the corporate exclusions list it was not there either. She refused to look at the list on my phone and kept reiterating that this sign says no discounts. She was highly rude and did nothing for me.
I was actually about to leave the store and NOT spend $400 but my boyfriend next to me whom i was buying the christmas present for REALLY wanted it so i felt bad for him waiting an hour with me and i stubbornly bought the item without complaint as the manager eyed up me and the cashier.
I left the store feeling cheated, angry and to be honest determined that someone read my store. Never in my life out of all the years I go black friday shopping with my family has a manager made me angry and leaving the store REGRETTING what i purchased. As I said, I did my research prior to going black friday shopping the kohls cash plus the $299 for the xbox was a "good deal" but in my head the "GREATEST" deal was saving myself another $45 cash on my credit card payment due to I was POSITIVE i could have used my 15% off coupon where this item was NOT an exclusion. Otherwise, i could have went over to BEST BUY and purchased the same item for $299 PLUS got a better TV with a game for other $200 bucks.
Attached below is your electronics EXCLUDED from your coupons. There is NOT an Xbox one on it.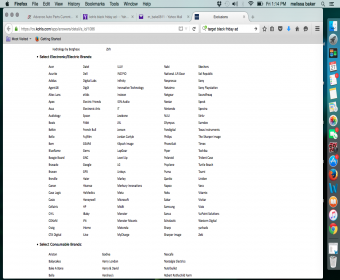 Nancy Swaney
from Berwyn, PA
We have spent over 2 hours trying to order and print an electronic gift card from Kohl's online and still have gotten nowhere. The incompetence of their customer service is mind-blowing. We placed the order for an online gift card and, when done, clicked on "Continue Shopping" and placed an order for a second gift card. We received an email confirming that second purchase, but none came regarding the first E-card order. After an hour the second card did come through via email and we printed it out, but still nothing came with regard to the first E-card that was ordered. The next morning we decided to try again to order the missing E-card gift card. After 2 hours we got an email saying that this order could not be placed, but gave no reason, only a telephone number to call.
When this number was called the "customer service" rep was no help, had no clue why the order was "blocked", and referred us to a second department.After 45 minutes of explaining the same situation over and over again to new personnel and still getting nowhere, we asked to speak to the supervisor. The supervisor, well-trained to listen to complaints to mollify customers, was still unable to get the order placed or be of any help other than to suggest that we "try again". Several times we were told that the E-card design was "out of stock". We explained multiple times that we didn't want a physical card (which could be "out of stock", but an electronic card (like the earlier one we got via email) that we would print out to give to the recipient; this kind of card is impossible to be "out of stock", but the incompetent staff couldn't seem to grasp this concept. The best we could do (very reluctantly) was to go online a 3rd time and place the same order yet again, having been assured that this would be "easy".
We know how easy it was for us to place the order, but Kohl's doesn't have any easy way for humans to eliminate the problems with their defective software programming. The frustration here is enormous. This leaves a bitter taste with dealing with Kohl's.

Will Garrick
from Madison, AL
Being a long time customer of Kohl's, I doubt if I will be shopping there in the future. The reason? The last 2 times I went to the Huntsville, Al, store (7630 Hwy 72 W, Madison, AL 35758) the men's section was in such disarray that I couldn't even look at their slacks. The first time was bad enough, but when I went back a week later and it was even worse, it was the final straw. (See pics). This is absolutely ridiculous.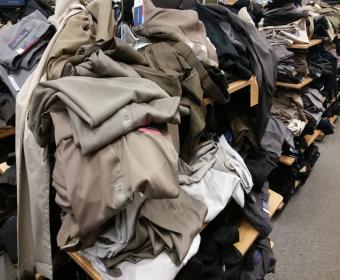 Joanne Rogers
from McDonough, GA
I ordered a diamond bracelet online using 3 promo codes. I forgot to check availability of store pickup so I called Kohls.com customer service. The associate checked three stores, said no then informed me she cancelled my order prior to checking. She reordered the bracelet. When my confirmation e-mail came she hadn't used all my promo codes. I called a second time, another associate told me that order had already been processed so she'd order another one with my 3 promos. When that e-mail came in, only 1 promo code! I called back. That order too had been processed.The third person went to enter the promo codes and asked me how to spell jewelry and seasons followed by you can't use those promo codes any longer. I called for the fourth time and finally someone who knew what they were doing! Kohl's has always had great customer service but I almost lost it today with such incompetence!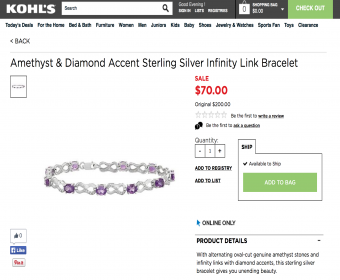 Have feedback for Kohl's?
Thanks for your feedback!
Sorry. Please try again later!