Kohl's
Kohl's Complaints Continued... (Page 2)
349+ reviews added so far. Upset? Call Kohl's corporate: 262-703-7000

Elaine Ward
from Maple Heights, OH
I bought $160 worth of merchandise from Kohls. That was after 30% off. The smokeless grill was defective and smoke filled my kitchen, so I had to drag it back to the store to return it. I paid $83 for it, and subtracted $20 for the Kohls cash I spent. I think that is fraud. The $83 would only earn $10 in kohl cash, so that's all I should get subtracted. The clerk seemed to agree with me at the returns desk, but said that was the rule. She gave me a number to call for Corporate headquarters. I called and Danny just reiterated like a parrot, what I bought and how it was the rule. So I asked him for the name of the president of Kohls and he had the nerve to tell me he didn't know. Then he said that because I wanted $10 in Kohld cash refunded, he said I wanted him to cheat his own company and I was bullying him. What? So for $10, this company is willing to lose a customer since I will not be buying anything else from them and I am considering returning the rest of the order too.

Kohls in Hutchinson KS. employees discussing how an ape would be better qualified to be in office than the orangutan that is in there now. Joking how he only wants the wall so he can win. That cortez would be better qualified as well. The managers name is Brian Miller-he is the one who refers to our President as a monkey/primate. I will NEVER SPEND ANOTHER DIME AT KOHLS NOR WILL ANY OF MY FRIENDS AND FAMILY.

I spent over 1000 at Christmas on gifts from Kohls. I ordered valentine gifts from kohls Jan 31st plenty of time to get here. The order was placed and they said I should expect Feb 6th the earliest and Feb 11th the latest. I have not still received my order, (that incl 20.00 gift coupon kohls cash)
I called and got transferred at least three times. Then I kept getting new phone numbers of who to call! I finally got someone to tell me my order was cancelled! I never cancelled it, and never got an email stating so!! Such incompetence!!!!! Will never step foot into one of your stores or will order from you again. But best of all, I will make sure and let everyone I know and more, how incompetent your staff are!!!!
Ursula Cooley
order no 5897690555
I havent checked yet, hopefully i wasnt charged on top of not receiving your merchandise!!

DELORES WILLIAMS
from Northridge, CA
KOHL'S PUT A 30 DAY LATE ON MY CREDIT REPORT. MY PAYMENT WAS SENT BY BANK OF AMERICA BUT KOH'L SENT IT BACK BECAUSE ON DIGIT WAS OFF BUT MY NAME AND INFORMATION COMES WITH THE PAYMENT. THEY DID NOT ALERT ME THAT THEY SENT MY PAYMENT BACK. I WILL HAVE TO TAKE THEM TO COURT TO GET THAT 30 DAY LATE OFF MY CREDIT REPORT!

Stephen
from Cookeville, TN
They (Kohl's of Cookeville, TN) play their music too loud, plus much of it is obnoxious, or even offensive. I talked with a manager and was told that they do not control it at the store, and she even made our conversation more meaningful by saying that she "likes the music."
I asked what was more important, that the employees like hearing the loud music, or the customers' wishes were honored. She had no answer for that.
It used to be that "the customer is always right," but those days are gone forever.
I sincerely hope Kohl's goes out of business.

took a Christmas present back for my wife 12/30/18, didnt have receipt wanted to exchange for larger model, store would not do issued me a corperate refund receipt and gave me the 1 800 number to call, i've been trying for over a month to get in contact with your refund department, finally
today ive finally got to talk to someone after I had to take day off to sit on hold for an 1 1/2 hrs.
Your customer service in this department is lacking terribly, I heard every excuse on messages, exceeded call volume for day, iclamte weather, and even left detailed message with no response.
for being a large corperation as you are this unexceptable and hope you try to correct these problems.

Janet Annis
from Auburn, ME
I went into the auburn maine store and wanted to purchase a my pillow, they were out of stock so they ordered a pillow on line for me. In my reviewing my order a few days later I found they shipped this item to my daughter in Colorado and not to myself. I called customer service and they were not willing to help me at all. They stated my daughter could return the pillow and I would get a refund. Well happy day. I got a discount off of this pillow and free shipping and don't want to wait a month for this item. My daughter is a busy CNA at a hospital in Colorado with four kids and doesn't have time to return this item. Since it was the store's error, I thought to satisfy a customer you would just order me another pillow at the same cost but no.............. let's not make a customer happy. I am extremely unhappy with my experience with Kohl's I shop here all the time and will consider taking my business elsewhere to purchase my products and will advise my friends to consider other stores. before Kohl's so disappointed.

Philip Haslam
from Fort Lauderdale, FL
I am a 56 year old male who has lost weight, and needed my neck measured so that I could get two dress shirts. The male sales associate I approached in Women's dept. didn't know how to help me, and sent me upstairs to the customer service department to get my neck measured. The ladies in the customer service department didn't know how to help me, as they didn't have a measuring tape to measure my neck. I was flabbergasted! No measuring tape to determine proper sizing? Am I suppose to rip open packages to try on for size? I went to the men's department, very disappointed. A sales rep for Phillips Van Heusen was setting up a tie display. Her name was Liz. I explained my shock in not being able to figure out my neck size - especially being in a clothing store! She pulled a measuring tape out of her bag. She was very nice and assisted me with determining the right shirt size. And I purchased two shirts.
SHE WAS NOT A KOHLS associate but an independent distributor. She deserves a huge thank you!
This took place on 2/4/19 at store 1245 in Hollywood, Florida.

Sabine Painter
from Highlands Ranch, CO
Shopping at Kohl's is like trying to win a game show.
If you are going to offer 30% off...HONOR IT!
If you are going to give out Kohl's cash...HONOR THE CORRECT AMOUNT.
If you are going to exempt some brand names ( Adidas ) and then be told that Carter's "is not as good a brand name". MAKES NO SENSE!
Can't wait to tell Carters how you feel about them.
You need to clearly list all the games we, the consumer, are up against when TRYING to shop. Straight forward and honesty would be a good start.

Yuliya Levchuk
from Sacramento, CA
Hi. My name is Yuliya Levchuk. I made a purchase at Kohls.com on January 1, 2019. I spended $108.90. Kohl's didn't send my items. I contacted them and told them to give me refund or items because I never received any items. They told me to wait until January 22, 2019. I waited and contacted them again and told them to send me my items or to give me refund. They told they going to give me refund because one of the shoes where not available anymore. But they didn't give me any refund and I contacted them on January 24, 2019 and told them again to give me my money back or send the items. So, the lady on the phone customer service told me she is going to send me my items. She made a new order. But she never returned the money for the shoes that were not anymore available. Lauren Conrad Women's Fringe High HEEL MULES. $11.99 BEFORE TAX. Size 10. Black color. SKU# 49021663. I told her to return the money and she told she will do it but she lied and never returned anything. I still didnt get the items from the order she created but I'm waiting. Please return me the money and never lie to me again or I will contact my lawyer.

Adrienne Michalek
from Mount Prospect, IL
I have been a loyal customer for over 25 years. I am very unhappy with a recent purchase/gift from Kohl's and need to complain. I received two pairs of Columbia socks from Kohl's for Christmas. They are my favorite brand and I have purchased this brand from you before. This time these socks were very disappointing. I wore them two times and washed them and they are just not holding up. The fabric is coming apart and the brand name is half off. I was going to return them, but felt weird about returning used socks. But I wore them ONLY 2 TIMES! They should last longer than that! I feel the quality of the clothes recently at Kohl's has significantly declined. I know if I took the socks back to the store, they would take them back without question….however I am torn because I don't want to be "that person" that returns used socks. Hence this letter for me to vent.
One unhappy customer.
Adrienne Michalek
803 Stewart St
Batavia, IL. 60510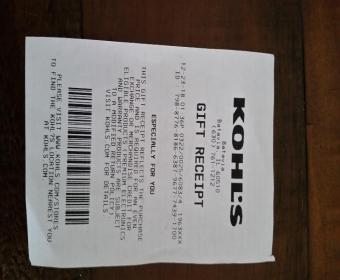 Joan Konarski
from Wayne, NJ
I am a loyal customer of Kohls and have been for several years. I spend quite a bit of money in the store and always pay my bills in full. I do not understand why I received a 15% off coupon. At the least I should be getting 20% or more. I am very disappointed in your system.

Margaret Welty
from Venice, FL
Dec 7 I paid $50 0n my acct. on line. It never was taken from my bank acct. (late fee 27.00)
On Jan 3 I mailed a check for $100.00 for my acct. It never was taken from my bank acct.??????????
Customer service unsatisfactory as I can't understand them and I doubt they can't understand me.
When this is resolved - I will no longer have a Kohl's charge - and I like the store.
The last time there was a strange problem with an acct. my identity was stolen by Express
scripts and that was a big mess, PLEASE HELP

melanie
from Bowling Green, OH
I order on Saturday January 5 online and it did say two days shipping,Iam still waiting. I got email about tracking but does not have any information were they may be. Order from Walmart never had this problem.

Renee Wittman
from Hilliard, OH
Terrible customer service. The fb customer service page is run by no one. they send an email to send private message, then private message robot sends a link to call their call center.

Jacqueline Mackey
from Columbus, GA
This has happen several times in the pass with coupons at your only Columbus Ga store (1009) when I tried to complete feedback about my experience this store number is not accepted, so to let the matter drop since the coupon was for an additional 10.00 off, I would not have tried to use the coupon without prior checking with the floors staff to see if the items I was buying were valid when I got to check out I told that I could not use the coupon. However when I tried to give some feedback "The Columbus"store (1009) is not recognized. I tried again today to give some feedback again I was not able to complete the survey using the number on receipt, the access code was valid. It is like you really do not want to know about this store, you have some good people in this store however it is lacking in customer service. Customer staff can be short with you or they do not have time to help or give you the wrong information. This store could be better it was better stock in all of the department, we cannot use store pick if you order online why offer the service if you cannot provide it. I understand that is a small town but we should be better served. The store could use some training in customer service. If I had, had the time I would have gone the next closed town to shop that is not always an option and really we should not have to.
You need to I really would have not said anything except, the store number keeps getting rejected. I really wanted to say that the young person was very nice and took the time to ask if I was satisfied the with my purchase. I was in the shoe department and person there did not even ask if she could help me find what I needed again no service.
Again feedback about the Columbus GA store (1009) ??????

Charlotte Ballew
from Chico, CA
I made a purchase at the Chico, Ca Kohl's store on 12/1/18 of $75.58. I had to return the merchandise because it was the incorrect size for the person I bought it for. I went to the customer service desk on 12/03/18 to return the items. I paid with a personal check, and no one told me if you pay with a check you need to wait 10 business days to return for cash.( that info is not on the back of the receipt either). I had checked that day to make sure my check had gone thru my bank. I was offered a merchandise card or a corporate check to be sent to me they said within a week. I said I would take the corporate check. It never came, so I called the customer service line-what a joke! You put in all the numbers that it asks for, then left on hold for hours!!! I went back to the store and of course no one could help me- just call the customer service # they kept saying! I asked to speak to a manager, (did not get his name), he comes out and lets me know he is on his way out and he can't do anything either!! Finally he says well, I'll call the customer service # and call you back-of course never heard from him again!!! Went back in a 2nd time, and Jasmine was at their desk-she tried to call customer service as well, but could not get thru. She gave me another ph # to call, and I finally got someone to call me back today!! This whole refund time wait is ridiculous!!! 12/01/18 1031/007/5369

Suzanne listro
from Salem, VA
I placed an order and immediately realized I had not updated my address. The live chat took 1 /2 hr and she could resolve nothing. I then called and spoke to someone who was able to send an email to cancel the order. I was told the Kohls cash used would go back to my account and I could just reorder the items. The Kohls cash has never come back to my account. I called and was rudely told to just wait. I still have not reordered the items, two are no longer available in the size I wanted and the 20% off is now expired. I feel as if I have been denied the opportunity to shop from kohls. Alos, when I called I was selected to do the survey, the man out my call on hold instead of hanging up to prevent me from completing the survey.

Shelley Schroeder
from Germantown, MD
My husband and I went to the Fort Collins, Colorado store December 30, 2018 and purchased a "The Big One" 8-piece Bed Set Full Size, Red Buffalo Check set for $59.99 plus sales tax and we were so excited we finally found something he liked. It was between the red and the black set and he chose the red set. (FYI: We actually went to 3 stores prior and didn't see anything that we liked or met our budget.) After washing the sheets and sleeping on it one night he decided he didn't really like the red set as much as he thought he would. I went back to the store today, January 1, 2019 and saw the black one was there but it was a buy one get the second one for half price. (Regular price $139) I asked a sales clerk at the checkstand and she said they would take care of it at customer service if I had purchased it within in 14 days and had my receipt. I had my receipt and went back to the bedding department to get the black set and take it to Customer Service. The gal at Customer Service got a manager. The manager wouldn't even consider letting me purchase it for the same price as the one we bought two days prior or even consider any kind of discount at all. She would not look me in the face or offer me anything at all. Most stores would have honored this prior purchase and gladly given me the set I wanted to purchase for the same price since it was only two days. I am very angry and disappointed since I have purchased many items in Kohl's before and they have always been one of the most accommadating stores left with great sales and discounts. No more. I will not ever walk into one of your stores again. That was not a good way to handle a previously loyal customer. And as you know very one person you wrong, more people will find out about my a bad experience. If you can sell the same item two days prior I do not understand why I could not have purchased another one for the same price. Think about if people came into my house and saw the black set in my husband's bedroom and the red one in my bedroom and said how cool is that. Where did you get it? Just wanted to let you know the manager could have taken more time with me and at least look me in the face when she denied me. Very, very upset by the lack of customer service.

Well first...."fill out our FREE complaint form"?? That's very generous. Okay, I find this to be the case every time (and I don't say that loosely) I go to the Conway, Ar. store looking for jeans. The sizes are all mixed up and the shelves in disarray. It takes forever looking through that mess and when I do, I only come up with very few pairs of LONG jeans and then, only 1 or 2 of them are a sz. 10. (which is what I happen need) This is including all the brands Kohl's carries. There are never any employees around to ask questions to, either. I mentioned this to the cashier as I was paying for my marked down Christmas wrapping paper...no jeans...and she said they don't stock their own store, that corporate does that! By the way, the cashiers are always very polite and friendly. Kudos to them! If it weren't for all the sales and coupons, I probably wouldn't even shop there. Way over-priced.
American women are growing taller and taller each year. Consider stocking more slacks and jeans in sizes that fit us. We'd appreciate it a lot.
And thanks for listening. Happy New Year to you and your family!!

Linda O'Connell
from Township of Piscataway, NJ
During the holiday season (12-21-2018) I was in the South Plainfield, NJ store (#0387). I was there to buy jewelry as presents and noticed you needed to take a ticket for service. There was only ONE salesperson in the jewelry department. After waiting 40 minutes it was my turn for help. In talking to the salesperson she indicated the other person was on break. I thought that was strange since a break should never be 40 minutes and longer. In asking her who the manager was her answers were very evasive. Apparently there is only 1 person there all the time.
How can Kohl's expect customers to wait 40 minutes+?
I will never shop at this store again, if you go to the East Brunswick store on Rt. 18 they always have 2+ people there and they are courteous!
Store 0387 needs desperate help!
Linda O'Connell oconnelc@verizon.net

Sharon Cecil
from Springfield, KY
I purchased and gave a Nuwave instant pot as a gift for Christmas. She called me today in opening it and found it was used, damaged, and greasy. It looks as thou a dog has chewed on the top. Evidently it was returned to Kohl's and they did not check it and it was placed back on the shelf. I was totally embarrassed! Now I have to make a 60 mile trip to the nearest kohl's to exchange the pot. Hopefully there will be no hassle. They have always been great. I am just disappointed. Returned products should be checked before the person returning it leaves the counter. I have included pictures. I think they are clear enough to see the damage. Thanks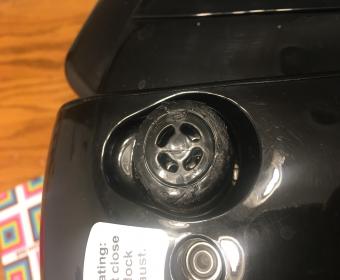 Mary Pat Thornber
from Homewood, IL
Your ad of Sunday, December 16- Monday, December -24, page 29, shows a 4-qt Ninja air-fryer on sale for $99.99. When I went online today to order this item I could not find this item anywhere on the Kohls site.! I called kohls and was on the phone, talking to someone I had trouble under standing, who told me it must be out of stock. I asked to speak with someone who could explain what was going on. I spoke to a gentleman who didn't really know anything. He said it probably was out of stock. He told me that a kohls in Indiana was the only store that had one. I live in Illinois and this store was to far away. I asked him if the fryer be available in the future. He was not sure. I asked him if did come in, could I have a rain check it at this sale price less the 30%. Told me I would have to pay full price. I have already spent too much time on this. I am so frustrated !!!

Carol Johanson
from Randolph Township, NJ
Due to personal reasons I used Kohls.com for much of my holiday shopping this xmas. In one specific order I ordered a size 5T outfit and received 5T top and 3T bottom. The other outfit I ordered a size 3T and received a 4T. When I called I was assured my correct items would be sent. 10 days later when I called to follow up they had no record of anything being sent out. Obviously now I had to go to the store and when I explained my situation I was told "I'm not surprised." Not much support to their on line department. I do about 75% of my shopping at Kohls and this has definitely left me with a negative opinion right now.

Kimberly Hawksley
from Providence, RI
I had gone into to Kohl's department store in warwick RI today to pick up mu on line order. The cashier that was working in that department was very rude and disrespectful, Her name was Joan. She was huffing and puffing because they only had part of my order, She then told me i dont know what to tellyou there is only one item here, I stated there are supoose to be 3, showed her my purchase order she then said well there isnt so next. I asked for someone else to help me she called an associate named Tom he looked and said i cant help you. I was on my lunch break so i said I would like a refund. She told me i had to contact Kohl's.com. I get its very busy around this time of year, Howver that is no way to treat a customer. AWFUL AWFUL experience. I probably will never shop at that location again.

Andrea Herndon
from San Diego, CA
Visited your Escondido CA store to exchange an item. There were 2 associates working at the return counter at the time I got in line. One was helping a customer but on the phone and the other was helping customers in line. When I arrived she had just began to help a customer while myself and another's customer waited patiently. It seemed to be taking longer than usual but having only one person helping customers in line it was understandable. The woman in front on me was elderly and complaining of her back hurting due to standing there for so long. Finally the woman in front of me was called to the counter. Her transaction only took a few minutes. As I was standing there waiting to be called once the person being helped was done, a woman walked up and got in the pick up line. I had been standing a good 10-15 minutes by that time. To my surprise, when the associate was done with the woman in front of me,she looked to the woman who just walked up and called her to the counter. I immediately spoke up and said I have been waiting in line and I'm next to he helped. The associated rudely told me that she was going to help this woman because that's the way it's done. I repeatedly objected and asked for a manager. She purposely took her time and continued to help the woman. I asked again if she could call a manager and I was told she would when she was done helping this person, which was unacceptable. She was rude, unprofessional and lacking the slightest bit of customer service. At that time a man can walking out of the back, so I asked him if he could get a manager. He immediately went back in to get a manager. I explained what had just transpired. She listened to my complaint but didn't offer an apology or explanation. I felt like she should have assured me the rep would be spoken to. I am a long time customer, but I will find another store to spend my money at if this is the way you allow your customers to he treated. If there is a pick up line there should be a dediicated counter and person to help those customers, as many other stores do.

Gerhard Blaurock
from Troy, MI
We have had several items that were shipped to our address. Item 1 was a food processor that was not even put into a box but sent in the packaging as if I bought it at the store. Luckily it was not damaged but the original packaging was torn like it went through a war zone. It was also suppose to be gift wrapped which it was not and the other party was able to get a refund for this. The 2nd package we ordered was for 3 pajama sets all different sizes but all the same style. They came thrown into a package and not even paired with each other. Of course the pants have no size so we have to guess. Believe me I understand cost saving but when I order from Amazon everything is packaged nicely. I like Kohls but please do not destroy your reputation on some executives merit so he/she can show on a ppt. how he/she saved $$$.

Mariam Mikul
from Beaverton, OR
To Whom it May Concern:
I have been a Kohl's customer for many years, and I have always had great experience with the company's team and products. This time, however, is very different. I purchased a dining table on September 24from Kohls.com. The table arrived defective -- the leaf that is used to extend the table to a larger size is completely broken, and there are other minor cosmetic damages on other parts of the table.
This table weighs about 140 lbs. I had to hire two people to bring the box inside the house, and upon opening the box, we noticed that the leaf was broken. I immediately took photos of it and called kohls.com to resolve the issue. Since the time I received the table, I called customer service numerous times and three different supervisors promised me that UPS would come and remove the table from inside the house. The reason I requested the pick up from inside the house is because the table is very lager and heavy. I am unable to move the table to the front of the house, and more importantly, I cannot fit the table back in its original box.
My last conversation was with a supervisor named John Arcindega before the Thanksgiving holidays, and he refused any type of solution and was extremely unprofessional. His attitude led me to contact the customer service at Kohl's headquarters. He refused to provide the corporate number or his manager's information. He was saying repeatedly that he was the highest boss.
Below please find the information for the order and the supervisors name that I spoke with throughout this time:
Order Number: 5655625225
Order Date: Monday, September 24, 2018 at 01:16 AM (CST)
Items shipped (1 item)
SHIPPING TO
MARIAM MIKUL
10055 sw sire ter,
beaverton , OR 97008
408-784-8757
SHIPPING METHOD
Standard
Should arrive between Thu, Sep 27 2018 to Tue, Oct 02 2018
INK+IVY Zen Dining Table & Leaf 2-piece Set
Supervisors names: Rich, Chris and Rocky
I would like Kohl's to either arrange a pick up from inside the house or refund the charges, so I can donate the table. It was a very frustrating experience trying to solve this issue. I called Kohl's customer service regarding this issue at least 8 times, and every time, I spent anywhere between 30 to 50 minutes, answering same repeated questions and hoping for a solution.
I hope this will finally resolve this issue. I can be reached at 408-784-8757.
Best regards,
Mariam

Roberta Wolfsohn
from Dallas, TX
I went to return an item at store 39 in Brookfield,WI on 12/4/2018 at approximately 7:00 P.M.your associate who was very polite had a problem. The computer mall functioned. She asked someone for help. They were unable to help her,so they called the manager, Steve for help.They explained the problem to him.He said he could not give credit at the time because the system was down.I had the original charge receipt and a cash payment receipt. When I charge I always pay the charge bill at the same time. I do this to take advantage of kohls discounts. I don't like to have a bill to deal with.I originally wanted cash back,but he said kohls will not do that, He said I probably owe kohls at least $500.00 on my credit card anyway,so why was I complaining.I told him this was not true,I never pay interest and do not carry over a balance. Mean while he still was having trouble generating a credit receipt. I found the manager Steve to be extremely rude.The time stamp on the credit is 19:39:50. It is not a regular receipt,because the register was still down. The whole ordeal was very stressfull mainly due to his poor customer skills.My adult son was my witness. I left a message at your corporate office the following day. So far no one has returned the call. Roberta Wolfsohn phone # 414-463-8748

my kohls cash $15 expired one day ago. why is kohl so hard up on a grace period. we are busy people and I cant remember to use on a dime.
what in the world does kohls do this???? its bullshit and now throwing away $15 is wrong but now I see how kohls makes a profit on consumers.
kohls know that consumers have a life and wont remember to use kohls cash, but will entice to spend over $50 to get a coupon mostly likely wont be used.
I HATE KOHLS!!! UNLESS YOU CAN REDEEM THIS FOR ME YOU ARE DEAD !!!

Colleen Pedrazzini
from New York, NY
I called the customer service number to discuss my account and spoke to "Roxy". I was on the phone for over 20 minutes with no resolution and she had absolutely no idea what she was talking about. I was then put on hold to speak to a "manager" and was never connected. I have a problem every time I need to speak to someone through the call center. This is very poor service for customers that provide business to your company and high interest rates on credit accounts. I think that better subcontractors could be provided for your customers. Very disappointed at the lack of delivering on your promise to "expect more" from your company.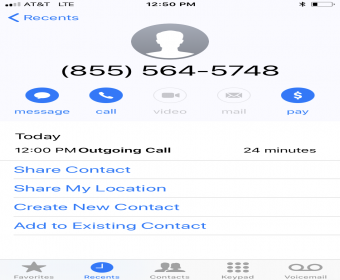 Elizabeth
from Wallingford, CT
I have placed 4 orders for a womans jacket charged for two which I never received. On the first order with earrings I received the earrings not the jacket. Called customer service and was assured by the rep my account.would be refunded. While on the phone with her I ordered the same jacket but received an email the next day that the order was cancelled because it was out of stock. Reordered again and returned it to the store because of the size and received a credit of $27.11. Apparently not learning my lesson I ordered another jacket, received it and the charge for this jacket and the $27.11 credit should be on my next bill. I just received my statement charging me $120.66. From the bill I can see I have been charged for the jackets I never received. Terrible shopping experience, never again. I`m hope I understood it correctly and the 5 stars mean the worst experience. By the way I made no other charges that could have been on this bill.

Emma Hastings
from Atlanta, GA
I was recently shopping or tried to shop at the store in McDonough GA, I went in just to do some shopping while I was lunch. Big mistake if the customer service is bad in the evenings lunch time is worse. There's boxes and trash all over the floor with everyone so busy doing nothing or pretending to be busy to help me or to pick up what's in front of them. Finally found the a sweater I wanted to try on, it only took me 45 minutes. OMG the fitting room had teenagers in the stall next to me filling their bags full of whatever they wanted, and talking about how easy it was to steal from Kohl's. The stealing was one thing but the condition of the fitting room was horrible, clothes, hangers, price tags and sensors all over the floor. If this is the way this store runs then I don't see this store remaining open much longer. To see management standing around laughing and making jokes while the store is in HORRIBLE disarray, with nothing getting done.
I will not be shopping at Kohl's McDonough GA again.

Rosalie Bailor
from Lockport, NY
I could not order online. I was told to correct phone number. My phone number was right. I called the customer care number and they gave me a link to change my password. The link would not let me save my password. I called several more times and spoke with people I could not understand. very bad broken English. After spending 2 hours on the phone trying to understand people that I couldn't, and online trying to access my account, I gave up and cancelled my card. I could not use it online and that's how I do most of my shopping. Very poor customer service and online services.

Judi Cox
from Hartford, CT
Nightmare experience on Black Friday. I took hours shopping online, filling a cart with $400. I applied for and was approved for a Kohl's credit card. I attempted numerous times to check out but was not able to sign on at all. I called to place the order by phone and the 1st time I called I was told the system was being updated and I would have to call back in an hour. I called back in an hour and the representative was very difficult to understand but she was able to find my $400 order in the system and I told her that I just wanted to complete the order, she proceeded to go through each item to confirm color and size of each item even after telling her that the cart was complete. Just as she was finishing the order all of a sudden the phone was sent over to a survey and I was shocked because she had never given me a final total so I figured it didn't go through. I immediately called back and AGAIN I was told the system was being updated and I'd have to call back in an hour. I tried to explain to the 2nd representative (again difficult to understand) that the order was in the process of being finished and I just wanted to know if it had gone through. Again I was told there was nothing they could do because their system was down and to call back in an hour. I called back after an hour and again the 3rd difficult to understand representative started going thru each and every item and I told her that the order was correct and that I just needed it completed ASAP before the system went down again. She insisted that she had to confirm each item once she went thru each item AGAIN and then the phone when directly to a survey again, before the transaction was complete. I immediately called back and was told the system was being updated and i would need to call back in one hour. I spent 3 days trying to reach someone at corporate to file a complaint and try to get my order placed at the original sale prices and the only phone number I was ever able to find sent me right back to the same representatives that I had spent 2 days trying to get the order placed.
To make matters worse I was scheduled for major surgery the next week and I was in extreme pain the whole day that I spent on the phone with numerous customer service agents that couldn't understand what my issue was each and every time I had to call back to attempt to get my order placed. I eventually gave up on Black Friday and waited until Cyber Monday and called and went through the same exact issue of the representative having to check each and every item in my cart and when we were finally finished I explained that I wanted to use my newly approved credit card but didn't have the number and she said she would have to put me on hold to get my credit card number and again for the 4th time I was sent to the exit survey. I then spent 3 days in the hospital for major surgery and now 5 days recovering.
I really would like to find out how to actually speak to someone that speaks and understands english so I can file a formal complaint. I have numerous photos of the number of calls and the amount of time I spent on the phone trying to place an order.

Brenda L. Kuder
from Rochester, NH
Your online website is terrible!! A while back I was looking for sheets and it would not let me click on the size. Recently I wanted to buy a Chirstmas top and again, it would not let me click on the size. I have Windows 10. Other people must have complained about this.

Joanne Roberts
from Newark, NJ
I have been a loyal customer for many years so when my husband told me if an incident he had at the Dartmouth store I was surprised. He purchased a pricy item for me for Christmas. He later went to another local store and found the same item 30.00 cheaper. He returned to Kohls with a snapshot of the same item and asked if they would match the price and he was told no, just bring it back and we give you a refund which he did. I can't believe you would let a sale walk. I don't see the service service?

Anne Caestecker
from Huntersville, NC
Today I called corporate 262-703-7003 and stayed on line for 30 minutes nobody answered. Good Business????????
Yesterday I was buying a Keuric Coffee machine on line the price WAS $149.99 SKU#61070918 but I could not use a discount till today November 29, 20018.
Today I went on line to order the price has changed for same machine from $149.99 to $189.99 Why because they are giving us a discount on it??? Very disappointed the way they jack prices to cover discounts. Not good for business

Stephen Swartzlander
from Providence, RI
Basically, I placed an order online on Black Friday. You sent an email confirming my order and notifying me of my Kohls cash, etc. Then you sent another email cancelling part of the order. When I called to question this, the customer service line folks said it sold out. Not even 4 days later, the product is available again on your website, but of course not with the rebate or price from Black Friday. What's interesting is a very similar thing happened to me with a Kohls order from last year that I'm still waiting to have resolved! I've only experienced this with Kohls-- no other online order, no other store and no other Black Friday sale. I just called the corporate complaint line about these issues--- and spoke with "Tamiko" who repeatedly told me there are no customer service issues with this way of doing business, and quite honestly, was pretty frosty, questioning why I would not just understand that they sold out, so tough luck. I provided feedback that I felt her demeanor was inappropriate and was surprised she is representing Kohls in registering customer concerns/complaints with the attitude she has, and she just responded that she's been there 15 years without problems and these calls are recorded.
So, I've decided to at least put this in writing with request for following resolutions:
1) please sell me the product that you clearly have in stock as ordered less than a week ago, and honor the deal you advertised and accepted and then confirmed before you backed out of the deal (i.e., I order 9 Toastmaster mini choppers on sale, with extra Kohls cash and rebate-- these were for our school Christmas shoppe where kids shop for their families for Christmas; now I have nothing to donate and of course it was a great deal; I can shop elsewhere but won't be able to do as much good if you won't honor the order I placed in good faith and then missed other good deals since I chose to shop at Kohls and trust that what I ordered and you said was being shipped was actually ordered and being shipped!)
2) second, please do review the call to your corporate office I placed at approximate 4:30 today from 401-606-3360; if you truly feel Ms. Tamiko's customer service is completely within the standards of excellence that Kohls values, I'd like you to let me know that officially because that would certainly say a lot about your company and will influence whether I continue to shop with Kohls in the future
3) Please resolve the rebate issue I had last year when you cancelled my entire order without explanation; I am still awaiting $258.00 refund/cash on that debacle-- see previous complaints filed under phone number 4013748313.
You may call me at the 401 number if you have additional questions or need more information.
Thank you
Stephen Swartzlander
Hope Valley, RI
I truly suspect

patrick mccoy
from Richmond, KY
I was at store 11-23 18 in Richmond ky and bought over 70.00 got a kohls cash for 15.00 brought home some items didn't fit so took back 11-27-18 they took my kohls cash because I returned and did not buy same thing but I returned 30.00 worth and bought 70.00 but couldn't use my cash because they took it that's wrong talked to manager and she said because I didn't exchange for same thing well being sell items there were no more so I went with same thing only different brand and more money..i thank that was wrong and I will not shop in your store or on line ever again thank you and have a Great Day Patrick McCoy

DIANA BUCKLEY
from St Louis, MO
on-line order 11.23.18 & 11.24.18 Both times I was refused to 'STACK PROMO CODES' & $10.00 OFF [FRIDAY..SATURDAY = CODES]. I ordered less due to this.
Both told me Only ONE Promo Code. I pushed gave me TWO surprised it worked.
NOT BUDGE FOR OTHER 2 PROMO [make 4]
$10.00 REFUSED PLAIN AND SIMPLE
LOST $$ & DEALS. unsatisfied poor employees do not know employer rules for buying Cust. CAN'T SUBMIT YOUR AD FOR YOU TO SEE
WANT REBATE
314-733-1135 CALL ME

Cathy
from Catonsville, MD
I received $45 in Kohl's Cash. When I went to place an order online there was a glitch in the system. It told me to try again but when I did the Kohl's cash now had a zero balance. I called customer service. The gentleman was on the phone with me for over 45 minutes telling me I must have spent it, which I didn't. He finally got frustrated helping me and told me I would be getting an email with the $45 kohls cash back in 24-48 hours. Fast forward 49 hours and you guessed it, no email. I call again and the lady puts a $45 credit on my account that can be accessed only by placing an order online then calling and giving the reference number. Oh and I need to use this within the week. Ok, great. I place an order. With the online 20% discount t it comes to $50. I call to get the $45 applied and the new lady tells me my total is $11 and change. She insists that the 20% can only be taken off after the $45 credit is applied. I get no where with her and ask to speak to a supervisor. He gets on the line, raises his voice at me and says that's just the way it is and if I want my stuff just say the word and pay the $11. Uh...no! He then tells me that if I don't like his answer try calling back and see if I get someone from another country. What?! He says the call centers are in several different countries. This has been the worse experience I have had with the company. No one helps! Absolutely awful!

Suzanne Groeneveld
from Cranston, RI
On 11/7/18 I ordered online from Kohls. I had a 30% off coupon but after adding it I remembered I also had $10 in Kohl cash. When I put the Kohl cash in I lost my 30% and didn't realize it until I had already checked out. I waited till I received everything so I could have all the paper work and brought it to my local Kohls. I was told it was too late for the 30% off because it had been more then 2 weeks. I didn't see anywhere, where I needed to come in within 2 weeks & I really don't see why they couldn't just give it to me. I've been a good customer and always pay promptly.
Thank you,
Suzanne Groeneveld

Neal Hollis
from Gardendale, AL
I have a credit balance of 195.75 on my credit card from over payment;however you closed my account Customer service who by the way is extremely hard to understand says I have to wait 3-4 weeks for a refund why so long?will you pay me any interest for keeping my money I was a good customer for several years then I became ill and was slow in paying so now you don't want me as a customer any more.please send my refund as soon as possible.
Neal Hollis account 078-3393-481

norma trupiano
from Florissant, MO
i ordered BIG Towels that were on sale in Khol;s add for $3.99. They arrived on Nov.26. I was pleased with the size and thickness of the towels,
but found many sags and some sefects in the towels. WE are very disappointed in this product. We are going to kept the towels because we need them and we gave the old ones away. I can not believe that Khlos would sell a product like that. I am a steady patron of Khols.

douglas s ashby
from West Palm Beach, FL
what a joke totally dissatisfied after hours of phone calls and inept customer service assistance this will be my last dealing with kohls,what a disgrace the service was and no one is accountable....your company should be embarrassed on your customer service and stop posting how much you value the customer.
Thanx for Nothing,no service no Help and NO satisfaction just another second rate department store with lousy customer service totally disgusting....
Douglas S. Ashby

Melanie caruthers
from Hutchinson, KS
I was accused of shoplifting which they realized was bogus but it was how I was treated by Rhonda and Aaron at the west Wichita is location. I want someone from Corp to call me re this. 620-245-7142

erica young
from Northborough, MA
I was shopping online at kohls for 2 hours yesterday (Black Friday). I had about 12 things in my cart. alot of barbies for 4.99 and also your Mattel Barbie Glam House and 3 doll set (I have a printout of the price) it was 39.99. I then went to eat lunch and came back and the prices had gone up???? The barbies went up to about 7.99 and the Mattel house 49.99. Why? I ended up taking a bunch of stuff out of my shopping cart. Please explain why this happened? If you email me I can email pics I had printed out of the 39.99 price and 4.99 barbies.

Roger Newton
from Anderson, IN
I would rate a zero stars however it will not let me.
I bout 538.00 of product on 11/19/18 sale just was advised by kohls.com I can not receive any of it. Why you ask, because it was all shipped to the wrong address. I changed my address in my address book to my new one and my billing address deleted my billing address. Somehow the system was slow in deleting my address and when I placed it shipped all 27 items to a address that was no longer in my profile anywhere. The part that made me upset was when I called they said well when it gets returned you will get a refund. I advised I want my items not a refund. They said try reordering them when you get your refund. I said can I get the items for same price I was advised no by rep you will have to pay more. Sorry I was also told by rep it was my fault for putting the wrong shipping info in. I advised her I had emails confirming my address updates this was ignored. I have ordered from kohls probably 10 thousand dollars in merchandise online and in store combined. I will be finding a new store now. They are a horrible company when you call customer service and they tell you are wrong. I attached a screen shot of emails showing I updated all info before order was placed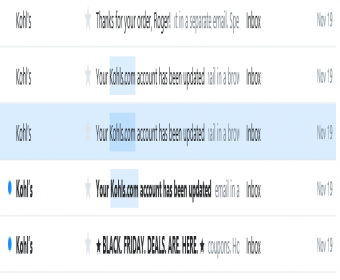 Have feedback for Kohl's?
Thanks for your feedback!
Sorry. Please try again later!