Vodacom
Vodacom Complaints Continued... (Page 6)
586+ reviews added so far. Upset? Call Vodacom corporate: +27-8211

I upgraded my phone on 2012/09/09, I wanted a phone that can do emails and I received a Nokia 500, after a week it started giving problems and I took it in to Vodacom Blue Route Mall, they then send it in for repairs, when It returned from repairs it was still not fixed so it was send in again, when I received it the thrid time it worked for two week and it started given problems again so it was send in again, I received the phone back today and they said it was a new phone because the previous one could not be fixed, when I inserted my sim card it still do not work so it must go in again and apperently it can take up to six weeks to get it back. I need a phone that can check and send emails for work purposes and according to me this is a breach of contract and I would rather cancel my contract with Vodacom than to carry on with something that does not work!

I recently submitted my blackberry for repairs. After all documentation was taken care of and i left the premises of vodacare, which might i add was not the the easiest locations to find and travel too, 2 hrs later within the comfortabality of my home i received a sms from Marco Fourie a repairs consultant that i completed the terms and conditions of the repairs by asking me to resubmit my ID document via email or travelling again to the branch. According to him he misplaced and somehow lost my copy of my ID document.
On a further note i recently received a sms stating that my phone is beyond economical repair. After numerous attempts to call to enquire the way forward given that i have insurance on my blacberry the consultants aswell as Marco Fourie has placed me on hold and i lost up to 60 min just by being placed on hold. However so far my query still has not been addressed. I dont know what is happening over there or if this is forms part of vodacoms policy to instill a sense of unhappiness in thier customers. I cant even begin to express my disappointment in the level of service i received. Please supply me with advice?

Well, where do I start. Right, let me start by saying just how wrong I was by thinking that Vodacom is the one of the best cellular network in South Africa, so you can imagine my delight when I applied for a contract and it was approved! Great! Little did I know. You can choose any fone you want mam, the lady told me and so I ordered the Lumia 920 and an Hp laptop with a modem. Ok, let me get to d point; that was 3 weeks ago!! Today, again was the day I was waiting for my stuff to be delivered, nothing. I call Vodacom again, for what's like the hundreth time in 3 weeks, not forgetting the irritation of having to be put on hold for what seems like forever! The lady I talk to today tells me I should call REM, the deliver company, I call. REM and they say Vodacom hasn't sent the stuff through to them for delivery and I must contact Vodacom, geez, that's exactly what I do, feeling that I'm totally at my wits end. Upon calling vodacom again (and holding), I'm told there order hasn't been released yet, I've heard that one before I tell them, and I finally do myself a favour and cancel the whole damn thing. Look, I'm so disappointed at the 'service' I received from you Vodacom, I seriously never thought I'd struggle like this and spend hours utilising my landline at work calling you, while you only bothered to only return my calls only about 3 times, always with false promises! But then again, it seems our complaints are just falling on deaf ears. Are they?

I purchased a contract with Vodacom Century City for a sim card for an ipad mini. I asked them to confirm that I was getting the correct sim card, the second sales person confirmed it. I got home to find that it was too big, contacted the store and was asked to come in the next day for a sim swop which I did. Four hours later it still had no service, I contacted customer care but they were unable to resolve the problem.
I contacted the store, left a message but no-one called back. I contacted them after an hour and they said that they would sort it out. Two hours later I phoned again as I still had no service. I was on hold for 15 minutes, and thats after they cut me off twice and I had to call back for a third time. I am now still waiting for some one to contact me, to inform me as to what the hell is going on. I am speachless at how a company like this treats its clients, clearly we should move all our contracts to a company that looks after its clients.

Apart from the whole identity theft issue and the whole way it has been handled, I had gone into your Fourways Vodashop to upgrade my account and to "fix" my 3G (not knowing it had been fraudulently upgraded). I notified Vodacom on the phone and at your store with Kai that I no longer wanted to upgrade with Vodacom given the circumstances. I even called Vodacom to make sure a Talk 1000 was no longer going to be actioned. I am not going to call them again – I don't have the time to repeat myself. I told Vodacom on the phone that I wanted all contracts cancelled. They told me my Talk 500 contract would end in March 2013, and I said I would cancel then as I didn't want to pay the cancellation fees. I will be using the number portability option to another supplier. I am NOT going to be upgrading to a talk 1000 with Vodacom – this was clearly verbalised and Vodacom can check their recorded conversations on the phone.
After all of this, I have now received and sms this morning from Vodacom stating "Your migration to Talk 1000 call per second package has been completed successfully". As per the consumer protection act – "Exercise your new rights under FACTA to review your credit record and report fraudulent activity". Vodacom has not helped me with this and I no longer want to conduct business with them. I'm sure you understand.
Also – according to the consumer protection act, and given that my request for the Talk 1000 which was supposed to kick on on the 1st December was cancelled within 48 hours of the request on the phone to Vodacom and at your Vodashop when I was there, I want this to be treated with care. Again, I don't want to be a client of Vodacom anymore (as of March 2013 as per my current contractual obligation). I have not received the service I believe I deserve after 15 years with your holding organisation.

My father has a contract with you that was done over the phone. The one is for R135p.m and the other is for R107. We had the phone for +-6 months when we got a call from vodacom that stated the contract includes a laptop and internet, my father said he did not want it because he is a pensioner and can't afford it but the the guy told my father that it was free and you only pay for the internet when you activate it. The first month we did not pay for the laptop or internet but when the second invoice came we had to pay R120 for the laptop and R249 for the internet (wich was activated without our permission or knowledge). We have been through the hole vodacom help centers witch is not so helpfull because according to one of your own workers its a scam that vodacom does and they only target old people. I don't want to hear its not your problem and that its another company, your logo is on the invoice we get every month. I am really sick and tired of this and i want this sorted out ASAP. If i dont get a responce i will go to a laywer and see what i can do to fix this. I dont want numbers to phone because i only waste my time you never give a service only another number, its your problem and i think you should fix it that is what CUSTOMER SERVICE is right? Can i please get a responce before the end of the week(friday).

i applied for an samsung tablet 10.1 two and a half weeks ago. the consultant in Promenade Mitchells Palin Tamlyn said that it would be there at the store within one week. nobody phoned to say after a week its not there. i had to phone them to find nothing has been delivered yet. they then said they will phone me when it arrives and it has been two weeks and nobody has contacted me yet. i phoned again and left a message for the manager to phone me back as i left the complaint to say nobody is keeping me updated on how far the the process is regarding the Tablet. i decided to go to the store and requested to speak to the manager. she said that she never received a complaint from her consultant tamsyn. My problem is that the manager does not follow through on her complaints received. she should check on a daily basis what complaints there is as to me she is not doing her job properly but just sitting there and doing nothing. i am still waiting for them to phone me but no repsonse and no Tablet.
they are unprofessional and no client service.

Contract never canceled and 3 phone calls to cancel my contract - have been ignored. My cancelation email has been ignored. I have been taken to ITC illegaly and now I must pay the price because of their GROSS NEGLIGENCE
You owe me big time, Vodacom, for this as you have breached the terms and conditions of your own contract AND of the law of south africa.
Good day. Please let me know why I should keep on paying my contract every month if I can't use my phone. If someone tries to phone me the call goes straight to voicemail and the same if I want to make a call, or it shows on the screen "network busy" or congestion and the signal stays on sos most of the time.
What am I suppose to do if I get in an accident or someone needs my help or there is a real emergency and my network is off, who is to blame if something like that happens? This is not fair to let the customer pay for something that he or she can't use.

I have closed my vodacom account in 2009. In 2010 I found out that vodacom have blacklisted me without informing my by any statements of an outstanding account or telephone calls! I went into a vodacom dealer shop to find out what was going on and they informed me that I have a outstanding balance of R1200 with vodacom. I have paid the amount to clear my name. Now in 2012- 2 YEARS later!!!!!!! Vadocom legal department phoned me to tell me that I have an outstanding acount of R1800 from 2009??? I told them that I have setteled my vodacom account in 2010 but they seem to have no record of it and I have been blacklistsed again!! They can't even send me an email with statements and I think that its totally unacceptable!!!!!

Last Friday I applied for a contract phone and got approved. Tuesday I phoned to check my delivery and the operator told me it'll be ready for delivery on Friday. I told them to deliver the phone at my work but its 14:30 already and I still don't have a phone. I'm going to spend a lot on the contract but at least if I'm told I'll get it on Friday then i don't want to wait for the damn thing. So if I don't get it by 10:00 on Monday I'm going to cancel because its not nice what you are doing.

To Whom It May Concern: I am really unsatisfied and frustrated about the service I have been receiving from the Vodacom repair centre at the Centurion Lake repair centre in Centurion, Pretoria. I took my phone if for repairs the first time, as it has been giving me problems. I had to stand in the long queue and explain to the lady what was wrong. They did not send me a sms to come and collect the phone, I eventually went to the branch and received the phone. I had to wait as Vodacom did not send my battery with, that they booked in.
The next day the phone was giving me the exact same problems, I went back a second time and had to stand in the queue again and explain to them the situation with the phone. They said they will send it to head office, which they did not. They did not send me a sms to say I must come and collect the phone. I eventually went again to ask what's happing with the phone. The lady could not track my phone on their system as the previous person did not even book the phone in on the system.
The lady had to phone the technician to ask if he knew about the phone. I had to wait a long time for them to find the phone. When they got the phone they said it had been fixed, and will receive sms now, I asked about the rest of the problems and she said "What problem" I explained again and she said there's nothing wrong with the phone, Like I am making everything up that is wrong with the phone. I felt like she said that I was lying about the problems with the phone.
She said I must take out the memory card and see what happens. So I did and it was still giving me the same problems. I went back today a third time and are SO frustrated about the service, I had to explain everything and fill in the forms again. And I had to hear the same story again, that they will be sending the phone to head office. How many times do I have to do this to get the phone fixed? It is service like this that makes me want to go to another network. It is unacceptable. New Job number received for the repair of the phone: 8302689-52101198.

About 2weeks ago i saw a Laptop and cellphone deal of R199 per month in one of Vodacoms booklets which looked very attractive. the advert shows all the xtra stuff that one gets with the deal and that thers a once-off Sim and connection fee payable which i was well aware of and more then willing to pay. I went into the Vodashop in Stellenbosch to enquire about this deal and as advertised the guy repeated it to me. When i went to sign the deal, i was told to sign a page of an xtra R230 inisiation fee that will be deducted from my account within 48hours after signing the contract.
Seeing that this was a gift to someone close to me i decided to sign the contract bt with the intention of placing a complaint of charges thats not advertised.I feel this is totally wrong of Vodacom to charge fees thats not stated in the advertisement and the salesperson did not tell me about this before i even orderd the laptop.
For several years we have been complaining about the poor signal in our area GPS 25°47.756 E 028°27.298. If i could just get past the faceless system and email a real person then i could send them 25 vodacom subscribers numbers with the same complaint in this area. The customer care line is a joke, when you have finished listening to their excuses and you press 2 for the poor quality the voice recording says can't understand your selection. The truth is they don't want to listen to complaints they just want to sell airtime and contracts. Perhaps under the new consumer act we can take them in as a group of 25 consumers ?
PS. if Mr Vodacom is listening do a Earth Google search on the name to find us

In August 2012, I went in to the Vodacom store to request that my the internet usage is capped once I reach my monthly limit as I had been billed far more than the R.149 that was agreed to on my contract. The lady at the store informed me that she had made a note on my account and that my request would be granted going forward and so it was, as I paid just R.149 in Sep, Oct & Nov.
However, on the 10th of Jan 2013, I could not connect to the internet, upon calling Vodacom, I learnt that Vodacom has put a stop on my account due to me having exceeded my limit for Dec and my bill now stands at a staggering R.3000.
I would like to know how come, the cap placed on my account did not kick in once I had exceeded my limit so that I wouldn't have been charged such an exorbitant amount and secondly, why is it that a stop was placed on my account 10 days after I was billed for the month of December??? Had Vodacom been more efficient in processing my request for my internet usage to be capped, surely I would not be in this position where I have to pay a ridiculous bill with money which I do not have.
This is yet another clear indication of just how useless and appalling Vodacom really is. They clearly do not have their customers interests at heart and try to make money off customers any which way they can.

We have received two bills that state we have used R851 and R1144 for data usage on a blackberry. When I know for a fact that its not possible. We use the office computer to open email attachments or to download as the bold 9900 is the worst blackberry and it is not worth your while to even try. Also we are on our 2nd refurbished model already. There is 3 phones on one contract and for over 3 years our whole account has never been higher than perhaps 1800 or so, but average between 1200 and 1500. And now we have 851 and 1144 just for data usage. We don't do anything different? Vodacom simply says its data usage. They don't respond to complaints on hello peter, and I've tried radio 702 now.
If this is not resolved in an acceptable manner, I will go to MTN and I will go to court over this. As I refuse to be ripped off. I KNOW we don't use that amount of data, not even on the 3g! And Vodacom owes me an explanation as to where and how this much data ended up on my account. I will demand that the account is split so that only Colin is on contract and we go on pay as you go. Or we all go over to MTN. I've had it with the poor service from Vodacom after we've been loyal customers from the very beginning. We've never paid late and even pay more. The number in question for the 2 previous billing months is 072 674 2244. I'm sure if you go back in history you will find that this must be a mistake.

For the last 2 weeks we have had problems with making calls from our vodacom number cell phones, get "call failed" sometimes 4-5x after each other to just try call a number( landlines, other networks), when through the signal breaks up continually and drops calls frequently! I called someone the other day 8x to try finish a phone call conversation! Had alarms going off at neighbors house today and couldn't even get a call out to them! Tried 5x and it just says call failed! what if I had an emergency??!!
It's not other networks we call that drop - if I call a landline it dies/ cuts the same. Vodacom- WHAT is going on???? This makes us want to migrate to MTN!! SO frustrating!!!

I use vodacom modem to access the internet, now because to use the modem to get on the internet we have to purchase bundles with our airtime money,but as soon after i've just bought the bundle i need and try to access the internet the server would say that i have ran out of money to use the internet, knowing very well that i've just bought my internet bundle and have never used it, i want to know why are they saying i don't have sufficiant funds to access the internet? Hai! Man please do something about this problem, just the other day i had a problem with the network.
The Vodacom call centre service is abominable! If I have to speak to one more incompetent, impatient person unable to converse cohesively in English, I will actually blow my top. No matter what you do or how nice you try to be, these call centre agents just read their awful scripts and parrot away unempathetically - and every single time you have to start your story again, as no one takes responsiblity for solving any problems! Uncouth, unmannered, and absolutely UNTRAINED in form of customer service or basic communication skills.
I suggest you conduct a training needs analysis based on the numerous complaints you receive and do something about it. Good grief I'll even help you do it.

Yogitha Jagdew
from Durban, ZN
I am very dissatisfied with the Samsung S3 mini that I purchased from Vodacome Liberty Mall. I have sent the unit for fixing for the fifth time. Every time i send the unit for fixing I do not have a phone for over one week as i have to travel 1 hour to take the unit and then make another trip to fetch it. I am currently without the phone because i had to send it again for fixing for the same problem. I am very unhappy with The phone. It will be appreciated if i could get another unit as i am tired of fixing the same unit every time.

Robert Peter Sheasby
from Johannesburg, GP
On the 22nd of October 2014 a lady called me from Mondo Mobile offering me a flexi 100 package. I had just recently did a transfer of ownership to get the Vodacom contract in my name as it was on my fathers name. I was under the impression it was a package for my current number Vodacom delivered a new sim card to me on the 28th October that had been RICA and I thought this was normal because my address was different on transfer of ownership so thought this was normal practice. I later discovered the sim card had a cell number which I did not want, Why would would I want another cell number? I went to the Vodashop in fourways mall where I did the transfer of ownership and I explained to a young white lady about what had happened and she looked on her system and said oh Vodacom have made a mistake and cancelled this contract and cut my sim card up in front of me. I said are you sure she said yes.
Now since December I am getting billed for this number but I am not even using it! Instead of been billed R89.00 its now R339.00!! The amount of hours I have spent on the phone with customer care in Dec and January 2015 has proven futile and then I get told oh you should of cancelled it within 14 days of activation. Thanks nobody told me about this!! I feel I have been misled and robbed and now if I want to cancel my contract I have to pay 75% of the remaining months which ends in July 2016! This is BS! Finally my complaint got escalated to rewards or something but as of today nothing has been done about it. I was in contact with Jonathan Subban and Bianca Qwabe from Mondo Mobile who were very apologetic and helpful and assured me this contract will be cancelled and I will be refunded for the amounts that have been debited off my account.
On Monday 2nd February 2015 surprise surprise Vodacom charged me for the number again! When I try contact Jonathan or Bianca now they ignore me. I am so angry and so disappointed with Vodacom. They do not care at all about customers or services but are more than happy to suck you for every penny you have. They don't care if they lose you as a client because they can make their money off other new clients! All I want is for this issue to be resolved but nobody ever gets back to me with a solution then I must spend loads of time fighting on the phone. Please help me sort out this issue because it is causing me sleepless nights.

Albie Havenga
from Johannesburg, GP
Requested an early upgrade had to follow up myself to be told that the phone was discontinued. Tried again and ordered a Blackberry Z3 was told there was no stock and was put on a back order. Today a month before my contract expires I have no whatsapp. sms or internet services however I paid my monthly subscription and am still on my old contract topup 99. Call centre informs me that this happened due to upgrade requested after the 25th of the month and I need to pay R57 for BBM connection this for Vodacoms error!!!!!! I want to cancel my contract as I am sure I can get better service at MTN or Cell C for that matter. I have been holding on for Vodacom for more than an hour and my call has been dropped twice.

I took my iPhone to the Hillcrest Vodacom branch, where I purchased it, for repairs (the screen was blank) on 16 Dec 2014 ( please note I only purchased the phone in November 2014). It was returned un-epaired on the 24th, apparently Find my iPhone was installed and they could not repair it. I deleted this app and sent it back. On the 30th it was again returned with the same comment. I assured the management (Lushen) that the app was removed, bought BB data for my spare phone for the month and sent it off again. Early January the same scenario! This time I gave management all my Apple ID info so he could check for himself that the app was deactivated and that no devices were linked, he did and we sent it off again! I then had to change all my Apple ID info.
A week later we went through the whole scenario again, phone back with same comment and we have the same argument. Management assures me that the phone will be at the store repaired by Friday 30th. I phone the store that morning to be told it would be sent in by late afternoon by Monday at the latest, all repairs are done. Today I went to the store, no management present, my phone is there, unrepaired, same story. I am now ready to explode! My BB data has subsequently run its month's course and I am without whatsapp or Internet etc access. What is Vodacom going to do to make up for this inexcusable inconvenience!?

Godfrey Mojaki Tsoai
from Bloemfontein, FS
I have a contract phone with Altech Autopage with Vodacom line.On the 2nd December 2014 Vodacom blacklisted my phone (Blackberry Z3 - cell no 0607902159) without my consent for reasons known to them. Since then i have been sent from pillar to post by both Altech and Vodacom both failing resolve the problem. On the 19th December 2014 i even went to Vodacom centre in Welkom submited an affidavit and filling a form to unblacklist my phone.I was promised the matter would be corrected within 72 hours and to date the phone is still blacklisted.I have continued to engage both Altech and Vodacom but to date the phone is still blacklisted.I am very angry and upset as i have to pay for a phone that is not functioning.I am now considering to approach a TV program SPEAKOUT and National Consumer Commision.

P J Slabbert
from Durban, ZN
I can not understand - this is not the first time that I complain about my account. I never used to have a problem with Vodacom but now - I do not use internet on my cell phone because I have my internet at home. I am not the browsing type of person. According to the last statement I used internet everyday and I know that I did not do it! Furthermore according to my statement I made a call (to my daughter) and spoke for 1hr and 59sec. in my entire life I have never spoken so long on a phone, not even a telkom phone. This is ridiculous!!!!
I tried to speak to a person at Vodacom just now but apart from the noise that you could hardly hear what they say she was all but helpful. I have been a customer of Vodacom since 2001 but if this is the way that things change I can't wait till July that I can close my three contracts!

I never in my life after 12 years as a customer at Vodacom, receive such poor service as i am currently experience now. I reported my phone as Stolen on Sunday 30 March 2014. Open a case at SAPS and on Monday i went to my insurance. On Tuesday 1 April 2014 I went to VOdacom Middelburg for a sim swap. After an hour of sitting in the store, they inform me that it is not done. I went back on the 2nd April 2014 at last in half an hour they informed me that the sim swap is done. After 4 hours i must put in my new sim. After 5 hours i phoned customer care, they told me that the sim swap was cancelled i informed them that was on Tuesday when the saleslady done the sim swap wrong. Customer Care (don't really care) inform me that it take 24 hours. After 24 hours still did not work. I phone again to find a lady informing me my account were never open, she open it and within 3 hours it will work. After 4 hours i still could not use my sim. I phone again the Customer Care and they informed me that the account were never opened. She going to open it now and after 6 hours it will be fine. What is going on what is going to be the next excuse.
I am not very happy.

I have received the worst service from Vodashop Craighall Park- when trying to open my contract and again now when trying to resolve an account query. Rea the 'second in charge' is very rude and so unhelpful that its almost laughable. Further to this, the call limit i had requested and signed for when I opened the contract has after 7 months suddenly "disappeared" from Vodacoms records, and now I have been charged ridiculous amounts of money for two months because suddenly my limit has 'lifted itself'. Vodacoms customer service has always been shocking, but this is now ridiculous. Time to switch networks.

I'm a blackberry user who was originally on the MTN network but recently (as in yesterday) moved to Vodacom thinking its the best network. But halfway through the day I see a decrease in the network speed but then I found out its because of the throttling!…. Now I'm stuck with a slow speed for whole frickin month because I have apparently exceeded the 100MB limit. This is really annoying considering they didn't mention it! I'm really considering changing back to MTN as this isn't really helping I can't use a phone with a cap over my internet usage. This really pisses me off as unlimited browsing means no flipping CAP!!! 3G my ass

Good day
for the last couple of weeks, I have been experiencing bad network problems. After mentioning this to several friends, I find out that everyone is having the same problem. Phone calls are not going through and directed straight to voicemail. Not receiving voicemails in real time. Not receiving SmS's in real time. Not receiving MMS's in real time.
Sometimes my messages only reach another person a day later. I could be sitting next to someone and phone them, and it would go straight to voicemail. I, myself, have been receiving complaints from other users trying to get ahold of me, that I am just not answering them, meanwhile my phone, which is placed on my desk at work does not even ring, but indicates after a call, a missed call came through.
The matter is becoming quite frustrating and I hope it will be resolved soon.
Best regards

I went to vodacom Richards bay branch to apply for an upgrade the lady who was helping me her name is Zakithi, she had no time to explain things to me and her service was not up to standard she ended giving me the package which I was not happy about then I decided to call Vodacom helpline who were able 2 explain the type of the package that I was upgraded to then I decided to cancel the upgrade. I personally went to Vodacom shop and spoke to Zakithi asked her to cancell the updrage but only to find out she did not cancel cose on the 20th amount of R629 was debted from my account then I went there again to find out what happened and only to find out that the upgrade was not canceled and when I speak to Zakithi she was very rude with me and blamed everything to her manager, I asked her to cancel upgrade again and reverse back the money which was not suppose to be taken but till now nothing has been done about it.

I am so upset with the fact that my account went into errors, and I did mot know about it. I only found out about it when i pulled a 3 months bank statement in order to buy a house, if it was not for the bank i would not have known that my account was in errors. When i was informed that my account as not been paid for 3 months i was shocked. I spoke to someone in the accounts department and they said that they sent an sms on my contract card. But i did not get that sms because that sim card has been off for 2 years, and what shocks me is that you did not pick up that sim has not been used, i am still trying to figure that out as a service provider you did not notice that sim as not been used.
When i asked her why they did not send me n email or post me a letter to state that my account is in errors, she said that they only send letters when they are going to hand me over to lawyers. I still do not understand how they can send a letters to hand me over to the lawyers, but not to say my account went into errors. My accounts was always up to date and my contract for my laptop ends in April 2014, now because of this i cannot get an approvale from a bank to buy a house. The lady then told me that my account has been removed from every month debting and i will have to pay cash, i had no problem about that. but yesterday they tried to debt the amount out again, i do not understand why.
This was all a misunderstanding or no communication and when i told then that they said it was not. This has never happend to me were my account went in errors and i had an excellent credit record and this small miss communication left me as a bad payer. If no one coucould help me with this minner problem then i do not think i will recomend you as a service provider and will not buy anything from vodacom again.

I am lodging two complaints against Vodacom. I have sent my note book for repairs the date mentioned below. Until today I did not receive feedback my note book or any update regarding the repairs. I went to store several times. They told me they are still waiting for my note book.
Second complain. I have sent my phone for repairs Blackberry 9320(Job number 9507821). Only one button was not working properly, the repair company demand R1800 which is above the price of the brand new phone. Both phone and note are on contact, Vodacom is deducting monthly premium without fail but I'm using their products.

I contacted Vodacom on 20 Jan 14 to confirm when my contract expires and will revert to standard rates. I was told end February and that higher rates will only be charged from March and that I will still get the discounted rate in February. This did not happen and when I received my bill for February the higher rates were charged. However I spoke to 2 different departments on the 20th who both confirmed that the higher rates will be charged only in March. I have a reference nr as all their calls are recorded. I spoke to a Nonhlahla at 12:22 on the 20th and to Khanyi with ref 323381972. I phoned them in February lodging my complaint and spoke to Asanda. When no one got back to me I phoned again and spoke to Tshego, who promised to get back to me. This did not happen.
I then spoke to a Team Leader called Clarish Gardiner from Cape Town, who lodged my complaint and told me it will take 6 working days to investigate ref nr 330771323. When 6 days passed without a call I followed up again. I spoke to another team leader Kersha Wagenaar, whoc promised to phone me the same day. This did not happen. I phoned 2 days later and spoke to Team Leader Pologo Hailoe from Joburg who promised that someone will phone me same day. This did not happen. I phoned the next day and spoke to Team leader Bulelane Skhikhi who promised to get back to me same day. Guess what it didn't happen. I phoned the next day and asked agent Wayne Williams to get Manager Mandy Nthule to phone me back. This did not happen. Really?
It seams Vodacom is in the business of cahsing customers away. They grew so big that customer service is non exitent. I really hope someone reads this that can resolve the problem or at least get back to me.

Vodacom phoned me in connection with a contract whereby I get 135 airtime and only pay R115. I told the lady that I've got a bank account but the debit orders cannot go off from my account. I told her that I can pay the money in cash every month. But she proceeded with the application, then they tried to debit my account and the debit order did not go off. they've blocked my simcard and I was honest by telling them, that the debit orders cannot be deducted from my account.
I don't know how many times I phoned in connection with this and they keep on telling me that I must pay R100 because of the debit order that was declined. They are so rude everytime when I try to explain to them they drop the phone in my ears and I feel I'm the customer and should be treated with respect. My numbers that's blocked 072 3748 489. My ID No. 560214 0157 08 0. Kindly investigate this matter and treat as a matter of urgency.

I've joined the Vodacom network about a month ago, from the point of inserting the new sim card into my phone, I haven't had a single good day with the service provider. Would you believe that I get +/- 5 to 7 seconds of network coverage per minute, its a pitty I cannot attach images to this complaint to emphasize the poor coverage. I've called the call centre and they advised me there's something wrong with my handset because everything is clear on their side. Its possible yes but my BB 9790 is still new. So I've inserted a colleague's M_N sim into my handset and voila it works with no hassle, endlessly. I'm starting to believe I've made a huge mistake joing Vodacom because my plea to have decent covearge withthem is wishful thinking.

When i lost my job i notified vodacom and they understood, so far i owe R160 (which i am gonna pay today). Vodacom locked my number (it says sim registration failed). I want my number back since i have been using it in 2010, they must tell me who is going to pay the remaining contract money? I have been using that number before they offered me contract

my complaint is the network in general I can't use 3G then it goes to sos or a small 3g icon appears and I can't get any emails or bbm msgs nothing its been like this 4 days now I've purchased my R59 bb internet service I'm busy on a free site the next minute I know it tells me I'm out of funds a whole R33 something and it keeps saying I have insufficient funds now you tell me what's the use I pay my R59 for 30 days then I don't even get all my days I'm disgusted in this pathetic service this is daylight robbery I've been with vodacom 4 more than 10 years but as soon as the shops open I'm changing networks because all you are going to say is sorry but sorry doesn't give me my days back or my airtime and your network is damn slow it takes 4 ever to download a small 1000kb file really myself and my family and close friends are done with you guys because this is fucking ridiculous

This is the second time in a year that I am complaining about the poorest signal. They have send people out but we are now back even worst than before. We are a school in Mposa, KZN and we have 740 kids and about 100 staff which more than half is with Vodacom. Our parents is also not happy with the signal and many staff and kids at the end of contract are now moving over to Cell C as their signal is the best out here. Now I have been with Vodacom for more that 13 years if not longer but are looking seriously at other companies or to stop my calls from this number and switch over as that will be far better than to struggle as much as we do! I do pay R100o rand and more every month but is no longer available to waste money on you.

Bought a Vodacom Blackberry 8520 at game, within a year it started giving us problems so we took it back back to game , got a call back after a month to tell us that we need to pay R920.00 for the phone to be fixed as the screen was damaged "apparently Vodacom told game we need to pay that R920, for the phone to be fixed" what's the whole purpose of the phone being under warranty ? This is daylight robbery so very disappointed.

I have been a customer of vodacom since 2000 and had spend over R100 000 on contract and airtime purchase over this past 13years, last night I transfered R300 to my internet modem sim card no 0727049260. I went to vodacom shop in jeffreysbay after I could access the sim card, I was advised that the sim card has been scrap from network and I must get a new sim card but the R300 is just my lost. I want the R300 back as this unacceptable since vodacom can trace this money. R300 is a lot and its not R30 I feel after spending so much money over these years its just fair to refund my R300. If this is the service I get after been a loyal client for the past 13years I'm seriously considering taking my business to other network company. I am looking foward for your response. Thanks Furious!!!

To whom it may concern: One more week then it will be 2 moths that I have been waiting for a phone. I have used my points to obtain 2 phones from VODACOM. The shop has told me firstly it would only be a week. Excuse upon excuse and almost two months later and I still have not received anything nor have I been updated or called.
Time upon time I have to call the shop. I am not VODACOM nor the service provider, I am the customer. I feel that this is completely unacceptable. Please advise way forward.

My Samsung tablet is 3 months old, it shut down, Vodacom Shelly Beach sent it to Durban for repairs, it took 2 weeks, the PCB was replaced, when I collected it the tablet would not accept any sim card, the servicefrom Vodacom Shelly beach was very o what ever attitude, the tablet was sent back, now it has been another week, Vodacom will not replace it and can not tell me why the tablet is not opperational and said it has been sent to JHB samsung, as it is still under warrenty, and My business. Depends on it I feel it should be replaced….every time I go into that. Shop you wait for an hour and every staff member refers you to another one, the assistant manageres has a sorry could care attitude and take it up with samsung.

Upgraded into a data line in August and took a 1gig top up contract. I have been advised that this was not the case as a normal data contract instead was activated. I have been liaising with Faiek from data and Alida from legal. I also have a second line with Vodacom with has been deactivated because of the dispute with data line. I sent questions in December to both Faiek and Alida as instructed by my legal advisor, I have not had the courtesy of their response.
It seems Vodacom is bullying their customers into accepting mistakes made by their staff or those of their business partners. I need my line (fully paid up and has never been in arreasr) re-instated and the data line complaint resolved to my satisfaction, I am the customer who is paying after all. Judging by the similar complaints on the internet from Vodacom, maybe I need to escalate this to the public protector's office and consumer office. I will appreciate any kind of response, in writing as I am done talking to rude and obnoxious staff from your call centres.

my phone was booked off to vodacom still under warrantee. blackberry told me its a common issue with the 9900. Vodacom cw checks for water damage and tells me no its common issue and have to send it off to their advance repair centre. So they call me to tell me there's water damage which is their excuse for basically everything and tell me its going to be R6000 to fix the phone! A price of a brand new 9900 so I escalate the matter to manger. The guy name EDWARD spoke over me countless times and at one point sounded like he shouted at me his voice got louder and ask him if I could get a recording he just said no. So at this point I decided I had enough of vodacom I will be going to a telecommunication ombudsman to report this as I'm going to the bank to stop all debits from vodacom and will honestly use that R6000 to take them to court than fixing my phone. I work in customer service for iinet and no matter how hard it gets I have to take the call with smile and deliver the absolute best service. To make matters worse my phone before this one was handed in 3 times and told me that can not fix. If the phone don't get fix or replace in the next few days I will take this further.

it has been 3 months now that i have not been able to use my cellphone due to vodacom staff not following up on their work and having a no care attitude.my number that is 072 2936177 has been removed from the network due to not being able to pay for it as me and my wife had moved over to new jobs.i missed one months payment and arrangements have been made and we were assured by the call centre that all will be fine and that we dont have to worry about it as long as we made arrangements.if only i knew that it was not true then i could have made other arrangements.everything is paid up full now and we followed all procedures to get my number back up and working.nothing is being done about it we had to send a fax 3 times already and still they cant confirm if they got it even right after the fax have been sent.now im assuming that it is not a normal fax but surely one that works on a data base or a system.it feels like we are trying to do their job for them and if they dont care at all about anything why call it customer care in the 1st place.how can we fix this?….im sure their is atleast one person that will be able to help.

I'm on contract and always browsed and downloaded for free for the last year. Just recently I received the account that said I owe R500 for data and email charges. I called customer care to find out how this charge of R500 came about, and was told that I mustve used a charged site. How am I suppose to know which sites are charged sites?
I read that I could even be charged for a certain type of application when I download from blackberry app world. I'm afraid to upgrade my applications or download new applications cause I'm not sure what will charge me. I don't even use my internet browser anymore because I'm not sure which sites will charge me.
Where can I get a list of all the charged sites and why couldn't you let customers know that you started charging for downloads. I got a blackberry for the main purpose of using the internet and downloads. Really not happy with vodacom and the lengths to which they go to rip their customers off to make money.
Can't wait for my contract to end so I can leave vodacom with all your other blackberry users!

Since the 14th march I have been struggling with REWARDS in Durban regarding my cell phone contract! Its taking me THIRTY FIVE DAYS to get my contract from Vodacom. I initially spoke to SHANZEL GOVENDER and then later on was in correspondence with the MANAGER DENZIL. SHANZEL the agent who assisted me with the contract MIS QUOTED me and now that becomes MY PROBLEM!
Vodacom has it on record and I repeated the price THREE times and SHANZEL agreed. The confirmation department then tried to stall this package and after complaining, I was called by Vodacom who apologized and I was assured by Vodacom directly that I would get this package.. and would get it delivered in 5 working days.
This was 10 days ago, still no phone and it looks like they are trying to STALL MY CONTRACT again!! using what seems like tricks and lies…. My assistant has spoken to DENZIL on the 17th April 2012 and he then advised her that SOMEONE had called to CANCEL THE CONTRACT which nobody had done!!!!
When she asked for the information on the call he was quick to tell her he was going to call her back and HE DIDN'T!!! she then further tried calling him back and he wouldn't answer his phone and when he did pick up he didn't even say HELLO he put her on hold?
I question this company's ability to assist clients or to sell products, I get the feeling that they or the REWARDS call center is trying to avoid me so that I can cancel this contract because of their in competencies but I was promised a certain contract and need this contract because I already ported to Vodacom .
I spoke to a Vodacom agent today but when I found out from my assistant that she was actually lied to and that they had claimed I cancelled the contract I decided to go public with this. I better get the phone on Monday- 5 weeks after I initially used the website! If this matter is not sorted out IMMEDIATELY I will take this matter further.

Vodacom's browsing & downloading speeds on a blackberry is pathetic seriously.when I first got my blackberry it used to download at super fast speeds like 120.00kb/s now its like 2.5kb/s so from 120 to 2.5 its not even worth it.Being a vodacom user I have heard that Vodacom has capped the internet usage on the BIS plan which is wrong in the first place without informing customers both prepaid & contract customers about what they planned on doing.
a little notice in advance would be nice cause that's how things should be done in a professional manner not just do it & let everyone just roll with it.I'm pissed off cause I have a 3G phone why should I be pushed to be using the internet speed of a 2G network.In all regards Vodacom is the biggest company in South Africa even world wide yet competitors like Cell C is beating them with a better internet experience.
I'm a contract customer & its not fair to be paying for something that's not even satisfying my needs for actually buying a blackberry phone & the main usage of it was for browsing & downloading .if vodacom doesn't change back 2normal then you'll loose more customers 2 other networks cause people are complaining but nothing is being done & I'm fed up with it really.

I upgraded my blackberry 9700 Bold cell phone with a Blackberry 9900 Bold cell phone at your Cresta branch on the 16 March 2012. On Saturday the 24 March I returned to Vodacom Cresta as the phone went onto SOS calls only and would not receive emails. The consultant informs me that the phone being 8 days old would have to be sent to Blackberry for repair.
This is absolutly unacceptable. I have my own business and my cell phone is extremly inportant. I need to be in contact with my clients at all times. As the phone is only 8 days old I would have expected the Vodacom branch of Cresta to supply me with a brand new phone. The manager by the name of Nathi Khoza was extremly rude and should not be in a position of management if he is unable to deal with people.
I have previously dealt with your Fourways branch. This has always been a pleasure. They have been very helpful and always very well mannered. I would like to reverse the contract signed on the 16 March, You are in possession of the phone. I do not want it back. It is obviously Faulty. I will arrange for the upgrade to be done at your Fourways branch.
Your very urgent advices are awaited.

On Thursday 22 Marc, I was in line for an upgrade of my cell. I stay in Polokwane. I went to the first Vodacom outlet only to be told to come back tomorrow, as, according to them, I had worked out the days incorrectly. However, I was sure about my dates, so I approached another outlet store of Vodacom.
Yes, they say, I am correct about the date, but this Vodacom outlet has no cellphones available. They are waiting for the Manager to bring in some stock. Please go to another Vodacom outlet. So I go to the third Vodacom outlet – still in Polokwane!
Yes they say, everything is fine, I can upgrade. Then suddenly there is this BIG mistake. The last two digits of my ID is not the same as is reflected on Vodacom's records. Impossible. I have been upgrading on and off for the past 15 years. Vodacom is now making their problem my problem! No,no I have to go to another Vodacom outlet to have this 'huge'(!) problem solved.
So now I go to the fourth Voda outlet to have my ID number corrected (the last two numbers seems to be different) on the ID. Now Vodacom's records must be updated. After filling in the forms and signing every page, the matter is solved. 'Thank you sir, but now go back to the previous Voda outlet where they will help you with a new phone'.
Back at this store I am told that they have very limited stock. Which was true. But I am told if I choose the one that I preferred, I will be entitled to a R2500 voucher.
I knew that the first outlet I approached that morning had a phone that I was interested in. So I go all the way back to the first Vodacom store. I started my little excersize at 8h30. It is now close to 12o'clock! I confront the guy at the Vodacom outlet saying that he had not given me good advice that morning. "Sorry Sir, but let's now help you quickly!"
So I upgrade. BUT. 'Sorry sir, the people at the other Voda outlet stores gave you wrong info. Your voucher is not R2500 but R1500′. Yes one thousand rand less. Mistake?! Or just plain incompetency? Then I receive a phone, only to be told that there is something wrong with this particular phone. They will get another phone from yet another Vodacom outlet. Can you believe it? But, I eventually get my new phone after 4 o'clock that afternoon. With my cut back voucher for R1500. Not R2500 as I was told/promised' previously. No, no.
You won't believe me, but this is not the end of my story. Then on Friday I receive one sms after the other from Vodacom. Close to twenty sms's! I deleted a few but I still have no less than twelve (12)!! on my cell. All these sms's with the same wording: "Thanks for visiting our Vodacom Outlet. Did our service make you smile? Please reply YES or NO"
And I replied, three or four times NO, NO , NO. And yet, one after the other sms's still kept rolling in. No wonder we pay so dearly for calls. All the nonsense Vodacom sends out.
So I have taken the liberty to write you this e-mail. I doubt whether I will hear from you but, nevertheless. I did upgrade, although it took me a full working day. And yes,I have been exposed to bad service in the past, but Vodacom's takes first prize.

On Saturday,17March,in the morning, I looged in a complaint that when I looged in my puk number and putting a new pin number the phone rejects it with an error code notification. I call in 3 consultants which they inform me to repeat the same thing,but still without any change. Only, on the 4 th time after another three attempts with same error code notification,when the lady by the name of Cynthia explained it to me that I must puta minimum of 4 and max.of 6 number, but without 11 or 00.
Unfortunately, it was the last attempt and the sim went rejected. I had to buy another sim which I did. I called in Vodacom for a swim swap for number and as advised by Cynthia, I put another sim card on E5 Nokia with order to contact Vodacom. On Saturday round about past six, I put in a new sim card,but seemed not to be working and when putting the sim card back to the other phone,it reflected sim card registration failed.i again called Vodacom call centre quering as to why the sim card for reflects sim failed error, but the lady told me that I must do phone setting manually which i did, but with the same error.
The lady advised me to take off the sim to another phone as she claimed that there might be a network error, which even that could'nt help. The rest of Sunday, 18th both phones were not working. When I called this morning, Monday, 19th March spoke to a lady by the name of Ali ,at first could not where the problem was ant later she informed me that the consultant made an error on the swim swap as she did a swim swap on the new sim card for instead
Now,i had to pass the new card to the wich my 10 yr old daughter is using with all new saved information during weekend that will still be lost after IT rectifies the problem as Ali claimed. At the same time, I have to buy another swim and still do another swim swop request for.All two phones are currently not in use due to Vodacom poor service. Your consultants do not have listening skills at all, doubt if they know what they are doing.
Bear, in mind that there are other services providers we can utilize if we continue receiving such pathetic service, its unbearable.

Since my first cell phone I have been using Vodacom as a service provider and I have never been so disappointed in your service, there is a few problems on my account and I keep on phoning and trying to sort the problem ssince its not my mistake but vodacoms, but every consultant I speak to keeps on telling me that they will look into the matter and phone me back before the end of the day, but no one ever does, one of your consultants was so rude that she even put down the phone in my ear while I was talking to her and explaining the problem,after she threatened me with handing over the problem to the "criminal department"…
Why must I be treated like this. But let me start from the beginning. A few years back I had 3 accounts with vodacom because of the fact that I had a business, unfortunately the business closed down and on 11 June 2010 I got premature contract cancellation quotes from vodacom so that I could pay all the accounts up to date and close them…like I did,afterwards I faxed the proof of payment with the signed copy of the quote and a copy of my ID to the cancellation department, and I never heard anything of this again.
Last year I took out 2 new contracts for me and my wife, seeing that I started a new job. I wrote down the correct banking details on the contract and was under the impression that the debit order was going off each month as it was suppose to, but the end of January 2012 I received a phone call from vodacom saying that my account is in arrears and that the debit order kept on being returned because of the account being closed.
I could not understand this because I am using this account and its not possible, then the consultant brought it under my attention that Vodacom has been deducting the money from the businesses bank account, the one that is no longer active because of the business closing down, and that there is currently 5 accounts open in my name, please tell me who's fault it is that vodacom deducted money from a wrong account since I wrote the right banking details in the contract.
I then asked them about the accounts that was never closed as I paid them and cancelled them in 2010 and I have the proof,the lady I spoke to is Shelly, she assured me that they would fix the problem and close the accounts on which they closed 2 accounts but the 3rd account was only closed 23 FEB 2012 and now vodacom wants me to pay all outstanding amounts on this account even though I cancelled this contract in 2010 how is this possible.
It was vodacom that made the mistake,but no one can help me with this matter, without permission they just keep on deducting the amount from my bank account and I have to go to the bank and ask them to reverse this, because no one can help me in sorting this matter.now I spoke to a consultant again today and asked him for the outstanding balance on the 2 accounts that I took out last year on which he replied that he can unfortunately not give me those amounts…
Please I want to pay my account but only after the problem has been solved and someone can help me, because like I say everyone I speak to keeps on saying they will phone me back or get a manager to phone me but no one does… What is going on with vodacom I have never experienced this type of poor service from vodacom… Please. My phone number is 0765276157 if you can get someone capable in helping me to phone me.

I took a contract phone with Vodacom on the 9th November 2009 and I received nokia E75.The duration of the contract was 24 months.The monthly amount was R245.60 including subscription fee and other charges.I used the sim card for the year 2010 and Istopped used it middway through 2010 because i could not afford to pay more than thhe agreed amount.I personally phoned customer care and asked for the sim card to be put offline because I was not gonna use it.
The contract expired last year November 2011,i assumed that as it was the final month the contract will automatically cease to function.In December 2011 the debit continue to run on my account,I was so surprised and I phoned customer care enquiering about what transparing in my account.The person whom I spoke to was very rude its a pity I did not recall his name.I was given a number for cancelletation and i was told I have to wait for 30 days before my contract to expire.
I was not informed that if the contact is 24months when it expire you must go to Vodacom and cancel honestly i was not told.I received a call yersterday(08/03/2012) that my account is in arrears of R270.00 and i was going to be sent to legal.I was so cross because i don't know why it is happening to Vodacom.Please help.

We have a contract with Vodacom (via Videotronic Grahamstown). Our ex-manager had the account opened in his personal name BUT used the Estate bank account. When he was asked to resign we tried getting the contract put into the Estate's name which it should have been when it was originally opened. The ex-manager also has his daughters contract being debited to the Estate account, BUT Vodacom says they cant put the account in the Estate name because we have been listed with the Credit Bureau (Because of the ex-manager and his wife who used to do the books for the Estate).
WHY BECAUSE THE ESTATE HAS BEEN PAYING THIS ACCOUNT, IT IS DEBITED TO THE ESTATE BANK ACCOUNT EVERY MONTH. That is what I dont understand, if Vodacom had done their credit check correctly when the contract was first opened they would have immediatley seen that the bank account did not belong to the Estate manager. Until we can rectify this our Estate is having to pay for the managers daughters contract as the ex refuses to do anything about it and our hands are tied till Vodacom just changes the name.
AFTER ALL THE ESTATE HAS BEEN PAYING THE CONTRACT DIRECTLY AND TIMEOUSLY FOR YEARS NOW.

You know, when you go onto a vodacom website this is the first thing you see "At Vodacom, we value your time, which is why we strive to ensure that you receive efficient service and care, wherever you are. We understand that you prefer personal assistance rather than an automated call distribution and standardised scripts." I feel like i have been working with ROBOTS. i even put a complaint on Hello Peter, but it got me no where. instead getting a reply a day later for my phones IEMI no and JOB no.
It all started in when my keypad on my blackberry just stopped working all of a sudden. I took it to the vodacom 4u store in the Brits mall. They booked it in for repairs. 2 weeks late i get a call my phone is ready for collection. To my surprise its a brand new phone. now the problem begins, i put my sim in the phone, and set up my emails, i cant, i am getting error messages, then i try calling vodacom call centre using the NEW blackberry, it says called fail. I try calling another number it still says call failed, I call vodacom from another phone.
It seems to be happening more and more often that I send a sms to another Vodacom nr, and the message just doesn't get delivered. I have the same problem receiving messages, and this creates a serious problem as I use my cellphone as a password generator for my internet banking, and the password gets sent to my phone. I have complained about this to the customer service department, who informed me that certain upgrades were being done etc etc.
How long can this carry on? I remember Vodacom being the best provider in South Africa, no it seems the saying is true that Vodacom doesn't have clients, they have victims.
A helpful consultant helps me set up my email. but cannot fix the "CALLED FAILED" problem. he gives me some codes to type in they don't work. the next day i called vodacom again, nothing, I take my phone in on Monday 16/01 to the vodacom 4u, They said they have to log a call with vodacom to unlock the phone, which they did. but vodacom says the waiting period is 24-48 hours. the kind people at the vodacom 4u explained that this phone is almost 7 days old its URGENT, Vodacom wants me to WAIT!!
WHY should i wait when this was never my problem. vodacom GAVE me a broken phone, but I MUST WAIT. VERY DISAPPOINTED being a loyal Client. I have wait 4 days now, nothing has happened in that 4 days. Am i going to sit with this broken blackberry until vodacom decides its time to fix the Broken fone THEY gave me…

I took out a contrack from vodacom with a laptop and 100 meg data. The data, as explained was capped to 100meg whereafter I should load on a pre paid card. which was also provided free of charge and will the account not be debited. After a month, I received an sms stating that my bank account was debited with R1800.00. I called Vodacom and was this confirmed as my account due to data ussage. I lodged a complaint as was I assured that this will be sorted out, I did not even use the date more than once and received an account for R1200.00. Until now, no one has phoned me to sort the matter out. I was mislead by Vodacom and wish to cancel the contrack with immediate affect.
I was within the scope of the CPA and did the representative at Vodacom on the phone confirmed that I was miss sold (his words) a contract and that he will contact the branch and sort the matter out and will revert in 1 week. Ithas been more than a month and would it seem that the delay is an attempt to frustrate me to let this matter go. Kindly see to this complaint.

I am extremly dissapointed with Vodacom repair centres, I am a Corporate Client of Vodacom and have 20 business lines, I have booked 2 blackberry's 9900 ( Directors business phones) in with Vodacom Green Point for repairs as both the handsets kept switching off and we have to take the battery out to reboot the phones. They booked the handsets in December 2011 , we then receive the hansets back advising us that the hansets has been replaced with new phones, when switching the phones on yesterday on receipt of the exchanged handsets from Vodacom both handsets cut off and would not go back on.
I then called Zakkiyah Shabodien on 17/01/2012 @ 9:06am and she asked me to explain the problem to her as the manager was not able to take the call, she then advised that she was going to explain the problem to the manager and ask her to return my call with a solution, she had not called and i then went into the store @ 13:33 and Tantum was to busy to speak to me and i was advised by their agent that she would call me back. This morning 18/01/2012 @ 8:45am i called spoke to Zakkiyaa and once again Tatum was not available. I am so frustrated and do not know who to talk to?
Vodacom Greenpoint says they do not have corporates telephone number. I demand to 2 BRAND NEW Blackberry's but not the 9900 as they are problamatic phones. If Vodacom does not replace the two handsets with 2 brand new blackberry's; they will leave me know choice but to take away my corperate lines from their company.I have left a message at Vodacom Hub for one of their directors ( Tim Mitchel) to call me back.

I opened an account at Vodacom Randfontein branch after I signed Morne gave me my phone and went on with my fiance's contract. I asked him if I can open my phone he said yes I can because I will pay both contracts when he is finish with my fiances. After my fiance signed Morne went to the back. We were waiting about 15 min while exploring my new phone. my fiance's phone was on the counte everything was signed and given to us we was just waiting to pay the connecting fee. I was under the impression it is R202 per contract.
We asked the other lady working there if she would please call him because its already 17:30 we would like to go home. Morne came out and said that the special is no longer running and if we want the same phone we must go on the top up R315. I said thats not what I want then he said if I still want that phone on the contract R199 I must pay in R900 each. So I said I dont have that money he went to the back again. While my fiance's pfone is still on the desk with the 2 signed contracts. We waited about 10 min again when he came out and said he cant give us my fiances pfone because the contract is not on anymore and his phone is still closed.
Everything was signed and all so he wrote big on that contract CANCEL. How can he take back the pfone after we signed and he gave the phone in our hands. I can keep mine for the same contract because my phone is already opened. When it came to the payment he said I only have to pay R105. I said isn't it R202 he said no its only R105 for the sim and the other R97 they will deduct from my account. So I paid the R105. This moring I received an sms from FNB for the deduction of R261 and because its not the amount Morne said it was going to be deducted the debitorder did not went through so now I must pay the fee for not having enough money in and why is the amount R261??????????

I received and sms that my internet connetion settings is not correct and i had to phone vodacom customer care. I did phone and the lady refer my call to blackberry customer care. After she transfer my call the line was disconnected after waiting for more than 20 minutes. I phone 082 155. After more than waiting and hour i decided to disconnet my call. All i hear is the songs and no response. How is it that the customer care after an hour not mentioned what my call status is and what number im in the line. I cannnot afford to wait for more than an hour for response from the customer care centre.
How many people are working at a time when their is an high volume of calls to attend to. I think vodacom must adress this need.

I have been overcharched by vodacom in my account and seemingly its getting worse day by day, I dont stay without airtime in my prepaid phone but the minute I load airtime most of it will be gone within no time, I tried to call many times but you dont get an option that allows you to wait for an operator,last night I bought R29 airtime and made the first call this morning which I took about 4 mnts and its sunday and after that call I was left with R18. Its not the first I am complaining and was also told Im registerd with other sites of which Im only registered with dateclub only which deduct R2 this one that deduct R4,99.
I dont have a clue about them, please cancel all of them in my account, this is very frustrating Im waisting a lot of money. I hope that my request will be attended to ASAP.

I am absolutely disgusted and outraged by the level of services that I've received from Vodacom over the past week.I bought a blackberry from a Vodacom shop only to realise a few days later that the fone was a refurbished fone.I went into the store within the 7 working day grace period but received no assistance whatsoever yet they were very helpful when I was buying the fone. I called customer services on 19/10/11. I spoke to 6 different agents with no avail. I was so dis_satisfied at having being lied to, having my calls dropped to plain unhelpfulness from unskilled agents with no level of professionalism.
I was placed on hold without being informed. I was told that customer services aren't allowed to transfer calls to blackberry tec support and the most ridiculous statement was that there were no managers or floor walkers to speak to me when requested. I cannot believe that Vodacom customer service agents are not supervised or have managers. The agent actually lied to me when I work in one of the biggest callcentres in SA. I intend to switch my network unless I get this issue resolved once and for all.
i recently bought a phone on contract and only to find out that i cant make international call, and this was not explained to me when i orderd the phone they tell me about a sum of R1500 that i need to pay before i can make international call, i mean really what is all this , i have about three contract with MTN and i have never experience such nonsense service that i got from Vodacom , i think more fire is really becoming a problem they should just go back to being BLUE [vodacom is like blue monday] because it is clear that red doesnt suite you guys .
you have no fire you are just like a big DARK AND COLD night , your service is very bad very bad , i know that this is my last contract that i will be taking with vodacom because with such service who will want to come back while you can find the best. SIS.

my original sim card was damaged. i purchased a new starter pack and followed the law by registering in accordance to the RICA act. according to vodacom customercare this was wrong as i needed to have a simswop and then had to purchase another starter pack. i did so and called vodacom for assistance. the questions are ridiculous, they ask ridiculous security questions and keep insisting that i have to visit a vodacom outlet as i am not answering these questions correctly. all i want is to keep my original cell number as all my associates as well as my bank is familiar with this number. i am not a criminal and have no devious intentions.
how difficult can it be to perform a simswop telephonically?

I am a very unhappy customer right now as I feel that Vodacom has not provided a good service and due to that my number has now been deleted off the system. For 3 months Vodacom never contacted me regarding my oustanding monthly payments, I never received any invoices and my line remained opened up until the 3rd month, eventually I received a call on a Friday afternoon telling me that if my phone was not paid by Monday then my number would be deleted. I made arrangements to pay off my account and received an sms as a reminder for the 1st installment, for the second installment I didn't and eventually I phoned Vodacom.
to find out what was happening only to be told that my number was to be deleted on that day being Friday the 7th October I spoke to the consultant and told her that I would make a payment by Monday. Vodacom went and deleted my number anyway and now I have to go and pay more money to have it reactivated. I did not ask for this as I communicated with them that I would pay my oustanding amount. I am very upset about this as I have a full time business to run and now I am losing business as no one can get hold of me.
I will not be reconecting my account as I do not have the time to wait as well as the funds to do it. I find Vodacom very unprofessional as no one was helpfull at all and most of the consultants were very rude and abrupt. I am hoping that we can resolve this issue otherwise Vodacom will have lost yet another customer. I would appreciated feedback as soon as possible as I would like to resolve this matter. Regards Nicole Nunes.

From day one vodacom gave me,endless problems.To start,(and this is two(2)years back I open a contract with vodacom which took them three(3)weeks to say NO I cant have a contract with all the lamest excuses about I do not earn enough salary.After about thirty(30) phone calls to put me through the one person to the next,and five(5) faxes to complaint that I earn R9300-00 p/m after deductions,and at my work place is about six(6)junior employers that earn half of my salary and believe it or not,our cleaner who earn R1200-00 per month got a contract the 1st day.Just a coincidence was that they were all black people.
and do not get me wrong or put words in my mouth because I am close friends with them all,but When I put the question to you,I was ignored,but the very next call I was received by the first friendly person who was surprised with what I told her and she clicked on her computer and there was no problem and told me for what packages I could apply.Then WHEN i WENT back to Vodacom Overcell,They were very angry because the answer they received was no,and now they lose commission,because it was their sale,and HE FILED A COMPLAINT AND FAXED it with all my application,and proof of address ect to vodacom again.
and everything was put on hold again!!twelve(12) days later they called me and said its approved.Okay lets forget there was no stock and waited another four(4)days the weekend included.So They REFUSED TO EXCEPT IF I DON'T SIGN A DEBIT ORDER, but also mention that after the 1st payment I could change that option,and from that month(the2nd month),I said to cancel the debit order,because I live 60km from FNB(MY BANK)and when the end of the month falls over a weekend my salary gets paid in on the Thursday,and I'm 90% of the time not available to do my payments because I'm in the Police force.
and may not tell what duties I perform for my own safety,and a family member go and withdraw basically everything in two days.All my other debit orders come off directly,and you also were not competent to do so.And that is my reason to pay it myself,even if I had to post it to a friend in the town were the nearest Standard bank is,to pay for me,and would be at most two(2)days later then the 1st of the month.Every time you said you wiil cancel it but a few days before I receive a sms to remind me about the payment.And 95% I had to brake a leg and arm to make last minute arrangements to get it paid.
,Because ALWAYS ALWAYS ALWAYS,I RECEIVE A SMS THAT THE AMOUNT OF R..? WAS PAID FROM MY ACCOUNT.!!!And then few days later I get the threatening sms that immediate payment or my line will be cut off or whatever the correct words are.I mean then I am under the impression it was paid and again have to make arrangements and beg people to go to hermanus to pay.And then mostly succeeds to be done the following day.
Then I phone accounts department and explain the whole story again like EVERY MONTH ALL OVER AND OVER AGAIN AND ASK PLEASE NOT TO PUT MY PHONE OFF LINE BECAUSE EXPECTING URGENT CALLS FROM MY DAUGHTER OR WIFE WHO IS 1700KM FROM ME,AND THEN LIKE ALWAYS I RECEIVE RUDE,ILL-MANNERED,INCOMPREHENSIBLE,UNCONCERNED, IMPOLITE, INCOMPETENT TREATMENT,AND THEY CUT THE LINE.To make things worst is the first time I was not informed about the penalty fee,and received a sms that the full amount was not paid and they cut the line!!!!That is just plain spiteful unprofessional!And it will maybe help(but I doubt it,cause it became their nature)if you sent your account department people who work with customers for customer/client service training.!!
YOUR CUSTOMER SERVICE HELPLINE ARE EXCELLENT PROFESSIONAL FRIENDLY PEOPLE,AND I CAN CALL ANYTIME OF THE DAY OR NIGHT AND GET THE BEST TREATMENT AND HELP DOESN'T MATTER WHAT PROBLEMS I HAD WITH SETTINGS OR EMAIL OR ANYTHING ELSE.That I can praise vodacom with.I SPEND THOUSANDS OF RAND'S ON MY PHONE AND YOU KNOW IT.Then came a time you advertised a laptop for R100-00 a month and your accounts department insulted me as a bad payer and and do not want to do any business with me.
When I ask them To check on the computer if I have any outstanding payments,the answer was no,but I do not pay always on time and that makes me a bad customer.So I took a contract with another provider on a laptop for double the amount,was approved the same day(IN FACT I WAITED A HOUR AND NOT FIVE(5)WEEKS WITH FAXES AND 20 PHONE CALLS!!!),AND made the arrangements of paying it myself and can be late 2 to 5 days SOMETIMES,and HAD NOT ONE PROBLEM UNTIL NOW AND THAT IS A YEAR AND A HALF!!!
LISTEN TO THIS JOKE :VODACOM PHONE ME(NOT ME PHONING THEM!!)And started the conversation with CONGRATULATIONS YOU CAN HAVE ANOTHER CONTRACT BECAUSE THEY SEE HOW MUCH MONEY I SPEND ON MY PHONE AND IT WILL BE A NOKIA C3 AND WILL DELIVERED IN 3 TO 5 WORKING DAYS!! AND ALL 4 times just passed and no phone calls back to say they were actually making assholes of themselves because your ACCOUNT DEPARTMENT SAY I AM A BAD PAYER,NOT BECAUSE I AM NOT BEHIND BUT BECAUSE I SOMETIMES PAY LATE!!And why???
Because of YOUR SMA stating the debit order went of and is paid in ,and then a few days later sometimes 7days tell me I didn,t pay and cut the line and have to pay penalty fee's to the bank for debit order that did not go off and penalty fee's to put me on line again>>>?AND AGAIN ASK TO CANCEL THE DEBIT ORDER LIKE ALMOST TWO YEARS BACK EVERY MONTH,BUT ITS AS GOOD AS I TALK TO A TREE!
Four(4)Months back my phone got a virus and i lost all my memory on the phone,and if I received a message,and if its not to long,have to delete my previous message to read it.Any sms from FNB,or from Polmed or accounts I could not open,but after many hours on the internet(with my other provider account)I managed to regain little by little memory on my phone.Two(2)months back I left town for intense training in Thabazimbi,AND LEFT MY PHONE TO MY DAUGHTER(9years old),but she don't know much about accounts.But as far she could understand the payments went off because there stands payment successful.
BUT GUESS WHAT???BECAUSE I DID NOT KNOW THE DEBIT ORDERS WAS NOT SUCCESSFUL,AND DID NOT PHONE YOU,YOU NEVER CUT MY LINE??IF THAT IS NOT PROOF THAT YOUR ACCOUNT DEPARTMENT IS SPITEFUL,INCAPABLE,UNACQUAINTED, INCONSIDERATE, UNPROFESSIONAL AND INSIGNIFICANT THEN NOTHING WILL CHANGE THE READER"S(IF EVER GOING TO BE ONE)MIND.
But I did my duty to make sure if there is maybe outstanding payments and phoned the short number the help line told me to and a voice told me YOUR OUTSTANDING AMOUNT ON YOUR ACCOUNT IS R189 AND THAT IS WHAT I PAID…………….!!!!!!!!!!!!!!!!!!!!!!!!!!
THEN YOU SENT ME AGAIN ONE OF YOUR UNPROFESSIONAL SMS'S WITH YOUR USUAL NONSENSE?I SHOULD HAVE IGNORED IT BECAUSE YOUR INCOMPETENT ACCOUNT DEPARTMENT WOULDN'T REALIZED IT,BUT I PHONED AND THEN THE MOST HOSTILE,IMPOLITE,ARROGANT,ILL-MANNERED LADY COULDN'T UNDERSTAND (AND SOUNDED IF SHE COMPLETED GR2 IN A SPECIAL SCHOOL), THAT YOU,VODACOM NOBODY ELSE BUT VODACOM'S ANSWER WAS WHEN I MADE SURE THERE IS NO OUTSTANDING AMOUNT ON MY ACCOUNT,SAID R189-00!!!
AND THEN THAT IS YOUR MISTAKE,AND NOT MINE,AND HAVE TO GIVE ME CHANCE TO MAKE ARRANGEMENTS TO PAY IN HERMANUS 60KM FROM WHERE I LIVE AND WHERE THERE IS NOT ANY PLACE TO PAY LIKE PICK AND PAY AND WHERE EVER THE PAY POINTS ARE.SO THIS WOMAN GOT INSULTING AND PERSONAL THAT HOW CANT I KNOW WHAT IS GOING ON WITH MY ACCOUNT AND THAT VODACOM WILL SUE ME,AND THAT I AM MAKING CUNNING BAD EXCUSES NOT TO PAY MY ACCOUNT!
SO I AM A CUSTOMER AND HAVE ONLY LIKE IN 2 OR 3 PAYMENTS LEFT TO FINISH MY GOD FORSAKEN ACCOUNT BY THE MOST HOSTILE UNPROFESSIONAL COMPANY EVER,ANS I AM PHONING TO MAKE ARRANGEMENTS TO PAY THE OUTSTANDING PAYMENT WHICH I DID NOT KNOW OF,BECAUSE OF YOUR MISTAKE AFTER I PHONED YOUR COMPUTERIZED DUMMY AND DID PAY THAT AMOUNT,BUT KEPT ON TALKING IN A LOUD ILL-MANNERED ,PITCH HIGH VOICE AND NEVER ONCE LET ME FINISH MY SENTENCE AND KEPT ON CUTTING IN WITH HER RAPID PERSONAL QUESTIONS AS IF SHE IS A LAWYER IN DESPERATE HOUSEWIVES.
I LATER,AFTER ALL HER PROVOCATIVE MANNERS SAID WHY SHOULD I PAY YOU ANYTHING FOR SHIT SERVICE AND PAYING MONTH TO MONTH PENALTY FEE'S AFTER MONTH TO MONTH HAVE TO ASK THE TREES AND THE DESK'S AND STATIONARY TO STOP MY DEBIT ORDER AND WILL PAY IT MYSELF.I DID NOT KNOW THAT I WAS TALKING TO TREES,DESK'S AND STATIONARY WHEN I PHONED,BECAUSE THAT IS THE REACTION IF YOU ASKED FOR A LITTLE BIT OF SERVICE,WHICH WAS REPLACED QUICKLY BY BEAST'S IF YOU PHONE AND THERE IS 50CENTS OUTSTANDING…..
SO HER ANSWER WAS.SO YOU REFUSE TO PAY,THEN I WILL MAKE A NOTE AND WILL CUT YOUR LINE AND SHE PUT THE PHONE IN MY EAR!!!! KNOW YOU TELL ME WHY SHOULD I PAY FOR SERVICE I DON'T HAVE OR CANT USE,AFTER YOUR MISTAKE YOU MADE.IF THE COMPUTERIZED DUMMY SAID WHATEVER AMOUNT I WOULD HAVE PAID IT,AND IF I WAS TREATED WITH RESPECT AND LIKE A CUSTOMER SHOULD BE TREATED AND THEY COULD HAVE A BIT UNDERSTANDING THAT THE FAULT WAS LYING BY YOU,MAYBE A BIT BY ME TO BUT THEN WE COULD COMPROMISED AT LEAST SOMETHING AND GIVE ME TIME AT LEAST UNTIL THE FOLLOWING DAY BECAUSE I WAS WORKING AND NOT DOING MY NAILS AND WHEN A CUSTOMER PHONED GET RUDE BECAUSE ARE INTERFERING WITH THEIR TIME.
So Dear Sir/Me
How are you going to handle this complaint?Are you just going to sent me threats with your lawyers and keep on with your"don't care about only one customer"attitude?Like I said I was prepared to pay and I am losing my own ± R60.00 airtime I put up and could have used to phone friends to make a payment.And remember that this your mistake because I did phone to find out and you gave me the amount to pay and that is what I did pay.And when you find out I am behind after your mistake could have arranged with me to pay all outstanding at the end of the month,when I have money again.??
I f you choose your normal hostile way,then just do so,but past me and go straight to the Supreme Court,because I have been put under Depth Review in terms of Section 86(4)(b)(i)(ii).
I still did not planned using this,and would rather pay off my last 3 or maybe 4 payments by VODACOM,But then you must be comprehensible and negotiable,ans also not going to pay if I cant use the phone,then there is no use
Regards
Shawn-lee Scheepers

I had enough vodacom now its been more than 3 months and the same thing happens every night between 9 and 22:30 every night of my life my inter net service goes down every night its a routine.I can't use my facebook I can't use my vodacom internet or any application that uses internet service.I called the support team more than 6-7 times already and still no resolution to my query I was told that it is my settings they did something on their end and told me to put the phone off for a few minutes I know its not my settings because it works whole day jus at the that certain time I don't get service..
They tell me those stories so they can get lost of the call I worked in a call centre and in a support call centre I know what I'm talking about. vodacom is the worst service provider ever.I need a resolution asap if u think u can help please do.if not I'll b trying mtn thank u.

I took my Blackberry to Cape Gate Vodacom who sent it to Tygervalley Branch who sent it to Vodacom Johannesburg who sent it to Blackberry (known as Research in Motion). After a few days I received a telephonic quote that the cost to repair my phone would be R675. This was a few weeks ago. A few days ago I went back to Cape Gate and filled in the forms instructing them to go ahead with the repairs. Today I received a call from Tygervally Vodacom that the phone is beyond repairs. In the meantime my wife got a Blackberry 9300 and in turn gave me her phone, which I sold yesterday to cover the repairs to my phone.
Now i have no Blackberry!! I hold Vodacom liable for this!! Besides this fiasco, the lady at the Tygervally branch refused to give me the number for Blackberry and proceeded to throw the phone down in my ear. I proceeded to call back asked for the number as if I was another customer and was promptly given the number. I want someone to be held accountable for their mess up. Had I known that my phone was beyond repair, I would have kept my wife's phone.

In response to your automated account mail – I have made a formal complaint to Vodacom (Midrand) regarding my gross dissatisfaction regarding bad service, misinformation and lies from Vodashop Cresta. I am also bitterly disappointed that Vodacom shun responsibility by the excuse that Vodashop Cresta is just a franschise and not really their problem! Surely vodashop is working under licence to Vadacom? I am currently in the process of seeking advise from the Customer Consumers Act business department, as I would like to cancel all association with Vodamail. Please give me a detailed balance of the amounts highlighted below.
As I am proposing to the customers protection department that Vodashop Cresta be liable for most of the cost. When I realised the sales person at Vodashop was lying (just to get a sale) and that he did not as promised cancel my old contract on the 30th June and not only that, but when I called him back again (in front of 3 witnesses in my offices on the 30 june – he blatently lied again and told me that he had cancelled the old contract.
in fact I stressed my concern when someone from your customer service department called me a few days later, I even asked her to double check that my old contract had been cancelled, she told me no, it was still current and furthermore I would be responsible for payments until that particular contract expired. After another visit to Cresta vodashop I was still blatantly lied to and had my personal banker cancel my debit order. Looking at the amounts you have outlined below, it appears that Cresta still have not done their job. Therefore a detailed balance is required. As well as a copy of the taped conversation between myself and the lady from your customer service department.
If this is not your departments concern, then please pass on to the appropriate person and copy me on the correspondence. I am bitterly disappointed by the total indifference and lack of customer care by Vodacom.

I have had a Vodacom contract and to my knowledge signed up for the monthly payment not to be greater than R449 per month.I completed the contract for a two year period and was billed exactly R449 for the past 24 months. A month later (to renew) I was phoned by Vodacom to upgrade and I requested that they KEEP my contract exactly how it was ie for R449 per month fixed as in the past 24 months,which they said they would do.However from March April and May 2011 I was suddenly receiving bills of up to R14000 in a 3 month period.
On enquiry starting in March/April 2011 with Vodacom Customer Care I was informed that it would take 14 days to respond (whilst I still sat with the problem)Finally today 3 months later and after numerous calls and visiting Vodacom on at least 2 occassions I have been told that my original contract was not ticked TOP UP by the 3rd party vendor 2,5 years ago.I pointed out that this was an error on the vendors side when not ticking the contract(TOP UP) but the vendor did confirm with me they captured it on the system as a TOP UP hence I was billed ONLY R449 for 2years,which makes sense as the implementation proved correct.
Vodacom refuses to accept this and refuses to re imburse me for there or there vendors error. I have also asked for phone recordings to be heard by myself to CONFIRM that I did NOT change my original INTENT Vodacom still cannot as at 14 August provide me with such voice recordings despite first telling me they will do this. They are a complete ripp off and I will be cancelling with them.

yesterday i bougth 29.00 airtime and i recieve the sms after some seconds saying (you have up to 60 min FREE Vodaco-to-Vodacom calls!Minutes expire at midnight.you also get free night shift to use from 12am to 5am dail *111.i then call this numbers 0722387270, 0722441456, 0825666419, 0762379851, 0726891006, 0761116014, 0799454310 and all its vodacom network and it free 60 minutes expire at midnight, but im suprise at night17h00 i called this number 0722106101 i got the message of my airtime is finished a had to load so that i can make phone call. what happend about my airtime and free 60 minute that will expired at midnight.i would not call if it was not free 60 minutes.
please i want a good explanation on this situation. im not happy at all about this please help me and give me my 29.00 airtime back!

Vodacom called me, informing me that my data bundle is due for upgrade, the complete order and delivery was done telephonically and i was told that the new modem etc. will take approx 5 working days for delivery. This was 1 1/2 month ago and i have not received anything. I called vodacom customer care and they said that that is the upgrade departments duty and i called them. They again say this is the delivery departments duty, they dont even try to assist here. They gave me the bundle upgrade no. and here i was told to call the customer care or upgrade department, with all do respect i have decided to cancel this as it seems that no one knows what they are doing.
How can i trust vodacom to handle my account if they cant even upgrade and deliver, surely they have now bridged contract as they promises to deliver and they cant. What a shame.

i have purchased a blackberry phone unit it has given me problems i was instructed to take it to a vodacare where it will be sent in for repairs,i had later been informed that my unit can not be fixed and i will be receiving a refurbished unit i was absolutely annoyed by this as i can not pay for something second hand.i have spoken to lungile and mpho who are senior consultants at customer service and are apparently the highest people you can speak to LOL…i have now accepted the unit cause of the incompetent staff at vodacom who tell you that they can't do anything for you. I've picked up the phone and the alerts do not work when messages,mails come through! the keys do not work!!
vodacom is in need of some serious staff changes and in need of management who can assist and the attitudes of "senior consultants" are terrible.fair enough you don't return a phone sealed in a box cause you purchase it to open it to use it..so that is no excuse why you cant receive a new one i did not want to accept a refurbished unit for this very same reason its second hand that could not be fixed was sent back to the UK fixed and given to me only to prove what a messed up CUSTOMER SERVICE warranty hey.

THE RUDEST SALES CONSULTANT I EVER ENCOUNTERD !! Her Name is Juanita, She is a Sales Consultant for Vodacom. She Actually made Me feel like Im the Sales Consultant and that She is the Customer….Snapping at Me and talking to me like Im a Child, Making ME feel like I did Something Wrong !! I bought a Cell Phone and Brought it back with in the First 7(seven) days, still in Perfect Condition. It did not download or update anything, it also froze and dropped calls. I also asked for a Smartphone and the Cell Phone given to me where in fact NOT a Smartphone. In short I where not Happy With the Cell Phone, and SHE(JUANITA) made Me feel like its MY PROBLEM AND MY FAULT !!!! SHE HAS NO HUMAN SKILLS AND SHOULD NOT WORK WITH CUSTOMERS.
We, in our house hold alone, have 9(nine) accounts at Vodacom and are considering to move to a Network with FRIENDLY AND PROFESSIONAL staff, All Because of HER(JUANITA) THE RUDE SALES CONSULTANT !!

I was contacted by Vodacom in January 2011 and sold a prepaid contract ( Top Up 75 ) My bank Account was debited every month at R55.50 and the wrong cell number was credited with the R75.00 I reported the error and given a Ref No. S2-DDU2220BAW. To this day 2 August, after several phone calls and put on hold every time then rudely just cut off. I am sick of being asked "How Can I Make You Smile" I have always been very happy purchasing my Vodacom Pre Paid at the ATM. I will never agree on any form of contract again. Vodacom need to do a lot more staff training than just teaching them to answer the phones like Parrots. Very Unhappy Customer, email: albertamelia@telkomsa.net

Not sure what is up with Vodacom – recently ported a number from CellC to Vodacom and starting to think this was a huge mistake. I am in Somersetwest and the signal is realy weak. Have been unable to make calls or use BlackBerry Services over the past 48 hrs. Does anyone know why the service is so poor? It's amazing the cell phone service signal is so poor when we pay so much each and every month to make sure that this happens. I talk on my phone for business and pleasure and it needs to have signal no matter what part of town I go into. The fact that I have been unable to make calls or to use any of the services lately is a big problem for Vodacom.

I have had the same cellphone No for approx 3 years now and with Vodacom's network coverage being unavailable last night i went online to try find out a way to advise them once again of our change of address which has not been changed.
When i registered i noticed that the system was welcoming me back as somebody else – Theresa Fraser and this is not my name. I have been receiving phone calls for this person for the past year and thought that they had dialled the wrong No. Strangely enough the account and details are correct and rec'd timeously every other month. We have however moved and changed our address on-line and have not received the account this month, can only assume it still went to the old address!
I also noticed that i'd rec'd a message (sms) via my 3G vodafone stating that i'd won a competition and should phone 0837608243 and quoted a Ref No that i should use when i phone during working hours. I have tried several times this morning to get hold of Vodacom but the moment i get through to the Consultant the phone rings once and then cuts off.
Could you pls advise further? Many thanks.

Hi there, about 7 years ago I had a Vodacom phone account. I cancelled it longtime ago before I even got my new contract with cell c now 7 years later Vodacom whant's me to pay amount of R8008.00 +- hahaha. All they say I need to send them prof of payment, I mean realy im not stupid. I canelled my account longtime ago and only keep 5 years of filling and thats the Law im prepaird to take this very far. Im not PAYING this amount or any other amount I did cancel my contract with Vodacom,please stop sending me the sms or I will go to the Onbutsman. Vadacom cant wait 7 years later to tell me I just need to pay, pay for what????
Im sick of this. Please sort this out and 011 560 4753 nobody answers I phoned them 5 times so from my side I have done my bit so please sort this out.

I have been a Vodacom customer for more than 12 years. In about the year 2000 I paid R 5000 as a deposit for international roaming. I trusted that Vodacom would be honourable and given that I had paid the deposit in good faith, they would return it back to me upon my request. I didn't have a copy of the deposit slip, as it is 11years after the fact. However it was a requirement that I had to pay the deposit in order to be granted international roaming, and I have it on my contract. I spoke with a number of Vodacom employees who admitted that they could see proof of the deposit in the system.
I would like Vodacom to listen to the call between myself and Charity Nwedamutswu on the23rd of May 2011, Charity was the only staff member who was helpful and tried to assist me. Vodacom's finance department are refusing to return the deposit, they state that they have no records (BS) of my payment. They don't acknowledge that one of their own employees stated that she could see proof of my deposit on the system, sorry Vodacom but I have a reference number for that call – SZ-DA321-1204W.
I do not accept that the onus of proof is on me, Vodacom have my deposit in good faith (and they have a record of it – unless they suddenly decide to lose the recorded phone call). What kind of company keeps no records? I have spoken to the head of finance one last time asking her to look again before I report them to the SAPS for thief and to ICASA – the cellular arbitrator.
Vodacom are dishonest and have no honour, please don't open a contract with them and never pay them a deposit as they will refuse to return it to you. I am going to spread this news all over the internet – watch this space Vodacom you liars! Why are Vodacom being so dishonest? What are is causing Vodacom to give such shocking customer service and being deceitful? I would like Vodacom to listen to the call as it proves that Vodacom know they have my R 5000 deposit on their system.

I recieved an sms from saying i have won R175,000 from vodacom. I have so far lost R275 airtime. I was then informed that i need to deposit R1500 into an account with absa. It was then that i started to get suspicious. I was prepared to lose R275 but not R1500. When i began to ask some probing questions the person apparently calling from Vodacom just hung up the phone. What is going on guys what has happened to confidentiality of information…I think i got one of the perpetrators cell # 0738131561 i think he said his name is nolonolo.

Hi, I am currenlty a resident in Judith Paarl 2094 (next to Lorentzville). I recently found out that I have a vodacom network tower right under my nose. I live in a flat, knowing that I have to live with all this radiation make me not feel save. I am not too sure what the impact on the human health can be and hope it is not a health risk having this vodacom tower in the yard I live in. I called vodacom customer compaint centre on Monday 13 June with regard to a generator that was installed kept me awake for two nights.
The problem as addressed and it was switch off, but no appology received from anyone calling me with regards to my complaint. I would like to hear from Vodacom in writing that it is save for me to live with my child ( and also the other resident in this area), having this vodacom network tower next to my bedroom window and in a block of flats where we are all families with small kids.

To be presice it's been occurring for the past four years specifically on these second Vodacom cell numbers, adding to this frustrating problem is my recent Contract cell numbers from Corporate. I would categorically emphasise the fact that these tools are surely not for display and good to have contrarily for better, clean and undisturbed communication purposes. Today I again happen to have spoken to the lady employee at Vodacom Customer care reporting the very same poor quality communucation overload in the system, my Reference Number 197797302. She phoned me back saying she forgot to put me through Corporate but what happened was that particular individual dropped the phone in my ears.
Surely there is no Vodacom customer satifaction in this environment, these action suggest to me as a customer who is never wrong to say yes I am treated as a non-entity and non-commodity. Last week I reprted this silly activity for the lack of a better word, for the first time I felt like new person. Only this week again I am experiencing that this predicament insist. I sinserely hope that this Vodacom complaint lands in the eyes and ears those of a natural person who can see and listen, with due respect, please I don't need this disturbance whilst I busy talking in my cell phones.
The communcation system is Vodacom's PRIORITY ONE PRODUCT that links the daily good business pracice WITH CUSTOMERS so eradicate any form of quality non-compliance intead instill continuous quality excellence. I hope my loud complaint will be professionally, satifactorily, considerably accepted and (CA) Correctice Action initiated in place.
Thanks.

9 mei 2011, to whom it may concern. hereby i want make a complaint regarding the purchase of a special displaid in the vodacom chatz connect catalogue. (deals valid 01 april until 06 may 2011). we made the package deal with chatz fochville president square shop (tel:018 771 2761) and it was approved. we received the hp compaq 56150si notebook + vodafone k3765 usb modem but the employee at chatz fochville shop said that the mouse and the bag that was displaid on the catalogue, are not included, because it was a miss print on the catalogue. we are very unhappy not to receive the mouse and bag, because it was displaid on the catalogue and that's why we were interested in the vodacom package deal.
we called vodacoms customers care and spoke to an opperator and he said we must send our complaint with a copy of the catalogue how it was atvertised to (customer care@ vodacom.co.za). we will appreciate it that u will conferm this complaint and fix this as soon as possible. we are looking forward to hear from vodacom. copy of catalogue is included.
nb.we also did not receive the nokia x2 that was adverticed on catalogue, to date.
my details: mnr g.w.van eeden
email:gideonwve [at] vodamail.co.za

On the 1st of December 2010 I have upgraded to an Iphone 4 package. Advised by the Vodacom Potchefstroom dealership at Mooi River Mall. I really wanted the package because business wise the 250 meg data bundle would help me alot. a Month later my account was higher than normal so I realized that I didn't receive the free megabytes. In the last few months I REALLY tried to have the problem fixed. After hours and hours of trying to have the problem fixed between the customer care department , the upgrade and accounts departments , the dealership in Potch my account was finally fixed.
Because I wanted the problem to be fixed my account is now suspended and blacklisted because of non payments. Now my problem is this….
1) Please listen to the hours of recordings about the problem and each concultants advise and service of where I am in the situation with my phone now
2) Why did the dealership admitted to the mistake where the package was put on a Talk 500 instead of an Iphone 4 package
3) Why was there not clear communication to me about my problem
4)The damages caused by the mistake from Vodacom must be captured in a value
5) The way service has been delivered to me is unacceptable Again listen to all the recordings. Why did this problems been adressed take months to resolve at the end still with no clear indication on where I am currently
Lastly i want to adress this very clear that my business involvement is helping the rural communities of south africa by creating jobs and feeding them through a bucket system vodacom do have involvement in these projects as well my question is : will vodacom help the rural communities the same way than they help me ? If that is the case my polital involvements from local to national goverment must be contacted and adressed that vodacom is not on the support level enough to be involved in helping the rural people of south africa through their service and i will not let them struggle the way i have been struggling.
camsmook [at] gmail.com

For the last two days I've been trying to get my Vodacom cellphone account reconnected. According to Vodacom I have a credit limit on my phone, which I don't recall requesting. The 4th of of a new month and I receive a sms inforing me that my account has been placed on SOFTLOCK because I've exceeded my R1000 credit limit on a R315 top up contract??? With my blocked cellphone I can only call the 111 number, NO OTHER Vodacom numbers. So after holding for 23 minutes and 37 seconds on Monday the 4th of April 2011 I ended the call and waited for Tuesday morning at 7 am to try again. Finally got hold of a lady that informed me that I have to call the accounts department.
Now I can't call the accounts department from my Vodacom cellphone so I used a Cell C phone number. Dialing the 082 1946 about 4 times, holding for 15 minutes at a time. Unfortunately I do have to do my work as well and can't sit on the phone holding the whole day. The 4 calls from the Cell C number to the Vodacom accounts department has cost mr R100 in less than half an hour with no help, assistance, outcome or resolving my issue.

Me and my wife are both Vodacom subscribers,but both of us keep having trouble with weak signal strength in Boschfontein, Heidelberg. My wife did Log a query before via the call centre but was only sent handset settings Which did not resolve the issue! Whenever we browse the internet we only get the GPRS signal,with a glimmer Of EDGE sometimes, but never 3G? Funny thing is when I try my MTN sim card I have no trouble at all with 3G?? Can someone please have a look at this as it is really frustrating to try And browse or download with little or no signal on my cell phone!

Over a long time I have complained about a signal strenght that jumps from signal zero strenght to full strenght. Vodacom asked Cell Phone numbers for at least 10 people which I provided. They promised to either set up a small booster at my house (farm) or improve the signal to the whole area. Over a period of two years I got the occational sms from Vodacom promising that they are still attending to the problem but nothing has been done. My Cell number continues to have problems with Vodacom and I am not sure when they will ever get around to attending to the complaints from consumers.

I am a Vodacom Contract subscriber and for the past three months I have been trying helplessly to get someone to assist me with something so simple but nobody seems to be willing to. My money is very nice but to give me customer care is so difficult for you to do. Its a disgrace. I have been receiving my statements but I do not receive the so-called free Vodacom magazine [which was suddenly stopped without my consent] with my monthly statements. I was told to go onto the website and log my request there. The website is all stuffed up cos' it just does not accept my request.
Whoevere is maintaining it, needs to wake up and smell the coffee. Wake up Vodacom and "up" your service delivery. Upon failing that route several times, I phoned customer care and reported the fault of the webpage still nobody cared to assist me. I also sent normal emails to Vodacom and to date still nobody cared to get back to me and yet again I still never receive a magazine again this month. This is disgusting and a BIG shame on Vodacom cos' I am paying a subscription fee each month yet your'l can't deliver a good service to me. If I don't hear from anyone, I will never do business ever again with Vodacom.
Remember that to survive you need to respect your clients. You can get my contact details from your records.

REF: S2-D403W-WV3KM – I had an outstanding amount from my Jan statement on my Vodacom acc. I paid this to get my handset reactivated. At the end of Feb Vodacom did a DOUBLE debit on my account, for the amount that had already been paid! Because of this the debit order bounced. My other debit orders also bounced because of their mistake. I now have to pay Vodacom an R85 penalty fee for insufficient funds in my account, R115 bank penalty for the Vodacom debit order bouncing, and penalty fees for my other debit orders that bounced because of their mistake.
I phoned through and all the operator did was send me an SMS saying the outstanding amount had to be paid that same day. This was late afternoon and I couldn't get to the bank. They then disconnected my line. What should have happened:I should have received an apology, had my line reconnected, been credited the penalty fee, plus bank penalty fees. All I get is arguments and arrogance when I phone through to try and find a solution. They were supposed to phone me back and haven't.
My bank account and credit record is is now in disarray and I've lost money, and a knock to my business for their mistake. Shocking 'service'…

There is a default against my name from Vodacom since November 2009, I try to clear my name but with no luck, 1 of the customer care consultants of Vodacom told me it must stay there for 2 years, but if it was a judgment my attorney can removed it from my name. Please help with this as I don't want this default to hurt my name for years to come because of a mistake from this company.

In 2007 I signed-up for a 36 month contract with Vodacom. 3 years later, my contracted ended and Vodacom decided to charge me an extra R3 826.97 for what they say is money I still owed on the laptop. I have spoken to Vodacom countless times and they still can't explain to me why I have to pay this amount, if the laptop cost was suppose to have been part of the contract. Then, a few months ago I went to Vodacom and was told that according to their system I only paid for 2 years. I wish I could deal with one person only, who is friendly and willing to get to the bottom of my problem. Every time I have to speak to a different person and everyone tells me a different story.

David Moshabe
from Johannesburg, GT
kindly note that I applied for fibre in December and was promised to have an interim router which was delivered 2 months ago and till today I cannot connect and I have been phoning daily but still nothing. this is totally unacceptable as I have been having a contract with Vodacom for the past ten years now. I really feel let down. SO181116-527184, SO190226-595303

Tryphina Hlabathi
from Johannesburg, GT
I called Vodacom repairs centre to find out about my claim. A certain lady by the name of Dersia Molefe, if that is her correct name was rude to me. She shouted at and yelled at me, she hung up whilst I was still explaining myself. I called again she answered and hung up again. I phoned and a certain lady by the name of Adele, answered, she said it is unfortunate that the lady is a manager. I am not sure if the manager has a right to treat customers the way she did.

Hendrik van Gass
from Rustenburg, NW
Vodacom increased one of my contracts tariffs after the 24 month initial contract expired. I treid this morning to stop that contract. The person helping me was more interested in upgrade the contract than helping me cancel it. Please let an Afrikaans speaking person phone me and help me. I am a vodacom client for the past 24 years in it is the worse service I got in this 24 years. The number of the contract in question is 27646575213.

Mbali
from Johannesburg, GT
I used to really love Vodacom but for the past few days I really my network is reaLlysfaen bad and when I call them I never get any assistance or my call doesn't even go throu. . . This service provider is starting to be useless cause am missing important calls, am even thinking of porting to 8ta or other services providers cause I really can't. ..
Am very disappointed in Vodacom.

My airtime got missing then I decided to call the consultant didn't treat me right she was just rude I ended up loosing it vodacom you have worst consultants ever,I will using Telkom I am tired of you rude consultants.the rude consultant that I spoke to is thobile.

Wasilah Paulsen
from Johannesburg, GT
I have signed a Vodacom fibre contract SO181128-535094 in November 2018. On the 22 January 2019 Vumatel came to install the ONT Box. Since then I have waited for Vodacom to deliver and install the router. I have called the help desk many times and was given a SR 190123-201764. After calling the helpdesk over 12 times I have finally been informed that the router was delivered to a Company Roland Networking Consulting in Kwazulu Natal, There has obviously been a mix up as I am in Florida Park Roodepoort Gauteng. Even with this error picked up, till today I have STILL no router. Every time I call in I am promised that this will be escalated and some manager will call back to resolve this issue, but that call NEVER comes .
I have received emails to rate your service as this contract is complete. … How is that possible??
To crown it all I have already been invoiced! INV no VB/1715718. R 1122.87
I sent a mail on the 20 February to cancel this contract SR190220-257873. I have not heard anything from Vodacom regarding my cancellation request. I have requested my bank to reverse the debit order, but my cellphone bill is on the same Invoice. I don't want my cellphone cut off because that will be another mission to sort out
I am so annoyed , frustrated and disappointed in the service by Vodacom , I have many times told the help desk that I work from home and need the Internet urgently, but nobody seems to give a damn
PLEASE can someone just confirm cancellation so I can go to another service provider.

Louise Blom
from Midrand, GT
I get calls from Vodacom every few days for my upgrade. Why should I upgrade with one of the most well know company in South Africa.
1. Don't tell me that the no signal with load shedding as the towers are connected to the electrical grid, BUT MTN, Cell C and Telkom is fully operational. What is Vodacom not doing for their customers. I get kicked of the network and after load shedding I have to reboot my phone so that I can get back on the network. After checking my settings and my phone should automatically choose Vodacom.
2. Give me one reason I should stay with Vodacom when I was happy to give you 5 star review in the past with customer service, but now you're not even on the charts.
3. Not even talking about the roll-over of data charges that was planned.
4. I pay Vodacom a lot of money EVERY MONTH... So Vodacom step up to the plate and give us the service that we are used to.
I can not see myself upgrading my contract after many years with Vodacom if this become a permanent problem.

I have signed up for a black Friday deal in November 2018 for fiber for 599 a month.. The sales person assured me that we will have free wifi access until life has been installed and running at our premises. We were then further advised that the installation will be at the end of December 2018. Towards the end of December 2018 on calling Vodacom we were told that installation will only happen on the 1st January and upon questioning that being a public holiday it was further discovered that fiber cable must still be laid in our area. In January 2019 we received a bill from Vodacom for 1250 and upon queering this it was reduced to 599 but on further persistence about free wifi until fiber is life and active we were told that Vodacom does not provide free wifi for longer than one month. That pissed us off as we were told specifically that we will enjoy free wifi trough an interim router until fiber installation. Needless to say that now being in the middle of January 2019 and still no fiber installation. We then cancelled the whole deal and advised Vodacom that we will not pay any charges due to there in capability to resolve this matter.
Every time we called to follow up a different person tells us a different story. One of it was that after discovering that cables was indeed laid in our are that our matter was escalated for further action with the fiber department who will call us to set up installation. Well January drew to and end and still we have not heard back from this "fiber department". On numerous occasions we were told that our mater has been "escalated" . I honestly don't know what this word "escalate" means to Vodacom as nothing gets done accept we received another bill for an amount of 599 which we refused to pay and upon calling to esquire about this we were told that the matter has been erased."Erased", another fancy term used yet by another different person and yet we still received these bills. Upon further discovery we were told at one pint that there is two accounts against my name but being very apologetic about it Vodacom assured us that it will be "erased" also.Guess what, today 26th February 2019 I received yet another bill from Vodacom advising me that my account is in areas.
Every time I called Vodacom to follow up I am being referred to this so called "fiber department" who this matter has been "escalated" to and they will call me to resolve the issue but up to today I have not yet received any call or feedback on all my queries from the "fiber department"
I have threatened to expose Vodacom on social media because the lack of professionalism in this matter and I am very adamant to do this as every time I received negative feed back from them referring me to another department of theirs while receiving invoices which I have not signed up for.
I have cancelled this deal in the beginning of January already and as there is no fiber installed at my premises I accept Vodacom to cancel all charges raised in this matter and forward me an apology for handling this matter. I have also asked them to collect the interim router from me as it is not in use since January but it seems that Vodacom and this so called "fiber department " is not interested in my plight and just ignore my complaints and follow up mails.

Seema Singh
from Johannesburg, GT
To whom it may concern
I have been with Vodacom for years and I really have had no major issues with you hence I have remained loyal to the brand. In fact, I'm up for an upgrade soon and I intend on staying with you however after talking to your consultants today, I almost reconsidered this. I called Vodacom last week to inform them that I will be travelling from the 20th to the 24th out of the country and needed to activate roaming. They advised that I wont be able to use my data bundles (please check your recordings). I was aware of this anyway so at the airport on the 20th, I bought data of 1 GB for R149 which I knew I could use when I return to SA on the 24th. If you look at my user history, 1 GB lasts me for the month as I usually only use WhatsApp, I don't generally download a lot. I also have unlimited wifi at home so I don't require my mobile data. I got back on the 24th at around 5 and I was at home. I got back to work on today and I get a text saying my data is so I bought another 1 GB but I decided to call Vodacom because there is no way I would have used 1 GB in a few hours. When I called, your 1st consultant (I don't have a name) but it was a female working around 6:30 told me that it shows that I used the 1st GB, I told her that its nonsense since I was not even in the country. She was extremely rude and dismissive and passed me through your solutions department. I spoke to someone named Sizwe and when I told him that I was out of the country so I didn't even have access to data and I returned in the evening on the 24th. He interrupts me to inform me I made a call at 5;35 which is not the evening but the afternoon so basically implying that I was lying and he felt the need to educate me about the few hours difference between afternoon and evening. I went on to say yes, I arrived late afternoon/evening and made a calls but what does that have to do with finishing 1 GB of data. I even sent WhatsApp texts to inform family I arrived, does that use 1 GB of data? Nonetheless, he refunded the money but I made it clear that its not about the money anymore but rather the absolutely poor service and the principle. I have never taken time off sitting in my office typing up such a negative mail. I also happen to train a consumer care department to handle technical complaints so this is why I thought it necessary to complain about these consultants in particular. Please check my balance and usage. I use a lot of airtime for work and business so a couple 100 rands wont set me back. It was the principle and the 20 questions and the implication that I am a liar. I cant attach my ticket because this site doesn't support pdf but if you provide me with an email address, I can send you my actual itinerary, boarding pass for Sizwe to analyse the difference between late afternoon and early evening flights. I don't want him to lose his job but please at least train him and the young lady better.

Jenny Beresford
from Saint Lucia, NL
Vodacom is ducting money from cell number 0604122203 every single day even though all apps have been discontinued this phone is only used to make calls and send messages.

slindile ndlovu
from Durban, NL
Hi....why am i still listed on a bad judgement system while I'm still paying my account please try to update my status on ur payroll system...it has put me in a lot of stress because I'm paying my account...try by all means to have this matter resolved S.A.P

Tel no 066 274 4394 Account number 17300814-1
I was approached by Elite Mobile and persuaded to take a contract on a Huawei Y3 @ R99 pm.
we agreed that the debit order would run on the 15th of the month. As this did not happen on 15 Aug I expected the 1st d/o to run on 15th Sept. On 31st Aug an amount was debited to my acc of R217.86. Not knowing what it was for I had it reversed. Next d/o went off for R317.85
and because I did not expect that amount it bounced. I was not told of other fees and even the emailed statement I received from Elite Mobile reflected R99 monthly cost and no once off costs. From then till now I have been trying to cancel this contract as I was misled.
7 Oct spoke to to Zinkewe(?) who said they had to request the recording of the conversation.
I made several calls again to no avail.
15 Jan 19 told "still working on it"
17 Jan 19 told "still waiting for recording"
01 Feb 19 again- waiting
11 Feb 19 spoke to Cynthia who apologized profusely and said this contract would be cancelled and courier sent to fetch the device.
On the same day RAM couriers called to say they were on their way to fetch it. I rushed home to get it but when our offices closed, the courier had not yet arrived. I had a call at about 6pm from the couriers which I missed unfortunately.
13 Feb 19 called again and spoke to Kabelo who said it had been handed to legal but he would again request recording!
14 Feb 19 spoke to Mondley who assured me that by 11am on the 15th someone would call me. Today is the 22 Feb and I cannot even get to speak to Kabelo or Mondley. Keep getting cut off or put on hold for long periods. PLEASE CAN SOMEONE ASSIST ME?!

Sue Govender
from Sandton, GT
I am now at a stage where I don't know what to do anymore with regards to a Vodacom account of mine. I have been fighting a battle with Vodacom from November 2018 till to date.
I did an upgrade on my cellphone – in November 2018 at the Vodacom shop in Mall of Africa, the biggest mistake ever as I should have just cancelled it and go somewhere else. I have to cellphone accounts, both on my name- reference number XXXX and reference number YYYY and it was separate accounts for years. At the time of the upgrade a person call John did the upgrade, he then took the initiative to do a transfer from my name to my name, how this is possible only Vodacom knows. The only thing to be changed was my address and my surname as I got married. The marriage certificate with proof of address had to be loaded on my account according to him. During this upgrade he also decided to combine the accounts to reference number YYYY not telling me a thing. I continues making payments on both the accounts using the reference numbers I have been using for years. On the account YYYY a payment of R918 gets paid every month as it is a top up phone. On account XXX the following payment were made from November 2018.
November 2018 R3592
December 2018 R2000
January 2019 R2700
Total R8292.
From December 2018 Vodacom kept locking my line saying my account is in arrears by R8292. So both my lines are locked and I have to phone in, explain the situation to them, requesting to update the payments to the account as no one told me that the reference numbers have been changed. I will then be on the line for hours being transferred from the customer services to the accounts department. I will send the proof of payments like they request with the details as per the person to pop@vodacom.co.za. The lines will then be unlocked and promises are made that they will update the payments. The next day I will have the same problem and have to phone again going through the same process. This has been going on from December 2018. Feel free to please go look at all the call updates and listen to the calls to feel my frustration. I was told to go to the Vodacom store where I did they upgrade, this is after weeks of fighting to get this updated. Vodacom Mall of Africa as I suspected did nothing as they can't do anything the accounts department needs to rectify the problem I was desperate sitting there for hours, speaking to a consultant and the manager and they promised they will also follow up and assist. As usual no one got back to me, I called the next day asking for an update and the manager got very arrogant telling me they can't do anything. So we carried on to call to unlock the lines every day maybe twice, every second day etc. On the 15th my line got locked again and I was in tears begging Vodacom to assist me as I don't know where to go to , to sort this out. A consultant assisted me and I thought I am getting somewhere as she could hear my frustration…. I thought its sorted once and for all as she gave me her manager's email address to send the proof of payment. Today is the 21st and my account is still not updated. When you call and speak to a consultant you get send from one department to another, then they will tell you, your account XXXXis R4000 in credit….????? Explain this please..
I cannot do this any longer… This is my final and last attempt to get this sorted out… if I don't get any assistance from here I will have to get legal advice and take this to social media. I have done my part for long enough… attached are some of the emails… if I have to add all the mails your mailbox will be flooded, to name everyone will take my days to compile that is why I am asking to refer back to the calls if they even got the calls or the notes on my account.
How do you do the transfer an account from yourself to yourself? How do you sort this out?

I have filed an insurance claim on the 9th Feb 19, to date I have not had a response and the worse part there's no response from 0821952. Even in vodacom service centres they cannot help. This is ridiculous and absurd to say the least.

Melissa
from Johannesburg, GT
Dear Vodacom CEO
I am an extremely upset client.
We have decided to take out vodacom fiber with you and the router was installed on the 2nd February 2018. We were told that the rougher takes 24 to 48 hours to configure on it's own. Unfortunately this was a lie and it was not configured. Your calls are recorded and you are welcome to listen in on how many lies we were told, how many times our query has been escalated and how we never got any feedback when told we would. We have called Vodacom on 0821904 every day since. It is the 19th February 2019 and we are still told that they can not get a hold of the back office and they can not do anything about our query. It's up to back office and not them. This is completely unacceptable on so many levels. How do you run a business in this manner and how do you allow this to happen after so many attempts to give you the benefit of the doubt. I called in again this morning and and I was told that it was sent to the incorrect department to configure then I was told to wait 3 hours for this to be done. I called again at 20.15pm today and get told that there is no progress in the query and no feedback. I have asked for this to be cancelled with immediate effect and your technicians must make sure that they are at my house by close of business tomorrow 20th February 2019 to collect your router and remove it from my premises. Should this not be done I will throw this device away and i will not be held liable for this...
I will post this complaint on every platform that I possibly can just to ensure that I save as many people from making the same mistake that I did. We will also be cancelling all our Vodacom contracts as well and will not be held liable for this as well.
Reference number SR1920202-222080
Reference for cancellation SR190219-257049
Regards
Extremely irate client

I did an upgrade during December 2018 that was wrongly done by the consultant. On the 31st of December 2018 I went in again and another consultant corrected by contract request.
Just to find out last week that VODACOM decided themselves to change my contract back to the wrong one (without obtaining my permission for this!!!).
And all the Vodacom personnel say is that I must wait because there is nothing they can do about it.

Theo du Plooy
from Randburg, GT
I have been a Vodacom client since ±1997 and previously reported to them that we do not have access to the Vodacom network on the farm. As expected they did nothing about it.
The attached KMZ file (Google Earth) shows the positions of the two farms and four towers in the area.
Currently I must use a pay as you go MTN phone to have communication on the farm. It is really irritating that Vodacom cannot supply access to their network of which I have been part of since 1997. How do they think I must run my business without having access to data and normal communication?
At this stage I am seriously considering canalling my four Vodacom contracts and use either MTN or Cell C.
Is it possible for you to assist?
Thank you in advance.
Yours Faithfully
Theo du Plooy

I have been trying to get my fibre installed into my house. Finally it was installed, but it's been 6 days and I can still not access the router or get the password from any of the incompetent call centre agents sot that I can at least log onto it. We call in every day and every day nothing gets done.
I logged a complaint with them on the 10th January for installation and everything and have a reference number: SR190110-178807, but yet they still feel that it is ok to give me the run around and tell me lies about it being escalated every day! This is nonsense man vodacom. I am a paying customer and when you want your money I don't tell you to wait 2 days! Just switch on my fibre already! It cannot be that hard!

Terence Carlo
from Johannesburg, GT
This is happening every time I purchase a whatsapp bundle . On many occasions I had sms'es. I had whatsapp bundle. At the same time I also had available balance. But why does Vodacom deduct airtime from my available balance when I have sufficient data on in my whatsapp bundle.
Even when I purchase data Vodacom gives you free data for the same amount but it has no value. You talk for a few minutes and that R30 or R50 last just for a few minutes.
Your 60 minutes calls to all network is also a ridiculous. If I buy 60 minutes to all network at 8 pm at night and just talk for 10 minutes then I forfeit the balance at 23h59 that same night. Why can't Vodacom extent the period at until the next day. The customer is always losing out.
Extent your power hour at least up to the next day and more consumers will be satisfied.

Jaco Esterhuizen
from Durban, NL
Applied for FTTH on 09/01/2019.
I phone the Customer Services line twice to confirm an installation date.
Both time I was told that my query would be escalated and someone would phone me back today is 28/01/2019 still no reply or Fiber.

Alicia
from Cape Town, WC
Your online services is terrible, I have made a online upgrade on Monday 21/01/2019 @ 15:25pm and was told the confirmation department would call me. Im still waiting for them to contact me in order for me to confirm my order. I have called a couple of times and was told they are back logged or their system is offline or the didn't have my phones in store or the would call me back and no one has. I was sent a message stating that my order has been processed, but how????? If no one has still not contacted me with regards to my order and its Friday 25/01/2019??????

Estelle
from New Germany, NL
My husbands phone is not activated and use the phone for business purpose i have phoned on the 12th of January and again on the 14th January
I received an email from you people to say it is escalated . It seems that the technicians don't care that we are losing money surely it cannot take 5 days to activate a number. I don't think that is good service at all

Ben Human
from Cape Town, WC
I had Fraud on my Cell I try to contact Vodacom but no luck
First I went to the Vodacom Shop they supply me with the number I must phone the first time I did get trough and they ask me to mail them with the complain and the affidavit what I done but it's seems that it's the wrong email so I phone again but no luck the fraud happened already in Oct but no luck to get Vodacom to help me

DT Kitchenbrand
from Pretoria, GT
Hi Madame/Sir,
Please cancel my contract on 082 783 8298 the contract expires the end February 2019, This will also take place on all my Vodacom Contracts as and when they expire I will no Longer have anything to do with a company that has now over booked my account with between R3500.00 and R4000.00 for 3 months since August 2018. I have logged this complaint a week ago and this is pathetic as your philosophy clearly states that all queries will be resolved within 24 Hours. Note That each time I contacted Vodacom with the above mentioned I was promised that would not happen again, which was in itself misleading information, I will be sending all my queries, corrections of accounts and correspondence to the Ombudsman and to the SA Consumers Complaints. Also note I WILL Default on this month's payment and will only pay the amount minus the over charge of R3500.00, please send me Vodacom's Bank account Details. in which I can pay this amount at the end of January 2019. See Ref No. 1-34271815928274 (Samu). Note no one person has called me back WRT this matter, only 1 call was made to me after I sent an SMS stating that my query was not resolved and she said I must wait another 24 hours which was on Thursday. I kindly also request that all Tape recordings be pulled and made available to me, I have recorded some of my calls with your personnel and will also send these to the above mentioned. I trust that you will ensure that this matter does not have to go further and that the extra charges are removed from my Invoice by the 18th January 2018. Vodacom has put me under a huge amount of stress WRT the large account and I hold Vodacom accountable for this. I have once again made a call13:23 and was on the line for 21 min. The Lady informed that a credit was made against my account but could not see what was the amount. last month your people called 3 times the same day of the query and the next morning I received notification that it was corrected. I was also then for the 2nd time PROMISED that it would not occur again, obviously this was also not the truth, also NOTE: My WIFI has been switched off since my last conversation on the 9th of December 2019, so please tell me how data is used when it is switched off?????????/

The customer service is useless and rude. Vodacom lowered our profile for no reason (right when we were supposed to upgrade) and said it was because we didn't pay our bills (which we did, every month. We never skipped a payment) They said the profile will be back up to a high profile in 3 months, which is now, when we called they were rude and said there's nothing they can do and the profile is still low.

Robyn Ford
from Johannesburg, GT
Good day,
I am writing this email as a last resort regarding the installation of my fibre: SO181124-531926 and SO180920-494846 (previously).
I have on numerous and countless occassions, since our infrastructure was installed in November of 2018, tried to make an appointment for the installation. I was even once called by your scheduling department and an appointment was made for the 07th December 2018 at 1pm. I took a day off work and waited, and waited, and waited. Your technician's and scheduling department did not even have the decency to call to apologise or reschedule. Just a day of work wasted for nothing.
I have logged a complaint on Hello Peter on the 03rd December 2018, I just get a generic response. The call centre agent that called me couldn't even assist with my problem and told me straight that I can just cancel the contract. Is this how you treat customers?
I have also lodged this same complaint on your facebook page, tagged it on your twitter account and even received a response back from your facebook account stating that it will be looked into and no answer on any of these platforms.
I called again today and your call centre agent told me to wait on the line and then just cut me off! I can't get to speak to a manager. I am starting to believe that your scheduling department is a myth.
My query has been escalated for over 2 months now and there is no resolution in site.
I no longer am interested in the interim access that you are providing me with as it is only a capped amount of data and the fibre is to be and unlimited package. We run our small businesses from home and this internet is really an issue.
As per the terms of lodging a complaint as set out by ICASA and also the Consumer Protection Act I would appreciate if you could acknowledge this complaint and issue me with a reference number. Also a resolution should be reached within 14 working days. If not I will have no option but to take this matter further.
Kind regards
Robyn L Ford
082 842 3465

Madelein Roberts
from Cape Town, WC
My son's phone was stolen and I requested a sim swop to be done. The staff at Vodacom Greenacres was very helpful and tried to assist, HOWEVER I have been to the shop 4 times to do a sim swop and after the 4th attempt the sim card is still not active. I have only used Vodacom as my product provider and had my contract for my cell phone, my children's cell phones and tablets for many years. However it is now 2 months that my son is not able to use his phone, because the sim swop can not be done!!!!!
When I asked for a new number on the exiting contract the staff informed me that it can not be done. I would have to take an additional contract with the current contract. This is not acceptable. I NEED THIS SWIM SWOP TO BE DONE AND FINALIZED ASAP. My cell number for you to view all the products I have with Vodacom 082 410 8513.

Riva van Zyl
from Johannesburg, GT
I did an upgrade in 2016
My number is 084 666 0727
According to the system I am only able to upgrade again in November of 2020
Sorry, you can't upgrade just yet.
You will be able to upgrade from 27 November 2020
I have been to the store in Cresta JHB several times and every time is told to come back in 7 - 10 days
The store manager advised that I should be able to upgrade in March 2019
It is now January 2019 and still NOTHING has been done or rectified
I have spoken to Hlobisile at Upgrades who inturn forwarded me to katekani
I also spoke to Vuyo at the accounts department trying to get this issue sorted out - Who then advised that Accounts cannot do anything and promptly put me back to Upgrades - It is pretty pointless if NOBODY knows how to fix my account
Please can I have feedback as how you intend rectifying this situation
You can reach me on 084 666 0727
My ID is 6607270058080

Beulah Esua
from Cape Town, WC
My sim got stuck in my new phone and I needed a technician's assistance in this regard. I visited the Golden Acre branch, Cape Town and was advised by the agents there that I needed to go to either the Waterfront of Century City for assistance from a technician. I then went to the Waterfront after work (15h30) and on arrival was directed to two "technicians". On explaining my dilemma, I was unprofessionally informed by both the woman and man sitting at the desk that they cannot assist me with my problem, I needed to go to Century City and they could not understand why the agents at Golden Acre branch referred me to them. On voicing my disappointment they just shrugged their shoulders and said they could not assist me, not even trying. I then asked the male agent his name and he refused to give to me wanting to know why I wanted to know his name as he was not going to tell me what his name was. I then became quite perturbed at his unprofessional attitude and requested to speak to a manager as his responses lingered heavily towards being rude.
The manager (Mark) of the branch then came to me after quite a while and when I explained my concerns he apologised but the agent (whose name I then determined was Taureeg) continued being his "rude" self. The manager then offered to look at the phone which I then refused to do as I was not impressed with the service at such a supposedly "high level international" branch of Vodacom.
I personally would wish that Taureeg apologises for his unprofessional behaviour and don't believe that he should be working in such a high profile environment, where tourists also walk in for assistance.
Kind Regards
Beulah Esau
0795161200

Chris Eyberg
from Cape Town, WC
Good day.
I am currently having a debit order issue with Vodacom. Vodacom is suppose to be investigating the issue and up until now, I still haven't heard anything back from anyone, and it's 3 months later. My data was cut off and therefore no more debit orders were to go off until the investigation was completed.
None of these issues would have been caused if the debits were taken off from the correct account and not the one i had canceled.
I had notified Vodacom Customer Care, as well as the Accounts Department, far in advance before the debit order took place.
My new account details was given and confirmed by the accounts department and yet Vodacom continued to debit from the wrong account. I now have been charged with penalty fees including the amount of my contract per month since this issue started in September 2018. The debit order was suppose to go off from my new account in October.
Vodacom continued to debit from the old account for October and November and my new Account details was only confirmed last year December after I went to Vodacom Cavendish Square.
After I contacted Vodacom, went into the Vodacom shop and my new Account details was confirmed, Vodacom debited the full outstanding amount out off my account today on 03-12-2018.
Vodacom however gave me double the data, but unfortunately this isn't beneficial to me at all.
I have a strict and tight budget and due to Vodacom not doing their work properly, it has now interfered with other responsibilities I have as well as left me with a shortfall in my budget.
This can not continue!

Jan Serfontein
from Pretoria, GT
I have a vodafone modem with which I use the above e-mail and since 18 November 2018 my password is rejected. A password that I've been using since 2009. I have contacted the customer service line numorous times to report the problem and requested the IT department to contact me, since they repetedly claim that the problem is solved, but neither that has happened nor is the problem resolved. My contact no. is 0827389900 ,and the modem with the faulty e-mail receiver is 0793049986

Ebrahim Isaacs
from Cape Town, WC
Good day to you
Every time I recharge when I check my balance again I find that money has been deducted without me making a call.
Please check and advise.
Thank you
Ebrahim Isaacs

Vishane Kunthanlal
from Durban, NL
I been trying to acquire and additional line (ported from MTN), for the last 3 weeks. My initial conversation was with Vodacom sales on 0821950, (consultants Name: Godfrey). I request the addittional line at a "Price Matched" cost of R999 as prviously oofered to me on my last upgrade. Godfrey blatantly refused stating they cannot put forward susch a request. Appproximately a week later I again called 0821950 to initiate the porting of the MTN Number and activation of a new contract line. I then spoke to Kagiso who agreed to request from Vodavom Commercial to activate the new line at R999 and stated it will take a day or 2. Days later Kagiso had not called back and I had left 5 messages with his colleagues requesting a call back. Eventually i managed to reach him 6 calls later and he stated that they "cannot make outgoing calls". This sounded ridiculous to me.
I insisted on speaking to his team leader Pililhe Dlamini whom since has always "been out to lunch" or "not available" to date.
Apparently a company called Bytes People Solutions is outsourced as Vodacom sales. This company displays a clear lack of integrity and expertise. Their approach to custumer service is appauling. I am a client of vodaom for the since 1997 and am utterly duisgusted with the disgraceful service I am subjected too. "Vodaconm Sales" on 0821950 may be the the introduction to Vodacom for new customers and this service centre is likely to create an immensely poor impression. It is extremely unlikely that I mam the fisrt customer that is made to endure this frustartion due to the incompetent and unethical manner of this service centre.
There also seems to be and issue with the porting of the number from MTN. After a conference call with Vodacom and MTN porting departments this morning its seems that Vodacom has not sent through a "message 8 and 9" that is hindering the porting process. A supervisor Natasha at Vodacom Porting vowed to get the issue resolved. Should I hold my breath??

Allan Alexander
from Sault Ste. Marie, ON
The McDonald's outlet at the corner of Boundary rd. and Wellington street is getting sloppy . Ketchup dispensers empty latter in the day, filthy floors by mid afternoon, too many kids sitting around playing catch with the hamburger wrappers. I am not the only one that is complaining just the only one that took the time. Food is good thought.

Legae
from Pretoria (Menlyn Park), GT
Took a cellphone contract in July 2016 .I was told that contracts ends end of August 2018 and all necessary payments were made as I asked them NOT TO RENEW the contract .
Come September 30th I was asked for payment of R208 and i disputed this as my contract ended in August but they ended up saying it means I was given incorrect information by the Vodacom agent ,I then confirmed that once I make payment they won't contact me again and in fact they will send me a cancellation letter and they said yes.to this day, almost 3 months later am without a paid up letter whereas 5 days ago they said I will receive it within 24-48 hours.

I had applied for data contract a Month back.
I'm not receiving any update on contract status and every time i contact the vodacom store where i had submitted by application only response i get is WE ARE LOOKING AT IT AND ISSUE IS ESCALATED
No more feedback until i call them again.

Johann Groenewald
from Cape Town, WC
The Vumatel rooter was installed during May 2018 we still awaiting for Vodacom to install the Vodacom Rooter. I phoned several times,sent emails, people promise to come back to me but they don't.The salesman Timothy Swartz is very unprofessional and unhelpful. I phoned him several times, spoke to him on 6/11 he promised to come back to me but he don't he

Natalie de sousa
from Johannesburg (Waverley), GT
The manager at the vodacom store in mall of africa Sibelo not sure how to spell it is extremely rude. He has no customer etiquette at all. His attitude was terrible and he was intimidating. I was charged R100 too much and he didn't even care to try and understand and listen to me. He was abnoxious and totally rude. I have been with vodacom for years and I actually feel like cancelling it paying what i still owe and noving to another provider because of this man.
Natalie de Sousa

LM DE BRUIN
from Thohoyandou, LP
MY HUSBAND JG DE BRUIN -DECEASED 20181021-5705115037086(ID)ACC- I0574569-01
i CHANGED EVERTHING TO MY NAME LM DE BRUIN-EVERYTHING WENT SMOOTHLY. ON MONDAY I RECEIVED
AN MESSAGE ON MY PHONE: MANDATORY ACCOUNT LIMIT REACHED-SUBSCRIBERS SOFTLOCKED??????????????? AFTER TAKING A DAY'S LEAVE TO SORTING IT OUT-THE PROMISE WAS THAT THE SERVICE WOULD BE ON IN 24 HOURS????????? AFTER SEVERAL PHONE CALLS IT WAS ON FOR A FEW HOURS?????????? NOW THE SAME MESSAGE APPEARED - SOFTLOCKED. I WANTED TO UPGRADE AGAIN AT VODACOM??????????? NOW IM WAITING FOR MY CONTRACT TO EXPIRE TO MOVE TO ANOTHER NETWORK!!!!!!!!!!!! I CAN"T RATE MY EXPERIENCE BECAUSE THERE IS NONE!!!!!!!!!!!! I CAN"T EVEN BUY AIRTIME!!!!!!!!!!!!!!! I'M VERY DISAPPOINTED IN THE SERVICE THAT I RECEIVED AT VODACOM AND I'M GOING TO POST IT ON FACEBOOK FOR EVERYBODY TO SEE WHAT TO EXPECT FROM VODACOM. THANK YOU!

Riaan Ferreira
from Cape Town, WC
Overcharging
No help from help desk
Bad attitude
Miss representations

SELVIE PILLAY
from Durban, NL
I purchased a Vodacom Huawei P20 Lite on contract for the first time on the 17-11-2018 and my experience with them was a very poor one. I normally buy cash phones. I have an MTN network and i asked them to change my network from MTN back to voadacom and to keep my same number. They told me it would take up until 1 December for that process. i was reluctant but i agreed. I went into the Chatsworth Branch store and they told me it was sorted out. i told them nothing was done because i could not use my phone and it has not been used from the time i purchased it. there was no sim card given to me as well. the attendent put my phone on and gave it to me. they checked on the system and saw that it was not done yet it was approved the day it was purchased. i am so unhappy that I want to cancel my first time contract or else I will open a case. another option I am willing to take is that the phone be checked and replaced. it has not been used and it might give me a problem in the future which I am not going to be happy about. He also asked me to put a screen guard which i did but the phone is new. i want a new phone that can be used the same day as i have waited 16 days to use my phone which i could not.
Kindly advise the way forward.
Thank you
kind regards
Lee-anne Pillay
0725655110

Cheryl Govender
from Durban, NL
i was due for an upgrade in October i was called by the agent and told i will be getting 2 new devices x2 P9 LITE.I went to the store and only was given 2 sim cards which i paid R105 each for. i then went back to the store in Phoenix Plaza only to find out that the agent saying that i already received the phones. In March i got a call from Raaf & Associates telling me that i need to pay for these phones that i don't have.
can you please get someone to call me ASAP so i can clarify what transpired.

Garth Benton
from Durban, NL
Account Number: 107110945
I made an eft payment of R1586,57 on the 26/10/2018. Unfortunately it went in to wrong Vodacom Account from Standard Bank online banking.
I have emailed Ashwin Abrahams, the superviser at the Vodacom Account Department, who assured me that he had sent it the Finance Department for allocation.
The allocation of my payment has still not been processed and I am receiving smses on all 3 cell phones regarding non-payment and warnings of suspension of services.
How do I go about having this problem resolved?
This is urgent
Regards
Garth Benton
Contact: 071 6030 417

Bronwen
from Cape Town, WC
My name: is Ms Bronwen Bownes, Cellphone No. 0825692402, I'm very angry. My Mother cancelled my old cellphone contract, without, my approval. I'm, now, on a new Pay-As-You-Go, with 5 Megs Wi-Fi Contract, fixed for 2 years. I want to know how my old contract, was canceled without any proper authorisation, from me! I cannot afford to finance this new contract.
My Mother has told Vodacom that she cannot afford to finance, my cellphone, anymore. That's lies. She just took out a brand new cellphone contract, on a Samsung Galaxy 5J Pro, with R169, per month airtime.
I just wanted to set the record straight.
Bronwen

Johannes Niemann
from Cape Town, WC
WI Fi at my house just dint work .My 10G contract works four hours a day if you are lucky,my wife use a 2G contract on her Tablet and that is even worse.I want this 10G contract cancelled because it is of no use to me.It is not a problem with my equipment as one of my neighbors had the same problem and changed to Telkom and now has no problems.Optic fibre cables have just been installed in our complex,but with my Wi Fi working like it does I will never recommend Vodacom in this complex even if it is "Optic Fibre"
My phone 0796445009 Would like the 10G contract cancelled please as we cant use it.

Charles Janse van Rensburg
from Midrand, GT
useless after 3 months a contract has still not been cancelled despite committing to do so

Albert Wessels
from Johannesburg, GT
This a story about 2 young people, let's just say the sweet and the sour. They both work at the Vodacom Shop, Lakeside Mall, Benoni. I went into the store to enquire about a new battery for my cell phone. Jonathan very abruptly informed me they will have to book in my, leave it there for a couple of days till a technician can see which battery it takes. I said to him this will be impossible as I use my phone all the time for business. He lifted his shoulders and said 'well sorry, that's how it works'. Luckily a little lady by the name of Alicia approached me from a side desk and said 'sir, let me see of I can help'. She opened my phone, removed the battery, checked with her manager and informed me they had a battery in stock. She changed the battery and put it on quick charge for me and 10 minutes later we were out of there. Great service thank you Alicia. As for Jonathan...Jonny my boy, take a tip from the lady.
PS I've been a Vodacom customer for > 20 years and staff like Alicia reminds me why I stay one!
Your sincerely,
Albert Wessels
082 898 0693

Karin Buss
from Johannesburg, GT
I have upgraded one of my accounts at the Vodacom Shop at Vodaworld on 8 October 2018 and it should have come with a PS4 and top dog voucher, I did not recieve the top dog voucher nor the PS4. The constultant said that the PS4 is out of stock and I need to call to find out when they have as she has no indication of when it will arrive. Vodaworld's number does not work due to construction and I drove there to enquire a week later. I was given the consultant's personal contact number and I called a week later only to be told they don't know yet. After visiting another Vodacom shop and they indicated that they have stock available. I complained on Facebook on 28 October 2018 and the social media team contacted me on Sunday saying that someone would call me, nobody called. When I followed up they said I should be patient and wait for a call. After no call was received I called the consultant on her cellphone on 2 November. She indicated that the manager is trying to source a PS4 from the warehouse and she would come back to me. She did not come back to me so I called again twice on 7 November 2018 and she did not answer my calls but sms'd back saying she would call me back. I decided to visit the branch to speak to a manager and no manager was there to attend to my query. The service desk lady spoke to the warehouse manager (Louis) and she said he would call me back with feedback later that day. He did not call and Caroline (Consultant) still did not call back. The contact number for Caroline is 0829978719.
Resolution Sought:
I would like my PS4 and Top dog voucher today as I am already paying for it. I cannot contact anyone else at the Vodacom shop as the number does not work and when I go there I am told there is no Manager available. Please see attached screenshots of communication with the social media team.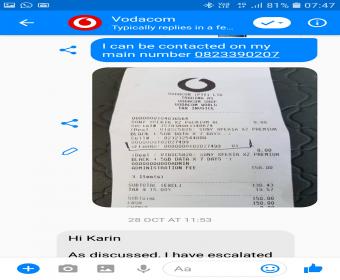 Nigel Brown
from Cape Town, WC
Dear sir/madam
I am desperately hoping you will be able to assist me.
I joined Beefcor in March 2018 as General Manager. I have been a loyal Vodacom customer for approx 15 years in a private capacity. As part of my Beefcor package, my number was to be swapped to the Beefcor business account (reverse migration). Beefcor has approx 35 Vodacom numbers on it's business account.
In March 2018 I visited Vodacom at Brits Mall to inquire about this 'reverse migration' and was given some papers to complete.
I waited for around 4 weeks, then went back to check on progress. There was no record of the documents I had submitted. In other words the process had not even started.
In the meantime my private contract expired, where I was advised not to re-new due to the imminent reverse migration.
I was asked to re-submit all the papers (including letters from the board of directors) in April 2018. I was told it could take up to 2 months for the reverse migration to happen. I did this the same day.
I followed up in June 2018. I was told that there was progress but not yet complete
I followed up in July 2018. I was told that nobody knew why nothing had happened. Service support was then requested from Brits store for me. They called me a day later and told me I must resolve at the store, they couldn't help - the store told me they can't help.
I have been trying to follow up periodically since. I spoke to the manager at Brits Mall Vodacom store, and explained to her that I was trying to run a R2b a year business with now a pay as you go type arrangement on my cell number. She was basically uninterested and told me there was nothing she could do about it. The fact that Beefcor has so many numbers on its business account was unimportant to her. I was very shocked by this very poor customer related attitude.
I asked a lady at Brits Vodacom store for the contact number for a regional manager where I could escalate this issue with. She could not give me his number, but put my name and number in a store diary for him to call me the next day when he was due to visit the Brits store. He never called me.
To date I have visited the Brits Vodacom store 9 times trying to get this issue resolved. I work in Pretoria, so this is taking a lot of my time.
Brits no longer return my calls for assistance, I have had no feedback for months.
I feel this to be totally unacceptable. It has been over 10 months now and I am no longer further forward. No one is taking my issue and helping to get it resolved. I am currently paying over the odds amounts for calls and data, whilst running a large business that supports over 30 Vodacom business numbers. It is ever increasingly becoming more and more frustrating to be ignored with no signs of any customer service on this matter.
Please can someone assist with this urgently.

Greg
from Johannesburg, GT
Hi.
I have been with vodacom through autopage for approximately 15years. I haven't had a problem until my account was moved over to vodacom last year October. Since then I have been billed incorrectly and had to open a fraud dispute. I have had no contract since April and been on pay as you go since then and no caller id. Since then my bill accumulated to over R8000.00 on pay as you go and my contract has ended. Nobody can help me over the phone. There has been no communication from vodacom whatsoever and yet my bill keeps increasing. I feel vodacom does not have the capacity to solve simple problems. I also feel that their only interest is to make money and have no regard for their clients. I have called on numerous occasions without receiving much of an answer. I'm even starting to think they don't have a fraud dispute department, (which you cannot contact directly) only by unanswered emails. I have since got another service provider who is capable of resolving issues. I'm tired of dealing with vodacom. To throw away a long term paying client so easily makes me wonder.
Kind regards
Greg
Have feedback for Vodacom?
Thanks for your feedback!
Sorry. Please try again later!