Vodacom
Vodacom Complaints Continued... (Page 3)
586+ reviews added so far. Upset? Call Vodacom corporate: +27-8211

Mrs Glyn Pereira
from Cape Town, WC
Due for an upgrade,and been a loyal client for many years. Upgrade sorted on line,and waited for my new phone and 2 "Rewards" of 10 Gigs for R99 x 2 offers. What does Ram Couriers deliver? Only a simcard. No device.
Devastated I phone in to almost every Vodacom help number,only to find that the blue Samsung Galaxy A7 is unavailable. Only gold is available.
Why was there so much hype about seamless upgrading,and no delivery? Why didn't one of the upgrade team members get back to me about not having stock? I am so angry right now.
So I have decided to ditch all 3 of my Vodacom contracts,and take my business elsewhere.
Such shoddy business ethics will not endear Vodacom to anyone. To be sure, I for one will advise anyone who asks,to never trust Vodacom, do not believe the sales hype, they cannot deliver what they promise.

i just called vodacom on the 12th of march 2019 with regards to my data that had been used by vodacom all whilst i do have a whatsapp ticket that sometimes does not read.one of your consultants said i would be refunded and vodacom never got back to me,Its the 13th of march and i expect my 100 mega to be reimbursed

Regarding phone number: 064 655 6584
In February I phoned to see how much airtime I had left. It showed R 200. I made 1 call of more than 6 minutes. Afterwards I made another call. After a little while the phone just cut off and I could not make any calls.
I want to be given a detailed list of the calls to see how it is possible that R 200 airtime just disappeared. I want an adjustment as soon as possible as I already gave notice to cancel the contract end of March 2019.

Dianne Oelofse
from Pretoria, GT
I WOULD LIKE TO COMPLAIN ABOUT THE WIFI ROUTER. I GOT THE CONTRACT LAST MONDAY. I USED IT FOR 2 DAYS (A FEW DAYS IT WOULDNT EVEN WORK), THEN THEY TELL ME THAT I HAVE 0 GIGS LEFT (I GOT THE 10 GIG DAY & 10 GIG NIGHT DEAL), I WENT TO THE STORE THEY COULD NOT HELP, I THEN PHONED HELPLINE AND THEY SAID THAT IT WAS INCORRECTLY TAKEN OFF, THEY WILL CREDIT ME WITH 4 GIGS. I STILL DO NOT KNOW HOW I USED 5 GIGS IN THOSE FEW DAYS. I WISH TO CANCEL THIS AS I DO NOT SEE WHY I HAVE TO MONITOR MY USAGE EVERY MINUTE OF THE DAY! THE LADY AT THE CALL CENTRE SAID I HAD 14 DAYS TO CANCEL MY CONTRACT - THEY WONT LET ME CANCEL IT NOW!

Corina Da Silva
from Johannesburg, GT
Dear Sir/Madam
My patience is now exhausted, I have been trying to claim for a Router and Cell phone since the +- 21st of January 2019. cell Number 0824916233
I was highjacked on the 14/01/2019, the very same day I cancelled my router and cell phone SIM cards.
I managed to get the SIM replaced by Wednesday the 16/02/2019 and that was it.
Trying to get through to Vodacom insurance department is an absolute nightmare, the phone number provide doesn't work or you get no response.
Going through the Vodacom Customer Care as much as they try, it still a nightmare.
During these last couple of weeks, I have managed to speak to your call centre agents and I was quite vocal with my complaint, at times they have tried to assist me, but quite frankly it out of their hands.
To cut a long story short, at one stage I actually got an authorization to go and collect my phone and router with following reference :
Phone: NES 140962
Router : VCI 184 856
I then go through to the Vodacom shop at Bedford Centre, to collect the phones, the very nice lady at the counter tried to call the insurance team to confirm again she tried for over 15mins with no success this was a Friday afternoon, it was agreed that
Agent and the Vodacom Shop in Bedford Centre would call the insurance on Saturday morning , and now they told her that I need to get a claim form from your Insurance department.
Again I tried to call you insurance department on a couple of occasion again with no success, so I phone your customer care line again. Your agents tried to assist me but with no successes as an alternative he suggested I go through to the Vodacom shop to collect Vodacom Insurance Claim form.
This form was submitted last week Friday, (see attached) I haven't received an acknowledgement and again they don't answer their phones. Friday your agent tried to put me through to the insurance department I waited on the line for over 30mins.
I can't sit on the phone everyday for so long without getting any feedback . I am still waiting for a supervisor to call me back since Friday
I am lost for words, I have been a Vodacom customer for over 20 years and this is the service we are getting.
Your assistance in this regard will be greatly appreciated.
Kind Regards
Corina Da Silva

Viren Gharib
from Johannesburg, GT
I have requested a paid up letter to be sent to Tracy.gharib@marsh.com and it still has not been sent.
They told me it would be sent within 24 hours.....Im still waiting a week later. Please can it be sent urgently as It is holding up my
bond application. Account was in arrears in December but it was paid up, it showing as paid on your side, but credit bureau its showing as outstanding.
Thanks

Ellinah Sithole
from Sandton, GT
I recently started using the Vodacom WhatsApp ticket and it has now been more then three times that my WhatsApp stops working but I can access my internet with no problem which only means that there is something wrong with the WhatsApp ticket. I have called Vodacom twice and the second time I called I was told that I should buy data that's not a WhatsApp ticket if I want to use WhatsApp. I don't agree with this because if you are experiencing problems with your WhatsApp ticket I should not have to pay extra out of my pocket to purchase more data after I already spend R35.00 on a WhatsApp ticket. It becomes very difficult for me as this is my main source of communication with my friends and family as well as my college e.t.c
Thank you for reading my complaint I hope this problem gets fixed soon

Glenda Conradie
from Cape Town, WC
My Son took over my contract. At the end of February the amount owing was debit from my account and my son's account.
I called in and lodge a complaint, received notification the matter was resolved. I reversed the amount taken off on my account
Now I received notification, vodacom Notification 14114981-9 my account is in arrears.
Speaking to 3 consultants who confirmed the amount owing was taken off my son's account, transferred trice and not helped why am I receiving this notification.
If this matter is not resolved 100%, Im taking it further.
I await your further feedback

I took out a data contract with Vodacom in February. A couple of days later I received a sms from my bank that there were a debit order returned from Vodacom and I am paying R100 for the returned debit order. After a couple of phone calls to Vodacom a consultant confirmed that my debit order date have been rectified and that the payment will go off on my salary date, also that the unpaid amount will be deducted the coming Monday. The next day I received a sms from Vodacom that I am liable for a payment (now the amount increase by a R100). Again i phoned Vodacom and they refer me to another consultant. I explained that the problem was supposed to be sorted when I phoned the first time and that the early deduction on my bank account was not my mistake and I can not be held responsible for the returned debit order. This was again ignored by the consultant an she suggested that a log a complaint. I need this to be sorted out TODAY. I am a loyal customer of Vodacom and have never been treated like this!!!!!!!!!!!
Contact me on 0760588291

wayne
from Johannesburg, GT
Waiting since 5 Feb 2019 to cancel my insurance no one was helping me I did sent mails and no answers
please call me
082 757 2064

Lorette Charlynne Pieterse
from Cape Town, WC
I have cancelled my debit order on 15/02/2019 and I paid via EFT on 15/02/2019 (including the penalty fee) to Vodacom. On 25/02/2019 I paid my account via eft (R663.58), however on 26/02/2019 a demand payment went through to Vodacom again for R663.58. This means I paid twice for my Vodacom account this month. I have been struggling since 26/02/2019 to get someone to assist me with a refund back into my bank account. I got told to send an email to pop@vodacom.co.za with my proof of payment attached, when I called two days later they told me I had to email a bank statement to pop@vodacom.co.za, I then spoke to someone in accounts yesterday who told me they haven't received my requests and that I had to email all the information again to molebogeng.monaisa@vcontractor.co.za, I did so. Today I called again and again spoke to a consultant, had to re explain the entire situation to which she argued with me and said Vodacom doesn't owe me the amount that I am claiming. I then spoke to a manager Ashwin Abrahams, he asked me to email him all the info, which I did to ashwin.abrahams@vcontractor.co.za and that he will reply to my email and make sure it gets sorted out. Until now I haven't heard back from him either. It has been 7 days now since I logged this complaint and to date nothing has been sorted. I understand it takes 7 to 14 days for refunds, but without anybody confirming receipt of my query, how can the refund be done? I am sooooooooooo upset with Vodacom. Hubby and I will both be cancelling ALL our Vodacom subscriptions because we have had no joy and are not happy with the Vodacom services. I have basically been given the run around with the consultants, I have send numerous emails to different people and made numerous calls to actually get in touch with the correct person and still nobody has assisted me. I need this refund to be paid back into my bank account. Not only was some of your consultants rude and unprofessional but they were not able to resolve my query. This is the LAST I will try and reach Vodacom, if I do not get my payment back or any sort of feedback, I will not pay for my contract any longer and will join a different provider, I do not care about you taking back the phone, I already have a spare phone at home that I can use. And as for the laptop and data that I wanted to buy, I will now rather get that from FNB or MTN but I will NEVER AGAIN do business with Vodacom. I wish someone would pull all those recordings from when I called Vodacom, that way you would be able to see how many times I called, who I spoke to, what kind of service I received, and maybe then Vodacom can make adjustments to once again be the best in the business, but until they make changes, I want nothing from Vodacom. Nothing. You can actually call me and I will once more explain my issue, but I am not even counting on that. 079 340 3893

Camille Naidoo
from Johannesburg, GT
Pathetic service from Vodacom as usual! My upgrade was done online and Ram couriers delivered the phone to my work without and notice and I didn't have the relevant docs at hand. I called to change the address on Monday and everything was finalised when I called today they said they have still not updated the address and not sure when delivery will occur. PATHETIC

khalil kader
from Cape Town, WC
To manement
Hi this is K. Kader i am a customer at your canal walk store. I had a incedent with my phone i took it in on the 11/2/19 for repairs and it was told to me that the phone is beyond repairs and they will submit a claim with the insurance wiich is with vodacom and aperantly the device was discontinued and uptill today my problem is not resolved due to the fact that vodacom change there insurers and now they want to replace me with cheaper phone and i have to pay a higher excess. If someone can please look into this matter with great urgency it will be highly apreciated thank you. The no. Iis 0823768396.
Looking forward on your responce
K. Kader
0823768396

Sarah Molale
from Johannesburg, GT
I have a cell phone contract with Vodacom and I've taken insurance for the phone with Vodacom. Recently my phone broke I took it in for repairing and now they fixed the phone but now the insurance is giving problems with the claim and I pay my contract every month (insurance included).I am very unhappy with the service that I have received,I can't even have my phone back because of the problems with the insurance claim and it has been fixed already. It is unacceptable really.

David Moshabe
from Johannesburg, GT
kindly note that I applied for fibre in December and was promised to have an interim router which was delivered 2 months ago and till today I cannot connect and I have been phoning daily but still nothing. this is totally unacceptable as I have been having a contract with Vodacom for the past ten years now. I really feel let down. SO181116-527184, SO190226-595303

Tryphina Hlabathi
from Johannesburg, GT
I called Vodacom repairs centre to find out about my claim. A certain lady by the name of Dersia Molefe, if that is her correct name was rude to me. She shouted at and yelled at me, she hung up whilst I was still explaining myself. I called again she answered and hung up again. I phoned and a certain lady by the name of Adele, answered, she said it is unfortunate that the lady is a manager. I am not sure if the manager has a right to treat customers the way she did.

Hendrik van Gass
from Rustenburg, NW
Vodacom increased one of my contracts tariffs after the 24 month initial contract expired. I treid this morning to stop that contract. The person helping me was more interested in upgrade the contract than helping me cancel it. Please let an Afrikaans speaking person phone me and help me. I am a vodacom client for the past 24 years in it is the worse service I got in this 24 years. The number of the contract in question is 27646575213.

Mbali
from Johannesburg, GT
I used to really love Vodacom but for the past few days I really my network is reaLlysfaen bad and when I call them I never get any assistance or my call doesn't even go throu. . . This service provider is starting to be useless cause am missing important calls, am even thinking of porting to 8ta or other services providers cause I really can't. ..
Am very disappointed in Vodacom.

My airtime got missing then I decided to call the consultant didn't treat me right she was just rude I ended up loosing it vodacom you have worst consultants ever,I will using Telkom I am tired of you rude consultants.the rude consultant that I spoke to is thobile.

Wasilah Paulsen
from Johannesburg, GT
I have signed a Vodacom fibre contract SO181128-535094 in November 2018. On the 22 January 2019 Vumatel came to install the ONT Box. Since then I have waited for Vodacom to deliver and install the router. I have called the help desk many times and was given a SR 190123-201764. After calling the helpdesk over 12 times I have finally been informed that the router was delivered to a Company Roland Networking Consulting in Kwazulu Natal, There has obviously been a mix up as I am in Florida Park Roodepoort Gauteng. Even with this error picked up, till today I have STILL no router. Every time I call in I am promised that this will be escalated and some manager will call back to resolve this issue, but that call NEVER comes .
I have received emails to rate your service as this contract is complete. … How is that possible??
To crown it all I have already been invoiced! INV no VB/1715718. R 1122.87
I sent a mail on the 20 February to cancel this contract SR190220-257873. I have not heard anything from Vodacom regarding my cancellation request. I have requested my bank to reverse the debit order, but my cellphone bill is on the same Invoice. I don't want my cellphone cut off because that will be another mission to sort out
I am so annoyed , frustrated and disappointed in the service by Vodacom , I have many times told the help desk that I work from home and need the Internet urgently, but nobody seems to give a damn
PLEASE can someone just confirm cancellation so I can go to another service provider.

Louise Blom
from Midrand, GT
I get calls from Vodacom every few days for my upgrade. Why should I upgrade with one of the most well know company in South Africa.
1. Don't tell me that the no signal with load shedding as the towers are connected to the electrical grid, BUT MTN, Cell C and Telkom is fully operational. What is Vodacom not doing for their customers. I get kicked of the network and after load shedding I have to reboot my phone so that I can get back on the network. After checking my settings and my phone should automatically choose Vodacom.
2. Give me one reason I should stay with Vodacom when I was happy to give you 5 star review in the past with customer service, but now you're not even on the charts.
3. Not even talking about the roll-over of data charges that was planned.
4. I pay Vodacom a lot of money EVERY MONTH... So Vodacom step up to the plate and give us the service that we are used to.
I can not see myself upgrading my contract after many years with Vodacom if this become a permanent problem.

I have signed up for a black Friday deal in November 2018 for fiber for 599 a month.. The sales person assured me that we will have free wifi access until life has been installed and running at our premises. We were then further advised that the installation will be at the end of December 2018. Towards the end of December 2018 on calling Vodacom we were told that installation will only happen on the 1st January and upon questioning that being a public holiday it was further discovered that fiber cable must still be laid in our area. In January 2019 we received a bill from Vodacom for 1250 and upon queering this it was reduced to 599 but on further persistence about free wifi until fiber is life and active we were told that Vodacom does not provide free wifi for longer than one month. That pissed us off as we were told specifically that we will enjoy free wifi trough an interim router until fiber installation. Needless to say that now being in the middle of January 2019 and still no fiber installation. We then cancelled the whole deal and advised Vodacom that we will not pay any charges due to there in capability to resolve this matter.
Every time we called to follow up a different person tells us a different story. One of it was that after discovering that cables was indeed laid in our are that our matter was escalated for further action with the fiber department who will call us to set up installation. Well January drew to and end and still we have not heard back from this "fiber department". On numerous occasions we were told that our mater has been "escalated" . I honestly don't know what this word "escalate" means to Vodacom as nothing gets done accept we received another bill for an amount of 599 which we refused to pay and upon calling to esquire about this we were told that the matter has been erased."Erased", another fancy term used yet by another different person and yet we still received these bills. Upon further discovery we were told at one pint that there is two accounts against my name but being very apologetic about it Vodacom assured us that it will be "erased" also.Guess what, today 26th February 2019 I received yet another bill from Vodacom advising me that my account is in areas.
Every time I called Vodacom to follow up I am being referred to this so called "fiber department" who this matter has been "escalated" to and they will call me to resolve the issue but up to today I have not yet received any call or feedback on all my queries from the "fiber department"
I have threatened to expose Vodacom on social media because the lack of professionalism in this matter and I am very adamant to do this as every time I received negative feed back from them referring me to another department of theirs while receiving invoices which I have not signed up for.
I have cancelled this deal in the beginning of January already and as there is no fiber installed at my premises I accept Vodacom to cancel all charges raised in this matter and forward me an apology for handling this matter. I have also asked them to collect the interim router from me as it is not in use since January but it seems that Vodacom and this so called "fiber department " is not interested in my plight and just ignore my complaints and follow up mails.

Seema Singh
from Johannesburg, GT
To whom it may concern
I have been with Vodacom for years and I really have had no major issues with you hence I have remained loyal to the brand. In fact, I'm up for an upgrade soon and I intend on staying with you however after talking to your consultants today, I almost reconsidered this. I called Vodacom last week to inform them that I will be travelling from the 20th to the 24th out of the country and needed to activate roaming. They advised that I wont be able to use my data bundles (please check your recordings). I was aware of this anyway so at the airport on the 20th, I bought data of 1 GB for R149 which I knew I could use when I return to SA on the 24th. If you look at my user history, 1 GB lasts me for the month as I usually only use WhatsApp, I don't generally download a lot. I also have unlimited wifi at home so I don't require my mobile data. I got back on the 24th at around 5 and I was at home. I got back to work on today and I get a text saying my data is so I bought another 1 GB but I decided to call Vodacom because there is no way I would have used 1 GB in a few hours. When I called, your 1st consultant (I don't have a name) but it was a female working around 6:30 told me that it shows that I used the 1st GB, I told her that its nonsense since I was not even in the country. She was extremely rude and dismissive and passed me through your solutions department. I spoke to someone named Sizwe and when I told him that I was out of the country so I didn't even have access to data and I returned in the evening on the 24th. He interrupts me to inform me I made a call at 5;35 which is not the evening but the afternoon so basically implying that I was lying and he felt the need to educate me about the few hours difference between afternoon and evening. I went on to say yes, I arrived late afternoon/evening and made a calls but what does that have to do with finishing 1 GB of data. I even sent WhatsApp texts to inform family I arrived, does that use 1 GB of data? Nonetheless, he refunded the money but I made it clear that its not about the money anymore but rather the absolutely poor service and the principle. I have never taken time off sitting in my office typing up such a negative mail. I also happen to train a consumer care department to handle technical complaints so this is why I thought it necessary to complain about these consultants in particular. Please check my balance and usage. I use a lot of airtime for work and business so a couple 100 rands wont set me back. It was the principle and the 20 questions and the implication that I am a liar. I cant attach my ticket because this site doesn't support pdf but if you provide me with an email address, I can send you my actual itinerary, boarding pass for Sizwe to analyse the difference between late afternoon and early evening flights. I don't want him to lose his job but please at least train him and the young lady better.

Jenny Beresford
from Saint Lucia, NL
Vodacom is ducting money from cell number 0604122203 every single day even though all apps have been discontinued this phone is only used to make calls and send messages.

slindile ndlovu
from Durban, NL
Hi....why am i still listed on a bad judgement system while I'm still paying my account please try to update my status on ur payroll system...it has put me in a lot of stress because I'm paying my account...try by all means to have this matter resolved S.A.P

Tel no 066 274 4394 Account number 17300814-1
I was approached by Elite Mobile and persuaded to take a contract on a Huawei Y3 @ R99 pm.
we agreed that the debit order would run on the 15th of the month. As this did not happen on 15 Aug I expected the 1st d/o to run on 15th Sept. On 31st Aug an amount was debited to my acc of R217.86. Not knowing what it was for I had it reversed. Next d/o went off for R317.85
and because I did not expect that amount it bounced. I was not told of other fees and even the emailed statement I received from Elite Mobile reflected R99 monthly cost and no once off costs. From then till now I have been trying to cancel this contract as I was misled.
7 Oct spoke to to Zinkewe(?) who said they had to request the recording of the conversation.
I made several calls again to no avail.
15 Jan 19 told "still working on it"
17 Jan 19 told "still waiting for recording"
01 Feb 19 again- waiting
11 Feb 19 spoke to Cynthia who apologized profusely and said this contract would be cancelled and courier sent to fetch the device.
On the same day RAM couriers called to say they were on their way to fetch it. I rushed home to get it but when our offices closed, the courier had not yet arrived. I had a call at about 6pm from the couriers which I missed unfortunately.
13 Feb 19 called again and spoke to Kabelo who said it had been handed to legal but he would again request recording!
14 Feb 19 spoke to Mondley who assured me that by 11am on the 15th someone would call me. Today is the 22 Feb and I cannot even get to speak to Kabelo or Mondley. Keep getting cut off or put on hold for long periods. PLEASE CAN SOMEONE ASSIST ME?!

Sue Govender
from Sandton, GT
I am now at a stage where I don't know what to do anymore with regards to a Vodacom account of mine. I have been fighting a battle with Vodacom from November 2018 till to date.
I did an upgrade on my cellphone – in November 2018 at the Vodacom shop in Mall of Africa, the biggest mistake ever as I should have just cancelled it and go somewhere else. I have to cellphone accounts, both on my name- reference number XXXX and reference number YYYY and it was separate accounts for years. At the time of the upgrade a person call John did the upgrade, he then took the initiative to do a transfer from my name to my name, how this is possible only Vodacom knows. The only thing to be changed was my address and my surname as I got married. The marriage certificate with proof of address had to be loaded on my account according to him. During this upgrade he also decided to combine the accounts to reference number YYYY not telling me a thing. I continues making payments on both the accounts using the reference numbers I have been using for years. On the account YYYY a payment of R918 gets paid every month as it is a top up phone. On account XXX the following payment were made from November 2018.
November 2018 R3592
December 2018 R2000
January 2019 R2700
Total R8292.
From December 2018 Vodacom kept locking my line saying my account is in arrears by R8292. So both my lines are locked and I have to phone in, explain the situation to them, requesting to update the payments to the account as no one told me that the reference numbers have been changed. I will then be on the line for hours being transferred from the customer services to the accounts department. I will send the proof of payments like they request with the details as per the person to pop@vodacom.co.za. The lines will then be unlocked and promises are made that they will update the payments. The next day I will have the same problem and have to phone again going through the same process. This has been going on from December 2018. Feel free to please go look at all the call updates and listen to the calls to feel my frustration. I was told to go to the Vodacom store where I did they upgrade, this is after weeks of fighting to get this updated. Vodacom Mall of Africa as I suspected did nothing as they can't do anything the accounts department needs to rectify the problem I was desperate sitting there for hours, speaking to a consultant and the manager and they promised they will also follow up and assist. As usual no one got back to me, I called the next day asking for an update and the manager got very arrogant telling me they can't do anything. So we carried on to call to unlock the lines every day maybe twice, every second day etc. On the 15th my line got locked again and I was in tears begging Vodacom to assist me as I don't know where to go to , to sort this out. A consultant assisted me and I thought I am getting somewhere as she could hear my frustration…. I thought its sorted once and for all as she gave me her manager's email address to send the proof of payment. Today is the 21st and my account is still not updated. When you call and speak to a consultant you get send from one department to another, then they will tell you, your account XXXXis R4000 in credit….????? Explain this please..
I cannot do this any longer… This is my final and last attempt to get this sorted out… if I don't get any assistance from here I will have to get legal advice and take this to social media. I have done my part for long enough… attached are some of the emails… if I have to add all the mails your mailbox will be flooded, to name everyone will take my days to compile that is why I am asking to refer back to the calls if they even got the calls or the notes on my account.
How do you do the transfer an account from yourself to yourself? How do you sort this out?

I have filed an insurance claim on the 9th Feb 19, to date I have not had a response and the worse part there's no response from 0821952. Even in vodacom service centres they cannot help. This is ridiculous and absurd to say the least.

Melissa
from Johannesburg, GT
Dear Vodacom CEO
I am an extremely upset client.
We have decided to take out vodacom fiber with you and the router was installed on the 2nd February 2018. We were told that the rougher takes 24 to 48 hours to configure on it's own. Unfortunately this was a lie and it was not configured. Your calls are recorded and you are welcome to listen in on how many lies we were told, how many times our query has been escalated and how we never got any feedback when told we would. We have called Vodacom on 0821904 every day since. It is the 19th February 2019 and we are still told that they can not get a hold of the back office and they can not do anything about our query. It's up to back office and not them. This is completely unacceptable on so many levels. How do you run a business in this manner and how do you allow this to happen after so many attempts to give you the benefit of the doubt. I called in again this morning and and I was told that it was sent to the incorrect department to configure then I was told to wait 3 hours for this to be done. I called again at 20.15pm today and get told that there is no progress in the query and no feedback. I have asked for this to be cancelled with immediate effect and your technicians must make sure that they are at my house by close of business tomorrow 20th February 2019 to collect your router and remove it from my premises. Should this not be done I will throw this device away and i will not be held liable for this...
I will post this complaint on every platform that I possibly can just to ensure that I save as many people from making the same mistake that I did. We will also be cancelling all our Vodacom contracts as well and will not be held liable for this as well.
Reference number SR1920202-222080
Reference for cancellation SR190219-257049
Regards
Extremely irate client

I did an upgrade during December 2018 that was wrongly done by the consultant. On the 31st of December 2018 I went in again and another consultant corrected by contract request.
Just to find out last week that VODACOM decided themselves to change my contract back to the wrong one (without obtaining my permission for this!!!).
And all the Vodacom personnel say is that I must wait because there is nothing they can do about it.

Theo du Plooy
from Randburg, GT
I have been a Vodacom client since ±1997 and previously reported to them that we do not have access to the Vodacom network on the farm. As expected they did nothing about it.
The attached KMZ file (Google Earth) shows the positions of the two farms and four towers in the area.
Currently I must use a pay as you go MTN phone to have communication on the farm. It is really irritating that Vodacom cannot supply access to their network of which I have been part of since 1997. How do they think I must run my business without having access to data and normal communication?
At this stage I am seriously considering canalling my four Vodacom contracts and use either MTN or Cell C.
Is it possible for you to assist?
Thank you in advance.
Yours Faithfully
Theo du Plooy

I have been trying to get my fibre installed into my house. Finally it was installed, but it's been 6 days and I can still not access the router or get the password from any of the incompetent call centre agents sot that I can at least log onto it. We call in every day and every day nothing gets done.
I logged a complaint with them on the 10th January for installation and everything and have a reference number: SR190110-178807, but yet they still feel that it is ok to give me the run around and tell me lies about it being escalated every day! This is nonsense man vodacom. I am a paying customer and when you want your money I don't tell you to wait 2 days! Just switch on my fibre already! It cannot be that hard!

Terence Carlo
from Johannesburg, GT
This is happening every time I purchase a whatsapp bundle . On many occasions I had sms'es. I had whatsapp bundle. At the same time I also had available balance. But why does Vodacom deduct airtime from my available balance when I have sufficient data on in my whatsapp bundle.
Even when I purchase data Vodacom gives you free data for the same amount but it has no value. You talk for a few minutes and that R30 or R50 last just for a few minutes.
Your 60 minutes calls to all network is also a ridiculous. If I buy 60 minutes to all network at 8 pm at night and just talk for 10 minutes then I forfeit the balance at 23h59 that same night. Why can't Vodacom extent the period at until the next day. The customer is always losing out.
Extent your power hour at least up to the next day and more consumers will be satisfied.

Jaco Esterhuizen
from Durban, NL
Applied for FTTH on 09/01/2019.
I phone the Customer Services line twice to confirm an installation date.
Both time I was told that my query would be escalated and someone would phone me back today is 28/01/2019 still no reply or Fiber.

Alicia
from Cape Town, WC
Your online services is terrible, I have made a online upgrade on Monday 21/01/2019 @ 15:25pm and was told the confirmation department would call me. Im still waiting for them to contact me in order for me to confirm my order. I have called a couple of times and was told they are back logged or their system is offline or the didn't have my phones in store or the would call me back and no one has. I was sent a message stating that my order has been processed, but how????? If no one has still not contacted me with regards to my order and its Friday 25/01/2019??????

Estelle
from New Germany, NL
My husbands phone is not activated and use the phone for business purpose i have phoned on the 12th of January and again on the 14th January
I received an email from you people to say it is escalated . It seems that the technicians don't care that we are losing money surely it cannot take 5 days to activate a number. I don't think that is good service at all

Ben Human
from Cape Town, WC
I had Fraud on my Cell I try to contact Vodacom but no luck
First I went to the Vodacom Shop they supply me with the number I must phone the first time I did get trough and they ask me to mail them with the complain and the affidavit what I done but it's seems that it's the wrong email so I phone again but no luck the fraud happened already in Oct but no luck to get Vodacom to help me

DT Kitchenbrand
from Pretoria, GT
Hi Madame/Sir,
Please cancel my contract on 082 783 8298 the contract expires the end February 2019, This will also take place on all my Vodacom Contracts as and when they expire I will no Longer have anything to do with a company that has now over booked my account with between R3500.00 and R4000.00 for 3 months since August 2018. I have logged this complaint a week ago and this is pathetic as your philosophy clearly states that all queries will be resolved within 24 Hours. Note That each time I contacted Vodacom with the above mentioned I was promised that would not happen again, which was in itself misleading information, I will be sending all my queries, corrections of accounts and correspondence to the Ombudsman and to the SA Consumers Complaints. Also note I WILL Default on this month's payment and will only pay the amount minus the over charge of R3500.00, please send me Vodacom's Bank account Details. in which I can pay this amount at the end of January 2019. See Ref No. 1-34271815928274 (Samu). Note no one person has called me back WRT this matter, only 1 call was made to me after I sent an SMS stating that my query was not resolved and she said I must wait another 24 hours which was on Thursday. I kindly also request that all Tape recordings be pulled and made available to me, I have recorded some of my calls with your personnel and will also send these to the above mentioned. I trust that you will ensure that this matter does not have to go further and that the extra charges are removed from my Invoice by the 18th January 2018. Vodacom has put me under a huge amount of stress WRT the large account and I hold Vodacom accountable for this. I have once again made a call13:23 and was on the line for 21 min. The Lady informed that a credit was made against my account but could not see what was the amount. last month your people called 3 times the same day of the query and the next morning I received notification that it was corrected. I was also then for the 2nd time PROMISED that it would not occur again, obviously this was also not the truth, also NOTE: My WIFI has been switched off since my last conversation on the 9th of December 2019, so please tell me how data is used when it is switched off?????????/

The customer service is useless and rude. Vodacom lowered our profile for no reason (right when we were supposed to upgrade) and said it was because we didn't pay our bills (which we did, every month. We never skipped a payment) They said the profile will be back up to a high profile in 3 months, which is now, when we called they were rude and said there's nothing they can do and the profile is still low.

Robyn Ford
from Johannesburg, GT
Good day,
I am writing this email as a last resort regarding the installation of my fibre: SO181124-531926 and SO180920-494846 (previously).
I have on numerous and countless occassions, since our infrastructure was installed in November of 2018, tried to make an appointment for the installation. I was even once called by your scheduling department and an appointment was made for the 07th December 2018 at 1pm. I took a day off work and waited, and waited, and waited. Your technician's and scheduling department did not even have the decency to call to apologise or reschedule. Just a day of work wasted for nothing.
I have logged a complaint on Hello Peter on the 03rd December 2018, I just get a generic response. The call centre agent that called me couldn't even assist with my problem and told me straight that I can just cancel the contract. Is this how you treat customers?
I have also lodged this same complaint on your facebook page, tagged it on your twitter account and even received a response back from your facebook account stating that it will be looked into and no answer on any of these platforms.
I called again today and your call centre agent told me to wait on the line and then just cut me off! I can't get to speak to a manager. I am starting to believe that your scheduling department is a myth.
My query has been escalated for over 2 months now and there is no resolution in site.
I no longer am interested in the interim access that you are providing me with as it is only a capped amount of data and the fibre is to be and unlimited package. We run our small businesses from home and this internet is really an issue.
As per the terms of lodging a complaint as set out by ICASA and also the Consumer Protection Act I would appreciate if you could acknowledge this complaint and issue me with a reference number. Also a resolution should be reached within 14 working days. If not I will have no option but to take this matter further.
Kind regards
Robyn L Ford
082 842 3465

Madelein Roberts
from Cape Town, WC
My son's phone was stolen and I requested a sim swop to be done. The staff at Vodacom Greenacres was very helpful and tried to assist, HOWEVER I have been to the shop 4 times to do a sim swop and after the 4th attempt the sim card is still not active. I have only used Vodacom as my product provider and had my contract for my cell phone, my children's cell phones and tablets for many years. However it is now 2 months that my son is not able to use his phone, because the sim swop can not be done!!!!!
When I asked for a new number on the exiting contract the staff informed me that it can not be done. I would have to take an additional contract with the current contract. This is not acceptable. I NEED THIS SWIM SWOP TO BE DONE AND FINALIZED ASAP. My cell number for you to view all the products I have with Vodacom 082 410 8513.

Riva van Zyl
from Johannesburg, GT
I did an upgrade in 2016
My number is 084 666 0727
According to the system I am only able to upgrade again in November of 2020
Sorry, you can't upgrade just yet.
You will be able to upgrade from 27 November 2020
I have been to the store in Cresta JHB several times and every time is told to come back in 7 - 10 days
The store manager advised that I should be able to upgrade in March 2019
It is now January 2019 and still NOTHING has been done or rectified
I have spoken to Hlobisile at Upgrades who inturn forwarded me to katekani
I also spoke to Vuyo at the accounts department trying to get this issue sorted out - Who then advised that Accounts cannot do anything and promptly put me back to Upgrades - It is pretty pointless if NOBODY knows how to fix my account
Please can I have feedback as how you intend rectifying this situation
You can reach me on 084 666 0727
My ID is 6607270058080

Beulah Esua
from Cape Town, WC
My sim got stuck in my new phone and I needed a technician's assistance in this regard. I visited the Golden Acre branch, Cape Town and was advised by the agents there that I needed to go to either the Waterfront of Century City for assistance from a technician. I then went to the Waterfront after work (15h30) and on arrival was directed to two "technicians". On explaining my dilemma, I was unprofessionally informed by both the woman and man sitting at the desk that they cannot assist me with my problem, I needed to go to Century City and they could not understand why the agents at Golden Acre branch referred me to them. On voicing my disappointment they just shrugged their shoulders and said they could not assist me, not even trying. I then asked the male agent his name and he refused to give to me wanting to know why I wanted to know his name as he was not going to tell me what his name was. I then became quite perturbed at his unprofessional attitude and requested to speak to a manager as his responses lingered heavily towards being rude.
The manager (Mark) of the branch then came to me after quite a while and when I explained my concerns he apologised but the agent (whose name I then determined was Taureeg) continued being his "rude" self. The manager then offered to look at the phone which I then refused to do as I was not impressed with the service at such a supposedly "high level international" branch of Vodacom.
I personally would wish that Taureeg apologises for his unprofessional behaviour and don't believe that he should be working in such a high profile environment, where tourists also walk in for assistance.
Kind Regards
Beulah Esau
0795161200

Chris Eyberg
from Cape Town, WC
Good day.
I am currently having a debit order issue with Vodacom. Vodacom is suppose to be investigating the issue and up until now, I still haven't heard anything back from anyone, and it's 3 months later. My data was cut off and therefore no more debit orders were to go off until the investigation was completed.
None of these issues would have been caused if the debits were taken off from the correct account and not the one i had canceled.
I had notified Vodacom Customer Care, as well as the Accounts Department, far in advance before the debit order took place.
My new account details was given and confirmed by the accounts department and yet Vodacom continued to debit from the wrong account. I now have been charged with penalty fees including the amount of my contract per month since this issue started in September 2018. The debit order was suppose to go off from my new account in October.
Vodacom continued to debit from the old account for October and November and my new Account details was only confirmed last year December after I went to Vodacom Cavendish Square.
After I contacted Vodacom, went into the Vodacom shop and my new Account details was confirmed, Vodacom debited the full outstanding amount out off my account today on 03-12-2018.
Vodacom however gave me double the data, but unfortunately this isn't beneficial to me at all.
I have a strict and tight budget and due to Vodacom not doing their work properly, it has now interfered with other responsibilities I have as well as left me with a shortfall in my budget.
This can not continue!

Jan Serfontein
from Pretoria, GT
I have a vodafone modem with which I use the above e-mail and since 18 November 2018 my password is rejected. A password that I've been using since 2009. I have contacted the customer service line numorous times to report the problem and requested the IT department to contact me, since they repetedly claim that the problem is solved, but neither that has happened nor is the problem resolved. My contact no. is 0827389900 ,and the modem with the faulty e-mail receiver is 0793049986

Ebrahim Isaacs
from Cape Town, WC
Good day to you
Every time I recharge when I check my balance again I find that money has been deducted without me making a call.
Please check and advise.
Thank you
Ebrahim Isaacs

Vishane Kunthanlal
from Durban, NL
I been trying to acquire and additional line (ported from MTN), for the last 3 weeks. My initial conversation was with Vodacom sales on 0821950, (consultants Name: Godfrey). I request the addittional line at a "Price Matched" cost of R999 as prviously oofered to me on my last upgrade. Godfrey blatantly refused stating they cannot put forward susch a request. Appproximately a week later I again called 0821950 to initiate the porting of the MTN Number and activation of a new contract line. I then spoke to Kagiso who agreed to request from Vodavom Commercial to activate the new line at R999 and stated it will take a day or 2. Days later Kagiso had not called back and I had left 5 messages with his colleagues requesting a call back. Eventually i managed to reach him 6 calls later and he stated that they "cannot make outgoing calls". This sounded ridiculous to me.
I insisted on speaking to his team leader Pililhe Dlamini whom since has always "been out to lunch" or "not available" to date.
Apparently a company called Bytes People Solutions is outsourced as Vodacom sales. This company displays a clear lack of integrity and expertise. Their approach to custumer service is appauling. I am a client of vodaom for the since 1997 and am utterly duisgusted with the disgraceful service I am subjected too. "Vodaconm Sales" on 0821950 may be the the introduction to Vodacom for new customers and this service centre is likely to create an immensely poor impression. It is extremely unlikely that I mam the fisrt customer that is made to endure this frustartion due to the incompetent and unethical manner of this service centre.
There also seems to be and issue with the porting of the number from MTN. After a conference call with Vodacom and MTN porting departments this morning its seems that Vodacom has not sent through a "message 8 and 9" that is hindering the porting process. A supervisor Natasha at Vodacom Porting vowed to get the issue resolved. Should I hold my breath??

Allan Alexander
from Sault Ste. Marie, ON
The McDonald's outlet at the corner of Boundary rd. and Wellington street is getting sloppy . Ketchup dispensers empty latter in the day, filthy floors by mid afternoon, too many kids sitting around playing catch with the hamburger wrappers. I am not the only one that is complaining just the only one that took the time. Food is good thought.

Legae
from Pretoria (Menlyn Park), GT
Took a cellphone contract in July 2016 .I was told that contracts ends end of August 2018 and all necessary payments were made as I asked them NOT TO RENEW the contract .
Come September 30th I was asked for payment of R208 and i disputed this as my contract ended in August but they ended up saying it means I was given incorrect information by the Vodacom agent ,I then confirmed that once I make payment they won't contact me again and in fact they will send me a cancellation letter and they said yes.to this day, almost 3 months later am without a paid up letter whereas 5 days ago they said I will receive it within 24-48 hours.

I had applied for data contract a Month back.
I'm not receiving any update on contract status and every time i contact the vodacom store where i had submitted by application only response i get is WE ARE LOOKING AT IT AND ISSUE IS ESCALATED
No more feedback until i call them again.

Johann Groenewald
from Cape Town, WC
The Vumatel rooter was installed during May 2018 we still awaiting for Vodacom to install the Vodacom Rooter. I phoned several times,sent emails, people promise to come back to me but they don't.The salesman Timothy Swartz is very unprofessional and unhelpful. I phoned him several times, spoke to him on 6/11 he promised to come back to me but he don't he

Natalie de sousa
from Johannesburg (Waverley), GT
The manager at the vodacom store in mall of africa Sibelo not sure how to spell it is extremely rude. He has no customer etiquette at all. His attitude was terrible and he was intimidating. I was charged R100 too much and he didn't even care to try and understand and listen to me. He was abnoxious and totally rude. I have been with vodacom for years and I actually feel like cancelling it paying what i still owe and noving to another provider because of this man.
Natalie de Sousa

LM DE BRUIN
from Thohoyandou, LP
MY HUSBAND JG DE BRUIN -DECEASED 20181021-5705115037086(ID)ACC- I0574569-01
i CHANGED EVERTHING TO MY NAME LM DE BRUIN-EVERYTHING WENT SMOOTHLY. ON MONDAY I RECEIVED
AN MESSAGE ON MY PHONE: MANDATORY ACCOUNT LIMIT REACHED-SUBSCRIBERS SOFTLOCKED??????????????? AFTER TAKING A DAY'S LEAVE TO SORTING IT OUT-THE PROMISE WAS THAT THE SERVICE WOULD BE ON IN 24 HOURS????????? AFTER SEVERAL PHONE CALLS IT WAS ON FOR A FEW HOURS?????????? NOW THE SAME MESSAGE APPEARED - SOFTLOCKED. I WANTED TO UPGRADE AGAIN AT VODACOM??????????? NOW IM WAITING FOR MY CONTRACT TO EXPIRE TO MOVE TO ANOTHER NETWORK!!!!!!!!!!!! I CAN"T RATE MY EXPERIENCE BECAUSE THERE IS NONE!!!!!!!!!!!! I CAN"T EVEN BUY AIRTIME!!!!!!!!!!!!!!! I'M VERY DISAPPOINTED IN THE SERVICE THAT I RECEIVED AT VODACOM AND I'M GOING TO POST IT ON FACEBOOK FOR EVERYBODY TO SEE WHAT TO EXPECT FROM VODACOM. THANK YOU!

Riaan Ferreira
from Cape Town, WC
Overcharging
No help from help desk
Bad attitude
Miss representations

SELVIE PILLAY
from Durban, NL
I purchased a Vodacom Huawei P20 Lite on contract for the first time on the 17-11-2018 and my experience with them was a very poor one. I normally buy cash phones. I have an MTN network and i asked them to change my network from MTN back to voadacom and to keep my same number. They told me it would take up until 1 December for that process. i was reluctant but i agreed. I went into the Chatsworth Branch store and they told me it was sorted out. i told them nothing was done because i could not use my phone and it has not been used from the time i purchased it. there was no sim card given to me as well. the attendent put my phone on and gave it to me. they checked on the system and saw that it was not done yet it was approved the day it was purchased. i am so unhappy that I want to cancel my first time contract or else I will open a case. another option I am willing to take is that the phone be checked and replaced. it has not been used and it might give me a problem in the future which I am not going to be happy about. He also asked me to put a screen guard which i did but the phone is new. i want a new phone that can be used the same day as i have waited 16 days to use my phone which i could not.
Kindly advise the way forward.
Thank you
kind regards
Lee-anne Pillay
0725655110

Cheryl Govender
from Durban, NL
i was due for an upgrade in October i was called by the agent and told i will be getting 2 new devices x2 P9 LITE.I went to the store and only was given 2 sim cards which i paid R105 each for. i then went back to the store in Phoenix Plaza only to find out that the agent saying that i already received the phones. In March i got a call from Raaf & Associates telling me that i need to pay for these phones that i don't have.
can you please get someone to call me ASAP so i can clarify what transpired.

Garth Benton
from Durban, NL
Account Number: 107110945
I made an eft payment of R1586,57 on the 26/10/2018. Unfortunately it went in to wrong Vodacom Account from Standard Bank online banking.
I have emailed Ashwin Abrahams, the superviser at the Vodacom Account Department, who assured me that he had sent it the Finance Department for allocation.
The allocation of my payment has still not been processed and I am receiving smses on all 3 cell phones regarding non-payment and warnings of suspension of services.
How do I go about having this problem resolved?
This is urgent
Regards
Garth Benton
Contact: 071 6030 417

Bronwen
from Cape Town, WC
My name: is Ms Bronwen Bownes, Cellphone No. 0825692402, I'm very angry. My Mother cancelled my old cellphone contract, without, my approval. I'm, now, on a new Pay-As-You-Go, with 5 Megs Wi-Fi Contract, fixed for 2 years. I want to know how my old contract, was canceled without any proper authorisation, from me! I cannot afford to finance this new contract.
My Mother has told Vodacom that she cannot afford to finance, my cellphone, anymore. That's lies. She just took out a brand new cellphone contract, on a Samsung Galaxy 5J Pro, with R169, per month airtime.
I just wanted to set the record straight.
Bronwen

Johannes Niemann
from Cape Town, WC
WI Fi at my house just dint work .My 10G contract works four hours a day if you are lucky,my wife use a 2G contract on her Tablet and that is even worse.I want this 10G contract cancelled because it is of no use to me.It is not a problem with my equipment as one of my neighbors had the same problem and changed to Telkom and now has no problems.Optic fibre cables have just been installed in our complex,but with my Wi Fi working like it does I will never recommend Vodacom in this complex even if it is "Optic Fibre"
My phone 0796445009 Would like the 10G contract cancelled please as we cant use it.

Charles Janse van Rensburg
from Midrand, GT
useless after 3 months a contract has still not been cancelled despite committing to do so

Albert Wessels
from Johannesburg, GT
This a story about 2 young people, let's just say the sweet and the sour. They both work at the Vodacom Shop, Lakeside Mall, Benoni. I went into the store to enquire about a new battery for my cell phone. Jonathan very abruptly informed me they will have to book in my, leave it there for a couple of days till a technician can see which battery it takes. I said to him this will be impossible as I use my phone all the time for business. He lifted his shoulders and said 'well sorry, that's how it works'. Luckily a little lady by the name of Alicia approached me from a side desk and said 'sir, let me see of I can help'. She opened my phone, removed the battery, checked with her manager and informed me they had a battery in stock. She changed the battery and put it on quick charge for me and 10 minutes later we were out of there. Great service thank you Alicia. As for Jonathan...Jonny my boy, take a tip from the lady.
PS I've been a Vodacom customer for > 20 years and staff like Alicia reminds me why I stay one!
Your sincerely,
Albert Wessels
082 898 0693

Karin Buss
from Johannesburg, GT
I have upgraded one of my accounts at the Vodacom Shop at Vodaworld on 8 October 2018 and it should have come with a PS4 and top dog voucher, I did not recieve the top dog voucher nor the PS4. The constultant said that the PS4 is out of stock and I need to call to find out when they have as she has no indication of when it will arrive. Vodaworld's number does not work due to construction and I drove there to enquire a week later. I was given the consultant's personal contact number and I called a week later only to be told they don't know yet. After visiting another Vodacom shop and they indicated that they have stock available. I complained on Facebook on 28 October 2018 and the social media team contacted me on Sunday saying that someone would call me, nobody called. When I followed up they said I should be patient and wait for a call. After no call was received I called the consultant on her cellphone on 2 November. She indicated that the manager is trying to source a PS4 from the warehouse and she would come back to me. She did not come back to me so I called again twice on 7 November 2018 and she did not answer my calls but sms'd back saying she would call me back. I decided to visit the branch to speak to a manager and no manager was there to attend to my query. The service desk lady spoke to the warehouse manager (Louis) and she said he would call me back with feedback later that day. He did not call and Caroline (Consultant) still did not call back. The contact number for Caroline is 0829978719.
Resolution Sought:
I would like my PS4 and Top dog voucher today as I am already paying for it. I cannot contact anyone else at the Vodacom shop as the number does not work and when I go there I am told there is no Manager available. Please see attached screenshots of communication with the social media team.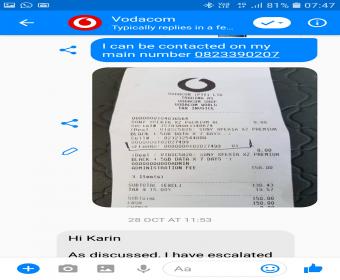 Nigel Brown
from Cape Town, WC
Dear sir/madam
I am desperately hoping you will be able to assist me.
I joined Beefcor in March 2018 as General Manager. I have been a loyal Vodacom customer for approx 15 years in a private capacity. As part of my Beefcor package, my number was to be swapped to the Beefcor business account (reverse migration). Beefcor has approx 35 Vodacom numbers on it's business account.
In March 2018 I visited Vodacom at Brits Mall to inquire about this 'reverse migration' and was given some papers to complete.
I waited for around 4 weeks, then went back to check on progress. There was no record of the documents I had submitted. In other words the process had not even started.
In the meantime my private contract expired, where I was advised not to re-new due to the imminent reverse migration.
I was asked to re-submit all the papers (including letters from the board of directors) in April 2018. I was told it could take up to 2 months for the reverse migration to happen. I did this the same day.
I followed up in June 2018. I was told that there was progress but not yet complete
I followed up in July 2018. I was told that nobody knew why nothing had happened. Service support was then requested from Brits store for me. They called me a day later and told me I must resolve at the store, they couldn't help - the store told me they can't help.
I have been trying to follow up periodically since. I spoke to the manager at Brits Mall Vodacom store, and explained to her that I was trying to run a R2b a year business with now a pay as you go type arrangement on my cell number. She was basically uninterested and told me there was nothing she could do about it. The fact that Beefcor has so many numbers on its business account was unimportant to her. I was very shocked by this very poor customer related attitude.
I asked a lady at Brits Vodacom store for the contact number for a regional manager where I could escalate this issue with. She could not give me his number, but put my name and number in a store diary for him to call me the next day when he was due to visit the Brits store. He never called me.
To date I have visited the Brits Vodacom store 9 times trying to get this issue resolved. I work in Pretoria, so this is taking a lot of my time.
Brits no longer return my calls for assistance, I have had no feedback for months.
I feel this to be totally unacceptable. It has been over 10 months now and I am no longer further forward. No one is taking my issue and helping to get it resolved. I am currently paying over the odds amounts for calls and data, whilst running a large business that supports over 30 Vodacom business numbers. It is ever increasingly becoming more and more frustrating to be ignored with no signs of any customer service on this matter.
Please can someone assist with this urgently.

Greg
from Johannesburg, GT
Hi.
I have been with vodacom through autopage for approximately 15years. I haven't had a problem until my account was moved over to vodacom last year October. Since then I have been billed incorrectly and had to open a fraud dispute. I have had no contract since April and been on pay as you go since then and no caller id. Since then my bill accumulated to over R8000.00 on pay as you go and my contract has ended. Nobody can help me over the phone. There has been no communication from vodacom whatsoever and yet my bill keeps increasing. I feel vodacom does not have the capacity to solve simple problems. I also feel that their only interest is to make money and have no regard for their clients. I have called on numerous occasions without receiving much of an answer. I'm even starting to think they don't have a fraud dispute department, (which you cannot contact directly) only by unanswered emails. I have since got another service provider who is capable of resolving issues. I'm tired of dealing with vodacom. To throw away a long term paying client so easily makes me wonder.
Kind regards
Greg

Mrs E Watson
from Johannesburg, GT
I took out a new contract on 20/10/2018 wich is a laptop Lenovo . When trying to switch it on did not go in keeps on telling me there is a problem. Took it back to the Vodacom shop at mall@reds Centurion. Now they telling me I must phone Lenovo to fix the problem,now Lenovo tells me I must go back to the shop where I bought it they need to exchange it, now they say they can't do it its not there problem, I refuse to pay anything on that contract for something that is not working, how can you sell a faulty product and rob the client, My id 6909260252081 my number is 0724206527. This is not the first time I had a problem with Vodacom. I need to no what is going to be done about it.

Jeremy Moorcroft
from Johannesburg, GT
Good day
I took out a contract with vodacom in 2015 it was for my son as a gift for his bday..was a 24 months contract ( 2 years )
We had a problem from the start ( the contract i signed a Game was for the amount of R 199.00 per month..
we ? the mater but was never assisted by Vodacom..
When the time came near.. We went to Vodacom in Middleburg we asked them to put the cancelation tru by that time we were already very tired and dissapointed in the service and wanted to be over with Vodacom...
After the Contract due date was over Vodacom deducted again we reversed the debit cause we signed a 24months contract and reminded them of Cancelation..
After debit reverse we Phone them again for a second Cancelation..after so many months we are starting to get attorney letters that say we owe Vodacom alot of money..
The Attorney called once and did not even give me time to answer is qeustions so i dropped the phone in his hear...
Now he is just sending mails for payments...
I asked in a very polite email that he must sent me the reason why we are handed over...still awaits email that state reason...
My husband was only contacted 1 time by Vodacom that was the time they said he was behind ( the time when he reverse the debit) ...was the day when he told the lady that contract was cancelled and as she can see it is only a 24 month contract and nobody was permitted to extend the contract...

anisha brown
from Port Elizabeth, EC
I have two contracts which both was due for upgrade since August 2018. I decided to do an upgrade on the one contract only which I took out for my son,so I enquired at Vodacom the BRIDGE GREENACRES,PE BRANCH for the cellphone my Son wanted and when they had in stock I asked the saleslady to proceed with the upgrade onb the number 0714014993.I was told that I owe no balance on that contract so to my understanding it was that for the next mnth all I will be paying is for the new cell ,but to my dismay I saw my statement at the end of last month and I was charged for both .In other words I was firstly given the upgrade on the wrong contract and now I'm having to pay for the cell contract which is no longer active or I use ie the 0714014993 number.i went back to the store and was told I could just get a simswop done and all the Data will be given to me on that sim..What the saleslady failed to realize is the inconvenien it caused me now because I nolonger am able to use the 071 number since it expires end of November and its meaning my son need to change all his cv"s which ive put out with his 071 number .so I'm paying for two contracts now until the end November because of negligence of the salesrep..I'm very annoyed since ive lodged a complaint two weeks ago and not one person followed up on this till date. Somuch so for customer service . I will not ever have any dealings with Vodacom because of this pathetic service .

Paul Chinchen
from Johannesburg, GT
Call center agent gave misleading information whilst trying to sell me an upgrade. When I told him I could not afford any additional costs he rudely put the phone down on me. Pissed off!

Bruno Eggers
from Pietermaritzburg, NL
Cell no 0721476209. I handed a written complaint in at Liberty Mall Pietermaritzburg,2-3 weeks ago, regarding reception in the area over the last few months ,I have had no feedback what so ever . Would somebody please advice me what to do, as this is very frustrating when one can not contact or be contacted . PLEASE regard this as URGENT
Regards Bruno Eggers

I called in on 05/09/2018 at about 18:50 to query on my account what my balance is, the lady I spoke to took me through my account and how I have been making payments and what was owing. In the end she confirmed the amount I need to pay is R160, on 06/09 I went to my nearest voda shop to make the payment and there I was given a different amount of R419.20, I asked that we make another enquiry as that is not the amount I was given . When i called the accounts I spoke to a lady by the name of Smangele who was very rude and being impatient with me, I then hung up and called again to speak to a team leader, a guy by the name of Phumulani assisted me.
Who also gave me a different amount to be paid, as customer I feel it is not my fault that one consultant confirmed an incorrect amount as when I asked about the sms I received she advised I should ignore that their billing system has an error and is confirming incorrect amounts, the amount that I need to pay is the one she confirmed. TCF in this regard needs to be followed,
I am still awaiting feedback from the TM regarding the complaint I put in for Smangele and also the conclusion on my account? the cell phone nr in question is 071 632 0725.
Can I get feedback on this urgently please, I may be contacted on the number above.
Regards
Mbali

Vinnolan Moodley
from Durban, NL
Good day to all. Hope all are well .the reason for this e-mail is the pathetic service from the retention department and customer care department. I contacted the retention department in regards to cancelling my Vodacom contract which I have had from 2011 . I have paid a substantial amount of money for this contract and decide to go to a new service provider due to it being cheaper .on the 31st of August 2018 I phoned 082 135 had was directed to the retention department. I was consulted by lunhgie who asked why I wanted to cancel my contract. I told him I was paying too much and it was cheaper with a new service provider . He then told me that he wanted evaluate my contract and get me a better deal . I also told him i was looking at a laptop . He told me he would contact me on the 1st September 2018 and that he was finishing at 2 . I told him I would be available after 8 . There was no contact from him or Vodacom at all. I phoned customer care to speak to manager . I was told to speak to a team leader. I was put on hold for 10 minutes. I phoned back a I was given the run around .the consultants were rude and it was noisy and I could hear anything . I phoned back for the 3rd time . I explained to the consultant my delima, I was placed on hold and and Lebo the new consultant from retention department was updated about my issue. When i was put through to Lebo I was told to hold again due to her manager being busy. I am so tired of being put on hold , rude consultants , consultants not getting back , poor customer service. I work in a service department for VW and trust me my customers are important to me . I always get back to them and make sure that all there needs and requests have been met . Please let me know why I should stay with Vodacom . From 2011 till now as a customer I have never complained and just paid. The 1st time I consult Vodacom and this is the service . Disappointed customer Vinnolan Moodley .

Ludwig
from Cape Town, WC
I've been handed over to Burnard, Raaff & Associates on a unpaid account that has expired.. All my Vodacom accounts worked on debit orders. What's strange to me is my Red account (which was expired for almost a year and in use) was debited monthly without issues, but the additional contracts I needed to pay these expired accounts direct to Vodacom. Why did Vodacom not contact me to inquire why the accounts was not paid instead I was handed over to attorneys. The ref DBN000151430. Please supply me feedback how there are inconsistencies in the billing methods.
I'm paying the outstanding balance; but I'm seriously considering to change network due to this...

UNSATISFIED CUSTOMER - I HAVE TRIED TO REPORT AND GET REACTION ON MY PROBLEM FOR 2 MONTHS NOW!!!!!!
from Pretoria, GT
I started complaining about my phone which did not work and the amount charged was not according to the discussion with consultant. I have phoned almost daily (proof of calls on my phone) and STILL 2 MONTHS LATER AM STILL SITTING WITH A PHONE WHICH I DON'T WANT AND HAVE HAD THE MOST PATHETIC SERVICE EVER FROM VODACOM. I insist on a internal investigation and full report.

Rozalija Engelbrecht
from Pretoria, GT
Vodacom / Very very bad service
1 Lephalale, South Africa
Add a Comment
I have been a Vodacom customer for over 8 years, me and my husband. Never have I claimed screen insurance, but about a year ago my husbands CAT phone screen chattered and his CAT speaker were not working so they send us a new phone. Now my CAT S30 that I have now for over a year screen has chattered and I have send it in for repair on the 26/06/2018, the Saturday 30/06/2018 they phoned me and said that my excess payable will be R150.00, I said that it will be fine, it would take 2 weeks for my phone to be repaired (at Polokwane). I phoned Vodacom Lephalale on the 12/07/2018 to hear if my phone is back from repairs they said no my phone was send back unfixed because I have not paid the excess, the 17/07/2018 I went and paid the excess of R150.00 at FNB LEPHALALE MALL BRANCH, VODACOM SHOP LEPHALALE MALL, send the proof of my payment to Polokwane repairs so that my phone could be fixed!!! Today 01/08/2018 I went to the Vodacom Shop Lephalale Mall to hear what is going on, my phone is still not fixed because now there is a problem with the IMEI number!! Best of all they could track my phone with the job no that they gave me I am so upset what am I to do. The service is pathetic!!! The day I took in my phone I begged them that is very important that they fix my phone as soon as possible, because my father have passed away and I needed my phone with thing that had to be organized, now I have to sit with the loss of my Dad and very bad and disappointing service by Vodacom they just keep on giving me the run around.
Kind regards
Hope that U can help me with my situation

DUDLEY GROUNDLAND
from Durban, NL
I have been trying to change a cell contract from one company to another.All details and paperwork were given to Vodacom outlet in windermere centre morningside Durban tel 031-3127083.It has been a month and nothing has been done and I can not get any answers from them as they say Vodacom is responsible for the change over,when I contact Vodacom they tell me to contact the store???
I can not get any joy from any one at all and they are representing Vodacom so that is what I look at,the cell number in question is 082 4556 356 and we have been with Vodacom for a long time and our new company wishes to upgrade all there phones and contracts to Vodacom.
I don't se this happening with this type of service.
hope someone out there can help

H C Shand
from Bellville, WC
I have had no service the whole day. Tried to phone and got through to telkom instead. Waited on line for half an hour. Feel very frustrated and will make enquiries about an alternative provider tomorrow.

Harding R C
from Pretoria, GT
Dear
My sell number 0828088857. ID 5409185045083
This is the 4th time that I arranged for my account to be fixed
You wrongly did nor deduct last month's premie
The lady at the call centre confirmed it and said it will be rectified
Yesterday my service was suspended ;so and I phoned again.
Again she apologised and confirmed my service is connected
Up to now nothing, phone and sim are still blocked
What a poor service delivery and taking into account that is Vodacom's fault
I will forward this complaint to social media
Kind regards

Ayabonga Gogo
from Johannesburg, GT
i bought a vodacom sim card last week and i have been getting calls from a man Sipho saying that i'm using his nummber . When i called the customer care line i was tlold that this number was recycled but the previous owner of this number said he never stopped using his number .
This is an inconvinience for both me and the previous onwner as i have given this number to potential bussiness partners. What do you suggest i do (082 365 4668) Ayabonga Gogo

willie Le Roux
from Johannesburg, GT
I bought a phone for my Wife(SAMSUNG S9+)This was on the 23rd of May 2018. I also bought the LED Cover/pouch and a screen protector. I received a voucher as part of the package and was told that I could exchange the value of this voucher when buying any original Samsung Product. I went to buy a Car charger for the phone and was told that it not allowed, I may only use it on the purchase of a cover/ pouch. I already have one and if I was informed correctly on the day of the purchase, I would have used it. it is now worth nothing to me. I feel I was misled.

RP Botha
from Johannesburg, GT
I lodged a e mail query 0n the 09/07/2018 regarding one of my Vodacom accounts
received feedback the same day that it will be sent to the contracts department and they will give me feedback.
have heard nothing since send a query about it on 16/07/2018 still nothing.
the sad news is this is the second query about the same problem the previous month I had lengthy discussions on the phone regarding the same problem query number is:EC-1KJ9-19VWGG Vodacom account.
This is poor service actually totally bad from a company like vodacom

trevor alcock
from Johannesburg, GT
I have been dealing with Deon Du Plessis at your Clearwater offices regarding my cell phones which \i needed sorted out and also payments made by me over a number of months for a cell phone which should have been cancelled so as to enable me to switch to pre paid \i also inquired as to refunds
I have followed up on numerous E mails and have had no response to date and nor has my account been debited this month as to the monthly billing.
I am now sick and tired of the service received from Vodacom and I need this matter to now be resolved failing which I will be left with no other alternative then to take this complaint to higher authority and also mention my frustrations on Hello Peter.
Please respond URGENTLY
T R Alcock Cell phones in question are as follows 0722228292,0799873756 and 0723687205-Cell phones registered in the name of T R Alcock ID 5304185052082.
In need I can furnish all my correspondence with Deon should this be required

Good morning Vodacom Team,
Where I'm sitting here I'm so so frustrated, about 4 weeks ago my daughter phones me and asks me "Mom what is this welcoming ring tone you have on your phone"
I say what welcoming tune, and she says when she phones it says say Press * to copy this tune" blah blah blah at R 3 a day.
I said but I don't know how this got there as I do and I never do subscribe to these things, ever, never
I have been at Vodacom Carnival now how many times, they phoned call centre, they pin in some numbers and they said it would be gone within 24 hours, it is still on every time.
I have phoned Vodacom call centre, and they have told me contact a number sorry cannot remember it's *117 something and then to cancel the subscription, but when you do that it says "you are not subscribed to any subscriptions"????
I went again to Vodacom call centre Saturday and they phoned call centre an said they must put in *117*987# it will take 24 hours and will be gone, and Wallla, it is still on???????
I went to East Rand Mall Vodacom yesterday and the technician did something and said he deactivated it, probably 24 hours I must check in the morning, and Walllllla it is still on.
I am frustrated, as it has been eating my little air time I have, and then if I don't have air time left it bills our account.
My husband just upgraded/downgraded my phone and his phone, please can someone have this sorted out, I cannot understand that Vodacom cannot, and I need to be refunded my air time and the payments which have been billed to our account.
I just spoke to Vodacom call centre now they logged a service request, Ref no they sent to my husbands phone as he is the account holder, 072 630 9063
.
If you can please get back to me urgently
Have a nice day
Mary
063 777 1127
Brian Ilsley – 072 6309063

Marianne Sauer
from Cape Town, WC
Good evening,
I hope this e-mail finds you well.
For the past twenty odd years I have been nothing but a loyal Vodacom promoter and client. I have four contracts with Vodacom and the only thing standing between me cancelling all four, and never uttering a single good word about the company and it's service to anyone, is your response to my question, how many times must one spell an address?
As mentioned above I have four contracts and recently decided to upgrade two of the four. I moved house and specifically informed Vodacom of my new address before upgrading. It has been over two weeks and yet the staff at Vodacom, after multiple calls, explanations, the spelling of my address backwards and forwards, still don't have a clue as to where I live, and quite obviously don't have a cooking clue about South African geography either.. (after contacting RAM for the third time I was informed that the official address on my packages says "Plot 164, Coldstream, Humansdorp, Easter Cape, Hartbeespoort," to whom Siri apparently asked if they 'were drunk' when typing in that ridiculous address. Please correct me if I'm wrong, but that address does not exist in South Africa!?) My packages have been sent cross country, most likely damaged, and I have been sat at home wasting time, and losing money, for two weeks waiting to receive these packages.
My question is what is Vodacom going to do to compensate me for my time wasted sitting at home waiting on a delivery? Because I now have to potentially wait ANOTHER WEEK after contacting yet another one of your staff members today. And honestly, how many times must I spell my address? Because I would have thought seven times to be ENOUGH.
Please refer to your voice recordings for any further information regarding the unprofessionalism of your staff in the matter. (Also please excuse my language in the last call, because I had to reorder everything.)
Regards,
Marianne Sauer

A.J. Green
from Johannesburg, GT
My phone nor my wifes phone can dail 0800 no I have reported this 3 times and at voda shop even take out sim in other phone still not working even bought air time not working and after hours all emergancy no is 0800 like car track or road side assistance so I will hold Vodacom responsible if something hapens and I cant phone in a stolen car or brakedown stranded along the road.(the answer is always support tech wil phone you nothing so far or it takes 14 days now 6 weeks stil nothing .

David Pepperell
from Cape Town, WC
I found out from my bank that Vodacom had registered me with ITC as having an account and not paying it. I have never had an account with Vodacom.
I have raised it with Vodacom accounts department four times - been into a Vodacom Store and written to a lady called Corne who apparently deals with Fraud Cases. No one comes back to me - I sit with the problem. I have a Vodacom PAYG phone only

Melanie Smit
from Port Elizabeth, EC
On 18 May, I signed a contract for the Vodacom Smart N8 Smartphone which came with a free Swiss Mobile Gear Dash Cam from the Vodacom datastore in Baywest Mall, Port Elizabeth
The dash cam was not available but I was not told this when I signed the contract. The Agent (Arleze) just said she forgot to order it and it will come in the middle of next week. I had heard nothing by the following Friday (25May 2018), so I phoned. She was a bit abrupt with me and said she had ordered it and will let me know when it arrives. By the following Friday (01June2018), I had heard nothing so I phoned again early morning. She was not available and had not returned my call by late afternoon so I called again. She was very rude and told me that she will continue to order it every Monday until it comes.
I then phoned the vodacom client number to complain about her and was transferred to a very helpful gentleman. I can't recall his name but his email address is 0783503156@vodamail.co.za
He conference called the shop and Arleze was not available so he asked for the manager who came on line about 15-20 minutes later. Her name was Wendy Dedanker who then apologised and assured me that she will keep me up to date and was asked to provide feedback by the following Wednesday (6June). So I waited another two weeks. By Friday 15 June, I had not hear anything and I emailed the gentleman from vodacom again. He never came back to me but the store then phoned and said it was still on back order.
This is shocking as six weeks after purchase, the freebie is still not available. Surely there were contingency plans in place so that this kind of thing does not happen? Keep clients happy and all. The freebie was one of the reasons why I went to Vodacom instead of MTN.
I wanted to order the tracker watches for my two children but I will definitely not do that as I am already very unhappy with this service.
I doubt I will renew any contract with Vodacom or recommend to my friends and family.
Hopefully Vodacom will try and source this outstanding item.
Regards
Melanie Smit
0825205150

Darcel White
from Johannesburg, GT
Hi. I am so frustrated with Vodacom as I upgraded my phone on the 14 May but only received the handset on the 8 June just to find out that it is the wrong handset. I have been phoning ever since for someone to collect the phone. Each time I phone they say that they will log it on the system when I call again to follow up the consultants keeps say that they will log a request.
I was than referred to Nicole at Rewards Contracts 086236666 by Vodacom on the 25 June and she said that it will take 7 to 10 working days.
Later that day I spoke to Oamodetswe at upgrades 0821959 and she put me thru to after sales and after sales than told me to go to upgrades.
Oamodetswe than said she will send someone to collect the phone and at the same time Vodacom phoned me to upgrade the very same no that I am struggling with.
On the 26 June Sinqobile Phoned to offer me an upgrade one of the other contracts which I cancelled a week or two before the call. She than confirmed that the cancellation was never done. I asked to speak to her manager (Ero) and than she said that he will phone me back in 5 minutes which he did not do up till today.
On the 27 June 9:41 I received a call from Bridgette (0873104380) who said that they will collect the phone 28 June. Needless to say they never came to collect the phone.
On the 29 June I than phoned the delivery company and spoke to Levian Harris who is the senior manager and she said that they will collect the phone within the next 3 hours.
Over and above the above mentioned I also tried to complain at Vodacom`s customer service and they told me that they cant do anything that I should go to upgrades. I than send an email to (customercare@vodacom.co.za) and also mentioned to them that I still get calls to upgrade the contract that I already cancelled and they say they cant do anything as I need to go to cancellations. So I am having problems with Upgrades and cancellations and I needed to complain but the complains channels keep sending me back to the departments that I want to complain about.
I cant believe it is taking 2 months to get a hand set and in the meantime I am losing 2 months of airtime and data and I have been paying for this.
I will be cancelling all 5 my contracts with Vodacom as I am totally disgusted and frustrated with the service I have received from Vodacom.
I cant believe it takes two months just to get a handset upgraded.

Sanet Slabbert
from Cape Town, WC
Good day
Please direct my mail to somebody that can help me regarding my matter.
I am receiving enormous cell phone bills for the last few months......that I CANNOT afford. Life became very expensive in this country and unfortunately I cannot afford a R2500 private cell phone account.
According to my account it is data usage that is sky high.......which is VERY strange as I am at wi-fi during the day at work and night at wi-fi at my house???? (and I constantly close all my apps!!!)
I went to the closest Vodacom shop in Tygervalley for help.
Received NO help at all........I asked the assistent f there was an app that can help me manage the data usage......NO!
And they cannot see where my data goes to, they can only see what I must pay......?? While I know for a fact that friend of mine have got a app that help them.........
I even explained to them that I close all my apps constantly and I am at wi-fi the WHOLE time......she just pulled up her shoulders and kept quiet. BAD BAD unfriendly service!
In the mean time I received numerous messages that I can upgrade my phone......excited(because my old phone give me lots trouble) I went again to this shop....NO you cannot upgrade. I asked if there was any way that they can help me to upgrade......NO! Unfriendly and not even short and sweet.....just short (and rude!) I even asked if I can pay for an upgrade as the frustration with this broken phone is endless! NO! They are NOT helpful at all and Vodacom's Customer Care is up to nothing according to me.
I have been with Vodacom for almost 20 years!!!! But after this nonsense I am NOT keen to continue doing business with you......your data and deals are anyway not as good as your competition. Your data is very expensive!
I am due for an upgrade in July......and I am considering some other competition provider.
I am not sure if I will EVER get a reply on this mail....anyway I tried. Next step.....Hello Peter!
Regards
Sanet Slabbert
0827829760

Zas Lombard
from Pretoria, GT
Vodacom Account S6354488-1
I.P. Lombard.
Sir/Madam
To understand my problem, I am giving a quick rundown of the situation as it happened;
All was done at the Grove Mall Vodacom Shop.
Query 1.
Cell no: +27 (82) 453 6972
March 2018.
10 -03-2018 Cancelled my contract on 0824536972 – Paid in full R1670.25
April 2018.
I was invoiced again for R1514.09
When I look at your statements, I see a lot of C/Notes but no mention of referring to which account/number.
When I do my calculations, which is very easy, because the previous month gets paid in full the following month, I still have an amount outstanding. How difficult could it be?
Queries that was logged on this;
a) 1-34157402796138 – March 2018
b) 1-34165693491111 – April 2018
c) I did raise a query in May, but lost the note.
Could you please do me a full reconciliation on the number 0824536972 as from 10 March 2018.
Thankyou.
Query 2.
Cell no: 082 407 2382
We did an upgrade during December 2017. The contract that was signed, was for an amount of R604.61. This was correctly charged up to April 2018.
Then in May 2018, the amount shot up to R651.61. The only reason we could think of, was the 1% VAT increase, but it could not be the total amount.
Please let me know the outcome from your side.
Regards
Zas Lombard
+27 (79) 3362490.

Zenobia
from Johannesburg, GT
Good day. I'm Zenobia Appa 7801140170089, i have 2 contracts with vodacom. On the 25/05/2018 had a problem with my bank account and my debit order's did not go through WHICH was suppose to go through on the 26/05/2018.Today 30/05/2018 my problem with the bank was sorted out. I called the relevent people to deduct my debit order's which was done. Today 31/05/2018 i called vodacom to ask them to assist me with the deduction of my debit order i was told i need to call back in next week for them to do a debit order alternatively i can go to a vodacom shop to pay it. I went to vodacom in the Randburg Square when i get there they told me i need to go to the bank either STB or FNB to do the deposit, i said fine to my surprise i was told i need to pay the R450 which is my payment every month PLUS a R100 extra for the debit that did not go through. PLEASE EXPLAIN TO ME HOW DID THE FEE OF A R100 WAS CALCULATED ????? FOR WHAT IS THAT R100 from the 26/05/2018 to the 31/05/2018 U CHARGE ME R100 ??????????? PLEASE EXPLAIN VERY VERY URGENTLY

Khangelani Gama
from Durban, NL
Useless; incompetent; inefficient and RUDE consultants when calling 082 1952.
Cnythia Dlamini is the RUDEST of all and Oscar is incompetent but also inefficient.
My contract which I've been paying R1115 a month for comes to an end this month ( May ), I'll be porting my number to a new service provider.

Ansa
from Johannesburg, GT
I went to Vodacom Valley View Noordheuwel to get my son a Sony Xperia L1 for his birthday (which was Saturday 14 April) . I filled the forms on 04/04/2018 and received a sms stating my vetting has been approved the same day. It is now 17/04/2018 my sons birthday party is finished and still no phone. I phone them daily and ask if there is stock yet. Every day I have to hear "definitely tomorrow mam "no need to take another option. Today when I phoned again I said I want to complain to someone that can assist me TODAY. They gave me a bogus number to phone 072 520 86 89. I am irritated to the point where Hello Peter is my next step. I have been waiting for the phone for 13 days now. Really people 13 days!!!!!!!!!!!!!!!!!!!!!!!!
How do you explain to a 12 year old your phone (birthday gift)_ is late due to extremely poor service.
Ansa
073285 1565

Willem Johannes Wheeler
from Johannesburg, GT
I currently have 4 lines with vodacom, 3 off my lines was due for upgrades and so I did the upgrades. Since I have upgraded the lines my 3 top up lines are being soft lock everyday due to all of the sudden (I have reach my credit bar limit) that I did not even know existed. I have been phoning everyday for the last 2 months to have my lines open up. I have complained about the issue more than 60 times to vodacom consultants, and all they say is that they have lodged a service request on more than one occasion. The consultants told me that the service request that they have put on the system are not being attended to, and that they have brought it up numerous times to vodacom management to resolve the issue as it apparently is a flaw in the vodacom system. I even went to a vodacom shop to see if they will be able to assist, but to no avail. The shop only scanned my payslips and ID copy onto the system in the hopes that it might speed up the process. This is totally unacceptable, It is simply impossible for this not to be sorted out. Please assist in this matter, as I am even unable to call the customer service due to reaching my call limit to the center.

Cordelia
from Johannesburg, GT
My daughter booked in her phone for repairs at Cavendish branch, this wason the 01/02/2018, it was the Insurance claim and she has been following up with the branch and no feedback. On the 07/03/2018 she was told that the phone has been dispatched from the repair centre. Firday she followed up the phone was not at the branch. on Monday the 12/03/2018 I followed up with the branch, the phone still not there. i then phoned the repair centre, booom the phone is not even fix, no communication nothing, the wrong information that was given to my daughter that the phone has been send to the branch, my challenge is even now one month and 3 week the phone is still not fixed and no sense of urgency from the repair centre. When i ask is still waiting for the for the phone to be linked to what ever link because they dont have the model on their system and the quote from the insurace, i am really frustrated and angry because we taken for granted as customers.

luther
from Johannesburg, GT
hi I am very disappointed in Vodacom 4u mall off the south I went there on Wednesday to do a insurance, I arrived at the stores @ 17h30 and I asked then if it will be possible to do a insurance claim, they told me that its late already and the insurance is closed I must come tomorrow before 5 and they will be able to assist me, I than left the store just wen I was about to pay for my parking ticket the store manager ran after me and said they will try to call the insurance, so have decided to go back to the store and they called the insurance, they insurance they the a quote and the access about that I will be paying, but unfortunately they did not have the phone in store they than promised to order the phone and said it will be available on Friday they will give me a call I was than fine with it and waited till Friday, on Friday afternoon I than called them cause they never called me, they than said to me that the stock never arrived but it will be at the stores on Monday, this morning in than called to find out if the phone arrived they said they will inform to its to early, at about 15h30 I than decided to call them again cause no one called me I than spoke to customer consultant called Lebo, I than asked her is she sure that the phone is in store she than confirmed that it is available, I than decided to leave work and go pick up the phone, when I dot at the store a gentleman was standing at the door I than explained him what I need he than, I must wait, was standing there for like 10 minutes witch was okay a lady walked in the store she ashes if I have been help I than explain her that I am here to pick a insurance claim phone she than came said she will assist me, she than asked for my paper work witch I gave to her she than left her desk and went to the back office and was there for like 5 minutes she than come to me and said she is waiting for the paper work at the back, I than waited for like almost 20 minutes the manger off the stores come out and said to me the access on the phone will be R2900 I than asked him what is the value off the phone he than responded that it is 11500 I than asked him witch phone it is the than said a Sony ax I than told him that that's was not the phone I asked them to order for me, I than explain him that me and the customer consultant agreed that she will be ordering a Sony xa 1 ultra, then said he will call other stores and see witch one was has stock, I than waited for another 20 minutes, he than came back to speaking me as if I am his friend and in a very rude manner that they don't have the phone in stock but alberton city had it in stock I was very upset cause he wasted my time and said to him this is not acceptable stood up and walked away he than said something but I did not hear what he was saying I than walked out of the store all could hear is people laughing, this is really not acceptable infect the way the senior dealt with the people I don't think he deserves to be there cause he does not know what customer service is very poor services received and I am very upset

Neels Ras
from Pretoria, GT
I wanted to shift my phone accounts from my wife to my account.I was rejected as not likwid enough to afford a second line.My bank statements show all payments your own statistics show no default over two and a half decades.You will definitely under stand my frustration with your company I have been in business since 1981. I have a turnover of 2 million a month no other company has ever rejected a credid application of mine so I can definetely not see vodacoms rational and antagonism toward me personally


What is your complaint?
My name Handy i have problem with vodacom, on 31-01-18 i had problem with network.
I was suppose to receive few important call, but that didn't happen because of Vodacom.
From morning tell around 17:00.

my airtime has disappeared don't know why

Fallon
from Johannesburg, GT
Sales Department called to sell a router. Didn't explain that I would be billed 4 - 5 days later. I was told that I would be debited as per my current contract & that there are no changes with regards to billing date - my bill would be as of the next debit date scheduled. I was also told that there was no connection fees. However, I called the Service Department & was told that I am being charged for the router & connection fee. I am extremely angry about being misinformed because I now have an unpaid debit on my record. I no longer want any marketing or calls from Vodacom . The people that call to sell you stuff ramble on & don't explain important info. As the Customer , I am left to find out the hard way. you are more that welcome to listen to the recordings of that call.

I booked my Samsaung Note 2 in repair at Secunda Voda 4U, on 10 February 2019.. It was then sent to Nelspruit for repair and I was quoted plus minus R4500 to get the "Charging Block" fixed. I told Secunda Voda 4U as well as Nelspruit Repair Centre that I have insurance on the phone and they confirmed that they are able to fix the phone at the above cost.
Repair Centre at Nelspruit sent it back to Secunda. I called the Insurance who confirmed that approval was granted to fix the phone.....................so the phone was sent back to Nelspruit. The repair centre came back saying they do not have spares for such an old phone.
Two weeks ago, I went to Voda world in an last attempt to get.............better "customer care"...which I did. They showed me a A30 phone and I would have to pay in plus minus...R1500 should I take that phone.
Friday 24 May 2019, I went back to Secunda Voda 4u...choose a phone (A30) and was told to wait for an Technician Report from Nelspruit.
needless to say......I AM STILL WAITING FOR VODA 4U TO CALL ME!!!. Whilst in the shop, I tried to put a Simcard into the phone (which was still working 10 Feb 2019) and was informed that the Simcard reader is now also broken............which was never the case before.
What can I do????
Would I be able to get my insurance money back?

Abrahm Mashiane
from Benoni, GT
my prepaid number ..0607612360 has been ported without my approval or concern,i have received a text msg late last night to say vodacom has approved porting of my number,and now as it is my fone can't even access any network wich i'm eventualy loosing out of calls.

Elize Theunissen, ID 5202250177083, Telephone number: 082452 8232
Iordered an upgrade now at least three weeks ago.
The phone was delivered with the incorrect ID number and therefor the courier service took it back.
After ENDLESS call centre calls I started sending e-mails.
I STILL DO NOT HAVE MY PHONE!!
Below are copies of correspondence with Vodacom. I have not heard another word!
Right at the beginning I was sent this e-mail:
Hello Elize,
We have received your request for a new deal and your reference number is RC0P4Q
A Call Centre agent will contact you within 24 hours to complete your new deal request.
If you don't hear from us within the next 24 hours, please call 08217844, FREE from a Vodacom cellphone.
The Vodacom Online team
Vodacom
I have never received a reference number.
When I asked I was told to use my cell phone number, which is 0824528232
Speedy service would be appreciated!
From: CUSTOMER CARE DOCUMENTS [mailto:documents@vodacom.co.za]
Sent: Friday, May 17, 2019 12:00 PM
To: elize.1may10@gmail.com
Subject: EC-1R4P-2X1XV4 Change of ID number on Vodacom Records
Good DayThank you for your e-mail communication received.If you wish to be serviced via email please add your Service Request Reference Number in the email subject line.We look forward to further communication with you.Kind regardsVodacom Customer Care (082 135).
-----Original Message-----
From:Elize Theunissen;
To:Document;
Cc:
Subject:Change of ID number on Vodacom Records
Attached is a copy of my ID Document.
A system error on your side has resulted in my ID on your records to be incorrect.
I have been a Vodacom client for probably more than 20 years and have had multiple contract renewals and upgrades.
I have just processed an upgrade with your call centre.
The new phone was brought for delivery yesterday. However the ID on the delivery note did not correspond with my ID number, resulting in the courier company, RAM, leaving with the phone.
I have been on the phone trying to rectify this. I was put through to multiple centres and agents.
Yesterday Luyanda supplied me with a number to phone (082 178 44) - no help!!
I was then told to phone 082135 - no help!
Finally Mbali assisted me and said I should send a copy of my ID to the above address.
She also advised me that this matter will be attended to within 1 to 7 working days!!
On rating the service levels I entered 0 and confirmed that multiple times.
YOUR CUSTOMER SERVICE IS ATROCIOUS!!!!!!
Elize Theunissen
082 452 8232
ID: 520225 0177 083

Mrs MM Kruger. Cell nr: 0826181757. ID 7202100001085
Vodacom called me and said that thy will save me money if i changed my sons contract witch is on my name. when i got my first invoice i saw that my contract was now R300 someting. I asked that thy must change it back to the way it was, because i am not prepared to pay that amount for a child's phone. My bill came to R1235.43 this month. It is unacceptable. When this contract is finished i am taking it away from vodacom. And i am telling all my friends and family not to support vodacom.

Hi
I'm a very dissatisfied customer as vodacom recently billed me for a service I did not subscribe for. I have a contract with vodacom I pay R759 all of a sudden my bill is R969. 01 they added a service u choose flexi rental without my authority please refund me for as I did not authorize this instruction on my contract I'm very angry and I need an investigation to be done the person who loaded the service to be punished accordingly as this has inconvenienced me. I believe the person done this on purpose to get sales they must be punished for this and I need vodacom to call me or I'll cancel this bloody contract.
Regards

When I want to upgrade I was told to pay in, I pay my account every month to vodacom.
First I had problem with the Insurance with vodacom, now on my upgrade. I want to cancel my contract with vodacom, how can i go about this. I'm really not happy with the service i get from vodacom.
Kind Regards.
Bedelia Noble.

Barry Smith
from Durban, NL
I have on 2 occasions been contacted by Vodacom agents offering me data deals. The first was SIM only, which I accepted and was told that I would receive the SIM within 3 - 5 days. It never happened. Recently got offered the same deal, but with a router, which I accepted, but never received. Contacted Vodacom customer to make enquiry, but they can't tel me why it was canceled, or who canceled it. Shocking service, Telkom here I come!

Godfrey Lesenyo
from Johannesburg, GT
Please process my vodacom account and stop your MBD consultant to harass me, there's sufficient funds in banking account with the following details:
Capitec bank
Acc holder: Godfrey Diteko Lesenyo
Branch: 470010
Acc No: 1214959782
Branch name: Kimberley
Thanks

LISA HALL
from Sandton, GT
I signed a 24 month Top Up Contract earlier this year. To my knowlegde I am supposed to pay a fixed amount (and I also ask the assistant this about 10 times) for the duration of the 24 months. This month, I noticed that Vodacom debited my account with more than usual. I called the call centre only to be told that there has been a price increase. I SIGNED A CONTRACT FOR 24 MONTHS, surely they cannot do this. If they can breach our contract then so can I. I was never even informed about a price increase. Please advise because I am also of the impression that this is a breach of the National Creidt Act.

Nela
from Johannesburg, GT
Vodacom did not carry over my call minutes or sms 's
When I phoned the agent said it was still there just showing as 2 different sets but yet I did not get it
Stole all my money paid for that
So either refund me months of premium or give me m minutes back on BOTH nubers on my account 0795226336 and 0762217074
When I mail the beat around the bush not answering my question at all

Dreadful Customer Experience with Vodacom
I spoke to a Vodacom agent called Phindiswa Rakotosi...I needed guidance on the steps or process to be followed to get my phone activated after delivery. She seemed very irritated by my questions, was very sarcastic curt and dismissive on the call.
The more questions I asked about, the more she seemed to be irritated, this was evident in her tone and how she spoke over me multiple times.
This agent does not care about her customers and how she makes them feel.
What was even more appalling was when the Team Leader called me back and he seemed to not be interested in acknowledging my feelings or the experience I had on the call. According to him, there was nothing wrong with the call and the agent's conduct. He kept on reiterating that she did what was required to do, which to activate the phone.
I cannot be part of an organisation that does not care about it's customers and the poor manner in which their staff members interact with customers.
I have decided to cancel my contract with Vodacom...the bad experience was a motivating factor that they do not care about their business!!!

Hi there
I'm very upset as to the services I have received , being a loyal customer for now 20 years and my business contracts are 6 years strong.
I want to make this as short as possible. I was offer an upgrade on my account I collected my phone and tab and was advised that , there is a special offer on a Samsung cover of R500. I told the store I collect it from ( Bluff Vodacom DURBAN) I would go to the store nearest to me in Durban Central Old fort Road.
On arrival to the store I spoke to a member of staff and they where unsure of the promo , I asked to speak to talk to the manager .
She was very rude off the set and said that the promo is finished . I told her to please double-check as the bluff store has it. She refused to. Even after I called the store and confirmed the promo was on, she snubbed me and didn't want to take my phone.
I then drove all the way back to the Bluff and purchased the cover .
I then called to speak to her , I left 3 messages and no call back I got her on the 4th call.
She just said to me she made a mistake and I must come in after I told her that I had gone all the way to the bluff, She says there's nothing she can do about it .
I said that I am going to complain about the service and the ladies words where " Ya Go Head "
Now seriously is this how a customer shud be treated .
I am honestly thinking about changing my service provider as this behavior was unacceptable and more so I have wasted to much of my time and money , ever after telling the lady to double check.
The Managers name is Aaliyah Mohammed from the Old Fort Road Branch.
Please note I have all the phone calls recorded .
And can prove what I said in detail .
I really need a response as to what has happened and how vodacom is going to deal with this manager, its not acceptable for staff to treat loyal and a R 5000.00 per month customer that way .
I would accept a proper apology from this manage and the fact that I have wasted my time and petrol running around unnecessary .
Regards
Mishal Nana
MAS NANA DRY CLEANERS
0737566589

poor service up until today I am still waiting for my upgrade Vodacom sends to every department except helping me with my upgrade, wasting time and money contacting the call centre not helpful at all, pathetic.
Vodacom SP: Upgrade quotation 13080478 has been generated. Should you have any queries, please call 0821959.

Upon inquiring about a sim swap from my new contract number to my old number, the attendant at CG shop mall at Cape Gate insisted that I cancel my contract and start a new contract with my old number. I should think not. Please assist. My old number is 0825098234, the new number is 0609603554. My ID is 6404195030083. Account nr: 17560916. Please assist?

Jeandre
from Pretoria, GT
My phone went for repairs. Received sms on 13 may to say my phone is on its wAy to be collected on 20 may i wend to store my phone not there they told me wednesday but until know i stil not received my phone. This is more than 3 weeks.


To whom it may concern
I have just received a call from a Sam Dawood (Not certain if this is correct), from a Vodacom call center at which time I was asked to take out insurance for the 2 cellphones I have just gotten from Vodacom. I had asked the rep to call me back and to my surprise after asking some simple questions regarding the cellphone insurance, he became very disrespectful and refused to give me his managers number. To the point where he actually put the phone down as I was speaking. I am appalled by the manner in which I was handled today.
Coming from mtn I am completely disgusted as I have never been handled in this manner before in my life.

isaac@conclear.co.za 0792380375
from Pretoria, GT
in October 2018 I purchase a datta bundel for 12 months for 1gb per month on above number.
I have not received my one GB PER MONTH .Please check your records and rectify the complaint
as I have to purchase datta separately.

I have a serious problem with vodacom as the callers mislead us, I was told about a 30 Gb offering that will help reduce my two other contracts that I have , but to my surprise it has doubled my instalment I specifically asked the price on purpose knowing that I was recorded and today the price has increased instead of decreasing as they claimed.
I need to cancel this , I am not mad to take a SIM card and pay R300 without a phone or router, this is miss- selling

Lynn Rex
from Cape Town, WC
Vodacom creates problems but their consultants are not able to fix it. Ive been calling since the 1st April for minutes which was supposed to be part of my upgrade package on the 12th April 2019 the minutes was allocated but with a cost. I then logged a few more complaints which was just closed days later no explanation no communication nothing was done. Now I'm charged double for the minutes I need to pay 50% as the quote I received. To get them to reduce it its a hopeless case being transfered from upgrades to customers service its been going in circles don't know how vodacom can stil be in business with all those people unable to resolve any complaints. For 2.mnths

David
from Parktown North, GT
This is in relation to my premium been increased without notice.
I have called to complain about this before as my contract agreement was R340 a month. It then went up to R390+-, and the reason the agent gave me was that vat went up to 15%. So I tried to explain to him that 1% was R50, clearly Vodacom hires the right people. It took me over 5mins to try explain that a 1% increase does not equate to R50. After a good while he decided to go and confirm what the increase was about. When he got back to me he said it was to fund Vodacom to pay for marketing as well as better reception which in either case does not affect me. However I did leave it. Then I see this month it went up to R408! (not sure if vat increased again lol)
This now becomes alarming because I cannot trust Vodacom and take another contract with you as mine is due to expire this month.
If this is not resolved with proper explanation of my increases I will be sure to let a lot more people know about what you guys are doing.
It might seem as a small amount of money, but if you do it to more of your clients it could equate to millions a month.
Thank you, and I look forward to your response, all I am asking is to be transparent.

Julandi
from Pretoria, GT
Vodacom Standerton is the worst. I booked my devices in for repairs 12 days ago,never got a sms with a job nr and whrn I phone them,the technical guy is never there, I phoned for 3 days,left messages,and eventually got hold of him,only to tell me their system is off line and my devices have still not been booked

Sohana Mannie
from London, ENG
Dear Sir/Madam,
On the 30 April 19 I (Sohana Mannie, ID: 7711300174080) took out a new contract (076 613 1203) for my daughter (UChoose 230 PLUS 2GB Data monthly) on a Hauwei P30.
The conditions of taking the new contract was that, New deals advised that we should do a once-off pay-in of R8640 and thereafter we would only pay R230p.m for the 24months period plus we would get 2GB of data monthly over and above the R230pm.
The P30 was delivered on th 6 May 19 with invoice attached. On 1 May the R230 was debited of my account but on Friday the 17 May i looked at my online statement and now i am being charged R589pm and not the R230pm agreed telephonically. Also, i am not receiving my 2GB of monthly data as promised by new sales. I also need the banking details were i can pay the once-off R8640 so we can keep my monthly payment static at R230pm.
I have spoke to over 10 people these past 5 days going back and forth from one department to the next without any progress or resolution.
My request is for someone senior to please intervene and resolve my query soonest as i am not sure where to go from this point.
Kind Regards
Sohana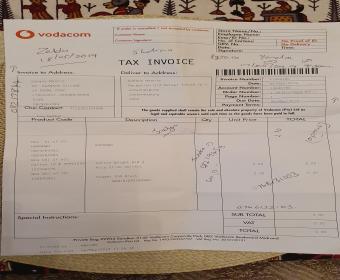 Phumela
from Johannesburg, GT
Ref number: 23868278. Agent Name: Kleinhansr. I applied for a new contract at Vodacom Clearwater Mall last Saturday 04 May 2019. This is for the 90GB data promotion. To this day no one has contacted me regarding the status of my application and I know for a fact I have a very good credit record and the monthly payment is negligible. I have attempted contacting your after sales department several times and been told application is in progress...how long must this go on for????

molebogeng from limpopo
from eManzimtoti, NL
poor services and unfair treatment
i was paying my insurance since 2014 when i started using the smart tab 2 with vodacom and it was insured with the 082 496 5808 number, 2016 i upgraded to sumsung j1 and continue with the insurance, the tablet got broken and i claimed it from cellsure they replaced it within turn around time. then on the 25 feb the tablet got lost and on 13 march i upgraded to sumsung j2 core, then when i claim the tablet they told me that i have to wait for the pending transaction of upgrade to be finalised, then i waited till the 1st april, i continued with the claim on the 4th april and they kept quite untill i called them on the 23 April 2019. i was assisted by Thobile and she told me that the insurance has been declined because i never told the insurer that i am giving the phone to my son.
i asked her that since i know that im am under cellsure and now i am surprised that you tell me that you are from finrite did you ever send me your terms and conditions regarding the claims, because what you are telling me i hear it for the first time when i upgrade i asked about the insurance and they never explain what you are telling me now, and why all along you were quite you waited for me to call and ask you about the progress is when you tell me that it was declined. she then asked me if she can cancell the insurance i said yes but before you cancell it let me ask you something, then i requested to talk to the supervisor she asked me why and i told her that i am not satisfied and she put me on hold for more that an hour and a half till they hang up on me.
to my surprise today on the 7th may when i check the progress i was told that the insurance is cancelled and there is no claim or despute reason being that i have requested the claim to be cancelled. i then requested the recording for that day and they told me that it will bw available within 3 days which is 72 hours. i am not happy with the manner the finrite is operating their consultant are so rude and emotional. i even told them that i was happy with the services hat was rendered by cellsure.

i have been recieving absured accounts from vodacom every 2-3 months with outstanding bills , i have not been in the country for 8 months there have not used my vodacom account . i will not pay account until this matter is sorted out , or elsi will seek legal advice

AYOB NAKOODA
from Durban, NL
Upgraded old contract got new phone Pinetown paid necessary costs but was never informed that this phone huawei p30 lite needed a nano sim. on saturday 4th May did a sim swap at a vodacom outlet in Chatsworth. up to now 7 may 2019 sim is not activated. called vodacom yesterday was told will be escalated. Called again today was given the same response email sent . i am on verge of cancelling contract with Vodacom and getting fone from rival company. Vodacom service stinks.
0721796753
phone no of contract : 0649077147

John Smith
from Cape Town, WC
My LTE service was fine for 18 months, with never less than 10 Mb download speed. Nearly 3 weeks ago it suddenly dropped to less than 4 Mb.
It is not a technical fault, as the signal locks on at 4G and shows good signal strength, and if I take the router 2 km up the road, it runs at 15 Mb ( normal )
I have spent ages reporting the problem and was given a ref number and told that it would be sorted out in 14 working days ( which over Easter is nearly 3 weeks ) It has been escalated, referred to Network and whatever countless times, and I have had promises that somebody would contact me with news, but nothing !
One mail said that they had tried several times to contact me with no luck ( I have 3 Vodacom numbers and nobody else has failed to reach me ), so that is bull.
Now I get an sms not on any of my phones, but on my router sms, which I noticed when I was checking the data left.
The sms tells me they have cancelled the original complaint as it has been resolved !!!!!
When I complained they told me they have raised a new reference number, which I suppose is to give them another 3 weeks to keep me in the dark.
I have been missing our favourite TV shows, ( and an f1 race ) all I want is my broadband back, and a refund for the 3 weeks it has been missing .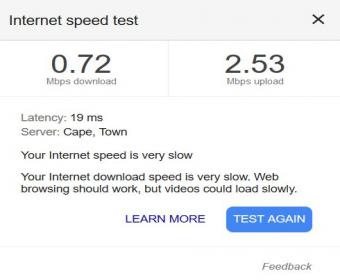 I have never come across such incompetency in my life from Vodacom. After being overseas, we have received a bill of R16000 plus from Vodacom when our data was switched off! The phone was then disconnected when we were overseas as they suspected "fraud" and now we have some spoken to innumerable persons there to get the phone reconnected to no avail. I am so frustrated with their lack of service, accountability and overall customer service that they should be reported to a consumer body for their lack of consumer care and fined heavily. They already charge exceptionally high data rates compared to global peers and they can be sure that I will cancel all of my contract with them at the soonest opportunity. Vodacom SUCKS!

Chatz connect
Address: Glasfit Building, N12 Main Reef Rd, Klerksdorp, 2572
Phone: 018 464 3922
We bought a Hauwei wifi modem in Jan 2019 on contract at the above shop. When we tried to use the item, we were told that the modem does not work without 4G, which was not available in our area. We immediately contacted the shop. They said we could return the item, and they would send through a cancellation. We handed in the item within 30 days to the shop. We are still paying the monthly premium without any service. The cancellation is not done and the shop keeps the item. We phone the shop constantly with no feedback. They keep on saying they will phone back or transfer the contract etc. but nothing happens.

Elizabeth Gertruida Halgryn
I've upgraded on line on 16 April 2019 on number 0826197171. The handset Huawai P30 lite Peacock blue was ordered and RAM Couriers wanted to deliver the handset on 25 April. They unfortunately could not complete the delivery due to wrong ID Nr information received from Vodacom. I called since 25 April until last week 2 May to try and rectify this problem. My ID was issued in 2007 and I did SEVERAL upgrades with my ID without any problems. Now all of a sudden my ID of 20 years ago pops up and Vodacom use it???
Today, 6 May 2019 RAM once again wanted to deliver the handset, THE ID WAS STILL WRONG! and the handset was taken back.
****I ALSO ORDERED A PEACOCK BLUE HANDSET, THE HANDSET THE COURIER HAD WAS BLACK?
Vodacom what is going on? I am really disappointed with your oblivious behaviour and also agents who promised to give feedback and NEVER DO SO? This is really unacceptable for me to not be able to conclude this upgrade deal and a simple ID problem can't be sorted out??? PLEASE I AM NOT GOING TO SPEND 3 HOURS AGAIN TALKING TO SEVERAL AGENTS THAT SURELY DO NOT WANT TO ASSIST.
MRS ELIZABETH GERTRUIDA HALGRYN
PRIMARY CONTACT NR: 082 879 7473
UPGRADE NR: 082 619 7171
CORRECT ID NR: (ENCLOSED) 6606040101089
WRONG ID NR ON VODACOM SYSTEM ALL OF A SUDDEN: 6606040101006

Sibonakaliso MTHEMBU
from Randburg, GT
I'm not happy about this rule that make me use 60 minutes of my 3 days minutes during night shift. Vodacom steal what i paid for instead of lettingvme use their night shitf first then my minutes. This thing is hurting and I wish it can be changed.

Good day,
I went on Friday to apply for a Vodacom contract at Westgate shopping centre.
I was told it was declined because I have to many lines. They took my paper work in and sent it through for approval as I only have the wifi from Vodacom. I was told it will take 1 to 4 hours to get it processed and be told if I can get the contract.
This morning i went back, still not done. I was told 1 to 2 hours still. 3:30 I get a call my signature not right, I go re sign, another 1-4 hours. The acquisitions department Inocentia and Putselemg are really not doing their jobs. I should have been informed this morning already.
I am canceling and paying out 2 contracts with cell c tomorrow to move over to Vodacom. But I really am not sure about the customer service here.
Your kind assistance with regards to this would be appreciated. Should my number below be unavailable as I am canceling tomorrow, I can be contacted on 0823227332 which is my brother's number.
I have tried many platforms to get assistance but Vodacom customer service does not seem to exist.
Kind regards
Marilyn Dullmaier
0844845676

Ilse Kerry
from Johannesburg, GT
I am now trying another platform to complain on - as the Vodacom Messenger NOT Hello Peter is working.
1. I purchased a Huawei T5 tablet on a contract through Vodacom. I work through North Cape Mall Vodacom as the service is EXTREMELY good and efficient.
2. I received the tablet end of January
3. Two weeks later the tablet started to freeze up and no touch function is working
4. We took the tablet in to Vodacom 4U store in Greenstone. We handed the tablet in with the box, on which we were informed that they don't need the box and that we must remove the tablet from the BodyGlove cover. So the tablet was left in the thin styrofoam wrap. PLEASE note this tablet is still under warranty.
5. No booking/reference number was given - just a slip from the invoice printer with handwritten number and name. My details was taken down (specifying my cellphone number) - but in a similar way (written down on an invoice printer paper (please note these papers are thermal).
6. One week after, I phoned the cellphone and even send a message - no response. I subsequently phoned the landline, where the lady said she will request this consultant to phone me back - no response. 5 days after that, I phoned again - they will look for the tablet.
7. My husband then went into the shop to take in a cellphone (also still om warranty), on which he was told that it will take 2 weeks for the phone to go in for repairs. He then requested the tablet back, on which they could not find the tablet or any reference that it has gone in for repairs. I then phoned, and the consultant told me that he thought it went in - but will get back to me (still waiting). I phoned again last week, and finally a type of manager confirmed that he has been trying to get hold of me - that is after I left my phone numbers after each time I phoned AND it was on the small invoice paper. He then told me he needs the IMEI number and a receipt? I sent that through the following morning before 12, specifically requesting some sort of feedback. Again......still waiting. My sons' e-textbooks are on the tablet, and I need it back before the school starts.
8. Decided to go to the 4U shop in Greenstone to enquire regarding the tablet. Tablet was returned from the repairs and nothing was done. No diagnosis or finding even written for the store to advise us? When was the tablet returned? When would we have been informed regarding anything? AND yet again - the wrong contact number on the documentation?
9. the tablet was returned to the 4U shop in Vodacom, as I did not send through my receipt. A receipt that I will gather can be drawn off their system. I then contacted North Cape Mall Vodacom (which give EXCELLENT service) and he then sent through the receipt. I sent it through to the menlynadmin address that was supplied, but apparently it was never received. YET, the tablet was returned. On Monday, 25 March, I (finally) received a sms with a Repair Job No ( ********** 9) and was contacted by the manager of 4U Greenstone to confirm that the tablet will be sent in that same day. On Wednesday, 3 April, I received a phonecall and subsequent sms to confirm that the tablet has been received by ALI-SOM Repairs. This means the tablet was "somewhere" more over a week. That same day, 3 April, I received an sms to confirm that the tablet has been sent to the Advance Repair Centre for a higher level repair. Today, 9 April, I receive a sms to confirm that the tablet was received at the Advanced Repair Centre and warranty repair will take 5-7 days? This tablet has been with Vodacom for over 6 weeks for repair? I have been charged for 2 months' subscription - yet I dont have a tablet. This tablet has my son's textbooks on them (as explained before) - I now have to purchase all the hard copies as he needs to prepare for the exams?
10. Finally we were sms'ed to phone Vodacom Repairs to accept or reject the quote??????? This was quite a suprise - as the tablet is still under warranty. We were informed that the screen "lifted", not scrated or cracked, lifted - and it will cost us R2600 to fix the screen. Can anyone more senior from Vodacom please contact me to confirm why the warranty doesn't cover the "lifted" screen? What does the warranty cover then? The tablet was placed into a Bodyglove cover the moment we received it (thus all corners were protected) - the screen did not have 1 scratch on it - yet the screen has lifted?
11. On request on how a screen lifts and why is it not fixed under the warranty - the agent confirmed she doesnt know. No report sent through?
The screen was 100% in tact when handed to the Vodacom 4 U store? No scratch!!! The tablet has been in Vodacoms' posession for close to 8 weeks? Being sent back and forth from shops to repair centre.
12. I then logged a complaint on Facebook messenger - on 17 April (for Repair #12986259). An escalation number was provided (EC-1R1X-30WHB3).
13. Subsequently I followed up on 24 April - repairs team contacted me on Friday, 26 April. They confirmed that they are waiting response from the manufacturer and will provide feedback by either Friday, 26 April OR latest 29 April.
14. I followed up later that same day (26 April) as I received a sms to confirm that as we did not accept the quote - the tablet was returned to the shop. When I requested why are there 2 different messages - I was informed that they will confirm what is happening and did I ask the consultant that phoned me where the tablet is?
15. I again followed up on Tuesday, 30 April (on FB - just to be phoned by a Denise to confirm that I will just have to wait until they get feedback.
This is TERRIBLE customer service. We did not even have the tablet 1 month --- and it was in a BodyGlove cover for the full time. Even when we took the tablet in, the consultant checked and saw that there was not damage AND confirmed that it might be a software problem?

mogachandran govindsamy govender
from Durban, NL
my last upgrade was in august 2014.
I did not upgrade in 2016.
my phone was stolen in 2018. I then upgraded to a new phone.
I was informed that I should have been treated as a pay as you go client.
I was also informed that my smart s subscription for the years that I did not upgrade will be credited into my account.
numerous calls to date has not resulted in any credits into my account.
cell no. 0824134100
acc. no. I0292666-7

Nicole Leigh Roodt-Hilligenn
from Alberton, GT
I called in at 09:30 on the 03rd of May 2019 to cancel my policy as we are emigrating. I had the rudest consultant that told me it was not his problem and that I should have called in sooner. He couldn't give me an amount to pay in to cancel the contract, and that it was too bad. He then just hung up the phone after keeping mute for a while. . . . .Is this the type of service you extend to clients after years of support? Never not paid a premium? I want to take this a whole lot further than just here. How do I escalate this?

maserame ntsoelikane
from Pretoria, GT
whenever I attempt to purchase whatsapp ticket I constantly have insufficient amount though my amount is sufficient for the product and when I restart my fone the 1c should always dissapear somehow which now makes my amount insufficient to purchase the product.goodbye vodacom I am moving to telkom I am so done with your incopetemce

i took my phone for repairs in March at vodacom eastgate and till today i have not recieved my phone , they then sent a message from repairs saying my phone was still going to be sent back without being fixed because apparently they where trying to get ahold of me and they could not when i called they said they will be sending it back and that its the Insurance fault.When i called the insurance and told them they called vodacom and and they said they will be giving it to the consultant to process again and they will call me which they didnt i had to call back and they said my phone was ready for collection when i went to the store yesterday it was not there and they were telling me its still at the repairs and they didnt know why

Hein van Tonder
from Randburg, GT
What is the problem with Vodacom service in Robertson, Western Cape? More than a week of intermittent service experienced!

David C Smith
from Cape Town, WC
Fault reference 1-34328794051356 has NOT been resolved!
Again this morning "No Service". Hundreds of Vodacom customers in our area (Robertson, Ashton, McGregor, Bonnievals have "NO SERVICE" off and on and off again for the last 5 (FIVE) days. As a paying customer I DEMAND that Vodacom take serious steps towards resolving this ongoing problem once and for all.
Please take note that I hereby give notice of my intention to log a complaint with ICASA. A copy of this complaint WILL be included!

David
from Johannesburg, GT
Hi my complaint is with regards to my contract premiums. Initially when I took my contract it was on r340, it then went up to r390. When I called to query they said they increased it because vat went up to 15%, obviously he couldn't do math, after calculating it for him because he insisted it was right he then came back and said it was to cover marketing cost and better signal, which does not affect me however I let it slide. It's now gone up to r408 without any communication, if I don't receive a refund and adjusted premiums to what I initially signed up for, I will take this further. My contract is ending, how do I trust u to renew it, and it's not going to happen, and I will be sure to notify as many people as possible as to what happened to my premiums to make them aware and use another service provider. You are A bunch of thieves as far as I am concerned!

My network is verry slow now for the past 2 weeks fix this I can do nothing!!!!!!!!! My youtube is so shitty just because of your network. If this problem doesnt get solved im switching back to mtn. Fix your shit Vodacom. You tel the people you are the leading network in SA but right now you are the shittyest one. Fix your fucking shit!!!

In February I did an upgrade on my data contract which included a laptop. I specifically told the consultant I want a silver laptop and not a black one. I said this more than twice but to my greatest surprise a black laptop was delivered to my address. I then called the Vodacom customer care (as if they care) center and told their stupid consultant that I do not want the black laptop and they must cancel the upgrade and fetch their laptop.
They have never fetched the laptop and my calls to get them to fetch the laptop are never recorded according to their consultants each time I call. They have debited my account with the upgrade fees and for the new contract that they are FORCING me into. I'm not getting any help from their customer care consultants. THEY STILL HAVE NOT FETCHED THEIR BLACK LAPTOP AND SEEMINGLY THEY WILL CONTINUE DEBITING MY ACCOUNT ON A MONTHLY BASIS.

I had a contract SIM and I paid my out standing account of R884 last year but now I can't XDS say that you never send them a letter to say it's paid. Know tell me if I paid this from my bank . Way can't you send them a letter to say it's paid?

Andrew
from Johannesburg, GT
I am so disappointed with the service received from you guys. I actually called inquiring about the router which was on promotion and we agreed about everything. So nou whn its time to receive my parcel i only got the sim card and i called in trying to lodge a complaint, i was advised that the router special ended long time ago and there isn't much that they can do to assist. I needed that router so that it can assit me with my assignments as i will be writing in June, but no now am delayed. I feel like i wasn't treated fairly as your valued customer.
Regards
Andrew
0765133921

ST McLean
from Somerset West, WC
....no service.............weekend off whole day...on from early evening...then off next day...same story........and now today when i need to make EFT payments....NO FRIGGING SERVICE AGAIN!!!!!!!!!!!!!!!!!!!!! DO I GET A REBATE FOR THE TIME I HAD TO PAY FOR BUT GOT NO SERVICE!!!MAYBE IT IS TIME THAT I START CANCELLING MY CONTRACTS PIECE BY PIECE AND GO TO A UNIT THAT WORKS....BECAUSE MTN AND CELL C WERE UP AND RUNNING!!!!!!!!
ROBERTSON AREA - WESTERN CAPE

I bought 7 GB of data yesterday and they have added the amount of rand value to my bill, but i have still not recieved my 7GB of data?
I want to know what is the next step as i will not be paying for it when the monthly bill comes.
As you can see from the first image i have bought 7 GB of data yesterday.
The second image is the amount of data i have and that is only the data i had to buy again this morning.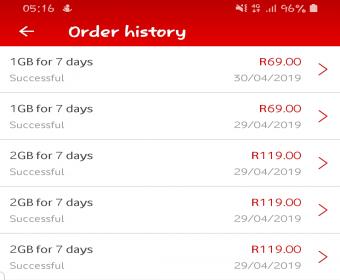 I took out a upgrade at the Vodecomshop in Greenstone shop noL93. Went to the shop and a sales person by the name of Ricarda attended to us, did the necessary documentation, and then was told that we had to pay 150 to swop information from my Huawei to the new Samsung A30, which i think is a cheek seen we are have a contract with Vodecom, Ricarda gave us wrong information to download from one phone to the other, and forgot to give a sim swop. I went back on Monday to speak to the manager and asked why we had shoddy service by Ricarda, and why do they charge R150, the so called manager, refused to cooperate with me and my husband, she had an attitude, and should be not working in an eviroment like that, I asked for her name and she refused, I also wanted the owner of the shops number she aslo refused, she told me to get out of the shop and called security, Far as i am concerned I dont need to be bullied by inefficent staff, and that women needs to be dealt with. Very unsastified customer.
Rochelle Fisher 083-6401234

Francinah.Obakeng Modingwane
from Cape Town, WC
Fraud was done under my name because a vodacom consultant failed to verify if its me, an upgrade of 2 phones in different places was done under my name using a fake id,names,id number is me but the picture is not me,that unknown person took Hauwei P20 and S10,one was upgraded in Roodepoort and the other one at the Glen shopping center,this is torturing me as i dnt understand how the consultant didnt see that the id copies are not the same,the application form also is not valid no adress,no email just name and surname even initials im F.O the person was writing F.M even the signature,i am really not going to pay for something i dont even own,need your help ASAP,i even feel like is an inside job.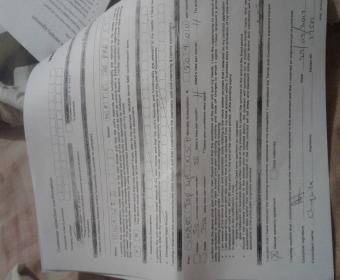 Have feedback for Vodacom?
Thanks for your feedback!
Sorry. Please try again later!