T-Mobile
T-Mobile Complaints Continued... (Page 3)
781+ reviews added so far. Upset? Call T-Mobile corporate: 425-378-4000

Natalie Scott
from New York (Brooklyn), NY
I have 2 Samsung T-Mobile cellphones. 1 week ago, one of my Samsung phones could no longer charge - I was told the pins inside we phone dislodged. So I tried to switch to my T-Mobile Samsung Grand Prime phone I needed to have unlocked. After 2 weeks of paying off an old account so I could have the phone unlocked to use....after 6 visits to the T-Mobile store and online chats, I was told that the unlocked phone could still not work on T-Mobile's network.... So I am out of $300+ spent to clear up my account and two T-Mobile phones that I can no longer use. I do not have the money to spend on another phone. And to add insult to injury, after being told that the phone could not work on T-Mobile's network....I commented to her "I feel like a bag lady walking around with 3 phones" - since I carried all of my T-Mobile phones to the store to see if anyone of them could be used....I hear the reply from the black man who works at T-Mobile tell the othr man standing next to him "That's what we want, for her to be a bag lady". When did being homeless and having nothing become a joke and something wished upon another person? I am very offended by his comment! The amount of money that I have spent at T-Mobile to spend hours of my time on the phone with customer support on the phone, to track back and forth to the store on Eastern Parkway & Nostrand....to not have the problem resolved after spending so much money on a T-Mobile's service and products...to then be joked about people wanting me to be a bag lady! That is VERY POOR service and shows a lack of empathy & consideration for people who struggle to survive!

Jeff Steele
from Fremont, CA
Wife visits local tmobile to get new screen protector for s9+. Employees hurried thru end result looks bad. Smudge &mark under. I went in hour later, Employees would not correct problem. Said that nothing wrong, said i came in with a bad attitude. Product has warranty. I paid 20 dollars for faulty installation to a man that acted like i had attitude. I'm so tired of poor service.

Beatrice Virella
from New York, NY
I have been a customer with T-Mobile for over 5 years, and I am so disappointed in the non flexibility with my current situation. I have been speaking with representatives over 2 weeks now, I have a user on my plan that wants to be removed from my plan and I also want her to be separate from me. Unfortunately I had a payment arrangement and an extended payment in place. I was advised I would have to be current to be able to have her moved ( by the way I am not even sure if she would be able to open her own account ) so I made all efforts to switch things around so I could pay the outstanding balance (payment arrangement) so I called so I could make the last extended payment and then I was advised I have to pay current bill ( December) because that's where the extended payment is. I couldn't believe this I got this far the representative was so helpful ( I don't recall name) I was transferred to a supervisor who explained the same thing the representative did and would speak at the same time as I. She said if I could wait till she speaks to her manager on Tuesday 2 days more, because the current manger is un flexible. I find the process and policies with T-Mobile unfair to loyal customers I have explained my situation over and over and I'm still in the same place. I being the main account holder am not leaving I just want an individual from my account to be transferred to her own account. No work around has left me so dissatisfied with T-Mobile I am considering in transferring my to another carrier.
Totally discussed with T-Mobile.

Greg Sim
from Atlanta, GA
I moved to Miami from London. In the UK i use EE which is under the same ownership. They have excellent service compared to the joke here at Tmobile. I bought 3 months of pay as you go service with unlimited etc during the time it would take my immigration attorneys to complete my visa and obtain an SSN so i could go on contract. Since then it's been terrible. The first two weeks things worked ok then the service stopped completely them i could make outgoing calls but no one could call me then that was fixed bit the data stopped so i could not use text or data outgoing or incoming. In between of course the constant visits to the local store who are useless and even worse the hours spent on the 611 number to people who cut you off dont understand simple english and basically do not give a fuck. I do hope the exec at TMobile eat their own dog food and try to call their own call centres or visit a store and get a real customer experience. I bet not they are far too important!!!!

Goar Sogomonyan
from San Francisco, CA
I am very upset by the way my account has been handled. I need assistance and what ever was promised I need that done. T-Mobile rep messed up my account and due to that major error I have a bill over three thousand dollars and no action from T-Mobile. I need some one from higher resolution to contact me to take care of this matter before my account is canceled. 818-334-9229. There is a lot to write about but I can not explain all now , when you call me I will go into details

Debbie Crowell
from Decatur, AL
been a customer for 15 years!!!!Your expert team members are a bunch of liars!!!!My son went to buy me a phone at Tmobile in Atlanta and I had installment payments set up and they ask my son to pay my bill !!!!They ruined my surprise and they runined my Christmas. They have given me the run around for 4 days on getting a refund to my son back the way he paid which was 69.71. They broke a law of my privacy. I don't tell my son the hardship I am having on a fixed income and my health. I want that refund back to my son.

brandon levy
from Washington D.C., DC
When changing accounts and having a remaining balance on the old account, T-Mobile in all their infinite wisdom needs someone to remember their password for the old account. if they do not have that password they can not access it. So after trying to pay on the phone and being told we could not, we were told to send it by snail mail. So Within a few days we got a letter from a collection agency (please keep in mine we have NEVER been late and always had our bills deducted from auto pay). So after multiple phone calls with people who are not fluent in English, the advice was to go to the local T-Mobile store and pay in person. Mind you, we have been told before on several occasions to go to the local store and when we get there we are told that that particular service or action can be done on phone or online. The complaint is that it is absolutely absurd that someone needs to remember a closed out account's password and if this was going to be such an issue then we should have been told to remember it when we closed out the account. Few things are more fun that having to repeatedly call a company and explain to people who are not fluent in, English (Yes, I know the Philippines teaches English at all grade levels and is considered one of the country's official languages along with, Tagalog but that doesn't mean they are fluent) repeatedly...and god forbid the line disconnects and you have to explain the situation again to a different person. Seriously....T-Mobile can not access an old account without a password? My bank has never had an issue. My mutual funds have never had an issue. My cable company has never had an issue, my internet provider has never had an issue....so why is it so damned hard with T-Mobile? So after over 11 years of ALWAYS paying on time, as a thank you, we get a letter from a collection agency because the company can not perform one simple process and throws it back on the customer.

Isaac Ortiz
from Ontario, CA
t mobile is a great service to have but their insurance is B.S. I got ripped off for a 100 dollars for a phone I only used for a couple of days..... then when you call they want to charge you another 100 for maybe another phone that might be a POS as well

Kristin Bamfield
from Toledo (Southside), OH
The 1-800-397-8997 rep, transferred me to a Resolution Specialist; Madison. This individual was the rudest person I have ever spoken with at T-Mobile or any call center. She refused to get me supervisor or manager help and told me "I'm the highest person you can speak to". She had no care for the hours I have spent in your stores, on the phone with Customer Service and Assurant. People like Madison are the reason people leave companies - I am highly considering leaving T-Mobile due to your lack of care and concern. It has been over a week dealing with this phone issue and I am NOT 1 step closer. Madison should be fired and not allowed to speak with ANY customer. She refused to give me any employee ID, manager name or state she worked in

Deborah Kent-Cochran
from Columbia, SC
I placed an online order via the website around 11;59 on 11/19/18. The rep was very helpful answering my questions about service, plans, phones and a rebate. I was told that I would receive a $750.00 credit to my account with purchase of 2 lines of service and trade in of an eligible phone (iphone 7 plus). I continue with the service order, he requested MEI of my trade in and we proceeded with the service agreement. Esigned and completed via online. I received an email that my phones shipped on 11/21/2018. They were received on the 23rd. The package included the phones and an extra charger I ordered. There was no instructions as to how to send in my trade nor any mention of the rebate so I called customer care. They said they would take care of it and allow 10 days to see it applied. I was under the impression that instructions for my trade in and a return label would be sent. Having still not received anything, I called on 11/30/18 and spoke to Christina. She assisted us with the transfer of our phone numbers from Verizon to TMobile. I inquired as to the trade in process and not receiving any information, she looked something up and said I could take my phone to nearest TMobile store to turn in my trade. I questioned that and she said yes it could be accomplished at the store.
I went to the store closest to me Killian Rd, Columbia, SC. Omar assisted me and he called several customer care, online service, and back to customer care only to be told because it wasn't on the order they couldn't give the credit to me. I also spoke to the rep and said there were notes supposedly placed in the file when I called twice before. She was firm that I was not going to get it. I am considering cancelling service and sharing this with all my social media friends. If this is the service you give, this isn't the company for me. I would like a credit and someone from corporate to remedy this. Order #1180044522*0838738549

Nasr Kamel
from Fort Worth, TX
I really wish this message reaches out the hands of executives, It's a long suffering with an order has been recently placed, and actually it was originally an old promotion. The story begins when I signed up this current service, I was convinced to buy one device and get the second one free, Because the slow process of T-Mobile, that promotion was expired but I was promised by the agent who handled my conversation back on November 2017 that I would be notified for any future promotion. That was not happened, but I found theses days another promotion of a free Samsung 9 with a new line, so I called to T-Mobile to find out if I could get it instead of the old promotion which was Samsung 8, the answer was no. I said ok let is do trade in with iPhone5 S ($150 off its price) then I was offered to get Samsung Galaxy Tab S4 at 50%, I asked where is my old promotion.. Any way, last Saturday, Ann Leah from "Team of Expert" promised me to escalate this issue to get this tablet free and no line added. Meanwhile, on 11/20the order of Samsung 8 S was ordered as I paid its tax with also a promise to be shipped within 24-48 hours, what happened is very strange, and I really want to share with you these odd things:
On Black Friday, UPS left a notice on my door for missing the package delivery, I never thought that on black Friday where all Americans nationwide don't stay at home , they go out for shopping. On Saturday (following day) I called UPS to find out when 2nd attempt would happened, at the beginning they refused, I asked where the location to pick it up, they provided an address not found. The address is 13000 Trinity Blvd, Euless, TX 76040, by the way based on this address, I live 2 miles away from it. I didn't find this UPS Access Point. I called UPS again as I explained that the address is not correct, I asked then for this location phone number for a help to get directions. What shocked me they don't have that place phone number. Imagine the have a phone number of their agent, I asked how do you communicate with them. I really don't know this strange stuff. I was promised by them that on Monday, the package will be delivered to me around 5 o'clock, I waited as no body showed up, I called I was told delivery would be Tuesday around same time, I waited with my wife who cancelled her Dr.'s appointment because we have now only one car, Of corse UPS didn't show up.On Wednesday early morning, one of the UPS managers called my wife as she assured to her that the package would be delivered today noon, we again waited and as usual no delivery. I called UPS again to find out what's going on, I was told that the request just completed yesterday and we don't know the day or time of delivery, so I asked to speak with a manager, she hanged up on me. I called agin UPS and asked to speak with a manger, the person who handled my call transferred me to a Survey instead, I called again UPS, but this time I succeeded to reach a supervisor (Scot) who assured me that some one would contact me WITHIN ONE HOUR, AND THE PACKAGE WOULD BE DELIVERED TODAY, I cancelled again another appointment at the dealer to get my car from the shop, I cancelled agin the appointment and waited until 8:00, As usual no delivery. I called agin as I was told this time that the package has been lost and it is under investigation.
What do you think after long journey of suffering to get my device.. This is the UPS where you do business with them and provide fake and not exsist location, no location phone number, and play games with the customer. What made me mad that they kept everyday telling me tomorrow we would deliver the package and they originally lost it and our schedule has been messed up.
I think this is enough for loyal customer like me and been long time customer with T-Mobile whether with group or individual account holder.
You judge now...

Naeemah Israel
from South Easton, MA
My card was recently charged on 11-02-18 for $178.54 and on 11-30-18 for $213.00. I called Tmobile on 11-25-18 to inquire about the second charge and I was told that there's no information that they can give me as to why I was charge. I would have to wait till my bill is generated through the system in order for them to have a answer. To me it's unacceptable to charge someone's account and not be able to tell them why the charge exist, 5 days after their card was charged. I'm very unhappy with how I was treated.

Maynard Marvin Young
from Freedom, NH
Your new commercial with the screaming kid is driving me crazy, Its the most irritating commercial I have ever seen. I don't really expect you to do anything just thought I would give you a heads up, It might be time to get a new ad agency. they dropped the ball on this one.
thank you, Maynard Young

Riffel Sabbagh
from Rochester, MI
Went to the T mobile store in Rochester hills MI located at 1168 S Rochester Road Rochester Hills MI 48307. I was looking to purchase 2 new phones and transfer over 4 lines from Sprint. I was having a nice discussion with a young man who was honestly trying to help me understand the "deal" currently being offered. It wasn't until we were disrupted by a rude dark haired women who was obviously trying to go home early. She was condescending and very unprofessional and basically spoke down to me because I wasn't understanding the benefit of the deal. I have a masters in business and deal with numbers on a daily basis for my job. I can only assume she couldn't explain the deals properly to sell it to me. Because of the this experience, I will stick with my current carrier.

Ann Watters
from Salem, OR
The workers at the T-Mobile store in Salem, Or. Downtown Store was pathetic..Particularly from the manager. He was cold and was very rude. This occurred 11/15/18 at 10Am when store opened. Fire him and get people in the store that can explain in simple terms how to correct problems without trying to sell me a new phone. Plus I have a prepaid phone and now for 10.75 I only ghet 30minutes added on for that price @ 33.cents a minute. I was on a 10cents a minute plan..What Happened. The man was so rude and di not care about what he was sharing with me. Did not look at my account. The women did but did not look at my history. I have had this phone since 2010..Fix your problems. Plus coverage is poor Here

Harshit Bakshi
from North Andover, MA
I hesitate to give a 1 as that would mean 20% satisfaction which I am not. I am a new customer and it took over 6 hours to get me set up. I had several orders canceled for no fault of mine and one canceled since the change did not go through. This happened because the credit card company sensed a fraud due to the several changes initiated by T-Mobile. Hopefully T-Mobile realizes that customer acquisition is an important aspect of customer service. I am available to speak to anyone in management about this. I hope no one goes through this.
HB

Jacob Blalock
from Los Angeles, CA
How can you sell a product that your employees do not understand and cannot help/refuse to format at time of purchase? If you cannot help a customer format the iphone to icloud, stop selling Apple products. I spoke to a Tmobile employee at your 11925 Wilshire location in West LA. He was the second employee I had spoken to concerning this phone. His name was Raymond. Today Raymond refused to help format my phone to icloud. I purchased this phone from this location two weeks ago. He instructed me to go to an Apple store. He spoke over me and wasn't listening. Someone needs to properly train Raymond. Its not okay for Raymond to talk over customers and refuse to help customers if he uses a formal prefix such as "Sir" while doing so. His tone and attitude stunk. It was clear to me that unless I was purchasing an additonal service or phone, Raymond didn't want to be bothered. I asked Raymond to close my account. He then suggested that I use one of the phones in the store to discontinue my service. I plan on going to another service provider this week to help me with that. As far as I'm concerned, Tmobile sold me a phone I can't use.

virginia aman
from Fort Wayne, IN
I had paid my next month bill when I got the notice on 11-9-18 at the T-mobile store in goshen in, but my service was still disconnected 11-11-18. I filed a complaint. I was able to get the manager at that store to check into it. He found the problem and I got my service restored. He was very helpful and professional. The problem was taken care of quickly.

virginia aman
from Fort Wayne, IN
I paid my bill for the next month when I got a notice on 11-9-18 at a T-Mobile store in Goshen In. I got a receipt for it. I paid for it with my Visa. Now T-Mobile has turned off my service after I paid for it. PLEASE restore my service. I have done nothing wrong. my phone #574-327-1035 Virginia Aman.

ignacio soto
from Hialeah, FL
Hi,on dicember 20 I got a deal hookup at the Miami lake store,2 lines and one tablet for $80 dollars.The reason was that I have a tenet discount program and the store manager give me a free tablet with $20 dollars credit back each month.for all this months I call or visit the Miami lakes store until today that a new manager say that my bill is $100 and that I have a $30 dollars balance on my account.I pay the $30 dollars and I call customer service over the phone,the 20 dollars service was found by the customer service and advice me to call and complain because the agreement on free tablet as a hookup store is on my dec bill.Also I coment to the store manager to change wireless carrier to sprint and is like they don't care to loose customers.I return back to the store and spoke to the same manager because she charge me $30 dollars for a free promised tablet and nothing happen.I feel like they don't care if the customer is happy or not.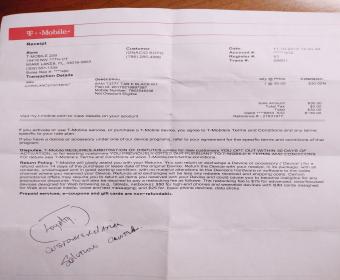 Arun verma
from Lynnwood, WA
I am t mobile customer from 10 years
4257864911
I made auto pay
I did not know why they say it is not working
I am on hold for 1 he with music
Poorest service

Cassandra Tate
from Cleveland, OH
I purchased an LG Stylo 3 phone from T Mobile this past Feb.2018. The battery is swollen, and about to explode. T Mobile sent me warranty information with the phone, but no time frames. I've only had the phone approx 8 mos. I've taken good care of the phone. I'm disabled and need a cell phone at all times on me. But right now I feel like the most undervalued, and hoodwinked customer on the planet. I've dealt with a lot of shady businesses throughout the years, and all that advertisement about all the good services you provide, and how you value your customers is not true, T mobile...and I hate being lied to; being bamboozled, hoodwinked, now that I'm having problems with my phone!!! The hoops that you are making me jump through is unreal, and ain't gonna happen. I pay you...you are not paying me for the service. You have to know that all of these hoops you make us jump through, when you should be exhibiting stellar service in our times of need with your devices, says to me, that you have lied to me, and that you have no value of me as a customer what so ever!!! You are a multi billion dollar company. I can get better service than this from my local small time cell phone provider around the corner from my home. I've been reading and hearing about your review when it comes to issues/problems that you are creating for your customers...because when we have problems with a relatively new phone, you should be jumping at the chance to resolve this issue for me. I've been on the phone talking to T Mobile for the past 3 days about this matter, and all I'm getting is passed on from one representative to another, who leaves me at the same level of no resolve as the last Representative did. As a result of this. my chronic pain has gotten out of control. You should be ashamed of how you treat us!!!! We may be dumb about a lot of things, but we're not stupid. I have been a good customer of yours for over 6 yrs. The 1st phone i had with your service was a hand me down from my daughter (Samsung Galaxy S II). it worked well for 4-5 out of those 6 years. here i go buying a brand new phone from you, and it malfunctions in 8 mos time, and you hoodwink me about your warranty. I'm gone...I will tell all my family and friends what you've done to me, and tell everyone I hear asking me about your service (even if they don't ask). I am going to tell them about my experience and warn them about you. You are unethical!!!! You got all this enticing advertisement about your service, but it doesn't even hold water. Some of that lavish money you spend on advertisement should be assigned to better warranty, replacement device/parts service, so we don't have all of this difficulty getting the parts we need under warranty/replacement; you don't make your warranty clear in the 1st place...and this is a start. Why you want to make your service so difficult for us to obtain when we need you to rise to the occasions with these issues? Why do you pretend to be such a world class service, and show your ass like this when I need you to honor me as a devoted, and loyal customer? I'm hurt at how your are treating me. I believe there may be hundreds of thousand of customers who may have experienced the same feelings. Is this really who you are, and what you are about?????????

Frank A Mercantini JR
from Blackwood, NJ
100% disable Vet need your with billing problem stared when T Mobile billed me twice for 140.63 on 5/17/18 once on visa card ending in 8164 and on discovery card ending in8266 when I got credit card bills in june 2018 called T Mobile billing for the next Month spent hrs on phone with no results then fax Info 2x each time said never got have names and dates because of not getting any help drop service in 7/18 kept getting bills in Sept went to T M obile store Clementon NJ one of the Reps name ED WITTS called and spoke to superviser Latora ID no.1232103 after30mins said every thing allright in 10/18 resived bill for 51.50 said FINAL BILL so to end this I PD. it in full T Mobile cash CK. 11/6 recived an bill for 40.01 call 11/7 8.09 am spoke to nekia on line 23Mins disconnect call back 8.11am they said suoer will call 15 Mins now 11.07 no call and now saying I owe 160.00 for refund they to give back to credit card CO which was their mistake from when they charge me twice on 5/17/18 so please can someone help me thank you Frank Mercantini VET WITH PTSD home # 856 783 5579

Muriel jackson
from Skokie, IL
The company went into my bank account 17 days after I transferred to a new cell phone company and 17 days after I called to stop auto pay and 17 days after I was told that my final bill will be between 17 and 27 dollars. The company as horrendous customer service and I've literally spoken to over 10 different people. And did I mention that a return call that I was supposed to receive around 8:30pm turned into a midnight call from T-Mobile. HORRIBLE CUSTOMER SERVICE!!

ian Sweet / Sweet Futures 1, LLC
from Downers Grove, IL
I dropped one of my phones and a couple of days later the phones screen turned green and the phone was unusable. I spent over 4 hours on the phone getting transferred back and forth from T mobile to Assurant insurance company. I wish T mobile corporate can listen to my phone calls to listen to their customer support representatives giving me the run around. A couple of days late I get an email from Assurant saying I am denied on my clam. I don't want to call back because the service is so bad and I don't have the time to talk to people that don't know what they are doing. You are told one thing and something else happens.

mark manzutto
from Denver, CO
I am having issues with dropped calls. I am in the Denver, Co area (80211) and spoke with your representative at a local T-Mobile outlet. He completely dismissed my concerns with the excuse of my owning an older phone. It is a Samsung 6 which is still for sale and claims to be compatible with your network. A one year old phone should still have the ability to acquire a signal unless somehow your towers no longer function. When I say an issue with dropped calls I mean that I have not had a complete conversation for two days. Your representative shrugged at my concerns and suggested I change carriers if I cannot afford a new phone. This is unacceptable. I expect some response to my complaints other than an off-hand glance at my device and curt comments about my needing to buy something else.
If I do not get an acceptable resolution I will escalate this further, something I do not want to pursue.

Pamela Williams
from Atlanta, GA
Hello, My complaint deals with when I first signed up for T-Mobile service. I took the promotion for senior at said I get two phone. I switched from Sprint to T-Mobile. I was told that we give up the phone and got new phones. I called sprint while there in the store and was told I must return the phone and any electronic equipment or I will have to pay $640.00 for the phone. The associate heard this message from Sprint stating they need the phone or pay the cost of the phone. The T-Mobile associate said that T-Mobile will send a VISA Card for the cost of the phone to pay for it. Oh we did ask what they are going to do with the phone and was told it would go to the warehouse.
\Once I got the final bill like requested I took it to the T-Mobile store to get assistance to upload it to the system. I was told that I would be contacted and they would pay for the phone.
2 weeks later and after calling customer care center and told that they could not help by one person stating she had one hour before she got off and send me back to the original phone care associate. Mary who is a supervisor for night shift said she would work on helping me and getting information on how to help me.
This was last week. Now I still have not gotten this resolved. Since the phone was taken and said they needed it I am asking for you to pay this $640.00 phone bill.
Help me
Pamela Williams
3754 Olson Drive Austell

Sue Kim Mortensen
from Fort Lee, NJ
Hello Complaints department,
I have tried to transfer my company's phone number to me (change of responsibility), and it has been the hardest and the most frustrating experience. Most of all, I am very unsatisfied with employees at T-Mobile store #7721 located in Fletcher Avenue, Fort Lee NJ 07024. I have dropped by this store more than 5 times physically and called them several times. And my problem has not been resolved yet. I suggested to put a reminder to check my number and inform me back once a day, they said they couldn't. I have tried so much to be in the store personally and call them. They said they are too busy. I am ALSO busy!!!!!! It is not only YOUR EMPLOYEES who have things to do! What kind of responses am I getting from them?!!!!! Being busy cannot be an excuse to not treat your own customer with attention and care. A few items to highlight are listed below:
1. Unprofessional and untrained employees - They are not trained properly. Instead of actively listening to the customers' problems and issues, they (at least 4 different employees I talked), cut me off with what they thought the problems would be. So that I had to repeat myself in numerous times. Also, no one employee tries to own my issue, so I had to literally repeat myself with my problem every time I came to the office. I know a few employees already knew my problem and concern because I already talked to them. They should have stepped in and come and try to help me instead of new employees. At least I had to be in this store for multiple times physically to confirm if my company's phone number has transferred to me or not.
My question is that why one employee can own one customer's issue/problem and resolve them. When I am walking in, I can also feel that the employees are negligent and not attentive to the customers. They tend to talk impolitely and rash. Do they even train to be a representative? Do they even care about the customer satisfaction? I am asking for treating customers like a king. All I am asking is to try to respect them and listen to the customer's issues and problems to resolve.
2. Locked into the point of sale device tablets - Although the employees confirmed that the company number was finally handed over to me in their "COMPUTER", they could NOT sell me the phone because the store's point-of-sale device TABLETS are not updated and they don't show me as a new owner for the transferred number. They say that the updates from the T-Mobile computer system to TABLETS would take longer than 3 or 5 days. Why do these take this long? My phone was transferred on Friday morning and it has not been updated in their TABLETS as of now, which is 7:30 PM Saturday night.
3. Store employees have been ignoring me when I called to check on my phone number in TABLETS. I called 3 different times and all of them they put me on hold longer than 7 minutes. I had to hang up and re-call them again. Although I called them again, they once again put me on hold. Is this a way to distract customers?
4. Store employees continuously say that it is NOT MY FAULT. They are taking their jobs personally. Since nobody was helping me and I have been sick and tired of calling them and putting on hold for a long time and numerous hang-ups, I asked them to check my number once a day and confirm back to me (via text or phone whichever is easier). The employees said they cannot. Why can they put a reminder and note to check customers' account status and contact back to them? I am not asking for checking 7 days and 24 hours. All I am asking is to put a reminder to check my account for once in a day and confirm back. Can this simple request be managed? All I am hearing is that we can't without clear explanation and asking me continously calling them. Well, although I call them it seems like those who I already talked for a few times don't seem to remember my issue.
Please train employees adequately. I was about to buy a phone from this store because it is located near my home. Now, I am definitely going to another t-mobile store for purchase. Also, once the number is transferred, I am transferring to one of your other competitors. Unbelievably frustrating to get customer care and I am truly unhappy with this process.
Best regards,
Sue Kim

Joe Hartigan
from Detroit, MI
I signed up for a payment arrangement which was scheduled on I believe September 10, 2018 for the amount of $77. On September 8, 2018 I called him to T-Mobile on my cell phone and pay that balance off. A couple days later T-Mobile took that money out for the schedule payment arrangement. I got a text message from T-Mobile saying that I still owed money. I did not understand how I old money because I had just paid over $140 within a 48 hour time span. So I called T-Mobile and spoke with probably 10 or 12 different wraps over the past 35 days about the problem at hand. Nobody helped me, everybody just kept passing me down to another rap to another rep to another rap nobody could give me answers. I acquired overdraft fees from my bank account I acquired late fees from T-Mobile. Just today I got a text message from T-Mobile stating that they found my last payment and that it would be applied to my account. So I contacted T-Mobile again and I spoke to a representative today and I asked her if she could reimburse me for all the late fees and overdraft fees that I received it because of this missing payment. She replaced all the late fees that I acquired. Then I asked her if T-Mobile could compensate me in anyway and that they need to for this inconvenience. I had to take a full days work off because I had to drive to my bank get a big statement print it out then I had to drive to the T-Mobile store and present them with the statement because the representative that of told me that's only way to get reimbursed, long story short I had to take A whole day off work to solve a problem that T-Mobile caused. T-Mobile made the mistake, not me I'm the consumer I pay T-Mobile which is the provider my bill but T-Mobile lost my bill my payment for a month. I'm very upset with how I was treated and how everything went down. I asked to simply be compensated and they flat out told me no. I've been with T-Mobile for three years now I switched from Verizon that I was previously with for 10 years because my mother told me that T-Mobile was the place to be. I've had countless problems I've already purchased 3 pound phones out of my own pocket because representatives that the past three years while having your service have said that my phones were in adequate enough to receive tower signals. I'm done with the problems and issues if I'm not compensated in some way then I'm done with T-Mobile for good. And I'm gonna go to Fox two news station and Tom about my experience with T-Mobile and I'm also going to tweet about it and Facebook and let everybody know my negative experience with T-Mobile.

Ernest s williams
from Bartow, FL
Hi My name is Dorothy i went to your store in winter haven florida store # 5733 .997 Havendale blvd NW. to pick my husband phone. on Tursday October the 4th , because t moble has sent the phone there. when i got there. the guy told me it will take a few minites.i said i am going to the store. i will be right back. he told me it would be ready when i come. so i came back to pick the phone up. it had not finish as yet. he told me my old phone just need up date. noting wrong with it,so i told him, why it keep cuting off and getting hot. and can,t keep the charge.he have me waiting for two hours in the store. and was nasty to me.and charge me $ 6. 00 if these are the type of people you guys going have in the store you will not have any customer. no how to talk to customer he lucky my husband was no with me. my phone # 863-521-3330

don rice
from Cleburne, TX
Fraud by your local dealer here in Cleburne Texas. I tried your 2 week special to see if your phone would pick up better than At&t South of town. Employees told me I could try it and return phones and switch back to At&t. They said they did not have a tower south of town but to try it. It would not even receive calls one mile out of town on Highway 171. I returned one phone in 3 days and meant to return both, but was informed I needed to switch to another carrier or lose my numbers. So they recommended Consumer Celleur, which I got phones issued and the line changed. Went in and they ok all changes to consumer celleur and assigned my number to consumer celleur. I asked and they said I was in the 2 week return policy, but since the signal would not work south of town the time limit didn't matter. They said they had to get my $125.00 deposit returned to the store and they would credit my credit card. I went back in 2 or 3 weeks and told them I had never got my money credited. I got a story about T Mobile had not sent it. they acted a little strange and I asked for owners phone number which is required to be posted as a contact and was not. They claimed they did not have it. I also say when I was there and they pulled up my account it showed I had an account with T Mobile. I asked the Black lady and she said it was an error and she would correct it. Now I had AT&T for 20 years and I doubt that I should have been charged a deposit anyway. Both employees have been fired for similar deals but mine was never corrected. I got a notice recently that a collection company had filed a charge off from T Mobile on my credit bureau. This needs to be corrected immediately of I will have my attorney go ahead and sue T Mobile and ask the DA to look at possible charges for theft by T Mobile employees. I also want my $125.00 back. Thanks Don Rice. PS it should be easy to verify this by checking my signup date with consumer celleur.

Contacted CS since we were overcharged; asked for explanations and corrections. CS kept on insisting everything was fine; after a bit started asking for full credit card information to "correct' whatever issues there were - despite that information being in the system and previously successfully used.

Joannie P. Elerick
from Anaheim, CA
I was a previous customer of T-Mobile and switched to Metro PCS. On August 23rd I visited Metro PCS Store at 2815 Lincoln Ave Anaheim, Ca 92806. I was met by Store Manager Joe. I informed him the CoolPad Phone I purchased did not meet my needs. I told Joe, I wanted my CoolPad to be transferred to my Samsung. 20 minutes later Joe handed me the phone and said it was transferred and ready to go. After arriving home, I found that the phone wasn't transferred at all. The following morning I visited Metro PCS in Hesperia, CA. Sales Rep Judy attempted to activate the phone and was unable to. I was there for approx. 30 mins when she told me there was nothing she could do for me. She told me to return to Joe for further assistance. I returned to Joes store, and was greeted with Sales Rep Frank. Shortly after Frank attempted to check out my phone, Joe enters the store. I informed Frank of the above mentioned and to please check with Joe. Joe was reluctant to assist Frank. I felt bad for Frank for the way Joe was treating him and not wanting to correct the issue. At that point I asked Frank to please give Joe the phone and let him know he needs to rectify the issue. To my dismay, Joe started assisting customers that entered long after I had been there, and just left me sitting there. I was at Joes store for approx. 1 hour before I heard Frank again ask Joe for help as he stated, "I have spent hours on that phone, and I can't figure out what's wrong". I immediately approached Frank and Joe and stated, "I paid you the transfer fee and you told me my phone was activated. You lied to me and it is your job to provide customer service especially a paying customer". Joe attempted to argue with me, and informed me to go to the Corporate Store in Fullerton. I argue with nobody as I took my phones and left very unhappy and unsatisfied. The following day I drove to the Corporate Store in Fullerton as I asked to speak to the Store Manager. I was greeted by Manager Felipe and shared with him my experience. After speaking with him, he informed me there was nothing he could assist me with either. He stated, I needed to file a complaint with GoogIe, and tell them what has happened. I am bewildered beyond comprehension at this point. Why is this happening to me or to anybody for that matter. I have been extremely mistreated and still can't use my phone. I have a heart condition that is of serious concern to me as I live alone and now have been left with no phone. I am asking to please assist me with the horrible experience I have had and to address my treatment, run around and concern. Please call me anytime (But soon please) at 760-992-1581. Thankyou for your time,
Sincerely,
Joannie P. Elerick

As I said, T-mobile shut-off my phone, without warning, FOUR days prior to payment coming due.
After being on hold for more than 3 hours (not all at once), hung-up on twice and with ZERO resolution, I am dropping T-mobile.
T-mobile customer service is the WORST I've ever seen. I don't mind waiting in the que, but after being bounced from one que to another-to another-to another-to another... with no help whatsoever. You can imagine my frustration.
To hell with T-mobile.

Terry Vaughn
from Maryville, MO
I recently tried T Mobile and was told it had great service where I lived. They lied!! I got home with the phone and was immediately dropped with no service. I worked with the representatives for almost 2 weeks but to no avail. I canceled the phone at the advice of the rep in Springfield, MO and was told I would get my $50 sign up fee back. She lied!! Then I was told to go back to the store in St. Joe, MO where I bought the service and they would refund the money. She Lied!!!!! This seems to be the mantra of T Mobile, they get you and then lie, lie, lie!!! DO NOT DO BUSINESS WITH THESE LAIRS!!!

Kevin Moore
from Norman, OK
I am writing to complain about the call center that I used to file a claim on a malfunctioning phone. I went through My T-Mobile to file the claim. Everyone I talked to were courteous and helpful. The problem is the wait time. My first call I used their call back service since all technicians were busy. They were to call back in 15 minutes according to the recording. After 25 minutes, I decided to just call again and wait until a representative could get to me. That too approx. 20 minutes of waiting and listening to some poorly recorded, static laden music. The representative who took my call was friendly and took my information and then sent me to call the warranty company they use called Assurant. My phone call to Assurant then led to a 25 minute wait for one of their representatives. That rep was also very friendly and gave me the information I needed to file my claim and asked me to call T-Mobile again and file a warranty exchange. This entailed another 25 minute wait with the crackling and popping obnoxious music recording for an available representative. (yes, I timed them) After that I was finally able to arrange for them to send a replacement for my faulty phone with my local T-Mobile store. I am supposed to make the exchange next week after it has been shipped. That adds up to over an hour of my time waiting on hold and listening to that poor sound quality piped in music. Once again, all representatives were courteous and nice, but the wait time to speak to them is ridiculous and I still have to wait 5 days for it to be delivered to the store and then I have to drive there to make the exchange. The call center, while helpful and friendly, is dreadfully slow and the background music is terribly recorded and cuts in and out. This was very inconvenient to me and not a pleasant experience!

Wayne E. Benson
from Arlington, TX
I called in regards to having my service restored. A CSR by the name of Brashay answered the phone. I then explained that I needed a supervisor. She then put Trey on the line who said he was a supervisor and would assist me. He had the audacity to lie to me and say he would credit my account $30 and restore my services ASAP. However, hours later he did neither nor did he document the case which led me to believe he wasn't a supervisor at all. As a customer that's the last thing you need is a liar when you're in dire need of assistance. Thanks for your assistance Bri for doing what you said you would and could do.

Alan Bayless
from Orlando, FL
I was misrepresented and told 1st payment would be $60.00 when I paid $93.35 under protest. We have gone with another carrier on 7/23/18 because of the problems. Now I get a bill for $76.64 for equipment that was paid in full at time of purchase.
Please contact me...

Barbara Rivellini
from East Haven, CT
I ported my numbers on 6/21/18, called to verify the account closed on 6/22/18 and found that they still took another $145.00 out on 7/5/18 (for 7/13 to 8/13. I have called to get the proper refund and expect the payment of 6/4 to be prorated (since it covered 6/14 to 7/13). I have talked to several reps, asked for supervisors, been disconnected and on hold for long periods and still have no refund and no answers (although each time I've heard a different "reason"). Most of my calls are documented so I can provide additional info if help is available to me.

nancy zebracki
from Detroit, MI
All of my bills give a month to pay. T-Mobile usually gives 2 weeks
today the 16th I received a bill due on the 27th
Why so little time?
Don't get it

deborah sowell
from Lufkin, TX
On July 16th, 2018 mine and my husband's phones were deactivated. When I called to question why I was told we had went over 50% of data roaming and our phones would be deactivated for 90 days. I was told they had sent me a text message about this in June which I did not see. I can't understand why I did not get a written notice or a phone call regarding this or was not told of this when my service started. I spoke with personnel at local store where I got my service started and they said they had no knowledge of this policy. When I got my service the first question I ask was does T mobile have service in my area and was told yes and they were well aware that the only tower close to my house was CellularOne. I have lived at the same place for over 25 years. I do not want to switch my service and would like to have this problem resolved. Thank you for your consideration in this matter.

michael barkley
from Vallejo, CA
had to buy new simi card to get my old phone to work , LOL , thier simi card would not work in it ! IT"S T-MOBILE PHONE ! oh refund my money , HELL NO!

Judith Frees
from Lodi, CA
Unable to make calls or receive them. Very poor connection. Phone keeps peeping noises but not from caller. Very frustrated with Tmobile service. May have to go with different carrier if nothing can be done about reception in my area.

Nadya Glu
from Roseville, CA
T-Mobile is the worst company in the world! I supposed to get my rebate a month ago but they still did not send me anything. I called and spoke with customer representatives but they all useless because it's been 3 months and I did not get BOGO rebate. It's a bogus company!
I can't stand their lies and empty promises! If they don't resolve this problem I will call local news and the problem will be known to the whole Sacramento region!
STAY AWAY FROM THEIR LIES AND HORRIBLE SERVICE!

Franklin Payne
from Sumter, SC
T- Mobile store location: 212 B East 98th street Brooklyn NY
My name is Linda Hailes / sister to customer
Customer Name: Franklin Payne Visited store on 8/1/18 to pay phone bill. Bill $94.20 which was upsetting to Franklin. Store employee explained that bill was past due and added late charges increased telephone bill. My brother could not comprehend what she was explaining to him and called me. I spoke with your employee and understood what she was trying to explain to him. I explained it to him and he paid the bill plus late charges. I handle his finances so I keep a close watch on his checking account. On 8/2/18 I was monitoring his account and saw that he had been charged for two separate purchases at T-Mobile store on 8/1/18, $94.20 plus an additional $63.00 which the store employee failed to mention as well as not give him a receipt for it. when asked about it he had no idea that he had been charged for two purchases. On 8/2/18 he went back to the store to inquire about the extra money paid. I spoke on the telephone; with franklin's permission, with someone who stated that she was the manager when I asked to speak to the manager. She stated that she did not know who helped him the day before but did see that he have a $63 credit that would be applied to his bill next month because the store policy is no cash refund. My issue with this is that the error was made; if it was an error, and it was not addressed nor was a receipt given for the money taken from his account. I had to call them on the mistake which they already knew about for them to mention it. After speaking with the manager on the phone and mentioning how untactful this was handled my brother received a text from T-Mobile thanking him for his payment of 6, whatever that mean. We don't have an issue with using the $63 dollars as credit toward his next bill. The issue come in with why the extra $63 was taken to begin with and why it was not mentioned before he left the store. That is very dishonest and untactful business. I have pondered, just how many other older customers have fallen to this type of business transaction from this location. This is a serious matter and I hope will be addressed with this business location. I travel a lot with my job so I cannot always accompany him in his business transactions but I do monitor his finances closely. During his first Telephone purchase he informed that he could not pay his bill until the first of every month and needed his bill to be due on the 1st of the month. He was told it could be done that way, then the phone calls started coming informing him that his bill is due before the 1st and his phone would be disconnected. Is there any way his phone bill can be rescheduled to be due on the 1st of every month. your cooperation in this matter would be greatly appreciated. Thank You! L. Hailes / Franklin Payne

Susan Cujdik
from Trenton, NJ
I was told when I signed up with T-Mobile that my bill would be $60.00 plus $25.00 for my phone. that would make my bill $85.00 for a month and now I am being billed $95.00 due to they are telling me that I was no Grandfather in??? But I was told from 3 others That my bill would be $85.00
my phone number is 609-410-6068

Benny Lopez
from Ruskin, FL
Account ********218 I received on July 29 a mailing label indicating that if I did not return Signal Booster I would be charged $289. The Booster was returned on 7/14/2018 to your store T-Mobile-5624 at 5036 N US HWY41, Apollo Beach, FL 33572-3504 Sales Rep #****463 Trans #3329 SKU #000000610214693518. Please confirm the everything is correct and that there will be no charge. Unfortunately we could not get internet service through our phones and the service had to be cancelled. Booster Box was returned unopened to store.

joseph bowe
from Islip Terrace, NY
I am contacting you because I am not reviving any help at either a store or customer care level. the problem i am having is that my lg g5 is now stuck in a boot loop (a known lg issue) after i did the latest software update yesterday. both said i was i have no recourse but to buy a new phone or go through my insurance. which would be $175 because a insignificant chip in the top left of the glass which, does not affect the functionality at all of the phone and i was perfectly fine with using the phone in that way. i find it disheartening that i have so few options when something happens through no fault of my own. im simply asking to have my g5 replaced with a functioning one. my wife and i have been with t mobile since 1998 ( VoiceStream Wireless) and have been loyal customers. please any help or insight you can give will be greatly appreciated.
sincerely
joseph bowe

After many dreadful (zero or one-star) experiences with the Manila call center, I was finally routed to my home customer service center in Richmond, VA. Wendy is amazingly knowledgeable and stuck with me (multiple call-backs) to solve all the phone porting issues that Manila had been unable to address. Jeff, in the Oklahoma City call center, was helpful along the way. Manila is required to send you to a US customer service center, if you request that. (Unfortunately, all agents don't comply -- so just persist!)

Jennifer Miranda
from Los Angeles, CA
I recently upgraded my T-Mobile phone to a S9 Samsung in June, more than a month after my camera stop working for one day to another. I called T-Mobile customer service and the representative tried troubleshooting and nothing work. The rep aid that T-Mobile will exchange my phone and they will order a another phone and have it sent to the t mobile store. My phone was sent to STORE # 133E AT 1619 W. PICO BLVD. UNIT #A LOS ANGELES CA 90015 213-384-3370. My phone arrived on 7.25.18 to be pick up at store 133E for the exchange. When I walked in to the store I was not even greeted properly by the rep on the floor his name is JOSUE long hair young guy. He ask what I needed. Customer service started out wrong already, after he asked me what I needed I told him and showed him the text I had receive my T-Mobile. JOSUE went to the back room to grab my phone that was shipped. JOSUE ask me what is wrong with my current phone and I explain hat the camera stop working. He check the camera, phone and lense and then he says that my lense on the camera has a crack inside not outside. He approach the assistant manager SHERMAN and another co worker of his and started to whisper in a very unprofessional way ( Hello the customer is standing right behind you!!!) Then SHERMAN assistant manager approach me and said that he will call his manager and check in with her. I called my husband and told his to call customer service care at the same time JOSUE also called customer service and spoke to a rep and claim that my phone was physical damage. The store and rep on the phone noted that on our family account. My husband was told that information when he got some live on t mobile. When I told JOSUE why did he LIE about my phone being physical damage he immediately blamed the rep on the phone to get himself put of the situation. The rep will not note anything unless JOSUE told to do so. JOSUE also said that the assistant manager was literally next to him when he was talking to the REP. ANOTHER LIE FROM JOSUE SHERMAN half of the time was in the back room and when he came to the front he was standing on the other computer on the desk on the right. SHERMAN SAID TO ME THAT HIS MANAGER SAID BECAUSE THERE'S PHYSICAL DAMAGE they will not exchange my phone. ( don't ever judge or said sorry we can't help you when you did not see my phone at all. VERY POOR OF THE MANAGER TO DO THAT, YOU WERE NOT EVEN PRESENT AT THE STORE. The Rep that my husband was talking to was very helpful and guided me to get a second opinion at another t mobile store. JOSUE NEEDS DISCIPLINE AND NEEDS AN ACTION FOR HUMILIATING ME AND CAUSING UNNECESSARY STRES AND ALSO FOR WASTING AND MAKING ME FEEL AS A CUSTOMER WE HAVE NO RIGHTS and WE DONT MATTER, before I walked out of the store without my phone I did tell JOSUE BECAUSE OF HIS LIES HE HAS CAUSE A BIG PROBLEM AND THAT I WILL FILE A COMPLAINT AGAINST THE STORE AND PERSONALLY WITH HIM. HE GOT REALLY NERVOUSE BECAUSE HE KNEW WHAT HE DID WHATS WRONG. I drove to a T-Mobile near my home and had a second opinion by two workers female and male, both apologize for the embarrassment I had to go through and said that my phone is in person conditions NO DAMAGE AT ALL, AND NO CRACKS AT ALL. My phone look exactly like the rep that help me at the t-mobile store near my home nothing wrong. He cx the exchange at the pico union store and order another phone to be deliver at the t mobile near my home. They were surprise how I was treated and noted a LIE BY JOSUE when non of that was true. This has cause me a lot of mistrust and stress due to what JOSUE CAUSED. I personally want to file a honest complaint against JOSUE. No customer should go through what I went through. This is unacceptable and I deserve and apology. I will also email and contact Glenn Zaccara, Michale Buttler, Corporate , (Stewart Assistant vice president ) and Kelly Spindle. Thank you
Have feedback for T-Mobile?
Thanks for your feedback!
Sorry. Please try again later!