T-Mobile
T-Mobile Complaints Continued... (Page 3)
702+ reviews added so far. Upset? Call T-Mobile corporate: 425-378-4000

Alberto M Soto
from New Port Richey, FL
T-Mobile scam me, I got an offer to upgrade my phone and I will receive $ 175 for my old phone in credit and my monthly payment would be $ 19 for the new phone plus all the services, well 3 months later they couldn't find the phone that I sent so I was paying full amount, not what I was promise then suddenly 3 months later they found the phone but apparently there is some problems with the phone so I was told I can NOT get the credit that I was told and the monthly payment is $31 not $19, they said they can do nothing.
I have been a customer since 2006 and I cant wait to change carriers, I spoke with so many representatives and no one told me the same thing, every call was a different answer, I'm done with T-Mobile and I guess stuck too paying my old phone and the new one.

Susan Holm
from Portland, OR
I was told I could upgrade my phone (iphone5C) to an Iphone 6S or XL if I outright paid for the phone I have. I went to a T-Mobile store and had the unfortunate luck of having one of the most idiotic rep. I told him that I wanted to upgrade my phone - "ok you will need to pay 137.00 and we can get it started for you." I paid the 137 and had some problems logging into my icloud and to download all my contacts and such to my new phone. Well, I was locked out so I was told to contact Apple directly to get this issue resolved.
Mind you - Ty (the idiotic rep) held my phone - looked at it for nearly 30 minutes to try to figure out how to unlock my phone. To no avail, I had to leave so I told him "I want a receipt for the monies I paid you and I will have my husband come back to finish the upgrade." Ty replied "No problem I will have the phone waiting for you." My husband comes back to find out that he could not upgrade my phone because the iphone 5c has a crack on it! Wait... we were looking at this phone for nearly 45 minutes together and you took my money. Okay, fine - my husband then asked for our money back.
Nope Tmobile responded by saying they are unable to process refunds. Wait. You didn't deliver what was promised--after this incident, it has been one lie after another with their 611 "customer service" line. I am so done with T-Mobile. I cant wait til all 3 of my lines are paid for so I can terminate my contract and go on to a better company.

zorka kelly
from Chicago, IL
I attempted to leave my mobile number at least 5 times, on the T-Mobile customer service voice message system regarding a return call, to no avail. I am disputing my statement initiating a new phone, and for the fact that I was being charged $100.00 for a new phone as a new customer when in essence being a long time subscriber, and what is "simple starter", never explained this, I will not pay for this billing complaint, and if I need to go to another carrier, so be it. Very dissatisfied, and for the fact that my wireless phone was not functioning correctly.

Frank Titone
from Central Islip, NY
I purchased a pre-paid plan and bought a new phone from T-mobile in Nov. 2015, within the 14 day return period my phone started to act up by freezing and getting very hot. I took the phone back to the location were i purchased it. The manger told me i could return the phone because it was on a pre-paid plan. He told me i would have to purchase another phone. The phone in question was the Samsung Prime Core. I needed a phone so i purchased ANOTHER Samsung Prime Core thru T-mobile.
It is now close to Christmas and i went into a different T-mobile store to look at better phones. I now own a Samsung S6 which i like much better than the prime Core. I feel that the manger from the first T-mobile store didn't treat me right by not allowing me to return the first phone and made me by a second phone. I would really like some kind of a refund for the unnecessary money that i had to lay out for the 2 phones that i had to purchase from T-mobile.I feel like the Manger took advantage of me. I would like the T-mobile customer department to respond to this complaint.

Scott Keeler
from Manchester, CT
In 2012/2013 I had a great deal of problems with dropped calls, no coverage, missed text messages and the list goes on. The whole thing started when I tried to explain to T-Mobile that the only line of communication I had with my son who is mentally handicapped and we tried everything between myself and T-Mobile to rectify this, such as trying new phones. Unfortunately this also did not work and the amount of money I was spending on improving this. Because of the lack of communication my son had to go through a great deal of medical attention. This can all be proven with bill's from Dr.s and school records.
To make a very long and detailed story we, that is T-Mobile and myself decided to end the contract. This meaning everything was paid in full including the phones we had received from T-Mobile. There is more to all of this and I would love to speak to someone about this "again" if I must. The corporate executives should hear my complaint!

Robert Murphy
from Clearwater, FL
On November 30, 2015 I upgraded my Samsung S5 cell phone to the new iPhone 6 (at the urging of my son in Los Angeles) through the Jump I pay for monthly on my invoice.I can not seem to master the iphone. I even purchased an instruction book from Barnes & Noble without success. It took me one year to master the Samsung Android system. I realize at 84 years old my brain doesn't function as well as it used too. for the past 10 days I tried reaching the associate at store 7842 in Clearwater Fl where I live. He helped me with that purchase & transfer of the data from one phone to the other (very helpful) He was always very busy with the Holiday season or not working at the time.
The reason I was calling & Not going to the Store is/was because I was taking care of my sick girlfriend in Treasure Island who is recuperating from an operation. So today I went to the store at 3pm when he started work because I wanted to trade back the iPhone 6s for the new Samsung s6 because I can now work well with the Android system. I was told by your store manager that I am now week to late & I would have to pay $ 300 to do so. Under the circumstances I hope you will reconsider & allow the exchange. I believe he doesn't want to do it be a use the Samsung s6 is on sale until the 23rd for $498 which is less than the iPhone 6s. Since time is running out on that holiday price I hope you will clear this up to my satisfaction immediately.

Hoan Vu
from Missouri City, TX
In September 2015 T-Mobile ran an ad - to trade in a phone for i-phone 6S plus and receive a credit. I traded in my Samsung 32GB Galaxy S5 in perfect working condition. I called in to check with T-Mobile service representative and was informed that it will take two billing cycles before they credit to my account. I then called in two more times and was informed that the warehouse has received my phone and they will credit to my account. I did not see any credit applied to my account after the second billing cycle. I then waited until the the third cycle to call them back.
After a long waiting and research on their part. They came up with an excuse that my phone did not power on. That phone was in very good shape and I bubble wrapped it carefully when I sent it to them. I tell them that it is not possible because I used the phone just before I sent it in and I asked them to please verify my usage just before I sent in and they will see that the phone is good. They just said that they are sorry and claimed that the phone did not power on. I asked them then please give my phone back as I paid $500+ for that phone just over a year ago. They said that they are sorry but they cannot send it back to me.
So the way I see it is that T-Mobile has orchestrated a perfect fraud scheme here to trick customers to trade in their phone so they can legally rob the phone from an honest customer. Is any thing that I can do? I feel that I am a victim and being treated unfair by T-Mobile here I have attached the pictures showing how the phone is bubble wrapped along with the IMEI when I sent it back.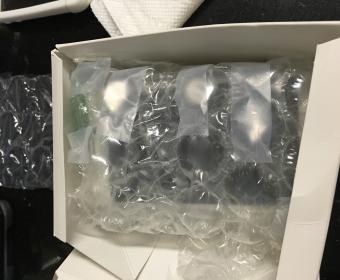 Janet Matejka
from North Olmsted, OH
I bought 2 phones during a rebate period. At first I was denied the rebate because T-Mobile said I didn't buy the phones during the proper time. I returned to the store of purchase, they called customer service, I was approved for the rebates. I checked on the status of the rebate, tracking ID: BMHM-7673-5380, found I am again denied. Was T-Mobile hoping I would just forget about it so you wouldn't have to pay out the rebate?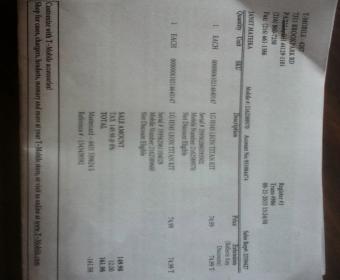 Chrystal Payne
from Houston, TX
I have a defective phone from T Mobile. They give you 14 days to trade your phone from the time you purchase it. Its called the :Buyers Remorse". The store manager refused to make an even exchange because the phone was purchased on Black Friday for 579 and after that the price went up to 679. The manager wanted me to pay the 679 to exchange the exact same phone with receipt in hand. He also wanted to change a restocking fee. I was in the store for four hours and still walked out with nothing.

Tracy Perry
from Atlanta, GA
I purchased 3 phones on Sept 26, 2015. I received the phones about a week later and returned them the next day after receiving them. The phones were 16 gigs and we wanted 64 gigs. To say the least I've been waiting on my refund because I cancelled all services, since and I've have not received my refund. I've talked to several customer service reps and each one is worse than the one before. How long does it take to receive a refund of $138.36. This service has been terrible and one of the worst experiences I've ever had.

Carrie Jones
from Tampa, FL
We have had the worst experience ever with any phone company. First order your online got my social security wrong and would not let us know anything on that order we had to have that order canceled so they could create new account but still got charged for their screw up. Now new order ships and we get wrong phones on that order. We are now charged again for these phones. Now t-mobile is into my bank account for over 500.00 and we are told that we have to wait for our money. Never had t-mobile but you would think that when you have business you would want to give good service but we get no help from anyone.

Lenell Williamson
from Joliet, IL
I tried to buy a iPhone 6 for me and my daughter. I am a prepay customer but I couldn't qualify for a no money down on the phone because I was late one time on a payment. So I had to pay 60% to get the phone. Ridiculous. I have been a T-Mobile customer for years because of this I am switching.

Alicia Negrete
from Houston, TX
Dear t-mobile corporate office, someone is opening up T-Mobile accounts without my consent! My IP address on all my phones correlate and are connected to a mysterious identity theft farmhouse in Wichita Kansas which I have fallen victim to! I have been reporting this matter many times and yet still my iPad address on my phone and all my phones are connected to this mysterious place! My phone is controlled remotely and my gps is way off not working because my location is unknown equaling that of Wichita Kansas!
Also, my location should be very able to tell me that I am in Chicago it's not hard to find Chicago now is it? But you people do nothing about this until I report you to fcc for fraud!!! My identity has been stolen and it is all because my phones are stubbornly connected to this up address which is always located in latitude of 38 longitude of -97 !! If you look up this. Location you will clearly see that it is a location that is linked to fraud and identity that if you agree or are part of that ring I want nothing to do with you so it is to your advantage to do something about this matter because it could turn to a scandal be possible lawsuit you don't want to enable and conspire with these thieves do you?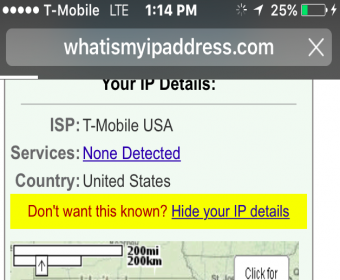 Bridgett
from Los Angeles, CA
I was abruptly disconnected from internet while I was working. I spent several hours and 18 persons of whom said "I care and will resolve this issue". After being transferred, disconnected, repeatedly asking for my personal information over and over and over...I gave up. It was crazy and one should not have to endure such an experience to get re-connection. I want a resolution/ compensation from T-Mobile corporate headquarters. Yes, I went back this morning after holding off a day and half of work. The cycle started again! However I was able to bare patience and get service.

Bridgett Stone
from Pomona, CA
My T-Mobile service expired unbeknownst to me last night. I tried for a couple of hours last night trying to get it to work. I called T-Mobile customer service this a.m. To get it fixed, took me going through 14 persons over 2 hours of being told "I care" give your cell # in case disconnect.

On Nov. 28, 2015 me and my family went into the T-mobile store at 9930 and purchase a phone. But there is a BIG problem my old number was ported to a customer that was already possibility has an account with T-mobile. We was customers of Sprint for a while and we had to come to this. And as of right now I am unhappy and I have to wait 24 hours to get this ported correctly. The customer service rep. by the name of Daniela was wonderful as a agent but the music was to loud and had to many people hang around for no reason. The neighborhood is high crime but safe. I am a hospice chaplain and it is very important that it is fix. I have important numbers in there and I need some kind of discount to this issues. Maybe I should escalate to the corporate office?

Diana
from San Francisco, CA
I've been a loyal customer to Tmobile for years. I never had a problem with adding a line, resolving phone issues, billing issues, etc.not until yesterday, as I step foot into a Tmobile store on 2369 Mission st., cross street is 19th st in San Francisco, CA. I clearly gave my information to the female representative and she was hesitate about helping me opening another line, so she called over her Latino male supervisor. He told me he is not able to add another line because I was not the primary person of the account and that it would have to be my sister instead.He told me I would need my sister to come into the store and take care of it and that it is illegal for me to make any changes for the account.
I never had this issue with any other T-Mobile or over the phone customer service before! I have all my sister's information and besides, I was also the other primary person on the account. It was so upsetting to me that I decided to finally end my account with T-mobile once and for all. I felt really disrespected and I would of thought they would want more business with loyal customers , like myself but I was wrong. Throughout my experience with T-mobile, I would also tell others that T-mobile is the best cell phone company that provides great service but now, I think differently...The supervisor was pushy and not very nice.I will never go back with T-mobile again because of this incident. In the end, I decided to join Cricket Wireless because they provided me great customer service and excellent service for my cell phone.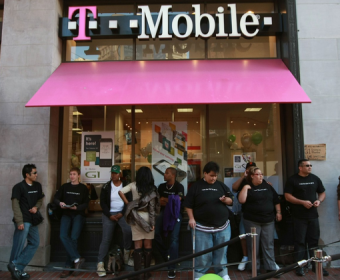 Greg Vicars
from Federal Way, WA
I went to use my phone insurance after I accidentally dropped my phone and broke the screen. I went to T- Mobile store . I was told that I need to call insurance company directly, which I did they gave me wrong number . got right number for Asurion . Try phoning in but could no get through long wait time. SO I tried to file on line only to get an error. So I call back Asurion finally get through to agent only to learn the G4 is out of inventory and unsure when I would get new phone so much for overnight replacement. I had to escalated issue talked to manager only option he had was to reimburse me for cost of phone less deductible then I could go to T-Mobile store a buy one. IF I can buy one why is not available to ship? This was a very poor customer service experience from the store to Asurion. I will be waiting for check to arrive from 3-5 working days. So when you say that you will have a replacement phone in 24 hours that is not true. I very unhappy long time user of T-Mobile not sure where your customer service went. Please review your insurance policy and make changes.

Calvin Ellis
from Boca Raton, FL
Fraud. Someone fraudulently obtained multiple phones from T-Mobile. Initially, it appeared that they obtained two phones but I recently received 3 notices from Assurant Solutions regarding 3 device protection plans. The 3 phone numbers they provided were (954)371-6856, (954) 371-7132, (954) 371-6965. I have never applied for or cellular obtained any phones or services from T-Mobile and this is a matter involving identity theft. Please have the numbers disabled or at least tracked, and have your Fraud Department fix this!

brandy smith
from Cleveland, OH
I was given the 3rd degree about a charge t-mobile alleged I did not pay, after having my bank confirm the charge, I then made a request to set up payment arrangements manually with a supervisor, and was told that it was put in place for 2 payments along with dates and that my service should not be interrupted. One payment was scheduled for the 19th and at 430am my phone was temporary suspended. I am overly pissed since this is the 3 time in less than 30days that i have had to call them to dispute discrepancies with my account

Tatiana Shulga
from Staten Island, NY
I bought a family plan (4 lines). I cancelled on October 25,2015, as was confirmed by Christopher. The other three were cancelled October 30th, 2015. Today (November 18th, 2015) I received a bill, and discovered that the line that I closed on October 25, 2015, was being charged, as it was active. T-Mobile is charging $111.15 for the service between November 11th, and December 12, 2015. Today I called Customer Service, and talked with Ariel (1271635); I explained that I stopped using T-Mobile, and started using a different provider; as well as that it is not my fault that Christopher made a mistake. When I made the family plan, I was scammed. They promised that because of a promotion, there would be free equipment, however there were charges for the equipment. Now, you are attempting to deceive me further; I have no other option, but to sue. If you have an ounce of righteousness, i plead for you to resolve this situation. The total is $115.15 service that I do not receive, and that you offered in a deceiving way.

DeAngela Seltenright
from Lansing, MI
It is going on the third week and dozens of staff to still not have resolve this problem with T- Mobile. On November 3, I purchased a sims card over the phone from T-Mobile for $1.05. Thats all, I have never made any other purchases from T-Mobile. But on that same day T-Mobile put through a unauthorized charge of $68.20. After 11 days on the phone with T-Mobile know one can help me. This has caused many problems and T-Mobile is not resolving this with me. And I'm still with out minutes on my phone as I don't want your service because of this problem

Michael Baumann
from New York, NY
I'm sorry to say that it's not worth saving a few dollars on a plan if part of the price is lousy customer service and being without a phone for two weeks. My wife took my phone for servicing to the local T-mobile store in South Orange, New Jersey, on Tuesday, November 3, explaining that it wouldn't hold a charge. The sales rep took the phone, asked my wife for $5, and said a replacement would come in the mail, Monday, November 10. Not same-day service like other vendors provide, a never-before-mentioned charge, but "acceptable" as trade-off for a cheaper contract that works well in large cities.
November 10 -- no phone. My wife called customer service and was told (for the first time), "Sorry, backordered. You won't have it until Monday, November 16." After an escalating conversation with periods on hold, my wife was successively offered $20, then $25, then $30 to hang up and go away. I have to tell you that when anyone mentions T-mobile, this exchange will be the first thing that comes to mind to mention.

Mardry Puente
from Beijing, 11
I have had the worst experience with T-mobile. I cancelled my account back in April because I moved to China. However while in China I realized that my credit score went down and this seems to be due to an account sent to collections which surprisingly seems to be my old t-mobile account. I decided to contact t-mobile, but they do not have access to the accounts, so I contacted the collections agency and they referred me back to t-mobile, after much back and forth the collection agency was able to tell me that this balance was owed due a device charge since my device was payed in installment plans.
However, when you request to cancel an account in order to do so you must pay your device in full. I requested a claim to be filed on this account, and again, for three weeks I had no sort of notification nor did I heard back from t-mobile. After calling many times and being transferred to many departments because apparently nobody has full access to my accounts, or they just don't want to bother, I was able to reach someone who seemed to have access and that wanted to help me, everybody else didn't seem too customer service oriented, and if anything they seemed annoyed at my request for more information for they claimed they did not have it.
Sadly, I did not get her name and for some reason we got disconnected. She told me that I was sent a refund back in may for $145.39 because I over payed my bill when I closed the account. in the form of a card, which is very interesting because I cancelled my account because I moved to China, and of course I never received that refund. Now what doesn't make sense is, how come t-mobile refunds me $145.39 and then charges me $189 for device charges in May. I payed off this phone, and I did not use the t-mobile account in may because I believed I had cancelled it. As far as it goes nobody has been able to help me in this situation, and the last I got was a number to a different collections agency, which I called, but they couldn't transfer to the right department, which I called and it just said that it had no reprensentatives available at this time.
For me it is 3:30 am here in China, and I've been on the phone since 2am. And I do have to work at 8, so you can only imagine how frustrating is to have to be up this late dealing with a situation that apparently could've been avoided. This experience has been the worst, and I have spent so much time and money trying to solve this issue and still nobody is able to explain things clearly to me. I never got access to the refund, so what happens to that money? How come I cancelled my account in April and I owe $189 for device charges in May? What kind of fees are these? I would really hope you fix your customer care system, because you may be a big company but it should still appreciate each and every single one of their customer, and value their time.

LaTonya Brown
from Richmond, VA
I had been with t-mobile for over 10 years. In September 2015 my new Samsung Galaxy S5 screen blinked on a Friday, so I called t mobile to let them know that hey my screen blinked out on my phone so I need another phone due to the fact that I don't have a home phone and it's the weekend. I called and t mobile rep told me we would place your order but until then go get a loner phone from your close location so I called my area stores and no one had any. So I was scheduled to work until 6:30pm that a afternoon so I called t-mobile back to inform them that my location did not have any and the store front location close at 8pm so after getting off work and driving to a store it was 6:50. I then called customer service to ask them what I could do to get a phone because I need a phone for emergency over the weekend. The customer service representative for t mobile informed me that he could not do anything so I explained that the store was closing soon and I needed to have some type of phone for the weekend just in case of an emergency. He put me on hold plenty of times and came back to the phone with I have to have my manager handle it.
The representative then got on the phone and said if you are in the store we will apply a credit and just buy the phone and after a few days you can go back and request a refund. So that is what I did. He was on a recorded phone line and the fact that I had been with t mobile they had done right by me. I set in the store while the representative over the phone applied the credit. The in store representative then Said yes I can see the credit. So I was informed by the phone rep to purchase the phone using my own funds and t-mobile would reimburse me. After a few days I called to request the refund and I was told ok it's being processed in the mean time I was told I was scheduled to receive the phone that suppose to be sent to me via handset replacement on that following Monday but instead received it on Wednesday. But I called t mobile customer service several times and I'm at dead end I need to money to put back on my credit card that gaining interest ever month I don't want the credit on the account. Please help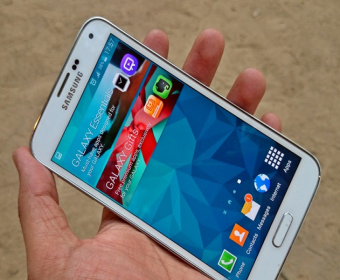 Gislene Hart
from Málaga, AN
I got 4 I-phone 6S in Danvers, MA Customer Service rep. told me about the 14 days policy. Unfortunately the area I work and around my town my phone has absolutely zero bar connection, went to the other store and got new phones and went back to the Danvers store to return still under the 14 days policy and they refuse to take the phone back even I am paying the 50 fee for stock. I don't understand, have being T-Mobile for over 10 years while lived in other town and now this is the treatment I get? I don't know why they are so difficult to deal with.

My husband and myself recently switched with the promise that it is hassle free. All we have to do is give them our phones and they will pay for what is left on them and the cancelation fees so there will be no cost to us just send in a form and our last bill. So we did. 5 weeks later we get a letter saying that they need a bill with a break down on it, which our previous carrier did not provide. We went to our previous provider and they were able to pull it up. My husband faxed it in to the representative and called her back to confirm she received the fax. Now almost four weeks later and late fees adding up from my previous provider they send me a card worth half of what is owed. I call the number for customer service that came with the card and the gentleman tried to help me but had to pass me off to another department.
This guy started off nice and admitted the reimbursement was wrong but the number he gave me still didn't cover the phones and cancelation fee. So then he proceeded to tell me that he was going off my final bill and they had no record of the breakdown that my husband faxed in. Not having much confidence in them at this point being we just got notice from Experian that our information was part of the recent data breach and now they have lost a fax with my personal information on it?! The guy gave me an attitude that he was doing me a favor then transferred me to another department that transferred me back, but this time his department was closed for the evening. This is the worst service I have ever received anywhere and I work in a retail environment that would have my job if I ever treated a customer like this. The only reason I gave two stars was or the two representatives that really couldn't help me but were very pleasant.

James halikas
from Tinley Park, IL
I have been a customer for over fifteen years and have three lines total and my bill has escalated to twenty dollars more than I usually pay due to and this is your reps explanation that there is no more 20 dollar loyalty discounts and no more contracts right later that evening I watched a T-Mobile commercial that advertised unlimited talk text and 10 gigs of data per line for 30 dollars per line up to four lines and a 18 month contract and I told that to you rep and she said your commercial was wrong and I clearly read and saved it watching and reading all the particulars on freeze frame and your rep told me a bold face lie that it is 100 dollars for the first two lines and 20 dollars every line after that would actually increase my costs.
I told her that she was totally incorrect because that is not what you commercial depicts no where in your ad she was rude and told me that the ad is not what it states if that is the case then that is fraudulent advertising and being a long time customer to be treated that way is unheard of I need a corporate rep to contact me in this matter at my t mobile number to resolve my complaint and get to the bottom of this or this . If not on I will go to the proper authorities on how blatant the discrepancies are from your ad to what your reps in your resolution dept tell your customers I still can't believe how you have your reps trained to be so rude and unhelpful and talk to your customers like they are stupid.

Laura Santiago
from The Bronx, NY
I purchased a Studio 5.0 Blu Android 1 week ago and two online SIM cards from T-Mobile. The phone was not reading the SIM cards and after speaking to a tech from T-Mobile, he was suggested I go to a T-Mobile outlet. I received the worst customer service from a woman by the name of Ashley. After I explained what had transpired with the phone and SIM card, she kept telling me "I did not make sense." To boot, she took out the SIM card and adopter out. She proceeded to insert the adopter, and inserted it upside down, without the SIM card. The adopter was stuck and the manger had to flat small silver instrument to retrieve the adopter out.
The fibers that make contact with the SIM Card have been damaged because of Ashley's carelessness and belligerent behavior. The outlet is located in the Bronx, New York 10451 on the corner of 149 Street and the Grand Concourse. Another issue, was that, the music in the store was so loud I had to speak above my regular volume. They need to be trained in Customer Service relations. It was an absolutely horrible experience. They are young and hopefully, more trainings will continue to enhance their professionalism and public service attitudes.

Sharon Bodiker
from Newport, RI
Ever since I updated to lollipop 511 on my phone, I am not getting phone calls, calls are not even registering on my phone, voice mails come in 1-3 days after the fact, and basically over all my service is awful. My husband has contacted customer service 4 times now with various T-Mobile complaints. Every time it is something different to resolve the issue and every time before disconnecting with customer service my husband is assured the situation is resolved. Last night we were told that we were talking to a supervisor, Lou was his name. After Lou did everything in his power to blame the issue on us and continually refused to even hear that the issue started after the 511 update, the issue remains. Lou went on to tell my husband the issue was a result of my phone not being on wifi calling.
Really so for my t mobile phone to work I have to be constantly connected to wifi calling and I have to stay home to receive phone calls? What I do not understand is how did my phone work so well before 511 and now my phone does not work? Lou was rude, accusatory, unhelpful and simply put an ass! Lou finally said well since you have insurance on the phone I will send you a new handset at a $5 cost to us, and proceeded to lecture my husband on how the phone that I would be returning better be in mint condition. Not worried about that because my phone is not even a few months old and basically is in mint condition, but then he tells us that I may not receive a new phone but a refurbished on. Come on! I send my new phone back to T mobile because of an issue that is obviously their fault only to get a used phone in return.
Then Lou repeats that the issue is all our fault because we don't use wifi calling and he would be happy to sell us a router for my house to make wifi calling even better. Give me a break! This is the worst customer service I have ever experienced. Being that I am someone who has worked in customer service for 20 plus years, I can tell you that someone like Lou would never be employed by me and T mobile would never be some place I would ever recommend to my family or friends. I am sharing my T-Mobile complaint with everyone I know.

Thomas Jenkins
from Detroit, MI
In the Beginning of October 2015 I purchase three devices and paid with them with my debit card, then on October 27, 2015 the same charges were applied to my debit card again, causing my account to be over drawn and have numerous of over drawn fees. After talking to over ten people, countless hours on the phone, being told they couldn't find the charges and being hang up on i was finally informed that there was an issue with the system causing charges to applied twice.
From there i was told that I have to wait twenty-four to forty-eight hours to wait until my money was return that I never authorized to be taking out of my account. I have only been a customer for twenty days and this is horrible service that i have never experience form any other phone carrier in my life. I would not refer anyone to this company, poor customer service skills, holding time for resolution horrible and horrible results.
So at the end of the day Im out of $305.21 that im waiting to receive back in my account with over $70..00 worth of overdraft fees, but hey at least the Customer Service Rep did notify me there nothing else that can be done.

Sam J. Smith
from Paris, KY
I have a Microsoft Lumia and it's not allowing me 4g service which is what I have been paying for since day one of purchasing this device at the local Walmart. I don't know if I'm doing something wrong or not but I know that I'm only getting 2g. Help me please the T-Mobile service department is not responding and I cannot find their contact information anywhere on the web.

Corina Aguilar
from Peoria, AZ
I cancelled my t mobile service due to repeated dropped calls and the high fees. I am now being charged a cancelation fee when I was not under a contract and have not been for about 3 years. I have been a long customer but lately your fees became unmanagible. Am also being charged for a table that at the time i went in that they were offering a free table. i flat out asked him "what is the catch' He said no catch it is free a we're having a promotion and just want you to connect service with Tmobile and that was it. Well I guess he lied to me. If this doesn't get taken off billl I will have to complaint with the attorney general's office. This is not right.

letitia reynaud
from Seattle, WA
I called tmobile yesterday concerning the security breach to make sure I was one of them that wasn't affected and when I gave the verbal password that has always been on my account since 2011 the young man I spoke to which happen to be very nice and professional told me that wasn't it and that wasn't it that my password was numbers which has never been so he changed it back however every other time it has been the right password and they say there was nothing showing it had been changed I want to know how a number password before the young man I spoke with changed it back got added and no one can answer that

John Amrich
from Youngstown, OH
First off their service coverage is not that good at all. I eventually got fed up with all the non covered area and dropped calls. Never under contract or had a phone purchased through their store or website. My phone was a T-mobile bought at Walmart! Now 2 years later found a friend of mine needs a phone for ATT network. I cannot get my phone unlocked from T-mobile now till they send me a code by email so I can give the phone away!! WOW. BTW Metro PCS is an affiliate of T-mobile companies for anyone interested. Also did you know T-mobile is owned by a foreign company that operates under that name in the USA!

Eddie Rochester
from Hilliard, OH
Seven months ago I bought an i-phone 6 plus from T-Mobile in Hilliard, Ohio. I was up-sold insurance for $12 dollars a month only after inquiring about the requirements for a replacement phone if I needed one. The representative assured me there was no limitations, and no deductible since i was paying the highest premium. Again and again the rep said if something happened to the phone I could replace it no problem. I reiterated that I did not want the insurance if that wasn't the case and the salesperson reassured me over and over again.
I dropped my phone a week into use but the damage was so minimal and the phone worked so well I chose to keep the phone. 6 months later my phone has started glitching. While in the middle of conference calls it flips to mute and often hangs me up; booting me from the call. Group texts have also been a challenge, often having to restart my phone in the middle of texting to get my keyboard to work properly. I went to T-Mobile and the rep said I would have to pay $106 for the phone and another $176 for insurance to replace the obvious Apple 6 plus lemon.
I have been an apple user for many years, for the most part they have been dependable, not this one. I've only been T-Mobile user for seven months (never again) and would recommend to everyone to stay away from T-Mobile. Terrible customer service and worse sales techniques. They up-sell with no thought of their customers, only their commission, absolutely unwilling to help and backup their promises. Buyer BEWARE!

Charlene Rhodan
from Philadelphia, PA
T-Mobile promises to pay off your contract...that's a joke. Beware of Tmobile's promises. They promise you a full refund and then come back and say that your refund is minus taxes and fees. Therefore you are stuck with paying off your cancelled contract. And, if that's not bad enough, you have to pay your old contract additional late fees for waiting your reimbursement with T-Mobile. They say it takes 8 weeks; actually it is taking mine over 10 weeks (I'm still waiting). As a group of dissatisfied consumer, we need to get a class-action suit against T-Mobile. Any lawyers seeing our complaints, step-up.

Emily Smith
from Sofia, 22
I have been a customer of T-mobile for more than 10 years. Not a day late with a bill. Later they put some charge for a service that I have deactivated. Called 4 times to remove. Recently, I have tried to cancel my account due to travel, and the representative did not follow trough...Then call internationally, chat, call, chat just to cancel. Altogether, around 8 times at least. Meanwhile, they withdraw money from my debit/credit card and sent me a final bill + international call charge and with a collection notice. Until I am not even around. They refused to remove any charges. Unresponsive management/ customer service. I guess some commission is everything for them. Do not switch and be very careful. Just an advise from experience.

Maureen Lynch
from Brooklyn, NY
On June 26th, 2015 I called T-Mobile to switch my service from Verizon to T-Mobile. The customer service rep. I dealt with was very nice. I received the new phones but did not like them. I called T-Mobile to let them know I was returning the phones and would like to get different phones. I was asked to verify the last four digits of my social security number and was then informed my social security number does not match, therefore they are unable to give me any information. I returned the phones to T-Mobile by tracking number and the phones were received by your receiving doc in forth worth TX. on July 9th at 10.00am. My bank of America account was charged $285.63 on June 29th,2015 and I would like to have my refund back in my account. Furthermore I received a letter from T-Mobile denying me approval, so why was I sent phones and charged?

Colleen Reed
from Gulfport, MS
I was a T-Mobile customer for years and recently changed to Verizon. When we first joined T-Mobile, my husband was stationed (military) in Virginia Beach, VA. We had great service! However, in 2014, we moved to Gulfport MS where we've had nothing but problems with service, connection, dropped calls, etc. T-Mobile sent us 2 boosters, and still, our problems remained. On June 4, 2015, we decided to change carriers. My husband is active duty military. He travels and also has to conduct military business from his cell phone. On the day that we switched carriers, I called T-Mobile to let them know that we were changing carriers. The customer service representative Nicole said she was sorry to see us go, but completely understood why we were switching over to Verizon.
While on the phone, I told her that we wanted to keep our numbers (again – husband is military and he receives calls to that number from all over the world), and asked if there was anything that we needed to do or expect. She said no, that it they don't charge extra for stuff like that, and wished us the best.
Today, June 29, 2015 I received my final bill in the mail from T-Mobile, to which, has double charges (simple choice plan $40 for May 19 – Jun 3, and another simple choice plan $40 for June 4th). The double charges total $83.50. I called T-Mobile to inquire (I spoke to 4 different people) and was told the below answers. That's just how it is. I don't know why but it must be right (Debra). If you transfer a number from us, we charge for the whole month versus if you just go to another carrier.
Nothing I can do to help (Silvia). We charge for the whole month regardless of whether you transfer numbers or not. Nothing I can do (Mason). When someone leaves T-Mobile, we always charge for the whole month regardless of whether or not they port numbers. That's just how we do it. It's in our policy (Scott). Between the 5 people that I have spoken to since June 4th, there seems to be various information that I have received. Besides the various different things told, I do not see how it is possible to double dip on funds or charge someone for a service that they are not using. According to the bill sent, they charged one amount for May 19 – June 3rd, and then the same amount for one day (June 4th). This is unacceptable and needs to be fixed!

Valerie Merkes
from Bonney Lake, WA
My brother wanted my mom and I to join his T-Mobile plan. We went into their store in Auburn WA. They took two hours once it was out turn just to transfer data, charged us tax and phone charges, transferred phones, etc. We left the store. The phones do not service our area. They took our phones as trade ins. Within 2 hours I called the store, they said they would give us our Verizon phones back. In fact, they still had them because some more data was unable to transfer that day. When I went back to the store, they refused to give me my phones back, rendering me with no phone or phone service. I told them my mother was elderly and could not be without a phone. They said "she has a phone, it just doesn't work where she lives!!".
They were little rips off artists, obtained about $50 cash that day, $100 restock fees and took my Droid and my mother's flip phone. I never ever raised my voice or threatened them, but I did call the police. They told the patrolmen that they were wanting a trespass order, when the patrolman told them in that case they should give me my phone, they decided not to do that. My phone was sitting in the building. But when I first demanded it back they said it was already gone so they couldn't. Then another employee said it was still there since I had not loaded all my data, they told me no way, I signed a deal that they could keep my phone. Contacting Attorney General tomorrow. Very upsetting. I feel tricked. That is how they get some of the money they make.

Chia Ying Lin
from Bonney Lake, WA
I want to complain about an employee called Shayne at T-mobile on 39th & Meridian store in Puyallup. This is the second time, I really don't appreciate the female employee's attitude towards a customer. She just tried to argue with me about returning the device that didn't work for me and I was willing to pay the restocking fee. And the attitude was horrible since she had to do the return and do the paperwork.
In the end she didn't even give me a bag for the paperwork and the new phone I just purchased it while I was holding a child. And I said "thank you" she only replied "yep" back??!! This didn't happen before with the other male employee at all. I worked at retail store for so long and the customer is always right. You just have to satisfy their needs and make them happy when they walk out. Hopefully I will not come back this store anymore. Huge disappointment.

BRIAN HOANG
from Canoga Park, CA
In the morning of 05/02/2015, I could not find my phone anywhere and I believed that I have lost my phone (it is an SAMSUNG NOTE 2 with original carrier AT&T) I reported lost online right away with T-mobile. 5 minutes later I found my phone on my driveway so I chat with T-mobile online to report that I found my phone. They told me no problem and stated that nothing has been changed and they will put a note on my account that I found my phone and I should not worry at all. 3 hours later I could not make any phone call, suspiciously I check and clearly my phone is blocked due to lost/stolen. I called and chat with T-mobile they said they do not block my phone because it is an ATT phone and suggested me to call samsung or ATT. I called samsung they refer me back to T-mobile/AT&T. I called AT&T they said because I do not have ATT account, nobody called to report my phone lost/stolen and my phone does not attached to any ATT account so nothing to do with them, they did not block my phone, it must be from T-mobile when they reported to the US blacklist data base. Now I am stuck with the brick phone nobody is responsible. Anybody can help me

Diane M Dawe
from Parker, CO
It will not let me take the one star off. Your company has the absolute worst service I have ever seen. I have been with your company for 8 years, and about 3 weeks ago, I called up to INQUIRE about adding my daughter on my plan for text and voice since she cannot get the internet on her phone with your company. I was told it would be $10.00, then when I went on to pay my bill, the person in sales put me on a family plan. This is fraud!.
I plan on following this up with the FCC. I called in about 7 days ago and they apologized and said all the right things and your customer service department said it would be corrected, and I would see my corrected amount on line. I went on this evening and NOTHING had been done. I spoke to your rep, Grace, who was very nice, and assured me this would be fixed. I then spoke to her supervisor Becca and told her this nightmare story and also told her that I have never paid my bill so late in the month due to your company's error.
She then told me the bill was fixed, and I would see the credit in 24 hours. Let me tell you, this is what I was told 7-8 days ago, and nothing was done or corrected! I then asked her if I could pay this right now, she stated of course, but it would be a $5.00 charge. I'm suppose to pay for your company's error???? But I could be transferred to the auto pay, and it would not cost me anything. Have you people no sense!!! I will tell you, which I'm sure at this point no one will do a thing since I am referring to nothing was done until I had to call a second time, I am NOT going to pay the 5.00 and I am going to Verizon. I have had it with your company and the incompetence and fraud that you pull. Again, I am going to the FCC. Something needs to be done about your unlawful and deceitful practices.

gary yocom
from Phoenix, AZ
I am responsible for 10 lines that I have with T-Mobile. It is supposed to be a family plan. brothers sisters sons daughters. I have tried and tried to get an exact break down per phone as to how much each # cost so I can collect from my brothers and sisters what they owe. Every time I call I get a different amount. And it never adds up to what the bill I get. So I wind up getting screwed out of about 60.00 bucks out of my pocket. This is ridiculous. I got you ten extra customers. and I am doing the collection from all the family members, but I come out in the hole every time because your employees can not or will not give me a break down. Upset in phoenix.

Gevaugn
from Burlingame, CA
I have replaced several phones due to a variety of reasons, but I must say that service disruption is at the top of the list! The most recent replacement that I have gotten does not load my email, which plays a HUGE role in my life, seeing that I use it for work! (OVER 200 EMAILS A DAY) Just this past weekend, a client of mine was stuck overseas for 2 days!! in Frankfurt!!! all because he couldn't get a hold of the person that helped get him there!
Due to this faulty network, that seems to be on a VOLUNTARY basis! I am now in debt to the company that I work for, $2,452 and some CHANGE, because that is how much a one way BUSINESS CLASS seat costs from there back to Seattle! I tried to reasonably handle it with the agent, and his supervisor, but it seems that everyone is to busy maintaing a quote or trying to make a SALE. I don't expect T Mobile to pay my debt are anything; that's just not how this scheme gets down. But after being told that I could have a $102.00 credit, and then transferred all around their office just to be told by some other clown trying to play Supervisor, that that wasn't something that was said brought me to complete halt.
Because at that point I realized that T Mobile's call centers are actually fulfilled with a squad of monkeys! I have been going back and forth with the exact same nonesense, and life's just too short for that. My even BIGGER complaint is, who the heck hires these people? PLEASE LET ME KNOW, CAUSE I COULD FOR SURE RUN ONE OF THESE LOCATIONS, it wouldn't be hard at all; just pick up the phone, transfer it to you, you transfer it back to me, I'll put them on hold for 10 minutes, transfer it back to you..............and then we will flip this coin to figure out who has to say "Sorry, but no" to the person on hold. I just want to know if there is actually someone professional running the whole company itself, because there's no way it's just 611 that handles everything.

Linda Sanders
from Rio Rancho, NM
I went to a T-mobile store in Uptown Albuquerque, NM with a friend who was having problems with her phone. While there, I was persuaded to convert my service from Verizon, whom I had been with for many years to T-mobile with the offer of a free mini IPad and buying out my current Verizon contract. It just so happened that Jessica Keith, a Field Support Manager from AZ was on business in that particular store at the time, and she was actually the person that waited on me and completed the conversion process for me. I had an IPhone 5 that I had purchased at Verizon which I was allowed to keep and have my data converted from Verizon to T-mobile with no problem; However I was told that I would need to bring in a trade in phone for my husband's line.
The next day I took in another previously owned IPhone and my hunsband's Motorola Droid Razar which we had recently bought and were still paying for with Verizon. I told Jessica that my husband really liked his Droid and really wanted to keep it and that I preferred they take the IPhone. She informed me that they could provide me with basically the same phone and we could include paying for it on my monthly bill. I informed her that we were still paying for it (my husband's Droid) and she assured me that T-mobile would take care of it when they paid out my Verizon contract and "It would be a wash." So she took the Droid as the exchange.
I did finally receive the Visa payment card to pay off the Verizon contract; and assumed all was taken care of and well. Subsequently, I received a letter from Verizon Go Wireless charging us $300 for the unpaid Droid phone which I assumed had been included in the Visa paycard. I have tried numerous times contacting Ralph at the Uptown store and Jessica (I still have her business card). Ralph promised to call me back and never has. I left Jessica several voice messages, she finally returned my call ONCE, but didn't even bother to leave me a message. I have called and left her more messages and have still not received a return call.
In addition to the initial $300 charge, I have now received a letter from Aldous & Associates, Attorneys at Law threatening legal action and now wanted $300 Delinquent Balance, plus $90 pending collection fee for a total of $390 within 30 days. I would greatly appreciate it if T-mobile would stay true to their word and take care of this debt before it becomes a problem on my credit report.

Rhonda Leegaard
from Chicago, IL
I tried to pay my prepaid bill with a credit card and was denied. i finally talked to someone in the billing dept and they inform me that a payment in January was cancelled and reimbursed to the card holder. It is now almost May and have never been notified for it or had my service suspended. Last month i had to call and talk to tmobile reps because i paid the bill and it was posted on the persons account that owned to phone before. i have since January used credit cards to pay and never was told or notified of this matter. I would like to know what i could do to fix this and stop the invoices i am had to deal with Thank you for your time.

SALAHEDDINE GHAZI
from Houston, TX
I want overseas to Morocco, while there I was checking with customer service about an existing issue that"s when I found out that I am being charged over $400 for texting when I spoke to so called account specialist he assured me that texting was free and that I shouldn't worry, only to found out that it was a total lie once I got back to the state. I spoke customer care but nothing was accomplish totallly disappointed with a company that I have been with for over 12 years the perfect picture of corporate greed .

Ali Barakat
from London, ENG
My contract was ended on the 4th of January 2015 as I was informed by Alexa one of your members of Staff responding on my request yesterday the 15th of April 2015 at around 12:40 , along with my wife's contract too and it will be followed by my other three children's contracts which will be ended on the 1st of June 2015. I was not alerted by T-mobile company about the nearness of my our contracts end or receiving new offers! I was not given a Nano memory card along with my Experia -S Which was offered to me with my last contract! . I requested it yesterday through my call to Sanalia/ Member of Staff and I was charged £10:21 and to be delivered to me within three working days.
The surprise was today as I found my SIM inactive on my mobile phone and I can not make or receive calls on it and I believe that it has been disabled by your technical team before I receive my new SIM card! On my enquiry call today Thursday the 16th of April to a lady who is called Lee and who asked me about characters of my password and later about my Sim card number which I should have had it in the box of the phone as I am still using my old Sony Ericson Model C902. I explained to her that I do not know my password or the SIM card number as I am busy at present for preparing for the Tax Financial Year. she kept on repeating my first name without giving any alternative way that we could reach a solution for my problem and she hanged up her phone in a rude way!
I recalled again around 11:28 and a member of staff called Ian answered me and he repeated the same questions to me and I informed him that I had no time to go and search for my Sim card number and I do not know my password and if he can e-mail it to me . His answer was that he can not help me without obtaining them. You put me in a dilemma and I want you to get me out of it immediately please. I am considering to leave your company with my family members .

Randy and Nichelle Price
from Cedar Hill, TX
On April 14, 2015 At store #9795 my husband and I encountered the worst customer service in our history of affiliation with this company your representative Danny. I signed In on the customer wait list. We were later beckoned by Danny whom was on the phone as if we were animals, instead of him addressing us as loyal customers to T-Mobile. We did not move, finally Danny came over to the area we were sitting and once again Danny didn't address us respectable customers. We then began to explain our problem. We quickly discovered from Danny's lack of experience he was unable to assist us. We then asked for a manager. Instead of Danny respecting our request to obtain the manager he went and brought back Jazmin the representative that created the problem for us on April 13th.
We again explained to Jazmin that we needed a manager. Liz the manager came to our aide 15-20 minutes later. In the mist of waiting on Liz I asked Danny whom wasn't assisting customers to give us the number to customer service. He rudely told us he didn't know it and he was new. We responded by saying go and get it from someone that knows it. Danny then exhibited a major attitude and starts shaking his head as if we were bothering him. At this time Liz enters the sales floor and we explain to her that we have a major problem with Danny. She explains to us that she will speak with him and have a meeting on Saturday. The customer service in this store is horrific!!! Where is the diversity at this location? This store is employed with all Mexicans. Where are the African Americans and Caucasians? There are so many other mobile carriers on the market now. The behavior at this T-Mobile Store is unprofessional.

nasima dada
from Mary Esther, FL
I have several complaints:
1. I switched over from Verizon in December and was asked to send my IPhone 5s to T-Mobile and I would get a $352.00 reimbursement for each phone. I sent 3 phones in December and have yet to receive credit on my account. When I tried to follow up I got transferred over 5 times staying on the phone for over 30 minutes and no resolution
2. The T-Mobile service is not very good in our area. I have complained several times and hasn't got any better.
3. While I promised my bill would be lower than Verizon, my bill is the same with worse service.
Without getting any resolutions I am ready to go back to Verizon unless this is resolved immediately.

I had to get a new phone because water damage to last phone. Went to T mobile store and t mobile representative sells me a boost phone so I'm no longer on boost. I had just paid my bill a week prior. So I guess the t mobile representative knows what he's doing so I walk out with a bogus galaxy III had to go back 2 days later because was not getting any phone calls in and got switched back over to t mobile from the very upset representative who processed to switch my galaxy III to a broken Nokia Windows phone yet where's the 3 weeks prior money from when the t mobile representatives changed my company. Now all the sudden the whole account has disappeared but your getting paid twice. You should take the t mobile account from this crook

Gary Fletcher
from Medicine Lodge, KS
I recently tried to discover what sim card my pre-paid Alcatel One Touch Evolve 2 used. There was no indication whatsoever to the one that i needed. The sim slot looked small so i bought that one, it was wrong. Again, i bought the regular sim card and it was too large. I contacted customer service,and even they had a hell of a time trying to figure it out.Walmart was the same. WHAT IS WRONG WITH YOU PEOPLE!!! How hard can it be to put the type of sim card needed on each phone package? NOT HARD AT ALL!!!!!!! I lost $50 dollars because you can't apparently use any common sence!! P.S.- You probably love the confusion just so you can make a few free dollars.!!!

caroline licursi
from Riverside, CA
I am a current customer and have been since 2007. I received a collection for $138.00 from Convergent via TMobile. TMobile told me the bill is from 2011 but just sold the debt to Convergent on Jan 24, 2015. Yet they never informed me that I had an old bill and my current phone has been the same since 2010 and with TMobile. They told me they cannot discuss it as the supposed debt belongs to Convergent as they bought it? I filed a complaint with the FCC and am sending a copy and a letter for demand of explanation or removal within 7 business days of receipt by TMobile and Convergent and am paying a tracking number via the Post Office. It seems like a scam is starting with TMobile again and I wonder if anyone else is getting this problem? I am leaving TMobile this time for good and I have no debts ....but then again they might create one and sell it to someone as it seems this has happened above!

Jeannine Moore
from Dallas, TX
Purchased phone and plan for grand-daughter. Was told bill would be $60 a month. Was given a card that was free for IPad for wireless. Told them I have wireless at home but said free take. Took and went back in store because could not figure out what to do with card. They said Ipad was older would not work. Found out you was charging me. Found out I had many charges because bill was never at $60. Cancelled plan and you guys keep saying you are sending box for the connection but never have received box. I call - nothing, I go in the stores to say I have not received box - nothing. I feel as if I am being set up to pay a fee because I cancelled. Why can't I just bring your equipment in the store??!!

If I could give a negative rating to them I would, I WILL NEVER EVER GO BACK TO T-Mobile AGAIN. I'm beyond pissed with this horrible company. Back on February 23,2015, my husband and I switched providers over to AT&T ( BEST decision ever!!!) The representative's for T-Mobile I spoke with over the phone and in their store, had told us that our bill would be updated in 3-4 weeks. and that they would mail us the final statement. After that we could come in and pay our final bill. which was fine, whatever so we put money aside to make sure we wouldn't spend the money we had to pay off our bill and phones we had with them.
On March 1, our account was charged $166. to close out what we needed to pay on our account. no statement in the mail, no email about the charge and nothing about the phones so we waited another week and a half to see if anything would arrive late, or anything else would be charged on our account so on March 9 ( a total from when we canceled about 4 weeks ) when I decided to finally call customer support and ask about our bill we hadn't see anything about the phones still at this point and wanted to know what was going on with our account if it was closed completely or not. the customer service rep said there was nothing showing up on our account with them about phones and that it appeared to be closed out COMPLEATLY. which I thought that was a little fishy ( I've been screwed over many times by bills coming out late or charging one account and not the second, so I wasn't going to let this one get me), so I went down to the T-Mobile store and asked the same questions. they came back with the same answer everything was closed out and nothing more appeared on our account. so I asked for a print out of the statement. to see with my own eyes and have proof and sure enough reads 0 on everything.. okay cool, maybe I just got lucky and paid enough on the phones they wouldn't charge me anything else..
NOT!!! then today April 1 I get a charge on my account for 600$ ( NO money in my account what so ever, I used the 600$ to buy new baby items ) and a Month and a half after I close out my account with them .. What the HELL!! literally. so of course I call Customer service to ask what is going on I have my print out that say I didn't owe anything more. Then the rep proceeds to tell me that the $166 they charged me on March 1 was for the billing Cycle from January to February ( No shit SHERLOCK, I know this because I paid for it the beginning of March. meaning it was from the previous billing cycle) and that our bill was not updated yet, on March 9 and wouldn't have shown the phones. She then proceeds to say that bill for the phones wasn't updated till March 11 because it was on a different billing cycle from the February to March cycle, WHY DIDNT ANY FREAKING ONE TELL ME THIS out of the 4 people I contacted the first 2 being the day we switched providers who said 3 weeks our bill will be updated showing everything we own on our account INCLUDING the phones, and the other 2 who I contacted on April 9th after the $166 was with drawn..
Not one of them could tell me that there would be another "billing cycle" as the lady who I spoke with said.. No one could look at my account and say hey looks like you closed it out this day which would put your last billing day on this day so a final payment will be taken out in April.. IM SO FED UP WITH T-MOBILE they charged to much for their SHITTY service. and their customer service Reps need to be in training longer to learn what they are dealing with on customers. its ridiculous 4 people, 4 people who told me the same thing not one of them could catch this..

Needed to jump note 3 to note 4, it quit charging, after 1&1/2 months note 4 lost sound & would not ring for incoming calls..told I had to wait for shipping of refurbished phone. I purchased a new phone from store now it can't be replaced except with someone else's issues..30 yrs. Of being with Verizon I chose tmobile with expectations of an honest company. Buy new product, should be replaced with new product within store of original purchase. I have 5 phone lines, a hot spot, & ipad. I pay my bill diligently every month as is my obligation & promise to tmobile. My belief as a customer, tmobile should respond in the same manner of courtesy & respect to customer needs..now I'm without a functional phone & at 70 yrs. Old if a emergency arises I'm s.o.l. thank u for the inconvenience & hardship.

Your service is TERRIBLE. I regret the day we left Verizon. I wanted to go back but we've already bought phones through you guys so my husband wont allow us to leave. My son and husband bought brand new LG3 phone when we signed up with Verizon. We also purchased insurance for these phone so that we'd have the piece of mind that they can be replace if anything happens to them. NO ONE EVER TOLD US that we would have a $175 deductible, which was the first shocker. Secondly, no one ever today us that our phones would not be replace with new phones if ours were broken. I am even unhappier with T-Mobile then I already was. My son broke his pone and I'm stuck with a refurbished phone. Had I known this I would have saved myself the money and bought a refurbished one on my own. I called Assurance and they said that they do sent new phones if there is not a new phone available. I WANT A NEW PHONE!! I want to actually leave T-Mobile all together. But since I have to stay, I WANT A NEW PHONE! I will not stop complaining until I get it.

Dec. 16, 2014 I had been with ATT and was tired of not being able to get service on my cell phone so I called T-Mobile to see if the tower in my neighborhood was theirs. They said it was so I left ATT to go with T-Mobile. I was going to keep my phone and my same number and just buy one of their sim-cards. The sim-card came in and it was wrong. The very first thing was wrong dealing with T-Mobile. Anyway after a month dealing with them just trying to get the correct sim-card I stayed because they said the tower in my neighborhood was theirs...they lied!! It belongs to Verizon. So January 27th 2015, the correct sim-card arrived and I activated my service. I could not get service. My phone would either say "searching" or "no service detected". It used up my minutes so I had to purchase more useless minutes. I purchased $40 more and still could not get service and since the "number" was used...(searching or not detected) was considered use of minutes. The 2nd of February I cancelled with T-Mobile and called the home office. They said no problem they understood my frustration and I would get a refund. After they get you to someone who can do something...they hang up on you or being on the phone with them so long your battery dies...I've kept calling back getting the run-around. So in-short...T-Mobile will lie just to get your money! DONT USE T-MOBILE...THEY ARE CROOKS!!!

Tina Nguyen
from Temecula, CA
On January 14, 2015, a year and a half after I originally opened my account with T-Mobile, I was a victim of identity theft and T-Mobile allowed someone to add 2 new phone lines to my family account which I had been told already had a maximum of 5 lines. This individual then charged more than $1,600.00 in equipment and fees to my account, charges that I am still being held liable for. I discovered these 2 new lines 2 weeks later as I discovered a range of other purchases bought on my name and credit. I called and reported the fraudulence immediately.
The fraud department, instead of assisting me by closing the lines and removing the charges on my account, told me that I, the victim, had to name the suspect in order for them to release my responsibility. They alleged that my family members were in contact with the criminal citing call logs showing 1 minute calls coming to one of these new lines. Initially, I thought that this information must be the result of computer error for the call log to show that my family was calling this line because none of us knew the suspect and we had never made any calls to this line. In addition, these alleged call logs conflict with our own records, which have been printed from my accounts on T-mobile's own site.
Recently I contacted T-mobile with the name of a suspect in my identity theft case, after receiving an update from an officer at the San Diego Police Department. I faxed them copies of the police reports and of a signed affidavit of fraud. T-Mobile refused to accept this new information and demanded the police report with the name of the suspect, knowing very well that the police would not release the documents because T-Mobile had not been cooperative in helping them catch the criminal, and because the case is still under investigation.
After working with the police and with several stores in the San Diego area, my experience working with T-mobile has left me with the strong belief that T-Mobile employees were involved in the illegal fraudulent activity on my account. They allowed someone to remove my PIN and add new lines to my account when I had set up the PIN as a protection measure, and while the company has my ID and my signature on the file. They then altered the call logs to shift the responsibilities to me. The fraud department wouldn't take my report as a victim of Identity theft seriously and wouldn't cooperate with the police to help catch the criminal.
Please investigate these illegal activities at T-Mobile. A large national telecommunications company should be responsible to its customers and should be participating in ethical business practices. Their capital and influence should not be a tool to criminalize and victimize their customers, especially ones who have already been victims of crimes.

T Mobile initially lured me to them with their cheaper than Sprint plans and the "We'll pay your Early Termination Fee" routine. It should be called the "You pay your Early Termination Fee and we may or may not reimburse you depending on how many flaming hoops your willing to jump through or till we get sick of you bothering our customer service department". I've had so many promises to fix this refund problem by so many reps and each has failed, Purposely?. Hey T Mobile, I get it, you're a big huge mega business with an army of lawyers to keep the riff-raff customers from defending themselves from you. You win, keep my money. Good bye T Mobile and I'm taking all five of my accounts with me. BTW, I'll pay my final bill in six to eight weeks in a $10.00 prepaid VISA card. And when you call me for payment, I'll promise you the check is in the mail with a cheery attitude every single time.

Geeta Budhu
from Brooklyn, NY
My family has been with t mobile for over 12 years and the service we're receiving is beyond unsatisfactory. Recently my sister and I decided to come off of our parents plah and be on our own. Upon speaking with a few representatives, we decided to stay together and not be on our own because we would receive more data together. My sister however, did not sign the authorization.

I tried for years to get my wife to join my T-Mobile plan to save us money. She handles all my appointments since I am 100% disabled, with 4 different doctors, due to a nerve disease. She eventually did join my plan, was sold a 600$ smart phone and we had to sign a 2 year contract. After 22 months her phone quit working. After weeks of changing phones, installing new stem cards, 4 trips to the store that sold us the phone, and about 5 calls to technicians we were told her phone was a 4G phone and our nearest tower was a 2G tower. This, we were told, means it will never work, and they were suprised it ever worked.
I told the last supervisor I talked to that I had to leave T-mobile and find a new phone provider. She insisted that I pay 100$ to get out of their contract. I got a little upset at this and told her it would be a cold day in he!! before I paid another penny to someone who screwed me out of 600$ already( for the phone they sold me that won't work where I live). Instead of billing me 100$ to break my contract my bill is now over 600$ and continues to go up! Please tell me what I can do about this injustice that keeps on going. Can I make them pay for the harassment and destruction to my perfect credit. We've called them and they don't care one bit about what they've done to us.

Paula Kilgore
from Raleigh, NC
Why want you close my account , no longer with you ???

Colleen Martin
from Titusville, FL
I called customers service to get a new phone, My current phone from tmobile is broken again! I talked to a rep about a phone, but was not sure I wanted to spend that much on a phone. The Tmobile rep assured me that he could take $100.00 off the price since I was a loyal customer of many years. I received my contract for the financing via my email and the amount was wrong; It still has the original amount on it. I have tried to call customer service back to tell them what happened and I was told that tmobile does not discount their phones but if I sign the agreement for the original amout they would take $100.00 off after 30 days. I was also told that there was nothing about the phone being discounted from the other rep. I asked to get it in writing but was informed that could not happen. I do not feel that this is a trustworthy deal,and since by phone is still broken I can not wait. So much for my loyalty...I feel like I was taken advantage of, and I think I will go to another company that is down the street from my house.

kathleen lavelle
from Manchester, ENG
on about the twenty third of February I got a message saying if I topped up five pounds within five days I would get five pounds credit free I topped up five pounds on February twenty sixth and still have not got my five pounds credit.I have rang you twice about this on both occasions being put on hold,first time I rang I was told the money would go on within five days, today after over half an hour and being put on hold twice for over 10 minutes I was told someone would ring me back within two hours that was at 13.30 it is now 16.20 and I am still waiting.I am absolutely disgusted with the service I have been given Kathleen lavelle.

John Paul chambers
from Motherwell, SCT
I used to be with Vodafone and got told about your smart pack so I changed over to t-mobile got my £10 smart pack first time no problems last month I had to complain because I had over the £10 credit and only text your free numbers 441 and 150 and now the same thing has happened to me again top up £10 so I had £10.09 credit all I have done is try and get my smart pack 10 this month again but I have texted 441 and 150 and now I only have £9 credit but only texted your free numbers and can't get my monthly smart pack so I would like to see if we can stop this from happening and make it as simple as it said it would be before I changed networks and I would like my smart pack added as I have not spent any of my credit so I would be greatfull if it could be sorted for me as soon as possible please

francis
from Brockton, MA
I am seeing a lot of complaints about T-mobile on this website. They are stealing money from me and it make me feel crappy. Why won't someone make it stop?

Cindy Graves
from Nashua, NH
They took money out if my debit account. Without my authority for 3 days every one I spoke to said I would have it back in my account in 3 days on the 3rd day it still was not back in my account. So I called again this time they put me through to a refund specialist who bluntly told me I was not getting a refund so everyone else I talked to just told yes to get rid of me. THINK TWICE BEFORE CHOOSING T-MOBILE as your phone carrier they like to take your money earlier then they should & won't refund your money. i am calling the BETTER BUSINESS BUREAU ON THEM DEFINITELY.

Cherie Allgood
from San Mateo, CA
I have been dealing with T-Mobile for months now regarding two tablets that were defective and returned to them. Back in October T-Mobile said to return the 2nd defective tablet, and once they received it, all the charges would be removed. At the time, the representative credited 3 charges having to do with the tablet. She also said that from that point on, we would no longer be charged. They did not stop charging. But I kept paying. I finally got tired of paying what I did not owe, and waiting for them to credit my account and stop the charges. Last month I paid the portion of my bill that I did owe. I subtracted everything regarding the tablet from my balance owed. I have just spent my entire lunch hour speaking with four different people, and all of them kept saying the same thing, that the charges are legitimate.
T-Mobile had also been calling from a number I did not recognize, and not leaving a voicemail. I finally had to search the number to found out it was T-Mobile. I have been with T-Mobile for over 10 years. Two years ago I got a bill with over $400 of text charges. I have unlimited texts. It took over an hour with one representative putting me on hold and coming back with a reduced amount I can pay for the text charges. After I told her that I was tired of sounding like a broken record, I finally was able to speak with someone who took care of everything in just 3 minutes. Now, why couldn't that happen today? I even told them my past experience being given the run around by them. I said again to two people that I was tired of sounding like a broken record, and was tired of hearing them sound like a broken record. I finally had to hang up because my lunch hour was over. I will have to try again tomorrow.

called and a replacement on a warranty got a sg2 sent it back within days and got a lgl9 because the gs2 did not work rite.they charged me for it the whole time over 300 bucks and they have the phone.do not buy phones from t=mobile warranties will rip you off and don't ever do bussness over the phone with them you will get ripped off. I bought my phone from hsn got a better deal 50 dollars cheaper and a better warranty with it. they will give you nothing but a run around. their service I have no problem with buy will never buy a phone from them.if you do deal with them keep records of everything and if you send a phone back to them put tracking on it just don't send it back in the box they give you they don't want you to track it going back.and if you do not ask them everthing whe you talk to them they will throw in charges you don't know about go over all details befor you hang up that check on them latter to make sure.

ekundayo orisadahunsi
from Houston, TX
I need to bring to your notice the way in the past few months I have been receiving different billings as in regards to clear usage of my lines. I have been frustrated every month in having to deal with my bills and sometimes it seems it is a deliberate effort to frustrate and forcefully make your customers pay for what is not used. I started with Tmobile by paying $176 +/-, the 2nd month it went to $200 above, and that is how I have been receiving the bills on monthly basis, it is either someone is nit communicating right because by the time I will eventually get someone to listen to my compliant, I will find out that each individual working with the customer service has a different understanding on what packages you guys have so there is always a wrong information been passed down by CS representatives. this has made people like me to have to pay in excess to my monthly bills. last month after a whole day trying to resolve my bills, I eventually got like $23 reduction in my bill and was asked to pay $211, which I eventually pay $176 to balance $35 at a scheduled date. on of the reason they gave in respect to my fluctuating bill has to with international calls made through an APP installed on my phone to make international calls 'REBTEL'.
I was told that the app wasn't working to specification that was the reason I still get billed on tmobile even with the fact I still don't believe I make international calls through tmobile, but in anycase the REP that attended to me said they could block my lines in furthering making international calls without my notice and I said they should go ahead to block any service put in place that interfere with me making international calls through REBTEL. Now, checking my account this night Feb 24th, 10pm, I saw an outrageous bill of the $255.82, now if you deduct my outstanding of $35.36, the total comes to $220. Please what is this amount for again. I try my best to keep to my limit so that I don't defaults in contract and all this boils down too integrity, that I will not want it to be harmed by tmobile. I ma sick and tired of the frequent problems. please I need this service to look into this problem because as it is, i cant pay a dime from the bill I see in my account of $255.82.

I have been using T-mobile for more than 2 years. Now since I am moving to other countries, I need to cancel the service. But I really had a hard time to do so.
I got to the number several times after long waiting time, but the service people on this hang the phone immediately when I just said a good morning. It happened at least 3 times! I will try some other way to cancel it.
Now I feel that I don't dare to use T-mobile again in my life and don't dare to suggest any friend of mine to use T-mobile again. I don't know why they treat T-mobile customers like this, but it's a shame. Making me lose all the good impression and respect I had over the couple of years for T-mobile.

On 1909 I called T - Mobile to get internet services for my lap top They send me a data stick I used it a few times after 30 days I called back T-Mobile to cancelled the services because din't work right olso it was charging me different amount that i was promised They refused to cancelled the contract and ofer me to paid only the rregular fee of $24 per month even do I was not using the data stick anymore I sent T-mobile the $200 fee for early cancellecion they still did not cancell I call back on October they told ne wait your contract will be due on Oct 14 call then so you don't have to pay temination fees,Well I call back to resolve this problems they send me a letter for non payment and early cacellection I am very upset after ten years of been a customer i am chanching company never again i will get service from T-Mobile I am not paying for nothing This is non ethical to treat people badly They told me if you have a complain go do it in the internet we can't help you on T-Mobile.

in november of 2012 i called to down grade services for 3 phone lines that I have with Tmobile and have been complaining of my bill is to high tomaintain and would stay until conract was ending of June of 2013 in which two numbers will be 253-397-8407 and 732-343-5336 no longer be in contract because my two years are over. Well I was informed by a representative last week that because i changed my rate plan in late november of last year that my contract was extended until nobember 2014. I never agreed to that in November and was never told by any representative of no such thing. I am completely disppointed and will not be forced into a contract that I never agreed on verbally or by signature and I would like a call back or a response back asap from someone in Tmobile!

Contract was renewed incorrectly, as it was discussed with Joe tag. # 1227381 after receiving a discount that when I paid the balance of , which was the $66 then the contract could be renewed and I would receive a "value customers discount" with 2 phones Galaxy 3 at a discount. I still have not paid any bill, as I did not get the opportunity to pay this until a week ago. when I call to make the payment the agent told me that my contract is renewed until the year 2015. Hence the contract has been breached I asked that t-mobile returned my account back to where it was before. One of the phones were out of contract 6464966430 was out of contract more that 3 months ago. and my phone was out of contract since January 29th. Thank you.
MY CONTRACT AGREEMENT WAS NOT CARRIED OUT, PRIOR TO THE RENEWAL OF THE CONTRACT. I WANT THAT U RETURN MY CONTRACT TO THE ORIGINAL BOTH PHONES OUT OF CONTRACT.

My son recently moved to Tamaken, Nebraska we called another provider to see if he would have service where he is working, the representative we talked = to said he would have service. So since T-Mobile was unable to provide service in that area we talked to customer service and they said it should be no trouble. they also stated that they could waive the fee if I would extend my contract on the other phones for two years I declined that off because our phones have very poor service here in Lexington and calls are being dropped 3-5 times a day. I have recently been charged a $200 deactivation fee because my son has no service where is working and he needs his for phone his job--I am being charged for a service that is not available I would like to have my account credited.

i went to mall in el centro ca. and bought a gallexy 2 phone and was told i get 150.00 $ rebate that till this day have not got and store will not talk to me nor superviser anyways i ask that my girlfriend had a prepaid phone from cosco cuold i add it on my account without a contract and how much would it cost fernando the worker helping me said yes you could add it on with no contarct for 10.00 a month unlimeted calls and text so i said ok well i lost my job and could not afford it so i called to cancel her phone and i was told i would be charged a fee for cancelling the contract i said what contract i never ask for a contract the reason i added the phone to my account is because there was no contract and only ten dollers that was a lie im paying almost 200 a month so the girl i talk to when i called t-mobile cust.serv.told me she would put that line on hold i would not be able to make or get calls and would not be charged so i could disspute it here and that my phone bill would only be 67.00 dollers so i said good lets do that come to fined out she lied to im being charge for both phones still and i called back a few days ago and was told that they did not no anything about that and if my bill was not paid they would cut off my phone too so i ask to speak to supervisor and was told she was on the phone i said thats ok i will waite they no you cant because it could be a long time i said no problem i can wait he said no you cant so i told him have her call me back please he said ok got my number and till this day have not herd back from no one can you please help me get my rebate and cancel contract i never signed or ask for thank you any question call 760-351-0020 home or 760-960-2569 cell name raymond

my job at the school District is going through a furlough I went to t-mobile to see if i can get a lesser payment because I was getting cut in pay. they said that they can lower my bill. I asked will this affect my plan? they said no. I am a creature of habit and I asked them again will this affect my plan. again they said no. I took them at their word back in march 2, 2012. I had a family plan with a another person and in Oct when my two yr, plan ended I was going to cut this person off and continue with another contract solo. now I find out that they renewed my plan for two more years. I called many reps at t-mobile and they asked me to go back to the site and have them resolve this. month after month this back and forth has frustrated me that I don't know who to trust. they had no right to do that to me after I asked them in plan English. every rep I spoke to, I told them the same incident. I want this plan retracted to its original so I can resume my plan solo. my cell # is 9097847148. the other party # is 9096305948 account #784056062. I really need my service but all this would not be happening. how can there be good customer relations if deception is the means to bind a customer to a contract that they don't know their future plan are after the end of service.Oct I would not be faced with enormous fees and a contract extended to 2014. I want to be on my own with my own contract. another furlough is coming and once again I have to make changes. work is not easy to come by all I am trying to do is survive like anyone else. I need a phone without penalties because some one betrays my confidence to do the right thing. I think in the future there should be revise when binding people in a plan. for customer satisfaction you don't want them displease with a service. I really hope great consideration can be taken due to misinformation after the fact of my repeating myself so I am clear with communications. thank you Sincerely, Lynn Ntshangase

I sent my family mobile phone to the return Cntr , at 500 Lee rd Rochester New york on feb 26 2013 and was told I would have a new phone in two weeks. I was forced to buy another phone that I had planned to return to Wallmart for a refund within 15 days,in time for my new phone to arrive. I was lied to deceived for I have not received the phone yet. It is now going on three months, i cannot get a refund because it is way too late. I am fed up and I no longer even want the phone I am requesting a refund. I would like to hear from someone very soon I am a very disgruntled customer. Too much stress.acc# 857045906

I have been a customer for 6 years with minimal problems until June. The galaxy phone has failed from batteries etc.on and on. Phone doesn't ring, doesn't light up. Then after replacing at least 3 times, on Thanksgiving I lost all internet, facebook and basically all applications would not work except receiving phone calls, making calls, text messages at times. But I could not upload or download text files or pictures! The excuses and bogus help has been a joke. I am shocked at how they have blown me off. I have called and spoken to several individuals that were somewhat helpful and one that was a complete and total idiot. Even a 5 year old would not acknowledge some of the excuses. I was told they would call me and no one ever does. I was told to go to one of their locations and someone was notified to replace a sims card. When I got there I was told that was not what it was that service had been out for three days in the Shertz area and that was probably effecting my area. I am approaching 18 days of almost a third of the service I pay for and still no help and no correction...no credit! This is truly a NO ONE CARES AND NO ONE RESPONDS KIND OF BUSINESS!

I have called T-Mobile a total of 13 times within the last 2 and half months. I bought a home on August 3rd and have had horrible service since I moved in. The internet never works and my calls drop constantly, unless I am standing in the corner of my back yard. I call T-Mobile all time about my issues and they can never resolve them. Their own Tech Support department has told me that I have poor service in my area. I was told to write a letter to their customer relations department and send a copy of my utility bill. I wroet the letter and sent my gas bill in early September and got a letter back 3 weeks later stating that I had coverage and there was nothing they could do for me. If I had coverage I would not be wasting countless hours on the phone with this company. I pay T-Mobile 165.00 a month for services that I cannot use. They are not willing to waive the early termination fee or credit my bill. This is so frustrating that I have a phone I can't use. Someone please help me!!!! I do not know what to do at this point. There has to be someone out of this.

I called in to receive the day my contract was up. During that conversation I asked the gentlemen when my contract was up because my bill was to high he suggested I take on a plan that was cheeper. I agreed to that but never agreed to a new 2 year contrac,t it was never dicussed with me. I was under the impresion that until my original contrat was up I would down grade to a smaller package so I could afford the phone. Never did I agree to a new contract. The only thing I agreed to was the change of the minutes I was to receive. Also I was not aware that this did not include any text messaging. So now my bill is just about the same as it was before I called to ask for help on getting my bill lower. I called today asking when my contract was up and was told that I signed another contract for two more years. I am very disapointed and feel I was truely misled. I am asking you to please do the right thing and desolve this contract you say we have. Thank You!

In March of 2012 I entered into a contract with t-mobile. We explained to sales person that my husband wanted a telephone capable of Wi-Fi calling. The telephone that was sold to did not have that function. I called customer loyalties department and the person offer a new telephone. This fixed the problem for him. My telephone on the other hand has been nothing but a headache. I currently have telephone number 6! This telephone is still doing all the same that the other telephone were doing. I cannot call out of my mom home. The telephone does not ring when I am sitting right next to the unit. I drop calls all the time. The genius button on all the units does not work with my headset. Sometimes when I try to call my sisters cell phone my telephone will start to call and then just hang up. This happened currently with my husband's telephone as well. I have spoken to the sales place where the telephones were purchased and they have tried several different things to correct the problem. I recently spoke with a district manager that even tried to help. I have spoken to an mgr in customer service and his answer to all of this was the next telephone would work. He promised! The telephone is still giving me a hard time. I have a special needs child and I need to know that he can reach me at any time. This is not true! I am requesting that I be let out the contract so I can go to a company that can meet my family's needs. I have had people in the loyalties hang up on me and some that really are trying to help. I must say that speaking with the manager was like speaking with a wall. He had just one thing to say and to me it translated like this "SO WHAT" he did not care about anything I was trying to explain to him. My numbers are 505-980-9909 and 505-274-5247.
Thank you for taking the time to look into all of this for me.
Cathy McCurdy

Tmobil sent a bill for $200.00, for early contract termination fee. The contract was on a 4g wireless device, acct. # 832301563, phone # 8017554973. I am in a rural area where I never did recieve 4g service, only 3g is available in this area. A few weeks ago the 3g wouldn't connect at all, I took the device and my laptop to the Salt Lake City area to show someone at a tmobil store but it worked great there. I took it back home and again had no service at all. I called Tmobil to ask what my options were. The rep said it sounded like there was a tower issue and to wait for 3 days while they sent a crew out to fix the tower. I waited but the issue was never resolved. I then cancelled service because it makes no sense to pay for service that doesn't work. When I got the bill I called customer service and they gave me this web site address to explain my situation.

I was so dissapointed at T mobiles uncaring and very unfrofessional behavior. After many attempts i made to get someone to help me with my issue regarding my Galaxy II PHONE locking up and freezing on me. After speaking to many representatives who where not able to help me i finally spoke with someone who i thought was going to be able to resolve my problem only made it worst..After following the trouble shooting she indicated i specifically told her that if i was going to loose the majority of my data i was not going to be getting the same exact phone,she said that i would be getting an upgrade since they had ran out of stock and of course that turned out to be a lie and that is why i am so upset that not only did i had to renew my contract supposedly to get this phone but i ended up loosing all my text and information,in other words i ended with the shortest end of the stick. All i expect is for them to comply with what they promised A DIFFERENT PHONE not the same model that is what they should of done since the beginning instead they lied about it.

Will this do any good? I don't understand how a company can operate with so many complaints. There has to be a way to resolve disputes. I'm disputing a huge $700. Bill and discovered the extra I've paid for 2 years doesn't cover outgoing calls while in Mexico.
2 yes ago I called t mobile to ask for an plan that covers calls "out" of mexico because my son goes there to work for 6 weeks every year. I asked them to repeat that this into. Plan would cover and the rep repeated back to me that it would. Last year our bill was reasonable after he returned home.
This year he used phone less ( a signal is hard to find in rural area hes based at) so what is going on ? I've called numerous times and am trying to get investigation opened, followed there instructions and wrote letter to customer relations but no reply contact, now I've done what they said and faxed the letter 2 times more over course of 2 weeks but still they have not contacted me.
I can't pay 700$ and am considering just letting phone go and contesting any collections with my paperwork. Not sure what to do. These people either lie when you make changes to plans or they don't understand plain English, but I think t mobile are crooks. Any thoughts appreciated.

Last year I called to add another service to my phone, when told that I would have to add another 2 year contract I said that I rather cancel my account, why another 2 years contract when all I want is to add to my service. the girl put me on hold to go speak with a manager or someone with authority over her, she comes back and tells me that there will be no 2 years added to my plan. that everything is the same the only thing that changed was my payment which is more. she said that she see I have a good report and they value that.
I found this out today 9/17/2013 when I called to cancel my T-Mobile service because of financial situation and wanted to cancel in good standing and to my surprise I got the news that in spite of what the rep. said to me she still put me in a 2 years plan without my permission. Now the funny thing of it all is that they can't seem to find anything staying that this conversation took place. I can't believe this. so many years so much money invested and this is how a loyal customer gets paid back. The reason for my complaint is that I want this matter taken care off and I want out of the 2 years contract without penalties. I no longer trust T-Mobile and would like my services terminated ASAP...I am not the first person T-Mobile does this to. I have now read many complaints of other victims like myself with the same similar problems.

i call t-mobile Rep. on Friday 01-11-2013 at 8:35pm i spoke with TKEYMAH,who sign me up for wrong plan, she gave me wrong information on unlimited value talk,she said all my three line will have unlimited TALK,TEST and WEB on all my line,and the monthly fee will be $132.49.
and i can still have discount on NEW phone she transfer me to phone section only to be told that i can't get new phone with my new plan then the guy explain the plan more that the last three line is not unlimited talk that i have only 500 minutes on the third line,he said if i want the third line to have unlimited i have to add $20 to the above money so i will have total $152.49.monthly.
i dispute because the lady that sign me for the new contract give me wrong information about the plan.that same Friday i spoke with one of your supervisor Mr. WILL which he said that my plan will be reversed back to my old plan which is FAMILY ROYALTY.And it will appears back on my account after 24hours.I check my account on Saturday and Sunday and i call your Rep to make sure my account is back to my old plan with my contract to be expire this month,so that i can sign for better plan if i wish to do so.
The Rep i spoke with said i have to check on Monday since its weekend then i call back again this afternoon Monday 01-14 13 only to redirect me to this site to file my complain.Please all i want is to reverse me back to my old plan which the plan have already expire,so that i will be able to sign for any plan of my choice.

I was recently having trouble with reception mysteriously after so many years of good T-Mobile service. I had not renewed my contract because I wanted to determine first if the problem could be solved. After several months of inadequate or no response from your service representatives, I elected to change service.
I then learned that I was being dinged with a $200 termination fee as well as an unwarranted additional month's service fee supposedly because the payment was posted 1 day after my monthly liking cycle.
I would like to avoid litigation and permanent disconnection by requesting that you eliminate the above mentioned charges because I never signed up to extend my contract or was ever informed that my contract was automatically being renewed for an additional 2 years. My final payment was paid and postmarked prior to the alleged 1 day delinquency.
These charges smack of money grubbing policies in effort to extract unreasonable fees from a good long term customer that is departing. If you were more fair and open about your policies, perhaps you would have fewer disgruntled customers. How can I ever possibly return to you for service in the future if you try to exploit me with unwarranted fees?
In the spirit of good business and good will I respectfully request that you reverse the $260+ of charges.

Hi this is Natividad and I have a complaint this is what happen .On February I call T-mobile about stopping my service with them , well whom ever I talk to told me that on february 23 I could go with other services cause thats when my contract with them ended, now I try to cancel that service and it seems whom ever I talk to forgot to mention there was a penalty for early termination , now I went and got me another service and when I call to cancel I have to pay 200.00 for that . Look I been with this company since 2004 and for the last passed year I had lots trouble with the people who I have talk too.
Either they lie to me or didn't give me the corrected information .This guy I talk his name was David who told me this . Why would this other people tell me I could terminate on 2/23/2012? Now what am I going to do I am not rich I can't afford 2 payments of cell phone , that person who told I could cancel on mid february pretty much didn't know that . If I had known that the contract was until nov 2012 I would have never done this . So now I don't know what am gone do please solve my problem.
If you look at my record it shows since 2011 I had to talk to a bunch of t-mobile customer service people and not a single one was honest with me thanks I hope we can come to reasonably ressolution thank- you ....

since feburuary 2013 i have been in contact to complain with several supervisors in regards to account both telephone numbers at my request during July 2012 both phone termination fee was paid of the amount of 200.00 dollars by a family member at a Bronx t mobile store explaining to the Representative to terminate the phone at that time.
i then borrowed the monthly fee of additional fee for the month of the amount of $ 85.00 . i have been constantly harassed at work and through correspondence stating there is a balance of $106.04 which i was told on march 15, 2013 by a Representative Mr Collins who assured the account is closed and no money is due and no more phone calls and i was instructed to request a letter account is closed and no money is owe from your review board.
I don't want to receive any further threats in taking this matter to a collection agency i would appreciate in taken care immediately if not i will have to take immediate action threw my lawyers thank you. i called this number 1-888-310-8471 to complain to t-mobile.

Hello,
I am an unhappy t-mobile customer. I bought a brand new t-mobile phone and there was some issues with it shutting off on its on. The problem could not be resolved so T-mobile sent me out another one. The one they sent me began to shut on and off by itself. I call T-moble and the said they was going to sent out another one. In the process I found out that the phones they was sending me was refurbished. I feel that this is not fair because the phone I bought was brand new. I feel that T-mobile need to make this right and send me a brand new phone. I'm trying to get T-mobile to make it right before I go to the next step. I am ready to contact the BBB if I have to. I still have the receipt and the box where I purchased the new phone. My name is Linda Fleming and my phone number is 706-617-2268. If T-mobile can't make this right the way is should be I will be asked to let me out of my contract so that I can find me a company that do not cheat and take advantage of their customers.

When I opened my account in April 2011,my contract was for two years at the second year I had a choice to renew my contract or to upgrade my service;however, when I added another line in Nov.2011 they said it would not change my contract. In April 2011 I was told that I could have the same options with that line.The first line that was opened I'm wanting to cancel the contract in April2011 because my contract will be up,but I'm now being told by the supervisor at T-Mobile that I can't because I added a second line in Nov.This isn't right because the information that I was informed about was misleading. I have been a faithful customer to this company for many years,my bill is always paid on time,and as a valuable customer I know the rules and regulation but, this supervisor is not following the rules. Would you please investigate this matter or I will be going to another phone company. Thank you Zella Lawrence (270) 556-8289 account 80593030023

about 5/2012 my daughter cancelled her line 216-820-1333,she was told by t-mobile that she can start her own contract since she was on mine. They said would be noo cancellation fee,she opened her own with two lines. I got a $200 cancellation fee on my bill, i went to the place where the man told my daughter it would be no fee. We talked and he said we had about 2 months for her line to expire ,he would put the line back on atminimal cost $10, for the remainder of contract. now its been 7 months and not only have i been paying for a line no one uses,we dont even have a phone for this number but you have been charging me for web access and classic tunes,.i have been paying $32 a month all this time and on top of that when he put the line backn you started a whole new contract that expires in 2014!. this was suppose to be a $ 10 charge for about 2-3 months and ive paid over $200+. if you check minutes used,texts used you will see we havent used a single thing on this line in over 7 months. please take this line off and reimburse me for all the money ive paid. Ive been with t-mobile for over 7 years and i feel like you guys dont care, Thank you

I signed up for a family plan with two lines. In 2009 i upgraded one phone and extended a 2 year contract on that line. I upgraded the other phone a year later and extended a 2 year contract on that line. It is now three years since I upgraded the first phone. Now I would like to cancel the first line and T-Mobile is telling me I have to pay a $200 early termination fee on that first line. How could that be as I more than fulfilled my two-year obligation? When I upgraded the first phone at Radio Shack I did not change anything on my plan.

11/19/2012 i recevied my statement showing a fourth phone had been issued to my account from the Edmonds T mobile store. I called customer service with my concerns and they insulted me with the suggestion that myself or my husband purchased the other phone I explained I was at work in duvall/and my husband been working out of town, I requested that they turn the service off now as not to accumilate any further expense to myself for t mobile as this apparently is a fraudulant transaction. I was told that they could not and that I would personally have to drive From Granite Falls to Edmonds to the T Mobile store the phone was purchased at and have them turn the service off. When I asked to speak to the manager i was denied that. I have been a faithful customer to T Mobile and dont need any additional phones and/or line and dont understand how a phone can be purchased to someones account if not a authorized person and have proper identification. I called the Edmonds store and talked to a retail salesperson at the store and when asked how a phone could be ppurchased without identification he had no answer when asked if there was surviance cameras he explained none were in the store until recently. My suspisions may be that a employee issued a friend a phone to a random account (mine) or some other illegal activity has taken place putting my good name in jeopardy. I simply again requested the line to at least be turned off and again I was told I need to go to a retail T Mobile store in order for that to happen. This is totally absud and unprofessional and by no means customer service I have done no wrong and have not autorized any lines to my account and and asking acknowledgement of the fact someone messed up on behalf of T Mobileand to please get the phone cost ,line cost, and any other cost pertaining to this transaction off my account and end this new phones service asap as I do not have any knowledge of this transaction.

i was tricked into by the female employee into a 2 year contract that i did not want when i called in april, ...i can not remember the whole conversation but she was fast talking me praising that my 20 months were fulfilled and that i could upgrade to have a yahoo messenger , youtube etc i said if it involves a new plan i did not want a new plan, yet she put me on one anyway, i found out about it when i called to tell them i have new things on my phone that i can not use my phone is to small for such thing well that was to know avail they said i excepted the new plain but i did not want it in the first place she faset talked me into it I was very happy that my frist contract was over and finally i can do what i want when I want and get the new cell i wanted but now I'm so so upset all i want is for it to be over so that i can do to a company that has no hidden agendas ,now I'm told i have to go on the enternet to file a complaint et ...i have been a good and loyal customer to t mobile and i never thought they would do me like this , i was actually warned by a young man at a boxing company on melrose that tmobile would do this to me and i didnt believe it i actually stood up for tmobile and said tmobile is the bestest thus far, then call to ask about something and next thing i know I'm in a 2 yr contract with you, i had just finished my frist contract and was so so glad about it i did not want another contract.." what part of i just fulfilled my contract did she not understand???
when i was ready to upgrade to a new phone that is when i wanted are thought would be my upgrade of choice not by trickery!
i think its so so unfair unprofessinal to take advantage of good customer i have now started to use bad language...i have been told that they can put me back to my old plan but my bill would be higher ! why would my bill be higher i fulfilled my end of my contract ...i want to upgrade by my own choice not by trickery please dont take my right from me this way i have been a loyal customer, i'm very unhappy every time i see others bragging about there new phone and look what tmobile has done to me i can not have the choice i wanted to have to upgrade of my own free will not to be tricked by fast talk that is so so evil and I'm very unhappy i can not upgrade to a new cell of my choice without your interference and trickery!!!! i dont want to be ont his plan with you it is by force and trickery that it is so , sencerity esther barton

i was told that i was not due an up grade until 2014 due to a change on my plan that i made when i called trying to get a lower rate for my two lines. i was not told that there would be a two year extension .i am now paying for two phone contracts because i had to open up another contract with another provider to get the phone that i wanted.i think this is un fair because i feel i was mis informed.i have been a loyal customer of tmobile for many years and i feel i should be compensated by dropping one of the lines on the acct. or get the phone that i purchased with the other carrier at the up dated rate

Elina Ellis
from San Antonio, TX
Just got new tmobile service. Had to put a good amount of money down for my new phones which is understandable. I went ahead and paid it wanted to get out of my service for sprint. Checked my bill and come April 19 I'm expected to pay 969. Which is interesting to me because it was not covered in my contract or covered by the store rep that I would need to pay a line deposit for each line. So I called customer service there answer to me from the rep, supervisor and managers plus accounting that there is nothing they can do for me. I need to pay the line deposits and will not get back for a year. My problem is I owe less than 800 on the equipment I financed if I decide to pay off early and switch companies do I lose my deposit. Seems like tmobile is forcing people into a contract. Which is not what tmobile advertises so I guess that is false advertising. So for less than 800 I can pay my phones off cancel my service and take my equipment else where or just cancel service and be done with tmobile.
I don't like being lied to and not telling me everything up front. Surprise me with hidden fees and tmobile advertises no hidden fees hmm something weird is going on here. I'm planning on taking my business else where. Thank you and have a nice day.

Monica Zackery
from Indianapolis, IN
I have been a T-Mobile customer for a little over five years while residing in Nashville TN, I was also a customer when I lived in Pittsburgh, PA. My reason for contacting you is for the last 6-8 weeks I've contacted T-Mobile regarding dropping two lines that were associated with my account. Each time I called I was given a different answer. I would speak with customer care and they would refer me to the store, I would go into the store and they would refer me back to customer care. But with each encounter I was given a different answer on how to resolve the issue. I was finally able to get the lines removed. On Monday 3/26/18 made a payment of $115 due to the fact when I spoke with a representative on 3/23/18 I was advised I had a past due of $50.00. On Tuesday 3/27/18 my services were disconnected, I was driving to work and speaking with an associate and asked her if she would restore my services and I would make a payment on Friday 3/30/18. She told me she wouldn't be able to do so. So there I was driving while it was pouring down rain fumbling around in my purse looking for a credit card to make a payment. Needless to say I swerved and almost ran off the road twice. None the less I made a payment of $75.00. On 3/29/18 I made a payment of $200.00 and received a text message that I owed $546.06. I called back into customer care and was advised this was due to the two lines were dropped in the middle of the billing cycle. My frustration is I have made numerous attempts trying to remove those other two lines and not once did anyone every tell this should be done at a certain time of the month. The gentleman did pro rate my bill for I believe $80.00. I am very dissatisfied that it took almost two months for me to finally get the lines removed and I still wind up with an erroneous cellular bill. I'm not at all pleased with all the mixed communication and mixed signals that I received. With a company this large all associates should be on the same accord. It makes no sense that when a customer calls in regarding services, billing or a question in general the associates just free style with an answer. It is the consumer that keeps your organization running, but in no way is it fair to treat customers like this. The entire ordeal has been extremely frustrating, time consuming and costly. I am honestly thinking about leaving T-Mobile and going to another carrier. I truly feel as though there should be some concessions with this bill considering all of the trouble that I've been through over the last 6-8 weeks.

harvey J Silver
from West Palm Beach, FL
on 3/13/18 i switched to TMobile becuase you have a great offer at Costco.
howeveryour service sucks,got no cell service switching back to Verizon.

Karen Wingate
from Ilford, ENG
My T-Mobile internet connection has slowed down from 3G to 2G.
It has been at the 2G speed now for about over one week now.
This is not good enough I am paying for 3G speed, and I am getting only 2G now.
How long will this slow speed go on for, it is almost unusable, it is so slow.
Get it sorted out now, or I will have to look for an alternative service provider.

Hector F Torres
from Falls Church, VA
Overbilling
Since November 2017, I have been trying to resolve this problem. Today, my fifth call, I was on hold for 2 hours and 15 minutes and no one came to the phone. Last year a replacement phone was shipped to my son. The phone was not the same as he had so he returned the phone immediately. Almost a year after, t-mobile is still charging me for the phone we never had. I have spoken with supervisors and representatives and but no one can resolve. T-mobile does not trust their customer service managers, they have little to no authority to make decisions to satisfy the customer's concern. I wonder if I should contact a lawyer to resolve this.

Marcus
from Watsonville, CA
I recently received a bill from this wireless carrier for service I never elected to receive. Approximately 3 weeks ago I walked into the Capitola CA T-Mobile store to inquire about service. A sales rep tells me that in order for my to be quoted the best rate, I had to provide my Driver license and Social Security no for a credit check. I did so and was assured it would only result in a soft hit to my credit report. For the following two weeks I received calls from the rep asking when I would return to the store to choose my phones and open an account. Shortly thereafter I receive a $150.00 bill in the mail with two unidentified phone numbers connected to wireless service I never contracted to receive.

m.jones
from Cincinnati, OH
I work for a verification company and I called your store located at 1836 Ashley River Road, Charleston ,SC 29407 and spoke with the store manager Delores G, Wow she was very rude and aggressive. I was simply attempting to verify a past employer employment. She was interrogating me, very unprofessional.I will never that location again!!

homar chavez jr
from Laredo, TX
I WENT TO T-MOBILE TO PAY MY BILL AND PURCHASE A TABLET. AT THE STORE THE YOUNG SALES PERSON MADE ME KNOW THAT I HAD THREE TABLETS, MMMM ITS WHEN I WAS NOTIFIED THAT MY EX-WIFE WENT BY AND PLACED A CELLPHONE AND TABLET UNDER MY ACCPOUNT. I ASKED HOW MY EX WIFE HAD THE ACCESS AND THEY TOLD ME THAT SHE WAS A USER. OK. BUT I ASKED HOW SHE OBTAINED MY PASSWORD OR IF SHE DID NOT NEED A PASSWORD.I ALREADY SPOKE TO T-MOLIE AND ARE UNABLE TO HELP THIS IS A POLICY MATTER WANT TO KNOW HOW DID THE SALES PERSON SALE MY EX WIFE WITHOUT CALLING ME OR PASSWORD.

Anthony Greene
from Baltimore, MD
I took my wife to your Route 40 store in Cationsville MD and was treated like (SHIT) A customer service rep sent my wife a replacement phone because her phone would not keep and charge and the young man at the location refuse to give it to her stating that her phone had a hair line scratch on it there for she has to go through her insurance and he was going to ship back the replacement phone. Now my wife explained to the customer service rep over the phone that her phone does not keep any change and when asked about any damage she stated that the phone has a hair line scratch . A phone was shipped out on the 30 of January and arrived at the Route 40 location on Feb. 7, 2018. The way that the guy in the store spoke to my wife was so unprofessional that I had to leave the store and I emailed the store manager. My name is Anthony Greene a Public Health Investigator For The Baltimore County Health Department 443-529-5458 and in all my 10 of dealing with T-Mobile I have never seen such and I have 5 lines with you guys and insurance fir every one and was treated like I didn't matter. I have reported that location to BBB for review because if I'm spending money in your store I shouldn't be told that (it my problem that you're not getting this phone) Staff comments

I contacted the T-mobile office four times this morning and spoke to four different representatives, and on each occasion the line was disconnected. I have been been a T-mobile customer for 13 years, and have three lines of service. After calling back into the office... the service also disconnected. This is poor service, and bad business especially when I called to add a product.
I have also contacted the office about hearing echoing on my line, and computer sounds with no resolution. Hired new staff ? Have you lowered your standard ? Just bad service

Kathryn Venet
from New York, NY
The customer service reps. speak very poor English. It's impossible to understand what they are saying. At minimum if a company is serving U.S. based customers with a computerized product they ought to be able to speak decent English so that the customer can understand! I am beyond frustrated trying to unlock my cell phone which T-mobile locked so that I am unable to transfer carriers. I am perfectly paid up, have always been an excellent customer and I deserve decent treatment. This is the worst company I have ever dealt with.

Renard Young
from Los Angeles, CA
My complaint is about the Tmobile REVVL phone. I've had my service with Tmobile for about 4 months. When I purchased the REVVL phone, I asked about the head set that comes with "ALL" phones and the rep told me the phone doesn't comes with a head set. I thought that's strange with it being a law to have a head set on when driving and on the phone. Every since I've had the phone it's been a problem. I call someone or.they call me I would lose that call and have to call them back. Very difficult and unprofessional as a business man to loose a important call. I've spoken with 2 different reps about the phone, calls dropping as well as me not being able to respond to a group text. One said he didn't know why, the other rep told me that the phone sending the text maybe texting a big file. I showed him the file and it was small. So I have a phone that continues to drop calls and people I'm doing business with send a group text, I can't respond to it. This REVVL phone needs to be recalled because it is terrible. The service at Tmobile is great, but I'm stuck with a phone that wasn't explained clearly to me what could be a problem. They did tell me to turn my phone off everyday for 10 seconds. I need help in getting rid of this REVVL phone into something a whole lot better. Can someone please help me, very frustrated with this phone. Thank you

LUCILLE WILLIAMS GANTT
from The Bronx, NY
I CALLED YOUR SERVICE DEPARTMENT FOR A PROBLEM MY PHONE PURCHASE FOR MONTHS AGO WOULD NOT CHARGE THE PHONE WAS SHIPPED TO THE STORE IN THE BRONX ON METROPOLITAN AVENUE AND WHEN I WENT TO PICK IT UP I WAS TOLD BECAUSE I CANCELLED MY SERVICE I COULD NOT GET THE PHONE. THE REQUEST FOR REPLACEMENT WAS PUT IN BEFORE THE SERVICE WAS CANCELLED. THE REASON THE SERVICE WAS CANCELLED CHECK MY RECORDS ABOUT ME COMPLAINING ABOUT THE SERVICE THIS STORE GIVE TO CUSTOMERS WHICH IS NO GOOD FROM MANAGER ON DOWN I PURCHASE THIS PHONE FOR 123.00 AND IF I HAVE A WARRANTY THE PHONE SURPOSE TO BE REPLACED YOU DO NOT HAVE ANYTHING IN THE CONTRACT STATING THAT IF YOU CANCEL THE SERVICE YOU DO NOT GET A REPLACEMENT PHONE
CAN YOU HELP RESOLVE THIS ISSUE OR I WILL TAKE IT TO THE BETTER BUSSINESS
MY TELEPHONE NUBER WAS 718-844-4108
LUCILLE WILLIAMS GANTT
1113 LELAND AVENUE
BRONX, NEW YORK 10472
EMAIL: LUCILWILLIA@AOL.COM
718-823-7399

Denetria Adams
from Chicago, IL
I have been a T-Mobile customer for over 17 years, I have paid my money faithfully all of the 17 years. T-Mobile use to offer perks for it's loyal customers which made us feel like we were value to there company, now T-Mobile don't offer it's loyal customers anything but are continuing to go up on it's rates. T-Mobile is not showing its customers appreciations for their business, so I think I want to take my money to another company that appreciate me doing business with them.

Yvette Salas
from Canyon Country, CA
I am extremely upset about the service and the principles behind T-mobile. Here's my situation: I currently have 3 lines with t-mobile 1 of which I cancelled today. When I ordered the third line I specifically told the agent that I HAD TO HAVE the $15 dollar add on for International Calls. I had the piece of mind all month since my parents were using the phone because I know they call out to Argentina and Mexico all the time. At the end of that first billing cycle of this line I receive a bill for over $927.00 that includes over $797.00 worth of international call charges. I immediately stopped payment on the bill and since then over a week ago I've been trying to get your customer service to pull the recording of the call when they set up this line to prove to them that they didn't add the $15 dollars in their error, I specially mentioned that I needed that add on about 100 times on the call. I currently have this add on on my line which is the primary number on the line so that is why I was very specific about adding it to this line know that my parents would be calling out internationally. The first gentleman that helped me over a week ago told me he would need time to pull the recordings etc. Once I received the call back via voicemail and called back the other gentleman that helped me told me they couldn't just pull the recordings for anything that it was very difficult. Then I asked to speak to his supervisor which says they don't use the recording for this purposes even though the recordings say " This call can be used for quality purposes" then towards the end of the call the supervisor says she did listen to the recordings and didn't find anything and then asked her why have you guys been telling me that you can't listen to the recordings and now you said you did. I then told her if she listened to the entire call since it was about 30-40 mins longs, she didn't respond to the question.
The fact is that the customer here has NO PROTECTION the supervisor told me that she was going to see what the agent said and they are basing everything off the notes in the system and because they all know each other there is this community between the staff that they are basing it off what they say. But everyone knows in life there is human error, so now, it's the agents word against mine, why can't they pull the recordings when you are claiming that they are there for Quality assurance?? Than the supervisor told me they are used for training and something about there being 900 agents. How is that the customer's problem. I am one customer with a BIG BILL being charged in ERROR if you are not willing to do you due diligence how is it OKAY to charge me this bill. It's your job to show me the proof that I didn't do my part if that is what you guys are claiming but I am positive that I added the $15 dollar feature.
PLEASE Have someone call me IMMEDIATELY I need someone to take ownership over this Claim I don't want to have to escalate this to a court of law, it's not right to charge a client the mistake your agents made, and your company is not even willing to properly investigate this matter.

CAROLYN H.
from Palm Bay, FL
I called TeamMobile Customer Service on 1/25/18 to cancel my service and told them I was switching carriers. I spoke to three different agents, one of them supposedly being a manager. I was promised by the first agent, Jolo, that my account would not be charged that day for a month of service; he in fact said he 'had stopped the payment.' He also said I had a $10.00 credit on my account that could not be given back to me. I asked to speak to a manager or supervisor three times before he switched me over to Summer, the supposed manager. Summer promised me my credit card would not be charged and that the $10.00 credit on my account would be refunded back to my credit card on 1/25/18. She said she was transferring me to the Billing department who would take care of everything. I was transferred back to Customer Service. This third rep told me he 'could not do anything for me because I didn't have the ID numbers of the people I had talked to (although I had their names.) Question: if the damn ID number is so important, why don't Reps give it to you when they first give you their name? I checked my credit card today and TeamMobile did bill for the month's payment although my TeamMobile account is closed now. They also did not refund my $10.00 credit to this same credit card. I called TeamMobile customer service today, 1/29/18, and spoke with Sean. I asked for a manager twice and was told he 'was going to switch me to the Loyalty Team.' I was switched to Tiny (Web ID # 2045400), and again asked for a supervisor twice. Tiny stated that my account had notes stating that 'for any matters, to call Midland- a company that my TeamMobile account was sold to.' Tiny could not give me any information on when my account was sold to Midland, or what type of company Midland was. Tiny gave me the number for Midland and I called them. Midland is a debt management company, and they report having nothing on file for me. I called a different TeamMobile Customer Service number (there are many numbers, which is very confusing.) I got Rep Jen (Web ID # 308785.) Again, I asked for a Supervisor three times. Jen said she needed to switch me to the 'Prepaid department before I could speak to a Supervisor.' I was switched to another department, then was on hold for over 10 minutes. I hung up, as I spent over an hour on the phone with TeamMobile Reps on 1/25/18, and today have spent over another half hour attempting to get a Supervisor. I am going to file a stop payment notice with my credit card company next. I was a TeamMobile customer for ten plus years; because of this extremely poor customer service, I will NEVER return to TeamMobile, and I will advise anyone never to sign up with TeamMobile.

wayne tindall
from Hightstown, NJ
calling t-mobile on all of the service numbers are sent to the same taped message and ask the caller to enter the number they called you from. when the call is incoming to them. Talking to a rep on a billing questing is impossible. I cant stand t-mobile and will change companys as soon as poss..

Kristin Dinder KDAdvocacy LLc
from Allentown, PA
They have stolen my paid for AT&T 2s8 phones and 1 s8plus. I have been charged device payments since 9/2/17 and no compensation for switchover! Best part is they keep adding lines to my business account without my signature or authority! This is a case of fraud and theft by deception at its finest. They now have 24hrs to rectify this entire mess before I submit to my legal dept and they are reimbursing me more than 2100.00!

Were do I begin first of all the service is just awful I mean awful you people should be ashamed of even advertising your products anywhere because the fact of the matter is that your service and your products are disgraceful. I have never in my life have I ever had so much difficulty with a cell phone provider ever!! I regret the day I ever made the decision to sign up with T-Mobile . The best decision I made was leaving T-Mobile and going back to my original carrier. At least they care about their customers. All you people care about is MONEY!! you could care less about your customers as long as you have your money that is all that's important. And your customer service department wow they don't care at all they couldn't even fix the problem I was having with my phone and you people would suspend my service for no apparent reason. I am glad I left and I will never ever ever ever ever ever ever ever come back EVER!!!! I have already begun to tell all those I know and those who have service with you people to either make every effort to leave or to never in a million years do business with you people EVER!!!!!! Thanks a lot for ummmm lets see NOTHING!!!! and if I could rate this with no stars I would you don't even deserve one.

Kendra Smith
from Charlotte, NC
1st issue: Called in to get my number changed Rep charged my debit card with out my knowledge. Called back in and the rep stated that she would credit my acct. I asked the rep to put the money toward my payment agreement. ( didn't happen).. Called back in spoke to a different rep and she was able to take the money and put it toward my payment agreement... She also stated that it wouldn't change my payment AGREEMENT and that every thing was going to stay the same and she then took a 14.00 payment from me. I kept getting alerts on my phone telling me that i needed to pay my bill or set a payment agreement which i had already did. I called back in and that's when everything went down hill they were unable to kept the present PAYMENT AGREEMENT AND THE CURRENT AMOUNT WENT UP THAT WAS DUE AND THE DATES HAD BEEN CHANGED. THE DATED I STATED WITH WERE NOV 21 31.50 AND DEC 5 125.00 NOW THE DATES I HAVE CHANED TO ME MAKING A NOTHER PAYMENT ON THE 30TH AND THE THIRD THOSE DATES DONT WORK FOR ME AND THE REPS KEEP TELLING ME THAT THEY CANT CHANGE THEM BACK TO WHAT THEY WERE THIS IS NOT RIGHT AND SOMETHING NEEDS TO BE DONE.

Marc Epstein
from Los Angeles, CA
I planned to travel to Peru and saw on T-Mobile's website that I could get data in Peru "worry free" (see attached screenshot from T-Mobile's website at https://www.t-mobile.com/optional-services/roaming.html). I went to a T-Mobile store in Hollywood, California, and they assured me that I would be able to get data in Peru using T-Mobile's SIM cards, so I signed up for T-Mobile ONE Unlimited plans for both my iPhone and iPad. But in Lima, Peru (the capital and largest city in Peru), I could not get data and thus could not use Google Maps, which made navigating very difficult. While in Lima, I spent over 3 hours with T-Mobile customer service trying changes to settings on my devices, all to no avail. When I returned to the U.S., I asked T-Mobile for a credit for the time I was in Peru. I spent 2 hours being transferred from one T-Mobile employee to another, finally being turned down by a supervisor in the Retention department (Ashley in South Florida) who claimed that T-Mobile could not guarantee that T-Mobile's SIM cards would work in other countries and that she could not and would not issue a credit other than $25 which was a proration but not equal to the amount T-Mobile had charged my credit card for the time I was in Peru. T-Mobile should have refunded $170. Based on my experience, T-Mobile should not be trusted to provide data outside of the U.S. or to refund charges to which T-Mobile is not entitled.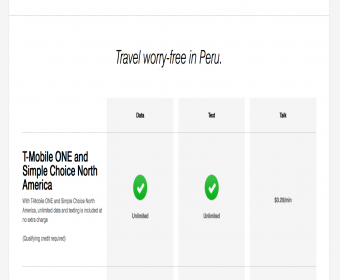 Devin Brooks
from Emporia, KS
I've had ongoing problems with T-Mobile since I've been on it for the last year almost every time my bill is due they'll send me a message saying it's due in 3 days but take the money out before the bills do causing my bank account to go into overdraft fee because they're taking it out before was supposed to then when I called to complain they tell me will take care of it if you have any problems and need an extended period to pay your bill give us a call but when you called them they said they can't do nothing for anyone if they're on prepaid and they have to come to postpone or start a contract, you can't get a word in edgewise with any representative they seem uncaring unemotional and unsupportive to your plight and just downright one of the most disrespectful phone companies I've ever had the displeasure of dealing with, how can you be one of the top phone companies with all the service and reliability if you can't even help your customers with the simplest complaints all you can do is brush them off, I expected reconsolidation after the third time they took money out of my account to pay my bill that wasn't do yet it's shameful

Timon Wafer
from Irving, TX
Tmoblie is the worst customer service company in the world.... they took my money and do not horror there primises.... I was tlkes into buying 2 Samsung S8s and it was a buy 1 get 1 free.... once i tried to redeem the free phone.... they would not give me the money for the phone that rhey said was fee.... they gave me a code but when i went on line to put the cose in... it did not work.... so now I have to get my attorney to take this case on and try to make them horror THERE promo....

William Kroeger
from Metairie, LA
I used T-mobile services for 3-4 years, basic plan, flip phone. Every time I purchased additional time
for the phone, the actual minutes I received was less than the amount of minutes I purchased.
When addressing the problem with store where the purchase was made, a rather vague explanation was given and
the actual amount of minutes was then added to my account. I was switched to a new plan during my last visit
to T-Mobile which seemed ideal for me and for the minutes promised, seemed like a good deal. Once on the new
plan however, I was contacted monthly that I had exhausted the monthly limits. I use the phone very infrequently and
find it difficult to believe I had used the monthly allotment. Because of these issues I decided to move to another carrier.
I want to use my existing phone with the new carrier, however the phone is locked. I made a request to T-Mobile
on 11/09/17 for an unlock code and was told a request was forwarded to Samsung for the code and it would be forwarded
to me once received. Still waiting for code. From research done, I believe the code actually comes from T-Mobile and this
is another reason I will never do business with your company in the future. Will file a complaint with the FCC if code is not received.
.

Gi Wilson
from Indianapolis, IN
My daughter (adult and disabled) paid forward more than $800 on her Tmobile account. When her phone was cloned and made unusable, she was told to take it into a store. Store personnel said they coudn't help. Finally, she was allowed to deactivate her account but there was a remaining credit of more than $600. She requested deactivation in August. Tmobile said they could not perform same until the next billing cycle which turned out to be October. Now the credit is down to $400+ dollars. Twice she was told her refund was in process. The first time it was to be a Visa prepaid card. The next time (a month later) it was to be a check which was to have been delivered November 6, 2017. It's now November 9. Still nothing. How is it they can keep jerking her around and keeping her money?

owens
from Fayetteville, NC
I have spoken with Several Agents REGARDING A STOLEN PHONE,MOST REPS.VERY UNHELPFUL.
THE LATEST REPRESANTITIVE NAME WAS ALEX,HE'S CLUELESS.
VERY, VERY, FRUSTRATING.I WILL NOW HAVE TO GO TO A T MOBILE STORE.
THOSE NEWEST AGENTS MAKE ME WANNA SWITCH TO SPRINT!
THANK YOU. SORRY TO BOTHER YOU.

I filed a complaint over a week ago. I have called on NUMEROUS occassions!!!!! I phoned spoke with someone 10-31-17. Was told it hadn't been
sent out because of $20.00 that was due. Now I should have been told this while I was in the STORE!!!! Now upon my phone call yesterday I requested that the phone be sent to my JOB!!! It is time for me to go. STILL HAVE NOT RECEIVED MY DAMN PHONE!!!!!! I have a order of protection and my PHONE IS NEEDED!!!!!! I do not have a LAND LINE!! MY CELL IS MY ONLY MEANS OF COMMUNITCATION!!!!!!!. SO YOU KNOW WHAT. I am going to make sure that should something HAPPEN TO ME, that your ASSES will be held accountable!!!

Lance Tennyson
from Brooklyn, NY
I had issues with my iPhone, so I stopped by the t-mobile store on South Main Street in Portchester, NY. I don't think it's appropriate for the employees and also the management in the store to tell the customers not to stand and the rug by the door in the store, either you get off the rug or you go outside the store, remind you I have four lines with your company. I asked the manager for the information to file a complaint he refused to provide the information, and dealt with me very disrespectful, it almost got physical, this manager professionalism is the worst, i do hope for continuing business relationships this matter is look into.

Elda J Hernandez
from Renton, WA
I bought a iPhone 7 a year ago and I pay off and I am asking them to unlock it so I can use it in Mexico since is mine now and I call customer service two times in two weeks and they send me a email sayin that I can't and I see no reason why since I pay my bills

DeAndra M Pace
from Brooklyn, NY
I am not happy with the service I received, I brought and Iphone 6e and a Galaxy J7. Now both of these phones are locked on Tmobile and can not be used. I called September 15 about this and was advised that the Iphone would be unlocked with 24-72 hours. After waiting 5 days I called back again. This time I spoke with 3 different representatives and was advised I still owed a balance on the phone. I am not sure why I am showing that balance as to the down payment I initially put down as well as my monthly payments for a bill that should have been 200 dollars and it was almost 400 dollars a month. So how is a phone not paid off that Cost 399.00. Still can not use my phone. I have a child and I work and need a phone all I would like is for this Iphone to be unlocked. The representatives were rude and not very helpful or compassionate at all.

Juan Arthur Perez
from Tyler, TX
Switched from Sprint to TMobile. Was offered a promotional reward to pay off the balance of our I phone from Sprint if we poured over our phone numbers to T-Mobile and send our Sprint I phone to Tmoblie. We did all that was required for the promotional reward (sent our Sprint I phone to T-Mobile and submitted promotional request and last Sprint bill stating our balance for I phone for breaking lease with Sprint. Four months later, T-Mobile said they denied our promotional reward and did not return our Sprint I phone after denying our promotional reward for the balance of our Sprint iPhone. No reason was available for the denial. T-Mobile did not return our Sprint I phone, they stole it. Numerous calls to T-Mobile resulted with promises to return our calls by T-Mobile sups. After 12 calls and all said their sups would return our call within 1 hour, never received a return call. Most pathetic company ever. We're dropping T-Mobile and taking a huge financial loss. I'd rather pay to exit than being associated with thieves and liars.

Last November 2016 black Friday, T-Mobile had the promotion, buy an IPhone 7 or 7plus with a trade-in eligible iPhone (iPhone 5 thru 6) and get $300 credit and the remainder balance is billed credited, meaning they bill you monthly, but it gets credited back to you.
IPhone 7 plus----- $869.99 + Tax
Down Payment--$149.99
-------------------------------------------
Remain Balance ---$ 720.00
Trade-In Credit---- $300 (IPhone 5s Trade in)
Last November 2016 black Friday, my daughter and I went to the T-Mobile store in Savage, MN. I asked the sale's rep to verify if my current plan (Simple Family plan with no unlimited internet service) would be qualified for the IPhone 7 or 7plus with a trade-in eligible iPhone promotion. He confirmed with another sales rep and informed me that my current plan would be qualified. So, we bought the IPhone 7 plus in rose gold but was not able to trade in my daughter's IPhone 5s 16g as they had no rose gold IPhone 7 plus in stock. We were told to come back to the store to do the trade in when the IPhone 7 plus arrived . A week or so later, the IPhone 7plus arrived at our home instead of sending it to the store. We brought in the IPhone 5s to the store, but we were told that since they made the mistake of shipping to our home we need to mail in the trade-in. So, I got it packaged and wrote all the reference number and mailed it.
When the December billing came and I did NOT get the monthly billed credit. I checked my statement and it showed I was enrolled into the promotion, but a week later it showed I was removed from the promotion. I contacted Customer Service and explained the situation. It turns out that I must have an unlimited internet plan to qualify for the promotion. The Customer Rep whom I spoke to went to check with a manager and the manager agreed that because the store sales staff had informed me that I qualify before making the purchase they will give me the credit instead, but I must contact the store to give me the credit since it I made the purchase there. I asked that the Customer Rep put on the case notes what the manager had said.
I contacted John R, the Manager at the T-Mobile store in Savage, MN and explained the whole situation. He said the amount $720 to be credited is too large so it must be done by a higher up Manager (Ruben). John contacted Ruben with the situation and assured me that the $720 credit will be applied the following billing cycle.
January billing came and still no credit. I contacted John again and he contacted Ruben. Again, I was informed it will be applied next billing. The following months nothing ever came through. When I contacted John, he asked that I contact Ruben directly. I called Ruben's Cell and actually got hold of him. I explained the whole situation again and Ruben attempted to give me the credit while in his car, but Ruben said he has bad connection so he will complete the transaction once he is inside and will call me back. He lied. He never call me back. I made several calls and left multiple messages for Ruben but still no return calls.
Finally, I contacted the store manager (John) and told him what had happened. I told John, if they are not going to credit me I am willing to accept another IPhone 7Plus in exchange. But he refused. He contacted Ruben again and promise the credit will be applied next month. Next month's bill came and still no credit. John finally suggest that I contact Customer Service again to see if they can do something now that I have done all that I could and still can't get this situation resolved. We are now in October 2017 already.
I called and spoke to a female customer service rep and explained the entire situation to her. She was very apologetic and can't believe it has been going on for almost ONE YEAR. She needed to do some research and maybe call the store manager and then call me back within 2-3 hours. A week went by and still no call from her. VERY DISPPOINTING!!!
I decided to call customer service back to follow up. I spoke to a young man, he understood my situation and wanted to help me. He put me on hold and contacted the T-Mobile Customer Solution to see what my options are. He then transferred me to a young lady with a heavy accent, it was hard to understand her. She gave me a long explanation and finally said she can give me the credit for $633.99. I told her it should be $720, not $633.99. She went back to explaining but I could not understand her. So I just said, go ahead and apply the $633.99 credit. So $720 - $633.99 = $86.81 that T-Mobile still owes to me.
Throughout this whole process, I have been very professional and very patient. I have 7 lines on my T-Mobile account and have been a long time customer for at least 10 years.
To compensate for this bad experience and for what I went through I request that T-Mobile send me a new IPhone 8 Plus.

Kevin Doherty
from Honolulu, HI
I was just forced to electronically sign your completely one-sided legal equipment agreement in order to order a phone. This agreement is absolutely ridiculous, and required me to basically give up all of my rights as it pertains to my personal information and any kind of legal recourse.
T-Mobile seems to take the stance that "if it's legal - we're gonna do it", whether it's good for our customers or not. No options for opting out of personal information sharing, mandatory arbitration, and no class action. This says a lot about T-Mobile as a company. As a long-time customer, I wanted to write and let you know that 1) I noticed 2) I do not appreciate it and 3) I am concerned about the security of my personal data. The last time i begrudgingly provided T-Mobile with my personal data - you lost it (emphasis added).
I understand that you THINK you are in a position to force your customers to sign these kinds of unfair and one-sided agreements, but it speaks volumes about the corporate culture. I do not appreciate it and urge you to revisit how you treat your loyal customers.
- Kevin

Ed Deguzman
from Piscataway, NJ
Inquired about 55+ with 2 lines plan at the Menlo Park Mall, Edison, NJ retail store and was told I had to call customer service. Called customer service and was told any retail shop can take care of the change. Went to another retail store (Woodbridge Mall, Woodbridge, NJ) and was told they don't do the change and had to call Customer service.. Called customer service again and was told any retail store location can do change because photo id needed. Went to a retail store (299 U.S. 1, Edison, NJ) and was told I needed to go to a corporate retail store. Went to a corporate retail store (32 Parsonage Road, Edison, NJ) and was told they don't do it and had to call customer service. This time, I called customer care while still at this location and told them of my misery, aggravation, frustration, anger, for being bounced back and forth. The rep finally agreed to do it and was passed on to an activation line where they took my wife's information so she can open up her own account under the 55+ plan.
What a nightmare! What kind of customer service is this? If not for my daughter, I would switch in an instant to Verizon or AT&T. After being a customer for more than 2 years, this is what I get.

BETHANY CROSS
from Charlotte, MI
A week ago I went to a ton Ile store because my phone was not working right. The sales girl told me she could not help me I had to call costumer service. I did that and customer service said I needed to go back I to the store so they could help me. I did this because I never left the parking lot. The sales girl only helped while I was on the phone with customer service. As soon as I hung up she said I will just put in the warranty for you and you will have your phone tomorrow. Come to find out after several calls back to the store this never happened. On Thursday my phone finally got ordered under the warranty was told it would come in on Friday the next day. This did not happen. Today Monday a week later my husband's calls the store to ask when the phone would be in. The sales man told him to tell me to come in and they would make it right. So I did. All they did was tell me when the truck might come in. By the way I was told 3pm it is now 336pm no phone yet. While I was at the store I spoke with the manager who said it was my fault and they could not do anything to fix how upset I am. He also said firing the sales girl should be enough. That is not as I still do not have a phone that works. So I'm writing this complete will give you time to come up with a way to fix this before I go to another phone service. This will only be a couple of days. I feel I have wasted enough time and now money because I'm paying for service I can't use.Beth Cross

Ebony Tate
from Killeen, TX
I just started service with tmobile two days ago , the first issue I had was the store I went to convinced me to trade in my iPhone 6plus for a lgk20 telling me it was a better phone because it had newer technology ((LIES)) the phone was horrible it was cheap and nothing close to my iPhone , I was also told that they would hold my phone until the next day because I was really on the fence with buying this phone , I went back to the store yesterday (9/26/2017)) to return the CHEAP phone that was upsold to me for my iPhone ,and tthey told me they already sent my phone in forcing me to keep the CHEAP k20 , so I called the district manager and his solution was to sell me an iPhone 6s .... this phone is wayyyy to small I cant see anything (which is why I had the plus to begin with) I am not an unreasonable person , but I feel an unjustice was done , I am a brand new customer and I am VERY UNHAPPY . If I could get out of this contract I would .

Joel Neft
from Secaucus, NJ
There is no coordination or consistency -- they sent me to the store to return the phone. At the store, they told me I had to ship it back with UPS. After hourso n the phone, I still have no answer. This happens almost weekly with T-mobile-- there customer service is pretty much the worst.

Christine Washington
from Albany, GA
I was admitted to the hospital on Sept. 10 and was not discharged until 8 pm on 09/20/17. Before I left the hospital I talked with John and Guido as well as someone in tech support regarding my phone. My phone (229.296.9699) is completely inoperable and I wanted to know if I could get it repaired. I was informed that it would have to be mailed off and probably take 3-5 days, which I didn't have to wait. On Sept. 21, 2017 I went to the T-Mobile store in Albany and talked with Sales Associates Heather who talked with someone at T-Mobile for several minutes along with the store manager Kimberly. The outcome was that an EC? show that I was eligible for an upgrade but I would have to pay $228 and some change before I could upgrade to a new phone. After this discussion, I left the store to go get some additional funds to be able to take care of this matter. When I got back to the Albany store Kimberly assisted me with the transaction whereby I paid $125.00 in cash and the balance on my VISA debit card. The payment went thru on the store end but T-Mobile is still telling the manager and myself that I still owe the balance which has already been paid and shows up in their system as being processed. However, I was not able to get a phone nor was Kimberly able to get the issue resolved.
Before leaving the T-Mobile store I called and asked to speak with a manager but I was given over to a supervisor who told me that there was nothing that they could do. I in an anger and unprofessional manner told customer service and the supervisor that I couldn't give a damn about what they were saying. I informed them that I had just got out of the hospital and as I live along I need to be able to call 911 or EMS if I have a relapsed of my condition. They didn't give a damn at that point I informed them that if I go home and have a relapsed of my condition this evening, tonight or tomorrow and unable to contact anyone for help I was going to sue T-Mobile. The supervisor or manager was nonchalant about the situation and kept telling me that if would take 24 hours or a day before the issue could be resolved.
The reason I am so upset and extremely pissed off is because I have been a customer with T-Mobile for over 11 years and could not be given any better service even though they had talked with the manager at the Albany Store and she verified the payment. My medical issue is coughing up blood and if I started back I was to call 911 and come back to the hospital. Hopefully for T-Mobile sake and with the God's grace and mercy I will not have an issue where I will have to go back to the hospital.
This makes me really consider whether or not I want to continue to be a T-Mobile customer. Hopefully someone will take the time to read this message and contact me via the email above because I have no phone.

Karen Streich
from Milwaukee, WI
I will be traveling soon to the UK and wanted a prepaid phone that would work. I went 3 times to the store at Southridge Mall in Milwaukee, WI. I spoke to Tom who explained in detail about the plan. I went back the additional 2 times to be sure I understood. When the time came to finalize the info I called the store and found out Tom (the manager) wasn't at that store anymore and no one knew where he was. The person I talked to didn't seem well informed so I went to the store on S. 27St in Milwaukee and talked to Melissa. She gave me different information but seemed very capable so I decided to go there when the time came to get the prepaid phone. I went back Sept. 21st. She got the phone out and was putting information into the computer and found out that I cannot have a prepaid phone for the UK. I would have to go home, thaw out all three credit freezes, come back, buy a regular plan with the international feature added and cancel it when I get back. I already have a Trac Phone which is inexpensive, but meets my needs. I only wanted a phone for travel to the UK, and if I had known ahead of time about removing credit freezes, etc I could have done it weeks ago. Now it's just too much of a rush and I no longer trust that the phone would have worked. I really did due diligence and the fact that I don't have a T-Mobile phone to travel with isn't due to my lack of trying. It is due to employees who were well meaning, but not well trained. I can't be the only person who ever wanted a prepaid phone for foreign travel. After being given 3 different versions of what was available, none of them was correct. Better training could have eliminated a whole truckload of frustration!

Christy Seabrook
from New York, NY
I was advised that I would receive an corporate discount from my job just to be given the run around for almost 2 months. I have been a T-Mobile customer since it was under Suncom. I had a conversation with 2 employees on 9/8 regarding my discount which I was advised (if you would pull the calls) that once I receive my discounts that T-Mobile would retroactive the months that I never received and was advised today 9/20 that I was given the incorrect information from Paula (supervisor) located in Idaho that the information that was provided to me was incorrect. This has been the worst experience that I received from T-Mobile. I will be searching for another provider, clearly your employees were not trained properly to be providing inaccurate information.

Eleanor Tan
from Chicago, IL
I am your customer for almost 16 years and am very dissatisfied with your t-mobile service. I bought my phone in t mobile store and seems they are not very competent to help me as a customer. When I came with my issues the lady said to me that she cannot help me because her job is to sell the phone. that i have to go to computer and call the 1800. Also, before that , the guy who help me to purchase the phone is I felt that he just want to sell the phone with out explanation. I paid my phone in large amount of money. I am sure you can check my billing and the amount.
I am adjunct faculty of one of the College here in Chicago .I met one of my students and found out that she is the manager of tmobile. She explain to me that I really paid too much and end up the right things.
I have to report this issues to someone (Consumer Affairs) because this is taking advantage for those people who trusted your company. Please send me my money back that you owe me. You charge me $500 plus and 244 plus for 2 lines without explanations. Trust is the best to get more people to rely in your company but if you have more complaints then you have more people to go somewhere else. Don't ignore this issues because people chat and talk , Thank you for your attention.

Markela Karalli
from Conshohocken, PA
This complain is regarding the tmobile store at king of prussia. I went and purchased an Iphone 7 plus for which I paid $817 ,cash. I asked and was told by a sales.person named allysia that the phone is unlocked and I can use it the next day if I want in europe. When I asked her to please be sure before I pay for it because I am travelimg in few days and needed.to have a phone with me, her exact words were " no worries, from the 6s the Iphone makes its phones unlocked. I paid cash and left only to return after 4 days and ask for a refund . I was told they dont have the money and I should go and look at other tmobile stores hoping one of them had $817 cash to give me, because they had not made enough sales that day but even if I would come on a saturday they could not guarantee me I would be able to get my money, so I should go looking in other tmobile stores if any of them around the city had enough money or I could get a corporate check .This was unacceptable because when I paid I was not told that if I were to return it I only will get my money if the store has made enough sales that day. After they made some phone calls to other stores and 2 hrs of waiting ,there were no money found so I decided to get a corporate check and wait 14-21 days without phone to get my money back. Then while waiting for the check and after after 2 hrs and 15.min, they searched in the store and in all the registers and found some money and told.me they have to keep $50 restocking fee? For their mistake which the employee admitted in front of everyone? If you could check the cameras you will see what happened on Thursday, sept 14 2017 , 6-8:15. This was the worst service I have seen, the worst way I was treated from a store and its managers. And in the end they robbed $50 from me. I have been a tmobile customer for more than 15 years and this is not a way you should treat your customers. One of the managers that dropped by suddenly told me : " we dont have any money to give you , those are the only 2 options you have so either take it or leave it" unbelievable. I am requesting that the $50 they kept as "restocking fee" to be returned to me because it was their

Mr Richard J Agnusich
from Clearwater, FL
TINASHA.......In TENN..Could Not Help Me With Problem. (tech Dept) She Is Unqualified To Hold That position In My Opinion.t) She Kept Talking Over Me. When I was Trying To Get Help. The Tower Was Down Or What''? Please Educate.The person She Is Inept in Her job. I'm Very Un happy with Your Service On This Date 9/11/2017 EST 1PM.

Diane Tidwell
from St Louis, MO
This is an example of how NOT to handle a identity theft issue!!!
I have file a police report as my account information and personal identification information was stolen/utilized by employee (sales agents) at the Bartlett TN location. Back in June 30th someone purchased an iPhone 7 and accessories on my account. Once I noted the issue, I have made over 10 phone calls to the customer service line with request for follow up. To date, I have received little to "no" follow up or feedback. At this point, I feel victimized twice ... Once by the sales associate and second by the lack of ownership by someone to ensure complete resolution. I hope this compliant will result in an outreach from T-Mobile's escalation team ... I'm considering cancelling my services and going to another provider.

Robert Walling
from Fowlerville, MI
T-Mobil is the last carrier I will ever purchase from. They basically, stole 3 relatively new Sprint IPhone's from me.
We took them up on their supposed better service and savings only to find that their coverage was well less then what it was proclaimed to be. We could barely get service from our home which is 6 miles outside a the Capitol city of MI, Lansing.
When we "switched" to them they had us send to them our 3 sprint (*nearly new*) Iphone's with the promise of paying any fees associated to switching to them as well as crediting us 250 per phone for the IPhone's that we send them, at the time these were the top phone (5S). Well, that didn't happen, they had us ship to them the phones in their provided boxes with their provided labels and then after asking repeatedly for our credits they told us that they never received them.... I asked them how that could possibly be the case since they provided the method to get these back to them. We went back and forth with them for several months and finally became tired of not getting anywhere. We then went back to Sprint and have been happy with our service since. After letting T-Mobil know that we switched they not only stole our phones but sent a collection agency after us to pay them for the balance (equipment) that *they* say they were owed for. We tried repeatedly to deal with them to get the proper credits we were promised and would gladly pay any difference once we received them but they did not comply with their promises.
I have had cell service with all of the major providers at one point in time or another and T-Mobil is by far the worst as well as the most dishonest. We are looking for answers in how to file legal action against them but they are the big company and me the average consume... I would like to have this resolved so they can stop damaging my otherwise perfect credit! We still have all of the shipping information that they had us send them our equipment with.
Looking for answers?
Thanks
Robert

Fernando Franco
from Long Beach, CA
I was offered a plan of $130 for 4 phones unlimited with $10 off with auto pay, total of $120 after rebate. Ever since taking the offer I been in constant dispute with T-Mobile. At first, they said I had a different plan then after several disputes they would find the plan the offered me, then followed by a assurance that it would not happen again, but it kept on happening after each bill. The last dispute they claimed that don't have any such plain and that I was mislead. they offered a $200 rebate for my problem which I refuse. I would like for T-Mobile to honor what they promise

Carole Jordan
from Spokane, WA
On July 11,2017 I reported my phone(Galaxy note3) lost service.
I deal with tracfone for the free service. I purchased a sim card for t mobile, which is compatible with tracfone service.
Having trouble getting it actived since I complained on 7/11/17.
Tracfone contacted t mobile about the problem on 9/2/17. We were told I'd have activation within 2-4 hrs. It's now 9/10/17 & still no service.
Now they tel me my sim card has expired & it will be 7-10 business days to send me the new one.!
You can't believe how frustrating this has been!! This is 3 months now without a phone, as a senior on a low fixed income, I'm unable to purchase even the cheapest hone.
What is the solution to this?

Sami Dirbashi
from Richardson, TX
I need to make a complaint regarding the bill we have been receiving. I do not owe T-Mobile any amount since the last payment was made for $114.81 on 5/5/17, which was for the service period of 5/15/17 – 6/15/17. On 6/10/17 I called T-Mobile notifying that we were cancelling the service effective 6/10/17. I switched the service to MetroPCS on the same day, 6/10/17. I actually called T-Mobile from the MetroPCS store.
On 8/3/17 I received the bill for $509.79. When I spoke to Cheyenne (her Rep. ID 40517), a T-Mobile representative, I was told that it was for 1) Device we had from T-Mobile not returned 2) One line (my daughter, Nadia's line), and 3) Service charge from 6/15/17. Cheyenne acknowledged that 1) I would return the device (I sent it back to T-Mobile by UPS next day.); 2) Service for Nadia's line had been separated from mine; and 3) I cancelled the service with T-Mobile effective 6/10/17. She promised to clear this charge and make our balance 0.
On 9/1/17 I received the bill for $142.08. According to Belle (rep ID 280989), our balance shows 0, and she would text me the confirmation. She also suggested me to go to a local T-Mobile store. I never received text from her. When I went to the T-Mobile store close to my house this morning, I was told that I owe $142.08.
As I mentioned above, my last payment was made for 5/15/17 – 6/15/17, and I cancelled the service on 6/10/17. Therefore, I owe T-Mobile absolutely nothing!
I am a long time customer of T-Mobile who never failed the payment on time. I don't understand why I have been treated like this. I switched to MetroPCS, which is your own affiliated company!
I am looking forward to receiving the statement showing 0 balances.

Ellen Savage
from Philadelphia, PA
I purchased a 2nd line phone for my husband on 8/3/17 for a gift, but my husband is loosing his eye sight, I called T-mobile and stated that I have to go to a store so my husband can pick one out.
The lady send me a return label per e-mail. I sent it back on 8/8/ 17 per Courtney instruction.She also corrected my phone bill to $50.00 per month. I am 71 years old and will be issued credit.
I called back on 8/15/17 spoke with George who stated that they received my phn. and I will see credit on my charge account on the 8/19/17.
On 8/16/17 I spoke with Miquel after looking at my account on the website and found mistakes he said he adjusted my account
On 8/24/17 I spoke with Raya who said credit was issued on 8-19-17 She also adjusted my account again. Because it kept going up.
On 8/28/17 my statement on line says I owe $80.38 I supposed to get a $30.00 credit. Also no $106.00 credit to my credit card.
I had spoken with Nicco employee # 19460811 who credit my account down to $30.00 for September who stated he will look into why I did not received my $106.00.
I am on Social Security, who needs her money, so I can purchase a 2nd phone for my Husband
Please advise ASP
Ellen Savage

Summer Elder
from Orlando, FL
Last week, my sons phone just stopped connecting to the Tmobile network. I called Tech support to troubleshoot it, they recommended going into a store to see if the SIM card was bad.
I visited a store located on Roosevelt Blvd in Jax, Fl. The employee there told me the device was the problem, not the SIM card. The device still worked fine, it just couldn't connect to internet/ calling network. This employee initially told me he could switch out this phone for a new one with no changes in my monthly payments or overall costs, since this device wasn't that old. I agreed.. And then he tried to have me pay 76.00 for various fees.
I had him stop, put my current device back together and declined. It is not my fault this device just suddenly and inexplicably won't connect to the network.
I then called customer service. I spoke with Jeffrey in IT who again tried to troubleshoot the device unsuccessfully. He apologized, realized the device was NOT old enough to be having this problem and offered to set something up internally. He arranged a replacement phone, free of charge, to be shipped to another local store in Jax, Fl on 103rd St. I explained to him that my current device did have a screen crack and had for some time. He said this was not an issue.
When I went in today to finally get this new phone, the rep at the 103 St location,( Asst Manager, Romnick), REFUSED to give me the phone they received because my current phone screen had a crack. I attempted repeatedly to explain the process of what happened to him. He refused me when I asked to speak to a manager. He refused to provide me any contact information for anyone in Managements. When I pressed him, he gave me the WRONG e-mail address for the General Manager. He didn't apologize or even care to listen to any words that left my mouth.
I called Customer Service from the store and spoke with Drew in Boise, Idaho. He apologized and stated he would ship a different replacement phone to my home, overnight, free of charge. I'm expecting it tomorrow.
This employee at the 103rd location needs to be FIRED. I want correct contact information for management at this location.
I've been a customer for over 10 years and NEVER should have been treated this way. Ill keep reaching out to every senior level associate in this company if necessary. This person was HORRIBLE and this experience us ridiculous.
Have feedback for T-Mobile?
Thanks for your feedback!
Sorry. Please try again later!