Sprint
Sprint Complaints Continued... (Page 7)
721+ reviews added so far. Upset? Call Sprint corporate: 1-800-777-4681

Yvonne W
from Antioch, CA
Husbands mother passed away in the Netherlands - Called and explained situation - Sprint offered me international call roaming at 4 cent per minute. Told that It would be a 5.00 dollar monthly fee. Agreed - Received bill - 356.56 - Charged me .99 cents per minute, a 5.00 Japan roaming fee and a 40.00 Multi Country calling - What the hell happened to 5.00 dollars a month? Called but got no where as usual - Sprint reps are either the dumbest customer service reps on earth or Sprint does not train them to give accurate information and it's not fair that I have to pay for that. It's so frustrating dealing with them. I could go on.........many other "mis" information received on various matters and plan changes. I think they are dishonest.

Roy Gene Matulewic
from Ballwin, MO
I switched to the new family plan that is well advertised up to ten lines for under $100.00 per month with shared 20 GB. I agreed yo a monthly bill of $110.00 per month at the time of ordering the new phone I paid $200.00 something for some fees? within 15 days I found Sprint to have a bill for me in the amount of $375.00 saying the first month would be doubled up to transfer over to the new plan? I paid that amount! Well within 30 days Sprint had another bill for me in the amount of over $200.00? I then called to sit on hold a seemingly endless amount of time to get to someone calling themselves a supervisor? He claimed to have found the problem and fixed it?
At that time I paid $110.00 the amount I am supposed to pay! The next month the same program another person claiming to be a supervisor claiming to solve the problem? Now Sprint saying I owe them even more money? this has gone on for four or five months now Sprint is now threatening to turn off my phones? They are saying I owe them almost $600.00? And they are still more than happy to find the problem and lie and say that it will be taken care of? I have now wasted some 20 hours of my life trying to get Sprint to fix their problem and not at my expense? Is this the way that Sprint does it's business? I think I have the answer to that already? I have friends having the same exact thing happening to them!
Sprint is a company I have dealt with for years, but at this point I believe this to be a company of lazy thieves that have absolutely no problem in telling a lie or two like it will be taken care of? Rate my experience negative customer satisfaction? I guess your company no longer needs that you can just steal from customers!

Miracle Clark
from Austell, GA
We ordered new the new IPhone 6 after Sprint advertised the $60 monthly plan. They were ordered over the phone and the representative told us we could either pay for the phones up front with a 2 yr contract at $200 which is what we usually do or get on the new easy pay plan and pay nothing up front. We opted to go the usual route instead of making additional monthly lease payments. However when we received our bill we found a $25 charge we did not understand. After calling sprint they said someone would have to call me back in 3 days to resolve the issue and they would have to listen to the actual call. I ended up calling them and after being on the phone for almost two hours to speak to a supervisor they only told me that my phone was discounted and I would have to pay the additional $25 to cover the cost of the phone. I have bought phones in the past and the tradeoff for the discounted phone is signing a two year contract.
The supervisor said that was not the case I still have to pay which means I will end up paying $800 for the phone plus be tied to a two year contract. I explained that is not what your rep stated when we made the purchase and the additional $25 was never mentioned. They did not care, they offered me $20 and to switch me to another plan that was $5 a month less than what I was paying ($85 instead of $60). This is disgraceful. They sell lies to make a commission and then the company refuses to honor what was actually promised. They stick you with higher payments and refuse to hold their representatives accountable for the false information given to customers. Sprint is cheating people out of their hard earned money with lies and false advertising. I want to return this product and get my money back but since it's been more than 14 days they want to charge me a penalty on top of everything else.

Robert Sotomayor
from San Francisco, CA
I held a CHAT session with Sprint about changing calling plans in hopes of reducing my bill. I was told I could change over to their Family Share Plan that they advertise on TV. I was told that my new monthly bill which would include 5 lines and a tablet would be $158+taxes. This quote was sent to me via their chat log. I received my current months bill and my bill was over $300.00. I called to understand why and was told that there were several fees that were being charged and would be charged on a monthly go forth basis and thus my bill would be substantially higher than what was quoted to me. After sending fax documents to Broken Promises team, a follow up call and chat, with no response, emails to their media team I finally got a response back from their executive / regulatory relations team who responded and issued credits for the fees on the current bill. However, they still continue to state that future bills will be approximately $290 a month. This amount is still $100 more than what I was expecting and what I was previously being billed.
I re-contacted them advised them that this amount is still greater than what I was quoted and had in writing from them and expect them to honor their quote. I'd also note that this new amount is also almost a hundred dollars more than my previous bill and plan and had I known and been advised of these added costs then I would have never opted to change my plan in the 1st place. As of this complaint I have not heard back from Sprint and have also pursued official complaints with the CFPB and the FCC regarding what I consider deceptive and bait and switch type tactics being employed by Sprint. They need to be held accountable and be made to honor the word of their team members.

My son was a victim of "phishing " and he is incarcerated at this time and I'm trying to fight this hefty bill for him that he received of an account that was fraudulently opened up in his name just before he went to jail while he was homeless. And what does sprint do-SEND IT TO COLLECTIONS. The same thing happened to him with verizon. I'm afraid this will be a huge fight just like verizon was. They make themselves so unattainable-you can't get ahold of anyone.In the meantime his credit is screwed.

Husband and I were with Sprint several years. Husband passed away recently I and called to get his phone turned off and account/plan changed since it is just me now. (I have the death certificate, Will filed, durable Power of Atty, etc etc.). I was eventually told (after checking with his Supervisor) that this could ONLY be handled in person in a Sprint Store and to go to my nearest Sprint store for this. I could not email, fax or mail in the death certificate or any other papers they would need. So, I went to my nearest Sprint store and was told there I need to go to a Sprint Corporate Sprint Store 20 miles from here, which is again "the only place that handles this matter".
Who knows? I may end up having to drive to their Corporate HQ in another State to deal with this relatively simple matter: File death cert and create new account/plan in widow's name, same address, bank, financial info. How stupidly, but so far no one in the company knows what to do with this "unusual" matter. To give you a concept of how bad the Customer Service is: So far, in dealing with my husband's death I've gotten far, far better service from the Social Security Administration and the IRS than Sprint.

I canceled my sprint service November 16th 2011. I have just learned that I will be billed for the entire month because I did not cancel my service at the end of the old cycle ( Nov 9th ) If I had canceled my service Nov. 9th then I would have had an early termination fee. Now I expect my service to be canceled effective 11/14/2011 as requested via chat on line. The new charges should be prorated for the few days I took to cancel. The closest billing cycle is the past billing cycle. I will be submitting a formal compliant with the FTC and I'm considering a small claims court.

I have had issues with my phone resetting for months. I have called numerous times and visited a sprint store in Huber Heights August 8th where a tech told me he replaced my ear piece, took everything apart and put it back together. If it continued to give me problems I was assured they would order me a new one. As a busy father of 3 I work 12 hr thirds so did not apprciate when I called back tonight being asked why I hadnt taken it back since. I had a rep take my info last Wednesday, confirm with me it was on it's way and I even had a phoneway survey about the experience! When the phone didn't arrive Friday.I called and another rep told me it was in transit. Today I am told NONE of this waa documented and made to feel like a liar and an idiot. For an issue as simple as my evo 3d not working as it should I am shocked I was liedto and trwated so rude. I pay nearky $200 a month and we pay for insurance on equationour phones. I expect MUCH better treatment for a company I pay my hard earned money to! I have dwcided to.contact the bbb if this is not resolved as I have in my phone history the times I called AND it should be documented in my sprint bill. Nice try sprint, I can prove I was told a new phone was coming, twice. Even though you claim there is jo call record.

when I talked to customer service about purchasing a internet broadband for my dest top computor, and other computors in my house, your agent said they have the device that will give me internet connection, so we worked out agreement" add a two yr agreement" once I got the device it was for a single computor and that it was not what I was looking for, I was looking for mutipal connections. Other things was happening drop websites, frozen pages, vary slow and no connectivity. I have complaint from day one when I got the device nothing happen. So I file a law siut with other customers over your 4G broadband device. I hope you got this messege.

This is how low Sprint phone service is.....my husband died but prior to his death we asked Sprint to turn off his cellphone service while he was in hospice. (They did that) Once he passed away I called the company to have his cellphone removed from the family plan account. First they turned off all the phones and I had to call back and get the phones that belonged to live family members turned back on. Then after I transferred all the account information to a NEW account, they sent me a bill on the old account for "early withdrawal" to my husband. He died, he did not withdrawal from the account due to dissatisfaction with the company he DIED. Plain and simple.
After fining yet another complaint to the company about the billing they now what someone to take over the now CLOSED account. Hmmm I m confused all the way around. Why does a dead man still receive billing from Sprint? Are they really hard up for money that they are going over board with their billing department. What is the problem here? Can anyone explain why this so called company has so many departments that they do not know what one offices is doing vs. the other. Needless to day these people are morons.

Dear Sprint customer service. I have been a customer with Sprint for nearly a decade and have never had an issue with Sprint until recently. On January 21, 2013, I called customer service to inquire about a family plan. The customer service representative told me that because I have been a longtime customer, I was eligible to receive an upgrade. I enquired about the cost and he told me that it would be $75 a month with a $125 one-time- fee for the initial set-up. I agreed with the terms that the customer service representative expressed to me.
They told me that they were going to send the two phones via UPS and I received them January 23, 2013, two days later. Upon receiving the package, I opened the package and called customer service to activate the phones. At that point, customer service told me that the cost would be $150 as opposed to the $75 a month, communicated to me prior. I expressed to the customer service representative that I could not afford to pay the price of $150 a month. The representative told me to send the phones back and all the contents of the package that was sent to me.
I proceeded with sending all materials back via UPS the following day. I also have a confirmation number: C4287, which indicates that the materials were received by Sprint warehouse on January 31, 2013. When I received my first bill on February 11, 2013, I called customer service immediately upon arriving home from work to find out why my bill had increased so significantly to $266.68. I talked with a customer service representative by the name of Carolyn. I explained my situation to Carolyn and she then transferred me to her supervisor, Kim. I described my situation to her and she transferred me to Account Services, where I spoke to Mr. Olvitti. I explained my situation to him and he told me that it will be taken care of. He told me that adjustments will be made on the statement the following month.
I called again at a later date and spoke to a customer service representative by the name of Lakeshia when I had seen my bill had increased again to 366.29. I was absolutely stunned by the increase. She transferred me to her supervisor after I explained the situation to her and the supervisor, Alex, told me that it would be taken care of. Another month went by and I received my bill and it was in the amount of $543.53. I called customer service straightaway at 7:05 a.m. on April 6, 2013. I spoke with a man named Mr. Addison and explained the situation again.
He then transferred me to Mr. Ernest, the supervisor. I explained my situation to him and he transferred me to a dispute specialist, named Linda. I expressed my frustration and difficulty with the situation and she assured me that it would be taken care of on the next billing cycle. I am writing to you to express my utmost interest in having all matters fully resolved with regards to the situation. I will appreciate whatever can be done to help resolve the matter. I have been a customer for nearly a decade and I am not pleased with the lack of professionalism displayed by Sprint. I expected more from Sprint. The Sprint Corporate Responsibility states, Sprint is committed to the belief that we all share in the responsibility to conduct our businesses in a socially and environmentally responsible manner.
We base this on the premise that a company is much more than the products and services it sells; the effect a company has on the environment, the people and the communities it serves reflects the company's dedication to being not only a good business, but to being a good corporate citizen.

I have been a Sprint Customer for years and always had great service until about (5) months ago. I have (4) phones on my plan that cost dearly. None of us get service, lose calls all day and we own a company and are losing our customer because of this service.
We have made numerous complaints with Sprint to no avail. They keep saying these have two towers down, which is not my problem and I don't feel like I should have to keep paying for such lousy service. I want out of my contract so I can go and find better service, however; Sprint said I would still have to pay the early out contract fee. I do not feel I should have to pay this as it is not my fault that we have no service!!!!!!!!!!!!!!!!!!!!!

I have been with sprint for several years. I noticed last September (2012) my phone was dropping calls, no service or failed calls. I called and was advised that the system as going through upgrades in the bay area (San Francisco). I was advised it would be done in October, then again in December and last was told it won't be done until march of 2013. I have call 611 several times with complaints and questions. I talked with one lady who was very nice, made me up a ticket, checked my phone to make sure it was okay and then told me someone would call me within 72 hrs to discuss this issue further. I never got that call and then when I called back to talk with the lady who made my ticket up, the guy on the phone said it was impossible to find that person. I think that was just laziness and BS. If one writes up a complaint, I know they can tell who wrote it up by name or employee number. I was told my bill might be adjusted or credit made when this upgrade is complete. It is very frustrating to experience these types of issues for such a long period. I have three other phones attached to my account. I know I am just a small fish in the sea and losing won't small fish won't even put a dent in your business.
I would like to know if sprint would let me out of my current contract for just my phone only (707-333-9790) and the other three phones for now will stay there until there contracts expire. I am just totally fed up with this issue and service and want to move on. Your cooperation regarding this matter would be greatly appreciated. Thanks!! Ronald Braxton

I got a sprint EVO 4G and was told it would be faster than any other carriers by the sprint rep.I have had nothing but trouble with ph. connections, try to download anything is a joke, and I have complained a number of times to the local store and complaint lines. I keep getting the same answer-- the tower is down and should be fixed soon. Well for the last 90 days soon has not happened, and the service techs keep telling me that they have no answer.. I could put up a new tower in 90 days, these people do not care about the customer at all.. I had much better service--I actually had service with my pre-paid minutes.

I current have 6 phones on our account. One of the phones, a Tahoe, purposely does not have added internet access. This was because my husband did not want it, just wanted texting and voice. The other 5 phones have access to the internet. Our last billing contained 56.79 for Data Charges on the Tahoe. I called to tell Sprint that this was a mistake. We did NOT access the internet on this phone. They would not reverse the charges, were not able to prove we used them, could not tell us what site we supposedly accessed, and basically it was our word against theirs.
I cannot wait until our contract expires. Frankly, it may be worth it to opt out of our contract and get away from Sprint. Poor customer service and management. I'll make this simple. I have been with Sprint for 12 years. I went to upgrade my phones and signed a new 2-year agreement with them. The rep said my bill would actually stay 'exactly the same'. My bill is now $34 more per month. I was flat-out lied to by a store rep. The customer service group said they were sorry about that, but they can't adjust the bill. 12 years I'm with them and they treat me like this?! They've made my decision for me, I'll need to try my luck with another carrier.
After all, what worse can they do other than lie right to your face, right? They'd rather lose a customer of 12 years than modify my plan to the same level as it was last month? Insanity.

I've been with Sprint since 2006. I upgraded from my Nextel Minolta 686 (used for my truck company business) to a Samsung 400 from the Madison Ave., Sacramento, CA store, Dec 28, 2012. I immediately began having problems. No service. My roommate is handicapped and uses her phone for possible emergencies when I am in my dump truck working. Not having service was dangerous as well as costly. Went back to the store and was told both towers in my area were being worked on and the problem would be fixed in a few days. The problem continued into March 2013. Meanwhile, I was having problems charging my new phone, receiving messages 2 to 3 days after they were sent (costing me, to date, over $2000.00 in lost income).
Every trip to the Madison Sprint store to try to correct the problem ended in dismal frustration. I asked to turn back on my old Nextel phone and was told that I would have to pay more money because Nextel had changed. All calls to Sprint for help are logged. I was finally told in the beginning of March during yet another call to Sprint customer service that I might need an Airave to boost signal. I would receive it 3 to 5 business days. After week of non receipt, I called customer service again. The Airave had not been sent...I'd get it for sure in 3 to 5 business days. Once received, I had to spend another chunk of another day on the phone with customer service to help me get it connected. I finally had service but my phone continued not to charge and I would find it dead in the mornings.
Back to the Madison store. Frustration. On May 1st,2013 I was told that my battery was fine in the phone so I bought a new charger(35.00) in case that was the problem. They would not exchange the phone because it was past 14 days since purchase. The tech department would not look at the phone because I had not purchased insurance. Tech said to contact Samsung. I put the phone on the new charger and it was dead in the morning. I went to the corporate store on Howe Ave, Sacramento, CA on May 3rd, 2013. I was told the battery was bad and waited 3 hours while they replaced it.
I put it on the new charger and found it dead this morning. I called customer care. Sprint had me call Samsung. Samsung will repair the phone on warranty but they will have it for at least 14 days and have to wipe all of my broker and customer numbers out of it...plus the loss of a phone (loss of more $). I called Sprint customer care again. I was told they would send me a previously owned phone that I could download my contacts into while my phone was being repaired...49.00...more dollars. I do not text, use apps, or take photos with my phone. It is used for business and emergencies. I'm not asking for a better phone. All I'm asking is that this phone be replaced with a phone that works. As a long time and loyal customer, I deserve that respect and service.

I current have 5 phones thorough Sprint on our account. None of the phones have internet access as all we do is talk and text. They are not amart phones. One of the phones on our last last bill was charged $26 for data usage. I called Sprint and told them that it was a bogus charge and they finally removed the charge. At that point I told them that to be safe, I wanted all the phones blocked for data as we don't use data. I just got me new bill and I again have data use charges. After talking to Sprint they tell me there is nothing they can do as those charges accurred between the last billing cycle and when I called. I was livid.
I have been with Sprint for well over 15 years and it comes down to my word against theirs. For $40 they are going to loose a loyal customer. Sprint is either adding charges to bills in hopes that you don't notice, or they have a fraud taking place where other peoples data usage is being charged to other people. As soon as my contract expires, I will move on to another carrier. Sprint obviously does not value customer loyalty
I have been a loyal Sprint Customer, but now I am really disappointed in the level of care that their CSR's offer. I have been overcharged on my sprint account due to some computer glitch twice. I try to explain to their agents about what was going on, after waiting on the line for over 40 minutes, they wanted to blame it on me, by saying I don't know how to submit online payments. That I must have pressed the Ok button too many times. I have only been paying online for the past 5 yrs, I can't believe that was their response.
On top of all that, they have left my bank balance negative due to their overcharges and I got from their agents was, "they are reviewing your case". No apologies, no sincere interest in my case. It seems it is very difficult nowadays to find true customer service agents that care.

My husband and I were with Sprint for over five years, around a year ago our service slowly started to decline. Our phones would go from dropping calls to not being able to make calls, to not being able to receive calls in a few short months. Knowing that my phone was due for an upgrade we decided to wait it out and see if that would fix the problem. Not only did it not fix the problem but our service increasingly declined.
The first call to Sprint, they gave us a run around on how they were fixing the problem and would give us a discount then send us a free booster box for the trouble. When the bill came not only did we not receive the discount but we were still waiting on a booster box. It wasn't until or third monthly call that they put in a request for the booster box correctly, not only had the first representative lied to us, but he had put in no request for a booster box or a monthly discount.
We gave the booster box a chance, but were still unable to make calls, and receive calls. Every month we would call to complain about the service and told that we were in the top service range. Not only were the representatives rude but would also lie about what they could do for us.
Finally deciding to switch cell phone carriers we were told by several Sprint Representatives that there would be no cancelation fees. Once again being lied to, we received a bill in the mail for over $600 in cancelation fees.
A frustrating call to Sprint to clear up the confusion, we were told that Sprint is not responsible for holding up their end of the contract by proving us with service, not only that they would not and could not waive the cancelation fees but also that they would send us to collections in less than two weeks. According to the bill, we have three weeks to pay it.

90% of the time we were unable to use our cell phone for almost two and a half months. From the middle of Nov 2012 to the end of Jan 2013. We keep getting the run around and told they were working on the towers in our area. Finally, in Jan 2013, we were told we would have to upgrade our cell phones. And that we would not be charged a upgrade fee. Well, they lied we do have to pay a $36.00 upgrade fee for ea line. Plus were stuck with another two year contract. And our monthly bill is twice as much as it was. We never received a credit for the time we couldn't use our phone. Do not upgrade with Sprint. They are lairs and sheats.

I've been a Sprint customer for about 8 years. Since relocating from Las Cruces, NM to Roswell, NM on mid-eastern side of the state my service has been horrible almost on a daily basis. I have sent an email to Sprint Cust Service days ago and haven't heard a word from them.
Sprint had an informal complaint issued against them last Spring by NM PRC and promised to clear up the poor service problem. It still exists, and I believe will not change. I can rarely access WWW, accuweather, etc. and now and then can send a picture to another Sprint phone.
I have no service in most buildings in this town. Had I been informed that service was poor when I relocated, I would not have kept renewing the contract. I was not informed and after a year or so looked at the coverage map for NM.....it is practically non-existent.
Therefore, I am fed up and want my contract cancelled and no lingering financial obligations attached. I've honored my responsibilities to you; Sprint has failed to do the same for me and other residents of this part of the state of New Mexico.

I have been having a problem with my service since February 2013. I have had dropped calls, texting trouble and very slow internet. I have called Sprint several times and they promised service would get better by the end of July. They stated that they were doing work on their towers on the area. I am still experiencing the same problems but worse. I cannot get good service at my home.

i was inadvertently signed up for a mobile hot spot through best buy 3/12. i did not receive this device. i called this company several times explaining this. i ended up paying the bill aug 3 for 94.00 for a device i did not have i had told the person i spoke with ( i think her name was michele) that i did not have this device and that i was a verizon customer. i was not paying attention in best buy when i was purchasing a ipad and a netbook. i had my 7 year old son with me and he has adhd.
he was acting up in the store and i wanted to get my purchases and leave. when i paid this bill i told the person that this account needed to be closed and i have to look into why this happened in the first place to keep my credit score ok. come to find out this device was turned on again with out my knowledge. i have been trying to fix this error but i have been getting the run around by your staff. from that i can not close this until its been paid in full and there will be a 130 early termination fee. i do not know why it is not understood that i did not have this device in the first place nor do i want this device.
i did not give it to my son for college ( he is 7 years of age and not in college). your staff has kept me on hold for 45 min several times and even stated that i would receive a call back ( their names are brad and raymond) and never called back and when i call back i get the run around again. i am looking in to my rights as a consumer legally because i already paid for something i did not have i am not doing that again because someone does not know how to follow instructions. hope to get this situation fixed as soon as possible.

I have met all the requirements for the $50.00 rebate and responded to the denial with a letter dated July 3, 2013. Each and every item listed on the denial card was addressed. The rebate form was completed in the Sprint store by a Sprint employee. There is no reason to deny the rebate incentive. If I am denied the rebate, I will be happy to return the phone after the entire contract is voided. I would like to have this resolved without having to filed complaints with whatever consumer agencies I can find along with the BBB and internet postings.

I cancelled one of my lines and paid cancellation fee plus that months Oct '11 bill. I wanted to swap phones as well due to my Blackberry malfunctioning I couldnt afford another at that time. Customer Service had no knowledge of how to swap it took a week of communicating with customer service. In trying to swap the previous line was never cancelled due to waiting for end of bill cycle which was OCT 19th.
O K hear now both phones were turned off I didnt have a phone I demanded they swap back to my broken Blackberry eventually cancelled service completely they stated we cant cancel line till billing cycle is over.
I eventually switched to cricket; Sprint charged me another month of service when I totally requested service be cancelled. Sprint robbed me out of another month of service when I clearly request my service be cancelled after I previuosly cancelled my extra line. I was with Sprint for two years with everything plan. Now they've stooped to cheating people out an extra month of service when cancelling.
I walk into a Sprint store on Thursday and order a iphone 4 for my daughters birthday on Saturday. Sprint store says no problem we will get it here tomorrow (Friday), we'll call you about 11am. Guess what call I got at 11:30am...that's right they didn't deliver it and there are no deliveries on Saturday. Now they want me to wait until Monday for the phone to come in. The store is taking no responsiblity and when I call Sprint direct they just give me a song and dance about how once the order is placed they can not do anything about it.
They can not even cancel the order knowing that I am willing to go to another further away Sprint store and get the same phone. I have been with Sprint for more years then I care to think, and this is the way they reward loyalty. Sprint phones...love em, Sprint coverage...love it, Sprint customer service...absolutely sucks. And they don't even care.

Our plan with Sprint-to whom we have been loyal customers for a number of years-was to expire in October so we went in to the Sprint store in San Diego to renew our plan and to upgrade our phones. I had received an $80 service credit 'coupon' to be used at the time of renewal so was expecting to be able to use it that at that time. However, when looking more carefully at the "gift" it said it expired in September. WHY would we renew our plan the month before it expired?!? rather than doing it when the time to do it was in October?!? I tried talking to your customer service department and did NOT receive any satisfaction and need a better explanation of the benefits of being loyal Sprint customers for so many years. Is this the way you treat your loyal clients?

My family switched to Sprint at the end of last year. We ordered 3 of the Samsung Galaxy S2's. Ever since we received the phones we have had problems with them. And not just one of them, all 3! They continuously power off by themselves, the menu button freaks out and pops up and down all the time when you are trying to do something, like send a text message.
dMy husband has spent HOURS, at this point probably days if you add up all of the hours, speaking with Sprint about our problems. Whoever he talks to always says, let me talk to my supervisor and get back to you. I bet only about half of those people have actually called my husband back, most of the time he has to call them again. We have replaced the phones with the same model phone twice! We have asked to be switched to a different model.
After much arguing, and even my husband saying that we are willing to pay for the upgrade, we finally spoke with someone who we thought was going to help us. This was in February. The agent told my husband that because of our continuous problems, he would upgrade us to the s3's, at no cost to us since we should not have to pay because of our problems.
When we got the new phones in the mail, they were S2's again!! My husband has called and called and called and no one is willing to help us. The only option that we are given is getting yet ANOTHER S2. my poor husband has spent so much time arguing with Sprint that are ready to just go to another company. But of course as we all know, we are now under contract and do not have that option. Please someone help me.
I do not want another call from a representative that cannot help us. I want results! If Sprint really cares about their customers as they claim they do, someone higher up should get involved and send us new phones. All I am asking is that we get something comparable to what we have now. I do not think it is fair to ask us to downgrade.
And since we were promised the S3's, I think that Sprint should keep good to their word and send us the S3's. Sprint is a corporation that makes billions of dollars every year off of poor suckers like me, they need to stand up and do what's right!

Beginning July 31, 2013 through August 10, 2013 I received limited service in my area – inability to make calls until I drove out of the area, innumerable dropped calls, no signal AT ALL in house, inability to contact my two children, and much frustration. I no longer use a home phone since Sprint has assured me of the excellent quality of their service….a service that was severely below par for over 10 days, regardless of what Sprint's usage shows. Sure I used the phone, I just had to make sure I left my home and town and couldn't get through to my children if they were at home and I was out.
During the time of limited service, I had placed two phone calls complaining and was told they were documenting the complaints and Sprint would take care of me after the tower was repaired.
In light of this extremely poor service I requested a 1/3 discount on my upcoming bill for August 2013. I have now been on the phone for over 34:17 minutes and have yet to be transferred to the next level of supervision since billing rep did not have permission to commit to a reduced bill. Now, I am being given a runaround over a request for a credit of about $40.
I was finally transferred to a supervisor who informs me he will have to review the situation before he might be able to do something. Seriously??
I have been a customer for many years and I have to say, that this difficulty for such a small legitimate request is ridiculous. Sprint is fully aware that they provided poor service and that the tower in my area was under repair for OVER A WEEK and should be more fair to its customers and not make them fight for funds they have not earned.
This is horrendous customer service.

My wife and I switched to Sprint in June 2012. We both got the Samsung Conquer phones. In late September my phone quit recognizing any sd cards. I called Sprint with the issue and was very pleased with the service I received. Sprint mailed me a replacement phone and seemed happy to help. Today October 20th my wife's phone had half of the screen freeze up. She had to use phone since hers was unable to call out. After Sprint done the factory reset with no success she was told to take the phone to a Sprint store. After visiting 2 stores she was informed that they couldn't repair her phone for lack of parts. She was told that it could be replaced without a charge. I contacted both Sprint and Samsung about this since the phone is only 4 months old. Samsung said they fix it but she would have to be without a phone for 2 weeks.
I contacted Sprint to see what could be done. I was pretty much told tough luck and pay $100 deductible on insurance or wait 2 weeks. So now I am looking a t a 4 month old phone with Sprint and Samsung's name on it that I.can't use and neither really seems to care. We have 2 kids and need to be able to get in touch with each other. I do not understand how the service be so different from call to call. I can't believe that company's really sale products that they do they do not back. It seems that both Sprint and Samsung think that phones tearing up in 4 months is accepted in todays market. Their are plenty of other carriers that would like to take care of the Customers needs. I guess I will have to get a prepaid phone while trying to get this resolved after weighing the options of is this even worth the trouble.

I am currently in another state handling a family emergency. The home I am staying in I am not getting services, I have had important phone calls lost due to lack of services. I have called customer service to resolve this issue, seeing that I have been with sprint for approximately 8 years. They were unable to resolve the issue because my services do not quailfy for the signal tower. The reason my account does not qualify is because I do not have multiple lines on my account. My complaint is that because I do not have 4 or more lines on my account I can not receive the service I am needing with out paying out of pocket. I feel this is unfair to those persons that are single and without multiple lines. I am considering taking my services elsewhere if this issue can not be resolved.
Thank you for your help in resolving the issue.

I've been a loyal sprint customer and blackberry fan and consumer for many years now. It's unfortionate that I am now considering cutting my ties with sprint and disowning blackberry for life. My issue is simple enough, and I don't get why sprint can't handle my problem in a better manner. I have now owned 4 blackberry styles model 9670, in under 2 years. I am not rough with my phones @ all , in fact the 4th one which i've had for about a year now looks brand new still. The problem then u ask, the charging port on this perticular model seems to have been built poorly. Sprint now wants me to file an insurance claim, pay $100 and be given the same exact model. I wouldn't have a problem with that, if I hadn't had the same problem with all prior phones. Its clear to me that there is an issue with the way this model's charging port was made. I really really love my Blackberry, I'm kind of sad that our relationship will end soon because of poor craftsmenship. I won't pay only to be given the same problem phone. Infact I wouldn't take that same model even if it was given to me for free.

 This is the second time I have received subpar service from the employees at the Sprint Store within 3 months. The Sprint store is #1096, located in McKinney, Texas 75070. I went to the Sprint Store at 6:45 pm, Monday, May 6, 2013 hoping to resolve the issue with my phone. Upon entering the store with my toddler, I waited patiently at the designated location. I was not greeted nor was I acknowledged for more than 10-15 minutes. My child was playing with another child in the process. The employees felt that he was too loud and then asked me what was the problem, after not even having greeted me. I advised him the problem was that I had been standing there patiently for more than 1o minutes and no one even acknowledged my presence but was quick to address my child. Having been a long time customer with Sprint for more than 10 years, I feel that this was totally inappropriate and rude.
They all stated that they were busy but that is still not an excuse to ignore a loyal, paying customer with not so even as much as a greeting. Ivan Ruiz was the representative that attended me. I told him I was having a problem with the battery holding a charge. He did not send my phone back to be checked by a technician at all. He simply gave me another battery and said if that didn't work to bring the phone back. I felt very rushed and my problem was not addressed, nor was it resolved. Rather, I have to return and waste more of my personal time in returning to the rude customer service representatives located in Sprint Store #1096, located in McKinney, Texas. The acting manager, Eric Berry, did absolutely nothing to resolve, nor address the issue at hand.
My contract is over in February 2014 and if this is the type of service I will be getting I will be ending my contract. I hope my complaint will be taken seriously as I will be submitting this complaint to the BBB as well as the FCC if my concerns are not addressed in a timely manner. I would greatly appreciate a follow up in regards to this issue at your earliest convenience.

My service has been beyond poor and this has been going on for quite some time it started in june 2012 till sep or oct 2012 then I was given an air rave then service was a "little" better then I purchased an Iphone 4 in jan or feb, 2013 and then had to give up air rave because it was interfering with iphone I have heard every excuse sprint has to offer and still I continue to receive below poor service but yet I still pay my bill and sprint only deducts $25.00 dollar from my bill when I am not even able to make calls on any of my 5 phones this uncalled for I expect a call back immediately regarding this matter as I have contacted customer service numberless times only to be lied to hung up on kept on hold for ever and never called back and after I have been a loyal customer since 2004 never been late on a payment I think this would be a good story for the news.better business beural, consumer affairs, board of supervisors and my congress man because this is robbery I have rights and I refuse to be treated this way so would hope that a higher level manager or even the ceo would get back to Me so I can explain the situation because I dont think they know how customers are being treated I have friends and family that also have you sprint and they will witness all that is going on thank you and hope to hear from someone asap.

I have insurance on my cell which i have tuned it in 3 times cause thing had not worked the store assured me since i have insurance on cell covered no matter what.So one month or so after i pick my cell phone out of my purse and the front face plate was broke so i took it in and now of course all new people wrking in there srart to raise thier voice at me like i am stupid also i told them i had cochlear implant will let the jokes flow at deaf person me you know my iq does not drop20 points when u are deaf and i hope all deaf people protest anything to do wi

I recently switched my Sprint service from my families plan to my own personal plan. When I switched to my new plan, I purchased an IPhone 5 with the two year agreement. I also purchased a tablet with a two year agreement. This transaction occurred on Friday, November 9th 2012. I was really excited to have both items and was to try the tablet at my residence since I do not have internet at my house.
I was told by the Sprint employees that I would be able to access the internet from my tablet. When I took the tablet home, I could not pull the internet from the tablet. I called the Sprint store and they advised me the Sprint towers were temporarily down and they assurred me they would be back up and running in a few days. On Wednesday November 21st 2012, my tablet was still unable to get the internet through it and I called the Sprint store again.
I asked them if I could return the tablet and they told me as long as I returned the tablet by the close of business Friday November 23rd 2012 I would be able to do so if my tablet was still not working and they advised me again that my tablet should be working shortly due to the tower issue. I returned home early from out of state to return the tablet because I knew I needed to return it by close of business on Friday. When I arrived at the Sprint store (7810 Wormans Mill Road Frederick, MD they told me I could not return the tablet because my 14 day return policy had expired and it was day 15. I had to ask several Sprint employees because everytime I asked somebody they walked away from me to assist another customer who was purchasing phones.
Finally, one of the employees asked me in a very rude way if I had tried to charge the tablet. He took the tablet from me and plugged it in. After doing this, he refused to talk to me and walked to the back of the store. I then spoke to the store manager who told me he could not help me and told me to call Sprint customer service. I called the Sprint customer servce and the gentleman was very friendly and helpful over the phone. He told me he would be able to cancel my agreement if the store would take my tablet as a return. He also expressed to me that third party Sprint stores like the one I was at do not have the same policies as a main Sprint store.
I politely excused myself and asked the store manager if he could return the tablet and expressed to him that Sprint customer service was willing to cancel my agreement if they would return the tablet. This male manager became very angry and aggressive towards me since he was speaking of "personal" matters to a female customer. He stated "Tell them to fuck off, you are not returning that damn tablet". He then stated "Fucking customer service makes it seem easier than it is". He then expressed to me that he thought I was a nice guy but he could not help me after he saw my reaction to his unprofessionalism. I asked another employee for my tablet and I left the store with a tablet that does not work at my residence.
I have always had a great experience with Sprint until I came to this store. Unfortunately I am left with a montly payment on a tablet that has no use to me and I am still very upset with the way I was treated at the store. I have never experienced such unprofessionalism before in my life. This is the first time I have ever filed a complaint but I feel that this needs to be addressed. While I was at the store, I witnessed several other customers leave displeased and agitated because they had an issue with their experience there. I know black Friday is a very busy time for all stores but in no way should customers get treated the way I did. At this point I am weighing my options about cancellling all of my services and my family services if nothing is done about this issue. I hope that this is not the case. Thank you very much for your time and consideration.

On January 7, 2013, between 12:30pm to 2:30 pm please review the call log. I had the severe displeasure to experience very bad customer services from serveral of your associates. Please be mindful that I have been a Sprint customer for approximately eleven and one half years, and I expect to be treated with dignity, respect and as any loyal customer should be treated.
You had Joshu, hang up the phone on me and all this started because I asked for a little off to upgrading my phone, and none of your associates were helpful at all. This is Joshu, your manager or supervisor who does not know how to speak to people. I find it very difficutlt to understand how you have someone in a supervisory position who has no concern for customers. When asking this person what his reference number was Jose, refused.
After this guy hung up and then spoke to David, who was also rude, no help and very sarcastic. We asked him to transfer to his supervisor and received the exact same treatment, who said he could not help, and he provided his reference number (I119921780), he provided this but refused to give us his name. Now it seems to be that when a long standing customer who pays their bill in a timely manner merely asks to receive a little something for renewing or staying with Sprint, that something should be provided other than just saying "thank you." Your associates all acted in a manner that shows that they do not care about me as a customer, and they either need to be retrained or replaced so that customers do not have this type of problem ever again.
I request to be contacted by someone in upper management to further discuss the details regarding this horrible situation. Customers deserve to be treated as if we are the last and only customer you have so that you can keep me as a customer and to ask that you waive the taxes or give me something to show your appreciation is not too much to request. I am available most days after 3:00 pm, because I do work and cannot speak during working hours.

I had returned a telephone and was informed to return the non working phone. returned the phone and sprint has turned off my phone over 10 times in once month due to not recieving the non working phone. I do not have the phone and I refuse to pay for something that I dont have.

This update absolutely sucks!! I can't get on the internet at all now.. i had troubles before and was told the update would make the phone take 4g only. Now i can't even get 3g!!! I have been with sprint for 7 years! Not only that but my touch screen lags.. even while I'm texting on the phone ot
R typing anything for that matter... its horrible! I'm not a happy customer. I hope this gets fixed asap. I love sprint but i need my phone for work and pleasure... its unacceptable..

Every few days my service seems to be messing up, when I call sprint about the service they tell me we have to do a service update. I don't have the time or the patience to deal with this every day. Also when I ask for a credit towards my bills the customer service rep tells me that they are only allowed to give me a few dollars off of my monthly bill. After they basically disrespect me I tell them that I am basically paying the same amount if money that somebody else would be paying on a different service provider and receive better service. I ask to speak to the supervisor and the supervisor gives me a credit that is worth the trouble ans annoyiness.
I have 2 iPhones on my account.
9545345125
All I want is to be released from my contract without having to pay ANY FEES!!!

Called to find out the date of my upgrade and proceeded to get offered tons of stuff I didn't want to and when I said my service was bad I was transferred to a supervisor who was extremely rude. I was told the hold between first car and supervisor would be 2 minutes turned out to be 10. Second supervisor to third was supposed to take2 minutes, 15 minutes later I got apologies and no resolution for my time being wasted and for getting the run around. One more supervisor, another apologist who offered zero resolution then for the third time I asked formative of any kind to fill out and he flat out lied and told me that there surveys are random and there's no way to even take a phone or online survey. Basically a 2 minute called turned into over an hour.

We have been customers for many years, contract ends next month, we will terminate. In the meantime, I will have to pay next months' bill and I have no phone. I washed my phone on may 3rd, on Monday may6th went sprint store, did not want to extend or buy expensive replacement, so I went back with some old phones in the hopes of having one activated. they did not work, so I decided to buy one, Ron the rep asked for my "pin" number, we have never established one, I had proper ID, my sprint statement, old receipt with blanks for pin and password (never needed it).
He says he could not activate new phone without "pin" number. Account is under my husband's name, says he can come in with ID and his pin. Again, I told him we do not have one, ok he asked a security question, I answered correctly but because the info in the sprint computer was wrong that's it. According to the sprint policies I read it doesn't say in writing that a pin number is crucial for doing business such as replacing damaged phones, etc.. Ron at store #431 here in san Antonio, texas refused to help me simply because we have no pin number.

I had been a Sprint customer for over 15yrs we were up for an upgrade on our phones so we went to the Sprint store to see about getting smart phones. The customer service rep was not helpful and very rude, not wanting to answer questions or help in any way. So we went to AT&T store and switched over, while at the store my wife called to cancel service and port the numbers over which she was told there would be a early termination fee.. No problem we said.
Well a month later after we recieved our last bill (or so we thought) with the termination fee listed we recieved another monthly bill for one of the lines which after calling Sprint they said we did not cancel? Why would we keep one line and cancel the rest? Needless to say if you have a sprint line and cancel make sure you cover youself or you will have a lot of time wrapped up trying to argue your case.
I recently brought my phone to be repaired at the Sprint store in hurst tx after it flashed and all my info was lost they kept my phone for 2 + hours and did nothing to it to resolve the problem they said I needed to go home get on my computer and fix it myself my complaint is if I knew how to repair it I would not have brought it to them to begin with I told them I don't have a computer at home and didn't know what to do if I did I asked them to do it since they have 5 or 6 computers there they were not using they said ok and brought Google up on one and walked away there were no custumers in the store there were 4 of them standing talking to each other.
I repeatedly asked for help not one of them would help me I say again if I knew how to fix it why would I have even gone there the whole crew in that store needs to be replaced they are useless as custumer service

I have been a loyal customer with Sprint for over 20 years, paying my bill on time and etc.. On 10/25/12 I spoke to a representative at a local Sprint store in my areas about adding another phone to my line. He suggested that I opt for the family plans stating that all 3-lines would have 500 min and that my bill would be lower if I went from my current plan to this new plan he had suggested.
On 11/13/12, I received a bill for the 1st time since changing to a new plan and to my surprise it was approximately 3/4 or greater in amount than my last plan. I contacted Sprint immediately and spoke with a rep which informed me that I had changed my phone plan in the middle of a billing cycle and should have waited to change it at the end of the billing cycle and I would not have incurred such high bill. I feel that prior to making any changes to my Sprint account the rep at the local Sprint store should have advised/suggested to me that it would be in my best interest to wait till the end of my billing cycle otherwise I would have to pay a bundle in fees for switching my plan in mid-cycle. I appreciate that the new phone was free, however I find that I did not save at all because prior to switching plans my monthly bill was $157... a month and after making the change I received a bill for $291... Now what type of savings is that "Sprint"
In conclusion, I find this to be unfair to any customer and especially to loyal customer. In all fairness I ask that anyone affliliate with Sprint be trained in a manner that will enable them to adequately service me the consumer. Bottom line, if you as a rep wouldn't sale it to your loved ones than don't sell it to me. Basically, Spint reps be honest to the customer.
Thanks in Advance

I have been a loyal Sprint customer for over two years and have had 3 other lines of my family under my account. I am sorry to say that not all experience working with Sprint has been pleasant. One recent incident at the Sprint store at Santa Monica (12011 Wilshire Blvd) was extremely upsetting and tinted our trust of your company.
Sprint Complaints Department:
In August 2013 when my Sprint contract was due for a renewal, I went in to the above-mentioned store to process the renewal on Sept 1st, 2013. The sales associate on duty, Chamira Harris, told me that if I provided my Triple A membership card, Sprint could not only give me 10% off on all the charges, but would also waive ALL the activation fees on all four existing phone lines we have with Sprint. I then went ahead reactivated my Triple A account for that purpose and had our Sprint contract renewed and phone replaced with Chamira.
When my bill for the period came later in the month, however, I was still deducted $36 for activation fee, and did not receive the promised 10% discount. I went back to the store to ask about this. Chamira in turn asked the store manager Hank Watt and Hank said that having Triple A would not waive activation fee, nor give any discount at all. Admitting it was Chamira's mistake to have misinformed us, both Hank and Chamira offered to compensate for our loss by giving me something from the store for the same amount of the activation fee, and promised to do so for ALL of our other phone lines as well when their renewal time comes. On that day, they did honor that for my primary phone line (310-819-6019), and Chamira also said she did put in a note in the computer about the same policy for our other lines at renewals.
Our second line (310-883-3212) was renewed on September 20th, but when I went in to pick up the iphone that just came in the store on Oct 27th, Chamira treated me completely differently: contrary to her sweet and eager attitude previously when trying to get our business, she now turned to be extremely cold and indifferent. She denied what she had promised, and told me that the store could not give us anything to offset its activation fees at all. When confronted, she admitted that it indeed was her that had misinformed us in the beginning and caused all the trouble, but still told us there would be nothing she could do about it. What upset us more was that she was being very rude, trying to tell us off, claiming that even if she had lied and misled us on purpose, there would be nothing we could do, but to pay for all the fees ourselves.
We feel that Chamira Harris' unprofessional, dishonest way of handling this matter has not only cost us financial loss (Triple A membership fee, and activation fees), but has ruined our trust for Sprint overall. It felt as if in order to get our business in the beginning, she was tricking us into a deal by empty promises, and turned around not honoring it later on when we had signed contracts and paid for two lines. Her rude attitude certainly set up off further more.
We strongly feel that our loss should be compensated for, and such behavior like Chamira's in misrepresenting Sprint and sacrificing the company's integrity for short-term business should not go unnoticed and uncorrected by your corporate office. Otherwise, we'd have to regretfully choose to leave Sprint for other carriers, and we reserve the rights to file further complaints to consumer rights agencies if this were not resolved in a reasonable fashion.
Dr. (Benny) Jun Lin
Disclaimer: This complaint was submitted by Jun Lin on 12/10/2013 at IP address 172.248.120.79 using our Sprint complaint form. This opinions contained in this Sprint customer review titled, "Dishonest Sales Associate Midled Me on a deal but would not make up for mistake" do not reflect the opinions of this website.

I was a Sprint customer for over 10 years and recently had to cancel my service due to outages. My husband is a surgical nurse and actually missed a call-in due to tower maintenance that they were doing and have been doing for almost 2 months now without any explanation as to how long it will take to fix. I had to talk to them for 2 hours to finally get someone to tell me the buy-back program would take care of my ETF as it was something I was DEFINITELY not paying due to the fact that I was only cancelling because my husband HAS to have service. I received a confirmation email and she noted that I might even have dollars left to go towards my final bill.
I went into the store, gave them the confirmation and they actually processed it incorrectly. They processed it as a "recycle" and told me that I was all taken care of (bill included) and even had a $90 credit. I confirmed and re-confirmed with her that I had a $0 balance on my account and she said I had to spend the $90 in the store that day or it would go away. I bought 3 iPhone chargers and went on my way. I recently received a final bill for all of the credits and service. Apparently the girl processed incorrectly and the $90 credit could've went towards my ETF. I called customer service and they were downright awful.
I can't believe this company still has any customers. They stated there was nothing they could do since it's been more than 14 days since I "purchased" the chargers (it's been 18, just got the bill today) and I was now responsible for the full balance. I find this alarming for so many ways aside from their ridiculous dealings on the phone in that I've had them wipe complete $185 bills away before and now they can't help me with a credit for their mistake? Also, to charge me ETF when it's been reported several times (even their own employees in my area) that we are having major service issues.
I have lost all respect for this company and hope that enough people read these posts and stay far, far away from them. I know that no company is going to be 100% easy to deal with but this company should be ashamed. To have a customer service team that can literally get on the phone and yell at you and do everything they can to weasel their way out of doing the right thing is beyond horrible. I can't believe I was so loyal for so long. I would rather pay extra every month for my "unlimited data" with any other company than ever deal with them again. I hope they lose enough business they decide to come back and have some dignity in the marketplace by actually serving their customer base.

I just recently became a sprint customer. I went with sprint for the unlimited data for the iPhone. This was a huge mistake. In about 90% of the areas I am in, the network is so slow that it is almost totally useless. Try to bring up a map to see where you are. Forget it.
The amount of time it takes to see the map, it would be faster to unfold a traditional map and find my location. YouTube is totally useless as is any other video. Even email takes forever to download.
Everything is extremely slow. 3G is the only service with some speed and even that is very slow compared to other providers. I don't live in a remote area either. I have compared the same iPhones, side by side, all from different providers, and the sprint iPhone is embarrassingly slow.
I am about to pay the early termination fee, sell the phone and go with another provider. I can't take it anymore. It has rendered my iPhone almost useless everywhere but my home on wifi.

I have been a customer of Nextel/Sprint since 2006... The service of Direct Connect offered by these Companies was extremely good... but ever since December 2012 Sprint and Nextel were not longer partner and unilaterally Sprint decided to cut the Direct Connect International and National Services, but they never let us know about these changes in the company and still they were charging us 90 dollars a month for them (please note that we have two devices on this account).
On January 2013, traveling to California, we decided to check out in one of the stores what was going on and they offered us for 99 cents to exchange our devices for new ones which suppose to have the International Direct Connect Service not phone service was included due to the exchange... we accept the offer and 24 hours later the service was suspended, why?, because they said a change has been done in this type of Plans and they are not going to offer any longer the International Direct Connect, but the option was either to cancel or come t0 Mexico and negotiate with IUSACELL which is a Company that carries the TSMA techology. Nevertheless, we did so and once in the store of IUSACELL they provided us with a catalog of their services and none of them is the International Direct Connect, worse situation is that they can not install any chip in the devices we have.
Therefore, we call SPRINT up to let them know that we were very unhappy with this situation and we are not willing to pay any more for a service that is not longer delivered by the Company, their answer was if we decide to cancel they are going to charge a penalization fee in the amount of $200.00 per device THIS IS NOT FAIR and represents a fraud due to the lack of technology to performe the Plan that we have hired.
We are not willing to pay SPRINT, we demand the refund of the money we have paid in full to them for the months of January, February, 2013 and we are going to stop paying this company as of March, 2013.

My daughters phone hasn't been working since early last year! Her phone has been replaced a multiple of times & everything they tell me to do to it, it turns out making it worse! Her phone turns itself on & off, drops calls (incoming & outgoing) and MUCH, MUCH MORE!!!!
Anything you can think of has happened to this phone & I'm sick of it! I waste my time and money going from Sprint location to Sprint location & paying a bill for a phone that half the time doesn't work!! I'm sick of the fact that no one at Sprint has done anything to compensate me for my troubles!
I would like a new, reliable phone & money from my gas & etc.

I am 72 years old and went to the kiosk at the Countryside Mall to get a new cell phone. Amelio sold me a touch screen phone and instructed me on how to use it. When I got home I was so confused that I couldn't even receive a call and I called 9 people on my contact list accidentially, couldn't find how to turn the speaker on, also couldn't answer a call, among some of many other things. I couldn't function with the phone. Totally user unfriendly, as was the Manager of th kiosk.
I wanted to return it and get my old phone back but was told they recycled it already. I had already disposed of the box and they said there was a $30 charge. I am so very disappoited in Sprint as my son worked as Manager in a Sprint store for a number of years. When I bought the phone, the salesman slid a pink cover and a black cover over to me and said which did I want. I thought it was part of the $79.99 I paid for the phone. It was an additional $24.99. Many of m friends have said derogatory things about Sprint and I always defended you, but NO LONGER WILL I DO THAT.
I'm glad my son doesn't wor for your organization any longer.

I had went to a sprint store in Pershing Blvd in Kenosha Wi To get services Which I did with a 100.00 deposit. The associate Lakota Lichwait activated my phone An I turn my phone in in a trade in. He had ask me if I wanted to use my credit on a case I said No And he processed to do it anyway. Then tells me to give him a rating on the survey. Told me if I didn't like the services I could disconnect the phone and I wouldn't be charge anything. I got the phone The services was horrible I was dropping calls I couldn't get online So I decided to bring it back 12 days later.
Now I'm getting charge restocking fee activation fee and time of services Which was NEVER explain to me. I go in to find out why I'm getting a bill ad where my security deposit went. The first associate That approach came to help us Then Lakota came and pushed the other guy out the way Processed to be rude to me and my mother When we were trying to figure out what's going on. It got to the point where the manager had to come and intervene Cause he was so rude. He completely Lied to me saying I was going to have 4G service Then I find out That there wasn't even 4G services. This man has no reason reason to be in retail. He has no customer services skills at all.

I am a military personnel. I have been deployed overseas for the next couple of years. I have been trying to place my phone on a military suspend plan. I have been provided with call numbers which I cannot connect to. Calling through sprint customer service has me jumping from department to department for hours and results in no solution. I want for a sprint representative to personally help me with this issue, because I am still being charged for this months service, I have not used it, and sprint can't help me?

I did not renew my contract. I cancelled my cell phone. I paid the monthly bill. Send them an additional check in the amount of $9.00 to pay for the couple days that were not included in the normal billing cycle. On the bottom of the check left corner I typed on the check "FULL PAYMENT OF". They cashed my check. That was in 7/22/2004.
Since that time it has been turned over to several collection agencies. Currently it is in the hands of Enhanced Recovery Com. Jacksonville, Fla. They are trying to collect $195.45. I do not owe anything since you accepted my check that had full payment of on the check. My offer was $9.00 and by cashing the check -you accepted my offer. I consider your continued efforts to collect more money to be extortion.
This happened 9 years ago. I dispute the bill. I consider the account paid in full and dont owe you anything. I will be happy to provide you with a copy of the cancelled check.

I am extremely upset with Sprint and the services that have been provided. I purchased a brand new Iphone5 from Sprint online. Since 2/23/2013 I have been without service, not being able to receive or make phone call and text. My phone is my business, I am on the road taking care of business. I have no phone to accommodate me. I am still within my 30 days to change companies and I am highly considering doing this. Not having service for 5 days is unacceptable and is causing me to lose out on money. I pay Sprint on time every month for a service I can not use. Customer service had been giving me the run around since day one. I have asked to speak with supervisors and my request were not met. I have been hung up on and given attitude from a Sprint representative. I plan on going to social media to promote the awful service I have received. As I type I have no service due to a technical issue on Sprint end. I need someone with authority, power and knowledge to resolve my problem asap.

I entered the Sprint store at 10600 Tamiami Trail N #602, Naples, FL and was immediately treated with disrespect. The manager and store associates were just standing around when I walked in. They acted like I was bothering them. I asked a few simple questions about the phones and plans and was just answered in very short sentences and belittled that I did not know the answers. They were extremely rude and disrespectful to me. I had intended on switching my service to Sprint with 3 new phones for my family. As of now that will never happen and I will make sure that everyone I know does not use Sprint. I left that store feeling belittled and harassed and extremely upset. Something needs to be done with the staff of the Naples, FL store. 

I have been a Sprint customer for 7 years, no problem at all. I have always paid my bill on time. I signed a new contract a year ago and pay $170 a month for two phones 1500 minutes/internet/unlimited texting. This would be no problem if what I was promised in my contract was actually being given to me. For the last year, from the day I brought home my cell phone nothing has worked. When I called to return the phone in the 14 day time-frame I was told a tower outside my home was being prepared, internet may be unavailable for a few weeks. A year later my phone places calls 1/2 of the time and the internet has never been able to be accessed. I was informed that the tower works fine. I have called every month for a year.
After the first 6 months of calling and visiting repair stores repeatedly the company agreed to take the two non-working phones on my account back for $100 a piece and replace them under insurance. I dished out the $200 in hopes the phones would work. I received two new phones in the mail and the problems remain, however these two "new" phones that still cannot access the internet freeze anytime you try. The battery must be removed in order to restart the phone.
After this I called to complain. I was told a manager would be speaking to me and a gentlemen came on the phone to tell me I was too much of a "F****** Idiot to figure out how to make a cellphone work" and hung up. I called back and was told the gentlemen never signed into my account under his ID number so the conversation recording was pulled up and for months I received apologetic emails from Sprint. As a well educated individual who worked in IT Tech for years I am positive I know how a cellphone works. Upon calling yesterday to express that the phone does still not work I was told these were my option. 1) Cancel the plan for $500 2) Early upgrade the phones for $300 3) Send the phones in again for $100 a piece = $200 How, when I have paid my bill every month for a year no problem but have not once been able to use what I pay for, does that make sense?
Why should I continue to pay? When I asked Sprint this I was told that I promised to pay in my contract that is why I should pay. Well Sprint, you promised me an internet connection and a working phone. I still have a year left of paying $170 a month for a phone that sits on my kitchen counter and does not work. A phone that DROPPED A CALL and was UNABLE to send text messages while in the Sprint store. However the repair tech in the store told me I must have broken the phone so I needed to purchase another at $300. Yesterday I spent 8 hours on the phone, I was hung up on 6 times because customer service was frustrated. This problem will be fixed. This is completely absurd. The last person I spoke to yesterday told me they had never seen a account with so many "notes" and that my file was like a "book". . . There would not be any notes if Sprint customer service had any ethics.

To whom this may concern, I have had Sprint for almost 3 months and ever since I signed up with Sprint I have experienced nothing but headaches and trouble with the service, which is really sad. I have called in numerous times to try and have the issues resolved, however the issues persist.
I have told the technicians on the phone that we get a lot of drop calls, extremely slow data connection and trouble with incoming and outgoing calls while on the phone; such as not being abe to switch back and forth between the two lines, unable to merge the two different calls when the third person call in. I have explained these issues so many times as you can see if you look up my account information.
I was even informed to take all the phones to the Sprint store to have them check it out, however when I went to the store and explained the situation to the person that was helping me I was told that because Sprint was on CDMA that function of switching back and forth was unavailable. He then told me that he would look at my phone but would have to charge me $35 for each phone, which is preposterous.
I was furious at the fact that he would even charge me over something I have no control over. I then told him to make a note so that when I call Sprint it would show up that I attempted to go to the store just as they suggested, however no one ever said they were going to charge me for it.
So basically I wasted 45 minutes of my time waiting to get help even though I made an appointment and in the end they were still unable to get what was needed done. After visiting the Sprint store I called Sprint back and spoke to a lady in the retention department and told her my problems and why I wanted to cancel with Sprint. She was really nice and understanding about it and placed me on hold while she spoke to her supervisor to see if they can waive the termination fee.
After waiting for quite some time she transferred my call over to her supervisor whose name was Robert. It was the worst customer experience I have ever encountered and I was appalled at the way he was speaking to me. I tried to explain the situation to him and he kept trying to talk over me while I was speaking at the same time.
I even addressed the problem of him speaking while I was speaking at the same time and he kept doing it. He then told me that he was unable to waive the termination fee based on looking up the percent of usage on my phone. I don't understand how my using my phone often means that I'm not experiencing all the issues I've described above?
It makes no logical sense that because I make use of my phone a lot that it's acceptable since I'm still able to use it. Yes, I'm able to use the phone but the fact that these problems still exist even though I'm using it is extremely frustrating yet Sprint representatives cannot grasp that concept and all they can go by is what the numbers on the screen tell them.
I have never been this unhappy with a service provider before in my life and the fact that Sprint won't even listen to me or try to understand my situation is just really awful. My boyfriend and I use our phones often because we have our personal business on the side and having an efficient service provider is very important, but I guess Sprint doesn't care about that.
The supervisor Robert had the audacity to suggest that we take all the phones to sell and use the money to pay for the termination fee because most likely we can sell our phones for that price. Tell me what kind of customer service that is? What kind of professional employee who works for a big company would suggest something like that?
If that was the case why won't you guys just take back all our phones and refund us for everything back? I even asked to speak to someone else because I did not like his tone of voice with me and how rude he was being but he just told me that basically he was the only person that I could talk to and if I call back then the call would be transfer to him.
I have never had someone pissed me off as badly as he did. If that call was recorded I would like someone higher up in the company to listen to it and see if it is acceptable to talk to a customer that way. After speaking with the rudest person ever in such a well-known company I called back to a different department so I can put in a complaint about him because his attitude was much uncalled for.
The second person I spoke to that day said he escalated the complaint just as I have asked and he then again asked me about the problems I was experiencing and once again I explained to him and he told me about the percent usage just as Robert have told me. He then suggested I go back to the Sprint store and he would waive the charge that the Sprint store will charge me so I can have the issues resolved.
That frustrated me even more because now I have to take the time to go back to the store which I originally did in the first place. You guys must think I have all the time in the world to go back and forth and keep calling back to address the same problems over and over because no one write down notes when I call in or something. I'm so sick of Sprint giving me the run around every time I speak to someone new.
I will never have anything good to say about Sprint as long as I have the service and I will never recommend Sprint to anyone that I know because of the horrible experience I have had. I'm extremely busy and every time I take the time to call in I do it during my lunch so that is taking away my time. I am a very unhappy customer and I will do all that I can to prevent anyone else from making the same mistake I made by switching over to Sprint.
No service provider has ever given me such a hard time before. Given the circumstances I would think Sprint could sympathize with my situation and what I have been experiencing to let me out of my contract. Since the first month I have asked yet they prolong the process by sending me everywhere else to try to resolve the issues that are still not resolved. I will file a complaint about this to the BBB and post my situation all over the internet so that everyone would rethink twice about getting Sprint.
If Sprint would just honor my wish to begin with instead of making me run around like an idiot trying to prolong my service with them then I wouldn't have to waste so much of my time and I wouldn't be this angry about the situation, but the fact that Sprint doesn't seem to care about customer satisfaction would destroy their business in the long run. Just know that eventually by word of mouth Sprint will have the least customer in the wireless industry if they don't know the meaning of customer service is.
I'm very shocked that a big company such a Sprint will force their customer to stay on a contract even with all these problems and even with the customer calling in so many times to attempt to have it fixed. I'm through running back and forth on this but just know as long as I'm still with Sprint I will have everything negative to stay about Sprint to everyone I cross path with. Worst wireless provider ever!

I have been dealing with sprint and their customer service for 9 months now. The problem is I will have less than 2 blocks away from it but I get no internet service. It is very shoddy and poor. I still pay $100.00 a month for the service that is not being provided to me. After 9 months a technician finally calls me and informs me of speed test. He said that it should never ever be below 600 kilobytes per secent For download and upload. Then I have another technician come to my house And he showed me on his computer that I am bouncing between 2 different towersAnd he advised me that all they would have to do is turn the antenna. 1 or 2 degrees And it would be hitting the residential area instead of the 200 miles of desert. It is currently spanning across. Then Mr William Shipmon From The executive resolution department. Calls me and says that we are not going to do anything for you. It is more important to have that I was aiming at the desert tortoise is an coyotes then it is the paying customers. And if I don't like it I can cancel my account give them back the phone that I paid for? And they will just keep the money that I have been paying for a service that they have not provided to me. If anybody should be getting that money it is me, I was not provided what I paid for. Customer service is done nothing but lie to me and jerk me around And place me on hold for hours at a time? My suggestion to all is. Never activated service with sprint.

The Sprint store in Portage, Michigan have made unauthorized changes on my account which include more than one of the individuals under my account. The pin number nor the security question, nor anything was asked to authorize anyone in my account. One of the individuals under my account phone stopped working so they took it to this store and was told it would cost them $100.00 to get a new one as they could not repair it, their contract was not up until December 2013.
The representative went into my account without my authorization, pin , etc and told them there was a upgrade due for another individual on my account whose contract had expired and if they wanted they would use that upgrade for them which gave them a brand new Iphone4 and their contract still ends in December 2013. The individuals upgrade now has a contract which expires 2015 and can't even upgrade if they wanted to because Sprint store used theirs so that the other person did not have to pay a $100 to have theirs replaced.
I have gotten the run around at Sprint its self and the store. I wasn't aware of this issue until a much later date which I called and tried to fix this issue and not getting anywhere with the store or Sprint. What can I do next please, I am frustrated and one of the individuals as stuck with a contract no new phone while the other has the new phone and the same contract. Doing this also was without any permission, authorization, etc.

Dear Sprint CEO. I have tried and tried and tried to contact you. As everything else with Sprints world, it is all a promise. Thus, I will have to send the reasons why I am leaving Sprint as a user. I guess you have been busy is even a few of the 456,000 losses in users last quarter would like to discuss reason why they are leaving Sprint. Well, shame on me for trusting Sprint. Now, after spending approximately $2,000 in the last year for service that was: Voice Substandard Texting Substandard Voice Mail Below Substandard, practically unusable (could not understand messages, had to reboot phone multiple times a day for voice mails to show up on the screen, Sprint's idea of "taking care of customers" was to basically offer me their Buy Back program.
Send me your handset back, and we won't charge you the Early Termination Fees. So I have given Sprint $2,000 in a year for a service that was barely usable, PLUS $400.00 to purchase handsets that now they want returned. I was not planning on having to spend $400.00 for two new handsets in one years' time. I'm sorry you had an issue. Keep the old handsets and sell them to see if you can recoup some of the funds in order to purchase new hardware with another carrier.
If Sprint would have at least tried to take care of the customer, I may have said I'd at least keep an open mind and maybe tried them again at a later time/date.

Someone in your technology department with a level of security clearance that deals with text information like the type investigators have access to and can print out dates/times/texts is doing a favor for an average person that has told me word for word what I have text'd. The Sprint employee in question should be investigated. Who it is and how to do it? I don't know.
I am sure a prestigious company like Sprint would have an Internal Affairs Department. I have tried calling department numbers that your first row customer service reps have given me and have not been able to get through. When you at Sprint figure out who I need to talk to resolve this issue please reply to my e-mail (if you call me, it may alert the person doing this).
I have been trying to go through the chain of command. I will however go directly to corporate. I have been a loyal customer for many years and promoted Sprint with everyone I know. I want resolution ASAP! My right to privacy is at stake. I will keep a copy of this correspondence to send to your corporate headquarters if I feel there is no progress.

My husband and I have had our sprints phones for a long time very good customers - pay our bill on time - it was time to renew our contract with sprint the rep offered me 2 phone upgrades without a cost to me and $70 credit on each line - stupid me I took the offer and on my next bill saw charges for the phones - they claim that you can't get the $70 credit per line and new phones - but because the first rep that offered it to me made a mistake they would not fix it.
So I had to pay the $314 bill in order to not get a mark on my credit and pay the $200 cancellation fee - this all happened in a 32 day period and because it was 2 days over the 30day change policy they wouldn't except the offer to give me back my old phones and start over with out a cost to me what terrible customer service to a very good customer they dont care its all about the $$$$$$ with sprint and when my contact is up.
I will never use them again nor will I give them a good name to others - I even get a discount because of my business but I still won't use SPRINT again

Oana Subici
from Sea Cliff, NY
From the first day of my business association with Sprint, I have encountered incompetence to a degree I never knew existed. We were lied to about the financing arrangements, lied to about the lack of contract, and the worst part is that every single Sprint representative tells us different things. Naturally there's more. We are moving to an area where the only coverage would be "off-network roaming", and this, in an area of forests and hills. Despite the fact they have no real coverage, and NO ONE in the area uses Sprint. Regardless, Sprint refuses to eradicate the $200 "termination fee". I know, no logic is required. (And several Sprint representatives have admitted as much.) Now we have been told repeatedly that we have a contract on a phone that we were assured, time and again when we opened the account, we wouldn't have a contract with. Lies, deceit, obfuscation, games. But then, to some degree, that's how many corporations work.

jill hayes
from Denver, CO
I have been charged for over a year for a product I never asked for with Sprint. I'm being told a supervisor will contact me and my case is under investigation. Never have been contacted! Sprint keeps harassing me to pay $ I do not owe, and has turned off my service! More than once, then it's turned on again for a while with NO resolution! It's off again with no communication, except a electronic message saying my service will be turned off if I don't pay, that I don't owe!

Jim Barbee
from Longboat Key, FL
I have been a Sprint customer since 1998. I moved and had a coverage problem that they could not fix. I canceled both phone lines and paid all the early termination fees. Not one person from Sprint has called or e-mailed to find out why I dropped them after so many years. Hell of a way to run a company with no customer service.

stephanie
from San Jose, CA
I have called Sprint 5 times to try and cancel my account. Each time they tell me this time it will be cancelled and then I receive another bill. Today I received a letter from a collection agency stating I owed monthly for 4 months of billing past my original cancellation call. I was disconnected twice when I called today. I also tried to find somewhere on their website where I could give feedback and there is not any easy way to do so.

Kelly Yerian
from Oklahoma City, OK
I'm upset with Sprint because my service is scrappy I get hit with a high phone bill. I can't make arrangments and I'm requesting higher up to look into this I should get quality service if I'm getting charged a full bill I want this issue fixed. I thought Sprint was supposed to be the wireless service that cuts your high phone bill in half not makes it higher?

john sullo
from Albuquerque, NM
I received a bill for early termination when I switched carriers. On December of 2013 I visited a Sprint outlet (Costco) with a service complaint that service was not consistent where we were living and that it was equally bad on both phones we were using. I was told the new Samsung galaxy would eliminate the problem and that it was free to upgrade. I did that and signed everything so they would activate the Phone. I was told that I had 14 days to return.
The first bill arrived and was completely different from the initial quote as well as the service had not improved that I went to return the phone. Costco of course said they would not take it back but called the factory store and they agreed to take it back. I returned the phone and they reinstated the original contract and"cancelled the new contract". I continued on the old plan until I had enough and install as land line. I then went to the Sprint store and was informed there was nothing they could do but there was no problem switching and porting over the numbers.
All was fine until the final bill from Sprint had early termination charges on both phones. I called and they stated that the contract was valid but would offer 150 dollars as compensation. i then received the (turn you over to collection letter) and called again. I was told the same thing as before including the 150 dollar compensation. I decided to go to the store and find out if the rep had made the commitment to me was still there, he wasn't. They did find the transaction returning the phone but no mention of any contact although the bill showed the old contract charges. I feel the termination fee is not justified on both phones but will concede the second line was 2 weeks short of 2 years,
The whole experience with Sprint started out very good but on 2 occasions trying to improve the service and function turned into a disaster. I feel being threatened and unable to receive any flexibility even though i was told what happen would not happen is very sad.

Nicole Cherry
from Riverdale, IL
I am writing this letter with an open mind and humble heart. I have had the worst experience with Sprint ever. This company is terrible, and very unprofessional. My service was horrible and I was never accommodated for this. On top of all that, they canceled my service and charged me all these fees. Now I am with a collection agency that I am in the process of paying off so that I can get out from under sprint for ever. I am going to report this company to the better business bureau.

Shameka Goins
from Belleville, MI
Me and my spouse went to the Sprint store looking to become new customers 1/24/15, which we did and it all seemed to work out. The next day I wanted to return my mobile phone for a smaller version of it, the rep that helped us was not in attendance this day 1/25/15. When we spoke with the young lady she advised us of our new account monthly payment, which seemed more then our original monthly payment. Come to find out the LEASE plan that we were suppose to be on, he did not place us in it, then we asked her if our numbers could have been ported over from our old Mobile carrier, she said of course it can, which he told us it wasn't possible. And he also neglected to tell us that our device payments would go up after 1 year. So me and my spouse was furious and decided to return everything. Not knowing that there is a restocking fee for every device. Mobile phone #1 $35, Mobile Phone #2 $35, Tablet device $75. All this could have been settled correctly if that guy wasn't worried about making his commission.

Ana orellana
from Chatsworth, CA
Sprint shouldn't even deserve one star it's the worst thing ever. The Sprint "manager" tricked me into having a service 130 bucks a month. He said "guarantee" and he said he would pay off the cancellation for my AT&T. It's been 5 months and now I'm sent to collections. He even screamed at me for complaining to him and made fun of me! I'm so pissed. I can't even afford to pay 530 dollars.

Carolyn
from Baltimore, MD
In December of 2014 we purchased 2 Apple iphone6 devices through Sprint. We opted for the so-called easy pay plan. We were informed through the retailer that we had 14 days to change our minds. The retailer showed us on the Sprint Website the information that stated if we did change our minds within 14 days they will waive any fees. Within 7 days we decided against that device, and, the devices we wanted Sprint did not offer. After much wrangling with VERY, VERY, VERY rude Sprint representatives the account was finally closed. The devices were returned. We purchased the devices we wanted but we could not keep our phone numbers, which we had before going to Sprint. Now, not only has Sprint stolen my phone number, which I have had for 15 years, they deny taking ownership of MY phone number. My current provider accessed their port center and knows they did steal my number. When I contacted Sprint, I was told that we have a current balance of $229.00 for 5 days. Had we stayed with Sprint our MONTHLY bill would have been $160.00. Not only are we not going to pay that ridiculous fee, we are going to start a campaign with EVERY social media outlet warning people to avoid Sprint like the Black Plague. Since their fine print states you cannot file a class action suit, we will sue them independently, and, encourage millions of others to do the same. All I want is my phone number back. They are not only liars because they don't honor their contracts, THEY ARE THEIVES!!!!!!!!!!!!!!! If Sprint just releases my number, and, honor their contract, I will gladly back off. Until then, I am prepared to blast them EVERYWHERE. And they currently have thousands of complaints already. That "cut your bill in half" is a TRAP! That's a slick way of saying we're going to rob you of everything we can!!!! My goal is to finally put them OUT OF BUSINESS!!! And I won't stop until I succeed if they don't return my phone number PROMPTLY!!!!!!!!!

Defective Phone and Bad Customer Service
from Columbia, SC
I am very disappointed with the Sprint representative Justin and Ron at the South Carolina store on Two Notch Road. My husband and I have a Family Plan which includes my son, husband and myself. We upgraded all three of the phone with the new Sprint versioin. My husband and son phone works fine. My phone is defected. I called the customer representative and she walk me thru steps to fix my phone. My phone could not receive data or connect to the internet. After trying to walk to all the steps to fix the phone the representative told me my phone was defective. She gave me an interactive number and told me to take it back to the Spring store I receive the phone from.
She told me since it was then 14 days from the date I purchase the phone it should be no problem. My husband took the phone back and gave them the number. They then went thru the same process. They had to then order me a phone. Receive a call phone is in. Husband goes to pick up phone. Representative couldn't find the phone. He was told the representative who order the phone was not in. Next trip, representative was in. However, order the phone under the wrong phone number. Now each trip my husband has to wait in long lines until his turn. Rep states he has to return the phone in order another one. Phone comes in yesterday...long line.
The representatives still could not update the phone (Justin and Ron). Kept my phone and told me someone would update it for the next day. To top this all off my husband paid for the screen protector/store fee for putting it on. Then he was told that we had send the screen protection back to the Zappo (life time warranty if we register it) and get another one. My thing is this...if you give me a defective phone why do I have send the order cover back to Zappo to get them to send me a new one. I feel that the Sprint store should put a new one on the phone. No phone yet and when I receive it I have to wait for Zappo to send me a new screen cover and I am assuming I got to put it on myself. This do not make sense. After this contract is over I am terminating my service with Sprint. Let hope the phone is ready today.

Sandra Fernandez
from Las Vegas, NV
Our contract end next month and we called to find out what kind of deals we could get on new contract and phones. We are paying 210.00 a month for 3 lines now and was quoted 130.00 a month for 3 lines and 2 phones on the promo of 5.00 a month for 24 months. She mailed me transcript of our conversation. I called back the next day and spoke to Brandon who was very helpful. He said we would be charge 190.00 for 3 lines and the promo for 2 phones a month. He was getting ready to order the new phones and e-mail me the new contract we got disconnected. I waited a few minutes to see if he would call me back but he didn't. So I called sprint again and got a real rude guy who said our new contract would jump up to 310.00 a month. I got very upset and hung up on him. After cooling off over night I called back again and a lady was working with me. She put me on hold, after at least 10 minutes we got disconnected again just like the past. So we went down to the store and this guy said we can't get the promo offer and our bills would be 224.00 a month. Which is more that what we are paying now. I asked why loyal customers that have been with them for 10 years get kicked in the face and new customers will be paying half of what they were paying with their old providers. Checked Virizon and they would be 154.00 which includes 2 new phones and no contract. So unless someone called us with something better than what Virizon quoted we well be changing servers on Feb. 12, 2015

Rhonda Barron
from Orlando, FL
I have been a customer of Sprint for 14 years and have 5 active lines on said account. I pay for insurance and pay extra for each phone every month because they are newer phones, that's stinks. I have unlimited everything phone, text and data. in the 14 years with Sprint I have seen advancements but I have also seen the lack of administrative requirement of company and employee accountability. I pay hard earned money for services and have to question why? Why can't I get insurance for my phone from my choice of insurers instead of being forced to have whatever insurance Sprint corporation is supporting. This monopolistic tactic should be as illegal as a car company telling you that you must have their company supported insurance instead of being able to choose your own. Also why do we pay a $200 deductible Every Time something happens to our phone? That is why I have insurance; my phone cost $600 that means the insurance is charging me one third the cost of my phone Each Time something is fixed, that is besides the $125 I pay per year per phone for that insurance. Can you imagine your car insurance charging you one third the cost of your car each time something is fixed. I want to choose my own insurance not have someone or some company choose it for me.

Ms. Ingram
from Washington, DC
On Wednesday January 14th, I connected Sprint to inquire about the Hotspot Option for my iPhone5C. I orginally spoke with a customer service agent...who then transferred me to a a gentleman "that could help me" (I'm thinking technical support). I was told there was a special where I could get 1G for free, 2G for $20/month or 6G for $60/month. He had an indepth conversation and he explained which would work best for what I wanted to do. I decided to get the 1G for free, and will upgrade later if needed. The gentleman went forward attempting to add the HotSpot feature to my phone. I was on the call for about 15 mins, because he was receiving an error message while trying to install the featuer. The call was somehow dropped and didn't get a call back. I called Sprint to inquire about the HotSpot feature because it was not added onto my phone.The customer service representative and supervisor told me there wasn't such an option as the 1G for free. I explained in detail as to the conversation I had with the gentleman.I requested to be transferred to technical support, because I thought that was the department which began the process of the HotSpot installation, but the agent refused to transfer me. When asked if they would review my account and see who I spoke with, conveintantly, the conversation from Wednesday wasn't logged (or so I was told). This is the same type of poor service I received in the pass, when I changed service providers. All I am asking, is that I be given what I agreed to, and nothing more. After speaking with the gentleman on Wednesday, disconnected my home internet service, expecting to have my HotSpot installed. This situation has inconvienced my majorily.

Cedric Andrews
from Newark, NJ
Back in October 2014 there was a special advertised on tv for the iPhone 6, unlimited talk, text and data for $50monthly. This caught my attention so I call somewhere around October 23, 2014. The representative (I don't remember her name, But sure its on file) talk with me about the plan, advising me that the plan is available for me, however I would have to pay $150 dollar deposit and pay $24.99 monthly for two years. I was not acceptable to the plan so she offer another plan for a free iPhone 5c at $60 dollars monthly with unlimited talk, text and data and a 2 year contract alone with the home line of $19.99 monthly and taxes equaling around $95 dollars. She also mention of the free iPod they was running and the router to hook up for service on my laptop. I accepted the plan on those condition. She went on to say that the shipping of the phones and fees will be waved and my first month bill will be a little more (month and a half due to the billing cycle). Again I agreed to this and was please, UNTIL I Received a email of my bill. Now everything drops on me, I called and was told totally different information and given the run around to store location (no positive help). The rep advise me the plan I'm on is the $60 dollar plan, $30.00 for unlimited data and $19.99 for home plus tax and a two year contract, I proceeded to explain what plan I was offered(which was mislead information) and was will to keep the plan in exchange of removing the home line in place of the iPod and or router. The rep said I could not change the plan because it's after 14day (well I wasn't even told that) and nothing they can do but cancel the plan and I pay the cancellation fee $550.00 dollars. I live from pay check to pay check and on a tight budget and only is asking for assistance that suits me. This is very unfair and NOT professional that sprint would do this. Please provide a feedback I will not stop until something is done.

Virginia Nolan
from Coatesville, PA
Was contacted in August of 2014 about a free upgrade and a free tablet. Told the representative I was unemployed and could not afford any changes in my plan and was given the reply "this is a free upgrade mam" I received my new phone ( which I found out by going to a verizon store was 5 years old) and free tablet in the mail with the return envelope for my "buy back" and to be given a credit of 300 dollars. in order to activate these new free products I had to call Sprint. In doing so, I waited 20 min. for a rep. Then he began to talk to me about kigs and things I do not understand. Again I explained, I am unemployed and can not afford any changes to my plan. He then told me this would only be an increase of 10 dollars a month more than my current payment. I agreed, and then received a bill for $278.00. All my bills for the last 12 years has not been more than $75.00. So I called Sprint 12 times and spoke to 5 different people to get my old service returned to me. I received threats on my phone that my service would be disconnected if payments were not received. On December 5th 2014 I got my old plan back after being billed all these months and I now have a free tablet with no service. So I ask Sprint, what is free and what do you consider loyalty to your long term customers.

Luis R Ozuna
from Austin, TX
We have been with Sprint for years if you see all your notes on my account, I have called continuously prior to my contract breakage. I had called to see why we had no service in my home, they said they are working on towers. That's all we kept getting is the run around, I spoke with managers, whom stated they would send a tech to check our home and issue a Turbo to get better service, that never happened. I am a police officer and in need of my phone. Sprint left me no choice but to break my contract. We called after we received our bill, my wife's phone was out of contract as per your personal we spoke to other phone the same we did not have a contract. My phone was the only one left. When we called they rep stated it was a high balance due to the phone, Sprint was charging me for my phone, I told her we would gladly send it back, she stated she would send the package for the phones to be returned. We never saw an envelope, we have called several times after that for months I have been calling as I feel this balance is not correct! I have had the worse service from Sprint and just excuse after excuse! I want to clear this up ASAP!!! If I can get anyone to call me, so we may resolve this.
Thank you
Luis

Today I received in my mail, a faux handwritten Thank You, for my 10 years of service with Sprint. This 10 year acknowledgement contained no discount notices, deals, nothing. What a pathetic PR move. I currently pay approx. $70 per month for a flip phone with no Text Ability, Web. Now I see your Family Plan charges $25 for all this? Ready to go to T-Mobile. I don't think they send fake handwritten thank you notes. You'll have to do way better for my 10 years. You have my contact info.

could not use cell phone 815 403 3095 in fl, so I used a landline to call ,my il,cell phone 815 403 4595.if my cellphone 815 403 3095 had worked ,I would not have been charged overage charge ,I talked to sprint ,they said they are sorry but there is nothing they can do, sprint is not being fair, it is their phone that did not work , cell phone to cell phone no charge ,land line to cell 40 cents a minute . I pay $207.69 a month ,I am retired ,this will inadvertently make me loose my phone . I you can call me at 815-403-4595 . no charge ,I think! thanks Arlene Weber

I called sprint about our phone not charging, was told I will have to take it to a service center.
we went to the service center "a 60 mile ride" told them what was wrong I was asked if I had insurance on phone told them no. the manager said come back in 1-2 hours and the phone would be fixed. when we got back to the store the phone was not fixed he said it would be a $75.00 charge since I didn't have insurance or I could send it to Samsung under warranty. but I would be without a phone for 4-6 weeks, I bought the phone from sprint they should take care of the phone or at least give me a loaner.

Sprint gave us a tablet and wi-fi,saying first 30 days were free. We got charged and had them shut it off and cancelled. After it was sent back, they charged us agIn!! Tbey refuse to remove the second charge. We didn't want them to start with but tried them anyway. So we paid for first month but keep getting charged for something we don't even have. Someone needs to fix this before they get sued!!!

Hello. I visited the Towson location of sprint a week ago because my phone was not working. The sales person didn't have one in stock so they ordered me a new phone and I went in today to pick it up. I was assured last week that all information in my phone ie: phone contacts, text, email addresses, photo's, video's etc. would be transferred to the new phone. I just stormed out of the store because the sales person wiped out absolutely everything in my phone. I want this to be looked into now. Please contact me immediately at my phone number to discuss this. My phone number is: 443-982-3579 The above email address is my girlfriends email address.

I had an issue with the ear piece recently. After going to the Apple Ave. store 3 times so they could "fix" it they finally said the would order me a new phone. I specifically asked if it was going to be a new phone because I didn't want a refubished one ( someone else's junk). Marcus and the tech (I can't remember his name right now but it wasn't Joe) assured me more than once that it would be a new phone.
I got the phone had an issue with it the second week I had it. I was a little upset about that because it was a "new" phone.
Then yesterday I get a call about a family member that is real sick and in the hospital so I sent a text about it to my 3 kids. My daughter said Mom who's number is coming up with all of your texts? It's not yours. I wasn't thinking straight because of my family member and mistook the number for another family member's. I called the number thinking I would get my family member but it was some total stranger that wasn't very happy with me having his phone number and therefore VERY rude. I made this call from my home phone and since he has called my home at least twice. Turns out your employees lied to me and this is a refurbished phone and that number was programmed in settings to come up with all the texts.
So, Vergie Jackson is a customer of yours and is very upset with me. Thing is, he has my home phone number and it is not hard to get an address with that information. This all could have been avoided if I wasn't lied to and given a new phone or at least if you are going to cover up refurbished ones to be sure to delete all of the previous information before sneaking it to another customer! I am very, very upset over all of this and will be changing providers when my contract is up. I'd like to change it today but I guess I have to fulfill my contract but I will be spreading the word about how I was scammed and the trouble it has caused me. I am on Devin Vega's account if you need that information.

I want to return the iphone I just bought they are saying I cant return it first they said I had a month. Now they are saying I was suppose to keep the phone in the box. I have everything with it. When I purchased the phone I asked if incase it had a scratch if it would be ok. He said yes is long as its nothing major. now he said that the lil scratch wich is almost nothing is the reason why he wont return it. That I was suppose to keep it in the box.

My Grand-daughter wrote down my Debit card number and used it to pay a $226.00 dollar phone bill on September the 3rd.When I called in the next day I didn't get any information.I had my sister call because she has a sprint cell phone she was told that I had to get a statement from the bank that the card is issued to me with the with drawal date in which the incident happened.After two weeks I have received my statement.I need to know what comes next.I need my money put back into my new account.

I called into Sprint and tried to cancel my services due to poor coverage and bad customer service. I was then transferred to another department and was told that I cannot cancel my services due to an agent has to call me back. He said it was a business account and the agent in my area is the only one that can cancel my services. I never set up a business account with Sprint. This is wrong that a company is dictating when I can cancel my services. I will never use Sprint again and I will tell all that I know that they use tactics to sign up customers and when they cant provide the level of services they will not let you cancel services when you want. I am in the medical field and provide a level of care to my patients and I expect the same courtesy with the companies I do business with. Horrible service and company that Sprint is!!!!!!!!!
Damian

I have had Sprint for many years with no service contract. Last month I got a 2 year service contract because my twins wanted IPHONE 4 s Sprint gave then to me and the minute I could not return or cancel the 2 year contract they just canceled my 30% discount. I can get a 22% discount as my daughter goes to college. But I decided if they do not fix this I will declare war on them. I will send two phones to an area where they do not have towers and they have to pay a competitor for tower usage.
I will have these phones on 24/7 to each other this will cost them large $. I will call 866-877-7137 often and daily as i am retired Military. This will cost them a few hours a day of customer service. All they need to do to stop this is to re instate my 30% discount. If is is not done by the end of April 2013 I will declare war on Sprint. Even if they cancel all my phone lines I will not stop. dishonest business practices should be punished.

Sprint has been my chosen provider for a long time. I've purchased two iphones since Sprint has started carrying them. One was "dunked" into a toilet. The Apple Store handled the problem through AppleCare and replaced the phone, but did not have a sim card for Sprint in stock. They gave me the phone and told me to go to Sprint to get a card. Sprint told me they didn't carry sim cards separately. I went back to the Apple Store and they told me the sim card was not necessary and I should just call Sprint to get the new phone activated. I called Sprint and they inform me that a sim card is necessary. I've had the new iphone 5 for a week now without being able to activate or operate it. I feel like I'm getting the runaround!! What do I do now?
Art Leonard
artnvegas@aol.com

I was having issues with my old phone randomly dialing numbers. I purchased the iphone 5 through contacting sprint the phone would freeze. S obi called sprint within the 14 days. They told me to take it to to a st tore to exchange it. I switched it for the galaxy 3 believing i would get it for the $99 price I should have originally bought it for on the phone . I ended up paying a n extra 35 to restock.
And now I have been told this galaxy3 didn't receiving all text and the phone is extremely slow! I refuse to pay anymore than I should. I have been a loyal customer and feel like I being treated unfairly and have been getting the run around. All I want is what I honestly pay for a phone that works, and my calls and text.

It is unpleasant to have a bad service offered by sprint, which I should be paying each month from February 26 until today that is April 4, 2013 facture I still can make calls and when the internet goes, I have to be calling so updated. I have two line line is that I have more problem of reliza called only can not receive and internet have to be calling to make me upgrade.
and the other 2401 dropped calls I cannot maintain a conversation, because I'm tired of be calling and listening to the same thing and the same without any solution. supposedly I have to wait to be solutions for that me a miserable discount.
It is a scam, the more stupid that I heard from a representative of sprint that I called and my cell is kept turning and so not used the interne, when I already have tests that I can not make calls. When it comes to solve or cancel the service acceptable to you and a worthy response there an failed with an broken customer contract and customer

Ditto. Had Sprint over 10 years. Regret renewing contract. Service is horrible. Customer service is a joke. Was excellent when I began using. I have been regularly overcharged, sometimes in the 75$ range. Once spent 2 1/2 hours to undue a overcharge and had to go through many poeple starting over each time. I so unhappyI am making the effort to advise ANYONE from using them. do not use Sprint!!

I received an offer at work for a discount , through Trinity Health.org, and contacted your organization, which we set up with your service in February of 2011. My daughter Tina Carlson (you have it as Carson) phone # 231-557-3243, and my son-in-law Anders Carlson (you have as Charleston) #231-557-6686 also came with me under this contract in a group plan.
I had a difficult time getting this set up. I thought all was well but each month the discount was not on the bill. I would call and they said it was all set up and fixed and I had the discount, and they took off the extra amount. This went on for several months; I would have to call you, you would take off the extra money and give me the discount and would state it was all fixed, but it was still not fixed. Finally in August you fixed it, said I needed to sign the agreement (which I assumed started when we first started this because I kept getting the discount).
We decided to switch services, as the service at our house is poor for all my children. Much to my surprise, when I checked to see exactly when my contract was up, my contract said it was not up until August 2013. My daughter Tina was correct for the February 2013, but mine and Anders was not (Tina and Anders came under me, not visa versa). I called and the first person said they would fix this, then my phone call was dropped. I thought it would be straightened out, but next month it still said the same. So I called again, and got a was given to a higher up person, and they told me it would be fixed… sorry for the inconvenience. Once again the next month it still said my contract was still there until August 2013. I called again and was told they could fix one for the inconvenience but not both (which would still keep us there until August (no help at all) . I was then given a higher up, who said , because I signed the agreement in August there was nothing she would do.
As far as I am concerned, your company messed around with me for six months.. to get us to pay an extra six months. I was told verbally this was all fixed. I assumed the contract would be over when this was first initiated and think this is a very underhanded way to deal with people.
If you look into my account, you can see all the times I called and how my daughter's date is correct, which she went in with me and was not initially with you guys, and that is when I initially started this contract, with them under me, under my discount through Trinity organization in February of 2011. I feel I should be let out my contract in February 2013, at no extra charge, along with my daughter and son-in-law. I would appreciate your consideration of this.
Kathy Rose
Account # 676590764

When I purchased new smart phones for my family a few years ago, I purchased the Unlimited Everything plan. This included Sprint Mobile Hot Spot to run my laptop. I had the function. Now I don't. Talked to customer service ( via email – and still have ) and was told that I only had it during the "transition" period and it was removed. Now if I want it, its an additional $19.95 – $49.99 per phone, per month. If this was included in my plan ( which hasn't changed ) then why don't I have it? Shady business. Should have what I initially purchased. Should be " grandfathered " in. I got no response back from customer service.

I am tired ofmpaying 62.00 a month for the worst Internet service ever, I have friends paying far less getting much better service. Today Sunday 30th of dec, my service was so slow I was badly upset, my overdrive was working but my computer was stalling, I'm not going to keep paying that kind of money for this type of service and it's been like this all day Sunday. If my service gets no better I will contact the FCC and change my provider.

I lost cell n bought reburished one from Sprint ,ordered on Oct 7 found my old one n turned service back in it on Oct 8 recieved new one 3 days later n activate it week later didn't have SD card so worthless to me got sent pig to send back n did n was told not returned within 2 weeks explained everything 6 times spent about 10 hours trying to get refund n I'm fed up.have been sprint customers since yr 2000 I'm ready to terminante all 4 cells on my account if I don't get refunod for worthless cell Yall sold

On November 15 my wife and I renewed our contract with sprint that we have had for a long time and purchased the iPhone 5. The day after we purchased our phones I noticed mine was not registering all of my calls. I have called and complained to more people at sprint than I can keep track of. Several of which were supervisors who stated that they were going to call back once a network test was performed but I never received a call from any of them. I called back today to try again to resolve the issue and make a complaint again only this time to be told that I live in an area that I am out of coverage And my only choices are to cancel or put up with the issue until towers are built. I have been a long time customer and haven't had issues until I got this phone. My wife does not have the same problem with her phone and I want another option other than canceling the service. There has to be another option. I have been to several repair centers called several dozen times to the customer service tech support I've been to the apple store and had the phone diagnostics ran which found no issues. I have also had an airave sent to my house and hooked up nothing on which helped. I was told 3 times that a network team was being sent out to help diagnose the issue, not only did they never come but I was never even called back I had to call and each time I was told there wasn't even am open ticket for my concern. Please help!!!

I have insurance for my phone. My battery has not been keeping a charge for awhile so I finally got around to going into the location to get a new battery. I figured I would take advantage of my insurance. The greeter(person who stands near the front and greets customers as they walk in) at the store asked if he could help me. I told him I just need a new battery for my phone because it is no longer holding a charge.
He said in a non-responsive way that they don't have them in stock there. I said "ok, can I order one to be delivered to my house? He said: "Well, don't think so because it is an old phone and not sure if we can do that from here…Basically, anything I seemed to ask him, he was not able to provide an answer. He also was totally aloof to the whole situation. He didn't seem to care at all. I also mentioned to him that I've been having many dropped calls lately….didn't really know what to say to that either.
At the least, I just wanted a new battery for my phone. I was/am clearly an unhappy Sprint customer and this person just didn't seem to care one bit when I mentioned I was thinking about cancelling my contract. I just want some sort of positive response to my simple inquiries…I don't think that is too much to ask.

I have visited 2 of sprints corporate stores to get my device repaired because the "mic" was told went out. The first store told me they did not have the part in stock so I went to a second sprint store which informed me thst the "mic" is part of the "motherboard" so I needed to have my phone replaced. They realized as they were placing the order for my phone that sprint had the color ofmy phone listed incorrectly so they put the notes in the system so I could call sprint and have it corrected and order the same color phone.
I have called sprint 5 times this morning just to be transferred to a supervisor then disconnected everytime they pickup and start to help the first 4 times!! The 5th time I finally get helped after doing this for 1 and a half hours this morning just to have the representative not be honest about what phone she was sending out! I asked her several times to please let me know what she showed on the account that she would be sending out. Just to be told the same thing..the phone that is listed on the account..I asked again what type of phone and what color?
She never would answer, the only thing I could get her to admit was "its not the one you are using now…so I pay for insurance, been a customer since 1996 when they were servicing only businesses through Nextel and this is what I get?? Not to mention if they would replace it with the correct deivce it would be a "refurbished" phone!! Im cancelling my 5 personal lines, my 25 business lines, and telling everybody how they treated me.

Dear Sprint, this is my complaint. I returned a Sprint phone being unable to afford it. I purchased the phone 10/4/11 and payed early for the monthly fee of 103.50. It was not due until 10/31/11 but I was being impulsive for I have permanant brain damage from an accident so I am permanantly disabled. I returned the phone the 17th of October for a cheaper phone that I could afford. I was told every other day that the refund check of 103.52 was mailed to me and to call the 28th of November if it has not been delivered. I am very impulsive due to my injury and would basically call every day if not every other.
I was lied to by Dawn, Donna, Phil and Tiffany that the check was in the mail. When I called on the 28th, the person who I did not get her name told me that 48.29 would be credited to my account. I had asked the others the same question about crediting my account and they said they weren't allowed to do it. I returned the phone for $143.80 and was credited the new phone I exchanged of 99.99. I have been lied to by this company. This is the holidays and although the 103.52 doesn't sound like much, it's a lot to a person who is low income and on disability.
I need to know why your company has lied to me. I used the phone for 13 cays and want to understand why I am only getting 48.29 of this amount. Please do not cheat me like you have lied to me! My family, friends and I will never purchase a Sprint phone again from a dishonest company

Hello, I had an old family plan with sprint. Called to see how to cancel a 3rd line no longer in use or under contract. Called 2 different times told the same story "go in store, swap 3rd line to a new phone. Change 2nd phone number to new phone. No upgrade fees" etc told this in store in Arabi, LA. Even said I could up date mine at the store. Told no up grade fees. When my son and I purchaesd the Nexus $100.00(+) and i could upgrade mine to Optimus (&22.00)told this by store employees. So I got new phone. Well you can guess what happended when I got my bill. Well over $200.00, up grade fees, changing plans before contract, etc.
Now a different story when i get my bill. Had to fight that bill. Went down to $165.00 +. 2nd bill over $200.00 again, had to fight that bill, no help what so ever, just the same story. Had to pay bill. Same fees from first bill. Always had a problem with trying to here voice mail on phone, can not here voice mail well. Went to store 2 x with phone said they could not find a problem. Now they did an upgrade to the Optimus over 3 weeks ago. Major problems including voice mail, screen freezing, keeps saying remove or replace SD card, Screen going black. Have to take battery out, etc to get phone working again.
Have Spoke to and written customer service rep several time. They can not do anything or even switch my phone. Store refuses to do it. When my contract is over Sprint can go to HELL. They are very good at brushing you off with problems. They need to retrain their customer agents. Some have very nasty attitudes. They do not know the correct info to tell customers who call for tech support. This BIG 500 fortune company and they can not do anything with my phone, not even make the store swap it out. Told this by rep who works for Sprint at Dan@sprint.com.
Hurricane Katrina messed me up bad, but Sprint has severly SCREWED me. Gail NOLA.

Melita Bajcevic
from Brooklyn, NY
I went today to sprint repair center in Bronx to get my phone screens fixt. Paid $125 for it. Asking for bill was told that I will be notified by email. I didn't. Please check did my payment went thru. I don't want to be robbed by unhonest employees. Thank you.

A fraudulent Sprint account was attempted to be set up in my name. Thisnis still showing up on my credit reports. I have asked this to be removed and it has yet to be removed. Sprint I refusing to cooperate with the police investigation in releasing the location of where the account was opened. The encounters with their fraud department, legal department, call center, and management have been extremely unprofessional. The company is intentionally trying to avoid contact with me and is refusing to cooperate with the investigation. This is the worst company ever!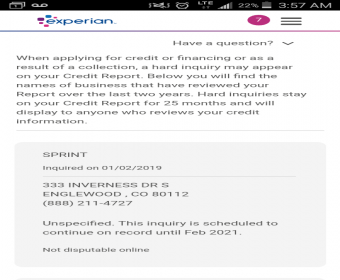 Joe M. Falaminiano
from Sierra Vista, AZ
Sprint is the worse customer service I have ever experienced. I signed up with Sprint on 28 Aug 2018 because the representative chased me down to parking lot, and told me they have the best promotion for Military, with $300 gift card for accessories, and best Military plan. So I felt for it, and now I'm stuck with Sprint (not good). It took me multiple times, about 4 hours every time to address the issue that I have without any resolution, time I spent to fix my issues is very frustrating, and sucks to be with Sprint transferring from AT&T. Until now, today is 01 January 2019. I'm still asking for what they have promised me when I signed for my $300 gift card, and only thing they can offer is half of it so I did not accept it. This is the reason why I'm writing this survey. I will not recommend Sprint to any of my Soldiers, my co workers, and people I know. If I don't get the resolution of what they promised me, I will use the Social Media, and address my concerns.

Trying to get my upgrade has been the worst pain in the butt ever. I first started by calling a corperate office and discussing my options over the phone. After finding out they would not ship my upgrade to me, i went into store number 1, on 71st and lewis and they treated me like i was a burden. Like i didn't just walk three miles to their store because i don't have a car. The lady who "helped" me said that her "computer wouldn't let her" complete the process. After a 30 second staring contest i realized that was all she had to say and she could be of no further help. 2 bus transferrs and a short mile walk later i end up at store 2. On 41st and yale. They were much more friendly and i was happy to spend AN HOUR with them trying to complete my upgrade. THEY ASSURED ME THAT MY IPAD WOULD COME WITH INSURANCE. INCLUDING THEFT COVERAGE. THATS THE WHOLE REASON I WENT WITH AN EXPENSIVE DEVICE. I was very excited after i started opening it up and looking at it in store. I decided to get the stylus and the keyboard with it, which took another 30 minutes. When i finally had it all, we started to assemble the ipad w stylus and keyboard, only to find they didnt fit. I had been sold the wrong stylus and keyboard with my ipad. No HUGE deal right? Wrong. They did not have the stylus and keyboard for my ipad, NOR did they have the IPAD that the stylus and keyboard matched. So, refund in hand i had to walk away with about half of what i had wanted after SO MUCH HASSLE. LUCKILY I HAD INSURANCE!
Two days later, i got in a hurry at school and tipped my tablet to the ground. Smashed the screen pretty bad in the corner and split down the middle. My fault entirely. But luckily i had insurance.
I called the sprint store and asked what i needed to do. They said that i needed to go to an apple store. Cool, theres only one in town and itll take me 3 busses and an hour and a half to get there. I arrive, put my name on a list, and they say they will text me when ready. An hour later i get the text, head down to the apple store, where i wait another 30 minutes to be seen. After i spoke w an apple tech, without even looking at the device, he said that it should be covered under sprint.
This is where i start to get upset. I dont care who covers it. I dont care where i have to go, but i was promised next day replacement with my insurance. I called the sprint store while inside the apple store and had the two employees talk over the phone.
After a 4 minute converstation, i was told that i needed to head to a sprint store. So i walk three blocks in freezing rain (no car btw) to the store NUMBER 3 on 71st and garnett and ask them what i need to do. The first phrase out of his mouth was "apple store" and i said "no. They sent me here"
I was then informed that sprint does not fix devices in store. That i would have to fill out paperwork, proof of purchace, id and a small deductible. I was under the verbal impression that the deductable would only be about 25-50 bucks, which i could expect. Every good insurance uses a deductable, but why paperwork? Why proof of purchace? WHY OFFER NEXT DAY REPLACEMENT IF YOU DON'T FIX THE PRODUCT IN STORE?
FINE FINE FINE. I'm on the verge of tears and the man is kind enough to fill out most of the paperwork for me, reprint my receipt and get me an email conformation.
I open the email and the THIRD PARTY WEBSITE says itll be 200 BUCKS to fix the screen and 3-5 DELIVERY. I COULD GO TO A THIRD PARTY MYSELF AND PAY THAT PRICE AND WALK OUT IN HOURS. WHAT IS THE POINT OF INSURANCE?
Im beyond upset. I feel like i have been SEVERELY taken advantage of. I no longer even want the ipad on my plan. At least i should NOT have to continue to pay for insurance. I do not want to pay such an extreme price for something i can't even get fixed.

I'm hoping that you may be able to help me. I feel helpless with a problem that was resolved by your escalation team. Sprint Escalation team had it set up for me to return my unused Ipad g6 because of the nature of the order and miscommunication. I was supposed to have received a return pack for this and still have not. Meanwhile I get charged every month for this item when it is approved to be stop being charged as soon as it is returned. Now I have contacted customer service multiple times and spoke to a couple managers about this problem to confirm my address and get this return packet. Sounds like even customer service managers are unable to communicate with the Escalation team. They are like ghost. Can you please help me with this or get me in contact with someone with enough pull to get back in touch with the Escalation team.
Thank you for your time.
Stanley Dowell

Sadia sultana
from Houston, TX
I bought our phone and plan from 3902 Koehler St Ste 200 Houston, TX 77007, on August 2018, Assistant manager Lee came to helped us and we agreed to following opting, My phone LG G7: 12$/ per month lease and my husband motorola 8$/ month lease. However after one month they were charging me 33$/month instead of 12 dollar. From last August to now I made numerous call to customer service and that sprint store but nothing happened. Even that assistant manager LEE blame me for his mistake. "He said I entered wrong information why did you agreed to that" I said if you think you made mistake why can't you fixed it but reluctantly denied any help and tossed me to customer service where multiple agents try to tossed me to " Lee" again until finally last person in customer service helped me and he said it will be fixed bu I don not trust them. They say something but do opposite. IT WAS MY BIGGEST MISTAKE TO SWTICH FROM AT&T

Natalia Arruda
from Boston, MA
Debit card charged $2243.95 my account overdraft and fraud team told me money would be in my acc so far nothing

JOEL A COPPOLA
from West Haven, CT
I changed my service from Verizon to Sprint back in August of 2018. I was quoted a price of $104 a month on two phones. I was told that I would be getting a $250.00 rebate but had to spend it on Sprint products. I then was walked around the store to pick out cases and ear plugs that I didn't want or need to add up to$250.00. Now, more than 4 months later, I have been paying $155.00 a month because you're charging me monthly for the cases ear buds and I have never received the $250.00 rebate that I was promised. I called the store on numerous occasions and was told to wait for my rebate , that they were way behind on the rebate program. I am done waiting and really need someone to fix this now. Please contact me at my email address or phone at 203-530-5104. Thanks, Joel Coppola

Talisa Mulligan
from Ormond Beach, FL
I have been dealing with issues with Sprint for a while. They always seem to be caused by a Sprint store associate but then find that no matter who I speak to, no one will help resolve. The 1st being when my son's phone died suddenly, which was because of an issue with the phone itself, it apparently had been recalled and pulled from shelves because of this, but I had not received any communications on that recall and to get it replaced was an absolute mess. Every single Sprint employee I spoke to wanted me to pay a couple hundred dollars to have his phone replaced (which I had the best insurance offered at the time, on it). After spending from morning until quite late in the evening trying to get it resolved, FINALLY a supervisor of customer accounts helped me, which he even said he couldn't believe no one would help! The store associates were less than happy to help me with getting the new phone, and when activating it and doing all it is they do, they had our phones on the wrong lines, I couldn't send out text messages, they would come from his number and he couldn't receive calls. Got that fixed but had to deal with the phones being on wrong lines on Sprint's end. If my Samsung Galaxy s7 got scanned, it would show up as a Samsung Galaxy s6. To resolve the whole thing, I opened a new phone line for my son with his new phone, and closed his old line. Now to current issue...the MAIN issue I am still trying to get resolved (if you are still reading this). My line was still showing the wrong phone, so I opened a new line for my new phone. The problem is, I did it in a sprint store. I was VERY clear that I intended to close my old line when I was able to update everyone I needed to update. I was VERY clear I did not want additional lines, when she was persistently pushy in trying to get me to buy an Ipad as well. After being in the Sprint store for over an hour, She FINALLY had the new line open and new phone activated. I thought she was new and that was why it took so long, and told her I would set the phone up on my own. She handed me a bag with 2 additional cheapie phones and stated due to my longtime loyalty to Sprint and "upgrading" my phone, Sprint was offering these 2 additional moto phones at no charge to me. It was a few weeks later, when I called to close my old line, that I found out she 1. changed my phone plan (without my consent or knowledge) and 2. opened TWO ADDITIONAL lines for these 2 promotional phones. Again, without my consent and knowledge. In fact, against my wishes that I stated to her. But because I was past the 14 day period, the store manager said sorry not sorry, nothing we can do. I get mixed communications and the run around when I call the customer accounts services. They will express how much what happened "sucks" and is not how sprint does business, but then at the end, I get a sorry not sorry. Either keep the lines and suck it up or pay about $300.00 to cancel the lines.
I do NOT understand why I am having to pay for what one of the Sprint employees did. I was clear with my communications, and she still did whatever she felt like doing with my account to help her commission check, no doubt. It was extremely unethical and I refuse to pay any amount of money towards the phones and lines that I did NOT authorize. I have been a Sprint customer for a long time, but can not continue if this is acceptable by Sprint's standards. I am so disappointed.

Mikhail Shenouda
from San Diego, CA
Dear Sirs,
My Name is Mikhail Shenouda
Account Number: 252479301 (for Phone #: 714-609-1126 and 714-609-1130)
I would like to inform you that on September 25, 2018, We purchased 2 new phones S9 from Sprint Balboa and switched our Phone numbers to be through Sprint instead of Metro PCS, Name of person in charge at Sprint was "ALEC", and his offer which he wrote by his hand writing on Sprint Card under his name as follows: (for your information we are still keeping this card with us, in case you wish to see it and we enclosed herewith copy of said card):
1- Waive of $30x2 activation fee per line.
2- W/AAA give $200 Visa and Pay next renewal.
3- $200 Visa Card for switching.
Verbally, He confirmed the following:
a) we can get the Visa Cards for above 2- and 3- within 6 to 8 weeks.
b) Eighteen monthly payment, 1st monthly payment will be higher but later on the monthly payment will be almost $107. At the end we should pay about $198 for each phone.
C) He added, If you find that Sprint mention some higher charge or fees in internet document please don't care.
Meanwhile, at that time, he entered inside the store and informed that his boss confirmed above offer to us.
Based on above offer, we purchased the two S9 and switched to Sprint.
After passing of 2 months we started to investigate the matter with both Sprint store Balboa and Sprint on line and found that for above item (2-) Sprint on line was proceeding for approval, but for item (3- $200 Visa Card for switching) Balboa store "Ms. Stephanie" said she Knows nothing about it because she was working in another place at that time, and the person in charge "ALEC" already transferred to another Sprint store. She said she will send e-mail to "ALEC". Later on, she informed that "ALEC" say no or denied his offer for the $200 Visa card for switching, and she has nothing to do for us. So far, now, we are in January and feel that there was a kink of bluffing from Mr. Alec in order to sell the two phones.
We cannot believe that Sprint can accept this way, so please kindly study and try solve it. Thanks
Sincerely,
Mikhail Shenouda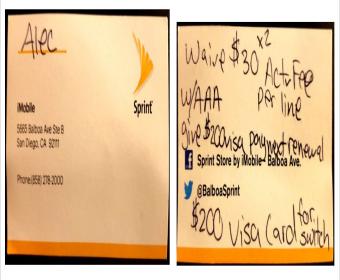 Sara fresquez
from San Antonio, TX
I first signed up for sprint Nov 2018 within one week of my new service, I was having problems. My bill came out 40.00 more a month than promised. I called dec 5 and was told my problems would be escalated to management. I called the day after Christmas to be told the manager had seen the acct but wasn't working it. I asked for the managers name but was told they dont give that info. I have pics of the pricing that was promised to me but again I as i asked to have the problem to be escalated only to be ignored.

William F. Culver
from Plano, TX
5 days, so far. 16 actual hours on the phone, in the store or on line, so far. Still only have 4 out of 5 phones ported from AT&T to Sprint. I was on line tonight for 45 minutes and on the phone with customer "service" (SERVICE? You would get better service from the patients at an insane asylum than from the lying bunch of brain dead Jack Asses at Sprint!) for 1 hour and 53 minutes, just trying to add my 19 year old son on my account as an authorized user. I was told by a supervisor (VINCE), right before he hung up on me, (and he didn't call me back like he assured me he would if we got disconnected) that it could only be done on-line. I spent 45 minutes, before talking to the liar Vince, on-line with the third guy I talked to (Joe, from tech support) trying to get it done on-line together and it couldn't be done so he transferred me to another guy who hung up on me after a very little while of trying to "help" me.
In all I spoke with 7 people on the customer "service" line tonight, starting at 7:00pm. I had to call back 3 times after the initial call. Three of the seven people I spoke with hung up on me. All initially assured me that they would be able to accomplish what ever I needed done. I should've stayed with AT&T. What are the chances of dealing with 7 idiots in a row with a companies customer "service"? With Sprint... 100%! The great thing is, I'm a disabled fire fighter and stay home now with plenty of time to find site after site to complain about Sprint customer "service"

Kenneth bellon
from Houston, TX
I was missed lead about my bill lease plan end it December 30 I called to speak to a representative and I was told by your employee Abby Employee number171 that my new plan would be 124.23 since then I've been quoted a different amount which is way too much

Tina Adams
from Tyler, TX
I have been with Sprint for about a year and a half and have ran into one issue after other due to negligence of Sprint employees and instead if employees being held accountable it cists me more money and frustration.
I have 4 lines. When I switched carriers initially, 2phones were not jn stock and had to ordered, one wasn't available, so only 1 line was converted over. We had to pay activation on that 1line, then when phones came in for other 2 lines they sat in store after we kept calling on due date and were told they were not there... We then had to pay for activating those 2 lines and the phone that wasn't available that we turned in for credit from other carrier was taken but we never received the transfer credit on a practically new phone because they said the phones did not match when I initially told the REp that the original phone was a replacement phone. And here recently that same phone line we had to pay an add'l activation fee because Sprint/Asurion canceled my 4th line when we kept calling to get phone activated..... We should NOT have had to pay an add'l activation but should have been notified and issue could have been resolved..... Today on this same line I found out line was setup on a total different plan than my other 3 lines..... Like I said one mistake after another.... SPRINT IS A RIPOFF!!!!!! And they need to hold their employees accountable on if their customers....

Priscilla Walker Miles
from Beckley, WV
I have had two phones on the same contract with Sprint for almost a year. Yes, I have had to pay late because my bill is over $200.00 or $300.00 each month. It is supposed to be around $140.00 each month. I call every month and ask why is my bill so high. No one can tell me. I ask to speak to a supervisor and was allowed to speak to one, once. He helped bring my bill down. This was the only help I have received when I call. I can't understand the speech of most of your employees because of our language barrier. I told the woman this on 1/8/2019 and expressed that it was no disrespect to her but I would like to speak to an English speaking American, please. The woman got harsh and started talking to me as if she had a speech impatient problem, speaking very slow and a little laugh. She never allowed me to talk to a supervisor or anyone else. I was once again rushed off the phone with no help. I went on the Sprint app and had a chat with an agent and got some help, once. I know it's up to me to switch my service, but after paying all this money I have been trying to remain with Sprint and keep my number. I was telling the woman that the app must not be reliable because I went on the app and paid what the recording told me that I had to pay in order to make a payment arrangement. She acting as if I lied, so I asked her why would I pay a lower payment of $137. Plus if I didn't have an arrangement. She said, there is no arrangement made, so pay the full amount. Evidently, the recording/app doesn't work so I told her I will continue to call. This woman just kept over talking me and asking for my credit card information. A very rude woman and a waste of Sprints promise to take care of their customers. This is not professional and not called for behavior. I would ask, is there no supervisors or higher up staff to get professional help from? I see Sprint going downhill quickly by word of mouth, social media, news, and customers who aren't satisfied. Thank you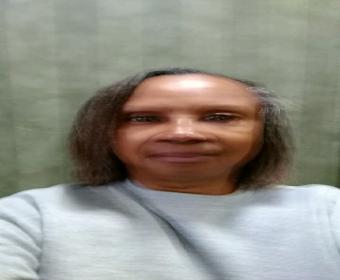 Mieko Michelle Johnson
from Thibodaux, LA
Several months ago I attained service from sprint for 5 phones, I had a financial setback about 4 months that prohibited me from paying my bill at the scheduled time. According to the customer service I could not delay payments without interruption of service. I work for a system that pays me once a month and anything outside my regular bills is always a problem so I just didn't have the money to continue payments. Well naturally the service was discontinued, but they continue to charge me monthly and are insisting that I pay for phones that the sales person told me were free with the exception of one phone that I would need to make about six payments on and it would be paid off. Now the bill is over 400.00 for service I have not used. The salespeople are trained to deceive you! They did a hard credit check when i was told it was a soft search, and now free phones are at a cost. Free is Free, if there are conditions on that customers should be given all information pertaining to their money upfront so that the customer can make inferred decisions about how to continue. it is not fair. If that was the case I would have gotten better phones since Im paying anyway.

Marinda Bynum
from Norfolk, VA
I PURCHASED THE NOTE 9 IN AUG-2018. FOR THE PAST TWO MONTHS I CONTINUOUSLY EXPERIENCED ISSUES SURROUNDING THE SIM CARD CAUSING THE PHONE TO STOP WORKING. THE LOCAL SPRINT STORE REPLACED THE SIM CARD TWICE AND TRIED TO RESET THE PHONE AS WELL. I FINNALLY INSISTED THAT THE PHONE BE SENT IN FOR REPAIR. UPON RECEIVING THE PHONE BACK I FOUND THAT MY ZAGG HD CLEAR-INVISIBLE SHEILD SCREEN PROTECTOR HAD BEEN REMOVED FROM MY PHONE AND HAD NOT BEEN REPLACED. I CALLED THE STORE TO RETRIEVE THIS ITEM AND WAS TOLD THAT IT WAS REMOVED WHEN THE PHONE WAS REPAIRED AND THEY DID NOT RETURN IT. SO....NOT ONLY WAS I WITHOUT A $1000 PHONE THAT WAS ONLY 4 MONTHS OLD FOR A WEEK, I NOW HAVE TO REBUY $30.00 SCREEN SAVER DUE TO NO FAULT OF MY OWN. SHAME ON YOU SPRINT, IF YOU HAD TO REMOVE THE SCREEN SAVER, YOU SHOULD ALSO PUT IT BACK ON AFTER YOU COMPLETE WORK ON THE PHONE. THIS PHONE AND YOUR MONTHLY RATES FOR SERVICE AND REPAIR COST ARE ALREADY VERY HIGH! THIS IS THE FIRST FULL DAY OF USING THE PHONE SINCE THE REPAIR. LET'S HOPE THEY GOT THAT RIGHT...….VERY DIAPPOINTED!

Michael g
from Burien, WA
Sprint sucks. Not much more to say other than I was lied to by the Sprint representative telling me I could get something that they still will not give me and the reason that I changed my service. Then my phone bill goes from $144 the first month $199 the second month. F*** Sprint

George Burks Blake
from Austin, TX
My iPhone "died" on Christmas eve 2018.... I ordered a replacement Android phone through Amazon and it arrived and I "swapped" the SIM card. The SIM card was invalid for the new phone. When I spoke to customer service they directed me to a Sprint Store on Bee Cave and 360 (8 miles). Upon arriving there, the employee explained that they didn't carry SIM cards and I would need to drive to the location at the Gateway Shopping Center 10 miles away. Upon arriving there, I was told they were out of the SIM card I needed and would now need to drive to the Sprint Store on Parmer which was another 4 miles away, but they would be closing in 8 minutes!
I just wanted to get my phone working. I've been a customer for over ten years and I wasn't interested in a SIM card scavenger hunt! Certainly, customer "care" should have located the appropriate store to find what I needed without the wild goose chase.
George

Aubrey Howell
from New Iberia, LA
Had the battery changed last week on my iPhone 6, which took 3 hours. The next day found out the technician fried the phone and the camera and when I went to see about my phone replacement he did not transfer all of my information. That's a lost also, and then spending 5 hours too see about that.

Were do I start, I am so frustrated about Sprint service. First of all the plan they give you is said to be a lot cheaper when you start out, but it's a lot more than they say it will be. My daughter got four lines supposedly with two cheap Free phones. The cheap phones are not free and you have to pay for them monthly added to the bill. My daughter gave me one of the phones and the day I received it I have had nothing but spam calls all day long every single day. It hasn't stopped and it's been about two years now. I have complained about this to Sprint several times along with adding my phone number to the National Do-not-call list, and nothing has changed. I have also had problems not receiving my calls and messages which people said they left a message and also heard my voice mail but it never showed up on my phone. I can't get pictures to load and my reception is great I have high speed wifi too.

Chanel Davis
from Albany, NY
Sprint customer service dept. has the worse customer service reps. After being on the phone for over an hr to simply upgrade my phone on one of my lines. I was told i couldn't because my current phone was reported lost or stolen. after explaining i never made the report, I was refused the opportunity to speak with a supervisor because nothing could be done. i was place on hold for roughly 15mins to be transferred to someone that simply tried to sale me a new phone without any resolve to the actual problem. after being on the phone over an hr to no avail i decided to end all my service with sprint in the near future. The rep. call me back to say there was an error, there are no flags on the phone and tried again to complete the upgrade. i declined. after a couple hrs i called back to find that my phone is indeed flagged for lost or stolen which was an error. The flagged should have been place on my secondary line back in august of 2018 on a galaxy phone. i was told i need to contact assuron insurance service to try and get it removed. After some back and Forth the rep contact them to remove the flag. I'm still waiting for this to take place. I have been with sprint for almost 5 years and have never be this frustrated on a call. i was simply trying to further my relationship with sprint while upgrading my device. I was never allowed to speak with a supervisor, no apology nor have i been able to upgrade my phone due to the error of a flag on the wrong device. I was able along with the last rep i spoke with determine i indeed still have the same phone as in my original contract. sprint has great deals when it comes to phone service but this customer service experience is forcing me to consider cutting all ties.

Betsy Perez
from Brick (120), NJ
Good Morning,
My name is Betsy Perez and I want to know where can I file a complaint against sprint. I have been a sprint customer for about 4 years now and I always paid my bill, not on the due date, but I always paid the bill. My husband had a situation where he got hurt at his job and he has been unemployed since July without no income, because workers comp is refusing to pay. My husband has been calling sprint and explained his situation and making payment arrangements with them. I just made a payment yesterday for $450.00 and the agent would not accept my payment unless I gave her my card number so that on January 2, 2018 sprint can take out $600.00 which I still owe and I wont have. I am not trying not to pay the bill, is that I cannot make the entire payment because we are only living on one income, which is my mine. When I got home yesterday, my husband was so upset and was having severe panic attack. My husband has been diagnosed with severe depression and this just put him over the edge. I am begging can we please please pay the reminder $600.00 by January 23, 2019. I was able to borrow the money but I wont have it until January 23rd. Is so sad is the Christmas holidays and I have to deal with this situation. If you have any questions I can be reached at (215)0915-5118.
Thank you

sharlita Wright
from Philadelphia (North Philadelphia), PA
I had a payment plan scheduled for 12/16/18, on 12/15/18 I called Sprint at around approximately 11am to reschedule the date to 5/21/18, the automated system informed that it could not be done that way because the payment already started processing. After a lengthy wait. customer service finally answered, I explained to them that I needed to reschedule the payment for only 5 days from now they informed that hey could not without a 50% current payment I informed them that I did not have a payment currently and asked if I could speak with a manager, because they are the only ones that can approve that kind of request. I was told that I was being transferred and then put on hold, and after approximately 10 minutes the phone automatically hung up. I called back and attempted to wait again, but could not any longer. Today 12/16/18 I called Sprint at approximately 3:45 pm, I went through the same process, got to the customer service rep explained the same thing, was told to hold for a transfer and again the phone hung up. I immediately called back went through the same lengthy wait spoke to the rep and explained the problem again, this time I specifically gave a call aback number and informed the customer rep of the phone automatically hanging up every time I start to hold for a supervisor, he informed that if the call did disconnect again that a call would be returned. Again, as expected the call disconnected yet no call was returned. I have been a loyal customer for over 5 years I am sincerely disappointed with Sprint for such disrespectful service. Although there are many different service providers with better rates, network service, and incentives, I have continued to stick with Sprint over the years. My sprint service is on the pricey side and even though I struggle with finances from time to time I continue to pledge my loyalty to Sprint, as of evidence for the past day and today it seems as if Sprint is no longer willing to reciprocate this loyalty. As a loyal customer with a lengthy record, I do not believe it is too much to ask of for a 5 day extension. If the problem is not resolved or at least a call returned by the end of the day I am afraid I will finally be forced to reconsider my loyalty to Sprint and terminate my contract upon picking a new service provider.
Sincerely,
Sharlita Wright
(267) 235- 6089

Bobby taylor
from Atlanta, GA
For over 8hours of phone time trying to upgrade I've been lied to
Hung up on ran in circles I've been customer since beginning 2001 was Nextel since phones first began after all the wasted time I still have no upgrade and for some reason your company says can't take auto pay from a savings account???? My bank B.B. and T says shouldn't be any problem??? I've been quoted over 4 different amounts for exact plan 5 different agents one supervisor who said her manager would call he did rang twice hung up some one please contact me at e mail or 7706163970

Tenisha Rosa
from Woburn, MA
I been a customer with you guys for about 12 years and I'm so upset on the service I've received nobody freaking helped me I was on the chat with somebody names Valentina she tells me to reset my network settings and it turns my phone off and makes me lose the chat with her and doesn't resolve my issue at all I get back on the chat and AGAIN explain my issue and she swears up and down she will help she transfer me to another person and it has me on hold for another hour and then says no agents avaliable try again later. What kind of service is that?? Then when i say im leaving the company all of a sudden somebody enters the chat and still doesnt fucking help me gets my phone number wrong i've never been so annoyed in my life and once my contract is up i will be leaving this company for the service i been recieving lately especially for being a customer a loyal and great one at that for 12 years.

Gloria N/a Smith
from Fullerton, CA
Sprint has the worse customer service ever they keep you on hold for hours I have been a customer over years and they dont care

madisyn black
from Salt Lake City, UT
waited over2 weeks for my phone to be fixed and they told me 5-7 days, they should have said it was going to take longer because of the Christmas holiday. ive went to the Layton, ut sprint multiple times and they always say "2 more days" I want my phone or I want a replacement for free. don't dish out what you cant eat, get your business in check, thank you.

chrissondra robinson
from Atlanta, GA
I have a problem wit4h my account sprint set up a promise to pay without me knowing it I thought they had put a hold on my account they have nasty with me threatened to cancel my account and hu ng up in my face I have ,made bbb reports and I will keep making the,m u ntill some fix the problem

John P Caudill
from Baldwin, GA
Sprint Stole our new phones !! I had been a VIP customer with At&t for many years . They started raising our rates for no reason so we decided to switch to Sprint. I had recently purchased brand new iPhone 8 s and a Galaxy S8 from At&t. I went to the sprint store located at 119 Bryant Dr. Nicholasville , KY 40356. TO change our service. The manager informed us that we had to buy new phones from Sprint because the att phones would not work. I also had an I pad that needed to be switched over also. They promised to pay off our phones and give us store credit for the balance. We purchased 2 iPhone 8 and a I phone 10X . They took our our old phones and said that we would be given credit to cover the balance. The first problem came after he tried to turn on my Ipad. The internet connection that worked fine for At&t would not work. I was told it would be fixed the following day ,and that he would get back to me as soon as it was handled. That never happened. I had to call back several times with little to no progress made. I provided my final bill from at&t several times to 3 different people also. I got a huge bill from At&t for our old phones and I never received the credit from Spint to cover it. . We never received the debit cards we were promised to cover the bill. I went back to the store several times and complained but the manager was never in . And then finally I was able to speak to the new manager and she informed me that they had lost all records of me turning in my old phones. They blamed it on the previous manger. Nothing worked out like they said it would AT ALL!!! After weeks of arguing back and forth I was finally given a small percentage of what I paid for my old phones. After several months. The amount was only 25% of what I owed on each phone. I am very displeased with Sprint and as soon as I am financially able, I am switching to another company. I will not reccommend Sprint to anyone because of this whole ordeal. I can not wait to switch to another carrier and leave sprint for good. I was treated like I done something wrong and made to feel like a crook. And the whole time , it was sprint that was stealing from me. I am out over $1400 dollars and feel violated . I wonder how many more people get cheated this badly ? I am telling everyone I know what happened and hope they never use your service again. I know this letter is probably a waste of time, But maybe someone will read it and they too will switch. If I was rich , I would have sued the store that stole my phones. Being forced to settle was the worst feeling I have ever had and I will never forget it. You have lost a family of potential clients ! Switching ASAP !!!

Daniel Espinal
from Ashburn, VA
I had called in on 12/6/18 and stayed on the line for 2 hours in order to cancel my services based on receiving misleading information and inconsistency between storefronts, and from your agents over the phone. I've been a loyal customer for over 12 years. I was offered a standard unlimited plan and upgrade for 1, 64 gig iphone XR model, and 1, 256 gig iphone XR model with insurance and estimated tax at $125.82 for the first 12 months, and then $155.82 for the following 6 months. I had repeatedly the quotes to the agent numerous times and she stated all was correct. I then was transferred to a sales agent who then quoted me at $134.16 for the first 2 months, $144.16 for the next 8 months, $154.16 for the next 2 months and $164.16 for the final 6 months, this included insurance but w/o taxes and a $150.00 down payment which hadn't been mentioned previously. I explained to the sales agent that what she was detailing to me was nothing in regards to what I agreed to, and I felt mislead and extremely uncomfortable with the inconsistency. I felt I had been suckered into a false agreement. The sales agent apologized and stated that the notes were inconsistent, and that's probably why the accounts agent did not stay on the line. This is extremely shady. She then transferred me over to a retention agent, who then told me he could not agree to what had been originally offered, and I said fine, cancel my services as I had an offer from T-Mobile I could accept through my employer. He then transferred me over to his supervisor. She also could not help me as she stated there were no notes in my account indicating what was told to me. I shared my discomfort, asked that she cancel my services, and to provide me with a corporate complaint venue. She stated she didn't have access to that information. She did give me an interaction ID# which is i1701767461. I just wanted to share this extremely uncomfortable event as an opportunity for your company to improve on consistency between your departments, and allow a premise to empower your employees to deliver satisfaction while honoring their promises. Shame on you Sprint. I was loyal for over a decade, and this is how you treat your loyal customers. Good bye.

I called to ask for services o be suspended due to being a single mother who was laid off from work after 15 yrs. And currently doing cancer treatment. I finally get work and call I find out what I need I reinstate and am now told they sent me to collections and acct is closed 48 days ago. Without me being informed. Their manager Robert says if I can Pay 765. An some change today he can get me back into my acct. Problem is I receive my 1st paycheck Friday and he will not help me any further after today. And to top it all off they stopped giving me my discount for being a credit union member long ago. Sprint services have changed their phone people are rude an have NO HELP FOR STRUGGLING PARENTS FIGHTING TO DO IT ALONE AJD WITH MEDICAL CONDITIONS. I've had my number 15 yrs. Due to cancer I didn't want it changed because of drs. And now I'm being told I cant have my # after today if I can't mysteriously come up with 765 and some change.

Dayna Williams
from Walnut Creek (Ygnacio Valley), CA
My name is Dayna Williams. My phone number is 720-525-0356. I had Sprint for over a year and had my payments on auto pay. I received a call over the Summer where they talking me into coming in to see the new deals and promotions they have. My bill was $175 a month. I signed up for the 4th and 5th line free. The 5th line was actually and ipad. I was also told that my monthly bill would go from $175 to $150. I signed all the papers and went on my way. Well....it has been nothing but a nightmare since. I had this large bills that Sprint paid for and said the corrected the issue. Nope!! Two weeks ago I paid $250 and my next month bill statement came and it says I owe over $500! We all have unlimited phone plans. The manager at the Sprint store on Parker & Peoria (80014) was helping me with this in the beginning and he now is not responding to me. When I call Sprint they say I have to speak to the store that set me up to fix the problem. No one is willing to help! I no longer have auto pay because the monthly rates and so high for no reason. I cannot afford this nor can I be without my phone. Who at Sprint will step up to fix the problem that Sprint created?? I was offered a promotion and deal that I never got. It was extremely high and not what I signed up for. This issues needs to be fixed. This has gone on for 5 months now.

Rochelle Walker
from Overland Park, KS
When I walked in the door the rep greeted me while trying to check in. She said that I had about a 30 minute wait. It was actually over an hour. While waiting I noticed that 3 reps were working on one customer and that they were not concerned with helping the customers in store, as so it appeared. I was disappointed that no one came to tell me that it would be longer than expected.

Dustin Free
from Jacksonville, FL
Went in to Sprint store #252413 yesterday to upgrade my two phones and had one of the worst experiences in quite a while. Upon entry we were met by a very unprofessional male employee named Shamir or Shamar? . We advised him we were there to upgrade our phones and immediately began to laugh because we still had Iphone 6's. We are not a family that feels the need to overindulge on items that are not needed and the only reason we were there to upgrade phones was because they were both on their last legs. Anyway that was only the beginning. I was ready to walk out at that moment and I really should have followed my gut instinct, but my wife really wanted to get this done yesterday because I have to go out of town this weekend. So we picked out which phones we wanted and began the process at a little after 3 pm. After one hour we finally got around to transferring the data over from old phones to new. He said it took this long to get to this point because we had not backed up our data recently to the icloud so they had to do that first. So that was understandable. So finally we are starting to transfer information over and that is when all hell broke loose. Basically after 2 hours of waiting for transfer my wifes phone had updated her pictures but no contacts, and mine had only updated contacts. Then he tried some magical fix on mine that ultimately caused it to freeze on on itunes support apple.com screen. said that it would not update so left it frozen and said sorry but you will have to go to Apple now to get it fixed. Then ran off to help another customer to try and get another sale. The assistant manager had to call him back over to try and help my wife with her problem since my phone was basically screwed. At this point i was very mad and had been there over 2 hours and had to take my 3 year old home. My wife stayed behind for another 2HOURS and they still could not get all her contacts over! Then by the time I got home whatever he had done on my old phone had completed so I opened it and discovered that EVERYTHING had been wiped! Every picture of my daughter that I had from the time of her birth till now are gone! They are not in the "Cloud" like he said he updated to - they are LOST! How do I get that Back? We are both very upset at the moment and will never return to that store again. It is a small town store and we will make sure to tell everyone we know about this and to avoid it like the plague! I have been through several "upgrades" in my life and I have never experienced such a lack of professionalism and arrogance. It is obvious that all he cares about is his numbers and not the customer because once the paperwork was signed he was ready to move on to anyone else who walked through the door. While we sat there watching the last 4 years of our lives disappear! I can guarantee if I had an employee of this nature he would not be one very long. I could go on but what good would it do. Just needed to let you know of our experience. Also - I will also be filing grievances with several other entities.

I called Sprint to unlock my phone so I could transfer it to a different cell phone company. I spoke with Ajeed and he was completely unhelpful. He continually shilled bs at me and would not assist in any way. When I requested a supervisor, he refused to. I requested a supervisor multiple times and he continually refused. He refused over and over to give me a supervisor. He refused to assist me. He continually argued with me and talked over me. He would not listen to anything I said. He refused to even try to unlock my phone as I asked. Instead, he just talked in circles and kept refusing to give me a supervisor. This was absolutely the WORST customer service I have ever had from any company including Comcast. I will never consider ever coming back to Sprint if this is how they treat their customers.

Taquana Tarver
from Philadelphia, PA
I have been calling sprint over the past month for the same issues i have gotten through to reps after being on hold for about 15 mins than i am placed on hold again an then the phone hangs up, i am totally discussed with sprint customer care i know each i called the callers are recorded i have had it up to my neck with sprint an them not helping me after i have been along ftine customer an i spent thousands of dollars with this company i will be looking for a new phone company.

Rev Robert Gill
from Framingham, MA
The Philippines call center is rude disrespectful and they don't want to help you out. I ended up swearing and a couple representatives because I want to switch over and speak to the retention department and they wouldn't do it. They don't know what they're doing. They have screwed up my account many many times in their customer service is very poor. They are very nasty rude disrespectful and they don't listen to what I'm saying.

david delucca
from Honolulu, HI
you folks keep raising the price of my bill each month .i hardly use m phone i though i was on the senior plan as well im very upset with your service i may quit sprint

Iftikhar Ahmed (Bay Solutions Inc) Account number 479112906 - cell number(408) 483-07209
from Los Gatos, CA
I called customer service today to set up our Hot Spot for all our business lines.
I spoke to Ms. Jordan (I presume her name is) because she refused to spell or repeat her name for me for future verification.
Ms. Jordan had a bad attitude which sounded more racist to me than proper customer service procedure.
Ms. Jordqan demanded I spell my name which I complied, she was speaking with a bad attitude.
When I asked her name she refused to spell or repeat it.I asked her to connect me with a Supervisor after which she placed me on hold for a long time hoping that I may hang up, then after a while a Mr. Zack came on the line saying he is her colleague that he will help me instead of a supervisor, he also refused to escalate me to a supervisor.
I had no choice but to work with him like I was not a customer just a nobody with little respect. Mr. Zack helped me after he finished I asked him how will he take care of the attitude I faced with Ms. Jordan he said he apologized and will take of it, then I proceeded to ask him to send me an email which was past due to customer service from a Mr. Magleen from yesterday for changing our calling plans. I never received an email from Mr. Magleen from 11-21--18 or Mr. Zack on 11-22-18.
If this is the way Sprint customer service handles loyal Buinsee Business customers I am very disappointed and want an explanation before I switch to a different carrier, your CEO Mr. Michel Combs should also be copied on this email.

Pamela Jackson
from Casa Grande, AZ
As a long time Sprint customer, I recently experienced the most horrific problems with customer service that has me questioning why we would continue as Sprint customers. I certainly would NEVER recommend Sprint to anyone based on my personal experience, & you can predict that I will not remain quiet about my feelings, your company & your pathetic customer service.
Because I am totally stressed out and exhausted from my past week in trying to simply order a phone & get it activated, I will outline the condensed version:
We visited a Sprint store to order my husband a new phone, as his old one was needing to be replaced after several years. 90 minutes later we were told we would have to visit a corporate store due to the nature of our account or order it from home online.
Numerous attempts on our behalf to order online, we were given error messages and unable to complete order.
The next day I called one of numerous 800 numbers posted as "Call to Order". I had 2 connections with representatives somewhere in the Caribbean, each call lasting about 20 minutes on my cell phone, attempting to order a new phone, only to be disconnected & NEVER receiving a call back even though I had provided my phone # to both representatives in the event of disconnecting.
I then attempted another call to another Sprint "Call to Order #". After 45 minutes this simple order for the simplest of cell phones in your inventory was finally placed.
Two days later the phone miraculously arrived. We were so excited. The next morning right on time, the scheduled call came from the tech support to activate the phone. That person was totally unable to activate the phone, connected us with another technician who was also unable to activate so we made an appointment to visit a corporate store the following morning as we were advised to do. No matter how hard the in house technicians tried in the corporate store, NO ONE was able to activate the phone. After 90 minutes in the store, we were told the new Kyocera DuraXTP phone was "defective". We were also told we must personally call Sprint to order another phone as the system would not allow them at the store to add the new one they had in the store on our behalf.
So, we come home & contact Sprint on another "Call to Order" # and after 60 minutes on the call with 2 different representatives, we are connected to an insurance claim representative who ultimately asked, "Why were you connected to me?" to which we could only answer, "they apparently dumped us on you as no one else could figure it out." This representative from Acurian(sp)?? went way beyond her job description to help us. After about 45 minutes with her she got permission to send us a new phone with a label for return of "defective" phone. And guess what, the phone we were trying to replace is on BACK ORDER! So we are waiting to hear about the back order.
Then today, I got so fed up I tried another "Call to Order" number to try to order a phone that is in stock from Sprint. After another 45 minutes with a Sprint representative I finally found someone who was knowledgeable enough to troubleshoot the problem and activate the "defective" phone.So the phone apparently was NOT defective after all. OH MY, be grateful I gave you the condensed version. I am still stunned from this entire debacle & feel your corporate officers should be horrified to hear of this nonsense!!!
The jury is still out on my decision to keep Sprint services for either of our phones. CUSTOMERS SHOULD BEWARE!!!! THIS STRUGGLE IS REAL & apparently from posted reviews of your company, I am only one of hundreds/possibly thousands of customers who have been subjected to this unacceptable form of treatment & disregard.
Disgustedly,
Pamela Jackson-10+ year customer

Ileana Colindres
from Houston, TX
I called for make a payment and I talked with Ammy and she told me sprint charge me 40 dollars additional for disconnecttion but i talk wit someone Because i need to payment until November 15 and he didn't toldme i need to pay a additional 40 dollars , so Ammy talked with supervisor and I asked talked to him and because i was speaking in spanish he didn't talked to me I don't know why ? His name is John and them Amys said i am going to change you don't need to pay the40 $ and she was changing the amount so finally my brother started talking to her because she try to charge me more money i am so mad with sprint i have to many year with this company and now they try to charge more and they discriminate me

Ashley Goley
from Fayetteville, NC
If I could rate Sprint as a 0, then that is what I would give them. Sprint has the worst customer service team I have ever witnessed in my entire life. I bought my IPhone out on the 1st of November and then called in to cancel my services with Sprint, because I was switching to Verizon. I have been with Sprint since 2014 and have had several problems over the years. However, nothing major enough to make me want to leave and because my husband is with Verizon was the only reason I was switching. Anyways, I called in on the first and was told that I would not be charged from the 1st-19th; which would be the end of the billing cycle. I spoke to 4 different people this day because I was given the run around several times, plus the first representative was extremely rude. Fast forward to the 12th (Monday), and not only was I charged the full amount but I was also charged the phone leasing fee, my military discount was not applied, and my autopay discount was not applied. Bringing my total to $100 and some change. I call Sprint on 12th to get refunded back the money that I was not suppose to be charged. I was transferred between departments 5 times. I spoke to 5 different people, including 2 representatives that kept interrupting me every time I would try to speak. That's 3 rude people so far, all because Sprint does not want to give me my money back. The last representative finally got it approved by a supervisor to credit me back $50, however since it was already pending in my bank account I had to wait until it fully posted in order for me call back in. Fast forward again to this morning (14th), the bill finally posted so I called in at 830 am est. I was on the phone for 2 hours and 15 minutes and spoke to 7 different representatives. The third person I spoke to was so incredibly rude, disrespectful, and was the definition of lack of customer support and service. I asked him 9 times to transfer me to a supervisor because he was trying to credit me half of the $50, saying I see where the $50 was approved but you are only due $21.65. I asked to be transferred and he goes, "I am not sure why you need to be transferred, they are going to tell you the same thing" and "I have explained it and I am not sure why you are not getting it". He said other things that were condescending, rude, and totally out of line, but I do not remember because I was so frustrated. I finally got switched and the "supervisor" who answered did not even start off with anything remotely close to a greeting. Instead I got a, "the representative explained and that is all we can do". I explain the whole situation to her so she transferred me to account services. Account services rep answers and tells me that I have to speak to financial services. I was put on hold for 20 minutes and finally spoke to a new woman. The new woman went through all of the previous conversations and after about 15 minutes switches me to a supervisor in that department. The supervisor first tries to tell me that because the first original guy that I spoke to on the first (you know the one that said I would not get charged) gave me a $10 credit as a courtesy; which I did not expect nor did I ask for that I was only going to receive a $20 credit to my sprint account. Finally after talking to him for another 15 minutes he put in a refund request for the $50 to go to my banking account, seeing as how my service ends completely on the 19th. The funny part is I never received an email or confirmation of this nor have do I have anything about any of these so called, "credits". I would not continue to fight this for a measly $50, however after being told several times i would get the money, after all of the phone calls, and rude representatives, it is the principle and I want my money that has been stolen from me. I will be filing a BBB complaint, as well as spreading the word about my experience with Sprint, because no one deserves to be treated like I was nor do they need to join a company that is truly AWFUL!

John Sweetney
from Gwynn Oak, MD
I join sprint on October 11, 2018 on free iphone 10 s promotion, the is credited every month $41.67 . I have called sprint customer service over 10 times on same issue. My bill shows $105.95 , my service will not work in my house at all. I called twice about , still the same. Can someone contact me on my home number 410-944-2198 on this. Customer makes promises it can solve. Thanks

Parveen Sultana
from Fair Lawn, NJ
Recently i was thinking to change my carrier from virgin mobille to Sprint.
I went to a local sprint store to get information about existing plans and procedure and also if i can keep my current number. The lady sitting in the front desk asking another person who is at the back of the building(I guess supervisor) ,,the same question i asked her. The other man replied from back to check my credit. They even did not give me any information regarding the various options. The lady asked my ID . She entered my Id information in the desktop computer and then entering in to her ipad. Multiple times she asked my SSn and she entered that in the desktop as well as ipad. And i notice she is trying to keep away her ipad so that i can't see it. And then she said my address does not work. My Driver license was in front of her where the address is printed. Then she took the picture of my Driving license several time in her ipad from different way both side and by zooming. I was surprised and worried because i even did not decided which phone i am going to buy , why she is entering my information in ipad although she entered it in the desktop computer and took picture. The lady did not behave in a professional way as well as as she was not well informed about the products and services. I did not see her id or any uniform. She covered her whole body with a shawal. Every time I asked any question she answered something irrelevant. I was upset and scared about my ID protection . I said , I dont want to buy any phone , can you delete all my information. She felt nervous. I left the store. I am very much worried about my personal information.and would like to bring this issue to sprint authority whether that store is authorized sprint store and the person is a real employee or not. The store address is
100 Broadway, Elmwood Park , NJ.
It happened today Nov 7' 2018 around noon time.
Today's experience made me thinking different way. Why they allow the part time/ temporary employees to handle sensitive issue like credit checking. I will go further with this issue.

Fiordaliza Santiago
from Kissimmee, FL
Called Sprint sales department for an upgrade on my Samsung galaxy s7 and was litterly harassed for 3 hours on the phone. Told agent for over 3 hours that I was not interested on insurance on the new phones but he would not take no for an answer. After 3 hours he transferred me to the Spanish speaking dept something that I didn't ask for.. This was very unprofessional and I've been with sprint for 16 years.. The agent was named Mathew.. Thank yoi

David kreitel
from Charlotte, NC
Serious problem with service I'm reserving please contact me as soon as possible or sprint leaves me no choice to move my 5 lines to another competitor phone number is 662 753 9727 will not talk to your service centers over seas

JoAnn Foster
from Columbia, SC
I was texting with a chat agent on mid October, when I was making a arrangement to pay $20.- on the 25th / 26st of October and the remaining funds on the 8th of November.
I was promised that my service would not be turned of , due to the fact that I work for City Fire dep. My service however was turned off / restricted on 2.Nov.18
Called Sprint customer service, and texted with chat agented Gie , Mrs. Sherry, which explained to me that they can see whom chat I had the conversation with, but can not verify my statement...How ironic???
I'm very disappointed to say the least...since I made the afford to prevent the current problem.
JoAnn Foster
Cell 803-718-2878

Antony Burns
from Cortland, OH
I went to the sprint store at 2658 Niles Cortland Rd #470, Warren, OH 44484 today in order to return phones after closing my Sprint account. I was told by the lady at the counter that since the account was in my wife's name that she had to be present with a drivers licence in order to return the phones. I then left the store and went to my car where I decided to go back inside to see if anything could be done without my wife being present. When I asked if they could call someone I was rudely interrupted and talked over, I attempted to ask again and again I was interrupted on the third attempt I had to raise my voice. At that time a agent came from behind the counter got in my face and threaten to call the police on me if I did not leave the store. When I told him to go ahead a call the police,he then attempted to put his hands on me to push me out of the store as he continued to yell at me to leave the store. I asked him his name and employee number, he said his name was Chris but refused to provide his employee number. When I pressed him to tell me his employee number he continued to refuse till finally told me he did not have an employee number.
To sum things up my experience with Sprint and its employees, costumer service, cell phone service and billing for the last 18 months has been the worst I have ever had to deal with in my life. I will never do business with or would I ever recommend you company to anyone.

James Dwyer
from Virginia Beach, VA
I have been a Sprint customer for over a couple years now and when I joined, I was told that my contract that I was leaving with T-Mobile would be bought out. All I had to do was send them my final T-Mobile bill. I sent Sprint my final T-Mobile bill and never heard back from Sprint. The next thing I know, with everything out of sight, out of mind, I have a collection on my credit report for over $1750. After contacting Sprint about this, they confirmed it's their fault and they would take care of the situation. It's been almost 2 months now, done multiple calls back and forth, 3 way calls with T-Mobile and Sprint, and now they tell me after 2 months that they will only cover 75% of the collection. This is unacceptable and I hope we can still get this resolved in a more timely manner. I shouldn't have to pay for someone else's screwups, and my Credit Score has drastically screwed up because of someones mistake. Someone please help.
James Dwyer
Jdwyer316@gmail.com
Have feedback for Sprint?
Thanks for your feedback!
Sorry. Please try again later!