Sprint
Sprint Complaints Continued... (Page 4)
738+ reviews added so far. Upset? Call Sprint corporate: 1-800-777-4681

Betsy Perez
from Brick (120), NJ
Good Morning,
My name is Betsy Perez and I want to know where can I file a complaint against sprint. I have been a sprint customer for about 4 years now and I always paid my bill, not on the due date, but I always paid the bill. My husband had a situation where he got hurt at his job and he has been unemployed since July without no income, because workers comp is refusing to pay. My husband has been calling sprint and explained his situation and making payment arrangements with them. I just made a payment yesterday for $450.00 and the agent would not accept my payment unless I gave her my card number so that on January 2, 2018 sprint can take out $600.00 which I still owe and I wont have. I am not trying not to pay the bill, is that I cannot make the entire payment because we are only living on one income, which is my mine. When I got home yesterday, my husband was so upset and was having severe panic attack. My husband has been diagnosed with severe depression and this just put him over the edge. I am begging can we please please pay the reminder $600.00 by January 23, 2019. I was able to borrow the money but I wont have it until January 23rd. Is so sad is the Christmas holidays and I have to deal with this situation. If you have any questions I can be reached at (215)0915-5118.
Thank you

sharlita Wright
from Philadelphia (North Philadelphia), PA
I had a payment plan scheduled for 12/16/18, on 12/15/18 I called Sprint at around approximately 11am to reschedule the date to 5/21/18, the automated system informed that it could not be done that way because the payment already started processing. After a lengthy wait. customer service finally answered, I explained to them that I needed to reschedule the payment for only 5 days from now they informed that hey could not without a 50% current payment I informed them that I did not have a payment currently and asked if I could speak with a manager, because they are the only ones that can approve that kind of request. I was told that I was being transferred and then put on hold, and after approximately 10 minutes the phone automatically hung up. I called back and attempted to wait again, but could not any longer. Today 12/16/18 I called Sprint at approximately 3:45 pm, I went through the same process, got to the customer service rep explained the same thing, was told to hold for a transfer and again the phone hung up. I immediately called back went through the same lengthy wait spoke to the rep and explained the problem again, this time I specifically gave a call aback number and informed the customer rep of the phone automatically hanging up every time I start to hold for a supervisor, he informed that if the call did disconnect again that a call would be returned. Again, as expected the call disconnected yet no call was returned. I have been a loyal customer for over 5 years I am sincerely disappointed with Sprint for such disrespectful service. Although there are many different service providers with better rates, network service, and incentives, I have continued to stick with Sprint over the years. My sprint service is on the pricey side and even though I struggle with finances from time to time I continue to pledge my loyalty to Sprint, as of evidence for the past day and today it seems as if Sprint is no longer willing to reciprocate this loyalty. As a loyal customer with a lengthy record, I do not believe it is too much to ask of for a 5 day extension. If the problem is not resolved or at least a call returned by the end of the day I am afraid I will finally be forced to reconsider my loyalty to Sprint and terminate my contract upon picking a new service provider.
Sincerely,
Sharlita Wright
(267) 235- 6089

Bobby taylor
from Atlanta, GA
For over 8hours of phone time trying to upgrade I've been lied to
Hung up on ran in circles I've been customer since beginning 2001 was Nextel since phones first began after all the wasted time I still have no upgrade and for some reason your company says can't take auto pay from a savings account???? My bank B.B. and T says shouldn't be any problem??? I've been quoted over 4 different amounts for exact plan 5 different agents one supervisor who said her manager would call he did rang twice hung up some one please contact me at e mail or 7706163970

Tenisha Rosa
from Woburn, MA
I been a customer with you guys for about 12 years and I'm so upset on the service I've received nobody freaking helped me I was on the chat with somebody names Valentina she tells me to reset my network settings and it turns my phone off and makes me lose the chat with her and doesn't resolve my issue at all I get back on the chat and AGAIN explain my issue and she swears up and down she will help she transfer me to another person and it has me on hold for another hour and then says no agents avaliable try again later. What kind of service is that?? Then when i say im leaving the company all of a sudden somebody enters the chat and still doesnt fucking help me gets my phone number wrong i've never been so annoyed in my life and once my contract is up i will be leaving this company for the service i been recieving lately especially for being a customer a loyal and great one at that for 12 years.

Gloria N/a Smith
from Fullerton, CA
Sprint has the worse customer service ever they keep you on hold for hours I have been a customer over years and they dont care

madisyn black
from Salt Lake City, UT
waited over2 weeks for my phone to be fixed and they told me 5-7 days, they should have said it was going to take longer because of the Christmas holiday. ive went to the Layton, ut sprint multiple times and they always say "2 more days" I want my phone or I want a replacement for free. don't dish out what you cant eat, get your business in check, thank you.

chrissondra robinson
from Atlanta, GA
I have a problem wit4h my account sprint set up a promise to pay without me knowing it I thought they had put a hold on my account they have nasty with me threatened to cancel my account and hu ng up in my face I have ,made bbb reports and I will keep making the,m u ntill some fix the problem

John P Caudill
from Baldwin, GA
Sprint Stole our new phones !! I had been a VIP customer with At&t for many years . They started raising our rates for no reason so we decided to switch to Sprint. I had recently purchased brand new iPhone 8 s and a Galaxy S8 from At&t. I went to the sprint store located at 119 Bryant Dr. Nicholasville , KY 40356. TO change our service. The manager informed us that we had to buy new phones from Sprint because the att phones would not work. I also had an I pad that needed to be switched over also. They promised to pay off our phones and give us store credit for the balance. We purchased 2 iPhone 8 and a I phone 10X . They took our our old phones and said that we would be given credit to cover the balance. The first problem came after he tried to turn on my Ipad. The internet connection that worked fine for At&t would not work. I was told it would be fixed the following day ,and that he would get back to me as soon as it was handled. That never happened. I had to call back several times with little to no progress made. I provided my final bill from at&t several times to 3 different people also. I got a huge bill from At&t for our old phones and I never received the credit from Spint to cover it. . We never received the debit cards we were promised to cover the bill. I went back to the store several times and complained but the manager was never in . And then finally I was able to speak to the new manager and she informed me that they had lost all records of me turning in my old phones. They blamed it on the previous manger. Nothing worked out like they said it would AT ALL!!! After weeks of arguing back and forth I was finally given a small percentage of what I paid for my old phones. After several months. The amount was only 25% of what I owed on each phone. I am very displeased with Sprint and as soon as I am financially able, I am switching to another company. I will not reccommend Sprint to anyone because of this whole ordeal. I can not wait to switch to another carrier and leave sprint for good. I was treated like I done something wrong and made to feel like a crook. And the whole time , it was sprint that was stealing from me. I am out over $1400 dollars and feel violated . I wonder how many more people get cheated this badly ? I am telling everyone I know what happened and hope they never use your service again. I know this letter is probably a waste of time, But maybe someone will read it and they too will switch. If I was rich , I would have sued the store that stole my phones. Being forced to settle was the worst feeling I have ever had and I will never forget it. You have lost a family of potential clients ! Switching ASAP !!!

Daniel Espinal
from Ashburn, VA
I had called in on 12/6/18 and stayed on the line for 2 hours in order to cancel my services based on receiving misleading information and inconsistency between storefronts, and from your agents over the phone. I've been a loyal customer for over 12 years. I was offered a standard unlimited plan and upgrade for 1, 64 gig iphone XR model, and 1, 256 gig iphone XR model with insurance and estimated tax at $125.82 for the first 12 months, and then $155.82 for the following 6 months. I had repeatedly the quotes to the agent numerous times and she stated all was correct. I then was transferred to a sales agent who then quoted me at $134.16 for the first 2 months, $144.16 for the next 8 months, $154.16 for the next 2 months and $164.16 for the final 6 months, this included insurance but w/o taxes and a $150.00 down payment which hadn't been mentioned previously. I explained to the sales agent that what she was detailing to me was nothing in regards to what I agreed to, and I felt mislead and extremely uncomfortable with the inconsistency. I felt I had been suckered into a false agreement. The sales agent apologized and stated that the notes were inconsistent, and that's probably why the accounts agent did not stay on the line. This is extremely shady. She then transferred me over to a retention agent, who then told me he could not agree to what had been originally offered, and I said fine, cancel my services as I had an offer from T-Mobile I could accept through my employer. He then transferred me over to his supervisor. She also could not help me as she stated there were no notes in my account indicating what was told to me. I shared my discomfort, asked that she cancel my services, and to provide me with a corporate complaint venue. She stated she didn't have access to that information. She did give me an interaction ID# which is i1701767461. I just wanted to share this extremely uncomfortable event as an opportunity for your company to improve on consistency between your departments, and allow a premise to empower your employees to deliver satisfaction while honoring their promises. Shame on you Sprint. I was loyal for over a decade, and this is how you treat your loyal customers. Good bye.

I called to ask for services o be suspended due to being a single mother who was laid off from work after 15 yrs. And currently doing cancer treatment. I finally get work and call I find out what I need I reinstate and am now told they sent me to collections and acct is closed 48 days ago. Without me being informed. Their manager Robert says if I can Pay 765. An some change today he can get me back into my acct. Problem is I receive my 1st paycheck Friday and he will not help me any further after today. And to top it all off they stopped giving me my discount for being a credit union member long ago. Sprint services have changed their phone people are rude an have NO HELP FOR STRUGGLING PARENTS FIGHTING TO DO IT ALONE AJD WITH MEDICAL CONDITIONS. I've had my number 15 yrs. Due to cancer I didn't want it changed because of drs. And now I'm being told I cant have my # after today if I can't mysteriously come up with 765 and some change.

Dayna Williams
from Walnut Creek (Ygnacio Valley), CA
My name is Dayna Williams. My phone number is 720-525-0356. I had Sprint for over a year and had my payments on auto pay. I received a call over the Summer where they talking me into coming in to see the new deals and promotions they have. My bill was $175 a month. I signed up for the 4th and 5th line free. The 5th line was actually and ipad. I was also told that my monthly bill would go from $175 to $150. I signed all the papers and went on my way. Well....it has been nothing but a nightmare since. I had this large bills that Sprint paid for and said the corrected the issue. Nope!! Two weeks ago I paid $250 and my next month bill statement came and it says I owe over $500! We all have unlimited phone plans. The manager at the Sprint store on Parker & Peoria (80014) was helping me with this in the beginning and he now is not responding to me. When I call Sprint they say I have to speak to the store that set me up to fix the problem. No one is willing to help! I no longer have auto pay because the monthly rates and so high for no reason. I cannot afford this nor can I be without my phone. Who at Sprint will step up to fix the problem that Sprint created?? I was offered a promotion and deal that I never got. It was extremely high and not what I signed up for. This issues needs to be fixed. This has gone on for 5 months now.

Rochelle Walker
from Overland Park, KS
When I walked in the door the rep greeted me while trying to check in. She said that I had about a 30 minute wait. It was actually over an hour. While waiting I noticed that 3 reps were working on one customer and that they were not concerned with helping the customers in store, as so it appeared. I was disappointed that no one came to tell me that it would be longer than expected.

Dustin Free
from Jacksonville, FL
Went in to Sprint store #252413 yesterday to upgrade my two phones and had one of the worst experiences in quite a while. Upon entry we were met by a very unprofessional male employee named Shamir or Shamar? . We advised him we were there to upgrade our phones and immediately began to laugh because we still had Iphone 6's. We are not a family that feels the need to overindulge on items that are not needed and the only reason we were there to upgrade phones was because they were both on their last legs. Anyway that was only the beginning. I was ready to walk out at that moment and I really should have followed my gut instinct, but my wife really wanted to get this done yesterday because I have to go out of town this weekend. So we picked out which phones we wanted and began the process at a little after 3 pm. After one hour we finally got around to transferring the data over from old phones to new. He said it took this long to get to this point because we had not backed up our data recently to the icloud so they had to do that first. So that was understandable. So finally we are starting to transfer information over and that is when all hell broke loose. Basically after 2 hours of waiting for transfer my wifes phone had updated her pictures but no contacts, and mine had only updated contacts. Then he tried some magical fix on mine that ultimately caused it to freeze on on itunes support apple.com screen. said that it would not update so left it frozen and said sorry but you will have to go to Apple now to get it fixed. Then ran off to help another customer to try and get another sale. The assistant manager had to call him back over to try and help my wife with her problem since my phone was basically screwed. At this point i was very mad and had been there over 2 hours and had to take my 3 year old home. My wife stayed behind for another 2HOURS and they still could not get all her contacts over! Then by the time I got home whatever he had done on my old phone had completed so I opened it and discovered that EVERYTHING had been wiped! Every picture of my daughter that I had from the time of her birth till now are gone! They are not in the "Cloud" like he said he updated to - they are LOST! How do I get that Back? We are both very upset at the moment and will never return to that store again. It is a small town store and we will make sure to tell everyone we know about this and to avoid it like the plague! I have been through several "upgrades" in my life and I have never experienced such a lack of professionalism and arrogance. It is obvious that all he cares about is his numbers and not the customer because once the paperwork was signed he was ready to move on to anyone else who walked through the door. While we sat there watching the last 4 years of our lives disappear! I can guarantee if I had an employee of this nature he would not be one very long. I could go on but what good would it do. Just needed to let you know of our experience. Also - I will also be filing grievances with several other entities.

I called Sprint to unlock my phone so I could transfer it to a different cell phone company. I spoke with Ajeed and he was completely unhelpful. He continually shilled bs at me and would not assist in any way. When I requested a supervisor, he refused to. I requested a supervisor multiple times and he continually refused. He refused over and over to give me a supervisor. He refused to assist me. He continually argued with me and talked over me. He would not listen to anything I said. He refused to even try to unlock my phone as I asked. Instead, he just talked in circles and kept refusing to give me a supervisor. This was absolutely the WORST customer service I have ever had from any company including Comcast. I will never consider ever coming back to Sprint if this is how they treat their customers.

Taquana Tarver
from Philadelphia, PA
I have been calling sprint over the past month for the same issues i have gotten through to reps after being on hold for about 15 mins than i am placed on hold again an then the phone hangs up, i am totally discussed with sprint customer care i know each i called the callers are recorded i have had it up to my neck with sprint an them not helping me after i have been along ftine customer an i spent thousands of dollars with this company i will be looking for a new phone company.

Rev Robert Gill
from Framingham, MA
The Philippines call center is rude disrespectful and they don't want to help you out. I ended up swearing and a couple representatives because I want to switch over and speak to the retention department and they wouldn't do it. They don't know what they're doing. They have screwed up my account many many times in their customer service is very poor. They are very nasty rude disrespectful and they don't listen to what I'm saying.

david delucca
from Honolulu, HI
you folks keep raising the price of my bill each month .i hardly use m phone i though i was on the senior plan as well im very upset with your service i may quit sprint

Iftikhar Ahmed (Bay Solutions Inc) Account number 479112906 - cell number(408) 483-07209
from Los Gatos, CA
I called customer service today to set up our Hot Spot for all our business lines.
I spoke to Ms. Jordan (I presume her name is) because she refused to spell or repeat her name for me for future verification.
Ms. Jordan had a bad attitude which sounded more racist to me than proper customer service procedure.
Ms. Jordqan demanded I spell my name which I complied, she was speaking with a bad attitude.
When I asked her name she refused to spell or repeat it.I asked her to connect me with a Supervisor after which she placed me on hold for a long time hoping that I may hang up, then after a while a Mr. Zack came on the line saying he is her colleague that he will help me instead of a supervisor, he also refused to escalate me to a supervisor.
I had no choice but to work with him like I was not a customer just a nobody with little respect. Mr. Zack helped me after he finished I asked him how will he take care of the attitude I faced with Ms. Jordan he said he apologized and will take of it, then I proceeded to ask him to send me an email which was past due to customer service from a Mr. Magleen from yesterday for changing our calling plans. I never received an email from Mr. Magleen from 11-21--18 or Mr. Zack on 11-22-18.
If this is the way Sprint customer service handles loyal Buinsee Business customers I am very disappointed and want an explanation before I switch to a different carrier, your CEO Mr. Michel Combs should also be copied on this email.

Pamela Jackson
from Casa Grande, AZ
As a long time Sprint customer, I recently experienced the most horrific problems with customer service that has me questioning why we would continue as Sprint customers. I certainly would NEVER recommend Sprint to anyone based on my personal experience, & you can predict that I will not remain quiet about my feelings, your company & your pathetic customer service.
Because I am totally stressed out and exhausted from my past week in trying to simply order a phone & get it activated, I will outline the condensed version:
We visited a Sprint store to order my husband a new phone, as his old one was needing to be replaced after several years. 90 minutes later we were told we would have to visit a corporate store due to the nature of our account or order it from home online.
Numerous attempts on our behalf to order online, we were given error messages and unable to complete order.
The next day I called one of numerous 800 numbers posted as "Call to Order". I had 2 connections with representatives somewhere in the Caribbean, each call lasting about 20 minutes on my cell phone, attempting to order a new phone, only to be disconnected & NEVER receiving a call back even though I had provided my phone # to both representatives in the event of disconnecting.
I then attempted another call to another Sprint "Call to Order #". After 45 minutes this simple order for the simplest of cell phones in your inventory was finally placed.
Two days later the phone miraculously arrived. We were so excited. The next morning right on time, the scheduled call came from the tech support to activate the phone. That person was totally unable to activate the phone, connected us with another technician who was also unable to activate so we made an appointment to visit a corporate store the following morning as we were advised to do. No matter how hard the in house technicians tried in the corporate store, NO ONE was able to activate the phone. After 90 minutes in the store, we were told the new Kyocera DuraXTP phone was "defective". We were also told we must personally call Sprint to order another phone as the system would not allow them at the store to add the new one they had in the store on our behalf.
So, we come home & contact Sprint on another "Call to Order" # and after 60 minutes on the call with 2 different representatives, we are connected to an insurance claim representative who ultimately asked, "Why were you connected to me?" to which we could only answer, "they apparently dumped us on you as no one else could figure it out." This representative from Acurian(sp)?? went way beyond her job description to help us. After about 45 minutes with her she got permission to send us a new phone with a label for return of "defective" phone. And guess what, the phone we were trying to replace is on BACK ORDER! So we are waiting to hear about the back order.
Then today, I got so fed up I tried another "Call to Order" number to try to order a phone that is in stock from Sprint. After another 45 minutes with a Sprint representative I finally found someone who was knowledgeable enough to troubleshoot the problem and activate the "defective" phone.So the phone apparently was NOT defective after all. OH MY, be grateful I gave you the condensed version. I am still stunned from this entire debacle & feel your corporate officers should be horrified to hear of this nonsense!!!
The jury is still out on my decision to keep Sprint services for either of our phones. CUSTOMERS SHOULD BEWARE!!!! THIS STRUGGLE IS REAL & apparently from posted reviews of your company, I am only one of hundreds/possibly thousands of customers who have been subjected to this unacceptable form of treatment & disregard.
Disgustedly,
Pamela Jackson-10+ year customer

Ileana Colindres
from Houston, TX
I called for make a payment and I talked with Ammy and she told me sprint charge me 40 dollars additional for disconnecttion but i talk wit someone Because i need to payment until November 15 and he didn't toldme i need to pay a additional 40 dollars , so Ammy talked with supervisor and I asked talked to him and because i was speaking in spanish he didn't talked to me I don't know why ? His name is John and them Amys said i am going to change you don't need to pay the40 $ and she was changing the amount so finally my brother started talking to her because she try to charge me more money i am so mad with sprint i have to many year with this company and now they try to charge more and they discriminate me

Ashley Goley
from Fayetteville, NC
If I could rate Sprint as a 0, then that is what I would give them. Sprint has the worst customer service team I have ever witnessed in my entire life. I bought my IPhone out on the 1st of November and then called in to cancel my services with Sprint, because I was switching to Verizon. I have been with Sprint since 2014 and have had several problems over the years. However, nothing major enough to make me want to leave and because my husband is with Verizon was the only reason I was switching. Anyways, I called in on the first and was told that I would not be charged from the 1st-19th; which would be the end of the billing cycle. I spoke to 4 different people this day because I was given the run around several times, plus the first representative was extremely rude. Fast forward to the 12th (Monday), and not only was I charged the full amount but I was also charged the phone leasing fee, my military discount was not applied, and my autopay discount was not applied. Bringing my total to $100 and some change. I call Sprint on 12th to get refunded back the money that I was not suppose to be charged. I was transferred between departments 5 times. I spoke to 5 different people, including 2 representatives that kept interrupting me every time I would try to speak. That's 3 rude people so far, all because Sprint does not want to give me my money back. The last representative finally got it approved by a supervisor to credit me back $50, however since it was already pending in my bank account I had to wait until it fully posted in order for me call back in. Fast forward again to this morning (14th), the bill finally posted so I called in at 830 am est. I was on the phone for 2 hours and 15 minutes and spoke to 7 different representatives. The third person I spoke to was so incredibly rude, disrespectful, and was the definition of lack of customer support and service. I asked him 9 times to transfer me to a supervisor because he was trying to credit me half of the $50, saying I see where the $50 was approved but you are only due $21.65. I asked to be transferred and he goes, "I am not sure why you need to be transferred, they are going to tell you the same thing" and "I have explained it and I am not sure why you are not getting it". He said other things that were condescending, rude, and totally out of line, but I do not remember because I was so frustrated. I finally got switched and the "supervisor" who answered did not even start off with anything remotely close to a greeting. Instead I got a, "the representative explained and that is all we can do". I explain the whole situation to her so she transferred me to account services. Account services rep answers and tells me that I have to speak to financial services. I was put on hold for 20 minutes and finally spoke to a new woman. The new woman went through all of the previous conversations and after about 15 minutes switches me to a supervisor in that department. The supervisor first tries to tell me that because the first original guy that I spoke to on the first (you know the one that said I would not get charged) gave me a $10 credit as a courtesy; which I did not expect nor did I ask for that I was only going to receive a $20 credit to my sprint account. Finally after talking to him for another 15 minutes he put in a refund request for the $50 to go to my banking account, seeing as how my service ends completely on the 19th. The funny part is I never received an email or confirmation of this nor have do I have anything about any of these so called, "credits". I would not continue to fight this for a measly $50, however after being told several times i would get the money, after all of the phone calls, and rude representatives, it is the principle and I want my money that has been stolen from me. I will be filing a BBB complaint, as well as spreading the word about my experience with Sprint, because no one deserves to be treated like I was nor do they need to join a company that is truly AWFUL!

John Sweetney
from Gwynn Oak, MD
I join sprint on October 11, 2018 on free iphone 10 s promotion, the is credited every month $41.67 . I have called sprint customer service over 10 times on same issue. My bill shows $105.95 , my service will not work in my house at all. I called twice about , still the same. Can someone contact me on my home number 410-944-2198 on this. Customer makes promises it can solve. Thanks

Parveen Sultana
from Fair Lawn, NJ
Recently i was thinking to change my carrier from virgin mobille to Sprint.
I went to a local sprint store to get information about existing plans and procedure and also if i can keep my current number. The lady sitting in the front desk asking another person who is at the back of the building(I guess supervisor) ,,the same question i asked her. The other man replied from back to check my credit. They even did not give me any information regarding the various options. The lady asked my ID . She entered my Id information in the desktop computer and then entering in to her ipad. Multiple times she asked my SSn and she entered that in the desktop as well as ipad. And i notice she is trying to keep away her ipad so that i can't see it. And then she said my address does not work. My Driver license was in front of her where the address is printed. Then she took the picture of my Driving license several time in her ipad from different way both side and by zooming. I was surprised and worried because i even did not decided which phone i am going to buy , why she is entering my information in ipad although she entered it in the desktop computer and took picture. The lady did not behave in a professional way as well as as she was not well informed about the products and services. I did not see her id or any uniform. She covered her whole body with a shawal. Every time I asked any question she answered something irrelevant. I was upset and scared about my ID protection . I said , I dont want to buy any phone , can you delete all my information. She felt nervous. I left the store. I am very much worried about my personal information.and would like to bring this issue to sprint authority whether that store is authorized sprint store and the person is a real employee or not. The store address is
100 Broadway, Elmwood Park , NJ.
It happened today Nov 7' 2018 around noon time.
Today's experience made me thinking different way. Why they allow the part time/ temporary employees to handle sensitive issue like credit checking. I will go further with this issue.

Fiordaliza Santiago
from Kissimmee, FL
Called Sprint sales department for an upgrade on my Samsung galaxy s7 and was litterly harassed for 3 hours on the phone. Told agent for over 3 hours that I was not interested on insurance on the new phones but he would not take no for an answer. After 3 hours he transferred me to the Spanish speaking dept something that I didn't ask for.. This was very unprofessional and I've been with sprint for 16 years.. The agent was named Mathew.. Thank yoi

David kreitel
from Charlotte, NC
Serious problem with service I'm reserving please contact me as soon as possible or sprint leaves me no choice to move my 5 lines to another competitor phone number is 662 753 9727 will not talk to your service centers over seas

JoAnn Foster
from Columbia, SC
I was texting with a chat agent on mid October, when I was making a arrangement to pay $20.- on the 25th / 26st of October and the remaining funds on the 8th of November.
I was promised that my service would not be turned of , due to the fact that I work for City Fire dep. My service however was turned off / restricted on 2.Nov.18
Called Sprint customer service, and texted with chat agented Gie , Mrs. Sherry, which explained to me that they can see whom chat I had the conversation with, but can not verify my statement...How ironic???
I'm very disappointed to say the least...since I made the afford to prevent the current problem.
JoAnn Foster
Cell 803-718-2878

Antony Burns
from Cortland, OH
I went to the sprint store at 2658 Niles Cortland Rd #470, Warren, OH 44484 today in order to return phones after closing my Sprint account. I was told by the lady at the counter that since the account was in my wife's name that she had to be present with a drivers licence in order to return the phones. I then left the store and went to my car where I decided to go back inside to see if anything could be done without my wife being present. When I asked if they could call someone I was rudely interrupted and talked over, I attempted to ask again and again I was interrupted on the third attempt I had to raise my voice. At that time a agent came from behind the counter got in my face and threaten to call the police on me if I did not leave the store. When I told him to go ahead a call the police,he then attempted to put his hands on me to push me out of the store as he continued to yell at me to leave the store. I asked him his name and employee number, he said his name was Chris but refused to provide his employee number. When I pressed him to tell me his employee number he continued to refuse till finally told me he did not have an employee number.
To sum things up my experience with Sprint and its employees, costumer service, cell phone service and billing for the last 18 months has been the worst I have ever had to deal with in my life. I will never do business with or would I ever recommend you company to anyone.

James Dwyer
from Virginia Beach, VA
I have been a Sprint customer for over a couple years now and when I joined, I was told that my contract that I was leaving with T-Mobile would be bought out. All I had to do was send them my final T-Mobile bill. I sent Sprint my final T-Mobile bill and never heard back from Sprint. The next thing I know, with everything out of sight, out of mind, I have a collection on my credit report for over $1750. After contacting Sprint about this, they confirmed it's their fault and they would take care of the situation. It's been almost 2 months now, done multiple calls back and forth, 3 way calls with T-Mobile and Sprint, and now they tell me after 2 months that they will only cover 75% of the collection. This is unacceptable and I hope we can still get this resolved in a more timely manner. I shouldn't have to pay for someone else's screwups, and my Credit Score has drastically screwed up because of someones mistake. Someone please help.
James Dwyer
Jdwyer316@gmail.com

Latara Stevens
from Park Forest, IL
I wanted to switch my company from T-Mobile to sprint service. I went to inquire about a iPhone 10 and the employee was very rude. He didn't seem genuinely concerned and was very rude. He had horrible customer service. Also while he was dealin with me he walked off and didn't notify me of what was going on. He also began to talk to other customers about their problems and never came back and told me what was going on. Now I don't even want to switch to sprint if I'm going to be treated like this n

Donna Mendez
from Middletown, OH
My sprint doesn't work I have call about it .I got Insurance on my brother's phone I can't register it go to my Sprint nothing works what happened every time I go it keeps saying problems with the service I'm on please get it together . I can't believe this but my bill go up. I can't change my password to get into my sprint. To get in my account I put in my name like they send me a 100 times and still nothing I can't have my name take off on the caller Id. The service is so slow .. customer service and the phone service should be better than this..omg this does work I am tired of trying to make this work. But my auto pay gets its money every month I should have services that work please help me out with this damn phone service. Thanks

Mindy Yoon
from Fullerton, CA
Sprint customer service is not solved at once, you have to call over and over again, and sprint customer service have not delivered in correct direction, i have to again then sent me to go to direct Store still not take care problem. sprint company does responsibility for the my time and gas expense. sprint does not take seriously for consumers time, only take consumer money. still did not take care the problem proper. I sure i am not only one feel this way.

Kimberly A. Laverty
from Garden City, MI
I called Sprint Customer Service on three different occasions to migrate a phone number and add a line onto my existing account! I have been with Sprint for eight years and never experienced such problems as I did with this situation! I was told that I could migrate the phone but when I received the Samsung Galaxy Note 9 to just call back and they could change it but I was told I couldn't keep this number I wanted to migrate and I was very upset as I had to have this number! I ended up going into the Sprint Store and waiting 20 minutes in line then another 45 minutes for The Manager of the Store to migrate this number! I was in a bad car accident so I can't stand for this long without being in a lot of pain! I have neck and back injuries and ended up finally sitting down because it took so long! I expect a credit on my account due to this situation! I should not have had to wait this long and deal with all this! I am a senior citizen and can't afford to be driving all over to resolve this issue! Please let me know how much of a credit you can give me for this pain and suffering! My cell number is 616-881-2844. Thank you again for your prompt response

Cassidy Hillman
from Laurel, MS
Sprint decided to take it upon themselves to take 1800$ out my bank account. So I called. They told me I owed nothing and I asked if I could get my iPhone 7 plus phones unlocked. 2 iPhones remind you. They give you the run around of 48 hours. Then 3 to 5 business days and it's been 5 days since my request. I have called every day for 5 days. I've been told the same thing. Except, my phones are not unlocked and I received the email regarding the unlock update and it tells me I'm suppose to wait another 48 hours because my phone can be used because of a "probation period" that is in their policy. I would love to be contacted about this because I got 1800$ taken out of my account that I didn't offer to pay and yet I am still having to wait to use my practically brand new iPhones.

Elyse Grisamore
from Wichita, KS
Sprint billed me $190 for services after I terminated service and paid the balance in full. After I paid the balance I was told I would not receive another bill from Sprint. I never received another bill but received a letter from a collections agency for $190. I spoke to multiple representatives and supervisors from Sprint, Jenny in the billing department hung up on me, I was also transferred to the collection agency for them to explain why I received the bill. I was given several different reasons as to why I was billed. One of the supervisors determined it was because I did not cancel an additional phone line that was $40/month, month to month without a contract. After further review she determined that I was billed every month for the service until it reached a maximum payment past due also there were no record of calls or data on this phone number for the months I was billed. The billing was Sprints error as the customer service rep did not cancel both lines when I called to terminate service but "unfortunately there is nothing we can do" is what I was told. I am still waiting to hear back from upper management regarding this issue.

Michael hurd
from Williamsburg, VA
Lost cellphone Oct 5, 2018. Called Sprint Oct 6, 2018 to have phone locked and paid $398.16 from which agent said was for remainder of lease and penalty for breaking lease. I waited until Oct 9, 2018 to see if someone would turn in phone. Called Sprint evening of Oct 9 and talked with Ashley. I wanted to lease a new phone, she said she could offer the IPhone 7 Plus for $15.00 a month or the IPhone XS for $25.00 a month but I had to take the offer right there and then. She gave me conformation number #1278512612 and said I would have to talk with another agent at financing to settle contract. She hung up. I called back and talked to another Ashley and gave her the number...she said that was not the truth and said sorry but she can sell me the IPhone 8 Plus for $29.00. Then she said I owed another $192.00 because the lease was not settled...I did not care and told her to take it out of my account. She hung up. I then called on Oct 11, 2018 and talked with Aaron S. It was 0700 am and he said he needed to talk with my wife on her phone and said he would call me back at 0900 am to continue. He never called back. I then decided to chat to have a record on Oct 11, 2018 at 1700 and this agent actually said he ordered my new IPhone 8 Plus for $29.17 a month and then said have a nice day. He left the chat. I then started another Chat and talked with Valentina B. She told me he did not order the phone and apologized. I just told I would talk with Sprint later. I have had enough. A week later and still no phone.

Kendra Anderson
from Flushing, MI
I made payment @ sprint store my payment did not process called the 1-800 # & the rep gave me a hard time. I have my receipt & was redirected to 4 different people. Bill payments should not be a hassel the should have posted by one day & the employee should be accountable for there actions. This locations has given me problems after problems. Sprint has terrible service & customer service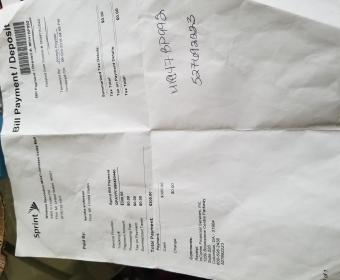 kimberly white
from Chicago, IL
very poor customer service won't help every time I call I hold forever and always hung up one..

Henry Smith
from El Paso, TX
I have been a long time Sprint customer and after the first you are a nobody. They jack the prices up and don't care about you anymore. I was paying over$200. a month for 3 phones and we shared 2 gb's between 3 phones. I upgraded our phones on line what a joke they were charging us for things that was supposed to be free. I called about it 4 time's before it was fixed talked to someone different Everytime they said they would fix the problem but did not, they do nothing but lie to you all the time. My contract just ran out and changed phone service they told us on the phone the day we switched our account was payed and we were done.3 months later I receive a bill in mail for past due charges and now a letter from a collection agency. I called Sprint and argued with them and ask for a supervisor sat on phone for hours and they hung up. I am so ferius with Sprint they SUCK!!!!!!!

Marlo Brinnon
from Jackson, MS
I WAS LIED TO ABOUT AN APPLE WATCH!!! I HAVE BEEN TRYING TO GET AN APPLE WATCH SERIES 4 FOR TWO DAYS NOW. I HAVE BEEN ON THE PHONE WITH SPRINT FOR 3.5 HOURS NOW AND I AM SO ANGRY NOW. THIS IS THE WORST EXPERIENCE I HAVE EVER HAD. I WOULD NEVER TELL ANYONE TO BUY FROM SPRINT AGAIN!!!
ALL I WANTED TO DO IS TO HAVE A NEW APPLE WATCH TO GO WITH MY NEW IPHONE XS MAX, BUT I GUESS SPRINT REALLY SUCKS

Valencia Jones
from Tyler, TX
Hello
This is Valencia Jones I've have been Trying to speak with a supervisor for 3 days now only to be hung up on put on hold and rude customer service.

Victoria Mack
from Detroit, MI
To whom it may concern,
My name is Victoria Mack I am a very upset customer I have spent hours and days on the phone with sprint. I first started calling due to being mislead about the service ant the amt of the bill. When I get sprint a year ago I was told my bill would be about 150.00 a month for the 5 lines of service. I have called over and over to get the bill correct when the 4th and the 5th has not been used in 6th months. Then I placed and order a little over a week ago and got the phone for my line 4026168282 and it still does not work and had not worked in over a week . I am very pissed at sprit at this point and would like out of my contract for lines 3-5 this is not fair I have gave you all well over 3000.00 in a year. The customer service is really poor you can look at my call log I have called so many times and been hung up on so many times where I have to call back. I have been on hold for 45mins at a time then click they hang up. I would like to have someone give me a call higher up. I have requested a supervisor 10 plus times this is so wrong. My number is 4022130118

Darnell Johnson
from Summerville, SC
Darnell Johnson
Grass Masters Of South Carolina, LLC.
1390 Dogwood Drive
Orangeburg, SC 29115
(803)747-2163, (843)607-0693
Darnelljohnson2006@yahoo.com
Grassmasters_sc@yahoo.com
September 19, 2018
To: Sprint Wireless Chief Executive Officer, Chief Operating Officer, Chief Financial Officer, Franchise Owners, General Managers, and any related Sprint Wireless Employee,
Reason: Formal Complaint store employee/manager Frank Reeves.
On September 19, 2018, I entered the Sprint Wireless Store located at 310-A Azalea Square Boulevard, Summerville, South Carolina at approximately 5:10pm to discuss a letter that I received via mail about an outstanding balance that was due after calling customer care who stated that I needed to go into the local Sprint location to have my account authenticated. I was assisted by a nice and extremely kind gentleman when I first came into contact with Sprint. He requested my identification which I provided and was able to be authenticated. My conversation was abruptly and completely interrupted by Mr. Frank Reeves who completed disregarded the other store employee who was trying to assist me with question that I had concerning my bill. I explained to Mr. Reeves that I had switched over to another carrier and that I had questions concerning the increased amount of my final bill. Mr. Reeves became even more hostile to the point of telling me that he "has the right to refuse service"and that I needed to leave the store or that he would have me removed from the property pretty much bullying me by threatening to call law enforcement. It is 2018, not 1960 and the way that Mr. Reeves treated me with his racial bias behavior cannot be within the core values of Sprint PCS. I explained to Mr. Reeves that you do not have the right to refuse service because we have a binding contract/letter that ties us together. At that point Mr. Reeves repeated that he has the right to "refuse service" very hostile and told me to leave or he would again have me removed/escorted from the property and he walked away to a rear office a slammed the door leaving me feeling racially confused because everyone else who came in the store during the same time I was there and after was treated with the most upmost respect to include a Hispanic female before me and a Caucasian couple after me. I was completed disgusted by my racial encounter with Mr. Reeves to the point that I walked outside to call customer care in an attempt to get some form of relief. While sitting in my vehicle on the phone with customer care in the parking lot Mr. Reeves called law enforcement on me as if I was posing some form of danger. Thus, making good on his threat to have me removed from the property. I only had a question about the amount of my bill. As a educated African American business owner, disabled military veteran, and former law enforcement officer I was left completely violated and mishandle. I pray that Sprint PCS and its management team present or offer a solution to this matter concerning a member of your team. As I am aware that the above location is equipped with cctv video monitoring which will validate and support this formal complaint as well as the employee who assisted at the time of my initial transaction in the event that this complaint is disputed by Mr. Reeves. I have also recorded this aggressive and non- professional encounter with Mr. Reeves via cell phone as well. I can be reached at the above address and the above telephone number. I do appreciate your expedited attention to this matter. Please give me a call in the very near future to discuss this matter.
Thank You,
Darnell M. Johnson
(803)747-2163

Candace Perkins
from Chicago, IL
I've been complaining for several months about the poor service Sprint offers. Not only is the service horrible the customer service is poor I've been paying my bill on time and receiving poor service from calls being dropped to slow internet. Every time I call I get tgr sane response either their working on towers an I will receive a credit. A credit is not good enough I paid my phone in full and want to take my service elsewhere. Now I'm getting the run around about my phone being unlocked. I've called three days in a row and been on hold for hours constantly being transferred. All I want is to take my phone to another provider and get rid of Sprint horrible service.

debra kalisek
from Saint Johns, MI
Well I been with sprint customer for several years, I been experiencing problems with service by getting no service or having dropped calls. I recently upgraded to I phone 8 plus with sprint. I also had two other lines on my account. My kids were switch to another carrier, they were experience no service with their phones when traveling up north or different areas which made it difficult to keep in touch with one another. My daughter wanted my iPhone 8 so i put my phone number on the Samsung phone, so we swap phones and numbers. When I received my bill from sprint it was for over $800.00. So I called customer service they stated I closed my account, No, my account was never closed, the account is my name, and we swap the phone numbers. I told her I am not paying the $800.00. Again, I still have the I phone 8 with sprint, the account is still open. the account was not ever closed, the phone was still active under sprint. She started screaming at me, saying" i better pay the the bill and it was my fault for closing the account". she keep saying "I closed the account,". So I told her I would not discuss this with her any further due to her unprofessional attitude and lack of understanding my concept of what happen. So i waited a couple days and called customer service again. Same thing, explain the situation and she immediately started blaming me that I closed the account and that i better pay the money or they were going to close my account. So, then I said" how can you close the account, when you are accusing me that i closed the account?". I told her that she was not making any sense and she starting scream at me and treating me that the account will get closed and they will turn my service off. I told her that she was way out of line and they were not professional people and I will go into a sprint store. I went and spoke to sales Rep. he stated he needed to speak to his manager, "why wouldn't the manager come out to speak to me." they said you need to pay the $800.00 I told them I do not have $800.00 I want the phone turn back on and keep my account open with the I phone 8 with my monthly payments, he told me again pay the $800. I told him I do not have the money and i will not pay the money and I will not use sprint ever again. He then gave me a name of a gentlemen, he said he does house calls and he can get me another phone and get me out of this mess and he does not usually do this but he felt bad for me and wanted to help me out. I did not fall for this scam. What I want is my phone turn back on, because I never closed my account. I want the $800.00 charge off my bill, I want all late fees taken off and I will pay my monthly bill as I was for the last years of being a sprint customer or I will leave sprint all together. You need to clean up the rude customer service department and get people that really want to help people or sprint will not last.

Raymondgallagher
from Brooklyn, NY
I call up sprint to unlock my phone last Tuesday morning and was told I had to pay it of first that's fine I payed them $720.00 right then and the lady said I was all set and I would get a email to say my phone was unlocked .
So I get to Thursday and still nothing so I call sprint up again and when I told my story this lady said she was so sorry but it was never even put in the System to be unlocked but would do it right now for me and said not to worrie that it was going to be done this time well it's Friday and still nothing , I am going out of town tomorrow and now will have to try to deal with this from another country .

Moses Robinson
from Fremont, CA
I could rate Sprint a zero that's what they would get. Went to Sprint kiosk to pay my bill. But instead was met with surly, rude, disrespectful, lacked professionalism, maturity, and definitely showed no leadership in providing quality, unbiased service. To add insult to injury they called the mall security and lied and said we were cursing at them. This Sprint is in the Great mall, Milpitas, CA, entrance 3. However the security was very accomodating. As a black person, I feel this is just another non-black(Hispanic) person trying to use the police to exercise their authority in doing something they had no control over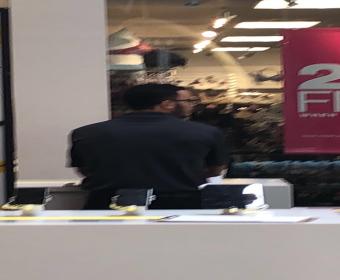 Mike Keller
from Millington, MI
On August 16th, I determined that the person who initially set me up with your company, set me up with a prepaid account. This was erroneous. I should have been set up on a post paid account. This was done yesterday. However, my prepaid account was allowed to charge another payment. I have spent more than 9 hours in the least 24, being bounced around to approximately 10 different sprint numbers.No one was been able to fix this problem. I have also been on a few chats with people that insist they can't do anything about my problem. Right this moment, 1 have 2 separate accounts, 1 prepaid and 1 Post paid account, though I have no service on the post paid account. I have repeated asked to speak to a supervisor and have been denied that request more than 30 times. What kind of company are you running? I have never in my life been as frustrated as I am now.
I sore that I would never have an AT&T Account again but I am considering giving them a try. They certainly can't be this bad. All I want is what I have been promised, the Prepaid Account closed, and the number on that account ported to my postpaid account. I also want a refund of the additional funds taken by the prepaid account. At this point I feel that your company definitely owes me some type of compensation for all the time and aggravation that I have been put through. I am currently on the line with someone at a new number who is calling people the do "migration" directly. I have previously been in contact with those personnel did not, could not, or would not. resolve this issue.Im certain that you can view a call history of my 517-910-3159 telephone number and see that I haven't exaggerated this process at all.

Shirley Smith
from Inglewood, CA
I have been a sprint customer for 13 years. Over the last year I have experienced horrible customer service. I have not been able to payoff my devices because telephone and I store representatives would not accept the payment. Each tome I call or go in the rep advised me to do the opposite. I cannot reach anyone by phone and o am to the point I no longer want to deal with sprint. My phones are not operating properly and the same thing happens with Apple and sprint. I would like to receive a reply on how to go about resolving the matter there. My name is Smith and my number is310 447-5085.
Thank you

Patricia A Ronsvalle
from Pittsford, NY
I have just spent a ridiculous amount of time w your customer service reps in india. They ask you the same questions over and over, then transfer you than transfer you again. Nothing needs to be this complicated. They all seem so obtuse...I have been put on hold and have spent so much time ...what a ridiculous customer service system. I can not understand the reps with their accents and apparently they can not understand us.
BRING THOSE JOBS BACK TO THE U.S.

Karen Balsamo
from Emmaus, PA
Sprint store screwed up our BOGO iPhone deal. Overcharged for months, after several hours on phone with cust service refund given. Immediately went back to over charging, repeat above process. Have since left sprint! Waiting for $248 refund!!!!

william fennell
from Peoria, AZ
I HAVE BEEN A LOYAL CUSTOMER FOR TEN YEARS sorry,Im not so sure I want to spend next ten minutes with SPRINT!
how hard is it to understand to Cancel one order even if it has shipped or not? MY POINT IS I have had many issues with many phones through out the years..
But this is my second phone in LESS two years THAT HAS COSTED ME many HOURS HEADACHES AND EVEN MY INTEGRITY!!..DUE TO LOSS OF A JOB, & LOSSS OF A RECENT JOB INTERVIEW DUE TO THESE LOUSY PHONES AND CUTOMER SERVICE YOU OFFER Oh! not to mention MY SONS RESPECT of his father who "could NOT be there for him "when he needed me for an Emergency!
because MY PHONE DID NOT ALERT ME IN THESE MATTERS(and ITS SOUND IS SET TO LOUD) and only rings or alerts me randomly when there is no one calling or texting me. WTH ? NO! its not the settings or the user! its the phone!!!...THERFORE, I DECIDED TO GIVE SPRINT ONE MORE CHANCE why? HMM? I really DONT KNOW
so I recently ordered a phone after being desperate need for a dependable one, THOUGH NOT WANTING THE ONE I WAS I was coaxed into buying a (LG G7 )at its sale & discounted costs to replace my phone in hand however in Good shape nice looking,But CRAPPY & FAULTY( LG cv20) phone.
I had bought ordered & signed for the LG7 then soon realized there is better quality in the new SAMSUNG NOTE 8 and had requested The order & shipment be CANCLED, "Ok no problem I'm told" but we cant send you the Galaxy note 8, until we receive the two phones from you.
so they want my useless one in hand, (LG cv20) and the one to arrive in the mail...I asked why not just charge me for the one I want as separate order? AND THATS NOT POSSIBLE when sprint OVER charges me now for Everything else on my bill'' for 3 lines when only one is active!
sincerely,'
William (F)enell @ 847 385 8482..billfennell48@yahooo.com
(F) for Furiously pissed off & confused as to what happened to quality controll and sprint customer service?

David Gould
from San Ramon, CA
I went in for an upgrade to my 6s to an 8. I told the lady I wanted a silver phone, she brought out a box, opened it and I saw the face was white. I told her I didn't a white face, I wanted a black face. She said I would have to choose a different color and went to the back. A different lady came out and told me if I wanted a different phone I would have to pay a restocking fee of $45, I said NO, I didn't open the phone, I haven't even touched the phone. I commented I shouldn't have to pay $800 for something I don't want. She told me the only way I could get a new phone is to pay the restocking fee. Why should I pay, I did not open the phone, I did not touch the phone. I was not told the silver phone only had a white face. I have been a customer for almost 20 years. If I am paying for this phone I should have what I want! She said I could have what I want if I pay the restocking fee. THIS IS WRONG!! WHY SHOULD I PAY $800 FOR SOMETHING I DONT WANT!! SPRINT SHOULD WAIVE THIS FEE AND GIVE ME WHAT I WANT...WE ARE NOT VALUED CUSTOMERS LIKE THEY SAY WE ARE!!

Darrick L Wells
from Topeka, KS
We cant resolve an issue through customer service because they all saying different things on how to resolve this issue and none of them are cost effecient for us as a family. I pay for 5 lines upwards of $400 a month im currently laid off so this expense to me could be cut all at once if not for my kids. 1 line has a broke phone which will be upgradeable in 7 months so rather than spend unnecessary money we would like to jus upgrade the phone by paying it off and sprint give us the credits due so we can move on to a new phn undrr a new lease agreement which to me would be the best moving forward and financially sound so im not wasting resources. I understand sprint wont lose alot by losing me as a customer but word of mouth helps to fan the flames and by the treatment ive got here lately id much rather go back to AT&T seems like the service we got was not questionable this has been the worse switch ever its been nothing but hell as a customer of yours i would not recommend this service to a friend thru my experiences. I only want to get a new for undrr a new lease which benefits sprint so i dont understand why we cant find some middle ground here.

Belinda Clark
from Columbus, OH
My experience would be a "0". I cannot tell you about it in 100 words therefore I guess I have to write a letter. Its amazing how each person you talk to wants to tell you something different,(every simgle time) and they want to talk in circles and quote numbers when you just asked a simple question about your bill. Then when you asked to be transferred they bulk against it. These representatives are in the Philippines so they are probably passing the phone to each other, spoke to 3 different ones. I was on hold for at least 15-20 between agents, was on the phone for over an hour and still not satisfied with the answers. They were probably hoping I would hang up. I will write the letter, which will probably not be acknowledged. Its amazing how when you call they want to tell you how long you have been a customer right from the beginning, is that supposed to make me feel good, when it means nothing in reality. You still get the same treatment as a person who just signed up, so take it out of your greeting! Disgusted!!!!

Complaint by Betty Turner, wife.of Barry
from Franklin, OH
Had thought to switch to Sprint, to Save a little each month,
Unlimited data, talk, and text plan.
I had given them over the phone my Soc Sec number, birth date, address, email, phone numbers, credit card. They informed me I had excellent credit, so they checked.
Phone came today wife wanted, informed me to go to Sprint Corporate Store, for a new SIM card for my phone, when I got there as requested, I gave my Drivers License.
I asked to use restroom, please? Was informed only for employees, go to Godfathers Pizza (closed) went to Manager, appealed and informed her of my ongoing medical
condition, that I was in real need. She showed me where Home Depot was, at that point I knew I cannot do business
with Sprint. I trusted them with all my information, but, not one of the four or five employees couldn't guard the "stock"
For a couple of minutes, for relief purposes?
Apparently they do not know of Ally's Law, came into effect in Illinois in 2005, by April 2013, 14 States had this Law including Ohio, Kentucky, and Tennessee.
I will remain with Verizon, what other reasons are they so busy? I noticed Sprint Store wasn't as!

Mike CookMike0
from Hyattsville, MD
You stuck! I switched to Verizon today. I left them for sprint 3 months ago. I have spent half of my life over the last 3 months trying to get many issues fixed. All they did was lie to me and sell me a phone that cant be transferred to another carrier. So, now I have to mail this piece of shitphone back to sprint. Verizon will. E happy to welcome you. Just tell them that you are dissatisfied with Sprint. You actually will be able to speak to a human being. And guess what, they speak english!!! Move now to Verizon!!!

Scott Godown
from Tampa, FL
i RECENTLY SWITCHED MY PLAN TO 5 LINES FOR $110.00 MINUS $10.0 FOR AUTOPAY.
I purchased 4 phones and my bill should be 100.00 plus one I phone 8 for 27.50 plus one free and 2 i phone 7 refurbished for $12.50 each
Two weeks later my plan has changed,( I was told I was sent a text message)and my bill is $320.00 !!
This looks like a bait and switch and I'm very upset.I was on the phone for an hour and a 1/2 and I was "told" my account is back to what I mentioned above but I have not seen the changes.Obviously this is very upsetting to me and i will just pay nothing If I cant get this straightened out.Report it to the FCC and go with T mobile again.

Bonnie Miller
from Upper Marlboro, MD
You offer a 55+plan. We have been with Sprint since 2009. I was told by one of your customer care associates that we could not have this plan becsuse it is not offered to us through THE SYSTEM, or some other confusing lingo. She said you have the plan but was not available through their system,and she could not put us in for this plan. My husband is 62 born 6 - 29 -1956. I was born 01- 24 1950 being 68. We are both more than 55+!!!!! It is ludicrous that we cannot be eligible for this plan. FIX THIS IDIOTIC GLITCH and allow this plan to be available NOW!!!
I want an answer ASAP!
We have been with your company over 9 years so l think you would want to honor our loyalty. We are seriously thinking of CHANGING OUR CELL PHONE PROVIDER because of this PROBLEM.

Shashikant
from San Jose, CA
Poor service, worst customer service. I opted out due to poor connectivity and paid the final bill. They have been telling me since last 4 days that it takes 72 hours to unlock the device, today I was told that their executives did not raise ticket/ initiate proper way to unlock device. I received email saying it will now take another 48 hours.
I have been following up with them daily for the past 4 days and despite this I end with this gibberish ! They activated my line within two hours but now they are harassing me!
I want to file a lawsuit - please guide me.
Regards
SAM

Samantha
from Sterling, CO
My phone is shit. I spoke with one rep, 1 supervisor. One manager treated with such disrespect

Barbara J Brown
from Washington, DC
On July 16, 2018 I decided to upgraded my and my daughter phones, order #oy-shso865385687/oy-shso865386940. The I phone s8 in red was sent ending in 865385687 was shipped and delivered but 8653869540 was put on hold due to an delinquent bill which I promptly made a payment agreement and I was told the phone would be held until the 25th of July and my phone would be sent out promptly. But this agreement was not honor instead I had made several calls, July 16, 17, 21 and 24 4 calls that day alone. My complaint is now after receiving your bill money, I am being told that I now have to pay for the lease amount when I was offer a no down payment for both phones. I have been a customer for 20 years even though its says 6 years, I left for one year and returned to you in 2012. The I phone 8s was placed on phone number ending in 7036, even though I had never had an I phone before, (Galaxy s6 edge) and my daughter has always had an I phone, phone ending in 9438 well sending the phone on my phone number was fine until I found out my daughter still had a lease bill due, which I didn't find out about until today. Each time I called I was told something different and made promises that wasn't kept or put into the computer. A supervisor by the name of Eric told me that he would slash the lease bill in half, cancel the lease agreement and put it on my next month bill but he failed to put this information in the computer, so now I must wait 72 hours until they pull the tape to confirm everything. I spoke with Jordan and supervisor Kevin in escalation dept. The sales dept was absolutely no real help cause all they wanted was for me to buy the phone or send it back which it is broken, (I phone s7) but my Galaxy edge is in perfect condition. Please help resolve this issue because I feel betrayed by your representative, they all need training on how to resolve issues, complete what was said or promise in the computer and mostly keeping those promises. Barbara J Brown Terminal Supervisor

Michael and Melody Ingalls
from Tampa, FL
actually if there was a choice for no stars that would be the one we would select.
The first part of the year we changed our service to SPRINT- we needed 5 lines and there was a $100 money back for each line and get access to HULU(did not know what that was at the time) a "win win?" NOT AT ALL.
Two of the lines needed to be used regularly in Vermont your sales person Anthony Bologna, assured us there would be no problem with the phones and we could keep our current phone numbers.
Anthony even volunteered to mail the phones to the destination in Vermont: one phone going to an elderly parent with health conditions. the second phone going to medically challenged individual age of 32. Both of whom are supported solely by my wife and I for the necessities. These phones do not work well at all and we would have switched back to our previous cellular service however we had given our phones to SPRINT as an exchange.
We have never been back to a store as many times as we have sprint - in reality we have never even had to go back to the cellular store prior to working with Sprint.
The here is the KICKER - although we were having difficulty with our phones we thought, "maybe it is just an adaption period" we referred a friend who was here from Vermont on holiday. to our amazement the sales person would not recommend SPRINT service for Vermont.
Well now what does anyone have to say - Mr. Anthony says nothing no comment - no comment on the service in Vermont, no comment on the "rebate of $100 per line" we recently got a portion of what was promised. I want to be let out of what ever "contract" we have owing nothing to SPRINT. enough is enough
phone numbers associated with the cellular line of 321-412-5167

Danilo Rodrigues de carvalho
from Miami, FL
We are having a poor internet service. Almost everyday it stops working. Last month me and my Partner stayed 2 days in a roll withou internet connection. We called sprint and they did not help. Asked us to do the same waste of time. Dial ##873283# (I memorized it a long time ago) take off the chip and insert again, restart the phone. It is not a phone issue because me and my partner deal with the same problem. Anyway after we waste our tine again doing all the bulshits nothing happened so I started looking for something to do at settings and I found out LTE and I turned it off. So with 3G it worked but not good. Since then we are all the time enabling and turning off LTE to try to have internet. When LTE stops working we go to 3G.. it is our life to be begging for internet like we are not paying for it. We spend $:220 per month and have a horrible service. Not even people from sprint helpe us. Thanks God I discovery the option to turn off lte and it helps us sometimes. If sprint do not solve it out, return our money or I do not know any other option we are going to look for legal options with our lawyer because the company is not following the contract.. we everyday wake up praying for the internet to work.

Lisa Taylor
from Arlington, TN
I have been a customer since 2001 and never any issues til now. I was offered a plan on May 19, 2018 but was not told that it was for new customers only. I continually confirmed this with the agent to whom I was speaking. My total bill was to be $196. Got my bill June 19, 2018 and my balance was $511. I have called customer service multiple times and even spoke with the escalations department which told me they would pull and review my phone conversation from May 19, 2018 and get back with me in 10 to 14 business days. I received a call back the beginning of July and the lady I spoke with stated that would be honoring the plan I was offered and that I would be receiving a little over $400 in credits. She stated that they would show up on my account July 22,2018. Well we are to this date and my account does not reflect any of this. My balance is $350 which is not correct. I have contacted customer service again and have been told today that I would not be receiving anything that I was told I would. Sprint needs to honor what they told me our cancel my 5 contracts. I do not have anything good to say about Sprint and will not be referring anyone to this company. BAD CUSTOMER SERVICE and not given what was promised. I will also be filing complaints with the appropriate public agencies.

Tonya Davis 901-210-9818
from Memphis, TN
I have been a customer for over 14 years I called on July 6, 2018 and was told I would be able . to enroll in your military plan $55 the first line, $25 the second line and $15 each additional. Since this time no one has been able to find the conversation and conditions discussed. I called back on July 11th to find out the status and was told I would have to wait 3-5 business day. As of yesterday July 19, 2018 no one returned call and customer service refused to help me. I am just trying to get a reasonable plan where I not pay over $400 a month for service. Customer service is very rude and if no resolution is agreed upon I will have to find another cell provider. You would think your business would treat military and former military better than the responses I got on yesterday. Patiently waiting for a response.

Angela Puckett
from Minneapolis, MN
I never have more than 3 bars. I very rarely can connect at all. Plus, customer service sucks, I have anxiety attacks when I have to call

Miscommunication with customers keep getting apologies but no real solutions. Each rep says something different. Didn't inform me I had to esign to get my phone shipped. Was waiting and waiting then I told them I wanted the 128gb iPhone they gave me the 32gb

Felix Vasquez
from Tinley Park, IL
I had a horrendous experience with a particular representative regarding my bill that I requested to extend my payment which was 07/13/18 and Sprint failed to withdrawal from my bank account and I got an email for past due and threatened for disconnection and I immediately called to find out why I was threatened and the rude lady kept repeating herself and not listening to what I was telling her and she continued to repeat herself and I asked for a Supervisor and she bluntly flat out said that they will not help me that they will ask the same questions and she did. I've been a Sprint Customer for the longest time including US Cellular. I asked her one more time for a Supervisor and she said fine but it will take a very long time and was very cold about it and that was unacceptable and when I asked her for her name she hung up on me. She sounded like a Phillipino lady. Can a Supervisor please call me to fix this matter at 630-532-9157 Felix Vasquez 630-532-9157

Abronique Berger
from Rocky Mount, VA
For starter, the total call lasted 2 hours and 47 minutes. I was put on hold three times. When I asked Rep #I1430353557 was rude and it took me asking her 4 times for her supervisor. She then preceded to say, "well you will just be on the line longer." I got a third person and was put up n hold again when I questioned the billing and my payments. I asked for a complete accounting review of the bill for the past year and was put on hold again.

camera mitchell
from Chesapeake, VA
very poor customer service from the oversea dept. . The employee has very polite manner but is very poor in following instructions.

Customer service department will not deal with the issue at hand; kept putting me on hold for seven times in an hour. Reported phone stolen and paid off the bill, was informed by billing department account closed only to receive a bill the following month. The representative Alex is very nervous and does not have a clue as to what she is saying.......it is obvious need training!!!!! The supervisor refused to take my call, extremely rude!!! Will not recommend ding business with this carrier.

Sandy Rodriguez
from Dallas, GA
My problem is that your staff doesn't seem to know what they are doing. Every time I call I get a different explanation. It was last year when I finished paying my phone contract back in August or September when I was done paying for my IPhone. I was still getting charge for it, that's when I called and talked to one of your staff and she stated that I still had to pay an additional amount of $199.00 to own the phone and when looking at my account I only had a few more months and that it would be done by April. I told your staff that it was ok and that I was going to keep track of the payment and if I had any question I was going to call. Upon review of my bill I noticed that I was still paying for the $199.00 so I called today and talked to one of your staff, but not only one but two of your managers and asked about it, but that's when I was told that not only I was still paying for the original payment of the phone, but still have to pay the $199.00 in full in order for me to own the phone. I asks your manager why your staff gave me the wrong information, because if I knew I could have paid the $199.00 back in November I would had done that. because there is no way I would have agree to continue paying $31.00 for ever when I could have been done a long time ago. However answer I got from your manager was that the only thing they could do for me was to give me a $50.00 credit, and that I will still have to pay the $199.00 to own the phone, that's when got very upset. Because I feel that if your staff make a mistake the least you can do is fix it and admit that it was a mistake done and take care of the situation, and not make me feel like I was the one that make the mistake. I and understand that mistake are may but as a customer service represented we supposed to take care of our customer in order to keep them happy specially when we know the customer is been 100 % honest. I am not making up this issue, it happen to me and someone need to be responsible for it, I can only imagine how many people is in and have been in the same situation I am right now and it just not fair.
I hope this issue get fix not only for me but for your future customer as well.
Thank you

NARSA YASA
from Chicago, IL
I am a customer of Sprint from almost 2 years. I have taken another connection for my parents who visited states. I used to pay for the device monthly. When my parents left states, I closed the account, paid for the device completely and owned the device. I called them to unlock the device for both domestic and international use. They confirmed that the device is unlocked and can be used for any network globally. However, the device is not working for any other networks. I followed up with Sprint Customer care numerous times. Every time they cook some stories and never provide any solution.

Richard Sambade
from East Meadow, NY
I've been a loyal sprint customer for over twenty years . Today I received a text from your company that if I go over 23 gb during a billing cycle my service will be subject to slower speeds and or interruptions. As someone who has used your company with unlimited plans as long as I have I'm treated this way. Sadly as soon as my contract is up I will be taking my business elsewhere. I will also be recommending that everyone I know do the same . Your company should be loyal to and treat better it's customers who have stuck with it for 20 years . Thanks for your time
Regards
Richard Sambade

Paul DeClement
from New Haven, CT
I wish I could give zero stars. horrible customer service. worse than ATT.
I signed up with Sprint with 6 new phone lines based on the promotion the sales person on phone have me. I received my bill and it was almost double what I was promised. 3 phone calls later and still not resolved. Last phone call was 1.5 hrs, like I have nothing better to do than talk with someone who has no idea what they are doing. Stop sending me texts and emails saying my bill is over due. I will not be making payment until this is resolved. I am not paying $1 more than I was told my bill would be let alone $170 more!

dawn dixon
from Baltimore, MD
I am so dissatisfied with sprint, I have been a sprint customer for 12 years, a lil while ago I called sprint to see if they could have me lower my bill/ my husband was no longer using his phone line. the bill was too high . they told me all they could do was offer me a seasonal standby plan after I asked about canceling the line. I am so upset because for 1 nobody told me that I could pay the balance on the lease for the phone then cancel the line/ I was just offered that option back in 05/2018 after calling for months trying to get some relief for that phone line/so I kingly paid $129 cleared the phone lease and sprint canceled the line; I wanna know is why didn't anyone tell me that before all those previous times I called look for help with the bill? I could have been saving money on the bill if someone would have taken the time and given me my options yesterday (7/10/2018) I called sprint customer service looking for a cheaper plan now that that line has been canceled and I was hung up on by the rep and no one called me back/ today I called sprint back again looking for a cheaper phone plan and was told all I qualify for was $5 off per line for some automatic payment option and the rep also hung up on me but then called me back and just really couldn't help me / also I purchased some equipment contract no c-os-90911894 that has broken into pieces I called sprint about the equipment and they gave me a $23 credit that's it/ I just feel this level of customer service is beyond poor for someone who has been with sprint since 2006/ I feel like nobody gave me the option of clearing out the lease on line ending in 3473 ( husbands line) because they wanted me to keep paying for it instead of canceling the account/ I want out / I don't feel like I should have to pay for that broken equipment and I want to return these phones and cancel out my account . so stressed out over this phone bill and nobody seems to help me with lowering it . just want my money

I came to the sprint in Hickory, NC.
The Services Was Very POOR! Me & my husband came in just to turn his phone in so his new phone with a new providor would work. The Lady "checking us in" gave us a look when we explained to her we just need to turn in and deactivate his phone for we had a new provider. We don't appreciate being begged to stay with Spirint. The service wasn't working well in our mobile home and there are things spirint does that we didn't like. We explained to them that we already changed and we no longer want to be part of spirint. We got offered lower pays on our bill but the problem is we don't care how low or high our bill is with bad service in our home and certain areas while driving and traveling and how we can't be on the phone and play on our phone is annoying. We even had unlimited and it just wasn't worth the problems we was having. After 20mins of being begged we are very annoyed with repeating ourselves. I understand you all try to do what you can to make the customers happy but if my stuff not working well in areas I just don't want to be with the company anymore. Anyways after explaining again to the women we just want to the turn then phone in and that's it.... we got told it be an 1-2 hour wait. JUST TO TURN IN A DARN PHONE!!!! there was only 3 people working.. One was standing around talking to another worker doing nothing with a customer. Laughing and what not while people are waiting. Also there is NO WHERE for the customers to sit! There is like 3 little black chairs at the back wall and there are about 15 people in store..... at least Verizon has lots of places for their customers to sit and have more workers. Not to mention Spirit doesn't support military ether. Rude!

Mohammed
from Chicago, IL
I bought iPhone 7 from sprint and I paid the full amount two years ago and until now it still locked even though I called customer service many times and no solution at all.

Claudia Harris
from Chesterfield, MO
Promised to "buy" our Verizon contract for 2 phones. Sent last bill like requested. 2 years later - still have not received the "buy out money." Now being sued by Verizon. Changed my plan 2 months before my contract was up without contacting me so that my bill went up $25 more per month. Verizon may have had high rates but I never in 12 years had to play this BS. Tried to get to resolution department through online chat. Was supposed to get a call back in 24-48 hours. Still waiting and it's be 5 weeks.

Akm Khairuzzaman
from Ellicott City, MD
To whom it may concern:
My name is Akm Khairuzzaman and I have been with Sprint for about 15 years. My account number is 496252058. My account has three other line for my spouse and 2 children.
I am writing this email with a great frustration. I can't understand how a big corporation like you can run with such a terrible customer service! I have been trying to reach a customer service for the last three consecutive days without any success. My valuable hours have been spent searching for corporate number, email, appropriate way to file a complaint and finally today I got this site to file an official complaint. Though I don't know if this complaint will reach to the same bunch of people in your customer service.
On June 25th approximately at around 10 am I spoke/chat to two person in your customer service department. Their names are as follows: Katheline A and Claire.A. I spent more than hours on that (see enclosed copy of our chat). I called to dispute the increase my bill by $15 ($5 for each line - access promo) which you have added all of a sudden and I have never paid that in my past bills. I was told that if I sign up for automatic bill payment then this amount will be waived. I still do not understand why is that? Is it some kind of forceful technique that your company is applying so that we all sign up for an automatic bill payment? Many of the time the bill is wrong (like in this case you suddenly increased the bill by $15). I think every customer has a right for not signing up an automatic bill payment, and for that they should not be punished.
The second issue is that I do not have any online account access to manage my account. Claire tried three time to set my online account without any success. I still do not have online access into my account. I spent more than an hour on that day without resolving any of my issues. After that I have been trying to reach your customer service every day and I have spent hours on this and my frustration has just gone up. I think I deserve a waiver on one month bill because I have spent my valuable time from my work, you should be responsible for that.
The third and final issue is with your phone service, some times the line is bad, sometime the other person can't hear me, sometimes I can't hear the other person and they mostly happen within sprint to sprint network.
I have not yet made any payment for the billing cycle of May 15 to June 14, until you get back to me ASAP with all the solution.
Thanks.
Akm Khairuzzaman
347-731-7250
8463 Timberland Cir.
Ellicott City, MD 21043.

Kenny Lunsford
from Chico, CA
I spoke to a customer service representative and was treated rudely and disrespectfully. I was trying to work out a problem I have been problem with my phones. I think that because these employees are out sourced they are very rude. She even started to yell at me and told that I needed to listen. I have been with Sprint for a very long time and have 9 lines which I am going to be moving soon. I am so tired of this. Over the past 6 months it has been a joke to call for help and get assistance with the company. I am so upset and disgusted with the service that I have.

dariuna baker
from Decatur, GA
the customer service is horrible I have never been disrespected like this they lie to you and every rep tell you something different we as consumers need to let them know we are nit playing and take our business else where, you can not reach cooperate or any one in charge if you have a number please send it to me

Nolan Draper
from Fort Worth, TX
I work in Terrell Texas and the coverage here is not good. I live in wills point Texas and I have no issues. Why don't y'all have more cell towers around the Terrell area. My coverage goes to Lte one bar to sprint Ix with in a few minutes and back to 3g then back to Lte one bar. It not right I paying over a100 a month for unlimited everything when I have this issue .

Tara Tate
from Port Arthur, TX
I need someone from Corporate to return my call to (409) 543-7697 I hate complaining again complain in again but this has to stop I've been given wrong information and I know the information is wrong because I used to work for Sprint And I'm not gonna tolerate it

Leisa Klerlein
from Sebastian, FL
If anyone is thinking about switching to Sprint phone service don't. We have recently departed ways with them due to moving to Florida. It doesn't matter how long you are customer's of a company they treat you terrible when you cancel. I'm trying to verify our balances and verify the devices that were leased have all been received and all the sudden our passwords no longer work. Guess what we didn't't change them. Then they say we will send and email to get your security information. ( That never comes) but you better believe we get emails about the bill) They LIE! Then I ask how am I supposed to get the security information that I never changed. Oh you can't since you cancelled the account... Why didn't the first person just tell me that. I can't stand people who lie. So now I have to go into a Sprint store to find out how to get this cleared up..... SPRINT HAS GONE DOWN HILL SINCE EARLY 2000's yes that's how we were with them, NEVER AGAIN!!

ronald newsome
from Virgie, KY
I called 2 nights ago to see what kind of offers sprint had the guy took my info I asked if it will show as hard inquiry on my credit he said no I asked r u sure he said yes it would noy while still on phone got email from Experian not 10 minutes after he ran and it showed as hard inquiry I was mad I have spent 20 hours or more past couple days trying to let them know they committed fraud against me got sent to 30 different people sevral refused to give name or employee id and several refused superviser when I asked plus they would give me name or id they have to and to really get u a woman in telesales told me if they were going to send me what I asked and dexter an employee requested they had to honor she said she needed my permission to listen I gave it about 5 to 10 minutes later she hung up I call back on hold always and I mean always 20,30,40 minutes b4 anyone answers phone and I got hung up on by several people I asked for name or od and superviser they knew they were in troblr but I know u can listen to all my conversations but main one is last night I don't know exact time 9 to 11 im guessing but I was told I would receive 2 iPhone8s and tablet and six months no payment comfirmed he said no payment toll January next year for what happened sprint staff r the worst and I mean worse company ive eber come across they need training badly they send u 2 wrong people lie and I have been lied to multiple times last couple days and sprint has to honor what was told to me but everyone claims I have no account have sales make account that gives me my stuff and no payments til January I will not quit till I receive my stuff and I want immediate response

kelli grant
from Inman, SC
I was offered a plan of 90 for 4 phone permanently to stay with Sprint. The bill has been wrong for the last 3 months. I have spent countless hours on chats and on the phone with representatives. They all tell me i'm right they can see it in the chat and will fix my account and never do. Today the supervisor I spoke with said the plan they offered was wrong and they weren't going to honor it because the person made a mistake. It wasn't my mistake and I feel my deal should be honored. I asked to speak to someone higher up and she sd there is no one higher up and it just can't be done. I told her someone at that company would have the authority to honor a deal they made in writing no less.

Susan Holloway
from Cedar Rapids, IA
6/9/2018 3:00 pm EST - My current phone no longer holds a charge so it is time for an upgrade to phone & service. Called 800-777-4681 to upgrade my phone/service. I've been a customer since July 2006, I'm out of contract and have no insurance on the phone. The first sales consultant wanted to send a code to my non-functioning phone before proceeding with an upgrade which is senseless since the phone cannot hold a charge and cannot call or read text. She told me I need to go to a Sprint store that is 35 mins away in another state. This is a major inconvenience especially since I verified my account via name, address and secret question. I don't know the pin # and I don't know how to get it. I asked to talk with a supervisor and the consultant dropped the call, I called back and was on hold for over 7 mins waiting to talk with the supervisor. I called back. During this 3rd call, the sales consultant, told me that she put a note on my account and that was all that can be done. So I asked how do I go about cancelling my service. She put me on hold and I'm waiting again.

Sue crawford
from Chicago, IL
My mother who had the account has recently been placed in a nursing home and she will not be needing her phone as her daughter I am DPOA of her affairs I have tried for several days to get this account canceled was put on hold numerous times and when I finally got someone to help me they said they would call me back in 7 to 10 days to get everything canceled what a freaking nightmare easy to get the phone but hard to get anyone to help at customer service I have never experienced anything like this before

Bobby Seawright
from Saint Charles, MO
My complaint is a lot of things. First, the customer service is horrible, as horrible as it can be. My wife has called with issues regarding improper billing numerous times, each time for no less than an hour sometimes two! Is there anyone there that can make a freaking change to a bill? Each time she has to go through many forwarded calls to finally get someone and then SHE GETS DISCONNECTED! Today for example, 6/8/2018, my wife was on the phone for over two hours and then they hung up on her !!! Holy crap are you kidding me! This same scenario happened last month also. FIX YOUR BROKEN CUSTOMER SERVICE!!! I am not happy at all with the way we were told at the corporate store in Fairview Heights Illinois what our bill was going to be each month and then it was WAY more than we were told. LIES LIES LIES FREAKING LIES! All of it is a joke. How about you fix my bill to what it should be for one, reimburse my wife and I for the time we lost trying to make you fix what you broke, let me live out this contract with you with the payment I should have so I can leave Sprint the exact second I can and tell everyone I know that doesn't already hate you to never use Sprint. Not surprisingly, there are a lot of people we4 know that avoid you like a plague.

Johanna Morehead
from Bradenton, FL
My Sprint phone has been having recurring issues, plus new ones. The Sprint Store on Tamiami Trail, Sarasota FL has many sales people wandering but we had to sit and wait for over 25 minutes to be told that my phone needed to be sent in. Ok, so far not too irritating. Then I was told there were ZERO loaner phones available for over 1 week! Seriously in this age where everything is done on the phone, how can anyone be expected to be without for at LEAST a week. Does that mean possibly 2 weeks? I work using my phone. Their alternative resolve was to pay off my phone and purchase a new one. Does this reek of a scam to you because it does to me. Better Business Bureau here I come.

Max Bartsch
from Jaboticabal, SP
After several attempts to unlock an Iphone that was bought at a Apple Store , and it supposes to be unlocked , the Iphone is Locked to Sprint.
At Apple consumer support they told me that , they can´t do nothing, only Sprint can do.
I try several times doing international callings (I´m from Brazil) and they said to send an email unlocking my Iphone ,but nothing happens.
The first call was made 04/23/18
The Iphone IMEI is 353066090975503 and attached is the transaction receipt.
What should I do?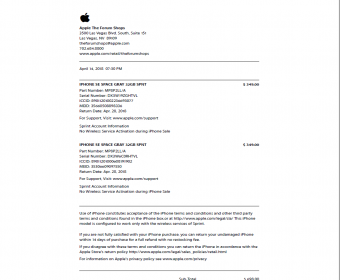 Laurie Baranek
from Ontario, NY
You owe me $5.88! I have contact Customer Service several times in the last month and was told my credit card would be credited or you would send me a check. I have not received either; I would expect a check because I am not a customer with you anymore (which is a good thing). Here is why you owe me money:
1) I called Sprint to cancel my account on January 14 2018 because when I was a customer of Sprint - I could not or received group texts when I was at home. I had a Airwave Tower which was not helpful so I decided to leave Sprint.
2) When I left Sprint, I requested and Sprint sent me a "Label Kit" to return the Tower. Well, when the first Return Kit arrived - it only contained an envelope to send a cell phone back - this would not fit the fairly large tower & box. I immediately called Customer Service and explained my situation; they said No Problem we will send you another "Return Kit".
3) I received another useless RETURN LABEL (for cell phone). Called Sprint Customer Service (useless) - said they would send another one.
4) On or around January 24th or 25th - This happened again - so somehow they transferred me to Antoinette (located in the States - I have forgotten where - but she was helpful and said she would send me a Return Kit. I asked her for her email; she could not give me her email; but I could contact her manager ( - her manager's email I used Christina.2.coy@sprint.com); Christina. We emailed for several weeks - with no results. Below is a copy of one of our correspondences:
From: Laurie [mailto:baranekl@rochester.rr.com]
Sent: Monday, January 29, 2018 3:12 PM
To: Christina.2.coy@sprint.com
Cc: baranekl@rochester.rr.com
Subject: Fwd: Sprint Account Notice for XXXXX8963 ATTN: Antoinette
Christina and Antoinette,
I just received my 3rd Return Label & envelop for a cell phone!!
I should have received a Return Box and Label for the Airave??
Antoinette, can you please call me when you get a chance?
Thank you!
Laurie
315-483-8623
Sent from my iPhone
Begin forwarded message:
From: Laurie <baranekl@rochester.rr.com>
Date: January 26, 2018 at 5:21:36 PM EST
To: Christina.2.coy@sprint.com
Subject: Fwd: Sprint Account Notice for XXXXX8963 ATTN: Antoinette
Hello Antoinette,
Just wanted to forward to you the email I revel from Sprint.
Not sure if it is important, but I have a concern that
It had the phone number as 585-7973099.
The phone number connected to the Airave was
Another phone number (585-615-....).
Just wanted to let you know!
Laurie
Sent from my iPhone
4) I was told by your customer representatives when I called to see why I was charged in February and March; they said because of the Airave??? I TOLD THEM ALL I tried to return - but SPRINT DID NOT SEND ME THE CORRECT RETURN LABELS. So. I ended up wrapping up the tower and using the address label Sprint sent even though the price was incorrect. And, the tower was delivered to Libertyville, IL. and received on February 14, 2018!
SPRINT CUSTOMER SERVICE IS TERRIBLE!!!! I would like you/Sprint to CREDIT me the $5.88 you charged me for the useless Airarve that I couldn't use and TRIED ON MANY OCCASIONS to return! You DID RECEIVE IT and should NOT HAVE CHARGED ME!!!
Laurie Baranek
5639 Centenary Shores
Sodus, NY
Sodus, NY 14551
315-483-8523

Jane Beatty
from Menifee, CA
I leased a samsung s8 which I paid off and wanted to upgrade to a s9 and was never given the option of the galaxy forever program now they want a 450.00 down payment I wanted to see if there a discount or some kind of offer. I was happy with sprint . I dont have enough money for another down payment. I am on a month to month payment now .

Was offered visa card and other incentives to stay with sprint after contract was over , got few things but won't give me the visa they offered. Now manager says he has done all he can do , they lie and I will never go with sprint again or recommend them to anyone

Jean hicks
from Fayetteville, AR
I having problems since the first time. They are buying my att contract off your people didn't write the numbers done. I
Air I what is for sprint to keep their promise. The total contract to buyout att is 930" , I am really pissed off at sprint and th their people they weren't rained right at all. I have been back to the store to see if you people got it straighten out yet. I can't afford to but both phones. I will be sensing the att bill to your ceo to see if he can handle faster. I am stressed out tha bout it all you guys have lie to me form day one I won't sent of my friends to sprint after this see.

Purchased I phone 7. Became inoperative within 1 year. I continue to pay for the nonworking phone and unusable service contract. Attempted to resolve a $36 reconnect fee on this nonworking phone. What was reconnected? Phone inoperative/service useless. After getting runaround for 12 hours, I gave up.sprint sucks.

Roxanne Fernandez
from Largo, FL
Horrible service is an understatement! Not being able to keep a promise, inconsistency from what one representative says to the next representative, hold time, awful communication skills, listening skills etc etc... On 2/21/18 I called to see what I could do to for an early upgrade. I was promised a $175.00 only fee vs $475.00 that would cost me for early upgrade. I understood this was a business decision, which is fair and a smart business decision. Thru out the call I repeated to the representative, "so the only fee to upgrade to a note 8 is 175.00", and on every occasion he indicated yes only 175.00.This initial conversation took 1 1/2 hours, because he kept checking with his supervisor, which in my opinion was way longer that it should be. I placed my order for the note 8 confident it would only be a $175.00, and was advised it would take no more than 2 days for me to receive the new phone and then I had to send in my current phone. The following day I signed in to my online acct and noticed a $320.00 charge. I called to ask why representative said "no worries once you turn in your old device it will be reverse". On 2/23/18 I called to inquire about the note 8 since In my mind I need the note 8 so I can go to the sprint store turn in my old phone so the screen can be repaired (I have insurance) return the phone and deal done. I was transferred from dept to dept, each time having to have to tell the whole story, only to learn no notes in file that a 175.00 charge was agreed upon for an upgrade. Finally I give up and request cancel the order make sure my acct is credited for the 320.00, only to learn from the representative that yes they can cancel but a charge would apply. Needless to say I lost it, have now been on the phone for 2 hours on and off. requested a supervisor, non available, wanted to make a complaint they only said it would be escalated. Still waiting for a call from a supervisor to express my dissatisfaction with the whole experience. I expected a whole lot more from Sprint, while I have heard horror stories of different situation with Sprint I always took pride and said not me SPRINT IS GREAT, No more, now I know better, worst company that I have had to deal with in my life. Will be taking my business else where. UNBELIAVABLE.

The only I can say don't get sprint zero service and all customer complain about service and line.

My complaint is not with the actual store that we purchased our phones and plans at.
We just switched to Sprint from AT & T. So far We have had extremely poor data speeds and phone quality.
Just to let you know that I have waited up to 3 full minutes for a website to load and I can barely hear when I am on a
conversation.
Is there anything I can do to have this improve. Very dissatisfied. May have to switch back.
Jane Kukla
jkukla@sarahreed.org

My cellphone with T-MOBILE is getting 1 switch over advertising every 5 minutes. .I had Sprint I left Sprint because I have no reception in my living room. ..I don't want Sprint again. It is becoming excessively annoying to not be able to use my cell phone because of the excessive ads ..I have several blocking programs but add is still getting thru. ..the ad had actually caused me to miss regular incoming calls. ..this must stop now. ..

Alexandra Merullo
from South Deerfield, MA
I switched from Verizon to Sprint to try it out and have been tremendously disappointed. The cell phone service is about the same as Verizon, with some dead spots where I had service before. The people who helped me at the shop were friendly but didn't seem to know what they were doing and signed me up for an unlimited plan even though I said multiple times I wanted only 2gb. When I called customer service, the agent was still trying to sell me on the unlimited plan and was unable to change my bill even though I had signed up for only 2gb in the store and was assured multiple times that's what would go through. This all seems like a scam to make me pay for the unlimited plan... I am really disappointed and am considering switching back to Verizon after this experience.

Sprint has the worst CUSTOMER SERVICE EVER! I been on hold 45 minutes after a rude account representative Gina i17833542269. I need to speak with some immediately! Or I will be canceling all existing service!

I have been waiting for a stupid print out of my bill. I have been overlooked once. I have been getting charged an extra $50 on my bill. There should be a better customer service at your store. I honestly hate coming into your store. Because of this reason. There are things one could do to be more professional and costumer oriented. But you guys don't care you get paid either way so that's why I can't wait to drop you guys. An hour just for a print out to see why you are taking more of my money

I would not give Sprint even a 1 it would be a zero. I have been a customer since 2004 and recently just got the S10+, this phone is horrible . I can not get service 50% of the time, they sold me a defective phone and they know it is defective yet I can not get a replacement phone. Horrible customer service they have lied to me multiple times. They are charging me a outrageous amount for a phone that is not reliable.

Kierra Johnson
from Chicago, IL
I purchased an iPhone 10 from sprint on 5850 broadway in Merrillville Indiana within 24 hours an error message popped up for support.apple.com/iPhone/restore I tried several times to plug the phone in and turn it on however the button would not move as if it was locked in place I returned with the phone and was told by a man who refused to identify himself that they could not help me. He informed me that they could only take the phone back if it was returned in the same condition stating that I was at fault for the button. After trying to reach cooperate he finally reached his general manager who sold me the phone she also had to convince him to help me however this guys attitude while I am here is very disgusting and he seems upset that he could not just turn me away. I do not appreciate this disrespect as a longtime customer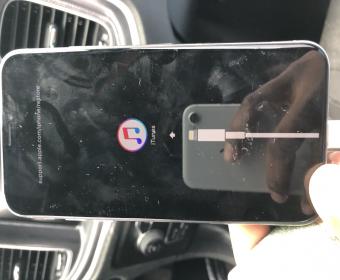 I am still waiting to be assisted after over 30 minutes without the employee even acknowledging my presence or apologizing for the wait. I am about to leave and go somewhere else, as in a different carrier. For the amount of money I spend per month for my entire family's phones and services, this lack of customer service is unacceptable. Two people came in after me and left already. How do you plan to make this up to me as my time is valuable and I pay for these services?
M. Luann Fuller

They do not care about people. They are only out to sell and push more product. You ask how to get your bill down and they tack on more and more until you are paying more fo a phone, not less. When you go in to store for assistance, plan on at least one or two hours. Unless you are buying, then they push you right through. Your phone will not work or unlock after first two days you have it and they tell you you have two pay $250 for a new one. After you just dumped a ton of money with them. Big RIP off. We have been with them fifteen years and have grown extremely dissatisfied over last two years. Changes in this case are not for the better.

Karen wright
from Houston, TX
I was tryin to find out how much it would cost to cancel my account with sprint... I was told because I was upset and had bad reception I was going to get $100 of my next bill got a email confirming never got the discount and when I called about it ... they told me there is no record of an email ever being sent to me and couldn't help me... I was also told that if I can proof I have bad reception I will receive a waiver for some charges of what I owe on my phone also received an email but when called they said they never heard of that and no record I was told that or that an email was sent to me.... I called 5 different people so far and they all told me different stories... I am currently on hold with the fifth person on hold for 10 minutes now and counting....

Jessica
from Abu Dhabi, AZ
⚠️Sprint has been dishonest since I agreed to switch companies. I have been with Sprint since August and I have had an issue every single month. They offered me an IPhone X and an iPad along with the assurance of a great international contract. While I am traveling I was told that I should use FaceTime Audio or FaceTime video. This is not true because when my bill came in October I had overage charges that were close to 400 dollars. I had to call the international department who gave me the run around before telling me that the service is to weak to place calls using your data so when you are having a video call that time is actually roaming minutes. Then they told me that if I used wifi calling and turned off my data that my roaming minutes would not be used. So from November to January that's what I had been doing and every month there was a change in the bill which i disputed...every month. In January I actually spoke with a Sprint representative about a 600 dollar phone bill. This bill was dropped to 81 dollars after my dispute which seemed a bit odd but I thought Sprint was attempting to help me. Unbeknownst to me it was added to next months bill. I was contacted in February/March by a very rude Stephen who finally told me that the overage charges have just been accumulating over the past few months. That's why my bill has been different and WiFi calling is NOT FREE AT ALL. I called back the following day to the International office who told me they have no record of anyone telling me false information. But I thought all calls are supposed to be recorded and monitored for training and customer service purposes? In March I attempted to cancel my service and they told me the only way I could do that was to pay 1,000 plus dollars for my phone and Ipad. I explained that I travel to teach children and that I could not send their devices to them, but I could I pay 50.00 a month and return the devices in July in perfect condition. The Sprint representative took my payment and told me my account would be in a seasonal suspension. However, in April I received another bill for 350 dollars(for what idk) and if I didn't pay my account would be sent to collections even though I agreed to paying every month. I paid the money so they would not attempt to ruin my credit. She told me my next bill would be 80 dollars. I received my bill that is due June 7th it is about 115 dollars. Please avoid Sprint at all cost. The international Department along with other Sprint representatives have been misleading costing me hundreds of dollars. I'm still paying for the phone and the iPad. The iPad still has a plan that apparently doesn't qualify to be on seasonal suspension so I'm still paying 30 dollars for that and the iPad does not work unless connected to WiFi. Sprint is money hungry and will tell you lies to their customers for money.
Oh I forgot to mention the Visa Card that they were supposed to give me for the phone that I turned in. I turned my phone in back in September 2018 and received my Visa card in March. That's after I had to keep calling and begging them to send it.
AVOID SPRINT IF YOU CAN IM VERY DISAPPOINTED.
Interaction info
Stephen (extremely rude) March 1st I1742335735
Online Representative - I1742357367
March 12,2018 I1747497751
May 7 Sprint interaction # I1774012325
Arbey

My husband and I have been customers of Sprint since 1998 and up until the last two weeks have been very satisfied with our service In April my Husband upgraded his phone at a store on 34th St. South in St. Petersburg Florida. We have worked with the staff in this store in the past (hence the return to work with them) and had great customer service until 5/24/2019 I need to explain what happened prior to this incident. At the time my husband upgraded his phone we agreed to have the Sprint Drive installed in our car. We were pleased with the explanation of how it worked and were pleased with how we could track what was happening with our car. In fact what started this was when we were traveling about 50 miles south to a doctor's appointment and we received a warning about mechanical trouble with the car. On our way home we stopped at our local garage and explained the issue. The car was brought into the garage the next day and the issue resolved. Upon return home, however, the Sprint Drive was laying on the floor on the driver's side and I put it back into the slot under the dash. From that time on the Sprint Drive did not work and when I tried to get resolution on how to fix the Drive no one seemed to know what to do. The first customer service person I spoke with stated he would put in a work order with tech which he did as I received a call and voice message from a women who texted instructions on how to fix the issue. Unfortunately I did not understand the instructions in the text and she and I played telephone tag over a period of about 6-7 days - leaving messages back and forth. Frustration on my part was building as all I needed was some guidance about her instructions but none were forth coming. Then on Friday, May 24th I was so irritated that I took the drive to the store where we had gotten it and asked to return the drive. The gentleman who was working with me was nice and tried to help but the women whose name is Laura (possibly the manager) came over when he asked for help and in my view started throwing attitude about the 30 day limit, but then did make a suggestion about setting up a way to go through my email to change by password and was told that that would work. Not receiving email on my phone I drove home and sure enough there was a way to change my password for the Sprint Drive after verifying my email address. Well because I did this and then tried to get the Drive to work I was locked out of the Drive getting a message that meant the device was stolen which did not help my frustration. With that I called the customer service number and spoke with a gentleman who was nice and directed me to go to a (as I now know it) resource center and they should be able to help or pay $115.00 to have the Drive canceled. Well not only was I irritated with the store where I bought it I now was faced with spending $115 to cancel this Drive (I would use a harsher word here bit chose not to). It took 45 minutes to get to the resource center, waited for abut 10 - 15 minutes to see a gentlemen there who was nice told me he could not do anything about the Sprint Drive because it was purchased at another store and did not have access to their receipts as it was not a "true" Sprint store. He also told me to take the Drive back to the store where I bought it and have them exchange it. So back to the store on 34th St. South I went with the Drive in hand and when I walked in I waved at the gentleman who helped me before and I told him what the gentleman at the resource center said about exchanging the Drive. There were no other customers in the store and the women who was there before yelled across the store that it was beyond the 30 days and they would do nothing about the Drive. I told the gentleman and she was there what had happened with the fix they recommended and that the drive needed to be replaced. Again she yelled across the store that it was beyond the 30 days and there was nothing she could do. At this point my frustration hit a high note and I stated to her that the fix they recommended locked me out of the drive saying it was "stolen" and they needed to make this right. Again she yelled that it was beyond the 30 days and as I left she said she was sorry there was nothing she could do and I shot back at her that that was not true she just did not want to and also told her I would be reporting this and her to Corporate to which she replied "go ahead". I was so livid and frustrated that after I got home I called the customer service line again and this time spoke to a women who I requested rather forcefully that I wanted to speak with a Manager at customer service. She put me on hold and then I spoke with a gentleman with whom I had to retell my story (which he did not get that this was building over a 10 day period) and spent over an hour on the phone with him. He contacted the manager (Chris) at the resource center and they would not even own up to the fact that they told me to take the Drive back to the store where I bought it and there were no notes in my file with Sprint that I even went to the resource center (my husband and I arrived at the resource center and signed in some time between 3 and 3:45 pm). The final outcome is that I had to pay the $115 to cancel the Sprint Drive and then I am supposed to be reimbursed during our next billing cycle - no offense but I do not believe that will happen (before I agreed to the payment I asked the gentleman why this drive could not be fixed an he had no answer). It is not the money as much as the ineptitude of some of your customer and resource center staff - not to mention the lies told by the resource center manager - and the very, very, horrible customer service or lack there of by Laura at the 34th St South store. Also during my last conversation with the gentleman with whom I last spoke I strongly and plainly made myself clear that I wanted Laura fired. I do understand that this will not happen as Sprint apparently is incapable of even fixing a Sprint Drive let alone divesting themselves of persons who are horrible at customer service (Laura) and who do not tell the truth (Chris). As I stated at the beginning of this we have been with Sprint and have recommended Sprint for over 20 years and I have NEVER EVER BEEN TREATED LIKE THIS. So the next move is to not have a kind word to say about your company in the future. By the way there are blogs about Sprint and how your staff have treated long standing customers out on the web. You might try reading some of them to help understand your customer service issues.

bradley Chmela
from Pinellas Park, FL
I see this commercial for satisfaction guarantee. Of coarse only for.the first 30 days right! What they wont explain is how when they tell you to set up with autopay to lock in your low price for the full 18 month term. Then surprise! After 30 days my bill go's up $40 a month. Then after 12 months my bill goes up another $60? After complaining for over an hour, they can only give me $25 off a month till term ends. This is still over $75 more a month than i was supposed to pay? Than it gets better. They tell me i wont get to keep the phone after the 18 months without paying a fairly large amount. They really need to watch the sales representatives which are selling lies. I was told after 12 months i would have the option to pay off the remaining 6 months on the phone or upgrade, or just keep until 18 months to own the phones. The sales rep's rush you through the whole process so you dont get to read anything, and just keep assuring you how great a deal your getting. Ive also had better service with cheap services even prepaid throw away phone services are much better than sprints. They definitely dont care about their customers at all. We are just a bank account to them! They also told me the can send me a copy of my contract now that i only have 3 months left of getting bent over! I really think the salesperson who was lieing to me should have to pay for the extra money i wasnt supposed to be spending "on my great deal"! Then had the nerve to call me and try to get me to stay with them without a bad review. If i could, i would give sprint a negative 20 stars. I have already gone as for as to inform anyone i come in contact with whether im at the market, gas station, even outside of sprint store when i have to go there, they they would be better off with metro pcs. At least they wont raise your bill with no warning. And get this. They tell me i could have seen my bill would go up in my account on phone, but the service is soo bad, i give up after 10 minutes of the damn thing loading cause of crappy service!

When upgrading my son's phone we were told that they had a promotion with that phone and son could select some accessories completely FREE. Noticed my bill increase by $31 a month and when I inquired, they said I signed for them and there is nothing Sprint will do. They told me I was signing for the phone and said several times FREE. My son is a witness and when I called the store where we purchased phone, Store Manager, Christian, said I was about the tenth person who had complained about the individual, Bartholomew Dewitt-Sutton. I spent over 90 minutes on the phone with Sprint and was promised a phone call the following day for resolution if I would call the store and talk to them. I never got a phone call from the supervisor, Shondra (sp). I have contacted an attorney for advice and for next steps but I am not hopeful. One of the Sprint reps told me he was sorry for my experience but said all phone companies are the same so good luck.......

My rating experience would be negative 5 for the simple reason that the representative gave me the run around and denied giving me corporate office number pressuring me to stay with sprint me having talk to 8 representatives for a period of 5hrsand not getting nowhere always getting false information

There was a promotion running around Christmas time with LG where if you bought an LG phone, you were to get a free LG 55" TV. At that time, we bought 4 new phones, added 3 additional lines to our account. An i-phone 10XR new phone number 936-499-6917, 2 were Android Samsung - phone 936-329-3230 (which was a free phone) ported over from AT&T, second Android Sansung - phone 936-444-6672 (was supposed to get a free LG large-screen TV) also ported over from AT&T. The television was supposed to be a promotion from LG. We were told this would be shipped to the store in Conroe. Julian Landaverde was our salesman who said he would fill out papers. That was just after Christmas. We have been in the store multiple (probably up to 20 times, by the various people on my account, my husband (3 or 4 times), my daughter (3 or 4 times), my grandson (probably about 5 times -- he's the one who is supposed to get the tv), myself about 5 times since Christmas, probably more. However, Julian apparently did not fill out the proper paperwork. My grandson was supposed to be the large-screen TV. He was in the store many times, I stopped in the store several times, my husband stopped in the store, never were we told there was paperwork that needed to be filled out. Finally after all this checking we are told it was too late the promotion was over and WE had not filled out the proper paperwork. I asked to speak to the manager, and the young man said he was the manager. Each time we had gone into the new Sprint store at 336 and I-45, we were told there were problems with the delivery of the TV's, some people had received them, some had not. Then when my grandson went in to check again, they told him that he was not registered to received the LG TV. And "NOW" it was too late to register. This is totally unacceptable. The Sprint employee that we worked with us on this is Julian Landaverde (now apparently the Willis Texas Sprint store manager), but I was told I would have to contact Julian. I told them that I did business through this store (Conroe), one of YOUR employees wrote this up and I am not going somewhere else. I asked for the District Manager's name and phone number. I was told he could not give me that information. I said then call him and I will talk to him here. They could not do that either. So then I asked if I could have the LG rep's name and phone number. They told me to go online to LGPromo-4KTVoffer …. which I did and they had no record of this phone being registered with them. They also told me the promotion was over and regardless they could not honor it after I explained the situation to them.
Then the store manager said we should have received an email telling us to fill out the paperwork. I told them I had never received the email. He checked my email and said he didn't see it either. I told him this was my work email and I NEVER miss emails. Again he said I could take this up with the employee who we worked with who was now a manager in the Willis Texas store, Julian Landaverde. I told him I bought my phone at the Conroe Texas store and that was who I was dealing with. I told him what if this employee was no longer with the company, was I supposed to chase him down. This was this store's problem. But I found it quite interesting that the manager of the Conroe store would not contact his district manager (or area manager) nor would he allow me to speak to him. We we have been with Sprint for several years now and just added three lines to our account. If this is how Sprint is going to treat their customers, I think it's time to find a new provider. I don't want to go to that extreme, but if Sprint is not going to follow through with their initial agreement, I will have no other recourse. Why would we have taken one LG phone (as a free phone) and the other not, if we had not thought that we were going to get the 55" LG TV. You: I've kept copies of the complaints I turned in as well as the correspondence with LG.
The Sprint Store, 381 S. Loop 336 W, Suite 600, Conroe, TX 936-756-5556, is where this transaction occurred.
I did a chat with Veda S and I have a transcript of that interaction. This was her last message to me:
Veda S.: I also mentioned to resolve this issue as soon as possible so that you don't have to wait more. I personally never shared any wrong information and this is highly unacceptable action in Sprint. Please rest assure we will take care of the issue for you. I created your case and allow me some time to send the copy of the chat, contact details and notes to our dedicated escalation expert team.
I did receive a phone call from someone who I could hardly understand, but he told me he was calling the Conroe store and I should go back to the store because he was telling them that they needed to rectify this situation.
I did go back in last weekend, May 18, and they were again completely unable to help. The young man who is the store manager called his area manager and stepped outside the store to talk with him and came back in and told me they could offer me an ipad. I told them I had two at home and that was unacceptable. Then I told him, ok, so credit my account for what I have been charged for the phone (which they are charging me $30 per month and then crediting my account $30 for the other LG phone) and I told him just change to that same for this LG phone. No, they could not do that. At that point, I left the store, telling him that they have basically lost us as a customer and that is 5 lines and we've been with them for several years. If that didn't mean anything, well, that explains why this is all happening, no customer service mentality at all. And, I do not intend to stop there. I will not let this drop. I have turned this over to a television investigative reporter and referred them to look at the Sprint corporate website and see all the complains similar to mine. I sincerely hope Sprint can fix their customer service problem.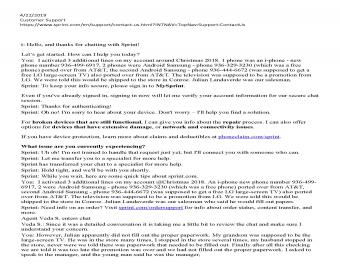 4 years ago I switched to sprint. Service was great. Now I upgraded my phones and now my coverage sucks. Drop calls all the time. Calls time out. a lot of dead spots while traveling. Calls not going through to another sprint carrier
Not sure if it's Sprint needs a updated system or if my NEW Apple iPhone XR is a piece of crap. And the monthly cost is 200 per month. I am not getting what I pay for.
Between my adult children and myself whom all now have sprint experience the same services. Crappy service. And we all have updated 2019 apple iPhones.

WORST CUSTOMER SERVICE AND THEY WILL SUCK YOUR BLOOD by stealing your money and charging you extra fees

I had insurance on my phones I called the insurance claim number only to be told that my phones were obsolete they stop making that model and that they could not help me to buy a new phone. when I ask so why would you sale insurance on obsolete phones they claimed that it was sprints fault. I have been a customer since 2006 preferred customer my a**.

I went the the Sprint Store at 997 Central Ave. to pay my Virgin phone bill. I told the clerk that I wanted to pay my phone bill but I had only 10 mins because I had a bus to catch. Well this clerk named Curtis took over 5 mins trying to logon to the computer but was still not able to do so. I said can you get a mgr. and he just looked at me like I had two heads. Finally the other clerk came over and logged in. Then Curtis was trying to access the screen to process a Virgin payment and again took over 5 mins. I said can you just give me my change, I don't need the receipt. Again he just stood there giving me and indignant looks and said not til I get to the screen to do it. At this point I was watching what he was doing and it looked to me that he was deliberately trying to take as long as he could just to mess with me. Needless to say it took over 15mins for him to finally give me my change and receipt. I asked him for his name and again he just stood there looking at me like he wanted to punch me or something and refused to give me his name. I had to ask him 3 times before the other clerk told him to. Extremely poor custome service from the Curtis. I truly believe that since I was the only white guy in the store that I was being subjected to racist behavior on the part of this Sprint Employee. He went out of his was to be not only uncooperative and rude but purposively delaying the process because I am white and I was not happy with his extremely poor and purposively slow service. Needless to say I missed my bus and had to wait another 1/2 hour because of your racist and uncooperative clerk who went out of his way to provide such poor customer service that it prompted this complaint.

I can't make calls. There is sometimes a delay before the call connects. This poor service comes and goes. Right now it is very hard to make calls in 32224 zip code.

Sprint insurance is a joke they deny the repair on two of my phones via insurance claims. They offered me a a6 for 175 and the phone is valued at 299.Once I called customer service they assured me they could help me once I canceled my insurance policy for those phones. Good thing I'm a preferred customer since 2006. What a joke of a company...garbage...

The service sucks I can't use my phone ever unless I'm connected to WiFi and yes my cellular data is on.

I have robot callers using your service calling my home number and like to report them to you and see if your company can get them stopped, please. The number who calls here is 678-345-0727 form Monroe, Ga. I do not know who the number belongs to or who is calling other than a scammer.
I thank you for your help as blocking this number to my home number.

Elisabeth Sanchez
from Old Westbury, NY
I call at sprint because my Bill Due Date was 15 of every month, and another agent and a supervisor front sprint 1800 were I spoke 2 weeks ago told that I should call between 21/22 to change before my next cycle bill starts. And this woman agent told me:
1: I couldn't change my Due date because I did a contract with Sprint and I have my 18 months to Done in order for me to Change.
2: I order her I want to speak with Supervisor she said I couldn't talk and I told as I'm the costumer of sprint I have the right to speak with a Supervisor and she told no you can't. I order here transfer and finally did but put me hanged on the phone waiting and waiting.

On 03/08/2019 I went to the sprint store at 2109 E Franklin Blvd Gastonia, NC 28054 Store number 2094 to look at new phones and consider an upgrade. I was greeted by sales rep Elizmar Montanez. There was sign in front of the phone stating it was $29 a month. I asked if I could get the phone and only add $29 to my monthly bill repeatedly and she answered yes. My bill was about $79 dollars and she gave me a new price with the phone including taxes and fees of under $110 a month. My first draft was $170. She asked me if I wanted the Sprint insurance on the phone and I told her no. She offered me a Sprint Drive device and service that came with a one year membership with AAA and that if I signed up for it it would lower my bill by $5. I told her to proceed and sign me up for it.
I have been with Sprint for almost 20 years. I've had an unlimited data plan for over a decade. These are my issues:
1. She lied about what I would pay for the phone. The $29 fee was only for new customers and the real price was $41 a month. She never disclosed this to me and the actual cost is $41
2. She lied about the fact that I was purchasing the phone with two years of monthly payments and then own the phone. The phone payment was a lease and after 16 months I could purchase the leased phone for $250.
3. When asked if I wanted the insurance plan on the phone I said no but she signed me up for it anyway.
4. She changed my plan from an unlimited plan to a limited data plan without telling me or my consent.
5. She lied about the Sprint drive saving me $5 a month on my bill. It actually costs $10 a month for the service.
I became aware of all this when I got the message on my phone that I had reached my data limit. I called Sprint customer service to see what had happened. The agent told me of all the changes that were made to my service and the monthly costs. I was able to get them to put me back into the unlimited data plan and remove the insurance on the phone from my plan. The agent told me I would have go to the store of purchase to resolve the rest.
I returned to the store where all this happened to resolve the issue. I was seen by the stand in store manager but he put everything off on me and offered no help in resolving any of this. He showed me a summary sheet and told me I signed it because all employees are required to have it signed by the customer at the time of sale. The summary showed changes and costs to devices and service clearly and easy to follow. I told him I had never seen the form and he argued that I must have signed it. I asked him to pull up my file and show it to me. He looked but said the form wasn't in my file and couldn't produce it. I talked to him about the Sprint Drive but he said he couldn't change it as 14 days had passed since I upgraded my phone. He stated that all this was her word against mine but couldn't produce the signed summary form.
After a long period of trying to get this resolved with no help from the manager he printed off a copy of some of the contract to show me I had signed for it. It was very obvious that the signature wasn't mine but he refused to acknowledge it when I showed him my signature on my driver's license. He printed off another signed contract and told me it was a previous upgrade signature but it was the exact same paper he showed me the first time. He actually tried to make me believe the second print off was from a previous time and the signatures matched. I told him I knew what he did and insisted on seeing another copy of a previous contract. He produced one and it looked much like my signature and was clearly very different than the one from the date of purchase that he first showed me.
I realized I wasn't going to get anywhere with this and asked for the sales person's name who did all this. He told me he couldn't recall her name or spell it yet he called her and talked to her while I was there. I asked him again for the sales rep's name and how to spell it and again he told me he couldn't produce it. I had him print off my receipt for that day of purchase and found the sales person's name on the top of the receipt. He just didn't want to help me and put all this off on me as he said she said and there was nothing he could do about it. He was very condescending and avoided answering anything that might imply Elizmar Montanez did anything wrong.
The only thing I'm asking for that I haven't already had to fix myself with the Sprint customer service rep over the phone is to pay for the lease at the amount I was repeatedly quoted and have the Sprint Drive service cost removed from my plan.
I have never been treated by a manager of a store as rudely and without concern over what had happened by anyone in my life. I wish I could give them no stars.

Katie Ioannou
from Providence, RI
I decided to leave my current provider and switch to sprint. I had visited a sprint store with my daughter....I was looking for two lines and devices. I was told if I opened up five lines it would cost about the same and I would receive three tribute phones at no cost...the associates had asked what I paid monthly at my previous provider....so they were aware...they had said I would be paying around the same amount...I also made sure that the three "free" phones were not going to be charged....they assured me nothing was going to be charged. I was at the store for about two hours switching everything.....it was a long time and was confused...but they assured me that the two devices that I wanted were the only ones that I would be paying....a couple weeks later I was looking to get the Samsung watch....not realizing that I needed an available line...which I didnt have because of the extra lines. I went to return, but was told that I had to pay $45 for each for a restocking fee...I was a little upset about this because had I known at the time of the transaction in would not have gotten the extra lines....when I visited the store...the associate made a call and approved me for an additional line if I wanted to get the watch, but also to keep the extra phones because I would not be charged. I couldn't get the watch because at the time I couldn't afford the down payment.....fast forward to 5/20/19 I looked at my bill and it was $250.....$100 more than I expected to pay.....they had me on a plan that they chose for me and I was getting charged on all five lines.....my whole experience with Sprint was horrible....I feel like they took advantage to meet their goal. I'm sure if you pull up my phone number you will see the many phone calls I've made.....
KI

Betany Christown mall Sprint. RICKEY is the Manager. I went in because I needed more RAM ( better phone ) and I explained that I milti tasc with this device. HE recommended the best Note9. Now I do not have voice over LTE and am in voilation of my company phone contract for 18 months.. NO ONE WILL HELP> ESPECIALLY HIM. I will be calling 3 on your side to expose this FRAUD if this is not resolved soon. the account is for phone # 5305522570

I feel as though the online chat customer service help are not understanding at all. I have been having financial difficulties due to being sick was out of work for weeks. Yes I fell behind on all my bills. But have always made a monthly payment to sprint yes late. I'm currently still a month behind on bills and asked if I could make the 213 payment on May 31st . I explained the situation and absolute compassion. I don't want to change service I just want to have an arrangement for the 31st.

Dear Sirs: PLEASE PULL UP MY ACCOUNT. My problems started on Friday of last week. Spent 2.5 hours on Friday the 3rd of May!! my problem has not changed only worst with the lies I have received from CUSTOMER CARE SUPERIVISORS " Linda, Michael and the one that would not give her name at 8:50 PM Central Time Zone. My problem has not changed since Friday!!! Tech Service sent me to Corporate Store in Panama City, Florida took off a half of day to go there. More lies from management told me my plan did not include Mobile Hot Spot. For $ 20.00 more I could have a hot spot...… More BS lies my plan includes everything. New CUSTOMER CARE SUPERVISOR on Monday afternoon after being at your Corporate Store in Panama City, Fl. after being directed there my Tech Support. the Store is not a repair center!!! Your Supervisor moved my plan to 4G LTE at your expense said she would call tomorrow to see if my problem improved. My problem did not improve an other lie said she would call between 1 and 3 PM central standard time. DID NOT CALL. The closest factory repair store was Mary Ester, Florida. Tried all day to make an appointment and got recording STORE IS CLOSED. Great way to run a store WEB SITE SAY OPEN, BUT CAN'T SET APPOINTMENT when no body will answer the phone.. All I have been trying to do since FRIDAY is get my phone working. Going to drive 66 miles to Mary Ester in the morning and HOPE they will be open at 10:00 AM. Will let you know what happens in the morning. I have been more than patient trying to fix my phone. You have some major problems with the LIES your customer care department is passing out NEED TO REVEIW YOUR TAPES somebody is covering up a lot of BS coming out of your CUSTOMER CARE,

Kristina Hernandez
from Boca Raton, FL
have had problems since the day i have signed up. call every month since i have had them. wait over an each time for a manager. never speak to someone in the usa.... im looking for a new company. they have the worst customer service i had in my life. charging my phone for something that i wasnt suppose to be charged for 6 months and have yet to talk to a manager.

Alyssa Lamb
from Texarkana, TX
This altercation occurred at the sprint store located on 3741 Mall Dr, Texarkana, TX 75501. There is an employee there who curses almost constantly. In front of customers and preachers. She was fired today, but somehow, rehired because apparently, someone with a foul mouth and no manners is worth more than a customer's experience in your store. I am very disappointed.

L Anderson
from Boise, ID
Sprint insists on overcharging then refuses to do a refund. I have tried to discontinue a line for almost 3 years. No one returns my calls after numerous requests. My rates have increased for no apparent reason and no prior call to explain about increased rates. Customer service is sooooo knowledgeable about their company policies. Trying to call in to get help is a joke! On hold for 23 plus minutes now. I would appreciate someone calling me that is authorized to handle my issue. 208-206-2369 Lorri

Took 4 days to Unlock phone, took a rep and her manager to get the correct pay off number to payoff my phone,
45 min, 2 reps, 1 manager to let me know I cannot Disconnect my service in the middle of a billing month and let me know it can only be done at the end of the cycle and they do not Pro-rate. Bill Date 15th Cycle ends 21?? WHY R you billing me 3/4 into the cycle.
Just a bunch of dopes who are Not on the same page at customers expense

I had applied for a work from home job on Facebook & was hooked up with google hangouts, I was asked questions and then told I would be perfect for the job. So the person told me that they would be sending me a laptop since I had only a iPad & iPhone, and that I would be paid two iMessage a month and if I decided to quit, I could just sent laptop back .i figured it sounded good and he said the name of company was home solutions or housing solutions, I can't remember now, I am so upset. They told me everything would be done on laptop & phones, he sent me two phones by fedex and asked me to send these to a address in California so that all the information would be programmed into these phones, so I had my aide take them and mail them to the address I was given. He then went on my sprint account and added these phones to two new lines. I have the IMEI numbers and phone numbers that were put on my account. He also ordered a phone , told me it would be mailed to me. But I never received any phones at all. Now I am being told that I have to pay for the 3 phones & lines . I have been a customer for 10 years and I hope you can help me. I only live on social Security so there is no way I can pay for these, my sister & me have iPhones and we pay our bill every month. I am disabled too so I hope we can take care of this. Also he told me that they would pay my cell phone bill which was 197.02 which he did and then backed out of payment so now we are behind on our account. My name isTheresa Velkovich & my phone # 304-218-0343. Thank you

Michelle Hedlund
from Jamestown, NY
I canceled my service February 21, 2019 to go with Verizon. I called for my account number and they asked me if there was anything they could do to keep me on and I responded "no." I did not keep that phone number and I traded my phone in to Verizon. I get a bill in April with a balance of $158 and change. I called customer service and they said they would take half off my bill. I get another bill in May stating I owe $158 and change, but when I call it is now up to $165 and change. I called back and they gave me the worst time on the phone. I ended up paying the bill because they would not back down. I don't know how Sprint can charge me when I canceled my phone, traded in my number, and have a whole different phone number. They state that I never canceled which is not true at all and they as much called me a liar. I have 3 witnesses to my conversation with the Sprint representative. I will never recommend Sprint to anybody nor will I ever consider ever, ever going back to Sprint. I have never been treated so horribly in my life. I was a good customer and to be treated so horrible is just not right especially when you people make the money you do. What goes around, comes around! Remember those words cause Sprint has it coming to them.

Luke Allen
from Fort Worth, TX
I was told that sprint had really good coverage where we live and as soon as I got home my phone went straight to roaming and my wife and mother in law have each been having there own problems as well. To be perfectly honest I kind of feel like I was tricked and we just want to either get our problems fixed or give everything back and we'll go elsewhere.

Eric Zahler
from New York, NY
1ST. Tried to upgrade phone online and lost contact in the middle of conversation on 4/27/2019
2nd Went to store in Temple Tx ( General Bruce) on 4/28/2019 and did not have phone in stock , offered to mail , I accepted on to find out later the it was mailed to the store not house a week later. Never received a call that the phone had came in. I called on Friday 5/3/2019 am was told that she would have to call me back, but never received a call. That same evening I called again and was told it was at the store ( we close at 7) . I went on 5/4/2019 to pick up phone. Young lady working activated it in store. Get home and phone activated but not working had to call and type in code to start working. Very disappointed in the whole turn of events as we have been loyal customers since around 2007

Joulia merza
from Chicago, IL
0
on May 3 2019
I called at 8:00 pm and talked for 1:24 minutes I spoke for so many agent and were telling me different information and I requested to talk to an manger his name was martie he supposedly was helping I told him the story of my phone call and I wanted to record my phone call because each agent was telling me different information from other and I told him then I was ready to give him my credit card number to make the payment then he hang up the phone on my on purpose
He said it if the phone is recorded I wont assist u
And then he hung up
After that I called again and I was on phone for 24 minutes after that they hung up the phone on me
Only one agent his name was Justin helped me well
The rest is 00000000
This is the short part of the story
The worst company and worst customer
Don't waste ur money and time with sprint ever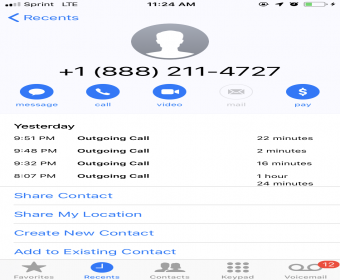 This is the worst company I have ever tried to call.They placed charges on my bill, when I called to dispute them I was placed on hold for over 1 hour and finally I hung up. If you are looking for a good company do NOT USE SPRINT!!! Stay away from them!!!! You will not save money because you will spend hours of your time trying to fix the fraudulent charges on your bill!!!

I wish I could give 0 stars. I am no longer a sprint customer however, I keep getting bills sent to me. I have had this happen previously and I was told that everything was paid in full. When I try calling Sprint about this, I keep getting hung up on. I was supposedly transferred to a Manager twice and each time the manager would put me on hold and hang up. No one ever calls back either. I keep getting sent mail threatening to send me to collections but each time you try to address the problem no one helps you. Many people at their customer service line have a hard time understanding English; they are rude and inconsistent. Every time I call I get a new balance and new reason why there is a balance and then after waiting hours I get hung up on. I was even supposedly given a direct # to a manager and when I called it, it was a restaurant. I also tried calling the # on the bill and each time you call that # it automatically hangs up on you. Sprint has the worst customer service I have EVER heard of!!

I have been a Sprint customer for many years. I had no problems until this year. I had three separate encounters with horrible customer service. I called the 1800 sales line because I'm looking to possibly upgrade my phone. In the past sales jumped at a chance to sell me a phone. This call basically told me she couldn't really give me any information & I'd be better off going into the store. Literally gave me no information except I was eligible for an upgrade. Well I already knew that. So I called the corporate store closest to me (Ridgepark Square in Ohio) and I was put on hold 3x for over 15 minute each & no one ever answered the phone. I hung up all three times. Where the last incident I went into the store & I said I'd like to trade And upgrade two phones. The disinterested sales rep told me our iphone 6's were only worth "Like" $50 & we could probably sell them online for more & the price of the new phones were on the signs that I could read myself. No promotions "just what's on the signs over there." He did walk over to the sales signs with me and ended up pointing to the sign & said "that times 2." That was in the Westgate Fairview Park/ Rocky River Store. So I called Apple who would love to do business with me and does the same payment plan as sprint. I rather give a company that cares my money then one with a bunch of horrible customer service!!!!

Switched to sprint from Verizon. Did this while they had instore promo going on for 9.00 s9s and 14.00 so notes. also was told that I had a insurance bundle package, that covered our 5 lines for 45.00 a month. Was also supposed to receive 5 100.00 gift cards.1 for each line I ported over. They were also supposed to pay up to 400.00 per line for Verizon contract. 8 months later I am still fighting with them as NONE of the above has happened. 1st month when I brought it to there attention in the store ,was told I need to call customer support. And I have been bounced back and forth since then. Last week was the best yet. Finally got to go over everything with a supervisor by calling she confirmed all of what I stated and then proceeded to tell me that I am even being over charged on each line, so with that said I am being over charged about 190.00 a month. Not an exeragation!. Was told that she would reach out to head service rep in my area and get this taken care of. Following day went to store to see if anything had been done. Girl there went over my bill and told me flat out that the person who did my plans LIED her words and that I am not eligible for any promotions and that my bill is correct. And there is nothing that can be done. So as of now I have over paid about 1500.00 in 8 months and my cell bill is about 140.00 more than what I was paying with Verizon. and still no one will fix it. And I might add that my Verizon service beats sprint's service hands down.

OANNE laphan
from Spring Hill, FL
I have been loyal to Nextel/sprint 18 years. I had a air card for10 yrs. It has not worked for about 2 yrs. I continue to pay my 50.00 per month. I went and called sprint to help me to get a new air card. I was told to get zing. I did then I was told MiFi.Which I did.Wr had issues getting it connected.Ryan from sprint told me as long asi bought the mifi my plan would not change.Well it did then they jacked up the price to 65.00 and they refuse to put me back on my plan.I never agreed to change plans and had no knowledge sprint didthis till i went in the store!
I want my plan back.....

Fred Fasel
from Traverse City, MI
I have never been so disgusted with a company for their service like I have in the last 2 months with Sprint.I have been a customer for 18 years and have 4 phones with (5 at one time) you.. My wife and I pr-ordered the new S10 and S10+ and received them on March 6. Shortly after that My wife's phone started acting up. Roaming often, could not send MMS messages and got very hot. Since then I have been to my local Sprint store (non-corporate) at least 10 times (they were far more helpful than anyone on the help line) and have spent in excess of 6 hours on the phone (2.5 hours today) with various Sprint representatives. We tried every possible troubleshooting, then they escalated it up to a higher level. Wash,rinse repeat. During this time I found out there was an issue with many of these phones. My phone was not working well either but because my wife's was so bad(basically a 5" computer), I didn't pay as close attention to mine. To sum it up, I have been given the runaround trying to get the phones replaced. Today I called Sprint, then was passed to Asurion (hung up on during the transfer) Back to Sprint then back to Asurion, then back to Asurion, hung up on again, back to Sprint and finally back to Asurion.to review my case to possibly sent me refurbished phone! All this is just wrong! It is common knowledge that there was an issue with the new S10 series. It should have been taken care of the 1st time by Sprint (I forgot, initially I was told to call Samsung because it was their problem). I am not a Samsung customer, I am a Sprint customer. I have been told that customers could take their defective devices back to a Corporate Sprint store to be replaced. Unfortunately I am 145 miles from the nearest corporate store.Why didn't Sprint make an exception to allow the local stores to service customers with no corporate store nearby, knowing the gravity of the situation. It is unthinkable that you would treat your loyal customers with such disregard. I will seriously be considering other alternatives in the future
Sincerely,
Fred W. Fasel
231-392-3307

Marlina Madris
from Fort Worth, TX
After 19 yrs w Sprint, I am fed up. What a bunch of extended of schemers and run aroind. Play w my gigs, then slow me up repeatedly. Then I Increase my gigs again & its more money. Add a line for a senior, no discounts for them, OR for being a loyal customer for almost 2 decades. Call to resolve a matter and they switch you around countless times or have you call another number after a bunch of questions they dont do anything about. You call the number and it a bunch of agents again then they put you on hold forever. After 37.8 minutes on the phone (yes I was checking my wait time. They disconnected me, i called back lividand told them NOT to put me on home again & again that I was care for my 95 (ninety five) year old father,i cant be on hold for 30/40 mins. She said, yes let me check this for you. After another 14 minutes w her, she pickef up and kindly said, the line had been scheduled to be disconnected. I said I dont want it sceduled I want it cancelled altogether. Then explained they are turned off on bill close date. Then said I didnt need a confirmation, but gave me an Interaction #. (So whats the difference? Apples or oranges.,they're all friuts arent they?) .
The very first agent I spoken too, Joe called back to make sure it was handled. When I told him what happen he apologize profusely.
Imagine after 19 yrs of businesss w Sprint ...bupcus...not even an incentive or bonus, just witching me aroun, calling different numbers &keeping me 'on hold' 45 mins. When I get settled w things, Im gonna Adios &disconnect my entire acct. And go elsewhere.
ENOUGH !

Jody Hagar
from Pompano Beach, FL
Sprint has horrible billing practices. They add on items to your bill and then refuse to credit you for those items. They also will end your chat session in the middle of it without resolving the issue.

My sister passed and I called to discuss the phones and hot spot my sister had. I informed them my sister lived in Los Angeles and I was in Dallas. When I went to see her and take care of her burial arrangements, I only got the one phone back from her daughter. I could not go into the house to get the hot spot, iPad, and other phone. I paid the difference on the hot spot and iPad. The phone was lost. I and was told to just bring in the death certificate with the one phone I had and all fees and remaining charges associated with those items would be waived. Went to the store when the death certificate arrived and was told I needed to email it in and they would send a kit for the phone. Tried to request the kit and was told one would be sent to me and that I needed to mail or fax the death certificate. I mailed it in. I got a call today from the collection department telling me I still owed and only the one phone I returned would be not charged and I would have to pay on the others. My sister had two phones, and iPad and a hot spot in her possession. Since one phone was used for her and my niece, I am told that one will not be credited. This has been the most stressful process ever - let alone trying to still heal from my sister's untimely death. Now I have to dispute this or pay before it impacts my credit. The people say " sorry to hear about your loss" but there is no sincerity or care behind the words. I just hope they never have to experience what I have.

I wish I could give zero stars. I switched 3 lines over from Verizon about three weeks ago and its proving to be the worst cellular decision I've ever made. The service is not reliable, in fact I don't even think it can compete with some of the sub par prepaid companies out there. At this point spring is guilty of false advertising as I'm sure they know that their data is horrible, the network is slow and unreliable, the overseas reps that they entrust their customers with are incompetent, lacking in proper English as well as proper resolution and problem solving skills. When I initially changed over to sprint it was to save money. they offered me a certain amount per line to switch. later I found out that I didn't choose the right phones for that offer. if that's the case when I clicked on the offer wtf was I offered phones other than the ones that qualified? Secondly I had a daughter in air force basic training. They assured me they would wait to port her number over to give me time to send her the new phone. Guess what? They ported it immediately so I was unable to talk to my daughter for 2 weeks until she received the new phone and activated it. I haven't gotten anything that sprint promised me and they've failed me miserably. I'm in the process of trying to get my service reestablished with Verizon. Sprint sucks. they really failed me and my family. The service, network and data are unreliable and slow. You would expect more from a big name.

Richard R Martin
from Greenwood, IN
To whom it may concern, Last sunday me and my wife went into a sprint store on us-31 in Indianapolis , we were looking to get us both a new phone,the salesperson told us we couldn't get the deal, it was for new accounts ,we told him that we have had our phones for 4-6 years ,we don't owe on our phones, we were told no, so i asked him if sprint cares if they lose are business ,,he said do what you have to do,and walked off to wait on someone else...SO DO WE LEAVE SPRINT, BECAUSE SERVICE FOR PEOPLE SUCK ,IS IT THAT HARD TO KEEP SOMEONE WITH SPRINT AND HAPPY,????

Michelle Toye
from Staten Island, NY
On Wednesday May 1, 2019, I reached out to the Sprint Customer service line. I asked what my eligibility for an upgrade was and was told. In addition, I was told that I have to pay an up front down payment of $ 50.00 in order to upgrade. I informed the representative that I was not charged an upgrade fee for the last time that I upgraded, so why am I being charged an upgrade fee now. The representative was unable to answer my question and told me that he had to place me on hold while he "asked his colleague what I would be eligible for". He placed me on hold for 10 minutes until I finally had to call back because he never came back to the line. I started the entire inquiry all over again. The second representative told me that the first one was correct, that I did have to pay an upgrade fee. I told him that I was already told that and wanted to know why before he placed me on hold and never came back on the line. He placed me on hold and told me that he was able to increase my spending limit and placed a rep on the phone that gave me the option of putting more equipment on my line such as a watch or a tablet. That DID NOT help me nor did it answer my question. I continued to answer the question and it continued to go unanswered. Lastly, he told me that he would put me in touch with customer care and perhaps they would be able to offer me a deal on the upgrade fee. He came back on the line and told me after speaking with customer care, he was able to offer me $ 15 DOLLARS off the upgrade fee. $ 15.00 DOLLARS !! after two phone calls and 2 hours of my time, I never got the answer to the question that I was looking for, and did not get the phone that I wanted to get !! Extreme waste of my time and no resolution !! Representatives NOT KNOWLEDGEABLE and service was unprofessional and unsatisactory !!!!!
Have feedback for Sprint?
Thanks for your feedback!
Sorry. Please try again later!