Sprint
Sprint Complaints Continued... (Page 5)
738+ reviews added so far. Upset? Call Sprint corporate: 1-800-777-4681

Hailey Maloney
from High Point, NC
Hello, I've recently tried to upgrade my phone and am having an extremely hard time doing so. There was fraudulent activity on my account months ago and I had also resolved that issue MONTHS ago. I've made 3 trips to the sprint store. The second time that I went every single one of their computers were down so after I had already sat there for 45 minutes, they told me I would have to come back another time. The third time that I went to the sprint store I was there for an hour and a half and they explained that because there was fraudulent activity on my account, they weren't able to upgrade my phone because their system said that I had already upgraded. This shouldn't have even been an issue and should have already been taken care of since I had called about it months prior, and concluded with a customer service rep that someone hacked my sprint account, and stole an upgraded device using my information. I then attempted to call customer service today, was transferred three different times, and had to re-explain the situation each time. Eventually, I asked for the corporate contact information and no one seemed to have that either. If this issue isn't resolved soon I will be switching phone services.

10/25/2017 Signed up, paid $42.48 for refurb iPhone 6, phone number 913-228-7380
11/6/2017 The phone I received was defective. I called and CANCELLED contract under 14-day satisfaction guarantee. Sprint will mail me a UPS return shipping label. Refund will be given upon receipt. It has been 12 days since I signed up for service.
11/6/2017 UPS shows that Sprint created shipping label 1Z9R08859046349139 to return the defective phone. 12 DAYS
11/10/2017 I received the UPS label and mailed the phone the same day
11/16/2017 UPS shows 1Z9R08859046349139 package was delivered to Sprint
11/16/2018 Another charge for $54.15 was applied to credit card.
11/16/2017 I called, Sprint apologized for additional charges and will stop all billing. Stated that charges were continuing because they did not follow through on closing account. They could not confirm receipt of return, credit pending receipt.
11/18/2017 I called, Sprint could not confirm receipt of return, credit pending receipt
12/12/2017 receipt of return confirmed. case 190512541 refund in 3-5 days
12/18/2018 Another charge for $43.28 was applied to credit card.
12/21/2017 no credit received. Again, Sprint stated that account was not closed, but they would now close it. I was assured credit for all charges would be processed within 24 hrs. despite the fact that THEY screwed up and didn't close the account as I requested.
12/22/2017 no credit received. Called and opened case 190512541 $139.91 refund in 3-5 days
12/30/2017 received refund for $56.94. Balance owed me $82.97
1/11/2018 called and asked for refund of $82.97 balance. Opened case 193739216. I was told it would be processed in 3-5 days.
1/22/2018 no credit received. Called to open new ticket 194889538, assured that refund would be processed by 1/26
1/26/2018 no credit received, was told to check by end of day
1/29/2018 no credit received, called and was told supervisor will call back by end of day to confirm refund approved. At 4pm Supervisor left message assuring me that credit would be processed within 24 hrs
1/30/2018 no credit received, called and was assured it will be processed within 24 hrs, and billing will call to confirm
1/31/2018 spoke with Amy in finance, credit request was opened 1/30 and credits are processed within 3-5 days NOT 24 hrs.
2/8/2018 no credit received, called and got cut off while on hold. Tried using Chat line. Chat line informed me credit was rejected on 2/5 because it looks like account was not closed within 14 day satisfaction period. Chat told me to call 888-211-4727 (wrong). Called 866-789-8292 instead, spoke with Ken who stated incorrectly AGAIN that I am not owed credit because I didn't cancel within the 14 day period, transferred to Chris in Finance who stated I would get a call back to confirm $82.97 credit within 3-5 business days. case i1353769584.

Juli Waterman
from Clackamas, OR
This is an abusive situation. I have been lied to, miss lead, on hold for hours, and spent 12 hours total on the phone to just get nowhere and lied to again! I returned 3 phones when my lease was up and upgraded. I was worned by UPS to keep my tracking #'s because Sprint is known to put their customers through the ringer and lie to them about not receiving the returned phones and charging you over and over for the phones they already received.. This is a nightmare and I will never choose sprint again due to their lack of customer service as well as a lack of conscious in doing right by their customers as well as no concern for their clients time.. Absolutely the worst experience ever..

We went to the Crystal Lake, IL strode by Regal cinemas and were treated very poorly by an extreamly rude supervisor named Reaquel. She yelled at us and now was so unhelpful full not wanting to fix a problem that costumer service said should be a simple fix. WOULD GIVE HER 0 STARS IF I COULD!
Extreamly inappropriate service!!!

Princess Branch
from Kernersville, NC
I purchased the samsung galaxy note8 from sprint 1/12/2018 and since day one Ive had problems with the phone frezzing up, Ive had a soft reset and a hard rest. Then the phone started not sending text out and locking up. Now the voulme has done completely out and the phone is less then 20 days old and customer services informs me that they will not take the phone back because its out side of there 14 day return period. Customer service sucks and so does this phone. Worset experaince Ive ever had with a phone. I wish I would have never done business with sprint. I will be filing a complient with the better business bureau this is no way to do business. Selling customer phones that dont work and then refusing to take the phone back

Nancy Feliciano
from Leola, PA
I have been a long time spirit customer. On sunday buy new phone I am on family plan did not want change my plan if cost my family money he said no it would not be change my plan he changed plan he was wrong called to change it back said no .This is the way you treats someone who has been with you,so I guess all 5 will say goodbye

Lena Hayward
from Bradenton, FL
Opening account 1 month ago coming from AT&T after 15 years I realize I made a mistake. Customer service is horrible it's like talking to a wall,, no matter how many times you call to make sure your account is correct etc,, you will still find a problem! I'm totally shocked by this and no one seems to care or to fix the matter,,

Brian / Becky Schuett
from Austin, TX
WE discontinued our service with Sprint in 2015. There were a few small items that still needed to be paid for, which were taken care of....so we thought. We went about 8 months or so with no notices. I was ASSURED by your Cust. Serv. Dept. that everything was paid in full and our account has been closed. Then out of the blue we get a bill for about $85 charging us for the internet on a tablet that was paid off. Got that taken care of and now I'm getting a bill 4 months later for a $3.25 late fee. THIS ACCOUNT IS CLOSED!!!!! IT NO LONGER EXIST. We are tired of your staff coming up with bogus charges. You've already been investigated for this and a complaint filed with The BBB that states:
Sprint Corporation allowed illegal charges to be added to consumers' wireless bills, a process known as "cramming." The case was filed against Sprint and Verizon who must pay a combined $120 million in refunds and $38 million in penalties and investigative costs.
So why are you still doing it? This is PURE harassment against us. If we get another bill for a bogus charge on a closed, non existent account that has been closed going on 2 years, I WILL file charges against you for fraud. When I call and talk to Customer Service I get nothing but the run around, disconnected, no records of phone calls being made, employees that "don't" work their anymore or told that employee gave me the wrong information. I can NEVER get confirmation e-mails nor can I actually speak to an American citizen. WE ARE NOT WITH SPRINT ANYMORE. DO NOT CONTACT US AGAIN. WE OWE YOU NO MONEY.

Candace
from Sacramento, CA
Chat format, The representative was not helpful in the least. Sprint overall is horrible, they are deceptive and have unethical practices. My bill has all but tripled because of representative negligence at my expense. Erroneous charges, and they never canceled the phone lines I requested. Charged month to month for phones that could have been purchased for 1.00 at FMV, charged for insurance on a phone that no longer qualified for it. Plan changed without consent but still have to pay to have it changed back. Every part of the service is subpar. I would not recommend Sprint service to anyone.

Rachel Shubert
from Newark, NJ
There's two things:
I bought a Belkin wireless phone charger from my Sprint Store. It stopped working less than a month of getting it. I bring it back to the store to get a replacement charger. They would not exchange it because it has been passed 14 days that I got the charger despite it being less than a month old. What kind of warranty is that? That's ridiculous. They said I have to go through Belkin myself to see if they can do something about it - as if I even know how to do that. They did not even show me how to contact Belkin. The customer service was so bad that I am thinking about leaving Sprint altogether.
I got my iPhone8 Plus from Sprint as well. They told me that I would get $50 off my next bill for signing up with sprint. That never happened as well.

mark / silvia galindo
from Peoria, AZ
Case# 9737969042 - in process
My wife's cell number has been hacked with long distance (international) being made to South America, Columbia in the amount 225.47
which didn't made. We been with Sprint as of 2002 and back then I do remember I use to have issue with long distance that was never made by me I called CSR they were very understandable and they trusted my info and voided the fee but now for some unknown reason they don't trust customer complaint. Why? Is the work of evilness, greed and fraud? We live in a world of high tech computer and computers being hacked everyday and Sprint doesn't agree with me.
Please in the name of God, please correct my billing as she did not make those calls.
God Bless,
Mark

keith atwood
from Salt Lake City, UT
My wife and I was in Sprints North State St., Orem Utah Location and signed up for the Sprint Flex next evolution lease program on Oct 7th. We was promised we be paying no more then what we was paying then, which was $134.00 a month, for 2 phones. Now we paying $168.00 and $166.00 the last 2 months. Now we being told we wasn't eligible for this discount and Dallin Englund the Retail Consultant won't even call us back. I don't even call this customer service. It would seem I don't have a contract with Sprint since they don't won't to honor there original agreement. This isn't even the same great company we signed up with 2 years ago. Based on there star ratings looks we not the only ones that got screwed over. Just remember what goes around comes around!!!

Thomas Doran
from Renton, WA
Ive had several problems, I have been directly lied to promised callbacks and not gotten them. I have been with them 8 months and i regret ever switching carriers. Sprint had a promotion 90 dollars you get 5 unlimited lines total also i got a buy one get one free on my Samsung galaxy s8 plus So ive called in several times wasting many lunches at work were i should be relaxing because they did not give me the promotion as promised ive been paying for my lease on the 'free' phone. Ive been overcharged on my bill the whole 8 months ive called several times and been told my plan has been changed to the right plan and it was not. Now ive missed almost the whole promotion They gave me a 250 dollar credit but still have not fixed my plan as promised. To make matters worse two days after joining the tower by my house broke and there were endangered birds hatching on the tower so they stated i had to wait for them to hatch. it has been 8 months with none of my three lines having data at my house i finally had to pay 600 dollars to have WIFI put in my area now i have a monthly wifi bill on top of it all I'm out about a thousand dollars and tons of time. and now it looks like i just want credits because of all the mistakes they have made that ive had to call and try and get resolved still have no data on my three lines and i get lied to everytime i call and there rude I cant wait for my contract to be over Worst phone carrier ever !

Rochelle
from Kansas City, MO
I have been a Sprint Customer since 1995. I recently upgraded my Samsung Galaxy S6 Edges ( I had 2) to Galaxy S8+. The initial call took over 2 hours where they promised me I could get the 2 new phones plus a "free" tablet for way less than I was paying now under the "Unlimited Freedom Plan". My bills were running between $185 and $228 a month for who knows what. I have not been able to do anything on my Sprint website in over 3 years and no one has been able to help me get back on. Since I have paperless billing I have no idea what I am paying these ridiculous prices for. But they told me I would be paying roughly $185 for the 2 phones and the tablet. I went ahead and purchased the phones and told them I would call back about the website issue because I had a headache trying to deal with accents and being on the phone for hours.
When I finally got over the trauma of the 1st phone call, I called back trying to get my website fixed. It told me I don't have permission to make payments or make changes to the account without the permission of the account owner (ME!!!). Once again, the sales pitch started when they asked why I hadn't taken advantage of my "free" tablet for my second phone. They sold me another "free" tablet for another $8 month and reminded me they would change my plan to the Unlimited Freedom when the November billing cycle started. Still had not fixed my problem and gave me a number to call to get it fixed. This call took 1.5 hours and once again, I had a headache when it was over. I called the tech support number they gave me and those people, thankfully who I could understand, said that department would help me set up my phone, but had nothing to do with web issues. Another waste of time in my life I will never get back.
My old S6 had fallen out of my pocket and the screen had cracked so I went to a Sprint store and spoke to a person in person and was told I only owed $80 per phone and so I decided to keep the old phones. Thank God for the people at the 132nd & State Line store for maintaining my sanity and giving me a brief straight forward answer to that issue. So when my November bill showed up, I figured I owed $406 because did not send the old phones back and that was the $160 I owed….
Until I received my DECEMBER BILL!!! That bill is $490!!! I immediately got on the phone with Sprint customer service and found out the plethora of lies I was told by the previous 2 reps.
1. I was never put on the Unlimited Freedom Plan, which would have saved me about $80/month
2. I was charged a down payment for both phones, totaling $350, I was never told about. They had told me NO DOWN PAYMENT!!!
3. The "free" tablets weren't free. They are $8 month. The SERVICES are $33/month in addition to the $8 I was told about in the sales pitch
4. Under the new plan, my bill will be $250, not the $185 promised, which I guess looks AWESOME now since under the old plan it was going to be $330
Needless to say, I know this is big business and like all big business it's about scamming the consumer out of as much money as humanly possible without getting them to move to a competitor but the blatant outright lies told were appalling. Like I said, I have used your service for 20+ years while in the military and overseas because I thought it was fair. You used to appreciate my longevity whenever I logged in or called. Even when you moved your customer service department overseas and it became abysmal at best, I hung in there because I thought Sprint was worth it. Now I'm pretty sure there is a better deal somewhere else. Hell, ANYWHERE else. There is no service anywhere worth $500/month. Don't know how you're laying off people when you're raking in that kind of cash.
The rep today finally got me moved over to the new plan. Or so he says. I guess I will find out on my next bill. He also broke my bill down to the gnats ass for me since I STILL can't access the website and have paperless billing. Maybe one day someone will be able to get that fixed for me. That phone call only took 30 minutes. Maybe because he knew I was pissed, maybe because he couldn't sell me anything else…
I can't express enough how completely DISSATISFIED I am with Sprint at the moment. I want to vomit whenever your commercials come on TV. You can trash this email if you like but I will be sending a copy to your CEO and the BBB anyway so it will not end here. Have an AWESOME day! And Merry Chritmas!
Rochelle Vann
520-236-9559
The person who is NOT the owner of this account

Have called sprint 3 times to unlock old phone I gave to friend. So far they have unlocked 1 phone twice ( I own 4 phones with sprint) and who knows what other phone. I haven't been as pleasant with these people as I should have, but when you purchase a product that you can't truly have, its agitating . Ever since I had my phone unlocked the first time my hotspot gets used up within five minutes along with my wife's and two kids we have been having nothing but problems after we requested the first unlock. These people (customer service) are very unprofessional

Michael Morgan
from Fort Myers, FL
this is the worst company I have worked with when it comes to customer service. They rank real close to xfinity.....
every time I call them, i waste 1 hour and still dont get results. I fired sprint 2 months ago. went with verizon... they atleast try...
Now sprint is running me around about my last bill. I cant log in. A called twice " 1 call 1 hour"........ they keep telling me they will send me my last bill in the mail. Today I got a Collection agency alert:!!!!!! oh my god. This company is lost..... They have my address. when I call them, they ask me the same questions over and over. Why cant they write information down. I cant wait for this to be over. was with sprint for 10 years. I wonder why i waited so long to change.

I am asking for my refund from last 1 year of 345$ and when i called today there employee misbehave and tild me fuck off

Denise Ayton
from Portland, OR
I have been trying for months to get a problem resolved that no one at Sprint can give me an answer to. I have now been charge over $1000.00 in a few months due to a mistake on the company's part.
We have had a Sprint Spark Capable 2.4 GHz and 5GHz Dual Band Wi-Fi for many years and has worked fine with no overage fees. We have been having problems with it, so called Sprint and was told it needs to be replaced.Spring no longer makes that model but they sent a replacement for what we had to a Sprint store for me to pick up, which I did.I had asked for something that was what we had before as we were happy with it.
We set it up and received an extra $500.00 on our next bill for overages fees, which is insane. Called right away and was passed on from department to department with no one understanding what to do. Promises of being called back did not happen. Have done this many times since the first bill and have spent many hours on the phone to fix this and still no one knows what is happening or will not call back. This is by far the worst customer service I have ever encountered, all the while they are still charging me for a product they admit was not what should have been sent to me and promises of not being charged.
I would like this resolved immediately . No one on the phone and through being handed over to so many people who have no idea what to do is it for me.I do not understand how anyone cannot fix a simple problem and still keep on billing me for an improper replacement.
Thank you.

Felicia Martin
from New York, NY
Well I called last week to have the number 4726 on my plan shut off immediately and I knew I had to pay for the balance left on phone. She told me everything was taken care of. Rep told me I would not have to pay that until Dec. I go into pay my bill yesterday and see I am past due $195 and my total bill due Nov 9 is $438.20. I go online chat and if you check my record you will see the conversation and my frustration. If you read the entire chat I was reassured I was not past due anything and I would not have to pay the phone balance until Dec. It is still showing as due by Nov 9. This rep tells me 4726 was not even turned off yet. And I paid $238 this morning and it still stated I was past due. I have been a very long term sprint customer and I am sorry to say that your customer service has really slipped. I am told one thing and another thing is done. Every time I turn around I owe more money. Your company really nickels and dimes you to death. When I leased my phones I was told once the last payment was made on the date you state, the phone was paid in full. Now I have two lines I am going to shut down but I cant do both right away because each one is costing me almost $200 extra from what I already paid over the last two years. This is absolutely ridiculous. Unfortunately I am no longer able to recommend Sprint to my friends. How can I possibly defend all of this??

tom magnuson
from Bellevue, WA
Been a Sprint Customer for at least 10 years. Inquiring about if Sprint has a plan matching T-Mobile for age 55 and older, two lines at TOTAL COST INCLUDING TAXES AND ALL FEES of $60. Been transferred, put on hold, told T-Mobile does not have such a plan, etc. Have asked for Retention or Loyalty Dept which gets me put again on hold.
I am a loyal customer who has reached a point where I am prepared to change carriers for no other reason than your "customer care" is a misnomer.
Would like a return call from someone who is knowledgeable and has authority to address and resolve issues without putting me on hold.
Thank you, Tom Magnuson cell (206) 909-1476

Dominique
from Chicago, IL
Called in to tech support to figure out why for the past 2 months my phone has been beeping as if I'm using speak text & why my phone keeps buffering when I have unlimited dat or use Wi-Fi in the house. Upon doing so tech support provided me with a # to enter & after entering that # my phone went dead. Not dead as in it died. Dead as in I was no longer able to receive incoming calls or texts or make any. Was on the phone with the lady in tech support for over an hour. Had to call you all back on my son's phone since I was not able to use mine & couldn't even call you all from the phone. After her not being able to assist & not knowing why the # turned my phone off she xfer me to sales or upgrade for they can assist me with getting another phone without going to the store or paying anything since again I just had a working phone an hour ago. Long story short, rep was rude did not listen & her sup was no better since she refused to get on the line & take the call & told her don't xfer me & told me what I was going to pay. I have the rep name & ID # & after 10 min. she finally gave me her sup name & after another 10 min she finally gave me cooperate # although she though I was slow & tried to give me the # to a local store. No good customer service, no credit offered just nothing & it was you all fault. So this will not be the end, I will take it as far as I need since I still have no phone thanks to you all tech support

Johnny Plemons
from Nashville, TN
Yes for two day and roughly 20 diff support techs and actually being cussed at by your people and even going to a store and showing them proof still nothing I'm filling complains with bbb fcc FTC and the attorney general because of he way I've been treated and I'm due and upgrade and have the proof on my sprint and they are denying me my upgrade I'm leaving you're services and going to verizon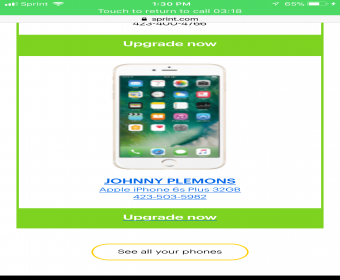 joleen Sabatini
from Springdale, AR
chat id 74572603265516252
on 10-12-17 at 21:08 I contacted sprint through the chat option on the website. I had recently been in a car accident and was temporarily out of work. I had a payment arrangement set up for the 13th and i knew i was unable to fulfill it so I was looking for information on what i would need to do continue my service.After a long wait i was informed that there were no options to extend the arrangement. I said i understood but would still like to speak with a supervisor,. after 31 minutes and requesting to speak with supervisor 7 times and being denied to be transferred 7 times i recieve a message that was another customers information payment arrangement including their full name BAN number and PTN number. Followed by a message that said "please disregard my last statement" The very next message says "HI my name is Fritz from Finance how can i Help you?" this is after i have spent over half an hour chatting with Fritz about my issue? I responded i have spent half an hour trying to resolve my situation with you but the fact you are sending me another customers personal info shows me you are too busy to help me and for the 8th time im requesting to speak to your supervisor. Again i was told they dont offer supervisor assistance. I said i understand you have said this multiple times and for the 9th time i would like to speak with a supervisor. I was again denied to be transferred and assured that i was the only customer she was helping for the last 30 minutes, and the personal info she accidentally sent me was a previous customer.Again i was told no, I said after over half an hour chatting with you and my issue is still not resolved i need to speak to a manager! making the10th request to speak to a manager. I explained i have been a long time sprint customer and i understand a supervisor cant help me with an extension i am still very upset about the conversation and would like to speak with a supervisor, making this the 11th request. I was then told someone would contact me within 72 hours. At this point i had spent an hour waiting to speak to a supervisor knowing my phone will be disconnected sometime today yet after 11 request for a supervisor im told one will somehow magically call my disconnected phone within 3 days. I stated that was unacceptable and for the 12th time i was requesting a manager.. I was finally transferred to Maden V who explained that its normal for them to talk to multiple people at once and sometimes the wrong persons info is sent to someone. not only did the first rep completely lie saying that they only have one customer at a time but the Manager didnt seem to have an issue with it happening. The supervisor was aware the complete chat between myself and Fritz and then she asked if i could clarify what my issue was. Im sorry but any manager should recognize it taking a costumer 11 request to even speak to a manager is a problem. the fact i was giving someone else's personal information is a huge problem, and that their employee lied about not working with other customers is a problem, Her only advice for me was i stil have a 2 year contract, so I am stuck with a company that has zero respect or value for their customers and completely lied to me. So after an hour and a half wasted i missed out on family time with my kids so i could, be disrespected, denied discussing my issue with a supervisor 12 separate times and treated like i wasnt important enough to be listened too.and on top of all of it my original reason for the call was never addressed or solved, Is this really the way Sprint finds an acceptable way to treat customers?

Andrenia Parker
from Bolingbrook, IL
I have been a victim of fraud by a Sprint representative who added a third line to my service and mislead me to believing that she was sending a replacement phone for my son who lost his phone. She stated that I did not have to go through the insurance company and that she could easily handle the matter. This issue was explained countless times to representatives and managers. It was resolved twice only to have the fraud department go back and put the charge of the line cancellation back on my bill. I did not ask for a third line and should have never been charged to cancel it. I have asked numerous times for someone to go back and listen to the recording. I have not been successful in handling this matter so I left Sprint and went back to Verizon. I would prefer to stay with Sprint but the blatant disregard for the fraud committed by your employee and the fact that they are charging me for the fraud she committed is beyond me. I have made so many attempts to resolve this and my last resort is to send a letter to Corporate.

SPRINT is the worst customer service provider of any type that I have ever worked with. They will charge fees that are not valid and absolutely refuse to help you resolve them. When you call to work it out they hang up on you, transfer you to a number that doesn't answer, give you a non-working number to call, and put you on hold for an hour and never come back. They effectively HIJACK their customers and hold them to a one sided contract, knowing that if you cancel a payment they will stop your service and damage your credit rating. Pay a little extra for Verizon or any other honest company and save yourself hours of frustration. Honestly, SPRINT is where the consumer has no rights!

Margaret Sinagra
from Tucson, AZ
I must congratulate you on your new business model -- extortion and blackmail. Doesn't do much for customer relations, but it does pad the bottom line.
Signed a two-year contract which has expired, tried to cancel. Spent literally hours on the phone and days running around to various Sprint offices; paid off phone, etc. Sprint still will not release my number, claiming I owe a month's payment.
Interesting fact -- the payment was and is still not due until October 8th. So now I have an iPhone, purchased from you, that I cannot use and will never be able to use unless I pay your ransom demand.
I don't expect much in the way of relief from you, since apparently all of your employees are no doubt following your instructions.
I do expect that you will respond to my complaint to the Arizona Attorney General. I've also filed a complaint with the FCC. I'll drop a line to the BBB and warn all of my Facebook friends to steer clear of you and your promises.
Can you hear me now?

Amy Envall
from Saint Cloud, FL
Hello,
I have detailed correspondence, complete with exhibits, in a pdf (which is not a file format supported through this complaint platform). Because no one at the corporate store or at the third party store or online or anyone at the customer service number has really stopped to take a look at what we have been trying to bring to everyone's attention time and time again, I am sending this to everyone. I don't know who will actually take responsibility or step up and actually listen to what we are trying to say, but I hope that someone will do so in order for everyone to move on.
Should you have any questions, please feel free to contact me.
Regards,
Amy Envall
407-373-3028
envallnanb@aol.com

Called on 9/12 and then had to follow up again on 9/20 only to find out the person I spoke to did not do what he said.. Now I owe more than I was told. I have spend almost 2hr on a call & 1hr on online chat. CUSTOMER SERVICE IS HORRIFIC. I am not sure how I been a customer with them for over 20yrs.
Ref 742629682189454375

raven jackson
from Los Angeles, CA
this is the worst phone company ever. I have been a member for the last 10 years and I was treated awfully. I spoke with several representatives and was hung up on twice. my bill was suppose to be fixed several times and every month no one could find the notes from the last transaction. I was denied the right to speak with a supervisor and again was treated as if my loyal services did not matter. Not only Is the customer service awful but the phone service is just as bad. If I could give zero stars I would.

Delia Hernandez
from Houston, TX
I just bought the note 8 phone case and glass protector and the glass came defective and they won't give me another one or a refund. They're expecting me to order another one and pay out of pocket for their issue.

Pascal DeMarzo / 3G-4G Mobile Broadband.30Gb / acct.# 235428309/ Sprint ph.# 973-592-7134
from Plainfield, NJ
Progression:
1). For my 6-20-17 to 7-19-17 billing period I incurred $497.71; wherein I maintain I did NOT accumulate high such usage.
2). On 7-31-17 I cancelled my account. (acct.#235428309)
2). On 8-30-17 I submitted a formal FTS2001 Dispute Form to Sprint's Billing Dispute Team, via certified mail..
3). On 8-31-17 I also faxed the above noted Dispute Form to Sprint's Dispute Team, as a follow-up.
4). The dispute case is currently open..
5). Problem--> I keep receiving Past Due notices from Sprint's Billing and Collections Dept., with warnings that if I don't
remit past due payments as soon as possible, my debt will be referred to an outside collection Agency..
6). I explained my open dispute status to 3 different reps. (on 9-8-17, & 9-14-17) from Sprint's Billing & Collections
Dept., without any resolution.
7). On 9-14-17, I Mailed (certified) a copy of my Sprint Dispute Form, to Sprint's Billing & Collections Supervisor,
again explaining my open dispute case situation, along with a request to stop sending me dunning notices and
to not refer my case to an outside collection agency....(pending dispute resolution).....

frances gonzalez
from El Paso, TX
9/11 I call Sprint with a simple question, what is the process to upgrade my up-gradable phone, the gentlemen that answer did not know how to help me, gave me several wrong answers, I then requested a supervisor and went back and forth with him for 30 minutes and he was giving me the wrong around all this time, he then place someone on phone name BEA she said she was a supervisor, when i press her for some form of ID# and told her that she was not a supervisor, she admitted she lied but also would not transfer me to a supervise. at the 60 minutes mark CAMS ID#165392 came on line, when I go to confirmed the number I change one number the 3 for a 6, and she confirmed that that was her number, off course this seal the situation for me, for some reason 3 people at sprint were initiating some kind of cover up were none was needed.
I am very disappointed with Spring, concerned with the people that represent you, my question was so simple, why lie so much? why could i not speak to a supervisor? Before I transfer to Sprint I had been with TMobil 18 years, I change because my family change to you, I am seriously reconsidering leaving Sprint at this moment.
Is there a reason that I could not speak to a supervisor? are your employees being threaten or punish if customer asked for one? what happen here?
MY question was simple, what are the steps to follow to upgrade my phone, this was all I was looking for, the first answer went from "you need to pay for the old one to having some rep assume false identity and pretend she was a supervisor, why? my number is 915 240 1783

Jeroslyn Johnson
from Brooklyn, NY
Have been a loyal customer for over four years. I recently was a victim of theft and had my phone stolen. Since getting a new phone I have been victim to over charges, unknowingly having my plan changed, and having my service cut off entirely due to fees that Sprint told me would be waived due to mistakes on their part. They have since resorted to telling me multiple times that my issue would be taken care of, which has never happened. The customer service includes longer than normal wait times, rude representatives, and managers who can't really do much but say they will, to which nothing happens.

Queen Abrams
from Augusta, GA
I have a damaged device. I'm unable to give pin created upon purchase, although on have verified all other security information. Asurion suggest Sprint customer verify info, after doing so they want to send code to phone. Screen is broken.
Two days with no customer service, giving no options or customer care. The phone was a gift to grandson Atlanta, Ga, I live 150 miles away. I am now having to travel to show picture
Identification. Please send this horror by allowing me to have my contract honored and treated like a valued customer.
I'm going to 1925 Peachtree Rd Atlanta location.

Amanda Patino
from Stevens Point, WI
I honestly would provide no stars if possible. I have just experienced the worst customer services in over 10+years with spring chat. I was denied assistance for service and denied information of contacts I requested. I was denied a supervisor to speak with as Requested and also denied the complaints department as requested. I sat on sprint chat for over an hour to deal with a 3rd grade level employee. WORST SERVICE EVER!!! I will be looking into other cell phone providers. ENough is ENOUGH of crappy service!!

Demetric Morris
from Dallas, TX
On September 2, 2017 @ 6:21pm I called Sprint to get another line added and upgrading one existing line on the account. The customer service rep. that initially took the call was great. She was pleasant and warm she kept me informed of everything she was doing in the process. Everything was going well until there was a charge showing on the account that I owned for a lease phone. I explained to her that I nor this line have ever leased a phone. She transferred me to another department that was suppose to fix this problem. Once I got on the phone w/ this department (escalation) , she was absolutely no help she did not wanna listen to the situation she kept telling me there was nothing she can do. Once I got tired of going in a circle w/ her and ask to speak w/ someone else she refused. I was then transferred to retention. This lady was no help and she could not explain to me what this charge was. So I was again transferred. At this time I had been on the phone for about 2 hours. I ended being on the phone for two hours and forty-four minutes. In the end I was hung up on by you guys with out the problem being resolved. I have been with Sprint for over 10 years. This was the worst customer service experience I have ever received from any company. I still was not able to upgrade my line nor could they explain to me what this charge was. I took a picture showing how long I was on the phone. If I don't get a response on this situation I will post my experience on social media.
I went to the Sprint Store 8180 Park Lane STE C349, Dallas, TX 75231 September 3, 201, the next day and Anise Garrett listen to my situation acknowledge my frustration, responded with " I will take care of it I don't know how long it will take but I will get this fix!'' She didn't argue with me she didn't try to be right she just focused on the problem and handled it. the time spent waiting for her to handle the problem was no problem because I felt that I was good hands. She fix the problem and I am so grateful to her because the two hours and forty four minutes on the phone with Sprint is time I cannot get back and was wasted because nothing was resolved AND I was hung up on. But Anise smiling face and can do attitude even though she wasn't feeling well is the reason for this email. I have never written a complaint letter but it more of how great Anise was compared to the phone customer service I received. I hope that your company acknowledges her in some way beacause she deserves it. I will be checking in to see if she was recognized for her amazing customer service!!!!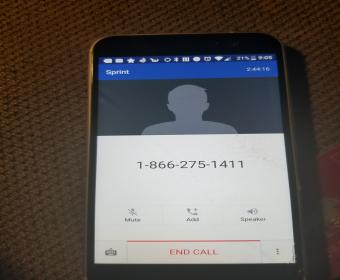 Jeffrey L Lindsay
from Akron, OH
I call to talk to someone about the two I phone 7's and the way they are used. The person could barely speak english I asked to talk a supervisor and she refused. I told her I was a customer and been with Sprint for 20 years she still refused my request. I will start tomorrow looking for a new cell phone provider. Jeffrey Lindsay 330 620 0307

Michelle Moore
from O'Fallon, IL
My name is Michelle Moore, I Just had the worse experience with Sprint. After being a loyal customer for over 15 years, have been with Sprint for 15 years and I am so frustrated. I plan on porting my services to another carrier. Before I ported my number, I tried to resolve the issue. They cancelled my services erroneously after I ask them not to because I had planned on porting my number to another carrier. I was livid. When they cancelled my service on 7-25-2017 the insurance was cancelled. When I restored the services the next day, they neglected to advise or tell me I no longer had insurance on my cell phones. They told me all the services I previously had on my cell phone before the service was cancelled would be the same services when I resumed the service. I was never at any point told that I no longer had insurance. I didn't find out until today when my phone was broken and I called the insurance company that when they previously cancelled my service. At no point was I informed that I did not have insurance nor that the I had to tell them I wanted the services resumed. I told them that is not a good way to do business. They didn't advise of the change, that I no longer had insurance on my phone. So I noticed that the rep I was speaking to didn't have the power to help me.
I spoke to a supervisor and found that they have very little latitude to assist a customer. Their customer service agents tell you something different each time you speak with them. And some are just rude. I ask for another supervisor to escalate and resolve the issue. I was told the supervisor said she did not want to talk to me and what the representative said on the phone goes. I demanded to speak to a supervisor, the rep had me on the phone for about 5 minutes and said the supervisor said she was busy and would call me back after 6pm central standard time, UNACCEPTABLE. I was told I had to take up upon myself to call the insurance company and see if they would add my insurance and back date to the date my services was cancelled. I ask her it was their error, why is it my responsibility to correct or rectify their error. She stated then there was nothing else she could do.
Bad business. Generally they have been disappointing to me when I have any issues with our phones. I will be canceling my line. Do not recommend Sprint for those searching. I will also be forwarding a copy of this letter and complaint to the Better Business Bureau and FTC.

Terri Ricketts
from Germantown, MD
My Sprint customer service experience has been a complete disaster and the customer service personnel incompetent at every level. In my futile effort to change service from one phone (iPhone 4s) to a newer phone (Samsung Galaxy 5s) I have been repeatably timed out on the website, abandoned by the store clerk and lied to by the phone service order.staff. The website declined the SIM ICC ID 8901010008867341358Fas invalid. The store clerk informed me the old Sim card is not compatible and that I would need a new one which they did not have in stock at the store. He then said he could not access the website to order a new one and walked away to help another customer. I called customer service where, after an hour of being "researched and transferred" I was told on Friday, August 29th that a new Sim card would be shipped by expedited overnight delivery with arrival on Saturday or Monday. On Tuesday, having not received delivery, I phoned to check delivery status and was informed that no order had been placed on Friday and no shipment was in process.. I received sincere apologies, was told the "agent" had not followed Sprint procedures and would be counselled and was assured a shipment would be expedited with overnight delivery scheduled for order # DM14-0-32792354. I was advised that a UPS tracking number would be listed at www.sprint.com/order to check on shipping status. Today UPS reports no record of tracking number 1ZX8W9201320778614 as listed on the Sprint order. Obviously, I have no service on the phone and no idea when, or if, I will have service. I will be registering a complaint and filing a claim under the Texas Deceptive Trade Practices Act which requires me to notify you, in writing, of my complaint. Please consider this message as notice of future filing.

Dan Emehiser
from Clear Lake, IA
I had an S7 Edge on lease since June 2016 and then received a call from the sales department at Sprint letting me know that I could get the new S8. I agreed and then received the S8, I was going to mail back the S7 however thought that perhaps my son would like to upgrade his phone to an S7. I contact customer service a couple of times and also inquired at the Sprint store in Des Moines what the buyout cost would be. Everyone indicated that the buyout was $160.
I recently received by monthly bill and there is an additional $335.50 charge on the bill. I immediately called Sprint Customer Service and they informed me that the buyout of the phone was $160 but due to the fact that I hadn't completed my lease and kept the phone they considered that breaking my lease. NO ONE every said anything about needing to pay off the balance of the lease when I requested what the buyout for the phone was.
I am not at all happy with the response nor the way I was treated, plus I have an additional $335.50 to pay. They didn't want to negotiate and when I requested to speak to a manager I was told they were too busy to field my call. I asked for a return call within 24 hours, it has now been 48 hours.
I have been a customer of Sprints since 1999 with 4 phones in my name with an average bill of $250/month. I will be leaving Sprint to go to Verizon which will occur the first week of September if this doesn't get handled. You can contact me at 515-991-6125 or email me to discuss a resolution to this issue.

TESSA GILBERT
from Washington, DC
I have made about 10 calls to sprint customer service and the corporation, NOONE AT SPRINT seems to follow through on anything. I have documentation where I have been on the phone in the last month at for 6 hours being transferred from person to person. I do not understand why if there was a promotion being offered for Samsung 8 that the representatives are not aware of. Just know I spend a lot of money for my phone lines and I am not pleased. You will no longer hear from me I will file a FCC claim. Thanks

Robin Miller
from Washington, DC
I feel the need to go on record on how angry I am with your corporation at this moment. I've been a customer since 2011 and have kept to my side of the contract by paying my bill on time every month. I shouldn't be surprised that as a corporation you are unable to say the say.
This began on or around August 21 at 7:50 pm when I called to upgrade my phone. I spoke with one of your representatives, Asia and we spoke about the Samsung S8, which she said was approx. $31 a month, that is when I told her there was a promotional price of $15.63. well we continued and I signed a contract for $31, when I asked her about it she said it was purely for record keeping and rest assured by bill would reflect the $15.63.
Flash forward to yesterday, August 28 when I called your billing office, I did that after visiting one of your stores to have the info transferred from the old to the new and the rep there told me that the $15.63 price would show up in two to three billing cycles, well in speaking with the billing office I was told that I was not getting the discounted price. I asked for a manager to call me back, and to my surprise none called, that's when I began to get angry. I called again when I reached home yesterday as I wanted to know if I could cancel my contract, that's when I spoke with Jennifer who informed me that if I read the fine print on the ad I would see it was for new service. And during this conversation I asked Jennifer what could we do to work this out, guess what her answer was, NOTHING. She recommended I return the phone as corporate frowned on what I was asking for, even thought the notes from my initial discussion do not state I'd get it at $15.63 they did state that there was a discussion around the price. Now I'm very angry. No I did not see that but I spoke to three of your representatives up to that time and NOT one thought it important to NOT LIE to me. Well anyway, I'm sending the phone back as I refuse to give you $31 a month, it's the principle of the thing. I am beginning to think that you like Wells Fargo push and endorse your employees to lie to gain market share.
I've never encountered this in my life where a company refuses to work with a customer, much less one who has been with them for years. You the corporation lied to me, Asia is your representative and speaks for you and then to be summarily dismissed by the other company representatives I spoke with shows a complete lack of respect for your customer (s).
I will no re-read or edit this prior to sending but I am sure you get the gist of it. I wonder if anyone will call me back now that I've contacted corporate. Let's see what you really think of me and the masses!

Michael Wilson
from Fremont, NC
I called March 31 to order (1) I-Phone for my son. After over an hour and 5 people later I completed my order. The sales person wouldn't complete my request without me allowing them to mail me (2) free phones. I explained that I had (3) kids and (3) phones and I had no need for additional phones. She/He assured me they were free no strings attached and that my monthly bill would never go up at all. I said "Fine whatever mail them I will stick them in the drawer of my desk" (where they are still sitting to this day still in the boxes). I made the sales person say "Mr Wilson I promise your bill will never be affected if we mail you these phones you will never incur fees, charges or otherwise the phones are 100% free" . Needless to say I paid them $1,200.00 over the next 2 months then recieved a bill for an additional $1,000+ so I look at the bill and I'm being charged additional line fees! Approximately $45 per month per line lines that have never been used and I didn't know I had! In addition I was promised my bill would be $146 per month WITHOUT auto pay and my bill was over $200 a month! I called at least once a week for the next 2 months and each call they said they would "Do a tape pull and listen to the conversation and call me back" This never happened and I refused to pay the incorrect bill. I have since switched back to verizon and they have placed my account in collections. I have spent so many hours on the phone trying to resolve this (usually with someone who barely speaks english) and I am getting nowhere. I sit here now still awaiting the return call they promised me 3 weeks ago.

James Bridges
from Orlando, FL
I have been completely unsatisfied with Sprint Customer service since I upgraded my phone to the new I-Phone 7 a few months ago. The store manager talked me in changing my plans and upgrading my service because it would "lower my bill". I changed plans, got a new phone and to my surprise my average bill is about $60.00 more a month.
On Nov 25th, I received an e-mail stating that I could "add a line" and get a free TV. I went to the store to sign up and was eventually told that I had to buy a phone. I called the corporate service and was put on hod for about 15 minutes before getting disconnected. I waited over two hours and no one called me back (Spring has my cell number but apparently no one cares).
I called again about 3 hours later and was being helped by a Sprint representative who asked to put me on hold while he checked my account. Again the line disconnected. Again no call back. I called a third time and spoke with yet another representative who want me to explain every thing again. I did not feel like it and asked for a total to exit my contract. Sprint has some serious customer service issues and will definitely look into changing carriers who cares and will provide quality support. I hate doing this since I have been with Sprint "forever"!

Why do we pay insurance on a phone for the whole contract on a lease phone and if I drop it I have n pay a deductible on a phone I don't own and pay insurance for. I dropped my Galaxy s5 screen went black but the phone still works my home screen key still lights up and I can answer calls take pics unlock my phone but I can't see anything. I pay 25 a month for lease and 11 for insurance.
My contract is up in April so I have paid 720 on the phone that is over 2 years old and then I have to pay 200 more if I want it fixed or to buy it at end of contract to get a new phone. It should b replaced for free with maybe a 50 dollar deductible if any. What is the point in insurance every month if it doesn't go towards my phone being fixed for free.
That's not fair we have been with u guys for 8 years now. Been paying insurance for 8years never 1 time had to get a new phone use my insurance or anything. We pay around 180 month for 2 lines for 8 years now that's almost 18,000 dollars we paid u and then I can't have my phone fixed or just have a new or used on for free? We love your service 90%of the time it works great. But if we can come to an understanding we will have and change our service provider.

Ginger Stoetzel
from Wagoner, OK
We have tried and tried to get our bill straightened out. We've been overcharged, charged for things we shouldn't be charged for, and lied to about the amount our bill would be. We've paid approximately $900 the past couple months and it's still not right. Fix the problem or there will more negative publicity for Sprint.

Gayla Harris
from Irving, TX
Went into sprint store 2 months ago to check into preordering the iPhone 7 and switching to sprint. Was clear with sales rep that I did not need to switch that day just wanted to preorder. The sale rep told me I could start that day, they would give us temporary phones and our iPhone 7 pluses would be in the store in 2 weeks. 2 months later and 4 trips to the store, we still do not have the iPhone 7 plus and have found out that the sales rep told us incorrect information about data overages.
He pulled a fast one on us to get a sales. The manager is never in when I go or call and although I've left several messages, he has not called me back. I called the customer service line and since I bought from the store all they can do is issue a store complaint. They can't help me. So here I am again waiting for the store manager to call back. Why can't someone just step in and fix the situation?

I recently opened an account with Sprint with two ( 2 ) new phones and number's. I gave one of the new phones to my niece Brandy who was in an abusive marriage where her husband would slap her around, among other things, when he got mad. My family members in Texas helped her escape Jason Gibbs Residence while he was at work.
Jason and Brandi lived in a Class - C Motor Home right next to Jason's parent's. She cannot file for divorce until December. Jason also has a Sprint account. Jason texted Brandi at her "new number" asking her just what the hell was she doing going down to Sprint and purchasing a new phone.
It is very unbecoming of Sprint, or a local employee, to track Brandi and provide this information to Jason. Before you say that would never happen listen to this - when my family picked up Brandi and her stuff they went straight to a lawyers office in Cleburne, TX where Jason's mother grew up. After leaving the lawyer's office, and before they could get out of Cleburne, Jason's mother was on the phone asking Brandi if she was filing for a divorce. That family is connected in that town.

Sherri
from Germantown, MD
I am a new Sprint customer switching from Verizon. I am writing to tell you that I am beyond unhappy with the customer service I have received from your company. In the over 15 years I was with Verizon, I have never had to go through the hours of discussions and sitting on hold to resolve a problem that was not even my fault. When accessing my account to pay my bill on Sprint.com my balance went from $159.66 in the morning to $1099.96 in the afternoon to $102.27 the following morning. After spending an hour on the phone trying to work out the problem, I told the representative I would send my check in immediately, which I did. I was told that would be fine.
Then two days later (on Sunday) I got a call from your Finance department. I spent another hour explaining things. He said he would put in the notes not to suspend my service for 7 days to allow for the check to arrive and be posted. On Monday night they suspended my service anyway. On Tuesday morning I did an online chat where I spent an half an hour being transferred to different representatives and then being told I had to call the Finance Department. I don't have a phone. So I called the Finance Department in the evening when my husband got home.
The woman in the Finance Department said she would transfer me to a Supervisor. She actually put me back in the queue where I sat for 30 minutes until I hung up. Now I am on hold again, so far 15 minutes. Sprint customer service department is completely useless, unknowledgeable and they don't tell the truth. I am throughly disgusted. In the time I have sat on hold, I have filed several complaints online. I have 6 phones on my account and I can guarantee you that at the first opportunity, I will be leaving Sprint and so will all my family members.
In the meantime, while I am sitting here on hold, I guess I will just keep filing online complaints to hopefully save others from the same frustrations!

tamiko shinn
from Houston, TX

I signed up for an installment plan for an iPad Pro 9.7 around July of 2016. Unfortunately I did not opt in for the insurance on the device thinking I would take good care of it and use it for business and some personal tasks. about 4 months later, my two year old daughter got a hold of it and it fell off the table, bent at the metal housing and shattered the screen. I called customer service to see what my options were, not being hopeful for much but still giving it a shot. the first rep said that my "option" was to pay the full balance and then be eligible to upgrade, which basically means I pay the remaining balance of over $600 and then purchase another device in full or go on their installment plan.
I obviously wanted a second option (which there was none) the rep said she would transfer me to the account services department. After being on hold for 33 minutes I finally reach a rep and after explaining everything over again, she gives me the "option" saying that the only thing she can do. I've been a Sprint customer since 2004, have 5 phone lines and this tablet line, pay about $400 a month for services and the best they could do is have me choose between one middle finger and the other. I even asked the rep, so my choices are to pay the balance in full and upgrade, or continue to pay the $30 installment plan on a broken iPad, so either take the middle finger on the left hand or right, those are my choices?
To which she replied "yes" then proceeded to jump back into her script of "is there anything else I can help you with" I asked for her name, Johari, asked for an employee number to which she said she didn't have one, so dare I ask for her last name, and asked which call center she was housed in to which she replied North Carolina. As soon as my contract is up I'll be taking my business elsewhere. This company does not know what loyalty is even if its right in front of their face.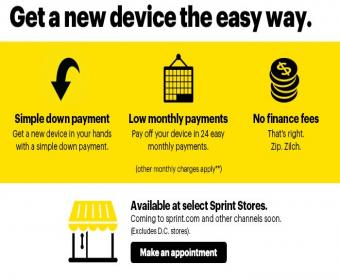 Ralph Bedingfield
from Jacksonville, FL
I was switched from paper billing to paperless email billing without my knowledge. When I didn't receive my bill I called to inquire. I was told my account was in good standing and I should receive a bill shortly. A couple weeks later I received a text saying my service was discontinued due to non-payment.
I assumed my bill had gotten lost in the mail and paid it by phone. Then when I didn't receive my next bill I called customer service and was only then told about the paperless billing. I told customer care at Sprint that I never authorized that and was switched back over to paper billing. I was never sent a bill again and received a text about my balance. On 10/13/16 I called CS again and told them I'm ready to ditch Sprint and use another carrier.
The support rep was able to lower my bill and promised the paperless billing snafu was corrected. I have not received a paper bill in the mail and today I received a text saying my bill must be paid by tomorrow 10/24/16. I tried calling Sprint a few minutes ago but the wait time was about 14 minutes. I am tired of this issue not being resolved. It's too much work to continue and if it's not resolved immediately I will take my business elsewhere.

Francis Schmal
from Philadelphia, PA
My Sprint iPhone 6plus, I dropped and cracked screen. I called customer service and I am positive they are schooled in giving truthful information to customers. So a women answered I proceeded to explain my problem. I dropped my apple phone and the screen cracked. I then told her 3 weeks prior my phone was stolen or lost. I had to pay 200 dollar deductible.Understood. So I said I have insurance and should not have to pay to have my screen replaced also telling her I have three open lines with Sprint. I also said if I had to pay any money that I will take my business to another company.
She then said we do not want that to happen. She then said Francis you can take your phone to a store or building up on the Roosevelt, Philadelphia, PA. You will not have to pay to have your phone fixed. I made sure I heard correctly and I asked her in several different ways to see and get her to say multiple time you will not have to pay any money or a deductible. So I was very happy I asked is their a place closer to where I live that I can have it fixed. Now as far as business goes and you do not just give anyone these positions they must know about your phones, Sprint policies and how your insurance works.
That is what customer service is for to get correct info. Now you can verify this call she told me it was being recorded I felt I was lied to by a professional and believe what your customer service representative should have been able to answer that simple question. Also I believe Sprint should honor what she told me. She did not represent the company honestly and told me what I wanted to here. I have 3 lines with Sprint company if what I was told is not honored I will be taking my business else where. I am loyal customer but that was an out an out misleading statement by a trained employee. Please get back to me before I leave and go to a company who is honest.

I have had some billing issues with Sprint ever since I added phones to my account. They put a phone on its own plan instead of adding to our current plan at the time. They adjusted and then bill came out with issues again because they switched plans. I've talked to 2 resolution supervisors who set payment arrangements to keep phones on while they fixed problem. It wasn't fixed. I was told to pay 187 before the 17th and make arrangements on balance. I did that and my phones are shut off. I've been hung up on 3 times as no one will help me. Service is still off. None of this was my fault and I have no phones.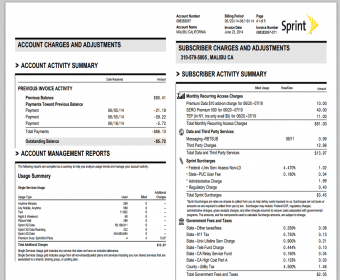 Paul Cameron
from Alpharetta, GA
I signed on with Sprint only if they would pay for my 3rd phone in addition to the BOGO promotion they were offering. Here I am in the 4th month and I still can't get the credit for the 3rd phone even though there is something in my account from collections that they approved the credit. I have probably spent about 8 hours on the phone with them over this and they still don't get it. I have been on the phone 2 hours 5 mins. now, been transferred to customer service from collections but now I have to justify again why I am getting the 3rd phone. I don't know how to get them to understand English. Also, no one cares about my problem, they just want to get rid of me.

Fred sanford
from Bloomsburg, PA
All I wanted to do was to find out if a Sprint phone was able to be activated. I checked the web then called and was told to go to a local store. I went to my local store and asked if my phone was ok. The Sprint employee said the sim was invalid. I knew that as I can read. Then I told him I was aware of that, was the phone ready? He said I needed to buy a SIM card kit. I again told him I just needed to know if my phone was clear to activate. He again said I need d a sim. Things quickly deteriorated to the point where he told me "Go F... Yourself. Needless to say, he is the worst side of Sprint.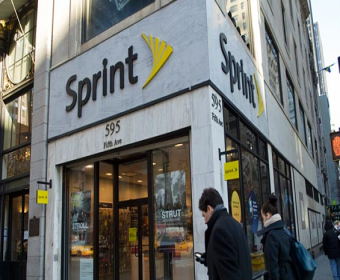 Ron Pandoff
from New Haven, IN
Call Sprint customer service for an issue I had. For the first time a US based rep. answered. I said it was good to talk to someone from the US. She promptly hung up on me. I had to call back and wait another 20 minutes for someone to answer. Time to look for another service.

Pauline Nelson
from Southfield, MI
I was with another phone carrier for over 20 plus years, after seeing all the offers and listen to my friends about Sprint, I decided to change carriers for Sprint. What a big mistake that I have made, after receiving my new phone and the worker decided to copy my old phone over to the new, something terrible happen, instead of copying my information to my phone, he instead clean my old phone leaving me with two blank phones. I kept my composure regarding that incident because mistakes happen.
Ok this was a buy out of my old phone, the bill is received from my old carrier, I was to upload the bill showing the fees to Sprint website, I was having some problems doing that process so I went into the store, working with the some person who assisted when I purchase my phone, it as been over a week so far this bill payment is due on October 10th, I have called asking when this process will be completed and keep getting the run around. I am so hurt regarding the service that I have received so far. This person as taken a copy of the bill, and promise that this will be taken care of, still waiting, my question is why this process is so difficult.
I am now regretting ever change my other carrier for myself and my daughter. Please advise I need to have this bill taken care off before the 10th of October. I am trying to be patient but I am now at my wits end. Your cooperation this in matter is greatly appreciated.

Antonio D Torres
from Madera, CA
About 5 months ago I went phone shopping. I'm a Senior Citizen, and I don't know too much about cell phones. I was looking to get my wife and I a phone. I went into Sprint to see what they had. Well I was looking and the sales person came to help me. Told him I was looking to get us iPhones. Of course this is what my son told me to look into. Well the day I went in there was flyers and big 50 % off flags all out side.
So the sales person said that the Samsung Galaxy S7 were on sale. I wanted the iPhones and they said everything was on sale. But him being the salesman I'm thinking he knows what's going on. Now after getting the phones together he takes my phone and gives me $200.00 for it and he does all these other things on the computer and tells me that with all the specials going on that I'm up to $400.00 in credit.
He goes on to tell me that I can and should go pick out some cases for the phone and get a speaker and headset. And screen protectors. And I shouldn't have a first month bill and whatever is left over will go toward the bill. Ok, I'm first time buyer so I'm thinking that as he rings up these things I'm getting I'm thinking he is deducting these things from the $400.00 credit I have. Also I'm going to get a Samsung tablet which is a special that is going on too...for free. so all in all I didn't get the phones I wanted and to top it off I'm paying for all these things that were suppose to be paid for with the $400.00 credit. I'm on a fixed income and I'm paying a lot of money for these things including the phones.
Now I asked questions to no avail. I was mislead on all of this. I continue to go in there and talk about all this these almost 6 months. I'm in a contract now. My credit is good and I don't want it messed up. I believe that I should get the phones I wanted and I would like to know where the $400.00 credit went to if not to these things I received. Also I paid $50.00 for a screen protector for this tablet and was told that they would have to order it because they were out. I paid $50.00 wasn't able to get my receipt because at the time the printer was down. I never did receive the screen protector. And the sales person that did work and make a big commission off me left and doesn't work there any more.
How convenient. So you can say that I'm more then upset with all this. The phones I have are still brand new they look good. Sprint should take them back and give me what I wanted in the first place. Start this contract all over or something. I'm not one bit happy. Was thinking of going to the news channel here and let others know what happened to me. So it doesn't happen to others. I feel like I was taken avenged of. Senior Citizen should not be treated like this. I expected more from your company then I received.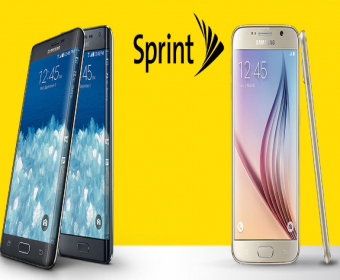 Ramonica George
from Fort Worth, TX
I have a big complaint with sprint. Customer care representatives are not on the same page when it comes to solving customer issues. I was advised to send in the wrong device and was charged for it. I called to resolve my issue and all I got was passed around to different people who could solve my issue. I was on hold for over an hour waiting on a manager. This is ridiculous.

Susana Gonzalez
from San Jose, CA
Sprint is Satan! Never in my life have I felt so disrespected and dismissed. I had an accident a few months back and lost my phone so I decided to leave Sprint and go elsewhere, Sprint ended up charging me for 3 months I didn't use! When I tried to dispute the charges I was hung up on 5 separate times and then charged a reconnection fee for trying to resolve my Sprint account balance! They refuse to work with you and when you think they finally do work with you it's actually all just big illusion.
I was told if I made a payment towards my account that I wouldn't be sent to collections, yet another lie! Never in my life have I encountered such an awful business, I don't know how they are still in business (probably because they're sucking leaches whom charge the working man up with charges they can't dispute because it's a 'fair charge' and then send them to collections to fend for themselves). I would think Sprint being such a huge company would work with its customers because they are, after all, the backbone of their business; instead Sprint bleeds the working man dry and humiliates and disrespects them with no remorse whatsoever.
I will not recommend Sprint to anyone and will bash them any time I can because they have made my life a nightmare and I will be sure to return the favor whenever I can.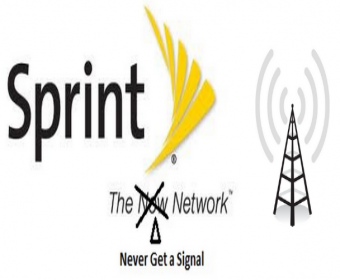 Curt Taylor
from Biddeford, ME
I hope they never allow "Sasha" (from corporate headquarters) to contact me in any way shape or form...she has abused and harassed me for the last time. I will again be filing another complaint with the FCC for leaving abusive; harassing messages on both my home and cell phone. She is the most incompetent, inept and rudest, poorest excuse for a customer service analyst I have had to deal with and I have had to make to many calls to make too many complaints about too many issues with Sprint, Virgin and Assurance who is owned by the first to companies named. Sprint, Virgin and Assurance wireless are stealing from the American tax payers. I have had a suspended account for invalid reasons. Months of no service because of downed towers both here in my city and 1.5 miles away. The CEO's are cowardly hiding behind the poor excuse for customer service who are apathetic at best.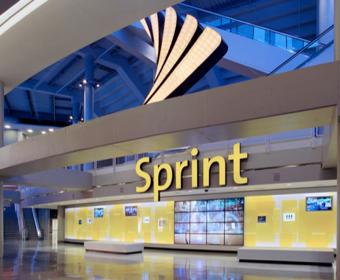 Michael Tarasev
from Ann Arbor, MI
I want to bring to your attention exceedingly poor performance of Sprint customer service representatives that we had yesterday, Saturday, September 24th at about 7-7:30 pm. The people who we talked to were both unprofessional in their behaviors and incompetent, as they provided us, and insisted on, the information that in our later interaction with other Sprint representatives turned out to be totally wrong.We resolved our issue in a call to Sprint customer service the next day, when we had a more "informed" representative on the line.
The first representative introduced herself as Melissa. When she was not able to assist us with our issue, and when we had doubts about the validity of the information she was providing, we asked to speak with her supervisor. I would submit, that after such a request is made four times, representative should probably acquiesce, and not continue arguing that there is nothing Sprint can do. She should not come back, after a hold, with questions like "What problem do you have?" and "What would you say to my supervisor?" She should not persist in refusing to call the supervisor by repeating the same arguments without regard of what we say. Even when told explicitly, that we "do not want to talk with her any more", she still kept talking and arguing. After that for a long time the supervisor was "not available" and "on the "phone".
Eventually, a supervisor ("team leader" as he introduce himself) came on the line – we are not certain what his name was. He did not apologize for the long wait and for the problems we are having with Sprint. He immediately started defending Melissa, claiming that he "was listening on the call" and that what she said regarding our issue was indeed correct and that Sprint cannot do anything about it. Leaving aside the fact that this claim was indeed false (as confirmed by your customer service next day), that leaves open the question of professional behavior and representation. His claim of "listening to the call" does not match with Melissa's claim that he is "not available" and with repeated disregard of our demands to talk to a supervisor.
Personally, I think that this "team leader"), if such he indeed was, was in fact lying, and was just trying to cover up for his representative, and making an exceptionally poor job at that. We terminated a call at this point, as there was no reason to talk with him any further. If our call was recorded, I would suggest using it in your training to illustrate how you should not deal with customers, if you do want to have customers. It is especially a shame, as we had other interactions with your customer service, and you do have some people (like Michelle, who helped us today) both professional in their interaction with the customers, and actually knowing what is it they are doing.

virginia perez
from Brandon, FL
Sprint customer service representatives are the rudest most unprofessional people I have ever encountered. The manner in which you allow your employees to talk to us as customers is a disgrace. It is disgusting. What makes matters worse is when I asked to speak to a supervisor I was never transferred to one. When I informed the rep I wanted to report him for his rude demeanor he refused to transfer me to someone above him.
Because of the horrible customer service you all have I gave cancelled my services after being a loyal sprint customer since 2010. I would rather pay an early termination fee than deal with a company with employees like the ones you employ. I will be sure to advise all my family and friends to do the same. If as a company you do not care to enforce respect and courtesy over the phone then you do not deserve to have loyal customers.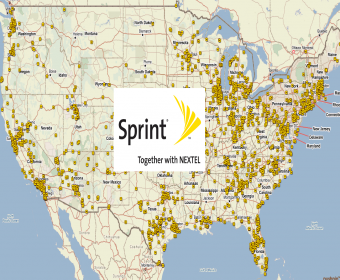 Crystal Blackshear
from Blue Island, IL
I brought a LG G4 on November 28 2015. I have been complaining to Sprint since December 2015 about the phone not working. I have taken the phone in to the technician to check it out but they nothing was wrong with it. The cord burnt out and almost caught fire, the charger port is not properly working, and the phone has been overheating. The phone was so hot from overheating that my 8 year old picked up the phone dropped the phone and cracked the screen.

Sabine Pouille
from West Palm Beach, FL
Sprint store on US1 in Palm Beach Gardens was suppose to do the back up on my daughter's iPhone before sending it back for an exchange. Sprint employees didn't complete the back up, erased everything with 2000 pictures! Never called us to tell us, she is so devastated, spent 6 hours at the store for no help. We are with them for 20 years and it is my husband business provider for 20 accounts, we are thinking of leaving them!

Jean McElwain
from Pflugerville, TX
I have been with Sprint for 11 years. I have always paid my bill on time. I had got a text on my S3 that I was no longer going to be able to send my bill in the mail (Paper). So this prompted me to go to the Sprint store. (Aug. 1, 2016). I went to my normal Sprint store because there is always a long wait at the store by Chucky Cheese on 45. Well I was in a good mood when I got to that Sprint store but the wait was way too long for my Saturday off of work.
I gave up and went to another Sprint store that is in the Radio Shack down the road. Had to wait again awhile because there was only one desk in the store, with a couple that have already been there awhile. All I want to do is see if I could pay my paperless bill and ask for the paper bill to be mailed to me again. Dealing with Sprint should not be an all-day affair. Finally after being waited on I found out I could lower my bill in half. I don't come to the Sprint store because I know I will be waiting in line way too long.
If it wasn't for the text I got from Sprint I would still is paying $90.71 (Sprint is not going to tell me I could lower my bill in half). Now I'm waiting to see my next bill that should be cut in half. 11 Years paying full price and they wouldn't let me know I could lower my bill because I'm trying to buy a home. The best thing that I like about my phone is that the person who sold it to me told me that even when the new phones come out you will still like this one and he was right.
Little did I know for the low amount of usage I should not have to pay so much for such a long time when there is a special going on! What is up with that? Now time goes by while I'm working and I keep thinking about how much money that I did not need to spend when I could have been saving for my new home. This whole issue makes me want to change carriers. I've been telling all of my friends to be careful with Sprint because they charge way too much for people who don't use their phone that much. The overall sad part is there is nothing that can be done and it will still go on like this because we are the dumb ones.

The sprint customer service is awful, I had the worst experience ever with the agents,they tell nothing but lies, they had no concern for me and my questions. I had a bad experience with the guys in the sprint store as well, they could care less about what I wanted. No professionalism. I will never recommend anyone to this phone service or switch to this horrible company.

Michael Palmer
from Brookhaven, PA
For many years I have received a bill in the mail and have paid my bill on time. I have been a Sprint customer for many years and pay for my families three cell phones every month. I contacted Sprint on 8/4/16, and requested a bill that I never received in the mail. I was told by a Sprint Rep. that they were experiencing a billing problem and a bill would be mail out in a few days. I called again on 8/19/16, looking for a bill that never came. I was told by the Rep. (after she spoke to a supervisor) that I would be put back on "bill by mail service" and that a bill will be sent to me via overnight mail.
I called again on 8/23/16, to let Sprint know that I never received a bill yet. My phone bill for last month should be $236.33 but it is now $485.40 because I still haven't gotten a bill. I spoke to supervisor, ID number i1066132618, after being on hold for 43 minutes and 25 seconds only to have my problem not resolved. What does it take to get a bill in the mail which I want to pay? At this point I will be contacting my Attorney to see what legal action I can take against Sprint. Furthermore, I will be preparing to switch over to AT&T. I am on a budget and because I this situation my cell phone bill just increases because I have not received a bill.

Heather gomes
from Vallejo, CA
I left Verizon to come to Sprint and their service is horrible! I have been trying have a # ported over for 5 days and have been given the run around. I've stayed on the phone for hours at a time with customer service reps to no avail to get my son added as an authorized user and add his line. My son has went to 2 different stores to get a free SIM card that I had to pay the shipping for but he had to pay $100 for the cab ride as well. I had to have lines swapped from my S7 and the edge and that took a 2 hour phone call.

Jenna Smith
from Las Vegas, NV
I have been trying to pay my phone bill for the month for the past two weeks. First it started with my card being declined each time I tried. I have had more than an ample amount in my account to pay this bill. The first rep that I talked to told me to call my bank and double check that there was nothing wrong with my card. I did just that. My bank let me know that there was nothing wrong with my card. This was not surprising to me as I had used my card for several other bills that day and do not have a spending limit on it other than what is in my account.
So I called Sprint back. Again, the card was declined. I have been paying this same phone bill, the same amount each month, for the last 8 months. I have had no problems prior to this. I asked to speak to a floor manager and was told that not only would he give me a $20 credit to my account for this bill, but that he would put an extension on my account. I told him I did not want or need an extension. I could pay my phone bill right then and there. I just needed to know what was wrong. He said he would need to check with the financial department and would personally call me back in 3 hours since I would be off of work by then.
Here we are, a week later with no calls back, no credit applied to my bill, and now extra fees added to my account. I am getting no explanation as to why these fees are on my account, especially the late fee when I did not ask for the extension and have been trying to pay my phone bill since a week before it was even due. I have been on the phone for about an hour at this point, just today, and have been on hold for about 45 minutes of the hour. Needless to say, I am furious. I have tried to be as calm about it as I can but not only are they not even bothering to listen to what I am saying, but they are not even bothering to try to figure out what is going on.

Raymond Krauss
from Comfort, TX
I received a text from Sprint on 07-29-16 that my bill was being sent "eBill", but I never gave Sprint my e-mail address. In the past the bill has been mailed so I could see the charges, then mail a check. I did not know that Sprint was going to do the above. I went to the Communication Source Store (Spring Dealer) in Kerrville, Texas last week.
The representative there took down my e-mail address, and assured me the bill would be sent to my e-mail. I looked at the screen with him to make sure the address was correct. I never received the bill. I was going to pay there at the time, but they would not take a check, which is how we have been paying by mail.
Later last week, I contacted the customer service, and a lady there also took down my e-mail address, and was to send the bill, and I still have not received one. Though I did get some past due or pay now notices. Received a disconnect notice this morning. Called the Spring Store in Kerrville that I went to last week, and he said he might be able to print a copy of the bill, which they said they could not do when I went in last week. I cannot pay a bill that does list the charges that are being assessed.
Sending me an amount is not a viable option. Spring decided on its own to send the bill electronically, not me, and are now trying to not work with me when I asked to have it mailed as was the customary practice in the past. If you cannot send me an itemized bill, then I will have no choice but to discontinue Sprint as a service provider.

I have two experiences with Sprint headquarters. One was about two years ago, the guy had glasses with blonde hair and is white. He was a totally bad person. He was very rude and unprofessional. I just had another bad person over the phone not too long ago at the end when he was going he was being a totally jerk. I told him you don't have to be a dick and hung up. He was no help whats so every and I gave him all my info right and he saying it's not. All I was doing was paying my sprint bill like I normally do for the past three years without any problems but for some reason after I had pressed to pay it the auto thing put me to a live person. I do not remember his name though. I can not wait to leave this carrier.

Cynthia Casteel
from Havana, FL
I purchased a phone from Sprint when I received it I didn't like the phone so I sent it back. I was charged for them shipping me a phone that I paid for with my card. They have not reimbursed me for the phone that I sent back. I was told it was applied to my bill because of and outstanding balance. I didn't authorize them to apply my money to any balance. My phone bill is due on the 24 of the month I ordered the phone on July 11 so why would you apply the money I spent on a phone to my bill.
They are charging people for what they want. And customer service can't seem to help with anything. I even sent a letter to corporate and have yet to here from them. They are taking money from customers and don't care and most of their customer service reps are awful. I am still waiting for a response from them about my account. I have tried to understand what's going on but all I can see is that they are doing what they want to do with customers money.

Janice Butler-McGowan
from Little Rock, AR
I have been a valuable customer with Sprint since 2000. That's over fifteen years. Also, I have sold the service I received from Sprint to my families and friends. But, this years being a Sprint valuable customer has been a nightmare. I have tried on several occasion contacting your establishment to voice my concerns with your service not working and your pricey bills. Each time I received no resolutions. So I switched my service on July 9th.
Sprint I miss being a customer, but I was so tired of the services I was receiving and the pricey bills. After switching, I received an email from Sprint to please switch back before the deadline. So I called to discuss the matter, but all representatives were busy, so I ask to leave my contact information. After the conversation, I was told by the representative she will check records and that I will receive a call to resolve the problems, but still no resolutions.
So I contacted your establishment to ask about my final bill on Friday, July 29th. I spoke to Mr. Geno and Ms. Breanna. Ms. Breanna was very helpful. She stated that the final bill amount will be $ 759.13. Futhermore she provided the details. I was told that line ending with 1871 remaining balance on the lease phone will be $252.00 + 20.79 tax and line ending with 6422 lease phone will be $252.00 +20.16 tax, plus phone equipment $19.75 and the pass due balance covering periods May 28th-June 27th in the amount of $194.43. August 2nd I received a different bill in the amount of $1193.76.
So I contacted your establisment again August 3rd. I did not ask for the customer service representative name, but again she could not explain the difference in the two bills. Through all of this confusion I must say Ms. Breanna was service was excellent. Also, on July 29th I spoke with Ms. Herli and Mr. Bernie and again no resolutions.
I received another email today stating the my bill will go into collection in 7 days. I told Ms. Brenna that I could not afford this, that's my reason for switching. Also, I mentioned that I will make a payment this month. A payment of $50.00 was made today. Then I received a message stating that I will still be sent to collections. Sprint I never thought or mention not paying my bill, but the bill amount is not fair.
I pray that someone in your corporate office will listen to my concerns and contact me to resolve this matter. Also, please do away with the leasing the phone option, because I consider it as a fraud to your valuable customers. I would have rather purchase the phone with a 2 year contact. But the sales representative in Arlington, TX just lied about the entire purchase.

It all started when I was telling an agent from Sprint about my dissatisfaction of cell service while visiting family. He told me that there wasn't a signal there and that I would have roaming charges. I asked what if I moved there then what. He asked for the address and then said I would have to use a different area code then I would have service. That can't be true, I know a lot of people that live in different addresses than their phone's zip codes. Then all of a sudden the agent changed my phone number just like that without my consent without any approval whatsoever!
Then the agent that changed my number upon hearing that I didn't want my number changed and I didn't authorize that hung up on me. I talked to a supervisor and they said my number could be changed in 4 hours. Those hours came and went and my number wasn't changed back. I called Sprint again and the agent claimed they could help me but alas they could not and transferred me to the tech department and they couldn't help me either and said they would call back in the morning.
No call back. I called Sprint and the same scenario always played out. The agent said they could help me but they can't, transfer to tech, drop call, start over, agent said they can help, they cant, transfer..... On and on for two days and its still going on as we speak. Meanwhile no number works on my phone in or out. No one can call me and I can't call anyone. I've never been more upset with the service from a company in all my life.

Kristen Simon-Robinson
from Chandler, AZ
I took my Sprint Edge phone into a Sprint authorized store on Alma School and German in Chandler AZ. they called me to tell me my phone was water damaged...bullshit!! It is waterproof according to another Store I spoke to at Sprint. I came to pick it up (after having to go get another phone because I could not afford the now $200 insurance fee..why even have insurance?) I used an upgrade on another account on my account so I could get a phone. The GM, Levi said after looking in their LOCKED drawer to get my phone, tells me I already picked it up.
He did not look me up on the computer, just told me that me or someone else picked it up. Really? I asked him to show me where someone signed for it and he said they do not have that policy. He continued to humiliate me with his pompous attitude..horrible, would not even look me in the eye. Tried to blame my 12 year old son for picking it up and also that I left it there too long (3 weeks max as I was out of town..what does that matter anyway?) I left without my phone and Sprint does not know what they are in for.

Cecil Bax
from Manvel, TX
My Galaxy S6 was lost/stolen on July 5, 2016. I immediately reported my loss. Because I was reluctant to pay an exorbitant deductible for a like replacement, I reactivated a Galaxy S3. I don't feel that the equipment protection plan served me. Additionally, the service reps at Sprint failed to advise me that by using Google's Location History, I could locate my phone. This Location History application indicates that my phone was activated on July 6, 2016. and again on July 20th. Specific location is 2011 Stetson PL Ct, Richmond,TX. This is around the corner from my house, and when I inquired of the occupants if they had knowledge of my phone, they said that they did not. And since I cancelled my TEP, I feel totally abandoned and that no effort on Sprint's part will be made to recover my Galaxy S6.

mandisa sabur
from Wayne, NJ
I'm a Sprint customer and three days ago I called to change my cell phone number and then the nightmare began. The moment my number was changed until now it was never updated to my phone. So that day up until now I was not able to send I messages or picture messages to no one in my phone that didn't have an iPhone.
So that's when I decided to call Sprint two days later with my complaint and I spoke to technical support. Technical support told me in the full 1 1/2 I was on the phone with the first agent was to reset my phone and put in ##847283# and ##253227# which started the on going nightmare that then froze my phone and gave it completely no service at all.
The customer service rep then later told me that sometimes it doesn't work really well with iPhones and sometimes it breaks it in my case an then I would have to get another phone. Something that I begged out of the rep on the phone to just be honest with me and tell me what's happening to my phone. The guy then tell me that I need to take it to get repaired and I stated I really think its sprints fault. I need to find 200 dollars for a new phone and my phone was in perfect condition before I spoken to tech support. I'm very disgusted that because sprint broke my phone that sprint should pay not me.

Candace Alexander
from Phoenix, AZ
So, after almost 48 hours of trying to get my bill figured out. I am still at the start. Now i called sprint to find out why i was paying a much larger amount then i was told when i upgraded (3) phones. The first time i was on hold for 25 min. Some how we were disconnected. No call back. I waited 15 min then i called back starting with a new person. They then put me on hold off and on a total of 90 minutes. Then she informs me the department i need to speak with is closed for the night. She promises to call me back personally the next day. Ok, so she called me back, then put me on hold for another 25 min. Then comes back on the phone thanks me for my patients, and says she will have to put me back on hold.
So another 10 or 15 min goes by, she comes back on tells me she is ready to put the call through to who i need to talk to. Ok great, back on hold about 1 minute, a lady says hello, i say hello, i look down at my phone to see if i had pressed the mute button. No i had not. She keeps saying hello, as do I. Then says because she is getting no response she is going to disconnect the call. And she does. No one calls back. Now i get to start this all over again. I would rather rip my vocal cords out myself then have to spend anymore of my time trying to resolve this issue. Does that sound over the top? Here is the best part, ive been a happy costumer for over 11 years. I cant bring myself to call them again.

I have been a sprint customer for over a month now, and I have had so many problems and I am really unhappy about my experience. First, I would like to file a complaint against one of your representative Octavia. Interaction number she gave me is i1040132787. She was not helpful with any of my problems or questions. The Sprint service is the worst. The reps are rude and unhelpful. I cannot change my plan. No one helps me answer the bill related questions.
There seems to be a lot of hidden charges. The internet is slow. I signed up for Fubotv service which specifically says that the app does not cost any data with Sprint. It end up charging me 4 Gb of data. I called a representative, and she told me she can give me back the actual data by switching to 10 GB a month plan and give me credit so I pay $40/month ($32 + some shady fees you guys charge!) with the 6 GB service.
Now I want to switch back to 6 GB/month. Not only no one can do that, could no one lower by bill as well. Octavia was rude, and she told me I have to pay $55. and the new plan for 6GB is not $32, it will cost $45. You guys are fraud. I want to know how sprint deal with this. I would not hold back if I need to take legal action against Sprint.

Julius Quiz
from Nashville, TN
I was a Verizon customer until I shifted to Sprint last month, June 10? and availed with the promo. I was misinformed by the Sprint guys at Bellevue Sprint that I need to wait until my bill from Verizon arrives and come back to Sprint. When it arrived last week, I went back only to find out that the guys there just gave me the Sprint site where I should file my buyback which unfortunately did not do any good with my request. I am very disappointed with the misinformation and the way people from Sprint Bellevue treated me as customer. Now I am about to pay Verizon 500$ plus because I am not able to buyback my phones from them. I sought help from Sprint Lebanon Pike store but still awaiting results. I am very disappointed that I have to pay Verizon the 500$ plus because of being misinformed. Had I known it I would have not changed my carrier.

Maria Rosiak
from Trenton, MI
I was paying $80 for one 1GB. For the last few months, my bills are coming in at $197, $157, etc. I have gone to the Woodhaven Sprint Store numerous occasions. They want to change my plan to lock me in for 2 yrs. They say my 5C phones are no good. If I want I can take a 2 yr plan with $15.50 ea for phones with a total of $103 plus tax. My contract with Sprint expires in December. I do not want to renew for another 2 years.
Otherwise, I am told, I can keep my phones and pay $130 a month plus tax.
I have called Sprint, also. Twice I was on the phone for 45 minutes. When we ask when does my contract expires,, they hang up. Today I was on the phone for 1-1/2 hours. I could not understand a word the lady said. She apologized because she had an accent. She told me that I have to pay $145 dollars for this month's bill.
The treatment as a customer is atrocious. This is not a way to resolve problems and keep customers.

Gwen Williams
from Shreveport, LA
Today I called sprint I was on the phone with 30 min holds each first representative I spoke to told me that my past due was 216.57 and that I had a balance due of four hundred something dollars I told her that that was part of the next month's bill and that it was not due yet she put me on hold then came back and said could I pay half of the past due amount I said yes I will load a card and call right back. She advised that she was a supervisor and she would notate my account.
I called back got a very rude lady said no one had advised me this and that the lady did not notate the account she put me on hold came back and said she did see it in the account and that it didn't matter because the lady had lied to me and that there was nothing she could do for me I asked to speak to a supervisor she said that there was no higher up and then cold transferred me. I call to get my bill extended every other week because I'm told by customer service reps I have to make the larger amount just to get an extension even with me advising that I'm barely working I always advise the least amount I finally after 3 hours Thomasina helped me I wish she could get acknowledgement for being a outstanding.

Nina Bryant
from Charlottesville, VA
I bought a cell phone charger on June 10, 2016 at 3:44 pm because my charger wasn't working. We tried other times and it started working. I took the charger back on June 25, 2016 at 9:20 am and the girl said she couldn't take it back because it missed the 14 day mark. Near the door it had 30 days satisfaction. That is what the other stores has also. We have had other issues with the service but this is something you can't return something you don't use. I have the charger that came with it plus the juicer and don't need it. This was in the Luray Va. store.

Carolyn Morris
from Galveston, TX
I am a sprint customer in the loyal program, was told that i could early upgrade to S7Edge, I have been trying sine 6/18/2016 and no success on the phone or at the Sprint store located in Galveston, Texas. Every customer care that I speak to tells me I am eligible then when it comes to place the order each has a different story and sorry please hold on we will take care of the matter, my call back number they never call back, or the hold gets cut off. I have had no problems with Sprint until now. So unless I can get satisfaction as soon as my contract expires I will be leaving Sprint and will tell my friends that Sprint does not live up to their reputation and worse. I am never late with my payment and a long time customer with previous company I worked and the company is a commercial account with numerous lines and the person that handles the account is very up to date and handles all of our issues on a scale rate it is 0.

Allison Baumgardner
from Charleston, SC
My sons phone is an iPhone 4. It was replaced by sprint over a year ago because it repeatedly power cycled and would not stay on. The same thing began happening in April of this year. Took the phone into the North Charleston, SC sprint store - and was basically treated like a piece of trash by the service dept tech. Told me I had to pay another 85 dollars to have a replacement sent. The order was placed that day. Phone took over a month and a half to come in. When we called to set up a time to go and get it, we were told that since it was over 10 days since it came in that they gave it to another customer and they would have to reorder it. When we called today. the same service tech that was rude to me in store told me that they did not order it- and I would have to bring the same phone back in for reevaluation before an order could be placed.
I have been with sprint for over 20 years. I am ready to cancel both lines on my account and move on. But I do not want to pay for a phone that is defective, and has been. This is the worst customer service that I have EVER HAD. I want some satisfaction. Who do I need to talk to? I do not want to make payments on a phone that is defective- and the North Charleston SC store is the only repair store in the area, I have even spoken to sprint on the phone- they tell me that I have to go back to the store to get this resolved, that there is nothing they can do. I have the original phone and am out 26 dollars a month for a phone that cannot be used, and now have spent 85 dollars for a replacement that I do not have.

Shannon Gaver
from Dayton, OH
I'm a single mother of 3 my youngest is severely autistic. I work 7nights a week as a waitress & I need my older 2 children to have phones because they care for him while I'm at work. Sprint has lied & over charged me multiple times. Feb I was disconnected. After a week I paid almost $200 and was reconnected. A week or so later I paid over $200 and bought my account to zero. I asked them about my upgrade & they said I wasn't eligible till March 28. Next billing cycle I was charged only $90. When I went to pay it they said it was only $50.
I asked why because I was scared of being disconnected again & they said I over paid the month before. The next billing cycle April my bill is over $350. I asked how & they said because since I didn't get my upgrade which I thought I wasn't eligible till March 28 which was a lie I was eligible when I was at zero balance in February I'm being charged $30 per line instead of $11 plus all kinds of other charges. I was disconnected again & finally paid $175 to reconnect. I made a arrangement to pay the remainder on April 23. They said if I couldn't pay to call on that date and they would still honor my arrangement.
I paid $100 the next day which was April 24th then arranged to pay 74 the next day. Well they disconnected me again & said I have to pay $351 to get my services back on. I did everything I was told & tried to pay even tho many charges are sprints fault.

Rebecca M Spaulding
from Springfield, MA
We had been loyal customers of Sprint for at least 10 years but my phone eventually stopped working and could not find replacement batteries or accessories for it so we cancelled last Nov. 28th, 2015. We had been given an AirRave several years ago also but was never told that if we cancelled our service that we would be charged $140.00 for it especially since we weren't even in a contract! Also because you pre-bill, our account was all paid up when we cancelled services but yet I keep getting bills and calls from debt collectors all the time.
I need you to send a pre-paid label or package to send you this AirRave thing back at no charge to us and remove the unjustified fees that keep accumulating interest even when we don't owe anything. My husband and I are disabled but we only have one income so it's hard enough to pay the. bills we do owe without being harassed to pay bills we don't owe! Thank you in advance for taking care of this.

kennard Dalrymple
from Washington, DC
My services was cancelled on 02-01-2016, I have been trying to get a final bill outlining my balance and early termination fees. the bill I received was incorrect, it lists a balance of $245.07, when in fact it was $188.05; an early termination fee of $335.53. I have been with the company for over 18 years, as I am writing this I have been on hold for over1hour and 45 minutes. it is this poor that I cancelled my service. All I need is a bill showing my correct balance and early termination fees. Is this too much to ask of a poor service.

I have been a loyal sprint customer for over 5 years, my galaxy note 4 start acting very strange ever since, I did the new software update. I have not been able to save any new number on my phone, the phone kept shutting off by itself during calls. Long story short I decided to reach out to sprint to have this matter resolved, I came across the worse representative did not make any effort to help me out place me on hold for over 30+ minutes. I decide to hang up and called back spoke with another representative told me everything I wanted to hear.
I can upgrade my phone free of charge since he work in a different department he would have to transfer the call to sales to finish the process. Soon I got transfer to sales department the representative told me thats not possible and cannot do it i would have to pay something out of pocket. When i mentioned exactly what was said to me he automatically accused me of being a liar. I have decided to switch to a different carrier and part ways with sprint, it is truly sad by the type of customer service I received today from sprint spent over 3 hours on the phone to have this matter resolved but unfortunately the employees can careless if I leave or stay.

Mike Bonem
from Los Angeles, CA
Employees at Yucca Valley, CA store outright lied to my wife and I simply to make a sale. Details in the 2 attachments. I am asking that a complaint be filed against this store (specifically James) and that the $729 portion of my contract be removed (as well as the contract converted to a purchase plan vice lease plan).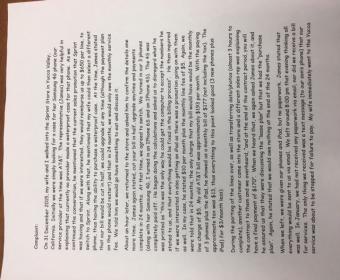 Janet Donovan
from Brookline, MA
I am trying to obtain directions on how to set up my phone for international use. I spoke to a helpful woman in India but had a very difficult time understanding her. With the language barrier and she spoke very fast. it became frustrating as I had to say excuse me several times and never understood what I need to do to use my iPhone in Europe. I called back and asked to speak with someone in the U.S. At first I was told I couldn't speak to a manager or anyone else in the U.S and after stating I could not understand her either she put me on hold for over 10 minutes. I eventually gave up and hung up as I am at work. I am leaving in 4 days and need to know what to do. can directions be emailed to me?

Christine Wade
from Tecumseh, MI
I purchased 3 phones and update my contract with Sprint. I signed a contract at the Sprint store which I was told it was not valid without a reason from Sprint customer service. On 12/31/2015, I spoke with Janessa, Ariel, Toby and Latimer. I was told my new monthly payment would be $208 and $219. Yes, I was told two different monthly rates. My bill was never corrected again. In January I spoke to Charles, interaction # 933412873. He told me, he corrected my contract and my new monthly rate would $203 before taxes.
He explained he would waive a $15 fee per phone to bring down my bill by $60 per month. Again, nothing changed on my monthly bill. Spoke to Anthony interaction # 969254243 he stated what Charles promised is not possible and he should never had committed to that amount. He stated he would credit my account and email corporate to fix the problem. He told me to expect a response from corporate in 5 to 7 days. No feedback from corporate.
Then I received a replacement phone from Asurion that does not ring. I have spent the better part of the last couple of days trying to correct the situation. First, I went to your Sprint store in Littleton, CO where the representative told me that he is not a service center and gave me the fast hustle on buying a new phone. He told me I was too cheap, obviously, this is not acceptable. He did all of the obvious things to the phone to try and make it ring. I had already tried all of the same things, I am not a moron.
So after that experience, I called Asurion again and was told to take the phone to the Sprint Service Center at 9992 Common St in Lone Tree, CO and they should have replacement phones on hand and just swap it out. I drove to Lone Tree, CO and was told that they did not have a replacement phone on hand and that one would be ordered.
However, I have been unable to get a confirmation of any order in process. I am extremely disappointed with this experience. I have paid in good faith for coverage with Asurion and yet I find myself using all of my time to get a replacement phone that works. I would also like to take this opportunity to state that the amount of my bill for Sprint services is absolutely ridiculous. I have held off on buying another phone ($700 for a phone that costs $20 to make) so that when my contract is up in August, I will be free to explore other options. Please send me an e-mail confirmation of the order for the second replacement phone.

C. Potter
from Minneapolis, MN
Dear Sprint head office, I went in one of you store locations 12270 St. Charles Rock Rd in December 2015. I was helped by one of the associates at this location, Julian. I agreed to upgrade a line and change my data plan to 10GB. I was also promised that all access fee would be waived until 2018 at this time as well. I was given a in store receipt that stated I would have access fees waived for my records in the case of any issues. When I called in to inquiry why I was being charged fees, the phone associate stated that the plan I was given doesn't honor access fees to be waived.
I spoke to numerous supervisors in regards to this issue via phone and chat. I was then told that I have to go into the store and have the manager honor what I was told. When I did make it into the store. I was told by the manager that they could not honor what I was told, and what was written on the tore receipt presented to them. The manager was not sure why Julian had told me he could offer me such a plan and that he couldn't, and they could waive $15 off my account for the inconvenience. The manager and associate ease dropping on my conversation both smirked at my frustration. I hope this is how they deal with stress, smiling an issue off, but it is extremely rude and humiliating to a frustrated customer.
Now that the background is out the way. Lets get to the current issue. When I agreed to an additional line Julian offered to switch my existing phone line 314-835-8323 which I have had with your company for probably 10 years give or take, to the upgraded phone NOTE 5. I recently paid off the original contract I had with the Galaxy 5. I called in today to have that phone removed from my plan. I was told that if I cancel S5 that my existing phone 8323 would be removed as well and there is no way for you to transfer my 8323 to the Note 5, which is the current phone the number its associated with.
As I stated before I have had this phone number 8323 for 10 years or more. This is my only source of contact with all my personal accounts, work, and associates. This will be a huge inconvenience to have to switch phone line. I have dealt with Sprint's rude associates, being hung up on over the years. Never in the last 10 years have I been deceived to in such a manner as I have in the last 3 months. Julian alone has made me lose trust in you organization.
I looked over your website and I don't see any core values. This is explains why you can treat your customer is such a dishonorable matter. I understand Julian's position is sales, but what about doing what is best for the customer. I'll give it to him he can sell a mean lie. If you look at my account you can see that two devices haven't been used in 2-3 months. I was duped, maybe it was the lack of food that day since he took up my whole lunch hour that day, whatever I take responsibility for agreeing to the new lines under the pretext that I would receive and incentive and all. If I had $1200 to pay of these contracts with your company I would do it in a heartbeat and move to another company.
I have sucked up the issue with access fees and being laughed at in my face by associate and her manager at 12270 St. Charles Rock Rd. I have done everything to lower my bill back to reasonable amount since December. At this time I need you to rectify my current issue. I need to cancel one phone line without any fees. I would like to keep my existing phone line and the NOTE 5. Draw up a new contract and tie the two together. Somebody has the power to cancel a contract and rewrite another to remediate this issue.

Jim Eiseman
from Louisville, KY
After 12 years, I'm done. You lied and tried to cheat me (though after 15 months of trying we finally got a refund). Now you tell my wife that your insurance won't cover her phone because of liquid damage when she has the same problem that Apple gave me a new phone for under warranty. I am not asking for anything but must tell you that your reputation is lower than TWC and 12 years as a client with between 3 and 6 phones at a time clearly doesn't matter to you. No wonder you are the number 4 phone carrier. I don't believe you or trust you and that certainly is no way to run a company.

Shontay Loggins
from Dallas, TX
I would like to file a complaint against the Sprint sales department. I am a long time customer and received horrible customer service last night. I was cold transferred from one department to another. I was told their was no supervisor available, I was giving one price and told another price by the next person that I was transfer to . I was on the phone with Sprint for almost 3 hours yesterday just to add a line and upgrade mu phone. I am a long time customer I have been with Sprint for over 6 years.
I like the service I have with Sprint and I only wanted to do more business with Sprint. My initial call was to add an additional line and upgrade my phone. I would like for Sprint to do some customer service training with the sales team as well as honor what one rep offer which was an upgrade for galaxy S5 to the galaxy 7 with no money down. I would like feedback by phone or email. I would hate to take my service else where ,but if need be I will. I will not be loyal to a company that is not loyal to me.

Tanya Perryman
from Peoria, AZ
I have been customer with Sprint several years. Since August 2015, I have been trying to cancel two lines on my account that is not under contract, calling customer service, reps lie and put statements/comments that call that call was terminated, so lines was never cancelled. When asking to speak to supervisor, the reps. hang up on you. I switched service and now have received bill for service that I was not with sprint. Sprint bills a month in advance.
Customer service is unprofessional and fraudulent charging for service not used. I am still being charged for service that I do not have, filed claim with Sprints claim department, and have never heard nor received any documentation regarding claim. It takes 6 months to cancel two lines, and still being charged. I have contacted Attorney General in Arizona pretending this issues. Sprint refuses to refund my money for charges. Thanks

Margarita Ferland
from Kissimmee, FL
My husband, who is now deceased and I have been long time loyal Sprint customers. We ran to you during the 90s due to bad service from AT&T. We have never regretted it until now. I cannot believe I am writing a complaint against Sprint but here goes. I upgraded to your iPhone program because that is the only phone I've ever had - to my surprise I was informed that I qualified for a "FREE" tablet.
Well, of course I took it. What a mistake. I should have given it back in time but didn't. That's the first time I felt ambushed by Sprint! Moving forward, I added my son to my account approximately the first of March, and am horrified at the first bill which is $218.51. I wasn't told about all the extra charges.
I would have gone to the closest Sprint store for that matter. I'm usually very satisfied with the people who've helped me resolve whatever issue I may have had but today the young woman I got didn't know what she was doing. She said that when you upgrade you are automatically charged in advance. Is this a new policy because this wasn't mentioned when I ordered this service. There was a $12 shipping charge as well. I must say that I am very, very unhappy. When this contract is up I will be shopping.

Laurinda Davis
from St Louis, MO
I purchased a LG Flex tablet back in December, I have tried on several occasions to download apps, this time it was Netflix which I have on my other devices. I called in to customer service and was repeatedly asked the same questions over and over, I did not want to be rude an ask for someone fluent in English. I patiently kept repeating the reason for my issue and finally was placed on hold for a service tech to help me. I was on hold for over 22 minutes only to be asked was I a Virgin Mobil customer.
I stated no, I called Sprint customer service. He said I was transferred to Virgin Mobil's technical support and needed to call Sprint, mind you I dialed *2 from my cell phone. He said let me give you the number directly to Sprint because at this point I was frustrated and didn't want to hold on an additional 22 minutes. The direct number that he gave me was to Sprint pre-paid. The person on the other end of the phone didn't have any sympathy and told me you need to dial *2 from your cell phone. Sprint is the only cell phone company that I have ever used.
I switched to Nextel and Sprint purchased Nextel shortly after I switched. There has to be better customer service at one of the other companies. I can never speak to anyone that is fluent in English over the phone, back in January I dropped my phone and the screen went black, I had to pay $150 for a replacement of an outdated phone (Samsung Galaxy S4). I have never written a complaint letter, but this was too much for me to hold back. This isn't the first time that customer service placed me on hold, hung up on me or just left me on hold and didn't come back to the phone. I used to be very happy but now I am thinking of switching my family to another carrier.

Deborah kay newlin
from Newark, NJ
Its been a year...I still can't talk inside my home.Service hasn't worked since day one.I have been promised a device to retrieve service from outside but always told on back order. Absolutely no help from Sprint employees.I am a Legal Shield Associate and my lawyers will be proceeding. Patience has EXPIRED!!! Sincerely, Deborah Newlin

Ron Slatton
from Absecon, NJ
I am a Sprint Customer for over 10 years of service. I was currently hospitalized in the car accident and I called Sprint to ask for 4 days up until the 6 and which is a Monday to extend my service I even spoke to a supervisor I spoke to six different personnel. No one was willing to help me extend my services due to the fact that I was even in a hospital. I will only ask for a four-day extension so I can pay my bill they wouldn't even help me after all these years I was a loyal customer with them. They was so arrogant and disrespectful they act like they had no compassion for their customers who been with them for 10 years or more the only want to comply with what was on their monitors as robots they said I had to give them some money before they could help me. So I leave this note and hopes that someone may take note one day that Sprint sucks and they lost a valued customer.

Michael C Tipton
from Reseda, CA
Was supposed to be over nighted a Magic Box when spoke to rep on Saturday. Package never left wear house. Still sitting there yesterday on Tuesday. When sent out, they never added my apartment number to my address (I discovered this when I received confirmation email)!!! Spoke with a "Martin" tech support who answers for the Magic Box number 844.463.3194 who had an attitude. Assured me this will be fixed. When I called UPS within a half hour afterward, they informed me that that package that was supposed to go to my address here in CA had JUST been rerouted to a Las Vegas Nevada address! Did Martin (in the Dominican Republic) do this? Spent hours on the phone with Sprint between yesterday and today. HOURS! Not threatening to leave Sprint. I just cant stay if I cant connect to the network. Inadequate Sprint employee on Saturday who started this up? One upset customer now! Will never recommend this network. Have these employees graduated at least high school?

Carin Lamb
from Denver, CO
I started my service with Sprint in November of 2018. I switched from cricket to Sprint because your employee Angelica Palacios assured me that everthing I needed would be $120.00 per month. (For everything equipment, as well as my services.) I explained to her I absolutely could not pay anything over $120.00 period. After her reassurance I decided to leave cricket and sign up with Sprint. What a nightmare this has turned out to be. I received a bill for $233.00 the first month. I freaked out went down to the Sprint store in the Pueblo Mall in Colorado. Angelica assured me it was a mistake and she would take car of it. She did take care of it however each month that followed I continue to get a bill for $233.00. Every month I am down at the Sprint store talking with Angelica she tells me it a mistake. Not to worry. Well I believed her I paid my 120.00 and my service was disconnected. I went ahead and paid the balance because I need my phone. I have tried to resolve this issue for months. I have tried to contact Angelica a number of times she NEVER returns my calls. I have tried contacting the store manager his name is Thomas Floyd he has not returned my calls either. Within the past month month and a half services has been changed things are being removed without my consent. Sprint Complete was removed (that is our insurance) I would have Never removed that. I believe that my hot spot amount was lessened also another thing I would absolutely not have changed.
I am so disgusted and dissatisfied with Sprint. Especially with Angelica for lying to me just to get me to sign up. I would never have left cricket if I was aware of the stress I was about to take on by signing on with your company. I csigned a contract based on what Angelica explained to me. Thinking it was a good deal. Unfortunately it was not what I was told it would be.
Thank you for your time.
Respectfully,
Ms. Carin Lamb
Acc#986525201
my # 719 281-4116

My complain is that I feel robbed and used by Sprint,I was promised that as long I stay with sprint for 24 months I was going to have the same payment,I called sprint and I spoke to 3 people and they were not able to help me, I told each one the same problem...they couldn't help,,,than the last person that I talked to was a supervisor and she try to help me but it was no help,she said that a manager from corporate was going to call me,,,I did get the call from some guy name Steve and he basically blame me for everything, said that he couldn't help me,,,,so at the end of the conversation I told him I guess I'm screwed like always he said yes!!! What I can tell people from experience don't choose sprint as a carrier because they suck, service is not good and at the end no body can't help you, don't go to the sprint at the Citrus mall because they really lie to you since they are a 3rd party store, it's not an actual sprint store,that's what Steve from corporate told me.

Where to begin! First, I started having issues with my Samsung 10S+ immediately after receiving it. I called and was given the run around.
I was told on April 1st (April Fools Day) to take the phone to the local Sprint repair store. I did. As I walked in I was told by a sales grunt (commission paid) that they couldn't help and that a "patch" would be sent out to me via text or email within a few days to repair the issue.
Never received it. He blew me off because there was no money to be made from me.
They I again called Sprint only to be told that there was a software issue that Samsung had created and Sprint was replacing the phones.
I was told both via voice and email that I should expect the replacement phone within 2 to 3 business days. NOT!
When I followed up on the 17th of April I was told it was on back order and I would receive the phone 7 to 10 BUSINESS days. When I called on the 7th day the woman was rude and told me it hadn't been 10 days and not to bother calling before Friday.
Then on the 20th, 10th business day I called and was told the insurance company hadn't even received the notification to replace it. It was on a backorder with no idea when it would be delivered.
I was speaking to "STEVE" SR606306. He said he would call the local store and see if they could replace the phone. I was placed on a hold and when "Steve" came back he said he spoke to the store manager and was told to have me come to the store for the exchange. I drove 25 miles to the store.
Was greeted again by, yet another rude and obnoxious sales grunt who told me nobody spoke to anyone from Sprint about my exchange and that even if that were true why would the store exchange the phone for one he could sell and make a commission on? Really ? REALLY?
I asked to speak to the store manager Jordan Brown (1729 West New Haven Avenue Melbourne Florida 32904). He came out from the back of the store charging at me and said he never told "Steve" anything about having me come in and replacing the phone. He got nasty to me and said the same thing, we don't exchange phones. How would "these guys" get paid? I can't believe you have someone that indignant working for you!
I suggested I call Sprint back again and I did so. I spoke to "William" conversation #1768303830 who asked to pass the phone back to "Jordan Brown". The two spoke for a few moments. Then "Jordan" tossed the phone back to me and said "Here, he wants to talk to you. I'm not replacing the phone"!
I spoke to William and he said he thought the Store Manager was wrong but he couldn't do anything. I was passed on to hi supervisor, Brianna #I1768349827 who only complained to me about her having to take calls from upset people. She might want to consider a new job!
She told me she couldn't do anything. Then she suggested I call Samsung, perhaps they could do something. She gave me the phone number.
I called them only to be told that Sprint was having the issue, not the all carriers, only Sprint.
Here I am, a customer since 1998 although your records show 2001 (You were Nextel and I was a customer of theirs) and all I get is to be talked to, lied to, told to drive 25 miles to a store only to be verbally abused and beat up!
And, to top it all off, one of your employees said they would credit my account for $25 for my "loyalty".. Really? $25?
I cannot leave my home unless I find a wi-fi connection so my phone will work. I can't go do my job which is outside sales because this phone is my business. I can't miss calls, texts, emails.
I must get away from you! I've been treated so unfairly and rudely and nobody seems to care.
Wonder if Verison takes care of their customers the way you do?
1-321-890-9000 Jeffrey Downs 1030 Luminary Circle #101 Melbourne Fl. 32901
I doubt if I will get a call back or REAL response, only an automated response. Again, nice touch with your handling of your customers!

Hello Sprint
I wanted to get a wireless service plan that includes my daughter for her school Boston trip.
I signed up with sprint on 4/28/19, on 4/29/19 the order had to be cancelled because the activation charges were not waviered.
On said day a new order was created again, which were suppose to be 3 lines, 2 iPhones 8 and my own phone which is a note 8. I was told to visit a sprint store and purchase a sim card for my phone, which I did.
On 4/31/19 I received an email stating that my order was on hold because I didn't have enough phone lines. I drove to a sprint store after calling customer service. While in the store I was told my account had only 2lines. (I'm so confused and vix at this point) after spending almost 2 hrs on the phone in a sprint store i still did not get to complete my order...
I got home a 10pm and proceeded to call up Sprint for completion. I was told my phones would be delivered on 5/1/19 with enough time for setup.
It's currently 5/1/19 and guess what there was a hold on my order AGAIN.
4 freaking days and all I get is a "sorry mam we understand" ok where are my phones. What's happening here, I am a new customer and I'm exhausted, I'm so exhausted and frustrated that I am crying, get it together people I have choices and I'm spending my hard earn money. My daughter needed to have her phone on this trip. Do you understand what it's like at 13 to be the only child without a phone on a school trip. I am very dissatisfied and disappointed in your service. don't waste my time.
I tried to ask for expedite shipping but I was told it's still pending.
Francine

You lie, misleads and takes advantage of your long term customers and definitely don't stand by what you say.
I have been with sprint for 12 years plus. I went into a store to repair my daughter's screen. I was asked while waiting if they could look at my account to see if they can save me money. i agreed and they came back saying i can get an i pad which i will finance for a couple years but they will adjust my charges on my other sprint services to a bill total of $394. I agreed to this under the condition that I would not have a data plan, which they said I wouldn't. I asked this many times to the MANAGER and was told there would be no data plan. Well a month later my bill went up to 430 due to the data plan. I have tried to fix this now going on 3 months and all they have done is raise my bill to now 470. This is ridiculous and needs to be fixed now.

The customer service reps are not helpful rude and my bill is extremely high. Then when I call to try and talk to someone about my bill they have the nerve to tell me how many times I've called so what I'm trying to keep my bill low.

Sprint has the worst customer service I have EVER heard of. I have paid off my phone and last bill statement months ago. I first called sprint to find out amount owed then, I went down to a sprint store directly to pay off all balances. I have continued to get bill after bill even after shutting off service with them. Each bill threatens to send me to collections. I have tried repeatedly to talk to a supervisor. I did get a hold of supervisor Devarious who acted just as clueless about anything on the matter, then he HUNG UP ON ME. I wasn't being rude at all. I called back several times and each time I would be told I was being transfer and again would be hung up on. Once a customer service agent gave me a new # and told me it was a direct # to Sprint Management. I asked her if I could reach Devarious the supervisor I was already talking to and SHE HUNG UP.... Each time I call I get the run around. It's a bunch of scam artists. I spent 3 hours on the phone and got absolutely no where. I wish I could press charges. This place should be shut down!

The worst costumer service by far. You can spend well over an hour on the phone and not even resolve the problem. If you have a medical emergency they do not care at all and will shut off your phone even when payment isn't due just so u can call and spend an hour reconnecting your service because of there system glitches. They don't even have an email you can send a screenshot to explain what your viewing on your phone. I over paid my bill and then they suspended my service and wanted me to make a payment arrangement for a future bill due in a month. When it clearly states on my sprint app that I don't have a payment due till next month. They sell you on an international package then you get stuck with a 900 bill because this is how it works if you travel to Bermuda and you can call anywhere and no charges. You can't be in the US and call bermuda for 2 hours it will leave you with charges over 600 makes no sense. Don't have an emergency or a traumatic event happen because when you can't think properly they will take advantage of your disability or medical condition. They don't care about their customers proven fact. I have no bill due till the 28th and they want to force me into a payment arraganement. Get it together sprint.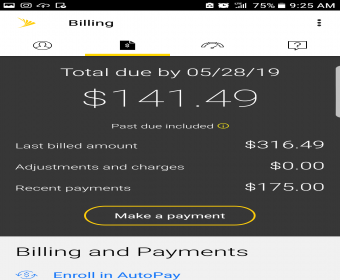 When I bought my cell phones, I was quoted a price of $176.44. Now I get a bill for over $190 plus. I was told this was my contracted amount, the $176.44. Period. I feel I was misled of outright lied to. I left one company for the same reason and now I've been screwed again. This bill is now higher then with the other company. I also talked with customer service and got nowhere in the end. One of the ladies I spoke with was extremely rude and nasty the way she spoke to me. Is this how you want your business to be. I will continue my issue as far as I need to go with management. I hop I don't have to go to the BBB over this.

Yes to whom it may concern I was giving a new contract for my phones that I had purchased and it was for 18mth contract. And the total monthly bill that I was quoted was 182 Dollars and however many cents. For my monthly bill. If you go back and review my Bill's each month it's been way higher than what I was quoted and if called several times more than I should have to try and get this matter fixed. I know what I was quoted and they keep giving me the run around about fixing this problem and think it's very unprofessional and unfair to me as a paying customer of sprint. Or if someone from corporate office call me asap 540-688-7204 thank you and have a blessed day.

I called Sprint last week to unlock 3 cell phones and to deactivate 2 phones because I was switching carriers. They deactivated the phones which meant we couldn't call out but they didn't unlock the phones. I have switched to a new carrier, even have the sim cards inserted and we are still locked to sprint. I have called numerous times and I'm told that the phones are unlocked but I don't think they are. I just called to have the 3rd phone cancelled and she tells me that the phone will be available for usage until the end of the month of my cycle in which my bill will be over $202. I said well why is that when my other phones were immediately shut off and I couldn't call out on those using Sprint. I was told that they hold your phones hostage when you're leaving them. I see that it's true. I was told that my phones were unlocked but I still can't call out on the new carrier. Now they're expecting to be paid for the entire month, and when I asked her about the bill being prorated, sh said that's not how it works. How is that when I'm not using your service and why would it be over 200 for 1 phone?

Bob Dillon
from Akron, OH
Literally the shittiest provided out there.

Poopie asshole butt rammer
Five stars is a bad thing.... since it's demerits. 20yrs and I'm soooo glad we have no children. This is a bitch ya whish twists a kanckle while walking into a waffle house and rolls tits first into the griddle. While texting your Sprint provider. I hate you Sprint. Pay ya Att bill so I can get the unlimited wifi I pay you for instead of my cable provider. I'm sending this on my unrelated wifi provider because it would take a week of buffing to unlock a file name with your LTE bullshit fuckoff deal a meal bamboozle. Fuck you and fuck ya kin in da arse. Twice and I want better service (what I've been paying for over a decade)than you've been giving. Feel free to email me at your discretion. Be prepared for verbally abusive WAR.

Nothing was as it was promised. Bill doubled and coverage is terrible. Customer Service is a joke and u are doing good to even understand what they r saying

I have been a customer with Sprint for 13 years. It's never been a great experience.
Every few years my husband and I need new phones EVERY SINGLE TIME. We
are put on 2 year lease, etc...
This last time I emailed the CEO and of course he passed it one to someone else
who was NO HELP at all.
Sprint did not honor our request for new free phones as we asked.
They WERE happy to put us to a higher plan than we are paying now.
I figured it out. At 80.00 a month for 12 months it's about 960.00 a year
Multiply that by 13 years and it came out to about 12,400.00.
That is alot of money for poor customer service.
I wish I did somethng sooner. We plan on going with another carrier in the future.
I have been reading complaints and see SO many otheer people that were long time
loyal customers with no real rewards for their loyalty.

Sprint doesn't have the phone I want . The Samsung Galaxy Fold is not available @any sprint store

I am being charged for phone lines that were cancelled months ago, I am getting a run around. I upgraded and they added a line that I did not authorize and my bill went up 400.00 more a month. This is UNFAIR

Jazmin
from Long Beach, CA
I've been a customer for six years now, and right now I'm very disappointed on how customer service was not able to fix my issue I wasn't able to make phone calls for about a month or send text messages for about two weeks. When I called customer service I was put on hold or hung up on and now they want to charge me extra and add fees that I was never aware of. It's ridiculous and a waste of my time to be on the phone for 30 minutes explaining my issue asking for a supervisor or to speak to someone else and representative denied it and saying it would be the same response.

Service is horrible. Everyone of my friends had service but me at the ball game. I was the only one with Sprint. Also lose service when driving. That's if you get it at all. Unable to get service in my bank and other areas. A whole lot of dead spots. Sprint admits this. Don't get Sprint! They know how bad there service is that's why they only have contracts so you're locked in. In my case it would cost me $1000 to get out! Every month I was over charged and on the phone for more than 6 hours each time getting it corrected. ( The Saying— right hand doesn't know what the left hand is doing). They said they wouldn't send me and email stating the correct bill! Because of this I would have to fight it each month! Stay away from Sprint! It's a nightmare!

Mr. Michel
I know for sure my email will not get a respond from you or any high level representative from sprint. I been customer since September of 2018 and I'm sure I had a big mistake leaving Cricket to sprint. My name is Mason Yassine and I had to say I will be glad when my contract is over with sprint. Since I joined sprint I have to call customer service about my bill and I had to say they have no idea what they are doing. First off all, The quality of the drop signal is very bad where I complained about it many times but nothing is done. I was promised a signal booster since I have 4 lines and guess what sprint do not have it and they have to order it.. That's fine and the sale person promised when sprint have it on stock he will send me one. Since of last year I been waiting for it and I called last month about it and the rep wants to charge me for it. My phone will its getting higher ever months and I'm sick and tired of calling every month to lower it for no reason. The call center are not trained or have some basic education in solving basic issues and an average call is 40 minutes. really?????
Now the major problem I have is my new iphone XS was dropping calls and speaker is bad on it. So I wad advice to replace it to contact apple since its under the warranty and I did. You know Apple took care of this issue with 20 minutes and I got another phone.
However, the old sim card does not work with the new phone and I had to get another sim card. I call the customer services and they advice me to wait 2-5 business days to get a new sim car. Who wait 5 days to get a sim card and I pay $240 every month for services...
I asked the rep if I can go to any sprint store so I can get one and I was shocked.. The first store the lady said they do not carry any since they a small store... wow
She advice me to to go to another store which is 15 minutes driving to a major sprint store which I did. I told the rep whats going on and he said the same thing no extra sim car... now I'm getting mad at the sprint more than before...How on the world a store as big as the sprint store do not carry sim card????? If a new customer wants to join sprint he have to wait 2-5 business days to get a sim card... that's crap
I asked the rip to find me another store so I can get another sim but he suggested to call customer service which I did. Guess what I went from one menu to another and I end up getting the same answer look for another store to get a sim card. I got on the new and I got in touch from the same store I joined sprint and he said they do not have any.. man that's BS
I kept calling different store until finely I found one who carry sim card... I wasted 2 days of my life and energy to get my service back where I pay $240 for crappy company who does not understand the concept of people run a business from their phone and they cant lose customers...
I promise you that as soon as my contract is over I will be more than happy to return the damn phone and cancel my service with sprint and I will never ever on my life will advice any one to join sprint.. Did not not get but headache miss treatment and bad customer service.
I'm
Mason Yassine
Lives In Atlanta GA
770-906-3647

When you call *2 and talk to a customer service agent, they are so rude. Every time I call I get attitude & some one who never listens. Why are they not trained to be nice?
I'm always on the phone for almost a hour every time I call. This is ridiculous. I have been transferred to so many people for just getting what I need. Hardly anyone wants to be nice, they all seem angry & not wanting to basically do their job. I have been a sprint customer for a LONG TIME. After I got off the phone today, I'm thinking of canceling my service & going with Another company that cares.

Don Hartlerode
from Cheyenne, WY
Ive never had worse sevice then i have had as a customer of sprint. My service is so slow i cringe at the thought of useing my phone

If I could rate a negative number I would !
I literally want to cry ! I cannot get any help ever on the phone. I'm told different information every time I call. My bill is never right. My service is awful. Data never loads on any of my 6 lines even when there are full bars and LTE . You cannot even receive text messages while on the phone. I was told I would be able to use the internet while in the phone a key feature I need for my job ! Lies!
Sprint is the only company that doesn't have this capability. Once you have been with the company past 30 days they slow your internet service . Verified Fact!
The majority of customer service is handled by off shore vendors who do not speak English well and read from scripts!
I'm trapped in a contract and am now having to get a second carrier because I cannot get service with Sprint!
I am considering legal action and contacting my attorney Monday !
I am furious !

I get charged 103 for switching my bill from 26 to the 1 of month really when I told them I couldn't pay till then when I switched service and the guy said ok we will set it up really I've had issues for get go if I would of known this I would of stayed with Verizon sprint seems to be a scam

Regina Dotson
from Baltimore, MD
I have lodged a complaint with the Better Business Bureau. This has been the worst service. Dropped calls, payments not on a schedule payment agreement, price fluctuation two often.......I could go on an on, but life is too short.

Josephine Pena
from San Diego, CA
Sprint Rep offered free accessories to us on two diff occasions and we where tricked and charged into a lease.
I am writing to make a complaint about a worker at the Spring Valley Sprint store by the name of Alexis. I think corporate and the manager of that store need to know what she is doing on two different occasions. You can also look on YELP for the negative remarks about this worker .
On March 5th my daughter went into the store to upgrade her Iphone upon purchasing the worker name Alexis told her she could get a "FREE" case since she was purchasing the Iphone. My daughter continued with the transaction came home told me every thing went great the customer service was good and that she even got a "FREE" case with the Iphone. IPXXS CSE-MATE WATERFALL & IPXXS INVISSHIELD GLASSPLUS SCREEN
On March 22nd my son entered the same Sprint Store in Spring Valley on Sweetwater Road and added a line and got the Iphone he was greeted and helped by the same worker Alexis. My son was told he gets $100 store credit for getting the new Iphone he calls me and ask me is this ok since I am the account holder I told him yes he picked a case and protector INVISIBLESHIELD 39.99 & OB DEF SCREENLESS 59.99 for the $100 store credit she told him about. She mentioned to my son about the Sprint Credit Union Member Cash Rewards I got on phone with her gave her my bank info.
I received my phone bill and noticed transactions that were suppose to be free have been charged and I feel like you need to know how this worker is getting over on us consumers by offering free items and maybe she is getting her sales up by selling these accessories she offers them free and then we get billed. Never would my kids purchase a case for $80.00 and the other one $100.00. What's "FREE" is "FREE" don't take advantage of people and then try to make us pay for 12 months on something we thought was free.
Yes I received the receipt in my email I trust Sprint so I did not open email or I would of opened and saw it the day it happened it was not till I received my bill on April 25th I noticed went to the store and the worker Alexis would not come and solve the issue she stayed in back of store.
I have reached out to Sprint and after being on phone over an hour the guy tells me that there are signatures on the accessories agreement. Of course you have signatures you sign to leave store with phone I still feel she got over and I called the fraud dept also to me this is wrong I don't know how you train your workers to push items on customers making it sound like you will receive FREE OR STORE CREDIT.
Thank you for your time listening to my complaint.

I switch from t Mobil, thinking the promotion sprint had was a good deal but never thought was going to be a nightmare. Your team or customer service is horrible, not help at all repeat the same, every time I call I get a difrent person with different answers. The young people at the store they don't know what they doing, just want to sell, sell, sell don't care about anything else. I was told I will get $50 dollars for every line we switch but my husband was told $100 and then when we call to find out nobody was able to answer me. So I'm not sure where to go to get this situation take care, please don't want to talk to any customer services person. I regret so much doing this.

Terry thompson
from Galax, VA
When I got phone I was told that with the insurance I have that if anything happened to my phone I could come in and receive another phone or that mine would be fixed .But I have not received anything but made to feel like I'm begging for something that is not gonna happen my phone is damaged and has been for a little while say 3months give or take my phone is my work without it no work and no money all I want is my phone fixed and I was told I would not have to pay since I pay for the insurance monthly or I will just go back to my old carrier us cellular

On 4/20/19 My old iphone went out when i went to have it fixed i was told i would need another one but was told i had NO insurance and after 19 years of service i would never do that because i know better. So I was sold a new phone which has never worked correctly after 5 days i am out of the cancer clinic which is why having a phone was so important and now Im trying to get a replacement but was told i have to go back to the corporate store to get it, when i explained im in a wheelchair i was told i still have to get there and of course it will cost me more money. Im done with the Sprint blood suckers and will have to get a new carrier and phone. After 19 years of service im being treated like a second class citizen and can get no answers from Sprint and have decided to tell people DO NOT DEAL WITH SPRINT they are liars and thieves. I may be sick but still you would think they would at least work with me being Im in a chair and all what a terrible company.

Trying to drop Sprint and they won't let us leave!!! My wife and I (each have separate accounts w/ Sprint) are done with Sprint and their worst in class customer service. I've been with Sprint since 1998 and my wife since 2008. After my wife was charged HUNDREDS of dollars by Sprint for a phone that was returned to Assurian (she could never get this resolved because of the constant run-around from Customer Service and broken promises) we decided to leave.
We first went to pay off new phones that we each had purchased. I kid you not: It took me 1 hour and 45 minutes on Sprint chat to get this done because they kept trying to see why I wanted to leave and what they could do to keep me. Despite my repeated attempts to tell them nothing and to please process my payment, this dialog kept dragging on and on with repeated holds of 5 to 10 minutes while they were "researching how to pay off my phone." It took my wife 25 minutes to accomplish this by calling customer service at the Sprint store in the Sprint HQ building. They too kept trying to do everything but what she asked.
After that, we collectively spent about 2 hours on the phone collectively to get our 2 new phones unlocked, only to receive an email a couple of days later stating that our phones had to be active for 50 days before they could be unlocked. I once again called in to Sprint and after being hung-up on by one rude supervisor, I received a call back from another customer care rep who stated that she would escalate this and ask for an exception to be made an that we could expect a call back in 4 to 6 hours. Surprise, surprise... no call back.
Here's the bottom line: after 21 years, I WANT A DIVORCE FROM SPRINT AND I WANT IT NOW! I NEVER signed any agreement that stated the phone must be active on Sprint's network for 50 days before it can be unlocked and nor is this language contained in either of our phone agreements we signed when obtaining we phones. I also don't remember this in my initial agreement from 21 years ago,
I honestly feel as if Spring is doing everything in it's power to keep us from leaving and every time we seem to clear one hurdle, Sprint pulls something out of their a** to create yet another hurdle. I signed NOTHING that states my phone has to be on Sprint's network for 50 days!
Please, for the love of god, UNLOCK our phones so we can leave the organization with worst customer service that I or any other Sprint customer that we know, has ever experienced.

one star, no it should be a zero. Start with I switched to Sprint and brought my business to them to be treated like trash. from the initial switch customer serv and tech was excellent. once the phones came and an decision was made to swap a S10e for a S10+ I received the most dirty customer serv ever. Sprint store on Hall Rd-M59, mgt Wendy was working with us and then when another customer coming in. we was pushed/pass off to an emp. that has no experience, customer serv manner, this emp. was arguing with us. as we explain that the restock fee was wave from the rep. on the ph, we agree to pd as she suggested. he stated we own $145.00 up front, we knew about the $45 but where did the $100 come from when all we were doing was swapping a S10e to a S10+. he prepare to transfer everything and we HASN'T agree to pay the $100 that was explain as to why, we had to paid, when everything was approved, we was under the promotion and the ph was less then 10 days old??? he argue we would have to take this up with the sprint online now it took us 45 mins to get to the store and we stayed for hour thirty min. the online customer was the worst rep. Cathy id# cancel our contract, REFUSED TO ALLOW US TO SPEAK W/her supervisor we was on the phone for 1:56 mins to be giving to Daniels id# I also has that was giving if it was true #'s. who state he was a supervisor stated he couldn't handle our case???? we has to hang up and call back in and spoke with rep. Sam who was professional and prompt on knowing his job. but we still was not able to replace, swap, exchange all the terms giving a phone from a S10e to S10+. I'm so disappointed in Sprint, I will make it my business to not referral anyone and I work for a very large organization and come in touch in hundred of people daily to not get involved with Sprint. This saddest me for I have turn many of my family members on to your company and here it come my turn and I get the shaft. VERY DISAPPOINTED, DISSATISFIED CUSTOMER.

It's very frustrating to call Sprint , and someone from the other side of the world answers and you can understand what there saying, I made a call at 11:00 am yesterday Tuesday April 23rd for an upgrade, but they don't let you make an upgrade they star offering you or forcing you to get something, no matter how you explain , they don't get it, finally I got some one who I thought was helping me, he send me an email Estimate Summary , I agreed to it and finally at about 5:38 pm He told me to make a payment , I was getting my CC card,the call dropped or I don't know what happen, which it happen before and he returned my call right away, but this time he never returned my call .This morning a nice lady answer the phone and she transfer me to sales , and again they star offering products.... I just stopped him and can take this situation any more ... I guess I'm forced to change to another company after so many years doing Businnes with Sprint .. it's intolerable

My first complaint happened in December. I wanted to take advantage of Apples battery replacement offered. There is a Sprint store in my city that is an authorized Apple distributor, that was listed on the Apple store to have my battery changed. I called the store, and was told they didn't do this. I decided to switch carriers in February. I called Sprint and cancelled service. Sprint continued to bill me,I called back in March, They could see where I had canceled Service and promised to fix the problem, I have been receiving emails from Sprint to pay a balance I never should have been billed. They have no evidence that I canceled my account even though I have been with another carrier since February. This piss poor customer service is why I quit sprint. I am more than discussed that I am asked to pay a balance for an account that I asked to be closed four months ago.

Sprint fucking sucks their customer service is ass and they are fucking liars. Do not ever switch with them and you sure as hell should not lease a phone with them. Their service is terrible half the time I can not even use my lte while making a call. I also have never had so many problems with a carrier and they are also rude.

i spoke with a rep ID# : YD963985 she started the conversation very nicely i needed my phone unlocked and had already placed a request the day before i was told my phone would be unlocked the day previous and even got an email on the matter when i attempted to change phone carriers i discovered my phone was not unlocked. so i called and got this rep she told me many false info along the way 1st by telling me my ticket was incorrect and she would need to re do it thus restarting an already bad process i stated no i need to speak with a supervisor she told me ok. she then placed me on a very long hold( i didnt mind because i am experienced in the customer service field) however she later came back on the line to advise me i would be getting a $40 credit for my trouble and she would resubmit my ticket i said that you for the credit but i still need a super she then proceeded to state "ok well in that case the $40 credit is null and void" she also gave me a false emplyee ID she only gave me the 1st two letters of her ID ..... i was eventually given to her super he made everything very clear and was very nice.he is the one that provided the correct ID # he actually also advised my my ticket it fine it is just still being worked ok and the $40 credit was actually from his so it will be going on my acct i was very pleased with the supervisor i spoke to but the rep i had before him definitely needs to be re-trained and coached extensively. she seems very nice but the number one rule in customer service is to always be polite and leave you emotions at the door. the things she said and the way she spoke to me is unacceptable and people like her are the reason i no longer will be with sprint. i started with sprint in 2013 and loved it but now it is a backwards and very unprofessional company. i think this supervisor rep ID: 1767259546 is wonderful and very nice but i will not continue with a company that treats their customers differently with every interaction and every rep thinks differently on all policy one rep can tell you one thing and another rep can tell you something completely different it happens in every store and every phone call no one is consistent

Hello,
My name is William Aerts. I have been a Sprint customer for over 20 years. Recently I have been trying to upgrade my 5 phones. Here is what has transpired:
Last Friday April 19,I spoke with retention and made a deal to upgrade 4 iphones and 1 Samsung
I was promised NBA discounts of $300 per phone on iphones and NBA discount of $200 on Samsung with waiver of $30 activation fee on all 5 lines
This past Saturday April 20, I called to get the upgrades done. I was on a combination of phone calls and chat lines for nearly 5 hours and spoke with 11 people
I explained the deal I had been offered and that should be in my file but everyone I spoke with had different information about my deal and said they can't do this they can't do that etc etc until I got so frustrated and gave up.
I will be talking to Tmobile this morning.
Regards,
William Aerts
615-496-6163
account may be under Stormey Aerts pin #048340

I stopped in the store at Greece ridge mall to question my bill. Was there for almost an hour the Sprint rep could not tell me why they were charging me an extra $100 dollars on my phone bill. Then after an hour she said she would contact corporate and I should receive an email from either her or someone from corporate with in 2 days to explain my bill. Here it is almost a week later and no one ever contacted me. Very upset and feel like I am being ripped off and of course my whole family just upgraded so I am stuck with Sprint for another 17 months. NOT HAPPY. Horrible customer service!!!!

Alexandrine Davis
from Germantown, MD
I had a wreck in my phone got broke and so Asurion said to fix it had to keep it a week I called to have an old phone activated that Asurion sent me through Sprint and they couldn't find the meid number and so they said they'd never had that problem swap me back to Sprint they swap me back to Asurion it was 11 people I talked to nobody could fix the problem 3 and 1/2 hours on the phone and then the 11th person I talked to said he could fix it disconnected my cell phone I had to walk down the road borrow a landline and call Sprint to have my phone reconnected and one guy named Hunter helped me and tried to get me to upgrade they ought to be giving me a free upgrade and a free phone after all that it was a horrible experience three and a half hours and 12 people on the telephone and still I have a broke phone and no replacement and insurance

Maria D
from New Bedford, MA
I lost my job, my bill is 600 for 3 lines no payment plan available, 4/18/19, offered to pay $250. And make arrangements to pay balance off, I was told nope, go to another carrier, sprint does not care about people and try to help them when going through a difficult time, uncaring, poor customer service, this really opened my eyes, I will go to another carrier, thanks for the help and advice

Susan Williamson
from Marion, SC
Is this untrue??????? I need answers!!!!
Total 100% Satisfaction Guarantee
ight If you're not 100% satisfied within the first 30 days, return your phone and we'll refund your phone costs, service charges and related fees. No gimmicks.

It is unfortunate that the unprofessionalism of Sprint Representatives, Sprint Escalated Managers to Corporate Personal are to paying customers. I was with Sprint for five years when they were called Nextel and did a port over to Verizon in which I returned to Spring January 21, 2012. I am mortified and utterly disturbed since day one. Not only was I disrespected by Darsheen's direct Supervisor in Corporate, but she continued to lack professionalism by not allowing me to talk, interrupting my complete thoughts, talking over my voice and not thoroughly listening to the situation at hand. I have been paying for services that "do not work part of the time" while paying on time via auto-pay since 2012 with a 12% dropped call rate. Sprint Representatives, Escalated Managers, and Corporate Personel have "all spoken with a demeaningful tone" and some calls I chose to deescalate by hanging up while other calls I have chosen to stick up for myself. Moreso, the consumers, are the responsible contributors that allow Sprint employees to have a job in the first place. I highly recommend that you review the call that took place by Darsheen's supervisor in Corporate. Listen to the sarcastic, disrespectful and unprofessional tone that she took up with me. Not only that, I "Do Not Appreciate" the threatening letter with false accusations made against me from Darsheen's supervisor in Corporate. I'm glad my co-worker was present, she walked in and heard our entire conversation and stated "that is exactly why my family and left Sprint" More importantly, I highly recommend you review all calls from day one so that you can see how I was and currently being treated. I've experienced a representative using profanity towards me, my face was burned by the iphone4, and another representative stated, "I hope your face is still beautiful", to Sprint overseas representatives stating that I was not allowed to request to speak with a US representative. I want to talk with someone in corporate other than Darsheen's supervisor who continues to make false accusations. There is absolutely no reason for me to falsify my statements as I take notes on every conversation. I have never in my life complained about a service that I am paying for that does not work let alone bring to Sprint's attention what was stated. Not everything that is notated in one's account is the truth. (To say that I call and harass Sprint's representatives is a strong allegation made by Darsheen's supervisor and I look forward to speaking the CEO of Sprint). As for Darsheen's supervisor, stop sending me threating letters via USPS make false accusations and also making (Threats) saying that you will cancel services. What would you cancel my services for? Asking questions about my account and telling the truth? Or for asking you to stop disrespectfully speaking to me? It was honestly embarrassing for my coworker to hear you talk to me as such.

Susan Williamson
from Marion, SC
Sprint ~ Total 100% Satisfaction Guarantee ~ Where is the Justice????
Disgusted Sickened Customer ~ PLEASE HEAR ME and HELP
As of Friday, April 12, 2019, I received I called from Sprint 1-800-639-6111 about my formal complaint. After telling my unprofessional services received at Sprint Store, Florence SC on Wednesday, April 10, 2019 requesting my old phone back after updated/trade in getting a new phone. On that same day going to Batteries Bulbs, Florence SC to purchase a battery to transfer my information, I purchased a battery charger instead. Within an hour returning to Sprint, Florence, SC, gave the salesperson the charger to charge the battery of my old phone and stating I would like to get my old phone back due to all my information/texts on it. The salesperson told the store supervisor and she stated "NO" and get her orange and banana and left the store. I waited for the charger to charger the battery and once it was 12%, the salesperson transferred my # contacts and I continued asked another salesperson to receive my old phone back the SAME DAY. The gentleman gave the request to another salesperson. This salesperson got on the phone to call customer services, she said she couldn't do it she had to call customer service. My husband stated don't follow them up just call customer services myself. I stated to the salesperson who had my trade in to keep my phone there at her work station. I called (*2) Customer Services and told my disgusted and how I was treated. The Customer Rep handled the problem very professionally, apologized for THEIR serviced toward me, putted me on hold several times as he checked, told me to return to the store tomorrow (Thursday, April 11, 2019) only asked for the Store Manager and they would give me my old phone back. My husband (Retired Veteran) went back to the Sprint Store in Florence on Thursday and the manager told his NO he would NOT be getting that phone back. I called *2 Customer Services on Thursday afternoon again within 24 hours, stated my issue again. I talked with Don for Charette, NC and Customer Service Rep using an ~ 800 number. Again, received different information, However the 800 number was very helpful. Afterward, I went online and filed my complaint, did received a response for Marcelo Claure, Chairman. NOW, today, Friday, April 12, 2019, I talked with a young lady (1-800-639-6111), she was very helpful and understandable for my hurt feeling less than a valuable paying customer. She listened and like all the other customer service rep called the Florence Store. She returned my called and informed me that my phone was sent to the warehouse this morning (Friday). I did become very upset and I used profanity, due to my ongoing request from me since Wednesday and to hear Friday's morning my old phone and my feeling went to trash, WOW Sprint. Again, I need my OLD LG Phone, please get it back to me, Dr. Susan Williamson. PLEASE SHOW YOU CARE ABOUT YOUR CUSTOMER 100%. I am totally lost for words; I only can say WHY?
I'm not 1% Satisfy ~ Levern and Susan Williamson Sprint Customers since 2001 ~ Why were we treated less than human beings at the Florence SC Store on Wednesday, April 10, 2019 and its ongoing ~ WHY wasn't we treated with a little respect!!!!

Lynn McCarty
from Clearwater, FL
Started with Sprint on March 1st. On April 2nd the same salesman who signed us up logged into our account and upgraded our plan to a higher plan. We never authorized any changes nor have we ever been to the Store where the changes were made. He is the only person who had access to my security questions and PIN number. I also have the email showing it was him. This is FRAUD and I want him fired he has no right to touch my account or anyone else's account. If he changed my account I'm sure he has done it to others. I spoke to c/s and the fraud dept is looking into this. But I want a update on this. 727-207-9927. I will not let this drop until it has been resolved. This is sad that someone like that works for Sprint.

Lynn McCarty
from Clearwater, FL
Started with Sprint on March 1st. On April 2nd the same salesman who signed us up logged into our account and upgraded our plan to a higher plan. We never authorized any changes nor have we ever been to the Store where the changes were made. He is the only person who had access to my security questions and PIN number. I also have the email showing it was him. This is FRAUD and I want him fired he has no right to touch my account or anyone else's account. If he changed my account I'm sure he has done it to others. I spoke to c/s and the fraud dept is looking into this. But I want a update on this. 727-207-9927. I will not let this drop until it has been resolved. This is sad that someone like that works for Sprint.

Account # 947213699 This is a complaint about the poor service we received when we reached out to set up payment arrangements on our account i know that is not the normal for our interactions with you so i would like to assume the person was not paying attention or was doing other things at the time as well. Still it was poor service. We reached out to you to do this and then get stuff thrown at us in reference to our account yes there was auto draft payments that did not go through but where we have paid with the card on the account there has been no issue yet your person wanted to say that as well. It should not have gotten to the point where we the consumer has to restate can it be done multiple times. There are many companies of which people can receive services and we do not feel as that is the way people should be treated we realize our account is nothing in the scheme of your company but did not feel we needed to be made aware of that by your person which is how we felt. Please look at the transcripts and follow up with us.
ACCOUNT NUMBER:
947213699
Thanks

I lost a phone and this lost was communicate to sprint for close this line and do not charge for this, and Sprint still charging me a line which is not was used since 6 months ago, also I was paying for more than 2 years a 4 telephone and they charged me more than $200.00 for the lost phone. I do not want to used Sprint any more, bad services and also are charging too much money, besides charging a line which is not in used since 6 months ago.

Devon Mattison
from Plymouth, MN
we were logged in on our account attempting to set up a payment arrangement which then they had to get us to the finance dept. Would appreciate you looking at the transcripts of that conversation. It is not what i would say was good customer service. I would like to believe it was that the person was doing something else or not truly paying attention to the conversation. Still not good service but it would be better then if that person was doing that intentionally or on purpose. We reach out to set up arrangements and then the person wants to tell us about where the auto direct draft payments did not process then also wants to state that the card on our account has been rejected which it had not. we attempted to work on getting the matter resolved and then your employee wants to go that type of route. We know that is not the usual behavior of your employees and hope it does not continue that way it should not have been us whom had to repeat what our request was and ask multiple times if this could be done yes or no.
Have feedback for Sprint?
Thanks for your feedback!
Sorry. Please try again later!