Sprint
Sprint Complaints Continued... (Page 6)
738+ reviews added so far. Upset? Call Sprint corporate: 1-800-777-4681

Brenda D. Tipton
from Avon, IN
I have been with Sprint 16+ years, and the last 3 nights I have been very frustrated the way my daughter has been treated at the Pendleton Pike location in Indianapolis. After each visit I have called Sprint to have her added to my account. The first night I spoke with a Mary and she assured me my daughter was added. My daughter went the second night and again she was not on the account, I immediately called Sprint spoke with a Mark and again was assured she was added.
She went tonight and might you guess she was NOT on the account. And was told "why do you keep coming, when we have told you that you are not on the account" I called Sprint asked for a Supervisor and was put on hold for 32 minutes, no one ever taking my call. I called back and again asked for a Supervisor and was given to a Bella, and she upset me by saying my daughter was added and that I needed to go to Sprint.com and make changes (was never told this this prior two times) I asked her to email me the instructions, well she said Sprint does not have the capability to do this. This time I asked for a Manager, all she said was hold on, saying nothing else and I was again put on hold, I waited 23 minutes and the call hung up. Very frustrated at this point. For all the money I lay monthly to get this treatment.

Not much of a complaint about Sprint, the only issue I have is after stopping service with the company they sent me a credit of $53.91 and they stated they would use it on the next bill. I will not have a next bill so maybe it would be a help if they would send me a check of that amount. I contacted several employer's from Sprint company and it feels like I am getting the run a round so before I call the Attorney General could you send to me the credit balance of $53.91.

Alice Weller
from Zephyrhills, FL
I was told I had 14 days to cancel my service and phones if I was not satisfied. I returned the phones within 5 days and cancelled the service the same day and you are charging me $177. I don't think that is right and I am not going to pay it. I understand a minimal charge, but this is ridiculous. When I talked with your representative, he was very nasty, He would not give me a supervisor or a name. If this the type of service you perform, then I feel sorry for your company, and he did not speak English very well. I had a very hard time understanding him.
Please reevaluate my billing and let me know what you come up with. I can not get on to the Sprint sight because I am no longer with the company and my number does not work. Remember, it was your representatives that told me I could return this service within 14 days at no charge, and put it in writing.

I am not sure if this message will reach anyone, but I located your information by typing file a complaint in the Sprint Community search. I am sending this message in regards to the horrible customer service I received recently at a Sprint store. I had been having some phone issues for quite some time, but never had time to go into the store due to my work hours, but Friday, March 4, 2016 I was off so I decided to take care of my phone issues once and for all. As I previously stated I had been having some phone issues for quite sometime. Initially, I had a LG Flex in which I had software issues and after (2) swaps I was put into a LG G3.
The issues with the G3 were worse than the LG Flex so I had been going back and forth with customer care about going back to my LG Flex. I was transferred around and around for a few weeks. So on Friday I finally spoke with someone and they advised me to go to the store. So I go into the store in which I was advised to leave my phone for 2 hours, but I came back in an hour. The manager Robert advised that he could not duplicate the issue so he couldn't help me. So I attempted to show him a screen shot of the error and he walked out while the rep and I were attempting to talk to him. I had a conversation with his lead in which she advised me to upgrade and she offered me some rate plan information.
I advised her I would sleep on it and come back. At that point I called Sprint care again and advised that the store could not assist me. I was very frustrated about the entire situation. Ultimately, care called the store and had a conversation with Robert in which he advised he could not duplicate the issue. They reached an agreement and I was told he would see what he could do, but there would be a charge. I attempted to find out why bc its not my fault the phones do not function. I felt there was no need to penalize me bc all I wanted was my old LG Flex, not a new model phone an iPhone or any of that. Care asked how long would it take for me to get back to the store. 10 minutes later I was back at Sprint. I walked in the door and sat directly in front of the manager.
He was assisting a customer, but he saw me walk in. He had add'l staff in the store in which they did not speak or acknowledge me as they always never speak. As Robert was assisting his current customer as older couple walked in and headed to the chairs in front of the register near Mr. Robert. Robert, the older couple and the customer he was assisting began to all laugh and talk. Ultimately, John the customer he was assisting left. He skipped me and then began helping the older couple that came in after me. I sat for a little while longer frustrated. Another customer came in and went to the chair located near the other associates.
A rep came off lunch and headed to the back of store. Another rep/tech told the reps to assist the lady sitting down which was the last customer to enter the store after me and another man. At that point I grabbed my purse and left out the store. I called customer care again. Long store short I explained what Mr. Robert did. She called and spoke with him. End result I was sent to the Hwy 6 location and they were very friendly and solved my issues with no questions asked. As well when the tech at the new location looked at my phone Mr. Robert had taken my phone apart and striped a screw.
When I got my phone from Mr. Robert earlier in the day I noticed the phone would not close on one side. The tech ultimately explain why the phone would not close. I would like to file a complaint on Mr. Robert and his staff. They are always unprofessional and presentable. They, also are not aware of when promotions start and end. As they advised me about a promo that had already ended. Mr. Robert is very rude and lazy. Most times when I go in that location he is always sitting down. If you ask me the entire location needs to be fired.
I would like Mr. Robert to have some kind of consequences for ignoring me and being disrespectful. As well I was advised he sends customers to other locations to get phones serviced and items returned or exchanged. The location that finally assisted me stated they have been having a lot of issues with that store, specifically Mr. Robert. I will be forwarding this email to others until I get a response to include the CEO. I pay too much money to be disrespected and treated like another number!

ibrahima Deme
from Amherst, MA
At the end of December, we became very tempted by what Sprint was offering as internet dates. We decided to leave Verizon just for that reason, even though our experience with Verizon was just wonderful. At Holyoke mall the Sprint agent told us that there were zero down payment, which ended up being false at the end of the registration. We were about to go back to Verizon, but the supervisors was nice enough to take off the registration fees to keep us. I paid over 400. I though that would be our only disappointment with our new phone provider, but at the end of the month, for the first bill, our 3 lines were cut off the same day I paid $197because you guys found a way to make us ow you over $800 due to calls overseas we make with free apps like what's up.
The funny and most outraging thing about it is we have been customers of different phone providers , but never had we been bothered about class we make with free apps with internet. Those apps allow ppm to call oversee with internet access. But dint said that they were the one who was covering those calls. Absolute lie and insane. We all work at UMASS with College degrees, so don't take us as fools please. In addition to that, your clerk over the phone are poorly trained. They don't know how to communicate with unhappy customers and are sometimes rude.
I was told twice over the phone that those $800 will be credited to our account, meaning we not gonna pay for it. It's mot a favor we were asking, there is no way we going to add a dime in the $197 every month. Few hours ago 1 of our lines were cut off and my brother was told that we ow you $800 and you guys were proposing a payment plan. That was outraging and dishonest. Your company has a dysfunctional communication channel. Nothing agreed with a customer is followed up.
We are just tired of lies and the corrupted way you do business. It was a monumental mistake from out part to leave Verizon for you. Here is the deal. We are not to be fooled and lied again about payments. We not going to add a dime in the $197 we have to pay every month. You are free to cut off our line based on your lies and dishonesty. If you do, we will cancel the contract. We will, I sill go the police to file a complain against your company and we will meet in court to solve the problem . And for humanitarian reasons. We will go to the social medias and talk to students , coworkers around us to prevent them from ever doing the mistake we did in switching to Verizon or any other company for Sprint.

Audra Rommel
from Virginia Beach, VA
I schedule a repair appt. for 2/27/16 at 11am. My Phone worked however the screen was blacked out. The 2 guys helping me were so fixated on the crack on my protective screen that they kept saying that the screen on my phone was broke. They never looked at my phone for the reason I was there. They kept telling me I had to send it off for repair or upgrade my phone. They told me it would cost a $150 deductible to fix my phone however when I went on line to fill out the forms it cost me $200 deductible. When I got home and took the protective screen of there was not one scratch o n my screen. This was the worst most unprofessional service I have ever received. I have been with Sprint for over 15 years. I think you need to educate your employees more. I will be looking for a new phone provider. I feel like what happened to me today was all about sprint making more money off of me.

Latonya Crisp
from Brooklyn, NY
I went to a sprint store to swap phones because my phone had broke. The store was not a corporate store and couldn't do it. So the store allowed me to call customer service and they couldn't do it. I asked for a supervisor I960718239 who could not resolve issue stating that the Samsung note service could not be swapped to my galaxy5 sport because of the specks. Now that didn't sound right to me and I asked to speak to her supervisor. She stated this was the end of the road for me. Then she suggested that I call tech support and they would tell me same. This was after being on the phone is the sprint Montague store for a hour. I left the sprint store upset called tech support and a nice individual from Oklahoma fixed my issue in 5 minutes. He deserves a commendation his interaction number is I960728338.

joyce williams
from Charlottesville, VA
I am extremely offended and concerned about the treatment of a chihuaua puppy used in one of your ads. In it the dog has his head laying on a neck massager. I can tell you from experience those neck massagers with the rotating balls hurt! I think you have used poor judgment in this advertisement and I plan to make PETA aware of your treatment and use of this dog.

Mary Busuito
from Los Angeles, CA
I had called Sprint two weeks ago to complain of no internet on my phone while at home. The representative checked the device and offered me a $20 credit. On Feb 8th, I called the recorded line and the voice told me my balance was $43.00 and some change. I paid off the balance and they said my balance was zero. 3 nights later, I receive an email stating my balance is $131.00+.
I called and the representative didn't have a good explanation as to why my bill was extremely high. She also didn't see the $20 credit that was suppose to be given to me. She said it looks like a balance from months ago reappeared on my bill. I don't believe this. I think Sprint is overcharging people who don't bother to look at their bill. I have been a customer for over 10 years. I am disappointed in how this has been handled. I deserve a full refund and some credits.

Icis Jones
from Nashville, TN
On February 1 2016 I made set up a payment arrangement. For 53.00 because I was over my spending limit. Which was due on February 15 2016. On February 7th 2016 my service was suspended. I don't know why because I had already set up the payment arrangement. Then the Sprint customer service rep then changed my payment to 132.52 due on February 15 2016. I called this morning February 11th 2016.
And asked how much my phone bill was the rep told me it would only be 26.00. I asked was she sure she assured me that it was that amount. I also got a bill telling the amount of 26.00 and change was due on the 24th. I thought everything was cool . Until I tried to make a phone call and the representative told me I owed 66.00 and change and that my balance was 200.00 and change.
And that my recent payment arrangements had been canceled. I did not authorize for them to be canceled. My service kept getting interrupted and different reps were giving me different prices and I was made to pay two different payments before my due date.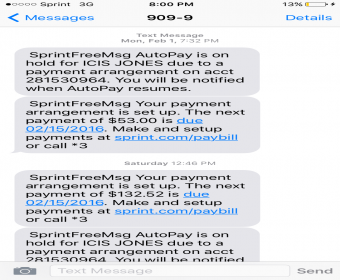 I legit just switch to Sprint from Verizon and I'm kinda starting to regret that. The sells lady told me I would have my phone in one to two day but actually it takes one to two days to process and I explained to the lady that I needed the phone asap bc I'm without one bc it was stolen so I had already explained the urgency of getting the device. I asked if I could pay extra to expedite the shipping and she said no but don't worry you'll get it in 1 to 2 days. She lied obviously. I would cancel but I can't bc they already took my number from Verizon. This is very poor customer service. It's ridiculous that they don't have IPhone 6s Plus 64 gb Rose Gold isn't available at any store near me and that Direct to you wouldn't come until next week. I feel like the whole process I dragged out for no reason. Once you take someone money the order should already be processed. I shouldn't take two days to process an order. I'm already unsatisfied with the service.

Simone Blanchard
from Windsor Mill, MD
I have been a member of Sprint for almost 15 years. I have never been so unhappy with the service until recently. I called in on December 19, 2015 asking to request for a lower payment plan. The representative reported that she could assist me. She misrepresented the information of the bill resulting in my bill being twice as high. I then called in requesting that I have another payment arrangement to help to lower my bill because the bill was extremely high. They stated because I missed the payment arrangement that I needed to pay the entire amount. I was treated very poorly by Stephanie #956040806, Leonar 956028115, and Ashton 956049475. I am serious about changing my provider if I do not get good customer service.

Ilah Newsted
from Grand Rapids, MI
This does no good and I tell everyone I can!! You guys took money out of my account at the credit union for almost a year when I had NO active account with you!! No one will take care of this and it's USELESS to complain about it. It's a SAD day that you will so this to a senior citizen or anyone. I have told several people at Sprint about this and everyone says they are LOOKING INTO IT. Your company just does not care and I would NEVER have a Sprint phone again if it was the last server on earth. I would rate Spring a zero if I could!

Elizabeth Cabrera
from San Diego, CA
Let me start by saying, I am furious with the way I was just treated by a Sprint Customer Care Supervisor (Finance Dept.) named Marlon. It is hard for me to comprehend it. My blood just boils when people speak over me!! How dare a representative in a Supervisory position be so unprofessional, unbelievable. I asked for an extension on my past due payment arrangement. You see, I originally wanted to pay the entire balance due on 02/06/16, $151.74 being January's past due bill, the rest being the current amount due. The automated system would not allow me to do so, so I selected the last possible date and figured I would just call and make the arrangements with a representative. That is where the problem started.
Your reps refused to help me extend the arrangement one week, one single week. The inflexibility, and unreasonableness is frustrating - the snide tone, speaking over me, patronizing behavior was deplorable. I cannot even began to tell you my level of anger. I asked several times to speak to Marlon's supervisor to file a formal complaint, and he refused. He stated that all matters regarding my issue must go through him - what?! I have been a sprint customer long enough to know, that isn't true. I would like someone to help me find resolution to my payment arrangement issue, and to assure me that my complaint against Marlon is noted.

Greg Hazard
from Pensacola, FL
I broke the face of my Samsung phone. I pay for the insurance every month. You sent me a replacement Nokia for an additional $100 deductible that was a reconditioned phone. it is now where near the phone I had. I asked for my new phone to be activated upon its arrival. It wasn't. Took over an hour to get it activated tonight. I have been with Sprint for over 20 years and I don't know why tonight. $149 for a new phone above my insurance and deductible for these years. Sprint Sucks right now for me and it seems it is okay for them.

David Burdick
from Puyallup, WA
The Lakewood Washington store took in a phone for trade that was under a different account on a different provider, The phone is still under contract to me, my nephew traded it in and now all I get are excuses. The fact is that they should have done their research and found out that the phone was still under contract. Instead they took in a practically brand new phone and sent it off. Since the phone is my personal property I expect Sprint to do the right thing and either return my phone or reimburse me for it.

bob ferrara
from Old Lyme, CT
I have been with sprint for over 20 yrs. as a matter of fact I have never had another carrier. problem 1, my phone does not work at my house. problem 2, I need an air rave to get service at my home, problem 3, the three previous air raves broke and now I have been waiting a week for a replacement. one week with no phone! I think I should be compensated!

I have been a Sprint customer for almost 20 years and am feed up with being overcharged. You call and employees to not record your call. You restrict your account from 3rd party charges and they still come. I would rather pay more to another company that keeps the bill correct than stay with Sprint who overcharges at every opportunity. Hate Sprint and would give them less than a star.

Tanya Shepard
from San Jose, CA
Sprint's customer service is very poor. The language barrier is poor and the rep's are very rude. Sprint is very fast to point the fingers in saying what the computer can't do for payment arrangements etc. Their ethics as a business is extremely poor. I'm very frustrated as a customer having to wait for over 40 minutes every time I'm on hold and the many hang ups with your reps. Sprint get your act together. You don't even have a rating with me. One is being too nice.

Jack Postell
from Englewood, CO
Please forward this to the Sprint security department – Over the weekend our CEO's wife received a call on her company cell phone from telephone number 336-755-9006 which is a number assigned by Sprint. The caller attempted a scam by stating the CEO had been in an accident etc. In researching this number it appears to have come from E.Martin, 903 Grace, Burlington, NC 27217. We don't know if the number was spoofed from another number but wanted to report it to your security folks. Any assistance is appreciated.

Lynne-Marie Friedrichs
from Escondido, CA
I've been a very good Sprint customer for 9 years. I ordered a new iPhone in Sept 2015 with a lease. When I received the phone I was not able to activate it due to a flaw in the system. I called Sprint and they said to return the phone to a Sprint store which I did. I continued to get billed for the lease plan and was also charged for not returning the old phone then I was charged for canceling the lease. I spent hours on the phone for 3 months.
Every call ended with them telling me what I want to hear: reversal of bogus charges and a promise that all has been taken care of. It's as though they are trained to give lip service without actually fixing the issue. In Jan 2016 my bill was $1,100 and I was being sent messages that if I don't pay in 6 days my service would be cut off and my bill sent to collections.
Sprint is the absolute worst company I have ever dealt with. Ever. My issue was finally resolved after I informed two Sprint people I was taking legal action against Sprint, and where can my attorney send a letter. One agent hung up on me and the other gave me the address for HQ but had no idea which department a legal grievance should be mailed to.

I am due for an upgrade. I drove over an hour after work to the LaGrange Park location and there was a line. I am currently still waiting and its almost an hour since I got here. Both the male associates seem nice and are being very detailed in assisting other customers but I feel that this location is under staffed!!! I still have 2 people waiting in front of me and an entitled woman behind me that won't stop complaining. This is the worst experience that i have had with Sprint stores!

Brenda Sawyer
from Gaffney, SC
I have been having problems with Sprint every since I switched over from Verizon. I have spoke with several customer service reps, and visited the store about this problems. Now for the 4th time . I am disabled and live in the country alone. They keep turning my service off due to their mistake. Which they say each month won't happen. My payment schedule is on the 2nd of every month due to my disability payments. It has been ok'ed several times. and, they haven't sent the envelopes for return of the Verizon phones.
Which I gave them the address 2 times this month. It is NOT my fault that they have not received them. I need my service turned back on until the 2nd when I can pay my bill. Also, they need to overnight the return envelopes to the addresses that I submitted. Lyric Hatcher, 33 Timberview , Rochester, MICHIGAN and Angelo Hawkins. 1119 Windemere , Royal Oak, Michigan. last mont6h the stress from me having to keep going through this put me in the hospital due to my MS.
My Pastor was with me and witnessed the manager tell me that due to their trainee neglecting to tell us about the return of the phones , he would dismiss the charges Derrick at Westgate Mall on Blackstock rd. Spartanburg, SC. then when it came around again ,he denied it. My pastor spoke with the reps and explained that he heard it with his own hears too. Then, again they said I was responsible or had to pay the phones off. This is NOT acceptable for a business to have to keep going through this fore your mistakes.

ssjr13@gmail.com
from Washington, DC
I called Sprint to make a pay arrangement and was told I only had to pay half and could pay the remaining at another time. However I notice that when I went to make the payment of the pending other half of my previous payment I was told that I had to pay that other half plus my current bill in which kicked in a couple of days before my pending arrangement. I ask why was this and was told because my record indicated a certain status due to late payments and because of this red flag sort of speak that I was not edible to make any partial payments.
My question to you is why wasn't this information made clear to me from the very beginning before collecting any of my payments. Failure to not properly inform the customer of the entire terms of any agreement is misleading and deceiving. There is no need to refute of any of the delinquencies in payments on my behalf because I acknowledge them and how we got here. THAT IS NOT MY DISPUTE. My dispute is that I was not informed entirely of the status of my eligibility of payments and how they effect me and my next payment. And that I have called Sprint customer service several times and all I get is the redundant explanation of why my account is suspended. As a manager I have yet to hear Acknowledge Apologize And Act.
All while I have offer several times to pay at least half of my balance however at this point you have added another cycle of billing in while suspending my service and all of my attempt to properly grieve this matter has falling on deaf hears. At this point is important that you at least hear my Sprint complaints but unfortunately I can not move forward in paying you another dime due to your your lack of training to your staff.

My first complaint is that I'm being billed from the 3rd of December until today which is de), 2015 while i don't have the service started until the 7th of December. They billed me the full amount. When I was trying to reach someone from customer service, they put me on hold for 40 mins+ to speak to a supervisor. I am waiting for a supervisor as I write this complaint. The next issue is that when they were trying to switch me over to sprint from t-mobile, I mentioned the 150$ credit that I was going to get for my next bill. I specifically asked the CS Rep about the promo while the conversation was being recorded and he mentioned that I do qualify and it will just be credited to my account. Then the person I spoke to today stated that I should have registered within the 72 hrs.
A fact that was not made known to me during the recorded conversation. Next complaint is that I was told that I will be given a free tablet. I was hesitant at first but he did say that it came with getting sprint service So I said yes, later I found out that it will be free for one year but the next year I have to pay for 1$5 for one year to keep a very crappy and cheap tablet that I didn't want in the first place. All this make me think that Sprint is a big thieving and unscrupulous company and they should be ashamed of themselves.

Zedrick Jenkins
from Washington, DC
I have been a customer to sprint for nearly 16 years. I recently purchase an upgrade sprint phone and added an additional line via Best Buy. The technician that sold me the phone explained to me that if I were employed with the Federal Government my discount would remain on my account. Therefore, I added an additional line and purchase 2 phones. I called sprint one week after I purchase the phone and in my discuss I requested to speak to a supervisor. My intent was to resolve the issue or discuss the possibility of returning the phones.
I did not receive the return call so 2 weeks later (wait due to Christmas holidays) a contacted sprint again to discuss the issue again at which time I spoke to a representative name Bryan who in the course of being very rude felt the need to express that he had 11 years of account manager and retention experience and felt that I had a good deal. I explained to him that is a good deal to him but I purchase the phone under false pretense. He told me that was the contract I sign and should discuss that with Best buy knowing that after the purchase the plan can only be disputed with the carrier. So he was rude, unempathic and attempted to steer me to someone who could do nothing to assist me with my issue.
When I request so speak to the supervisor because I did not get to discuss my issues one before and a customer of nearly 16 years I was completely blown off he replied he was a supervisor and anyone else I talk to would tell me the same thing and that he can discount my line right now. Knowing I would owe sprint hundreds of dollars due to a contract I contact them about while legally I was still within the grace period to return the phones with no additional fee, but I did not receive a call back to discuss that option.

Cheri DiRoma
from Ridgefield, CT
I went into the store to switch my account from t-mobile to Sprint and was very disappointed that I was not approved. I called Sprint customer service today and asked if it was my credit or the questions and I already knew It was the questions because there is nothing wrong with my credit. the rep on the phone said yes it was the questions. I explained that I knew exactly which question it was it had to do with what year my Mitsubishi Galante was. The questions that are being ask or over 10 years old.
I have lived in several places over the last 15+ years and have 8 cars in over that time frame. I was denied again because of ridicules questions. How come as a past customer I wasn't already pre approved for my new Mitsubishi that was over 15 years ago as well at Houston address. I would like a call back from a supervisor. This really is unacceptable. I should have never agreed to answer another set of questions and asked to talk to a supervisor instead. There is no reason for me to be denied. I have never had this much trouble applying for anything in my life. This is not a good impression to give for a potential customer. You can ask for two forms of ID instead of this. I expect a phone call today.

Eva Lyles-Dukuray
from Inglewood, CA
Sprint refuses to have a definite policy that is shared with the public regarding payment arrangements and changes in services billed along with payment history. I've been a Sprint-Nextel customer for over 15 years. I have received very conflicting information regarding the overall policies for accepting payments; payment arrangements and interruption of service. There appears to be no one who can make a final decision.
I am very dissatisfied with your customer service department. I called back on December 4th to have a tablet removed off my bill (one which by the way I never used and paid for for two years) and I called today December 16th and it was not done. Your customer service department is very insufficient and seem very inexperienced in what they do. I have been with Sprint since forever and the customer service aspect continues to get worse and worse.

Angela D. McDonald
from Riverside, CA
My name is Angela McDonald I have been with Sprint for over a decade and has never received such bad service... Well I will first like to thank you for previous service I had with your company and I know as time goes on services change as needed... I do recognize that however; with that being said my experience today was horrible... I was very angry and upset and I apologize in advance for that... So let's get to it... I called today because my services have been interrupted due to not keeping my payment arrangements in the past... Mind you I have made them but in case my son misunderstood what pay the bill today meant as I left for a trip out of town for work... but that another story... So I had made arrangements to pay the bill on Dec. 9th he paid it on the 11th neither he or I what the impact this would cause to our account...
So I called when my daughter called and said her phone was off... I immediately phone Sprint Customer Care to have the Rep inform me of the NEW policy and I have to pay another 187.00 to have my services restored... Well I had just paid 200.00 on the 11th.... So I managed to come up with the 187.00 called back to make further arrangements and the Rep came back again and said I needed to pay another 85.00 before services could be restored... What is going on... I can do math... I do understand policy however... Since when does a company tell your customer to pay a amount and once they comply tell them something else.
I am so appalled at what happened and I cannot imagine that a intelligent group of people could not foresee that this is a potentially a HUGE problem... I am very disappointed that your representative was unwilling to make good on what the previous rep told being that the information was in the system and on a recorded line... So could you please assist me with getting the word out about Sprint's terrible corporate complaints.

Keisha
from Channelview, TX
I've been with Sprint since 2000 and I have a total of 6lines with sprint. Over the past few months my experience with sprint has been the worse..... I have canceled 1 line so far and plan on canceling 6 lines all together. Sprint customer knowledge is ridiculous... I call every customer service rep I've spoken too gave me different information. Sprint made some changes so 1 rep told me and for another rep to tell me no changes were made. I asked to speak to supervisor and that was a big mistake SHEARI from Alabama very smart mouth, and over talk me. Just speaking to her puts you in a very bad mood with her sarcasm. I asked to speak with supervisor to only get the worse after being told several times I couldn't speak to a supervisor, sprint doesn't offer that anymore. My over all experience with Sprint is 1 star service rating. I called the Sprint corporate office and spoke with April was very polite, helpful, knowledgeable, and professional. The 1 start goes to her!

Lourdes Valdes
from Coral Gables, FL
September 28th I called sprint and reported that my mother had passed away. They took the information and said someone would contact me soon. As I didn't hear anything I called again a few weeks later. Again I was told that someone should have contacted me, and that they would put it thru again. Yesterday, December 1st. I called and talked to someone very nice who said that lots of letter have been sent tome. I haven't receive one of them. She gave e a fax number to submit proof of death.
The fax doesn't work. I called again today December 2. She checked the fax number and told me that was the same fax # she had. She gave me an address which I am going to try next. she was also very nice. The point is that I have been with Sprint since 2004. I am trying to remove my mother's line from my account. I have been paying for services which have not been used since September. I think there is huge lack of organization in your company. Loyalty doesn't pay!

Elizabeth Allen
from Chicago, IL
I leased an Apple phone for my grandson, Corey Swain. Because of his reluctance to pay for his phone services and to return the phone I called November 23rd and reported the phone stolen and had the phone services suspended. Corey Swain called and reactivated the phone without my permission. Once again November 29th, I visited Sprint on Cicero and used Sprint customer service phone and I had the phone suspended. Again Corey Swain called and had the services reactivated. Last night I called and set up an account and had the voice, text and phone service suspended. A message was forwarded to a supervisor, to not accept anymore changes to my account (passwords, usernames, account setup and etc).
Again Corey Swain has reactivated his service. Corey Swain's ability to access my account and turn his service back on once it has been suspended is a breach of security. He has be able to do this three times. I am the owner of the account not my grandson. Sprint is suppose to be able to protect my account and not let anyone manipulate the devices. This morning this phone is still back on despite my last request to suspend service and to not allow any more changes to my account by Corey Swain. It cannot be this difficult in 2015 to suspend services for a phone number and not allow any more changes to my account. Maybe I should take my problem to the Sprint corporate offices next?

Mike Real
from Denver, CO
I was getting error messages and low storage messages. I was told If I had a lot of pictures and or text messages that this could cause this. I removed most and it did not help. I went back to Store #235453 and a young man who was trying to understand the problem ended up resetting my phone without saving anything. So now all of my contacts are gone.
Earlier this year I went to this store before they moved to this new location and the lady there did a GREAT job helping me and saving my contacts before resetting my phone. So the people you had before were trained very well NOT so much now. I not sure how it was handled before but this guy did not ask to see my ID or my phone # to make sure if I could have him do anything. Totally pissed! He acted like it was no big deal to him.

I have been a Sprint mobile customer since 1999, account number 944575560. Experienced declining reception service over the years, getting no cell reception inside my house. Many complaints registered with Sprint. They sent me a booster called Airwave 2.5, but it caused lots of feedback in the phone's earpiece. I returned it on 10-19-15. A customer service person placed a $50 credit on my bill - billing period 9-13-15 to 10-12-15 as a consolation for long term poor cell phone reception.
I told this person I intended to switch carriers and he said a check for the credit balance would be mailed to me. No check has arrived. My call to Sprint Customer Service this morning lasted 40 minutes, much of it on hold, with Lisa, employee #911261295. She was unable to solve this problem so I asked to speak with her supervisor - AYN (a lady) and Ayn would not take my call. Ayn was supposed to call me back, but hasn't. Being placed on hold about 5 times, Lisa finally told me Sprint would not be refunding the credit, but Sprint would hold it on my account. The account is cancelled so they are keeping my money.
Lisa's explanation is exactly the opposite I was told by the person issuing the credit. Attached is a copy of the latest bill showing a credit balance of $49.07. Sprint's customer service has declined substantially, their customer service employees are very difficult to understand and now they refuse to refund this money to me. I paid Sprint my final bill of $71.76 which they received 9-27-15 and cancelled coverage on 9-29-15.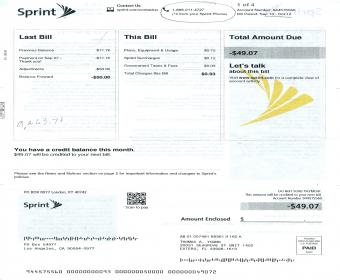 maurice scott
from Columbia, SC
On November 19, 2015, and November 20, 2015, I applied for sprint service, and was approved online with scheduled pick up at the local Sprint location on Two Notch Road, Columbia, SC, as a side note, if this were my corporate store, I would fire each and everyone of those persons, they are more interested in displaying their gayness, rather than doing their jobs. But back to the point, I applied and was approved, i wasted my time, twice going to the sprint store, and the scheduled appointment wasn't ready, basically the phone wasn't ready, in fact the store claimed they had no idea of such appointment. Now as a point, after the order and schedule, Sprint placed a hold, or charged my credit card for 157.99.
After going twice I engaged into a chat session with order support, and cancelled my order, and opted for going to a retailer, i.e. Target to get my phone, which they stated that was ok, and that i would get the same approval. I wasted time and effort and resources and went to Target stores, and was denied by Sprint for service. I left went home, after wasting a whole day practically, engaged in a chat session with order support once again, who based upon notes verified what i said was true, and that now the application was denied which was injustice.The cost of my time, and and the double standards which as a matter of belief was viewed as retaliation by either store staff or the corporate staff or operational efforts was reimbursed. I think under the circumstances Sprint needs to make the device free, or eliminate the deposit, and return it in total, place my account into the lease program instead as a offer of good will. I am in addition filing a complaint with the Consumer Financial Protection Bureau.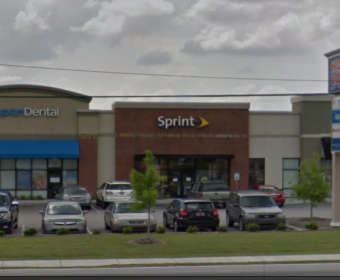 Gary Glover
from Houston, TX
My wife Samsung phone locked up Thursday 11/19/2015. Sprint rep. advise wife to reset phone over the phone on 11/20/2015. Saturday went to sprint service location 11/21/2015 who advised us to go to the Samsung Rep. at the nearest Best Buy, in which we did. Samsung Rep trouble shot phone and stated this is a problem that had occurred numerous time recently, and that sprint reps was making the mistakes to recommend reset of the phone. Wife called sprint, talked to a supervisor who told my wife to go to a Sprint store and they would replace phone that he had placed notes for this to happen. When we got to the store we found out the Sprint supervisor had placed in notes to not give us a new phone. After we learned this deceptive info, when promptly cancelled sprint service after 20 years of faithfully paying our bill, 3 lines an average of 300 per month. Thank to your employee that $3600.00 annually you will not get from the Glovers Family. Will be happy to tell anyone about your deceptive practice.

Terri Klose
from Mays Landing, NJ
I have been calling since March 2015 in regards to my bill that keeps increasing. I was told initially my bill would be around 200 a month when I added another line. Now my phone is turned off and I keep getting hung up from the customer service dept. Also they want half of my bill so my services can be restored. All that I want as a valuable customer of 15 years is my bill reviewed and corrected so I can make my payment and catch up. Also I am restricted access to Sprint.com and I do not receive paper bills in the mail any longer. How am I suppose to look and review my balance if I have no idea what my bill is. I am a very angry and disappointed customer at this time and at the point I want to change my phones to another company.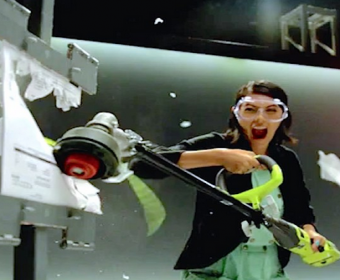 Tawana Roaa
from Virginia Beach, VA
I received an emailed that stated I needed to verify my order. or-trtm-784831030 My initial order took over 2 and a half hours to process. Once I called the representative verified my code and my address then placed me on hold for 12 minutes. Then asked for my previous address and placed me on hold for 9 more minutes then he came back and said he needed to verify the address before that. I then asked what this was about I don't remember that address I lived at my previous house for so long. I asked him what was the hold up with my order and he disconnected the call. I waited for him to call back. When he didn't I phoned him back and was informed he cancelled my order stating that he was unable to verify my information. I told the new representative that he disconnected the call and didn't complete the process. Then I was placed on hold for minutes awaiting a supervisor.

I have been leasing you all iPhone6 and iPhone 6plus which I was unaware was a lease not to mention the lease agreement fee has change along with causing my monthly bill to go up. I'm a long time customer that has been told by several reps and (2) SUPERVISORS this issue would be taking care of which it has not. It has caused my bill to remain delinquent. I have tried to remain a sprint customer but to know the amount of money I pay each month and still have to watch my minutes is an insult. It is 2015 and nobody should have to watch there bill or minutes with all the phone options that are available. If sprint wants to gain customer in the near future they have to gain customer by not playing with customers money and time because here say goes along way. Learn to value your long term customers as well as new customers.

Dale W. Rothwell
from Kansas City, MO
While on an out of town trip for wife I went to get instructions from her. My cell phone gave me the message that I was not authorized to call that number. It keep that up tell I returned home and after wife was off work, my cell phone could call that number. That night went out to a sprint corp. store and since I did not have a problem they did not want to take any information on it. It seems like sprint being a high tech company if it trained it's people to at least to pursue information on their customer problems they could improve their services. So far this year I have only been given the impression sprint band cares about profits and not their customer's service. You have my email this is second time I tried to give sprint a heads up on their poor service.

Julie L. Crowley
from Jackson, MI
I called with a concern regarding my bill. The initial representative could not help and when they tried to transfer me to a supervisor I was disconnected. I called back asking again to speak to a supervisor only to be told by the representative that they were all busy and one would contact me in the next day or so as they have a 3-5 day window in which to contact and resolve customer concerns. This is unacceptable to me as a customer. I feel that I am entitled to good customer service at the very least and exceptional customer service at best. I have been a long-time Sprint customer and feel that should be appreciated. I have concerns about my bill and I feel that I had been misled and need it resolved immediately. I look forward to speaking to someone with the ability to answer my questions and resolve my problem.

Francisco Martinez
from San Diego, CA
I am a new customer and bought the iPhone 6s and went again the forth day still under my 14 days and made the exchange for the iPhone 6s PLUS, they order it for ma and everything was fine. When i went to pick it up they said I needed to pay an additional $200.00 for that phone, I have a family plan and they didn't charge my husband the $200.00, but they are charging me. The supervisor Michelle Montijo and the sales person Christopher De La Torre are worthless, they said they cant do anything about it.I am thinking of going back to Verizon, they are more expensive but they sure know how to take care of the customer.

Yvette Godoy
from Long Beach, CA
Had my service transferred 2 months ago into my sons name. On October 26, 2015 my son made a payment for $200.77 online, thinking it went to his account. a day or two later, his phone got disconnected, so he went into the sprint store and they told him the payment he made went towards my account. so they reversed the payment from my account into his account. He got his phone turned back on. on November 10, 2015 I got an email for a collection agency alert, it states I need to pay $200.77 within seven days. I called Sprint and spoke with a manager and he told me I would have to make that payment for my account, I told him, why should I have to pay twice. I asked if the funds could be reversed back into my account, and he said no that the funds have been taken out already. So if my son would of kept that payment made on my account, his phone would still be disconnected for non payment of $200.77. So what do you do. The manager would not even work with me on this, So im hoping someone can help me resolve this situation.( Just a note my son made a pymt prior to this one, and it went to his account.)

Katherine Ferguson
from Colorado Springs, CO
Have gone thru numerous reps concerning my daughters phone number. I have gone as hi as I can do know they can work with us but they keep telling me policy. There is a reason for payment history but no one listens as a matter of face I sent this same place as email no response. I hope someone contacts me this time, her phone is scheduled for shutoff and all we are asking can we pay on Friday by debit card. Please contact me asap, next step is higher up will not talk to rude Sprint customer service reps anymore.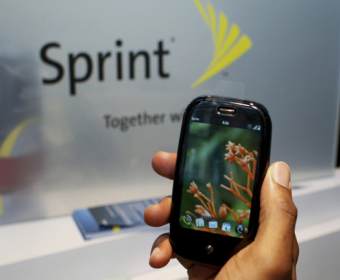 John Charleston
from Indianapolis, IN
On October 10, 2015 my iPhone 4 became inoperative (not able to receive calls nor call out). On October 12, 2015 the phone was examined by the Sprint Store technician ( #922) (8840 N. Michigan RD. STE 106, Indianapolis, IN.) who
was unable to resolve the problem. Instead of offering to replace my phone under the insurance contract which was in force (cost - $200 deductible), I was sold a Samsung Galaxy S6 on a 2-year contract (cost - $199 w / mail-in rebate). Also, I was not to be charged a $15 monthly device access charge but it is now appearing on the monthly bill. My request: Cancel the 2-year contract and file for I-Phone replacement under the insurance contract agreement. Apply the $213 paid for the Samsung phone to the $200 insurance deductible Also return the account to the terms which existed prior to Oct. 12, 2015.

Alejandro
from Chicago, IL
I sign a 2 years contract with a iPhone for life program but nobody told us that we had to pay 25 dollars more per month for the privilege of signing a 2 years contract with sprint. Can somebody in this company explain to me how anybody can actually signed. A contract like this one if nobody can actually explain what you actually getting before you get stock with paying something that you did not agreed to pay in the beginning.

Berhane Aberha
from Teaneck, NJ
Hello my name is Berhane Aberha and I am a customer of Sprint. I work as an Uber Driver and our company recently had a great deal for all Uber Drivers where we can upgrade our current phones for free with a 25% discount on our next payment. We have a family plan of 3 phones (the iphone 5c and two iphone 4s) and the three free phones offered was the iphone 6. I was definitely excited about this fantastic deal and was told once again that we would receive 25% off on our next payment. I usually pay $171 for three phones in the family and our next payment just came and now we have a total of $241. I was told precisely their would be changes in our upcoming payments and now it is like I am being lied to with a payment that high which I cannot afford. I ask for my payments to return to its original price.

Mary Ames
from Georgetown, OH
From what I have been reading I am not alone in my frustration with Sprint. I will be letting as many people as I can know that they should not choose Sprint as a carrier or switch when you can. Basically they lie to you and then it is your word against theirs. They won't go back and listen to the conversations that are supposed to be recorded, if they even are recorded at all. If I sound angry, I am. This company has free reign to lie and there is no support from corporate. We left Sprint once and came back, won't make that mistake again. Verizon is by far superior when it comes to customer service!

We have 5 lines with Sprint. I was charged for insurance on my sons phone for NY though We all Live in CA for over 14 mos. Every time I call to speak to a rep I get sent to either India, Philippines or anther region in world. As of yet they have not been able to stop the charge nor get the adjustments needed on my account. I filed a report with BBB last night and will stop making payment until someone in US calls. Horrible service.

Denise Williams
from Columbus, OH
I called in yesterday to the customer service line see what i needed to pay in order to restore service. I had my bank account hacked in last month and I called in to let the company know and see what options I had. The reps last month were very kind and understanding I was told to pay what I could until the banking and fraud was handled, but to call in and let spring know what was going on. Well yesterday when I called in both reps that I spoke with were very rude. The first rep told me me you need to pay 142.xx before we can do anything else for you and then hung up. I called back later after work and spoke to a second rep. He was just a rude. He said it is already noted on your account that you need to pay 142.xx before we can do anything unless you are making a payment nothing else can be done.
I said the reason I am calling is to verify that once i make the payment tomorrow that i will be able to make arrangements for the past due and service will be restored. i am not asking for my phone to be restored without payment I just want to verify that once payment is made that I can make arrangement. Hold so I can speak to my manger. I assume that he just placed the phone down because i heard him talking in the background laughing and saying this customer wants to make arrangements. i have been with Sprint for a very long time and the fact that you made me feel less of a person due to the fact that my bank account was hacked and I am having financial troubles trying to get everything cleared up. How dare you talk about a customer and they can hear you. This was a extreme turn off. I held my end of the deal and paid what I was asked for today, but know that I will be searching for a new provider once I get my account paid in full.

Tammie Thacker
from The Bronx, NY
On Wednesday, October 21, 2015, I called Sprint in reference to upgrading my galaxy 3 phone, and bringing on another line. I was told that it would be $75.00 down payment on a Samsung galaxy edge plus and $75.00 galaxy note 5. I was cool with the down payment amount but did not do the transaction on this date because I didn't have the account number for the phone number I wanted to port over. the customer care associate told me I just have to call back when I have the information. So, on Thursday October 22, 2015, I called and once again explained what I wanted to do. This time they told me the down payment would be $200 for the galaxy edge plus and $75.00 on the note 5, but didn't do the transaction because I didn't have my credit card. so, I called back later and once again the down payment price increased. this time it was $225.00 instead of the $ 200.
At this point, I made the transaction, paying $345.00. I ordered the above named phones, which was due for delivery to my job on today, October 28, 2015. But, on Friday night I received a confirmation e mail from sprint and noticed that part of the address was incorrect. Instead of saying 3525 Baychester Ave it read 3545 Baychester Ave. I called on Saturday, and informed them of the correct address. On today, I receive a e mail that the package was delivered and signed for. I didn't receive a package, so I went and tracked the package and it was delivered to Baltimore, Maryland. At this point I called Sprint around 1pm and it is now 5:31pm. when I say I am passed frustrated that is gently putting it!!!!! I have been told so many different stories that I am beyond confused. I am not happy at all! I have been told that the investigation can take eight business days, and to have the $345.00 put back in my account will take 7 to 10 business days. Neither one of theses scenarios help me, because I need my phones that I have already paid for.
I had nothing to do with the phones going to Baltimore, I know no one in Baltimore lived in NY all of my fifty years. I need my phones by Friday or my $345 back in my account by Friday so that I could go to a Sprint store and get my phones. I have never been so disappointed in my life on how I am being treated. I feel like sprint feels I had something to do with the phones going to Baltimore, even though all my records show a NY address!!!!!! Please I would like a resolution to this matter as soon as possible. I would also like a refund of $150 to bring my down payment amount back to $75.00 per phone for all of my pain and suffering.

Rosalina Rabot
from Pepeekeo, HI
Went to Sprint Store in Hilo Hawaii and had a vinyl put on my phone to protect my glass on my iPhone6S Plus and found a bubble there evidently they seen a nick and asked if I dropped my phone told them no how do I know how that Nick got there you put it on so told them told them I did not drop my new phone and I don't want it and they said there is nothing we can do what we can do is take 6:00 off I paid 36.00 and then they want me to also pay 29.00 towards a new one they are crazy dislike getting anything from Sprint Stores. I called Sprint told them my problem and they credited me 15.00 towards my bill thank you but why can't the store credit me and put it back in my credit card that sucks big time I am very disgruntled by that Sprint Store in Hilo Hawaii.

Ana Reyes
from Bellflower, CA
I bought a phone a couple months ago it is an iPhone 6 and I broke the screen a couple days ago. I tried to change it and see what I could do for them to fix it, but the people at Sprint told me that i had to log in to my Sprint account. I forgot the password to my account and the people told me that there was nothing i could do to change. I tried a various amount of passwords but i could still not remember it. I want to know if there is anything that I can do to change my password or find a different way to log in to my account.

Debra Fawley
from Ypsilanti, MI
Husband's phone was damaged. Took to Sprint for replacement, we had insurance. Worker said would cost $100 and take 3-4 weeks to get phone. Suggested he lease a phone for $5 a month. Asked how it worked if we changed carriers, and she said simply bring it back. We went to Verizon and just got a bill for over $700 saying we had a lease for the phone. We called ahead of time and asked what we needed to do with the phone and were told to bring it back. No mention that we would have to pay for the phone. We signed no contract for the phone. Now what?

Richard W. Hatcher
from Columbiana, AL
My I phone did an update today, after the update it would not call out nor could you call in. I had to drive 40 mile round trip for someone to reset the network and they had to do it 3 times before it worked. If your updates don't work don't send them out. When my wife's phone is paid for I'm gone.

Denny delpriore
from Atlanta, GA
I updated my phone to 9.0.2 version and now it's acting all jittery. For example: I go into recent calls and it starts face timing numbers on my call list randomly. I go into settings and it just starts going into everything without me even touching the screen. I thought it might be my cover messing with it so I completely took it off, even my screen protective layer/plastic so phone has nothing on screen but it still continues to randomly select items. I use my phone for work purposes so I need this addressed as soon as possible. Thanks!

foster
from Kerrville, TX
I got tire of paying full service fees for my flip phone. The framily before I got anyone on. was canceled. I asked for lower fees, then was billed for texts to exceed the full plan amount. I swithched, notifying them after 4 months of calling and finding added fees. Now they say I owe them over $70. on a $45 plus tax agreement after the phone number was already changed. Not. I am threatened with collectors. Thank God I have good credit, so it shouldn't effect me. The state attorney general, the Better business bureau, and the ftc will hear about it if they pursue the lose the customer and kick him attitude. I wanted to stay. Wow!

beth callery
from Blacklick, OH
I was with AT&T for 10yrs should have stayed there. Signed up with sprint in May, every month is different. I keep getting more & more. When I signed up they told me my bill would be $75.00 monthly HUH! Last bill $123.00. My phone broke 2 weeks ago they said I had no insurance on a leased phone. How does that happen. Then they couldn't print out my contact at the Steelyard Commons in Cleveland Ohio, because they don't have access to that. Really? They had no glass protectors for the Samsung edge so they ordered me one 2 wk they still don't have it It's on order. Every time I do business with this store they throw some cheap toy at me I have to buy to get what I need to have this phone working. Does anyone know who will buy out my 2 yr lease contract with them I have a leased Samsung 5 Edge. Also this store (Cleveland) always has at least 9 employees & they all ignore most people who walk in the door

Stacy Swanson
from Saint Paul, MN
I have called and they said I am up for an upgrade and get a new 5S at the Cottage Grove MN sprint store and they said I can call customer servicea nd get the free phone they don't have it in the store i call customer service and they said no I am very upset now I have to tell my son he can't get a phone and figure out something else and I would like someone to talk to the sprint store there and let them know they are giving out false information. I am very upset and it is not fair to havfe to tell my son now he can't get the phopne and now i have to pay for the expensive one. I am not happy with this result at all.

Alicia Evans
from Cordova, TN
Service has been horrible the last couple years. I've tried sticking with Sprint since I've been a customer for over 10 years, but every other week my calls are dropping, for some reason I may not even be able to make calls (the service will drop while I'm attempting to make a call), and family and friends will say they called me and the call never even came through on my end. Sometimes people will tell me they called me and the phone didn't ring on their end either. I am a Realtor so receiving calls is extremely important to me, as I need to get my clients calls and meet their needs.
Every time I call and make a complaint, its the same excuse about a tower being down in the area which is false because it doesn't matter where I am. I could be home, out of the city or state and the same thing happens. One time I called to make a complaint, one representative told me it was a tower by my home then they transferred me to another department and that representative told me it wasn't a tower.
So there's misinformation given or just things being made up. With all this being said, my contract is up in December and I don't think I can renew it. I just cant afford to miss important calls while PAYING $96.00 a month for this kind of service.

major erickson
from Lincoln, NE
Sprint Galaxy S4 wouldn't work. Took it to Sprint service center. They told us it had moisture damage and tried to sell me a new phone. I knew the phone hadn't been in any moisture so took it home, put on the charger and it works fine. Just needed charging. I am very unhappy about them telling me I needed to buy a new phone. What, do they get a commission? Just wanted to let you know.

Amanda Handy
from Watertown, NY
I've been a Sprint customer for 15 years and I have never been so unhappy with the company as I have been for the past two years. Every time I have to interact with them, whether on the phone or at the local kiosk, it has been a fiasco that leaves me frustrated, blood pressure up, and ready to walk away from Sprint. I get conflicting, incorrect information almost every single time. Now I'm having billing issues and can't get anyone to give me valid, correct information, let alone help me. The automated system to call in makes it more and more difficult to even get a live person, and when I do finally get someone, they are overseas and have not been properly trained and have no idea what they are doing. I'm just so done right now.

Wendy Mabry
from Stillwater, OK
I switched to sprint under the assumption that I could have service in my area I asked her more than once and she said yes both times and you can pull that call and have it verified. But after having no service not being able to face time with my grandchildren that live 14 hours away I called back and the guy tells me that I do not have coverage out here and that I would either have to have a sprint limited plan where I could paying off another Tower. I said that is not what I agreed to that is not what I signed up for I was supposed to have coverage half-price bill and my contract with AT&T paid. None of that has happened I was treated disrespectfully at the sprint store I was just treated very rudely on the phone trying to get to somebody that can help me with this situation.
But I was just told that since I didn't have service for 60 days that they're not liable so I asked him was I supposed to go without service for 60 days two months really? Well I have a problem with that I switch services under the assumption that I was getting one thing didn't get it and then have them up blame it all on me the customer so I have a problem and if anybody's got any backbone that's willing to stand up and take responsibility for this and willing to discuss it with me I would appreciate you giving me a call back. If not I will contact the Better Business Bureau or my lawyer or both or anybody else that will listen to me because this is not right and I'm not going away.

Kathleen Karpinski
from Palm Bay, FL
Customer service has gone downhill since they moved the service from Orland to India. The representatives are extremely hard to understand and you end up having to repeating answers to them multiple times before they understand what you are telling them. The calls take two to three times more time than when the calls were answered by representative in the United States. I needed to change ownership of a phone line and was unable to do it at a Sprint company store, which would have been easier than the week long adventure with Sprint customer service.
Why aren't the people who sell you the service and get your phone up and running able to do these other things? Doesn't seem cost efficient to have a person in a foreign country to do customer service. How many loyal, hard working Americans did you put out of a job by moving the customer service to India? This is my first complaint against Sprint and I have been a loyal customer for the past ten years.

Marilyn Hernandez
from Hoboken, NJ
I added a line and signed a new 2 year agreement for a free iPhone 4s. Every time I switch to a so-called lower plan like the family share plan which is suppose to be 100 per month plus all my fees ins and other the bill, was said to be no more than165. Now I got a text that I will be charged 25 extra because I got a discounted phone. How if that was the reason for signing another 2 year agreement. My bill has not been lower than 223 since I added another line in Aug.
I have tried many different plans and have been gaurenteed a lower bill but they always find a way to add fees and additional charges. I am at my wits end and am ready to terminate and let them take me to collections. I am to the point I don't care anymore

Hillary Brown
from Brooklyn, NY
I have been a customer since 2001 and I have given so much money to sprint and the service is no that good. I live in the NY area and work in Staten Island the service out her is bad. The plan that I have had for over five years has increased a lot. My bill was suppose to be 149.99 a month plus taxes and I can't even catch up with my extra charges when my phone gets cut off. I am at the end of the road with Sprint and I want out. I would really like a responds from Sprint.

Stephanie Rodrigues 857-212-1587
from Brighton, MA
I have been a customer of Sprint for 10+ years. I am being treated unfair and unexcuseable. My problem started about 2 months ago when I purchased 3 HTC M8 for 3 of my lines. The day I brought the phones home is the day my life has turned upside down.
I am not recieving phone calls, text or voicemails on any of my 3 lines. I have been in and out the Sprint store, called any times, spoken to many different reps, have 2 tickets put in and never once has anyone got back to me on those tickets.
I REFUSE to continuously explain my situation over and over again. When you review my acct please pay close attention to the notes and my phone calls I'm NOT receiving. This is a never ending issue and I'm fed up. I have not recieved any phone calls sine 4/30/15 today is 5/5/15. This entire situation is going no where fast.
Please contact me or I WILL DISCONNECT MY SERVICE! THIS IS BEYOND RIDICULOUS! I AM FED UP!! IF I DONT NOT HEAR FROM ANY ONE IN 24 HRS I WILL CANCEL.
I would say thank you but I have NOTHING to be thankful for, hopefully you can fix that.

Sherri Way
from Norcross, GA
My son went into the Sprint store to pay my bill and was approached by a sale associate about purchasing a tablet for 15 extra dollars a month. After the bill got very high, they sent a text message to my phone. When I spoke to my son, he told me, what was told to him. I sent him and my husband into the store to return the tablet.
At that time, they told them that I needed to be present. I didn't understand that because they gave it to him without my approval which is against their store policy. I have been with Sprint for 10 years. They have disconnected the phones lines and they are planning on sending it to collection which I will fight against. I am very disappointed with the way they have handle this issue. It has been going on for months now. Sprint is buying out contracts from customers that they don't know wether they will paid on time and here I am paying each month on time and this is how they treat me. The store is location in Georgia at Stonecrest Mall.

Shavon Innocent
from Brooklyn, NY
I opened a line at a sprint store in October, it was the promotion for the iPhone 6 where you pay 50 dollars monthly as you pay off your phone. Due to my credit, they made me pay a 250 dollar deposit to open the line. From day 1 the service was terrible and if you check the notes on my account you would see that I was always calling to have my phone trouble shot because the data hardly worked and all my calls would drop.
At one point, they told me there was a tower issue and things should get better but it never did. Sprint even gave me a credit to my account once because I was experiencing so many issues with the phone which was the only nice thing Sprint has ever done for me for the short time that I was a customer.
Not only did I have terrible service but Sprint also over-charged me several times on my bill. With my 50 dollar plan, my insurance, and my monthly payment for my phone, my bill was about 85 dollars a month, but I was charged over 100 dollars on about 3 different occasions.
When I called to ask about these charges they told me that I was charged for help maintaining my bill because I did not have a payment plan set up. I kindly let them know that it isn't right to charge people for "help" that they didn't ask for, and that I in fact did have a payment plan set up so what they were telling me didn't make any sense.
The following month or two, I was charged again, and I had to call again and the charge was removed again. I finally got fed up with dropped calls, terrible data and being over charged for it that I decided I wanted to cancel my service with Sprint altogether. I called and spoke with a customer care rep on two different occasions both of which told me that I would get my deposit back in a check in 6 to 8 weeks along with another check containing the negative balance on my account. I was so happy I quickly paid off my phone entirely and ported my number to T-Mobile.
I have called Sprint over 20 times to inquire about my deposit. They transfer me back and forth to different reps, they even made me make a trip back to the Sprint store where I bought my phone because a rep was telling me that I never even made a deposit on the account and that the only payment he was seeing in his system was the one I made for my phone.
Dealing with Sprint was very frustrating because it was like no one knows what they are talking about, every rep has something different to say, and now they are telling me that I forfeited that deposit when I cancelled my contract. I let the rep know that I never had a contract, and he informed me that I still would not be getting any money back. I am not sure if I was misinformed about getting the money back, but I really don't think its fair that you call people for help that are supposed to know what they are talking about, and they are giving you wrong information. It is also not fair that I was a good customer who paid my bill on time every month and this company would try to sneak extra payments on my bill that I didn't ask for. If there is anything anyone can do to help it would be appreciated.

Jason Knight
from Columbus, OH
I have never had a Sprint account, phone, or anything else. In March 2014, I had my debit card stolen. I contacted my bank to cancel the card. Before this could be done, the perpetrator opened a Sprint account in my name with ONLY THIS ID!
All address information and other personal information was falsified. They did not even have my driver's license and your organization didn't even check ID. I have received no mail even regarding this account and now I owe $1,500 for your company's negligence in allowing an account to be opened in my name with false signatures and improper ID.
In June 2014, Sprint called and alerted me to the issue, and I explained what occurred. You said it would be resolved. Now, in May 2015, you have sent it to collections.
I request the following:
1. The account be cleared of all charges.
2. My credit rating be restored.
3. The employee who approved the account be terminated (they are in on this scam).
You have 10 days to respond before a complaint is filed with the Attorney General's office. I will then ask for you to produce all copies of documents, identification records, and signature pages by which I will easily prove the account was made fraudulently and negligently, and whereby I will be requesting additional damages.
I have no account number because I have never received ANY mail about this account.

We have wi-fi through Sprint. For several years, we paid each month $62.69. I get a Sprint bill today for $562.69!! I called customer service and the past month our usage was 3x the usual, but we had no warnings about going over. The rep said she had to check with financing. They offer just $150 off, and the rep said she would try our supervisor. He gets on after 15 minutes. He tried to explain how I went over. I said our usage was 3x the usual but the charge was 8x the usual. He was really abrupt and really rude and said "That's not how it works". The total call with all the holding took 50 MINUTES!!

DONNA CONKLIN
from Burlington, IA
I have been a customer of Sprint for 13 years and never have I been more disappointed with them than I am now. In November, I got 4 new phones and was supposed to receive a $15 loyalty credit every month for 2 years. Every time I receive my bill I have to call and get those credits added to my bill. I keep getting reassured that I won't have to call again, but I still am. Can someone please take of this the right way so I don't keep getting stressed out when I get my bill? I hate to say it, but I really am looking into going to another phone company once this plan is up. sorry...

Deborah Whatley
from Arlington, TX
Have been a good customer for about 10 years and keep saying I am leaving. Have been treated rudely at a store several times and on phone more.. Went in very ill when on chemotherapy and a very rude associate basically told me my situation was nothing as he had to leave Sprint to good work at this Dads ranch. Ok...I was fighting for my life, Went in to ask what I could do another time as my battery on iPhone 5 wasn't staying charged. Told them I was waiting a couple of weeks for the new iPhone 6. The associate told me I would be waiting a long time as they didn't even have specs yet. Two weeks later they came out. There is so much. I have been trying get on family plan for years and was told I could not?? I have my son and I both on plan. Finally after all these years I got serious and told Spring I was through. They put me on a plan and said I wouldn't owe for 2 months. Not true. I paid. Better than paying almost $200.00 every month but I have been lied to so much and treated rudely and will not sign another contract with Sprint just as many of my friends are not. Sprint does not care about anything but money. 10 years of lies. The only good thing about Sprint is one manager that used to be at the Grand Prairie store. He was exceptional. The last supervisor I spoke to was so rude so he did it for me and he lied, also. Sprint truly needs to learn what real customer service is. This good customer is through.

Ruth Rieder
from Lee's Summit, MO
I am supposed to be charged $151.00 per month. I have called about this twice, both times I was told that I would get a bill for a higher amount, but not to worry about this, on the first of the month the bill would be $151.00. The first month the bill did change to $151.00, now this month it did not . The last time I talked to the lady at Sprint and told her I did not want to have to call every month, she said don't worry, I would not have to. I am a senior and living on a fixed income, my next step will be to contact AARP and the local paper, for senior abuse, I am tired of trying to fix this every month.

I double checked with store to see if they would assist in installing my screen protector which is still under warranty. They instructed me to order it and bring it in. I bought it in and Justin the sales rep that helped me was no longer employed there. The store manager said they never had a Justin working at store (big lie cause I spoke with Justin twice). They said they would not help me and not obligated to....which is fine...but why would they instruct me to order the replacement and bring it in is what I don't understand. Everyone at the store was rude!!!! No customer service at this location. They are not to be trusted. Everyone just be careful!!!

Antonia lhomme
from New York, NY
I keep getting over charged on my phone bill and I am not even receiving the bills! I cannot access my account online either. The agents are keeping me on hold for a supervisor or the calls "drop" meaning that I am not able to talk to anyone! My phone is constantly disconnected and I have to keep it on the charger to reconnect. I am so sick of Spring and there awful service that I want to terminate my service immediately! I am done with this hassle.

Tony Mitchell
from Aurora, CO
I called Sprint customer service March 1,2015 to have my 2 phone changed over to the new program for $60 each phone, which included unlimited text, long distance, etc. I have called twice to have the service switch and it has still not taken place. Both Supervisors assure me it will be taken care of and my home phone service will be terminated but its still on. I should only have 2 cell phones and a tablet to be making payment on.

Nisa Stewart
from Homewood, IL
I purchased a speaker from the Homewood Illinois Sprint store and I went to return it they told be they could not give me cash back because of the amount even though I paid in cash. I accepted the fact they couldn't give me my refund back in cash and that I had to wait 3-5 business days for the refund. It is now almost 4 weeks later and have yet to receive the refund. I contacted the store on 2 different occasions and both times the Store Manager wasn't in to speak to me and handle the situation. I called customer service 3 times and they also told me they would have the manager contact me to resolve the issue and that they would call me to make sure the issue was resolved and they never did. I find myself going back and forth for a refund that is due to me! It's bad enough I made my purchase in cash and they are making me wait for a check but it has been almost 4 weeks and I haven't received anything. Considering my service isn't important to Sprint at this point I will be canceling my 4 lines I have with them soon as I can get a day off to switch over to another carrier considering the other carriers are now paying for your cancellation fee!!!

Lynne Strunk
from Tacoma, WA
I had sprint phone contract from 12/22/14 to 12/29/14 from BEST BUY. Returned it to BEST BUY and received return slip. BEST BUY called sprint to make sure contract was cancelled and how much. sprint rep. said 'No Charge' since only 7 days of the 14 day 'FREE TRIAL' period was used. Called sprint first week of Jan 2015. There rep said show return slip from BEST BUY to local sprint store manager. I did, He called his Boss, who agreed no money was owed. Mar 10 2015, collection notice from ALLIEDInterstate. I owe $76.55 for trial period or credit would be adversely affected! Paid money to keep good credit. This is my Husbands email. sprint wants regular payments on closed account 552714756! Impossible so far to contact sprint where they don't just hangup on Me! I am NOT paying another dime. Please cease and desist your Harassment !payment is due on 4/18/15. I guess I go to court if necessary?

Veronica Rushing
from Lewisville, TX
Friday, April 10th, 2015 I went into the Lewisville, Texas store, (360 E Roundgrove) and requested to have my Iphone 5 upgraded to the 6. I was informed that, that option was not available until April 2016. This is where the complaint comes in, I was told when I first purchased this phone in April 2014, that with paying for the phone monthly, I could upgrade yearly. I also was informed in November when I went into the store and called the customer service number to get information about getting the phone repaired that I would not be able to upgrade the phone until April 2015. So why was I advised on April 10, 2015, that i couldn't upgrade at the time?
I received exceptional customer service in the store from Paul Urteaga. This young man didn't want to see me upset or leave the store in this manner, knowing that I could drive down the street and become a new customer of AT&T's in a flash. Paul went the extra mile to try and push the upgrade by contacting customer service on the toll free number. However, I got a young man by the name of Andrew who didn't care that I have been a loyal customer of Sprint's since 2010 and has questioned my bill being at 270.00 or 240.00 on a monthly basis several times but still remained a customer when several phone carriers state you can get 4 lines for a hundred dollars. My calls drop, and recently I have noticed that my text messages on Sunday won't come through until Monday, but I bit my lip and continued with Sprint. The last of my patience occurred Friday. Apparently, this 2 year upgrade was a recent change by Sprint, it had to take place from the last time I spoke with the company in November because all the representatives and the computers was under the impression that I could upgrade in April of 2015. Why wasn't I informed of this change? Why am I penalized by the change when it was a Corporate decision and I was informed of something else when I signed for my Iphone in April 2014? Andrew provided poor customer service and didn't care that he should try to talk to his supervisor to grant the upgrade. Feel free to pull the call and hear how he provided little empathy for my situation. Luckily, Paul informed me that I will need to pay extra monthly to get a yearly upgrade on my phones however I hope when I do visit the store in a year, I won't be informed something else because of a Corporate decision. Although, I doubt in a year, I will be looking forward to staying with Sprint. It seems as if loyal customers mean nothing to this company, heck new customers get their bills cut in half but mine steady increase. Does that make any sense?

Louis Saporito Jr
from Nutley, NJ
My speaker when held to my ear was hardly audible. Think they referred to it as the ear piece. I have insurance and took it to Sprint corporate store in Totowa NJ. Lead rep looked at it and said he noted corrosion in charging port so I would need to upgrade or pay $150 to assurion for damage claim. Nothing wrong when charging phone or connecting it to computer. Never dropped in water and the issue is the speaker not working on top of phone. He wanted me to upgrade. Poor poor service and this is why. I went to the dealer I bought phone from who said they get a lot of complaints about the Totowa NJ store service and I should try the Union NJ store.
I went to the Corporate store in Union NJ on Rt22. where lead tech rep Victor Cancellieri Look at the phone. Said nothing about corrosion and he did not note any butalso said he could not provide new phone w/o deductable because my phone has a very small crack in screen (yep been there like a year). He however took the time to open phone and check out speaker which was simply clogged inside (dirty). He cleaned it out and it works very good again.
He did a good job where as Totowa can't be bothered I guess with service and made me want to switch back to my old carrier Verizon or try one of the others. Poor service matters. Oh it is a 2plus yr old Galaxy 3. I have 3 of them and and I phone 5 on the plan. If I had to deal with Totowa I'd switch carriers. Victors help saved Sprint a customer as I felt like I was not helped and mislead in Totowa. I could tell they just wanted to get me to upgrade.

Catherine Motley-Watts
from Columbia, SC
My daughter was due for an upgrade on her phone, she went into the local Sprint store in our area, she was pushed into getting an Ipad, that she did not want or need. The sales person, told her that her service would not go up and no charges for activating, she got the phone she wanted and was pushed into what was suppose to be a great promotion. The bill has almost doubled and I have spoke with customer service, 3 times at length regarding this matter. You can have the Ipad back and change my plan back as it was. I have always gotten good service from Sprint, but this is wrong, the salesclerk, she lied and should not be so pushy. I spoke with a rep this afternoon, and she said there was not way she could get someone in management to call me, I ask to speak with a supervisor and she put me on hold and left me for over 5 minutes and then I hung up. I would appreciate a telephone call from someone in mgmt as soon as possible, so I can get this matter resolved. We don't and didn't want the Ipad. Please send me an email to confirm that you have received this email.

James Warren
from Norcross, GA
I am having a similar problem to what it looks like everyone else is having. I purchased three phones in November 2014. After having the phones for 4 BUSINESS DAYS I returned the phones. I paid the stocking fees at that time. I paid the usage charges at that time. I was told by the manager at the store in buford ga that my account was paid in full...... In Feb-2015 I was contacted by a collection agency telling me I owed $2800. The branch I returned the phones to did not credit the phones that I turned in to my account. So at that time I returned to the store talked to the same manager that had assured me that everything was taken care of....He apologized and said he would take care of it. Then comes march. I received another bill for $345. I called and talked to customer service and ended up paying $170 for a bill that he couldn't even explain. Honestly I just wanted to pay it so I wouldn't have to deal with SPRINT ever again. So I was told at that time my account was taken care of. Well its march. Imagine, I get another bill. This time its for $280 dollars. I called again and of course customer service told me I owe this bill. I have asked for a bill to be sent to my home address that breaks down all my charges and what exactly the charges are for. I would like someone to contact me from sprint that can actually help me resolve these issues. I would hope that this can be resolved without me having to move forward with an attorney.

Heather
from Cumberland, RI
I'm writing to you to ask for your help. I have been in contact with service regarding this issue over the last 6 months or so. My 13 year old daughter was diagnosed with Leukemia (ALL) last May. She received a bone marrow transplant at the end of October. In December, her stomach lining tore due to her excessive vomiting which required surgery and recently, she won a battle with pneumonia which almost killed her. I have a full time job as a teacher but have had to take a great deal of time out of work. I've run out of sick days so any time I take out of work is without pay. Our cell phones have been our lifeline and I have been doing my best to pay as much as I can when I can. As of yesterday, I was told that our phones will be shut off tomorrow if I don't pay at least $158.00. Between my daughter's medical expenses, not getting paid for time that she is in the hospital, trying to prevent us from being homeless, keeping at least a little bit of food in the house and trying my best to keep her twin brother from crumbling from the terror that he might actually lose his best friend, I simply don't have the money. I am not asking for a hand out, I'm just asking for some help, just a little time. I reduced our plan to as little as possible and it has still been a struggle. In fact, I reduced our plan so much that as of yesterday, we went over our shared data. I couldn't change my plan because of the past due. I have been a customer with Sprint for 5 years and its only been within the last 6 months that I have struggled to pay my bill. I tried to borrow the money but everyone I know has given so much to help with my daughter's treatment, there is nothing left. I am out of options and this is my last ditch effort. Based on the comments I've read online and through personal experience, I'm not really expecting anyone to read or respond to this but I have to at least try. At least I know I've tried everything I could. Thank you for your time and attention.

Charged credit card $589.32 for an $98.22 bill. When informed of their error customer service agents Justin Y, John S, and Tyler, were unhelpful and resentful. Terrible customer service experienced at Highland, MI store 536. Perhaps if they spent less time playing on their personal cell phones they may have been able to attend to the customer needs of the store. Would have given a zero rating if possible.

Jesse perez
from Edmond, OK
Every time I need help I call sprint. Sprint always put you on hold for 2 to 3 mins and then they give you the wrong answer. The sprint stores and the call center are not in the same page and they couldn't lower my and you get no help. I can't even get my breakdown on my final. That why move to t mobile cause they are a better company. I will tell everybody that sprints sucks!

Steven Tolbert
from Atlanta, GA
purchased new phone and insurance from and through Best Buy. Upon activation, we asked Sprint to make sure old insurance plan for old device was cancelled. It was 6 months later when I discovered they'd continued to charge me the insurance premium for the old device no longer in use. I offered to show them receipts from Best Buy for phone and insurance. They said it was my faulty that i didn't catch it sooner. Isn't "Theft By Taking" still a crime in this country?

miguel ruiz
from Garden Grove, CA
on 4-3-15 me and my wife went to the sprint store to take her phone that was not working. this was the 3 time taking the phone to them and every time it was not fixed properly. by the time i took the phone in the screen was pitch black. the technician said it was possible water damage, i told him how can this be if none of the sensor where showing water damage. the phone was never splashed or dipped in water. the next day i went to get a second opinion at a different store and the store manager ex technician said it was a bad screen. he sent us back to the same store were the other tech said it was water damage. when we arrived and were helped by the tech he was already mad that we went to get a second opinion. he was very unprofessional in front of the store manager. he wouldn't let me talk and i had to tell him to be quiet. he then refused to help me and asked me in a daring way to repeat what i said.
i told him he was unprofessional and had a big mouth. he was moving in a way were it looked like he wanted to fight me. finally the store manager made him open the phone again and he didn't point out water damage until the tech said there it was. i asked him to show me the sensors that show water damage and he said there weren't any. so i asked hoe did he just assumed all this since he couldnt prove water damage. he basically said his word against mine. i cant believe he can just do this to people . we have a family plan and pay almost $700 a month. what hurts even more is to have to pay damages on a phone when it had un fixed issues and they were not fixed until the screen gave out and they just said water damage. what an easy way to solve a problem. this tech was even being respectful to my wife in my presence. i have never experienced this poor customer service with someone acting like they want to fight you. i need to report this to BBB if i cannot get this issue resolved.

Dayana
from Hallandale, FL
I was offered a tablet, I agreed to take the offer. I explained to the rep that I was getting the tablet for my daughter to add the data block on the tablet to prevent her from going over the data usage. She assured me that she set everything up. Unfortunately after a month, the tablet that was supposed to be $15/m turned out to be $175, when I called customer care they advise me to take the tablet back to the store that I purchased it from . When I returned to the store I was shocked at the way the rep treated me, she told me that my daughter removed the block that she had on their, mind you my child is 7. From then on every month it's a different issue with my bill, they charged me $200 early termination fee when I didn't even terminate any service with them. I can't wait for my contract to be over with so I could part my ways with sprint. ANGRY AND UNHAPPY CUSTOMER!

Eugenia Combs
from Quincy, FL
I have been with your company for three years (more or less); however, I do have a history of making payment arrangement frequently. I do make the payment arrangement as agreed. My barrier(s), I called Thursday as agreed to give a different card number in order to draft the payment I agreed to pay(documentation); however, Tkeyah didn't change the card number, and the money was drafted from the wrong account ( My son's account). This is not acceptable (caused problems for my son's bank- bills). The representatives don't take note correctly and cause problems for me (customer). The information you give the representatives is recorded wrong and makes the customer seem as though the customer is wrong because of bad documentation on their end. Therefore, if the information is recorded- why the information cannot be pulled up in order to see who is wrong the customer or your representatives (constantly requested to view the recordings)? The representatives' notes are recorded wrong frequently. Also, I requested my son card number to be taken off the record.

Michelle Mullins
from Charter Township of Clinton, MI
Been a Sprint customer for over 6 years. Service and customer care getting worse by the year. Now they are saying I owe money when I don't! Do they think we are all idiots??

Thomas Davis Jr
from Saratoga, CA
Well I have been a sprint customer since 2011 first evo 4g came out promosed 4g since 2011 still dont have it paid 10 a month ftom may 2011 to 2013 for 4g servicre I still dont have get lied to from store reps saying there upgrading the towers it dont take no f 5 years to upgrade towers then told last oct 2013 went to buy my contract out Store in Roanoke at Valley view said by jan 2014 then jan came said they had problems be here begin of march 2014 went back promised it would be here end of march 2014 k went back spril 15 2014 it be here no then said begin of summer 2014 no called a manager st the 1888 number he said be here by end of summer still nothing then said beging of jan 2015 called back sad there working details out with ntelos and they digned an agreement in may finally called a woman and she looked it up and told me sprint doesnt have any plans to bring 4g to southwest va anytime soon so i got 4g phones for nothing dropped calls internet cuts out and no 4g lte in sight bunch of broken promises lies and terrible liars at the store there advertising 4g in my area to new customers saying there working on it but dont except 4g in my area anytime soon.

Dorothy Brooks
from Tacoma, WA
I am so disappointed with you Sprint. I've been with you for over 12 years. Last year, we purchased two new phone (Samsung Galaxys). One week after my husband had his, he dropped it and the screen broke. We had to file an insurance claim, and what was shipped to us with a refurbished phone. I was not happy. I went through multiple phone calls and was give a $300 credit - not happy with that one either. the bills are increasing, increasing, increasing. We have dropped calls all the times, no reception, and my phone freezes all the time and I have to remove the battery and let it cool. Now, my husband dropped his WATERPROOF phone in the water for less than 20 second and now it doesn't work. He went to Sprint (Silverdale WA) and talked to the salesperson. The salesperson said he had to put in a claim, Brian said he didn't want to. The salesman called the insurance company, handed Brian the phone and walked away. The person on the phone was talking so fast that Brian couldn't understand her. Brian called the salesman back over, gave him the phone and said "I can't understand her". The salesman took the phone, hung up on the person and said he couldn't help him.
Brian had an iphone that we previously had before we brought new phone. He asked if he could get this activated in place of his other phone. The salesman said unless you know the iphone password. Brian said he didn't. The salesman said "Well, then I can't help you" and walked away. I HATE, HATE my Samsung phones (which I am still paying on) and REFURBISHED phone didn't pass the dropped in the water test and failed AGAIN. I can't get anywhere. The instore personnel say don't call the 800 number because they are stupid and don't know what they are doing, the 800 number personnel say don't go the store, they can't help you. I AM AT MY WIT'S END. I WANT MY ACCOUNT CLOSED without any recussions OR I want this problem taking care of. This is ridiculous. After my contact expires - if I don't walk away from it first - I will never, ever, ever do business with you again!!

I ask if you rec'd my complaint & what i got was a message informing me that i will get information in my email. Dont know if someone didnt understand my dilema or what but i cannot access my email. NOW WHAT?

My cell number cannot receive calls. I call and the receiving party they cannot hear me. They call me and I cannot hear them. I entered into this contract for two cell phones (Costco store in San Juan Capistrano). The other cell phone is fine. I took the phone to your Aliso Viejo store (Appt. GFQL76C3) and they were of no help. Send me a new cell phone and I will return the defective phone.

On or about March 11, 2015 I made a payment in the total amount of $494.00 at that time a payment arrangement was made for March 27, 2015, however I explained to the rep that was not feasible for me so I was told to call on that date and the payment arrangement would be change with no problem and that the rep will make those notes on my account. I called on March 27, 2015 and was on the phone with a very nasty disrespectful Supervisor name Jeffrey. In that regard, watever notes he placed on my account or comments he put on my account now my services have been interrupted and they will not reset my payment arrangement. Disgusted with Sprint, I have been with them for over 10 years and to be handle in this matter is the reasons why they are loosing loyal customers.

Kathleen Christensen
from La Habra, CA
One star is too generous. This is what I believe to be true as of today after reading a pre-formatted corporate letter (that policy requires). You have obviously chosen not to accept payment transactions by mail. Why --- to many bounced checks in collections, it allows you to automate more service, or cut back on number of employees, or oh yeah maybe AND IT IS A BIG MAYBE improve customer service. Online and by phone have been options for some time for many companies and utilities, not just yours. But if you are going to stop mail transactions you should plan for that, notify your mail customers at least, provide a transitions period. I am not going to bore you with a long tale about my customer service representative or corporate letter speak experience. Short Story: I mailed in my payment (your preprinted return addressed invoice with return envelope) and in two weeks it came back undeliverable and not able to be forwarded.
Your phone reps were clueless regarding mail service, P.O. Box pick up but were experts when it came to online or phone payment, "you don't have to re-mail it you can pay now over the phone." I re-mailed, they I think assured me someone would pick up the mail or did they now I am not to sure that they just agree to get me off the phone. Oh your corporate letter that followed that conversation (policy after all) did not address my issue but did suggest that I could make all future payments online or by phone and even provided instructions for setting up an account and of course they told me when my next payment was due and how much it was (I guess it served as an invoice since payment is due in less than a week and I haven't received a statement via the mail.
Sprint, I just don't trust you anymore. You need to review your Mission Statement (if you have one) and see of the words "transparency, honesty, reliability are mentioned in or around customer service. Excellent customer service is trumps quality product. There is a lot of quality product around these days and unfortunately not as much excellent service. You won't be trumping quality product anytime soon with me. Bye, Bye Sprint, I be moving on down the road.

Nathan Harris
from Norman, OK
I just lost my father and i have paid my bill off and my current bill was due on 3/24/2015 its only 03/26/2015 and i told my services will be shut off i don't understand how this is legal and my bill hasn't even made it to my home in the mail yet? All the reps are rude uneducated and cant speak correct English i want all conversations recorded pulled or i will cancel both lines and go back to Att.

Michael D Miligi
from Boise, ID
I signed up for sprint from at&t I had the service for five days and where I live we had no service we couldn't use the phones we talked to sprint and they verified we had no service and were sent a return kit and the phones were returned and I was told I owed sprint nothing now sprint has turned the account over to a collection agency if you don't resolve this problem I will hire an attorney and sue sprint this is totally crazy on sprints part and my credit has been damaged for no reason other then sprint tells it's customer one thing then turns around and put a collection agency on them.

This is probably an issue that's heavy this month for Sprint, as anyone who was eligible for an upgrade on 3/1 saw their upgrade vanish... Sprint tack on another 4 months to our upgrade dates. After reading multiple forums, it is an issue that Sprint (or at least some of Sprint) is aware of. There are even multiple posts of Sprintcare (some through private message, some through phone conversations) taking care of this situation and reverting the date back to 3/1.
This leads to my situation. I went to Best Buy with the assumption that I'd be upgrading both of my line of service, but when they check my eligibility it says 7/1. That didn't sound right (the mobile guys I work with told me 3/1 a few weeks ago) so I asked them if something changed with Sprint... but they're Best Buy employees and had no idea what I was talking about and I left feeling like an idiot... as if somehow, I didn't know what I was talking about... that I had wasted their time. Knowing that something was up, I hit Google to find many posts with people having the same problem. I took some of the advice on the forums and contacted Sprintcare with a phone call. After speaking with Dennis for 30 minutes, which is quick, I think, for a phone call as such, he said that he spoke with a supervisor and that my upgrade eligibility would be returned and that I could return to the store and upgrade the lines the following day. Basically, the upgrade would be updated at the end of his and his supervisor's shift... "It'll be ready for you to buy phones at the store tomorrow". Sweet!... I thought.
So today, I return to Best Buy after work and immediately have them check my eligibility... again, the same thing, "July 2015 (add multiple sales pitches)". So now I'm getting ******, First, because I was just screwed over by Sprint, and second, because Best Buy wasn't any help either. "Sometimes they'll offer an upgrade and it'll only be good at Sprint stores." Sprint promised something and didn't follow through. So from here, I decide to go to a Sprint store and see what's going on there. Funny enough, Sprint's retail stores said the same thing that Best Buy did, except this time that Sprintcare was a different department and that I should try calling them again. The second thing to **** me off (as if the situation isn't trying in itself) is that he could see the notes that were written by Dennis and approved by his supervisor. INTERESTING, Sprint is two separate entities, possibly three... Store, Phones, and Online... all of them telling you different things.
I decide to call them up again and had to wait an hour after telling the lady (honestly, I didn't care for her name) to talk to a supervisor. I told her about my issue that's snowballing only to hear her offer me the same services that I'm already eligible for... as if they were some kind of peace offering. Again, after waiting an hour I talked to Matt I759823160 (they don't give out last names, so it's supposedly his Sprint ID and I wanted this to be traceable) who was little help. Talking to three associates on the phone and one in the store, it's obvious that NOBODY at Sprint is on the same page. I can see the conversations of people who are having the same issue resolved quickly online, and he tells me that he'll forward the request... and that I'll hear back in 24-48 hours. This obviously wasn't going to work so I pressed the issue. He then said that he'll personally get back to me within 24 hours (I've read about the failures of this in forums too). He couldn't do anything, so I told him that I'm taking it to social media.
Bottom Line: This is UNACCEPTABLE! I've been loyal to Sprint for 6 years and this is how I'm treated, with changing upgrade dates and store and phone associates that don't know anything and could care less about really helping out. Now it's time to hit up Twitter and Facebook. All of my professional recommendations (I work IT and electronic retail) are going to be in avoidance of Sprint. Be warned, Sprint is going downhill fast.
Threads with same issue:
1) https://community.sprint.com/baw/thread/185921
2) https://community.sprint.com/baw/thread/186819

It is unfortunate that the unprofessionalism of Sprint Representatives, Sprint Escalated Managers to Corporate Personal are to paying customers. I was with Sprint for five years when they were called Nextel and did a port over to Verizon in which I returned to Spring January 21, 2012. I am mortified and utterly disturbed since day one. Not only was I disrespected by Darsheen's direct Supervisor in Corporate, but she continued to lack professionalism by not allowing me to talk, interrupting my complete thoughts, talking over my voice and not thoroughly listening to the situation at hand. I have been paying for services that "do not work part of the time" while paying on time via auto-pay since 2012 with a 12% dropped call rate. Sprint Representatives, Escalated Managers, and Corporate Personel have "all spoken with a demeaningful tone" and some calls I chose to deescalate by hanging up while other calls I have chosen to stick up for myself. Moreso, the consumers, are the responsible contributors that allow Sprint employees to have a job in the first place. I highly recommend that you review the call that took place by Darsheen's supervisor in Corporate. Listen to the sarcastic, disrespectful and unprofessional tone that she took up with me. Not only that, I "Do Not Appreciate" the threatening letter with false accusations made against me from Darsheen's supervisor in Corporate. I'm glad my co-worker was present, she walked in and heard our entire conversation and stated "that is exactly why my family and left Sprint" More importantly, I highly recommend you review all calls from day one so that you can see how I was and currently being treated. I've experienced a representative using profanity towards me, my face was burned by the iphone4, and another representative stated, "I hope your face is still beautiful", to Sprint overseas representatives stating that I was not allowed to request to speak with a US representative. I want to talk with someone in corporate other than Darsheen's supervisor who continues to make false accusations. There is absolutely no reason for me to falsify my statements as I take notes on every conversation. I have never in my life complained about a service that I am paying for that does not work let alone bring to Sprint's attention what was stated. Not everything that is notated in one's account is the truth. (To say that I call and harass Sprint's representatives is a strong allegation made by Darsheen's supervisor and I look forward to speaking the CEO of Sprint). As for Darsheen's supervisor, stop sending me threating letters via USPS make false accusations and also making (Threats) saying that you will cancel services. What would you cancel my services for? Asking questions about my account and telling the truth? Or for asking you to stop disrespectfully speaking to me? It was honestly embarrassing for my coworker to hear you talk to me as such.

Susan Williamson
from Marion, SC
Disgusted Sickened Customer ~ PLEASE HEAR ME and HELP
As of Friday, April 12, 2019, I received I called from Sprint 1-800-639-6111 about my formal complaint. After telling my unprofessional services received at Sprint Store, Florence SC on Wednesday, April 10, 2019 requesting my old phone back after updated/trade in getting a new phone. On that same day going to Batteries Bulbs, Florence SC to purchase a battery to transfer my information, I purchased a battery charger instead. Within an hour returning to Sprint, Florence, SC, gave the salesperson the charger to charge the battery of my old phone and stating I would like to get my old phone back due to all my information/texts on it. The salesperson told the store supervisor and she stated "NO" and get her orange and banana and left the store. I waited for the charger to charger the battery and once it was 12%, the salesperson transferred my # contacts and I continued asked another salesperson to receive my old phone back the SAME DAY. The gentleman gave the request to another salesperson. This salesperson got on the phone to call customer services, she said she couldn't do it she had to call customer service. My husband stated don't follow them up just call customer services myself. I stated to the salesperson who had my trade in to keep my phone there at her work station. I called (*2) Customer Services and told my disgusted and how I was treated. The Customer Rep handled the problem very professionally, apologized for THEIR serviced toward me, putted me on hold several times as he checked, told me to return to the store tomorrow (Thursday, April 11, 2019) only asked for the Store Manager and they would give me my old phone back. My husband (Retired Veteran) went back to the Sprint Store in Florence on Thursday and the manager told his NO he would NOT be getting that phone back. I called *2 Customer Services on Thursday afternoon again within 24 hours, stated my issue again. I talked with Don for Charette, NC and Customer Service Rep using an ~ 800 number. Again, received different information, However the 800 number was very helpful. Afterward, I went online and filed my complaint, did received a response for Marcelo Claure, Chairman. NOW, today, Friday, April 12, 2019, I talked with a young lady (1-800-639-6111), she was very helpful and understandable for my hurt feeling less than a valuable paying customer. She listened and like all the other customer service rep called the Florence Store. She returned my called and informed me that my phone was sent to the warehouse this morning (Friday). I did become very upset and I used profanity, due to my ongoing request from me since Wednesday and to hear Friday's morning my old phone and my feeling went to trash, WOW Sprint. Again, I need my OLD LG Phone, please get it back to me, Dr. Susan Williamson. PLEASE SHOW YOU CARE ABOUT YOUR CUSTOMER 100%. I am totally lost for words; I only can say WHY?

The absolute trash of all trashy companies and customer service. I have spent hours and hours trying to get them to give me the port in credits they promised and other credits as well. I have been mysteriously "disconnected" multiple times and my phones restricted when I have an "unused credit" that's greater than my balance due. I hate these scum bags!!!!!!!

You have three lines on your account, why is it you call to make a payment and they never add the taxes and fees, they don't even think of splitting it amongst the 3 lines they expect you to tell them and before you know it you have $180 in taxes and fees you owe. I'm sorry but isn't that customer service job, to help and guide the customer. Nope they don't! And when you call the amount is always different from the automated teller. Get it straight sprint your customer service sucks! It's starting to feel like a rip off!!

Leonard J Murphy
from Merrimack, NH
I have had the worst experience in my life with Sprint I have had cell phones since they weighed 30 pounds and you carry them in a bag over your shoulder I have never ever been deceived or treated the way I was treated in December and in January I went into a store in New Hampshire Merrimack New Hampshire dealt with Louis and I can't remember the other guy's name real tall guy for it started with a v but anyway we talked about what I was looking for now I had had service forever like I said I told him how much I was looking to pay per month and they led me into a deal told me that the phones were free told me that it would be so much per month and it matched what I was looking for and I walked away happy until about two weeks later when I got the bill so I go down to the store where I bought it and there's two people there the place looks pretty bearing and I talked to them about the bill I said we need to get this straightened out and they just gave me a bunch of crap about all this some credits and haven't been applied and blah blah so I said okay I'll be back in a couple days we got to straighten this out I go back in a couple days they are packing the place up there is nothing left I talked to Luis and somebody he was packing the place up with they should all we'll take care of this you'll hear from us by next week so that stores closed now so a week goes by I haven't heard from anyone so I try to contact Lewis that was useless the other kid got fired which I found out through my own sauces and I tried calling customer service to get things straightened out well contact and customer service with this company they shouldn't even call the customer service they should call it answering service cuz that's all it is and all they do is go over a script that they're handed and you get no results you never hear from anybody I am just completely disgusted with my experience I was deceived I think Dave I was supposed to get a free TV I went to register for it it had already been registered for there was some major deception going on and I'm disgusted with this company and it just keeps going on and on and on it is the worst experience I've ever had in my life and I'm 58 years old

Allison Barrett
from Martinsburg, WV
I have been a customer since 2009. I am going through a hardship and called the cancellation. Department to see if anyone could hell me and two supervisors would not help me with my bill. They said there was nothing they could do. I have always paid my Bill's or have called to set up a pay extension. I am struggling right now and have been honest and they told the representative I was speaking to there was no help to be given to me. I am so upset and I will be looking to move my service to another carrier. Very disappointing since I have been loyal since 2009.

Steven Hanson
from Cheyenne, WY
The sales girl, Rose, told me 28.50 a month, and $120 for the phone.
Not true! The truth is, 94.00 a month! That includes $55 a month to 'lease' the phone for a year, then I may purchase it for $120.
Your supervisor told me even if I cancel the service, I'm still liable for the $55 a month lease which she says I signed by voice agreement. We can go to court, you can play your recording of the transaction, and I'll play mine.
I'm interested in this as a case ' at law '.
Let me know when our attorneys can talk.

My service was suspended although it hasn't been an entire month since the last payment of 229. I called to see what was wrong since I hadn't received any notification via text that my service was in danger of being suspended. I just got a new number in January and the guy said they were sending the notification to my old number. He argued that the number still shows active yet I don't have any device that has that as a number. I'm being demanded to pay 25% of 267 but I informed them that I don't get paid until the 15th and since I had no clue this was going to happen can they just let me set up the arrangement without paying the 66 dollars. I was simply ignored and reminded again that I had to pay it. I won't be with this company much longer. The service is as bad as the customer service. Why is my phone service being suspended when it hasn't even been a month since my last payment? I asked the reps and no one answered me. I'm so tired of this company. It seems you love making your customers miserable. By next month I won't have to deal with this awful company anymore. This was the final straw

My husband and I visited a Sprint store at 1830 E Broadway, Tucson, AZ 85719 in August 2017. We set up a family plan at that time. We had 5 cell phones under my name. Communication regarding overcharging on our account could NEVER be accomplished after numerous attempts. When we established service, we did not sign a contract. We gave sprint our i-phones at that time.My husband turned in his Iphone 5 and got an iphone 6. I chose a Samsung in return for my iphone. We were told by Sprint service reps that as long as we paid 12 months of service we would own the phones we received. After months of poor service with Sprint, with customer service non-existant we decided to change providers. We went with AT&T. We then received envelopes stating we must return our phones to Sprint OR pay $1,100 to Sprint.Today, we went to the store where we got our service asking for someone to remove the penalty of $1,100 as we had fulfilled our obligation to Sprint. I mentioned we were told all we had to do was make 12 payments when we started service with Sprint in 2017. The Sprint service rep NOW says we would have to pay for 18 months to avoid any reimbursement to Sprint. AND, that we would have to go across town to another Sprint "Corporate Store" to get any assistance. We drove across town only to be told they could not help us either!! This is Corporate America just giving people the run around with NO ONE taking responsibility. WE HAVE PAID SPRINT FOR 19 MONTHS BEFORE CLOSING THE ACCOUNT. First we were mislead about the time we'd need to pay monthly (12 months) and today told it should have been 18 months. Again, who's telling the truth?? IN EITHER CASE WE DO NOT OWE SPRINT ANYTHING!! Please check your accounting department acct #994537495 for Terry and Robert Ryan, 2803 E 8th Street, Tucson, AZ 85716 and DELETE THE UNWARRANTED CHARGES SPRINT IS TRYING TO TAKE FROM US. WE WILL NOT PAY FOR SOMETHING WE DO NOT OWE. It is the terrible customer service that lead to our cancellation of Sprint in the first place, and it continues on. Thank you for correcting this erroneous charge of $1,100. Thank you in advance for your assistance.
Should this charge NOT be withdrawn, formal written complaints will be sent to the Arizona Consumer Protection Service, the Federal Communications Commission and the Federal Trade Commission. We will not be intimidated by Sprint like so many others apparently are. Good Evening.

Last week Monday (April, 1st 2019) I went to New York City for a 3,5 days sightseeing trip with my daughter. Early evening my phone let me know that i didn't have a SIM Card - tricky, when i rely on my phone away from home (google map, information online, subway plan and still two kids back home who couldn't reach me.
We went to the first Sprint store we could find - on 885 8th Avenue, New York. There I had Adonys Marte helping me - or better, not helping me. He took a look at the phone and said it is too old (IPhone 6s in perfect condition and I never took the SIM card out since I got it). He didn't do anything else than sending me to the closest apple store. And we went there. They checked the phone for an hour just to realize it is totally fine. Now I'm into this for 3 hours, and I planned on doing other things at that time.
The next day we went to the Sprint store at 75 Chambers St, New York, NY 10007 and one of the sales ladies was kind enough to talk to her colleague via computer so I couldn't see or hear what he was supposed to do. He started out helping me but then went back on it after she wrote something down for him and told me it wouldn't work. She told me, the SIM Card will be broken in a couple of days if they put a new one in. And the send me to the next apple store. And again, I'm wasting time with your employee who are not willing to help me at all and we couldn't go through with all our sightseeing plans. And again, we went to the nearest apple store - without the help of the internet since it didn't work.
At the apple store they checked the phone again, put the SIM Card in another phone and it got the same result - the card is brocken, not the phone.
So the next day we went to the first store again. Luckily, we had Geraldo Estevez to assist us and he did an amazing job. After I explained everything, he just took a new SIM card, put all the information on it and we were done in 20 min and my phone was working again.
Adonys Marte was there, too that day. When we entered the store he was talking to another colleague (we were the only costumers at that time). After a while a second costumer came in and Mr. Marte saw that but was now on the phone with his mom, talking about a sweater. When the third costumer came in Mr. Marte left the store to finish his call and the other sprint employee had to rush to finish her lunch to help the other costumer.
Out of three visits to Sprint stores in New York and talking to 4 employees I can only say one - Geraldo Estevez - did a really good job! If I would have met him on our first day I would have had more time to explore New York City with my daughter, I would have been so much happier with the Sprint Service but bc of all the others especially ADONYS MARTE (I asked for there name cards), I could not. For the amount of money I'm paying for the last 3,5 years I thought I earned a good service at any point being in a sprint store.

I have been a Sprint customer since 2001. There was a time when Sprint was a company that cared about their customers, however, that time has passed. While Sprint offers deal and free phones to new customers they refuse to help customers who have been loyal for over seventeen years, I guess they figure they have you by the short hairs. That is very, very sad. To add insult to injury I am a U.S. Veteran and a Senior citizen and this is how I'm treated!!!!!!!
Today I have been on the phone for over One Hour and Thirty five min's, by the way, I'm still on hold and counting. How sad is that?
The last Rep I spoke with was going to get a supervisor, however, that was twenty min's ago and the clock is still running. By the way, the last Rep's English was so bad I had a very hard time understanding him.
Sprint has become a less than average provider and they no longer provide quality service.
P. Michael Taulbee.
P.S. No one ever came back on line.

Tom Krygier
from Chicago, IL
Sales manager lied to me and my wife. His lie cost us $1200. When I confronted him he gave every excuse possible. When I said we would be willing to accept half the loss and sprint the other half he said he couldn't help us. I told him that if we had to suffer the entire loss I would use my union attorney from work to settle this issue. He threw me out of the store with a horrible attitude.

Mazel Tucker
from Houston, TX
I order some phones on March 21,2019 and ups would not deliver were I live my account was charged $188 and some cent I have every day since April 1,2019 I have been able to get service my was not ringing and you could not leave me a voicemail I have called two and three time a day I was dissatisfied with service I have received one of your employees that I need to get a cab to go the ups I home no money I be switch from one person to another one person told I didn't pay my bill I went holding on the phone one to two hours a day I told I am a loyal customer I would hate to see treat if was loyal I want my account to be credit for the day I have not been to use my phone I very upset the service I have got I was alway told my account could not it the phone on the caller I'd and I ask the lady to talk someone else she said not was else there talk to do would you want to be treated this way I would like to here from someone soon as possible thank you Mazel Tucker 361 290 4745

Humberto Martinez
from Tampa, FL
I was enrolled to an international plan fraudulently under the pretense that it was an 6 months free trial. In addition the agent did not disclose that the country I intended to call was not one of the countries with preferred rates. I was charged $120.00 and only given a $60 dollar credit. All the agents were rude specially the last one who I could not understand his English at all. This is horrible service. They should minus starts for this kind of service

I spoke with a manager/supervisor over a month ago. When I explained the legal actions that I was planning to take against Sprint, because they put my life at risk by having me go 11 days without cellphone service, because they never unlocked my phone as promised, I also had a debit card from Sprint that did not work, even with Sprint when I tried to pay them with it. He told me "do not worry about the bill" that he was "going to waive my final bill."
I called Sprint (Customer Finance Services) today (4/7/19) (855.696.7423), because I received a "final notice bill" from Sprint this week. I initially spoke with an African-American woman, who had very slow southern linguistics. She told me that my case was "pending." I asked her "how could I be sent a threatening bill, while the bill is pending?" She told me "not to worry about it." I told her "how can I not worry about it, when there appears to be a communications problem within Sprint?" I then asked to speak to a manager/supervisor. She hung up on me. I immediately called Sprint back, ironically, the same individual that I had previously spoke to answered, again, I asked to speak to a manager/supervisor, again she hung up on me. The third time I called back, I spoke to someone different. I asked to speak to a manager/supervisor, this time seeking to include having that manager/supervisor track down the person that hung up on me twice. However, that never happened, because, after waiting on the line for 28 minutes, the phone began to ring, then I got a dial tone, meaning that the manager/supervisor hung up!
To that end, I wasted more than an hour of my day trying to resolve with Sprint. Sprint is so unprofessional, they don't seek to resolve anything. They are going to keep playing games. My attorney has advised me to file complaints with the FCC, FTC and BBB, and not bother wasting my time trying to talk to them.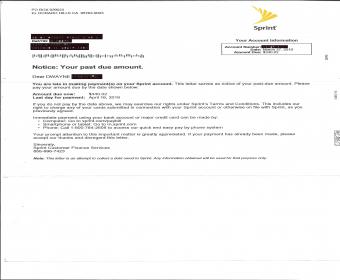 Alex Salazar
from Maywood, CA
This is to notify you that I am very disappointed with the current services I am getting from your tel company.
Since beginning the past few weeks, there have been many many occasions/periods where I was unable to connect to the internet or even the apps on my telephone. I have called numerous times to file complaints with your representatives, yet nothing was done to fix the problem.
Maybe it is because you are unable to improve the service.
I will be shopping for better service connections with other providers.
Thank you, Alex Salazar

Alex Salazar
from Long Beach, CA
This is to notify you that I am very disappointed with the current services I am getting from your tel company.
Since beginning the past few weeks, there have been many many occasions/periods where I was unable to connect to the internet or even the apps on my telephone. I have called numerous times to file complaints with your representatives, yet nothing was done to fix the problem.
Maybe it is because you are unable to improve the service.
I will be shopping for better service connections with other providers.
Thank you, Alex Salazar 702-806-2423

Rame kurtaj
from Brooklyn, NY
Sprint is charging us money when we had autopay and giving us a hard time about unlocking our phones ... saying they will not unlock them unless we pay on a bill we never had we cancelled the service end of February so they said that payment was for January.. auto pay took the money every 24 th we should have no money to pay ... please contact me about this situation, the representatives have no clue . Every single one of them always told different things and the out sourced ppl could not speak clearly and could not explain exactly what was going on , constantly repeating and saying that's it and nothing could be done , call me at this number 718-662-1542 I expect someone to get in touch with me because this is outrageous and never had any problem with paying my bills but it became a problem
When one of you're representative got very nasty on the phone because we refused to stay with sprint !

Gene Spennato
from Woodstock, GA
Flat out the worst customer service of any company I've ever dealt with. Overseas call centers, impossible to reach anyone of authority and an endless exercise in frustration. I can't wait to move all of my lines to another carrier. I can't speak badly enough of my experience with this company. From equipment issues to disappearing discounts and escalating phone bills, Sprint is the worst.

Howard Wears
from Long Beach, CA
I have been a Sprint customer for over 5 years and have 4 lines, at the end of March my lease was up, I called Sprint on April 2nd to see what my options were. I wanted to option were there to upgrade the phones and plan. I spoke to Mona in customer retention; she advised that I was eligible for a 300.00 phone credit for each line. We went through the pricing of the phones and plans and was advised that the upgrade fees and activation fees wold be waived. Mona advised me that once the promo was activated I would only have 5 days to make the change. I advised Mona not to activate the promo that I wanted to talk to my wife about it and I would be making a decision on the next couple of days. I called Sprint back on April 3rd with the intention of upgrading the phones and plan. I called and was connected to customer care, I explained the conversation with Mona, he advised me that I need to talk to Telesales and was transferred, but something went wrong and I was disconnected. I called back and spoke to a lady in Telesales she advised that the promo was only good for my main number 614.439.3237. I explained that is not what I was told by Mona on 4/2/19. She advised me that she would contact the retention department to see if she could get the promo for the other 3 lines. I held for over 25 minutes and she never came back to the line, I hung up with the thought that she would call me back since she asked for a callback number in case we got disconnected. (Never received a callback). April 4th called back spoke to a gentleman in customer care, explained again, he advised that he need to transfer me to customer retention, during the transfer process was hung up on. Called back spoke to Lee in Customer retention she advised that she was sorry for the misquote but there was nothing she could do for the other 3 lines concerning the 300.00 promo but she would check to see if there was anything else. Lee did state that there a some type of 60.00 credit. Lee stated that she could try and escalate for the 300.00 promo for the other 3 lines but it would be very highly unlikely that it would happen because it is a targeted promo. I have been very happy with Sprint, I did not want to go though the whole process of changing carriers. It seems that I don't have a choice. But what surprises me the most is that it seems Sprint (and the other carriers) do not care as much about it's existing customers, it seems the best promo's are aimed at trying to get customers to switch from other carriers. It's seems like some type of game. I guess I need to to start playing.
Thank you,
Howard Wears

Customer Service is terrible. If I could rate it ZERO stars, I would. The first time I ported a number over it took 45 minutes on the phone to switch from Verizon. To port the second number over, I was on the phone for one hour and 57 minutes. I wish that I was exaggerating. Then, to apply for the prepaid VISA cards, I needed my account number which isn't readily available online. Apparently, it is top secret. I again had to call and it took nearly 15 minutes to be provided my own account number. Absolutely. Crazy. I never should have switched providers.

julie frazier,actual customer is my som timothy dean
MY SON OPENED AN ACCOUNT OVER A YEAR AGO,NOT WITH A BANK DEBIT CARD...HE LOST HIS JOB AND HAD TROUBLE PAYING HIS BILL...i PAID A FEW BILLS FOR HIM FOR A ONE TIME ONLY....HIS PHONE WAS SHUT OFF,THIS IS ON HIS CREDIT REPORT....4-6 MONTHS LATER SPRINT CHARGED MY DEBIT CARD ALMOST 400 DOLLARS,WHICH I THOUGHT WAS A FRADULENT CHARGE BECAUSE WAS NOT CHARGED FROM OHIO WHERE I LIVE,I REPORTED TO BANK AS FRAUDULENT,WHICH HAS HAPPENED BEFORE WITH ANOTHER CASE,NOT SPRINT,MY BANK GAVE ME THE MONEY BACK...NOW A FEW MONTHS LATER,MY BANK CALLED TO SAY BECAUSE IT WAS USED FOR MY SONS ACCOUNT,THEY,SPRINT WANT THE MONEY BACK AND WILL BE GETTING IT BACK 4/4/2019...I FEEL LIKE THIS IS ILLEGAL,MY CARD DID NOT OPEN THAT ACCOUNT,I SHOULD NOT BE HELD LIABLE....I'M REALLY UPSET AND WOULD LIKE YOU TO CHECK INTO THIS FOR ME.I CALLED SPRINT 3 TIMES TO GET IT RESOLVED,PROBLEMS WITH WORKERS LANGUAGE AND UNDERSTANDING THE ISSUE,WAS TOLD I NEEDED HIS SOCIAL ,PIN NUMBER,ANSWER HIS SECURITY QUESTION,I GOT THAT INFO AND CALLED BACK...NOW I NEED HIS NUMBER OR THEY CANT HELP ME...I NO LONGER KNOW THAT NUMBER.....PLEASE HELP ME.....

Dennis Thompson
from Canton, MI
I closed my account with Sprint and wanted a box sent to me so that I could return my leased phone. Went to 3 different Sprint stores and was told that I had to call and request a return phone box. Called Sprint several times and either the representative could not understand English or asked for a 4 digit pin. I gave them the pin number and was told it wasn't the right one. I have been a Sprint customer for more than 10 years and have watched your customer service deteriorate. I am requesting a return box for my phone because after making payments on this phone for 3 years, I still have a balance due! I am also asking you to remove a charge of $9.99 for a premium service that I never ordered. (Feb. 20, 2019.) Please take care of this as soon as possible. Thank you. I can be reached by phone at 734-377-4420
My cell number: 734-658-6222
Account Number:641370947
Address: Dennis Thompson
1325 Wheel Rd.
Canton, Mi. 48188

Beyond words for the incompetence of the company and the employees it hires.
Promised one thing in store to sign up. Once signed up it was a constant battle over the phone and in store to get answers.
No one can do their job and if you try to call you get transferred around with no actual end to the madness they create.
DO NOT USE SPRINT.
Service sucks customer service is lowest of low and it's just not worth it.

I was told several different things and guaranteed things by agents over chat and on the phone, I would like to talk to a supervisor because you guys did not honor your guarantee and that's something that I can file a lawsuit for, which I am prepared to do

when I purchased an upgrade LG phone during the transaction I was never informed that my text messages would not transfer from my old phone if I had been informed of this I would never have made the purchase when I attempted to return the very next day I was told I had to pay a 45 dollar stock fee or to avoid this I would get a return kit in the mail however I was told the accessories which were a case, cover sheets and a charger were not refundable and also would not able to be used in my old phone SO I AM STUCK WITH ITEMS I NEVER WANTED! they said in the complaint dept there was no record of accessories bought when I went back to the Altamonte store I was told it was a third party sprint deals with and there was NOTHING they could do! A DISGRACE I HAVE TO HAVE ITEMS TO A PHONE I NEVER WOULD HAVE PURCHASED IN THE FIRST PLACEnor exchange nor use If I had the proper information from the start I would not have bought the phone I would like sprint to contact this 3rd party and refund me over 50 dollars of these accessories a horrible policy and a horrible experience! I have been a customer since 2016 when I get a new phone IT WONT BE WITH SPRINT! contact me by phone would be appreciated with the phone no on file

I've been experiencing signal issues with my Note 8 recently after an android 9 update. I've tried multiple methods for trying to fix this problem but none worked. The tech support rep over the phone suggested I take it into the store and since I was near I stopped in this repair center. Upon arriving I was greeted by a gentleman who listened to my issue and directed me to tech support. There was only one rep available helping a lady with her phone, but I could hear someone having a conversation with them behind a wall the about different topics not of assistance to the lady. The lady left and now I'm still sitting there waiting for assistance. This rep never acknowledged my existence but the person who was behind the wall came out( with a long red winter coat on) and asked if I'd been helped. I told her no, and then the two went on to discuss your policy regarding time off work. They allowed me to sit there until I asked how much longer it would be for assistance. I did confront them about being unprofessional and rude so the guy rep goes on to tell me how he was about to go to lunch anyway...really?! The lady rep who's standing there in basically street clothes doesn't offer any further assistance, not sure she was even tech support or working at the time. I say all of this to let you know I've been with Sprint for a long time and this is once of my worst experience to date. Not only did I receive an update that nobody can fix or has a clue is happening but then to not have confidence in the help offered from your store is a big concern. It's also upsetting that there's no manager in sight to direct these seemingly ill trained employees. This is getting too stressful, I'll focus on other options until I'm offered a real solution if any that won't cost me additional losses.

John ferrell
from Topeka, KS
I paid my bill yesterday and my internet speed STILL SUCKS. I have to turn my phone off then on just to get on the freaking I internet which I pay 82.00 a month, about ready to go back to straight talk

Teressa Storch
from Blue Springs, MO
My son has been on my Sprint account for many years. It was time for him to have his own line and he wanted to keep the same number. I have been trying to do this since December 2018. I was told online that it had to be done in the store. I went in the store and I was told it had to be done online. I called sprint and they told me it had to be done in the store. I gave my son permission to the account and he went in the store and they told him it had to be done online. I went back online and was told it had to be done in the store. I went back in the store and they told me I had to bring my son into the store with me. Today, 3/31/2019 I took my son into the store with me; he is 24 years of age and they told me I had to go online. I called Sprint and they told me my son could not have his own line with the same number. Finally after extreme frustration, I said cancel my account, both lines. They then asked me about my sons phone, if I was going to send it back in. I said I will just pay for it. They charged my credit card for the phone, over $250 and refused to provide me a receipt. They also said my phone account would not be cancelled until the end of the billing cycle. I said that is not right, you just want to charge me a whole month. I filed a complaint with the better business bureau and plan to go to the attorney general's office. Before my boyfriend broke it off with his ex-girlfriend, she was able to get her own account from his account with no issues.

Brittany Carbon
from Yuma, AZ
Whenever i go into the Sprint store-I know I will be there forever. And I like the gentleman who helped me who was super helpful. However when I came in , I was first was helped by another gentleman and I was handled off like buffalo to Fernando. Fernando was not given the right information about my purchase. Fernando was trying to help but if you are not given the right information-how can you help your customers properly? Because of that the customer service process took much longer than needed. No wonder everyone looked irritated. Employees needs to get trained or it holds everyone up. And it doesnt give the people in charge the right to look at your employee like hes untrained. Maybe hes doesnt know what to do, but maybe no one taught. Maybe he wasnt told my the previous representative.That's the manager's job to teach. Treat employees better and everyone wins
2383 w 24th
ste 140
Yuma, AZ, 85364
thank you to the employee that was trying his best

Had a interview today at 4:30pm at the Sprint Call center on 6880 Bermuda Road with a Recruiter Named Deirdre Ross. I had emailed him stating that I would be late due to unforeseen circumstances, did not get a reply or phone call from him. I ordered a uber to take to the location and was waiting for 15 minutes outside, all the doors were locked so I walked around the building and tried all of the doors until I finally saw people walking out a certain door. I walked to the door to open it but it was locked, I emailed the recruiter to let him know that I was outside and still did not get a response via email or phone call. A few minutes later a security guard finally opens the door, he did not even apologize for making me wait and seemed like he was in a mood. I stated to the African american man the I was here for an interview and that I was running late and had notified the recruiter. He then proceeded to talk about me to another employee about me being late while he was walking to the back to get the recruiter. He comes back to tell me that the recruiter sent me an email to reschedule so right there and then I checked and did not receive an email therefore he lied. I seriously expected better treatment from Sprint and their security staff.

Lori Bussey
from Atlanta, GA
Hello, I made a payment of 374.00 on 3/11....I was told to call back before the 24th to make a payment arrangement....I was denied it when I called...My services are interrupted and I feel like that's not fair....My bill is very high each month and that's unacceptable.. How can I pay almost four hundred dollors on 3/11 and turn around and make another 400 hundred dollar payment..I told them that I can make a payment on 4/4....it looks like ill be taking my services elsewhere.

First I was pasted on hold for over a hour by David which he lied about my bill. Second 210.00 for 2lines yeah horrible 2lines should be 181.00 sprint over change for service that's horrible. And also I had to tell them how to do there job. And I dont work there learn customer service . And stop lying I know math and your math skills are off and I will see how to take you guys to court.

Dawn McCall
from Fort Worth, TX
I ABSOLUTELY LOATH SPRINT!!! I have nothing but one issue after another with this service since I signed with Sprint. To began with when I got the account the sales people were so busy signing me up for crap that I ended up with so call free items that I'm not being charged for (drive device, which I don't use at all). I was told I had the free music app and guess what NOPE that's not included, free Hulu, after two months of calling it finally worked TODAY. I have called and been on hold for OVER AN HOUR until the phone just hangs up. My biggest issue that really really pissed me off is I have called countless times about not wing able to get online while on the phone and TONIGHT is the very first time the agent tells me this is not a future that is available for my phone. First of its 2019 why is something so simple considered a feature? This is a STUPID problem to have. I have NOTHING BUT HORRIBLE experiences with this company!!!! When I asked if there was any options for a better plan, remove any inactive lines, return the stupid drive thing anything I get nothing but passed from one clueless agent to another. I am not happy at all.
FYI ON WHAT PLANET IS IT CUSTOMER SERVICE TO HAVE A MESSAGE THAT GREETS YOUR CUSTOMER WITH "I see you have called several times, there is no need to continue to call, all financial concerns will be meet with the same response." Even when my call has nothing to do with my bill!!! This stuff is elementary!!! UGGGHHHH

James warren
from Malden, MA
My first complaint is that sprint customer service lacks the ability to give out correct information they are extremely rude refuse to get a manager when requesting a manager have come back now for over an hour saying there is no supervisor available and this is what they told me you need to do so it doesn't matter if you get a customer service representative they're going to tell you the same thing I just told you you need to go somewhere else. It is absolutely absurd that I have been on the phone for over two hours after Sprint called me this morning and I've spoken to six different my first complaint is that sprint customer service lacks the ability to give out correct information they are extremely rude refuse to get a manager One requesting a manager have come back now for over an hour saying there is no supervisor available and this is what they told me you need to do so it doesn't matter if you get a customer service representative they're going to tell you the same thing I just told you you need to go somewhere else. It is absolutely absurd that I have been on the phone for over two hours after Sprint called me this morning and I've spoken to six different representative Because they did not have the correct address so where I could not verify the address on the account the first representative hung up on me I went online to my sprint account I had called in March 2018 and change the address they did not change the address as they were supposed to they had an address that was over four years old on the account after verifying what address they had on the account I called back explain the entire situation to the next representative he fix the address sent me a couple emails and text regarding information that is not correct on the account my discount still not added to the account for another year when I've called him multiple times over the last year about it because they did not have the correct address so where I cannot verify the address on the account the first representative hung up on me I went online to my sprint account I had called in March 2018 and changed the address they did not change the address as they were supposed to they had an address that was over four years old on the account after verifying what address they had on the account I called back explain the entire situation to the next representative he fix the address sent me a couple emails and text regarding information that is not correct on the account my discount still not added to the account for another year when I've called in multiple times over the last year about it not being As well as getting transferred to confirm an upgrade a person asking me to verify a code and hanging up on me I called back they told me they can't help me I need to call teleservice I can call telesales the person tells me I'm not able to upgrade I need to speak to customer care customer care comes on the phone tells telesales that there is no thing in their system preventing me from an upgrade that I am actually eligible for an upgrade and I am requesting a manager telesales gets frustrated and disconnects the customer service representative from a three-way call because she was on the customer side and requesting a supervisor and he refuses to get a supervisor so now I've been on hold for over an hour simply waiting for a supervisor The customer service representative has called me back to confirm that the telesales representative disconnected her from our phone call and asked me if I had received a manager yet she has informed me she is well is putting in a complaint that the situation is absolutely uncalled for and absurd and she'll be calling me back after her break in an hour to see if I have yet to get a manager now I am 10 minutes away from her calling me back and I still do not have a manager the customer representative is still refusing to get me a supervisor or a manager this whole thing started From Sprint calling me telling me they wanted to upgrade my phone because I was eligible for an upgrade now the representative is telling me he cannot upgrade my phone that I am not eligible that the customer service team needs to cancel my lease and then he will upgrade my phone this whole situation is absurd customer service rep from telesales keeps coming back and telling me oh I have an error in my system oh the very first problem he came up with was that my iamb EI address did not match what he had on file so he accused me of returning the phone or swapping the phone this phone was purchased at the Mansfield Massachusetts store and put in service there is never been from Sprint calling me telling me they wanted to upgrade my phone because I was eligible for an upgrade now the representative is telling me he cannot upgrade my phone that I am not eligible that the customer service team needs to cancel my lease and then he will upgrade my phone this whole situation is absurd customer service rep from telesales keeps coming back and telling me oh I have an error in my system oh the very first problem he came up with was that my iamb EI address did not match what he had on file so he accused me of returning the phone or swapping the phone this phone was purchased at the Mansfield Massachusetts store and put in service there is never been a Repair done to the phone the phone is never been swapped out I have never tried to upgrade I've had the phone since I purchased it from the store the first reason he gave for not being able to upgrade was the I am EI did not match customer service came back and talk to him they requested a supervisor because the I am EI address they have is the correct one and is the one that is in my phone and then when that situation did not get resolved now it's his system has an error and will not allow it to upgrade to an a half hours later and it's my system now has an error you're not the first one to experience this we cannot upgrade you now you called me to upgrade if your system is having errors you should not been repair done to the phone the phone is never been swapped out I have never tried to upgrade I've had the phone since I purchased it from the store the first reason he gave for not being able to upgrade was the I am EI did not match customer service came back and talk to him they requested a supervisor because the I am EI address they have is the correct one and is the one that is in my phone then when that situation did not get resolved now it's his system has an error and will not allow it to upgrade to an a half hours later and it's my system now has an error you're not the first want to experience this we cannot upgrade you now you called me to upgrade if your system is having errors you should not be. Calling people to upgrade their phones going through an entire process now over six hours on the phone with multiple different representatives to not have the problem resolved is absurd it's poor customer service it reflects on horribly on your company it is absolutely ridiculous

clarissa m richardson
from Irving, TX
someone up an account in my name i found out when i went to a story location i have filled out a fraud packet but there have been nothing done to my account no one have reached out to me nor can i get a hold of the fraud dept i just need to get this issue resolved my contact 405-509-8504

Kathryn De Santis
from Springfield, MA
Added on a HC SPRINT DRIVE THAT WAS DEFECTIVE .
THEY ALSO TOLD ME IT WAS FREE(IT COST A $127.50) PLUS A MONTHLY FEE OF $5.00+ 16.99.
I BOUGHT IT BACK BECAUSE IT WAS DEFECTIVE. TODAY (03/23/19) I JUST RECEIVED IT YESTERDAY WHEN I PURCHASED MY NEW PHONE NOW THY WANT TO CHARGE ME $45 .00 TO RETURN THIS DEFECTIVE DEVICE.
I WANT A FULL REFUND!
DEFECTIVE DOESN'T REQUIRE A $45.00 FEE & IT WITHIN THE 14 DAYS.
THEY WOULD NOT. WAVE FEE .SEEKING A FULL REFUND!

If I could give Sprint a zero star rating I would. Every single month my bill is incorrect. This time I had charges from a tablet that was canceled and I've had to call Sprint customer service 7 times since January to get it resolved and it's still not resolved!!!!! I'm now paying an extra $30 because I just want to cancel my sprint plan. Which I can't do without paying the bill that has the extra charges still on it so thank you sprint for being absolutely useless and causing me to waste my money!

Janice Prosise
from Portsmouth, VA
I am very upset with Sprint. I have a contract until June but was never told you can change my plan. So sprint change my plan in January. The people I have talk to tell me my contract has nothing to do with my plan I am very disappointed. My number is 804-986-9207. Looking for a new carrier in June if this is not resolved.

I have 4 active phones and 4 active phone lines and I am being charged for 8 phone lines. I am being told I would need to pay over $2000 to get rid of those phone lines that I do not use and that I have no devices for. Customer service has been useless. I am basically screwed. 6 year loyal customer and this is how I get treated. AWFUL CUSTOMER SERVICE and FRAUD.

Maria Nunez
from Port Reading, NJ
completely misleading the promotion,gave 3 Motorola phones for "free " that I didn't need or use, This guy Name Bobby at the Menlo Park mall store, he repeatedly insisted and reassure that was at no cost to me only to start charging me ( whiteout notice) $60 mor a month, i call the company to try to understand what was going on, every person was nice and well mannered until this person Shannon, starts raising her voice and making accusations that I was accusing them of fraud, I never used the word fraud, I used the word " mislead " but I guess fraudulent is best,Completely unprofessional and unacceptable to speak to a customer with that attitude when I was not disrespectful in any way or manner when I asked to speak to someone else she hung up the phone on me, I just hope they recorded the call

Janie A Salinas
from Houston, TX
Went to Sprint office in Temple ,tx on General Bruce Dr last Saturday my 83 year old dad needed another flip phone he been with ya for 12 years the guy told us that it would be here wedesday that day came nope call over there they siad Friday that day came nope again so I was talking to the asst manager and after wait all that time she siad that we need to order online which my voice got loud but never siad a bad word so she hung up on me the manager siad he told her to well they took a 1hr to set my dad phone up we left got on highway and I siad let me make a call got on it and it wasn't working keep in mind we leave across town so we had to turn around and go back went in there and it took another HR again but that manager never apologize to us he was very rude

Francis X. McEntee
from Philadelphia, PA
I changed 3 phone numbers from AT&T to Sprint approximately 2 months ago. Today Sprint cut off the service. I called and they said I owed them o $447.86. I have received no bills from Sprint. I Paid money to the Sprint store in the Philadelphia Mills Mall. 19154 Zip code. I believed this was to cover front end cost. No bill has been received at my only residence 3707 Genesee Drive. Philadelphia Pa. I also believed that my monthly cost was less than $200 a month for the three phone numbers. 215-964-8244, 215-964-8241 and 267-708-9555. I would loke some help on this as I do not trust the print dealer and would like to resolve the problem ASAP.
Regards
Frank Mc Entee

I had poor service with an Iphoe 6S that I payed off back in 2018. I called sprint customer service several times and my problem was never resolved. I made the decision the cancellation my service and go with another provider. Sprint then told me that If I had a new phone I would get better service. I did explain to them that I live on a fixed income and can not afford a new phone. They told me "We would hate to see you go so how about we give you a new phone just pick out the color at the store or we can mail you one?"
I went to the sprint store near me and they game me an iPhone X. They said I would just have to pay the fees to activate it.
A month later (February)get a bill of $107.00 and call customer service. I spoke a supervisor after being on the phone 2.5 hours. Supervisor said he made the adjustments and I would not see theses fees again.
A other month later (March) I get a bill of $175.00 and get my old phone ( I Phone 6s Locked) keep in mind it was payed off back in 2018.
I am calling customer service and keep being put on hold for hours and then get hung up on after I'm being told " Pay your $175 and we will unlock all the devices even the ones that you have payed for in full.
Please Help
mhuizar2@gmail.com

anthony delgadillo
from La Habra, CA
I bought a phone back in November as part of a promotion we were supposed to get a tv with the phone but we never got the tv

Nichole Paulk
from Chicago, IL
Hi
My name is Nichole, I been with sprint for a while now and I attempted to cancel my second line on more occasion my son lost his phone I put phone on stand by and when I could not locate I advised on more than one occasion to cancel line I always seem to get a person with a very heavy accent and they always or never help me almost 2years ago I been getting Charged over $200.00 for almost 2years for 1phone line and a standby line that I have asked to have disabled . I need some help ASAp and a credit to my account I am disabled and I feel taken advantage of . I can be reached at 773 454-0090

Shawn metzer
from Duluth, MN
Have tried to cancel and unlock two phones you guys keep ignoring me. I will not make a payment until it's done and I will be contacting the BBB

Wyvonne Ward
from Fort Walton Beach, FL
I have been with sprint for over 19 years. I have never had a bad experience until today on March 08, 2019. I come in and of course they do the hello welcome to sprint intro. However, Leslie Lopez approaches me and does not ask what brought me into the store today and what I wanted to do. So, I told her I came in to do an upgrade on my iPhone X. And that I wanted the XS Max that has the same GB. Well she did not go check to see if they have that phone in stock. She snatches my phone and starts to take everything off and try to reset my phone before even to find out if they had the phone available. Then I kept bouncing back to one computer to another computer. Terrible customer service. Then I took back my phone so that she can go check to see if they had the phone that I wanted before I started to do anything with my current phone. Terrible experience. It was to the point that I will travel afar to another sprint store where they appreciate my business. I hope that when I go in again to buy another device that I do not experience that again. Total unprofessionalism and zero customer service. 1795 330 Mary Esther BLVD STE A, Mary Esther, Florida 32547 receipt #20990012046

VERY dissappointed in the way our service with Sprint was handled. The representative that I spoke with originally to see if it would be worthwhile to switch from Verizon, assured me that our service for two lines with unlimited calls, data and texts would be approximately $147.50/month. Our first bill was $332.37! I was given a Sprint Drive (that I didn't ask for) which required another line (an additional charge) that I didn't ask for either. We were charged 4 activation fees at $30 each. The assistance we got with activating our new phones with Sprint was pitiful. Noone could tell us how to move our apps from our old Iphones to our new ones. WE had to figure out how to do that ourselves. I asked that the activation fees be removed from our bill since the tech support for activation was not sufficient. But Sprint is still charging for two activation fees. Was on the phone for about 2 hours trying to work out the activation. two tech supports hung up on me when I politely told them that I was having a hard time understanding them.
The folks in the Sprint store were helpful with returning our old Iphone for the buy back, which the tech support on the phone never instructed us on.
I am so disgusted and frustrated. something that should have been simple to do has turned out to be a nightmare.Just spent 2 hours on the phone with customer service to try to resolve the bill. Had to DEMAND to speak with a supervisor who has escalated my complaint.

Susanne DeKleine, 60 Hopatchung Rd. Hopatcong N.J. 07843 (Bank Santander Hopatcong N.J.)
from Hopatcong, NJ
Case # 233559314 Store: Rockaway New Jersey Phone: 862-437-1238 Manager Adam Sales person Evan
Sprint has made my life a living hell due to incompetence of employee.Tried to file complaint. Called 3 x's put on hold hung up on! On 11/20/18 went to Sprint to obtain phone mine broke. Apparently there was a glitch in system concerning phone took 3 hrs to transfer info to new phone lost contacts! Everything was fine til later that evening phone did not work went back given new phone later glitch in system was given another phone. Next morning same thing, phone not working! This was Thanksgiving eve. Went to store, could not fix problem. Total 8 plus hours. Returned phoned told fees would be waved and would receive credit on my 11/8 payment. On 2/14 260 taken from my bank account Sprint stating did not return phone.Proof sent of returned phone by manager Adam. However only 194.00 was deposited back was told 260.40 would be put back per conversation on 3/1/19 at 11:24 am to card ending in 2382. With all grief caused by incompetent workers Sprint has audacity to charge me added fees This is sickening!!! A multi million co such as Sprint withholding 66.00? In good faith i hope you will deposit remaining 66.00 back in my. If not will contact media explaining how Sprint screws over mother who is grieving loss of her child and their bad business practices!! DONE!!!
Have feedback for Sprint?
Thanks for your feedback!
Sorry. Please try again later!