DirecTV
DirecTV Complaints Continued... (Page 6)
422+ reviews added so far. Upset? Call DirecTV corporate: 1-855-802-3473

Mike Hendricks
from Owasso, OK
We have many boxes in our home and we're switched to use the Genie box on a few, well apparently if you don't use that tv for 2 months? You must enter a new pin number. Why? So I'm paying for my boxes to use at my discretion and you get the right to turn them off if you want at any time? We have a tv outside which we get to use seasonally so this is bs.

Melissa Longenecker
from Chicago, IL
Called in to cancel because of to expensive. They promised a better price for 24 months with a new contract. The first bill was fine then after that they decided to charge me whatever they wanted. Called in to get a bunch of excuses why and nothing but lies. Was on the phone for over 30 min every time.And this has been going on for 5 months every month same crap of dealing with people who have no idea what they are doing ,this is getting very aggravating.

Cheryl Brantley
from Dallas, TX
I recently had my account reinstated on September 25 2016. My service is great but their customer service are the worst employees ever. I received a bill in the mail which was suppose to be paperless which I have always had in the past. They credited my account which I didn't order. They had me set up as automatic bill pay which I have never had & didn't order this either. I had made several phones calls to DirecTV customer service reps and each time they tell me my refund will be put back into my checking account & won't be there for 7-10 business days which they have not done correctly yet.
I have been dealing with this issue since October 2-2016 they always tell me this will be expedited back into my checking account but it will be done in 7-10 business days. Clearly the explanation of expedited is not the same as mine. I have had DirecTV for more than 5 years & have never had such poor service. If this situation is not resolved very soon I will have my service & go with Dish network.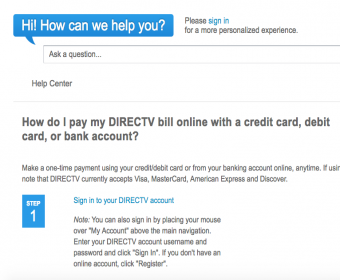 Andy Watson
from Hollywood, FL
I scheduled a DirecTV ultimate upgrade set for Saturday 10/8/16 technician replied to company that no one was home at a single story Beige house with beige door. My house is green w/green door. Several attempts to have it corrected on this date to no avail after speaking with supervisor who stated I could not speak with a manager. Monday 10/10/16 technician stated on this date the same exact response, no one home at same home description.
After several calls and making contact with a manager nothing has been resolved.my address has not changed since I joined Direct TV. On both occasions there was someone at home waiting throughout the day.there was no courtesy call to my number as instructed. Using this technician service had been very troubling to me ada loyal customer. I spoke with manager Mr Jerry today as well as others and hopefully this can be corrected with some added benefits for all this poor service.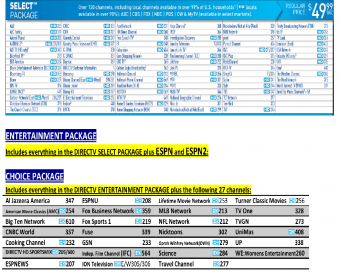 William K. Bell
from Huntsville, AL
On Friday, September 23, 2016, our family goes out to eat, and then to Costco to shop. I go to tv area. The pix on the Samsung 4K HD tv just jumps out at you. There is a black man in a blue Direct TV shirt assisting customers in the tv department. After he helps a couple (the blonde lady was a travel agent, and she said that the Alaskan pix on the tv was just like it is, because she and her husband, with her, just got back from an Alaskan vacation) from Athens, I ask him to tell me about the Samsung 55 Super HD tv.
He does, and then when I tell him that I am a Direct tv customer, he says "And that's why I am going to help you out." I ask him if the tv is easy to connect, because I am technologically challenged, and he said it was-just disconnect the wires from the old tv, and hook them up to the new one. He then takes me around to a curved tv, and said for the money, this is just as good as the Samsung. The pix was not as good, though, and I return with him to the Samsung. So, he helps me load it on a cart, and I buy the Samsung.
When we get home, we unpack it, take the old tv out, and our daughter, Amanda, sets the new tv up. I look through the documents, and I google the Direct tv website for 4K service, and discover that to get the service, you must have 3 things-a 4K model HR54 Genie, a 4K compatible tv, and either the Ultimate or Premium programming package with Direct TV. The new tv's pix is just like the pix on the old tv.
I call the number on the Direct TV website, and talk first to a lady who sounded American. She was yawning a lot, and when I asked her how she was doing, she said her child was up late. I asked her how old he was, and she said one year old, and that he didn't sleep well with her, but did with the gather. I told her what I needed was to have 4K service for the new tv, and told her the info on the website, including the HR54 Genie. She told me she understood, and placed my order, setting up my free installation for October 1, from 8-12 noon. She said that there would be no charge for the equipment or the installation (a "Customer Loyalty Special")', but there would be a $20 "handling charge," and that the total extra charge to my bill for the equipment with them would be $15.00 per month. She then said that she needed to transfer me to an "Order Confirmation Specialist" to confirm the order.
I then talked to this next person, who had a foreign (Indian sounding) accent, but gave an American sounding name. When he went over the order, he said that the First Lady had ordered the wrong Genie, not the required 4K model. He said that he needed to cancel that order, and transferred me back to a third person to place a new order. The third person was an American sounding lady. I told her what I wanted, and she placed the order; however, she told me that the equipment and installation would be free, and confirmed that the total extra charge was $15.00 per month. We change the installation to Monday, October 3, 2016, from 8-12 noon; and transferred me to yet another "Order Confirmation Specialist."
I then talk to the fourth person, who confirms my order, the free equipment, and free installation, as well as the extra charge amount. I receive shortly thereafter an Order Confirmation email. However, the equipment listed was not for the 4K Genie, and listed 3 different Genies, one a "4K Genie Mini." It did show not show the amount of the extra charge to my bill for the 4K service, so I called back. It was during the fourth quarter of the Auburn-LSU football game, and continued after the end of the game. The agent then transferred me to "Tech Support," where I talked to another foreign-speaking man who gave his name as "Chris."
I again told him what I needed was 4K service for my new tv, and he assured me that the listed equipment on the email was what I needed. However, when I asked him to confirm the total extra charge for it, he said $29.00 per month. When I told him that was twice what I had been told, he went to check with someone, and then told me that the $15.00 was correct, because we were already paying $7.00 per month per unit for the 3 receivers we had already. He confirmed the October 3rd installation date and time window. I tried to reply to the Order Confirmation email, but it would not allow a reply.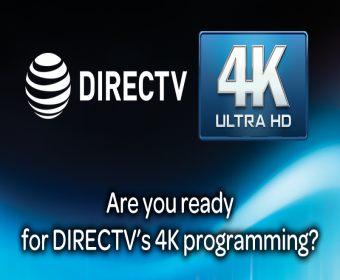 Kevin Puskar
from Sylva, NC
From the beginning of my experience with Direct TV I have been placed on hold with every call for up to 45 minutes. I have been lied to, upsold, (convinced to agree to channels as free trial I really didn't want and guaranteed those channels would automatically be removed at end of trial period. I required services after installation but upon requesting services was informed subsequent to initial contact that no ticket had been created leaving me without service. I had arranged to be off work in order to be available for what turned out to be a no arrival event.
Understood my contract price to be guaranteed for 24 months with equipment included upon installation. was not told that the so called "protection plan" would be xtra at the end of some prescribed period of time. Difficulty understanding individuals due to language barrier. Voice messaging system is focused on paying bill or ordering services. When ordering system and services they are all ears, forget about it. Next call....State Representative.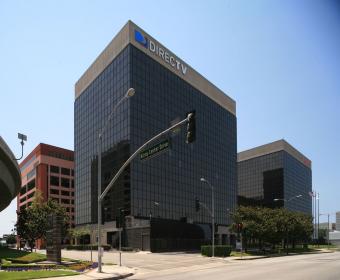 Catheryne Jarmakowicz
from Lake Worth, FL
Once again I have lost service while watching The U. S. Open tennis tournament and two football games. This is the third time today. When I signed up for direct tv I was assured there would be less interruptions. Plus often we lose sound on the television and have to change channels to get the sound back. I am less than a year into my contract and regret every day that I switched. Please help me get better service.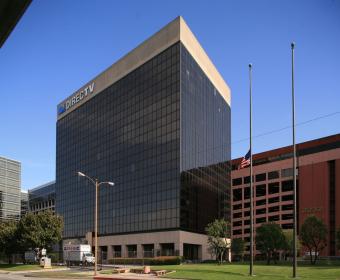 eric stamper
from Richmond, VA
I have been inquiring about some bogus charges for the last 6 months to no avail. The last "assistor" and I use that term loosely, said I needed to write to the corporate office. I did on 7/1/16, of course, no response. I called today, supposedly they couldn't hear me in the background and was going to call me back. Again, of course, no call back!

nancy hight
from Flushing, NY
I called Direct TV regarding the loss of local channels. I explained to customer service representative that fellow coworkers had called and had received discounts of 50% off the NFL ticket and several movie free 6 month promotions and other incentives. The customer service representative came back with 9.00 dollars off the NFL Sunday ticket and stars. I explained my fellow co workers went through the dame low offer and asked for the next level to obtain only what others were compensated as customer satisfaction.
This individual transferred me 47 minutes later the NFL ticket department answered and explained I should have been transferred to customer service department. After a 47 minute wait I did not continue. I have never asked for anything nor jumped from one satellite provider to another and have with Direct TV for several years. I have also had the Sunday ticket since its inception. So I am very dissatisfied that others who have been with your company far less time than myself are given exceptions and compensation for their inconvenience than myself.
I shouldn't have to argue to receive the same offers. FYI there are several persons who have told me the same thing. I look forward to a resolution to this issue. I am asking for the same as others not minimalistic offers and horrible customer service.

Marc Muncy
from Duncan, OK
I have had a problem with the phone and online directv personnel telling me untruths so I ended my service. I was a customer for over 20 years. I will explain by telling the full story. I made an over payment on my final bill for $88.24. I called to their office to get 1 shipping box and 2 shipping labels. They sent 1 box and 1 label. I thought I might be able to send the old receiver with the new receiver back with 1 label but the USPS wouldn't do it. I took it on myself to purchased a shipping label for $14.90.
I immediately told directv what I had done and they put the $14.90 back on my debit card. Directv then turned around and took the $14.90 from my refund leaving me with $73.34. I brought their attention to that and so far they have cheated me out of my $14.90.I have tried every thing I can do to get that little bit of money they cheated me out of but it doesn't work. their help sie chat site or any of the rest of their computer so called help section is completely designed not to help you, It should be called the put you off section.

edward w johnson
from Huntersville, NC
I recently returned to direct TV. The installer was great. I was told that I had to have a new pole installed and a date was set. The installers arrived on set date. No. more than 2 minutes after their arrival the service went off. I asked them if they had disconnected the service and they replied no. I informed them that I had an appointment for which they replied they would call a technician who could repair the problem from his office. When I arrive back home I had no service and they had not installed the pole for the dish. This remind me of why I left Direct TV and has me thinking about leaving again. I have not had service since Friday and no one has called.

Anthony berger
from Taylor, MI
I paid my bill a month in advance and now they're trying to charge me again and won't tell me where that payment went this is the third time I've had problems with my bill with them and now they're going to take double out of my checking account again. I just want to be rid of them without paying the early termination they are the worst people to get a hold of they put you on hold two or three times and let you on hold. Then I told them that they violated the contract and I wanted to drop them he told me he'll fill out a form he put me on hold and hung up on me so now they cheated me out of a month payment and I had my phone with them so I'm afraid to take my phone and shut it off

James Rippey
from Catskill, NY
First a technician comes to my home and checks for a signal. He says due to tree in way cannot get one. I then call a tree guy, and arrange for a second technician to come out. This way they can decide which branches need to be cut. They give me an 8am-12pm time frame. At 10:15 i get a call stating he will be 45 minutes late, so here in america (east coast) that means by 12:45 pm. At 12:53 i get a text stating tech will arrive between 1 and 1:30 pm. At 1:27 the tech calls and says I will be there in about another 30-40 minutes.
The technician then pulls apart the curtains under my mobile home to see where he will need to connect. He goes to his truck, gets his equipment, digs a hole, pours the cement, sets the pole, then chats with us for 20 minutes while cement dries. He then uses his sat. finder again and now says, my equipment must be faulty, I should have been over another few feet.
You just hire them, for all i know the guy was homeless and stole the van, all it says is direct tv, no sub company name on it. Then i tell them I got the number and name of the guy who said he will be here Monday call him. They refuse. No wonder the rest of my development has dish network. Like my 70 year old neighbor needs to dig the hole to show proof of pole or me with heart failure, double bi-pass and valve, plus diabetes and neuropathy should.

Jessica Bennefield
from Macon, GA
We just set up service with Direct T.V. And when the service gentleman came to install he only had 4 receivers and I told him we should have 5. I told him that we added when we added our home phone and that we gave a credit Card # for a one time fee of 49.99 and it should be $7 per month after. He said his work order only had 4 on it so at that time I pulled up my bank account and they charged us for the home phone but not the 5th reciever. The service guy said he would put it in his notes and to call and that the would add a 5th one and get someone back out. Long story short I called back I was transferred 5 times and on hold the majority of the 2 hours I was on the phone then to be told they would not honor the 49.99 price it would cost 69.99 to 99.99.
I explained that I should not have to pay extra because they forgot to bill and send the receiver. Basically the guys I talked found it hard to believe that they had made that mistake and made me feel like I was a liar. Well with that being said you guys made mistakes on my account because at 8:00am on 6/16/16 a service guy came to install my direct tv but it was installed on 06/15/16 the technician was lost for words because my system was installed. Then a supervisor named Cory assured me that he didn't want to place me on hold any longer and he would check in to it and call me back today.
Well of course Thursday is over and no call. Now it seems like now that I am in a contract with you guys you could care if I received the products that I thought I was getting. My 8 yr old is disappointed that she does not have TV in her room and I am furious with how I have been treated and pushed to the side like I would forget and go away! Your installers are great very seasoned but your customer service people tend to make people out to be liars! I will not be referring this company!

Marco Machado
from La Quinta, CA
One of my neighbor told me about the Direct TV so I decide to call and get the service, the name of this person was Carlos Martinez which I am very disappointed with him and of course with Direct TV for contracting persons like him. I asked Mr. Martinez to add a service on my house TV and internet one bundle, I asked him I need service on a casita I have and on a patio which he told me was ok I told him that I was having a bad signal on the Wi-Fi he told me that he was going to give me a free better router for better reception on Wi-Fi. he told me that a technician was going to came on Friday which he never came some body call me saying he wasn't going to came that day that he was going to came on Wednesday of the following week so I let it happen was nothing I could do.
My disappointed is I called many times and left text messages(he never call me back or respond to any of my messages) because I did not received was I was asking for and never give me a writing contract plus he set up my card with automatic pay which he never told me that was going to happened. I thing this is really bad from Direct TV to have persons like Carlos Martinez that are reaping persons just to add a new account to there accounts I need attention to this immediately. now I have to pay a early cancellation for disconnect my service but I wasn't happy with all of that. I think for a big Company like Direct TV this is not fear. I wasn't asking for free service. I need a solution for all this bad understanding and confusion. I honestly I am very disappointed and I need to know what is going to happened.

They hooked up the wrong package we were supposed to get the ultimate package for 39.99 and internet for 51.99.Instead we got a first bill of 168.00 that said Direct TV was 89.96 and the internet was 69.00 dollars.I call Direct TV and got absolutely no help at all.Then I called ATT because I know they bought Direct TV explained what happen and they fixed the internet problem reducing the rate back to 51.99.Then Att connected me back to Direct TV because ATT said they don`t fix the TV part of the service.They still refuse to fix the problem I want the problem fixed now.Our account # 14830880 and I am enclosing the ad.I no they monitor calls and the way they treated me as a customer.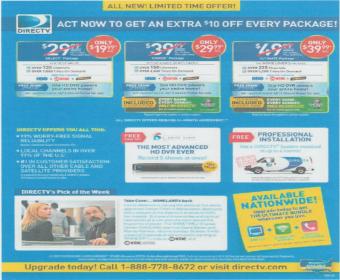 Tamara LeBlanc
from Fayetteville, NC
If I could I wouldn't give Direct TV any stars for a rating -- but minus five. They hook you with a low monthly bill.. "Promotion" then your bill doubles then Triple it. And every time I call I get no where. Their told to cancel stuff to make my bill cheaper. Just to get the next monthly bill and find out it wasn't cancelled and the bill is even higher then the month before. Then I call again just to be told that I never called in the first place.
They say " I'm sorry, but I have no record of you calling!!! I'm like how is that possible? They more or less call u a liar..when they are the lair and a thief. Makes me wonder if they train their employees to do all this crap (fraud as far as I'm concerned) Round and round I can't even keep up. I ended up just dropping them and switched to another company. Direct TV customer support call's and emails me ALL the time. But their not getting another red cent or my time out of me.

Iman Kazimi
from Glendale, CA
On February 9 a Direct TV sales employee Ashley Calderon, persuaded us untruthfully into thinking that it will be cheaper then what I already have. She explained that our first year would be $54/month and the next year would be $85/month. The day of installation we noticed all the sport channels were in Spanish so I called and Erick, employee ID# 100891557 changed the package and told me I would pay $70/month and gave me a credit of $419.60. The next time I called AT&T I spoke to someone regarding the internet bill and she told me she combined it with Direct TV and she told me "since you have a credit of $419.60 your bill for this month has been taken care of." One week later I received a bill of $54 and I wondered were the credit they told me I had was.
When I called to ask about it and another employee Tara, employee ID# 442349 who told me she will not give me my credit and told me to cancel the account and even set up a cancellation on the 19th and told me to pay $57.40 and the account would be closed. She was the worst and represented your customer service in a horrible way. After that I spoke to AT&T customer service and I explained to them what happened and he told me that he would give me 2 months free until I solved this issue and got my credit back because he evened agreed this was wrong.
After that I spoke to Direct TV agent Synethia, employee ID# 454788 who was kind and tried to help me and only gave me $120 credit and I would be paying $90/month which is way more then what I was told from the beginning. I am writing to you to let you know that I am very disappointed in your service and very upset about how some of your employees misled me with lies. I hope you will look into this situation and help me solve it hopefully by giving me my credit back. Thank you very much for your time and I hope to hear from you soon.

nicholas dassion
from Batavia, IL
When I suspended my Directv service for 2 months (travel), upon return. I saw my monthly charge almost double, from $46. to $89. When I called Directv, the agent told me the suspension caused the loss of promotional discounts.
When I initiated the suspension, the agent did not inform me I would incur a doubling of my monthly fee. Had the agent informed me of this extra fee, I would have never agreed to this. This clearly was gross negligence, or intentional fraud on the part of Directv's agent. When Directv refused to negotiate this matter, I cancelled the service. Directv is now charging an early termination fee. This problem is the fault of Directv failure to disclose. Stop defrauding the public.

Robert Morrow
from Carlsbad, CA
The criminals made fraudulent charges against my credit card and have been no help to get it straighten out.

MaryAnn Barger
from Gulf Breeze, FL
After buying a $3000 samsung 4k directv ready tv and spending hundreds of dollars on three rooms full of the latest genies you are telling me that I can't watch the masters in 4k because I only have the extra package and not the ultimate, well I am not happy about the greed you have displayed it is a real slap in the face to 80% of customers in my position.

leon bevins
from Mercedes, TX
My "go to" channel for sports has been ch. 205 sports mix. It has now become commercial mix. Even the header is a commercial. Why is this necessary? Why can't you show the sports mix as it used to be without the commercials replacing them? Goodbye sports, hello commercials!

Mark Wood
from Sherman, TX
A male came to my house asking about my name and saying there was an ATT phone to this address. Being somewhat taken by a stranger coming to my door in this manner, I was not going to give him information about myself. When I did not comply with some of his questions, he showed an attitude and I told him I would go to the ATT store if I needed anything, He was asked to leave my property and called me a "PRICK". I asked him for his name and he refused. He walked to his vehicle, a blue Ford Focus, Tag B123BK Utah. I went into my house and called a friend whose wife works at the ATT store in Sherman Tx. I learned that Sherman PD has had problems with this male before. The male went to my neighbors house and pulled into her driveway.
He finally identified himself as Chase Hubert. I used my phone to record our conversation and he was very unprofessional and argumentative. He argued that I did not introduce myself. I don't have to. Chase is representing your company and is causing citizens of Sherman to complain. I hope Direct TV does not represent itself in this manner. During our conversation, he told me to get my camera out of his face. He does not have a permit to solicit door to door, as city ordinance requires. When asked where his permit was he said he does not have one. He said he knew he was supposed to have a permit. After being recorded, Chase apologized, his apology is not accepted. He wrote his name on a Direct TV order form and urged me to complain. I was thinking about changing to Direct TV but not now. I'm sure this email will fall on death ears. This occurred on 3-22-16 at 1945 hrs.

John Landers
from Elburn, IL
Are we the "only" customer that can't get signal from satellite EVERY time it is windy? We have had this happen so many times to us and have just put up with it after we call customer service. Yesterday it happened AGAIN and we called and went to web site. Can get a repairman on Friday at the present time. It sure makes us wonder how you keep all your customers if they have the same problem. We had an appointment and the following day it came back. We cancelled our appointment and once again last night it's out again. Just checked my account and we still get billed each month but it's making us think we better find something better!! Guess we'll check facebook to see if others have the same problems.

Burchell Keys
from Citrus Heights, CA
Being billed for equipment services and your Philippines representatives rep does not understand your company policies and do not have knowledge of explaining to your customers. I need someone in authority to contact me asap who speaks English. I have been a loyal customer since 2002!

Stacy Gilligan
from Fort Lauderdale, FL
Had a DirecTV customer service call scheduled on Tues., Feb. 23. Received a phone call at 2:45 p.m. stating that the tech would be here between 4:00 and 5:00. I made arrangements to leave work early to be here at 4:00 to meet him. At 3:21, I received a call from the dispatcher that the tech was here (40 minutes before my promised time.) I asked the dispatcher to call me back as I was going to call the office to have someone let him in. When I called the dispatcher back the tech had left. I called the DirecTV customer service number back a little later and spoke to Lori. She was outstanding and reached out to get the tech to come back. He refused to saying he was out of the area, even though he did not show up at the time that was given to me.
Being there 40 minutes early is not my fault and he should have either waited or come back at the time that was promised to me. Lori tried to get another tech to come out but no one would come out. By then it was 6:00 o'clock and we still have no reception. By the way, we could not get an appointment scheduled for 3 days and then to have the tech treat us like that is unacceptable and poor customer service. Lori set up and promised that the tech would be here on Thursday, Feb 24 between 5:00 and 6:00. The tech called and is running behind on his job that was ahead of me. It is now 6:20 p.m. and no tech yet. He did promise that he would be here as he gave me his word. Lori is great, but repair service leaves a lot to be desired.

Charles F. Taylor
from Brevard, NC
On on-going problem with billing and contract over the last six months. Broken verbal contracts followed the the absolute worse customer service I have ever experienced. I cannot find someone to make a decision. I would rate DirecTV less than one star given the option.

Benny Bishop
from New York, NY
My bill is always going up. I asked for a $50 credit against my $233 cable bill and was refused. I have been a customer since 2011 and never had any credits. I have the $75 plan and added 13$ for Encore and Showtime. Every time I ask why is so high....the customer service reps say its because you don't pay all your bill. I pay over $200 every month. I hate Direct TV and when I am over the 2 year contract I will change.

Miles Abrahamson
from Fresno, CA
After the AT&T/DirecTV merger, I was pushed to make the switch over from U-Verse TV to DirecTV. I explained that I was going to have to switch to Comcast if i could not make the switch over to a new customer promotion. The phone representative quoted me about $115/mo and said that was the cheapest they could do for a package similar to mine. Shortly after the install, I noticed that the pricing online was substantially cheaper and for better packages (i.e. $65/mo for DirecTV Ultimate and U-Verse Max Turbo). I called AT&T and they apologized for the misleading information and agreed to lower my bill for the internet $25 and upgrade it to Max Turbo.
They said I would have to call DirecTV to get them to adjust the price on their end, though. When I did, I spoke with a very rude representative who almost sounded resentful that I had switched over from U-Verse and was not a customer of theirs initially. I explained my situation and he told me he could go ahead and downgrade my package and charge me more for it. I asked to speak to a supervisor. The supervisor's name was Michael (employee ID # AQ3135 -- or so I was told). He was even more rude than the person I spoke to before him, saying that he could adjust the pricing but he was not going to because I signed a contract. I asked why AT&T was willing to make the adjustments but they are not.
He simply said "we have different rules" and essentially waited for me to get off the phone. I am paying about $90 a month now for a package with DirecTV Select when they are advertising one with Ultimate for $65 a month with $250 in promotional cards. It seems there is no concern over retaining customers. I will be reviewing aggressive promotions from other providers and will be canceling service ASAP, as the monthly savings in switching over will outweigh the early termination fees and will hopefully less profitable for AT&T/DirecTV than if waited for the contract to run out. I will encourage others to look into their early termination fees and compare them to the savings they would get by switching over as well. This is not only bad customer service, it's bad business.

Linda Neville
from Clearwater, FL
I call to find out why my bill increased and come to find out another increase. right now I want nothing to do with directv, and now they say I can't get rid of it till May of 2017, that's bull. They just seemed to add more time that I have to put up with it. I have two accounts with directv and hopefully can get rid of both of them. You just sway people in with free offers and bang the shoe drops. Very disappointed with directv customer service and will not have a good word to say about it.

Judy & Norman Lovejoy
from Denver, CO
We cancelled our DirecTV service on 1/19/16 because of software issues. We were told that we would receive an equipment return kit with instructions on how to package the equipment properly. Today is 2/9/16 and still no kit. We have made numerous phone calls to your many call centers and were told not to worry, that it was on it's way. We were also told that if we did not send it back in a timely manner that we would be charged fees. We are starting to think this infamous kit does not exist. We would appreciate any assistance we could get! We are really looking forward to the FEDEX truck pulling up to our gate with the kit inside.

Chris Weber
from Buffalo, NY
Absolutely the worst DirecTV customer service ever. For the second time I was promised one price and when the bill came it was higher than promised in my contract agreement. Tried to call back a total of six times until finally someone agreed with me that they were wrong but nothing could be done about it.
Most of the calls I was hung up on after being "transferred". I have now been told it will be submitted to the "back office" for review and I have to wait 5 days for an answer. I am thinking there should be some type of class action suit against this company for purposely screwing people. I am guessing I am not the only one they promise one price to then charge them much higher rates.

I switched to Direct TV in December 2015 I was told I would receive a 200.00 gift card in 30 days for switching. Well that has not happened. I just want the gift card I was told I would get. The person I spoke with is Alexandra. AG113Y

Dorothy Sankoh
from Greensboro, NC
A technician came into my home on November 12, 2015. He broke a piece of my furniture. I was approved for damages. I have been getting the run around every since. They transfer me from one person to another. The one that caused the problem never reported it. I am so disappointed in directv!

Sakinah Lester
from Malvern, PA
Today I called DirecTV customer service line after several fails through long holds or disconnects to dispute my cancellation charge. A couple of months ago I called to find out when my contract would expire. I called again the following month, and was told the exact month the service would expire. I waited 30 days after to transferred to another cable company. Shortly after, I received a bill for what I assumed was for equipment. I called in again. I was transferred 3 times after waiting 58 mins, I hung up.
Today, I called DirecTV 1800 number again. Spoke with one young lady for 10 mins, was then transferred to another young lady after 20 minutes, spoke to this young lady and she acknowledged some of the times I had called in to inquire about cancelling my service, however, she stated I stilled owed a early cancellation fee. I then asked her was there any way I could submit a formal complaint.She stated she was not sure. I was told to hold for her supervisor, after one hour and still counting, I have yet to speak to a supervisor or be given any contact information to submit a formal complaint, and like the other calls, I have been placed on a wait that I feel is meant to exhaust me to the point I hang up.
To give DirecTV all close to $200.00 for services I did not receive is not only unjust, but money I can not afford to liberally throw away. I called into your office several times to inquire about my cancellation. Was given a date I could cancel with out being penalized. Cancelled when I was told I could only to be hit with early cancellation and a bill for usage when I was already receiving services from another company.
I would be beyond grateful for a answer, or at least an acknowledgment of my due diligence to discontinue to my service with Direct TV with out breaking a contract to avoid the penalty.I am single parent with two children in private school. I can not afford any extra expenses.

Rick Keeney
from Atlanta, GA
My Direct TV equipment broke down. I have been a customer for 11 years. They said they will have someone out to service the equipment in 6 days. That is absurd. I am cancelling my service immediately.

Guilherme C. Moreira
from Miami, FL
Called DirecTV customer service dept. on October 05,2015 to cancel service reason moving, I was said the service was cancelled and a technician would go to my new address to check if service could be transferred, the condo position did not allow the signal and I was told the account was cancelled and closed with 0 balance, since the service of September was paid. I am receiving bill from DirecTV for early termination fee and for the month of October. I need this account to be closed, please advise. I called back in November asking to send me the address, never sent originally when the account was closed in October, where the equipment should be returned and again i never received the information with instructions to where the equipment should be returned.

russell barthelmes
from Middleburg, FL
I am sick of poor service and high bills each month. DirecTV was good now it sucks. How do I get out of this? I spend more than $73.49 a month, so in my opinion DirecTV is a total rip off.

Samantha Ivey
from Salt Lake City, UT
Cancelled my service with direct tv 3 months ago. just received a bill charging my visa card for 2 movies I watched 3 years ago. How can they get away with stealing money from people. I am sure I am not the only one this has happened to. If I had not payed why would you wait 3 years to bill me. Something is wrong with this.

Hi, I'm not sure if the DirecTV corporate office can help in any way but I'm being billed a cancellation fee for an agreement that was broken. When ordering this service, I was given a price which I agreed on so I switch from Cox to DirecTV. I only paid that amount once and after that the price went up. My husband called the complaint number several times to get this fix but they never fixed it. I made payments and never given the credit that they told my husband either. I didn't pay Novembers payment and it got cx. so my husband called them again and said we needed to talk to Century Link. But it isn't Century Link but instead DirecTV. Now I'm getting a cancellation fee of $380.00. I didn't break any agreement I made. I agreed, on a recorded line to pay $90 a month for TV and phone service together and that was never done. I'm so upset with DirecTV for not being truthful.

Michael Hoff
from Albuquerque, NM
I have been a customer of Directv for over ten years. Since I downgraded my service to a less expensive package I have had a recurring issue with the so called "screen saver" interrupting programs that I am watching. The "screen saver" pops up every two hours and produces the Directv logo which can only be corrected by pressing the select button on the remote control to get back to the program that I had been watching. I was told by the support department last year that to resolve the issue I needed to upgrade my receiver's as the problem was due to the old equipment and they did not have a resolution for it. I agreed to upgrade and was sent two new receiver's and attempted to install them and discovered that they would not set up. I advised the support department of the problem and was told a technician would have to come to my home to correct the problem. It took two weeks for the technician to arrive. Upon getting the receiver's to work I specifically asked the technician about the screen saver issue and he indicated that he had never heard of such a problem. In fact his receiver had never had this issue and assured me that the new receiver's would resolve the problem.
As I watched programming later that day I discovered the same problem was still occurring. I contacted the customer support department again and described the issue and was bounced from one person to another with no resolution. I requested a supervisor respond and was told there was no one available. I continued to insist that someone other than a support representative respond to my issue. I was finally connected to a supervisor who advised me that all of Directv receivers had this "screen saver feature" built into them and that all of the customers had to push the button every time it activated. I know this statement is not true as many of my neighbors and friends have Directv and do not experience this issue. I requested that I be transferred to a manager or superior that could more effectively speak to the issue. I was told that no one was available and they would have someone call me back. This was two months ago and so far no one has contacted me and the problem continues. It appears that Directv has retaliated against me for downgrading my service package.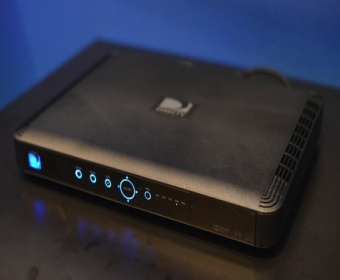 Chris Mackenzie
from Rancho Cucamonga, CA
I was a customer of DirecTV for almost 10 years. I was never late on a payment or had any problems, never had a single DirecTV complaint because you were in a bundle with Verizon. The week of Sept 14th, I canceled your service and spoke to both Verizon and you. both confirmed that I was cancelled and that you would be sending me a box for equipment return. I called today when I received a bill from you. When I called to ask why I was billed, I was told there was no record of me ending your service. You could see however that I ended Verizon service. Your manager Denise #100812467 said that it sounded right that I stopped service but if she didn't see a note in my file, then too bad, I owed the bill. I will NEVER go back to you, and I will go to every review spot I can to let people know how you treat a long time customer. I hope this very small bill that you sent me is worth losing customers and the respect of the community.

Darrel Hickman
from Los Angeles, CA
I received change in DirecTV billing from $42 to $76, when I called to ask why, the service agent only took notes to document but could not resolve. Ask for Manager, Yolanda got on the phone and explained that I had been given a promotional discount for the first year and I signed for it. I stated I had not and the promotion that was to continue was because when initially signing up the phone agent told me I would have a select channel on the Basic package which was not true as the technician completed his install and turned on Direct TV system and the Channel was not on, he called support and they indicated it was only on the Choice Package. Here I have a Coupon, a technician who just drilled holes in my roof to install the antenna and they are telling me I have to opt for the Choice Plan, in which was to be reduced by the again Manager on the phone.
Now I see this was a temporary thing, and now the cost is $34 more a month with one year left. Yolanda, kept talking down to me by continuing the conversation, "Darrel, you realize, Darrel, you signed, Darrel you agreed" This is not a conversation but a black female that used her gender and race as she has in her own family environment to control a situation while avoiding resolve. I want to hear from someone with logic, I want Yolanda to be removed from the supervisory staff along with a letter of apology, it will only get worse if DirecTV does not take care and step in and view this matter.

Charles Pettingill
from Hydro, OK
i was trying to pay my past due account of 134.00 and my card was declined because I forgot to transfer money to my account before calling to pay the bill and only 60.79 was taken out of my account towards the bill. Then, I called again and payed 74.00 toward my past due balance and they still refuse to turn my service back on . My bank said the 60.79 was taken out of my account and I also got online and it showed the 60.79 was taken out of my account and also, I called my bank and the teller told me that is was taken out of my account. I called and talked to your representative and they are saying that it was not taken out of my account and not showing on their side. So here is my complaint and would like my service to be turned back on .

Michael Brooks
from Riverside, CA
I ordered for 8 tvs. 1st occurrence att forgot to schedule installation they took 100.00 of my money. I called they found their error and schedule me for 8 tvs again. the tech came out and advised me I could only watch 4 tvs and only brought 4 boxes I had to pay 459.00 again. they then scheduled direct tv to come out I had to pay 534.00 again for Direct Tv and they still only set me up for 4 boxes when i called she said they had to reschedule me to add 4 hd boxes and 4 genies. Now they can't seem to get my order correct and they have taken over 1,000.00 dollars. I am so pissed they have taken all my money Nobody can seem to do any thing about it.

Jimmy Burnett
from Detroit, MI
I have a four unit apartment building in Detroit Michigan 48207. There are seven satellite dish attached to the building building and some installed on the garage roof. DirecTV equipment has caused damage to the roof and building structure, bricks are falling from building, leaks, coupled with garage roof leaking. I'm submitting the matter for corrective actions by your company. I want the equipment removed and repairs made or I am filing a complaint with DirecTV corporate offices!

Barbara Hawkins
from Galesburg, IL
Not happy with the DirecTV channels that are not on, all the sports that I do not watch and all the jewelry channels that's are on not what I signed up for. I loose my picture all the time I am very unhappy with your service its a ripoff.

Gary Thompson
from Midland, TX
I have been a direct TV Customer since 2005 About 3 months ago i discovered that direct TV was over billing me they were charging me for two receivers at 10.00 per receive for two years but i only had one receiver. After four calls and hours on hold they agreed to issue a credit to my account It never happened so i called the today spoke to a supervisor who informed me they will not refund the 24 months of over billing but she offered me 20.00 Total credit on my account. Do i have options yes i do.

Carolyn Miller
from Cape Coral, FL
I cannot believe that tasteless commercial Hanna and her horse. Despicable. An insult to woman everywhere. And I'm not even a feminist. Take it off the air and save what's left of your dirty reputation. What the hell does that commercial series have to do with a cable provider at all. Poor marketing.

Trresa Taylo
from Jonesboro, GA
I was on a month to month service after my contract had expired with Directv. I was not told in Feb 2015 I was in a 12mos contract. I was given a discount becuase of nuerous billing issues and a 3mos free service HBO and other premium channels. The rep stated I would be able to pay month to month and end my cintract anytime. I was very specific on that or I would never have kept Directv . I asked Directv to pull the call on my account for 2/24/15, information can easily be verified. This type of issue is why I now choose to end my service with Directv at the end of the month. Billing issues has plagued my account since the second year. I only want a company that is honest and bill me for services rendered. The customer service rep had to be seeking a quota to fill but I refuse to be held hostage because Directv can't keep up with their competitors.. DO NOT CHOOSE THIS SERVICE WITH THIS COMPANY. BEWARE !!!!!!!!
Have feedback for DirecTV?
Thanks for your feedback!
Sorry. Please try again later!