DirecTV
DirecTV Complaints Continued... (Page 3)
404+ reviews added so far. Upset? Call DirecTV corporate: 1-855-802-3473

Gaynelle Garner
from Stanton, CA
I'm very dissatisfied and disappointed in my experience with DirecTV--No cooperation. I live in a retirement community and had a DirecTV rep go house to house sign up multiple seniors and make all kinds of promises to seniors transferring from Spectrum. Salesman promised us Internet and phone with a set price only to find out the salesperson lied to us and others about available package promised to us. We were supposed to get. $10 off our bill for referral, a $200 gift card startup bonus and move our billing periods d to the middle of the month. Then when we called Directv customer DVD. Dept., they all but called us liars. They were so rude and unhelpful.
I've never had an experience like this from a company like this. Hey said they don't have reps that go hose to house, that the guy that set up our account isn't an employee and it s probably fraudulent (even though we now have directives and wouldn't have it unless they were communicating). But they take the money out of my account on days not agreed upon, causing problems. I'm so tired of these people and we are going to be reporting them. Can't get the two reps reps that set us up call us. One of them was named Marta and the other, her supervisor, Robert Simental. Neither one will call us back and act as if all will be ok, just give it a few days. They never return calls and make promised they know full well can't be kept. It's reprehensible and we are contacting the authorities.
These people are taking advantage of seniors and even Directv won't acknowledge they're affiliated. Never have I encountered a customer driven company operate so deceptively. There will be consequences and I will peruse action against these people and directv. To prey off seniors, making promises they knowing they won't honor the agreement is parasitic and I won't let it continue. I will not stop until action is taken. Makes me sick!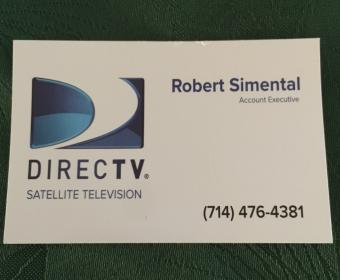 Donna Bieber
from Coppell, TX
In installed DirecTV in September. The technician that installed it for us stated we would be receiving a $200 gift card for signing up with DirecTV. We never got one. I called DirecTV to find out why we did not receive our gift card. They told me that I needed to redeem it online. When I tried to do that (Directv/redeem) I received an online message that said I was not eligible to redeem any gifts.
I called Directv and spoke with an individual. They walked me through the same process and said someone would call me. I never received a phone call back. I called Directv again and spoke with Daniel on 12/12/16. He stated the card will be received within 10 days. I then received a phone call from Direct TV but was unable to take the call. I tried to call them back but was told it was not a valid number. This time I spoke with Randy on 12/14/16. He had to escalate the issue to the redeem department. He told me to expect a call back.
12/16. Did not receive a call back. Called Direct TV and spoke with Alex. She told me the situation was escalated and that I would receive the card within the next 10 days. Then I get a message from Ron and he asks me to call him back on 1-888-482-6029, Ext 2448. I tried calling this number to talk to this individual. No one knows who Ron is and they tell me the extension is a non-working extension. Since Alex has assured me the card would be sent, I wasn't concerned.
11:25 am on 12/18/16. Received a call from BJ in Account Management – the number he was calling from was 1-800-531-5000. He asked me to call back and gave me the number of 1-888-482-6029
12:15 pm on 12/18/16. When I called that number, after a long wait, I talked with James. Of course James didn't know what I was calling about and couldn't get me in touch with the right party. After reviewing my information, he informed me that I was out of the window for the gift card and the offer was no longer valid. I lost my patience with him.
He told me that it was my fault that this wasn't resolved because I wasn't available when they called me. I told him that in each case I called back but to no avail. After I ranted and raved with him, he said he was going to re-escalate and wanted a specific time of the day that I would be available but couldn't tell me when I was to receive a call back. Finally after desperation, I gave him from 8:00 to 10:00 a.m. to return my call.
I told him I wanted the number of the Complaint department. He put me on hold. I have repeated my issue over and over again and no one can get this issue resolved! All I want is for Directv to send me the $200 Gift Card that was promised me. There has got to be a better way to get this done than what I have been through. The last individual I spoke with (James) should not be dealing with the public.
Just tell me when I am to receive my gift card. Do not tell me I'm not eligible. I started this process long before the due date. It is Directv's fault if I'm outside the window because I never get any type of resolution.

Richard Alperin
from Newmarket, NH
On January 1st 2017 the NBC affiliate in Boston (WHDH) will no longer be an NBC affiliate! Effectively leaving Directv customers in the lurch! Roughly two weeks from now Directv will not have an NBC affiliate to broadcast to their customers. I have called the Directv customer support line and requested to speak with supervisor after supervisor. I simply want to know on what channel I will watch NBC! The only answer I receive is "We don"t Know"! How can they "NOT" know with only two weeks to go?
Piss poor planning if you ask me! I recently upgraded my genie box to a "newer/better version and was required to sign on for an additional 2 years! No problem if they stick with their commitment to me to carry "ALL" the major networks! I swear to GOD if they don't have NBC on January first I will drop them like a hot potato!

Ernest L Hisey
from Rocky River, OH
For about 25 years we have suspended service from about Nov 1 to Apr 1 because we are out of town. Now we have , for the 1st time, rec this mailing that we have "completed a disconnect service" and have to return our "access cards" and recycle our other equipment. We thought we were still your customer, just temporarily suspended during the winter while out of town (as we always have). If we are to no longer to be your customer, please let us know.

Kristy Keimig
from Seattle, WA
My account was supposed to be suspended when I moved but my bank card was still charged for 2 months (no active service the entire time)and then they said they credited my account, but obviously did not, then when they were supposed to come do the install and the tech was not able to find the line of sight my account was supposed to be cancelled on their behalf and yet I was charged two more times for twice as much as before. With a cancellation fee of 240 which was not supposed to be charged since it was their fault. I have called numerous times and no one will help me. I have been charged 521$ and they say they are refunded me and they sent me a 99$ prepaid gift card! What is so hard I want my money back. Do not go through them.

Beth Bloodsworth
from Ocala, FL
On October 5th, 2016, I signed up for a direct TV installation, account # 3653626. This was a gift for my granddaughter for when she visited, there would be TV, the time, the plan to stay at their address in Reddick Florida, was at the most a year. I wouldn't have agreed to the 24 month minimum service. Had I known this was a requirement, I would not have had the Direct TV installed! On November 16th I called and spoke to a female to cancel the service as the well water was bad, and they had to move. At that time she told me about the 24.
I told her that was impossible and had not been told or I didn't understand? She was going to cancel the service and notify the right department about my help, which she said would get back to me within 3 days. When no one contacted me. I called back and talked to Mitch. He was emphatic that no one could help and that my service had not been disconnected. He did disconnect the service, and I received the box yesterday to return the equipment, which I will do today.
I am very disappointed my husband retired from AT&T in 1985, I like to think that a company that they would understand circumstances beyond out control. I cannot afford this cost.

Krista McClure
from Candler, NC
On November 25 I called and upgraded my equipment as well as added equipment to a room. My appointment was scheduled for November 26 12:00-4:00pm. At 2:30 I called to check on the status, an employee said the tech was on his way, 10 minutes max. 2 hours went by, no tech, no phone call. I called directv to see what happened and the tech had cancelled my appointment stating no one was home. My family and I were home ALL day as well as friends watching the football games.
Directv employees refused to send someone to make it right and told me I should have been home. Even had a supervisor hang up on me. They ended up rescheduling my appointment without my knowledge to Monday, November 28 from 8:00-12:00 after I told countless people no one would be home due to work, but they didn't care because that's "the best they could do!" Lucky for me, I work for one of their subcontracting companies and the incompetent tech that couldn't do his job properly is one of my employees. so, if you ever have a problem it's obvious.

Dora Lerch
from Brooksville, FL
In Sept 2015 was a promotion from you with together an AAA discounts rewards in the AAA Magazine. Because I need and watch (Fox, CNN, and at the weekend the Lifetime if it's not a junk movie) I took the offered cheapest package for $19.99 +fees and with an AAA $10.00 monthly discount..It was only a phone number to call.. I didn't sign anything because it was stated in the ad that this price is for 12 months with a 24 months agreement. On Oct. 31, 2016 you sent me an e-mail that my AAA credit card was charged with $54.29.
When I called you it was told that my $19.99 /mo. price was original with a $30 discount which I have to pay now...It is a100 % lie. Nobody told and no paper was signed. Furthermore it was told if I cancel the service which I wanted to do right away...I have to pay 12 x $20 = $240 penalty. When I asked about this other strange information.... she told it is in the signed agreement. I repeat it:: I didn't sign any agreement and during 1 year I called you once ... (after start).
During my 78 years I never had such kind of bad cheat or got so bad trap which is a real rubbery of the elderly citizens. I'm 78 yrs. old, sick with autoimmune disease which costs a lot and is very hard to pay your greedy $49.99 + fees trap price from $125/month Social Security income. I sent this complaint to you on Oct. 10, 2016. As of today I haven't received any answer, or your proof about $30 discount... or the signed contract with the $240 penalty info in it.
I have the proof of the above $19.99 promotion and the proof from Complaint list of Oct. 2016 so this would be my last inquiry before I turn to the authority for assistance against of you, therefore I would like to ask you, please discount my monthly price for your many times no service, or let me go right away without paying a cent penalty to you.

Patrick and Kelly McCabe
from Greensboro, VT
On November 3, 2016, we paid our home cable bill. The account number is 65074391. The bill was invoiced for $87.94. Due to an error at our end we paid $8794.00. We notified DirectTV immediately and have been working with the call center to have a refund issued. We had one person hang up on us, and twice we have been told the check is in the mail. Several individuals have been very considerate, but can not provide any concrete information. We have been contacting the call center every other day.
The error drained my account and bounced several checks. I worked with our credit union to resolve the issue. When they were made aware of the circumstances they immediately cancelled all overdrafts charges and even forced several checks through the system. I love my credit union.
The individuals at the call center have stated several times that a refund will be issued within 10 to 14 business days.

Derrick Andrews
from Lawrenceville, GA
I switched to DirecTV under the promise of a Walmart gift card and a Visa card as well to offset the charges for cancellation of existing service. I just received the Walmart card, but direct says they never promised a Visa card. I am sitting here now with over $300.00 of cancelation charges from charter a s a result of switching services! I've called and been transferred to all of the below numbers with now resolve. The agent in Walmart was the reason I switched service and now this leaves me in a bad place and Direct is not even thinking about any assistance to resolve.

Quintin Hennessy
from Anadarko, OK
I am tired of the way DSTV handles inquiries. I have been trying to ask so many representatives about my dstv rewards card that was promised to me when I signed up on August 5, 2016. Nobody can tell me where my rewards card is. I even tried to check my status online and it said that my card was sent October, 21, 2016. I am tired of your lies.

I have been having problems with my service all morning. I have made several calls and get put on hold and then switched to a busy number. I did talk to one of the DirecTV service representatives after being on hold for 29 minutes. Talked to him for about 10 minutes trying to tell him the problem, he then said he would switch me to a specialist and was connected to a busy signal. I then decided to cancel my service (we have been with you several years) and was again put through to a busy signal.
DirecTV customer service needs help. It seem you are only interested in getting new customers and once you got us, well the service is crap. I understand you are having problems with some of the channels. I was getting some and followed your instructions to reset, now I am getting nothing. With all the money you make certainly customer service should be a priority. DirecTV locks people in for two years and then you don't care.

sheri ergle
from Newton, IA
In the month of October possibly oct 13. Direct tv was scheduled to come and install a 5th receiver in the basement. when the tech arrived he stated that he that he had a dilemma with the service order. He said you have 2 choices. 1st one is that we are going to have to drill a hole at the outside of the house and go through the basement ceiling tiles or 2nd choice for a one time $99 installation fee we can install wireless. the 1st way we couldn't do due to weakness in the ceiling tiles. I said since its just $99 we'll go with the wireless. He comfirmed that it would come on the next bill cycle. the installer tech made no mention that it was $99 for each receiver. Failure for the tech to mention this detail drove our bill up to $800 that we received on Friday 0ct 28.
This is quite a big difference from the $99 originally stated by the tech. Unknown to myself my husband called direct tv inquiring about the additional cost. He was more worried about the $800 withdrawl when the bill was due knowing we had few funds to cover a bill that we weren't prepared for(thinking he was helping me out). He was under the impression by the direct tv representative that he had no choice but to make some sort of a payment arrangement because that is what he was instructed to do by direct tv.
1st of all- I was mis-billed by $400 according to the installer's offer for a one time $99 fee with no mention that this charge was multiplied by 5 receivers. we already paid for the install fee for the original receivers and only wanted to add one. if the tech told us it was $500 for the one time fee $99 wireless we would have said absolutely not. 2nd of all when I spoke to one of the direct tv supervisors (referring to himself as Pete) said that when my husband Patrick called to inquire about the bill the agreement was made. In addition to bullying him into making a quick decision to make a payment arrangement they also tried to talk Patrick into century link versus Mediacom.
I was told by direct tv originally that Patrick had to be on the account because he lives in the household. Patrick is not capable of making any payment arrangement and is not even allowed to have his own bank account or credit cards. He is a 100% disabled veteran with a combat head injury that is unable to make financial decisions. the VA has assigned a lawyer out of des moines ia as power of attorney over his fiances. His lawyer was sent a copy of this bill that I am disputing. I'm not disputing the one time $99 fee. what I'm disputing is extra $400 that was charged to my bill without any prior acknowledge or permission from myself.
I will agree to pay the current bill that is normally around $262.00 plus $99 one time install fee to be withdrawn out of my account on the next payment due date. I'm requesting for the rest of the bill be "waved" due to mis-billing. A couple in des moines ia had 4 receivers installed in their new home 2 months ago and they also confirmed that their final charge was $99 after the same dispute. Sounds like this happens often with direct tv. I hope that we can get this resolved without any issues...thank you for your consideration. sincerely sheri ergle

ken nieveen
from St Louis, MO
I recently cancelled our DirecTV service that was started in Dec. 2014-was cancelled over the phone. I was very direct in asking questions. What will my cost be canceling early? This is a vacation property that is used a few months of the year. It was a 2 year agreement that had vacation options-i.e. only being charged when occupied. This was cancelled Oct 1st, 2016. The phone rep stated my cost would be $180-plus making sure all of the Direct T.V. equipment was returned in 21 days. This was verified the return was recorded, which was good. My surprise was getting a bill for $289-my mistake was not getting a conformation # over the phone-I asked him for it. He said I didn't need it. I heard stories about this-now I know for sure-any help would be appreciated.

Stephen Moore
from Auburn, ME
My mom had a account with Direct tv and she passed away. I closed her account and sent her equipment back as told to by Direct tv. They claim they never received it and continue to harass me about money owed for early termination fee and equipment. She did not terminate it early, she died. The equipment was sent in self return box with a prepaid return label to their facility by me. When I attempted to speak to them after they called, they said they couldn't because I wasn't authorized to do so. I'm her son. Many other creditors spoke to me and were helpful, not DirecTV. I am know being harassed by them after they have been told not to call. They know she died as we sent them a copy of the death certificate.

Trapper stamp
from Omaha, NE
Attempting to disconnect service required calling directv 3 times customer service representatives put me on hold for at least 5 mins and eventually just hung up on me. Getting the service disconnected took about 15 mins 10 of which i was on hold cause application had to "load". DirecTV is ridiculously expensive for programming that is always the same crap daily, shout out to Netflix for being better than this money hungering company that no longer cares for its customers.

shirley lew
from Glendale, AZ
I always got a phone call from commercial advertiser. So I never return and answer all the call. Today I just got the name Ryan B commercial support team call me. And like a usual I am not answer any question. Then he just shut off my tv channel. Then I try to contact DirecTV customer care by phone at 1-888-388-4249. But they need me talk to another dept. I try to call but is answer machine. I spent almost a hour to contact your company right dept. usually at least send me letter notice. In this case I am so unhappy. 5 years I never late payment and always on time. I am up sad your company no reasonable to take this action. So I decide to close my account and never use your company anymore.

Robert Adams
from Columbus, GA
Ordered the TV and internet bundle through the Direct TV website. Agreed on a price of $85 a month. They came right out and connected the TV service, but no internet. I asked the Direct TV installer about the internet and he told me that would be done by someone else, he doesn't install the internet. I waited a week and called Direct TV about the internet and they transferred me to an AT&T representative because they had no record of the bundle. No work order is what I was told. AT&T agreed to connect me to the internet if I bundled with them, phone and internet, for $40 a month.
I explained that was not what I agreed upon. It was $70.00 for TV and $15 for the internet, $85.00 a month. I called Direct TV three more times with the same results, so I cancelled the service because they did not live up to their side of the contract. Now Direct TV is charging me $500.00 for contract cancellation. Direct TV did not fulfill their side of the contract, but yet they are charging me cancellation of an unfulfilled contract. I thought there was a law against crooked companies? Not if you are Direct TV.

When is signed up in August their was a promo for a $200 gift card. I called in at the end of Sept bc I had heard nothing regarding my gift card. She told me I was due to find it it by 10/14, well I have received nothing. So I called back on Monday 10/17 and was told I would get it in 5 days. Today I chat to check where it is and they say that I have not qualified? Then she changed her mind and sent me a link to verify something. They said the mailed me a letter which I never received to verify the rewards information. I am highly upset that I have been lied to 3 times now and am having to wait another 3 weeks to maybe get my gift card that I am owed. I have no successfully completed 2 payments on time.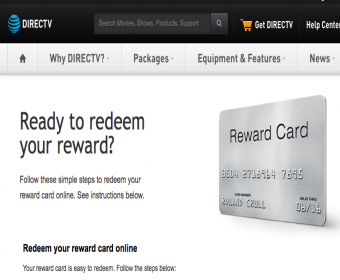 Sonya Brown
from Albuquerque, NM
Direct TV is the worst provider of all for service. I should have followed my first mind and never went with DirecTV as a company, but you make it so believable that I fell for the trickery. How is it possible to debit a person's account that cancelled auto debit? DirecTV customer care reps confirm that auto debit has been cancelled, but yet still debit my account, not once but twice.
Oh it gets better, debit it for the wrong amount. More than what my actual bill is for. And the best part is DirecTV claims they have no record of the payment but my bank statements show otherwise. So I spend numerous hours on the phone with the company and no one can explain why then the best part is the company has no record of my 39 minute call, but you say all calls are recorded.
Then to be told 4 times on all 3 calls to the DirecTV corporate office that no worries your problem will be resolved by the end of this call. It's been 2 days and I'm still waiting for my issue to be resolved. Lies all lies. I have no faith or trust in this company. This is just one of many issues I am currently dealing with this sorry ass company. Is there anyone willing to assure and assume and become an advocate for your company and get my issue resolved and with lies and excuses?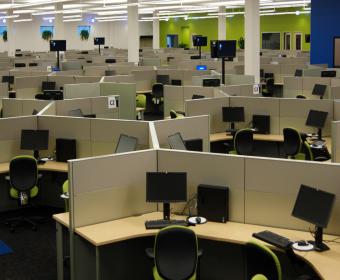 Mike Hendricks
from Owasso, OK
We have many boxes in our home and we're switched to use the Genie box on a few, well apparently if you don't use that tv for 2 months? You must enter a new pin number. Why? So I'm paying for my boxes to use at my discretion and you get the right to turn them off if you want at any time? We have a tv outside which we get to use seasonally so this is bs.

Melissa Longenecker
from Chicago, IL
Called in to cancel because of to expensive. They promised a better price for 24 months with a new contract. The first bill was fine then after that they decided to charge me whatever they wanted. Called in to get a bunch of excuses why and nothing but lies. Was on the phone for over 30 min every time.And this has been going on for 5 months every month same crap of dealing with people who have no idea what they are doing ,this is getting very aggravating.

Cheryl Brantley
from Dallas, TX
I recently had my account reinstated on September 25 2016. My service is great but their customer service are the worst employees ever. I received a bill in the mail which was suppose to be paperless which I have always had in the past. They credited my account which I didn't order. They had me set up as automatic bill pay which I have never had & didn't order this either. I had made several phones calls to DirecTV customer service reps and each time they tell me my refund will be put back into my checking account & won't be there for 7-10 business days which they have not done correctly yet.
I have been dealing with this issue since October 2-2016 they always tell me this will be expedited back into my checking account but it will be done in 7-10 business days. Clearly the explanation of expedited is not the same as mine. I have had DirecTV for more than 5 years & have never had such poor service. If this situation is not resolved very soon I will have my service & go with Dish network.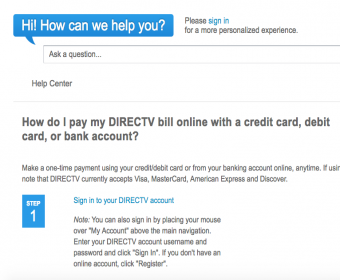 Andy Watson
from Hollywood, FL
I scheduled a DirecTV ultimate upgrade set for Saturday 10/8/16 technician replied to company that no one was home at a single story Beige house with beige door. My house is green w/green door. Several attempts to have it corrected on this date to no avail after speaking with supervisor who stated I could not speak with a manager. Monday 10/10/16 technician stated on this date the same exact response, no one home at same home description.
After several calls and making contact with a manager nothing has been resolved.my address has not changed since I joined Direct TV. On both occasions there was someone at home waiting throughout the day.there was no courtesy call to my number as instructed. Using this technician service had been very troubling to me ada loyal customer. I spoke with manager Mr Jerry today as well as others and hopefully this can be corrected with some added benefits for all this poor service.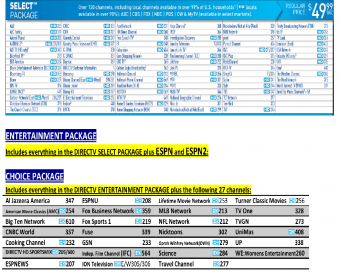 William K. Bell
from Huntsville, AL
On Friday, September 23, 2016, our family goes out to eat, and then to Costco to shop. I go to tv area. The pix on the Samsung 4K HD tv just jumps out at you. There is a black man in a blue Direct TV shirt assisting customers in the tv department. After he helps a couple (the blonde lady was a travel agent, and she said that the Alaskan pix on the tv was just like it is, because she and her husband, with her, just got back from an Alaskan vacation) from Athens, I ask him to tell me about the Samsung 55 Super HD tv.
He does, and then when I tell him that I am a Direct tv customer, he says "And that's why I am going to help you out." I ask him if the tv is easy to connect, because I am technologically challenged, and he said it was-just disconnect the wires from the old tv, and hook them up to the new one. He then takes me around to a curved tv, and said for the money, this is just as good as the Samsung. The pix was not as good, though, and I return with him to the Samsung. So, he helps me load it on a cart, and I buy the Samsung.
When we get home, we unpack it, take the old tv out, and our daughter, Amanda, sets the new tv up. I look through the documents, and I google the Direct tv website for 4K service, and discover that to get the service, you must have 3 things-a 4K model HR54 Genie, a 4K compatible tv, and either the Ultimate or Premium programming package with Direct TV. The new tv's pix is just like the pix on the old tv.
I call the number on the Direct TV website, and talk first to a lady who sounded American. She was yawning a lot, and when I asked her how she was doing, she said her child was up late. I asked her how old he was, and she said one year old, and that he didn't sleep well with her, but did with the gather. I told her what I needed was to have 4K service for the new tv, and told her the info on the website, including the HR54 Genie. She told me she understood, and placed my order, setting up my free installation for October 1, from 8-12 noon. She said that there would be no charge for the equipment or the installation (a "Customer Loyalty Special")', but there would be a $20 "handling charge," and that the total extra charge to my bill for the equipment with them would be $15.00 per month. She then said that she needed to transfer me to an "Order Confirmation Specialist" to confirm the order.
I then talked to this next person, who had a foreign (Indian sounding) accent, but gave an American sounding name. When he went over the order, he said that the First Lady had ordered the wrong Genie, not the required 4K model. He said that he needed to cancel that order, and transferred me back to a third person to place a new order. The third person was an American sounding lady. I told her what I wanted, and she placed the order; however, she told me that the equipment and installation would be free, and confirmed that the total extra charge was $15.00 per month. We change the installation to Monday, October 3, 2016, from 8-12 noon; and transferred me to yet another "Order Confirmation Specialist."
I then talk to the fourth person, who confirms my order, the free equipment, and free installation, as well as the extra charge amount. I receive shortly thereafter an Order Confirmation email. However, the equipment listed was not for the 4K Genie, and listed 3 different Genies, one a "4K Genie Mini." It did show not show the amount of the extra charge to my bill for the 4K service, so I called back. It was during the fourth quarter of the Auburn-LSU football game, and continued after the end of the game. The agent then transferred me to "Tech Support," where I talked to another foreign-speaking man who gave his name as "Chris."
I again told him what I needed was 4K service for my new tv, and he assured me that the listed equipment on the email was what I needed. However, when I asked him to confirm the total extra charge for it, he said $29.00 per month. When I told him that was twice what I had been told, he went to check with someone, and then told me that the $15.00 was correct, because we were already paying $7.00 per month per unit for the 3 receivers we had already. He confirmed the October 3rd installation date and time window. I tried to reply to the Order Confirmation email, but it would not allow a reply.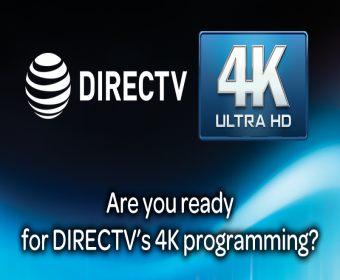 Kevin Puskar
from Sylva, NC
From the beginning of my experience with Direct TV I have been placed on hold with every call for up to 45 minutes. I have been lied to, upsold, (convinced to agree to channels as free trial I really didn't want and guaranteed those channels would automatically be removed at end of trial period. I required services after installation but upon requesting services was informed subsequent to initial contact that no ticket had been created leaving me without service. I had arranged to be off work in order to be available for what turned out to be a no arrival event.
Understood my contract price to be guaranteed for 24 months with equipment included upon installation. was not told that the so called "protection plan" would be xtra at the end of some prescribed period of time. Difficulty understanding individuals due to language barrier. Voice messaging system is focused on paying bill or ordering services. When ordering system and services they are all ears, forget about it. Next call....State Representative.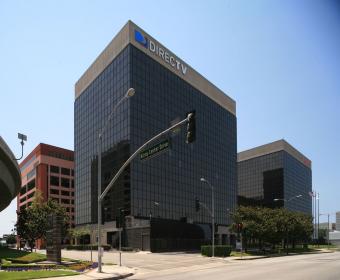 lois isaacs
from Millbury, OH
We use to have DirecTV service and after the contract was over we cancelled in December of 2015. My complaint is we keep getting called about every day by DirecTV billing department, sometimes a couple times a day. We told them time after time we don't want the service so they need to stop calling us because it is considered harassment which is against the law.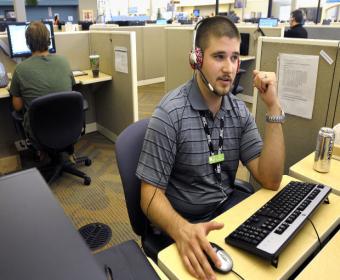 Catheryne Jarmakowicz
from Lake Worth, FL
Once again I have lost service while watching The U. S. Open tennis tournament and two football games. This is the third time today. When I signed up for direct tv I was assured there would be less interruptions. Plus often we lose sound on the television and have to change channels to get the sound back. I am less than a year into my contract and regret every day that I switched. Please help me get better service.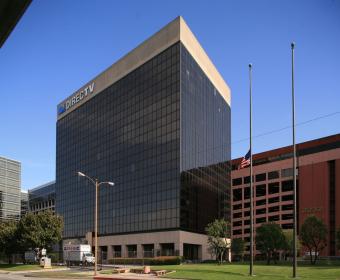 eric stamper
from Richmond, VA
I have been inquiring about some bogus charges for the last 6 months to no avail. The last "assistor" and I use that term loosely, said I needed to write to the corporate office. I did on 7/1/16, of course, no response. I called today, supposedly they couldn't hear me in the background and was going to call me back. Again, of course, no call back!

nancy hight
from Flushing, NY
I called Direct TV regarding the loss of local channels. I explained to customer service representative that fellow coworkers had called and had received discounts of 50% off the NFL ticket and several movie free 6 month promotions and other incentives. The customer service representative came back with 9.00 dollars off the NFL Sunday ticket and stars. I explained my fellow co workers went through the dame low offer and asked for the next level to obtain only what others were compensated as customer satisfaction.
This individual transferred me 47 minutes later the NFL ticket department answered and explained I should have been transferred to customer service department. After a 47 minute wait I did not continue. I have never asked for anything nor jumped from one satellite provider to another and have with Direct TV for several years. I have also had the Sunday ticket since its inception. So I am very dissatisfied that others who have been with your company far less time than myself are given exceptions and compensation for their inconvenience than myself.
I shouldn't have to argue to receive the same offers. FYI there are several persons who have told me the same thing. I look forward to a resolution to this issue. I am asking for the same as others not minimalistic offers and horrible customer service.

Kevin Donnelly
from Vienna, VA
This is the third time this has occurred to me because of DirecTV's mismanagement, laziness or downright lying. Once DirecTV has our money, you simply do not care what service we receive. DirecTV forces customers to give up at least half a day of pay to wait for customer service to arrive at their homes and then does not bother to show up or even call in advance. I apologize for not having the dates of the first two instances, but they should be easily acquired through checking their records.
As both my wife and I work early hours to mid-afternoon, your 12-4p appointment time is best for us. I was waiting at home on the given day at noon. Sometime during the afternoon, I received a call from DirecTV saying that the service rep was running late, but was still on the way. I waited. At 4p, I called back to DirecTV and was told that the rep got stuck longer than expected at a house and was not going to be able to make it to my residence. I told your employee that I would wait as long as it took because I was not in a position to take another half day off of work. I was informed that was not an option and that my only option was to reschedule at a later date. Reluctantly I did.
The second time was another 12-4p appointment on either a Friday or Saturday. The same thing happened: we were called by your automated service saying a rep would be there between 4-12-p. We both home ALL day and around 3-4p I called your offices inquiring about the status of the rep. We were told that the rep had been to our house and that no one was home. I pointed out the impossibility of that scenario as both my wife and I were in the house ALL day and we have three dogs that go crazy whenever someone approaches a door. We were told he left a card at the front door. When I told your operator that there was no card at the front door, she merely responded with words to the effect, "Oh, I'm very sorry; when can we reschedule your appointment" with no concern that the rep and/or her blatantly lied.
The third and final time occurred yesterday, 08/16/2016. A few days previous, I had called in to order a fourth box for our residence as football season is coming up and we host parties for games virtually every weekend. I have a cable already hooked up outside on the porch and just need one of the small Genies to be delivered. I was told that I needed a tech to hook it up, despite the fact that I have had Directv for years, have multiple boxes, and made it clear I was quite capable of hooking up another box myself. The process, as we both know, would take only a couple of minutes. Regardless, I made another appointment. My wife scheduled a replacement nurse to come in for her and left the hospital to get home in time for the appointment.
At approximately 1:30p I received a call on my cell from your automated system saying that someone would be coming before 4p. A short time after that I received two emails (on the email address provided above) restating and confirming the appointment time. Upon my arrival at home, my wife informed me that no one had been there yet; so, in order to avoid a repeat of the other times, I called Directv (around 3-3:30p) and got hold of the automated machine which again told me someone would be there before 4p and then disconnected before I could speak to Customer Service.
At 4p I called back and spoke to Customer Service. The woman told me, despite the fact I had received confirmations by phone and/or email that DirecTV was coming to the house that day, there was no evidence that I was EVER on the schedule for that day! I asked to speak to a supervisor and he reiterated that they had no information related to a service call being needed at my residence.
After my pressing the issue, he opined that through MY contact with YOUR automated service that day, some glitch probably discontinued the appointment! Once again, DirecTV did not care that a customer was completely inconvenienced and forced to waste a half day of pay, but out-and-out lies to them and blames us. Of course, all he wanted to do was reschedule an appointment. I refused.
I have given DirecTV many years of faithful service in both Houston and before that in El Paso; but I won't do it anymore. I'm calling the Better Business Bureau and will post these examples of your "customer care" and "service" wherever I find a venue. I can deal with mistakes, but I will not tolerate non-performance due to laziness and then be lied to in order to cover that incompetence. As I explained to the manager when he kept saying he "was sorry": "You are not sorry this happened to me because this has happened repeatedly. You are sorry because you have to deal with it. You don't own DirecTV and will pull your salary whether I am a customer or not, so you really couldn't care less if I quit DirecTV or not.
I'll bet if you own the cable company, you would not have let this happen or would have remedied the situation yourself." Pull your tape on this conversation and you'll hear words to that effect and that I never lost my temper of was abusive to either of your employees (as I'm sure they would use as an excuse if questioned about this incident.) Even if you don't care about your customer service, I would have though that with all the competition in the cable/satellite television, computer and phone business going on today, you would have hired service personnel that were at less competent enough to do there jobs to keep the customers you already had.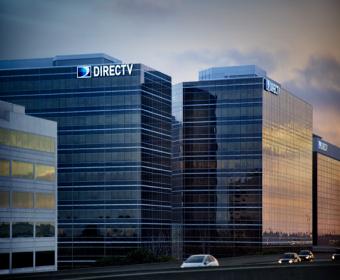 Thomas Mansell
from Myrtle Beach, SC
Our bill has been incorrect over several months. I am constantly being transferred from one representative to another and must tell my story over and over again. Spoke to Brian, a manager for Directv, who assured me that incorrect fees have been taken off (this was on July 15). Received August bill and it is still incorrect. I feel like I am getting the run around and am frustrated by their lack of competence.

Dennis Kerns
from Terre Haute, IN
I had two service locations. Ask for temp service in Fl while prepping house for sale. Direct TV rep said okay and then took a week to connect service. TV worked for two days and had problem. Took another week to get service man. Had TV for about 5 days in April. Canceled service and sold house. Later Direct TV billed my credit card $500 plus for early cancellation. Told original guy it was for short time, was paying $ 200 per month. in Indiana for several years and he said it would be okay. Not going to pay and want a credit.

Marc Muncy
from Duncan, OK
I have had a problem with the phone and online directv personnel telling me untruths so I ended my service. I was a customer for over 20 years. I will explain by telling the full story. I made an over payment on my final bill for $88.24. I called to their office to get 1 shipping box and 2 shipping labels. They sent 1 box and 1 label. I thought I might be able to send the old receiver with the new receiver back with 1 label but the USPS wouldn't do it. I took it on myself to purchased a shipping label for $14.90.
I immediately told directv what I had done and they put the $14.90 back on my debit card. Directv then turned around and took the $14.90 from my refund leaving me with $73.34. I brought their attention to that and so far they have cheated me out of my $14.90.I have tried every thing I can do to get that little bit of money they cheated me out of but it doesn't work. their help sie chat site or any of the rest of their computer so called help section is completely designed not to help you, It should be called the put you off section.

edward w johnson
from Huntersville, NC
I recently returned to direct TV. The installer was great. I was told that I had to have a new pole installed and a date was set. The installers arrived on set date. No. more than 2 minutes after their arrival the service went off. I asked them if they had disconnected the service and they replied no. I informed them that I had an appointment for which they replied they would call a technician who could repair the problem from his office. When I arrive back home I had no service and they had not installed the pole for the dish. This remind me of why I left Direct TV and has me thinking about leaving again. I have not had service since Friday and no one has called.

Anthony berger
from Taylor, MI
I paid my bill a month in advance and now they're trying to charge me again and won't tell me where that payment went this is the third time I've had problems with my bill with them and now they're going to take double out of my checking account again. I just want to be rid of them without paying the early termination they are the worst people to get a hold of they put you on hold two or three times and let you on hold. Then I told them that they violated the contract and I wanted to drop them he told me he'll fill out a form he put me on hold and hung up on me so now they cheated me out of a month payment and I had my phone with them so I'm afraid to take my phone and shut it off

James Rippey
from Catskill, NY
First a technician comes to my home and checks for a signal. He says due to tree in way cannot get one. I then call a tree guy, and arrange for a second technician to come out. This way they can decide which branches need to be cut. They give me an 8am-12pm time frame. At 10:15 i get a call stating he will be 45 minutes late, so here in america (east coast) that means by 12:45 pm. At 12:53 i get a text stating tech will arrive between 1 and 1:30 pm. At 1:27 the tech calls and says I will be there in about another 30-40 minutes.
The technician then pulls apart the curtains under my mobile home to see where he will need to connect. He goes to his truck, gets his equipment, digs a hole, pours the cement, sets the pole, then chats with us for 20 minutes while cement dries. He then uses his sat. finder again and now says, my equipment must be faulty, I should have been over another few feet.
You just hire them, for all i know the guy was homeless and stole the van, all it says is direct tv, no sub company name on it. Then i tell them I got the number and name of the guy who said he will be here Monday call him. They refuse. No wonder the rest of my development has dish network. Like my 70 year old neighbor needs to dig the hole to show proof of pole or me with heart failure, double bi-pass and valve, plus diabetes and neuropathy should.

Jessica Bennefield
from Macon, GA
We just set up service with Direct T.V. And when the service gentleman came to install he only had 4 receivers and I told him we should have 5. I told him that we added when we added our home phone and that we gave a credit Card # for a one time fee of 49.99 and it should be $7 per month after. He said his work order only had 4 on it so at that time I pulled up my bank account and they charged us for the home phone but not the 5th reciever. The service guy said he would put it in his notes and to call and that the would add a 5th one and get someone back out. Long story short I called back I was transferred 5 times and on hold the majority of the 2 hours I was on the phone then to be told they would not honor the 49.99 price it would cost 69.99 to 99.99.
I explained that I should not have to pay extra because they forgot to bill and send the receiver. Basically the guys I talked found it hard to believe that they had made that mistake and made me feel like I was a liar. Well with that being said you guys made mistakes on my account because at 8:00am on 6/16/16 a service guy came to install my direct tv but it was installed on 06/15/16 the technician was lost for words because my system was installed. Then a supervisor named Cory assured me that he didn't want to place me on hold any longer and he would check in to it and call me back today.
Well of course Thursday is over and no call. Now it seems like now that I am in a contract with you guys you could care if I received the products that I thought I was getting. My 8 yr old is disappointed that she does not have TV in her room and I am furious with how I have been treated and pushed to the side like I would forget and go away! Your installers are great very seasoned but your customer service people tend to make people out to be liars! I will not be referring this company!

william franklin
from Suffolk, VA
I cannot watch or record or watch a recorded show on my tv. they say I need a hdmi cable because ''your tv does not support this programs content selection"'.After practically begging the recorded prompt to let me talk to a human being I got a rep that sent me a hdmi cable. that cable does not work. yesterday they sent me another cable overnight. I'm still waiting to see if it will work. the cables come with no instructions and when I asked the rep what do I have to do to get a service tech to come by she did not answer.....call back if the second cable doesn't word she said. The first two times I called I hung up in frustration. After two weeks my secondary tv is still not working. I have had directv for 16 years and this is the way we get treated.

Marco Machado
from La Quinta, CA
One of my neighbor told me about the Direct TV so I decide to call and get the service, the name of this person was Carlos Martinez which I am very disappointed with him and of course with Direct TV for contracting persons like him. I asked Mr. Martinez to add a service on my house TV and internet one bundle, I asked him I need service on a casita I have and on a patio which he told me was ok I told him that I was having a bad signal on the Wi-Fi he told me that he was going to give me a free better router for better reception on Wi-Fi. he told me that a technician was going to came on Friday which he never came some body call me saying he wasn't going to came that day that he was going to came on Wednesday of the following week so I let it happen was nothing I could do.
My disappointed is I called many times and left text messages(he never call me back or respond to any of my messages) because I did not received was I was asking for and never give me a writing contract plus he set up my card with automatic pay which he never told me that was going to happened. I thing this is really bad from Direct TV to have persons like Carlos Martinez that are reaping persons just to add a new account to there accounts I need attention to this immediately. now I have to pay a early cancellation for disconnect my service but I wasn't happy with all of that. I think for a big Company like Direct TV this is not fear. I wasn't asking for free service. I need a solution for all this bad understanding and confusion. I honestly I am very disappointed and I need to know what is going to happened.

They hooked up the wrong package we were supposed to get the ultimate package for 39.99 and internet for 51.99.Instead we got a first bill of 168.00 that said Direct TV was 89.96 and the internet was 69.00 dollars.I call Direct TV and got absolutely no help at all.Then I called ATT because I know they bought Direct TV explained what happen and they fixed the internet problem reducing the rate back to 51.99.Then Att connected me back to Direct TV because ATT said they don`t fix the TV part of the service.They still refuse to fix the problem I want the problem fixed now.Our account # 14830880 and I am enclosing the ad.I no they monitor calls and the way they treated me as a customer.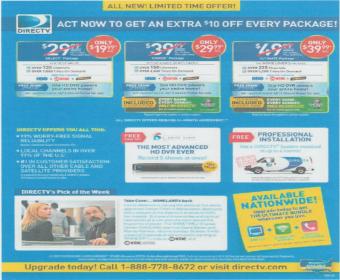 Tamara LeBlanc
from Fayetteville, NC
If I could I wouldn't give Direct TV any stars for a rating -- but minus five. They hook you with a low monthly bill.. "Promotion" then your bill doubles then Triple it. And every time I call I get no where. Their told to cancel stuff to make my bill cheaper. Just to get the next monthly bill and find out it wasn't cancelled and the bill is even higher then the month before. Then I call again just to be told that I never called in the first place.
They say " I'm sorry, but I have no record of you calling!!! I'm like how is that possible? They more or less call u a liar..when they are the lair and a thief. Makes me wonder if they train their employees to do all this crap (fraud as far as I'm concerned) Round and round I can't even keep up. I ended up just dropping them and switched to another company. Direct TV customer support call's and emails me ALL the time. But their not getting another red cent or my time out of me.

Iman Kazimi
from Glendale, CA
On February 9 a Direct TV sales employee Ashley Calderon, persuaded us untruthfully into thinking that it will be cheaper then what I already have. She explained that our first year would be $54/month and the next year would be $85/month. The day of installation we noticed all the sport channels were in Spanish so I called and Erick, employee ID# 100891557 changed the package and told me I would pay $70/month and gave me a credit of $419.60. The next time I called AT&T I spoke to someone regarding the internet bill and she told me she combined it with Direct TV and she told me "since you have a credit of $419.60 your bill for this month has been taken care of." One week later I received a bill of $54 and I wondered were the credit they told me I had was.
When I called to ask about it and another employee Tara, employee ID# 442349 who told me she will not give me my credit and told me to cancel the account and even set up a cancellation on the 19th and told me to pay $57.40 and the account would be closed. She was the worst and represented your customer service in a horrible way. After that I spoke to AT&T customer service and I explained to them what happened and he told me that he would give me 2 months free until I solved this issue and got my credit back because he evened agreed this was wrong.
After that I spoke to Direct TV agent Synethia, employee ID# 454788 who was kind and tried to help me and only gave me $120 credit and I would be paying $90/month which is way more then what I was told from the beginning. I am writing to you to let you know that I am very disappointed in your service and very upset about how some of your employees misled me with lies. I hope you will look into this situation and help me solve it hopefully by giving me my credit back. Thank you very much for your time and I hope to hear from you soon.

nicholas dassion
from Batavia, IL
When I suspended my Directv service for 2 months (travel), upon return. I saw my monthly charge almost double, from $46. to $89. When I called Directv, the agent told me the suspension caused the loss of promotional discounts.
When I initiated the suspension, the agent did not inform me I would incur a doubling of my monthly fee. Had the agent informed me of this extra fee, I would have never agreed to this. This clearly was gross negligence, or intentional fraud on the part of Directv's agent. When Directv refused to negotiate this matter, I cancelled the service. Directv is now charging an early termination fee. This problem is the fault of Directv failure to disclose. Stop defrauding the public.

Robert Morrow
from Carlsbad, CA
The criminals made fraudulent charges against my credit card and have been no help to get it straighten out.

MaryAnn Barger
from Gulf Breeze, FL
After buying a $3000 samsung 4k directv ready tv and spending hundreds of dollars on three rooms full of the latest genies you are telling me that I can't watch the masters in 4k because I only have the extra package and not the ultimate, well I am not happy about the greed you have displayed it is a real slap in the face to 80% of customers in my position.

leon bevins
from Mercedes, TX
My "go to" channel for sports has been ch. 205 sports mix. It has now become commercial mix. Even the header is a commercial. Why is this necessary? Why can't you show the sports mix as it used to be without the commercials replacing them? Goodbye sports, hello commercials!

Mark Wood
from Sherman, TX
A male came to my house asking about my name and saying there was an ATT phone to this address. Being somewhat taken by a stranger coming to my door in this manner, I was not going to give him information about myself. When I did not comply with some of his questions, he showed an attitude and I told him I would go to the ATT store if I needed anything, He was asked to leave my property and called me a "PRICK". I asked him for his name and he refused. He walked to his vehicle, a blue Ford Focus, Tag B123BK Utah. I went into my house and called a friend whose wife works at the ATT store in Sherman Tx. I learned that Sherman PD has had problems with this male before. The male went to my neighbors house and pulled into her driveway.
He finally identified himself as Chase Hubert. I used my phone to record our conversation and he was very unprofessional and argumentative. He argued that I did not introduce myself. I don't have to. Chase is representing your company and is causing citizens of Sherman to complain. I hope Direct TV does not represent itself in this manner. During our conversation, he told me to get my camera out of his face. He does not have a permit to solicit door to door, as city ordinance requires. When asked where his permit was he said he does not have one. He said he knew he was supposed to have a permit. After being recorded, Chase apologized, his apology is not accepted. He wrote his name on a Direct TV order form and urged me to complain. I was thinking about changing to Direct TV but not now. I'm sure this email will fall on death ears. This occurred on 3-22-16 at 1945 hrs.

John Landers
from Elburn, IL
Are we the "only" customer that can't get signal from satellite EVERY time it is windy? We have had this happen so many times to us and have just put up with it after we call customer service. Yesterday it happened AGAIN and we called and went to web site. Can get a repairman on Friday at the present time. It sure makes us wonder how you keep all your customers if they have the same problem. We had an appointment and the following day it came back. We cancelled our appointment and once again last night it's out again. Just checked my account and we still get billed each month but it's making us think we better find something better!! Guess we'll check facebook to see if others have the same problems.

Burchell Keys
from Citrus Heights, CA
Being billed for equipment services and your Philippines representatives rep does not understand your company policies and do not have knowledge of explaining to your customers. I need someone in authority to contact me asap who speaks English. I have been a loyal customer since 2002!

Stacy Gilligan
from Fort Lauderdale, FL
Had a DirecTV customer service call scheduled on Tues., Feb. 23. Received a phone call at 2:45 p.m. stating that the tech would be here between 4:00 and 5:00. I made arrangements to leave work early to be here at 4:00 to meet him. At 3:21, I received a call from the dispatcher that the tech was here (40 minutes before my promised time.) I asked the dispatcher to call me back as I was going to call the office to have someone let him in. When I called the dispatcher back the tech had left. I called the DirecTV customer service number back a little later and spoke to Lori. She was outstanding and reached out to get the tech to come back. He refused to saying he was out of the area, even though he did not show up at the time that was given to me.
Being there 40 minutes early is not my fault and he should have either waited or come back at the time that was promised to me. Lori tried to get another tech to come out but no one would come out. By then it was 6:00 o'clock and we still have no reception. By the way, we could not get an appointment scheduled for 3 days and then to have the tech treat us like that is unacceptable and poor customer service. Lori set up and promised that the tech would be here on Thursday, Feb 24 between 5:00 and 6:00. The tech called and is running behind on his job that was ahead of me. It is now 6:20 p.m. and no tech yet. He did promise that he would be here as he gave me his word. Lori is great, but repair service leaves a lot to be desired.

Charles F. Taylor
from Brevard, NC
On on-going problem with billing and contract over the last six months. Broken verbal contracts followed the the absolute worse customer service I have ever experienced. I cannot find someone to make a decision. I would rate DirecTV less than one star given the option.

Benny Bishop
from New York, NY
My bill is always going up. I asked for a $50 credit against my $233 cable bill and was refused. I have been a customer since 2011 and never had any credits. I have the $75 plan and added 13$ for Encore and Showtime. Every time I ask why is so high....the customer service reps say its because you don't pay all your bill. I pay over $200 every month. I hate Direct TV and when I am over the 2 year contract I will change.

Miles Abrahamson
from Fresno, CA
After the AT&T/DirecTV merger, I was pushed to make the switch over from U-Verse TV to DirecTV. I explained that I was going to have to switch to Comcast if i could not make the switch over to a new customer promotion. The phone representative quoted me about $115/mo and said that was the cheapest they could do for a package similar to mine. Shortly after the install, I noticed that the pricing online was substantially cheaper and for better packages (i.e. $65/mo for DirecTV Ultimate and U-Verse Max Turbo). I called AT&T and they apologized for the misleading information and agreed to lower my bill for the internet $25 and upgrade it to Max Turbo.
They said I would have to call DirecTV to get them to adjust the price on their end, though. When I did, I spoke with a very rude representative who almost sounded resentful that I had switched over from U-Verse and was not a customer of theirs initially. I explained my situation and he told me he could go ahead and downgrade my package and charge me more for it. I asked to speak to a supervisor. The supervisor's name was Michael (employee ID # AQ3135 -- or so I was told). He was even more rude than the person I spoke to before him, saying that he could adjust the pricing but he was not going to because I signed a contract. I asked why AT&T was willing to make the adjustments but they are not.
He simply said "we have different rules" and essentially waited for me to get off the phone. I am paying about $90 a month now for a package with DirecTV Select when they are advertising one with Ultimate for $65 a month with $250 in promotional cards. It seems there is no concern over retaining customers. I will be reviewing aggressive promotions from other providers and will be canceling service ASAP, as the monthly savings in switching over will outweigh the early termination fees and will hopefully less profitable for AT&T/DirecTV than if waited for the contract to run out. I will encourage others to look into their early termination fees and compare them to the savings they would get by switching over as well. This is not only bad customer service, it's bad business.

Linda Neville
from Clearwater, FL
I call to find out why my bill increased and come to find out another increase. right now I want nothing to do with directv, and now they say I can't get rid of it till May of 2017, that's bull. They just seemed to add more time that I have to put up with it. I have two accounts with directv and hopefully can get rid of both of them. You just sway people in with free offers and bang the shoe drops. Very disappointed with directv customer service and will not have a good word to say about it.

Judy & Norman Lovejoy
from Denver, CO
We cancelled our DirecTV service on 1/19/16 because of software issues. We were told that we would receive an equipment return kit with instructions on how to package the equipment properly. Today is 2/9/16 and still no kit. We have made numerous phone calls to your many call centers and were told not to worry, that it was on it's way. We were also told that if we did not send it back in a timely manner that we would be charged fees. We are starting to think this infamous kit does not exist. We would appreciate any assistance we could get! We are really looking forward to the FEDEX truck pulling up to our gate with the kit inside.

Chris Weber
from Buffalo, NY
Absolutely the worst DirecTV customer service ever. For the second time I was promised one price and when the bill came it was higher than promised in my contract agreement. Tried to call back a total of six times until finally someone agreed with me that they were wrong but nothing could be done about it.
Most of the calls I was hung up on after being "transferred". I have now been told it will be submitted to the "back office" for review and I have to wait 5 days for an answer. I am thinking there should be some type of class action suit against this company for purposely screwing people. I am guessing I am not the only one they promise one price to then charge them much higher rates.

I switched to Direct TV in December 2015 I was told I would receive a 200.00 gift card in 30 days for switching. Well that has not happened. I just want the gift card I was told I would get. The person I spoke with is Alexandra. AG113Y

Dorothy Sankoh
from Greensboro, NC
A technician came into my home on November 12, 2015. He broke a piece of my furniture. I was approved for damages. I have been getting the run around every since. They transfer me from one person to another. The one that caused the problem never reported it. I am so disappointed in directv!

Sakinah Lester
from Malvern, PA
Today I called DirecTV customer service line after several fails through long holds or disconnects to dispute my cancellation charge. A couple of months ago I called to find out when my contract would expire. I called again the following month, and was told the exact month the service would expire. I waited 30 days after to transferred to another cable company. Shortly after, I received a bill for what I assumed was for equipment. I called in again. I was transferred 3 times after waiting 58 mins, I hung up.
Today, I called DirecTV 1800 number again. Spoke with one young lady for 10 mins, was then transferred to another young lady after 20 minutes, spoke to this young lady and she acknowledged some of the times I had called in to inquire about cancelling my service, however, she stated I stilled owed a early cancellation fee. I then asked her was there any way I could submit a formal complaint.She stated she was not sure. I was told to hold for her supervisor, after one hour and still counting, I have yet to speak to a supervisor or be given any contact information to submit a formal complaint, and like the other calls, I have been placed on a wait that I feel is meant to exhaust me to the point I hang up.
To give DirecTV all close to $200.00 for services I did not receive is not only unjust, but money I can not afford to liberally throw away. I called into your office several times to inquire about my cancellation. Was given a date I could cancel with out being penalized. Cancelled when I was told I could only to be hit with early cancellation and a bill for usage when I was already receiving services from another company.
I would be beyond grateful for a answer, or at least an acknowledgment of my due diligence to discontinue to my service with Direct TV with out breaking a contract to avoid the penalty.I am single parent with two children in private school. I can not afford any extra expenses.

Rick Keeney
from Atlanta, GA
My Direct TV equipment broke down. I have been a customer for 11 years. They said they will have someone out to service the equipment in 6 days. That is absurd. I am cancelling my service immediately.

Guilherme C. Moreira
from Miami, FL
Called DirecTV customer service dept. on October 05,2015 to cancel service reason moving, I was said the service was cancelled and a technician would go to my new address to check if service could be transferred, the condo position did not allow the signal and I was told the account was cancelled and closed with 0 balance, since the service of September was paid. I am receiving bill from DirecTV for early termination fee and for the month of October. I need this account to be closed, please advise. I called back in November asking to send me the address, never sent originally when the account was closed in October, where the equipment should be returned and again i never received the information with instructions to where the equipment should be returned.

russell barthelmes
from Middleburg, FL
I am sick of poor service and high bills each month. DirecTV was good now it sucks. How do I get out of this? I spend more than $73.49 a month, so in my opinion DirecTV is a total rip off.

Samantha Ivey
from Salt Lake City, UT
Cancelled my service with direct tv 3 months ago. just received a bill charging my visa card for 2 movies I watched 3 years ago. How can they get away with stealing money from people. I am sure I am not the only one this has happened to. If I had not payed why would you wait 3 years to bill me. Something is wrong with this.

Hi, I'm not sure if the DirecTV corporate office can help in any way but I'm being billed a cancellation fee for an agreement that was broken. When ordering this service, I was given a price which I agreed on so I switch from Cox to DirecTV. I only paid that amount once and after that the price went up. My husband called the complaint number several times to get this fix but they never fixed it. I made payments and never given the credit that they told my husband either. I didn't pay Novembers payment and it got cx. so my husband called them again and said we needed to talk to Century Link. But it isn't Century Link but instead DirecTV. Now I'm getting a cancellation fee of $380.00. I didn't break any agreement I made. I agreed, on a recorded line to pay $90 a month for TV and phone service together and that was never done. I'm so upset with DirecTV for not being truthful.

Michael Hoff
from Albuquerque, NM
I have been a customer of Directv for over ten years. Since I downgraded my service to a less expensive package I have had a recurring issue with the so called "screen saver" interrupting programs that I am watching. The "screen saver" pops up every two hours and produces the Directv logo which can only be corrected by pressing the select button on the remote control to get back to the program that I had been watching. I was told by the support department last year that to resolve the issue I needed to upgrade my receiver's as the problem was due to the old equipment and they did not have a resolution for it. I agreed to upgrade and was sent two new receiver's and attempted to install them and discovered that they would not set up. I advised the support department of the problem and was told a technician would have to come to my home to correct the problem. It took two weeks for the technician to arrive. Upon getting the receiver's to work I specifically asked the technician about the screen saver issue and he indicated that he had never heard of such a problem. In fact his receiver had never had this issue and assured me that the new receiver's would resolve the problem.
As I watched programming later that day I discovered the same problem was still occurring. I contacted the customer support department again and described the issue and was bounced from one person to another with no resolution. I requested a supervisor respond and was told there was no one available. I continued to insist that someone other than a support representative respond to my issue. I was finally connected to a supervisor who advised me that all of Directv receivers had this "screen saver feature" built into them and that all of the customers had to push the button every time it activated. I know this statement is not true as many of my neighbors and friends have Directv and do not experience this issue. I requested that I be transferred to a manager or superior that could more effectively speak to the issue. I was told that no one was available and they would have someone call me back. This was two months ago and so far no one has contacted me and the problem continues. It appears that Directv has retaliated against me for downgrading my service package.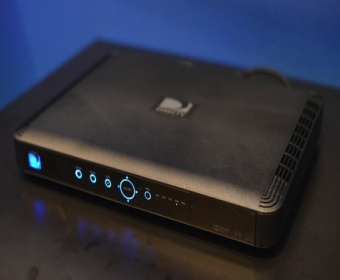 Chris Mackenzie
from Rancho Cucamonga, CA
I was a customer of DirecTV for almost 10 years. I was never late on a payment or had any problems, never had a single DirecTV complaint because you were in a bundle with Verizon. The week of Sept 14th, I canceled your service and spoke to both Verizon and you. both confirmed that I was cancelled and that you would be sending me a box for equipment return. I called today when I received a bill from you. When I called to ask why I was billed, I was told there was no record of me ending your service. You could see however that I ended Verizon service. Your manager Denise #100812467 said that it sounded right that I stopped service but if she didn't see a note in my file, then too bad, I owed the bill. I will NEVER go back to you, and I will go to every review spot I can to let people know how you treat a long time customer. I hope this very small bill that you sent me is worth losing customers and the respect of the community.

Darrel Hickman
from Los Angeles, CA
I received change in DirecTV billing from $42 to $76, when I called to ask why, the service agent only took notes to document but could not resolve. Ask for Manager, Yolanda got on the phone and explained that I had been given a promotional discount for the first year and I signed for it. I stated I had not and the promotion that was to continue was because when initially signing up the phone agent told me I would have a select channel on the Basic package which was not true as the technician completed his install and turned on Direct TV system and the Channel was not on, he called support and they indicated it was only on the Choice Package. Here I have a Coupon, a technician who just drilled holes in my roof to install the antenna and they are telling me I have to opt for the Choice Plan, in which was to be reduced by the again Manager on the phone.
Now I see this was a temporary thing, and now the cost is $34 more a month with one year left. Yolanda, kept talking down to me by continuing the conversation, "Darrel, you realize, Darrel, you signed, Darrel you agreed" This is not a conversation but a black female that used her gender and race as she has in her own family environment to control a situation while avoiding resolve. I want to hear from someone with logic, I want Yolanda to be removed from the supervisory staff along with a letter of apology, it will only get worse if DirecTV does not take care and step in and view this matter.

Charles Pettingill
from Hydro, OK
i was trying to pay my past due account of 134.00 and my card was declined because I forgot to transfer money to my account before calling to pay the bill and only 60.79 was taken out of my account towards the bill. Then, I called again and payed 74.00 toward my past due balance and they still refuse to turn my service back on . My bank said the 60.79 was taken out of my account and I also got online and it showed the 60.79 was taken out of my account and also, I called my bank and the teller told me that is was taken out of my account. I called and talked to your representative and they are saying that it was not taken out of my account and not showing on their side. So here is my complaint and would like my service to be turned back on .

Michael Brooks
from Riverside, CA
I ordered for 8 tvs. 1st occurrence att forgot to schedule installation they took 100.00 of my money. I called they found their error and schedule me for 8 tvs again. the tech came out and advised me I could only watch 4 tvs and only brought 4 boxes I had to pay 459.00 again. they then scheduled direct tv to come out I had to pay 534.00 again for Direct Tv and they still only set me up for 4 boxes when i called she said they had to reschedule me to add 4 hd boxes and 4 genies. Now they can't seem to get my order correct and they have taken over 1,000.00 dollars. I am so pissed they have taken all my money Nobody can seem to do any thing about it.

Jimmy Burnett
from Detroit, MI
I have a four unit apartment building in Detroit Michigan 48207. There are seven satellite dish attached to the building building and some installed on the garage roof. DirecTV equipment has caused damage to the roof and building structure, bricks are falling from building, leaks, coupled with garage roof leaking. I'm submitting the matter for corrective actions by your company. I want the equipment removed and repairs made or I am filing a complaint with DirecTV corporate offices!

Barbara Hawkins
from Galesburg, IL
Not happy with the DirecTV channels that are not on, all the sports that I do not watch and all the jewelry channels that's are on not what I signed up for. I loose my picture all the time I am very unhappy with your service its a ripoff.

Gary Thompson
from Midland, TX
I have been a direct TV Customer since 2005 About 3 months ago i discovered that direct TV was over billing me they were charging me for two receivers at 10.00 per receive for two years but i only had one receiver. After four calls and hours on hold they agreed to issue a credit to my account It never happened so i called the today spoke to a supervisor who informed me they will not refund the 24 months of over billing but she offered me 20.00 Total credit on my account. Do i have options yes i do.

Carolyn Miller
from Cape Coral, FL
I cannot believe that tasteless commercial Hanna and her horse. Despicable. An insult to woman everywhere. And I'm not even a feminist. Take it off the air and save what's left of your dirty reputation. What the hell does that commercial series have to do with a cable provider at all. Poor marketing.

Trresa Taylo
from Jonesboro, GA
I was on a month to month service after my contract had expired with Directv. I was not told in Feb 2015 I was in a 12mos contract. I was given a discount becuase of nuerous billing issues and a 3mos free service HBO and other premium channels. The rep stated I would be able to pay month to month and end my cintract anytime. I was very specific on that or I would never have kept Directv . I asked Directv to pull the call on my account for 2/24/15, information can easily be verified. This type of issue is why I now choose to end my service with Directv at the end of the month. Billing issues has plagued my account since the second year. I only want a company that is honest and bill me for services rendered. The customer service rep had to be seeking a quota to fill but I refuse to be held hostage because Directv can't keep up with their competitors.. DO NOT CHOOSE THIS SERVICE WITH THIS COMPANY. BEWARE !!!!!!!!

kwilcher
from Jackson, MS
Called to cancel November 2014 directv service, was offered to suspend service for 6 mos. I refused because I was not sure when I would need service again and directv kept pushing the 6 months suspension with the loyalty bit and all the great benefits that comes with 16 year customer loyalty perks and how they would remind me before my 6 months was up to see if I needed extend the suspension. I explain to them I was moving to a different state, was not sure if that would work for me and did not even have a new address, they assured me being a loyal customer they would get me going at new location when I got ready even with a new box, since my biggest complaint was having a dinosaur box. SO I TOOK the offer to suspend service.
Forward 6 months. NO 6 month reminder notification. Got bill for 82.00 immediately after 6mos suspension was up, not 30 days after the 6 months for service they claim was turned back after the 6 months at the old location in Texas where I use to live that do not exist anymore (moved house) and the equipment/box in a storage in another state. Called about this, the only thing they can do now is disconnect the service, WHAT! ( service that is not ON at all) And send a kit to return the equipment/box to them in 21 days. Called DirecTV corporate office to file an official complaint, no answer!
I tried telling them my place was not ready and s/b in 2 more months and just needed to extent suspension. Well, a company as big as directv do not a plan to extend a suspended service. Really? Now, I have more problems than it's worth, must go looking for their dinosaur box in storage in another state when I could have been done with them If I could have just cancel in November 2014. Also, was told I did not have to pay the 82.00 and they have cleared bill to show 0 balance. I asked about the credit where I had overpaid on my acct and they say I do not have one. Now, must call billing to figure that out. This day and time people do not have what people had years ago, compassion. I don't believe these people care about our concerns, just another day on the job for the pay check.

Gary Wood
from Central Square, NY
I inadvertently switched checks between you and a credit card company. Instead of spending a few minutes of staff time and a postage stamp to return the check to me, I received a cancellation notice. Since I didn't receive the returned check, I wasn't aware of the error until receiving the cancellation notice and the following occurred. You still haven't received the past due payment - in 19 years with your company I would bet our payment hasn't been late 5 times. You cost me $5 for your late payment fee, $4.18 fee from the credit card company, and $15.00 to stop payment on the check (by the way - where is it?. You cost me the time to figure out the source of the problem, including time on the phone with your representative, who I could hardly understand.
This is the second major disappointment since we renewed your service about a year ago. We were told we would have wireless remote genies, but when the installation crew arrived they said the wireless units were not yet available in our area. We were required to pay an extra $50 to have the antenna installed at ground level, instead of on the roof where I couldn't reach it to remove snow.

Mike siedlecki
from Springfield, OH
I used my card to pay on someone account after they end there service you thought it would be right to charge my account for his final bill. I explain to you that this was not my account and they pretty much said Tuff sh** and kept my money. This is theft and if I could I would press charges for theft because a normal people who takes money off other people card without permission is considered theft and one day you should be sued for it. I turned it into my bank as a theft. If u people want to get I hold of me to make this right. I will tell everyone how direct TVs fuck me out of my money and I hope my bank sues if you don't get hold of me thanks mike

Alva Mayo
from Altadena, CA
After many years of using Direct TV, and paying ALL my bills, I decided to use AT&T Uverse and changed over. I had no problem disconnecting. I paid all my bills in full. I sent in the cards from the units as directed by Direct TV. I received a few letters from Direct TV trying to get me back, but I have decided to stay with AT&T. After disconnecting I received statements indicating a 0 balance which were correct.
Yesterday, I received a bill from Direct TV for 3.99. They charged me for a pay per view charged dating back to 2007. I called to complain about this charge but the customer service person said only billing could help me with that. I called the billing number and got an automated voice. This did not help. So I am writing to complain about this. This is ridiculous! If you insist on charging me for an eight year old charge. I will need you to send me a record of ALL my charges and payments for that year. Account number is 38075316 It is only $3.99 but it's the principle of the thing.

Hiram Dillon
from Afton, VA
I had to vacate a house that was sold and called to cancel my service. I was talked into suspending for 6 months instead. ! was told after 6 months I would be contacted and then either send back box or call for new dish installation in new location. Sounded good, I was moving and this was one last thing to worry about.....I thought. I was contacted at the end of the term and told them I would not reconnect and they said no problem and sent me a box to sent my box and remote back. This was my third location with DTV and I was still happy. Then 2-3 weeks later I get a bill for a half month...$63. I called twice to get this corrected and the help doing so was terrible. Even the two managers I demanded to talk with. Finally sent in a written complaint weeks ago and am still being harassed. Three automated calls today Sunday 4/12/15 already. The fools are also once again sending me all the monthly promotional and regular junk mail one gets when they really do have an account. This is one company that I have really lost all respect.

Theresa dziomba
from New York, NY
I haven't received any bill yet this month and my service was shut off. I called and spoke with someone and they spoke with their supervisor and said it was ok to turn the service back on due to the fact that we never received any bill or notice saying it was Guna be shut off if we did we would have paid it. We agreed to pay the $61 by the date they offered and two people said it would get turned on today and as long as we paid the $61 on time they would not interrupt service. They transferred over to another department to get it turned back on and there they could not do it. after 2 hours on the phone the lady said her computer froze and we had to hang up and call back again. We called back again and spoke with someone who said they could not turn the service back on today and she didn't kno what the other person was talking about. S
he said she had to transfer me to someone else.....now I'm on my 4th customer service representative....there the guy said there was nothing he could do and when asked to speak to his supervisor he would not let us. We have been a customer for over a year and a half always paid our bill and he didn't care when we said we wanted to leave. Very disappointed this was all over $61 and they kept pushing us from person to person and each person said something different. The first person said it was ok to turn back on service and even okayed it with their supervisor! U shouldn't promise something to your customers and then say otherwise! We wasted over two hours on the phone. Completely disappointed! Would never recommend them to anyone! Even spoke with my brother and he is canceling as well!

Alejandra Munoz
from Milwaukee, WI
hi i am very upset at you I had a problem with the image grabbing two months for about a month and a half and was told I was going to get a loan and you gave me nothing till the moment Apart from this end my contract with you and now I have two months are charging me the HD and think it's not fair because if you increase the collection but to us as customers are the most complete harmed if not under anything with you I 'll change them with dish latino HD give away my #account is 69882195. hope to receive feedback soon in writing and in Spanish please oh otherwise I will have to cancel my account thanks .

A returning customer from previous year expecting a better services from the last time which wasn't so as we had began our services that we had noticed that our bill had increased and less customer service meaning that they would deliberately ignore some things such as rebates discounts freebies as such and that I had filled a complaint against them to cancel our services which was also ignored . If they do not recover from this then we will definitely cancel & demand a full refund and that I don't mean a debit card that i do mean a money order or a cashiers check.

WHY are these people still in service. and what do you have to do to try to make that happen. And the worst customer service that ive ever experienced in my life, if I ever get cable it wont be thru direct that's scary...My daughter is 23. I feel like pulling my hair out of my head, and nothing go resolved. just last month my daughters bal was 10.00. paid it on 15/2/2015.. today shut off her services 3/3/2015 because of 121.25 unpaid bal. For what we don't know. I swear my head hurts so bad I hope I didn't just cause a blud clot have cerosis stage 4 I never felt this pain in my head ever. how do you sleep at night even the employees they see. or maybe they are just retards.

Direct TV is the epitome of horrible customer experience. I signed up for and scheduled an appointment on line. Tech they sent never showed and lied that he came to my home. Took off a whole day and nothing happened. They refused to send someone else back. Took 5+ hours on phone after 10+ transfers to get order rescheduled for next day. Tech showed 2hours later than they had promised. 1st thing he did was to try and up sell me. Then he stated he had to go meet another tech for a piece of equipment and promised to be back in 15mims. He returned 1.5hrs later. Then he said he had to leave again and will be back again in 15mins. Called the office to report and was promised by a supervisor named Solomon that a tech supervisor was going to call me in 15mins. 4hrs later, I'm still waiting for the tech and the call. NO ONE SHOULD EVER DO BUSINESS WITH THIS COMPANY. They have no respect for you and/or your time.

I rented my house in 2010. The tenant without my permission signed with directv who put their antenna on the roof. This damages the roof. When I moved into my house in 2012 I signed with directv and asked them to move the antenna from the roof to the side of the house and repair the damage.
They did not do this. Since I am having a new roof put on i figured now would be a good time to move the antenna. Now directv wants a $50 fee to move the antenna. In other words directv wants to charge me to move an antenna they never had my permission to place on the roof to begin with

I felt cable was too expensive and so decided to try DirecTV. Not sure who to complain to for DirecTV in Dayton, OH. I felt mislead when I saw their website. It specifically said that: free professional installation! No equipment to buy! No start-up costs! I scheduled a time for them to come out and install the service.
When the installation guy came out, he came running up to me like he was angry and looking for a fight. I would like to say his name was Joyce because he was acting like a real bitch. His actual name was Jason Wilson. He looked around and then charged me $7.15 for a metal pole and after talking with the maintenance guy, he brought over a metal tripod. He said I was lucky because they cost about $80 and the maintenance guy gave that one to me for him to install DirecTV.
Didn't their website say, no costs, free installation. He was messing with my phone and I told him to leave the phone chord alone. He said he was just trying to help me out. He then did the installation and asked to see my internet service. He said he didn't think he could install the service. Later he told me that I had all the channels more than 285+. Later I found out that he never hooked up the internet service and I had none of the OnDemand channels.
I called the company and first they said it takes 24 hours for all the channels to load. After 24 hours, I called back and they said, they would look into. After I told them he did not hook up the internet service. They said they would send someone else out to hook it up. Someone later called me from the company and told me they could not hook up the internet service without a router. They said they don't carry or service routers. Didn't their website say no costs and free installation? They told me to go out and buy a Linksys Router.
He sounded like he was laughing which irritated me even more. Didn't their website say no costs and free installation? I told him that it was not the service that was promised to me and no one told me about having or getting a router and that he had aleardy charged me $7.15 for a metal pole that he used to put the dish on, it's not like I'm going to take that pole with me any where. I told him if they could not get the service to me the way it was advertised, they needed to come and take the service completely out of my home because I will not accept partial service of what was promised to me. After going a few rounds with him, I called DirecTV and someone else told me that I did not need a router and that they could do a hard line installation and all I needed was an open ethernet port.
Someone else from the company later called and told me that I needed a router. So, I told him I would look around for router and call them to come back and complete the installation. I am looking for a router now but I am so angry, I can't sleep and decided to follow up and write a few letters of complaints. Not sure who to send the complaint letter to here in the midwest. False and misleading advertising is illegal. If they can't provide the service offered in their advertisement then it becomes a breach of contract by their not living up to their promises on their website and in their own contract, if they fail to perform the services provided, they have breached the contract and that opens room for contract cancellation. I am not happy. Upset that I had to deal with very unpleasant individuals, people lying to me and feeling robbed.

I talked to Brandon on October 23, 2012 to ask about renewing my service with Direct TV. Brandon said the new cost would be $68.99 per month TOTAL. I got my first bill and I was billed $89.47. I tried to resolve by phone and talked to Emannuel, Shonta, Erica, Michael, another Michael, and Betty. They refuse to change to their original committment. They all quote this offer and that offer, but they are no help and all say they cannot access the original person's committment. Conveniently, they all say they cannot go back to the original person I talked to and curiously, their computer screens do not show how much Direct TV committed charging. It seems the scheme is to quote one price to get you to sign up and charge you another and say the customer must be wrong. I am very frustrated. If I cancel and return their receivers, they claim to charge exorbitant cancellation fees. Can anyone help?
Jay Cano

Skip in Audio Have gone thru connect and checking for loose cables several times and now getting a tech to come out and check or replace receiver. After five or six calls and talking to reps. all over the U.S. no help. I called to cancel my service and the rep. is going to send me a replacement receiver will have to see if this takes place as promised. Direct TV's service is almost 0-0-0, after the holidays I will change service and maybe even go back to terrible Cox Cable thier service is better than Direct.
When is Direct going to figure it out that one person must follow thru on the complaint until it it is taken care of and be responsible for the complaint. Direct is so big now that every thing gets lost but the 1st time sale. I know my $120 per mo. will not hurt Direct Giant but maybe a million will. Net Flex paid no attention to the customer and look what happened. Some people has got to have Direct TV. but I don't. Good bye after the holidays.
We purchased Direct Tv with the understanding we would have available one free move within our two year contract. This did not depend on bill paying history or after one year of service. We asked the sales rep from Sam's club these questions, he assured us that we would be able to do a move for free. We had asked this do to the fact of a potential job transfer. Well we had to move to another state. Now Direct Tv wants to charge a $100 fee not free to transfer service. This would not be an issue however when we were told it was for free and assured it.
Now it is an issue. Does anyone have a really good number to Direct Tv to truly voice a complaint? Oh and they said they would get back with me right away, lol that was two weeks ago. I guess I call the FTC and FCC like i've had to with Sprint.

I want to tell you that my experience with Directv has been absolutley terrible since August of 2012. I have had to call you every single month since then about my bill. Everytime I speak to someone and ask on that day if I pay this full amount will my next bill be normal next time. I've been assured countless times that my bill would be current and up to date.
Every single bill I get has a past due amount. I can't get out of this loop. I'm stuck in this damb contract but I can assure you I will tell all who will listen to stay away from Directv and tell them my nightmare with your company. My father has the same problem. Thank you.
My account number is 75886804, Rhonda Piasecki.

My December January bill was 125 dollars in change. I called an. Asked for an extension until February first to pay the 125. Unfortunately recently I had had credit card fraud done against me and it's taken several weeks to be able to get my information straight back out. During this time supervisor McKayla in the Philippines number 109693.
Unfortunately I was in a debilitating car accident in 2001 show I am NOT able to run to the Walmart store has she suggested I do to make the 23 dollar payment unfortunately I don't drive my left leg is paralyzed parsley I'm unable to walk I've had hip replacements I'm in severe pain. And this lady made fun of me like it it's funny to be disabled you know if I had the same abilities is other people it wouldn't be an issue for me also I did was ask for a grace. 10 days I've seen them do it for 100 of other people I still haven't got credits back on my account from movies that I rented for things that haven't worked.
I have never been so ashamed of an American company who is sublet your customer service out to a country to where they don't even pay for minimum wages to the females that answer the phone and the ladies that spoke to me spoke to me in a manner which was degrading and it's bad enough that I'm partially debilitated they they should have just neutered me while they were there.
Yeah just better get ready because I'm going to blog and I'm going to speak to every friend that I have and I am signed up 5 new clients with y'all in the last several months and I am going to ensure that they know how you treated for disabled person who is in a wheelchair who can't even walk or defend themselves but it it I hope it makes you feel big to bully sick disabled people. God will punish all who hurt their children and I'm fortunately your people don't deserve any respect whatsoever I hope you and everyone of them.
Next time you take a shower just think about how much freedom it is to be able to do it by yourself where I have to have 2 people help me so I'm completely naked in front of a 2 people do grated and have to have them clean me because I'm not able to

DVR resets every 90 minutes and now is non-functioning. Called customer service talked to 8 different people before I got approval for a new DVR but only if I would pay shipping and handling or subscribe to a monthly protection plan. I have been a customer for over 9 years and they refused to waive the fee even when they admitted to the terrible customer service. I was only asking for them to waive 19.99, is my satisfaction as their loyal customer worth so little. The supervisor I last spoke with told me my only recourse was to write a letter to the Office of the president of DIRECTV.

I feel as though I have been scamed. Direct TV installed last week. The equipment never worked correctly. I called and they troubleshooted for me but it still would not work. They made an appt. for a tech to come over on a Friday he never showed up. I called and was told they "got hung up at another appt." and that I would be the first appt. on Monday. They still did not show up at 8 am. I called and they said he would be here at 10. I called again. To say this is not working and I don't want it...I was told I would have to pay a cancellation fee of $480.00. I feel scammed. I will follow through with the attorney generals office.
In october of 2010, i had moved into my new house and got set up with direct tv, but in november we were robbed, loosing all of out electronics and etc. including the direct tv box and remote. my insurance company wanted a statement from direct tv, showing what it would cost to pay for the box that was stollen, and how much it would be to put another one in the house. the total was around $530.00 (and the insurance that i signed up for through direct tv, covered nothing).
I was on the phone with them for 4 days straight, once for over an hour, trying to get them to send, or fax me a statement showing what this was cost. i pretty much got the runaround. one lady said that they didn't have a fax machine and she would turn me over to the department that did have one, i was on hold for 45minutes, before someone got on the phone, and claimed that they didn't have one either. another lady told me i could go ahead and pay up front for the next box and then i would have a statement telling me how much it cost.
I didn't end up getting anything from them, and my insurance would not cover it because they had to have something on paper.
i ended up paying $450.00 just to brake my contract with them, thier services, was the worst i have ever had with anyone.

Direct TV sold me a package with 2 year contract July 2012. I was quoted $59.99 + tax by sales person. I then had to apply for rebates on line and had to have their customer service help me complete it in which I lost $5.00 credit for not completing myself. Now my bill is no longer $61.00 or $62.00 monthly it is more. I made no changes and my bill quickly went on up. My bill paid in 02/27/13 for March 2013 is now at $75.24 in which I talked to several people telling me one of my catergories under contact had gone up.
I then asked for recording boxes to be removed from home. I called tech to get them removed and was quoted money for removing boxes and also service fee. I am furious that sales person's quote one price and then more prices are charged and keep accumulating. My 1 year will be up July 2013 and I have another year to go unless I disconnect service and pay $400.00. It is very sad to treat Direct TV customers this way. They have done nothing but lied to me the entire time. I totally need someone to address this issue for me and I think someone should explain what final contract pricing means to Direct TV business. I work customer service job daily and I still value my customers and their business.

We signed up the Directv through Costco as my husband likes channel Goal TV. After half a year or so, GoalTV and some other TV channels we signed up for were not available any more. We called several services representatives to request the availability of the channels we originally signed up for. We were told that the channels are not available in our package any more. We decided to cancel the service. After many struggling conversations, representative from the DirectTV finally agreed to cancel our service without charging us cancellation fee.
Our cancellation is due to the non performing of the service from DirectV. However, two days after our cancellation, one service representative who claimed to be a manager told us that we are valuable customer and he has authority to include some more channels in our package free of charge if we can stay with the DirectV. We agreed with his offer. To our surprise, our billed increased from $45 per month to $ 113 per month with regular monthly charge of $ 79. I cannot believe that the business is run in such a dishonest manner or scam. Now we are going to request cancel the service again. Your representative stated that they will charge us $200 for cancellation fee. We are deeply disappointed and will never use DirectV ever again. I will also file a formal complain with Costco and other consumer complaint agency. Deeply sorry for how your service and business is running.

Years ago, i was given an option to purchase or rent a dish from direct tv in order to receive cable service. I opted to purchase the dish and pay a monthly fee for the service. This I have been doing for the last ten years. Recently I was told by direct tv that the service is being upgraded and my dish will soon become obsolete and I will now have to rent one. This I found to be very unfair. When the telephone service switched from GSM to the new network, customers were given an option to purchase a new phone or accept the phone which the company was distributing to its existing GSM customers. Why should I have to now discard my box which I paid for? If you are changing the system, why not offer me an upgraded box?
In addition, I always pay my bill in advance and I was paid up up to October 2012. Direct tv began dropping channels from my service from September 2012 while accepting full payment of my monthly bill. On October 1st, the service was terminated all together even though I paid my bill for October in advance. This , I believe is robbery on the part of the company and unfair treatment as far as the transition from one system to another. I wanted to satisfy my family and so I called the company to install the upgraded system.
When the technician arrived at 6pm, he was unable to get in contact with a technician at head office to connect the system. He had to put off the installment for the following day much to my inconvenience. (I had to postpone previous engagements to accomodate the technician on Saturday 13th October). I again had to cancel appointments for the following day. I have always been a bonafide customer paying my monthly bills always in advance and the treatment netted out to me is unjust and unfair. I sincerely hope that I will not be forced to take this matter to the press. I await a response from you before I decide any alternative action.

I have a Direct Tv DVR redeiver that has started freeziing frames while I watch any channel. I have had this receiver for over a year and it is leased. I called about the problem one several occasions and the "service consultant" was unable to fix the problem. When I suggested that the problem was with the receiver and it should be replaced, I was told that I would have to pay a $50 service fee to have a techmician come to my home and replace the receiver. I told them that they had no problem with my replacing my other receiver when I upgraded it but they won't do so with the one that has a problem. I wrote a complaint and reveice a reply suggesting that I pay $5.99 per month for an MA (or $72 per year) to have the replacement covered. How magnamous of them to have me pay $22 extra to fix their own receiver! This is outrageoes and enraging to say the least.

Hello, We have been loyal customers for 5 years and I love basketball season. Now I find out that you will not be showing any Lakers games and Im very upset. I would like to know if you will be getting the lakers on direct tv, and if not I will have to consider leaving you and going to Time Warner which i do NOT want to do, but you leave me no option. What can you tell me about this situation. Please e-mail me with your responce. I will wait to hear from you and then make up my mind if i will change providers.
I don't understand after so many years being a loyal Directv subscriber, now seeing for the first time seeing Laker games being blacked out. You have lost subscribers, and if this dispute is not settled, and we cannot see the Laker Games, you will lose many subscribers including me. Please bring resolution to this issue.

We signed up the Directv through BestBuy as I like to watch Lakers games. The BestBuy rep told me the Lakers channel (ch 691) was in choice package, so we signed up for choice package with free HD. After the equipment was hooked up, the ch 691 could not be watch. It said it is not subscribed. So I called the customer service and was told ch 691 was in sports pack.
And we was also told that HD access was charged $10/mo. Why? We've been told we can get free HD! Felt so sorry for Directv! As the ch 691 is not included in choice package, we wanted to downgrade the package to entertainment package. We was told that fi we downgrade we could not get any rebates but the regular price at $54.99/mo. We ware quite angry! So we decided to cancel the service. We were told to be charged $480 cancellation fee. We hanged up the phones and called again. After many struggling conversations, a nice supervisor finally agreed to cancel our service without charging us cancellation fee. However, two days after our cancellation, one service representative who claimed to be a supervisor told us that we can get the previous rebates from BestBuy if we reactivate DirectV account. It meant that we can get free HD if we signed up for auto pay and $19.99 for 1st year and $40 for 2ed year with entertainment package. We agreed with his offer. To our surprise, our bill increased to $ 117 per month without any rebates!
I cannot believe that the business is run in such a dishonest manner or scam. I continued to call to get my rebates but still made me crazy.
We are deeply disappointed and will never use DirectV ever again. Deeply sorry for how your service and business is running.

I spoke on the phone with a representative initially and got together a package which I was interested in purchasing. I had to call back, but she noted everything for me. I called the next time, and after giving them some information, they confirmed that they were able to pull up my original information, and that we could go off of that to complete my order. I was promised 4 rooms to have dvr's installed. When the man came over to install our directtv, he said that he only had a work order for 2. He said that we would have to get another work order later.
I called back in to customer service, and spent 2 more hours of my personal time trying to figure this out. They said that the only thing that they could do was make a work order for a single extra dvr making a total of 3, and that it would cost me $6 per month extra. Also, the only option for the fourth room that she gave me was to buy the fourth dvr and have it credited back into my account. Since when is it an ethical business practice to place all of the inconvenience on the customer?
This is highly unacceptable, especially to an active duty servicemember. I already forked out over $200 in deposits to get this thing started. I cannot be expected to oversee the correct completion of every step of the order. Your representatives made a mistake, and I expect to get what I was promised, regardless of any policy. I am the consumer, and I shall not be inconvenienced by a mistake made by your staff. I expect my remaining 2 dvr's to be installed in a timely manner at no further cost, or further transactions from me. I also expect some monetary compensation of some sort for the period of time that I have gone with only half of what I was promised.
Would you find it acceptable if you were to have full coverage on your vehicle, total it, and only receive half of what you are entitled to? This is a huge problem, and I've read hundreds of complaints from customers of yours who have fell victim to your horrible way of doing business. If you wish to retain a good standing with the public, I suggest that you make things right with those customers who have been wronged. I did not serve my country to allow large companies to rob the common folk. I am a paying customer and one who is incredibly resilient and veangeful. If I am not satisfied with your rebuttal, I will stop at nothing, whether it's media, picketing, complaints, better business beureau, to hinder your companies' success if I am not duly compensated. I hope that this matter is taken to the level of management it needs to be in order to allow proper handling. I appreciate your time.

Yolanda Rhodes
from Summerville, SC
I have received a $99 dispatch fee charge on my recent bill. When technician came out to my home I was never told before or after visit that I would charged $99. I believe this is very unfair to charge me for something I didn't cause. The customer service rep was no help . I should have been told there was a charge for technical visits. I have never been charged this fee with you since connection and other cable services never charged for technical visit. I feel this was done underhanded. I am not happy about this matter.

Robert Czachor
from Lansing, MI
Been a DTV customer since 2000. Ever since ATT has taken over customer service is atrociously poor. Each time I've tried to get help it's left me with wondering if I should switch to DISH. I didn't because it would be too much trouble. Now after trying to navigate my way around the new website and trying to get help and communicate with the foreigners again, I'm ready to switch. There was nothing wrong with the old DirecTV site and now you've changed it into something that is almost impossible to use and made it extremely difficult to manage equipment. You've made it worth the trouble to switch and take advantage of the DISH promotions.

We agreed to get Directv when the sales man told us that we could get it at $34/month; that we would be getting high-speed internet at our address. Our first bill was 43.30; we called and ended up talking to someone from India I guess. They told us that there was no way for them to know who sold us this mess, there are no records, and if we did not have that then there is nothing they could do. We told them Fine, we want to cancel the HBO, Showtime and Cinimax; she tried to make us keep it. We told her no, that we did not want it. She told us that she cancelled it. I just checked my account online and found that it was never cancelled. This was not a misunderstanding, this is poor business plain and simple. If your company can not deal with people who do not lie then who's going to want your service; who isn't going to end up taking you to court? We had AT&T for years, and your standards have gone down hill.

Dawna Dostie
from Belgrade, ME
Your salesperson advised me that I could get DIRECTV for my camper which I explained was not stationary, we travel to various campgrounds. I specifically asked what the cost would be and he told me it was included in my package. DIRECTV was here on February 18th and installed it into the house but the technician stood in front of the camper and said it wasn't going to work. I have been on the phone getting the run around for the last 5 days. One of your managers hung up on me and was very rude. I have asked many times to speak to whoever is the highest in charge to no avail. The way I have been treated is unexceptable. I would like a phone call from the highest person in charge. If I could remove the one star that is on this scale I would. This is unacceptable.
How do I talk to someone in the highest position?

Jeff Almanzor
from Seattle, WA
Program information is incorrect and cuts in on an existing program with a basketball game which is supposed to be on a different channel and that information is also wrong! Customer service is nonexistent on weekends and when one does finally speak to an agent they can find nothing wrong. After three different attempts to address this problem I end up with zero results. The programming problems continue and I can only regret my switching to a substandard Direct tv!.. Not much for the money!

Daniel vitale
from Rindge, NH
The package i was sold is nothing like the package i recieved..the salesman lied to me the first time about the whole package details and then the manager verified the lies...the next salesman when i called and complained promised me the world and now im BUYING all the channels i was promised..i like my att cell but this package of cell , tv ,and internet plus land line is a real scam..should have kept cable for same money..and would still have all my channels and more....rediculous the salesman said i would save close to $100 per month compared to comcast..Everything was to be on 1 bill instead i have three separate bills..its unbelievable the way they can lie to you and not even care when you go through all the hassles and still dont get what you want..something should be done about this...put them out of business

i have been with you for years from the beginning I had so many problems,
When I went to move from NY to Idaho, I was leaving your company, a rep said if I stayed my bill would be approximately 25 per month, and I would get hbo etc for one year, I got here, and it was fine for awhile. In december I was told everything was now expired, I called, and a rep (one that does not speak good english) said I can have hbo etc, and my bill would be in the 40's
Well in january I got a bill for over 90 I called again, and after going through 5 reps still not one that I could hardly understand, she said she would take off the 50 dollars, and cancel hbo etc. well, than I sent in 43.86 and now, they are saying the hbo etc was never cancelled, and I am in arrears. I am a senior citizen on a fixed income, i cant afford this extra stuff. Well, I proceeded to call them today and after being transferred 5 times, I got a rep and she said (another asis rep) she could not take off the charges, plus the fact my tv has been off for two days, there is a 771 code, they could not fix. they also told me i still have hbo etc but I havent had it since dec I am fed up with your service your rates, and your foreign reps, its impossible to talk to them and understand they promise you the world and never do what they say they are going to do,

My partner and I had Direct TV over three years ago when we canceled our service with them. We returned the one receiver back via the postage and box that they provided. We still live in the same residence and have not received any correspondence of them not receiving the equipment. Just one month ago I received a call from a collection agency stating that I owed a balance, funny thing is that I am not on the contract just a authorized user on the account. The following day I reviewed my credit report and found out that they reported this amount to the credit report agencies. This action on them affected my credit score overall for something I never signed a contract for. They are the worst company to include AT&T and prefer using PS Vue or other services that do not require any equipment or contracts.

Diane Booker
from Cypress, CA
Failure to receive good customer service. I started calling Direct TV service at 11:58 a.m pacific time and now it is 1:32pm. I was calling Direct TV to speak with a representative to remove the premium channels from my cable service. Unfortunately, none of the representatives appear to know how to do their job other than ask, what is your name, what is your billing account number, what is your phone number, what is your billing address, what is the address where your service is located. I provided the rep with all the requested info just to be transferred to someone else who ask the same information. Really Direct TV. While I'm unable to speak to someone who can provide customer service, I was also unable to access my account by login to the website. The site indicated it did not recognize my account number or phone number and it did not allow me to create a new account or change the password for the existing account. Furthermore, I continue to call the phone number for Direct TV(1-800-531-500) that I have had in my phone for the pass 10 years and that I have used to pay my cable bill for the past 10 years just to have some one from AT&T answer the call and tell me I need to hang up and dial the number I just call. I would appreciate a response to my complaint. Furthermore stop outsourcing your jobs.

Terri Allen
from Kernersville, NC
the first of December 2018 I switched from Directv to another service. After not having cable with directv for 2 months I am still being charged 29.00. Since you feel I owe you 29.00 I would like to send you an invoice for the time I have involved in taking time off of my job and on the weekends trying to get my issues fixed to no avail. I estimate it to be more than 10 hours but to be fair I will charge you for 10 hours of my time at $25.00 an hour comes to $250.00. I refuse to pay you any more money than I already have.

Eileen Nelson
from Newark, NJ
It has been too long since channel 5 KSL in our area, has not been provided. What is the problem and when will it be rectified?

Ezell Olivares
from San Antonio, TX
I have tried to login to my directtv online account for the last week with no success. I have called customer service and no help. I am not happy or satisfied with the service. They tell me that it is a system wide problem that has been going on for a week and no resolution yet.

Vernie Marshall
from Siloam Springs, AR
I was with Direct TV for over 2 years at another location. When we moved I brought Direct TV with me to the new location.
Went with the wireless box at 2 locations and was told I would have a 2-year contract for that service. No problem, I was not planning on changing. What a nightmare! Buffering issues more than several times a day, resetting control box, service calls that reset the control box, service tech that came to the location and told me I needed to reset the control box.
So then, I requested to change from wireless to wired and spent $400.00 to have cable run to locations. Then I was told that there was an open work order on the control box and that changing would probably not solve the issue. Went ahead to change boxes to wired and was told and given a NO Charge work order. When the tech arrived he wanted $300.00 and would not make the change.
I was also told when I left Direct TV, that I would not be charged for early termination, as I had so many service issues. Well, I am now being charged for early termination. I have video documentation, chat documentation, phone documentation, and work order documentation, All equipment returned is documented. I will NOT PAY any early termination fee and am willing to go legal and to the media to let people know NOT to go with Direct TV.
I was with AT&T for Direct TV, phone and cell phones, of which all have been changed. I am more than willing to go to court if necessary to show what poor service I received. If you are going to place a person on contract, then they should be allowed 30 day's to evaluate the service before the contract takes effect.
I did not make it 4 weeks. MY account number is .
Reason of review: Bad quality.
Monetary Loss: $1.
Preferred solution: cancel early termination fee..
I didn't like: Quality, Service, Customer service.
UNRELIABLE

Gene McMahon
from Minneapolis, MN
Lost local channels yesterday 12/21/18, repairman came out and took care of it ( at&t fault, lost my info, ) but now when I went through my channels, I lost channel 341, what gives ? you delete channels when ever you feel like it ? Getting fed-up with Direct _ Tv !!

Laura
from Los Angeles, CA
Direct TV stood me up not once but twice, for a simple reconnection of my main system. The first time I waited for 6 hrs, no call, no text. CS said they couldn't locate the tech, need to reschedule. Waited 8 hrs today, another no show, even called at noon to be sure they're coming. CS lied to me, said he couldn't get gate code to work so he left. He couldn't call me? Liars! They blew me off and dont give a shit about their customers. Offered me nithing for this colossal hassle and waste of 2 workdays I missed. I guess if you ignore the customer, maybe they'll go away.

Paula Jensen or Richard Jensen
from Safford, AZ
I have been having problems with the internet on my Direct TV. Every day it tells me to reconnect to the internet. I unplug my modem and wait 20 seconds and sometimes that will work, but sometimes I have to do this 4 or 5 times a day to get it to work. My provider is Cable One and I can connect to the internet on both of my computers and my cell phone. \When I called your company on December 20 to request that a technician come to our home to check it out, I talked to someone that didn't speak very good English and she was very hard to understand. I told her all I wanted was to set up an appointment for someone to come and check it out and she said they have to troubleshoot first over the phone. I finally got so frustrated that I told her I was hanging up. We have been a loyal customer for over 10 years. We are paying an extra $20 a month for repair service. Since we are paying for this protection fee, we don't think it should be that difficult to call and set up an appointment to have a technician come and see what the problem is. Thank you for your consideration in this matter.

James E Henderson Acct. 34226594
from Chicago, IL
On December 21, 2018, I had my equipment changed out because of a faulty receiver. The agent came and switched out the receiver to the wireless receivers. The receivers worked fine for about 15 mins. then shut down. After calling Technical support, the young lady who helped me was very polite and assisted me the best she could. After being on the phone with her for about 45 mins. she told me that she would have to schedule someone to come out the next day. My problem is if the agent left my house around 11:30 am, I had to wait until the next day between 12:00-4:00. This is unacceptable and should have been taken care of the same day. I'm sure I won't get a discount for a day on my bill for the inconvience that I was caused, so I feel that I should have had an emergency appt. that afternoon.
Thanking you kindly,
James Henderson

Patricia McKoy
from Hartford, CT
12-20-18
To whom it may concern:
On December 1st $111.60 was taken out of my debit card. My monthly bill is only $36 plus tax. When I called on the 3rd to ask WHY? The service agent could not find out WHY! Stated my bill is only $36 per month, EXACTLY! So, a refund was escalated to refund my money. Since, it also made other automatic payment to BOUNCE! The young man stated the amount should be back into my account in 7-10 business days, if I wanted it could be sent to me on a VISA card. So, I called on the 10th, advised by another male, He stated funds should be there on the 14th. The 14th has come & gone. Still my MONEY is not put back as promised. I've made numerous calls, each time a different refund date.
today the 20th spoke with Nate, he stated my funds are there! Called NO refund. Spoke to a manager, I believe his name was Don or Dom, he & Agnes give me a totally new story, 21 days to receive my money. IT did not take 21 days to take out my money, so why should I wait to get MY money back. I would like to have my funds back before the 28th of December, since this all began on 12/3/18. I can assure YOU, Patricia McKoy will NO longer do business with ATT/DIRECTV. Your business retrieve money from my account, it was not a bad check, So, as you know by now, I am a dissatisfied customer! All I require from DIRECTV, is my money back. So, we will no longer have to communicate.

St.eve Eller
from West Jefferson, NC
To whom it might concern,
I called for equipment upgrade. Salesperson said it would be a plug and play equipment transfer. when the equipment arrived I saw it was more involved. I called back to customer service they scheduled a tech to install on 12-11-2018. on the 9th we got hammered with the snow storm.I was expecting it to be rescheduled, but on Monday afternoon I received an e-mail saying the tech would be here between 8:00 and 12:00 noon said for me to reply if i needed to reschedule. I was fine with the appointment but I thought i should let you know that we had several inches of snow but i had cleared the driveway. and the roads to the house were clear. I e-mailed this info never heard anything back so i figured everything was on time.
I stayed home from work and never heard a word from anyone. icalled back and the person told me it must have been the weather. This would have been ok except the weather was exactly the same the day before when you emailed telling me someone over 18 would have to be present. that the tech would be here. I understand that i am just one customer but I do think that I deserved a phone call the day before. My time is just as damn important as yours or any one else. This is not the way to run an establisment of this size you should know that your customer service is what keeps a service company on the top above all others. Now are you going to reschedule my appointment or should i just throw your equipment out the damn door. One more thing it would be nice to be able to talk to an American English speaking person when we have to call cutomer service.

Robert Moncada
from Tucson, AZ
I stopped all services with DirecTV on Sept. 5, 2018. Unfortunately they continued billing me into the next billing cycle.
After many attempts by e-mail and phone I was finally able to get DirecTV to acknowledge their mistake. They sent me 3 e-mails stating I was due $50.59; $7.33; and $39.29. Which not surprisingly adds up to the $97.21 the withdrew from my account.
On November 3, 2018 I received a debit card from DirecTV for $25.95 (?) I contacted DirecTV once more asking for the
the remaining $71,26. I have heard nothing to date.
It's interesting to note that none of their billing lists a headquarters address. I eventually found that they were listed as being in El Segundo, CA. The address to which I wrote.
Since it's been over 3 months since they acknowledged their own mistake, yet have not repaid me, I would appreciate your help. Robert

Venilia Smith
from Waterloo, IA
I need to speak to someone about the quote I was given as a new customer about how much my package deal will be. I had been given poor customer service, I have been talked to poorly, my bill date was change, my bill amount was change.

Amy Lewis
from Linglestown (Lower Paxton Township), PA
I recieved the box to return my equipment with no return label. I have tried various times and spoken to many people and driven 50 miles to UPS Stores. Not one person that I have called will get me a return label. This is the worst customer service I have ever had. I do not know why this is so difficult but if I do not hear from someone with a brain and not a recording, I am going to file a lawsuit. This is a complete waste of my time, energy and gas.

Beth
from Jacksonville, FL
I am with a business account that has been without cable for a week and half. I have set up 3 appointments and a technician has yet to show up. Every time I call back I am either hung up on or stuck with one supervisor (Cynthia 5370) who is unhelpful and rude. My buisness is being severely effected by this as we are a bar and grill where people come to watch sports.

I wish I could give zero stars! I'm currently on hold for now 40 minutes after being transferred 5 times! I am trying to renew my discount and no one can transfer me to the correct dept. Not to mention I find myself squinting my eyes to understand the poor verbal skills of the agents who barely speak English! I'm very close to just completely canceling my service!

H Logue
from Vicksburg, MS
I called today because my bill went up by about $80. I was told that it was in my bill that it would increase biracie the promotion ended, but I told her I didn't see it and was unaware of it. I was told there was nothing directv could do to compensate me at Christmas time for this increase. They lady I spoke to obviously didn't care about my issue and continued to say she couldn't help me out at all. She did nothing for me and I told her we will be cancellig our service with directv ASAP. She didn't even help us then.

Maria A Cardona
from Alice, TX
installed direct tv on Friday 16th,2018 about 2hrs later made contact with them that what they told me I had bought was not correct so told them that I did not want you alls services, kept making same complaint everyday no results giving me the run around. Finally Monday 19ths requested to talk to a supervisor with no results but they said would send someone to check, waited all day Tuesday and still no one ,but one of your employees says now that it took so long will be charged 400.00 to disconnect. I believe these is wrong and if no action. When you send people n is taken to fix these problem will have no choice but to report you all with the Better Business Bureau . You send people to sell your products but its all a scam especially with senior citizen My phone is 361-701-6358 to make contact after 2:00 pm

Cheryl Shepley
from Chicago, IL
I DO NOT WANT TO TALK TO ANOTHER Philippines OR Mexico City Rep. Quality of Direct TV service has deteriorated since AT&T takeover. I live in ththe US and Do NOT Support outsourcing Customer Service. I have calle 4x and STILL get a robotic English as second language or broken English inhibiting communications. Give US a number to call For the Service quality WE DESERVE. Your programming is low end and boring. I am searching for an alternative to Direct TV. AT&T is abysmally providing Service.

Elizabeth T. McDow
from Sweetwater, TN
Elizabeth Mcdow <edmcdow50@gmail.com>
I opened my Directv account on August 8, 2016. I closed the account on September 10, 2018. The confirmation email for Directv stated Sept. 11--whatever....
Anyway, I received a debit/credit card for $20.60 to pay me for the days I was not in service (Sept. 10/11-14). The problem is that I was also charged an auto-pay amount of $154.49 on August 30 to cover September 15 to October 15, 2018. Since my Direct TV account was not active at that time, I want my $154.49 back.
I have contacted customer service and spoken with several different people. First was Janet (nice) who connected me with Ana in the billing department. She didn't speak English very well and I had trouble understanding her. I asked her to slow down her speech so I could better understand her. When she couldn't help me, I asked to speak to her manager. She then hung up on me. (That happened today so you can listen to the tape that was made of the conversation). I called back and asked to speak to the manager of the billing department. My call was given to Kevin, another customer service rep, then he handed me off to another customer service rep--a woman--who then connected me with her supervisor, Alvin.
He was not helpful at all and kept speaking over me--listen again to the tape your company has....
Okay, all that to say I've tried going through the correct channels and gotten nowhere.
I ask that you review my file and let me know what is what. Thanks in advance for your assistance. My former account number is 5181377 I am retired on a fixed income so I need my money back! Elizabeth McDow, 1607 Blue Creek Rd. Lynnville, TN 38472 931-580-9040

Elizabeth Teague McDow--Nov 9, 2018
from Morristown, TN
Elizabeth Mcdow <edmcdow50@gmail.com>
I opened my Directv account on August 8, 2016. I closed the account on September 10, 2018. The confirmation email for Directv stated Sept. 11--whatever....
Anyway, I received a debit/credit card for $20.60 to pay me for the days I was not in service (Sept. 10/11-14). The problem is that I was also charged an auto-pay amount of $154.49 on August 30 to cover September 15 to October 15, 2018. Since my Direct TV account was not active at that time, I want my $154.49 back.
I have contacted customer service and spoken with several different people. First was Janet (nice) who connected me with Ana in the billing department. She didn't speak English very well and I had trouble understanding her. I asked her to slow down her speech so I could better understand her. When she couldn't help me, I asked to speak to her manager. She then hung up on me. (That happened today so you can listen to the tape that was made of the conversation). I called back and asked to speak to the manager of the billing department. My call was given to Kevin, another customer service rep, then he handed me off to another customer service rep--a woman--who then connected me with her supervisor, Alvin.
He was not helpful at all and kept speaking over me--listen again to the tape your company has....
Okay, all that to say I've tried going through the correct channels and gotten nowhere.
I ask that you review my file and let me know what is what. Thanks in advance for your assistance. My former account number is 5181377 I am retired on a fixed income so I need my money back! Eliz. McDow, 1607 Blue Creek Rd. Lynnville, TN 38472 931-580-9040

Melanie O'Neal
from Murfreesboro, TN
For 23 HOURS and 2 technicians, still no service. All I requested was to have my large receiver changed to a smaller one so as to place it behind my mounted TV.The first tech was told that he would have to cancel ALL mu services, hook me up to a different box, cancel that one and then update to another box. Today a WONDERFUL gentleman came and after 8 hours of speaking with Direct TV tech support, also could not get my service returned. He called a supervisor with Direct TV who informed him he would be out "in a couple of hours". It is now 6 hours later and, wow to my surprise, no Supervisor. This is the WORST customer service I have ever received!! PLEASE feel free to call me if you even care 615-995-2056

Paris Allen
from Harrisburg, PA
I called DirectTV at 9:12am today November 6th, to discuss an extremely high balance on my account.
(Background: I lost my previous job and could not pay for 2 months, but the balance on my account jumped from a few hundred to $1000 +. I have a new position and called to inquire about paying the past due amount for the 2 months past due. I did not return the equipment because I do not intend on ending my services, but to pay what I owe and restore services.)
I was connected to a woman that had a southern accent and asked for verification, no problem.
I then asked why my bill took such as severe jump. The associate then raised her voice and said " Well, it was sent to collections because you have $1,000+ bill," in a very sarcastic manner. I explained to her that I am aware but I do not believe she was understanding my question. I was asking WHAT THE CHARGES WERE? and also HOW MUCH IS NECESSARY TO RESUME MY SERVICES?... not why it was sent to collections.
This woman was EXTREMELY RUDE, a terrible listener and had an obvious attitude. I then said "Is there a manager I can speak to? You are very rude.." and she transfers me to ANOTHER ASSOCIATE, not a manager.
However, this new associate was polite, a great communicator, very thorough and also gave me information that I needed in addition to what I asked about. Her customer service changed my mind and I decided to pay the $487+change to have my services reactivated and waived from collections.
I would like to know if there is a way to find out who the first individual was that I spoke with, seeing as though calls are recorded. I would like to take this terrible experience to HR because this woman does NOT deserve to have this job. She caused me to want to cancel my services and rate DirectTV as a horrible company in total. Thank you to the wonderful associate that actually resolved my problem.
Please contact me as soon as possible,
Thank You!
Paris Allen (904) 535-9010
Email: Parisalysia@yahoo.com

Jay spitz
from Corolla, NC
I received my bill from DirectV and noticed that there was a charge on it for PPV Movies, I have never had a PPV movie on my account. I made contact with directv about this unauthorized entertainment, They advised it was from my receiver. I advised them that if they look at my account they will notice that there has been no PPV movies on my account at all. After Hurricane Florence I needed a repairman to help me to get my programming back on. He arrived and fixed the problem, He then walked out to my modem and took down some numbers off the back and then took numbers from my receiver, (is this proper), He then left now I have PPV movies on my account that I did not authorize, I tried to explain it to the supervisors and associates and all they advise is that it came from my receiver and it was a valid charge. They then offered discounts on my bill for this complaint that I am filing. My account no is 450989814, Contact phone number is 252-342-7141, I feel that I did not have this programming in my home and I did not order it. I feel that the customer service will not assist me with this problem so I need to speak with someone else that can assist me with this problem. If you look at all the chat's that I have done with the reps at directv I believe you will understand my problem or if you would like or if I could contact you please advise. thank you

Gerard MCWILLIAMS
from Rhinebeck, NY
I' ve been a Direct tv customer for at least for 20-25 years and I have had nothing but trouble with it the last year ever since at&t took it over . I had new receivers installed for hd,3weeks ago. the one in the bedroom worked when the technician left and later that night that one quit. they sent a new one and that won't work either. Last night we were watching tv and the one in the living room quit also. The message said the box needed to be reactivated.I called the number and after being bumped from one person to another and on the phone for an hour. They said they would send me a new receiver. I called today and said I wanted a technician to come and fix the problem. Today is Tuesday and they said it would be Monday before anybody would be here.I find this very poor business. You expect me to my bill in full and I don't have service. I think you need to fix this problem.

Jan Adamski
from Albuquerque, NM
Because we moved from our house in Oregon and didn't have a permanent next address, we canceled DirecTV service after about two years' use and paid an early cancellation fee. In August 2018 we sent back all equipment through UPS who gave us proof of shipment, but after about a month we received an additional bill of $45.00 for not returning one of the parts. We have sent everything and there is no reason to keep parts we are never going to use. We made a few phone calls about it and thought the issue had been resolved by one representative from overseas who said that they found that part in the warehouse. However the bills for $45.00 keep coming and we are told that they intended to send it to collection so we paid that amount but we feel we should be reimbursed because we are positive that we returned all equipment we rented.
Jan Adamski, Account No. 5573004

Patricia Flanagan
from Holt, MI
On 10/17/18 I called to pay on a promise to pay but did not have enough money. I paid $262.00 leaving a balance of $79.16. I asked them to take the promised amount and cut it off so my account was not charged. The agent said she did that. Then we discussed putting the 79.16 to this month's Bill to be paid in 11/2/2018. She also extent termination to that same day. On the 18th you tried to take the payment for the 353 amount. That bounced every thing in my account and charged me $35. I called on that day and spoke to an agent and she sent me to collections. They in turn escalated to a supervisor. Another agreement was established for the 79. and the present mints payment payable on 11/2/2018. As well a request for the $35. Plus a dollar day was made. She also extended intruption date to 11/2. So today the 22nd you also attempted to take the $353. From my account blow charging an insufficient funds check leaving you doing me $70 in bounced fees as well as $5.00 for the daily charge. I want a supervisor to call me. Today I have talked to give very rude people. I asked to speak to a supervisor to escalate the matter. Four time the agents sent me to. ATT collections who does not have direct accounts. You have lied through these agents that the supervisors are not available. I understand a supervisor is busy but to escalate this issue I was told only a supervisor can do that. I will gladly pay the $79.16 and the current bill of $289. On the 11/2. And get the service extended to the second. With your bouncing my acct three other bills to the pharmacy bounced . As seniors and disabled we don,t always get the same amount per month you have endangered our lives now as we can not get our meds until the second. All I want is to escalate my bill to a supervisor and get my service restored today . I also want my $75.00 returned to my account today as well. At least then I can get two of the meds we need. Please call me at 517 268 8002 today.

Benjamin Marcum
from Blue Springs, MO
Last Sunday I wanted to keep updated with scores and player's stats throughout the NFL Sunday so I tuned the channel to 703 to watch the Red Zone Channel. I was informed on my TV screen that the service would cost me $49.99 which I thought was interesting because my parents have Xfinity and that service is provided with basic package. I reluctantly agreed to pay the $49.99 because I think that channel is great. Today I tuned into the Red Zone Channel expecting the channel to be available to me because of the purchase I made the week prior but was prompted for another payment of $49.99 which I thought was a mistake. I called your customer service number only to be told that in order to enjoy the Red Zone Channel it is $49.99 per week!!! So in a 17 week season of NFL Football your company is going to charge me $850 to watch the Red Zone Channel that is provided by other carriers for free? The entire NFL package is only $300! I have been taken advantage of for the last time. I will be calling to switch providers on Monday. I guess my $300 per month cable/internet bill is not enough to value me as a customer. What a joke!

TAMEKA WILLIAMS
from Raleigh, NC
I called to ask why the representative why I did not have the option to pay check by phone. She stated I had to make 6 months of payments on time before I have that option. I ask well my home phone and internet is with Directv as well it just have a different account number and I am able to pay check by phone. She begun to get an attitude, so I ask to speak to supervisor. She then continued to talk over me so then I hung up the phone on her. The worse customer service ever.

I received an email from ATT/Direct TV (which I normally delete because 99% of them are junk sales) stating I need to set up an appointment for my "free upgrade equipment in need of replacement". After making the phone call, being on hold, going through the endless phone screening I finally spoke to a representative that told me the equipment was "free" but my bill would increase monthly by approx. $20 and that I had no choice as the current equipment was being phased out. Oh, and this was after being on hold another 5-10 minutes.
I do not want HDtv, I don't have a television with that option, I do not want my bill to be increased as it has been increased several times over the many years I have had the service and believe me the service is not great. So, I made the choice to walk away and turn off the system at the end of the billing cycle. I was told I had to call back (and to through the phone service hell) do to this on the 28th. What kind of company are you running, you are supposed to be providing a service and I have to call back to cancel? Your prices have gotten out of control, you are definitely lacking in customer service, and since I was a customer for years in GA and 6 years in LA I am disappointed.
Since there are so many new options in the digital world I guess I need to improve my technology and look elsewhere. I'll call you on the 28th for the last time...

JoEllen Hermanson
from Cambridge, MN
we were supposed to have DirecTV installed today between 8-12 am! we scheduled it today because my daughter has the day off. it is now 3:40 pm and the technician has not showed up yet. my daughter called around 12:30 and a woman, who was hard to understand, tried very hard to cell her a phone. when she finally got her past that the woman said the technician was in our area now, and he is checking the lines to see where the bad connection is. what the !?!?! I am very upset!! there is no excuse for this...

Wayne Haley
from Nashville, TN
I have been a customer of Direct TV for 10 plus years and have 5 TV's in my house. Three weeks ago I came home from work and turned the TV on and got a message saying my box had been deactivated and my mini genies quit working.
We are now into this for three weeks and it still has not been corrected!!! Very frustrated to say the least! They have sent me three new boxes and had two techs come out to my house and the issues are still not resolved.
The last time I a tech came out I had to wait for a week. He came out and still could not fixed it. He said I had to call customer service and talk to them again. Still not resolved.
I would like for someone from management to call me to discuses the on going issues!
Wayne

Joan Sanaker
from Elk River, MN
About one year ago I had 4 boxes installed by one of the company's professionals. Recently one box stopped working. When I touched it I was shocked by how hot it was. I immediately disconnected it and called customer service. I was on the phone for over 2 hours and nobody could seem to help me. Most of the agents had accents and I had difficulty understanding them. I just wanted a new box. They could not find a record of the box I have listed anywhere and therefore could not replace it. I was so frustrated! After talking to five different people I finally got one to say she would mail a box. A few days later I went online to check my account. The order had been canceled! Not by me! I called again and after 45 minutes I finally found someone who was kind and offered to set up a service call. Today when the tech showed up he could not replace the box because it was not listed anywhere in your system. Somehow this became "my problem." This is intolerable. You are a multi million dollar company and you can't override a records mistake and just provide the service? The tech left and I called again. I finally got someone whom I could understand. He put me on hold after saying "I will resolve this." Well, the call disconnected. And he did not call back. I did provide my phone number to several of the people I talked to.I am done with Direct TV. I will be canceling the service in a few days after I obtain an alternative. This was THE WORST CUSTOMER SERVICE I HAVE GOTTEN IN MY LIFE!!!

Elmera Maghar
from Mission Viejo, CA
Direct TV has the worst customer service department and service. After I was given a $27 offer with bundle they jacked up the price to $42 after installation. I made the attempt to speak to the supervisor in Philippines to cancel but I was told since I have a contract I have to pay $475 for early termination fee. This company is a scam & I am going to file a lawsuit against Direct TV/ATT.

BECKY DAVIS
from Troy, VA
I HAVE A MISSING PAYMENT SINCE AUGUST 14th 2018 AND NO ONE CAN TELL ME WHATS GOING ON OR WHERE THIS PAYMENT IS I HAVE DONE EVERYTHING THEY ASKED OF MR TO DO AND MY BANK HAS EVEN TALKED WITH THEM SO I HAVE BEEN PUNISHED FOR THEIR MISTAKE !!!!!!!!!!!!!!! NEVER AGAIN !!!

Sandra Bassett
from Denver, CO
We had to have a new roof put on after hail damage and they did not put the satellite dish back on right. I called to have someone come out and was told at the time everyone was going to have to have an upgrade to Genie so had it done when tech came to fix the dish. We are not pleased with having to have another 2 year contract but our main complaint is the remotes. They are too small for the elderly and handicapped (which we are) to use without messing up. I called customer service and was told no bigger remotes are available even though I found one on line. I ordered lighted ones and had to reprogram it in TV. I called CS and got a woman who would not speak up and could hardly speak English. Both unacceptable. I finally got the main TV programmed but never got the TV in bedroom room programmed because I could not take the rude CS (did not get her name because she refused to speak up or speak fluent English) any more. This happened on September 20th. The light has not made matters better. I feel we were more or less forced into another 2 year contract and now can hardly maneuver the remotes. It has been nothing but a pain and we are very disappointed after being loyal customers for many years. The LARGE remote I seen on line is: DirecTV IR/RF Universal Remote RC66RX. Would that work with our Genies? If we got the remote problem fixed we wouldn't mind the 2 year contract so bad, The account is in my husbands name, Edward Bassett 1912 30th St Rd, Greeley, Co 80631 Account # 18504950

A channel was dropped from my line up. When I called to cancel services, I was transferred several times and then I was placed on hold and the agent terminated the call after 5 minutes of having me on hold.

Jerry Davis
from Orlando, FL
Been struggling to get service fully working, not freezing, guide not working, etc. since January 2018.

Anthony Dominguez
from Tolleson, AZ
i signed up with Direct TV at a Wall mart and the horrible sales rep told me i would receive a $300 Wall Mart gift card. Now Direct TV is trying to give me a $250 Best buy gift card which i don't want and will refuse. i don't shop at Best buy and have no need for any more TV's. i only want whats owed to me nothing more. i have talked with multiple people from Direct TV and nobody will help me! i'm filing a complaint with the BBB because of the false promises and absolutely the worst customer service i have ever had. if the sales person ( Benny) would have said its a $100 card i would have been fine with that but he lied to me. i was supposed to get multiple call backs from multiple people all empty promises! i'm sure someone will read this and laugh and say we got another one.

staci
from Greenville, SC
EVERY month i call in (cause i cannot use the automated, for whatever reason) and i get someone who doesn't understand plain english and after 35 minutes, i finally get the payment made. It shouldn't be SOOOO hard to make a payment
I have had directv for a long time and i now am thinking of changing my service

Erma Edwards
from Vicksburg, MS
I was scheduled for upgrade to the genie boxes on July 24, 2018. The technician did not show up and after I called they said he was 2 hrs. behind and could make it at 7 pm, We said that was find. He did not show up. We called and talked to a supervisor and they said the technician came at 8pm. we were not home. That is a lie, we were home all evening. Then the supervisor said they will send out a technician on that day July 25, 2018, no one came I called back again and they reschedule us for today August 8, 2018. We were not treated with respect. They gave us the run around and excuses. Our experience with this situation was horrible.
Erma Edwards
601-634-6981
Have feedback for DirecTV?
Thanks for your feedback!
Sorry. Please try again later!