Craigslist
Contact Craigslist Corporate
Toll free phone number: 415-566-6394
---
Craigslist, Incorporated is a web based classified advertising forum. It is a privately held corporation that serves 570 cities in 70 countries. Each month over 20 billion listings are viewed for everything from real estates, employment, barter and limitless items for sale. Craigslist employs only 30 people at this time.
If you experience a problem with your listing on Craigslist you may call 1-866-664-0633 or email info@craigslist.org . You may find answer to Frequently Asked Questions here. If you would like to mail a letter to CEO Jim Buckmaster, address your correspondence to 1381 9th Avenue, San Francisco, CA 94122 or call the corporate office at 415-566-6394.
Craigslist was founded in 1995 as a local San Francisco bay area networking forum. Craig Newmark was the founder and after becoming a national phenomena a Craigslist Foundation 501(c)(3) non profit was started. The community experience has been the subject of documentaries, songs and television sitcoms.
Social media presence may be found on Twitter and since Craigslist is an actual social media forum of it's own, it's difficult to find a reliable and official Facebook wall. Caution is recommended.
Craigslist Contact Information
Report complaints to corporate and get satisfaction
Craigslist headquarters address

1381 9th Avenue
San Francisco
CA 94122
United States

Company website

1-800 phone number

415-566-6394

Support email address

info@craigslist.com

Better Business Bureau rating
Browse reviews of other Online Shopping
Top Craigslist Complaints
Browse more than 85 reviews submitted so far

My wife, has someone calling her phone and saying that they got the number off Craigslist, and that she is soliciting for adult favors on Craigslist. 2 for one. One she's a good descent law abiding person, and she's not that kind of prankster, she very upset and asking me to look in to it or call the law. I thought I would ask HissingKitty first about if it's coming from the official Craigslist website.

cheryl edwards
from London, KY
I was selling a Rottweiler on craigslist. A lady contacted me said she trained dogs for service dogs for the wounded warriors and autistic children and of course the kind hearted person I am I told her I would donate the dog for the program. The next day they had the dog on craigslist said he was a service dog and wanted $500 for him they scammed me. This is totally wrong of them they are selling him on the Nicholasville, KY pets list. They live at 411 Sutherland Nicholasville, KY. This shouldn't be allowed.

Robert Ramos
from Kingman, AZ
The following item was on Craigslist for sale, but not available to be seen. We were asked to place money in PayPal acct. then she would be able to ship us the motorhome to our address at which time we could make a decision on if we wanted to buy it, she would return our money if we decided not to buy it. Here is the acct.. in question. kc4wp-5297005755@sale.craigslist.org. She also had a very lengthy story why we could not see the motorhome that was billed as being in Las Vegas, It really was not in Vegas as she was using it in Utah at Hill Air force base where she was serving in the USAF. She said that she would have the motorhome shipped to us when we put the money into a E-bay PayPal acct. I reminded her that her Motorhome was on Craigslist not on E-bay. She explained her reasons for this which I did not understand. We ended our pursuit on the said motorhome. Her name was Lieutenant Sara Goodrich USAF currently stationed at Hill AF base, but was soon to be transferred to Alaska, that was the reason for the sale of motorhome, was a nice unit. Hopefully this scam can be brought to light and prevent any future problems for someone.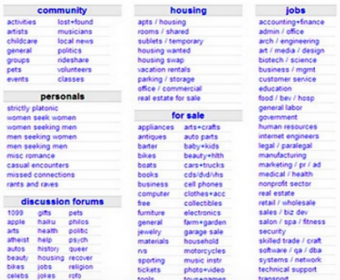 I Responded via email to a posting on Craig's list for husky pups for sale. post ID # 49436666005. The price was $ 250.00 for a 11 week old husky pup. I was told to send a money gram from our local (Florida) Walmart to his local Walmart in Minnesota. The $ 250.00 was to include shipping the pup to our house via airplane. We haven't received anything in two days and we don't get any response from our emails or phone calls to the seller's residence. We have been scammed for the sum of # 250.00. I sure hope we can at least get his ad pulled from Craig"s list a.s.a.p. , so this doesn't happen to anyone else. This person's name is Mr. Lee Wong - phone # 763-250-7536. He said to send the money gram to Candyace Townsend.

RoseMary Muzuruk
from Ellenville, NY
Both of my computers got 25 virus's (Trojans) (They are connected in same house) in them from 5 Craigslist emails (I have copies of all of them) and my security found they came from the UK from your site over an add that I had posted and they were trying to scam me out of money through pay pal and I want my e-mail address completely removed from your site and will never use it again.

Keith Berhorst
from Ceres, CA
Why do you let the same company's flood Craigslist with the same ads over and over. It take so long to go through their ads that I am going to stop using it, And so are a lot of other people. They should be limited to a small amount of ad , and not page after page.

There are two "possible" scammers advertising cars for sale on Craigslist. First one is a VW Passat. Second is a White Camary. Both vehicles are way under prices. Sellers offer soap opera stories as to why veh is being sold. Sellers higher encourage to purchaes immediately using Craiglist Say Pay system. Both sellers state vehicles are in storage units/storage containers in distant states/areas and vehicle cannot be viewed. Both sellers., when queried, indicated all paperwork and titles will be provided upon deliver but refused to answer questions or send title copies for review. Both sellers agreed to not collect funds from the Criagslist or EBAY safe pay systems. Both sellers indicate the purchase procedures must begin immediate and this buyer must provide ID data immediate to begin the process. Both sellers indicate vehicles will be shipped at thier expense from distant locations. Both sellers indicate if there is dislike, the vehicles will be shipped back to seller at sellers expense, a very expensive process based on the selling price of the vehicles. When challenged to provide sellers cell phone information for follow up questions, refused to provide. One seller would not provide the area they were in and or the the military units from which one indicated they are assinged and preparing to go to Afghanistan.

I hired Kevin Sexton of Evergreen Painters to paint the trim on my house. He asked for $440.00 up front which was to be for 40% of the job. He and one other person came. Kevin was there for a short while in the morning then left. Both were gone along with all of their supplies when I returned home mid-afternoon. The next day nobody showed up and I called. Nobody answered my phone messages or returned my calls. I eventually found an email from Kevin saying he didn't know when he could come back. Today nobody answered or returned my calls. A short time ago Kevin responded to my email by writing that I had better find someone else to finish the job. I asked for a partial refund of what I paid him but have not had a response. Kevin did not complete much work on my house, so a refund is in order. The storm windows are off, and that leaves my home easier for intruders to enter, which has been a problem in the neighborhood. Also, since aluminum wrap was previously removed, there are gaps between the siding and windows that rain water can enter which could cause a lot of damage to my home. It was irresponsible for Kevin Sexton to make a commitment to do this work, and then walk off.
Here is the ad, which is still up: http://minneapolis.craigslist.org/ram/sks/3967957425.html

I am a realtor and have just listed a home FOR SALE at 7 Fletcher Dr., Newburgh, NY 12550, MLS #540659... Some scammer listed it on Craigs List FOR RENT.. People have knocked on homeowners door to view the home and said they have been emailing back and forth with owners . My clients are getting scared as 3 separate couples & families have showed up yesterday. Please remove this ad and if you will send me the email address, I will forward to the police dept.

Vancouver craigslist free stuff ads are being used as- a wanted section a commercial ads department animals for sale, wanted or free ( generally for pets section) personal messages, ads that respond to misplaced ads, as a section to express vulgar language and pictures. That is all that I can remember at this moment. I have just started reading the free craigslist ads and found them extremely interesting. They are an excellent source to use to find an unusual article. In the short time time that I have been reading this section, I have seen it deteriorate as the expression goes, " right before my eyes ", and this is very sad.
Also, because of such craigslist abuse, it is possible this section may no longer be available for other legitament users. I would ask that more screening be done, so the increasing abuse would be eliminated. Once action is taken on flagged ads and craigslist is policed more, then the abusers may reduce their attempts to contaminate this section with their unwanted messages, some of which are obvious scams. Please respond to this complaint, as there are many readers that would like to see this done. Thank you very much for your time and my compliments to you on your great idea, which has been a godsend to many people.

Please, STOP THIS nonsense… On Thu, Jul 14, 2011 at 1:01 PM, Ronald Martin wrote: I'm glad you still have it for sale, i would have love to come and see it, but my scheduled is very tight. I will mail out your payment once you provide your full name. phone number and address. I can only pay via money order as am on a business trip now,pls let me know where to send your payment to because i wouldn't want to lose it to someone else. I don't mind adding Thirty ($30)dollars so you can keep it in my favor, you should get your payment in 4-6 working days i will appreciate if you can get the ad off craigslist so i can be sure you are keeping it in my favor.
Please let me know as soon as you receive it so i can start making arrangement for the pick-up. Thanks Ronald

angel arellano
from El Paso, TX
called plumber, came out and gave me estimate got paid for parts 132.00 never came back 7 days have passed. I have called him time and time he promised he was coming twice, but never came, I left a message and told him if he wasn't going to finish the job, to please return my money. I still have not heard from him, I looked on craglist and his listing has changed his new post is 6839459677.this man mr smith is a scammer, you need to do something ,I am going to report him to the police, his ph # 915-8006559 he claimes to do remodling solar screens patios tile painting and complete home repairs

Larry Nichols
from San Jose, CA
I just opened a brand new e mail address, every time I post an add, it is flagged before I can post my second add. What am I doing wrong? I have been posting adds for years and all of a sudden I can't post anything without getting flagged. Please help me.
Thank you Larry Nichols

Michelle Nester
from Northwood, NH
I am writing to complain about a resent scam I was just involved in. It took
place on Friday 3/1/19. I was on looking for Celtics tickets and found 2 for sale. I contact the phone number provided in the ad and they told me to set up send the money through Zelle. I did that in the amount of $150.00 and never received my tickets! They were supposed to be transferred into my ticket master account and never were. I have the names email and entire text of the person I was dealing with. I called and texted they never responded. I want thIs
iperson caught and arrested.
Please let me know who to contact to make sure this doesn't happen anyone else.
Michelle Nester

sarah schwanz
from Redmond, OR

Kal Boni
from Pahrump, NV
on 11/18/23 answered an ad on craigs list for a 2003 JD backhoe, listing #6714255053 with phone #702-747-2581. This ad was nothing but a scam, I was given a separate number which was Alex from E-Bay and was robbed of $11,000.00 dollars. If you could give me any information on this account would be greatly appreciated. You can contact me at 702-591-5272 or by email or Chris Puckett at the Nye County Sheriff's Office at 702-751-7000 to help with this investigation.

john kearns
from Golden Gate, FL
((Naples area missed connections site )) for the past month I flag all of the starved craved sex adds on your sight for Naples Florida children go to this site and, they still stay on you site All they advertise is for some one to suck there penis and to f--k them . I thought you fixed this problem.

Cy Garland
from Bullhead City, AZ
I saw an add on craigslist for free fire wood, and I called the number associated with the add, and was told yes the fire wood was free.The guy I talked to told me that there would be some pallets stacked up in the driveway, and the fire wood would be next to it. When I arrived at the address there were pallets stacked up, and fire wood next to them.I in turn proceeded to load the fire wood in my car, when I was confronted by the owners about the fire wood. I was told that they had just purchased the fire wood for the winter and had it dropped off. The fire wood was not free, and I told the owners that I was so Sorry, and I would respectfully bring the fire wood back.

John Binggely
from Chandler, AZ
I have tried many many times to post an item on Tucson AZ craigslist under antiques for sale, every time I post it, craigslist IMMEDIATELY removes it, I have submitted email under the help section three times, to NO avail, craigslist will NOT give me a reason for removing my post and will not respond to my emails I have tried re-writing the ad, placing it under furniture, doesn't make any difference, craigslist keeps removing it. I am really FED UP an disgusted with the way craigslist treats the public, the help section is a JOKE, they also give you a phone number to call and when you call it, you get a recording telling you to go to the HELP section. Enclosed is a picture of item that I have tried to post, ( If I could give a ZERO rating, I WOULD. John Binggely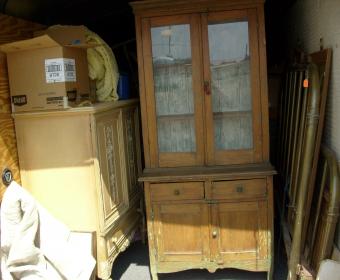 eric frederick
from Española, NM
getting deleted, red flagged by scammers or people with to much time on their hands.

anonam
from Germantown, MD
I'm upset at a certain individual who has posted their ad and failed to do their job correctly!
I've messaged this individual countless times and they are acting childish and will not fix the mistake made!
I paid money to get a job done correctly, not a job done with lackluster.
This is saddening. If the job was done right in the first place they wouldn't need to come back and fix it.
https://washingtondc.craigslist.org/doc/bts/d/60-crochet-braids-natural/...
Number: (314) 518-3706
Contact Name: Ro
Funny how after fcking up my service she increased the price by $10.
Beware DMV.

applejack511@yahoo.com
from Montgomery, AL
why all my ads are flagged
there is NOTHING wrong with the ad and there are numerous ads that you might need to flag
NO ONE RESPONDS TO THESE REQUEST

Mark Anderson
from Mesa, AZ
Craigslist is a joke. There are more scams than real postings. Whether you are looking to buy a car, or rent an apartment, or any of a number of things, you will run into a number of scams. Why can't Craigslist monitor their postings and remove ones that are clearly a scam? I am no longer going to use Craigslist for this reason. Here is an example:
I am the owner, If interested please registration here goo.gl/JshTny then Room available to view let me know when done. Thanks
On 4 July 2018 at 15:12, Mark <4a3f699e53ff37fc9545fa131865a365@reply.craigslist.org> wrote:
My email address is xxxxxxx@cox,net I look forward to hearing from you.
On 7/4/2018 1:58 PM, craigslist 6631812479 wrote:
> Yes,Please leave me your email address .I'll send you details.Thank you
>
>
> On 4 July 2018 at 14:30, Mark <4a3f699e53ff37fc9545fa131865a365@reply.craigslist.org> wrote:
>
> Hi I am helping a 50 year old lady who is looking to find a better place to live than she is in now. She is on Social Security Disability so she gets a regular check every month. She has two small cats. She would most likely be able to help with a variety of things around the house as she is very handy. If you think this might be a good fit, please reply and I will let her know so she can contact you. She does not have a car. Thanks!!!
>
>
>
> https://phoenix.craigslist.org/cph/roo/d/master-bed-bath-for-rent-to/663...
>
> Sent from Mail for Windows 10
>
>
>
>
> Original craigslist post:
> https://phoenix.craigslist.org/cph/roo/6631812479.html
> About craigslist mail:
> https://craigslist.org/about/help/email-relay
> Please flag unwanted messages (spam, scam, other):
> https://craigslist.org/mf/beae74254c0b4a4452de4a9bbdc97dcd895189c8.1
>
>
>
> Original craigslist post:
> https://phoenix.craigslist.org/cph/roo/6631812479.html
> About craigslist mail:
> https://craigslist.org/about/help/email-relay
> Please flag unwanted messages (spam, scam, other):
> https://craigslist.org/mf/5c5af3d00ad47541068a41eeb616f0805b517ea6.7
Original craigslist post:
https://phoenix.craigslist.org/cph/roo/6631812479.html
About craigslist mail:
https://craigslist.org/about/help/email-relay
Please flag unwanted messages (spam, scam, other):
https://craigslist.org/mf/ae52637009402b6634fd4f738a01a444a4d98e69.1

ANTHONY Daniel MARTINEZ
from The Bronx, NY
My complaint is that craigslist Legal Department or some other section keep on flagging my post every time i post one. This started when I complained about another user flagging my ad whenever I posted one. This flagging of my posts kept on going on for months and i was forced to complain to Craigslist Legal Department, who started to victimize me by flagging all my ads, whenever I posted one. Your officials keep on flagging all my posts, every single time I post one. Even this morning, they flagged my ad more than ten times; one after the other, consecutively. I complained to Customer Service who has been very reluctant to intervene. They have never contacted me about the issue. Why are you supporting a terrible wrong like this?
Now; I would have to write to the president to use his good office to investigate the issue because there is absolutely no reason why I should be victimized by your office. My ads are decent and poses no problem to anyone. I would have no choice to involve my politicians to get justice. I even showed the numerous flagging of my posts and he was surprised. I will print all the posts and send them to the president to have it investigated.

Gillian de la Salle
from Armstrong, BC
We arranged to rent a condo on Maui through Craigslist. We had several e-mails and a phone conversation with the manager of the condo, Ron Webber. The condo was part of a Resort Spa at 130 Kai Malina Pkwy, Lahaina HI 96761. We sent our down payment to John McGinley as instructed as we assumed he was the owner. When we arrived at the resort, there was no-one to meet us and the condo we were to rent was occupied. Noone at the the resort had heard of Ron Webber so we filled a police report.
The original e-mail address was https://honolulu.craigslist.org/mau/vac/6183639551.html
The one we used after our first contact was holidaypropertyrental011.com

Jennifer Holt
from Oroville, CA
My name is Jennifer Holt and I posted an ad on this site to find a room to rent in Paradise, Ca. I received an email from a man named Gerald William LeMay. He said that he had a room available for $450.00 a month plus $400.00 for the deposit. So, I decided to give him the money for the month of September. $450.00. To make a long story short, I decided to go online to see if this person had a criminal record. Turns out he was arrested in 2008 for trying to have sex with a minor young girl who was only 13 years old. He was a former teacher here in Paradise. He was willing to drive to Santa Cruz to meet up with this young, innocent child. PLEASE BE AWARE THAT THIS MAN IS A SEXUAL PREDATOR!! Thankfully, the girl turned out to be an officer from Santa Cruz! Please be aware of this man trying to post ads on this site. He goes by the name g guynparadise. His post was made 7 days ago. Thanks, Jennifer Holt Cell #530-624-0722 if you have any further questions.

ROBIN CLEWS
from Riverview, FL
My very bad experience with Craigslist was from the site in Indianapolis. I bought a 1942 willys mb gpw jeep supposed to be in excellent condition. When it arrived in Florida it would not run it had lots of pats missing a badly fitted body and still will not properly a big scam for $12,500.

bob boone
from San Jose, CA
I can no longer flag Craigslist postings. If you look at the furniture East Bay, antiques you will see ads that are a month old and several dealers have 10 to 30 ad's at a time. If you look at M4M same thing multiple ad's and 12 to 30 day old. This is against Craigslist policy. I flag them because they abuse the system for others.

Robert Janke
from Yaphank, NY
Tried to purchase a crossbow (5825064713) on 10-12-16. Payed thru paypal $283. Was asked by this gentleman to pay as a "friend" he said it would expedite shipping. Once i made payment he cut off all communication and never shipped item. Clearly a scam as I see it now. He reposted the item on 10-14-16 in an effort to scam the next customer. The name he gave is Raymond Garcia. He has two other items on craigslist now: 5826100429 & 5783273649. Tried to call a phone number for Craiglist customer care, but guess what, none found.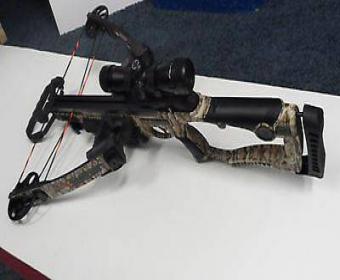 Sonny Silvaroli
from Hollywood, FL
I asked a question 2 days ago, and no answer from Craigslist. They have categories for cars, trucks, boats, but none for Remote Control airplanes. These are not toys, and I did find 3 RC airplane under toys This is a bad category to place RC airplanes under, they are not toys and are very dangerous, a child could be killed by one of these if the parent did not realize they were not toys? I presently have 4 large RC airplanes to sell, but do not know where to list it, I would not suggest under toys in which they are not.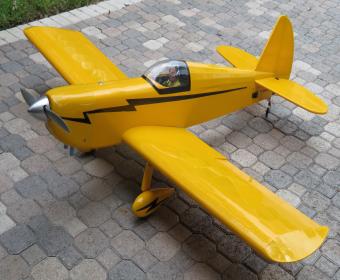 Looking at motorcycles for sale in southeast Missouri and if I try to reply to seller it wont let me. Now Craigslist has a popup that says I am not a computer? Tired of the website problems with using this site. Over time I am going to have to try and use another place like Cycle Trader to buy a bike.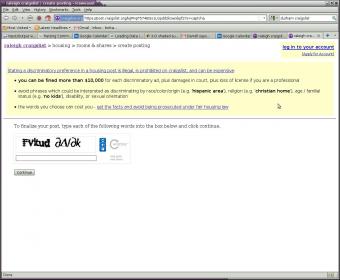 Yvonne Thomas
from Alexandria, VA
Craigslist customer service won't answer the phone! I am continually posting a sale item on craigslist under appliances. I am posting under northern Virginia, but the posting does not show under the northern Virginia listings, it continually goes to the Washington, dc listings even though I request Virginia.

Catherine Howell
from Dallas, TX
I am getting a lot of adult related requests recently in my junk mail. Today I got a message that my craigslist box was full. I have never posted any advertisement on craigslist. I think someone is playing a joke on me. Give me the procedures to stop this advertisement.

N.M. Notebaart
from Amsterdam, NH
I responded to a Craiglist ad. The man pretended to have a camper for rent. We had a long e-mail discussion over the details and in the end I payed a reservation-fee (805$). Now he does not answer mails or telephone calls anymore. I can mail you the whole mail conversation and a copy of the reservation form. He still has his offer on Craigslist. This man is a fraud, I will report this the police and I would advise you to remove the adds by "Glacier National Park Rentals".

i answered a women seeking men ad on the personal Sioux Falls South Dakota Craigslist ad that was posted on July 14th, 2016 titled; - - - "True Life Partner" with the photo of an attractive 50 year old woman. The ad states she is a widow. After I contacted her via the internet, she said she was divorced after coming home and finding her husband naked in bed with another woman so she divorced him.
She proceeded to tell me through a series of e-mails that she is a world wide gem buyer and that she lived in America somewhere but was in Gambia buying gems and she would be back in two weeks and fly into Great Falls, Montana and meet me and "Be in my arms". This past week she said she was not able to leave Gambia that she was being held up at the Gambian Airport with 18 thousand dollars needed from me to send her so she could get the gems past customs. I told her I was not interested.

mike pratt
from Carroll, IA
I keep getting blocked from craigslist after i posted a car on-line 6 months ago. I am doing nothing wrong and i keep getting blocked, was wandering what i am doing wrong for being blocked every 4 days do people have a button they click with my email attached. why does craigslist block me. I am doing nothing, i did email a man over a car, never emailed him back after his reply, does he think i was a scammer.
I noticed constant scammers on this site very few real people just constant scammers, and does this cause everyone to just click a button that knocks a person of of sight, if this is going on craigslist must have a building full of computers blocking people. I am very disappointed for this part of craigslist and am going to give up on this sight for honest people being punished for crooks causing a system failures.

Pat Heath
from Fayetteville, NC
Rent house Id # 5611972221 posted on 5/31/2016 on Craigslist is a scam and this contact needs to be investigated. He is asking for copy of drivers license, and personal information to Rent this home at 3921 Eastdale Drive in Fayetteville, NC. This home is NOT for rent, has never been for rent and will never be for rent. He is using the name Mr. & Mrs. Daniel Richard. This has been reported, but Craigslist needs to take this post down immediately.
Here is his Post: "Call me Any-Time if am not reachable leave a voice message i will get back to you .. (302) 217-3015 Regards. Mr & Mrs Daniel Richard".

Craigslist customer service is a joke and I am madder than hell. For some reason for the last six months all I am getting off and on is my IP address is automatically being blocked I email and I never get a response yet all of a sudden it starts working again for a few days and then it gets blocked again for NO REASON! I am not posting a lot if any at all so I am at a loss as to why as they are not telling me if I am doing something so I can stop it. I finally got a new IP address and lo and behold 2 days later this happened again! This IP has been automatically blocked. If you have questions, please email: blocks-b1462404079498962@craigslist.org. They do not respond!

Craigslist will not let me post on it's website, it keeps saying "THIS POSTING IS BLOCKED". If I'm doing something wrong please let me know so I won't do it again. The website has been great up until now!

Irene Lee
from San Antonio, TX
Rent house Id # 5557187251 posted on 04/26/2016 at 7:16 a.m. on Craigslist is a scam and this contact needs to be investigated. He is asking for copy of drivers license, and personal information to Rent this home at 305 Wildrose Ave. in San Antonio,Texas. He has been threatening Realtor whom is selling this house in the Alamo Heights area. He gathered information online though the Remax web and has posted it as his on using the name Mr. & Mrs. Richard Hatch.

Richard Polito
from Chandler, AZ
Cert. Rv Mechanic Robert Brown worked on my 1999 Class A National Tropical in March 2016. He will not return my parts I paid him to buy or Auto Leveling system that he took out of the Rv. He still is posting on Phx Craigslist today 4/23/2016. Under RV Honest Mech, what a scam.

Lynn Hermann
from Effingham, IL
I posted a new house for sale on MLS and it showed up on Craigslist as a home for rent, including my exact wordage and photos. This house is NOT for rent. The ID number associated with the property (who you are supposed to respond to if interested in renting) post id: 5450658608. I want this removed immediately but after calling the Craigslist customer service phone number, I have given up hope. This website is so simple to post things, but trying to get them removed is a nightmare.

Jack Berenson
from Pittsburgh, PA
Whenever a Toyota car or truck with an exceptionally good price is entered on Pittsburgh craigslist, the entry is flagged within minutes. I believe some person, possibly a professional car salesman, pays someone to purchase immediately these vehicles in order to resell for a profit. Now I believe in a person making a few dollars this way, but this person is a "hog" because I've been seeing this occurring so many times. That's why I'm reporting this. I would like to get one of those great deals on a Toyota truck myself, just once.

Ron Fabiani
from Bellwood, IL
Somebody is advertising on my ads and I attempted to change my email address for this reason and because the at&t customer service attendant destroyed my 15 year old email account, I am unable to retrieve that confirmation change for craigslist. My old email address which is now unattainable and they said it could not be retrieved losing all my hundreds of contacts, contracts etc. They said we are sorry and gave me a new email address of.

Carolann Lucia
from Cincinnati, OH
I have had an ad posted on Craigslist for over a year. I clean houses so I have a housecleaning ad under your household services ads. I renewed my posting about 4 days ago and while I was reading my ad over I decided to check to make sure my phone number was correct, I hit the contact info and my phone number didn't show I got a pop up that said I am not a robot, so I decided to check reply and see if my information would show there, well much to my surprise it didn't and I got the same pop up that said I am not a robot.
So I deleted my ad because no one can contact me if my number or email info doesn't show and I figured maybe Craigslist got hacked! I would like to continue posting my ad on Craigslist, so I am hoping you can check this problem out and get back with me as soon as possible.

Jerry March
from Hull, IL
My problem is that when I go to craigslist personals craigslist just shows a map of the us when I open that site. I don't know why that is. If I go to other areas for instance jobs, I get the list of jobs. What is going on?

ann-marie sappett
from Holden, MA
I am received scams and asking for account information for an ad I did not post. I want it removed. I have searched for it on Craigslist and it does not exist. It advertises a black leather love seat and chair for 700 in Paxton, MA. I want to know how my phone number was accessed and what is going on. I have reported this complaint to the FBI fraud line. And the Craigslist request and ID for the post it does not exist. So what is going on there? You have very poor screening of whom is posting ad's and I am concerned information is now being collected off my phone. I would expect an explanation for this gross mishap from the customer service department at Craigslist immediately.

Stephanie Miller
from Atlanta, GA
We have posted an ad in the pets section under lab mastiff pups in fern Creek, Kentucky. Someone who has contacted me by phone now keeps flagging my posts and calling me a puppy mill and such. Is there any way to prevent this or this person from flagging my posts several times a day? I looked for a Craigslist complaint phone number or email address but there is none listed on their website. All this automation is driving me crazy.

I wish to file a complaint against Craiglist corporate. Somebody is posting a bogus ad, with post ID # 5330282259 that I am looking for a gay friend. For over 3 months I have been bombarded with texts and phone calls. I flagged the ad and someone keeps posting same day. I am going to the Plymouth, MA police today.

Barbara Blanco
from Dallas, TX
I have been receiving local calls and random text messages of sexual nature since Monday. I have never posted any or ever been on Craigslist Dallas back page or Craigslist for that matter. I didn't even know what Dallas back page was until a friend told me what it was. I am very upset and disturb by the whole thing. Please remove listing or I will be forced to add more Craigslist complaints on the internet telling others what is going on. I am not a prostitute. If this is not taken care of as possible i will go to legal actions against Craigslist corporate!
Have feedback for Craigslist?
Thanks for your feedback!
Sorry. Please try again later!