Comcast
Comcast Complaints Continued... (Page 2)
420+ reviews added so far. Upset? Call Comcast corporate: 1-800-934-6489

Leigh Ann D'Adamo
from West Palm Beach, FL
My experience has been more like a complete and total nightmare!!!
Comcast decided to increase my internet service from $39.99/mo to $79.99/mo in August 2018 without notifying me. I have been a loyal customer for many years only to be given a higher and unreasonable charge for internet service that is subpar at best. I pay $400/mo for my HOA dues which covers 2 Comcast boxes as well as basic monthly service, but because I contacted Comcast and explained to the CSR (5 different times) that I was not going to pay $79.99 for internet services, they then decided to disconnect my cable service and charge me for the 2 boxes not being returned. I have now been without cable that I PAID FOR EVERY MONTH THROUGH MY HOA DUES since October 2018!!!! Really???!! Is Comcast really this ignorant or is this normal operating procedure for them?! The way that I see this now, Comcast owes ME money for not providing a service that is paid for on a monthly basis!
So now the whole thing has been turned over to collections which will work to damage my credit. I've emailed and called the collection agency and was assured that this problem would be worked out, but nothing from these people yet and that was over a week ago. Its criminal what this organization gets by with. Extorting money from their customers every minute of every day.

Casey Goossens
from Sarasota, FL
TV reception was constantly interrupted. Called Comcast and were told that if they had to send a service guy out, it would cost $60. This made no sense as I pay a lot to be a customer, so we clarified that the $60 would only be charged if the problem were not Comcast's. Fair enough, I said. Service guy came out and I immediately verified with him that there would not be a charge unless the problem was our fault and not Comcast. Fair enough, I said. When he left, he said that if the problem persists, there would be a charge as it would be something other than Comcast. Fair enough, I said. Sure enough, there is a $60 charge on our bill. We called just now and were told it was our fault - even though everything works fine since he left! And all he changed was Comcast equipment. (the service guy out and out lied that he fixed our TV and not the cable and said that he told he we would be billed. Out and out lie!) And we never called for, or experienced the need to call for service since. The contact agent said she would take $30 off; obviously not getting the point that there should be no charge at all after being told there would not. Hell, that's just stealing.
It feels wrong to be afraid to ask for service from my cable provider after paying $120 monthly for absolute crap.

Linda McBride
from Rockville, MD
Great Day,
As a customer of multiple services with Comcast , I'm for the second time i=
n a matter of months very dissatisfied.
This issue in particular is concerning my mobile service. I spoke with
a representative via phone in Dec (around the 14th) because I had no mobile
service. I was informed my payment did not go through. On my
end it showed it should have , but I know errors happen so I just wanted to
know what I needed to do to get my service restored.
The representative went over the details, also began to explain that my billing
would change some over the next two months because I was over billed at
the beginning of my service and all I needed to pay was $33.34 cents.
I paid that amount and we discussed when my next payment would be due, I asked
if there had been an upgrade to services where I could pay my bills early
if I wanted , the representative stated that service was not available
, however they would pass that on to higher support management and maybe in the future
that could be an option.
The representative informed me my next bill would be due Feb 3, 2019 , I ask=
ed why and he stated it was because of the over billing since I had my phone
I asked he he was sure, he replied yes.
I was encouraged to sign up for the mobile app and the Xfinity account, which would help me follow closely the billing I called and had those two items set up , and I check on my bill status,
again to ensure that what I was told was correct about no bill due until Feb 3.
I was told that was correct.
In December I did not receive notice for a bill, but after me researching more thoroughly than your representative today I found , indeed I did not get mail notice of a bill, but based on information I was given concerning your
lack of ability to have billing and payment information connect, no bill was
generated , but the system did not get the same the message not to take
a payment in Jan, which in turn made it look like I owed a bill , which then put my account in a suspension status. , which is what happened and now I have NO SERVICE.
Yes I was given a 100.00 CREDIT, but I shouldn't have been billed that anyway
based on the information through your hired staff in Central America.,
you're really not giving me anything EXCEPT you suspended my service and w
ill not restore until I pay a pass due bill which I should have never had.
I've been encouraging others to switch over to Xfinity, but I myself am sta=
rting to rethink this decision. My service should have been
restored, my next payment is due Feb 3, 2019.
Sincerely,
Linda McBride
272-202-8916
DISSATISFIED CUSTOMERLinda McBride272-202-8916937 Market Street #=
1Williamsport, PA 17701

Michelle Carr
from Woodbridge, VA
First, I would like to state I'm a current client, just renewed my contract. I have one the high-end plans, my monthly cost $150.00. I would have to say this was the worst cable install I have ever had. My first appointment was on a Sunday 6 Jan 2019, normally you guys send an email or text reminder of the upcoming appointment. I did not receive either, the tech did show up on time, but I forgot about the appointment, so I miss the tech. So, I was able get a follow up appointment for the following day 7 Jan 2019. The tech again showed up time 7:30 am, which I had to work but my husband is on furlough, which he needs the internet to telework and cable to follow the news, so he was able to meet the tech. When the tech came into the house, he asked my husband, WHAT AM I HERE TO DO. My husband asked if he had a work order, the tech stated no. The tech worked about 30 mins, he then stated he needed another tech help because the job was to big. The second tech arrive around 8:00am. They both worked till around 11:00, they then stated we are leaving because the cable connection is down in the area and they will return between 2:30 and 5:00pm. They returned around 6:45pm, they continue to problem shoot with no success. At this time, I return home from work, my husband was totally over it so talked with the techs. I original tech who was here at 7:30 stated he spoke with his supervisor and confirm he could return tomorrow 8 Jan 2019 between 10:00am and 12:00. After they left, I notice they only connect one box (main box), I had an order in for three boxes. In the room with the main box, which is my bedroom they left a mess, please note pictures. In the second place which is my TV room they also left a mess,( note pictures) and the phone do not work. They did not return on the following day 8 Jan 2019 nor did they call. My husband called customer service and spoke with a Roy, who stated the ticket was closed out complete. Which at that time he told my husband he could send out another tech at a fee? My husband explains the issue in more detail and Roy started he would send the tech out at no charge. My husband stated he did not what the same tech Roy stated he could not guarantee that. My question how the tech was able to close the ticket out without my consent. I total love your cable, but this is totally unacceptable, if this tech return on tomorrow 8 Jan 2018 My husband will not allow him back into the home. At this point I would like with another carrier (Fios). You really need to do a better job on training your tech, I really think this guy did not known what he was doing. And after reaching out the other tech he was no help.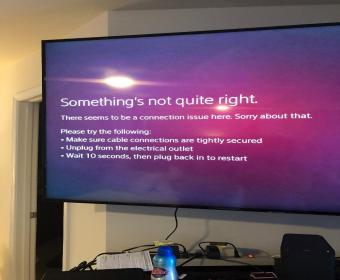 Terri Kingsley
from Fort Lauderdale, FL
I sent on hold for 45 minutes when the person answered I was then put on hold for another 20 minutes. Does Comcast not want new customers?

Terry Scoggins
from Huntsville, AL
In May of this year, I called to cancel my Comcast contract to switch to Google. They offered me a much better deal to stay with them. They guaranteed me there would be NO price increase for 24 months. I asked them over and over to guareentee NO increase for ANY reason for those 24 months.Now I have been given over a $7 per month increase. I have been with Comcast for over 50 years—-since before they were Comcast. I have had this happen many times over the years. I am fed up. As far as I am concerned, Comcast has broken their contract with me and I intend to break mine with you. This was the final straw. This is nothing short of dishonest, shoddy business practice.

Peter caron
from Newark, NJ
Internet is acceptable, but telephone service is below expectations crackles and cuts out, television service blocks frequently on main TV box and additional TV adapter. Very Discouraged as a long time customer
Would appreciate a solution to these issues

Brian
from Palm Beach Gardens, FL
Can never reach a competent person to transfer or star service.
Worst customer service ever. I spend so many hours trying to reach someone that can help I might as well work there yet I have a bill to pay.
Then service never works without interruption.

john gerken
from Shakopee, MN
12/26 Wanted to watch Minnesota Gopher football game on ESPN. Sound started cutting out early in the game, picture started to feed over and block out as the game went on. Unwatchable in second half. Poor quality service for something I wanted to see and something I am paying for.

Ann Stohrer
from Indianapolis, IN
I got a letter in the mail to receive the new xfinity 1 box with voice control free since I didn't have it. I spoke to several people who had no idea about the letter going around. That was the first problem but I had no idea what I was instore for.
Finally someone was able to get this set up and I was told since I was a valuable Comcast customer and I would receive the installation free.
Now I have gotten a $60 installation fee. I called your billing dept and talked to supervisor Andrea and she said she did not believe me basically and this was a valid charge.
Then I spoke with another supervisor Jen with her customer number of ?0u. She said I signed for the charge. I tried to explain to her I signed for the new box without dvr that I was just given. She refused to believe me that I would sign something for a new box. Wow that billing person was really quite rude.
Ok I was told by the original guy who wrote it up and then the guy who installed it. All through the installation I verified it was free. I just wanted the free and everyone nodded that it was free with installation..
Now no one can find a thing in the notes supposedly...but they should be there since all this preparation I thought was done ahead of time.
Why Comcast, why do you have to be so hard to deal with anyway? One person says one thing and the next person says something else and then there is no one else...how fair is that system Comcast?
I have been such a loyal customer with you for 8 years plus and you do this? Why stay loyal when there are so many other companies?
Sincerely,
Ann Stohrer
823 Harrison Ave
St. Joseph, Mi 49085
269-338-9510

Patricia Daigle
from Washington D.C., DC
It is Christmas time, the regular package $40. Had one channel on Christmas story , today Dec 23, it is repeated story. I am stuck on station #2. Than you put us in the 200 stations,all advertising.than 12 thru 18 paid commercial. Than 20-22 gov etc.. 600-633 spanish...what's up. It looks like it's time to cancel .comcast. Bonanza,,gunsmoke ,big valley, .. 1960's channel ?????? Who wants repray channels.
You know rabbit ears channels has,!!!!!!! Why am I paying for those channel's....!!!!when they are free...!!!! Do you think we only have GED grade levels.....internet will over power you, if you skimp on your channels. Youtube, Netflix, hulu, roku and more is comming.We are bypassing your system...hello!!!!!!!!

MAUREEN MCDONALD
from Chicago (Near South Side), IL
The customer service is so bad keep giving false information I have a problem with my bill and been treated so rudely and badly POOR COMCAST CUSTOMER SERVICE

Emebet Tesfaye
from Washington D.C., DC
For the past three days my internet service is sporadic. Connection is interrupted every 5 min. I am very disappointed with comcast service.

Coleman W. Wallace
from Audubon, NJ
My complaint is as follows. I have to temporarily move out of my home for a few months while repairs are done. I am a contractor for Comcast who sometimes has to work from home. I moved in with my mother in the same town that I live and because she has service I can not transfer my service here, I have to pay a disconnect fee larger than my monthly bill just to upgrade her service to what I have so I will have the necessary bandwidth and my fav channels. If I am renting a room they said I have to have my own/separate Electric run to the room because it is listed as a single family home. I also run two other businesses and need my Comcast telephone line which I no longer can use and have to purchase all new business cards for two separate business. This is more than an inconvenience, it is causing an decrease in my revenue. Since when can you not have two separate services in 1 house? it is unheard of! If Fios was available here I wouldn't be writing, you would have just lost a customer.

Gail R. sleeper
from Needham, MA
I have been with Xfinity Mobile since 9-18. I first spoke to someone who ran a credit check with all of my personal information. He proceeded to order the phone and charge my card for $302.31. Then send the phone to my name to a totally different address when the person received it she forged my name. I called right away and had it blacklisted so she wouldn't be able to access service. I called the Fraud Department the first time he told me to dispute it with my bank I explained I shouldn't have to it's not my error. I kept on calling eventually I had to dispute it with my bank after waiting an entire month for them to resolve the issue. I then had to order another phone and once again pay out of pocket $302.31.
I had an even exchange for my phone. I ended up returning it on the 20th day which is my responsibility. I was automatically deducted from my bank account $254.99. I called and was told it was returned and in the warehouse and I should receive a credit in a couple of days. I waited 10 days as I know that they take longer. I finally called on November 22, 2018 I spoke to someone who told me on November 11 another customer support person said it was not in the warehouse. Of course she took no further steps to locate it. He said he found it and could refund my money. He said needed a supervisor to credit it to my account and to please hold. He was very helpful and followed up with an email and a call back,
The credit appeared it was for $219.99. I again called and spike to customer service and they said they would take care of ti. I waited a week then when I was unable to see a credit I had my bank dispute it.
This is the final straw I just saw a debit deduction on December 12, 2018 for $302.31. I called Xfinity billing asap. They told me they could see up to the current date 12/18/18 but were not able to see the deduction. I said I wanted to speak to a Manager or a Supervisor (there are never any around, either they are none that are highered. Or they just hire Senior Techs to save money). She said I can talk to her Senior tech I said no I needed a Manager or a Supervisor
She asked for my phone number in case we get disconnected. I was on hold waiting to be connected. She told me to bring my statement ti the Corporate Store in Burlington. Ma. I explained that you should be able to view this on your screen if your are current and I am not going to Burlington if I live in Concord. I will just dispute this with my bank. She said to hold on I am trying to locate one I explained I appreciated her efforts.
We got disconnected. Nobody called me back yesterday, last night or this morning. I have called the bank and disputed the money..
My point is that maybe the internet and the cable side is organized and functioning. The Xfinity Mobile side is unorganized, freely deducts money out of your account but has great difficulty crediting back the money???. The representatives not all most are untrained, transfer the call when they don't want to deal with a particular situation, they are rude and disconnect the call and know your phone number as you are calling a toll free number. Majority of the time they never call you back.. There are Never any Supervisors or Managers available .This issue of deducting money as they choose to and not returning it in a timely fashion. These employees who either lack training who's ineptness is pathetic. I have had it with the poor customer service.. Lastly I loose 4G when I am outside on many occasions. I am supposed to when I first activated my phone I should be able to see Xfinity mobile at the top I do not. If I go into mobile settings and into the phone settings then it shows mobile it says disconnected..
I am a very patient person. I am very tolerant . I am no at the point where this last charge has done it for me.
If I don't see this latest charge reversed plus a good faith credit of $50.00 by 12/21/18. I am filing a complaint with FCC. Again as you can see it's not about the money it;s about a great many more issues. Xfinity Mobile side needs to be revamped everyone needs to be retrained. I am agoan not saying that I have not encountered good Customer Service people who have assisted me. I have had enough of these errors and lack of judgement, deductions at the drop of a hat, Nobody accepts responsibility. It's a feeling of someone who takes you out in a boat( knows you can't swim) and leaves you in the middle of the ocean.
This is an analogy of how it feels to be a Customer of Xfinity Mobile Service.
Gail R. Sleeper

Ricardo Ricardo
from Dade City North, FL
Hi Good morning.
I would like to made this complain. Because on November I restart the services on my mother house. Account number 0740368057 on 11150 sw 211 st. Cutler bay. Florida.33189.
I pick up the boxes on the office on Miramar. They give me twice a box that as per technician that when to the house. Said that those boxes don't work on the area. I called the office and pick up another box and do no work either. The technician have to go to my house and stated that in order to work have to put one box that work in the area and took back the other one that you guys give me. My question is. Why I have to paid for some body else error. If your department give to me the wrong box and the technician have to go! Why your department not paid for the error instead of the costumer. It is not feir that we have to paid the mistake that your department cost to me in order to send a technician to solve the problems instead to give the right box and the technician don't have to go.
I would like that some one call me and explain to me this matter. I don't care if I have to paid for a service that I received. It's all about of paid something I don't deserved to paid because some body else foult.
Thank you
My name is ricardo ricardo
305 608-3373

leslie ritter
from Davie, FL
I bought a modem the last yr said it was good for internet and TV. I tried to add my TV services and was told I need to go to the Boost mobile to initiate the TV. I did that but had to go to 3 different stores to tell me they had no idea I was talking about. 4th store I got some info. bought and brought home. Did sign up, all went kinda
after 3 hrs. Then got into a movie and halfway no service. The lost movie never to be found again.
I will be canceling my service after the 30 days I signed up for,I will also deter anyone thinking of becoming a Comcast/ Xfinity customer. Also, I bought this modem from Boost mobile, They are no more trained then a rock could be. If you are offering these services I would think you would want to make a better impression for customers. Disapointed to say the least. No stars for you !!!!!~

Jeff Laatsch
from Logan, UT
There appears to be a MAJOR problem with getting the service the customer wants 'right the first time' : I have been a a customer for less than two weeks, and have had nothing but problems. Bad Customer service- chat window wise: Improper setup of my service, etc, etc, etc... the list goes on.
Writing a complaint letter to HQ and looking for another service: Will not recommend xfinity to anyone.

Madison
from Stone Mountain, GA
I purchased the internet and basic tv bundle on 11/26 and was going to do the self installation and tried to set up the equipment on the 30th. I could not get the equipment to work so I called customer service on 11/30 and was informed that the complex I am currently living at has not been serviced since 2006. He informed me that I should have been made aware of this. I was informed that I would have to have a technician come out and install the equipment for the $60 that I would have been initially charged. The tech came out 12/1 and was unable to complete the job so he sent in orders for a contractor to come out on 12/3. The contractor never showed up on 12/3 and I never received a phone call. When I called to find out where the contractor was I was informed that they had cancelled for unknown reasons and they decided to reschedule without telling me anything and that someone had given the tech the wrong number. They then said someone would come out 12/5 to do the work on the outside. I stayed at home all day and no one ever showed and I received no phone call. When I called about this no one knew what I was talking about and said that the job had been completed five days prior which it had not since the tech had only been out 4 days prior to saying that work had to be done on the outside. One of the agents I then spoke with said that the contractor had cancelled and rescheduled for 12/10 without putting a reason. After speaking with dispatch they then said that the person did in fact come out and completed the job that day which was a complete lie. Now 12/6 the tech came out and tried to work on installing the equipment and could not do so because the contractor did NOT come out and do the job that has been ordered twice now. I have now cancelled my tv services and am now just using the internet services because I am frustrated and fed up with this company. I have lost out on days of work and have had family members drive 70 miles just to be at my place so they could let someone in and when they do not show up that is completely unacceptable. I am completely disgusted with this company. There is a serious lack on communication between dispatch and customer service reps.

THERESA HILL
from Stone Mountain, GA
My name is Theresa Hill, 207 Aviary Lane, Dallas, GA 30132. My previous address with Comcast was 27 Abbott Road, Somerset, NJ 08873. I have been a valued customer of Comcast for more than 15 years.
On the morning of Monday, November 26, 2018, my television screen displayed an error code of RDK03087. It would not allow me to see my television. I know on several other occasions (storms etc.) you are advised to unplug the cord from the cable box so it can reboot itself. Therefore, so I did this several times and still no service. Later that afternoon, I tried again and the code RDK03087 still appeared. At that point, I realized I could not resolve this problem on my own and needed to contact Comcast Customer Service.
Wednesday November 27, 2018
I called Customer Service and reported the issue. The Customer Service tried to send signals and advised me to unplug the box. After Customer Service being unsuccessful to restore service, I was given a technician service date of Thursday, November 29, 2018 from 8:00-10:00 am EST.
Technician James Brisson arrived checked the outside premises, replaced the box with a wireless device and was able to restore service so it seemed.
Evening of Friday, November 30, 2018
On the evening of the above-mentioned date, my television had now two error codes: RDK03087 and Netflix Code NW-2-5.
I called Customer Service on Saturday, December 1, 2018 again to report this problem. A technician by the name of Danny Bobo was scheduled on Sunday, December 2, 2018. This technician inspected the outside and changed the box to another box. Again, I was assured that this should resolve the problem.
Monday, December 3, 2018
Surely the next day, December 3, 2018, both error messages appeared again. Therefore, I called Customer Service and alerted them again of the problem. I expressed my disappointment and then asked if a supervisor would be able to come and resolve the problem. I was assured a supervisor would be on my scheduled visit, for Thursday, December 6, 2018 between 10-12 am. A representative by the name of Dennis from Comcast contacted me and told me he would be my point of contact during this matter. He advised me to call him at 866-639-6215 after the technician leaves on Thursday.
Thursday, December 6, 2018
Thursday, December 6, 2018, I called Dennis to alert him that no technician showed up for the appointment. He says an automated call was placed to me at 9:30 am and that I canceled. I said I did receive an automated call at 9:29 am. However, the automated service call said if you want to keep your appointment no further action was needed so I hung up as I have in the previous calls received. He insisted that the service said I canceled the appointment. I advised Dennis that I would not cancel this appointment. I needed service restored. Dennis said he would try to get a technician out today but doubted it. After I spoke to him, I received a text stating that my next appointment would be Friday, December 7, 2018 from 8:00-10:00 am. Then another text came with an appointment for Thursday, December 6, 2018 between 1:00-3:00. A few minutes later Dennis called to informed me a technician would be out today from 1:00-3:00 pm.
Tyrone the technician did arrive today at 1:52pm. He asked me questions and listened to my concerns of what I've been going through. Tyrone changed the box and stayed a while to see if I would experience another incident. I was grateful for him to come. I told Tyrone how this experience has affected me greatly and how my faith in Comcast ability to resolve this issue in a timely manner has been severely disappointing. This experience has shaken my confidence if I will have service from day to day. I hope this time the problem has been resolved.
As a valued customer, I would greatly appreciate a letter of acknowledgment of this unfortunate experience and to be compensated for days of interrupted service.

marie linzy
from Hammond, IN
I recently reviewed my bill and found a 10 dollar charge when I investigated the charge I found that they were charging me for a camera I did not have when I asked for a credit they informed me of a poicy they had that would only allow credit for 4 months. which I feel is unacceptable they have been charging me this cost for 11 months AND I WILL ONLY GET A 40 DOLLAR CREDIT. Review your bill in detail every month

Linda Matos
from Punta Gorda, FL
Continuous Internet access delays, calling customer service weekly, speaking with various people regarding credits no credits have been a private Applied to my account. Bill increase without notification.

Susan Miscally
from Venice, FL
THIS IS ALSO BEING MAILED TO 1701 JFK BLVD., PHILIDELPHIA, PA 19103
I currently have two Comcast Xfinity accounts under my name (Susan Miscally) and cell phone number (404-217-1669). Through four different calls from 844-251-3974 in the past ten days, it has come to my attention that there is a third party who has an account with my cell phone number, too.
1. November 14, 2018 at 7:08 pm a message was left on my phone stating that they were calling about an open service order because a monitor found issues with service
2. November 17, 2018 at 8:27 pm I listened to the message from item 1 above and returned the phone call. I stated that I had received the message and needed to set up a service call. I provided my phone number and mailing address as shown above and a service call was set up for December 1, 2018 between 1 and 3 pm. This call was not linked to the other account because I had no knowledge. They simply took my name, address and account number and set up the service call.
3. November 24, 2018 at 1:29 pm a message just like the one in item 1 above was left on my phone.
4. November 24, 2018 at 5:11 pm I received another call which I was able to answer. I believe the man told me his name was Eric Roberts and he told me the same information as previously stated. I explained to him that I already had a service call set up for December 1, 2018. He then asked is this (don't remember the name) and I said no. He even spelled it for me, but as I was shopping, I wasn't able to write it down—wish I had. He then gave me the service address and asked if this was my address. Again, I told him it wasn't. I explained that someone else must have my phone number listed on their account (probably a typo). I asked if he could remove it and he told me he would transfer me to customer service.
I spoke with customer through his transferring my call and was told that they do not have the authority to remove a phone number. I explained that someone has to have the authority to correct a phone number. I left the store where I was shopping and stopped by my local Xfinity store and was told the same thing. The girl there put in my cell phone number and pulled up three accounts. Mine, my mother's whose I set up and pay for, and the account of someone living in Georgia. I attempted one more call to customer service and was given two options: (1) put a no call on my account so I would quit getting harassing (as I think this is now were we are since I have had 4 calls in 10 days that are about someone else's account) or (2) I could change my cell phone number. (Who would want to change their cell phone number that they have had for more than 25 years?) She also told me this was an AT & T issue. I asked numerous times to speak with a supervisor and I would be placed on hold and the girl would come back on the phone and repeat my two options. I explained no less than three times that neither fixed the problem. I said again that there had to have been a typo when someone entered the other person's phone number into their account. I suggested contacting the other party via an email address or mailing address to have them verify their phone number. I was told Comcast's policy did not allow for contacting customers. How can this be when they have supposedly called them 4 times in 10 days? She also refused to give me a mailing address for this formal complaint. She said I could look it up on the internet.
I believe this to be nothing more than someone hitting the wrong key when entering information and I know there is a supervisor/manager who can fix this problem. I would appreciate someone with some authority contacting me to get my cell phone number off the account of whoever lives at the Georgia address showing my cell phone number.

Beverly Walton
from Chicago, IL
I HAVE BEEN OVER CHARDGED FOR PAY PERVIEW PROGRAM WHICH I DID NOT WATCH ON 10/7/18 I WAS NOT IN TOWN.I SPOKE WITH A REPRESENTATE AND SUPERVISOR ON 11/19/18 THEY WERE NOT HELPFUL AND STATED THAT I CANNOT HAVE CHARGES WAIVED.I HAVE BEEN A LOYAL COMCAST CUSTOMER FOR ABOUT 8YRS AND HAVE NEVER ORDERED a FIGHT AND DID NOT ON 10/7/18.IF THESE CHARGES ARE NOT WAIVED I WILL BE DISCONTINUING MY SERVICES WITH COMCAST.I PAY MY BILL EVERY MONTH TIMELY AND I AM VERY DISAPPOINTED IN YOUR SERVICES.

James Crawford
from Lorton, VA
We authorized Comcast to port 304-725-8929 from Frontier on 9/24/2018. This was to be the in-service date with Comcast. However, due to faulty preplanning by Comcast, the service could not be installed and is not installed as of this date.
However, a faulty port did take place on that date, taking the internet service and a portion of our voice; we can call out, but not in.
Three weeks later we now have a Comcast line to the house, but when we called for a date to complete service to our home, we were told our service order had been cancelled. Comcast/Decisive employees apparently had failed to note for the system that the install date was a bust. Comcast's system dumped our order for service after 7 days after the 24th.
We also discovered that Comcast cannot find our number that was ported. Frontier says it has no record of the requested port, but that it appears that a partial or faulty port was in fact made. They say they cannot help because of the port; only Comcast can.
We are requesting that are number be found (304-725-8929) and returned to Frontier so we can have service while Comcast attempts to provide the service that we asked for.

The mobile division is lousy called two weeks ago about my SIM card locking up and was told no way to solve other than getting a new SIM card so I placed an order for one with them that was two weeks ago . Then called back to complain I didn't get it, they said they would send me one it's been a week and still niether card has arrived.sadly no issues in sending me a bill statement. Wild one part of that division works very effectively. If it weren't from the community being obligated to Comcast due to wiring layed out . I would get a different service.

Debra Francis
from Pooler, GA
Why is it that when you do update, you take away the best features, first it was the info on the stars, now it's the current event during pause. I really enjoyed those two features, as well as my guest, please bring them both back.

Jason Todd
from Newark, NJ
Horrible customer service. Racist and rude. No improvement.
East haven location In Connecticut.

Richard Reilly
from Hollywood, FL
Broken waterline on August 22. Investigation results determined Comcast cable responsible. Called daily, given ticket #047561880. Paid bills in excess of $4000. Driveway repair estimate $2500. We're told every day someone will call. No response!

Todd Shearstone
from Milwaukee, WI
I have had the unpleasure of having to call for the past 3 weeks to resolve a spam/junk email issue. I mark each mail as spam, i've set up over 25 filters to re-direct such spam and delete it only to have the number of junk email increase two fold the next day. My calls average 50 minutes and still no one can fix it.PLEASE ADVISE A FIX ???

Elinor Monteleone
from Maple Shade Township, NJ
I hope the Roberts and Cohen families are enjoying my money. Last month I need to reset my TVs at least 6 times and then waited until it finally came back. I was thrilled when I received a 56 cent discount on my bill.
So far this month Channel 3 was down all day and most of the night. I have just waited through another X1 platform outage which happens at least one a week. I am anxiously awaiting my discount this month so I can add it to the 56 cents from last month. Soon I'll have as much money as the Roberts and the Cohens.
Now I have to wait for an administrator to approve my e-mail. Comcast has got to be kidding.

Deborah Washington
from Decatur, IL
You never have anything interesting to watch on tv , not even on the weekends but yet you are charging high prices for the bill every month..what is going on?..I cannot find any descent movies that are free not even on infinity demand..nor when i have to pay for movies and the ones i would like to watch is not even on the paid services or the free movies...On saturdaysit's even worse.....whoever the tv programmer is...they don't know what they doing....

Poor customer service rude and racist east haven facility

Lisa Dave
from Laurelton, NJ
Billing bait and switch signed up for 2yrs price up in one year they breach their contract yet charge early termination fee been a customer for 15 yrs tired of the lying switching

We have had NO service on 2 of our 3 boxes since August 1, 2018. I have called Weekly since then to have this fixed. Today is October 6, 2018. Still no service. Your ARE Thieves.

Douglas Clasen
from Aurora, IL
I'm a senior citizen and my wife and I enjoy TV as it's our only form of entertainment. Recently our DVR broke and I took it to the Comcast store for a new one. I did get a replacement but they informed me that my rate went up$10 per month. They said it was because of my promotion had expired. I asked the if I didn't bring in the broken DVR would my rate still be increased. They said no. I've had time think about this issue and I am very upset They raised my rate because I exchanged equipment. This is totally inappropriate, dishonest and very unethical....I've been with comcast for many years and have had several complaints about billing. Comcast has no programs for seniors. I'm on a fixed income and can't afford $185/month. In March of 2019, my agreement with comcast expires. At this point I will have to discontinue Comcast. Unless Comcast attitude and dishonesty changes, I will move on.. My next step is to inform NBC response, to investigate this issue. Hopefully they will make this issue public. I have also emailed all our friends and neighbors to be very careful in dealing with Comcast. I expect to have an immediate response from Comcast
Douglas Clasen
Account #: 8771200600132647

MAGNIFICAT HOME HEALTHCARE SERVICES, INC.
from Pearland, TX
Our Internet and telephone lines has been terrible for the past several months now. Internet and telephone connections are very poor, which affected our day to day operations, and failed to meet deadlines. Internet and telephone connections are always on an "on and off" mode. When this thing happened, we are unable to even call Comcast due to no telephone connections at the same time. We have to use our personal cell phone to contact the Comcast. Comcast will just say, "we will send a technician". When the technician showed up, he can't even diagnosed or resolved the problem at once. And when it was resolved, the Internet and telephone lines will work for only a few days and then back again with the same problem. With this kind of very poor service, we think we are entitle for a refund, since we are losing money, customers, and time. If your services will continue to be like this, we have no other options but to switch to another company. Dealing with this company is an absolute nightmare and headache. We are very unhappy and very frustrated.

jack cooper
from Canton, MI
I don't need a commercial with a child NOT SPEAKING ENGLISH (Swahili) explaining to my kids why he can't learn to speak English living in our country.

Edward Eckert
from Lombard, IL
Switched to xfi from regular comcast service.
Xfi not ready for Prime time
Have had 3 tech visits and have been to service center at least 3 times
I am on my 4th set-top box with dv r
I am on my third modem
Both in the last 2 weeks
Finally everything seemed to be working right for a while day
Until today when now 1/2 of my wife's recordings have disappeared
Dvr says 11% full and recordings gone
Try to change save settings and get xre-06027 error code

Jon Bramlett
from Brunswick, GA
To whom it may concern,
We continue having issues with our internet and our cable signal, even after your tech came out and made "repairs." Speaking of repairs, I thought you'd like to see how your technicians leave their finished work in my yard. Splice repair was made over a year ago (cable still not buried) and the technician threw their trash up in my yard. Technician that recently came out left his trash by the cable box in my yard as well; please see the pictures attached. I requested the cable be buried, but it's still exposed. The trash is still in my yard. Considered upgrading our service to Xfinity, but I don't have any positives to work off of. Id like these issues resolved.
Acct # 8495744041043546
Amy Houston
Jon Bramlett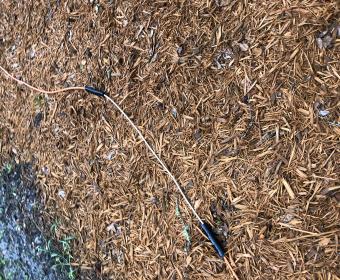 Joan Hein
from Hollywood, FL
You have an unsafe driver that is putting all south FL drivers at risk. Whether he was texting, talking on the phone, or just a bad driver; he should not be in a killing machine. Blocking and intersection which stops all other traffic, can and should result in a ticket. This driver must be at least reprimanded for his driving habits before he causes a "road rage" incident. Which we all know that never ends well. The blocking, was only one infraction I witnessed and photographed. That happened 8-1-18, at 6:22pm just south of the Dade-Broward County line on University Dr in Miami Gardens. He pissed off many drivers, just by the sound of horns blowing. He drives a small bucket truck, FL plate GBC 796, truck #15508. This complaint is also being sent to the other proper authorities. The photo is available upon request. This is not the only driver of yours that needs to obey the traffic laws. Get control of your fleet - NOW!
jh

Dawn Thompson
from Milford, DE
I signed up online for cable and enter net and 100 dollar visa gift card and now I being told I'm not getting the gift card because they screwed up my package that I signed up for .i think this is wrong and I should get the 100dollar gift card . They told me I would get it in 3-5 business day and I didn't get it so I called them and they said I'm not getting it . I got your. Cable and enternet and I have to pay over 70.00 a month for it now for two years I think it was a scam and it's not rite that they put a promotion online and then reneg on it

Dawn Thompson
from Milford, DE
I signed up online for cable and enter net and 100 dollar visa gift card and now I being told I'm not getting the gift card because they screwed up my package that I signed up for .i think this is wrong and I should get the 100dollar gift card . They told me I would get it in 3-5 business day and I didn't get it so I called them and they said I'm not getting it . I got your. Cable and enternet and I have to pay over 70.00 a month for it now for two years I think it was a scam and it's not rite that they put a promotion online and then reneg on it

Annette Waldkoetter
from Seymour, IN
I am trying to get my aunt's phone service back on and no one will talk to me. My phone number is 812-522-4592, She is blind, 97, lives alone and her medic alert necklace does not work unless the phone works.

Jeffrey Diehl
from Parker, CO
My Mother has comcast and her bill went up 7% from last month for her land line. I spent 38 minutes with customer service (what a joke) only to he hung up on. Next I tried a live chat, I finally gave up. I'm on hold currently with the loyalty department. HEY COMCAST. ever wonder why cell are so popular? YOUR SERVICE SUCKS. Time to file a complaint with BBB.

marie vance
from Cordova, TN
i am seriously considering cancelling Comcast as you are going up on my bill from 173$ to 233$i w would like to talk to someone in America who can help me Your rep told me you couldn't work with me until I received a bill for the new amount. Don't expect to hear from
you but wanted to express my opinion

AT&T Sportsnet and all other sport channel are unavailable to view thru Xfinity Stream. As much money as I we pay for service we should be able to view the sport(s) channel(s). I've contacted AT&T and was informed that it's up to my TV Provider Comcast/Xfinity to give the customers access to sports channels. Come On......

I had a guaranteed appointment this morning 7/5 with a Comcast rep who was supposed to arrive between 10-12:00. I received 2 automated calls confirming appointment. I waited while on vacation for 105 minutes expecting their representative to show up. At 11:45, without previously contacting me, I received a text that my new "guaranteed" appointment was now 7/6 between 3-5:00. I called their customer service who responded there was really nothing they could do to get someone out today to accommodate my schedule and sometime things happen. So unacceptable.

Gayle Neveloff
from Miami, FL
I have been a Comcast customer for over 20 years. I had no complaints, but as of May 4, in which I payed my last bill with my checking acct. and you have always excepted this, on June 4, I was declined and I was told it was Comcast problem with me and some other people. they said they would fix it and it would be a few days, I pay everything with this checking acct., and never had a problem. well the problem was not fixed. I tried to pay yesterday July 3rd and the same thing happened again, nothing was fixed. I will go and pay tomorrow at Adventure , but if this problem still exists , I will then switch my cable company. Maybe Comcast doesnt care because I am one person. but I dont think you would like to lose business of any kind. I am very disappointed in Comcast. plus one of your Supervisors were suppose to call me back , they never did, his name Jefferson Silver. I hope you can resolve this matter. so I can continue to be with Comcast. Thank you for your time in this matter. Sincerely Gayle Neveloff

Yolanda Owens
from Lansing, IL
I'm very disappointed at the level of care and concern I received from your company!!!!! I've been a value customer with your company for a couple of years!! I've always made my payments and to be treated in this matter has definitely made this experience undeserving! my account number is 8771400510167879 and if you look at my account you'll see we've always paid our bill. Just starting with year alone payments made was 01/07/18 $232.43, 02/0218 $232.43, 03/02/18 $236.21, 03/16/18 $236.21, 04/14/18 $206.54....
Now in March you notice I made two payments...Plus I decided to add two additional camera to the two I already had. I set up the instillation date 03/17/18 between 8 and 11am however when they never showed up I called and was informed it was never scheduled, because I'm a valued customer. The installation fee and the cost of the camera will be waived. I spoke with Gabriella id# 187, I spoke Alex on April 30th. 2018. They both saw in the notes that the camera and installation fee will be waived. As of May 9th my bill has gotten to $677.08 and there is a list of six cameras on my account, and I've only ordered two. June 6th the bill jumped to $880.88. When I called May 25th I spoke with Chantel I asked to speak to a supervisor Katrina #1009060. She informed me that they will move all false chargers on my account, but she had to transfer to customer solution Joey #5080. I was informed that I will have $441.51 credited to my account. However on June 23rd I spoke Kamani #1947228, she transferred me to her supervisor Delano #12948, he informed me that my bill jumped to $1,000 in May, and i had a choice to make a payment or loose my service. As a valued customer how can i be charged a $1,000 and all i have is internet, cable, and security. This is the most unheard of outrages false chargers I've ever seen in cable business.
Yolonda Owens
708-654-3417
Have feedback for Comcast?
Thanks for your feedback!
Sorry. Please try again later!