Verizon
Verizon Complaints Continued... (Page 4)
378+ reviews added so far. Upset? Call Verizon corporate: 1-800-922-0204

After reviewing our bill, and yes we did not go over it like we should we found we were being charged for ordering cinemax. We did not order this and when we called to dispute the charges they said they had an order number and it was ordered by my remote. After requesting all documentation they refused. I asked what room and set top box it was ordered from and they could not find any information other than a remote.
So I explained that means we can order it when the tv is off they said well that is just crazy. Well it is crazy that you can say it was ordered by a remote with no other information. They explained well it was an old order and we just must not remember. After numerous attempts to let them know we did not order this they said sorry about your luck there is nothing they were going to do about per Ms. Golf.
After reaching the CEO Lowell McAdam by email he cowardly had has personal assistant Mr. Seymour rudely call me and basically said the same thing sorry about your luck there was nothing else they were going to do. It just shows how companies screw the customer on a daily basis. Well I am tired of it I will post until it reaches enough to let people know how much a ceo cowards behind his employees and how they rip you off

I entered into a 2 year contract with Verizon Fios in February 2012. At that time, the sales person quoted one amount and then when I received the preview bill, the amounts were so different. I was told that HBO would be included in the promotion and it was not. Long story short, I ended up getting an email from a Vice President of Operations (blessing in disguise) and told him about my experience. He had someone contact me and they resolved the issue for me.
On December 2013, I called Verizon on another matter and they tried to get me to "rebundle". I hung up with them as I could not take the time to talk to them from work. Well, they called me back later that day trying to persuade me that if I rebundled getting the Quantum Internet I would not see a change in my bill. I was not aware that by agreeing to this, this would start a whole new contract. Again, when I received the preview bill, it was not what was quoted. I tried to work with representatives to resolve the issue and it was unsatisfactory. Finally, they transferred me to a manager.
Ms. Jasmine Paglaro looked at the situation and said that it was not a new contract as the other promotions were still intact. She said for all my troubles with the sales team, she would provide an additional $15 discount but I would have to call back in March when one the promotions would end to get it. She provided her direct line so I could call her back personally at that time. So when March rolled around, I called Ms Paglaro directly (she provided a direct phone number for herself) to find out that she no longer held that phone number.
I was then transferred to a Ms. Tolson. This woman was ice cold. She told me that Ms. Paglaro was promoted and that no further discounts would be provided until all promotions ended. Ms. Paglaro told me that she would honor the additional $15 discount after March 8th. I was so upset by the chain of events once again, but this person (Ms. Tolson) simply did not care. I said, well you guys got me again with false information. Her response was, well if you terminate early, there would be a $200 charge as this is considered a new contract (another piece of false information). I simply could not believe my ears. Seems to me that you rope customers in and then they have to fight for what they were promised originally by sales reps.
I have had nothing but headaches with this company from the very beginning. For once, I would like to get what I am told I am going to get without having to go to extreme measures. I would still like to see the $15 discount applied as originally promised when I "rebundled".

First let me say that I have been a Verizon Residential Customer with the same residential phone number for 30 years, in addition I have a bundle in which I have DSL for internet (terribly slow, can't understand why we can't get fios at this day an age) and Direct TV. I also have 5 cell phones with my Verizon wireless account for at least 10 years. I went into the local store on 3/16/14 as my cell phone was not working – couldn't send/recieve calls or text.
After about 1.5 hrs, they determined they would need to send out a replacement to my home; in the meanwhile they sold me a device home phone connect which they said would work with DSL, would save me my monthly phone bill with Verizon; etc. Imagine my surprise when my new cell phone arrived and I could not activate it, I also discovered that my DSL/Internet no longer worked and my home phone didn't work either. I went to the Verizon store a 2 hour ordeal, the rep was on the phone about my new phone activation, and I was on the phone with Verizon Residential about my home phone.
The rep told me I had to get a new phone line and would have to wait a week to get my "new service" started, I had to have my credit checked etc all this for a phone number/line I have had for 30 years! While the manager was extremely helpful and apologetic, he assured me he will speak with the young man that sold me the device that cannot work in my home and caused all this trouble; however, the rep then transferred me to someone who said she was a 3rd party verification and she caught me off when I said "no" to the fee she said I would be charged for my re-activation. Long story short it is awful that this young man at the store sold me a device that I could not use and I now have to wait 7 days to have my phone line of 30 years and DSL restored due to his error.
To top it all off, my cell phone doesn't work either, as I await my 2nd replacement. I currently pay about $359/month for my cell service and consider myself a loyal customer, this is no way to run a business. The gentleman also sold me a "booster" since cell service at my home is so terrible, this I have complainted numerous times about but the answer is always to purchase the $250 booster, most companies give this to their customers. I did buy the booster, which also doesn't work due to the no phone line/no DSL which he had to have know, I plan to return it as I don't want to give your company another penny. I am seriously considering changing carriers based on this event. This is a terrible way to do business and to top it off, Verizon Residential and Verizon Wirless openly tells you they don't care they don't work for the other company. Terrible customer service, I am so disapponted and I certainly will share my story with others so they don't suffer the consequences I did.

I entered into a 2 year contract from Time Warner with Verizon Fios in February 2012. At that time, the sales person quoted one amount and then when I received the preview bill, the amounts were so different. I was told that HBO would be included in the promotion and it was not. Long story short, I ended up getting an email from a Vice President of Operations (belssing in disguise) and told him about my experience. He had someone contact me and they resolved the issue for me.
On December 2013, I called Verizon on another matter and they tried to get me to "rebundle". I hung up with them as I could not take the time to talk to them from work. Well, they called me back later that day trying to persuade me that if I rebundled getting the Quantum Internet I would not see a change in my bill. I was not aware that by agreeing to this, this would start a whole new contract.
After repeated go around with representatives, I was given to Ms. Jasmine Paglaro a Manager. She looked at the situation and said that it was not a new contract as the other promotions were still in tact. She said for all my troubles with the sales team, she would provide an additional $15 discount but I would have to call back in March when one the promitions would end. She provided her direct line so I could call her back personally.
I called Ms Paglaro in March to find out that she no longer held that phone number and have a go around, they told me she was promoted. I was then transferred to a Ms. Tolson. This woman was ice cold. She told me that Ms. Paglaro was promoted and that no futher discounts would be provided until all promotions would end. This was new to me as Ms. Paglaro told me that she would honor the additional $15 discount after March 8th. I was so upset but this person (Ms. Tolson) did not care. I said, well you guys got me again with false information.
Her response was, well if you terminate early, there would be a $200 charge. Who says crap like that. Seems to me that you rope customers in and then they have to fight for what they were promised. I have had nothing but headaches with this company from the very beginning. For once, I would like to get what I am told I am going to get without having to go to extreme measures. I would still like to see the $15 discount applied as originally promised when I "rebundled". Otherwise, this customer is gone when contract expires. I did not have this issue with Time Warner.

I was having an issue with Verizon – went into the local store to buy out/end my contract. As a long standing customer they wanted to keep my business so they had me contact a customer service representative who told me that if I would remain a customer she would waive the $30 upgrade fee for both lines. When I got off the phone the girl at the store told me that that was the promotion so basically I was lied to. I called back to let them know that I was having trust issues because she had lied to me. I was then transfered to another representative, Blake Reynolds(Rennels) in Franklin, TN. He really wanted me to stay with Verizon so he told me that if I stayed I could get accessories for my phone's and he would reimburse me.
I purchased them with my debit & was told to let him know the amount. I did that but never heard from him so I contacted him again, actually several times. Finally after a couple weeks & complaining he called me and promised to check into it and call me back on Monday.(that was 2 wks. ago). And of course none of these calls have been recorded! I am really disappointed in Verizon and feel that I was lied to just to get me to sign onto another 2 yr. contract. At this point I am considering taking legal action to get out of my contract due to all of this. I was misled to get me to stay as a customer! Let's see where this e-mail ends up and how long it takes for someone to get back to me.

I called to renew my FIOS at the end of my contract. Everything seemed great and I got an Email stating the new guaranteed price. My next bill came with the wrong price. I called and that bill was corrected. The next month I got an even larger bill. This time I talked to retention and the gal said everything was taken care of. I got a confirmation email on the corrected rate. I am holding my breath for next month's bill. In the meantime I keep getting letters from Arturo Picicci asking me to renew. This worries me as he is a customer relationship director and he doesn't know I renewed. It is very frustrating to just get a simple renewal completed correctly.

Our plan was changed in error. And in the middle of the month. When we went in to get an upgrade on the phone we had. We were told our bill was over 400.00. My husband was sent to call the billing department from inside the store and was put on hold for an incredible amount of time. And was then told he would have to call back later that the computer system was down. We then went back to the customer service desk and they called the billing department and once again we were put on hold. Our household between cell phones and Verizon fios. We spend over a 1000.00 a month. And they are telling me they cannot drop the additional charges. I will be sure that every person I know will hear about the poor customer service we have received. And as soon as my contract is up with them they are gone.

Since Friday I've received four email messages and three phone calls threatening discontinued service. I've bee a customer of Verizon Wireless for years and always pay my bill at approximately the same time every month. Be assured when this contract is up I will no longer be a Verizon Wireless customer. I even received two phone calls and a message even after I was told you had received payment. Who ever is running your collection department should be fired today. If you let me out of my contract early I will gladly switch carriers so you don't have to go through the trouble of harassing me again.

My son's phone was stolen and we called the number that the local verizon store told us to call. We called that number and we went through the automated service and disconnected the phone. Now talking with Gladys (ext. 2084081) in Hanover, MD we have to pay the international call and one to Atlanta for a total of $195.02 that was made by someone else. She also said that when the phone was initially activated that it was set up to call internationally which is bunk. I am going to cancel our service and will never deal with any companies associated with verizon unless this issue is resolved.

To whom it may concern,
I have had the new Blackberry Z10 for about a month now. Verizon has swapped out 3 Blackberry Z10's for me now and my problem still remains. The phone restarts all by itself 3-4 times a day everyday! It doesn't matter whether you're using it or if it's sitting there all by itself. What is really frustrating is when you in the middle of an email or text and it freezes up and restarts you lose your whole message or conversation you are typing!
Is there going to be an update anytime soon that will fix this problem or am I going to have to switch to the trusted iphone??
Thanks,
Jason M.

I called 1-855-245-0656 to get information about verizon fiios triple bundle & spoke to Charles (didn't want to give his last name) & after speaking to him for over ten minutes he declined to give me more information until i gave him my full name & get pre-qualified. He called me rude & disrespectful coz i raised my voice after he had me hold for many minutes to find out about asian (filipino) channel just to come back & say i need to pre-qualify first & that upset me & raise my voice & then he said that since i'm being rude he threaten me to blocked my number so i couldn't call to order the service any longer. Later i called the above same number & able to speak to their supervisor Mr. Major & brought out my complaint & said he will make sure to look into it & apologized what happened.

Verizon Wireless charges and over charges constantly! The payments that I make in a month can buy me a new car! I used to have altel which I never paid over a hundred dollars a month for, since altel switched to Verizon I am charged over 300 a month. This is ridiculous! I have had so many weeks to change my bill to make it cheaper…. I want out of Verizon and so many other people I associate with hate Verizon to! Verizon, I am done with you and buying my new car with the money I save for not paying your over charged bills! You are a complete rip off! You're not sucking every penny I own out of my pocket anymore!

I brought a Mimi iPad for Christmas ad I did the installment payments. In march I went to Verizon in clackamas Oregon to pay it . I paid 373 to my account to pay it off. April 1st came and I didn't owe anything. I went to the store and made sure I did not owe anything and that my iPad was mad off. I was told my David that I do not owe anything until may and my iPad was paid off. I never got a bill for April and I called again to Make sure. I just got my bill for may and I owe 600 dollars. I'm so upset I called and complaint and I also went to the store to talk to David. He did not understand to a manager looked it over. The manager told me its a bill for April and may. I told him I was told my balance was zero on April 2nd, how does my bill go to 600 dollars in six days. I asked a lot of employees why my balance was zero they said you do not owe until may. If I owed for April I would of paid it. This manager told me he would take off the 5 dollar late fee, why do I even have a late fee I never got a bill for April and my balance was zero. He was really rude and should not be a manager when he talks down to customers. I would pay what I owe, but when your told something different. I have been a customer for 10 years I will not be customer after my contract is up, I will let everyone I know too. I have been be treated so poorly.

Dear Verizon Wireless,
I wanted to take a few minutes out of my day to let you know that you suck. Surely this response to your bullying sales tactics and shoddy customer service doesn't surprise you at this point. Probably the question going through your head is, "In which of the myriad ways that we suck is this customer referencing?" Well, that is why we are here today, to elucidate my complaints and concerns, which I'm sure you are waiting with bated breath to hear.
At this point in time, I take major issue with the railroading of those grandfathered into unlimited data plans into purchasing phones at full retail, rather than being provided the standard 2 year upgrader subsidized pricing. Allow me to provide a bit of background.
I have been A Verizon Wireless customer since I excitedly purchased a Motorola brick phone with a calling plan that allowed me a generous 150 texts a month! I was so happy and proud to have a cellphone. The freedom of being able to make and receive calls practically anywhere was very liberating. I have stuck with Verizon for years because of literally one reason. The reception. I have been willing to deal with inept and rude customer service for years, because when it gets down to the brass tacks, all that matters is the range and area of my cellphone coverage. In the Sacramento area, Verizon is the best. Bar none. It was actually a point of pride that I would have at least two or three bars when my friends with AT&T and T-Mobile had no service.
Which brings us to the present, smartphone, data plan era. I have had my unlimited data plan for about three years. When I spent the money to upgrade to a smartphone from a feature phone, Verizon was the obvious choice, regardless of what shameless promos were being waved in my face by competitors. I bought a Droid X, and was on my way. The key element in what follows is that I was sitting on my upgrader discount, waiting for the right phone. I have not used my upgrade discount since 2010. My indecision only disadvantaged me, because when I look back I could have upgraded twice before the boorish and anti-customer service grandfathered data plan policy fell into place.
This is where I find myself in the situation I am in today, a 3 year old smartphone, limping along, barely functional, but without the $700 dollars at my disposal to buy an upgraded phone. When I first made my displeasure at this policy known to a friendly customer service automaton, he deftly suggested that I "upgrade" my plan from 29.99 UNLTD to a $30 2GB metered plan. What a deal! How could I resist literally paying more for less! The very same month that this brilliant sales pitch was made to me, I used over 3GB of data. So following this salesperson's advice would have cost me hundreds of dollars. Perhaps what burned the most about this entire situation was that I was given literally NO notice regarding this policy shift and that my upgrade opportunity was about to expire, despite the fact that I had spoken over the phone with reps countless times regarding my account, billing, etc. Ample time to mention such relevant issue to my account.
Now I'm sure you have received countless letters regarding this issue, and at this point I am probably coming off as more than a little whiney. But I felt the need to express how I feel about the situation, and what I have learned. Verizon does not really care about its customers! You know that I am probably not going to switch, or that I will fall for the trick of you offering me a shiny new toy in exchange for my grandfathered data plan. So you can essentially treat me how you want. "You want your data plan? Suck on full retail b*tch!" is the message I am hearing. Loud and clear. The sour taste this situation has left in my mouth has me doing something I never thought I would do. Think about going somewhere else. Not that you give a toss! It's after 12pm on a Friday, so imagine whoever's desk this landed on is a few holes deep in the front nine at Ripoff Data Plan Country Club. FORE!

Account with Verizon begun before Summer, 2012. Many confusing events:
As an elderly woman of 85-86 years of age, in an attempt to downsize my expenses, I wanted to bundle three accounts: Internet, Land Phone and Cell Phone, as advertised by Verizon. Verizon sent me an Internet device with its own distinct phone number which was charged monthly as an adjunct to my computer service. This device was to connect to the computer and never worked properly. When I complained, several representatives by telephone made attempts to make the device work i.e. check the battery, check the blinking lights, etc. After several months of this, I cancelled the computer service with Verizon out of the bundle and went to another service in February of 2013. The monthly charges to me have been up and down and all over the place, finally resulting in my cancelling the land phone, leaving only the cell phone service. Now they want an additional $335.00 just recently billed by phone but I haven't yet received the paper bill. They say my cell phone account will be carried until in July of 2014.

On 03/04/13 I purchased a hot spot towards my Verizon account. However, after careful consideration I decided that I didn't want the device, and then I returned it within 4 days. I thought it was a done deal after that. Now, it is April, and I noticed my bill was a lot higher than normal with Verizon, and I contacted them only t find out that the Best buy never put it in the system ! I tried calling Best buy with no luck by phone on 04/07/13 . I gave up and went up there and waited for an hour to get assistance on the issue only to be directed a manager who then informed me that the sales associate was new that did the return. I'm extremely upset, and my credit with Verizon is looking poor. Moreover, the issue is STILL not resolved. I wish I knew I would have been going this, I wouldn't have bought it. This is very unprofessional!!

Removed International call plane on 2/26/13 but they mistakenly removed early February. Received February bill was $1414,- spent hour and hour conversation with rep. finally they gave me a credit for $1004.- but charged me $265.- for Tax. April 6, 2013 spoke to supervisor and he collected and credited tax and settlement for February bill was $128,17. Same day I paid $128.17 by phone. April 11, called from Verizon Financial department she asked me to pay past due around $395.- immediately. Last conversation with Verizon I only own $112.23 due on April 28th. Now totally different story I have a past due and cut off service plus late fee. I will call FCC tomorrow and get best result with Verizon.

My verizon copper home telephone went unusable on thurs. April 4/2013. After a very long time on the phone (my cell) I reached a man who scheduled me for repair on sat. April 06/2013 after determining that the phone problem was on verizons end of the line by me plugging a phone into the outside box & having same problem. He told me that an adult would have to be home between 8 am & 5:30 pm. I took the day off of work & was therefore without a days pay. No verizon service person showed up. After a frustrating 2 hours on the phone & speaking with 5 different people I was finally rescheduled for wed. april 10/2013. I took another day off from work & got a phone call on my cell from an automatic service at about 2 pm that the verizon service rep would not be coming today & that it would be rescheduled for tomorrow between 8 am & noon. That will be the third day off from work with no pay because verizons service has got to be the absolute service I have ever had the displeasure to receive. What does Verizon plan on doing to reimburse me for the extreme aggravation & the 3 days pay I am out? Probably nothing as is verizons track record. My verizon phone is 941-926-2240.

My wireless number 813-466-8570.
I presently have a pre-pay verizon wireless account for the past five years.
Verizon electronically for the past five years has been withdrawing per month from my visa credit card account in the amount of $16.05.
As today april 9, 2013 I have balance of $463.96.
On april 30, 2013 I call VZWRLSS AUTO PAY:TEL 88-294-6804 CA. I requested verizon customer service
to refund the balance.
verizon custmer service response: decling refund.
please has some one from verizon resolve this matter.
Thank you,
James Gonzalez

I am a long time customer and on March 23, 2013, I found that my cell phone was totally dead. I took it to the Verizon store on Eagle Road in Meridian, Idaho. The young lady who greeted me looked at my phone and advised me there was nothing she could do for me except upgrade me to an Iphone. I don't want an Iphone. I don't want a phone with a data package. I am not due for an upgrade until May. I ask to speak with a manager, the manager advised me th same thing that there was nothing they could do for me. As we were speaking, my daughter in law ask a question and the manager said "oh I thought I was speaking to Janet" (very rude )Since there was nothing Verizon could do for me, my daughter in law ask if I would like to go to their Sprint plan and the manager immediately said "well I can tell you to get to the Sprint Store" I was insulted that she would lose a good customer and not even try to work something out for me. I would have had to pay for terminating my contract with Verizon. I have a serious health problem and cannot be without a phone. Finally the manager suggested I contact the Corporate office and see what they could do for me. I advised that I don't have a phone to contact the Corporate office – the manager said "this room is full of phoneyou can use" I ask if she could call for me and she said no. After nearly an hour of this kind of customer service, the manager finally said she would check and see if they had a loaner phone. Funny thing she found one but advised me that she could not retrieve any of my data from my broken phone. I was sure there was some way to retrieve the information and continued to ask her to try to retrieve it. After some time she finally was able to retrieve the information and she provided me with the loaner phone and advised that I would receive my phone in the mail and that I would receive a return mailing label.
Later I received a call from Verizon asking me about my recent verizon experience. I answered the questions and was advised that a manager would call me. Well, a manager did call me and it was the manager who was so rude to me and my daughter in law. She ask me what they could have done to make my experience better. I explained the the customer service I got left me feeling that I was not a valued customer especially since she was so quick to try to direct me to Sprint. This experience was very negative for me.

for approximately two years I have been using verizon's high speed internet and my present location and not one month has passed that I have noit had to call verizon regarding either speed or interruptions in service. Every time I call I get someone over in India that tells me they are running checks on my life and that they see the problem and they are going to fix it. It never gets fixed. I am told and I should reboot my modem and computer and the speed returns, but five to ten minutes later it's gone again. Sadly I have been paying for this nonsense for almost two years now. At this point I am thoroughly convince that Verizon is selling internet packages that they have no way of delivering with overcrowded server and ports. Someone should investigate them and their selling policy and all those that have been flim-flammed by Verizon should be compensated. I am sure that I am not the only one. Copies of this complaint is being forwarded to every appropriate authority. If you have complaints about verizon's high speed internet service please let me know at Attentionlarry@gmail.com. We have been robbed. Thank you,

I have loved having Verizon FiOS for the past 4 years for my internet; however, they pretty much suck at TV packages!  I have had problems literally from day 1 since I added TV to my Verizon plan.  The tech came to set everything up and my wife was there to sign off on everything and she said everything worked when he set it up.  I came home and 2 different channels didn't work.
Not a big deal as long as they can fix it, but get this: Verizon had to come out 3 DIFFERENT TIMES to replace the ont twice and a third time to try to "debug" whatever the problem was.
They were able to get one of the 2 missing channels to work, but never able to give an explanation for the other missing channel.  I wouldn't have been so peeved, but I got my Verizon internet/TV bill that next month and everything was completely wrong!  They charged me for a trial of HBO (which we never watched or signed up for) and extra services labeled "internet additional services".
When I called Verizon to try to figure out what "additional services" these were, they couldn't figure it out.
I also told them to go ahead and cancel the HBO trial and they said I would be refunded for the HBO and the "additional services" on my next bill.  No joke: they messed up the bill for the next 3 months in a row! I was so frustrated!  Each service rep said the same thing: "the changes have been made and you'll get refunded on the next bill."
I know I'm not the only one who has experienced a lot of headache with Verizon's billing department.  Another reviewer said something similar: "The CSRs would always assure us our complaints would be resolved (and that credit for their mistakes would be issued on our next statement), but when the next bill arrived, it almost always repeated the same billing overcharge _and_ did not refund us as promised."
By the fourth month we were having some problems with the TV video quality (but the internet was still awesome), so we decided to call it quits with the Verizon bundle and go back to internet only.  They clearly don't know how to put together an internet/TV bundle!

The Verizon Fios Internet bundle reviews you read online might be all good, or the might paint the company in a poor light. I want you to hear it first from me, you'll be paying for the TV but wish you had just the internet. Here's my story.
When I moved into my apartment in October I asked if I could transfer service from AT&T U-verse. I was told that the only option I had was FIOS by Verizon, so I looked up some reviews online. I saw that internet speed was good, but most didn't like the other portions of the bundle deals sold to them.
Well the complaint I have is that the TV sucks and the internet is overpriced to say the least. I tried to cancel the TV but then it said my internet monthly billing would more than double, how is that possible! The issue here is that there is no other option for customers in my apartment, you are forced to go with Verizon FIOS.
How is that we don't have  choice? This is terrible. It makes me want to leave my apartment just so I have better choices of internet bundles. I don't want TV that sucks just to get decent internet right?

When calling technical support to review usage overage, the technician stated she would add 3 GB of room on the plan to determine if someone was using my internet access without my knowledge. When I received my next bill I had been charged $300 plus a $50 a month fee for higher data usage plan. When calling support, they said that I had approved the upgrade. They also stated that they would put me back on my old plan, and credit me the "prorated" charges. Of course, this amounts to $151 that is not prorated. VERIZON HAS FRAUDULENTLY MADE $151 MORE THAN WHAT I OWE. BEWARE OF THESE CROOKS!!!!

Verizon's Contractors both for the Medical Health Plan and for Phone Concessions are very incompetent. The Medical Health Plan Contractor Xeros
HR Solution had the Annual Enrollment for Health Insurance from 11/7 through 11/21/2012 for 2013 at Website www.verizon.com/benefits connection. From 11/7/2012 through 11/15/2012 tried to Enroll in a Health Plan through their Website but was unsuccessful. The most important Step the Selection of a Medicare Health Insurance Provider was missing. Called their Benefits Center on 11/15/2012 at 1-855-489-2367 and went through their Prompts which finally led me to where I needed to go. Waited for over 20 minutes before finally a Representative name Arica answered.
I informed her that I was unsuccessful in Selecting a Health Plan Provider from 11/07 through 11/15/2012. I asked her to Enroll me into my Medical Plan of my Choice. She told me she could not because the Enrollment Form was incomplete. I informed her that I was very upset and frustrated and wanted her to File a Complaint to their Upper Management.
I want my Complaint forwarded to Verizon's Chief Executive Officer. My Complaint is about Enrollment, Excessive waiting period of 20 minutes or longer and no response on Email Sent to Them.
I finally was able to Enroll in a Medical Plan of My Choice at the Website. According to Daniel Lutz, HMSA's, Account Relationship Consultant, even though I had Enrolled at the Website it is inconplete. There was a Important HMSA Form which was needed to be filled out which was never mailed nor was provided at the Website. This Form was sent to me by Daniel Lutz via way of my Email Address. I completed this Form and Faxed it back to him. If not for HMSA's Daniel Lutz help I would not have been enrolled in a Plan of my Choice.
Verizon's Benefit Center is Hopeless and very incompetent. Their Upper Management Staff should be Terminated.
Verizon's Phone Concession which handled by Healthsmart Benefit Solutions is also very incompetent. Even though the Benefit check should have be Direct Deposited into my Bank Account it was mailed to me. When I called them the person I spoke to said it was Verizon's fault of not informing them about my Direct Deposit Bank Account.

December 11, 2012 I wrote a letter to Verizon to CANCEL my remaining business numbers. I explained that I need to cut the business operating expenses so I have consolidated my internet and phone and moved to COMCAST.
I did not realize until lately that i was still paying for these three line. To date I have not had any contact from any Verizon representative. Recently I received the latest billing that stipulate that the billing is from 12/1/2012-12/31/2012. I realize that the service can not be terminated immediately, however, I assumed that it would not lap over into 2013. I sent the letter to: Verizon; PO Box 33078 ; St Petersburg, FL 33733.
If I sent the letter to the wrong address, I assumed that the request would be at the very least forwarded to the proper department for processing. Please advise ASAP.

I live is Williamsburg Brooklyn and there are Verizon trucks parked and idling for very long periods of time. I asked(nicely) a Verizon worker yesterday why he was parked idling yesterday. His responce (angry) was that he was cold. I pointed out to the Verizon worker that there is a 3 minute idling law in NYC and that I've noticed other Verizon trucks parked idling frequently. His reply was something like "so whada gonna do"? So I walked away. I am know going to film and post interaction with Verizison truck idling issues. I Tried to contact Verizon, I spent a long time trying to find a place to file a complaint but I don't think there is one, trying this.
I'm a former contruction worker (local 731) when we worked at night in the winter we dressed for it. Verizon trucks parked idling is illegal.

I have been a customer since 1999 (even though your rep gave me a date of 2008…). I have always paid my bills for over 12 years. I received a text today informing me that may payment was due now. My understanding was that it was due on the 14 th of every month. I was told I have an overdue payment which I'm sure I paid via check earlier this month. I was told my service would be interrupted if I didn't pay now. I asked to be given until Wednesday when I'd be back in the office to check the corporate bank account and see what's going on. That request was denied by all 4 reps I spoke to. I am very disappointed in Verizon and their lack of understanding for a very loyal customer. This in addition to the fact that your data plans no longer cover the countries I travel to. For The small amount of$143 Verizon could have given me the time to look into this after the holidays. Now I know that I am have no special standing with Verizon and the idea of moving to another provider will not be as difficult to consider. The loss of one customer is no big deal, but the loss of a customer who has been loyal and has brought others to you should be.

I did not undrestand when I got wireless wifi that to watch nexfelix movies that it used up my mega bites I got charged over $900.00 for one month WE were not told about this when we got this plan!! I don't feel that this is right I wil go on social media about this and let pople know about this I am not a happy costmer! I have been with version a long time and I cant wait till my contract is over so we can get out!

Swapped over to y'all about 2 years ago. Still having intermittent data issue. Shows me in a 4g coverage area yet my phone swaps from 4g to 3g to no data at all. Have had mutiple phone replacements on two separate lines having the same issues. I am 1.6 miles away from the tower and my phone ranges between -90 and -120dbm on 3 g and 4g and sometimes it goes to no service at all. Have tried getting this issue resolved with customer support and they just want to keep replacing the devices which its not working. Looks like i will have to switch providers to get this issue resolved. Very unhappy about the service i am receiving from Verizon

I recently purchased a bundle service from Verizon and i specifically asked for a FIlipino chanel to be included on the package. Melissa told me that it would be $137.96…I understand that taxes are not included..So i made an appointment to install it. That day I don;t have the Filipino chanel..so I called them and said that it's not included…so i said when i called I specifically asked for that channel…they transfer me to somebody and he said it is included…only they are having tehnical problem and will be resolved the following day…the following day they dais it will will be resolved the following day again..here comes that day it's not resolved….so I spoke to the customer service and asked what's going on..because I got a text saying the technical problem i have is resolved…so I told her it's not…so ofcourse she put me on hold..afterwards she said it's because it's not included on my package..so I told her the story and I asked how much ..so she said the estimate was $137.90 plus the Filipino channel which is $24.99..so plus tax I will be paying almost $180.00..So I told her that was not the price that they told me on the first day I called…so I asked to speak to her Supervisor..and she put me on hold for 10mins..got back to me and said few more minutes because she is telling her supervisor what's going on..so after few minutes she got back again on the phone saying it will be few minutes more…then on the fourth time she said she will give me discount..so I said "what happen to the supervisor?"..and she said"oh you really wanted to speak to the supervisor?"..and i was very upset….then she said"do you want to cancel your service"?.the more I got so upset so I said "yes"…then transfer me to another lady without telling me…..I spoke with somebody from the "elite team" (that what she said)..helped me and gave me a quote..so i feel better… then that nite I got an e-mail saying my estimate price will be around $180.00..which is way up from the price they gave me…So i called them again gave me a different quote …anyways…..this time she said it will be around $169.00 form initial price that they gave me which is $137.69….

After having issues with static and loud noise on one of our land lines, I contacted Verizon to help with the issue. After going through the automated system to diagnose the problem, I was able to speak to a tech. We spent 2 hours trying to figure out why we were having such issues with this line. We have 2 two line phones in the basement "office" area.
I was informed that it must be inside our home because the problem was not showing up in their system. I was told there would be a charge of $93.00 to have a tech come out and resolve the issue.
On the appointment date, a tech came out and listened to the junction inside the home. The dial tone was clear and he told me that my land phone was the problem..
I purchased two new 2 line phones and you guessed it, the problem didn't go away! Now I have spent over $130.00 for phones I didn't need and have a $93.00 charge for service I didn't get!
I contacted Verizon and was told they would have to send another tech out to figure out what was going on and couldn't credit me until the other tech serviced my account.
On the set date I took time off work and waited and waited! NO SHOW. I contacted Verizon and was told the appointment was made for Saturday between 8am-5pm. Are you kidding?
After contacting the dispatch department I was informed that the tech tried to come out but I didn't answer the phone so the just moved the appointment to the next day! Well DUH I am having issues with the phone and why would they call that number to reach me? They asked for my cell phone and had that number as a back up but the tech "didn't have the number available!"
I am so disgusted with the treatment at Verizon. The customer service really is terrible. I have been using Verizon services for years but have never dealt with such poor service.
I am priority for tomorrow service call but will contact corporate Monday! I expect some big credits on my bill for the lack of service I received. Not to mention the hours I have put in just dealing with this issue. Maybe it would have been easier to just turn off the service!

I've just recently started using Verizins service for simple wifi. I was informed that I can only receive wifi in my home if I purchase standard home phones service as well for a bundled price of 34.99. I accepted and even called back twice to make sure that I was Indeed receiving wifi in home at the rate of 34.99. 3 different reps confirmed this for me. Today, a month later I received and email bill saying I owe $233.00!!!! When I called total to someone about thei HUGE mistake on their part, I was met with theMOST RUDE CUSTOMER SERVICE AGENT EVER!!!!!! MRS STARCONE!!!! I wonderifhermkther ever taught her manners or if her supervisor has ever listened in no one of her calls. She yelled and had attitude and told even had the nerve to tell me"welll you know better then me so what do yu want?"
I asked to be transferred. She said she couldn't. I asked to speak to a supervisor and again was told this wasn't possible. So what were my options? Talk to the rudest person that humanity has created or call back and wait another 35 min!! So I called back. I had an amazing rep named Nicole who helped correct ALL the mistakes to my account within 15 minutes!! She wasn't pleasant and friendly and oh so helpful. It shows me that A – Verizon CAN fix the mistakes they make and B- the reps can be very helpful and sweet – looks like they have some bad employees. If not for Nicole today I would have cancelled all my service and went with the competitor. EVERY CUSTOMER COUNTS VERIZON. Think about that before hiring.

I've had verizon for a while now. Due to a signed contract I can't get out of it, otherwise I would drop them. I have had nothing but problems with my phone as well as the mi-fi I use for internet. The problem that I have with them is that they do software upgrades and don't alert their customers.
I've had to call them several times because I would be in the middle of taking a test online for school, and all of a sudden the internet would act up. When I would call verizon to ask what's going on, all they would say was, "Oh we apologize, we are upgrading from 3g to 4g right now." So in the meantime, my exam for school is being timed online and I am basically screwed.
Then last night they did a software upgrade on my phone and when I got up this morning, I noticed all my pictures on my phone were deleted. Again, when I called Verizon to see why they did that, all they could tell me was, "sorry, we did an upgrade last night, you may want to get a memory card for your phone". I am so glad that my contract is almost up.
They have been nothing but a headache. Plus both phones that I 've had with them, they have had problems as well. If you have the Android Incredible, it sucks!!

I have the protection pack plan with Verizon when I first started with this plan it was 19.99 a month now it is 24.99 a month which did not make and difference because it is a good plan or so I thought. I called Verizon to report mu computer had started acting funny and the tower was making a knocking noise.
When I spoke to the first rep I explained everything to her that the monitor was fading in and out of color and sometime would go black and white also the tower was making a knocking noise she took all my information along with a charge of 89.99 for the protection pack co-payment.
A couple of days later another rep. call and ask me again what was going on with the computer I told him the same thing I told the first rep. monitor and the tower and what he told me was that the monitor was getting ready to go that why the color was changing and he would put in for a replacement because it was so old but as for the tower he said it sounded like one of the fans might be hitting against something and he would need to order the parts.
Not once was I told by either of the reps. was I had to pay a separate payment for the tower and the monitor. Now I am being told that I have to pay another 89.99 to have the monitor replace why wasn't I told this before why the two different stories. This is really unacceptable and unfair to a long time customer to Verizon like me.
Had I known that I would have had to pay two different charges I would have ask why when I brought the computer it came with a monitor, tower and a keyboard. I was told by one of your rep. that everything was being taking care of now I am being told something else why the two different stories this is not how you take care of your customers.

It started simply enough. I thought I'd see if I could reduce my phone and internet costs on my Verizon accounts. So I called, little suspecting that this began my decent. Verizon said sure, In Maryland, we can move your business lines over to your residential line and save you money. So I spent over an hour on line with them, being transferred a number of times until finally I was on a conference call with "business" and "residential" working out the shift.
At the end all was agreed, I would have all the phone lines and such I had before and this would be available tomorrow. Next day- no phone lines at all, not one. Many calls, with transfers and then " Oh, something is wrong at the business office" Dead for nearly two days, no business calls in or out. " "We'll have someone call you to credit your account for the trouble" I heard this FOUR different times. NOT ONCE did they call. All fixed, they finally said.
Being busy with my business, I was grateful I at least had a phone line. Then I saw that I had no line one. No fax line. I called, was transferred many times and in the course of many conversations was told " You can't have a business line at home ( having been told before I could and spending an hour setting it up)" You can't have a roll-over ( hunting) line ( I was told repeatedly I could)" "We can't fix your issues at this office ( although this was the office I was directed to and the office where I had set every thing up- you need to call "repair" no, call "technician", no call "the business office," no,no, call "the residential office".
I hung up I was so frustrated. I called again, " No problem, I understand what you want ( read it back to me accurately) and we'll process this tomorrow. HERE'S YOUR CONFIRM number".All day long the next day- NOTHING. Halfway through the NEXT day- I called, GAVE THEM THE CONFIRM NUMBER- " we have NO RECORD OF THAT CONFIRM NUMBER, no record of your call. WHAT SEEMS TO BE THE PROBlEM ? I could scream. Maybe I did scream. I told the person all that had happened. and asked "What the hell am I supposed to do? " I don't know , sir.
I would suggest you ask to have someone sent out to your home to fix the problem. BUT WE NEVER CHANGED ANY LINES AT HOME. YOU DID IT ALL on your end, no one came here. " I'm sorry , that's all I can suggest." Okay, let's send someone out.."I'm sorry, sir, I'll have to transfer you to another department for that"
The technician came three days later, spent an hour.Left. As of now, I have no fax line, only one line rings and other features are still missing. I will try to find time and patience to call again. I have no hope. I have sunk to the seventh circle where phones don't work, promises aren't kept, my calls are transferred endlessly and, oh yes, I'm being charged a big bill for this each month.

I have been a long time verizon customer for my business and for personal use. I met with a sales rep a few weeks ago at one of our locations to review my bill. At their suggestion, we bundled services differently, etc. On Wed 1/ 25 verizon contractors laid a FIOS line for the business but cut the residence FIOS line so we were without a phone, cable and internet. On Thursday, a temporary above land line was laid.
On Fri 1/27, Verizon was at our house installing internet for the upgrade to FIOS on business lines and that was turned on around 1pm. Unfortunately you all screwed everything up because you cut the internet at my warehouse off when you turned it on at my residence for the business.
Not only could customer service NOT help me, I spent hours on Friday afternoon with a useless Mrs. Jones, but I had a multi million dollar bid due that I could not send out because of your ineptness. And all I was given was attitude and told nothing could be done. I am still without internet at my warehouse and I want to know how you plan to adjust my bill for this and how you plan to try to keep me from canceling service and going to Comcast.
I want to know why my internet was NOT restored on Friday and why it is still NOT restored as I type this. I am currently using a wireless card to send this that I expect to be reimbursed for. I expect to hear from a high level executive ASAP – not a manger or a customer service. If I don't get this rectified today, I will be calling the local news channels to advertise the already known knowledge on how poorly Verizon treats their customers.

First let me write that we have five phones(family)with verizon. Two of our phones were on the "old" plan from Altell. The Verizon rep told my mother that if we signed on a new plan on Oct. 31, 2011, purchase new phones our phone bill would not be as much because texting would be included in the plan. Okay, so we purchased two new phones and a two new two yr contracts. Well when the statement arrived it was $358.00, from just over 235.00 from the previous month. My Mother who is almost 80yrs old, went to the local Vstore to speak with the rep that originally "upgraded" our contracts. Upon investigation (his) he stated that he "forgot" to process the new contract.
All the fees/charges/taxes for this month was based on the old Altell plan. NOW GET THIS…HE THEN TOLD MY MOTHER THAT THERE WAS NOTHING HE COULD DO FOR HER SINCE THE BILLING CYCLE HAD ALREADY PASSED. He did offer to back date two phone's texting charges valued at only a $45.00 credit. THIS IS NOT RIGHT!!! I AM FILING A COMPLAINT WITH THE FCC.

For many months already ( I believe since May 2011) Verizon is upgrading it's IMG for FIOS TV subscribers to new release IMG 1.9. As far as I understand from Verizon forum, new IMG 1.9 with many extended features is already installed everywhere in the US except VHO 6 – MA\NY region. For more then 2 month Verizon production manager Joe Ambeault either on Verizon forum or through tweets promise to us, MA/NY residents that we will be upgraded soon. I even got once message on My TV that new IMG is coming. And then… nothing happened, message dissapear from TV and then new tweet from Joe Ambeault announced that there will another delay for MA customers.
By my count there were already 4 delays of new IMG for Mass customers. The latest "carved in stone" promised date came from Verizon technical support who assured me that upgrade is planned for 11/29 and from Joe Ambeault on his tweet from
Novemeber 15: "Around Turkey Day", https://twitter.com/#!/FiOSTV/status/1350867689648​94720
…only to be renounced once again several days later by Joe himself who tweeted that "several more weeks" before IMG 1.9 comes for MA customers.
The most frustraiting is nobody in Verizon, specifically production manager Joe Ambeault bother himself to apologize to customers and explain what is going on with this upgrade and why Mass and NY customers are being discriminated with new IMG guide. If there is technical problem we should know when it will be fixed and what is real date of upgrade, not to hear about one delay after another. Please let us know what is going on and give us update when we get like the rest of country new IMG 1.9

I had a lan service with at@t which i decided had to change in order that i could save some money due to the higb monthly billing. I received a call from verizon at which time they told me about the wireless lan service they have and will seve me some money, i decided to go alond with it. I ask about the number and name changes and was told that will be the same,and i could travel with the box where ever i am traveling to if decided to do so. I decided to have the service with Verizon only to find out that my service were change from a buisness to a private line.
Verizon did not tell me that they were going to change my service from buisness to private, and had they explain this i would not of have this done. I contacted verizon and it seems as thoe it was my fault, now what is taking place is when i call back a any one they are getting a person's name and not the buisness. Based on the conversation it seems as thoe verizon is looking to charge me a fee when the fault is not mine but verizon. Would some one explain what is next to be done i am locked into a contract for 2 years,also i rather go back with AT@T until better could be done.

I just read a recent complaint posted here about how Verizon is a communication mess. She had to call numerous days in a row, explaining her story to 10 different people, and in the end did not even get her problem solved. This sounds a lot like my story. I don't want to waste time going over all the details, since I've already wasted 5 hours of my life trying to turn my internet back on after Verizon mistakenly disconnected it. There is a serious miscommunication problem within the company. They either need to break it down into region satelite companies or sell of parts of it, because it's not working.
It is everything that is wrong about big conglomerate corporations–inefficient, money-sucking, impersonal, etc. Companies like this should be outlawed because they now form a monopoly on some necessary services, such as phone and internet.

I have had my Verizon account for about 14 – 16 months, now over all I was happy with the service. Until my contract ended with Verizon then the trouble began. I started droping call left and right, I call into Verizon, and it seams and apers to me that they want you under a contract, to use there services. It also was shown that Verizon don't care about small business in general or ones that are owned by veterans. to this date Verizon has not figure out why my call drop like they do, I keep getting pass off to some one that "o it is not my problem, or do i care about yours." Now i have a small it businesses in Kansas and i work the hole state, i need my phone and i need it to work correctly.

Verizon is charging me for a line that was suspended then terminated. When I called to terminate the service, customer service gave me the run arounds about all the options I could have to keep the phone, I rejected the offer and the phone remained in suspend mode. Finally I called back to get it terminated without wanting to talk about any futher options. I was told that I would recieve a credit for the time that it was terminated. So then I go to make a payment one month later, they were still charging me for the phone that was not in service and now they are telling me that the charges are valid.

I moved to a new home in August of 2011 where Verizon does not offer FiOS or any other Cable/Internet service which would have been my first choice. I did however insist that my new tenant who moved into my previous home where Veriozon FiOS was my service, sign up with Verizon and they did. Now I am getting statements showing that I owe Verizon $194 for terminating a two year contract after only using it for one year. First, I did not even know that I had a contract which they tell me was done over the phone, secondly, there was no interruption in service since my tenant signed up the same month that I terminated mine.
None of my other utilities charged me a cent for moving and going with other providers. I also remember that AT&T lost a class action suit which cost them millions of dollars for charging customer fees for early termination. I have attempted to negotiate with Verizon via letters and phone calls but they will not listen to my reasoning. Can you help me with this issue?

Previously, I had vented about how Verizon wanted $150 for my to buy out of my 3-G contract. Hmmm..apparently things ARE looking up or Verizon is reading these blogs! LOL I just got off the phone after speaking to a "Juan" after paying my monthly bill, he surprised me by mentioning if I wanted to upgrade to a 4-G device! Surprised the heck out of me – it only cost me $20.92 in taxes..it somehow was "free". The catch was that I had to suspend the initial 3-G contract, BUT opt for another "new" 2-year contract! Sooo..yeah, I opted for the chickensh*t deal..it kinda soothed my ruffled anger with Verizon.
But then they are "throttling" the speeds of broadband devices, but just who isn't these days??? The catch is we have a grand opportunity to make 'lemonade' out these 'lemons' that the carriers throw at us people…

Sister was admitted into the hospital in Reno,Nevada for acute appendicitis. Needing immediate surgery. Sad to say she didn't quite remember to have the Ambulance / EMT s to find her cell phone. After all she was only in extreme pain and her phone should have been the first thing on her mind ; correct? So the following day after surgery she needed/ wanted to call our father who is 85 and here in Michigan to escape the summer heat in Florida. The hospital didn't allow her to place long distant calls, so she call our father collect to his VERIZON Cell Phone.
So attentive VERIZON was in transmitting the call , just one thing they didn't tell my sister nor my father was the cost of $38.00 per minute. They talked for ten minutes, for a cost of $400.00. Well VERIZON have fun trying to collect it from an 85 year old on a meager SSI allotment. I have been after my father for over ten years to get away from the claws of VERIZON. This lack of common courtesy ( not informing either party of the $38.00 per minute charge) is pure negligence on VERIZON's part. Since my other sister and i have power of attorney over Dad's finances VERIZON will collect nothing from my father from hereon.
I honestly hope you try , waste more money . At least we are being courteous and letting you know in advance of what the amount of money you will not be receiving. The amount of $0.00 is all VERIZON will be receiving from my 85 year old father. He will be a user of T-Mobile my provider with whom I haven't had issues with for over 8 years . Any problems I may have had were promptly dealt with and fairly I may add. Robert P. in Michigan

On Sunday (Aug. 28th), after the hurricane, I suddenly had no service on my Verizon land line. I live in NYC and the hurricane was basically no more than a thunderstorm here, so I called Verizon Repair to find out what was going on…and was told that they didn't know but that the problem would be looked at on Sept. 10th. I found that outrageous, almost 2 weeks to come and look at the problem. I said I can't wait that long and was told nothing could be done.
So I asked to speak to a supervisor whose name was ANNE-(Employee ID:791). I have never in my life been so rudely treated.
She was dismissive, aggressive, and most of all extremely patronizing!!! I so wish I could somehow express her tone in writing! She treated me like a child who didn't even know what a hurricane was. And there is NO WAY she could even relate to my situation as she was in Albany and I was in he city. In the end I bid her good-bye, having her tell me she would put a message on my phone explaining it was out of order – she didn't. After I hung up I realized that she had taken my peace of mind and patience and given ZERO information, and LOTS of attitude!
So wish I could speak with a Verizon official, and have him listen to the recording of our conversation…if there was one…or if it still exists. If it does take as long as Sept. 10th…..I will be an AT&T customer for sure.

BEWARE: CHECK YOUR DATA USEAGE BEFORE PAYING FOR ANY "OVERAGE CHARGE". I added a new line to my Verizon Wireless plan on 7/11. Although my main line (along with two other lines) have unlimited data, the new line does not due to Verizon's new 2GB data limit policy on new lines/accounts. Would be nice to have all phones with the same plan features but, oh well. Problem came when the first bill arrived and the new line was charged an additional $10 for going over the 2GB limit. The bill just read: 2GB Limit included, 1GB Billable. No totals were given showing how much data was actually used.
I was aware the line might be close to going over 2GB so I kept a close/vigilant watch to be sure it didn't exceed 2GB. Sure enough my bill reported an overage and charged the $10 fee. The bill did not show how much data was used. Checked online to see the break down (which there was) but there wasn't an amount total. Called customer service, they told me to just add up the column for the total. I copied it and pasted it onto an excel file but excel wouldn't total it because each entry ended in "GB". I asked customer service to total it and they transferred me to tech service.
Tech service told me to just add the column up to get the total. I told them I couldn't and ask that they add it up on their end. After a LONG wait I was told they would credit the $10. Out of curiosity, I went through each entry and removed the "GB". Pressed auto sum and the data use total was 1.73GB!

In June of this year I noticed my VERIZON bill was a bit higher than normal and I attempted to ascertain the reason why. I called and used the automated system and finally talked to someone who stated she could not help me because I did not have a land line phone with VERIZON and I did not know my account number which could be found on my bill. I informed this woman that I have never received a paper bill and thus did not know my account number, that VERIZON had been billing my Discover credit card directly. She told me sorry but there was nothing she could do.
In July I saw my bill was still a bit higher than normal and I again called customer service and got the run around. After an hour and 20 minutes and after informing one of the many people I had spoken too that I was going to call Discover and stop all future payments, I was finally able to get some "help". I explained my issue and informed her that I wanted to receive a paper bill from this point forward so I could see the charges. After a lengthy process, she told me that I would start receiving the bills. At this point I thought VERIZON, like so many large companies today, just lacked good customer service.
On 8 August I saw my first paper bill and discovered I was being billed for a "Promotional Offer" for HBO/Cinemax and a movie package. I never gave anyone permission to charge me for this. Not only did I not give permission, I did not know I was getting those channels. If I had not finally gotten the paper bill to see for myself what the charges were I would have ended up getting billed the "full rate" for a service I did not need, did not WANT and DID NOT KNOW I HAD!!!
On 9 August 2011 I again called customer service and talked to many people and kept getting the run around. I started asking for a manager and instead kept getting the shuffle…everything from "I can't help you, your account is in Virginia and I am in New York (I mean REALLY??? In this day in age) to this is not our department. I went to billing who said it was the wrong office as this was not a general bill issue but a FiOS issue, to this is not a billing issue, it's a finance issue to this is not a finance issue but a billing one. At each step I asked for a manager but never got one. FINALLY after an hour and 30 minutes I was "provided" with a promise that a manager would call me back within 4 business hours.
I have gone from the opinion of this is a case of poor customer service to an opinion that this is a calculated policy to fleece the public much like cramming is used for phone bills. You start charging a person for something they do not need or want WITHOUT their EXPLICIT authorization and then" inform them" that if they don't take action to STOP you from TAKING their money (without their knowledge) that you plan to continue to take money from them. Then, when people call to ask a question, to complain or try to get a "free" promotion STOPPED, you run them around and make it as difficult as possible to cancel a service that THEY NEVER ASKED FOR OR WANTED.

I'd called into verizonwireless to basically get a better deal from them.(I was so naive) Anyways, I'd asked about the penalty amount if I'd cancelled my contract today. The agent had informed me of $23X.XX and when she asked, why I was asking. I'd mentioned about a friend I had, who just switched over from verizon to sprint and sprint is going to pay per line $125 for switching over. So then, to make this story short. I didn't get what I'd wanted and I wasn't very happy about it. And the agent comes out of nowhere, stating. If "sprint" is paying me off for switching over, finally I'd have to spend all the fee's for the court. because that action is illegal.
My blood is rushing right now, as I write this complaint. She was threatening me, as she also mentioned that. When sprint request my number to be ported, she'll have the legal department contacted. This is outrageous~~~!!!!! I'd immediately called back and request for a supervisor and I'm stuck on a voice mail, which everyone knows what happens after that…. so I'd hangged up. I've been with verizon for the past 6yrs and they treat me this way…Just a warning for all who's like me, don't be naive and be fooled my verizon. make your statement out loud as you can,

In November of 2010, we decided to turn off the home phone we had with Verizon to try to save a little money on our cable bill, since we have our cell phones with them as well. We had both bills (cable and wireless) combined on 1 bill each month. If we had known that by turning off the home phone, it would discontinue the combined bill, we never would have done it! After a couple months of mass confusion and bills getting paid to different accounts, we decided to turn the house phone back on, and get everything back to one bill. This is where my story begins! I swear on everything I love in my life that these notes are completely truthful and accurate.
I understand if you want to doubt some of these, because I would find it hard to believe that a company as big as Verizon could possibly SUCK THIS BAD!!!
5/10/11: called Verizon, spoke to "Dominick"
We asked if we could have the same number we had for years that we just turned off in November, but it was now unavailable, so our new # is 941-426-5424.
Our new bundle is: Fios Voice
15/5 internet
Prime HD
For $99.95 plus DVR free for 1 year.
Order # is : OF0330834
Conf# is : OF0084AV
New services will be in effect by 5pm tomorrow. Perfect!
————————————————————————————————
5/11/11: got home from work and half of our channels that we always had before, are gone.
Called Verizon, spoke to "Aaron" (PUNK!)
When I asked why we lost NatGeo Wild along with a few other of our favorites, he said that they were no longer part of the Prime HD package. We would need to upgrade to the Extreme Package, which was $15.00 more per month. I was not happy but asked him to please add it to our bill.
As we went over the cost at the end of my call, he stated that my bundle would be $124.99 per month. I did not understand how it went from $99.95 to $124.99 when all I added was a $15.00 upgrade. Aaron explained to me that he would not approve the $99.95 price as quoted by "Dominick" yesterday unless I could give him a coupon code! ?! I asked to speak to his boss and he explained that his boss would not allow the price either.
My new order # is: OF0342773
Aaron said it "should be on in 3 hours".
————————————————————————————————
5/12/11: Got home from work, (24 hours after yesterdays call to Aaron) and the channels were still not on!
Called Verizon, spoke to "Jewel"
There is no record of yesterdays order #! She said that it never got placed.
She put me on hold, and when she came back, my lost channels were already on! Great!
New order #: OF0355294
————————————————————————————————
5/19/11: received letter stating that they cannot combine our bills now because the cable is in David Boyd's name (my deceased husband) and the wireless is in Linda Boyd's name.
When I called to speak to someone about this, and explained that this is how it was a few months ago, the operator told me that the policy has changed and that I would have to have an agent call me back within 24 hours to set up a new account in my name, then I could combine the bills!
————————————————————————————————
5/21/11: 48 hours later, still no call from an agent.
I called and spoke to "Mike Hoover". He had no idea why I was told that an agent would have to call me back, and that he could do that over the phone! He explained that in order to get both bills combined, that I would have to have the cable transferred from my husband to me. I explained to Mike that I have a granddaughter who is a senior in high school and is taking her finals on line all next week, so I could not have a disruption in service. If there would be then we would have to wait for the following week. He assured me that it as just "paperwork on their end" and that nothing would change for us.
I wanted to know if we could get a different phone number because the one they had assigned us last week rings constantly from bill collectors for the previous owner of that number.
Our new # will be 941-426-3202
Fios Voice
25/5 internet
Extreme HD
For $124.99 per month and DVR free for life.
My new order is: OF0462425
Confirmation # : Of00AXU6
Everything will take place on Monday, May 23. I asked again if he was sure that our service will not be interrupted, and he said that it would not.
He explained that our 1st bill would be a little higher because it had part of May on it. It would be $188.84. After that it would be $161.91 including everything unless we order movies.
————————————————————————————————
Later that day, 5/21/11 "Brandy" called.
To confirm that we were disconnecting David Boyd's acct ( # 15 9000 0687299072 06). I confirmed that there would be no disruption in service, since my daughter was taking finals on line for graduation.
Disconnect # OF0463409
————————————————————————————————
5/23/11 (Monday)- got a call from my daughter saying that phone, internet and cable was off!
I called Verizon, spoke to "Dan". I explained the situation, he put me on hold, and then back through the automated lines again!
I eventually got to "Betty", and had to explain story all over again! She said she had to transfer me to tech support, but it put me through automated lines again and eventually disconnected me again!
I called back, eventually got "Jeremiah". He explains that the service disconnects before it connects! After I was assured by 2 different people that service would not be disrupted.
3 hours later, on the phone with him, it is finally turned on!
We later realized that the house phone was not on. I don't care! I'm sick of calling Verizon right now!
————————————————————————————————
6/6/11- received bill for cable, phone and internet but not wireless!?! (that was the whole point of all of this!)
Many problems with this bill:
– being charged for house phone when we still don't have it.
– charged me $40. for boxes instead of agreed upon price of $20.
– charges for "outlet installation', that would only apply if I had outlets installed!! (I actually had to argue this one!)
– $19.99 for the DVR when they gave it to me free for life.
So I called "u-know-who" and spoke to "Ocean"-
She made the adjustments, which brought the bill from $179.43 to $130.44.
When I asked her about the bill being combined with the wireless bill, she said she could see that we have it, but that it wouldn't be in effect until next month.
She then transferred me to Tech Support in reference to the phone service.
Tech Support- spoke to "Jay"
He says that the phone isn't on because we don't have a triple bundle!!! He says we only have a double one, cable and internet. As I begin to get a bit upset, he suddenly sees that it is a triple.
He asks me to hold for a test that would take about 30 minutes. I said no! I'm tired of sitting on hold for 2 hours a day for them to try to figure it out! He said he would just send out tech support. I said thank you!
————————————————————————————————
6/23/11 (1 week later!) spoke to "Mike"
STILL NO HOME PHONE! STILL NO TECH TO FIX IT!!
Transferred to tech support.
"Eric" – said he would run some tests, and if he couldn't figure it out, he would send out a technician! (I've heard this before!)
————————————————————————————————
7/12/11 -(almost a month later!) new bill came. It is for $322.32!!! And this was only for cable, not combined with wireless like it is supposed to! It says I never paid last months bill of $130.44. However, same day, I get a statement for David Boyd's account saying that we overpaid by $130.44 but they will send me a refund check. What? Cant they transfer the money to the new account, same address, same last name?
Also:
– still not combined bills with wireless
– charging me again for installation of outlets, (this is the 2nd month in a row)
– need credit for charging me for a phone I still don't have!
Spoke to "Karen" in payment dept. – she cannot transfer payment from old account to new. Even though they see I made the $130.44 payment, I have to pay it again and they will refund for the old account in 'late August'!
Transferred me to billing for the rest of the problems.
Spoke to "Chloe" – she cannot adjust for home phone for $35.76, until it gets fixed by a tech? what?
I asked Chloe if there was a store where I could go sit with someone that could help me instead of being transferred to all different people everyday. She said yes and gave me the number to a local store. I asked if they could do everything that she could and she said yes. Perfect!!
I called the Sarasota store at 1701 Ringling Blvd, Sarasota Fl @ 941-365-0054
He says they only do sales! ARE YOU KIDDING ME RIGHT NOW? DO ANY OF THESE PEOPLE WORK FOR THE SAME VERIZON BECAUSE I HAVE BEEN TOLD SOMETHING COMPLETELY DIFFERENT EVERY TIME I CALL!!!
————————————————————————————————
7/15/11 –
"Omar" at tech support finally said he was sending someone out tomorrow between 10 to 2 to figure out what is wrong with the phone line! Order # FLCP08024Y
I said I really needed to try to get someone to help with this bill! He transfers me….
Spoke to "Helen" in payment department. She now tells me that: we had AGREED TO A payment arrangement and that I promised to pay the $130.44 on July 12th! But I didn't follow through with my promise? WHAT??? I NEVER MADE PYMT ARRANGEMENTS BECAUSE I ALREADY PAID THE DAMN BILL ONCE AND SINCE THEN I CANT GET ANYONE TO TELL ME WHAT IS GOING ON! I CANT EVEN GET THIS "PHONE COMPANY" TO FIGURE OUT HOW TO TURN ON A "HOME PHONE"!!!
I finally asked for a supervisor. "Lauren" answered and I told the whole story over again! After 15 minutes of her saying she cant do anything, I find out that she isn't a supervisor!
She says she is so sorry and will transfer me to one! I get put on hold and it DISCONNECTS ME!!! WTF!!!!! I HAVE HAD IT!!! SHUT THIS FRIGGIN SERVICE OFF!! THIS IS SUCH BS!!! I FEEL LIKE I AM IN THE TWILIGHT ZONE!!! ARE U KIDDING ME!!!!!
————————————————————————————————
7/16/10
PAID THE $130.44 AGAIN!!! But I will be going to EVERY NEWS STATION I CAN FIND AND BETTER BUSINESS BUREAU AND ANYTHING ELSE I CAN FIND BECAUSE THIS IS BULLSH#T!!!
Ironically, a technician came to our house today and took less than 15 minutes outside, and the phone was finally on!
————————————————————————————————
7/23/11- approx 1:30pm (just when I thought it couldn't get any more screwed up!) I get a letter from this "phone company" that states our on demand has been turned off, because there were a couple movies rented and they weren't sure if we did it or not!
I called the number on the letter, told the man that yes, we had rented the 2 movies, as we do every month, and to please unfreeze our account! He said it would take about 30 min and the service would be on.
5pm. Yup, I go to rent a movie, and it wont let me!!! I call the number back again. (I didn't get name for either of today's calls because they barely spoke English!) He has no idea why it is still locked, and has to transfer me to tech support!
"Matthew" in tech support says he has to transfer me to customer service!!!!
I was placed on hold for 10 min, and when the girl answered, I began to tell the story for the 3rd time, and get this…. She says I must have the wrong #! This was "Stonewall Restaurant"!!?!? Huh? How in the hell does this happen when I never hung up, and even heard the music they play when your on hold!
————————————————————————————————
I am done!! This is enough and I don't know ANYONE that would expect me to have to continue dealing with this unprofessional, unorganized, mass confusion called "Verizon".
And when I look online, I am finding dozens of complaints very similar to mine!!!
VERIZON IS THE WORST COMPANY I HAVE EVER HAD TO DEAL WITH!!! IT HAS BEEN GOING ON FOR MONTHS AND STILL NOTHING!!!

to the ceo, your people called us and offered us the premium channels for a year so we switched over. My wife took the day off to be home for the installation. we got hooked up and no premium channels, so we called and they said they would get us hbo for a year by monday the first. well monday came and nothing, so we called again and now they wont give us anything but a run around, and wont even let us talk to a supervisor. what kind of company is this? im about to cancel all of verizons business including our wireless service. let me know what your going to do for us.

Our FIOS service was out of order for twice in a week with no phone, Internet or TV service working. After waisting many hours with your technical service people they came after the time slot was given and I and my wife have to waist two days. Your customer service is very unprofessional, discourteous, unfriendly and rude. At the second time your technician showed up late and cut our neighbor Comcast wire. This is totally unaccepatible and we must be compensated for our time we have to take off from our job. You do have some very good technician like Dan, who was superb and helped us. I would very much appreciate it if you look in this matter and please get back to me.
You have also overbilled us 4 times and every time we need to call your billing servcie and waist our valuable time. This kind of service and overbilling brings the reputation of your company down.

i bought an envy touch last summer. i had another phone from the envy line, it was a piece of garbage. so now less than 1 year later, this new piece of junk is acting like the last 1. i go to the store to see what can be done, salesman tells me you are not eligeable for an upgrade until next march. you would think if i have to use this phone for 20 months, it should last at least a year before it goes haywire. i have an urge to tell verizon to cancel my contract, & where to put thier "phone" but theres those pesky cancellation charges. (given my mood, it's amazing i didn't swear once in this e-mail)

I called Verizon to temporarily suspend my daughter's Verizon phone and the billing on her phone because she will be out of the country for the next 6 months (I have done this before while she has traveled and the charges are suspended as well). I was asked if the phone was lost or stolen, and I said no, the phone would not be used for 6 months and why. I was told that her phone was suspended, effective the next day. I called the next day to confirm (suffice it to say that I have dealt with Verizon before). Yes, the phone was suspended, but when I asked what my next month's bill would be, I was told that it was the same — they had suspended the phone, but were still going to charge me (without telling me)!
Apparently, they have the ability to suspend charges, but didn't do it. When I asked what the h**l was going on, I was told that, "Sometimes people want to keep the bill going in case the phone is found." This, despite me telling them that the phone was NOT lost or stolen . . . needless to say, I WILL NOT RENEW MY PHONE SERVICE WITH VERIZON.

when they need your bzness everyone at verizon is nice to you, but when you have problem, they all run away from you. they hangup on you, they refuse to conect you to supervisor. simply they rub you… no wonder how these companies get bigger and bigger. by rubbing ppl….. i called one day with problem, 4 operator simply hanged up, two more refuse to connect me to supervisor, 3 took my number to have the supervisor call back……. 5 days passed still waiting for a call……. bunch of thives….. so sad…. simply wish verizon fire thiers ass and hire ppl from india….. cause for sure the workes in america have no manners….. at least from ppl over seas you can expect for them to be rude and garbage

I switched from Verizon Fios TV service to another provider, I sent the verizon equipment back to them in the boxes and made sure I placed them in box properly. One month later I got a bill for $42.00 without explanation. I paid it because I thought it was part of my phone bill. Two weeks later I got another bill for $185 with no explanation what so ever. I call verizon and no could tell me what this bill was for. I was told that I didn't owe any money and to just ignore it. So I did.
The next month I get the same $185 dollar bill from verizon, so I called again, and again I was told it was an error. So I trashed it. I wanted to purchase new cell phones through Verizon, so I put the order in over the phone through ACN and I was denied and was sent an email that stated I had to call an 800 number to find out why I was denied. I called and no one could find out why I was denied. I given a clearance number and was told to put the order through again. I did and was denied again.
On the fifth call to verizon, I was finally connected to another division of verizon and was told that the fios TV boxes that I sent back were damaged and that I was being charged $185 plus the $42 dollars that paid. I asked for the serial numbers that were on the boxes and never received them, I also checked with UPS to see if verizon put in a claim with them with specific names or areas where the damaged shipments came from and I'm waiting on an answer.
But I am frustrated because they have restricted my account, sent the $185 dollar account to collections, and I can't get a supervisor on the phone to even have an intelligent conversation with.

Late to the party in complaining, but the storm is horrible and perhaps worse is Verizon! I spend approx. $800 a month on Verizon Wirelss Services between my family and business. And even though my storm has failed me 3x in 14 months – they refuse to let me swap it out for another device until my upgrade is available. Unbelievable – they provided me with the phone, blaming RIM is unacceptable, even though RIM certainly put a horrible product into the mkt – but this is Verizon's Responsibility. As soon as all of my contracts expire, time to test the waters. Not much choice, but will shop it all.

I'm upset because I just received my final bill from Verizon wireless after canceling my service with them on April 28th because they wouldn't let me do an early upgrade to purchase an iPhone. I expected to see a credit for the unused service from April 28th until May 8th but from what I'm gathering after reading many forums is that they don't give you the credit. How do they get away with this? Do they want to get sued again? I was also expecting my early term fee to be about 100 since I termed after 10 months into my contract but no, it was 125 because they only credit you 5 bucks a month from the 175 early term fee which should equal 120 for 2 years, not the 175 they are charging.
Where do they get off keeping an extra 55 bucks on this? My prorated calculations would have been about 8 bucks a month credited.. Not 5. How did they come up with this crazy equation? Anyways, I switched to AT&T and so far have been treated like gold. Going to call Verizon tomorrow to see if I can get anywhere… I highly doubt I will but it's worth a try.

I am a excellent paying customer of Verizon for 45 years. For the past three years, my home phone service is constantly out of order every time it rains. It is frustrating beyond belief every time this happens to me. They have sent many many different technicians who fix the problem temporarily – until the next time it rains. I have called asking for a supervisor to speak with and either they keep me on hold for hours, or just hang up on me. What can I do to fix this problem once and for all with Verizon home phone service?

I was late on paying my Verizon bill by 1 week and they shut my services off immediately. Now I pay my bill over the phone and they charge me 3.95 for that now. They tell me my sevices will be back on with in 4 hours hahah guess what it still not on and its been 42 hours and they still shut off. Now thats crazy you try to call them and there only there mon-fri 9-5 hours. So I finally get a hold of Verizon and they tell me it could be on shortly. Here is the moral of the story is they shut off your stuff quick as hell but wont turn you back on until they feel like it.

I am writing because this issue has been a ongoing problem since June of 2010. Verizon has had countless techs here and no one can get it right. If our internet service is not down, our phone lines are. It has cost me thousands of dollars in loss productivity, wages and revenue. It has jeopardized client relationships due to the interruption of my ability to service our clients. I am extremely dependant on a reliable internet service to run my business. Verizon has demonstrated that they are incapable of providing the services they advertise.
I have contacted my attorney to discuss suing Verizon for failure to provide the services I paid for. I also am considering contacting the three local television stations investigative reporters in an effort to get this matter attention. This has been going on since June of 2010 and I have had enough. Verizon is not capable of resolving the problem in nearly a year now. I can't afford to pay for services not being supplied. Not once, did Verizon even offer me any financial credit for all the down time and loss of use of our phones and internet service. I feel that they do not value my business at all.
I am copying each of the three television stations investigative reporters and the State Attorney General's office. Maybe Verizon will fix this if it gets more attention.
John E. Stanojev
President- Capital Insurance & Investment Planning, LLC

I have been a long time customer of Verizon's also a retiree of the company. I'll be moving from Pennsylvania back to New Jersey at the end of May. I called to have my service changed only to find out there is no DSL available in my new area. I was told by the business office, I'm too far from the C.O. I really don't want to go with the cable company for my service. Is there some way you could find out if there is going to be an up grade to the area soon, whether it to be pair gain, light span or fios. This is very important to me. Thank You, Robert Molinaro.

I bought a Verizon iPad for Christmas in 2010 and did not realize that you needed to use the separate MiFi device for 3G. I talked to Verizon and they told me to return it for credit, as I was going to buy one from AT&T instead. It is now April 2011 and they still have not credited my credit card for the $800 even though they have had the iPad for months. I have talked to them once per month (at least) for the past three months (on the phone with them again now) and Verizon still have not straightened it out. I would recommend not doing business with them and instead buying your iPad from AT&T.

I have had the Blackberry Storm for two years and am now getting my # 8 replacement. I can no longer pick one up at the Co Store and had to get it direct from Verizon. first they had my Warantee screwed up and then when ordered it was sent overnight priority mail with fd Ex. That was three days ago and still have no phone. My last phone call was with a Verizon supervisor named carina Emp # 50817. She was rude and un helpfull, In a three way call to Fed Ex she heard the man say it would be yet a fouth day to get it. I asked if verizon paid for priority / next day delevery then why didnt she make them honor there delevery contract.
She told me it was time for her work day to end and she did not care if I got my phone or not. If this is the typw and quality of employee Verizon has, o wonder the internet is full of bad stories and even the FCC are after them. They seem to have no desire to help the cust. This must be a company standard as I have made some thirty calls and have found not one person who seems to care. I have been cussed, lied to, hung up on, put on hold for hours at a time, disrespected, promised call backs that never came, called names and flat been transfered so many times I cant count. Verizon does not care!

After your initial attempt to sort your issue out with Verizon – SAVE YOUR BREATH! These people are not interested in working with their customers. You must file a complaint with the FCC – http://esupport.fcc.gov/complaints.htm or 1-888-225-5322,  When I went to the FCC's website who do you think is on their main page – Verizon. FCC just won multi-million dollar settlement from them for (among other things) overcharging customers! Don't try to sort things out with this company or their customer service line. I was put on hold, ignored, and couldn't understand what they were saying to me. You can Google the FCC Verizon settlement if you don't believe me, they have been overcharging customers for a long time now.

Verizon is now scamming customers into paying for premium channels that they did not request. Today I discovered that I've been paying for HBO since May, because Verizon gave HBO free for 90 days, and if you did not cancel the service after 90 days, you would be charged for it. I was NEVER notified that this service was being offered, and that I would need to cancel it if I did not want it. When I discovered I was being charged for it, I was told that I had been paying for it since May, so I had already passed the 90 day free period. I have to monitor my bill to make sure Verizon doesn't sneak an unwanted charge on my bill, never sent email, called, texted, anything about this FREE service, and because I did not know about it, I'm at fault. This can not be legal.

Verizon are freaking criminals. We had their stupid fios service in 2008 for only 3 months before we decided it sucked and went back to comcast. We paid them their final bill and tried to send back the 5 Fios boxes we had. They sent us one cardboard box that would fit one fios box. We called and said we need more shipping boxes etc or one big box for all this equipment. Nothing ever came. Every so often we would see a Verizon Fios van working on our street. We tried giving the equipment to them, but they wouldn't take it. It took them months to get the shipping boxes to us. In the meantime they billed us for the cost of the equipment $825.
Once we sent the crap back we talked to verizon and they said ok great your account is settled. So fast forward to 2011 when we apply for a mortgage and the lender says…well what about this verizon on your credit. WHAT? Yup..sure enough they were on our credit saying we still owe $825. We called that very day (about a month ago) to have it fixed. They said oh sorry, we sold this account to collections TODAY. WHAT??? The man named BILL said ok let me do a quick investigation, oh yes I see, you did return the equipement. Ok, call the collections agency and tell them we'll fax them something saying you don't owe anything.
We call the collections people…they have no record of us. We call BILL back. He says..oh wait a week or so since we just sold this account to them today. So we wait a week. Sure enough now the collections agency has our account and tells us yes, they have reported it to credit. So BILL says he's going to fax them something but it takes 48 hours. We wait 48 hours and call the collections people, they got nothing from verizon. We call BILL in the credit department and poof…like magic, he was transferred out of that department. So for days and days and weeks including today we have been dealing with person after person at verizon giving us the run around.
The collections people are still waiting for a fax from verizon. So of course now Verizon says they need to do another investigation which will take 30 days. They are total liars and crooks. We have complained to the BBB, the federal trade commission and the PA attorney generals office of complaints. The BBB called us right away and they are now investigating too. Check your account numbers if they are on your credit report. They changed the last digit of our account number and that's what is on our credit for $825. Under the correct number it says settled. So every time we call we need to try to get them to understand what they did with the account number.
UGH it's a mess and a headache. And to top it all off….2 weeks ago someone knocked on my door asking if I wanted to switch back to Fios. The answer was NOOOOOOOOOOOOO.

i was a Verizon internet customer; i decided to switch to Verizon Fios internet and phone. the switch was made 10/2010,the representative said the internet charge would no longer be deducted from my checking acct., that i would now start to rec a bill. the very next month i started receiving a bill but the charge was still being deducted. this went on for another 2 months; i then called Verizon to notify them the money was still coming out of my checking acct. they transferred me five(5) times before they got me to the right dept. the representative emailed me a fax coversheet with claim #.
i then faxed back requested information. i heard nothing from Verizon for another 3 months until now…i get this check for $3.57 from the refund dept. ( this is not my refund!!) i phoned Verizon once again, i was placed on hold @ 7:48am; transferred 9 times; spoke to 8 representatives which had no answers and refused to give me a supervisor. finally i was transferred to a supervisor in the Verizon financial dept whom asked me to fax my information again…… by this time it's 9:33am. i'm pissed, all i want is my refund…… here we go again!

I was with Verizon's DSL for 4 1/2 years, which one 1/2 of poor Internet connecting problems and dropped connections. Verizon didn't fix the problem after several calls. Finally I get a tech who was going to see if she good get me a new modem for free, and I get disconnected. I call back and get a new tech who tells me I would need to pay 54 dollars for a new one. I told him I wanted to cancel my service if it can't be resolved. He said, would you like to do that now Mame? He could care it helping me out at all. Canceled the service. I told him I would like a call from a supervisor. I never got a call. So upset and extremely disappointed with Verizon.

I had Fios with Verizon for a couple of years. I was going on vacation on 12/26/10 for a month. I called simply in to ask if Verizon had a vacation discount. Without properly informing me, the agent DISCONTINUED my services and started a NEW contract a month later that required a 2-year commitment and some $40 higher per month. When I called back saying I did not want a 2-year contract, they switched me to new month to month plan with lower service and even higher prices. I requested to discontinue Internet services.
Every time I called back (waiting an average an hour) they corrected something and added other services without my authorization. The last time they added $20.98/month for Unlimited Games + Starz(R), and $10/month for security package (?). I called back, waited for an hour, they made some correction, and last week I received a bill of $276. I called in, waited, and waited… They gave me a new number $146, but did not tell me why, then hanged up on me. I believe I am still overcharged. Until now, 2+ months later, I must have spent no less than 10 hours and talked to at least 10 verizon agents without proper results.
MY CONCLUSION: Verizon agents are incompetent. On top of that, they are under pressure to sign you up for all kinds of services to get credits. It's a SCAM, causing unbelievable headaches to its customers. I am looking for another landline carrier, but I am afraid they will continue billing me even after my services ended.

I deeply regret to inform you that I am so disappointed with Verizon services. I was excited to have Verizon T.V network ,Internet and Phone service at home being a Verizon stock share holder,which turned out be great disappointment. When we request for service, a Verizon technician showed up at home on 25th of feb. After spending about 3 hours working on the phone lines, he promised that we would have phone service in two hours. Almost two weeks past still we haven't got phone services neither internet.
we have been calling Verizon every single day, hoping to get a proper respond regarding to the phone service, it is just a waste of time.First of all we are communicating with our Verizon cellphone .when we call we will be on hold for at least 10min then you get hold of person to talk to,He or She would not aware the situation.When we spoke to the Supervisor, He promised someone will show up at home to fix the problem.We waited for a day or two ,nobody showed up.When we called at last, the respond was by mistake. they sent a wrong technician to our home which caused the problems with the phone line.
We totally frustrated, no more hope with Verizon ,since we agreed with the contract we are unable to go back to the previous service.
Well, we are not living in the third world country. We are not dealing with street corner contractor. Please Help us. All what we need a phone line and the Internet, to have a normal life. may be my next choice contacting the media service or Help me Howard.
Best wishes Anu manoharan
Email : anumanoharan15@yahoo.com

Last week when Texas had their record breaking cold weather, Ferrell Gass made a mistake and canceled my account of 10 years on my 50 acre property that I own. I give these details to show that I am a solid customer. The sub zero temps and no propane for 6 days caused my pipes to burst flooding the entire first floor of my house. I was in shock but with help of my manager, got everything out of the house, got insurance to refer a clean up company, moved my furniture ((ALL OF IT)) out of the house so they could proceed with the ripping out of my wood floors and ceilings. This is when my problems with Verizon Wireless started.
I am fortunate that I have an apartment attached to my house over the garage to say in for the four months it will take to repair. This apartment is not permanently occupied, it is only for guest so I do not have a permanent phone line. After 6 phone calls, three appointments, two service men visits, and so many 'on holds and disconnects, I finally gave up trying to get a phone in the apartment from Verizon Wireless. I have never been so frustrated. Not once did any of the clerks, and I have all of their names, even try to understand that I had been in a horrible situation. Not once did anyone offer to get through to the right person. Not once did anyone from Verizon Wireless even attempt to get to why in the world I could not get a simple thing like a phone installed in my apartment.
Really sad in this day of so many advancements. I'm 64 years old and lost my husband a year ago so have only myself to deal with these matters and am very saddened that things have come to this end. I will cancel my verizon wireless, internet and cable because of this. Horrible service….Horrible.

In December (2 months ago) I was looking for a good cellphone to use in our new Ford Fusion. The Fusion has a nifty "SYNC" system that allows you to play music, use your cellphone, acquire travel assistance and driving instructions, etc. ….. all handsfree. The SYNC System is a great feature included on all new Ford vehicles. (I hope Ford sends me a spiff for promoting their cars……lol). Verizon did not offer the iPhone in December, however they were offering a number of "Android" type phones that are highly touted by the Anti-Apple folks. The Android operating system is represented to be as good (or better) than Apple iOS by many reviewers that have no appreciation for Apple products.
I figured that they all can't be wrong. The Android System seemed very impressive in their reviews. My first mistake was buying into that premise. I purchased an LG Vortex phone from Verizon for $80. I thought I made a pretty good deal for a feature loaded cellphone. WRONG!!!!! Compared to my iPad, iPods, MacBook and even my PC's ….. The Vortex phone functions were complex and unreliable. The phone was pre-loaded with useless apps that cannot be removed. Many of the features on the Vortex required purchasing more apps that often didn't work. The bottom line …… I was very unhappy with my purchase.
February : Verizon announced the Verizon iPhone! Perhaps this would be the answer to my dilemma. I figured that I would get rid of the Vortex Phone (an $80 loss) which I was willing to do. Maybe I could replace it with an iPhone under my new plan. WRONG!!!
Verizon was offering trades, such as the deal I was seeking, to all users that recently purchased new cell phones. VOILA! an answer to my problem ….. WRONG!!! The trade-in offer was only for purchases that were made in January 2011. Those of us that bought a phone in December (or earlier) were SOL.
I pleaded my case to several Verizon Representatives. All I received was disappointing news. I was stuck with the Vortex phone (or another similar phone) for the next two years …. Plain and simple …They had me by the shorthairs. The only way that I could add an iPhone to my Plan was to purchase an iPhone at full price (around $800). They would still hold me to the 2-year contract even though I would be supplying my own iPhone! My choices left me with no alternative. I canceled my contract and am now using the Vortex as a paperweight.
This is the deal that Verizon made with me:
1. Pay a $330 penalty to terminate the contract.
2. Pay for another month of service under my contract because I had entered another billing cycle.
3. Donate my Vortex to the Goodwill or use it as a paperweight, or:
4. Continue paying under my contract (for a phone that I will not use) until December 2002. (approximately $1,400)
Bottom line: I terminated the contract. I will have lost around 500 bucks! I learned an important lesson ……… Beware of Verizon Cellphone agreements! They will hold you to the terms, even if you hate the phone that you have purchased.
I made a dumb mistake assuming the Verizon would treat me fairly. I'll go with AT&T for my iPhone purchase.

The phone that the local Verizon dealer gave me would not hold a charge for more than 2 hours, it was defective. I took it back to the local dealer and they told me a new phone would be sent to my address. I got the new phone, then went to the local dealer for activation. She did not say ANYTHING about the need for me to return the defective phone or that I would be charged $350.00 for that defective phone. The way I found out was because 2 months later there is a $350.00 charge on my bill! If you want nothing but hassle and headache…do business with Verizon.

When I switched to Comcast for phone service, Verizon shut off my on-line account where I paid my bills, sent a final bill in the mail, and then claim a collection notice was sent by another company – which I never got. They did not call for collection or send any other notices. I thought my last bill was paid, but for a lousy $200 final bill they ruined my vcredit for 7 years. I later learned that they split off my mobile phone account, which was current, but never told me they were doing that. Don't let them combine billing, it is for their benefit and not yours. Verizon will not help because they really don't care.

Verizon FIOS TV tries everything to get more money out of you. And that includes charging you for "features" that you don't even want. It's complete greed and a terrible way to treat customers. We signed up for Verizon FIOS TV and Internet a few months ago. The person I talked with said that I'd get HBO/Cinemax for free 3 months and I would have to call on a certain date to cancel it if I didn't want it. What the FIOS salesperson did NOT tell me was all the extra crap she was putting on my account. Internet Security Bundle?? Starz Play Pack? Extra movie channels? Starz Unlimited Games? WTF!

I was a customer of Verizon Wireless for over ten years, and canceled my service recently due to their incompetence and a Bait Switch. I was assured that nothing on my plan would change, and that I would continue to get the same  service for my internet connection and data plan. The employee "accidentally" disconnected my tethering service, I couldn't access the internet for weeks since they could not activate the service again until the next billing cycle…their computers wouldn't let them. Just wonder when Verizon Wireless is going to accept responsibilty for its own conduct rather than continue to blame their computers.

Louis Smoot
from Florence, SC
I had a Droid turbo for about a year and I had to order another one because of maybe dropping it but having the New one that came in the mail that I've had for a little over a week it decide to just DIE on me? I need a phone that's working, especially me being a Network Marketer! This company is horrible.

Charles Newsome
from Belfast, TN
Never received my debit cards from returning my phones! Was charged over $700 for tablets that I was told were FREE!!!! Have had charge disputes for EIGHT months....customer service sucks so bad, I gave up! Changed carriers, and have been a customer since conception. Verizon absolutely sucks for customer support.

rafael quesada
from Kearny, NJ
I was lied to about lifting my restriction. I was told that if I made a payment arrangement, that the restriction would be lifted. Of course that was a lie that I found out after being on hold for over an hour. Verizon uses Shady business practice and lies to their customers. And the sad part about it is that they don't care. they are quick to lie, and there customer service is a 0 on a scale of 1 through 10.

Scott Dalgliesh
from Bradenton, FL
Unbelievable what your company has put me through. If you think this is false check the comments in my order #0f3411479 that's your people. I placed this order ten days ago. Last night your people told me the order was never shipped. Today Echo says he wants 48 hours to track. How can you track something that wasn't shipped? Are you kidding me? This Echo person what an ass. Maybe he should wait ten days for his paycheck. I was also told that the connection was done yesterday. This I know was a lie also, I tried my phone and it didn't work. When I told him to cancel the order her could give a dam. Wow look for my posts throughout the internet Ill go to Comcast which I would had had hookup 5 days ago.

I recently went to Verizon store D0200 01 4154 McKinley Pkwy Buffalo and bought a Galaxy S6. I was quoted by my sales rep benesro B1333, $12 per month for the phone or $288. When I went home and looked at my bill the phone was charged $376 or $15.82 per month. Quite simply, I was lied to. When I went back to complain I got an attitude from the rep who did nothing for me other than to say that's the agreement. I will never buy a Verizon product again after my 2 year sentence with you. Furthermore, I will let everyone I know about my experience and implore them not to support Verizon. I am extremely disappointed in this company and my phone call to the Verizon corporate offices.

Christine Chudzik
from Waldport, OR
For years I had a basic phone and the speaker quit, I called to get a new 'free' phone, and told them I just wanted basic plan like I had but needed a Sim card phone so I could take pictures and send them to my family. I don't care about apps etc. and will never use them. I would like to know how to get Amazon off my phone as well. I don't buy stuff I can't see. Now back to complaint. now my bill its $20 higher then it ever was even though I still have the same old share unlimited talk and text I ever had...same services but I have to pay and extra $20? I talked to a rep and he said it was because of the type of phone, when I ordered it I told them I could not afford to have my bill go up I needed it to remain at the $40 level it has always been. Verizon customer service rep told me that the extra costs work out in order for that new 'free' phone to get paid for.
Underhanded dealings at the least. And to top it all off even though you are doing away with contracts I can't get out of this for 2 years. If I had known this I would have never continued with Verizon, and I have enjoyed your service for years. I called on Dec. 1st and was told I am screwed. I will file a report with the Better Business Authorities. I was given bad information at the time I got the phone and I did question as to why I had to get into another contract after all these years. I am on fixed income which I explained when I got the new phone and could not afford more charges. I was lied to and now there is a possibility that I will not be able to afford to have this phone. So if I cannot pay what are my options. Sign me Totally Pissed Off at Verizon corporate headquarters for this problem.

Dave Van Buskirk
from Erie, PA
I called the local Verizon company store regarding an upgrade. They said they did not not stock the phone in question and refused to order it in.They said I could order it and if I didn't like it I could return it for $35.00 ! That is not fair. Ship it to the company store and let them return it if I don't like it. I tried the chat line and that was useless. The "chatter" was either playing stupid or actually was. The phone I wanted was a Samsung Convoy w/camera. The store employee said "that phone won't be around long". If that is the case, take it off the web site of phones that can be purchased. I have been with Verizon for over 20 years and my current employment allows me a discount to Verizon on my 3 phones due to their service being by Verizon. In spite of all those good points, I am inclined to start looking at other providers.

William
from Mount Royal, NJ
A Verizon salesperson came to our door, and after I told him that I wasn't interested, he continued, asking, "Why not?" Instead of taking No for an answer, I had to be "rude" and shut the door. That type of sales tactic just turns people off to Fios.

Chris Lombardi
from Union Township, NJ
11/07/15-I call Verizon answering a $69.99/Triple Play offer. The female operator refuses to honor the offer. The offer was clearly printed on the outside of my bill. Verizon fails to honor their advertisement. I gave the operator updated e-mail and cell phone number information which was never updated. Verizon continues to send information to the old e-mail and cell phone number. The installation was arranged for 11/12. I took the day off from work. Verizon fails to respond and fails to notify me of the cancellation. I lost a days pay. The installation was rescheduled for 11/21. Guess what? Verizon fails to respond a 2nd time and one again fails to notify me of the cancellation. 11/21 I called a Verizon rep. named Keith Morton. He writes a totally different order than the first one. Plus it doesn't include the original $69.99/Triple Play order. What the heck is going on folks? I'm just about to go to Comcast and order their Triple Play offer which is less expensive than what Verizon is now offering.

Anatoliy Zeltser
from Concord, CA
I would like to express the problems I had with my recent experience with Verizon services/request. In my particular case – I placed an order to move from old "high" speed DSL service to FIOS (As per offer received thru e-mail: FIOS 50/50 internet plus phone line for 49.99 ). A day after I placed the order for the double bundle package, I received an offer for a triple bundle package for 79.99 Internet + phone + TV. I called Verizon and asked the agent if I could switch to the triple bundle instead while keeping the same installation date as it was set up for November 14, 2015. After being on the phone with the agent for over 40 minutes, the agent confirmed my appointment for the triple bundle package would be on the original date Nov. 14, 2015 between 8 a.m. and 12 p.m.
On November 14, 2015 no one showed up. I called up Verizon and found out that my installation was re-schedule to November 19, 2015 between 8a.m. and 12p.m. I told the agent that this was not acceptable and after a long conversation (being on hold and etc for about 30 + min) I requested the TV service taken off my account and have the original double bundle installed on Nov. 19 2015. The agent told me that she processed my request and confirmed the double bundle installation for Nov . 19.
On November 19, technician arrived on time but had an order for the triple bundle instead. He told me that he couldn't change the order but he did do the install in a very professional manner. The following day I called Verizon again and told the agent that I didn't want to keep the TV services and to please take it off my account. The agent told me that if I do this now my double bundle will be priced much higher than the original offer price of $49.99. For being loyal customer with Verizon for over 15 years, this is not acceptable and if my request will not satisfied by Verizon, I'll go for other options from different providers like Cablevision/Optimum and /or ATT and Direct TV.
Just as a side note, I originally had Directv and was able to hook both Fios and Directv at the same to my TV so that I could compare picture quality from both services side by side. Surprisingly, Directv produced a noticeably better picture with all types of channels and resolutions, HD and non HD included.

david pitcavage
from Sewell, NJ
My wife and I have an Lumia 822 and would like to up grade to a new phone. No matter what store we go to they all badmouth windows phone. Then try to sell me a Samsung, or a iPhone. When asked if they ever used a Windows phone they say no, they say we could by one on line. I can't believe that you allow your employees to do this. I need someone to help no criticism . I'm a customer looking for a windows phone, why do I have to look to other carriers for one. We enjoy the windows operating system.

James Swain
from Taylor, MI
I went in to purchase a new i phone for my wife. She has sprint now. I was going to upgrade my plan to add her. I was told the purchase price was 349.00. After 2 hours and getting all the info to port her number I was told they could not do the deal that was promised. I was told they made a mistake but they could put me into another phone for that price. This is not an acceptable solution. I feel verizon should make good on what was quoted. A Darden was the specialist. at the Taylor Mi store.

Gary Cummings
from Bridgewater, NS
When I signed up for my Verizon wireless I was told I had a plan which allowed me to call Canada to US and from Canada. Turned out not to be true. When next I went to Canada I added a plan that gave me 100 minutes from Canada for 5.00. Then I had to return to Canada for two months and when trying to add calls again was told I couldn't do that anymore because my phone would now have to be 4g. To use my phone I would have to upgrade.
I make calls and get calls only No need to upgrade. Consequently. I have had to shut my phone off and can not use it for Nov or Dec. Still getting billed for those months regardless. This is wrong If I violated the contract it would cost me and so should it work in the opposite direction. I always pay my bills but in this case I just want to find another carrier and if this can't be resolved and feel I shouldn't have to pay penalty as it is Verizon that isn't being honorable. Would rather this was resolved by Verizon and stay with the company that up till now have always respected.

Cassie Brennan
from Washington, DC
After realizing that my Verizon bill went up $70 in a month I called to make adjustments and get into a new plan. They tried to sell me on a new bundle that will essentially cost me $600 more each year than a new customer. When I explained that I have been with them for years and pay my bill on time each month they gave me the run around. After speaking with 3 people, being put on hold to "talk with a supervisor" that couldn't speak with me, and then told they would call me back in 1 hour I never got a response. Good bye Verizon!

Anyone considered a class action lawsuit against Verizon support department? I purchased a Galaxy S5 and had to purchase a new bluetooth to work with that phone - no problem, my choice for a new phone - not compatible with old tech bluetooth. However when Verizon added car mode, hundreds if not thousands have had issues with the new Verizon phone updates. 4 days of messing around - hard full resets - phone hooked up to computer for updates - which I would have to start over every time someone called or text. When that didn't work, I had to make an 80 mile RT to nearest store, (Best Buy) only to be told it is an update issue. Customer since 1990, and they will not give me credit on my bill or a new bluetooth. Which means they can update again and keep making my bluetooth(s) obsolete with every software update.
I was offered another phone with old software - but of course once they update it - I would have the same issue and my phone works. Also, with all the new updating they did in the last 4 days - I now have even more apps that cannot be disabled, eating up my data. I went to Costco in WDSM and they do not even have headsets and will not until closer to Christmas. Now that I am back home - 40 miles away, I was told Verizon would give me $5.00 for my 80 mile RT, Screwed up bluetooth, lack of finding another bluetooth - (while still being on the phone with the umpteenth customer service - tech support) - day of no computer or phone due to downloads/uploads - losing data with hard resets - the cloud which I am now forced to use - didn't save everything - and 4 days messing with Verizon customer service and tech support - $5.00 for all of that - plus I get the expense of finding another bluetooth, purchasing it - and hoping Verizon doesn't make that obsolete too.
The reason I like the bluetooth is because of the rural area there is some amp in the bluetooth for clearer calls, plus it makes it easier to do whatever I need to do hands free - Thank goodness Iowa is not a hands free state yet, I'm going to MN in 2 days and that would be an $80 ticket. Sometimes calls have to be made. Believe me - the "thank goodness" comment is Sarcastic. $5.00 was offered by Jessica - tear 2 Tech Supervisor Badge V0GAJ94. Before that the guy's badge was V1REIJ6. I probably have a dozen names. All I had to start over with and all who jerked me around.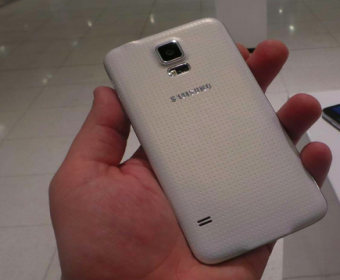 robert misenor
from Johnston, RI
Wife and I purchased Verizon cellphones and were sent two Verizon rebate debit cards ($50x2) . When the cards arrived the wife put them aside to do Christmas shopping. Luckily before she went out this weekend I looked at the cards and noticed they expired 8/15, I called your customer service dept. and got a polite answer saying to bad. We were not told of a time limit and the wife did not notice the 8/15 expiration date. This type of customer service will make us consider our move to more Verizon products.

Gary Callaghan
from Lady Lake, FL
I have a contract for 500 mb. For both my wife and I for over 120 dollars a month . We have added 500 and now pay over 130. Per month. I have tried to get the 10 gig plan for less than what we paid for a lousy gig. I have been refused and told I have to wait till my plan expires. I am to believe you cannot refuse me what u give to other customers as long as I get another 2 year contract. I want whatever special is offered to other Verizon customers. I would like this corrected and want to hear soon. I noticed the customer service ratings are quite low and I can see why. All I am asking as to be offered what others are offered.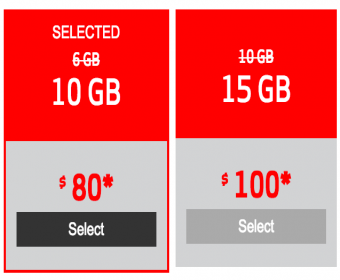 Robert Lafever
from Pelzer, SC
I call about updating two month early mine granddaughter birthday was 10-19 the lady said she could approve it she said nothing about returning the old phone so my daughter order the phone she does not remember the lady asking for a return phone have try for days trying to get some done the first person told me they would listen to the tape to see if the lady ask for a return of the old phone I told them if she told my daughter she would need to return the old phone I would be glad to pay if not I should not have to pay he that would be fine I have not hear nothing from so I have keep trying the last lady she was supposed to be a supervisor she said I would have to pay and they would not listen to the tape l would like someone to help or tell me why I would have to pay if the lady did not tell me to return the old phone. l have had Verizon almost 18 years and not mush problem till now.

I have been a customer of Verizon for 10+ years. Last month we finally upgraded to smart phones. Worked with the Solon store. The gentleman that assisted us wrote everything down as to what we would be charged and what our bill would be. In addition he suggestively sold us 1 Verizon Tablet which we paid for in full. He explained there would be a $10.00 access charge monthly to add this. Because we had to wait for our daughter to come home from college to complete upgrading. At this time we were told if you turn old phone in you get the tablet for free. So in addition to climbing on to this deal., the tablet purchased the day before, we turned in the phone for 440-785-5535 and were told they would credit our account. The very next bill not only was I not credited but there were 3 activation charges on my bill for $40.00 each that was NEVER discussed with us.
We went to the Solon Store to discuss this and to my disappointment we spent well over an hour for this sales person to review our account & run in and out of a room discussing it with the manager (Which by the way NEVER attempted to speak to us even when we requested it.) We ultimately were told the 100.00 credit for the phone was now applied only after it took 30 minutes for Verizon to find the phone to prove we turned it in, but no one attempted to resolve the activation fee issue. The BS explanation we received was that they would have to discuss it with the (Corp manager) that serviced us that day before they could do anything about the fee, really he is going to remember everything he discussed with us on 2 occasions. After 10 years seriously considering new co. 1 1/2 hours of our time in your store & basically was made to feel like we were totally blown off and wasting Verizon's time. Very Disappointing!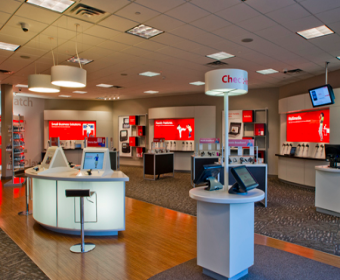 Moses Saxon
from Selden, NY
I changed carriers in May 2015, and carried all of my set top boxes to the Hempstead office on May 21, 2015. I was billed $ 1,090.80 for non return of equipment. I called Verizon customer service department on several occasions and was told that they had no records of such, and that my account was turned over to a collection agency. I faxed my receipts to the agency, and they were forwarded to Verizon, and as yet no action has been taken. I am sending a letter to the CEO next.

Deneice Ontko
from North Jackson, OH
I have been a customer for several years and had a serious negative experience yesterday and I am very frustrated. I spent over 2 hours chatting with 4 different Verizon reps and no on resolved anything. Unbelievable. Please tell me who I can contact in management who cares and can assist me. I have also tried to get the corporate offices on the phone to give them my feedback and find no direct line to reach them. It is almost like they do not want to hear from you.

raul aragon
from Sun City, CA
Verizon is still General Telephone and has the same corporate culture as General Telephone. They seem to feel that they are a monopoly, which allows them to hire the Neanderthals from the unemployment lines which give you the "white glove" service we had all come to expect from General Telephone. In the popular commercial on TV you see the guy with the glasses and the bunches of Verizon support people behind them. If you call Verizon for a problem, believe me, you will have to hold and speak to every one of them to get your problem resolved, IF you come to some type of resolution. My recommendation is to use somebody else, ATT, Magic Jack, Time Warner, etc, anybody but VERIZON (General Telephone).

Sonia Correa
from Estero, FL
Horrible! good customer service but it is ridiculous how my monthly bill rises every single month, my plan was $90 per month, the first month i payed $150, second month $250 and 3rd month $280! really? i canceled the contract, got another company, after two months i got just phone line with no internet for $20 monthly, got my first bill $90. They really take advantage of you, never tell you the true, i really hope this terrible company goes broke and vanish from the face of the world!

Virginia Stover
from The Bronx, NY
I'm disputing the fact that my son has been a valuable customer for years and today..9-25..he wanted to upgrade his phone n could not due...to these new rules and regulations that are in effect now. I had,a cellular in my name taking care of the bill all transactions until trying to upgrade the phone BUT set rate. " grandfather rate" did not apply to the upgraded phone. So I discontinued the service and went to a new carrier n the account I was on...I was responsible. ..for phone n bill and now my son cannot upgrade his phone and I'm responsible. For bill ...NOT HIM...and the rules and regulations that apply then..should not be in affect...

Thomas Tully
from Port Jefferson, NY
There is a beautiful park in Mount Sinai, NY called Heritage Park.For over two years there has been a couple of unused splice cases and boxes hanging from the telephone lines right outside this park. Are you guys so busy that you can't take the time to remove this mess? Maybe nobody from Verizon lives in this area and uses the park. Please schedule a crew to take these unused splice cases down before they fall on some child. They are an eyesore and a safety hazard.

Mario Donovan
from Lake Forest, CA
I moved across town and needed to have my dry loop DSL transferred to my new address. I had Verizon DSL at my previous address for over 10 years. Four times Verizon failed to connect DSL at my new address on the promised service dates over the span of 17 days. A total of 16 phone calls and 281 minutes racked up on my cell phone without any result. With each phone call I was starting from scratch because they don't keep adequate records of customer calls. I ended up canceling the order due to the inability of Verizon to provide service to a long time client. Absolutely the poorest execution of customer service I have ever experienced. In fact so bad that it two attempts to cancel the order.

Karen Barrett
from Beaumont, CA
We have been on a Family Plan since October, 2014. Our billing period runs from the 14th through the 13th of each month. We called the 13th of September to change our plan to individual plans starting on the 14th of September. The Family Plan was still in effect from August 13th through September 14th. Our bill on the Family Plan was always $204.xx. Our bills are due on the the 8th of every month. So our bill due on October 8th for the service period of August 14th through September 13th, should be $204.xx.
Instead, they went ahead split the lines and the bill, charging us $50 more than what it should have been for the time that we were still on the plan. We called, the customer service rep was so rude and refused to let us speak with a manager. I finally lost it and started yelling. She then said she'd get us a manager, put us on hold for ten minutes, then came back and said he's too busy, he'll call you later. I am trying to resolve it through Facebook Customer Service. For some reason, no one sees the truth. I am so upset. I am going to have to dispute the charges and file a complaint with the FCC and State Attorney's General Office.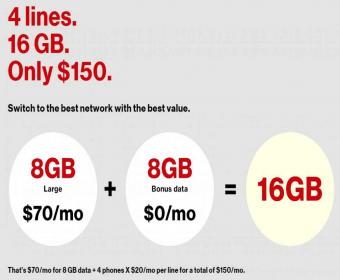 Michael Rorman
from Las Vegas, NV
Purchased a Note 4 and an LG G Pad 10.1 tablet to add to my existing account. Later I broke the glass on the tablet, but didn't have the insurance (my bad). So I asked a phone rep if I could buy another identical tablet, pay for it monthly on their $12.49 for 24 month schedule, and use the same Verizon phone number while still paying off the first device. He set it up and a new tablet arrived in the mail. they provided an address label to return the broken tablet so I sent it back. a few weeks later I get an email that they are going to charge we a fee because the old tablet is not repairable. what? I called to complain and was told that the purchase is considered an "upgrade". final verdict: return the tablet to Verizon or buy a new one at full retail.
My argument that an identical replacement that I am paying extra for is NOT an upgrade fell on dead ears. they also mailed my old broken tablet back to me. I know that paying $299 now is ultimately no more than paying $12.49 for 24 months, but somehow the arrogance of Verizon to make me return the tablet after selling it to me and then charging more after-the-fact makes me feel stepped on. Their argument is that because my first tablet is not repairable they must charge me an extra fee. I clearly told them that it was irrevocably broken right up front and they didn't say a word about any extra fees.
I'm still paying for the first tablet and agreed to pay for the second tablet so how is that an upgrade? If I changed phones they'd let me put the new phone on my existing family plan in place of the old phone, so why can't I do the same with a replacement tablet? My family plan with four phones and the tablet often costs me up to $300, but in December 2016 when the contract ends so does my relationship with Verizon. sooner if I can find a way to do it. Maybe I just don't get it, but I'm flummoxed.

Phyllis Gordon
from Hereford, AZ
I have used Verizon cell service at my home for almost 20 years. While the service is marginal, I always connect. Two weeks ago I lost service to my phone with no warning. After several confusing and unsatisfactory conversations with Verizon customer service, I still have no answers and no service. The only answers I have had are that Verizon is working on the new cell tower that services me to better the service within the year and maybe I should find a new service. I live in a rather remote area with no other options.
This is Patagonia, Arizona. Other people in the area also lost service without notice. Many of us are on Verizon contracts. Many of us depend on Verizon for all phone services including long distance. I depend on cell service just for my personal safety as I live alone and need to have quick contact if I fall in my yard. Verizon pulled the plug on us without warning and left us vulnerable and without service. They should be held accountable, legally.

Patty Simkins
from Farmington, IL
I have had a Verizon slide phone for several years but decided to upgrade recently. When I went into the store I told the gentleman I wanted a Samsung with a charger. I was immediately told there was a $300 or a $400 package. The $400 package I was told was the best deal and he immediately started setting everything up. When I questioned him about the tablet I was not told it would add an extra line and was not told there was a monthly charge. I asked, and was told it was just like my phone, would use that data and so I got it.
When he told me my bill next month would be $516.00 with the taxes I said wait, something isn't right. He said its set up, here you go…… 2 days later I tried to return the tablet along with its case, which had never been removed from the box. When I called the store, before going in to return, I was told there was a $35.00 restocking fee. Ok, I get in there and he says oh no, it's a $70.00 restocking fee, while 2 other employees kept telling him it was only $35.00. He informed me they were wrong. I do not need the tablet, nor do I want it with all of the extra charge.
I am on social security and this bill is ridiculous. Is there anything I can do? I feel like I was totally misled about this. I have never had a problem with Verizon until this. He had me so confused and I really feel I should be able to return this and get those charges off my bill.

Julie Rucker
from Perry, GA
I have been calling in everyday about being charged for calling Verizon to Verizon. From my understanding those calls were free. I hadn't had a problem with them giving me my minutes back until today. Christen in technical was very rude! She told me maybe if I got a different plan I wouldn't be charged. Because I'm on a 99 cent plan that was the problems. No matter what plan I'm on it should not matter if its a Verizon call! And tried to make me feel like I was trying to get over by calling back everyday for my money back! I feel like if they fix the problem I wouldn't have to call back everyday! And Im not being paid for being on the phone with them everyday over an hour at that! I asked for an supervisor she never transferred my call I never spoke to a supervisor.
And told me when I was talking I see you want to talk so I will in other words let you vent cause I see you don't have anybody else to talk to! When asked what her name was she put me on hold without telling me I was on hold an kept putting me on hold! And a few times was sitting there silent without letting me no I was on hold! But when I said something about it she heard what I said and Had a smart comment! If I had to rate that call on stars I would not give not one.
I bet if I put in a application I wouldn't get hired! Knowing I was right of course I got mad! and cant nobody tell me I was wrong! And they were the ones to tell me to call back everyday to get my minutes back until they fix the problem! And I have the text and ticket number to prove it! I will be changing services be cause of this one call! The only reason I kept this service is because my dad is older and does not no how to change it without me an I stay in a different state!

Martha
from Lafayette, IN
Called to find out how to print contact list. 30 minutes later still on phone and the person helping me finally says to log off and try again later in day. Well the list is there, but all the numbers are grayed out and won't print (just the names print).
Went with GTE in 1994 (bag phone) and have NEVER changed carriers. Rates go higher and NO discount for being loyal and NEVER missing a payment. The gal on the other line didn't listen and was READING what I was seeing on line and trying to convince me she was giving me a GREAT deal. Then when I looked on line as a NEW customer, the deals were much better $300 to sign-up or come back. Data and voice plans better too.

Lidia Bohr
from Farmington, MI
I received a promotion via email for a free iPhone 6. For the last two weeks, I have been trying to purchase this item and have been to 3 business centers Costco and SAMs club. I have talk to the customer warranty center, in the last two weeks to probably 7 different people who all said there should be no problem getting this but never follow thru and called back. That is what I am thoroughly discussed with.
How can you operate a business in this matter? I totally agree with people now that Verizon is a terrible company to deal with. You cannot ever get a hold of the same person to work out your problem. If you are sending false advertising through I will see that this gets plastered all over the media. I am sending copies and a letter to the CEO. I feel this is a simple problem and your employees are not schooled or trained to handle situations that arise. I have been a customer with Verizon since 1997, I have four lines, but I will be leaving soon.

Susan Wolk
from New York, NY
Verizon has now put a second debt collector after me for money I DO NOT OWE (verified by your first debt collector). Because of underground wire problems on 57th St, I had no internet or phone service for 2 months!!!! Besides the fact that you changed the date of repair every 2 weeks (or I wouldn't have let it go on for 2 mos!!), now you are wasting more of my time trying to prove to your collection agencies that these were incorrect charges - for Time with NO VERIZON service. I believe Verizon owes me money!! If you want to pay me to continue to argue, fine. Otherwise you are adding insult to injury by wasting my time

Ed Johnston
from Great Neck, NY
We ordered Verizon home services (phone, internet and cable), and (since we had Verizon in the past and still had their company's battery "box" in our garage) were told that would not have to pay an installation fee again. Less than a month later, we received our first invoice with a $60 installation fee. When I called to tell them about the mistake, I was told there was nothing I could do. So I cancelled the service and paid the invoice, less the $60.
It's over a year later and we have never heard from Verizon. BUT, we hear from different collection companies every five months or so. They are getting progressively more obnoxious and rude. All they want is a settlement -- cash to split with Verizon. Once I explain the situation they insist on written documentation to "document" my claim, then they go away -- apparently it's not worth their time to chase $60 when they realize that my claim is legit and they will only recover a portion of it for themselves.
Now I am waiting for Verizon to contact me ... knowing that they probably never will. Just another collection agency. And more "Offers" in the mail from Verizon, telling us how great they are and how inexpensive their services are. Unless you add on the charges that they don't tell you about.

stanley horowski
from Lorton, VA
twice in one week verison heavy duty truck, backed into my yard when very wet after storm, left several dual tire ruts , damaged paver bourder on driveway also busted up edge of asphalt driveway in serveral places. Cost of repairs per estimates around $1450.00 Have called Verison srveral times they sent someone out to look at damage and all have seemed to disappear. I can be reached @ 703 541-0914 or cell 703-508-7773 thank you.7520 ox road Fairfax Station va. 22039

Sharon Wilkening
from Elk Grove, CA
I received my new phone a Samsung Galaxy S6 in the mail. I took it to your store at 1208 Galleria Blvd, Roseville, Cali to get it activated and transfer my data from my old phone. I was told my old phone was too old to transfer data, and then all of a sudden it magically was able to transfer my contacts. I had taken the box it was shipped in and was told that I would not need the Sims Key and that they would take it. The next day I went back in to get it back and was told they could not find it. I want my sims key back.
I also purchased a Galaxy Tab 4 for a gift. At that time I was told I had 4 days to return it and get a full refund. The next day I took it back and was told at that time that a $70.00 restock fee. If I had known about the restock fee, I would not have purchased it.

Some Verizon tech dug up my yard, leaving it all tore up, and cables in my yard for nearly a Week! I don't even have Verizon, so it was apparently some issue with my neighbors service. A verizon contractor showed up yesterday and put the cable up, but left my yard TOTALLY unacceptable. My sod is all tore up, and missing, and it's hazardous. I want someone out IMMEDIATELY with new sod, and FIX MY YARD to resemble NO WORK HAVING BEEN DONE. Someone needs to call me.

Dallas Rodriguez
from San Antonio, TX
I had just dropped a 3rd line from my account that was never used to lower my bill to $140 or so a month. When it came time to upgrade, I was going to pay the $200-$300 for the 2 year contract upgrade for the iPhone 6. I went into the Verizon retail store and the store rep told me that the EDGE program is better and that I would only pay $2 a month more on my bill and that my overall bill would be about $140 or so.
I saw the bill online in the next few weeks which was then $180+ due to a discount I had on the primary line dropping off. The retail rep never informed me that it would & never told me that it would be $180 or so a month. I have been a loyal customer for almost 8 yrs and always pay my bill. This is outrageous and because of the rep misinforming me I get stuck with the higher bill. That's not right there should be someone in the company that can help me or do something to lower my bill for being a longtime customer please help me.

Eileen Ford
from New Market, MD
I moved. I am suppose to carry my number over. Ronnie came to 6058 Watson Court. Due to the problem with the wire, he told me he didn't know when I would get my phone. Drove off after telling me he was fixing it. I spoke with Lee Watts who came to my house this morning. He did not have an appointment but was very nice. Told me the line is bad, and I had a week to decide if I wanted them to dig. I said I need to check with Hoa. He said plenty of time assured me my line would be up and running so I can check my voice mail. I have 2 wireless phones and a landline.
I have a home business and elderly parents who live with me. You disconnected my number and I tried to call 800 Verizon guy was rude said nothing he can do because of notes of Ronnie last night. I call Lee watts who was here this am. He said he has tunnel vision and to call 800 number. I threw a fit. He said he'll see if he can get a number. I was promised one of my numbers would be up and running. It is not! I need help no one will help. I am so frustrated I was told a supervisor from Ms Coopers office would call me today no call. I tried calling, but I can't get a live person. This is urgent I need my number running until I can get these lines fixed.

Kam-LIN Young
from Honolulu, HI
I've been a loyal customer of 16 years and recently decided a year ago to book a trip to AK for my daughters 12th birthday on board the Disney Wonder. It cost our family $10,788 !!
I really wanted to take my new iPhone 6 on the trip and discovered that my upgrade doesn't occur until 2 days after we return. So, I called customer service to request an early available upgrade date because I was told that it's an option to get it 7 days BEFORE your actual date. When the rep came on the phone, he told me my requested date was 10 days before the Upgrade date and therefore, the answer was NO, but you can always pay for it. I was shocked that I am flying out on July 25, my upgrade date is Aug 5, we come home Aug 3, and they are saying no because the 7th day is 3 days BEFORE WE FLY OUT?
Why can't Verizon do something nice for once after the thousands of dollars I have paid....and also made my family all Verizon customers with iPhones including my child that cost me much more a month then it did when she was only a toddler playing with a fake phone? Seems it could be done....instead of telling a LOYAL CUSTOMER....no.
I'm very disappointed. I would have loved to take photos of Alaska with my new iPhone 6.

Michael
from Halethorpe, MD
Verizon charged us over 300 times the market rate for an international call. For a call to the United Kingdom that was less than an hour long and from a landline they charged us $161.84 plus another $22.44 in fees. So for a call that would have cost about 50 cents at market rates, Verizon charged us over $180. Again, this was for a call that was less than an hour long! I spoke with Robert (employee #Z134170) and a supervisor Daniel (employee #Z695527) and both of them refused to adjust the charges to something reasonable (i.e. even remotely in line with market rates). They kept falling back on the justification that there is no international plan on the account, yet the call was connected. Daniel essentially indicated that Verizon could charge any amount per minute in a situation like this and it would be "valid" and the customer would have no choice but to pay it. I am strongly requesting intervention by the PUC to have this charge adjusted to market rates or at least something close to market rates. I would not be filing this complaint if the charge was even twice the market rate but it is outrageous to be charged 300 times the market rate.

Charlotte Gregorio
from Redding, CA
We ordered a phone for my daughter. We were told the phone would work with the Family Base plan and it did not. We explained to Verizon that we would be sending the phone back to them and to please take it off our bill because it would not do what we were told it would do. We were told by a Verizon Customer Service that they would wave the $35 restocking fee to which they only credited us $10 only to charge us a pro-rated service on a phone we never used. Verizon online service deceives there long time customers Verizon is nothing but liars. They get rich by pulling this crap on the public.

Bryna Harpold
from Deltona, FL
I purchased my new LG G2 phone from your Orange City, Florida location.In all my years of having Verizon service, I've never experienced such inapt representative's assistance. I was under the understanding that if you purchase a Verizon phone from a Verizon store, it would require the sales people to have knowledge of the product they're selling. Today was my fourth encounter with the store and my issue was not resolved. Maybe others understand their device better than I do but my experiences with all efforts to learn how to use my phone have been most frustrating.

Dr Sarri
from Las Vegas, NV
Was grabbed at the fashion mall, Las Vegas, to get their "service." Two iPhones CASH! Since 5 months ago, they were totally irresponsible and irresponsible--calls drop all the time, connections fail, and the online service is lousy! All documented with Verizon via their office at Nashville, TN. Now, being gross violators of the contract, they want to charge $300/phone to terminate!

harold oblinger
from Cuyahoga Falls, OH
I'm being charged for the jet pac services that was activated by an employee who since has been fired for this kind of activity. I like the service and went to get a tablet. I paid for it but would not activate cause of jet pac service that I don't need. I've got AT&T internet. My cell phones are through Verizon. I don't want to change services but I'm so damn mad not getting all this cleared up.

I opened one account with four phones at Verizon and the account Rep open four different accounts with my name. Verizon had to merge all accounts to one line. Verizon is charging me for each account they open and the days they were open. I never ask them to open those account. When I call to explain the issues, they told me it is not their problem and I have to pay the past do bills. I let them know my bill has never been late or no pays. I should not have to pay for the lines I never authorized.

Theresa Pearl
from Fairless Hills, PA
Three channels that I watched were removed with no notice given. I was told it was a station choice. However I have another residence in another county where I still receive them. We are changing from Verizon to another provider! No thanks another unhappy customer.

Robert Flapan
from Garden City, NY
I just spent three days attempting to reach your Hempstead New York office. I actually spoke to someone last week about a :"valued customer" promotion that was expiring. As a minimal user of my "package" it was suggested that I was to call Monday (past) to discuss other possible ways that could limit (dollar wise) my very limited use of my package. Since then in calling Hempstead I have been disconnected several times after being put on HOLD; switched to an automatic answer that advising me that "this is a Information Center Mailbox" and Access is reached by (Insulting)requesting a PassWord!!!. I did try another Verizon number and got a new representative(not Hempstead) who added to the fact another Promotion credit expires in June and suggested calling back in June. Is this "call back" routine a stalling tactic? I now must start exploring your competition's offers.

Avis Bock
from Lynchburg, VA
My internet goes down regularly, & I get the 'no server' message. When I call Verizon, I get a computer that takes me through steps...around in circles if I call more than 1x. If I've already done those steps & need tech help, or just to find out if Verizon is down, I'm put on hold forever. They don't even have a recording telling customers that the problem is on their end or how long the internet/phone will be down. It's always been their problem when it goes down. They've even tried to send someone here at my cost, of course. I've been a Verizon customer for a long time—only because the choices here are limited. The Customer service has been horrible the whole time. They sent me a cell phone that had somebody else's number & I was getting vulgar messages. Then, while I was still trying to get it working, I discovered they'd sent a bad battery in it. They need new folks running the company that are concerned with customers and not just profits.
Have feedback for Verizon?
Thanks for your feedback!
Sorry. Please try again later!