Motel 6
Motel 6 Complaints Continued... (Page 4)
324+ reviews added so far. Upset? Call Motel 6 corporate: 1-800-557-3435

rodney gow
from Taylor, MI
First off the motel was not appealing on the outside. I ordered a king size room and I got a double bed mattress wore out room not impressed with condition. I went to the front and explained I ordered a King bed. They corrected this.
03:00 people were yelling and fighting in the parking lot. Little did I know until early in the morning we were sharing the same wall where they do the washing. Workers were noisy playing music loudly. About 11:00 they were banging on someones door very loudly telling them they have to leave. The lady in the room was unresponsive they called the ambulance for help. My wife and I barely got any sleep the bed was wore down on her side. She said it was like sleeping in a hole. We paid for two nights and only stayed one night. Motel 6 is motel hell. 966 south outer drive saginaw Michigan.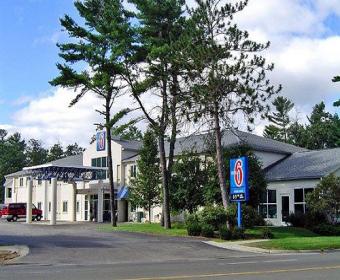 Alana Watkins
from Irvine, CA
The power supply went out in our room for several hours after maintenance was gone for the day and we had to wait hour and hours in the dark. The next morning the banned us and told us that we cannot rent with them after staying 11 consecutive days. They lack customer service skills and I hate motel 6 now.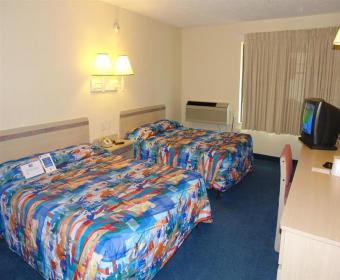 Caro
from Jeffersonville, IN
I stayed at Motel 6 in Canton GA on 9/8 and the blankets were pulled and rough and the sheets were stained. Here in Seymore Indiana my husband has no fitted sheet as bottom sheet on his bed. My blanket is torn and sewn back together. The outside doors of the rooms primed bur unpainted. Security lights off at the back of the building, so parking lot unsafe because you might trip and fall or get robbed. Fridge is not cold. Telephone was not plugged in. In short, it is not just basic, which I expect. The chain is getting shabby, and I don't trust the cleanliness of the bedding. Times are hard, I get it and I sympathize with the hand work that goes into keeping a motel. But I pay my money and I do not expect luxury, but I do expect the room 5 be in good shape.

Peter
from White Plains, NY
Booked a room while on the road sitting in a rest area on my way from Florida to CT. I was about 30 minutes away from the the Motel 6 I picked in Laurel, Maryland. There was one room left with a single bed and I booked right away. The room was a handicap accessible room and a smokers room.
I don't want a smokers room and I didn't mind the handicap room. I minded the smoke smell sticking to the walls. It was to late to look any where else at 10 pm, so I stuck it out. And now wonder why, when booking on line I wasn't told of the room being a non smoking or smoking room? So, I called Motel 6 customer service and told them I'd like a credit voucher of $61.00 to give them a chance to let me see they want to make this right. I also want corporate to give me a free room next time I need a room.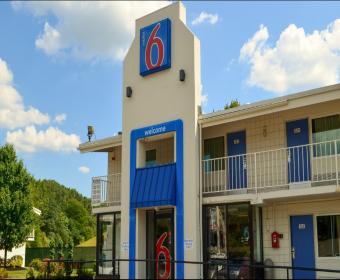 rebekah ernest
from Fresno, CA
Yes, Motel 6 at Olive Ave in 99 Fresno Ca. Every time I come to this motel 6 I ask the front desk clerk if the pool is clean, and I get the same answer! "Yes it is" I was here 3 months ago and the pool was green. When I came in yesterday 9/7/2016 I asked is the pool clean? "Yes" no it is not! I went to the pool picked up the pool brush and brushed the walls of the pool and the floor green algae everywhere the steps covered in green algae. If I was to use the steps to get out of the pool I would slip and get hurt.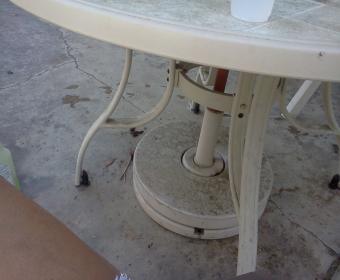 I grew up Santa Ana – California. My son and I planned a golf outing for two days playing courses my late father and I used to play and were planning on visiting their gravesites at Fairhaven Memorial Park. I booked a reservation at the Motel 6 facility located at 1623 East 1st Street very close to both courses we were playing and very close to the cemetery. After the completion of our first round today at Riverview Golf Course, we proceeded to your facility on 1st Street arriving approximately at 2:45pm.
We initiated the check-in process when we were informed that both myself, and my son were to show government issued identification – my son didn't have his. When the reservation attendant became aware of this she insisted, stating it was a policy and an agreement between Motel 6 and the Santa Ana Police Department. I am not disputing the policy but the lack of foreknowledge to the effect. Nowhere on my printed itinerary is there any mention of both parties having to present "ID".
I am 55 years old and have stayed at hundreds of hotels and motels all over the United States and I have never known this to be a policy. I presented my CADL, a Visa credit card and offered $200 cash but she refused. I explained we were from San Diego and had no other options at this point – she just kept stating policy. If your are going to strictly adhere to these types of business policies then it would be a great idea to insure that this was clearly spelled out on your reservation itineraries.
I am thoroughly disgusted with the treatment we received – we were forced to cancel are 2nd tee time on Thursday, not able to visit my parents gravesite and left a horrible taste in our mouths regarding Motel 6. I am the franchisee of many Subway Restaurants in the San Diego area and I assure you anyone asking me for suggestions on places to stay will be moved well away from Motel 6. I am going to tell every single person I know how crappy my son and I were treated and the fact we had to give up our golf outing early.

liddie canup
from Lombard, IL
I am at motel 6 in urbana ill. They put lighter fluid in the AC and Drano. I can't leave till Sunday. I am sick from the fumes my throat burns an my skin from it. My dog is throwing up also. Corporate needs to come here undercover an stay in 141 with a pet. I am hoping by sharing my story here that perhaps the CEO of Motel 6 will change their customer service standards to prevent this int he future. Hire better employees too!

deshawn green
from Greenville, SC
I went to go get ice when pulling down in the ice level the hole plastic peace feel on my foot. I was over charged and to top it off I was awakening by a roach crawling on me.

David McCartney
from Houston, TX
I arrived at this location, Motel 6 #1148, Baton Rouge East around 5.45pm on 7/5/16. I waited patently in line because their were 2 others in front of me checking in. When I started the registration the young lady asked me for my license plate number on my car. I told her I didn't know it but as always before on other stays at Motel 6 the employee always accepted state, type of car and color. This young lady kept insisting she had to have the license plate number. I canceled the registration and left and went to another Motel 6 in town (#0406) where I had no problem. I have stayed at Motel 6 now many times over the yrs, and this is a first.

Aviva McLean
from Charlotte, NC
Bad smell and the hotel rooms were very dirty. What has happened to motel six?

Julie Carson
from Vista, CA
Motel 6 El Cajon, CA, is the worst motel I have ever stayed in. The management team will seem very familiar because you ran into them at the zoo when you were throwing peanuts at the Chimpanzee cage. Wendy is the head chimp and could care less about customer satisfaction. In her defense, she does run a bordello and would be used to dealing with drug dealers, pimps and hookers but this doesn't mean that she can treat regular customers in the same way.
From the minute you drive in, you'll see unsavory characters sitting in from of their rooms smoking and drinking. At some point during your stay, you will be asked to purchase drugs from one of the many dealers living on the property. Whores anyone? Motel 6 El Cajon can supply you with your choice of prostitutes. It's like Disney Land for scumbags. All in all, it was a miserable experience and would urge anyone reading this to find lodging elsewhere unless of course you are looking for drugs and hookers in which case.

Wm. Lomasney
from Gold Hill, OR
I had a very bad experience and wish to complain to customer service at Motel 6. Does anyone have their contact info?

Donna Mattoon
from Dunkirk, NY
I checked into the Motel 6 in Grove City Ohio, on Monday Evening February 8th 2016. The young lady at the front desk was very pleasant and knowledgeable. I asked for a ground floor room, she stated she had only 1 remaining at the rear of the Motel which was fine as I was traveling with my dog. After we were in the room I turned the light on for the bathroom and the fan made so much noise it scared the dog, unusual for him. I turned the light and fan off.
I tried to take a shower and the knob to control the water came off in my hand so there was no way for me to shower or take a bath. I had been driving for almost 24 hours, I was very tired and not in the mood to move all my things, including the dog to the second floor. As we were leaving in the morning I also noticed there was a used bar of soap in the shower. I left the paper asking about my stay thinking I may here from the owner or manager but no contact. I have stayed at Motel 6 in the past and have always been satisfied. Not any more.

Matthew Reed
from Potts Camp, MS
Myself and my oldest daughter both booked rooms ( 219 and 211) at the Columbia Mo, Motel 6 on the dates Dec 18 and 19 mainly because of the indoor pool. When we went to the pool room it was very cold, maybe around 65. The water was freezing cold. Myself, and my 3 daughters ages 17, 21, and 23 all tried to go in the water but only got into as far as our knees because it was so cold. I asked other people staying they and they all agreed with us that the water was way to cold to swim in.
The staff would not do anything about it and was rude to us. Also I asked for a room that did not allow pets, we found cat and dog hair in the room. I only saw 1 roach so that wasn't to bad. The rooms smelled like smoke. People next to us had dogs barking during the night and we smelled marijuana smoke the first night there coming from a close room. The staff was not helpful and rude to us. I will never go to that Motel 6 again and may not go to any if the service is this bad in all of them.

Wilma Parker
from Kenton, OH
My husband and I rented a room for 2 days on Nov 27th and 28th. The heat didn't work stayed on cold and wouldn't shut off unless you unplugged it. they new that because it was unplugged. Very dirty behind the bed tables. Hair and dirt in dressers. Hair in bathtub when i went to take a bath. When i I went in I went to go to bathroom there was a cigarette in the toilet. Smoke detector was hanging from the ceiling. Owners did not smile, or talk to you. Not very nice employees. The whole place was dirty The worst motel 6 I ever stayed at. They gave motel 6 a very bad name and I will let everyone know about my stay. I hope the corporate office for Motel 6 reads this complaint so that they fix the problems here for future customers like us.

George
from Los Angeles, CA
Motel 6 customer service kicked me out because the general manager alex patel told her i had too many dogs (4) and too big a size...i have been staying here for years and today they found out i had four dogs. They have seen me walking them before and never had any problems....they are educated pit bulls who are very clean and i keep them in line as to not get out of line....never caused problems here or any other motel 6. So i should get a lawyer for "false advertisement" cause on t.v. and radio the commercial says "pet friendly" not only to chihuahuas size dogs. Owners have pride in their dogs to behave when using motel 6. I have never seen any unruly animal in my years staying at different chains. The best motel 6 is the chula vista one where is really pet friendly and never have had any problems.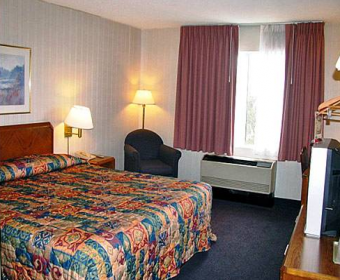 Eileen Meggison
from Beverly Hills, FL
My husband had a colonosphy in January of 2013. on the way home from seaside heights on rt 95 exit 8 we had an emergency, my husbands seal started to leak . I pulled off exit 8 on 95 and pulled into motel 6, I explained to the clerk at the desk, our situation, said I only needed the room for less than 1/2 hr or less, so that my husband could change his seal, and be on our way. we even used our own wash cloths. the clerk charged us full price + tax. They were indian (COUNTRY OF India). I politely explained again that we would be out in less than1/2 hr or less , he just said credit card, and than asked me for my drivers license. I said you r kidding, you are charging me full price for 20-to 30 minutes, no comment, when I was taking my husband into the room the clerk actually came out to watch us. What has happen to common decency?

Henry Vaughn
from Wichita, KS
Called Motel 6 corporate office on July 22nd and reserved a smoking room for July 25th and 26th for 2 adults. We arrived around 3:00 p.m. on the the 25th and they had no smoking rooms available. Manager said hold on we have a "NON-SMOKING" room that someone has smoked in and we can't get the smell out of it. We got to the room and the carpet had stains in it and it was wet/moldy smelling as if it had been "tried" to be cleaned. We sprayed body spray everywhere and dealt with it. We left the room early on the 26th to explore the town and came back to the room around 1:00 p.m. to take a shower and there had been no room service. We went to front desk and asked same "Manager" for fresh towels because she said it would be a couple hours before room service.
We took showers then left again. Returned around 4:00 p.m. and still no room service. Went to front desk and asked male attendant for fresh towels. My wife went to front desk in the morning and requested new towels and complained about service. Female attendant got real snippy and stated that we didn't push the "zero" button on the phone for room service so that's why we didn't get any room service. We told her that we spoke directly to the manager twice the day before for room service and she never mentioned pushing the zero button and she said that room service would be there later. We stayed 2 nights in a smelly musty moldy room with no room service at all and dealt with a snippy front desk attendant.

Nancy Warner
from Lake Elsinore, CA
I was charged twice for the same 3 nights, June 7, 8 + 9, 2015 at Motel 6 Santa Rosa South and Motel 6 Santa Rosa North. Now how can I stay at 2 Motel 6's in the same 3 nights? I should get a refund. I feel this was handled unscrupulously and the attendant at Motel 6 Santa Rosa South said "Yes it is," when I asked "Is this Motel 6 Santa Rosa North?" My former booking company Hotels.com won't refund me since Motel 6 Santa Rosa North already charged them.
I told the clerk at Motel 6 Santa Rosa South which the clerk agreed it was (clerk initials LO) that I didn't want to get charge 2 times or anything like that and he said he just needed to run my credit card to verify it is me. If you check your records you will see I was charge at 2 Motel 6's for the same 3 nights. I believe the honest thing to do is refund me for the duplicate charges. I am going back up to Santa Rosa in September and hope I can trust you by then. If I have to pay over $120 per night I'll go some place more plush.

kim juhnke
from Hood River, OR
I had a soda and it spilled. So i cleaned the mess with 2 h and towels. The front desk called my room and told me I stained the towels and would be charged 50.00 to replace them. I said no your not show me your laundry room as i use to work in the laundry room best western in hood river. They said you cant come in here. I told them to bring them to my room i would clean them. They did bring them along with 9 more. I cleaned them all. The fro B-) t desk called again and said not good enough. I asked if I should go buy them new towels as i was not going to be charged 50 for 2 towels. And why bring me 11 when2 were bad. Anyway that was the end that. Then i told them they needed to have the xxx maintenance guy clean the air filters as they were very bad. I have asthma and couldn't breath very good. So i cleaned it.
It was very warm so i asked if we could use the Motel 6 pool, not ready yet. What a disappointment. I am homeless disabled retired from sprint telephone this was my o B-) e treat a month to relax. I sent you the complaint. Now when I go to get a room they are full yet the person that came in behind me with no reservations and got a room. The desk clerk told me they would always be full for me. Sorry that is how the system works. U complain u cant stay. I love it there please let me stay. I will try very hard not to complain anymore.

Gale Hobson
from Mesa, AZ
No clean towels. I had to go to the desk everyday to get more towels. Dirty bathtub. Cat treats in the vent of the air conditioner. NO maid service. Bed mattress slid off platforms. Wheelchair accessible room is on the 3rd floor. Elevator smelled like urine. Luggage carts had bent wheels. No dresser. Phone didn't work. Had to find a friend to borrow a shower chair from. I was visiting from out of state. No place in the bathroom to set personal items. Had to get a large garbage bag from front desk to empty our daily garbage in since we had no maid service.
I am in a wheelchair and will be filing a complaint to the American Disability Act as well. The worst service I have ever seen! We stayed at 7712 Potawatomi Trail in Rockford, IL 61107 on May 15 -18, 2015 under the name Mary Watson

Elicia Santana
from Ontario, OR
Motel 6 has a very rude and inconsiderate owner. There is a significant problem with Verbal Aggression from the owner. He is from a different country, and it is understandable that he might speak a little louder than most. However, there is more anger in his voice when speaking to me about a simple problem. I also feel as though he targets African Americans. Another African American woman and her family had to call the police due to this man yelling at them over the phone and in person rather than simply explaining the issue. I have been staying at the Motel 6 almost 3 weeks and have had visitors come and go. He asked me to have them check in and out, and that is what I have been doing. Due to my inability to leave my room after certain hours, I have family members visit me here. Now this man is saying that I have too many visitors checking in, and he is going to charge them 5$ to visit me... In the three weeks I have been here I have ONLY had three people check in, and one who did not due to my unawareness of this rule.

Last summer I had an awesome trip in Los Vegas in Motel 6. Luxurious rooms, user-friendly infrastructure are very comfortable to stay in. Motel 6 is the brand for it's hospitality. It also has good food on the menu list, AARP discounts, free stay for kids (age under 17years),free WIFI, option to keep our pets, spontaneous support and many more to avail. Active and retired military people are eligible for a 10% discount. If you are going to plan for the best lodging services, please reserve Motel 6 online right away.
Have feedback for Motel 6?
Thanks for your feedback!
Sorry. Please try again later!