Motel 6
Motel 6 Complaints Continued... (Page 2)
326+ reviews added so far. Upset? Call Motel 6 corporate: 1-800-557-3435

Cindy Corcoran
from Pinellas Park, FL
This room was discussing. Cigarette burns on sheets and bedspread, no smoke detector, latch on door was broken, no light in bathroom, peep hole in door was missing and had paper towel stuffed in it and noise kept us up till 2:00 am. I also have pictures. I believe we should be refunded the cost of the night. Confirmation No is 2248148910. I tried to upload pictures but they would not load.

David Lara
from New Berlin, WI
Your motel 6 in Altoona Iowa was horrible first the lady told me that my room price was 100.79 when I booked it online it said I was only pay around 75.00 we stayed the because it was close to adventure land and I didn't wanna drive 2 and a half hours back after I was checked in I was standing to side and to police officers came in so we go walking to our room the hallways were not clean they had trash on the floor carpet looked like it has never been shampooed the building it self smelt dirty so we get to our room it was 222 first there was no smoke detector in the room wires where hanging from the ceiling two light where out in the room there was mold above the bathroom shower around the toilet on the walls where dirty there was cob webs in the corner above the entry door there was cigarette holes on one of the comforters there was cigarette holes all over the vinal flooring the floor looked like it was never cleaned there was 2 phones in the room the one next to the beds was not working the air conditioner only work on low I have pictures of the room when we checked out we told the guy about everything and his response was what to u want me to do about it I will never stay at a motel 6 ever again in my life I would like a refund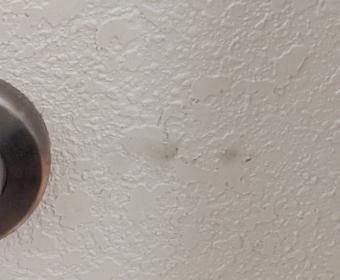 Brandon Hill
from Spring Hope, NC
Staying at motel 6 in rockhill July 8-10th the 1st night I got a room I was paying in the lobby guy was acting suspicious behind me the lady at front desk said I was in room 205 I get to the room automatically noticed not the room I paid for king room with sofa got a king room with desk instead but I let it go cause it's around same price plus I was tired already about hour later took a shower to get ready to sleep I hear someone trying to open my door I looked through the peep hole it's the guy that was standing behind me in line he walks off I get dress go to front desk tell them what's going on it's a paper up saying sorry for inconvenience be right back I just go back to room go to sleep next day I proceed to go to work something told me check the door I checked the door opens right up no key or nothing so that man that was in the office the night before knew that door was broke and was trying to get in my room smh so I go to front desk it's a different lady now I tell her what's going on at first she try telling me she can't give me another room till I told her so you just going to have my belongs in the room where anybody can just walk in than she tells me bring me stuff out the room so I had to bring my stuff downstairs just for her to give me a different room upstairs than I go to this room no microwave smh false advertising online and If I never locked the dead bolt and just closed the door that man could've gotten into my room smh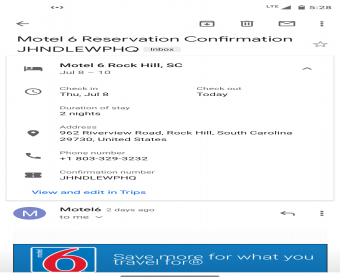 Motel owner of 133 s delsea dr, Glassboro, NJ has been stealing our employees for years. He comes and takes all of his employees from our fast food by lying to them that he will give them more money. We certainly don't appreciate him doing this as it is extremely unprofessional act. If we see him one more time around our store, we will get him arrested for trespassing and other charges. He sits in our lot for hours and watches our employees. Please stop him from coming otherwise, we will have tons of legal issues

Kenneth Koelsch
from Wellington, OH
We stayed on June 25,2021 at the Motel 6 in Armarillo, Texas.
The balcony walk way going to our room was leaning out. I thought we were going to fall. Since the Florida condo had just collapsed, I could not sleep because of the thought of it collapsing.
Paint was coming off of many of the motel doors.
The beds felt like you were sleeping on wood.
The bathroom was another story. Including a picture. My husband and I almost fell in the shower due to the skids on the bottom of the shower were missing.
My pictures will not upload. If you need them please email.

Margie Drake
from Monte Vista, CO
Approximately 6 weeks prior to our travels I booked 2 rooms at Motel 6 in Montpelier, Utah. I spoke with Larry when making the reservation. He was very nice and helpful. On the day we were to arrive, we were running late and wanted to ensure there would not be any issues at check in. I called more than 5 times between 2:00 pm and 8:00 pm with no answer at the hotel. I then called the 800#. I was told there was not a reservation for either of the confirmation numbers. We arrived at the hotel and Larry was working the front desk. He told us someone had canceled our reservation but he would be able to still get us two rooms. The rooms were quite run down and less than perfect when it comes to cleanliness. The worst part was one of the rooms had definitely been smoked in and smelled horrible. We knew we didn't have any other options since we were told we were getting the last two rooms. I am requesting a full refund for the room that smelled so badly that we ended up all sleeping in one room. Feel free to contact me to discuss in more detail. I may be reached at

Allen Young
from Pleasant View, TN
Dead bolt busted hook lock gone holes patched in wall bathroom disgusting mold floor and shower the whole property was nasty.

Me and my boyfriend have been staying for over a month at Motel 6 in Catoosa and stayed in multiple rooms and stayed in one rooms with bed bugs and report it to the manager and she said there is no way this hotel has bed bugs and she said it came from us or outside and gave us new sheets and told us to go back to are room and we was talking to a worker here the next day and she said that she reported bed bugs in the same room a week ago and just today the manager stopped my boyfriend and pulled out the paper review and asked him if he wrote it which I did but I thought she wasn't allowed to ask people who wrote reviews and wanted to be left anonymous she couldn't ask and I have picture of the bed bug bites and have one of the employers to back me up so please do something

Jamie Wilson
from Houston, TX
Hi, yes I stayed at the motel 6 here in Conroe Tx last night and I am pretty upset about my experience during my stay. When I entered into the room it was extremely filthy, had terrible odors including a strong smell of cigarettes, holes in the wall, broken furniture, absolutely no hygiene products and there were people doing and even offering me drugs there making me very uncomfortable. It was noisy and I felt unsafe to the point I lost hours of sleep worrying about if a person on drugs was going to try to break into my room or my vehicle. One of your staff members was rude as I was very nice and there were burnt holes in the sheets and blankets. I feel like I lost money and I would like a refund for the services I recieved at facility. I feel cheated and I hope that in the future those things will no longer be an issue as I was there for buisness on my laptop for work and was unable to complete my assignments. If you have any questions feel free to email me at jamie.wilson1987@yahoo.com or text at.

Paul Pelino an Rita
from Los Angeles, CA
Where to start Paul Pelino an wife been , staying at your motels for past,3yrsfrm SantaMaria Ca ,to San Luis Obispo Ca ,a Mgr you brought in name Josh kicked us out of all themmy,wifewe are, Seniors an handicap, We need to talk ,Call me Heisreallyno Mgr Thkyou Paul Pelino

Rima Is scamming Vets @ 4024 Melear Arlington TX
from Ashburn, VA
Rima is extremely rude to veterans for no reason. Once I walked in he wouldn't even acknowledge me however other people behind me he was nice and eager to help!
he lied multiple times about his " only room" available. I asked for a military discount and he said he would give a discount mig I took the room with a broken shower that does not work As a homeless veteran with lots of doctor appointments I needed a working shower. So I said no. Then all of a sudden he says he has another room available after the first two I said no to. I needed two consecutive nights but He charged me $90.86 for one night but he made me , book one day at a time and when I asked for both receipts. He couldn't give me the first one with my real signature on it . He gave me the 2nd one with my real signature on May 8th! Problem is the guest relations only showed one reservation but I was charged 2 nights stay away AT ALL COSTS. He called the cops on me and I had to leave for asking for my receipt I've already contacted Fox News. Veterans beware DO NOT GIVE THEM YOUR REAL BANK CARD ! They will scam you , they will only offer military discount if you accept the " broken rooms"
Rima and his illegal family staying here hiring other illegals is a problem. They don't clean correctly , he lied to me about the microwaves in the rooms! Most of all he didn't even acknowledge my presence. It don't matter he probably will get a slap on the wrist and moved to another location I SAW HIM TAKE MY VA , CARD AND DEBIT TO THE BACK OUT OF SIGHT.
He bangs on peoples doors at 9 am when checkout is at 11am then rolls his eyes. He's very rude and inconsiderate of others. I guess he was mad I didn't have a mask on but neither did he ! So what's the problem cause I'm a vet?? I'm young , ?I'm Mexican ? What is it RIMA ??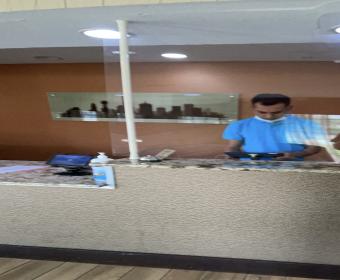 Maxine Schneible
from Loveland, CO
First we made reservations about 6 weeks and requested that we be put in a ground floor room. We arrived and was told that all the first floor rooms were already given out. Second thing is when we arrived in our room it smelled like smoke, the sheets looked dirty, the floor tile is peeling back, we also had to sanitize the desk top, counter top, night stand, table top. We are really disappointed with this room and will not be staying at another Motel 6 or recommending anyone to stay at this Motel 6.

Dallas waltemire
from Dublin, TX
I had the most worst motel experience EVER. You have a lady working for you that has really bad customer relations she was rude and she was very condasending she belittled me and should really not have any contact with the customer. If I could have I would have fired her on the spot. I understand that motel 6 is a cheap hotel but I did not deserve the way she treated me.at one point in time I had to literally beg her to stop belittling me I begged her to please stop. And by the way there was black pubic hair on the shower wall that looked like it had been there for a while.i included a picture of pubic hair on the shower wall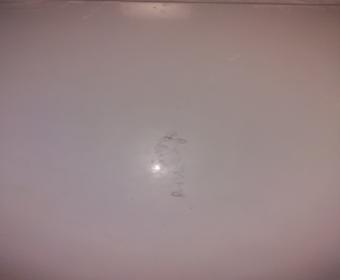 Jimmy Emory
from Coldwater, MI
SIR/MA'AM
I wish to relay this story to you as I can't help but think this one particular location of your Motel Chain is doing you more harm than good.
A friend and I just returned from a road trip from Michigan to Texas. In pre-planning the trip I suggested to my friend that we use Motel 6's as our logging as I've found them in the past to be very reasonably priced and of suitability for a simple nights sleep.
Our first night out (Wed. April 7th) was spent in your establishment in W. Memphis Arkansas. All as expected....
The next three nights were spent in your Terrell Tx. establishment. Again, all as expected....
The last two nights were spent in your Lubbock establishment. THIS IS WHERE THE PROBLEM(s) EXIST!
We attempted to check in at 3pm on the 11th. The lady at the desk was very very frustrated as there were others desiring to check in as well but she had no rooms available due to them not yet having been cleaned. She explained that her cleaning staff showed up late and that they didn't like her very much thus there was a feud going on between them. This was apparent as she tried calling them on a hand held radio and none of them would respond. When asking when a room might become available we were informed at five pm. I wish I would have simply accepted that as a NO VACANCY and moved on....but I didn't, and we took a room. This is where the plot thickens!
As we walked towards the room we observed the pool was closed due to being out of service. Even though looking forward to it as we did at the previous Motel 6, we knew we could live without it. We then entered our room at which time we discovered it was filthy. The beds had been made and there were clean towels on the rack (minus a bath mat) but it was clear that was about all. Deficiencies listed below....
1. The floor was so tacky (from who knows what) that with every step your feet sounded like they were pulling off from fly paper.
2. One of the lamps above one of the beds had a burnt out light bulb in it.
3. The remote control for the TV wouldn't operate....upon examining it, it was soon learned that it had no batteries.
4. There was only 1/2 a roll of toilet paper on the dispenser and no other rolls available.
5. Even though the room was labeled as you entered as "None Smoking" it was clear that it had been used for smoking as it reaped of the smell and there were burn holes in one of the blankets. (and I don't believe that was from just the previous occupant)
6. When I went to put my hat on top of the clothes rack I discovered the dust was so thick that it was apparent no rag had crossed that surface in probably weeks.
7. No Phone in the room however a hookup outlet for one existed above the stan that's between the beds. I reported this to the desk clerk as we didn't want to be accused of taking the phone. This didn't seem to bother him which caused me to believe he was already aware of the fact that there's no phone in the room...or possibly rooms.
8. And the biggest obvious problem (no doubt fire code violation even) was the smoke detector which was of the kind that's wired into the ceiling missing from it's outlet and just laying on the desktop.
9. The outside courtyard was a mess....cigarette butts covering the sidewalk and grassy area everywhere! There's a small concrete area in the middle of the court yard with two benches to sit on. This area not only had cigarette butts encompassing it but birds had been obviously using it as their dump site for a lot longer than just a day or two. No way would anybody want to use those benches to sit on as they were covered with bird droppings.... All that simply suggests that this area is never cleaned!
10. Upon leaving to visit relatives after our first night stay, I went to the office to tell them that fresh linen on the beds wouldn't be necessary but we would like fresh towels and a bath mat. I was told that since we booked the room for two nights that they don't normally come in to change the linen anyhow but if I wanted to leave the dirty towels in a plastic bag outside the room they'd leave us new towels. They handed me a plastic bag and I complied with the request. Note however....when we got back to our room late that afternoon they had picked up the bag of dirty towels but failed to leave any clean ones. I went back to the office to obtain some and they told me to just find one of the cleaning ladies that was out in the area and ask them for some. I complied and did find a lady that assisted me by bringing us towels. This action of not cleaning the rooms when booked for more than one day surprises me as I've stayed at many motels for more than one night and they've always came in the next day to provide clean towels. Even your Motel 6 in Terrell just days before did.
AND THE LAST ADVENTURE FROM OUR STAY AT THE MOTEL FROM HELL WAS...
11. When checking out I asked if they had an ice machine as I wanted to throw a couple scoops ice into a small hand held cooler for the road. The good news is, they said me they did....however the bad news is....they said it was out of order! -to be expected-
Sir/Ma'am - as you can clearly see, this is not a good representation of your chain of motels. I appreciate you, "leaving the light on" but please, make sure this particular venue comes up to par with your standards and worth stopping at.
Thank You,
Jimmy L. Emory
Booked the nights of April 11th and 12th 2021, under the name of John Terry

Wade sickler
from Denver, CO
The night there was a hostage s
Situation in I was not allowed to go back to my room I have documentation from the thornton police department stating this. Would like a refund or a room copted for me for that night the other two people that stayed in the room were allowed to go back I was not and I'm the one who played for the room and was on

Scott Roe
from Denton, MD
We have stayed at motel 6 in Gordonville pa at least 30 times or more in the past 25 years always was great price and service we were there aug11 12 and leave on 13 room was not clean it was old found multiple bugs in room no room service not enough towels in room for guest the man at service desk I believe was owner of that place was very unfriendly and disrespectful to me when I asked for more towels do to his attitude we will never stay there again

Lyndsay perkins
from Pawtucket, RI
I have been staying here for years. And because I used a friend's credit card they told me I could no longer stay here. I guess there was a problem in the past with the person who owned the credit card. It was just a means of payment. She did not stay with me in the hotel. I am a loyal customer for years. I have always left my room the way I got it. I do not approve of how they chose to accuse me of being someone I wasn't because I used a card. I have never complained of the horrible conditions of the rooms because I just cleaned them my self. But this is how horrible the rooms are.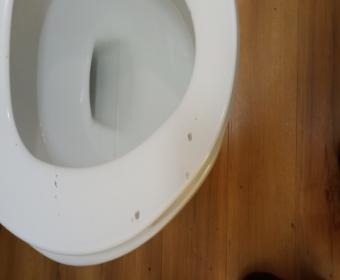 Heather burns
from Wilmington, DE
My friend Ken Geesey called and made a reservation on March 13th 2021 to get a room on March 14th 2021. They told him the room would be $70.00. When we came to get the room on March 14th 2021 they told him that he didn't have a reservation,they finally found the reservation and charged him $115.00. We get to the room 111 and pull down the sheets to find bowel movement on the sheet.we went to the desk to have them come change it. He said he is not a housekeeper,and if we wanted new sheets we would have to change them ourselves. I told him that it was nasty . I changed the sheets. He had nothing to say about the sheets. When we are paying this kind of money for a room I expect the room and bed to be clean. I also took a picture of the sheets. The motel 6 was on speedway blvd Daytona beach Florida. I think my friend should get some type of discount. He has been a wyndum member for years and has stayed at this motel 6 for about 15 years. He talked to tamera on the 13th and she said it would be $70.00.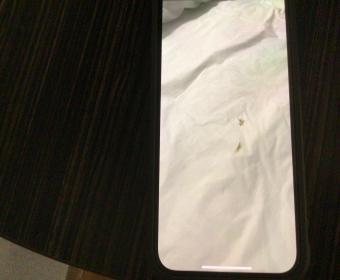 I left for work on Tuesday morning an when I returned to motel 6 Lincoln, Ne Airport location, that evening I was told by the head manager that someone went ahead and moved all of my personal belongings out of my room and that they stored my stuff in a closet type thing in a bin. I first off was shocked at the fact they even touched my belongings in the first place, I know that I've done housekeeping for years an years. I then went an told the manager that quite a few things were missing from my belongings. I patiently waited for morning to come as I was told by the manager Iris that I would have an answer that following morning. I went to the front desk that morning and talk to Carissa another employee at the front desk I believe she's a supervisor and I asked her about it and she kind of acting like yeah she knew but not a whole lot of the story. So I leave for work wait till about noon patiently again mind you all the while why I wasn't able to take a shower that evening prior because they stole my shampoo my conditioner my body wash my toothpaste my deodorant my hair brushes all of makeup all my fingernail polish fingernail polish remover my dog shampoo both of my tremors my Dremel both of my flat irons for my hair my hair products my brand new Air Max 90s 3 dresses in 1 bra and two shirts my pink Nike air bag all of my jewelry all of my tweezers mind you I have a professional job I work at 2 so I woke up with no hair brush no toothpaste no nothing nobody was trying to make too much of anything right with me at all it's piss poor customer service and I'm furious you guys act like this is no big deal I will turn you guys into the better Business bureau and I will call my lawyer and I will put your name all over social media if something doesn't get done immediately I've gone 3 days without my stuff my makeup it's been a humongous inconvenience and I want it corrected it I want it correct it today I've called your guys's phone and I've been waiting on hold for hours I get no reprieve I get no answers I get nothing I just get connected from one person to another and I'm sick of it it's piss piss poor customer service and you guys need to correct it it's your job I will get my lawyer involved .

Ricky Nute
from Los Angeles, CA
When we arrived there was a party going on at the pool complete with whiskey beer and marijuana and a bunch of drunken people who were swearing while my eleven year old daughter tried to swim now its 5 hours later and the people manning the office have joined the party i want my money back. If we survive the night that is.

sherry bremer
from Graettinger, IA
We had room reservations for the nights of June 20th and the 21st. We stayed the first night and talked with the desk help about canceling for the second night. They said no problem. We wanted to be closer to the airport the next morning due to our early flight home. However, when it came time to credit my credit card for that second night, they would NOT do it. Since we booked through Expedia. I went to then to try and get a refund. That was a no go. Is this a common practice????
Sherry Bremer

Victoria Johnson
from Franklin, NC
Motel 6 Lakeland Florida Worst place I have ever stayed I get into the room and went to the restroom and decided to take a shower I was soo hot and tired I looked in the tub and there was pubic hair all inside the tub /shower. I was so tired from our 11-hour Drive I said screw it and clean the tub I took a shower or at least tried to take a shower no water pressure. Grrr so I decided what the heck I'll go swimming so I went into the swimming area and the entire swimming pool water was covered in some sort of greasy residue.. so no swimming. The entire Motel 6 area had young black men everywhere they were going in and out of the rooms my husband and I felt very unsafe plus somebody had used their hotel key to get in the swimming pool area and proped the gate open so quite a few Neighbour kids we're going swimming. The noise level was unreal the voices and yelling started at 2am and lasted until after 6am . At checked out there was a young Hispanic lady that knew no English.

My wife and I stayed at a hotel 6 in Savannah Georgia earlier this year! While taking a shower my wife slipped and fell out of the shower because there were no non-skid has on the bottom of the shower or any handrails of any kind in the shower to hold on to ! So as she was falling she grabbed the shower curtain and continue to fall pulling shower curtain mostly off of the rail. She got banged up pretty bad so I took her to the nearest emergency room and they took some X-rays etcetera etcetera. My wife is 71 years old. I find it hard to believe that in this day and age a hotel motel whatever would not have anything in the shower to hold onto or to keep you from slipping and falling out of the shower!!!

Michael Stinson
from Topeka, KS
The ads offer up to date rooms and free wifi. I've been here 3 weeks they raised the rate of the room after the second week. I've never been able to get wifi. I dont even have a garbage can in my room and housekeeping hasn't checked on it 1 time

Gregg H. Lambert
from Oakman, AL
The room smelled like cat urine - the desk lights were hard to operate - my key cards kept malfunctioning - no tissues, refrigerator, or microwave in the room - the cleaning was subpar - the television was 20 years old and the remote wouldn't turn it on or off. I have been staying at your facilities for years by default, but this will probably be my last visit.

Disappointed guest
from White House, TN
I have stayed at motel 6 located in white house tn many times and never had a problem till the past few visits. The staff was not the problem other them the manager, I think his name was Sam. Sam lies to the customers about the problems with some issues with the motel. My complaint is it's over 100° feel like temperature and the a/c does not cool the room. In fact the a/c was not even kicking on the compressor to begin to cool the room. When I asked to move to another room, I was told no other room was available, other then upstairs and one part in the room is handicap so this would not be an option for us. This was very upsetting and I had a pet as well that suffered cause of improper working equipment. The manager said it needed time to cool down and to just let the a/c run. 2hrs later no change in temperature coming out of the a/c. I understand when things don't work properly. And employee's don't no if there is a problem unless it's reported. The staff are friendly and nice people and I'm sure would do all they can to right the situation. All I ask is what I pay for and that is the the equipment to work properly. The laundry washing and drying machine is also not working either. I've never had a problem here, and don't want to cause a problem here for complaining. Some places will not let you stay anymore for complaining. I don't need contacted back. Please just help the hotel get things fixed properly so other guests will have a pleasant stay as I have many times before. This motel has been very quiet and peaceful to stay at. Any help to them would be appreciated for myself and Future guest that stay. If you contact the manager on these matters It could cause issues with any future stays I plan, cause I complained, so keep that in mind before contacting the manager please. I do not won't my complaint to effect any future stays here. And fear my complaint could effect future stays if the manager was to get upset about my complaint and assumed it was me considering I informed him about the problems. Help is all they need to get the problems fixed. Not someone informing them about a guest complaint and chewing someone's a$$ about it. It happens, things break or malfunction. It was just my bad luck a day or two when I stayed and things didn't work properly. And it costs alot of money to fix stuff and it could just malfunction again. Overheads a pain in business. Again, be wise before contacting the manager about these issue, for I don't want to not be aloud back to stay because I complained. It's 11pm now and in my room the temperature is warm and not cold like other rooms I have stayed in. Even an employee said her room she stays in don't get cold. Heck, if the funds are available new units in some rooms may be needed. A good a/c tech could evaluate the units and confirm the bad one's. This problem is fixable. It was just one of those days when bad luck happened. It's understandable, just upsetting and rough when it's hot and you needed that cold air to cool the room. If you have some older a/c units from other locations that are in good working order, heck send them to motel 6 white house Tennessee. It'll keep costs down for them. No guest should suffer the heat as I did tonight do to no other room available on ground floor. I'm dealing with it and will only because this place has been kind to me every time I've stayed, and has been my first pick of hotels to stay at in this area for over 3yrs. I want to continue to come here to stay for a good peaceful nights sleep and service of good people. I think it's just time to fix some things that needs fixed. Thanks again.. p.s The pool needs fixed as well. Lol

Rachel Smith
from Decatur, GA
My reservation was cancelled by the hotel because they supposedly tried to charge my card 1 hour after check in and it was declined. Motel 6 has never tried to charge my card before I have arrived. No one can give me answers as to why they even tried to charge my card before 6 pm and I am irate about it because My family had to sleep in our vehicle.

Morgen Robert kirk
from Santa Ana, CA
I rented a room 07/05/2019 motel 6 sheldon-gurley Prescott AZ86301-86303, I am trying to prove I rented a room between 22:00-23:30 and for some reason there is no record of me ever checking in I paid 130$cash and presented my I.D.to the front desk clerk and I thought it was room by 234-235 I may be confused but I dont think so I'd appreciate a response at your earliest convenience thank you

Rocky and Iris Birdsey
from Crestone, CO
Terrible dirty air conditioner. The filter was black and the grill was 1/4 in deep in dirt. Good thing I went with clorox wipes or we might have legionnaire disease. No shampoo or kleenex. Had to ask for toilet paper. Head of bed was dirty. Sheets were not fresh. I pulled the sheets before I left just to make sure they would change them and the mattress cover had blood and fluid stains on it. I SLEPT ON THAT! YUCK! A menu for order in was in the room but no table if you had. The bottom of the tub was covered with dirty stains that had to be wiped with the clorox wipes.When I checked online for motels close to a medical appointment, the rate said $54.00. I ended up with nearly $90.00. Outside the door of the room there were cigarette butts laying around and a big cob of hair by the door. Stairs nearby going up were filthy. I worked as a cleaner on ranches in the Creede Colo area for 20 years and would have been fired if I left a room in the condition I found it. I was told the reason there were no amenities is corporate thought the room was nice enough for the price without furnishing any extras. I sure do not agree! It is pretty standard to think if you go for a night or even a few you won't need to take a big bottle of shampoo or your own kleenex or T-Paper. The mirror was bigger than the TV. It was ridiculously small. We do not stay in motels much but had always found Motel 6's good till now. This one in Colo. Springs needs to close down.

Kathy Abbott
from Woodland Park, CO
#1. Our room was disgusting. The toilet wasn't even flushed!
#2. John fell off the shower stool which was very small. I couldn't get him up and called 911. John cut his toes up trying to get in his wheelchair. I called the office and told them what happened and to ask for bandaids. They said no they didn't and didn't even ask if John was okay.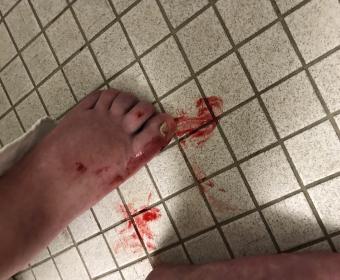 My complaint isnt about the motel persay its more about the night clerk/auditor at 1640 Hilltop in Redding california. Shes very disrespectful to the security officer who's only doing his job and the nerve of her because all she does is check people in and send the remaining time on her phone! She dont organize or do anything.I felt sorry for the security guard because I seen him walk around for hours patrolling and stopped someone from trying to steal from a person car.

Susan Denzel
from Stratford, CT
We booked June 29, we arrived at 2:30 pm. The girl behind the desk sitting in a corner and appeared to be on something, she kept putting her head in her shirt speaking through the fabric. I asked her if she was sick, she said no.
So I just left it alone! Got to the room and the keys didn't work, she forgot to program them. After a long drive from Maryland, we were tired. I laid down my husband sat in chair by the other bed. He looked down and saw a stain on the bed skirt a closer look at it and a very obvious seman stain was on it. Disgusted we called downstairs and no manager was on but they sent up a maintainence man. When he arrived with another guy from the front desk, they both looked at it and started laughing! We told them we wanted another room. They left to make arrangements. We sat there waiting after a half hour. We called to see what was happening. They told us first that is gonna be a while. We told the. We were tired from a long trip, and want to get settled. Then he said they are booked and they have no rooms, And if we wanted our money back we needed to leave now! Which is what we did! We booked this hotel from Maryland. Where it was rated 4 star. The halls smelled of smoke, in a non smoking hotel. The help were totally unprofessional. the staff needs to be replaced, they could care less about that hotel. A bunch of popcorn was spilled in lobby under couch. And was just left, the lady at desk stayed in corner and made no effort to clean it up. The shame is this Hotel could be a really nice hotel worthy of a 3/4 star rating if the staff was replaced and a tight Handle was kept on housekeeping. All new carpets, bedding, deco. Someone needs to do a secret visit and assess the place! I do believe you owe us a stay for free. I am enclosing photos of the disgusting stain.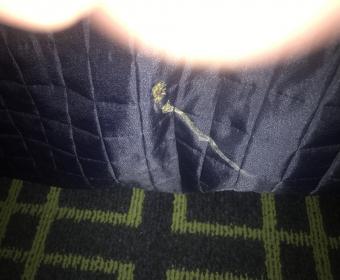 Nicole Kelley
from Washington D.C., DC
Our TV was broken, there were burn holes on our bedspread, hair in the shower, and some gross substance on the walls. We were given 10% off for a broken tv. We checked in @ 430 and asked if we could be moved to a different room w/a working tv the front desk agent said it would be hours because the housekeepers were behind and we should be greatful we got a discount. I work as head of housekeeping @ The Clarion Pointe and a room with a non working tv would be listed as out of service. My husband and I are loyal customers - we just spent 2 weeks at this same motel at the end of May while our house was under construction. The worst part was how rude the lady at the front desk was when I called back down to see if another room was available yet. I have attached photos - I believe a free nights compensation would right this situation - however if you care about your customers there definitely needs to be some customer service training.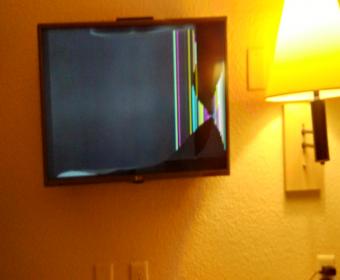 Tanya Dunn
from Riverside, CA
I was not very pleased with the service I got, most importantly and then the room I was given was unexceptional. I would appreciate it if you could take the actions to find out the poor details at this motel. Thank you

Audrey wilson
from Foley, AL
On June 13 after a very long day we pulled in the Motel 6 at 2:35 AM in White Houes Tennessee. We were exhaust and needed some sleep. This was our first trip after my husband having major surgery. We were denied a room because it was to late and we wouldn't get our moneys worth before checkout which was 11AM. I told them we didn't care we were exhausted we needed a room. They would not let us get a room. What happened to leaving the light on for you... Not!!!

Jenny Brown
from Conroe, TX
I have been staying at the motel 6 in conroe tx at 820 i45s since June 22 after being refused a weekly rate I have been made to check out at 12 then check back in leaving me to move all of my belongings daily from room to room. On the 26 I was put in rm 117 and complained about black mold in the bathroom and requested a room change which was denied. I rented a room for my 17 year old daughter for the same night. Upon trying to check back in I was told I could no longer stay at this property dye to renting the room for my minor daughter!. I am appaledat the lack of customer service and their refusal to move patrons when there is a problem. I have never had this type problem and will never recommend this motel to anyone. No one has offered to compensate me for the medication I am now on due to the exposure to the mold or for the cost of having to pay an uber to come pick me and my daughter up to move to a different location. Sadly this motel where offering the best rates has the worst customer relations.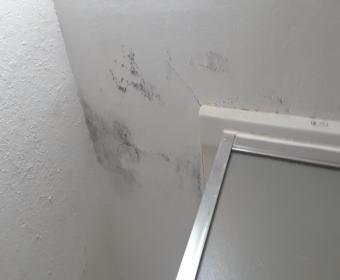 Kenneth
from Stockton, CA
I recently stayed at motel 6 in Oroville CA. My stay at this location was the worst stay at any motel ever. Myself a single father with a 11yo son was harrased by it's staff and other guest because I have behavior health issues. If I had my way I would fire all staff and start new. They are very close to street people and helped them harrase my son and I . My stay was around 2 weeks long the first 2 weeks of June and a overnight stay on 6/24/19 this was a very harrassing night to where I had to stay awake all night to protect myself and my son . The threats that they where saying from the room nextdoor was very scary for my son and I. The night staff that night was letting her friends into the room that was next to ours to deliberately harrase us all night. I really hope you can or will address this issue. Thank you

The day mamager was very rude for no reason just because i didnt understand there policys about paying for extra days

Robert osteen
from Apache Junction, AZ
I am staying at the Apache Junction Arizona Motel 6. I checked in on June 22 and check out on the 28th.
Your hotel says it is smoke free, but the hallways smells like someone is smoking.The grounds are littered with cigarette butts. Ive seen people smoking out there window, which has no screens for fresh nightly air. This hotel is not secure, anyone can walk in the back door. The riftraft that do stay here looks like drug addicted inmates from prison, with there skanky hooker... i am very disappointed and will never stay in this Motel 6 again. Our first night in the pool area we noticed that the hot tub was full of sand and could not see the bottom. 2 days later i used the pool cleaner to clean the hot tub myself..
There are 2 picnic tables in front of the hotel (the only shade spots), that should've went to the dump 5 years ago...
If i could get a refund i would take my business elsewhere.... sincerely upset customer....

William Piper
from Florence, KY
Motel 6 is a worldwide chain...but the thing corporate doesn't keep up with is their franchisee's...people buy these hotels or franchisee's through motel 6 and all they give a shit about is $$$$$...Tom bodebt has made $$$millions on motel 6...when it comes to individuals THEY DON'T GIVE A SHIT!!!!!!!!!!!!

Debbie payne
from Tucson, AZ
I stayed at the Motel 6 in Alamogordo NM fir three nights. The room was filthy. Had to defrost the fridge, trash cans were dirty, spit on walls, towel rack fell right off the wall. I have been being scammed by a David Brown who says he will refund my money if I get a gift card. I stay at motel 6 all over the world and am very disappointed about the to and then the scammer. I have his text messages if you would like to read them. This is really not a way to run a business. Very disappointed and UPSET I surely do deserve a refund I won't there to bury my momma and had to live in filth. Told the desk clerk about the situation with the fridge and she told me we gir a bad one. What kind of way is this to treat a good paying mMotel 6 customer. I have pictures if you want to see them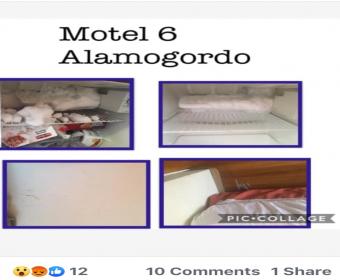 Misty Caldwell
from Chicago, IL
My family and I stayed at the motel 6 in Charlotte NC next to the airport. We checked in on June 8. The first room that was given had some one living in and it smelled bad. When I made the reservation I asked for a king size suite. So the next room was a so called king size bed that looked more like a queen. So I went back down and asked the a two bed room was told it was goi g to be extra. Also when I booked the room I told them the times our flight was leaving and returning I was told it was no problem that the shuttle would be able to come and get us. They never let the driver know that we needed a ride just happened the driver came by. I also asked 3 time with our flight coming in at 1am that we could still have the shuttle come and get us since our car was there. All 3 times I was told not a problem. Before I left Denver I called to check again and was told to call from Baggage claim and some one would come and get us. When I called at 2:45 am for them to come and get us I was told the shuttle did not start till 4am. We had planned on staying there before driving home 4 hours a way, but my husband had to get a taxi and pay to get back to the motel to get our car and come back to the airport to come and get my son and I. I called the motel and told them I would not need our room. After all that I would not stay there. So we ended up drinking back home to Roanoke VA. This place was a joke and I would not recommend it to anyone. The staff was not very friendly. They asked like we were bothering them.

Jennifer Bolton
from Boise, ID
My room was a complete disaster when I first got there and when I told the manager or whoever was behind the desk he told me to get hot water and clean it myself and I stayed for seven nights and I didn't see the cleaning lady once I had no towels and now I'm being charged on my card first charge was $250 and now I have $150 charge and I know this is been within the last week and I am very unhappy

Scott Harrington
from Porterville, CA
One could get better accommodations at a homeless tent city. The first room we were put in didn't have any electricity. We asked for a non-smoking room and the second room had more smoke in it than the neighborhood bar. The third room was dirty but was the best they had. There was garbage on the balconies. A broken toilet setting on the balcony right by our door. Junk cars in the parking lot. Loud music until 11pm. refrigerator was noisy and moldy.

Elsa pacheco
from Fort Worth, TX
Checked into motel went to room went to request a new key refused a new key and refused refund

Robbie McLeod
from New Braunfels, TX
I stayed at the studio 6 in New Braunfels Tx. My stay was good until they took extra money off a card I booked the room with when I had paid already with cash and another card. I had asked for them to give the manager my number to have him call me back today they refused to give the manager it. They told me I had to wait until tomorrow to talk to him I've been a manager before and that's not the way it's suppose to be they are to be there to deal with the customers at all times. I want my money back today

Alec a
from Kennewick, WA
I'd like to stay with Motel 6 on my next trip but they dont offer late check out at all! I drive at night so its cooler on my car and thought motel 6 would be the place to have it for sure.

Joseph Powell
from Philadelphia, PA
This is my response from my complaint regarding my stay at motel 6 in hope Hull, Alabama. That were very rude when I received this response.
The Motel 6 Montgomery Airport - Hope Hull AL read your feedback and here is their response:
"Ms. Jacqueline, I feel sorry that you writing on behalf of Mr. Powell and not writing the true. If the room was dirty and have roaches then why Mr powell made another reservation and extended his stay? About Laquanta to be mean; you can't tell the front desk to go outside and unload the luggage from your trunk. Mr. powell is a nice person and he don't have any problem. Only you have the problem and you can choose some other hotel for your next stay."

Marcos A Mata
from Ashburn, VA
I stay at the motel 6 1401
1401 Bloomfield ave
Baltimore MD 21227 room #445
My room floor was so dirty the I never take my shoes off the tv remote control wasn't working everything was dirty in that room I call the front desk to report and ask for more towels but I think the don't care I never got the towels after I shower I use the towels to clean the floor
The next day I reported to the manager and don't cara what he did was refund 10 $ dollar of my bill he not even apologized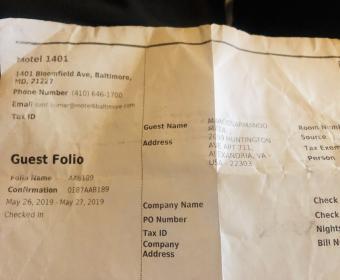 Have feedback for Motel 6?
Thanks for your feedback!
Sorry. Please try again later!