Marriott
Marriott Complaints Continued... (Page 2)
213+ reviews added so far. Upset? Call Marriott corporate: 1-800-721-7033

I made a complaint over a month ago regarding excessive noise during one of my previous stays. I received the email below:
"Thank you for contacting Marriott!
We have received your email. For your records, the following case number has been created: 112549240.
One of our team members will review your inquiry and respond to you as soon as possible with a personal reply.
Travel Brilliantly!"
As I stated in my original complaint, I have stayed at your hotel over a hundred times and I have never made a complaint. For me to actually take my time to launch such a complaint means the infraction must have been pretty egregious. Then to receive inappropriate follow up by your company is very disappointing. The original complaint was an annoyance but not something that profoundly changed my view of Marriott. Your lack of follow up to a customers complaint has changed my view of your establishment.
Extremely disappointed in your lack of customer service.

Got hit with unexpected charges $10 to Park overnight, key deposit. Additional deposit was in the fine print which none of the dance troop parents saw and each deposit was different. Empty soap dispensers. Took 8 days to get my deposit back. Made a complaint 7days ago and no one called me back.. One parent went down the street paid the same price with a continental breakfast. One parent ended up sleeping in a car in the parking lot. Competition season next year no Merriot's

I contacted customer service about an issue with my credit card being charged.
I am a Mariott awards member for several years. I can't believe that customer
service would even treat me this way. The man refused to get his full name
but his name was " Carlos" he treated so disrespectfully and rude, I am not even
sure I can justify myself or my employer to use Mariott moving forward.
I am so disgusted by his behavior.
Mariott Bonvoy 893758938

See attached copy of email to Christopher Heaton, General Manager of Wheeling WV Springhill Suites, informing him of our unacceptable stay on April 11, 2019. We believe that is the falut of the management/ownership at this site and that changes are needed. We have stayed at this site numerous times in the past and have been very pleased. As of now we will continue to stay at Marriott facilities across the country but not at this site unless changes are made. Thank you for your attention to this. William Deines, 502 445-5557 (cell), 502 458-6428 (home). Marriott Bonvoy # 098232374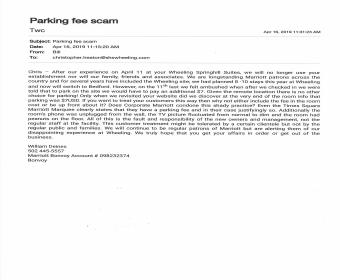 I made a reservation to stay at the Aloft Marriott in Rancho Cucamonga, California to stay the night of March 23. I had a confirmation number and they charged my credit card for the room on March 22. On March 23, the night of my intended stay, at 8:30 pm I called the hotel to let them know I would be arriving around 9:30 pm. At that time they told me that the hotel had been oversold and they did not have a room for me. They did not offer to help me find another hotel even when I repeatedly said , "So you are going to let a woman sleep on the streets after you charged her credit card". I was able to book myself a room at the Residence Inn but it took me a half an hour to convince them to honor the same rate as I had with the Aloft and they kept telling me that they couldn't do this. I am beyond bewildered that this is how Marriott is treating people. On March 25 I filed a complaint with Marriott wanting to be reimbursed for my time and stress. The complaint number is 114168570. I have called 3 times about this. No one at Marriott or the Aloft hotel has had the courtesy to contact me. This is crazy. I expect Marriott to reimburse me for my time and stress. Giving away a persons room, not notifying them, nor helping them, and then ignoring their complaints is not OK.

Debra J Dougherty
from Hazleton, PA
My daughter, Erica Dougherty was a guest at the Springhill Suites, Marriott Village Orlando, Florida February 5-11,2019. She is an employee of Varsity Brands and was working at the Universal Cheerleaders Association National High School Cheerleading Championships. The reservation was through Varsity, she stayed in Room #3502. Late on Sunday, February 10 when she returned to her room after her shift and was packing for an early morning flight, she discovered that her Ray-Ban Prescription glasses and case were missing from the room. she immediately went to the front desk to report this possible theft. She was assured that it would be investigated and someone would contact her. In the early morning of Feb 11. before leaving for the airport, she asked and was told that a report was filed. We heard from no one. When she returned to Pennsylvania, we ordered new glasses at a cost of $285.00. On March 6, I called and spoke with David Tavarez, who seemed to know nothing about the situation, but assured me that he would investigate/interview employees and call me. He called Erica that evening to say that he was working on the matter. We never heard from him or anyone. On March 21, I emailed David Tavarez to give one more chance to get in touch with me before I contacted Marriott Corporate, no reply. Today, April 10, I am asking for assistance from you to be reimbursed for the stolen glasses. I have given more than enough time for this to be resolved. I look forward to your assistance with this matter. Thank you, Debra Dougherty
I can be reached by email or my house #(570)459-1703 or cell (570)401-9742

Our crappy stay started at check in. I had reserved a king size bed and our room had two double beds. We were staying with a Sorority function and had booked several months in advance. When I called to extend our stay the girl said it was no problem and did not give us a new confirmation number. The room itself was ok. The hotel restaurant, Rivercity Grill, was awful. Two nights in a row my husband ordered the steak well done. Both times it came out rare. The staff offered to PUT THE STEAK BACK ON THE GRILL. NOT! Once a steak is brought out you do not put it back on the grill. I have had a gastric bypass and asked that no garlic be put on my steamed broccoli. The broccoli came out with garlic on it! The baked potatoes was hard. The cheesy potatoes and mac n cheese were platable. I had to request bread and butter because the server, Ivan, was no where to be found. My husband had to get me a glass of ice for my ice tea because the server refilled my glass with no ice. The crab cakes were mostly filler with very little crab in them. We had to wait forty minutes for our dinner when no one else was in the restaurant,. My breakfast muffin was rock hard, the coffee room temperature, and my scrambled eggs were runny and unedible. After the manager was called over they took off $20 off the second dinner bill. THE SERVICE WAS BEYOND AWFUL. It look another twenty minutes to receive the bill and we were the only couple seated. We were told a pool was available to find out the pool had been cemented in three years earlier. I will never recommend your hotel and nor will I ever pay to stay in another Marriott. I would give you NO STARS but that is not an option on this site.

Curt Stanley
from Redding, CA
I stayed at the Towneplace Suites in Roseville, CA and at the endof my stay, realized that myself and my group of employees were charged an incorrect rate based on allowable lodging rate for Placer County. I was told that they were going to charge the higher rate becauise we had a choice to stay there or in Sacramento County where the allowable rate is higher. The General Manager, Ezekial Mederos, was unwilling to consider adjusting our rates to reflect the correct lodging rate and was extremely rude when I talked to him on the phone. I will never again stay at this facility and will ensure that my network of co-workers will never stay there again as well. Customer service was non-existent at this hotel.

DEBORAH DUNCAN
from Randwick, NSW
People in this conversation: SERUWAIA NAHALO
Bula Deborah
Thank you for your response- as requested, please find below a copy of your comments on the survey DEBORAH DUNCAN responded to a survey:
1
GSS: Overall Review Comment: We have stayed at this resort for the last 12 years every year and sometimes twice a year. This year was the worst experience we have had. The list is endless and I do not normally complain but however since the hotel has been taken over by the Marriott group the hotel has lost our business forever. I will never stay there again which is such a shame as we have made many friends that work at the hotel over the last 12 years and unfortunately we will not be able to see their happy faces any more. I think it is great that you do a survey about the hotel but in reality do you actually do anything about the comments - I have commented on small things in the past and still nothing ever changes. We can start with the breakfast if you can call it that - I understand that the breakfast area had to be relocated whilst building works were going on to repair the roof in the usual breakfast area but that does not excuse the fact that the coffee machine never worked once, and when they tried to fix it every morning and then running out of eggs and could not be bothered to get any more eggs, finding our own knife and fork to eat the breakfast , no tea offered to my husband on any day. In the end I paid $48.00 fijian to have breakfast outside of the hotel when breakfast was included with our deal. I also feel that you really don't understand how poor the average Fijian person is - cutting back their days so now they have to have two days off a week, how do you expect them to put food on their table at night for their families.
We note the laundry has been closed for the resort to enable the sheets and room towels to be done on site at their laundry and have been outsourced which has lead to absolutely no towels available to late afternoon or none at all. People were going to the front desk and complaining to the staff which was not their fault there were no towels it was the Marriott decision to close the laundry on site to save money. All you have done is in my instance was the towels that were finally in my room I hid them in a draw so at least I had some towels to dry myself with every day as none were available and you can say this is a four star resort??? . I will not be renewing my pacific membership at all which I used frequently in the past 10 years with the Sheridan card and vouchers.
GSS: Staff Comment: Again we have been going there for years and years and we always ask for room 1520 - whilst we understand it is not always possible to get that room after all these years you would assume that a room would be given somewhere in that block of a block near by and not at the back of the hotel where we were put - we were moved after repeated requests the next day to a suitable room being 1470 which was fine. The staff are are unhappy in general they are all worried about when the hotel closes for renovations they will have no income to put food on the table for their families. Life is tough over there for many of them and some families are seperated for months on end as their husband or wife work on an island just so they have a job and don't see each other.
GSS: Room Comment: It was clean and comfortable and the cleaning staff were very good. The new products that you have in the bathrooms are a disgrace (I assume they are 'no frills' products, terrible and you should be ashamed of yourself to have these products in your hotel.
Warm Regards
Seruwaia
SERUWAIA NAHALO
Rooms Division Manager
T 679 6750 777 M 679 7702 044 F 679 6750 818
>

John landis
from The Bronx, NY
I have 3 kids and a wife we stayed at the hotel Thursday night the lady a the front desk swooped my card to many times and it took all my money. Me and my family had plans for the weekend but we can't Evan eat I have no gas in my car to get to work Monday morning this is a mistake on the hotels part and me and my family are the ones that have to deal with it. First of all they make me feel like I was coning them and now I filled like rhey aren't taking me serious I'm very in happy and pissed off that my weekend was ruined with my family and now I can't get to work Monday morning cause I still don't have the money that the hotel has taken from my account

My wife and I recently stayed at Towne Place Suites In Charlotte Arrowood, North Carolina. This was our second night on our trip home and once again experienced a very bad incident at the for mentioned property. We checked in about 2:00 PM and noticed that our room was very cold so we set the thermostat to 75 degrees. We then left to visit and have a late lunch. We then returned to the room at approx. 5:00 PM and noticed the room was still very cold, about 65 degrees. Obviously it had not warmed up at all. We called the front desk and notified them of the situation. We were told that the maintenance person would be notified and stop by our room. We waited for over minutes with no response. We contacted the office again and were told he was working in another room but would be at ours shortly. He finally arrived at 5:45, after working on the thermostat the room still had only warmed two degrees. We then checked out the adjoining room but noted it had the same problem.
We decided to stay in the room despite the cold temp., throughout the night we experienced the cold temp. and did survive till the morning. The following morning I did repeat my concerns to the front desk with little response. This is the second issue we have had with this brand and will never stay at this brand again. Marriott needs to examine exactly what they are attempting to do with this branded product and make a concerted effort to improve the product. Overall, poor service, dirty room, poor food and no heat.

Maggie Yan
from Saint Leonards, NSW
Hello there,
I cancelled a stay with Westin Melbourne on 22 March, as my travel plan changed.
Cancellation Number: 63910250
Sun, Mar 24, 2019 – Mon, Mar 25, 2019
Then I got charged for NO Show fee.
Anyway, I checked in on 25th March and spoke to your staff and sent my cancellation email to reservations@res-marriott.com.
The staff said he would follow up and let me know the result.
However, I haven't heard anything from Westin Melbourne afterwards. Nothing.
Also I emailed Abigail Knight who processed my NO Show fee. But still no feedback!!!
The booking was cancelled in time and why should I be charged.
If it's a system issue, it's fine. But why nobody contacts me for an update???
I need a refund for the fee. Can't upload the emails. Let me know if you need them.
You help would be highly appriciated.
Thanks and regards,
Maggie

Steve McGarvey
from Oak Park, IL
My stay on March 11 to 15, in Salt Lake City, UT.
When I checked into the Marriott they notified me that the water was shut off until 6PM.
The next day the water would be off between 9AM and 6PM.
This was very inconvenient and disappointing. Please compensate me for the two days without water.
Thank you,
Steve McGarvey
080326267: Bonvoy number

January 18, 2019 we went to Nashville Tennessee to be with my brother-in-law who was undergoing a heart operation at St. Thomas Hospital(west). After a nine(9) hour operation we needed a room close by to rest and relax for the night. During the day my phone stopped working and I asked my sister-in-law to call Courtyard in the Green Hills Mall( I used to work in Nashville and knew it was there). She tried to book through Orbits but for some reason they could not get my card information to go through and so called Marriott reservations and said everything was taken care of and gave me the reservation number which I lost before we arrived at the Courtyard(it was a very long and chaotic time). The lady at Courtyard said they did not have a reservation and they only had one room remaining. It was dark, raining, and my wife(who is handicapped) was exhausted so we took the room, had a very restful night(room 218) and went to St, Thomas early the following morning(January 19th). When we arrived home and I checked my emails I saw both the room at Courtyard and a room at Residence Inn were billed to my card. We did stay at Courtyard(total of $207.30) , but not at Residence Inn(total of $162.70) where it appears for some reason we were booked at. I have called the complaint dept. several times without a positive experience. I am sure a company such as Marriott does not want to take advantage of some ones misfortune by charging for two rooms on the same night. I booked with a Citi AT&T card but they said Residence Inn refused to restore the $162.70 to my card and could not issue a credit. We are not trying to "beat" Marriott out of anything and have mostly positive experiences in the past, but I do feel it is not the right thing for Marriott to double charge us in our time of need over a mistake or misinformation. Thank You in advance. Bill Martin

I am trying to reach someone in the billing department to discuss how our credit card was charged multiple times. We have talked to a woman in reservation and we could not understand her very well but ended up reserving room 4 rooms. When she tried to email our reservations she had difficulties so we end up cancelling the rooms. Then we went through another difficult hour where we ended up reserving 4 rooms. We are a school and we received our credit card statement yesterday and have numerous charges and credits. The rep had difficulties emailing this info so we cancelled these rooms and we entered new the reservations. The rooms that were suppose to be cancelled were as follows: Dated 1/31/19 #56946581, #56946578, #56946577, #56943123; reservation was for two nights arriving on March 11, 2019 and leaving on March 13, 2019. It looks like we are being charged for these rooms in the amount of $2320.56. We need this attended to immediately and a refund given for this error.
Our actual rooms were #84445356, #84445260, #84445261, 84450439 and we were charged $2785.45 for these 4 rooms. We need to have all of the charges credited back on the school credit cards and then rebilled for the $2785.45 and we are requesting a receipt for the amount paid. Please reply as soon as possbile. Thank you, Laurie & Cecile

Staci Pacetti
from Riverton, NJ
To Whom It May Concern:
I recently stayed in the above Marriott hotel for a soccer tournament this past weekend. From the moment we arrived, we encountered issues and unfortunately the stay was not a pleasant one.
As a soccer traveler, we are mandated by the tournament to use Anthony Travel to secure hotels through a room block. Unfortunately, some of us could not utilize the block because the types of rooms available did not fit the needs of the families involved. Therefore, we could not be given the block rate of $139 per night. The bigger problem is that each different family was charged a different rate and some were given breakfast vouchers and others were not.
I had booked online with a code my husband was given for work at rate of $97/night. When I arrived, I was told I could not use this code because he was not there to show ID (which I understood). I was subsequently charged $154/night without breakfast. My fellow soccer parents were all charged varying rates ranging from $129/night all the way to $171/night. These rooms were not suites, etc but 1 king and pullout bed room types. I am not sure how this is not criminal that all of these rates can be assigned to the same type rooms at the hotel. It was as if they were pulling prices out of a hat. In addition, I was told I would have to purchase breakfast for my family but then proceeded to watch the Marriott worker hand out breakfast vouchers after a parent complained.
I was beyond frustrated by this stay and disappointed in the service I received. I am a Gold Elite member and we almost exclusively stay in Marriott hotels for all of our travel. I want you to know that I am seriously reconsidering this moving forward.
Thank you for your time and attention to this matter. I look forward to hearing from you soon.

Michael Crawley
from Danvers, MA
To Whom It May Concern:
While the staff and nice and the facility is rather well maintained, following one week of my stay, I must say this is one of the worse hotel experience I have EVER had (and I travel regularly).
1) Several missed wake-up calls were missed!
2) Room service did not service my room on more-than-one occasion (despite the fact that I DEFINITELY DO NOT have any door signs on the knob to indicate otherwise)!
other room issues
3) Non-working coffee machine
4) Non-working Desktop light (and despite the fact this I informed the Front Desk about this matter for several days in a row), the only response that I received were/are items #1 and #2 above, as well as
5) Random knocks on my room door.
Again, the staff seems really nice and friendly, however, this has been/is a really horrible stay experience.
I am absolutely abhorred!
Confirmation #: 74968156
Case #: 113565364
Please assist,
mc

WHEN I go to the Burbank location I always stay at the Marriott Hollywood/Burbank airport location. I will book ahead of time and get a great room for a great price can not complain ,arrived at the airport on the 19th and found out someone forgot to make my hotel reservations.so I decided to just go and put it on my card . for two nights the cost was almost 700 dollars ? the room was directly across from the elevator that I had to listen to all night and I have never seen a room so small ,I actually had to shut the bathroom door to get into the shower. and there was not a place to put my clothing like a bench or chair?? I feel I was taken advantaged of . yes I know I could have gone some place else but it was late .

Rod Yates
from Campbellfield, VIC
Apart from the fact my two day stay was enjoyable and memorable, I am very disappointed in the fact that despite my usual vigilance in locking valuables in the safe or my case, I have had a pair of very expensive Head Phones (AU$500+) stolen from my room.
I know I can't prove the theft, but just wanted to inform you of my problem.
As a Platinum Elite member, I hope there is some compensation.

Ksenia buzlaeva
from Erragadda, TG
One of the girl from w Dubai palm hotel she was taken our contact details of our and she is calling to my husband and she is saying that she wants to meet my husband for the money. if we are not going to the give the money to her she is telling us that you cannot able to check in to any of the married hotel that she will put us a black leas. The thing is we came to hotel and we stay with our family and we paid all the bill at the hotel. And now she is telling that when we stay in w Dubai the palm we have some privacy photos which we take in the room me and my husband and she also telling that she put the cc camera in the room and all the things we did the room everything was recorded and she was sending to my husband and blackmail and asking for the money if we are not going to give the money to here she is telling that she put in social media and all the websites.This what you Marriot staff is doing with us this how gaining the money From the us her name is Gargi sivanandan I don't which department but for sure she is working in w Dubai the palm but please take the serious action on her if not I will go to high authorize
Regards
Ksenia buzlaeva

Joyce millar
from Philadelphia, PA
CAN'T GET THROUGH TO EVEN MAKE A RESERVATION.

Bobbie Jones
from Harlingen, TX
I checked in to the hotel on 3/7 and out on 3/11/2019. I was there for the Super State Chess Tournament. I did not received the price of $99.00 for the room as the blocked rooms were already taken when I tried to book, it took three telephone calls to finally book the room I was hung up on 3 times. But after arriving I asked for the breakfast tickets for my two chess players one 8 and the other 12 and the lady at check in would not give them to me and I was pay full price and was in room 801 on the 8th floor. But after talking to other member of our team that arrived the next day they were able to get the $99.00 rate along with tickets for breakfast for their whole families. I feel like I was treated very poorly and I am a senior 75 years old. I had to ask to have our room cleaned every day and get coffee for the room. Our TV quit working on Sunday it took all day to fix and never had local channels. Also, many of your employees at this hotel could speak English very hard to communicate with them. Your people at the front desk were very rude and hard to understand. I feel like I was discriminate against and treated very badly.
I am staying at your Gaylord Hotel in late April for the National Chess Tournament I hope I am not treated like this when I arrive there on April 26, 2019.
I feel like your staff could use customer care training.

I stayed in the Marriott Houston Westchase from March 7 checking out March 11, 2019. I went to the hotel for a state chess tournament which was supposed to have a special rate. I was too late booking because all the blocked rooms were booked, but when other people from our area (Harlingen) arrived they paid the first night but the next two nights they received the rate of $99.00 per night for the tournament. Also, they received free breakfast tickets, when I arrived I asked about them and was told no I did not book in time, therefore there was a lot of discrimination going on about who would receive free breakfast tickets and lower priced rooms. I had to pay the full price for the room (801) for each night and pay for all of our meals we ate at the hotel. The ladies at the front desk were VERY RUDE, very hard to understand, the ladies in the Starbucks could not speak English, not one person in our group could understand them. I had to ask every day for clean towels and coffee service and this was after 3-4 in the afternoon. The television quit working on Sunday had to call a service person and that took at least 5 hours and then could not get local stations. Also, the maids never vacuumed the room one time while I was there, nor could they speak a word or English. I know people need work but they should be able to talk to your customer where everyone understands the situation. I feel like I should be refunded or credited for at least two nights at the rate of $99.00 like everyone else received.
I will be staying at the Gaylord in Grapevine, Texas and I hope I do not receive the same treatment as I received at your hotel in Houston on Westchase. It was very disappointing to be discriminated against when I had two boys 12 and 8 playing chess and never received the same concessions.

Robin Santanello
from Asbury Park, NJ
I was involved in an accident where a Marriott employee was driving the golf cart,made a quick turn,and was dumped on the ground.I ended up with stitches in my head,and upon returning home,and being x-rayed,broken ribs.This happened on February 26,2019,at The W,Costa Rica.

I was scheduled to stay at the Springhill Suites by Marriott in Kennewick, WA on 2/4/19. A snow storm came through that day and I was unable to land in Pasco/Kennewick on 2/5/19. I called early the next morning as I was unable to call late that night when I finally learned that I would not be making it into Pasco/Kennewick at all. I called EARLY the next morning and talked with a desk clerk who indicated that she understood the weather issues and I wouldn't be charged a "no show" for 2/4/19. I was able to make it in on 2/5/19 and stayed one night. I received a bill which reflected one night's stay which was appropriate. It is now one month later and a mysterious charge showed up on my card and I had no explanation for this charge. I called the local office and because I no longer have the female clerk's name, they will not reverse the no show fee.

Will not allow you to book a room at florence sc if you lived to closed 62 years old was refused because the hotel says people r destroying and having wild parties , what is this al the surrounding hotel was booked up and front desk told me and my adult son this 10 PM, this was an emergency no game,

Sarah Hart Ott
from Evansville, IN
I stayed at the Courtyard Atlanta Northlake in Tucker GA on 2/10 & 2/11. I moved to the Sheraton downtown for 2/12. I started having severe itching on my hands and neck on 2/13. Upon arriving back home, I went to my company clinic and was diagnosed with scabies then to my dermatologist and had a confirming diagnosis. I sent an email, was issued a case number (103775307) and was told that I would be contacted in 3 - 5 business days. It's now been 2 weeks and I have heard nothing, I have also sent 2 follow up emails with no reply. I have been a loyal Marriott customer (rewards number 131047301) for many years. I am extremely disappointed in both the conditions that caused the scabies and with the lack or regard or follow up from the Tucker Marriott. I would appreciate if someone would just acknowledge that they have been receiving my correspondence.

I have spent over a month trying to get help from Marriott's customer service. I was charged for 2 rooms at the Marriott Detroit Airport at 30559 Flynn Drive and I did not stay there. I had booked the room but upon arrival the hotel had lost power and could not check anyone in or open hotel rooms. The hotel offered to shuttle us next door to another Marriott hotel where they had rooms available. The first hotel we did not stay at charged me for 2 rooms 4 days later. I have been trying to have the hotel fix this. They promise to and do nothing. The property controller Daniel Hall never calls back. Marriott customer service was able to get one room credited. I have spent weeks trying to get the second room credited. Today I find they have re charged my account for the first credit. This is on a corporate credit card. I never expected such terrible management from Marriott. They should be embarrassed. I have been a gold card member and this is how they treat people. Never once I have a got I'm sorry. What do they think, I'm lying or if they drag their feet I will just go away. Nope - getting my legal department involved now.

Wow, where to start. We stayed at the TownPlace Suites Albany University Area, Suite 118 on Sunday, February 24 this year. 5 major complaints from just one night there (pictures attached):
1. We had to wait at least 5 minutes for a desk clerk twice -at check-in and when I wanted to buy candy bars from the lobby area around 7:30 pm (in fact, I had to leave cash on the front desk after waiting for someone for more than 5 minutes - no one ever did show).
2. After making a pot of coffee, I went into the cupboard to get a coffee cup. I almost got sick when I saw how filthy it was! (picture attached)
3. The bathtub had a nasty looking stain in it (picture attached)
4. We paid extra to get a 2-bedroom suite as there were 3 of us staying. One bedroom was very small which is ok, but the dresser was placed in a way that it was impossible to close the bedroom door! We would have had to move the dresser completely out of the room to close the door - so it stayed wide-open all night. (We could see marks on the edge of the door where others had tried to close it.) (picture attached).
5. We were informed by the desk clerk that there was a $10 parking fee in addition to the price I was quoted in my confirmation email. When making my reservation, there was no mention of any parking fee.
I am actually embarrassed for Marriott that their name is on this hotel - it was truly an extremely negative stay for us - and it left a very bad taste in our mouths for Marriott. I strongly encourage that you have someone investigate my complaints and I think that you will quickly agree with me! Robert Harder Confirmation Number: 74945248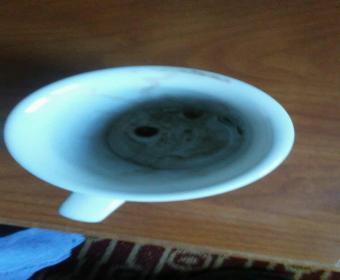 Stayed at Courtyard in Las Vegas on Rainbow last week....lots of problems:
Lack of knowledge from check in representatives.....
Stood at front desk for over 10 min waiting to ask question....clerk was on phone and never even noticed me...very poor PR skills
No complimentary coffee or tea 24 hours
Very loud noises coming from room above us....at 3am....called front desk many times...no answer!! loud music went on for 45 min.
Room was very clean
Food at Bistro was awful....
I stay at Marriot Hotels very often and this was the worst experience I have had...

I tried twice to make a reservation by telephone at your Westin Hotel 6631 West Broad St Richmond VA. The first time was at 9 pm. It took me 4 minutes to get through your voice system. Then the reservation person put me on hold for 5 minutes. I was trying to make a reservation for a friend in her name, but pay for it with my credit card. She could not figure out how to do this She told me it was impossible, I told her that was ridiculous that reservations are paid for by the person other than the guest all the time. She told me I would have to fill out a form and get it pre-approved before that could happen. This whole thing required 2 separate phone calls and took more than 20 minutes with me NOT being able to make the reservation.
I tried again at 7:00 am this morning and got the same problem. This is a terrible way to conduct business. After more of the same, and again being told that I could not make a reservation for a guest in her name and pay for it with my credit card, I hung up and made a reservation at a different hotel.
I cannot imagine that you expect people to waste that amount of time with such horrid customer service and phone reservations.

OMG Where do I start? This was the hotel stay from hell!!! I checked into the Residence INN BY MARRIOTT in Norfolk, VA on 02/18/19 for a four nights stay and was assigned room 703. Upon entering room it was cold and I attempted to adjust the temp several times to no avail, was miserable all night!!! The next evening upon returning back to my room, again it was extremely cold. Again I made several attempts to adjust the temp. Finally, I called downstairs to request assistance with the temp, after waiting another hour and continuously adjusting the thermostat I received a call from maintenance asking that I stop adjusting the thermostat because they were attempting to fix the issue remotely....room temp finally acceptable. On Wednesday while taking a shower I turned around and was in such in AWWW and disbelief at the condition of the vent. It appears to be either a large accumulation of dust or mold. I was uncertain. I immediately phoned downstairs and requested for someone to come see and possibly remove the accumulation. Well someone did in fact come but he came with a yellow sponge left and returned with a brush and was unable to assist. The following morning (Thursday) I again complained to the desk supervisor who assigned me another room (720). I moved my personal belongings into the newly assigned room and quickly checked the vents due to time restraints. I informed the desk supervisor that the vents still had an accumulation just not to the magnitude of the first room. He assured me that the vents would be cleaned upon my return for the evening. Upon returning to my room, the vents had not been cleaned as assured and to my amaze there was also a dirty sock under the bed. I will go out on the limb and state that housekeeping merely replaces towels and changes sheets (I at least hope)!!!! Clearly nothing else is done. Again I am sadly disappointment with my experience and concerned about the health issues imposed on guest. This is totally unacceptable! I have pictures however, for some reason I am unable to upload. Please feel free to contact me and I will be more than happy to email pictures.

Lynette joel
from Atlanta, GA
We stayed at the Marriott residence inn 5th street Nashville for a convention . We left the hotel room at 9.30 am and returned at 2.30 pm. Our rom had not been serviced . We went to the front desk and requested that our room be cleaned and services. We waited 1.30 hrs in the lobby before our room was ready. We were both exhausted and really annoyed since I went back to the desk at least 6 times asking if our room was ready. We were supposed to be given extra points on the app that I signed up on which also should have included the stay . I see I have 0 points on bob voyage. Membership 826175858.
At $350.00 a night I expect to be able to have use of my room and a serviced room.

I had reserved an upper floor room at the Residence Inn Rocky Mount NC 01-17-19. Upon arrival i was told that since i had a assist dog we would have to stay on the bottom floor. The room was a mess and upon arrival the toilet was clogged up, it was very noisy and no one was responding to the issues with the toilet until i went to the front desk. My wife is hearing impaired, we keep our dog well groomed and bring our own sheets to sleep on. Being a platinum member i would think i would be treated better. I have lived basically in a residence in San Diego for the last 5yrs and they were exceptional. There were dogs on the top floor i stayed and they weren't even an assist dog like ours. My over all feeling was treatment was less because of the assist dog being present (Not Comfort Dog!) I will never stay in Residence INN again in Rocky Mount. if this is how impaired people are treated maybe i should switch to Hilton or others. Very disappointed

Gretchen Apple
from Irmo, SC
I was charged a smoking fee and do not even smoke. I have spent over `10k alone at this hotel and will sue if I do not get a full refund immediately. of the $250 I was charged. I have requested to speak with the general manager and NEVER HEARD back I. I am very disappointed and plan to sue for charging my card and having this false stigma on me ..I do not even smoke.
Please let me know it has been handled asap. 3rd attempt legal written
CC law, Hammond , LLC.

Diane DePalma
from Pittsburgh, PA
I am a Presidential Marriott member and time share owner. Most of our vacations and stays have been with Marriott since 1980. I just spent 10 days with friends at the Marriott Hutchinson Island Resort and Marina. The resort was totally not up to the Marriott standard. The rooms were poorly maintained and poorly furnished for the price. The management team was not considerate or receptive to complaints of noise, broken washers and exercise equipment. There was little communication with the front desk on events such as Elite meet the manager wine and cheese of any activity at the resort. Employees did not seem to know what events were occurring. No notification was given when an event was cancelled. There were very few scheduled activities for adults.
The facility itself needed upgrading. The majority of the staff were not of the friendly nature of the resorts and hotels we have stayed in before. The rooms were sound proofed so that you could hear everything going on in the room next to you. This is the first time I have complained about a Marriott or a Marriott resort. I do believe that Corporate should take a look at this facility both from a physical standpoint and a management standpoint.

Managers at the courtyard in Charleston WV and some of the employees are always high on dope, you need to check in to this. It's sad that nothing is being done about this, paper work is not up to date, maybe you need to sended a inspector again , there a lot of things not right there, Marriott has always had a good name but this is bad. Owner are hard to get along with, work you to many hours if you are on salary and talk Down to you, that's not the Marriott way.

Gina Pippenger
from Sacramento, CA
My recent 4-day trip to Ontario was not 100% positive. I checked in on Monday 1/28/19 and I checked out on Thursday 1/31/19. I was in town for business. I'd like to compliment the front desk staff. They were friendly & helpful, every day, all day. I'd also like to compliment the breakfast bar attendant. She was extremely attentive, making sure that everything was clean and delicious. And, the coffee bar was never empty! Thank you very much for that.
I chose Springhill Suites because it is very close to the airport, close to my office and the website advertised "Brand New Hotel". Myself and my coworkers travel on a bi-monthly basis. We normally stay with another brand name hotel but decided to try this one for a change. Unfortunately, although this hotel is brand new, my room was not acceptable. The bathroom floor was scuff marked and dirty for the entire week. The shower drain was full of hair on day 1. The complimentary lotion was half empty and used. The hair conditioner was extremely low. The house keeping staff showed up on Tuesday but did a sub-par job of cleaning and supplying the room. The bathroom floors were still scuffed and dirty. The ironing board was left out, the tv was left on, and the blow dryer was left on the sink. The house keeping staff did not show up on Wednesday. This was VERY disappointing. I called down to the front desk for towels & supplies at 8pm but they were not able to clean my room.
I'm attaching a few pictures. I hope this will be taken care of so future travelers will not have this disappointment.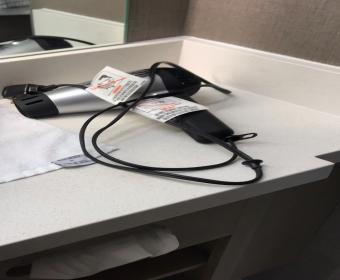 Roy Harris
from Boca Raton, FL
You ROBO caller keeps calling me even when I have requested removal more than 1 week ago it calls me at least 5 times a day and I am going to call my Lawyer in the Morning and sue you for invasion of Privacy my phone number is 360-201-3969
I will never stay at a Marriot Fuck off already . I have had enough

I want to know the management company who manages the Marriott North in Ft. Lauderdale Florida. The following is my complaint which is serious and I want to know this information ASAP. I am chairman of my high school reunions. We will be having our next reunion, our 60th, possibly the first weekend of Nov. 2019. I am looking at hotels to have the reunion at. Our past history with Marriott hotels is we have had a total of 8 reunions at different Marriott hotels in Broward County Florida. We have averaged over 200 guests at the reunions and book over 40 rooms these hotels and we have the reunion cover from Friday to Sunday.
What I am upset with we have had 4 reunions at the Marriott North in Ft. Lauderdale plus my wife and I celebrated our 50th anniversary there with over 130 guests for the weekend. My daughter has had 2 or 3 Christmas parties there for the University of Miami.
The main reason for the unpset is I have called and left messages for the banquet office 5 times leaving my reason for the call and my home phone number. I have also been told that the front desk manager would call me back as soon as he came in at 3PM yesterday 1/29/2019. No one called me back. I called 3 hours later and asked to speak to the night front desk manager and the front desk gal told me she would give the phone to the manager. After a short wait the phone rings and I have to leave a message. I want to know how to contact these lousy managers to find out about getting prices for a 60th year reunion. If I get no results I will go to other hotels for my reunion. Please let me know ASAP. THE MAIN REASON FOR THE COMPLAINT IS NO ONE IS CALLING ME BACK. THESE PEOPLE MUST BE REPRIMANDED FOR LACK OF SERVICE AND NOT KEEPING WITH CUSTOMER SERVICE ETC.
Thanks for your help,
Al Caroccio

We stayed at the Residence Inn Dallas Arlington South, It was one of the worst hotel experiences we've had in the US. After trying, we finally left before we were scheduled and moved to a place much farther away because we couldn't take it anymore.
The room smelled. I bought a can of Fabreeze and sprayed the drapes, sofa, rugs every day, and it didn't make a difference. Maybe, because whatever was coming out of the HVAC was too yucky (see pic).
The rugs in the room and hallways and other public areas never seem to be vacuumed - there was always crap on the carpet.
The breakfast buffet was actually decent, but the service and cleanliness were disgusting. We constantly had to hunt down servers to replenish dishes, cups, utensils, and food on the line. Most of the time, the servers were chatting with others in the kitchen or at the front desk. The tables were never clean - we cleaned them ourselves. The weekends were the worst - we usually just skipped and went elsewhere (even though we had paid for breakfast). One morning, someone was cleaning the floors in the public areas while we were trying to eat breakfast. So we were smelling cleaning products while trying to eat. Really?
I used the gym every morning but the machines never seemed to have been serviced -they were squeaky and lethargic. Also the AC in the room wasn't adjustable by guests and it was so hot and stuffy in the room that it was like hot yoga. The door was propped open - i guess because of the HVAC issues. Not the most pleasant experience.
I filled out the Guest Satisfaction Survey and gave a terrible rating, but very honest feedback. The message we got back said "Providing the highest level of hospitality is our number one priority and we sincerely apologize for falling short of meeting your expectations. As a teachable moment, we have shared your feedback with the appropriate hotel team to ensure the necessary guidelines are in place to prevent the issues you had from occurring in the future. Once again, thank you for your valued feedback and we hope to serve you again whenever your travels bring you back to Dallas."
No offense, but the response is clueless. No "teachable moment" is going to correct the issues at the hotel. It needs a complete makeover. i used to think Marriott was a decent hotel - not luxe - but decent. I no longer think that. i'm going to think twice - maybe three or four or five times - about ever booking a Marriott again.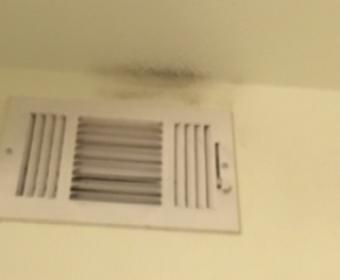 Richard Visser
from Kalamazoo, MI
I was charged on my credit card for a room at the Marriott Auburn Hills hotel and I didn't even stay there, after calling customer service twice 50 minutes plus each I was told that that hotel would contact me to clear up the situation.
that was more than 3 weeks ago, The date of the wrong charge was December 15th 2018, I did stay at the Pontiac
Marriott that nite that hotel and charges were fine but not for the Auburn hills site my case # is 94865478.
Please contact me to clear this up, as I am upset how I was treated and lied to by you rep.
Richard Visser 269-506-7988 rickvisser1@aol.com

THOMAS CLARIDGE
from Campbell, CA
Rewards Number 874269970 / #510-697-2414 / NorCal 95030-5300 / COMPLAINT: I am being deluged with "ROBO CALLS" from various numbers in the Oakland, CA area that are always different so no matter how many times I block them they call again. I am on the US Gov't "OPT OUT" list and have been since it's creation and I have always renewed as needed. I have a Chase Marriot VISA car and I use Marriot Hotels as possible. BUT I will cancel my card and no longer use Marriott hotels if you do not take my name off your "Robo Call" list as it is very and constantly annoying me! It is my understanding that if you fail to respond to my DEMAND(not a request) I will take legal action and have secured a local SF lawyer who has won a number of cases against "Robo Callers". AGAIN I DEMAND THAT YOU CEASE ROBO CALLING MY NUMBER $510-6972414 FROM REPEATED-LY CHANGED NUMBERS INDICATING YOU ARE NOT SERIOUS ABOUT CUSTOMER SATISFACTION BY NOT USING THE SAME NUMBER SO THE CUSTOMER COULD BLOCK THE CALLS. STOP STOP STOP! Thomas Claridge / 510-697-2414 / tomclaridge@sbcglobal.net / NorCal: 510-
697-2414 / 1.21.2019 @5:30pm PST--------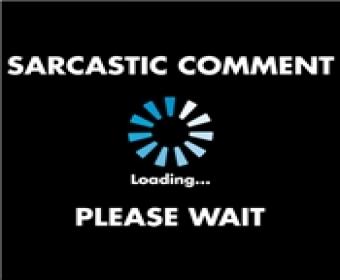 Eric Dohanich
from Austin, TX
My family and I recently vacationed at the San Antonio property on the Riverwalk, I paid for 2 rooms approximately $2000.00. Upon arrival I asked the front desk if I can use some American express gift cards to pay for my room and I also had a $400.00 Marriott gift card. I held the room with my personal American Express credit card until check out 2 days later. Upon checkout time I presented the gift cards and was told they could not take them because they had new card machines and it wouldn't accept them. I asked repeatedly if they were sure and they said sorry we cant take them.
I have vowed never to stay at a Marriott property again, if you really get this letter and care to keep a customer I would like you to somehow make this up to me that I had to spend my own credit card after being told it was not a problem. I will eagerly and hopefully await a response. I still have my Marriott card worth $400.00.

Sam Gravel
from North Charleston, SC
At 11:15 PM, 1/18/19, I am awaken by an argument outside my window, two men are fighting in some foreign language. As the fight gets heated, pushing and shoving, the police show up and they make friendly talk. The police leave and the two men return outside the window, talking loud to locate a car key with a flashlight one has thrown into the shrubs. After they find the key an leave and I almost get back to sleep. Then again at 12:00 AM they are outside in a heated discussion so I called the front desk. The conversation disappears outside, but is now heard in the hall outside the elevator near my door. It's foreign languages prevent me from knowing what they were arguing about, but had I been by myself, I would have checked out and found a safer night location. Room 123, Fairfield Inn, 4035 Sheraton Dr, Macon Georgia.

Douglas Latimer
from Kastel Stari, 17
Hello
I sent in a complaint the other day but still have not hear from anyone
Please see below the information you have requested
Confirmation Number 87471356
Check in Date December 26 / 2018
Check out Date December 28 / 2018
Hotel Name Sheraton Hotel Zagreb Croatia
I book the room for my Daughter and her boyfriend
Daughter Name ( Bianca Grzunov )
Boyfriends Name ( Franjo Nimac )
When I book the room I informed the room will be for her and her boyfriend ,
When they arrived they asked for a smoking room , so they received a smoking room but was down sized to a smaller room and bed
When they entered the room they found two long hairs in the bath tub , also there was only water for one person and there saw no slippers or bath rob in the room
Plus before when checking in the front desk would offer 500 points or a bottle of wine they were never offered this
the next day when they went around to the city and returned back to the room they thought there would be water in the room again but there was not
they called the front desk to ask if they could have some water they were informed that only on check-in water is free and after that you must pay
this was never the issue before over the years
Also when the room would be made up the staff would re place the coffee and tee as well the water but they had no luck , Plus at night the staff would come to the room to fix the bed and leave some small chalcocite on the bed but not this stay
My daughter was not please with the service on her stay , and I too as I have been going to the Sheraton Zagreb for over 15 years and in the past year the service has gone down a lot
I was planning to come this month again to stay at the hotel with my wife before I fly on my next business trip but now I might change hotels in Zagreb
The last time my wife was there the hotel was under renovation and the stay to was not great as the room the received the AC was not working and the noise in the morning was so bad my wife and daughter could not sleep past 7 am
Best Regards Mr Latimer
From: Jenni S <starwood.preferred.guest@starwoodhotels.com>
To: "douglas19632001@yahoo.ca" <douglas19632001@yahoo.ca>
Sent: Monday, January 7, 2019 4:57 AM
Subject: Starwood Response [ ref:_00D37JC9y._5001SfRpOk:ref ]
Dear Mr. Latimer,
Please be assured that both Starwood Hotels & Resorts Worldwide, LLC and Starwood Preferred Guest strive to maintain the highest quality of customer service. I apologize if your experience has not been an example of this and would like to assure you that it was the exception and not the rule.
Please forward the details of your complaint with the name of the hotel, city of location, dates of your stay, guest's name and confirmation number and I will be happy to open a corporate service file to begin an investigation on your behalf.
Thank you for your interest in Starwood Hotels and Resorts Worldwide, LLC. We look forward to receiving your reply at customercare@starwoodhotels.com.
Best Regards,
Jenni S.
--------------- Original Message ---------------
From: douglas19632001 [douglas19632001@yahoo.ca]
Sent: 1/6/2019 8:15 AM
To: customer.care@marriott.com
Subject: sherton zagerb
customer.care@marriott.com
https://www.marriott.com/marriott/contact.mi
Compliments/Concerns about previous hotel stay
First Name: douglas
Last Name: latimer
no
Confirmation Number:
Mozilla/5.0 (Windows NT 6.3; WOW64; Trident/7.0; rv:11.0) like Gecko
38EF6E2C-51F1-5CEF-AABE-A09A26D9E236
9BDB4138-4B7F-5C49-A371-20F41DD481D1
common-app-33-36j21
English
sherton zagerb
Good Day
I reserved a room at the Sheraton hotel in Zagreb for the date Dec 26 2018 till Dec 28 2018 for my daughter and her boyfriend , I have stayed at the hotel for the past 15 years with my family , we always had a great stay , the service was too great , This stay my daughter said it was not like before , as when checking in the front desk always asked if you would like 500 points or a bottle of wine , but they did not asked this time , also the room my daughter was staying in the bath tub had two long hairs in the bath tub , as if the tub was not cleaned 100 % , also the room was book for two people and there was only waster for one person , plus there was no bath rob or slippers
then when they asked for water for the room the next day they were informed that they will have to pay for it , before then the room was being made up the next day water was left in the room as you were there for two nights . I guess the way costumers are treated now is not the same since Marriott took over
Plus before the staff would leave small chocolates on your bed when the room was made up ,
Best regards Douglas Latimer
ref:_00D37JC9y._5001SfRpOk:ref


christopher squires
from Peace River, AB
Right, look people want a good bed , nice room and excellent shower, you have a very big room and bath and bed, so kudoos to you, BUT the shower is plain awful. (see below). When I was at the Premium Lounge (airport) I overheard 2 pilots and a stewardess complaining of the showers too, I had to laugh , but maybe I ought to let you know. So here you go.
1) you showers (I have stayed in different rooms) are weak, no power, hot is not hot just luke warm, and the control knobs are silly. You get sprayed with water (freezing) and wait till it get warm not hot (I notice the maids now turn the shower heads to the wall for that very reason.
2) Your cool light, are cool for a second then, I can't see anything , a lamp would be nice.
3) NO plug ins, well very few!!!
4) Your gym is too hot and there is NO CHANGE ROOM, are you serious. NO change room for the pool. Everyone I saw as scooting in and out of the bathroom.
I always stay here because it is attached to the airport and your people are nice. It is overpriced for all that I have described. I am going to post in every place possible this review at 2 stars out of 5 and recommend everyone stay away, my next visit will be somewhere's else. UNLESS you fix the shower. then maybe I'll come back.
Rooms are nice and big, fresh and clean, great bed, lovely coffee pot. Seriously, a welcoming 2 bottles of gratis water please.
FIX THE showers, not hot enough and those suicide handles people , what where you thinking, go through cold to get to hot all the while a full flow. Her is a suggestion, stay in the room yourself, get a shower for yourself and see!!!!! Simple.

TAE YUNG JO
from Central, HCW
Dear Marriott hotel
My wife and her three friends are stolen money from 
Your hotel. 
One of your hotel staff broke into the rooms 
during their absence for dinner out. 
Ms SUNG HEE PARK stolen USD280 
Ms HYE JEONG LEE stolen USD350 
Ms HYUN SUK CHO stolen USD320 
Ms BONG JU KIM Stolen USD410 
How come this kind of thing happened in your hotel?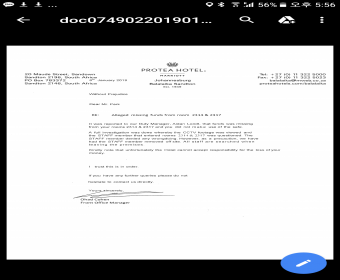 David Alliman
from Victoria, BC
The manager Gilles Lebrun was given evidence of an employee steeling from the hotel for over 7 years. Also he knows that this house keeper has stolen a diamond ring worth over $50,000 from a clients suite at Minto Hotel her former employer.
Gilles took the employee, Ann zahoor to his office and showed her the evidence. Gilles Lebrun and ann zahoor ate now best friends and he is now giving her relationship advice at the same time she still has her job and will continue to steal from the hotel and its guests.

Anonymous Customer
from Rogers, AR
I prefer to remain anonymous as the following information left my family in such distress I would like to inform the company and following allow the experience to no longer disrupt my life. About a month or so ago my family and I were in the Northwest Arkansas area visiting family for the Thanksgiving holiday. After searching hotel rates we decided the Courtyard in Bentonville Arkansas was where we were going to reside during our break. It quickly turned into a very stressful mind blowing occasion. My husband, myself and my 5 year old daughter were enjoying the amenities amongst ourselves. We met a seemingly very sweet barista got what we needed and sat down to chit chat and enjoy our family time when my daughter says mom I need to go to the bathroom. I quickly asked the front desk associate where downstairs I could take her and she pointed us in the direction of the bathrooms. As we were in the bathroom we heard strange noises coming from outside our stall. As I finished up w my daughter I was shocked to hear a mans voice as well. I signaled to my daughter to be quiet so they didn't hear us talking. I peaked through the crack of the door only to find the sweet young barista (we can't recall her name but she is younger and has blonde hair) and another employee having sex in front of the sinks the man had a shaved head that is all I could see of him. My daughter heard the entire incident. My heart was racing and it took everything I had not to say something. For the past month I have been thinking about just letting it go but last night as I was tucking my 5 year old into bed she asked me if I remember when she was going potty at the hotel, if I remembered the odd noises. She is 5 years old and should never have to think about such things. It makes me sick that you have individuals like this working at such a reputable location. Or that they are a representation of such a wonderful company, we have stayed at Marriott hotels for over 20 years and never have been so disgusted. I am hoping you handle this issue with the utmost punishment I would hate for another loyal customer to be witnessed to such haneous behavior by the staff at this facility.
Have feedback for Marriott?
Thanks for your feedback!
Sorry. Please try again later!