Holiday Inn
Holiday Inn Complaints Continued... (Page 4)
204+ reviews added so far. Upset? Call Holiday Inn corporate: 1-800-621-0555

Sabrina hernandez
from San Jose, CA
I was having a very nice weekend. At this hotel my daughter's re 11 and 13 i get a a knock on the door saying my daughters are to loud and they accused me of smoking when i have a two year old in the room with me i get my girls to calm down and im takung my son a bath yo leave abd ebjoy the day they call and ask to search my room so permission was given after i was done getting my son dressed so they came in and did an expection i was not told that they are going to keep my deposit till it was time to check out the next day so making poor judgement on me is very wrong i feel if they didnt feel welcomed at breakfast they starred at how much i ate and my daughters being on computer botherd them made us feel awful for our first experince on a vaction at a motel and they got me 500 dollars for two nights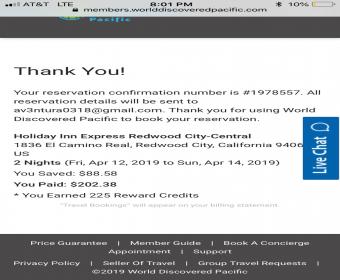 Robbin Johnson
from Chicago, IL
My conf. # 48054624 and the room number was 331
IHG # 281042750
I stayed at the Holiday Inn St. Louis/FAIRVIEW Heights 313 Salem Place FAIRVIEW Heights IL 62208.
I arrived on 4/12/19 (MY Birthday) after 11pm when we got to the room it was very cold in the room we tried to adjust the temperature it didn't move. The vents was blowing cool air still. Let the front desk know the issue.
On Saturday 4/13/19 I left room early didn't get back until after 5 stopped at the front spoke with the young man at the front desk to let them know the it was still cold in the room and that the remote didn't work. He was very nice and came back up to the room to see if he fix it. And he wasn't able fix the issue. Another you man came up I think his name was Chad. He also tried to fix it seem to be blowing out warm air. I left the to go to dinner and another event. Got back to the room after 12am and it was blowing cold air again and you couldn't adjust the temperature it was stuck it wouldn't move at all. I was very disappointed with this stay we also had kids running back and forth in the hallway. I checked out on 4/14/19 early before 7am I also let the person Dale at the front desk know the the room was still cold.
Robbin M. JOHNSON
binj02@yahoo.com
773-583-4880

No name
from Stockton, CA
On March 16th 2019 I made a attempt to check into the holiday inn & suites address 1600 East First Street Santa Ana, Ca 92701..I drove down from Stockton Ca which was about a 6hr drive I made the reservation for my daughters 13th birthday weekend we were going to Disneyland/California adventure upon arriving to the hotel we were a few hours early although I knew a room may not be available I still checked with the front desk which the very nice lady at the desk told me to check back in about a hour and she may have a room available... It was close to 12 o'clock noon so I drove to get a bite to eat with my daughter and her best friend to kill time I checked back about 1pm I was told a room was available she just needed a card and photo ID I handed both to the desk clerk and she stated that no prepaid cards were allowed so I said that's weird because this was the card I used to book the hotel as well as was charged $115.14 I assume for the deposit so I politely asked if there was anything else that could be done she said she'd get me an manager...so then came a manager by the name of Theresa who was not as pleasant upon seeing me she looked bothered like the first lady I encountered I explained the situation to the manager and asked is there anything that can be done I can pay a higher deposit or with a different card I had a credit card which she never even looked at but she said no we can not help you or accommodate you because need " a bank issued credit card" I asked why can't I just use any credit or debit card she states that it needed to be " bank issued" I explained to her that I was tired I had been on the road driving since 530am with 2 kids and just wanted to enjoy my weekend with my daughter and her friend for her birthday and that I had never heard of such hotel policy I advised this lady I was in no way trying to be problematic I just was tired and I didn't understand this " bank issue" card policy... I was trying to talk off to the side with her and she proceeded to the counter where another guest were checking in and advised me nothing could be done and she wouldn't accommodate me or my children nothing could be done embarrassed that the person next to me as well as the ladies waiting in the lobby behind me can hear me pleading with this lady to help me is outrageous so I asked for her name which she gave I then asked for the desk clerk name who was now helping the gentleman standing rite next to me name..the manger gave me a nasty attitude hit a button on the desk and told me I need to get out now and I don't need to identify the desk clerk just the manager but I need to go...get out!... I said really I have to leave for asking to identify a worker and now the people in the lobby are hearing this lady put me out of the property... I didn't want to cause any problem and also there were children and others present..I just left the property with little sleep and 2 kids and no place to stay 6hrs from home I couldn't risk driving home and falling asleep behind the wheel and I didn't want to disappoint my daughter for her big "13" I was devastated ...I called guest relations and opened a case and the lady in guest relation couldn't get in contact with the property to get a resolution but she says the property should have accommodated me or found a neighboring hotel so I was left driving around looking for a last minute hotel for the weekend I was left to stay in a motel 6 property which was not in the best shape for 2 kids but what choice was I left with...only to wake up Sunday morning to see another charge to the very same card for $100 so now that is $215.14 that was charged to me while being told by manager and guest relation that I would be refunded I had to call guest relation again and I was told that I would have a check mailed to me because your company does not hold on to customer card info which is crazy because my card was obviously charged twice now I cant get through to anyone to find out if my payment has been mailed...I have been on hold for over a hour on multiple occasions trying to reach guest relation I am utterly disappointed and disgusted in the treatment I received from this company and I hope another mother and child does not have to witness such shame and disrespect over a misunderstanding...I hope this reaches someone to have some type of action taken against this rude manager with obviously no customer service whatsoever

Ava Duckett of Ava's Works Productions
from Canton, GA
I am writing this letter on behalf of Ava's Works Productions, to first thank you for the opportunity to stay at the Holiday Inn at 10000 Baltimore Avenue in College Park, Md. Your group sales person, Ms Crystal Walker was very professional and as accommodating as her abilities would allow. She was courteous, professional and showed us that she had our best interest at heart. However, there were multiple situations that would have us to consider using another facility on our return. Below are some of the concerns that need to be addressed:
On Friday, April 5th, the communication was poor between the guests and your staff. We were told breakfast would start at 9:00 AM which seemed strange and not the norm but there was no reason to question the clerk at the front desk. Because we were not given the breakfast tickets, the following morning could have been a disaster with 43 guests coming to breakfast "late" and not having breakfast passes. However, Ms Walker contacted me very early that morning with apologies, letting me know we needed tickets. She also contacted the front desk making them aware of the situation. They made tickets for us and informed me that the time we were told was incorrect. It was not my job to knock on doors, correcting problems created by your hotel. However, because of Ms Walker, we were able to diffuse a potential bad situation.
.On the evening of April 6th, I approached the front desk to get breakfast tickets for the next day. I was told by your front desk (A gentleman with an accent) that; "The hotel has changed the policy and you will not need tickets for breakfast tomorrow. Just go in and give your room number. Breakfast starts at 7:00am" I took his information and shared it with the group. The next morning, (April 7th), was chaotic. The Hostess was not kind in letting my group know that without coupons, you cannot eat for free. When I arrived, my entire group was standing, not knowing what to do. I went to the front desk and Ms Anita tried her best to quickly resolve the issue by writing up tickets to accommodate the group. She was very patient, friendly and accommodating to our situation. Please be advised that while this is all going on, there was a manager on duty (Mohamed Yansaneh) that watched his employees struggle to try and set things straight. After the group started eating, we were told the children's free meal was only items from the menu and we would have to pay if they went to the breakfast bar. Unfortunately, everyone was already going through the line. We were never made aware of that prior to going through the line.
On that same evening, I brought the bus back to eat at the hotel restaurant 2 hours before closing. We could have gone somewhere else but everyone agreed to dine in your establishment. However after getting there, they were asked to choose the food bar instead of the menu because they may not be able to accommodate everyone. They were short staffed (2 people) That is poor planning on the hotel's part because there were at least 2 other large groups staying there that weekend. Because they were short staffed, some of the parents ended up buying Pizza for the children which forced them to eat in your open area. That was acceptable other than the loud, vulgar language coming from the bar. Rowdy and loud can possibly be tolerated, however vulgarity is never acceptable. These children's ears were privy to this and the Manager did nothing to stop it. Some of us were in the restaurant and some were in the open eating area but both places were forced to deal with that type of behavior. There again, no Manager ever tried to stop the loud cursing. I understand the high volume coming from a bar, but the vulgarity was insulting and disturbing to my group.
Our rooms were not serviced. When the group came back from the production the evening of the 6th, they had to call down for towels and other items while kicking dirty towels to the side. No beds were made and some had to come down to get clean towels.
Finally, your GM, Mr. Yansaneh was very disappointing to work with. He made no effort to assist any of the employees who were doing their very best to straighten out each problem. At check-out, there was a question of $129.00 that was thought to be due by us. I knew it was a zero balance and needed the manager to confirm. He made excuses and said he had no way to reach Ms. Walker who initially handled the account. He told me that I would have to wait until Monday to clear the matter up. I was not leaving the CC information of one of my investors accounts open to charge more. He was so non-challan and made no effort to help clear up $129 charge from an over $5,000 hotel bill. It was only when an associate of mine who has knowledge of hotel protocol started investigating which forced Mr. Yansaneh to finally reach Ms. Walker to confirm that our bill was clean.
While I commend you on the cleanliness and most of the courteousness of your staff, I have to say that, without making some type of restitution, I would not consider returning next year or referring my business associates to The Holiday Inn. Ms. Walker did her very best to work with us but there were too many large groups for one person to handle.
Thank you
Ava Duckett
Ava's Works Productions
240-441-3199

I am staying at the Holiday Inn at 550 C SW St. Washington DC
To babysit my grandson for 9 days ( my son works for the government and is here from Germany for seminars)
My flight arrived 2 hours ahead of my sons and when I arrived at the Hotel @ 2 pm they told me the room was dirty and and they would contact housekeeping so I could get in there, I explained the reservation is in his name and I was told it wouldn't be a problem me getting in the room as I am handicapped I had no problem waiting till 3, when I came back to the desk I explained them the situation to another person they told me the room was still dirty and asked me to wait another 1/2 hour, when I came back to the desk a 3rd time I was told it was STILL dirty it's 3:30 at that point the gentleman who was helping me went and talked to someone out back and came back to let me know the room was clean and ready, I gave them My confirmation # and explained that my son Will arrive @ 5 and that i have crones disease and I needed to get to the room because I couldn't take care of what I needed to in the main bathrooms, I was told they needed my credit card to be able to get into the room, I asked for a manager and spoke with Daniel and explained the situation once again, he out right refused to let me in the room without MY credit card, this is all in my sons name, I am elderly and handicapped, it's not right that I am being treated this way!
My husband and I are ING members and stay frequently at Holiday Inns.
After this experience we will be sure to stay at other hotels in our travels.
Teri Mathews

TOM WALLACE
from Toledo, OH
I WAS KICKED OUT OF A HOLIDAY INN - EVICTED AFTER IT WAS RESERVED FOR A MONTH FOR MY 59TH BIRTHEDAY
THEY LOCKED MY ROOM AND TOOK MY KEYS BECAUSE THEY SAID THEY SMELED POT IN MY ROOM
WE CHECKED IN, MY GIRLFREIND SAID THEY BOOKED THE WRONG ROOM, SHE HAD THEM SWITCH RMS AFTER I WAS IN THE RM FOR 5 MINUTES
WE WENT TO RM NUMBER 2 UNPACKED, HIKED, ATE DINNER THEN WHEN WE RETURNED MY ROOM, THEKEY DID NOT WORK.
THE DESK CLERK STATED SHE WAS ASKED TO TELL ME TO LEAVE BECAUSE "THEY SMEELD MARIUANA SMOKE IN THE ROOM AND IF I DID IT QUIET THEY WOULD REFUND MY MONEY. THE SUPERVISOR REFUSED TO SPEAK WITH ME. WE WERE PUT ON THE STREEET AND I NEED UPPER MANAGEMENT. THE SOONER THE BETTER. WALLACETOM15@YAHOO.COM. VIOLATED, MISTREATED UNJUSTLY ACCUSED HERESAY

Brenda Freese
from Ocala, FL
I have stayed at two holiday inn over the past several months. I probably won't be staying again. The reason is the decor is ULGY, very ugly to the point where it makes me anxious and aggravated. The decor is obnoxious, and does not feel inviting, welcoming or calming. While the beds are okay, and the staff professional and helpful, I simply cannot stay where I do not feel welcomed or calm.

Audra Guglielmetti
from Piscataway, NJ
We stayed at the Holiday Inn in Budd Lake N.J. for my daughters dance competition Groove Competition. A room block was provided to us. We have stayed in other Holiday Inns before for other dance competitions and I have had to call due to there times other guests were very loud etc but this time was horrendous.
There was a wedding room block at the same time we were here for the dance competition. We were initially on the 5th floor. In the afternoon the sounds heard of people having sex was very uncomfortable when I was in the hallway with my children. Upon our return from the competition this evening we got off the elevator and the smell of marijuana was overpowering. There was also a smell of cheap beer and the noise was a lot throughout the floor. When we got to our room the noise from the room next to us was so loud at 11 pm my family couldn't get to sleep. I called the front desk to complain and the gentleman offered to move our room. At 11:15 pm I packed up my family and switched rooms while all were exhausted. I appreciate that there was at least a room to switch too because my next option would have been to check out.
There was quite a mix of guests in the hotel and quite frankly I felt concern for my children's safety. Typically they will go from room to room with their dance friends and hang out but we did not feel safe to allow them to do so without supervision. My friend traveling with us had a drunk man try to enter her room! Very uncomfortable for families traveling with young children. The smell of cigarettes as you enter the hotel was disgusting and people congregating smoking their cigarettes at the entrance and in the evening it was drunk men smoking when we arrived. The bar is open in the lobby area therefore the drunk men and then the children being walked through the lobby with drunk adults loud and rowdy is not appropriate.
I had to call this to your attention and I will be sending a letter to the dance competition company as well. I would hope instances like this could be avoided in the future for traveling families especially here for an exciting event, dance competition weekend.
Audra Guglielmetti

Christopher Stephen Whatley
from Keller, TX
Your 1-800 reservation line which goes to India. I am a loyal IHG rewards member (488 905 379) and booking a room over your 800 line has become such an amazing PAIN IN THE ASS...I am now directing my employees to attempt to find any suitable option other than H.I. Express. The voice on the other end cannot be understood because of very heavy accents. They quote rates higher than the rates on line and you have to insist on the rate listed on your H.I Express web-site. I have no image to attach. The image I want you to put in your brain is a customer now searching for other lodging options...Imagine this image....see me "walking away" from H.I. Express and going to Marriott Courtyard instead.
Most Sincerely,
Chris Whatley

Mike Huschen
from Roanoke, IL
Visiting Iowa for College visit. My son wanted a hotel with hot tub. We got there and it has a plat form built over it with a table a chairs. The Website shows a hot tub. Frustrating as that is what my son wanted prior to his college visit. Its the Holiday Inn Express in Coralville Iowa. my reservation number was 25415381. Our family was not happy. Up date your website. Please.

Amy Hillyer
from Aledo, IL
To whom it may concern,
My company uses the holiday inn express on a regular basis. I have been staying at one or the other holiday inn express hotels in the Chicago area every time I have a corporate meeting to attend. Every time we have an issue about them not having what they need for charging the room to my bosses corporate credit card (and HE makes the reservations!) The only person who has ever been helpful and knows what is going on is the gentleman manager I think his name is Muhammad? I'm not 100% but he is at the N Cumberland ave location in Chicago. Usually I thouroghly enjoy my stay until now.
As usual I was greeted with the same hassle over card payment for room, I explained to the female (she identified herself as a manager) that the Male manager knew what to do because this ALWAYS HAPPENS. I mistakenly believed her when she said "ok" and proceeded to request a card for "incidentals". To my total shock this afternoon I discovered that the hotel had charged me $139 and change! Since I was unaware of this I also was confronted with multiple negative charges to my debit account because the hotel charge made my account NEGATIVE! I only use this card for minor charges so I do not maintain a lot of money in that account, basically a couple hundred goes in each week that I use for whatever. I immediately called the hotel, I have received an email outlining the fact they charged the WRONG card and initiated a refund. My problem is I am now incurring overdraft charges AND am not able to use my card because it is not yet showing up as a credit to my account! I am being punished financially and mentally stressed because your hotel made this error! I am extremely unsatisfied to say the least. Thankfully the overdraft charges are going to be minimal but it is still an incredible inconvenience. I honestly am not comfortable ever giving my card for incidentals in the future, I no longer trust I won't be wrongly charged. I will attach the email proving exactly what I said happened. The same thing happened to my coworker who stayed that same night in room next to mine, however she evidently caught it sooner so was credited hers within an hour. Since it's Saturday, I'm stuck because the banks are closed.
I am due back in Chicago in a month, depending on how this gets resolved will dictate if I request my company use a different hotel chain in the future. Any replies may be made to my personal email account, I merely had email receipt for refund sent to my corporate email so as to provide my company and manager a statement for record.
Sincerely,
Amy Hillyer,
Insurance agent
Combined Insurance
Amy.Hillyer@yahoo.com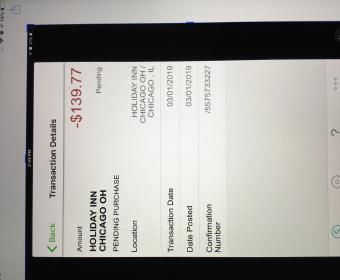 Cyndi Wildroudt
from Pompano Beach, FL
Good morning,
I am writing today to file a formal complaint of the Holiday Inn Express located at 9400 19th Lane Vero Beach, Fl. 32966.
My son's travel baseball team was playing at Dodgertime for the first time ever and we decided to book our room with the Holiday Inn Express. We booked our room in January, 3 people, for the weekend of 2/15-2/18. We drove in from Ft laudedale the evening of the 15th, arrived at your hotel around 6:30pm. We checked in went up to our room only to find out it was one bed for all of us. I went back downstairs to see what the mix up was, and was told that was the only room available. I explained when we booked we told them 3 people would be staying in the room, the gentlemen at the front desk verified that information to be correct, but proceeded to ask me if I requested 2 beds??? Are you kidding me? Wouldn't common sense tell you that if there are 3 people there should be more than 1 bed? He then said to me...well you never know now a days. Seriously?? I proceeded to call around to other hotels in area and because of this big tournament in Dodgertown all rooms everywhere were booked and I had no other choice but to cram us all into this room. I had to drive to a Walmart in the area to purchase an air mattress, blankets, sheets and a pillow...because yes, that same gentlemen said there were no extra bedding available. So, now I am paying 200.00 a night to stay in this room, and had to spend more money for additional accommodations for my son.
I have never been so disappointed in a hotel stay then I am right now. Not only for the 1 bed, the "friendly" front desk service, but the room stunk like sulfur. ( you all may want to check for mold). I can not believe for a big corporation as Holiday Inn that this is the service you provide to your guests.
I really hope that this is looked into and would love to hear your response to my complaint.
Cyndi Wildroudt

Checked into Holiday Inn Express Spring Hill, TN 02/14/19 and was not satisfied with my queen "suite". Only thing that made it a suite was addition of a couch. Asked to change to regular queen room, was told could not, even after being shown the regular room by employee on duty. And, if I wanted a credit on the suite had to vacate in five minutes. Directions came from same employee, Tonya Kitchings, who was very rude to me earlier in the day, when making the reservation. She had been contacted by evening employee by phone for direction. So, I could not rent another room and had to get out in five minutes. During reservation process, Tonya said price had gone up while she put me on hold and there was nothing she could do about it, and asked if I still wanted the room. I asked then if there was someone else who could help me, and she said no.
Have to say, not used to being treated this way. It was late in the evening, and very inconvenient.
Thank you.

Greg Pasaporte
from San Ramon, CA
When we were checking in at the reception on 2/2/2019 @ 10:45 pm. Mr. Cortez the receptionist was very rude. I 'm trying to ask him about the breakfast that was paid already but he's asking a paper as a proof for the payment. Anyway, while I am looking for the email, he keeps on talking that distracts me. Finally I found the email and showed it to him. Then he gave me the voucher for the breakfast.
My concern is that. This guy has no manners in interacting with the customer. Very poor customer service. I was so disappointed with my stay in this hotel. Rm no 3316 bldg 3

William kern
from Clearwater, FL
Credit cards and jewelry sold from hotel room

Joel Goldberg
from Brooklyn, NY
We checked in about 3 PM on Sat Jan 12. Dropped our bags off in the room #242. Used the bathroom before going out. We told the front desk there was some thing wrong with the toilet. We saw that renovations were going on on half of the floor. We came back to the room about 10 PM. Went to the bathroom to find that we had 2 towels for four people one being a child that is five years old. We found some one to give us more towels. Which came in handy when the toilet started to over flow. We called the front desk and they told us that nobody was on duty to help us. Seeing that we can't use the bathroom we wanted another room. We called the front desk again to see if we can change rooms. This time nobody answered the phone. I went downstairs to talk to someone but nobody was there. The phone were ringing like crazy. People started to come down to complain. Some people started to call your main office. About One AM someone came down and said he wasn't there because he had a flood on the 4th Floor. He gave us another room on the same floor #250. Which wasn't any better because we had to sleep with our jackets on. The only ones that was enjoying the room was the 4 brown bugs I had to Kill. If I didn't have something to do the next day I would have packed up and went home. The man at the front desk did tell us this was just a little better. We packet up the car at first light and went in to have breakfast. I thought cooks in the military were bad but your cooks made them look good. At checkout we told the front desk what we went through his answer was if i"m off i don't give a f__k, what goes on here. They took $40 off the bill and said have a nice day. I thought we should of been treated better. At least offered a complementary night on them at another hotel or maybe a weekend on behave of the company cause of how bad of a night we had.

Shannon Holbrook
from Pittsburgh, PA
I stayed at your hotel last night, I'm a single mom alone with three kids. I was aware my ride was going to be late and the front desk was made aware of this as well. As people often do this person I was depending on wasn't to the hotel on time to get me. So what was I told?? That if my ride wasn't there by 2:30 that we had to leave. Thank you so much for making an already very stressful situation for my family, a whole lot worse. A man that I was told does matainace treated us the worst. We we're scared and upset a little understanding wouldn't have hurt anyone. It was made clear to the desk staff I would be having to wait in the hotel a little while. I had no control over how quickly my ride picked us up. So with hardly and money at all I went across the parking lot to the restaurant there. And u know what they treated me with more kindness respect and understanding. I am disgusted by the way your staff handled this! I promise I will tell everyone who will listen about u throwing a mother and her children out in the cold. I hope the roles are never reversed and u are alone and scared. Because maybe the world will show u the compassion you failed to show us
Shannon Holbrook

Angelena Coleman
from Waukesha, WI
Ive stayed at this location quite often check my account.I use all my points or pay at this location.
My issue is 2 things.There is only one elevator and has been for awhile and always a crowd waiting for because there is only 1.
An even bigger issue is the fact that the door nearest the elevator is not secure anyone can walk in-and-out of the hotel and I have seen it happen especially when Bar Louie is having something that is an safety issue. That's a problem!
I have addressed this before and nothing has happened and that door has been this way at least 4 months that I'm aware of.
I decided after my last stay that I wont be staying at this location anymore and it's very convenient for me and I use to enjoy staying in matteson but I need to feel safe. It's very unfortunate.
Thanks,
Angelena Coleman

Lorenzo U. Sahagun
from Virginia Beach, VA
I made a reservation to have a dinner dance (inauguration of Officers for Zambales Association) at 5655 Greenwich Rd. Virginia Beach Virginia 23462; to be held on April 13, 2019; I consulted Ms. JoAnn Sipe on December 2018 and she confirmed that Holiday Inn can accommodate us to have our event. The menu, date, and priced are all confirmed on January 4, 2019 by Ms. JoAnn Sipe and me.Before hand, when I was talking to her, she told me that we are the first to served for April 13, 2019, we do not have a problem
On January 08, 2018, Ms JoAnn Sipe notified me that April 13, 2019 was completely book and we will not be able to hold our event on the contracted date. .

GEORGINA COSTELLO
from Austin, TX
Made reservations at the Holiday Inn Express on Bintu Lane, in San Marcos, for January 19th, one night, leaving on the 20th. I could not find my email confirmation on this reservation, and requested another one be sent to me. At first she told me there were NO reservations in my name for that date, then said yes, she would send me an email confirmation on it.
I never received my email confirmation, and the lady that I was talking to was NOT very friendly. Also, your online price now for that exact room is $85.49....when I made this reservation back in December, it quoted me a price of $118.19. I asked if I could get this room for the $85.49 price on the 19th of January, and she gave me a flat out NO.
I think this entire situation is a very bad public relations deal....discourages me from making reservations ahead of time. I did this because I wanted to reserve a Handicap room, with roll-in shower, ground floor. I was told at the time of making this reservation that it was the LAST room available on that date. It also, discourages me from staying at any more Holiday Inn Express Hotels. Haven't even stayed my night yet, and are already unhappy with your service!
Georgina Costello

Diane Nowell
from Spring Hill, FL
fradulant use of my credit card. had to leave early for family emergency

Nadia Omary
from San Francisco (Financial District), CA
Hotel removed my & my finances personal belongings from our room while it was still occupied by us, with a do not disturb sign displayed. Hotel did not return our belongs, did not provide us with reimbursement, no explanation, no ownership, no sense of urgency and no follow up. they told my fiancé their is nothing they can do, and they do not know where our belongs are.

bryan brumby
from Ashburn, VA
We stayed at the Holiday Inn Express in Hiawassee, Georgia this past weekend for our son's wedding. Housekeeping never cleaned our room i.e. taking out trash, making beds, taking out used towels and replacing them with new ones. I went to the Manager on staff after 3:00 P.M. He said, "there is no excuse, apologized, and told me to place the wet towels on the furniture in foyer." He said, "it won't happen again and proceeded to get me towels." My husband and I are both disabled and I had to roll the towels in my walker to get them to the room!!! The next day we came back to the room and the same thing happened again. NO HOUSEKEEPING SERVICE!! I went back to the front and the same manager was on duty. He didn't apologize for the lack of service this time and handed me plastic garbage bags to clean the trash myself. I called Guest Services; was told to wait 48 hours for resolution; nothing happened; and we were still charged the full amount for our stay. I will be glad to post this on all the travel sites and blogs to make people aware of this travesty. confirmation number46560709

Tamara L Watkins
from Buffalo, NY
The general manager of the Hopkinsville, KY Holiday Inn falsely accused me of threatening an employee in the parking lot. I didn't do it. She embarassed, humiliated, and bullied me off the property! This woman threatened me with trespassing charges and told me she would call the police on me. There were witnesses onlooking this. A civil suit is what's going to happen.

My Complaint is that while I'm a regular customer each week of a two night stay. I find it very dishearten that the kitchen staff on the weekend are very rude and very uneducated about personal hygiene and customer service when helping the customers. The staff wants to serve warm milk as the fridge is broken and food is prepared with no gloves or hairnets. The kitchen weekend staff are rude and customer service training is needed. A staff member has asked me to not enter the kitchen as I stood in the door way of the kitchen to ask for a tray. The staff member went on to make negative comments about me as the customer to another employee. Not sure if the facility has ever had Customer Service training 101 or not? My suggestion is that someone hire up check on what the issue maybe with the following Holiday Inn Express Salisbury, NC location.

Sofia
from Youngstown, OH
Stayed at this hotel in August. Was overcharged for an additional 3 days after we checked out and left the area. Tried to contact the management to settle the dispute. Management never returned my phone calls. Amount in question is $503.00. This is not insignificant. This hotel is running some sort of scam, double charging for their rooms. They charged us for a room that we did not use for three days. Room must have been given to another consumer who also was charged. Will NEVER stay at another Holiday Inn anywhere. Fraudulent practices.

Elaine Westermeyer
from Pearland, TX
I am filing this complaint as a rewards member # 165459801, who is a frequent business traveler and stays at many hotels. Upon attempt to check-in, the front desk staff completed paperwork and stated he would call my cell when room was ready. Please note, he did not call, I had to call the holiday in staff member. When I checked into the room, I was shocked at the condition. The pillows were flat and you could tell were old and worn as well as the sheets, towels and duvet. Please see attached vent from the bath room that was filthy as well an unhealthy. Although there was a vent in the bathroom, it was nonoperational. I asked for additional coffee and was told no as the limit is two Kuerigs' per room. This is sad response for a hotel staff member to tell a guest. The hotel is providing a service and being paid.
I am one not to complain however the quality of this hotel is unsatisfactory. I am requesting rewards points for one night in this category hotel due to the inconvenience. Please respond to my cell: 727-249-4698.or email.
Thank you,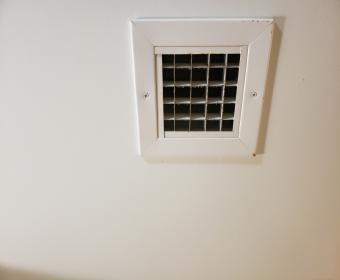 john traas
from Lakeland, FL
reservation # 45543802 Stayed at Holiday inn express October 18 and 19 2018
Reserved a handicap room with walk in shower.
Checked in late on Oct.18 and had to ask for senior discount,which was given.
Room given was # 402 with a tub and a bench under the sink.
Wife is disabled and cant do tubs. Wheelchair bound.
Nothing was available that night.
Took a shower. No HOT WATER. Desk informed me: HIGH USAGE
.Tried at 3 a.m NO HOT WATER.
Oct. 19 went to the desk and complaint. Promise by the clerck taht it would be taken care off.
Came back that night. SAME ISSUE. Other area hotels did not have rooms available.( St. Marys county fair)
Due to late hour, nothing could be done. Wife could not shower now for 2 days.
I PAID 282.61 IN GOOD FAITH.
Came back in Florida and tried to speak to the manager ( she was off during my stay)
I called 4 times and was put on hold and even disconnected. Promised return phone call. NEVER happened.
Since she does not want to return my phone calls I contacted the St. Mays county health department.
I am sure she will talk to them regarding the hot water issue.
I am awaing a phone call from the health department which they promised to report their findings
John Traas 491 Lindsey drive Lakeland Fl. 33809 863 859 1307
.

Gwynette ChaneyOlden
from Tulsa, OK
I reserved 2 rms for my HC like I do every yr for the past 15 yrs. When I arrived on 10/18/18, I was told their was only 1 rm reserved. I awoke to hotel staff walking in, so, I approach the front seat to fund out that I was charge a no show fee on the rm the rep couldn't find the day before when I chk in. When I attempted to shop, I was inform that the $1900 I had to spend for the HC weekend were exhausted by the Holiday Inn I was staying in. I arrived back at the hotel and demanded a refund as my account had been charge 5 or 6 times totaling $1900+ for 2 rms for 24 hr period. I was promised by David Cochran & David Littlefield at the 6200 N. Robison Ave in OKC 73118 that I would be charged for 2 nights instead of 3 and my funds would be returned to my account by Saturday at the latest Monday 10/22/18. In speaking with my bank, it was recommended that I file a complaint as Holiday Inn should have returned my funds to my account when the mistakes were made and I should file a fraudulent form for the egregious conduct displayed towards me, a loyal consumer. So I am trying to find out what I need to do at this point to get my money returned to my account. Please call me at 918-219-6424 or email me at gvswilson@hotmail.com please. So very disappointed and angry about the way this was handled.
Gwynette Chaney Olden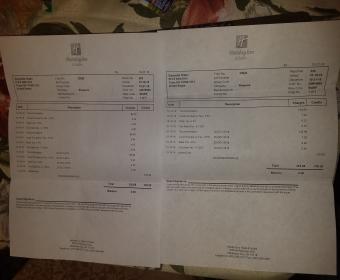 Kathleen and Marco Alvarado
from Manitou Beach, MI
We arrived at 930 pm in Richwood, KY. Had booked the only room avail. When we entered the room it smelled like a mixture of filthy carpet, mold and cat urine. I immediately went to the desk to complain. Clerk said there was no other rooms and she couldn't do anything for us, except take 20 off and switch our room for the next night. When I went back to the room my husband Stepped by the bed and his sock was SATURATED with something wet. We put towels on the floor and by morning they were soaked. We then Looked around and checked the bed on the other side and the whole floor was soaked under the whole bed. I'm sure the air conditioner was leaking for who knows how long. In the mean time, the smell kept me up all night, I was all stuffed up, had a headache and had to take my inhaler. I was furious and went to the desk to tell the girl. I asked for the manager and she told me there was no manager there and she took my phone number to give to the manager. I told her I could not believe they rented a room out in this condition and the whole night should be complimented for our misery. She said she couldn't do anything about it and would have the manager call. The manager never called us to rectify anything. I feel we deserve a full refund for that night. Any decent business would make this right with their customer. I feel like we were just ignored with this complaint.

Steve Broadwell
from Cheshire, CT
We were solicited to participate in a 2 hour presentation for the holiday inn club vacations. To start, making the reservation was quite a time consuming and frustrating endeavor that I won't even get into. My issue is with the promised $100 voucher at the end of the presentation. We did eventually get it in the mail, and filed it for future use.
About 6 months after our stay when we wanted to use it, we were informed that it had expired. No one told us it had an expiration date during the presentation. I don't understand the rationale for an expiration date on something like this. It was a surprise to us.
When I called them they said sorry, too bad (my words), but I could tell they had no sympathy at all.
You have one unhappy/disappointed customer.
Steve Broadwell

Linda Andrews-banks
from Los Angeles, CA
I am currently staying at your hotel. I came out to celebrate my granddaughter birthday I have two adjoining rooms. There are know complimentary gifts for your guest.unless you are a spire,platinum, or gold member. I wish water could be offered to all guest. They use to offer a complimentary drink.

Chelsea
from Minneapolis, MN
Found a cockroach and room smelled moldy

Rickie Conway
from Dallas, TX
Just checked in at your Holiday Inn Express 1686 Beach Blvd, Biloxi, Ms and was told a lightning strike damaged the elevator, ice machine and computer last night. I have had both knees replaced and a back surgery & need both shoulders and neck surgery age 64. My wife has rheumatoid arthritis, fibromyalgia and back, neck and knee problems and we both have problems climbing stairs. Luck for us we are on the 2 nd floor but had plenty of things to pack including an ice chest that a guest helped me with . We brought our 4 & 10 year old grandsons for a short trip to the beach before school starts. I feel we should receive a reasonable discount for the lack of services that should be expected by all guest but especially those who are handicapped. I asked that we be moved to first floor for tomorrow night but didn't get a response from the staff. Please email me with a response & a call to 337-592-3452. Thanks
Rickie Conway

Merleane Williams
from Homestead, FL
I recently stayed in your hotel in Orlando,Florida at the Holiday Inn water park suites I booked 3 rooms to accommodate myself and grandkids I was appalled at the nastiness of the rooms the toilet had so much mold in it that my seven year old granddaughter was traumatized and didn't want to sit on any of the toilets on this entire vacation there was mold on the shower walls the kitchen sinks has so much scum around the rim I was just disgusted. The service was horrible I would ask for towels and it would take an half of day to receive to receive them I was even told they were out of washcloths until Tuesday!!! It appeared to be a very busy time at the hotel but that's no excuse for The dirtiness!! I had rooms 1323, 1325, and 1327 on July 20-24th. You all need undercover boss to this hotel site and a mom panel to show you guys how to properly clean a room!!!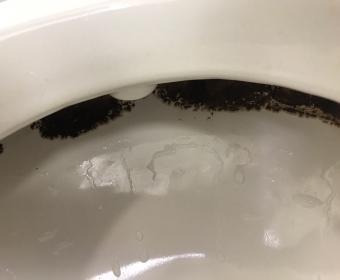 Simona Eta Boner
from Thessaloniki, B
Staying at Holiday in Thessaloniki Greece. It is 4:39 am. The room stinks to high heaven like sewer. The air condition unit has been leaking and flooding the room. Hotel management promised to fix the problem but did not do anything about it. The packed the floor around the unit with towels and told me "thechnitian comes tomorrow. The other rooms I offered were even worse. One had a very loud AC - the other had an AC unit that was located right next to the bed. I am still staying in my room and feel very disappointed and upset. Feel that my holiday has been badly effected by the lack of service and care of what is supposed to be quality 5 stars accommodation. I want to be compensated for my pain and suffering.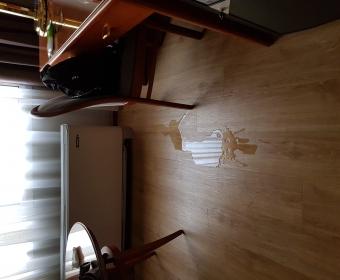 Daly patto
from Pakenham East, VIC
Dear who may concern
I Daly patto stayed in holiday inn Osaka I was very desppointent my family and came all the from Australia to Japan to stay at holiday inn we always had great expreince staying in holiday inn but Osaka holiday inn it's dirty it smelled.
our three rooms were smoking we choice non smoking their was 9 of us 6 adults and 3 kids plus I got a room of 2 single beds I choice double beds me my husband and two kids age 11,and13 slept in a room with 2 single beds plus even my sister inlaw her room was 2 single beds 2 adults one child and the other room was just 2 single beds 2 adults but all smoking.
The rooms were dirty and dusty smelled like smoking next day we had to check out cause the smell was bad my daughter has asthma we couldn't stay.
We were there from 4th July we checked out on the 5th July instead of 10th July.
We booked it through hotel.com
I'm very disappointed with holiday inn this time.
I'm going to put bad review on trip adviser.
Thank you

Sherry West
from Solon, OH
I, Sherry West ,resided at the Holiday Inn , Strongsville, Oh, on 7/12/2018 - 7/14/2018.After checking out I emptied all garbage into the trash can, which included cigarette buts, ashes, and other items. My husband would frequently go outside to smoke. he'd keep his ash tray to prevent littering. I checked out on the 14th of July. before I check out, I personally went to my both rooms I rented and cleaned the room due to,(OCD). My account should have been closed when I checked out, however, it wasn't. The following day, Holiday Inn Hotel garnished $250.00 x 2 , from my account. accusing me of smoking in the room. I don't smoke, and I don't allow my husband to smoke around me, or onside a room any room that I'm in. Because house keeper spots cigarette buts in the garbage can isn't sufficient evidence of smoking inside the hotel room. I never left my room during my stay no one had smoked anything inside the hotel. 500.00 was garnished because there was assumed evidence of smoking. I am asking for a full return of $500.00. Im requesting my deposits incidentals which was $35.00 x2, for two days which is $140.00. Do to the false accusations, I have been inconvenienced tremendously. I lost 2 clients because my money has been tied to a false accusation.Im asking that my money be returned immediately, and an apology from the staff who assumed i was smoking in the room, because they spotted cigarette butts in a garbage can while cleaning the room. I deeply regret staying at the Holiday Inn at Strongsville, Oh.
truly,
Sherry West

Gaylon Wood
from Conroe, TX
I have been a member of your Holiday Rewards club for over 30 years. At the last stay I had on June 21 / 22 at your facility 4575 E Ira Lane in Phoenix AZ, I was told that before I could check in that I must let them run a credit card with $.01 on a tab in case I damaged their facility. Is this a new policy? Also the $.01 is still on my credit card, it has not been removed. What is going? Is this the way long term user of yours of your facilities are going to be treated from now on? Member no.330827849.
Gaylon Wood

Melisa Cole
from Chicago, IL
June 16 or 17th ... $915.99 was taking off my bank card. And I cancelled my reservation june 19th cause I don't hv that kind of cash just laying around. And I waiting on the return of my money!!! It would be nice to notify someone that ur takin out the full payment for a hotel stay!!! Cause i could use that $915.99 for my bills and rent that im behind on.
Poor service !!!

Julie Shortt
from Fort Lauderdale, FL
Let me just start off by saying the gentleman who checked me in was very nice and pleasant. My first complaint is I was promised early check-in I did receive a phone call around 10:30 a.m. inquiring about the early check-in and asked me if I wanted to be upgraded to a sweet but unfortunately I cannot upgrade. Then I was told around 1:30 I should be able to check in early before 3 p.m. I then called about to due to me not hearing from anyone and they at the front desk how did Vice that I could not do it until regular check in at 3 p.m. . As I got to my room after that there was a clump of hair on the pillow case the outlets to plug in your devices we're hanging out of the socket which had to be pushed in by myself. The bedside lamps did not turn on at all. The bed was very uncomfortable needs a new mattress. The guests in the other room next to mine were very loud as they were in and out a couple of times in the middle of the night and this was a joining room so you could hear better then normal and I was not joining with the other guests. The server for the breakfast has to really change attitude when she is asked questions as to where items are found. I was really expecting a higher-quality loom and service as to where the hotel is located at. Very disappointed and glad I only stayed for one night. I will not return back to this location

Brent Coleman
from Austin, TX
I made a reservation for 6-21-18 at Holiday Inn Express & Suites Austin South 701 East Stassney Lane Austin....Phone number 512-851-1000.
I made a reservation a few weeks prior and was not able to stay with Holiday Inn on 6-21-18. I called to cancel and was told I could not cancel. Due to me making the reservation in advance and receiving a discount for doing so. I ask if I could reuse the reservation in the future, no answer. I was transferred to the manager Tonya. I left a message with Tonya on 6-20-18. No return call. I called back on 6-22-18 and left a message. I was hung up on .I called back and left a message for Tonya.
My complaint is no one has called me back to date!!
The I don't care attitude and hiding behind a big corporation has become tiresome to people. I will file my complaint and take my business elsewhere.
Brent Coleman
214-533-6333

Harp
from Sioux Falls, SD
We were NEVER told there would be a charge for my 5# dog. So called "pet friendly " is not adequate. I have stayed at many luxury motel/ hotels, and have NEVER been charged or had to sign a contract. How bizarre and disappointing. We will NEVER stay at another Holiday Inn Express with or without a pet( family member)

Craig Wallace
from Orlando, FL
Witness employee stealing from guests! Victor Lawson, banquets , Donald, night houseman.

Steve Polecastro
from Whitewater, WI
Made reservations on Feb. 20 for a Holiday inn Express in Minneapolis Minn. for a family wedding and reservations were confirmed. On May I was notified that my reservations were no good. I called the Holiday Inn Express and they told me that the had overbooked and because I did not pay with a credit card I was being cancelled. Talking to Bridgett she really didn't care that I made my reservations on Feb 20. I believe Holiday Inn Express should have notified me before May 1 when the wedding is on May 5. I will not use a Holiday Inn ever again.

Al Waldorf
from Sterling Heights, MI
Reservation was cancelled 4 days prior to reserved date due to urgent matter.
Holiday Inn Indianapolis Carmel 251 East Pennsylvania Pkwy Indianapolis IN 46280 US
The Hotel charged me 148.73 due to a third party Sitesearch LLC 2 week policy.
I pleaded with them that they might understand the urgent matter.
They refused to reimburse the payment.
This is certainly bad business and will tarnish the Hoiday Inn reputation.

Lauren Wilder
from Charlotte, NC
To whom it may concern:
I traveled to Virginia Beach this past weekend to celebrate my 25th birthday. After enjoying a very relaxing and enjoyable stay at a Virginia Beach hotel, I traveled to Norfolk and checked into the Holiday Inn Virginia Beach/Norfolk on Greenwich Road. Unfortunately, my stay at this Holiday Inn was one of the most terrible hotel stays that I have ever experienced. After checking into the hotel, there were a number of issues that made my stay, and my birthday weekend a very disappointing get-away.
Included below are the issues and concerns that I encountered during my stay:
1) The side chair in our room had a very obvious and somewhat disgusting stain (see attached photo).
2) I was unaware that there was a conference at this location. The conference attendees were quite loud
and obnoxious. When we returned from dinner, we were unable to get on elevator because there was
flash mob dancing in front of the elevator.
3) Once we were able to finally get to the elevator, there was a repugnant smell made me nauseous.
4) When we finally prepared from bed and pulled the sheets back, there was black stringy hairs on the
sheets (which made me think that the housekeeping staff did NOT change the sheets). I called the front
desk and explained the situation, and they agreed to bring us replacement sheets. After waiting about 10
minutes, a bellman knocked on the door and handed me the sheet. He appeared to have an attitude
and instead of coming in and replacing the sheets or apologizing for the inconvenience, he said nothing
and turned around and left.
5) I was already disgusted that I had to look at the obviously slept-on sheets, but I feel it was very
inappropriate that I would have to change the dirty sheets that should have been clean to begin with. To
my dismay, the replacement sheets that were up by the front desk did not include a fitted sheet - only two
top sheets. To top this off, one of the replacement sheets was dirty!!
6) Trying to rest in a bed that you sense is not clean is disturbing, but the noise level from the conference
attendees traveled up from the lobby making it impossible to rest. Our room was on the sixth floor, but
we could STILL hear the very loud noise convention attendees (who were screaming, singing, etc.).
7) The crowd finally settled down around 2:00 am and we were finally about to get to sleep. However, I
was startled awake by a loud banging on my door by some drunk idiot!
This letter is to express my concerns that the hotel was not at the level that I expect when I think of the Holiday Inn franchise. I feel that it is the responsibility of Holiday Inn staff to ensure that all guest feel accommodated and comfortable. The lack of clean furniture, odor control, clean and fitting sheets, courteous bellmen, and crowd control all contributed to my having a horrible stay for my birthday celebration. From my frequent stays at the Holiday Inn, I have come to expect so much more than the service I received at this hotel.
I travel often and usually ask for a late checkout during my stay, but given my experience at the hotel we left the next morning at 7:45 a.m. because we were simply outdone with our stay at this Holiday Inn. Even though the front desk was staffed with two employees as we walked out, no one bothered to speak or bid us a good stay. I am truly disappointed with the Holiday Inn Virginia Beach/Norfolk and felt compelled to write a letter to express my disappointment. Hopefully, your corporate office can do something to improve the level of care and attention of this location.
EDIT: It's been almost 2 weeks. Since I posted his on Holiday Inn Norfolk- Virginia Beach and no one has reached out to me.

Danielle Madrigal
from Fayetteville, NC
I stayed 2 nights at the Holiday Inn Express in Simi Valley. The 2 nights cost $311.00, and was not worth it. The first evening we ckecked in the room, the air conditioner didn't work, the toilet kept running and the sink smelled like a sewer. I told the counter clerk; we were then moved up a floor to the opposite side of the building. In our "new" room the cable was not in service both days, I asked one of the cleaning staff member for some extra towels, which I did receive 2 for all 3 of us, but it took nearly 10 min just to communicate with the house keeping worker.
He didn't speak or understand a single word of English. When I did laundry my money was taken out of the machine while I went to get change. I think I finally lost my patience when some man, which I learned later was a maintenance employee was banging on my hotel room door; and kept trying to come inside my room. When i asked who it was surprisingly no response (no English) . As I mentioned all of these mishaps while staying at this hotel, the person at the front desk apologized but did nothing more. Why would a hotel say "satisfaction guaranteed or your stay is free" and not live up to it.
This hotel didn't even return my calls after leaving messages for Manuel General Manager. I will not be going back there again.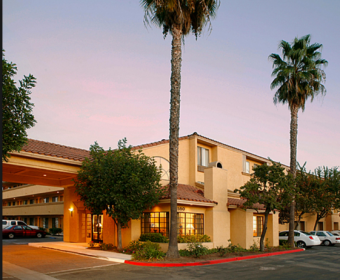 Debra Ploss
from Boise, ID
The carpet was so filthy we had to lay the bath towels on the floor in order to walk around. There were spots of blood on the comforter and sheets. Could not switch rooms it was full. Told by Holiday Inn customer service we could not get a refund for 5-7 business days. It was all the money I had to spend for a special weekend with my partner. This was a complete failure and disappointment. We stayed friday and saturday night, check out on sunday. By the time saturday morning, by 1:30 am the headache started, then the vomiting.
By the time we checked out we both were extremely ill. With the filth being stirred up from the carpet it is surprising we only had to suffer from saturday morning (1:30 am) through wednesday. I have all the samples needed to started the process of having this looked into by the appropriate authorities. This was appalling and disgraceful. We will never stay at another Holiday Inn.
Have feedback for Holiday Inn?
Thanks for your feedback!
Sorry. Please try again later!