Holiday Inn
Holiday Inn Complaints Continued... (Page 4)
242+ reviews added so far. Upset? Call Holiday Inn corporate: 1-800-621-0555

Triple A (AAA) members discount is better than military discount. That's not even the worst part. The regular price for room is better rate then the military discount. This is why I dont go nowhere cause things like this piss me off. Thanks Holiday inn. My first vacation and the hotel takes all my damn money. What in the world.

Jerry Bridge
from Bedminster, NJ
The worst customer servious I have ever had at a motel. Called the front desk multiple times this evening on 5/30/19 to get them to shut down the music coming from a company that has a tent set up in the parking lot. They are blast the music extremely loud. I had to call the police at 10:10pm because the front desk could care less about the guest getting their rest. Plus my room 545 was over charged $1900.00 and I still can't get them to reverse the charges. I travel all over the US and this motel is the worst. Its shameful corporate would allow trash to manage their motel and damage their reputation. Everyone I work with out at the refinery has nothing good to say about this motel. And if my checking account isn't reimbursed by next week my attorney will take over

Nicole Russell & Eric Cardinal
My name is Nicole Russell. I am both a Marriott Bonvoy and IHG Rewards Member (Club Member # 261395991. We travel often between work and leisure. That said, we made reservations at the Holiday Inn Express in North Attleboro, MA for Saturday, May 11th with a check-out on May 12th (Confirmation #259328710. We were there visiting Bryant University with our son. We have stayed at many different hotels over the years and this particular stay stood out as being one of the most revolting experiences. The staff were great, however our room was less than desirable. Although we were not asked if we were IHG Members, therefore didn't receive points for our stay. I will contact them direct. We stayed in room 210. The second we opened the door, we were met with a very unpleasant odor. As we entered the room to place our bags down, noticed above the 1st bed a huge water stain on the ceiling. I then went into the bathroom to set our toiletries down, only to see a ton of fruit flies. I wish I had taken a picture at that time as there were probably 15 of them in there. I did get a picture later that evening, with still more fruit files. We had friends who came up from MV to visit, and stayed in the room next to us. When they came to our room to say hello, as their 4 years old daughter walked in the room, she said..."what is that smell, it's stinky". Overall it was a very unpleasant experience and we would never stay at that location again. Attached are pictures.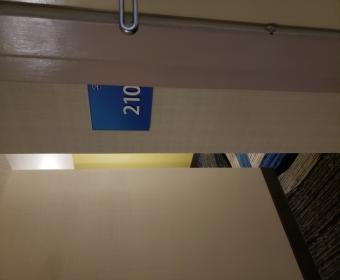 Lisa Foley
from Lexington, SC
I recently stayed at the Holiday Inn Express in Forest City NC. After a long day of sight seeing and travel we finally were able to book a room and settle in for the evening. Upon pulling back the comforter of the bed my husband discovered stains on the sheets. We were already in our lounge wear and had unpacked and settled in for the night. I pulled the entire comforter back and discovered sequins on the sheets. I travel frequently for work and pleasure and have never experienced such a thing. We called the front desk and she offered us to switch rooms. As I mentioned we had already unpacked and quite a few items that we would need to repack. Quite frankly I didn't trust that a different room would yield a different result so we opted to remain in the room. The front desk person brought up sheets and offered to help make the bed. We took the sheets and made the bed ourselves. We were offered a small discount and points, but I feel that more should have been offered as stains and sequins in a bed are just absolutely unacceptable! I would expect that we would be offered a free night stay given the circumstances. It is absolutely disgusting and we will definitely write a very bad review of this property if I do not hear a response.
Thank you and I will look forward to hearing from someone.

Sharon D. eley
from Plainfield, NJ
I need someone from The Comporate office to please call me 7323626518. I had my family reunion 5/24-5/27, 2019 at the Clark NJ Holiday Inn and I need to speak with someone ASAP. Thank you so much

The indoor pool was closed due to maintenance which was not specified on the web site. I chose this hotel only cause it advertised they had an indoor pool. Had to pay for parking, waited an hour and half for dinner that was literally ordered at the door. Very short staffed, when I did voice my concerns to the manager and said I was disappointed in the service, the parking issues, the pool being closed but not noted on the web site, and that it took so long when the food was ordered in advance, not to mention it was horrible tasting. I explained that this is unacceptable, that I was disappointed that guests are treated this was. She never looked my in the eye, never said sorry for your bad experience, nothing, but and I quote, " welp sorry there's nothing we can do." I never been talked to or disrespected that badly in a hotel. I took pictures of what we found under the bed, cause when I complained about it being dirty the response was, " well I call housekeeping if we have anyone here." Not one person followed up with me. I will never recommend this hotel and I will be sure to post it to all the people I know. Go to the Merriot instead

Barbara Demicell
from Albuquerque, NM
April 11, 2019 I booked May 21 - 24 at the above mentioned hotel through Priceline. At the time of booking, there was NO indication that the hotel was under remodeling.
Unfortunately, I paid for all three nights in advance. This was a vacation with celebration of granddaughter's graduation.
The first room, the second bed was sagging and we were right down the hall of construction and it was loud, I called Priceline as that is what I was told I had to do. The lady on duty was to put us in a room as far away from construction as possible and with better beds. However, upon getting settled in the second room, we were RIGHT BELOW CONSTRUCTION. Starting at 8:00 AM we had the "jack hammer" going and we could not even stay in our room. Besides the room was old, sofa I would not even consider sitting on it. I could not sit in the room at all to read and relax, nor was there any other place in the hotel where you could do this as all of the furniture downstairs in front of the TV, breakfast room, I would not sit on either. NO WHERE to relax and enjoy our stay. The elevators were continually used with the construction workers, dust and dirt everywhere,
The swimming pool was being redone, no hot tub, NO amenities except the breakfast.
I called Price Line to relocate to a different Holiday Express at which time I was told they could not do that as the money had already been paid this the Midtown hotel.
This was the most miserable vacation I have ever had. I have stayed in several of Holiday Express Hotels and they were always at the top of my list.
Unfortunately, no one really cared that they were under construction nor the comfort of the guests.
Basically, this hotel should have been shut down during construction
For what I paid and what we went through I should be given a refund for at least half of the expense of the room.
Images are on my cell phone or I would attach them

Richard Rex
from Newark, NJ
My wife and I recently traveled from Northeast Indiana to Pittsburg, Kansas to attend the High School Graduation of our Grandson there. We stay nearly exclusively at IHG Properties because they are all fine hotels, the prices are very reasonable and the reward points are good. I am retired from the Navy, and shop through the Military Exchange System. When we travel we turn most of our travel funds into gift cards so that when the vacation trip is over there are few to no charge accounts to pay off. We have for years used Vanilla Visa cards for travel purposes. The ONLY hotel where this has EVER been a problem is in Pittsburg, Kansas. We have stayed there several times and it has always been a drama. On this particular trip I knew in advance through reservations. The reservation Confirmation # 44577085 was for two nights at Holiday Inn Express & Suites
Pittsburg
4011 Parkview Drive
Pittsburg, Kansas 66762
United States
The room was an Executive King Suite. Room # 208 and Folio #120308. As I stood at the Check-In Desk, I opened the package for the Payment Card. This was a 400.00 Vanilla Visa. When the attendant ran the card she informed me that it had failed. I explained that it had just come out of the package and was brand new but she tried it several times and it failed. She said they sometimes had problems with these cards but she would get it straightened out in the morning with the manager. With that, I gave her cash to secure the room for the two night stay. She said when the card cleared she could return the cash. This was a VERY important point because that was nearly all of the cash we had allowed for the trip. We went directly to our room and on my laptop, I checked the card and it was exactly as I had said and there was 400.00 available on the card. I took the laptop down to the desk, but they still could not manage running it. The next day was much the same all day. After the Graduation, we returned to the room and I checked the card again. At this time there were a number of charges to the card. The first charge was a payment to that very hotel at 1:07 in the afternoon for over 200.00. At 1;43 there was another charge to STARBUCKs for 25.00 then at 1:44 there were two more charges to STARBUCKS for 100.00 and 65.00. After many many calls to customer service lines, it was verified that the first charge was absolutely made by someone working at the Hotel. The other three were likely online purchases by someone at the hotel for STARBUCKS gift cards. The Police were called but ironically never did show up and the same attendant at the front desk just couldn't imagine how such a thing could have happened but the card was left with just over seven dollars out of 400.00. Having a travel schedule and certainly lacking in travel funds we could not stay any longer and left as planned in the morning. Eating was VERY light on the way home but we survived well enough. The point is though that our stay in Pittsburg at this hotel which was supposed to cost us 338.00 ended up costing us 731.00. There was never any explanation, never any apology, no bonus points. no coupon, NOTHING! This was a great inconvenience to us but much more than that, it was a crime and the crime was committed by someone in the employ of the hotel and whoever it was is still working there. The only redeeming factor was that the Hotel was generally a nice facility just as we have come to expect. The Lady who managed the breakfast area in the Hotel was spectacular. She was extremely cheerful and greeted everyone pleasantly and by all appearances seemed to purely enjoy her job. Additionally, we spent one night on the way, and one night on the return at the Candlewood Suites in Paducah, Kentucky and the stay there in both cases was just as great as we have long come to expect. We have NEVER had any similar experience at any other facility but 400.00 is a great deal of money in my budget and this experience does certainly cast some question on future travel plans. I hope you can help in some way for ourselves and for any others who have the misfortune of finding themselves at this same Front Desk.

raymond ortiz
from Garfield, NJ
my Brother and I raymond ortiz stayed at the holiday inn montegobay Jamaica.upon retrieving our personal belongings from the safe,i raymond ortiz ,was robbed of 200.00 hundred dollars.the front desk was of no help we spoke to lerven sims the properties and securities person and her attitude was of no help unprofessional,and appeared to be bother that I felt maybe my brother and I were well to do gentlemen why are we complaining,that is not the point if it happens to us it will happen to those who save there monies a lifetime.this branch has no idea what takes place at this resort there staff begs the patron for monies and food and drinks I was one who fed them ,daily.I will be happy to come back down and point all to them and who and point out that ms .sims don't know what she is doing.my brother and I stayed ther 05/18/19 thru 05/25/19 and will never come back to that slum lord.we did file a complaint with the front desk

Sheila Moss
from Cleveland, OH
My complaint is the house keeping! I was out of my room by 10:00 am and return at 3:15 and room was not clean! This happened 2 time !

Travis Barker
from Bloomfield, IN
I made a reservation at the holiday inn express at Cloverdale Indiana by mistake. A friend told me to stay at the inn at DePaul in green castle and gave me the holiday inn's number by mistake. I had no idea a reservation had been made at the holiday inn until I received my credit card statement. The holiday inn could not contact me because the hotel clerk had written down the wrong phone number. I do not feel I am responsible for this bill because of the following reasons.
1. The reservation was made by mistake
2. The clerk had written down the wrong phone number and I could not be reached.
3. I did not check into the holiday inn or use any of their services.
4. I contacted Christina Payton the manager at holiday inn after noticing this charge on my credit card. Christina Payton said she would reverse the charge when she confirmed with housekeeping that I did not check into the room. Then Christina said the owner would have to reverse the charges.
5. I repeatedly attempted to contact Christina Payton when the charge remained on my bill but she would not return my calls.
6. This is poor customer service and I will never stay at a holiday inn if this is not resolved.

Beth Wiegand
from Bedminster, NJ
I booked a reservation 2 months ago through hotels for everyone and subsequently received an email stating they were going out of business and to check with the hotel to confirm reservations. I did, and received a confirmation number and was assured, multiple times, that my room reservation was confirmed. However, when I arrived to check in I was told my confirmation number was not valid, and there was "no room at the inn". So what is the point in having a confirmation for a reservation? No more Holiday Inn.for me. Ridiculous.

Charlotte Olson
from Bedminster, NJ
Hello, I had made reservations with your location in SanAntonio (217 N. St.Mary's Street) a few months ago. After I had made the reservation (within 15 minutes) my husband mentioned parking and the cost of daily parking. I proceeded to call the Hotel back and ask the price of parking. They told me it would be $27 per day. Unfortunately that was not in our budget so I cancelled the reservation. Apparently the employee that I spoke to failed to cancel the reservation. I checked my account yesterday and noticed that a $200 charge had been taken out of my account. I immediately called the location and they refused to give me my refund. They told me to call guest relations which I did with no luck there either. With this being said I would like to add that I completely understand that if I would have made the reservation and just not showed up this would be justified but that is not the case. I can not afford to do something like this. I am a responsible adult and would have NEVER done something like that. I cancelled my reservation and I'm being charged for a mistake that was done by one of your employees by not canceling the reservation. I am not financially able to have $200 taken out of my account. I budget, plan, and save for stuff like this. I understand mistakes happen but it's not fair that I have to pay for a mistake I didn't make. I'm really hoping I will get a response from someone and this will be made right. We stay at Holiday Inn every time we travel and you I would like to continue doing so. My phone number is 417-342-9343. Myvreservation was made for May 23rd check in date. If you have anymore questions please call me.
Thank you,
Charlotte Olson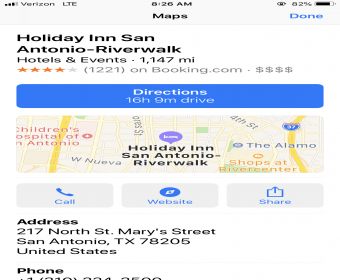 Dr Don Cook Sr
from Los Angeles, CA
There was no parking in the parking lots.Asked to park in the Sizzler Restaurant parking behind the building on the street over.
Must move vehicle before Sizzler opens at 9 am. We had to walk up an alley to get back to the hotel. Local city residents were hanging out in the alley. This is neither safe nor secure.
Where am I to park after I move my car as others will not have left as check out is at noon?
You advertise as rate includes parking. This is incorrect. We did not receive parking. We are not satisfied! Your response is greatly appreciated.
Respectfully submitted,
Dr. Don Cook, Sr.
314-707-7717

My name is Bill Haughton. I booked a reservation at the Holiday Inn Express in Orange Beach, Alabama, 24700 Perdido Beach Blvd. on March 23rd thru a third party online (Hotels For Everyone) My check in date was May 23rd, and checkout date was May 26th.Itinerary number: H255-1975280 Upon arrival on May 23rd, the lady at the desk could not find my reservation. I produced the itinerary, and after looking it up informed me that apparently, the third party I booked thru, had cancelled my reservation. She then spoke with the general manager, and he told her the third party company had gone belly up, and there were at least 70 claims on them. That I need to contact my credit card company to get reimbursed. I asked her what I was supposed to to now though? I drove 5 hrs to get here. She replied that I could book it again, but would have to pay again. There was no apology, nor was I even offered a discounted rate. I had no choice but to drive the 5 hrs back home, as my vacation has been completely ruined. Needless to say, I am extremely upset over this matter. I realize that it is not the fault of Holiday Inn that the third party company cancelled. However, Holiday Inn allows these companies to book for them, so ultimately Holiday Inn shares the responsibility in my opinion. I called the corporate headquarters today in Atlanta. I was given a case number: 10462268383 and was told that someone from Holiday Inn would be calling me. As of now, it has been 3 hours, and no one from Holiday Inn has called me. This is totally unacceptable. My credit card company is looking into this matter, and I am reasonably sure I will be reimbursed the money. However, this is not all about the money for the rooms I paid for, which was a total of $923.51. It's about my ruined vacation, and time lost, as well as the extreme stress and anxiety I have suffered as a result. I would greatly appreciate someone from corporate contacting me about compensation for this incident. My phone number is: 662-295-1816. My email address is: haughton@gmail.com Attached is a photo of the itinerary.
Sincerely,
Bill Haughton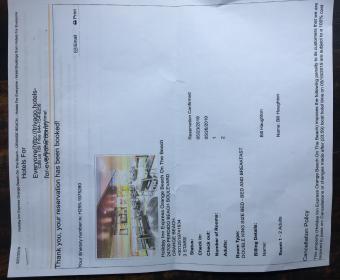 Two time I tried to get to there reservation and two times I was put on hold and no one ever came to the phone. I have reservation there for the 15th of July and have to cancel due to family issues.
Mr. Ragin RET MSG
609 330-1382

Lynn Hopson
from Grants Pass, OR
On Wednesday, May 21, 2019 I made a reservation at the Holiday Inn at 8439 NE Columbia Blvd. near the airport in Portland, OR. The reservation is for June 5th. The number is R1509214728. I did not realize that I was making it through a 3rd party called Res Desk. I thought it was the Holiday Inn. I inquired of the young man who handled the reservation if it was a reservation that could be cancelled if need be, as that has always been the way I have handled reservations before. He said that this was not the case with this one. I was hesitant to book, as one never knows if something might happen prior to the time of the reservation. He was quite brisk and quickly pursued obtaining the booking and had it in my in box on e-mail practically before I could even think clearly. He was very adept at his job. It was very unsettling to me being told I could not cancel and get my money back if something came up to preclude me making my trip. Generally there is no need to cancel, but it so happened that within the hour, a family matter transpired that will in fact keep us being able to use the room. The room was $212, and that is a lot of money for us to lose. I tried diligently to get some satisfactory closure on this matter by speaking with several people. Irina, the manager of the hotel we were booked at was very nice, but very busy. I spoke with her 3x, only to be put on hold repeatedly with no closure. At one point, I inadvertently got the manager at the Holiday Inn Express near the same location, and he said since this had all transpired within an hour, he would try and help me if he could, but then he realized I was at a different hotel. I am hoping you can help me resolve this in a satisfactory manner.
Thank you. - Lynn Hopson

Early in April 2019 I booked a room through Med-Stay for a surgical procedure Starting May 9th to May 17. the hotel is Holiday Inn Express
6119 Farrington Road Chapel Hill NC 27517. Due to complications The Doctor had to cancel the surgery. I called the Hotel on the 8th or 9th of April to cancel the reservation. The person I talked to cancelled the reservation, and when I asked for a confirmation number she said that she had cancelled the reservation and could not provide me a confirmation number. I asked for her name and she said it was "CiCi". I said okay and hung up. On June 14th I noticed there was a charge on my credit card of $190.68 from the hotel. When I called the Hotel and inquired about the charge I was told that because it was Graduation weekend at UNC they would have to charge me for two nights at the hotel. When I cancelled the reservation I was never told about this policy. there is no notation on my reservation sheet about special event cancelation. When I made the reservation through MED-STAY I was assured that cancelation was possible as long as I notified the hotel by the 9th of April. I think I am due a refund of $190.68, because I was not informed of the cancelation policy for special events. I am a Gold Elite member 108 109 331.
Thank you, David L. Griffith

Charged my credit card for making a reservation $67.65 I think the is a little extreme. The person I spoke with indicated that the charge was the room rate no indication there was a charge for making the reservation. I would like to be reimbursed for this extra amount.

I called to book a group reservation for 30 rooms for May 22 - 24, 2020. Spoke to a Jazzmin several times. She put me through to the Group Desk. The group Desk told me they could not accommodate me because they had to take their outside guest first. What the hell are we, chop liver. We are all ouside guest. Also when I asked some questions regarding the room tax amount, they did not even know this. I am contacting the better business bureau regarding this refusal to make reservation.

I stayed in the Holiday Inn in Blythewood, SC, the hotel there will not return my incidental fee, they said they have but my bank statement says they haven't I called my bank and they said get a statement from them saying that it has been released and they will refund my money, well the hotel has made ever excuse in the world not to do that. I am starting think they are trying to keep my money. Very service, extremely disappointed.

Had to be moved to a different room d/t live bugs in the bed.. in addition long dark hairs on bathroom floor on arrival to the second room.. other than getting moved to a second room .. no compensation regarding the stay.. I have stayed at many holiday inn (both leisure & business) .. never experienced any thing like this.. so dissatisfied..

This hotel has the worst customer service OMG, I had a Plastic Surgery conference in Boston, South Bay my conference was ruin cause of their bad staff, they are not profesional at all, I would never recommend this hotel or do any of my conferences, sorry but it was bad no one called to apologize for the inconvenience or refunded any money back they charged 1000 per night ridiculous not considering I was doing an event there already.

I arrived to check in at Holiday Inn College Park, MD at around 4pm and didn't get a room until 9pm. They didn't have the rooms clean and they were short of staff. It was a disaster. The group that I traveled with, Soul Nation, had to help the employees of Holiday Inn clean the guest rooms. With that being said, I missed the dinner and the comedy show. I feel that I should be compensated for this mishap.

On April 27,28 , and 29 th we had our Annual State Convention At Corpus Christy Texas. Well I And another Guest Had our reservation with our confirmation number and upon arriving at the Motel I go to find out that we only had reservations for just one night and we had to go to another Holiday Inn with No Transportation To our Convention. I have always been at our convention and Never had this take place before. I missed part of our meetings as a Result. And Yes The Second motel had not been cleaned and there were soiled Bath Towels And Toe Nails Clippings On The carpet. Completely the room had not been serviced. And then They Didn't Give Us The rate promised to the Knights Of Columbus. And Yes We Were Expecting That Rate as Promised. If Holiday Inn Can't Deliver , I Don't Think That I'll Ever Stay At Another One Again !!!

Aaron Christ
from Fairbury, NE
I never complain and this is completely out of character to me. Out of all the hotels I have stayed at in my life this was by far the worse experience I have ever had in 43 years. I often choose Holliday Inn because until yesterday I saw it as a quality hotel. The staff especially desk clerk Lexi treated me like I was nothing more than a huge bother. I didn't not feel like my business was appreciated or welcome in any way and a very huge special day in my life was brought down by the treatment I received. Me aside I even witnessed her treat my parents who are in their 70s with this same attitude and other family members also staying during this same night told me they were not impressed. I had a $118 reservation that was not honored and what made it worse I was charged $190 not Budgeting that for my stay and was yelled at with Lexi staring they were busy this weekend and now that's my price even though I had a month plus old reservation. Never experienced this type of service from a holiday Inn or anything even close and will probably never go back again unless someone actually cares enough to make things right.

Not a complaint, but asking that the new Chico Holiday Inn Express people mow the grass on their property facing Springfield Dr. It looks soooo messy and attracts trash, homeless and makes area look uncared for, thus, so will the motel be that. PLEASE, PLEASE MOW THE GRASS NOW! Thank you.

I recently book a room at the Holiday Inn Express in Pella, Iowa for the Tulip Time Festival.
The fee for the room was ridiculously inflated, due to the festival, but I justified the expense due to the fact there was a pool, hot tub, and a hot breakfast served complimentary. When we arrived, the staff was less that courteous and informed us the pool was out of order. Considering the fees mandated to stay that weekend, one would assume that because we were not getting what we paid for, a discount would have been applied. That was not the case. When I asked, I was met with unprofessionalism and extreme defensiveness. Eventually a manager stepped out from the back and applied a $30 discount...however, that alone is unacceptable. We were met with further disappointment the following morning when we learned from other guests, that they had not informed everyone at check-in that the pool was out of order. Further disappointment again, after we had returned from a long day at the festival to find housekeeping failed to visit our room. We also asked to check out early because of the lack of follow through in service we expected when booking online, and were again met with unprofessionalism and denied that option. Had we known the pool was out, we would have never booked in the first place. Had we known the poor service and unprofessionalism we would have experienced, we would have never came to Pella in the first place.
Holiday Inn should be ashamed of themselves for the service provided, the ridiculous inflated prices, and the experiences received during our stay there. Even the lowest rated hotels are able to provide the very basics. You can guarantee we'll be sharing our review of the Pella, Iowa Location to anyone that will listen, including publicly posting our experience on Tulip Time Festival pages. Families deserve better than what was provided.

I stayed at Holiday Inn Express (Lenwood Drive, Barstow, CA) on 4/14 - 5/3/2019. I was planning to come back, so I made a reservation for 5/5 - 5/31. I checked out on 5/3 at around 6 AM and asked the Manager on Duty if I can leave my luggage in the hotel, since I'm coming back anyway in a couple of days. She declined to take it, citing the hotel does not want to be responsible for storing the luggage for any guest. I was flabbergasted. I've been travelling a lot - - - Diamond member at Hilton and Elite member at Marriott - - - and this was the first time that I ever heard of such policy. Needless to say, I cancelled my reservation and booked at a nearby hotel who agreed to stow my luggage.
I understand that this branch in Lenwood has a high occupancy rate. But is it a valid reason to cut down on customer service, especially to those who are coming back and have already made the reservation?
Another Issues:
1. Guest Laundry have only 4 machines, yet 3 of them were out of service during the duration of my stay.
2. Men's restroom on the 1st floor reeks with urine smell
3. Room 338 bathroom floor tiles are cracked

We stayed at the Holiday Inn Express at 2720 N. Glenstone Ave. in Springfield, MO, in room 527, on Thursday night, May 2nd. The condition of our room was unacceptable, and should not have been in the rental rotation. The bathtub coating was peeling, and a poor attempt had been made to repair it. We did NOT want to take a shower in the tub. It was disgusting. Our television in the room was also not working properly. I called the front desk, and a maintenance man promptly came to our room. He also could not get the remote to work, and went and got us a new remote, with new batteries. It still didn't work, and he decided that the television was just very old, and needed to be replaced. The front desk offered to move us, but after a 9 1/2 hour day on the road, we were too tired to move all our bags, and just stayed. The front desk sent up free breakfast buffet tickets, but we needed to get an early start on another nine hour day, so we did not use them.
I feel that our room was in such poor condition, that half of our bill should be refunded. We had been staying at the La Quintas on our three day trips to and from Arizona for eight years. We decided to try another hotel that was a bit more "upscale", and we were VERY disappointed in the quality of our stay. We certainly will reconsider staying at a Holiday Inn Express again.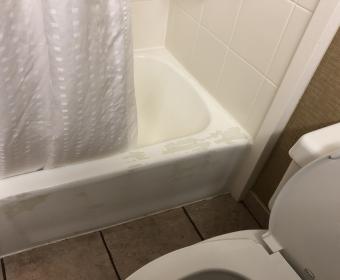 Betty Widner
from Albuquerque, NM
I made a reservation with Holiday Inn Express, Las Cruces, NM...January 24, 2019.
I requested a top floor away from the elevator. We were given a room on the 3rd floor, when i questioned the gentleman, he said I must not have
contacted them personally. I checked my phone and yes I had called 575-527-9947 back in January. Then he said oh well you no a room
request can never be guaranteed.
If that is a true statement of Holiday Inn, why would I ever bother, and in the past why has there never been a problem..
This Guy, no longer a Gentleman, was a Takky Takky rude Man.
I will continue to stay at Holiday Inn when I travel, but everyone dealing with this guy should be made aware of his BS.

On 4/19/19 we registered at the Holiday Inn Express Shelbyville/Indianapolis, 38 W. Rampart St., Shelbyville, IN 48176. At 4 am the hotel lost power and there core no heat with the temperature outside at 39 degrees. My husbaNd requires a Medical machine which we could not use. We tried to sleep and ended up getting up around 7am and found no hot water and of course no breakfast. Now I realize that the power outage was not the fault of the hotel, but My husband was in the lobby right after the electric went off and the owner arrived and when he found out it was not the hotels issue he stated he was glad because he wouldn't have to reimburse any guest. Now I did not receive what was paid for and I at least expected a partial reimbursement and did not appreciate attitude for something that wasn't my fault either. Did not even receive any kind of apology, this was not a good business practice and next time I may have to look for a Marriott and it's a shame cause we have stayed at that hotel several times. You need to trai. Your franchises better in public relations.

Montel & Christine golatte
from Los Angeles, CA
Someone tired to steal our truck 2010 Cadillac Escalade so we then had to have it towed to Cadillac to take it out of anti theft system lock. Well we had to stay here another night we are now staying here with no power power went out and not only that my key never works so I had to go downstairs to the front desk and give us a new key every time I came to my room!! I am very unhappy sacred with no power this is HORRIBLE!!!!

Melvin Thomas
from Kansas City, MO
My wife had her first assessment for lung surgery at Barnes Jewish Hospital.
After checking in, we returned to the front desk for our "$10 parking permit". Charging a guest for parking is outrageous when they are there for medical treatment. My wife who is on oxygen asked Kevin (mgr) about places to eat as we were not familiar with the area. He told her he did not recommend places but preferred to let guests discover on their own. He told her to go left or right at the corner (Euclid). She stated since she required oxygen she was not able to walk around looking and asked him if we wanted Italian, would that be left or right? With other customers present, he continued looking for something behind the desk. Then, turned his head and asked her if she wanted him to spell it out for her! We were both speechless! Even the desk clerk was taken aback. Also, the room was poorly designed with no place to open our luggage, a corner sink with no counter space, bath towels were kept outside the bathroom and the carpeting was stained. It was not a relaxing stay for someone seeking medical care. It is promoted as being close and convenient to the hospital. It should be more accommodating to guests.
Thank You,
Melvin Thomas
207 310 8112

The Holiday Inn at the following address. 6921 South Lindbergh Boulevard. St Louis Mo 63125....We have stayed in this particular hotel 2 times, and both times have been awakened by house keeping before 8am. The people here are rude as hell. With the exception of the front desk lady named April. The swimming pool is cold as hell for being a indoor pool. The hot tub feels nice but all the jets are on the seat so they are going up your butt instead of on your back.

Maria Krohn
from Marshfield, WI
I am upset because when we book are hotel . They didn't let us know about the pool Not working ,My kids was looking forward going swimming . They should put that on the website . I felt like I was cheated
Thanks ,
Maria

Thomas conlan
from Lindenhurst, NY
I called the Holiday inn Express in Pennsylvania to book two rooms which they said breakfast was Included However if I used my Military Discount I was not entitled to the breakfast. I was and am appalled at the way you treat our veterans and plan to let everyone know how your company treats our veterans

JAMES ALLEN JR.
from New York, NY
April 16, I called the Holiday Inn in Somerville Mass, 02143. 617-628-1000! I was confirming a event reservation for Jehovah's Witnesses on April 19, 2019! Front desk person name Amy answered! She asked me to repeat what I told her on function Friday 19? She raise her voice belligerently! She hung up! (I called back a young man answered I mentioned his coworker hung up on me told him reason of calling back he couldn't find any info) I called the Kingdom Hall! I was told the Memorial Jesus Death is at that location! I called back I got Amy! She said "you suppose to be a Jehovah's Witness you are rude!" I never said I was one of Jehovah's Witnesses! But I did encourage her attend the Memorial not accuse anyone anymore! Jesus did gave his life up for "rude" people my life forever as I am studying Bible try not to be rude! I am not perfect! Jesus provided pay my debt with his life to God for everones guilty crimes! That behavior is not acceptable to Holiday Inn! I hope she makes adjustments!

Sabrina hernandez
from San Jose, CA
I was having a very nice weekend. At this hotel my daughter's re 11 and 13 i get a a knock on the door saying my daughters are to loud and they accused me of smoking when i have a two year old in the room with me i get my girls to calm down and im takung my son a bath yo leave abd ebjoy the day they call and ask to search my room so permission was given after i was done getting my son dressed so they came in and did an expection i was not told that they are going to keep my deposit till it was time to check out the next day so making poor judgement on me is very wrong i feel if they didnt feel welcomed at breakfast they starred at how much i ate and my daughters being on computer botherd them made us feel awful for our first experince on a vaction at a motel and they got me 500 dollars for two nights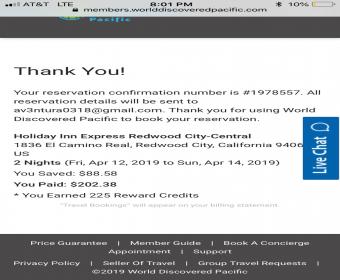 Robbin Johnson
from Chicago, IL
My conf. # 48054624 and the room number was 331
IHG # 281042750
I stayed at the Holiday Inn St. Louis/FAIRVIEW Heights 313 Salem Place FAIRVIEW Heights IL 62208.
I arrived on 4/12/19 (MY Birthday) after 11pm when we got to the room it was very cold in the room we tried to adjust the temperature it didn't move. The vents was blowing cool air still. Let the front desk know the issue.
On Saturday 4/13/19 I left room early didn't get back until after 5 stopped at the front spoke with the young man at the front desk to let them know the it was still cold in the room and that the remote didn't work. He was very nice and came back up to the room to see if he fix it. And he wasn't able fix the issue. Another you man came up I think his name was Chad. He also tried to fix it seem to be blowing out warm air. I left the to go to dinner and another event. Got back to the room after 12am and it was blowing cold air again and you couldn't adjust the temperature it was stuck it wouldn't move at all. I was very disappointed with this stay we also had kids running back and forth in the hallway. I checked out on 4/14/19 early before 7am I also let the person Dale at the front desk know the the room was still cold.
Robbin M. JOHNSON
binj02@yahoo.com
773-583-4880

No name
from Stockton, CA
On March 16th 2019 I made a attempt to check into the holiday inn & suites address 1600 East First Street Santa Ana, Ca 92701..I drove down from Stockton Ca which was about a 6hr drive I made the reservation for my daughters 13th birthday weekend we were going to Disneyland/California adventure upon arriving to the hotel we were a few hours early although I knew a room may not be available I still checked with the front desk which the very nice lady at the desk told me to check back in about a hour and she may have a room available... It was close to 12 o'clock noon so I drove to get a bite to eat with my daughter and her best friend to kill time I checked back about 1pm I was told a room was available she just needed a card and photo ID I handed both to the desk clerk and she stated that no prepaid cards were allowed so I said that's weird because this was the card I used to book the hotel as well as was charged $115.14 I assume for the deposit so I politely asked if there was anything else that could be done she said she'd get me an manager...so then came a manager by the name of Theresa who was not as pleasant upon seeing me she looked bothered like the first lady I encountered I explained the situation to the manager and asked is there anything that can be done I can pay a higher deposit or with a different card I had a credit card which she never even looked at but she said no we can not help you or accommodate you because need " a bank issued credit card" I asked why can't I just use any credit or debit card she states that it needed to be " bank issued" I explained to her that I was tired I had been on the road driving since 530am with 2 kids and just wanted to enjoy my weekend with my daughter and her friend for her birthday and that I had never heard of such hotel policy I advised this lady I was in no way trying to be problematic I just was tired and I didn't understand this " bank issue" card policy... I was trying to talk off to the side with her and she proceeded to the counter where another guest were checking in and advised me nothing could be done and she wouldn't accommodate me or my children nothing could be done embarrassed that the person next to me as well as the ladies waiting in the lobby behind me can hear me pleading with this lady to help me is outrageous so I asked for her name which she gave I then asked for the desk clerk name who was now helping the gentleman standing rite next to me name..the manger gave me a nasty attitude hit a button on the desk and told me I need to get out now and I don't need to identify the desk clerk just the manager but I need to go...get out!... I said really I have to leave for asking to identify a worker and now the people in the lobby are hearing this lady put me out of the property... I didn't want to cause any problem and also there were children and others present..I just left the property with little sleep and 2 kids and no place to stay 6hrs from home I couldn't risk driving home and falling asleep behind the wheel and I didn't want to disappoint my daughter for her big "13" I was devastated ...I called guest relations and opened a case and the lady in guest relation couldn't get in contact with the property to get a resolution but she says the property should have accommodated me or found a neighboring hotel so I was left driving around looking for a last minute hotel for the weekend I was left to stay in a motel 6 property which was not in the best shape for 2 kids but what choice was I left with...only to wake up Sunday morning to see another charge to the very same card for $100 so now that is $215.14 that was charged to me while being told by manager and guest relation that I would be refunded I had to call guest relation again and I was told that I would have a check mailed to me because your company does not hold on to customer card info which is crazy because my card was obviously charged twice now I cant get through to anyone to find out if my payment has been mailed...I have been on hold for over a hour on multiple occasions trying to reach guest relation I am utterly disappointed and disgusted in the treatment I received from this company and I hope another mother and child does not have to witness such shame and disrespect over a misunderstanding...I hope this reaches someone to have some type of action taken against this rude manager with obviously no customer service whatsoever

Ava Duckett of Ava's Works Productions
from Canton, GA
I am writing this letter on behalf of Ava's Works Productions, to first thank you for the opportunity to stay at the Holiday Inn at 10000 Baltimore Avenue in College Park, Md. Your group sales person, Ms Crystal Walker was very professional and as accommodating as her abilities would allow. She was courteous, professional and showed us that she had our best interest at heart. However, there were multiple situations that would have us to consider using another facility on our return. Below are some of the concerns that need to be addressed:
On Friday, April 5th, the communication was poor between the guests and your staff. We were told breakfast would start at 9:00 AM which seemed strange and not the norm but there was no reason to question the clerk at the front desk. Because we were not given the breakfast tickets, the following morning could have been a disaster with 43 guests coming to breakfast "late" and not having breakfast passes. However, Ms Walker contacted me very early that morning with apologies, letting me know we needed tickets. She also contacted the front desk making them aware of the situation. They made tickets for us and informed me that the time we were told was incorrect. It was not my job to knock on doors, correcting problems created by your hotel. However, because of Ms Walker, we were able to diffuse a potential bad situation.
.On the evening of April 6th, I approached the front desk to get breakfast tickets for the next day. I was told by your front desk (A gentleman with an accent) that; "The hotel has changed the policy and you will not need tickets for breakfast tomorrow. Just go in and give your room number. Breakfast starts at 7:00am" I took his information and shared it with the group. The next morning, (April 7th), was chaotic. The Hostess was not kind in letting my group know that without coupons, you cannot eat for free. When I arrived, my entire group was standing, not knowing what to do. I went to the front desk and Ms Anita tried her best to quickly resolve the issue by writing up tickets to accommodate the group. She was very patient, friendly and accommodating to our situation. Please be advised that while this is all going on, there was a manager on duty (Mohamed Yansaneh) that watched his employees struggle to try and set things straight. After the group started eating, we were told the children's free meal was only items from the menu and we would have to pay if they went to the breakfast bar. Unfortunately, everyone was already going through the line. We were never made aware of that prior to going through the line.
On that same evening, I brought the bus back to eat at the hotel restaurant 2 hours before closing. We could have gone somewhere else but everyone agreed to dine in your establishment. However after getting there, they were asked to choose the food bar instead of the menu because they may not be able to accommodate everyone. They were short staffed (2 people) That is poor planning on the hotel's part because there were at least 2 other large groups staying there that weekend. Because they were short staffed, some of the parents ended up buying Pizza for the children which forced them to eat in your open area. That was acceptable other than the loud, vulgar language coming from the bar. Rowdy and loud can possibly be tolerated, however vulgarity is never acceptable. These children's ears were privy to this and the Manager did nothing to stop it. Some of us were in the restaurant and some were in the open eating area but both places were forced to deal with that type of behavior. There again, no Manager ever tried to stop the loud cursing. I understand the high volume coming from a bar, but the vulgarity was insulting and disturbing to my group.
Our rooms were not serviced. When the group came back from the production the evening of the 6th, they had to call down for towels and other items while kicking dirty towels to the side. No beds were made and some had to come down to get clean towels.
Finally, your GM, Mr. Yansaneh was very disappointing to work with. He made no effort to assist any of the employees who were doing their very best to straighten out each problem. At check-out, there was a question of $129.00 that was thought to be due by us. I knew it was a zero balance and needed the manager to confirm. He made excuses and said he had no way to reach Ms. Walker who initially handled the account. He told me that I would have to wait until Monday to clear the matter up. I was not leaving the CC information of one of my investors accounts open to charge more. He was so non-challan and made no effort to help clear up $129 charge from an over $5,000 hotel bill. It was only when an associate of mine who has knowledge of hotel protocol started investigating which forced Mr. Yansaneh to finally reach Ms. Walker to confirm that our bill was clean.
While I commend you on the cleanliness and most of the courteousness of your staff, I have to say that, without making some type of restitution, I would not consider returning next year or referring my business associates to The Holiday Inn. Ms. Walker did her very best to work with us but there were too many large groups for one person to handle.
Thank you
Ava Duckett
Ava's Works Productions
240-441-3199

I am staying at the Holiday Inn at 550 C SW St. Washington DC
To babysit my grandson for 9 days ( my son works for the government and is here from Germany for seminars)
My flight arrived 2 hours ahead of my sons and when I arrived at the Hotel @ 2 pm they told me the room was dirty and and they would contact housekeeping so I could get in there, I explained the reservation is in his name and I was told it wouldn't be a problem me getting in the room as I am handicapped I had no problem waiting till 3, when I came back to the desk I explained them the situation to another person they told me the room was still dirty and asked me to wait another 1/2 hour, when I came back to the desk a 3rd time I was told it was STILL dirty it's 3:30 at that point the gentleman who was helping me went and talked to someone out back and came back to let me know the room was clean and ready, I gave them My confirmation # and explained that my son Will arrive @ 5 and that i have crones disease and I needed to get to the room because I couldn't take care of what I needed to in the main bathrooms, I was told they needed my credit card to be able to get into the room, I asked for a manager and spoke with Daniel and explained the situation once again, he out right refused to let me in the room without MY credit card, this is all in my sons name, I am elderly and handicapped, it's not right that I am being treated this way!
My husband and I are ING members and stay frequently at Holiday Inns.
After this experience we will be sure to stay at other hotels in our travels.
Teri Mathews

TOM WALLACE
from Toledo, OH
I WAS KICKED OUT OF A HOLIDAY INN - EVICTED AFTER IT WAS RESERVED FOR A MONTH FOR MY 59TH BIRTHEDAY
THEY LOCKED MY ROOM AND TOOK MY KEYS BECAUSE THEY SAID THEY SMELED POT IN MY ROOM
WE CHECKED IN, MY GIRLFREIND SAID THEY BOOKED THE WRONG ROOM, SHE HAD THEM SWITCH RMS AFTER I WAS IN THE RM FOR 5 MINUTES
WE WENT TO RM NUMBER 2 UNPACKED, HIKED, ATE DINNER THEN WHEN WE RETURNED MY ROOM, THEKEY DID NOT WORK.
THE DESK CLERK STATED SHE WAS ASKED TO TELL ME TO LEAVE BECAUSE "THEY SMEELD MARIUANA SMOKE IN THE ROOM AND IF I DID IT QUIET THEY WOULD REFUND MY MONEY. THE SUPERVISOR REFUSED TO SPEAK WITH ME. WE WERE PUT ON THE STREEET AND I NEED UPPER MANAGEMENT. THE SOONER THE BETTER. WALLACETOM15@YAHOO.COM. VIOLATED, MISTREATED UNJUSTLY ACCUSED HERESAY

Brenda Freese
from Ocala, FL
I have stayed at two holiday inn over the past several months. I probably won't be staying again. The reason is the decor is ULGY, very ugly to the point where it makes me anxious and aggravated. The decor is obnoxious, and does not feel inviting, welcoming or calming. While the beds are okay, and the staff professional and helpful, I simply cannot stay where I do not feel welcomed or calm.

Audra Guglielmetti
from Piscataway, NJ
We stayed at the Holiday Inn in Budd Lake N.J. for my daughters dance competition Groove Competition. A room block was provided to us. We have stayed in other Holiday Inns before for other dance competitions and I have had to call due to there times other guests were very loud etc but this time was horrendous.
There was a wedding room block at the same time we were here for the dance competition. We were initially on the 5th floor. In the afternoon the sounds heard of people having sex was very uncomfortable when I was in the hallway with my children. Upon our return from the competition this evening we got off the elevator and the smell of marijuana was overpowering. There was also a smell of cheap beer and the noise was a lot throughout the floor. When we got to our room the noise from the room next to us was so loud at 11 pm my family couldn't get to sleep. I called the front desk to complain and the gentleman offered to move our room. At 11:15 pm I packed up my family and switched rooms while all were exhausted. I appreciate that there was at least a room to switch too because my next option would have been to check out.
There was quite a mix of guests in the hotel and quite frankly I felt concern for my children's safety. Typically they will go from room to room with their dance friends and hang out but we did not feel safe to allow them to do so without supervision. My friend traveling with us had a drunk man try to enter her room! Very uncomfortable for families traveling with young children. The smell of cigarettes as you enter the hotel was disgusting and people congregating smoking their cigarettes at the entrance and in the evening it was drunk men smoking when we arrived. The bar is open in the lobby area therefore the drunk men and then the children being walked through the lobby with drunk adults loud and rowdy is not appropriate.
I had to call this to your attention and I will be sending a letter to the dance competition company as well. I would hope instances like this could be avoided in the future for traveling families especially here for an exciting event, dance competition weekend.
Audra Guglielmetti

Christopher Stephen Whatley
from Keller, TX
Your 1-800 reservation line which goes to India. I am a loyal IHG rewards member (488 905 379) and booking a room over your 800 line has become such an amazing PAIN IN THE ASS...I am now directing my employees to attempt to find any suitable option other than H.I. Express. The voice on the other end cannot be understood because of very heavy accents. They quote rates higher than the rates on line and you have to insist on the rate listed on your H.I Express web-site. I have no image to attach. The image I want you to put in your brain is a customer now searching for other lodging options...Imagine this image....see me "walking away" from H.I. Express and going to Marriott Courtyard instead.
Most Sincerely,
Chris Whatley

Mike Huschen
from Roanoke, IL
Visiting Iowa for College visit. My son wanted a hotel with hot tub. We got there and it has a plat form built over it with a table a chairs. The Website shows a hot tub. Frustrating as that is what my son wanted prior to his college visit. Its the Holiday Inn Express in Coralville Iowa. my reservation number was 25415381. Our family was not happy. Up date your website. Please.

Amy Hillyer
from Aledo, IL
To whom it may concern,
My company uses the holiday inn express on a regular basis. I have been staying at one or the other holiday inn express hotels in the Chicago area every time I have a corporate meeting to attend. Every time we have an issue about them not having what they need for charging the room to my bosses corporate credit card (and HE makes the reservations!) The only person who has ever been helpful and knows what is going on is the gentleman manager I think his name is Muhammad? I'm not 100% but he is at the N Cumberland ave location in Chicago. Usually I thouroghly enjoy my stay until now.
As usual I was greeted with the same hassle over card payment for room, I explained to the female (she identified herself as a manager) that the Male manager knew what to do because this ALWAYS HAPPENS. I mistakenly believed her when she said "ok" and proceeded to request a card for "incidentals". To my total shock this afternoon I discovered that the hotel had charged me $139 and change! Since I was unaware of this I also was confronted with multiple negative charges to my debit account because the hotel charge made my account NEGATIVE! I only use this card for minor charges so I do not maintain a lot of money in that account, basically a couple hundred goes in each week that I use for whatever. I immediately called the hotel, I have received an email outlining the fact they charged the WRONG card and initiated a refund. My problem is I am now incurring overdraft charges AND am not able to use my card because it is not yet showing up as a credit to my account! I am being punished financially and mentally stressed because your hotel made this error! I am extremely unsatisfied to say the least. Thankfully the overdraft charges are going to be minimal but it is still an incredible inconvenience. I honestly am not comfortable ever giving my card for incidentals in the future, I no longer trust I won't be wrongly charged. I will attach the email proving exactly what I said happened. The same thing happened to my coworker who stayed that same night in room next to mine, however she evidently caught it sooner so was credited hers within an hour. Since it's Saturday, I'm stuck because the banks are closed.
I am due back in Chicago in a month, depending on how this gets resolved will dictate if I request my company use a different hotel chain in the future. Any replies may be made to my personal email account, I merely had email receipt for refund sent to my corporate email so as to provide my company and manager a statement for record.
Sincerely,
Amy Hillyer,
Insurance agent
Combined Insurance
Amy.Hillyer@yahoo.com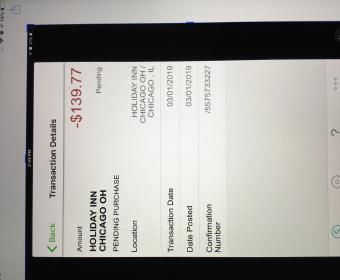 Have feedback for Holiday Inn?
Thanks for your feedback!
Sorry. Please try again later!