Holiday Inn
Holiday Inn Complaints Continued... (Page 2)
219+ reviews added so far. Upset? Call Holiday Inn corporate: 1-800-621-0555

Kathy Bragg
from Moorestown, NJ
Kathy Bragg
Hi my name is Kathy Bragg,
I stay at your Ben Salem Pa location at least once every 1-2 months. Each time has been a bad experience. I stay there because it's in the Parx casino parking lot and they give a discount for Parx customers.
During one visit my sister and I checked in, went to our rooms and when we went to leave our room we couldn't get out, the locked jammed. We made several attempts and finally the door opened. We told the front desk and they said they would send someone up to fix it. Several hours later we came back to the room to get ready to go out to dinner, when we left the room, my sister had to go back in to get something and again the door didn't open FROM EITHER SIDE!!! So they didn't fix it!! What if there had been a fire?! How was my sister going to get out of the room?!!
Other times we have dealt with insanely rude employees, dirty rooms, wet carpets and mildew smells. Every time when I ask to speak to a manager there is never one available to come to the desk. Each time I call on the phone I'm told there is no manager there. Does your hotel hire managers?
One time we were told the pool would be open and when we got there it was closed.
Several times we went and there was no toilet paper and the next day we had no fresh towels. We were told they only give clean towels the next day if we call the desk to ask. Shouldn't your cleaning staff supply fresh towels in the morning and also supply TOILET PAPER?!!
I was there again this past weekend and again there was no toilet paper. And when we went out to the pool it was dirty. The 5 foot end of the pool had dirt and leaves, A LOT of them. So we went in the other end and had to stay away from the deeper end so we didn't have to swim in dirt!! However, when I went to get out of the three foot end of the pool there were cigarette butts floating by the steps in the pool. I know your staff is not responsible for the inconsideration bs of your customers but your staff IS responsible for maintaining the rooms and the grounds.
As I said I go quite often with either my sister or friends, usually my
Also I want it known that I have been trying to resolve these issues for since August of 2020. No manager has ever returned my call, that's why I finally decided to contact your corporate office. I never should have had to take it this far.
sister or my friend books the room and we split the cost. Unfortunately I have yet to have a good, CLEAN experience.
I will be staying there again the weekend of September 18th, I think at this point we deserve a free room, if not for this visit then possibly for the next. And perhaps you should better train your employees. They simply don't care. I have stayed at Holiday Inn in four other states and have never had an issue. So what is the problem with your Ben Salem Pa location?!

Mary Seaman
from New York, NY
I checked in at the Holiday Inn in Nashville Tennessee on 4th Street. We requested a room with 2 queen beds and a pull out couch. When we got to the room it did not have a pull out sofa. I went back to the desk and the gentleman said "you requested a room with a view". I told the gentleman we did not request a room with a view and he said "well that's what it says you requested". Then he changed to room to have a pull out sofa bed. We went to the new room and it was dirty - sheets all over the floor. I went back down and asked that he put us back in the original room and he said no that he was going to give us a room with a pull out couch. Then he said the couch is not a pull out bed. It just pulls out. I said we needed a pull out bed and he said none of the rooms have that. However he still I sit later on changing the room and gave us yet another room. When we went to that room it was a connecting room. We went back down and requested that we be cancelled and he said they would charge us. I explained that the situation was not our fault and we had stayed in holiday inns our entire trip without issue until now. He still said they would charge us. There was no apology or asking what could be done like maybe putting us in a holiday inn express. He was rude and unhelpful. He acted quite annoyed. I have had very good experiences prior to this . It is unfortunate as I do not even want to stay in Nashville now.

Dezzerey
from Syracuse, NY
I am writing in to file a complaint about fraudulent charges on my sisters credit card when we came to stay at one of your holiday inns. What I don't like is feeling like I can't get a room through your establishment. I feel like should I use my bank card or credit cards your employee is going to try to steal my money or try to make fraudulent charges. It's not ok that your employees take what is not theirs. Moving forward I will be letting everyone I know not to go to Holiday Inn because their employees like to steal credit card info and think they are about to purchase things.

Betty ellinger
from Woodway, TX
Corey was new and I understand but he was so slow and took 30 minutes to check in and missed a lot of the things he should ask for. I had to leave because my husband was in icu at Scott and white, my daughter stayed until morning. I had a wreak going home and someone stole my purse with my credit card and Id. I canceled my cards when I got home, but the one there actually went through. I called back to get a copy of drivers license but he never sent it to me and I called again the manger said she to had contact him to do it which is ridiculous! I told her I was going to report to corporate. I don't want to get anyone in trouble but when someone is in dire need this really heartless.

Frank Mastroianni
from Vaughan, ON
Terrible service. I booked a room at the holiday inn
at Niagra falls on 5339Murray street a room by the pool 3 weeks in advance and was confirmed by the manager that it was booked. I then get a call two days later and was told the room was no longer available. I asked for the manager about the situation and I was told that I was speaking with the manager. She said I csn book another room even though I booked in advance and have it cancelled fir no reason and can come down to see if there was a room for me by the pool. I then asked to speak to the owner Coco who I had met many times birng a repeat customer every year. The manager refused to pass the message and was thrn told to go gladly find another hotel because the room I booked was no longer available. This lady should not be working as a manager. I have made a complaint to head office about this. I have been going there for the last 10 years just to get my room cancelled and told to go elsewhere. Coco you seriously need to change your management staff. Terrible service.

Ricky R Kwit & Mary Jo Boland
from Bettendorf, IA
We requested a pet-friendly room at the Murphysboro Holiday Inn Express tonight at 8 pm. We were told that since this hotel was brand new (open one week ago) they were not accepting pets. And we were told to drive 15 miles down the road to the Holiday Imm Express in Carbondale.
I thought ALL Holiday Inn and Holiday Inn Express locations were pet friendly. When did your policy change?

Roberto Cosme
from Clearwater, FL
Not a complaint. I want to say thank you to both Nigel and Judy at Holiday Inn Clearwater Florida for being outstanding employees! I travel A LOT! I'm retired from NASA and have my own business that requires a tons of travel. I've stayed in many different hotels. These folks have been top notch front desk associates. I hope Holiday Inn recognizes the efforts they make to keep guests happy.

Marivic Manangan
from Atlanta, GA
Our family stayed in Holiday InnExpress in Moss Poiny Amoco Drive Mississippi for 3 night. When we check in evening time front desk lady was very accommodating, she even offer free drinks to other occupants that already stayed in hotel , So the next. day since the service was good we decided to extend our stay for another day . Evening front desk stayed we can get fmdrinks and snack for kids who is swimming in the pol. . On our thir day in hotel my son got 4 drinks for each one of us , We we're about to leave to got to beach front desk African Lady brought with her another lady stating that my son was stealing the drink. Was so embarrassing that I have to return the drink , Day shift front desk is very rude . Even during breakfast the server told me if I need the drink it's free at the front desk but sane lady at front desk very hesitant to offer even bottle water. Seems like she own the place and even control other staff . I observe they way she treat her other co worker. I ask one of the staff if that front desk lady is always rude and the staff said , Yes? Iwe were planing to stay one more night but since they presented such unacceptable attitude towards their costumer , we decide to find another hotel nearby. Hope you give your staff proper customer service enservice

Jamiya Blackwell
from Hartwell, GA
Saturday I had reservations at Lavonia Hotel. When I booked I asked specific questions at how many people would be allowed in the pool area and the guy told me there was no limit. He never told me anything about a party room I just learned that from the manager TODAY and she was no better than him. Long story short after only being at the hotel for 30 minutes my party(5 year old birthday)was approached my the COPS not one but TWICE. We were asked to leave, which was not a problem because I would never want to stay there and they treat their guests that way. All I'm asking for is my refund which they would not give and they would not let me talk to a manager. I have never been treated like that in my life. I got treated like I was a nobody. The front desk clerk should NOT be the Face of your establishment. I run a business myself and would never allow my customers to be treated so poorly. I asked the manager do they have recordings because I definitely need that and she told be rudely that I will not be getting a refund and if I needed anything else to talk to cooperate in which she would not give me the number that I needed to look it up myself.

Tara Snow
from Summerside, PE
Hi,
I didn't have time this is the same room I stayed in last time I was there.
Room 201 needs upgrades bad the paint is peeling in the bathroom and the hot water or lack there of.
We had lukewarm to cold showers and I didn't have time as I was helping build a Camp and didn't have time to come down to speak to you.
I lost my lip chap under the bed and went to go get it well I was disgusted and mortified.
Gum, nerds, pop bottle and a few coins i use to clean hotel rooms.
Staff are wonderful but the rooms leave less to be desired.
Thanks for reading what I had to write
Tara

Latonnya Sanders
from Smithfield, NC
My family block was not kept. The manager, David, reached out to me after 2 days and was supposed to look into it and get back with me. He didn't. The group person, Patti, never called me back. My toilet didn't work and Grayson didn't know how to fix it and therewas no maintenance available. If I ever need to book for my family or myself it will never be at Holiday Inn Express. If anybody ask me about Holiday Inn Express I would advise them not to stay.

Camille Ulizio
from Grand Blanc, MI
Myself handicap & uses a walker & can only sit in higher seats. My husband victim of a car accident. Can't put any weight on his leg at all 79 staples after surgery. We're forced out of our room into the lobby & not granted a 1pm check out. We need 3 people to move my husband & a certain vehicle. The manager didn't even try to accommodate us. That still left 2 hours for our room to be cleaned. I would tell handicap people NOT TO COME HERE!!! They DO NOT CARE!!!

Jennifer jones
from Chicago, IL
I stayed 2 nights there and it was very bad for me I feel like evil is around there and I was a target I was poursply being messed with I felt like staff was rude to me my coffee maker caused smoke alarm to go off u can smell the electric on it the desk tells me oh the coffee pit would not do that and acted as if was smoking or something never even got ne a replacement for my room everyone I went yo smoke or left to go out my key would not open my room or the outside door I had to constantly go get key reprogrammed and then I leave fir the day I come back to the do not disturb on my door that I did not put on there and again was treated as if I was a nobody and losing my mind when I checked out I had left housekeeping a lil tip cause that's what I do but I feel like its a shame the way I was looked up and Saturday night slit 9f weed was smoked in hall area reeked so bad of weed it was despicable thetd was also yelling going on nothing was said and I was asked my address 3 different times for the desk computer im very very very upset and feel like I was a nobody just like I've felt my life..the professionalism was not good towards me was not good and I will never stay there again..I worked for your company before and did hotel qirk.my hole life and I would never give none a bad experience like that hotel did me my couple days

Albert Canon
from Colorado City, TX
Our room was booked at least 7 weeks in advance of arrival. Upon arrival I was asked when I would like to have the room cleaned and serviced, we arrived on Tuesday and I wanted the room cleaned on Thursday, that did not happen, ok clean on Friday that didn't happen either! We originally were going to stay 5 nights! The room was sort of cleaned upon arrival but the carpet was very stained and had a nasty appearance. We are IHG Platinum members and have stayed at several facilities but the one in Corsicana, Texas is the worst! On Tuesday night the fire alarm went off, their explanation oh this happens all the time! Not acceptable in my opinion and I'm a 30 year veteran firefighter!

Karen Vondrak
from Merrillville, IN
We were told at the desk the cost for that night would be $156. Slid under our door was a bill for 146. We were charged 166. The breakfast was terrible. Muffins were smashed, orange juice machine wasn't even turned on and there was very little choice. I would give that hotel an F minus

Betty C Hill
from Montgomery, AL
Dear Sir/ Madam;
I am writing to express my dissatisfaction with the overall services at your Holiday Inn located at 7927 NW7th Avenue, Miami, FL.
My first compliant began with the traveling agency with whom I made the reservations. I made reservations for two of my siblings who along with myself were attending funeral services for one of our dear cousins.
I had made it clear that they would be paying for their rooms upon their arrival and my charge card was to reserve their room. Upon my arrival, I learned that their bills were charged to my card.
Secondly, when I entered the room 606, I could not believe what I saw. I had paid for a queen size room but was given a king. Then upon looking at the bed, I was further shocked. The condition of the bed was beneath the standard of hotels we support. I have pictures to substantiate my concerns. There were no preparations for dinner in the diner. Was told that a cook could not be found. Did not see any dinner preparations for Friday nor Saturday. Upon arrival, the coffee dispensers were empty as well. I felt that this may have been influenced due to my having seen only Black and Brown people checking in. Due to our distance travel, we had planned to do all of our eating in the hotel. Of course, we had to use Uber for our meals.
I called the front desk to ask for a queen size room and was then given room 307. One of the beds had a big hump in the middle of it. Then when attempting to turn on TV, it would not come on. I called the desk to report it and was told maintenance would be sent up. I called the front desk again after about a hour had passed and was told they had been very busy checking people in and at that point I expressed my dissatisfaction with the services I had received as a guest at this hotel. About 15 minutes later, a young man from the front desk came to the room to discover the remote needed batteries.
My daughter ended up sleeping with me because of being uncomfortable trying to sleep with the hump in the mattress.
Over the years, my husband and I have stayed at your holidays and we have never experienced such displeasures
and negligence of services.
I look forward to hearing from you regarding my concerns.
Sincerely,
Betty C. Hill
2319 River Road
Fort Valley, GA 31030
23bettyc23@gmail.com

Maegan Gregory
from Dallas, TX
Upon checking in at the Ada Oklahoma location, it appeared to be a nice quiet modern hotel, at checkin I used my credit card but they told me they wouldn't charge it till check out which was fine with me . My famiky and I was staying there during a home remodel . The next morning I woke up to 4 notifications on truinf to charge my card different off the wall amounts. I went down to the desk and talked with the lady and she asked if I could stop that and I said I could pause my card . She then advised me to . Each day I extended almost 3 weeks we were there and never had a issue other than daily getting bout 10-15 notifications all of which I screen shot and finally I went to talk to the front desk and told them I'm not unlocking my card to be charged all those amounts that didn't make sense when the right amount 1718.00 wasn't ever a charged amount . However that being said it was not my fault they told me that my card would be charged at check out then randomly telling me to pay or vacate the property literally one morning after wishing me good day as I walked our the door to run errands . When I got back I told them I'm contacting my bank and would get back them . They called my room 4-7 times harassing me again . All while this is there mistaken issue not mine . So I made arrangements to go elsewhere and told them I'd contact them over payment once I was advised what to do. Still a week later I'm getting random notifications of charges that don't pertain to my bill. I've made several attempts to reach corporate but no luck yet hopefully this works . My number 5803997809 I have uploaded jist s few of ALL THE NOTIFICATIONS IVE GOT! I'm very much aware of my bill needing paid and intend to pay but not till these other attempted charges are taken off and I stop getting harrssses over how I WAS TREATED AND WHAT I WAS TOLD AND THE END RESULT ! They should of charged me at check in to begin with and I would like a phone call from a much higher employee to further this

Camecia Clerk
from Madera, CA
Only 2 sets of towels in the room with 3 guests-I went down around 11:30pm to get another set so I could shower and they had NO clean towels. I thought that this was absolutely ridiculous! I was tired and dirty and I couldn't shower! So I need to know is this a regular part of the system or did they just fall off tonight? Either way -I'm highly upset!
Reservation for Camecia Clerk in May 1, 2020 at 7730 Centennial- Germantown- Memphis, TN

Mandy Fine
from Waxahachie, TX
I recently stayed at a holiday inn express in Poteau, Ok and had the worse experience I've ever had at a hotel. I've stayed at many Holiday Inns over the years and never come across this issue. we traveled 5 hours to attend a wedding in this city and the marijuana smell was horrible throughout the hotel. You can smell it as soon as you go into the hotel and in the elevator. During the night you can smell in room. It was a horrible night which we didn't sleep. I paid for 2 nights and we left before the second night because of the marijuana smell. The staff could care less and didn't ask when I checked out early. Another thing is I've never paid for my stay before checking out which I thought was weird. If you could refund me for my second night which i didn't stay I would appreciate it.
Sincerely,
Mandy Fine

Johnnie L. Dennis
from Elizabethtown, KY
I stayed at the Holiday Inn Express Inn, Cleveland, MS. When I checked in the hotel Friday, the first thing that caught my attention were the carpets appearing dirty and old. As I waited for the clerk to finish checking in another customer a patron walked up telling the staff about not having hot water in his room and his TV not working. I immediately became concerned my decision to say at the Holiday Inn Express over my past trips In Cleveland staying at the Hampton Inn.
On Saturday morning I got up to shower and noticed the shower had no curtain, no bath towels, and there was no hot water. Our family had reserved a few rooms that weekend and we all realized none of the rooms had hot water, and most had no bath towels. I went to the front desk on Saturday and voiced my concerns about the rooms not having hot water, a shower curtain, or bath towels. The staff was friendly, professional, and empathetic to my concerns. I told the front desk clerk that I would be out my room for a couple hours and asked if she could address my concerns. She said they were aware of the hot water and a technician was contacted and was expected to fix the hot water issue in the hotel. She also told me she would contact house keeping to put up a shower curtain and bath towels in my room.
After being away from the hotel for over 3 hours shopping, I returned to my room only to find that none of the things I had asked about had been corrected. I had an event that evening and only had a couple hours to get ready. I went once again to the front desk and inquired about nothing being corrected from my earlier complaint. The front clerk apologized handed me a stack of towels, and a shower curtain she also said once again that the technician would be on site soon. I got ready for my event in a cold shower, couldn't immediately figure out how to hang the shower curtain, and noticed that the clerk had handed me a few bath mats instead of bath towels. Because of my time constraints I had to Soldier Through.
Upon returning from my event later Saturday evening I noticed that my bathroom faucet water was hot. On Sunday morning I borrowed a bath towel from one of my family members in another room, got in to shower and confirmed the hot water had been restored. But I never received any bath towels during my 2 night stay in the 2 rooms reserved in my name.
I am writing this letter to say the staff was nice and professional. The Holiday Inn Express in Cleveland, MS does not uphold the standard that I have grown accustomed to at previous stays with this hotel chain in my travels. My stay was very disappointing!

Jane deeken
from New York, NY
We stayed at your hotel in Vero Beach,Fl.
Everyone and everything was good and comfortable. One exception to your staff if you catering person Diana. I received so really unusual service from her on the morning of April 4th 2021.
I tried to order some food from her as she appeared from her catering area. Firstly she was not wearing a face mask. Secondly , she announced that at this time I would have to wait 10-15 minutes because she was starting over and making everything fresh.
I went back to the room and my partner and I got ready for the day and back down to get breakfast.
We asked the front desk if the breakfast was over and he went to find her. When she arrived,She rudely said she only had one item left to serve. There was a family of 4 behind us
She then said I only have one serving left. We said ok we would leave and find breakfast on our own.
I would have to say Diana is The flaw in your plan. She is obviously not competent enough to handle her job or protect others from a very serious disease by wearing a mask
Here is the thing. After all the good work everyone in your organization did to make our stay fun clean and safe Diana will be the reason we won't return.
As a favor to all your good employees and management I am letting you know where you are failing your guests. Jane Deeken/ Max Shuppert

Jeremiah Roehrig
from Defiance, OH
We booked a room at Louisville northeast on chamberlain dr. Tye pool was broken and no breakfast as advertised the time of reservation. The breakfast was a carry out bag and pool was closed both days. The staff and hotel were great but i feel i paid for these two amenities and they were not available. I would like a refund as i had family down tye road who stayed at a hotel with both pool and breakfast available
Thank you
Jeremiah Roehrig

I used to travel weekly and stayed at Holiday Inn quite often, but this stay was the WORST one yet.
There is NOT a boat ramp that the guests can use as advertised online. We called the hotel before booking and asked if we can park with a jet ski and if we can use the boat ramp and we were told "yes". In addition, when we arrived at the hotel, we were handed a map showing the boat ramp. However, when we went to the boat ramp, we were told the ramp was privately owned and we could not use it for staying at the Holiday Inn. So I called the hotel and spoke to the manager, Rick. The manager informed me that the boat ramp is a separate entity and I will have to call the dock master for details. I then informed him that we specifically called the hotel before booking and we were told that we could park with our jet ski and we could use the boat ramp. However, the he kept on saying "I don't know what was said or the context" even though I told him what was said. I was basically accused of being a liar. I then informed him the only reason we booked the hotel was because of the boat ramp; and we took off work and drove 6 hours one way to get there; and at that point, we had been driving around for over an hour trying to find a boat ramp. I was being told again the boat ramp was a separate entity and I will have to call the dock master; he stated again "I do not know what was said and the context when you called". His only remedy was for us to depart early. The entire conversation went around and around in circles. This was the WORST customer service we experienced at any hotel. There was no professionalism or curtesy towards the customers. The overall hospitality from Management to Security was very unpleasant and unprofessional. Not to say that the bathroom exhaust fan fell on top of our friend's head while she was in the bathroom. The hotel is very RUN DOWN and there were CODE VIOLATIONS throughout the facility.

Thomas Davide
from Grand Island, NY
For 9 years I traveled the northeast and used my holiday inn gold elite membership whenever I could. I had over 59,218 points that as a gold elite member should never expire. Due to my retirement in 2017, I no longer travel and I found out today while attempting to book a room using my points that Holiday Inn changed my status to just plus membership in 2018 . By changing my status meant that i use or lose my points after one year. Sure enough, when I went to book my points for vacation today, I was informed my new balance is 0. They expired my points in 2019 without the courtesy of an email; letter in mail; or a call informing me that 1) my membership status had changed and 2) that my points would expire at end of that year (2019) . Is that the way Holiday in treats their loyal customers of over 9 years traveling?
Disappointed in Buffalo New York

Katie Cazassa
from Charleston, WV
Our room is literally covered in ants. They are on the walls, end table, bed, and carpet! I complained to the front desk about this problem and was only given a can of ant spray and a 25% discount! I have kids in my room that are sleeping, I can't go and spray ant spray all over in there and there is so many that it isn't going to make much of a difference! Very disappointed and disgusted!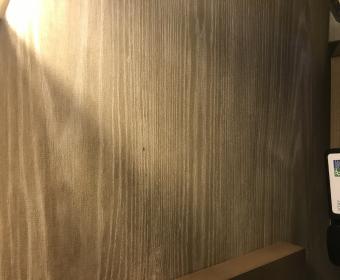 Janet L. Knick
from Anderson, IN
My husband and I stayed at the Holiday Inn Express in Austinburg on June 3, 2019. When we left, my husband did not see my jacket which was layng on the bed and failed to pick up my new, never worn sweat jacket. Two hours after departing, I realized that he had not brought my jacket. I immediately called the motel and the supervisor to whom my phone call was transferred stated "yes, we have your jacket - this happens a lot". I asked if they could send it to my home address and the response was yes, it would be sent by United Parcel. I repeated my home address and my phone number. When we arrived back home the end of June and the jacket had not arrived, I once again called the motel and was referred to the supervisor who said "yes, we have your jacket, but will need your credit card number in order to send it to you." So, now she has both my jacket and my credit card number. It is now July 20 and I still have not received my jacket. What kind of service is this? It certainly does not reflect what I expected and makes me wonder if I wish to book future stays at a Holiday Inn Express. As far as the facility otherwise, it was find. I hope you will impress on the employees the importance of follow-through on commitments and the importance of good customer service.
And, I would still like to get my jacket!! Thank you!

Terrible, my situation went unresolved.

On July 5, 2019 I had the opportunity to stay at your hotel in Bay City, MI at 3959 Traxler Court. I was awakened at approximately 3:00 a.m. with the chirping of the fire alarm. I called the front desk and he asked me if I could remove the battery, I am 73 years old and was not able to stand on the bd and do this task. The gentleman came up and was able to remove the battery and then had to leave the alarm hanging so it would not longer chirp. Then in the morning I wanted to go down for breakfast and the elevator was not working so I had to walk down for breakfast and back up after breakfast. The next hard part was walking down the three flights of stairs with my luggage which was not an easy task. They did credit my bill $30 which I though was very nice but I am writing to see if any further consideration can be made. My folio number is 119989 and my son-in-laws name is on the registration (he booked two rooms). I look forward to your response. Thank you.

Mary Schmidt
from Fort Worth, TX
My husband and I were traveling. We were tired . I used Booking.com.The web site stated that the Holiday inn was let friendly. I wrote on the request that we had a little dog. We get there and check in. My husband takes the dog for a walk. We get kicked out. My husband and I chonic health problems . The staff was rude. They didn't help us. We weren't in that room . I feel we were taken advantage of. We were charged four hundred dollars . It was highway robbery I may never stay at Holiday inn. Is this how you treat people, especially ones who are handicapped!

Worn wilder
from Chicago, IL
My wife made a reservation and she was age discrenimated against cause she looked younger than she is and the lady was extremely rude to her and we had a confirmation email to her email and confirmation number is 48465715 it was set for 285.98 the reservation was for the 15 to the 17

My credit card was charged multiple times. It took multiple phone calls to get a refund.

Darrell Jones
from Bedminster, NJ
Believe someone from Corperate should visit the Holiday Inn Express in Ada, Ok. I would not want a place in as bad of condition representing my name.. After waiting in lobby for an attendent at the desk, found out pool was closed for renovation, could have been inform of the when I was making my reservations. But to find out it has been closed for over a year and all the area is being used for is storage of furniture was something else. Then, I had resired a two room suite, checked in walk into a one room with two beds, back to the office to be told my room had been doubled book, then said "oh you were supposed to have gotten the room next you also". I know if I had not gone back down to complain they wouldn't of said anything and would relented it out. Maintenance on the place is going down so fast, while checking in had to wait while they unstop someone cammo, which I understand can happen, but happen in my room also close to bed time. I've stayed at this holiday inn before, but will no longer stay there again. I've always enjoyed the Holiday inn chain but now will have to reconsider my choices.
Thanks,
Darrell Jones
P.S. This complaint survive doesn't work either. Never receive an email to verify my email address so that my complain could be register. Then again maybe it does, maybe that's how your problems are answered.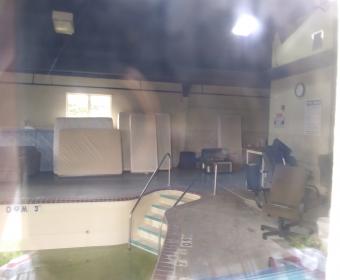 Linda Houle
from Dallas, TX
Checked in and got a room, couldn't open the door. Finally got in and the beds looked like someone sat and laid on them. Wet hand towel on the bathroom counter, dirty mat on the floor. Requested new room, the girl at the desk never said sorry or anything. Gave us another room which smelled so bad of damp musty odor, AC made terrible noise all night, bathroom had mold and pink scum in shower!!!! What a shit hole!! I have a sore throat today from breathing in that nasty smell. We will never ever stay at a Holiday Inn property!!! They need to fix this place!!!! I would request a refund but probably won't get one!!!

Chester Moore
from Fernandina Beach, FL
We arrived on Sunday, July 7, 2019, to our 2 bedroom suite.
After check-in we entered our room to find half the towel supply needed for a 2 bedroom.
The desk clerk never holds us we had to get towels from them when we needed them and did not expect there to be fewer than required.
So the next day we thought the maid would supply them when they cleaned the room but found out, the guest had to go and get our own towels. We were on 5th floor at the very end of the hall making the long walk back to the desk after just passing it, when we desperately needed a shower after swimming with the manatees. This was not just annoying it was poor customer service, to say the least.
I would like to list some of the issues we had with our Room 544
Some of the lamps were broken leaving dark rooms dark
The ice machine wouldn't turn off, therefore leaving mounds of ice to break apart each day
The kitchen had no drawers for silverware but plenty of silverware being stored in the dishwasher (how do you keep the clean from dirty ones)
The microwave was on a piece of wood that stuck out 10" into room, at my exact height, therefore hitting my head on its corner several times. They had the paper towel roll mounted behind the microwave to make it difficult to reach.The 2 showers were bad. The one wouldn't drain so we had to shower standing in 3" of dirty water
The other bathroom's shower head was filthy and blocked so there were only several holes leaving only some mist spraying thin streams of water towards the wall and the curtain. The first day leaving water all over the bathroom floor.
We stay at many holiday inns, (we are gold members, #415793948). We have never encountered such a filthy and unorganized room along with poor maid service.
We had invited guests with us and it was very embarrassing.
CWM

Believe someone from Corperate should visit the Holiday Inn Express in Ada, Ok. I would not want a place in as bad of condition representing my name.. After waiting in lobby for an attendent at the desk, found out pool was closed for renovation, could have been inform of the when I was making my reservations. But to find out it has been closed for over a year and all the area is being used for is storage of furniture was something else. Then, I had resired a two room suite, checked in walk into a one room with two beds, back to the office to be told my room had been doubled book, then said "oh you were supposed to have gotten the room next you also". I know if I had not gone back down to complain they wouldn't of said anything and would relented it out. Maintenance on the place is going down so fast, while checking in had to wait while they unstop someone cammo, which I understand can happen, but happen in my room also close to bed time. I've stayed at this holiday inn before, but will no longer stay there again. I've always enjoyed the Holiday inn chain but now will have to reconsider my choices.
Thanks,
Darrell Jones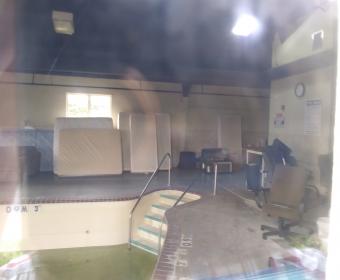 We went to Hershey Park to celebrate our daughter's 14th Birthday. It was 4th of July weekend. We booked the room two months in advance and bought our Park tickets. We drove 3.5 hours to get there. When we checked in, our toilet was clogged. Housekeeping brought us a plunger. Later that evening the toilet overflowed into the room leaking urine and fecal matter all over the floor. The Manager said there were no other rooms and no plumber on site. We desperately tried to find another room. At this point our Autistic son was having an anxiety attack. We were desperate to get out but might have no choice but to stay if no other rooms were available in the area. When I told the manager this, she called the police. We did find a room in the Hilton. As were packing the police arrived. This is the absolute WORST customer service I have ever seen. The staff was rude and completely unsympathetic to our situation. We will NEVER stay in another Holiday Inn EVER.

Suzanne Cachon
from Woodlane, NJ
The hotel room was dirty. The floor was not vacuumed my two boys found a dead spider on the floor there was hair still attached to the hair dryer and the tub looked like it was untouched. There were only two hand towels in the room. The bed smelled like someone sweat. The worst part was taking a cold shower. When I went to the front desk to let them know the answer given was sorry we are at full capacity nothing we can do. If your water heater can't handle full capacity then they shouldn't have full capacity. I have never gone to a hotel and experienced a cold shower. Do not charge the price you do for your rooms and not give at minimum warm showers. The front desk could have offered something off the price, tell me they will look into it but all I got was nothing we can do about it. Very poor customer service.

JESSE THOMAS
from Mesa, AZ
Made reservation in sept 2018, for a room in sept 2019, didnt receive a call or email so i call them, didnt have my reservation and hotel is sold out. The from desk wouldnt do anything for me, short of them apologize to me. Can i expect this service from now on. Being a priority club member, i spent many nights with Holiday inn.

Juanita
from Bedminster, NJ
We spent the night at one of the huntsville's locations we were always under the understanding that breakfast was included with our stay well we ended up having to pay $10 a person for breakfast there was not no coffee so apparently we had to pay for the coffee or you had to have the one that was in your room that was terrible but I don't believe that this was right I find it to be stayed at a lot of Holiday Inn Expresses and breakfast was always included if we knew we had to pay $10 a person we would have went out to eat because that breakfast definitely was not worth $10 a person considering my daughter had a bowl of oatmeal and a couple pieces of strawberries they had a funny taste to them the Grits were cold we could have lived with that but the fact is we most likely could have went out and had a good breakfast without having to pay $10 person we never were informed of they had waffles children didn't even get waffles this was the worst experience we've ever had makes me wonder if I ever want to stay at another one no breakfast whatsoever that that that was the clicker at at Holiday Inn Express that's the big deal a with with Holiday Inn Express the the great breakfast but I'll tell you you sure couldn't approved it by us and then the fact is we had to pay an extra it was 2174 two people so it cost us $43 we could have went and had steak for that price at least the Grits would have been hot when we checked in we were told breakfast was at 6 actually breakfast was at 7 but we couldn't even get coffee without having to pay for it I've never ever experienced terrible terrible at a hotel as as this one was not even a cup of coffee I had experience with my house flooding and had to stay at the Holiday Inn Express in Clanton Alabama it was fantastic breakfast was hot good but and I never paid a dime so for us to go to another Holiday Inn Express and ended up having to pay $10 a person for breakfast if this blows my mind my daughter she did the reservations I think she did it under I can't remember what the point is no matter what we should have been informed breakfast was going to cost us $10 each after paying $109 plus tax for a room to sleep I add that this this just still blows my mind here I just can't understand it I I really will think twice about ever booking again little on booking again with American Express

Dorothea/Horace Enow
from Temple, TX
My husband and I booked on the 07/06/2019 through the 07/09/2019. / We gave our ATM card for security and told the desk person
at the same time and several more times that we will pay cash when we check out. It was explained to us several times , that the card
will not be used by Holiday Inn if we want to pay cash. On the 9th of July we checked out and we paid , I have a receipt , $ 380.02 cents cash.
To my surprise , I found out when checking my account that My credit card ATM from Bank of America was also deducted on the 9th of July 2019.
Since then I went to my bank , who told me that Holiday Inn is not realizing the funds , and I talked to the managers of Holiday Inn now three times
and they give excuses . This is beginning now a hardship since ,today is the 13the of July and still nothing has moved on my bank Account . I believe I should have just gotten a check back for paying twice. I am now writing to your office, because this is getting a hardship on our end, looking for the amount of 380 dollars and visiting the bank and getting promises from the management of Holiday Inn that doesn't lead to nowhere. I am no asking you to look into this situation , that made our stay in the aftermath very difficult. This stay at the Holiday Inn was supposed to be a long needed , relaxed weekend for us and is now turning into a nightmare. Please help us to end this ugly situation by either cutting a check at the Inn or discussing this with the appropriate source to return our money to our checking account Thank you , Dorothea and Horace Enlow, 4801 Stone Pointe Drive, Temple, Texas

FWilson
from Olive Branch, MS
Holiday Inn Express Merriville IN, quoted me one price during the reservation of rooms for my family retreat but increased the price from $98 a night to $240 a night.. I was sent a confirmation with the room prices but Lisa Eylens refused to honor the reservation price first quoted..Very Poor Customer Service skills and Lies to customers and Will Change the name and Price on your reservation..Very Unprofessional.. They will tell you one thing and do another once you attempt to reserve your rooms.. BEWARE‼️

Diana Roberts
from D'Iberville, MS
I had made a reservation for 2 nights with Holiday Inn Express Broadmore in Lafayette Louisiana for July 12- July 14, 2019. I made this reservation to attend a local festival there in Lafayette Louisiana. Unfortunately the festival was canceled on July 11 at 5 pm due to Tropical Storm Barry. The state of Louisiana was placed in declaration of emergency. I live in Mississippi and also did not think it was a good idea to drive to state placed in a state of emergency. I attempted to cancel this reservation with the hotel and was told there was no cancellation policy. Was told to start with by Daphne there at the hotel that is was due to a went through a 3rd party. I spoke with Booking on 07/11/19 and 97/12/19 who agreed with the cancellation and even emailed the manager there by the name of Cindy to cancel and refund my money. Cindy refused and stated that since my room had been on hold for a month that she felt the $98.06 she charged me was valid. I called the customer complaint line for this hotel and spoke with assist on 06/12/19 who informed me that she could not override the local owner of the hotel there. I am letting you know that this is poor business policy at that hotel since I only canceled this room due to act of God and my event being canceled. The manager there and front desk have not been helpful at all and in fact very rude. I have been informed by other would be attendees to this event that their hotels and Air BNB's have refunded them with no problems. I again believe this is unfair to my as a customer and I have shared this experience with all my friends and others who would have attended this yearly event. So this hotel has lost not only myself but other potential customers and has also created a bad name for your company.
Thank You!

Nickolas Morgan
from Baton Rouge, LA
I've got 8 kids coming from Navarre Beach on Sunday back to Louisiana with a small hurrican coming in tried to rent 2 of your rooms in Mobile Alabama on our card but they refused because they all under 21 I'm just trying to take care of the kids don't understand I guess you and the law would ruther see them Dead on the enterstate

I have a Past Due invoice for $129.90 dated 3-26-19 from your franchise located at 901 S. Shary Rd. Mission, TX 78572 956-424-7788 I have mailed and called trying to collect and now I'm getting that they have a new owner and I have to find the old owner to collect. I don't understand how this bill is not being paid as we serviced Holiday Inn Express just as they asked. Is this typical of the way you change management because its very poorly monitored, as this location has the same manager who called us to do the service and he is very well aware of this Past Due Amount and the change over and he is the person who told me to go and find the old owner. I would like to be paid in full by July 18, 2019 if not sooner and I would like to hear back from you as well. My office number is 361-814-7200 ext 10
Thank you
Paula Kessler 7-11-19

Dear Holiday Inn Express,
I made a reservation for my 24-year-old daughter by phone at the Holiday Inn Express at Peachtree Corners / Norcross yesterday. My husband's company is represented by Corporate Lodging (CLC), and has been for more than ten years. We travel A LOT and often look for HIExpress locations because our experience has always been fantastic. The reservation was made, confirmation number given, and all was good. When my daughter showed up to check in with my CLC card, the agent (Maria Munez) wouldn't accept it because the card had my name on it - not hers. This has NEVER been a problem for us at any other HIExpress - again, my daughter is an adult with the same last name and same address as my husband and me. I spoke to Ms. Munez by phone and she told me I would have to drive my ID up to the hotel in order for the reservation to stand. I stated my objections (evening rush hour in Atlanta is exactly why we made the reservation in the first place), but I agreed to drive up in order to show her my license in order to comply with CLC procedures. I left immediately and arrived a little over an hour later. The traffic was not good, but I made the drive anyway in order to complete the check-in process.
When I walked into the lobby, I was informed by a very smug Ms. Munez that the reservation had been cancelled! I didn't really receive a clear answer when I asked her why she had cancelled it, only that the manager (who was not on the property) had agreed to cancelling it. I then asked if I could go ahead and make a new reservation, and I was informed that the hotel was now full. No more rooms. I was not at all happy about what had taken place as it seemed a sort of revenge strategy because I was upset about having to make the drive up there. When I asked for more information, Ms. Munez continued to repeat the same words "If you have any further questions or concerns, you can take them up with the manager." Of course, the manager was not there and talking to the manager in the morning would not help the present situation at all.
I continued to try and get an answer as to why she had cancelled the reservation when she knew I was driving up there. I was doing what she told me I needed to do! Again, she did not really respond to my question but continued to refer me to the manager. I then asked what the policy for cancelling a reservation is...she stated the hotel calls the customer before cancelling. This call did not happen for me. I did not get a call which I would have received on the drive up there. She stated she didn't have my phone number, so she couldn't make the call. She didn't have my number because when the reservation was made, I was not asked for my phone number as I usually am when I reserve rooms with HIExpress. She seemed so concerned about following CLC procedures to a ridiculous extent, but didn't follow HIExpress procedures when she decided to cancel my reservation! Her attempt to follow CLC procedures appears to be only because she was angry with me. Why else would she have cancelled my reservation? If she was such a stickler for doing things the right way, she would have 1) found my number (it must be in HIExpress records somewhere...), or 2) held the room until I arrived.
Obviously, I was not at all happy with this treatment. She offered NO assistance to me at all, and seemed genuinely happy to inform me that the reservation had been cancelled. I'm guessing she thought there might have been some kind of misrepresentation going on, but when I agreed to drive up there to remove any doubt, that should have been enough for her to AT LEAST hold the room until I arrived.
SHE created this problem by 1) not calling before she cancelled the room, 2) not holding the room until I arrived, and 3) offering no assistance or even empathy to my situation. Again, she seemed genuinely pleased to inform me of the cancellation. (Was there perhaps another room at another HIExpress nearby that she could have arranged for me?) She did not represent what I have come to appreciate as excellent customer service through HIExpress employees over the years. She also seemed incapable of understanding why I was so upset. I agreed to do what she said I had to do (drive up there with my ID), then she proceeded to cancel the room anyway. She was clearly trying to get back at me, and I know that that is NOT what HIExpress would consider exemplary customer service.
By the time I arrived, she had created a serious problem that she couldn't fix. Her hasty and vengeful actions which were perhaps compounded by what I can only attribute to a lack of experience resulted in a serious situation for me - her customer. In my 53 years of life, I have NEVER been treated like this. Never. And I certainly do not expect this kind of treatment from a HIExpress employee. She didn't apologize for what she had created by cancelling the reservation when she knew I was on the way, she was clearly angry with me for questioning repeatedly what she had done and why, and she seemed intent on somehow turning this into something I had done wrong instead of working to help the situation. She even went so far as to make a comment about not losing her job over me, and how I didn't want her to come out from behind that desk...? Not sure exactly what she meant by that, but it seems rather inappropriate.
Again, since she had cancelled the reservation and (apparently) given it to someone else, there wasn't a whole lot she could have done at that point, and she knew that. Instead of admitting she had made a mistake in acting so hastily, she became argumentative, defensive, sarcastic, snide, and combative. I admit wholeheartedly that I was upset as well, but I hope someone at your corporate offices can understand why. My reservation was cancelled FOR NO REASON! It was getting later, and I had the ridiculous task of finding another hotel room for my daughter!
Her behavior was simply inexcusable. She never should have cancelled the reservation when she KNEW I was on the way. At the very least, I should have received a phone call. Not having my phone number and not being able to follow HIExpress procedures for cancellation is another reason why she should have waited until I arrived. She should have known that! If you can't locate the customer's number, you don't cancel the room! Instead, she attempted to use not having my number as an excuse.
I simply cannot fathom why she cancelled the room. There is one thing I want to be very clear about, she can't say that she wasn't sure I would actually drive up there. When we hung up the phone, there was NO QUESTION that I was driving up there. I even made a comment about how long it would take me due to the traffic through Atlanta. She admitted while I was standing at her desk that she knew I was on the way. And the sarcastic and condescending tone when combined with the very satisfied look on her face when she informed me the reservation had been cancelled was enough evidence for me that she felt somehow empowered by taking the room away from me.
I was very upset last night, but after finding another room for my daughter (NOT at a HIExpress), I went back and forth on whether or not to even complain. But after thinking about it this morning, I do not want this experience to just go away. This predicament was inexcusable. Ms. Munez created a terrible situation - one that does not reflect HIExpress' commitment to their customers. She was really rude to my daughter and myself (clearly made up her mind that we were criminals), and she showed absolutely NO empathy. My daughter is a professional athlete, and I'm a teacher! We are not criminals! If a two-time teacher-of-the-year has an issue with an employee, I promise you, it's something to look into.
Overall, this experience has not changed my opinion of HIExpress because we have had so many amazing and wonderful experiences with this hotel chain. The hotels are often located in the perfect spot, they are reasonably priced, of course many locations accept Corporate Lodging, and the employees are wonderfully qualified and trained in the art of customer service. Ironically, one of my survey responses about my very positive experiences at at least one of your locations was actually posted on the HIExpress website a couple of years ago! I have expectations when it comes to customer service, but I am not unreasonable. I do not expect a reservation with a confirmation number to simply be cancelled. I don't think that's too much to ask for.
Unfortunately, this was NOT my experience at this particular location. I'm disappointed in Ms. Munez but not in HIExpress. This would not have happened at another location. I'm sure of it. I would strongly suggest that Ms. Munez receive additional training on how to handle a situation like this in the future. A patient and common-sense approach (simply waiting for me to arrive) would have been a much more reasonable and professional approach. She needs training - not everyone who has some kind of issue with their reservation is a criminal.
I would appreciate a response at your earliest convenience.
Thank you for "listening".
Margaret (Peggy) Davenport
100 Brookfield Court
Tyrone, GA 30290
bdavenport@numail.org
Confirmation #: 27667176

Latasha Champion
from Louisville, KY
My name is Latasha Champion,I stayed at your Covington, Kentucky location, July 3rd - July 7th, 2019. Upon checking in, I asked the clerk to let my daughter get her bank card from the car. I was asked to step aside for the next guest which I did. The guest behind me wanted information on restaurants in the area. The clerk spent 10 mins. helping that customer with dining options, while I waited to be checked in. I was told at that time that one of the three rooms I reserved had been changed from a king to a double room to accommodate another guest. My reservation was made two weeks prior to my check in. The next morning when we went to breakfast the server was very rude when she asked for our meal tickets, her attitude did not change the entire time we were there. My daughter then noticed charges to her bank account from the hotel. We were told our charges were $804.00. The night manager Joshua told me that the $239.00 charges were just hold on the account. The day we checked out we had bills for $337.00 for each room. When I asked the assistant manager Gabe, for an explanation or to speak to the manager that was there he told me that there was not a manager there at the time and that they would have to deal with it because he could not figure it out. We checked out on Sunday and are still trying to figure out what our charges are. I have stayed at Holiday Inn in the past and I have always enjoyed my stay, I have never had to complain, but this was a horrible stay and it made my trip miserable as well. I will not stay at this location again and it has made me leery about other locations as well. I hope that the issues I had at the Covington location are not true of your other hotels.

Linda Singleton
from Dallas, TX
Hotel took my medicine from my room and upon bringing attention to the desk clerk he stated his manager said they checked with the housekeeper and housekeeper denied taking the medicine. He did not take any information nor did he apologize and when I told him I would not be back, he indicated that was alright. I think he may have been the one to come in and took my medicine.
Never would I ever go to this hotel again. I'm in the process of filing a police report.

CODY L WEST
from Houston, TX
WE CHECKED IN FOR MY BIRTHDAY AT THE HILL COUNTRY RESORT IN CANYON LAKE, TX. THE ROOM WAS FILTHY. THE TOILETS HAD POOPS SPLATTER IN BOTH ROOMS. THE TUB WAS JETTED AND THE JETS ARE BROWN AND BLACK. THE PULL OUT BED WAS BROWN EVERYWHERE. WHEN WE PULLED THE BED OUT A BLACK LIQUID SUBSTANCE CAME OUT ONTO THE FLOOR AND SPLASHED ALL OVER MY DAUGHTER WHO WAS SITTING IN THE CHAIR RIGHT NEXT TO THE COUCH BED. WE CALLED THE FRONT OFFICE AND MENTIONED EVERYTHING THAT WAS WRONG WITH THE NASTY ROOM AND THEY SAID THEY WOULD SEND HOUSE KEEPING (WHICH THEY NEVER DID) OR TRY AND GET US ANOTHER ROOM AND WOULD CALL US BACK. WE NEVER GOT A CALL BACK. WE WENT TO CHECK OUT OF OUR ROOM AND THEY SAID A MANAGER WOULD GET WITH US. I GET THAT THE ROOMS ARE NOT UPDATED. I DIDN'T EXPECT THEM FOR BE FOR $400 BUCKS FOR THE STAY. BUT THE ROOM SHOULD AT LEAST BE CLEAN. MY DAUGHTER HAD TO SLEEP IN BED WITH US WHILE WE WERE THERE BECAUSE I WOULDN'T LET MY WORST ENEMY SLEEP ON THE PULL OUT BED. I HAVE ATTACHED SOME PICTURES OF THE ROOM BELOW.

Kathleen Salter
from Lake Charles, LA
Our rooms were not cleaned, and no clean towels Saturday evening. Our daughter booked the room under her name, but was paid by my husbands credit card. Got back to room Saturday night late, after being at softball tournament, room was not clean and no clean towels. This is horrible for customer service. Husband had to go get towels and wash clothes. Night shift gentlemen was very nice at front desk. Housekeeping is not doing their job very well. Our room number was 518. Maybe the 5 th floor was too high, or she just got tired. But for paying customer to go down at 11:00pm to get towels is poor business. Told the gentlemen when we left, that it was unacceptable. Lady came out to talk to me, she as nice. Told her that housekeeping needs to be supervised closer to make sure all rooms are cleaned and fresh towels. My husband name is William Salter and his card was charged full price. Never will stay at this hotel again. Worst experience
Buy more towels, wash clothes, or monitor housekeeping employees.
Floor was also very dirty near the elevator, near check out.

Desiree page
from Grand Rapids, MI
First my family reserved a number of rooms for our family reunion. The reservations was made before October of 2018. In June 2019 , the 28 and 29, upon arrival no rooms were available, the pool was going to be closed. YOUR desk clerk sent most of the family to The Crown Hotel. The ones that stayed was given rooms. The water wouldn't stay hot, the toilet kept stopping up, our key card had to keep being recharged plus 2 times maintenance had to charge battery on the door. Just not satisfied at all, even at a discount rate because it was a group. This Holiday Inn and Express is in downtown Detroit on Washington Blvd. Never in my travels have I ever been so very displeased. We should have gotten 2 nights for the price of one night because of the faults not of our, but your management. If a block of rooms were reserved we expected to all be able to stay at same Hotel but adequate accommodation. Call manager, Sherry Taylor, she never called any of us back. This was very unprofessional. Very disappointed with this Holiday Inn and Express. Rate at a score in negative.
Sincerely Ms. Desiree Page
Tuscumbia, Alabama
256-349-3738
Have feedback for Holiday Inn?
Thanks for your feedback!
Sorry. Please try again later!