Holiday Inn
Holiday Inn Complaints Continued... (Page 2)
274+ reviews added so far. Upset? Call Holiday Inn corporate: 1-800-621-0555

Keith jones
from London, ENG
We stayed in the St Albans branch on 02/09/22 as a family of 4, 2 adults and 2children when arrived the room was only prepared for 2 I asked the receptionist for help and they brought bedding and left us to make the bed ourselves, then we stayed at holiday inn Hammersmith on 03/09/22 the air conditioning dripped onto the carpet all night the room was very noisy above bar and smelled of cigarettes all night coming through the window also the receptionist told us the car park was maximum £20 when we parked at 18.10 the next day we took the car at 16.00 and was charged £40 this is not acceptable when we payed full room rates in both hotels I would appreciate a reply and some sort of compensation

Jennifer Clardy
from Kissimmee, FL
We stayed at the Holiday in resort s and suites on August 4,2022 and checked out I. August 5,2022. I still have not received my $200 deposit and have been calling for weeks only to be told several different excuses as to why I have not received my money yet. I have never had this happen at any hotel we've stayed at and we do this often as mini vacas.

I was staying at one of the locations in Frankenmuth,MI and one of the employees named Stephanie had a very bad attitude while speaking to my wife and daughter after they realized that we were given a different room from what we paid for and when they asked her to explain she then raised her voice at them. She would not let them get a refund and asked them to leave. She said there was nothing she could do considering that I wasn't with them because I ended up being hospitalized before the trip.

Candice Blango Howard
from Albertson, NC
Me and my family was the the hotel in Gloucester, VA for a family vacation on July 22, 2022 thru July 24, 2022, before my daughter goes off to college. I booked all the room under my name and since my brother and his family was the first ones to check in they took the payment for the room from my account. I paid for my two rooms that night when we checked in. That Saturday me and my sister in law spoke to the manager Angelique and explained to her what happened. My sister in law paid for her room and she informed that my money would be refunded to me 3 to 5 days. Called two week later since the money was not put back on my card, the manager now states that my bill only has the two rooms but my bank account still has the three rooms, mine, my daughters and my sister in law. I informed her about the bank statement and she tells me that I have to call the my bank and stop the payment on the third room. OK I call my bank and inform them of what's going on. My bank tells me that I have to get a copy of the bill from the hotel. Ok i called this past Monday spoke to Keith or Kevin could not hear customers were checking into the hotel. Explained to him what happened and that I needed a copy of my bill and he tells me that it shows three rooms for me when the manager stated to me that it showed two. Ok he informs me that he will email my bill to me today (Monday) it's now Wednesday and I still don't have my bill. I've been trying for over a month and still nothing has been done.
Kind Regards
Candice Blango -Howard

Chris Wibe
from Washington, DC
My daughter left her white NASA sweatshirt in the romm. I called them 4 times to get it back. All I got was ma'am I don't do the laundry and no one called me back. Also I was charged a rate and when I checked they charged an extra $10 and told me they did not charge enough. I am very disappointed. We were there July 15-16. I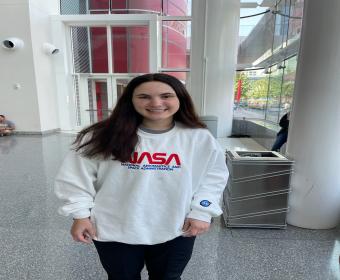 Constance Critzer
from New York, NY
Stayed at Holiday Inn in Columbia Tennessee on July 15th and 16th. A guest (or employee) had two Doberman dogs running outside without leashes. Complaint was made to the front desk and they said they were in Foreman the manager on duty. Upon returning 2 The Holiday Inn Columbia on July 16th, the Dobermans were outside with the front desk person on duty as well as another individual. Again, no leashes on the dogs and when they saw us driving up the dogs were taken to a side entrance. The dogs were allowed in a side door and taken up to floor number two room 212 without the dogs having leashes. This was upsetting as other people had their dogs there and had them secure it with leashes. There were many children there that I observed those two days we stayed and evidently this matter was not taken to another account when mentioned to the front desk. I asked for Holiday Inns corporate office phone number and was told by the front desk person that they did not have it so I told them I would find it on my own

Ilan Itzcovitz
from Vila Nova de Gaia, 13
on the 24th june 2022, 19:10, i arrived with my group (i am the tour leader), 32 pax, to Holiday inn Gaya hotel in Porto, Portogal.
we were asked to pay the city tax upon arrivel and i asked to do it later, becouse we had a very long day. i was refused and told these are the regulations.
thats OK...but i asked to speek with the reception manager and i met a rude and yelling person, acting ugly and towering like i am criminal.
let me tell you in advance - my company will never againe use this hotel, and we bring each year more then 10 groups to portogal. i never met, in my proffesional life, such a rude and unproffesional person working as an hotel personal.
shame on you for having him as your employee.

Kathy foster
from Zanesville, OH
Had to wait on are room till about 4:30 or 15 till 5:00 the room wasn't very clean there was hair on the tub and 2 toilet paper rolls throw in a shelf towels wasn't neat at all look to be throw on the shelf cost 19 to park I've stayed at a lot holiday Inn this by far was the dirtiest

1) room smell
2) hallways stairways smell
3) aC loud and inefficient
4) sink drains poorly
5) ran out of towels

It's sad how holiday inn express in dearborn michigan treat employee they give u a position then bring someone else in without telling you and just knock u out I think if they feel u not doing good let u know not just bring someone in one day always nothing to work with when we come in to work oh let's not forget about always somebody check not right or not there then want someone's to wait 2 week but bills can't wait two week they should not be a part of holiday inn express company I wouldn't stay there and I work there trying to get it together cause corporate coming next week

rodney bass
from Mobile, AL
we have been staying here for 6 weeks at 800$ a week. last weekend about 30 kids and their parents stayed here. a nightmare isnt enough of a word. Drunk parents in the parking lot till 3 am kids racing all over most of the night. been run out of the pool 4 days in row cause employees took it over. 2 days ago myself and another women wouldnt go in the pool cause the same employee and her husband/boyfriend were groping each other, her and her kids and family have taken over the pool for 4 days in row. now today pool is closed for her to have a private party. Im all for rewarding employees, but my God when your spending over 4000 a month and they just take over is crazy! Couldnt even sit out there in the shade!!! Also today a pickup with goats is parked in the front lot, goats are in cages. while the owners are relaxing in the airconditining, these goats are out there roasting in 103 heat index!!!! Do your employees care? Dont know cant find any!! They are all out by the pool at a private birthday party!! I have also had a man that i guess works at the front desk, sleeps more then anything, extremely rude a few times to me. They doing a lot of work on this hotel, he told me one day move your car or it will get damaged. you do have a handful of employees here are great and deserve a pay raise. we are now looking for another hotel to stay in cause our house wont be ready for another 4 weeks and I refuse to ay this place another 4000! Very unhappy customer

dana kim segur
from Indianapolis, IN
We visited Holiday Inn Express in Moab on May 29, 30, 31 of 2022.
When we first arrived, the 2 queen room that we booked and reserved on line had been given away, but thankfully, the receptionist gave us another 2 queen room. I think she had to give us a riom from someone who had not arriced, but I was thankful to have it.
However, after the next evening arrived and our room had not been cleaned, trash emptied, towels refresh, etc, we asked the manager at front desk about this. She very ugly and rudely replied, "We don't HAVE to clean your room, due to covid." We were shocked at her attitude, and her reply. We had booked for 3 nights, and had to stop the maid in the hall to get clean towels, and coffee
I have always had a good opinion of Holiday Inn. For just a few dollars more, we could have stayed at the Hyatt Place, or if we had wanted a low budget hotel, the Motel 6 just down the street. But we never imagined that the treatment and service at Holiday Inn Express would be SO poor.
We spent top dollars for the hotel visit, and did not receive even minimal service or accommodations.
Dana Segur

Jodi Peterson
from Seattle, WA
After I had checked out they let my daughter extend the stay on my card (she wasn't even on my reservation), and then tried to run it for 10 extra days. I had called the front desk three times to let them know that no one was allowed to stay in my room after I had checked out and they forgot to pass on the information. There were $500 in damages to the room and they're still trying to make me pay for it.

Hope Anderson
from Las Vegas, NV
I made a reservation at the bullhead city Az location on may 30/22 due to the pictures on line on your website of a indoor pool
I called about the pool hours about 10 hours before check in and spoke with Lisa who was by far unprofessional quoting this is a new hotel you know so the pool has no water ! I said this is why I choose this hotel because my kids wanted to swim in the indoor pool ! Lisa said well it's to late to cancel ! I said but it's false advertising!!!! She said oh no we took off the pictures of the pool from our website ! I said no you did not and I have photos from your website proving the website shows photos of a indoor pool with water !!! I told her I won't be keeping this reservation due to misleading website ! And said I still have to pay ! I was charged $160 and I never even stayed there! I was looking forward to staying at the hotel but unfortunately due to misleading pictures of a indoor swimming pool I canceled but still charged $160!!!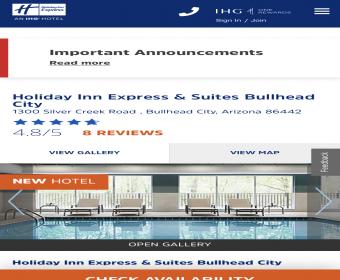 Worst experience. Room was not clean and in a very dark deserted area of the hotel - when I asked the front desk to Change my room I was told they could not. The hotel could not accommodate me with a clean safe room and charged me to cancel my reservation. I addressed this with the Holiday In Corporate office and they did not assist with a refund. I asked to escalate the matter to management and was told the team
Leader does not take calls. Never in my life have I been treated so poorly by a hospitality company. extremely poor customer care

Rick Hill
from Brusly, LA
Holiday Inn,
I stayed at the Holiday Inn Alexandria La. downtown 5/20-5/21and I have to say - worst hotel ever
I know you probably won't reply - yet it was so bad I feel the need to vent
1) _ over 20 people in line - and only one attendant
2) - manager walked by and no interest in helping
3) staff very rude
4)- over 45 min to get sandwich from deli
5) only 1/4 roll toilet paper in room
6) plaster dropping from ceiling in numerous areas
7) roaches in urinal
8) only one elevator working
9) 2 toilets in ladies room backed up
10)-trash overflowing in lobby restroom and lobby
11)-shower head on opposite end than drain - have never seen this
12)- shower curtain ripped and falling
13)- took over 2hr to get blanket from front desk
14) - worker standing around doing nothing
HOPE YOU CLOSE THIS PLACE DOWN - ITS A DISGRACE
Rick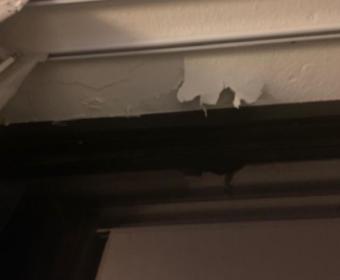 Joe Ciscone
from New York, NY
Booked The holiday inn at the pavilion in Myrtle Beach in February for May 23 through May 26. Specifically said we wanted the high-rise hotel oceanview and we were told we had the high rise hotel oceanview after we booked it. When we checked in we were told that they only have one oceanfront view room available and it was in the smaller hotel as if we didn't book it three months before. We talked to other guests there and they booked their rooms a month before and they were in the high-rise hotel oceanview. The carpet in our room was disgusting we couldn't walk on the carpet without shoes on because our socks or feet would turn black from walking on the carpet. The smoke detector chirped for three days and no one change the batteries. Because we were not in the high-rise part and we were on the first floor of the smaller building we had to listen to the loud motorcycles in the parking lot next to our room which would not have happened if we got the room we originally booked and told we had. I paid for something I did not receive I paid for something that was not afforded to me that I was told I had I expect a response to this complaint.

Ryan J. Gilmer
from Minneapolis, MN
The Plymouth Minnesota hotel has the worst customer service desk clerk ever. When I asked for the managers phone number I was told she would hand it to me. When I stepped forward to get it she asked me to leave and called the police and proceeded to lie to the police about me yelling at her. Luckily I recorded the entire conversation and never yelled. On top of this she said she would give information after we called the police and again never did. Worst experience ever. Basically don't lie to the police

Kimberly Washingotn
from Hazlet, NJ
My husband recently stayed at the above hotel from 5/5/22 - 5/9/22. He was locked out of his room because of a broken lock that was supposed to be fixed the day before. He comes back to his room on 5/8/22 and can not get into his room. He waited out side his room from 9:15 pm to 11:00 pm until maintenance finally arrived to fix it. He then had to be relocated to another room, this is all after being exhausted and needing to get rest for his trip back to New Jersey from South Carolina. I am his wife and I spoke to a staff member that night, who claimed to have spoken to management about the situation and a refund of a $300.00 was suppose to be returned and that did not happen. I am beyond pissed and I need management to correct this unacceptable type of service.

Diana Colton
from Oshawa, ON
I have been trying to a group booking of 30 rooms for a team event and have had no luck. I then attempted to speak with hotel manager who was beyond rude refused to give me his name and hung up on me. Then proceeded to call me back and cancel my individual reservation with the hotel.
I am not sure how this level of service is allowed in such a well established organization!!!

Donna Corless
from Eagle, ID
I booked a room at the Holiday Inn Express in Twin Falls, Idaho several weeks in advance of my stay, of May 6, 2022. I reserved a room with 2 queens beds. When I arrived the room contained a king bed and a pull out cot. My friend agreed to take the cot and said she was miserable all night due to springs poking her. Would you explain why my initial reservation was changed without my knowledge or permission? Thank you, Donna L. Corless

Penelope Fratelli
from New York, NY
I have been a strict vegetarian for 28 years. I bit into a piece of ham in my veggie omelet!!!!

Craig Miller
from Irving, TX
We booked a night for a layover in Dallas at the Holiday Inn express 4550 West John Carpenter Freeway Irving Texas. After getting our background we called for a shuttle and was told it would be 15-20 min after waiting 40 minutes I called again to be told it would be another 10 min the shuttle arrived 20 min after that phone call and an hour from my first phone call. Once we arrived the staff we called the front desk to get our coffee maker fixed or a kettle for hot water as we had not eaten and needed hot water for the mr noodles, staff said they would call right back and 20 minutes later they called back with no solution, rudely telling us they were busy dealing with other customers. We have stayed at many Holiday Inns in Canada but I guarantee we will not be staying at another Holiday Inn.

Brighton CO HOLIDAY Inn Express no people clean the room

Selma Stenson
from New Orleans, LA
It is so sad I have to give a bad review because my stay and staff were pleasant. However I work for the Government and we must have receipts to be reimbursed, and I have never had an issue with obtaining a receipt after a stay at an hotel, However I have now been trying to obtain the receipt for about 3weeks with no resolve! This particular hotel is currently closed for renovations and customer service has NO clue how to assist during the closure of the hotel. Apparently because the reservation was made with no email attached the hotel is the only source that can add it to have the receipt emailed to me. I have asked and escalated this matter 4 times for an alternate solution to assist, and everyone is so dumbfounded on what to do its really amazing. It is BEYOND ridiculous at how a chain this BIG has no work arounds in place for something as small as a receipt request! VERY UNPROFESSIONAL! I have also made the request for our regional booking agency to NOT book us with IHG any longer its to much hassle literally over nothing, I would hate to see how they would respond to an urgent matter...

No rooms ready a 4 pm and bad customer service because I am latino the lady in front asked me if I have enough money to pay the hotel I am membership for holiday inn express and I use the same company old the time alot times in the year but everything going to change they don't fix nothing .

Karen Malachin
from Millersburg, OH
My adult granddaughter was embarrassed and belittle by an employee in front of multiple other guests this morning over her lack of having shoes on., she was making a cup of coffee was told it was a health code violation to be out of her room without shoes on .. proceeded to tell (yell)her a second time as she was going to set her cup down and go get them embarrassed she went back to our room he stood at the top of the hall watching her til she got to our room.

Lisa sielert
from Trenton, MI
First of all I was charged more then what was agreed to when i called to make reservation. On top of overcharging me i arrive from the airport to check in and they hit me with deposit fee thst they assured i would get back upon check out , the front desk was extremely rude and even after paying all of it i had to wait 4 hours to get in room! They only had one working elevator which caused ridiculous amounts of time waiting to get anywhere, manager was no help and zero hospitality and i paid over 400$/night plus deposit. Its been over a week and still havnt got it back and no help when i call i get put on hold or told someone will contact me but they dont.

Tony Vance
from Kenton, OH
I was charged for a night I didn't stay, talked to Vanessa at and she said it was my fault.
Made a reservation when your company sent me a email for a special 105.00 night reservation number 26691343 for March 12, 2022, got to the hotel at 7035 Western Drive Indianapolis, In and lady at the front desk said the reservation was cancelled.
Made another reservation and paid $180.83.
Just got my bank statement and I was charged $123.73 and looking into this further I found out that charge was for March 5, I didn't make that reservation.
In conclusion I was charged $123.73 and I am going to loose that money and I didn't stay there, not fair. Somehow human error or computer error has caused this.
All I know is I walked into the hotel and the lady behind the counter said this reservation has been canceled.

Amanda flores
from Chicago, IL
I was overcharged and not aware of the charge until checkout that I would be charged an extra $500 fee I am reaching out to file a complaint on the manager at holiday inn express in spring texas
We have not had any problems with our recent stays over the past years until now .
This has affected me financially and I do not appreciate the way it is being handled if you can get back to me via email or directly at I would appreciate it tremendously!

Petra Wilson
from Oxford, ENG
Dear Sir/Madam
My husband and myself and friends stayed at The Holiday Inn, Coventry M6 Jct 2 on Saturday 19th March 2022; we were given room 323 when we arrived, about 1.30/2.00pm.
We were relaxing in our room, and there was a terrible smell, a very strong chlorinated smell, it made me feel very sick, dizzy and a little disoriented. A member of staff knocked on our door, around 4.30 and told us that we were being evacuated as there was an incident on the 1st floor. There were several firemen milling around and we were told to move quickly and leave and go to reception.
We packed as quickly as possible and went to reception where we were allocated room 201. We went and unpacked and within about 30 minutes a fireman knocked on our door and told us that we must keep the window open for ventilation. At this point I wanted to leave the hotel and return home, but both my husband and myself had had an alcoholic drink at the bar so we're unable to drive.
We had no choice but to stay and prepared to go out and eat. Later that evening, arriving back in the room and preparing to sleep, we realised that there was an awful noise outside our room, like a generator. We had been told to keep the window open so that's all we could hear. Sleep was impossible, it was a permanent noise and I have attempted to attach a video so you can hear how loud it was, but have been unable to do that but I have kept it so hopefully I can attach it to an email address if you can provide me with one.
We had no sleep, we do not feel that it was our fault that we had to move rooms initially and when we asked at reception for another room we were told that there was no where else and that we had to put up with the noise.
We paid for a bed to sleep in that we were unable to do, I am requesting a refund of £71.20 that we paid. Thank you.
Kind regards
Petra Wilson

Jory Boyce
from Phoenix, AZ
I booked with a baseball travel team for a weekend in the Scottsdale Arizona region. Talked with the front desk gave him a card to hold, was told that I would not be charged until check out. Minutes later I was charged on that card which put me negative in my account. When I talked to the front desk they told me it was a one time charge and that the rest of my stay wouldn't be charged until check out. The next day I was charged again, putting me super negative in my account to where they shut my credit card off. I then went to give them a new credit card to pay for the stay and was overcharged to wear it shut that credit card off because it wasn't approved. So then I was stuck with no hotel room and no money on a weekend.. It totally ruined our whole stay and made it completely chaotic. I have talked with our baseball team and surrounding teams in the area and have sent out information to other traveling teams to not book with you guys anymore it was completely ridiculous and I was treated completely rudely. This is not how customers should be treated especially when I'm paying so much. Maybe take some time and retrain your employees. Also our room was disgusting. If I'm paying over $300 anight I should have to deal with wet carpet and nasty crumbs all over the room. We even found a fake nail in our bathroom.

Theresa Stevens
from Tyler, TX
Upon arrival on Friday 3/4/2022, I was pleasantly surprised when I walked into the lobby because it smelled so clean. I was greeted so kindly by the man at the front desk. Checked into my room and was happy with it. My first inconvenience was I had trouble with the room key deactivating twice on Friday. Saturday morning we left for the day. When we came back to the room, the garbage was emptied, but that was the only thing that was done to our room. We never got our used towels picked up OR replaced. We went to the front desk and got towels ourself. The cleaning service is part of what we pay for so were expecting clean towels. Sunday we were gone for the day. When we arrived back at the hotel, our room key would not work again getting into the side door from the outside parking lot so we went around to the lobby to get it fixed again!! Christa at the front desk said, "Well that happens all the time." Like it was no big deal. Not impressed with Christa at all. When we got back to our room, we found our room door was OPEN for anyone to come in. That is SO NOT OK!!!! We called the front desk, and again Christa was NO HELP AT ALL!! We asked for a manager and were told by her that there wouldn't be a manager here until Wednesday, today is Sunday, March 6,2022. With many hotels to chose from, we stayed here thinking the Holiday Inn is a reputable hotel. I would hope that this complaint is something that IHG would take serious.

Heather Riedlecker
from San Antonio, TX
Good afternoon,
I am trying to reach out to as many IHG contacts as possible asking for help, I have sent multiple emails to the manager at this location and has not heard back I have reached out to the location directly spoke to a young man first asking if Norma was still the manager and he confirmed she was so then I explained I needed to speak with her about some concerns we had with our stay and she hadn't returned emails but I he could check forna back that was left in my room, he put me on hold for about 10 minutes then someone picked up phone a hung it up, so I called back he answered again and told me he couldn't find it then a women took the phone from him and said "what it your problem" so I explained about the back that was left, explained about how the room connected to ours that I booked for our daughter who arrived before me with my Granddaughters had been smoked out in, someone had chilled in the beed and had crumbs all over the bed she hung the phone up on me, so I call back again and get same women I continue to explain to her the bed my son slept in felt like it was going to break and AC kept breaking all through the night. By the time I checked in I could still smell the heavy pot smell coming from that room and couldn't believe they would check a family with kids in that room. Then brought up my missing bag that has all my Olaplex shampoos, gucci bloom perfume, kora face cream and all kinds of other items I haven't unpacked from our recent 2 week trip to Disney world and Universal studios during the holidays she then told me they only hold things for so long after the stay and then toss them when they dont hear from anyone, I reminded her I have been contacting by email the Manager Norma by email and click she hung up on me again!!! I'm not stupid they didn't throw this bag away with expensive products in it! I called back multiple times but now they would answer and hang up over and over. Still nothing from Norma at all, called today and asked to speak with her was told she was available and when the girl realized it was me again she hung up.
I would really like to collect my items, I would think every employee at that location needs a drug test to see who is smoking out in these rooms, some quality control needs to happen at this location aswell as some customer service skills. We have many gymnastics meets coming up in that area I have allready shared our experience with this hotel and I am going to keep going. I honestly can not believe we have been treated this way what so ever.
Sincerely,
Heather Riedlecker

Jessica C
from Pearland, TX
I booked a stay at the Holiday Inn Express & Suites Schulenburg, TX for one night 2/12. I did book through a 3rd party vendor. My daughter contracted COVID was very ill and we were unable to attend the wedding in town.
I reached out to the 3rd party vendor and stated there could be a refund given at the discretion of the property management. Multiple emails and phone calls were made to grant the refund due to the circumstances. There was no response given. I personally called multiple times and was told the manager was not in the office. When I was finally able to get in contact with the management on property she stated the refund could not be given because it was an advanced purchase. I know this is not a true statement because I have received a refund in the past from another property that was booked through a 3rd party vendor. The managers at this property are heartless and did not want to hear anything I had to say. I actually did the property a favor by not staying with them knowing I had been exposed to COVID. After working on the frontlines of a COVID unit for the past 2 years people need to be more understanding of how the disease is so unpredictable and can change peoples travel plans very quickly. I would like a refund and return phone call/email from corporate customer service.

Michelle Ehret
from Fort Myers, FL
Last weekend we had to travel out of town for a competition and reserved a room at Holiday Inn Airport West Palm Beach. Myself and my two small children checked in very late at night. When we went up to the room my kids complained about the room smelling very bad. The room reeked of marijuana. The girl at the front desk Alexandria was extremely rude. I was told someone would come check out the room and no one ever did. Being completely exhausted that night we fell asleep. Again, in the morning the room smelled so bad we could not tolerate it anymore. Again I complained to the front desk girl and she said she knew it smelled and that she would document it. She also encouraged me to contact the assistant general manager Christine. I have left over 5 messages without a return call. When I called the hotel and again spoke to the extremely unprofessional Supervisor, Alexandria, she hung up on me. I have never had such a bad experience and I cant believe they would put me in that room knowing I was checking in with two small kids. I can be reached at if someone wants to call and make it right otherwise, I probably wont ever in my life stay at a Holiday Inn.
Sincerely,
Michelle Ehret

Amiel J. Brown
from Newark, NJ
We Amiel & Daniela Brown experienced terrible stay at the Holiday Inn Express located in Avenel Feb. 13,14, and the 25, 2022.
My wife was informed thru Guest service to hurry placing reservations thru Snap Travel on timer. We endured noise disturbance four of those days. I addressed the noise disturbance to guest service but, front desk agents wouldn't enforced nor look into these issues. One of the overnight staff told my wife to leave out of hotel in early in the morning when the temperatures was 16 degrees out. We mention to front desk that each time my wife took a shower the water was cold. In fact We spoke with the supervisor and General Manager about these issues. Mrs. Pasquale (GM) mention my wife that she would adjust and refund her back her funds. In addition, she mention that she was very sorry about our visit. Earlier the supervisor (name unknown), spoke with me stating that Housekeeping and whoever else informed them that we were yelling or arguing within their presence. I stated that we were not arguing nor disrespecting the staff what so ever. I addressed the above issues with her and she was ignored our concerns. She began stating that the GM informed her that she discounted us and that we are no longer extended stay at there.... They show no respect for us nor my wife 's health. My wife is dealing with migraine headaches and blood pressure. I informed guest service each check in that we wanted to place at the end of the hallway to alleviate drama or noise disturbance. We felt like they didn't respect nor serve us. In addition, they never refunded my wife her $100.00 for incidental fees. We know they are going to deny or fabricate stories in a negative manner about us. We would never recommend no one to visit or stay at that hotel. If you have any concerns please email me back a response to Thanks

Lacishia Tillman
from Lake Park, GA
After being locked out my room due to a door jam I had nowhere to stay my belongings were on the inside locked away due to this locked door I called the front there was nothing they could do about until days later I live 2hrs away I was called late yesterday afternoon to come pick up belongings I wasn't able to make it So I came the very next morning which was very inconvenient for me but I made it happened. When I arrived no one was at the front desk so I was frustrated I walked around looking for
The hotel clerk 10 mins later I walked into a linen closet and found him folding towels Wow
So if anyone comes in they will not be greeted because all employees are in the back So I began to explain to him that I was coming to grab my belongings and he said you can't get anything until you sign this paper I told him I wasn't aware of any charges due to the circumstances and the other party was being charged for the damages So how am I responsible because your door got jammed my card was charged for each night that I wasn't even allowed to use the room and also
I was charged for the door I do understand things happen but for this employee to call
Me all kind of names because I wanted my belongings and run off with my belongings and I had to chase him down Im
In disbelief and can't understand how he could treat a customer this way very rude and disappointed be careful who you hire I own a business and I would never fight with my customers

Robert Guli
from Seminole, FL
Stayed for Christmas Holidays to visit family and we felt like we had a Motel 6 type of room on the beachfront . We were so unhappy with your room #470 and property that we had to vacate two days early! Please note staff was friendly and courteous....it was the room that needs major updates namlely sliding glass door would only can be opened and closed by Hulk Hogan ,door jam was rotted , closet doors hurt my wife fingers , phone did not work and;2 German shepherd large dogs were pooping right down the front lawn sprinkler while eating breakfast!...True nightmare ...we advise you close the facility till you can totally renovate property and rooms . Our intended stay was from Dec 22 - Dec 27....never again .... Gratefully appreciate a refund .

William Blakley
from Portland, OR
We checked in on 10/5/21 thru 10/18/21
We went to our room and the TV was not in working order. I called the desk and they moved us to room #139 Handicap room.
When we entered there was a strong musty smell but we were so tired we decided just to stay and deal with it. We went to take
a shower and there wasn't any soap. I called and asked and they said I would need to come down to get it. I stood in line for about
5 minutes and watched 3 other customers request soap as well. The shower curtain didn't reach the floor so when we would take a
shower it would flood the floor & we had to use towels to clean it up. Consequently, we were always out of towels and had to go to
the front desk constantly to get towels. I told the front desk our problem that it was flooding and soaking the carpet entrance of the
room. They said they would relay the problem to the manager and I would hear back. Consequently, we never heard back in regard to our
complaint every day of the same growing problem After 13 days of soaking the carpet and the awful smell growing we checked out of
our room to go to another hotel. When we checked out I informed the clerk once again of the problem and she said "Oh, I will be sure
to close the room off so it can be repaired. That was no help to us since we lived in squishy stinking carpet, no towels, and only housekeeping
2 times with a 13 day stay. I was visiting my home town in Solana Beach where I was brought up for 65 years because my Mom passed
away in October. This was very stressful and our stay at the Holiday Inn Express Carlsbad made everything worse. It has taken me this long to complain because of my Mom's passing. I at least expected the General Manager to compensate us and make things right, but that never happened and it was obvious to me that they could care less just as long as my credit card was approved for payment. Hopefully you will make this right for us.

Leslie Bolk
from St Louis, MO
Hi, my husband and I had room blocks set for October 28th and 29th 2021at holiday inn in Warrenton Missouri for our wedding. Everything was going great from the time I set everything up with them. Then I sent out a reminder message to all of our guest that we're planning to stay that they had till the 29th of September to get our block rate. That was when it started to go down hill. I found out that one of my guest was unsure if her 3 rooms she booked was really booked because she never received a confirmation email. I called the hotel for her and spoke with Danielle and she said they had no rooms booked for my guest under that name. I had my guest call and book again and made sure they took care of her. I then emailed Abigail asking for a list of all my guest that booked rooms so I could see if anyone else that called and booked rooms was truly in the system so I wouldn't have to deal with this the day of the wedding. Abigail was not responding so I called and asked to speak with a manger which I then got disconnected, but Abigail then called me immediately after. I spoke with her and she sent me a list of all the guest and everything was correct. She also stated that they don't send confirmation emails unless a guest ask for one which makes no sense to me and all of this could have been avoided if they would do their job. Then skip to October 28th the rehearsal night, I had a guest that had 3 rooms blocked that were part of the wedding party. I'm on my way to rehearsal when I get a call from this guest saying they had no rooms booked for them and the hotel was booked for the night. Now normally I would think she made the mistake, but I was with her in person at the hotel when she booked all 3 rooms and she said two nights and I specifically know she said that because when my father in law booked 3 rooms the person at the front desk asked do you want 2 nights as well (which they did not). So feeling stuck I just called Holiday inn in wentzville mo to see if they had rooms available and had them stay there for the night in hopes the Warrenton mo staff would own up to their mistake (which they did not). That family was part of our wedding and had to miss the rehearsal because of this. Then the wedding day comes and when I think it can't get worse I was called again with another screw up on their part. My husband and I rented a shuttle on top of the complementary shuttle that the hotel provides because we had so many people staying and the hotel shuttle just wasn't big enough. Abigail and I set up times for the hotel shuttle and the Jed shuttle that we hired to alternate pickup/drop offs so no one had to wait. I do have the emails from Abigail stating all of this. At 4:20 I get a call from the guest saying they only had 1 time for the hotel shuttle and that was at 5. They were supposed to start taking guest at 3,4 and 5. I had this set up that way we could have pictures done before the wedding that started at 6. I call the hotel and explain to them that they needed to get guests over to the venue and they said they were never told that and would get it going. Then not 15 minutes later I get a call again that the shuttle just left with no one on it (turns out there was 1 person on it) and they were standing out there waiting for it, but they just drove right past them. They then just jumped in their car because at this point they needed to be at the venue. We ended up having to start the wedding 30 mins late because of the lack of communication between Abigail and the staff. Then at the end of the night the shuttle was sitting out there like they were supposed to and then informed us that they won't take kids because of safety. While I do get that, these were school age kids who ride a school bus and are to big to ride in car seats. So the parents then had to figure out how to get them to the hotel since most of them rode with someone who already left, so they had to pile kids in a car sitting on each other's laps making it more unsafe then riding the shuttle because the hotel never informed anyone that kids would not be able to ride their shuttle and our shuttle was already done for the night. The next morning I had so many complaints from guest saying how unorganized this hotel was and how rude the staff was. I of course try to call, but something must be wrong with the phones because every time I try to call to say something I get hung up on. I know times are hard and it's hard to get good staff, but I highly recommend that you train the staff to be a little more friendly and to communicate with one another because this was the last thing I wanted to deal with on my wedding day. I have never stayed at a hotel with such terrible service.

Please please call me I need answers and help the manager keyur did very bad things to my account and took money from other accounts as.well I have all papers.to prove.he.messed with my credit card I have texts with everything please call

Linda Reece
from Dewsbury, ENG
Disgusted the holiday inn in Washington won't give me a plate to take to my room to eat some food. I'm staying here now and have never been refused by any hotel before, absolutely disgusted!!!!

Brandon Miller
from Coppell, TX
Hello, to whom it may concern after booking a week long stay at Holiday Inn Express located at 3101 Dallas Parkway, Plano, Tx 75093 and only staying two of those nights I was so rudely awoken to a hotel manager banging on my door telling me that my room smelled of marijuana and that I had thirty minutes to remove all of my belongings and leave the premises. That room reeked of that God awful smell when I first arrived and so did the whole hall in fact the ONLY reason I did not ask to move rooms is because I am disabled, have lupus, and I am on dialysis because my first kidney transplant failed I mean I literally have a catheter that goes directly to my heart and hangs out of my chest. I would have happily asked to move rooms if I had the energy to move all of my belongings AGAIN it was hard enough the first time getting them all the way up to the third floor. I told this manager it was absolutely not me and she continued to say that it absolutely had to have been me because that is how my kind are as I asked what she meant by that she said you Mexicans! Then told me I had to leave or she was going to call the cops on me! I cannot believe how rude, absurd, and disrespectful this manager was to me! On top of all this craziness the manager is refusing to refund my remaining four days, I live off of disability and cannot afford to just lose $400. Something has to be done Holiday Inn can not allow it's managers to behave this way. I need a refund and to be compensated for the unnecessary amount of emotional stress this has caused me. If you cannot help me please get me in touch with someone who can. 

Beth Armstrong
from Charlotte, NC
Checked in on 10/23 at 5:20pm because our room wasn't ready yet.....the front desk was rude to us and then we finally got in our room after the Hotel Manager went to inspect it and said it was cleaned.... Once we got in our room, the smell was horrible.....smelt like mold and then walked over to the bed and the maid just kept the old sheets on the bed and how we know this is there was dirty shoe prints all over.....Had to call the front desk for clean sheets to be brought up and she did bring them up and proceeded to toss at me.
I would like some of our money refunded back as the service we received was unacceptable. Your room was not worth the over $400.00 I paid for it and I will never stay in one of you establishments again.
We were in Room #306 and checked out on 10/25.
Please respond to this complaint as I can't reach anyone on your phones.
Beth Armstrong

John Crawford
from Purcellville, VA
I tried to make a reservation to Mt. Kisco Holiday Inn and will be able to stay 2 nights for the astounding price of $445.00. After making the reservation, I was redirected to a salesman that offered a 4 day 3 night stay in 12 different resorts with no other requirements. When I hesitated, the salesman offered to extend the time I could use this offer to two years and several free comps. The price of $199.00 was to be refunded. We talked about different areas, and I mentioned that Scottsdale AZ was a nice spot, but would let them know. The salesman was to email me the details and a credit card receipt. He said there were no "seminars" that we had to attend.
Nothing was ever received and I called several times. I was told there were indeed seminars and it had to used within one year - not two. Then we kept getting congratulatory emails about going to Scottsdale, which we had never asked for specifically.
I cancelled the charge with the credit card company and googled the HICV - Holiday Inn Club Vacation plans. The BBB has so many complaints about this operation that I called the HICV people back and insisted on a refund, but they said I had to send an email. I did, but nothing has been heard, and no credit has been received.
We are keeping the exorbitant costly reservation at Mt. Kisco because there seems to be nothing else available at this late date, but you should know that we are now limiting stays at any Holiday Inn. I don't like being led into scams that are perpetuated by what I think are reputable businesses. Your redirection while making this reservation was not appropriate.

Paul M Archer
from Berwick-Upon-Tweed, ENG
We arrived at check to be told that we could not leave car park between 0830 and 115 tomorrow! No mention of this on website or in confirmation email. We are supposed to be visiting family!! Told I had to complain via email to hotel manager and couldn't formally complain to company. I hope this proves them wrong! A ruined visit and £200 wasted. Unacceptable that information not available at time of booking or with confirmation email. Hope to hear. Paul

Donna Dietrich
from Salt Lake City, UT
We stayed at the Holiday Inn in Heber City Utah on October 3 and 4 and left a day early on the 5th. When we arrived on the morning of the 3rd I commented to the lady at the desk that there was loads of "large dog" poop in the grass between the front door and the handicapped spot where we parked. Someone had even stepped in it and tracked onto the sidewalk. She had no response. The next day at the end of the day I mentioned it to a different lady and got no response. At the end of the day of the 4th I ran into the manager and mentioned it to her and she said they were aware of it but were to busy to pick it up. Maybe I am different than most management these days, but I would have put my stuff down if I were her and gone out and picked it up myself. Because of registering three complaints and no one caring we decided to leave the next morning, a day early.
We have stayed at Holiday Inn hotels for 45 years and have never been greeted with the "I don't care attitude before". We will not stay there again but will go to the Best Western across the street.

Mr & Ms Alexander Owens III
from Silver Spring, MD
I suite area was disgusting
Have feedback for Holiday Inn?
Thanks for your feedback!
Sorry. Please try again later!