Dish Network
Dish Network Complaints Continued... (Page 3)
336+ reviews added so far. Upset? Call Dish Network corporate: 303-723-1000

Steven Husson
from Lititz, PA
Called complaint line to request how to lower monthly charges. After an hour on the phone they ended up increased the bill. I called again, same results twice. I wrote two letters and they failed to respond to either. I called again and requested immediate termination. After hours on the phone they finally relented, however, they then charged me 294.50 to terminate. I had already paid them additional service charges after I request ways to reduce the bill. They lied twice. I was forced to terminate do to fraud. These people are horrible to work with. I spent hours on the phone. Now their collections people are calling me twice daily. Stay as far away as possible from Dish Network. Their customer service is right up there with Comcast. They lie and fail to respond.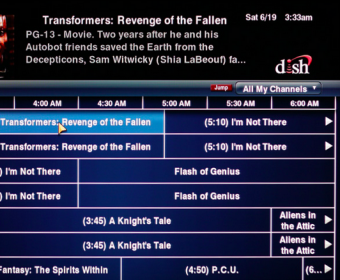 Alice and Phillip Polen
from Minneapolis, MN
Today, I am trying to get Dish service at a new second house location. They are asking me for my Social Security number over the phone to check my credit witch I do not give out to anyone over the phone. I have been with Dish for many years at my present home and have the payment taken directly from my checking account. Now if I do not give the dish agent my Social over the phone they will not open the new home account. The 1st person I talked with was very rude and I ask for his supervisor named Cliff = FTMC and he was a smart ass. I need someone to contact me and see how I can get set-up.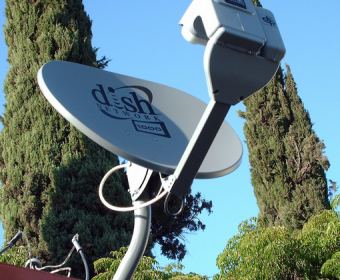 Karen Sheppard
from Texarkana, TX
A Dish Network support tech was sent out about three months ago, and I paid him to locate my dish in a better place to receive good signals. He promised me that he would come back, bury the cables, take down the 4 dishes that are on my roof, seal the holes so that my roof wouldn't leak, and take down the extra wires draped all over my house from previous "fixes". Well, he has never returned, and I can't find him. I also chatted with dish, telling them I needed a new remote for my living room. I printed the conversation, and it's 7 pages long, and I still don't have a new remote (this was 3 weeks ago).

nancy gaston
from Owenton, KY
My daughter got dish and when we didn't get the 50 dollars for getting dish I asked why she got everything I had and paid 40 dollars a month less. That when they discovered I was paying extra for high definition and it should have been free because that was the deal when we got the High Definition and ordered the new high definition receiver. The next bill came and it was still charging me the extra money. I called and the man on the phone told me I was over charged by at least $300 He told me to deduct 40.00 from my next bill and by that time the account would reflect the correct charges. I did as he said and the next bill was not adjusted. Not only that there was a late fee added because I deducted what I was told and they counted the balance created by the lower payment late.
I called again and they told me it takes 90 days for any adjustment made to my billing. They told me I needed to pay the entire bill until that or my service would be shut off. I canceled my service and they asked us to return their equipment. Two of the units were not theirs because I bought them for $99.00 when we first got dish many years prior. They still owe me $300.00 plus the $200.00 for my paid in full other two receivers. To top off the entire incident they turned me over to a collection agency and when they called I laughed hysterically. These people are thieves and I would be willing to bet that I am not their only victim.

Greg Glenn
from Fort Myers, FL
Had Dish installed last Saturday and it did not even work for 1 day. Called Dish on Sunday to get it fixed because it was just installed the day before. They told me they could not get anyone to repair it till that Friday. I told the that was not acceptable that they had just installed it the day before. In so many words they said to bad that is the way it is. So I called back and changed the repair to be on Saturday. Guess what the lady did not change so I get a call Thursday that the repair man will here Friday between 8-12. I called them back told them I had called and changed the repair to Saturday because I work. They see where I called but didn't change the date and they are full for this Saturday so if I want Saturday it would have to be next Saturday.
Now 2 weeks with out TV so they offer me not to charge me for the 2 weeks I don't have TV. Now isn't that great they won't charge me for something I never had. How big of them. I talked to several customer service managers (so called) that were very rude and short and did not give a damn. I said sense it has not worked I would like to cancel it. They told me they would charge me $450.00 cancellation fee and it did not work for 1 day. I would not tell anyone to get Dish I would say get Direct TV and I will tell every one I know and the 2 hundred people I work with not to get Dish Network.

Anita Frank
from Houston, TX
I call to ask about a charge that was being charged to my account as an automatic draft and was told to send my bank account information and I stated that it was illegal to do that via fax if the information was not secure. I was refused a manager and I want the $1.00 put back into my account and as soon as my contract is up I will be canceling my service this is poor customer service.

Antonio Rios
from Queens Village, NY
I received a bill for 203.67 and have never had Dish or cable. Acc. 82559009415912994. Ref. Please correct your records. This bill came from ERC dated Oct. 29, 2015. Thank you for providing a place for me to share my story. Dish Network has been nothing but trouble since I signed up and is a complete waste of money. I would caution any customers of the problems I have had with their corporate office.

Chris & Margaret Petersen
from Germantown, MD
On 9/10/15 we had dish internet installed, IT IS the worst internet service we have ever had. we called to have it removed and one of the Dish Network reps Mr. Oritia told us you can't! I said I do not like the service, a cloud interrupts it. he said maybe a storm but not a cloud besides you have a two year contract and that that!!! I said let me speak to your supervisor or someone in legal, he said have your lawyer us our legal department does not talk to customers. I said by law I have 30 days to cancel and it was affirmed by your rep Pam, he said nope and then ended the call! I want this service and your equipment removed from my home and all billing stopped at once.

Sharron Souza
from Oklahoma City, OK
I choose not to pay my Dish Bill online, yet I receive my bill in the mail just one week before it is due. It occurred to me the reason for this could be to force me to pay online, which I would hope is not the case! Would appreciate getting my monthly bill at least 10 days before due date. I also used to rent movies on my tv but when I attempt to now I get a message I have to call to rent movies...really, do you know anyone who likes to spend time on phone talking to a sales person! I don't want to update my Dish package just rent the ones offered. Thank you for the opportunity to share my concerns and complaints. If you could let me know the Dish Network corporate mailing address that would be great as well.

Virginia Johnson
from Phoenix, AZ
Dish Network turned me into collections on 12/14. I had no idea I owed them any money. The account was not in my name, and the address was in a different town than were I live. The billing was going to the address and never came to me. They would not remove the collection from my credit report even though it was fraud on someone else part. I have even paid the bill in hopes to get if off my credit report but that was not enough for Dish. How do they get away with ruining people's credit?

Teddy L. Thomas
from New Orleans, LA
I am very dissatisfied with my service. I have been a customer for over 10 years. Dish had a technician come out to my house three weeks ago to correct problem so I could go camping October 17-26. Problem was fixed and when I plugged in my receiver today it will not work. Called and dish informed me for $150.00 and $9.00 a month they could get a technician out here on October 26. Obviously it's a little too late if I can't get problem solved before Saturday October 17 to go camping. This is an ongoing problem that we have requested to be fixed three other times. Please contact me if you can be of assistance to me.

Dixon Bennett
from Houston, TX
KHOU Channel 11 in Houston, Texas is blocking Dish Network from showing their content. I missed 'Blue Bloods" Friday night and will miss other CBS programming until you and Belo (I assume) work out your differences so I am paying but not receiving what I am paying for. This situation needs to be resolved immediately. I have also contacted KHOU.

Sondra L. Hill
from Martinsburg, WV
Some time ago, we had issues with the satellite and lost service. After a call to Dish they said a service techician would be sent to check, which was done. In that process I was offered a "free" DVR , which was sent to my home. Later found out there would be a charge for $10 a month and now an extra $40 per month. None of this was explained to me when the so called gift was offered, so I decided to cancel service with Dish as of termination date of 10/20/2015, which by the way is stated on my bill. When called about the cencellation for service as of 10/21/2015, I was told the contract will not be up until February of 2017 due to the installation of the new service of the DVR. I want to know why this was not explained to me when the DVR was offered due to the issues concerning the satellite service.And would like it resolved as soon as possible. I plan to contact the Consumer Protection Agency as soon I submit this complaint.

Cindy Vogler
from Manistee, MI
I'm not very happy with the loss of my local channels. Since I'm paying you for them, I should get either a lower rate on my bill, or those stations back, or both. The choice is yours, if you don't want to loose another customer.If you want to contact me, you can send me an E-Mail to my address above. Also, you can send it to my home address. I will be waiting to hear from you, so please make your decision soon.

Penny Little
from Virginia Beach, VA
Wanted to share my frustrations with Dish taking off Channel 7. I pay 209.00 a month to be able to watch shows that I have watched for years and now you have cut off one that I love to watch . I have been a Dish customer for years. ​This is very disappointing and I'm pretty sure if we don't get Channel 7 back I will be calling Direct TV. I'm sure that my bill will not come down due to you turning off that channel? In the world of business the customer should get what they pay for and this is insane. I want Channel & back.

jeff friedman
from Porterville, CA
on Friday aug 14 I called to report our system wasn't working. after an hour of "troubleshooting" I had to get to work and declared it may be easier to switch to direct tv. at that time I was told we would receive a new box in 2 working days and that we would have to install it ourselves ! really? so to recap we have now been without tv for 3 days because of faulty equipment thru no fault of our own, we also have to install it ourselves. strange, when we see dish techs driving around our area all the time. add to that the waiting for the ups or whatever and hope someone is here to receive it. Incredible! Is this the best you can do for your customers? we may be talking to direct tv very soon.

Bought my own dish 500 sat dish and box and subscribed to Rv pkg mainly to see NASCAR races and after less than a year i find out i will have to upgrade to a costlier pkg to gain one channel to see races. What a rip. Was told i couldn't just add the Fox channel. Then today i couldn't see race because the local channels were offline and problem was being addressed. Channels have been of line all day.
How convenient this happened on the same day as the Daytona race. Watched it on a damn local channel. I know that nobody cares at dish, but i don't care who i pay my money to for pay tv either. I have as much loyalty to you as you are showing me. Your a crooked outfit and all of these dishonest practices will come back to you in the end and the customers will get the last laugh.

Misty Fox
from Portland, OR
Have been a customer with Dish since 2006 and I stumbled upon some erroneous charges at $28.00 extra a month I called and explained I did not approve these charges nor did I request them, I was told by not calling in sooner to cancel them that that act was "approving" my charges. I explained how unethical it was that they were dumping charges on people and expecting them to notice as a dispute. I also asked for a supervisor "GAVE" he was HORRIBLY rude and stated that again by my not calling to cancel these charges dating back to Feb 2015 that I was "giving my approval".
I told him I was taking this to the local media and this was not acceptable practice I told him he would be "famously jobLESS after the recordings of him hit the media and his supervisors".
He then had the ironic audacity to state" that he didn't give me approval to record him" I said "well I did not give you approval to slip in $28.00 a month charges on my bill for the last six months". I repeatedly asked for a supervisor and was denied by Gabe as he apparently "has no supervisor". Who do I call and how do I submit a formal complaint if I am being blocked by a horrible unethical employee?

Jeremy manuel
from Ville Platte, LA
Our box stopped working so dish network sent new box by FedEx, after hooking box up called to activate as instructed. Spent almost an hour on phone unplugging then plugging up to wall. Taking the card out then putting back in! Then the nice lady informed me that the new box is defective! And apologized stating that a tech will come on 6/17/15 with yet another box and upgraded!
Tech did come hooked everything up and was working great, until about 8:30 pm when the remote for TV 2 stopped working, will not change the channel appears to be hung up, called dish for support, went through all the plug and unplugging again spent an hour doing all this stuff just for the tech support person to say again that the remote control must have a defect and will send another in 3 to 5 days. I feel very irritated and very upset that dish network has so many defective equipment.
We have been a customer for several years, and do not appreciate the sorry equipment that has a defect. After 3-4 hours we have played with this garbage and talked to two different support, I then started reading the instruction book, none of the things the support manager said worked, but I did figure out how to reset the remote for TV 2 was a process to do without the help of dish support employee. Who never was able to fix problem. Need to educate support personal the correct troubleshooting problems! I am very unsatisfied customer from the lack of support with our problem and with the faulty equipment!
If you value your loyal customers management needs to address problems and attempt to satisfy complaints and start using equipment that actually works! I have never had so much irritation and hassle just to watch tv! It really makes me want to change to direct tv, my parents have direct tv and has never once had so much problems. I personally would never use Dish again.

Wanda Willis
from Modesto, CA
I ordered Dish Network about a year ago, from the beginning we have "pop-ups", a blue square telling us to go online to verify that the channel we WERE watching was part of our lineup, how stupid is that? Also sometimes it is impossible to get a picture, I complained about that and was asked if "snow" was on the dish outside.
Sometimes we just shut it off and forget TV, it is so frustrating to deal with so often. We have 4 sets and it happens to all of them every day. Someone from the office sent a technician to check things, it's still the same, but he was generous enough to tell me he wouldn't charge the customary service call fee of 98.00. That was generous since I didn't cause the problem. It's his service that we are paying for and not getting.
He also told me that if the technician has to come back, they will ONLY charge me 10.00 for something they didn't do the first time. We are really disappointed with the service. I am considering canceling. I know there is an astronomical fee to cancel but we are sick of the hassle. We don't want to change but those constant pop-ups are terrible. Also my contract comes up for renewal the end of June, and I have been told there will be a huge increase in my rate, more money for the same problem.

Mary Kobold
from Stoutsville, OH
We went to Dish for our internet service. I am disabled and use the internet a lot. I can't believe I only get 10mgb. I am out of mgbs within 1 to 2 weeks. When I call they say that's all I can get for a month. Then they offer 1 to 5 mbs to make it thru. That's still not enough. What I didn't know is that I can't cancel for 2 years due to contract. I have been with Dish for years with our TV. But something needs to be done to up the service. I will definitely let people know to check carefully before signing to Dish Net. Let me know What I need to do to get better internet service thru you. If there's nothing you can do. I will cancel my net service.

Wanda Willis
from Modesto, CA
I signed up for Dish about a year ago. I have no complaints with the picture my complaint are those constant pop-ups. They happen every day on each of my 4 TV's. Sometimes I can get rid of them and sometimes I just give up and turn it off. It is driving me crazy. I had Comcast for over 30 years but they stopped being honest with me so I had to switch and now this!!!!
I called a service person and he offered to send a technician out at no charge, (wasn't that generous?) to see if the issue could be resolved, it WASN'T resolved and I don't know what to do next. He said if they had to come back my charge would only be $10.00. I don't understand why I am paying for a service that I am not getting and he wants to charge ME to solve his bad service??
I understand that if I cancel that I will have to pay a $300.00 penalty, I am a senior citizen, Social Security income, $300.00 would be very hard for me to pay, why am I penalized for bad service. I am supposed to renew next month so I have to decide if I should try to pay the penalty and try another provider or not. Is there ANY possibility that these pop-ups can be eliminated or not?

I have tried to resolve this matter of a refer a friend since Feb 2015. The last 3 times I was told it would be on the next billing cycle Yet again it wasn't. The last person (JAX) said again the credit would appear and yet it hasn't. The problem I have is not only do I seem to get the run around but when I inquire about this, they want me to provide account info on the party that signed up which I wasn't to happy with.
When I voiced my concern, I had to go round and round until they pulled up my account which showed the certificate that was used and of course I was told it would be on next billing cycle. That was in March and yet I have not received it and I just paid my bill today 5/11/2015 and of course the billing is 30 days in advance. I regret referring a friend as the customer service with Dish sucks!!

Craig Honnet
from Kalaheo, HI
I have been having my service suspended just about every month for over a year now (the last time for nine days) while talking to customer service again and AGAIN getting nowhere. The last rep (I think was a person that could barely speak English) tells me that you cannot accept my check as payment, not because they bounce but because there is always one thousand dollars plus in my account. He gave me some crazy story that I couldn't even figure out what he was talking about.
My billing closes on the 13th and I get the bill on the 23rd or 24th and it is due on the 26th. Even when I send a check right there from the post office there is no way you will get it on time even with a grace period. I pay my electric, water, sewer, property tax, insurance, American Express, master card, visa card among others by check and have NEVER had a problem with anyone but your outlandish company. Now why is that? And pleeeeease don't give me the same BS I've been getting from your customer service clowns which each time the story is different. The last one was the best....."the computer runs everything." Talk to me human being.

Bob Johnson
from Helendale, CA
I had a problem with my Dish system. A repair person responded and replace the receiver. The repair person showed us some item offered by dish and one of the items was a Sound Bar & Woofer System in the amount of $349.00. We purchased this item and after one day we decided that we didn't care for this item.
I called several numbers and was instructed to call 1-800-333-3474, which I did. The person I spoke with explained that the item would have to be returned. I explained we had not received any shipping boxes for these items and if I shipped them and they were damaged I would not take the responsibility for the damage. He said that was my problem. I asked to speak to a supervisor, he told me it would take a minuter to arrange that.
He came back on phone explained that he had to ask a few more question. I explained to him that he was unable or unwilling to take care of my problem and I demanded to speak to a supervisor. I would not speak with him any longer and again demanded to speak to a supervisor. He still didn't get me a supervisor and said that he would be sending by Email a return label and would get me some boxes for shipping.
This has not happen yet and that was on 6/14/15 at 9:35 AM. I am demanding to speak with a supervisor at once and that these items be pickup or the correct container to ship them back to you and a refund of $349.00. If someone doesn't reply about this at once I'm canceling my DISH completely!

Robin Thomas
from San Antonio, TX
I have been in contact with your customer service dept. and then transferred to a supervisor to fill out a tracking form which I was told I would receive a call within 24/48 hours for an update. I did not receive a call so I called today. I gave them the Supervisor's name -Maria YI2. They could not find an extension to contact her. They could not give me info. on why or who would of called me for the tracking info. Every question I asked they had no answer.
This is the biggest run-a-round and full of bull ever. I have a spotless record and make payments way before the payment date and have been with you all a very very long time. The lies and I don't know's are very unprofessional and just flat out makes Dish sound like they don't know crap! I definately will be looking into new options for my service. You all have inadequate service and bull for customer service.

Tara Piller
from Portland, OR
I signed up for dishTV over a year ago. I should have seen the red flags then. First they signed me up for a larger package then we had discussed. I only get a few channels after that. My bill was twice what it should have been. For a year I was charged $39-$45. Charging for HBO that I didn't get or order. I was credited 1 months credit. I want it all back. They put it in my sons name, telling me I had all control. Didn't have Any trouble taking money from my bank account. I couldn't do it without my son even though I'm on the account also.
I wanted to add internet they sent me many offered. But couldn't do anything for me after I finally got to talk to someone. The reps I spoke to were Way out of line. The one guy kept saying smart aleck comments to me when I asked to speak to someone else. She didn't handle things any better.
When I first signed up I was told it was a 1 yr sub. But it was 2 yr. I feel I have been totally screwed from the beginning. I want them to end my contract with out coming back on it for early termination. And I want the over charges they charged for something I did not have for 1 year. I don't want to make this complicated it's already been complicated.

millie adley
from Choudrant, LA
I tried calling the dish representative who hooked up my dish two Saturdays ago and the person that's over him I still have not received a call back from either one of them I changed to dish to save before I changed I called and talk with a man and explain the 7 special programs that I needed he said no problem I cant get good times Sanford & son and a few others today I was at someone else house going through their channel. I saw with my own eyes the programs that my dad miss dearly shows I have been calling in about every since my dish was hooked up they are on channel 232 so I rush home to find out I do not have that channel my dad is 89 years old when I changed to dish he has not been the same this is very sad he doesn't ask for much so I have to do what is best for him because I was missed informed are miss led I have called tonight since I have been home 5 different numbers for dish the lines are busy are when the phone ring then line hangs up in my face what is going on with direct tv I never had this problem I have called dish about 30 times tonight this is sad and it hurts because my dad is hurting and I cant get any help I pray this will be resolved soon I cant take any more disappointments.

Brenda Jolliff
from Cedar Rapids, IA
I have cancelled my TV Dish Network which was bundled with CenturyLink for phone & wireless internet. I have sent my equipment back which have been rec'd by Dish & have paid my final bill which has been received by Dish. I am receiving a bill thru my email for an Account # 247523 for the amount of $301.61 which they are planning on deducting from my bank account on May 19,2015. What is this bill for? CenturyLink took back the phone line & wireless using the FCC agreement. I have called Dish Network several times & they say my account is closed with them & the account# 247523 is not there's. I want to stop them from deducting from my bank account ... I would like a paper bill explaining these current charges & or is it final but no one can find me but yet I am receiving emails with Dish name. Please explain...

My mother is deceased. I have been trying to cancel her service and am getting the same under handed tactics everyone else is getting. They are supposed to send labels to return her equipment. I have not received anything but any other bill and by the way you have to foot the bill for the return. Listen, all I want to do is cancel her service and do the right thing and return the equipment. Her home is empty and soon someone else will be living there, then what!! I just wonder what Dish Network has to gain by threatening, lying and providing no customer service. What they get is contempt and people making sure everyone knows to beware of ever signing up for their service. the company seems to hire only those with a gangster mind set. I just lost my mom and everyone else has been more than gracious, as they should be!

Invited friends over for the fight. What do you know yall decided not to carry UFC. If UFC won't be carried by the next fight we will be canceling our service.

Brent L Cawley
from Port Orchard, WA
I have been a DISH subscriber at home and with my RV before you came up with DISH FOR MY RV which advertised that it would solve all my problems. So I bought a new Satellite Dish and DISH receiver for my motorhome and spent a lot of money to purchase and have it installed. Set up and activation was fairly simple, and I tested in my driveway and everything worked fine. Your literature stated that I did not have to call to stop service at the end of a monthly period, but to simply not pay the bill and my service would stop until I was ready to use it again.
Today I got an email billing me for a second month and stating that I was one month past due. I tried online chat for about an hour with a customer service rep and eventually her supervisor and met with a huge cultural and understanding difference. I then called an 800 number and got bounced out of the system three times and told to call different 800 numbers. I finally got through and apparently got another CS Rep from India who just did not understand my request. I told her this was their last chance before I disconnect DISH for good and trash my antenna and receiver. I am fed up with Dish Network! They have just lost a customer!!!

Frederick Roach
from Saratoga, CA
I truly enjoyed the programming that Dish network put out, until dish network presumed that they knew best what I actually enjoyed watching and decided to cut it from my programming! I am very disappointed that Dish cut Ovation Channel because YOU said nobody watches this channel. So I guess you are referring to one of your long time customer's as not counting. This was truly upsetting to me considering Iove the good wholesome programs of this channel that Ovation puts out! So what are you planning on replacing my programming with and assuming you know your customer's best? One TRULY UPSET DISH NETWORK CUSTOMER ! I sincerely hope you start listening to your current customers before they become former customers. Thank You

Lena Edwards
from San Antonio, TX
I am writing because I am getting NO WHERE with customer service or supervisors that refuse to give me contact info of who can help me resolve an issue that I have. Long story short I am being accused of downloading movies over my internet and the times this was done my husband and I were at work. I have never receive notifications of anything being done on my internet thru email, phone calls etc from your company. I understand that piracy laws, but I was in no way involved in these incidents that took place. I do not understand why someone at your company did not call me or something to help me resolve the issue when it first started, so I could reset my password, unplug my router when I am not at home or something! We rent movies from DISH all the time as well as UFC broadcast that cost $50 +, I am not gonna download a movie that I can get at Red box for a $1.00! I am upset at how I am being treated and the condescending way your supervisors have spoken o me and treated my situation. I prefer to not sit here and write a long email that may not even be read, I would love to speak to someone in your company to help me resolve the situation and tell me what my options are for finding out WHO did this so I can take the measure I need to so that I am not in a court of law defending something I didn't do!

There was no contract presented to be signed during sign up. It was stated several times that this would be a great savings. payment by electronic pay would save even more. We were told that it would be easy to cancel contract after such poor service. After canceling our subscription, to Direct TV, Dish Network took Money out of our account, I am writing to cancel our dish account due to non performance on your assurances of service. Direct TV did not waive our contract fee, it was not "easy to get of our Direct tv contract." We incurred $385 in fees. Vomage @9.99the phone service you recommended is not compatible with Satellite TV. Century Link @35.99 is not about the same in price it is $24 more per month or an extra $264 a year! The current Dish internet is not compatible with Dish TV , on demand TV as it eats up all the data usage allowed according to the Dish TV technical dept. The installation team, did not show up between 12 and 4 to disconnect the TV in the bedroom, and they did not call. I called them and asked them to call before they come. if they were coming the next day or so. I called them at 5pm and asked them to call before they came .
They did not call and appeared at the door at 7am on Saturday, asking to be allowed in, disturbing our houseguests and the one day my husband could sleep in. I called to find out how to hook up the on demand service and was told the service team would be here yesterday, Mon between 12 and 4. Again no phone call to let us know they would not be here. Further when I called the shop was told the dish internet did not support the on demand option on the system. Why would we want an internet that did not support the cable on demand option? This does not save us time or money and does not perform as promised - please close our account.

Ronald Deckard
from Charlestown, IN
Paul (the dish net. tech.) came out to my house to fix a no picture.We,ve been with dish net 17 years and have had good results and great pictures during this time. My dish is about 375 ft to the house. Paul said this is too long and he would have cancelled my install 17 years ago if he had the installation order. Again my pictures are good when working.maybe 4 or 5 outages in 17 years and none because of the distance. My sevice is out now and paul said he hopes its not the cable. He checks and said it is in fact the cable. I saw the cable on the ground at approx. the half way point and ask if we could splice it there to see which half is bad? (to save $ on me paying for the cable) Paul said no because the splice would corrode.Ive done hundreds rg-59 and rg-6 splices and used shrink boots. Ive had some under water for 11 years (no problem) Im ready to see if Direct tv knows how to take care of dedicated customers.I am so pissed off. I said Im going to Direct tv. a few minutes later my phone rang and someone said they would connect me to dish network to help me cancel. (NOT GOOD FOR BUSINESS FOLKS)

Coralee Campbell
from Ashburn, VA
I do not like the idea that you removed ovation 245 from my service. I always watched Artful Defective and many other programs.. please, reconsider. Thanks. I have stood by you for many years as you have taken care of me don't watch a lot of different stations but my son fills in some of the others. I DVR meant to watch when programming is not what I like.

Robert Duarte
from Auburn, AL
You cancelled ed another good station. All I'm beginning to see with dish is informational programs and too much sports, old shows, and cartoons. I've been with you for two years and maybe it's time for me to cancel my service and move to Comcast or DirecTV.

Ashley Duncan
from Alpharetta, GA
I am filing a complaint against Dish Network.... You do not value your Customers...My first Complaint is that when I signed up with dish the contract said that my bill would not go up for 12 months... My bill started out at $60 then within 5 months it went up to $100... I called and I did not get anything out of anyone... So, I paid the bill.... My second Complaint is that Dish gives there customers the option to get a billing statement mailed to them.... I chose that option to get it mailed to me... Well,Dish also does not send there statements out on time... For the month of March I received my bill on the 17th, I mailed it off the 18th, the bill was due the 21st, Dish cut my service off the 23rd and cashed my check on the 24th... I called and talked to a representative and a manager... The Manager told me to take my business else where... So, I did... Then I called today to cancel my service everyone that I spoke to even managers they told methat fee because it was dishes fault told them that I was not paying it.. They told me it would go on record and I told them that it would not I was because it was dishes fault. Please help me resolve this problem and get the fee waived for the amount of $220.

Rose Williams
from Centralia, IL
Was promised special pricing for 12 months, which now I am not getting. Was getting the 200 channels for 39.99 and now I am paying 34.99 for 55 channels, which is advertised on internet for 19.99. I would like to get the 200 channel package back for the 39.99 for the remaining 9 months of my 12 month commitment. If this can't be accomplished. I will have to shop elsewhere. You say your customers are important to you, well now you need to prove it. Thank you!

Timothy Milloff
from King George, VA
I have a dual receiver, tv2 in my bedroom has never worked properly, When i got online with a repair technician he asked over an hours worth of idiot questions from a checklist but never resolved my problem. He is sending a new remote which I strongly feel will not fix the problem. He told me if I want to switch to two receivers witch would cost an additional fee (ok with me) BUT I would have to sign a TWO year contract. (not OK) If this problem is not resolved I am going to switch carriers. Also I should get credit for the loss of service!!!

I love dish network .. I love the movie channels, and we have enjoyed your programming for a while now, years in fact. Your repairs are timely, people courteous, and programming is great. I recently noticed a shift in the accuracy of the 'guide' display .. for instance they list today 'Tom Sawyer' as a character in the movie 'The League of Extraordinary Gentlemen' . No character in that movie was named Tom Sawyer, in fact there were NO characters that were young boys at all. While a few inaccuracies are to be expected, this person seems to get either the actors, the characters, or the plot, wrong. It used to be very accurate, now .. what happened??

I want the AMERICAN HEROS channel back! It is very frustrating to pay for services and then have the channels agreed upon discontinued. Either return the contract channels or return the money!

We were told we had 2 ppv free movie certificates. We did not see anything that we cared to watch on ppv. We wanted to watch a movie on video on demand. Well, after an hour with 5 different people all of whom said we could use our certificates for video on demand, we were finally told we could not because it costs one dollar more than ppv. During the fiasco we had to log in which we never did before, change our password and look for things that did not come up on our computer. I am to old for this type of stuff. Great way to treat a loyal customer of yours that has been with you for 12 years. I would never recommend dish to anyone after that.

I work 60+ hours a week, so I like to tape programs & watch them during my downtime. Not one single recorded program starts on the scheduled time and EVERY SINGLE "recorded" program is NEVER recorded in it's entirety!!!! Always get the message "Part of your recorded event has been lost due to signal loss." I am so sick of only being able to watch a small portion of any program. Your service IS THE ABSOLUTE WORST!!!!!!

Calvin Hart
from Buena Vista, GA
We were responding to the letter about changing our boxes. This was Friday, March 27th. The time of for the tech to come was changed 3 times. He did finally come about 12:30 or so and no problem. He changed out the box downstairs and I guess because of the age of the TV upstairs, something would not work with the new box. He told us that ( this was about 3:00-3:30) that he had to install some in Vidalia and would get the part needed at Wal-Mart and would be back about 5:00. We asked him to call us and let us know for sure what time he would be coming. By this time we had been waiting all day for service. We waited until 6:00 or so and called DISH, after we had tried to call the tech, he did not answer or call back.We were told that he had already gone home.
This from him is inexcusable, he had our house and cell #. We did not leave the house waiting for him. The upstairs TV is not working. We don't know if he was planning to come at a later time or not. We had already told him that we had Dr. appointment Monday morn. This is why he said that he would come back that eve. If he had called and let us know the situation,there would not be a problem, but there is a big problem now. We were told to reschedule if the upstairs TV wasn't working, but the tech knew it wasn't working. Why should WE have to reschedule when he should have done that himself. Other than the price that is now being charged, which is too high, we have had no complaints until now. If this is how service is with you, I think we will consider changing.

Jerry Ashby
from Wabash, IN
I am a big fan of Nascar Sprint cup racing, and fox 59 has removed them and put them on fox spts1 which is not on our channels. I would like to know why, and how long this is going to go on? This is not a way to treat customers!

Toni Johnson
from Hoquiam, WA
I Signed up for Dish Network late at a mall one evening after talking to the salesman and repeatedly asking and being reassured that we would receive the dish hopper 290 + channels premium channels for free for first 3 months and Internet for only 46 dollars a month first 12 months and the salesman even showing us writing down what we would get for free and telling us that we would receive the hopper for free because of the package that we had we only had to pay $25 to start our dish Services Well the cable guy came and installed we tried figuring out how to work the hopper and later discovered we did not receive the hopper or the internet and only the 290 channels for the last week we have been trying to cancel our services terminate our contract and at first they tried a million different offers to keep us with them because we told them we were still with Comcast now they refuse to let us terminate our contract they're trying to make us stick with them or buy out I am in the process of trying to find help.
The representative I spoke to when I called dish both of them were very rude and the supervisor the highest authority that I could talk to told me it didn't matter how many times I called dish I would always be re-routed back to him and there was nothing I could do he refused to cancel or terminate my contract and there will be no possible way for me to do that because anytime I call - I will be directed to him no matter what!!! So please somebody if you have gone through this please help me out a number for a reasonable Dish employee who will help or a number FOR a lawyer who will help we only have 1 income and 3 children we cannot afford to buy out of this contractwe only have 1 income and 3 children we cannot afford to buy out of this contract :(

Kenneth Shartzer
from Wasilla, AK
I saw Dish Network accessed my credit reports in October 2012. I write Dish asking why the accessed my credit reports, and inform them if they opened an account, that account WAS NOT opened by me. Dish never responds. Months go by, I pull my credit reports again, and I find a collection by AFNI for a collection for a Dish Network account opened in Texas (I live in Alaska). Because Dish never responded to my initial inquiry, I dispute the collection instead of contacting Dish, and the credit agencies remove the collection from my credit reports. Dish Network waits almost a year, then has another collection agency, Stellar Recovery, put a collection on the same fraudulent account that has been disputed and deleted. I've filed an FTC complaint, filed a police report. I disputed the accounts from the credit agencies and had the collection removed. Yet Dish continues to pursue the matter.

Mina Wood
from Norwalk, CA
I do not have a dish account. In the past several months,you have been double billing my credit card. Total of $ 393.42,was charged to my card. I feel that I have been patient enough,and would like to have my monies returned to me at once. (393.42)
Double billing as follows:
Nov.-Dec.2014. 79.46
Dec.Jan.2014/15. 87.02
Jan.-Feb.2015. 87.02
Feb.-Mar.2015. 139.92

Robert Owens
from Madison, WI
I do not have Dish Network. I am a Maintenance Tech for Genesis Housing, Inc. in Oregon & Brooklyn, WI. The cable Techs are very rude and do not clean up the messes they make EVER!!!! I have called and talked to people on 4 different occasions with no success. The last Tech to work in the building, (having ladders on his truck) was so lazy he took a chair to the basement and used it for a ladder, the chair is broken and still remains in the basement with all the cable clippings. This chair is from the tenants washing area. I refuse to go get the chair and clean up his mess. I recently had to tack cable wires to the rafters, because they were falling to the ground. They have wires everywhere inside & out. The outside looks terrible. They are very unprofessional, and all we want is the problems fixed. My # (608)516-7581. Please have someone look into this ongoing problem with your Techs. We will be forced to have all services cancelled and get a different provider. We have 56 units. All of our building are not done in a professional manner. This has to be fixed!!!

Marilyn Cantrell
from Forsyth, MO
I talked extensively with a representative today to cancel my service. I was told that I had agreed to extended service and would be charged $90 for discontinuing service at this point. I want you to send me proof that I ever agreed to an extension since that was never my intention. I've been angry since the protracted dispute with Fox which happened well before December. I want some form of evidence since I have lost any faith I ever had in you. Almost everything is available by Netflix or the internet and I think you better rethink your prices and practices while you still have customers. Thank You

I had recently switched to dish. I have two hoppers/slings and several joeys. Tyne problem is that the five tv's cross channels with each other. Meaning, I can change the change of a different tv from my bedroom. Now, my bedroom Joey crashed and haven't received any follow up from the several calls top customer service. I'm not recommending Dish to anyone I care about.

michael mcnally
from Dallas, TX
Lies & alibis. Started Tv service in January, I was PROMISED two (2) DVR receivers. Did not receive 2 DVR's. Inferior receiver installed on 2nd TV, NO DVR. I complained to installer, he called Dish, claimed he could upgrade
the 211k (inferior model) for an extra $7.58 a month. This 211k does not have a DVR!! More lies! Called Dish, requested the original receiver and eliminate the $7.58 charge. The idiot I talked to said, "NO, you will still have to pay the additional $7.58 monthly charge". What a bunch of thieves! Hate these Bxxxards!

jamie ashcraft
from Weirton, WV
Dish called my 72 yr old mom....would not take no for an answer. She was trying not to be rude and hang up. She kept saying no thanks. He would not give up. She called me on her cell and I explained she was.not changing her service. He set up an install after she told him no. The technician showed up and took the heat for this asshole. Why would you do that to an elderly person. Tells you alot about this company.

Bryan Hutchinson
from Chillicothe, OH
have a dish tailgator mobile sat. That is supposed to be pay as need be service for my camper [ no contract]. Now they sat i owe them a monthly pause fee for not using the system, ihave even tried stopping the service but they will not let me. I am now thinking of puttting it ouyside using it for a yard orniment.big corporations need to be stopped of fraud.

Mack Methven
from Chillicothe, OH
I recently had Dish installed at my home. To make a long story short they drilled holes in my aluminum siding when they did not need to. They left the wires hanging in my basement with no brackets. They cut the cable lines and left them attached to the tv. They left their trash and also left the gate open, my dog was in the street when I came home. I was not there during install and my wife has absolutely no idea about was is acceptable damage to a home and what is not and signed her name. Which was on a phone with absolutely zero words just had an x with a line to sign. I called in and they sent a rep out, his words were and I quote " That is definitely wrong, and I would not have done it that way." "There are pre existing holes over here they could have gone through" also " We will replace the pieces of siding or cut you a check for the repairs." After that he said that we would hear from him in two days, two weeks go by.
We receive a phone call stating that they will re route it and fill the holes with caulking. ITS ALUMINUM SIDING I told him that it was unacceptable and bull bleep. I asked this manager his name and he proceeded by hanging up on me, what??? a manager. I made zero threats nor was I cussing him out, he flat out got mad and hung up because what I was saying. After that about 6 days later we receive a letter in the mail saying that the man who came to our house reported that the job was " perfectly fine and up to standards". He flat out lied to my face. And the letter stated that they were not going to do anything anymore?? So they completely backed out of what they had said? So I call again this time they offer me 3 free months and 150 bucks.
I tell them that is not the point I want the job fixed not free service. I am sooo very sorry that this is so long but I have no idea of what to do. I want to write a letter to someone high up stating that this is not their home or their choice of what is acceptable for my home. They made holes right on the northwest corner and about 6ft down the west side of my home, all the weather comes that way. Not to mention there were spots where previously run cable had been. The representative also noticed that and took pictures. This was a 21 and 18 year old installer who took the shortest route possible...literally. And they ruined expensive siding, which is why they wont just replace it. But they say it was standard and she signed, Is there anything I can do at all?? I don't care what it is I just need to do it, they can not win they are just being cheap and thinking they can get away with it. One last thing the rep is the one who hired in the installer.
Problems:
1. Holes on weathering side of house, when there were alternate entries.
2. Wires left hanging with ZERO brackets, not exaggerating at all.
3. Trash
4. Dog
5. Being lied to
6. Backing out of what they said
7. Cables still attached to tv while being severed

Ginny
from Columbia City, IN
My parents – mom is 91 and has Alzheimers, dad is 92. He retired when he was 65, never making more than $12,000 per year but put all 8 of his kids thru college. He has never accepted any form of public aid and has never defaulted on any bill in his entire life. He is a man of his word. Their income is $1400 from Social Security. They would qualify for Medicaid and Food Stamps but would never apply for it. Each month, first they pay their medical premiums, next they pay their house bills and then they fill their gas tank and it has to last them for the month. They leave their house to go to church – where they never miss putting $5 in the collection. They also venture out to go to the second day bread store twice a month and get enough bread and buns for others and freeze it. They also make a weekly trip to have mom's cumidin level checked. They live simply and never ask for anything.
As a luxury, if the gas tank has enough in it, they go to dinner at their daughter's house and bring her family's garbage bags back home to put with their own trash because they have a really big bin (free in Marion County) and there is no sense in her spending money to have trash picked up if they have room. Their grocery budget is $25 - $30 per week – no more. They get the newspaper – read it cover to cover before breakfast then give it to the neighbor so the neighbor won't have to buy one. To pass the time they listen to the radio and read used magazines and books that people give to them.
They are simple folks with very few luxuries in life. Breakfast is one cup cold cereal measured out with a little milk, one piece of 2nd day bread in a toaster that doesn't really brown anymore, and half cup of coffee. The gallon of milk needs to last two weeks. On Sunday, they treat themselves and add an egg to their daily breakfast routine. Lunch – they split a can of store brand tomato or chicken noodle soup. As a treat, they sometimes call me to ask how to make instant rice to add it to the soup. When fruits are in season, they share a piece at lunch. For dinner, they get meat, a hot dog, or a shared piece of chicken or Italian sausage. Sometimes, a family member bakes a cake mix when they visit so they have a treat. They make the cake last for two weeks but it is well worth it becauseI get to hear dad tell the story of his own mom baking cake for them when he was growing up. His mom died in 1936 when he was 14.
Last April, while I was visiting my parents, dad showed me a DISH Network ad and asked about looking into it. Television service is a luxury at $22.30 per month and he had found a way to work it into his monthly budget. We sat down together at the kitchen table and used my cell phone (they cannot afford one) to call DISH. We asked about the $19.99 deal and what would be included. The operator was nice and patient and answered all our questions. We asked if this $19.99 deal included news channels, Nascar races, and Colts football. We were told that it did. We told them we did not want the premium channels, or warranties on equipment or any of the additional features that they had. We had simply budgeted for $20 per month. They came and installed it and left. They did not show him how it worked and he had no idea. A couple of days later, my brother went over and showed them how it worked and wrote down instructions for them.
This was Wednesday or Thursday. When Sunday came, dad was not able to get to the Nascar race. The next week, when I was there bringing groceries and doing the cooking, he told me about it. We called DISH again, only to be told that this package did not include Nascar but for $18 MORE, we could upgrade. We had to decline. A few more weeks go by and my dad mentions that he has not received a bill yet. So, while I was there, we called again and were told that the money is automatically taken out of their account and that a receipt gets emailed. We explained that when it was set up, we wanted the bill to be sent because my parents did not have internet and did not want things automatically taken out of their account. We paid that first bill over the phone and DISH made the changes to mail the bill including a late charge since we never got the first bill. The next month, the bill came, it was paid immediately.
The third month, the bill came and it was for $88. My dad called me immediately. It was determined that DISH was now charging them for Premium channels. I went to their house and we called again. It was explained to us that we were receiving the Premium channels and since we didn't cancel them we were being charged now. We pulled out our notes on the day we set it up and the person we talked to and explained that we specifically told them to NOT set up the Premium channels.
DISH shut off the channels and said that they would adjust the bill. For the next two months, the bill came incorrectly, approximately $55 one month and then $35 then next month. Each time it was not the $22.30 we called and were told that they were crediting the bill but there were still prorated charges for the Premium channels and those taxes.
We asked about simply cancelling the service, we were not happy with the service, we were not happy with the channel selection, we were not happy that DISH was telling us something on the phone (we took detailed notes each time) but not honoring their word. We were told that everything had been corrected and we were assured that the billing would be correct. We were now at September and were able to get Colts games, never able to get Nascar (like we were told) and bitter with DISH.
Where getting a television service was a LUXURY for my parents, now it was simply a reminder that companies care more about their rules and nothing about taking care of their customer's needs. It was a bitter life lesson. In December, when DISH was having all the trouble with the FOX network, we called again. We were told that there was nothing that they could do about it. We said that we wanted to cancel the service because we were unhappy with it. It was then that they told us that we could not cancel without being charged $300 for early termination fees. To my parents, $300 is three months of groceries or a year's worth of gas. It was an astronomical amount of money.
My mom is not steady on her feel and fell two times in December and January. With the 24 hour stress of caring for her, dad decided that the DISH issues were such a bother, that he simply called and cancelled the service on January 9. He was paid up thru Feb. 9th (one month ahead) but the service was turned off. We were told that they would send us a box to mail equipment back. We were also asked to take the DISH down off the roof. We explained that was not possible and they said that would be okay. The box came and we mailed it the next day. Three weeks later, I receive an email from DISH stating that they have charged my dad's credit card $17. When I called, they said that since we used their shipping label that they sent us to use, that they could charge us $17. SALT in the wound. Last week, I got an email from DISH stating that if we did not reconnect service with them by 3/6/15, then they were going to automatically charge my dad's credit card for $300.
We do not know what to do. We have called and talked to DISH and were told that those were the rules and there were no exceptions. We told them to look in their file and they would see that we have had issues with the service since it was set up. We rehashed all the issues that we have had with them. DISH offered to upgrade out package to include Nascar for no cost for the next three months to try and appease us. We said that we simply wanted the nightmare to be over. It is the PRINCIPLE of it all. The service has been horrible since the first month. Our notes from each call we make to DISH, show that they tell us one thing on pricing or channels and then never follow-thru.
Since, my parents are not in the best health and are dependent on sitting at home 24/7, we worked with Radio Shack to get them an antenna for television. They can now watch local news and a few other channels but they are bitter about how callus a company DISH can be and now worried about getting charged $300 in fees from DISH, grocery and gas money. For the rest of their lives, they will remember that the world has gone from being helpful and kind to being impersonal and uncaring. We simply want DISH to show some compassion and not charge the early termination fees.

Today,02/19/15, I called Dish Network customer service to ask if "box" been sent out. They (Dan) stated the box will be sent. This is the third person handling this simple task of sending the "box". We were in good faith while paying our bills, so I'm just looking for good faith in Dish Network to send box... If we do not get this box than I'm forced to file a complaint with Consumers Complaint Department...

I was a customer for 4years. There was a thunder storm 2years ago and I called the the service center I happened on a person at the other end of the line who was obnoxcious and rude. He told me a few things to try and they did not work. I continued to try and he hung up the phone. I was without service for a number of days and calling again several times. Recently I had a same problem called and the female on the other end. She told me to do a few things that did not work. Finally she said "your box is no good you can throw it out and will send you another one within five days" I thought she was talking a little out of her head.
I tried calling again and got another female who got the box going I mentioned to this female that I was expecting a box she told me she would stop the shipment.(she didn't) I went out of town and came back and there was a box at home. I was charged 100$ on my next bill for not returning equipment. Called them, they told me to take it (which is 20 miles from me)to the nearest Ups store. Got there to find out, dish don't ship by Ups only Fedex......well......I now had to find the Fedex store......another 10 miles. that was not all, I sent my next payment on Monday in the mail with a due date on Friday they turned off my service on Wednesday morning.
At this point, I had enough of their bad service and rude talking employees, so, I terminated my affiliation with them that same day. I received the boxes they sent me and followed the instructions and returned ALL their equipment I received my final bill with a Zero balance in August 2011. Well, it is now the end of October I received a bill for 32.10, called,and was told that I owe them for period of 10/23/11-11/2211. What is this for? SHIPPING. My point is, If you wanted me to pay shipping you should not have sent return labels.
I would have paid to sent it back to them -- as bad as I wanted to have nothing to do with them, besides I will call it even for the gas and time I spent going to the Ups and Fedex store 60 miles round trip, all, only because of their poorly qualified and malfunctioning employees and equipment. I am VERY DISSATISFIED.

Do you really think the Ely Grau should be able to treat her employees the way that she does? Are you aware that she works as a coach and has borrowed money from them? She has had them drive her to and from work. That she has had her people do her work and told them not to tell anyone? Are you aware that she has told an employee that the team does not like them? Now she has decided that she will get rid of this employee and told them such. You may want to look into this. I believe this may be a case of discrimination and defemation of character. Having people re-apply for jobs that they already hold, and not giving them a reason? Is this even legal? I know for sure that I will find out.
Thank you.

Since I had dish network installed I paid the bill every month on the 1st to the 3rd and every month my service is turned off on the 19th of the month. They told me that if I wanted to pay my bill on the 1st of the month I would have to pay another $34 dollars.
I had told them if I paid for 30 days of service on the first, of $34, then why does my service get turned off on the 19th? They expect me to pay $68 a month for service just because they turn it off on the 19 for not making the payment on the 18th. I paid ahead on the first bill when it was installed, and the bill is paid 18 days early, they expect me to pay more money to turn it on.
I had told them I would pay for the extra days till the end of the month of $17 this month, and they said I have to pay the full $34 to restore it. For three months I had been on the phone with them for two hours and more, until they say they fixed the problem and restore the service, then the next month I have to do it all over again. This is overcharging the customers by black mail.

I live with my sister and she has a dish network account. here in Arlee,mt. My complaint is about the Seattle Seahawk games being blacked out in Montana or in the area I live in.We are 500 miles from Seattle and we are 500 miles from Denver from where we live and yet we have no problem watching the Denver Bronco games when they are aired but when Seattle has home games they are all blacked out.I do not understand this at all and
perhaps the NFL has some say in this I do not know but I am a little mad about it.We pay you " Dish Network " a lot of money per month for services
and we should at least be able to watch a foot ball game in Seattle.
We are also wondering what has happened to the Documentary channel, it has been removed and am wondering why?

After months and months of watching my favorite show, Ghost Hunters on the SYFY channel, I all of a sudden no longer have this program. I called to find out what the problem was, and the customer support person told me that it was a networking issue with SYFY and had nothing to do with DISH. I asked for compensation, but was only offered 1/2 off of a upgrade for HBO, Starz, etc... NO thanks. After looking through your online site today i noticed that you have an advertisement spread on godish.com telling your customers that with SYFY they can get a list of programs, including Ghost Hunters... See http://godish.com/channels/english/syfy.aspx
So, what gives? Will a new customer on my block, in my city who's signed up with you actually get this channel as your advertising? Will I ever get it back? Why did it leave? I left Comcast to save some money, and this show had to be on my new DISH service or I never would have switched.

I've been with dish for awhile . I was having problems with my dish so I scheduled for someone to come out to look at it. Yeah they came out spend probably 30 minutes looking and said I needed a new box. My brother (he was there cause I was at work) was told that he would be back in a hour with a new box. Well a hour went by then two still no tv.
The auto how did we do called so I ended up talking to a person who was helpful. But the tech that came to my house not only didn't fix my dish but forged my signature. How could I sign when I was at work. This incident makes me think its time to change my tv provider. Cause the only thing I was told was sorry we will come out to fix it.

When i first called to get information as a new customer to "dish" I told the man that signed me up that i was only changing to "dish" because Direct TV was coming up on contract negotiations and they maybe loosing channels like "AMC" and a few others that were Vital to me to have.
I am a sound editor and NEED to be able to watch the programs that I work on for business reasons. The man on the phone assured me that "dish" had NO issues and NO contractual problems and that I would NOT have any problems with loosing that network "thru out the duration of my new contract".
With that verbal contract made I then agreed to sign up with "dish". I noticed that a few months after signing up with dish that dish was now cancelling their contract with AMC as well.
When I called to explain that the only reason I had dropped Direct TV after 10 years of service was because I was given a Verbal Contract (which are just as legally binding as the written contract that i have signed with dish) the Dish representitive replied that "that individual is no longer with the company".
I am not surprised he is NO longer with the company so i asked if they could pull our recorded conversation so they could hear that they are comiting fraud by NOT holding up their end of the verbal contract. Dish says they delete those recordings and they are NOT available.
It is completely unethical and still considered illegal to ignore a verbally binding contract as your company has done. I could NOT be more disapointed with the levels of service your company has (sort of )provided these past few months since becoming a customer.
I notice your company policy seems to say 100% customer satisfaction, but that must be a false advertisement as well, because each time i have talked with a "dish" employe I have felt more and more lied to. I have already submitted a formal letter about your company to "Consumer Affairs" and noticed that I am NOT the only person that your company has lured into a contract with false lies and broken verbal contracts.
I also plan on filing a formal complaint with the BBB along with the other 33,000 plus complaints already against your company. If your company doesnt want to be heading towards a Class Action Lawsuit I suggest that the blatant broken verbal contracts and fraudulant representation of your company to new customers stops.

We disconnected our Dish Network on 5/13/2012 and returned our equipment in the boxes Dish Network provided after calling them twice to get the boxes. Dish Network then called my husband and said they were not going to cancel our service, but put our account "On Hold" for 6 months, then start it back up again. He informed them that we were moving and did NOT want our account on hold. It is now October 8, 2012 and we have yet to get our final bill. I have made 10 calls to Dish Network and each person I talked to said they would mail our final bill and issue us a refund of $8.39. At the beginning of call #10, this credit balance was still on our account and the rep told us it was. She also informed me she would mail us our final bill. But when I asked when we would get the check for our refund (since we had paid a month in advance), she all of a sudden claimed that we have NO credit balance and that the credit balance went towards programming. When I asked "What programming?" , she could not answer. After repeatedly asking her why we no longer have a credit balance and her giving at least 4 different excuses, she hung up on me. When I called back to AGAIN request our final bill, I was told the credit balance was deleted and our balance was zero. Oh, and they'll "get us our final bill mailed to us in 7 to 10 days".....I won't hold my breath.

I live in Laguna Niguel Ca and have an account with you for my iPad, iPhone ,landline, DSL and TV (through Directtv). My bid issue is with deceiving and dishonest practices of DTV. you offered it and therefore I'm writing you. They started me with $31 month on Sep. 2011 and promised a hick of no more than $15 after one year. my bill now has nearly tripled to $91.
Without my knowledge or permission they started charging me for NFL which I noticed it after few month (automatic payments) and after complaining by phone and email the discontinued charging me and never reimbursed the past charges. My TV shuts up randomly while I"m viewing often. Now, I'm discontinuing their services and they claim that I will owe them for early cancelation.
Since you referred them to me A) I except some action from you B) Since it involves your reputation, you want to opt out of your partnership with them in the future.

Dear Dish Network, I am very unhappy with the customer service I have received while trying to return Dish equipment. My daughter, Jessica Reddest was incarcerated in December 2012. I was named as her Power of Attorney to take care of her financial situation.
Her Dish account # is 8255909425418289. I called Dish on Jan 26, 2013 to cancel her services. I was told boxes would be sent to me to return the equipment in 3-5 days. I was told there would be a $367.50 cancellation fee which would be taken out of my checking account because I set the account up in October with my debit card. When I set the account up, a man named, Carey assured me that my debit account number would not be associated with her account. The first month the payment came out of my account.
Jessica called dish and told them not to take payments from this debit card and to sever all ties with this debit account. I told the person at dish that they did not have permission to take funds from my debit account. Dish told me that Jessica had signed an agreement so they could do this. Jessica is not an authorized user on my debit account so there is no way she authorized any money to be taken out of my account. I would like the $367.50 put back into my debit account as you did not have authorization to take it from me.
Feb 8, 2013, I again called Dish and spoke with, Raymond DVN operator. I still had not received the boxes to ship back the equipment. Raymond assured me the boxes would be shipped in 3-5 days and would be sent out that day. Feb 18, 2013, I again called Dish and spoke with, Zack. I told him my debit account was charged $367.50 and Dish DID NOT have my permission to take this money from my account.
Feb 18, 2013, I again called Dish and spoke with, Phillip – 70970 I told him I had not received the boxes to return the equipment with and I was afraid Dish was going to charge me $550.00 for the equipment. He assured me, he promised that my account would not be charged and he would send the boxes to return the equipment.
Feb 26, 2013, I again called Dish because I had not received the boxes to return the equipment. They assured me they would send them out today and I would receive them in 3-5days . March 1, 2013, I again called Dish and spoke with Vince. He assured me the boxes would be sent out today and I would receive them within 3-5 days.
March 6, 2013, I again called Dish and spoke with, Natasha. I told her I still had not received the boxes to send the equipment back in. She told me my debit account had been charged $550.00 for not returning the equipment! You've got to be kidding, right???? I have been trying to send this equipment back since Jan 26!! I called my bank to try to stop payment on the $550.00 you took from my account.
The bank said they can't stop it and that Dish and Direct TV were known for doing things like this. So much for Phillip's and Dish's promise and assurance that the money would not be taken from my account! March 6, 2013, I called back and spoke with, LaRone. I asked to speak to a supervisor and he refused to let me. He was very condescending towards me and when I asked him to take my debit account off of this dish account he said he wasn't authorized to do that.
Again, I asked him if I could speak with a supervisor, again, no. I asked him 4 times to speak with a supervisor, he assured me he could help me as much as a supervisor. He told me the $550.00 would be credited back to my account as soon as the equipment was returned and could take up to 2 weeks to credit my account. I told him that's the problem, I can't get anyone to get me the boxes. I don't think it's fair that I have to wait 2 weeks after you receive the equipment to get my money back that you should have never taken in the first place.
Again I was assured the boxes would be mailed that day and I would receive them in 3-5 days. I told LaRone that I was going on vacation for 7 days so I would send the equipment back when I got home. LaRone assured me the boxes would be here when I got home. Well, guess what??
March 18, 2013, I again called Dish and spoke with, Drandon I still had not received the boxes to return the equipment in. I asked him if I could speak with a supervisor. He told me the supervisor was on the phone and asked if I could wait 2 minutes. I said yes, then he asked me if he could help. I said, no. He kept talking and assured me he would send out the boxes.
I said no, this is unacceptable! I want an address where I can send the equipment back myself. The sooner Dish receives the equipment, the sooner I get MY money back. He said this is dangerous because the boxes might get lost. Really?? The boxes have been lost since January! He gave me an address in Colorado.
I asked him what needed to be sent back. He asked me where the LNBF was located. I said I don't know, he said don't worry about it, you will not be charged for it. I told him I have already been charged for it and he said he would make a note on the account to refund that charge. He assured me 100% that I will not be charged $50.00 for the LNBF.
This experience with Dish Network has been very frustrating and time consuming. Not getting the boxes to me was your incompetence and yet I'm the one who had to pay. I don't have a lot of money and can't afford to be charged $917.50 for an account that's not even in my name!
Had I been told that Jessica signed a 2 year agreement and that if she didn't fulfill it, My debit account would be charged, Dish Network would have NEVER been given access to my account.
Nowhere did I agree to pay her DISH account! When I set up her account in October 2012 I was ASSURED my debit card would never be charged again. So imagine my surprise when Dish started taking money from my account without my permission!
Because of the incompetence of your employees and all the frustration and time I have had to spend on the phone with your company, I request that you waive the early termination fee and return the $367.50 to my debit account. I am sending your equipment to: Dish Network Service 90 Inverness Circle East Englewood Co 80112. I also would like you to put the $550.00 equipment fee back in my debit account as soon as possible. This kind of service is unacceptable!

I ORDERED DISH MORE THAN A YEAR AGO, THROUGH VERIZON BUNDLE. THEY SET MY ACCOUNT UP. I WAS TO PAY $29.00 A MONTH. MY BILL WAS WRONG THE FIRST MONTH AND I CALLED YOU SEVERAL TIMES ABOUT MY BILL AND BEING OVER CHARGED. YOUR EMPLOYEES WERE RUDE. I TOLD THEM TO CANCEL MY CONTRACT WHEN UP IN JULY OF LAST YEAR.
I TRIED TO OVER PAY MY ACCOUNT UNTIL I COULD CHANGE COMPANIES. VERIZON DID GREAT. DISH STARTED STEALING MY MONEY. I CALLED YOU O N IT. AT THE END YOU HAD RAISED MY RATE FROM $39 TO $41 UP TO $69.00 FOR 120 CHANNELS.
BECAUSE I WANTED TO CANCEL, I WAS TOLD YOU SIGNED ME UP AGAIN. I AM GOING TO COUNTY COURT AND SUE YOU. I DO NOT OWE YOU ANYTHING. YOU HAD SENT ME PAY IN ADVANCE AND I SENT YOU A LAST PAYMENT OF $69.12. ACCT NUMBER 8255 9097-7431-2299 BRENDA POPE, 1319 EAST KING...SHERMAN, TX...75090. YOUR SUPERVISOR INFORMED ME EVERYBODY HAS TO PAY FOR NOT USING THE SERVICE. IT IS YOUR POLICY (CHRISTINE) SEE YOU IN COURT. I DISPUTE YOUR BILL

I stopped service with Dish and now they are saying that I was under a 2 year lease ,and that I owe them $ 400.00 for breaking the lease. I never signed a lease.,and was never told that there was a lease. If I would have been told,I would have never agreed to said lease.I ask Dish to send me a copy of the lease that I supposedly signed,and they did.The problem is that you can clearly see that my signature is a copy and paste job.1.The signature is way to small 2.all four of the signitures are exactly the same.It so obvious what they had done should be illegal,I went to prison for less than what they are trying to do.Thank you.

I was with dish 2yrs and Neva broke da contract in August I went 2try another company cause they had a package deal phone internent n cable but after 5 months I didn't like da service .when I left dish I sent da equipment back because Iif I come back 2dish I would not have 2pay 4daequiptment I owed $140 so I came bac n paid the bill. Then Ihad 2pay $80 then I had 2 pay $138 ok then they gave me da cheapest equipment wer when I turn on da RBI had turn on da satalite 2watch tv wat piss me off I have 2pay ahead $ 60 b edited I can watch tv then I had da 3months promotion deal n u try 2charge me 4dat n cut my satalite off after I paid the $60 then it 3;25 in da mornin I wanna watch tv n can't watch it cause u gave me that cheap ass box n it reboots every note @3 so I said we'll let me watch da DVD b I can't because da satalite ain't on so if u give me another box all my movies that I tape when I had dat free channel for 3mpnths will b gone so now I'm up n can't watch tv cause da satalite is off n has 2reboat cause u gave me dat cheap Azz box so dat how u do ur customers imma have 2tell my story on my fb page of how dish network do der customers n just Azz soon as I get my Moni rite I Gina find me another service n fuck dish network I'm not common bac because how u treated me now my box iz not on now every nite @dis time my box iz off wat the hell I'm payin. 4 it should b on 24 hrs u cheating me I can't watch no tv rite now soon Azz I get straight I'm leac vin y'all n y'all can kiss my Azz cause y'all think sum1desperate like y'all is the only company in town soon ass I get my Moni rite bye bye uyall tray ur customers like shyte my name is Maria Mullen of Elizabeth city nc look it up sittin
Here @ 3:38 n can't watch tv cause I don't have satalite dis time of the mornin every note but u want my Moni y'all's can kiss my entire red ass now tell dat n stop false advertising

I had an account with DISH for internet service and satellite e-mail. That account was closed in February. DISH took money from my bank account, then refunded the balance and sent me a statement saying nothing was due. I moved after returning all equipment. First, DISH sent me an e-mail saying it was going to withdraw $220.00 from my account for failure to return the equipment. When I called, the company magically found the equipment. Then, I get a billing statement saying that DISH was going to withdraw $70.00 from my bank account. The statement listed two $35.00 charges for something. I called (this was April), and was told by the customer service rep that it was just a computer glitch and that I wouldn't get another billing. No money was withdrawn from the account. Today, I get another e-mail saying DISH is going to withdraw $70.00 from my account. I called back, and was told that the two $35.00 charges were for early termination of the contract. Yet, when the $103.00 was reimbursed to my account earlier in the year, I got a statement showing a zero balance. I contest the fees, and can't help but wonder why, if there was a early termination charge, that charge was not deducted from the $103.00 which was reimbursed. Since cancelling this account, I've had to call DISH maybe seven times total to get the mess cleared up, and it's never been cleared up. IF I hadn't contested the equipment return, DISH would have ripped me off for $220.00. I think that this company's business ethics are non-existent and that it will gouge people for as much as it can. It gets away with this, because the filing fee to sue is greater than the charges and DISH knows that. DISH's internal record keeping is inconsistent and seems to depend on who you talk to as to what is automatically withdrawn from your account. What a nightmare! What a rip-off! I will never do business with this company again under any circumstances, and will warn everyone I know away from this company. Oh, with respect to what is written immediately below -- "We need to make sure you are a human" -- what else would be e-mailing you? A blue jay? I guess that sums it all up. I'd like to make sure the people at DISH are humans.

Out of pocket for tv is 87.99 and with that I should not get a single channel that is the same. Yet scrolling thru the guide I find this many times. This Sunday I found that the blockbuster channel (that does not have anything worth watching any way) was playing the classic movie "The Crow" the movie before it was "The seventh sign" which still had according to the guide 10 more minutes left (crow starting at 845) When going onto that first blockbuster channel, "The Crow" was already on and had been for some time. All 4 blockbuster channels were this way. This is just one recent example of paying good hard earned money for nothing but crap and now to add insult to injury, times 4! While we do like "the crow" we did not watch it seeing as it was already on. Same thing with the style network (2 channels of that) while I am bitching, how about all those worthless garbage reality shows? Never mind the bullshit with taking FX and then recently AMC. At least with FX, the shows missed were played again and we were able to watch them and get caught up. Not so with AMC and "The walking dead" No notification that it was being put back into the dish package until I happened upon it the other day. We are one of the thousands that complained about FX and AMC and wouldnt you think that at least the customers that complained via e-mail would recieve a courtosy e-mail notifying us of the channel coming back?

Please hurry up and come to terms with AMC before this Sunday. I will be missing the season opener of The Walking Dead because of some stupid deal between you and AMC I pay a lot of money for the all channels package and I want to watch AMC NOW. So figure out something out soon.
Mike

My son took out Dish in July 2012, only having service for 3 months. They told me that I would recieve 3 months of HBO, Max, etc. Well guess what, he received a bill in July stating that he owed nothing. Then in October, he received another bill for 228.00 with late charges. I have called Dish 5 times trying to get this straighten out with no help. They still are saying that he owes 54.00 plus the normal rate of 40.00 plus tax which that is all he shiould be paying anyway from the get go. He had already sent them a check for 62.00 and 103.00 now you tell me is that right or what?
So my friends out there please do no take Dish out they will rip you off. I beg you to go the Charter of Direct TV, maybe they will be a little more understanding with their loyal customers like me. I will never recommend dish to another person.
So Dish if you can help us please feel free to call me at 706-882-9277 because 5 other could not.
Brenda Jordan, LagGrange, Ga.

Sunday, May 5, from 11am to 2:15pm I was on the phone with Dish technicians trying to get my RV Tailgater up and running after being shut down for the winter. I ended up talking to 5 different techs and one supervisor and no one could get my tailgater operating. I was totally frustrated to the point of having them just disconnect everything, including the satalite for the house and the Internet service and finding a satalite co. that could work with me and get their equipment working. They kept trying to tell me that the problem was with the tailgater and that I had to call the mfg but I kept telling them that it wasn't the satalite dish itself because it was picking up the signal but it wouldn't download the programming. They still insisted it was the tailgater so finally I agreed to call the mfg. After we hung up I noticed that I couldn't shut the satalite box off either manually or by remote. Then I noticed on the front of the satalite box it had a button that said "hold to reset" so I did that and the box went off and came back on then the satalite info started to down load again so I decided to wait to see what would happen and SURPRISE, the info down loaded and the TV works fine! Now after 3 1/2 hrs on the phone, talking to 6 different people, not one of them could tell me that all I had to do was push the reset button on the satalite box? THAT IS UNCALLED FOR! I thought these techs were highly trained and were skilled enough to handle problems like this. I even asked them to send a tech out to the house and they wouldn't do it. Needless to say I wasted a Sunday afternoon on a problem that should have taken only a few minutes to solve. Dish has had my business for several years and they get their money on time every month so is it too much to ask that I get the service that I pay for.

Tammy 458 is the rudest customer service rep I have ever had the displeasure of speaking with. She hung up on me and when I got a hold of her again she lied and said the dead air I heard was her putting me on speaker phone. She charged my credit card for an early termination fee and told me to deal with the credit card company. If this reaches anyone who can resolve this issue it will be great but I intend to write and keep complaining until I am reimbursed. Dish extended my contract without my approval or notifying me. I was told when I upgraded that I would not have to extend an already expired contract. It took four service calls to get the correct equipment for the upgrade and the ONLY reason I changed services was because DISH does not offer the level of internet service I required for my home based business.

DISH Advertising
Within the Yahoo e-mail, when you login, the new DISH advertising has a red animated kangaroo - but then it jumps out of the ad space into the yahoo e-mail space. It's veryinvasive.
Trying to get rid of it, by clicking anywhere around that kangaroo -- which is in the Yahoo e-mail space now - and whammo - it takes you to a DISH advertising web page. That never should be allowed. It's not only intrusive but invasive and misleading and time consuming. You're never even aware that you clicked on a link (because you can't see the space that the link occupies) until it's too late.
Please stop it.

How come every channel is soon to be released from dish network? First AMC and now NBC? I don't agree with this since I will not be able to watch some of my favorite shows as well as Sunday Night Football anymore. Because you guys keep cancelling TV channels, I will probably switch TV carriers very soon (I'm just waiting to see whether NBC will be cancelled). Why are you guys cancelling every TV channel now?

Blazzing fast my , thats a buntch of bull and now they want let me out of the agreement , i had it 7 days it was so slow and tjey sent out a tec who said thats how it is and on top of it we have used over half of our limet when we where not home all day. And this was 7 days after installment dishnet suck the big one .

Today i noticed my credit debit card got charged 180.00 from dish without any permission i called and filed a complaint but these poeple dont want to refund my money back this not my acount i dont have any contract or acount with dish only used my card for a one time payment now thay say that the card can be charged again till the debt is paid off .told them that is not my problem i dont have any dish acount on my name .

I would like you to unblock the Fox channels. I have waited for 3 months for Nascar to start back racing and the day before the Sprint Unlimited you decide to block the channels. Why? Is that the very reason? You knew that many more viewers would be tuning in to watch the races and qualifying. Fox has said in its statement that Dish Network is the one blocking their channels, that they did not do it. So why is the bold face lie on my tv screen when I try to view a Fox channel. I thought it was Fox, like a lot of viewers did and was really mad at Fox, but now I find out it was Dish the whole time. What a really great way to thank your loyal and long time customers. THANKS! Now I know where the saying "With friends like you, who needs enemies?" comes from. I just want you and Fox to know that I pray Nascar will some day have their own station/ channel that I can subscribe to and not have to go through all this BS. I hope the big CEO and owners of Dish Network that have made this decision, realize the only thing they are accomplishing is hurting their customers and their customers belief in Dish. You know "word of mouth" is still the best advertising for any business including one as huge as yours. You can never get to big to fall on your face. You know the saying, "the bigger you are, the harder you fall!"?

Dish network has the rudest customer service reps. There job is to help and that seems to be the only thing they don't do. I've been hung up on so many times I lost count. Been told this isn't my problem many times also. Word of mouth is a great way to get the message out to stay away from this company. They don't value their customers or treat them with respect. Shame on you dish!!

I closed my Dishnetwork account on 7 September 2012 after 4 years of services. Dishnetwork requested that I return their equipment (two DVR boxes). Dishnetwork sent me two boxes and I box the equipment up and delivered the boxes to UPS. I received a bill from Dishnetwork (billing period 10/12/12-11/11/12). I contacted Dishnetwork reference this bill and they informed me that the bill was for the two boxes that they sent me for their equipment return. I asked the customer service representative why do I have to pay the bill for shipping their equipment back to them. The customer service representative said that is company policy. I asked to speak with a customer service manager, but the manager refused to speak with me.

It is Sad Of your Company Someone I had been a member of for many years, I never missed one payment while with your company not one. I took photo's of all the equipment that I sent back to you, I did all I was supposed to do with your company but now my credit is ruined after being a Great Customer of Your company. You have stated that I did not pay my last bill when I know what I did and even sent copys of the last statement that I paid the last bill but you all have got to fix your company that when a Customer canceled your company that the payment was done as I was told when I closed my account that I did not owe you one penny. I am a Wonderful Lady and was with your company So very long and You as well as I know I paid my last bill but someone in your Billing department made a mistake and Now you have my credit ruined because you said I did not pay my last payment when I did. But still you put my last bill that was paid in my Credit that I worked so hard to fix due to raising four children all by myself that are all now in there 30's. I fixed my whole Credit up and then being a Dish network customer for years paid my bills through the money I set up to come out each month. I did not owe anything not one penny as I was told when I quit your company then you call me 8 months later with a Bill saying that I did not pay my bill the last one. I am beside myself that this company could do something so Horrible to a customer who was with you for Many years paid her bills on time. Or before time was up and then you state 8 months later I owe you. How do you wait that long and say I owe you money when I do not and know that.. There is a mistake in your company somewhere! This should never have happened not one day. Due to You know I paid my last bill but someone in your accounting department made a huge mistake and charged me all over again for a bill I DO NOT OWE.. No matter who I talked no matter what I did to fix this you still said I owed you money look my name up you will know what happened if You just looked. Take this bill off my Credit Please so I can have my Good Name back. As it was taken due to You saying that I owe you when I do not. I am asking that you just take this off my bill.. That you have something wrong and that I was a Wonderful Customer. If you ever want me to come back I would take it off and hope that I decide to come back to you. But how could I do that when You say I owe you money I do not owe. Please be kind as I was for SO long with your company for I DO NOT OWE anything. I have cried and cried over what had been done to me and I wonder if That really matters but What has been done to me is not something I would have done when I had such a good thing going with your company then you tell me Everything is fine your bill is paid and you can continue to move on in your life when I quit your company it was due to not being able to afford it anymore due the fact that I do not watch TV anymore so I thought I would quit so when I called They told me your company who ever I called no worry your paid up just send the equipment back as I did. I even sent the last statement to you as I went to my bank to prove to you that I paid it after your company told me You have not one bit of worry your paid up but then you came along with a bill saying I owe you when I did not almost one year later. Please take this off my credit I am paid up and If I ever want to come back I will I was a Wonderful Customer if You look at my hookup with you when I was with you. It atomatically came out of my account when I was with you so How could I owe you when I paid each month. When my month was up I paid the last bill was even told by your company there is no worry when I asked to be turned off of Your company your company did something wrong and now Your saying I owe you. So please fix this. I have been a wonderful dish network customer and never missed a payment not one month of oweing you and I finished my term with you. SO know I am so upset at what your company did to me. I did nothing worng and everything right. But your still saying I owe you and ruined my credit. I am so hurt that a Company I had been a wonderful customer would come up with the words I owed you when I never did and paid my last payment before turning off my tv. Please help as This is something No one should go through with your company. I never yelled at anyone I never did one thing wrong with your company but You still have me in credit saying I did not pay when I did and I was told Everything was fine. But it is not. Your still saying I owe you. Please fix this problem I cannot take it no more I have done all I can. Its now up to you to fix my account and It would make me so much happy with your company that I would actually tell everyone what a Great company your company is and come back when I find I can. But for now if You do not take me off of this credit then I will suffer again. As I am now. For something I did not do I paid you up and should never have gotten another bill after that. Please look into this lets get this fixed as I do NOT owe nothing and your ruining my credit. Due to this. This is the ONLY thing I have on my credit that is ruinned my credit due to a mistake you all made not me in your accounting department after I was told so many times your ok you owe nothing your paid up we did get your last bill. But still you say I owe you fix this please and email me when You have finally fixed this so I do not suffer another day.. No company that you have been such a good customer with should hurt you like that. NOT ever.. Thank You Gerri LaGrange 32307 Pine Road Eustis Florida 32736 Thank You and I DO look forward to returning but we have to fix this problem before I Do come back to dish.. I was a Wonderful Customer if You look how long I was with you and how good my payments were you would know that there was a problem somewhere if You just look into this whole thing properly you would know that I was a Good customer and always paid.. Thanks again. I DO hope you finally fix this BIG ISSUE I am hurting so much over..

After waking up one morning with no cable (which i seemingly had no problems with 8 hours prior to this) I try the online "fix it yourself" solutions which of course did not work. Later that evening I decided to call dish to try to figure out the problem-- after 15 minutes I was sent to the more problematic dept of customer support. After 40 minutes and talking to 2 different dish representatives the conclusion was that a) my receiver had gone bad or B) there is a faulty cable. Ok no big deal, a few days later (I work so the whole being home from 8-12 or 1-5 was slightly difficult to swing) and two men ( who were very nice-- but I could barely understand what they were saying) show up to my house. I'm not quite sure what they did- they did not have another receiver nor did they try any other cables. So after they get done doing whatever they did they tell me my receiver has gone bad and that dish will send me another one. Ok, annoying, but at least we were coming to a resolution. 3 days later the receiver is delivered. I hook it up according to the directions-- and again no cable. Obviously assuming that I could have very easily messed up the wiring I call dish again for help. Well, all the wiring is ok and they can not figure out the issue. On to round #2 with higher technical support. After another 15 minutes the dish representative tells me that there is most likely a faulty cable and asked if I had any to replace it -- (no) then proceeds to tell me they will ship one to me for 10$. WHAT??????? Not to mention that it would take 5 days to get here. So by the time this cable would get shipped to me I would have been without Tv for 2 weeks, have had a technician come to my house, and spent over an hour on the phone with dish ( and when your working 65 hours a week you cherish every hour you get to rest at home!). Why would they not have sent cables with the technician or with the receiver??? You expect me to have my shit together every month and pay my bill on time and in return I expect the people who manage the services I am paying for to have their shit together- which dish network clearly does not. I have nothing good to say about dish network- I will never recommend it, I will copy and paste this complaint everywhere I possibly can and I will NOT Be renewing my contract. (a call to the better business borough may also be in store considering they have charged me for channels which I made sure to cancel before they were no longer free).

I had DISH Network installed 3 weeks ago; the installers said they would be back to bury the cable. They never came back, and they never called. Last week I called DISH about this matter and was told that they could only do it between 8 and 12, or 12 and4, and that someone would have to be home. I explained that there was no one else but me and that I could not get off of work, and was going out of town Saturday. The man promised me they would come today at 4pm. I got home and had about 3 messages from DISH from this morning trying to come out; no one called or came by this afternoon. I called and told them to come get their satellite and cable and leave me a box to send the receiver back, and was told I would be charged a termination fee--they fail to do their job and charge me a fee to cancel the subscription. I would not recommend this company to anyone. Juanita

on october 4th 2012 between times of 8:36 & 9:16pm i made several phone calls to the dish network customer service line in an effort to resolve an issue i was having with the service. on two occasions i was rudely disrespected and hung up on by "supervisors."i am knowledgable of the fact that these conversations were recorded and therefore am requesting that someone in authority look into this matter and contact me with convincing assurance that the necessary measures will be taken so as to address this situation. i am compelled to say that if i am not given justice from within the company i will seek legal assistance.
your loyal customer
andre wellington

I have been a good customer of dish 2 years and 9 months contract came up 9months ago but now we are moving ask dish could you give your loyal customer like me a better deal like you do for new customer? Answer we can give you $5.00 a month off I said my contract has been up if I resign will I get new equipment no so I felt that I could get a better deal some were down the road let they have the new customers that were not happy with some other company and give me the old if you don't like it you can leave!!
I have never been late office them cause I AM A PROVEN GOOD CUSTOMER! But here is were I have a problem when I canceled I was told FOR THE FIRST TIME EVER!!!!!! That I would have to pay $17+bucks to sent back the receivers can't take them local they have to go to Texas and wanted me to take down the dish leaving hold were they drilled in my roof!!!!!!! If you cancel the people are not as helpful as when you sing up just google dish complaints and start reading THEY DO NOT SEEM TO CARE'!!!!!

I signed up with Dish back in June of 2012. Had I know that they were going to cancel my AMC channels (including WEtv), I would have never subscribed to this service. Not to mention that the brochures I received from this company still has 128 printed as WEtv. I am very disappointed in your programming and your attempts to use your customers as pawns to gain leverage against AMC. Either resume my programming or lose me as a customer, PERIOD!! I don't care anything about your $400 termination fees, I simply will not pay. If you attempt to put this non-payment on my credit report, I will contact an attorney and have it removed.
Signed,
A pissed-off customer

I like nascar and thanks to the dispute between two money hungry giants we the little people get left out. The bottom line is millions today will not have programs thanks to you two.

To whom we may concern:
Yesterday 09/30/12 I find out one of channel we sign out with dish network is stopped work.
I call to dish network "#1 satisfaction" customer service phone number where I was on hold for almost 35 minutes wait first time and then I have to call back again because they hand up phone on me.
When I call second time I was talking with to "friendly" customer service representative who let me now they have right to do anything they want at any time without any note to the clients. When I ask nice people how I can contact executive office of the company I get answer is no way you can reach any one from executive office this is top secret information and cannot be provide to dish network clients.
1)My question is you advertise your company as #1 customer Satisfaction Company on tv and people who is working for you have very bad attitude with no respect to client.
2) Why you are not notified you client regard to changes you will make.
3) Why your employee refuse to provide phone number to executive office.
Please provide me with answer to mu question and let me now when can I file personal complain regards to your friendly employee.
4)Email address was provide to me is not working email.

I have been a Dish customer for 6 mos. and the 7th technician is coming to my house today for the same problem. The 4 channels Prime Time is supposed to record doesn't work properly. Sometimes one channel overrides the other 3 and sometimes the hopper indicates it is recording a show but when I go back to watch the show, it is a blank screen. I don't know if the machine is going to work properly from night to night. My wife and I have missed a lot of shows we thought were recorded on Prime Time. The Presidential debates were on all Prime Time channels but our Dish equipment kept showing a signal interruption on the TV screen and we were unable to watch the debate. I signed a 2 year agreement with Dish to receive TV programming that I am not getting. Dish has had numerous opportunities to fix the problem but the same problem still exists. I've gone thru 3 hoppers, 2 joeys and 2 satellite dishes and had all the wiring replaced in the house. I still can't watch TV. Dish refuses to accept the fact that they are not honoring their part of the contract and continues to send out technicians for the day to attempt to fix the problem. I've been told that if I don't honor my part of the contact with Dish that I will be penalized $17.50 per month for 18 remaining months. In a nutshell I can't watch TV while Dish sends out numerous technicians to work on an ongoing problem. Enough is enough! Do I need to spend money on a lawyer to void this one sided contract?

I ordered dish about a month ago.And I asked for HD tv in two of my rooms out of three rooms.I ordered dish because they have the most HD channels for your money .
But anyway I asked the person 3 to 5 time will it be HD .She said yes more then once to me.it cost my $225.00 to get it started up because of my credit.But I felt like it was worth it .I Had to wait 3 weeks to get it.
But that was okay.anyway the installer came and put it in he didnt know what room they went in I told him the HD tv goes in the living room and the bedroom and the other one W/O HD goes in the other bedroom.
after he finish .I ask him about the HD channels .he said the one bedroom and the living room are the only one with HD, I was happy with that and sign the papers .that was on a Sunday.
I went to church a little while after that.when we got out I came to watch the tv and notice it was grainy looking I didnt think to much of it .it was kinda cloudy that day so I just blew it off.the tv in the bedroom look fine but grainy but it's not a HD tv.
the next few days it just didnt look right to me.I check to make sure it wasnt nothing blocking the dish.I did notice the tree in my yard was kinda in the way.so I waited a couple of weeks to trim it down.it didnt help.so I check the signal bar on the dish reciever.
it was a little on the low side.I call dish and they said that signal was okay.so I asked her about my service and she said I didnt order HD.I asked her to check my order again.
she said I didnt ask for it again.I told her the only reason I got it was because brought a new TV and it was a HDTV and I really wanted the HD receiver that the only reason I called in the first place,I had the antenna tv and it was very clear.she said she was sorry and she could give me HBO free for a month.I told her I didnt want it if I couldnt see it any better then what I had .she said I could buy it for $399.00. our buy it on Amazon for $ 135.00 .
I told her why would I buy it if I order that anyway from the beginning.I just just got tired of going around with her and the other people I call since that time.I could cancel my order but I have to pay for it anyway for the next two years.I dont know what to do .Im stuck with this .
and nobody seem to want to help me.anyway they will get there money with HD our without it.so thats my complaint.I hope you our somebody will help me solve this problem.there our other things I can say but I wish you guys would get it together nobody have my right order from the beginning if you guys recorded this converstation from the beginning you would see that I did order the HD .did you just run out of the HD reciever and just tried to pull one over on me.
every person want me to buy one ,I may not want this service after the two years and I will be stuck with the recieve and cant use it.

Himanshu shah
from Dover, DE
I have just switched to dvr HD since I bought new tv with hd but since I switch to hd dvr it's keep freezing up every half hours . I called & complain to dish quite few time & nothing has been done . Please show a solution . It's really frustrating when u r watching movie which is 3 hours & I have to keep resetting dvr . If this keeps this up I m thinking about switched my to Comcast soon .

Scott W
from Naperville, IL
Well first thing is that dish wanted to charge me 185 dollars to send a technician out to my house not for something I needed but yet a problem that was created by their technician!!!!!! Their tech guy who installed the dish service placed the dish to close to in coming power lines, this not only was against the law but also endangered my family by creating a fire hazard!!!!! When I called to tell them that I wanted this fixed they tried to charge me for a service call 185 dollars I told them no way! So then they offered to only charge me 85 dollars, again I said no way! Then they offered to do it for free and I told them any time so they scheduled the appointment after they scheduled the appointment I told them I had to take that day off work and that they would have to pay me for time at work I missed out on, then they immediately wanted to change this to my day off since it's my only day off week I guess they found that was convienant a time as ever since it's my only day off!
So I can look forward to dealing with their technician and having no tv for my day off I don't consider that a day off so I will be sending dish my detailed billing for the day so they can pay me back! TRUTHFULLY I JUST WANT DISH GONE THEY DONT CARE ABOUT LOYAL CUSTOMERS WHO HAVE BEEN WITH THEM FOR WAY OVER A DECADE! THINKING OF GETTING DISH???? PLEASE GO BUY SOME VASELINE FIRST CAUSE THIS COMPANY IS A JOKE AND SHOULD LOSE EVERY CUSTOMER THEY GAVE!!!

I am unable to contact supervisors with complaint to local channel distribution. I should start off with this complaint by saying some profanity so I'll say X I X I X I get that out-of-the-way I live in Sweet home Oregon I receive my local channels through you from the city on the other side of the damn state I do not want Portland news I need to news from the city closest to me which is Eugene Oregon because of things like today they forecasting weather that comes out of Portland does not help me in anyway keeping my family safe from severe weather activity so I need the city is closest to be they can give me a correct forecast so I can be prepared to protect my family and my property which today was forecasted from Portland that it was going be scattered showers with a little wind well in fact for me it's a bear wind and heavy rain which I've already had some property damage I was not prepared for it was like I was able to cover.
But there's no reason I should go out in the rain to get my butt soaked to the bone to do it after the fact this is just one for instance we also have severe fire seasons here that we need to be up on date and information not I need you to change my local channels ASAP your customer service department is stuck with the program on their computer I'm not able to make an adjustment other than what some that is not in touch with people that live in that area they look at a map and say oh this looks okay will guess what but it's not okay somebody didn't do their homework or the right-hand wasn't talking to the left-hand what I work for corporate's people from generals in the army to state senators and congressmen and other people in between I found out back in the day they talk to each other definitely looking at your programming someone didn't I need you make this adjustment ASAP.
Overall as of today I would give you the lowest rating possible for able to assist somebody other than somebody stuck on a program card and a computer program that does not let you do any adjustments as very poor Barvac below poor. Thank you very much and from a first is very confused with the bet way you run your company Mr. retard officer Troy Wolff CO5

Alfred Haugen
from Carlsbad, NM
Dish Network you have raised my rate for the last time. You keep raising my rates I told you a year ago to stop or I would cancel! My new Dish Network bill received today was raised by 6 dollars. I have tried everything to get hold of you people to no avail I am no longer a dish customer so don't bill me again.

Judih Schwagle
from Royal Oak, MI
DISH can Promise anything, but doesn't really care about you getting it. We were all set to have Xfinity installed due to DISH's cancelling of several key channels (Time Warner), and when we called to cancel DISH, we were immediately offered massive discounts for 3 months, (about $35 off for 3 months,) then smaller discounts for a year. We decided to stay with DISH since we have had them for many years. When it came to actually going thru with those discounts, they were short of what they promised. When I called them on it, their comment was simplistically "there was a price increase". So just beware, DISH can OFFER you anything, but they are not obligated to be honorable and actually give it to you. I fought it out on a chat line, and got nowhere. Even asked to speak to the supervisor. His thing was, no matter what, price increases are first and foremost, customers don't matter so much. I will call DISH tomorrow to see if there is anything they can do about their refusal to be an honorable company, but it sounds bleak. I will just let everyone within ear shot to stay away from DISH.

I am watching evening TV -- which means listening while I surf the internet. All of a sudden, the sound stops. I look up, and the message on the screen is "Checking Hard Drive", and that the interruption should take no more than 10 minutes.
Not only am I missing key parts of the show I was watching (politics), the recording I'm making on another channel -- new season show, unlikely to be repeated before Christmas -- will have a big gap in it.
This is ridiculous!!! Everything is digital and computer-"smart" nowadays: Dish (or any satellite service) couldn't function otherwise. The system should be able to recognize when it is being used -- and wait to perform a hard drive check WHEN THE UNIT IS NOT IN USE!!!
I don't know why this isn't already a part of the computer-programming that runs Dish receivers -- but give your developers the directive to FIX IT!!!
*tearing my hair out and very unsatisfied*
Linda Rusciolelli

Richard Lockwood
from Arizona City, AZ
We had Dish installed the last week of September and this is the first week of October and they can't get anything to work properly and now they have to keep coming back to change something different, and the only thing they offer is a discount on my bill of $11.05 We have a 2 year commitment and that will be the last time anyone from dish will step on my property.I ask that they give us one month free and you thought I was asking for a million dollars. That is really saying something about your company.

Douglas Hartley
from Lowell, MI
I been trying to connect my DVr to your crappy dish anywhere service that you guys have been having an issue in connecting to my DVR. Getting sick of connection issues and I live in a apartment that does not allow cable so want to be able to watch my recordings without a issue. I have been a customer for several years now and tired of your crappy service and updates that are suppose to make the app better but is making it worse. I sick of this and very displeased with your service fix it or lose another faithful customer thank and have a wonderful day.
Sincerely,
Douglas Hartley6

jason Wilson
from Greenville, NC
I call your company on Sep 20,2018 because I was having trouble with my satellite tv. And the lady happy me trouble shoot it but it didn't work, and the sad part about this I have to wait until Oct 9, 2018 to watch tv, Now Direct TV told me they can be out here this Tuesday and I'm really think about switching over to Direct TV. I'm not happy with your company.

NANCY Buckland
from Welch, WV
I want my local channel back -channel 46
It's our only NBC network
New Season -shows starting this month
Also miss local news
WVVA & Dish Network needs to settle their differences -for the good of the customers

Sheila Nelson
from Memphis, TN
You say you listen to your customers. Well, that is not correct. I was with you 11 years and you dont care. By the way, I disconnected from you . I called and disconnected from you because,I never could get a person in USA. I could not get my billing date changed, I wanted my billed lowered to 150 or the rate the new customer got for 150. I'm a disabled , on fixed income and tired paying high bills when you new customer gets a better rate. So when you would not do it I disconnected from you. I never missed paying you and the only reason I would show late is because you were to change my billing date and never did after saying you would. So Now listen, thats why I disconnected from you get it right this time SIR. Sheila Nelson

Jeremy A Verret
from Garner, NC
My Dish service quit working today. I called and talked to several very rude and uncaring people today about my service. I have been a Dish customer for over two years and I have paid my bill very faithfully; I am never late with my payment. The people that I spoke to have stated that the only way for me to have service is to pay a technician a fee to come out or add another $9.00 to my bill every month. This is a breach of contract, because I already pay the full amount that we agreed to for service in the contract. I think this is a scam perpetuated on customers after they have unwittingly signed a two year agreement. I will contact a lawyer if I have to, and I will also do every thing I can through social media to call out Dish for the scammers that they are. I am so upset right now to discover that I have fallen for this trickery by your company and I will not take this lying down. i refuse to pay $1.00 more than what we agreed to for service. I will not be further scammed by your company, and when i win my lawsuit, (and I will win), you will pay me back for the service that I will continue to pay for and I will ask for and get my attorneys fees paid back to me.
Jeremy Verret
919-302-9018

Shelly Tetreault
from Boston, MA
I called Dish to cancel my account no.8255909227135685 43 Emory Street Attleboro, MA 02703 Floor 2. I have been in disabled housing. On August 8, 2018 the woman said I needed to have my Doctor fax over a letter stating this to clear an early termination fee. It was never cancelled. I called yesterday August 16, 2018 approximately 1:30pm and explained this to the gentleman and why it hadn't been cancelled. He had all my information and Doctors letter. He was extremely rude, trying to get me not to cancel and adding numerous amounts I will have to pay as as a threat after my Doctors letter was received. I am extremely upset with this very unprofessional business and will contact the Better Business Bureau for his unacceptable behavior and threats of insane amounts of charges if I cancel this account. I did not accept any charges he stated I will have to pay which he kept trying to have me agree to. Over $400.00 is what he stated. This account is closed and should have been closed on August 8th. The number I called was 888-283-2309. An email was sent confirming my cancellation with a return fee that was charged to this account for each box required to return equipment and the terms of the contract. Then I returned my feedback at feedback@dishnetworkmail.com. and it stated my email address wasn't found or is unable to receive mail. Then I saw address rejected. Extremely upset with DISH and you business! Shelly Tetreault

Joan Horn
from Gainesville, TX
My programming will suddenly change to a program that is recording. My programming will suddenly stop for reloading or other ridiculous updating that is not needed. I will go back to direct tv if these interruptions continue.

Kelly Araguz
from Austin, TX
I have spoken with numerous customer specialists. No one is able to help me with my issue. I have been a loyal customer of Dish Network. I disconnected my service to save money on June 28. Was told that I had no remaining balance and all I needed to do was return 1 receiver. Was told I would receive a box in the mail to return receiver. I never received the box so I called Dish back. I finally received the box last week on August 2. I promptly put the receiver in the mail on August 6 via UPS. I live in a small town and all we have is a UPS drop off location. I have been getting phone calls from your collection dept. since Monday, Aug. 6, to my place of employment threatening me that I need to return the equipment or get charged $149 equipment fees. I am so upset about this entire situation. I returned an Amazon package the exact same day and have already received notification that my return was received and refund initiated. My biggest complaint is that no one seems to understand that this entire issue was not my fault. Dish never sent me a box as promised. When I finally got it last week, I promptly returned your receiver. I've gotten 4 phone calls since Monday from Dish threatening to charge my bank account for receiver. I have 30 days from time of disconnect but that is also unfair being that I just received the box to return your receiver. Everyone tells me that there is absolutely no one at Dish that can stop the time frame progress that was initiated on the date I disconnected my service. I cannot believe that no one at your company can fix this problem. I should not be called continuously regarding an issue that Dish is at fault for. If I had received the box immediately upon cancelling my service, you would already have your equipment. But since I didn't get the box until last week, I returned it as soon as possible. I should not be penalized for your mistake. The time frame of returning the merchandise should be fixed. I cannot believe that there is no one at Dish that cannot fix the time frame on your automated system. I just cannot believe this and feel I am being lied to by everyone. I keep seeing on your website that Customer Service is your main priority. After this situation, I don't believe it. I thought that one day I would come back to Dish but after this I doubt I ever will and if for some reason, my back account gets charged, I am going to make it a point every day to let the world know about this company. I spoke to a lady today named Claudia #4T5 who was the rudest of everyone I have spoken to. She said she is a Global Expert Coach. Apparently, no one wants to get anyone above them involved. Noone really wants to help me. My account # telephone is 979-618-1080

Edward Huckman
from Austin, TX
New customer? Great, will be out the next day! Need repairs, such as an accidentlly cut wire. Will be out there in over a week (maybe)!, Doesn't speak well of serving present customers. If it takes that long you might need more service people! Dish is good until something breaks!!

MARTHA SENA
from Dallas, TX
got the service three months ago. and they stated would be cheaper would be 58.00 a month and now I pay 90.90 a month. I did been out of town for 6 weeks while I was gone I lost the Univision channel that I watch the majority time. when I call and want to terminate service I was told the 400 dollars to cancel the contract. I would like to file complaint that I don't feel I need to pay that termination fee since I was very unhappy with service and didn't use it much.

Lori Whitley
from New York, NY
it is sad when i was told that if i had bought the surge protectors with the extended warranty that my t.v. and anything else that was plug in to it was protected but i was lied to for the fifteenth million time. So for the second time with in a year I am having to replaced a t.v. and a play station four. like i am made out of money. I work and my husband is disable and when i am told something i expect for dish representatives to hold up to what they tell their customers and not LIE to them and if there is any questions involved please flee free to call me cause I am not only complaining but this will be put on social media and i will speak to my attorney about the whole ordeal. i do not like being lied to. my house number is 1-479-456-2113 if any questions please flee free to ask for me (Lori) or my husband (Doug) thank you.

Tamara Wolfram
from Moline, IL
i am sending in a complaint on behalf of my Father Donald Fuller Sr. he had Dish installed on the 15th of may, not 2 days latter he received a bill for an entire month. so now we are going on almost 4 months worth of bills with barely over 2 months of service every time i call to get answers i am told the bill generates on the 15th of the month how the heck does a bill generate the same day of installation when he had installed the same day why would someone be billed for services not rendered. this has affected him financially if i would have known this i would not have signed up for Dish, i also fallowed the directions for the promotion that you would buy out his contract from other service provider, nothing only seems like your company is out to screw people you pray on them. And when i call i get someone who speaks broken English, so that tells me the company is outsourced. i guarantee when his contract is up we will cancel and go back to Direct TV. and am also filling a complaint with the BBB. you cant charge someone for services that are not rendered. how can you send a bill 2 days after his installation for an entire month when he just had installed.

Gail Johnson
from Tucson, AZ
Dish Network brags about its 75-minute arrival time for new installations. I have now been waiting almost 6 hours. Your customer service reps cannot provide any information beyond the automated updates, which apparently mean nothing. You suck as bad as DirecTV.

Rosemarie Maddox
from Las Cruces, NM
I am complaining about not being able to get NBC on my Dish network! I am paying good amount of money each month to get the channels I signed up for and if you can't carry them than I want out! I have never complained about your network and have been satisfied with your services, but if you can't carry the channels I want then I want out and I should not be penalized if I want to cancel my service! If you can't provide me with what I signed up for you should let me cancel with no penalty!

Dana Horn
from Gulf Shores, AL
I am in a R.V we moved to a location where dish is not a provider pulse we get free satilate where we relocated I called to cancel service's they won't me to pay for services that I won't be using, that is unfair that you can't disconnect my service cause I've moved. If you can assist me please call 770-314-8117 if we can't get this resolved I will take this to an higher authority and tell my experience to family and friends ect. We are hoping we can work this out so other actions wonr be taken. Thank you and have a Blessed day. Dana Horn

Marie Boden
from Carey, OH
This is the 2nd time I've complained about Dish.....First I get charged more every month than what my contract says....2nf when I am told when I got the dish of $200.00 visa card and never receive it and then get the run a round about it....It's just too much.and when I do complain or ask anything I never hear back........I can't wait till my 2 years are up in Aug. to get rid of the dish....

Gayle Dotts
from Jackson, MI
On March 23, 2018 a DISH Network representative came to our house to install DISH Network satellite service, including local channel (Lansing, Michigan area). Instead of on installing the local channel through the satellite, the installer, Mark, offered to save us $12.00 a monthly if we purchased a $149.00 antenna that would bring in the local channel. I agreed it sounded okay and he installed the antenna and started to attempt to bring in the local channels. He was unable to bring in Channel 10 - NBC from Lansing. He was successful in bringing in Channel 8 from Grand Rapids also NBC. The estimated time it took him to tune in the local channels was 3.5 hours. He reported that he was able to bring in all other local channels including PBS, Channel 23 and CBS, Channel 6. He quickly flipped through the channels and then went on to try to sell us a 199.00 sound system.
On the morning of March 24th, we began exploring our new satellite system and quickly found that channel 6 and channel 23 would not hold a signal. We immediately contacted Dish Network support to see what could be done. We contact three different technicians to attempt to resolve the issue. None of these attempts worked.
On Sunday, March 25th we again contacted Dish to tell them that the antenna their representative sold us did not work. We were told that Dish Network was not responsible. And that the cost of the antenna could not be refunded, and we could not cancel the 2-year contract.
Dish Network agreed to send out a technician to add the local channels to the satellite service. This technician told us that the antenna should never have been offered to us because it was clear to him from the start that because it would not bring in the local channel. He tried to convince Dish Network to take back the antenna and refund our money, but they would not.
We feel that we were totally mislead by the first installer and Dish TV. We are quite willing to continue our 2 year contract with Dish TV but feeling they should take back the antenna that was sold to us by the installer because he said it would work and it does not. WE believe you should refund our $149.00 and remove the antenna from the roof of our house. In addition, I think your rep took advantage of us because we are an older couple and we do not always understand technology.

Marie Boden
from Upper Sandusky, OH
First I was overcharged on my bill, I was charged 96.85 and I looked on my contract on Aug.2016 that says 79.85 but I know that it was more than that all these months.....

Charles Gumbs
from Miami, FL
My mom had an appointment scheduled for three months now for a technician to come to her house and service the system her appointment was set for February 22, 2018 the technician called her asked for directions told her he is on his way and never arrived to my moms home she called him back several times he never responded. I personally called Dish customer service they looked up the event and saw the technician wrote nothing in the work notes for this customer and then told me and my mom all they can do is give us another appointment some time in April to the end of the Month . They can not do anything about this event if the technician does not show up we just have to deal with it . I am very outraged by this type crap why is my mom having to suffer by the event of technician not showing up why is he not coming the next day to complete his work assignment I would like someone to respond to me about this matter we should not be treated like this as customers who have been with dish for much years.

harold george
from Salt Lake City, UT
What the heck is going on with the cast list of movies and shows? When you open the cast list, half of the actors names acting in the movie will be blanked out but the movies they have acted in will be listed. Please get this straightened out. My next complaint drives me nuts. Whoever Dish Network has writing the summaries for movies and various shows has ran slam off the road as to what their job is. First off, they write the summaries as a personal critics view of the show( which I do not care to hear whatsoever) and if you just look at it, these people totally destroy the English language. It is very common to see single sentences with 40 to 65 words in them with no less than 18 adjectives in this one sentence. We do not want someone's critical view of a movie, just the facts and nothing more. And try to break all this gobbledygook into some short proper sentences without your personal opinion of what the movie is or isn't. PLEASE!!!! My last complaint has to do with some of the channels you offer on your program plans. Some of your shows are Alt-left liberal biased (CNN, MSMBC, BBC and all that other garbage ) and you don't have program plans that ban channels like this that push fake news all the time. I should not have to pay for channels I refuse to watch and will do something about it when my contract with Dish Network expires Jan 2019. You should let customers customize a special list of channels they want. I am also very displeased with the liberal propaganda being pushed on HBO, Showtime, and other channels like History channel, A&E, Science and the rest like that. These channels think they are forcing this propaganda down our throats but they are badly mistaken. I am going to drop the movie channels in the next cycle because of the fake news propaganda and if the bias continues to get worse on the channels you are offering, I am going to drop satellite TV completely. I can assure you I stand with millions of Americans that feel the same way.

Barbara Word
from Prescott Valley, AZ
On 11/11/17, I called to report a no service screen. I did all that was required of me, i.e, a reset and more. Nothing seemed to work.
That didn't work.
Spoke with rep who suggested Dish Protect. 15 minutes later, working with no assistance.
Called to cancel. Was told as I called back so soon, would be removed.
Jan 15, spoke to Ivan, 7FW who said I needed to wait until mid Feb to cancel or would get charged $30. He said I had to have 30 more days to cancel for no charge and be refunded.
Called 02/11/18, spoke to Leo, 1B7, waived $30. fee but would not be refunded from Nov 11/17.
I got 3 different mixed messages and very upset as never used and was not explained what the policy was in Nov. Again, I called right away, to make sure it was not in effect, and told indeed, it was.
Please clarify. I feel this is a scam.
Thank you.
Barbara Word

George
from Groveport, OH
as being a long with dish off and on for many years,i been having trouble with my cable tv having called over 10 times and paid 2 texts and one ele,service ,and still having the same problem,its a shame they don't have any ideal what it is,so why pay for something that don't stand by there service I have 10 more months with dish ,and Ill never uses them again,and tell all my friends about dish,,at one time you were great that's why I went back to you,,but no more ,sorry your going down hill.

Roland Spokely
from Phoenix, AZ
I received notification of the current increase in my Dish billing. I called to see if there was anything that could be done to help me with this bill, I had contacted Direct TV and was provided with an estimate of a two year contract with them.
I called the 800 number and after pressing various numbers I reached a gentleman by the name of "Colin" who offered to reduce my bill by the current increase, he was polite and mostly helpful. I advised him that what he proposed would not be sufficient, he transferred me to a higher level person(?) who told me she was "marie or maria" she had a slight accent. "marie" offered to reduce my bill to $93.29 with me being required to accept a new two year contract. When I told her that I did no feel this would be sufficient, and did not match the Direct TV offer she hung up on me.
Shame on her and shame on Dish for allowing an employee like that.
A saddened and disappointed customer
Roland Spokely
Acct# 8255909790043951

Annessa Burwell
from Hyattsville, MD
Dear Corporate,
I want to file a complaint on Dish. I am Annessa Burwell, and I was told as of 11/27/17 through John a customer supporter that there was a glitch in my agreement, which was auto pay for the next 2 years my payments would be $64.55 every 25th of the month. But Dish decided to change this contract to an extra $5 adding up to $69.99. Changing the price without my acknowledgement. Too, I have asked for a supervisor at least 8 different times,but I was told from Melissa the customer supporter that the supervisors were not available or supervisors are not warranted. Melissa told me 2 different reasons why the price increased but still don't know why my contract has changed without being notified in writing or a phone call. I feel like my contract was breached. At your earliest convenience can you please contact me at 240-293-6088 or email me at ms.ness41@gmail.com. I perfer a call.
Thank you,
Mrs.Annessa Burwell

jean paul moysset -8255909858660845
from Mission, TX
tengo ya casi tres anos con el servicio de dish en junio del 2017 solicite el cambio de servicio de san Antonio tx a mission Tx desde que el canbio se hiso puros problemas he tenido y puros recargos he tenido me han estado cobrando por una caja wirless que yo nunca ni tengo ni tube y ahora me disen que lo que me estan cobrando es por la caja que aqui tengo que es con la que me dan el servicio basico de 19dll y el servicio cada mes es de 40 dll que por impuestos que por puras escusas me dan el servicio q yo tenia no se me respeto es una escusa tras otra al venir y conectarlo aqui resulta que ya el servicio no iba dish latino plus mas dos televiciones si lo queria iba ser 99 mas impuesto asi q para no cancelar y pagar la multa de 300 deje el basico q es nada pero pago 40 y no es mas q canales de ventas y cada q hablo me disen no hay nada q haser no hay nada q haser es el sistema fue un error fue un error y no tienen nada q haser y cobrandome por halgo q yo no tengo
y yo tengo hasta mayo del 2018para cancelar el servicio porfavor nesecito de su ayuda a mi dish me encanta pero no se porque un error de dedo o de la gente que tienen trabajando lo tenga que pagar uno de costumer

Roland Barker
from Muncie, IN
To the Management of the Dish Network:
I am very disappointed in your customer service.
I have been a Customer for 30 Years. I have, for the most part, been some what satisfied with your service. However, for the last 2 years i have become very frustrated with your programming options and your lack of courtesy of understanding your customer needs.
I am currently looking into discontinuing my service!!!! looks like, after checking the blogs on the internet, your loosing customers right and left. Rather then to give me one Channel, which I enjoy, you may loose another Customer!!!! You offer nothing for old People, I'm 77 years old, a Vietnam 8 yr. Vet. sooooo having said that, I summarize this Complaint, "IT'S ALL ABOUT MONEY"NOT CUSTOMERS.............
THANK YOU,,,,, for 28 years of great Service.
ROLAND BARKER

David Okonowski
from Holly, MI
Lost channels 56&62 local channels i watch alot

CYNTHIA HOWARD
from Kendallville, IN
Moved and had service installed. Previously was using 3 joeys, but only required 2 for new home. Technical DID NOT inform us as to how to adjust our charge for the 3rd joey.
Had service cancelled due to horrible internet service and cost of it all.
Because I was encouraged to set up paperless billing by Dish, I did not notice the charge for the 3rd joey remained, and was being charged.
Called c/s to have credit to our account, but was told no because I didn't catch it sooner. On top of all of that, WE are being charged $12 per box to send back equipment. The $35 credit I requested could easily be added to the final bill with the $12/box charge.
I WILL NEVER RECOMNEND DISH TO ANYONE AND WILL ENCOURAGE ANYONE I KNOW THAT HAS DISH TO CANCEL THEIR SERVICE ASAP!!
It's suppose to be about the customer service, but Dish has not shown this at all!

Rose Cade
from Longview, TX
A few months ago you changed the menu font size.
I hate it. I can't read it like I could before. Could you please change it back to the way it was.

Joan Hanrahan
from Morris, MN
You have taken away several channels I watch, they are Pixl, additional Hallmark channel and DIY.
I want to know why?
I will be leaving Dish if these are not returned!!

emanuel kline jr.
from Wickliffe, OH
I called customer service on, 10/2 and explained to them that i thought something was wrong with my receiver box. They checked it out and told me that if I wanted a technician to come to my house it would cost me 95 dollars, I am not sure but I think she said 95 dollars it might have been more. Anyway I told her that I have been a customer for over 20 years and could I get some consideration on that fee. She put me on hold for a few seconds and when she came back she stated that she could waive all fees because I was a long time valued customer. She then schedule the technician to come out on Friday, 10/6. Two guys came out and said that I was getting a low signal because of the way the dish was positioned. They went up on the roof and fixed the problem so they said. They came in the house checked both of my boxes and said the I was getting excellent signal now. I ask about an upgrade since I have had these boxes for a long time. They checked for me and told me my bill would go up 20 dollars if I got an upgrade. They also gave me another option but it still would cost me too much because I am already paying 160 dollars now. Everything worked fine for 1 or maybe 2 days and then I started having the same problem again, cannot keep a signal. I called again today and told the person that I was talking to that I was having the same problem again. We went through the usual steps again and then she decided to tell me that she would send me a new box for 15 dollars. I explained to her that this is the same problem that they waived all fees for me before because I was a valued customer. She aid that because they came out before that she could not waive the 15 dollar fee. I said but it is the same problem. She tried to sell me a plan that would cover the fee but I told her that I can not afford to pay anymore than the 160 dollars I am paying, already. So we kept going back and forth and finally I said I will pay the 15 dollars, bill me. She stated that she will send me a new box with instructions on how to hook it up and how to send back my old box. I agreed. I am very unhappy about this whole situation. Then I get an email telling me that they are sending me a new box and for me to get rid of my old box because it is obsolete. If I am a valued customer they should of sent me a new box along with the 2 technicians on Friday. I pay my bill every month on time and have been for over 20 years, I would think that I deserve fair treatment for that alone. I cannot stress to you how displeased I am with this situation. This is how you loose good valued customers.

Paul
from Saint George, UT
I know you don't care what my complaint is. I called and cancelled my account around the first of August you have no record of that call you do how ever have a record of a call that i did not place on Sept 12th also cancelling my service and closing my account you then sent me an Email saying my service was turned off, so i called to pay my final bill on the 21st of SEPT they said the final bill would be sent to me, finally i received another Email saying that i Owed just under $500 so i called again on OCT 3rd and my account still had not been cancelled, so we cancelled it again the new amount to pay off the account was $570.68 I paid that amount Confirmation # 053546, I don't think it is right to take advantage of me, they said because over a year and a half ago i received new equipment so that put me under contract for two years even though the only reason i got new equipment was because my old equipment would freeze up all the time, so they sent a tech out to fix it and that was the only solution that worked, I have had dish before and the service has been poor the prices keep going up and no one at Dish appears to care at all. I am expecting that even though the Customer Service department took $570.68 from me and said that was everything that i owed you will probably charge me for something else and this will never go away, what a CROC.

Yunikka Harris
from Los Angeles, CA
I was driving through Bassett, VA around 3pm when I witnessed the driver of the van with license plate number VIA0138 swerve in front of my vehicle without a signal. Then at the intersection of Riverside Dr and Stanley highway he failed to stop at the light but slowed down throw the intersection as 2 vehicle were turning onto Stanley Highway. I kept my distance until I arrived at my destination to avoid his wreckless driving.

Larry Sali
from Albuquerque, NM
I went to the dish network dealer in Lake Havasu City Arizona 86404 on 9/18/17. Was told I would receive a phone call within 24 hrs. Never got one. Went back to store 9/19/17 am. I was told they would try to be there at 4pm if they couldn't make it I would receive a phone call and put on the schedule for 4 pm 9/20/17. Never happened. Went back to store 9/20/17 at 4pm. Talked gentlemen in the store and he called the tech. The tech was busy pre-wiring a house and was booked the next day as well and told the gentleman in the store to call the other tech as he did not have anything on 9/21/17. The gentleman in the store called the other tech and after 5 minutes of arguing with him because he refused to do the work tomorrow 9/21/17 he hung up the phone. So here I am paying for dish and everyone refuses to work on my system. My wife and I own 3 residence's that all have the dish network and we pay over 500.00 a month for your service. I can under stand that people get busy but not even getting a phone call is just plain wrong. I am dealing with Sound Bank in Lake Havasu City Arizona, phone number 1-928-855-1129. My wife is so upset she wants me to remove all of your equipment and use a different provider. My phone is 1-509-728-2342. If we don't hear from you I guess we will have our answer. Larry & Gayle Sali

Janice Richards
from Saint Joseph, MI
Hi, I am writing in regard to my dissatisfaction with the Polk DSB1 soundbar and DSB2 subwoofer I was sold during a technician's visit to repair my dish. Unbeknownst to me, these did not come with rear speakers, which I later learned are not available in my area. I was not advised as such at the time I purchased them, as well as not receiving any manual and return policy paperwork. Because the sound quality is not the same without the speakers, I have contacted Dish Customer Service twice to return them. Unaware of the return policy because of not receiving any paperwork, I was advised that I was beyond the 30-day return window, and, therefore, would not be able to return them for a full refund. I have tried to purchase the speakers directly from Polk (I was told they are exclusive to Dish), Best Buy (not available), Walmart (not available) and Amazon. In regard to Amazon, one of the Dish Customer Service representatives told me that Amazon sold the speakers I needed and gave me the information to order them from Amazon, which I did. I received the speakers and proceeded to install them. However, these were not at all compatible with the Polk system and were not even wireless. So, then, I had the hassle of returning them to Amazon. All I want is to return the Polk soundbar and subwoofer for a full refund. I have been a loyal Dish customer for many years and do not feel this is too much to ask. Thank you.

Jonathan myslinski
from Chicago, IL
I called in to get a extension on my bill and the lady said I could get till September 2nd and I said that's not long enough due to i started a new job and need till the 11th of September. Then she was like just call back on the 2nd for another extension. So that's what I did. When on the phone for over 45 minutes, they say that can't do that. Why would I have called if they can't do that so now I'm out of tv till the 11th because of false info from an employee. B's

Trudy Woodby
from Johnson City, TN
I have been with dish network for 9 years I have never been late on a bill. I have always payed with a money order several months back I got my bill I put it in the mail the next day I started getting threats on my TV if my bill was not payed in 48 hours I would be disconnected well I called and told the person it was in the mail please don't turn it off I ask what was going on and to this day no one has told me any thing well my dish was turned off.
I could not believe it so I told them not to turn it back on they never would send me a box to send the receiver back and my dish got turned due to them getting my money order now I have to pay extra at the Wal-Mart so I don't get turned off.Then the next month my bill went from 75 a month to 82 same crap I called and I still don't know any thing. I get my bill for march and its 95 dollars I am on a fixed income if something is not done about this I will have to go with cable I don't want to but this is not right.

James M. Hall
from Ocoee, FL
Since we have not had NBC and CW for several weeks, will there be a reduction in our bill until the conflict is resolved? Thank you for your time.

Jimmy Howell
from Hattiesburg, MS
I am the victim of a bait and switch program by dish network. This bait and switch operation advertises a wonderful DVR receiver on the internet, but what you get is a piece of junk. You cannot watch one channel and record another. I did not discover this problem until the technician had left. I called to complain but was told to get a receiver that actually is functional you have to pay 5 dollars a month more than their quoted price for a year and then it goes up to 10 dollars more a month for the next year. This is in spite of their advertisement that the price is not supposed to change for two years. They said that really didn't apply to this situation. I already had disconnected my Direct TV service. My dish is down on the ground and all my equipment boxed up. I agreed to pay the increase since I had no choice at the present time, but I am going to pursue this possibly illegal and definitely shady scheme as far as i can.

Sandra Dean
from Chicago, IL
I called a few months ago to let Dish know I was having problems with my Dish. I was told they would send out a Service Tech to check the problem.He showed up as scheduled and replaced our box. At that time he stated he was in a hurry to get finished and asked me to sign his hand held device. I didn't have my glasses and he was in a hurry so I asked him what it was I was signing and he said "its just saying I completed the work today". I called to cancel my Dish on 12-12-16 and they told me i had a 2 year contract now. I didn't find out until 12-12-16, when l called to cancel my Dish, that they did not make my old 625 box anymore and that it was upgraded!
I knew he had to replace the box because the old one wasn't working but didn't know it was an upgrade! I had only called for a service tech to check our Dish because we have had a lot of problems. I also was not told by anyone that I was getting am upgrade and the upgrade would require a new contract! I have been with Dish for over 11 years and very upset with all the aspects. I disagree with the way Dish handled everything! Not single person informed me they were putting ne in a new contract!! I have notified several other Dish Network customers and have had three to cancel their service because of the way Dish handled this as I was unknowingly put in a new contract . The 3 previous Dish customers were afraid Dish would put them in a new contract for calling for a service tech.

Mrs Terrie Johnson
from Gretna, LA
Simple, I made arrangement with one of your representatives to pay $142.00 on my bill and she stated that my cable services would be return once it was paid. The following week I visited my bank for business and discovered over $200.00 dollars was drafted out of my account and my service was terminated. I found out that you all took out termination fee instead of the $142.00. I am highly pissed. Trying to recover from surgery, and has been out of work with no pay for 3 months what I am saying now is that I discussed my hardship with the representative and that is when the $142.00 was arranged. This is bad business.

On November 2, 2015 at a Kiosk in Mayaguez, Mall Mayaguez, Puerto Rico a Third Party retailer I believed his name is Angel offered me a 1 (one) year promotion of Dish latino at $29.99 for only 12 months, under any circumstances he never told us that it was a contract for 2 (two) years and that at the end of the 12 months we had the options of either continue with the service or terminate without further obligation.
A few weeks ago I contacted dish to terminate the service because I do not wish to continue due to several reasons. The employee told us that if I decide to terminate the service that I had to pay Dish $240.00 because according to them I signed a contract for 24 months. I replied thatI never signed any documents whatsoever and that the agreement with the retailer was for only 1 (one) year.
I later called Dish and spoke with Judy Salas I believe is her name and explained her the problem, she told me that if I could get a copy of that contract and it was not my signature that the contract becomes null. I went to Today's Satellite a they provided me with a copy of the such contract and to my surprise someone had signed for me. I am sending you copy of the contract.
As of today the services had been disconnected temporarily until the problem is solved but are charging $5.00 monthly. I have two accounts under my name and both were under that agreement.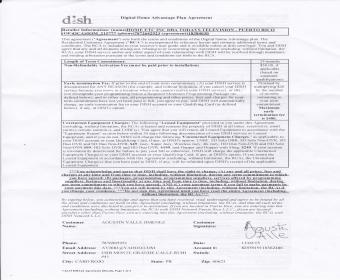 Farlcher Earle
from Bailey, NC
I received a phone call tonight; 11/26/2016 @ 6:33 pm, from this number: 800-333-3474, at which time I was informed that over the course of the next few days, I would lose my current programming if my receiver was not compatible with the newer system Dish was supposedly rolling out. I was also told that "I" would have to pay $150.00 as a one-time installation fee, coupled with various discounts that would reduce my present monthly bill from $96.00+ by $30.00 or so for 1-year.
I informed the gentlemen that I am a disabled veteran on a fixed income, with absolutely "NO" extra money just lying around to use for instances such as this! Furthermore, I have been a loyal customer of Dish for 6-plus years, and you would think that if there's any newer technology afforded your customers, you would think that a customer that has paid his account on time; every time, would at the very least be "given" the necessary upgrades without charge, but according to the "floor supervisor" that I spoke with tonight, some of Dish's customers in 2014 or 2015, decided to leave the company, and when they did, they didn't bother to return the receiver or the remotes.
I was made to feel as if "their" lack of moral judgment and outright theft is somehow my fault, because I was also told that the $150.00 is the result of those former customer's theft! In conclusion, if Dish wants to show their appreciation to one of its most loyal customers [I even stayed with your company back when the local programming was taken away for weeks] by either taking away my programming unless I pay money that I do not have, then I say come get your equipment once the new system comes online, because I cannot pay anymore that what I am currently paying. Until now, I held Dish in high esteem for customer satisfaction, but after this, I'm at a loss for words!

harold jason
from Sherman Oaks, CA
Dish online advertises: "Build a home entertainment experience to fit your needs by changing your package, customizing equipment or selecting add-on programming to see a customized price for you." for $ 54.95 for the Americas top 120 + service. Yet, when I contacted them I was forced to pay $ 64.95 even when pointing out that it could not only be intended for new customers as i was told, as new customers don't change there packages they select package.

Don't carry local sports channel affiliated with MSG. Called customer service, got a total brush off from someone who could barely speak english. I calmly asked questions involving contract situations and the dish representative got a little animates and raised his voice in frustration. Time Warner Cable is finally making its way down my street and the frustration of dish will be gone.

Lori Tash
from Fulton, MO
I asked to have my dish really realigned. I had I put on a pole since I resided my home. I was informed I would have to Pay $95. Or 8.95 for a protection fee. If I have to pay either. I will pay both early cancelation and go to directv. I haven't been with your company long. And the one time I contact you I'm being charge. I'm not happy and have no problem going to directv. I'm not impressed. I shouldn't be penalized for improving my home.

Dish Network doesn't have the world series Game 7 listed on the TV menu. Just the most important baseball game of the year. We missed Game 6 because the game wasn't listed last night either so the DVR didn't record it. In Longmont Colorado we are getting Gigabit Internet since we started our own city owned broad band company, dumping Comcast, Xfinity and all those rip off internet non providers. We will switch to all Internet based TV and shows, maybe get Hulu and get free shows directly from PBS.com and the network .com web sites. Get High Speed internet and dump these over priced cable tv and satellite tv companies.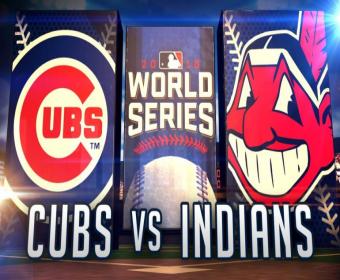 Ken Lawrence
from Tempe, AZ
I recently got dish network. As part of the installation, the technician reconnected my own DVD player. However, it does not work as I don't know how to activate it as it relates to the dish network set up.By the way, your customer service people suck as they said it was not their concern and couldn't help me! Really?
Have feedback for Dish Network?
Thanks for your feedback!
Sorry. Please try again later!