Denny's
Denny's Complaints Continued... (Page 4)
384+ reviews added so far. Upset? Call Denny's corporate: 1-800-733-6697

I had breakfast with my a friend this morning at Denny's. I was repulsed by the dirty plate my breakfast was served on.
I notified my waitress that my plate was dirty, she could see that it was indeed dirty, she said that she was sorry about that and told me that she would get me a fresh one. I watched as she sent my plate back to the kitchen, a minute or so later she returned with my breakfast not freshly made but transferred to a different plate, needless to say I couldn't eat the recycled breakfast. I informed the cashier about this incident, she said the manager was not available, I told her that this was a health risk to say the least I told her she gave my my change and told me to have a nice day.
This is not my first bad experience with Denny's but I assure you it is my last. I am looking into filing a complaint with the health Department, cross contamination was a risk if I had eaten this food.

Hi. My Son and I went to eat at the Denny's #6782 on 9/28/2012. It was my birthday so I decided to come in for the free meal(Grand Slam). We had two waters,Grand Slam and The Chicken Cordon Blue and a coffee. I asked the waitress if the Grand Slam meal was still free on birthdays and she stated," yes." The meal went without any issues I then paid and it was roughly $8.00 so I rounded it off to$ 10.00 with tip included. Currently,I'm checking my Capitalone account and I'm being billed $24.02 for the same birthday meal visit to Dennys. Now I ask,What is going on and how is Denny's going to remedy this situation?
Sincerely,
Alan Armesto
1312 Lauren Drive
Burleson,Texas 76028
bluesmendoza@yahoo.com

Today (1-23-2012) at 3:00 p.m. we visited Denny's on 46 in Sanford, FL. We ordered our drinks and just rec'd them and
this man started spraying the whole dining room. It was a sprayer like you would use outside and a lady held the hose as
he sprayed. When she went by our table she looked at me and gave me a big smile. Our throats made it hard to breeze so
we got up and left and went to Denny's on 436 in Altamonte Springs in FL and the restaurant was beautiful and the service
was great and the food was excellent.
I have never in my life had something like this happen. There were several employees around and no one said a thing.
We are seniors and we eat out every day and this was jut uncalled for.

My family and three friends entered Denny's approx. 10AM, Saturday, April 13, 2013. Denny's was packed and there were a few people waiting at the door. We waited our turn, but because there were seven of us, the place was full. We decided to wait when I saw a table open next to the restrooms and because there was no one else waiting, seated ourselves thinking that the waitresses running like chickens with their heads off would appreciate it. We eat at this Denny's sometimes as much as 4 to 5 times a week and everyone there knows us. We were not in a hurry and our party was seated when (Deb-the manager) came over and very angerly told me off infront of everyone. She stated that I can wait to be seat!!! Can you read?? And that she was short staffed and did NOT appreciate me seating my family and friends myself and that I was inconsiderate. She was very hot and tart with her words and actions at our table. Everyone was blown away for a few minutes. I explained that I thought I was being helpful and did not mean to up-set her or her routine. She said don't do it again, and as she walked away smiled and greeted the other customers. They just looked at her and then looked at us. I am VERY hurt to be treated this way and in my opinion over what I believe to be nothing. Yet told off just the same to make her day. I hope she got what she wanted. Our friends were not impressed. The woman is a manager of another restaurant and after Deb left, Jo looked at me and asked if I wanted to go somewhere else. I told her no because we were seated and I did not want to make a scene. I don't know about our friends, but as of now ----------we will not be seen or serviced at your Denny's due to rudness uncalled for. We have even on routine times had call-in orders to take home. "No More." I will find people who can be thank-ful for kindness and never rude. I believe someone else will now get our money and we will take their serve in kindness!!!!!! Sincerely, Sheryl Boze
P.S. If you have any questions, feel free to call at 812-985-5649.

I was in your restaurant in Anderson SC appx 1 week ago and ordered a meat ball sub. They took my order and came back out to tell me that they do not have any meat balls in stock. I understood and changed my order. I went back to the same Dennys today and ordered an appetizer sampler only to be told that they are all out of cheese sticks. I once again had to change my order and got chicken fingers only to be told there was no honey mustard. To me this is an issue. Its obvious that it is a busy place but I can think of several other all night restaurants that never ever have said they are out of food. I think it may be a good idea to look at management because i know they just got a new manager and then all this began to happen. Thanks

the one thing a costemer is looking for is a good cup of coffee, but when it tasts like hot iodine dou to the hi amount of clorine in it , as well as thay are charging $2.09 for a cup too boot, you might as well as put a sign in front (don't eat here)the wefe & i have passed up dennys for 20+years becuse of there cardbord hashbrowns (whitch thay have finly fixed) but the coffee is the last straw! PS. this type of coffee put winchels out of busness years ago,( due to first hand experance in the 70's). the menue has changed through the years for the better & the wife & i have been going there often, but tell the idiot who's pushing the buttons to fix the coffee NOW! thay said that thay filter the water but thats so mutch BS!!! Bullhead city Dennys location.
=

This past sunday my family and I decided to have lunch at dennys located at 3580 S wadsworth Lakewood CO. we had a decent dinning experience but when we left the restaurant it was when we realize how dishonest the employees were. My son was playing with his IPod after he finished his meal, got up and went on to the restrooms. We left not knowing he had left his iPod behind, as we got to the car within two minutes we realized he had left it in the restaurant. We went back to check the table and it was gone. (Also the tip was gone, and the table wasclean) When we asked the staff about it they said they hadn't seen it. But its imposible that within two minutes and after they cleaned the table for no one to see anything. I am not expecting for Denny s to pay for my son ipod because at the end it was his mistake for not taking care of his belongings but I do expect for dennys to hire honest employees. In hard times like this the restaurant should be trying to keep customers happy so they can keep their businesses, as for me and my family we are never returning to a Dennys.

I ask for my receipt after paying and owner just grabbed it and said that the receipt from credit card payment was the only receipt for me to keep. Whe he had already put away the first copy and he still kepth the second one which is the customer's copy. I wonder why he didnt want to give me my receipt all this happened at Denny's #8019 4760 East cesar chavez Los angeles CA 90022 on 12/13/12 around 10:35 am

I came in to Denny's today around noon (October 21 2012) and ordered a half order of nachos. Its What I always get when I come there. The food that I received was repulsive. I didn't eat it I hate to complain and be a burden but I aske for a new order. I have a picture of the food I received. There was huge plate of semi soft chips. On the far side of the plate was a small blob of meat and a tiny blob of cheese and salsa. It was enough for maybe 3 chips.
I was shocked the waitress sat this plate down and was content with it. Me and my friend whom I was dining with we're shocked and just stated for a few moments. Then when I went check out I walked up to the register because we waited about 45 minutes for our check that never came. I asked the waitress politely for it after eating. I do understand she was busy.
When I checked out my bill was for a regular full order of nachos. I was so upset an displeased I just paid my bill and walked out. I am strongly disappointed with the services I received today and now have a new view of Denny's.
-mary say

Myself and my boyfriend went to eat at denny's in bourbonnais Illinois around 1 am on and this particular time i didn't order my usual, I order the All American Slam and when my food came to the table my eggs was to to over cooked my bacon was almost burnt my sausage was under cooked my pancakes was cook on a dirty grill ,i could tell that abou my pancakes because they had the black spots all threw them. This was just not right because i love denny's i go to denny's alot regardless of what state im in but this was unacceptable.

dennys in las cruces,it seems to go nowhere tp speak or tell concerns to the management.there is favoritism withn management.employees living with the management.so they get hours and a paycheck.other employee dating the person who lives with management,who hangs out with the other manager getting other employees hours and extra hours to get a paycheck. our gm is best friends and hangs out with a server who is not even 21 yetand gets hours and a paycheck.employees that work their butts off get nothing but cut hours and hassels.employees taking breaks longer than they should no write-ups.employees constantly late no write ups because they are friends to management,while other employees who come in late get threatened to be written up.a manager who openly states he hates his job and doesn't want to be a manger. no professionalism or fairness in this restaurant.customers openly complain about the management.

Hello, I have been a loyal, bi-weekly customer at your establishment in Merrillville, IN for almost three decades. However, due to some extreme managerial issues, I regret to inform you that I will not be returning. Today when I sat down, there was no silverware at my table, nor any tables around me. For the third visit in a row, the orange juice tasted something awful. Aside from the juice, another consistency of your business was the manager's habitual "chit-chat" with employees; it is rather quite distracting.
Now, I may not run a restaurant, but for eleven years I have been a CEO for a rather large grocery store, so I know how to run a business. I know that is it a manager's obligation to perform any task needed when it can not feasibly be done by other employees, no matter how minute. Our server was adaquately busy with tables, so it would be the manager's duty to make sure that I had silverware. Instead, she stood gossipping with two of her servers. Throughout my meal, she ceeased only for a brief moment from her drivel. When I went to go cash out, I overheard her (I believe her name is "Cindy") talking very inappropriately about a pregnant server of hers. She was speaking very personally to three other servers. This type of behavior from any manager is unacceptable . I find it funny though, because the server she was reffering to, I have had on numerous occasions, and not only is she a dilligent worker, she is extremely delightful. It made me sick to hear your employee talk so ill of her server.
In addition, a few weeks ago I find myself coming out of the bathroom when I overhear your manager send two of her cooks on break. A server replies: "But Cindy, we'll only have one cook, and the rush is about to come in". Cindy replies: "no, we'll have two cooks". The server replies, " 'So-and-so' is just a trainee, he's not ready yet". Cindy replies, "No, he'll do just fine." Unfortunately, through no fault of his own, he didn't do fine; my bacon was burnt, there was no ham with my Lumberjack Slam, and there was no butter on my toast. Instead of putting all of her faith in a trainee, your manager should have been back there herself cooking my meal. I feel highly embarrassed for your company that your hourly employees seem to know more aout how your business should be ran than their superior.
For every successful business, there are successful people running it. There is nothing about your business in Merrillville that says "success" except for the serving staff, and on a slightly milder note, the cooking staff. There are serious flaws in the chain-of-command, as I have heard numerous employees use profanity and disrespect towards management to get what they want. But the thing is that it works, so who can blame them. As I have said, I attend your establishment twice a month, and let me tell you, business for you today has declined rapidly over the past 18 months. I implore you to fix your problems before customers like myself, begin to dine elsewhere. I am highly disappointed that my nostalgic days at your restaurant have come to an end.

We arrived at the Denny's store number 8633, at 1305. E. Monte Cristo Road, Edinburg, Tx. Flying J at 9:30 pm on Jan. 18, 2013. There were 6 in our group. We were seated then waited 15 minutes before a server came to the table, the business was not busy. After our order was taken, we waited 30 minutes and then asked where our food was and the server said they were waiting on the cooks. Another 15 minutes and part of the food came out, but it wasn't right, still no silverware. We had to get our silverware ourselves from a tray. 10 more minutes some more of the orders come. We have complained to manager, he comes back and writes down what we are missing, another waitress comes over and asks what we are missing. 10 minutes more food comes, but some of it is wrong. They do not fill water glasses, but when they finally did, the glass they brought back were dirty with yellow water in one and a lemon seed and debris in the bottom. Another 10 minutes the rest of the food comes after telling 3 different people what we were missing. Altogether we were there 2 hours!!! I had ordered a hush puppy sundae and it took an hour and a half to get it. Then the hush puppies were fried in old grease. Then the manager only was going to give us our AARP discount, I argued and finally he gave us 50% off. It should have been FREE.

Wow Denny's way to go!!! Plain clothes detectives in the city of Belleville, Illinois decide to patronize the local restaurant and are treated like criminals. Police officers that risk their lives everyday. Supposedly after a diner complained they are asked to remove their weapons or leave, because they are following department policy they cannot remove their weapons.
Their badges were visible and they identified themselves and were still asked to leave! So once again anyone carrying a weapon is presumed to be evil. I cannot believe a place of business would not welcome a police presence, I am not a police officer nor am I related to any, or close friends with anyone in law enforcement.
Now you claim it is a misunderstanding how can that be they had badges, identified themselves and were still asked to leave. The only people I believe would feel uncomfortable with armed police would be a criminal, perhaps the person complaining had something to hide. The manager involved should be fired.
Remember these are the same police officers that serve and protect with the very weapons they had on them! Denny's should be ashamed an official apology from corporate is in order.

On Monday 10-01-2012 at approximately 5:10 and Monday 10-15-2012 at 5:20pm my daughter (10yrs.) and myself chose to eat at Denny's. Both experiences were similiar but on 10/15/2012, it was worse. Denny's was not busy and had approximately 10 tables occupied. We waited approximately 10 minutes staring at a sign which read " It will be our pleasure to seat you", yet it did not feel that way. Then we were greeted by a guy in a tie who apparently could only say, "booth or table", which I responded "booth". Another 10 minutes went by until a waitress came to the booth. We got drinks and ordered, and then waited 45 minutes for a Jr. Grandslam and a Blueberry Pancake meal (i.e. one hour and five minutes). My daughter initiated the idea that we shouldn't come here anymore, "cause its so so slow". Yet we watched at least 3 cooks and 6 waitress act like they were having a great time. We ate it in 10 minutes, and waited again 10 minutes for a check. As I paid, the young girl said, "how was everything?", so I said, " It was terrible, we waited too long, and it ruined the rest of our plans this evening (i.e. which was dinner and a movie). The young girl replied with a dumb young chuckle, and took my money. It made me wonder why she was even trained to ask that question (i.e. since she didn't want the answer or the truth). It was a great evening with my daughter but a very lousy place to take her and wait a hour and a half to have some pancakes. I got her that evening to take her to the movies, and the delay and poor service, effected the remainer of our evening. We could have gone several other places, or have just cooked the pancakes myself at my home without any problems, which I'll probably will do next time.

Entered at 2:30 am New Years Eve /Day next to me and wife dirty unbiased table.food took 38 minutes to come to table during that time table next to us remained dirty. Upon receiving our food Burger looked in like a Burger top bun rock hard 8 fries on the plate no Bacon on Burger as ordered and burger ice cold.
No manager on duty to address the problem they apparently had left for the evening /morning so just hourly employees server cook OVERWHELMED in ALL areas.

5/1/2013 Went into Denny's resturant in Amarillo, Tx for breakfast 9:55 in the morning. Waited approx. 15 minutes to be waited on. Finally made our choices off menu and waited another 20 minutes for the waitress to come back for our order. Got that taken care of and waited another ( I timed this part to the minute) 48 minutes to get our food. This kind of service is bad enough but, when your food is cold when you get it and by that time squeezed for time, we did our best with eating it. I asked to see the manager and was told she wasn't there. While this was all going on we started noticing folks getting up and walking out in disgust. This was the first time we'd eaten at Dennys in a good while and, will be the last. It's I-hop or the Waffle House from here on. DONE WITH DENNYS.

I was in the denny's sunday february 24th in the evening and the dirty person cooking was discusting and servicce was to be desired. we had to ask several times for refills of coffee, extra napkins and waited for service. tried again tuesday february 26th in the morning with a party of 26 and the floors were wet and dirty, coffee cups dirty, and waited for almost an hour for coffee because they "only have 1 coffee pot. alsso didn't take our orders and when they did take the orders, there was a very rude and nasty server that wasn't even helping had to mouth off to a few of the patrons. another thing one of the men went into the restroom and said there was mold growing on the urinal. discusting!!! i have been in there before and cups still had lipstick on cups that were supposed to be clean. ugh. another thing there was water all over the floor behind the counter and surprised the servers didn't fall. wish you would clean up or close your restaurant. not fit to even go there.

On Monday October 29, 2012 around 11:30 AM I went in to Denny's 1493 US 74a Byp Hwy Forest City NC to eat. There was a man and a woman sitting at the table across from me with a poodle dog in his arm at the table where you eat. I asked the manager about the dog she got smart with me with tone in her voice and said, they have papers for the dog. Then she went on to say to another person at the bar that I said something about the dog. I let her know that it is nasty. I dont think dogs and people should eat at the same table.

I have never seen something like this. 12 at night and the manager leaves with dirty tables and costumers coming in with one server on there are 6 full tables right now full with people n 4 groups of people. O. Wait one girl that's been waiting for 20 min for take out n didn't get to order and left. I sat and waited for 15 minutes before the server gave me my check. It is very wrong that the manager just left the reasturant like this. I do not appreciate his actions what so ever. He should of either stayed a while to help or had another server to come in and help.

I went to the Denny 's on Northampton Blvd, in Norfolk, VA around 745-800 am on Friday, March 29, 2013, which happened to be my birthday and I was going to get my birthday grand slam. We walked in the restaurant and there were 3 tables full and 1 waitress on the floor.
She said I will be right with you, went to the back got a full tray of drinks for 2 of the tables brought them back delivered them, about 5 minutes later, and again said BE RIGHT WITH YOU, instead of saying seat yourself or something like that...so finally after about 10 more minutes, we LEFT!!!
I was so upset because she should have had someone there with her....instead of still waiting on the tables, and it was NOT BUSY!!!!.....This is not the first time I have encountered this problem with this restaurant, but it will be the LAST time i go there. .. Obviously it is POOR MANAGEMENT....NOT TO HAVE 2 WAITRESSES FOR THE BREAKFAST HOUR....please!!!!
So finally my friend said lets go over to the Newtown Road one, which we did....We walked in the place, and got seated as soon as we sat down, and the service was EXCELLENT....I spoke to the manager there and they said they have heard that several times about the one on Northampton.... you all need to get better MANAGEMENT there.......

Joseph J. Nagy
from Port Saint Lucie, FL
We sat down to order and were told the coffee was not ready (at 4:30 Dinner) after ordering 2 tables whom came in after we did were served. After waiting almost an hour we left without being served our dinner (only eggs ) we did get our drinks after waiting for the coffee to brew for 5 minutes! But the wait staff had lots of time talk talk with each other as well as friends who did get served!

Terry Bell
from Mabank, TX
we arrived at 9:24 p.m. four employee's at register and none seated us for several minutes nor would make any acknowledgement that we were there later one told one so seat us...it took about 25 minutes to get our order and not but a few in Denny's. Toast had been crushed before toasting, bacon had no taste and half of one piece was missing, waiter spilled tea in a large mess on table and walked away not bothered to clean it up..lots of talking from kitchen with breaking dishes...coffee poured with lots of bubbles like someone really shaking it for a while before bringing it unknown why.....never seen that before... to a foam..on top...order number 307014 did not want tip on card unsure what happened when I left I didn't say anything to employee's about service. I would rather have you handle it seems to make a difference because I feel Denny's corporate office cares we eat a lot at different Denny's and you can see problems if present...this was at Canton Texas on i20.

julie kleve
from Wailuku, HI
I went to Dennys because I have been told how wonderful they are. I ordered fish a new item on the menu this was a Sunday afternoon. the waitress said they were out of fish. So I ordered something else. she never came back to see how it was I wanted a refill on my water witch I never got. I will not be giving anyone a good review on Dennys.

Ana L.
from Santa Rosa, CA
On January 25, 2015, I took my handicapped mother to the Denny's Restaurant at 1140 Hillsdale Ave., San Jose, CA 95118. It was 10:00am and the restaurant was not full, yet I had to sign-in. When I signed in, I put I wanted a booth. Although there were booth available, the waitress that came to seat us, purposely put us at a half table in an area that was not a good spot for my mother with weak knees and a cane to sit. When asked for an available booth, the waitress rudely said no. At this point, we left. The waitress was rude and seemed to take pleasure in telling us we could not seat in a booth. What kind of customer service is this; especially when Denny's is an AARP company and my mother is 80 years old. Rude, horrible, obnoxious behavior by a waitress.

Me and my mom wanted to check out the new Denny's, and we got there about8:45 am. We ordered pancakes and Moons over my Ham, It took 25 min. to get our breakfast. I had to wave down a waiter for more coffee HIS name was Luis i do be leave.couldn't get eye contact with our waitress . I did not get her name ( but she had red hair). Our waitress didn"t even come over to see how we was doing. As we was waiting for our bill, i noticed Deana, another waitress as i had told my mom i wish we had her... She had checked on her customers and also apologized to them for not bringing them coffee. She was working clean on the other side of the room., plus where i was.Don't get me wrong We will not stop going to Denny"s. Just wanted to try the new one. I was not impressed with the manager ether. i had told him i was very impressed with Deana and he said i was just saying that, she's probably your daughter. i have 4 boys no Daughters . i wanted to tell him about our service and he snickered and left. REALLY. The food was blaw, I over looked it sense the grill still needs to be brook in. i was a waitress for 20 yrs and i started at 17. So i know good waitresses. i didn't have any money to tip Luis for being so kind with a smile. i had ask the cashier if i could leave a tip on my credit card for Luis and she said no. she was a Jewel also. So i didn't leave a tip. Felt bad, but oh well. I do not have The ID # for her. i have a receipt only. I hope you don"t just throw this under the rug.

Marcellus
from Williamsburg, VA
hi
my name is Marcellus, and I had apply to you restaurant about a mouth ago. I was called in for two interviews for possible employment. the first interview went extremely well hosted by Dianna I believe. the second by a young lady name nicoletta... nicoletta than called me a day later to come fill out information such as w-2 contact information, etc. when I first walked in the door she and the GM were at the host stand talking. and told me to wait while she got the paper work, while I waited the GM never said a word to me, shook my hand, or acknowledge me as a rising stars the GM left 5 minutes after I arrived. while she was telling me how to fill out my information I had my cell phone out to get information off my phone and she demanded that I put my away and told me that if I had a problem with that I could leave and go else where, although I wasn't employed there yet she made me feel unwanted and unwelcome,
This restaurant has been getting negative reviews such as poor management mostly, some employee having issues with cashing there checks and having to travel nearly 30 miles to cash the own pay check, or checks bounces, are you serious!
for someone who has been giving an opportunity to work in this country and get a management position, she need an attitude adjustment . we don't treat people like this and we don't talk to people any kind of way, I've been in Williamsburg all my life. this is my town and the hardworking peoples town. When some like that is running a company like this they need have a respect for the people that work there and eat there as well. I will go to the papers if I have to, even though I choose to not lower my standard by working with a manager like that, I still care about the hardworking people who work there, and people that spend there hard earn money there. something seriously need to change in that stores location. thank you and have a blessed day

Richard Armstrong
from Huntsville, AL
On 1-14-2015 I ate at the Denny's in west Memphis Arkansas that is I the flying j truckstop. I wasn't greeted whatsoever... And then had to wait over 10 minutes to place my drink order. Stellar service indeed!! Then when I placed my order.. I seemed to have aggravated the very rude and RACIST girl.. As she muttered "white motherfucker" walking away. Never again will I step foot in this or any other Denny's..

We waited over an hour for our food. Then they brought our drinks out on dirty cups. When we order take out they leave out half our food.

I slipped and fell in their store. They didn't check to see if I was ok. They all just all called me a laid and walked away.

Went to Denny's in turnersville got seated ordered food right away people were seated after us like 6 or 7 tables we waited almost hour for food we had to go up to ask where food was manager nor waitress ever came to tell us what was going on is this how a business is supposed to be run

This last week my wife and I were eating at Denny's off of White Bear Ave just across from Maplewood Mall, MN. When a person behind my wife took a couple puffs off his e-cigarette. It was just like someone was setting on your chest. When I did make eye contact with that person then he put it away. But the vapors and smell was in the air for everyone else to enjoy. I did call this complaint in and was told your policy was not against anyone smoking them. If you would please take a good look at this web site. It was on national TV so a lot of people had to see it if not glued to a ball game.

Saturday, March 29th around 8:45 A.M. Kayla seated us took our drink order, brought them to the table and left quickly. She didn't return for 10 min. When we said something about how long it took, Kayla got very smart aleck with us for another minute or two. Food came out quickly and was served by another waitress. Then Kayla passed by the table again and made another smart aleck comment walked on off looked over her shoulder laughing. The order was not exactly right the first Time. She could have just apologized and all would have been well. Politeness goes a long way in earning a tip in my book.

My wife and I went to Denny's in Hemet, CA #7081. March 27th 2014. I had "cowboy steak" with hash brown and pancake sides with coffee included. Meal was excellent as it always is. Service was excellent. However we didn't finish our orders, so we asked for "2 doggie bags".. waitress brought them. We boxed them. I paid the bill , went to restroom , then went to table to leave tip and pick up doggie bags.. They were gone. I went to the manager and asked for them. She came back and told me they had been thrown away. I am very sad and disappointed. I have been a customer of Denny's for over 40 years. I feel I should have coupons for our next meals at Denny's. Thank you. Clifford Allen 435 Northwood Avenue, Banning, CA 92220.

On march 22nd 2014 I was fired from Dennys Portage,In) for no reason it wasn't job related,. I was getting an interview for a second job across the street from Dennys and charleston (general manager) came in and purchased alcohol and he saw me being interviewed and told the owner of the business I wouldn't hire her she's bad news. the owner where I was being interviewed told me what charleston said. I was shocked at that . I went to work at Dennys that evening I worked three nights a week at Dennys and Charleston told me to leave and enjoy my job across the street.I cannot believe he was so rude and I never missed a day or was even late all the time I worked at Dennys I don't think that was very professional of him. He told me not to call corporate because their would not be anything done about this situation. Thank-you Judy Husk (219-654-4058)

My husband and I love Denny's and always treated very nicely but not today. First of all, we had to wait to be seated. Not too crowded but still had to wait. We were placed into a booth where the seats were torn. We got up and moved to the next cleaner/nicer table. Our waitress left to get us coffee which we had to wait for some time.
Our waitress then seated two more people across the way from us . She then returned to give them their drinks but we never got ours. We got up to leave when she approached us and told us a new pot was brewing. Why didn't she come back to tell us that? We do believe that was a down right lie. I asked for the manager and when she came out the first thing she told us was "Well you changed seats, didn't you? Why did that matter. I told her the reason we changed because the seat was all torn and broken. The manager was not nice to us at all. Whatever happened to the customer comes first?
The gentleman that is usually the manager we see, is very very nice and we know he would have handled the situation differently. Makes you wonder, how this woman got to be the manager as she was not very clean looking. We left knowing we will never return to that Denny's again. The manager left and picked up for the waitress and blaming us for changing seats. Shame on that manager and blaming us when the blame should have been put on the waitress who failed to return with our coffee. Put the blame where the blame should be. Thought Denny's should be made aware of this situation. Also maybe take a run over there and see that it definitely needs a good cleaning.

I got charged a $1.00 for One slice of bacon I never ordered I always order two pancakes. Two eggs and four slices of bacon which is $6.59. Yet the last two times the last being march 22, 2013 when I got the check the bill was $.99 for a fifth slice of bacon I did not order. It's hard to tell how much actual bacon is on the plate since its all curled.
I am on a fixed income and come in around 1:00 am. I always leave a tip but if I go back to Denny's I will deduct the erroneous amount from the tip. This started about three months ago. I did not go back after the first over charge until tonight thinking things got better. Also one order was completely wrongs he woman next door to me told me they messed up her Oder and won't go back
Royse city has few late night places to eat but we are having a lot of new construction. Soon there will be more dining choices and I will remember the crooks in this town.

restaurant # 6425 The first complaint is we found a hair in our dish, second is there was no toilet paper in the womens handicapped stall, third was the sink in the ladies room was ready to fall off the wall, and last but not least the manager did not even offer an apology for all these flaws or give us a break on the price, very very very rude of her, she should be fired!!!!!!!!!!!!!

I was at Dennys on 3/12/14 in Belle Vernon Pa and myself and another guest had ordered our meals they brought them out and they were not even close to what we had ordered and we asked the server about it and she said I told the kitchen they were wrong so my opinion is this issue should have been corrected back in the kitchen if she new it was wrong so she took the meals back and the manager came out and was very Rude to us and we were not treated very well the whole visit the manager should not be managing at restaurant I would not recommend this restaurant location to anyone and will never go back which is really disappointing.

Restaurant #8006 14697 Duval Rd, Jacksonville, Fl 3261. The grits was cold, the entire meal was not at serving temperature my wife meal was not fit for human cosumption. Restroom dirty. Parking area was filty, dumpter running over uncovered very unpleasant view. My wife insisted that we leave a three ($3.00) dollar tip. The cost of the meal was sixteen dollars and ninty-eight cent ($16.98). With tax eighteen dollars and seventeen cents ($18.17). We had table grace over the food and left it on the table. Thanks in advance for helping me with Denny's contact information.

My Husband and I went to dennys ( Center of New England) and he ordered a Philly Cheese Steak omlete with just steak and cheese. Well he got eveything on it he sent it back and it can back with mushrooms which he moved aside and ate some of the omlete he said something to the waitress and she said you can speak to the manager so he told the manager what happened. The manager said well does this happen in all the restaurants you eat in. Like he was saying do you complain just to get free food which we don't and we pay for our whole meal there, We go to dennys twice a month and never had a problem.

When we entered the restaurant, the wait was not long to be seated. Once we were seated, after about 10 minutes, I had to ask for a waiter so we could order silverware,drinks and food. It took 10 minutes to get our drinks and another 20 minutes to get our silverware and food. Our food was incorrect and we had to go and get the waiter to let him know. About 10 minutes later he brought our correct order minus our toast. I did ask him for the toast and he said that it would be ready shortly. After we called the waiter to our table for our ticket, he brought the toast as we were walking to the cash register. During our entire visit to Denny's we were watching the manager. (Kim) People were coming in asking for applications.
She was laughing and telling them that they were out of applications. We also noticed how much time she spent at the register laughing and flirting with the male customers, while being short with the female customers. She at NO time walked around checking on the employees or checked with any customers to see how things were going. There were several customers complaining about the service when I went to the register to pay for our food.. The manager was unconcerned (with her attitude) and rude. (short with words and unapologetic) Several employees had dirty and wrinkled cloths. I spoke to her with my concerns and she again appeared to be unconcerned. I asked for her managers name and number.
She gave me a number that I still have not been able to reach anyone on. This matter happened on 09/06/13 and today is 09/20/13. I called the restaurant today and spoke to Julia who asked Kim for her bosses number for a customer who had a complaint. Kim said" We can not give out that information."This Denny's is opening a new restaurant near Mack Road and Stockton Blvd. in Sacramento. I sure do hope that Kim is NOT the manager and that the employees are clean and have better customer service skills. Kim needs customer service training. She listens but does not hear customer concerns. I hope that whoever reads this takes a better role of customer satisfaction then Kim did.

To Whom it Concerns:
On Sunday March 28,2013, our family visited the location off of Hwy 59 and Gessner Blvd. We arrived at approximately 9:50 am, we were a party of 4 adults, 3 children, and a baby. Parts of our food began arriving about an hour of us being seated, and much of it is either cold or lukewarm. After repeated, requests of syrup, butter, silverware and food which was not brought out, I approached the manager who stated to me that all the food is cooked to order and takes time????? I have previously managed an IHOP restaurant and would never dream of replying to one of my customers in that manner. Not only was our food unsatisfactory, but the restaurant was hot, a portable fan was being used in the room we were sat, and the restroom was in need of cleaning.
As much as we have enjoyed other locations of Denny's, we will not be patronizing any Denny's location again.
Sincerely,
Phyllis Crockett

My wife and I travel the I5 corridor quite often, visiting our children at college. We stop at Denny's quite often, because it is familiar. Recently we have recieved poor food and service at quite a few of these restaraunts. We stopped in Gustine, today, at 5:00pm. The restaraunt was uncomfortably hot and the waitresses did not seem to know we were there. The service was very slow even though there was only 4 tables with customers at them. We were very displeased and may have to stop going to Denny's all together!
Glenn Murray

Every 2nd Wednesday of the month for years from 12 to 14 weman get together around 8 AM for Breakfast. The lasr three months things have really changed. They make us feel unwelcome. The service is not very good. All the waitress that had worked there for years no longer work there. The food is not as good, the coffee of the April 10th morning was not hot it was just barely warm. Even through there were not very many people there they did not want to put the tables together for us. They always had before. Serveral of us were discussing where else we could start going to besides of Denny;s. I think they are losing a lot of business.

About 2 weeks ago my fiance and I went to Dennys near Fort Myers Beach, ONE OF OUR FAVORITE PLACES TO EAT, we usually go at night but it was after a Drs appt and we were starved!! (This email is late because I had my son and I've been crazy with him.) We went in took a little over 15 minutes to JUST TAKE OUR DRINK ORDER, my fiance ordered a coffee, myself a Fanta, 19 minutes and 37 seconds later the server returns with a Dark soda and a coffee, He apologized and said he'd get my fanta my finance asked for sugar 21 minutes and 53 seconds later we got up and left the server sees us leaving and shrugs and says, "O well." I turned around, being a manager myself knowing WITHOUT CUSTOMERS WE HAVE NO JOB, looked at him and said, "Words like that are uncalled for and inappropriate!" He smirked and continued with his current conversation with someone he apparently knew very well! I AM APPALLED WITH THIS TIME OF SERVICE I ASKED FOR A MANGER AFTER WAITING NEARLY 25 MINUTES I JUST GAVE UP AND LEFT I AM SURE THE MANAGER WAS NOT NOTIFIED THAT WE WANTED TO SPEAK WITH THEM!!! Sadly after this experience i am not sure if either of us will return to Denny's! This guy didn't even seem bothered with his actions!!!!
Sincerely,
Rebecca S.

I am a regular customer at the dennys in Hempstead Texas my family visis this restaurant every weekend. tonight has to be the most horrible night I've experience there. we arrive there around 8:45 p.m.a party of 5. it was to be exact 4 adults and 1 child. the person that waited on us… "Quote" its my second day what do ya want to drink.
My granddaughter ordered a strawberry banana smoothie she was told we don't have the stuff to make that. we had to ask for refills on our drinks. we never got silverware we had to ask for napkins. my son order breakfast and his plate was not complete we asked for the item that was messin they never brought it.
We asked for a order to go, the waitress told us that we could not order it until we went up to the register to pay for our food. So we ordered a bacon cheeseburger plain, when they gave it to us it had lettuce & tomatoes.then she charged us for kid plate which kids eat free between the hours of 4-10pm. It was very unpleasant!! I am very disappointed in this restaurant.

I visited the Mobile hwy store in pensacola fl tonight. The serviceDennys or tell my colleagues we have to choose somewhere else to eat.ed good, we were quickly seated and order taken. The server brought our food out 2 grand slam sluggers. 1 meal was ok but the sausage ewasnt cooked, the second meal had undercooked eggs that were cooked barely over easy when over medium was ordered, the sausages were under cooked and the server never came back to the table. I couldn't ask to have the eggs & hashbrowns redone because there was no longer service from any server or manager. I finally stopped a server who was able to give me my ticket and as she tossed it on my tabke she quickly hurried away.
I proceeded to the register where the manager was told he's going to complain to corporate. She barked out my total and swiped my card and never asked what was wrong ir if they can do anything to make it better. She didn't even give me my receipt fot $17.00 and change.
I travel a lot for work and I prefer Dennys and I hop but after this experience I will have rethink where I can have experience.
I hope that this is an isolated incident and I dont have to avoid dennys

Last night (2/16/13), my friends and I went to the Denny's on upper front st. in Binghamton NY (according to the receipt, restaurant #8194) as we do every Sat. night after bowling and we have never been so upset and disappointed. There were 5 of us and it was around 9 pm… First we waited almost 15 minutes to be seated, there were only about 7 customers in the whole place, we finally got seated and waited nearly half an hour just to have our drink orders taken. We ordered about 45 minutes after we were seated. The appetizers we ordered came out about 30 seconds before our meal, 4 of us had ordered skill it meals that were served on plates and were cold! We heard the waitresses yelling at the cooks that they were skillet meals, the cooks yelled back "oh well guess they'll just have to eat it off a plate"! The waitress was very unpleasant and never checked to see if we needed anything. We have never been displeased with the service or food but last night was ridiculous! Even when we said the food was cold no one seemed to care. We all finished with deserts and even they were not up to par! I am afraid that if service like this continues we will NOT be visiting anymore! The rudeness was inexcusable! I rarely complain but I feel something should be done. We spent almost $80 between the five of us not including the tip, which she did NOT deserve!

went to Dennys on 82nd st Inpls, In…they dropped my cr card in a slit on the counter and it was locked in there,,,, the manager had no keys…called the gm she refused to come unlock it…the lock box was to be for cus complaints but there was no forms to fill out just an open slit on the counter where you pay!! They sd I would have to come back the next day!! What if that is the only source of income I had??
What I was on vacation or traveling to someplace on a time restraint?? The sd I would have to come back my daughter sd thats not exceptable we have to have her cr card back tonite they sd no one had a key but this gm girl…came back the next day drove 15 miles back and the manager isnt even there hes ( Travis ) hes running errands!! They are out of food and or supplies!! So I waited…finally he came because I sd im not leaving without my card!! he gave my card back and explained my issue with that process he couldnt have cared less,,,
never even offered me a glass of water or sorry for you drive back!! What business has no key for there" customer complaint box"? What gm expects you to leave your cr card there with them??What manager for a restaurant is running errands on there shift?? If I didnt get the card back I was going to call the police! Would you leave your cr card all night in some reataurant?? Worse thing they didnt even care…just leave it was the answer

I went into the Denny's on the Carlisle Pike in Mechanisburg PA at approximately 10.35am on Saturday January 19th 2013 and recieved the most horrible treatment in my restaurant life. After waiting a considerable length of time to be seated I asked the lady at the cash register if Icould seat myself ? She barked at me is such a fashion that I felt absolutely be-littled. She told me that three of her wokers called out sick with the flu so everyone was busy so I should just wait and someone would get to me in a while.
Ten minutes later a waitress tried to seat me in an isle table and I made the mistake of asking for a booth instead. The attitude from this young female was so alarming my guest who was a caucasian female had to ask her to calm down since all I was asking for was a change of table. My waitress name was Janet and she started out being pleasant until I asked her for a clean cup because the one I had for coffee had lipstick stains. Because of this I waited over an hour for my order.
I had one cup of coffee which got cold and distasteful after about 20 mins and to top it all while I was waiting for my order when I saw the waitress Janet leaving the building. I could not believe my eyes, I thought the waitress was leaving so I went outside to see for myself, only to find a group of waitress standing outside smoking. I was in total dis-belief, I was waiting over half an hour for my order and the waitress was outside smoking. I was further dismayed when she came inside and grabbed her notepad without washing her hands and started taking another customer's order. Strange enough this customer got served before me. I called Janet to complain and she brought my order which was almost crisp from being under the warmer so long.
To top it all I got cheated out of the bacon in my order and I asked for sugar-free syrup twice and got completely ignored. I am an African Amercan male and I truly believe that I was the victim of a racist encounter at this Denny's. I could not eat this terribly dried up breakfast.Tthe order was not complete as the menu stated, and I was still charged for this horror show. The restaurant number was 1342 and the order number was 513935, the table number was 108 and there were two guest. . I will absolutely contact by legal council about this encounter because as a matter of principle this was wrong, Denny's should be ashame of themselves, I will never visit this or any other Denny's again.

My family and I were at Dennys in Yakima Wa and the server there, her name is Summer Wildflower, was talking about her Sexual Herpes and how she abandoned her husband and her children. Now I do not appreciate that kind of behavior around my family, especially at a public restaurant and I think that she should be fired. She acted also like a W**** taliking about all the guys that she went out with. We will never go there again and if you have any morals, neither will you.

On Monday January 7, 2013, I parked in Denny's parking lot and slept in the car along with my child. We stayed at the Denny's parking lot, because it was well lit and we wanted to feel safe from my physically abusive boyfriend. The next morning, an employee reported us to the police for being parked there. If an employee had asked us to leave we would have done so. I just wanted to feel safe for once. Police officer pulled in beside me and asked if everything was ok, and stated he was called there by a Denny's employee. I informed him about my situation and that I didn't know I had caused any problems. He drove my son and I to police station where we would wait for Women In Need to arrive. Meanwhile the vehicle was still parked in the Denny's parking lot waiting for the owner to drive it off the parking lot, which happend to be my very abusive boyfriend. Upon arriving he stated that the waitress told him that my child and I had been taken to a shelter, and told him exactly where the WIN was located, and stated she too had once stayed there. WIN has a very strict policy that NO ONE may tell anyone where the "safehouse" is, and if someone is picking us up, we are to meet them elsewhere, so that others will not be jeopardized. Because of her telling my abusive boyfriend where the battered women's shelter is, my child is now scared that he is going to hurt us. The whole purpose of the shelter is for women and their children to be safe. It was not her place to tell him and put my child and I in a dangerous situation. She doesn't know me nor my boyfriend, and I cannot comprehend why she would tell anyone where to find the shelter. I hope she is happy that my child is so frightened he can't sleep at night, because of her actions.

My friends and I visited Denny's in Evansville, Indiana on Wednesday night and had horrible service. Our waitress was not available most of the she hardly ever checked on us. Our drinks remained empty for up to 10 minutes without her refilling them. My fiancé asked for seasoned fries but got regular. I ordered an apple juice with my meal and it didn't arrive until 5 minutes after my food arrived. When it arrived it did not look at all like apple juice, it looked like cloudy water. I couldn't believe she would serve me that as apple juice. I could tell immediately that the syrup had ran out and it was mostly water. When I told her it was mostly water she said it came out of a machine so it was probably all like that. My daughters grilled cheese looked very unappetizing, it was burnt. My experience was one of the worst I've ever had at Denny's.

On 1/2 /2013 we decided to have breakfast at Denny's in Lake Havasu, AZ #7085. I have been a truck driver most of my life before retirement and I could always count on Dennys for good breakfast food. This restaurant advertised that it was under new management so we expected this would be a very enjoyable experience. To our dismay the food served was cold and not very enjoyable. My husband ordered bisc&gravy and a side order of sausages. The gravy was cold and the side order of sauages was on a plate that had grease on it and it too was cold. I had pancake which were hot but the bacon seemed like it had been precooked and was just waiting around to be thrown on my plate, not hot of the griddle. The servers were seniors and I am not sure it this was there error or the cooks, but whatever it didn't prove satisfactory. We had to track down any server just to get a refill on our coffee. What do you think? What could be the problem with this restaurant? We like Dennys and want you to know so you can check into this and make it better.

Complaint regarding Denny's in Belleville, Ill.. Several on-duty detectives with the Belleville Police Department dropped in to Denny's while working on-duty. The detectives had their badges and their guns. I guess This bothered a patron who then complained to a manager, David Rice, who then complained to one of the detectives: Please take your gun to your car or leave.
As a patron who eats at Denny's I will Never return to your restaurant because Denny's doesn't like the police. I live in Oaklawn, Il. And I have several Denny's near my home and because your chain discriminates towards law enforcement that protects us I will choose a new place to fine with my family.

I have been a customer at the Denny's location in Taylor, Michigan for over five years going at least once a week. Stephanie, one of the waitresses has kept my friends and I going throughout the years because she is the best waitress I have ever had in any restaurant. I walked into Denny's this past week and knowing that I am vegan, she immediately informed me that they will no longer be carrying the vegan burger. As there are few options in Michigan to have a meal without meat, I was very upset knowing that after I could finally have a real meal here, it was taken away. There are many people that I know of who eat the same way I do, wanting to simply be healthy when dining out with others. With so few options one can understand how upsetting it can be when they are no longer an option. Not only is the vegan burger no longer an option, there are hardly any options that are meat or dairy free. I would just like to simply make a formal complaint about the ridiculously unhealthy menu that started to make a change for the better but is declining back to unhealthy. I would also like to say that there are many waiters at this establishment who get no credit or perks for their hard work. They should at least get some sort of award for dealing with corporate rules, regularly intoxicated guests, and rude people in general. Thank you.

The Dennys at I-25 and Bijou in Colorado Springs, CO is the worst. At 9:30 am we went into Dennys for a simple breakfast. There were two people complaining at the front register about service and food. All the waitress could say was, sorry. There were two waitresses and the manager was serving food from the kitchen. We had an ll am doctors appointment. There was one table of eight and five tables of two, we were seated within a few minutes, it took twenty minutes to get a menu, then it took another twenty minutes to give our order, we were given one cup of coffee (two of us) and water. At 10:25 a.m. orders were coming out and going everywhere but to us. I approached the waitress and she said that their table top of 8 had thrown everything off and our order would be up in 10 to 15 minutes. I told her we would pay for the coffee and leave, she said the coffee was on the house. The manager in the kitchen had about 5 orders cancelled and more people were walking out than walking in, all because the Dennys could not handle this table of 8 guys. As we were leaving three people were waiting for some to go orders they had called in but were not ready, two other people were complaining about food and service, and the kitchen staff were standing around shooting the breeze, because all of their customers had left.

Denny's – a place I used to enjoy taking my family to eat a good meal. Please note the words – used to. Have you and your management gone totally stupid? I will only say this, because I am finding it very difficult to keep a civil tone towards Denny's. As a measure of protest, I and everyone whom I can influence WILL NOT be frequenting your establishment again until
1 Denny's issues a complete apology to the policemen you disgraced.
2 Denny's FIRES the idiot night manager who made the decisiion and acted on such an idiotic idea.
David Capps

I will no longer dine at Dennys while traveling because I find it offensive that a police officer was allegedly denied entry because he was carrying a gun. If all guns were banned the only people carrying guns would be the criminals. I hope the word gets around to all the customers who would otherwise choose Dennys and they will find someplace else to dine where common sense is the norm . Criminals will come in Dennys armed . When this happens you may wish someone would notify the police who carries guns to protect You. Stupid, Stupid, Stupid rule.

Tonight we ordered from dominoes as we had many times before we have never had a complaint. The type of pizza we ordered was crispy crust mushroom onion And hamburger. We were impressed in the recent past by quality so again we became regular customers. BUT this time. The pizza seemed to have reverted to the old reason why we stopped ordering in the first place. First there was for each slice maybe 1 piece of hamburger if at all. Then the mushrooms were sparse but ok. There was an overwhelming amount of onion. I proceeded to call the manager to let him know he was nice enough. And offered to send another pizza. With more hamburger. But. I declined. I don't think he took my feedback seriously at all. It saddens me that. The quality in westfield MA. Is suffering again. When the market for well made pizza is overflowing. And at a lower cost than dominoes. Once again you have lost a customer.

Server by the name of Meghan was very immature, texting while on the job and even cause my good friend to run out of the building crying. I was extremely upset at this, the employee had no business poking her head in the drama and frankly should have just kept doing her job instead of instigate the situation

Just sat down to eat at Denny's and my cousin asked for a coffee. She received a mug that had lipstick imprinted on the side that someone had just drank off of. This is very disgusting and she could have put her mouth on it if I had not seen it. I felt as tho she should have been accomedated with a free appetizer, and the manager refused.
This location is in Perris California, and the managers name is Jen. This is just just very bad customer service, a free dessert or appetizer for the trouble wouldn't have hurt. Denny's management does not care about customer satisfaction!!!

Denny location in Stanton by garden grove and beach. I order a country fried steak dinner and when I check my dinner, it had only one Patty. So I spoke to the manager and ask her why is there only one patty,and she told me that the menu has change and the dinner come with only one Patty. I check the dinner menu and it has two Patty.
I was charge $10.99 for the country fried steak dinner with only one patty. I've been going to Denny for over twenty years, I can't believe that this is happening. The manager could of just say it was a mistake, but instead she told me word for word that the menu has changed, while on the present menu it says two Patty for country fried steak dinner and I have the dinner receipt for record.

To whom it may concern,
My daughters and I went to Denny's on Christmas day, expecting what we usually get, great service,
Clean atmosphere, quick friendly service, well to say the least we were NOT happy, we sat for almost
10 minutes before someone even acknowledged us, we then waited again for our waters, when we did
Get it 2 out of the 3 had floaties in them ?? The resturant as a whole was dirty & smelled bad, the restroom
smelled gross. Anyway our order came almost 20 min after we ordered ( they were not that busy either)
we ordered simple 1 cheeseburger, with fries, smothered cheese fries, & I had mashed potatoes with corn
& gravy & a skewer of shrimp. That was all ! I'm very disappointed !
And to top it all off we were on vacation . This Denny's is one I will never return too EVER!!

I visited my local Denny's today in ontario, ohio. When I arrived it was not busy but they still took a while to seat my two children and I. When we were seated I asked for a booster seat and a high chair, the boy acted as if it were a hassle and was rather cocky. I have a three year old and a one year old did he think they were going to sit at the table like adults. Normally my husband or I would retrieve these things for ourselves but he is currently deployed and I did not find it out of reason to ask him to get it. Our waitress came, she was pleasant and took our order quickly, the food was also presented quickly. My children's meals looked good and they seemed to enjoy it but my eggs were brown on the bottom like they had been cooked too long, my hash browns were crunchy and looked nothing like they are supposed to and my shire sausage was burnt on one side. I thought about complaining there but didn't have the heart to say anything to my waitress, she was too nice. I don't know if maybe they got a new cook but if I am going to pay to eat at an establishment I expect the same quality I would get as if I cooked it myself.

Went to the Denny's in McAllen, Texas. The service was horrible. Our waitress was never around, took us over an hour to get our food. And once we finally got our food, we didn't even get all of it. We had to call the lady twice in order to get the rest of our food. The eggs were hard, we had to cut them with a steak knife. Finally when we told someone about the experience, all he said was "oh". Overall horrible experience. We will never be going back.

I came with my family to your saginaw, mi Denny's and am appalled at the unorganization and terrible service we experienced. We came in for a Christmas Eve dinner and waited for 15 minutes to be seated along with 6 other people who had been waiting even longer. We were sat and never asked what kind of beverage we wanted or when a server would be with us. We waited at our table for 25 minutes before I called over the manager to take our drink order. The entire resturant was filled and they're was only 1 server doing all the table. It was 10 minutes later that he brought the drinks and he brought the wrong drinks. And the hostess took the drink order of the table next to us and they had just been seated. It was nearly another 10 minutes later before our orders were taken. This has to be the absolute worst service I've ever experienced before and I've been coming to Denny's since I was a kind am seriously not considering coming back or recommending your resturant to anyone I know.
Very disappointed,
Nick barr

To Who It May Concern:
On a weekly basis I order take-out from my local Denny's restaurant. Each time I visit (12/02, 12/06, 12/17) the Denny's on Reseda #46789 (Merchant #1) I am harassed by the store Manager! He is never friendly or wearing a name tag.
His negative attitude and comments towards me include statements like "other Manager's may not charge you for a cup of ice, but I have to start charging you." 'I need to see ID' when I use my credit card for payment and I don't see the same Manager telling other customer the same statements.
Two weeks ago, while in the restaurant, I told the District manager. The comments have not stopped. This time I am writing a note to the Denny's Corporation, BB, yelp, and possibly the media to let them know about this Manager's conduct. I want my complaint placed and in his permanent file and tallied in his next review. I feel his actions are speared by both racial and gender biases. Though it may not sound much, it is enough for me to write/phone the corporate office. This man never says 'hello' or 'good morning' like I see him doing some other customers.
Last night I went to the Denny's restaurant on Topanga Canyon Blvd. and both the Manager and employee were very nice to me. I have driven 5 miles out of the way to this Denny's to avoid the Reseda restaurant's disrespect! I am determined to keep writing complaints until your company removes that manager from any store in my local area. In closing, he is not worth the financial loss of me taking my business to another company and telling all of my family/freinds about my experience and the corporate response.
Respectfully,
K. F. Williams, MPA. MS.
818 4165338

On Friday 1/27, I visited a Denny's near home (CA), store # 8747. When we entered, there was just another table in the restaurant since right across from Denny's they had just opened Buffalo Wings & everyone is going there instead. Considering that it was dead inside, the server sat us down and took forever to check back with us. When I showed her my coupon of buy 1 get 1 free entrée asking if we could choose any entrée in the menu, she said yes and disappeared once again. Another party of about 8 people entered and they got seated to the left of us. She took their drink order, brought out the items, and once again, disappeared. Never checked in on us.
After 20 minutes of waiting, she finally stopped by and took our order. Since the coupon says we need to get 2 drinks with it, we ordered an OJ & an iced tea. Appearantly the OJ comes in either small or large but we never specified the size, and she never asked.
Throughout our entire dining time, never once did the serve check in on us to see how we were doing. She did walk around but it wasn't to check in on any table. So we assumed that she was just lazy, not so much of biasing on us using the coupon. I jokingly told my husband he would have to make eye contact to get her attention, we both tried, she saw us, but nothing! So he raised his hand, waved at her, and asked for a refill on the OJ, but (sorry we didn't know this), there's no refill. Fine. Instead, she brought out the bill & left it on our table. We asked her for a togo box, that was a second time she stopped by our table.
Seeing that the drink was charged as a large OJ, I was a little puzzled thinking I didn't ORDER a large, I didn't even know what she brought out was a large. So as we made our way to pay, I mentioned to her at the cash register that I did not order a large. She then turned to my husband, had the nerve to point at the menu which was 3 steps away, & demanded "give me the menu, I'll show you". He brought it to her, she pointed @ the price & said "look, small is 1.99, large is 2.65". I replied "yes I understand, but it'd be nice if you'd ask us for the size specification". "No, just like how you would in any restaurant, it is YOUR JOB to tell me what you want, NOT my JOB to ask. Just like your coupon, you ASKED me if you could use it. NOT MY JOB to ask you."
What?
I answered back, "no, just like how you asked me about how I would like my eggs, my steak, & my toast prepared. Same thing with the size of the drink! But it's only a difference of whatever, I'm just letting you know". To my statement, she turned to me, waved the receipt in front of my face, & said "it's ok. I pay for you. You can't afford the 65 cents, I pay for you." This was it for me. There is no way any human being can possibly talk to another human being like this. Plus, if 65 cents make that much of a difference to me, I don't think I'll eat @ Dennys. I could have gone to Norms & other places where there are cheaper food at about the same quality!!!
So I demanded to talk to a manager instead of dealing with her. She ignored my request, turned around & repeated "no no, it's fine. I pay for you. You're so cheap I pay, that's fine!". I said more firmly "I need to speak to your manager". She turned to a co-worker, spoke in Spanish, laughed, & walked away to talk to the manager who has been standing behind the glass window behind her this whole time. He nodded, smiled, gave her a comfort tap on the shoulder & chin & said "it's ok I got it. Love you".
As he made his way out, he said he'll take care of the 65 cents for me. I DON'T THINK ANYONE AT THIS PLACE UNDERSTANDS THE REAL PROBLEM HERE. It's the customer service that I'm not satisfied with, not the 65 cents. With my t-bone steak meal, it was well over 65 cents for sure! My bill was $40+, why would the 65 cents matter?
So I explained the situation just like what I have written up here, when I got to the part where the server only came to our table twice 1) to tell us no refill, 2) to give us the check, right when I finished my sentence, the server dashed and jumped from out of nowhere to the counter, slammed on her on it, & said "fine, you want to lie, lie. You people LIE". I turned to the manager & asked "is this how a customer should be treated?", he turned to her and said "it's ok Maria, I got this".
Wow, never once was she asked to calm down or step aside, she had the full right to be there & pointed at my face all she wanted. At the end, I asked for the manager's name, the server's name, & the corporate email to report this incident. Maria, my server, was standing with the rest of her gang in the corner dogging us down, speaking full-blast Spanish and laughing because we're stupid enough to think corporate email would work.
As we made our way out, in the parking lot, a white lady said to us "I saw what happened in there, but seriously, why would you waste time with these people. This is their "hood", they are protected by law & they're not going anywhere". I disagree. Regardless of one's race, one must fulfill a job requirements as one promises to do so upon hiring. This letter is a one of the many reflections of Denny's customer service: negligence, attitude, and unsafe environment. Will I ever eat here again? You know the answer. Will I publish this post on all the search engine and social network? Will I publish this on my personal website? Will this be on our local newspaper? Definitely.
What I demand is not the 65 cents. But I demand justice. The fact that we as mankind treats each other with kindness and not what I got from Maria, our server.

On 10-29-11, we stopped to get sundaes to go from Dennys on Roscoe and Topanga in West Hills in California and the guy didn't seem to want to get it. He got it and perked up, but once I opened it to eat it, it was DISGUSTING!! There was a few dried up, hard pieces of fudge on top and the sundae was just gross and uneatble. I think it was the manager. Pobably the same guy who threw my friend and I out a few years ago because we were playing a card game. We ordered coffee. We didn't just sit there playing games and we weren't being disruptive. They say customer service matters to them, but it doesn't seem like it.

My son is a cook at this new franchise, and he calls it the best job he's ever had. Except for one problem. Almost as soon as the restaurant there was one cook was belligerent, lazy, and finally, dangerous. This cook man assaulted another cook, then brandished a large knife and threatened the other cooks. At first, the owner said he would fire the man after payday. Then he said he was afraid of being accused of discrimination. Now this man is back in the kitchen and I feel that anyone, of any race, should lose their job after threatening a coworker, especially while waving a knife at them.
I know that in the past Dennys was accused of discrimination, but clearly this is not the case here. As scared of being accused of discrimination as this owner is, he needs to be more worried about letting this violent individual stay employed there. I can tell you, as a multi-racial individual my son could care less what color the man is, he just wants to know that the people he works with aren't going to snap at any minute. As his mother, I can tell you if this man assaults my son, I will sue this franchise owner. I will sue Dennys as well. There's a reason he's so scared to fire him, and it doesn't take a genius to put two and two together.
The past problems of discrimination makes me believe that it's a little talked of rule of thumb given to owners, to keep Dennys out of the news. But this is a dangerous man. Now that he knows he can do that without consequences who knows how far he will push the envelope next.

My friend and I had gone into Denny's at 7619 E. Ben White Blvd. in Austin, Texas. There is black mold in the corners of the restaurant as well as on the cieling tiles. We had sat in the dinning room with the glass window walls and it had a very high smell of wet mold. After leaving I started to get a headache and felt sick to my stomach. This should be addressed because you can have many lawsuits if the mold is serious. How can a nice family breakfast restaurant like Denny's allow mold to bother it's business to the point where it is actually losing customers because of shoddy service!!!!

I went for supper at the Big Spring, Texas Denny's workers were in and out smoking then return to work without washing hands. They would serve coffee/food then return outside leaving place unattended. What upset me the most was when the cook anwsered his cell phone while cooking!!! He keep holding the phone and cooking. He hung the phone and never went to wash his hands until i pointed my concern to the Manager. Then manager walked to the cook and ask him to "hang up that phone"! We got up and left when no attempt for the cook to wash his hands. We choosed to leave without eating and the cook followed us out to smoke.
What a dirty looking environment to begin with >>>> this place needs to be torn down and rebuilt to make it clean. I plan to call the health department in the morning.

we visited dennys in checotah oklahoma today and the waitress was un interested in taking our order. we ordered a apple cranberry salad and soup a desert cup and a slice of coconut pie. we had to ask again for our soup and the salad was minus the apples. we never received the fruit cup or the pie. she said the pie was frozen and couldnt be served at this time and she was still looking for the fruit to make the fruit cup. we thought we would give them one more time to redeem themselves so we tried their breakfast. they took our order but thirty minutes went by and still no breakfast. then fourty five minutes and nothing so we decided to go to mcdonalds where we got waited on right away and a heck of a lot cheaper.

If you want cold food and drug daelers the Denny's at 425 ne. Hassalo in Portland Or. is the place to go. Sit and watch the pimps and the prostatutes play around the resturant. Watch the shift manager Janice let the local bullies walk out with dishes and not paying there bill just because that person was black ( as she is ).I'm a senior who really likes the food at Denny's but since this is the only Denny's in my neibhorhood I will not be consuming food from this place again and if Denny's has any respect in its company they should clean this place up, add security and take a better look at the people who run their business's for them.
My main complaint is that I watch and timed how long it took to bring our meal to the table once it was placed on the waitress station by the cook. Over 10 miniuts it sat getting cold while the help in this placed walk around giggling and talking street talk, very un- business like. Well Denny', as of now we are through.

The pecan chicken cranberry apple salad was unfit to eat. the greens were very wilted and were more stem than edible portion. there were no pecans because we asked for them, and were offered peanuts instead which is disgusting. the chicken was microwaved to long and was unappetizing. the size of the salad was the small portion and we were charged for the large size. If there was 12 or 14 cranberries then that was abonus The server was uniterested in his job that day and did not seem too concerned about our problem with the meal. I can not say enough negative comments about the meal. Was a most unpleasant dining experience. I well not be visiting this dennys any time soon and possible never again.

I would think that you would realize charging $2.00 for a cup of coffee is ridiculous. I could see $1.00 a cup to draw your public in. Kids it free under 5 years old is good. Deserts have price with a meal would be good. Special discounts for senior citizens other than a senior menue. Other restraints in my zip code area 32765 and 32708 offer this. I DO NOT SEE your restaurants' overly crowed. Your food is not that great. Does not have that home cooking taste. Breakfast is so, sometime good….mostly bad…..I usually end up with an upset stomach. I use to eat at Denny's once a week. Now maybe once every 6 months. (Like today). It wasn't that good.
Help must have got up on the wrong side of the been. I even asked if she was feeling ok. Help could be friendlier. I have a whole list of ideas to improve your restaurants. Without your public you have nothing.

I've had several bad experiences at the local Denny's. Twice I couldn't get served and left. The second time I complained to the manager by phone. A couple of times my bill was wrong. A few days ago, when I went to pay, I noticed my "subtotal" had jumped fifty cents – before tax with no notation of what it was for (I hadn't ordered a drink or anything extra to my knowledge). I ordered a dinner at Denny's which came with 2 sides. They told me that one of the sides was fifty cents extra. I told them I didn't see that in the menu – and after insisting I be given a menu to show them there was absolutely no notation about that.
They asked if my Denny's server had told me and my answer was no. They took off the charge, but I'm still left wondering about their business practices.

i always order at dennys for our company lunch. the address at 4824 n. river road schiller park 60176. date of order 05/24/11 time 10:48:36. the request was to make sure the steak dinner to be meduim rare and too make sure to make it really meduim rare due to unable to go back to get a new one if wrong due to lunch time is limitted. i rcvd the food and it was very well done!!!! i talked to the manger, miguel at that time and he is very rude and mean and sarcastic that i am just making up the story that the food is well done. i apologize for the word but he was an A** when he was talking to me.
he do not want to return my money without bringing the food back there and i told him that i wont be able to bring it back due to my work require to throw all food after lunch time and not leave in our desk. that is our policy!!! my company is very big and you just lost our business!!! i want my money back for $15.17 and i will not go back to that restuarant so that they can harrass me. you can reach me at sheilla.guarin [at] xerox.com. thank you!

I had been visiting the Latrobe, Pa. Dennys for many years. And up and until a few years ago I quit visiting because of the food quality. I would order breakfast and more often than not the food served was not per my request. ie, I would order an item without cheese and the item would be served with cheese. I would order my eggs over medium, and they would be served runny or hard. Many times the eggs would be floating in grease. The hash browns would either be over cooked(burnt) or almost still frozen. It was not just me. I would observe the server returning items to the cooks, because there was some problem.
Last year I retuned to see if things had changed. For awhile things we okay, but lately its back to the same thing.
The servers are afraid to say anything because of being reprimanded. They have set quidelines for serving and clearing tables, and do not feel comfortable doing whats right by the customer. It seems that volumn and customer turn around is priority over service and food quality. The server should be the judge as to if the food is of the standards that Denny's subscribe. If the server observes that the food is not to the customers request, the server should be able to have the cook redo the order with out fear of any repercussions and the manager should back them and hold the cook responsible for the qualily of the food.
An item that is not prepared to the customer's request, should not be presented to the customer, and ask them if it is okay the way is is? It should never be put on the tray, and say "order up". The servers at the local Denny's are all very considerate and polite, and apoligize for the problems. The manage(s) will visit and talk about the problem, but it is just lip service, for the same things keep happening. I don't see any corrections in later visits.
I will probably not be returning to the Latrobe Denny's in the near future. I visit Denny's at least once a week for breakfast, so these comments are not from just a single visit, but occurances for over the years. The one reason that I return is that the servers do a good job, and on the occasion when the food is served, per my request, is good.

Manager at dennys in absecon new jersey was rude and immature telling me to go to the kitchen and watch them cook the eggs that was sent back because it was not properly cooked in the first place. This incident happened April 30,2011 at around 7:30 am while eating breakfast at Denny's. This manager, should be reeducated on how to treat customers with respect at his location. Very rude manager at the Absecon, New Jersey restaurant.

After dining in at the Denny's located on Lynhurst Drive (near the airport) in Indianapolis one morning last week, I received the bill and went to the register to pay. My friend left the tip on the table, and went out to the car. There was a customer paying , so I stood behind him, with my credit card and bill in hand. Once the Denny's cashier completed that transaction, I came up to the register, again with card and bill in hand, however she did not acknowledge me. She shut her money drawer, then walked away. Hummmm…OK. She must be busy, I thought, so I waited for her to come back and ring me up for the bill.
And watched as 3 other Denny's employees walked behind the counter and past the register to fix drinks and turn in orders…and waited, no one ever said a thing to me. So,I finally said in a loud voice "guess i will have a seat while I wait to pay!" and I did. Seating at a booth across from the register…I waited….Well, I'm sure you get the point, I ended leaving after waiting 15 minutes without paying! I even stood outside to leisurely smoke, and nope NO ONE noticed! Now, granted our Denny's bill was less than $10.00, heck we left a $4 tip, so my intention was never to dine and dash!
Not sure what the problem was, but waiting to pay for that long and being ignored at Denny's is unacceptable! My time too is valuable, a simple "someone will be with you in a moment" or even a "hold on' would have been ok. Heck-they could have just have said nothing to me, but let me pay, so I could be on my way….

The dennys in our area never have french dressing for their salads! why???

Corinne hahn
from Hartford, WI
Very poor service, it took 2 hours to receive our food and the stack of pancakes was missing. Never did get those pancakes and had to get 2 table settings myself and even my own coffee also. Location was Wauwatosa Wisconsin on North Avenue. People that came in after us got served first including a group of 25 people, I just did not get this. Should have got some free meals for this but the manager offered us nothing. My address 3035 Smith Lake Road, West Bend Wisconsin 53090. I will see how Denny's treats me now maybe some free meals? Your decision will affect if I ever eat there again.

Ed and Linda
from Irmo, SC
This is definitely NOT a complaint. Our son is active duty US Air Force and my wife and I have gone to visit him and his family in both Fairfax, Virginia and at Virginia Beach as well over the last several years. We are weekly visitors at the Denny's on Harbison Drive in Columbia, SC, and always try to get Beth as our waitress. She's a really top notch waitress, knowledgeable and always smiling; happy and usually very cheerful. We have been long standing Denny's customers (40+ years), and it's people like her that keep us coming back. Happily. Please let her store manager (and John, her previous manager) know that we now not only value her as our "Special" waitress but also as a friend.
When we travel we usually stop when hungry at one of our favorite chains. Most often, it's a Denny's. We're always expecting to get good food at reasonable prices. Service, on the other hand has not always been so great, but those one or two (one in Texas and one in Tennessee) are exceptions.
The primary reason for this message (secondary reason is Beth, above) is to give a compliment to the manager and her staff at the Denny's in Battleborough, NC, at 7136 #4. We stopped there on our first trip to Fairfax and got hooked! The staff is friendly, ready to have a conversation during ordering, very attentive to the customers and we've never had a complaint about anything there. The condition of the restaurant is always "impeccable". Every time we've stopped my wife and I have commented to each other about how clean and neat everything is - almost as if they'd just finished a complete 'Spring cleanup'! We now watch for this particular store when traveling through that area, and are sure to stop.
The last time there, 1 June, we were so impressed with the waitress, the food, and the amount provided that we asked to speak to the manager, who turned out to be a rather smallish woman of oriental lineage. We wanted to compliment the staff but have been unable.
Why have I not sent in this message before? Because we had asked her to give us her name and store number. She wrote it on a piece of register paper - which we lost. Neither of us could remember her name. We have hunted through all our recent receipts, but that all-important paper seems to have vanished. Never-the-less, we still wanted to give her the compliment she and her staff deserve, so we went online and hunted, and on Google-Earth, and checked the Denny's along I-95. When we saw the street-view of the store in Battlesborough we were certain we'd found it.
Please convey to that store manager what I can only say is my highest and fully unreserved compliments to her and her staff. They are great! And...next trip, we WILL be back!

Denise
from Los Angeles, CA
The food was messed up or slam burger eggs were over cooked the off duty manager was going around and checking on customers with hid pants halfway down with his underwear showing it was un professional a manager should have respect for his or her work place this was at the location on Juan Tabo and Menaul in Albuquerque New Mexico I am also attaching a photo of the manager and he is in a grey t-shirt.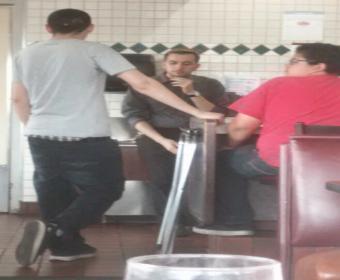 heather lamb
from Los Angeles, CA
Came in family of 7. Waited 20 mins till we asked to order drinks. Asked for the manager he sent another server. 1/3 of food was brought out.7min later another 1/3 2 people still no food everyone else is done. Still manage will not come out.worst experience of our life.

Aaron Chavez
from Lordsburg, NM
I am very disappointed with the Denny's at this location. I've been in the hospitalilty business for 30 years so I know how to run a restaurant. I walked in around 5pm hoping to find a place to sit but only found dirty tables. The biggest disappointment was finding the manager sitting and eating with another waitress while my waitress was struggling to keep up with what seemed like a busy restaurant. I confronted the manager named Kelly about the five dirty tables I saw and her response was "No sir, there are six dirty tables, one is right behind you." I do not appreciate her tone of attitude and the way she snubbed at me as she walked away. Something should be done about her unprofessionalism. I will NEVER step foot in this restaurant again and I will be sure to tell others about my experience as well.

John. Rickatd
from Boston, MA
I was having lunch with my wife n son. Our waitres christina was very quick with us. She got our drinks mixed up with the table in front of us. She took forever taking our order as she was more into talking to the person at the counter. We waited ten min before she came back . and asked if we wanted appatizers when i placed our order. Not a very welcoming experience.

Aaron Schaffner
from Dearborn, MI
I was an employee of the Denny's located in Herkimer, New York 13350. I believe I was unjustly terminated for "using a managers login numbers without authorization" while I was off duty March, 14th 2016 in an attempt to simply help a coworker who was having difficulties with my check. I used my employee discount on for my bill but as I was cashing out, my coworker asked me how to get her employee discount while there was no manager present. I told her to put in the managers numbers which was the only way I knew how at the time for that specific reason. I understand the concept of base level employees not using managers numbers for obvious reasons but in my 4-5 months serving at Denny's I had been told of by at least two different managers of their numbers so I could assist them while they were assisting other situations. I was not the only person who had been asked of this, as many servers/ hosts had manager numbers memorized or written in booklets to assist as well. I don't wish anyone else to be terminated or penalized as I was for such actions. I just want his to be justly taken care of. I have employees that will concur this statement when needed to be addressed. Thank you.

Kevin Lane
from Miami, FL
Denny's Restaurant #8692 Manager Annette 02/27/2016 109PM. Order took much too long (two customers came and went before my daughter and I got our Veggie and Hamburger and fries). After receiving my Double Veggie burger I requested Mustard which it was stated to me by my waiter Askia and Manager Annette that there wasn't any Mustard in the whole facility. I stated that I only eat my Hamburger/Veggie Burger with Mustard and I was told by the Manager Annette that there wasn't any and I could try Ketchup but there wasn't any further resolving of the issue or suggestions.
I ate most of my Double Veggie burger but really didn't enjoy it and didn't want to make a scene with my 13 year old daughter with me. The Manager Annette could have sent someone to the store to get a couple of bottles of Mustard or offered me something else or comped me my Double veggie burger or anything but she didn't seem interested. When we were leaving the Waiter stated "See you later" (we go there frequently) and I replied "No you won't" and he replied "You'll be back". Unacceptable. I also filled out the Denny's comment form online a week later but have not heard anything back.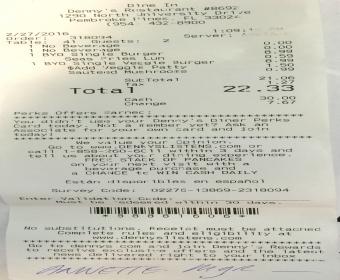 Micheal Chance
from San Jose, CA
We arrived at around 12:30 and had 3 people look in our direction but no one came to seat us for almost another 10 minutes. Once we were shown our table, the server got out drinks but it was another 15 minutes before we were able to order our appetizers. After that my wife's tea needed a refill and she had to remind the server after waiting for almost 10 minutes. Instead of bringing extra plates for our appetizers, we had to share the plates that they came on. We had to flag the server down to order our entrees, remind him to bring napkins, and then flag him done for to go boxes.
The other servers didn't seem interested in helping anyone other than the one or two tables they had. There were employees who should have been working but were socializing and being very loud. Although the food was pretty decent, the restaurant and employees were very lacking. Not an enjoyable experience.

Anne Melihercsik
from Apopka, FL
On 01/30/2016 Restaurant # 9244 in Apopka, Florida we ate dinner. We had a flyer from the newspaper advertising your Anniversary. On the flyer it stated " Join us for an all day celebration, Saturday 30th from 9am-8pm for great food and prizes all day. 25 free everyday value slams at 9am. After Work we headed over to see if we could win a prize and enjoy a nice dinner. We ate as you can see. We asked our waitress what type of prizes they were giving out.
She stated they weren't giving anything out. I showed her the flyer & asked her for the manager. She returned and stated he was busy and informed us, He gave out 25 Free Everyday Value Slams at 9am and that was it. There were no other prizes and we should have been here at 9am. Later the manager went to the table next to us and gave them a $7.50 discount. Either the manager is a liar or it's false advertising. He gave out only the 9am prizes. No Prizes all Day as Advertised.
I am not able to download my receipt, 1/30/16 order # 444385 Server Breana H total $23.91 (left cash tip) paid with my American Express. We went to help celebrate, but there was no Celebration! Tricked & lied to. Never again.

Vanessa Bailey Wilson
from Cleveland, OH
On sunday 1/24/2016 at store 8106, I had the worst service ever. First the waitress took our order wrong, then told me thats what I ordered. Before I got my food she brought the check that had the wrong order on it, she didn't even correct the check. My vegetables were cold, my fish not done, my grandsons food had mushrooms, which I said no mushrooms. I was then asked if I wanted a different fish, I said yes but was not informed that it was grilled and not fried. I motioned to the Manager Art Griffin about my concerns and he acted unconcerned, saying that's what I ordered.
Did not try to correct the problem at all, I declined the food and he walked away. So disappointed that I had not eaten decided to just leave. Art took the fish off my checks but charged me for the incorrect order. At the register he still continued to argue with me about what he said I ordered. He claimed that he heard me, but was not where around. Never will I return to that Denny's 8106. This was the first time I ever had a bad experience there. But the worse, is that I called in my complaint 1/24/16 @ approx. 12:27 pm and have not heard from anyone. Please retrieve the call and listen how upset I was.

russel pruitt
from Biloxi, MS
Well my girlfriend went to the Denny's on rockville road and they didn't have fries. So I told her to get me mash potatoes and they gave her the box to go. And then she came home, I opened the box to find my food uncovered and touching the box that is unheathy. A lot of people touch these boxes! We spent 27 dollar son food. I like dennys but probably be last time I go. This was bad customer service from Denyy's.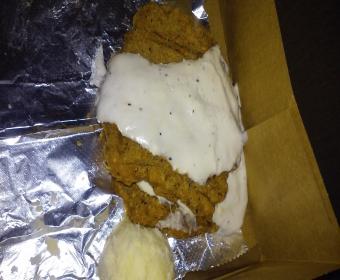 Melvin Frakes
from Bonney Lake, WA
I have been going Denny's for a very long time, about 20 years. I am a Vietnam veteran and also volunteer at the Lakewood Washington hospital. The past few months I have notice the food getting very bad, eggs not cooked very good. I found out from the waitress when the cook don't show up the cook will cook and has a hard time doing it. I went in on the 21st of November for breakfast and order eggs over medium and got eggs not cooked whites. They took them back and put them on the grill and over cooked them. The hash browns were cold and so was the toast all I eat was the bacon. I paid full price for something I didn't eat. There is a lot of military that go their. If you cant fix this problem I am going to let our military know about this restaurant. The address is100 street SW Lakewood wash. Also the manager and Denny's corporate offices seems not to care. I like Denny's please help!

Wendell Lentz
from Downs, KS
We ordered a ham and cheese omelet and 2 eggs over easy with sausage, hash browns, biscuit and gravy. Also ordered 2 cups of coffee. When the order came we got the 2 eggs, biscuit with no gravy, no hash browns and brought pancakes to us which were not ordered. They insisted we had ordered them, then the waitress said she placed the order wrong but never brought the hash browns or took them off the bill, then on the omelet my wife never got her toast or got any taken off the bill. We got a refill on coffee and paid dearly for it. In the meantime here come a waiter with an order of spaghetti which he thought we ordered. It seems like there is no organization in this place and took 30 minutes to get out half way order. Rest assured we will not go back to this place. For these few things we got to eat our bill was $21.00. We are Senior citizens and my wife ordered from the Sr menu. Pretty darn expensive for a half way meal.

Sam Williams
from Wrentham, MA
I love Dennys, but there are no restaurants near my home in Wrentham, MA. We decided to stop at the Nashua, NH Dennys when I spotted it coming home from vacation on 11-19-15. I was so happy to finally be able to get a Dennys breakfast. The food was fine, but the facility was old, dingy, and obviously needed a complete redo. The bathroom was somewhat clean, but also needed updating. The waitress brought our check which I decided to pay with a credit card. To my dismay I was required to put the tip (gratuity) on the check before she took it up to the desk for cash out. This is the first time I ever heard of a policy that requires the patron to give a tip on paper for the waitress to view before cashing out. Please note the waitress did a nice job and I gave her a 20% tip, but I was very annoyed by this policy. It coerces a patron into possibly giving more $ than the server deserves. Why make a patron feel uncomfortable paying the check?

Gary Grandee
from Independence, OH
We just came home from dinner at our local Denny's and I must say, it was not pleasurable. They had the O.S.U. vs M.S.U. football game on the tv's. There was a young man (worker) no sure what his function was other than to cheer loudly when M.S.U. scored or something happened in their favor. I even made a semi loud remark that I wish I had a job like that! Another set of customers were also displeased with his cheering and actions, that they asked him, how can you be from Ohio and cheer for M.S.U.? He replied "ALL O.S.U. fans are nothing but rednecks". It's nice to know that that Denny's thinks their O.S.U. customers are ALL rednecks. This guy should NOT have a job around the public, I'm not even sure how he was still employed after making a remark like that and not performing his job (unless he is the cheer team for Denny's). On another note, our waitress was not so good, I ordered a salad and country fried steak meal, she brought everything out all at once.
I voiced my displeasure with that and she didn't seem to care and walked away. Upon leaving, she ended up cashing me out, which I thought was not allowed? She asked me if I wanted to add a tip, which I did, but I also let her hear my complaint that a salad SHOULD ALWAYS be brought out WELL BEFORE the main meal! This is now the 2nd bad encounter with this Denny's. I have been to this Denny's during the day time and it is a difference between night and day with the help. The person I was talking about during and after the football game was a dark skinned guy wearing a M.S.U. baseball hat backwards. Every time the manager/owner Sigh? came out, this employee put on a show like he was doing something. I used to frequent this Denny's 3 - 5 times a week for business, NEVER AGAIN!
If I were to ever bring someone for business in there and they would have heard that, you would have been faced with legal action. Have a CLUE! You don't call O.S.U. fans ALL REDNECKS! ALSO it is quite obvious that the majority of the waitresses have had no training or they just don't care! I would go with the later one for sure.

Cesar Almerez
from Lancaster, CA
Hello. I had time to think about your, restaurant and what's really going on. This is the real math. I already filed a complaint, and now I think I know why your night manager, at your Lancaster location freaked out on,18,Nov. 2015 .For starters, you had only three people working the shift that night. The manager (Daniel) One cook, and one server. When my wife ordered her free birthday breakfast, along with my paid dinner, she showed her drivers license to the server who was to busy to show it to the manager who wanted to control the cash register. So ,by mistake the manager charged the breakfast also and insisted it was right even after the server explained to the manager our circumstance.
The manager was irate at the server for not showing him the drivers license and the details of our visit . Your manager did not want to be held accountable for the inconvenience so he said that it is standard rules of the restaurant to check multiple times with documentation ,in order to cover for the server who was not allowed to work the register for security purposes. The manager did not want to be questioned about doing the bill twice, and that,s when he got rude and lied about restaurant policy. He was trying to compensate, for the lack of communication and trust of his employee, and the shortage of staff. Now that I understand that your proud manager was simply, incompetent, and panicked, and did not want to appear that way. I'm O.K. with all this ,but please note ,that your night manager, was successful in making upper management look really poorly managed and novice and in disarray.
I sincerely hope everything works out for all of you who have to wear this reputation on there shirt.

I got a coupon for 20% or 5.00 off and the cashier didn't know what the 20% of my ticket was. Two days later I called in to order chicken noodle soup and told the lady to make sure that she gives me plenty lemon and I didn't get a single slice, of course I didn't notice till I got home. Never shopping at Denny's again.

Josalyn Orth
from Tinley Park, IL
First the cockroach in the salad, the plates brought to the table had crusted chocolate on the two that were stuck together. Brought this to the managers attention and he said sorry. Since this is more serious than just a sorry all ten of us have contacted the health dept. The denny's on lake st in aurora.

Jovon R.
from Garland, TX
I found myself at a Denny's located off of Broadway & I-30 in Garland, TX and was disturbed by their service! The restaurant was damn near empty when my family and I was seated right away. It was really eerie seeing 2 families sitting alone eating quietly whereas a influx of tables had dirty dishes waiting to be picked up. The televisions had breaking news regarding Paris, France. The General Manager was seating anybody who walked through. I believe they had a shortage of staff working on November 13, 2015. The general manager gave us our drinks right away, took our order, and brought us our food within 20 minutes. He even made us laugh! What caught me off guard and disturbed me was how he wouldn't ask my wife if anything was the matter or if she needed anything. My wife noticed her burger buns were soggy as hell and couldn't ask for any clean silverware because he would quickly walk away after asking if I needed anything only. I am not pleased with the service whatsoever. The cook is nasty. The tables and seats were sticky as hell!

Dee Miller
from Eudora, KS
Dangerous parking lot with serious accessibility violations. There is one accessible parking place--that's what they call it, anyway. The striped access aisle for unloading the wheel chair is on a ridiculous slope because the parking lot is in such awful shape! This place is a lawsuit waiting to happen. My husband's power chair nearly went off when he had to load back after supper at such a slant he almost spun off backwards/sideways into another parked car. Rest rooms are totally inaccessible! This is an insult to the civil rights of millions of people who have worked so hard to eliminate such nonsense. Sure it will be expensive to remedy, but the law insists it be done. Food and service were great. A fine place for the able-bodied. ADA says that's not good enough, though, and it shouldn't be. I'm calling corporate office this morning--as if that will do any good. Will also file a complaint with the City on this very serious violations of codes.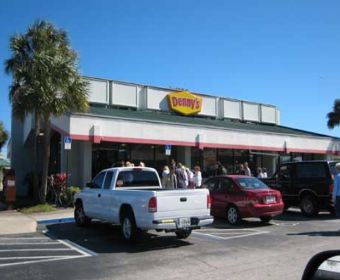 Ginger DelVecchio
from Warsaw, IN
We stopped at Denny's in Shelbyville, Indiana at 3:45 in the afternoon. There were only 3 tables of customers when we went in. We were seated and the server that seated us said our server Julie would be with us soon. The manager, stood talking to a couple lady patrons an isle over for awhile in a personal conversation. We were given our coffee but waited 15 minutes then a lady that was running the cashier area, came over and said that our server would be with us. We waited another 10 min. and the server, Julie never came and the cashier took our order. Our food arrived 15 min. later. I got the biscuits and gravy and hashbrowns and my husband got the lumberjack. It was lukewarm. We got a refill of coffee after another 10 min.
The cashier said the server had an emergency but would be back in 10 min. How can you time when you return from an emergency? The imaginery server, Julie never appeared until we were done and brought our bill and asked if we wanted dessert. There never was more than 3 tables of customers the entire time-horrible service. We have been to several Dennys but never had such poor service, and for the manager to not even watch that customers were sitting for long periods of time without service. I'd hate to see what it would be like if they had been busy. This was on Thursday, Nov.5,2015.

Shirley Payne
from Atlanta, GA
You lost a weekly customer at the I 75/ midway in north Dallas, Texas location this morning. I gave, in writing, my complaint to the manager coming on this morning. I was not charged for the meal. That is not the point. I came in for the pumpkin pancakes. I got regular. I questioned the waiter, who questioned the cook by asking the cook "those were pumpkin pancakes huh?" And the cook said yes. I showed the waiter they were not. I took a picture of the pancakes. They were good REGULAR pancakes. Not what I ordered. I had already asked for hot coffee. He had given me very cool, old coffee.It was 5am this morning and had told me it was not old. Your services certainly would not meet many people's expectations. I can not recommend this restaurant to my friends again.

Rebecca Pitts
from Atlanta, GA
We visited your restaurant on 10/30/15 at 6:50 pm. We were seated in a booth that was broken; the seat sunk down to low to sit at table. We requested and was moved to another booth. We advised the Hostess we wanted coffee. A few minutes later our waitress bought out coffee and we ordered our food. We were unable to drink the coffee because of it being so cold. I tried to flag her down as she walked near us and was ignored. She looked directly at both of us waving for her and ignored us. After over 10 minutes, the Hostess walked past us and I asked him for some hot coffee. He advised he would have some bought out. Another 10 minutes passes, nothing. Our food comes to the table and we ask the waitress for some coffee. She was surprised that it hadn't been bought to us before our food. After a few minutes she bought us coffee. It was terrible, so strong it could have walked out with us. The food was terrible. I couldn't eat my eggs because they were so runny that the egg white was uncooked.
Pancakes were ok, just rest of the Lumberjack Slam that we both got was terrible. Bacon was limp and greasy and so thin you could see through it. I paid $24.00 for food that we couldn't eat and needless to say I did not leave a tip for the waitress as she never came back to the table to see if everything was ok or if we needed more coffee, etc. Worst meal and service ever. My order number is 450092 on 10/30/15 at 6:50 pm Server Dorothy G. Table 64 at Denny's #2315. I would like to have my money returned. When I paid the cashier, he asked how it was and I told him and asked how I could file a complaint. He said he didn't exactly know, just gave me his manager's card with the name Alice Phillips. We are regular customers at the Denny's in Richmond on Broad Street and have never experienced bad food or service there. Your Carmel Church location really needs help!

Carol Hantke
from Janesville, WI
My friend and I went to Denny's in Janesville Wi, 10/31/15, Were told there cooks walked out and that there was a 2 hour wait. We decided to stay figuring there was only 2 of us and it shouldn't take that long. We placed an order for an Appetizer, needless to say we got our food about an hour later and no appetizer. Upon sitting there, there was a group of people whom worked there but had been at the bar prior to complaining and being really loud and saying they were not going to pay. The manager Megan came over and apologized several times. We told her not to be sorry as it was not her fault. She offered to give us a discount and we said no, She had several people walking out and not paying there bills and we felt bad for her. I offered to go back and help cook as my mother owns a Restaurant, that's how bad I felt. This place needs a lot of work and a little better management. I feel they were very unprofessional.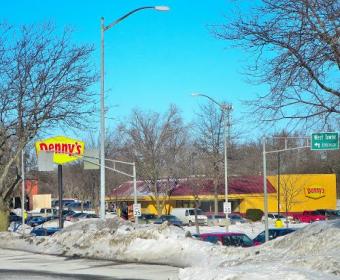 I'm just writing a letter as a concerned customer. I normally visit your store three times a week and in every visit there, I witness the horrible leadership and management of one the managers there, Mrs.Fatima. Fatima is very disrespectful and rude to her employees and sometimes guest. On one of my last visits she made a server Mrs.Rosie cry, she yelled at her in front of the house while she was serving her guest with trays in her hands and all because Mrs.Fatima called for her in a harsh ton to come over, Rosie replied to give a second that she was attending her guest.
When she finally finished with her guest she went to Fatima and I heard Mrs. Fatima say to Rosie that "when I call you, you come immediately to me and look me in the eyes as I'm talking to you" that's when Rosie started to cry and I thought that I was unprofessional and should of been approached differently. I believe the proper procedure would of been to go the back of the restaurant or office to discuss the issue. I think she needs to have upper management have a word with her or have a manger on staff that treats their fellow coworkers with respect. I don't know what she is doing to get all this special treatment but it's not fair, also all this happens when she manages alone and no other managers around, I have notice she acts differently when upper management is around. Denny's store on 3850 SW 137th Ave in Miami Florida.

Nancy Garrett
from Seal Beach, CA
We had dinner tonight at the Seal Beach location. When we were leaving two young males entered the restaurant with a large dog & were taken to a booth in the back where the dog was allowed to sit up on the booth seat. My husband commented to the Manager on duty who was at the cash register as to whether dogs were always allowed even if they did not have a "Companion" vest. She went back to check it out but the dog was allowed to stay & sit up on the booth seat facing the table like the 2 adults. I wish I had gone back and taken a picture but I didn't want to cause a scene. We frequent this Denny's which is across the street from Leisure World retirement community where we live. It seems that lately every time we go eat dinner time the food is not good and the service is questionable. There used to be two (2) good and personable Managers but lately it's questionable.

Robert L. Gabler
from Humble, TX
I ordered one (1) scrambled egg & one (1) pancake, expecting to pay $2.00. The menu said for $2.00, I could get two (2) pancakes for $2.00. When I got my check, I was charged $1..49 for the pancake and $1.69 for the egg. Thus, $3.18 total. The coffee was $2.09. I summoned the manager who told me that's Denny's policy when an egg and a pancake are ordered ala carte. I submit that Denny's 'policy' above is the opposite of Customer Friendly. For the foreseeable future, I'll have breakfast at IHOP and other local eateries.

Patty Mayson
from Salinas, CA
First I just need to say I worked for Denny's brand for 10 year. Started as a graveyard server and finished as a manager. That's why I feel you should be aware of what is happening at your Salinad North Main store.
My husband and myself have been in there 3 separate times and service was unacceptable every time. We went in today to have the delicious Cobb salad and again service was unacceptable which was embarrassing because I love Denny's brand. Our server seemed lost and unfriendly. We watched 2 other tables get up and leave as well as we did for I was on a time restraint to eat before I had to get ready for work. The manager was seated at a table doing paperwork and unaware of her servers issues.
After 40 minutes, she came to our table asked what we wanted to drink and we told her we were also ready to order. I proceeded to give her my order of the Cobb salad with fried chicken. Her response was "you mean the prime rib salad." I said ok but with fried chicken and ranch. She then asked me what dressing I wanted for my salad. ???? Again I repeated ranch.
My husband ordered the CFS with briskest and gravy. She then told him something about a two for six that made no sense So he replied I don't care if you charge me extra but instead of bread I want brisket with gravy. We waited til 10 minutes after 2pm and our beverages still had not arrived. I usually don't complain and I apologize for the book but WHAT IS GOING ON?!?! As still a restaurant manager, it is just unacceptable.

Joseph White
from Columbus, OH
On my way to your restaurant for breakfast this morning, approximaly 9:15am, a car drove reckless around my vehicle. My girlfriend and I reached your restaurant and as we proceeded to enter the restaurant, the car which drove reckless around my vehicle approached me in your parking lot. Words were exchanged and then the individual left.
Entering your restaurant I asked the person who was at the front who was the employee who just entered in, they said they could not reveal that information. So I proceeded to tell them why, she was grinning when I was talking. Then I asked for the Manger "Ray" is his name and I told him what just had happen in the parking lot. He said there was nothing he could do. I said the employee must have been late and that is why the person might have been driving reckless and approached me in your lot.
Not knowing the greeter was the one who had just gotten out of that vehicle. I unknowingly divulge all the information to that individual. Once the manger appeared I told him what just had happened, he goes back in the rear of the restaurant and comes back and tells me and my guest that we had to leave. I did call the police and was told because I did not get the license plate, their was nothing they could do.
Easily resolved by them talking to your employee and finding out who dropped them off. I did nothing wrong, but told a manger what happen in your lot with the individual who was being dropped off by the driver of that vehicle. But what gets me is how someone who just got out of a truck was at the front desk and the manger " Ray " said "she was not late" all the while she and several co-workers were in the back room laughing about the situation which had occurred.
The employee was not at fault it was the individual who was driving, but for the manger to tell a customer they had to leave for no reason is outrageous to me. But for the employee to make light of what just had happen in the parking lot, now that's another story.

Gregory Lewis
from El Paso, TX
On or about 440 am on Saturday 9 May I walked into your facility to make an order of Grits to go like I always do at this location. The waitress immediately told me that they do not serve grits before 6 am which is incorrect as I order grits to go all the time at this facility between the hours of 4 am to 6 am. The waitress was profiling me the minute I walked in to your facility. I called your GM the same evening and informed him of what happened and he was very nice and said he would let her know that this is not correct. He stated to me that the longest it would take to make grits is 20 minutes which I would have waited and that she was incorrect. Your waitress should not profile customers as they walk in to your facility as this is not legal and against the law. She must serve all customers they same and not worry about there color or creed. I am a loyalty dennys customer for over 40 years and this was a slap in the face. You should counsel this employee on ethics.

Terasa Bouter
from Medina, NY
We went to eat yesterday and haven't been to Denny's in a long time. The service wasn't good. We were there for over an hour. Took a while to get our food, waitress came maybe 3 times the whole time.
The food was horrible! Mozzarella sticks are what I buy in the freezer section. Pizza for my son was cold and a frozen pizza. Eggs were overcooked. They had no pepperoni for my son's pizza. The quesadillas were dry with no salsa or sauce. It was $36 and I can pay less for the frozen food I got.
It was not a good experience and NOT worth $36. The waitress who barely came over was nice but came only $ times, so she only got a $3 tip, which I'm not sure she should have even gotten considering she barely came. My son tried the queso and his mouth was on fire. His drink was gone. It took 10 min for her to even be on the floor to ask for a water, in the meantime, his mouth was on fire.
Not going back! Ever!!!

Wallace and Patricia Casto
from Mabank, TX
We Love eating at Denny's. We are visiting our children and their family and decided we were going out for lunch. We decided Denny's so we went in and ordered. Two Sirloin Steaks, Green beans, you do not serve green beans, ok, corn ugh it was so sweet not good. Bread was so hard you could not eat it. Mashed potatoes they came two scoops like ice cream NO Butter---NO Gravy so nasty Not HOT Coffee Luke warm.
My granddaughter ordered a chocolate shake. It was so bad she got choked on it and her food was so bad it crumbled in her plate. I asked for a Pattie Melt none but build your own burger. So I asked for Rye Bread, yes they had that Hamburger on it grilled with cheese and grilled onions. The bread had been toasted and hard tore it off ate the burger. We are so up set with this meal. $51.00 SAD But we paid it and will not go back .

GEORGE FERNANDEZ
from Queen Creek, AZ
My family and I have been loving breakfast at Denny"s forever. But we have been visiting this location in SANTAN VALLEY AZ —and is been always the same— very slow moving service as if workers do not know what are they doing working at a restaurant. The manager shows very low respect for the complaints of the people.
Me and my family were in that specific location today May 3, 2015, and they served coffee barely warm; after a long wait of 1 hour and 15 minutes, we were short on silverware and table mats. Among others things that I noticed was that the server sneezed over the tray she was carrying with beverages for other party, two ladies close to us left the place after a short talk to the manager, because after a long wait they were served something they did not ordered.
We noticed that other people left unhappy but do not know why; by the way, we were the third party leaving the restaurant with no good comments about this place! I hope DENNY'S take care of comments and call attention on their franchises.
By the way we still love going to Denny's and we like your food, but we are not going back to this particular location in SANTAN VALLEY AZ.

Craig Thomas
from Aurora, CO
On May 1 at approximately 2:10 p.m. I placed a call to the store located 12090 E. 40th St in Denver CO. The order was never made. After I was asked if this would be a to-go order, I was immediately placed on hold that lasted for 3 mins & 31 secs. I hung up & called again only to be told by a male employee this time that he was cashing out a customer. It would seem to me that some sort of corporate policy should be in place to handle 2 issues @ once. So that no customer is left wanting.
Well this hold lasted over 10 mins. I actually drove from work to the store still on hold. Upon entry nothing changed. I stood @ the hostess stand unnoticed as 1 employee had a breakdown with a customer about her personal life to the point that the customer had to console her & promise to pray for her.
After over 2 mins of standing the male server with whom I spoke earlier( he was the only male) approached & asked if he could help me. I informed him that I was the individual that he had on hold for 10 mins. His response, "You've been on hold for 10 mins?" Yes & showed him my phone. @ this point I want nothing from this place because I'm not certain if my steak can reach me w/o hitting the floor. Expressed my displeasure & left.
Called back, same male answers. Asked for the management & am informed that there is no manager on duty. She's gone for 20 mins. It's disgraceful that a call in cost you my business. I WILL NOT return.

Leslie Coffey
from Houston, TX
We (My grandson and I) were not given silverware and napkins before, or during, our food being served. I had to ask twice. the first time I was told by our waiter, "Oh. Just a minute." I waited a few minutes and had to ask again, this time I asked the manager - who actually seemed like he was being inconvenienced by being asked to help. He did give us silverware but by then our food was getting cold. The restaurant was not busy, but we did not want to risk sending it back to be reheated, much less redone, as the service and the attitudes already were so poor.
Then, when I was paying, I asked for the AARP discount and was told I could not have it because I did not have my membership card with me nor did I know my membership number! The manager acted like I was lying about being an AARP member. After the poor service we received I felt it was the least he could have done! We were very angry that we were treated so poorly. We will not return to that location again.
The manager gave me a receipt with different people's name on it so I cannot tell you his name but he was the manager on duty at Store # 7260, 11511 West Airport, Meadows Place, TX 77477, tel 281-494-2577. This was Saturday, 4-25, 2015 about 10:00 pm.

hecto jimenez
from Baldwin Park, CA
The cashier only discounted our receipt for my AARP discount but didn't explain I could use only one discount. It was my wife's birthday and when paying my bill I showed the cashier my wife's ID. I then seen my bill that she only used my AARP discount. She did not let me decide which discount option was better for me or which one I decided to use. She should of mentioned that before she processed the discount for me. There was no sign displaying that I could use just one. I took my wife for her birthday thinking she was going to get her meal free. This was on Friday April 24, 2015 @ Denny's 6977 in City of Industry.

Daren Clark
from Page, AZ
I know someone who was working for the PAGE AZ Dennys, and he was there for five years. the times ive been there dining, I noticed he was always busy, either dish-washing, sitting customers when the hostess or waitresses were busy, cleaning off tables, taking out garbage. Always busy. he was constantly being called in when someone else didn't show, even on his days off. at times they scheduled him for 4 pm to 11 PM and then wanted him back in at 6 AM the following morning. He was always trying to help. Then one day he wasn't there. He went in to talk to the GM, and she wouldn't even listen to his side of the problem, AFTER FIVE YEARS and hardly any raise and no appreciation for all his hard work.
I remember going there on valentines day, and seen a worker/COOK, walk off the job, but instead of firing him they just gave him the day off. and he hadn't been working there long. I went in and was told at first there was a 45 minute wait, and then few minutes later was told it would be an hour wait. so I left. they go through help like crazy . makes one wonder. but when they get someone who has gave it their all for five years, and let them go... makes me wonder also about who's in charge. their service sucks, and most times so does the food.

Jennifer
from Lansing, MI
Our waitress asked us what we would like to drink. She brought our drinks then gave us a few minutes to decide what we wanted to order. That is usual when we go out to eat. When she came back took our order and said it would be a little bit of a wait. This was a little unusual so I went up and asked her how long, and she said about 40 minutes. I said WHAT???? We can't wait that long! So we ended up paying $10.54 for 4 drinks that we didn't even finish as we were that mad. I told our waitress she could have told us that BEFORE we ordered our drinks! This was Therthe Herkimer, NY location.

Victor Estrada
from Alameda, CA
On April 12, 2015 my girlfriend and I decided to go to one of our favorite restaurants for some late night breakfast. When we arrived at the Denny's off of Mathilda ave. in Sunnyvale, CA we noticed the place was quite busy, after waiting 5 minutes to be seated we opted to go to a different Denny's. We went to the Denny's in Santa Clara CA 3715 El Camino Real. Though we were seated immediately, and got our drinks promptly, it was almost 15 minutes before our order was taken. 5 minutes after our order was taken we were informed that they were out of pancakes and were given the option of having French toast. First of all, how is it possible for Dennys to run out of pancakes? Second the main reason we love Denny's is because of they're pancakes. And third we were so hungry and tired of waiting we grudgingly agreed. After waiting another 15 minutes our food arrived, and this is what was wrong with our order.
The eggs were cooked wrong, we wanted 2 sausage and 2 bacon, but only received bacon. Our meal came with a juice but didn't receive it till we asked for it, and still had to wait another 5 minutes before we got it. For some reason we were only given one syrup to share, and our hash browns were undercooked. This was by far the absolute worst dining experience we've ever had at a Denny's. Though our server was very apologetic and comped us our drinks, the service was very lacking. That very same morning my in laws were celebrating a birthday and wanted to eat at that same Denny's but after having heard our story they decide to go the IHOP. I also believe this one experience will forever influence our opinion of Dennys. Our servers name was Rodolfo and our order # was 329783. Overall our experience was highly disappointing.

(Castro location) What a very dirty Denny's....worst one I have seen, bathrooms and restaurant. Hostess try to sit us in booth with a large hole in the cushion, but we asked for another. We ended up walking out after waiting for a waitress for over 15 min....they were to busy talking with old customers and amongst themselves. There were only three other tables with customers in the entire restaurant. We are royal customers of Denny's and when traveling we would always know that we could count on good food and service. None so much here. (Temecula , Ranch Calif Blvd location) Another dirty restaurant and bathrooms. Had to ask for coffee and waitress never checked back with us. I placed my order only having to repeat what I had asked in the beginning when serviced. Waitress was unfriendly, didn't smile once and rushed us with our order. Again very disappointed with both restaurants on our trip! We have two Denny's here in Redding, Calif and their both very clean, great food and great service!

Denny's restaurant on the intersection of hwy 287 and Sublett rd. Arlington TX. I have been coming to Denny's for over fifty years in the past five years I take my family out for breakfast six times a week spending close to 125.00 a wk plus tips. The Denny's I go to are as follows one on road to six flags, Hullen, carrier parkway, Cooper str, Foresthill,burleson, seminary Dr. But because of the way the one on Sublett treated me. As long as that franchise Denny's stay open I'll never eat there again. Cracker barrel, ihop, even MacDonalds never again at Denny's.

Sharon Grgich
from West Jordan, UT
I completed your Denny's Listens and did not receive a code to receive the Pancake Puppies for free.

Amanda
from Lancaster, PA
Waitress failed to bring plates to me for my appetizer only brought napkins. When asked for plates she said she will be right back with them never showed up wth them. My quesidilla was over cooked the first time then it was cooked perfect but they put tomatoes on it when I requested EVERYTHING on the side! Like really. Then the manager got smart and my boyfriend finished his food by the time I even got my food remade. I am highly disappointed.

Sandy Chavez
from Chino, CA
If possible I would leave 0 stars. After being seated we waited over 15 minutes before anyone asked if we been helped. Other customers came and were seated and received their drinks even after we were there for 30 minutes. At that point another waitress came and asked if we been helped and I answered no. She seemed confused as she mentioned she had informed our waiter over 3 times that we needed help. At that point it was ridiculous and we decided to leave. This is the worst experience.

Eric Larson
from West Palm Beach, FL
i was having a steak & egg breakfast early this morning at a Denny's restaurant in Riviera Beach, Florida and chipped my back tooth when I was chewing on my steak. I now have to go to the dentist to get it fixed and it's going to cost me money. I would like Dennys to pay for it.

Lupe Muro
from Fresno, CA
On 03/15/2015 we visit your location on 530 S Clovis Ave, Fresno, Ca 93721. Our server was really nice and helpful but extremely busy. After waiting for our check for awhile, she finally brought it to us, we took it to the cashier to pay. The man at the counter was also extremely busy with a long line of people to pay their bill. When I gave him my receipt he charged my credit card $12.91, which I though was odd since I was paying for two meals. When he gave me the receipt I noticed that it was not what I ordered, I had been given someone else's bill. Now I don't know if our server gave it to me or the man at the counter since he had other receipts on the counter. He called for assistance and a woman came to help him, they adjusted the amount an gave me a receipt and said it was returned back to my card.
Since I have not received it, I called your location on 04/02/2015 and spoke to Holly, Assistant manager, she said she didn't know what I was talking about because that's not how she was train to give refunds, she was trained to give cash back only. Well, I really don't care how she was trained, I would just like to get my money back that was due, the two persons at the counter said it would be returned back on my card. I think they all have to be re-train again so that there is consistency on how to return customers money. I have two receipts, the correct amount paid, and a Credit Card Voucher/Merchant Copy, Post Adjust Check, Restaurant #2276, 03/15/2015, Order 105202, Cashier: Abraham, Total $12.91.
It's the principle, not the amount, and how Holly addressed my concern, although she did refer me to call MaryAnn, General Manager at 7:00 am. So again, I am asking how do I get my refund back, I really don't have the time to call at 7:00 am during my busiest time of getting ready for work. Please advise, thank you for taking the time to look into this matter for me.

Ruth Bullock
from Bellingham, WA
What happened to the senior hamburger? When we asked the waiter, he said it was no longer on the menu. The closest we could come was some thing called the baja burger. It's made with a FLOUR (yuck) a tortilla and comes with ff and chops. Quite frankly, it was awful. Some things are a matter of taste so the fact that neither one of us liked the meat can be discounted (Maybe), but tortilla was greasy, the ff were barely warm, greasy and limp. There aren't too many eatable foods that are worse then greasy, limp ff. Chips were okay, I guess, but obviously right out of the bag. The wait was great, but not much he could do. Half, if not more, was left.

Terrible experience for my children & I it was a extremely UNPROFRESSIONAL work environment as well as the food was put on the plates sloppy ,not cooked well & staff was in need MORE training. The waiter forgot to bring my youngest sons grapes brought myself back food item I didn't order ,burnt bread & still charged for items but I paid without complaint just wanted to leave as quickly as possible! My WORST EXPERIENCE dining out EVER!
Have feedback for Denny's?
Thanks for your feedback!
Sorry. Please try again later!