Denny's
Denny's Complaints Continued... (Page 2)
384+ reviews added so far. Upset? Call Denny's corporate: 1-800-733-6697

debbra yaccarine
from San Jose, CA
My friend and I went to lunch, I ordered Salad with Fried Chicken, my friend ordered a Bird with French fries.
My Chicken was so crunchy I thought if I ate it, I would crack a tooth. My friends fries were cold and over done, actually orange colored. She asked for them to redo the fries and she was told the oil was OLD, they were working on changing it right now, she brought out more fries but this time they were floppy and undone, like they were dipped in cold oil, kind of water logged, hot, but still yucky, by the way, the waitress said, sorry the oil hasn't been changed yet so that the best she had. My chicken was cooked in the same raunchy oil. She offered a 20% discount, however I was more worried about my tummy.
very disappointed.

Gary Mixson
from Atlanta, GA
I went into Denny"s .And the watier came to the cash register.And I told her that I had a call in order.And then I told her that I would like order a drink and. Was tell what I wanted and. then started walking away and I this what I wanted and I said I need you to come back and take my order and she refused to take my
Order.So I went and told the manager there water wouldn't take
My order .And I. had my video camera on and the manager was apologizing for the behavior of the
Watier.I was discriminated against
She refused to take my Order.

William Christopher Jones
from Denver, CO
The employee did not acknowledge that I even existed once I asked if he took orders he yelled with an attitude telling me to wait while he did something on the pos and approached in a way I considered to be hostile. I think it was racial discrimination upon speaking to others who shared similar experiences and seen likely accepted behavior by management. I don't expect anything to be done and am sure Mr. Todd will continue his lack of customer service.

Denny's Restaurant #0818 on 4/13/2018 at 2:23 am Order #431764 Server: Elizabeth R
Table:162
Ordered 2 Spaghetti & Meatballs with extra meatballs and extra sauce. I was not given extra sauce and the orders were half the size they should have been. It didn't taste near as good as the last time I ate here. The waitress overly flirted with my husband. She was so busy flirting, my order was all wrong.

Mary goff
from Columbia, MO
The service was bad we waited to get all are food the server want on brake didn't make should that we got are hole order and more coffee had to wait for bill twenty minutes or more the girl hostess came by I call her over to ask her where the waitress was the waitress name was Kevin a the hostess was good her name was Deja

Olivei Field
from Kansas City, MO
The waitress brought us menus, brought us water, took our orders, cleared & washed a different table, swept the floor,
refilled a syrup container, and then picked up our orders and brought them over to the table all without washing her hands.
I WAS WATCHING HER the entire time and hoping that she would wash her hands before handling our orders, But she did not.
We were at the Dennys Restaurant on 3832 blue Ridge Cutoff., KCMO. We arrived at Dennys on March 4 th at around 3 0'clock.
There also was a Caucasion cook who was hollering at an African American waitress. The race really does not matter, but I am just
trying to point out who was involved. The cook was irritated because we ordered something that your restaurant was out of and the waitress had forgotten. I know that when people go out to eat they are spending their money and want to leave their problems
at home. It was disturbing to hear the cook's continual comments about this mishap. She told the other cook, "I told her before
that we are out of that dish!" I thought that this was disrespectful and showed poor judgement. We really did not enjoy our stay because of the friction between your staff members. Your staff needs to speak and treat each other with kindness and respect, even if they are under pressure. The restaurant was not that full for there to be that much pressure. The customers should be able to have a pleasant, stress-free
environment away from all the the confusion (of their own everyday life.) They --we-- should not have been forced to go thru these
"negative changes" while we were trying to eat out, get away from our problems, and have a good outing. Your staff messed up our day.
We were celebrating my husband's birthday. We are an older couple and we have enough problems due to age and finances. Please tell your staff that they are being watched and heard and that every customer's experience should be one that is pleasant, enjoyable, and trouble-free.
There should not be so much tension and disrespect shown toward staff members.

Raeann Cushing-Laurent
from Renton, WA
We were in Las Vegas last week and on Saturday night we decided we would go to Denny's just off of Freemont Street. We were seated right away, the restaurant was not busy, and we waited about 20 to 25 minutes and no one came up to us to ask if we were ready to order or just to ask us if we would like something to drink. We got up and on the way out the door, my husband told the guy at the front that next time he sat someone around the corner to maybe remember to tell the waitress. Friends of ours were also there for the race and they stopped at that Denny's for breakfast. When she got her coffee the coffee cup had stuff on the handle and the side of the cup. She asked for a new cup that was clean. They did give that to her, but when they got their breakfast it was cold. Now I would think that a restaurant in that popular of a place would be a bit more mindful of their jobs and how they are representing your company. Because of this experience, I am going to think twice before I ever step a foot in another Denny's and believe me when I say that I will let my friends know not to visit the Denny's just off of Freemont street because of dirty dishes, cold food, and the nonexistent service.

Glen Thailing
from Mentor, OH
Hello, I'm not the type of person who spends time complaining about bad service. I would usually just never go back to a place if I was unhappy about bad service. In this case I just wanted to let you know how bad this is.
I placed a order at dennys.com and headed to the restaurant to pick up my order. I showed up 20 minutes after placing but when I got there she said it would be a few minutes. It took them 20 more minutes to come out with my food order. When I got back to my hotel there was no plastic ware or napkins in my bag. No condiments in my bag. When I opened the food it looked like it was sitting around for awhile already but worse of all my cheeseburger was not made to order as described on my receipt. After all that I said o well and went to pick up my burger. They did not put a bottom bun on the burger. No joke. I felt like I was on candid camera or something. The worse part is, the restaurant was near empty and really zero reason they would be so lackadaisical ???
I'm attaching my order confirmation,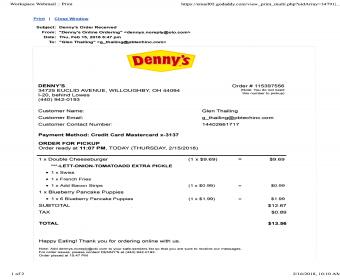 Sandra Nunez
from New Port Richey, FL
I went to eat my birthday breakfast on January 31, 2018. It was my 51st birthday with my cousin. We received absolutely terrible service. We waited 20 minutes for a waitress. I asked for 2 eggs over medium with hash browns. We did not get our order for 30 minutes at least. When we got it mine was not over medium because the eggs were so runny and cold. The hash browns were hard and dry. I didn't send it back because we waited so long for our order. I ate the hash browns and toast. I was so sick to my stomach when I got home. I've never had such terrible service at 4442 US hway 19, S New Port Richey, FL 34652

Nadine Hoffman
from Altoona, PA
Went there on lunch break about 12;45....it took over 40 minutes just to get an order of egg whites and an English muffin. No offers for refill of drinks or coffee. No apology made. This was by far the worst experience ever at any restaurant. Poor slow service.

Lisa Abdelmalak
from Dearborn, MI
On February 8th 2018 around 8 p.m. My family and I went to Denny's located on Brookpark Road in Cleveland Ohio. We were seated asked what we would like to drink I ordered a dr. pepper, my husband ordered Coke, my mother ordered coffee and my four-year-old son ordered chocolate milk, we then proceeded with our order. We were very unhappy are sodas were watered down, my mother's coffee was lukewarm, I was really upset when my four-year-old was served spoiled chocolate milk and the waitress was very rude took the chocolate milk to the front where another employee started laughing because my four-year-old was served spoiled chocolate milk, our food did not taste fresh, there was a hair in my French fries, the bathrooms were not cleaned and the restaurant itself smell like mildew. With having a bad experience like this makes me not want to return to Denny's.

Judy husk
from Lafayette, IN
Today (February 7th) my husband and I went to eat after i got off work and when I ordered the pot roast melt and potatoes and gravy my pot roast and bread was burnt this happens all the time when the cook Robert is working plus I had to pay extra for the gravy we went in couple weeks ago and my friend has never been in Denny's before and her pot Roast dinner had no carrots or celery that goes with it and they turned 10 people out because the cook Robert couldn't handle any more orders plus the waitress told them to go to ta or Denny's in lake Station the attitude of the cook is horrible he yells and argues with the waitresses and all of us customers hear it I been going in Dennys in portage for a long time and there is no sense of the treatment you get in there the one that was manages today was Patty and she has a attitude also if it keeps up my husband and I will start going to Lake station denny's !

maritza garcia
from Fort Worth, TX
I had pancakes and there was hairs in my pancakes. All the server did his give me a 5.00 to discount my food manager never come out to talk to me I find very rude it a disgusting.I work doing taxes in buckeye and have over 320 I will tell them what happen
I went to the buckeye az 85326 order -366641

DALE
from Chula Vista, CA
On Thanksgiving night I know you were one of few restaurants open in Corpus, but Denny's is around the corner from the house on South Padre Island Drive. I went there about 7 PM for a cup off coffee and a chicken avocado salad. The waitress took a while to bring the cup of coffee and then walked off, when she came back by with a tray of food I asked her to stop back by the table.
I want to know what kind of waitress brings you the coffee, no spoon, no napkins and no cream. I let the coffee set there for about 15 minutes, I did notice one of the managers kept looking at me and I took a pack of sugar and had it in my hand and was kind of lightly tapping it on table wasn't making any noise. Finally after I was totally ignored, I just got up and walked out the door without drinking the coffee and I hope the waitress enjoyed paying for my meal I did not eat. I must say the Whataburger was very good and the Service was much better and politer.
I am an old person and very financially stable and can do what I want. I must say Denny's won't be seeing my business and I also told my room mate who often goes there and is in the restaurant service business as well.
alternate contact dale.dubose@navy.mil where I am at today.
Corpus Christi Resident

Linda White
from Sacramento, CA
I was at Demny's San Pablo Dam Rd in San Pablo the waitress was coughing on the floor wiping her nose i ask that she work wih a mask or in back she continue to cough on customers these guys got up a left very unprofessional her name is Sondra the Manager didn"t want to give her name she had frosted blonde hair will be contacting health department days later i had symtons of a cold

María Isabel
from Houston, TX
No good service and propale that arrived there after me got their drinks and their food first than us even though we got there first and they had the same amount of people. We waited like an 1:30 and we had to leave. I prefer ihop now after this experience. They dont go by órders which i find as Band service.

Joanna Garcia
from Rowland Heights, CA
I usually call in my dinner ahead of time & go pick it up to enjoy at home. Today I did the same thing & I always check to make sure everything is ok like no lettuce in my sandwich & pickles on the side. Well when I was checking for all this I noticed how little bit of french fries I was given & I really thought the guys were playing a joke on me & I asked the Manager (he brought my food to the register) if this was serious about the amount of fries given to me & he said yes that's the amount we always give. I said NO way!! I order almost weekly and have never ever received such a little amount of fries and I went on to count them in front of the manager and there was literally 9 french fries spread amongst the sandwich like 2 on the right side & 2 on the left etc... I went on to ask him if this was serious & not a joke!! He said well I can add 2 more fries!! I started laughing and said no thank you if you are saying this is the amount you usually give then so be it. I KNOW I always get way more than 9 FRENCH FRIED!! I even get more Onion Rings at Jack in the Box!! I get 11 Onion Rings because I have worked at a Jack in the Box many years ago. I then checked the ONE piece of bacon that was hanging out of the sandwich & it was crispy as I requested not knowing I'd ONLY get ONE piece of bacon!! I also asked for CRISPY WHITE TOAST for the bread and if that bread wasn't drenched in so much Mayonnaise it might not have been so soggy!! I DON"T understand what's so hard about making a damn Club Sandwich!! Unbelievable!! I'm thinking about changing my Saturday night dinners for something else like maybe Jack in the Box!!!!
Feel free to call me at 626-626-5522
Or Email me at sisjoanna@aol.com
I went to the #8508
Server was: MONDO
Customer Order # 233655
Rowland Heights Denny's at approx. 7:13 p.m.
I paid $12.01 & was HIGHLY DISSATISFIED!!

Trevah Thompson
from Des Moines, IA
Me and my husband live very close to this location and we love that Denny's restaurant. the people have always been pretty good . They are nice, even tho they usually mess up our food but we didn't mind so much cuz they're always so courteous and made it up to us ,well I can't say that for this time as I placed my order I was asked repetitively the same question over and over as if she wasn't even listening then I said to her for the third time did you get everything would you please repeat it back to me and she did it sounded okay. my husband gets there , brings the food home there's no mozzarella sticks , the ranch dressing was not ranch dressing they screwed up my entire dinner so now we had to pack up the food like they asked us to do and bring it back to the restaurant so that we could then enjoy waiting on them to complete our order that should have been done in the first place. I find this highly ridiculous. by the time my husband went back for the second time and when I spoke to the girl she was the one that took my order originally she was not sympathetic at all she could seem to have cared less that she screwed up the order nobody offered us any compensation for us having to drive back out at a cold night to get our food we can even eat dinner together he couldn't eat his Burger in front of me knowing I'm hungry and he's starving and then now I'm having to get on the phone and deal with people and this is just ridiculous I have not in a million years ever experienced such bad customer service this is truly just disappointing all the way around the Spectrum I'm a supervisor for Starwood Hotels and Resorts worldwide who have now joined with Marriott to become the largest hotel company in the world I am a manager in the customer service department so working in customer service I don't normally complain because I do understand how things go but this was truly truly sad I hope that someone does something about that very soon because you're going to lose a lot of business and there's going to be a lot of disappointed customers if this continues moving forward I expect some sort of compensation to make it right I do not like walking away from one of my favorite restaurants with a bad memory knowing or feeling like spending my money is a waste of our time there.

Sonny kitzmiller
from Honolulu, HI
Hi today me and my family had came to Denny's restaurant on Oahu and we went to Kapolei and it was so terrible ..... First of all I want to say that I hope that waitresses never get in trouble because it wasn't her fault.... I want to make a complaint because we had order and our food and we had to wait along time.. The girls name was ashlyn and we had watch her because it got busy and she was asking her servers to help her and they didn't want to help and she was the only one who was working I guess cause the other two workers had they never help the poor girl... And since we had to wait a very long time we decide to leave and we didn't eat the food we had order we left and so I hope she never a had to pay anything for what we order but we was not goingto wait anymore cause we had to be somewhere at one certain time ..... But me and my family that was 8 of us in our party to eat so we feel that u guys need to get better people working there cause if only get that poor girl the only one working I feel bad because she was working very had plus dining it by herself that's to much .... We really felt for her because she was asking for help but they never like and I feel that was wrong.... And we came today Oct.30,2017 we was the party of 8 and we came around 10 am -11.... thank u kitzmiller family.

Sonny kitzmiller
from Honolulu, HI
Hi today me and my family had came to Denny's restaurant on Oahu and we went to Kapolei and it was so terrible ..... First of all I want to say that I hope that waitresses never get in trouble because it wasn't her fault.... I want to make a complaint because we had order and our food and we had to wait along time.. The girls name was ashlyn and we had watch her because it got busy and she was asking her servers to help her and they didn't want to help and she was the only one who was working I guess cause the other two workers had they never help the poor girl... And since we had to wait a very long time we decide to leave and we didn't eat the food we had order we left and so I hope she never a had to pay anything for what we order but we was not goingto wait anymore cause we had to be somewhere at one certain time ..... But me and my family that was 8 of us in our party to eat so we feel that u guys need to get better people working there cause if only get that poor girl the only one working I feel bad because she was working very had plus dining it by herself that's to much .... We really felt for her because she was asking for help but they never like and I feel that was wrong.... And we came today Oct.30,2017 we was the party of 8 and we came around 10 am -11.... thank u kitzmiller family.

Howard & Barbara Roosevelt
from Florence, AL
Dirty atmosphere, burned pancakes, false advertising (overcharged), cold food & coffee. Terre Haute, Indiana, north on third street.

DIANA HAWLEY
from Las Vegas, NV
The restaurant on Eastern,in Las Vegas or Henderson NV.It was a terrible experience.Dirty on everything.Horrible food ,the burger was really bad and too greasy,cold fries.My pumpkin pancakes good,my beacon was terrible.Hamburger and fries,terrible too pricey.THANK YOU DIANA AND JOHN HAWLEY 702-492-0477 8854 COLBURN LN,LAS VEGAS,NV.We were in today at 2PM.I called Headquarters,a very nice young lady to my complaint.THANK YOU 10/20/2017

Peggy curry
from Lincoln, NE
This for Omaho nebr instate 31 there is flying Jay's as well there. I have made complaint about denneys there as noting been done about the problem with bed bugs. They are even in the bathrooms. I wrote about it nothing as been done about I haven't hard from you . I quess you guys don't care about your customer. As much you say you do. I wrote this couple of weeks ago. I had 10 bugs on me what in the bath I was wearing pick Jack I had 6 more inside. This manage did nothing to solve this problem so I am going to take manners in my own call health dept . In Omaho nebr. Have this place shout down until the problem is solve. I haven't been in the place since fear hAppen me again. Bed bug are nothing laugh about. And plus is not ran right as well not enough works to run the place. Running around heads cut of. I can't understand how big business not take care of things. By the way if don't get responded back right away. Mon morning well then call health human service about the problem. Peggy curry

Nichole Murrell
from Dearborn, MI
The food was good, waitress was nice the ONLY issue is I was over charged, the explanation of why it happened was a runaround. Highly Dissatisfied with being overcharged and both Josh and Natasha had a nonchalant attitude about the situation. I sent Natasha a copy of my bank statement showing that I was overcharged and she gets back with something that had NOTHING to do with the incorrect transaction. I will NOW on just be using cash IF I go to Denny's and I won't be going to the one on West Ridge Road in Rochester NY.

Amanda
from West Babylon, NY
Went to Denny's Sunday around 10 ask if I could get a booth to set at with a high chair was told there will be a wait I said ok since it was busy well 20 minutes went by and I ask they said there is only 1 booth they can set me at with a high chair one booth are you kidding me I ended waiting for 2 hours with 2 screaming kids plus I placed a to go order and was missing food when I got home so very unhappy spent over $60

Margaret Holsonback
from Tonopah, AZ
Had breakfast on 09/16/2017 in Wickenberg Az at 9:11. Decent breakfast until a bug crawled out of my plate and ran, I managed to kill it
took it up to cashier to ask for manager and his quote was mam he is cooking. I showed him the bug and said I was not happy and could
not eat my food. He said that happens it is monsoon season in Az. ( which Monsoon season has been over for a couple of weeks)
and rang up the register and charged me for the food to a total of $15.49.
Not happy with Denny's at all!!!!!!!!!!!!!

G. Longoria
from Houston, TX
Service was horrible waited for more than 30 min customer who ordered after us got there food and were about finished before we got our food and never got my toast till I was finished worst experience I have ever had in any restaurant.

Sandra williams
from Wichita, KS
We went to Denny's at 4024 e Harry in Wichita ks on 9/1/17 around 12 noon they weren't that busy . it was a small black girl don't know name had us stand to clear table about 10 min. Then told us were to go didn't even take us to table waited another 10 min. To get menues didn't ask about drinks . because she was to busy chatting talking whatever u want to call it with 2 other tables. After about another 5 min. Which by the way they're was 6 of us we all got up and left so she took money out of your pocket for talking and it wasn't anything to do with her work . the only reason I know this is because we were sitting between both tables.

Bob
from Salt Lake City, UT
I go in store #7480 twice a week. Monday's and usually Thursday's. Every Mon. seems like they never have enough staff, but the girls working they do Awesome. Except a supervisor, Brenda, she's lazy loud and rude. A group of workers at around 1:00 pm stop working and all gather in the far room. Last week 2 servers once again were left to do it all. How is that right? Every now and then the GM they call Sengua , joins right in. Not with the ones working but with the ones who are enjoying themselves while others work harder then seems fair. I just thought maybe it's time you see who deserves a pat on the back. The 2 Mon servers young girl and a server named Kittie thank you ladies for doing what you do.

Zanetta Motley
from Albany, NY
On Sunday a friend and I went into the restaurant were seated and ordered our food. The food came to our table cold. We then asked to see a manager and a gentleman came over to us. Never introduced himself to us. He asked us what was the problem. We then explained to him that the food was cold and we were drinking our hot coffee to warm the food as it went down. He did offer to make us another meal. We said no because we didn't want to receive another dish of cold food. He then said I can give you a dessert. We declined so he just walked away from us and said okay. I thought for sure that he would at least offer a coupon on the restaurant or even a small discount on the bill. That did not happen. As we were standing in line waiting to pay our bill we noticed that there were at least 12 plates of food awaiting to be picked up to be served to your customers. The manager never said to anyone to pick up the orders. Just wanted to let you know that we will no longer be going to this location of Denny's ever

Judy G King
from Canadian, OK
My husband and I were very displeased with the service and food we received at Denny's in McAlester, OK this evening. I feel that it is imperative to let you know why we will not be returning in the future. As soon as we entered the restaurant, we were met with very loud music. When the waitress came to our table, we asked politely if she would mind turning down the volume. She said that she would have to ask the manager since "she has the keys." After about 20 minutes, we asked her if she had mentioned it to the manager. She said that the manager said she turned it down a little. The music volume had not changed and the awful music continued to blare.
The waitress seemed embarrassed, so we didn't say anything else about it. Then we ordered. I ordered a 55+ steak skewer with mashed cheddar potatoes and broccoli. My husband ordered a BYO burger with bacon. The waitress came back and said the steak skewer didn't come with sides. I said that the menu stated that it did, but I said, "Just give me whatever comes with it, not wanting to cause anymore problems for the waitress.
When she brought it out it, was in a skillet with scrambled eggs in top! No skewer at all. Definitely not what I ordered, but I didn't want to have to sit and listen to the music any longer than necessary. I told her that I would just eat it. My husband's burger did not have bacon. Our bill came to $19.21 for a miserable experience. I usually do not complain, but I feel that the corporation should know what kind of manager they have at the McAlester Denny's. We have no complaints concerning our waitress, only the manager and cook.

Nestor Urbina
from Palmdale, CA
Today i finally had it with seeing one of the "cooks" in the Palmdale CA, Denny's Restaurant located by the Antelope Valley Mall completely disrespect and verbally abuse his own Denny's co-workers, specifically the women. Its extremely unacceptable to have that type of treatment and actions going on in the store and to not have any sort of support from the manager and no stoppage to this act is very sad. This isn't the first time I've seen this. I come into this Denny's location about two times a week and i see this act almost "every single" time i go in.
And I'm not the only person that has complained about this poor act. People have notified the managers there of this guys sick actions and treatment, but it seems that management just swipes our opinions and concerns off their shoulders and continue to let this guy be the way he wants to be. I've gone out of my way to hopefully seek help for the Denny's employee's who have been taking this type of treatment, but mainly for the young waitress who I witnessed cry and fall into her emotions because of the way he spoke and rose his voice to this young lady, for a simple mix up that wasn't any of her fault. I asked for this guys name and the only information given to me was that his name is Juan.
I really strongly hope you being corporate can put a stop to this disgusting act and either terminate or physically force this guy "Juan" to fix his act and start giving respect to his co-workers. Either this comes to a stop or there will be further actions and reports to making sure this stops! I will frequently go in to check and ask Denny's members if this guy is still acting the same or if his actions and verbal abuse has come to an end. You will be hearing from me again, so please with the power you guys hold make this end.

I had an issue with my Ameriprise investment account. The rep was incredibly helpful when I called the phone number, but said the corporate wouldn't allow him to let me withdraw my funds without signing forms to close down my account. Funny, it was so easy to sign up, but when I want to cancel they make me jump through hoops! Maybe I should write a complaint letter to the CEO at 2923 Ameriprise Financial Center. Has anyone else had success doing so?

Kenneth Gonyea
from Lexington, VA
My wife and I travel often we were in Wytheville VA July 22nd for an overnight stay. We went into Denny's and had A very nice young man wait on us. Very pleasant you could tell he liked people and enjoyed his job. I enclosed an image of the receipt. So the next morning around 10:00 A.M. we returned for breakfast. We were greeted with the hostess telling us they were short handed could be up to 45 minute wait. We decided we had enough time we would wait.The young lady that waited on us had no personality at all. Not A hi how are you nothing, asked for our drink order and also order at the time. 2 waters no lemon 2 value breakfast both scrambled eggs, 1 bacon,1 sausage.
In the mean time to older waitresses we watched smiles very friendly. So our waitress returned with our food still no smiles nothing,she did come back asked if we needed anything else and left our bill.We go to pay and we got no receipt or i would have attached that one too.So we don't have her name but young shoulder length hair reddish. So the morale of my story if she doesn't like to work with the public or can't handle the pressure maybe she needs a different job.My wife does keep track and she has already made note to not return.

Corinne hahn
from Hartford, WI
Very poor service, it took 2 hours to receive our food and the stack of pancakes was missing. Never did get those pancakes and had to get 2 table settings myself and even my own coffee also. Location was Wauwatosa Wisconsin on North Avenue. People that came in after us got served first including a group of 25 people, I just did not get this. Should have got some free meals for this but the manager offered us nothing. My address 3035 Smith Lake Road, West Bend Wisconsin 53090. I will see how Denny's treats me now maybe some free meals? Your decision will affect if I ever eat there again.

Ed and Linda
from Irmo, SC
This is definitely NOT a complaint. Our son is active duty US Air Force and my wife and I have gone to visit him and his family in both Fairfax, Virginia and at Virginia Beach as well over the last several years. We are weekly visitors at the Denny's on Harbison Drive in Columbia, SC, and always try to get Beth as our waitress. She's a really top notch waitress, knowledgeable and always smiling; happy and usually very cheerful. We have been long standing Denny's customers (40+ years), and it's people like her that keep us coming back. Happily. Please let her store manager (and John, her previous manager) know that we now not only value her as our "Special" waitress but also as a friend.
When we travel we usually stop when hungry at one of our favorite chains. Most often, it's a Denny's. We're always expecting to get good food at reasonable prices. Service, on the other hand has not always been so great, but those one or two (one in Texas and one in Tennessee) are exceptions.
The primary reason for this message (secondary reason is Beth, above) is to give a compliment to the manager and her staff at the Denny's in Battleborough, NC, at 7136 #4. We stopped there on our first trip to Fairfax and got hooked! The staff is friendly, ready to have a conversation during ordering, very attentive to the customers and we've never had a complaint about anything there. The condition of the restaurant is always "impeccable". Every time we've stopped my wife and I have commented to each other about how clean and neat everything is - almost as if they'd just finished a complete 'Spring cleanup'! We now watch for this particular store when traveling through that area, and are sure to stop.
The last time there, 1 June, we were so impressed with the waitress, the food, and the amount provided that we asked to speak to the manager, who turned out to be a rather smallish woman of oriental lineage. We wanted to compliment the staff but have been unable.
Why have I not sent in this message before? Because we had asked her to give us her name and store number. She wrote it on a piece of register paper - which we lost. Neither of us could remember her name. We have hunted through all our recent receipts, but that all-important paper seems to have vanished. Never-the-less, we still wanted to give her the compliment she and her staff deserve, so we went online and hunted, and on Google-Earth, and checked the Denny's along I-95. When we saw the street-view of the store in Battlesborough we were certain we'd found it.
Please convey to that store manager what I can only say is my highest and fully unreserved compliments to her and her staff. They are great! And...next trip, we WILL be back!

Denise
from Los Angeles, CA
The food was messed up or slam burger eggs were over cooked the off duty manager was going around and checking on customers with hid pants halfway down with his underwear showing it was un professional a manager should have respect for his or her work place this was at the location on Juan Tabo and Menaul in Albuquerque New Mexico I am also attaching a photo of the manager and he is in a grey t-shirt.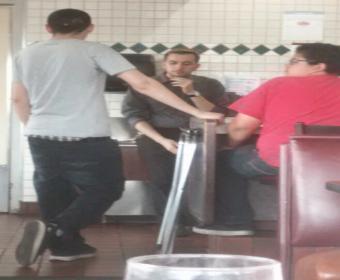 Kimberly Owens
from Tulsa, OK
I have come in to the Denny's the last two nights just to drink water at one of the booths and play on the internet. Now I have been a patron of the establishment for 30 years. And at one time I worked for the company. I have eaten meals here when I have come in to eat but for the last two nights. Both nights I have been drinking water. And have been ignored and when asked for more water or for ice. I even asked the manager cause the wait staff wouldn't get it. At two different times I got up to get it myself. cause no one else would. Even the manager wasn't around to get it.
Tonight I went and got my water cause no one else would. And they told the manager which is fine. But he came out and chewed me out for waiting on myself cause his staff wouldn't. And said "They only make two dollars an hour and they aren't going to go out of their way just to get you water." If I ignored my customers who are patients. If I spoke to my patients the way he did me I would have lost my job. Just because I'm only drinking water doesn't mean I should be ignored and talked to like I'm a nobody. This will be THE LAST time I patronize this business because of the way I was treated. by the staff and manager.

heather lamb
from Los Angeles, CA
Came in family of 7. Waited 20 mins till we asked to order drinks. Asked for the manager he sent another server. 1/3 of food was brought out.7min later another 1/3 2 people still no food everyone else is done. Still manage will not come out.worst experience of our life.

Aaron Chavez
from Lordsburg, NM
I am very disappointed with the Denny's at this location. I've been in the hospitalilty business for 30 years so I know how to run a restaurant. I walked in around 5pm hoping to find a place to sit but only found dirty tables. The biggest disappointment was finding the manager sitting and eating with another waitress while my waitress was struggling to keep up with what seemed like a busy restaurant. I confronted the manager named Kelly about the five dirty tables I saw and her response was "No sir, there are six dirty tables, one is right behind you." I do not appreciate her tone of attitude and the way she snubbed at me as she walked away. Something should be done about her unprofessionalism. I will NEVER step foot in this restaurant again and I will be sure to tell others about my experience as well.

John. Rickatd
from Boston, MA
I was having lunch with my wife n son. Our waitres christina was very quick with us. She got our drinks mixed up with the table in front of us. She took forever taking our order as she was more into talking to the person at the counter. We waited ten min before she came back . and asked if we wanted appatizers when i placed our order. Not a very welcoming experience.

Aaron Schaffner
from Dearborn, MI
I was an employee of the Denny's located in Herkimer, New York 13350. I believe I was unjustly terminated for "using a managers login numbers without authorization" while I was off duty March, 14th 2016 in an attempt to simply help a coworker who was having difficulties with my check. I used my employee discount on for my bill but as I was cashing out, my coworker asked me how to get her employee discount while there was no manager present. I told her to put in the managers numbers which was the only way I knew how at the time for that specific reason. I understand the concept of base level employees not using managers numbers for obvious reasons but in my 4-5 months serving at Denny's I had been told of by at least two different managers of their numbers so I could assist them while they were assisting other situations. I was not the only person who had been asked of this, as many servers/ hosts had manager numbers memorized or written in booklets to assist as well. I don't wish anyone else to be terminated or penalized as I was for such actions. I just want his to be justly taken care of. I have employees that will concur this statement when needed to be addressed. Thank you.

Kevin Lane
from Miami, FL
Denny's Restaurant #8692 Manager Annette 02/27/2016 109PM. Order took much too long (two customers came and went before my daughter and I got our Veggie and Hamburger and fries). After receiving my Double Veggie burger I requested Mustard which it was stated to me by my waiter Askia and Manager Annette that there wasn't any Mustard in the whole facility. I stated that I only eat my Hamburger/Veggie Burger with Mustard and I was told by the Manager Annette that there wasn't any and I could try Ketchup but there wasn't any further resolving of the issue or suggestions.
I ate most of my Double Veggie burger but really didn't enjoy it and didn't want to make a scene with my 13 year old daughter with me. The Manager Annette could have sent someone to the store to get a couple of bottles of Mustard or offered me something else or comped me my Double veggie burger or anything but she didn't seem interested. When we were leaving the Waiter stated "See you later" (we go there frequently) and I replied "No you won't" and he replied "You'll be back". Unacceptable. I also filled out the Denny's comment form online a week later but have not heard anything back.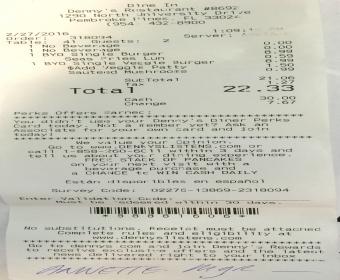 Went to Denny's in Roswell New Mexico on North Main Street, finally got order taken, took over 40 minutes to get our COLD FOOD and burnt toast, wait staff had manager come to table, she replaced our meal with one that somewhat better. Please take a look at the toast we were served....unbelievable that anyone would think someone would want a cold meal.
Do not think we will be back to this Denny's. There was a table of 7 that came in after we did and they got up and left after waiting about 50 minutes and still had not received their meal. The manager had a very heated argument with these customers which was very unprofessional. Sad situation you have at this store..I have attached a picture of the toast for your viewing pleasure.

Micheal Chance
from San Jose, CA
We arrived at around 12:30 and had 3 people look in our direction but no one came to seat us for almost another 10 minutes. Once we were shown our table, the server got out drinks but it was another 15 minutes before we were able to order our appetizers. After that my wife's tea needed a refill and she had to remind the server after waiting for almost 10 minutes. Instead of bringing extra plates for our appetizers, we had to share the plates that they came on. We had to flag the server down to order our entrees, remind him to bring napkins, and then flag him done for to go boxes.
The other servers didn't seem interested in helping anyone other than the one or two tables they had. There were employees who should have been working but were socializing and being very loud. Although the food was pretty decent, the restaurant and employees were very lacking. Not an enjoyable experience.

Anne Melihercsik
from Apopka, FL
On 01/30/2016 Restaurant # 9244 in Apopka, Florida we ate dinner. We had a flyer from the newspaper advertising your Anniversary. On the flyer it stated " Join us for an all day celebration, Saturday 30th from 9am-8pm for great food and prizes all day. 25 free everyday value slams at 9am. After Work we headed over to see if we could win a prize and enjoy a nice dinner. We ate as you can see. We asked our waitress what type of prizes they were giving out.
She stated they weren't giving anything out. I showed her the flyer & asked her for the manager. She returned and stated he was busy and informed us, He gave out 25 Free Everyday Value Slams at 9am and that was it. There were no other prizes and we should have been here at 9am. Later the manager went to the table next to us and gave them a $7.50 discount. Either the manager is a liar or it's false advertising. He gave out only the 9am prizes. No Prizes all Day as Advertised.
I am not able to download my receipt, 1/30/16 order # 444385 Server Breana H total $23.91 (left cash tip) paid with my American Express. We went to help celebrate, but there was no Celebration! Tricked & lied to. Never again.

Vanessa Bailey Wilson
from Cleveland, OH
On sunday 1/24/2016 at store 8106, I had the worst service ever. First the waitress took our order wrong, then told me thats what I ordered. Before I got my food she brought the check that had the wrong order on it, she didn't even correct the check. My vegetables were cold, my fish not done, my grandsons food had mushrooms, which I said no mushrooms. I was then asked if I wanted a different fish, I said yes but was not informed that it was grilled and not fried. I motioned to the Manager Art Griffin about my concerns and he acted unconcerned, saying that's what I ordered.
Did not try to correct the problem at all, I declined the food and he walked away. So disappointed that I had not eaten decided to just leave. Art took the fish off my checks but charged me for the incorrect order. At the register he still continued to argue with me about what he said I ordered. He claimed that he heard me, but was not where around. Never will I return to that Denny's 8106. This was the first time I ever had a bad experience there. But the worse, is that I called in my complaint 1/24/16 @ approx. 12:27 pm and have not heard from anyone. Please retrieve the call and listen how upset I was.

russel pruitt
from Biloxi, MS
Well my girlfriend went to the Denny's on rockville road and they didn't have fries. So I told her to get me mash potatoes and they gave her the box to go. And then she came home, I opened the box to find my food uncovered and touching the box that is unheathy. A lot of people touch these boxes! We spent 27 dollar son food. I like dennys but probably be last time I go. This was bad customer service from Denyy's.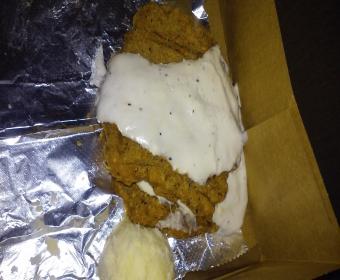 Ann Lewis
from Los Angeles, CA
I also did the survey and explained this Denny's complaint. I was traveling and stopped into Denny's Pico Rivera for a cup of coffee and to use the restroom. I stopped by the cashier first to order a coffee to go, then proceeded to the back restroom when I slipped in a pool of water, fell backwards and hit my head on the ceramic floor so hard, my earpiece went flying. The patrons gasped and there was an employee in the very back by the restrooms who yelled at me and pointed to a "slippery when wet" sign placed by the front entrance wall/vending machines. The employee did not cordon off the area he was mopping and literally mopping right next to the patrons who were eating their breakfast...disgusting. The place smelled like mop water and now I did too.
I sat there for a moment until I could help myself up. I was never offered assistance by an employee. I then went to the restroom, dazed and wet from head to toe from the pool of water. When I went to get my coffee, I complained to the cashier who was having a jovial conversation with a coworker. When I complained, she said that she was unaware I had fallen (even though I was in the restroom for several minutes, trying to clean myself off, the mopping guy told no one). She did ask if I was OK and I said I think so. I was dazed. Then she charged me for the cup of coffee and sent me on my way. Guaranteed, if I was not dazed, there is NO WAY I would have paid for that cup of coffee and would have been much more vocal about the incident and insistent that proper protocol were followed.
If I wasn't dazed and did not have my dogs in the car, I would have photographed the location of the "slippery" sign which was not in plain sight, gotten names of both the patrons and employees and insisted a manager be called and a report written up. I was driving to Orange County and had to pull off the freeway 2 times because my vision was blurred, I am guessing a light concussion. This was yesterday, I am still sore today, but no more blurry vision. I'm sure I'll be fine eventually. An incident report was never completed, a manager was not called, I was yelled at AND charged for my cup of coffee (receipt attached). OMG , These employees need to be trained on safety, courtesy and protocol.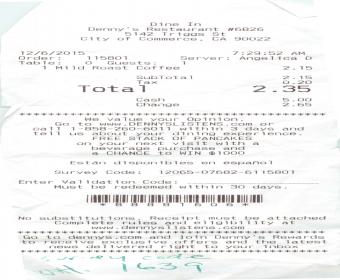 Beverly
from Springfield, MA
This is the second time I have sent this complaint in. Sunday November 22, 2015 I went to Dennys on Boston Road in Springfield, Mass, At first we could not get a waiter to take our order. Finally after a 15 wait, we ordered our food at 12:30 pm. We did not get this food until after 2:00 pm. Now we did not order anything fancy, just eggs and pancakes. When we got up to leave, our food finally came. The waiter did give us the food for free. However, that is not the point. If you want this restaurant to make a go of it, some changes have to be made. By the way three other couples and familes, got up and left as well. Back to IHOP.

Melvin Frakes
from Bonney Lake, WA
I have been going Denny's for a very long time, about 20 years. I am a Vietnam veteran and also volunteer at the Lakewood Washington hospital. The past few months I have notice the food getting very bad, eggs not cooked very good. I found out from the waitress when the cook don't show up the cook will cook and has a hard time doing it. I went in on the 21st of November for breakfast and order eggs over medium and got eggs not cooked whites. They took them back and put them on the grill and over cooked them. The hash browns were cold and so was the toast all I eat was the bacon. I paid full price for something I didn't eat. There is a lot of military that go their. If you cant fix this problem I am going to let our military know about this restaurant. The address is100 street SW Lakewood wash. Also the manager and Denny's corporate offices seems not to care. I like Denny's please help!

Wendell Lentz
from Downs, KS
We ordered a ham and cheese omelet and 2 eggs over easy with sausage, hash browns, biscuit and gravy. Also ordered 2 cups of coffee. When the order came we got the 2 eggs, biscuit with no gravy, no hash browns and brought pancakes to us which were not ordered. They insisted we had ordered them, then the waitress said she placed the order wrong but never brought the hash browns or took them off the bill, then on the omelet my wife never got her toast or got any taken off the bill. We got a refill on coffee and paid dearly for it. In the meantime here come a waiter with an order of spaghetti which he thought we ordered. It seems like there is no organization in this place and took 30 minutes to get out half way order. Rest assured we will not go back to this place. For these few things we got to eat our bill was $21.00. We are Senior citizens and my wife ordered from the Sr menu. Pretty darn expensive for a half way meal.

Sam Williams
from Wrentham, MA
I love Dennys, but there are no restaurants near my home in Wrentham, MA. We decided to stop at the Nashua, NH Dennys when I spotted it coming home from vacation on 11-19-15. I was so happy to finally be able to get a Dennys breakfast. The food was fine, but the facility was old, dingy, and obviously needed a complete redo. The bathroom was somewhat clean, but also needed updating. The waitress brought our check which I decided to pay with a credit card. To my dismay I was required to put the tip (gratuity) on the check before she took it up to the desk for cash out. This is the first time I ever heard of a policy that requires the patron to give a tip on paper for the waitress to view before cashing out. Please note the waitress did a nice job and I gave her a 20% tip, but I was very annoyed by this policy. It coerces a patron into possibly giving more $ than the server deserves. Why make a patron feel uncomfortable paying the check?

Gary Grandee
from Independence, OH
We just came home from dinner at our local Denny's and I must say, it was not pleasurable. They had the O.S.U. vs M.S.U. football game on the tv's. There was a young man (worker) no sure what his function was other than to cheer loudly when M.S.U. scored or something happened in their favor. I even made a semi loud remark that I wish I had a job like that! Another set of customers were also displeased with his cheering and actions, that they asked him, how can you be from Ohio and cheer for M.S.U.? He replied "ALL O.S.U. fans are nothing but rednecks". It's nice to know that that Denny's thinks their O.S.U. customers are ALL rednecks. This guy should NOT have a job around the public, I'm not even sure how he was still employed after making a remark like that and not performing his job (unless he is the cheer team for Denny's). On another note, our waitress was not so good, I ordered a salad and country fried steak meal, she brought everything out all at once.
I voiced my displeasure with that and she didn't seem to care and walked away. Upon leaving, she ended up cashing me out, which I thought was not allowed? She asked me if I wanted to add a tip, which I did, but I also let her hear my complaint that a salad SHOULD ALWAYS be brought out WELL BEFORE the main meal! This is now the 2nd bad encounter with this Denny's. I have been to this Denny's during the day time and it is a difference between night and day with the help. The person I was talking about during and after the football game was a dark skinned guy wearing a M.S.U. baseball hat backwards. Every time the manager/owner Sigh? came out, this employee put on a show like he was doing something. I used to frequent this Denny's 3 - 5 times a week for business, NEVER AGAIN!
If I were to ever bring someone for business in there and they would have heard that, you would have been faced with legal action. Have a CLUE! You don't call O.S.U. fans ALL REDNECKS! ALSO it is quite obvious that the majority of the waitresses have had no training or they just don't care! I would go with the later one for sure.

Cesar Almerez
from Lancaster, CA
Hello. I had time to think about your, restaurant and what's really going on. This is the real math. I already filed a complaint, and now I think I know why your night manager, at your Lancaster location freaked out on,18,Nov. 2015 .For starters, you had only three people working the shift that night. The manager (Daniel) One cook, and one server. When my wife ordered her free birthday breakfast, along with my paid dinner, she showed her drivers license to the server who was to busy to show it to the manager who wanted to control the cash register. So ,by mistake the manager charged the breakfast also and insisted it was right even after the server explained to the manager our circumstance.
The manager was irate at the server for not showing him the drivers license and the details of our visit . Your manager did not want to be held accountable for the inconvenience so he said that it is standard rules of the restaurant to check multiple times with documentation ,in order to cover for the server who was not allowed to work the register for security purposes. The manager did not want to be questioned about doing the bill twice, and that,s when he got rude and lied about restaurant policy. He was trying to compensate, for the lack of communication and trust of his employee, and the shortage of staff. Now that I understand that your proud manager was simply, incompetent, and panicked, and did not want to appear that way. I'm O.K. with all this ,but please note ,that your night manager, was successful in making upper management look really poorly managed and novice and in disarray.
I sincerely hope everything works out for all of you who have to wear this reputation on there shirt.

I got a coupon for 20% or 5.00 off and the cashier didn't know what the 20% of my ticket was. Two days later I called in to order chicken noodle soup and told the lady to make sure that she gives me plenty lemon and I didn't get a single slice, of course I didn't notice till I got home. Never shopping at Denny's again.

Josalyn Orth
from Tinley Park, IL
First the cockroach in the salad, the plates brought to the table had crusted chocolate on the two that were stuck together. Brought this to the managers attention and he said sorry. Since this is more serious than just a sorry all ten of us have contacted the health dept. The denny's on lake st in aurora.

Jovon R.
from Garland, TX
I found myself at a Denny's located off of Broadway & I-30 in Garland, TX and was disturbed by their service! The restaurant was damn near empty when my family and I was seated right away. It was really eerie seeing 2 families sitting alone eating quietly whereas a influx of tables had dirty dishes waiting to be picked up. The televisions had breaking news regarding Paris, France. The General Manager was seating anybody who walked through. I believe they had a shortage of staff working on November 13, 2015. The general manager gave us our drinks right away, took our order, and brought us our food within 20 minutes. He even made us laugh! What caught me off guard and disturbed me was how he wouldn't ask my wife if anything was the matter or if she needed anything. My wife noticed her burger buns were soggy as hell and couldn't ask for any clean silverware because he would quickly walk away after asking if I needed anything only. I am not pleased with the service whatsoever. The cook is nasty. The tables and seats were sticky as hell!

Dee Miller
from Eudora, KS
Dangerous parking lot with serious accessibility violations. There is one accessible parking place--that's what they call it, anyway. The striped access aisle for unloading the wheel chair is on a ridiculous slope because the parking lot is in such awful shape! This place is a lawsuit waiting to happen. My husband's power chair nearly went off when he had to load back after supper at such a slant he almost spun off backwards/sideways into another parked car. Rest rooms are totally inaccessible! This is an insult to the civil rights of millions of people who have worked so hard to eliminate such nonsense. Sure it will be expensive to remedy, but the law insists it be done. Food and service were great. A fine place for the able-bodied. ADA says that's not good enough, though, and it shouldn't be. I'm calling corporate office this morning--as if that will do any good. Will also file a complaint with the City on this very serious violations of codes.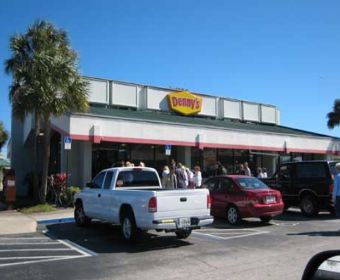 Ginger DelVecchio
from Warsaw, IN
We stopped at Denny's in Shelbyville, Indiana at 3:45 in the afternoon. There were only 3 tables of customers when we went in. We were seated and the server that seated us said our server Julie would be with us soon. The manager, stood talking to a couple lady patrons an isle over for awhile in a personal conversation. We were given our coffee but waited 15 minutes then a lady that was running the cashier area, came over and said that our server would be with us. We waited another 10 min. and the server, Julie never came and the cashier took our order. Our food arrived 15 min. later. I got the biscuits and gravy and hashbrowns and my husband got the lumberjack. It was lukewarm. We got a refill of coffee after another 10 min.
The cashier said the server had an emergency but would be back in 10 min. How can you time when you return from an emergency? The imaginery server, Julie never appeared until we were done and brought our bill and asked if we wanted dessert. There never was more than 3 tables of customers the entire time-horrible service. We have been to several Dennys but never had such poor service, and for the manager to not even watch that customers were sitting for long periods of time without service. I'd hate to see what it would be like if they had been busy. This was on Thursday, Nov.5,2015.

Shirley Payne
from Atlanta, GA
You lost a weekly customer at the I 75/ midway in north Dallas, Texas location this morning. I gave, in writing, my complaint to the manager coming on this morning. I was not charged for the meal. That is not the point. I came in for the pumpkin pancakes. I got regular. I questioned the waiter, who questioned the cook by asking the cook "those were pumpkin pancakes huh?" And the cook said yes. I showed the waiter they were not. I took a picture of the pancakes. They were good REGULAR pancakes. Not what I ordered. I had already asked for hot coffee. He had given me very cool, old coffee.It was 5am this morning and had told me it was not old. Your services certainly would not meet many people's expectations. I can not recommend this restaurant to my friends again.

Rebecca Pitts
from Atlanta, GA
We visited your restaurant on 10/30/15 at 6:50 pm. We were seated in a booth that was broken; the seat sunk down to low to sit at table. We requested and was moved to another booth. We advised the Hostess we wanted coffee. A few minutes later our waitress bought out coffee and we ordered our food. We were unable to drink the coffee because of it being so cold. I tried to flag her down as she walked near us and was ignored. She looked directly at both of us waving for her and ignored us. After over 10 minutes, the Hostess walked past us and I asked him for some hot coffee. He advised he would have some bought out. Another 10 minutes passes, nothing. Our food comes to the table and we ask the waitress for some coffee. She was surprised that it hadn't been bought to us before our food. After a few minutes she bought us coffee. It was terrible, so strong it could have walked out with us. The food was terrible. I couldn't eat my eggs because they were so runny that the egg white was uncooked.
Pancakes were ok, just rest of the Lumberjack Slam that we both got was terrible. Bacon was limp and greasy and so thin you could see through it. I paid $24.00 for food that we couldn't eat and needless to say I did not leave a tip for the waitress as she never came back to the table to see if everything was ok or if we needed more coffee, etc. Worst meal and service ever. My order number is 450092 on 10/30/15 at 6:50 pm Server Dorothy G. Table 64 at Denny's #2315. I would like to have my money returned. When I paid the cashier, he asked how it was and I told him and asked how I could file a complaint. He said he didn't exactly know, just gave me his manager's card with the name Alice Phillips. We are regular customers at the Denny's in Richmond on Broad Street and have never experienced bad food or service there. Your Carmel Church location really needs help!

Carol Hantke
from Janesville, WI
My friend and I went to Denny's in Janesville Wi, 10/31/15, Were told there cooks walked out and that there was a 2 hour wait. We decided to stay figuring there was only 2 of us and it shouldn't take that long. We placed an order for an Appetizer, needless to say we got our food about an hour later and no appetizer. Upon sitting there, there was a group of people whom worked there but had been at the bar prior to complaining and being really loud and saying they were not going to pay. The manager Megan came over and apologized several times. We told her not to be sorry as it was not her fault. She offered to give us a discount and we said no, She had several people walking out and not paying there bills and we felt bad for her. I offered to go back and help cook as my mother owns a Restaurant, that's how bad I felt. This place needs a lot of work and a little better management. I feel they were very unprofessional.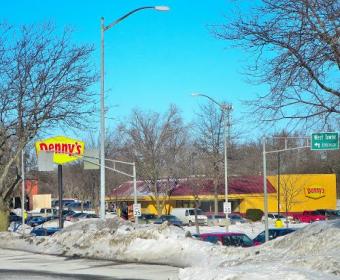 I'm just writing a letter as a concerned customer. I normally visit your store three times a week and in every visit there, I witness the horrible leadership and management of one the managers there, Mrs.Fatima. Fatima is very disrespectful and rude to her employees and sometimes guest. On one of my last visits she made a server Mrs.Rosie cry, she yelled at her in front of the house while she was serving her guest with trays in her hands and all because Mrs.Fatima called for her in a harsh ton to come over, Rosie replied to give a second that she was attending her guest.
When she finally finished with her guest she went to Fatima and I heard Mrs. Fatima say to Rosie that "when I call you, you come immediately to me and look me in the eyes as I'm talking to you" that's when Rosie started to cry and I thought that I was unprofessional and should of been approached differently. I believe the proper procedure would of been to go the back of the restaurant or office to discuss the issue. I think she needs to have upper management have a word with her or have a manger on staff that treats their fellow coworkers with respect. I don't know what she is doing to get all this special treatment but it's not fair, also all this happens when she manages alone and no other managers around, I have notice she acts differently when upper management is around. Denny's store on 3850 SW 137th Ave in Miami Florida.

John Azeltine
from Lehigh Acres, FL
They did not want to take a valid coupon since Halloween was a holiday! We said it was not a holiday. Finally they accepted the coupon but then delayed our orders so they came cold. My salmon was overcooked and dry. My wife's chicken cheesesteak was good. We have eaten at Denny's many times since it is close by and always open. It has left us disgusted so we will drive a couple miles further and go to the Cracker Barrel on Daniels east of US 75.

Nancy Garrett
from Seal Beach, CA
We had dinner tonight at the Seal Beach location. When we were leaving two young males entered the restaurant with a large dog & were taken to a booth in the back where the dog was allowed to sit up on the booth seat. My husband commented to the Manager on duty who was at the cash register as to whether dogs were always allowed even if they did not have a "Companion" vest. She went back to check it out but the dog was allowed to stay & sit up on the booth seat facing the table like the 2 adults. I wish I had gone back and taken a picture but I didn't want to cause a scene. We frequent this Denny's which is across the street from Leisure World retirement community where we live. It seems that lately every time we go eat dinner time the food is not good and the service is questionable. There used to be two (2) good and personable Managers but lately it's questionable.

Robert L. Gabler
from Humble, TX
I ordered one (1) scrambled egg & one (1) pancake, expecting to pay $2.00. The menu said for $2.00, I could get two (2) pancakes for $2.00. When I got my check, I was charged $1..49 for the pancake and $1.69 for the egg. Thus, $3.18 total. The coffee was $2.09. I summoned the manager who told me that's Denny's policy when an egg and a pancake are ordered ala carte. I submit that Denny's 'policy' above is the opposite of Customer Friendly. For the foreseeable future, I'll have breakfast at IHOP and other local eateries.

Patty Mayson
from Salinas, CA
First I just need to say I worked for Denny's brand for 10 year. Started as a graveyard server and finished as a manager. That's why I feel you should be aware of what is happening at your Salinad North Main store.
My husband and myself have been in there 3 separate times and service was unacceptable every time. We went in today to have the delicious Cobb salad and again service was unacceptable which was embarrassing because I love Denny's brand. Our server seemed lost and unfriendly. We watched 2 other tables get up and leave as well as we did for I was on a time restraint to eat before I had to get ready for work. The manager was seated at a table doing paperwork and unaware of her servers issues.
After 40 minutes, she came to our table asked what we wanted to drink and we told her we were also ready to order. I proceeded to give her my order of the Cobb salad with fried chicken. Her response was "you mean the prime rib salad." I said ok but with fried chicken and ranch. She then asked me what dressing I wanted for my salad. ???? Again I repeated ranch.
My husband ordered the CFS with briskest and gravy. She then told him something about a two for six that made no sense So he replied I don't care if you charge me extra but instead of bread I want brisket with gravy. We waited til 10 minutes after 2pm and our beverages still had not arrived. I usually don't complain and I apologize for the book but WHAT IS GOING ON?!?! As still a restaurant manager, it is just unacceptable.

Joseph White
from Columbus, OH
On my way to your restaurant for breakfast this morning, approximaly 9:15am, a car drove reckless around my vehicle. My girlfriend and I reached your restaurant and as we proceeded to enter the restaurant, the car which drove reckless around my vehicle approached me in your parking lot. Words were exchanged and then the individual left.
Entering your restaurant I asked the person who was at the front who was the employee who just entered in, they said they could not reveal that information. So I proceeded to tell them why, she was grinning when I was talking. Then I asked for the Manger "Ray" is his name and I told him what just had happen in the parking lot. He said there was nothing he could do. I said the employee must have been late and that is why the person might have been driving reckless and approached me in your lot.
Not knowing the greeter was the one who had just gotten out of that vehicle. I unknowingly divulge all the information to that individual. Once the manger appeared I told him what just had happened, he goes back in the rear of the restaurant and comes back and tells me and my guest that we had to leave. I did call the police and was told because I did not get the license plate, their was nothing they could do.
Easily resolved by them talking to your employee and finding out who dropped them off. I did nothing wrong, but told a manger what happen in your lot with the individual who was being dropped off by the driver of that vehicle. But what gets me is how someone who just got out of a truck was at the front desk and the manger " Ray " said "she was not late" all the while she and several co-workers were in the back room laughing about the situation which had occurred.
The employee was not at fault it was the individual who was driving, but for the manger to tell a customer they had to leave for no reason is outrageous to me. But for the employee to make light of what just had happen in the parking lot, now that's another story.

Gregory Lewis
from El Paso, TX
On or about 440 am on Saturday 9 May I walked into your facility to make an order of Grits to go like I always do at this location. The waitress immediately told me that they do not serve grits before 6 am which is incorrect as I order grits to go all the time at this facility between the hours of 4 am to 6 am. The waitress was profiling me the minute I walked in to your facility. I called your GM the same evening and informed him of what happened and he was very nice and said he would let her know that this is not correct. He stated to me that the longest it would take to make grits is 20 minutes which I would have waited and that she was incorrect. Your waitress should not profile customers as they walk in to your facility as this is not legal and against the law. She must serve all customers they same and not worry about there color or creed. I am a loyalty dennys customer for over 40 years and this was a slap in the face. You should counsel this employee on ethics.

Terasa Bouter
from Medina, NY
We went to eat yesterday and haven't been to Denny's in a long time. The service wasn't good. We were there for over an hour. Took a while to get our food, waitress came maybe 3 times the whole time.
The food was horrible! Mozzarella sticks are what I buy in the freezer section. Pizza for my son was cold and a frozen pizza. Eggs were overcooked. They had no pepperoni for my son's pizza. The quesadillas were dry with no salsa or sauce. It was $36 and I can pay less for the frozen food I got.
It was not a good experience and NOT worth $36. The waitress who barely came over was nice but came only $ times, so she only got a $3 tip, which I'm not sure she should have even gotten considering she barely came. My son tried the queso and his mouth was on fire. His drink was gone. It took 10 min for her to even be on the floor to ask for a water, in the meantime, his mouth was on fire.
Not going back! Ever!!!

Wallace and Patricia Casto
from Mabank, TX
We Love eating at Denny's. We are visiting our children and their family and decided we were going out for lunch. We decided Denny's so we went in and ordered. Two Sirloin Steaks, Green beans, you do not serve green beans, ok, corn ugh it was so sweet not good. Bread was so hard you could not eat it. Mashed potatoes they came two scoops like ice cream NO Butter---NO Gravy so nasty Not HOT Coffee Luke warm.
My granddaughter ordered a chocolate shake. It was so bad she got choked on it and her food was so bad it crumbled in her plate. I asked for a Pattie Melt none but build your own burger. So I asked for Rye Bread, yes they had that Hamburger on it grilled with cheese and grilled onions. The bread had been toasted and hard tore it off ate the burger. We are so up set with this meal. $51.00 SAD But we paid it and will not go back .

GEORGE FERNANDEZ
from Queen Creek, AZ
My family and I have been loving breakfast at Denny"s forever. But we have been visiting this location in SANTAN VALLEY AZ —and is been always the same— very slow moving service as if workers do not know what are they doing working at a restaurant. The manager shows very low respect for the complaints of the people.
Me and my family were in that specific location today May 3, 2015, and they served coffee barely warm; after a long wait of 1 hour and 15 minutes, we were short on silverware and table mats. Among others things that I noticed was that the server sneezed over the tray she was carrying with beverages for other party, two ladies close to us left the place after a short talk to the manager, because after a long wait they were served something they did not ordered.
We noticed that other people left unhappy but do not know why; by the way, we were the third party leaving the restaurant with no good comments about this place! I hope DENNY'S take care of comments and call attention on their franchises.
By the way we still love going to Denny's and we like your food, but we are not going back to this particular location in SANTAN VALLEY AZ.

Adelaida Medina
from Port Lavaca, TX
In Harlingen, Texas, we have a Denny's on Frontage road. We had a waiter named Estella. She was very rude and occasionally rolled her eyes when we were ordering. She paid little attention to our order and did not respond to our questions. The food was delicious but the service was no good.

Craig Thomas
from Aurora, CO
On May 1 at approximately 2:10 p.m. I placed a call to the store located 12090 E. 40th St in Denver CO. The order was never made. After I was asked if this would be a to-go order, I was immediately placed on hold that lasted for 3 mins & 31 secs. I hung up & called again only to be told by a male employee this time that he was cashing out a customer. It would seem to me that some sort of corporate policy should be in place to handle 2 issues @ once. So that no customer is left wanting.
Well this hold lasted over 10 mins. I actually drove from work to the store still on hold. Upon entry nothing changed. I stood @ the hostess stand unnoticed as 1 employee had a breakdown with a customer about her personal life to the point that the customer had to console her & promise to pray for her.
After over 2 mins of standing the male server with whom I spoke earlier( he was the only male) approached & asked if he could help me. I informed him that I was the individual that he had on hold for 10 mins. His response, "You've been on hold for 10 mins?" Yes & showed him my phone. @ this point I want nothing from this place because I'm not certain if my steak can reach me w/o hitting the floor. Expressed my displeasure & left.
Called back, same male answers. Asked for the management & am informed that there is no manager on duty. She's gone for 20 mins. It's disgraceful that a call in cost you my business. I WILL NOT return.

Leslie Coffey
from Houston, TX
We (My grandson and I) were not given silverware and napkins before, or during, our food being served. I had to ask twice. the first time I was told by our waiter, "Oh. Just a minute." I waited a few minutes and had to ask again, this time I asked the manager - who actually seemed like he was being inconvenienced by being asked to help. He did give us silverware but by then our food was getting cold. The restaurant was not busy, but we did not want to risk sending it back to be reheated, much less redone, as the service and the attitudes already were so poor.
Then, when I was paying, I asked for the AARP discount and was told I could not have it because I did not have my membership card with me nor did I know my membership number! The manager acted like I was lying about being an AARP member. After the poor service we received I felt it was the least he could have done! We were very angry that we were treated so poorly. We will not return to that location again.
The manager gave me a receipt with different people's name on it so I cannot tell you his name but he was the manager on duty at Store # 7260, 11511 West Airport, Meadows Place, TX 77477, tel 281-494-2577. This was Saturday, 4-25, 2015 about 10:00 pm.

hecto jimenez
from Baldwin Park, CA
The cashier only discounted our receipt for my AARP discount but didn't explain I could use only one discount. It was my wife's birthday and when paying my bill I showed the cashier my wife's ID. I then seen my bill that she only used my AARP discount. She did not let me decide which discount option was better for me or which one I decided to use. She should of mentioned that before she processed the discount for me. There was no sign displaying that I could use just one. I took my wife for her birthday thinking she was going to get her meal free. This was on Friday April 24, 2015 @ Denny's 6977 in City of Industry.

Daren Clark
from Page, AZ
I know someone who was working for the PAGE AZ Dennys, and he was there for five years. the times ive been there dining, I noticed he was always busy, either dish-washing, sitting customers when the hostess or waitresses were busy, cleaning off tables, taking out garbage. Always busy. he was constantly being called in when someone else didn't show, even on his days off. at times they scheduled him for 4 pm to 11 PM and then wanted him back in at 6 AM the following morning. He was always trying to help. Then one day he wasn't there. He went in to talk to the GM, and she wouldn't even listen to his side of the problem, AFTER FIVE YEARS and hardly any raise and no appreciation for all his hard work.
I remember going there on valentines day, and seen a worker/COOK, walk off the job, but instead of firing him they just gave him the day off. and he hadn't been working there long. I went in and was told at first there was a 45 minute wait, and then few minutes later was told it would be an hour wait. so I left. they go through help like crazy . makes one wonder. but when they get someone who has gave it their all for five years, and let them go... makes me wonder also about who's in charge. their service sucks, and most times so does the food.

Jennifer
from Lansing, MI
Our waitress asked us what we would like to drink. She brought our drinks then gave us a few minutes to decide what we wanted to order. That is usual when we go out to eat. When she came back took our order and said it would be a little bit of a wait. This was a little unusual so I went up and asked her how long, and she said about 40 minutes. I said WHAT???? We can't wait that long! So we ended up paying $10.54 for 4 drinks that we didn't even finish as we were that mad. I told our waitress she could have told us that BEFORE we ordered our drinks! This was Therthe Herkimer, NY location.

Dale
from Mountain View, CA
The dennys on south harbor across from disneyland is the worst I've ever experienced. slow service. Cold coffee. And defective jam at the table...old and gloppy. Bacon was stale. No refills offered. And not that many seats filled. The cheese was congealed on my grandsons mac and cheese. You would expect the best service given the location. The worst.

Victor Estrada
from Alameda, CA
On April 12, 2015 my girlfriend and I decided to go to one of our favorite restaurants for some late night breakfast. When we arrived at the Denny's off of Mathilda ave. in Sunnyvale, CA we noticed the place was quite busy, after waiting 5 minutes to be seated we opted to go to a different Denny's. We went to the Denny's in Santa Clara CA 3715 El Camino Real. Though we were seated immediately, and got our drinks promptly, it was almost 15 minutes before our order was taken. 5 minutes after our order was taken we were informed that they were out of pancakes and were given the option of having French toast. First of all, how is it possible for Dennys to run out of pancakes? Second the main reason we love Denny's is because of they're pancakes. And third we were so hungry and tired of waiting we grudgingly agreed. After waiting another 15 minutes our food arrived, and this is what was wrong with our order.
The eggs were cooked wrong, we wanted 2 sausage and 2 bacon, but only received bacon. Our meal came with a juice but didn't receive it till we asked for it, and still had to wait another 5 minutes before we got it. For some reason we were only given one syrup to share, and our hash browns were undercooked. This was by far the absolute worst dining experience we've ever had at a Denny's. Though our server was very apologetic and comped us our drinks, the service was very lacking. That very same morning my in laws were celebrating a birthday and wanted to eat at that same Denny's but after having heard our story they decide to go the IHOP. I also believe this one experience will forever influence our opinion of Dennys. Our servers name was Rodolfo and our order # was 329783. Overall our experience was highly disappointing.

(Castro location) What a very dirty Denny's....worst one I have seen, bathrooms and restaurant. Hostess try to sit us in booth with a large hole in the cushion, but we asked for another. We ended up walking out after waiting for a waitress for over 15 min....they were to busy talking with old customers and amongst themselves. There were only three other tables with customers in the entire restaurant. We are royal customers of Denny's and when traveling we would always know that we could count on good food and service. None so much here. (Temecula , Ranch Calif Blvd location) Another dirty restaurant and bathrooms. Had to ask for coffee and waitress never checked back with us. I placed my order only having to repeat what I had asked in the beginning when serviced. Waitress was unfriendly, didn't smile once and rushed us with our order. Again very disappointed with both restaurants on our trip! We have two Denny's here in Redding, Calif and their both very clean, great food and great service!

Denny's restaurant on the intersection of hwy 287 and Sublett rd. Arlington TX. I have been coming to Denny's for over fifty years in the past five years I take my family out for breakfast six times a week spending close to 125.00 a wk plus tips. The Denny's I go to are as follows one on road to six flags, Hullen, carrier parkway, Cooper str, Foresthill,burleson, seminary Dr. But because of the way the one on Sublett treated me. As long as that franchise Denny's stay open I'll never eat there again. Cracker barrel, ihop, even MacDonalds never again at Denny's.

Sharon Grgich
from West Jordan, UT
I completed your Denny's Listens and did not receive a code to receive the Pancake Puppies for free.

Amanda
from Lancaster, PA
Waitress failed to bring plates to me for my appetizer only brought napkins. When asked for plates she said she will be right back with them never showed up wth them. My quesidilla was over cooked the first time then it was cooked perfect but they put tomatoes on it when I requested EVERYTHING on the side! Like really. Then the manager got smart and my boyfriend finished his food by the time I even got my food remade. I am highly disappointed.

Jan Cortez
from Sacramento, CA
My daughter, husband and I were seated. First the waiter came over took our drink order. Coffee for husband, hot chocolate for daughter, and water for me. The coffee was brought out pretty fast. The other two drinks were not brought out at this point. The waiter Cody, took our order. Husband ordered T-bone breakfast, eggs over easy, french fries instead of hash browns, white bread toast. Then I go to say my daughter's order, Kid's menu spaghetti ( she only eats this every time we go) the waiter looked at her and said, "Aren't you getting a little old to be ordering her that?" I was embarrassed to say the least, I didn't know why he would say that, what was the problem? I told him she is 12 and had ordered that for years, kids spaghetti with french bread and french fries. He had an issue with the food cost for kids menu and went on to explain the pricing scheme for kids and senior menus. I'm just sitting there nodding my head. WHAT HAD WE DONE WRONG? Nothing! He put us on the spot trying to get us to order a larger entree I guess was his goal, i guess. He even explained the fact that she would. Not be allowed to order that when she turned 13, my daughter was not thrilled, he embarrassed her to say the least. The family in the next table over overheard, and said that he really had no business getting into this discussion with me, as we had not violated any policy so forth. I was stunned, I felt like I wanted to leave at that point, but it was Easter so I ordered a Grand Slam Slugger. TURKEY BACON (I do not eat pork)' eggs over easy, hash browns, and pancakes. The coffee and hot chocolate they ordered would be the drinks for the slugger instead.
So after he left we waited, the water and hot chocolate never came, he never returned to the table, like 10 min had passed, I got up to look for the manager, to tell him what the waiter had said at the table. I told him we were about to walk out, and he apologized many times and said he would bag the order to go and offer 20% discount. I said no way, comp the ticket, Ill go home and eat it there. We waited over 30 min for the order to be prepared, another waiter gave us the bag, we got up and left. The manager did explain he comped the ticket as a way to show that he felt bad about what had happened. Anyway...
Husbands order... new York steak kinda raw, two eggs over easy, french fries (No toast...forgotten). Daughter's order... one box only containing kids spaghetti, (No garlic bread, no french fries, no cheese to put on top)....forgotten), and no hot chocolate from when we were inside the restaurant My order... 2 eggs over easy, hash browns and 4 PORK BACON (We do not, I repeat do not eat pork), I ordered turkey bacon. I was very clear about the fact i wanted turkey bacon, lastly was 2 pancakes. I called manager to tell him there were items missing, he apologized again, told me it was his fault as he was the one to bag the order, but did mot thoroughly check the order. I think that it has to easily be one of the worst dining (or attempted dining) experiences EVER. CODY THE WAITER was rude, the second waiter Kane was cocky and rude about bringing out our beverages after it was clear Cody was not our server at that point. The manager tried to do the right thing, but ended up making mistakes which made it worse. When I called he offered no further solution to this dilemma, that is why I spent my time sending thos complaint. I hope nobody would have to go through what we went through, just because the server (Cody) was being way to bossy and condescending. Outrageous that the table next to us witnessed the ongoing terrible service.

Sandy Chavez
from Chino, CA
If possible I would leave 0 stars. After being seated we waited over 15 minutes before anyone asked if we been helped. Other customers came and were seated and received their drinks even after we were there for 30 minutes. At that point another waitress came and asked if we been helped and I answered no. She seemed confused as she mentioned she had informed our waiter over 3 times that we needed help. At that point it was ridiculous and we decided to leave. This is the worst experience.

Eric Larson
from West Palm Beach, FL
i was having a steak & egg breakfast early this morning at a Denny's restaurant in Riviera Beach, Florida and chipped my back tooth when I was chewing on my steak. I now have to go to the dentist to get it fixed and it's going to cost me money. I would like Dennys to pay for it.

Leasa Thelen
from Clarksburg, WV
Went to pick up grandchildren, was to meet at Denny's. Went into the restaurant to eat. Took 15 minutes to get seated, was told upon being seated that it would be a few minutes before our ( 4 of us ) server would get to us. Twenty five minutes later I had to go tell the hostess that our server hadn't come for us or booth behind us. While waiting watched another booth who came after us being greeted and order placed. Also witnessed a booth get served their food, with the Mushroom Swiss burger part of the order being sent back. This was done 3 times because it was missing mushrooms and onions. Manager was called to their booth and informed of situation, managers response was to take the burger no one had eaten off the ticket. We also observed food from kitchen sitting in window 5 to 10 minutes. Restaurant was only half full. Was told one server went home sick, but counted 4 other servers. Food was cold when it arrived 45 minutes later. My family and I were extremely disappointed, always loved Denny's but probably not eat at this one again. Thank You

Lupe Muro
from Fresno, CA
On 03/15/2015 we visit your location on 530 S Clovis Ave, Fresno, Ca 93721. Our server was really nice and helpful but extremely busy. After waiting for our check for awhile, she finally brought it to us, we took it to the cashier to pay. The man at the counter was also extremely busy with a long line of people to pay their bill. When I gave him my receipt he charged my credit card $12.91, which I though was odd since I was paying for two meals. When he gave me the receipt I noticed that it was not what I ordered, I had been given someone else's bill. Now I don't know if our server gave it to me or the man at the counter since he had other receipts on the counter. He called for assistance and a woman came to help him, they adjusted the amount an gave me a receipt and said it was returned back to my card.
Since I have not received it, I called your location on 04/02/2015 and spoke to Holly, Assistant manager, she said she didn't know what I was talking about because that's not how she was train to give refunds, she was trained to give cash back only. Well, I really don't care how she was trained, I would just like to get my money back that was due, the two persons at the counter said it would be returned back on my card. I think they all have to be re-train again so that there is consistency on how to return customers money. I have two receipts, the correct amount paid, and a Credit Card Voucher/Merchant Copy, Post Adjust Check, Restaurant #2276, 03/15/2015, Order 105202, Cashier: Abraham, Total $12.91.
It's the principle, not the amount, and how Holly addressed my concern, although she did refer me to call MaryAnn, General Manager at 7:00 am. So again, I am asking how do I get my refund back, I really don't have the time to call at 7:00 am during my busiest time of getting ready for work. Please advise, thank you for taking the time to look into this matter for me.

Ruth Bullock
from Bellingham, WA
What happened to the senior hamburger? When we asked the waiter, he said it was no longer on the menu. The closest we could come was some thing called the baja burger. It's made with a FLOUR (yuck) a tortilla and comes with ff and chops. Quite frankly, it was awful. Some things are a matter of taste so the fact that neither one of us liked the meat can be discounted (Maybe), but tortilla was greasy, the ff were barely warm, greasy and limp. There aren't too many eatable foods that are worse then greasy, limp ff. Chips were okay, I guess, but obviously right out of the bag. The wait was great, but not much he could do. Half, if not more, was left.

Terrible experience for my children & I it was a extremely UNPROFRESSIONAL work environment as well as the food was put on the plates sloppy ,not cooked well & staff was in need MORE training. The waiter forgot to bring my youngest sons grapes brought myself back food item I didn't order ,burnt bread & still charged for items but I paid without complaint just wanted to leave as quickly as possible! My WORST EXPERIENCE dining out EVER!

Sandra McKenzie
from Bremerton, WA
We went to Denny's in Bremerton Washington on March 31, 2015. The water glass I was given was absolutely horrible it was so dirty the 2nd was also dirty My husband looked across at the table next to us and there was food and crayons under the table. They were not busy at all We have lived in Bremerton for 20 years and only been there once b/4 and never went back again until the other day needless to say we wil never try it again!

I went into Denny's Store #1594 today April 1, 2015. I was with my daughter and grand daughter. We stood for 5 minutes waiting to be greet and seated. The manager Louis Lopez was standing at the register and never looked in our direction. I said as I was leaving "I guess they don't want our money, let take our business elsewhere and left. I called to the store from my car in the parking lot asking to speak to the manager, he said he was the manager and how could he help me. I asked for the corporate number. I was put on hold for two minutes, then was given the number. I then asked for the store location number and again was put on hold for another minute before being given the information. He never offered any apology or acted as if he cared that I had been totally ignored only minutes earlier.

i came to Denny's to eat only.I was wearing a jacket with no shirt.I asked the waitress if she could wait, I would like to go get a shirt and come back so I could take my jacket off it was too warm .when I came back I asked her why I had to wear a shirt when she doesn't wear a hairnet she handles food she should have a hairnet. When I was eating my food I found what appeared to be a pubic hair.(not mine).on one of my eggs,not funny. I asked her Why there's a hair on my egg. I told her I would like a Nother egg only is fine. The manager came back started Give me dirty looks lecturing me pointing at me lecturing me on yelling at his waitress I did not Yell at her. I am very hard of hearing I can't hear I talk loud but I don't yell. He knew about the situation of the hair.which means she told them my conversation with her about them having to wear hairnets. That was their resolution of my conversation about hairnets, was putting a hair in my food that my friend is very unethical. I wish no recourse I wish no compensation merely making you aware of the fact that this manager is bad news. Not to mention a waitress that didn't even Serve me,started pointing at me lecturing me like you have a conspiracy there they could care less of the law. When employees believe they're better than the customer it's time to put cameras in hidden places catch this Cook playing with peoples food for the waitress is unethicall.

i came to Denny's to eat only.I was wearing a jacket with no shirt.I asked the waitress if she could wait, I would like to go get a shirt and come back so I could take my jacket off it was too warm .when I came back I asked her why I had to wear a shirt when she doesn't wear a hairnet she handles food she should have a hairnet. When I was eating my food I found what appeared to be a pubic hair.(not mine).on one of my eggs,not funny. I asked her Why there's a hair on my egg. I told her I would like a Nother egg only is fine. The manager came back started Give me dirty looks lecturing me pointing at me lecturing me on yelling at his waitress I did not Yell at her. I am very hard of hearing I can't hear I talk loud but I don't yell. He knew about the situation of the hair.which means she told them my conversation with her about them having to wear hairnets. That was their resolution of my conversation about hairnets, was putting a hair in my food that my friend is very unethical. I wish no recourse I wish no compensation merely making you aware of the fact that this manager is bad news. Not to mention a waitress that didn't even Serve me,started pointing at me lecturing me like you have a conspiracy there they could care less of the law. When employees believe they're better than the customer it's time to put cameras in hidden places catch this Cook playing with peoples food for the waitress is unethicall.

My husband and daughter played the claw machine at the Bloomington, IN restaurant, putting $10 in (which the machine guaranteed would give them unlimited tries until they got a toy). They grabbed the frog toy many times, but the claw dropped it and eventually turned off. The waitress told us they didn't have a key, so she couldn't just give my daughter the frog, but she also couldn't refund my husband's $10. All of this would have been fine, if the machine wasn't a 'Play it or Buy it' machine. We bought the toy, but never received it.

I took my aunt there for dinner. I go there regularly at least twice a month. My server falynn .E was awesome but the sirloin steak dinner was bad, so I asked to talk to the manager to get at least a discount but was told to me by another server that 15% of aarp that I already have was the only discount amount allowed. Jo Ann the manager never even came up front to tell me nothing. I am a very unsatisfied customer. I am definitely not going back for a long time.3/31/15 restaurant #7961 time 5:43:04 order #566170

we have tried the dennys on hwy 25spur in the bowling alley in Brunswick ga. we will not be back to this store nor will the 8 other people we were with, We knew we were in trouble as a 4 top left and was complaining about their meal never came . But we wanted to try one more time, It went down hill fast , After being greeting very nicely buy the wait staff , We waited for our drinks quiet a while . Then they came but forgot one water. Ster waiting quiet a while we went and asked to speak to the manager. She said she could not help as as she was interviewing at 630 pm during dinner time and we would just have to wait. very nasty tone. When we reacted to it she said we had to leave so we did very quickly and will not be back or recommend this venue. The on one ex 29 is very nice .

Eduardo Morwelos
from Houston, TX
on 04/05/2019 3:30 am. I order 8 orders of pancakes.
pancakes were burned.
on 04/09/2019. at 4:15 am I order 2 order of pancakes and was bringing my familky for breakfast after a long drive from Mexico City.
host took my order and manager got upset at host. and host told me Dennys was closed???? I thought Dennys was open 24 hours...
and why she took my order and then told me store was closed.
Makes me feel I was refuse service because I complained about large orde of pancakes was burned.on 4/5/19.
I didnt took a picture because It happens once in a wile. But to be refuse service for pointing a mistake out. makes me upset and will complain about it.
I hope something is done about it

Arrived to eat w/wife @ 1 pm, order taken @1:10 pm + 2 cups coffee &1 juice. Meal served @ 2:55pm+another coffee ea. Waitress said reason for slow service, morning crowd had just left&cook was very busy.Two sections in restaurant, one was empty at time we arrived,our section less than half full.One couple arrived right after we ordered. They left after more than 30 minute wait. Will never recommend or visit this business.We had same experience previously, was contacted by manager, seems nothing has changed.I want to call CEO but nothing will change. God Bless. Lawrence Mendoza

Yolanda Juarez
from Visalia, CA
I arrived at Denny"s today @ 11:15, was seated at 11:25. Waiter took our order @ 11:30. He brought us our drink which consisted of water and a coffee. By 12:15 we still did not have our food. Now I know it was a Sunday and it is busy. but lots of people that arrived a lot later that we did were getting served their food. our waiter was spending a lot of his time with a couple that was seated in back of where we were seated. At this point in time the people that sat next to us that had only been seated 15 minutes prior were served their food. I this point I got very angry, and went and explained to the lady at the counter what had happened. I offered to pay for the coffee, but she said I did not have to, at this point she went to investigate what was going on. I was hungry and angry so I just left. Denny"s I went to is 2322 S Mooney Blvd, Visalia CA 93277. I did not get the name of the waiter, but he was Hispanic male with a man bun on the top of his head. Very bad service. My address is 344 N Shasta Ave, Farmersville ca 93223

THE DENNYS ON WEST 150 th st in Cleveland Ohio NEEDS TO BE SHUT DOWN ASAP. Very unprofessional. And the service SUCKS. Managers need more training in CUSTOMER SERVICE. Michelle and the manager in the morning suck. Denny's really needs to do better.

soy cliente de los restaurantes dennys ..
hice una llamada al restaurante para ordenar unos nachos pero le pedi a la persona que contesto la llamada que porfavor me diera el pico de gallo separado y pues a los 45 minutos llege al restaurante y recogi la orden y pues me habian rebuelto todo …
regrese al restaurante y pues les dije que me habian revuelto la comidas
solo era de quitarle el pico de gallo y pues darmelo por separado..pero un senor de la raza blanca salio de un solo y me tiro los $ 10 dolares y le dige que no queria el dinero y me dijo que no podia darme todo separado y le quise explicar que no queria todo separado solo el pico de gallo .y no me dejo ni hablar y pues me dijo que no me hiba a vender nada ..le pedi el nombre y me dijo que se llamaba BOOB .soy hispano ciudadano americano ..PERO ESTE HIJO DE PUTA RACISTA..cree que el restaurante es de EL.. tratando a las personas como basura ...
no tengo nada en contra del restaurante porque soy cliente de ellos ..pero esta persona deveria de irse de ahi ..
lo pudiera escribir en ingles pero quiero que mi comunidad sepa de esta MIERDA RACISTA ..

robert pelnarsch
from Fernley, NV
why don't they tell you they are out of something when you place your order. we have experienced a decline in the over all process of ordering and food quality at the Fernley NV dennys seems to lack supervision

Phillip Koon
from Fairfax, SC
Entered the store stood for 10 mins. They sat us down the ten mins later sat another party down and immediately took their order yet were still wait8n on any word from anyone. The hwy 9 store in sc off hwy 85 the worst service ive had in years. They intentionally ignored us. We asked for a manager and they all scattered like cock roaches.

Anonymous
from Chicago, IL
I went to the Dennys located at 4111 Timberlake Dr, Pontoon Beach, IL 62040 to enjoy a good hot meal and noticed that the Manager Clent was outside in the parking lot smoking marijuana.

BOB HAYNES
from Gouverneur, NY
WE WENT TO YOUR WATERTOWN ,NY RESTAURANT SATURDAY MORNING, WAITED A LONG TIME TO BE SEATED WITH HARDLY ANY PEOPLE IN THE RESTAURANT, 10 MINUTES WAITING TO ORDER, TOOK ORDER AND WE WAITED 35 MINUTES AND WAS TOLD OUR ORDER WOULD BE STARTED AFTER SEVERAL IN FRONT OF US HAD ALREADY GOTTEN THEIR ORDER AND THEY CAME IN AFTER US. NO EXCUSE FOR THIS TYPE OF SERVICE, WE LEFT AFTER WE WERE TREATED POORLY BY YOUR WAITRESS. DONT KNOW IF I'LL EVER GO BACK

Debbie Woods
from Richlands, NC
I had Dinner at Dennys in Sneads Ferry NC, I go there twice a month, tonight my food was over cooked. I did tell the waitress, (Jess) all she said I am sorry. then the waitress sat 2 adults and 2 small children right behind me, Dear god that was awful, the mom argued with her Daughters, then the Husband started, gave me such a head ache. I did not finish my meal , I paid the bill and left. I did give the waitress a tip. Be a long while before I go back to that particular Dennys. However this isn't the first time , My food was over cooked.. I have always been told we are training new cooks.. So I guess they are in training all the time. please get some good :Cooks : in there..

Melissa Hoffman
from Denver, CO
My two young kids and I went to Denny's to eat. We were put on a list and they sat 3 groups of people that came in after us. So we left without eating. I find this so rude and I'm so upset I don't even know what to do besides never go back and never give Denny's business again.

Rosemary Murphy
from Windham, NH
Auburn Maine Denny's 11:40pm-1am (possibly be here longer) Lisa who is in shift right now has been incredibly disrespectful, disruptive, and unprofessional. She took over 30 minutes to even take our drink orders. At which point my drink came back with a dirty cup and floating food in it. She then messed up during our orders in multiple ways. First, she didn't make the chef aware of this dishes ordered in a timely manner which resulted in me cancelling my entire order. The nacho appetizer sat in the window for well over 10 minutes before she finally brought it over saying she accidentally brought it to another table. When that never happened so why lie? Below is a picture of my proximity to the chef window. About another 20 minutes after that she came over to tell us that the bourbon sauce was limited to just one of our dishes. Which is fine if we hadn't already been here for almost an hour waiting. She didn't say ANYTHING to the cook letting him know that I no longer wanted my order at all, and the other dish was to be changed. Another 15 minutes pass and the food is being placed on the shelf because SHE didn't tell the cook to cancel both dishes and another burger to be made instead. All while she is telling the cook to "fuck off" (excuse my language) because he was never told to cancel the orders and it was all his fault. And she refused to take the blame for messing up the order. She also never told the cook that one of the skillets were to be replaced with a burger since there was no bourbon sauce. Again, all while she is being EXTREMELY RUDE to him and has been mumbling about how we are the ones at fault for her messing up.
So finally it's 1:13am. The food he prepared that we said to keep on the order is brought over I.e. a burger and salad for one meal. A breakfast for a kid (which didn't have chocolate chips) which was ordered. She then tried to bring over the two skillets which we are telling her that I had already cancelled mine and that the other was replaced with a burger which She neglected to update as well. 1:23am the burger comes out. Mind you the cooks food is delicious no issues with that but the server has no idea what she is doing. And is extremely rude and unprofessional. If I could do negative simply because of her I would. She doesn't belong in the customer service business. Absolutely vile woman who treats her coworker like dirt. Very disgusted.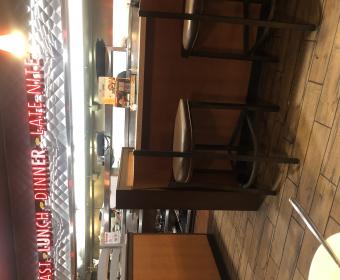 Dianne Ayers
from Denver, CO
Tried to order breakfast this morning. The machine denied all cards for a $6.31 order. I was the only person at the register & the guy was unwilling to cancel transaction & start over. Told me he didn't have time & told me to leave. I told him he was rude. He must be the owner. I have no intention to EVER go to Dennys in Red Oak, TX again

Joseph J Seminatore
from Bedford, OH
You need to check out Denny's at 6100 Rockside Road, Independence, Ohio. It has gone way down hill. Several times in the last few weeks I've gone in either for lunch or dinner, and have been told the wait is 20 -30 minutes - I see ten or fifteen empty tables, and am told "the wait is because the kitchen is backed up, there's only one cook and the manager is trying to cook as well" Not only that, there are only a couple of waiters, the "young ones just don't show up." Many tables have not been cleared, the place is a mess. You should be upset because this Denny's is directly across from the Holiday Inn, several other hotels and a business district. Business people use to come here for lunch, not any more. I see you have some good reviews on line, evidently these are made from people who are willing to settle for a table, a chair, and that's about it. You remodeled this restaurant a short while ago, the work you put into it is very nice, too bad the food and the service doesn't match up to your effort. Denny's doesn't have to be this bad, it was much better before.
Thank you.

Diane Peru
from Phoenix, AZ
My husband and I just left Denny's located on 21st Ave Thomas Rd Phoenix,Az . My husband ordered all you can eat pancakes,glass of water . I ordered the Value slam and coffee. My coffee arrived cold asked for a new cup of coffee told server it was cold, second coffee cold again . My food arrived ordered sunny side up eggs , they arrived burnt on bottoms and yolk was dried looked disgusting!! Pancakes were cold as well .,, we left our table told server our problem and that we leaving to eat somewhere else ..all he said was fine!!! Did nor even apologize!! And Denny's was not busy at all !! To receive this poor service ..at the least maybe three table with no more than 8 people total !! this was a very bad disgusting place to eat !!

David Heidenthaler
from Las Vegas, NV
The service took entirely too long. I ordered two grilled cheese sandwiches and two bowls of soup. Oddly enough, the sandwich came first.The sandwich was supposed to be grilled cheese on toast. The toast was not really toast, just warmed bread. Then the soup came and it was cold. We left it on the table untouched. When I went to the cashier, I told her the soup is on the table, we can't eat it, it is cold. She said oh well, swipe your card it does not have a chip. I had a doctors appointment or I would have taken this a lot further. The service here is terrible and the attitude is more disgusting. I know I am wasting my time writing because this is not the first complaint about this unit, store number 8563. But at least I tried. I spent 21.17 for absolutely nothing.

Tabb Laubach
from Denver, CO
I'm at 16751 Aurora, CO location.
This place is filthy. Dirty floors, silverware,
The cart used for picking up dishes extremely dirty.
I can't imagine what the kitchen looks like. The skillet my food was served on was beat up with chips & cracks.
The pad for handle filthy.
Somebody's going to get sick.

I was in restaurant #7996 the service was very bad wait fore food 45 minutes food was not good my wife had pot roast and 90%was mushroom never go back

John Keeney
from Port Isabel, TX
My wife and I both ordered the Country Fried Steak from the 55+ menu. We could not eat more than 2-3 bites because of the excessive salt and pepper amount on the brown gravy. Photo on menu shows white gravy. The very nice manager Gio, comped the items we sent back, and we ordered another entree. He explained he has had numerous complaints and that we were not the first. You changed the gravy makeup and it is terrible. The store is an South Padre Island, TX. #8653, date was Feb.17. John Keeney 913-633-5599

susan wright
from Casa Grande, AZ
Our Server was great the food was not, I requested eggs over medium and received very runny not even totally white egg whites they were very bad. I usually put my eggs on top of my pancakes but the pancakes came a good 5 min. later our server said she was trying to get the pancakes as quick as she could . I was drinking tea and a server came along and poured coffee in my tea didn't stop long enough to even offer me fresh tea just said oops and kept on going. The lemon for my tea had ad brown spots on them the fruit was soft and didn't taste good. I was very disappointed with my breakfast. We were at Denny's # 6750

Alexa Prince
from Washington D.C., DC
Denny's restaurant #7822
Henderson, Ky. Went to have some lunch after church, knowing it would be a little bit busy, I was seated at my table and wait about 7-10 minutes before a waitress named Terry P. Served me my drinks. She only came to my table once. I waited well over an hour to receive my meal. Which was fine, but I expected my food to be hot with waiting so long. My mozzarella sticks were like chewing on rubber and weren't cooked fully. Then I received my Cali club and fries. I asked for no tomato and extra cheese, and you guessed it. That didn't happen. I let it slide and just took the tomato off no biggie. But my fries might as well not have been cooked. So I complained about my crummy service and cold food. ONLY TO BE CALLED A DUMB BLONDE. No tip for the waitress, the manager was the one who called me a dumb blonde. I figured instead of getting attitude I would contact you, and let you address it. I still love your franchise. Especially the O'Fallon Denny's I always had the best service. Hopefully this will be resolved and both the manager and Terry will learn their lesson. Thank you!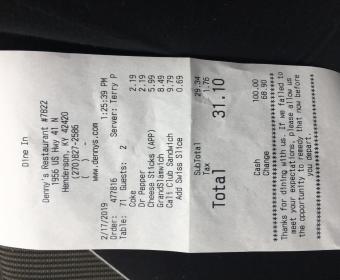 Mrs Lynne Simmons
from Parkville, MD
The worst experience ever at a Denny's. Waited for over an hour for our food. There were 6 of us and our bill was just about $69.00. We weren't there for the free pancakes or any free stuff! After the manager FINALLY came, she did make sure we got our luke warm food. I had the Greek vegetable omelette, which was cold, I got cold grits with it. Cold toast too! My husband got cold bisquits and gravy. My husband just about had to beg for a refill of coffee, even though several wait staff were asked for a refill.I expect much more from Denny's and usually get MUCH better food and service. We got there at 9 AM and food was finally brought to us at 10:10 AM. Our water was "Will". This was at the Joppa Road restaurant in Parkville Maryland! I am so disappointed! Other that came in after us ate, finished and left before we ever got our food.
Lynne Simmons

Rae Rae G
from Denton, TX
The staff is horrible in the Denton Texas location. They were literally turning people away at the door claiming there was a wait for 20 minutes and the lobby was damn near empty. My husband and I requested a booth, across from our booth another booth was full of nasty ass looking food and drinks which turned out to be the sorry ass drug addicted employees lunch. They would take turns and come to this gross ass mess and eat right there in front of customers but there was a so called wait. Incompetent with bad attitudes. Now to the awful ass food which the nasty ass high as a kite cooks sent out. I asked for onion in my eggs. They came out and there was literally brown ass sautéed onion on top of my shit and it looked like shit. My husbands eggs came out runny when he clearly ordered them and said fried hard. You could hear everything the staff was saying things like cursing and the bitch ass so called host getting an attitude about people ordering meatloaf and pot roast because they were out of it. There is no telling what they probably did to our food. During the time we were there we saw at least 3 parties leave the hellhole. I give this place 0 stars. -0 stars.

Did not get what we expected.

The food was the wors and thay took a long time to give us our fooodd it took likr an hour and 20 minutes.The manager there is the worst he does nothing but sit down he should be fired.Before u go to Dennys I recommend going to chilies or somewhere else. The maneger like to hug his girl worker a lot from what i saw.

Bill Bengtson
from Los Angeles, CA
First let me say I was surprised to see the 1.87 out of 5 rating. Although I have a complaint, I was surprised to see your national rating so low.
My complaint is how you try to fool the customer. First I am embarristed that a restaurant that I like would do such trickery to make a few bucks more. I asked the waiter what meet was on the Cobb salad since it showed in the picture but it was in the list of the contents of the salad. He explained that to get salad that was in the picture I would have to pay $4.00 extra. That is discussing and I refused to order such a misrepresented item on your menus.

On 2-6-1 around about little after noon time I thought I come have me some lunch,the waitress who served me was extremely rude from the time I came in I order some fries,ibtold the serve they were not hot and not cooked all the way so the other server said to keep those and she will replace them so the one that was rude came after me getting my fresh order,she talking to me rudely in front of the customers I told her hey I don't deserve your rudeness,she then took my new order and tossed them out,and I told her your not going to take your bad day out on me she then got her mgr.after then telling me to leave her mgr.did not do nothing I didn't get what I came for ,the waitress was wearing a name badge her mgr.told her to remove it so I couldn't take her name down I've been coming here for years,the sad part about all this your mgr.did not once correct or said nothing to repremend her,I don't know if you allow this kind of treat ment to your customers ,as I'm putting this I'm very upset and was totally embarrassed I have alot of friends and family that attend Denny's and my church family,who also hold meeting at the other Denny's not to far from this one ,sorry I couldn't get the name she took her name tag off,my name is Vincent Jones,my ph#209-409-5595 thank you for you time to look at this complaint I'm very disappointed being a long time customer and all ,well have a good day .

Billal Murtaza
from Albany, NY
Ordered a tbone and eggs + oreo shake latenight, @ 4am. Arrived to pickup my order @ 5am and was told that this dennys location was all out of ice cream except for strawberry. Server asked if id like something else, which i did not want. Only ice cream available for shake was strawberry which i reluctantly agreed to. I also had to ask for cutlery, napkins, and condiments which ultimately were not in the bag.

We have breakfast at Denney's every Tuesday morning. Everyone that has ordered anything with gravy on it could not eat it. I tried a dish that had biscuits and gravy today and I could not eat it. Very very salty and a taste that was not good. I will not order anything that has gravy on it and if I am in the mood for biscuits and gravy I will go to another restaurant.

James Terranova
from Winter Haven, FL
I have a complaint about Denny's in Lake Wales, Florida. I ordered a Wild west omelette, and received egg bacon and sausage omelette without toast. I also ordered a build your own slam. The bacon was so over cooked that some of it was burnt, I also didn't received any toast.
When I came to pick the order up I waited at the check desk for 5 minutes while 3 waitress were at the counter just talking, one was wrapping silverware. A waiter who was waiting on the tables looked over and said to just take a table and he will be with me soon. I went to the counter where the 3 waitress and the waiter were and said that here to pick up an to go order. One waitress asked me who took the order. I told her that I did the order online. She then pointed to an order that was sitting on the shelf and said that that must be his there. The waitress then packed the orders and I left. It wasn't until I got hone that I realized how screwed up the ordegaine.r was. This is not the first time this has happened. I hope it doesn't happen again.

Art and Donna Larson
from Mesa, AZ
WE eat breakfast at Denny's a lot after church. Usually had your sausage gravy on Biscuits, but you have changed the gravy and it is terrible. Please go back to the old.. Also the new is way to salty, plus a bad taste.

Lawrence Clark
from Phoenix, AZ
I have been a regular customer at the Scottsdale Arizona Denny's on Scottsdale Road and Osborn for years and years I was treated like family there that was until I reported that one of the waitresses smell like marijuana I reported that to corporate after I reported it I went to that Denny's as usual and I was told I was no longer welcome there I was 86th no reason was given but I suspect they'd rather have drug addicts look for him then customers complained about the drug addicts that work for them

Engrid Thurston
from Key Largo, FL
My husband and i attended Denny's in Plantation Fl. I ordered the zesty nachos and BYO slam on 12/12/18. Almost done with my pancakes, i noticed a thick piece of hair in both of my pancakes. As i was waiting for my waitress to come to the table,i also noticed a another piece of hair in the nachos. When the waitress came over,i showed her the pancakes. I didn't mention the nachos cause i didn't want them to feel as if i was trying to get a free meal. She took my plate to the manager in the back. All he or she said was to take off $2. They didn't even have the audacity to come out and speak to me. That made me even more madder than the hair. I went on Denny's.com and sent a complaint..no response! I am extremely upset. I have pictures of the food and the reciept. If no one responds to me, i will take this to the news!

Irene Calton
from St Louis, MO
It is not a complaint, it is a complement, We had Christmas dinner at Denny's at 5789 Campus Pkwy, in Hazelwood, mo. 63042. The food was good, and the waiter, was very nice. His name was Valden C. -- time 4:54:18 pm. We enjoyed our dinner, very much... I just wish that the Denny's on north Lindbergh had good food, again, like they used to have before they closed and reopen.. We used to eat there two to three times a week. It is so nice and close to where we live. But never again. Food is so bad and the service is worst. Be Blessed...

Your newer location on Broadway in Knoxville, TN is the worst I've ever been in. It is always understaffed, the manager is never in sight, the wait after ordering is always 30+ minutes, you have to ask for drink refills, bathrooms are out of towels & nasty, etc. This has been the case both times I've been( I went 2nd time to give benefit of doubt). And, I'm talking about Wed. or Thur. night between 8 & 9 with only a handful of customers. It was so bad the second time that I walked out after 40 minutes! I've already told several folks not to go there; and I will not be returning. You had better do something quick, or your reputation will be more pitiful than the service at said location. Thanks. JWS

Jim Guiney
from Lake Havasu City, AZ
On dec 12 2018 the wife and I went to eat lunch at noon. There was a line waiting to be seated yet there were empty booths. The wait staff was making all the customers sit in one area of the restaurant and not seating waiting customers. People waiting were becoming highly irritated. The wife and I asked to be sated at one of the empty booths. We were told they were not seating people there. When asked why the answer was a curt, ''well we're just not''. Needless to say we left and will probably not ever return to a Denny`s again.
.

Kevin White
from East Saint Louis, IL
The wife and I went to Denny's Restaurant #8807. about 8:30 A.M. 12/06/18. It took about 10 minutes for us to be told to seat ourselves.
Upon finding our seat, it took another 10 minutes to be brought menus. with only 5-6 other customers in the place, it took another 9-10 minutes for our order to be taken. After about 12 minutes, our beverages were served to us without silverware or crème for coffee. Our waitress returned about 12 minutes later and I asked for cream and silverware and napkins. Her reply was they were out of cream but I could go to Flying J's and retrieve some cream packets because they weren't allowed to and walked away. A different waitress brought us out milk for our Coffee. A few minutes later our meals were served. My cup was empty and the wife's was cold. My wife went to the counter and got a second cup. She noticed that there was no sausage with our Grand Slam Sluggers. A few minutes later the waitress returned and was asked about the sausage and napkins. Waitress replied that she would check to see if there was any. She brought back sausages and more coffee. Finally after receiving and paying for our food we left. Worst service I have ever had from a Denny's Restaurant. order # 475898/ store # 8807.

I made a complaint about 9 days ago . I was told that I would be receiving an update call with in 3 days of my complaint.....I am still WAITING!
I would appreciate a return call to go over the details. My contact number should be on file.
The person (female) who I spoke with said this was definitely a serious matter and concern) Now how about it Dennys....need I go further to get my point across?

Charmardee Smith
from Long Beach, CA
My husband and I went to Denny's restaurant (store #7211) on December 1, 2018. We ordered 2 meals; 1 pancake and 1 French toast breakfast. The young waitress brought us our coffee which was only lukewarm. She never came back to check on us, in the meantime my husband had to actually go find her to let her know that the coffee was cold. Approximately 20 minutes, later when the food arrived it was cold. We could not even melt the butter on our meals. My husband immediately alerted the manager the food was cold. The manager looked at him in a blank stare as if to say "What do you want me to do about it?" At that point the waitress jump in after a couple of steps seconds of silence and told us they would bring more food. When my husband arrived back at the table we had to track down the young African American waiters and get a refill on the coffee. By the time the food came the 2nd time we checked it and it was no different from the 1st time.. cold!!
We both grudgingly and discontentedly attempted to eat the food but was unable to enjoy the food in its entirety because the food was unappetizing because of the length of time we had to wait and the total disappointment of both times the food arriving cold and not having our waitress come visit the table to see if there anything we needed. We also had to get-up-and-go get syrup ourselves. The manager never at any point came to our table to see if our concerns had been addressed. My husband and I ended up leaving the restaurant in total disappointment, disgust and in despair not having a satisfying meal. I really don't think we should have had to pay for cold food when obviously breakfast is a hot meal.
Thank you for your time in considering this important matter.
Sincerely,
Charmardee Smith and Victor Pearson
(424)-382-4883)

Rochelle
from Boardman, OH
You need to be made aware of the many problems at Denny's #7404, 4927 Mahoning Avenue, Austintown, Ohio 44515. It is only one mile away from our house and we used to go there at least twice a week, every week. Now we hardly ever go because of the horrible food and bad service; and every time we go, it gets worse. In addition to that, the booths are all ripped and the whole place is always dirty; it was recently remodeled, so it shouldn't look like that. The reason it has gone so downhill is because the manager, JR and his wife Denise, who works there also, just don't care anymore and it shows. Since JR bought a bar, all his time and attention are focused on that. We used to tell family and friends how awesome it was and even brought many people with us to eat there. Now we never do because it has become so shameful. Something needs to be done, or I'm afraid that it will shut down, just like another one did in the town next to us. Management makes all the difference and it is very evident that this restaurant is being very mismanaged. Thank you.

I went to Denny's in Thatcher AZ and the service is lousy the food we got was cold it takes a long time to get the food and the waitress told me that the manager was outside smoking POT she said that they do it all the time how can this be good for a business, I have heard of a lot of people just walking out because of the service and not getting there food.

Gary Abell
from Los Angeles, CA
Every month when EBT goes on the card, this Denny's won't let you use your card saying they're machine is not working.Now they made a rule that you can't use EBT from 11:00pm till 7:00am. This is a direct attack aimed at the homeless here in elcajon,Calif.The manager here knows the majority of the homeless who use EBT at Denny's use late at night. I need help in finding a lawyer who will help me take them to Court and try and close this Denny's for good.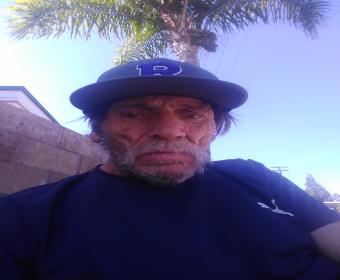 Elizabeth Crawford
from Anniston, AL
An employee named Joyce Glaze was very dirty in appearance and had a fowl odor as well. She coughed on our food and when I asked for it for the food to be replaced she became very agitated. She used foul language and mumbled under her breath at what a bitch I was. She then just took our food to kitchen waited for a few minutes and returned with the same food that she had previously coughed on. This all happened at the Cullman, AL location on 157 on 10/23/18 around 8:30 a.m. I also feel that the employees should have proper dental health when working with the public as someone with broken and blacken teeth is unappealing to eat around.

Sara DeStout
from Baldwin, LA
My complaint is for the Denny,s on Prien Lake Road in Lake Charles, Louisianna. My husband and I went to this Denny,s because we liked it very much. Everything was GREAT until 10/22/2018. We stopped there to have lunch. We were seated and got drinks and there were 4 other couples that came in AFTER US. A man named Ernest took our order and took another couples order. The waitress took the rest of the orders. Everyone that came in AFTER US got their order. We were still waiting, I heard the waitress tell the Hostess that our order was up and she wanted to know if she should bring it to us, she said yes but Ernest told her NO, that no one was to deliver our order. The waitress felt really bad. Our order came up about 10 mins after we ordered. The other couples who were all black and so was ERNEST you want to talk about being prestigious, well he is the KING OF IT. Well my husband and I were brought up to respect everyone no matter what. Color, or where they came from did not matter. It was what inside that counted it was in the heart. And we still believe that.
So now I want something to be done about this man. If it was me to decide I would fire him. I will not returned to that Denny's until something is DONE. How many other couples did he do this to? That Denny's is usually very busy but not while ERNEST was there.I would like to hear something very soon. I hope!!! I would also like to hear that he was either transfered or fired
Thank You
Sara

paula stangler
from Great Falls, MT
My son and I ate in the Great Falls Denny's on 17oct18, our order was taken at 12:40. There were 5 tables besides us, four of which were already eating. The other table had ordered. Their food came right after we ordered. Another table came in about five minutes after us. Their food, clearly food that had been cooked, was delivered before ours. At 1:12, we were unable to get our waitress's attention, and asked the other server to check on our order, as my son had to go back to work. He came back with it, and it was cold, we advised the server of that, he said they had only one cook. We had no time left, so we ate it. When we paid, we told the cashier how long we waited, and that it was cold, his answer was that they were short 3 people and were "really busy". SEVEN tables is not busy. I have waitressed for years, and I was a manager for years. One of the servers could have helped that cook put up one hamburger and a turkey dinner. However, I did see one person who was dressed like kitchen staff out smoking, so maybe that was the delay. I realize good help is hard to find, but how can you stay in business? This is "rush hour" and you had no customers to speak of, and still couldn't take care of the customers. My son and I will meet at a less convenient place from here on,

Dennis K Ratliff
from Cleveland, OH
I was told it would take 1 hour for takeout order that the waitress would not take my order coz the cook has orders to the floor i was told to go to another store coz management was out getting supplys they were running low on products I've been working 16 hrs and trying to feed my son and me so i can get some sleep

Jerry and Diann Norton
from Lewisville, TX
We went into Denny's to eat a meal. No one was at front desk to seat us. Waited a few minutes and no one came. Hit bell at front desk and waited about five more minutes and hostess came and seated us and gave us a menu. Waited about ten minutes and no one came and brought water or ask us what we wanted to drink or if we were ready to order. Husband went to front desk to ask if we were going to have a waitress. Her reply was "we'll see." Then an employee came by and asked us a question but she did not speak good English, so we could not understand what she was asking. She left. We waited at least ten more minutes and no one came or acknowledged that we were there. We gave up and decided to leave. There was no one at the front desk so no one knew we were leaving. Very poor service or reall no service. We have decided that we will never try to eat there again.

Azucena Miranda
from Los Angeles, CA
The moment i walked in, no one greeted us, no one seated us, no one even gave us menus. The manager LIN was inadequate to take care of my daughters and I 's request. I asked for a milk shake and when i recieved It, it was a bloody mess. No napkins were provided to me. I had to get up and go around the counter and snatched a few napkins for my kid. Another thing, the milkshake contained CINAMIN. My kid is allergic to CINAMIN so i asked The manager Lin what were the contents of the shake she said just Oreos and milk, i thought That was strang so i tried The shake myself and i for A fact tasted CINAMIN. The waiter Rene gave us a new shake but through out our time there he kept on antagonizing me and asking if i was Still upset. Rene kept on saying The Denny's establishment doesn't carry CINAMIN But yet Lin told us that the kitchen must've used the same CINAMIN scoop for the milk shake, so not only is that a health hazard, it's just so unsanitary. It was just a horrible experience throughout. I just Can't believe what this staff put me through. The location is 1101 S Harbor Blvd. Fullerton, CA 92832

stetson fadden
from Gastonia, NC
Went to Denny's on Saturday morning about 9;30 taken to a booth 20 minutes later asked what we wanted to drink....15 minutes later no drink left restaurant two couples left while we were sitting there....
Have feedback for Denny's?
Thanks for your feedback!
Sorry. Please try again later!