J.C. Penney
J.C. Penney Complaints Continued... (Page 4)
303+ reviews added so far. Upset? Call J.C. Penney corporate:

I went jcpenny Store on Bayplazza , Bronx NY store to Buy a shoe on 01/22/11. However, at that day there are so many sales man around us and we can't see our own because they are interrupt us.By the way, when i checked 2/3 shoes and i was thinking with myself which one look good, at that time the jcpenny Shoe's supervisor came and asked why i took the shoe form display, why did i take 2/3 type shoe for look. My question is if there is any restriction that a jcpenny customer can't see more than one shoe then they suppose to make a poster that no body can see more than one shoe.
You know, it's really hurts me because most of the time i go JCPennY store to buy but what is the way they behave it's really disappointed me. I don't know, where i have to complain about it because i also saw so many customer also looking supervisor for complain.

After placing an online order with JCPenney, this company will add a $9.95 per month fee to your JCPenney card. Their website reflects that they are an extension of the JCPenney brand. Since JCPenney credit cards are only valid for JCPenney purchases, it is clear that JCPenney is authorizing this scam. They will only reverse one charge and they will try to talk you into keeping their service. Insist on terminating and ask for a credit. The website shows their exclusive relationship with JCPenney. It is unfortunate that one of America's most trusted brands has decided to associate with a complete scam that defrauds consumers. It would be hard to deny that they are strongly associated with JCPenney. Very sad!

We are two employees at JCPenney store in Lansing Mall, MI. Our complaint is about our co-worker. Mary, who started her job here last Summer, met Josh. They have started their adulterous office romance that was very open to anyone who knows them at our JCPenney store, and is now a result of bad mouthing and gossip about them, which makes us uncomfortable. As we feel, she is now unable to use discretion, best judgment, and she becomes less and less prepared for competition. Relationships between co-workers can end in nasty break ups, disrupt the JCPenney store office, harm teamwork, and lower morale.

Unable to claim small gifts won by entering gift button codes. I think if you won and they have notified you by mail they should then follow up by sending you a gift coupon thur the winner's e-mail. Many people I've talked with feel the same way that this gift promotion by JCPenney is way too confusing.. I shopped more often than usual at JC Penney in order to receive the little buttons but have decided that I will no longer shop at JCPenney unless absolutely necessary. I have collected alot of buttons in the last week or so that will not go through. I did discover that the bad buttons all have an s in the code number. Those button codes are yrszss4 wwss93q 8saraqr 01szea2 ixssnrr fwssp1a f4ssp1d z1sze93 c4szs3n asss9s1. As far as everyone who has waited on me everyone has been very nice and very helpful. If there is anything I can do with these buttons I would like to know what to do. I do like the new look of the store but I would like the plus size girls department to come back.

I have always purchased my Levi jeans from JCPenney. Until now that is! I have always considered JCP Levi jeans "seconds" because they are never sewn perfectly;especially down the leg seams. BUT I just bought six new pair and the two 505's are totally unwearable! The legs and crotch are sewn off enough that they can't even be pulled up to your waist. And because I have never had such a major issue with JCPLevis, I tore all the tags off and threw them out in Mondays trash. I have to drive a distance to shop the store and don't plan on returning for some time. I suppose I will have to eat the hundred bucks I paid for the two unwearable pairs. We use to enjoy their selection of clothing, now they cater to skinny jeans, see through materials, and kids clothes. Time to pay off the card and say so long...

I am very upset that after being an outstanding customer with JC Penney's that I have had so much trouble initiating an order on-line. I have copied the information. I would like to know why I am receiving "Internet Explorer blocked this website from displaying content with security certificate errors". Everything is the same ~~ nothing has changed as far as any personal information in order to place an order. My order that I tried to initiate is the following: SPORTS APPAREL 2499 Item# TS217-0136F -- Alabama Crimson Tide Youth Grey Tackle Twill Hooded Sweatshirt
Size: Medium (10-12)status:manufacturer shipped (ships in 1 week). Item shipped directly to you from the manufacturer.
Total:$25.00. Your assistance on this issue will be greatly appreciated. I have never had this much trouble ordering anything from JC Penney's in many years. Thank you. Carol Oakley

On November 8 I had an appointment with Jessica at the JC Penney Salon in University Mall located in Tuscaloosa, Alabama. My regular stylist was not in so I had the appointment with Jessica. I gave her great details about my fine hair and my cow lick in the back making sure she understood what I did and did not want her to do. She did exactly everything I said NOT to do. I was horrified with my short hair that looked so bad I would not be seen in public. I got my money refunded and demanded another stylist rewash and restyle my hair. I got a great girl who stated she would do what she could with what hair I had left. I called the next day and complained to the Manager, Judy Johnson. She said she would "talk" with Jessica and offered me free cuts until my gets back to where it was before the cut. It has been one week today and I have a bald spot showing in the back where my cowlick is which is what I explained to Jessica that I could not have short layers there cause my hair needs to be long enough to cover the cow lick. I am hurt, upset and devastated over my hair. Jessica needs to have more training in hair styling, listening to the client and should be fired over what she did to my hair. Refunding my money and offering free cuts does nothing to compensate me for the damage done to my hair. I want someone at the corporate level to know what happened and do something about it.

In late-spetember of 2012 I called the Manteca, CA Jcpenney store to learn about a job application that I had turned in online at your main Careers page on the Jcpenney.com, the previous week. it was only 7 or 8 day's later when i called to inquire about the job, since it was still on the website career page. When I asked the human resource manager about my application and the position that I applied for, my reception was met with a cold shoulder and hostilite. The HR manager was extremely rude to me and lied to me saying "I'm sorry but we currently arent hiring full time positions". As she said the previous sentence to me, I was still looking at the open Career page for that store and it was STILL showing the the full-time store associate opening position. I'm very discouraged and angered that your store HR manager for your Jcpenney store in Mantec, CA would lie about an open job position to a prospective job seeker. I've been shopping at that Jcpenney's store for 3 years now, and I will never go back. If anyone ever asks me about working there I tell them to keep moving and dont waste your time.

I am a big and tall person. 300 lbs and 6' 3". My pants for the last 25 years have been 42-36. The longest you have in your big and tall section is 32 inseam. 32" inseam is NOT tall. You should rename the big and tall section big and short. I have shopped JC Penny's over the years and this last year it has gone down hill big time. Your CEO may have known the customers at Apple, but he knows nothing of the customers in a clothing store.

At age 70, I am a lifelong customer of JCPenney's and my husband even worked for the company in NYC for 30 years. Recently we read that the company is in trouble and I must say, I am not surprised. I have just had one of the worst experiences ever trying to purchased items online. Initially, the computer invoice did not show my sale discounts so I called for help. I got what was obviously a new employee who said that she whould need to start over with the order. I said, "Okay, take your time". That turned out to be a hassle. A few days later, when nothing showed up at the door, I checked my order online and found out it had been cancelled. Nobody contacted me even though they said that they did. If they did, there was not much effort put into it because I am a shut-in, home all day. When I called again, a lady said that I "probably" had a problem with a credit card. I said, " Not possible. We pay off our bills automatically each month. There is no problem with the card, it is current and in good standing". She said call back tomorrow when the credit department is open and then gave me the wrong number so that I went around and around on the phone tree next morning and never heard a human voice. Called order department again. They said the order had been cancelled and they would need to input everything yet again. I waited. Was told that more than half of the items I had ordered were no longer available because of the delay with the order. Arrrrgh. Okay, go ahead and reorder the rest. Today, I checked the new order and find that in the transition the person ordered the wrong size on one item which will mean a trip to the store for a return by my husband. Of course, it will be a surprise if anything at all shows up, the current order says that it is being reviewed? This is pitiful. While I am venting, why don't they get a clue and put check-out desks up front where they can be found, realize that the new catalogues are useless, put some warm bodies in strategic places on the store floor so that if there is a problem, there is someone to help? Also, and most of all, please recognize that people don't like change in institutions. Penneys was always a place that you could count on to be there. Not any more and it is so sad.

My understanding is that J.C. Penney has chosen to not apologize for their support of the SNL presentation mocking Jesus Christ. I will no longer be a client of their store, and I will recommend to my friends and family that they refrain from patronizing J.C. Penney's.

So not only did it take you five months and four different cribs and dressers before I finally got one but when your delivery guys brought it to my house they tracked mud all over my brand new carpet. When I called someone I never heard back from you guys. This is ridiculous and I am extremely upset.

I went to JCPenney Optical for an eye exam. When I asked for my PD measurements (pupillary distance), they claimed it was information that they don't give to their clients. The reason? They would rather you spend over inflated money on their glasses and frames rather then go online to get glasses at a much much more reasonable price. From the moment that JCPenney realized that I was going to get my glasses on line rather then purchase a pair of their over priced glasses, they treated me like a smelly bum who just walked in off the street.
If you want your PD, I suggest going to WalMart Optical where they will have no problem giving you your PD, with a dis-claimer that they are not responsible if you decide to order glasses on line. In fact I found their prices and service much more reasonable and friendly. You may decide to order an extra pair or two from WalMart who's prices are slightly more then online.

I placed an online (10 items total) order for $201.00 on Nov.30, 2012. I got one item today Dec. 10, 2012. To my astonishment nothing else arrived. I called JCP customer care, they inform me that due to holidays (WHAT!) my order will be late, also some items may have been on back order, of which they did not inform me at the time I was placing my online order. Now because of their uncaring attitude toward their customers my Christmas packages will not arrive to their destinations in time for Christmas. My daughter placed an order (over $200) on Dec. 4, 2012 and recieved it 2 (two) days later. I don't understand the logic of JCP. Maybe they just don't care when they offer free shipping if order over $50. I am so disgusted w/JCP I doubt I will ever darken their doorway again!

I was told I won a $10.00 certificate from my code number (bsqcecp) I got my email mail saying I won. Then I clicked to give my info. I haven't heard anything more. I got this email on Dec. 16th. I went into the stre and talked with some people that just said they didn't know how to help me without a bar code. I hope you can help.
Please help me with buttons that I won (2- $10) and did not receive an email from Penny's with bar code to redeem. My dad is here from Arizon and they were his buttons...he is on a fixed income and could use these for Christmas...only two days before Christmas and time is running out..Please help!
Received buttons from JCP.com & put the code in & it said it was already used. I feel that it is a waste of time, time i don't have, then you can only do two at a time.What if i was a winner & don't even know it, me and my mom shop jcp all the time i do like shopping at JCP but these buttons are a pain in the butt. I do like coupons & getting a good deal but is it even worth it?

On 12/20/12 at about 4 p.m. my husband and I went to the Greenwood, Indiana JC Penney store (0355)to purchase new watches for Christmas. While trying on new Seiko solar battery watches, I took off my 10-year old Citizens watch and put it on the counter. The sales clerk picked up my old watch and put it in the glass case. After trying on the new watches, I asked for my old watch, and he told me that it was the store's watch. I made him check, and he agreed it was my used Citizens watch in the Seiko case, so he gave it back to me.
The next part is the really strange part of this complaint. A man suddenly appeared and stayed with my husband and I while we continued to shop for watches. We found two new Seiko watches and paid for them with a credit card and got a receipt. We asked the clerk to have them sized to fit us. He disappear with the new watches for 30 minutes while two sales ladies stood by us -- one of them rudely asking if we had paid for the watches.
Finally a clerk brought us my husband's new watch, which hadn't been sized correctly, while we again waited for the other watch. We finally got tired of waiting, returned the watch, and asked for a refund, so we could go another store in the mall and purchase new watches.
After purchasing new watches at the Helzberg jewelry store, we decided to leave the mall through the JC Penney store because we had parked behind the store, and the weather was dreadful. When we entered the JC Penney store to exit the mall, the same man who had followed us around came up to us and followed us to the back exit of the store before turning around and returning to the store.
My husband and I have shopped at JC Penney for over 40 years, and we have never been followed around the store like criminals or had to deal with incompetent and rude salespeople. This will be our last trip to JC Penney stores, and we plan to tell everyone we know about this bad experience.

I was shopping at the Avaiaton JCPenny in Glens Falls NY. I am a case manager and had ripped my pants and needed to purchase a new pair. I was standing in line at the counter and the nasty ill tempered casher Gabby, rudely informed me that I needed to stand in the correct place and nodded her head where the line formed to the right.
There was the one person she was waiting on and no one else in the deparment. If I didn't need new pants to continue my work I would have left. I have shopped in JCPennys for all my life. My curtains, bedding and clothing is 90% purchased from JCPenny. I will never shop in the JCPenny at the store again.

While shopping at JC Penny, the cashier asked me if I would like to apply for a Penny's credit card and I would receive a 20 per cent discount on the purchased items. I applied and was rejected. Since I told the cashier that there must be a mistake since my credit was excellent she said that the company would send me a letter explaining. I then received a letter saying that the credit was refused because I was listed as "deceased" by the TransUnion Credit Reporting Co.
I contacted TransUnion and they went into a denial mode. JC Penny should look into this and look for a different Credit Reporting Company to use.

My son received several gifts for Christmas from JCPenney. I went yesterday to exchange the gifts for different sizes. I didn't want a different product, just different sizes. The clerk rang up the items and processed them as returns on a gift card. When the items were purchased for my son at Christmas time they were purchased on a newly opened JCPenney account so not only were the items on sale for Christmas, there was an additional percentage taken off for the new credit card account. So the amount put on my gift card to exchange the items was less than what the products now cost. So I ended up having to pay out of pocket the difference to exchange the same items!! This is treating your customers wrong. I've closed my JCPenney account and will no longer be shopping there. I have informed my friends and family to do the same.

I have been shopping at jc penneys for years. I buy my granddaughters jeans and most clothes at the Salmon Run Mall store in Watertown NY. Yesterday I took my granddaughter who is 10 years old there to buy some jeans. There was no selection and the kids department 7-16 was mostly empty of merchandise. I mentioned this to the sales associate and she said the trend is now to be more boutique style like Macy's. As far as I'm concerned that statement was a load of crap. I told a friend of mine who also was shopping there about the statement and she said she mentioned the same thing to another sales associate and was told the low inventory was because jcpenney's wants people to shop online more. Tell me, how do you shop online alot for a growing child without the child trying on the items? Different brands size differently and don't fit all. I was just so disappointed for my granddaughter not to have any selection to choose from. I won't be shopping at jcpenney's anymore. There are plenty of other store like Kohl's that always have plenty of merchandise for children and myself. If your new plan is to get more customers, you've failed as far as I'm concerned.

I visited JCP store # 1960 for purchase check out at terminal 261, transaction # 8850, date 12/08/2012, time 06:57 PM, the associate who handled the transaction her Id was 0231. I had a 20% voucher that did not state that it cannot be combined with a gist card. The associate was rude and discourteous throughout the transaction.
The other associate at that terminal advised her to try it out if the system would allow using the two together. And we understand if the system did not allow BUT fortunately the system accepted it and we did see the final price due but somehow when the receipt printed out we realized that the associate voided the 20% discount without letting us know. My point is that this is cheating the customers and we don't expect this at JCP at least.
I was sad and furious at the behavior of this associate. Moreover she refused to give us the prize button after the purchase and behaved inappropriately. I would appreciate if JCP takes appropriate action for this incidence.

I've been a decades long customer, always paid my bills on time and kept a low balance. JC Penny has been my go to when I needed a shower or wedding gift, school clothes, Christmas gifts, etc. All that comes to an end today. I probably owe them around $50. and when the next bill comes in, they get the $50. plus the cut up card.
I have used the salon at Pennys for 20+ years. Today I called for an appointment and was told that I had failed to make my last appointment and that my business was no longer wanted (IN THOSE WORDS). There was no question about why after all these years I might have missed the appointment, just this terse statement. I would never have intentionally missed the appointment, but that's really not the point. In these times you'd think that a company might want to keep their clients, not run them off. Oh well, beauty shops are nearly as plentiful as convenience stores. Their loss not mine.
I tried to call the store manager or customer rep. at this store, but you can't really talk to anyone. Try their automated phones. You can get the shoe dept. or the photographer, but no management of any kind.

I was very disappointed to hear that you no longer sell Cabin Creek pants for women. I have always bought these pants. I am a teacher and the pants were classy and wore great. Please bring them back to the catalogue to be purchased. I can not find any pants that fit me like the Cabin Creek. I know you have received complaints on this item, but I do not know why you have ignored your customers. I only buy a few items from JC Penny, but I buy a number of items for my grandchildren.
I now do not have a reason to visit your store because what brought me into JC Penny is gone. So, I will take my business elsewhere. It took me a few years to locate the Cabin Creek pants, but I have been wearing them for over 10 years --I bought around 2o pants a year in a variety of colors --I only have a few wearable ones left--do not know what I am going to do without these pants--I have tried other brands but they are too long or too big---just very dissatisfied with JC Penny.

Every time I put things in my shopping cart, it only keeps them there for a matter of minutes, and then, with no warning, it kicks them out, so you can't complete the order transaction. If you go to their email section to report the problem you cannot click on the "topic" subject which is a required item to send the email. I called the 800 number and reported it to the rep and she said she would send in the complaint, but that was two days ago and things are still out of wack. I'd have to think with a website running like this, they are losing a lot of money (including mine). My computer seems to be running fine, as I have ordered from other sites with no problems. Thank you for your help.

Congratulations, Penneys. Your plan worked. I was shopping for earrings today at the Penneys in Century III Mall, West Mifflin, and saw a sign that said in big letters "$10." At the cash register, I gave the associate a 20% off coupon and he charged me $15.41. I said that I thought the earrings were $10, and the associate next to him told me that the sign says $10 but in small print next to it, the sign says, "and up." I paid for it anyway.
When I went back to look at the price sign, it said "and up" in barely perceptible small print. So, if the plan is to get the customer to the register thinking that the price is $10 and then bank on her/him paying the higher price anyway, then it was a success.
I generally like Penneys, and prices are good, but I really dislike deceptive advertising.

My name is ivy butler from mccomb ms i was terminated for the wrong reason under randall spears he is racist have favoritism he fires people because he dont like you. im the only black supervisor there and been there for 10 YEARS . Everything i do is wrong the others gets away with it . he should be the one to gets terminated i worked too hard for this company he is wrong now he gott promoted to layfette store

The last 2 times I was in the JC Penney Store in Plymouth, Indiana, I may as well have been invisible. The only thing that brought me to this store to begin with was my $10.00 coupon, but I now think the $10.00 freebie wasn't worth the unpleasant, unfriendly atmosphere. Not once in the whole time I was in the store did any clerk so much as speak, much less ask if I needed assistance with anything. I was well dressed, hair and makeup nicely done, so I know I didn't come off as a homeless indigent that couldn't afford to buy anything, anyway. The sales personnel in this store are rude, inconsiderate, and truly reflect the feeling that they don't want to be there, and they certainly don't want to be bothered with my being there. This was the case BOTH TIMES I was in the store, so it wasn't just one isolated incident. I doubt that I will bother going in this store again, even if it means losing my prized $10.00 coupon. The manager of this store should be removed if this is how the store is run.

As a credit card holder of Penny's for fifty something years I believe I qualify to make this complaint. Your Black Friday add carried Cooks appliances for $8.00 but very few people had a chance to purchase them as some peopel hoarded them. The thing about this that makes me so mad is a lot of these people turn around and sell these products for more money and make a profit while the rest of us do not even get a chane to purchase even one.
If you really want to keep regular customers I have several suggestions that would greatly help.
1. You could send coupons out to people with credit cards to purchase several at the great price.
2. You could only put a certain number out for sale each day giving more peopel a chance to purchase one.
3. You could limit the number one person can buy at a time.
I hated it whenyou did away with your catalog so I have not been doing much shoping anymore at your store,I use to do all my shopping at Pennys. I do not like standing around forever waiting to get help when trying to look for semi sheer curtains. I finally give up and either go else where or go home.
Now this latest fiasco with the Black Friday sales hs really turned people against the Penny store. Ipersonally do very litttle shopping in our Pennys store in Valley View Mall La Crosse, Wisconsin and this latest fiasco with the special COOKs appliances has really angered me. Don't be surprised to see a lot of previous customers quit shopping in you store. Your new advertising and promotion SUCKS.

I am writing today because I am beyond frustrated. Last week I placed a catalog order for a bedspread, blanket, pillow shams and drapery. On Tuesday of this week I got a phone call telling me my order was in. On my lunch hour I went down to JC Penny's to pick up my order. Apparently the more catalog order area has been discontinued, so as you know we are to go to any cashier. Sandy in the women's area waited on me, I told her I needed to pick up a catalog order, she radioed someone and 10 minutes later they showed up. She took the slip that Sandy gave her and disappeared for another 15 minutes; coming back with only the drapes. I was then informed that the rest of my order would be on Friday. I asked why I was even called if the entire order was not it; there was no answer except an apology. I figured JC Penny doesn't care about wasted time on my part so why would they tell me? Sandy rang up the drapes as well as everything else.
I told her that I did not receive all my order, therefore the sales receipt was incorrect. We went back and forth, Sandy was very nice but was apparently not trained to do catalog orders. I insisted that I was not signing because clearly the sales receipt showed that I received everything. She then called Janice over (apparently a catalog order expert) Janice then insisted to me that the sales order was correct, even though it clearly showed all 4 items on it. At this point another manager showed up and said it was correct and then Mark (I assume another sales person) chimed in telling me it was correct and my order would be in on Friday. I implored them to listen to me, I knew this sales receipt was incorrect, but 4 different JC Penny associates insisted it was correct. I told them that I would be back on Friday and I guaranteed them that as far as JC Penny's was concerned there would be no order coming in on Friday because as far a JC Penny's was concerned my order was delivered.
I was assured over and over that I was wrong, and by that time with quite a bit of exasperation that the order would still be coming in. Jump forward to Friday, I go in to the store on Friday, what do you suppose happened? You got it, no order. Why? because as far as JC Penny was concerned the order had been delivered. I really, really, tried to stay calm. I had Sandy who waited on me on Tuesday and was a witness to the entire fiasco call management. A really nice woman named Alicia came over. I again explained the situation. She took my receipt and disappeared. When she came back she said "you are correct, the order is not coming because we show it was delivered". I asked Alicia to talk to Sandy so that she could confirm what I was saying was correct; which she did. I now have company coming and no merchandise to finish the room.
To tell you I am frustrated is an understatement. I worked in retail management for years and I know this all comes down to lack of training on all levels. JC Penny decided to get rid of the catalog department to save money and just throws out the responsibility of it to untrained sales people. Shame on all of you at JC Penney's corporate offices. Customer service is the one thing that will keep companies thriving and JC Penny's you have failed miserably. Alicia informed me that she would call me when they tracked down the order. Because I had already surpassed my lunch hour I conceded and left. At 2:30 pm Alicia called back to tell me that the order was not found and she would credit me for the merchandise; except for the drapes that I would need to make another trip in for to return. Again I say Shame on you; of course Mark (sales person) pointed out to me on Tuesday "JC Penny's has been around for 110 years we will be open for another 110". I am but one customer so I am sure the loss of my patronage won't be missed, but I was a really good customer and for that alone you should think twice about making sure your people are trained.

I was shopping Friday in your Silverdale store for a purse. I was looking in the clearence sign areas. $15.00 and up I found a purse in this area but when I check cost it came up regular prise. When ask about it, the comment was some one must of put it there. I showed her that the area had 15 or more of purses with same name brand and only some marked . Her responce sorry someone must of put sign here and took the sign away.
Moving the 10 0r 11 that did have a mark down on it and put with another section that had a sign .. I work retail and if that was a mistake you can move it but you should offer the price that the customer found. Then I went in the jewlery area( not the expencive area) I saw a table and it said $12.00 not $12.00 and up. I pick a pair of earrings I like but those to came up $24.00.
I mention to a sales person and same responce , some one must of put them there. I showed her the table and that the sign did not have and up on it. All the earrings the same as I picked ou and others also were marked wrong. she to changed the sign over and said the stock people didn't put the right side up. There again that is miss lesding .
I fill you must not train your stock people or sales person correctly. When I worked retail if you made a mistake you should give that customer the price and then change it correctly. I am not thrilled with your new policeys.

I went to the JC Penney store at the Westroads in Omaha, Nebraska on Saturday October 13 around 5:00 pm. I selected a pair of shoes to purchase. The only person at the register was helping another customer with many articles of clothing. I looked toward the men's department, saw a man folding clothes at the register. I went over to him. He called for help to check me out. I waited. Another employee came over he said he couldn't help me because he was helping another customer and also had to help someone who was on hold. Clark, the man at the register, called again. No one came again. I waited for the third call. No one came. He finally said "Someone will come eventually." I waited some more. I finally gave up and started walking away. Clark continued to fold his clothes. When I was about 30 feet away, he called for me and asked me if I still wanted the shoes. I asked him if someone was there to check me out. He said no, he wanted me to put them back. Now I left embarrassed. Penneys lost a sale and a customer.

There is the one person at Jcpenney in Panama City Fl that really left a bad taste in my mouth. Her name is Tammy with red hair and she is a true witch. She spoke down to me like I was nothing about my reward coupon and she said her smart comments in front of other peoples as if she was trying to set me straight. How dare you Jcpenney for allowing employees to treat no longer a valuable customer in such a way.

I am so upset with J.C,Penny's. They stopped giving to their customers.Then they give everything to Ellen Degeneres. to give to every one in her audience .They have given thousands for her to give away and.I think they should realize no one buys anything I have not bought anything or have my friends, because.Their customers deserve extras,not strangers.Why do they give it all to Ellen.It is not right.I think this is terrible. Thank You Marlene Strauss

I am very upset as unable to purchase Underscore Nylon Brief with lace waist in size 5. Only find information available for this product is in larger sizes - why not in size 5???
Please let me know the website for this product in size 5 as only available online at JC Penneys. They must be available for purchase someplace!! Clearance, etc, This is the only brand of underwear that I'm able to wear so information would be most appreciated.if can buy this product!!
Thank you so much for taking the time to read my request. Kathie Poechmann, 1085 1st Ave So, Okanogan, Wash. 98840, phone # 509-422-1637.

My complaint is with the JC Penney furniture store at the Arrowhead Mall in Peoria, AZ. I went to the store two days ago to buy a dining set. I saw one that I liked and tried to buy it. The salesperson, who said that it was her last day on the job as she was retiring, indicated that the computer system was down and that she couldn't sell me anything. She took down my name and number and said that she would have someone call me.
I waited a day, and no one called. Two days later I called and offered to buy the dining set over the phone, but was told that I would have to come to the store to buy it. I then returned to the store and once again tried to buy the dining set, but once again was told that the computer system was down. No one had a solution, and no one would sell me the set over the phone.
I received a call after I got home on my voice mail that the dining set I wanted was not in stock, but that I could buy the floor model IF I came and picked it up. As much as I liked the dining set, I am going to look for one elsewhere. To say that this store is operating in the Stone Age would be an understatement.
I have shopped at JC Penney for many decades and have spent plenty of money with the company. I expect better service.

I need to speak with the JCPenney manger regarding my picture that was taken on Saturday. I'm writing for several reasons: my appointment was at 12.50pm I was not called until three. The guy that took the picture angel was ok, the girl that was helping was rude she did not want to hear anything I had to say.
I told them I wanted to a Christmas and birthday for my daughter and the outcome was a disaster . I try to speak with shanell but was unsuccessful the other girl who said she was the assistant ( pointless ) she was very rude and I use the term"rude" loosely.
At this point I would prefer to speak with a live person instead of emailing so I can explain this better.
Disappointed JCPenney customer- Shiva

The "Spencer" queen size bed was delivered by a company called Excel in Ral. NC. Bed was ordered in store at JC Penny in Ral. NC. The bed was put together by the delivery company, midway thru the assembly they told me that the 8 screws that came in the package were too short & wouldn't work. They were shorter than the depth of the wood slats that were to be inserted into, which is the base of the bed.
They told me they're not responsible for rectify the error, & that I should take it up with the manufacture & they needed to go to their next delivery. I called the JCP 800# on my receipt & spoke with Angela, who said she'd send new bed out to me, & if I had any problems again (which I had had with the delivery company) to call & ask for her.
I called her less than 1 hr. later & was on hold for 12min. The person on the other line said she would give her my message & she'd call me back. Never heard from anyone! I'm stuck with an incomplete assembled bed, & very agitated & disgusted with this entire transaction!!

I have been a JCP customer for years. Enjoyed and purchased merchandise often. My local store which is one of the originals is one I enjoyed shopping in even though it didn't seem it could provide everything due to it's size. It's had some ups and downs in merchandising my needs, but when I visited there a few weeks ago I was pleasd to see how tiddy the racks looked and DISMAYED to discover the lack of merchandising for what I believe to fit our area. Pendleton has virtually not department stores save Walmart for clothing etc. now even JCP doesn't provide even a little of what I ight be looking for on a shopping trip. Don't get me wrong, the employees are excellent.
The store no longer has what I want. When I asked if you carried plus size clothes, I was told no but they could order it for me. I can order that myself. I don't generally shop for clothes online - very few things for that matter. Here's the Christmas season on us and I'll have to drive 75 miles to shop at a JCP store that might have what I'm looking for. Sad, but I don't think the store will make it on it's current marketing plans. Maybe you should become a BIGGER (not smaller) store in Pendleton and buy the now vacant Bank of America Building. For sure Pendleton could use a nice big department store. Anyway, I'm sorely disappointed in the Pendleton's store's direction.

I ordered a pendant on the 27th of November, and today on the 12th of December they sent me an email saying my pendant was no longer available because the manufacturer no longer had the piece. I just think it's a joke that they had to wait two weeks to inform me about a piece they no longer had, I spent some time looking over the internet and found that many people are having the same problems. I'm furious because this was something I picked out for my girlfriend and bypassed any other website to do a purchase. Now I'm probably going to have pay extra for a piece of jewelry and rush delivery so it doesn't get lost in the Christmas shipping. Jcpenney is a pathetic company and has no respect for their customers, and they seem to not care.

On October 9, 2012 at approximately 1:00pm I visited your Victorville location. I was purchasing a pair of jeans and was helped by a lady named Cynthia (great customer service from her). Not realizing that I was paying with cash and a gift card she swiped my gift card and asked for my credit card, I explained I didn't have it and was paying cash she said she would help me at the register as she couldn't take cash with the hand held computer. The gift card wouldn't work at the new computer and the manager that came over to help was RUDE. He wouldn't look at me, he was rude to Cynthia and he has NO customer service skills. She asked if he could just issue another gift card to complete the transaction and he huffed off.
About 10 minutes later a female manager stomped up and handed me another gift card & without even saying a word she turned and stomped off. Cynthia kept apologizing over and over throughout the entire 45 minutes I was trying to pay. I was so mad that I said cancel the order and was going to leave. At that time the first male manager calls Cynthia and says "get the gift card back" I heard him because I was still standing there. I've been a very loyal customer for over 45 years. I'm not sure I will ever return to another JC Penney again. I cannot believe the way the management treats not only the customers but the employees at the Victorville location.

I have bought most of my dress clothing at J.C.P. for years but the new direction your company has taken has taken me elsewhere. Today I received an offer from JCP to receive cash rewards for qualifying purchases but I won't be buying from JCP because when you decided to get into the culture war by hiring Ellen Degeneres and by advertising with controversial and offensive ads, I decided to take my business elsewhere. I contacted you way back when and you never even responded. That's speaks volumes! You had rather lose customers as to stay out of the culture wars. You must know that many, many of your clientele are offended at your new marketing strategies. It amazes me that you would offend the masses to cater to the minorities. That is not inclusiveness. That is business suicide! Anyway, I wanted to try one more time because I really liked JCP mens clothing but I can live without it rather than be offended by your in your face marketing strategies.

Lost my favorite sunglasses that I purchased from jcpenney (Dyersburg TN). Went in store to purchase another pair and was told they pulled the display because it was a seasonal item. Whats up with that? The sun shines most days in Tennessee and I need sunglasses year round! Anyway I did purchase a pair at a totally different store. Problem is they need to keep that rack in the store year round!!!!!!!!!!!!!!! It does not take up that much space!

Dear Customer Service, I have owned my vehicle for 37 years, in 1979 I purchased a J.C. Penny lifetime Battery guarantee for it. Over the years I have replaced it with no problems, today I have to report that the manager in the Jensen Beach Florida refused to honor it even though I have my original paperwork. I was told by Beth the assistant manager that the store Manager Lisa Escalante said there was no question that the paperwork was legitimate, or any other reason to deny it, but this manager said no they would not honor it for a new battery.
What Beth said the manager would offer was what I paid originally for the lifetime guarantee, but that amount would not pay for a new battery at today's price, and I would no longer have a guarantee, and that is not what I paid for, what I did pay for in 1979 was a lifetime guarantee. I proved to them that I had the original paperwork, and this years vehicle registration, that was all that was ever required.
The battery my vehicle needs is a model 27-F and even though this J.C Penny does not have an auto department anymore, in the past the previous J.C. Penny manager Mr. Bradley would approve a purchase of a new battery at the nearby Sears store, I would take that approval letter he wrote for me and go to that Sears store and get a new battery with no problem, plus I would retain my Lifetime guarantee, and that is exactly what I wanted today but was denied. This manager would not accept that even though I have his business card and signature on it, to me this is very unreasonable. Please contact that Jensen Beach Fl store manager Lisa Escalante and ask her to call me so I can get this battery installed, I will appreciate that very much. 

We went to JCP Portrait studio at Greentree Mall on Wednesday, November 21st 2012 to get a family portrait. Our appointment was shcheduled at 7:50 p.m., had to make a late appointment because my husband works late. We have 7 kids, so it took some time to get some good portraits....needless to say, we were there for quite awhile. As we were trying to wrap things up, out of the blue a JCP sales associate from the mens clothing walked over and asked if we were about done? To my disbelief, I asked hime if there was a problem, He replied by saying "Yes there is a problem when you're still here 50 minutes after the store closed at 9 p.m. and I'd like for you to leave, so I can lock the doors and get home." He then stomped off. The 2 ladies who worked at the portrait studio were appalled and of course, as a paying customer getting ready to spend over $200, so was I!!!! We were still trying to get things wrapped up, so I could pay and everyone could go home but having trouble getting a 25% off coupon to go through.....about 15 minutes after the sales associate left, a sales manager walked up with her keys jangeling and arms crossed walked up and gave us the "Look of death." One of the ladies at the portrait studio, looked up at her and said "We are almost done!!!!"
Overall, I had a great experience with the Portrait Studio and the 2 ladies who worked there, who had been there since 9 a.m. and had a reason to be tired but were very professional.....I will be returning to the prtrait studio but I won't be shopping at JC Penny ever again!!!!!!
Angie

Emporia ks .The management is a joke all the boss just sit on their butt all day or walk around acting like their doing something when their really just talking. They tell us at work that were not allowed to talk unless its about work. Workers are right in front of bosses on their cell phones and don't get in trouble cause their really good friends. They judge their customers right in front of them and act like their better than them.its just a horrible place to work you complain to a boss and she doesn't care cause she's friends with them.

I was in Jcpenny's in Washington, MO last night to buy a wedding gift and I had received some rewards certificates. When I went to check out I requested a gift receipt and they informed me that if the gift was brought back that they could only exchange the gift for the balance that I owed after the certificates. This does not make any sense. I have been a loyal customer and to here that I was purchasing over $70.00 in goods, but it the gift need to be exchanged they could only exchange for the balance of $2.82 is insane. I was very shocked and in the future will be looking for a new retailer.

Yesterday I was in Penney's in Lafayette, Indiana. Normally I have a great time shopping there and find all kinds of things I want. The staff are usually very helpful; too, but yesterday they seemed a bit flustered. Throughout the store there were large while "things" that took up a lot of space. I couldn't tell what they were or if they even had a purpose.
With these "things" all over it seemed like merchandise was in places it shoulldn't be and I had great difficulty finding more than a few selection of my favorite desginer Alfred Dunner. While checking out my concerns the really nice saleslady suggested I use the we site and my access code to tell the poers that be my concerns.
I got so mixed up trying to find the right thing to use got the jcpenney.com/survery but on it was asked numerous very personal questions and nowhere was there a space for me to list any concerns at all. So, please read my above listed concerns and tell me what you are going to do about the. I want to keep shopping at Penneys, but only if I can find the things I want - and easily!

I am very dissapointed that I got up early this Black Friday morning, was nearly first in line 45 minutes before the doors opened at 6am. I had one item that I wanted to get, so the doors opened, and I rushed to find the Cooks Waffle maker for $8. I couldn't believe my eyes when I saw stacks of griddles, slow cookers and toasters. Not one waffle maker in sight. I asked around and no one else could find them. I looked through the store and no one else had a waffle maker either.
I was then told at the checkout that I could purchase the item online, so I left the store dissapointed but hopeful. Only to be cruched again when I searched online and found that the clerks at the store had lied to me. I thought the term bait and switch was outlawed years ago, but I see it is alive and working great for JC Penny. I will tell all my friends about the lies and deciet at this untrustworty store. Very dissapointed in Orlando.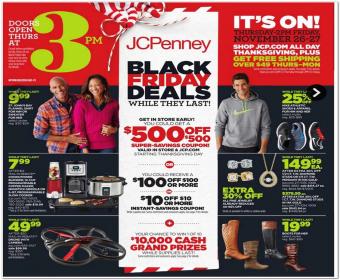 I purchased 2 shirts on 11/23/2012 and received 2 buttons and instructions to submit the numbers to enter a rewards contest. The 2 numbers were awgfz3x and 4pjb4xc and I entered both numbere and for one number it said that i would get a 5 dollar coupond and the other said that i would receive a 10 dollar coupon. I receive a email with the 5 dollar coupon and still have not received the 10 dollar coupon. Please advise if your are going to honor you email responses.
Neil Conner

I got up early and waited in line on Black Friday to get the appliances advertised in the Black Friday ad. The appliances were the "doorbuster item". I was excited because I knew it would be worth it and I was there early enough that there was no way they would be sold out. I planned on getting some clothes on sale as well AFTER I got my appliance and put them in the car (my main objective was to get a waffle iron, griddle, toaster and coffee maker). At exactly 6 am they let us in and I raced around the store trying to find them.
I found an associate and asked her where they were. She replied "We didn't get any. Only the big stores received appliances". I was so mad I left without even looking at the clothes. In fact, I am so mad I will no longer shop there, although I have been a faithful JC Penney customer for a while. I think the ad should have specified that not all stores would receive these items. The Yankton, SD store I was at should have, at the very least, put a sign up letting everyone know that these items would not be available. At least then I would not have wasted my time standing in line. I think it was an intentional fraudulent ad. They may have gotten me there with those tactics but they lost a customer by doing it.

I purchased a set of polyester/cotton sheets with 4 pillocases in king size from a JCPenney outlet store. I did not have a receipt but think that the sheets were approximately 6 months old. I have sheets in my home currently that are 20 years old that do not look as bad as the ones I am compaining about. My husband has a beard and I assume that is the reason that the pillowcases look shredded! There are also multiple catches on the sheets themselves. I believe that the sheets are defective, but I did not get any satisfaction from the outlet store nor the regular store. I think compensation is needed in the form of a coupon for a set of king sized sheets !!! Thank you in advance for resolution of my problem.

Ordered 6 new towels and wash cloths, received a call merchandise was in, upon arrival to pick it up, I was given 12 washcloths and no towels, the rest backordered, when they looked at the backorder there were another 12 wash cloths and no towels, the system had changed the order to wash cloths only. Ordered Royal Velvet towels and was receiving JCP Home, talked to the manager and she went into the system and cancelled the remaining wash cloths and I returned the 12 there. Purchased towels and wash cloths at the store, 21 weeks later, received phone call stating my merchandise had arrived, the 12 wash cloths that was cancelled.

I placed an order on 11/23/12 (2012328510447805) the orderwas to arrive to me in 4 to 7 busineess day. I called to check on the order and was told that something was wrong with my credit card per Annett. Made a call to JCP credit card office to see what was the promble and was told by Ray that there should not be a promble, because I have more then enough to cove the $58.00 purchase. they were not understand ing what was going on. Christian from Milwaukee checeked my order and said it is at the point where it can not be cancel. this is my first and last time of order anything from JCP on line. i took you at your word when you said 4-7 business days. your word is your bound and that's what i was staning on your word. i have been with jcp for years, but i see things in a whole new light. i really do not know when i will get my order per christian.
Have feedback for J.C. Penney?
Thanks for your feedback!
Sorry. Please try again later!