J.C. Penney
J.C. Penney Complaints Continued... (Page 6)
366+ reviews added so far. Upset? Call J.C. Penney corporate:

Dear JC Penny, I will not shop at your store ever again. The sign on the table said $15 for t-shirts so I bought one and it was 22 dollars when I saked about it they said it was another shirt, but there was no other shirts there, Everything on the table was 22 dollars with a pair of jeans for 35 nothing was 15 dollars. The sign is large enought to bring your attebtion to it so you see and think all is 15 dollars very very misleading. Ever since you changed your store I have hated to shop there. So this will be the last time. And I will let my friends also know about your store. Your employees were very rude also. I was at the store in St Claire Mall in Fairview Heights IL. Thank you

I was followed through the Mt. Shasta Mall after accidentally leaving the store with a clearance baby shirt hanging on a hanger from the stroller which had my 10 month old son in it. The Loss Prevention woman from JCP grabbed my arm and spun me around while I was in line at Radio Shack (also in ther mall). I was embarrassed and completely cooperative and she held my elbow as I was pushing my stroller and escorted me back to the store. She said I had better tell her everything that happened and not to lie because she had it on tape. Clearly if she actually watched it she would see it was only an oversite on my part.
She said I was under citizens arrest and that I wouldnt go to jail if I have a clean record for theft. Then she poured hand snitizer all over her arms becase she touched the psoriasis on my arms when grabbing and escorting me. She asked if I was going to spread it, I was mortified. I asked for a copy of the tape in which they "caught me purposefully shoplifting" and they refused. In addition I havnt even been convicted yet and I'm getting threatening calls/letters from a lawyers office for a bill. I would like a response to my complint how you plan to handle this, I feel like I was mis-treated and manipulated.

I purchased 6 pair of pants at J.C. Penney store in the Big Flats N.Y. Mall, the service at the time of sale was outstanding, two sales associates went out of their way to assist me with purchasing and ordering 4 pair of pants that were not in stock. This was on 10/22/12, I was told that the pants would be shipped out by 10/24/12, I did not recieve any shipment to my home but did get a response card in the mail that the pants would be shipped out on 11/1/12. I waited and finally got 2 of the 4 pair of pants, the enclosed invoice then said that the other pants were on back order, I went to the store and asked how long I would have to wait they said they would not be shipped until 11/29/12. I then called customer service on 11/13/12 and stated that I was not happy with the delay in delivery of my pants and asked to have my order cancelled. I have not shopped at J.C. Penny for about 2 years other then on 10/22/12, this was the first time I had been in the store since then, I really like the new set up with smaller stores within a large Department store, however my experience with service after the sale was not good. Waiting 5 or 6 weeks for a delivery is not acceptible. I also did not feel that Customer service at the store or on the phone was helpful and I felt I was just another number.
Sincerely,
Matthew J. Leszyk

As a Christian woman, I want to tell you how offended I am over your endorsement of a disgusting skit on SNL last Saturday night. I'm telling my friends and family about this incident, and hopefully they will not shop with you either. God bless you.

I spent just over $250 online during your black Friday sales. I received a called the next day, and was told most of the items I specifcially went to JCP to buy had been back ordered then canceled, and the only solution you could offer me was a coupon. It was upsetting since I could have picked those items up somewhere on black Friday, and I now have to pay full price for them. Even so, I had still gotten some good deals, and just figured I would pick up some last minutes presents somewhere else to replace the canceled items. After almost 2 weeks I decided to see when the rest of my order would arrive. I log onto your website and to my suprise you have canceled even more of my items good deals. I received no phone call and no email, and I'm sure I will receive no other satisfactory solution other than a coupon if I do. I have no adequate words to describe the outrage and annoyance I feel torwards your company right now. I'm not sure what your company could even do to make this all right, but I am sure no one is going to care too much about my complaints for it to even matter. I would have never bought from your company had I known it would be such an inconvience, and after the service I recieved and the aggravation and resentment it has caused me to feel torwards your company I highly doubt I will EVER shop there again.

Yesterday 8/14/13 was our 20th anniversary. My husband has told me for years that I could get a new ring for our 20th anniversary. I went to the JCPennys in McDonough, Ga yesterday. A very kind man by the name of Vince assisted me and I picked out a 1 carat ring. I told him I would talk to my husband so he wrote all the info down including the final price and told me if I came back and he wasn't there to please let them know that he assisted me. Well my husband took me back last night to get the ring. I was very excited--I have waited a long time for that ring!! Vince was not there, but a lady named Debbie was.
I told her we were there to get the ring and gave her Vince's card. She was very rude from the start with very short, snippety answers and then acted as if were low-lifes. I was purchasing a $1,550. ring--which is alot to us...but does not make us low lifes!! Well I didn't have my JCPenney card which is in my husbands name, but she said she would look it up. It came up but would not accept the transaction, so she rolled her eyes and said I can call and see what the problem is IF I must as if we should just walk away. I said call, so she did--they talked to my husband and raised his credit limit and said to go through with the sale. She tried several times and it wouldn't go through so she rolled her eyes again and said I can call back IF I must.
So she called back and after being on the phone for several minutes they cleared everything up and said go ahead with the transaction and when Debbie tried it, it refused it again--she very rudely said it is not working--There is nothing else I can do..Very disappointing to someone who was planning to get the 1carat ring I have been waiting for!! It may not have been her fault for the transaction not working--but she was extremely rude from the start and acted as if we should not be allowed to purchase anything. She didn't even want to make the phone call to check out why.
Then said oh well there's nothing I can do. I walked away from the counter and assured her I would purchase the ring elsewhere and I will make sure everyone knows I got it and why I didn't get it at JCPenneys. I have spent alot of money here over the years and I am very angry about the way my husband and I were treated in there last night. And it ruined a 20th anniversary. I don't know where the fault lies for not being able to make this purchase, but you definitely lost an almost $2000.00 sale and we won't be back.

I bought a bunch of clothes online from your website. got it in the mail a week later. the jeans I ordered were different brand,size,color than what I received! I was told I had to pay for shipping to return them( not my mistake). than I went to exchange one of my shirts and the lady instead returned it and told me they didn't have any other sizes so not only did I JUST tell her I wanted the shirt even if I cant get it in a smaller size, I had to buy it again and since I bought it during black Friday/ cyber week/ Saturday sale, I wouldn't be able to get the discounts and would have to pay full price. I used to love JCP but after this in less than 2 days apart from one another, I will never shop there again. JCP should be ashamed in how they deal with customers. you want people to order from y'all and than during your one week busiest shopping day(which you had months to prepare for) you were way off your game! get it together JCP,.

Twice now I have gotten new buttons from my local JCP store and have entered them and a message comes up saying these codes were already entered, but they were brand new buttons.
I returned them to my local store. The first time it was four buttons and the cashier took them, threw them away and gave me 4 new ones. Of those 4 new ones, 3 of them also said that they were already entered.
At that time they were all out of buttons and do not plan on getting any more. I would like to at least get new codes for these buttons that I have in my possession right now to see if I have been a winner or not. The codes are 3wbxqzs, kwjhwnn, 45rmaca.
Last week I entered the code off of one of my buttons and was told that it was a $10.00 winner ant that I would receive a coupon in the mail. Here is it a week later and I never received anything. I called JCPenney and they gave me a web site to go to but it doesn't work.
I have still not received my coupon and when I called the store where I received the buttons in the first place they told me I could come back and they would give me more buttons but that is a 30 mile drive one way for me. I have been a loyal customer at JCPenney for years but right now I am very dissatisfied with them.
Please respond before the deadline of the contest.

I finally get a winner and it wont accept the Captcha codes you have at the end! Ive lowered my security ....stopped my pop up blockers and it still doesnt work! I have one hour in on a $10 winner! your button promotion sucks and so does your site! No need for endless e-mails keep your $10 and I'll shop somewhere else!this is where I'm not proud to be an American! I visited your jcp store in the Columbia Mall on Saturday December 15th and requested buttons for the current button campaign.
One of your store clerks in the linen and clothing Department issued me some buttons for entry. I entered the buttons as I had done before on previous entries, but every one of the buttons that she gave me gave the message that the button had been used before. I made another trip on December 17 2012 at the Prince George's Customer Service Desk and was issued two buttons which again gave me a message that those buttons had been used before.. This is very frustrating, because it seems that the store employes are entering the buttons then giving them to unsuspecting customers. I would appreciate an inquiry into this obviously fraudulent activity at your stores.

Your JCPenney store sales practices are not cost effective and take cosumer's time for granted. You store no longer has weekly or monthly advertised sales, so customers are expected to visit the store and hope to stumble on a sale of items they might need. You do however, send picture magazines depicting items that can be seen at the store or internet. This week I recieved two magazines. Each was presented differently, but contained the same items. This is redundant, a poor use of advertisemnt investment, and not ecologically friendly. I would have benefited more from one flyer adverstising a JCPenney sale I might have been interested in. Your stores have signs advertising price ranges such as "10.00 and up" However, her is seldom anything at the lower price. So, customers are foreced to spend time looking through racks. This is not customer friendly to older clients who can't stand for long periods of time. It also keeps non buyers in your store. Gas is expensive and time is valuable. Our economy is in crisis. Who's dome idea is it not to advertise sales? Is this your idea of accomodating clients? It seems to me that advertisement has always been JCP's down fall. Two yrs. ago you over advertised with expensive commercials and flyers. Now you misalocate advertismnt money by producing magazines that depict merchandise and never notify clients of sales. I learned that when you have advertised sales like the one on JCPenney black friday, many if not most advertised items were not available. You need new managment.

For one Christmas button I entered on line, your msg said that it was a winner and I must claim it in 48 hrs. It said nothing else. I phoned the store that gave me the button and No One had a clue as to what I might do to claim my winning prize. The experience has given me a sour taste in my mouth as to the waste of time I have spent. Also, I need to let u know that you have probably lost a lot of catalog sales due to a lack of work staff taking orders. It took about 15 min. Holding before I got a sales rep. In the past I have never waited like that and will have to reconsider when ordering items thru catalog. You will turn a better profit in hiring enough workers rather than sending out merchandise magazines that are quickly tossed. Also, know people like the idea they are getting a good sale. Your new strategy of reasonable pricing might just backfire. For sure, your christmas button promotion is pretty much a hoax. Please use wisdom and keep your stores in business.

Every salon in the USA opens at 8 o'clock or earlier but now your salon will open at ten what the heck are you thinking. I take my wife and her sister at 8.00 and the salon is busy.This is what a lot of elderly people do go early to everything including doctors, dentist etc.what are people going to do when they have weddings or functions early on Saturdays use your heads your salon is a money maker for you. Please rethink this option before you lose even more customers.Like I said earlier there are a lot of salons that open before 10.00 please let me no who made this bright choice.

Please bring back the old jc penny all departments always bought all housewares yhere it has become horrible Very few places to buy country quilts you always had a great selection at fair prices they have all disappeared. many people have country decorated homes you are missing out,as there are few places to purchase them.. hope to see a big change here. sincerely J.Van Dyke

I called your customer service center in regards to my balance. I had paid off my balance for the month of September and was not expecting a bill. I received a bill on the fourth of November for not paying all of my bill for September. When I called to ask why I was receiving a bill the representative said that I had made purchases in September that was not paid in my previous payment of my card. I asked repeatedly why those purchases, which were within the billing cycle of September, were not added into my bill he could not answer my question.
I had been charged interest for something that would have been paid for if it had been on my previous bill. I asked him again why I did not receive a correct bill, all he said was that his computer told me that my card was not paid off. I asked him then if I could pay the balance for the items I had purchased and not pay the interest, due to the fact that because the charge was not on my previous statement I did not believe I should have to pay it, he refused and said that he would not authorize that.
I asked him to let me speak to his manager, he once again refused. After doing so I hung up, realizing that I would not get anywhere with the person I was calling or receive any explanation as to why my bill didn't include the purchases that I made. I love JcPenney and have bought clothes there for years. The quality has always been good and I've never had a problem with any representatives or the staff until now. I was on the phone for nearly an hour trying to get answers to my questions and find out what I needed to pay. The customer service was very poor and he was rude when I tried to ask him what had happened. This does effect how I will shop in the future. Because if I were to run into this problem again, I do not want to be on the phone for nearly an hour only to become frustrated and upset because of someone refusing to assist me or even listen to what I have to say.

I am an 18 year old male. My girlfriends mother, myself and her daughter we out trying to figure out what kind of clothes for her mother (my girlfriends mother) to wear. We were in an unlabeled (didn't say men or women on it) dressing room. After about 10 minutes of being in there, one of the employees, a woman, came in and rudly told me to get out because I wasn't supposed to be in there. There was no sign and there was nobody else in the dressing rooms. I was floored and she should be fired, especially for how she handled it.

I was happy to see the roller shades that I had been considering on sale for Cyber Monday. Instead of being $12 apiece for 3 shades , they were $8 apiece and free shipping. I attempted to order them from Sunday afternoon until Monday night. I was never able to place the order, apparently because of how busy your connection was. When I attempted again Tues. morning, I could get straight through, but they were no longer on sale. When I contacted your representative by phone, she said that they were no longer honoring the prices or free shipping. She said that I should have called to place my order on Monday.

I tried on a underscore 48 ddd in your Brandon, Florida store today. I usually buy my bras from JcPenneys because of how much I save on the bra. This time the bra was tight and when I tried to take it off I had a very difficult time. Also the Brandon store does not have a sales person in the bra area as I have shopped the JcPenneys in Wesley Chapel, Florida in the Wiregrass Mall and they had my size and there was some there to help me. I had a 48 ddd on that stretches but your bra had no give and barely stretched. I even tried to find a 50 or 52 ddd and this store did not have them. You should carry bigger sizes in your stores so that all kinds of women can feel comfortable to buy a bra from you. I was so disappointed in your store. There was no one near the bra area to help me. I use to love JcPenneys but my experience questions if I will ever shop there.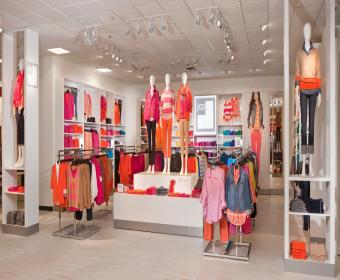 I ordered jeans about a month ago order. # 2012-3445-8012-5510 and called about them. I was told they should be at the store. Called the store and was told there was a problem with the order and weren't there. This is a month and no one knows where they are. I can understand the store as it should be closed how you can take away 4 registers away on one floor during Christmas is unreal to me, but now your online ordering too?

I am normally in love with JCPenney, but now I am very disappointed in them. They have discontinued my favorite, and most comfortable cotton briefs. Why? Someone else, or another company should take up the selling of the Underscore brand, because there are a lot of loyal customers like me who want to purchase this brand. I hate when a corporation makes a decision without understanding its customer base. It is an insult. I have tried other brands and have hated their fit. Who wants a skinny stringy underpants that bunches up in your private area? I don't.

Donna M Proctor January 14, 2015
from Gainesville, GA
Someone has replaced my previous phone number on my rewards account with a strangers name and phone number, plus there e-mail address. When I was in the Georgia Mall store on January 9, 2015, my phone number that we used for 23 years would not activate and another person's name keep reappearing. I was able to get his phone number, name plus after talking to customer service his e-mail address, which I was not impressed with the phone menu. JC Penny's need a better system just to address my account and concerns. My next option was to contact the store manager, which was a fail. In attempt to contact the store manager several times at the store location that this may have occurred, the manager was not available, so in observation the store has poor leadership. I feel with my gut that something isn't right at this location, and a possible scam may be occurring. I plan to contact the person on my account and let them be aware of my findings, and that I have reported this incident to authorities and plan to contact the local police in the area that action occurred. It is only fair to due to having no easy access to get this resolved. I feel that JC Penny wants my business as a customer, but when I need to talk with a person to start a process, I have to search the internet just to find a number that doesn't exist then finally this section for a complaint. I have lost all faith in the company with this process and plan to support this store less. I hope to hear from someone soon to make sure this isn't happening to other customers that might be unaware or could this be a one time event, however I want answers!

Schedule and appointment to have my picture taken wiuth my four grandchildren. appointment was 350pm on March 30, 2014. Arrived at 330p. Girl taking picutres asked what we wanted, we explained and then she proceeded to tell us what was going to take place. /not igving us the opportunity to choose how we wanted pictures. She rushed us through the process and we did have some difficulty with our three year old. Photogrpaher didnt seem to care just wanted to get pictures over with and move on the the last shoot of the day. Pictures we thought were being taken and were told were being taken were not. After photo session, we waited 15 minutes for anohter assoicate to come over to us and she then told me that we would need to look at pictures ourself since she was going to have to helo the photogrpaher. She stated that photographer was done mentally for the day. So we looked at less than exceptable pictures and after another 15 minutes the aqssoicates came back and she was told that we were in no way buying anything today. Pictures looked like they were rushed and we were not paying for these. Associate apoligized and told us we could view them on line for the next week if we wanted to choose anything.
JC Penney lost not only my business today but that of my daughter and daughter in law. In addition, anyone that I can tell my experience to I will. Facebook is a wonderful media outlet and I have posted my dissatification with JC Penney already.

I'm a 6 '6 388 pound guy that just wants to be able to walk in a store and go to the big AND tall section and actually find clothes for big and tall not so called 5x shirt that is a high priced 2x shirt for a boy.the big and tall community demand real big and tall clothes . Jcpenny STOP the false advertisements and take away the big and tall section in your stores you don't know what your doing .

I missed a call from the Albany, GA JC Penney mall. I assumed it was about the recent order I made on line and had shipped to their store. When I called, I got the children's department, when I explained what I thought may have happened the young lady said she would transfer me to catalog. The phone rang at least twenty times and then I was routed back to the same young woman. I explained that I was holding for catalog. She sighed loudly into the phone and said well I guess no one is there. Hold on, I will transfer you again. I tried to tell her that I just needed to know where to pick up my delivery and ask if I needed to bring anything but she had already transfered me again. The next person that answered was rude and told me that I would need to call them back in ten minutes that she had customers looking at her and could not assist me. I spend a good deal of money in that store and only needed a minute of her time. I am very unsatisfied with the service that I received today. Not sure if I will be back.

I have always loved JC Penney. However, this past year I have noticed that I cant find anything in the stores. When I ask the cashiers they keep telling me that I need to get online to find more items or that I can order items but it will take 5-10 working days. I guess that when I go to a store I want to purchase merchandise there, not be told to go online or wait for 2 weeks. My daughter asked me why I keep going there since I cant find what I want at the store. I told her I really didnt know, maybe I am hopeful that you will get the stores back to where they used to be. I doubt this will make any difference but I hope that you will at least consider this request. Your customers want to go to the store and come out with purchased items, not go online or wait. Thank you.

I left a very bad domestic abuse situation. When the police helped me leave all I took was my dog and a overnight bag. Two weeks later when I went back to get my things they had all been destroyed. I've been working hard to rebuild my life. Our case is before the wisc appeals court. I even got charged with disorderly conduct for going back to get my two house cats. I work cleaning homes right now-and get 150.00 a month in food assistance. I was tired of wearing everything from a thrift store I wanted new underwear and socks maybe a pair of shorts . So I went to my local penneys store in marshfield wisc. I asked for the manager I wanted to see if they had any "damaged" but yet new items I could maybe buy for a really reduced price. Before I could finish asking I was told "there are places for people like me" I said I was aware of them in our town etc.. I was spoken to loud and rudely in front of customers in both the store and hair salon. I just said I was sorry and left. Maybe I had no right to ask but I should not have been humiliated privately or publicly. If treating people this way is another way you are changing your stores I feel sorry for you. Ellen degeneres can give penneys giftcards away on tv to her audience you look good for that! I will NEVER go in the marshfield store. AGAIN EVER!!! I live with a friend right now I don't have a bath towel of my own or a new anything but I treat better than your store manager!!! I hope your company is proud "there are places for people like me"!!

I am now 59 yeara old and have been shopping @JC Pennys since was a teenager in high school. Was always the place to go for school wear or dress clothes for any occasion down to belts,socks,cufflinks or whatever needed. Have for years since homeowner always bought bathroom & home decor there and always felt like had great selections and great prices. Now, I walk in every store in Louisville, Ky with $50 gift cards given me and can't find a thing to buy.
The brands and selection I had grown to love are gone and nothing but alot of money spent on little cubicles of clothing supposedly with high end fashion names with styles and quality that only young teenagers would wear and very little in stock to choose from with ridiculous prices. No selection for bathroom, bedding and home decor that had before,just overpriced cheap looking products that can buy cheaper at discount stores.
Example is bathroom carpeting, shower curtain selections. The JC Penny Collection used to be wonderful but now the recent carpeting and rugs I purchased that were supposed to be the same quality are thin, terrible backing and look cheap. Used to have a wonderful drapery section, but now looks like rags on rods. And lord help you to find someone to help you without an attitude or even knows anything about the products.
Most of the great sales men and women most likely got discouraged and left, replaced my young snotty kids that don't seem to know anything about helping with home decor or picking out a suit jacket and really don't want to be bothered. I will say that seems to be a problem in other what I call more high end department stores. JC Penny's used to be the place to go for about anything I needed, clothing,furniture,home decor, jewerly but now is just a big disappointment.
Please bring back the old brands. the full tables and racks of selection and sales people that actually want to help you find what you need and some place to check it out without getting attitude. I think the recently replaced "boss" might have been great for other stores (even though I think Target is much worse and worse quality than it used to be too) but what has been done to JC Penny now is a tragedy and I am forced to shop elsewhere. Thanks!

I am 7 months pregnant and experiencing a lot of back pain, which limits my ability to walk far distances. My husband and I were leaving the Quakerbridge Mall in West Windsor, NJ. Our car was parked outside the JC Penny. We were 20 feet away from the inside mall entrance to the store when a sales woman locked the doors. I went to the door and knocked, hoping they would open the door for me so I could walk through to my car. A different sales woman, whom I later learned is named Zarna Shah, looked at me, said no and shook her head. I knocked several more times, hoping she would come over and at least talk to me and explain, but she blatantly ignored me. I had to walk all the way around the mall, in pain, to get to my car. I understand if it is company policy that they can't open the door past a certain time, but she shouldn't have ignored me.

I went to your Daytona Beach, FL store yesterday (4.13.2013) to get another drapery set-up (rod and curtains) and three new sets of towels after receiving emails on specials for the home and an email coupon to take an extra 20% off the purchase. My wife and I have already spent hundreds of dollars at this location in fixing up our new home and wanted to get additional matching items, so going elsewhere wasn't even a thought…but it is now! The departments I needed to visit were under a reconstruction with really NO merchandise available to choose from…there were a few towels out but not enough (maybe 4 of each color, I need 8-12 towels and other pieces to match the set).
Additionally, I could not find anybody to help…the place felt deserted. I left the store and have been trying to get the items on-line, however, it is hard to tell on-line exactly what the curtain and rod materials look like, and what I think is the correct matching rod on-line doesn't show the hardware (braces) to get a positive match to the rest of the house. I like to shop and what I'm purchasing…not taking queses on-line. I would like to take advantage of your 'extra' offers if merchandise and helpful personnel are available. I live approx. 40 mins. from the DB JCP and 5 mins. to the nearest Belks.

I have been a JC Penney's customer for over 45 years and enjoyed the wonderful selections and variety of products they offered. I spend a lot of money at the Rapid City, Sd store and Christmas was always the greatest shopping trip. I walked into our local store after the so called up to date changes and my shock was apparent as it was like walking into a completely different store. The usual brands of ST Johns and the great selection of women's clothing were no where in sight. Sad to say, that was my last visit to a store that been part of my shopping experience for years. NOW, that you all have gotten back on terra firma and replaced the so called new look with the older, better selections I will be checking you out!!!

The latest look of JC Penney has been the best look for them in years! The CEO had a vision and it was a good one. The prices were great and the stores were laid out wonderfully. My daughters and I loved the way everything came together and did some Christmas shopping there. Why in the world would you let this man go when things were just getting better for the company? It takes a while to get a new concept off of the ground and you didn't give him enough time to accomplish this. Shame on you!!! I hope you'll reconsider.

Every day low price ? Not true. I used to shop at this store all the time . I had a jc credit card with a pretty good amount o spending money. I was a costumer for probably 5-6 years. But after the new CEO decide to change the sales coupons for every day Lowe price I was very disappointed.
But I still gave I try so I took my kids to go cloth shopping for back to school. Which was a big mistake. When the cashier gave my total price I them realize that the every day low price wasn't such every day low price and since them i never shop at that store again.
i finished paying my jcp card and cancel my account . AIM so disappointed. The store now looks empty and the layout and clothe quality is really bad.

I took my 6 year old son to the salon at JC Penny, Tukwila, Wa, on Sunday February 17, 2013 for a haircut. I was under the impression that your store was offering the free haircuts for kids every Sunday. I was disappointed when I asked for my sons hair to be trimmed and instead the stylist gave him a buzz cut. I was then disappointed when I found out after the cut that JC Penny stopped offering the free kids cuts February 1. I wish that the stylist or the women who made the appointment had mentioned this detail. I to say the least am disappointed and believe the information should have been pored somewhere so customers are informed.
Thank you,
Allison Hardman

I am visiting Poughkeepsie, NY for my mothers birthday and went to the store to purchase a piece of Jewelery. The brochure atated the sale was dec 30 to xxx. Dec 30th bing today I thought I would get the discount. Instead I was told I had to pick the item up on Sunday. I told him I would not be here and her birthday is tomorrow. I eventully left with out purchasing anything. I called to speak to a manager to understand the sale.
She said something about pre sale and thats the way it works. I said there was nothing in the brochure but thats the way it is done and she worked in furniture for 20 yrs and this always happend. Being a JC penney member for 40 yrs I have never been told this nor have I been trated this badly. She wemt on to say my mother could pick the item up, my mother is 86 and does not drive. She also said there are millions who appreciate our sales.
I felt like she was saying I didnt appreciate them. She made me feel uncomfortable. I have never been treated by your competitors as I was today. I am sorry this happened as I shop a lot in your store but will think twice before I do again. Thank you. Marshall Dalleo

I visited the JCPenney Salon in Fredericksburg, VA on December 28th, 2012. I called 2 weeks ahead and scheduled a cut and color. When I arrived 15 minutes early I was told to have a seat and someone would be with me shortly. I brought my mother in law along to get a shampoo and style. She however did not have an appointment, but was a walk-in. We were given the same appointment time. She (who has short hair) was taken back on time. A few employees went to the desk to check the computer and asked if I had been helped. Each time I told the new lady at the desk my name and that I had a 10:30 appointment. Three different ladies asked me the same question, then looked in the computer and walked away. They either started a conversation with another employee or sat down int heir chairs. When the fourth lady finally came up and asked me the same question, I again told her my name and my appointment time. It was now 20 minutes past my appointment. The woman had a negative attitude in the beginning. She said "and you want color?" in a nasty tone. I told her yes, I wanted a cut and color. Looking around I noticed a lot of the clientele were ladies with shorter hair getting cuts or perms. I have long hair that takes time, and the impression I got was that nobody in the salon wanted to deal with my hair. If long hair or color is not something a salon specializes in then it should not be offered on the menu of services. When the fourth lady finally brought me back she was very reserved and seemed like she was put out having to "deal" with me. I tried to be friendly and make conversation. I attempted to make jokes when she pulled out the color book to see which one I wanted. She seemed to warm up a little following the jokes, but not much. She did not explain anything she was doing while she worked. The color we chose is not the color it turned out to be on my hair. I tried to make the best of it and thanked her. I also left her a 25% tip to show my appreciation for "dealing" with my hair. She also took a few smoke breaks while working on my hair. I know this because when she returned from her breaks she reeked of cigarette smoke. I am not telling anyone how to live, but in a business when you are working in close proximity to the customer at least make an attempt to avoid smelling offensive when you are working with them. I must say I am very disappointed in the service and product I received that day. I am an avid JCPenney shopper. I am sad to say that was my first and last visit to the JCPenney salon.

I purchased 2 pair of Arizona jeans in August 2012 and 1 pair in September 2012 and all of them have ripped near the back pocket. The first pair tore about 1 week after purchasing them, the second pair was the one bought in September and that tore right away and the third pair was one purchased in August and that just now finally ripped January 2013. I didn't have my receipt for either purchase so the store would not take them back. It's very frustrating to buy them and have the rip out right away. I purchase a lot of items at JCPenney but lately have not been very satisifed.

I placed an order on December 13 for my children's Christmas. After checking Track my order on the website several times and not seeing that my order had been shipped I contacted customer service on Dec. 21 to find out they were holding the entire order because two items were on back order. I told them to cancel the back order items and send the rest. So I reordered the back order items on a separate ticket. In the past JCP has always sent what is in stock and then sends the back order items later. Even though I called on Dec. 21 I didn't receive the in stock items until January 7. Then two of the back order items were cancelled by JCP because they were out of stock. The other item didn't arrive until January 14. Complaint #2 I had to return jeans for another size so I reorder those and was told the store would call me when they arrive at the store. The Jeans arrived 4 days ago and the store never called me. I had to call to find out that my order had arrived. I've been doing business with JCP for over 30 years and have never had these issues. If this continues I will be taking my business elsewhere. Besides that JCP doesn't have the quality clothes or the petite size in any variety like they have had in the past.

I have been shopping at JC penneys for a long time. I came into the Silverdale Washington store on Friday 1/11/2013 about approx. 11 a.m.ish?? I had just purchased a dress and was looking for some shoes to go with my dress. I approached the desk in the shoe department and asked the employee for some help in finding some high heal black shoes. All she said to me is "what you see is what you get!" I could no believe that response at all. I turned around and felt just so little like I meant nothing as a customer. She had a medium build and had blondish brown hair. I just want to inform you of who is representing your company:(
Thanks
Marnee K Mellon

I ordered a pair of boots on 12/27/12 in store. The sales clerk ordered them on line for me and told me it would be 4 to 7 days. She said I would be called when they come in. As of 1/10/13, I still had not been called. I went in store to see if they were in. They were in and I asked when the merchandise arrived. The clerk said the boots arrived on 1/3/13. Poor customer service to not be called as promised. The clerk simply said sorry but that doesnt change the fact that I waited an extra week to get these. JCP has really gone down hill the last couple of years and I shop there less and less. Poor customer service and quailty of merchandise.

My stylist works at the JcPenny's Salon in Cedar Hill, TX. She is very good, no complaints on her service. However, I am very concerned that every other Sunday, there is rarely a receptionist checking in clients, answering phones and checking out customers. Many of the stylist have to stop working and go take care of those duties. I understand JcPenny's maybe like every other company out there, cutting costs as much as they can. But it is extremely inefficient to stop working and go handle other duties that are not necessarily the stylist duties (as most of them do not know how the register works – sometimes it takes 2 or 3 to make it happen). I believe someone should be in that department from 1p-5p – assisting with transactions and check-ins.

First off let me say the JcPenny penny's is my favorite store to shop. On 1/4/2013 I went in to shop and found some great deals on some dresses for the unbelievable price of six dollar. I was going to purchase three do them
That I reall loved. As I went to pay for them the cashier told me that I couldn't buy two of them because the price was wrong ( she left to check) I was really upset and told her in which area I had gotten them and that their were more of the same in the rack for that price. I also told her the the other customers were going to get upset if they also didn't get them for the price stated on the tag, she didn't seem to care all she said was maybe they could help you on the other side. I was in a hurry or I would have aske for a manager to speak to. This has never happen to me the ladies alway charged me on what the tag is priced. My only question is what is your policy on items priced , this was on the clearance racks.

Hello, I loved the buttons. My grandchildren will love them too! The promotion did get me into the store, more than I have been in, for a while. The numbers were a little hard to read, but I have a magnifying glass that works great. Some of the captcha words were hard to figure out as well. But I did win a couple of coupons. Thanks ! I did get several buttons that were invalid. Not sure how that happened, but that was disappointing. All in all, I would definitely do this again.

I have been a customer of jcpenney's for many years but I have never in my life had bad customer service as yesterday. Had an appointment for pictures and there was no greetings and it took the person 20 minutes to even speak.
The appointment was later as in 40 minutes so if the appointments are not going to be on time you shouldn't schedule them the way you do.
The first time I had an appointment at Cielo Vista Mall I left because of the same situation. I had been taking pictures at Jcpenney off Joe battle and the service is always on time. Cielo Vista Mall need better customer service.

I had 2 buttons that was a winner of $10, when this promotion started. It stated that I will recd my $10 in 48 hours. I didn't recd it and called customer service and they took info and said, someone will contact me and that they were mailing out my 2 $10 winners. Well, that was a month ago and no one has contact me. Then I called again and today.
So, my question is when will I recd my 2 $10 certificate from the buttons promotions? I was in jcp before Christmas and the sales lady ask me to do the survey, and I told her this will not be a good idea because I don't have good things to say about jcp right now. When this was my favorite shopping store that I thought stood by their word.
I'm in college and recently did a paper on jcp and their falling prices and how people don't like the fact that Ellen is the spokeperson. I was for Ellen as spokesperson and I was saying I hope jcp pull out of this mess and don't shut down. Now having second thoughts.
Someone please contact me or email my certificate totaling $20.00.

I recently have entered 6 buttons and i have gotten emails back that I have won three. so i claimed them. I got one back and the next day the other. But after more than 48 hours i have not gotten the third one back. We do not have internet so i am relying on my family members to let me come over and get on there computers. These are the six buttons i entered. mesxrmp pjeuvnv wvwyju2 afag4dz cbjasgm and zhnhm2p I do not remember which ones were which so i gave them all to you to verify i lost three and won three. I have been able to print out two of the three coupons, and i would really appreciate it if i could get that third one before the 31. Thank you.

Hello I had received four button during your little button rewards game. these are the codes I entered tt2dwkn, uwt3htg, mvyffqn, za4y5n3 one of these button was a winner of a $10 dollar gift card not sure which one, but I never received the card. it stated i would receive it in the mail. I am sure if you pull up my member credit card you will see that i am a avid shopper at JCP and have payed my bills. I am not sure why I did not get my gift card, but I feel if your are going to advertise a game to help increase sales you should honor it. So I would like to know what happened and how long will it be before I get my gift card.

I had purchased some pants from the Battlefield Mall Penneys store and decided to get a couple more pairs in other colors. I called the store to see if they had them in my size. The lady was gone a long time and came back to say they only had a white pair in my size which wasn't what I wanted. I called again later and got a saleswoman that found the pants I wanted in the color and size and said she would hold them for me until the next day. I then went to the store the next day and when I went to the register I was told to go to, they were unable to find any record of the hold and casually brushed me off saying they were probably put back on the rack. I checked and they were not there. I now find that they are a discontinued brand "made for life" that is not online!!!
Very unhappy customer that will probably never shop at JCP again………

After working a hard shift and dealing with a lot of customers a lot of us employees have to close and organize every hanger and cloths a special way that no customer really cares about. I'm really complaining about not getting out at the time we are scheduled too. For example we are scheduled an hour after close and the managers have us stay for 4-7 hours more and expect some of us to open the next day. We and a lot of employees have a life and are tiered of staying later than we are schealed to, a lot of us go to school and have a family to be with.The "L.O.D" name Matthew makes us stay 5-6 hours after close and never helps us, he just walks around and complains. Must be nice to have his position and do nothing. The jcpenny store I'm complaing for is located in Conorado mall in Albuquerque new Mexico.

I experienced rude service today at JCPenney's. I am normally a big fan of JCP. I am a female by birth but I almost always shop in the "men's" department because I am asexual and I do not identify as being a woman. I selected some shirts that I wanted to try on and went into the only dressing room on the entire floor. (The top floor is "women's" and the bottom floor is "men's.") When I came out of the dressing room, an older blonde employee confronted me and said to me, "Don't you know that this is the MEN'S dressing room?" I was stunned. I didn't say anything. I always shop at JCP's "men's" section and no one has ever confronted me rudely and judged me for this. It is clear that that employee thought I should be shopping in women's section, and made her own judgment. I do not understand this behavior. I thought that JCPenney of all stores would be more understanding, especially with their promotion of gay rights as well as their support of Ellen Degeneres, an openly gay individual, as official spokesperson of JCP. If they want me to fit society's gender binary, then they should at least put more than one dressing room on each floor. OR better yet, make the dressing rooms GENDER NEUTRAL. Our JCP is huge and it would be ridiculous for me to walk through "men's" to housewares, then to the escalator, then through "women's" just to use the "appropriate" dressing room for my appearance. Then, oops, wrong size, have to go back downstairs, through housewares, through "men's" for another size. JCPenney, you should help your employees learn to be a little more tolerant.

Has Ron Johnson no passion for the customer who has shopped at jc penneys for over 35 years to get my support hose that was the best ever. I"ve tried other brands but they are not the same. Now you have to go on line and pay for the shipping and handling when we were able to get this item in the store. Has his mom died and he has no compasion for other mothers or daughters who need this item for health reasons. I don't need to know that a coffee bar in the middle of the store is better than buying what I have always counted on for my health and comfort. I have never gone to this length to get this product back on the shelf. I have read other womens reaction to the same problem and nothing seems to work. WHAT is wrong here. Can the stock holders quit giving this ron johnson so much leeway. I'm sick over this please help us out here. I know this will go no where but atleast I'm trying. Giving him millions has given him no passion for the customer who cared about your store.

We continually received buttons that would not go thru or had said they had been used. We entered periodically and said we had won but did not get the printable certificate. On the last day we(my husband and I) entered codes that said we had won 3 #10 certificated and sent them in and recieved the successful message but have yet to get the ceriticate. I am just wondering why it has not came and if you are going to honor them?I have taken certificates in to use that I have been told had already been uses and I had just printed them before leaving the house. This has not been a good experience for me with JCP Penny. I can see from the NUMEROUS complaints I am not alone in this. This does not say much for the reputation of JCPenny.
Have feedback for J.C. Penney?
Thanks for your feedback!
Sorry. Please try again later!