Home Depot
Home Depot Complaints Continued... (Page 5)
416+ reviews added so far. Upset? Call Home Depot corporate: 1-800-430-3376

I bought a shed on 3/11/13 from Home Depot Columbia, S.C. Harbison store. I found out after they received complete payment by me and my USAA credit line account that they outsource to a HIp out of maine, and the installation company is almost 100 miles from me in Aiken, S.C. Home Depot was paid in full and said they were not responsible for the shed? What kind of crazy crap is that? On my statement with USAA Savings Bank credit line they were paid one thousand sixty eight dollars for the shed and it is not in my yard yet! Then I found out they changed the installation date from 4/8 to 4/15 today and they are still not here and I am going on a second payment on the shed that is not in my yard yet. The installer said they are almost 100 miles away in Aiken , S.C. They are supposed to come today but are still not here.
If they are not here by this afternoon I want all of my money back on my credit cards, and the 159.00 tie down fee on my USAA American Express card also, which have all been paid out to Home Depot Harbison, Columbia, S.C. and HIP installers. I would never recommend Home Depot to anyone as it has become a nightmare, see my facebook page also. Bettie Taylor

I have recently purchased a house and planned on getting most of the remodeling done by Home Depot. The first thing started was a $4k purchase for carpet that went smoothly from the Everett, WA Home Depot. Then we found the Snohomish, WA Home Depit close to our house and were going to do the entire house in window blinds $2k worth… This has been the absolute sorriest experience I have ever had. Owen the sales person was great and informative. This past Wed. I received a voice message saying my blinds came in. At 4 pm I called back and spoke with a a person and they asked for my phone number and would call me back in a min… That phone call never came back. Thursday I tried calling back once again to be transferred to several different department before speaking with a lady that said the installers will contact me in 48 hrs. Friday at approx. 3pm would be 48 hrs… Still no phone call… Sat I decided to call back to the Home Depot only to be told that my blinds were still ready for pick up when they should be installed… This time I asked to speak to a manager that couldn't tell me much except for that they would call the installers and see what they could do with a promise to call me back… This is from the Service Desk at Snohomish, WA Home Depot at 10:45 am… This way you can locate which manager it is bc I didn't catch his name. This promise doesn't mean too much bc I had already been promised a call back and never received it. Unless this goes any better next time ill drive further and work with Lowes. I feel like I'm dealing with a bunch of children at the Snohomish location. Customer Service must be on the low end of the priority list and i will be glad to share my experience with anyone looking to have work done if this doesn't change. Please feel free to call me or have someone from the store call me and apologize to show that someone believes that an honest apology for poor customer service from the people responsible not a corporate place still exists. (850)699-3023

Just returned from the home depot neshaminy where I purchased (3) pressure treated boards. I'm a retired Marine and asked for the military discount. The checkout girl told me to go to self checkout and pay there then come back to the other end of the store where my items were. I get to self checkout and there is no one there to help me, after 5 minutes someone shoued up and pretty much made me feel as if I was annoying them. The only place you had a real person was the original checkout person who couldn"t help me. I have been a loyal customer at that location since the store opened and have spent at least 50 thousand dollars at the neshaminy store. Someone should look into how that store is being operated, I know they lost me as a customer.

In 2011 I bought a zero turn lawn mower as soon as I got it problems return to Home Depot they have to send it off. I was told factory problems when made said they repaired ,first time I used it same prom less return to Home Depot sent it off again said it still had original problems I had 22 hours on machine sent back for vibration choke stuck would not easily start belt would not stay on.
They said it was a factory issue by then I had to buy a new. Lawn mower ,finally I talk to bob in tool rental in turf land mall, Lexington,ky the repair company called me were going to bring it back with same problems.they are suppose to return to my home as was includied in my purchase they will not I returning to a different Home Depot 18 miles away said to take it or not.
i have no one to turn afteri paid over $5,000.00 for it.some one help me as good as a customer I have been.

On April 9, 2013, I visited the above mentioned Home Depot at 7:40 pm with the intention to purchase shrubs and mulch. I have a gift card with a balance of $120.00. As I approached the register in the outside Garden center, the tatttoed cashier violently flung the booth window open. She said, "We're closing this register right now" (with a lot of attitude). Then she rolled her eyes and said, "I'll ring you out"- again with attitude. I told her to forget about my purchase and that I wanted to speak to a manager. She then said,
"I didn't do nothing wrong and I'm in charge out here". She proceeded to page a manager. A young lady came and apologized for her behavior. Noone is going to want to make any purchases with such a rude cashier handling customers in the Garden center. If you were to view the security camera, you would be able to verify the unacceptable behavior of this rude employee. I was so disgusted that I no longer wish to shop at Home Depot. By the way, this incident occurred at 7:45 pm which was 15 minutes prior to your Garden Center closing.
If you want to improve your sales, you need to lose this horrible Garden Associate with the awful attitude towards customers.
If you'd like any further information, please call me at 440-884-1851.
Sincerely,
Gary J. Brezina

I just wanted you to know why I am not shopping at Home Depot stores anymore. The reason is thus: The 'beeping video monitors'. One day last week, I was in need of a copper fitting for a job. I needed to 'think' and find the correct part. Every time I moved, I heard this annoying and distracting beeping sound. Then I noticed that every 20 feet or so, there was a video monitor displaying 'me'.
And when I moved, it beeped. Then I began to notice these devices were installed through out the store in places, no doubt, where shop lifting might be relatively easy. So, I brought this to the attention of a female employee who told me that the beeping was to alert the employees to my presence so they could assist me. Not only do you think we are all thieves, you think we are all stupid!
I am not a thief. Nor am I stupid. Now, when I visit Home Depot, I feel like the Corporation 'thinks' that I am a thief. Who ever is responsible for this idiotic installation of such devices should be given a pink slip. I spend alot of money at HD and Lowes. …and I don't get the 'evil eye' when I go to Lowes…so…why would I subject myself to that level of 'scrutiny' at Home Depot? I will not!

I am astounded at the incompetence exhibited by two of your Home Depot employees at the Bonney lake, Washington store. They should be somewhat knowledgeable about the products they are selling/recommending…especially in the Home Depot paint dept. Last August, I asked your employee what I should use to paint my outside deck. What she recommended (and what I bought based on her recommendation) turned out to be some kind of porch paint, not to be used for uncovered surfaces.
It looked nice, but didn't last more than a few months (about 90 days) and now it looks worse than when I started. So……not only am I out the $100 or so it cost me to do the job, I now have to invest more money and all of the labor to do the job right. I understand that people make mistakes, but if I did that in my business, I'd be out of business.
So today, I went back to the Home Depot store and mentioned the issue to the person who waited on me. She said " Yeah, I know who told you that…..she's been here for 7 years, you think she would learn…especially when she's been told repeatedly". Then today's clerk recommended the Restore product which looks very good. Based on my square footage, she told me that I would need 6 to 7 5gallon pails to cover the deck.
At a cost of approx. $550 to $650 to do the job. After my first Home Depot experience, I decided to investigate myself….and after reading the back of the product, I found that I only need 3-1/2 5 gallon pails to do the job (which was then confirmed by your chief competitor. If I had listened to your so called expert, I would have invested approx. $350 more than I should have. When combined with the previously spent $100 plus all the wasted labor…..well you get the picture.
I have been a loyal Home Depot customer and have become increasingly disenchanted with the competency of your employees and also the quality of your products. I am sure that there are many others like me. Bottom line……your competitor is going to get the Restore sale and all the related sales that go with it.

I went to Mattoon illinois Home Depot to purchase 1700 sq ft of hardwood flooring, I ask to speak with the manager on this purchase, the lady setting at the desk in the floor dept was busy eating but did advice me the manager was to busy doing paperwork to come and help me, I walk away and go to the contractor area , they call manager for me.
I speak with the manager I ask if they have any discounts on this purchase, like the credit card deals you sometimes run, he informed me there were none. Mind you I have check in hand and ready to buy ($6000.00 worth) I walked out the door with my check, I now get upon the computer and find that you will give a 10 percent discount for disable vets up to $500.00, also read that large purchases Home Depot would call home office for discount.
I called lumber liquidators they did work with me and that where I am going to purchase my flooring. Had the manager at home depot worked with me you would of had the sale. I like Home Depot and would hate to lose this store , losing sales like this isn't good for business I would of like to of spent my money here in Mattoon instead of Champaign in the end I ended up with getting a 25 year warranty and saved myself $350.00 dollars and free delivery and this is after I figured sales tax, what a shame.
Barbara Beals

Lazy Employees!!! email i sent to homedepot complaint center: I was just at the home depot on 800 North Brookhurst Street in Anaheim, CA 92801. I never write to complain but my latest experience at this store was just ridiculous and I am compelled to say something about it, in hopes that it gets to the right people and something can be done so that it doesn't happen to someone else.
I went to the store looking for a carpet rake that I saw on the HD website. I couldn't find it in the broom and mop area so I asked an employee named James. He said he has never seen it in the store before. He called the carpet department for me and we walked over to the department. James and I were met with another employee…
I did not see his name, but he had tattoos (sleeves) to both arms. The employee told me they didn't carry it in the store. He asked me if I was sure it wasn't an "online only" item. I told him I was certain it was available in the store. He said he and another employee had both tried to look for it already with no luck. Both of them said no its not here. I think it is impossible to believe that 2 people walked around the entire carpet department to look for this item in the time it took for James and I to get there.
I don't believe they even bothered to look… but reluctantly I went on my way a little upset because I felt like I had wasted my time driving here if the info on the website was incorrect. Before I left I went back to the mop and broom area just to make sure I hadn't missed it when another employee named John approached me and asked if I needed help. I told him I was just looking for carpet rake but a couple employees already told me it is not available.
I kept walking pass him and didn't really pay attention to him. I walked to the broom and mop aisle and again, no luck. I was about to walk out of the store when I see John walking up to me with a carpet rake!!! He had found the item I was looking for at the carpet department! The carpet rake that 2 other employees that actually worked in the "carpet department" just told me they didn't have.
This guy John (I don't know his last name but he is an older Caucasian male with grey hair and wears glasses)… needs to be commended because he went out of his way to find an item that I was already told wasn't available. I didn't even ask him to do it. On the other hand the 2 other employees need to be fired because they were just too lazy to help me actually look for an item. Either that or they just don't know the inventory in the store they work at. Both offenses I feel warrant termination, but then again i'm not the boss.
All i can say is if it wasn't for John, I would've walked out of that store and headed to Lowes to buy my product. And home depot would have lost my business. Granted it was only a $12 purchase I hope home depot still cares about its customers. And I hope to hear back from someone regarding this matter.

Be very careful in getting the details of what is included when you purchase doors at Home Depot. Nevermind that they screwed up the installation date and insisted I had scheduled the installation of my storm doors on my son's birthday and then could not reschedule it for the date that it was actually set up for in the first place. The installation was supposed to include removal of the old doors however it would appear they use a different dictionary than the rest of us. When I talked to their contractor about his removing the doors to the dump he stated that was not included.
Rather than argue with him I called HOME DEPOT and told them what was going on and that removal was included. They backed the contractor and told me that removal only means removing the old doors from the frame and I would have to take care of the debris removal. The fact that in order to install the doors automatically necessitated that the old doors be taken out to make room for the the new ones apparently should have made it clear to me that that was the removal they meant when they sold me the doors. I was told I should have asked what removal meant which amazes me.
If they were replacing old doors and told me removal was included one would assume that means removal of the debris as they certainly could not have meant that unless removal was included the homeowner would have to remove the old doors before their contractor installed the new ones. BUYER BEWARE as the other contractor I talked with first had indicated that he was removing the doors during cleanup as part of the deal but Home Depot uses the word but gives it a completely different definition

I ordered 1,000 square feet of tile from the Home Depot in DICKSON CITY, PA. and received great assistance, at least I thought so at the time. The salesman told us he had all the tiles we needed for the job but failed to let us know it was made up from 3 different dye lots. I had a professional do the install and I wasn't home when it was installed. To my surprise I found out the hard way that the tiles in the order was not the same. Not only was the color off, the tile s varied in size by 1/16 of an inch. That might not sound like much but in a large room it's very noticable. When I called to complain the manager listened to me for 2 minutes before speaking with the installer.
No call backs and 8 hrs later I learned that they didn't want to hear my complaint and blamed it on the installer. While I agree the installer is partially to blame, the so called PRO salesman that HD advertises never once mentioned dye lots or variations in color or size. HD managers spoke to the sales person and never listened to me. I should have known better when the salesman said to me "This is your lucky day. I may be a Fat, Dumb and Irish but we have all the tile for your job". Before I received the delivery I thought about sending a letter to HD thanking them for the service. Now an old saying comes to mind, If it sounds to good to be true, it probably is.
I have spent over 50,000 bucks at HD over the years and they don't even want to hear my complaint. Can you help in getting this complaint some attention. I have the boxes showing different dye lots. an experience like this is what drives people to Lowes. What ever happened to the old Loyal customer…

I would like to express in the strongest possible terms my disappointment and outrage at the low level of service I received at your Home Depot store in El Escorial shopping center in Carolina, Puerto Rico (Store no. 6402). The management of this store not only has chosen dismal-quality subcontractors to do vital service operations, but also has shown to me a shocking insensitivity to the needs of handicapped persons. On Friday, June 10th, I went to the above mentioned Home Depot store to buy a portable generator for my aged parents, who reside in the Island.
After finding the right model (thanks to the help of a friendly and attentive employee), I made my way to the customer assistance counter where, again, I received friendly and competent service regarding the generator's installation service. The problem started when I went to the contractor's services counter, to arrange for the delivery of the item. First thing I noticed was that the lone (working) Home Depot employee behind the counter was a young woman on a wheelchair. I was shocked to see her having to prop herself up from her wheelchair in order to reach the register, the computer and the printer, since none of the stations there were adjusted to facilitate her use.
Despite her kind assistance, I could see that she was obviously greatly inconvenienced and pained by this situation. I thought it was ironic that a chain that boasts such a passion for remodeling cannot do the proper physical adjustments to accommodate their less body-able employees. I asked her if she was aware that by disregarding her needs, Home Depot was actually violating the disabled persons act and could be cited for being out of compliance. She nervously looked over her shoulder and did not answer, but her expression was all the information I needed.
I think that it is unacceptable that in this day and age someone has to fear losing her job for just demanding basic human needs already guaranteed by law. I would like to see that your chain corrects this situation with all due speed without it resulting on this young woman's losing her job or suffering any retaliation by management.
My second shock came when I asked this Home Depot employee about the delivery itself. She explained to me that the store contracts these services through a private contractor, and that they do only deliver merchandise to the sidewalk. This is understandable for a pallet of cinder blocks, but not for a portable generator that could be easily carried on a dolly or a similar manual equipment. I explained that dragging a generator from the street would be not a possibility for a couple of disabled elders or their caretaker, as I do not reside in the Island, and all my able-bodied relatives work. She apologized but did not know what could be done.
I asked the young woman to call the company on my behalf and see what were the options, if any. It took a lot of back and forth over the phones and hour and a half before getting an answer from the company. They said that since they would have an additional person in the truck, it would cost me a double rate, or $158.00, to have it delivered to my parent's doorstep, and into a storage room in the house. I asked to talk to her Home Depot manager and he vaguely repeated what the young woman had told me, and that nothing could be done. "They only use a mechanical finger when they deliver", he offered as some sort of explanation, "so that's why".
I retorted how in the world could old, disabled people then receive delivered goods from his store. He simply shrugged his shoulders and offered no answer. I demanded to talk to the delivery company itself but I was told that they were an internal service and I could not do that. At this points I was upset, I asked the employee to keep my item in the store until I could find someone to pick it up and she was kind enough to accommodate me.
Let me be clear that I understand where this is coming from. I am Puerto Rican. I understand my culture. We have been a colony for all of our history. As such, people are usually not likely to complain or stir trouble. As a result, shoddy practices like the ones described above occur daily, even in open defiance of established law. I would like Home Depot to understand that I just invested almost $800 of my family's hard-earned money in their company and yet not only received shoddy service which caused great inconvenience to me and my relatives, but I also had to witness an episode of unacceptable on the job discrimination. Plus, I was expected to spend an additional $158 for this!
I demand to receive from Home Depot the satisfaction and the assurance that the level of service and employee protections in that store will sharply increase as soon as possible, even if this implies changing subcontractors for others who meet acceptable standards of service. I have been a loyal customer of your chain both in the US and in the Island and I sure will take my business (and that of everyone I know) elsewhere should I not receive it nor hear from you.

We puchased a Maytag Dishwasher Serial 41962555N Model MD8H964AWB in July of 2008 from Home Depot. In Oct of 2009 the Control Panel shorted out and had to be replaced. Since we had purchased the extened warranty it was covered BUT we paid $129 labor. NOW in May 2011, the control panel is shot AGAIN! Now we have to replace this piece of crap vs paying extra dollars to repair. We purchased based on the Maytag name. I will NEVER purchase one of Home Depot's products again and will tell everyone I know not to do so.

I just visited this home depot location at Cerritos California. They had some sliding closet doors on sale. The one that I wanted was just on top of the display unit, so I requested for help to bring it down. A guy sitting just 10 feet away was talking on the phone. After his phone call was terminated, I requested for assistance and he said he'll go and get it. After about another 10 minutes wait with no help I walked around for someone else till I found help bringing the unit labeled J046. I took it to the cashier to pay for it but the cashier couldn't get the price from the sticker.
Another wait for someone to provide a price check. After a while, the cashier said I couldn't buy because it was probably a recall item. I said that recalled items are not placed on the shelf with discount price. I was thinking that someone else was going to buy it and they just were giving up excuses. Roxane the store manager was nowhere to be found.

The Home Depot uses unethical sales practices. Throughout the 'black friday' sales event, there were no appliance packages available. Nor on Monday. Tuesday, every item was available at the higher prices. I was a dedicated Home Depot shopper until now.

Home Depot at Home Services installed a roof on my house 6 years ago. I bought the top-of-the-line Timberline Ultra lifetime shingles. They made a mistake and installed a thinner lower quality shingle (the Timerline 30 year shingle). My insurance company recently caught the error after the roof was totaled in a hail storm. After a month of calling I have been unable to get Home Depot to come and look at the roof and the GAF (shingle manufacturer) inspector will not come look at it either. GAF issues the warranty for Timberline shingles installed by Home Depot, guaranteeing proper installation and protection against material defects, etc. So far, GAF has said that putting the wrong shingles on my house does not qualify as "misapplication".

Michaelene Bohac
from Burbank, IL
Ordered a fridge. $2000.00 Never got call for delivery time. Called the store. No record of my order. Spent an hour back and forth next day with store, each time was told "we'll call right back" Never happened. I had to call three times. Each time they said they would call the number I was calling from. One sales person called my cell even though I was told by the previous person they would call land line I was calling from. Turns out order was never placed and they wanted me to come back in to do whole process over. They blamed a "computer glitch" (really?) least they could have done was own their mistake. Guess what? I did not go back and went to Lowes and saved $500 in the process.
Guess it worked out for me.
Dave Bohac

Phil Krull
from Melbourne, FL
Ask for a quote to install a 30 gallon shirt electric water heater. Received a response within the hour from a Lee Heating & Cooling in Fort Walton Beach for $2500 discounted price. The quote was way too high, so I called two other plumbing companies in the area and got quotes for $1000 for the same water heater. Please see the attached quote from Lee.
Just to let you know of this problem that is causing you to lose business as I deal with Home Depot often.
Sincerely,
Phil Krull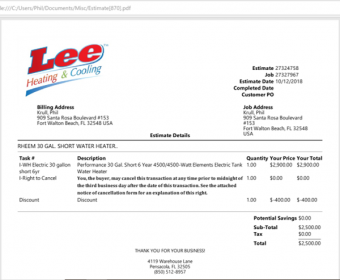 Robert Byrn
from Spanaway, WA
Oct. 8, 2018. Dear Sirs,I am a Vietnam Vet. Today at Home Depot of Tacoma, WA on Military Rd & Pacific.
At check out a "Very Rude female" DENIED accepting my Military Veteran ID card . She was NOT Consumer Friendly
At all.....She implied my ID was FAKE...I insist she be reprimanded for how I was treated....I have been a LOYAL
Customer my entire Adult life and I am 72...Before leaving I spoke to another Employee at Customer Service desk and She told me that MY CARD SHOULD HAVE BEEN ACCEPTED. Evidently the Staff is not Up to Date ???
The words she said, and HOW she said them were "Humiliating". I became so upset, that my wife had to drive us home...
In the past, your Staff has always been very professional....
Please do something about this matter.
Thank you,
Mr. Robert Byrn / 21105 47th Ave. East, Spanaway, WA 98387 / Tel (253) 375-7661

Etta Zeigler
from Pensacola, FL
RE: Job # 1808073094
On August 7, 2018 I contracted with Home Depot for a roof replacement. Today is 9/22/2018. I was told by the sales person that I wound hear from someone to schedule an installation within 2 to 4 weeks. The job is at step 5 and has been for several weeks. I have called the team leaders # at least 3 times and emailed one time. This is my second email concerning this matter. My next complaint is the fact that I financed the project with Home Depot. As of now, per the Loan Agreement I am making payments for a service that I don't have. At this point I don't even have the option to cancel the project.
Thank you for any help you can provide to get this job completed,
Etta Zeigler

Virgil Lund
from Summerville, SC
went to purchase new water filter, they refused to give me my military discount. Gave them my VA medical card because I did not have my original ID card.
They refused me, since I have my DD-214 discharge paper and my VA medical card how do use refuse as not being a vet. Not much respect local vets.
When I go to Lowes they recognize my DD214 and they give my discount. What is Lowes doing that you can not.
This was done at the Home Depot store at your Summerville SC, address 190 marymeade dr.

Harold L. Carter III
from Saco, ME
I purchased the Worx 110 mph 600 CFM Turbine electric leaf blower in November 2017. About 1 week ago I was blowing leaves, pine needles and dirt off my deck and the unit slowly lost power and then completely quit. That was followed by the ever present smell of a burnt motor. So, on 9/19/18 I returned to the Home Depot in Biddeford, Maine where I purchased the blower just 10 months ago. I had already ordered a new one on line as the store had none on hand. I went to the store with the blower to return it and have the money refunded to my credit card I made the purchase with. Much to my surprise I was told that because it was past 30 days they could not refund the money to my card. I was told I would have to contact the manufacturer to see what they would do. I was not pleased and cannot believe that Home Depot wouldn't and supposedly couldn't refund my money for an item only 10 months old. Definitely not the best customer service. Also, I know this to be an outright lie as I worked for Lowe's for five years and numerous times I had to approve refunds of purchases past 30 days as I was the sales manager for my store. Lowe's always puts the customer first and refunds or provides the customer with a new product. Also, Lowe's has never suspended or changed anything with the 10% discount given to the military. It has been a constant privilege to those, including myself, who served their country with honor. Home Depot has stopped it in the past and now limits your total to $500 total over a year span. Clearly, Home Depot is missing the boat when it comes to customer service. What happened today was unacceptable, but standard for Home Depot in my experiences. Maybe it is just the store or caliber of employees at the Home Depot in Biddeford, but I doubt it. So, now I am left to deal with the manufacturer instead of the Home Depot backing their products, refunding my money and then dealing with the manufacturer themselves to get retribution for the failed blower. So, as of today I will never purchase another item from Home Depot and I will be sharing this story with anyone who will listen. It is sad and pathetic that Home Depot wouldn't do the right thing by me (the customer) by refunding my money instead of giving me the lame corporate line about 30 days. That is why Lowe's is #1 and Home Depot is a very distant 2nd!!!!!

Rose Bokavich
from Scituate, MA
On or about July 20, 2018, I purchased a GE washer and Dryer as advertised in your newspaper insert via the internet. I was told that the items were on backorder and would be in
August 15th. The Delivery was made but I was not told nor did I have a "safety Kit"., The dryer and washer were unpacked and left in my dining room to await the "kit" a period of 10 additional days. On or about August 25th the servicemen came to install both appliances however, they said the washer was damaged and call for a new washer. At the time of the call, I was told that the washer would be delivered on Thursday, September 6. 2018. On Thursday I called because I did not hear from them only to learn that the washer was "not in." to The manager tried to reschedule the delivery for Saturday, September 8, 2018, but I have commitments. The next available date is Tuesday, September 11, 2018, which I can accommodate but she said: "it was all Booked." Can you imagine? I can't. As it stands right now the delivery date is set for Saturday September 14, 2018. This delivery was and is nothing short of a complete disaster. Can you help me?
Rose Bokavich
100 Old Wharf Road
Dennisport, Ma
508-524-2744

Carol Witherspoon
from Lincoln, NE
I got a Homelite 2-Cycle Gas Trimmer for my birthday (July 2017) at the Home Depot, 27th Street location Lincoln, NE. I am very disappointed in the customer service received. First of all, they didn't offer to look at it, try to fix it or give me a replacement. Any new product should last longer than a year, especially when you don't use it all the time. It would not start! I even took it to a small engine repair shop and was told it was of poor quality and they could not fix it. I have not looked at the reviews but I can imagine other people that purchased them had the same problem as myself. The trimmer was on sale for I believe $139 and my brother got it for me as a birthday gift. It was charged to his credit card (Aaron Witherspoon, 301 Penny Lane #6, Ruston, LA 21270). He bought the trimmer, string and gas mixture. I am very disappointed in the service received and the product itself. It make me not want to shop at any Home Depot stores and I certainly will not recommend any Homelite products to anyone I come in contact with that need outdoor lawn equipment.

Joseph Meier/ Cathy Meier
from Henderson, KY
Purchased a Samsung washer/dryer set in May 2016. I have SIX (6) service calls on this TERRIBLE dryer!!!! Home Depot has been NO help and neither have the extended warranty people!!!!! I am planning on putting on Facebook about the HORRIBLE service and product this is and has been!!!! 12/21/17, 02/07/18, 9/4/18 service calls not counting the 3 prior service calls!!! This is UNACCEPTABLE for any appliance!!!

Eton Bigby
from Port Saint Lucie, FL
Be advice I own multiple card with home depot I also shop there very often and spend hundred of dollars My last purchase I bought 5 Gallons of paint to paint my house No one explain to me that if I do not used them I cannot make a return my point I did buy too many so few days later I take back one gallon and they refuse to take it back the associate tell me they change the return policy my opinion I don't think it fair they should verbally explain to the customer the return pol

wilbert reed
from Monroe, LA
on or about June 8, 2016 Home Depot delivered purchased merchandise to my home. The truck knocked over my mailbox of which I was told by the onsite manager that hey would get it fixed and for me not to worry. After several days I contacted the local Home depot Store to file an official claim. I was told that they would look into it. again after several days I decided to research the matter.my attempt to contact the Claims adjuster with Sedgwick was unsuccessful and voice mail stated they were out of office until a later date and referred me to another number of which I was unable to reach but left voice message. I sent text msg to the person present when the damage was done and he stated that he has advised his boss at which time a requested he send me his photos of the damaged mailbox to corroborate with mine as I began to distrust the process. I received a text 7/6/2018 from Mr. Muller who advised me that my claim has been approved and a check should arrive in about 2-3 weeks. On 8/7 I began to inquire again and made contact with Keith Taylor - claims rep with Sedgwick, Taylor was very dry and unprofessional, he told me to contact Jennifer with XBO as they would be sending out a check for the claim. I immediately contacted Jenifer who advise me that they had not received a claim # for my case but she would look into it. Jennifer called me about 4 hours later an stated that she was to approve the claim in the amount of $366.00 I told her it was $366.25. she agreed. I asked her how long would this take of which she stated she was unsure. About 6:30 pm that evening I received a call from the owner of the delivery company who stated that they had sent check for $361.00 to the wrong address and that he did not have any contact info on me. this sounded very strange in that I had previously given my info to his employee and that he should have been the first person to call me to resolve the issue. I told his that I would be filing a formal complaint against Home Depot, and Sedwick. and with the BBB

Joni Mosher
from Dalton, MN
we purchased carpet at the Home Depot in Fergus Falls Minnesota. We have done business there for a number of years. The deal on the carpet was that the installers would remove existing and dispose of it. Also would move all furniture except our piano.. We took care of that. very poor communication between installer and store, first installer arrived , refused to move anything or remove carpet When I called the store they said they would take care of the problem. the installer left, I waited to hear from the store did not and called them back 4 hours later to see what they were going to do about it. Could not get any answers. 1 Week later they sent 2 guys out again , they refused to abide by the contract. Finally someone came they completed the job. Only after they had broken a plate that was on the wall, there are staples sticking up on the steps from the tackstrip the poke our feet. they left there garbage in our driveway. We were treated so poorly through this whole transaction, by staff at the store and insurance agent, and company that installed the carpet. We were reimbursed for a tear in a carpet in another room. which they wanted to super glue together. I will never recommend this store to anyone again now will I ever spend another cent there. So very disappointed in the whole ordeal. Very stressful.

I purchased a stove from home depot back in 9/2015, we paid for the extended warranty so if anything happens we would not have to pay to replace either exspensive parts or a whole new stove. Well on July 14, 2018 while using my oven there was a load pop and a flash of flames and my stove completely shut down. So i called that warranty company for Home Depot, and put in my claim. On July 16th we got a call from the service provider to come out and look at our stove on July 19th they came and informed by husband what was wrong and they would need to order parts, and he would be back the following week to repair it. So they placed the parts order on July 20th, on July 27th we still had not heard anything from the service provider, so I emailed them and asked for a status, At this time they informed me that they were still waiting on the parts to come, and they would try to expedite the order. On Saturday July 28th I called Home Depot Warranty department again and was told yes the part where shipped and received. So on Tuesday July 31st, I called the service provider yet again to see what was going on. They told me they received only one part out of the three they order and they did not have a time frame when the other parts would be in. He thought maybe next Monday or Tuesday and they could possibly get out to fix my stove by the end of next week, depending if the parts where in or not.
I then called the Home Depot Warranty department again, and got a young lady on the phone whom all she kept telling me is she could not find a tracking number for the parts that were missing and all she could tell me is the service provider did get the light bulb they ordered. She must have told me this 8-10 times, at which I asked speak to her supervisor. I was put on hold for about 10 minutes, before Abby got on the phone, and I had to go through my whole story again and when I asked her why no one could tell me when my stove would be fixed she said should understood my 'frustration', but she could not give me a definite time when my parts would be in or when I would have a working oven again. She said she tried calling the service provider and got voicemail and she left a message. When I requested for someone to call me back on Wednesday August 1st with a status she told me that she could say that would happen. At which time I told this whole situation was unacceptable. She was nice enough to tell me that usually the warranty process only take 3-5 business days for parts to come in. THAT HELPED A WHOLE LOT!!! NOT!!!!
After hanging up on her as she as no help I called the regular customer service dept for home depot and told them my complaint and got put through to another person in the resolution department whom then called the warranty department and suddenly they told me my parts would be in by Thursday August 2nd. Which then MIGHT get me an appointment to have my stove fixed sometime next week. Which at this time would be three weeks without and oven!!!!! I can say the warranty and home depot sucks at this point, no one should have to deal with this. They charge you enough for the extra warranty coverage and you have to jump through circus hoops to get anything fixed and then there is no guarantee. My husband and I planned on getting our new washer, dryer and dishwasher through home depot, but not anymore there is a Lowes right down the street. it sucks though as we got a gift card for our anniversary so now have to shop there.!!!!!!
So baking cake for my two sons birthdays will be out and my sisters 25th anniversary cake is probably an no go to!!!!
THANKS SO MUCH FOR NOTHING HOME DEPOT!!!!!

Betty J SCHMIDT
from Glenvil, NE
Order H3208--31520 placed June 26, 2018 which apparently became lost in California. I even received a tracking system which didn't work since the items were not shipped for delivery on July 22, 2018. I called on Thursday with the complaint "where did you lose my order?" I was told that it had never been shipped from California, was found there, and would arrive on August 9? I am sure that was another "maybe?"
I have never had a complaint with Home Depot in all my business with them nor has my son, Dennis Schmidt who is a home contractor in Wyoming. He had now had to change his vacation for the 2nd time to come and install my cubboards.
This is certainly creating a problem all the way around and a real problem for me to have NO KITCHEN for almost 3 months when I planned this all so carefully.
I certainly will not be recommending your company to any one in the future with the screwups that have occurred this time.

gary brockman
from Murphysboro, IL
case no.11902645 I have had the runaround from many people from HomeDepo please feel free to call me. I cannot do this in less tha100 words. but, you are going to make me a Menards customer
Gary Brockman
314-277-0941

Anthony Pendleton
from Pearland, TX
I recently completed a customer service notice to you on your store in Orange, TX. In it I complimented 3 of your staff. Mr. Larry Bradley, Ms. Theresa Griffin and Ms. Anita Smith (now at the Hillcroft store in Houston. I have shopped in nearly 2 dozen HD stores in CA, AR, MI, NJ, LA, OK, TX, and enjoyed the service etc. The best of these stores is the Orange, TX store - best by far.
After taking the time to file the compliments I learned that no feed back has been provided, but if my comments had been negative I would guess that feed back would have been immediatel
Let's try to be leaders instead of managers, and treat our people with respect and at least acknowledge customer Kudos.

frank carvelli
from Carrollton, GA
I purchased a framing nailer about 6 weeks ago. I paid cash and no longer have the sales slip. It stopped working and I tried to return it for a new one. I was told that they would not do that but if I paid a fee it would be repaired for me. I deal also with Lowe's and NEVER had this problem with defective goods when dealing with them. I have had other problems with your store in the past but will not go into it at this time. You may rest assured that I will no longer make ANY purchases from your business. The service and quality is just not there.
Frank Carvelli
603 Old Carrollton Rd
Roopville, Ga 30170

Bonnie Mallo
from Sanford, FL
Went to the store in Casselberry Florida on 1792 in Publix plaza to buy a lawn mower weed eater and eddger, a cash sale. My husband is a veteren and asked for the veterens discount. We are normally a Home Depot customer and have used to discout previously. The cashier told him he was not eligible because his VA identification did not indicate service related. She was rude and condasending. We told her we shopped there often and had never had this response before. My husband asked for the manager. Another staff member called for the manager. The manager came to speak with us. He did not seem to understand what the problem was. He asked the cashier what to do. She said we were not entitled to the discount. This was the same cashier who started the discussion. She said smugly "I already told him no" as if to say I told you so. We told the manager you have just lost a cash sale of At least six hundred dollars we will go to Lowe's they honor veterens. I will be passing this experience on to our veterens friends at church and let them know how Home Depot does not honor their service. This cashier was very rude and seemed to be proud of her attitude. We will not be shopping at Home again. Thank you. Bonnie Mallo 3307 S. Park Ave. Sanford, Florida 32773. 407-496-5717 cell phone.

Daniel Anavy MDdanavy501@aol.com
from Tucson, AZ
After the reported news of firing one of your African American employee in Albany ,I am boycotting your company stores until he is reinstated ,with an apology.To day,on my way to your store in Tucson Arizona,I went straight ti ACE hardware to buy plumbing supplies.I will continue to do so ,until I hear from you,and will communicate my decision on Face Book and with all my friends and family.Shameful ,decision on your part Racism is not acceptable.

John Grace
from Lady Lake, FL
I do not like the self service check out why can't you have more cashier like it use to be. If you say it is cost savings then you need to lower your prices. I will be using ACE Hardware and Lowes more.

Gloria Bwy
from San Diego, CA
Ordered a Washer & Dryer. delivered on Thurs. 7/14/18. Installed broke my water valve shut off valve. Left washer & dryer in my garage.
No one returns my calls. No one gives a dam that I cant do laundry. Claim adjuster never returns calls. How long do I have to be without
a washer because of your installer messing up? It's almost one week now. If I get no results I will get a plumber to fix my valve & dispute
the cost on my Home Depot Credit Card bill. This is the worse customer service I ever experienced with any company. I have been
doing business with home depot for years but after this experience I will be purchasing from your competitor.

T and k smith
from Auburn, AL
Having missed the date to put in a fence they showed up 2 weeks later to install everything was marked out and after having to leave for work took my 6 ft level out to check because the next morning I could see one fence pole off well there were 4 they also installed damaged gate frame which is also not even where they come together at top they hit and on bottom there gapped properly that goes the same with my walk thru gate not even close to square what beats all I'm still picking up cigarette butts talked with Dennis Henderson yesterday asked him to let me know if he received all my pictures uts the second day haven't ears from him I'll give him one more day and then I will seek alternative satisfaction

David Martensen
from Clanton, AL
Went to Home Depot yesterday and found out they are no longer giving discounts to Veterans unless you meet certain criteria. Retired, disabled or a "Dependent"
So a "Dependent" who has never served can get a veteran discount but not an actual veteran.
Countless Veterans have served in combat and were fortunate enough not to get wounded....but they are not eligible for a lousy 10% discount.
Home Depot has put "Capitalism" before "Patriotism" . This is not an American company. This is a company that touts the fact that they help veterans, but in truth,it is lip service and when it actually comes down to supporting the veteran they turn their heads.
Go to Lowe's, they still give ALL Veterans the respect they deserve.

JOHN B. HARRIS JR.
from Manteca, CA
IN APRIL OR MAY I CONTACTED HOME DEPOT ABOUT INSTALLING NEW WINDOWS TO MY HOME. A MAN CAME OUT FOR THE ORDER AND MESUREMENTS. UPON INSTALLING THE WINDOW, ONE WINDOW WAS LEFT OFF THE ORDER. I WAS TOLD BY GARY HALE IT WOULD BE REORDERED. 2 TO 3 WEEKS LATER I WAS TOLD THE NEW WINDOWS WAS IN AND I NEEDED TO BE SCHEDULED FOR INSTALLATION. IT TOOK MORE THAN A WEEK TO GET ME RESCHEDULED. ON THE DAY FOR INSTALLATION OF THE REORDERED WINDOW I RECEIVE A CALL FROM HOME DEPOT THAT THEY COULD NOT FIND THE WINDOW IN THE WAREHOUSE AND ONCE AGAIN IT WOULD HAVE TO BE REORDERED AS OF JULY 16, 2018.
IN ADDITION WITH REGARDS TO THE ORINGINAL ORDER, THE INSTALLERS INSTALL 2 WINDOWS IN MY BATH ROOM THAT I DID NOT OREDER (2 WINDOWS WITHOUT ANY INSULATION) I WAS TOLD THESE WOULD HAVE TO BE REORDERED ALSO. I WAS ALSO TOLD I WOULD BE RECEIVING A CALL FROM SOMEONE ABOUT THESE WINDOWS AND THE SITUATION. AS OF THIS DAY I HAVE YET TO RECEIVE A CALL ABOUT THE STATUS OF THESE (2) WINDOWS.
I WOULD APPRECIATE SOME RESPONSE TO RESOLVING THESE MATTERS. I CAN BE REACHED AT:
510-282-9608
9601 LAS VEGAS AVE
OAKLAND CA. 94605
THANK YOU
JOHN B. HARRIS JR.

my complain was filed with a chat person about one of your rude worker name Tandy at the Mansfield tx store. called at her for some help a few time. she finally turned around. she seemed to get frustrated and pointed to the item I needed which was far and I couldn't see where it was. Got upset and walked over to the item and pointed and walked off again. the item was at the top shelf. and I couldn't reach it. I had breast surgery and not able to lift my hands too high yet. she finally turned around and hand it to me. she is at least 5'9" I thanked her and she just walked away in a rude manner. she must've been having a bad day which is no excuse for rudeness. I'm 76 yrs old and have been your customer for at least 20 yrs.

andrew d upton
from Orlando, FL
The online purchase that I made on June 7th was the worst experience I have ever had. The customer service was horrible and it got even worse after it was escalated to the resolution department. I can promise you I will never use home depot for another online purchase again and I would tell anyone that's even thinking about using them not too. My story is way to long to get into but I am serious when I say they have no clue what good customer service even is.

ROBERT K SMITH
from Nottingham, MD
I know this will probably go no where but, I have to let you know how I feel. On 7/14/18 I started looking for a dryer. I had just left two stores that had employees with bad attitudes and went into the Home Depot. I was treated great and was not ready to buy yet but, I did' I figure when ever I need an appliance I could come here. Then came the delivery, I will never buy another appliance from Home Depot because the delivery service was the pits. I do not want to deal with people like that ever again. Ken No. H2506-90911

Linda Capriola
from Hyde Park, NY
I am writing about an issue we recently had at your Store in Poughkeepsie, NY 12601. We went in to purchase a new patio door and have it installed. We spoke to a very nice gentlemen who explained the different doors and how the installation process works. We set up an schedule to have someone call us and come out to measure.We were told this would cost 30.00 and if we went ahead with the install it would be taken off the price of the install.We were told installation starts around 450-500 depending on how much has to be done during install. We were told a few days after the person comes to measure we would receive a call letting us know how much the install would cost. A few days later person came and measured,he said everything looked good and should be just a simple install.Waited for over a week ,no call.Went back to store and was told have been trying to call us but there was no option on our phone to leave a message...NOT correct as have been getting messages all along from others just nothing from Home Depot. Well he then looks it up and tellls us the install will cost almost 900.00...There is NO WAY I am going to pay 900.00 to install a door that costs less than that..We looked at 2 doors previously one for almost 500.00 and one for 700.00...I do understand there is a cost involved to install the door as you are using outside contractors but this is absolutely insane that you would expect people to pay almost 1000.00 to install a door....We have been Home Depot customers for many many years but this has really made us think if this is how your customers are treating how many other times have we been ripped of over the years. Not Home Depot fans any longer.Thank you for your time

Robert Cameron
from Secaucus, NJ
Zero not 1 I just spent on 7-5-18 1400.00 on appliances and set a delivery date 7-12-18 my card was charged by Home Depot when the delivery did not take place, The store told me that they did not have control as the delivery was paid for by the manufacturer. The driver called and could not find my new home so he would not stop at the sales center to get directions. The Staff at the store said it was beyond hthere control as the delivery was a third party, But I bought the appliances from Home Depot.
I was not nice and said the next time they delivered would they send a smarter moron.
The thing is I did not buy the appliances from a third party Home Depot cannot get anything right.

VARISH PANIGRAHI
from East Brunswick, NJ
I ordered vinyl siding for my house April 18, 2018 and paid $8000 advance that day. On 24th April, there was a personnel from Home
Depot who inspected the house and gave me sheets to prepare for the project. The project was to be completed in the first weeks of June at the latest. It is already middle of July and I do not have even the schedule and no one has been able to give me an update for the last one month.
I had planned to put this house on sale after the siding work by June 15th and finished all other work needed by May 15th., I have been misled by your company and has kept me to stay ready for the project since end of April. Last three weeks, I have been frantically contacting
the manager and service co-ordinator for the update and they have promised and kept mum. I have been caused mental anguish and financial damage and still there is no schedule or estimated time of arrival (ETA) of materials. Please help resolve whatever bottleneck in your organization, This is the worst experience I ever had.
Sincerely,
Varish Panigrahi

Darren Canny
from Los Angeles, CA
The Home Depot on Jefferson in Culver City . Every day there are more and more dogs in the store , not service dogs just people with dogs 10 to 15 at a time it's out of control , manager does nothing .
Piss on the floors not acceptable in any place! Shelves rarly stocked , no doors for weeks , I was told they were turned away because there were two deliveries at once! This place is a joke , I spend an average of 60to70 thousand s year in there! Now looking for an alternative store shocking! Staff very nice manager doesn't know what he's doing!!

claudia j wicker
from Knoxville, TN
Re: The Home Depot Case 08202707 [ ref:_00D50JUFY._50050xRnxW:ref ]
Tue, Dec 26, 2017 9:09 am
cjwicker4 (cjwicker4@aol.com)
To:customer_care Details
Dear Sir,
I have sent you videos of my guttering issue. I also wanted to tell you that:
1. I am a 71 year old Senior Citizen.
2. I paid cash for this guttering @$8,000.00.
3. My old guttering performed better.
4. My first response from your store was the installer came out and cleaned leaves out of the gutter.
5. Which brings me to ask what did I pay all of that money for?
6. Now you tell me that I can't get a breakdown of the prices charged?
Why?
Sincerely,
Claudia J. Wicker
4109 Holland Dr.
Knoxville, TN 37918
The video was too large to send directly via email.
So, I uploaded it to youtube as a unlisted video – meaning that only with the link can the video be viewed.
You just click on the link above and it will take you to the video.
July 6, 2018 After I sent the video and filed a complaint, I HAVE HEARD NOTHING!!
-----Original Message-----
From: ANTONIO LANE <customer_care@homedepot.com>
To: cjwicker4 <cjwicker4@aol.com>
Sent: Tue, Dec 26, 2017 7:58 am
Subject: The Home Depot Case 08202707 [ ref:_00D50JUFY._50050xRnxW:ref ]
Good Morning Mrs. Wicker,
You may attach your video address to this email.
Thanks,
Antonio L.
The Home Depot
Resolution Expeditor -Services
Phone: 1-800-654-0688 ext.76211
ref:_00D50JUFY._50050xRnxW:ref

Robert M. deMariano
from Annapolis, MD
Military ID was "not on the list" - WTF? Have been using it for years at other Home Depots with no problem. 7 Corners wouldn't recognize it because I was honorably discharged in 1973. Cashiers had no idea how to recognize a valid military ID. Customer service was no help - kep pointing to a chart saying "Your ID is not here"
Is this another tactic to chase vets away? It's working . . .

Eva Wojtanowski
from Rochester, MI
I HAVE BEEN WITH HOME DEPOT FOR A LONG TIME ALWAYS ENJOYED SHOPPING THERE BUT I'M VERY DISAPPOINTED WITH HOME DEPOT RIGHT NOW Just purchased a GE dishwasher JUNE 2018 from HomeDepot doesn't work does not clean the dishes isn't that what a New dishwasher is supposed to do had a serviceman out and they tell me that the New dishwasher needed to new update and I need to get Platinum dish soap I did and still not washing the dishes I called HomeDepot to peck it up .... Home Depot tell me I signed for the product it does not work now it needs Maintenance done on it call SEVICE come on this is a BEAND NEW DISHWASHER !!
I CALL AND TO DOMINIQVE AT CONSUMER SUPPORT SERVICE TOLD HER HOME DEPOT WILL NOT PICK THE DISHWASHER SHE SAID THAT WAS NOT RIGHT THEY SHOULD PICK IT UP IF IT IS NOT WORKING FROM THE BEGINNING OF THE ORDERS DELIVERY DATE IF I KEEP THIS DISHWASHER THAT DOES NOT WORK IT WILL NEED MAINTENANCE FOREVER
Eva Wojtanowski

charles minshull
from Brandon, MS
Order shelving; 16" shelf track bracket 32 each, 60" shelf track standard 8 each, 80" shelf track hang track 4 each, and 12'x16" super slide linen shelving 8 each. Order all of these items on 6/28/2018. Though bought a few more items and took a few items home but had the shelving scheduled to be delivered on the 3rd of July.
But after checking the height of our garage went back to Home Depot and had the 60" shelf track standard exchanged for the 84" shelf track standard.
the only reason I had the rest of it delivered because of the length of the shelving units 12' long. And the delay was they were short on the shelving brackets.
So it was suppose to be delivered yesterday between 7:00 and 9:30 am on the 3rd of July. Now its the 4th and a holiday and called and they are now loading the truck. It would be nice to get a call to why its being delayed or a text.
I am not the only one who spends a lot of money at Home Depot and Lowes on home improvements and gardening things. And will be shopping at other hardware stores in the local community and definitely voicing my complaints to everyone I know.,

Edward Shay
from Dover, DE
I purchased a new refrigerator and it was supposed to be delivered yesterday June 28th between the hours of 12 and 4, I waited all day for this delivery and when it came to be almost 5 pm I thought I'd better call the store to see if they are running late. I live on an Air Force Base and the store knew this when I purchased the item. when I called I was told that the delivery Was re-scheduled for Saturday 30 June and I would receive a call telling me what time. the problem is that the delivery people could not pass the gate because I assume they might have had sometype of record. I wasted an entire day waiting around and had already called base housing maintenance to pick up the old refrigerator. I also took everything out of the freezer and put it in cooler bags and coolers. now I will have to waste another day just sitting around waiting for a delivery. The real problem is that the Delivery company NEW ABOUT THIS BUT DID NOT CALL ME. this is one terrible way to do business, What I should have done is went to the local Home Depot as soon as I found out about it not going to be delivered AS PROMISED and canceled the order and went to LOWE'S TO PURCHASE one. I'm guessing you really don not care about this problem but I thought I'd get it off my chest. customer service is probably number 10 on a list of top 10 things.

Customer of the day
from Ventura, CA
Employees not answering phone for hours!!

rocco incorvaia
from Ramsey, NJ
We purchased a refrigerator for over a thousand dollars and home depot scheduled a delivery date. My wife worked from home to accept it and when they arrived the refrigerator was damaged. We already cut the water/ice line and emptied the old one. They told us we could not accept the damaged goods your stor delivered because it would void the warrantee. now our food is going bad and my wife has to stay home another day. I am so angry I already told ten people not to purchase any appliances from home depot and I plan on telling a hundred more! Why don't you have quality control? You waste your customer's time and don't seem to care!.

Darry Jay Tunick
from Fort Lauderdale, FL
ORDER NO# W929016940
On todays date at approx. 10am this morning (PHYSICALLY) went into the Sunrise florida (H.D) Home depot.... asked if there were cinderblocks in stock for a project needed for today and can we pay for the same day delivery as listed on line.... sales person assured me he could take care of me.... we proceeded with ordering 200 blocks....he checked the delivery and explained it could NOT be done today but can garentee we will have them on the 16th ....which is tomorrow ...I was okay with that since we have until fathers day to get this project completed.....
Now as of 815 pm this evening I just got a call from another store here in Weston florida.( NOT THE STORE I WENT INTO AND PLACED ORDER IN...) they- (Weston store) now tell me, sorry we don't have your product in stock and need to cancel order... I explained I paid and ordered from sunrise store why am I speaking with Weston store....advised to call back store ordered from find out whats going on.... just got off phone with Sunrise store mgr.... who claims they have stock available but I need to repurchase again, YET the money my card was already charged the acct had 500 to start with after purchase of blocks at 312.20 do not have enough in acct to repurchase again when we purchased from this store in the first place.... and now I have to wait 24-48 hours for funds to be replaced before I can even repurchase.... so now I have two helpers showing up to work in the morning and will have to be sent home because we don't have the materials to complete the job.... needless to say how furious I am right now... I've been told there is nothing anyone can do...nor can we be compensated for the waste of manpower and time and now the delays in the return of funds..... needless to say my client is disappointed, and recommended we just should have gone to lowes even though they are a few miles further away from us then home depot.... but I have to be honest I'm beginning to question it myself since this is the second time I have had issues with home depot delivering product for our jobs...PLEASE ASSIST
C.C. personal files
Regards
Darry Jay Tunick
12850 west state rd 84
box 13-17
Davie Florida 33325
(954-907-5550)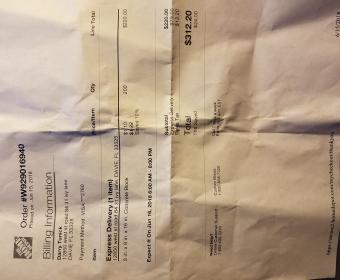 Larry and Katherine Rockwell
from Grand Junction, CO
Kitchen Remodel Project started over a year ago in June 2017 that included HD Exteriors for installation of 2 new doors, one in kitchen and one in office, and a new window in kitchen.
After months of scheduled and rescheduled inspections, shabby workmanship, multiple on-site visits and patch jobs, change of Project Managers and further delays, HD concluded that the products need to be uninstalled and reinstalled with all new materials. That decision was made months ago and we are still without the new installations, have no date for installation and have not heard from HD with a schedule date.
After multiple schedules and reschedules, time away from work, missed appointments altogether, failed inspections and damage to our kitchen structure as well as embarrassment to our friends and family and related stress, I still do not have what I purchased from HD and am paying big money! Needless to say, not a pleased former customer of HD and will not recommend .

Stuart Zidell
from Houston, TX
I went to the Home Depot today at Chimney Rock and W. Bellfort in Houston, TX. I wanted to buy a new front door. I asked for someone to be sent to that department twice and they paged the person both times but he never showed up. I waited 45 minutes. Other customers were waiting also but they got impatient and left before I did.. I guess I will go to Lowe's tomorrow and see if I can get waited on. Thank you.

Robert Noce
from San Jose, CA
Should be a 0...... Placed a delivery and install, for my business, never showed up. They called telling me no one was here, even though someone is always at our front door. Basically told me my staff is a bunch of lyres. Then to punish us, for there mistake, now we have to wait 5 days before they come back. Worst service ever, we will never order anything from Home Depot again. Good luck on how you run your business into the ground.

JUERGEN KOPP
from Bethany, OK
I shop at home depot and in the last couple weeks have purchased $2000 or more .Today at home depot I was purchasing 2x6 16ft pressure treated lumber ,when I checked out I ask cashier why the price online is 15.99 and store is 17.57 she said she doesn't know and I ask who could I ask and she said nobody .I purchased my wood and ask if she could open overhead door so I could get it out and she said no go out side door and stood there laughing at me ,which is very hard because they have roof sheathing stacked there with limited space to get threw and carts especially with 16 ft lumber .As I struggle to get threw a cart hit my foot .I a truly thinking of doing my shopping at Lowes because this Home depot gets worse everytime prices on signs are wrong it costing more then sign says and to try to get help with something you wait forever .This cashier is very rude and to stand there and laugh at me .
thank you
Juergen Kopp
405-361-5489
6800 W RENO AVE OKLAHOMA CITY OK 73127
3908 00002 05021 06/01/18
CASHIER NAOMI
6800W RENO AVE OKLAHOMA CITY OK 73127 4057893895
3908 00002 05021 06/01/2018
CASHIER NAOMI

Rene Romero sr
from Aurora, IL
I would rate it no stars, but was not able to undo the lite star. I bought a battery for my Grandson's John Deere lawn mower for Christmas. I took the part number to the salesman. They asked for the cord, and I gave them the one that I had taken off the lawn mover. In April my Grandson tried to put battery in the lawn mower and it was the wrong battery, the post were did not fit. So I went to exchange the battery and the girl at the exchange counter said it would be an even exchange and put it back on my credit card. Then I got the right battery and went to pay for it. The sales person wanted to charge me for the cord that I had initially given to Home Depot when I bought the battery in December. So I was sent back to the exchange desk. I asked to speak to a manager, and tried to explain the situation to her. She was very argumentative and talked right over me. The battery cost me $14 more. It was supposed to be an EVEN Exchange. The manager then told me to take my business somewhere else. I just walked away. She then came after me as I was walking away, but I kept walking. I am United States Army Veteran and her lack of customer skills was a disgrace. I did call Corporate and lodged my complaint with a Gentleman that apologized and told me he would take care of it. My received a phone call a day later from the Home Depot store, but she was working and was unable to take the call. She called back when she got out of work. She was told the person that called had gone home. She told them to let them know I was available before 9am and after 5pm. I never heard from them again. That treatment caused me close my account and take my business elsewhere Menards and Lowe's. After all your manager suggested that. I hope the $14 was worth losing a good paying customer.
Rene Romero
630-988-4800

Lachelle Young
from Tampa, FL
I went to home depot to purchase out door rocks and step stones to fix my moms yard..long story short.I had to load up 10 bags of rocks (Weighs 65 pounds each)and liad 15 stepping stones by my self .Noone came to help .May i remind you ,these rocks are so heavy it took all my strenth to put each bag in my car.It took 2 hours for me to load .it was 90 degrees outside and i camre close to calling a ambulance .i had to go back in to get my propane tank and rest of my rocks cause i couldnt push all the bags at once .i told girl at checkout how i was feeling and what had happened to me .i asked for help again .Noone came so i had to do the loading my self again.My back is now throbbing and my leggs are shaking .A emoyee from depot walked right past my car seeing my struggle and said nothing.I couldnt believe this.i videoed this the next time i went in too .i ended up loosing some bags of rock cause i dropped them as well as my step stones.Rocks are all over my car too cause the bags rip .i had to get my kids at busstop so i had to get my stuff with no help from home depot cause i wadnt gonna leave it.i almost had a seizer and heat stroke tjis day and my lower back and legs are still in pain .i hurt my self today and its a shame .this could of been prevented if they would have helped me .im a older woman,. Lifting 60 pound rocks should not have happened .i asked for help a few times but noone came ..a customer lady seen me doing this and she was upset cause depot didnt come help me out .I spent over $300 bucks this day alone , I lost a few bagsof rocks and stones as well as a hurt back and rocks all over my car seats and floor .what a mess..i never will go to Home depot again .I hope i didnt mess my back up so bad that i will be in pain forever .0

Lachelle Young
from Tampa, FL
I need more than 100 words to tell my awlful exsperience at home depot in leesburg.I went to purchase landscaping rocks and step stones .i needed about 25 bags of marble rocks and 15 step stones .long story short .noone came to help me load or unload these 30 pound bags of rock.aftet pushing them to the check out myself i almost gave out..i only could get 9 bags and 7 stones in my cart cause nothing else could fit .so i walked to my car and ma6 i add it was 100 degrees .it took me a hour to put this in my car.had to go on again to get more rocks and i went to service desk ,told the lady about my exsperience and she said she would get me help .i waited ,no one came .so i had to load my car alone again.and lost a few bagsof rock cause they busted,to heavy. stones broke and now im thinking i may have a heart attack. Im 48 years old and i am so upset that noone cared to help..never gonna go back .i always shoped home depot .3 to 5 times a week.i was so upset i videoed me in the store and loading u also see a employee walk past me and i was struggling.cant belive this.i also pulled my back and stomache ..lachelle young.352 321 0968

Richard Galan
from Victorville, CA
Went on April 19 2018 to store #8144 in Victorville California to rent a small demolition chipping hammer. Me and my son walked in the associate there was sitting on her stool and I asked I'm looking for a chipping hammer to rent. She said around the corner you'll find them. I seen a lot of boxes with tools on the shelf was loaded with many different kinds of tools and I asked if she could show me which one is it. Her demeanor was such that she became Discourtous and Rude because she had to get up from her Lazy Ass to assist us! I asked for the store manager and he said he would speak to her about this, when approached by the manager she put on her Disneyland face and her whole demeanor changed, so I told the manager she's trying to be polite because he was present. Nevertheless this was a disappointment for me and embarrassing since another customer was present also.

Frank Loucks
from Boise, ID
On April 17th Home Depot counter top installer arrived at our house to install our counter top order that had been placed on March 3rd. As you can see from the dates the wait time was excessive. At the completion of the install, it was discovered the wrong color of solid surface had been ordered and installed. We choose and provided our Home Depot kitchen designer, Mitch, with the sample for "White Granite" and "White Quartz" and been incorrectly ordered.
We have been loyal customers of Home Depot Eagle Idaho for many years; purchasing items for home remodels for over 13 years. Finally after 5 years of waiting we were ready to remodel our home kitchen with great excitement. With visited with the kitchen design team member Mitch several times before placing our final order. We sat across from him and handed him the sample of solid surface "White Granite" that we decided on after looking at many samples. We order our counter tops on March 3, signing the paperwork stating we were hiring Home Depot to do the work.
After this error was discovered we have several conversations with the Eagle Store manager, Kathy. She was unapologetic for the error, told us we had signed the paperwork adn we were responsible. She also said there were 3 opportunities to verify the order, at the time the order was place, when the install company came to measure for the template and prior to installation. At none of these points did anyone ask us to verify the product ordered.
Cathy the manager has told us there is nothing Home Depot can do. I'm shocked that home depot would expect their customers to act as their quality control process. Not once we were asked to verify what had been placed in the computer. During our order Mitch's computer froze up. He suggested we go look around the store and come back in about 15 mintues and he would have our order ready. I suspect it was here where he selected "white quartz" rather than our selection of "white granite".
My wife and I feel utterly betrayed by Home Depot. After many phone calls with Kathy, Eagel store manager, she did offer a $200 compensation credit.
This feels like an insult. We have been planning our kitchen remodel for years and spent a lot of time selecting the product we wanted for our counter tops. The granite has color and the quartz is basically a boring white. It is a choice we would have never selected. This is a heavy disappointment and truley a betrayal by home depot as your loyal customer.
Our ask is to be fully compensated for the counter top material and installation costs. I hope that Home Depot will do the right thing. This error was caused by Home Depot and should not be the responsibility of your customer.
Sincerely,
Frank and Denise Loucks
6809 Baron Ave
Boise, ID 83714
208-871-4955

Peter Brainard
from Minocqua, WI
As an associate at 4930, I was applauded at what happened to a friend. He's retired in the NM area and I frequently help him with his shopping at the HD. Here's what happened when he went to the HD I asked him which store: " It was the Bernalillo store on Rt. 550."
Steve Goba
8:28 PM (11 hours ago)
Hi Pete,
"I set out this morning to go to Home Depot, to talk with someone about Cafe Doors. I entered the store, but really didn't know what department could take care of me. I saw an employee (an older gentleman) and asked him where I should go for Cafe Doors. I could see that this question puzzled him so I showed him the picture that I printed out from your e-mail. He said "We don't carry those." I said "I believe that you do because I saw this online." He said "Well, you'll have to go online." Everything that he said was in a very rude tone. I then said "I can see that I'm pissing you off, so I'll just leave." I left the Home Depot and went to Loews. I found the right department and the fellow there said "May I help you?" I said "I'm looking for cafe doors" and I showed him the picture. He said that they didn't carry these in stock but that he could special-order them for me. I asked if he could get a custom size for me and he replied "No problem." He took the time to pull up the information on his computer and showed me the different styles that were available. He was very courteous and I ordered the doors from him. Even though they were a custom size, he said that if they don't fit, or if I don't like them, I could return them.
I kind of knew that Home Depot didn't have them, so all that I really wanted to do was to see if they could order them for me. I'm really lousy trying to order things online. Just last week, I ordered some cabinet pull handles online -- and it was not easy for me. I ordered only two and received and paid for 14. That's why I didn't want to order the doors online -- I'm just not computer savvy.
In any case, I appreciate your help with providing the picture and installation advice."
I did respond to Steve with an apology:
peter brainard <petebrainardin54562@gmail.com>
8:45 PM (11 hours ago)
"Steve,
Sorry you had the problem at HD. Yes, just like any place you go there are bad employees!! The store manager of the HD you went to should hear about it.
If you ever run into the problem again with doors or windows, the millwork dept. is the place to go. Yes, a café door isn't stocked but just like Lowes, we special order them. " In fact, if you ever have a online ordering problem again, I can order for you and have it shipped directly to you or your local HD.
I have also attached the picture of the café doors I sent him to get at his HD.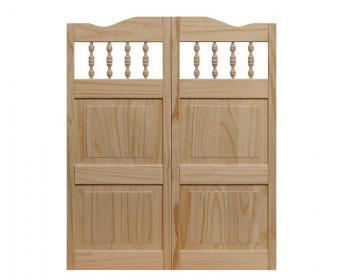 Have feedback for Home Depot?
Thanks for your feedback!
Sorry. Please try again later!