Home Depot
Home Depot Complaints Continued... (Page 3)
416+ reviews added so far. Upset? Call Home Depot corporate: 1-800-430-3376

This concerns the Owensboro KY store. I paid for installation on a backsplash in my kitchen. Someone came out and took pictures and measured. I paid for my installation. I picked up the items needed. 3 weeks later the contractor comes out. Tells me the board that was picked up from the store wouldn't work. He calls his boss, boss calls Home Depot. Home Depot tells him that I was suppose to have the board put up before they got there. Never was I told that I was suppose to have the board installed. I called the home depot and asked for a manager. The manager Jennifer started laughing. I asked why she stated that one of the cashiers said that I said in a earlier conversation that I would not call back until I have calmed down. They thought it was funny that I was upset. Not professional at all. When I received my estimate the board was listed with everything else. Why would I pay to have it installed when it was on the list that the sales people made up. Jennifer the manager was rude and so was the cashier in question. I demand an apology from her and the cashier and I want my backsplash and board installed at no extra cost. I am not going to hire a separate person to install the board which wouldn't work anyway.

Kim Croke
from Dudley, MA
We have been long time customers of Home Depot and have always preferred HD over Lowe's and have done many home project through our many year with HD - - however, I think that decision is changing. I have never been so disappointed in Home Depot. We ordered $10k in custom cabinets on 2/15/19 and due to an error by the design representative, one cabinet had to be re-ordered. We asked for it to be RUSHED since we had to postpone the carpenter. I was told it was supposed to arrive 3/27 -but after sending my husband to the store -who waited and hour and a half -I received an email later stating the cabinet has AGAIN been delayed until 4/2 --which now makes me have to cancel the carpenter AGAIN!!! It is no wonder why box stores are closing - Amazon can get orders shipped in 2 days, but Home Depot's email stated (and I quote) "I do apologize again, we can't control our trucking companies, and sometimes delays do happen" ! seriously?! This has now delayed our project 4 weeks! My house is in complete disarray and having to reschedule a carpenter AGAIN. When the mistake first happened, the design representative tried to blame me! He said I told him to make the change. He and I did discuss the cabinet and I was actually home on the phone with him measuring and he said it would come down into the 'casing" of the door if we made the change - I told him so long as the door opened, I could live with it hitting the casing. I think he forgot to account again for the 4 inch molding at the top & the cabinet came down OVER the door by 2 inches! But he tried to blame me. Pete Foley is the manager at the Worcester Home Depot and he was very good to try and help --however, this problem just keeps escalating. I am still in need of granite/quartz countertops - however, I think I'm done with Home Depot. This is just unacceptable.

This is the worse experience in my life as a poor adult!! I was super excited on getting me a washer and dryer in which I paid 1700.00 dollars on at your store. I clearly told the lady I wanted something simple and easy and she assured me if I didn't like it I had thirty days to decide and keep some clothes to wash instead of going to the laundry mat to wait and use it all I could use it to see if that's what I wanted.. this is misleading and very unprofessional and it make the company look horrible. Now when I ask how I return it it is in the policy that there is no costomer remorse yet that's exactly how the lady got me to take it and see because I just wanted an updated turn knob not a rocket ship. My feelings are hurt more than anything because she knew I didn't know the policy and it wasn't recorded what she told me and that is the only reason I even got them that day. it hasn't even been thirty days. I ordered them on march second got them on wed two weeks later and I called them two days ago about getting something I comprehended like I wanted to begin with. if this is how you treat your costomer and let your employees keep doing to get a sell I will never in my life even walk through those doors and neither will anyone that I know.. This not only affects me but it makes your company look horrible because I can even go to a used appliance store and they give you thirty days to guarantee the product. You don't ever have to worry about me making this sad mistake again, im a single mother with four kids and we saved to get these so we could get clothes caught up and now because your delivery just stuck the vent through the floor lint is all up under my trailor so if anyone flicks anything we loose our house too, and we still cant get clean clothes with this space shuttle we know nothing about. thanks and god bless you and your company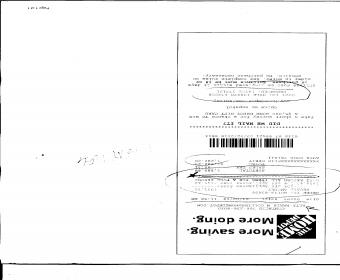 I bought granite from Home Depot at the same time I bought the cabinets for my kitchen. I spent a few grand. Received someone else's order when the cabinets were delivered. Took a week but the issue was resolved. Had someone come out and take a template for the granite on 2/25/19. I was told it would be a maximum of 3 weeks to receive the countertops, but hopefully sooner. I started calling when it hit week 4. I got a hold of someone on Thursday who told me that they forgot about the order and would have it resolved the following Monday. Never heard from the "middle man" company contracted by Home Depot. Finally was able to talk to a representative on Tuesday who notified me that they didn't even have my granite yet!!! I am now waiting another 2 weeks for them to get the granite and install. It will be a total of 6 weeks. In the mean time I am spending beaucoup of extra $$ eating out over and above the 3 weeks budgeted since I do not have an intact kitchen, not to mention the frustration of having to track down someone to do their job. Terrible customer service and in reading all the reviews on the Home Depot website I'm astounded they are still in business. I will be taking my business to Lowe's as I continue my home remodel. Craig Menear clean up your company!!

I ordered and paid for an over the range microwave and a refrigerator on 3/19/19. I waited a week to get it and the delivery company was very disrespectful. They stated that they could not hook up the new one because we had not turnt off the water. After the gut looked under my sink, he said he could reschedule the deliver. He took it outside and had me to sign that he left the microwave. I called the homedepot line, and while I was talking to them I told him not to worry about hooking it up and to just take it back in the house. He had me to restate it, and he then started talking Spanish and walked to his truck. I walked in the house to show him where to put it and he jumped in the tuck and sped off. Now I have to wait until Sat.
This is very unprofessional. Your company agent was on the telephone with me and heard the conversation. her name is Honour. This is no right and customers should not be treated this way.

emma rivera
from The Bronx, NY
My husband and I went today to buy some plants. There were not many plants. We decided to buy a plant but it did not have a price so we were told by the man that provide service in the plant area to go to customer service and gave another plant so the can use that barcode. I went to the Home Depot in New Rochelle in NY by Home Depot. The lady called Joan in customer service refused to service me. She stated for me and my husband to go to the other cashier at the end of the store that it was for customers service only. The area was empty and refused to service us. Another lady behind me went to purchase as i did and she took her merchandise and charged her for it. I really felt discriminated by this lady. I have been shopping in Home Depot for many years and feel everyone should be treated equally.

Irene Fu
from San Jose, CA
I would like to address a highly unsatisfactory delivery service. Coming from living in a condominium with HOA, it is impossible to deliver earlier than 9am. Considering this fact, I have notified the Home Depot representatives repeatedly andyet, all of my deliveries are set for 7am. I ordered $4,000 worth of appliances and they haven't been delivered due to inflexible and inconsiderate times. The most unbelievable issue is that this problem comes from such a large company like Home Depot. I'm not purchasing from a small local gender, this is "Home Depot" I am talking about. I am highly upset at this level of service and I would like to hear from you soon to address this problem.

Toni Riehl
from Allentown, PA
Bought my son and daughter in law dishwasher. It was delivered today damaged and installed. If you look st the front you may not notice as much but this is what was delivered and installed horrible can't even open the door without rubbing cabinets. Then to call customer service is a joke. I was asked if we would like to keepnwith a discount. 847.00 I don't think so it's unfunctional. There are a few pictures but this needs to be handled quickly. Un believable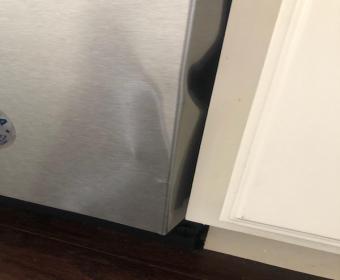 Jeff Schofell
from Fort Worth, TX
Placed an order SKU # 0000-515-664 This was supposed to be a laminate floor install … Received a call from flooring company to schedule ( not from receiving ) to let me know flooring had arrived and wanted to schedule install. Then upon calling to pick up and deliver flooring was met with rude and insulting customer service person that guided me to three different departments that referred me back to her. After an hour and a half I received my order. Then plumbing company called to schedule and was met with they were only supposed to disconnect toilet ( Stated in order washer/dryer also ) would be set between 8:00 AM and 9:00 AM to get ahead of installers !! Plumber arrived at 10:00 and only removed toilet ! Flooring company set appointment for 9:00AM to 11;00PM they showed up at 11;45 .. I was then notified that NO one spoke English ??? Also that the floor had to be ground down . ( This on a floor that had laminate before) OK so they ground concrete to make level ? Then crew chief arrived 4:00 PM to see that crew was going to finish same day. At 8:45 PM received a call from owner that the flooring crew wanted him to sign off on install and pay additional 250.00 for grinding floor. I responded that account was with Home Depot and I would handle with them.
Plumber from company that removed toilet set return appointment for 9:00 AM on 3-19-20 on 3-19-20 was notified that there was NO record and they would see when this could possible be done ? Received a call from plumber ( ARS ) that it would be between 1:00PM and 5:00PM ?
Plumber called and will be there 12:00 noon ( YEAH ) .
I work for Specialty Restoration of Texas and will be letting each office in Dallas, Waco, Tyler, Killeen, Austin, and Houston that they need to try other vendors to get jobs scheduled and materials ordered.. NEVER have I had to deal with this much to please a customer !!!

Algirdas Talis
from Henderson, NV
I bought a GE Washing Machine on March-9-2019. It was to be installed on March-13-2019. When the dilevery and install company you use hot here the could not install the Washer do to the Hot Water supply line being froze at Water shut off valve. So I went to Home Depot bought a new washing machine water shut if valve and had my son install it. As He was a home builder and know's how to do these things but is disabled now. This was on March-14-2019. I called the company to come and finish the install. The gentleman scheduled me for Tuesday March-19-2019. I called today to see the time frame that they would be here. The lady said they would not because the guy that wrote they new W.O did it wrong. And that my problem How!!!!. At this point I'm sick and tired of the B.S associated with Home Depot and it's incompetent people you hire to do your dilevery and installs. Incompetent is being very nice on my behalf. Now I just want you to remove the washing machine from my home and credit my credit card. I will be doing all my home improvement purchases from Lowe's now. I will contact my bank to stop payment on my card in 24 hours if you do not credit me in this time fram. My 250,000+ followers will be getting the scope on Home Depot and it worthless contractors and not to buy anything from you but go to Lowe's instead. I will also tell them to read reviews on Home Depot because you gave a lot of unhappy customers around the country wY more than Lowe's. Again you have 24 hours to remove and credit my card. Than I'll start charging you a storage fee.
Sincerely
Algirdas Talis
A PISSED OFF CUSTOMER

Teresa Harrelson
from Bedminster, NJ
You advertise that you give Veterans discounts. But you don't mention only a few select kind of Veterans get those discounts. I find that it false advertisement at its best. The definition of a true Veteran is one that served honorably in any branch of the United States Armed services and was honorably discharged. I went into your store today in Lake City, Florida to purschase a Garage Door opener and have it installed. Went I went to the register I'm sure you can guess what happened to my discount. I DIDN'T GET ONE!!!!! Shame on you!! I want you to fix it and tell the people on social media that you apologize for dening all Veterans that which they truly deserve. Yes admittedly I had still purchased the item. But I will not under any circumstances purschase another thing from your company ever again until this is resolved. Now I know why your customer rating sucks.
A PROUD VETERAN!

The Home Depot in Green Bay only gets one star, and that is for the quality and reasonable prices of their merchandise. As far as customer service goes, it is a definite zero! On March 3rd, we bought a Maytag dryer. We filled out some paperwork which we were sent home with a copy of. Delivery was expected on that Friday, which they said they would give at least a half hour heads up before they arrived. My husband and I both had to work, so we arranged for my daughters 18 year old baby sitter to come to the house. Well, Friday came and I got a phone call just as I was punching in from break, I answered it, and it was the delivery driver Trevor stating he was only 5 minutes away! So I called the sitter quick and told her to get over there. Any ways, the delivery guy later texted me and told me he was unable to get the old dryer out, and that there was no way the new one was going to fit. I was at work so did not receive the text until about half hour after the fact. He decided to just leave the dryer there, even though he knew there was absolutely no way this unit would fit, unless we remodeled that section of our house. He told me I had 48 hours to return the item if it ended up not working out. So when I got home, I called Home Depot. The first time I was on hold for a not joking, 10 minutes. I hung up, next time was 5 minutes and someone picked up and tried paging store manager, waited another few minutes, until Sue got on the phone. I told her the situation, and all she could say was that she had to speak with her manager about it, and she would have to call me back. So, 45 minutes later, Sue calls me back, rude as can be, and states that there is absolutely no returns on appliances. That they are "special orders" and special orders are non returnable. I asked her how is a dryer a "special order", it wasn't like I had it special made just for me, it is a dryer... I told her that if my husband or I would have been able to been around, we would have denied the order, but the sitter and driver were both unsure what to do, so they left it. Fridays apparently are the only day they deliver to my area, which is not a great day for people that work full time. She then snapped at me and said, well was your sitter at least 18?? I said yes she was. then she asked if the dryer was removed from the box. I said yes. My daughter told me that she never saw a box, that when they unloaded it from the truck it was not in the box. Also that the sitter took a towel and dried the top of it because it was wet from them bringing it in. She told me that we should have received paperwork stating that there were no returns, which we did not. We did receive one that states special orders may have a 15% restocking fee, which again I don't see this a "special order" .Any ways, I was not getting anywhere with Sue, except very upset with her poor customer service skills, So I told her I would just have my husband call when he gets home. At this point, I am just done. That night, after work my husband goes over there, and speaks to the Store Manager Josh. He said that we should have been told by the sales associate, and signed a piece of paper stating that there are no returns. I sent a copy of all the paperwork in order to my husbands phone. Josh stated that there was a page missing. Well that was all we received. Josh ended up making my husband upset and he said a few things he probably shouldn't have, but quite honestly, I don't blame him.
That night, I texted the delivery driver and told him that there was absolutely no way that dryer was going to fit. He agreed and said he felt bad for even leaving the unit behind. He said he would have his office schedule a pick up for Tuesday, and I would receive a confirmation call about it on Monday. I asked how do I go about getting refunded, and he said his office would take care of everything, that I had nothing to worry about. This made me happy, because he had very good customer service skills, and finally it seemed like we were getting somewhere. Monday rolled around, and by 5:00, I didn't receive a phone call. So, I texted Trevor asking him if they were still coming Tuesday, and if not if there was a contact number for me. He never responded. I looked at the paperwork he left behind, and found his offices number. I called it and the man told me that they have nothing logged for a pick up for me. He told me that all returns have to be through Home Depot, that they do not handle any of that. So at this point, I knew I had to do something else because I was getting no where besides upset.
Here I sit with not only our old dryer in our house, but a nice $700unit sitting by our kitchen table that we can not use. All I want is a full refund, and for the dryer to be picked up, so I can move on and get a dryer I can use. I have never been so upset with such all around poor customer service.

I purchased a refrigerator from Home Depot on 2/24/19 that has an ice maker. Today, 3/11/19, l was informed by your employee when they arrived that I must remove all items from the old one first before installation could begin. I didn't understand why we couldn't just move the old one to the side so my stuff could stay cold and transfer the stuff in my old one to the new one once the installation was complete. It took me over 30 minutes to remove everything and find a cooler to hold the frozen stuff. I was soaking wet with sweat by the time I completed this task. Then, I was informed by your employees that they didn't even know how to turn off the water and bleed the water line for the icemaker and installation, and I was going to have to do that too. Your employees were there to do the least amount of work as possible and still get paid. I was LIVID! I told them to take the refrigerator, and I will request my money back. Home Depot did not hold up their end of the deal. I feel violated. I took the day off from work and lost a whole day of wages to get my new refrigerator. I don't know that I have ever been so angry to tears ever in my whole life. Now, I have to wait until Friday to get my money back. I was told when I purchased the refrigerator that your employees would know how to install the line for the icemaker. I was absolutely lied to my face.

I was in the Home Depot on the morning of 3/11/2019, in Wilkes Barre, PA. I asked a women employee in the window/door dept for help with selecting concrete for a project. She made a call to get me help and never gave me a status if someone was coming. I waited five minutes and no one came. Frustrated, I left and went to Lowes. Your employees at the Home Depot in Wilkes Barre need a lesson in customer service.

Byron Corzine
from Carbondale, IL
I started on a remodeling of my kitchen last August. The first step was putting down new vinyl flooring which was purchased at Home Depot. The vinyl planks were delivered and left on a palate in my driveway. I asked the two guys who delivered them if they were not supposed to bring them indoors. They said they were not. I put a furniture cover over them to protect them from rain, but the great fluctuations of temperature and humidity at that time of year caused warping. When the installers hired by your firm began to install them, they would not hold together. Thus, all new flooring had to be ordered. This time the planks were brought in the house and approximately six weeks later the same guys came and installed the flooring.
The next step in the project was cabinet installation. You company delivered the cabinets and put them in my garage. The cabinet installers hired by your company came from French Lick, Indiana (3 hours one way) to install the cabinets. They saw them stored in the garage where there is no heat. The cabinet installers told me that Thomasville would not honor the warranty on the cabinets if the cabinets are not acclimated to the room temperature for at least 72 hours. Thus, some men from the local Home Depot came and moved the cabinets indoors. During this time period there was an inspection made to be sure there were no missing or wrong cabinets. The guys from French Lick made another trip to install the cabinets. They were able to install most of them, but there were parts missing. Thus, they could not complete the job. The parts missing were ordered, and the installers from French Lick made another trip. They charged Home Depot more than the original contract. Your company ate most of the $1600 extra. But, I had to pay $600 extra. This was totally wrong on your part to charge me for this. But, by this time we are well into 2019, and I still do not have a completed kitchen. The installers came for this third time, but still were not able to finish the project because of pieces missing. So, I still do not have my cabinets completed.
All new appliances were originally ordered from Home Depot around Labor Day, but because the cabinets were not ready they could not be delivered. You only keep an appliance order in storage for a certain period of time before the order is cancelled. This is what happened, so I had to reorder all appliances. The refrigerator, stove top, and dishwasher were delivered, but the oven-microwave combination was backordered. This was in January. The backorder was to be until February 8. February 8 came and we got the message that they are still backordered until March 8. March 8 came, and we again got word the oven-microwave combination is backordered until April 12. This is totally unacceptable.
Jamie from the local Home Depot (Marion, Illinois) is trying to locate the oven-microwave combination that we ordered, So far we have not heard from her.
I cannot have the electricians that I hired finish connecting all appliances until we get them. This has been the worst experience I have ever had with any company. I am going to devote my time on my days off from work as a pharmacist to try to get this project completed. It has been seven months since we started, and we still do not have a kitchen. I still will have to have a drywall person repair the drywall, paint and install the backsplash. This whole project has been a nightmare.
Please call me to help me somehow. My cell phone is 618-889-2340. My home phone is 618-993-2294. I live at 116 North Chamberlain Drive, Marion, Illinois 62959. All of my dealings have been with the Home Depot here in Marion, Illinois. George Trammell, the cabinet designer with the Home Depot here in Marion originally designed our cabinets. He should have told me that I needed a contractor to coordinate everything.
As it stands now I am out over $25,000 , and I still do not have a kitchen. George either retired or got fired. A lady named Jamie is trying to help us now. But I think we need help from a District Manager perhaps. Please call me. Thank you.
Sincerely,
Byron Corzine

p richards
from St Louis, MO
I work for a company that delivers to many Home Depot locations. Your store in Falls Church, Va., seems to only have receiving hours from 2pm to 5pm. This not only makes it difficult to schedule deliveries, but almost impossible to service other customers in that area at the same time. As a distributor, we can not work with such a small window to make deliveries. I will continue to shop at other competitors.

On 2/16/19 I purchased a dryer from HD on Sunset Blvd.in Lexington SC. I was refused the 10% military discount. Mgmt. advised me corporate won't allow it. Since I purchased most of my appliances from this store (check computer) I found this regrettable I checked at Low's who was definitely ready to give me the 10% discount for the same dryer, for the same prize that H:D charged without the discount.
I am in the market for additional appliances and surely will consider Low's.
HD lost a good customer, friends and family

i wanted to return a lawnmower that no longer starts. I bought it exactly one year ago, and was surprised after all the money i have spent at your camarillo location they would not let me exchange it. My wife and i were very disappointed.I would like to know if there is any way to satisfy me as a loyal customer, or should we shop at a competitor. Thank You

I went into the Home Depot store in Capital Heights, Maryland to purchase appliances. My sale associated was Tom who was very pleasant and efficient initially. I bought a refrigerator, microwave, and dishwasher. My problem started with the delivery of the products and the rude statements made. I cancelled the entire order and asked for a full refund. Tom tried to process but had to ensure that all items were processed back into the inventory. I made seven trips to the store and had a very unpleasant conversation with the store manager Ashley. She was short, non-responsive and uninterested. I asked her why my refund was not processed and she advised that it was done incorrectly to begin with. I was promised that the refund would be processed promptly to no avail. It took me nine trips to get this rectified and asked for some sort of compensation. She became very irritated and called her manager for a $25.00 gift card that was to be mailed to my residence. To date, I have not received the gift card but more importantly I was extremely disturbed with the rude manner in which she conducts herself. I will never step foot in that store again.

back in december homedepot online offered fence for 10.75 a section when i call to place my order just so happen to be out of stock so what that said i was told that when the fence come in i would still get it for that same price welllll guess what now that the fence is in stock homedeopt tell me that they can not sell it to me for that price i need to pay 36.00 for it now .been trying since dec 28th to get this fence every time i call in i doc my notes @ home time/date who i spoke to the customer service dept is not worth getting my blood pressure up all they do is try to talk circles around you they did nothing to help me also every time i ask to speek to someone higher then yourself to help me im told im the highest there is i really dont hope so for homedepot good but i believe so with a customer service dept like that i would rate you a -0

Adam Ortiz
from Rialto, CA
Ok where do I start the manager that they called treated me like I stole the bits I purchased he's name is Adrian he works at the store in upland California advisely he thinks I stoled the bits he has no right to be such a asshole to me.i show him what door I came in and even a worker said they saw me bring the bits in the store this is bullshit the manager refuses to give me my bits back he said I can't wait a hour for till he looks at the camera I've been here waiting for a long time all ready..

My husband purchased a Maytag dryer on 2/16/19 ( Invoice # H4286-65966 was to be delivered on 2/21/19 ,well the dryer came and the men who were making the delivery said it would not fit going down the stairs to the basement after measuring the box it was in and not the machine itself ( we already measured the old machine and stairway before going to the store to pick out the dryer ) so they put the dryer back on the truck without opening it and returned it . So my husband George age 79 went back to the store to get the dryer redelivered and he had to repurchase the machine again Invoice # H4286 - 66327 and we had to wait another week to get it delivered 3/2/19 which was canceled due to snow now again we have to wait another week (both my husband and I work during the week till 5:30 so that only gives us the weekend )If I knew it was going to be this difficult to deliver a dryer and remove a old one I would have went elsewhere ..We should not have to wait 20 days for a dryer that was in stock because of the lousy delivery services..This will make us think very hard about purchasing anything again from Home Depot..
George & Sherrill Sadowski
Home Depot Store 4286 Johnston RI

I ordered windows on 1/18/19 1131.01 ord id h6661-229106. the guy taking the order was real good, he said 3 can be delivered to my house, the other 2 I would have to pick up. ( I do not answer my phone to unknown numbers, as there are to many spammers ) I received a message 2/1/19 on my phone from the delivery guys, gave them a time they dropped them off. now two more weeks go by and I have not heard from your company, so I call to check status, they say we shipped them back because we could not get a hold of you, WHAT???.... so I ask for a manager, Nancy claims she is a supervisor and yes we sent them back, oh boy I was mad, she said she would reorder and have them sent to my house. yea, thank you Nancy... well 2 week later (today) 3-1-19 I call to check status and was told they are here? WHAT? I said, Nancy said they were shipping them, she said oh let me check....(hmmm something is fishy....) she comes back and says she has to send me to the frt desk....I wait, the phone rang for at least 3 min, I told my wife let me go talk with Nancy. I drove to van nuys home depot where they were ordered and asked for Nancy in customer service, well the teller said she is not in today let me find another and walks off with my invoice, i wait what seemed like forever and went looking for her, she said im waiting for a supervisor.. oh my I was pissed I asked for my paper work and left. well before I got to my car I decided to go to the windows desk, and was greeted by the guy who ordered them, he said he sees no notes, he could reorder them.....oh boy I had to get otta there rite now ……..came home and wrote this letter sooooooooooooo what on earth can you do for me? you are the best deal in town and I feel like I never wanna step foot in another home depot …………does any management care about customer service? where are my window's? please respond... my phone number is 818 219 7960.. please leave a message with a good return number.. email flyntone@aol.com

The online order is terrible with extremely slow delivery. I placed online order on Feb 13, the estimated delivery was Feb 25 to 27. The actual delivery was March 4....Imagine that...The customer service was awful. When I called for slow service, they claimed there is nothing they could do and there is nothing wrong with their process. I will never order from Homedepot any more.

DAVID Williams
from Jacksonville, FL
I'm writing this letter to complain about the service or lack of in repairing my Homelite 2700—PSI 2.3 GPM presser washer. On January 23, 2019, I dropped my presser washer off at your rental department to see why it will not start. The service man informed me that it would be a week and a half before he could get to it. No problem. I went back to pick it up after receiving a call that it was ready on January 30, 2019. I paid a total of $79.13, 20.00 dollars deposit and $58.85 when I picked it up.
I tried to start the presser washer after I returned home, with no success. I called Home Depot back at several tries to start the presser washer. I finally called Home Depot, and the service guy told me it might be flooded. Let it set, and try to start it later.
On February 6, 2019, at around 4:00 p.m., I brought my presser washer back to the Home Depot (1919 Wells Road, Orange Park, Florida to have your service man see why It wouldn't start after he said he had fixed it a couple of weeks earlier. I took all the gas out of the tank to transport it to the above location. The service guy asked me if any gas was in it, I told him I took the gas out of the tank for transporting it to their location. He said he'll take a look at it. I walked around the store and purchased several items. When I return, the service man told me I had water in the gas. Let me back up here. When he claimed he fixed it the first time, he was talking so fast; I forgot to ask him to start it up. I put the presser washer back into my car.
He showed me some gas in a plastic container; and said water was in the gas. I could see the difference in the two substance in the plastic container when he shined to light on it. Because he was fast-talking, and at that point, I was so disappointed, I didn't know what to do. I don't see how water got into the fuel being that I took the gas out of the tank. He wants to charge me another 79 dollars to repair it. I wasn't satisfied with the first repair he claims he had corrected; I don't think he understands the lifetime value of a customer. Can you please look into this situation. I feel like I've been hustled.
David Williams
6613 Arancio Drive, West
Jacksonville, Florida 32244
C 904-254-7230

DAVID Williams
from Jacksonville, FL
On February 13, 2019 at around 4:00 p.m., I brought my presser washer back to the Home Depot (1919 Wells Road, Orange Park, Florida to have your service man see why It wouldn't start after he said he had fixed it a couple weeks earlier. I took all the gas out of the tank to transport it to the above location. The service guy asked me if any gas was in it, I told him I took the gas out of the tank for transporting it to their location. He said he'll take a look at it. I walked around the store and purchase several items. When I return, the service man told me I had water in the gas. Let me back up here. When he claimed he fixed it the first time, he was talking so fast, I forgot to ask him to start it up. So I put the presser washer back into my car.
He showed me some gas in a plastic container, I'm sure it was water I could see the difference in the two substance in the plastic container. Because he was fast-talking, and at that point, I was so disappointed, I didn't know what to do. I don't see how water got into the fluid being that I took the gas out of the tank. He wants to charge me another $59 dollars to repair it. I wasn't satisfied with the first repair he claims he had performed, I don't think he understand the lifetime value of a customer. Can you please look into this situation. I feel like I've been hustled.
David Williams
6613 Arancio Drive, West
Jacksonville, Florida 32244
C 904-254-7230

Andrea Ficaro
from Chicago, IL
I placed a special order for blinds on 9/6/18. It was the first time I ever heard the word valence return. When I came home and looked at my existing valance returns, I knew there was a problem with my order. The next day I called the store and spoke to someone in the blinds dept. and explained that although I was ordering inside mount blinds, some of the 3 of the windows, aside from the one on the door which would be outside mount, would need valances with returns. This is because the depth of those windows isn't quite deep enough for the blinds so they stick out some. I emailed pictures as Home Depot staff requested and then I waited for a call back that same afternoon as promised. That call never came so I sent another email the following day. 3 days later I received an email and was told that valance returns were added to my order. I responded by telling the staff member that I wanted my returns glued. She told me the installer would do this in my home. That sounded odd to me so I emailed her on 2 occasions to confirm this and she never replied. I decided I would wait until the installer came. About 2 weeks later, I kept receiving calls from Home Depot that my order was ready for pick up. I thought this was odd b/c I chose installer pick up when I ordered and thought I had paid for this service. I tried to call for a few days but no one in blinds ever answered the phone. So, I stopped there one night after work to see how large the boxes were and if I could take them home myself. When I arrived, no one was in the blinds dept. I was told they were all at a training. I explained by situation and a staff member went into the back to get my order. He came back with 2 rather small boxes and said it was my order. I questioned that by saying I ordered blinds for 6 large windows and didn't think the order would fit in two small boxes. He said I can open them and check if you want. I said yes please. He sliced one open, looked inside and said yeah, there's 6 in there. I said OK but still doubted his answer. I stopped at the customer service desk on the way out and expressed my concerns to the girl working. While doing so, I looked in the box that the staff member, Daniel, told me contained my order and saw that all that was in there was 1 valance!!! He flat out lied to me. Moreover, the woman at customer service said this was only 2 of many more boxes. Customer service called Alicia, who is the "fixer" of installation projects. She took me back to her computer, I explained the whole situation with the valance returns and forwarded the pictures I had sent to the first girl, Lauren Trush, who told me that the valances would be glued by the installer in my home. Alicia clarified that "glued valance returns' are produced in the factory and come out as one smooth piece. So, Lauren, whether out of laziness or ignorance, also lied to me.
Alicia was confused by the situation with the returns but she was able to determine that night that the returns Lauren ordered were not going to fit.
It was my suggestion that the installer come back out and measure again so we could get all the information that was needed and get this rectified quickly. She told me she wanted to talk to him first. The next day I was told it was decided that he would do the measurement when he came out to install the blinds and the valances that didn't need returns. He came on Saturday Oct 20th and told me he would forward the report with the correct measurements to Alicia that day. I contacted her on 10/24 after not hearing from her. On 10/30 I emailed her again. That night she sent an email with the new valance order. I sent one back to her to correct the new order b/c she only had 2 new valances ordered when I needed 3. She also had them listed as outside mount when they were supposed to be inside mount. She then sent an email saying that she ordered the new blinds and valances and was it ok to Fed Ex them. What new blinds? I had to ask b/c I didn't need new blinds just the same 3 corrected valances. I also told her NO on the Fed ex and wanted her confirmation that the installer would pick them up. On 10/31, I also had to correct her on the number of valances needed and again ask for installer pick up. She said she would correct the new order a AGAIN. On 11/1/18 I asked her to send the new order so I could make sure it was correct and again asked her to confirm she wasn't sending them Fed Ex. After receiving the new order on 11/1, I had to correct her AGAIN that these should be INSIDE MOUNT valances. I asked a 3rd time for her to confirm these would be picked up by the installer bc I didn't want them sent via Fed Ex. On 11/5, I had to send another email asking this same question b/c I had gotten no response the other 3 times I asked. Then she told me I would have to pay for installer pickup. At that time, I had to remind her of all the trouble I'd had with my order so far and that I felt Home Depot should be covering the installer pick up. She said OK. Yet, on 11/14 I got an email from Home Depot saying the valances were being shipped to my address. So,I emailed her again and asked why I was getting this email if she put it in for installer pickup. I was told not to worry, that the installer would be picking up the valances. The 2nd install was scheduled for 12/15.
So, Dave the installer comes with the new valances and as he's putting them on, I realize that even after all the emails I sent to her, they were WRONG AGAIN!!!! Like I told Home Depot at least a dozen times, the valances with the special size returns were supposed to be "glued returns" meaning that factory puts together one smooth piece. The valances the installer was putting up were not glued by the factory, but came in 3 separate pieces. When looking from the side, you can see the separation of pieces. The installer said he would tell Alicia at Home Depot and I also sent her an email that day. She emailed me on Monday the 17th saying that the store would reach out to the vendor that day. 2 days later I emailed her again b/c I had not heard back. On 12/20, she emailed saying that they spoke to the vendor and had made the special order for 3 new valances with glued returns This order was supposed to be done correctly two months prior.
She told Home Depot would honor a 10% refund credit one the order was complete due to all the trouble I'd been thru. This was nice but didn't seem like quite enough given the amount of time I'd wasted going to the store, emailing her back and forth to correct her work, getting up and waiting for the installer for 4 hours on two separate dates. I was willing to let it go at this point b/c I didn't want to waste all the time I'm wasting by writing to you now.
After they placed the new order, I set a new install date for 2/11/19. I wait another 3 hours and 45 minutes for the installer until I receive a call that he was going home sick and couldn't make it to me. I rescheduled a 3rd install date for this morning. 2/23/19. I again got up before 8am to wait for the installer and was relieved when he arrived by 8:15. He snaps on 2 of the valances and then tells me that the 3rd one was done WRONG AGAIN!!!!!!!!!!!!!!!!!!!!!!!!!!!!!!!!!!!!!!!!!!!!!!!!!!!!!!!!!!!!!!!!!!!!!!!!!!!!!!!!!!!!!!!!!!!!!!!!!!!!!!!!!
The return length was made too long. I don't understand how that happened since there are two identical size windows that these returns were needed for and the other one was the correct size. I've emailed Alicia at the store again and the installer says he will send her the report so that the correct size can be reordered AGAIN. Then I can wait for the 5th time for the installer. It will be the 4th time he'll come to my home to complete the installation of 6 blinds. This process has been absolutely ridiculous! I may have been offered a 10% refund credit (i'll see it when I believe it) but I can tell you with 100% certainty that I will never use Home Depot for another installation project again. The incompetence is unbelievable! It seems as if Alicia never listened to me, read my emails, knew how to use the Home Depot computer system, checked her work or really gave 2 hoots about whether my project was done correctly. The only way 10% is appropriate for this situation is when used to describe the amount of effort put in by Home Depot staff.

Hi
I've been a loyal customer for many years. But your store in richmond ca. has a problem and its getting worse. Many latinos are using valuable parking spots thru-out your lot all day long and not buying anything. They are either looking for work or selling mangoes and oranges. The place is a zoo. They block the walkways around the entrances, throw trash on the ground, and harass valuable customers as they approach the store . They hang out in the lots sitting and standing and block empty parking spots because they won't move. Trash bags hang from the trees in the parking lot where trash builds up from them. They can be seen pissing between the cars in the lot also. I won't let my wife go there and shop by herself anymore. Your security used to keep them out of the parking lots but I guess management there doesn't care anymore. If this doesn't change I will boycott your stores and tell my fellow contractors to do the same. Our vehicles are getting broken into right there in the lot.

Went on website and saw that if you ordered $45. It more that you could get free delivery to your home. So I placed an order and it totalled $60. I chose to have it sent to my home address so I would not have to drive the half hour plus each way. After completing the order i was sent a confirmation regarding my order. I saw that only 2 of my items are being sent to my home address and the other items were being delivered to the store I didn't want to drive to. I called to cancel the order two order twice and was told that the 2 items that were being shipped to my home could not be cancelled, some of the items that were being shipped to the store were cancelled, however a couple of store bound items could not. I would have to wait for them to be delivered to the store, call the store and cancel them and then wait for a refund. Last time I will ever purchase Anything else From Home Depot. !!!. When I called about cancellation the call advised to hang on after speaking to a Rep to take a survey. Both times I waited over 2 minutes and nothing. I guess they know if they don't disconnect the customers will eventually hang up and their Crappy service won't be judged

I have been a customer of home Depot ever since the store opened in Westerly Rhode Island, I spend over $10,000.00 per year in the rental department alone. On Thursday February 14 2019 I rented a dump trailer for a 24 hr period. We took the trailer to job, loaded and went to dump, the electric hoist went up only half way due to weak battery, had to unload concrete and broken block by hand. The trailer has a solar powered charging system so we went to job ,loaded trailer and went to dump,no power for dump cylinder. So we had to get a truck and jumper cables to get it to work.
I returned to home depot in westerly RI to see if they would change battery and be on my way back to work instead the tool rental supervisor had me unhook and put towards the sun ,saying "its solar charger and is weak due to bad weather, go inside and we will take care of it. Well I go inside and wait 20 minutes and the sales associate says he will be in to see what he can do , I replied you can refund me my money because the tools do not work, at that point he said the store manager would come down to take care of situation,
In the meantime ,another 29 minutes the rental supervisor come up and accuses me of making 4 runs with it because the GPS said so and also suggested that I overloaded it.1) I made two trips both unable to unload, 2) I have rented this piece of equipment more than 7 times this year and know how to load.
After 45 minutes the store manager Felix shows up, Attempts to intimidate me with glaring stares I will not be intimidated by anyone I told him to stop staring at me in that fashion and forget it and I will pay for it, And it has not even been 4 hrs He did not say one word to me, he continued to stare and then tell the associate to charge me $42.00 and walks away, NOT ONE WORD DID HE SAY TO ME.
Im sure you can review the video and make up your own mind.
Me and my company will no longer do business with Home depot,We are cancelling our charge cards as well as our employees and all Contractors in the area that i will share my experience with and lets not forget socual media, Home depot is there to help us work on compleating our projects not hinder them. Those were the last words i said as I left your store for the last time.
A very unhappy customer
William Barber
Westerly RI 02891

I am writing about a Home Depot policy that is, in my opinion, unfair to the customers. I purchased an Electrolux Washer/Dryer (over the phone from California) for my daughter in Austin. As you know, the purchase includes delivery & installation. I admit the purchase was a year ago, but my daughter hasn't spent much time in her apartment. The washer recently began to leak, and the dryer vent is clearly not hooked up properly, as her apartment steams up and "stinks" when in use. The units are still under warranty, so my daughter called Eloctrolux, they promptly came out, but told her the units were "installed incorrectly, the dryer shakes because it was never secured to the washer--(they're stacked))--the dryer vent is not installed correctly, and the constant shaking coud be why there's a leak." She then called Home Depot, and they sent out the company contracted to install--they would'nt touch it because it was "outside the 30 day period." As a building contractor for 40 years, I'm very well versed with these kind of issues. I agree that in most cases, if there was no leak for 30 days, one can assume the installation was done correctly, however, it's possible that the leak was a very slow drip, and took a long time to show itself, or perhaps the Eloctrolux technician is correct and because the dryer was never attached to the washer, the shaking caused the leak. That said, it's pretty obvious the dryer vent is not secured properly. Maybe there's a bad hose, or washer. Bottom line, as said, the Electrolux technician said it was installed incorrectly. We paid Home Depot to do the install, but their policy won't allow them to guarantee their work if over 30 days. As a licensed contractor, I am responsible for everyone I hire for 10 years if that employee or sub contractor does something incorrectly. So as it stands now, my daughter has to pay someone to un-install, and then re-install, when it's clearly Home Depot's responsibility. The customer service people I talked to admitted that this problem has occured before. I called a local appliance store--they said if we would have purchased the appliances from them, they woud've sent someone out to fix the problems immediately. This is clearly unfair to the customer. Please respond at your earliest convenience---
Thankyou,
Jerry Isaacs
(925)360-6074
mrandconst@aol.com

It takes 20 to 30 mins for someone to answer the phone. Then they ask you twice what did you say. Your service is terrible and it is a wonder you are still in business. Even when you get to someone thay transfer you two or three times before you can even talk. What a disaster for Home Depot.

Julia CottmanBey
from Philadelphia, PA
My complaint is with your delivery service they to not want to do their job. I have made three (3) purchases since September 2018 . Each time it was some made up problem. This time I purchased a washer on February 2, 2019 . Measurements were made correctly before purchase delivery person try to say they weren't returned product. I had a professional contractor do my measurements to make sure they were right said there was no reason my should not had been delivered. Already had two washers before , also a dryer that was delivered from your company. As a senior and long time customer it has caused me an inconvenience not once but twice. My space is 27cu ft.

rented small compressor an floor nailer in Bloomfield CT. Jan 29 2018 ..compressor waqs rented damaged cause as I brought it home an turned it on the on lever broke ........ Brough it back UR employees put it in the on position an gave back 2 me.. Finished the job, brought it back, was told I owe $300,00 dollars for negligence...What I can't understand is WHY U WOULD SELL A INSURANCE THAT CAN'T HELP U IFSOMETHING IS BROKEN...I BOUGHT INSURANCE AN IT'S NOT REVELANT ,SO WHY SELL IT AT ALL? OFFER THE OPTION TO COVER THE EQUIPTMENT UR RENTING .. SO BASICALLY I BOUGHT AN INSURANCE FOR NOTHING . IF I BOUGHT AUTO INS I HAVE OPTIONS INCLUDING WINDSHIELDS TO COVER ME IN AN UNFORTUNATE INSIDENT .U SHOULD DO THE SAME AN NOT BURDEN UR LOYAL CUSTOMERS WITH THIS BULL SHIT ..SHM IF U BUY INS U THINKN UR COVERED.....THIS NEEDS TO BER BROUGHT TO THE ATTORNEY GENERAL OFFICE OF MISLEADING PRACTICE.. CHANNEL 30 NEWS WILL GET A COPY TO LOOK INTO

I was at Home Depot Barnes rd North Conway n.h.today 2/6/2019 after spending over $250 dollars my wife and I stopped by service desk to ask a question about the policy of matching a competes price. The girl at the desk said it would be up to the manager,he said the item was not the same and my wife showed him the picture from Lowe's and his store he kept diving me differant answers and I asked if he was going to honor the lower price thr clerk stated to write the order and when I asked for the military discount he said I couldn't, get that I asked where in the store was a sign not giving the military discount I finally had enough of his shit and I told the clerk to stop writing the order the store help in great but th manager is full of himself I hope that you will address this mangers attitude

Vivian Keels
from Stamford, CT
This complaint is in regards to a door with an oval glass shaped design like a stain glass window in the middle of the door. I purchased a storm door and the door with the stain glass that had a five year guarantee. About 4 months after the doors were installed the glue that was used began to seepout onto the glass and from the start of this problem until now they have not come out to repair or even look at the door. Recently they said they can't send someone body out that I need to take a picture. However, I asked them to send a representative to look at the door and to take a picture because I do not have a smart phone. You have my permission to email Carolyn Cropper; ccropper73@gmail.com a copy of who can help us get the door repaired because my email is new, as a senior, I feel I am being taken advantage of and I have invested over $500 and also I spent quite a large sum of money for a heating an air system, for bathroom fixtures, paint and floor covering for the kitchen at my NC property. It is the Norwalk Home Depot store that is not resolving this issue and they are saying the contract has expired but I have constantly called them and waited half and hour to forty-five minutes to talk to someone. For further information I am located at 8 Lakewood Drive, Norwalk, CT 06851. Validation No.SV995 is my reference no.

Larry
from Apple Valley, CA
I was at one of your Home Depot 12218 Apple Valley Rd, Apple Valley, CA 92308 yesterday 2/2/19 and at the checkout I asked about military discount as I always do. Besides the great service when I shop there I like the fact that you give us a discount. I served one tour Vietnam back in 1972 and served two years in the Army because I was drafted. My point is that when I showed the person my drivers license it is stated Veteran. The person stated that I need a government issued card to prove that was a veteran. I have VFW, American Legion, and Amvets memberships. What I don't have is a government issue card. I am not a 20 year veteran where you would automatically have one. I would like to thank you for the time you have assisted me in a discount. Going forward I believe I will need to shop somewhere
Larry

My husband and I purchased an LG WM3700HWA washer on Tuesday, January 29th at the Home Depot Store in Greensburg, PA. We were told the washer would be delivered today (Feb 1). The delivery men showed up around 9:45 and although our driveway was plowed they would not come up the driveway because the truck was so large they would not be able to turn it around. My husband took his pickup truck down the drive way so they could load it on the back of his truck. They loaded the washer onto his truck, he brought the truck up the driveway and upon removing the washer from my husband's truck to bring it into our home the delivery men dropped the washer. They inspected it, and it was dented on the side and the front panel was bowed out in the center. My husband called the store in Greensburg and a washer cannot be delivered till Wednesday, 5 days from now. No apology was made.
Our first question is, why would Home Depot send out a truck to a residential area so big it cannot be turned around in someone's driveway? My husband was a plumber in business for himself and has fairly large delivery trucks come up our drive way that are able to turn around.
Secondly, I know these washers come from a warehouse in Sewickly which is about 30 miles from here, so is it not possible to have a smaller truck make a delivery the same day that this occurred to satisfy a customer which I might add has spent quite a lot of money at Home Depot stores in the last 10 years or more? I have a laundry tub full of wet clothes because my washer broke Monday Jan.28th and now no washer till next Wednesday Feb 6th?
And last but not least, what discount is Home Depot going to give us for the inconvenience your delivery men have caused us? Our laundry room is on the second floor of our home. We had to move living room furniture, furniture in the laundry room, lay down coverage for the carpeting so it wouldn't get dirty and now we have to move this all back and go through this again next Wednesday!

I have appreciated treatment as a military veteran of Vietnam receiving 10 % discount on purchases. This week at the Hwy 70 S store in Bellevue Tn. I was denied the discount because my card didn't show a service connected disability. Although it doesn't say on my VA card, I receive 60 percent service connected payment. Your associate was very poor in the fashion she communicated this new rule.
Thank You

Rose Neveux
from Harbor City, CA
It is literally IMPOSSIBLE for me to get in touch by phone with our local Home Depot in Torrance. I called and waited at least 15 min., then asked my husband to hold on a I had things to do. We NEVER got a pickup. I want to buy a $5000 PLUS walk in bathtub with jets. I was told to call 1 800 430 3376. Absolutely NO assistance from them. Finally today, I asked to speak to the store manager, but was told I would have to seek to an assistant. He. in turn, said I could always speak to a manager. NOT TRUE!! The Dept. reps NEVER pick up the phone. They most likely are out of reach. Can you imagine how frustrating this is to any customer? Look at our account--Leo Neveux. We have spent thousands and thousands of dollars over the years. We are 83 years of age. When we built an apartment on our R2 property, just about everything came from the Torrance store. TELL ME HOW DO I GET IN TOUCH WITH OUR LOCAL HOME DEPOT DEPTS. I truly believe you would consider some type of consideration, be it in immediate response or discount in addition to our military discount. PLEASE call me at 1 310 326 7411. Hopefully, you will correct the frustration when trying to call the Torrance Home Depot.

Laura Franchi
from Gulfport, MS
The entire shop/order/shipping was horrendous. Missing items, double orders. My refrigerator/freezer doors still scrap as it was never leveled. I have never received my new handle. Feet for the dryer were missing, so not installed. My oven light burned out in 7 weeks. Tried talking to mngt for mth, only to get excuses. No help, no follow up, no resolution. Lowes is quite happy to help me with my new house though

Customer service at this store is not helpful or cooperative. I purchased a Sam Sung microwave on December 16,,1918
Was delivered 12/20/18. Used it on 12/24 did not heat up. Repairman came 1/2/19, said to call n ask for another microwave. ( I had a service contract that I paid for on it.)Was told another purchase was needed $412 before it could have receive another one.
The money would be credited back, I have called several times going back n forth with customer service Home Depot. Was told today that it will be credited to me by 1/30/19. I had planned to purchases a refrigerator, washer n dryer n stove. They just lost my business. Was not offered any incentive to purchase again.
Thank you j

Louise Pfister
from New York, NY
If I could give less than one star I would. Both items delivered under order # WD52373549 were severely damaged and unusable. Both came in sealed boxes but had to be damaged by carriers. I spoke to Sara 1/22/2019 and arranged to have the tub picked up by a delivery service at 631-273-9032, but I am unable to reach them. I have wasted several days waiting for a delivery that was totally unusable and more hours trying to arrange returns. Yesterday, I returned the vanity to a Home Depot in Brooklyn, since as a contractor it is very expensive for us to have plumbers waiting for an item to be installed only to find that BOTH are unusable.

john broughman
from New Smyrna Beach, FL
Vet discount not given at Home Depot. Picked up 111.95 worth of material at Home Depot in New Smyrna Beach, Fl on Monday 01-21- 2019, went to check out and asked for Vet discount, was told that was not offered to regular Vets, unless wounded in service, or still active duty, than they showed me a plac card with a bunch of Vet identification cards on them and asked if I had one like those. I said no I only have my drivers permit with the V for Vet on it and I have my VA identification card. They said that wasn't good enough that I was only a regular Vet and didn't count. I said well, somehow I avoided getting my ass shot during my service, and there isn't too many 74 year old active duty out there, I will go to to Lowes where this isn't an issue and they recognize and respect Vets that have fought for this country and served in the military. And that's what I did leaving the material setting there and demanded a refund which I got from the service desk. Going to Lowes I got the very same items, plus a pint of stain, and gal of vinegar cleaner, and a box of cleaning pads for a total of 95.00 buck. I had no idea you prices were so much higher than Lowes.. Home Depot should be ashamed of themselves for decimating against any Vet, no matter what their status. A Vet is a Vet period, if they have put their service time in, (in my case, 7 years with Honorable Discharge, 2 letters of commendation for over and above duty), they should be given the discount same as Lowes policy. I can assure you, I stepped in Home Depot for the last time and I am posting this on FB and writing my local paper rant section. Of course the only thing that matters to Home Depot is that extra 10% from VETs THAT DONT COUNT.

Byron Terry
from Neenah, WI
Hello,
My name is Byron Terry and I am contacting you regarding a net order placed for a Kohler toilet
In August 2018. (#WD26144426 for $382.34). Paid by Paypal. It arrived broken but we were
unaware of that until it was opened for installation.
I picked up a seat at your local store and in a conversation at checkout the associate mentioned
I could get a quicker replacement by buying another toilet from the store which I did. This one
is the one I installed. He also set things up for a pickup of the broken one which took place a couple of weeks later. I was told my refund should show up in "3 to 5 days" after the pickup. Someone called
and asked that we tell the pickup people " don't return it to the store" and again assured me the refund would show in my account in "3 to 5 days" and asked where the refund should go; i.e., Paypal or credit card. I replied either one or whichever was easiest for her.
Twice over the next several months I called your customer service number and was told both times I would receive the refund in "3 to 5 days". I'm still looking for it.
If it matters, the broken item was delivered in response to the net order and charged to Paypal.
I believe I have been patient enough about this. This verbal "3 to 5 days" business is improper and should be rectified and explained. Please respond by email to byterry@gmx.us .
Byron Terry

THERESA SISLEY
from Madison, WI
I find it disgraceful that Home Depot has a new policy of not giving a veteran a discount on their purchases. These men and women fought and died so you could have your freedom and your rights. I will no longer be a customer of Home Depot since they treat our veterans so horrendously. The manager at your Sprague Avenue Home Depot in Spoke Washington is another example of a horrible business practice. He denied this veteran of a discount and stated it was new "company policy." I think you should fire that young man and make him an example of what customer service "is not."

JOHN A BAKKE
from Middletown, NY
AFTER 2 YEARS THE COMPRESSOR ON OUR LG REFRIGERATOR STOPPED WORKING (OCT.20,2018) A NEW ONE WAS INSTALLED BUT DID NOT WORK EITHER. AFTER NUMEROUS PHONE CALLS AND 45 DAYS LATER WE WERE REIMBURSED FOR THE AMOUNT WE PAID FOR THE REFRIGERATOR. HOWEVER, DURING THOSE 45 DAYS (THANKSGIVING INCLUDED) WE HAD NO CHOICE BUT TO USE COOLERS TO KEEP OUR FOOD PRESERVED, ORDER OUT OR DINE OUT. THIS WAS A TERRIBLE INCONVENIENCE. ALSO, IT WAS EXTREMELY COSTLY BUT WE HAD NO CHOICES. WE FEEL THAT WE SHOULD BE ENTITLED TO COMPENSATION IN SOME WAY FOR THE EXTREMELY LONG TERM LOSS OF OUR REFRIGERATOR.

Robert Kenyon
from Odessa, FL
I found Home Depot to be extremely rigid when it comes to returns. I had a Christmas gift that I returned to your 16121 N. Dale Mabry Hwy. store in Tampa, Fl. Since it was a Christmas gift, I didn't have a receipt. The store gave me a store credit for the amount of the product so that I could buy what I wanted. The product that I wanted was only available on line so I asked if they could order it for delivery to the store and I'd pick it up. I'd pay for it with the store credit. They said that I couldn't do that which totally dumbfounded me. I can't use this store credit for on line or at the store to get what I want. I can't believe that a retailer like Home Depot could be so non-user friendly. I've called twice and stopped at the store twice with no satisfaction. This is a $107.00 item and I can't seem to get it through Home Depot. I guess that's why people buy on line in the first place.
Hope this helps for future frustrated customers of Home Depot. I'll think twice before choosing Home Depot over Lowes or Ace.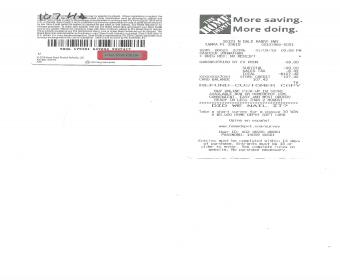 DANA ENGLISH
from Fort Worth, TX
Was unable to make $2000.00 sale because #0529 manager stated he was over budget and could not accommodate 12-18 month interest free sale. This is the second time I have requested to speak to him and he was unavailable or too busy. I was told that only your marketing department could send out special offers. They are dropping the ball!!!

kevin richardson 3315 McGuire Dr Richmond Va 23224 804-233-5022
from Richmond, VA
Home Depot installed a roof on our home and the warranty is still in effect and we have serious issues. I've called and talked to a representative but no one in the last 30days has come out. The roof is causing problems inside the house as well. I've sent them a picture of the problem still no one as reached out .Sarah Moore is our contact person and we have not heard from her.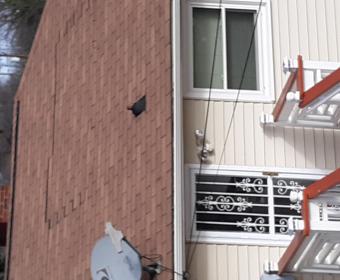 Have feedback for Home Depot?
Thanks for your feedback!
Sorry. Please try again later!