CVS
CVS Complaints Continued... (Page 2)
468+ reviews added so far. Upset? Call CVS corporate: 401-765-1500

Dennis Dorwart
from Vestal, NY
Concerning the vcvs on riverside drive in johnson city ny.almost every time i go there i have to hunt down someone to check me out.They are not even in the area at all many times.it is really bad and makes me very angry!!!!!

Steve Treichel
from West Chester, PA
I continually have problems filling prescriptions. I receive text messages saying prescription is ready and it's not when I go to pick up even hours later. When script is dropped off and promised in a certain time it is rarely ready and persons shrug their shoulders and say we are very busy. I may take my business els-ware!

bernadette lyons
from Mays Landing, NJ
I had called your main cvs customer number awhile back and never was sent my rewards that was promised me. I had been sick in the hospital
in may and I had $11 in extra bucks plus other cvs coupons and when I went to cvs to use them they would not honor them because they expired which they said was the policy. Customer service said they would send me new ones and I never received them. Now this time I thought maybe I would get better results if I emailed you about this new situation that maybe I would get results. This time I lost my coupon envelope with all my cvs coupons and most importantly my extra bucks rewards totaling $18! You can look back and see that none of these were used as you need my extra bucks card which they did not have access to. I hope you will be able to send me the money that is due me. I am a very good customer and I do love cvs. Also I have no complaints about the cvs here. They treat me well. My extra care card is 9 12065 42156 3. Would appreciate hearing from you soon. Thanks!

Donna Cannon
from West Palm Beach, FL
I understand there is an opioid epidemic. However, I absolutely did not deserve the rude behavior of the pharmacist when I tried to get my prescription for a narcotic filled today. I have been sick for 2 weeks with pneumonia which has left me with pleurisy in my lower left lobe of my lung. Not that this was any of the pharmacists business but he asked why was I getting this medicine, stated I would need to see a specialist before he would fill anymore medicine of this type and then rather than attempt to fill the prescription in a timely manner, he states the prescription won't be ready for 3 hours. I want to add that I had been in the hospital for 2 days with this problem and when discharged was given the same medicine with a quantity of 12 that if taken as prescribed would have lasted 3 days, mine lasted 5. I absolutely do understand about the drug crisis in our country but feeling like I was lumped into an addict category was absolutely not necessary. I would like to add that if HCA Corporation did not have a prescription contract with CVS, I would never do business there. A pharmacist has a job and that is to fill prescriptions that a licensed physician has written. If they want to be a drug counselor, I suggest they change their line of work. The pharmacy in question is located at 1301 N. Dixie Hwy, West Palm Beach FL. The time this occurred was at 0915.

Wanda Keagle
from Cookeville, TN
11/26/2018- I was contacted by CVS pharmacy stating all eprescriptions needed my supervising MD's DEA number. This was applied to each prescription.
I was contacted by my patient that he was waiting x 2. 5 hours for his prescription at the pharmacy because the prescriptions has been sent in incorrectly x 2.
I had not been contacted by the pharmacy or the pharmacist.
I called to speak with the pharmacist and spoke to Kisha Bartholemeu. SHe was not very helpful and very condescending about how to get the problem resolved.
she stated all of cvs has implemented a new system and they could only fill my controlled substance prescription with the box. The prescriptions had all been placed with my supervising physician and his dea number in the directions for the medications. She stated she could not use this and was not going to fill these prescriptions.
When I asked her how long she has worked for cvs she states that is none of your business.....
I don't appreciate poor customer service from a professional.....

Arlene LoMastro
from Ridgewood, NY
Very disappointed. Three trips, still no CVS gift cards! No boxed Christmas cards, no fleece blankets for me to give to the animal shelter. Lately not much of anything about except CANDY! Told one of the many different daily managers, she replied, "there's another CVS on Fresh Pond Road! Why would I get in the car and drive to that store when I can walk two blocks away from my house! We need this store! What's going on? Maybe it they had the same manager on a daily basis, they'd be able to keep on top of things and things would be better. Thank you for your time.

Jacalyn Rumick-Mathis
from Cape May, NJ
I received a 30% coupon in the mail. I went on a shopping trip to my local CVS in North Wildwood, NJ on 11/21/2018. I have used these coupons before & they were wonderful opportunities to stock up on items. Apparently, calculating the 30% is now only on non-sale items a result, I paid almost $10.00 more than I would have if I did NOT use the coupon. I am attaching the receipt for your inspection. May I suggest that you allow sale items that are less than the coupon-discounted price be excluded from the 30%-off-original-price. For someone like me, that would have saved a lot of money. I'm thinking of returning the items which cost me more using the coupon than not; but my time is valuable and I would only be doing it because I am so angry. Kindly respond so I don't think that CVS is just another chasing-profit-over-people chain store

Frederick Seibel
from Greensburg, PA
Today I was refused a Vaccine, was told my insurance company was the issue. Left your store and went to Rite Aid and had no problem getting my Vaccine. this tells me there is a problem at your Grensburg store, zip code 15601.

Betty Petersen
from Poulsbo, WA
Today at 8 a.m. we entered the Poulsbo, Wa. CVS store. First customers in the door by the way. So, going to get the coffee that is on sale for K-Cups, there are NO products on the shelf. I am so discussed with this store. NEVER has the sale products we are looking for from the ads. I've been in there at least monthly to shop and only a limited number of products are even on the shelves. I can see why the parking lot is empty most of the time when I drive past.
If the sale add comes out on Sunday at 8 a.m. I would think the products would not have been sold out. You can count on me not ever stepping foot in the store again!! If you had a "0" rating then I would have clicked that. I will take our business to Rite-Aide, Wal-Mart, Safeway and Walgreens. I sure feel badly for the clerks and manager....they get the brunt end of customers that aren't happy!!
Betty Petersen
PO Box 443
Suquamish, WA. 98392

Rana Stewart
from Stockton, CA
Practically every month there is a delay with refilling one of my prescriptions, specifically Protonix. I have a yellow dye allergy and can only take the white or pink pills that have to be special ordered every month. To better meet my needs, I think that the order should be placed very early. Other meds are filled in a timely fashion. The thing that pisses me off the most is super expensive medications like Carafate and Janumet are filled regardless of me repeatedly taking them off of automatic refill, calling in and repeatedly telling the pharmacy not to fill it, and speaking to individuals in person telling them not to fill these medications until I request a refill. I know there is an enormous greed for money, but it's unethical to ignore my requests regarding these medications every time they are "ready for refill" just so CVS can make a profit. I also informed CVS that I would be leaving town on Wednesday, November 14, 2018, which is why they got two of my other medications ready quickly. Because of this unnecessary delay, my trip is delayed and may not happen at all as I'm depending on them to get this medication I should already have. I have chronic asthma and cannot be running back and forth especially in this dangerouse smokey air to retrieve medication every other day. I have severe acid reflux and cannot suddenly stop this proton pump inhibitor just because CVS doesn't think ALL prescriptions are important. If I have any stomach related issues as a result of CVS's negligence in not filling my medication before I run out, I will pursue legal actions.

My Hoa
from Redwood City, CA
Should CVS and clinics work together interdisciplinarily?
This is my second time that I experienced being stuck between CVS and my clinic. A few weeks ago, my prescription for special CVS was sent to the Sequoia Station Redwood city mistakenly. Instead of calling my clinic to inform them to send the prescription correctly, employees at Sequoia Station RW shirk their responsibilities to patients. Then I had to write an email to my clinic. My clinic just said that they have sent out their prescriptions. After calls and emails between CVS and clinic, I finally had my medication.
Last Saturday, I gave up my request of filling my medication. I was told that I can pick it up on the next day. My husband came to the Sequoia Station today and he was told that the medication can be filled up in 20 days. The employees did not voluntarily call the clinic to clarify the dosage I needed; as prescribed by my doctor, I have been injecting three times the typical dosage. Should the Pharmacy and the clinics talk to each other when problems happen? Why as a patient I have to stand between the mistakes of the clinic and CVS ignorance?
I wish that CVs and clinic train their personnel frequently and correctly how to do their jobs.

nancy OSBURN
from New Port Richey, FL
On 11.9.2018 my husband Larry Osburn, went to have a script filled for a replacement freestyle libre at the CVS on Rowan Rd and Rt. 54. Megan approached and complained she did not know how to do the free replacement and huffed in disgust over having to fill this script. Another tech approached and was able to assist my husband with professionalism. Normally, when we are at this CVS we have a great experience. If Megan is in customer service for CVS, she does not belong in this position

Robert W. Myers
from Liberty, SC
CVS 118 Main St. Liberty SC is where I get prescription medicines. I had 2 refills in early October, 2018 and the other 8 medicines refilled on October 18, 2018. Ever since, I got these refills (all but one was for 90 days) CVS Liberty's computer has been calling me every day telling me that I have a medicine needing to be refilled or wanting me to put my medicines on automatic refill. I have never and will never put these on automatic. You need to find out what is wrong with CVS Liberty's computer and fix it.
PS CVS Liberty SC can't seem to keep me wife's prescriptions straight either.
If things do not improve very soon you will be losing three(3) customers ( Robert Myers, Mary Myers, Alex Myers)

Sandy Sparks
from Bluffdale, UT
I was trying to pick up a prescription for your store on 1204 E Lufkin Ave, Lufkin Tx. on November 11, 2018, while
encountered one of the ruddiest clerks in your pharmacy department that I am amazed how little she appreciates
a good job with a wonderful store. I had gone to your store on Wednesday November 7th in the afternoon because the other CVS on Frank Street checked and the store on Lufkin Ave had in stock the medication my bipolar son needed was in stock, and the prescription said name brand only. Dr Buttar was the Doctor.
The clerk was a black lady who has a real attitude and superiority complex. She glared at me, tried to intimidate me with another white clerk
looked on with unbelief. I explained the other store sent me and asked to see the prescription which she would not show me. The reason I wanted to see it was because she wanted me to take a sunstitute but my son cannot take the subsitutes as this store has made me before get a fax from
my doctor before. I am a senior and have had CVS for many many years,But talking to other friends they told me preferred Walgreens because of the personnel at CVS, No one should be subjugated to those kind of insults. Just thought you should know as you are losing a good customer.
Raising eyebrows and haughy attitudes have no place in a pharmacy ,Insults we dont have to endure as you do have competition.
I tried to find the store manager but the employees were in a group discussion and I waited for a while but then left. I am not predujudice, as many of my friends are multi nationalities. I am a Christain but think you should know respect cost one nothing, but disrespect can cost the company
who pays then loss of good customers. Thank you. Hope you consider having her evaluated and talk to those who work with her as the
were not pleased with her demeaner. The pharmist was so nice and told me he would fill the prescription and text me . I will only go to the drive
in window to pick it up. Thank you . I have owned several companies and never toloerated attitudes that were a reflection on the company.
Ny sons name is Richard C Adkinson, date of birth 3-17-65, for your reference. I don't have the copy of the prescription as she would not give
it to me. I am my sons guardian as he does not always understand except that he has to have name brand. She said she could not and would
not give me copy of the prescription. I explained it was dropped off by his driver who forgot to bring it to me. I am very inconvenienced by having to go back to the other store to get it. My time is important too.
I sincerely believe in customer service. Your other employees are very good. They say, " May I help you", they smile, they listen, and they
say thank you . They don't leer and insult. It is obvious that she was in a racist combative mode.
Thank you.
Sandy Sparks
4410 Hwy 59 N
Lufkin, Texas 7590
713 793 5088

michaelJohnson sr
from Douglasville, GA
On Nov.6 went in to pick up medicine had a conversation with associate about medicines I wasn't taking and to have them remove from list. On arriving home I look in bag to find one of the meds I had taken off. Return to store to inform them of error Pharmacist inform me that its my fault that I received wrong medicine. Pharmacist name Shenna doesn't know that you can remove unwanted medicine thru your computer system and told me I was impossible to do that. She apparently needs some retraining. And manger on that shift wouldn't give me her full name to put in report and I thought that was wrong. Unprofessional all the way around

James Crace
from Scottdale, PA
Medications out of stock, come back tomorrow. Opt for automatic prescription refill, get placed on phone list for multiple phone calls each week for advertising (harassment) purposes, no other benefit. Pharmacist assumes that they are better educated and talk down to the customer, Cashier determines that since you are reading the agreement form before signing that you are confused/senile/stupid and uses baby-talk to communicate. Medications are miscounted/shorted to require more trips to pharmacy to encourage more purchases, Trips to local doctor's offices include discussions with other patients and receptionists concerning how horrible and frustrating it is to fill prescriptions at CVS. Talk to store manager concerning problems, receive politically correct groomed response that they are sorry and will address situation (resulting in no change to future visits). Call 1-800-SHOP-CVS on multiple occasions to polite individual who states that an area manager will call to discuss problem which is followed by lead pharmacist at problem store calling to cover for their own protection (will something be done??? Doubt it! Nothing has been corrected over the last 6 to 8 years). Only TWO successful, pleasant experiences during the 6 to 8 years (pleasant - referring only that I received the medications requested and the cashier/clerk did not insult or harass me, whether it was correctly counted - yet to be determined), CVS negotiated a sweet deal with my former employer (I am retired now), which locks me in, for now, to a frustrating, infuriating situation. As for the free consulting service, having a monotone voice reading a script that "all diabetics will eventually be subject to limb amputation and organ failure" is not a helpful service, and asking questions is only answered by "you will need to speak with your family physician" is a complete waste of time. I do not wish to be randomly called during dinner to listen to 30 minutes of unresponsive monotone gloom and doom. It appears that the goal of CVS is to force me to make repeated trips to their store to buy products other than my prescriptions (accomplished by not filling my prescriptions, miscounting, claiming the doctor needs to update the prescription, calling me will the latest sale item, not having the prescription ready after 3 hours when they offered that it would be ready in one hour). What is my recourse??? Evidently nothing!! I have been enduring the harassment for years!!! I am glad that the old pharmacist that started this FIGHT has finally retired!!!

steven malinowski
from Easthampton, MA
since you cut back on help in the northampton,ma. store on king st. in the drug store, you service really SUCKS! can not get prescriptions filled on time and that their always wrong! when you go pick them up ,theres a 15 to 20 minute wait , even tho they were called in to be order week before! HIRE more help and get your ass out of your head!

BELINDA DRINKARD (201)618-8360
from Jacksonville, FL
ON OCT 26TH 2018 I VISITED YOUR CVS PHARMACY#3106(1625 FORACKER ROAD)TO HAVE MY PRESCIPTION FILLED WHICH I HAD JUST RECEIVED FROM MY DOCTOR.I HANDED MY PRESCIPTION IN AT THE COUNTER AND SAT DOWN WAITING FOR IT TO BE FILLED,AFTER ABOUT 10 MINS I WAS TOLD THAT ONE OF THE MEDICATIONS WAS OUT OF STOCK(XTAMPZAER).I WAS NEVER TOLD THAT THE MEDICATION WAS OUT OF STOCK UNTIL 10 MINS LATER.WONDERING WHAT WAS HAPPENING,I WAS TOLD BY THE PHARMACIST THAT THE ONE MEDICATION COULD NOT BE GIVEN WITHOUT THE OTHER,I LEFT THE CVS TRYING TO GET THE MEDICATION FILLED ELSEWHERE BUT COULD NOT FIND THE MEDICATION.I CALLED MY DOCTOR AND EXPLAINED THE SITUATION AND THEY TOLD ME TO RESPOND BACK TO THE CVS PHARMACY,ONCE THERE I SPOKE TO THE PHARMACIST AND HE STATED THAT ONE OF THE PRESCIPTIONS COULD BE FILLED(HYDROCODONE).THE TECH AT THE REGISTER TOLD ME THAT BOTH MEDS WOULD COST$15.00.BUT INSTEAD OF RECEIVING BOTH MEDICATIONS I ONLY RECIEVED THE ONE MEDICATION(HYDROCODONE),I OVER HEARD THAT THE MEDICATION (XTAMPZAER) WAS JUST THERE ,FOR SOME UNKNOWN REASON I WAS PASSED OVER IN GETTING THIS MEDICATION?THE TWO MEDICATIONS ARE FOR CHRONIC PAIN AND I NEED THE MEDICATION.I FEEL IT VERY DISTURBING THAT PHARMASITS PICK AND CHOOSE WHO CAN AND CAN NOT GET PAIN MEDICATIONS.ALSO ME AND MY HUSBAND HAD TO DRIVE AROUND FLORIDA TRYING TO FIND THIS MEDICATION THAT WAS AT THIS LOCATION ALL ALONG?WHY WAS I NOT GIVEN THIS MEDICATION?VERY DISTURBING AND DISHONEST PRACTICE YOUR PHARMACY IS INVOLVED IN,PICKING AND CHOOSING WHO GETS MEDS AND WHO DOES NOT. WILL BE CONTACING THE CONSUMER AFFAIRS COMMISSION ABOUT THIS MATTER.

Margaret Finn
from Arverne, NY
Visited CVS Pharmacy today to pick up prescription for my husband, Luke, following a call from the pharmacy on Monday to tell me the prescription was ready. There was nothing ready. Only one of the three-packs of Advair was available. Since my husband needed the Ardvair in a few days, I was advised to take just one and pick up the rest later in the week. However, on checking out, I was charged $95.00 for one. The previous time I picked up this prescription it cost $196 for three, meaning I would now have to pay about $300 for three. Unacceptable. On the advice of the Pharmacist I agreed to wait until CVS could obtain one from another pharmacy - the nearest alternative CVS is far from my home. I now await a call to tell me I can pick up the full order. (Survey ID 2461 5185 5650 376 28).
I was helped by William, who went to great lengths to assist me.The Pharmacist on duty was also helpful - or as helpful as he could be in the situation. Stars only for their help.
Why aren't the shelves in this particular pharmacy checked to ensure all items are available. I had occasion to purchase Ensure for my husband to week ago. The shelf held only a few and no Milk Chocolate or Vanilla which my husband prefers, and no multi packs. The Manager disappeared for a while, supposedly trying to find some for me. He did not return, and the next thing I knew he was at the front door counter assisting other shoppers. Obviously, as is often the case, not enough help. I returned a week later - same situation. Again I spoke to the Manager. On my visit today, I did not check the shelf. Some time ago I tried to purchase Zantec - none on the shelf.

dorothy blackman
from Delray Beach, FL
I CALLED IN A REFILL FOR A SCRIPT THAT HAD NO REFILLS LEFT, MACHINE SAID IT WOULD BE READY BY TODAY...HADNT HEARD SO I CALLED ...SPOKE TO PHARMACY AND WAS TOLD DOCTORS OFFICE HADNT RESPONDED...CALLED DOCTORS OFFICE.., THEY CHECKEDTHEIR RECORDS...NEVER GOT A REQUEST FROM CVS... THIS HAS HAPPENED ON ATLEAST 3 OTHER TIMES...SERIOUSLY THINKING ABOUT CHANGING TO ANOTHER PHARMACY. I ASKED THE PHARMACY TO CONTACT DOCTOR AND WAS RUDELY TOLD I HAD TO DO IT BECAUSE THEY ALREADY HAD. NOT HAPPY!!!!!

Robert Wolan
from Chicago Heights, IL
I received an email yesterday for a $5.00 off coupon. I had it sent to my extra care card. I had no intent on going to CVS today but because I received the coupon I went with my friend to use the coupon. I chose a Loreal product because I had a 40% off Loreal coupon also. This transaction should of took a minute to purchase but the supervisor said they could not take the coupon because there was no bar scan code on your coupon which came out of your coupon machine. I printed more coupons from your machine but the $5.00 coupon kept coming out with no bar code. I was told both of your workers are supervisors. Their names our Laura and Deon. Both women. I was told by them to call your CVS number. Which I did at the store. Total time I spent on my phone was 45 minutes in your store. Total time in your store 1 hour. Trying to get my $5.00 off coupon to no avail. I spoke with Whitney at your customer service number. She told me. She wanted to talk to the supervisor. I told the both supervisors and the supervisor said she could not talk to her. Laura and Deon said for customer service to call them. Whitney from customer service said She was not allowed to talk to them. Whitney from customer service said She could send me $5.00 extra bucks to my card but it would take up to 4 hours for me to receive the coupon. I said now you want me to wait or come back in 4 hours. She said yes. These people are not in touch with the customers. Like I have nothing better to do then wait 4 hours now. And by the way Its past 4 hours and I never received the $5.00 extra bucks as promised. Laura from CVS said they are losing CVS customers because of these problems with the coupons and then when I mentioned that She retracted and said she never said that. Unless this is rectified and resolve with a gift card for all my trouble today. You have lost two customers me and my friend. I have been a long time loyal customer for decades. I feel as a customer. They are disrespecting me and my friend and treating us like our time is nothing. Remember this transaction should of taken a minute. This has effected my whole day. I don't like that you altered my day in such negative way. I believe those supervisors could of over rided that coupon with the number to the left that was on that $5.00 off coupon. I don't know if this was a prejudice thing because your one supervisor Laura was yelling in spanish. I hope not. Contact me. I will only talk to one of your corporate headquarters person.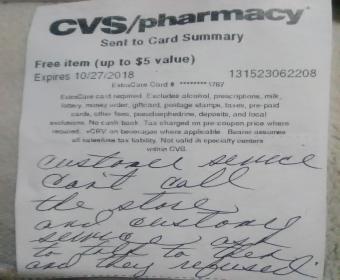 mike turley
from Los Angeles, CA
Dnoctor faxed perscripion wensday checked wedsday night went to drive through they said come back in 15 minutes came back after 30 minutes
still wasn't ready asked them to call no call Thursday Friday morning still wasn't ready worst service I have ever seen Pharmist said people have waited longer than3 days please do not send me any more of your garbage and lies on the enternet onily reason you get 1star is the onily way could
complain minus 5 stars cvs pahrump

Teresa Holland
from Scottsville, KY
Went to CVS pharmacy in Franklin KY on Tuesday October 16 to pick up my blood pressure medicine.Was told they was out waited till Thursday October 18 went back to pharmancy was told still out of my blood pressure medicine have brrn out of my medicine since Tuesday the 16.Was told it would be there Friday 19 so i went back to pharmancy on Friday guess what no blood pressure medicine they say it will be Monday I live in a different county and have to work still have to use this pharmancy.So i have a doctor appointment on Monday just as soon as i get off work so can't pick up medicine if it is ready.Not getting my hopes up to much im sure other people use the same medicine as i do .Who is going to be responsiblle if something happens to someone.

JOHN BOLDS
from Springfield Gardens, NY
On Sunday 10/14/18, your store at 206-09 Linden blvd Cambria hts, ny 11429 was scheduled to open the pharmacy at 9am. At 9: 15 the pharmacy's with the only key arrived and was rude to several customers waiting on line and indicated that he was not concerned with his lateness
or our wait. This store is dirty upon opening and management is sub-par. If prescription are complete (short) the customer is not always informed.

Jeanetta Lane
from Petersburg, VA
Yesterday around 2:21 I went into store to get new eye prescription. Upon finding out the drops was much higher then the prescription I was taken and told Dr. not to fill until I contacted my eye doctor again. Went home and call only to find by doctor yes med should be $30.00 for 3 bottles not $30.00 each. I called the Pharmacy back talked to David which I recognize his voice from seeing in the store before and proceed to tell him what Dr. had told me about the medications. DAVID yelled at me like I was a DOG. He yelled saying he does not know why these doctors are telling patients the cost of medicine and that they should not be. He still yelling - your medication is $30.00 for 1 bottle and not 3. I was in shock that all is said was "Thank You". I waited until I calmed down and spoke to another guy name David put in complaint & he promise that Spv. will call be back today which I have not gotten which I would have expected by name. Thank you Jeanetta

Delbert Perry
from Columbus, OH
To Leadership and the Board of Directors for CVS. Store is located at 2532 E. Main St. Columbus, Ohio 43209. On or about September 25th I had the most disrespectful, in humane, prejudice and to some extent racist experience ever in all my years dealing with CVS. From reading your website and other customer comments which are mainly complaints I too will add to the hundreds CVS has received just on CVS.COM Website. I still must check the BBB and other Social Media Sites around the Nation. I see I am not the only one that has suffered from the breaking of CVS' Code of Conduct, Corporate Integrity Agreement Policy, Diversity and Ethics and Human Rights Policies and Procedures per CVS' own mandate. Upon reading CVS' own Code of Conduct, Corporate Integrity Agreement, Diversity and Ethics and Human Rights own mandate and Policy and Procedures it seems as if CVS enjoys practicing the opposite especially for people of color and who are not white or caucasian.Is this the type of culture you are breeding in your store employees? My thought process is to exhaust all of my efforts in trying to resolve this is issue and to get answers I have initially asked the store manager, the District Leader REX, and Regional Leader Sarita before any Civil matter is brought up. CVS employees hired for these positions need to be let go or demoted or be involved in continuous training so CVS does not receive any more black eyes. Additional training is definitely needed and not just at the Bexley location. They need Cultural and Diversity training on top of some sort of Communications course when conversing with customers who have been going to CVS for years.
On or about September 26th, 2018 at 3:45PM I had an office visit with one of my Pain Doctors Dr. Jennifer Sullivan at the Riverside Office Location. I explained my situation with Dr. Sullivan (which I will no longer share due to HIPPA Privacy Act with the Pharmacy Techs and Pharmacist. I used to do this but will no longer moving forward). Dr. Sullivan agreed to fill my Pain Medication (Oxycodone 10 MG) 2 days early due to a very severe pain ailment which I just had surgery for October 5, 2018. The reason she did this as a favor for me is because I do not have a history of filling RX early and because I do everything my Pain Doctors say especially when it comes to taking Opiod pain rx. I have Long story short Dr Sullivan had her staff call in my pain medication and okayed it for me to pick up early, however when I called CVS to see how long it would take to pick up my Allergy RX, my Gabapentin, Epipen, and Oxycodone I was told (3) three were able to pick up in an hour or so but that my Oxycodone was denied by Dr. Sullivan. This seems to be a common occurrence so I have learned to always call CVS to make sure they have my proper Prescriptions and to receive time of pick up. I turned around and went back to the office as my pain doctors office was closing. I was able to catch Dr Sullivan and her receptionists and staff on hand. I explained how the CVS Pharmacist told me that she (Dr. Jennifer Sullivan) denied my refill for my Oxycodone. Dr. Sullivan told me that is not correct and that she would call personally to make sure the CVS Pharmacist knew it was okay to fill (2) two days early. So I thanked her again and left to go to CVS in Bexley. Now mind you my blood pressure is through the roof and my pain levels way past 10 dealing with serious nerve damage issues, a left shoulder injury, herniated discs and wisdom teeth needing extraction. Dr. Jennifer Sullivan told me to my face 3 times that she would do this once because of the pain I was in since she and her partners are the main people in my life I have to help manage my pain. Not a CVS Pharmacist or Pharmacy tech. Their job is to basically count pills and put them in a bottle for the customer. I knew nothing about a law where a Pharmacist could override a Doctors request even though a Pharmacist is not a Doctor nor do they sit in on visits. I am seeking to also get that law amended as we speak. Pharmacist have a license I understand, however they are not doctors or nurses and Pharmacist do not have a license to lie to the customer/patient.
I arrive to CVS Bexley and am told by one of the Pharmacy Techs on duty (Desiree) that only (3) Prescriptions are ready for pick up and that my Oxycodone was in verification. After waiting for 15 minutes at the drop off area I was told by that male Pharmacy Tech that my Oxycodone was denied. I asked why? I was told my Dr. Sullivan denied it. I explained that it could not be because I spoke with her two times at the Office and she okayed it for me both times. I asked them - "So what you're telling me is that my doctor lied to me to my face two times" and all I received was a shoulder shrug from the white male pharmacy tech. I was clearly in pain and upset at this point but I kept my cool. I was never asked about my four day supply of Tramadol my Dentist prescribed me thinking maybe it would help my exposed nerve for my top left tooth where my partial filling fell out a few months earlier. I asked the Pharmacist what the issue was and was told they could not refill it due to the Tramadol and interaction with Oxycodone and that my prescribing doctor denied it. Even though the Tramadol which was way past expired at this point because it was filled September 17, 2018. So doing the math you go from 17, 18, 19, 20, lets say even September 21. How in the world is there concern for drug interaction if there is no drug to interact with? I was so confused and the Pharmacist and Pharmacist tech did not explain any of this to me until the next day and then finally told the TRUTH to me the next day that the Pharmacist OVERRODE MY PAIN DR. JENNIFER SULLIVAN. Dr. Sullivan did not lie to me as CVS Pharmacist and Tech led me to believe. I took certain steps and drastic measures and almost could have ruined a great woman and a great doctors career based off of a lie from your employees in the Pharmacy Department told to me. I made a formal complaint, I've spoken to REX the District Leader to no avail. This white man had the nerve to tell me how I should and should not feel after explaining everything to him. I told him I feel there was prejudgement going on there so therefore some sort of Prejudice was taking place. He said: "Oh, NO, NO, there's nothing like that going on there and you should not feel that way buddy." I replied First we are not friends buddy. Secondly you did not go through this situation so please don't tell me how I should and shouldn't feel ." Well needless to say Rex and I spoke on or about Monday and he asked what I wanted him to do about this issue. I was in shocked and appalled. You mean to tell me, REX, that you hold this position (District Leader) and do not know how to correct or lead your team? You seem like you do not any parts of resolving conflicts and complaints? That is just basic business 101 in College I know because I have degrees in Business both Associates and Bachelors, working on a Masters. Rex really seemed clueless or he just didn't give a damn. So to help REX the District Leader do his job I explained that I would like an answer from the Pharmacy Tech as to why I was lied to by the Pharmacist. The Pharmacy tech Desiree should receive some sort of write up or punishment even though she was just following orders blindly her superior. I wanted to know why if the Pharmacist felt the Tramadol would be an issue then why wasn't this brought to my attention like a few other times even though the date on TRAMADOL was 9-17-18. It would not overlap my new refill for my Oxycodone at all but this conversation wasn't had and was not brought up AT ALL. Only the next day after I called (on or about September 27th between 8:30AM - 9:30AM did the truth come out about the Pharmacist on Duty Wednesday, September 26, 2018 OVERRIDING my Pain Doctor and denying my refill. I want to know REX why they lied on my doctor to my face four times and did not uphold their Code of Conduct, Diversity, and Ethics and Humans Policies and Procedures set in place per CVS? I will not go further there is more but this is the main crux of the problem. I will be patiently for some sort of phone or email correspondence from the Leadership of Board of Directors since it seems your Store Managers, District Leaders, and Regional Leaders do not want to hear or entertain customer complaints and want to tell us the paying customer(s) how to feel. I am worried this is not the only time or customer this issue has happened to. I will make sure this does not continue at this much more affluent CVS. I think I was unfairly discriminated against due to my race, age, and disability, and that is awful. I hope to hear from someone with REAL POWER and AUTHORITY by next week. If not I will seek legal recourse for my pain and suffering due to negligence on your employees behalf.
Respectfully Submitted by Delbert (Del) Perry
Phone: (614) 318 - 5603
EMAIL: delperry82@gmail.com

Virginia Jackson
from Chicago, IL
Yes I've been a CVS customer for Quite some time now but as of today no longer !! will I spend my hard earned money at an establishement that treat their customers with no respect that are LAZY raise. Their voice roll there eyes so I went to the cvs pharmacy at 1002 busse rd in mount prospect and I encountered the rudest cashier I tryed explaining a insurance situation and asked her if she could call cigna so I wouldn't have to keep repeating myself for the simple fact I just had major surgery two days ago and I'm not feeling well but she didn't want to I mean that is part of her job I don't know what her problem is but I've never had such a horrible encounter with someone that works with sick people .anyway her name is SHWETA her #is1237782 she needs to be held accountable for her very rude conduct it's reprehensible the way I was spoken to Thank you former CVS Customer!!!!!!!!!

E J Moore
from Fort Lauderdale, FL
Request to fill potholes in parking lot of CVS store located at 645 University Dr in Coral Springs, Florida.
We are a county agency and have received the complaint from a motorist named Nicole - (954) 994-
8853. Nicole reports that there is a pothole in front of the parking space in front of the Subway restaurant
located in the plaza. The Broward County Property Appraiser lists CVS as the owner of the plaza. Kindly
contact Nicole to address the issue raised. Your assistance would be greatly appreciated.
E. J. Moore
Broward County Highway & Bridge Maintenance Division
1600 Blount Road, Pompano Beach, FL
(954) 357-6040

Maria Anne Kinney
from Albuquerque, NM
I have not said anything for a long time until now because I was worried that nobody would believe me or care, OR tell me "Its __________. They make the rules." I have been using CVS #7373 at 3011 N. Main St., Las Cruces, NM 88012, since January 2017. I don't mean to bag on your store or its employees, but I am concerned about the way certain pharmacy employees have spoken to me, treated me and worst of all, lie to me. Because I have a few incidents that I would like to explain, I will start with:
1. In January 2018 my insurance (Molina Centennial) removed my daily pain medication from their formulary and left me no choice but to ask my mother like a child if she could pay for it. She had paid for this medication every month since January 2018 (Methadone HCL 10mg tabs #120/30 day supply). During the course of 2018, I have had to pay out of pocket for the Methadone at different prices every month. Most of the time it was approximately $48.00; another time it was only $6.50. I've also paid $20-$30 dollars also for this medication...which is always the exact same brand and amount, yet I am constantly charged different prices for it. I have been using a CVS pharmacy discount card, but there has been three times since January that when I presented a new pharmacy discount card to help to pay the out of pocket cost for my Methadone-I was told one: "We don't allow people with insurance to use these cards", even though my insurance was NOT covering this medication and I was NOT using my insurance. Two: I was told that if I wanted to use the benefits of my pharmacy discount card that I would have to come inside because they "do not run discount cards at the drive up/pick up window." And three, I once reminded the employee ringing me up that I had a discount card on file, and he told me that he had ran the card...but the price was nearly $48.00--the most expensive cost number for this medication. On August 14, 2018 I went though the drive through pick up to purchase my monthly supply of Methadone and was initially told that it would be around $48.00. Luckily the actual pharmacist was the one helping me and when I presented an 80% off pharmacy discount card good for CVS, even though I was in the drive through, he ran the card for me and lowered my out of pocket cost from approx. $48.00 to $6.30. As I write this complaint I do wish to also mention the times where some of your pharmacy employees are exceptionally helpful and nice. It isn't ALL the time that I use this CVS that I have problems, but when I HAVE had problems, some have interrupted my continuity of care, cost me hundreds of dollars of out of pocket costs that I have had to ask my mother to buy. I have an incurable genetic blood disease called Porphyria, which is extremely painful and I also have some autoimmune disorders that all together cause many symptoms that are usually helped by the variety of prescriptions that my one physician provides as 'palliative care'.
2. I have counted since January 2018, four times one of my schedule 2 or 3 medications was missing a few pills from the bottle. I generally don't count pills, but then some months I was mysteriously coming up short by a day or two of doses. I didn't assume the pharmacy was responsible until I began immediately counting my schedule 2 and 3 medications, and I have found four times 3-4 pills missing from 4 bottles. I called about it the first time I realized this, but of course there is NO WAY I can absolutely prove that I was shorted pills once I left the pharmacy. I'm sorry, but I do not feel comfortable going inside to pick up ANY of my scripts and I rarely do (I use the drive up) and holding up the line to make the pharmacist count my pills in front of me. It also violates my privacy. I shouldn't have to ask anyone to count the pills, it is their JOB to correctly dispense the correct amount of pills. Due to one month of not having two days of my Methadone, I started having withdrawals which triggered a Porphyria attack and I was hospitalized for three days.
3. I have one medication (Dexedrine ER 15mg capsules) that I have trouble getting filled EVERY time I hand it in. I have been told that there wasn't any in stock and I would have to get the pharmacy manager to approve a special order that would take a week or longer to get the medication. That month (June I think) I had to fill this script at Walmart pharmacy (the worst pharmacy ever...you guys are platinum, Walmart is plastic). However, in July 2018 I went through the drive up window to drop off this script, and was told by a female employee that they didn't have it in stock and that it would take a week for it to arrive. I then drove around to 7 pharmacies, ALL of them either didn't have this medication in stock or wouldn't fill it. I finally had no choice but to return to your CVS drive up window and ask this girl to go ahead and please order the medication, weeks wait or not. It was a different female employee who I asked when I handed her the script I she could please order it, and she immediately looked at the script and told me that they did have it in stock. The first time I was there earlier that day, (and it was only about 3 hours I went to try and fill elsewhere...I DOUBT they had just restocked the shelves) I was lied to and told it wasn't available, and then later another employee was happy to fill it. In order to try and avoid the "we don't have this in stock....it will take a week..." I obtained a written script for this medication about seven days early and took it to this CVS to ask to have it ordered so that I would not run out and would have my refill when I needed it. The male employee told me that it was a schedule 2 drug and that they do not order schedule 2 drugs because "The DEA won't let us." I know for a FACT the rules the DEA has for pharmacists and pharmacies, and I know that isn't true. I waited the seven days and hoped that it would be in stock, (this was yesterday the 28th). Lucky it was in stock, but after I waited for about five minutes, the female employee who handled me at the drop off window told me that my insurance wasn't covering it, and she downright said, "they changed their formulary." I started telling her that I have a copy of my formulary and it is in fact, on the formulary. The pharmacist on duty (this was CVS #7373-male pharmacist working at 8:30AM) overheard and took a second look at my script. The girl had entered in the wrong dosing instructions for my medication and so therefore my insurance denied the claim. Lucky your nice pharmacist showed her that she'd made an error reading the dosing instructions and he busted out my prescription in ten minutes. So it wasn't all bad, but I am TIRED of being lied to. My experience is different with EVERY different pharmacy employee and pharmacist that I deal with. Some employees have made snide comments to me about how "Nobody should be taking this much medication unless they are dying." Well guess what, I AM DYING!!! My prognosis is extremely poor. A year, maybe two. All I want is to stop being discriminated against because of the medications I am prescribed. Look, I don't like taking them more than the next person, but they manage to aid in the discomfort that I am in 24/7. They give me my quality of life.
4. One night at about 2AM I was in real pain and it was time for me to refill my Morphine prescription. Your CVS #7373 is a 24 hour pharmacy. I NEVER have seen ANY signs that you don't fill schedule 2 medications between certain hours, yet your pharmacist rudely turned me away and told me "this medication is locked up and we don't fill schedule 2 medications until 10AM." I have also been made to wait to be able to have my pain medication when even though it was already paid for, processed and ready to go...because it was like 1:15AM I was refused my medication and made to wait until 9AM for my medication. I can't express enough how long 8 hours feels when your pain level is a 9/10. All I would like is for you guys to know that certain employees are being lazy and lying to me, their customer so that they don't have to do their job. That, and some of them mistreat me it seems because of what I am being prescribed. I still plan on using your pharmacy. Despite these issues I remain your loyal customer. I hope these issues get noticed. Thank you for your time.
-Maria Anne Kinney
(575) 405-2268
cookiem1313@msn.com

Bill Suleski
from Peabody, MA
I have been asking , calling & emailing for OVER a year now about the labels on your prescription bottles. you can't take them off ! can't you people use a label that will peel off easily ? find out who Wallgreens uses & get them labels. my GF uses Wallgreens & them labels peel right off. there are a lot of uses for them old bottles. the're also not as good to use if the labels don't peel off & they are all sticky when you do get the labels off. it's 2018 WAKE UP CVS !

Richard Ahlstrom
from Essex, MD
I was charged twice for the same purchases at my local CVS store yesterday. From the two debits ($82.62 and $75,62) I should have received a credit for the $82.62 but my bank does not show the pending credit, and I did not receive a receipt for the refund. The problem was caused by their new computer software from your company (I understand there have had many problems with the new system). The computer problem also caused my credit card to not be accepted for some prescriptions I purchased afterwards. I had to use another card even though I was told by the bank that there was absolutely no problem with the original card WHICH WAS ACCEPTED FOR THE FIRST TWO CHARGES (although the credit does not appear to have gone through on my account).
I also do not like having to wait so long to reach anyone from CVS on the phone from the company, or store. I finally hung up the phone and will try to contact the store manager again this afternoon when he/she gets in. Please note that I have been a CVS customer for at least 40 years up to now.

Mark Dabbs
from Chicago, IL
I have been taking Lisinopril for many years. The last time a refill was picked up no one told me that the strength and quantity of the medication had been changed. I am a heart patient and this is used to regulate my heartbeat. Since no one chose to inform me of the change, I continued to take 1 tablet daily as usual. After having to have 2 stents in my Right Coronary Artery, the medication mistake was discovered. Due to the mistake on the pharmacy's part, after the surgery, my blood pressure was too low, and it was then that the mistake was discovered. Therefore, I ended up in the Emergency Room yet again. Something needs to be done to red flag prescriptions that have been altered in one way or another so that patients are aware of the change. I have had pills change size, color and shape over the years due to different manufacturers used so I didn't think anything about the change. Due to this error, I will be taking my business elsewhere.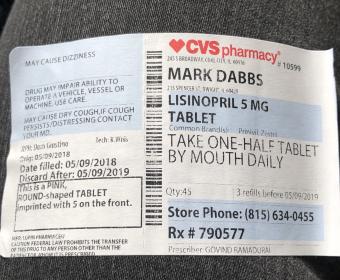 Lorri Christ
from Naples, FL
The complaint is about store 3107 a person named Kara that works in the pharmacy.
I tried to get my mothers pain medication prescription filled at store 3107.
I have had it filled there several times. Most of my mothers other medications I have filled
at another CVS in Pt Charlotte, FL. The only reason I have been getting her pain medication
filled at the store in Arcadia, is because the Dr's office is in Arcadia and I work in Arcadia so
when I pick the script up at the Dr's office I take it to the CVS in Arcadia as a matter of convenience.
Because to fill it in Pt Charlotte I have to drive past my parents home have it filled and then drive back
to my parents home. This person named Kara informed me she could not fill the script for me because
I get her other medication filled at a different CVS. I explained to her why I did this. Please remember both
stores that I am dealing with are CVS. Kara told me it looked sketchy , I ask her to repeat herself and she again told me
it looked sketchy . I feel this was very rude and she was stereotyping me. I was doing nothing wrong but if this is
against some made up CVS rule because I have checked the law and it is not against any pharmacy law all she needed to do
was say I need to take it to the other CVS and I would have had no problem with that but when she told me I was being sketchy
she overstepped her grounds. I require a formal apology from Kara or I will take this matter further. I have worked in the same job in the
same town for 32 years, I do not go around doing sketchy things and I do not appreciate being treated in this manner.
Lorri M. Christ
8635581988

Kenneth L McConkey
from Williamsburg, VA
I've tried for the past two months to get my daughter's ADHD prescription filled at the CVS in our town. The first time they didn't have the medicine and I had to drive 20 miles to a different CVS to get it. This time they still didn't have the medicine and I had to go to a Walgreens who had the medicine, but because we have never used them the Dr. Has to get the insurance company to pay for the medicine.this is not the only time this has happened. I will be changing back to my original pharmacy which is rite aid as soon as she calls the Dr. And gets it changed. This is bad business your store is doing.

Chriss Martorelli
from Fort Lauderdale, FL
I am caretaker of my husband Richard Martorelli and his medications. I couldn't figure out why we were short on one of his medications and he was without his pills for a week. Called the pharmacy and was told it was too soon for a refill. Called our Insurance and they couldn't understand the problem either but called our pharmacy to talk to them. I get a call from a very impatient lady named Angela (I think) who was asking about the bottles I had. Turns out that I had ONE bottle that should have been marked 1 of 3. There was no such thing written on the label nor did I have any other bottles. That would explain a lot. My husband takes 22 medications a day and it is a nerve wracking responsibility without extra confusion. I am becoming disenchanted with CVS because this is not the only issue I have had with them. One time receiving someone else's medications! I didn't make a big issue out of it at the time but maybe I should have. Angela was rude, talked over me and wouldn't listen.
Store #5929

charles rader
from Greeneville, TN
my wife and I went to c v s store on 837 Tusculum blvd Greeneville tn on sat june 23 to purchase some items.one of the items was natures bounty lutein 40 mg ,30 count.we purchase this item from c v s often. today only 1 bottle on shelf and shelf not on sale at checkout item shows up on register as buy one get one free. clerk would not give raincheck and manager would not check stock. about a $30 loss for me

charles rader
from Greeneville, TN
my wife and I went to the c v s store at 837 Tusculum boulevard Greeneville Tennessee on Saturday afternoon june 23 to purchase some items. one of the items was nature's bounty lutein 40 mg , 30 count with price of $27.79. we try to purchase this when its on sale at cvs but today there was only one bottle on the shelf with price of $27.79 and no sales sticker for on sale. when I was checking out ,and using debit card I saw on screen lutein was buy one get one free . when I called the cashiers attention to this , she agreed it was on sale, my wife told her there was not anymore back there. my wife asked her for a rain check and cashier said she couldn't give one. cashier's name on receipt is Amanda. I assume the manager ,a man, was also there and he said she could mix and match with something else, how foolish is that .. he made no effort to go back to look or do anything but run his mouth about it had already been rung up. not good customer service ,sure sorry service .we've purchased this item many times at cvs and have been given a raincheck when its out of stock or just one bottle when on sale. guess your employees were having a bad day or just don't do customer service well. how do you think we can make this right Charles rader

Donna Woody
from Media, PA
I was in Store #198 this morning with the coupons I received from CVS in the mail. I have been a shopper at CVS for decades. I have a CVS care card. I was told I could not use the coupons. you sent them to me and that the phone number associated with my CVS card was not associated with the coupons. I left the store after talking to the manage. I was embarrassed and upset. I was about to spend about $60. I went to Rite Aid instead and got my items. You can have your care card and your coupons. Remember you sent me the coupons at my address.
The Store is located at 1067 West Baltimore Pike media pa

Katie LeNoir
from Ocean City, NJ
Waited at photo lab for 20 minutes with no one offering any help. I then had to stand in line just to ask for help when the employee told me I had to wait until her line went down before helping me. During that time,all the time I spent downloading the pictures,everything got deleted because it took to long. When I asked if there was a way to retrieve all that before starting over,i was simply told nope. NO apology or anything. CVS had only two people on registers in a busy shore town in the summer. I ended up just leaving. So disappointed and will never get my pictures developed there again.

Terrelle C. Dotson
from Apple Valley, CA
April 09, 2018 at CVS Pharmacy 20180 HIGHWAY 18, Apple Valley CA 92307 I purchased several items. When I got home and reviewed my receipt I realized I was erroneously charged $8.49 for LBRDRM ADV THRPY 16OZ. April 10, 2018 I talked to the store manager Misha and she said no problem just bring in the receipt. I took the receipt in Wednesday April 11, 2018 and she said I walked out with the item. I told her that I did not have the item so she checked something and came back and said I walked out with the item and would not give me a credit or refund. I am 81 years old and handicapped. I would not have gone to all this trouble for nothing. I am a regular customer and had no reason to fib.
Any and all information you may give will be appreciated.

Regina M. Debevec
from Warrenton, VA
On 4/14/18 I picked up a prescription and when I got home there was another person's script in the bag along with mine. My husband was running out and I asked him to take this other persons script back to the pharmacy. He returned the script and was treated like he had stolen it from them. He explained what had happened they just did not believe him, he told them he was just trying to be a nice person and return the script finally the pharmacy manager came over and my husband explained to him again what happened, and after he made sure none of the pills were missing thanked him for returning them.. I have been a customer for 25 years with your company and I am very upset at the treatment that he received. Just be thankful that I did not contact any gov't agency to report your pharmacy screw up. The store is #5750 1379 North Frederick Pike, Winchester, Va.

Rebecca Shepherd
from Kansas City, MO
I am a long time customer with CVS in Kansas City, Missouri. My mother and I are seniors with lots of medicine to take. In the last month I exchanged cross words over confusion with one of my RX's the store is 3902 Main St. Kansas City, Missouri 64111, in this month alone they have delayed my Refills twice...spoke rudely at the Drive Thru window and once again today they delayed Rx's making it necessary for us to make two and three trips a week. If we use the phone with its prompts its always "MAJOR CONFUSION" I don't even know why you guys have it if its so FLAWED. This is "retaliation" for me telling the manager who , said he would call me back after speaking to the Pharmacy about staff. THIS DID NOT HAPPEN. I am a patient with PTSD....if I were not a Christian this would be a NEWS HEADLINE and a LAWSUIT because missing Meds not only poses health risks for me and my Mom but can send me into a downward spiral and something BAD COULD HAPPEN! I don't want that I want to rely on my Pharmacy to stay well. I want fairness and GOOD CUSTOMER SERVICE....I left Walgreens because of "incompetence" TEN years ago....Please advise me and speak to their Managers and Staff about proper etiquette with customers.
Sincerely
Rebecca J. Shepherd
816-569-2499
2651 E. 34th Street. Apt. 115,
KCMO 64128

Wendy Watt Fick
from White Plains, NY
CVS (Amelia I think may have been her name) left message that my prescription was out of stock and I should call her. Returned her called. She was busy. Another female looked at my computer records and told me "everything is fine. All your meds are here. Don't know why you were called."
Drove 5 miles to CVS. Was given generic instead of "as prescribed". This has happened 4 times in 6 months. CVS said come back in 1 hour.
(*10 mile round trip)
Got home and discovered totally different prescription was completely missing from several I picked up. Called CVS - whoops - we just missed it on the shelf.
Went back in 1 hour and was told my medication "as prescribed" was out of stock. I have been getting the same meds for 2 years - wouldn't you think the pharmacist would carry at least a 1 month supply? This is AFTER I returned call to CVS and was told all my scripts were filled and no problems.
Was told I could get 6 pills (for 3 days) - enough to last through Monday - I should come back in 1 hour.. Again, went home and came back. This time they gave me 6 generic pills instead of as prescribed so I had to go home and back again. CVS told me remainder of medication would be in by Tuesday.
Called Tuesday. Was told the "medication had not arrived and I would just have to wait - maybe it would arrive the next day." At that point, I told her it was dangerous to stop taking this medication "cold turkey" which is what my Doctor had told me. She said I'd have to talk to the pharmacist and put me on hold.
She finally came back on the line and informed me my prescription was being filled at that moment (so she was wrong about the medication not being in the store.) No apology. She was very condescending during the entire conversation and the last thing she said in a very loud and nasty tone of voice was "You can pick up your NARCOTICS today." How dare she speak to a customer that way.
This conversation took place on Tuesday, March 27, 2018 between 9:30 and 11:00. It was NOT the pharmacist I spoke with. I do not know the female's name but she has no business conversing with customer or checking on their orders. She was very nasty to me personally and careless checking my records to find out if my meds had come in. And 10 mile round trip 4 times was a bit much when it could and should have been handled in one, two at the most trips.
This is just one of many unpleasant experiences I have had with CVS in Cairo, NY. I will not be ignored or treated with disrespect by people working behind the pharmacy counter nor will I tolerate making 2 and 3 trips to fill my prescriptions because of careless CVS employees. I will be transferring ALL of my prescriptions as well as those of Brett Watts to the Hannaford across the street.
The associates in the main part of the store are wonderful. Vey helpful and courteous. But I will never shop at CVS again for anything

Eulogio Jesus Trujillo
from Miami, FL
I receive my prescriptions at your CVS Pharmacy located in the Crossings, Miami Florida. The address is 112th Street & S.W. 129th avenue. Twice I've had a bad experience upon picking up medicine from this Facility due to my very uncomfortable encounters with Alexandra Gomez. She is inattentive, unprofessional and discourteous. To be specific, I walked in this morning greeted her with a smile and good morning and her response was here is your medicine sign below. I guess in the scheme of things it really doesn't matter much because I have chosen to go there a anymore. I will tell my Doctor to prescribe my medicine to Walgreen's or any other place but there. Can you change this problem ? I doubted it. You would have to change the upbringing that was done by their Parents. As an unsatisfied customer all I can do is leave your Store and find a place where people that are hired to deal with the public at least have enough decency to respond politely and with respect when spoken to.
Eulogio J. Trujillo

A Departing Customer
from Taunton, MA
I am a Current CVS consumer which regularly uses the Taunton MA Washington St store.
Over the past 3 years the pharmacy as an entirety has lost its ability to properly serve its customers.
Orders placed online are NEVER as promised. Usually the next day. Drop off scripts promised within a 2 hour minimum take up to
4-6 hours. Personal attitudes of most of the staff are coarse and sometimes argumentative. (Ana) The pharmacist is knowledgable
but lacks the managerial skill to effectively motivate and run her staff. Other CVS stores have much better service. I would think All stores would be consistent in their service.
On one positive note, Nick who is a pharmacy assistant there is the Most thorough employee I have ever had the pleasure of meeting.
100 percent dedicated to his position and his customers.
On April 1st I will have moved on to Walgreens.

Judy Grise'
from Naples, FL
I purchased McCafe coffee on March 11th, 2018. It tasted bad when I made it so I checked expiration date and it was over a year old, Jan 2017. Store # 3616 FT MYERS FL. This is the second time I have purchased OUTDATED products at this store. Thanks for your attention. Judith Grise

I stopped into CVS str#299 this evening. I stopped to purchase a bottle of tums for my wife. I used your store instead of the SHAWS 300 ft down the
road because U are quicker to just pop in and out. The last time I was there I ran into the same issue. I could not remember what phone number
my wife used for her CVS card and was refused a store card to make an extra purchase. The last time this happed I told myself I wouldn't use CVS again. Until tonight I have driven by CVS to SHAWS to make small purchases and have almost always bought more than what I had originally gone in for. Tonight I stopped at CVS to buy some antacids for my wife and was going to purchase another 9.00 worth of product on sale and ran into
the same thing. I left the antacids and walked out. Do U not want customers coming into your stores? DO u not want impulse purchases while these customers are in your stores? I am a manager of a retail Buss and right now every one is fighting for the customers money accept CVS. You Will Never Get another penny from me or any other member of my immediate family.

Debbie Schwarz
from Lindale, TX
I needed to refill my dogs seizure medication, took bottle in 3 days early. It was also a transfer from a pharmacy . It was a controlled substance so I understand not being able to refill early.
Went in on the day I was told to return the technician told me she did not have the medication. She would transfer back to original store. I drove there only to be told it was a controlled substance and the prescription could not be transferred back.
Drove back to first store was told by pharmacist to go back to other store for medications. He had none to loan me until order came in!
Finally received 3-4 pills after 3 hours of going back and forth!
Terrible customer service
The tech should not be working if she does not know what she is saying is true!
Will move my service from CVS

Michael Lower
from New London, CT
TO THE ATTENTION OF VEENA CHANNAMSETTY:
The order for the Novolog FlexPens came through. Thank you very much for your assistance. The order for the syringes has not come through as of yet. I would appreciate it if you would follow up on this.
The problem of orders going through is a continuing one. I am a disabled senior citizen. I do not need to deal with the potential health risks and inconveniences created by your communications system.
If this failure to get an order to my pharmacy occurs again, I will proceed with the actions stated in my prior communication. I will contact the Connecticut Attorneys General office and I will consult my personal attorney. I suggest CHC technical people meet with the CVS technical people
to work this out.
Thank you again,
Michael Lower

susie brailey
from West Columbia, SC
we have had many problems since john floyd left. we have using cvs for 30 years, the lost a prescription that was a narcotic days went by they told my wife she did in hand it in. I call them and said we need to make a police report and told them i will give you one day to get this right. Then they found the so called lost Prescription . Then a few months later my wife was in line to pick up a Prescription she said the person look out and saw the there was three cars . she was in line before closing . when my wife with out and word being spoken the lady close the window on my wife. This is when i call and talk to cvs headquarters they said that it was wrong for them to do this. Now this last thing was out of this world and before i get to it you must realize that i when to 3 other drug stores to see what there policy was . we had a lady out of state we had to wait in line for over 30 mintues
and i said why did you not ask this person to come in side because this is what i normal policy for this store when John work there and other cvs stores concur with this policy of common sense,. WE are looking at you lack of care you have given to our complaint and the brush off that we have received.. 8033482965 8034638330 What price we pay when a complaint grows out to reach the many just because we did not take the time to do what was right. james brailey

Randy Berry
from Sacramento, CA
Today Jan 20, 2018 I went in to pick up prescription and the pharmacy was closed (10:30 AM) and employee did not know when it would open. I Need and antibiotic for an infection. The store is CVS country club drive in Madera, Ca - Very poor service- Overall your stores SUCK 559 674-0856. Also I went last night to pick up the same order and the said they were unable to find the order-COME ON

Liza Schrader
from 'Ewa Beach, HI
On Jan. 7, 2018 I shopped at my local CVS (Longs Drugs, 91-919 Ft. Weaver Rd Ewa Beach HI 96706) and I was in line for check out at register 3. ERIC the cashier (0843108) immediately told me that he would help the next customer at register 4 even though I am in line. Eric said that his register was closed but I pointed out that his register light was on and I was in line. He proceeded to argue with me saying that he will help the other person in line and not me. ERIC the cashier was very rude and disrespectful to me. ERIC spoke to me in a condescending manner and did not want to help me at all. After my repeated reminders to ERIC that I was first in line - he finally (and with sour demeanor) assisted me to check out my items.
I am VERY disappointed by CVS customer service. I, as a loyal CVS customer, felt highly disrespected, slighted, and devalued by ERIC the cashier. ERIC the cashier chose to ignore me as a customer and became tone deaf to my repeated assistance requests.
I hope that there will be correction, accountability and a positive change in regards to customer service at my local CVS.
Thank you.

Debra Paonita
from Brooklyn, NY
I WORK IN A DOCTORS OFFICE AND CVS ON 1361 HYLAN BLVD IS THE WORST PHARMACY I HAVE EVER DEALT WITH SENT PRESCRIPTIONS IN FOR A PATIENT 4 MONTHS AGO AND JUST FOUND OUT THEY ARE NOT COVERED SO I CALLED THE INSURANCE COMPANY AND FOUND WHAT WAS COVERED. I DEAL WITH ALOT OF PHARMACIES AND NEVER HAD THIS HAPPEN TO ME USUALLY THEY WILL CALL AND SAY OH THIS IS NOT COVERED BUT THIS IS. MAKES EVERY BODIES LIFE A LITTLE EASIER. THATS STATEN ISLAND NEW YORK

Donna Johnson
from Prairie Farm, WI
The wait time for 1 prescription to get filled was 1 hour. Any known customers were treated very well and in express time. The people were very rude and inconsiderate. This big company came in and bought out the small town pharmacy which had the best service. CVS does not have good customer service. This store is in Barron Wi.

Pamela Mercer
from Matteson, IL
The service is horrible. The female who answer the phone "jasmine" was extremely snotty. After two visits and 4 phone calls I was unable to get medication that was due to be refilled. There was no customer service and very little professionalism. I was on hold for 12 minutes. My doctor's office called after CVS lied about sending fax and the doctor's office was on hold for 9.5 minutes. Insurance is far to expensive for service this horrible.

Claude Jackson
from Albuquerque, NM
To whom it may concern,
This afternoon 10/12/17 at about 4:00pm I went to cvs store number7509 in Front Royal Va. At the time of pickup for my prescription I was attended by Jin Y Kim. What I experienced with her was unethical,embarrassing and potentially dangerous.
I was called by Jin Kim to the back door of the pharmacy very close to the waiting area. In a very load voice with many customers and staff very close by asked questions that should have been asked in private. I'm sure all the nearby customers heard all of what she talked about including what kinds of medications I have taken and where I go to get them.Privacy in these matters should be held with more importance than she displayed. I was embarrassed! She also shared my person info with everyone in hearing range(and there were many).Lastly letting a large number of people know that I am walking out the door with medications that have high "street value" put me in danger.
The medications I take for pain have a great deal of negative stigma attached.It seemed that Jin Kim felt the need to expose and embarrass me to as many people as she could and was quite successful. Her lack of professionalism should be of great concern and embarrassment to the CVS brand. I have shopped at CVS and Peoples before that for many years and hope to again if assured behavior like what Jin Kim displayed is not what one should expect from your company. Thank you , Claude Jackson

Nikki Harris
from Houston, TX
I visited the CVS at 19715 Tomball Pkwy Houston, TX 77070 AT 7:16PM. I went in to ask for a roll of quarters and cashier Amber assisted me. Amber informed me that she had to ask her manager if she was able to give me a roll of quarters, the manager stated that she wasn't able to give a roll of quarters however, if I was to buy something she is able to give me some quarters. I hears this from the manager.
Upon Amber's return to me with an answer from Grayce who was managing, Amber stated," I am not able to just give you quarters from my register!" in a very rude tone and jester as she leaned forward to tell me this. I then asked if I was able to get some quarters. Amber said in a very rude tone and louder, "I cant just give you money!" I explained to her that she did not have to be rude and that I needed to speak with her manager. Amber stated, "so what go speak with my manager, she will tell you what I said!" as I was walking away towards the manager. At this point there was a line with about 6 customers.
When I went to the manager, I told her how I was being talked to and I then asked the manager, why would she allow someone so rude to argue with customers work at CVS. The manager did not respond. However, Amber responded and said, "I don't care if you think I was being rude, your rude!" The manager asked me to buy an item to open the register and gave me $5 in quarters. She never apologized to me for the way I being treated.
I was embarrassed and appalled by the way I was treated. I have never gone into a CVS and received such treatment. I believe Amber and Grayce need to have customer service training and stress management coping skills so other customer will not have to feel the wrath of Amber and a Manager that is so passive that she can't control her employees.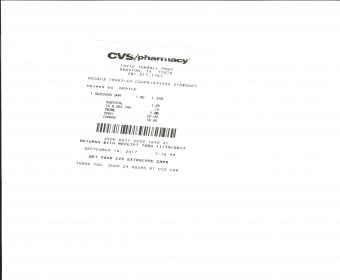 Wanda Kachur
from Merritt Island, FL
Very bad experience. I needed hip surgery months ago. I can't afford it. My friend had taken me out for my birthday. We had a couple glasses of wine. I am not a habitual drinker. When we got to CVS, not only would they not fill our prescriptions, they said they would never fill our prescriptions ever. We tried Target, but apparently they shared info with the CVS at Target. What ever happened to HIPPA laws?? I am done with CVS. I don't like the new pharmacist. She moves like a slug and passes judgement according to her whim. She is at 1345 North Courtenay Parkway, Merritt Island FL.Don't go to this store, please.

Sandeep Bhanji
from Yorba Linda, CA
For several years I have been shopping at the CVS store in Anaheim on La Palma St. Always got a good service there. Recently an African American lady has started working there who is very arrogant. She is also the only person who checks IDs for purchasing alcohol. She claims that since she is new she has to check IDs. This cannot be true. Normally policies are same for all people. Can you please explain what is happening in that store?

Sheryl Denton
from Leesburg, FL
Last week's flyer advertised Pepsi products 3/$8 with card ( which I have). Wednesday I went to the CVS on 10255 SW 86th Circle, Ocala, Fl. store 873-6185 to purchase the Pepsi's and Scrubbing Bubbles. That store had only a few regular Pepsi's also regular Dr Pepper and Mtn Dew. I only buy Diet soda because that is what everyone wants. I did purchase the larger Scrubbing Bubbles (20z).
I went to the check out and since I was the only person in the store I was waited on promptly. First I asked for a raincheck because their was NO diet soda. The girl behind the counter didn't know how to give a raincheck because she was new. She asked the two other women behind the counter about the raincheck. Another female came to let me know that I couldn't get a raincheck because they had another truck coming in on Thursday. I said your kidding, right? "NO", she wasn't kidding! I said " I am here today". She said it was store policy.
Then I was left to purchase my Scrubbing Bubbles. Total $2.99. I had a extra care rewards for $2.00 and a $.50 Coupon. The cash register wouldn't except my coupon "good on any size"!. Couldn't override the system so their response to me was the coupon didn't work because the container gave me 10% more. I just shook my head.
I couldn't believe the nonsense that I had just encountered. On Friday, I returned to buy the diet soda and had a conversation with the manager who related to me that is store policy ( not posted anywhere) but, however if the customer gets really irate he it to them. Now I know why that CVS is empty. Thank Goodness I have another CVS that's convenient and more Customer Service Oriented.

robert edwards
from Media, PA
I would like to file a complaint against jim rose the manager of the cvs store in aston. He is totally insensitive to senior citizens who are handicapped. I am a 74 year old male with acute arthritis in my back and knees. I was waiting at the register to be checked out with my purchases-jim rose was letting people go ahead of me in line even though I was there first-when I complained he said I wasn't in line. There is no sign that indicates. I complained and he gave me a very rude answer and an even worse attitude-this man may think he is overworked and understaffed but that is not my problem. I am the customer-he needs some customer service training and some handicapped sensitivity training before you store is in violation of the federal laws concerning treatment of the elderly and the handicapped.

Mary white
from Baltimore, MD
My complaint is how I was treated in filling a prescription for my sister after she had knee surgery. How the pharmacist was not willing to fill the prescription based on what type of medication it was also where the doctor signature on the prescription paper was signed on the top and bottom by the doctor near the box location. I was told by the pharmacist the reason the pharmacist did not fill the prescription. I said to the pharmacist could you call the doctor because my sister just had knee surgery and I'm her care giver and we are two hours from her home.
She told me no she couldn't and then said the prescription is now void for my sister Beverly Dollard-Mack in the system whom was there with myself Mary White. This interaction happen on September 19, 2016 time between 8:00 - 8:15 pm. The address Cvs pharmacy, 1545 Pulaski Hwy, Bear, De 19701. This should have not happen to anyone.

Patricia Radford
from Tampa, FL
Was refused and told their computer system is locked out of Goodrx discount program. Contacted Goodrx and they claim CVS still accepting discount from their program. I love this pharmacy and its staff on 6295 W. Waters Ave., Tampa, Fl. They have always been so helpful to me and I wish more businesses had this staff. But now I don't know if you do accept Goodrx or not. Could you let me know Please by e-mail?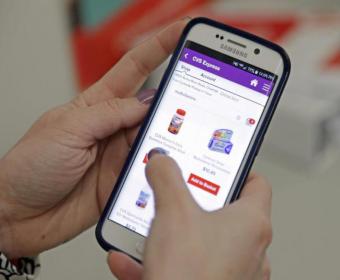 Tamaryn Smith
from Orlando, FL
I am a long standing customer of cvs, I love the store but unfortunately the pharmacy is shocking! I have had countless occasions where my prescriptions have not been ready when i had flu and not feeling well and i have never complained but last week i went in with my boyfriend who just had shoulder surgery and was in an extreme amount of pain, he needed his painkillers and they said they would only be ready in 2 hours! I had to drive that night and fetch them, we called in the second order a week later and was told they would be ready at 5 pm, drove there, not ready.
They said a 30 minute wait. We were going to get a flu shot at the minute clinic and the walk in wait was 1 hour 30 min! We drove home and now have to wait until the order is ready! I understand the pharmacy is busy! But something needs to be sorted out, the cvs was on the corner of federal and se 17th street.

walter dean
from Irvington, NY
I live at 642 Locust St Mt. Vernon NY apt. #3G. CVS Pharmacy called me and left Messages that I had medication to be picked up. I went to pick up my medication and parked in the parking lot but, before I went into the CVS. I went to a Store across the street . When I came back There was a boot on my car wheel. A man came to me and said that I was Illegally parked in the lot and I would have to pay $45.00 to get the boot off I explained to him that I was a customer of CVS and I was there to pick up my medication.
He said that It does on matter. I paid him to release my car But, I could not get my Medication. The time that I was away from my car was about 15 to 20 mins. He told me that when he saw me left the parking lot he booted my car. I explained this to the Manager of the store but he said that, the man told him not to get involved.

Teresa Thome
from Elizabethtown, PA
I received a coupon for a free gift when I purchased a certain amount. When I tried to order online, I could not complete my order - some orders would not go to my in basket. A message instructed me to call the CVS customer service 1-800 number. I had to wait 15 minutes. The CVS contact person said there were 3 different coupons. She was obviously unfamiliar with the specifics. I got so frustrated walking her through the order and discounts without a resolution, I decided not to complete the order. Why should I work so hard to give CVS my money - they should have been paying me! I filed a complaint requesting a better, efficient offer- have heard nothing. Not the way to keep a long term, loyal customer.

Tamera Mackson
from Corona, CA
I had two bad experiences with the corona pharmacy on magnolia located in corona. This time it was the pharmacy technician by the name of "John". I decided to relocate to another pharmacy, he stated to me that I was inconsiderate of the fact that they went out of their way to refill my prescription, and that I was being rude. I'm very upset by this, and I will not be returning to this pharmacy. I will also be reporting this to the CVS corporate office. There wasn't anything at all done, that I put in the first compliant about how rude "Elmer" was when he totally ignored me standing in line for a good five minutes, and there probably won't be anything done about this compliant either, I also contacted IEHP in regards to this matter, as well as Medicare.

Elizabeth Brooks
from Washington, DC
I lost my CVS Card and have been trying for months to get a new one. Last week when I was purchasing something and tried to use my phone number but it didn't work. I contacted the online contact email and have been getting the runaround since. I have not been able to use the cash you send me or the 30% off coupons. They tell me they have not heard of me. This is one of the several messages they have sent me. I have sent them my and my husbands email addresses, addresses and phone number for us for the last 20 years. They still never heard of me. I would appreciate it if you would help me with this problem. Thank you
Dear Mrs. Brooks: Thank you for taking the time to contact CVS/Pharmacy. I have reviewed your email and find that I need additional information to fully assist you. Please provide the following information: The email addresses and phone numbers provided do not pull up an account. Is there perhaps an old mailing address? There are a few Elizabeth Brooks in Florida. Once I receive your reply I will be able to complete the work and send you my response.
We appreciate your business and look forward to serving you again in the future.

I when into your store on Friday to purchase some VSL #3 for my wife. The pharmacy said they were out and would order some and that I could pick it up on Sat evening. Sat evening I when in to pick it up, no VSL. The Lady told me they would order it and it would be in Monday afternoon. I when Monday afternoon to pick it up, no VSL.
My wife talk to the pharmacy department again and they said they would order it and it would be ready Monday afternoon. Monday afternoon my wife called first this time to ensure the DSL was in, it was. I when to pick it up at the drive through window. The tech at the window told me that I could not pick it up at the window, that I had to park and come in the store. I parked, when in the store and guess what.
I had to go to the pharmacy counter 3 feet from the drive through window and ask for them to provide with the DSL. They got it out of cold storage next to the window and carried it past the window to the counter and I paid and left. If I had operated my business like this before I retired, I would not have had a business to retire from. I haven't decided what I'm going to do in the future, but I will not recommend your pharmacy to anyone else in the future.

kennith tackett
from Tucson, AZ
June 30th 2016 Tucson AZ. CVS Pharmacy (7901 East Golf Links Road, Tucson, AZ 85730). I was sentenced, a long time customer to 72 hours of stress,withdrawals and pain by CVS not filling and refusing to fill prescription even with my doctors approval that was called in for my prescription on June 30th 2016. On 06/27/16. I call My Doctor they say never heard from pharmacy they in turn call pharmacy to OK prescription.
On 06/30/2016 pharmacy calls me tells me they cannot fill my prescription until 07/03/2016 because I should have 2 more pills from my last prescription left ( last scrip was for 90 days and the dosage is very small). I tell her that I did not empty the bottle and count them when I got the script they must have shorted me two pills. I asked what am I suppose to do for the next 72 hours before I will have a pill to take on Sunday night at 9:30 the time that I take my one pill each night the pill makes my mind slow down and then I am able to sleep.( I am 65 years old, have never abused or used any kind of drugs. Her reply was you are missing 2 pills she cannot refill till Sunday July the 3rd its my Problem not hers.
She made me feel like I took the two pills stood on the corner and sold them like a drug dealer, I believe they shorted me the 2 pills. On Thursday night I took my last pill By Friday night 9:30 pm it had been 24 hours since my last pill. With no pill to take I was on my way to many hours without sleep. By Saturday afternoon I was tired cant sleep and withdrawals were starting to happen my body hurt, my head everywhere hurt. Without sleep I could not eat like I do in my regular routine I tried but diarrhea started and I started to o really feel deprived and confused with where I was and what I was doing.
By Saturday evening at 9:30 and looking at a long night ahead I found some over the counter sleeping pills and decided I had no choice but to try them along with a muscle relaxer(it did not work just made things worse). It is now Sunday Morning 07/03/2016 and I am still awake and am still 12 hours away from 9:30 pm when I can take my next pill and hopefully get to go to sleep, providing the Pharmacy has them ready. Monday is July the 4th our 45th wedding anniversary. I hope by then I am feeling better, we canceled our trip to Vegas and will be staying home.
Today if I get my prescription filled I will ask them to open them and count each pill so I know I wont have to go through this again. eMy plans on Wednesday my Doctor will b back in her office and I will try and make an appointment with her to make sure I am OK with the stress which I am suppose to avoids at all cost I do not want to take the chance of a possible stoke happening again, Then I plan to contact an attorney and see if I have any grounds to make this big pharmacy that play God with peoples lives pay for the pain I have gone through in the last 72 hours. I will be giving a copy of this letter to the manager of the pharmacy today and will email a copy to the corporate office, Better Business Office, and posting this on social media.(Face book. Twitter. ect.) I strongly recommend to all my senior citizen friends to avoid using CVS. They only care about your money not their customers. Ok just got call from CVS 10:am Sunday morning saying my prescription can not be filled until July 31st. Went there pissed they filled the prescription.
I had them count the pills. For 25 years I was an entertainer and well know personality I told the young lady I will be contacting the news stations, newspapers, ect so that this story would go out nationwide and local as much as I can make it happen. I set here dazed that this large company would treat a long time customer in this manner. Whoever it was that talked to me on Thursday should be released of her duty, your company is here to serve me and the public not to play God with my life or anyone else. I will never use CVS again and will never recommend them to anyone, I will make a point to alert everyone awful way you treat your customers.

Sharon Watkinson
from Riverside, CT
My husband and I went into the cvs pharmacy this weekend (memorial d weekend) the coupon that I had they said was denied but we never used it! The girl at the counter said she would need a manager so I said o.k. When the manager arrived (named Andres) started giving me a hard time said he wouldn't honor it I said I was going to complain to the corporate office and then his manager came down and gave it to us after Andre the manager embarrassed us in front of a crowd of people! He then tried to embarrass us further by trying to scold us in front of these people by trying to pull us aside to make himself look better. With no apology! We spend alot of money there and normally lately go with no problem. This guys profile its not worthy of cvs manager.

Bruce Barber
from Windsor Mill, MD
Doctor faxed a prescription on April 6, 2016. They have that it was received successfully. Pharmacy said they did not receive it. On the 7th doctors office called three times and waited for the pharmacist for over 15 minutes each time without success. On the 8th. Doctors office called several times with an extensive wait. Finally got through and them I am informed after stopping three times that it will take 5 days to get the medication in. This is garbage. Had the personnel done their job I should have this medication in hand. I am sure this is due to cost cutting measures and the only one who suffers is the customer. Have used the maple ave Vienna va store for over 30 years. You are going to force me to one of your competitors

Glenn Santiago
from Mililani Town, HI
My wife and I pick up our medicine from Long Drugs in Mililani. I've notice that they only give half our prescription of our Metformin. Doctor prescription is Metformin HCL 1000 mg twice a day for 90 days, but we only received only 90 pills per refill, which should of been 180 pills. This makes us go back to the store in a month and a half to fill the other half which is not what the doctor order. This also shorten our refill period and we have to call the doctor for an extension of our prescription. God know if we are paying the right amount for half an order for a month and a half. Please look into this matter, as a customer this is not acceptable.

Jna Crommen
from Kingsport, TN
I'm done with CVS. I have had quite a few customer service issues and concerns with filling prescriptions (rude pharmacists, not giving me proper information on refill options or wait times) in the past at the CVS pharmacy on Hazard Avenue n Enfield, which I brushed off as your Staff being busy and tired after a long day, just like me, but what I experienced today beats all. My wife has progressive MS, so she gets many medicines prescribed, including a monthly prescription for Vicodin (300/7.5) for pain management, a controlled substance which I have to pick it up at the neurologist Dr office 45 min away. Today I dropped of a new one, but apparently Dr Krinsky had written over the '300' nr on the strength a few times for some reason.
I was told (after some discussion back and forward) by the pharmacist Tom who was rude and come over with an attitude form the beginning when I asked to talk to the pharmacist, that he would not fill that because it as it was a controlled substance and could cost him his license and the Dr who prescribed it should know better. I told him I would understand that position if this medication and strength was never filled for my wife before, but it has been many times monthly at that Pharmacy, but he did not want to even check that.
Nor did he offer to call the Dr office to confirm the next day (which I have been offered by pharmacies before if there was a concern about a prescription on a controlled substance, that I can understand). In the end he literally threw the prescription back at me and told me I had to get a new one. Strangely enough, after this I went to the Rite Aid down the road and I got this same prescription filled with no questions asked.
Consequently I've had enough of CVS now, and will transfer all prescriptions for my wife to Ride aid as soon as I can, I have never been treated this rude as a customer. I guess CVS has enough customers so the can treat them like this and lose a few.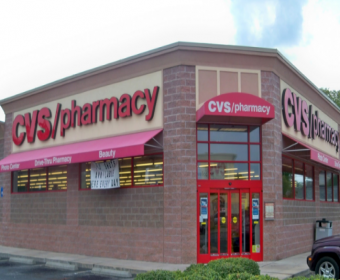 nightsprite46@yahoo.com
from Abilene, TX
I cringed when i found out I had to get my medication from cvs. I was right to feel so. I was suppose to get my medication yesterday. I called and even made sure of it because I knew of cvs reputation. Guess what! Not there! Maybe, I hope tomorrow evening. So now I will have been 2 days without my meds! But hay at least I don't have to worry about tobacco! I don't smoke but they are so worried about it I just wished they worried about me not getting my medication as much.

Karilyn Wood
from Bettendorf, IA
I have been a CVS pharmacy customer for years at the Bettendorf, Iowa store and have never had any problems or complaints until today when I stopped in to check on information about a medicare drug plan. The female person that helped me was very rude and acted like she did not have the time or even wanted to answer my questions. Therefore I am switching to Walgreens today. Seems there has been a big turnover in employees there, Wyndell who had been with your company for years was always so very friendly, helpful and kind unlike the one I had to deal with today. You lost a great pharmacist when he left and also lost a loyal CVS customer!. In return you gained a very rude unprofessional employee.

Charles Brousseau
from San Carlos, CA
ON or about 6/15 - 6/23/2015 CVS submitted a prescription request to Anthem for 3 prescribed medications. At that time Cigna was in the health care provider. On or about 12/20/2015 I received a letter from Anthem that an amount of $112.83 WAS DUE. I have received about 75 dollars from Cigna leaving a balance owed to me of about 36 dollars. I believe that CVS should pay the remainder balance. I can submit supporting documentation.

Marc J. Espieg
from East Brunswick, NJ
At the CVS Pharmacy on 330 Rues Lane East Brunswick, NJ 08816 I called in for 2 of my medications on the telephone 1. Escitalopram 10MG and Lexapro 200MG. When I called for my medication that I knew for sure Mercaptopurine 50MG I called first to see if the Esc. 10MG and Lexapro was ready for pick-up also knowing that it might not be ready for a few days. When I asked the question on the telephone the woman who sounded like she had a Asian-Indian accent said that the psychiatrist did not electronically order the prescription for me. I knew that she was wrong beyond a shodow of a doubt because on January 27, 2016 the psychiatrist also called in a prescription for Lamotrigine 100MG and handed me a hard copy prescription for Xanax.
I called my psychiatrist prior to going to CVS to verify that my psychiatrist sent in the prescriptions electronically and the office staff verified that he did send them in on January 27, 2016. I went to the aforementioned CVS to show them the other prescriptions requested for my on the 27th and still the debated the medications that I was requesting. Finally after me calling my doctors office the pharmacist began to work harder to find my prescriptions in the computer and after 2 minutes she found them informing me that I can pick them up in 2 days. I was spoken to very condescending on the phone and again in person before calling my physician which motivated the pharmacist to do her job and locate the prescriptions after aggravating me causing a rise in my blood pressure and inconveniencing my doctor who is very contentment with ordering my medication.
This is not the first or worst experience that I had at the Rues Lane East Brunswick, NJ CVS but I am tired of it as I spend a lot of money there on my numerous medications. I don't have any names however, noone there has ever respected me like a loyal customer hence I may leave the pharmacy even though it is the most convenient to my home. Terrible pharmacy for professional service.

Clark Veals
from Victorville, CA
This date, prescription due which was originally submitted in February. This particular medication, as well as 4 others began getting filled once a month for well over 18 months. These are pain killers, muscle relaxers and nerve medications, that an orthopedic physician in the State of California has prescribed for a back injury and subsequent botched surgery by another doctor. Presently, continued diagnosis by other specialist and my doctor, in reference to the best ways to proceed (ie. Another surgery, possible medtronic implant simulator, physical rehabilitation, etc.) are done in conference at the monthly appointment that I am scheduled for.
Each month, I have a needle stuck into my spine (Thoracic) to attempt at any relief from the constant and debilitating pain that I endure daily. Yet, I make good on my agreement to maintain a singular pharmacy. In fact attending physician, per agreement entered into, requests that prescriptions be filled at the same store each time, hence the perfect attendance at your #9644 store.
Unfortunately, I am told that your store policy dictates that a 30 day supply of pain medication can only be filled on the 31st day. Compounding this is, the utterly pathetic supply requisitioning and procurement observed at this pharmacy. As stated, I see doctor monthly, and upon leaving appointment, the prescription is submitted at CVS on my way home. Yet, in the past at least 9 of the past 12 months, on the aforementioned 31st day when prescriptions due to be filled, it is found that amazingly the medication is not in stock. Again, I have to remain at this particular pharmacy, moreover, I have substantial pain that does not alleviate because a stated professional cannot acquire the understanding to order this medication on time.
I do not request the medication prior to the 31st day, even though my insurance allows for filling 48 hours prior to the end date from the previous. Yet, because your pharmacy staff offer that they know more than my attending physician, I am subjected to excruciating pain until they " feel like" processing it. I do not accept that each month, on the date that I awake with no medication (I am diligent about following the times in which I take the medication) that miraculously it is out of stock. To understand this better, either the person who orders the medication is a failure at their job or the staff are just busybodies who want to dictate and play with someone's well being.
On this date, I was actually told that "I need to save some pills during month because they might not have in stock." In addition, I was accused of being an addict. This is serious, in that other people hear your inept staff slandering myself. Yes, were it not for being in the pain that I am, your pharmacist and the clerks would have received the same verbal lashing that I was given. If they feel like I have ever been scandalous in my medications, or given any reason to think that something was fraudulent or criminal, than they should call the police or my doctor...but do not pretend like I am anything but upright. Thus, I write this complaint. Your staff need to just do their job. In effect, I am being accused of being a drug addict or even a fraud.
If they ever want to come sit in an appointment with me, than lets do it. But, as it stands, medication that I take every 8 hours has to wait until sometimes 3 or 4 day later. Pathetic job performance if indeed it is a question of supply. Though, this happening almost every month to me...or is this the way business is done with all your customers who take pain medications? Why not dispense the medication the day before it is due rather than the day of...even in a perfect situation it would still leave 16 to 20 hours in which Am not taking my medication as prescribed by my doctor. One tablet every 8 hours.
Your #9644 pharmacy staff are mean and ignorant. I won't wish the pain that I live under upon them, though I wish they could feel it for a minute, I am positively sure they would shut their mouth. Very disturbed.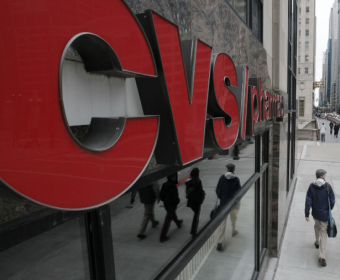 Gerald Landwert
from Spring, TX
On 12/11/2015 i picked up my Fluoxetine HCL 40 mg prescription from Texas store #0019 filled by a female pharmacist. when i got home and removed it from the bag, it was marked "qty 90" but was in a small container. I counted the caps, knowing that there was NO WAY this container had 90 caps in it, only to find 30 caps! I immediately called the pharmacy to relate the issue. they told me to come in and pick up the remaining 60 caps. I went to the store the following day, and the pharm. tech acted like I was senile, and didn't know anything about it.
The female CVS pharmacist told her where the container was, and they gave it to me. I spoke to the female pharmacist and she huffed at me like i was the one in the wrong. I reminded her that I was aware of the "street value" of that med and that this was NOT the first time I was obviously purposely shorted on meds that are in demand on the street!(at this facility) Today, I stopped to pick up my wife's prescription, and the SAME pharmacist took my info at the drive through, told me that I would have to come in the store to get the prescription. (why the hell is the drive through open if she couldn't help me there?) the prescription in question for the fluoxetine is: 687679.
Needless to say, we are changing our source for medications immediately! I suggest someone look into this young lady's background, or at least, let her know shes losing you business.

John Asbury
from Chattanooga, TN
CVS has an enormous problem with eprescriptions. I have been trying for 2 weeks to get my husband prescriptions filled. Several Drs have sent their eprescriptions 4-5 times, get a reply back that it went through yet CVS says they don't have it. I stood there yesterday after showing them the copies of the prescriptions that were eprescriptions and they had nothing. Pamela in the pharmacy called the Drs office to get the prescription for my husbands diabetic test strips. She left a message for them to call her. Later that afternoon I got a recorded message that the prescription was ready. I went over to pick it up and was told there was no prescription. I went to the DRs office got a paper prescription took it back to CVS and waited for It to be filled. As soon as these prescriptions are through, I will be changing pharmacies. I hate to as we've been CSV customers a long time. You really need to get the efile prescription line fixed.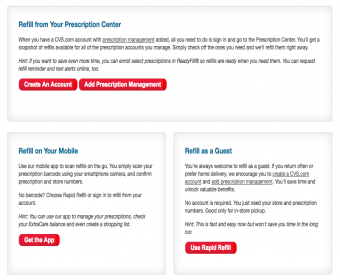 Mike Brooks
from Dallas, GA
When having to call to order a specialized formula for my son, the wait times to talk to a pharmacy person are interminable,the only Pharmacist their at that particular store is a lady named Kathy, she is the only one who seems to have enough brains to get the job done, the rest as I have to go in their seem to be bumping their gums so much its agonizing. We were only a third of a mile from the store for yrs, now we are 30miles away, but still have to use that store, because the other ones are not convenient to where we live now, in Dallas Ga, and my wife still works at a close proximity to the store, the main complaint, can`t thru to order needed meds on the phone.Sick of that piano music over and over, how about hiring a real American who speaks fluent English to man the phone. A very frustrated customer.

Ruthie Sakran
from Huntington Beach, CA
Cvs in Huntington Beach on Brookhurst and Adams is extremely busy where they do not have time to answer the phone. On December 2,2015 I was on hold for more than one hour and a half. I went to the pharmacy to let them know and the person in charge said that they are extremely busy. Perhaps Cvs can hire more people for that location so they can answer the phones. It is bad enough that the person is ill and has to be holding the phone for hours or wait in the drive through for more than thirty minutes. The aggravation of waiting is worse than the illness itself. If this problem does not resolve I would have to transfer my prescriptions to another pharmacy. I also have other family members that I get the medication for including my elderly mom and my sick brother. We have been with Cvs for many years. This is a frustrating situation.

I have been filling my prescription for 20 years at CVS and on a regular basis would get a hard time and treated like a dirt bag. I took my script to same CVS and from the same doctor every month and they refused to fill or order my medication. I am on disability and am very sick with blood diseases which prevents me from getting operations to repair my 3 ruptured disc and ligaments in both knees. I am on pain medication. I was constantly getting a very hard time unless the manager was working. She was made aware of this issue and did her best to control it.
She went on pregnancy leave and I finally had enough when they said they had to call the doctor and told me its just a recording and if they had listen to it all they had to do was press 1 for front office like I told them. They handed my scripts back to me and said can not help you. Best thing that happened to me although at the time I did not think so. Walgreens carries my medication greets me by name and are so nice. They honesty care and go out of there way to serve me. Thank you Walgreens, CVS is the worst and appear to profile and are prejudice.

Jasmine
from Columbia, MD
I recently went to the cvs in Martinsburg, WV to fill a prescription. Not only were they rude but they lost my insurance card and prescription. Instead of telling me it was lost, they replaced the prescription and I of course notice my insurance card was not in my prescription bag. When informing them, they said they would call if they found it. Never received a call and when I finally called back, I was told they couldn't find it so there was nothing they could do. I found this customer service unprofessional and irresponsible especially considering it has very important information on the card.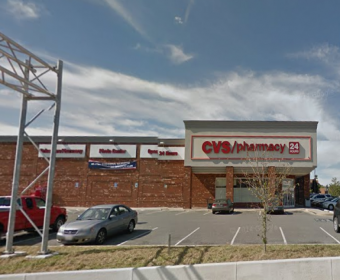 Judy Brito
from Sorrento, LA
The store I went to is 296. I dad spent 20 minutes to pick up my medicine at the pick up window. And another 15 minutes waiting for a prescription inside. The medicine was only 2.60 they only had 3 employees who act like they hate their job. All the employees who have been there longer have quit and the new ones don't know what they r doing. They also had a sign for flu shots available and there was no pharmacist there to give the shots til Monday. They also have a Minute Clinic which won't b open for 2 yrs. But there is nothing saying it is open. You have to stand in line to find out. Also the night manager is rude. I have used CVS for years and she is standing there with the clerk watching us check. I guess she thought we were stealing and everybody in there knows me. There were a total of 10 people waiting on prescriptions inside the store. Some were talking about taking their business to Walgreens.

Jane Zlata
from Greenville, NC
Since CVS pharmacy started to close at six on Saturdays and Sundays it's been horrible. If your in the store is anywhere near that time close to the pharmacy, they will yell out to you we close at six come to the pharmacy before you start shopping in the store we close at six. I was actually approaching the pharmacy to pick my medicine up they didn't even let me get there yet before they yelled at me that they close at six and it was only 5:30 then. I was in the store at 5:40 one day to pick up a prescription that I called in earlier that day and there was a line of three people so I stood near the cash register next to the line that people were picking up there prescriptions so she turned and looked at me and said we close at six so please pick up your prescription before you start shopping and I said to her I know what time you close I was just retrieving a coupon out of my bag while you are still busy with a customer and plan to use it later in the store after I picked up my medicine.
One day I was on the phone with the pharmacy and spoke to her about a prescription she asked me what time to you want to pick it up I told her at 5:30 I live less than two minutes from this store well she said you need to get here before six we close and I said to her I know what time you close. One of the employees at that store told me that when the pharmacy closes nobody goes in there. This store is located at Arlington and Fire Tower Road.

LaNae Frew
from Kingman, AZ
On October 29, my husband had a surgery. His surgeon gave me two prescriptions to fill for him. One was an antibiotic and the other one was for Percocet for pain. I arrived at the CVS in Boulder City, NV to get these filled immediately after his surgery on our way home. After I handed the prescriptions to the technician, she told me that it would take 3 hours to fill because CVS has a policy regarding filling narcotics and they had to check with the DEA. What happened to the day when a sick person went to a pharmacy and could fill an RX in a reasonable timeframe?
I live 25 miles from this pharmacy so it wasn't like I could just go home and come back in 3 hours. I took the prescriptions back and went back into Henderson (8 miles away) to a Walgreens where I was able to get these filled. In the meantime, I have my poor husband in the car, post-op with his anesthesia wearing off. I would like an explanation for this Ridiculous policy so that I might understand what this is all about. As I see it right now, it appears that CVS feels the need to police the physician. All this does is hinder the patient to get their medication in a timely fashion.
I get an RX at this CVS for myself but will be looking for a new pharmacy so that I won't get in this same situation if I ever need a pain med.

David l. Anderson
from Allentown, PA
I do my neighbors pills for her. She is 77 years old and takes now 11 prescriptions. I have been filling her weekly pill box for more than 2 years. From the very beginning I have had trouble with the drug store. Until last year she was on automatic refill. Pat has a lot of health problems including cancer along with high blood pressure and etc. When her prescription dosage would change I would tell them to cancel the one dosage and they say ok but in a week or so I would get the old dosage along with the new dosage.
Again I would tell them but the problem would remain This also happens when I cancel a prescription. I would keep getting it. They would not take them back and would not give her her money back. In the last 2 or so years the wrong prescription would come into her house well over 10 times and I would have to go and try and correct it. Finally I took her medicine list in and had them copy it and cancel any thing else that was not on it. One time she got someone Else's prescription.
They took that back. Because of all these problems I am the only one going to the drug store and I check everything with my list which has become very exact. I still catch problems. Because she was on automatic refill she was getting to many of the same pills. She had at least 2 months extra on at least 4 or five of them. and more than 2 weeks on the others. 11 prescriptions is confusing enough. Having all those extra pills makes it worse. So I went off auto fill around 8 or 10 months ago and have had no problem since then until 3 weeks ago. All of a sudden I cannot fill a script until 6 days before I run out because of the insurance company. 3 weeks ago they filled a script 3 weeks early and I did not order it.
They do not know how that happened saying I must have done something wrong. The only thing I did was wrong is that because of convenience Pat picked up the pills. If I did I would have caught the mistake. Through all of this they have never admitted to making a mistake. So to counter act the 6 day window the last 2 weeks when I fill Pats weekly pill box which is on a Friday I go in and order the pills to be picked up 6 days later. Last week they only filled one and had no idea why the other one was not filled.
I had to catch the mistake or I would have not gotten it and would not have had enough of those pills to fill the pill box. This last Friday I ordered 2 more scripts to be picked up 6 days later. They said no problem when I ordered them. Today when I went in they had no scripts for me. I told them I had ordered 2 scripts to be picked up today. So they looked them up and 1 was put on hold and they had no idea why and the other 1 I had was going to pick up 7 days early and they could not fill it until tomorrow because of the insurance and I had to come back for it. I have a Question? Why when CVS was auto filling the scripts she was any where from 2 weeks to 2 months ahead on all here pills. When I went off of auto fill every thing was fine for months until 3 weeks ago.
I keep trying to work with these people but they are making it all most impossible. First with all there mistakes and now this. There is a problem here. Neither one of us drives. Pat at 77 and health problems cannot walk there. I am 69 years old but I can walk there for now. There is no other pharmacy close enough to walk to. We have to go there. I fill here scripts on a Friday and if there is not enough to fill the weekly box the next Friday I order them to be picked up 6 days later the day before they are needed. But that is still not good enough.
Because of 11 scripts I have to be able to do it all at once and not have to keep going back daily and filling days in I could not because of the 6 day window that is all of a sudden being enforced. I am sure by now you have figured out these people are not happy with and for some strange reason they are getting even with me. But it is not me we are talking about. We are talking about a 77 year old lady's health. I do apologize for not having the dates all this has been happening but I can assure you I am not making it up. I would appreciate it if some one contacts me about this. Also would it be possible if I could get a persons name and phone number there at corporate that I can call each and every time I have a problem.

Nicole Rynes
from San Jose, CA
I have been a customer for 2yrs now with CVS. I have never had any type of issues until today ( 10-5-15). Usually CVS has no problem contacting me regarding any issues with my prescriptions. Today i had my Dr immediately call in regards to my omeprezole substitution from capsule to tablet form as my insurance no longer covers the capsule form. CVS never called me in regards to my scripts so i called my Dr's office thinking that was the hold up. Found out from my Dr's office they had executed this issue this morning. Ok call CVS, the young man that had answered the phone looked up my prescriptions, told me the omeprazole went through and the inhaler has to be substituted as well. i explained to him this was already on the script.
He told me to hold, hung up on me and that was it. I decided i would just go up to CVS on Devon Ave in Chicago. Got to the pharmacy asked to pick up my scripts and was told i have 3 for pick up and if i want to wait another. I asked which one? He informed me it was the omeprazole in the middle of the conversation the pharmacy technician priscilla chimes in and says no it has to be ordered. I said so how long is that gonna be? She informs me " It should be in tomorrow". I asked if there was anything she could give me for now as my acid reflux flares up my asthma? She tells me " You can buy it". I then ask if she knows if walgreens maybe has it in stock as i really can not wait even a day as i said my acid reflux flares my asthma. She says " I don't know".
I asked is there any way she could find out. I got absolutely no response. I could have sworn that the pharmacist was there to inform you of your medications and assist you with any issues. I did not feel like they gave one iota of concern and I have been a faithful customer. I felt extremely dissappointed for the first time with the Pharmacy at CVS. Only the Pharmacy. CVS is priced way to high. Compare to Walgreens, CVS is at least always even on prescriptions $2.00 more.

robyn jones
from Washington, DC
I have been suffering for 6 weeks with a horrific headache dr said to take clariton also have a bad eye infection so went to cvs for clariton 24 hour have to get it from pharmacy girl goes to ring product up and tells me I can not buy it the system is down Brunswick Georgia store. Several occasions have been treated very poorly by this store WILL never step foot in there again! This store is located on 341 Brunswick Georgia.

Susan Majeski
from Saratoga Springs, NY
CVS continues to try to rip us off. My fiancée of six years is very ill and he needs his medication. We are not rich people and they just try to take money from us. The night person would not put his caremark card in the computer. She charged us the out of pocket price. I cried and she still did not care. She does not care for people and she is very mean. She looked at us and said, "I have too many refills to fill tonight to bother with you two." What? CVS wants to rip off the insurance companies and the consumer. It isn't right. If any one files a law suit, please get a hold of me. I am going to start my own petition. Store is at 34 Congress Street, Saratoga Springs, NY 12866. Amy works the late night shift. She needs to be fired. Store #731. Also, store 5456. Stop ripping poor people off.

Bette Schroeder
from Saint Petersburg, FL
I shop at CVS often but noticed something today that bothered me. I only went today to use the CVS coupon deals for Coke and candy. My receipt was for $1.00 and $.14 cents tax. When I questioned the tax amount I was told the company has me paying tax on the regular price not the price I paid. I usually buy quite a bit more and never noticed I was being charged more tax than I think is right. Is this allowed? I have been in business and have never seen this before. Also there was a coupon for money off the coke and it read that there was a limit of 5. When I went to check out I was told that discount was only allowed on one. That was not clear on the in store coupon. Do they think people can read their minds. This is all little stuff but annoying.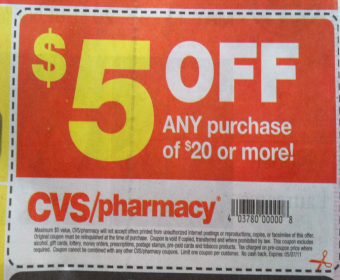 Bertha Abraham
from Tyler, TX
On 8/3/2015, I purchased Rephresh a product that I normally purchase at Walmart. However, they were out of this product so I stopped in a CVS located on Boling Highway in Wharton, Texas. I purchased the product at a total price of $24.89. On 8/4/201, I stopped in a Walmart and discovered they had restocked the product. I purchased it at a cost of $12.56. I certainly understand that you are in business to make a profit and I understand that CVS is no mom and pop store. What concerns me is that the price is overinflated. This is 2 times the cost. I am really surprised that CVS would treat their customers in this manner.

Judith Coenen
from Rockford, IL
I had a extremely bad experience with a pharmacist. I am very concerned for his mental health. I think he may be dangerous. My experience was that I had a serious oral surgery. Before it could be completed I was in bed for 5 days in extreme pain using Advil, Tylenol and Tylenol 3 prescribed for migraine headaches. I have used this perhaps 4 or 5 times a year for 20 years. When I left the 1 and a half hour surgery I had prescriptions for antibiotics, antibiotic mouthwash, muscle relaxant since I grind my teeth and was told this could be disastrous for the work which will need further visits and a pain medication that I cannot remember the name of.
I was told that before I could get my medications they would need to talk to the surgeon. Since I came right from the surgery I was still under anesthesia so I may have looked groggy but I don't know for sure. On four accessions I spoke to the girl at the counter and once to the pharmacist. They said I would need to wait an hour then two then three. When I finally asked them to get me the number off of the prescription so I make a connection between the two Karl erupted in front of all the staff and customers saying, "you have been taking Tylenol 3 and just had a prescription filled. You do not need this". I actually don't think he had ever talked to the doctors office.
They were there doing surgery all day. But the scary part is I said "You asshole you never even talked them"at that he said "you have crossed the line I will not take care of anyone that speaks like that to me" He then preceded to take his pen and make "x"s on the prescription and stab it with a pen.
I honestly don't believe he ever spoke to anyone there. I will call the periodontist on Monday to find out. Long story short I do believe the medication probably ended in Karl's pocket. As I am afraid of him I wonder if you could check with the people working there.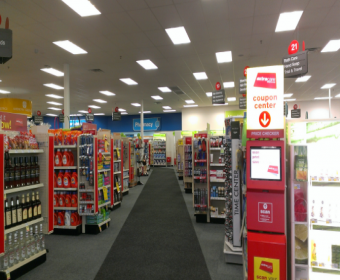 Carey Robinson
from Helena, MT
I switched from a CVS that was close to my home for a different CVS because they deliver medications on Tuesday and Friday. I am disabled and this delivery system was supposed to make my life easier. If going without medications for days is easier then I guess I've succeeded. Since switching I have had constant problems with my meds being delivered on time. The most recent:Yesterday. I am on Atenolol and cant be off of it. I called in Thursday for a delivery for Friday. It never came.
I called the store and she said I hadn't answered a "confirmation"call for the delivery. They have NEVER made a confirmation call to me after Ive placed my order. They have screwed up on four separate times. With my Thorizine. Klonopin and just totally forgetting others. Please realize I have no transportation and cant afford a cab. Going without my Atenolol is extremely dangerous and my heart is pounding right now is really getting to me.
I want a reply. I'm having several tests done in the next few months and the pharmacy I choose will be lucky to get all of the business I will be giving them. I want an explanation, not an excuse. I would hate for you to be liable for my hospital bill if I have to go in because of employee failure at CVS.

Cathy crumpler
from Angier, NC
After telling CVS on three different occasions that I was taken off a medication by the doctor they once again filled that medicine. I only had one bag in my name so I did not look to see what it was. I asked if they had the medicine I ordered and they said yes. The bag had two meds in it and the other is the one I told them to take off my record three separate visits. I am out $30.00 and do not feel responsible. I want my money back or our family will be making some changes.

James Black
from Owasso, OK
I use CVS call in subscription refills. The way it typically goes at my Owasso CVS is I place a call at 09:00am for pickup at 10:00am. Call back into the system to see if the order is ready for pickup at 10:15am and the system says it is still being filled, Call back in at 11:00am and the system says it's still being filled, call and talk to the pharmacy at 11:15 and told it would be filled by noon. Call into the system just after 12:00 noon and it says the prescription is still not ready. Still waiting CVS, and not the first time this has happened. I usually end up going in and then they act like they don't know I called earlier so I sit and wait up to an hour to get it filled. Why even have the automated system if you are not going to honor the times promised at all?

John E. Jones
from Bessemer, AL
I usually get extremely good service at my local CVS. Today, after standing at the counter for nearly 10 minutes, I left and went thru the drive thru. Quick service...The cashier that saw me at the counter kept waiting on drive thru customers. A girl looked up a couple of times and just continued filling prescriptions...apparently for call-in orders. The cashier at the drive thru said that they had been tolld to fgive the drive thru customers priority. Both of the girls working there were extremely busy.....one waiting on drive thru ...the other filling prescriptions.
Either you need to hire more people...or teach your people to treat everyone equally!!

Cathy Sherlock
from Havertown, PA
I dropped off my son's prescription on Thursday 5/21/15 at about 7:30am, went to pick it up Friday 5/22/15 about 6:15pm. There was no record of me ever dropping it off! They lost it! We were going away for the holiday weekend & got stuck in CVS for over an hour while they took their time & treated me like a liar. The comments were unexcusable!!!
This is not the first time we've had problems with this CVS. A couple months ago, I dropped off the same prescription, it's a narcotic, so they need a prescription. Went to pick it up & there was a problem with the way the Dr wrote it, it was written the same as every other time, but no one thought the need to let me know that they were not going to fill it! When I went to pick it up, first they couldn't find it! After a while they found it & gave it back to me. Which I took to another CVS & they filled it with no questions. So what could the problem be that one CVS can't fill it but the next closest DVD had no problem filling it????
I already changed pharmacies for my 10 prescriptions, & my husband's, it was just convenient for my son's because it's a narcotic & I have to drop off a prescription every time but guess it time to move on with my son's also!

I had a friend go into the CVS in South Williamson, Ky she dropped off her sick daughters prescription and was told that she could not pick up the medication until the next day! Another friend dropped her script off this morning and the tech told her it would take 1 hour she came back at 7pm and it still was not ready! I have worked in pharmacies on and off for the better part of 10 years. Never have I heard of anything like this! I think this location needs to be looked at something does not sound right! If they are under staffed then it sounds like they need some help

My wife went to CVS to pick up her prescription today and her drivers license had expired. The pharmacy tech, Trisha, was very rude to my wife. She was rude in her tone of voice and berated my wife for not having a valid license. We have been loyal customers of CVS quite a while but , if this is the way we will be treated in the future, we will find another pharmacy. The technician is the lead technician and apparently she feels like God or something. Maybe she just feels like, since she is a lead technician, she can run all over people. The other customers sitting there hearing her berate my wife agreed that she has an attitude problem. I have picked up medication for my wife and she has been real snooty with me also. I don't need it and am not going to take it from some little young girl that thinks she is better than everyone else.

I have been a costomer of CVS pharmacy on 1624 lincoln hwy east, lancaster PA 17602 for over 2 years. On Feb 4th 2012 I had to go to Puerto Rico, days before I have asked if my perscription would be refilled at the CVS parmacy in Ponce, PR. For my surprise when i went to refill my pain medication they made me fill like it was from another planet and they refused to refill my pain medication. I suffer from server back pain and Fibromyalgia which cause for me to be in server pain if this medicine is not taken.
I have called the pharmacy here in PA and they told me that i needed to speak to Maria, very rudely she told me that i needed to find a doctor there in Puerto Rico to perscribe the medication because it was another country, as far as i know Puerto Rico is part of the US. and is commonwealth state. I asked to speak with the pharmacist, an he told me that he didn't feel right of transferring the perscription to Ponce, PR. I was there for two long weeks with out my medication, very little sleep, tried over the counter pain medicine and they helped very very little.
I am not a drug addict I'm a person that sufffers from server pain and needs these medication why your pharmacy refuse to fill my perscription. If I go to New York they wounldnt fill my perscription either. There are many people in my health situation do they have to go thru the same problems I did. What is wrong with your pharmacist that they judge people just because certian medicines. I will definetly transferr to Walgreens even if they are further away from me. I dont need to deal with angry and judgemental people. Nor does anybody esle we are your customer. Even animals get better treatment then I did.

After they changed the people working in there pharmacy I have had nothing but problems. Today was the icing on the cake a young and I'm going to say it as it is, smart ass girl named Brandy first lied to my boyfriend, then to me, and then to cover her ass her boss. I will no longer be doing business with them. I'm the customer and they should do anything possible to help me instead of argue with me. And especcially lie to her boss. This is the CVS at Pryder and McCarren. It took 6 hours to get a hand written script from my Dr. good thing it wasn't med. nessicary or I'd be dead. Get the other people back or train the new ones good customer service not how to be total asses.
Trying to get some stuffs from CVS and used their coupons. When I check out, the CVS staff was stare at me like I will steal things. When I scanned two coupons, she said you can only scan two which is something I dont understand. Why Cant I scan more than two coupons? And the computer accepted my coupons but the lady took out the coupons and said you didn't meet the requirements for these coupons and I'm going to void them. So I said I don't want to buy anything now. Since she ruined my day, I decided to leave without buying anything. But she suddenly I was stealing if I used the coupons.
How can a staff called a customer stealing just because the customer misused the coupons? I was very mad and I do NOT want to go back again. CVS needs to tell the employees how to treat customers!!!!!

Her name its Maria P. The first time, I make a mistake and have to cancel and start all over and she told me "always its the same mistake now I have to call the manager and void this ugh!" and the manager came and nicely void the transaction and said its no problem, and then she told me "step aside im gone a take care of the others first,you have to wait until im done".second time I was gone a make 3 transactions and I let people pass first,when I told her I was gone a make 3 transactions she told me she can only do 2 becouse I was make in a line, im so disappointed of the service its the only cvs in town, how this lady still working there with that attitude, I love shopping at cvs and now I always think about goin or not, becouse im gone a see her there, I hope somebody take care of this issue, thanks

I sent my daughter to pick up a written prescription from my doctor for migraines that I have had since I have been dealing with a concussion. The concussion was caused by a fall in late December 2012. I have seen my doctor (general practitioner) at least 4 times in the last 2 months due to my surgeon referral because the surgeon is only dealing with the neck surgery of removing the total if three discs from my neck. My appointments with general practitioner are only until I can see a Neurologist which I can not get appointment until May 2013. The Meds I was given on Tuesday, 4/2/2013 only made my headaches worse. The prescription on Tuesday also contained acetaminophen but that was not an issue with CVS.
I just received call saying that my Prescription is ready after over 3 hours and having to send my daughter back across town to pick up. I was told not to take the Meds that I had on hand with the new prescription which I clearly told CVS pharmacy. This is very much an issue while waiting with a migraine, having to get in touch with my doctor and then CVS making another 3 hour wait to fill. My insurance was OK with filling this prescription so after informing the CVS pharmacy that I knew the doctor's precautions, why did they not take my word?? I have had a very rough night and severe pain since the concussion. I feel like I have been treated as I was not trusted to know what not to mix. This is not acceptable with the issues I am already having!

I work for a doctors office that continues to recieve RX's for a doctor that is not ours and for patients that are not our either. So I have called the Pharmacy (store #7663) 7 times over the past 2 months to let them know that they are sending these ERx to the wrong number. The pharmacist that I spoke with was EXTREMELY rude and told me "There is nothing I can do for you".
After I asked him how would this patient get taken care of he only stated "I do not know". I feel that this is NOT the way a Pharmacist should act, when it is their job to make sure the patient is taken care of.
I asked for his name however he would not give it to me. I stated that I would call CVS Corporate to file a complaint on him and he immediately hung up the phone.

Multiple times I have been to CVS pharmacy located on Cypress in West Monroe, La 71291. They are lacking in customer service skills. Today I was helped by someone named Emily; I have never seen a worker who is that rude and even rolls there eyes to the customer. She then walked around to make comments since there was a problem with getting my prescription filled. After the doctor called to verify the prescription was for me and correct she asked someone else to check me out. Please fix these problems as this is the pharmacy I always and would like to continue to use if the service can step it up a notch! Thank you!

CVS store #1476 at 7012 Marlboro Pike, District Heights, Md 20747 This pharmacy location never has any concerta medicines in stock. I fill monthly prescriptions for my my minor son and every month the store is out of medicine stock. You would think that once they are out of stock they would order enough to cover a 30 day period, then order another and so on and so on. Also, my son has a new rx for Amphetomiu 10 mg, and you guessed it, not in stock. Could they just have ordered it and all I would have to do is wait for it a day or so. Is that asking for to much. Or do I need to find a new pharmacy altogether.

Previously, I used a nice local, small, independent pharmacy with prompt & accurate service, friendly & competent employees & wonderful customer service. Unfortunately, they went out of business & after they closed, I transferred my prescriptions to CVS Pharmacy in Sandy Springs, Georgia. I thought the nearby location and 24 hour service would be a good option for me. I was very, very wrong. I am told that this is a "high volume" pharmacy, which translates into very long lines, long waits for medication fills, out of stock medications, frequent ordering errors & poor customer service. Not surprisingly, this pharmacy has a high employee turnover rate & as a result, most of the employees do not know the customers they serve.
Honestly, there is not enough room to describe the many problems I have with this pharmacy. I usually try to "deal" with the bad experiences & hope tomorrow will be different. However, today was the last straw. After visiting this pharmacy multiple times (as well as two other CVS pharmacies) for the same (C2) generic medication, I was told that my supposedly ordered medication was to be picked up today. I am at the end of the previous prescription & I found out that the pharmacist did not order the med but they can reorder (?) it & I can pick it up in a week. What? I explained that I was running out of my medication & that I did not have enough to last another week since I had been trying to get it filled for over TWO weeks.
The pharmacist tells me that I can get the name brand, which is 200 dollars more expensive than the generic. No, thanks. Then he says I can "partially fill" my prescription for a few days under the brand name "to get me through" & then go to my doctor, get ANOTHER prescription & fill it under the generic when it comes in next week. Since this is a narcotic medication, I am pretty sure this is illegal, and if so, this would not be the first illegal advice from this pharmacist. No, thanks, again. No apologies, by the way. In fact, he acted as if he was doing me a huge favor, while he clearly stated (twice) that the mix up was not HIS fault! I have observed this pharmacist before & his communication skills & his customer service skills are lacking.
Because I take several medications on different schedules, I spend time & energy keeping everything organized with my medication schedules, doctors' appointments & pharmacy refill requests, etc. I wish CVS pharmacy spent more time trying to be organized, efficient and effective. In my opinion, a well-run pharmacy should work hard to make the business of pharmaceuticals as efficient & as accurate as possible, especially for a customer of over 6 years. Excellent customer service does not include requiring that a customer travel from pharmacy to pharmacy, trying to get a prescription filled. Most pharmacy customers do not feel well to begin with, & if they expect & experience problems with every prescription, then the customer & the company have a problem. And if I were a leader within this company, I would want to know about such complaints. As a paying customer, I would like to be treated with at least some respect, perhaps following up with what he says he is going to do. When problems arise, & I understand that they will sometimes occur, I would like for my pharmacist to help me to find a positive solution, not deny blame & delay me getting my regularly scheduled medication.
Problems are rampant with my CVS pharmacy. In fact, I EXPECT problems with each pharmaceutical request I submit. If things go smoothly, then I am thankful, but surprised. That says a lot. I have asked family members & friends for recommendations for other pharmacies & the results are unanimous; do not go to CVS. Apparently, anywhere else is better than CVS. It is a big hassle to change to a new pharmacy, but based on what I have experienced, I feel I would be better served by using a different pharmacy. I certainly feel I have given CVS plenty of time to improve, but things are getting worse rather than better with time. I am at the end of my rope. I am so disappointed in this pharmacy.

I recently had my prostate removed. I still have a catheter installed - I would like to get it out, but I still need another surgery to repair damage done by the original catheter. I used to take Vesicare for bladder cramps, but it stopped working, so the Doctor prescribed Toviaz.
Out of the blue Caremark said they would no longer fill the Toviaz. My Doctor even called Caremark, but his request was refused. So now I have to pay full price if I need more Toviaz. Does Caremark know better than my Doctor? What's going on here?
1/10/13 3:30 went to get prescription filled and was told it would be ready in 4hrs. Returned at 8:30 the same day and was told I would be getting 3 of my tablets and the rest of my order will be ready on 1/11/13 after 6pm. I returned on 1/13/13 and again was told my order wasn't ready and it would be ready on 1/14/13. I was given one more tablet until 1/14/13.
On 1/14/13 will be my 4th trip to get this prescription filled entirely. This needs to be looked into . I'm ready to find another pharmacy.

I was at my local CVS in Laguna Hills, California, picking up a new prescription and I asked the young girl working at the pharmacy to explain how and when to take my new medication. She sighed and rolled her eyes, and was very unfriendly. She did not greet me, or ask how she could help me, so I had to get her attention by waving my hand. I no longer felt comfortable asking her anything so I asked to speak to the main pharmacist, and she told me to wait. When I asked how long she thought it would take because my daughter is waiting in the car, she ignored my question and began texting on her black iphone. I asked the pharmacist what her name was so I could complain to management and the woman told me her name was Diana Nguyen. I left CVS not feeling like I was still unsure about how to take my new medication and I will be transfering my prescription to my local Target. If there is anything you can do to ensure this type of rude behavior doesn't happen to anyone else, please do so.

I am new to CVS only because my insurance
changed and my first impression is not good.
I had a prescription called on 4/29 and it i went
To pick it up & they explained that they had nothing
In the system. I called my doctor who said he called it
In. I went back 5/2 & it still wasn't there. I gave up.
I'm going to use my hospital pharmacy. I just felt
I wasn't important customer to CVS. I never was approached by a pharmacist
Honestly, the Rx wasn't a big deal. I could wait.
Every company is going to have issues. U learn by
Mistakes. Cvs should look @ Walgreens customer
Service policy. They are efficient & helpful.
Oh, I am not a big fan of carpeted stores. Yuck!!
Good Luck.

On 3 separate occassions your company has printed in the sale ad the Sylvania Netbook wireless mobile internet device for 59.00. this summer you advertised it and i went in and they said "we received 6 in and they sold last evening" i said the sale did not start until today and they said someone new was working and they sold them "sorry". the 2nd time it came out i went in at 10:30 they said we only got six in and someone bought 4 and 2 others bought 1--i said why did you sale 4 to the same person--why only 6 when it is the main feature item? so i thought this paper came out and i went in when the doors opened and of course they had none this time.
they said sylvania quit making them but the Buckhannon store has 3 left that is 20 miles from where i live and i am sure by the time i got there there would be none--i said if they quit making them how come other stores got them they just shrugged their shoulders--i buy all our medicines there and you can check my cvs card i purchase a lot of items there--
for this weston store to do this to customers who are loyal is not right --i just wanted 1 small netbook computer--why is this not false advertising not getting them in and the flyer saying it is available and other stores have them and weston does not--i am requesting that cvs ship one to the Weston Store with my name for me to purchase it at the sale price add--this is so unfair for some of us to be treated like this when i shop there diligently for medications and the Lewis County Emergency Squad parties for the candys and the Halloween and Christmas parties.
for the ball teams with items and birthdays..please see what you can do-- i work very hard for my money and want to spend it wisely---thank you--

I am regular customer at your CVS located at Technology Place in Waldorf, Md. Within the last year, this pharmacy has been horrible. Here is why: Several times, I have gone to pick up medicine they either don't check my profile to see if I get generic or regular. They automatically fill generic. Never, ever have asked for generic. There are several people taking the refills without asking or informing me that my refills are low. I prefer to talk with a person about my medicines than to talk to a recorder. This morning I called in a refill and when I got there to pick up the refill, I was given fifteen pills half the amount that I usually get. Why didn't the person in the pharmacy say you only have fifteen pills left when I called in the refill. Today they wanted to charge me for half of the medicine at a higher cost than I would pay for a full month supply. This totally unacceptable and poor trash customer service. Please inform your operators in the pharmacy to advise customers if there refills are low and let them know how many full refills customers have on a prescription. Please make the pharmacist and clerks are paying close, close attention to the customers profile so there are less mistakes in the future. As you know mistakes can be extremely costly. I look forward to hearing from you.

My elderly mother went to get a prescription filled at the CVS Pharmacy on 13488 E eleven mile rd. Warren MI 48089. She has been on this medicine for many years. Her psychiatrist retired so she had to go to her family physician for a script until she could find a new psychiatrist she liked. My mother went to her new psychiatrist and he wrote her a script. She took the script to CVS and they told her they could not fill it for her that day. They then called our house later saying the Doctor canceled her prescription. I called the Doctor and he said a pharmacist named Marie called him and told him my mother was seeing multiple doctors who were prescribing her the same medicine. This made her new Doctor think she was a drug attic so he canceled her script. I thought pharmacist were not suppose to give out personnel info without permission.
This pharmacist made my elderly mother look like a pill pusher . I thought pharmacist were only suppose to contact a doctor for verification that a script and the dosage are ligitimate. Not give away info over the phone about other Doctors she has seen. My mother then did not have the medicine she needed. My mothers blood pressure went from 120 to 175. I had to take her to the emergency room so they could give her the medicine she needed. I believe my mother's hippa rights were violated and I am contacteing them over this issue.
That pharmacist defamed my mothers character to her doctor and caused her to end up in the hospital. I have always been treated with respect at every other CVS I have shopped with. I am so outraged and hurt over the way the pharmacist stared at my elderly mother with contempt when she turned in her prescription. I am a loyal cvs customer and federal employee. I spend a $100-150 a month at CVS. Because of this I have decided to take my business to rite aide.

I've shopped at SavOn/CVS since 1969. The same location on Pico Blvd./Point View LA 90035. The pharmacy tech was rude to me on several occasions. On 12/31/11, after receiving several automated calls to pick up my refills, I did so. The rude tech, who has waited on me for years, asked for my name. She couldn't find any refills and proceeded to check the pc.
She asked me to spell my last name-I did-than my first-then my birthday-I did. Then she stated we have a communication problem as I received a phone call. The person on the line asked why this person was speaking to me as if I were a child. The prescriptions were filled and I spoke with the pharmacist. I told her I would not return and I will transfer my prescriptions elsewhere. I spent $2700 on prescriptions in that store last year. I won't do that again.
I have had Blue Cross Family plan for 25 plus years. Your pharmicist was rude and not professional. She filled my prescription but would not fill my wifes as she preferred to argue with my wife that she was not on my family plan marked Blue Cross. We have used this CVS and other CVS pharmacies within the US without challenge or argument. I understand that education is poor now days but CVS should screen the people that are going to talk to the public. Because of this my wife is still sick and we have to go to a different pharmacy and I will promise it will not be CVS nor will it be in the future.
We will never shop in your stores again and I am sure at that store I will not be the only person leaving that store upset. I reccomend anger management and just plain educate your personal. I'm a doctor and have always suspected rude pharmacy techs of having mood swings. She should be employed elsewhere.

I live in middletown ohio, am visiting my son in houston texas. I sign up with your company for email rewards points and use my i phone for emails, I went to make a purchase today in (7214 FM 1960 E. Humble Texas register 11 tran# 4368 cashier 0404352 store # 7416) and pulled up my 25% off coupon to use becasue it expires today and she she wouldn't allow me to use it because it wasnt in hard copy form but yet you send me coupons that I can use for online purcashes and it isnt hard copy, its electronic. In todays electronic world I thought this was poor customer service. You can send me stuff electronicaly but I cant use them back in your store electonically, isnt this biased? You can do it, but I cant.
What is even worse is that I use my i phone's key ring downloded electronic icon and pulled up my customer key card and it was scanned at the register. This wasnt a hard copy key ring, it had been scanned and down loaded on a software on my phone. Even the cashier was matter of fact. She would speak becasue she had to but nothing more. I work in a retail business and understand trying to keep my customers happy so that we keep there return buisness. The market is flooded with pharmacy's at every corner, and I also work for a hospital which has there own pharmacy on campus and with me being a long standing and loyal customer that your company could do better than this. I will think twice about where my loyalty's are in your company.

My name is Shirley Vanterpool, I live in Denmark S.C. I went to CVS at 18252 Heritage HWY Denmark S.C 29042 on November 2 2011, to pick up my prescription and was giving the wrong prescription in the wrong box. The name of the prescription that was to be in the box is, Derma-Smoothe/FS Scalp Oil and there put a medicine for the face in the box. On the front of the box said apply to face twice daily and it is to be to the scalp twice a week. They but a difference prescription which is for the face call Verdeso. When I went back and get the right prescription , they would not change the direction on the front of the box .
This person said no one should be using your prescription which is right , but you never no who would pick it up and use it ,things happen . This person was just working there for today, and I fell if they cannot do there job right they do not need to be working there. This is the first time I had a problem with cvs, everyone that work there before have been very nice.

I have, since being a CVS customer, gone to pick up my Rx, at the scheduled time, on more than 30 occasions, only to be told it was not yet in. I now speak to someone in the pharmacy every time I fill a Rx and tell them to call me if there will be a delay in filling my script. And yet, I have once again run out of a drug because you didn't get it on time and you didn't call. This last time I had to call twice before you even filled it. It took you more two weeks. I had to use my husbands insulin. I have complained to your store manage, your pharmacy manager, your pharmacist and your pharmacy techs. I am done complaining I am going to every local state and federal agency that has jurisdiction over CVS and filing actions against you. If it weren't for the fact that my prescription insurance is with CVS/caremark, I wouldn't be a customer.

There is an extremely rude and inappropriate pharmacist working at the CVS located at 11264 Beach Blvd Jacksonville, Fl. Named Kamel Batteh. This man is now than just rude, especially for him to be the main pharmacist at that location. I have dealt with him on several occasions and he has always been extremely rude and makes me feel like I'm a lowlife for bothering him to fill my prescriptions. I am in a wheelchair due to a MRSA infection that destroyed my hip and pelvis. I'm in extreme pain all of the time and when I went to fill my last prescription for pain medicine he told me that I was just killing myself by taking my medicine. I have doctors that take care of my health issues. I don't need this man's personal prejudice about pain meds dictate whether I can receive my meds or not. So this time I went to fill my prescriptions and was told that he just got there and that I had to hold my horses because he just got there. The Pharmacy opened at 10 am and I was there at 10:30! When I got home I noticed that he had shorted me ten pain pills and given me waaay too much of my steroids.

I was a former customer of store #3082 Cvs Hogansville Rd Lagrange, Ga. I decided to move my prescriptions to the local independant pharmacy because of this store "losing" refills on 1 of my medications. The REALLY SAD part is, this has happened to my sister. mother, and now even my own son!! The Cvs on N. Greenwood St [new location since may 2012] "lost" my sister's heart medication refills 2 times so twice my sister had to call the dr. who said "you should have 3 refills left" and then proceeded to tell me that this is the 4th call today about Cvs "losing refills".
If that dr. alone has had 4 calls imagine how many other drs. have been called also. My wife decided to move our son's medications due to having to argue with the pharmacist "Ray" and his staff @ store #7615 Greenville St. about his refills. She was assured by Ray that there was 10 refills "on hold". She had his medicine refilled @ the local independant pharmacy where the pharmacist told her that the pharmacist @Cvs #7615 told him there are NO refills left!! The independant pharmacist said he would call Cvs again [who he said was rude! what a shame!] or call the dr. Here we go again, having to bother the busy dr because Cvs is lazy or incompetent, we already know they are rude!!
My mother is 87 years old and has to regularly "deal" with the N Greenwood store at the very least 2-3 times in 1 day just to get her medicines filled!! After talking with many. many people this seems to be happening daily. My question is why do you NOT CARE about how you treat the people who have kept this company in business? I did figure out that when you choose to move your medicines, Cvs chooses to "lose" your refills therefore creating aggravation for you and the drs. and nurses. I am really ashamed that we have 4 Cvs stores in LaGrange who have the poorest customer service and extremely rude and childish behavior such as this!!
I will NEVER recommend this company to anyone who asks me and will relate my experience to them!! It's sad and pathetic for the customers and unfortunate that they can't put this company out of business!!

I was at CVS 349 broadway, in Amityville. when i was being rung up she asked me if i had a cvs card. i told her no,could i use the stores. she told me they dont have store cards. i explained to her i use them at other cvs stores. she said not here. what strange is i used the store card 3 days ago at the same store. she was very nasty and rude. i never took her name,although she has red hair. there are only two people working in that store today and she is the only employee with red curly hair. 12/8/2012. i know like everything else this will get swept under the rug since i dont have a name and even if i did nothing would happen. so why am i making a complaint. hopefully someone will take this serious and fire this lady. i always had good experiences with cvs,this was unexceptable because this woman lied to myface and was rude ontop of it. the only way ill know if she was fired is when i go back to the store. if she is still employed i know this complaint fell on deaf and dumb ears.

After completing my shopping I headed towards the checkout. The cashier saw that i have a lot of coupons and immideatly make a face at me. she took each coupon and checked it and tried to say that they are wrong or not good or that i took a different products. i tried to help her but she again gave me the face and was impatient to me, whispered to the other cashier and talked about me. at the end, something was wrong with the paper in the machine, and she tore it rudely and gave it to me, tore some of my ecb. when i told her she said it's OK and wanted me to leave.

The pharmacy I use is located at 5610 Spencer Hwy Pasadena Texas 77505. I have used this same pharmacy for years and have never had a problem with getting my refills.The woman they have in there her name is Mays Albayati does not know what she is doing.This is the second time that she has messed with my meds. My Doctor submitted a new prescription for my budesonide on 9/12 with 3 refills showing on the blue and white label.I called for a refill on 10/16 and now I show 0 refills how can this be. Also the quantity is wrong on the label the original shows qty.60 and on the new refill shows 120. This is a breathing medicine that I have to have. It is to the point that when I get a refill with her name on itI wonder if it is the correct medicine in the bottle.
I hope that someone does not get hurt with her dispensing meds improperly

My son's doctor phoned in a prescription for seizure medicine for my son on 1/11/13 around 1:30p.m. I never received an email that it was ready, so I called at 8p.m. last night (1/11/13) and was told it wasn't ready. I told them I would be stopping by in an hour to pick it up. He absolutely needs this medicine! I went to the drive-thru window at the Logan Township CVS in NJ and was told it was not ready. I had worked all day 14 hours and could not physically go into the store to sit for a half hour to pick it up so I went home hoping it would be ready today. It is 8:30 1/12/13, I called the pharmacy and it is still not ready. This is not acceptable. I am going to have to wait now until tomorrow after I get finished with work to attempt again to pick it up. I never had this problem when I dealt with the CVS in Woodbury, NJ. The presecription were always ready for me.

My complaints are: Store # 9727 Number 1# When there is a long line of patrons waiting no other employee is asked to help on the check out. They do have many technicians on staff. #2 I have been there many times and the last couple of times they did not have my prescriptions ready when they were suppose to be, so I had to wait another 30minutes. They did apologize for the wait, but it was very inconvenient. #3 The female pharmacist does not have very friendly customer service. Dr. LIU I beleive. For these reasons I will probably be changing pharmacies. Thank you for your interest in this matter.

I have worked for years at CVS. Hours are cut to the marrow. DM does not care, takes you away from what you need to be doing to what they want done. That puts you behind. Not enough staff to serve the customers properly ( I feel really sad for the older clients ) .. Personally, I think Tom Ryan needs to take a good look at the situation. With the competitors with three or more on the floor to assist customers, stock shelves, process film, clean, wash windows, check in vendors, I just hope CVS wakes up soon before they find all of their investments (personal and economical) go down the drain, or with Mr. Ryan retiring, does he or the share holders even care anymore?? J

Today I went to CVS and used the restroom while I was there. Apparently, there was a sign on the door that said "out of order", but I did not see it. The sign was posted only 3 feet above the ground on the door and I am over 6 feet tall. The restroom was not out of order, so I used it. When I came out, a CVS employee and manager were waiting for me. They immediately began verbally attacking me, telling me to get out of the store. I told them that I had just used the restroom and asked what the problem was. The manager told me that I have "mental problems" and that I have "the mental capacity of a 10 year old". The employee and manager chased me, yelling profanities at me. They chased me right out the door into the parking lot and continued to insult me outside.

Brenda L Reed
from Atlanta, GA
I have recieved by email the 40% off coupon to print and take to CVS . 1st time it took forever and many employee's to redeem my 40% but they got it through.This is the Cleburne ,Tx CVS on Henderson St. Today I took another , via email to me, a printed 40% off coupon , shopped and then again they could not get it to take. So I just walked out and wasted my 45 min. in the store. No apology , too bad for me. What is the problem , why send me the coupon if the store can not honor it? I was very disappointed with the whole thing. What can you do to make this right ,or I may just shop Walgreen and forget it. Thank you .

Steve Charlton
from Chagrin Falls, OH
Re: CVS store located at 4495 W State Rd 46, Columbus, IN This store building exterior, landscaping, parking areas and pylon signs are in deplorable condition. The cheap concrete block building is fading and water stained. The landscaping is dead with no grass or maintenance in the last couple of years. The drives and parking areas are in terrible shape w several large pot holes that damage your car. The pylon signs are rusted. This a relative new facility that has not been maintained. A terrible run down contrast to the Walgreen store on W State Rd 46. We have been long term loyal customers to CVS, but beginning to wonder if this is a sign of a failing company. The personal turnover in the pharmacy area over the last 2 or 3 years has also been a concern that the company is failing.

I had a complaint on an employee (Diane) at the Hartley Bridge corner of Houston Rd. store in Macon, GA. for being rude and disrespectful....including slamming the drive-thru window extremely hard on me while i was still talking.I got out the car and went inside and asked for the pharmacist (Renee). I explained what happened and Renee apologized and made me feel so much better. She was very calm and professional. Renee is a very good asset to CVS.
Renee handled the situation so well made me not want to submit the complaint, but I had to acknowledge pharmacist Renee for GREAT customer service skills.

We get a simple prescription at CVS. We pay for it. There is a VERY LONG RECEIPT given. WHY????? All the extra paper given with the receipt is a HUGE WASTE OF PAPER. We certainly do not need almost 25 INCHES OF WASTE in paper. Just think of all the paper you are wasting each time a customer checks out!!! In our day and age, wouldn't it be wiser to shorten the receipt?? Most folks probably don't even read what is on that long receipt anyway. Please think about it and see if you cannot be more considerate of our resources such as all the trees that are cut down to be used to make paper won't you??

I have a compliment not a complaint.
Store # 7382 Southport, NC Store Manager Connie
Store manager Connie personally helped find the sinus medicine I needed. It has specific ingredients used for my cat. I have been meaning to notify CVS of her outstanding customer relations ever since Hurricane Florence devastated my Southport, NC area. Myself and others were sitting in the bushes outside CVS charging our telephones from the outdoor CVS outlets used for the ice machine. Connie did not fuss but instead was kind and sincere. I will never forget her true heart-felt interaction while the entire town was going through a crisis.

Pharmacy.....Two issues with these people. First.....I was told my insurance company requires a 3 month supply rather than one month supply. I called when I got home and that is not so at all. It is a fraudulent way of the store to make money. I'm on a fixed income and my co-pay would be prohibitive.
Secondly, I call for a refill of Serevent inhaler on Tuesday. I went down on Friday to pick it up and no Serevent in stock and was told it would be in over the weekend. I went down again to CVS Trapelo Road, Belmont to pick up and they had a 3 month supply. I spoke with the head pharmacist and she said it is cheaper for a 3 month supply and is required by the insurance company. I sat and waited for 20 minutes till they changed it out to a one month supply. I have been taking Serevent for two years and filling it at this particular store. Why are they out??

I was at the CVS at 1200 Wilmington Pike West Chester PA tonight. I walked in at 9:50pm and picked out 3 items to purchase. At 10:01pm I walked up front to check out and the manager said that she had closed the registers already and I couldn't make a purchase. I asked her why she didn't tell me that they were closing and she said she didn't know I was in the store because he didn't tell her and she was closing registers. If you close at 10 you shouldn't have all of the registers closed at 10pm. And you should let the customers know they need to check out. I own a retail store and would never provide such poor customer service. There was another person in the store as well. You lost both sales and she didn't seem to care. She was very anxious to get out the door. Very poor customer service.

I am complaining regarding your store on Fair Oaks Blvd. in Sacramento Ca. I have been a patron of the store for 30 years, but, when it moved to the current location everything is just awful. First, the service is more than slow, store is poorly stocked. For example, I purchase my cosmetics there, and first, the popular products were gone. I inquired and received 4 different reasons: 1: the shipment was not in 2: have not had a time to restock 3: same as # 1, 4. because of neighborhood, a lot of theft. I asked the manager, and told her what I had been told and was accused of calliing her a liar. Wrong, only relayed the reasons given to me. Today was the final straw. I was in the "empty" cosmetic department and did find a new item. When I attempted to put it in my cart an alarm went off to send someone to that dept. Of course no one came so I left to pick up my prescription. The biggest irritation of all are all the coupons I can not use because there are no items to purchase. I am issuing this strong complaint, not only for me, but others with the same feeling. You can shoot a cannon through that store but still no help.

Janice Young Miller
from Indianapolis, IN
Twice cvs has filled prescript for ammonium lactate LOTION instead of CREAM. I did not accept first one when I saw it was wrong. CVS pharm assured me they would get it changed with doc. Second time I did not look until I arrived home. Returned UNUSED/UNOPENED but CVS would not take it back. Said will reorder CREAM but I doubt it
They are not very bright in this pharmacy and make many mistakes. I want them to take it back and refund my $26.94.
Was NOT my mistake! I am on fixed income and cannot afford their ineptness. May take all my scripts to Costco now.

Amy Beach
from Bainbridge, GA
Waited in line today for over 30 minutes in my vehicle at the drive thru window, never did get a response from any of the pharmacy workers. Pushed the button numerous times to no avail, it's a shame that they expect a lady in a wheelchair to come inside while we were under a tornado watch today.

Lynda C Rubin
from Framingham, MA
I needed to buy some greeting cards first and inquire about maybe transferring prescriptions and intended to look around for Easter gift at CVS located at 1280 Worcester Road, Framingham, MA
However I went to pay for the greeting cards first, but no cashier was up front, so I went to the pharmacy cashier and thought I would be able to pay for the cards and then ask out prescriptions. I had a coupon that CVS sent me online that I did print, but the cashier would not take it and was quite rude. I left the cards and walked and will never return to that CVS and will continue to get my Medications at other things at the pharmacy where I am treated with respect and courtesy.
I hope you will be able to train staff to treat customers in a better manner.
Sincerely,
Lynda Rubin

Dat dude
from New York, NY
Friday April 19 2019, unprofessional lady behind counter at pharmacy at 9 am. I guarantee if boss walk in there in disguise you'll see how she treats and speaks to people. Very rude. Disgusting attitude so early in the morning. Ya suck for hiring someone like that!!!

Sandy pearl
from Lynbrook, NY
Received a 5.00 extra bucks it expired by the time I went to use as I had the flu. I was told I could not use it it was a week old. I am a loyal customer to cvs for years . The manager was rude and said he could not take it and walked away. Ok I get it if he really could not take it he could have been a little nicer about it. Now if I really cannot use this $5.00 extra bucks I do not think I will be shopping there any time soon. Please let me know if there is anything that you can do.
Thank you in advance
Spvsandy@aol.com

marilyn nyborg
from Grass Valley, CA
I am offended to have purchased 1 birthday card and get a receipt that is 5 ft long!!!
An incredible waste of paper. Each coupon has some limit on its use. You CAN
email my receipt, and I can decide to use it or not.
PLEASE....if no changes made I will cross the street to Walgreens.
CVS Sutton Grass Valley, CA

The CVS in target on Geronimo in mission Viejo is making unethical decisions in filling prescriptions. When I call in a prescription they fill 2 or 3 more that I didn't request. The last time I was picking up a called in prescription they told me my doctor added a nose spray. I asked how much and they said $49.00. Of course I said no and when I got home I called my doctor and he said he did not add the nosespray.
This is scamming the customer and very unethical!
I want to hear from you and if this does not stop i will take this further.

LYONEL JEAN-LOUIS
from The Bronx, NY
MY METOPROLOL SUPP[LY ENDED BEFORE DATE OF REFILLING AFTER 2 CALLS THEY AGREED TO GIVE ME
ONE WEEK SUPPLY FOR $11.99 FINE I WENT FOR THAT.NOW DUE DATE APRIL 9 CAME ,I WENT TO GET MY
SUPPLY MR DAVID,HE WOULD NOT GIVE ME HIS LAST NAME ,TOLD ME I WOULD ONLY GET 83 INSTEAD OF 90
BECAUSE IHAD 7 FROM THAT SUPPLY!
WHAT KIND OF JUSTIFICATION IS THAT I HAD TO PAY FOR THEM, AND NOW I FOUND OUT METOPROLOL FROM
CARACO SUN PHARMA I WAS GIVEN IS NOT RELIABLE PRODUCT! THAT,S WHY I HAD TO USE ONE AND A HALF A DAY TO MEET MY NEED. NOW I WOULD LIKE TO HEAR YOUR EXPLANATION
REGARDS LYONEL,JEAN-LOUIS

Every other month I am emailed a promotion from CVS. Pay $3.99 Sensodyne toothpaste Reg. retail $7.49, details state If the item you are purchasing is on sale, you will pay the lower of the two prices.
The CVS I can walk to (#542 at 212 Northern Blvd. Bayside, NY 11361 718/281-3223) refuses to honor the promotion (most recently store manager Charles). I am told the item is on sale (although there is no sign) buy one get another for 50% off, none of which is less than $3.99.
As a result I have to drive to another CVS (#2413 at 35-26 Francis Lewis Blvd. Auburndale 718/353-1571) who will honor the promotion.
Sincerely, Raymond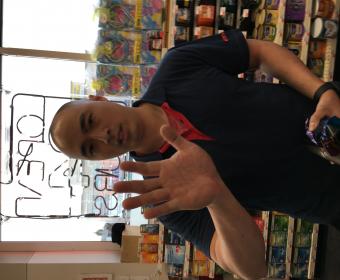 Anna Maestas
from Statesville, NC
I live in NC. I have been receiving automated phone calls from CVS that my prescription is ready for pickup at Cumming, GA (?). I called the phone number from the message, and is was in fact, for the Cumming, GA CVS store. They confirmed my name and phone number (704-682-4451), but said they show no prescription for me was showing on their system. They referred me to a corporate number which I called. The man I spoke to at the corporate phone number said that it was probably a glitch in the system (I had received only one automated call at that point).
I have now received 3 calls and it appears they will not stop...
Can someone please look into this and correct it? My greatest fear, of course, is that someone is trying to fraudulently fill a prescription in my name, from another state. I would like a response back from CVS confirming that it is a computer error, if that's what it is...(and not fraud).
Thank you,
Anna Maestas
anna_maestas@hotmail.com
(704) 682-4451

I told them several times I do not want the auto refill. This was at the Farmington Store Route #332and Rte #96. They still call and tell the Prescription is and there refilling it. I took it off auto refill because I was overstock Auto refill I still had some old Prescription left. I still having the problem. There doing thing and wasting time when there waiting for Prescriptions. I DO NOT WANT MY PRESCRITIONS AUTO REFILL DO I MAKE MYSELF CARE. I WILL BE ON MEDCARE SOON AND I HOPE WON,T HAVE TO DEAL YOU AGAIN YOUR STORES OVER PRICED. BY MR ROBERT E.REARDON

Elizabeth A HATFIELD
from Brandy Station, VA
This is about you at headquarters not caring about your employees at local pharmacies. You have plenty to pay these people and not make them work only part-time just because you don't want to pay benefits and better salaries. Your customers keep you in business and make you're one of the richest pharmacies with your cost too much prescriptions. I had to stand in line for 15 minutes yesterday while 1, yes 1 person was the only one working at the counter for customers. And she works part-time. Plus a friend of mine who works there told me she was cut to part time and hade to find another job to make ends meet. Shame on you and your company. Obviously, you do not care about your employees or your customers.! This message will continue on facebook and to my local reps in congress against CVS!

Kelly Wildman
from Ardmore, OK
I went to the CVS Pharmacy to get a prescription filled from my doctor, I handed the clerk two paper prescriptions, my drivers license and gave her the necessary information to fill the prescriptions for MS Contin 30 mg 120 count and Oxycodone 10 mg 120 count. She verified that the pharmacy had the product and took down my information and entered it in the computer and spoke with the pharmacist and said it would be about 45 minutes and it would be filled. I said that would be fine I would wait and shop in the store with my daughter as I live 2 hours from the doctors office. About 1/2 hour goes by and the pharmacist comes out to me on the floor in front of my daughter and starts to lecture me that he cannot ethically fill this prescription, and that he wants to speak to the doctor that has written the prescription and continues to rant about the quantity that has been prescribed to me by the doctor! About how no one person should have this much Class 2 narcotic and he wont stop and I try to tell him that I have had several unsuccessful back surgeries and I have been under several doctors care for years and that I am closely monitored by what I take and he just wont back off!! He continues in front of everyone in the store like I am some kind of street person with a stolen prescription humiliating me in front of my daughter and the staff and strangers until I finally tell him to give me the prescriptions and I will go elsewhere!! I went to one of your competitors and got the prescription filled with NO DRAMA and the pharmacist was sweet, kind and not HUMILATING! CVS needs to reprimand or fire that pharmacist because he is going to cost you alot of customers!! I intend to tell alot of people NOT to use that CVS on MAY until he is removed!!!
Thanks for your feedback!
Sorry. Please try again later!