Volkswagen
Volkswagen Complaints Continued... (Page 3)
215+ reviews added so far. Upset? Call Volkswagen corporate: 703-364-7000

In December 2011, I received my Polo 2012 model (rakam elshaseh).
This car's performance has been awkward since I bought it! I am comparing it to the VW Jetta, Skoda Octavia, Honda Civic, Honda Accord, Ranault Magane, Hyundai Elantra, Hyundai Verna. All these cars move smoothly, but for some awkward reason the Polo 2012 takes very long to move from a still position and even worse if I push breaks to "slow down" then pull my foot off the breaks it may come to a complete "STOP" which was unintended. Also, it makes a very LOUD RATTLING NOISE coming from the GEAR BOX when I slow down. This noise is inconsistent and extremely irritating I CANNOT have QUIET in my car to the extent that this noise sometimes gives me headaches! This is not acceptable, I have never heard anything like it in any of the cars I drove (listed above) nor in any car I was passenger in! So, please don't tell me this is NORMAL in all VolksWagen, because I know it is not! Unfortunately for you I have a Jetta 2011 and I know this is NOT NORMAL in a VolksWagen. FYI AbouRawash Service find it "normal" to have that kind of noise.
I took the car to the AbouRawash Service Centre in Egypt several times and each time I got a very ugly unprofessional rude and dishonest reaction from the engineer responsible for my car's service called "Raafat".
The first time I went with a concern that there was something wrong and it was unsafe (the car had moved only ~ 5 kilos only approximately), I explained to the engineer "Raafat" there was an odd rattle when I slow down the car. I got a call the next day saying the car was ready. The following day the sound appeared AGAIN and even worse the power steering stopped twice whilst I was driving!!!!!! So, I requested an emergency appointment, because the car had become worse!
The next appointment, I explained what happened again and left. This time I got a call saying there was nothing wrong with the car and that there was no "sound". My brother had to drive all the way to AbouRawash to test drive the car for an engineer (Shereef) so he would hear the sound! The engineer's first impression was this is a gear box issue. This made us feel better that at least someone was going to take care of this issue! The next day I received a call from "Raafat" saying again nothing is wrong and there is "NO SOUND"! He DENIED there was a sound at all! So, AGAIN I went to the service centre to speak with "Raafat", he denied it to my face! I took the car to test drive and make him hear it himself! The sound did come out! When we walked back to his desk he said to us "there is no sound" to both our faces me and my father! Cold blooded as though he was not in the car with us! We asked for Shereef to explain what he heard. Unlike Raafat; Shereef was very decent and honest and explained to both of us and Raafat that this was the first time he'd heard this and needed to compare to another Polo 2012 to identify if this was a fault or normal in a car. We waited for almost 2 weeks (my car was still at AbouRawash) then Shereef called to explain this was normal in all Polos. Something I still cannot buy unitl now. His argument was every car has its own set of sounds! Something I have never heard of in my life before.
Even worse, now my car stops whilst the gear box is set to "D"! To explain more; whilst driving the car, it starts to slow down as though I have lifted my foot off the gas pedal. I tried to push down more at the gas, but the car did not respond! I stopped and, turned off the car, then back on, it moved. This has happened twice last week.
My car's performance keeps getting worse and worse by the day and I have no CREDIBLE service to turn to, and now it is not safe at all. I bought this car trusting VolkWagen safety, but I do not see that is true.
I would appreciate it if you take action to resolve this issue, and advise me where to take the as I "unfortunately" need to go to Service. This may involve changing a Gear Box and I worry that with this level of dishonesty, ignorance and mocking of clients at the VW Service Centre this issue will be overlooked instead of resolved.
I look forward to your reply and a resolution to my problem. I will wait for 5 working days or I will assume VolksWagen is selling unsafe cars to consumers and therefore take another course of action.
Please contact me at the above address or by phone at +2 0111 869 3173.
Sincerely,
Nesma Ahmad Shawky

Since my purchase of my 2012 Passat on 27/11/2012, many critical problems occurred which are making me regret buying it.
The start of the problem was not long after the purchase.The EPC indicator light flashed and the car went to a complete stop so I phoned the a service center in Abu Rawash, Cairo, Egypt. They instructed me not to do anything so I did. However just after travelling 1000 km with the car, the problem happened thrice so I headed to the service center, where the car was taken for 4 days and I was told that they reprogrammed the car computer. Immediately after receiving the car from the center, the problem rose again so obviously I returned the car.They took the car for 2 weeks and told me that installing a new engine processing unit ,which would be imported from Germany, would solve the problem and I told them to do it. 4 days later, the problem reoccured for the 5th time so I, blinded with fury, gave the center the car back and demanded another car as I my car has lost its trust from me. The car was taken for a month and a half and was returned with changed engine parts. I was told then that the problem was thereby solved but I refused to take back the car demanded a new car and to speak with a manager or anybody with authority. They told that i will be called to set an appointment but until now I did not receive the call and the car is still there.
To conclude, my family and I are losing the last traces of trust for Volks Wagen as my father owns a 2011 Passat, my brother a 2007 Jetta, my wife a 2008 Polo and my other car is a 2008 Jetta.

I purchased a VW polo 2011 model in June 2012.I experienced a breakdown last week Friday with the gearbox we sent it into VW contancia, they did not phone me to give me an update, nothing, and I had to do the phoning.
A guy by the name of Kenny contacted me on Friday the 21st and said that they fixed the problem but when I went to collect the car it was not fixed.
The guy who told me it's not fixed is Dani Botha. He said there's nothing they can do because Kenny worked on the car.
Kenny was not in that day. Today I contacted VW, to get a courtesy car but Dani said that they only have 4 cars that they received from VW. And they not available because people book it in advance. Kenny then contacted me. Telling me that it won't be fixed today or give me a courtesy car I must phone the VW where I bought it from and they must help me. This is one company, how can they have 4 courtesy cars and how is that my problem?? They have other branches where they can get courtesy cars but Kenny wants me to phone around because he is at home. He said that his manager will contact me but also failed to do so. Nobody told me when I sent in the car that there are no courtesy cars available, I had to phone and hear by the way, this is nonsense. They refuse to service their clients and they want to cover themselves. I can't phone after VW, nobody can help. They don't care what or how their clients feel aslong as their sorted. I won't accept this. I will make it known to everybody that Kenny,Indran,Dani lack customer service.

My car is getting rusted less than 3 years old.June 2011 my car wasn't starting after heavey rains,had my car towed to Weiss VW in Durban,they said that someone had put water in my fuel tank or the garage that I fill up at had a mixture of water and fuel and thats what went into my car and flooded everything. I had to pay R5700.00 for it was not warranty related, I paid and I wanted feedback from my dealership and to date they have not given that to me.
They said that a sample of fuel from my 'contaminated tank' was sent to a lab for testing and I am still waiting so that I can go to my attorneys and they can recover what monies were lost.Last night I tried starting my car after the heavy rains again and it was not starting,I called VW roadside assistance and they had a mechanic on the line who I spoke to and he said that I am one of three people with a golf 1 calling with the same problem,he said there is a moisture build up and thats why the car won't start,if this is so why did I have to pay money for something that was warranty related.
I request that vw do a thorough investigation into this matter because I am on the verge of going to my attorneys and the newspapers.My car regisration a blue golf tenaciti 2009 model.

I bought a VW Touran (VIN WVGZZZ1TZBW101524) on the 20/06/2011 from Tavcor PE. During the last 2 months – when starting the vehicle, it won't start at the first turn of the key. On retry, there will be no response and only after trying again – it with start. I reported the problem to Tavcor and took it the vehicle in – Tavcor could not explain or diagnose the problem. Fist service (15 000km) was on done on 18/10/2011 and the problem was again brought to Tavcor's attention. Needless to say – the problem still remains. Tavcor representative gave some explanation of having to having to start/swing the engine 6 times – wait for a while and then do it again for 5 times.
This should then solve the problem for at least 3months. Again – needless to say, the vehicle is still having the same problem and as it is still under guarantee I would like some assistance in getting this problem sorted. Having paid R300 000 for a new vehicle – this type of service is disappointing to say the least and creates a negativity towards the vehicle and the brand. Can someone please HELP me getting this sorted?

this is my 3rd complaint and we had a very bad experience in our new jetta gj-3dg-7531 rajkot., we had gone for a drive and there after 2.hrs of drive our car stopped in between and sudden fumes started comming from it, we empied the car as soon as possible and people started running by seeing the fummes from it.even police took the situation seriously and empied the surrounding place. after some times fumes were settled and car started we had a complaint about this matter but they took it lightly and gave very ignorant answer. we r not at all satisfied,well our life cost a lost please take the matter seriously and be answerable.

I had given my vehicle (HR26 BK 6117) for running repair under warranty to your service station at Gurgaon. After 1 day of diagnosis; the concerned service person intimated that I'll get back the vehicle after 7-8 days because of some wiring fault which has to come from factory. Please provide me with a service vehicle or compensate me with the car rental charges for 9 days as I have to travel from Faridabad to Gurgaon to my office. I am paying the penalty of buying a VW whose service back up and policies are worst in the industry. Even Maruti provides a service vehicle beyond 1 day.
I thought that VW would live up to its brand and will take care of quality and customer satisfaction; but I regret to say that on both fronts VW-India is failing miserably. I expect a reply by EOD of the above concern.

Sir,this is to let u know that I booked for Volkswagen Polo on 23rd September 2011 At your Dealer in Hyderabad city of INDIA..i.e PPS motors .As per the assurance given by the Sales executive MR SANTOSH of PPS MOTORS the car was to be delivered on 30th September 2011.We had paid an initial deposit of Rs.49001 towards the booking on 23rd September itself.But when enquired on 30th SEPTEMBER the sales executive promptly directed us to Sales Manager Mr Suresh.who asked us to wait a couple of days for the delivery of car.We before paying the advance payment of money were very clear to the sales manager that we needed the car before the festival of DUSSHERA which is considered very auspicious as per our culture.
when we again enquired on 2nd october regarding the delivery of car Mr Suresh directed us tO the CO,Mr Charles who asked to wait till 5th October and promised to give the Vehicle and laterdenied.Ibooked a complaint CAL8951with Pune office.we later came to know charles took Rs5000 from and another customer and deliverd my car to him.They also gave me cheque of initial advance without even our intent of cancellation of booking.How can they do it?And looking at the lethargy of Pune office of VW..i know every one is hand in glove with fleece money shared among colleagues.the gullible customer is left at the bay.

I am the owner of a TSI Passat vehicle model 2010. I had a problem with the car, it was not functioning, and after speaking with the service center technician, i was informed that i had to load the car to the maintenance service center @ ABOU RAWASH (Cairo – Alex Desert road) on the 16th of July. At the center they informed me that they must change a spare part in the Gear box but unfortunately they didn't have it in stock and that i must wait for one week till delivery by DHL. Till now the spare part is not delivered (16 – 31/07) and every time i ask them they keep telling me next week.
I don't know when i will receive my car fixed as the spare part is still not delivered. you can imagine the damage i face daily because of not having the car with me as i am renting a car till receiving my car from the service center which i don't know when. hope you consider my complaint and i will be expecting your earliest reply and who will bar the extra expenses i made (unfortunately they didn't even send a towing car to load the car to the service center which i had to do it by my self).
thank you.

I am a first-time owner of a Volkswagen Jetta that we use as a second car. Although it is a 2006 VW Jetta, it has approximately 30k miles and has been garage-kept the entire time. To my great disappointment, the radio panel and interior door knobs are already showing signs of bubbling and peeling. Because of its low useage, I am totally surprised by this and feel it must be due to a poor quality material used in these areas by Volkswagen. I have never experienced this in any vehicle I've ever owned. Therefore, I am seeking a fair way for VW to rectify this problem with my car.

I purchased a brand new VW" Jetta" car from an authorized dealer in Egypt "Egyptian trading & Automotive Co. / Auto Micho cars in Heliopolis Cairo Egypt ". The car was delivered to me on 23/4/2008.The V.I.N is WVWZZZ1KZ8M064784 Jetta 1.6 Trend 75. On 6/3/2009 it was inspected firstly at the "Inspection and maintenance service" at the VW authorized work shop in" Obour "Cairo Egypt. They charged me 523.50 LE. On 16/9/2009 the horn sound went off and the same work shop said that the "Igniter" under the steering wheel is faulty and they told me they have changed it for free (during the warranty period)
On 24/3/2010 the car was inspected for the routine maintenance and inspection service also at "Obuor VW workshop Cairo Egypt" and paid 563.50 LE. On 27/12/2010 the horn sound was very weird so I went to the same work shop and they changed what they call 'The two parts of the horn" and charged me 1025.50 LE. On 28/5/2011 I went to them complaining that on the display screen there is " Air bag fault " and the light did not go out . After staying more than 5 hours they said that they have fixed the problem and performed the maintenance inspection service and I paid 1358 LE. On my way back the air bag signal lights again . I was so frustrated and returned back to them.
This time they said that the problem is in the "Igniter" which has to be changed but unfortunately it is out of stock. Is this the way they should solve a serious and repeatable Factory manufacture problem? I asked them is there any harm to me or to the car if I drive it like this and they insist that " No Harm". On 8/6/2011 I called them several times to tell them that the problem is still there and also "The horn is not working" for the third time in less than two years (A year and half). Now I ask" Do the people in Obour VW work shop Know the exact problem?" Since the complaint is repeatable there should be a factory manufacture problem, and they Should have fix it as soon as possible.
Would you please follow my case and tell them to solve the problem from the roots as I am working and they make me suffer a lot. This is a very bad reputation to VW cars. Waiting for a prombit action.

I had my car booked for a 180000 service on the 20 May 2011 with Mc dowling VW Booysens. I was ripped of as i replaced the air filter, Spark plugs and the air filter independently in towards end of March. The parts were then replaced again by VW even when they noticed there once in the vehicle were still new. I was given a call on the problems with the vehicle which amounted to R10000.00. but due to the fact that i did not have the kind of cash, i did not give go ahead. The problems with my car amongst other was the cambelt replacement and the clutch cable that was on the verge of breaking.
I did my research and bought these items from Golfwagen and only paid R110 for the cable and R50 for the cambelt, R80 for the tensioner. i feel i did not get value for money for the R1900.00 i paid to VW. My car could have been saved instead of them letting me drive out of the dealer with a problem that they could have avoided. Brendon the assistant at VW. His argument is, i did not give them go ahead. of course i did not for i did not have the extra R10000.00. The invoice indicated that the Labout was R1400.00, R200+ on parts.

Car is good, but customer service is pathetic and not worth buying a Volkswagen Jetta. I bought Jetta 2.0 bearing number from M/s Elite Motors Pvt Ltd, Bangalore, India in the month of June 2010. I gave my vehicle for servicing to attend some minor repairs but to my surprise your service levels are extremely poor and deserve to be condemned with strongest possible terms. No one cares, no one acknowledges, no one confirms the status, no one informs you the cost, no one attends to your calls. Out of 5-10 attempts if you are lucky your call will be attended by service guys.
No one is responsible for my vehicle at the service center. With great difficulty I had escalated this to Mumbai Service Head. But nothing has happened except getting a courtesy call from the Director of Elite Motors Pvt Ltd. Even after almost one month, I am not informed about the service / repair cost, exact date of delivery etc. Yesterday (12th April) I got a call. He was under the impression that I got delivery of my vehicle and wanted to know my feedback to their service level! Alas! What a lapse in the volksvagen group?
When I explained the whole story, he said he would come back within 5 minutes; but now he is absconding permanently. Is this way to treat your high end customers? Virtually I am begging everywhere in your organization but to my surprise till date nothing has happened. How can you cheat your customers like this? I am totally fed up with this service quality and would like to get back my money. I have lost compete faith and trust with Volkswagen. I waited 4-5 months to buy this vehicle but I am proved wrong permanently. My friends (two of them) have already changed their minds and decided not to buy Volkwagen.
Now in the absence of my vehicle, I have been incurring huge amount on my conveyance and causing lot of mental trauma which is unbearable and I just cannot bear this kind of service attitude from volkswagen. Please take back my vehicle and return my money immediately; otherwise I will be driving my car with a sticker showing. Is there anyone in entire Volkswagen to hear me and give justice immediately. Nothing satisfies than getting my money back.

It gives us extreme pain to intimate the harrowing experienced by us in the last few months owing to repeated engine failure within 32 months from the time of buying the vehicle. Our vehicle has experienced lots of problems including en-route Engine Failure and the Engine failure is the second time in a row within the last 30 days. For your information, first time the vehicle experienced engine failure on Mumbai Pune Express way on 21 Feb 2011 and the vehicle was toed down to your Pune Servicing Centre at Volkswagen Pune.
Again, with in a period of 5 days (five) days, second time vehicle has reported heavy Black smoke, with engine making very noisy with a complete break down on 22 Mar 2011 and again the vehicle was toed down to KSM Motors P Ltd, Nerul on 22 Mar 2011 who is also not in a position to identify the cause of the problem of Engine failure on the road.(see the attachment of Dealers Repair order sheet). Again, the Dealer has not able to give neither any date as to when he can repair the vehicle nor any assurance that after such repair that the vehicle would be reliable for comfortable use.
We can not afford to have unreliability on road for paying hefty sum to get this vehicle for our use. From the inception time, the vehicle repeated complaints were made that the coolants & Gear oil were put up after every two days though there was no leakage from the car and no one including the service centre.
To our surprise that Volkswagen Even charged for Road side assistance in their dealer bill of Vidyut Motors P Ltd Pune for a sum of Rs. 15594 vide Invoice Number March /4508/10-11 dated 16 Mar 2011. Neither any replacement car was provided nor any such assistance above were extended as they were all only in the "Promises list of Volkswagen India" to customers both in website and at the time of buying vehicle.
The problem of engine failure has repeated with in five days from the date of replacing the crucial engine parts ( like Part Number 03G1300738 Pumb 4 numbers, Adapter, Screw Cheese HD, Rocker Bolt etc )clearly reflect that the vehicle has inherent manufacturing defects beyond the capacity of repair by ordinary prudence necessitating that the vehicle should be recalled for the manufacturing defect. For your information, the undersigned as a businessman along with my family is using Toyoto vehicles which has never given any such problems atleast for first four to five years of purchasing vehicle and on the contrary, it is to my disappointment after coughing up a huge sum of money for this German Engineering Excellence vehicle Volkswagen was a sheer unpleasant experience
Look forward to your immediate assistance and confirm having registered this complaint with Mr. Noorul also on your India Helpline, 1800 102 0909 as well spoken to Altaf, Head of Customer Care, Volkswagen India today. Thanking you in anticipation that you will replace with a new Passat Vehicle, failing which I have unfortunately no alternative except to take it to appropriate legal remedial measures including approaching the Consumer Redressal Forum, which hopefully you will not permit me to do so.

I own a VW Polo Cross, I thought its a rather nice car. BUT!!! Please explain to me what the hell you do when you get a flat tire!!! In the boot is a pump and some liquid meant for a very small puncture. Now what do you do when the puncture is on the wall of the tire? Well I will tell you, you sit on the side of the road for 3 hours until family or a friend can come and help if you that lucky, cause you cant drive the anywhere at all. Do me a favor Volkswagen South Africa, get your act together and think before you start cutting cost's and leaving your clients stranded.

Ram Naidu
from Kempton Park, GP
I have a complaint about my VW Polo GTI (Vin no. WVWZZZ6RZDY095306) that was serviced on 27/01/2016 at Lindsay Saker East Rand. On 25/02/2016 the coolant light came on and I phoned the service adviser named Tanya from Lindsay Saker. She advised that my son fill water and bring in the vehicle on Monday, 29/02 as they were fully booked. On 26/02 when my son arrived at University the coolant light came on again and he noticed that all the water had come out of the radiator. The car had to be towed to VW Braamfontein. We are now in a predicament as there is no courtesy vehicle at Braamfontein and East Rand says that unless the car is with them they cannot provide a courtesy vehicle. Yet we purchased the vehicle from them and it would have been with them had the service adviser asked us to bring the car in immediately! What pathetic customer service!

Dear VW, It is It is regrettable and unjustifiable to have received a letter from VW Singapore on 2 Feb 2016, demanding immediate payment of S$396.41 for my car battery replacement.
After my car was brought to the car service centre at Macpherson, on 30 December 2015, Service Concierge Ms Wadihana assured me that the battery replacement would not incur any replacement fee due to it being faulty by nature.
Furthermore, when the battery was finally replaced by VW Singapore, I had to wait for 1.5 hour to receive my car even though the delivery was to be made in 15 minutes as the VW Customer Service Centre was near my housing estate. Notwithstanding this point, I saw VW driver of my car driving recklessly and speeding when the delivery was made.
In conclusion, I request that VW waive this replacement fee which has been billed to me on the rationales that I have elaborated above. Please get someone to address the speeding of the VW driver. I hope to continue to be a user of VW and look forward to a favorable reply from you.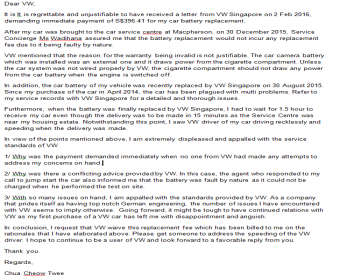 Ahmed Ashraf Othman
from Cairo, C
Dear Volkswagen corporate office. I am a proud owner of one of you most luxurious and reputable models, a 2010 passsat, no: WVWZZZ3CAP040484. However I would very much like to express my disappointment in your service standards here in Egypt. I am a mechatronics engineer and a " Deutschland Univresitat im Cairo" graduate and therefore it should be clear that I appreciate German technology when comes to cars.
My car has only done 577xx kilometers, regularly and considerately serviced in your own official service centers and according to your engineers I took the car under the impression that it was perfectly and reliably serviced to run for at least another 10,000 kilometers. Only a few kilometers back I was driving my car, only to notice that its engine was starting to become feeble and it did not deliver its rated performance. My first assumption was that the turbocharger has somehow disconnected, I rushed down to a Volkswagen customer service center only to be assured that the turbocharger was not working properly and that this I a normal thing that could happen to any car at any mileage regardless of how well you keep your car.
I was appalled and immediately left, parked my car in front of the service center and hastily sent this mail hoping that a great car manufacturer like yourself would not accept one of its clients to be " coned " by incompetent people that you have mistakenly entrusted with keeping your reputation in this area of the world.

Shabbir Tambawala
from Mumbai, MH
We had purchased Volks Wagon Polo in April 2014, which is still under your warranty period of 2 years, we regret to inform you that our said car run till date around 12500 km , 2 days back our car breakdown , we contact authorized service center, they have informed us by sending estimate of Rs.21000/- INR that our clutch plate, pressure plate and fly wheel have to change.
We really wonder and surprised that how clutch plate has been burnt only after running of 12500 km, we already have Volks Wagon Passat with us since 2008, and many other car such as Nissan Micra, Maruti Susuki, Ford Endeavour etc. According to us its some manufacturing defect, kindly ask your authorized service center to replace free of cost, as right spirit, we expect your intervien in the matter, please look below email and attach file.

Waleed Gaber
from Giza, GZ
My name is Waleed Gaber and I own 1.4 Passat 2011 with chassis number 320026. I had a problem in my Mechatronic gearbox, I delivered my car to Volkswagen Egypt (Shoubra el Kheima branch) on Saturday January 9th. I was told that the spare part is not available in Egypt and they will send to get it from Germany and I will receive my car fixed in a week. After 10 days I contacted them and they told me that i have to wait for another week. It's over a MONTH now and I didn't receive any updating call from the customer service team, each time I was calling asking about my car status nobody answered me or answered the phone.
This is beyond rude and unprofessional for customer service for a big brand name like Volkswagen. Please be aware that I will be beholding the company the responsibility for any damages that might occur to my car through out the time it is in the customer care center, because with such carelessness and irresponsibility damages might occur and they won't even bother to fix it. I need to open a complain & take its number please ASAP.

Daniela Evans
from Oak Park, IL
I have a VW Rabbit, 2007 and the icon for check airbag was on, I looked the code up online ( Code # 01218) and it said : side airbag igniter, pass side N 200; part of VW recall. I got there and was told that was not part of the recall, that is doesn't just go by year and make but by VIN # as well and my vehicle was not part of that recall. I was charge $140.00 for them to diagnose the issue, and sure enough, it was #01218. Cost $380.00.
I said, go ahead and do it, but then the service guy proceeded to tell me I also need an Oil Change ($100), air filter change (another $100) brake fluid ($100) Funny thing is I had a full maintenance done to the car 2 months ago. My current miles at the car: 81,000. Per the sticker on my windshield, I don't need oil until 87,000.00 miles. I told the guy that and he just pretended he didn't hear me.
At the time my car was done, I got into it and the Check oil icon was on as well as the anti skid icon was lit up. When I pointed that out to the guy, he just said I need oil. I pointed to the guy the sticker and he just took the car back and had his technician reset the computer so the 2 icons disappeared. I am so upset about the fact they saw a single woman and decided to take gross advantage of me. I will also post this on Yelp and I surely need a call back.

Sanna Rabaloi
from Johannesburg, GP
My 2015 car was towed in on Saturday to Vereeniging and since then they haven't called me to let me know what is wrong with the car. I am the one calling but they keep on telling me that they will callback. They also not offering me a courtesy car. I have a baby that needs nappies and now I am stuck can't go anywhere. Terrible service from Volkswagen corporate.

Sandy Turner
from Blue Springs, MO
On December 9, 2015 we went to Lees Summit dealership for one thing and 7 hours later we ended up trading in our VW Jetta sports wagon for same year, almost same mileage Passat. This is the second car we have purchased from this dealership and never thought we would encounter such a cluster mess! Here it is a month and a half later, with a second visit to the dealership, and a third phone call and they never sent a payoff for our original loan. Now we are behind a month and a half on the car loan that we don't even have any more. Nobody will return our phone calls or acknowledge us. The lender can't help us, they just want our payment, we don't know who to turn to in order to get the dealership to send the payoff out.

Emma Swain
from Pontypridd, WLS
Was accepted on 2/1/16 for finance and mentioned at the time to Daniel Hill and Richard (Worcester) that didn't have a license but husband would be the sole driver. They didn't see a problem. On the 7/1/16 I was told by Richard, who rang at 6pm stating the finance had been declined due to no license. We were due to pick car up the following day. He said would try in morning a different finance company. This all failed and didn't get the car even though I have an excellent credit score, in fact I was insulted by Richard by him asking when I got my license back they could help me then.
On the Monday I was asked how the handover of the car went! I was fuming as is there no communication in the company as didn't receive the car. A few days later I received documents such as breakdown cover, guarantee and even the V5! When I contacted the garage they made no effort to apologise and had a call to ask me to return the V5 to the garage. When I asked who was paying for the postage they said it's only a "couple of quid." On that occasion it was Ryan Dalton I spoke to.
I've used VW garages previously and this one is the worst I've come across. It was well below par and I will not be going back or recommending people there. The staff require in house communication training and listen when customers inform them of important facts.

Freddie Walls
from Los Angeles, CA
This was second vehicle I purchased from VW. Bought brand new 2007 Jetta. About 4 - 5 months ago, transmission started doing hard jerk. Had less than 69,000 and kept service up. I am thinking I have a new car...well, VW in Pasadena told me they did Extended Warranty for One year. I was never notified of issue, or potential problem. Bluntly told warranty expired in 2014 and nothing they can do. Personally, I think recall should have been done. This is major issue. This is second vehicle I purchased from you and was excellent customer. I am senior citizen on fixed income. Also, had to have the part that makes brake stop was out and I had to replace along with another major issue. Can't remember what it's called. I have spent almost 2000 dollars and still have to have transmission fixed. Why wasn't recall done and what can you do to help me?

I had an accident in October 2015 and the back bumper was damaged so I decided to repair & replace it in Volkswagen service center, auto motive, El obour city. I went there by car but unfortunately the back bumper was not available and Mr. Emad (spare part Director) promised me within 15 days it will arrive. You can't imagine till today that there was no availability of this part, and it took more than 3 months to order it, it is shame. I wish that VW corporate would have treated the situation as urgent next time. The car information is Passat Model 2012, chassis No.15132, motor No. 937868 and the car No. is LLR 675.

Jesse Hernandez
from Midlothian, VA
I purchased a VW TDI Jetta 2009 Sportwagen from Pearson Hyundai in August, shortly before learning of the emissions issues. Since purchase, the car has been in the shop numerous times for broken door locks, broken valves, and a disentigrating heat coil. The day after we got the heat fixed (using our VW Goodwill package to pay the $1000 repair bill), the power windows stopped working. I'm not sure we can afford another fix and we are beyond frustrated with this vehicle.
The dealer has been marginally helpful, but the problems just keep coming. What options do we have in order to pursue getting the needed repairs paid for? Can we it investigate the lemon law or other remedies to get a replacement vehicle or refund? I read that if a used car is Out of service for more than 30 days during the first 18 months of ownership, then it may qualify. We are nearing that mark - is this something we would take up with the BBB or with VW corporate offices? I appreciate any assistance you can provide.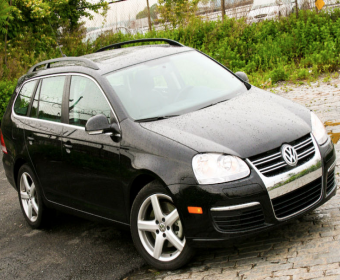 vibhanshu bhardwaj
from Udaipur, RJ
This is really a very bad experience for me to becoming a Volkswagen user. I am having Volkswagen Vento purchased in 3-4 year back. In last year I was came to know that there is some problem with gear shifting mechanism, when I requested to Volkswagen customer care they diverted the issue to local dealer and who is unable to help me. Ultimately I have to get this changed.
Then I reported the issue of displaying spring on car control panel many time and every time I was told that the issue is resolved now. 3 months back I again reported the same problem and local service centre informed me that fuel injector need to be replaced. There are 4 fuel injector having cost of 20000 each but I don't know these were replaced free of cost. Again 2-3 days back I found the same problem of displaying spring on my dashboard and this time I was told that this is due to same cable. The cost of rectifying the defect is 6000/-bugs.
Really guys I am very frustrated with this vehicle. I purchased this looking at the car reliability but it seems it is worst car I have ever seen in my life. In past I used Marui Suzuki (2 different models) and currently also using one Hyundai but never find any issue but this car is really bad one. My recommendation is not to use this CAR. In case you want to discuss me directly on this car please do call me, I would appreciate it if VW corporate hq would respond to my complaint directly.

Prudence Lerotholi
from Pretoria, GP
My car was broken into on 26 August 2015. It was tempered with the wires on the steering wheel and a computer box was stolen. My insurance sent it to G and J auto panel beaters who sent it to Vw dealership in witbank. At first, Vw ordered the wrong keys for my car, so we had to wait another two weeks for the new set of keys, then they realized that the computer box was missing, we had to wait another week for it. Then three weeks back my car was sent back to me but I took it back because the steering wheel was stiff and there was something wrong on the pedals. They took it back for another two weeks. I was called to collect it on Monday 16, November, my car still has the same problem. I have never sent my car at Vw in Witbank and got it back without any comebacks whether for a service or repairs. My reg is yrl 168 gp.

Amr Mahmoud Ezzo
from Cairo, C
I am one of Volkswagen customers and I am a good well customer as all my services done on time at the your place from 0 KM till today and my guarantee just finished from 20 days. I need a justification for the way of pricing and also for a good well customer treatment who just finish the guarantee period by 20 days which means for me that the name of Volkswagen just serve to buy not for the customers satisfaction and that is clear now for me.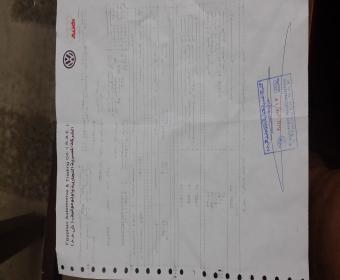 VW customer service department, this incident happens in Hong Kong. I write to you as a very unhappy customer. About 3 months ago, I had a car accident and my 1st thought was to tow the car back to VW dealer as my understanding told me you should be the most trusted and professional place to fix my car. Obliviously I have made a big mistake. Every since the car was towed back to your Tuen Mun service center, I heard nothing from no one until I called. Your SA kept saying will contact me, but I never received any call from him. Miraculously, he said he was going to call me each time when I reached him with difficulty. Faults information were given from him and consequently caused me to overspend unnecessary items over my insurance claim. The car took a long time to repair, which I could understand and thought they wanna do a better job.
As it turned out, I had to send the car back to 10mins after I collected the car because the paint came off after they try to polish the swirly marks on the bonnet. Which shouldn't have happened at the 1st place. I called to complain about the situation. No call to apologize whatsoever until now. The only one who did help was the SA from Sheng Wan name Eric, and he had nothing to do with the repairing. So another week had gone by and I had my car back couple of days ago. The car drove a bit funny at highway speed so I took it to a wheel alignment shop for wheel alignment just to be safe. The garage called and told me the caster angle is off and I should send back to VW. I went to another one just to double check and make sure. Same comment. The wheel base on the left is 10mm shorter than on the right....
Today on the 16th of Nov, I've sent my car back to the service center and discovered another panel's paint is coming off. I background is manufacturing and I know exactly how and why. I have no idea how much more time and money have to spend just because of your unprofessional service. I am going to report this to your headquarter in Germany as well as where ever necessary. Media will be my last to consider as I understand your brand image has been damaged enough, but I will consider it nonetheless. My car is a Golf 7R and my plate number is SX3004.

Louise Bennett
from London, ENG
I am writing following receipt of your letter of October 2015, advising me that my vehicle has been affected by the emissions scandal. I was extremely disappointed to receive this letter and feel totally let down by Volkswagen. I have trusted VWs for many years now. I have bought in total six VW's (one polo (my first ever car) and 5 Golfs). I have always held VW in high regard and always boasted that I bought VWs due to their efficiency and low environmental impact. I am now extremely concerned about the environmental impact of my car, the fuel efficiency (I have had my current car for over 3 years now), and the impact on its resale value. I feel I could have also paid a higher price for my current Golf - Reg VN61 FWW. I would like reassurance that the performance of my vehicle will not be affected once the recall has taken place, and feel I should be compensated for the impact this has made on me. I look forward to hearing from you, addressing my concerns and receiving compensation due to me because of this scandal.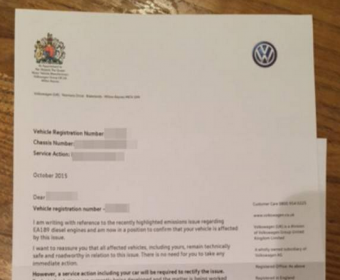 natasha chetty
from Durban, ZN
Date of purchase: 15 August 2015 - purchased on business account stanz trans transport and construction. Upon purchasing the vehicle 2015 TSI my beauty new car(which may I add was approved in 3days) where I received numerous calls from my salesman stating that I'm the luckiest chic cause I'm receiving all of these fancy extras which may I add some of these come with standard ! But being the typical chic, how could I ever pass up this deal? Right! When processing the deal the extra that was mentioned was and I quote "RUN FLATS" NOW…I don't know much about cars or tyres but I have heard of run flat tyres and I know how safe they make your car so this again gave me the confidence in this deal .on the day of PICK UP, I noticed that my R230 000 + CAR did not have mud flaps like most people I was most shocked! So I posed the question and I quote with 4witnesses "why does this car not have mud flaps and so expensive????''
(Salesman answer) ''I will take off your Run flats and give you mud flaps'' ISSUE ONE NO RUNFLATS was ever put! Instead he says he fitted it with run flat bands and explained to my parents yet they both where singing the same run flat tyres story as me! Within the first two weeks of purchase I noticed that my car ride didn't feel good so I decided to check my tyre pressure to my surprise the tyre was losing pressure on the passengers front and drivers rear, so I filled and just assumed its normal, few weeks later I noticed the same story, now I am filling tyre pressure once a week, My story in a nutshell…my car is 2 months all I have a clutch problem of it gripping! ...touch screen freezing! ...and my car upon start has a strange vibration for a few seconds!...not to mention my front passenger tyre and drivers rear tyre is losing pressure! TWO TYRES REALLY???!!! Unacceptable!!!
SO I ATTEMPTED to resolve my issues ….i called my salesman on numerous channels yet no response, including his house phone! , so plan B I called VW to speak to a manager sales manager was unavailable 1st 3 calls, finally I insisted on speaking to someone and got the service manager shay …he listened to my story and basically told me he would assist only with my clutch problem but he will explain to Angelo who is the sales manager on the rest who will return my call he also told me that the manager had just walked into the room so I assumed I will receive a call right away…NOT! 1hour and 30mins passed so I decided so call back …when I finally got to speak to the guy he apologised for not returning my call due to a meeting SO I GUESS A MEETING IS MORE IMPORTANT than A CUSTOMER who is driving around with a defective car ….right?
After 10mins of apologies and going in circles, I insisted my car be picked up from my office and a courtesy car be given witch was agreed …he then goes on to tell me my tyres could be due to impact ??? Or a stud??? …so now how can it be caused by impact when there's no damage to my wheel or rim …and a stud? He basically gave me all the reasons it's my fault for two tyres on the either sides and then has the nerve to say we will look into pricing for new tyres! On a two month old car!
DAY two …I received a call from my salesman miraculously after 4days I understand there was an Indian holiday yesterday but the previous days are not included in this excuse! And the question was posed to me if I couldn't get a hold of him why did I not come to his house?. He then goes on to tell my he didn't promise me run flat tyres and he claimed to say Run flat bands…my reaction was what is that???He then claims to have explained to my father, who after I called to confirm with had the exact reaction I had!...the guy goes on to tell me VW does not do run flats and this is only done by BMW! So I guess I should have purchased BMW right? The salesman showed up with the courtesy vehicle telling me I need to sign documents to leave this vehicle with me which states, if anything happens to this vehicle there is an access of R20 000 which I will have to pay …WHAT THE HELL!? Where is your business insurance? Disappointing!
He then proceeds to call a manager call dale (assistant manager) who is the most pompous guy I have ever spoken to he wasn't even giving me a chance to explain that the sales manager Angelo did not notify me of any documentation I will have to sign once again! …their stories have changed. I repeatedly asked the manager dale on the phone if he is taking the decision to not give me the car and leave me with a defective car which he agreed the car will not be left with me if I did not sign the R20 000 access agreement. So now I am left with a defective car that puts my life in risk! DAY three of bad service and fighting: car was fetched and "claimed to be sorted out, may I add that the air-conditioning broke upon pick up! THIS IS A JOKE! My tyres are not fixed apparently as per the words from the salesman and I quote "your tyres are defective but you could have drove over something or hit a pavement'' drove over something that doesn't show damage? Or hit a pavement but no damage to my brand new rim? What the hell?
I have asked for a copy of my pricing break down, nothing received! May I add I overheard the sales man and the lady at VW debit as to where the copy of my log book was …STANDARDS REALLY?????
As a consumer, I feel that my CPA rights have been infringed upon, more strongly the following:
1. The Right to quality Service – I have received incompetency, unwilling service from VW south Africa and its dealerships especially while it is the fault of VW's workmanship.
2. Right to return goods – As a consumer I am entitled to return unsafe or defective goods, INCLUDING goods that are of inferior quality
VW is a trusted brand which is now tarnished; if this is not rectified I will take my story to VW SA this will not be tolerated, my fiancé has left you numerous messages to call him back! Still no response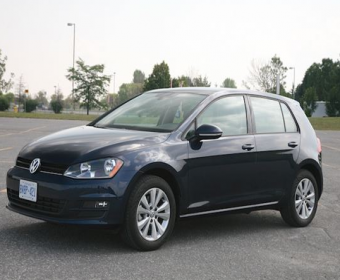 Edwill Jafta
from Kempton Park, GP
Volkswagen Barons in Postmasburg fetch my car on the 11th November. Had i not phoned this morning i would still be in the dark about the problem. Now i have to wait for two weeks for an ignition from Germany. They can't help us with a car, for not even 1 day of the coming 14 days. How is that possible. This is really not the first time off me having such a problem with them, even when it was CEV motors.

Chris Raath
from Pretoria, GP
I just want to find out if you could please asset me with information. I have bought a Demo 2012 Polo Vivo in February 2013 at Volkswagen Ermelo and have a problem with the headlights . We have replaced the headlight bulbs several times. We have a Moto right extended service plan on the Polo. About a month ago I took my Polo to Volkswagen in and Moto right requested me to do a diagnostic check on the car to establish what is wrong with the car as Volkswagen said that there must be something wrong with the wiring. We took the Polo to a place in Ermelo to do the diagnostic but they inform us that there is nothing wrong electrical.
They showed us that both headlights brackets are broken and said that that is the cause of the headlights is not working . They also showed me that the front bumper with the radiator is shacking and it seems that the brackets may also be broken or loose. I have attached photos of the Polo were it shows the broken brackets on the headlights. The car has not been in a accident and was never repaired by anybody else than Volkswagen. My concern is now: How is it possible for both headlight brackets to brake on the same place at about the same time and could the brackets on the bumper and radiator also have the same problem. Could you please advise me what I should do and if this could be a manufactures fault. I would like to hear from the VW complaint line ASAP.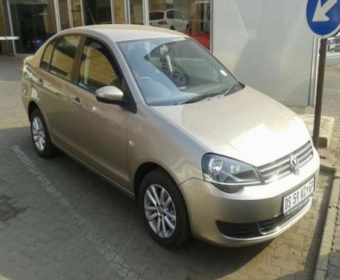 Adil Abbas
from Delhi, DL
I gave my car Volkswagen Polo on Thursday 5th Nov 2015, with a noise problem from front which has still not got fixed and there was no communication from Volkswagen Metropolitian Mathura road, extremely bad customer service after giving 5 day's now they call me stating your issue has not been fixed and someone from Pune team will come and look into it. They have not done nothing in the car and sent the car back stating it has been fixed' 'The Irony' is when they got the car back my alloy wheel has dent either they changed it or smashed into something. No one is capable of understanding where is the noise coming from. They took 6 test drive when I went with the problem with 6 different individual and not able to identify where the noise coming from. Now I have got the following points to say and substantiate the subject.
Does it actually take that long to diagnose and tell the customer you are not capable of fixing the fault in a vehicle? Can the customer afford to be off the vehicle and continue to pay for the driver cost? Is it not the duty of the responsible officers to update rather than the customer chasing every day on the status? This is how you treat a 2 month old customer? Can an authorized person from Volkswagen can call me and try to get it fixed? Hope to hear from you in this regard and also to ensure what corrective & proactive measures are taken by you having taken learning from this incident.

I have had mechanics problem in my Passat car 2011. This is the second time after 2 years. The car has been reserved in shoubra service center, Cairo, Egypt for one and half month. And I haven't received it until now. I sent 2 emails to the customer care and the chairman of passengers cars. But I haven't received reply. I am shocked from such ignorance.

Dominic Manganello
from Trenton, NJ
I read an online article on 11/4/15 about dangerous brakes on certain models, of which my car, a 2015 Passat special edition, is one.I called 3 different volkswagen dealers near me who knew nothing. I called volkswagen customer service and the person initially had no idea what I was talking about. After I told him what I read, he put me on hold then said I will be notified once there is a recall. I asked about how safe it is and he would not commit, and said if a warning light comes on to see a dealer.The article said the recall will begin in March, 2016. I dont know how safe it is and I am worried since I drive the highway a lot. Can anyone allay my fears.This seems to be a nonchalant attitude to take with people's lives, and one would think that volkswagen would handle this differently in light of recent problems and bad press.

Robert Nicholls
from Missoula, MT
This site kicked me off after I finished a long description and finished my VW complaint! I have a '99 VW/Rialta Eurovan/motorhome. It is all VW drive train 2.8 liter motor. The clock spring ignitor switch failed last year. Air bags light does not go off when engine runs so no air bag. I had the VW part replaced and it alone costs $350. It was installed on October 9, 2014. I was on the road with the VW on October 4, 2015 and the light came back on. I was out of town at a family funeral. I could not return until October 23 and got it confirmed. VW corporate required I drive 50 miles to Missoula MT to get VW shop there to confirm the VW part had failed. Now VW corporate says time line of October 27 to the VW shop means it did not fail in less than 12 month. In fact it did fail in less than a year. Is your corporation only about finding any excuse to get out of providing customer service?
You should replace that VW overpriced part that now has to be replaced. My family does not have air bags in the VW we drive. How do you think we tell everybody about your corporation? prove that you care about customer service and safety equipment for families of VW vehicles. Your also have a recall of clock springs from 2010 to 2014. I bought the clock spring last year in 2014. It has already failed. Why are you providing vw customers with clock springs that fail and we have no air bags? Replace this part. it failed in 12 months. Don't look for excuses to not provide customer service. Step up or quit selling vehicles in this country!

Melvin Southgate
from Cape Town, WC
My Golf VI 2012 went for a service to Columberg VW Cape Town on the 21 Jan 2015. I have noticed lately on various occasions that there were oil spills on my garage floor. I thought it was the two older cars in my garage that was leaking oil. Monday the Golf engine made a funny noise and took her in this morning to VW Claremont. Their conclusion is that the sump was wet with oil. the mechanic that serviced the car the last never tightened the sump plug.

Ahmed Ali Amin
from Giza, GZ
i bought my car golf move 6 at 2012 i have a massive problem with the Automatic transmission from since I bought it from Volkswagen Egypt Agent in Cairo about Rawach Branch. i went to the service center over 10 times till now and they don't know how to repair it, I asked to change it as the car was still having its guarantee but they refused. And at August 2015 I found the car does not move totally i take it to the service Center and i talked with Mr. wael the manager who Treated me in a bad manner and told me that this spare part is not available after more than two months and you can take your car to another service Branch and he left me while i was talking to him. I am a doctor and i rent a car for 68 days till now, which costs me 18000 LE. And I do not know how to solve this problem with your Agent in Egypt. I want to be contacted by the one who is responsible for your company at my area Egypt to solve this situation with me and your agent about your car as you are a big brand and it is impossible that we can not find a way to fix my car.

Colin Wilson
from Arbroath, SCT
My sons car is 10 months old only 5000 miles cost 33 grand the clutch is slipping. He took car to Barnetts Dundee without looking at the car or testing the car they just said to him if they take clutch apart and they think my sons been sitting with his foot on the clutch. He has to pay 1000 just to fix it. What a scam! Why won't Volkswagen honor their warranty?

Moustafa Ibrahim Lotfy
from Cairo, C
Greetings from the sunny Hurghada, Red Sea. Reference to your mail below regarding my car's issue, I would like to inform you that I have out of Egypt having a limited access to my mail to be able to reply you, as for my issue I did got a phone call from the dealer in Hurghada while I have been abroad, then we met after I did returned back but it was such a useless meeting as a kind of waiting time, as they did nothing concerning my problem as they offered to fix the car in 3 months as they have to order that needed part for the car from Germany and that it takes about 3 months to handle that issue, even when I accept as I am obliged to do while I am disappointed and not satisfied of that to pay such amount of 12,000.00 LE to 13,000.00 LE for such issue, and when I asked for a replacement for my car till it would be fixed they refused saying that if it is the year's model 2015 they could give me a replacement??!!!
So since the 06th of September I am using a rented car which is costing me money, while your dealer is not caring of my issue, how come my car will be fixed in 3 months, and how come I would stay 3 months without replacement for a car model 2013? I did called your Egyptian Automotive & Trading, Co. Ltd, 15 Giza Street, Cairo, Phone.: +20246100646 / Customer.care@eaec.com.eg on the landline number mention but it is not a working number. I do appreciate your kind fast response as it is not logic for me to stay all that time in that issue.

Jeff Bell
from Fishers, IN
We have a 2005 Volkswagen Beetle Bug that we had to have the driver door repaired do to an accident. We needed a new lock for the driver door and it has been on back order for 8 weeks. We can not drive the car due to lock not working. We have not been able to drive the car for the past 8 weeks. If it takes this long to get parts I will not be buy anymore Volkswagen. I also own a passat.

Ahmed Assem
from Louisville, KY
I own a seat ibiza 2014 & i had an unspecific weird reply plus bad treatment from Volkswagen Egypt EATC & KAYAN AL OBOUR BRANCH regarding my broken cheap console after keeping me waiting in the guests room an hour before my scheduled time for taking the car for the survey and then after taking it ,I was kept waiting for more than 5 hrs. in the Guests Room plus my personal (Mouth freshener – my iPhone USB charger – My business card holder – Gym's electronic access card ) which was stolen inside the workshop – I don't care about them anyway – but it really shows a very cheap treatment for the clients and weird choices to choose the staff. But to cut it short; the engineer running the case who is called Mr. George came afterwards and told me that Spain didn't agree to finalize your complain and the arm rest broke due to misuse. The warranty don't cover it neither it can be considered as a defective part and we can't do anything for you !!!
I would like to note the following. I decided to buy a seat for a materials quality and didn't buy a Chinese or Korean car instead, I seek value ; so don't tell me that a car made 28,000 KM and it's arm rest is broken. Why did I pay all that money I kept saving then. I have more than one case for friends just like me I can gather them up to prove you all wrong that it's not a misuse plus I was talking with a guy in the reception who works for you from a long time and he told me many people complain about it. That console problem is existing in many VW models (Golf 4, Bora, Jetta & Golf 5) you can get in touch with VW to know how many claim was raised from the clients for its weak materials.
Meantime one last point, I work for a multinational servicing company and I know exactly what's the meaning of customer satisfaction and how it can affect growth and business development for any entity and what I've experienced with VW egypt are really disappointing.

Tom Guise
from Castle Rock, CO
The 30 second Volkswagen TV commercial with two Jewish women and a young man looking at a new VW is disgusting, and in poor taste. The ladies mention rear-end event several times; then at the end one makes another innuendo of a sexual nature. The only sex that sells autos is a nice looking young lady, making no sexual comments. The commercial is awful for most of the U.S. Maybe it will fly in New York City, retirement areas in Florida, and LA----but I doubt it. It is a disgrace to the quality VW brand, and the Marketing person who is responsible should pull the ad quickly.

Earl Ayers
from Culpeper, VA
Volkswagen commercial on tv about a lady pumping diesel an her 3 kids recking up the store. Why so horrible? I will never buy a Volkswagen because of this.

Bob Fredericks
from Saint Petersburg, FL
I have written before without a response. Think is time to get a lawyer! The wiring in my Volkswagen Tourage is rotten, falling apart, I have asked. VW why and have heard nothing back? It has been a great expense and a very serious problem resulting in possible Fire. I haveVw pictures of wires without any insulation causing short circuits. I think VW has a problem they do not wish to respond to. Appreciate any help, but I think the only recourse is to get legal help to get Volkswagen corporate offices attention.

Linda Mosca
from Decatur, GA
You "Mamas Don't Let Your Babies Grow Up ..." commercial is an insult to any mother's intelligence. It depicts terrible, unruly behavior and an oblivious mother who obviously raised a bunch of future thugs and is barely aware of what they are doing at any given time. It is a bad example for kids. It insults mothers. And it implies that cowboys are socially retarded and destructive. Does anyone at your company preview these ads? This isn't creative and it makes no sense.

Karen Rademeyer
from Johannesburg, GP
My vehicle, Amarok, its coolant light kept coming on. I went to Lindsay Saker Vereeniging In February 2015. They assisted me and looked at the problem. They phoned to say it's the radiator. It looks like a "klipie" damaged it. They put a brand new one in.
Last week, the 15 May 2015, the coolant light went on again. I phoned Lindsay Saker, they said I must bring the vehicle in to look at it. I took it in. The same happened, they said a "klipie" damaged it and sent it to repair it. According to me there was a warranty on this radiator. But today I had to pay R2717.01.
I'm not impressed with the service and its a lot of money to pay from February and May again. I must take the Amarok in for a service soon but will not go to Vereeniging branch. I'm really disappointed in Volkswagen.

Milan Jolapara
from Mumbai, MH
I bought new polo from s.g. highway, das auto on 5th jan-15.
SALES PROBLEM
1. Written commitment of rear parking sensors was given, and then refused saying, this new car doesn't supporting, company doesn't recommend. They can not do it. We were highly disappointed.
SERVICE PROBLEM
2. After using the car for a month, it started giving starting trouble. I have to give 10-12-15-20 selfs to start the car, and have to keep trying for 10-12 min.
They gave it for checking at sarkhej company service station. I talked to Mr Kaushal there, in person and on call. They kept the car for 1.5 day. They gave it back saying key coding problem, which is solved in both keys. Again, started same trouble within a week of service. We called Mr Kaushal, he asked us to use another key, duplicate key. Till date I am using duplicate key.
NEVER GET ANY FEED BACK CALL FROM KAUSHAL OR VOLKSWAGEN. (though they told us )
STILL MY 1 KEY ISNT WORKING.
Never expected such service in new car, e.g. Volkswagen, for sales n service.

Karen Rademeyer
from Springs, GP
In this year I went to Vereeniging VW, Lindsay Saker branch the Amarok coolent light went on. They looked at it and replaced the radiator. This week the coolant light went on again. I phoned Vereeniging branch today they said I must bring in the Amarok that they can look at it. I took it in this morning.
One of the personel looked at the problem and showed me the water underneath the radiator. They booked the Amarok in to see what the problem is. They said they will phone me. I phoned the following times and the switchboard lady kept me on hold 15h13, 15h16 and 15h20 then I spoke to Patricia that said Rina is busy she will phone me back. At 15h38 Rina phoned me to say that the Amarok is only in at that time and she will phone me back before end of day.
At 17h00 I phoned and no one answered the phone. It is now 17H50 and still no one bothered to phone me to say what is wrong with the Amarok. They are aware that I do not have transport and have 2 kids and a job to go to. It is the worst service I ever received. I must work tomorrow and do not have transport. I paid for a new radiator, but they will pay for the inconvenience they cause.

Donavan Rademeyer
from Durban, ZN
I recently took my 2013 Polo Vivo 1.4 Trendline for its 60,000 km service and advised the service adviser of a couple of problems with my car. I asked them to check the shocks as the car was all over the road on windy days and also under braking. I supplied them with 2 shock tests 1 done the day before the car went for the service noting that the front shocks are under a safe operating capacity and the rear ones were very close to being under.
When collecting my vehicle, the service adviser said there is no way they can test the shocks to see if they are in need of replacement. I was then told that the service provider calibrates their machines in their favor to get the job. I then asked why VW cannot test it and was told they do not have the equipment to do so. To date, nothing has been done and I cannot understand how a vehicle with such low mileage has shock issues and nothing was done to rectify this at the dealer.
About 2 months later, I got to work and the water bottle was blowing water all over. I had to fill normal water into the water bottle as there was no more water in the motor. I then contacted Alpine VW and they arranged for the vehicle to be collected from my work to be repaired. It was a problem with the TPI that sends the signal from the computer box to the fan switch.
I told the service provider to check the antifreeze level after the repairs were complete as I put normal water in after the fact. He advised me that they checked the levels and all in order. Now, a month later, my water bottle is a brown black colour as to the normal red colour of the antifreeze and I am worried that this can cause problems in the future.
I have always driven VW and I am very dissapointed that the service delivery has gone down so much over the past couple of years. I now drive in an unsafe vehicle with my family and feel that it is unfair that I have to fork out cash to repair the problem for a vehicle that is still under warranty with an extended 2 year warranty.
I trust this finds someone that will actually get this matter resolved

Valerie Danis
from Stittsville, ON
Well I bought a brand new Comfort Line Jetta TDI. Was really enjoying it for a week and a half until one evening I was out and went to put the key in the ignition and it would not go in. Called roadside assistance and the gentleman was able to get the key in but told me not to remove it until I get it in to the dealership.
Being a long weekend (Easter weekend), I decided to take the car in on that Mon the 11th of April. My car has been in the shop ever since. Now after ordering the 3rd part as the 2 prior did not work, they have decided that now they need to change all the locks and the one for the ignition. I have gotten to the point that I do not want this particular car back.
I did not spend money on a brand new car to have all the door panels taken apart and have them start rattling, as we all know it never goes back together as tight as factory. It will be starting on 6 weeks Monday. The dealership has rented me a car and say they are doing as much as possible but i'm sorry its just been too long, I am paying for a car I cant even drive. Is there something wrong with this picture? I think a new car should be the answer.

Vera Almeida
from Copenhagen, 84
I'm a woman, 54 years old and I have bought an UP because it is a VW and it had a very good evaluation in the media at that time. I have bought a VW UP 2013 with semi-automatic gear and was very excited at that time about having this kind of gear. I'm happy for my UP but there are 2 things that have disappointed me as I do not think they live up to the VW high quality product level:
1. My semi-automatic gear "gets stuck" in the lowest gear once in a while. I've pointed the problem to my VW dealer in DK but they keep saying there is nothing wrong with it. I do not agree, and I think it must have a problem. Is it possible to have the car tested in the fabric in Germany?
2. Another thing that has disappointed me a lot is how the "3 doors model" is put together. The seats in the front are very little mobility that makes it very difficult to move them forward enough in order to get the best access to the backseat space :( If VW design team would like to have some ideas in how to improve the design of the 3 doors model and have seats that could be more functional, I would be happy to give you some of my ideas.

Maria Consiglio
from Melbourne, VIC
I am very disappointed with the response that I received after taking my VW Toureg 2010 model to have the hand brake lever repaired at Essendon VW.
I was told that if I paid $294.00 the lever would be replaced immediately that day (Wednesday 29th April 2015). However, after explaining to the Services Manager that the lever should not have snapped in my hands the way it did, I believe that I should not be charged for this repair.
After this discussion with the Service Dept. manager, she suggested I call VW customer assistance. I called them only to be told that they will follow up with VW Essendon.
Upon arriving to pick up my vehicle, they did not repair it. They said that it was going to be processed as a Goodwill Job, but were not able to tell me when that would be.... After 5 days, I'm still waiting for a response from either VW Essendon and Customer Assistance. Pathetic! What a let down .
It saddens me when I realize that in the past 6 years we have purchased 12 VW vehicles, that being, in 3 of our company names. Unfortunately, this is appalling customer loyalty on the VW behalf.
If this problem has not be rectified by Wednesday 6th May, I will reconsider purchasing any future VW vehicles.

patricia mahlangu
from Pretoria, GP
I booked my car for service on Tuesday 28/04/15 for Thursday 30/04/15. I asked if I could be taken to work after I drop my car and needed to be at work @ 8 and they agreed. When I dropped my car off I was told they could not take me to Merilyn because there were many customers and Merilyn was far. They told me this at 8 when I should have been at work at 8. I was told they could only take me to pta cbd. When we finally left we took another customer to koedoespoort to his workplace which seemed unfair to me because why are we not treated the same. Why did VW wonder boom agree to drop me off at Merilyn but not keep to their promise? I was late for work and I was supposed I was a key holder who had to open the store which I failed to do. Why could they not tell me in advance that they could not take me to Merilyn. I am very disappointed as I feel there are still racial inequities here because I definitely feel like they would not have told a white person to catch a taxi in town to Merilyn. Volkswagen wonder boom. Angry customer!

I am from Tenerife, Spain. I bought a Skoda Yeti in April 2014. The company that sold me the car, Cuatromoción, gave me the car with 29,6 km. A few weeks later the climate system began to make noises, then the temperature started to fail too and a few weeks ago I realized that the car consume coolant. The company, Cuatromoción, only says that they are design flaws.
I would like know if are there any staff to get in touch with to explain my complain in the main factory and get a solution for my car. It has one year of guarantee. When it finish I will put the case in the Spanish courts.

Hady Ashour
from Cairo, C
This's regarding a serious complaint that I'd like to report against Automotive Egypt "Abo Rawash Branch." I bought a 2008 Passat with 9000 Km, on April 11th 2015. I decided to upgrade my existing sound system "RCD310" with the new "RCD510." I went to the workshop & before making the purchase I asked for confirmation that the below key functions will be working properly, they're as follows:
1. Integration with originally existing parking sensors.
2. Integration with the AC.
3. Bluetooth compatibility
All was confirmed to be OK & 3 hours later I received a call that my car is ready. I was totally surprised when I went to take & inspect the car that:
1. The Antenna cables were missing & the radio sound was not clear
2. No integration with either the Parking Sensors or AC was made as promised.
3. The speed dependent volume control was not functioning.
I'm extremely disappointed because the supposedly professional team that I expected from a German car manufacturer as VW didn't appear to exist in the agent's service center. They don't seem to know what they're doing or what they're selling. Again, I was told to bring the car the week after "April 18th 2015" to complete the integration & rectify the situation. I was promised 3 appointments to receive the car after completing the missing integration & until today the car is still in the workshop. It seems that the guys there don't know what they're doing & the whole thing is subject to trial & error
That shows lack of professionalism & that their customer service and technical support are primitive amateurs who cannot be representing an international car manufacturer like VW. I'd appreciate your prompt intervention to resolve the situation & share with the expected completion date. I look forward to your reply and a very quick resolution to my problem.

Hady Ashour
from Cairo, C
Hello VW team this is regarding a serious complaint that I'd like to report against Automotive Egypt "Abo Rawash Branch". I've a 2008 Passat with 9000 Km, on April 11th 2015, I decided to upgrade my existing sound system "RCD310" with the new "RCD510". I went to the workshop & before making the purchase I asked for confirmation that the below key functions will be working properly, they're as follows: integration with originally existing parking sensors, integration with the AC, bluetooth compatibility. All was confirmed to be OK & 3 hours later I received a call that my car is ready. I was totally surprised when I went to take & inspect the car that the Antenna cables were missing & the radio sound was not clear. No integration with either the Parking Sensors or AC was made as promised. The speed dependent volume control was not functioning. I'm extremely disappointed because the supposedly professional team that I expected from a German car manufacturer as VW didn't appear to exist in the agent's service center.
They don't seem to know what they're doing or what they're selling. Again I was told to bring the car the week after "April 18th 2015" to complete the integration & rectify the situation. I was promised 3 appointments to receive the car after completing the missing integration & until today the car is still in the workshop. It seems that the guys there don't know what they're doing & the whole thing is subject to trial & Error. That shows lack of professionalism & that their customer service and technical support are primitive amateurs who cannot be representing an international car manufacturer like VW. I'd appreciate your prompt intervention to resolve the situation & share with the expected completion date. I look forward to your reply and a very quick resolution to my problem.

Last year, I took my car in at VW because I kept hearing a sound from my back tires. I took the car to the Alberton VW location, so that they can assess it and tell me what exactly was the problem. One of the "guys" test drove it, and he said it was nothing else but flatspots. Mind you, I went to a couple of tire places just to confirm, and they told me that it was flatspots. My shocks are totally worn out, and they advised me to go to VW to get new ones fitted. VW told me I must replace the tires. My mistakes was that I trusted their word and replaced my only tires (for the third time) because they told me that it's just the tires. That was in December.
Now, AGAIN, my tires are damaged! I went to the shop, and they told me that my shocks are worn out and my back tires have flatspots. After all the money I had spent on new tires and VW telling me it's just the tires, I am disappointed and very angry at their service. Clearly, they don't have skill, and they don't give a damn about their customers!!!! It really pisses me of because I would expect them to know exactly what the problem is rather then me getting into an accident on the road because of their lack of knowledge about cars. I am very disappointed and I think I would have to think twice before buying another VW vehicle!!!!! This is crap!!!
Worst, I still have to pay for the shocks that are worn out. I don't think VW Alberton cares about their customer just as long as they making money, nothing else matters. I hope you will do something about this nonsense because you have put me off any VW vehicle thinking about the money I have spent on this car. But then again, I am a female and we tend to be taken advantage of because we don't have much knowledge about cars. This is total Bull!!!!!!

Vehicle Make and Model: Volkswagen Touareg V6FSI 206 SI A8A. Model Code and Year: 7P5203 / 2013. Mileage: 38,273 (18/04/2015). I refer to the above car which I purchased from Ali & Sons Co LLC in Abu Dhabi in 2013. Since the date of the purchase, I have had to send the car for repair four (4) times as follows. On 11/05/2014, I sent the car to Ali & Sons Co LLC after the engine management light indicated that there is a problem. I was told that the ACF valve was the problem. My car was kept was for three (3) days in the workshop and no replacement car was offered to me. I collected the car on 14/05/2014.
On 18/08/2014, I sent the car to Ali & Sons Co LLC after the engine management light indicated that there is a problem again. I was told that the charcoal filter was the problem and that it was safe to drive the car until the new parts arrive (please confirm if this indeed was safe). The problem was fixed on 04/09/2014 (17 days after I first sent the car to the workshop). On 07/03/2015, I sent the car to Ali & Sons Co LLC after noticing that the steering is heavier than normal. I was told that the steering pump was the problem. My car was kept for three (3) days in the workshop and no replacement car was offered to me. I collected the car on 10/03/2015.
On 09/04/2015, I sent the car to Ali & Sons Co LLC after the engine management light indicated that there is a problem again. My car was kept for three (3) days in the workshop and no replacement car was offered to me. No explanation was offered to me either as to what caused the problem, because they do not know what is the problem. I was told to use RON 95 fuel only, and to add a special Volkswagen fuel additive every four times I fill the car petrol tank in full. I collected the car on 12/04/2015.
In addition to the above problems, there is still the air-conditioning "clicking" noise in my car which has to be fixed. I was told that I need to leave my car for a few days in the workshop as the dashboard has to be removed to fix the "clicking" noise. I was told that they cannot guarantee me a replacement car if I leave my car in the workshop. I have lost valuable time and money because of all of the above. Leaving my work to go to your workshop is a waste of my valuable time. Having to rent a car while my car is in your workshop is a waste of my money. In addition, I am worried that the car may continue to give me more problems in the future. You have made me nervous, anxious and upset due to the abovementioned issues, which is not good for my health.
I believe that you have sold me a defective car. I never expected that a Volkswagen would give me so much problem. This is my first Volkswagen. I have previously owned two Chevrolets, two Fords, a Pontiac and a Nissan, and none of these cars gave me the same amount of problems as I am having with my current Volkswagen Touareg.

Anil Budhoo
from Brooklyn, NY
Took my 2014 vw Jetta to sunrise vw for a bubble on 2 of my tires. That I bought extra for my car. I Specifically told the front desk of my situation. Female at the front desk was very rude, disrespectful and unprofessional in person and on the phone with my wife. Car was there for a complete day until I call. They did not call an any one to inspect the tires. Was told will get to it tomorrow. Called again, was told they looked at the wrong car. A total of 3 days. Ask for a rental it was filthy on the outside n filthy inside. Female at front desk told me to take to car wash.

zoltan virag
from Winnipeg, MB
I bought a 2013 VW Jetta(TDI/DSG), and a few weeks later I wanted to install a trailer hitch to perhaps pull a small utility trailer. However, after looking in my owners manual for specs. on towing capacity etc., I was shocked to find that with the TDI/DSG combination, I was not allowed to tow, and if I did, my warranty would be voided. I am thoroughly upset, as I was not informed of this by the salesman(dealership---AUTOHAUS, of Winnipeg). After many letters to Customer Relations of Canada, I was bluntly told that indeed, my warranty will be void if I tow. Being very dissatisfied with this, I researched and found that many, if not all, European countries allow trailers to be towed with a 2013 Jetta TDI/DSG. Imagine my surprise that because I live in Canada I am not allowed. The Customer Care person had no real answer for me. I am still baffled.....

Laurie
from Fort Lauderdale, FL
My daughter, Pamela Ruble, had a problem with her car and of course, like the rest of her family, we bring our cars in to Gunther VW Ft. of Oakland for service. She went there on Friday, April 10th in the morning and waited for about 2 hours until they told her that it might take longer to find the problem and she could take a rental. SO she got a rental and around 5PM that afternoon, she got a call her car was ready, so she returned the rental and picked up her car. She was only charged $1 for the rental and nothing for the $400+ charges to repair the car.
Well on Saturday, April 11th, the car was doing the same thing, she was working but went over to the service department Saturday afternoon. At that time they said they couldn't get her a car to rent because the rental place was closed. She asked if she could come first thing Monday morning since she works all weekend long and needed the vehicle. They said yes, so on Monday AM she went down there and they took the car and once again gave her a rental.
Service called her around 5PM yesterday, April 13th and said it was "Bad Gas" that was her problem, and she could return the rental car and pick up her car in the morning. She went first thing this morning, April 14th around 7:30am and when she got there they told her they couldnt put the same amount of gas back in her car which was 3/4 of a tank without charging her and her rental was not covered because it was not a problem that was covered. My daughter is a single mom of 2 and lives on a fixed income, she had no idea they were going to charge her for anything. $32.89 for gas and $35.00 for the rental.
I was hoping I could get this all taken care of and she owes nothing. How do you know you are purchasing "Bad Gas" and if she knew she was going to be charged a fee for the rental she would of make other arrangements. I did send in a message to the local dealership and to her sales lady, but haven't received a response yet.
Have feedback for Volkswagen?
Thanks for your feedback!
Sorry. Please try again later!