J.C. Penney
J.C. Penney Complaints Continued... (Page 5)
368+ reviews added so far. Upset? Call J.C. Penney corporate:

I am very upset as unable to purchase Underscore Nylon Brief with lace waist in size 5. Only find information available for this product is in larger sizes - why not in size 5???
Please let me know the website for this product in size 5 as only available online at JC Penneys. They must be available for purchase someplace!! Clearance, etc, This is the only brand of underwear that I'm able to wear so information would be most appreciated.if can buy this product!!
Thank you so much for taking the time to read my request. Kathie Poechmann, 1085 1st Ave So, Okanogan, Wash. 98840, phone # 509-422-1637.

My complaint is with the JC Penney furniture store at the Arrowhead Mall in Peoria, AZ. I went to the store two days ago to buy a dining set. I saw one that I liked and tried to buy it. The salesperson, who said that it was her last day on the job as she was retiring, indicated that the computer system was down and that she couldn't sell me anything. She took down my name and number and said that she would have someone call me.
I waited a day, and no one called. Two days later I called and offered to buy the dining set over the phone, but was told that I would have to come to the store to buy it. I then returned to the store and once again tried to buy the dining set, but once again was told that the computer system was down. No one had a solution, and no one would sell me the set over the phone.
I received a call after I got home on my voice mail that the dining set I wanted was not in stock, but that I could buy the floor model IF I came and picked it up. As much as I liked the dining set, I am going to look for one elsewhere. To say that this store is operating in the Stone Age would be an understatement.
I have shopped at JC Penney for many decades and have spent plenty of money with the company. I expect better service.

I need to speak with the JCPenney manger regarding my picture that was taken on Saturday. I'm writing for several reasons: my appointment was at 12.50pm I was not called until three. The guy that took the picture angel was ok, the girl that was helping was rude she did not want to hear anything I had to say.
I told them I wanted to a Christmas and birthday for my daughter and the outcome was a disaster . I try to speak with shanell but was unsuccessful the other girl who said she was the assistant ( pointless ) she was very rude and I use the term"rude" loosely.
At this point I would prefer to speak with a live person instead of emailing so I can explain this better.
Disappointed JCPenney customer- Shiva

The "Spencer" queen size bed was delivered by a company called Excel in Ral. NC. Bed was ordered in store at JC Penny in Ral. NC. The bed was put together by the delivery company, midway thru the assembly they told me that the 8 screws that came in the package were too short & wouldn't work. They were shorter than the depth of the wood slats that were to be inserted into, which is the base of the bed.
They told me they're not responsible for rectify the error, & that I should take it up with the manufacture & they needed to go to their next delivery. I called the JCP 800# on my receipt & spoke with Angela, who said she'd send new bed out to me, & if I had any problems again (which I had had with the delivery company) to call & ask for her.
I called her less than 1 hr. later & was on hold for 12min. The person on the other line said she would give her my message & she'd call me back. Never heard from anyone! I'm stuck with an incomplete assembled bed, & very agitated & disgusted with this entire transaction!!

I have been a JCP customer for years. Enjoyed and purchased merchandise often. My local store which is one of the originals is one I enjoyed shopping in even though it didn't seem it could provide everything due to it's size. It's had some ups and downs in merchandising my needs, but when I visited there a few weeks ago I was pleasd to see how tiddy the racks looked and DISMAYED to discover the lack of merchandising for what I believe to fit our area. Pendleton has virtually not department stores save Walmart for clothing etc. now even JCP doesn't provide even a little of what I ight be looking for on a shopping trip. Don't get me wrong, the employees are excellent.
The store no longer has what I want. When I asked if you carried plus size clothes, I was told no but they could order it for me. I can order that myself. I don't generally shop for clothes online - very few things for that matter. Here's the Christmas season on us and I'll have to drive 75 miles to shop at a JCP store that might have what I'm looking for. Sad, but I don't think the store will make it on it's current marketing plans. Maybe you should become a BIGGER (not smaller) store in Pendleton and buy the now vacant Bank of America Building. For sure Pendleton could use a nice big department store. Anyway, I'm sorely disappointed in the Pendleton's store's direction.

I ordered a pendant on the 27th of November, and today on the 12th of December they sent me an email saying my pendant was no longer available because the manufacturer no longer had the piece. I just think it's a joke that they had to wait two weeks to inform me about a piece they no longer had, I spent some time looking over the internet and found that many people are having the same problems. I'm furious because this was something I picked out for my girlfriend and bypassed any other website to do a purchase. Now I'm probably going to have pay extra for a piece of jewelry and rush delivery so it doesn't get lost in the Christmas shipping. Jcpenney is a pathetic company and has no respect for their customers, and they seem to not care.

On October 9, 2012 at approximately 1:00pm I visited your Victorville location. I was purchasing a pair of jeans and was helped by a lady named Cynthia (great customer service from her). Not realizing that I was paying with cash and a gift card she swiped my gift card and asked for my credit card, I explained I didn't have it and was paying cash she said she would help me at the register as she couldn't take cash with the hand held computer. The gift card wouldn't work at the new computer and the manager that came over to help was RUDE. He wouldn't look at me, he was rude to Cynthia and he has NO customer service skills. She asked if he could just issue another gift card to complete the transaction and he huffed off.
About 10 minutes later a female manager stomped up and handed me another gift card & without even saying a word she turned and stomped off. Cynthia kept apologizing over and over throughout the entire 45 minutes I was trying to pay. I was so mad that I said cancel the order and was going to leave. At that time the first male manager calls Cynthia and says "get the gift card back" I heard him because I was still standing there. I've been a very loyal customer for over 45 years. I'm not sure I will ever return to another JC Penney again. I cannot believe the way the management treats not only the customers but the employees at the Victorville location.

I have bought most of my dress clothing at J.C.P. for years but the new direction your company has taken has taken me elsewhere. Today I received an offer from JCP to receive cash rewards for qualifying purchases but I won't be buying from JCP because when you decided to get into the culture war by hiring Ellen Degeneres and by advertising with controversial and offensive ads, I decided to take my business elsewhere. I contacted you way back when and you never even responded. That's speaks volumes! You had rather lose customers as to stay out of the culture wars. You must know that many, many of your clientele are offended at your new marketing strategies. It amazes me that you would offend the masses to cater to the minorities. That is not inclusiveness. That is business suicide! Anyway, I wanted to try one more time because I really liked JCP mens clothing but I can live without it rather than be offended by your in your face marketing strategies.

Lost my favorite sunglasses that I purchased from jcpenney (Dyersburg TN). Went in store to purchase another pair and was told they pulled the display because it was a seasonal item. Whats up with that? The sun shines most days in Tennessee and I need sunglasses year round! Anyway I did purchase a pair at a totally different store. Problem is they need to keep that rack in the store year round!!!!!!!!!!!!!!! It does not take up that much space!

Dear Customer Service, I have owned my vehicle for 37 years, in 1979 I purchased a J.C. Penny lifetime Battery guarantee for it. Over the years I have replaced it with no problems, today I have to report that the manager in the Jensen Beach Florida refused to honor it even though I have my original paperwork. I was told by Beth the assistant manager that the store Manager Lisa Escalante said there was no question that the paperwork was legitimate, or any other reason to deny it, but this manager said no they would not honor it for a new battery.
What Beth said the manager would offer was what I paid originally for the lifetime guarantee, but that amount would not pay for a new battery at today's price, and I would no longer have a guarantee, and that is not what I paid for, what I did pay for in 1979 was a lifetime guarantee. I proved to them that I had the original paperwork, and this years vehicle registration, that was all that was ever required.
The battery my vehicle needs is a model 27-F and even though this J.C Penny does not have an auto department anymore, in the past the previous J.C. Penny manager Mr. Bradley would approve a purchase of a new battery at the nearby Sears store, I would take that approval letter he wrote for me and go to that Sears store and get a new battery with no problem, plus I would retain my Lifetime guarantee, and that is exactly what I wanted today but was denied. This manager would not accept that even though I have his business card and signature on it, to me this is very unreasonable. Please contact that Jensen Beach Fl store manager Lisa Escalante and ask her to call me so I can get this battery installed, I will appreciate that very much. 

We went to JCP Portrait studio at Greentree Mall on Wednesday, November 21st 2012 to get a family portrait. Our appointment was shcheduled at 7:50 p.m., had to make a late appointment because my husband works late. We have 7 kids, so it took some time to get some good portraits....needless to say, we were there for quite awhile. As we were trying to wrap things up, out of the blue a JCP sales associate from the mens clothing walked over and asked if we were about done? To my disbelief, I asked hime if there was a problem, He replied by saying "Yes there is a problem when you're still here 50 minutes after the store closed at 9 p.m. and I'd like for you to leave, so I can lock the doors and get home." He then stomped off. The 2 ladies who worked at the portrait studio were appalled and of course, as a paying customer getting ready to spend over $200, so was I!!!! We were still trying to get things wrapped up, so I could pay and everyone could go home but having trouble getting a 25% off coupon to go through.....about 15 minutes after the sales associate left, a sales manager walked up with her keys jangeling and arms crossed walked up and gave us the "Look of death." One of the ladies at the portrait studio, looked up at her and said "We are almost done!!!!"
Overall, I had a great experience with the Portrait Studio and the 2 ladies who worked there, who had been there since 9 a.m. and had a reason to be tired but were very professional.....I will be returning to the prtrait studio but I won't be shopping at JC Penny ever again!!!!!!
Angie

Emporia ks .The management is a joke all the boss just sit on their butt all day or walk around acting like their doing something when their really just talking. They tell us at work that were not allowed to talk unless its about work. Workers are right in front of bosses on their cell phones and don't get in trouble cause their really good friends. They judge their customers right in front of them and act like their better than them.its just a horrible place to work you complain to a boss and she doesn't care cause she's friends with them.

I was in Jcpenny's in Washington, MO last night to buy a wedding gift and I had received some rewards certificates. When I went to check out I requested a gift receipt and they informed me that if the gift was brought back that they could only exchange the gift for the balance that I owed after the certificates. This does not make any sense. I have been a loyal customer and to here that I was purchasing over $70.00 in goods, but it the gift need to be exchanged they could only exchange for the balance of $2.82 is insane. I was very shocked and in the future will be looking for a new retailer.

Yesterday I was in Penney's in Lafayette, Indiana. Normally I have a great time shopping there and find all kinds of things I want. The staff are usually very helpful; too, but yesterday they seemed a bit flustered. Throughout the store there were large while "things" that took up a lot of space. I couldn't tell what they were or if they even had a purpose.
With these "things" all over it seemed like merchandise was in places it shoulldn't be and I had great difficulty finding more than a few selection of my favorite desginer Alfred Dunner. While checking out my concerns the really nice saleslady suggested I use the we site and my access code to tell the poers that be my concerns.
I got so mixed up trying to find the right thing to use got the jcpenney.com/survery but on it was asked numerous very personal questions and nowhere was there a space for me to list any concerns at all. So, please read my above listed concerns and tell me what you are going to do about the. I want to keep shopping at Penneys, but only if I can find the things I want - and easily!

I am very dissapointed that I got up early this Black Friday morning, was nearly first in line 45 minutes before the doors opened at 6am. I had one item that I wanted to get, so the doors opened, and I rushed to find the Cooks Waffle maker for $8. I couldn't believe my eyes when I saw stacks of griddles, slow cookers and toasters. Not one waffle maker in sight. I asked around and no one else could find them. I looked through the store and no one else had a waffle maker either.
I was then told at the checkout that I could purchase the item online, so I left the store dissapointed but hopeful. Only to be cruched again when I searched online and found that the clerks at the store had lied to me. I thought the term bait and switch was outlawed years ago, but I see it is alive and working great for JC Penny. I will tell all my friends about the lies and deciet at this untrustworty store. Very dissapointed in Orlando.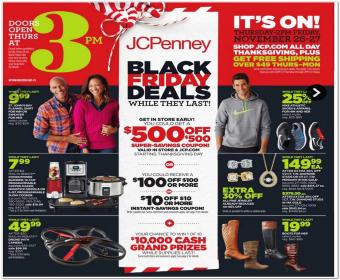 I purchased 2 shirts on 11/23/2012 and received 2 buttons and instructions to submit the numbers to enter a rewards contest. The 2 numbers were awgfz3x and 4pjb4xc and I entered both numbere and for one number it said that i would get a 5 dollar coupond and the other said that i would receive a 10 dollar coupon. I receive a email with the 5 dollar coupon and still have not received the 10 dollar coupon. Please advise if your are going to honor you email responses.
Neil Conner

I got up early and waited in line on Black Friday to get the appliances advertised in the Black Friday ad. The appliances were the "doorbuster item". I was excited because I knew it would be worth it and I was there early enough that there was no way they would be sold out. I planned on getting some clothes on sale as well AFTER I got my appliance and put them in the car (my main objective was to get a waffle iron, griddle, toaster and coffee maker). At exactly 6 am they let us in and I raced around the store trying to find them.
I found an associate and asked her where they were. She replied "We didn't get any. Only the big stores received appliances". I was so mad I left without even looking at the clothes. In fact, I am so mad I will no longer shop there, although I have been a faithful JC Penney customer for a while. I think the ad should have specified that not all stores would receive these items. The Yankton, SD store I was at should have, at the very least, put a sign up letting everyone know that these items would not be available. At least then I would not have wasted my time standing in line. I think it was an intentional fraudulent ad. They may have gotten me there with those tactics but they lost a customer by doing it.

I purchased a set of polyester/cotton sheets with 4 pillocases in king size from a JCPenney outlet store. I did not have a receipt but think that the sheets were approximately 6 months old. I have sheets in my home currently that are 20 years old that do not look as bad as the ones I am compaining about. My husband has a beard and I assume that is the reason that the pillowcases look shredded! There are also multiple catches on the sheets themselves. I believe that the sheets are defective, but I did not get any satisfaction from the outlet store nor the regular store. I think compensation is needed in the form of a coupon for a set of king sized sheets !!! Thank you in advance for resolution of my problem.

Ordered 6 new towels and wash cloths, received a call merchandise was in, upon arrival to pick it up, I was given 12 washcloths and no towels, the rest backordered, when they looked at the backorder there were another 12 wash cloths and no towels, the system had changed the order to wash cloths only. Ordered Royal Velvet towels and was receiving JCP Home, talked to the manager and she went into the system and cancelled the remaining wash cloths and I returned the 12 there. Purchased towels and wash cloths at the store, 21 weeks later, received phone call stating my merchandise had arrived, the 12 wash cloths that was cancelled.

I placed an order on 11/23/12 (2012328510447805) the orderwas to arrive to me in 4 to 7 busineess day. I called to check on the order and was told that something was wrong with my credit card per Annett. Made a call to JCP credit card office to see what was the promble and was told by Ray that there should not be a promble, because I have more then enough to cove the $58.00 purchase. they were not understand ing what was going on. Christian from Milwaukee checeked my order and said it is at the point where it can not be cancel. this is my first and last time of order anything from JCP on line. i took you at your word when you said 4-7 business days. your word is your bound and that's what i was staning on your word. i have been with jcp for years, but i see things in a whole new light. i really do not know when i will get my order per christian.

I was shopping in the jewelry department. I asked the sales woman who was talking to two other employees if someone could help me. The older woman came over and I told her I wanted to see the Mother rings that were in a jewelry case on the counter. She told me we don't sell those here and I said well can I at least try them on so I can get an idea of how they look. She says I can't take them out they are usually permanently attached, they are just for show. She proceeded to try to remove one and it did come out and I tried it on. She went on to tell me that I had to order them online. She then noticed that she was being rude so she offered to get my ring size. She brings out this large ring with all the different sizes of rings on it. I tried one and then all of a sudden they all fell on the floor. She says "I knew that was going to happen", she was very irritated. They all fell on my side of the counter and she just stood on the other side of the counter as I picked them up. She tells me " just leave them there", meaning on the counter. I felt very embarrassed and felt I was treated very rudely. All I wanted was to buy a ring. I left the store and bought nothing.

My husband had purchased me a Diamond Ring on o8/12/2011 from Jc Penny because my orignal wedding band had broken and he purchased the lifetime service plan on it. It was right after I had my son so it fit perfectly at that time of course. Now that I have lost the weight from having him it is really lose so I took it into the Jc Pennys in Taylor MI in Southland Mall to have it sized because that is where he had bought it from. I walked up to the counter and there was a couple ahead of me so I waited and I there was a women available (it was Saturday 12/15/2012 around 10:45am,glasses,dark short hair in a bob,maybe an Iltain accent and in her 50/60s. I am a little younger in my 30s) I don't know if that is why she kept ignoring me or not she helped older people who walked up to the counter after me and I know she had seen me caused she looked at me a few times! maybe it was because she had seen me holding the ring and paperwork for it and thought I wasn't going to buy something so she wounld get any commisoon out of me I don't know. So finally I said I have been waiting here and I believe I have been here before the last couple of customers (I work in customer service myself so I wasn't rude about it I was trying to get her attention cause I know she had seen me there). She stated to me this lady was here before you! not a hello or well be with you in a moment NOTHING but rudeness. I know we all have bad days but I know what it is like to be busy with customers too esp this time of year. Anyways she said that lady was there earlier and came back a few hrs later. Really because I had just watched her jump from customer to customer and they were just walking up to the counter. Now I really don't even want to go back there to even have it done. I have never had that bad of service there before my mom,husband and son were with me so they seen it to. We just left after that and said forget it. What is the point of purchaseing a lifetime servise plan if all you get when you come in to be serviced you get a nasty attutide and no help what so ever! I don't know if I well be back to this store or not but I would hate to pay someone for something we already payed for. I thought I would bring it to your attention because who knows how many other people have been treated that way to and there is no reason for it. I know my work positon as a CSA I probley would lose my job or be written up by my boss. Thank you for your time please feel free to email me

I entered one of your stores today and promptly turned around and left due to the poor experience a couple weeks before. Lets just say the bad taste is still left. A couple weeks ago my fiance and I did some shopping in the Henrietta location. When we were done my children had to use the restroom. My oldest daughter took my youngest in. When my fiance met up with us I was proceeding to enter the restroom with my children but the cleaning lady tried to push her cart infront of me. While I was in there with my three year old the cleaning lady yells in you almost done I have to clean. I informed her when my child is done I would be out. While washing my daughter's hands I stated to het I could not stand rude people as the tone and words your employee used I found extremely rude. She proceeds to yell in she wasn't rude. I informed her I felt she was and that was all that mattered. She stated yet again she was not rude. When I I went to leave with my two daughters and 12 year old cousin your employee was standing right at the door with her cart. I opened the door wich she was blocking with her foot and I was barely allowed to open and my cousin stepped out and almost fell over the wet floor sign that was placed directly outside the door, she fortunately was able to gain her balance your employee informed me I could have excused myself. I reported this to management as I am sure there was no repercussions for her behavior. I am angry that this whole experience has cost me one of my favorite places to spend my money.Just thought you sshould know this is how your customers are being treated.

This Sunday's paper (02/17/13) included an advertisement titled Spring Stock up: Save Big (jcpenny). on the back is a picture of a young couple 25% off Jockey. The picture (male) is far too risque as far as sexually impropriety goes (call it smut, degrading, shameful, perverted, negatively suggestive. or whatever) Some of your customers still have morals) Just about the time I am ready to shop at jcpennys this shows up. Sorry you just lost my business.

As an JCPenney international customer, I have been visiting Florida for the last 10 years, and have shopped in your stores multiple times during each of these trips. I have never felt the need to complain to a store before, but the incompetence and rudeness of your staff has left me so angry that I now feel the need to express it somewhere.
My first poor experience of JCPenney this holiday was before Christmas when I attended your Davenport store to take advantage of your JCP Cash offer, whereby a $10 coupon can be used on purchases of over $50. Upon entering the store with my mother, customers were being handed several of the aforementioned (photocopied) coupons by a staff member. To save time (so we didn't have to join the line to get some), we grabbed one from the pile and continued into the store. Additionally, while browsing I noticed several sales associates gathering these used JCPenney coupons from behind the various checkout points, and then handing these out to new customers.
Since your staff were giving out multiple coupons to each customer, one would assume that each customer is permitted to use more than one coupon. Apparently not. During a similar sales event the week before this incident I had printed off a couple of these coupons from your website, unaware of the fact they were freely given out in store. In fact, when I got to the checkout on this occasion I was told not to even bother printing off the coupons since they rarely scanned. I was advised that the staff always kept "master" copies of these JCPenney coupons at the checkout anyway. So, with this in mind, I am waiting in a long line to pay for my purchases. I end up waiting for 11 minutes (only two checkout points in the store were open, despite this being a "massive sales event") before we are greeted by a sales associate.
My mother gave the gentleman her $75 purchase and it is processed and paid for using the coupon. I then present my $60 worth of merchandise and state my wish to utilise the coupon (I felt the need to specify this, because after witnessing an argument between customers and your staff before I realised that unlike other stores, namely Macys, apparently JCPenney doesn't scan coupons that are being given out freely within your store unless the customer specifically requests that they do).
The sales associate tells me he can't, because it's already been used. I question this, explaining that I've seen other members of staff restocking the coupon pile from the used ones behind the till. He is persistent that he can't, and he tells me I must walk the 20 feet to go and get a "new" (i.e. previously been used by another customer and put back onto the "new" pile) photocopied voucher. Feeling slightly cross but not wanting an argument, I walk like to the associate giving out coupons at the front of the store. He gives me 3.
I return to the checkout and my payment is processed. Wonderful, one down and one more to go. I place the next $60 lot of merchandise on the checkout, this time feeling secretly smug that I already have my next coupon ready and waiting. However, now your sales associate tells me he can't process the transaction because I've already used the offer once. I question the sense of this when the employee at the front of the JCPenney store is giving multiple coupons to each customer anyway. I ask him what's stopping me from just paying elsewhere in the store. He, perhaps not surprisingly, has no answer. Now furious, I make my way to the other line (remember, still only two checkout points open) and wait again, this time for 8 minutes. I complete my payment and leave the store.
My second poor experience of your store actually occurs on several occasions and actually occurred in three of your stores. It is based on the complete inability of any of your sales associates (or at least the ones I have had the misfortune to deal with) to effectively deal with a traveller's cheque. When in England, we are encouraged to use traveller's cheques as a means of payment rather than cash for security reasons. I have never had a problem paying with a traveller's cheque in any other store (I have successfully used them in Macys, Wal-Mart, Sears, Dillards, Bath and Body Works to name a few) in the 7 weeks I have been here.
Yet in your stores in Davenport, the Florida Mall and Estero, Florida I have had problems. On one occasion two female employees stood behind the counter discussing why they thought the $100 cheque could be fake while waiting for a manager to come down. I found this particularly insulting, and felt the need upon this occasion to endure another 10 painful minutes in your store waiting to speak to the store manager.
He was very apologetic, repeatedly informing me that he didn't want to lose my custom. Clearly that's all customers are to you.. money. The other two occasions involving traveller's cheques involved me being asked to wait to one side while the sales associate continued to serve other people. After waiting for at least 5 minutes, a manager turned up to press a button on the till thus allowing the payment to be processed (why this couldn't have been communicated over the telephone, I have no idea).
The only time I was ever offered an apology was when the manager was called down, and like I mentioned earlier, he was only sorry "to lose our custom." The thing is with traveller's cheques, if I were in a store that wasn't the tourist capital of America I might be able to understand the lack of staff training, but in Orlando. Really?! I felt so angry after this that I even did one of your customer surveys advertised on the back of your receipts - I couldn't even fully express my anger there due to a word limit. How funny, you want customer feedback but only 1000 words of it.
My third JCPenney complaint and perhaps the worst occurred today and it left me so incensed I felt the need to write this message. I was in your Davenport store today (16th January 2012 between 20.35 and 21.00), once again with my mother, to purchase some cosmetics. After spending 20 minutes deciding on the purchase, we continued to the Sephora check out where a young lady served us. I swiped my credit card (MasterCard) and signed the little screen. The associate then asks me if my name is "Jenifer" to which I answer yes.
She then asks for photo identification. Confused, I tell her that I have shopped with my credit card for 7 weeks in this country and have not once been asked for ID in either JCPenney or any other store. She insists she must see it, explaining the computer is asking for it. I tell her I don't have any (I don't have a driving license and I leave my passport safely locked up in my accommodation - as I am advised to do when travelling), all I have are other bank cards and credit cards. She calls over a manager. The manager turns up after a few minutes later and tells me she will on this occasion accept another card with a signature on it. I once again ask why they need further identification when they never have before, apparently the manager tells me it's store policy and on every other occasion that I've used the card the sales associate has been breaking store policy.
I have travelled the world, and in every other country (and apparently in every other store in Florida) I have visited, when you use a credit card, the signature on the back of the card is compared to the one you provide at the checkout - the transaction is then approved by the sales associate if the signatures match. Your staff didn't even want to see the back of my card. Getting angry at the lack of explanation by your staff (hiding behind the "it's company policy" excuse is not a valid explanation - WHY is it company policy?) and the rudeness of the manager, I refuse to provide another card with a signature.
The manager leaves without apologising or anything. Dumbfounded, I ask the cashier what is happening and she tells me she can't proceed with the transaction. She tells us she has rejected the transaction on the screen so it shouldn't go through, but doesn't provide any evidence of this (in England if something like this happens, you are always given a "void slip").

On 12/14/12 I received two messages that I had won $5.00 and $10.00. I claimed the winning on the same date. The response was SUCCESS and he message was that I will receive emails for my respective certificates with 48 hours. I have not received tham so far.
I do not hat the code numbers because I threw away the buttons after receiving the message that I had won.. I hope you will rush the two certificates because I want to use them for X'mas.
I'm extremely up set I feel JCP is running a scam. I have purchase item from the store through out the holiday and was given buttons for the promotion the store has going and entering without problems won on three occasions.
Today on 12/21/12 purchase more item and was given 6 buttons today and told to enter two a day until promotions is over to try to win a prize. But to my prevail upon entering the buttons it would not go through, kept saying it was entered wrong which wasn't true .
So kept entering it again exactly how it appeared as I have did several time before without problems . At this point all buttons I tried out of the six I was given wouldn't go through.
A friend of the family who works for the better business bureau said I should report it and I'm agree I'm very dissatisfied with JCP, by me not being able to enter the two buttons code I'm missing out on a possible win today, and who knows about the other four.
To whom it may concern I have recently put in my button information in for 2 buttons that were winners and was told to wait 24hrs for notification to print out and its been over a week and no email yet.
I also had an issue where I typed in my button code and it said that I was a winner to check my email and when I checked my email the notification said sorry your buttons no a winner. This has happens 3 times already.
I am a very loyal customer to JCP and the buttons are a great holiday attraction that you have going on but its gets very frustrating when you have problems occur such as this.

On Dec 6 I went to JC Penneys (Orange Park , FL) I went in to have a hair carmelize and a trim. I have very short hair not even sholder length. When I was done Bonnie the stylist told the cashier Chistian that it was $180.00. At that time I was to stunned to question it. I later called the manager Cindy and she said "no it should be between 115 and 125. I asked her to hold my check and I would be back. I went back the Monday after that to write the correct check. I asked the cashier to I get any future discounts because of the twenty dollars worth of gas I used to come back. She said no your caramilzing would have been $140.00. They need to get together and figure out the price and stick with it. I have been a custmer for over seven years but I dont think I will be using them anymore.

I waited in line 40 minutes and then waited another 40 minutes for the saleswoman to tell me the necklace and earrings advertised in your Black Friday ad weren't even there and not in any store. She tried to sell me something that was quite under par from your ad. I felt that I was a victim of false advertising! This was at the Westfield Shopping Center in Meriden, Ct. It was only a $70 sale item, but why would you advertise something that you didn't even have to sell? To get people in the store and sell them something more expensive? I feel cheated. I only have so much money due to my wife awaiting a disability hearing. She is very sick and I wanted to get her something to make her smile!
William Lafleur

I placed an order on 11/23/12 with jcp on line and was told that the order would be to me in 4 to 7 business days. When I called to check on my order on 12/02/12 oi was told that there was a hold on my credit card. i did not understand why because my credit card is just find. then i was told that's just they way that jcp do things. part of that order i need today. if i was told that you were going to hold my card i could have done business with someone eles. i feel that you should be honest with your customers when they call and place an order. i was told that my order might go out on monday Decemb er 3, 2012. as you can see it is way over the 4 to 7 days promis to me. i am trying to see if i can get this order from some other source.

As I was in the front of the line at JC Penny line this morning on Black Friday, Looking through the window we saw several JC Penny Associates ringing up sales items for themselves before we were allowed in the store. These items were the small applaince items for 8.00 dollars. When we were allowed in the store, most of the 8 dollar items were sold out. Why was this allowed? Don't say it didn't happen because we watched it through the door window. I have been a long standing customer for JC Penny but after this I just don't know if I will shop again in this store.

I was told that my ring that was being shipped to me would arrive within 4-8 days, I then looked online and my tracking order stated that it wouldn't even be shipped until Dec. 4th! I need the ring before then and Jcp did little for me in helping me in the matter. I was not told the correct information and now must wait for a ring to come that I was suppose to have within a day or 2 of thanksgiving and now may not be receiving it until christmas. I do not think that this was my fault and this issue should be handled and I should not have ever been put in this imposition. I am very disappointed in the service of Jcpennys.

I feel I was treated very badly at your store in Lebanon NH at the Upper Valley Plaza in the Hair Solon Dept on Sept 9,2012. Here is what happened, on August 23, 2012 I went and had a Perm and Hair cut by Barbie (I would like to note she was very nice no problems with her) after she was finished with my hair she sold me some products (shampoo and conditioner package deal for $22.00) she told me if I was not happy with it I could return it for a full refund. My total cost for the day was $102.00 plus a $10.00 tip.. (See attached slip #1). I tried the product, it did not work for me, and it made my hair feels matted and had such a hard time getting a comb thru my hair. So I returned the product.
When I got the register I explained to the young lady what was going on with the product. She got me some other stuff to try. I purchased the products she handed me along with other products that I needed. Well she did not know how to do the refund; she first rang up each product and was going to give me a credit of $40.00 I explained that I only paid $22.00 as a package deal. (I feel if I was not an honest person and took the $40.00 maybe you would not be getting this letter from me anyway.) She did not know how to process the refund as a package deal, so that I would get a credit of $22.00. A co-worker came over to help her and she too was not sure how to process this, so they told me she would take $2.00 off conditioner. The replacement product were fresh curl for $12.00 and redkin all soft cond for $9.00 but was rang in as $7.00. (See receipt #2) if she did not take the $2.00 off the total would be $21.00 So went home tried these products, the product that she sold me made my head burn and itch. So I returned them.
When I walked into the store there was no one at the register I stood at the solon register for a good 10 to 15 minutes no one came out to wait on me. (Let me explain why I waited so long, I live 35 minutes away for this store) So as I am standing there I see one of your associates who works in the solon dept. talking to an other associates in the make-up dept... ( Their conversation was being done at the new make-up dept.) The young lady who worked in the solon dept. finally walks over to help me. I explained that I was returning these products as they were not working for me. She listened to me and then walked out back. Someone else comes out from out back to help and again I explained why I was returning the product. She did not know how to do a refund. The young lady that I started with came back out and grabbed the Product from me looked at it put it on the counter and walked out back yet again, did not say a word.
A few minutes passed. She finally came back out and rang up the credit and only issued me a credit for $19.00,(the young ladie who was talking to the ladie in the make up dept.) I explained that I she short me $2.00. She then raised her voice and told me I was only getting back $19.00. The young lady told me that she was not giving me the full credit and was very rude; she embossed me in front of her co-workers tell me I did not know how to add or did I know what I was talking about.. I was not rude to her and there was no reason for her to be so rude to me. I did try to explain why I felt I was due $21.00 and not $19.00. She told me "I can give you credit for $19.00 or I could keep the products. " (See slip #3) I did ask if there was something else I could try, as I wanted something good so my perm would keep longer and look good and not dry. She did not want to assist me, so any other person came out to help me and as she was helping me that same young lady called her out back, So I walked around the solon checking out other products and seein if I could find something, waited a while and no one came back out to help me.
All those ladies turned there back and walked away from me. They ALL walked out back and no one would come out to assist me.. I saw a manager in the store and walked over to her and explained to her what had happened and that I was interested in getting the right product for me. All she said to me was that she was sorry. I will talk to the girls. That was all she had to say. I did not pick up any products that evening, as I was so upset, I left your store shaking and very upset. Not because of the $2.00 it was because of the way they treated me. I have never been treated so rude. I went back into the store a few weeks ago and as I was approaching the solon there were two of the ladies who that were there the night (slip #2), they saw me approaching them, they turned there back and walked out back. They did not come back out front to wait on me,or anyone else.
That same week I had an appointment with Barbie for a hair cut. I was afraid to go in, so I canceled my appointment with her. I was afraid that those young ladies would embarrass me again in front of other people. It took a lot for me to send you this letter; I feel you those ladie need some training in Good Customer Service Skill. It dosent matter who was right or wrong aobut the $2.00, it was the way I was treated when I was making the return and trying to explain why I thought I was stil due the $2.00. There is right way and wrong way to tell a customer they are wrong without embrassment, to either the parties.
I feel the manager who told me she would talk to the young ladies she did not. I feel if she did they would be more respectful to me as a customers. I wish that you could have seen how I was treated, you would have been shocked. One of the reasons it's taken me so long to write this letter is because I was afraid of the consequence of what they would do when I walk in to your solon dept. So I have decided to stay away from your solon dept. But felt you should know why and what happened. You know when Irene flooded the Upper Valley JC Penny's it was so sad could not find anyone to do a good as job as Barbie. But when the news came out that your store was re-openinng I was so happy, As I have been going to your Solon for years. As I really enjoy going to Barbie for my hair, She dose a great job! If you should have any questions please feel free to contact me.

I purchased a sectional sofa on my account last year (approx Feb or March, 2012) for my daughter. At the time we were told that we should take a warranty on the set, which was $ 180.00. We were told it would take care of everything, especially seams, zippers, dog and cat damage, etc.
We purchased it. Now when we have a claim, which my daughter did on line, and I uploade the picutres, they came back immediately and told us that the policy does not cover seams and this is seam damage. I did not spend this kind of money to have seams fall apart in just over a year. The set has been very well taken care of and looks almost new. I have been a customer of yours since the 1970's and hope that you can resolve this matter by either fixing the seams or replacing the part of the sectional that is damaged. The seams should not tear this easily.
We are very disappointed with the seams in this set, and disappointed even more that we were told it was not covered by the warranty policy we purchased. That was the only reason we purchased the policy. I look forward to hearing from you with a solution to our problems. I can send you the photos if you like.

I have been a JCPenney customer for 30-something years. I think their merchandise is great, fashionable, reasonably priced, great sale opportunities but I have got to write in about the latest commercial being played in the Charlotte, North Carolina market. It is a commercial of people screaming about sales. It is the most irritating commercial I have ever seen. Whether it plays in the evening when I'm watching the news or in the middle of the night waking me up and scaring me to death, I hate it.
I have never lodged a complaint with any merchandisers but PLEASE MAKE IT STOP! I am not psycho but it actually makes me mad when it comes on. Its an obnoxious commercial. Thank you for your consideration.
Your current commercial that is being aired on TV that shows all these super annoying screaming people is a horrible thing. My little grandchildren were here and were frightened, asking in a distraught way, "What's wrong with them, Grandma?" We can't get to the remote fast enough to hit the mute button. Perhaps you think this ad will "get our attention" and therefore, we'll follow up with whatever you are promoting. WRONG. I don't even know what message you are trying to get across.
And frankly, I don't care to find out what it is - any company that would produce something this annoying (and frightening to children) doesn't deserve my business -- I won't be visiting any Penney's stores anytime soon.

Courtney a teller at flowood ms was extremely rude. I was friendly and polite and in fact this is the first time in 40 years that I have complained about someone in work field. Her rudeness has caused me to go to kohls. You have lost a valued customer of 25 years due to her unbelievable rudeness.

I brought my 13 year old daughter into JCPenneys to get a hair cut ($22) signed her in and told the lady at the desk that I wanted a HAIRCUT for my daughter. After waiting quite some time with no customers the same lady that met us at the front desk started cutting my daughters hair. The lady did quite a wonderful job of cutting very little hair from my childs head, then blow drying and styling it without asking my permission. She then added $10 to final charge for the service I did not request nor did we need. It was quite obvious the lady was upset and very quickly called in "somebody" else that worked for JCPenneys.
So enters this new lady, we both quickly explained our sides, me stating that I asked for a hair cut, the lady working there stating that I shouldn't leave without paying for services rendered. Now, as far as I understand, a 13 year old cannot create a leagally binding contract in the United States of America no matter who, what, when, were, or why, but the lady cutting my daughters hair seemed to think different, as she stated that when she takes her 4 year old son to get his hair cut that what he says goes....At this point I am getting more upset and embarrased over the fact that I am having to argue over this. After stating our points, me and the beautition, to the third JCPenney party, the result was, "I don't know what to".
Since the third party did not help at all, I asked if there was somebody higher we can talk to. I was refusing to let this go, as I believe in America that a 13 year old cannot concent to a leagally binding agreement, but the the beautition refused to let us leave unless she rewashed my daughters hair, removing all of her talented glory, thus negating the $10 difference of her blowdrying expertice, surely further damaging my daughters hair and costing the store more money in product, and both of us in time. I am severly upset and will NEVER EVER EVER shop JCPenneys again, and will SURELY spread the word of my bad experience.

I have won four times in your button promotion. One was just tonight so not enough time yet to see if it is messed up too but out of my wins I have only received one certificate to use. I never received a $5.00 and a $10.00 winning certificate.
Dear Jcpenney employees, I am not happy because my friend purchased two bras from your store in Westfield Gallaria, Roseville, and the cashier forgot to take off the tag or whatever you call it that cannot be removed by customers. I lives in Rocklin, which is some ways from the Gallaria.
My husband and myself have shopped at the JcPennys store in the destiny mall in syracuse ny for several weeks and recieving buttons 2 each to enter on line. We have had over 30 buttons come back saying this code was already used .we are extremely upset as you should be that the only explaination for this is that the employess are taking the buttons ,setting up numerous e-mail accounts and recieving rewards that are ment for paying customers.
In my hometown cortland ny,about 1/2 hour away from syracuse 1 out of 6 buttons were a winner,and NOT 1 ever came back as code already used. I am beyond upset at the thought of these employees are ripping off Jcp ,and that they are so good at hiding things no one will ever find out. It is obvious that their jobs arnt that important after all to them.Hopefully there can be a solution to this problem ,thank you.
And I have to go back just to get them removed. I understand that Holidays are very busy and this kind of things happen more. But it is really inconvenient to the customers and it does no good to your reputation, right?
I am sure I completed each stage as directed. I did receive one $10.00 certificate and tonight I won another $10.00 and was told I would receive the certificate within 48 hours. I hope it works this time. Can I still get the certificates I won?
I received two jcp buttons that said codes were already used.
I received them from the Eastern Hill Mall Williamsville New York. Also was told I could only receive one button for two different purchases. I shopped at JCP today Blvd Mall Store and was told store was all out of buttons.
Won a 10.00 certificate. Ever time I tried to claim and print certificate out it said the certificate would be sent to me through e-mail but never received it. I tried retrieving certificate several different times with the same result. Also two of the buttons I received from the store had already been entered by someone else.
Finally when I last tried the e-mail telling me I had won disappeared completely. Didn't get a thing. Believe that Pennys should honor what they say they will. Have been a loyal customer for more than 40 years.

My husband and I were at JCpenney's Bedding Dept. on 12/13/12 between 1:00 and 3:p.m we needed to buy some bedding items. There was one particular comforter that we really liked, but we could not find it,so we asked for help from one of the sales representative he said this is not my Dept. another sales representative came over to us my husband and I asked her if they have that one particular comforter that we really liked, she told us that is out of stock you can probably order it online.
I am so disappointed because she did not offer any apologies for having the item still on display when it is already out of stock and did not offer any other customer options she just stood around and watched us,so we left. We like really shopping at JCpenney and we have experienced some unpleasant representative manners,but today was the worst! So we took our business to Belk.

How do you tell customers to enter a 7 digit code when the button you gave out has only 6 letters? Normally I don't even waste time on games and promos but I thought JCP would be legit. I just opened a Charge account and I'm just ticked enough not to use it ever, if I don't get some explanation.
I redeemed a few buttons earlier in the Christmas button program but starting last Friday, the buttons stopped working. It will give the message that the code is wrong or the captcha is wrong. It will alternate the messages until you get tired of trying. I am a regular Penney's customer and would rather not have the program than to have it and only some people can use it.
This is really annoying. All attempts at getting them to help me have failed. What is up with this?

I am very disapointed in the JCPenney's company, you are changing you stores to be for the young and skinny people. You don't have anything that is for the middle or older people. You don't have any dresses that are for Church people you have the tight trashy cloths that we don't wear. We all like getting the large catloges so we can see what we are looking for. You keep going the way you are going you will be closing before long. You need someone to Run the company that will get cloths for everyone. I have always shopped with JCPenney's, I knew I could count on them to have the styles that I was looking for. I can't do that now, I don't even want to go in the store anymore because it is useless. VERY DISAPOINTED!!

my husband has purchased jewelry several times at pennys..the values have added up over the years. i went over the weekend to look into trading up on a ring he purchased for me. we have certificates on the pieces for trade- up on the value of the ring and earrings. The salesperson 1st off was not professional at all, and told me we know longer honor your paper..no explanation or no knpwledge on how a decision could be made without contacting the consumer. I had no chance to take advantage of the agreement given to me byPennys before you decided to do away this...I feel i should be given the chance to consider trading in the ring, as i had intended to do over the weekend. This is not proper for you to rip off the consumer..This was a deciding factor to purchase several items over the years.. What a bussiness you must run.. I have been a loyal customer for over 40 years. I do not expect this from your store chain...I would like a response to validate your actions as to why you would rip-off a consumer without notification.

All excited to go to function looking great. Spanx order > arrived approx time when expected..attached was security tag ..the tag that is removed when purchased in store. Can't believe this hindered me from looking gr8 and when needed. I Spend a lot of dollars at your store and have recommended to all my friends. Saddens me that your Quality Control was so non par! $61.62 was money wasted for you to de-value me as a good customer...Now I have to make a trip to store, but after the moment that I needed it the most.

I had my hair done today Penney in Hobart Indiana 219-7382155 ..first it was dyed red,orange.brown I told girl to fix well she then dyed it black!!and said that was all they could do for me also I am a breast cancer surv.. She wouldn't even cut my hair . And she didn't not fix black. I said I was not walking out like that she said that's all I can do for you apparently the mangment is just as. Lame as the manager Beth would not talk to me or return my calls the people in this store said to me that's a shame Beth is leaving right now bye bye mayb you should not hire preschoolers for such an upscale job!!!! They said I could try to call Beth in the morning. Maybe she could help me.. Then..I have globs of dye all over my face my neck I informed them I was showing up in morning globs included they need to do their jobs right!!!! And fix this horrific .so called hairstyle I have a job a family and I have to b seen out in public like this . This is. It right . This is a hair nightmare from penneys . Please help me .

to whom it may concern: I live in NYC i went to the JCP store in Bay Plaza Mall to buy the Invicta watch 051-5177 (price) $262.00 that your advisement have in the web . Unfortunally the store ran out of it. I try to buy it through the web but it's also unavailable. My question is, can I get this watch for the same price when ever become available in the store or web. if your answer is yes send me an e-mail or a code number to be able to get it at the same price. Excuse me to write in this section but i didn't know where to go to ask my question. By the way Bronx staff from JCP at Bay plaza mall are exceptional, especially Mr. Kenneth that gave me the extra mile to help me. He went to so many to try to find me the watch. Thank you in advance for your answer. Margarita

To whom it may concern, My family and I went to the JcPenney's in Victorville, C.A. on Wednesday Jan. 2,2013 in the evening. I had got a gift card for Christmas so I was going to purchase some items. We made it a family outing. We have four kids which two of our kids our 2 and 3 years of age.
So As I'm looking around my husband grabbed the mesh bag displayed by the doors as you come in to shop to put your items in. He had put the kids jackets in them along. So when I was done shopping, my husband walked out by the mall to sit in the chairs with the kids so I could pay.
Forgetting about the mesh jcpenneys bag he had on his shoulders (which normally would alarm to remind us it couldn't leave the store). We walked thru the rest of the mall continuing on with our shopping. As we our headed back to JcPenney's our last stop was at Kays Jewlers to check up on my ring.
As my husband and I are talking two men walk-one a very large black man over 6ft high husky in built and a shorter man hispanic come over to my husband and interrupted our conversation and demanded us return the bag to the store now. My husband told them no problem we are headed back anyways.
As we proceed to walk back to the store these two men are walking right on my husbands back as if we are criminals and are being arrested. My two young boys became very uncomfortable and were intimidated by these two mean who are looking very mean at there dad and they are concerned they are going to hurt him.
My husband makes a comment to lightened the kids up that don't worry its just the FBI on our tail. As we walk into the store I had to get another bag because the plastic jcpenneys bag my clothes were in was ripping from the hanger. As I'm getting the bag I look over to my right I see those guys standing there laughing.
It bothered me so I went over to them and asked them are they security for JcPenney's or the mall because they are dressed in plain clothes. They hispanic guy got an attitude and said JcPenneys so what about it. I asked them do they think it was right the way they treated us and the hispanic guy started to get sarcastic and say you shouldn't of stole the bag.
I said we didn't it was an accident we forgot about it and he continued to be disrespectful. So I asked him his name and he told me then said so what of it what am I gonna do about it. His actions were aggressive as if he was some thug off the street.
My husband walked up and heard the way he was talking to me and told he is not gonna talk to me that way and tone it down. The guy started getting smart like he was gonna fight my husband. I asked the black guy his name and he said don't worry about it. My husband told him to get the manager and he said no, get him yourself.
As I'm getting my kids and we are walking away they are following us harassing us down the isle. I'm looking at a worker who is standing there talking to another worker and asked him if he could please call the manager. The hispanic man said he was the manager and his name was Tito. I couldn't believe he was the manager and could obviously see there was a confrontation going on and he didn't immediately interveine.
I told him I need to speak to him and explained what had happened. As I am explaining the hispanic guy rudely interrupts and starts raising his voice and being rude and kept saying you shouldn't of taken the bag in an aggressive way. I told the manager I couldn't believe he was allowing this punk to talk to me this way. I have never been so disrespected in my life.
My family has always shopped here since I was a young girl and in turn our kids shop there but now I will never ever shop there again. It shows his employee has no respect for his authority and doesn't care. He then said to the hispanic guy in a soft whisper voice oh yeah don' t talked to her that way. At the same time the black guy asked my husband if he did anything wrong. He sais I know the other guy did but I didn't.
My husband said at first you didn't, but when you refused to give us your name or get the manager then you did. He didn't like what my husband had to say so he stormed off with the hispanic guy. I told the manager I can't believe my four young kids had to witness this. Those guys are a representation of your company, and I will not shop or bring my family into an environment that condones this behavior.
The manager made us feel like he was just appeasing the moment but wasn't gonna really do anything about it. I am young and have been a manager for a company for years, and I never would allow anyone to step into our place of business with that kind of bad attitude.
They would be fired immediately especially doing it right in front of the manager. There is never any reason to treat anyone like this. And what are your employees doing wandering around the mall in a jewlery store anyways when they should be working.

So is it unreasonable to think that I should be able to walk through JCPenney without almost getting knocked out by low signage? This happened to me and I was so mad that I asked to speak with a manager . After explaining what happened, that I was simiply walking through the women's dress department and I was looking at the merchandise and got whacked on the head with a sign that was hanging from the ceiling, I felt I my concerns were disregarded by the manager. I was told that the manufacturer of that particular line of clothing has strict guidelines as to how high the sign can be. REALLY? Evidently it is more important to follow the manaufacturers instructions that be concerned about customer's well being and safety. I asked her if it was worth someone getting hurt. All she told me is that she would inquire about it but didn't offer to raise the sign. This isn't the first time this has happened to me. I didn't mention it the last time but this time I was angry. The manager looked at me like I was freakishly tall. I am just under 6' tall but that shouldn't matter. To top it off, the manager didn't even apologize. I felt I was blown off. Guess I won't be shopping there anymore. It just isn't safe for me and my family since we are all tall. I'll spread the word that JCPenney doesn't care about their customer's safety. I still have a lump on my head!

On Tuesday Sept 27th I placed an jcpenny order (#2011270581551407) and the call service I received was very willing to go well beyond their fundamental call service. Unfortunately I did not get their names but it was approximately 8:30pm Eastern time zone. The first jcpenny person I spoke to stated she would have to have manager call me back...bottom line they were open to helping the customer.
Basic issue was that I wanted a 5piece outdoor furniture set that was at a discounted jcpenny price online it stated it was unavailable but all the individual pieces were available but cost more than the complete set price but after working approximately 1 hour cause that was when I got the return call from the manager they were able to get the set at the cheaper price. They tried-that is the bottom line. After researching I found that local stores had the chairs at even a cheaper price I decided to cancel the order for the tacle set pieces.
But I had also ordered a cover for this set which jcpenny online stated was no longer available but keep in mind it was available the night prior when the order was placed. Nancy and Barb (Barbara) out of Pittsburgh, PA. Stated their was nothing they could do for me to get this cover other they watching the website to see if I could catch when it is put back as available-who has that kind of time.
Bottom line is that they were not open to even trying and now I can not get that cover so I know it may not be much but this is a lost sale and keep in mind that if the topic of jcpenny comes up in conversation with friends and co-workers this lack of a sense to try and help the customer can be discussed. I just hate that I am out of a product that I had less than 24hours ago that I really wanted. Thank you for your time and have a nice day.

I rarely bother with these contests but thought I'd give this one a shot - entering the codes for the two buttons I received when making a purchase at JC Penney's last week. The print on the back of the buttons is so ridiculously small, I struggled to read them. And I'm relatively young with decent eyesight!
I then went through 6 or 7 attempts at the Captcha entries which were ridiculously difficult to interpret. Finally got kicked off and told that one can only enter a limited number of buttons a day. I never actually accomplished entering one!!! Ugh. Great - I see the Captcha box at the end of this complaint so I'm guessing this won't ever go through either.
What's the deal with the buttons?? I only got two, then wasted my time on the internet to find out the I'm not a winner! There's nothing about that that makes me want to go back and shop for more just to have the same disappointment of losing again. What was wrong with doing the survey and getting a percentage of next purchase? At least we were guaranteed savings. Change isn't always good...

I was in JCP yesterday to make an exchange, I had bought a pair of clearance tennis shoes in the Tracy store last week. I had a handfull of toddlers with me and was unable to try them on, I bought them as they were the last pair and figured if they did not work out, JCP has 'hassle free happy returns'...Well of course they did not work out and I went to exchange them for a pair of boots for my daughter yesterday and ANGIE refused to do the return.
She said that because I had used my winnings from the buttons I would only get a 4 dollar credit. Before speaking with her an associate at a different register said if I returned the shoes I would get 4$ but if I exchanged for other merchandise I would get the full 36$ toward the new purchase. ANGIE wanted me to walk her across the store and point out the associate that said this... I had my children with me and I was not going to haul them across the store just to get some poor girl in trouble..It is not the girls fault it is the managements fault that their staff is unaware of the policies. Angie was smirking the entire time being extremely rude. I ended up leaving the store in tears with the same tennis shoes I walked in with.
I grew up in JCP my dad was a store manager for 35 years, I am a dedicated customer and go into JCP on a weekly basis. I have a JCP gold rewards card that I keep in good standings. I understand that maybe that is the policy but I was misinformed by other staff and the exchange should have been honored. I am disappointed in the customer service I received and I must say I do not look forward to visiting JCP anytime soon.
I know that JCP is all about having satisfied customers and they failed to do that yesterday. Now I am left with these shoes that do not fit and have lost 30$ of my winnings from buttons. JCP was not going to lose anything in the exchange process and I know that they would turn around and sell those shoes for the price I paid so then they are making double on those shoes because they would have only returned 4$ to me. The whole situation is very upsetting and I was a part of the JCP family for a long time and this is not the way it should be.

After winning 3 times with the buttons (one $5 and 2 $10 coupons) much earlier in the season, the last 8 buttons either don't work when the CORRECT letters/numbers are put in, or the message tells me those numbers/letters have already been used. Why are the sales people giving out "used" buttons?
Over the course of the last week my husband and I received 4 holiday buttons from your Stonecrest Mall Store in Lithonia, Georgia. When we input the numbers online, we got a message that the buttons had already been used! Here are the numbers: y252e4a, vjvvfqr, zamnpau, busu2tj.
I think there is some fraud going on at the store were people are checking the button inventory for winners and passing the codes on to people they know to redeem the reward. I mentioned it to my sister and she had the same outcome with a couple of the buttons she received.
This promotion has an easy exposure for fraud since the codes are readily visable and people can use their cellphones to check them. If you decide to use it again, buttons should be in some kind of wrapper. I love JC Penney so I was dissappointed to see what happened with your button promotion.
Have feedback for J.C. Penney?
Thanks for your feedback!
Sorry. Please try again later!