J.C. Penney
J.C. Penney Complaints Continued... (Page 2)
368+ reviews added so far. Upset? Call J.C. Penney corporate:

I have several buttons and it keeps saying that the Captcha is not correct when in fact I print exactly what is written. Then on the same button code, after entering the captcha at least twice, it will say the button code is invalid. It goes back and forth forever. I am starting to think that we are being used for this Captcha for some other reason.
I sent an e-mail to jc penney in regard to a problem I had on December 6th to redeem a $10 certificate. They never responded to my e-mail. I then called the number on the website and was transferred to the wrong department, however they promised they would have someone call me right back and again no one called or got in touch with me. I am very frustrated wth this Christmas button program. I hope to hear from someone before this program is over. Thank you.
When I press the audio button next to the Captcha, it sounds like aliens and I can't really here what they are saying. Something is very wrong here! Is this all just a big scam?! People win $10 gift certs here and there, but I get those anyway as a regular customer of JcPenny's so I don't see what the big deal is winning these buttons. They are like coupons that other stores give you without the hassle of making you come in for buttons. This is only going to enrage customers and possibly lose a lot of regular customers for JcPenney's!

I have printed off my Jcpenney gift certificate 6 different times and the numbers under the bar code is not showing up. No matter if i print it off in color or black and white. It prints up everything else except the numbers under the bar code.
I have 4 Jcpenney Christmas buttons and out of the 4 only 1 has went through. What is up with this promotion? We had three winner buttons and they did not process completely; we did everything correctly and it did not holiday certificate verification.
I received 2 buttons during the black friday shopping weekend. I came home and entered the codes on my buttons. one was a 10 certificate and one was a $5 certificate. I received the ten dollar one with no problems the 5 dollar one never opened to claim my certificate.It had a message saying that there was a problem and the elves were working on it.
The button code was zbbddfn. I would like to know if there is any way to help me claim my five dollar certificate. Thank you for your time.
Twice i have got know responded when inter my button code it says check your email . When i do there no message . All the other it says a winner, are sorry you are not a winner. Don't know what going on.
Love the Jcpenney store but found the button codes did not work. I was given invalid code button or it was already used. So I'm sure this has been frustrating to their department trying to spread some joy this holiday season. Blessings to them.

Your life insurance office sent me a card saying that I would receive a $10.00 reward for calling and talking to them about insurance. I decided against taking the insurance but the worker told me that I would still receive the reward of ten dollars. A few days later I received the gift card and the note said it was for ten dollars. However, today at the Paris, Texas store, I bought a shirt and tried to use the card. The clerk said that the card had a zero balance. When I got home I went on your website where you can check gift card balances and it said that the card still had a ten dollar balance. What can be done about this? Please tell me what to do.

I am very disappointed in the poor selection of boys clothing, sizes 8-20, in your store in Thomasville, GA, and Dothan, AL. I went financially prepared to spend several dollars, perhaps $200 or better, for two of my grandsons. The clothes were trashy looking. I did not see any collored polo shirts, and the sizes I needed in jeans were gone, size 12 regular, original cut in The Arizona brand. The clerks were very nice in Dothan, AL, . They even went into the back to see if they could find any jeans back there---no luck. I have been pleased with shopping in JC Penney in the past, but not now. You will lose many customers if you do not correct the situation. There were several other ladies trying to shop for little boys too. I needed some church clothes for my grandchildren, not trashy looking attire.

JCP has lost a fairly good customer because they have stopped selling their Cabin Creek line and specially the Cabin Creek Denim Boot Cut Leggings. I am not a 6' teeny bopper who enjoys having their pants worn below the waist and just above their private parts. I am an older woman who enjoys having pull-on, elastic-waist, boot-cut, no-pocket, leggings which give my 5'2" sort of chunky body a fairly nice look and Cabin Creek leggings did that. Now all you can find at Penney's are the "skinny jeans", rhinestone jeans, - pants that even look trashy on the tall 18 year-olds. I have been in JCP only once this year and I will not go back. I used to buy blouses, shoes, jewelry, pajamas and purses there. I will not go out of my way to visit any JCP store until the Cabin Creek Brand is back. I used to use the Catalog Department regularly - I am very disappointed in the way JCP is now doing business and I hope, at this time, that unless they change their merchandise attitude, they go out of business.

Last Friday, I went to the JCP in Tucson at I-19 and Irvington roads. The goal of my visit was to do an exchange, talk to someone about a garment purchased approximately 47 days ago that had come apart under normal wash and wear and browse. The exchange and browsing were successful, which lead me make additional purchases. This may not have been the case, if I had tried to talk to a cashier or manager first. So, lesson learned on my part. I recently, since Thanksgiving, began shopping at JCP, because it is not the closest or most convenient store to go to, on the normal paths I travel. On January 7, my Mom purchased two Arizona Jean company tee shirts, blue and green.
On the back of the neck of the blue one, the stitching has begun to unravel on the seam, for approximately 5 inches. This is the garment I spoke with the cashier about. He said he would go back to the department and get a tee with a tag. He helped another customer at the register next to me, then went back to the department, as it was unclear which receipt it was purchased on. When he returned, he looked at a few things at the register and then went back to the department.
Upon returning the second time, he had a similar shirt. He said that it had the new logo on it and the one that I was trying to return was pre- new logo. At this point, it had been quite a while and I was frustrated, as it seemed to me, by his response, that he felt I was being dishonest. He, "Expert" per his nametag, was not helpful. So, I decided to leave and write this letter. Since my visit, problems with two additional garments have occurred. On November 28, I purchased item 622/4701/010209 for $8.00, as a Christmas present for my daughter. On Sunday, February 24, she asked if I could buy her a new pair of black leggings. When I asked her why, her response was, they fell apart. When I looked at them, I could see that there is a 5 3/4 inch opening at the seam of the left thigh. On November 28, my Mom purchased item 944/3460/010502 for $27.00, as a Christmas present. I have worn the shirt three times since receiving it for Christmas.
Saturday, February 23, I removed it from the washer and was hanging it on a hanger to dry when I noticed a 3 1/2 inch piece was separated from the seam. So my question is...can I expect this to be the normal quality of the merchandise/garments that I purchase from JCP? If it is, there is no way, even with the better prices, that I can continue to shop at your store, as replacing garments less than or equal to two months of normal wash and wear is not in my budget. Sincerely, ~Jill Cooper hcooper504@cox.net

I went into your Greece Ridge Center and Marketplace Mall stores and was VERY disappointed. I have been a customer for over 40 years and could always find whatever I needed. On December 1st. I went home empty handed. The Big and Tall mens department had no selection at all.
The jewelry department had very little stock. You discontinued your catalog (I realize people can shop on line) and I don't like the way you advertise your specials. Even some of your employees are not happy. I am telling all my friends and probably will not shop there again any time soon. You keep going and you will be closing all your stores!

About a week ago me and a friend was at the lexington ky location trying to complete school shopping and the entire time we where there we where being followed the entire time from either two sales associates or more. When turning around to see if they needed something they would turn around like they where working. Felt very uncomfortable and every time I tried to complete shopping the u would be right right behind us again. I was so upset I sat everything down and walked out to another store to finish shopping. Never have ive been in a department store or any store and been watched over and followed. All the years I have shopped with the company from kids clothes,women and men clothes to house needs I will no longer be shopping at any locations for jcpenney. With me being apart with a one of the biggest markets out there we know how to protect our stores as well as let the customers shop without having to look over their shoulder the whole time or stalking them. Very unprofessional!

I have been going to J.C. Penny's for about 30 years and now you have these buttons that everybody I know has won gift certificates and I have been putting my codes on-line at jcp.com/Christmas since 12/05/12 and have yet to receive any notification to either I won or lost, where all my other friends have won several gift certificates. I get all kinds of other mail from other company's & friends so I know its has nothing to do about my e-mail site. I may just contact the federal trades commission about this issue!
I have entered 5 buttons of jcpenny I have won several times there is never any thing sent to me in a e-mail so I can print it off his has to be a scam the use to give discounts that was a lot better, everyone loved that, they had a lot more business ,now I don't care if I ever go back to jcpenny store along with a lot of other people I have talked to. I feel sorry for JCPenny. Their incompetent programmers and Chinese manufacturers have made what could have been a goodwill promotion a debacle. The button codes simply don't work. What is the reason for this?

I was told I won a $10.00 certificate from my code number (bsqcecp) I got my email mail saying I won. Then I clicked to give my info. I haven't heard anything more. I got this email on Dec. 16th. I went into the stre and talked with some people that just said they didn't know how to help me without a bar code. I hope you can help.
Please help me with buttons that I won (2- $10) and did not receive an email from Penny's with bar code to redeem. My dad is here from Arizon and they were his buttons...he is on a fixed income and could use these for Christmas...only two days before Christmas and time is running out..Please help!
Received buttons from JCP.com & put the code in & it said it was already used. I feel that it is a waste of time, time i don't have, then you can only do two at a time.What if i was a winner & don't even know it, me and my mom shop jcp all the time i do like shopping at JCP but these buttons are a pain in the butt. I do like coupons & getting a good deal but is it even worth it?

Your promotion does not work! I spent 10 minutes trying to enter the two code words into your site, and was rebuffed repeatedly. It is no promotion if you anger a consumer enough to decide not to shop at your stores again this year!
I enter my buttons ,gotn3 certificates 2 of which were the same bar code, one of my other buttons were rejected because there were not 7 letters ,although there were 7 ,and spell the two words so we know your not a Christmas robot I typed in 14 spell me's till I was finally accepted, now for the button without 7 digits xvakawe, hello! please get me out of this Christmas funk,as I have read other letters of complaint, I'm not the only one this button thing is very stressful,an answer would be a ,lets say , a Christmas Blessing.
What a crock. Enter the number on the back which is so small it can hardly be read and then enter the two words "for safety" which are difficult to read and all I got was an "error" response. All my buttons are going into the garbage. More junk from China.
My friend told me about the buttons at JC Pennys. So I go in shop go to pay an I ask about the buttons. The lady said you can have one a day. So I got my one button came home entered it an couldnt get it to work. Finally I realized it said enter your 7 digit code an mine was only 6 . So much for my one chance. Here is my code. Pfmuy2
I made a purchase 12/13/12 and received to buttons. I attempted to enter one of the buttons today and a keep getting a message stating 'Sorry! Looks like something went wrong. Please check your 7 digit code and try again.' I did this several times and the same thing happened. This is not the first one I have entered so I know I am doing it right. What is going on? Is jcp running some kind of scam.

Wore Wrangler for year bought 4 pair of Arizona jeans thought theywere the best jeans i ever had.The first 3 pair ripped out in the crotch then the 4th pair ripped out on the back pockets.Guess im back to wranglers the arizona felt great but poor quality.

I bought a Queen size 400 count sheet set and I've had it less than one year and the sheet have worn areas all over then. The pillow cases are tearing apart at the seams and the material is of very cheap quality. I love the lilac color and the softness of the sheets before they started tearing up. I've never had a set of sheets that torn up like this. I think I'm due a replacement or credit on these sheets due to the extremely poor quality of what I thought would be a good product.
With Regards,
Sandra Wolf

I've shopped at Penney's for over 30 years, and spent thousands of my hard-earned dollars in your store in Plattsburgh, NY. When your powers that be decided to change everything from taking down pictures on the store walls, and stocking clothes that a 16-year old with a stick-thin body would wear (and the loudest colors known to man), I never walked in the store again. So disappointing.
I hope whatever your marketing strategy is now goes back to the way it was. Penney's was so busy here and I could always count on the store having my favorites in my size and color preferences with decent prices. It was such a pleasant store to walk in to with tastefully decorated walls.
You're really going to have to go big if you want me back, and I know several relatives and friends who feel the same way.

I contacted the company about this and haven't heard back. I had nine buttons and entered like it said, two per day. Tell me, how can all nine buttons be "already used"? Every single one of them. The only ones I can think of who used them has to be either the folks who made the buttons or the J. C. Penney's employees and management who then gave the wnners to friends and family. Or, the wole thing was a scam. What else could it be? I read where some people won a $10 gift certificate but never got it. So the buttons are already used, if you happen to win (big if), you don't get what you won?! You know, this is aggravating enough to make people shop elsewhere. Put out "used" buttons and don't respond to customer complaints.

Hello,
After many years of avoiding JC Penny, because I have many times in the past wasted my time looking for my size in vain, today, I decided to stop and look around since the store has been renovated. Well, it was again the same old story, in a store of the size and name like JC Penny, I'd think that buying something so simple as a pair of slacks should be easy. But no.
This has brought me the question, is JC Penny against fit women, or fit and small? I know it sounds crazy, but if this mega store went through so much change recently, why not stock up and get eveyone happy, in another word cater to all. I am not that short, neither too thin, I wear Size 2 not zero.
I thought it would be nice a positive criticism, after all, you guys want to make the most profit, mainly when JC Penny has taken a hit in the last few years.
Finnally, Is there hope that millions of people just like me might be able to shop there again? Or should I walk through the store, only to get inside of the mall and go straight to a store like EXPRESS, where I know for certain, EVERY SINGLE time I go there (even though it cost more) I WILL FIND my size, and avoid myself the aggravation, because for me, peace of mind, has no price.
I hope someone could have the vision I have, and maybe it would even help the store.
Thanks a lot.

On November 3, 2012 I went into a women's dressing room at JCpenny in Northpall Mall, Ridgeland, MS. The smell was so bad that I was very careful not to touch anything in there and would not let my bare feet touch the floor. It smelled as if someone had urinated on the floor. I used to work in a department store and heard stories of adults letting their children use the floor in dressing rooms for a bathroom. That is disgusting!!! I know stores can't control ignorant people, but you should make sure the dressing rooms are cleaned, even if it means professionally cleaned in a case like this. I was so disgusted by the smell that I told my husband who was waiting outside that it was time to go and I would not go back into that Jcpenney store.

At one time I was a valued customer with JCPenney from shopping to clothes, shoes, home section to even buy our living room furniture at the JCPenney Home Store (which has since closed in Overland Park, KS). I live in Kansas City, MO and I am truly disappointed in the direction the company has gone in the last year plus. Every time (which is not as often as it used to me) that I shop at the store it is always in the process of being remodeled or has been remodeled. You keep changing your focus, your layout, whether you want to give coupons or not and it is frustrating to a customer. Yes, I am one of the customers that enjoyed my JCPenney's reward coupon and not this "everyday low price" (which it doesnt appear to be) mentality.
Customers prefer sales, they want sales and that entices them to come into the store. Maybe you should spend less time remodeling and trying to put out "fancy" ads and focus on what your customers really want....coupons and sales and for the store to not change every few months. I was at the store over the weekend and was appalled that once again it was remodeled and and that when you ring up my purchases I can no longer see how much it rings up for. The cashier has a hand held device that they scan so you are not seeing if something is rung up correctly unless you ask AND their does not seem to be much privacy when you are entering in a PIN for a purchase with a debit card.
This is just ridiculous. I preferred shopping at JCPenney's over Kohl's because it wasnt cluttered, was always picked up, has good customer service at the store, clean and neat but with all these changes I am not enticed to continue shopping which is sad and a reflection of your CEO. I do hope you have taken customers complaints seriously.

Yesterday 8/14/13 was our 20th anniversary. My husband has told me for years that I could get a new ring for our 20th anniversary. I went to the JCPennys in McDonough, Ga yesterday. A very kind man by the name of Vince assisted me and I picked out a 1 carat ring. I told him I would talk to my husband so he wrote all the info down including the final price and told me if I came back and he wasn't there to please let them know that he assisted me. Well my husband took me back last night to get the ring. I was very excited--I have waited a long time for that ring!! Vince was not there, but a lady named Debbie was.
I told her we were there to get the ring and gave her Vince's card. She was very rude from the start with very short, snippety answers and then acted as if were low-lifes. I was purchasing a $1,550. ring--which is alot to us...but does not make us low lifes!! Well I didn't have my JCPenney card which is in my husbands name, but she said she would look it up. It came up but would not accept the transaction, so she rolled her eyes and said I can call and see what the problem is IF I must as if we should just walk away. I said call, so she did--they talked to my husband and raised his credit limit and said to go through with the sale. She tried several times and it wouldn't go through so she rolled her eyes again and said I can call back IF I must.
So she called back and after being on the phone for several minutes they cleared everything up and said go ahead with the transaction and when Debbie tried it, it refused it again--she very rudely said it is not working--There is nothing else I can do..Very disappointing to someone who was planning to get the 1carat ring I have been waiting for!! It may not have been her fault for the transaction not working--but she was extremely rude from the start and acted as if we should not be allowed to purchase anything. She didn't even want to make the phone call to check out why.
Then said oh well there's nothing I can do. I walked away from the counter and assured her I would purchase the ring elsewhere and I will make sure everyone knows I got it and why I didn't get it at JCPenneys. I have spent alot of money here over the years and I am very angry about the way my husband and I were treated in there last night. And it ruined a 20th anniversary. I don't know where the fault lies for not being able to make this purchase, but you definitely lost an almost $2000.00 sale and we won't be back.

Hi I'm very upset with Jcpenney first of all i order 5 items on the 11/23/12 and i would wait for an email to confirm that they had all ready shipped my order, it was 11/30/12 and i called to see what is happening and it turns out that they hadn't shipped it yet i understand that it might be that time of year were every one orders things online but they should at least send an email notifying us that. Later on that day i did receive an email that my order was been shipped but they didn't even send me my tracking number with it. I tried log in in on my jcpenney account but it won't let me and i don't know if jcpenney erased my account or what ever. Jcpenney is very unorganized and that goes bad on them.

My name is ivy butler from mccomb ms i was terminated for the wrong reason under randall spears he is racist have favoritism he fires people because he dont like you. im the only black supervisor there and been there for 10 YEARS . Everything i do is wrong the others gets away with it . he should be the one to gets terminated i worked too hard for this company he is wrong now he gott promoted to layfette store

I have entered my JCPenney's Christmas buttons codes and some of them say invalid captcha, also some say I have already entered or sorry it looks like your button code is not valid. I have also won three $10 dollar rewards and four $5 dollar rewards, they have not appeared in my email, they usually send it the next day after claiming the prize.
Its been two days now and no rewards yet. I feel like I'm being ripped off, I have being a loyal JCPenney's customer for years and I just feel like it's all a lye. I'm so dissatisfied.
JCPenney's is promoting a button program to win gift certificates, but the system is not working and it is very frustrating. I have 10 buttons that I cannot enter because it says that there is something wrong with my 7 digit code.
Then I will try again and it will say that the captcha phrase is not correct. This is making me really mad. I don't get a good response when I email or call JCPenney's. I wonder what is wrong with his program.
My husband and I have been shopping at your store quite a bit this Christmas season and receiving your promotion buttons in the process. I am quite frustrated by the lack of response on JCPenney's part when it comes to sending the winning certificate to me.
I am still waiting for two $10.00 certificates I supposedly won on Sun Dec. 16 and my husband is still waiting for one he supposedly won on Dec. 13 - $10.00. I have had 5 buttons that the contest site said were already used. I am very frustrated that a reputable company would be running a corrupt contest.

October 25th, 2012 The reason I'm writing this now, I just found out about the summer associate shopping spree.
Back in the summer I had went into the Athens JCP store asking about the associate shopping spree. I was told that there was one, but it was only, for the associate who was working in that store. I have been talking to another retired associate and she was told the same thing. She and I both are grandparents and we buy our grand kids school clothes at JCP every year,. because of this we went to other stores and shopped. Today I was talking to an associate in the Tyler store about the Fall associate shopping spree and that was when I found out about the , above subject. ARE THE RETIRED ASSOCIATE NOT BEENING INCLUDED IN ANY MORE SHOPPING SPREES? I would really like to speek to a person.903-675-4556

My husband and I went shopping and got a button it said the code was already used, also my mother and I went and spent way over $600.00 on merchandise and the 2 buttons we got the codes were ready used, how can they already be used when I didn't even put them in yet ? I've had at least 7 buttons that say they've already been used. I called JCP customer service and they said to e-mail complaint here. I threw out the buttons. after the last 2, I called. I shop at westfield in toledo ohio. My daughters who live in defiance and perrysburg and shop in their town.
I need 2 button codes for the 2 buttons that I tried to use but they have been used be4 I got these buttons. My $25.00. Penney's gift certificate haven't arrived yet. I claimed less than 48 hours on the 7th or 8th of December and still waiting for it. I have tried to check my buttons all morning and still get invalid. I called and they told me to e-mail at e-mail info@jcpbuttons.com, I hope this is the right site to voice my complaint! This is crazy having to e-mail a complaint! My button numbers are pw9q192 and a4np9er. Please e-mail me and let me know what is going on and if they are winners. I also can't believe I have to enter those stupid words again! Have not got any buttons like that. It was very frustrating going out everyday to pennys just to get 2 buttons and find they've already been used.

I will never shop at this department store again. The corporation itself has abysmal customer service! I placed an order on the 25th of November, got an email indicating shipping on the 9th of December and when I still didn't receive any updates on shipping information, I called in to check...only to be told that they had cancelled my order and refunded me my money back because the warehouse had a shortage. Uh, where was my notification email? Are you seriously going to be providing such horrible service this close to Christmas? Now I have to scramble to find an alternative present because JCP was unprofessional and didn't think it was important to let their customers know about changes to their orders. I called into the main office and they were unprofessional as well. One actually hung up on me and the other offered me a measly 15% off as compensation. No, I don't want your 15% off. I wanted and expected good customer service but I guess that's too much to expect from JCP. I will no longer shop here and will tell everybody I know this story so that they will avoid this corporation as well. You messed up, JCP. Bad customer service doesn't fly here in America.

I went to the JC Penney store in Evansville, Indiana which is located at Eastland Mall. I went on Thursday, April 4, 2013 at approximately 3:15pm. My goal was to go to the men's department and purchase a pair of pants for my husband. I went to the men's department hoping to find a pair of blue Docker's relaxed fit pants. I found the Docker's pants but there were no relaxed fit pants and there were no blue pants. I looked around at other displays to find what I was looking for. After several minutes of looking, I attempted to find an associate to help me. There was one gentleman who was assisting customers with purchases but no one else was in sight. I looked for a few minutes and decided to leave. I was in the store for 15 minutes. I then went to a competitor at the mall, found the pants in the style, color and size that I needed within 5 minutes of entering that store. I have been displeased with JC Penney over the last few months and do not plan to go back to JC Penney any time soon.

I got my son's birthday pictures taken by JCP Portraits on Saturday, March 16 2013 and when I got home I realized I used the wrong coupon for the pictures, so I called right away to see if I could do some sort of return so I could use my son's bday coupon on these pictures. The lady I spoke with was very rude and was no help at all. I then wrote directly to them to let them know exactly what happened in case anyone else would be able to assist me, I haven't recieved a response, so now I'm here. I'm extremely disapointed in the customer service I recieved and if it's not resolved I will not return to JCP Portraits again and will be letting people know about this.

Hello,
I have been going to JCPenny for years and in June 2011 as i was leaving the store, manager April, who i know but am having problems with, started to say many rude and ignorant things. She raised her voice and start yelling at me which was def not professional. Mean while i was 9 months pregnant and was def embarrassed to argue with her in jcpenny so i asked her to come outside so we can talk it over. Instead of her acting like a women from the start, she decided to yell AT ME and at that call security on me..... You should tell your employees to keep their personal lives at home because since then i have not been back to that specific jcpenny. I use to shop there constantly buying jewlery, shoes, cloths but now i go a lil further to the next mall which has a Macys"s. Thank you very much for your time and i hope this complaint is one step in making JCPenny a more better and classier place.

Went to JCPenney on Black Friday to return suit pants that I ordered for my husband. Could not exchange because they didn't have correct size. After finally settling on what they had in stock, we decided to order another pair of pants as an xtra because several events coming up. When we got to the event which was out of town, we noticed the security tag had not been removed. Not a JCPenney in the vicinity so had to drive out of our way that morning. Didnt realize the pants had a broken zipper until that evening. Returned pants, but didn't get another pair for one was on order. Checked on order while in store, but was told that it couldn't be tracked by my telephone #. Didn't have receipt with me, so I thought I would wait till later. After not receiving pants as we were told we would receive them in just a couple of days.
Called store they said they couldn't find the order to call 800# at bottom of receipt. No 800# at bottom of receipt. She gave me 800#. Called 800#, after being on hold for 15 minutes at 8:40 on a Thursday night. While on hold I had time to track order by myself. Website was terrible. Website was listed on bottom of receipt but not 800#. Entered website as listed on receipt and it came up as no longer a working site. Therefore, had to go a whole other route to track the order. When I tracked with the same # as I gave to store clerk, order came right up. It said the pants were just now shipped, should receive in a day or two, but that is too late for the event that we need them for. Very disappointed in Penneys. All these little things add up to a complete annoyance and I will think twice before shopping there again.

I tried on a underscore 48 ddd in your Brandon, Florida store today. I usually buy my bras from JcPenneys because of how much I save on the bra. This time the bra was tight and when I tried to take it off I had a very difficult time. Also the Brandon store does not have a sales person in the bra area as I have shopped the JcPenneys in Wesley Chapel, Florida in the Wiregrass Mall and they had my size and there was some there to help me. I had a 48 ddd on that stretches but your bra had no give and barely stretched. I even tried to find a 50 or 52 ddd and this store did not have them. You should carry bigger sizes in your stores so that all kinds of women can feel comfortable to buy a bra from you. I was so disappointed in your store. There was no one near the bra area to help me. I use to love JcPenneys but my experience questions if I will ever shop there.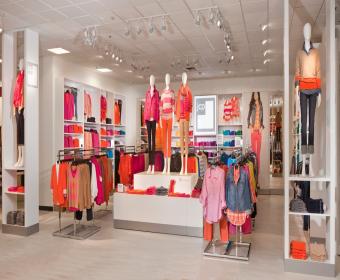 I bought a bunch of clothes online from your website. got it in the mail a week later. the jeans I ordered were different brand,size,color than what I received! I was told I had to pay for shipping to return them( not my mistake). than I went to exchange one of my shirts and the lady instead returned it and told me they didn't have any other sizes so not only did I JUST tell her I wanted the shirt even if I cant get it in a smaller size, I had to buy it again and since I bought it during black Friday/ cyber week/ Saturday sale, I wouldn't be able to get the discounts and would have to pay full price. I used to love JCP but after this in less than 2 days apart from one another, I will never shop there again. JCP should be ashamed in how they deal with customers. you want people to order from y'all and than during your one week busiest shopping day(which you had months to prepare for) you were way off your game! get it together JCP,.

The "Spencer" queen size bed was delivered by a company called Excel in Ral. NC. Bed was ordered in store at JC Penny in Ral. NC. The bed was put together by the delivery company, midway thru the assembly they told me that the 8 screws that came in the package were too short & wouldn't work. They were shorter than the depth of the wood slats that were to be inserted into, which is the base of the bed.
They told me they're not responsible for rectify the error, & that I should take it up with the manufacture & they needed to go to their next delivery. I called the JCP 800# on my receipt & spoke with Angela, who said she'd send new bed out to me, & if I had any problems again (which I had had with the delivery company) to call & ask for her.
I called her less than 1 hr. later & was on hold for 12min. The person on the other line said she would give her my message & she'd call me back. Never heard from anyone! I'm stuck with an incomplete assembled bed, & very agitated & disgusted with this entire transaction!!

I have always purchased my Levi jeans from JCPenney. Until now that is! I have always considered JCP Levi jeans "seconds" because they are never sewn perfectly;especially down the leg seams. BUT I just bought six new pair and the two 505's are totally unwearable! The legs and crotch are sewn off enough that they can't even be pulled up to your waist. And because I have never had such a major issue with JCPLevis, I tore all the tags off and threw them out in Mondays trash. I have to drive a distance to shop the store and don't plan on returning for some time. I suppose I will have to eat the hundred bucks I paid for the two unwearable pairs. We use to enjoy their selection of clothing, now they cater to skinny jeans, see through materials, and kids clothes. Time to pay off the card and say so long...

I am very upset that after being an outstanding customer with JC Penney's that I have had so much trouble initiating an order on-line. I have copied the information. I would like to know why I am receiving "Internet Explorer blocked this website from displaying content with security certificate errors". Everything is the same ~~ nothing has changed as far as any personal information in order to place an order. My order that I tried to initiate is the following: SPORTS APPAREL 2499 Item# TS217-0136F -- Alabama Crimson Tide Youth Grey Tackle Twill Hooded Sweatshirt
Size: Medium (10-12)status:manufacturer shipped (ships in 1 week). Item shipped directly to you from the manufacturer.
Total:$25.00. Your assistance on this issue will be greatly appreciated. I have never had this much trouble ordering anything from JC Penney's in many years. Thank you. Carol Oakley

On November 8 I had an appointment with Jessica at the JC Penney Salon in University Mall located in Tuscaloosa, Alabama. My regular stylist was not in so I had the appointment with Jessica. I gave her great details about my fine hair and my cow lick in the back making sure she understood what I did and did not want her to do. She did exactly everything I said NOT to do. I was horrified with my short hair that looked so bad I would not be seen in public. I got my money refunded and demanded another stylist rewash and restyle my hair. I got a great girl who stated she would do what she could with what hair I had left. I called the next day and complained to the Manager, Judy Johnson. She said she would "talk" with Jessica and offered me free cuts until my gets back to where it was before the cut. It has been one week today and I have a bald spot showing in the back where my cowlick is which is what I explained to Jessica that I could not have short layers there cause my hair needs to be long enough to cover the cow lick. I am hurt, upset and devastated over my hair. Jessica needs to have more training in hair styling, listening to the client and should be fired over what she did to my hair. Refunding my money and offering free cuts does nothing to compensate me for the damage done to my hair. I want someone at the corporate level to know what happened and do something about it.

In late-spetember of 2012 I called the Manteca, CA Jcpenney store to learn about a job application that I had turned in online at your main Careers page on the Jcpenney.com, the previous week. it was only 7 or 8 day's later when i called to inquire about the job, since it was still on the website career page. When I asked the human resource manager about my application and the position that I applied for, my reception was met with a cold shoulder and hostilite. The HR manager was extremely rude to me and lied to me saying "I'm sorry but we currently arent hiring full time positions". As she said the previous sentence to me, I was still looking at the open Career page for that store and it was STILL showing the the full-time store associate opening position. I'm very discouraged and angered that your store HR manager for your Jcpenney store in Mantec, CA would lie about an open job position to a prospective job seeker. I've been shopping at that Jcpenney's store for 3 years now, and I will never go back. If anyone ever asks me about working there I tell them to keep moving and dont waste your time.

I am a big and tall person. 300 lbs and 6' 3". My pants for the last 25 years have been 42-36. The longest you have in your big and tall section is 32 inseam. 32" inseam is NOT tall. You should rename the big and tall section big and short. I have shopped JC Penny's over the years and this last year it has gone down hill big time. Your CEO may have known the customers at Apple, but he knows nothing of the customers in a clothing store.

Several years ago I was detained at Dillards Department Store at the Imperial Mall in El Centro, CA. Evidently, store security thought they had seen me steal something and they detained my wife and I while they rummaged through the belongings we had bought at PacSun and Macy's. Ultimately, after being paraded through the store and treated like common criminals, we were cleared and released without so much as an apology.
So what does this have to do with J. C. Penney's? Evidently, this particular mall uses a camera system with facial recognition capabilities, and shares this information with other retailers in the mall. As it happens, we were not regular customers at Dillard's and didn't normally frequent their establishment. After our experience, we certainly won't become regular customers if at all. As it happens, we were regular customers of J. C. Penney's. This is where we spend most of our time and money while at the mall. However, that too will come to an end, as we have been regularly harassed and followed through the store by your Loss Prevention Staff. Since our encounter with Dillard's, we have been followed no less than ten times by people pretending to be customers.
To avoid being overly suspicious, my wife and I set out to "make" the Loss Prevention Staff and confront them, as it was becoming extremely uncomfortable and disconcerting to even enter the store. Each week, we would see the same individual monitoring our every movement throughout the store. When he realized he had been made, he enlisted the assistance of a female Loss Prevention staff member. She was even more obvious in her attempt to catch us "stealing" from your store. After she and he had followed us around the store for well over 1/2 hour, it was apparent they were planning to stop us as soon as we crossed the plane of the store into the mall. In an effort to make them "jump", I dashed toward the door as though I was going to run into the mall. Both the male and female agents dropped everything they had in their hands and lunged toward me as I made my phony escape. Prior to departing the store, I stopped, turned around and looked them both in the face. I went back to the counter in the store and opened my bags while your employees stared at me. I told them "If you want to inspect my bags, come over and take a look." I had my wife produce a receipt along with everything in our bag.
Instead of simply being caught trying to catch us. The female got rude and said, "No one said anything to you. I don't want to see what's in your bag." At the same time, the male staff member went off to hide behind a rack of women's clothes as though he had nothing to do with it. These same individuals do this to us on a weekly basis and it's really insulting.
If we are believed to be thieves by your Loss Prevention Team, then the appropriate thing to do would be to stop us and confront us with whatever behavior it is that makes them feel they need to follow us through the store every week. Or, they could even call the police and have us detained and investigated on-site. The real problem here is that we are supected of being thieves, not because your Loss Prevention Staff are competent, but rather they are relying on the innacurate software program wherein my wife and I were suspected by Dillard's of being thieves.
In closing, I would like to inform you and your Loss Prevention Staff, my wife and I are not, nor have ever been thieves. I am a former Marine and have been a Peace Officer for 23-years. I don't steal! As a Peace Officer, I can appreciate the need for Loss Prevention; however, at some point due diligence becomes outright harassment and needs to stop. We are now at that point. If your Loss Prevention Staff continue this pattern of harassment, I will wait until one of your over-zealous staff members attempts to stop my wife or me, and I will embarrass your company both legally and publicly.
Sincerely,
Dennis Webb

I placed an online order for 4 pcs--2 skirts/2coats. The store could only locate the skirts and I was advised to simply reorder with customer service. I told the clerks, customer service reps and the store manager that this was unacceptable. The customer service rep blamed the store as the items were accepted by the store and should have been there. The manager simply apologized, stating she had no idea where the coats could be. This would never happen in Macys or Saks. JC Penny did nothing to accommodate me as their long time customer. I am totally disappointed in disregard for customer service.

To whom it may concern, I was shopping earlier today at your Polaris jcpenney. I always shop there and have always enjoyed all of my purchases. I buy all of my sons clothes there my clothes and my husbands along with my home decor. I have never complained about me service at any store until now. When I went to ring out with me 60 dollar purchase the lady working the register was very rude. I showed her my coupon on the phone and my code wouldn't pull up so a nice customer came up and said she had the same coupon and let me use it. The lady gave us both a look like she was annoyed then took it. When she realized that it didn't have a code she shove the coupon back at the lady and said with a rude tone this isn't a coupon. Then when the lady realized she gave her the wrong one she gave her the right one and the cashier yanked it from her. Then after she scanned it she told me my total. When I went to pay I swiped my husbands credit card and she said with a rude tone you obviously rnt Dustin. I'm not complaining about the fact that she checked that info bc I know that's a law to check for fraud so I thank her on that but the way she talked to me was so rude I was ready to leave. Then when I pulled out my card she said well the lady left so u need to find Ur coupon so I tried finding it again ad she grabbed someone else's beside me and scanned it an just seemed very flustered. I understand it can be difficult when customers rnt ready for checkup but she was so rude that I wanted to just say forget it and leave. I am very upset with my visit and think she should be talked to bc if she is giving this to other customers a lot of them will file complaints. This will make me think about shopping there again.
Angela

It is now difficult to find a dress coat that fits me perfectly. The two men you used to have there to help the customers have been removed to other departments, or perhaps they don't work for you anymore.
It was very usefull to have these two men before when problem of matching suits and other dress utensils arose. When a collar of ashirt was too small or too long, when the color combination came for questioning; they were there to give out proper advise. Where are they now?

I ordered jeans about a month ago order. # 2012-3445-8012-5510 and called about them. I was told they should be at the store. Called the store and was told there was a problem with the order and weren't there. This is a month and no one knows where they are. I can understand the store as it should be closed how you can take away 4 registers away on one floor during Christmas is unreal to me, but now your online ordering too?

I am very dissapointed that I got up early this Black Friday morning, was nearly first in line 45 minutes before the doors opened at 6am. I had one item that I wanted to get, so the doors opened, and I rushed to find the Cooks Waffle maker for $8. I couldn't believe my eyes when I saw stacks of griddles, slow cookers and toasters. Not one waffle maker in sight. I asked around and no one else could find them. I looked through the store and no one else had a waffle maker either.
I was then told at the checkout that I could purchase the item online, so I left the store dissapointed but hopeful. Only to be cruched again when I searched online and found that the clerks at the store had lied to me. I thought the term bait and switch was outlawed years ago, but I see it is alive and working great for JC Penny. I will tell all my friends about the lies and deciet at this untrustworty store. Very dissapointed in Orlando.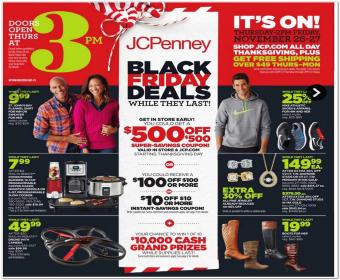 On 12/20/12 at about 4 p.m. my husband and I went to the Greenwood, Indiana JC Penney store (0355)to purchase new watches for Christmas. While trying on new Seiko solar battery watches, I took off my 10-year old Citizens watch and put it on the counter. The sales clerk picked up my old watch and put it in the glass case. After trying on the new watches, I asked for my old watch, and he told me that it was the store's watch. I made him check, and he agreed it was my used Citizens watch in the Seiko case, so he gave it back to me.
The next part is the really strange part of this complaint. A man suddenly appeared and stayed with my husband and I while we continued to shop for watches. We found two new Seiko watches and paid for them with a credit card and got a receipt. We asked the clerk to have them sized to fit us. He disappear with the new watches for 30 minutes while two sales ladies stood by us -- one of them rudely asking if we had paid for the watches.
Finally a clerk brought us my husband's new watch, which hadn't been sized correctly, while we again waited for the other watch. We finally got tired of waiting, returned the watch, and asked for a refund, so we could go another store in the mall and purchase new watches.
After purchasing new watches at the Helzberg jewelry store, we decided to leave the mall through the JC Penney store because we had parked behind the store, and the weather was dreadful. When we entered the JC Penney store to exit the mall, the same man who had followed us around came up to us and followed us to the back exit of the store before turning around and returning to the store.
My husband and I have shopped at JC Penney for over 40 years, and we have never been followed around the store like criminals or had to deal with incompetent and rude salespeople. This will be our last trip to JC Penney stores, and we plan to tell everyone we know about this bad experience.

I was shopping at the Avaiaton JCPenny in Glens Falls NY. I am a case manager and had ripped my pants and needed to purchase a new pair. I was standing in line at the counter and the nasty ill tempered casher Gabby, rudely informed me that I needed to stand in the correct place and nodded her head where the line formed to the right.
There was the one person she was waiting on and no one else in the deparment. If I didn't need new pants to continue my work I would have left. I have shopped in JCPennys for all my life. My curtains, bedding and clothing is 90% purchased from JCPenny. I will never shop in the JCPenny at the store again.

While shopping at JC Penny, the cashier asked me if I would like to apply for a Penny's credit card and I would receive a 20 per cent discount on the purchased items. I applied and was rejected. Since I told the cashier that there must be a mistake since my credit was excellent she said that the company would send me a letter explaining. I then received a letter saying that the credit was refused because I was listed as "deceased" by the TransUnion Credit Reporting Co.
I contacted TransUnion and they went into a denial mode. JC Penny should look into this and look for a different Credit Reporting Company to use.

My son received several gifts for Christmas from JCPenney. I went yesterday to exchange the gifts for different sizes. I didn't want a different product, just different sizes. The clerk rang up the items and processed them as returns on a gift card. When the items were purchased for my son at Christmas time they were purchased on a newly opened JCPenney account so not only were the items on sale for Christmas, there was an additional percentage taken off for the new credit card account. So the amount put on my gift card to exchange the items was less than what the products now cost. So I ended up having to pay out of pocket the difference to exchange the same items!! This is treating your customers wrong. I've closed my JCPenney account and will no longer be shopping there. I have informed my friends and family to do the same.

I have been shopping at jc penneys for years. I buy my granddaughters jeans and most clothes at the Salmon Run Mall store in Watertown NY. Yesterday I took my granddaughter who is 10 years old there to buy some jeans. There was no selection and the kids department 7-16 was mostly empty of merchandise. I mentioned this to the sales associate and she said the trend is now to be more boutique style like Macy's. As far as I'm concerned that statement was a load of crap. I told a friend of mine who also was shopping there about the statement and she said she mentioned the same thing to another sales associate and was told the low inventory was because jcpenney's wants people to shop online more. Tell me, how do you shop online alot for a growing child without the child trying on the items? Different brands size differently and don't fit all. I was just so disappointed for my granddaughter not to have any selection to choose from. I won't be shopping at jcpenney's anymore. There are plenty of other store like Kohl's that always have plenty of merchandise for children and myself. If your new plan is to get more customers, you've failed as far as I'm concerned.

At age 70, I am a lifelong customer of JCPenney's and my husband even worked for the company in NYC for 30 years. Recently we read that the company is in trouble and I must say, I am not surprised. I have just had one of the worst experiences ever trying to purchased items online. Initially, the computer invoice did not show my sale discounts so I called for help. I got what was obviously a new employee who said that she whould need to start over with the order. I said, "Okay, take your time". That turned out to be a hassle. A few days later, when nothing showed up at the door, I checked my order online and found out it had been cancelled. Nobody contacted me even though they said that they did. If they did, there was not much effort put into it because I am a shut-in, home all day. When I called again, a lady said that I "probably" had a problem with a credit card. I said, " Not possible. We pay off our bills automatically each month. There is no problem with the card, it is current and in good standing". She said call back tomorrow when the credit department is open and then gave me the wrong number so that I went around and around on the phone tree next morning and never heard a human voice. Called order department again. They said the order had been cancelled and they would need to input everything yet again. I waited. Was told that more than half of the items I had ordered were no longer available because of the delay with the order. Arrrrgh. Okay, go ahead and reorder the rest. Today, I checked the new order and find that in the transition the person ordered the wrong size on one item which will mean a trip to the store for a return by my husband. Of course, it will be a surprise if anything at all shows up, the current order says that it is being reviewed? This is pitiful. While I am venting, why don't they get a clue and put check-out desks up front where they can be found, realize that the new catalogues are useless, put some warm bodies in strategic places on the store floor so that if there is a problem, there is someone to help? Also, and most of all, please recognize that people don't like change in institutions. Penneys was always a place that you could count on to be there. Not any more and it is so sad.

My understanding is that J.C. Penney has chosen to not apologize for their support of the SNL presentation mocking Jesus Christ. I will no longer be a client of their store, and I will recommend to my friends and family that they refrain from patronizing J.C. Penney's.

My husband goes out to find us a new bed set and new sheets. I wasn't bake to be there and he so wonderfully would text me fit my opinion. After finding one we liked and he continued to shop for sheets. The entire time an overweight, short, short haired lady stands there and watched him like he was a criminal. She never offered to help.
Then once that was too much he gets to the register and a manager with the nastiest manor possible tells him she won't help him and he has to go to the other side if the store. After he does move over the manager decides she can help anyone else but my husband. She speaks right up and takes the next person walking up to her side if the registers.
I will warn all I can from going to this specific store. I'm even returning the bed set and sheet set to the store. It makes me sick to have it. Jcpenney obviously doesn't need customers to help or be courteous to. I will pay more somewhere else just so I don't have to go there.

We recieved 2 buttons before the 18th of December 2012. We came home and put them on the computer as instructed and one came up that we had won $10. No notification came up on our computer later as the $5 button we had won did. We left on the 19th for family Christmas celebrations in New Hamshire. We arrived home after the 1st of the year.
While in NH we checked the computer every day and no notification. We checked through the U.S. mail and there was no notification. My daughter also had a $10 button and we entered it in her name, Jolie Whitten. The same thing happened there. No notification that she was getting it and nothing in the mail.
What do we do to get our $10 coupons? I don't think very much of this contest/advertisment as it did not live up to its word. Thank you for taking care of this.

On December 27th, I ordered six Fiesta ivory java mug dishes. I paid with a gift card and my bank account. When my order didn't arrive by January 7th, my husband called and was told they were shipped and would be here on the 9th. Then I got an email saying the bowls I ordered were cancelled, even though I ordered mugs.
I called on the 9th to see what was happening and they said the warehouse cancelled my order because they didn't have it. I am upset that it took so long for them to realize and tell me they didn't have the order. When I expressed my disappointment,your customer service seemed like they really didn't care how I felt about the situation and did nothing to encourage me to continue to shop at Penny's.
I also have to wait two weeks to have my gift card refunded. I expected more from your store. At this point, I am not feeling as though I will shop at your store given the number of other choices I have. It would be nice if you offered something o encourage customers who are truly inconvenienced to maintain their loyalty to your store.

On 12/14/12 I received two messages that I had won $5.00 and $10.00. I claimed the winning on the same date. The response was SUCCESS and he message was that I will receive emails for my respective certificates with 48 hours. I have not received tham so far.
I do not hat the code numbers because I threw away the buttons after receiving the message that I had won.. I hope you will rush the two certificates because I want to use them for X'mas.
I'm extremely up set I feel JCP is running a scam. I have purchase item from the store through out the holiday and was given buttons for the promotion the store has going and entering without problems won on three occasions.
Today on 12/21/12 purchase more item and was given 6 buttons today and told to enter two a day until promotions is over to try to win a prize. But to my prevail upon entering the buttons it would not go through, kept saying it was entered wrong which wasn't true .
So kept entering it again exactly how it appeared as I have did several time before without problems . At this point all buttons I tried out of the six I was given wouldn't go through.
A friend of the family who works for the better business bureau said I should report it and I'm agree I'm very dissatisfied with JCP, by me not being able to enter the two buttons code I'm missing out on a possible win today, and who knows about the other four.
To whom it may concern I have recently put in my button information in for 2 buttons that were winners and was told to wait 24hrs for notification to print out and its been over a week and no email yet.
I also had an issue where I typed in my button code and it said that I was a winner to check my email and when I checked my email the notification said sorry your buttons no a winner. This has happens 3 times already.
I am a very loyal customer to JCP and the buttons are a great holiday attraction that you have going on but its gets very frustrating when you have problems occur such as this.

The last 2 times I was in the JC Penney Store in Plymouth, Indiana, I may as well have been invisible. The only thing that brought me to this store to begin with was my $10.00 coupon, but I now think the $10.00 freebie wasn't worth the unpleasant, unfriendly atmosphere. Not once in the whole time I was in the store did any clerk so much as speak, much less ask if I needed assistance with anything. I was well dressed, hair and makeup nicely done, so I know I didn't come off as a homeless indigent that couldn't afford to buy anything, anyway. The sales personnel in this store are rude, inconsiderate, and truly reflect the feeling that they don't want to be there, and they certainly don't want to be bothered with my being there. This was the case BOTH TIMES I was in the store, so it wasn't just one isolated incident. I doubt that I will bother going in this store again, even if it means losing my prized $10.00 coupon. The manager of this store should be removed if this is how the store is run.

As a credit card holder of Penny's for fifty something years I believe I qualify to make this complaint. Your Black Friday add carried Cooks appliances for $8.00 but very few people had a chance to purchase them as some peopel hoarded them. The thing about this that makes me so mad is a lot of these people turn around and sell these products for more money and make a profit while the rest of us do not even get a chane to purchase even one.
If you really want to keep regular customers I have several suggestions that would greatly help.
1. You could send coupons out to people with credit cards to purchase several at the great price.
2. You could only put a certain number out for sale each day giving more peopel a chance to purchase one.
3. You could limit the number one person can buy at a time.
I hated it whenyou did away with your catalog so I have not been doing much shoping anymore at your store,I use to do all my shopping at Pennys. I do not like standing around forever waiting to get help when trying to look for semi sheer curtains. I finally give up and either go else where or go home.
Now this latest fiasco with the Black Friday sales hs really turned people against the Penny store. Ipersonally do very litttle shopping in our Pennys store in Valley View Mall La Crosse, Wisconsin and this latest fiasco with the special COOKs appliances has really angered me. Don't be surprised to see a lot of previous customers quit shopping in you store. Your new advertising and promotion SUCKS.

I am writing today because I am beyond frustrated. Last week I placed a catalog order for a bedspread, blanket, pillow shams and drapery. On Tuesday of this week I got a phone call telling me my order was in. On my lunch hour I went down to JC Penny's to pick up my order. Apparently the more catalog order area has been discontinued, so as you know we are to go to any cashier. Sandy in the women's area waited on me, I told her I needed to pick up a catalog order, she radioed someone and 10 minutes later they showed up. She took the slip that Sandy gave her and disappeared for another 15 minutes; coming back with only the drapes. I was then informed that the rest of my order would be on Friday. I asked why I was even called if the entire order was not it; there was no answer except an apology. I figured JC Penny doesn't care about wasted time on my part so why would they tell me? Sandy rang up the drapes as well as everything else.
I told her that I did not receive all my order, therefore the sales receipt was incorrect. We went back and forth, Sandy was very nice but was apparently not trained to do catalog orders. I insisted that I was not signing because clearly the sales receipt showed that I received everything. She then called Janice over (apparently a catalog order expert) Janice then insisted to me that the sales order was correct, even though it clearly showed all 4 items on it. At this point another manager showed up and said it was correct and then Mark (I assume another sales person) chimed in telling me it was correct and my order would be in on Friday. I implored them to listen to me, I knew this sales receipt was incorrect, but 4 different JC Penny associates insisted it was correct. I told them that I would be back on Friday and I guaranteed them that as far as JC Penny's was concerned there would be no order coming in on Friday because as far a JC Penny's was concerned my order was delivered.
I was assured over and over that I was wrong, and by that time with quite a bit of exasperation that the order would still be coming in. Jump forward to Friday, I go in to the store on Friday, what do you suppose happened? You got it, no order. Why? because as far as JC Penny was concerned the order had been delivered. I really, really, tried to stay calm. I had Sandy who waited on me on Tuesday and was a witness to the entire fiasco call management. A really nice woman named Alicia came over. I again explained the situation. She took my receipt and disappeared. When she came back she said "you are correct, the order is not coming because we show it was delivered". I asked Alicia to talk to Sandy so that she could confirm what I was saying was correct; which she did. I now have company coming and no merchandise to finish the room.
To tell you I am frustrated is an understatement. I worked in retail management for years and I know this all comes down to lack of training on all levels. JC Penny decided to get rid of the catalog department to save money and just throws out the responsibility of it to untrained sales people. Shame on all of you at JC Penney's corporate offices. Customer service is the one thing that will keep companies thriving and JC Penny's you have failed miserably. Alicia informed me that she would call me when they tracked down the order. Because I had already surpassed my lunch hour I conceded and left. At 2:30 pm Alicia called back to tell me that the order was not found and she would credit me for the merchandise; except for the drapes that I would need to make another trip in for to return. Again I say Shame on you; of course Mark (sales person) pointed out to me on Tuesday "JC Penny's has been around for 110 years we will be open for another 110". I am but one customer so I am sure the loss of my patronage won't be missed, but I was a really good customer and for that alone you should think twice about making sure your people are trained.

I was shopping Friday in your Silverdale store for a purse. I was looking in the clearence sign areas. $15.00 and up I found a purse in this area but when I check cost it came up regular prise. When ask about it, the comment was some one must of put it there. I showed her that the area had 15 or more of purses with same name brand and only some marked . Her responce sorry someone must of put sign here and took the sign away.
Moving the 10 0r 11 that did have a mark down on it and put with another section that had a sign .. I work retail and if that was a mistake you can move it but you should offer the price that the customer found. Then I went in the jewlery area( not the expencive area) I saw a table and it said $12.00 not $12.00 and up. I pick a pair of earrings I like but those to came up $24.00.
I mention to a sales person and same responce , some one must of put them there. I showed her the table and that the sign did not have and up on it. All the earrings the same as I picked ou and others also were marked wrong. she to changed the sign over and said the stock people didn't put the right side up. There again that is miss lesding .
I fill you must not train your stock people or sales person correctly. When I worked retail if you made a mistake you should give that customer the price and then change it correctly. I am not thrilled with your new policeys.

I went to the JC Penney store at the Westroads in Omaha, Nebraska on Saturday October 13 around 5:00 pm. I selected a pair of shoes to purchase. The only person at the register was helping another customer with many articles of clothing. I looked toward the men's department, saw a man folding clothes at the register. I went over to him. He called for help to check me out. I waited. Another employee came over he said he couldn't help me because he was helping another customer and also had to help someone who was on hold. Clark, the man at the register, called again. No one came again. I waited for the third call. No one came. He finally said "Someone will come eventually." I waited some more. I finally gave up and started walking away. Clark continued to fold his clothes. When I was about 30 feet away, he called for me and asked me if I still wanted the shoes. I asked him if someone was there to check me out. He said no, he wanted me to put them back. Now I left embarrassed. Penneys lost a sale and a customer.

I visited JCP store # 1960 for purchase check out at terminal 261, transaction # 8850, date 12/08/2012, time 06:57 PM, the associate who handled the transaction her Id was 0231. I had a 20% voucher that did not state that it cannot be combined with a gist card. The associate was rude and discourteous throughout the transaction.
The other associate at that terminal advised her to try it out if the system would allow using the two together. And we understand if the system did not allow BUT fortunately the system accepted it and we did see the final price due but somehow when the receipt printed out we realized that the associate voided the 20% discount without letting us know. My point is that this is cheating the customers and we don't expect this at JCP at least.
I was sad and furious at the behavior of this associate. Moreover she refused to give us the prize button after the purchase and behaved inappropriately. I would appreciate if JCP takes appropriate action for this incidence.

I've been a decades long customer, always paid my bills on time and kept a low balance. JC Penny has been my go to when I needed a shower or wedding gift, school clothes, Christmas gifts, etc. All that comes to an end today. I probably owe them around $50. and when the next bill comes in, they get the $50. plus the cut up card.
I have used the salon at Pennys for 20+ years. Today I called for an appointment and was told that I had failed to make my last appointment and that my business was no longer wanted (IN THOSE WORDS). There was no question about why after all these years I might have missed the appointment, just this terse statement. I would never have intentionally missed the appointment, but that's really not the point. In these times you'd think that a company might want to keep their clients, not run them off. Oh well, beauty shops are nearly as plentiful as convenience stores. Their loss not mine.
I tried to call the store manager or customer rep. at this store, but you can't really talk to anyone. Try their automated phones. You can get the shoe dept. or the photographer, but no management of any kind.

So not only did it take you five months and four different cribs and dressers before I finally got one but when your delivery guys brought it to my house they tracked mud all over my brand new carpet. When I called someone I never heard back from you guys. This is ridiculous and I am extremely upset.

I made a purchase for two tool boxes from JCP. A few weeks went by and I never received them. I called and spoke with their online purchase department. I was told that my purchase was delivered to another state and they would fix the problem. A week went by and I did a follow-up call. I was then told that it was delivered to the local JCP store by mistake. I tried to get a refund. Hours and weeks later, I was unable to do get a refund from them.
The level of unprofessionalism and care for their customers was unbelievable. Each time I called, I was on the phone for nearly 2 hours. Their online customer care representatives speak little English and are located overseas. I felt like I was part of a Saturday Night Live comedy prank, where I was the victim. They kept me on the phone and avoided any attempt to help me. I asked to speak with a supervisor many times but the ladies who helped me refused and they kept giggling. It was very obvious they were helping me and playing around with co-workers at the same time.
Luckily for them, I remained calm as my purchase with them was work related using a work credit card. The business I worked for was a law enforcement agency. I passed the issue on to another co-worker to handle and she experienced the same exact problems. Her attempts went on for two weeks.
The issue was never resolved. The purchase was approximately $40 and the cost it took two employees to try to resolve the issue with JCP was nearly $1000.
I understand businesses try to save money, but a large corporation such as JCP should have better oversight to ensure their customers are decent customer service. In my experience with JCP, I will never make another purchase with them again.
A few months later, I overheard my supervisor sharing her weekend experience with JCP and how frustrated she was with them. She had purchased a lawn mower from JCP. She said she was on the phone with their customer service people for over two hours and was also unable to resolve her issues.

I was in the window coverings department today in the JCPenny in Modesto, Ca. and I was completely appauled at the working conditions that your employee had to endure to give me an estimate on a window covering. The computer monitor is embedded in a big table, which cannot be moved at all, and the keyboard that she used to type the information on is about 6 or 7 inches lower which forced her to do the task in a bent over position, straining her back. REALLY? She had no chair to sit and I'm sure it was very uncomfortable, especially for 8 hours. Please reconsider her welfare and give her better working conditions.
Also, I was so dissappointed in the changes your company has made to your furniture department. There is really no choices in furniture anymore. J C Penney in Modesto used to have a really nice furniture dept. with lots of options and choices. So dissappointing.

I have won four times in your button promotion. One was just tonight so not enough time yet to see if it is messed up too but out of my wins I have only received one certificate to use. I never received a $5.00 and a $10.00 winning certificate.
Dear Jcpenney employees, I am not happy because my friend purchased two bras from your store in Westfield Gallaria, Roseville, and the cashier forgot to take off the tag or whatever you call it that cannot be removed by customers. I lives in Rocklin, which is some ways from the Gallaria.
My husband and myself have shopped at the JcPennys store in the destiny mall in syracuse ny for several weeks and recieving buttons 2 each to enter on line. We have had over 30 buttons come back saying this code was already used .we are extremely upset as you should be that the only explaination for this is that the employess are taking the buttons ,setting up numerous e-mail accounts and recieving rewards that are ment for paying customers.
In my hometown cortland ny,about 1/2 hour away from syracuse 1 out of 6 buttons were a winner,and NOT 1 ever came back as code already used. I am beyond upset at the thought of these employees are ripping off Jcp ,and that they are so good at hiding things no one will ever find out. It is obvious that their jobs arnt that important after all to them.Hopefully there can be a solution to this problem ,thank you.
And I have to go back just to get them removed. I understand that Holidays are very busy and this kind of things happen more. But it is really inconvenient to the customers and it does no good to your reputation, right?
I am sure I completed each stage as directed. I did receive one $10.00 certificate and tonight I won another $10.00 and was told I would receive the certificate within 48 hours. I hope it works this time. Can I still get the certificates I won?
I received two jcp buttons that said codes were already used.
I received them from the Eastern Hill Mall Williamsville New York. Also was told I could only receive one button for two different purchases. I shopped at JCP today Blvd Mall Store and was told store was all out of buttons.
Won a 10.00 certificate. Ever time I tried to claim and print certificate out it said the certificate would be sent to me through e-mail but never received it. I tried retrieving certificate several different times with the same result. Also two of the buttons I received from the store had already been entered by someone else.
Finally when I last tried the e-mail telling me I had won disappeared completely. Didn't get a thing. Believe that Pennys should honor what they say they will. Have been a loyal customer for more than 40 years.

I have been a JCP customer for years. Enjoyed and purchased merchandise often. My local store which is one of the originals is one I enjoyed shopping in even though it didn't seem it could provide everything due to it's size. It's had some ups and downs in merchandising my needs, but when I visited there a few weeks ago I was pleasd to see how tiddy the racks looked and DISMAYED to discover the lack of merchandising for what I believe to fit our area. Pendleton has virtually not department stores save Walmart for clothing etc. now even JCP doesn't provide even a little of what I ight be looking for on a shopping trip. Don't get me wrong, the employees are excellent.
The store no longer has what I want. When I asked if you carried plus size clothes, I was told no but they could order it for me. I can order that myself. I don't generally shop for clothes online - very few things for that matter. Here's the Christmas season on us and I'll have to drive 75 miles to shop at a JCP store that might have what I'm looking for. Sad, but I don't think the store will make it on it's current marketing plans. Maybe you should become a BIGGER (not smaller) store in Pendleton and buy the now vacant Bank of America Building. For sure Pendleton could use a nice big department store. Anyway, I'm sorely disappointed in the Pendleton's store's direction.

I ordered a pendant on the 27th of November, and today on the 12th of December they sent me an email saying my pendant was no longer available because the manufacturer no longer had the piece. I just think it's a joke that they had to wait two weeks to inform me about a piece they no longer had, I spent some time looking over the internet and found that many people are having the same problems. I'm furious because this was something I picked out for my girlfriend and bypassed any other website to do a purchase. Now I'm probably going to have pay extra for a piece of jewelry and rush delivery so it doesn't get lost in the Christmas shipping. Jcpenney is a pathetic company and has no respect for their customers, and they seem to not care.

On October 9, 2012 at approximately 1:00pm I visited your Victorville location. I was purchasing a pair of jeans and was helped by a lady named Cynthia (great customer service from her). Not realizing that I was paying with cash and a gift card she swiped my gift card and asked for my credit card, I explained I didn't have it and was paying cash she said she would help me at the register as she couldn't take cash with the hand held computer. The gift card wouldn't work at the new computer and the manager that came over to help was RUDE. He wouldn't look at me, he was rude to Cynthia and he has NO customer service skills. She asked if he could just issue another gift card to complete the transaction and he huffed off.
About 10 minutes later a female manager stomped up and handed me another gift card & without even saying a word she turned and stomped off. Cynthia kept apologizing over and over throughout the entire 45 minutes I was trying to pay. I was so mad that I said cancel the order and was going to leave. At that time the first male manager calls Cynthia and says "get the gift card back" I heard him because I was still standing there. I've been a very loyal customer for over 45 years. I'm not sure I will ever return to another JC Penney again. I cannot believe the way the management treats not only the customers but the employees at the Victorville location.

I have bought most of my dress clothing at J.C.P. for years but the new direction your company has taken has taken me elsewhere. Today I received an offer from JCP to receive cash rewards for qualifying purchases but I won't be buying from JCP because when you decided to get into the culture war by hiring Ellen Degeneres and by advertising with controversial and offensive ads, I decided to take my business elsewhere. I contacted you way back when and you never even responded. That's speaks volumes! You had rather lose customers as to stay out of the culture wars. You must know that many, many of your clientele are offended at your new marketing strategies. It amazes me that you would offend the masses to cater to the minorities. That is not inclusiveness. That is business suicide! Anyway, I wanted to try one more time because I really liked JCP mens clothing but I can live without it rather than be offended by your in your face marketing strategies.

Lost my favorite sunglasses that I purchased from jcpenney (Dyersburg TN). Went in store to purchase another pair and was told they pulled the display because it was a seasonal item. Whats up with that? The sun shines most days in Tennessee and I need sunglasses year round! Anyway I did purchase a pair at a totally different store. Problem is they need to keep that rack in the store year round!!!!!!!!!!!!!!! It does not take up that much space!

There is the one person at Jcpenney in Panama City Fl that really left a bad taste in my mouth. Her name is Tammy with red hair and she is a true witch. She spoke down to me like I was nothing about my reward coupon and she said her smart comments in front of other peoples as if she was trying to set me straight. How dare you Jcpenney for allowing employees to treat no longer a valuable customer in such a way.

I am so upset with J.C,Penny's. They stopped giving to their customers.Then they give everything to Ellen Degeneres. to give to every one in her audience .They have given thousands for her to give away and.I think they should realize no one buys anything I have not bought anything or have my friends, because.Their customers deserve extras,not strangers.Why do they give it all to Ellen.It is not right.I think this is terrible. Thank You Marlene Strauss

I was very disappointed to hear that you no longer sell Cabin Creek pants for women. I have always bought these pants. I am a teacher and the pants were classy and wore great. Please bring them back to the catalogue to be purchased. I can not find any pants that fit me like the Cabin Creek. I know you have received complaints on this item, but I do not know why you have ignored your customers. I only buy a few items from JC Penny, but I buy a number of items for my grandchildren.
I now do not have a reason to visit your store because what brought me into JC Penny is gone. So, I will take my business elsewhere. It took me a few years to locate the Cabin Creek pants, but I have been wearing them for over 10 years --I bought around 2o pants a year in a variety of colors --I only have a few wearable ones left--do not know what I am going to do without these pants--I have tried other brands but they are too long or too big---just very dissatisfied with JC Penny.

I have been waiting for 2 weeks for my new glasses and was told they would call me when the glasses came into the store. I had to call them long distance to inquire where were my glasses. The person who answered the phone said that they were in a box and had not got around to calling their customers. I have been without glasses for 2 weeks. I have a business and am very unhappy with your customer service in the optical department. My neighbor also ordered glasses the same day because her glasses were broken and has been waiting for a call. I was told that her glasses were in the same box and that they had not tried to call her yet too. My neighbor works on Saturday's and Mondays so we can't come get the glasses till tuesday. I have no idea how long the glasses were sitting at the optical department. If they would have called we could have come to the store and picked up our glasses on Friday the 28th of Sept. I will not recommend your optical department with its poor customer service.

Hi i was in jcpenny 2 days ago in alma mi took my step daughter school cloths shopping they wouldnt let me use my husbands card but 2 weeks before that i used it to get my other daughters cloths with no problems same store in alma mi and used it at all the other stores
I know its stoe policy not to let other people use there jcpenny card if there names not on it we know that and my husband works soooo many more hours like 80 a week to call the number and put my name on it but. Legal by law i owen half of what my husband has even his cards already talked to local police i use his cards all the time with no problems at all just the jcpenny sotre in alma i even showed the lady my marrige licence and couldnt use it my husband has been a costomer for 6 years but he did say that after all the stuff we bought there your company does that including haaving my wedding regitry there last year so we are done with jcpenny after we pay the card its being canceled the lady was rude about it after i swipped the card she wanted to see it and i didnt realize that that was just so she could tell me i couldnt use it and also had the nerve to complain cause it wasnt signed on the back it hadent been. Signed for 6 years lots of people do that and yes i did argue with them i was so mad after spending 130 dollars one one kid and we have 3 so we spent 300 on all that lady should be fired i am his wife and will never use that store again and neither will my husband i hope someone does something cause ill put bad reviews up all over thanks julie spindler

OrI recently was at my local JC Penney store and surprised to see so few associates working there. If your new way of doing things was eliminating jobs that is sad. There was only one cashier on the entire floor. I must say the woman went out of her way to help me but what does your new way of running the company have todo with helping the economy. I really like Ellen and good pick for spokes person but she is for helping people not eliminating jobs and further hurting our economy. Also the merchandise we all loved appears to be disappearing. Very sad for a company that has been part of the USA for so long. You really need to get in touch with the average consumer and ask for advise.

I rarely bother with these contests but thought I'd give this one a shot - entering the codes for the two buttons I received when making a purchase at JC Penney's last week. The print on the back of the buttons is so ridiculously small, I struggled to read them. And I'm relatively young with decent eyesight!
I then went through 6 or 7 attempts at the Captcha entries which were ridiculously difficult to interpret. Finally got kicked off and told that one can only enter a limited number of buttons a day. I never actually accomplished entering one!!! Ugh. Great - I see the Captcha box at the end of this complaint so I'm guessing this won't ever go through either.
What's the deal with the buttons?? I only got two, then wasted my time on the internet to find out the I'm not a winner! There's nothing about that that makes me want to go back and shop for more just to have the same disappointment of losing again. What was wrong with doing the survey and getting a percentage of next purchase? At least we were guaranteed savings. Change isn't always good...

I purchased 2 shirts on 11/23/2012 and received 2 buttons and instructions to submit the numbers to enter a rewards contest. The 2 numbers were awgfz3x and 4pjb4xc and I entered both numbere and for one number it said that i would get a 5 dollar coupond and the other said that i would receive a 10 dollar coupon. I receive a email with the 5 dollar coupon and still have not received the 10 dollar coupon. Please advise if your are going to honor you email responses.
Neil Conner

I got up early and waited in line on Black Friday to get the appliances advertised in the Black Friday ad. The appliances were the "doorbuster item". I was excited because I knew it would be worth it and I was there early enough that there was no way they would be sold out. I planned on getting some clothes on sale as well AFTER I got my appliance and put them in the car (my main objective was to get a waffle iron, griddle, toaster and coffee maker). At exactly 6 am they let us in and I raced around the store trying to find them.
I found an associate and asked her where they were. She replied "We didn't get any. Only the big stores received appliances". I was so mad I left without even looking at the clothes. In fact, I am so mad I will no longer shop there, although I have been a faithful JC Penney customer for a while. I think the ad should have specified that not all stores would receive these items. The Yankton, SD store I was at should have, at the very least, put a sign up letting everyone know that these items would not be available. At least then I would not have wasted my time standing in line. I think it was an intentional fraudulent ad. They may have gotten me there with those tactics but they lost a customer by doing it.

I purchased a set of polyester/cotton sheets with 4 pillocases in king size from a JCPenney outlet store. I did not have a receipt but think that the sheets were approximately 6 months old. I have sheets in my home currently that are 20 years old that do not look as bad as the ones I am compaining about. My husband has a beard and I assume that is the reason that the pillowcases look shredded! There are also multiple catches on the sheets themselves. I believe that the sheets are defective, but I did not get any satisfaction from the outlet store nor the regular store. I think compensation is needed in the form of a coupon for a set of king sized sheets !!! Thank you in advance for resolution of my problem.

Ordered 6 new towels and wash cloths, received a call merchandise was in, upon arrival to pick it up, I was given 12 washcloths and no towels, the rest backordered, when they looked at the backorder there were another 12 wash cloths and no towels, the system had changed the order to wash cloths only. Ordered Royal Velvet towels and was receiving JCP Home, talked to the manager and she went into the system and cancelled the remaining wash cloths and I returned the 12 there. Purchased towels and wash cloths at the store, 21 weeks later, received phone call stating my merchandise had arrived, the 12 wash cloths that was cancelled.

Their slogan is "fair and square" but it is far from that. During Christmas I bought a shirt at JCP and on the tag it said $12. But as I get home and remove the tag underneath the sticker it had the original price which said $10. I thought nothing of it, maybe it was a mistake. However, today I went in and i remembered this. As I was picking out things I decided to remove their "fair and square" tag and every single item price was higher than the original. Matter fact, one bracelet was marked at $22 and the original hidden price was $14! I approached one of the employees and asked for a manager, she said the manager was busy and that they could not change the price because the top price was the correct one. I asked her how could that be possible to be over charging people for merchandise and she just said that that was the new management "up sairs" whatever that means. I personally think this is a rip off. And this certainly does not feel fair and square and needs to be changed!

Dear Customer Service, I have owned my vehicle for 37 years, in 1979 I purchased a J.C. Penny lifetime Battery guarantee for it. Over the years I have replaced it with no problems, today I have to report that the manager in the Jensen Beach Florida refused to honor it even though I have my original paperwork. I was told by Beth the assistant manager that the store Manager Lisa Escalante said there was no question that the paperwork was legitimate, or any other reason to deny it, but this manager said no they would not honor it for a new battery.
What Beth said the manager would offer was what I paid originally for the lifetime guarantee, but that amount would not pay for a new battery at today's price, and I would no longer have a guarantee, and that is not what I paid for, what I did pay for in 1979 was a lifetime guarantee. I proved to them that I had the original paperwork, and this years vehicle registration, that was all that was ever required.
The battery my vehicle needs is a model 27-F and even though this J.C Penny does not have an auto department anymore, in the past the previous J.C. Penny manager Mr. Bradley would approve a purchase of a new battery at the nearby Sears store, I would take that approval letter he wrote for me and go to that Sears store and get a new battery with no problem, plus I would retain my Lifetime guarantee, and that is exactly what I wanted today but was denied. This manager would not accept that even though I have his business card and signature on it, to me this is very unreasonable. Please contact that Jensen Beach Fl store manager Lisa Escalante and ask her to call me so I can get this battery installed, I will appreciate that very much. 

We went to JCP Portrait studio at Greentree Mall on Wednesday, November 21st 2012 to get a family portrait. Our appointment was shcheduled at 7:50 p.m., had to make a late appointment because my husband works late. We have 7 kids, so it took some time to get some good portraits....needless to say, we were there for quite awhile. As we were trying to wrap things up, out of the blue a JCP sales associate from the mens clothing walked over and asked if we were about done? To my disbelief, I asked hime if there was a problem, He replied by saying "Yes there is a problem when you're still here 50 minutes after the store closed at 9 p.m. and I'd like for you to leave, so I can lock the doors and get home." He then stomped off. The 2 ladies who worked at the portrait studio were appalled and of course, as a paying customer getting ready to spend over $200, so was I!!!! We were still trying to get things wrapped up, so I could pay and everyone could go home but having trouble getting a 25% off coupon to go through.....about 15 minutes after the sales associate left, a sales manager walked up with her keys jangeling and arms crossed walked up and gave us the "Look of death." One of the ladies at the portrait studio, looked up at her and said "We are almost done!!!!"
Overall, I had a great experience with the Portrait Studio and the 2 ladies who worked there, who had been there since 9 a.m. and had a reason to be tired but were very professional.....I will be returning to the prtrait studio but I won't be shopping at JC Penny ever again!!!!!!
Angie

I am very upset as unable to purchase Underscore Nylon Brief with lace waist in size 5. Only find information available for this product is in larger sizes - why not in size 5???
Please let me know the website for this product in size 5 as only available online at JC Penneys. They must be available for purchase someplace!! Clearance, etc, This is the only brand of underwear that I'm able to wear so information would be most appreciated.if can buy this product!!
Thank you so much for taking the time to read my request. Kathie Poechmann, 1085 1st Ave So, Okanogan, Wash. 98840, phone # 509-422-1637.

I went to JCPenney Optical for an eye exam. When I asked for my PD measurements (pupillary distance), they claimed it was information that they don't give to their clients. The reason? They would rather you spend over inflated money on their glasses and frames rather then go online to get glasses at a much much more reasonable price. From the moment that JCPenney realized that I was going to get my glasses on line rather then purchase a pair of their over priced glasses, they treated me like a smelly bum who just walked in off the street.
If you want your PD, I suggest going to WalMart Optical where they will have no problem giving you your PD, with a dis-claimer that they are not responsible if you decide to order glasses on line. In fact I found their prices and service much more reasonable and friendly. You may decide to order an extra pair or two from WalMart who's prices are slightly more then online.

I am so, sorry to bother you I recieved and e-mail saying I won I got excited. I did not read it how to claim I just printed it, and when I went to jcpenney they ask me where the bar code? and I said what do you mean and right then I know I did wrong. I called the customer service and told me what to, but I've got problem which button to inter I have twelve of them.
Should I inter each one of them? Oh! by the way I deleted all that I won because that I don't have to think when I open my e-mail that thinking I won again. I do I two five dollars winner and two ten dollars. I knew that you said I have to claim it in forty eight hours. I kind a did that only I printed it wrong. Would I be able to get all those winner buttons I had? If you tell me that I can't I understand. Thank you very much and I do like this promotion you had, and I do like to go to jcpenney a lot of course I only live about ten minutes away.
Penneys is my store since 1990.

How dare JC Penny even request a consumer report on me as to my character, its bad enough that to obtain a job these days you must submitt to a drug test , polygragh test, employment verification, references, and now a consumer report. I can sit my behind on state assistance with food stamps and let people like myself drain the system squeezing out one kid after another while they sell their foodstamps , take in boarders for unclaimed cash and smoke meth or crack all day , but know I am trying to get a second part time job and you want to trace me back to the womb? Here some facts for you I never call in I am always early to work, dressed accordingly for my job the United States has almost put me in the street while your CEO is cleaning up on my back.
All I want is a job to keep my house, if companies like you paid what some of us are worth we wouldnt have consumer issues, and wouldnt be looking for part time jobs to hang on to our houses. Your consumer report wont tell you Ive been in customer service for 25 years that Ive received awards and letters as to how good I am, its not going to tell you that Im to proud to borrow money to keep my head afloat and that I chose to look for a part time job its not going to tell you. Ive been out of work for almost a year and just now getting back on my feet at a minium wage job, it wont tell you during that year i lived in the street.

The Friday after Thanksgiving I went shopping in your JCP store in Wilkesboro, NC. I recieved a button with a code on it. I was told to go online and enter the code to recieve my free gift. When I did that I entered the code on the button. The next page that showed up was showing a choice between 4 different items. I chose the necklace that was choice one. It said I had to pay for the shipping . Which was $5.99. I recieved the necklace in about a 10 days. After that I recieved another necklace in the mail in an envelope without a packing slip. I went to the mailbox and opened my credit card bill and noticed that this company BFB*MIU MILANO had charged my credit card $49.00 for another necklace the one I recieved without a packing slip and had not ordered. When I called the number 1-855-213-5985 they told me I was on autoship every 30 days they would be sending me a new necklace. And would continue to charge my credit card for the items that I was not ordering and did not want. They said I would have to send the company an email. when I tried to go to the website it did not have a web page, it just kept popping up that, this page was not a valid page. Then I kept seeing where numerous people had a complaint book going on this company. Due to the fact they were being charged on their credit cards as well and had not ordered any of the items. The cancellation number I was given in 1-333-143. I sent the company an email when I finally found on which was support@miumilano.com I have yet to hear back form them. Their address is 1200 S. Brand Blvd. Ste. 154 , Glendale , CA 91204. I in return notified the manager at our Wilkesboro, NC JCP store. She had informed that she had no idea this was going on. I gave her the information that my credit card company gave me. She went online and looked it up while she was on the phone with me. She was in shock, had no idea what had happened. She called me back later on that same afternoon and asked me to go to JCP complaints and to file my complaint on what had happened. I love shopping at JCP stores but I will now become more hesitant about your promotions due to this incident. Thank you for all your help.

On Dec 6 I went to JC Penneys (Orange Park , FL) I went in to have a hair carmelize and a trim. I have very short hair not even sholder length. When I was done Bonnie the stylist told the cashier Chistian that it was $180.00. At that time I was to stunned to question it. I later called the manager Cindy and she said "no it should be between 115 and 125. I asked her to hold my check and I would be back. I went back the Monday after that to write the correct check. I asked the cashier to I get any future discounts because of the twenty dollars worth of gas I used to come back. She said no your caramilzing would have been $140.00. They need to get together and figure out the price and stick with it. I have been a custmer for over seven years but I dont think I will be using them anymore.

I waited in line 40 minutes and then waited another 40 minutes for the saleswoman to tell me the necklace and earrings advertised in your Black Friday ad weren't even there and not in any store. She tried to sell me something that was quite under par from your ad. I felt that I was a victim of false advertising! This was at the Westfield Shopping Center in Meriden, Ct. It was only a $70 sale item, but why would you advertise something that you didn't even have to sell? To get people in the store and sell them something more expensive? I feel cheated. I only have so much money due to my wife awaiting a disability hearing. She is very sick and I wanted to get her something to make her smile!
William Lafleur

I placed an order on 11/23/12 with jcp on line and was told that the order would be to me in 4 to 7 business days. When I called to check on my order on 12/02/12 oi was told that there was a hold on my credit card. i did not understand why because my credit card is just find. then i was told that's just they way that jcp do things. part of that order i need today. if i was told that you were going to hold my card i could have done business with someone eles. i feel that you should be honest with your customers when they call and place an order. i was told that my order might go out on monday Decemb er 3, 2012. as you can see it is way over the 4 to 7 days promis to me. i am trying to see if i can get this order from some other source.

As I was in the front of the line at JC Penny line this morning on Black Friday, Looking through the window we saw several JC Penny Associates ringing up sales items for themselves before we were allowed in the store. These items were the small applaince items for 8.00 dollars. When we were allowed in the store, most of the 8 dollar items were sold out. Why was this allowed? Don't say it didn't happen because we watched it through the door window. I have been a long standing customer for JC Penny but after this I just don't know if I will shop again in this store.

I placed an order on 11/23/12 (2012328510447805) the orderwas to arrive to me in 4 to 7 busineess day. I called to check on the order and was told that something was wrong with my credit card per Annett. Made a call to JCP credit card office to see what was the promble and was told by Ray that there should not be a promble, because I have more then enough to cove the $58.00 purchase. they were not understand ing what was going on. Christian from Milwaukee checeked my order and said it is at the point where it can not be cancel. this is my first and last time of order anything from JCP on line. i took you at your word when you said 4-7 business days. your word is your bound and that's what i was staning on your word. i have been with jcp for years, but i see things in a whole new light. i really do not know when i will get my order per christian.

I was shopping in the jewelry department. I asked the sales woman who was talking to two other employees if someone could help me. The older woman came over and I told her I wanted to see the Mother rings that were in a jewelry case on the counter. She told me we don't sell those here and I said well can I at least try them on so I can get an idea of how they look. She says I can't take them out they are usually permanently attached, they are just for show. She proceeded to try to remove one and it did come out and I tried it on. She went on to tell me that I had to order them online. She then noticed that she was being rude so she offered to get my ring size. She brings out this large ring with all the different sizes of rings on it. I tried one and then all of a sudden they all fell on the floor. She says "I knew that was going to happen", she was very irritated. They all fell on my side of the counter and she just stood on the other side of the counter as I picked them up. She tells me " just leave them there", meaning on the counter. I felt very embarrassed and felt I was treated very rudely. All I wanted was to buy a ring. I left the store and bought nothing.

My husband had purchased me a Diamond Ring on o8/12/2011 from Jc Penny because my orignal wedding band had broken and he purchased the lifetime service plan on it. It was right after I had my son so it fit perfectly at that time of course. Now that I have lost the weight from having him it is really lose so I took it into the Jc Pennys in Taylor MI in Southland Mall to have it sized because that is where he had bought it from. I walked up to the counter and there was a couple ahead of me so I waited and I there was a women available (it was Saturday 12/15/2012 around 10:45am,glasses,dark short hair in a bob,maybe an Iltain accent and in her 50/60s. I am a little younger in my 30s) I don't know if that is why she kept ignoring me or not she helped older people who walked up to the counter after me and I know she had seen me caused she looked at me a few times! maybe it was because she had seen me holding the ring and paperwork for it and thought I wasn't going to buy something so she wounld get any commisoon out of me I don't know. So finally I said I have been waiting here and I believe I have been here before the last couple of customers (I work in customer service myself so I wasn't rude about it I was trying to get her attention cause I know she had seen me there). She stated to me this lady was here before you! not a hello or well be with you in a moment NOTHING but rudeness. I know we all have bad days but I know what it is like to be busy with customers too esp this time of year. Anyways she said that lady was there earlier and came back a few hrs later. Really because I had just watched her jump from customer to customer and they were just walking up to the counter. Now I really don't even want to go back there to even have it done. I have never had that bad of service there before my mom,husband and son were with me so they seen it to. We just left after that and said forget it. What is the point of purchaseing a lifetime servise plan if all you get when you come in to be serviced you get a nasty attutide and no help what so ever! I don't know if I well be back to this store or not but I would hate to pay someone for something we already payed for. I thought I would bring it to your attention because who knows how many other people have been treated that way to and there is no reason for it. I know my work positon as a CSA I probley would lose my job or be written up by my boss. Thank you for your time please feel free to email me

Emporia ks .The management is a joke all the boss just sit on their butt all day or walk around acting like their doing something when their really just talking. They tell us at work that were not allowed to talk unless its about work. Workers are right in front of bosses on their cell phones and don't get in trouble cause their really good friends. They judge their customers right in front of them and act like their better than them.its just a horrible place to work you complain to a boss and she doesn't care cause she's friends with them.

Every time I put things in my shopping cart, it only keeps them there for a matter of minutes, and then, with no warning, it kicks them out, so you can't complete the order transaction. If you go to their email section to report the problem you cannot click on the "topic" subject which is a required item to send the email. I called the 800 number and reported it to the rep and she said she would send in the complaint, but that was two days ago and things are still out of wack. I'd have to think with a website running like this, they are losing a lot of money (including mine). My computer seems to be running fine, as I have ordered from other sites with no problems. Thank you for your help.

I placed an online (10 items total) order for $201.00 on Nov.30, 2012. I got one item today Dec. 10, 2012. To my astonishment nothing else arrived. I called JCP customer care, they inform me that due to holidays (WHAT!) my order will be late, also some items may have been on back order, of which they did not inform me at the time I was placing my online order. Now because of their uncaring attitude toward their customers my Christmas packages will not arrive to their destinations in time for Christmas. My daughter placed an order (over $200) on Dec. 4, 2012 and recieved it 2 (two) days later. I don't understand the logic of JCP. Maybe they just don't care when they offer free shipping if order over $50. I am so disgusted w/JCP I doubt I will ever darken their doorway again!

I have been entering the JCPenney buttons since 2 days after Thanksgiving. I have had 3 buttons with no response at all. In the last 3 days I have had 2 buttons which received the response "this code has been used previously". The first 2 days I entered 2 codes because the website said you could enter 2 codes per day, but I did not get responses for both codes either time.
I have emailed JCPenney. My reply was a form letter that did not address the issues I had raised. I like JCPenney's. I have been honest and played by the rules. I do not think they have done an adequate job administrating this promotion. I feel cheated. In ads and at the store I have been told 1 in 4 buttons is a winner. This has not proven true.
I have received several buttons and have a tremendous trouble with catcha words. I also received a square buttom with code aza23dz and when I tried to enter it, kept getting message "invalid code". You may want to get customers back (I went twice) because I received $10 gift certificates, but it now makes me think, why did I go through all that trouble, and second, can't get a button registered. You may rethink a campaign like this again, very frustrating.
I had enter two buttons on 12/12/12 n got my email stating I won but have not received certificate to print out yet they where $10 each please let me know as soon as possible or send them to me thank you.

Patti Carden
from Fowlerville, MI
I was in your JC Penney, Briarwood Mall location in Ann Arbor, MI on Black Friday, 11/23/18. I had to use the bathroom and went to the bathroom located in the teen girl section. The only stall available was the middle stall, the others were being occupied. When I entered the stall I noticed that there was no lock, nothing to secure the door closed. I took my chance on someone opening the door while I was using it, but was not prepared for what happened. As soon as I sat down, the outside bathroom door opened and someone came in. They didn't say anything, they were quiet and all of a sudden they kicked in my stall door. It hit me direct in the forehead causing me to scream and the perpetrator(s) to run. I believe they were trying to scare the teen girl in the stall next to me. They had been in the bathroom earlier and kept asking when she would be done. My head was on fire it was hurting so bad. I waited for the teen girl to come out of here stall so I could question her about her friends and she kept denying it was her friends. I left the bathroom and went to the nearest cashier desk. The cashier immediately starting laughing when I told her. I asked for the manager who came down right away. I told her what happened and she filled out a incident report. They also called maintenance who said that the bathroom had just been cleaned and nothing had been reported about a stall door not locking. I told them to check out the bathroom right then since they didn't believe me. They said they would put up an "out of order" sign and would put a lock on the door immediately. I went back 2 days later and no sign and no lock. Still. Really? Do you not care that I have a concussion now? Do you not care that someone else is going to get hurt and the next person may be small or old and that kind of hit could kill them. This is absolutely the worst thing ever! Talk about non safety in your store! I have pictures of the door without a lock on it. I also have pictures of a wall in the bathroom that has a huge hole in the wall and nothing has been done to fix that either. The bathroom is disgusting and not safe for anyone. Please tell me what you are going to do about this!
Also, where do I send my medical bills?
Patti Carden
(734) 660-6790

Linda Krouse
from Garden Grove, CA
I sent an email within six hours to cancel an order, and also called within 24 hrs to cancel an order. I know the item was not shipped at this point. it was on the Thanksgiving Holiday weekend. I replied to the email immediately when I received it -to cancel the order. I also called and reported the order number and asked that the item be canceled, In a live chat. When I spoke to a representative, she told me that the system would not allow her to cancel the item. Is this true? Once you order an Item, it cannot be canceled even if it has not been shipped out. The item was shipped 4 days after it was placed.
I am completely disappointed with J C Penny. I will not be ordering on-llne or shopping here again.

Where do I begin... I placed an order for same day pick up on November 18th before 2 pm. I was told that it takes about 4 hours to receive an email that my order would be ready for pick up. I received an email about an hour later stating half of my order was canceled. So I called JCPenny to cancel the whole thing. I was told I couldn't not cancel unless it was within 30 minutes of placing the order. I responded by stating that I didn't know until an hour later that half of my order was being canceled by them so how it this fair? I was told I would need to pick up my order and then return it. Fine. So I waited....it is now November 26th and I am still waiting for an email about my SAME DAY PICK UP. I have called corporate who tells me the item was shipped to the store?? But I still can not cancel it I have to call the store. The store itself doesn't answer the phone. I do not want the product, I do not need the product anymore I ordered it an received it at my door in two days from another company. This place is the worst for customer service, price, time, shipping, stock, policy. I will in fact make it a point to let everyone know what an awful business this is. While I still patiently wait for the item I was charged for almost 10 days ago.

Cynthia Davis
from Florissant, MO
I purchased a Cooks Air popper and the sign said that I would get a $14 rebate but was told by the cashier to go online to get it and that they don't have any in the store. I checked online and could not find any rebatess for this item so I just called the small appliance dept.
and they told me that they do not have any rebates eligible for that product. This is false and deceiving advertising by JCPenney. I will never buy another appliance from this store. My name is Cynthia Davis and please contact me at (314) 495-5046.
I am very displeased and upset.
I thought that I could trust JCpenney but I was wrong. I hate to be lied to and then no one gives a damn because they have your money and I'll let others know about this as well.
Reason of review: rebate not eligible.
Monetary Loss: $14.
Preferred solution: Let the company propose a solution.
I didn't like: Store or staff.

Barbara Mogush
from Edinboro, PA
We bought an electric range at the Erie store on 11/08/18 with delivery date 11/13. We understood that the range would be hooked up upon delivery, but the delivery men said they were not authorized to hook up electric ranges. We sent the range back and canceled the order. We are very disappointed. Apparently the clerk who sold us the range didn't know that the delivery people would not do the hook-up.
Barbara Mogush

I recently purchased a new pair of glasses from your optical department. I received a voicemail message that my glasses were in and I could pick them up 10/26/18 between 10am to 6pm. Well I was there at 10 am and nobody was in department. I asked for a manager and store manager named Kristen told me there was nothing she could do? BAD ANSWER! Your communication is HORRIBLE! You leave me a message that my glasses were in and when I could pick them up and nobody was there? I was getting "there was a miscommunication? REALLY? So I wasted 40 minutes for someone to finally show up. Mall manager kept saying was "I apologize". I am almost a platinum customer and have been shopping JCP all my life and I am now 62. Well. today was my last time EVER shopping at JCP and understand why they are going out of business! No offer to compensate no nothing...manger simply did not care! So , now I don't care about JCP! VERY upset and disgruntled customer!! David Lamb

Dawn Lafferty
from Dover Plains, NY
To Whom It May Concern:
On October 06, 2018 my daughter, Jennifer Lafferty, had made a purchase of seven men's T—shirts from J. C. Penny's on line shopping.
The pick up date was scheduled for October 15-18 to the Poughkeepsie Galleria. When checking on the order, my daughter found out that two of the T—shirts were on back order but that five had already been shipped to the store.
When she informed me that five of the shirts were in, my husband, for whom the shirts were ordered, made the 40 minute drive to J.C.Penny, Poughkeepsie, NY to pick up those that had arrived.
Upon arriving at the store he verified all necessary information to the clerk but was then told he could NOT receive the ones that had come in due to a rule that the entire order must be available before pick up.
Nowhere in your email confirmation does this rule appear. Also, when speaking with one of your rep's on the phone, this information was NOT provided, making this trip to Poughkeepsie an unnecessary one!
This action caused loss of time, gas and only succeeded in producing stress and aggravation. In lieu of this, I thanked my daughter for her efforts but told her to cancel the order as there is no telling how long it will take for the remainder of the items to arrive and we were not planning another trip to Poughkeepsie in the near future.
It is my hope that J. C. Penny perfects their practice in serving the customer and they don't follow down the road of Sears and K—Mart.
Respectfully,
Dawn Lafferty

Nancy Cubbage
from Smyrna, DE
I can't get my decorator to come back to finish the job she started. Won't answer emails. Nancy Cubbage

Lori White
from Richmond, VA
Went to Chesapeake Mall tonight to purchase hair products from the salon. Employee was assisting someone when we got there. We stood there for 10 minutes and she never addressed us. My husband asked her to help us when she was done, she never acknowledged us. After 15 minutes of being ignored, we walked out! This young employee needs customer service training , you lost a sale tonight and a customer, how many more?

Kristina
from Cleveland, OH
I ordered curtains online. They were expected at in store pickup on the 17th. Things happen I know, but I still chatted with your online chat service to see the curtains whereabouts. They told me yesterday that my curtains were delivered to the store yesterday, Friday the 21st, and to contact the store because they probably were not scanned in yet. I contacted the store like I was directed to on Saturday the 22nd. I told the online order lady the situation, to which she laughed at me. After looking up my order she told me it still wasn't scanned in and to call back Monday or Tuesday, because she wouldn't be able to look through all the packages for mine.

Diem Mayfield
from Sherwood, OR
We bought a refrigerator on 9/2. Order number 2018-2455-4087-6544. It was delivered today with huge dents on the front of the Frigidaire Gallary. They put our refrigerator in our garage and now we do not have a refrigerator in the kitchen and can't park our car in the garage. I called Paris in customer service and he refused to give me his bosses phone number. He is the MA manager. He said he would fill out a case number but could not give me the information. I must say JC Penny really let me down. Now our old refrigerator is in the garage that still works. I was told that they have to order a new one. Paris said I turned down replacement parts. I was never offered replacement parts and I want a new refrigerator. I can't believe a 100 year old company forgot how to take care of customers. Because of this, I want a refund for the refrigerator and I will buy from a different company that cares about their customer. . Refund my money immediately.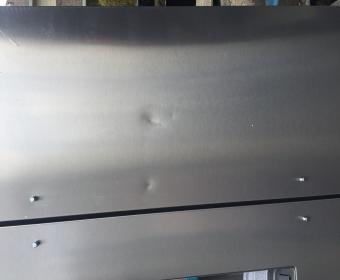 Diane Bilkiss
from Avondale, AZ
I frequent the Instyle Salon in Goodyear, AZ on Mc Dowell on a bases. I love the stylist I see and she always is friendly and professional. I was there yesterday and while I was getting my hair shampooed the Manager Janice Woodruff came to the back and in a unprofessional and disrespectful manner asked the girls who were working. what the problem was with the sinks. Instead of nicely asking she stormed in the room and addressed the issue.
As a regular client there, I found her attitude annoying and disrespectful to the girls working there.. I expect to come into any salon and hear what the problems are. I do expect a pleasant and relaxing experience. Perhaps these issues should be addressed away from clients and Janice should learn how to address co workers in a professional manner.
Thank you

christine burrouugh
from Horseshoe Bend, AR
August 1 I was shopping the Central Mall store in Fort Smith, Arkansas. I wanted to buy the $25 diamond ring I got the notice on my I pad for. The clerk was rude and abrupt saying sold out ad started last week. this morning that same ad is in the Fort Smith Times Record. There also was a big display with multiple identical boxes of sterling silver 2 pair earrings that were priced $49 on sale for $10. When I went to check out she said they were $32. I feel this is false advertising. In my attempt to finish my shopping I went to the online site, but it would not take my discount coupon. I also feel that this store merchandise Is less and less every month. I have been a loyal shopper at Pennys for many years. But if this practice is not improved I will be forced to take my business elsewhere. I appreciate your attention to this matter. You may reach me at 479 369 2087. Thank you.

Ernest Morris
from Richmond, VA
I was on line ordering three items and when I finish only one item showed up on screen . So, I went back trying to correct it and ending up getting two invoices. Now I,m stuck with the same items twice. When I called your customer service they told me that I did not call in time to cancel one of the orders. All of this was done within the span of an hour not the next day or last week. Being told that I will have to send one of the packages back is distrubing to me.. I,m a senior and do not get around because of my leg. Please help. Invoice numbers are 2018 1975 4040 0934 and 20181976 2042 5488.

Carolyn Brown
from Argyle, TX
I have bought St. John's Bay tees at Penney's for years. The store didn't have any in navy so I ordered four online thinking they were be the same that I have bought in the past. They were very inferior and didn't fit the same. I returned them to the store but didn't receive a full refund. I called customer when I got home and spent over 30 minutes with them trying to pull up the order. I had my receipt with the order number. I guess they didn't refund the shipping. I certainly don't think I should pay shipping for something that is poor quality and not the same as the product was in the past. Then today I checked on a rebate for an air fryer that I bought at Penney''s May 4th. I had to do the live chat online and then call Penney's rebate center. The card was sent to my post office box number but in a different town. The representative said someone keyed in the wrong zip code. My zip code is 76226 and the other zip code was 76247…....not even close. I think I am finished shopping at Penney's after spending too much time trying to take care of problems they created. Penney's has problems.

Raymod Rivera 3009 meadow LN taylor Tx
from Taylor, TX
on may 24 2018 I purchase a mattress and bed frame on store # 2934,was suppose to get it in two weeks.it never happen. I started calling on June 8-11-12-13-14. call at least 6 to 7 time daily, no one knew about my order, I was told that my order was cancel by the vender. I call and told them that I had the bill on my desk how could be. On June 14 I got a call and I was told that my delivery. date was June 20 .on my 75 year I never had such a bad trement I could keep on writing but iam to upset.so I cancel my order with regret because I needed the set. I will NEVER NEVER NEVER recommend any one to JCP it was horrible.

Nancy lamorder
from Gainesville, FL
I ordered on line to pick up in store as i thought it would be quicker got to the store they only had 1/3 of my order. Waited for an hour twenty minutes they said it is on th next truck for tuesday and they would call me. They did not call i caled them they located my things i said iwould be in friday she said ok well after twenty minutes wait with my kids and lot of me tell t;em what i was told and listening to them act like i am lieing they found the package and after telling them to no pull the items out as it was a present they did it. Really one was a souperviser and one a manager. If this is how you treat customers i want no part of your business.

William Ritchie
from Salisbury, NC
Hi, I tried to get the Birthday coupon before April but I did not get a response. The coupon was for$10 on a $10 purchase. I have tried several times and got no response. If this coupon is no longer good for Birthdays shouldn't someone let me know. I was going to get some clothes for my Birthday and use this coupon .I would use another coupon if you send me one. I tried to print several on the J C Penny listing but they would not print.Thank you for a response or a coupon. My Birthday only comes once a year. Thank You William

sherry smith
from Reno, NV
i just left jcpenny at the meadow wood mall reno nv i was going to buy 8 panels of drapes the cashier there told me i had to wait because they would need to be ordered i don't mind waiting my turn but she kept taking people who just got there making me wait i guess until there would be no body left my money is good any where i want to spend it and clearly it will never be at jc pennys

David Nee
from Dallas, TX
Order # 2017-3305-8122-5214
I ordered a shoe on line on the 11/26/2018 and still l have not received the item. I went to the store in Oaks Mall on Monday and was told its due to be delivered on the 8th. I went to the store on the 8th and was told JCP store is closed due to electrical problems. I again went to the store on the 9th and was told again item is due to be delivered on Tuesday the 12th. I'm sorry it was free to be delivered at home but l taught picking up in store would be quicker. I was wrong as there is no proper communication and l do not trust it would be delivered even on Tuesday. This is a Gift for a friend and frankly, the time l needed item has passed and l am disappointed.
Amazon delivers in 3 days and if they do not have item in stock, would give you the date it would be delivered. I do all my shopping at JCP and frankly, this is my last .
Vey disappointed and l feel its not worth all the hustle if JCP cannot deliver on time.

The jcpenny in west covina pick up from online,they need to find a better way to have customers pick up online orders because they have a check out and pick up same place and you gotta wait about an hour thats why i buy online so that i do not wait in line this makes me not want to ever buy and pick up at jcpenny again

Bertha Patino
from La Quinta, CA
Hi. I just want that let me know why you have charged in my paypal account the amount of $63.00 since 11/11/17 for the order # 2017-3156-2133-7160 for different items and I never have received , if I don't have received them before 11/22/17 , please don't sent me anymore because I am not be able to pick-up the items I will be outside of this country.. Please send me a message to let me know and
Thank you kindly.

Misty Christine Rhoden
from Texarkana, TX
I ordered 2 shirts online 9/29/17. When they arrived on 10/9/17 the shirts were not the correct color/style. Returned them to the store with no problem but cannot get the correct shirts I ordered because it says they are out online and are not available in my store. I am upset that when originally ordered online they were available and due to JCPenney's messing up I can now not get the shirts I wanted. The email sent to me to show they had shipped showed the correct shirts I wanted. Never received an email saying they would not be available or anything so jcp messed up in sending me the wrong shirts and now cannot get me the ones I originally ordered. I am very unhappy.

Anna Gwisc
from Niantic, CT
I have been trying to order curtains. We to the store three times. Sales people were helpful. T h e curtains that t I wanted were in stock. Keep getting email. Not in stock. W h at is going on.
"

Anna Gwisc
from Niantic, CT
I have been trying to order curtains. We to the store three times. Sales people were helpful. T h e curtains that t I wanted were in stock. Keep getting email. Not in stock. W h at is going on.
"

Christine
from Riverside, CA

Richard Wylds
from Ocala, FL
My wife went to the salon in lake city Fl. in which we are new to the area.Having always used Penny's for her hair. This visit was the worst that she has ever had. She has gotten perms and it always took about 2 hrs. This was done in 55 min. and came out with a wet head and was told it will dry by itself. She got sick and had to be put in the Hospital so when she got better we stopped in to talk to the hair styles and was told it looked OK and that is all that can be done. She wanted to have her hair colored but with the way she was treated did not want it done with them. There was never an apology and never talked to see what could be done to fix her hair. Felt this is not the Penny's that we are us to always willing to rectify the problem?

Samah Merham
from Dublin, CA
I had an item to J.C. Penney that needed return and I stood in line waiting for my turn, when i went to to the register, the associate named (Claudia) asked for my receipt and I gave it to her, she started to process the return and when it comes to refund my credit card, she asked to me insert my credit card, although CC machine displayed swipe CC for refund, anyway, i followed her instructions, but it didn't work, she tried again and same results.
I told her that the machine displays swipe J.C. Penney CC, but she replied to me very rudely, that the CC has a chip and this is the only way to do it, and she tried to call MOD, without any luck, I asked her again to just try it as the machine says, but again in a very aggressive, confronting rude tone she said no, these are the rules and I have to follow them, and then she tried to call MOD again. She kept me for 15 minutes till she was able to reach MOD, who advised her to swipe the card.
So she did and completed the refund. I told her that I have been asking you to try it for the last 15 minutes, her response to me that I always have issues with return. I asked her what do you me, I have my item (unopened) I have my receipt, she didn't reply and hand my the refund receipt very rudely with out an apology for the wait, her mistake or her nasty attitude. I am not sure how you hire such people in front line. I need a response from you management regarding this experience and someone needs to speak with her.

kelley j jacobs
from Chicago, IL
I am very discouraged by the J.C. Penney black friday promotion this year. I was fortunate enough to receive one of these coupons and attempted to use it online per instructions. I used the chat feature on your website and they told me I could not use the coupon online and needed to wait until after 5p to use in store. That is not what the coupon states as you can see. Very frustrated by poor customer service.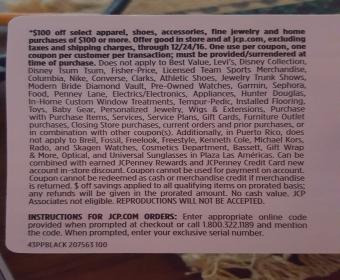 Chelsea tyrrel
from Dousman, WI
I am so disappointed. On their page they have a picture of a hutch for sale and that picture includes a changing table. However the changing table was not included. When the hutch came I was very disappointed to discover this. I looked to see if I could buy the changing table and what do you know, they don't sell it anymore, even though they keep a picture of it up. So when I asked to return it I was told I had to pay $75 dollars on top of the $75 delivery fee. So in order to get it returned I had to take a $150 loss. The hutch was $160. I am so mad and upset about this, I don't know if I will ever shop at JCP again. Also, the lady I talked to at JCP online was so rude.

G. Kreiling
from Burbank, IL
On Sunday November 13, 2016 I was in the Woodfield, Schaumburg, IL J.C. Penney store. I found in your store an a.n.a black jacket while walking to the shoe department. The jacket caught my eye and the price was very appealing because of the sale sign stating that it was $24.99. It said "Juniors' Pleather Jackets" and the whole rack was filled with both black and camel colored ones of the same style. Not even thinking, I tried it on and thought the jacket fit well and the price was good. At check out the jacket rang up for $69.99. I told the cashier that the sign said $24.99. Because the store was busy she asked her department manager, Patti, for direction.
Patti told me the price was $69.99 and walked off looking for the sign. I followed her and showed her the rack and sign. She pointed out that the $24.99 price was only for the jackets that were originally $52.00. She checked the rack, and didn't see any $52.00 jackets and started checking all the racks in the vicinity looking for the $52.00 jackets. She came back to the original rack and found found two intermixed with the $120.00 jackets. As I was standing there she didn't say a word, showed me the two $52.00 jackets that were on the rack intermixed with the $120.00 jackets. I asked her why the sign said $24.99 and the rack was full of $120.00 jackets.
She said that only the Juniors jackets were marked down and the a.n.a jackets were not Juniors, I asked how was anyone to know which jackets were juniors and which were not by the brand name. I did not receive and answer so I returned to the register to pay for my purchases. As I was standing at the register I happened to see Patti come back with the sale sign that she had taken off the rack of jackets. As a department manager Patti was unprofessional and huffy and was not interested in this at all, her J.C. Penney department made a pricing mistake and she was not willing to make it good. Her attitude was: it's not $24.99 and that's the bottom line.
The end result should have been that I got the jacket for $24.99 and the sign taken down. This seems from shopping at J.C. Penney's that it is normal for them to have the sale sign on the wrong item. I find this to be a bad business practice and will have to think twice before shopping there again. Please see the attached pictures to prove my point.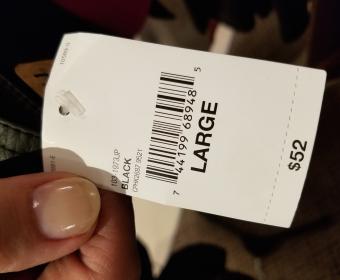 Terri Cox
from Statham, GA
I placed an order for a pair of boots on jcp.com and had them shipped to the store. I was told they would be ready in 4-7 days 15 days later the store can't find my order called customer service no one can seem to track the shipment and on top of all that I have to wait 3-5 business days to hear from someone about a refund. This is the worst service I've ever had and very annoying. I will never order from them again!

Shirley frazier
from Gainesville, FL
I was in the J.C. Penney store #0766 331 Brandon Town Center Brandon Fl 33511 on 10/0/16 @ 19:00 I went to the Jewelry dept. because I needed a battery for my watch. There was 3 cashier's working one Asian lady at one counter with a customer and 1 Asian, l white lady at the other counter with one J.C. Penney customer. I proceeded to the counter with 2 cashiers patiently waiting the white lady looked me in the face and didn't acknowledge me. So I went to the other counter and waited a gentle man with a beeper and wearing a red shirt came through the store and stood exactly where I stood. She was laughing with him.
She left that counter and went to another count still not acknowledging me. So I asked him if it was someone who could help me at the repair counter and he said sure and called her over. She came over to the counter and I told her that I wanted to get a battery for my watch. She went on, & on about I didn't get the watch from penny's, wanted to know where the back was I told her that I did, She really argued with me about my watch. Then she said that penny's only did that during the week. I told her I was traveling and just needed a battery.
She then told me that she didn't have one. I have never felt racism like I felt that day. I told her that I wanted to talk to management because she was very rude, she came from behind the counter and followed me to the other counter where I went to talk to the other cashier she came up on me I put my hand up and told her to give me 50 feet, she ask me not to put my hand up in her face, and I told her that she was in my space. Jocelyn came and I told her what I needed she check my watch, and replace the battery. She gave me the poor J.C. Penney customer service that I deserved.
I'm sure that you guy's have this on camera footage. This woman does not need to be working in customer service. She argued, with me about where I got my watch from as if I stole it, you may not have it then but you had it at 1 time. Then on top of all that she lied to me said that Penney's didn't have a battery. I have never been treated like that before.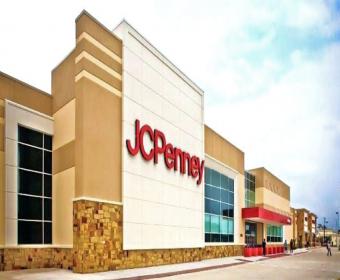 annette hart
from Cape May, NJ
On August 6, 2016 I dropped off my Seiko Solar watch for a "clasp repair, since it was having a repair I opted to have the watch cleaned too. I was called in a day or two and informed the cost would be $34.00 to be serviced. I agreed to the cost and servicing. Estimated completion date, as per my Repair Claim Ticket was 9/3/2016. To date, and 6 calls to JC Penney's, my watch is not completed, speaking to 3 associates who are not sure "what is going on with the repair order, I am totally frustrated and worried my watch is not safe, returnable or repaired. I did not receive any call backs from the associate's, I had to do the follow-up back to the associates.
Two days ago, , I spoke to an associate who informed me she would be calling the company they sent the watch out for repair, and she would "call me back within an hour, no later than late in the afternoon. I spoke with her at 10:00 am. Well, here we go again. This is the 3rd day and no reply from associate. When I spoke to the associate 3 days ago, I stated to her, "this situation is unacceptable, and I want a new watch to replace the watch the store associate sent out for repair on 8/6/16.
No if's or but's. I have been patient, more than understanding since I had to call associates back after I was told they would call me. It is now Oct. 19, 2016 going into Nov. 2016. Service has been very poor, associates responses very poor, and the time frame of 8/6/16 to promised 9/2016 is way, way past over. And no one knows the status or whereabouts of my watch. This is very poor business for a very loyal and courteous customer with JC Penney.
Info on store is: JCPenny, Store # 2768, phone number: 609 889 7700 option #3 for Jewelry. My Repair Claim Ticket states: " In the event of damage or loss, the JCPenny Company will repair or replace the item at your option." Since I do not know if it is damaged, loss or "my watch" being returned, my option is to have my watch replaced with a new watch of same. I don't want "whatever they are going to give me at this point; too much time has been lost to know if it is my watch, someone else, or a used old watch lying around and be passed off to me!
I don't feel this is an unreasonable request due to the circumstances. I would like to pick up a new watch within 2 days at this store location. They do have them in the glass case. At this point, this is the only resolution I will accept. The service was a horrible experience, and I am very upset of the circumstances. Kindly inform the store, department, and associate of my request, and the ok to perform the transaction from J.C. Penney.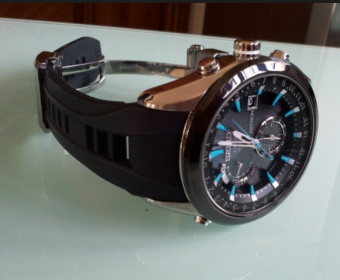 Tracy Vass
from Orlando, FL
We received the wrong size of vertical blinds. It was ordered with the wrong size. I didn't notice it. Whether my husband wrote down the wrong size of whether numbers got transposed, I do not know. I called when we received this and was told as per the information stated in the box it was returnable, either by UPS or at the store. So, with the help of my 29 year old son and a borrowed SUV, we brought the vertical blinds back into the store. The lady who was called to the desk, Theresa was very rude.
She said the item was not returnable, they were all on a conference call..she didn't know how long it would last and I could wait if I wanted. After 40 minutes, we left. She said someone would call me. No one called. I asked her if I could buy the horizontal piece ( the one with the incorrect size) alone. She quote a price more than $100 more than my total purchase. This was after she originally said no, it couldn't be done. My son said this was the worst customer service that he ever experienced such poor customer service. We left.
I then went on line to write a complaint to JC Penny complain department but was told my order number was incorrect so it would not send the email. The order number was exactly what was printed on the order and listed as order number. I am upset upset.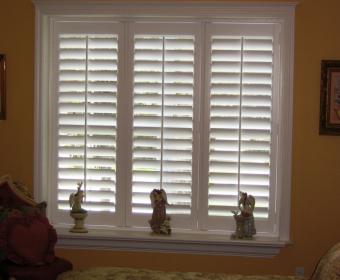 eugenia mcmillion
from Martinsburg, WV
Made a payment of $ 200.00 at the Hagerstown JC Penney on May 12, 2016. Got my statement today, May 31, 2016 and forum that the $200.00 payment had not been applied to my account and they charged me a late fee. Called customer service and gave them this info and the payment receipt info. Also told them the check cleared my account on May 17, 2016. Advised me that they see the payment but they could not apply? Gave me to another customer service person and things got worse.
They implied that we needed to send several documents to a given address before the payment could be applied even though JC Penney cashed our check. Total frustration trying to understand the customer service person communication so I abruptly hung up. Will take my frustration to the Hagerstown store where the payment was entered. Have been a customer for a long time ,but this incident has caused me to rethink my relationship with JC Penny.

Sedonna
from Battle Creek, MI
I called jcpenny corporate customer relations. A female by the name of Tiffany answered. I gave Tiffany the information that i was calling about and she continued to ask me the same questions over and over as if she didn't know how to help or maybe she didn't want to help. I asked to speak with someone higher and she told me that their was no one higher and that i was speaking to corporate. I asked Tiffany if she was the only one working in that area at that time and she danced around the question and told me once again that this was jcpenny corporate office that i was speaking with. I told Tiffany that i was going to hang up and try back to get someone else.
I called back Tiffany answered once again i then asked her if she was the only one working and she said once again this is corporate. I started talking to her letting her know that i needed someone higher up because she kept making me repeat my self. Tiffany push the music button on me, i told her that was rude and that i was going to ask someone higher to pull the call…strangely a supervisor named Shirley became available. Shirley took care of my needs; however, i am still reporting Tiffany. Beware of Tiffany at jcpenny corporate customer relations. This call between Tiffany and i took place at 4:43 pm on this day of January 30, 2016. I called back again at 4:46 pm please pull the calls.

Pastor John
from Dayton, OH
I bought a mattress on line and it did not fit the need of my wife to flat not good ask them to come and pick it up it took two month for them to come and it is 2016 and have not receive a refund as of yet spoke with different one's about it this happen in Sept. 2015 and this is 2016 need help this very, very poor service. They want me to paid $139.00 for restocking this item they need to price me I am still getting the run around help. It was sitting in my living room for almost 2 month I could not use this room.

Rita moreno
from Austin, TX
My husband ordered me a jewelry item and was told it would be in by Christmas. It wasn't. The customer service at Barton creek in the jewelry dept has been negative. They just said another customer is having to wait. No apologies no care. My husband had to go in person to check. It has been over. 2 weeks since it was supposed to be delivered. Never had a problem with J.C. Penney customer service in the past. This is our last purchase there.

Sarah Marshall
from Austin, TX
While shopping at the JCP at Barton Creek Square Mall in Austin, TX, I was harassed by an employee in the Men's department. I'm not sure of the name of this employee, he was an average height with wild curly hair. Employees and their managers should not be allowed to harass customers. I want action taken against this employee. I know many people who shop here, I will spread the word and let them know to no longer shop here or they will run the risk of being harassed by your employees. This complaint should be forwarded to the J.C. Penney corporate offices for review by management!

Cathy Rutledge
from Jacksonville, FL
At your Avenues Mall location, Jacksonville, FL, I was treated extremely rude by two associates: one reluctantly answered a question, the other totally contradicted the first and raised her voice at me. I had over $500 worth of merchandise, which I left at the second employees register. Train your employees with some customer curiosity. I'll never shop at Penny's again!

Sharlette Love
from Houston, TX
I ordered a monogramed/personalized hand towel on line. I ordered the name in all capital letters and the color of the monogram to be black. I picked my item up from the store and discovered it was not monogramed as I had ordered. The monogram color was white and the name was wrong as Pastor, not capitalized as I ordered. I was also charged for shipping and handling even though this was a ship to store order. JC Penny took it upon their self to send what they wanted and not what I ordered, I should be credited in full and compensated with the correct merchandise as ordered. The mistake made was at the fault of JC Penny.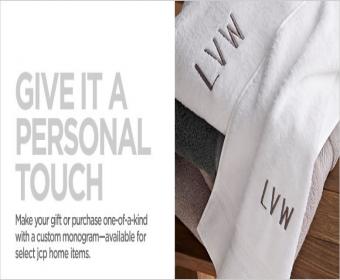 Jolene DeMarais
from Saint Martin, MN
On 1/23/15 I mailed a box of vacation clothes for my husband to Lehigh Acres FL $28.00 My husband arrived in FL on 1/28/15 calls me to let me know he did not receive the pkg. I call the FL PO and the tell me that they still have the pkg and they will deliver it today 29th husband calls no pkg I call the PO and they tell me I need to talk to the carrier I say okay they say he's out sick for a week and I should call back then I call back then and he tells me he wasn't working the day of the delivery I say let me talk to the person who did work that day she's not on till Saturday Now I call back and get a supervisor that can't understand why my pkg says it was delivered at 10:04 am because the carriers do not leave for delivery till at least 11:00am.
I try calling a couple more times with no answers fast forward My brother in law calls and tells me he received the pkg I call the FL PO office and talk to a supervisor and I tell her that the pkg somehow appeared and she said that she found it in the supply room and that it was scanned on 1/27/15 as POSTAL SUPPLIES and that when she was putting things away in the back room that she came across it and since she had just talked to me she knew to get it delivered . I was instructed to have him bring the pkg to the PO and reject delivery The supervisor in FL told me this was the fastest way of getting the pkg back I asked if she could handle the transaction in FL and she said No she was on her way to a doctors appt but she would talk to the post master (Jackie) and let her know what was going on.
My brother in law goes there and asks for Jackie and she has no idea what he was talking about he rejects delivery on the 2/17 I was told it would go out that day they try delivering it back to my brother in law TWO more time finally I ask my PO in MN to call down there and please have them get me my damn package she does and I see it a week later I call the complaint department which was a total waste of my time They know and admit that this whole transaction was a total FIASCO but there is nothing they can do but apologize It was scanned as postal supplies with the postal supply scanner and I get an " I'm sorry" Well la di da 44 days 18 phone calls 5 different individuals I'm the SORRY one Thanks for nothn'

I am very dissapointed that I got up early this Black Friday morning, was nearly first in line 45 minutes before the doors opened at 6am. I had one item that I wanted to get, so the doors opened, and I rushed to find the Cooks Waffle maker for $8. I couldn't believe my eyes when I saw stacks of griddles, slow cookers and toasters. Not one waffle maker in sight. I asked around and no one else could find them. I looked through the store and no one else had a waffle maker either.
I was then told at the checkout that I could purchase the item online, so I left the store dissapointed but hopeful. Only to be cruched again when I searched online and found that the clerks at the store had lied to me. I thought the term bait and switch was outlawed years ago, but I see it is alive and working great for JC Penny. I will tell all my friends about the lies and deciet at this untrustworty store. Very dissapointed in Orlando.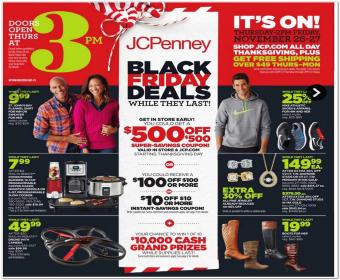 I purchased 2 shirts on 11/23/2012 and received 2 buttons and instructions to submit the numbers to enter a rewards contest. The 2 numbers were awgfz3x and 4pjb4xc and I entered both numbere and for one number it said that i would get a 5 dollar coupond and the other said that i would receive a 10 dollar coupon. I receive a email with the 5 dollar coupon and still have not received the 10 dollar coupon. Please advise if your are going to honor you email responses.
Neil Conner

I got up early and waited in line on Black Friday to get the appliances advertised in the Black Friday ad. The appliances were the "doorbuster item". I was excited because I knew it would be worth it and I was there early enough that there was no way they would be sold out. I planned on getting some clothes on sale as well AFTER I got my appliance and put them in the car (my main objective was to get a waffle iron, griddle, toaster and coffee maker). At exactly 6 am they let us in and I raced around the store trying to find them.
I found an associate and asked her where they were. She replied "We didn't get any. Only the big stores received appliances". I was so mad I left without even looking at the clothes. In fact, I am so mad I will no longer shop there, although I have been a faithful JC Penney customer for a while. I think the ad should have specified that not all stores would receive these items. The Yankton, SD store I was at should have, at the very least, put a sign up letting everyone know that these items would not be available. At least then I would not have wasted my time standing in line. I think it was an intentional fraudulent ad. They may have gotten me there with those tactics but they lost a customer by doing it.

I purchased a set of polyester/cotton sheets with 4 pillocases in king size from a JCPenney outlet store. I did not have a receipt but think that the sheets were approximately 6 months old. I have sheets in my home currently that are 20 years old that do not look as bad as the ones I am compaining about. My husband has a beard and I assume that is the reason that the pillowcases look shredded! There are also multiple catches on the sheets themselves. I believe that the sheets are defective, but I did not get any satisfaction from the outlet store nor the regular store. I think compensation is needed in the form of a coupon for a set of king sized sheets !!! Thank you in advance for resolution of my problem.

Ordered 6 new towels and wash cloths, received a call merchandise was in, upon arrival to pick it up, I was given 12 washcloths and no towels, the rest backordered, when they looked at the backorder there were another 12 wash cloths and no towels, the system had changed the order to wash cloths only. Ordered Royal Velvet towels and was receiving JCP Home, talked to the manager and she went into the system and cancelled the remaining wash cloths and I returned the 12 there. Purchased towels and wash cloths at the store, 21 weeks later, received phone call stating my merchandise had arrived, the 12 wash cloths that was cancelled.

I placed an order on 11/23/12 (2012328510447805) the orderwas to arrive to me in 4 to 7 busineess day. I called to check on the order and was told that something was wrong with my credit card per Annett. Made a call to JCP credit card office to see what was the promble and was told by Ray that there should not be a promble, because I have more then enough to cove the $58.00 purchase. they were not understand ing what was going on. Christian from Milwaukee checeked my order and said it is at the point where it can not be cancel. this is my first and last time of order anything from JCP on line. i took you at your word when you said 4-7 business days. your word is your bound and that's what i was staning on your word. i have been with jcp for years, but i see things in a whole new light. i really do not know when i will get my order per christian.

I was shopping in the jewelry department. I asked the sales woman who was talking to two other employees if someone could help me. The older woman came over and I told her I wanted to see the Mother rings that were in a jewelry case on the counter. She told me we don't sell those here and I said well can I at least try them on so I can get an idea of how they look. She says I can't take them out they are usually permanently attached, they are just for show. She proceeded to try to remove one and it did come out and I tried it on. She went on to tell me that I had to order them online. She then noticed that she was being rude so she offered to get my ring size. She brings out this large ring with all the different sizes of rings on it. I tried one and then all of a sudden they all fell on the floor. She says "I knew that was going to happen", she was very irritated. They all fell on my side of the counter and she just stood on the other side of the counter as I picked them up. She tells me " just leave them there", meaning on the counter. I felt very embarrassed and felt I was treated very rudely. All I wanted was to buy a ring. I left the store and bought nothing.
Have feedback for J.C. Penney?
Thanks for your feedback!
Sorry. Please try again later!