DirecTV
DirecTV Complaints Continued... (Page 3)
455+ reviews added so far. Upset? Call DirecTV corporate: 1-855-802-3473

Britt Gerdes
from Phoenix, AZ
On April 27, 2019 I called Directv to schedule a transfer of services appointment because I was moving on May 4, 2019. During that phone call all i heard while I was on hold was the "seamless" process it was to have the transition happen. When I finished my call the CSR told me to just bring all my old equipment to the new house and a technician would be on May 4, 2019 to the new address to assess the new house and install any needs for my TV's. On May 4, 2019, the technician came out. He said he was only able to install one TV because the house was not wired for service and suggested that I go wireless so I could have the other 5 TVs connected. When I said to go ahead and do the wireless service, he [Richard] advised me that I needed to call Directv back and upgrade my account after he left to a wireless account and then he would be able to come back out and install the other TV's. So, now begins my journey with Directv and the "seamless" process that you so eloquently advertise. On May 4, 2019 At about 12:00 pm Pacific Time I spoke with a CSR [Forgot name, but had a heavy accent and slurred speech] who wasted about 40 minutes of my time, then put me on hold for 15 minutes and then I was transferred to another CSR and started the process all over again. This CSR took me through the process of upgrading me then transferred me to Tech Support, who advised me they could not assist because my account was locked. I then asked to speak to a supervisor [Steve, I believe], who explained the "someone" had locked my account and they would not be able to assist me for about 45 minutes. The supervisor [Steve] told me he would be calling me back in about an hour to finish the process. So after speaking with 2 CSR's, 1 Tech Support and 1 Supervisor I ended my phone call with the promise someone would be calling me back. Needles to say I went to bed on May 4, 2019 with no returned call and my Directv only installed in one room, and did not appear to be functioning appropriately. Now moving into May 5, 2019, I called Directv at about 10:00 am Pacific Time, because I had not received any phone call, text, IM, or e-mail regarding my service from anyone. Upon reaching a CSR, and going through all of the questions about my account and my reason for calling, again, I was advised that a supervisor from Tech Support would be calling me to set up the appointment for the install of the new equipment. I ended my call with Directv at about 11:00 am. On May 5, 2019, at about 7:00 pm, after still not being contact by anyone, I called Directv back, because I would have figured that 8 hours would be enough time for someone to assist me with the "seamless" process of transferring my service. when I reached the CSR I was set up but advised they would not be sending out a technician to install the equipment, instead the wireless recievers would be mailed and I would need to set them up. At this point I advised the CSR that was not going to be satisfactory and demanded that a technician come out because I am not a very tech savvy person. The CSR transferred me to Tech Support and I spoke with Tre'Erica [Not sure on spelling]. This young lady was able to assist me in under 20 minutes and advised me that a technician would be calling me in 72 hours to make an appointment. So please make sure this young lady receives the proper kudos or get her a promotion to train the other clowns on how to do their jobs correctly. So needless to say it took Directv 7 employees to make my transition to my new home "seamless." Not sure what your definition of seamless is, but this to me was the polar opposite. I am angry and feel like Directv doesn't want my service. I also believe that I should have just cancelled my service and when I moved into the new home called to be a new client. I probably would have got quicker service with a bunch of extras.
Disappointed Customer,
Britt Gerdes

I have called direc tv for 3 days now. They don't fix my problem . Still can't get pandora . This is horrible !

I was given the amount of $87.79 for a monthly bill to go back to DirecTV. I was billed $155. MY order was as follows
Primary TV $0
Xtra $101.99
Advance Receiver $25
additional tv 3 geine minis $21
Regional Sports Fee $1.80
NFL Sunday Ticket $0
$300 AT&T visa reward card $0
$5 off for 12 mo &-5
$57 off for 12 mo$-57
TOTAL $87.79
ACCOUNT NUMBER 59410874
Why am I getting billed for the NFL Sunday ticket. I have contacted customer service and they will not fix this. I also did not get the email about the reward card. If the person that hooked up the service had no clue what we were supposed to be getting and had to call in and find out. If this is not fixed within the next hour I WILL MAKE IT KNOWN AS MANY PLACES AS POSSIBLE.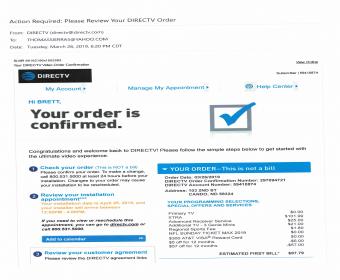 This is a letter of Complaint to AT&T and Direct TV
My Wife and I asked Direct TV to install Wi-Fi that would be able to produce upload speed to run the security cameras installed in our home. They told me that they use Century Link Co. for all Wi-Fi services, which was not a Direct TV company. I voiced my concerns and I was promised they would guarantee that once installed it would work fine. We asked that the service be installed based on this promise. That service was installed and it did not work as promised. It was installed no more that three weeks and never worked. We even had their service technician at our house and it was checked and he could not get it to work. We then asked Direct TV to remove their Century Link Wi-Fi.
At that time we were told there would be a cancelation fee of $340.00. Our current balance is $263.09. We do not think we should pay this. Direct TV and Century Link could NOT satisfy our requirements for a minimum upload speed of 3 Mbps. We want a credit from Direct TV and or AT&T. They are threatening further action if we do not pay in full.
Readers;
Do not use AT&T or Direct TV services!!!!!!!!

mrs smith
from Birmingham, AL
Direct tv would not honor a payment arrangement. I spoke with a supervisor named Alex and he was one of the most rudest and uncaring people I have ever encountered. I was even told that I had to go to an AT&T store and show the email because they didn't have a record of the arrangement, even though AT&T sent it. I was on hold for about 3 hrs with no results. Basically, I was told my arrangement didn't matter and that I had to pay the entire amount to get services restored. I am very disappointed in the quality of service and the poor representation that I have received today. I will encourage anyone to not trust Direct tv in making arrangements because they may or may nor honor it. I still have the email, proof of the arrangement and how it states when to pay. It's not fair to have customers think you all are true to your word, when actuality, your representatives are calling you a liar. Go back and listen to the recorded messages and find a way to use technology to locate missing emails that you all sent.

I cancelled my service today 4/30/2019 and I am being told that I will continue to billed until May 19th. I am not willing to pay for services that I am not using. This is unacceptable!!!!

Margie Grove
from Bamberg, SC
I have a Direct TV Bundle contract ending September 2019. To this date, Direct have tried to over billed me for services that I didn't ask for. They send me outrageous bills over $200 a month. I have to call Direct every month to get my bill corrected. Staying on the phone with customer service over an hour trying to get this issue solved, but to no avail. Next month my bill will be over 200.00 again. I am thinking you don't want my business.

Recently purchased a portable satellite system (King Quest VQ4100) with receiver. Called to start tv service with Direct TV. Worst experience of my life. Could not get it through the staffs head that I already had a satellite, receiver and cables this was going on an RV. Wasted four hours of my life. At hour 3 they were able to turn the service on but I had to talk to someone else about installation. Once again I already had everything and didn't need install. One of the worst experiences of my life. If you are going to Co-sell a product with another company you should probably let your staff know what the difference is between a RV satellite and residential satellite. Funny thing for this whole experience is they still have a tech coming to do an install. Jokes on them I will be camping and the system already works. I talked to Catherine at ATT who directed me to Direct-TV, then to Prine who was clueless she then directed me to Kaleb who started the service but still scheduled the tech to show up and install then sent me to Alan who was a complete waste of space and had me steaming. I am pretty sure I call him a dumb F#$k and hung up. Once again if you are selling a portable satellite for an RV have some people that know what to do when that customer calls in. Please feel free to contact me with someone that can speak clear English and has the ability to make change.

Direct TV has by far the worst customer service of any company I have ever dealt with !!!!!! And I have been paying bills for over 50 years .Tried for 3days to get a channel lineup for my zip code, with prices for each package. I talked to people with accents from 7 different countries and was cut off twice. How the hell can you change your service when you do NOT know what's available and the cost ??????
DIRECT TV SUCKS !!

On Monday I was on a live chat and I was on my break so It was agreed that I would have someone call me back at 5:30 in the evening once I got home. It is Wednesday and I have yet to have a call back to resolve the issue that I was sold direct tv and I thought I was getting direct tv now. which Is cheaper. The reason I went to this AT &T thing is because they said it would be cheaper. It actually is not cheaper than comcast for what I get it is not. Comcast you can watch everything on all TVs with a little box but here you get one box and im being charged just about the same for access to only one darn tv.
address is 716 south 13th Springfield Illinois phone is 217 816-3345

David Compagna
from Washington D.C., DC
On April 22, 2019, I tried to get assistance form DIRECTV to use my Protection Plan Premiere. The problem is I cannot get assistance with DIRECTV Protection Plan Premiere to fix my iPad. I have made several phone calls, finally I was instructed to take it to a AT&A Store. I immediately followed DIRECTV customer service instructions and drove to a AT&T store. After driving to a AT&T store the AT&T representatives at the store informed me they only handle repairs for a program called ASURION. I called DIRECTV from the AT&T store and explained my circumstances after following their instructions. I was on the phone with DIRECTV for over an hour being passed around to four different departments and then I was cut off from the call. What do I have to do to get my iPad repaired? This is unacceptable, and NO, I DO NOT FEEL LIKE I AM A VALUED DIRECTV CUSTOMER.

cathleen smith
from Woodstock, GA
i am not able to change my package on line - I have tried and each time the site requests that I call. I've called a couple times in the last few months and when I ask to downgrade and if there's a deal or discount the person on the phone tells me they are not allowed and will have another rep. call me back. still waiting. I have also asked about the cable lines that are still not buried in my back yard. when a direct tv truck came to take care of this they tell us they are not the right group to do this job. The cables have been exposed for TWO years. How is it possible that my cables are still exposed when your company made the appointment. The playback feature is horrible - It doesn't work half the time. Your website is very deceptive - the only thing you allow is upgrades. Cancellations and downgrading are impossible without calling - then when we call you get the run around.

I cannot believe the customer service this company is getting away with. I have tried for two solid weeks to cancel my service with DiretTV. 60 minute hold times, with the worst support, and they keep hanging up in me when I ask for the cancelation team. The last time I called I gave them my phone number first (after a 60 minute hold) , and they transferred me to an automated payment center. What a flipping'. Joke. I have contacted a law firm and will litigate this to the full extent of the law. I am sick and tired of getting ripped off by these multi million dollar scam artist companies. The people that are employed there should be ashamed of themselves. It is so ridiculous you wouldn't believe it!

Yvonne Jackson
from Bridgeport, CT
1. From day one the Internet service from Frontier, recommended by AT&T to accompany my cable service, has not worked sufficiently, service is actually in and out.
2. Cable TV does not operate as I was told it would. I have no access to the On-Demand shows that are aired during the week.
3. When I tried to go online to PAY my Frontier bill, in spite of all the problems, I was told that I am not able to access my online portal. Thereby having to incur a cost for paying by phone or in person. The AT&T portal is also down and I am not able to access that either.
4. I was informed when I selected AT&T service for Direct TV and Frontier Internet that I would receive a gift certificate from both AT&T and Frontier. Only to be told two weeks later that I must go online to AT&T and request my rewards (had I not called I would not have known that because I was not informed when I ordered the service nor during installation). Frontier informed me that I would not receive my gift until I made a payment on time, of which I have been trying to do but the portal has been down.
I now believe that my decision to switch from my previous carriers may have been a dreadful mistake, having not had adequate service since day one.

I have two homes, in which I take my Genie between. My primary house is in Victor ID. Since the switch to AT&T ownership, there have been several problems:
1. Typically when I call, which I try to avoid like the plague, the person on the other end is not in the US and rarely knows what they are talking about much less are your able to understand them because of the accent. That was not the case when owned by Directv. It take maybe 3 or 4 transfers down the line until you get someone finally may know what your talking.
Victor House
1. Directv was and maybe still is in a pissing contest with the local NBC channel 6 ( currently I am in Tucson). I could care less but because of that I am missing the highly bias NBC news, Blacklist series, Blindspot, The Enemy Within etc., not to mention the local weather. If I can't watch the local news how about giving me back the NBC channel out of LA. Then you can fight over whatever the problem is without interrupting service. OR refund the amount I am paying for the local channels until it is resolved.
2. Your new format, as of last April or so, randomly records shows. For some reason it will record numerous (up to 20-40) shows of Chasing Classic Cars and Love it or List it, among a few, even though they are set for first run only. I had to take Love it or List it out of the Playlist to get it to stop.
3. The quality of the CW, is so poor it makes it hard to watch. It's perfect in Tucson using the same Genie so I don't believe it's on my end.
Tucson
I used to be able to get Tucson local channels up to two trips ago. Now I have to view Phoenix which is almost two hours away. Guess what they don't show Tucson news/weather and I'm in Tucson. They tell me it is because I am in Pinal County. Pinal County extends to Tucson, I live in the Tucson area, I can't help it if your system is screwed up, I need Tucson local channels. My neighbor has DISH and he gets local channels. this should be an easy fix by going off the address not the county.
I have been with Directv since 1996 and really have no desire to change. Do I need to go to DISH to fix these problems. My best friend and daughter have DISH and seem to be very happy.
Doubt I'll hear an answer since AT&T is so big but I have put off contacting Directv for sometime now and I am at the end of my rope.

Maureen Keene
from New York, NY
I transferred my service from one address to another locally
I was specifically told the technician will handle all of your outside equipment from your home you will bring your inside equipment .
The technician is here and he has installed the new equipment but he will not remove the old satellite dish from my home because I understand that's my responsibility .
I was led to believe they were removing the outside equipment and as a result of that I am going to be unable to close on my house this week because the new purchasers will not want the DIRECTV satellite dish on the deck.
I was missed lead and lied to .
After this installation at my new house I will probably
-discontinue DIRECTV
-Dispute the price of the installation
-And further go online to discredit DIRECTV because of their misleading representatives.
I would be more than happy to continue with DIRECTV if I would get satisfaction by the removal of the old satellite dish from my house which is what I was led to believe this going to happen.
I would like to hear from somebody immediately instead of speaking to foreign workers in a foreign country who simply pass the phone from one person to another with zero satisfaction. Please contact me at your earliest convenience 516 633 5201
Maureen E Keene

Thomas J Piotrowski
from Myrtle Beach, SC
It has been 3 days and the 'Guide' is not working at all. Almost every channel states 'To Be Announced"

Tara Estay
from Charlotte, NC
I requested a transfer of service due to moving 4 weeks ago. I called 23 times and was on the phone over 28 hours attempting to get an appointment. I had 3 appointments - the first the technician arrived late and I was told he would need to reschedule. The 2nd appointment - no one showed up. the 3rd appointment - the technician went to the old address and never arrived at the new address when informed it was a transfer of service. I have been told there is a order pending and NOONE can cancel this order to reschedule my appointment. I have been told that a ticket was submitted and someone would call me back within 24 hours. This is going on 4 weeks now and NOONE has returned by call. This is absolutely ridiculous that I have to call this many times, spend this much time on a phone trying to get a service I pay for. I also tried to cancel my account since direct tv cannot provide me with the service I am paying for. I was told by Frederick he would charge me $249 to cancel!. I have asked to speak to someone in the corporate office and no one can provide me a contact number. Can someone please help me ????

Albert Marino
from Medford, NY
I have been a DTV consumer from when Sony offered the 'first' 18" dish'. This calculates to decades. I am now on my third dish [affording HD, multiple TVs and possibly other benefits I can not recall at the moment]. Due to hearing insufficiency, I have need for Closed Captioning. And, CC has functioned very well. The only complaint during these years, was improper sequencing of the dialogue with the CC. I can recall calling DTV and being helped in a polite manner to correct non-sequencing occurrence. This non-sequencing would only occur periodically. And, each time, I was guided to normal operation.
However, since AT&T has taken the reigns, I have experienced multiple failure of the CC system. Not non-sequencing, but, lack of dialogue whereby the CC does not fully print the words spoken. There is a pattern of complete failure of CC printing the first several plus words of dialogue, to times when complete sentences are not shown on the screen. Recent contact with AT&T/DTV has been enlightening as to company awareness of this shortcoming; and assured me that it would be corrected. Well, AT&T/ DTV does correct the problem. But, after some time passes, the problem resurfaces. And, will continue on for days and possibly weeks. Then, it works as it should until the same failure is repeated.
I find that AT&T entering the business has 'introduced' a failure to provide the same fine service given over the many years when DTV alone was the controlling interest. I might add that AT&T is most prompt to send me emails as to my monthly statement for the service. One must wonder if AT&T can efficiently 'service the book keeping' aspect of the business, why not consistent good service?
Albert Marino
ver these decades, the closed captions were

Steve Garrett
from Ennis, MT
After moving back to my home in Montana I called to have my service transferred back here from my winter home in California. I have SnowBird service and it usually takes about 20 minutes to transfer from one home to another. I have spent over 8 hours, that is EIGHT hours, which I have documented) on the phone with about 15 different people and the result is that my service has been cancelled! I have talked to 4 supervisors, 2 have called me back but my service is still cancelled and they want me to start all over with a new 2 year contract. HOW DO I GET THIS FIXED????? Every time I call I have to repeat the entire story, it appears no one reads the documentation. I got a text yesterday saying they are sending a box to return my equipment. PLEASE, PLEASE, PLEASE HELP!!!!! All I want to do is watch TV!

Paying for service not reviving the service we are paying for. Signed up 7/2018. Can't order movies, can't use on demand most of the time. Satellite will nit stay connected to WiFi. I have worked with internet provider have new equipment and all other devices work fin. I have called customer service multiple times 40-60 minute waits NO satisfaction. When my service is up I will NEVER use Directv again and am advising others not to either.

I moved and had put my account on hold. After moving, I decided I did not want to continue with DirecTV. I never watch TV and had only kept it for my kids who are with me part time. After not having the service for some time, it was apparent they didn't really use it enough to justify the cost either.
When I called to cancel and return equipment, the representative offered me several options to continue. I was not interested, but finally agreed to the most basic package possible which she told me would be about $30/month. I had a $34 credit, so agreed to give it a try as it might not be so bad at that price. We scheduled for a technician to come install the service (there was already a satellite dish, so should only need to be internal hookup). I received NUMEROUS calls the day before the appointment and the morning of the appointment reminding me of the scheduled time frame. I waited all day and no one showed up. Again, not sure how this happened when I kept getting calls to remind me.
I called and rescheduled. The person came and, while here, had numerous issues with the DirecTV support getting our system running. He had to spend at least an hour on the phone trying to explain whatever it was they didn't seem to get. Eventually he completed the work and left.
When my next bill came, it was for over $100! This was far more than the $30 I was told. I called and learned some mistake had been made and my bill was adjusted. It was still more than the original amount I was quoted, but I accepted that and moved on.
After some time, I again looked at our usage and it was clear no one had watched anything for months. I called and cancelled the service. I was told I would receive instructions, boxes and return labels to return the equipment and assured there were no further charges. After weeks went by with no sign of these items, I tried to login to my account to see what I needed to do next. The ridiculous drama around trying to login to DirecTV, being routed to AT&T where I could only see my ATT Cellular account was another HUGE waste of time - more than an hour with support, no one could help, and I could not get to my account. The rep then told me they could email me account and billing information. The old account they had on file is one I don't check very often, but I went there to check and found a bill for over $287! It showed charges for HBO and other sevices I never signed up for and an early termination fee I NEVER agreed to.
I agreed to try keeping DirecTV - but with the understanding that I could cancel at any time if I did not want to keep it. I was overcharged on my first bill and never adjusted to the original price I was quoted. I was evidently signed up for services I did NOT agree to and put on a program that evidently required me to keep the service for some period that. even today, no one could explain to me.
I have been an ATT customer for at least 10-12 years, spending thousands each year when my kids were on my plan. I still spend about $100/month for my cell phone bill and I can't get any customer service to fix this problem. What I was told today was that the representative would "escalate this" to another department and I'd receive a resolution in 3-5 business days. When I asked what he meant by resolution, he said they'd tell me what THEY decide. No conversation or discussion. THEY decide unilaterally? I asked that I at least receive a phone call vs. an email. He made no promises.
I DID NOT AGREE TO EARLY TERMINATION - Nor did I order HBO or any other premium channels. I will not pay this bill and, if I can't get AT&T to correct this, I will transfer my cell services as well. I am extremely disappointed in the lack of service - the dishonesty and the misrepresentations of AT&T representatives. To add "salt to the wound," There bill to me says they will charge the credit card on file if I do not pay the full amount. I believe that is illegal as I have NOT authorized these charges. Surely they cannot do this!
My hope is that AT&T will do the right thing and provide me, as a long-standing and loyal customer, a positive resolution to this problem. If not, I will be forced to move on.

Roger Ellis and Norma Ellis
from Alexandria, IN
Filed 1st complain in 4-27-2019. Guess you have reviewed the complain because received check for $79.40 for Acc. 064182913 under Roger Ellis, along with a bill for $321.00 for early termination plus taxes.
I did not terminate the service with DirecTV; ATT at Hollywood, FL location, decided that was better to close this account and open a new one in 12-7-2018 new account #145787738 (the bills does not show DirecTV acc. #) account under Norma Ellis; service active as 4-11-2019. As you can see since 2017 We (Roger and Norma) have had service with DirecTV, therefore, should not be any early termination.
Acc. 064182913 (DirecTV) was installed in April 2017. Please review your records. Please let me know if you need additional information.

simone
from Palm Springs, CA
I have been a customer for almost 10 years. I use the same equipment that was installed on day ONE. recently the internet deca broadband adapter stopped working. totally dead, no lights but still warm. approx 4 years ago I was told by a DirecTV representative that I was qualified to upgrade my equipment free of charge. she said I would be able to record multiple channels simultaneously. it sounded great but I was happy with my equipment at the time but that I would like to use the offer at a later date. the DirecTV rep said the offer would remain on file. Today I spoke with a rude DirecTV rep named AMBER. she was lazy and very condescending in her tone and lack of interest in helping me with my issue. AMBER told me I DID NOT qualify for a free upgrade. i had to BEG AMBER to look back in my file to locate the previous offer. she repeated multiple times that there were too many notes on file I would need a DATE. AMBER told me there was no way to find the note. I asked her to search - she said she cannot perform a word search of UPGRADE. this seemed untruthful. I want to know who at DirecTV has the right to enter a customers account and REMOVE a previous free offer without the customers' consent. I was told it was a loyalty upgrade, not a tempory promotion. speaking now with your customer service department LAURA is trying to help me now. hopefully, she can. LAURA did not help. SHANICE did not help. CHARLOTTE did not help but tried....BUT bad employees like AMBER is one of the reasons why hundreds of thousands of Directv customers are cutting the cord, quarterly. sadly I might be forced to be one.

Annamarie Byrd
from San Francisco, CA
My complaint is that my service/program monthly rate is about $150.00 a month for my Direct TV cable bill. I stay in a community that the only cable provider is Direct TV as well as the only internet provider for my community is Century Link. I thought at first the reason for my problem was with Century Link. After being on the phone with them Several times and going through Several processes to fix the problem the system came back stating that the Internet works Just Fine and to contact Direct TV. After being on the phone with Several people at Direct TV and being disconnected a Bunch of Times, the problem Still Exists!!!. I was told by a tech that in order for me to get this problem Fixed I would need to pay them $100.00 for them to come to my Condo to fix the problem :( . Something I Refuse to pay!!!!!. I'm Paying for a Package that I can't utilize:(. I have been a Loyal Customer of Direct TV for Many years!!!! I convinced my Husband to transfer his system over to you from us moving from Michigan to Iowa. I just hate that Every time I turn on my TV, I get a message that states some of My programming is lost because I don't Have Internet (which I do). Why am I paying for a Package that I can't have All of the channels or be able to watch movies.

Patricia Staycoff
from Nashotah, WI
Contacted customer service regarding my television freezing up, it was determined that my server was bad. I was told that it would be EIGHT DAYS for a service technician to come out and give me a new server. I have been a customer of DirectTV for years, but will now be switching to another provider. AT&T and DirectTV should be able to provide service before EIGHT DAYS. Very poor service.

Mike Oelcher
from Albuquerque, NM
Its so redundant trying to deal with your outsourced customer service. Never again, 20 minutes on the phone and still no resolution due to lack of understanding the problem and no one in America available. Time to find another provider. You could learn lessons from Discover Bank.

Dennis Waybrant
from Mt. Morris, MI
I called to have tv service in my second bedroom, which is being used my mother in law. She is an elderly lady that doesn't get around very good so we moved her in with my wife and I. When I got home from work my wife took me around to show me what the cable tech had done to get our cable installed. I couldn't believe my eyes to what I was seeing. This is the poorest cable installation I have ever seen. I have included some pictures to allow you to see how bad the job was done. I'm really not happy with him drilling through the wall and then just leaving the cable strung out on the ground. With the cable running through the wall and strung across the bedroom floor, it is a major trip hazard for my mother in law. When my wife called to complain she was treated very bad. There is also a fee that we have to pay for the additional cable box in the second bedroom. That fee is suppose to be added to my next bill. If I'm paying for Direct TV services then I should get a job done right. When my wife called today, they said they would send someone out and there will be another service fee. This is so wrong on so many levels. I have had service with Direct TV for quite some time now and I have been pretty happy with the services up until this point. I just want my cable installed the right way and without having to pay more fees for somebody else's bad work.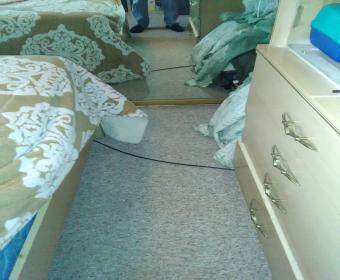 Can you put lower than 1 star?
Lets see, I tried to resolve matter a dozen times over phone, maybe filing this complaint and posting to all other review boards, as well as the BBB will help get me some answers.
1) I call to set up package deal through At&T
2) Direct TV no call, no show on installation
3) Direct TV rep can't find my account, tells me it's deleted since it wasn't activity (not true after about the 6th call found out she entered my phone number wrong) she does not try to verify my information to find account
4) She tells me I need to give her all my information again...I make very clear that I have a bundled account and they need to be set up together.
5) fast forward 1 month, TV goes out, internet is fine (I have autopay on what should be my bundled account)
6) receiving bills for a non-functioning account...turns out I have 3, but they are separate and even though I am paying agreed amount, one is going into overdue
7) many calls later without satisfactory resolution.... (months later) I am told it just can't be fixed, the accounts cannot be merged
8) I ask for it to be terminated with cause and early termination be waived. I was assured the early termination fee would be waived because it was clearly not my fault and there were call records to prove it.
9) oh and meanwhile account for a stupid old tablet goes into collections because that was on the extra account (that I never should have had) because I was paying the agreed upon rate on my bundled account.
10) Now even though I was assured termination fee would be waived that is now in collections too.
Let me count the ways how many times Direct TV can screw up.
An irresponsible installation person, an incompetent sales person, multiple unhelpful customer service reps but somehow the only department that can do anything is billing, but they bill for services not rendered and accounts that were screwed up by Direct TV.
I want to know why you can't admit your mistake, own it, and make it right?
Sincerely,
Less than one star satisfied customer

Holly
from Montpelier, VT
Very poor customer service. I wanted to cancel MLB extra innings and after waiting on hold was transferred to MJ the supervisor of DirecTV loyalty. MJ was rude and refused to help. I had to "update" my account with additional passwords and security questions. I wasn't allowed to cancel anything until this was done. He was nasty and "dared" me to report this incident. I shouldn't have to jump through hoops to cancel something I don't want on my television.

ivana williams
from Las Vegas, NV
We had to cancel our service after constant problems with not getting network to connect. We changed out the boxes twice and was finally told by the tech that it was a nation wide problem and that we would never have good service in our area. So after paying for 2 years of having many days without being able to watch TV (having to continuously resetting boxes) we decided to cancel and was told the they would wave the cancelation fee. now they have put it on my credit as a collections account after it was supposed to be reviewed and escalated for review several times. I am now going to file a FCC complaint if we do not get a call back and this issue resolved. Today I call and was given a bogus phone number to call which only goes to a voice mail and not representative. I just got off the phone with Plus Four collection agency who even if I pay this bogus bill in full refuses to remove it from my credit report. Next stop FCC for charging for services that are not working.

Allen Harrell
from Ormond Beach, FL
DirecTV Is billing me for two payments I made back in September and October 2018. I have sent them voided checks documenting both payments.
Yet every month I get harassed with excessive charges.
In conservations with call takers my claim is always supported my them not being able to find documentation on the cancel checks. But when I am transferred to the credit office, I am refused credit. This has happened several times and I in written correspondences have provided confirmation numbers of the conservations I have had with their call takers. The credit department is just refusing to issue me credit for the payments. Usually talk with a Nanette, employee SG643F.
Allen Harrell
aharrell595@att.net

Oryls Maassen
from Des Moines, IA
I am not a current customer but have looked into getting service again. But after the last few days I am really reconsidering that thought. I have my own house but stay with my boyfriend and his mom a lot. His mom has the direct TV account in her name..
Orlys Maassen, phone number 515-379-2436 in Bode, Iowa.. She completely forgot to pay her bill. So her service was interrupted Her son, Andrew, was trying to pay the bill and get her service restarted. Orlys doesn't remember her passcode or security questions so Andrew was on the phone almost 2 hours trying to help. No one would take his money. He wasn't asking for her information, he was only trying to pay. He was very frustrated when I told him to let me try. I called and went at it differently with the automated system and within about 20 minutes got a nice lady that let me pay the bill at 6:30pm Sunday night. She told me service would be restored in about 2 hours. I reassured Orlys and Andrew it was taken care of. Hours went by last night and no service. The payment clearing shows on my account so I know its paid but when we called back the automated system says it is not. I called this morning and after 4 automated people and 4 human people I have finally explained to each one that yes I am not on the account but trying to help pay the bill. My payment is there but to what account? Finally The last guy tells me there is no payment on the account so I asked him to look up my card number because I know I payment was made somewhere. He finally takes the card number and confirms the card and payment. Even says it was confirmed to the account, so I ask why do they not have service back on?? He said he would send it to tech support and have them manually turn it on but it could take a few hours!! Are you serious!! So my payment was made at 6:30 last night and its now almost 8am and still they are waiting to see if my payment is going to work. How frustrating!!!
Dee Randall
515-341-7277

How many of these negative reviews does DirectTv need before they make a change? My guess is they could care less if they lose customers.
Let's try to keep this as short as possible. My issue started 4 days ago. I was having some problems with my main Genie receiver so they drop shipped me a replacement. When I tried to follow the on screen instructions to connect the receiver, I kept getting an error message. That turned into 3 days of absolute insanity. I spent over 17 hours on the phone with countless technical assistance departments, loyalty departments & IT departments. No one was able to solve the error 726 message that was coming up. They sent out 3 different techs and they all left after they determined that it was a "systemic issue" on the other end. During the entire ordeal, I did not receive a single call from DirectTv to verify if the issue was resolved. I had to initiate the calls every time and explain the problem from the beginning every time because they apparently do not have notes in the system! On several occasions I was connected to someone overseas who would inevitably simply disconnect the line after not being able to resolve the situation. This happened at least half a dozen times.
In the end I was told that the only solution was to cancel my account and open a new one and in doing so, I have to sign a new contract! WTF! Why on earth would you force me to sign a new contract if you can't fix your problem??
The response I get is that there is no other way. So after being a loyal customer for 5 years and always paying my bill on time, you aren't willing to make this right.
What's even more asinine about all this is that I can cancel my account, go down the street to Costco, sign up for a new service agreement under my wife's name. I would get a $200 gift card from Costco, pay much less for a year and get all the movie channels and come out ahead for a year! Unfortunately, I know that come the second year, my bill will probably triple. For that reason and for all the reasons above,I will never do business with DirectTv again.
As a footnote, every tech that came to my house complained that things have gone downhill since AT&T took over...
The last loyalty department manager actually stated that she hoped someone was listening to our supposed recorded conversation because it was embarrassing to her that she had no way to help me.
Since I initially signed up through Costco, I will also inform their corporate department of my ordeal since this also reflects poorly on them.

jim ditzel
from Buffalo, NY
3/25/19 Reported outage of local channels only , Service tech. remotely checked out system, found hardware to be ok, the next available service tech was scheduled for 3/29 after 3 hrs. of checking system again and communicating with his supervisor no fix. Said this was going to get elevated up.Check system 3/30 still out, called again no information until finally a supervisor in formed me that the local channels have been blocked ( contract negations)
MAN YOU WOULD THINK IT WHY IT TOOK SO LONG TO COMMUNICATE THIS !!!!!
Very disappointed in the way this was handled. Average time per call way 45 min.
Jim Ditzel
716-433-7439

We had a lady who claimed to be from Corp office however I have my doubts and would appreciate that she not call our number again
Ok let me make something clear for three months I have been requesting to speak to someone in this executive
office. Now almost four months later after I sent eight emails in a row someone finaly calls and procedes to in my
opinion be very arrogant and rude even my son felt that way. We were told back in December that we would get
a credit of $20 a month for being a direct tv customer and also a wireless customer that would be applied to every
bill now she says she cant do anything because the service is suspended however I want to point out that if someone
would have paid attention to a customer emailing this office the bill would not be as high as it is now number two fact
A advance payment was scheduled via the telephone and my personal bank card info I am as a customer am wanting to
know why do I have to check behind your billing department to see if you took a payment . As I told her this worries me
that somebody took my personal banking info and now my son was told that the arrangment was never discussed however
I have three witnesses that heard everything said , seeing extra money in my account by sitting at a atm doing a balance
inquirey I then called and asked had this payment been taken the lady told me that from whart she could she yes it appeared
to have been made. So Now we have channbels that were not removed when asked by the customer back in December he
is pretty sure so there is extra money on the bill and then if you add the $200 payment that should have come out of my
greendot account ending in 8365 you would be looking at almost a four hundred dollar diffrence in the bill then if you take
and apply the credit she said today she would issue that almost would clear the total past due balance and the service
woukld not be suspended . However since months ago when I went on my linked premium account and wrote the following
people with AT&T direct to try to get a reselution Helen Quill admin atlanta ga office , Sabrina Lascombes , Lynda Rathman
One of your vice presidents of operation trying to get somebody to respond and nothing
678 468 4815

Peggy Vitale
from Las Cruces, NM
I want to submit a formal complaint about Direct TV shoddy practices. After I moved to another house, a DTV tech came to install and brought new HD receivers and said I had to have them. I called customer service Sheila Mar 8, and she told me the $10/mo HD charge would be waived. On Mar 14 customer service Molly confirmed that the $10/mo is waived on my account. Yet I received a bill Mar 21 with the $10 HD charged. I called on Mar 25 and was told the $10 was NOT waived. Escalation Dept called Mar 26 and refused to waive the $10. When I objected and said I should get the waiver I was told I would get, she hung up on me. Terrible service. I am a long-time customer and a senior and $10/mo means a lot to me on a limited budget. I have been ramrodded into an HD receiver, lied to about the $10 charge, and the company has refused to make it right. I will file a complaint with the PUC in my state, my local BBB, UCAN, and the FCC for being the victim of deceptive practices, and also post on Facebook.

Pamela king
from Cordova, TN
My name is Pamela King my numbers are 901-381-9482 home and cell is 901-263-9196 I schedule an appointment for today 3/27/19, between the hours of 8:00 am - 12:00 pm. I called twice since I didn't hear from the Tech. This man didn't show or called till 12:54, when questioned he lied and said he was here at 9:00 and claim he took a picture of my car not in the driveway, if had did that my car was there. Now this man was over an hour late and refused to comeback and stated that, I been with Directv over 5 or more years and has never experienced this type of service. I am going to go to another cable company this right here doesn't make any sense, to outright lie and not be considered other people time, that's why you make appointments. This person who identified himself as Mark at 901-451-2239 needs to be dealt with because nobody have time for lies and disrespect of others time. I have caller ID and he has two numbers to contact me, so he lied. The number showed he called at 12:58 pm. This What I get from your rep he's still in route It's now 3:08 pm Memphis time,

Salvador F Cruz
from San Marcos, TX
To Whom It May Concern,
I have been harrassed by DirectTv officials attempting to collect money for service that were not provided for a year! How did I have DirectTv satellite service in an apartment complex that doesn't allow for satellite dishes? Where are service logs containing connection information with my cable boxes, that one, are TOTALLY mine and paid for, and two, have not been in operation since I've moved into my apartment?? I did not receive ANY notification that I would have to RE suspend my service! This fraudulent! Show me the logs of connectivity to my cable boxes which I've kept stored with me in my closet, in my apartment!

Betty McGee
from Chandler, AZ
DirctnTv call center rep, debted my bank
card, when he said it was for file purposeses only. 341.00 which caused my account to go to zero balance. Now I'm being charged 35.00 for each returned check at this point we at 5X35.00. I lied to and misled, It's much more that has happened to much to even try and explain. At some point I will be canceling my service. The worst customer service I have ever experienced.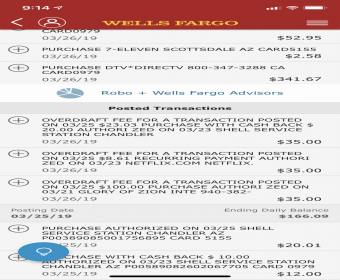 direct tv made an initial promise for services and did not follow through with promises. they said there is nothing in the notes and nothing they can do.
BE VERY WARY VERY DECEPTIVE PRACTICES WHEN SIGNING UP CUSTOMERS!!!

I need a contact phone number to resolve recurring automatic debit charges I have been getting even though I no longer have service.

wanted to keep my U-verse and was talked into switching to DirecTv because it is supposedly so much better. The technician that installed my satellite dish did not want to go on our flat roof to install it and put it on our deck instead. Now for the past two months we always have three or four channels that won't come in, whether the weather is bad or not. I called customer service and they told me they would charge me to fix their equipment that doesn't work, that I didn't want and that the installer put in the wrong location. Looking forward to my contract ending so I can cancel their service.

Patricia kinsella
from Louisville, KY
I want channel 41 back! When??? I'm paying for it!!

Jesse Hugh Taylor
from Chicago, IL
I've been waiting a week for services to come hook it up my DirecTV that makes the third time I had to reschedule and I haven't yet got a phone call or email from y'all saying y'all had to reschedule it I have pay someone money stay at my house on Monday on the 11th I just want to know or y'all ever going to come out this Sunday this is my money I done paid for I should be getting something in return for having to wait for so long to get services with y'all

Dennis Shirk
from Texarkana, TX
I have been trying to get my problem solved since last September, with to results. In August your tech installed a new receiver to correct a problem I was having with interrupted service. There was no mention of any additional charges. However, the next bill contained a $10.00 charge for Advanced Receiver Service and $3.00 for DVR service, none of which I authorized or approved. After four monthly phone calls of 45-60 minutes each, I was finally able to have the addition service disconnected....however, the monthly charges continue. I am through trying to talk to your service reps on the phone, as most of them do not speak understandable English and are totally clueless or uninterested in try to correct the problem. This month I discovered that you had drafted my account without authorization for a payment that I had already made....the bank has reversed this action and has credited my account and omitted the overdraft charge. In addition, I have notified you the last two months to change my billing address, as I have closed the PO Box. As a result, my monthly statement is delayed in reaching me, as my mail must be forwarded through the post office.
In short, I have been six months fighting you people over your constant screw-up. and inability to correct this mess. If this matter is not corrected, I will ask you to come and get all of your equipment. Dennis Shirk-#27286588

Michael Washko
from Kingwood, WV
I was contacted by a Directv sales rep and was promised that a land line was available in my area , after speaking with one of your reps it was determined that a land line was not av available. I tried to cancel the sale and installation,after speaking with 12 people and 3hrs of my time I was able to accomplish this.Not great customer service

Lance S Gregerson
from Newark, NJ
Directv quit working. Tech came out told me he could do nothing and would be back the next day. He did not show up. I have had 3 appt for someone to show up and nothing. Calling did not help. They told me someone would be here today. No show again. When called they said it was scheduled for the 19th. I've lost wages waiting for someone to show up. Multiple phone calls and nothing! Since ATT bought Directv the service has been horrible.

Mario Gabaldon
from Phoenix, AZ
Today a services tech was scheduled and reported he fix the problem. The correction lasted three hours then the problems started again .I called your services again to request another services call. The agent asked me for information about why I needed a service call. She was given the information and stated she would get another agent to set up the service call. I waited for 30 minutes and then was hug up on. I called back and again gave the information to the second agent. The agent stated she would also send me to a agent to set up a service call. I waited for 40 minutes and when the agent responded they needed the same information I gave to the first and second agent. At that time I requested to talk to a supervisor. I again waited for 20 minutes and was hug up on. I called the again and the agent was informed why I wanted to speak to a supervisor. I again waited to 10 minutes and a supervisor named Ira stated she needed the same information I already gave to two agents. After telling the supervisor I would not again gave the reason for wanting a service call she stated she would get a agent to set up a service call. I waited again to 10 minutes and talked to Jeff /JM4608 who assisted me in setting up a service call. Jeff helped me and should be given a medal. What is going on with your agents and company??? Sad services rude agents who hung up on me and the supervisor was no assistance Fix this problem.
Also your service needs to improve , period.

Let me start off by saying I was a customer with Direct TV for 18 years and customer service was great up until the last 2 years of service. I decided to cancel my services with Direct TV account #12586277 and internet on December 30th, 2018. I called Direct TV and spoke with a representative who turned me over to the Loyalties department to try and get me to stay with Direct TV. I said no thank you and the gentlemen say you are paid in full, since I just had made a payment of $250.00 on 12/28/2019, you just need to turn your equipment in by the 9th of January, 2019. I went to the UPS store on January 9th, 2019 turned in all of my Direct TV equipment, the reference #B4088P20190109111049, UPS Store #4088. The end of January I got a past due bill for $216.20. I called Direct TV again, on February 11th ,2019 , they switched me again to the Loyalties department, the gentlemen assured me that my account was cancelled , but I did have a balance on my internet of $16.80. I paid the 16.80 on February 11, 2019, in which the gentlemen told me everything should be good. The end of February I get home, I have another past due bill, I called Direct TV again, on February 19, 2019, and spoke with a gentlemen named Chris. Chris informed me that the Loyalties department never cancelled my Direct TV account, however that he would take care of it that day. He sent me an email to confirm the disconnect. I received another bill in the mail on March 5th, 2019, this time for $417.00. How incompetent is the service with Direct TV. How, can , or the better question is, why, should I pay for a service that I did not receive. I called Direct TV again on March 5, 2019, I spoke with a young lady named Mat. She asked me to verify my last payment because she didn't see a payment after January 2017. Really!!! Do you think Direct TV would let me keep service for a whole year without payment!!! I don't think so. I asked to speak to a manager, she put me on hold, came back, and said, "the managers are not taking any more calls tonight." Okay, no problem, I asked could they return my call, she replied, "no problem, within 24 hours." Two days later I have yet to here from a manager at Direct TV. I value my credit worthiness, all I want from Direct TV, is to stop billing me, because I do not owe a balance with Direct TV. I have spent count less hours on the phone trying to resolve this issue. Frustrated Customer
Sherrill Craig.
Have feedback for DirecTV?
Thanks for your feedback!
Sorry. Please try again later!