AutoZone
AutoZone Complaints Continued... (Page 5)
257+ reviews added so far. Upset? Call AutoZone corporate: 1-800-288-6966

William Lim
from San Francisco, CA
My car was damaged because autozone sold it to me STP S3614 Oil Filter. The item was defective and oil sprayed everywhere. Then, car stopped and smoked rises. 5 days later, I couldn't do nothing. I called Autozone and asked the manufacturer's phone number. Additionally, I contacted Claim Department, and they said go ahead and claim on website. After I submit the claim, I got the email and asked me to ship back defective oil filter. Next day, I sent back to company named Champion Laboratories Inc.
Two weeks later, they send me an email and they said I claimed wrong place somehow. I am very disappointed and I already called several different place and asked them phone number and email address. Thus, I did right place. Clearly, I have been wasting time for two months. So I don't know what should I do. These guys are trying to avoid me and it's not right. Supposedly, you should take responsibility and I've lost money and time. Please let me know as soon as possible.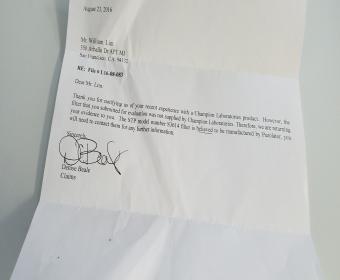 Dolly Fisher
from Monroe, MI
I went to the store located on South Monroe Street in Monroe Mi (10/6/16 @ 7:15pm) and explained to the clerks that I thought I had a voltage problem and explained what the car was doing, I was laughed at and told "we can only test the battery". I was then told "we don't fix cars we only sell parts" Terrible service I will never return to that store.

Ron Perkins
from Colorado Springs, CO
Johnny at the Carrollton store on Trinity Mills. Every time I go there he follows me out and asks for a cigarette, I work for Lowes this is something you don't do. Covers name badge with another badge that says "DrFeelGood" on it. Ahhh you all aren't a pimping institution last time I checked. Need an under cover visit to store is what I would do.

Lisa Shelton
from Trenton, NJ
I would like to speak to someone from corporate complaint department I've been going to that AutoZone for years and always have been treated with courtesy and respect very helpful. Until today Sat 9/24/16
Zilma was at the checkout counter. I asked a young man if they had something to put between the seat and console he said no and didn't seem to even know what I was talking about he then asked the woman at the checkout she also said no they don't carry them.
As she was yelling for the entire store to hear." Im so sick of people" quote. The man showed me the console isle and said yea see they would be here so I looked and found one out of the box and one other one I put the open one back in the box and brought them to the checkout asked for a price i could be wrong i heard 13 but it said 9.99 on the register box on the counter.She rudely said i never said 13 do u want them or not i would have taken them both. I wanted to make sure they fit correctly Zilma rang me up for the 1 if she would have said do you want to see if that fits right 1st i probably would have bought both didn't ask if I had an auto zone card.
So i told her i did she handed me my receipt didn't ask if i wanted a bag. So i asked for one I got a bag handed to me. I've bought numerous things over the years but with people that are to lazy or just have no knowledge about the product you carry it is really a shame.

Ryan Robinson
from Iowa City, IA
Bought new cylinder heads from Muscatine Iowa store. Came with a warrantee. They dropped a valve into my piston about 100 miles down the road. Wouldn't cover the parts to fix it. Their warrantee company pushed us around for months and claimed they paid for them but never got any money. I urge nobody to ever go through them. Lost my business forever. Very unprofessional. I will post this everywhere, trying to help others from getting screwed over.

Stanley L. Gaines
from Riverdale, GA
I went to Autozone at 6442 Hwy 85, Riverdale, GA. I am 62 years old and have enjoyed the good service and products at Autozone over the years. Unfortunately I can't say the same today. There was only one person at the counter when I went in. I waited 30 plus minutes at the roped off area before being waited on by a nice young man (african american with short hair and a gold tooth). This young man was the only person helping customers. He pulled my order and sent me to the front of the store for checkout. No one came to checkout either.
The Manager, Ramone, was very discourteous and never assisted anyone. The manager finally decided to check me out at his terminal, but walked away from me without saying 'excuse me' or 'I'll be right back'. He went to help the young man who pulled my order, who was totally overwhelmed. I waited another 10 minutes for the manager before walking away telling the manager that he could run a better shop, with no response from him. There was, by the way, a total of 6 plus employees working at the time, and not one tried to assist the one young man at the counter who helped me. That young man should be the manager. He was telling customers to be patient, 'I'll be with you shortly', while other employees avoided eye contact with customers. I saw at least 4 male employees, and 2 female employees.
One white female employee also wore a grey shirt like the manager, Ramone. She said nothing to no one. Over all I spent almost 40 minutes in the store for some spark plugs and an air filter, which I left on the counter after Ramone walked away from me. I went directly across the street on Hwy 85 to O'Reilly's and got the parts in 5 minutes, and a much more friendly environment. It is shameful how your employees treat customers, willing to spend their money with Autozone. I am a longtime customer who will not come back. It may not matter to your corporate office to lose one customer, but I know that you are probably losing more customers than me. I am not a chronic complainer, but I had to say something. I left close to $200.00 worth of parts on the counter and nobody cared.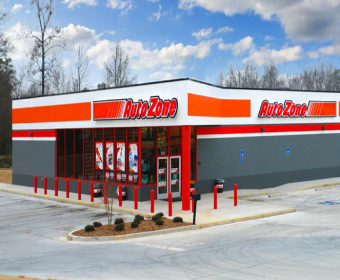 Second time this happened, two different stores. I've been calling ahead lately to make sure they have he gloves I use, because I buy them weekly and they sell out fast. So the first time was Bethlehem Pa store, on stefko Blvd. called ahead, asked to have them put to the side as I would be there in a couple minutes. Got there and they had just sold them. Today, airport rd Allentown Pa. Same scenario, a wasted trip, and pointless call. If the employees keep doing this to customers, your store will soon go out of business.

brian williams
from Crowley, LA
I visited the autozone in plaquemine a little after 8 pm. The cashier/clerk made a smart comment about the price of the part that I was purchasing and I ignored him and look at my friend. After retrieving the part from the shelf we went to the counter and I told him that I had reward points on my card and I handed it to him. next he asked for my number for the warranty. He punched it in and scanned the card and sat it on the counter. He told me the total, I counted it out and handed it to him. he counted and put it in the register. Next he grabbed the changed and the receipt sat it on top of the box and walked off.
I turned and loudly told my friend that I can kick him for what he did. The manager look up and I told him what he did and he apologized for his actions. Then as I walked out the store he was talking to him. It was rude, unprofessional and prejudice behavior. If he has a problem with people of color. He needs a new occupation or in the words of Donald trump" he needs to try a new country and see how that works out". That behavior is unacceptable for consumers of color especially at times like now and I know it is unacceptable for autozone and their affiliates. I do commend the manager for de-escalating the situation and taking the appropriate actions.

James
from Long Beach, CA
This message should be directed to corporate headquarters but they would not accept my feedback so I am posting it here. Here is my complaint.
I needed some wipers desperately for my vehicle so I decided to go to Autozone in Long Beach store number 5406 there is a NAPA auto store right next to your location but decided to go to your store since my father has a rewards program with your company. I arrived to the location 2401 Long Beach Blvd. in the city of Long Beach and was not greeted in the store. I had my wiper in my hand and one of the associates past behind me bumped into my wiper which hit me and did not apologize.
I didn't make it a big deal because I figure maybe he didn't realize although I find that hard to believe since my wipers about 24 inches long I finally waited patiently and the line to be helped by the same associate that bumped into me I asked him what I was looking for and he guided me to the aisle where the wipers were located he recommended a certain kind of wipers which I was happy with. We finally walked up to the check out where he was ringing me out and upon completion of the transaction I asked him if he can help me put the wipers on my vehicle. At that point the store manager jerry villamontes walked up to the associate and asked if he can continue to ring out the customers and did not greet me or apologized for the interruption
The associate handed the wipers over to the store manager and said that he would help me put them on. I waited patiently as he walked away to behind the counter and lost sight of him for a few minutes. He finally walks out of the counter and start walking to my direction as he makes eye contact and still has not greeted me he liked frustrated. I open the door for him and it was me who greeted him he asked where my vehicle was that which I want To it, he then realized that the wipers were missing a piece he wants inside his store without saying excuse me or without notifying me of what he was about to do. I waited patiently next to my vehicle as I waited for instructions. He then opens and screams across the parking lot which I found extremely unprofessional and asks what year my vehicle was.
I responded back and he then tells me to come inside. I went back to the counter and he searched in his computer my vehicle make and model so that he can find the correct wipers. He then bring some wipers and says these are more expensive it was maybe about a $10 difference but I told him I would not pay for the difference is I've already wasted my time just to think that I could have driven away what the incorrect wipers frustrated me even more. As a manager, I expected him to make this situation correct and honored their mistake and possibly even discount if the new wipers or marked down the wipers to a more reasonable price for the inconvenience. He said oh well I can refund you so at that point I just gave him my phone number he found a total of what I had paid and handed me the money without really giving me a sincere apology.
I have shopped at that store in the past but I guarantee that it will be the last time I shop at that particular store. There are many more auto parts stores that I could go to such as Napa the store right across the street from AutoZone. This Manager needs more training and better customer service skills.

I bought a fuel pump from one of your stores and as soon as I walked out of the store I opened the box to find a used fuel pump. I took it back in the store and the guy says he doesn't have anymore but they have one down the street and tells me to take the used one and tell the other store it was defective. I get to the the second auto zone and they them what your associate at the first store told me to say. I then find out that they have the price at $15.00 cheaper.
So I tell them the whole story this time and the second store tells me he can't return it or refund me the difference. The only way to get the cheaper price is too go back to the first store to return it and then come back to buy the cheaper fuel pump. I'm so mad by now because of the wasted daylight that I didn't do the return and I also won't be buying anything from your stores again.

Went into Autozone store #5396 in Inglwood, CA tonight around 10:20pm to purchase jumper cables to help out my brother-in-law start his vehicle. My husband went inside and was standing in line with said cables when I decided to smoke a cigarette. I stood outside the entrance doors, at least 20 feet away in the parking lot, minding my own business, and smoked while an AutoZone semi pulled up.
Just then the Security guard, an African American in his late 20s or so, opens up the doors from inside to peek out and stares me down and with hate like I'm "casing out" the place or because I'm a thin young white girl. I finish and walk up to the entrance doors and he angrily says "wrong door!!", like I'm supposed to know the usual entrance door is broken or something when there's no sign. Anyway, my husband is finishing up the purchase and I make sure he gets the receipt because he has a tendency to forget. We go to leave and the Security guard again snaps "wrong door!!" at us.
We go outside, baffled at his negative and hostile behavior at us, my husband not even knowing how he had just treated me coming into the store. My husband mutters something to me about him and we get into our car, start it, as we're pulling away, the Security guard opens the autozone entrance doors and yells out "You say something about me!" My husband and I were like...umm..what? My husband rolls down the window and says to him, "You're really going to puff out your chest and start something while you're on the job?"
The Security responded something like, "Get out the car, we can do this right now!" Again...where is his behavior coming from? Because we didn't know the usual door was locked and were in shock that a Security guard would act so unprofessional on the job and try and taunt customers to get into an altercation? Appalled at his behavior and obviously responding to his invitation to fight because there was no reason to!!
Hey to my brother-in-law's car with the new jumper cables and so ask my husband for the receipt because so keep all that stuff organized. He hands me it and I look to read it and it says "Duralast Brake Pads". I call first because they closed in 5 minutes and told the employee he gave us the person in front of us's receipt. His response? "Ohhhh no...sorry". Then tells me the system is already shut down and I'll have to come back tomorrow to get a copy of the correct receipt. Wouldn't be a problem except we love about 45 minutes away!

Kenneth Young
from Chicago, IL
Went to my local Autozone, Lockport, IL, to warranty my brake pads. I have done this for this vehicle before with no problems. Came into the store, told them what I needed, gave them my phone number for the warranty, and I am not in the system. Actually there is another name under my number. These brake pads are under a lifetime warranty so I should not have to pay again for something that is warrantied. The best the store manager said that they would do was give me a 10% discount after giving me several excuses for a mistake that was not mine. I have been a faithful Autozone customer for years, until now. I feel a lifetime warranty should be for exactly that. Not for when it suits the store. Hopefully someone will respond to this complaint.

Lisa Gerber
from Florence, KY
My husband went to Auto Zone in Hebron, Ky this morning and 3 employees standing holding entry door open while smoking. Once inside nobody came to ask if he needed assistance while inside. When he left they were all still standing with door open and smoking! Will not be returning here to shop anymore.

Stephanie
from New York, NY
My boyfriend works at the location in yonkers, NY store 4768 and he says that they have a bunch of thieves working at his store and the store manager does nothing about it because that person knows about cars ,and also because he uses that person to do work for him outside of work. What this person does is he remembers a customer phone number and if they have a warranty then he takes that battery or part and uses it for his own personal use.
Store 4768 management are a bunch of crooks not only that the store manager, and that other employee give out their numbers to customers who come in so they can do side jobs for them. At that store location employees are not allowed to go outside and work on customers cars and they still do it and ask for a tip on top of that. When a product is damaged out its supposed to get thrown away but that employee will that product and use it for one of his customers charger them for it, and put the money in his pocket.
I will make sure these crooks at Autozone corporate HQ get held accountable for their actions because what they're doing is wrong .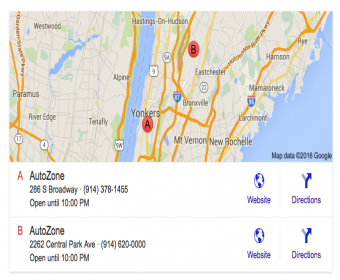 Robert Reimschuessel
from Seymour, TN
I was treated rudely all week. Starting on Sunday when I purchased a water pump, pulley, water pump socket, coolant, trans fluid, belt, and trans filter. First thing the pulley was wrong, than the belt was wrong, than the filter was wrong. I never got an apology and they acted like it was my fault for them giving me the wrong stuff. So I went to O 'Reilly and they treated nice and gave me the right parts the first time.

Arthur Cruikshank
from Des Moines, IA
I was accused of shoplifting by an employee at the Autozone on Hubble Ave in Des Moines Iowa today. All I was doing was checking things out that I need for my car stopped me at the door when leaving made me raise my shirt in front of everyone embarrassed me. I feel discriminated against and humiliated and my lawyer will be in touch.

Dan Green
from Portland, OR
I was told by a manager that I could not return spark plugs, cap and rotor and fuel filter. He said they were used parts and that he could not resell them,and that he would have yo throw the retuned merchandise away. I reassured him that they were not used. He continued to argue with me, but reluctantly returned the items. After giving me cash for the return, he slammed the register drawer shut, and I left.
He gave me $60 cash for the returned items but to my memory the items or only worth $40 and returns. I went back into the store and told him that he gave me too much money; but he said without a receipt he had no way of knowing.( for the receipt was generated through a product that had a lifetime warranty). AutoZone is a very good store in that manager must have had a bad day I did not take a personal everyone has a bad day once in awhile. I don't think I'll be stopping at AutoZone anymore for fear of reprisal.

Bill Q
from Salt Lake City, UT
I feel Autozone headquarters and the CEO needs to be informed of the conduct of an employee who works for your company at 1290 so Redwood road in Salt Lake City. His name is Sebastian Gonzalez. Recently purchasing parts needed for my car I became frustrated to the max (as well as my wife) after four days of failing to complete the installation of a tensioner and serpentine belt. Taking a chance and my receipt I drove our '95 ford Taurus to Auto zone in the cool of the morning. Sebastian quickly had me back on the road with everything working so without fear of over heating I left with a big smile on my face! Right on Sebastian and thank you auto Zone for making my week turn out so much better. P.S. Because of this effort for satisfaction, Autozone is my first choice in auto supplies, sometimes everyone needs a little help.

Brent Auman
from Bullhead City, AZ
I purchased a can of R-134a from the Fort Mohave AZ, Autozone store. Not being a mechanic I was having trouble understanding how the gauge on the can was working or what it was telling me. On July 1 I went back to the store to ask for some advise or assistance on how to read or use the product. When I arrived there was an employee outside the store working. I asked the man if he could help me to see if the gauge was working correctly or if I had over filled my AC on my truck. After I was finished the employee told me to go to a mechanic and ask him about it.
Needless to say I was a bit surprised an told the employee to forget and left the store. I will tell you I have used the Autozone stores for all my parts for may cars and trucks and have never been treated this way in the past. I will also tell you this will be the last time I will be treated this way because I will never use Autozone again and I will do my best to convince other people not to use the store.

Navin ramjit
from Clearwater, FL
I've been an auto zone customer for over 12 years in the state of Florida. I never had a problem until 7 months ago with your Duniden Fl.store manager Tim. All of my warranties on parts that I have bought from that store has been lost. They will not honor those warranties even though they are the ones who lost the warranties. I have printed out all my purchases from my bank account to verify my warranties. I need someone to contact me about this situation. I have not received satisfactory customer service from Dunedin store manager Tim or district manager Felix. I request someone other than them to contact me about this matter. I also request a corporate office investigation on Dunedin store manager Tim and district manager Felix. I feel that I have been discriminated against because of my race,color or creed. Someone from corporate can contact me.

Thabo Ledwaba
from Groblersdal, MP
Lost my receipt and I received wrong part (Tazz steering rack) and now I am told the part i received was sold in April 2016. But the part I purchased is still on stock with the part no: that say it went out of stock. So why the part I payed for is still on their shelf. Please investigate the burgersfort auto zone branch.

Heather
from Southbury, CT
I am writing to advise you of an incident that took place at store # 5077 on 4/20/16. I went to this store to simply purchase wiper blades and my female cashier politely offered to have one of her male associates put them on for me (an easy enough task, though I had never done it myself so I accepted the offer for assistance) The male associate was visibly agitated, even though he had been standing nearby and was not busy with any customers. We walked outside where I tried to make friendly conversation and watch how he removed the old blades to put on the new so I could do it in the future...not only was he rude & ignoring my attempts to engage him/learn from him, but he was cursing under his breath and his entire demeanor was unprofessional and unacceptable.
He stormed back into the store without any words to me...so I was confused, seeing as how he had clearly NOT been able to replace the old blades. I went in after him to find him muttering to himself and looking through the wiper blade selection. I politely asked him what the issue was and why the blades I had purchased could not be used. (I had looked up the correct sizes/brands prior and even confirmed them with the cashier before purchasing) This man had absolutely NO patience or any customer service skills whatsoever. He was condescending and gave me attitude..did NOT answer my question and proceeded to rummage through cheaper blades than what I had purchased. I could only assume he was looking for ones he thought he could put on...so again I asked for clarification to which he loudly yelled for the female associate to come over and explain to me the situation. She was extremely polite and courteous but I explained to her that I did not appreciate the attitude this man was giving me and told her what had occurred.
I requested a full refund and found it despicable that not only was he so rude and unprofessional, but he was basically going to use cheaper blades without even telling me anything! I honestly don't know why he was in such a terrible mood that day but for something so simple to set him off the way it did was very upsetting to me. I wanted to make you aware of the situation so that maybe you can correct it. Unfortunately I do not know the man's name but he was an African-American and he works at the West Hartford location. On the bright side, this incident brought me to advanced auto parts where I was treated with respect and professionalism as well as excellent customer service. For the record, I purchased the same blades from them and the female associate there was able to show me how to put them on with no issue whatsoever. The install was extremely easy I do not know what that guys problem was.

John Smith
from Luverne, AL
I entered the Luverne Alabama 36049 store May 19th, 2016 @ approximately 2:50PM to purchase a headlight bulb. I walked to the shelf and got the bulb I needed as I already knew the part number. The sales associate, Justin I believe, walked onto the isle. I told him I had the bulb And that was all I needed. We walked to the counter and he rang up my part. I wasn't listening closely and just handed him a $20 as the bulb was $14.99 on shelf. I received my change and he hands me the bulb and a packet of bulb grease (for the plug). I ask him what's this? He gave me a puzzled look and just stood there. I asked him did I pick this item up by accident cause I don't need it. He told me the grease was for the plug. I explained to him I knew what the grease was for but did not ask for it.
He fumbled around and then asked for my receipt back to refund the $1.50 for the bulb grease. I just walked on out of the store. I've been turning wrenches since I was big enough to. I don't like being treated as if I'm stupid let alone having something added to my order that I didn't request. The grease being added is no different than stealing from me. It's sad that parts stores hire a sales associate based on their ability to run the computer and not on their knowledge of parts and ability to deal with the public professionally. Several months back this same store would not warranty a ignition coil because it wasn't in the "computer" that I bought it. That was $22.50 out of my pocket then. Now Auto Zone is up to $24 in debt to me and I will never see it. I hope the other Auto Zone stores are better than this one I deal with or should I say use to deal with.

Tiffany Nicolosi
from New Cumberland, PA
We are on a 3rd faulty transmission!!! The regional manager Justine does not feel this case is a priority. My husband and I have spent hours on the phone dealing with this and still do not have a car that works. This is my 18 year old sons car, he has not had the car for about five months (no I am not exaggerating) and has had no way to keep a job. We have documented everything and feel the only option left is small claims court. This has been the worst customer service ever, promise after promise. Also, the company that Auto Zone contracted out for the transmission, Alltran, has the WORST reviews ever. Why would they even be associated with a company like this.

charles epperson
from Asheville, NC
I am restoring a 1977 VW Transporter Bus. Yesterday I went to the Autozone at 4364 Keith St. NW Cleveland, Tn. 37312. I asked for the correct transmission fluid for that model and was told that DelronMerc was the correct fluid . Unfortunately I did not check before filling the transmission. It was that wrong spec. I called back and told the salesman the problem, he told me they could not do anything and to have a nice day. I purchase many tools and parts from Autozone, but I will to find another supplier if Autozone will not resolve the problem.

Autozone National Rd Vandalia Ohio. I bought a wire harness for my 08 cobalt radio and was surprised it didn't fit. I took it back and the manager gave me my money back but on the side was one of the employees. he was a little overweight and had glasses. he was being very sarcastic and was using profanity towards me. to be specific when i returned the harness he shook his head and said "F****** millennials. and began making quirky comments. Then on my way out the door he wished me a happy mothers day; which obviously I'm not a woman with kids. now i didn't say one word to this guy. he had no reason to treat paying customer like that.

Andy Smith
from High Springs, FL
I contacted the Lake City, Florida AutoZone to see if they had part number LS926 Dorman/Ignithion Switch I was told that they had one in stock and I told them I would come in to get it and they advised that it would be on hold for me for 12 hours. This was around 11:00 a.m. I asked my Daughter if I could take my 2 year old Grandson with me and she agreed thinking that I would go there and pick the part up and return. It is around 45 miles round trip. I arrived at the store at around 11:45 a.m. and upon inspecting the part I found that it was not properly manufactured and would not work.
The manager then told me if the delivery truck had not already came by the store in Macclenny, Florida he could have another one delivered today around 1:00 p.m. and while I was standing there he called them and was told that the delivery truck had not been there yet and he advised them to put the replacement part on the truck. I was told that it should be there around 1:00 p.m..Not wanting to leave lake city I went and got me and my Grandson something to eat and went to the lake while we were waiting. Around 1:00 p.m. I called the store to see if the delivery truck had arrived and was told it had not and asked if I could leave my cell phone number and someone could call me when the truck arrived.
After not receiving a call I called them at 1:35 p.m. and asked again if the delivery truck had arrived and was told that it had and yet no one had contacted me. I arrived back at the store and while I watched them search through the parts that had been delivered it was obvious that it had not arrived. A lady working there then said she would check on it and around 10 minutes later I was told that it had not been placed on the delivery truck but that she could order another one and have it at the store the next day I advised her that I did not want to do that and that I had had enough dealing with this store today and left the store.
Approximately 5 minutes later the Manager called me and said he could have one there at 5:00 p.m. today but I told him I did not think so that I did not feel like dealing with them anymore. I then called my Daughter and explained to her why I was so late and she advised me that she had to go to Lake City this afternoon and she could pick it up fpr me so I called the Manager back and he said he would get it for me. I hope this is not normal for AutoZone stores. My Daughter is not coming home until around 9:00 p.m. tonight so instead of being completed with this job by no later than 2:00 p.m. I will not be through until around 11:00 p.m. tonight. Not including the wasted time and trip of around 45 miles.

Roger Davis
from Marion, IN
I went with my granddaughter to order parts for her truck. They told me what it would cost for the two parts and when they would arrive. She went to pick them up and they told her one of the parts was $4.00 higher than they told us the day before. If this is common practice I will take my business somewhere else.

louis nelson
from Canton, NY
I went to the NAPA in Potsdam, NY today to ask about a tow hook for my BRZ. I was extremely disappointed with the customer service i received. I asked the clerk if they carried tow hooks for my car and without even checking the computer he said "no we do not carry anything like that." dissatisfied at the way he answered i asked him if he could check the computer and he said no. Maybe this store does not carry this part that is not the issue. The lack of customer service and the rudeness is. I am, well at least I was up until today a frequent customer of this store but after the rudeness i encountered I will now look to AutoZone who had the part I needed in stock and treated me with the respect that any customer deserves) for all my auto fixing needs, as well as refer friends else where after I inform them how I was mistreated. A little politeness goes a long way and is key to keep customers loyal.

Kevin beach
from Mountain View, CA
Ordered motor mount for car they said 3 days at most and its now 6 days and still no part. They make no attempt to locate it. Not the first time this has happened and I'm hearing more and more people fed up with your stores. I'm cutting u] my autozone card and never buying from autozone again.

I went to Autozone in Boulder City NV because I had a check engine light on. The employee at your store hooked up my truck to the reader and said it was one part so I bought the part and had it installed and then two days later the check engine light came on again. I took it back to your store and they hooked it up again and told me it was another switch by the smog pump. I bought that part too and had it installed and a couple days later my check engine light came on again. So then I took it up again a few days ago they told me this time it was the smog pump, so I bought a new smog pump and had installed and once again the light comes back on.
I go back to your store again they tell me its the smog pump again and I told him you just sold me the smog pump and I had it installed so I asked the guy what are you going to do about it I just spent 300.00 in parts that you told me where the reason the light keeps coming on. The guy refused to do anything about the problem or return me any money so I got very upset and by that because he was un helpful I admit I did use fowl language but after spending that kind of money that I do not have and to be in the same position I was to begin with I felt like he should have done something to compensate me.
He told me to get out and that I could never return for life. There is now a new Oriely auto store in Boulder City, I have been faithful to autozone but I will no longer return to your store.

sylvia chandonnet
from Taylor, MI
I'm still waiting for a response from email I sent January 28 2016. Concerning my battery. The salesman in taylor,mi. Telegraph-wick, would not check my battery for its performance, which was suppose to be. Free check. Landed up costing $$. Oh by the way I had warranty for free replacement.

Gerald Jeanty
from Tampa, FL
It was about 7:40 pm I entered the store to purchase part for my car. I was the only one waiting at the to get served and there was a gentleman that works approached me asked me what I was in line what do I want I said sir you have to get my car info in order to know my part number. He said to me come here with your attitude and I sir you are the one with attitude and started argue with me. He is not qualified to be a shift or store manager he has no customer services skills. I was trying to get his name his name tag wasn't clear. The store number is 1264 located at 3570 n andrews ave, oakland park, florida and their phone is 953-630-9006. If you don't anything to that employee will lose customers because he has no skills

Chereen Worthem
from Jonesboro, GA
On 12/30/2015 @approx 7:27 pm I spoke with an Autozone employee in regards to a radiator for a 2006 M45 infiniti. The employee stated she would have to order the radiator and stated I would be contacted on 1/1/2016 around noon in which I was. On 1/2/2016 I was given an incorrect location of the business by employee Ken who stated the business was located at Hwy 314 and 138 in which it is not. The business is not physically located at the intersection.
After finally locating the business I purchased the radiator that was determined to be a radiator for a Q45 after the uninstalling the original radiator that cost me $100. Due to this clear error made by the employee I am financially strained. I contacted autozone customer support and spoke with Ken who was not empathic to my situation. His customer service and professionalism would be rated at a strong 1 on a scale 1 to 10. He did not remedy the issue. He reordered the correct radiator and disconnected.
The radiator was an additional $50 that I thought should have been waved as well as the labor. He did not offer any assistance as I expressed the hardship the employee's error caused me. This experience rates the lowest star being 1. This matter needs to be addressed on a corporate level.

On Sept. 30th I went to Auto Zone 5901 W. North Ave. in Chicago to purchase a headlight, I went and got my headlight and waited in the next customer line. There were (2) customers being waited on and (2) sales persons walking around. after waiting at least (5) minutes a group of (3) people came in and called one of the sales people by name and he immediately came over to help them. The other sales person continued to just walk around, so at this point I became frustrated and gave them a few more minutes to see if I would be served, I was not. I put the headlight back and walked out of the store. I had to be there for at least (10) minutes, and if the one sales person that was walking around had waited on me I might not have made this an issue.

Cardell Howard
from Chicago, IL
I was followed around the store by an employee after I made it clear that I didn't need any assistance with what I was looking for. He kept demanding to know what type of job/repair that I was trying to do. At that point I felt as if he was just trying to rush me alone for some reason. As I finally finished browsing I proceeded to the check out counter. I then noticed the same employee stairing at me from behind his register with an intense look on his face and it seem as if he was trying to look at my pockets. I stood in line with a friend who was also with me and noticed that the same employee was now standing behind me all of a sudden.
At this point I felt uncomfortable and upset because it seemed as if he thought that I was stealing. I finally made the purchase and before leaving I glanced back at the employee. He was still looking at me with the same intense look so I asked did he had a problem with me. I didn't hear his response as I left but I felt as if he unfairly targeted me for some reason. I am a loyal Auto zone customer and I never experienced that type of service before. To make matters worse another employee came outside to assist me. He apologized for the behavior of his co worker and informed me that his co worker is always behaving that way.

James R Prosise
from Suffolk, VA
I purchased a transmission filter and gasket set from Autozone in Suffolk, Virginia I did not use the product right away, when I started to used product a few months later I discovered I was given the wrong part so I took the part back with the receipt to exchange it the manager would not exchange the product even through it was never used. I think this is a very wrong way to treat a long time customer and for this reason I will never shop at your stores again and I will tell every body that I perform work for not to use your stores for auto parts.

pamela mitchell
from Whitney, TX
8/28/2015 at 2p.m. I, Pamela Mitchell, called the autozone in Slaton, TX to see if my battery for my Lincoln towncar was still under warranty. The guy said it was still under warranty' So my son eric took it up there and they told him that the free warranty was out . This was something that I should have been told when I first called. So at 315pm I call back and spoke with with Samantha,whom told me that the free warranty was out. Why should I have a warranty if autozone does not uphold their warranties. So had to purchase another battery from someone else. I will no longer use you guys for auto parts. This is the third time with a part that I got the run around with.

George E. Thomas
from Houston, TX
I purchased two lower ball joints with a personal check for my 1998 GMC pickup for 93.07 only to find that one had been replaced. I purchased the parts on 6-5-2015 and have tried to return one of the ball joints four times with no success. They said the reason for non return is Telecheck. I called telecheck in the store and they said everything was clear and there was not a problem. Auto zone was a great place to buy parts at one time but now they seem to have a poor rating. All I want to do is return the item and get a refund back into my checking account.

Alfred Raczynski
from Harrisburg, NC
I called the Autozone store in Harrisburg, NC on May 7, 2015 at 8:40pm to see if they had a specific part for my vehicle. I was put on hold for 2 minutes by the manager Jay (so he says) who said he would be with me in a few minute. After a few minutes he answered the phone as if there was a new caller. I said you were looking up to see if you had the part I requested. He said I will check and put me on hold again. 5 minutes go by while on hold, and he came back on as if I was a different caller, again. I asked why he had not gotten the information on the part I asked for and waited on line for over 7 minutes.
He then said he would help me. Another few minutes go by and he did not get back on the phone. I called back and got him again and asked to speak with his manager and he stated he was one. I asked why he did not help and he got very short with me. It was at that time I told him he just lost a customer. His reply was that's fine and hung up. I have gone to AutoZone for the last six years and I am a Rewards Card Member. I am shredding my card as I am typing this complaint to you.
This is a waste of my time and should have not even got to this point! No manager should ever speak to a customer that way on the phone. If Jay really is a Manager, he was very unprofessional and if this is the way you train your employees to conduct business, Corporate should review their training procedures. I guess AutoZone is big enough where it doesn't care about their customers.
I will make it a point and even go out of my way to tell my motor friends to go to another parts store. This is how bad a taste I got from your store manager, Jay. The above part of the complaint asks to rate my experience. I put one star because you can't go any lower.

Rob Castetter
from Indianapolis, IN
I went to the Autozone at 4747 North Post Rd Indianapolis 46226. I went in and waited in line for over 10 minutes and then was waited on. I told her that my check engine light was on and could she check it for me. She told me to wait a minute and she would. She then took a phone call and then started waiting on customers that had come in behind me.
I waited for over 20 minutes and then I told the the manager what had happened. I told the manager that they are waiting on customers that were not in the store when she told me to wait a minute. She told me they had to wait on customers that were in line first. I told her why didn't they tell me that in the first place instead of telling me to wait a minute. I did this in a polite manner.
I have been a rewards customer for many years and had check engine lights checked at the Noblesville and Anderson stores before and have never been treated like this before. I feel like I should be compensated for my time. This happened at about 5:00 on Monday May 4 2015

Dropped off a battery for testing. Employee behind the counter tested battery and told me it was a good battery but needed a charge and would take a few hours. I told him I would stop back for it but purchased a new battery as well. I had planned on putting the used battery in my wife's car.
I was out of town for a week and came back for my charged battery and the battery was gone. The manager apologized and gave me 16 bucks for a core charge on my used battery. I lost a good battery and was compensated 16 bucks??? I kinda expected more of a compensation. My used battery would have been fine after the charge. Not happy.

Daniel collins
from Brooklyn, NY
I've worked for the company for 1 month and some change now and I've yet to received a check. They say I didn't have an apt number then I added it, they said my checks would come two weeks later, now it's been two weeks still no checks. I called to find out about them and she tells me she just received them back and she has to resend the check out. Then when I get upset and say this is ridiculous I need my money to pay bills what she does hangs up on me.
I don't understand how this company expects you to do your Job or come into work when they don't even do there job correctly then have workers in payroll who are disrespectful and treat employees like they are nothing. I'm choosing to leave the company and I'm outraged with how I've been treated

Virgil E Harris Sr
from Indianapolis, IN
I bought 2 batteries on Apr 5, 2015. The one I bought for my van is a 78dl. It didn't work so I brought it back today, May 3. The sales associate, Diane, said that because the package didn't say 78dl, she would not replace it. She even said that she didn't know where I got the battery from. I got it from AutoZone!! It's a Duralast Autozone batter.
Autozone, I have my bank statements in which it states clearly that I bought this battery from the Keystone Ave, Autozone in Indianapolis. If my warranty is intact, I want my batter replaced!!! I'll let small claims court decide. It will only cost me $65 to file a claim and all you guys had to do was be honest and not scam someone on your non-working parts.

ken groves
from Auburn, CA
2nd complaint for my 69 ford pickup I purchased lifetime u-joints and arter 1 year. In my glove box, the receipt seemed to fade so much it does no good, the amount wasnt to big, but the facts remain, what do we do about that? And I wouldn't sell anyone a heat actuator they dont work on 2002-2010 ford Explorers get it from the dealer.

Me and my husband went to get a light bulb put in the back of the car. Bobby the store manager at Victoria store was supposed to put in in but he sent a young man out to do it. He had a hard time doing it then he went to check the fuel in the car. He messed up our computer system. Our windows in the car would not work or the lights in the car. I called the corporate office a woman supposed to called me and never did. I talk to Bobby and other workers, they did not want to take responsibility. Our power windows and lights inside the car were working fine until we came there with my husband. Went to different auto shop and they told him to go back to auto zone cause our computer got mess up there. They did not fix the problems so someone needs to pay us for our pain. We had to drive with our windows up burning up for 7 months. we do not get justice done in a week, we might have to sue.

Went into your store on Friday morning to get a brake line and or adapter. After waiting in line with only one person at the counter, several stocking and one outside.... anyway after getting to counter she told me sorry they are in the back, your not allowed back there and I cannot go with you right now and leave the counter. I stood aside, instead of getting someone to help she just left me there, I talked to my friend who stopped by and after a long period of time and half a dozen other customer were helped she never once took the time to help me, even though she was aware I was still standing there.... I just left and went to O"rileys , I was given immediate service, they let me in the back and let me pick through brake lines, service was excellent, was not thrown to the side and treated with such terrible service....

Dan Garcia
from Moreno Valley, CA
On 3/24 my Jeep would not start I removed the coil and Ignition Module took them to Autozone to be tested the employee told me the Ignition Module was bad and refered me to another Autozone as they did not have it in stock I picked up the part at the other store and installed it My Jeep still would not start I then removed the new Module and reinstalled the old Module and pushed it to Quinn Automotive they replaced the Crankshaft Sensor and my Jeep started and has been starting ever since My Refund request was denied

Went into Lytle Texas store to purchase a belt for my tractor..I did know the procedure to order the belt and was looking for the belts in the store.. I asked an employee for assistance and he said you have to get in line, what line? I got in a line and waited for the next sales person which was a young lady at a cash register. I gave her the belt I needed and she turned around and showed it to a sales person in a red shirt, he responded" He,ll just have to wait in line, in front of several customers which was very rude, I felt embarrassed by his comments, I had already been in line for 5 minutes. The young lady who's name was Savanah told him I had already been waiting and he grabbed the belt and went off in to the parts area. He returned with a belt and said that was it, did not apologized for his comments and left. The young lady stated she was sorry for the incident and told me again she was sorry it happened. If this type of service continues at Auto Zone, I will take my business else where.

Today, I went to store # 4929 in Dunkirk, Maryland and purchased a lawn and garden battery for lawn tractor . The cashier told me when I was paying for the battery that they adding a $10.00 fee on to the purchase price as a core charge but that when we bring in the old battery from the tractor I would get the $10.00 back. We went home and took out the old battery and returned it the store a couple if hours later and they would not refund me the core charge as they said they would when I made the purchase. That is false information and lying to customers. It is a lousy way to conduct business. I'm not happy and if I don't get my $10.00 back as promised I will post a comment showing how you do business and suggest people not buy from you. I'm a senior citizen on a fixed income and your employes should not tell people they will get a refund when they bring in the old battery and then not do it. There were no other restrictions mentioned by the cashier about the refund except to return our old battery and I have witness who was with me when I made the purchase who heard the same thing so u didn't misunderstand. Please respond quickly and you should uphold the agreement of returning my $10.00 because they have the old battery
Have feedback for AutoZone?
Thanks for your feedback!
Sorry. Please try again later!