Applebees
Applebees Complaints Continued... (Page 4)
219+ reviews added so far. Upset? Call Applebees corporate: 1-888-592-7753

Gregg myer
from Charlotte, NC
Food was OK when we finally got it . The three of us went in to Applebee's in Matthews nc on sat Oct. 15 2015 at about 4:30 pm ? First of all we ordered 2 mixed drinks and a diet Pepsi . we also had no silverware or napklins . We waited and waited and saw 2 tables come in and get there drinks and we still didnt get ours . our waitress vanished and we finally as another waitress to check on our drinks .we waited another 15 minutes or so and finally got our drinks . We had ordered a appetizer and salads and another 15 or 20 minutes w finally got that . We had ordered our dinner a long time ago and waited another 20 minutes while people that came in had been eating about 15 minutes Then we only got 2 entrees and had to ask for the other one and one person had to wait another 10 minutes before the last meal came . By the time we left we were there 2 hours . I have lived in Charlotte 54 years not ever remembering waiting this long to eat . SERVICE SUCKED !! Makes me want to avoid Applebee's . This is sad . All 3 of us were very disappointed to say the least !!

Shakirah Moorehead
from San Francisco, CA
The service was poor. The food wasn't done, meaning our hamburger was pink in the inside. Never received my appetizer. Didn't break the price down about the food we ordered. My mom never received her food. The waitress was stating policy but couldn't tell us what was stated about the policy.

harold thomas
from St. Petersburg, FL
I was in for dinner the other day . two days after they reopened from the storm .,
I orderd a Asian chicken salad extra chicken . it came the chicken was chopped into tinny piece's
I waited for my server because it looked nothing like on the menu I asked her for a menu she asked if it was ok ? I said this looks nothing like the picture in the menu. I said how do I know there is extra chicken she said there is .,. she said you kneed too see a manager I said I'm sure she will make it around. she did she came buy we had our talk she asked to replace or something else by this time I was like no no . she did menschen they just reopend they got a small truck . there were running on scraps .. well if you seen my salad that's what it looked like .... another manager came by we talked I had to ask him to take off the extra chicken off my bill what a joke worst 35 dollars I ever spent

mike mawson
from Philadelphia, PA
the server failed to inform us that the appetizers that are listed on the menu under the 2 for 10.99 or the 3 for 13.99 were only the sampler when we orderd our appetizers we were up the impression that they were full size so when we looked on the tablet at the table it showed a higher price than listed when I asked the server about it she said you didn't say you wanted to sampler size I replyed by saying it does not say that on the menu it only shows the deal @ 2-10.99 or 3 for 13.99 that is called false advertising I will never eat at one of you restaurants ever again I have also told many of my friends about this and they said the same thing
mike mawson
phone # 267-628-7712
the location was 217 s 15 street phila pa

Annette Noto
from Roseville, CA
We recently visited and Applebees establishment. The music was so loud. We asked our server to lower the music. She said she would let management know. The manager came over to talk to us. She said that she could only turn it down just so far per corporate. I never heard of such a ridiculous reason. I don't know if you are aware of the type of clientele that visit your restaurant. Very few are teenagers coming in for a hamburger & malt.
Most of them are families with children, senior citizens & the working public who are tired from their jobs & don't want to bother cooking every night. They don't want to come into a loud & noisy place with music you can't even understand what their singing. It's definitely not music to eat by. We finally decided to take our food home where we could hear ourselves think & talk. If it is necessary for the music to be that loud, why don't you play it on the weekends & during the week, keep it low. That way you can make everyone happy.

Mike Deveraux
from American Fork, UT
My wife and I ate at the American Fork, Utah location on Sunday November 13, 2016 at approximately 4:00 PM The service was terrible know one asked how the food was, did not offer a refill on drinks, had to wait for our check as my wife finally got a waiter's attention. I always tip at lest 20% we paid cash with no tip. The restaurant was not busy at all dirty tables, poorest service I have ever received, you can count on it that is my last time at Applebees. The waiter did not even bother to pick up the payment off the table.

julianne Halvorsen
from Queens Village, NY
My son and I went for lunch at Applebee's in Rochester at the Walmart shopping center. We sat down order taken food arrived. We started eating when my son found a bug in his food. We notified the waiter and then the manager. He apologized and offered to remake. I don't know anyone in their right mind would want to eat anything at that point. At first only wanted to comp my son's meal until I sent everything back. The most upsetting thing to me is that my son is absolutely allergic to roaches 100% which would cause him to be injected with an epi pen and trip to the hospital. This could have turned horrific. I hope you address the cleaning issue . Very upsetting and terribly disappointed.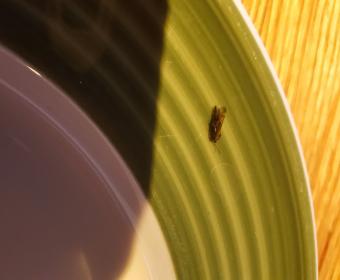 Lindy Rutter
from Newark, NJ
My son was eating a shrimp dish and felt something hard in his food. It was a rock! Spoke to the manager who asked if she could have the rock. Never saw her again and we were charged full price for the meal. Manager walked by our table 2/3 times and refused to even make eye contact.

Jackie Edingtonm
from Brazil, IN
My husband had almost finished his meal when he pulled a long white or blond hair out of his mouth. Both of us were completely disgusted and will never eat at Applebee's again. The waiter talked to the manager who only gave us a 10% discount. It was admitted that the cook did not have his hair properly pulled back. Ii feel that more should have been done. At least you will be aware that this particular store needs to pay more attention to proper health standards in the future. Thank you for attending to this matter.

Nancy adams
from Mahopac, NY
We went to your Brewster NY location tonight. The good news is that the food was delicious and our waitress was very sweet, friendly and attentive. The problem was that the restaurant was so warm that we ate and ran, skipping coffee/rea and desert. I saw three couples sit down, only to leave after realizing how hot the place was. In this heat wave that we are having, people are looking for a cool place to eat a nice meal. But at least we had the good meal. I will go back soon, hope you have the problem fixed.

Chris Weaver
from Buford, GA
Upon arriving, the greeter stated she thought the kitchen could handle a party of 4. With that comment, we should have run. We waited at least 15-20 minutes before someone came to the table to take our drink order. At that time we put in our food order as well. Drinks took another 15-20 minutes (water and sweet tea). Food took at least an additional 30 minutes and that was for only 2 entrees.
Ten to fifteen minutes later 2 salads and one of the appetizers came, still missing an appetizer (chips and dip). The final two entries finally came nearly an hour to an hour and half later. Still no appetizer. We had to ask for it to go. One thing the check came fast and the card charge came faster. This experience was unacceptable and we will never visit this establishment again. The server blamed everything on the kitchen, but I honest feel she was at fault too. We saw several other tables leaving prior to receiving their food, which is what we should of done.
Total cost of this meals was $75 and so not worth it. Store location was Suwanee, Georgia.

Jeanie Griggs
from Roseburg, OR
We arrived at 3:00Pm. When we arrived we were seated at a table that cramped us. What I mean by that is the table was right up to our chins and none of us are even fat. The music was blaring we could not hear each other. Then we ordered our mean which we waited an hour to even get our meal. Salad plate to small got all over table because it was small. My chicken wing ordered was way over peppered. You lost three costumers because of this.

Judy Coolbaugh
from Falls, PA
My husband and I went to the Sayre pa Applebee's the afternoon of the 26th of June for his birthday, We were seated in the bar area which was ok , our waitress came over and took our drink order and when she brought the drinks back asked if we were ready to order, we asked for a few more minutes, a half an hour later the waitress never came back so we walked out. This happened around 3 to 330 pm we are very displeased with the service, I believe the waitress name is Katrina, she waited on everyone around us and even took food to other customers but never came back to see if we were ready to order, It will be a long time before we come back to this store as the service sucked , we have never had that experience in any Applebee's on top of that the coupon you people sent my husband we ended leaving it on the table by mistake because we were so upset with the service at this store.

Clover Hines
from Philadelphia, PA
Me and my husband ordered off the 2 for 25 menu but got charged a significant amount separately for each entree instead of the 25.00 Plus tax...plus we did NOT get an appetizer which is included in the special. I contacted the supervisor, Terry Heavner & he refuses to look at my receipt and give me an adjustment or some type of compensation based on NOTHING. Please someone...do something or I will get a lawyer involved.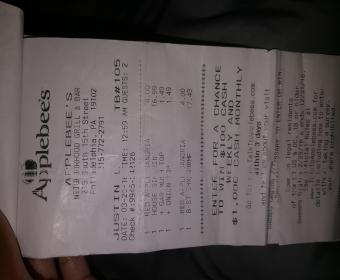 Michael Blakley
from Atlanta, GA
We were seated. "Our" waiter kept walking past us for about 15 minutes without even acknowledging us. I could understand if he was attending to other patrons but he just acted lost and he looked high. Finally some people were seated behind us and after about 10 minutes he asked them if they had been waiting long. We still felt that we were ignored. We got up and left and were told by patrons at other tables that they wished that they had done the same. My wife and I have been visiting nearly every Friday for a while but ma not be back for some time. I do business with people that appreciate it my business. We told the hostess about what had happened and she didn't say a word. If that is the type of person that Applebee's in Barboursville WV. Employs, I need to spend my money elsewhere, and did.

I went to Applebees today with my daughter for lunch. We ordered two meals on the two for $20.00 menu. I ordered the Bourbon chicken and shrimp meal for myself. I was so surprised when my food arrived. The chicken breast was tiny and I had only 6 tiny red potatoes. I couldn't believe the small portion size. When I started cutting my chicken I realized why it was so difficult to cut. The top and bottom of the chicken breast was completely black and burnt to a crisp!! The meat inside was hard and dry. The cook put the onions on top to cover the burnt exterior.
I was furious and knew that my meal was garbage. If I wasn't with my daughter spending quality time with her, I would have definitely complained and sent it back. My time with her was so important that I did not want to ruin it by complaining, so sadly I just ate half of my burnt chicken and tolerated the terrible taste. It makes me sick that I paid $10.00 of my hard earned money for complete garbage!! I cannot understand how a cook could have put that on a plate to give to a customer. I will NEVER return to Applebees again.....it is not worth my time or money.
When I go out to dinner I expect a good proportion of QUALITY food and this was certainly not that. I am very sad and disappointed. I have attached two pictures and I have saved my receipt if you'd like to see that too.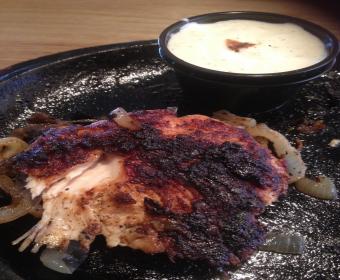 Angela Mistretta
from Clearwater, FL
Arrived (6 of us) at Applebee's (66th St., St. Petersburg, FL) around 3pm, usually all Applebee's are chilly, so we girls had a sweater. Girl seated us at a table for 6, we noticed the floors were dirty with crumbs & paper. We felt it was quite warm & humid and mentioned to the waitress, she said the air conditioning was out since Thursday (we were there on Saturday). Since 2 in our group have asthma, we told the girl we were leaving because it was too warm & humid. As we walked out, the manager approached one in our group and asked where we were going. We told him there was no air conditioning and we were uncomfortable. He said that he had turned it down and that he would make it cooler. So, who was telling the truth? The waitress or manager"? Seems to me the air conditioning should be kept at the same temperature all day. We ended up going to another Applebee's on Starkey Road, Bardmoor area. We were inconvenienced that day, and wasted time going to another Applebee's.

Samantha Trimboli
from Findlay, OH
I was at the Applebees on Morse road near Easton Mall in Columbus on Thursday March 17th visiting due to having orientation at Highway Patrol the next morning. When my dad and I first got there we had to wait, and they didn't seem to know how many tables they had open, or how long the wait may be. The hostess walked away and didn't come back for a little while and when she did she said nothing to us. We had to wait an additional ten minutes before being sat down.
After sitting down we saw at least twenty tables that we open. There were also at least ten tables that were dirty along with a mess on the floor next to our table. Service was slow. When I received my food the chicken was uncooked and pink and my pasta was overcooked. Neither my dad nor I were happy with our meals. My dad wanted desert and they never asked, just handed our check and asked us to pay. The tables around us were not cleaned off the entire time we were there. Worst experience at a restaurant, especially Applebee's. Was not pleased at all. The entire staff was horrible.

David O'Connor
from Liverpool, NY

lindsay
from Smithfield, NC
Called Applebee's in Smithfield north Carolina for a car side to go order. The number was continually busy for over an hour. Ended up going to restaurant to place our car side to go order. We were directed to the bar... Where employee Ashley Mitchell acted like we were not there. Ten mins later she took our orders. Another 20 mins went by before she took our payment. My sister went out to the car to get her wallet.... Where she was verbally attacked by another employee...Hannah Beasley.
The employee yelled at my sister "yeah take your a**to your car and don't come back"when my sister got back to the bar where we were still waiting on our food the employee Hannah Beasley continued to be rude and make smart and derogatory comments. Hannah Beasley kept sniffing and rubbing her nose.... the way that someone does when they are high from sniffing something. She was rude to the customers and her coworkers. I have never been to am establishment where an employee was allowed to talk to customers like that and appear to be under the influence of some type of drug. I will never go here.

Sarah Cooper
from Melbourne, FL
Okay, I'm a huge Applebees fan, I get gift cards for Christmas and Birthday, everyone knows I love Applebees, my neighbor calls it My Happy Place. But, I'm not real happy with whoever thought it would be a good idea to take away our breadsticks, really! I always get the Tomato Basil Soup and Breadsticks, it's not the same without them. I know a lot of people ask about this and it's time to bring them back! By the way another of my favorites is the Chicken Wonton Tacos, please don't take them away or the Perfect Margaritas, they're wonderful!
Now, back to the breadsticks, you can say in your ad, To our wonderful and faithful customers, we are so sorry and would like to apologize for thinking you wouldn't notice or care if we no longer served breadsticks with our soup, salads and pasta dishes. You've ask us to put breadsticks back on the menu and we've heard you loud and clear. So for making this truly unbelievable decision, for the next month, our breadsticks will be back and they will be free! So come on back we're waiting for you at Applebees with warm breadsticks in the oven just waiting for you!

Diane Garcia
from Holmdel, NJ
Tonight I went to eat with my daughter for our usual mother daughter bonding night and it was a very disturbing experience. We went to the Applebee's at 1305 North West Loop by Blanco and 1604 in San Antonio Texas 78258 at the Vineyards 11/24/2015 and a server with blonde hair had horrible attitude and unnecessary profanity yelling at other employees towards the bar area. The argument was so loud I told my daughter to go and wait for me in the car so I can cash out our ticket and we didn't even finish our meal. Was an awful experience for my daughter to witness I as an adult didn't feel safe when I heard that blonde hair server say she will hit a B**** and starts yelling some more and escalates towards the back of the restaurant. Don't want to go back there again.

Bobbie Thompson
from Fountain Inn, SC
My son and daughter- in-law and 2 grandchildren went to the Applebee's in Simpsonville S.C. on Nov 6th around 5 in the afternoon. The 2 year old was crying and upset the manager came over and tossed a bowl of applesauce to the 2 year old and said the neighbor wants to know what the HELL is going on. This was said to a 2 year old! You are suppose to be a family restaurant and if you don't want kids in there then advertise it!!! We will NEVER go in an applebee's again. We have let all our friends know and quite a few feel the same way and do not go in Applebee's. We will continue to let people know of the experience.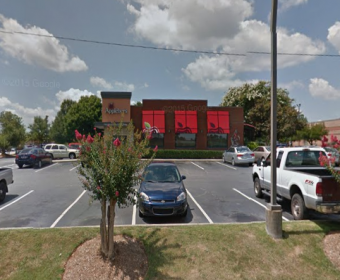 Francese St. John
from Hyattsville, MD
About 2 weeks ago I took my niece to Applebees in college park Maryland who was visiting me from New York, I eat at that restaurant all the time especially when I have company from out of town, lately when I go there it's always a problem. The last time I went there I ordered some quesadillas I asked her if she could substitute the chicken with shrimp she went to check the price and came back and said it will be 6.00 dollars more, I said to her the last time I was here which was 3 weeks ago I was charge 2.00 more not 6.00. I wish they could get they prices right and on top of it the drinks taste like lime juice I had to give it back because it was terrible. I just think everyone needs to be on the same page.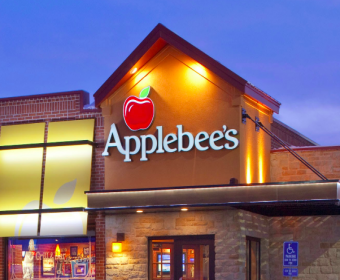 Kathy Stover
from Toledo, OH
531 Dussel Rd., Maumme, Ohio 43537. Check # 9091-345204. Restaurant was COLD. Spoke to waitress and manager. Both apologized for the coldness and stated that they were working on fixing the temperature, however, it only got colder. The fan was on you could feel the cold air blowing around. Other Applebees patrons were also complaining about the temperature. We arrived at 5:15 pm and received our food about 6:15 pm. From our order being taken to receiving our food took a long time.

Adam Geoff
from Valparaiso, IN
While parking I smell the smoke of marijuana and after being seated I asked my server why. She admittedly told me that most of the back crew smoke outside by the dumpster and the management turns a blind eye to the illegal practice. When I asked the managers on duty they did not take it seriously. Maybe they were smoking too? Chrissy and Walt of the Terre Haute location brushed me off and offered free desert. If they allow illegal activity such as this then what else do they ignore regarding food safety and practice. I will never eat Applebee's again and hope this complain reaches the ears of the corporate office. If only the executives and CEO knew about this.

I took my fiance out to dinner as a way to celebrate her job promotion. We were greeted by the host who overly rushed us to the table in a speed walk manner. I felt like she was in a hurry to punch out. We waited 15 minutes to be greeted by a server. Enough time for my partner to go to the restroom as I scanned the floor searching for a manager, to no avail. I, then, got up and accessed myself to the lavatory upon my partner arriving back. When I got back to the table, still, no service. I took notice of the restaurant not being overwhelmingly busy. To make my assessment cut and dry, our server was slow, without knowledge or offering specific menu items. The bartender was even slower, and our drinks sat at the bar station for 5 minutes until I had to politely get up and get them myself.
The silverware was disgustingly dirty. The Manager greeted folks around us and never gave us a second look. He appeared immature and dressed sloppy. The entire staff looked tired and unorganized. The feel in the restaurant was gravely boring with absolutely no enthusiasm. Our drinks sat empty as we enjoyed our perfectly cooked meal. Kudos to the cooks, which is the only reason we will go back. I expressed these issues in a phone interview with an Applebee's representative and it seemed as if I was unimportant and swept under the rug.

Donna McCalpin
from Lakeland, FL
I looked on Applebees for food ideas of what I might want to eat with the 2 for 20 menu. I saw three cheese penne pasta ordered that for pick up when I arrived home it was totally different from picture, especially, the pasta. I didn't want that so called the restaurant and spoke to manager, Stacey. I explained how unhappy I was and she said for me to try it. I said no because I don't like that type of pasta and I live too far to come back said she would mail me a meal certificate.
Well after almost two weeks nothing in the mail. I called back. She said they probably got lost somewhere so she will mail again. I said no. I will just come in to eat and use them then because I'm always there. Well I called one day to make sure she left them and another manager came to phone, a male this time. He said he doesn't see anything for me and he will let her know. Ok now I'm waiting again wish someone would just stand by their word. This is what makes customers not come back

Joseph Hemingway
from Raleigh, NC
Today, I went to a local Applebees and purchased a $50 gift certificate. As a reward for purchasing the gift certificate, I was given a $10 bonus card, which I was very appreciative. After working hard all day, I decided to go to Applebees for dinner with the idea that I could save some money by using my bonus card. When I went to pay my bill, I gave the waitress my bonus card and the additional cash. When she came back she asked me when I received the card, and I told her today. She then told me that I had to wait 24 hour before using the card. This really upset me and I felt betrayed as a customer. I was not planning on spending that amount of money but then had to do so because of this policy. I regret buying the gift card and do not plan to go back to Applebees again

My husband and I went to Applebees in Franklin, VA. The service was terrible. It was our 50th anniversary. He ordered the all you can eat cross-cut ribs. He got 10 riblets and a handful of fries on a plate with a small cole slaw. Our server never can back to see if he wanted more. The couple that was with us were very upset too. Two other couples walked out after fifteen minutes of no one waiting on them. My husband was charged $18.99 for what was not worth it. WE will not be back. We never saw a manager either. Your servers are more interested in hanging at the bar or in the back by the kitchen. To bad that your costumers are not important to them.

Jerry Surber
from Wheeling, MO
We were at the Chillicothe location. Ask the waitress what the senior citizen discount was. She wasn't sure, but she went and asked. In the meantime, we had looked up on your website. We told her 15%. She continued to serve us and was a very good waitress. When we received our bill it only showed 10%. She said that was the best her manager could do. I believe the waitress was embarrassed and was trying to be as polite about it as she could. We were going to ask for the manager, but we really didn't want to make a scene at the restaurant. Got to thinking more about it when I got home and it bothered me that they did not honor the 15%. The manager could have at least come over to our table and explained why she wasn't honoring the 15%, as it was obvious the waitress was at a lost for words. Just thought you would like to know that the Chillicothe location is not honoring the 15% senior citizen discount. We think it is great that you honor your senior citizens with a discount. I for one appreciate it. Thank you.

Stacie Costa
from Nassau, NY
Applebee Restaurant - Hudson, NY. My Husband and frequented the above-mentioned restaurant this past Monday, April 6th at approximately 12:30-1:00 PM. The experience was not up to par which is the reason I am writing you. We requested a booth and were seated at the last available booth which was bar side in front of the kitchen. The ledge area which separates one booth from another, contained enough dust that you could write your name in it. It's not a great distance from where your plate sits with food, unsettling. I believe our waitstaff person was named Pam. She was pleasant but took our order incorrectly. We started off by ordering the boneless wing appetizer which took a very, very long time to receive, (not Pam's fault I realize that). The vegetables that accompanied the wings appeared to have been previously chewed on, we didn't eat them.
My Husband ordered sweet potato fries as a substitute for the regular fries with his cheeseburger, it came with regular fries (Pam admitted this was her error), however my Husband was 3/4 the way through his meal before he received the correct item. I ordered the quesadilla cheeseburger with fries, it was cold. I don't have the luxury to go out to lunch much with my Husband, I work in Albany. This wasn't a good experience, I was disappointed to say the least. I wanted to inform you because if I were the Manager of the establishment I would want to know.

scott patrick
from Hamilton, OH
Three of us went to applebees for early dinner 4 -17 2015, 4:00 pm. a fairly small crowd, we were greeted by another waitress telling us that the normal waitress hadn't shown up, so she would be our waitress. after bringing our drinks to the table, we placed an order for appetizers, followed by our entrée order. after getting the appetizers, we sat patiently for over the next half hour. she said she would check on our order. 25 minutes later still NO FOOD. she checked one more time and gave some poor excuse, I asked for a manager, after a few minutes, he came to the table offering some story as to what had happened. he said that it happens frequently. I told him it was his job to make sure his workers were getting the job done, and asked him if that's how things under his watch went. he said it wasn't. he did offer some discount, but it just couldn't be felt by the 3 of us. so we left. I have spent plenty of money at the, main street, Hamilton ohio location, being it is less than 2 miles from my house. the food is always good, but the service and management leave a lot to be desired. ill gladly spend my money at another local restaurant. maybe you need to hire staff that wants to service customers. I look forward to hearing from you.

I ordered the steak nachos it looked nothing like the picture, it was a dry nacho only chips, lettuce and peppers. It is called a steak nacho where was the steak! The waitress and manager was called and they stated they was wandering why they would serve that they get complaints about this menu order a lot. Highly disappointed. Ordered another item for the menu order wasn't right I had to send it back. Was very displeased with the manager response.I left hungry and disappointed !!!!!

Lívia Willmore
from Bullhead City, AZ
Before moving out of Idaho, we decided to have one last dinner with our friends. We got there at 9pm and we were finally able to leave that place at 11:30pm. The service was terrible. We waited for our food for TWO HOURS because somehow they "forgot" about us! The manager acted like it was no big deal and after that the waiter mixed our bills and we ended up paying for another couple's dinner as well. After trying to fix her mistake 3 different times and making them worse, the waiter finally gave up and just gave us money out of her own pocket. Very unprofessional and exhausting. The worst experience ever.

Edward Knorr
from Williamstown, NJ
I am writing regarding an incident at the Applebee's in Turnersville, South Jersey. The advertised new steak dinner that I picked up looked as if it were made up of other peoples leftovers. This dinner looked like cheap dog food. I took it back and the manager could care less. The advertised dinner appears to be a fraud or the To Go menu serves second class type dinners and different from the eat in. I am upset that you would allow such dinners be sold and concern for health issues also. I will place this on You-Tube!

Tarmesha Cobb
from Chicago, IL
I had experience the worst service ever from Applebee's today. My steak had tasted horrible. It wasn't cook how I had ask them to cook it....the waitress was very unprofessional. I had also order the house drink which was a long island, it actually tasted like bitter lemon water. I wasn't satisfied at all.

Donna B. Layne
from Albany, NY
I wish to make a formal complaint against your restaurant staff the evening of April 7th 2015 in Glenmont, NY over the bad service, which spoiled my evening with my grandson and best friend.
I was greatly disappointed that my Dinner was spoiled by the service I received. The menu enticed me and I was excited because I have never been to Applebee's. When the server took my order I specified I wanted a Steak cooked medium well. How awkward did I feel trying to cut and chew this tough bouncy Steak. The baked potato was not thoroughly cooked throughout. The vegetables were almost raw niot blanched. The carrots snapped like fresh carrots, that a Rabbit might enjoy. I am unaware if the order was given to the kitchen staff properly or the Chef at the time just did not care.
I spoke to the server and she told the Manager, he offered to compensate me with another Steak and salad. The ambiance of the restaurant was definitely not enjoyed by my frustration with the meal. I always watch Applebee's commercials and was very excited to go to dinner in the establishment. But as enticed as I was from the commercials, I would have to visit another Applebee restaurant to experience a great meal. I hope that you will look into this matter and train your staff properly to order the food requested by the consumer exactly as the order is given. At this time, I am quite hesitant to return to your restaurant for future dinner with family and friends.

Debbie Walker
from Duncan, OK
My husband and Grandson and I went to Applebee's in Duncan Saturday, April 4th around 4:00 p.m. We were seated and given a menu by the hostess. I finally got up and went to the back of the restaurant where two managers and several workers were standing and asked if we were ever going to get waited on. A waitress came and kept apologizing saying someone didn't show for work. There was only one other table with people on our side of the restaurant and they weren't busy at all in the whole restaurant. I will not go back. This is probably only the fifth time I have been there since Applebee's came to Duncan. Each time the service was slow and it takes quite a while to get your food and to get your bill.

Mark Strasser
from Marshfield, WI
We have been going out to eat at Applebee's every other Saturday night for a couple years. I have been happy for the most part, Nobody is ever perfect all the time. But I am very unhappy with the changes you have made in your appetizers! Now the 4 of us, all adults, go somewhere else to eat after we get done bowling. Your Quesadilla's are horrible, the 4 cheese mac is loaded with grease, just very unhappy. I have never done this so I don't know how or if anything will change but I just thought you should know. At this time we will not be returning. Sorry!

Steven stovall
from Poplar Bluff, MO
The gm Alex fired me today April the 5th saying I called In to many times. I was stranded out of town and I asked not to be put on the schedule until I was able to get back. He put me on the schedule anyway. He also used the n word on several occasions. He also hires only his friends and no blacks. The ones he did hire he ran them off.

Pedro Perez
from Middletown, NY
On 04.04.15 at around 9PM I was at Applebee's at 12 Orange Plaza Ln, Middletown NY 10940 for Dinner. I ask the waitress for an alcoholic beverage. I was carded by the Manager Dina. I only have with me at the Time was a Valid Government Photo ID with my DOB. The ID is Recognized and Honored by the NYS and Law Enforcement and the Court System. I was Informed by the Manager that I need a DMV/Photo NYSDL. I found that to be insulting my Photo and my DOB where display on My Government ID. Acceptable froms of ID'S Are Photo Government ID and Photo Passports and Photo NYSDL/DMV.I believe that the Manager should have known what are acceptable Forms of ID. Right after she Denied Accepting my Goverment ID I immediately left and had my Dinner at another near by restaurantand Where My ID was accepted with no Problem . I am really not pleased with the experience I had at Applebee's. My Birth Year is 1961.

My wife and I ordered our food online for curbside pickup. We went to pickup our food and we had to wait 40 minutes longer than when the food was supposed to be ready. After 30 minutes of waiting a waitress asked me exactly what I ordered so she could go get it ready. When we finally got our food we were shorted two sides and got a baked potato instead of mashed potatoes. Also the food was cold and the sirloin my wife ordered was supposed to be a 9oz instead it was a 7 oz.

James Burnett
from Duncan, OK
Was told thousand island has been discontinued from Applebee's menu? This is the most popular salad dressing in Oklahoma! This is the dumbest business decision ever! I won't be back until thousand island is back on the menu. We left the applebees in Duncan ok and went down the road to rib crib where thousand island is plentiful.

Peter W Johanneck
from Mountain View, CA
I have already tried to give my experience with your site when I went to submit it would not let me. I am complaining about the 3460 joe battle blvd El Paso Texas 79936 3 out of 4 times food cold a medium rare stake cold not cool and raw today fish and chips fish was good fry's cold and soggy, the drink i had was so cramped with ice i couldn't even get a straw in it to stir it never again. If you want the check# here you are 7767-60539

Ruth
from Cliffside Park, NJ
Walked into 42nd Street batwing 8th Avenue and 7th and they sad us down waited for 30 minutes or more and a waiter pass us several times they never asked us what we wanted to order. The person who asked when we walked in couldn't tells who the waiter was for the section. She said there was no chart. When asked to speak to a manager she did not know again because there was no chart. She said they will get us a waiter if we wanted to wait. We waited for so long we walked out. Why so not organize. The two table ahead and behind us had a waiter who kept walking by and not taking our order. Very disappointed in this location.

My husband & I went for dinner on 3/28/15 on Alysheba Way, Lexington, KY. The TV sound was so loud that you couldn't hear each other. We mentioned it to one manager and it was turned down. Then the manager named Jimmy came out and blatantly turned up the TV behind us even louder. I must say it was the worst dining experience that we've ever had.

William Ryan
from Atlanta, GA
I was having dinner with six family members at the Applebee's in Hiram Ga on Tuesday 3/24 when I had a very bad experience. I had ordered the Oriental Chicken Salad and was into my third or forth forkful when I felt something foreign in my mouth. I tried to chew it and thought about just swallowing it thinking it was a tough piece of cabbage. Luckily I decided to check to see what it was. I found this foreign object to be a plastic/metal twist tie. I immediately lost my appetite and asked the waiter if I could talk to the manager. Ten (10) minutes later the manager came to our table and I explained to her what had happened and showed her the tie. She offered to take the meal off of our bill but offered nothing in the way of an explanation. I feel that getting a twist tie in my salad is an extreme dining offense and I may never return to an Applebee's. I thought my horrendous experience merited much more than a debit from my dinner check. Someone needs to investigate this restaurant and take steps to insure other patrons are not similarly subjected to possible harm.

William Ryan
from Atlanta, GA
Was eating with 6 family members at the store in Hiram Ga. I ordered the oriental chicken salad. Upon putting my third fork full of salad into my mouth I noticed I was chewing on something other than salad as it would not chew. I almost swallowed it thinking it was thick cabbage but decided I had better check. To my surprise I found I was chewing on a plastic/ metal twist tie. I was shocked and immediately lost my appetite. I asked to see the manager who took about 10 minutes to come to our table. She took the meal off of bill but offered nothing more. I expected more such as an explanation but none was offered. As a result I am writing you to hopefully submit this horrendous experience to someone who cares about its customers. I always loved these salads but doubt I will ever return. Someone at the top needs to know what is happening in Hiram Ga.
Have feedback for Applebees?
Thanks for your feedback!
Sorry. Please try again later!