Applebees
Applebees Complaints Continued... (Page 2)
219+ reviews added so far. Upset? Call Applebees corporate: 1-888-592-7753

Thomas Griffis
from Raleigh, NC
I ate at Applebee's in Williamsburg, Va. while on vacation. 1640 Richmond Rd.
After coming home and going thru my receipts, I noticed that I was over charge for service.
Date--06-11-18---08:26 PM
Guests 2 TB#66 Duran T (server)
check # 6231-993569
I was charged for 3 teas but only ordered 1 tea. (overcharged for 2 teas at $2.99 each)
Enjoyed the meal and service.
Went back two )2) days later, 06-13-18---08:37 PM and had same server check # 6231-993873 TB#65
Enjoyed meal and service and have no issues at all. I would like to be compensated for those 2 teas.
I eat at Applebee's in Raleigh NC where I live. 919 8283970 (golfpro@bellsouth.net) Appreciate a response. Thanks

Donna shore
from Woodbridge, VA
I had an issue with food ask to speak to a manager and the manager Brandi came over to the table. She was very unprofessional and rude. She should not be in costumer service at all.

Sherry Cook
from Santa Rosa Beach, FL
Applebee's in Moultrie Ga
Every time we go the service is terrible . Decided to take the grandkids out went to Applebee's to give it a Nother try we were seated not that busy it to 8 to 10 minutes before the waitress came to the table to get our drink order we ordered our appetizers and food still no drinks got our appetizers no drakes finally got drinks and or food arrived to the table. The waitress never came back to the table to check on us the kids had no refills had to flag down other people toget us something .the manger cam to the table not helpful at all
(He was a joke) the bartender only works the bar if you order a drink it takes forever and then she yell across the restaurant if you want your drinks you need to bring me glasses because I am not going to get them for you
(My husband ordered a beer it took until we got our food ) we love to eat at Applebee's when ever we travel . Y'all need to send someone to go eat and just watch the servers and especially the manager .I was a waitress for about 10 years never in my days have I ever seen such bad service . I will never go back (and this is not the first time this has happened ) to Applebee's in Moultrie Ga until it improves
Thanks so much
Michelle Cook
Moultrie Ga

Grailing Brown
from Sheboygan, WI
My check # 247-238811, location: 526 S Taylor Street, Sheboygan, WI 53081. Half price appetizers, the cheese sticks were under cooked. I sent them back and the order still came back under cooked. Another customer sitting at the bar said he had the same complaint. Server stated the item would be removed from my check. I ordered something else. The waitress ran my check for me and I found the item was not removed. Bartender stated that there is nothing they can do once they ran or put through the bill. I would have pay the full amount. I generally like Appleby's and eat at your restaurants several times a month (8-10) average check $20.-30.00. I am disappointed in your service a lack of attention to food prep even after it is pointed out. I will not be back! Texas Road house has better quality control over food preparation and follow up with the customer.

David Johnson
from Chicago, IL
Visited Applebee's store 3/29/2018 at around 610pm. Store on South 3rd st in Terre haute Indiana. Always took advantage of your great deals and discounts. But on this day I order your $8 whisky burger. The burger was flat as a pancake! I also heard from a few neighbors that they received the same quality hamburgers.. It was as if they were in a hurry for time,and smashed the burger so it could be done in the 4 minutes it took to receive it..Therefore please check into this before u lose many dedicated customers.. Thanks for your time

John Miller
from Accord, NY
Lost a hour and a half of my life at the Apple bees on North Rd in Poughkeepsie. Got there at 7:10 PM and was seated. Waitress came over, we ordered 2 waters and 2 for 25.00 meals with boneless wings. Simple and we do it often and we did not take time to decide, we knew what we wanted. 25 minutes later our boneless wings come and 40 minutes after that our meals came. Called manager over and said we've been here an hour or more and our food did not come, We were getting tired from just sitting, She said foods were there but no one picked up and it appeared dry from just sitting there and they were going to re-heat our food and it will be out shortly. Food was OK but we waited so long for it that we lost our appetite and it was getting late for us to eat a big meal so my wife packed hers up. The manager knew we were not happy so she compensated us by giving us $2.50 off a $25.00 meal / 10%. I feel a good manager would have compensated the whole bill, Tell us she was sorry about the mix up and to come back and try us again. Lousy manager, Lousy Restaurant, I will never go back again. Can't afford anymore than 2.50 to keep a customer and I go there often, Then I can't afford to spend a hour and a half waiting for a simple meal. $2.50 big deal, Losing many customers as they read this. Nop wonder stores are closing

Sharon Snow
from Norfolk, VA
I ordered curb side pick up today which was 2 chicken oriental salads with2 side salads 2 for $20.I picked them up and they forgot the side salads and after waiting for them i got home and foynd the oriental salads containers 2 thirds empty.No lettuce to evencover bottom of container.We added the caeser side salads to it and tasted like crap.VERY DISSAPOINTED .I love going twice s month to the Laburnum Ave. Store and nowgoing curb side.but feel cheated today and may not go back.It wasin Richmond Virginia.

Mark Reynard
from Grove City, OH
You have been advertising for some time now, the return of riblets. I am in central Ohio and as of March 13th your restaurant's don't have them yet. How can you advertise their return and not supply the product. Get your act together or you may find customers going elsewhere.

Deborah
from Richmond, VA
I am notifying you of the unfair treatment I received at the Richmond, VA Applebee's located on Laburnum Ave. On March 6, 2018, I entered he restaurant around 5:15pm to join a number of friends at the bar. We were all conversating, laughing, and joking with each other for hours. I personally remained civil and in a good mood. Towards the end one of my friends offered to buy me a drink. During that request the bartender ' Will ' replied that I could not receive another drink. At that moment I thought Will was joking, but that was not the case. I asked him why and he ignored me. The gentleman that was buying asked Will repeatedly to give him a reason why I could not receive a drink. Of course Will ignored him also. At that time I went to contact the manager, whom I believe to be named ' Tiffany.' When she came out o the bar area she agreed with Will, which totally baffled me. Numerous people at the bar were shocked and concurrently stated that I had done NOTHING wrong. Will and Tiffany were bombarded with complaints by numerous patrons because of the unfair treatment I received. We then ALL left to go to a competitive restaurant. Applebee's permanently lost seven regulars whom were future paying customers that day! As a manager Tiffany is bad for business if she sides with a poorly performing bartender. I was in complete control of myself and did NOT disturb other customers. NO REASON FOR THE EMPLOYEES NOT TO SERVE ME, unless providing bad service is Applebee's mission. Others are willing to be contacted as proof of the incident.

Deborah
from Richmond, VA
I am notifying you of the unfair treatment I received at the Richmond, VA Applebee's located on Laburnum Ave. on March 6, 2018. I entered the restaurant around 5:15pm to join a number of friends at the bar. We were all conversating, laughing, and joking with each other for hours. I personally remained civil and in a good mood. Towards the end, one of my friends offered to buy me a drink. During that request the bartender 'Will' replied that I could not receive another drink. At that moment I thought Will was joking, but that was not the case. I asked him why and he ignored me. The gentleman that was buying asked Will repeatedly to give him the reason why I couldn't receive a drink, of course Will ignored him also. At that time I went to contact the manager, whom I believe to be named 'Tiffany'. When she came out to the bar area she agreed with Will which totally baffled me. Numerous people at the bar were shocked and concurrently stated that I had done NOTHING wrong. Will and Tiffany were bombarded with complaints by numerous patrons because of the unfair treatment I received. When then ALL left to go to a competitive restaurant. Applebee's permanently lost seven regulars whom were future paying customers that day! As a manager Tiffany is not good for business if she sides with a poorly performing bartender. I was in complete control of myself and did NOT disturb other customers. NO REASON FOR THE EMPLOYEES NOT TO SERVE ME, unless providing bad service is Applebee's mission.

Margie marranca
from Whiting, NJ
We went out for dinner tonight at Applebee's in Manchester, nj and we're totally disgusted with our service and my meal was bad. I ordered the 6 oz steak and asked for it to be cooked medium. I also asked if I could get an order of your crispy onions. Well my steak was raw and the onions were fried onions. I asked our server Emily to bring my steak back because it wasn't cooked and she asked me if I wanted it more rare or more cooked!!! I can't believe she even asked me that. I obviously told her I asked for it to be cooked medium and wanted it cooked more since it was rare. I also told her that they gave me cooked onions not the crispy onions. She was completely unaware of what I wanted. I had to ask another server to tell her what I wanted with regards to the crispy onions. What topped the night off was the server asked us mid way through our meal if we wanted dessert or coffee. It took me by surprise because we were still eating our meal when she asked us about coffee or dessert. At the end of our meal I asked to see the manager. I explained that I found it rude that we were mid way through our dinner when the server asked if we wanted dessert or coffee and is response was that this is a new initiative by corporate. I quickly told him that I think it is a rude and stupid idea and if this is how applebees wants to treat their customers then I will not be patronizing this establishment and neither will any of our friends or family.

Because of work we decided to visit applebees for our valentines dinner on 2/13 instead of 2/14.....we arrived at 5:50 pm......were seated and the beverage order taken.....when the waitress came back at 6:02pm we asked for the half price appetizzer and was told no it was after 6:00pm.....no exceptions.....I explained that we were seated before 6:00 and she came back at 6:02 but to no avail.....because this being "our" valentines meal I didnt want to cause a big deal etc......and then the burger I ordered did not have the tangy bbq sauce on it as in the description either......of course I didnt realize that till half way thru it when the wife asked me how the bbq sauce was.....that I didnt mention figuring it would be a waste of time after the 6:00 problem....please respond... Thanks

Mark Slade
from Augusta, GA
I attended the applebees resturaunt on 2125 Windsor Spring Rd, Augusta, GA 30906. I sat at the Bar to order my lunch and have a adult beverage. The bartender who seem to be occupied with laughing and joking with her favorite customer finally walked over after roughly 5 minutes and asked if I needed anything. I asked for a menu and to start a glass of ice water. Oh let me say also that the bar were I was sitting was wet and still had dirty dishes on it while she talked. Finally after another 6 or 7 minutes she returned and I ordered some wings as a appetizer and a shot of crown royal. After I received my wings they were cold. I never received my shot and the managers who I tried to get there attention (2 of them) were too busy watching the basketball game on the TV. I politely paid my bill and left. Very disappointing and I have been a loyal customer as long as I can remember.

Rafael
from Lake Hiawatha, NJ
My burger was undercooked I dealt with it. I didn't want to make a big deal out of it, but as I was eating, I noticed a long strain. A hair in my burger. I would have returned it for a new one, but I lost my appetite and didn't find the need to. I'm a huge fan of the applebees franchise. I've been coming to you guys for years. But since I moved to the Parsippany area. I've been unhappy with the service they're providing me.

Cindy Wynn
from Virginia Beach, VA
Just watched a video where African American ladies were being racially profiled on the word of a server who was not for sure if these were the people who skipped out on a meal the previous night.The incident happened on 2/10/18. Not all black people look alike and to not have definitive proof that these were the young ladies was racist. I nor my family or friends will not eat at Applebees ever again. This is not acceptable.

Mel Boettner
from Barberton, OH
If I could give zero stars I would. Placed order online on 2/4/18 to be picked up at the Beechmont Ave Applebee's in Anderson Twp Ohio. Paid my $51.00 for the order and was given a pickup time of 17:34. Arrived at Applebee's pickup at 17:30, called into restaurant at 17:33 to let them know I was out there, Bri answered and said we'll be out in a minute then hung up...no customer service skills what so ever. 17:46 bill was brought out with a milkshake, I was told they were packing up my order and he would bring it right out. 17:57 my order was brought out he explained that they gave me new French fries and added extra ice cream since my desserts were made first and they were melted. I checked the order, an entire meal was missing including the drink. I went into restaurant (which what is the purpose of the curbside service) asked to speak with a manager, they pointed to a man sitting at the bar drinking with a customer in plain clothing (jeans and a blue striped polo type shirt). He acted annoyed that I had a problem I wanted him to deal with, I proceeded to explain the problem, he went through my bags and asked what was missing. I showed him the receipt and told him which meal was not there. He sighed loudly and went to the back to get my order, before he left I asked that they remake my milkshake since is was just milk now, he clearly showed by his facial expression rolling his eyes that he was not happy about having to have the milk At 18:10 I left the restaurant with my order, before leaving I asked Linden the manager if he could please give me the corporate office's phone number. He threw his hands up and said he would see if he can find it. He never came back so I told the person behind the bar I would find the number myself and I left. He gave me a $20.00 coupon that I will never use, my order in my opinion should have been complimented by this manager and removed from my credit card. That is customer service, not the rude, ignorant behavior that Linden displayed towards me. Once home all the food was cold and the desserts laid in a river of milk from the melted ice cream.

Ann Stewart
from Mt Pleasant, NC
Me and my family went to Applebees in Lancaster SC on Feb 3 2018 my daughter food was not done and they changed it the burger she order was not done my husband and my food was cold so what can we do to resolve this

Melissa Otero
from Springfield, MA
Hello,
I wasn't sure who to complain to but i hope this reaches someones ear. I have been a loyal customer of applebees for years and i never really choose anything other than steak or my repeated dish of three cheese chicken penne now i come to applebees to hear that applebees has now changed its pasta from penne to cavatappi. I have never once in my life liked this noodle! all the pastas on your menus all over Applebees has changed i politely asked the waiteress if this pasta can be changed and they had a fit stating they no longer carried penne. I am downright outraged that i now cannot have my penne because applebees decided to save themselves a few cents for some damn noodles! This was my second attempt as i never thought applebees would have a fit over changing a noodle let alone stop serving bread. I am sending this to let you guys know if you dont stop messing with applebees menu you WILL LOSE A LOT OF LOYAL customers who've been buying from your restaurant for years. You already lost one loyal customer how many mkre will you keep pushing out the door? im taking my business to olive garden as now i can no longer order my favorite dish from your restaurant! I expected better from this restaurant now it has just downright become an embrassment and food has become incredibly disappointing. I will not be returning to any applebees restaurant until the menus are resolved.
It doesnt even taste the same anymore. Wait until loyal customers start noticing the changes and their favorites and start walking out. My all time favorite restaurant and dish entirely ruined thanks a lot to whoever thought changing the menu wasnt a big deal. The customer is always right think about it before you keep changing our menus! #GoodbyeApplebees

TINITA PARHAM
from Mableton, GA
To: CEO of Applebee's Restaurant Chain
From: Tinita D. Parham
Re: 12/30/2017 Visit
Date: January 12, 2018
Greetings,
I am writing to express my extreme displeasure concerning my recent visit to Applebee's in Douglasville, Georgia. On December 30, 2017 my family, a party of 25, celebrated my great nephew's second birthday. The restaurant was notified days in advance as well as the day of the celebration concerning the large party in order to make sure that the restaurant was ready and prepared in advance. The restaurant was still not prepared and the majority of our party, with a few slow pokes, was on time. Even though we waited over an hour to be seated everyone was in a high celebratory mood. People drove hours to be at Applebee's at that particular time for one specific purpose.
Once we sat down we were greeted from a vibrant hostess. Although her demeanor was bubbly we were shocked by how she represented the Applebee's franchise. She wore a necklace with big bold letters NASTY. That was extremely distasteful, but not enough to make me take the time to write this letter.
The issues began after the orders were taken. It took a long while to get the appetizers. Since we were all socializing and wishing the birthday boy happy birthday we were not yet annoyed, irritated, or dissatisfied. We were taking that time enjoying one another and the reason for the gathering.
The wait between the appetizers and the main course was ridiculous. It took about an hour and a half after the appetizers before we got the main course brought out to us. Prior to this, about 45 minutes after the appetizers, I personally went to the waitress and asked what the holdup was because everyone was getting upset at this time. She informed me that the food would be out within the next five to ten minutes. I let everyone know to only become a speaker of non-truth. About 20 minutes later I went to speak to her again. At that time she informed me that it was taking so long because of the number of people in our party and that they were trying to bring everyone's food out at the same time. A red light immediately went up because it did not seem feasible that they would be able to get everyone's food out at the same time with the same quality.
I mentioned my concerns to the waitress. I asked her if they could bring out the food as soon as it was up because I was worried that some of the food would be cold. She was adamant that everyone's meal would be hot, so I went to notify everyone once more of the holdup and what she had stated.
When the food came out only two people had hot food. Some people had slightly warm food, but the majority of the food was COLD just as I suspected it would be. I was extremely upset. As the waitress was passing by I informed her that my food was cold. She rudely barked at me that it couldn't be because she just brought it out. I looked her in her eyes and asked her not to argue with me and told her that I would like to see the manager. I even mentioned to her that the guest of honor did not receive his food at all. She literally rolled her eyes at me and walked off. We had to feed him from other peoples' plates …. LUDICROUS!
After five minutes ……. no manager. After ten minutes ……. no manager. After fifteen minutes ……. no manager. While I waited on the manager to come the waitress went even further with her unprofessional display and rudeness. My cousin, his wife, and two children were sitting directly behind my table. She spoke loudly as she uttered that people did not know how hard it was to be a waitress - it's not easy; I wish that some people could be a waitress for a day and see how it is. I could not believe what she was saying and I knew that she was speaking indirectly (but directly) to me.
I then took it in my own hands to speak to the manager myself. I walk to the bar and asked for her. After explaining to her the situation and that I did not want my food she was of little to no help. She acted as if she was scared of her waitress instead of being in charge of the restaurant. She apologized for the waitress's' behavior, said that she would take care of my bill, and disappeared.
Everyone was trying to JUST LEAVE! We wanted to settle up our debt and get out of there, but that too was an issue. Although we notified the waitress during ordering that we would have separate checks it did not mentally register with her because she did not comply! The waitress did not know how to separate the checks after placing everyone's meal onto one check. It was a mess! We were held hostage for over an hour to just pay the bill (LITERALLY – NO EXAGGERATION)!
About 30 minutes into waiting I went to look for the manager again and informed her that I had to go because my daughter had to be a work shortly. She was once again NO HELP! All she could say is that we had to wait until the waitress could figure out how to separate our checks. This was beyond UNACCEPTABLE! Management had no answers, solutions, and could not quickly resolve a simply payment issue. I couldn't believe it. I could not believe that this was who was hired to run and make decisions for the restaurant. It was UNBELIEVEABLE!
At this point the waitress had sat at one of the tables in our party while she did her job of separating the checks – EXTREMELY UNPROFESSIONAL. I could not believe she sat down with us as if that was acceptable. The manager must have saw this as an acceptable practice. Although she did not sit with the waitress she did stand behind her leaning on the wall looking as the waitress shouted out who ordered such and such. PREPOSTEROUS! I could not exit there fast enough!
After purchasing four 2 for $25.00 meals, having three of the four meals cold, and receiving the poorest service that I have ever received only $8.00 was taken off my bill (and I had to pay my bills separately due to the lack of expertise). I asked the manager for the district manager's number. She literally disappeared AGAIN. The last time that I asked she still would not give me a phone number she yelled across to me from the register that I could look on the receipt for a number to call. I COULD NOT BELIEVE IT, but I should not have been surprised. The whole evening dealing with the staff was a DISASTER!
Unfortunately, I feel ill and could not get this sent out as soon as I wanted. Although that was so I was not dare going to not write about this experience. I truly hope that you reprimand the young blonde Caucasian manager and older African-American waitress for their performance. They put a negative stain on the name APPLEBEE's.
I would also like a gift certificate to go back to another Applebee's in hopes that they represented a few apples and not the entire tree!
Sincerely,

Cindy Ingraham
from Staunton, VA
The steak I ordered was very rare and bleeding even though I ordered it medium. I have pictures of it. I told the waitress and she offered to have it taken back to the kitchen, I told her I didn't send my food back to the kitchen that it should have been cooked correctly when it was brought out to me. I asked for a box and told her I'd take it home and cook it myself. Was then visited by the manager who offered to take the steak back and cook it himself. I refused and told him I would take it home and cook it myself as my husband was almost finished with his meal by then and we didn't want to wait around for it to be done correctly. We don't go out that often and was very disappointed in the whole experience. We will not be choosing to go back to Applebee's again as we have had more positive experiences elsewhere. Please contact me for pictures of my very rare steak and also our receipt which I also have some questions about. Thank you.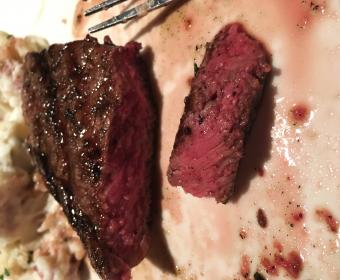 Felice Hechtman
from Wantagh, NY
Today, 1/26/18, I visited the Applebees on N. Wellwood Ave in Lindenhurst, NY. I had the 2 for $20 lunch with my friend. She ordered the burger and I had the Fiesta Lime Chicken. My chicken was so burnt that it looked like a hockey puck. It was inedible and since I was pressed for time, I couldn't wait for another entrée to be substituted.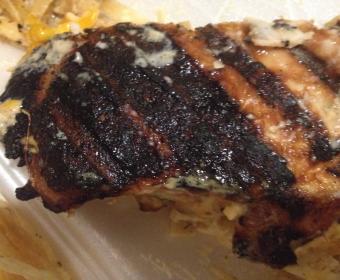 Sharon aeberli
from Montague, NJ
Middletown n.y Applebee's,visited Thursday night Jan18.I ordered a classic hamburger. It was so over cooked and terrible that I sent it back. I ordered medium rare. They brought me another one and it was worse. I did not eat it. It looked like they cooked it on one side and never turned it. I paid for it but was not satisfied.my husband ordered the ribs and enjoyed them.

Paula Wright
from Newport News, VA
I visited the Applebee's in Chesapeake va 23320 Sams circle, service was awe full the waitress Mandi C. Needs to be trained how to provide at least decent customer service!!! I waited 30 minutes for a brownie bite that I ordered before I finished my meal. She came and took up the payment and we still waited another 30 minutes, when it got to the table it was melted. They really know how to make you not want to come back!!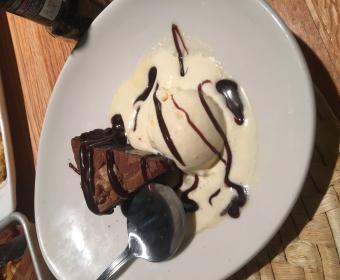 Troy Fletchall
from Hastings, NE
I have been working at AppleBees in Hastings Ne since August of 2016. I have asked numerous times to be put on full time and get told no every time cause they have too many hosts already or they can't afford if that were true how do they get a more expensive tv sport package and hire more people all the time? I am 46 years old and get told alot that the servers would love to have me work as Host full time would cost company less cause could cut down on number of host's/hostess's. We get told that the company puts workers and customers first . must be only certain restaurants that do that. I get $136.00 per month from the government for a partial disability I got while serving in the Marines. My pay from AppleBees comes to $250 every two weeks I pay $77.00 per month for auto insurance $275.00 for half the rent $36.00 for trash 36.00 for phone and half the utilities if can. I get 636 each month total I pay out Close to 600 each month when you count cost of driving to and from work. see what you can do with 36 dollars oh that don't include food.

Angela Johnson
from Colorado Springs, CO
We came in ordered appetizers and drinks. Our bill was over 50 dallors. We had two servers and they both made our drinks well . There was a gentleman bar tender took over,we asked for another drink ,he made it and it tasted funny like too much pineapple was put in . We ask the male bartender if he did something different to the drink . His response was that he made them correctly. The other two girls made them wrong. Our original bar tender said the other girl would take care of us.she came over and asked if we wanted a box to go or waters. We were only on our second drink when we asked for another drink and it tasted different .correct . We were going to have dinner and maybe one more drink . We basically felt like we were asked to leave with the water and box question. Because they were covering for the 3rd bartender. I feel it was extremely rude. I will not recommend this Applebees to anyone . I bought a gift card for my parents for Christmas don't think I'll give it to them. Your store staff was rude .

Roberta Seybert
from Slippery Rock, PA
Visited Applebees on 42nd Street in New York City, NY on Dec 2nd at 8:54. Immediately as I sat down, I asked our server, Resma N, if the Long Island Ice Tea was on special for $1 there also and she said yes. So my husband and I both ordered one when she took our drink orders. She came back, brought our drinks and took our food order. Someone else brought our food and asked if we needed anything else. My husband ordered another Long Island and that person brought it. Imagine our surprise when our check came and we were charged $10.19 for each Long Island. I called our waitress over and explained that they were on special for $1. She said they didn't honor the specials there. I told her that I had specifically asked her if they were and she had told me, yes. She said she didn't hear me so I'm not sure what she said yes about. Their policy is to add 18% gratuity to the bill and my husband told her if that it wasn't already on our check we wouldn't have given her a tip. She had the table beside us and checked on them no less than 4 times but never once stopped at our table. We saw her when she took our orders and when she brought our check. We were very unhappy and dissatisfied with our server and the fact that our drinks were full price. We never would have ordered the Long Islands had we known

Michael Bullock
from Oak Park, IL
I am from Detroit Michigan and the Applebee's on 8 Mile and Woodward Avenue in Detroit Michigan service is terrible management was terrible servers were terrible I was outspoken wasn't listen to and then the police was called when I wasn't supposed to shut up and listen to them when my service was unsatisfactory they did not want to hear my complaint at all and it's terrible I will never visit any Applebee's in this country ever again someone from corporate needs to visit this Applebee's and see what is going on customers are asked to leave when service is unsatisfactory and they did not want to listen nor hear what the complaint was I have never been to a restaurant and had a meal and had anything that was wrong with it to where a server did not want to hear me let alone management instead the police was called totally unnecessary!!!!!!!

Bonnie Strohl
from Pewamo, MI
Applebee's ,Marinette Wisconsin, This restaurant is unacceptable. We had two tables pushed together, no one would wait on us because the tables belong to two different servers, I had to ask for someone, because they were deciding who should get us. Gave us two kids meals when we asked for one, put the other one on the two for $20, telling us they would take it off, never did. The waiter was rude, treated you like you didn't know what you were talking about, Granddaughter got her food with a HAIR fried into it, the bun was burnt,,..we order it again, didn't get the burger until we were ready to leave, that burger was dried out and the meat burnt but covered with cheese to hid it, tasted burnt. I talked to a manager and she told me we are busy and the grill is full, you have to wait for the redone burger, This happened on November 24th. Black Friday at noon, Marinette Wisconsin, restaurant. They do not care about customer service in that restaurant, you could shut the doors and I doubt if they would be missed, you have such a big turn over of employees, no one seems to know or care, just get the food out in any condition. You have a sad state of affairs in that restaurant..

Mel Cribbs
from Ormond Beach, FL
I ordered takes out curbe side.. Big mistake.. Boneless wings were soggy and cold. One very small cup of ranch. Beer nachos.. All ingredients in small individual cups.. Not even enough to cover the amount of chips they gave us.. One tiny cup of sour cream. We had to put it all together and microwave it.. Horrible! A burger with cheese. No condiments in the bag. We weren't asked when we placed the order if we would like any.. Had to wait forever when we got there.. Had to wait forever for ketchup and mustard.. The person bringing out the order said they were short on staff.. Really... Couldn't tell.. We didn't even eat the food.. Waste of money.. Called Chili's next door and went back out and got some real food. Do not order from Applebee's

Robin Hill
from Lawrenceville, GA
On Thursday 11/16/17 I was having lunch at Applebee's located in Duluth GA on pleasant hill Rd. and a roach was crawling on the chair I was sitting in. When I told the manager all he said was " sorry, we just had the exterminator out earlier this week" the waitress was nice enough to move my table. If I wasn't pressed for time and hungry, I would've left. This was the worst experience I've had at your restaurant,

Irma Allen
from Los Angeles, CA
My Bible study group of senior women chose Applebee's in Escondido for our last meeting. When it came to getting our bills, we asked for our senior discount. What was done made our dining experience very uncomfortable. The discount was given on the entire bill and applied to only one of the guests bill. There were 6 of us, 2 had individual meals, 2 shared the 2 for $20 and 2 of us 2 for $25. We asked for individual checks accordingly. Because the discount was applied to only 1 check, we were left to work out the discount between us ourselves. This was very uncomfortable and we should not have had to do this. The manager did explain why it was done this way, but it should have not been done this way to begin with. Also, my ribs were dry and over cooked. Considering that it's an item on the premium selections, it should have been better made.

Kingsley Ellingson
from Harrisonville, MO
We took another couple out on Oct. 28th for our 56th wedding anniversary. My wife and I ordered the 2 for $25 dinner. My order was the half a rack of baby back ribs. This was the most misrepresented, falsely advertised BS I have ever seen described in my life. We have eaten baby back ribs for many years all over the United States and never seen a full rack in a restaurant or when purchased in a grocery store consist of less of 13 ribs. Or, a half rack less than 8! I received 4 of the smallest ribs I have ever seen in my life! after spending nearly $70.00 we will not be back and certainly let our friends know about this.
Thanks for cheating senior citizens!

LINDA NASH
from West Memphis, AR
A GROUP OF US WENT ON 10/31/17 AROUND 5PM. SEVERAL OF US ORDERED SALADS(MYSELF INCLUDE). MY SISTER AND I ORDER ICEBERG LETTUCE AS WE ALWAYS DO. SHE GOT HERS AND SO DID OTHERS. MY CAME WITH A SMALL AMOUNT OF RABBIT FOOD AND DIDNOT HAVE CORRECT DRESSING. I TOLD WAITRESS, SHE TOOK BACK. CAME BACK AND SAID NOT ICEBERG LETTUCE IN RESTURANT. I SAID YES. SHE WENT TO GET MGR. I SUPPOSE. BRUCE CAME TO TABLE AND SAID SALADS ARE PRE-PACKAGED. I SAID SO? WE CAN'T MAKE YOU ONE. I SAID FORGET IT AND HAD NOTHING. I GO IN THERE A LOT. LAST MONTH THE WAITRESS ADDED ADDITIONAL ITEMS + ICEBERG. ALL THIS REFUSAL FOR A SALAD. ALL I WANTED. IT WAS AN ORIENTAL CHIC SALAD IN THE TUPELO,MS REST.POOR SERVICE. WAITRESS WAS GOOD.

joseph warmt
from Troy, NY
Oct. 10th at 330 in the Latham ny store my wife and I went to applebees for diner I bit down on something hard in my steak hurt my tooth ,and had to see my dentist. our food was cold . 9 out of 10 time your vegetables come out cold but not the whole meal. we paid our check and went home and got a pizza We wasted 50 dollars on a meal we could not eat ,then pay for a pizza

Staff
from Virginia Beach, VA
Had a drug rep lunch food was cold,missing a whole order and side dish missing with one.
when we cld the applebee's they agreed to fix the missing order and stuff no reference to compensating
we had to ask for it. Then they gve a 1/4 of a piece of brownie in a cup with a tablespoon of ice cream
very cheesey for a large corp.

Aretina Brown
from Kirkland, WA
I was at the Applebee's located at 2500 Capitol Mall Drive in Olympia, WA. I ordered the four cheese mac and chicken tenders meal; when I got it the pasta was cold. I also had to ask for plastic silverware when the food arrived because the silverware was dirty. When I let the waiter know the four cheese mac and chicken tenders was cold he asked if I wanted something else. I asked for the whisky bacon burger; I waited for over 15 minutes and it still wasn't done. I decided to leave and I let the manager know about the food and service. He was very nonchalant and didn't care that I was a dissatisfied customer. I was there Oct. 30th between 6 pm. and 7 p.m.

I had not only a terrible unforgettable experience, but I also felt my family and I were in danger! My family and I ordered appetizers with meals, however we did not recieve any customer service by our waitres. I asked to speak with the manegar who's name was Scott was even worse he nearly pushed me out of the door screamed at my party of 6 including myself. I was never treated with such disrepect in my life. I will no longer be a regular at this chain. Very dissapoing I hope you look into this and fire him personally he is not the type of person you would want in a profesional buissness, especially a racist one!! Not the type of feedback I thought I would ever have to write

Karen Battaglia
from Sykesville, MD
I visited the Westminster Maryland store for lunch and ordered an proental chicken salad and a chicken basket and a kids mac & cheese with two fountain drinks and was not offered the 2/$20 offer. When I was given my check I looked at the menu and realized this was part of the 2/$20 after I already paid the check. I then requested them to adjust my check which they did. When I asked for a receipt to show that my account was credited the manager Gary Uhrig informed me they were unable to do that. In addition, Mr Uhrig stood there with his arms crossed looking down at me in a very rude and condescending stance. I have visited this location may times and after this experience I will doubtfully return.

Amy MANN
from Portsmouth, VA
was at your APPLEBEES IN Hampton on10/0717 to have drinks and dinner before a concert.
we had a 30 minute wait. Our margaritas was served in a Dixie cup, I been telling the ladies all week about
Margaritas and to have them in a Dixie cup. the waitress Lisa C informed as they did have any clean
glasses, In that case with me being in Management why wasn't some one schedule just to keep up with glasses.
our waitress did bring our drinks nor food to us Some young man heard us expressing our opinions and start getting our drinks
and checking on our food. The manager came to our table to see what he can don't offer a discount just a week apology.
never will I go to the Hampton applebees again. I eat at your cheapeake square and Battlefield location at least twice a week
for lunch or dinner.

Gregg myer
from Charlotte, NC
Food was OK when we finally got it . The three of us went in to Applebee's in Matthews nc on sat Oct. 15 2015 at about 4:30 pm ? First of all we ordered 2 mixed drinks and a diet Pepsi . we also had no silverware or napklins . We waited and waited and saw 2 tables come in and get there drinks and we still didnt get ours . our waitress vanished and we finally as another waitress to check on our drinks .we waited another 15 minutes or so and finally got our drinks . We had ordered a appetizer and salads and another 15 or 20 minutes w finally got that . We had ordered our dinner a long time ago and waited another 20 minutes while people that came in had been eating about 15 minutes Then we only got 2 entrees and had to ask for the other one and one person had to wait another 10 minutes before the last meal came . By the time we left we were there 2 hours . I have lived in Charlotte 54 years not ever remembering waiting this long to eat . SERVICE SUCKED !! Makes me want to avoid Applebee's . This is sad . All 3 of us were very disappointed to say the least !!

Shakirah Moorehead
from San Francisco, CA
The service was poor. The food wasn't done, meaning our hamburger was pink in the inside. Never received my appetizer. Didn't break the price down about the food we ordered. My mom never received her food. The waitress was stating policy but couldn't tell us what was stated about the policy.

harold thomas
from St. Petersburg, FL
I was in for dinner the other day . two days after they reopened from the storm .,
I orderd a Asian chicken salad extra chicken . it came the chicken was chopped into tinny piece's
I waited for my server because it looked nothing like on the menu I asked her for a menu she asked if it was ok ? I said this looks nothing like the picture in the menu. I said how do I know there is extra chicken she said there is .,. she said you kneed too see a manager I said I'm sure she will make it around. she did she came buy we had our talk she asked to replace or something else by this time I was like no no . she did menschen they just reopend they got a small truck . there were running on scraps .. well if you seen my salad that's what it looked like .... another manager came by we talked I had to ask him to take off the extra chicken off my bill what a joke worst 35 dollars I ever spent

mike mawson
from Philadelphia, PA
the server failed to inform us that the appetizers that are listed on the menu under the 2 for 10.99 or the 3 for 13.99 were only the sampler when we orderd our appetizers we were up the impression that they were full size so when we looked on the tablet at the table it showed a higher price than listed when I asked the server about it she said you didn't say you wanted to sampler size I replyed by saying it does not say that on the menu it only shows the deal @ 2-10.99 or 3 for 13.99 that is called false advertising I will never eat at one of you restaurants ever again I have also told many of my friends about this and they said the same thing
mike mawson
phone # 267-628-7712
the location was 217 s 15 street phila pa

Annette Noto
from Roseville, CA
We recently visited and Applebees establishment. The music was so loud. We asked our server to lower the music. She said she would let management know. The manager came over to talk to us. She said that she could only turn it down just so far per corporate. I never heard of such a ridiculous reason. I don't know if you are aware of the type of clientele that visit your restaurant. Very few are teenagers coming in for a hamburger & malt.
Most of them are families with children, senior citizens & the working public who are tired from their jobs & don't want to bother cooking every night. They don't want to come into a loud & noisy place with music you can't even understand what their singing. It's definitely not music to eat by. We finally decided to take our food home where we could hear ourselves think & talk. If it is necessary for the music to be that loud, why don't you play it on the weekends & during the week, keep it low. That way you can make everyone happy.

Mike Deveraux
from American Fork, UT
My wife and I ate at the American Fork, Utah location on Sunday November 13, 2016 at approximately 4:00 PM The service was terrible know one asked how the food was, did not offer a refill on drinks, had to wait for our check as my wife finally got a waiter's attention. I always tip at lest 20% we paid cash with no tip. The restaurant was not busy at all dirty tables, poorest service I have ever received, you can count on it that is my last time at Applebees. The waiter did not even bother to pick up the payment off the table.

julianne Halvorsen
from Queens Village, NY
My son and I went for lunch at Applebee's in Rochester at the Walmart shopping center. We sat down order taken food arrived. We started eating when my son found a bug in his food. We notified the waiter and then the manager. He apologized and offered to remake. I don't know anyone in their right mind would want to eat anything at that point. At first only wanted to comp my son's meal until I sent everything back. The most upsetting thing to me is that my son is absolutely allergic to roaches 100% which would cause him to be injected with an epi pen and trip to the hospital. This could have turned horrific. I hope you address the cleaning issue . Very upsetting and terribly disappointed.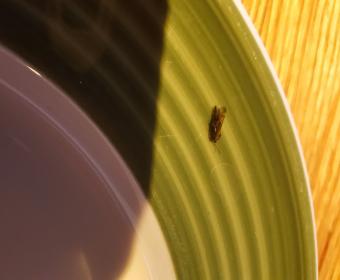 Lindy Rutter
from Newark, NJ
My son was eating a shrimp dish and felt something hard in his food. It was a rock! Spoke to the manager who asked if she could have the rock. Never saw her again and we were charged full price for the meal. Manager walked by our table 2/3 times and refused to even make eye contact.

Jackie Edingtonm
from Brazil, IN
My husband had almost finished his meal when he pulled a long white or blond hair out of his mouth. Both of us were completely disgusted and will never eat at Applebee's again. The waiter talked to the manager who only gave us a 10% discount. It was admitted that the cook did not have his hair properly pulled back. Ii feel that more should have been done. At least you will be aware that this particular store needs to pay more attention to proper health standards in the future. Thank you for attending to this matter.

Nancy adams
from Mahopac, NY
We went to your Brewster NY location tonight. The good news is that the food was delicious and our waitress was very sweet, friendly and attentive. The problem was that the restaurant was so warm that we ate and ran, skipping coffee/rea and desert. I saw three couples sit down, only to leave after realizing how hot the place was. In this heat wave that we are having, people are looking for a cool place to eat a nice meal. But at least we had the good meal. I will go back soon, hope you have the problem fixed.

Chris Weaver
from Buford, GA
Upon arriving, the greeter stated she thought the kitchen could handle a party of 4. With that comment, we should have run. We waited at least 15-20 minutes before someone came to the table to take our drink order. At that time we put in our food order as well. Drinks took another 15-20 minutes (water and sweet tea). Food took at least an additional 30 minutes and that was for only 2 entrees.
Ten to fifteen minutes later 2 salads and one of the appetizers came, still missing an appetizer (chips and dip). The final two entries finally came nearly an hour to an hour and half later. Still no appetizer. We had to ask for it to go. One thing the check came fast and the card charge came faster. This experience was unacceptable and we will never visit this establishment again. The server blamed everything on the kitchen, but I honest feel she was at fault too. We saw several other tables leaving prior to receiving their food, which is what we should of done.
Total cost of this meals was $75 and so not worth it. Store location was Suwanee, Georgia.

Jeanie Griggs
from Roseburg, OR
We arrived at 3:00Pm. When we arrived we were seated at a table that cramped us. What I mean by that is the table was right up to our chins and none of us are even fat. The music was blaring we could not hear each other. Then we ordered our mean which we waited an hour to even get our meal. Salad plate to small got all over table because it was small. My chicken wing ordered was way over peppered. You lost three costumers because of this.

Chris Osborne
from Cleveland, OH
The service was very poor. Our food was not cooked to perfection. The waitress had a poor attitude, the manager was no better. He tried to force me to pay for something that I never order. The second meal was no better, I just paid for my order and left. This is the second time I've experienced bad service. Back in December I tripped and fell in your restaurant and nothing was done.

Judy Coolbaugh
from Falls, PA
My husband and I went to the Sayre pa Applebee's the afternoon of the 26th of June for his birthday, We were seated in the bar area which was ok , our waitress came over and took our drink order and when she brought the drinks back asked if we were ready to order, we asked for a few more minutes, a half an hour later the waitress never came back so we walked out. This happened around 3 to 330 pm we are very displeased with the service, I believe the waitress name is Katrina, she waited on everyone around us and even took food to other customers but never came back to see if we were ready to order, It will be a long time before we come back to this store as the service sucked , we have never had that experience in any Applebee's on top of that the coupon you people sent my husband we ended leaving it on the table by mistake because we were so upset with the service at this store.

Clover Hines
from Philadelphia, PA
Me and my husband ordered off the 2 for 25 menu but got charged a significant amount separately for each entree instead of the 25.00 Plus tax...plus we did NOT get an appetizer which is included in the special. I contacted the supervisor, Terry Heavner & he refuses to look at my receipt and give me an adjustment or some type of compensation based on NOTHING. Please someone...do something or I will get a lawyer involved.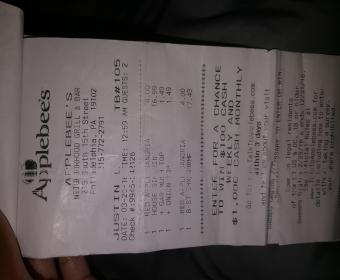 Kassidy powell
from Covington, VA

Michael Blakley
from Atlanta, GA
We were seated. "Our" waiter kept walking past us for about 15 minutes without even acknowledging us. I could understand if he was attending to other patrons but he just acted lost and he looked high. Finally some people were seated behind us and after about 10 minutes he asked them if they had been waiting long. We still felt that we were ignored. We got up and left and were told by patrons at other tables that they wished that they had done the same. My wife and I have been visiting nearly every Friday for a while but ma not be back for some time. I do business with people that appreciate it my business. We told the hostess about what had happened and she didn't say a word. If that is the type of person that Applebee's in Barboursville WV. Employs, I need to spend my money elsewhere, and did.

I went to Applebees today with my daughter for lunch. We ordered two meals on the two for $20.00 menu. I ordered the Bourbon chicken and shrimp meal for myself. I was so surprised when my food arrived. The chicken breast was tiny and I had only 6 tiny red potatoes. I couldn't believe the small portion size. When I started cutting my chicken I realized why it was so difficult to cut. The top and bottom of the chicken breast was completely black and burnt to a crisp!! The meat inside was hard and dry. The cook put the onions on top to cover the burnt exterior.
I was furious and knew that my meal was garbage. If I wasn't with my daughter spending quality time with her, I would have definitely complained and sent it back. My time with her was so important that I did not want to ruin it by complaining, so sadly I just ate half of my burnt chicken and tolerated the terrible taste. It makes me sick that I paid $10.00 of my hard earned money for complete garbage!! I cannot understand how a cook could have put that on a plate to give to a customer. I will NEVER return to Applebees again.....it is not worth my time or money.
When I go out to dinner I expect a good proportion of QUALITY food and this was certainly not that. I am very sad and disappointed. I have attached two pictures and I have saved my receipt if you'd like to see that too.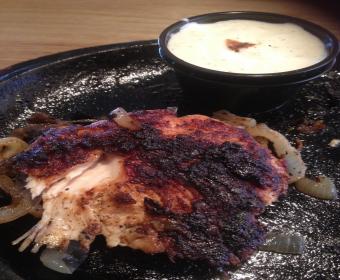 Angela Mistretta
from Clearwater, FL
Arrived (6 of us) at Applebee's (66th St., St. Petersburg, FL) around 3pm, usually all Applebee's are chilly, so we girls had a sweater. Girl seated us at a table for 6, we noticed the floors were dirty with crumbs & paper. We felt it was quite warm & humid and mentioned to the waitress, she said the air conditioning was out since Thursday (we were there on Saturday). Since 2 in our group have asthma, we told the girl we were leaving because it was too warm & humid. As we walked out, the manager approached one in our group and asked where we were going. We told him there was no air conditioning and we were uncomfortable. He said that he had turned it down and that he would make it cooler. So, who was telling the truth? The waitress or manager"? Seems to me the air conditioning should be kept at the same temperature all day. We ended up going to another Applebee's on Starkey Road, Bardmoor area. We were inconvenienced that day, and wasted time going to another Applebee's.

Samantha Trimboli
from Findlay, OH
I was at the Applebees on Morse road near Easton Mall in Columbus on Thursday March 17th visiting due to having orientation at Highway Patrol the next morning. When my dad and I first got there we had to wait, and they didn't seem to know how many tables they had open, or how long the wait may be. The hostess walked away and didn't come back for a little while and when she did she said nothing to us. We had to wait an additional ten minutes before being sat down.
After sitting down we saw at least twenty tables that we open. There were also at least ten tables that were dirty along with a mess on the floor next to our table. Service was slow. When I received my food the chicken was uncooked and pink and my pasta was overcooked. Neither my dad nor I were happy with our meals. My dad wanted desert and they never asked, just handed our check and asked us to pay. The tables around us were not cleaned off the entire time we were there. Worst experience at a restaurant, especially Applebee's. Was not pleased at all. The entire staff was horrible.

David O'Connor
from Liverpool, NY

lindsay
from Smithfield, NC
Called Applebee's in Smithfield north Carolina for a car side to go order. The number was continually busy for over an hour. Ended up going to restaurant to place our car side to go order. We were directed to the bar... Where employee Ashley Mitchell acted like we were not there. Ten mins later she took our orders. Another 20 mins went by before she took our payment. My sister went out to the car to get her wallet.... Where she was verbally attacked by another employee...Hannah Beasley.
The employee yelled at my sister "yeah take your a**to your car and don't come back"when my sister got back to the bar where we were still waiting on our food the employee Hannah Beasley continued to be rude and make smart and derogatory comments. Hannah Beasley kept sniffing and rubbing her nose.... the way that someone does when they are high from sniffing something. She was rude to the customers and her coworkers. I have never been to am establishment where an employee was allowed to talk to customers like that and appear to be under the influence of some type of drug. I will never go here.

Sarah Cooper
from Melbourne, FL
Okay, I'm a huge Applebees fan, I get gift cards for Christmas and Birthday, everyone knows I love Applebees, my neighbor calls it My Happy Place. But, I'm not real happy with whoever thought it would be a good idea to take away our breadsticks, really! I always get the Tomato Basil Soup and Breadsticks, it's not the same without them. I know a lot of people ask about this and it's time to bring them back! By the way another of my favorites is the Chicken Wonton Tacos, please don't take them away or the Perfect Margaritas, they're wonderful!
Now, back to the breadsticks, you can say in your ad, To our wonderful and faithful customers, we are so sorry and would like to apologize for thinking you wouldn't notice or care if we no longer served breadsticks with our soup, salads and pasta dishes. You've ask us to put breadsticks back on the menu and we've heard you loud and clear. So for making this truly unbelievable decision, for the next month, our breadsticks will be back and they will be free! So come on back we're waiting for you at Applebees with warm breadsticks in the oven just waiting for you!

Diane Garcia
from Holmdel, NJ
Tonight I went to eat with my daughter for our usual mother daughter bonding night and it was a very disturbing experience. We went to the Applebee's at 1305 North West Loop by Blanco and 1604 in San Antonio Texas 78258 at the Vineyards 11/24/2015 and a server with blonde hair had horrible attitude and unnecessary profanity yelling at other employees towards the bar area. The argument was so loud I told my daughter to go and wait for me in the car so I can cash out our ticket and we didn't even finish our meal. Was an awful experience for my daughter to witness I as an adult didn't feel safe when I heard that blonde hair server say she will hit a B**** and starts yelling some more and escalates towards the back of the restaurant. Don't want to go back there again.

Bobbie Thompson
from Fountain Inn, SC
My son and daughter- in-law and 2 grandchildren went to the Applebee's in Simpsonville S.C. on Nov 6th around 5 in the afternoon. The 2 year old was crying and upset the manager came over and tossed a bowl of applesauce to the 2 year old and said the neighbor wants to know what the HELL is going on. This was said to a 2 year old! You are suppose to be a family restaurant and if you don't want kids in there then advertise it!!! We will NEVER go in an applebee's again. We have let all our friends know and quite a few feel the same way and do not go in Applebee's. We will continue to let people know of the experience.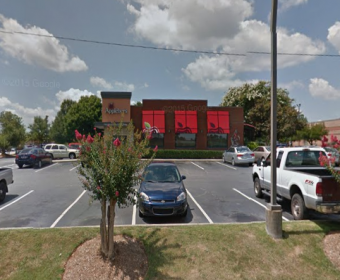 Francese St. John
from Hyattsville, MD
About 2 weeks ago I took my niece to Applebees in college park Maryland who was visiting me from New York, I eat at that restaurant all the time especially when I have company from out of town, lately when I go there it's always a problem. The last time I went there I ordered some quesadillas I asked her if she could substitute the chicken with shrimp she went to check the price and came back and said it will be 6.00 dollars more, I said to her the last time I was here which was 3 weeks ago I was charge 2.00 more not 6.00. I wish they could get they prices right and on top of it the drinks taste like lime juice I had to give it back because it was terrible. I just think everyone needs to be on the same page.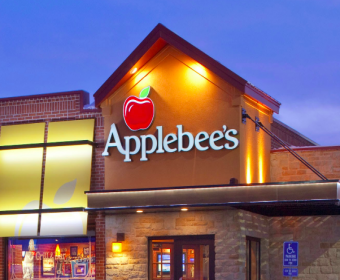 Kathy Stover
from Toledo, OH
531 Dussel Rd., Maumme, Ohio 43537. Check # 9091-345204. Restaurant was COLD. Spoke to waitress and manager. Both apologized for the coldness and stated that they were working on fixing the temperature, however, it only got colder. The fan was on you could feel the cold air blowing around. Other Applebees patrons were also complaining about the temperature. We arrived at 5:15 pm and received our food about 6:15 pm. From our order being taken to receiving our food took a long time.

Adam Geoff
from Valparaiso, IN
While parking I smell the smoke of marijuana and after being seated I asked my server why. She admittedly told me that most of the back crew smoke outside by the dumpster and the management turns a blind eye to the illegal practice. When I asked the managers on duty they did not take it seriously. Maybe they were smoking too? Chrissy and Walt of the Terre Haute location brushed me off and offered free desert. If they allow illegal activity such as this then what else do they ignore regarding food safety and practice. I will never eat Applebee's again and hope this complain reaches the ears of the corporate office. If only the executives and CEO knew about this.

I took my fiance out to dinner as a way to celebrate her job promotion. We were greeted by the host who overly rushed us to the table in a speed walk manner. I felt like she was in a hurry to punch out. We waited 15 minutes to be greeted by a server. Enough time for my partner to go to the restroom as I scanned the floor searching for a manager, to no avail. I, then, got up and accessed myself to the lavatory upon my partner arriving back. When I got back to the table, still, no service. I took notice of the restaurant not being overwhelmingly busy. To make my assessment cut and dry, our server was slow, without knowledge or offering specific menu items. The bartender was even slower, and our drinks sat at the bar station for 5 minutes until I had to politely get up and get them myself.
The silverware was disgustingly dirty. The Manager greeted folks around us and never gave us a second look. He appeared immature and dressed sloppy. The entire staff looked tired and unorganized. The feel in the restaurant was gravely boring with absolutely no enthusiasm. Our drinks sat empty as we enjoyed our perfectly cooked meal. Kudos to the cooks, which is the only reason we will go back. I expressed these issues in a phone interview with an Applebee's representative and it seemed as if I was unimportant and swept under the rug.

Donna McCalpin
from Lakeland, FL
I looked on Applebees for food ideas of what I might want to eat with the 2 for 20 menu. I saw three cheese penne pasta ordered that for pick up when I arrived home it was totally different from picture, especially, the pasta. I didn't want that so called the restaurant and spoke to manager, Stacey. I explained how unhappy I was and she said for me to try it. I said no because I don't like that type of pasta and I live too far to come back said she would mail me a meal certificate.
Well after almost two weeks nothing in the mail. I called back. She said they probably got lost somewhere so she will mail again. I said no. I will just come in to eat and use them then because I'm always there. Well I called one day to make sure she left them and another manager came to phone, a male this time. He said he doesn't see anything for me and he will let her know. Ok now I'm waiting again wish someone would just stand by their word. This is what makes customers not come back

Angela George
from Jacksonville, FL
I have been to the Applebee's on 103rd Jacksonville, FL for the last two weeks and this facility does not have a remote control to change the TV's. When I sit at the sport bar, I am there to watch sports not Wheel of Fortune or Two and Half Men. What is the problem?
How can you run a business and not satisfying your customer? I am sure I'm not the only customer that has left. What business has television in a facility and does not have a remote to change the channel? Why do you have a sports bar to watch Cheers? Why?
Oh yes, I left tonight because there's no remote control. An the smart mouth skinny waitress, need to keep her opinions to herself. I understand now why the facility was empty someone came in the building and looks at who was serving and left. Do your job and keep you mouth closed. Who wants to be serve by a loud mouth of a waitress.

Joseph Hemingway
from Raleigh, NC
Today, I went to a local Applebees and purchased a $50 gift certificate. As a reward for purchasing the gift certificate, I was given a $10 bonus card, which I was very appreciative. After working hard all day, I decided to go to Applebees for dinner with the idea that I could save some money by using my bonus card. When I went to pay my bill, I gave the waitress my bonus card and the additional cash. When she came back she asked me when I received the card, and I told her today. She then told me that I had to wait 24 hour before using the card. This really upset me and I felt betrayed as a customer. I was not planning on spending that amount of money but then had to do so because of this policy. I regret buying the gift card and do not plan to go back to Applebees again

My husband and I went to Applebees in Franklin, VA. The service was terrible. It was our 50th anniversary. He ordered the all you can eat cross-cut ribs. He got 10 riblets and a handful of fries on a plate with a small cole slaw. Our server never can back to see if he wanted more. The couple that was with us were very upset too. Two other couples walked out after fifteen minutes of no one waiting on them. My husband was charged $18.99 for what was not worth it. WE will not be back. We never saw a manager either. Your servers are more interested in hanging at the bar or in the back by the kitchen. To bad that your costumers are not important to them.

Jerry Surber
from Wheeling, MO
We were at the Chillicothe location. Ask the waitress what the senior citizen discount was. She wasn't sure, but she went and asked. In the meantime, we had looked up on your website. We told her 15%. She continued to serve us and was a very good waitress. When we received our bill it only showed 10%. She said that was the best her manager could do. I believe the waitress was embarrassed and was trying to be as polite about it as she could. We were going to ask for the manager, but we really didn't want to make a scene at the restaurant. Got to thinking more about it when I got home and it bothered me that they did not honor the 15%. The manager could have at least come over to our table and explained why she wasn't honoring the 15%, as it was obvious the waitress was at a lost for words. Just thought you would like to know that the Chillicothe location is not honoring the 15% senior citizen discount. We think it is great that you honor your senior citizens with a discount. I for one appreciate it. Thank you.

Stacie Costa
from Nassau, NY
Applebee Restaurant - Hudson, NY. My Husband and frequented the above-mentioned restaurant this past Monday, April 6th at approximately 12:30-1:00 PM. The experience was not up to par which is the reason I am writing you. We requested a booth and were seated at the last available booth which was bar side in front of the kitchen. The ledge area which separates one booth from another, contained enough dust that you could write your name in it. It's not a great distance from where your plate sits with food, unsettling. I believe our waitstaff person was named Pam. She was pleasant but took our order incorrectly. We started off by ordering the boneless wing appetizer which took a very, very long time to receive, (not Pam's fault I realize that). The vegetables that accompanied the wings appeared to have been previously chewed on, we didn't eat them.
My Husband ordered sweet potato fries as a substitute for the regular fries with his cheeseburger, it came with regular fries (Pam admitted this was her error), however my Husband was 3/4 the way through his meal before he received the correct item. I ordered the quesadilla cheeseburger with fries, it was cold. I don't have the luxury to go out to lunch much with my Husband, I work in Albany. This wasn't a good experience, I was disappointed to say the least. I wanted to inform you because if I were the Manager of the establishment I would want to know.

scott patrick
from Hamilton, OH
Three of us went to applebees for early dinner 4 -17 2015, 4:00 pm. a fairly small crowd, we were greeted by another waitress telling us that the normal waitress hadn't shown up, so she would be our waitress. after bringing our drinks to the table, we placed an order for appetizers, followed by our entrée order. after getting the appetizers, we sat patiently for over the next half hour. she said she would check on our order. 25 minutes later still NO FOOD. she checked one more time and gave some poor excuse, I asked for a manager, after a few minutes, he came to the table offering some story as to what had happened. he said that it happens frequently. I told him it was his job to make sure his workers were getting the job done, and asked him if that's how things under his watch went. he said it wasn't. he did offer some discount, but it just couldn't be felt by the 3 of us. so we left. I have spent plenty of money at the, main street, Hamilton ohio location, being it is less than 2 miles from my house. the food is always good, but the service and management leave a lot to be desired. ill gladly spend my money at another local restaurant. maybe you need to hire staff that wants to service customers. I look forward to hearing from you.

I ordered the steak nachos it looked nothing like the picture, it was a dry nacho only chips, lettuce and peppers. It is called a steak nacho where was the steak! The waitress and manager was called and they stated they was wandering why they would serve that they get complaints about this menu order a lot. Highly disappointed. Ordered another item for the menu order wasn't right I had to send it back. Was very displeased with the manager response.I left hungry and disappointed !!!!!

Lívia Willmore
from Bullhead City, AZ
Before moving out of Idaho, we decided to have one last dinner with our friends. We got there at 9pm and we were finally able to leave that place at 11:30pm. The service was terrible. We waited for our food for TWO HOURS because somehow they "forgot" about us! The manager acted like it was no big deal and after that the waiter mixed our bills and we ended up paying for another couple's dinner as well. After trying to fix her mistake 3 different times and making them worse, the waiter finally gave up and just gave us money out of her own pocket. Very unprofessional and exhausting. The worst experience ever.

Edward Knorr
from Williamstown, NJ
I am writing regarding an incident at the Applebee's in Turnersville, South Jersey. The advertised new steak dinner that I picked up looked as if it were made up of other peoples leftovers. This dinner looked like cheap dog food. I took it back and the manager could care less. The advertised dinner appears to be a fraud or the To Go menu serves second class type dinners and different from the eat in. I am upset that you would allow such dinners be sold and concern for health issues also. I will place this on You-Tube!

charlotte pendleton
from Cordova, TN
I ordered off 2 for $20 my pasta had no Alfredo sauce on it. The bread was late coming out. When complained my waitress was very nice and assistants. The other waiter was vacuuming in front of us. Ppl was coming in off the street walking in the kitchen. The manager never said a word never came to assist us. Walking around with her breast bout to burst out that like shirt. We reordered for some ribs...OMG plain right nasty just nasty burnt black crusty it was a waste of my money. I will never eat on sycamoreview again!

Tarmesha Cobb
from Chicago, IL
I had experience the worst service ever from Applebee's today. My steak had tasted horrible. It wasn't cook how I had ask them to cook it....the waitress was very unprofessional. I had also order the house drink which was a long island, it actually tasted like bitter lemon water. I wasn't satisfied at all.

Donna B. Layne
from Albany, NY
I wish to make a formal complaint against your restaurant staff the evening of April 7th 2015 in Glenmont, NY over the bad service, which spoiled my evening with my grandson and best friend.
I was greatly disappointed that my Dinner was spoiled by the service I received. The menu enticed me and I was excited because I have never been to Applebee's. When the server took my order I specified I wanted a Steak cooked medium well. How awkward did I feel trying to cut and chew this tough bouncy Steak. The baked potato was not thoroughly cooked throughout. The vegetables were almost raw niot blanched. The carrots snapped like fresh carrots, that a Rabbit might enjoy. I am unaware if the order was given to the kitchen staff properly or the Chef at the time just did not care.
I spoke to the server and she told the Manager, he offered to compensate me with another Steak and salad. The ambiance of the restaurant was definitely not enjoyed by my frustration with the meal. I always watch Applebee's commercials and was very excited to go to dinner in the establishment. But as enticed as I was from the commercials, I would have to visit another Applebee restaurant to experience a great meal. I hope that you will look into this matter and train your staff properly to order the food requested by the consumer exactly as the order is given. At this time, I am quite hesitant to return to your restaurant for future dinner with family and friends.

Debbie Walker
from Duncan, OK
My husband and Grandson and I went to Applebee's in Duncan Saturday, April 4th around 4:00 p.m. We were seated and given a menu by the hostess. I finally got up and went to the back of the restaurant where two managers and several workers were standing and asked if we were ever going to get waited on. A waitress came and kept apologizing saying someone didn't show for work. There was only one other table with people on our side of the restaurant and they weren't busy at all in the whole restaurant. I will not go back. This is probably only the fifth time I have been there since Applebee's came to Duncan. Each time the service was slow and it takes quite a while to get your food and to get your bill.

Mark Strasser
from Marshfield, WI
We have been going out to eat at Applebee's every other Saturday night for a couple years. I have been happy for the most part, Nobody is ever perfect all the time. But I am very unhappy with the changes you have made in your appetizers! Now the 4 of us, all adults, go somewhere else to eat after we get done bowling. Your Quesadilla's are horrible, the 4 cheese mac is loaded with grease, just very unhappy. I have never done this so I don't know how or if anything will change but I just thought you should know. At this time we will not be returning. Sorry!

Tina walker
from Richmond, KY
My husband and I eat at least 3 times a week their we came out wensday night to eat it took over an hour to get our food, the steaks where not hot, they where tough the vegetables were hard, we also got drinks and it took half an hour to get them

Steven stovall
from Poplar Bluff, MO
The gm Alex fired me today April the 5th saying I called In to many times. I was stranded out of town and I asked not to be put on the schedule until I was able to get back. He put me on the schedule anyway. He also used the n word on several occasions. He also hires only his friends and no blacks. The ones he did hire he ran them off.

Pedro Perez
from Middletown, NY
On 04.04.15 at around 9PM I was at Applebee's at 12 Orange Plaza Ln, Middletown NY 10940 for Dinner. I ask the waitress for an alcoholic beverage. I was carded by the Manager Dina. I only have with me at the Time was a Valid Government Photo ID with my DOB. The ID is Recognized and Honored by the NYS and Law Enforcement and the Court System. I was Informed by the Manager that I need a DMV/Photo NYSDL. I found that to be insulting my Photo and my DOB where display on My Government ID. Acceptable froms of ID'S Are Photo Government ID and Photo Passports and Photo NYSDL/DMV.I believe that the Manager should have known what are acceptable Forms of ID. Right after she Denied Accepting my Goverment ID I immediately left and had my Dinner at another near by restaurantand Where My ID was accepted with no Problem . I am really not pleased with the experience I had at Applebee's. My Birth Year is 1961.

My wife and I ordered our food online for curbside pickup. We went to pickup our food and we had to wait 40 minutes longer than when the food was supposed to be ready. After 30 minutes of waiting a waitress asked me exactly what I ordered so she could go get it ready. When we finally got our food we were shorted two sides and got a baked potato instead of mashed potatoes. Also the food was cold and the sirloin my wife ordered was supposed to be a 9oz instead it was a 7 oz.

James Burnett
from Duncan, OK
Was told thousand island has been discontinued from Applebee's menu? This is the most popular salad dressing in Oklahoma! This is the dumbest business decision ever! I won't be back until thousand island is back on the menu. We left the applebees in Duncan ok and went down the road to rib crib where thousand island is plentiful.

Peter W Johanneck
from Mountain View, CA
I have already tried to give my experience with your site when I went to submit it would not let me. I am complaining about the 3460 joe battle blvd El Paso Texas 79936 3 out of 4 times food cold a medium rare stake cold not cool and raw today fish and chips fish was good fry's cold and soggy, the drink i had was so cramped with ice i couldn't even get a straw in it to stir it never again. If you want the check# here you are 7767-60539

Ruth
from Cliffside Park, NJ
Walked into 42nd Street batwing 8th Avenue and 7th and they sad us down waited for 30 minutes or more and a waiter pass us several times they never asked us what we wanted to order. The person who asked when we walked in couldn't tells who the waiter was for the section. She said there was no chart. When asked to speak to a manager she did not know again because there was no chart. She said they will get us a waiter if we wanted to wait. We waited for so long we walked out. Why so not organize. The two table ahead and behind us had a waiter who kept walking by and not taking our order. Very disappointed in this location.

My husband & I went for dinner on 3/28/15 on Alysheba Way, Lexington, KY. The TV sound was so loud that you couldn't hear each other. We mentioned it to one manager and it was turned down. Then the manager named Jimmy came out and blatantly turned up the TV behind us even louder. I must say it was the worst dining experience that we've ever had.

William Ryan
from Atlanta, GA
I was having dinner with six family members at the Applebee's in Hiram Ga on Tuesday 3/24 when I had a very bad experience. I had ordered the Oriental Chicken Salad and was into my third or forth forkful when I felt something foreign in my mouth. I tried to chew it and thought about just swallowing it thinking it was a tough piece of cabbage. Luckily I decided to check to see what it was. I found this foreign object to be a plastic/metal twist tie. I immediately lost my appetite and asked the waiter if I could talk to the manager. Ten (10) minutes later the manager came to our table and I explained to her what had happened and showed her the tie. She offered to take the meal off of our bill but offered nothing in the way of an explanation. I feel that getting a twist tie in my salad is an extreme dining offense and I may never return to an Applebee's. I thought my horrendous experience merited much more than a debit from my dinner check. Someone needs to investigate this restaurant and take steps to insure other patrons are not similarly subjected to possible harm.

William Ryan
from Atlanta, GA
Was eating with 6 family members at the store in Hiram Ga. I ordered the oriental chicken salad. Upon putting my third fork full of salad into my mouth I noticed I was chewing on something other than salad as it would not chew. I almost swallowed it thinking it was thick cabbage but decided I had better check. To my surprise I found I was chewing on a plastic/ metal twist tie. I was shocked and immediately lost my appetite. I asked to see the manager who took about 10 minutes to come to our table. She took the meal off of bill but offered nothing more. I expected more such as an explanation but none was offered. As a result I am writing you to hopefully submit this horrendous experience to someone who cares about its customers. I always loved these salads but doubt I will ever return. Someone at the top needs to know what is happening in Hiram Ga.

I visited Applebees on W Goodman rd in Horn Lake Ms this evening as I normally do in the evening as I get off work but today was an off day. I had another encounter with this manager Roy and by now Applebees is either willing to shelter not only a title VII violator as a manager but someone who is highly disrespectful to customers. I explained to him that I had only had 2 drinks but was charged for 4 drinks. I complained to the bartender that I should have doubles since I asked for doubles and I didn't think that it was right that he flipped the jigger to the small side for my second shot. He said okay I will take care of it but when I got my tab I was charged for twice the number of drinks. I complained to Roy about it since he was the manager present and he said "you aint worried about money".
I said the couple on the other said of the bar can verify what I am saying, and he said "they aint gonna lie for you". The white lady sitting in the booth complained about her Ketel One being short and he yelled at arvis twice to put a shot in her glass that she wasn't charged extra for. I see her and her husband at Wamart every week. But I got extra charge for mine. She got her extra shot at about 7:20 after complaining it was short. I can get her to come back up there and verify what I am saying about her drink.I am glad I have a paper trail for my previous complaint in which he was cursing those young girls working there also.

Amber Wilson
from Tuscaloosa, AL
Hostess got an attitude when me and my friend walked in cause she had to sit us. Made us mad cause the hostess are the first people you see when you walk in and how you feel throughout your meal is how employees make you feel. Hostess was not friendly at all.

Raymond Barrett
from Rome, GA
I was ask to leave, I use to work there and I set to eat and I was ask to leave. I didn't do anything wrong so why?

I called in my order 30 minutes before I came to pick it up. When I got there no one greeted me. When I stopped one of the workers to ask if my order was ready, she said she would check; but she never came back out. I waited about 30 minutes and left. I called to talk to a supervisor, but they kept putting me on hold. No one ever came to the phone. I didnt have enough time to get me anything else for lunch. This was at Brandon, MS location

I ordered 4 chicken penne which was very dry hardly any Alfredo sauce on it .. So I ordered two sides of Alfredo sauce it took about 10 min while I am at the bar waiting she comes back with the sauce half full really I just spent 62.00 on food for my kids and you give me attitude and say it's the proper portion.. Really .. I eat there about 3 days a week for lunch I know proper portion.. Then the manager goes to the back to get more Alfredo sauce and it's half of what I had at first.. I am Hott.. If it was not for my kids and so last at night I would have left it there..

Went to dinner tonight ordered 4cheese mac and cheese with honey barbecue chicken. I have ordered this MANY times before. I started eating it and found onions and peppers in it! I told the manager and he sat there and told me that was how its prepared. Never refunded my money. And basically said i was wrong that if i got it before and it didnt have this medley of onions and peppers than they made it wrong and he was going to contact the other applebees to tell them!! I was so mad i took the menu and showed him that it doesnt say onions anywhere! He said scampi has garlic and it doesnt say that on there! I thought scampi sauce was a garlic sauce! That manager should be fired!!!! So i left hungry and had to pay for that garbage! I asked what if i had been allergic? He said well you should order it! Uugghhh

Chanelle Parker
from Orlando, FL
My husband and I visit Applebees at least once a week. I am highly upset about the food bought to our table. We were served burnt wonton tacos which are my favorite. The shrimp were old and cold as well. My steak was tough and cold. We asked for a manager and when she arrived her rebuttal was that the grease was old because it's busy on the weekend. The manager didn't try to make us new ones after we complained several times. The manager was rude as well when we asked to switch our steak to chicken because of it was cold. She took the steak back off the plate and kept trying to rush out the restaurant. I am highly upset about the food and services at this restaurant.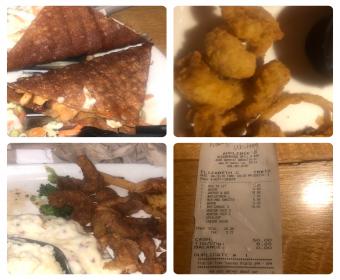 VICKY L HOWARD
from St Louis, MO
My experience at your restaurant was horrible,the location 2301 Maple wood Dr. in Maple Wood Commons St Louis Mo. My family and I arrived at Applebee's on April the 6th at 6:30 pm. We were not seated until after 7 pm this was after we spoke to the hostess for a second time. The waitress took I order for drinks which took 15 mins. to arrived to the table. We place our order for food around 7:30 pm we did not see food until 8:10 pm this was after I spoke to the manager. Who was not helpful very rude and made excuses why we sat for 40 mins without food. My family and I watch other customers be seat and served and they arrived after we did. We were a party of eight I was told by the manager that the kitchen services smaller parties first regardless of their arrival time. If this is true that's a insufficient way to conduct business. I rate your restaurant a zero the the customer service was bad the manager was horrible. The food was cold we had wrong orders and some of it was burned. This is the worst experience I ever had!

04/02/19 ate at Applebee's in Waynesboro Va. 5:19pm. My husband and I - on our way to a meeting. I have filed this complaint at the talk to Applebee's and the tablet on table. My Address 3116 Village Drive Waynesboro va 22980! Went into a freezing cold restaurant - complained and later was told no heat and working on it- even our waiter Richard B. eventully put a jacket on. Ordered steak,salad and baked potato. Salad came then our steak and a very under baked potato. Had to go to back of restaurant to find someone to tell not our waiter and he said would send manager over. We are sitting there with a hot steak which cooled off quickly due to the cold hoping our potato would come so we could eat the meal together but so long we ate the steak and then the potato when it arrived- delivered by the manager. Apologized for potato and I again expressed how cold we were and said I am sorry. I realize this is out if their control( temps) but put a sign up or tell a customer as they arrive- no heat!!!!!! We would have left but instead we endured a miserable evening and mediocre food. Our waiter was very nice and could only say so much!!! The manager did not compensate us in anyway. Better get your act together as Staunton has some outstanding restaurants- a 15 minute drive is worth it.

i took my family to Applesbees at 11120 Abercon St.Savannah, Ga. on 4-3-2019. it took 30 minutes for a waitress to take my order, we were there about 2 hours and still did not get our food, so we left, this was the worst experience of my life, we were not the only one's that left for lack of service.

On Monday April 1 2019 I was a guess at the Green Acres Valley Stream Location I ordered the Orenintal chicken Salad Onion Rings Selzer Water with lemon. The lemon water had sugar in it I ask if it can be exchange. However The salad I ordered had a Black bug in it I notified the manager. I am at discuss with this. Unfortunately this made me nauseous sick to my stomach along with a loss of appetite I am not a pleased customer at all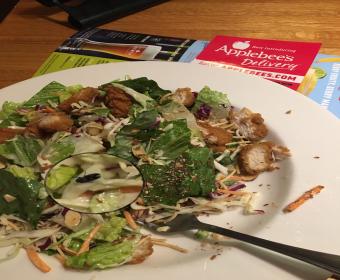 Jeffrey Wilson
from Newark, NJ
I'm a grub hub driver and me my wife when in to the applebee's at Logansport Indiana tonight to pick up an order for a customer and the woman at the bar was very rude said for future reference they close at 11 and my wife told her there's nothing we can do when we get the order 25 minutes before U close and we are 40 minutes away and if she didn't like it to take it up with grub hub and she snart and said she would. If you can't get better employees for that for customer service then you shouldn't be operating a business and I would question the manager that hired her. I also informed your customer of how rude the employees are and they told me they were sorry gave me a very good cash tip and said they wouldn't be supporting your business anymore. I will ensure every customer that orders from guys is aware of your team's lack of customer service skills.

Tonya Ray
from Pittsburgh, PA
Worst customer service I have ever received. Even when I complained to the manager I don't think he even cared. I also paid with cash and the server had the nerve to ask me if I wanted change. I will never go back again.

We arrived at Applebee's around 10:03 we was seated with rich (server) he took our drink order and food order and said I will be right back with ur silverware 10 mins go by we get our drinks next up my salad and my husbands spinach dip still no silverware my husband asked 2 times before we got silverware food was still sitting on the table another couple was seated behind us and before he could ask their order he walks pass us with silverware to give to rhevppl that just sat down my husband then says to him my man my wife needs silverware he then brings us dirty silverware the ppl behind us orders the same appetizers my husband orders and would u know it the ppl behind us gets our food and we're still waiting now it's 10:48 he walks pass us and say ur food will be out shortly I got up went to the front and asked to speak to the manager before the manager comes out to talk to me she takes rich to the back to talk to him so we're still waiting she walks up introduce herself to us and rich is standing theirvhevwakks away talking trash she never once said to rich I will handle this he is still talking trash now I'm pissed because u have no reason to be pissed because I didn't say anything to him I'm tryna talk to the manager she then raises her voice and now I'm cussing still rich is talking trash in the restaurant but she gonna tell in my face about a family restaurant yeah ok they were both in the wrong and she doesn't need to be a manager if she can't control her employees period if I wanted to say something to him I would have addressed him and not asked to see a manager both of them were very unprofessional and I shouldn't have been treated that way I come to that Applebee's a lot as the one on cityline ave I spend a lot of money at Applebee's even in Atlantic City and black horse pike to be mistreated like that and for him to say well her man ain't saying nuthin he doesn't have to say anything I'm the one with the problem I would hate to have to stop coming to Applebee's something needs to be done with them 2 And I didn't deserve to be treated like that from him or her the managers name is heather derussy I asked for corporate number as she said I don't know the number I will go to my office and get u a card and she yelled ur calling corporate imma gonna go email them myself right now ok do that and a server went to the side and gave me the card this experience was horrible and y'all have cameras so I'm sure u can pull it up and see for urself now what would have happened if he would have kept getting smart and my husband or myself would have slapped the server u don't jump up in nobody's face and they weren't talking to u we were their 45 mins and all we got was a salad a appetizer and a drink and ppl that cane in after us got all of their food or more then us

17 people for lunch, 2041 A beltline rd Decatur AL got there which they could accommodate in advance. 7 Bill's waited 1 1/2 AFTER eating to get Bill's, manager finally stepped in. 3 people trying to help server, then manager still rang wrong. After dring 10 hours from Detroit, worst experience ever......

THE FOOD WAS TERRIBLE MY POTATOS WERE BURNT BLACK MY CHICKEN HAD NO FLAVOR AND WAS DRY MY HUSBANDS GARLIC POTATOS WERE COLD THE SALAD WAS NOT FRESH. MY HUSBAND JUST GOT OUT OF THE HOSPITAL AND WAS EXPECTING A GOOD MEAL, FOOD WAS VERY DISAPPOINTING.

Joann mulcahy
from Carmel, NY
Applebee's in one of our favorite restaurants but not tonight. The food was subpar don't know if it was the chef/cook was new but once we complained to our server the rest of our time there went downhill. I was told the manager would be right over to talk to me as my cold uncooked food was taken away. After 15 minutes yes I timed it, no sign of my sever or the manager and my mom was finished with her meal, by the way it was her 82 birthday and Applebee's was her pick, I decided to look for someone and found 4 severs talking at the bar. The restaurant had 6 tables occupied by customers not a busy night. I let my server know the manager never made it to my table she told me rudely to relax and it was because he was cooking my meal. REALLY Finally when he came over I explained that I just wanted a nice dinner with my mom and it was the exact opposite. Then he uncarely asked me if I was done. YES and we walked out! Manager and sever disgusting rude!

Joann mulcahy
from Carmel, NY
Applebee's in one of our favorite restaurants but not tonight. The food was subpar don't know if it was the chef/cook was new but once we complained to our server the rest of our time there went downhill. I was told the manager would be right over to talk to me as my cold uncooked food was taken away. After 15 minutes yes I timed it, no sign of my sever or the manager and my mom was finished with her meal, by the way it was her 82 birthday and Applebee's was her pick, I decided to look for someone and found 4 severs talking at the bar. The restaurant had 6 tables occupied by customers not a busy night. I let my server know the manager never made it to my table she told me rudely to relax and it was because he was cooking my meal. REALLY Finally when he came over I explained that I just wanted a nice dinner with my mom and it was the exact opposite. Then he uncarely asked me if I was done. YES and we walked out! Manager and sever disgusting rude!

sylvania Mcquiller
from Salters, SC
A ganging took place at Sumter,Sc Apple bees and police was called and not every staff member there who witness it gave a statement to the police. I am the mother of the girl who was attacked so because there are no cameras in the area we are needing some help from your employees. Statements aren't enough and we need at least 1 witness to attend court. Please help in this matter it's very much appreciated.I can be reached at 803-406-4320,Thanks in advanced.

Lashawnda Pratt
from Richmond, VA
Steak had blood running all over my food and all of the rest of my food was not done at all then couldn't get a refund gone tell me they send a gift card in the mail when I have my recipe I didn't want to eat here ever again I'm very pissed off I would never go back

Susana Gomez
from El Centro, CA
We went to dinner at the
Calexico ca Applebee's we had a birthday celebration and went fir dinner and we order all at the same time but myself I never received my meal and the other person received his meal after everyone finished their meal and ready to leave so his said he didn't want it cause we were leaving. Manger was called and she was very rude and she said we had to pay for the dip. I think we should noth been charge for anything. Service suck big time and I will never go back. Your manager should go back for training on how to treat customers She was very unprofessional

Edna Collett
from Lodi, CA
I am a regular customer at the Applebees in Lodi,Ca o Kettleman lane. On 3/15/19 my friend and I were going there for lunch it was 1:30 in the afternoon past the lunch crowd. We waited for the hostess to seat us when a girl at the bar yelled for us to seat ourselves.Where she pointed for us to go all the tables were dirty I finally ask if someone could come and clean our table, finally they did. We waited a good 10 minutes and no server ever came so again I yelled can we be helped and again the waitress at the bar finally came over. This is the second bad experience I have had there. My friends have also commented what a bad experience they have had.Poor service and not clean. I appreciate you taking the time to address this situation.

Cyrilla Prescott
from Manchester, NH
Tonight went to Applebees in Derry NH meeting another couple at 5:30. Took me 10 minutes to conspiring spot. A table was open just needed to clear it great. The other couple comes and we order the three course meal by 6:00. We finally asked the waitress where the salad was, because someone beside us who came in later had bisexuals and was getting his meal it's gotten of 7. The appetizer comes at 7:10 followed by the meal at 7:15 7:20. So we can over the manager and she apologies for the wait really busy a fundraiser and a concert next door at Tupelos, which we were going to. We had to ask that she make an adjustment to the check which she said certainly a percentage. Then we get the food, the chicken breast was charred so we asked the waitress to give her the rest of our bad news. We were only charged for the drinks However the extra time everything took caused us to have to park in the overflow lot and walk considerable distAnce for two handicapped patrons. This was a horrible experience at Applebees, which is too bad because it is convenient distance to the concert venue that I usually attend once a week on average. Thought you should know about our visit. Thank you.

Opal Burrell
from The Bronx, NY
3/14/19
I went to Apple bees Bay Plaza for take out it was my worst experience ever . There was one bartender working , who was taking the "TO Go" orders and serving at the bar at the same time , after waiting for my order forever. The young lady who brought it out threw it down on the counter as if she was emptying garbage. I politely ask for barbecue sauce from both the server and the supervisor on duty. waited for another 20 mins.
NOTHING MORE TO SAY NOT GOING BACK !!… They have a lot of competition!! Chipotle is on the same plaza..!!
Terrible service bad attitude! ONE STAR....I WISH I COULD GIVE NO STAR AT ALL..!!

Charles Senig
from Zanesville, OH
They would not let me sit at a booth that I wanted to sit at. Ask more the once to be moved to this booth and they kept coming up with reason as to why I could not sit where I wanted to sit. After I ask to see the manager they then moved me to the place I wanted to sit. They would never go get the manager like I ask them to. Now the wife is mad at me and this made for a very unpleasant meal. This is not the first time I've had issues at this applebees seems like every time I go in there they want to argue about where I can sit

Tammie Busch
from Jackson, MS
I can't even rate my experience a 1 star it was that bad. And it is not my first rodeo at the Applebee's at 764 Lake Harbour Blvd., Ridgeland, MS.
Every time I go in when Kareem is working there is some sort of drama going on. Maybe it's because he is so tired from working at Wendy's down the street all morning that he cannot get the orders straight by 9pm at night. Starts raging and screaming at the top of his lungs so the whole restaurant can hear his ignorance.
Last night, March 13, 2019, was no exception. It took us a while to order because my dinner companion was very confused about the menu. It took a while for her to find the 2 for $20 and 2 for $25 section of the menu. In the meantime when the waitress showed us the "Happy Hour" deal, I gave her my order for Spinach and Artichoke dip. BUT... while we were taking our time ordering, the table next to us, that had come in after us, was having a problem with their meal already and our waitress was dealing with that, SO... the order didn't get placed until after we ordered our meal. The 2 for $25 meal with 2 salads and baby back ribs for my dinner companion and the 6 oz. sirloin for myself. When asked how I wanted my steak cooked, I simply said, "walking". Most understand that to mean very rare. No problem. My companion was glad to explain. The waitress had a very good repo ire with us and we didn't mind the feeling of ease that she kept us at as long as she did.
I noticed that the manager was talking to a person at another table. She was very soft in her demeanor. She kept the customer calm. She never allowed the customer to lose her temper over the situation. And a solution was made. Then she had to come talk to me. And why?
There was situation with the salads when they came out. My dinner companion's salad did not have some of the things in it she requested and mine had things in it I had not requested. I corrected the waitress and said I would pay any extra for the extra I had gotten. I had asked for a serving of sautéed mushrooms over my steak for the extra $1.49. Extra mushrooms came with my salad instead. Waitress told the cook the difference about the mushrooms. My companions salad was taken back and then it took over 20 minutes to get it back with the little bit of what she had asked for and she is eating up all the Spinach and Artichoke dip while I am picking at my salad. And during this wait, the waitress comes back to us to inform us that there are no potatoes for baked potatoes. Which not only affects our orders, because we had both ordered a loaded baked potato for one of our sides, but also affected the gentleman at the table next to us, who had ordered before us. The garlic mashed potatoes loaded was chosen for me and my companion asked for the French fries instead. And the gentleman at the next table was getting very irate. There had already been a problem with their meal and it had to be sent back to be kitchen to be corrected by the cook, Kareem.
When it was found that the cook was out of potatoes the question came to mind. Why can't they just send someone over to the Kroger to get enough potatoes to make through the rest of the night. Why make us choose something else? Other restaurants run to the grocers to get foods to make through the night, why can't this cook do the same.
When my entrée was brought to me, there was only the steak and the mashed potatoes on the plate. No second side. Waitress left before I could check my steak's cooked quality. It was medium. Nowhere near walking. And no steamed broccoli as I had ordered. I could tell that it had been sitting under the lamp and the food that was on the plate had continued to cook(i.e. the steak) or dry out(i.e. the loaded garlic mashed potatoes).
As I said, I had to wait for my waitress to deal with the neighboring table, before she could get back to me.
When Naquesha was able to get back to me, I asked her if she could see what was wrong with my plate. She noticed the broccoli wasn't there. Then she could see where I had cut the steak in two different spots and there was no difference in either spot. Both were medium cooked. And the sautéed mushrooms were left off the steak as well. She asked me what I wanted to do about it and I told her that I would like my broccoli, but the steak was unacceptable. Especially after what was said about how I wanted it cooked. I was not going to eat something that was beyond bringing back to what I wanted. It is not my duty as a customer to eat whatever the cook decides to do with the food I have ordered. That is the whole idea of specifying how the customer wants their food cooked to begin with.
My waitress said she would have the manager come talk to me when she was done with the other table. The table I referred to above.
So while I am waiting and eating what's left of the dip and chatting with my friend we hear this horrible screaming coming from the kitchen all the way to the front of the restaurant where we were seated. The language that came out of his mouth was inappropriate and vulgar. And he was ranting like it was someone else's fault that the food wasn't to their liking. Pointing fingers right back at the waitstaff as being in the wrong.
I have been in the restaurant business before and it is hard to get an order wrong any more with the way it is put into the computers now. And I have listened to enough chefs who don't like to be told they are in the wrong. And a lot of chefs play the blame game and use the waitstaff as target practice. This behavior was totally unacceptable.
When the manager finally came over, I explained things up to that moment and she offered to have my whole entrée redone and sent out to me. I was fine with that and again I stressed that my steak be very rare. So again I wait. and my dining companion hadn't even gotten her entrée yet.
The manager dealt with the table next to us before going to the kitchen to see about our food. Apparently the cook had her food sitting there under the lamp, just letting it sit. Kareem was made to freshen up her whole plate. Put on fresh potatoes, reheat the ribs, and the green beans. Problem? She didn't order the potatoes mashed. She wanted the French fries. When that happened, the waitress said she would just ask for a plate of fries on the side. Sounded good. Never happened.
And during this time, we are talking with the staff and I find out that the cook, Kareem, was yelling my waitress when we heard that ridiculous outbursts. They wouldn't let me talk to him. I was not angry. There is no reason for a man to talk to a woman the way he talked to her last night. Actually to anyone, especially a woman. Because of the things that he was saying. It is clear that Kareem is a misogynist. I will explain more in a moment.
When my plate came out to me. I made the waitress wait until I checked how it was cooked. It was cooked even more than the first steak. How can a cook get it wrong twice. I really wanted to talk to him and ask him how long my food sat under that burner before the waitress knew it was ready because I never heard any calls for food the whole night. I rarely see a restaurant where the cook does not let the waitstaff know when their food is ready. How is it twice he let my steak sit there under the lamp and continue to cook until it was inedible for me?
I ate my broccoli and the dried out mashed potatoes because I needed to eat something. I left the steak with the sautéed mushrooms untouched after I found it was not cooked correctly.
We walked into this location at 9pm and didn't walk out again until 12:30am. There was no reason for us to have been in there for that long and have to go through so much effort to get the food we ordered so we could eat. We watched 4 other tables leave while we were there that had issues with their food and refused to pay. The couple at the table next to us, the gentleman lost his patience and left with his companion.
Now, to tell you what I know about Kareem. Both Wendy's and Applebee's have the same woes when it comes to keeping managers and waitstaff. In Wendy's case, employees period. I know this because I have a friend who used to work at Wendy's and she told me about the dynamics there. And she told me about Kareem. I didn't know that he was one and the same until tonight and then a lot fell into place in my mind. She would say a lot, well, there are not many nice things that anyone could say about Kareem." And she said that he is the reason that they couldn't keep people.
My friend left Wendy's only when she got a great job opportunity. She didn't let him get to her. Just like I didn't let him get to me last night. What would it accomplish?
Kareem only behaves when there is a male authority figure there and you new GM, Lawrence, isn't going to catch him undermining the females or disrespecting them because he is not looking for it. None of the others were. Or they just didn't care. It's a mans world.
As long as management keeps sending managers over from the Clinton restaurant, especially women, Kareem is going to keep pulling these stunts on them and then act all innocent when stuff hits the fan. I have personally seen him do this twice. Like when Kareem calls the GM and lets him know that the restaurant is out of potatoes for baked potatoes, instead of telling the manager that is right there in the restaurant. He went directly over HER head and then tries to say that the customers will just have to do without. That makes him not culpable. First the GM didn't order enough. And because the manager is from somewhere else, he doesn't feel he has to answer to her.
I don't understand how the owner of this franchise is being allowed to just focus on his Clinton location and because he owns the building over here in Ridgeland, it is okay to allow it to flounder and lose good Applebee's customers, shortchange the future of a lot of good people who want to work for Applebee's. I truly think that Applebee's need to step in and find a franchise owner who will put the effort into this location and make it work and get the negative people out the door. Just because Kareem has worked here a lot of years means that they were good years. People show their true selves when they think there is nothing or no one to bring them down. Funny thing is, they tend to bring themselves down without any help from elsewhere. In this case, I am beginning to think Applebee's just doesn't care.

rita hale
from Milton, TN
If there was a 0 that would mine. I took my husband on March 11th for his birthday. We eat at a Applebees at least twice a month. When we ordere she act like we were bothering her. There was only 3 other couples there. We orderd the 2 for $22 with an extra order of boneless wings. When she took the order I ordered a backed potatoe never asked if I wanted butter or anything on it. When she brought us our order she slung them in front of us. Walked off before I could ask for A1 or butter. When she did walk back over she brought the wings we had orderd first slung them down and walked off before I could tell her it was to late. Had to get another person passing by to get butter and A1. Talked to the manger and told her how we was treated she never offered to do anything. I spent $43 for the worst meal and experince in my life. Never got a refill of anything never ask if everthing was ok. We were treated like trash. I will NEVER go back.

TONIGHT THERE WERE VISITORS WE BROUGHT TO APPLEBEES.
IT WAS EMBARRASSING. THE FOOD WAS COLD.....ONE COULDN'T EAT TO SPICY...NO REFILLS ON DRINKS FOR ALL.....HAD TO TAKE FOOD HOME TO HEAT JUST TO EAT IT.
IT WAS HUGELY DISAPPOINTING....AFTER SPENDING OVER 50 DOLLARS, THIS WAS UNEXCEPTABLE....
SORRY FOR THE HORRIBLE REVIEW, BUT WE EXPECTED BETTER...

on march 4th around 1pm I was out with my partner at Applebee's and our service was not only terrible our order wasn't taken right and in my partners cup was a piece of glass. had he not bit down he would have swallowed the glass and it could have caused internal problems. I'm writing because I would hate for the neglect for the service that is given to customers wind up hurting a customer. the restaurant location is 509east 117th street. I have attached a picture of the glass on a napkins that was in the cup. I hope that this problem is handled and corrected so that it may never happen to anyone again.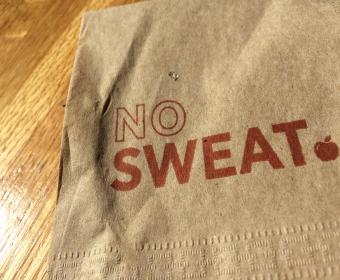 Patricia Roberts
from Henderson, NV
Always enjoyed Applebee's
But yesterday I sent my daughter to get a take away
Survey code 8272030919500
We ordered extra fries which we didn't get it took over half an hour when she got home it was barely
Warm I wasn't going to complain
But today I thought about it and
Decided I should
P. Roberts

4 times in 1 years was harnessed ny costumer could not enjoy meal already lost 12 pepole to this now me to i spend 300 a mounth in there and have said some thing before management does nothing so bey bey your mot theonly place in greenfield in

Sara Quinn
from Greenville, OH
Took for ever to be seated and lots of room to be seated. Once seated took our drink order which was just pop and took 15 minutes and never got them and the girl acted as if she couldn't remember if she took order or not think she was drunk or high.

I actually have a couple of complaints I wish to share regarding the Columbus, Ne. Applebees. First is that I was hired to work at this restaurant, then had my orientation rescheduled 4 times. The first time, I rescheduled, due to an appointment. then remaining 3 times were rescheduled by the restaurant manager Samantha. On the third rescheduling, I arrived in clothing and shoes purchased specifically for my job as Utility. I drove 35 miles for this interview and was prepared to start a shift following the orientation. When I arrived, nobody in the building knew anything about my orientation. The Kitchen Manager called Samantha, the Restaurant Manager, to inquire about any orientations. When He completed the call, he informed me that she forgot to call me, he also informed me that Megan, the General Manager, was on vacation that week, so no orientations could be done. I was up set that I not only wasted my time getting dressed for orientation and to start working, but also the gas and time to drive 35 miles one way.
My second complaint involves my visit to the same store during my lunch break from my new job today, Friday February 22,2019. I ordered a classic burger with Onion rings at 12:15pm. After waiting 20 minutes,I asked that my order be changed to "to go". My order finally arrived at the same time as the order for 2 gentlemen who placed their order more than 10 minutes after my order was placed. They both ordered the whisky burger. There is no reason my order should have taken 10 minutes longer than the other 2 orders. I am VERY unhappy with my experiences in these two incidents at this restaurant. I have had other pleasant experiences at this and other Applebees locations.in the passed. I hope things can be changed, and I believe I deserve some compensation for my wasted time and gas travelling to an orientation that was rescheduled without informing me.

On Valentine's Day, I wanted to get my wife and me a special meal. I ordered online and was given the time to expect the order to be ready.
I arrived just before the ready time. I and some other customers had to wait an hour or more. My hungry wife was expecting a quick delivery but that did not happen. We are not all satisfied with your service.
APPLEBEE'S 350 HIGHWAY
9330 East 350 Highway, Raytown, MO 64133
(816) 356-1055
Order # 243503943
(Note: You do not need
this number to pickup)
Payment Method: Pay at Restaurant
FOR CARSIDE PICKUP
Order ready at 7:15 PM, TODAY (THURSDAY, 2/14/2019)
1 x Bourbon Street Steak* (1 x $16.99) = $16.99
Medium Well - HINT of PINK, with a HOT center
Add Shrimp 'n Parmesan Topper
(1 x $2.99) = $2.99
Yes
1 x Bourbon Street Chicken + Shrimp (1 x $14.59) = $14.59
SUBTOTAL $34.57
FOOD $2.89
TOTAL
$37.46
Bob Smith

DENISE MCCOY
from Brecksville, OH
I FILED A COMPLAINT ON THE GARFIELD HTS RESTAURANT ON 1/7/19 #2255292 (YOU CAN READ MY COMPLAINT YOURSELF) AND I GOT THE RUN AROUND FROM 2 MANAGERS TO THE GENERAL MANAGER AND EVEN RECEIVED A CALL FROM SOMEONE FROM CORPORATE AFTER I LODGED MY COMPLAINT AND THEY SENT ME A $50.00 GIFT CARD IN REPLACEMENT FOR THE ONE THAT I HAD NOT GOTTEN FROM THE GARFIELD RESTAURANT AND THEY PULLED IT FROM ME.............WHAT KIND OF SHIT IS THAT???? I STILL NEVER GOT THE ORIGINAL GIFT CARDS FROM GARFIELD AND THEN I GET ONE FROM CORPORATE AND THEY PULL THE SHIT???!!!!! I AM TELLING EVERYONE I KNOW NOT TO EAT AT APPLEBEE'S CUZ THEY ON SOME EVIL / CORRUPT / NON CARING SHIT!!!!!!
APPLEBEE'S YOU ARE THE WORST!!!!!!!!

Robert A Crider
from Buena Vista, CO
I'm very sorry for this but as time goes on I feel worse and worse about last night experince.
The food was awful the portions were very very small and I noticed that we were charged for our side dishes and they were supposed to be part of the course.A glass of regular tea was $2.79 way too much for tea with no sugar I was fooled by the 20% tip he was fair at best maybe a 5.00$ tip would be more like it. the bathroom was horable and smelled like yourn.
I truly never had such a poor outing like this ever before and I will never go back to Apple Bee's in Pueblo Colorado again!
Robert Crider.
P.S. words cannot explain how bad I feel I feel like we were robed and worse !! MAN.

James Hacic
from Lake View, NY
This complaint is for the location at 4405 Milestrip Road Blasdell, NY 14219. On the evening of Friday, January 18, 2019 myself, my wife along with our daughter and her friend went for a late dinner following a basketball game at my daughter's high school. Upon arriving at the restaurant my wife asked that we be seated at a table with booth seating, she was advised by the host that those tables were no longer in use, they were closing down that section and seating people at tables. Our waiter arrived at our table promptly, he provided excellent service throughout the whole meal, and took our drink order.
BEFORE our drinks arrived the host began seating people in the booth's that we requested, I immediately went up to confront him on this and was told the manager said that he can start seating people in the booth's again. Needless to say I was not happy and requested to talk to the manager, unfortunately I did not get her name, and I was not impressed with her attitude or answer.
She proceeded to tell me the booth's weren't clean at the time we requested to be seated so they had to seat us at a table. Working in a customer service based business myself, to me, the correct way to handle that would have been to ask if we were ok to wait about 5 minutes while they cleaned the booth's, not LIE and say the section was closed for the evening.
The overall attitude of the host and especially the manager made the chances of us going back very slim. My family has been consistently going to that location for at least 10 years, never having such an unpleasant experience.
I will be awaiting your response.
Thank you for your time,
James D. Hacic

Kenneth Johnson
from Suffolk, VA
"BAD SERVICE"!!! We'll let me start by saying I frequent this particular Applebee's a lot and never have a problem. So to hear of this is surprising but at the same time UNACCEPATABLE! So if we as the patrons accept this subpar service and not voice it to the masses then we're just as much the problem. Herse the story my wife a several co-workers went to Applebee's for a promotion celebration and the server named AL was terrible, he was aggressive and argumentive to my wife and the other patrons. The orders that were placed somehow got mixed up and when everyone was trying to tell him what they did ordered he was confrontational and argumentive. What he should have done is say let me get this corrected and everything would have been ok. Because at the end of the day that's what the end game would be anyway correcting the discrepancy. So AL also never even offered them refills until they were all finished with their meals. These were regular drinks not alcohol so there was no excuse for this drinks cost over 2 dollars so they definitely didn't get there monies worth. Needless to say they have lost a customer; I will just go to Chili's to many food chains out there to deal with this foolishness!

PATRICIA ANDERSON
from Baltimore, MD
MY COMPLAINT IS THE SODA'S FOOD VERY VERY GOOD I ALWAYS ASK WAITRESS IS GINGERALE A SODA SHE SAY'S YES I SAY OK BUT WHEN I GO TO GET A REFILL ITS NOT SO I'M TO PAY FOR EACH REFILL NO ,I ASK WHY IS THIS ITS A SODA I DRANK IT ALL THE TIME SHE CAME BACK TO ME AND SAID BECAUSE IT CAME FROM THE BAR THAT NOT MY FAULT WHERE ITS COMING FROM IT STILL A SODA. THEY SHOULD TELL YOU THAT IN THE BEGING BUT I STILL DON'T AGREE WITH THAT.2ND TIME THAT HAPPEN TO ME .

CONNIE GOODMAN
from Columbus, GA
I WAS IN THE APPLEBEE'S AT 3229 GENTIAN BLVD COLUMBUS, GA 31907 ON JANUARY 14TH AROUND 3PM. IT WAS JUST MY HUSBAND AN I AND WE WERE SEATED IN A TIMELY MANNER, KIRA WAS OUR WAITRESS AN WAS WONDERFUL. MY HUSBAND ORDERED THE ALL YOU CAN EAT RIBS,CHICKEN AND SHRIMP WHILE I ORDERED THE FRENCH ONION SOUP. WE BOTH HAD TEA.
AFTER ORDERING THE MANAGER CRYSTAL CAME TO THE TABLE BEHIND US AND WAS AT THAT TIME VERY NICE. APPARENTLY THEY HAD BEEN WAITING A WHILE AND HAD TO LEAVE SO SHE PAID FOR THERE MEALS, wE BOTH THOUGHT HOW NICE THAT WAS SINCE THEY SEEMED TO BE IN A HURRY.
KIRA CAME TO OUR TABLE SEVERAL TIMES TELLING US OUR FOOD WOULD BE RIGHT OUT AND AFTER ABOUT 45 MINUTES SHE CAME TO SAY SHE WAS THERE WAS AN MIX UP WITH OUR FOOD BUT IT SHOULD BE COMING OUT SOON.. THE MANAGER CRYSTAL BROUGHT OUR FOOD TO THE TABLE AND SHE DID SAY SHE WAS SORRY ABOUT THE WAIT, I STATED YOU MUST HAVE A KITCHEN ISSUE TODAY WITH MEALS COMING OUT LATE. SHE IMMEDIATLY WENT IN TO A DEFENSE MODE STATING THERE WAS NOT ISSUE, PEOPLE HAD BEEN SENT HOME EARLY AND SHE HAD WALKED INTO A MESS IN THE KITCHEN. SHE WAS VERY NASTY SPEAKING TO US.
DURING THE TIME WE WERE WAITING ON OUR FOOD WE NOTICED OTHER TABLES WITH COMPLAINTS EITHER THERE FOOD WAS INCORRECT OR MISSING SOMETHING.
BETTY, THE MANAGER IN TRAINING CAME TO OUR TABLE AND WAS VERY NICE AND STATED HOW SORRY SHE WAS, WE INFORMED HER OF HOW NASTY CRYSTAL WAS AND SHE AGAIN WAS VERY SORRY.
SORRY BUT GOING BACK TO WHEN CRYSTAL BROUGHT US OUR ORDER THERE WAS A CHILD FOLLOWING HER AROUND THE RESTURANT AND TO OUR TABLE. SHE WAS IN AN OUT OF THE KITCHEN AND WHICH I HAVE INFORMED OUR LOCAL HEALTH DEPARTMENT OF THIS CHILD RUNNING THROUGH. I AM OT SURE WHO'S CHILD SHE WAS BUT I DID NOT FEEL SHE NEEDED TO BE IN THE KITCHEN AREA ARE WHILE THE SO CALLED MANAGER WAS DEALING WITH CUSTOMERS.
WHEN WE RECIEVED OUR CHECK THEY HAD TOOK OUR TEAS AND MY SOUP, I DEMANDED THAT IT BE PUT BACK ON DUE TO THE FACT I DID NOT COME FOR FREE FOOD I HAD MONEY TO PAY BUT WAS MADE TO FEEL LIKE I WAS ASKING FOR SOMETHING FREE.
THEN A MALE ASST MANAGER CAME TO OUR TABLE, DID NOT GET HIS NAME BUT HE WAS KINDA NICE, HE WAS SUPRISED THAT I HAD REQUESTED THAT MY TICKET BE FIXED BACK.
I DO LOVE THIS APPLEBEE'S BUT AT THIS TIME NOT REAL SURE IF I WILL GO BACK. I DO WANT TO STRESS KIRA WAS GREAT,SHE KEPT OUR GLASSED FULL OF TEA AND KEPT US INFORMED ABOUT OUR FOOD.
I DO THINK CRYSTAL SHOULD NOT BE DEALING WITH CUSTOMERS AND WHOM EVER THE CHILD BELONGS TO NEEDS A BABY SITTER.
CONNIE GOODMAN
706-289-3013

Kathy King
from Myrtle Beach, SC
Came here for dinner on 1-9 at 5 pm. Was not busy. Server came and took order, brought drinks, and disappeared. We ordered all you can eat for 3 and 1 kids meal.We waited on average 15-20 mins. between each order. The last one was exactly 20 mins. for 6 little shrimp. Ridiculous. Like I said server disappeared and never came back. We sat there for an hour and noone ever came and asked would you like drink refills. We finally asked where server was and was told she went home. The right thing to do would have been to have another server come and say "your other server went home and I will be serving you." Didn't happen. Kitchen staff brought food out. But guess what? They didn't forget to bring a bill, but never came back to collect the money. We could have left without paying and noone would have noticed, but we didn't. We went to bar where manager asked us who our server was and we told him the story. He asked someone where she was and one person said "I will go in the back and get her." Another person said "she went home." The manager's words were "she s a F---ing slacker. Someone said "we have customers here." He said, "I don't care, its true," and took our money. This is all I am going to say, other than the fact we did not know it was still a smoking restaurant. But even if it were not, we will not be back. inexcusable. Tried to submit complaint on applebees site but there was a glitch with the restaurant location tab and it would not let me subit it without that. The tab just sat there loading.

LIONEL M HILLARD
from Fort Worth, TX
The portion of cranberry rice was very small. I eat at your establishment on a regular basis and I don't have a problem paying for my service; but , but do have a problem with very small portions. If this is your new portion I will have to take my friends to Cheddar's.

Decota R Watson
from Little Rock, AR
Went to Applebee's for my daughter's 4th birthday I told the server Leslie as soon as we got there that it was my daughter's birthday and to please bring her the birthday Brownie and sing she said okay she never did. Are appetizer came out cold the quesadillas had grease dripping off of them they double-charged as for jalapenos the riblets were cold and burnt. This Server never came and checked back on us we had to flag her down several times. The hostess look like she was wore out and tired she was an older woman all of the waitresses have their hair hanging down half out of their ponytail they all look sloppy like they just came from cleaning their house I have never had such bad service at Applebee's and I open the one on 35 and Walzem when it first opened. I love Applebee's and I've been going there since I open that restaurant and 97 I am thoroughly disgusted with their service the bathroom had toilet paper all over it all of the toilets for nasty there was no soap to wash your hands I don't know what happened to Applebee's but I would like some compensation completely forgetting a four-year-old's birthday is unacceptable!

mary arcara
from Buffalo, NY
My name is Mary Arcara I went to the Applebees at the West Seneca NY 14224. Saturday Night Dec. 29th 2018. 1. There was a long line so they took my name... waited at the bar for 35 min which they said it would take 20 min.. Never call my name after 40 min. I question them when I notice people where getting seated as they walk in,, they said first they call my name.. lied in my face then next girl said they thought I was eating at the bar, why would I give you my name if I was going to eat at the bar.. 2. Next seated , waitress forgot to take my boyfriend order and yes he was sitting at the table with me.. Took 10 min to find our waitress.. to take my boyfriend order. The food was a mess cold, I thought you advertised crispy shrimp it was awful soggy,cold, very disappointed cold broccoli , cold mash potatoes,, of course told them brought back hot potatoes and hot broccoli.. I'm sorry but you don't offer dinner rolls or salad with a dinner for $19.95. I really think this was awful experience.. Sincerely Mary Arcara

Michael Chandler
from Dallas, TX
Applebees in Rowlett, Tx. Wife and I went out to dinner at Applebee's either Friday the 14th or Saturday the 15th of December. We had a coupon for a free Entree with the purchase of another entree of the same are more price. We ordered our entrees and each one had two sides. My wife asked if she could replace her fries with a house salad. The waiter said she sure could. No problem. I asked to replace my fries with onion rings. The waiter said I could and it was no problem. The daytime manager always gives me the golden apple discount or my military discount. I asked the waiter to please put a golden apple discount on my ticket. Or military discount. When they brought the ticket it had a golden apple discount of $0.34! It also had a charge for the side salad $2.49 and a charge for my onion rings. And essence we did not replace anything we just bought extra salad and bought extra onion rings. Not what the waiter told us we were doing. I think there's a difference in replacing the item and purchasing the item. At any rate he did not tell us up front about the extra charges. And I did not get a discount. I began to explain the situation to the waiter how to turn this back to me and would not talk to me. I don't know why I was being very nice just asking him a question. Soon the manager came out. His name was Ed. He said there was nothing he could do about that as a manager because the system made all the rules and he had no say so. I did talk to him to taking the $2.49 off that they charged for the replacement of the fries. No return on my extra charges for my replacement of my fries. I almost left a tip which I normally do Hub between 15 to 25%. But after thinking about the waiter turning his back on me and not talking to me and being mean and rude and the manager Ed backing him up and saying that he doesn't run things that the system does I decided not to leave at any tip. My wife was pretty upset with the waiter and the manager as was I. The daytime manager when will usually eat you're so nice comes out and says hello and the waitress always gives us the golden apple discount and we leave good tips. We like the entire staff and the food is wonderful. Wasn't expecting the bad experience the other night. I feel as though the manager Ed and the waiter need to be and counseling if they are to keep their job. Thank you very much for listening to my complaint I hope there is some action taken. Michael Chandler phone number 972 6036166.

Sarah
from Eau Claire, WI
I had a bill of $18, left a $2 tip and was charged more than $20 for a tip at a total of $41. I called to get my money back and no one knew what to do and it took several calls back and forth (including being put on hold for 15 minutes once) and now it has been over 2 weeks and I'm still waiting for the money to go back on my card. Not sure if the sever did this on accident or not but this has been a total headache to get $20 back that was not my fault in the first place. This was my first time at the Applebees location in Eau Claire, WI and I will definately not be returning. Thank you for your time and I hope you have a chat with some of the staff on how to deal with these situations or maybe set up a system to catch a tip that was charged that was larger than the original bill. Hopefully this is helpful to your business and I hope you consider the changes. Thanks!

tammy schwartz
from Indianapolis, IN
WE VISITED APPLEBEES IN NEENAH, WISCONSIN (STORE #287), ON SATURDAY 12/08/18. I HAVE NEVER EXPERIENCED SUCH POOR CUSTOMER SERVICE EVER AT AN APPLEBEES ESTABLISHMENT. I ORDERED THE SHRIMP PARMESAN AND ASKED FOR EXTRA SAUCE, MY DAUGHTER IN LAW ORDERED THE 3 CHEESE CHICKEN PENNE. HERS HAD ABSOLUTELY NO SAUCE ON IT. MINE THAT WAS SUPPOSED TO HAVE EXTRA SAUCE, HAD NONE AT ALL. AFTER PUSHING THE BUTTON TO HAVE OUR SERVER COME FIX THIS, AND BEING IGNORED FOR ALMOST 15 MINUTES, WE GOT A MANAGER TO TAKE OUR PLATES BACK AND FIX THEM. WHEN THE PLATES CAME BACK OUT, MY PLATE WAS HOT, BUT MY FOOD WAS COLD. OUR SERVER....NEVER CHECKED ON US WHICH MEANS WE HAD TO SHARE MY DAUGHTER IN LAWS SODA BECAUSE WE COULDNT GET A REFILL. WHILE WE FINISHED, MY DAUGHTER IN LAW TOOK MY 10 MONTH OLD GRANDSON IN THE RESTROOM TO CHANGE HIM. THE CONDITIONS IN THE BATHROOM WERE THE GROSSEST THING IVE EVER SEEN. THE CHANGING TABLE WAS SMEARED WITH FECES, WHICH MY GRANDSON HAD TO BE CHANGED ON A JACKET ON THE FLOOR. THIS IS A SEVERE SANITARY ISSUE. I APPROACHED THE GIRLS SEATING PEOPLE AND ASKED FOR A NUMBER FOR THE CORPORATE OFFICE. I WAS TOLD THEY DIDNT HAVE THAT INFORMATION. I WAS FURIOUS. MY BILL WAS $51.06. I PAID MY BILL, FILLED OUT THE SURVEY, AND WENT TO MY VEHICLE. WHILE STILL OUTSIDE AND VERY DISSATISFIED THAT I PAID THIS BILL AND NOBODY CARED ABOUT THE ISSUES, I CALLED AND SPOKE TO A DIFFERENT MANAGER (WE WERENT TOLD THERE WAS A 2ND MANAGER AVAILABLE). WHEN I EXPLAINED EVERYTHING TO HIM, HE WAS VERY UPSET WITH WHAT I TOLD HIM. HE ASKED ME TO COME BACK IN SINCE WE WERE STILL IN THE PARKING LOT AND HE WOULD GIVE ME A VOUCHER FOR THE MONEY I PAID. HE WAS VERY APOLOGETIC AND VERY HELPFUL. MY DAUGHTER IN LAW WENT INTO THE RESTAURANT TO GET IT FOR ME AS I RECENTLY HAD BACK SURGERY. THE ORIGINAL MANAGER THAT TOOK OUR PLATES TO BE FIXED STARTED TO QUESTION HER AND WAS EXTREMELY RUDE. TO THE POINT THAT THE GIRLS IN THE FRONT WORKING SAID THAT WE WERE COMPLETELY RIGHT TO BE UPSET. EVEN THOUGH I GOT A VOUCHER, I AM SO DISGUSTED BY THE POOR SERVICE AND LACK OF PROFESSIONALISM BY THE 1ST MANAGER, AND THE UNSANITARY CONDITIONS, THAT I DONT THINK I WANT TO EVER GO BACK TO AN APPLEBEES. SOMETHING SERIOUSLY NEEDS TO BE DONE REGARDING THIS MATTER. WOULD I RECOMMEND THIS APPLEBEES TO ANYONE??? ABSOLUTELY NOT. I PERSONALLY THINK THAT THE HEALTH DEPARTMENT NEEDS TO BE NOTIFIED. THANK YOU FOR YOUR TIME

Lee Dungan
from Columbia, TN
I went to Applebees in Columbia, Tennessee on Friday Night, November 30, 2018, arriving at about 6:00 PM. I very politely requested a booth, because of a recent shoulder injury, I was told not to be using it to move anything over 2 pounds, even a chair. The seater denied my request and said she had to give me a table, even though there were many empty booths. Rather than walk out, I agreed to take the table. In the area she seated me, there were at least 4 booths with no one in them. After some pain and difficulty, I was able to seat myself. I was in an area where I could see the seating person. Of the next 5 groups that came in, she seated 4 of them at the booths in the area I was seated. She completely ignored me and though I was very upset, I said nothing.
I have dined at Applebees in Columbia at least 2 times a month and could not believe the treatment I received. Maybe it is my age of 80 years or she had a bad day, but I know I will never eat at a Applebees again.

Keziah Kincaid
from Detroit, MI
Was rudely confronted and falsely accused of dining and dashing. I have never ate and left my bill... EVER so everything I was being accused of was new to me and FALSE. The manager (who confronted me)would not answer any questions I had even though he was falsely accusing me. When I asked him if he had proof he stated that he was "86% sure that you are the one who ran off on the bill" . He then followed me out the door loudly voicing " you're just mad because you're caught". Worst experience EVER

David Hobbs
from Salisbury, MD
after watching my wife complain about her cold steak salad and how she was treated with a half hearted attempt by server and manager to correct the issue I refrained from complaining about my cold cheeseburger and fries !! Why cant you all serve hot food hot ? It also took forever to get our appetizer !! Please get your act together in Seaford Delaware. Cold food is not good !!!

Page Collver
from Maple Grove, MN
Applebees in Eastowne Knoxville is filled with ex felonies and drug addicts. The management is filled with people that do drugs on the clock. The crew smokes weed in the smoke pit in the back, management knows about it and doesn't care.

Darlene Prince
from Hagerstown, IN
I took my best friend to Applebees for her Birthday dinner. We waited at the door until the entrance was blocked with other customers. Finally a waitress came over and asked if we would take a high top. She said pick one and pointed .We waited 10 minutes before a waitress came over. Another couple came in after we got seated....she took their order first and then came over after she got their drinks. We ordered a sirloin steak dinner.....OMG the steak was full of grissle.and dry. I asked for baked potatoe when I ordered and waitress told me they had only mashed until after 4. The mashed was slopped on the plate. Wish I would have thought to take a picture...Pitiful display of food.. I know I just sold my restaurant. The salad ingredients were chopped so finely there wasn't any taste to it except the dressing. There was a young guy running around with a large mohawk that kept looking into a mirror fluffing his mohawk up and rubbing his burr head. The only thing good was the lemonade. This was her 70th Birthday. If we are blessed to get to the 71st we are not going to Applebees. It used to be such a nice place to eat. I forgot ..The restroom was nasty, Enough said....Investigate... Where is the pride people used to have in their businesses?

My husband works for this company and has for almost a year now. Earlier in the year they had a manager named Wayne join and he wasn't aware I was my husbands wife. While eating with my kids and friends Wayne kept walking past our table then at one point proceeded to stop and make sexual remarks towards me and also told me how "hot" I was and how "breathtaking" my eyes were. Being at a meal with friends and my KIDS I find this greatly inappropriate. Especially considering he is your manager! I told him who I was and I didn't like what he said. My husband also told him that wasn't appropriate. Ever since that incident that specific manager has picked on my husband. Wayne left the store so I thought it was ok and let it be. Now the managers are leaving and they brought Wayne back as well as new management team and Wayne sent my husband home for no reason and told him to talk to the new manager on Monday. The other manager was there instead and didn't understand why my husband was there. This manager Wayne has continued to pick on my husband as well as sexually harass other costumers I have seen. Also was fired from other stores and is known for these actions. I don't understand why you continue to let someone who acts like this work and represent your business! I don't even want my husband to work for you all anymore but he likes the job itself. All the other management is great and doesn't understand why this action was made either. This is not ok!! These type of actions have lawsuit written all over it.

Monica sweeney
from Jeffersonville, IN
Couldnt offer the nationwide special of 3-course meal for $11.99
Richmond, IN store, on 10/5/18-computer glitch, cant enter the meal deals, button went away.
Did
Thats why we came in, they did give a slight discount on another choice.

Amber Washington
from Milwaukee, WI
On 10/4/2018, I took my daughter to this location for her birthday dinner. We had a party of 7 and we were first seated at a table that could not accommodate us. So they cleaned off another table to for us to be seated. As they was cleaning the table, one of the personnel made a comment that he was tired of walking. (One of the hostess that was seating us). So we finally got seated at the table. We were so wrapped up into my daughter and her birthday that we realized that we were sitting for 20-25 minutes without anyone serving us beverages or anything after the table was cleaned off. The waitress came up finally with an attitude and rudely asked us was we ready to order or drinks and food. I at that time requested to speak with a manager because of the terrible service that we were receiving. A manager never came to the table. We placed our order and proceeded our gathering with my daughter. It took another 20 minutes just for us to get our drinks. At this time I walked up to the bar and asked to speak with a manager. Elizabeth identified herself as the manager and I explained to her how terrible our service was. She looked at me as if I was bothering her and not being attentive to an unhappy customer. I explained to her that we sat almost an hour with no type of service. As I was speaking to her our waitress had finally brought the drinks out to the table but not all of them. She then says well there goes your drinks. I explained that's not the point. The fact that we had to sit 25+ mins just to get our drinks and the level of service we received was unacceptable. So she says well I would have left. I couldn't believe she said that. It wasn't busy in there at all. When the waitress took our order for the food, we ordered the 3 course meal, but was told they did not have salads so we couldn't order a salad. This whole ordeal was the absolute worst experience I have ever experienced at Applebee's. The fact that we were there to celebrate my daughter's birthday, it was completely ruined. We arrived there at 7:45 pm and left at 9:30 still with no food, and silverware, only drinks. The manager was TERRIBLE at handling a valid customer complaint and I truly do not feel it could have been handled differently. I explained to her that I would be escalating this to corporate because the level of service is the absolute worst that I have ever experienced at Applebee's. I would really like a phone call as well so that I can further explain this as well. 414-388-7319.

Sam Ardia
from Pittsfield, MA
POOR FOOD, GOT A HAMBURG , TASTED OFF. BURNT ON THE OUTSIDE NOT DONE ON THE INSIDE, TASTED OLD, LIKE JUST BEFOR IT GOES TOTALLY BAD . THE WORST BURGER I EVER HAD.MY SON HAD ONE TOO , AND HAD THE SAME COMPLAINT. PITTSFIELD,MASS APPLEBEES. I SHOULD HAVE NEVER PAID. SERVICE WAS BAD TOO,NOVICE SERVICE .TOTAL BILLWAS 28.00.
Have feedback for Applebees?
Thanks for your feedback!
Sorry. Please try again later!