Aldi
Aldi Complaints Continued... (Page 3)
232+ reviews added so far. Upset? Call Aldi corporate: 630-879-8100

Anna Aslm
from Sydney, NSW
shocking Customer service by store manager (Arpan). On 26/01/15 I bought two packs of kingston pride mangoes and upon consuming the first pack which was not to acceptable standard, I decided to return the second unwrapped pack. When I went to the Holt / Kippax store in ACT to return the item, I was served by the store manager (Arpun) who was very rude, arrogant and disrespectful. In a yelling rude tone he told me that this pack will go in the bin and that I shouldn't have bought it if it was to be returned later. He was very harsh with his choice of words and started mumbling whilst punching hard on the register keys to the point of being abusive. I really didn't expect this appaulling customer service from the store manager. Very disappointed and you guys have lost a long loyal customer because of an incompetent staff member. This staff member needs serious training and have a decilipnary action taken against him to avoid such incidents in future and giving your brand a bad name in the already competitive market. I request a feedback on this matter.

janet wickham
from Southampton, ENG
I am upset and disgusted. visited Aldi store in gamble road in Portsmouth to purchase a singer sewing machine this morning 22nd January only to be told that they had sold out however when I asked a member of Aldi staff (MANGER) how many they had had delivered to store the reply was ONE, after viewing it in your flyer I think it is disgusting that there was insufficient amount of this product delivered to the only store in Portsmouth City, I should like to receive feed back about why only one machine was delivered to the store. Disillusioned Aldi customer.

Margaret Tyson
from Swindon Village, ENG
I use the store in Drove Road, Swindon. Since the store has been opened it has gradually been going down hill regarding the availability of goodsthat should be available for sale. Whatever time to go shopping the shelves are never fully stocked. I last went shopping yesterday at 3.00pm The vegetable racks were only about one third stocked, fruit not much better. Both of the types of filter coffee I use was unable (also last week unavailable), No marmite, no porridge oats, no large sausages just to name a few items I couldn't purchase.
When the store opened there used to be a delivery first thing in the morning so if you went shopping about 9am you were well catered for however this is not now the case. The deliveries are now later and seem to deliver whatever there is left from the other two stores in the Swindon area. We had to get used to the fact that the aisles in the store were always full of crates being unloaded, but this is preferable to not having the goods available when needed. I cannot do my entire weeks shop in Aldi anymore having to go to another supermarket also, this I will not carryon doing. If things do not improve myself and other shoppers will be shopping elsewhere. I feel very sorry sorry for the staff in Aldi as they are having to put up with a lot of complaints from customers and it is not in any way their fault.
Will you please treat this complaint as important. Waiting for a reply.

I have been an Aldi fan for a long time. However, while in this store on Friday April 4th, I noticed the line was unusually long, which, it usually is. I then noticed that a female cashier (wearing a wrist brace) had opened up another register, I assumed to relieve the giant line forming in the only other lane. So I got out of line, losing my spot, as well as a few other customers did and went over. So, after a couple of minutes of standing in line, she rings up two people in front of me and out of nowhere, steps from behind the counter and slaps a "lane closed" sign down on the counter. Me and the other customers behind me are shocked! I say to the cashier "your lane is closed, maam?" and she ignores me. So I thought maybe she didn't hear me, so I say "Maam?" a little louder, and she snaps out a very rude and curt "YES! IT'S CLOSED! I was shocked, I thought about going back to the other line but it was way to long and I felt very low and embarrassed. I left my groceries and walked out. As well, as one of the other customers that was behind me. She was the only white girl working up front at the time. She had blond hair and a black wrist band on her wrist. What she did was beyond rude and unprofessional. She is going to cost you more customers like me in the future. I hope this complaint reaches the right avenues because if this were my business I would want to know about this employee and deal with her accordingly….

I have been an ALDI customer for many tears and I am getting very frustrated about the OUT OF STOCK items we shop for almost every week. The Waukesha, WI store has been out of srock of Canned dog foor for more than a month now. Chaucer dark chocolate is out off and on for a month now. Low fat cottage cheese is out off and on also. If I have to finish our shopping at Walmart or Woodamans in Waukesha I might just as well do all of our shopping at one of these stores and save time. These stores are never if ever out of what we buy weekly. It is just a waste of my time to have to run to more stores to finish shopping. There other tihings that just don't come to mind that your store has been out of. I don't know if this is poor management at the store or if something else is the problem. I hope this is fixed soon. time is running out for my trips to ALDI's store

Hi myself and my partner went and done some shopping at aldi stores in baguley wythenshawe Manchester. We purchased a pack of sausages and they do not go out of date untill 04/04/2014 they are butchers select sausages. We have opened the packet and the smell Is horrendous. They are in bearable to cook and eat. Like they have been off for months on end. We see this as money wasted and a trip to the stores has been wasted. We love aldi stores and have always used aldi since the day it opened close by. We feel very disappointed in this and it is questioning our thoughts on wanting to continue shopping their if we feel that this is going to happen again.

I am a 47 year old male and attended the Aldi store on Saturday 29th March at Sheerness- on- sea in Kent. About 2 minutes after entering the store I was approached by a plain clothes security man who showed me his SIA badge. He asked me to remove my hood from over my head, I asked "why" he replied, "it's the law". I asked him, "show me under what law that I cannot wear my hood up in your store" I further went onto say I have recently had deep tissue massage to my right side of my neck and I needed to keep this area warm hence why my hood was up. The security person continues to say. "It's law" but could not produce any documents in writing in law saying wearing your hood up in Aldi is not allowed. He went onto saying, " you seem like a decent guy" which I found offensive. I pointed out to the security person there was no law in writing stating the wearing of hooded tops in Aldi was forbiddend also it was not a condition of shopping.
I pointed out this may be Aldi's guidelines or a policy introduced but nothing was shown to me in writing. There was also no signage outside the store stating the conditions of shopping. I hastily pointed out to the security person that he needed to be mindful of saying "it's law" not to wear your hood up in Aldi's as he may come across a person who knows the law better than myself who would be happy to "sue" Aldi for a law that does not exist.

sir my grand son got me this vice for my birthday he got it on friday when he was shoping with is mum so i opend it to day great just what i need as iam sat in my weelchair it suddenly came to me that it was broken so i have taken it back to swap for one that is ok.i then was tould no reciet no swap so i asked is mum it was with the rest of her shoping reciet and as gone now as this is marked workzone and have not seen this brand on sale any were els in grimsby so is ther any chance you can change this vice thanks for any help with this

I would like to inform who ever it may concern that I reported your store to the newspaper of Bristol as well as reporting your store manager to the labor department the about the treatment of your employees in front of customers. I will not rest until this matter is situated. I am currently calling the Better Bureau as well. I am a loyal customer in that area and I am completely dissatisfied with the store and will be looking to take higher action if this is not taken care of immediately.

I was given a K-fee machine for Mother's Day last year. Since then, you seemed to have less variety of Expressi capsules and I love the lesser strength i.e. strength 4, 5, 6 but not usually stronger than that. My favourite was strength 5 green Perugia and Decaffi strength 2. I have checked out your stores at Gosford and Wyoming and they seem to supply Expressi valletta strength 6 and decaffi strength 7, and good reliable Chai latte – thank goodness for that.
I am running out of my previous supply of Ferra- S 3, tauro – S5. Kindly advise why the change and the less variety of capsules for your own brand machine!! Can I go to another store for the old supply of capsules.

We have been to Aldi several times over the past few weeks and found the products that we bought very good. We have had some of their meat joints which were very nice, but we cooked a Rolled Lamb joint a couple of weeks ago and we could not eat it was a very big disappointment as we had to have a Sunday dinner but no meat.

I was starting to bag my food which I have done sine they opened. I do shopping for 3 different people so it was all in section. I started bagging my items, after bagging two bags. The deputy manager started saying but it in the if you don't no then the staff need more training, repeating herself. I was not aware that I had to do this. So I said just one moment but I need to sort this stuff out. She started scanning the food even fasting pushing and putting it all on top of each other. Then pushed all the food in the trolley on top of all different items. I had eggs cakes etc.
I totally get now that this is how your system works. But she didn't ask me or explain this she was very rude with her deliver and aggressive,. which then made me defensive as other customers just looked on. I was very embarrassed. I asked to see the manager she just smiled and said im the manager. Then no reply. I am a very good customer at this store, and have praised the store to friend and encouraged them to go there. I have also been satisfied with everything down to value for money, the customer service and I have never wrote a complaint about anything before but I was totally shocked by her behaviour.

Hello, as we are on a budget, as many other people are, that's why we shopped at Aldi, purchased these ham trimming for lunchboxes for my kids. I thought they would be on par to Icelands Ham ends. Oh my god how can you possibly sell these, they are not fit for sale! They taste like you are chewing rubber, they are disgusting. I am a family of six and everyone said the same.There not even trimmings they are tough round pieces of rubber. You've let me down Aldi. Wont be buying these again. Ime £1.65 worse off now.

I visited my local Aldi store today in Halifax, did my shopping and got to the till. There were a couple of customers in front of me and we were all held up due to the fact the staff member at the till was having a (very loud) conversation to another colleague about swapping shifts.
Totally ignoring the fact that he was serving a lady who was waiting to pay for her items! He made no attempt to apologise to her either! I managed to finally get served whilst this member of staffs focus was still elsewhere. Then as I was leaving, said staff member decided he'd finished serving and closed his till even though other customers had started loading their items onto the checkout!! The customer that was after me complained to him and his reply was, I'm closing, if you wanna complain then do it, I dont care.
I'm sorry but I work in customer service also and if we treated customers like this we'd be in trouble. Where I work the customer is always first and get our complete attention until they leave the store and I would expect this to be the same everywhere.

I have been going to aldi in darlington on yarm road for years but have recently starting using aldi at cayterick garrison as I have moved closer to that one than the darlington branch. I have constantly bought snackrite "salt your own" potato crisps and my family and I thoroughly enjoy them. In the previous 2 weeks I have bought 2 packets of 10 bags in aldi and in one bag there was 6 packets with NO salt sachet in and in the other bag there has been 5 packets with no salt sachets in. I think this is a bit ridiculous as you are definitely not getting what you pay for!! I am very cross as I love going to aldi every week and just lately the standard has dropped and im paying for items but not receiving the goods.

About eight weeks ago we returned a pot of jam to the above store after having found what looked like a blue plaster in the jam. We had eaten half of the jam before this was discovered, as you can imagine we felt sick. We shop at Aldi every week, so the following Friday we returned the jam and filled in a complaints form. The assistant we spoke to offered us a replacement pot of jam which we declined but she never offered our money back. Our name and address and phone number were taken down and we were told that it would be passed on to the area manager that day.
As I previously stated this was about eight weeks ago, could even be nine weeks, and to date we have heard nothing. We feel that to have heard nothing regarding this matter is unacceptable, as we have been loyal customers for years and feel the issue has been completely ignored and our custom itself worthless. All that was needed was an appology and to be offered our money back.

3.4.2013. To whom it concerns, I have used the above product bought from Aldi Ashton under Lyne, last season and this coming season for some of my seedlings. Last year I had a high percentage of failures when using this product. The plants shrivelled and died.
I tried your product again this year to see if it may have been my fault last year. However I have had the same result. Tomatoe plants, Cucumbers, Dahlias, marigolds and other half hardys just curl up and die when potted in this compost. Its as though the have been poisoned with weed killer.
I have photo evidence. I have a half bag of the compost that is still unused. I have contacted trading standards. Can you tell me why my plants are dying when potted in this particular brand of compost?

I made a card payment in Aldi, which was refused at checkout. I was confused and embarrassed as I knew the account had sufficent funds to make the purchase. I went straight to my bank, who confirmed the card payment to Aldi's card processor Streamline Services. The store argued the toss, so did head office.
I am told by my bank it could take up to 5 working days to get the money returned to my account. Aldi were nothing short of rude and totally unhelpful. They still have my money, I still have no shopping! I have no money to shop else where, so I have 2 very hungry children. The store involved Radford Boulevard, Nottingham. Shame on you! What you have done to me and my children is theft!!!

Vehicle reg NX06APY jumped a red light on Monday 18th march at 2230 on the Chester high road Wirral heading for Neston Distribution center. The main reason for my complaint is i am only just here to send this email, i had a car full off scouts coming back from a night hike and i dropped of one of the scouts at the Gordale nursery garage where she lives.
We approached the lights and as they turned to green i was about to pull out and your wagon as detailed above came through on red at i would say doing a good 60mph, so it was lucky i stopped or you would not be receiving this email but possible details of a enquirey to the death of 5 people.
This junction is notoriouse for light jumping and i feel that the driver came down the high road with out any care for other road users. i struggled to catch up with him to record the registration number. Please can you confirm what action will be taken over this incident.

You have cocacoal delivered to your store, and is a fare price. However it is put on a pallet without sorting the two diffeent cans – one is white and the other red, Invariably people often want the white can (Diet) but have to try and struggle to get at them.
It is dangerous as the cans are left almost ready toi topple over after customers endeavor to take the from the pallet. I asked the staff to help but was told that "It is the way they come and we do not hve the time to seperate the two different brands" Want an accident and the consequences of a claim if they should say fall onto a young child !
Further your company must loose hundreds of pounds in cash all because nobody waters your plants on display. They invariably withering after they are out on display – not too much to water them occasionaly !!!
The store is situated "ALDI" at Heulagh in Yarm cleveland North East of uk. Only store in this area.

Went into Aldis last week, and went to pull out a roll of sausage and came back with a hand full of raw sausage meat. Apparently a roll of sausage meat had been broken apart, and raw meat was all over the sausages in the box in cooler. Called an employee over to help me get all the disgusting raw meat off my hands and she just looked at me and walked away. Left me standing there with raw pork all on my hands. I asked another person that only brought me a paper towel to whip my hands off with, but nothing to disinfect and clean my hands with. Awful greasy pork. I complained to employees there, but they didn't care and left the raw meat in the box exposed. When I went back a week later, they had done nothing. The raw pork was still smeared all over the sausages and box. Another time, saw mushrooms that were so rotten they were slimy. Seen vegetables that had mold all over them, oranges that were smashed in from being rotten, bananas that were all black and rotten banana oozing out of them. Cans of food outdated, and one time bought grits and there was bugs in the grits. Customer service was just as bad, throwing the groceries in the buggies damaging the food and cans. Even when you ask them to stop throwing the groceries destroying the food, they continued anyway. They don't even give you time to put your money back in your wallet when they push the buggies away from you, when your holding onto the buggies. Dirty, disgusting, and horrible customer service.

my wife and i went into the aldi store in swinton and did not find what we were looking for, on our way out of the store we were stopped by the manager who basically accused us of stealing from the store, this man was rude and uncouth, and i will never set foot in your store ever again and will be telling everyone i know in this town, and you can read about it on every social site there is, his picture and name will be posted as well .i think his behavior was outrageous.

I find it demoralizing that Aldi accepts welfare credit cards, has all the equipment for processing credit payments but does not accept consumer credit cards. I'm sure that most consumers would gladly pay a 1 or 2% premium for accepting credit cards thus invalidating Aldi's claim that they're not accepting credit cards to save you, the consumer, money.
If they chose a premium that represented their actual cost, the consumer would have the choice of either using their credit card and paying the premium or simply paying cash. Personally, I believe Aldi doesn't care what the consumer thinks. To accentuate this point on a recent shopping trip to Aldi I chose not to play the ball and chain $.25 shopping cart routine and instead put my groceries in a empty Aldi box.
Upon checkout the clerk told me that I would have to take everything out of the box and put it on the conveyor belt before she could ring it up. When I asked her why she couldn't simply take them out of the box as she rang them up; she said that I would have to take everything out of the box except the head of lettuce. When I asked if she was serious she told me that it was Aldi's corporate rules.
Aldi rule #1, consumers concerns are not important. When all is said and done it's really all about the lettuce.

Hi – Does anyone know the best way to log a formal complaint to Aldi Stores? This is regarding the Store Manager – a James – who works at the Bath Road, Reading store, though quite how he got the role of Store Manager I do not know. I'd approached the one single checkout that was open, which had a huge queue of people. This 'manager' was right by the checkout, sweating away as he lifted boxes, but didn't take charge in opening a new till. I asked him if he was going to open a new till – as they promise, should the queue get too long – and he snorted "Yeah, she will." "Sorry?" "She will". "Who?" I asked.
And in a patronising tone, with a smirk on his face, he pointed at the girl on the only open till. "SHE is opening a till". So clearly it's left to the poor person working on the till to OPEN a new till. This guy clearly cannot manage the store that he's been recruited to do. Indeed, he it appeared he knew that too. Anyway, I'd like to be able to inform their Head Office of this incident, but their website only offers a postal address and 08-number, and therefore no email address (clearly to put people off contacting them.
Any assistance that can be offered would be greatly appreciated.

Un satisfied customer. I shop there once every week. I like to buy a lot of groceries in bulks most of time for my business. this is like the 4th time. the store needs to keep their stocks on hand according to my purchases and other customers purchases. Every business needs happy satisfied Customers. Unfortunately, this Brand NEW store is not setting their STANDARDS. Please re-train the Manager. When the mgr. came by the cashier not to sale to me all my purchases. She did not even apologize.
She just said the products needed to be evenly sold to other customers according to HER ORDERS for the store. the mgr. face was not smiling but the cashier was smiling and happy faced. Is the Store mgr. the CEO, FOUNDER, OR THE OWNER? If not, she needs to be FIRED. Retrained. or DEMOTED. OR SOMETHING ELSE. ON Friday 9.30.2011, I purchased Bananas by the cases. I had only 2 cs. Previous shopping times. She Saw me and Said it was OK. TODAY, SHE SOLD only 1 case.
BUT READ THIS CAREFULLY. The POSTED PRICE OF BANANAS I saw at 0.30 cents per lb. THEN at the check out she Ran there to the Cashier and said something to her. My Receipt showed 0.44 cents per lb. I then walked back to check on the POSTED price "the manager (SHE)" HAD ALREADY CHANGED TO 0.44 CENTS IN JUST FEW MINUTES.
SHE STOOD THERE WAITING FOR ME TO GO BACK AND CHECK ON THE "QUICK PRICE CHANGE". WOW. OUTRAGEOUS…!!!! I hope your store have CAMERA TO CHECK ON HER. PLEASE DO SO. I also purchase Avocados. I always bought 40 pieces or More. But TODAY she took back 30 pieces. she had just pushed a CUSTOMER AWAY. SO SHAMEFULL ON HER.

Hi this is not really a complaint but i applied at the aldi store on teidman rd in brooklyn ohio. I wrote on the application on the top so they know that i have a speech impediment and I don't want them to not hire me because of that because its discrimination. If they dont hire me for that reason it will be very wrong of them and i truely will never know because they wont tell me that its because of my speech. I should not be excluded just because i have a little stutter. So this is just saying that if reasons show that i wasnt hired because of my speech they will be hearing from me. I think its unfair.

Please check your cash register receipts while you bag your purchases to find some surprises. This scam is getting to be the norm at Milford CT Aldi. Ex: skim milk bought 1 charged for 2, (scanner problems), a cabbage was charged for but never bought a cabbage. Over the past few months I caught numerous "sorries" from the aldi manager and this seems to be a policy you are not aware of. Maybe it is that I'm a senior citizen and easy prey however I'm nowhere near that mark. I'm sharper than most of their employees and don't need a calculator to do math. This is just a warning to help you save some money if you are interested. This does not happen every time but more frequently than is should. Just check your register receipts when at Aldi to keep the stores honest.

Think of yourselves lucky. Me and the wife went shopping to Aldi in Clowne near chesterfield on 12-2-2011 and the checkout boy slipped her his mobile number his name is Matthew. Now i dont live at home anymore my two kids need a Dad. I've rang to complain 3 times about this unprofessional conduct but getting nowhere at moment so decided on more direct action. Cheeky buggers even calling and texting while he's supposed to be working i've checked the phone bill so i know.Will post again to let u know complaints procedure against Aldi in Clowne.

Recently I have on two separate occassions been charged full price at the till for vegetables and fruit that were shown at reduced prices on the stands at Aldi in Engadine. The first time I complained as the difference was so great and obtained a refund but several customers had bought some of the items in front of me without noticing the error. The cashiers were not aware of the reductions. The second time the amount was small and it was the final item put through the till consequently I missed the error. I advise all customers to check their payment for reduced items of fruit and veg at Aldi.

Aldi, you have the worlds most expensive food. Why? Because I have had to throw most of it away! Frankly I don't understand how you getaway with it. My experience with Aldii/Carnivor in France was just the opposite – excellent there. But, then, they would not let you get away with selling garbage, now would they? The plum tomatoes were like easting tasteless red toothpaste. $2.00 wasted! The stakes were rubbery and tasteless. $4.71 down the drain.
The romaine lettuce was like old chewing gum, quite tough. $1.99 for garbage. The canned salmon was ok and I have yet to try the fish and canned herring. The spices and chopped garlic were ok, but certainly not work going out of you way. i guess you think all Americans are stupid and cannot taste. i also do not like the fact that you are taking advantage of poor people by locating your market sin or around low income area. I can hardly recommend you or you products.
Pity you do not give a contact number in the USA. Come to think of it, I understand why!

What Cost a Bargain? On the 30th of January a friend of mine and I bought some food at Aldi's on G street in Philadelphia. It turned out to be the most expensive food I overbought in my life because I had to through almost all of it away: the canned salmon has a biter aftertaste, the "steaks" were tough, without flavor and chewy, the tomatoes were like tasteless, red pasty gook, the romaine lettuce was bitter and rubbery (really!). The Aldi "French Roast" was barely drinkable, and I have not defrosted the fish. If it is not good, I shall report them to the appropriate authorities.
Fortunately, I have not been made sick. Unfortunately the place is too far away to make it worthwhile to return the trash for which I paid good money. What bothers me so much is that they take advantage of low-income folk (I am retired and live on almost nothing.) I think these "people" are the lowest of the low. All I can say it that I certainly will never shop at Aldi again and will tell everyone I know about my experience.
I do not want to wast what little time I have left on earth on such scum. I am surprised, however, because I had excellent products from then in France but here, in the good old US of A they sell trash to people who have little choice. The French would never let them get away with it. Do yourself a favor stay away. It is telling that they do not list a telephone number – it seems to be unlisted anywhere!

Shoppers at a grocery retailer in the Midwest, ALDI Stores, have been hit by a series of point of sale terminal skimming thefts. The thefts have resulted in a number of reported losses as consumers had their debit card account information stolen.  Several local newspapers in the Chicago area and Indiana posted reports of consumers who suffered losses after shopping at ALDI The Daily Herald (a suburban Chicago paper) reported that the removal of the machines comes after about 250 customers in Wheeling, St. Charles, Buffalo Grove, Elburn and Kane County reported having their bank accounts drained by thieves who obtained their credit and debit card information through those machines.

Carol Warnock
from London, ENG
I purchased a bottle of Brambles Light Mayonnaise about 3 weeks ago (unfortunately, I no longer have the receipt) and I have gone to use it today. This is congealed. This took me by surprise as I have kept it in the fridge since being opened. On further examination I have checked the date and this states "27 September 2015 - ref:101055905 19:04".
I would hate to think that this could be the reason why I was off work last week for 2 days sick - this contains fresh eggs, so presume would give food poisoning. My daughter, who also works at the same company ate her sandwich with this mayonnaise on yesterday and was sent home sick in the afternoon. I am very disappointed, as I am a frequent shopper at Aldi and it raises concerns as to what other items are on your shelf "out of date".

Anthony Hutchinson
from Bridgwater, ENG
I purchased a median netbook computer from aldi Liskeard in August 2015. It has a 3 year guarantee. It was equipped with the windows 10 operating system and 32 GB memory. All was well initially but as Windows 10 updates rolled in the computer 'complained' insufficient memory. . I had not added any programs in addition to those installed prior to purchase. The curser stopped working after one update - a usb mouse solved that problem initially and median asked me for details and then asked me to return the computer. Median have now said the computer/software cannot be repaired under warranty and want £50.

Terry van Es
from Sydney, NSW
Purchased, today at Aldi North Wagga Wagga store, 2kg chicken legs. When we arrived home my wife opened the bag to repack and the chicken was off (stank). Use by date is 30/01/16, display until date is 19/01/16 (today). Also the bag containing the chicken had leaked and we have just finished cleaning and disinfecting, bench tops, other packages and esky.

Mrs Ivy Peach
from Leicester, ENG
I am writing to inform you that whilst shopping in your Buxton Aldi Store on Thursday 14th Jan-around 3-30. I was doing my shopping and there was loaded trollies being unloaded in the store there was one near the flour shelf ,there was a male worker, he was cleaning thee egg shelf and moving stuff. I walked round the trolley to get some flour and other stuff and i fell back on to the metal bar on the trolley knocked the sugar over i could not get up i had to be helped up by two employers as i have a disability in my feet.
I was shook up but when i started to walk bottom off my back hurt and is still painful. I have been to my doctors today with the pain, the doctor advised me to inform you off this incident. I was not asked to fill in an incident form or report it and surely when these large trucks are being used there should have warning signs near thee area to stop shoppers approaching the area and falling of getting knocked. don't no if you have C T V it should be on there. I will leave this with you for your attention and await your reply.

Peter Kwasnik
from Oreana, IL
During check-out, our groceries were thrown around and damaged. One of the Greek Yogurts was dropped on the floor by the cashier, then picked up and pitched into the cart. Apples were tossed into the cart and, upon examination of them at home, were found bruised. The wheels of brie cheese were thrown into the cart, both of which were separated from their lids. I told the cashier "hey, this is my food you are throwing around". She responded "Its only yogurt". The cashier's deliberate indifference to me and my food may have cost ALDI a customer. This happened on 1/18/16 at 2:40 PM at Aldi Store 28, located on Mt Zion Road, Decatur, Illinois.

Janet Townsend
from Gloucester, ENG
i brought a 5 bird roast (frozen) from the Cheltenham store. Cooked it and 4 adults and 2 dogs ate this bird and every one of us have been very ill dog still very ill as she had the most due to it not tasting very nice. So we gave it to the dogs.

Jaroslaw
from Stratford-upon-Avon, ENG
I am wondering why do I need to explain myself to Aldi shop assistants about my shopping choices. Several days ago an Aldi employee was asking me my am I buying these foreign cheese makes while the English cheddar sale are going down the cliff. I does seem quite petty to write about it but the funny thing is he works for a foreign shop. Today at 9:30 am, the same shop assistant at the counter number two, second time I saw him, was making comments about some two men being foreign due to their foreign sounding name. Clearly he might have some sort of issue with anything that is foreign but he works for a foreign shop, he makes these comments in public and gives bad impression ( a black guy in front of me did not even bother to a "How are you" after what he had heard).

Jean smith
from Maidstone, ENG
I found it difficult to work out the sell by dates on your fruit and veg. I asked one of the staff and he did explain it but I said to him it was still not easy he then said that is why we are cheap. Well later I went into Morrison's their fruit and veg was clearly labelled with the sell by date and roughly the same price as yours so may be you could revise your way of doing it especially around the Christmas period when dates are important.

Miss Amanda Tobin
from Maidenhead, ENG
I was in the Aldi store in Lochee Dundee (for Christmas shopping). While in the store I was followed by a staff member who quickly became obvious that he was watching me in case I was thinking about stealing out of the store! I have never even contemplated stealing out of any Aldi store and this made me feel very alienated and discriminated against. And the man (dressed like a manager) made it so obvious following me so closely he could have been mistaken for being with me shopping! I understand that some people do steal items out your shops but he could have observed from a distance instead of making me feel so uncomfortable I just had to leave the store which is a shame as I like some if the deals and prices of Aldi items.
Unfortunately though it will take a lot for me to build up confidence to enter that store at The Stack in Dundee and due to this happening today I am not sure I ever will again. Please can you ask the bosses to consider training staff to monitor potential thieves from a sensible distance so as to not make people feel the way I do now! I feel I was treated disgracefully and I repeat will not be returning to that store for any form of goods. Thank you. A disgraced and seriously embarrassed customer.

Jaroslaw
from Stratford-upon-Avon, ENG
I am writing to say I am quite disappointed at the behaviour of two Polish girls working for Aldi in Canners Way, Stratford-upon-Avon CV37 0BJ. The situation I am writing about happened on 01/12/15 around 8:10 pm as I walked into the store and was walking along the first alley. I was passing next to two, I guess Czech or Polish chicks, one was them was pointing to my side at some product near the nuts shelves... As she saw me she said to herself "fuj" which is a Polish and Czech expression for the word "yuck". I guess they did not suppose I was Polish myself and therefore would not understand. I am writing as I have big scar on the left side of my neck, the leftover of a recent tumor removal surgery. I am sure I heard it right as the other girl repeated the word after her female colleague. Both of them were about 20 and I reckon just expressed their opinions without giving it much thought. Hence, I am expressing my opinion in here in the right place for it, also without much thought.This is just disheartening that people behaving so brainlessly work for such a decent shop. Long story short. All I want from the shop is to look at the CCTV, find those girls and address the issue accordingly before I have to listed to this stuff again. Just to help find the situation on a recording, I was wearing a leather jacket and had a black and yellow bag. That's all.

Carol Bailey
from Decatur, AL
I was just recently in Winfield, West VA. and your Aldi store in Teas Valley Had an electric Heater for $49.99 so I could not buy it there to bring it home to Athens, Al. So I decided to go to our new Aldi's in Athens Al. It just opened before I left for my daughters in W.VA. Well here it was $69.99 so I told the Manager of that store about the price of the same heater in W. Va. His answer was oh and just walked away from me. To me that was an insult he was not the least bit interested. You would think he would have had the courtesy to say oh I will look into that. I brought it anyway as we received a $10,00 coupon in the mail if you spent $40.00 dollars or more. Sorry to have to tell you this but a little bit of kindness goes a long way.

Mike Pearson
from Sheffield, ENG
On a weekly basis I buy myself and my CEO the Sweet and Sour Chicken and Rice approx. 4 per week. Last week we cooked one for lunch and it was funny tasting - very bitter and had no pineapple in it. I am disappointed with this as we have never found another Sweet and Sour Chicken like your that tastes as nice...however I was really disappointed at the standard of this meal. Each meal costs £1.49 and I buy 4 per week....that's a total of £309.02 per year. I will be interested to see what Aldi corporate office has to say about this about I write my complaint letter next week.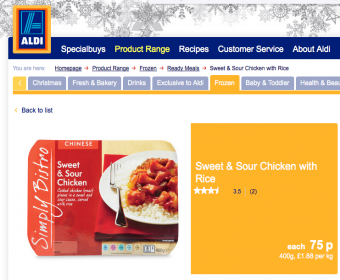 Mrs glinn
from Bristol, ENG

Moira Fowler
from Stillorgan, L
I purchased 5 55" TV's and needed to return 3 as they did not fit on wall. I checked your website to confirm I could return to any Aldi store. Tried to return to Kells and assistant manager Pirot (ck sp) refused to accept them. Had to drive two hours to return to Ashbourne store. Went shopping again in Kells store and requested the steamer you had on sale. Manager on Sunday morning assured me he would contact stores and tell me where I could purchase one. Received no response and found one myself in Navan. If you have a policy that over a certain amount you must go back to original store, please say so. The people in Kells could not care less about their customers. Just really disappointed in the culture of the Kells store.

Anne O'Connell
from Stillorgan, L
I had done my weekly shop, in a queue of 6 people to only one till open. A member of staff called to me that she was opening another till and would get someone along. A gentleman next to me only had a couple of items, so I let him go first. When he was half way through throwing my shopping at him, he told me I was far too slow and keeping customers waiting. There was only one lady behind me who had half a dozen items. I think staff customer service was disgraceful. I do not want my shopping chucked at me, O want to pack my shopping carefully, but I was far from slow. At the end of the day I am the customer without us Aldi would not have a store. It is not a race to check out shopping and I found it humiliating and upsetting that I should be spoken to like that. I went then to Tesco, and it was a delight to not be harassed and have my shopping thrown at me. Totally disgusted with the crushing business of Aldi staff, never known anything like it!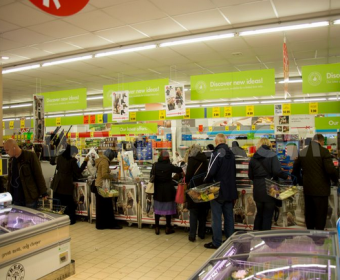 Mrs Sue Lewis
from Oswestry, ENG
Having purchased several bottle of milk over the last few weeks the last being last week. I would like to make a complaint about your milk bottles. The containers are that poor that when you pick them up the handles start to leak at the bottom and fills your fridge with milk and leaks all over your kitchen top (not very Happy) be Loyal customer This has happened all the several bottles I have bought. Milk is ok containers Rubbish. Please look into your supplier. Not a happy customer.
Product : Cow Belle Milk
Date on bottle Nov 7
BS1344R TC010
2 Pints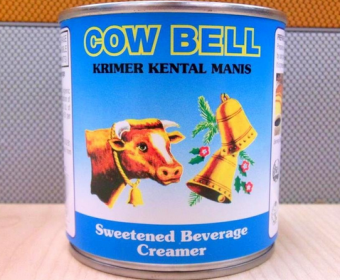 Teresa Murphy
from Dublin, L
I bought an Airfryer at Aldi store Ennis last November. When I tired to use it recently it wouldn't heat up. The Model No is TI-MF-1114. I do not have the receipt but I have the warranty card. It was bought on 17/11/2014. Can you please tell me what I should do? I hadn't used it too much and Aldi is no help!

Dreama Klein
from Mountain View, CA
So I went to your store which I barely do cause of different reasons. But today I was only getting 3 things. Long story short line was long I asked the lady stocking bread if she was going to open another line she looked at the line said no she has it and went back to stocking the bread. Not 1 minute later her manager came by and seen the line and told her to open a line. She takes her time then comes over and starts slamming a cart around. I said how are you she blew me off but that wasn't or isn't the problem it was her attitude. I told the lady behind me if she was going to act that way she should have stayed with stocking the bread cause she seen the attitude as well. Don't know what the problem was or is today but had I not been on my meds you wouldn't be getting an email but she would have known the complaint.

Chris Parker
from Roosendaal, NB
Your new store in Blackwood, Caerphilly is to darn COLD. When i complained to an assistant manager called Emily she was rude and tried to browbeat me and not let me get a word in.Its been like this since the store opened and must be very uncomfortable for the staff with temperatures in the range 10c to 12c.I have shopped at Aldi for the last 10 years ever since the old store opened. I LIKE the store but the uncomfortable shopping experience is ridiculous and i shall avoid the store and use Lidl instead although its farther away. I rung your customer service two weeks ago to complain also.

Keith Chamley
from Lancaster, ENG
Your New Store Opened Today Thursday 29th October in Clitheroe Lancashie BB7 1HT At 08.00hrs. And Me for one was Looking Forward to you opening to give the likes of Booths, Tesco, & Sainsbury's something to think about. So I decided I Would Be at Your Grand Opening & try to be one of the First 100 People as these get a Golden Envelope! I Got up at 05.20am (My Partner think's Im Mad) & was outside the store & in the line up around the 30th Person! in the rain cold & wind for near on 2 hours! After getting my Golden Envelope in the line up That had in it A £20 Value Price Yeah that's Fine! But then I needed to go & take my daughter to the Train station for her to catch the 08.25am Train to Blackburn for work So Was Unable to wait to go into the store so did just that & would come back to look round the store & collect my Prize!
This I did After paying for some items I had Purchased Asked how do I claim my Prize went to the two girls he pointed to & was given a Aldi bag in it A box of Belgian chocolate seashells 250g, 6 mince Pies, box milk chocolate mint sticks 120g, box of Noccolia chocolates 200g, Pack of Stolen Bites 350g more mince pies, asked them whats this sorry thats all's Left I was told! Was Not Happy! she came back with a Bottle of prosecco! All in all it Was Poor & This Really Dampaned My Enthusiasm For the Grand Opening As the contents Would Not come near to £20! Asked to speak with the Manager to see if I could change some of the things was Told By the young girl Is poke to Can't see why not! she got him to come & see me Asked him if I could change 1 or two things that we didn't like But was Told Point Blank No! I Really Thought He was To Quick To Dismiss me out of Hand & came over with No Compassion & Rude!
This Really Put the dampers on my Enthusiasm For The Grand Opening & the Store in General! (Look's Like More Training may well be Needed For Some) As I'd Been Going on About it to my Partner for a Very long time! I was on the phone to her to say I Was 30th in the line up & I'd got a £20 voucher & when I pick you up later we can call in & have a look round! Lol Now I Think Not Now!

Rosemary Double
from Ipswich, ENG
I bought 4 fresh lamb chops today at the Felixstowe Rd Ipswich Suffolk today. Went to take them out of the wrapper to cook for our dinner tonight and they were rotten. The smell was indescribable! I Phones one of the stores who took all the details, and was told to bin them then when next in Ipswich take the receipt back there. I have to drive 14 miles into Ipswich, and a pensioner and all I am offered is a refund!!!! We have no meat for dinner and I really feel this is not good enough. I look forward to your early reply.

Mr R Singh
from Wolverhampton, ENG
Sunday 26th July at 4pm myself and my wife walked into Aldi store on Birmingham New Road. A shop assistant shouted rudely towards us from the til ' were closed. .....get out!!' instead of coming to us and politely saying the store is closed. Very unprofessional and extremely rude. What ever happened to customer service? When I said there's no need to be rude she just walked away no apology or anything. Very disappointed.

I was in the queue today (03/06/2015) I put my heavy bag on the conveyor belt to get my purse out, unaware that it was blocking items on the conveyor belt, however there were at least two more people in front of me so my items were far ahead of me and one person behind me with his things on the conveyor belt (they were no space for another person to access the conveyor belt with the stack of baskets in the way at the end of the till myself and the guy behind me were at the end of the till ourselves) the assistant spoke to me in a very rude manner to move my bag.
I moved my heavy bag and she again in a very rude manner told me to move my items up. I argued and she refused to serve me! She is there to do a job, which she clearly can't be bothered to do. I joined another queue and was served by a much better assistant. This is the second time I have received awful customer service from this store. I will no longer store at Aldi since this is the way you treat customers. I work in retail and have a pleasant approach to all customers. This employee Monica at your Bell Green store, obviously doesn't know the first thing about delivering decent customer service.

Dawn Mathie
from Glasgow, SCT
On Tuesday, at the Aldi store on Heswall Wirral, the shop was a mess. Boxes littered the floor, half of the stock was not on the shelves, no milk, and when I got to the check out only 2 girls serving. I loaded my shopping on to the conveyer belt and the girl said load on to number 1 please. So I did then she said I meant number 3. So I unloaded my things again, moved on to the other till, and the assistants were shouting to each other. I had to go to Asda in the end because I could not get half of the things I wanted. The manager should be ashamed of himself. I won't be going back there again!

Maureen Mathieson
from Wishaw, SCT
I am a regular shopper at Aldi East Kilbride and am usually very pleased with your customer service. Today I picked up, as well as my usual shop, a copy of The Times which I did not realise you stocked. I have a longstanding prepayment agreement with The Times for which they issue me with a daily coupon to use in exchange for my copy.
I have used these coupons all over Britian in many shops, kiosks, supermarkets and garages to exchange for my newspaper but today I was informed by the manager of the EK branch that this would not be possible because "we only accept Aldi vouchers"
I find this practise very disappointing as I have never met this reaction before. I will also be writing to The Times to let them know of my experience.

Tina Fletcher
from Hull, ENG
I visited your shop on Beverley Road Hull on May 12, 2015, to get some groceries which I go 2 or 3 times a week and spend quite allot of money. I have always found your staff pleasant and helpful, but on the date above, I have never in my whole life felt humiliated and upset.
I had paid for my shopping and proceded to leave the shop when I saw an old neighbor who I hadn't seen for years at the next till. I stopped to talk to her and the cashier who was serving my old neighbor shouted to the person who served me if I paid for that shopping in the trolley. He shouted it out loudly, twice. The person who served me replied to him yes. I also told the cashier that I had paid for it and I have never stolen in my live and I am not going to start now.
When I walked out the shop other customers who heard the cashier were shouting to me "hey misses have you paid for that shopping?" How embarrassing to be in that situation!! I suffer with depression and went home upset and crying. I am now thinking of taking my service elsewhere. I hope this matter gets addressed because I would not wish any body else to go through that situation!! I am too embarrassed to ever go back to that establishment!

Levent Dervish
from Crowborough, ENG
I was in your branch 1-4 London Road, Brighton, BN1 4JA today (8th April 2015), and as there was no Sour dough bread on the shelf. I asked if the "assistant" stacking the bread (Who I describe as being male-podgy- mid 30's-long hair and with foreign accent) to please have a look in the bakery at the back of the shop (as I don't eat non-sour dough bread). He just looked at me and said "we don't have". I again politely asked him to look in the bakery, and he just turned his back on me and refused to continue a conversation.
I went to to another part of the shop and asked another assistant to look for me, and explained the problem I'd had with the previous assistant. This person looked and found many Sour dough Bloomers in the bakery, as I expected.
As I continued with my shop, I saw the initial unhelpful assistant, and I told him the bread was in stock, contrary to what he insisted.
To add insult to injury, he replied " what you want from me"? I then pointed out that he was a customer assistant, and I was a customer, to which he then replied " whatever"!
I then pointed out how rude and unprofessional he was, and he just laughed and pretended he couldn't understand English. I then spoke to him in Italian and Spanish, to which he also claimed not to be able to understand.
I have seen the same person be off with customers in the past, so I wasn't totally surprised by his behavior. I spoke to an assistant and also the security guard who both apologised.
Please highlight this issue with your management at Aldi Brighton, as his unbelievable arrogance -disinterest and rudeness go against the courteous and polite helpful assistants you do have working there, as well as being totally uncalled for and likely to cause a serious situation.
I imagine the manager there would surely be aware of his behavior, and I would appreciate some feedback.

My personal experience was good the staff were very helpful to me. I was how ever quite shocked to witness several members of staff ridiculing some customers quite loudly calling them names I found the this to be very unprofessional even if the customers were stinky. Which was repeated at some length!

The opportunity that I was finally given MT trainee came with ill intentions, but I excepted the challenges of my responsibilities all the same and put my all into trying to be the best MT. I could've been without any previous training.
Four months into my new position, the work became more and more overwhelming, but the more I reached out to my DM for help the less I got. She would always point out the negatives but wouldn't give solutions on how to resolve them. I did my best trying to handle it on my own. My previous district manager abandon store 11 or either she was following orders to push me out & make me quit. Either way I devoted hard work and long hours trying to maintain store 11 in the Jefferson division which without the proper development was next to impossible.
The work environment slowly became more hostile with ever negative visit, resulting in decrease moral and pride from myself and from other staff members. Nevertheless, we continued to try to no avail. Thursday April 22nd I showed up for my schedule shift at 5 am but was once again placed in another hostile situation by my previous DM. Because of that, I walked away to avoid any and all unforeseen circumstances that could've resulted in me being terminated. Which ended up happening anyways because I wouldn't work a unscheduled overnight shift on the same day.
I had already worked a 10 hr shift then double back at 5am for a 10 plus hr. shift the following day. It truly saddens me deeply that it has to come to this far after 7 years of dedicated works without much incentive to have not be given a fair hand in obtaining my goals. Aldi could be a better company if it treated all workers fairly and provided training facilities or simulations stores for their employees so that they can be better suited to endure for the long haul.
This type of screening & training would definitely help in the company's high turnovers. I would've never thought that 7 years I would be fired especially after sticking it out during the 4th quarter last year while my mom battle cancer when I should've taken a leave of absent to care for mom properly instead I took one for the team, I guess you live and you learn.

christine
from Newton Abbot, ENG
I went into the Newquay store today the 25th and noticed an assistant loading fruit and veggies into trays according to date, when I approached the goods I was told they are to be destroyed. This was at 4:00 pm, the store does not close till 8.00. Surely it should have discounted for customers.
I was also at that point contemplating purchasing the Aberdeen angus/burgers with a 30% discount. A member of staff ran out from the stock room whispered to another member of staff and then went and collected up all the burgers and took them in the stock room.
I am a loyal shopper and feel I should have the option to buy if there any offers available I should have first choice, bad customer service, or maybe your staff are extremely under paid.

Rebecca Donovan
from Redditch, ENG
I entered the store on Saturday 2nd May 2015 to buy some alcohol for a family party I was on the way to. I had my cousins with me as they were also going to the party and I picked them up on the way, their ages ranged from 15-17 years old. I am 30 years old. They came in the store to help me. I queued at the check out to pay whilst my cousins waited behind me chatting. The checkout girl disappeared for 5 minutes and I could see she was talking to her manager who very quickly scuttled off.
When she came back she very rudely said that she cannot serve me. I asked why, and she said 'well do any of them have I.D?', I said of course they don't they're not old enough to drink?! I pointed out that this alcohol was being purchased for a family party that we were all on our way too and I was myself that was buying the alcohol. The checkout girl told me that it was illegal to serve me because they stood there with me.
Then proceeded to be extremely rude and subservient. A gentleman in the queue said tell your cousins to sit in the car and the checkout girl said no that won't work as I know they're there. She then proceeded to call security even though I hadn't raised my voice at any point I was just clearly pointing out how ridiculous this was.
If she had said 'I'm sorry' I have to ask as its part of my job, I perhaps would have reacted differently, but the fact she caused such a huge scene and clearly took great pleasure in being as rude as possible to me I was not willing to accept this.
Then to add insult to injury the guy who was on the checkout behind the one I stood at said as I walked past ' have a good evening'. I've never been so unnecessarily humiliated in my life. Absolutely zero thought for their customers or the shops reputation. I've never been so disgusted.

Nuala C. Cosgrocve
from Watertown, NY
I love to shop at ALDI's store at 8448 Seneca Turnpike, New Hartford, NY. On Saturday last, the 2nd of May, I shopped there again. I was served by a Jessica. There was no customers ahead or behind me. It was very quiet. I thought I was overcharged for what I purchased. When I arrived home I checked my ALDI receipt. Jessica had charged me for pears which I did not purchase. I was really irked. I returned to the store on Sunday morning and I was reimbursed by the manager. You should do a thorough check on applicants prior to they being hired. These employees should be made accountable.

I was recently a new hire for the Aldi location on Elvis Presley, in Memphis, Tennessee. I feel like I was discriminated against in orientation. I attended orientation at the new location of 6626 Goodman Rd. In Olive branch by one of your store managers by the name of April. I notified the district manager by the name of Mandarin Langford. The entire month of April has passed, and I do not know if I was terminated or if anything was done to resolve the situation. No one has contacted me nor have I received any kind of termination notice. What can I do about this situation before I try calling the EEOC on this company for personal discrimination against me by April. Your company orientation is being operated in a very unprofessional manner.

Rick mazzoni
from Orlando, FL
I went to Aldi store in Kissimmee Florida on 192, the newest store been there many times today April 23 2015 went to my groceries. On the counter I took a divider and put up my groceries. A customer in front got mad at me, I don't know why but that's what you do at any food store. The cashier told me that I don't put things up like that and told I was rude why the next counter next to me did same thing manager came out and made me feel I was a bad person sharing in the same belief as the cashier. I told them why do you have the divider on the counter. They still scrolled me like a child. I would never shop here again store manager told fine no loss, we don't need you!

I was accused of stealing 2 bottles of wine in your Boscombe store and asked to empty my £11 50 worth of shopping and asked about 2 bottles of wine which I bought in a previous shop next door and made to feel insulted and spoken to horribly by the man at the counter as if I had done something wrong. Well maybe I did by going to your store in the first place. The security guard was much better behaved than the your own shop assistant. I regularly use this store and feel hurt being spoken to this way especially in front of my sick girlfriend who was crying when we left. The security guard said not to to listen to the store man, and said he apologize for him which I think he should have done himself. I am really really upset

Bill Tiggett
from West Palm Beach, FL
I shop at Aldi's probably 2 or 3 times weekly. Yesterday, 4/22/15 after my purchase was totaled, I found an error with the cost of tomatoes. The charge was $1.69 and the package had an advertised price of $.89. The person operating the register called her supervisor who checked to see if I was right or wrong. After seeing the advertised price she changed the sign as I waited in line. Once she made he corrections, she instructed her employee at the register to refund my money. No apology, no attempt to charge the amount the item was listed for, just here's my money back that's the end of it. I have shopped probably 100 or more stores in the greater West Palm Beach and no cost dispute never ended with my money being refunded. It was their error and I was offended. A customer observed what happened and agreed. Aldi's have good prices on much of their products, but I doubt I will ever go back to that store again.

Lisa Allison
from Oldham, ENG
I would like to formally complain regarding a parking charge that I have received from Parking Eye on the 29/03/14 for parking at the Oldham and Chadderton store for over the stated one and a half hours permitted time. Firstly I wasn't aware of the time restriction that is in place or I would of adhered to this however I have parked there to shop on many many occasions and never received any form of charge. I had visited the B&M store first then went into Aldi to complete my weekly shop and spent in excess of £100.00 in both stores, I now feel angry and aggrieved as a loyal Aldi shopper that I have received this after spending a lot of money on the said day, I understand this will need to be looked at by yourselves and I am happy to produce my bank statement as proof of purchase, I have also appealed this with Parking eye to which they state they will respond in the next 14 days, I hope this can be resolved as I will definitely look for an alternative place to shop as I don't feel this is very shopper friendly practice.

Kelvin Barnard
from Cheshunt, ENG
Entered the Aldi store at 18-25. I shopped the first aisle about to enter second aisle, when a female assistant placed empty wire cage in the aisle right opposite a wooden palate on the floor. She then walked off ignoring me. As I spoke to her, another shopper moved the cage so I could get past. She walked back to the stock room where a male assistant was mopping the floor wearing a pair of dirty blue rubber gloves. 18-35 min I was waiting to be served by the male assistant who was still wearing the same dirty gloves. I asked him why he was still wearing the gloves after mopping up the warehouse floor. He first denied he was when I told him I had seen he removed them. Health and safety issue food and hygiene terminal. It has got worse over the last 12 months aisles blocked rude staff out of date food especially bread, salad, and dairy.

john azad
from Melbourne, VIC
While I was shopping I saw ALDI employee Lyn pushing a big yellow machine, washing floor tiles while customers are still in the store without any signs or barriers. When I looked down pretty much the whole floor was wet. i was really worried my wife safety, she's 7 months pregnant and she had to walk on the dangerously wet surface. We had to cautiously look where we were walking as we both made our way to the cash register very carefully. The ALDI cashier scanned 3 slabs of water and in total; it came on the screen as around $18. I asked the cashier, 'I believe they are $4.99 each', she said would send someone to get it checked out. I volunteered to go and check it myself as well. As I reached the area where all the pallets of water were kept, I took a picture of the sign as proof. While I was doing so, Lynn approached me and stated that I was wrong and that they are not spring water in a very harsh and rude manner. I replied back, saying 'no you're wrong and they are spring water.'
To prove my point, I then grabbed a slab from the pallet and indicated it to her. She turned around, saying they are totally different water to the sign. She pointed out some red slabs of water which were behind the ones was I looking at. Lyn started to mock me and approached me with her finger pointed at me. While she's talking to me, I said I would complain how rude she is because I'm a customer and I'm not happy with her customer service. She said she doesn't care; I then took out my phone and tried recording her actions but by then, she had stopped. I decided to walk back to the cash register where she had followed me, swore at me and told me in front of everyone, 'you immigrant you go back to your country.'

Jean Gatenby
from York, ENG
For approx 3weeks I have been trying to purchase bottles of soda water, but because of the way they are stacked it is impossible to get to them. I asked at the check out on each occasion for assistance only to be told they were too heavy to move and one person was on sick with a strained back from trying to move them. We shop at Aldi twice a week and are normally very satisfied both with your products and normally with the help of your staff. I can only suggest this matter is looked into as we were not the only ones dissatisfied on this occasion. I look forward to your comments.

Charles Bell
from Minneapolis, MN
My wife and I were at the store on Ruth street on Sunday early to buy cedar mulch, we buy thirty bag;s each year. So went back on Monday and asked the same clerk if it was here and she said no, so this is twice I came to see if in. It is bad when we cannot call corporate on when it will come in, they cannot give out any phone numbers to us low life's. We buy alot of items from your stores COME ON.

Doug lyons
from Parkinson, QLD
We have been using Aldi stores for a few years, but are finding some goods not up to scratch. 15m Garden Line Hose. Purchased 10.04.15. first use Saturday. lost count of number of kinks. Soda water 1.25l usually purchase 8 at a time. We have given up due to lack of fiz, sometimes even when first opened.(2 bottles returned to Aldi bottles not opened and not full.) Purchased 5l pressure sprayer (no brand) last year, used once. Tried to use this year and the body has a hole in the side. Purchased boots Lining failed. Phone complaint I had had the boots too long. Boots 10 months used causually for domestic purpuoses and I had been away overseas for 3 months, without the boots. The lettuces on sale seem to always be of poor quality.We usually shop at Aldi Gatton and Aldi River Link Ipswich.

Charles Bell
from Minneapolis, MN
My wife and I always wait till your ad comes out for your cedar mulch. So we had your ad this last Saturday and were ready to get to our store early. We do this because we purchase thirty bag's or more when they come in. We went to our store on ruth street and one of the gal;s said they did not have any and their warehouse does not have it in even though it was on sale. This did not make the wife very happy and we told the gal that it is not her fault and she gave her apology for it. Our concern is that we will not get our thirty bags as we will not know when or If it comes in. Can there be help to get them?.

Rattan
from St Kilda, VIC
Today, 12 april2015 i went to Aldi store in woodgroove shopping centre,melton south and experienced a really bad customer service from one of the store member named LAURA. I was thinking of buying the spice storage and i just found one and in that one bottle was missing then i started searching for store member for some assistance and i found lady named LAURA. I asked her can you please help me in finding that bottle and she said in a very rude voice i don't know. I again requested her may be you know where i can find the same things and she again said by ignoring me that I DON'T KNOW. She said to me in a ridiculously rude manner that you have buy as it is as she don't know. I was bit suprised with her behaviour. and she left with further giving me any information. Then i said thank you and have a good day, she gave a very weird face impression to me.I felt really bad. Her behaviour was ridiculously bad and poor. She totally lacks the good customer service skills which she needs to know.

jean fenton
from Manchester, ENG
this is regarding the stayleybridge store. we visited the morning of the 10 th april to not only shop for ourselves but neighbours. We found that the store had no 2.2 ltr semi-skimmed milk, this is not the first time this as happened. We found a staff member who said this product was not in stock. We live in the greenfield area of saddleworth so this store is not on our door step. We then had to drive to another store for cheap milk. This is not a feasible way for us save money this way, neither for ourselves or our elderly neighbours. Aldi pull your socks up and get a better stock of groceries your customers want!

Patrick Hanby
from Mackay, QLD
I am the operations Manager for Whybirds - Wednesday morning at approx 8.00 am one of your delivery vehicles (semi trailer) smashed into our park truck - yes parked - incident address was 62 Warwick Road Ipswich. - your vehicle smashed our vehicles side mirror - the truck in question we could not get a plate # as he departed very quickly and didnt stop - he will know he hit our vehicle as his mirror was torn off as well. The Aldi vehicle was White cab/flat nose Volvo we think - it had multi colour taut with white rear doors. Your vehicle tracker will determine the vehicle very quickly as I stated - the driver did NOT STOP. I have tried calling the customer service line since 8.00 thismorning to NO avail. Lucky there was no injury sustained to anyone. I will continue to try to speak to a real person in the interim - please contact our operation dept - if there is no response I will have no alternative but to report this to Traffic Police.

George Foxe
from Carol Stream, IL
The Bake House rolled ready-made pie crusts can't be unrolled without tearing holes---they stick together. I've complained over and over again at the store, but that's apparently not the way to get anything done. They are nice enough--they offer me a replacement, and refund. I don't except it. That's not what I want. What I want is for somebody to take it seriously and do something about it. I wonder if they are being stored somewhere without refrigeration. I like ALDI's products. This is not "par for the course."

Darren stewart
from Manchester, ENG
After shopping in Aldi (Hyde), And spending almost £90 in the store. Which is a regular (Weekly) shopping bill. For the Childrens home I work for. You can imagine my surprise to receive through the post,7 days later a parking charge notice for the amount of £70. As you can imagine I wrote to the parking company involved, parking eye stating my anger. I will from now on be using other shops in Hyde that do not run this parking scam. And I hope other customers take notice as well.

Elizabeth O' Connor
from Limerick, M
I have shopped with Aldi on the Dublin road and today I shopped at the Roxboro store,I myself have been a store supermarket Manager for years so I am very keen on customer service. Today after getting to the till I decided that I did not want to purchase a product I was polite in making the cashier aware of this so it wouldn't melt because it was Ice cream I said can I leave this with you so you can get someone on the floor to put back a reasonable request. He replied oh no you'll have to put it back normally I would but I am 9 months pregnant and due soon so you can imagine my reply .......disgusted at him my husband offered to run back to the fridges with the I ice cream.Leaving me very embaressed and irate I filled my trolley quickly couldn't even look at this man again and then the man over exaggerated his thank you to my husband cheekily. I want a full apology from this store and this man to be disciplined for his unsympathetic approach.
Thanks for your feedback!
Sorry. Please try again later!