Aldi
Aldi Complaints Continued... (Page 2)
232+ reviews added so far. Upset? Call Aldi corporate: 630-879-8100

Went to your Pearland location on Kirby and Broadway. There was a price showing for pizza that the cashier was unsure of so she had her manager Natalie to follow me so I could show her the price and the pizzas I had selected. She saw the price and realized that I was correct but rudely replied you want something for free. I told her she was rude and that I was going to report her she points her finger in my face once we approached the front screaming get out and don't come back. Natalie was pretending that I was the problem because I said I would report her. I've done business with Aldi for a long time was extremely upset by this person's rudeness. Sunday @ 6pm 7-26-2015.

Mr R Singh
from Wolverhampton, ENG
Sunday 26th July at 4pm myself and my wife walked into Aldi store on Birmingham New Road. A shop assistant shouted rudely towards us from the til ' were closed. .....get out!!' instead of coming to us and politely saying the store is closed. Very unprofessional and extremely rude. What ever happened to customer service? When I said there's no need to be rude she just walked away no apology or anything. Very disappointed.

I was in the queue today (03/06/2015) I put my heavy bag on the conveyor belt to get my purse out, unaware that it was blocking items on the conveyor belt, however there were at least two more people in front of me so my items were far ahead of me and one person behind me with his things on the conveyor belt (they were no space for another person to access the conveyor belt with the stack of baskets in the way at the end of the till myself and the guy behind me were at the end of the till ourselves) the assistant spoke to me in a very rude manner to move my bag.
I moved my heavy bag and she again in a very rude manner told me to move my items up. I argued and she refused to serve me! She is there to do a job, which she clearly can't be bothered to do. I joined another queue and was served by a much better assistant. This is the second time I have received awful customer service from this store. I will no longer store at Aldi since this is the way you treat customers. I work in retail and have a pleasant approach to all customers. This employee Monica at your Bell Green store, obviously doesn't know the first thing about delivering decent customer service.

Dawn Mathie
from Glasgow, SCT
On Tuesday, at the Aldi store on Heswall Wirral, the shop was a mess. Boxes littered the floor, half of the stock was not on the shelves, no milk, and when I got to the check out only 2 girls serving. I loaded my shopping on to the conveyer belt and the girl said load on to number 1 please. So I did then she said I meant number 3. So I unloaded my things again, moved on to the other till, and the assistants were shouting to each other. I had to go to Asda in the end because I could not get half of the things I wanted. The manager should be ashamed of himself. I won't be going back there again!

Maureen Mathieson
from Wishaw, SCT
I am a regular shopper at Aldi East Kilbride and am usually very pleased with your customer service. Today I picked up, as well as my usual shop, a copy of The Times which I did not realise you stocked. I have a longstanding prepayment agreement with The Times for which they issue me with a daily coupon to use in exchange for my copy.
I have used these coupons all over Britian in many shops, kiosks, supermarkets and garages to exchange for my newspaper but today I was informed by the manager of the EK branch that this would not be possible because "we only accept Aldi vouchers"
I find this practise very disappointing as I have never met this reaction before. I will also be writing to The Times to let them know of my experience.

Tina Fletcher
from Hull, ENG
I visited your shop on Beverley Road Hull on May 12, 2015, to get some groceries which I go 2 or 3 times a week and spend quite allot of money. I have always found your staff pleasant and helpful, but on the date above, I have never in my whole life felt humiliated and upset.
I had paid for my shopping and proceded to leave the shop when I saw an old neighbor who I hadn't seen for years at the next till. I stopped to talk to her and the cashier who was serving my old neighbor shouted to the person who served me if I paid for that shopping in the trolley. He shouted it out loudly, twice. The person who served me replied to him yes. I also told the cashier that I had paid for it and I have never stolen in my live and I am not going to start now.
When I walked out the shop other customers who heard the cashier were shouting to me "hey misses have you paid for that shopping?" How embarrassing to be in that situation!! I suffer with depression and went home upset and crying. I am now thinking of taking my service elsewhere. I hope this matter gets addressed because I would not wish any body else to go through that situation!! I am too embarrassed to ever go back to that establishment!

Levent Dervish
from Crowborough, ENG
I was in your branch 1-4 London Road, Brighton, BN1 4JA today (8th April 2015), and as there was no Sour dough bread on the shelf. I asked if the "assistant" stacking the bread (Who I describe as being male-podgy- mid 30's-long hair and with foreign accent) to please have a look in the bakery at the back of the shop (as I don't eat non-sour dough bread). He just looked at me and said "we don't have". I again politely asked him to look in the bakery, and he just turned his back on me and refused to continue a conversation.
I went to to another part of the shop and asked another assistant to look for me, and explained the problem I'd had with the previous assistant. This person looked and found many Sour dough Bloomers in the bakery, as I expected.
As I continued with my shop, I saw the initial unhelpful assistant, and I told him the bread was in stock, contrary to what he insisted.
To add insult to injury, he replied " what you want from me"? I then pointed out that he was a customer assistant, and I was a customer, to which he then replied " whatever"!
I then pointed out how rude and unprofessional he was, and he just laughed and pretended he couldn't understand English. I then spoke to him in Italian and Spanish, to which he also claimed not to be able to understand.
I have seen the same person be off with customers in the past, so I wasn't totally surprised by his behavior. I spoke to an assistant and also the security guard who both apologised.
Please highlight this issue with your management at Aldi Brighton, as his unbelievable arrogance -disinterest and rudeness go against the courteous and polite helpful assistants you do have working there, as well as being totally uncalled for and likely to cause a serious situation.
I imagine the manager there would surely be aware of his behavior, and I would appreciate some feedback.

My personal experience was good the staff were very helpful to me. I was how ever quite shocked to witness several members of staff ridiculing some customers quite loudly calling them names I found the this to be very unprofessional even if the customers were stinky. Which was repeated at some length!

The opportunity that I was finally given MT trainee came with ill intentions, but I excepted the challenges of my responsibilities all the same and put my all into trying to be the best MT. I could've been without any previous training.
Four months into my new position, the work became more and more overwhelming, but the more I reached out to my DM for help the less I got. She would always point out the negatives but wouldn't give solutions on how to resolve them. I did my best trying to handle it on my own. My previous district manager abandon store 11 or either she was following orders to push me out & make me quit. Either way I devoted hard work and long hours trying to maintain store 11 in the Jefferson division which without the proper development was next to impossible.
The work environment slowly became more hostile with ever negative visit, resulting in decrease moral and pride from myself and from other staff members. Nevertheless, we continued to try to no avail. Thursday April 22nd I showed up for my schedule shift at 5 am but was once again placed in another hostile situation by my previous DM. Because of that, I walked away to avoid any and all unforeseen circumstances that could've resulted in me being terminated. Which ended up happening anyways because I wouldn't work a unscheduled overnight shift on the same day.
I had already worked a 10 hr shift then double back at 5am for a 10 plus hr. shift the following day. It truly saddens me deeply that it has to come to this far after 7 years of dedicated works without much incentive to have not be given a fair hand in obtaining my goals. Aldi could be a better company if it treated all workers fairly and provided training facilities or simulations stores for their employees so that they can be better suited to endure for the long haul.
This type of screening & training would definitely help in the company's high turnovers. I would've never thought that 7 years I would be fired especially after sticking it out during the 4th quarter last year while my mom battle cancer when I should've taken a leave of absent to care for mom properly instead I took one for the team, I guess you live and you learn.

christine
from Newton Abbot, ENG
I went into the Newquay store today the 25th and noticed an assistant loading fruit and veggies into trays according to date, when I approached the goods I was told they are to be destroyed. This was at 4:00 pm, the store does not close till 8.00. Surely it should have discounted for customers.
I was also at that point contemplating purchasing the Aberdeen angus/burgers with a 30% discount. A member of staff ran out from the stock room whispered to another member of staff and then went and collected up all the burgers and took them in the stock room.
I am a loyal shopper and feel I should have the option to buy if there any offers available I should have first choice, bad customer service, or maybe your staff are extremely under paid.

Rebecca Donovan
from Redditch, ENG
I entered the store on Saturday 2nd May 2015 to buy some alcohol for a family party I was on the way to. I had my cousins with me as they were also going to the party and I picked them up on the way, their ages ranged from 15-17 years old. I am 30 years old. They came in the store to help me. I queued at the check out to pay whilst my cousins waited behind me chatting. The checkout girl disappeared for 5 minutes and I could see she was talking to her manager who very quickly scuttled off.
When she came back she very rudely said that she cannot serve me. I asked why, and she said 'well do any of them have I.D?', I said of course they don't they're not old enough to drink?! I pointed out that this alcohol was being purchased for a family party that we were all on our way too and I was myself that was buying the alcohol. The checkout girl told me that it was illegal to serve me because they stood there with me.
Then proceeded to be extremely rude and subservient. A gentleman in the queue said tell your cousins to sit in the car and the checkout girl said no that won't work as I know they're there. She then proceeded to call security even though I hadn't raised my voice at any point I was just clearly pointing out how ridiculous this was.
If she had said 'I'm sorry' I have to ask as its part of my job, I perhaps would have reacted differently, but the fact she caused such a huge scene and clearly took great pleasure in being as rude as possible to me I was not willing to accept this.
Then to add insult to injury the guy who was on the checkout behind the one I stood at said as I walked past ' have a good evening'. I've never been so unnecessarily humiliated in my life. Absolutely zero thought for their customers or the shops reputation. I've never been so disgusted.

Nuala C. Cosgrocve
from Watertown, NY
I love to shop at ALDI's store at 8448 Seneca Turnpike, New Hartford, NY. On Saturday last, the 2nd of May, I shopped there again. I was served by a Jessica. There was no customers ahead or behind me. It was very quiet. I thought I was overcharged for what I purchased. When I arrived home I checked my ALDI receipt. Jessica had charged me for pears which I did not purchase. I was really irked. I returned to the store on Sunday morning and I was reimbursed by the manager. You should do a thorough check on applicants prior to they being hired. These employees should be made accountable.

I was recently a new hire for the Aldi location on Elvis Presley, in Memphis, Tennessee. I feel like I was discriminated against in orientation. I attended orientation at the new location of 6626 Goodman Rd. In Olive branch by one of your store managers by the name of April. I notified the district manager by the name of Mandarin Langford. The entire month of April has passed, and I do not know if I was terminated or if anything was done to resolve the situation. No one has contacted me nor have I received any kind of termination notice. What can I do about this situation before I try calling the EEOC on this company for personal discrimination against me by April. Your company orientation is being operated in a very unprofessional manner.

Rick mazzoni
from Orlando, FL
I went to Aldi store in Kissimmee Florida on 192, the newest store been there many times today April 23 2015 went to my groceries. On the counter I took a divider and put up my groceries. A customer in front got mad at me, I don't know why but that's what you do at any food store. The cashier told me that I don't put things up like that and told I was rude why the next counter next to me did same thing manager came out and made me feel I was a bad person sharing in the same belief as the cashier. I told them why do you have the divider on the counter. They still scrolled me like a child. I would never shop here again store manager told fine no loss, we don't need you!

I was accused of stealing 2 bottles of wine in your Boscombe store and asked to empty my £11 50 worth of shopping and asked about 2 bottles of wine which I bought in a previous shop next door and made to feel insulted and spoken to horribly by the man at the counter as if I had done something wrong. Well maybe I did by going to your store in the first place. The security guard was much better behaved than the your own shop assistant. I regularly use this store and feel hurt being spoken to this way especially in front of my sick girlfriend who was crying when we left. The security guard said not to to listen to the store man, and said he apologize for him which I think he should have done himself. I am really really upset

Bill Tiggett
from West Palm Beach, FL
I shop at Aldi's probably 2 or 3 times weekly. Yesterday, 4/22/15 after my purchase was totaled, I found an error with the cost of tomatoes. The charge was $1.69 and the package had an advertised price of $.89. The person operating the register called her supervisor who checked to see if I was right or wrong. After seeing the advertised price she changed the sign as I waited in line. Once she made he corrections, she instructed her employee at the register to refund my money. No apology, no attempt to charge the amount the item was listed for, just here's my money back that's the end of it. I have shopped probably 100 or more stores in the greater West Palm Beach and no cost dispute never ended with my money being refunded. It was their error and I was offended. A customer observed what happened and agreed. Aldi's have good prices on much of their products, but I doubt I will ever go back to that store again.

Lisa Allison
from Oldham, ENG
I would like to formally complain regarding a parking charge that I have received from Parking Eye on the 29/03/14 for parking at the Oldham and Chadderton store for over the stated one and a half hours permitted time. Firstly I wasn't aware of the time restriction that is in place or I would of adhered to this however I have parked there to shop on many many occasions and never received any form of charge. I had visited the B&M store first then went into Aldi to complete my weekly shop and spent in excess of £100.00 in both stores, I now feel angry and aggrieved as a loyal Aldi shopper that I have received this after spending a lot of money on the said day, I understand this will need to be looked at by yourselves and I am happy to produce my bank statement as proof of purchase, I have also appealed this with Parking eye to which they state they will respond in the next 14 days, I hope this can be resolved as I will definitely look for an alternative place to shop as I don't feel this is very shopper friendly practice.

Richard Hanks
from Birmingham, ENG
I live in Honey Church Close in Redditch which is behind where the Aldi store is on Trafford Park retail park. Please can you tell me why you have to have deliveries made at 11:40 at night!!! Your driver does not seem to take into consideration the fact that there are houses with people trying to sleep and having to go to work the next day. I would greatly appreciate it if you could reschedule your deliveries so that us local people are not woken by the sound of your deliveries. This is not a one off occurrence. It has happened more than once over the past few months. I hope will take us local residents who use your store into consideration.

Kelvin Barnard
from Cheshunt, ENG
Entered the Aldi store at 18-25. I shopped the first aisle about to enter second aisle, when a female assistant placed empty wire cage in the aisle right opposite a wooden palate on the floor. She then walked off ignoring me. As I spoke to her, another shopper moved the cage so I could get past. She walked back to the stock room where a male assistant was mopping the floor wearing a pair of dirty blue rubber gloves. 18-35 min I was waiting to be served by the male assistant who was still wearing the same dirty gloves. I asked him why he was still wearing the gloves after mopping up the warehouse floor. He first denied he was when I told him I had seen he removed them. Health and safety issue food and hygiene terminal. It has got worse over the last 12 months aisles blocked rude staff out of date food especially bread, salad, and dairy.

john azad
from Melbourne, VIC
While I was shopping I saw ALDI employee Lyn pushing a big yellow machine, washing floor tiles while customers are still in the store without any signs or barriers. When I looked down pretty much the whole floor was wet. i was really worried my wife safety, she's 7 months pregnant and she had to walk on the dangerously wet surface. We had to cautiously look where we were walking as we both made our way to the cash register very carefully. The ALDI cashier scanned 3 slabs of water and in total; it came on the screen as around $18. I asked the cashier, 'I believe they are $4.99 each', she said would send someone to get it checked out. I volunteered to go and check it myself as well. As I reached the area where all the pallets of water were kept, I took a picture of the sign as proof. While I was doing so, Lynn approached me and stated that I was wrong and that they are not spring water in a very harsh and rude manner. I replied back, saying 'no you're wrong and they are spring water.'
To prove my point, I then grabbed a slab from the pallet and indicated it to her. She turned around, saying they are totally different water to the sign. She pointed out some red slabs of water which were behind the ones was I looking at. Lyn started to mock me and approached me with her finger pointed at me. While she's talking to me, I said I would complain how rude she is because I'm a customer and I'm not happy with her customer service. She said she doesn't care; I then took out my phone and tried recording her actions but by then, she had stopped. I decided to walk back to the cash register where she had followed me, swore at me and told me in front of everyone, 'you immigrant you go back to your country.'

len fisher
from Manchester, ENG
Yes, it's me again with my complaint of not receiving change for £20.00. It's now 5 days and I am still waiting for Aldi to get back in touch with me for a refund of my change of £10.00. I was promised someone from the store would contact me but NO ONE DID. So I guess I have lost £10.00. Never again will I go back to Aldi. I will discourage others from shopping there as well. What a shame, they are prepared to loose their customers over a short change. I predict the theft will continue.

Jean Gatenby
from York, ENG
For approx 3weeks I have been trying to purchase bottles of soda water, but because of the way they are stacked it is impossible to get to them. I asked at the check out on each occasion for assistance only to be told they were too heavy to move and one person was on sick with a strained back from trying to move them. We shop at Aldi twice a week and are normally very satisfied both with your products and normally with the help of your staff. I can only suggest this matter is looked into as we were not the only ones dissatisfied on this occasion. I look forward to your comments.

Charles Bell
from Minneapolis, MN
My wife and I were at the store on Ruth street on Sunday early to buy cedar mulch, we buy thirty bag;s each year. So went back on Monday and asked the same clerk if it was here and she said no, so this is twice I came to see if in. It is bad when we cannot call corporate on when it will come in, they cannot give out any phone numbers to us low life's. We buy alot of items from your stores COME ON.

Doug lyons
from Parkinson, QLD
We have been using Aldi stores for a few years, but are finding some goods not up to scratch. 15m Garden Line Hose. Purchased 10.04.15. first use Saturday. lost count of number of kinks. Soda water 1.25l usually purchase 8 at a time. We have given up due to lack of fiz, sometimes even when first opened.(2 bottles returned to Aldi bottles not opened and not full.) Purchased 5l pressure sprayer (no brand) last year, used once. Tried to use this year and the body has a hole in the side. Purchased boots Lining failed. Phone complaint I had had the boots too long. Boots 10 months used causually for domestic purpuoses and I had been away overseas for 3 months, without the boots. The lettuces on sale seem to always be of poor quality.We usually shop at Aldi Gatton and Aldi River Link Ipswich.

Charles Bell
from Minneapolis, MN
My wife and I always wait till your ad comes out for your cedar mulch. So we had your ad this last Saturday and were ready to get to our store early. We do this because we purchase thirty bag's or more when they come in. We went to our store on ruth street and one of the gal;s said they did not have any and their warehouse does not have it in even though it was on sale. This did not make the wife very happy and we told the gal that it is not her fault and she gave her apology for it. Our concern is that we will not get our thirty bags as we will not know when or If it comes in. Can there be help to get them?.

Rattan
from St Kilda, VIC
Today, 12 april2015 i went to Aldi store in woodgroove shopping centre,melton south and experienced a really bad customer service from one of the store member named LAURA. I was thinking of buying the spice storage and i just found one and in that one bottle was missing then i started searching for store member for some assistance and i found lady named LAURA. I asked her can you please help me in finding that bottle and she said in a very rude voice i don't know. I again requested her may be you know where i can find the same things and she again said by ignoring me that I DON'T KNOW. She said to me in a ridiculously rude manner that you have buy as it is as she don't know. I was bit suprised with her behaviour. and she left with further giving me any information. Then i said thank you and have a good day, she gave a very weird face impression to me.I felt really bad. Her behaviour was ridiculously bad and poor. She totally lacks the good customer service skills which she needs to know.

len fisher
from Manchester, ENG
Today I shopped at your store in Lloyd st. At the check out, I handed £20.00 note to the till guy. He gave me back change for £10.00. I asked for my £10.00 change back and he said , sorry and looked at his machine. He said yes I saw you give me £20.00 and said, wait a minute for me to check the till. 15 minutes he came back and said he would not be long. Another man came and took all the money from all the tills and went to the back. Another man came after 15 minutes and told me he checked and it came back as zero. So I suggest someone in the store is stealing money from you and passing it on to the customers. I had been to the bank and got only £20.00 notes. I had no £10.00 notes. Can I have my change back please.
I will keep you informed of the outcome. Regards len

jean fenton
from Manchester, ENG
this is regarding the stayleybridge store. we visited the morning of the 10 th april to not only shop for ourselves but neighbours. We found that the store had no 2.2 ltr semi-skimmed milk, this is not the first time this as happened. We found a staff member who said this product was not in stock. We live in the greenfield area of saddleworth so this store is not on our door step. We then had to drive to another store for cheap milk. This is not a feasible way for us save money this way, neither for ourselves or our elderly neighbours. Aldi pull your socks up and get a better stock of groceries your customers want!

Patrick Hanby
from Mackay, QLD
I am the operations Manager for Whybirds - Wednesday morning at approx 8.00 am one of your delivery vehicles (semi trailer) smashed into our park truck - yes parked - incident address was 62 Warwick Road Ipswich. - your vehicle smashed our vehicles side mirror - the truck in question we could not get a plate # as he departed very quickly and didnt stop - he will know he hit our vehicle as his mirror was torn off as well. The Aldi vehicle was White cab/flat nose Volvo we think - it had multi colour taut with white rear doors. Your vehicle tracker will determine the vehicle very quickly as I stated - the driver did NOT STOP. I have tried calling the customer service line since 8.00 thismorning to NO avail. Lucky there was no injury sustained to anyone. I will continue to try to speak to a real person in the interim - please contact our operation dept - if there is no response I will have no alternative but to report this to Traffic Police.

George Foxe
from Carol Stream, IL
The Bake House rolled ready-made pie crusts can't be unrolled without tearing holes---they stick together. I've complained over and over again at the store, but that's apparently not the way to get anything done. They are nice enough--they offer me a replacement, and refund. I don't except it. That's not what I want. What I want is for somebody to take it seriously and do something about it. I wonder if they are being stored somewhere without refrigeration. I like ALDI's products. This is not "par for the course."

Darren stewart
from Manchester, ENG
After shopping in Aldi (Hyde), And spending almost £90 in the store. Which is a regular (Weekly) shopping bill. For the Childrens home I work for. You can imagine my surprise to receive through the post,7 days later a parking charge notice for the amount of £70. As you can imagine I wrote to the parking company involved, parking eye stating my anger. I will from now on be using other shops in Hyde that do not run this parking scam. And I hope other customers take notice as well.

Elizabeth O' Connor
from Limerick, M
I have shopped with Aldi on the Dublin road and today I shopped at the Roxboro store,I myself have been a store supermarket Manager for years so I am very keen on customer service. Today after getting to the till I decided that I did not want to purchase a product I was polite in making the cashier aware of this so it wouldn't melt because it was Ice cream I said can I leave this with you so you can get someone on the floor to put back a reasonable request. He replied oh no you'll have to put it back normally I would but I am 9 months pregnant and due soon so you can imagine my reply .......disgusted at him my husband offered to run back to the fridges with the I ice cream.Leaving me very embaressed and irate I filled my trolley quickly couldn't even look at this man again and then the man over exaggerated his thank you to my husband cheekily. I want a full apology from this store and this man to be disciplined for his unsympathetic approach.

Vivien orriss
from Bolton, ENG
Purchased a rolling pin used it Thursday last week and there was a horrible metallic smell extremely strong . it was all over my fingers and the pastry smelled of it. Needless to say pastry went in the bin. On the ends there were a couple of brown spots flaking off, when touched this is where the metallic smell was coming from, this was on both ends. it was taken back and my money refunded. The manager and myself went to look at the rolling pins and there were more with same spots. Not very good when I was baking for local Hospice. I know it's not your fault it is the manufacturer but all the same very dangerous. If my sense of smell was not so keen It could well have been missed and tainted the pastry!

Mrs Fiona Simpson
from Lichfield, ENG
I am a regular customer to this store and my experience today at 13.08, was a bit of a let down, the store had managers in and man in a suit and I wished I had said something while there. The Store looked like a bomb had hit it there was cages everywhere and it was busy people going mad shopping but hay still like to find the store respectable and well stocked up when going to shop there. Store looked like bomb had hit it? Brought back veg and had to cook it today was hoping it to be for Sunday had to make a soup, I know down in price but quality is the key here, normal have no problems but found nothing. And bag of E/E crunchy salad lettuce OUT OF DATE shopped the 02.04.15 bag was 30.03.15 yes I should of looked but got handed to by member of staff because there was cages in front of fruit and veg section. So salad off the menu tonight so not having me five a day. Normal store is clean and staff our pleasant and helpful but today it is a 3 out of 5 customer service rating.

Michael Bishop
from Trowbridge, ENG
Dear ALDI, here is my complaint letter. Up until a few weeks ago the ALDI store in Trowbridge was selling 'Manuka active Honey + 10' at £4.29. This product was replaced by 'Manuka Type Honey' also priced at £4.29. Pure Manuka honey is produced from the Manuka flower which is grown only in New Zealand and active Manuka honey has specific medical properties. 'Manuka Type Honey' is not 'Manuka Honey and therefore lacks the medical properties. Personally I would not buy the substitute honey and consider that it is significantly overpriced. Hopeful the real product will soon return to the shelves at ALDI.

My husband and I usually do our shopping at Aldi and about 3 days ago, we bought a Madeira Cake and Fruit Cake - the Madeira Cake was fine but as my husband was eating a slice of the Fruit Cake, he pulled out a long hair out of this mouth - we were shocked to find such a thick, black, long hair in our cake. It was absolutely disgusting. We have decided never to buy any more cakes/pastries from Aldi again. As well as finding a hair, my husband felt very ill after eating it. My guess is that proper hygiene was not in the process of baking this cake. I am very shocked and appalled that such a big Superstore would lower itself to such disgusting standards.

Was recently shopping at your store in Hindley were your manager of the store got in to an avoidable fight with a customer at your store of witch does not set a good example for your store nor the rest of the staff and was not very pleasant for my child to have to see happen. The police should of been informed instead of your hot headed mangers who witch found it rather amusing when walking back through your store and removing his shirt I find it an absolute disgrace and will not be returning to that store

I am a regular users at 2 Aldi stores everyday nearly.2 complaints really 1st I have noticed especially in one store seems common practice to test people or try to short change them say you give them £20 they give you change for £10 this has happened on a number of occasions now unfortunately the 1st time I realized I was out of the store I went back in informed the Manager did not cause a fuss because it was my own fault for not realizing before I left the last time I paid with a £20 note was given change for £10 I said to the cashier just as they were about to close the till and the rest immediately giving me the other £10 to which I said don't you remember you tried this last week they just went bright red and froze. The 2nd is at a store I use mainly at night the staff are not as busy at night so they can tidy up load the shelves clean the tills,floors etc but I have noticed they never clean there hands or wear any gloves while cleaning and then start to handle food stuff through the till not very health and safety conscious?? Sorry about the length of this mail but think its time these points were brought to you attention.

This is a complaint about an item, not service. I have been purchasing Big Texas Cheese Danish for quite awhile. I always thought they were pretty good. Recently, the amount of "cheese" on the Danish has shrunk to about 1/2 the original amount. One is barely able to taste the "cheese". Calling it a cheese Danish at this point is almost false advertising. In fact, I thought you were skimping on the filling before this cut-back, but I wasn't complaining. I was hoping that there was a snafu & that somebody just made them incorrectly, but I have checked several times, & they are always the same (about a 1" in diameter squirt of "cheese".) Please rectify this, as Aldi's is always bragging about the quality of their food. I will continue to check, but will not purchase until there is a change (for the better). Thank you.

I always shop at Aldi as the prices and products are so good. I as in the Leamington Spa shop and was having a look at the 5 boxes of strawberry's that were as I found out covering another box full. I did not know this at the time but unfortunately a couple of the boxes of strawberry's on display were a bit passed their best so I was going to look at the box underneath. Out of the blue a guy came up behind me and said "what are you doing?" He frightened me so much I started shaking but managed to explain my problem. He then looked at the ones on top and agreed with me, I told him he had really frightened me and I felt like I was back at school. I am 66 years old so those days have long gone.
He didn't say he was sorry or anything and I was in ever such a state. I forgot what I had been shopping for and went to the till to pay. I did tell the cashier at the checkout, but I asked him not to say anything, although I pointed out the guy to him, as I didn't want to cause any trouble. I'm quite a quiet person and having not long ago lost my Husband was soo upset and had terrible pains in my chest which I still have now. At the time I didn't want to cause any trouble but I am still feeling so unwell, I wanted to tell you of my experience.I hopefully will still shop at Aldi but I shall try to avoid the same guy next time as he totally panicked me. Thank you for reading. Gillian Webb(Mrs)

I was in your Kilmarnock store on Saturday with my son buying your easter chocolate sheep and my son wanted a chocolate rabbit. Is said on the ticket 59p but when I got home and checked my receipt I had been charged £1.59. I stay 30miles away so unable to go back to the store to get the money back I have pictures of all the items and my receipt.

Stacey
from Edinburgh, SCT
I recently bought your liquid tab clothes washing capsule! My son is able to unlock the doors now to then and was able to open the box! He lucky brought them straight through to me but as a picked them up they were bubbling and then exploded in my hand, every single one! My son would have spend a night in the hospital if it was him that handled them and we have a cat that was round at the time trying to get to the liquid which could of poisoned her! I won't be coming back to Aldis!

Looking forward to a steam meal which I have enjoyed before. Chose white fish and potatoes. Cooked as per instructions. Potatoes only 2 cooked the rest hard. The choice of mint to go with fish really didn`t work. The fish which was probably quite nice was overpowered by the mint. Looked at the pack which said if I wasn`t satisfied to return goods to store. Not easy in it`s cooked state!!

Robert Mclatchie
from Prudhoe, ENG
I purchased a tin of hunters scotch haggis at aldi annan road dumfries, when opened it smelled rancid ,meat was sunk about 10mm in the middle of tin , code on tin was 10'43 ka003 ec uk b.b.e 2018, as i shop at aldi regularly i find this disappointing this product product purchased on 24/03/15.

J Cairns
from Cranleigh, ENG
Purchased electric razor, november 2014, within 3 months razor failed ,rung aldi service 5 times each time was told someone would ring me back ,no one has rung back, tried aldi service uk suggested i email so i emailed still no reply. All conversations were polite on both sides aldi uk offered me money back but as this was a christmas present i would prefere repair or replacement, also time i purchased razor quite a few firms have razors at dicount prices not the case in march money back would put me at a disavantage.

Mr. John Reeves
from Crewe, ENG
we shopped at your shrewsbury branch as we were in the area . We usually go to our local store in Ludlow.We bought a piece of pork as a meal for in the week I have just TRIED to eat it impossible it was about 80% fat I moaned to the wife who replied well it was a cheaper cut I suggested that she got it from the dog food section This is not the first time as we had bad piece of brisket a few weeks back .I have always extoled your stores but not any more.Its not only a waste of money but disappointing. ps it did make good gravy

Mrs Law
from Ipswich, ENG
I have been buying your 4 Pack Baking Potatoes for a long time and they have been very good but recently Ihe quality is not good. They are very white watery and sloppy.and a sort of transparent texture. No good for jacket potatoes or mashed and shrivel when roasted. Previously they have had a nice yellow creamy colour fluffy texture. But these recent Baking Potatoes are not at all nice. I wondered if you have changed your supplier or brand.? Hopefully you can bring the previous brand of potato back to your store as they were the best.

Tavish From Blackburn
from Blackburn, ENG
I bought a kettle of you lot and it leaked like all the other crap kettles that are sold in this country to the point took it back for money back and got a lot of weve got your money thats your problem send it to the people who made it only catch me once thanks wizzed the kettle and bought a new one from argos no more aldi for me plenty and i mean plenty of other shops with better policy cheap crap like all the goods sold in their shops shopping at aldi cuts 10 years off your life the goods look the same but 99% of them are fake food no nutritional value comparing it with other stores its junk in the wrong place staff are under payed and the car park is always full of unemployed homeless people drinking special brews to cut a long story short Stinking place right in the middle of accrington it shits the area up council need to up their back pay or get rid of this lot makes sense im sure accrington could do better than this smely little hovel .

William L. Kirkpatrick
from New York, NY
Aldi's had the best frozen pizza in the Greensburg, Latrobe, Monroeville areas. We would buy one or two each time we went shopping at Aldi's to keep our supply available in the freezer. Last week we heated one that was purchased during the last few weeks. What a negative surprise. It did not come up to the quality or taste standards of previous Aldi's pizzas. What have you done. Why on earth would you EVER do such a horrible thing? If I have to go to Walmart or Giant Eagle or ShopNSave to buy second rate pizza, because it better than your down grade, so be it. But while there I might as well check out other products to ensure you haven't completely gone out of your minds. Send the Buyer of this latest pizza to the corner and put a dunce cap on him. I do not work or have any relationship to any one in the food business, including Aldi's or the pizza guys. All I know is that the pizza that sold for about $6 or $7 dollars a couple of months ago was so much better then what you are currently providing. I don't even know the names of the pizzas. You must correct this error in judgement on the part of your inexperienced buyer, before Aldi's is totally destroyed by angry pizza lovers. Get it done, people.

Mrs P Friar
from Wolverhampton, ENG
I went into the Northwich Branch of Aldi on Saturday 14th March at 21.50. From the moment I went into the store I was told it was closing and to make my way to the till. I looked at my watch and received a snigger from one of the staff. I carried on and then received a shout from one end of the store by a female staff member that the store was closing - it was only five minutes to 10. I then received another sarcastic comment from another member of staff and told them the store doesnt close until 10 and I only had 6 items to get - I already had four of them. In the end I just put my basket down and went and spoke to the female staff member about the attitued and she couldnt have cared less. Never looked at me. This is not the first time I have been treated so badly in this store. I have given more chances to them but not any more. If I had been allowed to shop for my 6 items I would have been out of the store by 10 pm.
These staff members should not be doing this job as ;they have no customer service qualities and a couldnt care less attitude. As long as they get everyone out of the store before the tills lock out at precisely 10pm! Will I shop there again - no. I have been humiliated once to often in that store. It is a shame as I like some of the products and have usually been in to shop 3/4 times a week. Aldi will not have any customers left at this rate.

I purchased an extra special leg of lamb with rosemary, it cost me £11.59, it was dated 30th march 2015. I followed all instructions of where to store and this evening the 21st of March, I opened the lamb to slowly cook ready for dinner tomorrow as my family are coming round . To find that the meat was off and the smell that came from it was discusting. I do my weekly shop at aldi and I would like compensating for this situation, I am so disappointed in this and now I'm having to go out in the morning to purchase a new joint of meat for me and my family.

Linda McMahon
from Glasgow, SCT
Today I purchased two sirloin steaks from Aldi Kilmarnock and felt they were very poor quality, with a lot of sinew and so tough! I paid £3.65 for each but wished I had paid £10 for two from Sainsbury as they were of excellent quality and at least we could have enjoyed them. Makes me think that I won't purchase meat again from Aldi as our dinner was ruined tonight!!

Mr and Mrs Lees
from Worcester, ENG
Every week my husband and I visit this supermarket and in the past have enjoyed the prices, speed in which we are served. But over the weeks we have noticed discrepancies in our receipt when we have returned home, which I know we should check whilst still on the premises but we are normally in a hurry. Again today we have been charged twice for an item, some razor blades . Why does this keep happening is there something wrong with the tills or the cashiers? If this is happening to us how many other people are experiencing this? A reply to my complaint would be much appreciated.

We were shopping at Aldi and saw displays of many plants which were dry and wilting, so we were rather upset about this as we love plants and they ARE living things. We spoke to an assistant to ask for them to be watered but were shocked to be told due to Health and Safety they were not allowed to.! If this is true they should NOT be selling them. There surely should be some regulation about this.

I cant even undo the lid to use this product. Its ridiculous that lids aren't just screwed on and off. The lid is not only child proof, it is adult proof. I definitely will not be using this product again.

Robert Twiss
from Bangor, WLS
Bought some walking boots from Bangor Gwynedd store about 3 months ago In my weekly shop they were only about £16 so did not expect a lot so was not to bothered with the thin feeling from the soles, even bought some inserts to pad them out. Anyway only used them a dozen or so times, to find that the bottoms have come away from the tops ,returned them to the store asked to speak to a manager, he looked at them and said they were more than 90 days old and walked away leaving me standing there. What should I do now?

Kasha
from Gloucester, ENG
Approached by a deputy store manager who noticed my sisters child had picked up a small red tickets stating reduced to £1.49 a ticket she had take from a item, the staff member took it out her hand and said you shouldn't have that(the child she took ticket off was 2years of age) my sister said sorry she had not realised,the staff member continued to be agressive saying she should not take it. After speaking to the store manger he defended the staffs actions and said you should control your child, he then went on to say get out my store you are pathetic at which we were very shocked and made a complaint and put it forward to the local paper. This was a very upsetting experience. A child was approached in a angry manner over a paper ticket which we apologised for and was treated unfairly, the child was very upset and crying.

Whilst waiting in line to be served at Altona Gate shopping center (ALDI). A customer had asked for assistance from the young cashier to purchase goods from the glass cabinets at the front of the Aldi store. The Cashier called the Aldi Manger on duty (Riley) for assistance / customer service. After serving the customer Riley (Female) announced in front of all the customers to the young cashier "Not call her down again, as there was another employee standing right there who could have assisted the customer." Riley spoke in a very aggressive,threatening & intimidating tone towards the young cashier. As a store Manager Riley should know that this inappropriate, unprofessional & unacceptable behavior. Riley needs retraining in professional development. We do not treat our employees in such an appalling manner.

James Deadrick
from Springfield, MO
I purchased a package of Casa Mamita taco shells which were to have 12 in the package. I only received 11. I do not mind paying for a certain product but I expect to get what I pay for.

Cathy Vickers
from Manchester, ENG
I shop at the Aldi in Cheadle Heath, Stockport. I have just got back from there and I still have steam coming out of my ears! The "gentleman" behind me was only purchasing 2 items, which I failed to notice as the store was very busy. I had an item of clothing to return, which I gave to the cashier after loading the conveyer belt. At this point the "gentleman" behind me started huffing and puffing and being abusive. He told me I was slow to unload my shopping - I wasn't - but that's beside the point.
The manager then opened 2 other tills which other people rushed to so he became even more abusive and complained that 'she' (I) was slow and now I was returning something. I replied that I had waited my turn and was allowed to return an item. At this point, frustrated, I told him to go before me, which he did, the whole time complaining about how slow I was. I told him that he will probably slow down when he gets to my age (60). I also told him to hurry home and drink his 2 four packs of lager and chill out. Apparently it was only OK for him to ridicule me and did not like it when the boot was on the other foot!
The lady at the next till, who had observed the fracas, then complained to the manager and said that the 'gentleman' should be banned from the shop. The manager said that the "gentleman" had not shouted. The manager then approached me, after the guy had left the shop and virtually blamed me. He started with "I'm the manager' so I told him to do the job he is being paid for and that he should have intervened.The cashier incidentally was very apologetic.
He waited until the guy left the shop because it was easier to deal with a little woman. Well - this woman has a voice and unless you train your so called managers to a better standard, I for one will not be shopping at Aldi again. Cheap -yes, food - quality -yes, customer service- not quite got it. A manager should be able to cope with simple customer relations and sort customer disputes out in a fair manner. As a Brit when I go anywhere I know I have to queue, so should everybody else accept that. I only expect to be treated fairly and in this instance I wasn't.

I wish to let you know don't have your Christ labeled Cheese & Onion when they taste like plain crisp. I have bought two large bags of Snackerite Cheese & Onion and every bag taste like plain crisp which is rather annoying when I am looking forward to a packet of Cheese & Onion crisp. I would be willing to send you on a packet so you can try yourself. I will make sure that I don't waste any more money in buying these crisp. Thank you.

My wife has been working for Aldi's for 3 years at 59st and Pennsylvania Ave. Oklahoma City, OK. She isn't there just for the money. She is what you call a team player who believes in Aldi's to be the best retail store in america. The store had a recent change in management (Nicole) who tries to run the store like she is a marine. My wife and I were at a family function when Nicole sent a group text to all employees at 9:00 PM ordering the staff to come in immediately. My wife text her back and try to explain to her hat it was impossible to do so since we were 1.5 hours away. her repley was (NOPE) meaning unexceptable. So then she ordered all management staff to be in at 5;00 am ready for work. In fear of my wife possibly losing her job she did just that. There are numerous complaints from other employees about her tactics. This is a law suit waiting to happen. This needs to stop now.

I recently bought some yoghurts from the Aldi store in hessle recently as we do most of our weekly shopping here and my daughter was eating one the other night after her tea, she then pointed out to me there was something in her yoghurt she spat it out her mouth it can only be described as dried glue it was about 1cm long and white and hard either glue or plastic. I obviously didn't let her eat the rest but it worries me as my daughter is 4 so was aware and dost this out my younger daughter could have easily eaten this yoghurt and she is only one she probably would have swallowed it. I am really disappointed at this and I don't know what to do which is why I chose to email j am a regular shopper at Aldi I gk every week but I need to know what's going to be done about this. I have kept the yoghurt pot and the white bit for proof. Please can somebody get back to me ASAP. Danielle Lincoln

I have an aldi store across the road from me in moreton on the wirral and it was my favorite shop but dew to incompetent of staff it is now a shop that I dread goin in the deputy store manager ****** ***** (name removed by request) is the most disrespectful person i've ever met. **** ***** speaks to people like dirt off the bottom of her shoe she walks round with her little electronic scanner doin absolutely nothing .and it dosnt stop there I go over there on a daily basis an many of times I've picked up puetrid food mouldy bread etc. The rest of the staff r no better they sit on there bitching about there co-workers and the customer they had previously served it is disgusting behavior. I spend a lot of money in the store and I expect to be spoken to with respect I work in and have nvq's in customer services an am pretty sure speaking to people like crap is not acceptable. Not all staff are idiots some of them are all round very nice and polite but I think the owner needs to either get rid of the incompetent and rude staff or some serious retraining ....

I have been shopping at Aldi for a few years now and we always spend a respectable £100 every month for our grocery shopping. Today as we literally have nothing but cobwebs in our cupboards we decided to do our shop, me my partner and my 6 week old baby. After driving a few miles to the store and getting our baby ready in her pram, we get to the trolley area to get a trolly. Me and my partner realise we don't have a pound between us and my trolly key is missing. As other stores have done they have used their own trolly key to release a trolley for us. So we decided to go instore and ask a member of staff to release a trolley for us so we can do our grocery shop. The woman we spoke to (In a Sudbury store) Bluntly said she can't get us a trolley. "What do you expect me to do get a pound out of my pocket" she refused to get us one or sort the problem and just walked off from us. We had to go home.
We're very disgruntled and will now be shopping online at ASDA and will now not return to the aldi store.

Dear Sir, my wife and I spend a lot of money either in the Ramsgate or Margate Aldi store. Again in the Ramsgate Boundary road store we were charged for an item(cauliflower £1-9p) which we did not purchase. The cashier in question MARRIANNA a lady of foriegn origin did not like the fact that when we told her about it she made us feel like criminals and made a big fuss over checking our bags time and time again. The manager was apologising profuseley and trying to quell the situation with half hearted excuses. There was no excuse however for this womans attitude in the way she dealt with the problem and speaking to myself and my wife in an unacceptable manner. I have just retired after 30 years as a manager dealing with the public and professionals and I do not have to put up with downright rudeness and incompetence from Aldi Ramsgate staff. Overrings are probably unavoidable now and again but three times..... A gentleman behind us waiting to be served at the checkout also stated that she was indeed rude to him over his shopping basket and he was also fed up with it. May I suggest to you at the complaints department that all Aldi staff have inset training on a regular basis on customer relations and that the managers of each store are getting to grips with their staff. I would at least expect a reply from you out of sheer courtesy and as a last note we will not be going to that store again all the time that we are treated like that.... N Norcross M.I.W.O. CERT ED. FWO. DIP RSW. CERT SP AND L,

Customer service at Aldi is NEVER delivered with a smile or polite conversation. Food is always thrown at the customer no matter how old and infirm or young and struggling. But by far the worst is the PRESTATYN STORE. I have shopped at Rhyl, LLandudno, Flint, Mold and Garden City stores.
Non are a patch on the staff at Iceland, or Asda and both stores are equally good value as Aldi. But to see snarling, seething, dark looks levelled at paying customers your best bet is Aldi in Prestatyn. I won't ever shop their again its a promise.

Dear Aldi Complaints. At 1100 on 13.3.2013 I approached the manager of your St Helen's store on the Retail Park at Fingerpost with a complaint that I had purchased a bottle of bleach the container of which was faulty thereby shedding bleach onto my hands, face and shoes. I filled in a complaint form and was told someone from Aldi would be in touch very soon. I have heard nothing about it and went again to the store ten days ago to enquire further to be told that the complaint was being looked into and I would get a letter in the next couple days. I have still heard nothing. Could you please advise me about this matter as my shoes are marked by the bleach and I want to know what action you intend to take.

Aldi have recently been selling a card of assorted alkaline and lithium batteries for $2.99. The print on the card describes 2 tiny cells as silver oxide 626 when in fact they are branded as alkaline on the cell. This is equivalent to selling carbon batteries as alkaline, and is gross misrepresation. It makes you doubt their other batteries quality.

I have been a weekly purchaser of chazoo cheese rings for a few years now, and until recently I have greatly enjoyed the experience of polishing of a bag in a single sitting. I have found through my research of various cheese rings that chazoos were a far superior cheesy sensation to all the others. There was simply just way more cheesy goodness than any of the other leading brands. Sadly of late the cheesy goodness has sharply declined. I simply wanted to express my concern that I believe chazoos to be a far more tasty and delicious cheesy ring of goodness than Cheezles, and I don't think it advisable to lessen your flavour.

Hi i was wondering if someone can help me out,2 days ago i brought a router from aldi when i opened it i noticed parts were missing from it,i took it back to the store and told them what was wrong with it and that i couldnt find my reciept the manager asked me when i bought it and what else i bought with it i told him the bits to go with the router and some veg he asked me to wait while he did a print out of my reciept.
When he returned i asked the manager if i could swap it for another one he told me they had no more left so i asked him if any of the other stores had any left,he went to check for me,when he came back he told me swinton did have one that i would have to collect it today,i asked him could it not be brought to this store as i didnt drive he told me no they didnt do things like that and if i couldnt get there to write off to workzone the company that make the router and see if they would fix it i said its not broken that parts were missing he then said well explain that to them and send it back to them at my exspense.
As i dont drive that me having to get 2 buses to the other store with over a hour journey there and 2 buses back another hour,i am disabled i cant make that sort of journey.so i am stuck with a take doent work and the router bit set i am £32.00 out of pockte surly this isnt right.If he could do me a copy of my reciept isnt that proof enough.

I purchased a bag of their 200g Seasonal Lettuce, only to find when l had some cod salmon and their lettuce something laying on my plate after putting some of the lettuce on the plate. On closer inspection l couldn't believe it was a slug.
It totally put me off the food altogether, as l was sick.
This is disgusting and has put me well and truly off from purchasing from there again.
I purchased a bag of their 200g Seasonal Lettuce from the Colchester store in Straight Road only to find when l had some cod salmon and their lettuce something laying on my plate after putting some of the lettuce on the plate. On closer inspection l couldn't believe it was a slug.
It totally put me off the food altogether, as l was sick.
This is disgusting and has put me well and truly off from purchasing from there again.
I expect to be compensated, otherwise l was write to the local papers, as thing is bloody awful to happen to anyone

I am a regular Aldi customer who usually has only good things to say about them. I was surprised today (Sunday May 5 2013) to arrive at the Ferntree Gully store at 6:50pm to find the doors locked. I assumed this had happened as a mechanical fault or similar, so entered via the exit door and informed the register attendant, who agreed that the doors should not be locked and asked another staff member to address the problem. I commenced my shopping and heard a conversation saying "it's 7:00" to which the register attendant informed the person that it wasn't, to which the person replied "well it's 7:00 on the computer, don't you want to leave on time?". At 6:52 I was approached by a sales attendant asking me to leave as it was closing time.
I told her it was not closing time, it was 6:52 and could I speak to the manager. She said it was the manager that had asked her to pass on this message. I said I would speak to the manager about it and continued my shopping. I had my groceries loaded at the register by 6:56 and was out of the store by 6:59. I object to the store locking their doors early and asking me to leave. I would not object to an announcement 5 minutes before closing time politely asking customers to finish their shopping and proceed to the register - I think this is reasonable and it is the approach most stores take. What happened today was very poor customer service and incorrect procedure. I look forward to your response.

Bought 10 pack Snackrite Cheese Curls on Friday 16th August in Glenrothes store one bag still sealed and was completely empty, second time this has happened. Once before there was only 4 packets in bag which should have held 10 packets. Store no longer stocks them.

Recently went into local Aldi store and after shopping which included milk and ice cream got to the checkout to be told that it was cash payments only as the chip and pin machines wernt working. We were then advised to leave the shopping and go to a cash point a couple of minutes down the road to then wait in a cue for the cash point. In the meantime my ice cream is melting.
I asked to see a manager but the young girl I spoke to asked the reason why I wished to see the manager so I said I was unhappy with what I had to do and all she said was" sorry but there is nothing we can do" I myself work for a large supermarket chain and we would never ask the customer why they want to see the manager.
The customer asked to see a manager then that is what should happen and we would never expect our customers to abandon their shopping to get cash instead we have the old school manual card swipers. ready if our chip and pin machine system should go down.
We also have a 20 minute rule that if a freezer or fridge item is out for longer than this time then it has to be disposed of. Well my purchases had been out for this period of time as I had walked around the shop and then had to go to the cash point. I explained that I had the milk and ice cream but she just thought " sorry " was sufficient.
This experience has put me off visiting that store again as it seemed that the staff don't care yet the Aldi website says that the staff in all of their stores are trained to a high standard of customer care and service but I feel that wasn't the case here. My point is that we should have been advised of the problem before we made our purchases. I have to make a complaint here as Adli don't seem to have an e-mail address to put complaints to

Today at your trinity way store bolton I was unable to carry my basket to the back of the shop. To pack my bag. I have arthritis servere in my hand. One finger is serverly bent. I was told I could take my basket to the packing point however I did mention at the other store in bolton the staff let me because of my hands. She asked her manager and he said he was going to complain the the other store because they let me. He was rude and arrogant I may only be in my 20s but I can't move my hands to well. I wouldn't have complained but if I was in my 70s allowances would have been made instead I made to feel like I was lying and I was planning on stealing there precious basket. Me and my family all shop with you and spend around 700 PCM in your stores you have now lost my business. How petty can your staff be

In April this year I completed a questionnaire rating my experience shopping at Aldi in my local store and was advised that this rendered me eligible for a £10 voucher to use against my weekly shop. I subsequently completed a questionnaire online which Aldi e-mailed to me. In May I received communication from an individual called Andrew Robinson from a company called Man Mew asking which store I wished to use my voucher in. I advised him that I wished to use it in Glencairn Square, Kilmarnock. To date I have not received my voucher. I have e-mailed Andrew Robinson twice regarding this but received no reply.
I am a frequent customer in Aldi both here and in Germany and I must admit that I am surprised at this oversight and at a company which prides itself on good customer service failing to uphold their end of the bargain.
I hope that you can resolve this for me and I look forward to hearing from you soon.
Regards
Karen

i shop in the bayswater victoria aldi store every week and have complained several times to various staff about them leaving unatended with the key in the thing they transport good around the store with as i think it is very dangerous as any child could turn the key and cause damage to themselves or other customers..... on sunday the 4 th of december i had cause to complain again and the lady i complained to to said she had her eye on it all the time and i said the key should be taken out as she could be distracted..
at the time she was on the phone which is a distratction it only needs seconds for a kid to turn the key and operate it anyway she took offence at this and told me to get out of the store and called to the chap on the check out not to serve me so i didn;t argue i went out of the store and left my wife to go through the check out and i waited for her outside but two mins later my wife came out and said that she had taken the trolly and goods off her.
and would not let her go through the check out with them this had nothing to do with my wife so why did she take it out on her for what i said anyway whilst i was outside the store two people spoke to me one said she had no right to speak to me like that as that is not the way to speak to customers and she would not be shopping there again the second couple who had a small child said that there child would have turned the key had it had the chance and they said they would also complain but later as the person in question seemed to be in a foul mood.
and it would have made much differance anyway i feel you should speak to the person at the bayswater store and i think that she should apolagise to me and my wife also i am thinking very seriously of reporting it to the health and saftey people i have not put my name to this for security reasons but the person in question knows who i am and could apolagise to me when i return to the store again as i am not going to stop shopping at aldi as it is a great place to shop i hope some action will be taken in regards to this email

I am trying to find out the procedure of how to let Aldi know I purchased there mutlibag of cheese curls from the Loughborough Store of Aldi on Friday 30th November 2012. Just had a bag today of the crisp and at the bottom of the packet was plastic shreds which some of them I have unfortunately eaten. Appointment made at the Doctors but how do I inform Aldi and send the evidence? I am entirely dissatisfied and have been a customer at Aldi for a while now!
I look forward to hearing from someone at Aldi to proceed where is the quality control and customer service you cannot find any contact details on the internet.

At 9:10am on the 3rd April I took a pair of secateurs to the checkout at Aldi Hervey Bay. The were priced in the catalogue at $6.99. The checkout charged $9.99 When I pointed out the error, a tall bloke I took to be the manager was called. He said to the checkout clerk that they would not yet be marked down as they had only just been put out. I told him the price was up on the overhead board, so he"'went to check". He came back and said it wasn't, I told him that was bullshit, and he replied "I can't be responsible for what my customers do to my signs"
Now, if that had of been Woolies or Coles, instead of that nonsense, I would have been given the item free of charge, as it was the shop's fault.
Aldi are guilty of false advertising (as well as bad management) as the item appears in their catalogue at $6.99

On 25th November 2012 at Approximatly 2.30pm i entered your Runcorn branch looking for some stocking fillers in your middle isle. As there was nothing of any intrest in the store i exited the shop. From behid me a LADY by the name of Llisa Woods proceded to challange me about shoplifting and asked me to unzip my jacket which i did. she searched me for goods of which she found noneI HAVE NEVER IN ALL MY YEARS OF SHOPPING FELT SO HUMILLIATED and the half hearted REPLY OFF THE ASSISTANT MANAGER WHO WAS SO UNREPENTANT OF HER ACTIONS. Therefore i have decided to make a formal complaint about this member of staff and would like a full investigation into her treatment of me outside the store in front of members of the public. Her uncompassionate treatment of me has left me deeply hurt and offended and my blood pressure health problems have got worse because of this incident. As your company policy states;"WE AIM TO MAKE SURE EVERY CUSTOMER ENJOYS SHOPPING WITH US AND CAN RELY UPON US TO DELIVER CONSISTANTLY HIGH STANDARDS OF CUSTOMER CARE. This policy did not apply to me and i would like only to be entitled to the same priviliages other customers have whilst shopping in your store. REPLY TO -stevendalyd@yahoo.co.uk

I was in the killamarsh store today to pick up some fruit, the strawberries I picked up were covered in mould. I took them to a member of staff who was alone and said to him that I'd fetched the, to him as they were mouldy and didn't want someone else to pick them up. The store assistant just grunted and took them off me, no apology or anything. I am apauled at the service seeing as this store has been open for less than a month!

Aldi has been advertising online and in the media a smartphone for $199, which goes on sale for a week from the 6/3. I went to the Mt Druitt Aldi store at 8.30 when it opened to buy the phone. Even though I was about the 5th person they had ran out. The reason being that they only had allocatted 8 phones to each store. Clearly not enough for a weeks sale. This is clearly a breach of section 35 bait advertising and possibly section 18 false advertising.

I have recently purchased two tubs of you liquid sachets from your Blaby branch, Leicester. several laundry washes have resulted in a gunky residue left on the items washed. machine has been on warm and hot washes and full and half loads, however this problem has happened on several occasions causing the items to be rewashed. I look forward to your prompt reply, Ms G Duggan

I opened a can of Brookdale chilli. Luckily I looked at the lid because there was a very thick hair ( kind of like from a beard) embedded in the the
sauce that was stuck to the bottom of the lid. At first I thought it was a metal strip from the can opener. But when I saw that it started to curl in
I realised it was a hair.I also have pictures of the hair stuck to the lid and the upc code.

I went in to aldi yesterday, the northfield store, I was with my nephew in his pushchair, and I went round the corner to another isle and I noticed the wheel on the pushchair was bumpy, so I had a look because I thought it mite of been chewing gum, and it was a nail stuck in the wheel!! Why there was a nail on the floor I will never no, that is really dangerous! What if a child had fell on that?? So now there's a nail in the nephews pushchair and have to get it fixed. I told the girl that served me about it and she said "oh I don't think its aldi's responsability I'm not sure" well I was telling her that its bad that there's nails lying about and she didn't care?!? I am really annoyed!

Just been shop at wellingborough. Shooed for£6.73. Wrong change given £ 2.00 short! Couldn't go back to store when realised as was across the road and on sch run. I know it's only two pound but even so. If you check records for the end of day You will see this doesn't tally

I have been buying Aldi cranberry almond cereal for a long long time. As of today upon opening a box of what I thought was the same (but later seeing new and improved on the box) I want you to know that I will never buy your cereal again. The supposed new is butt awful. taste like yuk weeds and I will tell ALL I know not to buy it. Too bad!

I purchased Bramwells Pure Australian Honey from your Miranda store. When I returned home it had spilt over all my other groceries. The lid had been place on crooked and the plastic seal placed over the crooked lid.

I have purchased a car reversing mirror from Aldi on February 2013, after installing on the 2nd day it started to malfunction. Spoke to Aldi after sales and they said they will send a pre paid post label (Australia Post) to send the faulty one. took nearly 3 weeks to get the mail. I have sent the faulty one next day, and still i m waiting for the replacement. Then i gave a call to aldi after sales and they said the faulty item hasn't received yet. and they said they are not happy with Australia post. Then i told them if you are not happy with them why don't you select a different courier. Then they said its up to the management to decide. Another week went and again i gave a call (2nd April 2013) again they said still they haven't received it yet, and they have short of staff to locate the faulty one. Please let me know what and where can i complain about this. I need Aldi's Reigional managers contact number to speak regarding this.

on Thursday 21st march 2013 i shopped at my local store of keighley westyorksire, i have shopped at aldi for 3 years and never had a problem until this day were my healthy start vouchers witch are a government seam for healthier eating, were all of a sudden not accepted, i think this is outrageous as it is a supermarket witch the government advertise we can use the vouchers in.
i would like to know why these changes have been made and why people that accept benefits receiving healthy start vouchers cannot use them in your stores ?.
jade maude

Good morning, I am writing to you for the first time about the roasted ham joint supplied by Appleby's. We have bought a number of these joints over the past year and although they are not the same as ham/gammon cooked at home, they have been a useful stand-by when cooking time is short. They had a similar soft texture as you would expect from home-cooked ham.
I'm not sure if Appleby's are new suppliers of these joints,but the one we have just bought in CARMARTHEN is very different.The cuts (if that is what they are) have been so compacted that the meat is solid and tough to eat.It is like the very worst processed meat you would get from a tin. Easy to carve,but.....
We are not newcomers to Aldi supermarkets and have been using the shops for many years both down here in West Wales and in North yorkshire,actually "spreading the gospel" of shopping at Aldi's for quality and value long before you became supermarket of the year. This product,though,has not got the expected quality and one of the give-aways is the fact that any rind fat,which used to be present in small amounts,has disappeared leading one to surmise that a different process is involved,but one which has created an inferior product.
This email is written in good faith in the hope that other products do not get the same 'overhaul'.
Regards,
David Perry,

I went into the aldi store in cwmbran South Wales this evening and due to poor weather conditions the entrance to the store was soaking wet as a result I slipped there was no measures being taken to ensure that the floor was not slippery only a small matted area in the entrance but as soon as you entered the store the floor was soaking wet. It had been snowing all day and therefore measures should have been taken to ensure that the entrance was more safer the small mat at the entrance was not sufficient. Surely measures need to be taken to ensure the entrance is a lot safer especially during such poor weather. The floor was wet to at least half way down the first isle of the store. I find this extremely unexceptable

Firstly I would like to say I am appalled at the lack communication from aldi staff in regards my job application and that my human rights have been effected and their fore seeking legal advice from a solicitor and looking to claim compensation from your self's.
Firstly I sent in my CV as requested by the advert for a job on line regarding a cleaner job part time at the kings Lynn branch of aldi in which I was excited about. On Monday the 4/03/2013 I had the interview with Dona piria at the kings Lynn branch at 6pm in which I arrived there well on time. After the interview she told the two applicants who was at the interview if you get a phone call from us you have the job.
So on Thursday I received the call from nick saying can I go to aldi and do a work trial and after this you will here from me regarding the job, to see if I like it and to see how I got on and this was on sat 9/3/2013. After doing two hours work in my local store I went to let Chantelle know that all the jobs requested was done and their fore left the store. After I believe I did a fantastic job of cleaning the toilets and freezer tops and staff room.
Now I am expected to get paid for these two hours in my employment with aldi but as I had to chase up nick on the 12/3/2013 in regarding this job to only be told I have not got it I was disappointed and upset let alone felt my human rights have been effected, this yet again I stress is Appauling situation from aldi.
I await your reply, as I will give you 14 days from the date of this letter before seeking legal advice. i would like to add since monday the 18.3/2013 i received a call saying that its aldi policey not to pay work trials but will send a voucher to the value to cover the 2 hrs i worked,still not got it but hey work it out for your self.

I went into the store at 1700 on tues 4th of march, the store did not have what I was after so I left the store, as I was leaving the store the security guard grabbed me and took my bag from me. He emptied my bag on the side in full view of other shoppers. Mathis caused me great embarrassment even though I had receipts for everything that was in my bag! The security guard was very aggressive and rude, he didn't apologise for the misunderstanding and just told me to go. I told him that I'd like to speak to the manager to which he replied that there was no manager.
A checkout worker then sent for the manageress, she came along and asked me what the problem was, so I explained that I was unfairly treated by the security guard. She didn't see that there was a problem so I asked for the area managers details, she told me that she couldn't give me his details and that i could fill out a complaint form, but she didn't have any!! I was very disappointed with how I was treated as I was a regular customer of Aldi and enjoyed shopping there, I am now put off going there due to the aggressive security guard and the embarrassment that was caused.

Debra Heckenberg
from Heritage Park, QLD
I recently purchased a can of Portview Tuna chunks in Springwater. when I opened the can I used a can opener that opens from the top, when the can was opened all of the label material had leaked into the tuna making it inedible. i want to bring this to your attention as I was encouraged to buy the can opener from Aldi in the first place. Lucky I noticed it at first I thought the material in the tuna was a blue band-aid!

Tracey
from Caulfield South, VIC
We have been an Aldi customer for a good 12 months now and in the last 6 months we have noticed a down fall in the products we buy. The nappies we buy, we have had to throw quite a few out because when you open them up they stick and tear the nappy or the tabs are not there. The block cheese that we use to buy is hard and has a sour taste to it and the Yoghurt we buy for my family has a sour taste also. When we buy bread we have to search threw the loaves as half of them are 3 days old. The plastic bin bags are now extremely thin, we have to double up in the bins. We purchased an electrical item 6 months ago and had problems with it. We followed the correct procedure and rang the Laverton office (twice) and we are still waiting for them to send an email, we took it back to the supermarket and explained that we did not get the service we were meant to get. The Salami is extremely hard and the crumpets are going mouldy with 2 days. Slowly, slowly we are drifting away from Aldi as the disappointment is getting greater and greater. I hope you are able to rectify your products.

Been to aldi 3 times not impressed at all I am a disabled customer not being able body as others. You load your grocery's on and then the other end they are literally thrown at you asking the girl to slow down she said I only have so many seconds to get through each customer I am on a time limit well in this process eggs got broke tomatoes we're squashed and my bread bag was damaged so when I lifted bag out of trolley porridge went every were.
I wasn't packing shopping bags as I realized on first visit you are not aloud to do this (Being so wrong on so many levels ) well I have compared your prices with all other supermarkets and working on this I would rather pay slightly more and get a better service and better quality of products than you get from aldi on my £100 shop I only saved £5-88 so to me your not that cheap products were not very nice! Rude staff grocery's thrown at you not being able to pack a bag at till is not worth the money I saved not impressed and it's a new store speaking to other people about this they agree aldi ain't that great for disabled customers or if your not quick packer rude staff is not a good way to start a new store staff all to young to have common sense and a caring nature they might have a degree but that's not good enough for me and my friends and family will not be returning been a regular at adls for long time never had a problem all I can say is shame on you Aldi!

I have been to the shepards bay aldi a few times and we always get the same cashier. She's a very aggressive islander woman covered in tattoos with short brown hair. It's almost like she gets annoyed about there being a long line. I had already unloaded a full trolley and she screamed at all of us to go to register 4 she wasn't closing she just didn't want to serve. I stayed I have a baby and I had already unloaded a full trolley. She just had a real bad attitude and she was so busy messaging on her phone that she didn't turn eftpos on for me and got annoyed that I was trying to tap my card then she went back to her phone. I said thank you and grabbed my receipt and she just went "how are you" to the next customer completely ignoring me.
This isn't the first time I've had her she's always like this. I understand sometimes retail servers have a bad day I know cause I work in retail myself but this woman is just scary and aggressive. When me and my husband go in we don't want to be served by her cause we always leave feeling like crap. This is a woman in her 40's I'd understand if it was a teenager or something but she should know better. Aldi please teach your staff proper customer service or at least some manners!

James Evans
from Cannock, ENG
What's happened to aldi's? I live in shrewsbury and used the local aldi's store since it opened here but over the last 6 months it's become a dirty , untidy shop were the workforce , unlike years ago when they were helpful , are ignorant , ask them a question and they either grunt at you or totally ignore you . The front of the store looks like a car boot sale that a hurricane has hit and the insides are so untidy with either stuff piled in the isles or it's jumbled all up especially the special offers. I WONT be using aldi's again, lidl's (which is spotless and the staff courteous) will be getting my patronage from now on , pity as I really liked some of the special offers aldi's did but not enough to balance out the shortcomings.

Janet kidd
from Newcastle upon Tyne, ENG
I shopped in st Marks store today and was very upset at the cashier called Michael,after putting my produce on belt and putting my trolley bags ready in trolley,he then proceeded to throw my produce into trolley,they normally scan them and then you put them in yourself,I asked him to leave them on the counter,his reply you supposed to pack them on packing bench,his attitude was terrible.they were proper trolley bags so that you can put produce straight in,he tried to put bag pearlite in but ended up on floor,I have shopped there since you opened and my weekly bill is normally84 pound,I won't be going back to be humiliated like I was today my husband did step in and told him.

I visited Aldi on Higgins road in hoffman estates il. The cashier I had was extremely rude. She kept ringing other people out while I was in line waiting for her to ring me out. She just kept calling them to the front cutting me. She had attitude in the way she talked to me. And after I paid using my snap card she looked at my snap amount I had left. She made me feel uncomfortable and ashamed. Tivet is an terrible employee and doesn't know how to act. I've worked with people for years and I've never treated anyone the way she treated me or made me feel. I wont be returning ever.

Colin Baxter
from Maribyrnong, VIC
Wed 20th march...The person on till very rude when asked a question, where he had to just say yes or no to my question at Seaford Aldi.no please just an angry response of "wait till I'm finished doing this" I can only imagine he has had no customer service training or "he got out of bed wrong side of bed miserable Bxxxx said lady outside after I left...but then again it was 9am....Wont be going back to that store again.

Cindy Helton
from Rutledge, GA
Since the covington,ga store has remodeled they never have more than one cashier and when you ask if they could get another one they say they are stocking and it is going to be awhile. Meanwhile there is 10 -12 people in line. And on more than one occasion i empty my bag and leave.

Joe Solla
from Orlando, FL
what? no zero star rating? -- coupon from one store was not honored at another Aldi's. Thought you were all one big happy family. Very embarrassed. I won't be back. Waste of my time.

Castonguay
from Utica, MI
We as many others, have come to rely on Aldias as a great place. Good service with a quick in and out. However , the stocking of store items, or NON stocking is really starting to become a problem. Simple items such as frozen peas, paper towel the 15 roll mega for 15.39, can dog food, stew meat, And the list goes on. Heres a thought instead of using all your energy buildinG new stores, how about keeping the ones you have stocked. No peas I'll just get them at another store. No paper towel sams has the same big mega 15 roll for .50 more. walmart carries the same apple pies in two sizes. Mejiers has the stew meat in stock and on sale. etc etc, If I as many others have to go shopping at a big box store after leaving
Aldias how long is it going to be before we just go to the big box store
first and then go home. You guys have a good thing going don't screw it up. Remember how you got to where you are. To often the vision can be lost. got the great paper towel once hasn't been in stock since, peas can't count the times. This is just a few of the items my wife has sent me for. many others. Get it together. A WORRIED ALDIA SHOPPER,

I have shopped in the Aldi's store in Wilson, North Carolina for many years now and I'm not sure what has changed in the last 6 months, except for there being a new manager in the store, but the items in the store are constantly out of stock and the merchandise is not the same. The bread I used to buy it no longer carries which was the Fit and Active 45 calorie multi-grain bread and many other items. The store now carries a 40 calorie bread that goes stale way to fast and is not good. When I go shopping now there are numerous items including milk and other dairy products that are out. There are always empty spaces where items are out of stock and a lot of the frozen items are out. The manager allows lines to get way to long before opening additional registers which causes customers to get upset and some walking out and I know from having shopped there for years that this is not what Aldi's is about. Please change managers or do what needs to be done as I know of several customers that had shopped there that have switched to Lidl's in Wilson because like myself they got tired of not being able to get what they needed.

Dear Customer Complaints
I visited your store in Wolverhampton today at 14.44 pm Howard Street, as I have always done for years I've always shopped at Aldi stores around the country. Today as I've been so busy with a new house and so many things I'm doing at the moment, being extremely busy, I forgot to take my shopping out of the basket,as I was on the phone through my earpiece at the time. The cashier name tag Susan picked the basket up and tipped everything upside down crushing my three packets of cheese topped rolls with my meat upside down everything. I felt really embarrassed as all the other customers looked on, it would be on your cctv as I explained not to do that. The cashier behind shouted for security which made the situation even worse I felt even more embarrassed, I did not swear or raise my voice but was accused by the male cashier of being rude to her why he called security. I want the footage of this incident if possible and would like to know how this will be resolved as their was no customer care, only rudeness and causing me extreme embarrassment. I spoke to a lady called Kevina who gave me this number to call. 08000420800. I will not be shopping in that particular branch ever agai.
Sent from my iPad

I was very happy when Aldi first opened I like ther prices and clean store but here lately Ive had a problem with moths in my rice, dried soup mixes, and other dried food so everytime i open a box i have to check for moths ive never had this problem at any other stores . The last moths i found were in the Earthy Grains Chicken Flavored Rice thankyou judy


This happened at the Aldi in Ashtabula Ohio, January 20th at 140 pm. My boyfriend asked one of the workers if they had an item in the store, she looked at him rudely and said "ummmm yeah... over there" and just pointed to a random area. The same girl went to the cashier as we were checking out. We had 4 items in a box, she looked me up and down and then said "um you need to take the items out of the box" so I took it out of the box. She then slammed all of my groceries into the cart and just handed my boyfriend the receipt and went on to the next customer. She was extremely rude for no reason. I will not be coming back to this Aldi. She doesn't deserve to get paid as much as she does to be that rude of a employee to customers.

Michelle Notman
from Brisbane, QLD
I am fed up with buying your chops that are tough as boots. You are giving us mutton chops that are very tough.
I am an aged Pensioner and cannot afford to pay for something you would only feed a dog.
I am going back to Woolworths to buy my meat in future.
Also your store at Maryborough street Bundaberg, does not seem to have fresh vegetables. The staff do not seam to remove old vegetables, especially Cauliflower, and other vegetables. I also found a mouldy tomatoes in my prepackaged Sampari Cocktail Truss Tomatoes. I buy 2 pack every week and they are very nice usually.
When I go into your store I tend to tidy the shelves up and bring thing forward. The staff at this store do not seem to keep it neat and tidy and not take pride in their work. I use to shop at your Avoca store which was very good, but Maryborough St store is closer to where I live.
Regards Michelle

Jacquelyn Leauvano
from Houston, TX
I visited Aldi store #64 in LaPorte TX. The cashier, Sylvia, aside from being completely rude and lacking customer service, she was throwing my groceries as well as other customers' groceries into the cart and flinging carts around with the most disgusting attitude I have ever seen. I will not be going back as long as this rude woman is there. I will take my business elsewhere.

Peggy Randall
from Washington, DC
I asked the cashier Theresa at the Hyattsville Queens Chapel Rd location for quarters and she said no I don't have any so I asked if she was sure and then said well I see two rolls and some loose. She closed her draw and said have a nice day. Then I explained it to the manager who was like I'm off the clock and the other was like she didn't have a draw ask another cashier. So now I'm waiting for a cashier because 8 don't want to cut on front of other customers. This was something as simple as a dollar in quarters to put air in my tire while I was out shopping at this store. I love Aldi brag about it to all my family and friends but this location Theresa is always rude they leave old fruit out and then get upset because u inform them. They never discipline the rude workers or even seem to care. Its twenty minutes to the Aldi I used to shop at before I moved but that's where i will have to go because it's only getting worse

Tracey
from Baltimore, MD
On 9/21/2018 I was at the Aldi grocery chain on Romig Rd. Akron Ohio. The cashier "Monique" was disrespectful and rude. She was not greeting any of the customers waiting in line due to the fact she was busy talking with another cashier and the security guard about her vacation plans, the amount of clothing she needs to pack for herself and her children when she vacations. I continued to make eye contact with "Monique" but she did not acknowledge me or show any concern for her customers. As a frequent Aldi merchant, I hope this concern does not fall on deaf ears and it addressed. The store received a rating of one star because I could not select zero.

Rachit Shah
from Cedar Rapids, IA
I have observed that ALDI is INTENTIONALLY cheating with customers by compromising the weighing scale at the billing counter.
All of my grocery items weighted more at the billing counter than the actual weight.
I also observed that most of the time, they keep the second last counter(with improper weight scale) open and remaining counters closed.
On top of that, their attitude was too bad when I told them that it weighted much more than the analog weighing scale near the fruits section.
Today, is the third time that I have caught this issue. They already know about this issue since I reported twice in this month, But they took no action.
Please find the attached receipts for the refunds given to me when I complaint.
My major concern is that I have been purchasing my grocery since long time from ALDI, I don't know how much did I overpaid until I notice this issue 3 weeks back. Once or twice can be mistake, but today was the third time and it has to be INTENTIONAL FRAUD.
How would they compensate me for purchases I made in last 2 years and also other customers?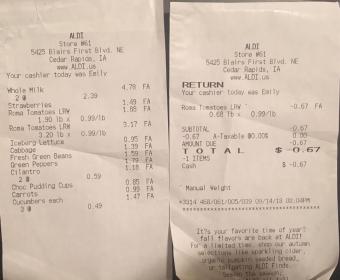 andrew
from Indianapolis, IN
i purchased black grapes from aldi in troy mo they were sour and bitter aldi needs to watch what they put on selfs when it comes to fruit and other produce there other stores that have fresher produce far better than aldi

Shelia Jones
from Jamaica, NY
The cashier at the New Castle Aldi named Sherri kept throwing my groceries into my cart even denting 2 of my soup cans!!! I asked her to slow down and she simply ignored me and said she wasnt doing anything to my groceries that she wouldnt do to her own!!! She was extremely rude. I will NEVER shop there again.

Cabernet Mancini
from Alliance, OH
I went to my local Aldis and the last two times the cashier was very rude. I was rushed to put my groceries on the counter fast because there was a long line of people, but i had almost no room to set my things due to the person in front of me. The second time the same cashier (Julie) yelled at me when i picked up my 24 pack of water. She then made a rude comment and said "glad you're the one giving yourself the workout." If I didn't pick up my water how could it have been transferred into the cart other cart with the rest of my groceries.

Helen Phillips
from Miami, FL
I will no longer buy Aldi brand Cut Green Beans. You must have changed your supplier!!
I love green beans and cook them often. But this is the second time that I have been thoroughly disappointed in the quality of your canned cut green beans. What you are selling now are thin beans with a lot of strings and a lot of hard beans on the inside. They are not even flavorful when cooked. I'm sure that I'm not the only customer who has noticed the difference. So beware that your sales will decrease until this problem is fixed.

Brianna Harry
from Waycross, GA
Me and my husband shop at the Aldi in Fort'O, we have a good experience everytime expect this time. The cashier we had was nothing but rude & talking out loud about how he didn't like when customers asked for another cashier & how he wanted to close the doors earlier.. He was talking about about customers to his coworker. It was awful, and made me not want to shop their. He was very unprofessional and rude.

Ervin Stone
from Beardstown, IL
How can Kroger's Ruler stores have the best Diet Cola....and yous have the worst. You need to compare them. The cans are the same....but what's inside is terrible! One more reason to do my shopping at Rulers instead of Aldi. Usually you have great items....but this is bad....bad....BAD!!!!

Bonnie Baldry
from Queens Park, NSW
A staff member at aldi arndell park (the blonde curly hair 50 odd year old) always is racist toward me makes me feel like a lower class person each time i am at the check out she makes a loud point of making me COMPLETLY empty my small handbag this is not once but EVERYTIME iv never shop lifted i ask her please stop singling me out its extremely humiliating she laughs an tells me well why tattoo your body if you didn't want to be singled out. Tonight id walked up to buy milk for my babies bottle she swore at me an would not serve me it was complete an utter disgusting.

t.j. wood
from New York, NY
I Actually have a couple of complaints.....but first I want to say, overall I have liked Aldi's...UNTIL recently. The other day aldi's had fresh pineapple for 1.49. I bought one and ate about the equivalent of half a slice. it didn't taste good...or right. at first I thought it was just watery and maybe not ripe. Then later I became sick....lower stomach pain, diareah and nausea....and I am still sick 2 weeks later.
The other complaint...your prices WERE better than any place around....UNTIL you started tv advertising. Now they are not as money saving as they were....infact, we live in an area that has many different grocery stores....and there are others that that has just as good buys.
I am mostly upset over the illness from your pineapple. Also I would have called the store that I bought it, but AS YOU KNOW no one can do that.

Susan
from Royersford, PA
Called to complain about the black employees for giving the white customers looks to kill at the limerick, pa location and that aldi's is covering for their black racist employees who do not hire any white people at all and your, once again, black employee named latisha immediately went on a rampage about blacks being american but americans don't give each other looks to kill like that but blacks do and they also murder white people every single day in this country and that's why white people don't trust them and it doesn't help any when those innocent white people are getting vicious looks from your black employees like that.
I can't shop at aldi's anymore because all the stores only hire blacks with really bad attitudes towards the white customers and when I was there, the poor old white people were afraid to even look the black in the eyes because of those looks to kill they were getting and they didn't dare complain about how the black employees were throwing their food in the baskets. The store is mostly empty all the time and now I know why.
I will be handing out pamphlets to white people documenting the hate your black employees act out on the white customers and how aldi's refuses to do anything about it and about your black "customer service" employee who also showed venom and racial hate towards an innocent white customer and about the racial discrimination and racial hate your black employees practice against white people and that's why you can't find any white employees anywhere.

Me and my partner went to buy some groceries from the supermarket, which included a bottle of wine. We were about to pay at the till when the cashier asked me for an ID. I was with my partner, who was paying for the groceries, but she didn't ask him for his documents. So, I was told that she couldn't sell the wine before seeing my documents, nevertheless my partner was ready to show his, because we're together. Due to her ask I went to grab my documents, because they were in my car. I went back I gave my ID to her and she started to complain about my attitude. She told me 'I'm only doing my job, I don't want to be fired.' But she raised her voice and even was making non-friendly facial expressions. Her tone was inappropriate. I didn't want to cause any problems, but after everything she did, and even after I spoke with the manager, who said to me 'I will speak with my colleague', but it was clear he don't bother at all, I've decided to share my negative customer experience. I'm considering not to go anymore at Aldi's supermarkets anymore. I'm really unsatisfied with their service.

Vic Vacchetto
from Webster, NY
I have shopped at the AldI grocery store at 915 Ridge Road East, Webster, NY 14580, since it first opened. I have never had any problems with staff or products before. On Monday, 9/5/2018, I went to that store and bought a single head of lettuce. I got in the cashier's line and waited to pay for my purchase. The cashier was a blond haired girl I had never seen before. She began cashing out the next person behind me before I could get my money out and her groceries knocked my head of lettuce on the floor. The cashier had a big smile on her face, she did it as a joke, When I said something to her, the manager took her side and accused me of threatening here. She said that she had no control over the conveyor belt that moves the groceries and you know that is a lie. Since I am 72 years old, on medication for my nerves, and the manager was half again my size, I left the store without saying more. I feel that I was bullied and threatened. I have lived in Webster, NY, for 40 years and never had problems with anyone. I now feel threatened and, I will not live like that because of ignorant employees. I have already notified the Better Business Bureau and may notify the Webster, police department if you do not take appropriate action.

Steve Keeling
from Bonner, ACT
I am a strong supporter of ALDI visiting your premise at Weston Creek, ACT at least once weekly. Tonight I visited your store to purchase some alcohol with my 15 year old daughter. I purchased some wine and when I presented the wine at the checkout, my daughter was asked for proof of age. I told the checkout operator that my daughter was 15, the operator said she couldn't sell the wine to me because my daughter helped me take the wine from the rack. Another check out operator cam over to join the conversation, he didn't introduce himself, so I didn't know who I was talking to. He said it was the law, I questioned his interpretation of the law, as he implied that the law stated that a 15 year old can not touch alcohol on the shelf. I asked him for your policy and it wasn't forthcoming. I indicated that I would leave the store and come back in by myself to make the purchase, and he said that was not acceptable. He didn't say what was acceptable and if I will ever be able to enter the stores again to purchase alcohol. I was extremely embarrassed and am unsure if I can ever purchase alcohol again from this store. The staff did not demonstrate any common sense.

Suman
from Campbelltown, NSW
I went shopping in Aldi at Hamilton street in Fairfield N.S.W with my husband. We did not have any coins therefore we were unable to take a trolley, there was not much shopping to do so decided to grab 2 boxes to help us carry our shopping. Things change when we came to the cashier named Romina, who ordered us to take stuffs out if the boxes, while my hubby was doing this, I quickly went to the front as the cashier was so fast, some of our stuffs fell down, the cashier ordered me to take each things to the self which was along the side of the window about 3 metres away from the cashier. We were trying to catch up the pace but she was so rude and neglected us. She did not give us time to sort our shopping and the stuffs that fell down while she was throwing our stuffs away was not picked up as we were very annoyed at her attitude. We paid for the stuffs that fell down but were unable to pick up. She was very rude and told us next time get a trolley, i told her that we were unable to get a trolley as we did not have any coins today. The attitudes of the Aldi Cashiers are getting worse as this was my second experience of them being so rude and have zero patience

Nav Sandhu
from Leeds, ENG
Aldi Store skinner lane, Leeds Regent street.
I am appalled by the service I have received today. Me and my 13 year old daughter finished shopping and queued at till 3. Got to the checkout once your customers service clerk (Amin) had finished scanning all our shopping he asked by daughter if he could see her ID. I thought he was having a joke with her, as I was packing. When she said no and I went to pay for the shopping he kept the 2 bottles of wine under counter. I smilingly asked are you having a laugh, he replied very rudely no - this is the law we cannot sell alcohol to anyone without ID. I said I have my ID - she is my 13 year daughter. He replied no will call the police - I replied yes you should and can I also speak to your manager, he very reluctantly called the manager or another collouege and told him he will not sell alcohol to us - even your staff member looked puzzled. Then that staff members printed out the receipt for the shopping we had already done and then took us to another till and Amin very reluctantly gave him the 2 bottles of wine. The other staff member commented - I can understand if your daughter looked 16 or 17 years I can understand, but he should not have behaved like this with a child. I will talk to him. My 13 year daughter was very upset with Amin's behavior and couldn't understand why he was talking to her, as when we go shopping no one starts talking to a child like this or asking for ID. If Amin cannot distinguish between a western female child and a young woman- then he should not be at the till. I would like this escalated as an executive complaint.
As this was very distressing and embarrassing for both me and my 13 year daughter.

william specht
from Sicklerville, NJ
Never had an issue before, but this weeks purchase of liquid egg product which I use all the time,when poured was off color and had an odor. With eggs you really have to be careful and was not sure if others complained on this product. I purchased them at the aldis rt 42 in turnersville,nj. I am still overall satisfied since aldi has been in our area and noticed remodeling affecting movement of store products and am only stating the event in case there is a recall or group of complaints. thanks for your great service

Julie holbrook
from Bournemouth, ENG
Last week I visited your store in boscombe Bournemouth to buy some bread rolls when I arrived you were sold out so I left the store without buying anything as I walked out the doors I was tugged back by my rucksack to see a security guard who then told me to come back in the store because he wants to check my bag I was extremely angry because I am not a thief I am a educated 51year lady who has worked and lived all over the world I should of called the police straight away but I was in shock that this was happening I did return into the shop I was very upset I did swear I gave him my bag and he searched it and found nothing as I said before I'm not a thief then the manager came over and I asked for an apology and he refused and was so rude to me yes I swore at him but I have just been accused of something I don't do he handled to whole situation poorly I was shocked and left the store upset I then returned to the store 2days later and as soon as I walked in I saw the security guy smiled walked to see if you had any brown breadrolls and was stopped and informed that manager has banned me from the shop I didn't do anything wrong in the first place this has made me very I'll and stressed and I would like to know how you are going to deal with this problem thanking you Julie.

I am looking for grocery cart shopping bag in everywhere at Aldi in Southern California which it is no longer to carry grocery cart shopping bag due of run out of stock all at Aldi Stores in Southern California. It is very serious situation that State of California already banned plastic bag was started on Nov 2016 that is why Californians bought grocery cart shopping bag so quick. I notice that the inventory is small numbers of items in the shelves at Aldi Stores that is not enough in stock. I really very disappoint that is hard to find grocery cart shopping bag so I recommend that grocery cart shopping bag go back to restock every day permanently.

Nancy Falcone
from Abbotsford, NSW
I used "Morning Fresh" liquid dishwashing detergent for over 30 years until they changed the formula and made it weaker. Then I discovered Tandril at your stores. What a difference! Have been buying it for over 2 years. Now you have gone and changed the "Formula" and it is worse! Have to use twice as much. I will be looking for the old formula bottles in the 3 stores I frequent. After they are gone I will be trying to find a new product somewhere else! You lost me.

Purchased 2 legs of lamb. Marked price was not clearly indicated on packaging re total cost or cost per kg. Resulting in a combined cost of £25 instead of the expected £11. This was not realized until checking grocery shop at home. A large weekly shop so we did not notice the overpayment straight away. Can you please reimburse the overspend.

david
from Haberfield, NSW
I am sick and tired of going to several stores to find the Julius dog diced beef and kangaroo pet food 600 gram. It is bullshit that the product is bought from the supplier at a rate of 50% chicken and 50% beef/kangaroo. the animals do not like eating the diced chicken and this is why every shop has a huge stockpile of diced chicken. When I ask for the kangaroo the shop assistant says that they have to sell the huge stockpile of chicken first. Again you are not selling the chicken because the animals don't like it and prefer beef.
I suggest if you want to keep a stockpile of the diced chicken that you should also keep a stockpile of the beef/ kangaroo pet food separately. Therefore at least you will be able to make sales with the beef/kangaroo instead of wasting fridge space with your non selling diced chicken stockpiles. if I make one more wasted trip to aldi because of not finding the beef/kangaroo pet food I will stop shopping there all together and tell all my friends about how the company wastes your time. This is not an isolated store.

Tina bartrop
from Shipley, ENG
I bought a strimmer as a wedding present today it was returned to me. The bride and groom opened the box and to there horror it was a filthy disgusting mess they got it out of the box to find a strimmer that had obviously been used for quite some time. It was a filthy disgusting mess I wouldn't dream of putting that back in a box. I got it off the shop floor at Aldi in Bradford forster square and didn't open it as it was a present. I am now a laughing stoke amounts my friends. I am not amused at all I'm discussed and I want to know what you are going to do about it.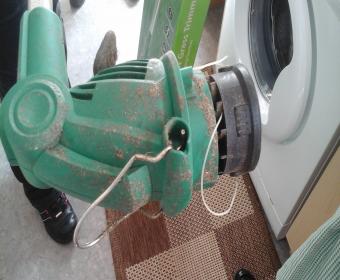 justine brown
from Docklands, VIC

Sara
from Manchester, ENG
I bought a kettle and toaster oct 2015 but can't find receipt but have warranty toaster only toasts one side and water tastes metallic due to manufacturing materials. The warranty said if I got hand written receipt from Aldi they would replace for me Aldi manager said he couldn't help me very upset by his attitude as I shop there every week.

Angela Forbes
from Falkirk, SCT
I have just returned home and checked my receipt and noticed that an item Face Cleansing wipes, code 4063 has been scanned twice 2 x 0.75p - I only bought 1. I don't have a car at the moment so I'm not able to just pop back to the store to complain. I took a basket as originally I was only going to purchase a few items. At the checkout I was rushed by the assistant pushing my shopping towards me. To add to the insult, the assistant has used a highlighter pen on my receipt at the bottom indicating the part "tell us how we did today" So I'm telling it like it was for me today, not good at all. There isn't a code on the receipt to indicate who served me.

Brian Kettless
from Lowestoft, ENG
Dear Aldi. being an avid customer to your local store in Lowestoft, Suffolk, I have never had reason to complain as I find your offers are welcoming. Sadly I feel for once I must right to you as my complaint can't be handled in store for this reason. On the 6.5.16 I purchased an Appleby's slow cooked Mint Lamb Shoulder at the cost of £2:99p and at todays prices of lamb I would expect better quality than I received. the content of the packet was 90% Lamb fat with very little meat to consume. I'm not a person who is apposed to a little fat with there meat but I am apposed to only a little meat with there fat.
I haven't been able to return it to the store for replacement as It's cooked, hot and sitting near the bin and I'm enjoying what I have left of a Sunday lunch, I don't think the store manager would like it much if I dumped a hot lunch next to his tills. I hope you will take note of this complaint and inform Appleby's to up there Quality control standards as I will never buy another lump of useless meat of there's again. Thank you for reading and hopefully acting on this complaint in my email email.

jason clarke
from Hindmarsh, SA

Sharon Glynn
from Stoke-on-Trent, ENG

Christine Robertson
from Moreton, ENG
This is not a complaint but I cannot find an email for Aldi customer srvices hence this contact. I need to know whether my Aldi "Barbecue Days" firelighters meet EN 1860-3. I have just bought a new Weber barbecue and the guide/warranty says to only use firelighters meet EN1860-3. I cannot see any reference at all to this on the firelighters. Look forward to hearing from you.

Connie Pera
from Omaha, NE
I purchased a 4 Crofton products, 2 f which are labeled 4 in 1 tools which are supposed to be help in opening difficult items. Both were for elderly women. The one I gave to my mother, I opened for her (package is difficult to open). On one end of the tool is a small blade with a plate cover with arrows which indicate it slides. After much effort, I was able to slide it to expose blade. I was not able to reside to close. It is hazardous. The numbers on the package are: 04198249373 and 49393. The date is 2/2016. Made in China, they are inexpensive which should have been my first clue, but it is a simple plastic product. I am writing because of the danger not to recoup the cost. Please be advised. I will also alert the store which sold out of the item.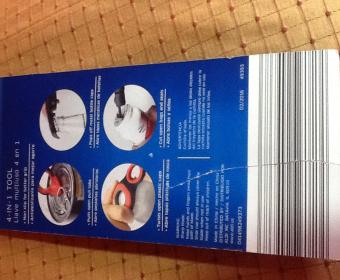 I just went to Aldi in Roanoke and got 7 things. The lady checker (Tiffany) was a rude and said "you can't take that basket" and I said I'm moving it to the left so I can grab things w my right arm (7 small items). And she said you have to pay to use the basket. I said yea and you put my stuff in it so now I'm getting it out and putting it in the bag I just bought. Then I asked her a few questions and it made daughter more uncomfortable. Be careful if you are injured and go to the Aldi in Roanoke, because they won't get out of their chair to even make eye contact.
Thanks for your feedback!
Sorry. Please try again later!