Wyndham Hotels
Wyndham Hotels Complaints Continued... (Page 5)
410+ reviews added so far. Upset? Call Wyndham Hotels corporate: 1-800-466-1589

Conrad Pogorzelski
from Morganton, NC
Room wasn't cleaned the day we arrived never cleaned the whole time we were there. Had to go ask for towels and washcloths because they didn't bring them, had people outside our room at the pool until about 3 am in the morning. Found out the room phone wasn't working when I tried to call about the people at the pool at three am. Phone was finally fixed the last day. What was more distressing was the fact that when we arrived to the room on Friday Sept. 1st the room looked clean at a quick glance so we left to go enjoy the area and didn't notice until we got back that evening that there were men's swim trunks hanging on the back of the bathroom door and when we actually looked around you could tell that the bathroom had not been cleaned just straightened and toiletries towels and washcloths replaced and bed straightened. Made us afraid that the bedding had just been straightened instead of changed after last guest. Still not sure. The next day we left early came back late same thing with the room, had not been cleaned just towels replaced and beds straightened. Sunday we left again early came back late the room had not even been straightened let alone cleaned and we had to go to registration to get towels and things. This was the first visit for my friend to Charleston and I convinced her it was a good place to stay that although it is not like most of the hotels in that area it was safe and clean and in an excellent location and budget friendly, which was important to her. Needless to say she will never stay at this hotel again because of this experience even though she is planning more trips to Charleston. My husband and I have stayed here before and brought other people too but after this last experience we cannot in good conscience recommend this hotel again unless there is a drastic change. For some people vacations can be a once a year thing that people budget for take time off work for look forward too and at the very minimum you want to know that the place you are staying at is clean and safe. I did not feel this way at this hotel this time.

Homero Ramírez
from Omaha, NE
We stayed at your microtel in owatonna Minnesota. We had two rooms room 122 & 124. Both rooms were non smoking rooms. We stepped out for dinner in the evening upon our return we found room 124 stunk a strong order of Cannabis so strong we had to open the windows to air it out. We spoke to the attended who could explain why this occurred. There was no air -conditioning in the lobby or eating area. Needless to say it made our stay at this location very unpleasant. I believe you office should investigates this management as to why this thing are happening.

Homero Ramírez
from Minneapolis, MN
We stayed at your microtel in owatonna Minnesota. We had two rooms room 122 & 124. Both rooms were non smoking rooms. We stepped out for dinner in the evening upon our return we found room 124 stunk a strong order of Cannabis so strong we had to open the windows to air it out. We spoke to the attended who could explain why this occurred. There was no air -conditioning in the lobby or eating area. Needless to say it made our stay at this location very unpleasant. I believe you office should investigates this management as to why this thing are happening.

Mario mancera
from Corona, CA
I went to one of your Wyndham hotel at Big Bear CA. The hotel name is Knights Inn at 40598 Big Bear Blvd. This place is a dump it smells the cable doesn't work and no air conditioning. Problems with the internet. The pool is fills with dirt and I payed 100.00 per nite.

Kalissia B Parker
from Southern Pines, NC
Hello,
I used a 3rd party vendor, AMOMA. After the booking, I called the hotel to confirm my reservation. They told me that the vendor had booked a smoking room. I asked Malinda several times if she could just switch me to a non-smoking room. She was adamant that your system would not allow her to make any change. I offered to pay to upgrade to a different room. Again, she stated that was not an option. I proceeded to go to the location as I needed to stay in that area for business and I went to see if I could tolerate the smoking room. When I arrived, I asked her again to move me to a non-smoking room as I am allergic to smoke, she refused again saying it was out of her control. I checked in and went to the room, the room was unbearable and I went back to the front desk. She agreed to spray the room, but I told her that the smoke was too strong. She continued to refuse so I told her I could not stay. She said she had talked to the manager and nothing could be done. At this point I am appalled at the fact that customer service is so poor that she can't simply switch a customer to a non-smoking room especially since I told her I am not a smoker and I am allergic.
I did reached back to the vendor and the vendor stated that the hotel chooses the rooms. Since I didn't stay, the vendor reached back to the hotel to get a refund. Malinda told their quality team that she offered to change my room for a charge. Firstly, I asked her to this from the beginning just so I could get to my business at hand. She refused. So on top of all of this, she blatantly lied to vendor as she made the same claims of not being able to anything to me and another person trying to help me get someplace to stay. Secondly, a non-smoking room is not an upgrade. IF she had offered this, why would I be charged.
This is the worst case of customer service I have ever experienced in my travels. I thought well of your brand. I was really disappointed that this establishment carries your name with such poor customer care.

Gina Love
from Modesto, CA
To summarize, we were sexually harassed, were called the b word and almost got physically assaulted. I reserved a room for 3 people. Aside from the room charges, he asked for cash deposit which we paid. Just because 5 people showed up, the guy at front desk assumed that all 5 were staying and started harassing us. I told him the other 2 live in town and not staying with us, they only came with us cause they know where this place was. He didn't want to hear any explanation, he told us to get out. He said he was the owner of the hotel. He gave us our cash back and he said "get out b*tches and started making sexual gestures with his hands. We had to stand up to this vile man and told him how we felt. Maybe this is how women are treated in his country but he chose the wrong women to degrade. My cousin saw what he was doing with his hand and more words were exchanged. She was so upset about her mother being disrespected, she flicked a couple of pieces of paper on the counter. He came out with a wooden stick and tried to scare my cousin with it. We called the cops, 3 squad cars came, cops said it wasn't the first time they were called to this facility. The guy told the cops that he got scratched by the paper my cousin flicked, yeah right, he probably scratched himself. He said he wouldn't file charges if we weren't. The only reason why we are not filing charges against him is because we live too far away. I checked my bank account and there's a pending charge of $109.99 which I will be disputing if it goes through tomorrow. WORST EXPERIENCE EVER! This is just a summary of this incident, if you want a full account of what happened, let me know, I can email it to you. We would never stay at any of your hotels again. I've also read similar online complaints from other customers.

Stacy Myers
from York, PA
I made a reservation directly thru Wyndham for a weekend visit to NYC. We originally planned to stay on the Jersey side and venture over, as I had explained this to the cs representative. She booked me at a Days Inn, in Ridgefield, NJ. Several days prior to us coming, I called the hotel directly to confirm they offered the shuttle we needed and the accommodations we were looking for. After speaking with a gentlemen at the location, he confirmed they didn't offer a shuttle to the fairy, instead they did to a bus route, then we'd have to take a bus to the train, then the train to the fairy.
So I explained to him that this isn't what we wanted and I would need to find something else more accommodating. He stated that since I booked my original reservation directly thru Wyndham, that I would need to call them to take care of this and help me find a different hotel. So this is what I've done! Upon calling Wyndham customer service, she preceded to give me two other hotel options: 1} Howard Johnson in North Bergen for 84.99 + tax a night and a Super 8 in North Bergen, however they were booked.
As I'm on the phone with the representative I looked at reviews for the same hotel (Howard Johnson) and found that booking.com was offering a cheaper rate. I explained this to the representative and she stated that "she does not see that promotion in her system" so I in turn told her never mind with the reservation, I would take care of it myself. So to my surprise, the amount of $113.84 was charged to my back account. I immediately called Wyndham CS and explained this entire situation to them.
I was told that, "it is Wyndhams rules that I needed to specifically say CANCEL and I DON'T WANT IT doesn't give the representative the authority to cancel. If this is a "rule" for your employees, then your representative should have responded with, "So you'd like to CANCEL? and I would have confirmed with a Yes. The public is not aware or trained on "what terms need to be used" for things to be handled as the customer requests.
I was told to try to calls Days Inn directly to see if they would reimburse these funds. So I did.... And was told by the female manager, that it was never canceled and there is nothing she can do. She told me to call Wyndham CS. I explained to her that I've already spoke to them and they refused me for the reason above and she responded with "they just don't want to take responsibility and I can't reimburse you or the money will be taken directly from my check" which I know to be untrue.
Nonetheless, after speaking to both establishments for several hours back and forth, an email that went unanswered, a call back that was never returned by the CS representative on 12/12 as promised, and still no resolution. My family will never book thru any Wyndham resort again. Word of mouth is the best form of new and returning customers and I guarantee I will make people aware of the customer service I received thru this entire situation! Not once, did I hear anyone offer to help me get resolution.

Pat Sartie
from Bloomington, IL
Booked Wyndham la bella maison for October 28th to 31st. It was a 2 bedroom suite,which was listed and sold to me as a hotel room. After getting into our room, a girl from concierge desk with information about New Orleans and then as if we were Club Wyndham members, we told her we were rewards members, she then invited the 4 of us to have breakfast on Saturday or Sunday, we told her we were not interested in any presentation, she told us that they were not doing that and it would be just a informal gathering. So we told her we would go on Sunday.
When we got there they gave us papers to fill out and then a gentleman came out to get us. When he came out I told him that we did not come here for that and if they wanted to give us a presentation on there vacation condo's then they should have given us a special rate, but after paying $1470.00 for the room I was not about to listen to a presentation that they said was not going to happen.
He said just come in and have breakfast. We told him no and ask for our $20.00 back they had us give them to reserve our place for the breakfast. We were not the only people that refused to stay, plus she said we would get breaks on tours, would give us 1,00 points, and give a gift card of 75.00 to my son, cause he had already book tours. Well none of that happened. Also if this was sold to us as a hotel, no one made up the room and we only go 8 bath towels for the 4 of us. If we used the coffee we could purchase it, this not the case at hotels. If you don't want to do this things don't list it as a hotel.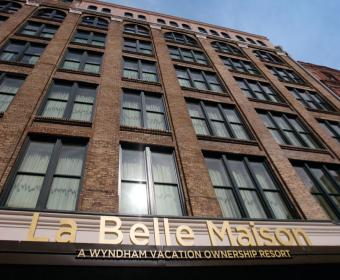 Meladee Brahms
from Corning, IA
Recently stayed at a Wyndham Hotel. I had a hot coffee spilt on my hand going back to my room. Now their saying I may lose some or all the use of my hand. No body seem to care. Was there for 7 days and on the day before we left a housekeeper stops and asked if we need anything. We even had to ask for towels etc....but I'm concerned about my hand. I don't want to have to sue but my hand will never be the same.

Margaret Gillen
from Billings Metropolitan Area, MT
From the look of things Wyndham Hotels is now renting the parking spaces out to dumpy camping trailers. They are located in the parking spaces set aside for guest parking. They have extension cords draped across the upper balcony leading to the camper. The pickup camper is not on a pickup, has a tarp across the top to keep I from leaking and a beware of the dog sign by its door. There is another trailer on the other side as well with tarp and rocks on the top. It is also in a guest parking spot. This is not appropriate for instilling confidence in the safety and quality of Wyndham.
Have feedback for Wyndham Hotels?
Thanks for your feedback!
Sorry. Please try again later!