Wyndham Hotels
Wyndham Hotels Complaints Continued... (Page 4)
440+ reviews added so far. Upset? Call Wyndham Hotels corporate: 1-800-466-1589

I was unable to use a reservation at the Wyndham New Orleans Airport due to a snowstorm at the Denver airport and called the night before to cancel the reservation. Although I understood that the reservation was non refundable within 48 hours the management understood my issue and allowed a refund. I was informed that it would take about a week to show up on my Visa. I was thankful for their understanding.
It has now been four weeks since the conversation and I have reached out to the hotel and customer service multiple times. I have called the hotel ten times and customer care service three times. I have sent emails to the management and was informed by customer care service that I would receive an answer within 48 hours on May 2. As of May 6, I have yet to hear back from them.
Frustration does not begin to cover how I feel.

I have just returned from a 6 night stay at Wyndham Grand Orlando Resort Bonnet Creek. I am absolutely disgusted with the sneaky way your Hotel does business. From charges not disclosed when checking in, to a free upgrade that we were suppose to receive that we are now being charged for, outrageous resort fees for services not used, and either none or awful housekeeping for half our stay. We were lied to about the gift we were receiving to do a 90 minute timeshare tour that actually took 5 hours. I have never had such terrible customer service or been lied to by so many ever at any other hotel I've ever stayed at in the past. I am hoping to be contacted by someone in corporate to try to resolve this situation and make good on what has turned into an absolute horrible experience.

Jeffrey Korp
from Grove City, OH
My wife and I plan trips months in advanced to refresh ourselves .I'm a home health nurse and she's a stay at home who takes care of our autistic /adhd child .These trips are to refresh us .we never have a problem at any of the other Wyndham hotels we've stayed at . It was a good stay until my wife had woke up and saw a bed bug on her pillow .we've shown a picture to the manager??? Assistant manager??? Someone who was acting like a manger but didn't have a name tag on . And he said it's just a water bug no big deal . As a nurse I've seen many bed bugs to know that this definitely was one and for an acting manager to blow it off as no big deal has left us leaving disgusted.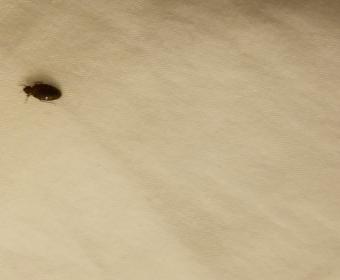 Timoll Arnold
from Houston, TX
At the location in San Antonio on 281 highway.i withdrawing from my training.This place is so unprofessional he needs to be shut down

Bonnie Bryan
from El Paso, TX
My husband & I stayed at your super 8 in Chandler AZ. We had to change our room twice. The first room was filled with paint & work supplies. In the second room I found a black bra when I pulled back the covers. When we got to the third room I had to dust everything
With a washcloth. The floors turned my socks black & the sheets had holes in them. Needless to say I sprayed the entire room with Lysol. A couple who checked in across the hall from u s found water on the floor. When I checked out I was told the bra was probably in the sheets. How can you miss a large black bra on white sheets. When I told them about the dust they just said they'd tell housekeeping. We've stayed at other super 8's before with no complaints. Had we not been charged when we made the reservations we would have left. We spent two nights there. I'd be ashamed to have them as part of Wyndham.
Thank you
Bonnie Bryan

Dana Roark
from Dallas, TX
We checked out of days inn at Batavia, Ohio. This was undoubtedly the worst experience I've ever had at a Wyndham hotel. The room was recently renovated and some dangerous things that I have photo's of was present in the room but the main reason I've contacted you, is the accusation that we smoked in the room and charged my credit card 150.00. This is unacceptable. I argued with them over and over. They made a claim against me that was untrue and claim to have photos of ashes but if there were ashes in the window sill, it certainly was NOT us. I think this is wrong to charge someone's card and I have no way to even prove that no one smoked in that room. I do not smoke at all and never have. My husband smokes but went to the parking lot every time he smoked. I am going to attach some photos of the things in the room that was terrible and I am so disappointed in Wyndham for having this policy to charge a card without any evidence. If they have a pic then they planted the ashes there and took the picture. When we arrived the refrigerator didn't work and the self declared manager had her husband who is not an employee, replace the refrigerator. He was also hanging out and working every shift that she worked. The last complaint in the reviews was the exact same problem we had where they accused her family of smoking too. The pics I am sending are the jacuzzi controls that had bare wires covered with masking tape and filthy. The bathroom photos show holes in wall and ceiling. As well as holes around light fixtures and on the on the wall. The dirty floor behind the door in the bathroom. Also no privacy curtains on door to the balcony overlooking the pool where everyone could see into our room. There were nails in the wall sticking out that could seriously injure someone. I want my money back. This 150 dollars for an accusation with literally no way to prove out innocence is ridiculous. I am a gold member who exclusively stays at Wyndham hotels and I feel so disappointed and let down right now. I plan our hotel stays and save so we can get away and I can't afford an extra 150. This is just so ridiculous, I promise you that absolutely NO ONE smoked in that room during our stay.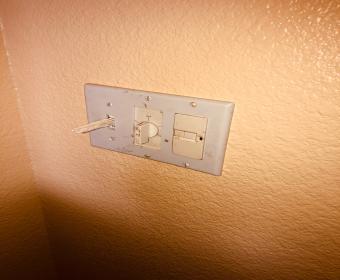 David and Shirley Cutliff
from Jacksonville, FL
Room # 111 -4/26/19 4/29/19 / Confirmation # 3248825214 / La Quinta Inn & Suites Brunswick / 165 Warren 1st
1st let me say that we love staying at La Quinta and have always had a good experience until now. Our room was very clean and good service, but
we started noticing bites on us the 2nd night and by the time we left had a lot more. I had our Beagle treated as we always do for fleas so we knew that we didn't bring anything in with us. I called the Manager once we got home because we now are covered with bites. We keep missing each
other, so I thought I would just email this to corporate.I have had to go and buy stuff to treat our home and washed all clothes in hot water in case it was bed bugs I went to the Dr and he said they are either bed bug bites or body lice !I did leave a couple of messages for the front desk to let the Manager know my concerns so they could have the room inspected/treated for the next occupants. I feel we should be compensated for our inconvenience of all of this and have attached pictures to show the bites. Please let me know what you feel is fair, as we have always received good customer service and want to continue to stay at Wyndham hotels in the future. Shirley and David Cutliff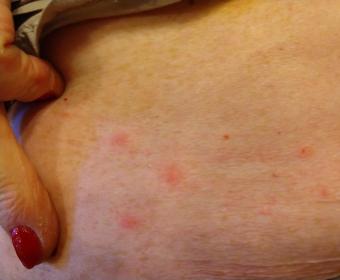 Timothy Hoffman
from Prescott, AZ
If there was a "0" stars - the Days Inn (Wyndham brand) Hotel in Prescott, AZ would rate zero or somewhere far below. Our lengthy drive of several hours took us to where we had reserved a room at this Days Inn for the night. I am a "Blue" level rewards member (lowest level). We were tired from the drive and arrived at the hotel just over an hour before the official check-in time of 3:00PM. Upon entering the lobby - we asked about check-in and were told crisply that check-in is at 3PM. When she heard that we had no where to go and would stay in the lobby - the desk clerk proceeded to inform us that "We don't like people waiting in the lobby." For a hospitality operation - this place wants your money but does NOT want YOU. It would really be nice to be welcome at a hotel. What a concept.

I'm standing in line at the Daytona Beach Wyndham resort, i have been in like for over 2 hours to check in where the filthy waiting room is filled with employees standing around talking to each other and only one girl behind the desk checking people in. Multiple people here have waited longer than me and this is my first and last time here, ever. Horrible system, dirty hotel, terrible staff. Do something before you go under

To whom it may concern:
My family stayed in a Wyndham in the French Quarter from March 24-28. My daughter left her bathing suit on the day we left. We noticed within an hour of our departure from the hotel and called through to the front desk and housekeeping. They told us we needed to file our missing item on ilostmystuff.com. I requested that housekeeping immediately check vs using this process because we knew 100% sure that my daughter's suit was hanging in the closet. Regretfully, the hotel would not accommodate our request. I then called daily, leaving message after message. I knew the suit was there. Nobody would call me back. When I finally got somebody from the hotel to respond, they indicated that they couldn't find the suit and would now have to file an "investigation" with hotel security. I know that either somebody from the hotel stole the suit, or they hotel just took too long to follow up with all of my requests (which could have been handled EASILY within the first hour of us leaving the hotel and saved me all of this work). I then emailed headquarters, called the person handling the "investigation", asked to be put through to the hotel manager (who also never called me back). The past couple of weeks I have just requested to simply be reimbursed. I have spent HOURS trying to get back a $60 bathing suit. We paid a lot of money to stay at the hotel and expect a certain level of service. I complied with the hotel policy of using ileftmystuff.com and clearly it did not work in my favor. I offered to pay the shipping on the suit to get it back. At this point, I have left reviews on various websites. I am not sure why this is so hard to resolve. I would just like to be compensated for the hotels lack of followthrough.
Julie Salski
1342 Kettering Rd
Mundelein, IL 60060
(847)652-7924

Matthew Kovalchick
from Trenton, MI
If you type in worst hotels DETROIT metro airport up pops Wyndham. The hotel lives up to these reviews. Bottom line DO NOT STAY THERE

James Rabbitt
from Montgomery, TX
I am a loyal La Quinta customer. Wyndham has destroyed everything customers love about La Quinta within a few months of taking them over. You now charge fees at almost all locations for pets, their reservation people are now all foreigners that are difficult to understand and in general "don't have a clue", you changed the cancellation policy from 6pm on the day of arrival to 24hrs in advance, you did away with the Rewards program for a not as lucrative Wyndham program. What are you fiendish people planning to do next? When I stay at La Quinta I hear many customers commenting how Wyndham is terrible for what they have done. The La Quinta employees at the hotels are inundated with complaints. I will never stay at a Wyndham, and I have already started exploring other options other La Quinta. The Wyndham management that put these ridiculous changes in place should be terminated, especially the fool that changed the pet policy. You totally underestimated the loyalty that program brought to La Quinta. When sales drop, look internally for the cause.

Vincent Ouellette
from Nashua, NH
Let me explain, my wife and I decided to take our 3 boys to Disney world Florida. We called Wyndham back in February to book a room, bought park passes back home which cost over 3,000.00, rented a van which cost over 800.00. We arrived Saturday 4/20/19 at Wyndham Cypress Palms and stayed until 4/25/19. Our plans were to visit Disney world first on Sunday morning, however at our arrival we were offered Blue Man Group tickets at a great discount if we went to a seminar for one hour between 8:00 and 9:00AM, we thought that works because the park opens at 10:00 anyway so why not. After the boxed breakfast and the introduction we were taken into a more private area and was discussing our current timeshare which we purchased on 6/1/18 at Myrtle beach. During the course of our conversation it was explained to us that our current timeshare was characterized as silver with 400,000 points, however we currently own 126,000 points and back in 2018 when purchasing our original timeshare it was my understanding that that's what we are purchasing. After sitting down with the representatives for Wyndham in Florida there was some confusion as to what we originally purchased. A man came into the room and pointed out the difference from our original points purchased and the 400,000 points to be silver. This became very confusing for me and I was led to believe I would have to purchase the remaining points to bring us to the 400,000 points and silver. I was very confused with their fast talk if you would and honestly thought I had to purchase the additional points, may I add a one hour meeting turned into almost 4 hours and myself my wife and 3 boys with us were very ambitious to get to the park, we were getting somewhat rushed do to our complaining and voicing our desire to be at the park already. Somehow we were coaxed into believing we would of had to buy these points anyway so we went through the process and even in the final steps we were stressing that this is not what we planned to be sitting in there office signing these papers, we really wanted to start our vacation at the parks so we were kind of rushing through this as well. The final paperwork was done by a gentleman which I forget his name but do remember he said he was retired from the military after shrapnel wounds to his head. After him hearing my wife and I talking about our disappointment of still being there and not in the park yet he told us almost done. When we got back home I looked at my original purchase and there was nothing there about the requirement of having to buy the remaining points before December 2018. Meghan was the one who made us believe we were required to buy the additional points by December 2018, there was a mix up with a piece of mail she claimed we should of got but we did not. She told us she was our contact if we need anything however with trying to contact her she never even replied. We text, we called, left messages, no reply. my wife and I looked at new contract and decided to cancel our contract. We wrote a letter to Account Services Operations- Rescission Dept on 4/26/19 and mailed it priority on the 27th and was supposed to arrive on Monday 4/29/19.
My wife and I still want to cancel the new contract # 00021-1900286 and want to keep our original contract #00028-1813105. If this letter reached you in error I ask that you please forward it to
Corporate, CEO Michael D. Brown of Wyndham.
Thank you,
Vincent and Prisca Ouellette.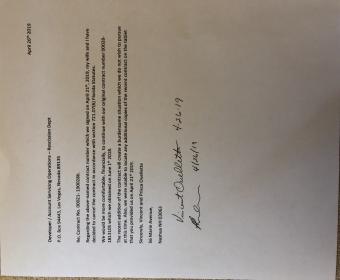 Lennie Rivera
from Concord, NC
I used my personal credit card to hold a room for a conference for the American Police Canine Association. The manager assureds me that all charges were charged me. My credit card statement I was charged in the amount of $109.61 on April 16, 2019 at Wingate Concord Mills location. The conference was on April 14, 2091 to April 17, 2019. I have called the hotel again that I was still charged. This issue needs to be corrected ASAP. thank you

Carolyn & Michele Boudreaux
from New Iberia, LA
I've plunged toilet and no one has come yet ! I was told when I booked we would have access to a pool..why lie? pool is locked ..make known on your page when pool is to open..very upset! had to go get towels all but 1 time ben here a week..they always say room had lock ..no we open door and most of the day it's propped open! or they say do not disturb sign on door there isn't even a sign in this room...my husband is on 2 medical machines and we can't move ..e waiting on our place to be ready! a/c had to be frozen called for maintenance still no one so we left it off a day and it's kind of cool! was told about that they had a floor fan I said please bring it ..no I had to go get it..the staff is so nice it's hard to complain but this was suppose to be a break for me and I've worked harder than at home! and the pool was my 1st question when booked! I'll stop here.and see what you plan to do ..if you want a few pictures I have..make our next week easier .thanks

Carrie Hurst
from Bellevue, WA
I have been staying in 2 separate hotels of your, the first being Baymont by Wyndham which I have zero complaints about. I stayed there 3 days and moved today to the Microtel by Wyndham bc Baymont was a little expensive at $95 a night. Microtel isn't far behind at $65 and if I had known I would have paid the extra $30! I was shocked upon arrival of my room how outdated, nasty, unkept and a tad creepy it was. Not only does the bathroom light constantly flicker but there are stains all over the pillow cases and bed spread, outlets that don't let you plug anything in, disgusting ac unit, holes in the wall, hair and dirt in the bathtub AND my favorite so far as I was sitting on the bed trying to enjoy a snack in all the nastiness a baby cockroach crawled right up on the bed to see if I would share my food. Unfortunately for him I wouldn't and made his already short life even shorter by killing him and leaving him to float in the already stained uncleaned toilet! I have proof of all of this and I want my money back bc this is ridiculous! Whoever allows this creepy nasty excuse for a hotel open should be ashamed of themselves. Seriously I feel like I'm in the shining walking through the scary halls. And who TAPES the numbers on the doors these days?!?! TAPES with paper tape. This is the worst place I've ever been to in my life and I have been to some pretty crazy places. This is not even worth a $30 a night charge. If I don't get reimbursed I'm going to raise mortal hell and make sure everyone knows what I've dealt with this evening and what I wasted money wise. I have way more pictures and videos it won't let me upload but I'd be glad to email or maybe even post to Facebook.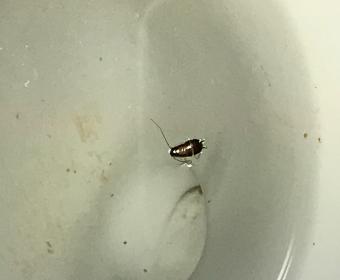 Esther Carrick
from Colorado Springs, CO
Hello. ..Use to be able to count on your name/reputation for quality however stayed in Sacramento last month for s funeral and the Hampton Wyndham West was the worst experience. It was completely run down. .. literally broken items and filthy. Was nextdoor to a truck stop. Anyway, just may need to look into this place which displays your name. Don't want a refund but what a mess this place was.

My husband and I stayed for a get away weekend - first the information available regarding your room on the site was misleading and incorrect when we checked in it was pleasant introduction and it went down hill from there, the first room they put us in was on the "water side" supposedly with the balcony that was booked and then confirmed by the front desk who checked us in and when we arrived at the room ...it was not a king suite with a balcony on the water... it was large room with a window overlooking a canal. No balcony !! it was apparent the new staff at your front desk was his second day on the job, they offered to switch our rooms but stated that they had only queen rooms with balconies available, I was hopeful until we got to the room to find out not only was the bathroom dirty with a large wad of hair still in the shower but our balcony over looked main highway road - Seriously !!. It was late and we were tired and was then awoken to a busy street first thing - not a good way to start the day !! We then decided that we would cancel the second night and moved to a hotel with a true view, we informed the front desk and with the a promise of water side balcony room we agreed and was hopeful until we got to the room and not only was a much smaller and less quality room it overlooked the pool deck ...... so needless to say we were even more dissatisfied. So three rooms in two days, misleading information, incorrect information from multi staff and breakfast selection that had a lot to be desired. After spending over $600.00 + just on our room, upon our return home I reached out to the GM to discuss it took about 4 calls and messages to track her down and after explaining our less than favorable experience I was told she would offer a discount but could not reference what she would be able to do, I then received an email yesterday and no follow up phone call as promised with a measly 20% discount on the room situation.... Coming from working in the hospitality industry for over 8 year on operations and starts up I am appalled at the continued frustration at the level of quality lacking in your hotel that we resided. With this I am requesting a full refund for the stay. Please feel free to contact me at 850-321-0501 Sharla

Submitting again with correct email address: falah.syed1@gmail.com
Microtel Inn & Suites by Wyndham Clarion, reservation for 5 days (Sun Apr 14, to Fri Apr 19, 2019), prepaid through Priceline.com, I could not check in on 14th due to bad weather. When I arrived on 15th Apr to check in, I was told that my reservation was sold to someone else and I didn't get the refund either. However, I had no choice but to make another reservation for 15th to 19th Apr, which I prepaid again through Priceline.com. The management told me to contact Priceline for refund, when I contact them, they said the payment has already been made to Microtel. When Priceline tried multiple times for the refund from Microtel, the management has refused to refund the rent for 4 days. Can someone please look into this matter and make a fair settlement, since I am a student and a regular Microtel customer.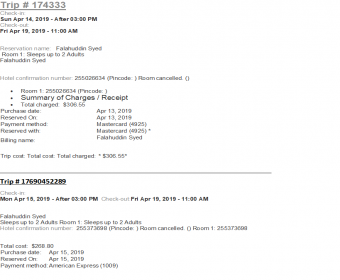 Microtel Inn & Suites by Wyndham Clarion, reservation for 5 days (Sun Apr 14, to Fri Apr 19, 2019), prepaid through Priceline.com (Trip #17433313340). I could not check in on 14th due to bad weather. When arrived on 15th Apr to check in, I was told that my reservation was sold to someone else and I didn't get the refund either. However, I had no choice but to make another reservation for 15th to 19th Apr, which I prepaid again through Priceline.com (Trip # 17690452289). The management told me to contact Priceline for refund, when I contacted them, they said the payment has already been made to Microtel. When Priceline tried multiple times for the refund from Microtel, the management has refused to refund the rent for 4 days. Can someone please look into this matter and make a fair settlement, since I am a student and a regular Microtel customer.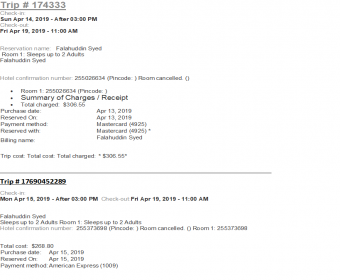 Hampton Inn and Suites Birmingham airport area 950 Old Grants Mill Road. Hilton member# 169898232 BLUE
My wife and I planned this weekend for my handicapped son to fly in to watch the Talladega race. We arrived Friday evening..entered the room and immediately spotted a soda pop can top on the floor between the two beds. (Something that should have been caught by vacuuming) On Saturday we were out the door by 8:30 am to pick up my son at the airport and head over to the track for the day. Upon arriving back to the hotel at 2:30 pm my room was still not attended to by housekeeping. At 8 pm I called the front desk to inquire about clean towels letting them know my room was never cleaned. They sent up fresh towels. On Sunday we left the hotel before 9 am (saw no housekeeping on our floor at this time) Came back to the room at 8:30 pm and again: no housekeeping was done. I called down to front desk again and asked for toiletries so we could shower for the 3rd day. During shower time the hair dryer in the room burned out while my wife was using it. For the amount of almost $180.00 per night... I find this unacceptable. I couldn't believe the poor service I received during my stay; as being a Hilton Honors member we stay at a lot of different locations. I am hoping someone will follow up with the housekeeping at this location and advise

the hotel clerk Uriah H. at wyndham grand pittsburgh will not return ny $100 cash incidental hold very unprofessional customer service will never stay there again!! contacting corporate offices to file a complaint with the president

charlie Flaugher
from Alvaton, KY
No remote for tv when called desk they were out of remotes and said it happens all the time. Light fixture hanging by wires above bathroom sink, stayed in same room app. 1 yr ago and we reported this at that time. We have called the local fire marshal to address this very dangerous problem since it is obvious the owner doesn.t care. Ceiling was bowing in where roof leaks and is severely damaged. Breakfast was inedible. We thought after paying $168 for a room that should have been $68 we could at least eat breakfast but it was horrible. Biscuits were cold and hard eggs weren't cooked and were raw orange juice wasn't orange (don't know what it was) We had to go elsewhere a buy breakfast. The linens need to be replaced badly!! The owner needs to spend some money to update these rooms to look like the lobby and breakfast room! There was a reason this Days Inn was the only place in Franklin Tn that had any rooms available.

I stayed at your Travelodge by Wyndham in North Phoenix AZ on Friday April, 26 2019. The address is 2735 W. Sweetwater Ave. Bldg A, Phoenix, AZ 85028I was coming in for my Graduation at Grand Canyon Univ. When we (4 of us) got to the motel, we had only 2 towels, NO wash clothes, toilet seat was not tighten down, air conditioner was very loud and made noises all night, hair dryer had no back and my hair got caught in the fan blade, caulk was coming off tube in a large piece, etc.. I called 2 times Friday night for towels and never received them. Saturday morning I went to get towels and again was told that they didn't have any until housekeeping came in at 10 am. My party needed to be ready by 11 am! We had to share towels with each other to get ready. I asked for money back because we had reservations for two nights. When we left, they gave us a card to call for the manager; however, no one answered the phone. We tried 6 times and at different times of the day. It was bad that we stayed at a different hotel on Saturday. This hotel kept my money for Saturday night even when they knew they did not do right by their customers. I have stayed a several of your hotels over the years, but this experience has made me not want to stay at one of your hotels ever again!

I was at the TRYP by Wyndam in Ssn Juan, PR on March 17 and checked out March 18th. On the morning of my checkout they had a fire alarm go off due to a guy vaping in the room. I fell on the stairs and broke a bone in my foot. I have called atleast three times to report this and no one has returned my call. The lady st the front desk and the guy who was vaping thought the alarm going off was funny. I am still in a boot healing from this mishap.

I have currently called the hotel 15+ times, starting March 28, the day we LEFT the hotel. I think it is a disservice that we needed to go through ilostmystuff.com. We lost valuable time and I have invested HOURS in trying to get this suit back. Currently I have been told that is is being investigated. I have been waiting over a month and communication is poor. On April 24 I requested the hotel manager call me back. No phone call was returned. I would just like to be compensated at this point for the $60 bathing suit. We paid a lot of $$$ for our hotel stay and that includes paying for good costumer service.
Julie Salski, 847-652-7924
See prior complain information below:
#Hello Julie,
Thank you for bringing this to our attention. Please know, we truly value our guests and their feedback.
Rest assured, we have shared your experience with the property management and filed a concern on your behalf. Please look forward to hearing from the property management team within one week. Your reference number is 4197497. We will continue to monitor your concern to ensure a proper resolution.
We sincerely appreciate your choice of Wyndham New Orleans for your lodging needs. Thank you for allowing us the opportunity to address your concerns.
Richardson
Customer Care
Wyndham Hotels & Resorts, Inc.
--Original Message--
From: donotreply@wyndham.com
Date: 04/08/2019 11:46 AM
To: internet.customerservice@wyndham.com
Subject: WHG RESERVATIONS
Topic : General contact message
Brand ID : WHG
First Name : Julie
Last Name : Salski
Address 1 : 1342 Kettering Rd.
Address 2 :
City : Mundelein
State / Province : IL
Zip/Postal Code :
Country : US
Contact Phone : 8476527924
Email Address : brodynmickey@att.net
Date of Stay : 3/24/2019
Hotel Name : Wyndham New Orleans French Quarter
Hotel Location or Address : Wyndham New Orleans French Quarter
Your Feedback : Very disappointed in costumer service post our March stay. My daughter left her bathing suit drying in the shower. I contacted the hotel immediately after leaving in order to retrieve the suit, The hotel indicated I needed to fill out a form online. I did so and have contacted the hotel with 8+ times with phone calls. They say that they have the suit and will call me back (they haven't). It is a $60+ suit. I offered to pay shipping.

Christina Heins
from Chicago, IL
Our home burned down and the Red Cross has paid our stay through May 1, 2019.The manager advised us that we had to leave,because someone said that we were smoking in our room.The only smoke smell in our room is what items we were able to retrieve from our home.She also told us who we could and couldn't have for visitors.We know for a fact that she and every single one of her staff sell and partake in opioids.We also know that both Federal and local law enforcement are watching the premises.
The Manager said this to me, "Everybody has their own problems in their own life.i am sick of listening to your sad sob story, your husband tried to burn you up in the fire. The sad part is that YOU DIDN'T DIE!"
Please help us. We have nothing.
Thank you for your time,
Christina
252-289-0708
Message phone

Eddie Haenisch
from Overland Park, KS
Third stop @ Motel 6, Belden, MS. Arrived 5 PM, no desk clerk, waited over 10 minutes - found here outside visiting w/friend. No internet - clerk promised to contact provider & keep us updated.....no follow-up from clerk. Sheets were too small for the bed, could not stay in place. Toilet spontaneously flushed throughout the night. Trash bins full to overflowing - unable to dispose of carry out containers. Appears owner/management is not watching closely.

We booked with Tampa central LaQuinta , when we got there the customer service person didn't get up to greet me with a smile, just asked my last name. Also wanted to charge me incidentals ( I booked thru La Quinta site). I needed up canceling and going to another la Quinta down the road , they did not charge me incidentals or a pet fee. I Will not promote this Hotel . Since it transferred to wyndham it has gone downhill. Bums hang out at ever door. Maybe they live there but it's still uncomfortable.

Checked in at 3pm didn't got the room right away. Got to the room at 645pm bed was not made white stuff on the mirror and bathroom walls dirty dishes and stove. My girlfriend laid down cause she was not feeling well. Front desk offered to Clean the room when I told her about girlfriend laying down so I refused the cleaning I told her to make it up another way and she told me she couldn't. Not very happy with my dirty room.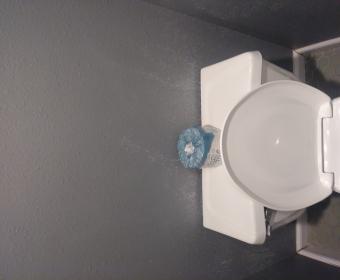 To whom it may concern,
My husband and I made a reservation for 2 rooms through Priceline for the Ramada Inn by Wyndham (located at 260 Chapman Road, Newark, DE, 19702) to attend a family funeral. After making our reservation, we immediately contacted the hotel directly to request that our 2 rooms be adjoined. We explained that we were traveling with my parents and required adjoining rooms due to my father's poor health. He is legally blind and has Lewy Body Dementia. We were instructed to contact the hotel directly 2 days prior to our arrival to ensure that our reservation included 2 adjoining rooms. We followed their instructions and spoke with a hotel representative at the hotel. We explained our situation and reiterated the importance of our request. The woman that we spoke to gave us no indication that the hotel would not be able to fulfill and accommodate our request.
Upon arrival, the front desk clerk informed us that we did not have adjoining rooms. Not only were they not adjoining, they were an unacceptable distance from each other. We attempted to explain our situation and what steps we took in order for secure adjoining rooms prior to arrival without success. The clerk acknowledged that our reservation had a request for adjoining rooms in the comment section but none were available. Had we known that in advance (when we called 2 days prior to arrival as directed), we would have cancelled the reservation immediately. We drove over 400 miles to be told that we would not have the necessary accommodations that we requested, despite following direct instructions given by the hotel itself. The front desk clerk was rude, curt, and lacked compassion. Her lack of customer service was frustrating and uncalled for to say the least. She was unwilling to assist us in seeking an acceptable solution to our situation and her tone of voice was condescending.
After much frustration and discussion without resolve, we were able to speak with a manager. The manager confirmed that no adjoining rooms were available and none were available the day our reservation was placed. Had we been informed of this when we called 2 days prior to arrival, we would have cancelled our reservation at that time. The manager was apologetic but unable to accommodate our request. She was able to move our rooms closer in proximity, across the hall from each other. That was certainly an improvement but still not acceptable.
Because of my father's unstable condition and behavior, we shared keys for both rooms so that we could reach each other in a moment's notice. Therefore we were forced to leave the door unlocked at night. We could not use the lock at the door handle nor the extra swing lock located towards the top of the door. Securing these locks would have prevented entry during the night in the event of an emergency. As you can imagine, this created intense fear and anxiety for my mother and us. Because we were unable to lock the doors, we feared my father would wander out of the room without my mother hearing him. This could have resulted in him falling down 16 steps to the ceramic-tiled lobby or wandering out of the hotel into traffic. These were real and possible scenarios due to his dementia and poor eye sight.
We stayed for 2 nights and left the hotel feeling physically and emotionally exhausted. This was due to lack of sleep, grief and persistent concerns for my father's safety and well being. We were absolutely unprepared to drive 400+ miles home after 2 nights in this hotel. Lack of adequate rest created unnecessary stress. That coupled with severe weather made for a frightening and terrifying trip. This was so unfortunate and could have been prevented! I promise that this hotel will encounter customers with disabilities in the future. It is my hope that this hotel be more proactive in sensitive in serving a customer base with disabilities. It is my request that Ramada provide their hotel employees with hospitality education. And lastly, it is my prayer that future travelers will not have to endure what we have during a family crisis.

CC. Microtel Inn and Suites, West Chester, Pennsylvania
I recently stayed at the above hotel 11-14th of April 2019. Upon arrival the Front Desk attendant (male) was extremely rude, upon entering the room 308 I found feces on the toilet seat I reported this to the Front Desk with no results. The bathtub drain was clogged at this point with no response from the hotel I purchased cleaning material and gloves and cleaned the tub drain of a large amount of hair which was stopping it up. The next morning we found out that there was no Continental breakfast although this is stated when booked. During the my husband repeatedly talked to the Front attendant who was extremely rude and did not address the problem. On Saturday we left at 9:00 am to go to a horse show which we were down for and returned at 7:00pm to find the room had not been cleaned . Again he went to the Front Desk and complained and again the attendant was rude and stated that the maid was coming in a little while. At this point I wanted to shower and go to bed as I had a long day at the horse show. My husband again went down to the Front Desk and he passed the Cleaning people and asked for some towels and told them not to come to the room at this late hour as my wife was showering. This went on deaf ears as they used their key and were entering the room as I was showering. My husband quickly got them out of the room as it would have been extremely embarrassing. Altogether our group rented 3 rooms. When other members of our group were at the Front Desk they proceeded to try to justify the cleaning incident lying again and stating that the room could not be cleaned because people were in it at which point they were told that indeed we were with them all day so this was not true and that they should apologize to us for the poor treatment. The attendant just made excuses. Wyndom Hotels has always personified a dependable good hotel, this was a disgrace to the name. I believe we are owed a refund for this miserable stay and the staff need retraining on cleaning and customer service.Charles and Alicia Coviello 8 Garden Street, Seymour Conn. 06483, 203-558-2363

My mother, Edna Stuckless is 70 years old and Deaf. She is coming to Houghton, MI today (April 26) for her granddaughter's wedding shower this weekend. When making her reservation, she thought she was on your direct site and made a reservation (accidentally for two nights instead of one). When I looked over her paperwork, I realized that she had made it two nights instead of one, so I face-timed her to and told her to call to change her reservation. When she got somewhere where should make a video relay call (as a Deaf person she requires to make the call through an interpreter and needed to get to a video phone at a home to do this.) the hotel told her she must call Expedia. This call was made just after 4 pm yesterday. She called Expedia and asked for a change.
She cannot drive the 9 hours back to Detroit in one stretch, so she needed to cancel Saturday in Houghton and find something midway home along I 75 in Michigan. (Mackinaw City). Expedia said they had to call Wyndham and she received a message this morning that they are not willing to make the change. I appreciate the bookings through Expedia and what that creates, but I wish your hotel was more mindful of the age and disabilty of this customer who is on a fixed income and just looking to move locations. She's not asking to not stay, but only for one night.
The wedding will be in Houghton in the fall, and it is unlikely that we will stay at your hotel based on this experience.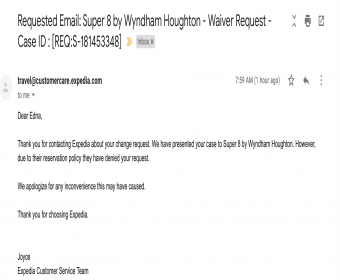 There was bed bugs al n my bed i killed one took it to the front desk and he said ok and what you want me to do about it ive been getting chowed alive for 3 days now

I always thought Wyndham was a high quality brand. This Howard Johnson in Dothan is really in need of major renovation. The room is reasonably priced but is really nasty and grubby although it looks like some improvements have been made. Staff were nice but would never stay again. Icky!!!nasty. Smoke smell in mon smoking. Never again! Check it out!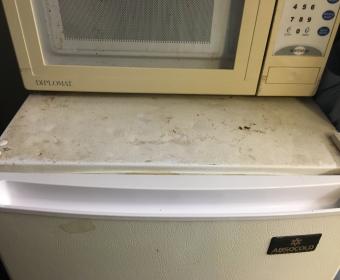 So disgusted that Wyndham bought La Quinta. I love La Quinta, they are clean, staff is courteous, dog stay free and the rewards program was good. Now you're charged $20 a night per dog, the rewards program sucks.
Thanks to your new computer program the employees are confused and my card was over charged by $850! I'm supposedly getting out back tomorrow.... I had better.
I avoid Wyndham hotels in general, days inn are some of the dirtiest and most awful hotels I've stay in. I request La Quinta whenever possible, then my second choice is a choice hotel or Best Western. I never request Wyndham.
They are ruining my favorite hotel chain. I've seen many complaints especially from dog show people that LQ' s are going to lose their business.
Maybe once Wyndham has enough complaints and loss of revenue they'll let LQ' s run themselves like they use to. If they are stupid they will continue on this course and destroy the chain.

I stood at the Wyndham on Bonita beach road a few weeks ago. I stay there all the time and it's always nice and clean. Last time I went their wasn't a sheet on one of the beds which also had a blood stain on it. And on the other bed the pillow also had a blood stain on it. I went to the front desk and explained that I stay there all the time and how the room was dirty. I told her my guest refused to stay there. She called the owner/boss and said she could change the sheets and said I couldn't get a refund. I asked her being polite if she could just give me credit for a room next time being that I stay their a lot. The answer was no. Don't seem to understand why they treat everyone like they will never see them again. I stay their at least twice a month. I've attached pictures. Thank you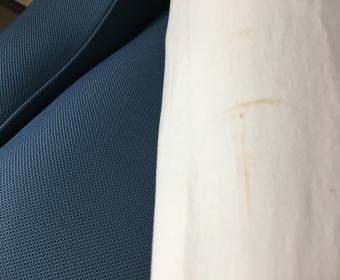 I recently booked a room via 3rd party (Expedia) at the Days Inn & Suites located in Cherry Hill, NJ. Unfortunately, when I booked the room, I mistakenly made the reservation for day I booked the room instead of the date that I really needed, which is August 1, 2019. I didn't notice the mistake until slightly after the 24 hour period had passed to cancel or make changes. I was deemed a "no show" and my funds were taken.
I contacted the 3rd party (Expedia) immediately after discovering the mistake. They in-turn contacted the hotel to advocate on my behalf. To no avail, the hotel management denied my request to switch the date from April 22, 2019 to August 1, 2019. Although it was clear that I had made a mistake in booking, the hotel felt it was more important to redeem the funds as opposed to providing a great customer experience and maintaining a great relationship with me as a consumer. This is VERY unfortunate. Not only did the hotel lose a customer, the Wyndham family of hotels have now lost a customer. I refuse to bring business directly or indirectly to this chain if THIS is how hard working, loyal consumers are treated.
Respectfully,
Patrick R. Amos Sr.
"Highly Disappointed Consumer"

David Clack
from Victoria, BC
I am a La Quinta Gold Rewards customer.
When I called Wyndham they said you should have replied to our email about the merger. I looked all over my email and could not find one.
I am a gold member and have points outstanding. My La Quinta customer number is P067611699. My name is David Clack, 1002-708 Burdett Ave, Victoria, BC, Canada, V8W0A8.

The room I was in was nasty. Smelled.odor. I stayed 10 mins and went back to check in and gave the receptionist the key back.

I was reading over some of the other complaints and just wanted to add another to the list. This company is using predatory lending techniques to basically over sale their timeshare. The company made everything sound so great at the presentation we attended in January 2019 and we were talked to by 4 different people to try to get us to sign up. The time that we were there extended the 90 minutes- it was 4 hours- reluctantly we purchased and immediately regretted the decision. In January I called to cancel our contract based on the fact that when I wanted to schedule our first "Get-A-Way" I was told that the room stay would be $875.00 in Florida- I was frustrated and furious- the presentation promised rooms for AT MOST $99 a night with smaller rooms at $69. Needless to say that we were giving the classic run-around every time we called. Ironically, NONE of our calls were noted in the computer and no recordings were made of any of our calls, I know this because the next call we made or that they made to us for payment, the person stated I have no record of that call. Today they called and I spoke to Linda and then Rueben- Linda acted like she did understand what I was even saying, she transferred me to Owner Care, were I talked to Rueben- which was not understanding in the least- he said I had 7 days to cancel and that window closed in January. He was not interested in the fact that I have written the CEO of the company weekly every since I received his name and address. I am one dissatisfied person and will never stay at any resort that bares the name Wyndham- and I am taking them to court to receive financial compensation of drawing money out after I was supposed to be cancelled. Now, I will complain daily on this site to inform anyone and everyone about the fraudulent claims made by this corporation.

MTL 28335 Annoni 4184306 [#1213044] This is my file number from the 17 emails I have had going back and forth with your customer care department. If you can trace back these emails you will see that I have not had a resolution.

This hotel was as unsafe as it could possibly be. Planned a weekend getaway and I was severely disappointed in this property. The key card entries were all broken so the doors were either left open or the entryway wasn't accessible at all. My husband was forced to walk all the way around the building at night because the woman working the desk wouldn't let him in and the key card entry was broken. The smoke detector in our room was wrapped in plastic wrap. The election mix boxes for the secure card systems were basically ripped out of the wall I will never stay at this property again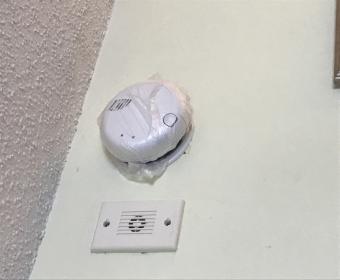 jeff holmberg
from Shakopee, MN
Shakopee Mn. Fights, drugs, my life threatened!! Management weak, scared of the live in junkies who work/sell drugs there. This place is the worst hotel experience of my life

I AM BEING CHARGED FOR ROOMS AND SERVICES NOT RENDERED. I AM PAYING FOR WEEKS OF STAY THE WYNDHAM HOTELS AND THEN BEING DENIED SERVICESAND LOCKED OF THE ROOM ,KEYS NOT WORKING ,STAFF NOT HAVING KNOWLEDE OF MY STAY BEING DENIED RENTRY EVEN AFTER SUPPLY OF ITERNARY NUMBER MAKING CLAIMS OF ME STAYING AND CHARGED FOR VACATION PACAGES THAT I DID NOT AGREE TO STOLEN GUN FROM THE PROPERTY. ON 4/17/2019 I HAD OUTPAITENT SURGEY ON MY KNEE. I RETURNED TO MY ALREADY CHARGED ROOM FOR 4 NIGHTS, TO ONLY BE DENIED ACCESS TO MY ROOM ,KEY DIDNT WORK AND THE FRONT DESK CLERK SAID EXPEDIA HAD NOT PAID FOR MY STAY AND THAT COULD NOT LET ME INN UNTIL SHE RESOLVED THIS WITH EXPEDIA I SHOWED HER A COPY OF EMAIL TO NO EVAIL I SAT IN PAIN IN THE LOBBY UNTIL SHE CONTACTED SOMEONE ON THE PHONE. THE PURPOSE WAS TO HAVE SOME WHERE COMFORTABLE TO REST. MY HOUSE HAS MOLD SO ME AND MY CHILDREN ARE ALREADY STRESS AND DISPLACED DUE TO MOLD. I HAVE ENDURED COUNTLESS LOSSES AND CANT TAKE ANYMORE . I HAVE RECENTLY FILE POLICE REPORTS FOR FRAUD/SWINDLE AND STOLEN PROPERTY THO I ENJOY THE ROOM STYLE OF THE SUITES AND THE COVIENCE THATWYNDHAM WY PROVIDE TO ACCESS TO MY KIDS SCHOOL AND MY FIANCE JOB. I WILL NOT BE OVERCHARGED/OR A VICTIM OF THEFT, I AM REQUESTING A REFUND FROM THE LAQUINTA HOTEL IN UNION CITY WHERE MY GUN WAS STOLEN, 7425540327649 REFUND FOR THE FOUR NIGHT PREPAID FOR MY SURGERY NOT HONERED, CONFIRMATION 85281EC017808AN REFUND 199 CHARGE FOR VACATION ACCT #46997580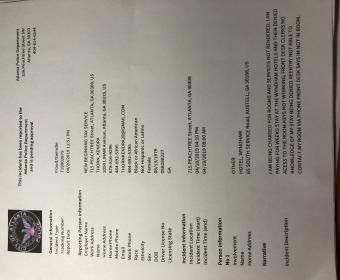 Very disappointed. The whole experience was negative. We were told no pressure...wrong. We were promised a breakfast....wrong. The initial staff were poorly dressed and overbearing. The actual presentation was to long. The rooms shown were nice. However the biggest turn off were the sheer number of people looking. I felt sorry for the people who actually vacationed at this location. Having to wait for elevators, then overcrowding the elevators was to much to bear. I have a medical condition and need to walk with a cane and I was pushed up against the wall of the elevator and couldn't move. It was hot and the staff didn't seem to care. If you want to impress and make sales the first impression is important. Sloppiness is not a good look.

Checked in at LaQuinta by Wyndham,6805 Abercorn St.,Savannah, GA 4/16, checked out 4/18/2019. Went to front desk to get TV remote batteries replaced because TV would not work. Was told there were problems with that TV and we could move to another room. If they knew there were problems why did they rent the room? So changed rooms, toilet would flush sometimes and sometimes not. Rubber toilet plunger was on floor in back of toilet so they knew there was a problem there also. This hotel needs better management and maintenance.

DARLENE P OSWALT
from Leesville, SC
My husband and i stayed at the days inn in kodiak Tennessee. We had reservations from April 12 thru 17. Well every day we would have to go to the lobby and get more towels and wash clothes. They would just leave 1 towel and 1 wash cloth, no soap would be supplied or shampoo. It was supposed to be a nonsmoking room but smelled just like smoke. We got so tried of going to get the supplies ourself that we left a day early, without a refund on that 1 night. When you go on vacation you would think you would able to relax. Instead we were having to go find towels and other stuff that should be supplied. Really a horrible vacation.

Linda Ittner
from Mazatlán, SIN
Made a reservation in March for the 6th of May and needed to change it tot he 7th of May. I was quoted a price of $67.50 the first time and noticed the price had gone up to $74+ daily, even though I was told I would receive a discount being a family member of a patient at St. Joes hospital. (My main reason for choosing this hotel was the closeness) I spoke with Tianna, one of the managers, who was rude and interrupted every sentence I had. She refused to explain why the price hike and would not look at the first confirmation number. I was told I would have to find it and then they would honor it. I had all the information but did not have it left on my computer. She refused to listen to any of my concerns, my frustrations, I told her I just wanted to be heard and asked to speak to some one else. She informed me she was one of two managers and then I asked for her name. She gave it to me with a request for her to spell it and she ended the conversation. I called customer services and spoke with Robert and explained the situation. He will contact general manager and get back to me. I realize I am just one person out of many, maybe that's why they rate a 1 for customer satisfaction. We will see where this goes. At this point, I will look for another hotel to stay at. Unfortunately, most all of them are owned by Wyndham nd who really cares about my complaint?

K Jochen
from Yonkers, NY
Very dissappointed in your new pet policy at La Quinta Hotels that Wyndham recently took over. Used to stay at La Quinta all of the time when traveling with dogs, because pets were free. As far as I am concerned you are no longer "pet friendly". I believe you should seriously rethink this policy.
Have feedback for Wyndham Hotels?
Thanks for your feedback!
Sorry. Please try again later!