Toyota
Toyota Complaints Continued... (Page 3)
307+ reviews added so far. Upset? Call Toyota corporate: 1-800-331-4331

I went to Durant Toyota in Weatherford Texas to buy a new vehicle, preferably a Toyota Highlander, Tacoma, or Tundra 4WD. I traded my 2006 Nissan Xterra SE and put down $4500.00 to cover negative equity. The would not finance me th Highlander and said the only SUV I could get would be the Rav 4. After being at the dealership for a better part of my day (6+ hours), They told me I could not get into the Highlander and suggested the Rav 4. I was getting tired and wanted to get a vehicle and thought that the Rav 4 would suit my needs for mileage and space. I was never offered to look at the Tacoma 4WD or Tundra 4WD, so I ended up with a vehicle that in essence I did not really want.
After driving it for a month I determined that this was not the vehicle for me due to space constraints, power, and mileage due to a small fuel tank. I have been trying to get out of this Rav 4 Sport and have not been getting anywhere with the dealership in letting me turn this vehicle in and finance a Tundra or Toacoma instead. I absolutely hate this vehicle. I can't tow anything with it since it is only a 4 cylinder engine and there is no 4WD either. I hate the way I have been treated by the Durant Toyota Dealership.
I have been handed over to 4 different salesman and they all end up not getting back to me in a timely manner. I have had my credit run through several times. When I told them that I did not want my credit run through multiple times the salesman (Kevin) told me that with my credit score it would not matter. Well it does matter how many times a credit inquiry hits your credit file. I was insulted by his answer, but I was desparate to get out of this vehicle. Please let someone see this and get me a the 4wd vehicle that I wanted in the first place! Durant Toyota is a horrible dealership!

My family has been owners of a 4-Runner, 2 Tundra's, a Tacoma, and 3 Lexus LX's based on the Land Cruiser build. The first LX saved my fathers life in an accident off a cliff. The second LX saved my own flipping into a river. A lesser vehicle and we would not have made it. So....it is with great pain that my loyalty to this company and its affiliates has been destroyed because they won't pay for an $1100 part that has put my life in danger on numerous occasions on the Tacoma.
My issue is I told them the lights would go out under warranty. That there were electical issues. It is documented that is was inspected for. Now two years later they claim the computer chip is damaged. In hindsight, how was that not the obvious solution under warranty? My 4-Runner had a similar issue, where I complained of lack of engine power for years, but they could never find it until the warranty was long gone, meanwhile I drove both faulty cars around in frustration up until I had to pay myself.
As far as I am concerned a completely classless company, and no way to treat a 7 time customer of $30,000-$70,000 vehicles.

This has been ongoing for now 9 months. When I purchased a second hand 2003 Ford Courier ute from Surf Toyota dealership, their second hand car area, it was unknown to me that it was really defective, riddled with rust underneath, purchased from another QLD dealership at a wholesale price of $9,500 a month earlier, and resold to me at $15,000. They put 6 months NSW rego on it getting a blue slip done on it the day before. 6 months later I went to renew the rego but it was knocked back by the RTA due to the worst case of rust they had seen for a car that old (8 years only) I went to a well known car dealership in good faith knowing that things like this wouldn't happen. I was wrong.
Surf Toyota will not reimburse me my $15000 that I paid for it. The car was inspected by an expert who deals with this situation, and I was quoted as atleast $15000 to repair due to it needing a completely new chassis. Another expert stated that if I had come to him to repair he would turn me away due to the extensive rust damage. The car is unrepairable. I have now attended 3 Tribunal hearings but with no result. My next step is to contact a Current Affiar and Today Tonight and get as much media attention and exposure as I can.
I have contacted Head Office Toyota before but all they said was that they could not have any say as Surf Toyota is a privately run business. I am sure when the brand name Toyota is blazed across everyones television screens in Australia you may sit up and pay attention. I am in the right, I have documented proof, photos etc, I am losing hundreds of dollars each week from not have a vehicle to run my registered lawn mowing business here in Tweed Heads.
I can email pictures if you like and inspection statements from experts. The pictures of rust are scary. Please reply and have some positive input as this will not go away. My wife's vehicle is a Toyota Prado and it has served us well, Toyota make great vehicles. It is a shame that Surf Toyota in Tweed South is going to bring your name into a really bad light as it is the main car dealership for the Tweed Shire. You need to get in contact with the manager there asap, Adam HALL. He came up with a limp solution and that was for them to repair it for $3000. This is not acceptable as the car is a rightoff and cannot be re-registered due to the RTA inspection etc.

I have been a long time customer of toyotas and as a whole I have been happy. However, I purchased a toyota corolla 2007 and have had to replace hubcabs several time because of a poor design on the latch holding the hubcap to the wheel. I noticed this is not only me and when I try to go on line to purchase they are all out of stock. This should be addressed and a recall should be done and replace all hubcaps with a new design. I have already spend over 500 dollars and ready to buy another one. Enough Toyota.Stand up and take responsibility for your product.

Good day, I service my 2010 Toyota Fortuner at Durban South Toyota in Isipingo Prospecton, Durban. Since around the second service I complained that my clutch engage position was too low. Since then, I've had a squeeky clutch and the gearbox was removed at first. The problem returned after 2 days. The gearbox was removed again and eventually the clutch pedel bushes were replaced and the squeeky clutch problem was resolved. I was glad after that repair that that my clutch engaged at a more comfortable position- about 1/3 up.
Unfortunately this did not last long. On complaining again, I did not get any feedback and no attempt was made to resolve. Now the problem is getting even worse. On depressing my clutch to the carpet, after travel about 15-20mm the clutch engages. This is very uncomfortable and too low. Is there someone who understands how the settings work and can influence the engage position?

I have a 2009 camry and experienced the same problem. The windows stick and make a popping/tearing sound when opened. There is a black crusty substance along the top edge of the window about 3/8 inches from the top. I scraped it off and it came back. I brought the car to the dealer and they said that this problem is common, just scrape it off. There is no fix. I explained that the material is coming from somewhere and could eventually comprimise the seal.
I expect that lubricating the seal with teflon or silicone will resolve the problem but I would like them to make that call. Using a Q-tip to lubricate the seal and not the window makes sense. I would not recommend grease of any nature since it can attack the rubber compounds.

i have purchase the toyota vios at MAy 2012. the problems come in with driver and passeger door have abnormal sound, bonnet open itself although is lock (release it lock at parking lot) lucky security inform. then at july the car body paint problem with black spots on the bonnet, car ceiling. body rust at the driver side front rear, and the lft hand side tyre.
then after complaint, nothing even no report from the toyota site from malaysia. worse experience. no feedback. they send investigate engineers come inspect but they all blame / push all the problem to my site. of course , i understand the toyota sure dont take the risk and say it they fault, as they are world number 1. why do they want to attend it, and they very care for the reputation. i have my local made malaysia car 7year car. even better than this so called world number 1 toyota with all bad service, just know how to take money from customer.
it have been complaint serveral time about door noise and car bonnet, end up they just repair slightly. it waste my time and my working to wait this stupid service.
today janary 6th, the bonnet even cannot close. sunday all the toyota service centre no people answer call, nobody help. my car bonnet left open. i have compleint the car bonnet third time, the service engineer repair but the problem is the issue still arising. it open the bonnet without car alarm trigger,the car bonnet open any time any where as it like.
i feel ashamed as the world number car seem so worse how they rate it number 1. no secure and sastify with toyota.
please think twice before take any action to buy world number 1 car.

I purchased my 2005 prado from Swan Hill Toyota at 70000km it developed a starting problem . Every time it was serviced i mentioned that it was taking to long to start, at 110000km i was told it had a faulty injector and was out of warranty. I continued to have the car serviced every 10000km but not by toyota, then at about 160000km the starter motor wore out. Kerang toyota supplied me with a new starter motor but it did not fix the starting problem, they performed many tests on the car at it"s 170000km service and felt it was the injecters.
I have now returned the car to have the faulty injecter replaced at about 177000km only to be told they are all faulty and that i now need 6 new injecters at about $1700 . These injecters should have been replaced when the car was still under warranty i am looking for some help from TOYOTA.

I had an automatic loan payment set up with Toyota. I purchased a Honda 3 years later and my Toyota loan was paid off. One day I look at my bank account and even though my Toyota account had been closed over a month, they processed a payment of $380 on top of my Honda payment through my new dealership (so in 1 day I was chanrged just under $800 for car payments.) I contacted Toyota to resolve this and to hopefully just be credited for the mistake. Instead they said it would take 30 to 45 days to recieve the reimbursemnt in the mail because they needed to wait for the funds to clear in the bank and then they were not responsible for how long the postal service took to deliver the mail. So they really wanted me to believe that Toyota/Lexus doesnt have $380 to cover there own mistake and they needed to wait for the funds to clear.
3 out of the 4 people I spoke with were very rude and unhelpful. I asked to speak with any type of manager/supervisor and was told that would not be possible. Very dissapointed in this whole experience with Toyota. The car I had was a lemon, even though it was said to be "Toyota Certified" I had nothing but problems with it and will never purchase through or reccomend Toyota to anyone going forward, which is unfortunate because I had reccomended friends and family and probably made the company another $80,000 on top of the $20,000 they had gotten from me. But as always the "man" always gets away with screwing the consumer and did not have any solution to rectify it.

I have been working on trading a car since the second week of Oct. The deal is not going well because of my credit. At least that is what I was told, after I was told twice I would drive off in a car that same day. I had been told weeks ago that I would have had a car by now, however as of last Sat, Nov3 I had to ask my sister to bring me to Toyota of Westchester. She told me I should get my title back from them until I could work out a deal. They said the office was closed.
I called yesterday, Nov 7, 2012 to go over the following information that I will share with you. After this weekend, my sister said I could share her car until I could save enough to put a better down payment on a car. Originally Sean and David said they would give me $3,500 for the Toyota Corolla 2005 that is located on Westchester Toyota because they appraised it there. I gave my title because I though I was driving out in the other car after the appraisal was done. When I called yesterday, David from finance said that Sean made the decision about buying the car straight out so that I can save and put more money done at a later day. When I spoke to Sean he told me he had to discuss this with David and would call me back in 20 minutes.
They have not called me. At this point I need to know that they will buy the car, because I need to get back to my sister. If they buy the car, then my sister will continue to let me share her car. I would have to bring her to work each day, but this way I could earn more money to put down and possibly get a different car with the trunk space that I need. I understand that price might go down a little, since I am not buying right away, however I am sure that it can be worked out when I come in to buy a used car from you in the next few months. I need to be contacted today, before my sister starts to take more action. I need to be emailed back to let me know how much will be given to me and if this can be finalized Friday, Nov. 9.

I brought my 2005 Lexus Rx330 to the Jacksonville NC service dept in Sept 2010. I had hit a huge pot hole and blew out my 2 passenger side tires and dented the rims. They came and towed it and I asked them to please make sure that their was no damage done to the car. I told them to order the rims, check under the car and orderd 4 new tires. I take my car in every 3 months to have the oil changed and have my tires rotated every 6000 miles. At that time they check the alignment and do my required service.
My car has ALWAYS been okay on the alignment rack! I went back to toyota b/c I noticed that my tires were cupping. It was loud! Toyota said they would give me a free alignmen if I had my cabin filter changed and my air filter, plus my brakes. (even though they didnt need to be changed yet, but would in the future) do this and we will give you a free alignment. I told them that I would check with my husband. I just wanted to know how to get new tires. Sooooo, I got all my paper work showing that I HAVE had all the appropriate work done on my car. Well, now they want to check it on their alignment rack. It was all green, but slightly off by a smidge. I forgot to mention they never did check to see if there was damage back in 2010. They said it would be $1700.00 to fix it.
A new nuckle, hub and shock. Although we dont know if that will fix the problem. They did not know what was wrong, but we will start there. I was not happy. They offered for me to pay $1000.00 for the parts and they would throw in the labor. I needed to check. So I took it to 3 mechanics. Get a camber kit for the rear is what all 3 said. So I told toyota can we start there?
Okay they said. They put on the camber kit and called me to tell me it did not work. They never showed me the alignment paper showing me that it was now WAY worse! They told me to check with my insurance, so I did. Insurance told me to take it to another shop. The other shop adjusted the camber kit that was "adjusted to the fullest extent" by toyota, and fixed it for $56.00. Funny how they could fix it for that price but Toyota wanted $1700.00. I am so absolutly furious at the Jacksonville NC Toyota service dept.
Talk about trying to rip off a customer. Now, because they never checked under my car to see if there was any damage. (and they said they were at fault) for not checking. I need to get 4 new tires! they conviently lost my paperwork, but I had mine. They said the service writer who took in my car in 2010 should have made sure that it was checked. But she didnt. The guy just looked at me like, "your screwed" I did everything I was supposed to, and they will not stand behind me! I have never been so upset with a dealership! I live in a military town and had heard stories like this before.
This is a disgrace! I believe they owe me 4 new tires. Toyota should make this right. I will be sending a copy of this to the Inspector General of Camp Lejeune and to the Better Business Bureau.

I am writing this complaint to Toyota in place of my Cousin Cindy who owns a ...2003 Toyota Sequoia V8... It is about the DOOR HANLDLES on the Car...I was told by a Service man at Toyota to write in this complaint...So far ALL of her handles EXCEPT ONE ...just Crack off and brake as you open the door from the inside. BUT, Also the Handle on the HATCH BACK broke too...she got that one replaced First...She has had then replaced all but 1 (I think).
They are expensive to replace...ANYWAY. I am writing to see if she can BE REIMBURSED for this... PLEASE LET ME KNOW in any kind of way if she can be REIBURSED FOR THIS...The Tech. at Toyota even went so far as to say that he has known of OTHER cars just like hers that this happened too. I will be waiting to hear from you.
I can't believe Toyota would not stand behind a product like this, it really worries me that they would know about a broken hatch problem, but choose not to fix their models like this. If you know any HELP please let me know asap, so I can fix the defects soon.

purchased a 2008 toyota Rav 4 4cyl. . car currently has 45000 miles. started about 8 months ago noticing muffler noise. I have been monitoring since then. Well took car to a muffler house to get a quote to replace muffler. WOW! was I suprised... as well as the muffler house. they were shocked that a car that new with a stainless muffler would need replaced so early. they proceeded to look for a replacement muffler thru there supplier, with no luck. They also mentioned that they could not just replace the muffler but the whole assembley and converter. I guess that was poor engenering to on Toyota's part. This was my 4th toyota but I will now reconsider other options because I expected more from toyota.

Last week took my 2006 Tacoma in for inspection and service, they found a 3" HOLE IN THE FRAME, Passenger side, cost me 127.00 to have it welded to pass inspection. What is being done about the 2006 frames. I had a 1998 Tacoma that was recalled for frame rust, what is to be done or am I victimized by this. I have so far owned 5 Toyota vehicles, will this be the last. ? The dealership has been wondrful (Allegheny Toyota, Franklin, Pennsylvania) but I am questioning the quality for the price ?

I purchased a Camry this summer. I pd. quite abite more so that I could get a GPS in the car. We plan to travel this winter and while practicing using the GPS I have found out that it doesn't use voice direction in rural areas. I took it to the delership and they told me that we are in a rural area and thats the way it is. They would help with updates etc. when and if they come. I have a smart phone and its GPS is light years ahead of the one I have in this car. My old portable Garmin is much better. I was looking forward in using it but I can't trust it they way it is. It also doesnt track on the road properly. (symbol >) I just can't believe that the GPS this day and age can be of this quality. I will not lease another toyota car if this is the quality of the electronics that they use. thanks for listening! K

I have complained about this to two dealerships. I went back to toyota dunning in Ann Arbor and again complained. I think it was the manager who with whom I was speaking ande he explained that it was a pump that cycles after the engine is turned off. I have again taken to stopping owners of the prius model if in fact they have a noise. Yes, but they all tell me it is a soft whirring noise. That is not what I have. It sounds like a rusty gear or rusty metal against metal and it can be quite loud. It is always after the engine is turned off and occas when I start it up or just before. Not sure on that one. The problem with the other sound is that it varies in intensity and I cant figure out the reason, so they dont hear it at the dealership. Someone would have to drive the car for a bit over a period of a few days to hear it. Seems to me a small thing to take it out and replace it. A response would be appreciated. This has been happening since I purchased the car this year.

Dear Toyota, I have a 2004 Toyota 4 Runner V8, sport. In the last 2 yrs, the VSC trac light has come on from time to time and the Engine shut off in the middle of the road and would not come back on, or at other times , the vehicle would not move when throttle was given, I have taken the vehicle for the same compliant at least 6 times and spent almost $2500, and in the last 6 weeks I have taken it to the Toyota service center 3 times and they have not been able to identify the problem as they are not able duplicate the problem. In the mean time my family is put at risk considering the Engine acts in the middle of the road or highway, Please use your good offices to find a solution.

The rear hatch struct blew and does not hold up the door. This happened while in operation and almost hurt a family member. We see that prior models have a recall; however, the 2011 is not covered. This needs to be recalled on the current model as well. It is a safety liability to your customer families. I am glad that our children were not under the hatch when the structs stopped working.

I bought a Toyota car new from Toyota Bury greater Manchester UK. But they sold me the damage right off car one of the sale manager and the sale man I am complaining about. I did not know when I bought the car but when my wife had a accident then we found out the car was damage and sold to me as new once I spoke to Toyota bury but they refusing. Respectfully Dear /Madam I want you to solve my problem.
Or I will be forced in to courts and to the Law to achieve my rights. I request to the Toyota UK high official to solve my ease my pain. respectfully members I will have to go to the media and most respected Law in UK. My car reg MA08 HSZ Toyota Yaris.

Last time ( 4th time ) I went to toyota service centre, kolkata on 10th february, 2013. As per their statement brake drum spring changed. However no improvement occured. self as well as your service people wasted our valuable time. Since the defect couldnot be rectified, I donot know where I stand. I am also reluctant to to visit your your service centre for the same problem. Please advice.

To Whom it may concern,
In November 2012 i bought a 2011 SR5 hilux in Melbourne. The vechile is now in Sydney, and two months ago i noticed that the struts supporting the hard lid, had popped out of the tub they were screwed into. I took the vechile to a toyota dealership in Sydney, they inspected the lid and sent me down to there pre-delilvery deparment to have it quoted up for repairs. The dealership where the vechile came from are doing everything to avoid fixing my hilux. I have supporting emails from toyota sydney, who have helped out big time, but Garymcmillans toyota in melbourne are not getting anything done. i.e they need to supply a Order number to sydney toyota so the repairs get paid for. I Still havent heard from the melbourne dealership and as a result, i cannot keep my tools in the back as i cannot lock the lid, and this is effecting my work.

I bought a Toyota Camry in 2007. After driven 60000km, my engine oil light starts flash after change engine oil and just drive 5000Km during I use brake. I went to Toyota to ask a test, it is said the normal engine oil consumption is 0.4 to 0.5L/1000Km. If so, Toyota recommends 6000Km for each engine oil change. If so, after driving 6000Km, the engine oil consumption is 3Litre. But each time, the dealer just put 4 Litre oil in. That means there is just 1 Litre in engine after driving 6000Km. Does anybody have standard engine oil consumption? As I searched, even in some undeveloped countries, it is just 0.3Litre/1000Km.
That means Toyota is over too much than this standard. Does Toyota is a trusted car maker in Canada? If is, why could it not get an undeveloped country's standard. Or is Canada's standard is lower than an undeveloped country? I do not believe it.
We have owned 2 toyotas in past and after many years we decided to go with Toyota again. We own 2011 Toyota camry. Recently I went over a pothole and it da abet tire, rim and wheel. I didn't think the bump was that big. And on a car which is only 3-4 months old repair cost over$900. Nothing was covered inspitevof purchasing extended warranty. I am close to 60 hrs. Pld and in all my life of different cars, this was the most expensive we felt. I have no complains yet for the car but about how expensive your repairs and maintainance is.
Will I recommend Toyota to any one, maybe to only rich people. Not average as maintaining Toyota is most expensive. May be someone will read this or delete this, or reply. Anyway I feel it should be told.

On April 15, 2013 while parking my 2003 Toyota Highlander, all of a sudden my car accelerated while shifting from reverse to drive while I was parking. Suddenly my car took off with the engine full speed to red line on the tachometer in a space of four feet it jumped the parking block and smashed into the center block wall with my foot on the brake. To repair my car the cost was $2000.00. This was the second time this happened, first time no damages.

I have contacted the dealer and had the car checked on four different occasions. I realize that this is just an estimate on the mileage sticker. But as I told you on my original message. I was getting 47/48 up to 52 mp as late as last Oct. now I get 37.5 latest reading, town driving, only one person in the vehicle, no extra weight What I am saying to you is that this not an acceptable difference in gas mileage. Oh by the way, when I came to AZ from In inOct, the car was fully loaded and I averaged 51mpg.
What I am asking for is some insight as to who can fix this problem, or what can be done. as I stated, I am ready to put a placard in the window telling people that Toyota makes false claims about gas mileage. Sent from my iPad G On May 6, 2013, at 3:05 PM, "Ask Toyota" wrote: Recently you contacted Toyota. Below is a summary of your contact message and our response. Thank you for allowing us to be of service to you. Subject Mileage Discussion Thread Response Via Email (Thomas Morita) 05/06/2013 03:05 PM Dear Violet Sella, Thank you for contacting us. We apologize for the concerns you are experiencing Each new vehicle sold in the U.S. has EPA fuel mileage estimates printed on the Monroney label (window sticker) for comparison purposes only.
Please bear in mind that fuel economy estimates listed on the vehicle sticker are derived from the testing methodology dictated by the Environmental Protection Agency (EPA). EPA estimates are a useful tool for comparing different vehicles but may not accurately predict the average fuel economy you will get, which will vary greatly from one owner to another. Fuel economy is influenced by many factors including, but not limited to, the speed the vehicle is driven, any excess weight in/on the vehicle, excessive idling , etc.
For more information please click here. If you feel that there is a mechanical concern with your vehicle, we would encourage you to contact the Service Department at your local Toyota dealer where your vehicle can receive expert service from Toyota technicians. Thank you again for bringing your concerns to our attention.
We have documented our email corresondence under case reference number 1305062202. Sincerely, Thomas Morita Toyota Customer Experience Customer By Web Form (Violet Sella) 05/06/2013 09:01 AM I have been experiencing poor gas mail eagle since Oct. at that time had my Prius serviced and new tires,put on it. Since that time I,have had it back toToyota at least,4'times. Changed tires again. As we,thought that might be the problem. But to no avail. At the moment I am getting 36 .5 mpg. In oct, I was getting 47 to 52mpg. Now they say that around 40mpg is good. Iuse to sing the praises of Prius to all, but no more, in fact I am ready to put a sign in my window that states do not believe the mileage claims. Could you please look into this.

Recently had a flat battery and didn't have the code needed to reprogramme the audio system,went to Toyota wyoming nsw service centre and was told the cost would be $60 because if was an hour job.i made a booking and presented to said centre where a lovely chap from Toyota reprogrammed the audio system in under one minute at no cost to myself. Please give me an explanation why I was quoted one hour billing for a job taking less than 60 seconds.

I have A 2001 Toyota Rav4 with a 1az-fe engine. I have replaced the fuel injectors nozzles (4). I have replaced the Gearbox (Transmission). No matter what the mechanic does the problem will not go away. The Problem? Erractic shifting, hesitation,engages in reverse with a thump. Symptoms are intermittent, sometimes okay and the next day symptoms are back. I have researched the matter and discovered the the problem is with the Engine control module and that Toyota is aware of the situation. The problem is that I live in East Africa, Tanzania. I am a U.S. citizen serving as a volunteer worker, Missionary. The problem here is that the consumer has very little rights. Also it is not possible here to replace the ECM. I would like to know what can Toyota do to help me?
Stanton

I had my driver seat on my fj cruiser replaced because it moved back and forth a 1/2 inch when in the locked position and it worked fine for a few months. Now it has started to do it again, so I brought it back and the took video of the seat and sent it off to California. The service manager told me they might end up doing a recall on it but either way he would take care of me. So I haven't heard back in about 6 months so I figured I would give them a call see how it's going and to my surprise the gm quit and the new one didn't know anything about it.
So I fill him in and he say's he will talk to the Toyota rep and figure it out. They call me back and tell me they are not going to replace my seat again and I am going to have to live with the seat moving because it's normal. I did not buy it that way and there is a lot of them out there that don't do it, but I have found out that there is a handful out there with the same problem. Toyota needs to buck up and take care of this issue.

I bought a Toyota Highlander Hybrid Limited 3 weeks ago. I paid the extra for the hybrid as I drive 25,000 miles/yr. I have driven 1,300 miles in the last 3 weeks & my Highlander Hybrid is averaging 22 miles/gal. This is a far cry from the 28city/28hwy advertised on the window sticker at the dealer and on the poster at the dealer and on Toyota's website. In fact it is getting over 20% worse mileage than it is supposed to. I have scoured the Internet in an attempt to find out why and have very little luck. The dealer reps keep telling me to wait and see, but at this point in quite frustrated with a bogus mpg claim by Toyota. The dealer GM said "We'll it depends on where you're doing most of your driving." My response to that nonsense was "well, it seems to me that 28city/28hwy should average out to 28? Right? Seeing as in not driving on the beach or in the ocean itself, city and highway pretty much cover where I'm driving". Anyway, no one at Toyota or at the dealership has been able to help out at all. Is this legal? Can an auto maker make totally bogus claims and get away with it? Thanks for reading and beware of the Toyota Highlander Hybrid mpg false claims.

We have always been two of Toyota's favorite fans, and now experiencing the same problem when we decided to purchase a new Toyota Camry in 2003. We originally owned a Station Wagon, which we absolutely loved, but only to find out that the repair on the wagon would be extremely costly for the mileage we had on this vehicle, therefore made the decision to purchase a new Camry in 2003. We now have 153,000 miles on this Toyota and feel that we could have gotten several more years out of this car.
After seeing that we are experiencing slow and small leaks, I brought my car in to our regular mechanic , only to have him tell us that the cost to replace the head gasket would be around $700.oo . We were disappointed, because we were looking forward to having this car as our "extra" to save mileage on our newer vehicles. As a devoted consumer of Toyota's products, and unfortunately not in a position to purchase another vehicle at this time, we were wondering if Toyota could help us resolve this matter with the repair needed . We certainly appreciate any assistance in this matter. Thank you, from two of your loyal consumers.

I own a 2004 toyota sienna van, I recently went to get an inspection sticker and failed because of the o2 sensors. My mechanic indicated that 1 of them was bad. The cost of the repair at that time was approx. $380.00 for 1 o2 sensor. I then waited a couple of weeks to have repair done for financial reasons, took it back and my mechanic said that the other 3 o2 sensors failed this time in addition to the original one failing. If that wasn't bad enough he said that this most likely will affect the catalitic converter as well. At this point for just the repair of the sensors I was looking at around $1500 dollars, just to pass a mass inspection. Something is not right, toyota's are suppose to last at least up to 200,000 miles. I can understand routine work, however, to pass inspection for a 2004 vehicle this is unexceptable. I would appreciate any feed back or help anyone has for this problem. I'm sure my vehicle is not the only one that is having this problem!

I bought a new 2012 Topyota Rav 4 in Sept 2004. I was told this was a 4wd car and all I had to do was puch the 4wd button. They did not tell me it would drop out at 25 mph or when the brake was applied. I wanted a 4wd vehicle and was looking at a jeep compass at the same time. If they told me how theit 4wd worked I would not have bought this car. I bought the car at Larry Miller Toyota in Spokane Washington. How can they call this 4wd when it drops off at 25mph.

I have a 2010 Corolla. I brought my car to Truro Toyota for service, they were suppose to check my windshield washer fluid bottle. I got home and the bottle was empty so I poured some in and it leaked out. Phoned them and the service dept said to bring it in for them to look at. I live 1 and 1/2 hrs. drive from the dealership, only for them to tell me it's not under warranty because there is a crack on the top of the bottle and its not a manufactures defect. I refuse to buy one, I spent alot of money on extra warranty which I regret now. Needless to say I was not a happy camper, 3 hrs. driving for nothing.

I went to vandergriff Toyota for an oil change I was talking to guy name Bob Last time I was there I ask him when is my maintness expire ge said in 02/2013 But today some how me maintness was expire in08/2012 so I said Ok I went and renew my maintness and also I bought a tire warranty it cost my 1750 The finace manager Andrey Korneev sale me the tire warranty with out checking my tire how bad the are. I know was no problem with the tire I Chack them every morning. Anyway during changing the oil they damage one of my tire when they were left it up. I do no that after they finsh they told me that I have a bad tire and I will not be covered by the warranty I just bought I said I was nothing wrong with my tire before I came to you. Any way they try to sale me a tire a got mad sending 1750 for nothing So I said let's cancel the warranty and the maintness because they try to get me I went back to finace manager to cancel the deal all what he said I can help you with that then he throw the paper work back to me I did not like that he make me feel like a pice of shit. They know what they did

Hi, I go to Sun Toyota(in Edmonton-10130 82 ave). I bought a camery Car. When they ask me to pay the deposit, I ask them how long can I get the new car. they told me on Wensday or Thursday this week. They talk with me and provide a all life free oil change for me. but I donot want to take. because the can still wait next week. I call the general Sales Manger. He said he loan a car for me to drive. I do not want to choose his deal. why he force me to choose this deal. he donot want I cancel my order. what's this dealler? this is horrible dealler. I donot want this car anymore. If I choose this car, maybe in future my car has some problem, they will not have good service. Could you give them call and ask them to pay back my deposit. I think this is not good for your good service.

My car never met with any accident. Neither did my car dash against anything from the front side. There is not a single scratch on my car on the front side, which can prove that anything has hit it from the front side. You see…..something hitting from the front side of the car will cause great damage….the bumper will get distorted, the headlights will break. The chrome plates, bonnet plate, the Toyota logo, everything will get damaged. Nothing of that sort has happened in my car.
The foul fitment of the AC hose from the Company itself, which during the course of running the vehicle, has gradually caused a cut on the hose by the loose radiator frame – as the spot welding of the frame had come off. Only due to continuous rubbing of the frame with the hose, the cut developed and the AC gas leaked off. It is not a one day impact issue. I repeat ….only continuous rubbing of the frame can lead to a cut in the steel wire embedded hose.
When the work was carried out in the Dealer's workshop, the technician had pushed back the radiator frame and had tightened it back. This clearly shows the looseness of radiator frame from the company's side itself, which if not have got attended this time, would have definitely rendered a cut on the newly replaced hose pipe once again in future. The damaged hose pipe assy. is still lying in the Dealer's workshop.
Kindly get it confirmed from Toyota Plant about this incident, as this has been caused by the loose radiator frame, at the time of assembling of this car and is not a result of any dashing/impact, etc….
My Car is covered under Toyota Basic Warranty Coverage for 36 months from the date of sale or 100,000 KMs (whichever is earlier), which reads "Toyota warrants that it will either repair or replace any Toyota supplied part that is found defective in material or workmanship under normal use". As such, I must get the replacement under standard warranty.
I do not understand why I should be penalized for defective/foul fitting of this hose pipe at assembly line. Once again I request you to look into this matter sympathetically and oblige
Regards,

I purchased a brand new Toyota RAV from an Oak Lawn Toyota dealership in 2006. Although it's been maintained by the dealership, it has consistently incurred major and suspicious problems. I believe it was either assembled incorrectly, or possibly Toyota is cutting corners in materials and putting out problematic substandard vehicles, or Oak Lawn Toyota is lying about the problems and the costs. In the last couple of years, I was told this vehicle needed $1400 worth of pollution control equipment including an $800 canister.
I was also told that it needed a $300 windshield wiper motor because when you shut the wipers down, they will not fold completely. And today, I was told that it needs a $2500 repair to fix a dial on the dashboard that freezes and will not turn properly to allow the airflow to come from the defroster, the windshield, the floor etc. However, as you drive, the air flow changes and the dial will free up. They "fixed" it twice for $100/pop but the problem has persisted.
Now it needs a $2500 repair??? These are not normal problems for a vehicle. I've done regular oil changes, mileage maintenance, brakes, etc. The vehicle has also had numerous recalls that have been repaired since I purchased it. There is something wrong with this vehicle, something wrong with the dealership and/or something wrong with Toyota Corporation. How could a 2006 need close to $4500 in repairs? And none of them from the engine??? The vehicle has never been in an accident and like I said, has been maintained by the dealership. I want this latest "problem" researched. This sounds like it should be a recall issue. Even the dealership cannot explain it and said it's rare.

I have so much to say, I have been leasing trucks through GMC since 1999. I have never really had an issue with the trucks itself it was the service dept that sucked which is the reason I decided to go with Toyota, and boy what a mistake. I knew what I was looking for and I assumed that the quality would be just as good as GMC but I was wrong.These are the things that concern me The sound system sucks, no duel heating system,no automatic tire pressure info, no onstar , passenger side manual seat, middle arm rest in the back doesnt stay up, cheap paint job, cheap windsheilds, punk ass horn, heated seat that you wouldn't even know was on. I ride the highway to get to work and everytime a rock hits my windshield I end up with a new crack in my window. I now have 4 cracks in this window and to replace it I have to go through the dealership because it is a lease. The windshield for my particular truck will be $1500.00. This much for a windsheild that continues to crack. I had paint chip away the 1st week ridiculous. I will be turning this truck in early and I will never buy from Toyota again and trust me I have told more than a friend and they are walking away from Toyota too.

I have a 2007 Toyota camry le v6 and the transmission is slipping, this car is only five years old I know it should not be having this type of issue, after ready numerous of complaints on the internet, apparently many consumers are having this same problem, I think Toyota should step up and resolve these issues, this is my first and last Toyota, I bought this car because of Toyota's reputation, but it is now clearly tarnished!

My ipod connection in my new 2012 prius 3 is terrible. I have had the car for three weeks and this was obvious the first time I played the ipod. It cuts in and out constantly and makes listening to music on my ipod a poor experience. I have talked to Toyota about this and they said they are aware of the problem and do not know how to fix it at this time. I would like to return the car for a Prius that does not have this problem

hi we were on holiday in perth and took our car to Rockingham toyota where we were told they had to order a part and we waited over a week for it. The service guys finally put the part in and we left for home (Balranald nsw, a 4 day trip) across the nualabour. We made it 200kms out of Perth when the car started to have the same power cut out problem. Nothing was fixed, when we rang rockingham toyota they told us that we were to far away and they couldnt be bothered to help. By this stage my husband was irrate as we were almost collected on the free way twice by trucks due to the engine cutting out and it then took 4 days to just cross the nullabour

My wife arrived at Rick Hendrick Toyota dealership, in Fayetteville, NC, for the 105,000 miles service to be performed on a 2007 Toyota Camry on April 5, 2013 at 10:30am. For the record, this was her third time bringing the car in for service. And each time, she had problems. From my wife experiences with this Service Department, I'm lead to believe this dealership tries to take advantage of customers--especially females--if you think they don't have a clue of what is going on. The car was fine when it went in for the 105,000 miles service. The maintenance light was staying on continuously so she knew it was due. When she checked in she was asked if there was any problem, she informed him about the service maintenance light staying on.
After checking in at the appointed time (10:30am) she caught a ride to the mall provided by dealer's courtesy shuttle. The service advisor--Darren McDonald--was to keep her inform by phone and not to do any other work without contacting her. When she was at the mall, she never received a called. And when she called, she wasn't able to get through to Darren but she did leave a message. Upon arriving back at the dealership, she noticed the car wasn't ready. When inquiring about the status of the vehicle, no one could provide a clear cut answer.
Well, to make a long story short, she was told the car needed a new oil pan. This was due to the threads in the oil pan being stripped. Doing my conversation the next morning with the Service Manager, Ray Phillips, He basically told me that problem like that is normal for todays' automobiles. He says the materials are much lighter and wears out quicker. So you tell me, with todays€™ cars requiring less oil changes (my car every 5,000 compared to 3,000 in the past) that an oil pan can't withstand 20 oil changes. Even though this was a 105,000 miles service, the mileage on the vehicle was less than 104,000. I'm not the smartest guy in the world but I think Toyota makes a much better quality automobile than that. With that being stated, Toyota would have been out-of-business a long time ago. It seems like a cover up--maybe I'm wrong--but I doubt it.
Generally, threads should never wear out on a drain plug or oil pan. Stripped oil pans are usually caused by: Over tightening the drain plug and/or cross-threading. Another point I like to make. Why replace the oil pan? Why not tap out the stripped hole to the next oversize and replace the drain plug with an oversize plug. Please excuse me...I forgot, your Service Department is where the dealership generates most of their income, so you have to keep the money flowing "By-Any-Means-Necessary". During our conversation, Mr. Phillips, stated that he noticed the car been serviced there about 19 times. With that being facts, if your dealership was the one performing the oil changes over a prolonged period of time, the dealer should be responsible for the damaged oil pan threads. I have NEVER had a stripped oil pan, either by changing my own or having someone else performed the service. Then they had the nerves to present my wife with a bill for $550.00 for repairs.

Why would a 4runner bought brand new start to crack in the dash precisely after 5 years and after the warranty is up. i purchased my 4runner brand new and it was always kept in my garage at home under cover or at my job in a parking building. In both cases the vehicle was never in direct sunlight for prolonged periods. The only place where it would get a lot of sun is when I would go shopping and even there, we always park in the multilevel parking, where it would not be in the sunlight. I also asked at Toyota if this would be covered under the warranty and was told that it would not because the warranty had pasaed. It seems to me that the materials used by Toyota for this year in particular was of inferior quality.
In comparision I also own a 1999 4runner which is basically always in the sun since I alwas have it in the front of my house under the sun and never put it inside the garage. The dash on this car is in excellent condition.
I am thinking of buying a new car and because of this bad experience I am not going to buy another Toyota. I would not recommend Toyota to anyone because of this and the fact that they will not cove this under the warranty.

Last year I purchased 4 - 2012 Toyota Corollas and they now all have missing battery caps. I contacted our local dealership, Sierra Toyota, they informed me that they didn't have that replacement part. I've also checked all local parts stores and battery stores, they also don't have these replacement parts. I seem to be left with no choice but to replace the batteries on 4 Corollas that are only 8 months old. I currently own 12 Toyotas (10 Corollas and 2 Scions). I will take this into consideration when replacing these cars.

I was getting 47 to 52 miles per gallon on my Prius, I sang its praises to everyone and recommended it to all. However in October of this year, I needed new tires, at around 40,000 miles. I was told by my dealership, Anderson Toyota of Lake Havasu, AZ, to be sure and get the proper tires as the wrong tires could cause a 5 to 8 mile loss in gas mileage. Consequently, I purchased the tires my dealership recommended. At first my mileage dropped to about 32 to 34 mpg. I took the car in and they lowered the pressure in the new tires, now I get up to 41mpg. I find this totally unsatisfactory. What can be done? I would appreciate your input.

I purchased the best truck I could ever wish for, 2001 Toyota Tacoma; it's an xtra cab with TRD with the SR5. Today at 113500 miles it still looks and runs showroom new. But it has the rust on the frame and bad too. Toyota refuses to help in any way. In 2012 the frame was perfect, now it is almost eaten through. I love this truck but it is unsafe to drive and I am very displeased with how they are handling the situation. I opt to go with Toyota compared to Chevrolet because Toyota had a wonderful reputation on reliable vehicles and I was sold on that. When the recall was sent out, I was living in Virginia and battling cancer so I missed the recall. I believe Toyota should warrant their product or close down their plants if they won't honor the issues at hand. I want a new frame or at least another truck with my engine and transmission, my baby is gorgeous. I am now on a fixed income with blood clots in my lungs due to the cancer I need my truck.

dear sir/madam,i wish to lodge a complaint with you about the corrosion of the rims on my 2006 toyota prado.i made a complaint last year through bartrac the toyota dealers in tully,north queensland.they took photos and sent them in to toyota but they said it was dissalowed.all five rims have corrosion and the spare has only been used once.they said that there was a problem with the metal used and thats why the wheels were corroding and that other prados also had the same problem.so it appears that i would be wasting more money if i were to have the rims sandblasted and repainted.i would find it extremly hard if i have to buy a set of new rims and in the present condition the rims will surely devalue my car substantialy.i hope there is a satisfactory solution to this problem .yours sincerly,tony rossi.

Pat Fischer
from Iron Mountain, MI
I called this dealer to get truck in for computer work done. The lady ask where I got my truck and I said not from you in Chicago she said I would have to go on a waiting list be cause the people who got there trucks from her go first I asked how long is the lis she wouldn't say so I called a different Toyota dealer 50 miles away and got in with in days before I did the other dealer I stopped in and asked if they could look up where my name was on the list but they couldn't because only one lady had that list at all times I would say this place only works on cars an truck they sell.i got very good service at the other dealer I would never send anyone to the one in iron mountain mi

Complaint–I deserve better service! I am a long time customer with Toyota of Nashua NH. I went in, without an appointment, for an oil change today. Steve, the service rep, pulled up my account and confirmed my vehicle, so he had my data. I neglected to tell him I use synthetic oil, but I knew it was on my account. When I left their service dept, I called to confirm that synthetic oil had been used. I had to call several times and finally was told by Steve that I now have regular oil in my car as I hadn't specified synthetic. When I asked what my oil change had been two months previously at that dealership, he replied synthetic. He couldn't have asked what I wanted today?? He also said that I shouldn't be using synthetic oil after 100000 miles. Is this a new policy of your dealership? As a long-time customer, I would have thought I would be asked about my service options should I forget to specify. I called Mr Price, who I believe is the Service Manager, but he did not return my call. I would appreciate someone contacting me about this.

Hello, I have been a fan of Toyota corolla since I bought my 2002 Toyota corolla and recently bought a 2013 Toyota corolla S. It's a great car but it needs a 7 speed CVT transmission, this would improve gear changes faster and fuel efficiency. I noticed that this transmission is in you Asian market, and wondered why your it did not transfer over to your north American market. Another suggestion I would like to recommend is that why do not sell the Toyota Corolla TRD sportivo edition in north America.
It would draw a younger crowd towards corollas. I feel a little cheated that my corolla is not up to par with the Toyota corolla S model that is sold in Asia which looks much more attractive than its north American counterpart. I would like to also bring up that your 2014 Toyota corolla from Asia has a better body styling then the North American version. I wanted to upgrade this year to the new Toyota corolla S but it does not meet my standards of looks, because it looks nothing like your Toyota corolla that's sold in Asia. I truly wish that you should make more changes towards the corolla because your competitors have more quality features, then what you
offer at this point.

2 times it has failed to shift into eco drive. so far it has corrected itself. Toyota of Dothan told me that they could diagnose the problem unless it was acting up at the time. the problem with this is I never know is going to act up or straighten out. there has to be a part, computer or something that could be replaced. my only complaint, otherwise I love my car.

We have a 2009 Toyota Corolla and 2 weeks ago my front driver door would not lock or unlock unless I did it manually, so we took it to the Toyota dealer to fix the problem and $600.00 later it fixed that problem. However the very next day our back passenger door did the exact same thing, now the back driver door is doing it. I called Toyota and they said they could fix it but the unit to correct the problem to the engine would cost $600.00 per door – Isn't it strange the very next day the back passenger door did the same thing and now the back drivers door.
I believe this is just not right to have to pay for something the retriggered from having one door fixed???

I went to toyta greenbriar in cheaspeake va they told me my o2 sensor was bad I went to indian river auto and transimisson repair they put a toyta sensor in my car the check engine light is still on indian river auto repaif told me the computer in the car is going bad there phone num is7575024730 ask for dave the car has a 80000 mile warranty on thecomputer I have 77000 miles on my car now I would appreciate if u would take care of this matter my phone number is 757 5537395 thank u

I own a 2004 Toyota Highlander with 83,000 miles. In 2006 the climate control went bad and was replaced under warranty. It has gone bad again. I have read many complaints about this unit. It seems to be an on going problem that Toyota is having. I feel like Toyota should help me with the repair of this unit since this seems to be a major problem with the design. I have had an estimate on the cost and it is estimated to be $773. Any assistance would be much appreciated and would help rebuild my confidence with the Toyota brand.

I purchased a 2004 Toyota and was talked into a warranty plan that if you didn't use in three years you got the money back $1895.00. When I reached this time frame and sent in the paper work the letter came back with address unknown . When I talked to Reno Toyota they said the company went out of business 3 years ago and that was it.
I cannot believe you can promote a policy and then not stand behind something like this. We are out this money with no apology not even a notification of this three years later. We saved to pay cash for this pick up and end up being embezzled by Toyota for this money. If this is what you do you should at least warn the customer there is this chance. I am enraged and will bad mouth Toyota to anyone who wants to know.

I wanted an outside temp guage for my 2014 Tacoma. I have read that the vehicle did not come with one due to the fact that there was some problem with them so they were not offered. The dealership that I bought it from says that a mirrow with auto dimming and tem and compass can be installed for around $600.00. I called a 800 number and talked with someone about getting a mirror. Was told that he thought it could be done but would check on this. He told me that it was an option to get this mirror but I never saw it as an option or I would have ordered it. My local dealer who I did not buy the vehicle from told me that they were unaware that one could be installed. They told me that Toyota offered some type of goodwill certificate for $250.00. I also read on forums that the sensor is already in the vehicle and all that is needed is the mirror. I cannot believe I am getting so many conflicting reports. I am getting a little agitated about this. If it was an option I would like to have known about it. Also I just want one installed. I would appreciate any help you can give. I am not complaining about the dealerships. They have tried to help. The dealership I bought my vehicle from was outstanding. I think Toyota needs to either advertise as an option or give out some tech info to dealerships on whether or not one can be installed. I just want one. That is my only complaint. Toyota still makes a very reliable vehicle.

I bought a 2014 Toyota Camry in October 2013. I was extremely excited and happy about the car. During the test drive the car salesman was telling me all the electronic perks of the car 1. Touch screen 2.bluetooth 3. Voice activation 4.backup vision through screen 5.apps from my phone would show up on my screen (pandora, Iheart and maps) 6. Low air pressure alert and come to find out I have NONE of this on my car but the bluetooth and touch screen. I told this to the company a few days after and all they did was out free tint on my car. I think it's very very unprofessional to tell these lies to a customer because to be honest those where THE ONLY reasons why I bought the car.
I wanted the rav4 but at that time those payments wouldn't work for me because I had negative equity in the car I traded in. Now I can afford those payments for a rav4 and can't even get it because now there is $9k I negative equity of my car because if the negative equity we rolled in from my last car and because I have only had my car for 5 MONTHS ! I should not hAve to come up with a down payment and I should not have to suffer with being unhappy with a car that I'm paying $374 a month for ! The car I traded in was a 2010 ford fusion and I just should have kept that car because it had more features, this 2014 doesn't even have keyless entry for gods sake. I have never been so unhappy in my life.
The finance lady I worked with was wonderful and very great and I thought the sales person was as well but clearly not. He moved to another dealership the week after so that's probably why he sold me false features just for his sales purpose. I've had a 99 Camry before and there is not to much difference in it from this 2014 ! I just don't like being told one thing and it's false, toyota said there was nothing they could do because all the negative equity and my credit is new and very low so I keep everything with my credit union because their rate is always 3.75% and they go by my history with them not my credit but they only finance 110% of the value of the car. Toyota should eat whatever amount it is to get to that 110% or lower but it's basically my word against the car salesman.
It's very unprofessional and as much as the rav4 XLE is the only car I am totally in love with I would rather drive hours away to another dealership than go to this one but I can't even do that because no toyota can help me. I contacted over 6 toyotas near me. It's just sad that I have to go through this because of the lies I was told. If I knew what I know now I would have NEVER EVER gotten this car and I would have just made it work with the rav4 at that time.
This is not my first camry and most of my family members have toyotas. Loyal customers. It's just sad. The cox toyota people were very nice and friendly but if I was never told a lie we wouldn't be in this area we are now. If I was the owner of toyota I would have ate the price In whatever ways I could for a innocent customer like me who thought she was getting a great deal and wasn't because she was a young African American female taken advantage of. I rather my email not reach the cox toyota with my name because I still have to go there when my car needs service and I would hate for anyone to do something unlawful to my car while they have it.

2012 Tocoma has had the problem since it was new. There apppears to be a design problem which causes a 1 to 2 second delay when acceleration in stop and go traffic. This is particularly hazzardous in intersections.

Last month I recently saw an add advertising a new Toyota Camary at 16,999. I went to the dealership and asked about the special and shown a white camary on the lot. I went into the dealer and pur down 2500 as a deposit to hold the car at that price. I was told the price would expire on that day. I went back in 2 days to finish the deal and was brought into the VP of finance to finish the deal. He gave me a sale contract outlining a lot of charges. I asked what they were for and his reply to some of them was I do not know. I didnt think it was right being from a finance background myself but signed the paperwork to get the car. I was supposed to pick the car up on Saturday.
When I went to pick the car up on Saturday I was told that the Sales Manager Rony Levy did not want to sell me the car because of the questions and my attitude I had on a prior night with the VP of Finance. I told him I still wanted the car. He said that the only way he would sell me the car was give the dealership all excellent remarks when I got the customer survey. I truly consider this to be fraud. I was told that if the survey came back perfect he would receive a 500 bonus and all was good.
I drove the car off the lot when I got home I found that the car mats were not in the car yet they were identified on the sticker when I bought the car. I called and I was told by Rony Levy that the price I paid did not include the mats even though they were on the standard equipment on the sticker. When they survey came in I told the truth. I just called Rony Levy and was told that I lied to him and did not give him the excellent survey he requested. I told him I told the truth how I felt.
He said I lied. I then told him that I was contacting an attorney over the mats and he said he did not care and that it was in the legal hands now. This is the first Toyota I have ever bought. Is this how the Germain Family does business and do I need an attorney. I need some answers.

I want to start by explaining that I have owned Toyotas for many years. I have bought new since 1992. I bought a new Prius in 2006 that still runs today (200,000 mi). Last January I bought a used 2009 Prius from Conacelli Toyota. Upon delivery I noticed that the floor mats and cargo cover were missing. I called the dealership and we all believed that this was an oversight when the car was detailed prior to me picking it up. It had thes items when I test drove it. The mats were mailed to me shortly after my phone call but no results with the cargo cover other than they sent me one but it doesn't fit my vehicle. This has been going on for months with no satisfaction. I tried to resolve this with Conacelli but I feel 9 months is long enough. I hope this letter will help Toyota resolve this.
Sincerely,
Stephen Pagano

I recently returned a leased Rav4 to Toyota after a 3 year lease. It had 23K miles and allowance was 33K. Had no damage or scratches and it had had all services. I had replaced 3 tires butapparently 2 were not exactly the same as the others, although they were the tires I was told were needed at tire dealer where I bought them.
The inspector told me I would be charged for 2 tires butsaid I could call TYoyota and dispute it. I did that BEFORE returning the car and the person Ispoke withat Customer srvices looked into it and said they should not charge for different tires and that I would not be charged when I received the final bill with the disposition fee. Needless to say when I got the final bill I WAS charged $342 for two tires. I clled but they refuse tohonor their prior commitment.
Because they had earlier told me I would not be charged, I did not buy the correct new tires so that I could keep the other new tires that were on the car and resell those to have at least part of the $ to pay for the new ones. I am nearing retirement and every dollar counts. Now of course Toyota will not return to me the tires I had put on the car. They kept those and insist I pay them for new ones as well. That is basically theft.

Ok,on April 31,2013. Me,son dang and phaly my friend, went to Jose Gonzales,which is he a sale man at Haley Toyota,he knew me very well,cause i ,son dang,bring him few customers.I'm making short story,he sold,two highlanders,one corrolla s type.the last highlander,jose Gonzales sold $37,000 out the door,original price was $39,000 and some change.So mr.Jose Gonzales give my friend discount,so I turn around and asked,mr.Jose Gonzales about the 2013 sienna van se,so I can trade my 2006 Honda pilot ex in,he said the 2013 Toyota sienna se costed about $35,000 and some change,and mr.Jose Gonzales told me my trade in worth about $9,000, for my 2006 Honda pilot,and I,son dang,saw the sign $1,250 rebate on 2013 sienna.The 2013 sienna se costed about $35,000 and some change,on the sticker price,which is the car,i deal is not on the lot.Anyway,I son dang,offer,Mr.Jose Gonzales,the Toyota sienna se $30,000 out the door with my trade in because,I thought I get the discount too so,I called my wife on the phone and told her we might have a deal,butt Mr. Jose Gonzales change his deal,He want to sale us the Toyota sienna se the same amount prices on the sticker prices tag,plus tax,title,fees,which is $35,686, plus tax,title fees.So I felt insulted,because ,Mr.Jose Gonzales give my friend a better deal,and discount on there 2013 Toyota highlander,and I'm the one who bring him customers,And I don't get no rebate and no discount,after I did my math,I'll never go to Toyota or buy a Toyota or send anybody to them again,cause I'm piss.I'll tell my friend not to shop Toyota again.treat me like shit.Toyota will loose bussiness .please read my statement and opinion,on Mr.Jose Gonzales,and his crew .1(804)320-2500

We had purchased a 2007 Hyundai Santa Fe from Vinnie @ Day Toyota in Pleasant hills, Pa. in October.
we had bought it on a saturday, and was told that it would be washed, waxed, and detailed for our pickup on Monday. i was concerned cause when we took it for a test drive, and there was an odor inside that bothered me. they assured me they would address it. that was joke #1. their way of taking care of it was to spray some air freshner in the vehicle. it was washed, but NOT waxed! Actually when we pulled out of the lot, we had to go down and put gas in it. i thought Wow………what service ! An empty vehicle and NO smiles!
when the air freshner had wore off, the smell was back!!!!! i have allergy, and sinus probems, and was getting a headache every time i got in the vehicle. i had then decided to clean it out myself, and was not too surprised to find cheerios, m&m's, moldy chicken nuggets, a fork, and toys under the seats.. i was furious to think they would actually sell a vehicle like that………………… this proves my point……………. the vehicle was NOT detailed. they lied!
i went to this dealer cause i was referred to them, and said they would treat me good. and be fair. We had bought an extended vehicle that cost us $1,600.00 and said we wanted bumper to bumper coverage so we would not have to worry about anything…………………….. they assured us everything would be covered. this was joke #2. A few months after driving it
i heard a noise when i turned the wheel, and when i took it in for an oil change and to get a price on new tires, they told me (the oil change store) that my tyrod, and ball joint were bad with suspension problems.
i did not get the work done there cause i had an extended warranty with a $100.00 deductible.
i took it back to the dealer where i had bought it, and they confirmed the work that needed done, but informed us the warranty company refused it cause it was "Out of warranty" and was only covered up to 50,000 miles. we had bought the vehicle with OVER 57,000 miles on it.
Basically they sold us a warranty that was already "OUT OF WARRANTY" ! why were we not informed, and offered a cheaper warranty to just cover the "Powertrain"???????
they had given us an owners manual for a Hyundai car, and NOT a "SUV". i had to fight to get an owners manual, and wait 6 weeks to get it. (2) weeks after i got the truck, , a light burnt out and i took it back and they replaced it with an attitude, and then put gas in the vehicle, and then , and only then when i insisted on talking to a manager
there were 4 mis matched tires on the vehicle when they sold it to us, the windshield skorters are completely off, and dont even hit the windshield.. i have a broken handle in the back seat, and the inside wasnt even cleaned. there were stains on the seats.
NOW………….my check engine light is on!
They do not want to work with me and make me "HAPPY" and fix these issues.
it has been one problem after another, and. i am so sorry i walked in to this dealership
i have called a number of times to put in a complaint, and NEVER EVER got a return call.!
I am VERY MAD customer and i have all rights to be! i will NEVER recommend this dealer to anyone, and will tell everyone i come in contact with about the "POOR" service, and how we got :"RIPPED" off!.
IMy next step is to i call the Attorney General, the BBB, and the news media about this issue.
you are a very dishonest dealership and rip people off!!!!!!!!!!!!!!!!!!! . how would you like to pay for a warranty that you cant use UNLESS the motor or tranny blows up but was told differently?
Very dissatisified customer!

Is it normal for them to only stick out around 3inches:( I have a 71/2 foot that it barely fits on them. I was running trying to get out of the rain my foot slipped off needless to say not very happy!!!my husband cant even use them!!! please help!!! I only had my truck two months it's my first time owning a Toyota and the runningboards were the first thing we purchase for it. very unhappy with then:( but love my Toyota!!!

My wife arrived at Rick Hendrick Toyota dealership, in Fayetteville, NC, for the 105,000 miles service to be performed on a 2007 Toyota Camry on April 5, 2013 at 10:30am. For the record, this was her third time bringing the car in for service. And each time, she had problems. From my wife experiences with this Service Department, I'm lead to believe this dealership tries to take advantage of customers–especially females–if you think they don't have a clue of what is going on. The car was fine when it went in for the 105,000 miles service. The maintenance light was staying on continuously so she knew it was due. When she checked in she was asked if there was any problem, she informed him about the service maintenance light staying on.
After checking in at the appointed time (10:30am) she caught a ride to the mall provided by dealer's courtesy shuttle. The service advisor–Darren McDonald–was to keep her inform by phone and not to do any other work without contacting her. When she was at the mall, she never received a called. And when she called, she wasn't able to get through to Darren but she did leave a message. Upon arriving back at the dealership, she noticed the car wasn't ready. When inquiring about the status of the vehicle, no one could provide a clear cut answer. Well, to make a long story short, she was told the car needed a new oil pan. This was due to the threads in the oil pan being stripped.
Doing my conversation the next morning with the Service Manager, Ray Phillips, He basically told me that problem like that is normal for todays' automobiles. He says the materials are much lighter and wears out quicker. So you tell me, with todays' cars requiring less oil changes (my car every 5,000 compared to 3,000 in the past) that an oil pan can't withstand 20 oil changes. Even though this was a 105,000 miles service, the mileage on the vehicle was less than 104,000. I'm not the smartest guy in the world but I think Toyota makes a much better quality automobile than that. With that being stated, Toyota would have been out-of-business a long time ago. It seems like a cover up–maybe I'm wrong–but I doubt it. Generally, threads should never wear out on a drain plug or oil pan. Stripped oil pans are usually caused by: Over tightening the drain plug and/or cross-threading. Another point I like to make. Why replace the oil pan? Why not tap out the stripped hole to the next oversize and replace the drain plug with an oversize plug. Please excuse me…I forgot, your Service Department is where the dealership generates most of their income, so you have to keep the money flowing "By-Any-Means-Necessary". During our conversation, Mr. Phillips, stated that he noticed the car been serviced there about 19 times. With that being facts, if your dealership was the one performing the oil changes over a prolonged period of time, the dealer should be responsible for the damaged oil pan threads. I have NEVER had a stripped oil pan, either by changing my own or having someone else performed the service. Then they had the nerves to present my wife with a bill for $550.00 for repairs. It was only when she balked at paying, when Mr. Phillips waived the payment. Now, you want to act like you done us a favor. I thought Rick Hendricks Toyota was more customer oriented than what they showed on this visit and two other visits that my wife have made…which I'm not going to discussed.
In the game of Baseball…three strikes and you are out. I'm in the market for a new automobile but due to unpleasant service provided by this Service Department, Rick Hendrick Toyota of Fayetteville, North Carolina has struck out with us. I will be taking my business somewhere else. In addition, this recent experience might be of interest to the rest of the local community—especially the Military community who is the backbone of this area. By the way, I'm a part of the latter…Retired and DOD Contractor employee. I wonder about how many Military members' spouses have been taken advantage of or the Elderly who is very vulnerable. I have a feeling if I forward this on to the leadership of Ft. Bragg and Pope Army Air Field, they'll be more than a little interested for the reason that so many personnel and their family visits this dealership on a daily basis.
I've always been told, "Honesty is the Best Policy", but I think those guys play by a different rule. One other thing, don't insult people intellect by telling them anything and expect the individual to take with no question ask. As mentioned before, the service appointment time was scheduled at 10:30am. Why was the car kept there for eight hours (until 6:30pm)? Was this some type of strong arm tactic…we have your car and you don't have no other choice but to comply. I'm talking to the guys. Would you want your wife or significant other to go through this? And if it did happen, would you take it laying down or voiced your concerns? The bottom line is, I don't like how things went down and I'

I had my fuel enjecters cleaned which I thought they were fixing them . This was Sept . 4 , 2012 , Now I have a problem . My gas gage is not working . I thought they changed the fuel injuctors , but they just cleaned them I paid $159.00 which I think is crazy for them to just be flushed . I could of bought something myself . I was under the impression that my fuel injecters were changed . I have a 2008 prius that I got Sept 2010 . I had to pay $400.00 for a battery and took in for the recalls . I was told I have to pay $115.00 for a diagnostic test which will be charged to me if what they find is not under warrenty . Or if the work they did is not the problem . I think that's a bunch of crap . They just did a diagnostic test when I took it in to get the recalls done can'[t they go by that . I can't afford to pay anymore money on this car . I am so upset that this can't be resolved . What the heck is the warranty for if I have to pay for the diagnostic , I;m coccidering takeing it back and trading it with some other dealer . Money , money , money is all you want from ppl . I should of been told that it was just a flushing , I could of did that myself and saved myself $159.00 . I don't even want the car anymore . I had the car 2 yrs and had to get a new battery . What kind of cars are you guys sellling . I'm sure they knew it would need to be replaced soon . Does your company sell half ass fixed used cars . I was very happy with this car now I have all these things going on and have only had the car 3 yrs . Sept . 2013 . Can someone please call me . Thank you Rosemary Soto 909-889-5208 or 909-252-0717 .

In your ad on tv in fort smith ar tv area the ad says we make them better. Well if you look close at the ad a hand wipes the side of a truck showing your logo on the drivers front fender . The paint job is. orange peeled around the logo that is not better by no means . I fi. rst thought was if you can't get the paint job right then what else is wrong .that stopped me from buying one this year. Instead I went with. A chevy. truckyou might want to look at your ad and see for your self. Truck coming off the assembly line looking like that lost a sale for your company . Sorry about that but I notice everything. Bob winecoff paris ar 1 479 847 0652 I would like a replay. But don't expet one

I brought a new 2011 Toyota Tacoma in 2011 from Danville Toyota in Danville, VA. I have been having problems with the brakes every since day one. I have taken the truck back to the dealership at lease 3 to 4 times. They have replaced all the brakes and rodory as well. I am still having issues. They can't get the brake issue resolve. This need to be place on the lemon law. I am try of taking it back and forwad to the shop for repairs. I have not enjoyed my new truck yet. When you paid as much as I did for a new truck, you should enjoy it. I am so try of this problem. The brakes are grinding and virbrating, and they smell as well. Toyota should take this truck. I am afraid that I will be having trouble withthe brakes forever long after the warranty has completed. Please respond as soon as possible. I have been patient long enough. Thanks, Dexter H. Miller

I own a Toyota Rav4, with 22000 miles. I went out to start the car and it made a horrible noise like a rod was knocking. I turned if off and called my husband and he told me not to try to start it again. When he came home we tried to start it and it would not start. He checked the oil and everything he knew how to check and we tried to start it again. It sounded really sluggish when we tried to start it but it finally started, but made that horrible sound again and thick smoke came out of the tailpipe.
We call Don Ringler Toyota in Temple Texas and they told us to have it towed in where they could check it out. The service dept. originally told us it had something to do with the cam. The dealership kept it all day and then told us to come pick it up. When we started it, it still made this horrible sound for about 10 or 15 seconds, then stopped making the sound. The Service Dept. at Don Ringler Toyota told us that the car is supposed to make this sound when it is first started. We have had the car for a year and it has NEVER made this sound.
We were told that when the car is first started it has to have time for the oil to get up into the engine so that is what is causing the sound. Personally this sound like a BS answer. The car has a problem and the dealership doesnt know what it is. I have owned several cars over the years and its NOT normal for a car to make a sound like a rod is knocking when you first start it. Now the dealership tells me that I have to pay the towing charge since they couldnt find anything wrong with the vehicle.
This is unfair because there is definately something wrong with the car. I am not a mechanic, but at the same time I am not a idiot. I would think that a company with the reputation of Toyota would find what the problem is and fix it and pay for the towing since they are the ones that told me to have it towed in. The car still makes a sound like a rod is knocking when I first start the vehicle, but the sound does stop after a few seconds.
No matter what anyone says, this is not normal for the operation of any vehicle. I dont know what the problem is, as I said I am not a mechanic, but I do know there is a problem. I would appreciate if if someone could get back with me on this and tell me what my next step should be. Thanks Melinda Murray

Although I find it an unpleasant task, I feel that I must bring to your attention a couple of issues occurred with your representative working the evening of 3/15/2013 at your Ensley Store Toyota. I have purchased several Toyota vehicles including one on 3/15/13. I'm not upset but disappointed. Up until this year I've had a good experience with every Toyota I've purchased.
I have never had a salesman refuse to take an offer to management and have never been given the incorrect payment for a vehicle based on price and interest rate. These things happened to my wife and me on 3/15/2013. The negotiations process began with dealer m making an offer we made a counter offer then this happen. The salesman refused to take an offer to the Manager for a vehicle. His Words "you ask him".
Then begin to state he wouldn't lose a deal over 100.00. He would give us the money out his pocket, once my wife stressed that 100.00 was a lot of money to us. Then he stated he accepted the offer, but until that comment we were confused. After the acceptance of the offer we completed the deal.
He returned with numbers for the deal total amount financed 23,700 at 2.95 for 72 months with a payment of 376.00 and a 1.9 percent finance offer for 60 months with an additional 1000 added to vehicle also. I took the 72 month option. The monthly payment he stated was incorrect it should have been 359.56. Then, I went to finance with Russ with the understanding payment was 376 for 72 months.
I was offered an extended warranty and the new payment would be 394.00. I accepted the offer believing it was approximately an additional 20.00 a month and the cost of warranty an estimated 1400.00. I firmly believe it was on purpose to encourage me to purchase the warranty. I take responsibility for not reading my contract completely before signing. However, concerning sales representative actions with my spouse and I during the negotiations process were unprofessional, and an unwarranted under the circumstances.
The incorrect monthly payment I found also very misleading and unethical. Presently, I hope my experience is not the norm for your dealership. I feel obligated to send this letter to your corporate office. I don't want anyone else to experience the attitude, but importantly be taken advantage of by trusting your accounting. I'm not upset but disappointed. Up until this year I've had a good experience with every Toyota I've purchased.

I have a toyota 4 runner sport edition 2005, my toyota is in good condition, but I very upset when I see the dash completely cracked and I don't have money to buy new one. I believe that the Company Toyota have to repair my car because they use a bad material for manufacture the dash. If somebody can help, do now , please.
Otilio
San juan, puerto rico
usa.

To Toyota, My Name is Ben Buse, I purchased my kluger in dec 2010 from a Sydney dealership. The car was always serviced by Toyota with full log book history! Being one reason I bought the car! I also purchased an extended warranty to go with it as the original one was to expire shortly!
Within a year of owning the car it developed a suspect (rattle on start up) and when I asked about it on the next Toyota service the mechanic said he could find the problem! This went on for the next few services until with my persistence the Toyota mechanic herd the noise, diagnosed as a VVti issue common with these engines!
As I have always had the car serviced on time and kms by Toyota I was very disappointed to find out that the issue was not covered under my warranty or extended warranty! After consulting with Mike Carney Toyota in Townsville they said to me that I would still have to bare all the labour costs amounting to $5700.
The car has only just reached 60000 km and as I bought this car for a family veh and planned to have it for many years, I feel through no fault of my own I have been delt an unfair hand with this vehicial.I feel that Toyota Australia should cover all expenses in fixing this Veh as I have always got every service done by Toyota and the Veh fault is obviously a design problem!

I had my first service for my 2012 prius plug in and experienced ANOTHER SERVICE DEPT. being dishonest. I used to own a honda hybrid civic and brought it to service to have oil change and tire rotation. I removed front valve covers from tires to make sure they did it. When I picked up car sure enough, they said they did and noted it on service form that it was, but lied and didnt. do it. I complained and they gave me the same old bs that. sorry we'll do it now and they gave me a free oil change. I figured they cant be trusted and went to different dealer for service from then on.
Lo and behold i buy the prius and I do the same thing, remove valve covers. Wait an hour and a half pick up car and go home. I check valve covers and sure enough they didnt rotate tires like they said and marked off on sheet. I had to drive all the way back , they apolgized and I watched them do it. Imagine how many times they dont get caught. Please reply to this email

Am unable to repair the frame of my 1997 4-Runner (Limited Edition). The Frame is completely rusted through in 4 locations, and has been deemed unsafe to drive! The private service/repairmen have questioned why the steel on such a well mainted vehicle would be so damaged. (NOTE: The body, engine, & interior are in good shape). I live in a remote area where a 4-wheel drive is a requirement, and in my case, a medical necessity to maintain cancer treatmenta. I CAN NOT: Afford a loss of $4.5 – $5,000 / Do without a 4xwheel drive / Afford another vehicle. [Owned 12-13 yrs / hwy use only / vin# -JT3HN86R5VO115911 999 / Originally purchased- Fannin's Toyota, Flatwoods- KY (now) Ashland, KY 41101. I JUST WANT TO FIX MY 4-RUNNER…..PLEASE HELP!!

On 12/26/12 my daughter was in an accident with our 2013 Toyota Corolla and her seatbelt never locked nor did the airbags deploy. As a result she was thrown forward and her head hit the rear view mirror, her left hanf smashed into to airvent over the radio. She fractured her hand and tore the ligement in that hand also. She was not a fault for the accident the other driver was. She was hit in the right front passanger side, causing $5550.00 in damaged just to the car, this does not inclued the medical damages to her. I believe that this is a huge safety concern and should be addressed. I can be reached at 978-360-5144 Robin or by email grandmummie43@yahoo.com
Thank you

I own a 2008 Toyota Camry has only 40000 miles is burning oil. Found out the car burning oil in late 2011, and went to San Francisco Toyota dealer try to fix it . They test the car almost a year and the result is burning oil . They told me is already fix the problem. Oil Chang done in the dealer. Now I find out the car still burning oil and went back to the dealer . They told me every 1200 miles burning one quart oil is normal. The car only fill with only 4 quart engine oil . They told me can change oil every 5000 miles. That doesn't sound right. But my car warranty only has 5 years with 60000 miles. The warranty will end soon. How can I get my engine fix under the warranty period.

Car salesmen sold me a 49000 vehicle and left me in the cold with no keys to new vehicle no tag and dealership closed doors to dealership. Had to catch the mechanic that was leaving to catch the salesmen. Then nobody helped me retreive belongings from my trade. I Drove over 300 miles to buy this vehicle and 300 miles home. Then I made a complaint over the phone went back five days later with my wife(bi-racial couple) and six year old and was refused service or the help from a manager. The salemen David Linzy(vicksburg toyota) the verbly attaked me with curse words in front of our 6 year old and charged me phisically as I walked outside of the building. The other salesmen restrained the associate in front of me and my family. I paid for taxes and tags on 12/12/12 and todays date is 1/4/2013 I was given a seven day tag and had to wait and make several complaints to get another which has expired and was told i would receive one within seven to ten days.This plate still has not arrived and the associate also threatend to have me and my family followed and run off the road . Charges were filed with vicksburg city police. The police also gave us a friendly escort since the dealership representative new we were from out of state and notified us we would be followed and run off the road. Not sure of the dealerships screening methods of who they hire or even who they deal with or if they even care about any of there customers so far we have been treated with no respect at all or well being for my family.My six year old started crying and my wife and I feel very unsafe by the methods that took place at Vicsburg toyota..

Marietta Toyota had the audacity to charge me $316 to change an $8 gasket. The process took no more than 1 hour. When I complained to management, I received a curt, irritated response from a robot-like person who said, "We charge a flat rate for the repair. It has nothing to do with the cost of the part." What nonsense! How on earth can a $316 charge be justified for something that took a maximum of 1 hour. This is totally outrageous, and everyone should know how Marietta Toyota rips you off and then gets irritated when you challenge their disrespect for customers.

I have Toyota fortuner and I got my car repair from globe Toyota Mohali near Chandigarh punjab after taking the delivery of my vehicle i came to know that parts replaced during repair are customer property but when contacted dealer next day I shocked to hear that the dealer has sold out my parts (amounting Rs 15000) in the market. After giving me assurance by dealer to compancate me neither I lodged a complaint against dealer nor taken any other legal action. Now I realise to be cheated by Toyota dealer which is not appreciated as part of great Toyota co. As I have to move to court for justice

I've purchased my Toyota Rush 1.5G A/T (Register No:- SA 8188) in year Nov. 2011 from Toyota sales centre (Harapan Memang Sdn Bhd) in Kolombong, Kota Kinabalu, Sabah. I've religiously follow the Maintenance schedule as stated by Toyota. During my first maintenance i sent to UMW maintenance centre which located at Inanam, Kota Kinabalu.
Second weeks after my first maintenance and my neighbour have notice that My Rush have some oil dripping off from underneath of the car. Thereafter, I brought the car back to UMW for further inspection but at the same time they also found the Exhaust-pipe leakage (hole) but it has been fixed and it was very satisfied.
Out of Sudden, I've heard some noise coming out from the gear box last two months ago, and i just simply brought my car to one of the workshop which near by to my house for inspection just want to clarify that I might be wrong. After the inspection and test drive by the workshop mechanic and surprisingly the mechanic also complaint about the same noise as what i heard.
Thereafter, I brought my car back to UMW Service Centre for complaining about the noise and they told me that they will look into it and go for further inspection. When i collected the car
and they said no problem with the gear box but when i drove the car out from the service centre and heard the same noise were still there. I called them and told them why the noise is still there, but they said its like that. So i got no choice to drive the car away with the noise and hope it's will be alright.
After few days and i hear the noise getting worst and worst. So I brought the car back to UMW Service Centre again & again to complaint the same problem but they just ignore me and told me that no problem with the gear box and it,s like that. It's meant the Mechanic in UMW Service Centre unable to hear the noise and to rectify the problem.
During the purchased of the car, there is an express and implied the warranty that the car is suppose to be of merchantable quality and fit to purpose and that i am eligible for free services and any replacement of parts if it is manufacturing defect.
I hope you can help me in this matter because from my point of view. Toyota should take this seriously for the such character and behavior of the maintenance team. And appreciated if Toyota can call me (+6016 88100633)for the further inspection & repair of my car before too late.

March 20, 2012. Toyota Motor Sales, U.S.A., Inc. 19001 South western Ave. Dept. WC11. Torrance, CA 90501. Dear Toyota Motors: Your service department has been unable to properly add the correct oil filler to my car, and I need your help to resolve the situation.
On March 10, 2012 I dropped off my car, a Toyota Camry 2004, to have oil change preform on my car include with having the fitter replaced. When I picked up the car, I was assured by the employees that it was in complete working order, over the pass days I notice that there was oil stains on my driving way and on the road (pictures attach).
My pass visits I when the oil fitter that was added to my car it was always the wrong sizes and the oil with leak out of my car while I am driving and also when my car is park. I have my car for over 3 years and I have always taken my car to the dealer for my oil changes and have run into this problem before and was told that a note with be place on the computer so that the correct information will reflex for future visit, however the problem still continues.
When I took the car back for correction and ask to speak with the service manager, who told me, "That there was no way that mistake can happen" I told him that it have happen in the pass and there was one employee (Robert) who was formula with this issues, but was off on that day.
I'm certainly not happy, and I expect your dealership to know how to fix the car properly. I've paid to have the service completed and I was not satisfied due to the fact that the problem keeps repeating itself, and I'm in fear that the wrong oil fitter will affect my car performance in the years to come.
I expect three things,
1) Prompt Inspection and repair of my car engine at no additional cost to me
2) A free rental car for my use while my car is in the shop
3) An apology from your dealership for the continuous inaccuracy problem of my car
Your company's lack of service and professionalism is unacceptable to me.

i have had this car for about a year(2008 toyota camry) and i have just lost my fourth hub cap.. this is ridiculous..two of the four hubcaps have cost me $40 each and other two really used have cost me $25 each..total of $130 plus.. i have been to at least eight hub cap dealers and they all say the same…they say if they had 1000 2008 toyota camry hubcaps they would sell them out immediately beca use they all say they ha ve never seen a car like this that cant keep hub caps on…
this was expensive used car and i definitely feel i should be re imbursed for these hub caps.. i will probably be ignored but believe me i will stay on this if i dont get somewhat re imbursed. it appears that i will try to spend more money this time to find another cars hub caps to put on so as i dont go to thepoor house putting on these stupid hubcaps..
i am 71 years old and believe me i have never been this upset over car problem like this.. nobody has a solution..hard to believe but true i will never but another toyota due to this horrendous hub cap problem.. again if i am not contacted and given some type of re imbursement this will be pursued through the better business problem.. from what i have heard it appears you people dont care as i dont see any recall on this…totaly lost what to do..
thank you very upset 2008 toyota camry owner.. i guess if i dont hear from you i guess you people will be happy to see a competitors hub caps on the toyota cars… UNBELIEVABLE

I would like to present you with my case, as I have not been able to solve it locally. In view of the good reputation of the Toyota brand, we bought (through a leasing plan proposed at the dealership) two Toyota vehicles, a 2009 Rav-4 sport, and a 2009 top of the line Camry XLE. We even bought an extended warranty plan for both cars, expecting to stay with the brand.We had issues with both vehicles.
1. The most serious issues are with the Camry (serial number 4T1BK46KX9U583164). At the time of the first service we reported problems with the air conditioned, which smelled bad (health issue, probably due to mold growth) and didn't cool properly, and with the vehicle's acceleration, as it pulled the steering wheel and the car towards one or the other side (mainly to the left) upon accelerating.
This has been also a security issue, as in emergency situations the response of the vehicle is not what one would expect. It also had a problem with the stereo, in which the push buttons didn't work sometimes. They told us they were going to take care of it, the car was at the dealer for more than two months (I have proof of the car's reception and the service's invoice), and they charged for the regular service but didn't fix anything, saying they couldn't find any problem. We have been reporting the same issues every time it goes to service; they didn't fix anything but the stereo, which they told us it was changed.
The other issues were not addressed properly, as one would expect from Toyota. However, still keeping in mind the great Toyota philosophy and quality, we were patient, hoping they would solve the problems at some point.
They only told us several other things that must be fixed, like the brakes more than one time, the tires (which we changed having the car a low mileage) and the wheels' alignment, which we did every time they told us to. Of course, they charged for this telling it was normal wear and tear. But the problems persisted, and they told us that they were supported by Toyota Mexico.
Seeing that the dealer wasn't going to solve the issues, we called Toyota Mexico's headquarters, when the car was at the dealer for service to the same issues, and they asked us to be patient and to give them one last opportunity to fix the problems and if they didn't, they would provide us with another solution. They didn't fix the problem, but they charged us for some other issues that they said were necessary to fix and were not covered by the warranty.
They even didn't seal the service booklet as they should. Then, we have been calling Toyota's offices with a very poor response, and a few days ago (03/20/12) we found that they had unilaterally closed the case and that they wouldn't do anything else, even not listening to us.
Also, during this process (Collecting info for Toyota Mexico) we have found two very serious issues: a. The car was made in 04/08 and sold to us in 02/09 as a new 2009 model.
b. It was actually used as a demo car, (this is stated in the invoice they gave to the leasing company, that hold the invoice until the car was fully paid, but not in the documents they gave us and was not informed to us); they told us that the low mileage that it had was because an executive from the dealership used it for a little while as his car was fixed, so they would give us a discount. We consider all of these very serious issues that do not go with Toyota's guiding principles.
We understand that we have a lemon car, which happens sometimes. However, we can´t understand Toyota Mexico's response and lack of customer support. Maybe the persons we reached at Toyota Mexico didn't have the authority to solve the problem. We certainly expect a proper response from Toyota, as you would have in USA or Japan.
Please note that it is a single family car, always (from the moment it was pulled out of the dealer) has been used by my family, mainly my wife and myself. It has around 34,000 km only. Every service, tax and any other expenses have been paid by us, through our company.
Regrettably, they do not seem to want to arrive to a friendly solution, as you would probably do in Japan or USA, so they are forcing me to start a lawsuit, and go public, which will make us, and Toyota, incur in more expenses. As a last non judicial resort I write to you requesting your assistance to solve this problem.

I recently acquired a new 2011 RAV-4 Limited from a North Alabama Toyota dealership who was, and has been, very helpful, and they gave me a quite reasonable deal on the purchase. I deliberately selected the equipment options based on the primary driver being my wife. She has undergone several back and hip surgeries and is not unable to change to a spare tire in the event of a flat tire. Accordingly, the vehicle did not come with any spare tire, but was equipped with Bridgestone Dueler H/L 400, 235-55-R18 Run Flat Tires. Theoretically this set-up would allow the vehicle to be driven at up to about 50 mph for around 100 miles in order to get my wife safely to a repair location, etc.
Here comes the "rub": At the time I bought the vehicle, nobody mentioned there may be an issue with getting the tires repaired (if they were punctured. Especially, there was no indication that the tires may be impossible to find if you ever needed to replace one! Unfortunately, we just had the inevitable flat on the RAV-4 and have now been told by another local Toyota service department that it should not repaired for safety reasons. This advice was confirmed by the purchase dealership service department and other "Run Flat Certified" tire repair facilities in the area. The idea that I'd have to purchase a new tire every time I get a flat (not to mention it would be considerably more expensive than a similar non-run flat model) was disturbing enough.
But I then found to my utter amazement that a matching brand/size run flat tire is essentially not available for any price until a month or more down the road (and nobody can even promise that). The Bridgestone tires are apparently on back order from the factory and no source I, or the local Toyota dealerships can find, has any in stock! I find it totally unbelievable and unacceptable that any supposedly reputable company like Toyota would be selling vehicles equipped with tires that can't be repaired (or at least replaced) in short order. Neither the area Toyota dealerships, the local, or on-line tire sales/repair facilities I've spoken to has offered any hope other than they'll be glad to install the tire for me if I can find one sooner than they can get one.
My only recourse seems to be to let my new vehicle sit on a jack for one or two months, or to purchase a non-run flat tire (at considerable expense) that I don't wan't as an interim fix until I can find buy another run flat. Then I guess I'll just start the whole nightmare all over again with the next flat tire! I know this is not just a Toyota issue, but I think a company with their resources should have come up with a solution to this issue other than just wringing their hands and apologizing..even the offer of a loaner vehicle would have helped!
I've owned five Toyotas over the years (four bought new) and I've recommended Toyotas to others who've ended up buying them as recently as a couple of months ago. This situation is just a bridge too far however, and I can say with certainty that the buying and recommending days are never going to happen again!!?

Don't Buy a Toyota! In November of 2010 I bought a Brand new Toyota Rav4, looking at the market at that time I thought it was the best buy. I picked up the car from Toyota in Ontario Canada and drove it to my house to Toronto. While driving it on the highway I noticed that it was pulling to the left and that there was a light wubble to it. Since Mississauga Toyta Dealer is the cloeset dealer to my house now I decided to take it there to get this problem fixed. I was told that the tires were new and that this problem would fix itself. All they did was rotate the tires from front to back.
The pull to the left problem while driving wasn't as bad bad once they did the rotation but the wubble was still there. I was told that once the tires even out it would all go away. Here I am today it is January 23/2012 my Toyata Rav4 still pulls to the left even with different tires and rims(winter) and the wubble is there. Let me tell you the aggrevation/stress and the time that I wasted dealing with this problem I would never buy a Toyota again!
First let me tell you that Toyota does not care, I have never dealt with a company that has worst people/ customer service ever and I worked for the biggest telecomunication giant in Canada for four year BELL. I must have been at the dealership with this problem about five times leaving the car there for few days. They the technicians/shop foreman know that the problem is there but they don't know how to fix it. They have contacted Toyota Canada for technical assistance but they have done nothing to help!. I
have made numerous of calls to Toyota Canada at least 15 at this point and got nowhere. They will tell you that a manager will contact you back within seven to ten days but they never do. And once that I actually got a call from a so called Manager, hard to believe her name, she said that she will look into it and I have never spoken to her again. I cant believe that Toyota a big company that prides itself for being the best would put its customers through so much aggrevation, you would expect that finally when you buy a new car you will be problem free for at least a few years, well let me tell you this don't buy a Toyota its not worth all this stress.

sub: (complaint regarding damage in the bolt of back tyre in toyota innova car) VEHICLE NO: TN 57L 2604. I am very disappointed in registering a major complaint against Toyota innova. the complaint is regarding unexpected damage caused to bolts of the back Tyre of innova car while the car was in motion at the speed of 40km per hour so that i was able to control the car otherwise it would have caused an accident .The nature of damage was to the to Tyre which came out of rim and caused severe damaged to car. Adding to the point that after ten days of service completion that is exactly on 6.1.12 and also km ran after service was only 1391km.
I request you to give me an immediate remedy for the above cause or I will use all the legal procedures to regain my rights. I believe that Toyota is a high quality auto and don't think that I should have to put up with problems in the back tyre like bolts etc. Severe damage came from this and a near death experience, not something I would like to remember when I think back on car driving at only a speed of 40km per hour.

I purchased a Brand New Toyota Avalon Limited from Lou Fusz Toyota in St. Louis, Missouri in July 2007. Paid full asking price and few months down the road I was hearing a poping noise from the Roof. I made the complaint to Dealer about the noise and they informed me that Factory Missed putting insulating between the roof and the liner and they agreed to replace the insulation. After replacing the insulation my liner keeps popping out I have taken my automobile 4 times to dealer and now they are say they will have to replace the liner and I may have to pay for it.
It clearly shows the workmanship at the dealership that they can't remove and replace the liner in one visit. Every time I have taken my automobile to them, either I had to arrange for a rental car or wait there for hours to get the same shoddy work done. As any one knows the Liner is not a mechanincal part of the automobile and there is no wear and tear on that part. I am extremely frustrated and disappointed with the dealership and afraid if my autobile will get back my vehicle in worst condition after the repair. I can't trust any of the worker at dealerships.

On Oct 8th I took my Rav4 to my dealership to have a leaking rear hatch seal fixed. I bought the car in March 2010 and it leaked right away but I forgot to tell the dealer about it (out of sight-out of mind). When I took my car in for the 15,000 mile checkup I told them about the leak and was told that it should be under warrenty. They called back to tell me that they were going to charge me $200 dollars to fix it because the service manager said there was some dirt around the seal and that the warrenty was void. He than told me to call the Toyota complaint number if I didn't like his response.
That same day i did call and was told that the customer relations person at the dealership would call me in 3 business days. Well two weeks have gone by and still no call. I called your complaint dept again today (10/21) and was told that my dealership responded to them and that they agreed with my dealership. It seems that i have no arbitrary rights at all. I than called my dealer to talk to customer relations and was told to talk to the same service manager that I have the problem with because he is customer relations. I feel that I am chasing my tail. This was the same guy that told me to call customer complaints in the first place.
All he had to do was tell me that he had the final word, instead he sent me on a wild goose chase that led me right back to him. I always thought Toyota was a reputable company. This is my first Toyota and my last Toyota if this is how you run your business. I am deeply disapointed in your approach to settle a disagreement as well as your customer complaint department for giving me the run around. Is there anyone at Toyota who cares about the customer, and do I have any recourse in this matter.
Very UNHAPPY customer

The dealership says they can't fix the problem until it happens. I said," if I leave it here all night, unlocked in your garage, and it's locked in the morning and doesn't respond to the remote, what will you do?" Dealership rep told me he didn't know. He'd probably call Toyota. Why can't he call now and describe the problem? Do I have to wait to have it towed to the dealership and be late for work? Why can't the problem be researched now? I would hope someone in the company may be a little smarter than he is.

I recently ran into an unexpected problem with my 2005 Toyota 4Runner. The car was pulling to the left when I stepped on the brakes. It turns out the plate that attaches the front wheel to the frame had broken off due to rust, the wheel wobbled and could have collapsed under the car if I had sharply stepped on the brakes in a left turn. Bill Walsh Toyota (Ottawa, Illinois) had the rusted frame parts cut out and replaced/re-welded. I was not happy that my frame had rusted this severely but accepted the repairs. Both Dan and Laurie in Maintenence were very helpful and kept me informed of the repairs.
About two-three weeks later I noticed a squeaking noise and a stiffness when turning the wheels, almost if it "locked-up" in the turn. Another return to the Toyota dealer…..it turns out the Bushings that the "Certified" mechanic at Bill Walsh Toyota(Ottawa,IL) had installed were installed UPSIDE DOWN. My car is now in the shop… again. I no longer trust my vehicle, nor do I trust the mechanical work done by the Toyota dealer. I am frustrated.

On April 11 I took my wife and I's 2004 toyota camry to Crown Toyota dealer for a noise in the engine and to my surprise I was told that we needed new water pump. As our car a 2004 toyota with mainly in town driving I was shocked with only 55,534 miles on it was told your warranty was has exspired. We have had over years a corrola, 1983 camry, 1986 camry, 1993 camry, 1996 camry, 2004 camry. We have never had a water pump break down. All the cars I have listed except the 2004 had 90,000 miles or more 1983 camry 130,000 miles, 1986 camry had over 220,000 miles on it. It costs us over 607 dollers to replace water pump,flush and new coolant.
What is wrong with this engine? If this is the end to Toyota's Quality then we will look at the domestic cars because we cannot depend on toyota's any more!

I have a 2005 Toyota sienna LE with a milage of 47000 miles. This van is kept in the garage when not in use. I live here in Florence sc. About a month and a half ago I noticed a 2inches crack on the center dashboard and now it is about 12 inches. I went to toyota dealer here in florence and said there is nothing they can do about in because the warranty is over, 30000 miles is over. They said it will cost me about $700-800 labor and the dashboard is $ 800-1000. Will any dashboard should cracked easily even if it kept in the garage? Or is this sub standard material use by Toyota. I have read some forum and it looks like it is common in 2004-2005 model.
They don't even offer me a discount or at least free labor. I'm finish paying for this van this month and planning to buy 4 runner but this incident made ma change my mind.

We have a 2004 toyota corrolla. Never had a problem with our car until we took it in for a tune up at Toyota of Scion of Lake Norman in NC. I had brought my car in for a 4 cyl tune up. I was told they changed spark plugs, with irdidium plugs, flushed powere steering, E.F. I cleaning , top engine cleaning, and was charged 391.00 on 7/24/09. When I left my car felt weird, so I called they said your just not use to it, give a week. Well in that week my car kept on sputtering like I was running out of gas, kept stalling on me. Then the car started to put out some white smoke. I brought it back to the dealer on 8/8/09 they test drove and confirmed sputter.
They confirmed they left a vacuum line loose from the service and they found some puddling of ignition chemical in the intake system which they said was causing smoke. they said they could not find any other issues wrong with the car and it was great. All working to factory specs they say. It continued to have problems the next week and I called they said it has to get the chemicals out of the system it nay take a month or so,. I was still filling the car sputter a lot like it was going to stall. and now blue smoke was coming out with start up. I brought it back to the dealer again on 9/26/09 and they confirmed smoke. At this time they said it was due to pvc value had oil on it.
They said they removed cover and found sludge. They then offered me a deal on a new engine. rebuild for 5409. or replace with a manufactured at 3800. with a 12 month warrenty. I found it odd that this would just show up, I had also just passed my inspection prior to there first tune up on my car. So I told the dealer I can ot do that give me the car. I then took the car to another garage who said it really was not bad, and he did alittle removel clean up. That was over two years ago and like 35,000 miles agao with out a single problem. On 3/31/2011 I was hit from behine. I was basically rolling 5 miles into a school drive way when a man texting hit me from behind going about 45. They angle of the drive way had my back end up so he kind of ended up underneath the car. He hit the frame so hard that even though I did not hit my head the whip lash knocked me unconcious. That was how I was found.
It has taken them 3 months to reopair my car and now they have finished the body work and frame the car wont stay on. The body shop drove it around and felt it was possibly the timing chain loose. So the body shop took it to the same dealer from before Lake Norman Toyota. They just told them oh no dont work on the car it has sludge. Called there adjuster who called me and said we arent doing anything on your car and return the rental car. I went to Toyota and asked to see a diagnostic report that gave them this conclussion and they did not have one.
They tried to get me once to buy a new engine and now they were un fair again. So I had the car towed to another garage to take a look and give there opinion. Both adjuster are to go out and look at the engine. itnt r a timingybut wont start. The garage that has my car now feels the impact of the ccident jolted it loose, when they continued to drive the car to find the issue additional proiblems maybe occuring at this point. I know alot of toyota had a sludge recal, if this is my issue as the toyota dealer says it is why is the corrolla not included. It is obvious it is an issue in touota cars.

When is Toyota going to come out with a fix for the hesitation is low speed transmission shift problem. At low speeds (when turning on taking off from a low speed coast, the engine will rev up and them the transmission will kick in after 5 or so seconds. I have driven several other Camry of this year and they have the same hesitation in shifting at low speeds….this is dangerous and Toyota needs to fix this problem. I have taken to a Toyota dealer and paid to have the computer reset. Did not fix problem at all. As far as I am concerned, this year and model is junk. My drivers side seat frame is broke.
Very poor quality. I may just sell this car and buy a Honda or other make. I have had 94-2000 year Camry and they have been great. But, this 2006 year Camry is not good! Toyota needs to take responsibility and fix this problem.

When I had my 2008 Toyota RAV in for a recall service item, Folsom Lake Toyota in Folsom, CA discovered my passenger side front window's motor was broken. The car had 30,500 miles on it and given that the "warranty' had expired 3 months before due to the lesser of 36 months or 36,000 warranty, Toyota kindly offered to pay for the part if I paid for the $250 in labor. Sorry, but not good enough…you don't expect that a motor for an electric window will fail on a 3 year old Toyota. I called Toyota's Corporate Customer service, incorrectly named, and they told me they would not override the decision of the Toyota Corporate District Manager and I would need to pay for the labor.
Did I mention the car has another "recall" on it for an airbag issue that can't be fixed by Toyota until approx 3 months from now due to parts not being available. Funny, how Toyota thinks that as a customer it is no big deal for me to take time off work to get my car into their shop, be without a car for a day while it is being fixed for a recall item and that I should have no problem paying $250 for 2 hours of labor to replace a part that should not have failed in the first place.

This is my last Toyota product, a 2001 Highlander. WE had to replace the differential, brake calipers, mass airflow sensor, still getting check engine lights and know I find out that the rear main seal is defective, only $2000.00 to repair…and Toyota wonders why they're sales are falling, I will never buy another Toyota product again after my experience with this 2001 Highlander.

This is our third Toyota Camary we bought new & we never had a problem with the brakes until now & with only 40000 miles on it,I had it checked by a local grauge & they had to put new pads & routers on the back. Later I called toyota & found they were having brake problems with some cars & would have helped me if I had had it fixed at a Toyota dealer. Since it was in the brakes , I didn`t want to drive all the way to the dealer,about 50 miles. I feel if you are willing to help customers if they went to a dealer for the same problem, that I should get the same condsideration even though I had it fixed locally. I have never had a complaint befor, but do feel I should get some compensation.

This was a price bait and switch. We received a trade in voucher on our car so took it in to talk with the gentlemen whom we purchased our last car with at the dealership because we liked him(Ron) and felt his word was good. We had met with the Toyota division of this dealership last fall and got the run around with them doing the switcheroo with numbers with the same out come. We left mad. Anyhow as we had the trade in voucher in which the trade in price on our car was $8750 we had Ron run all the numbers and decided to go through with the purchase of a Prius with the trade in.
Ron took our voucher and also wrote all the numbers down and we agreed. We went to pick up the Prius and somehow the Toyota Division of this dealership had no paperwork(probably got shedded by them). They first said they would only give us $6300 on it but raised it to $8000. We were not happy but wanted the car so did agree but felt totally cheated out of $750. Our mistake was not getting copies of the paperwork that was written up with Ron for proof. As we highly trusted this salesman with a previous history with him so felt a handshake was sufficient.
I still do not think Ron had anything to do with this situation. The salesmen working for the Toyota Division and well as all management (I believe we spoke with all) had the same attitude and I feel like they regularly play games like this with their customers. Anyway we were told our trade in was not even worth the $8000 they gave us but they turned around and sold it for over $12,000 a few days later. Anyway we received a feedback call from Toyota the day after the purchase and told them exactly what happened.
It seems the dealership was able to listen to the taped phone call(we did not know this) and then called us and had my partner so upset he finally had to end the phone call. This was a typical price bait and switch and I want others who purchase from this dealership to be very careful and get copies of everything. I feel the Toyota Division of this dealership is very corrupt. It takes a lot of effort on our part to post this with nothing coming out of it for us. I just hope it helps other prospective customers.
I plan to this this information on every site I can find as well as open a case with the BBB.
*I have listed the complaint but wanted to update to be fair to Fayetteville Auto Park. After listing feedback in several places and opening a case with Toyota as well as the BBB this issue became known by the manager of Fayetteville Auto Park Chris Bunch and he sent us a check for the $750.

I live in the area of Universal Toyota and decided to see about buying a toyota tacoma. I worked out a price with the sales person and a day later when I came up with the money, the manager decided that the price was to low and started to renegotiate again. The sales person was so embarrassed that he left the job to seek employment at another dealership. I was told this was this dealerships day to day tactics. I am an engineer by trade and have never experienced anything like this. I have bought toyotas in the past and have never experienced anything like this at any other dealership.
They treat people like there stupid. People, Customers are lied to and pressured just to see if they can get as much out of them. They tell you one thing, look you in the eye and lie to your face. Working people in this economy, working hard to keep there families alive and well, do not deserve to be treated like this and I am hoping corporate toyota hears of this and acts on this. STAY AWAY FROM UNIVERSAL TOYOTA IN LITTLE FALLS NJ unless you are gulable.

I am writing to tell you that I wrote and complained about my 2001 Toyota Camry. It seems the warranty should go to 100,000 miles I wrote to the motor dept about my problem. I purchased my car in 2006 and had to spend money on other things that went wrong with my car. It seems Toyota does not live up to its name. I am disabled and I brought a car that I thought I could depend on but I don't think so I read other peoples complaints. Some of us cant afford to by another car and we depend on the one we have. Look up the history on my car and you will see. This is my vin number 4t1bg22k61u089285. Have a heart will ya Toyota.

I purchased a 2011 Toyota 4 runner limited last Nov.. The GPS system is totally useless. It does not work within five to six miles of my home. When I get within five miles it says that I am five miles from my destination and that there will be no further information. I checked the coverage of the system and it covers all of Canada, all of the Hawaiian islands and only the large cities in the USA. I checked the Internet and found that the system is made by a Japanese company named Denso which specializes in the manufacture of car parts. It would make more sense to use a company that specialize in Toyota GPS systems.
I have called Toyota with my complaint on three occasions to no avail. I have two Garmin products which work great in my area as well as anywhere in the USA and they did not cost me $40,000 dollars. This is my fifth Toyota and will be my last.

Sarah Bunten
from Dallas, TX
I currently drive a 2014 Avalon. I bought my car in September of 2014 with 14,000 miles. I thought I was getting a great deal, as this is considered one of Toyota's Luxury vehicles. To my disappointment, in the summer of 2015, several issues arose. The trim around the radio and cup holders began to flake. I live in Texas. The summers here are hot, so I decided to crack my windows to prevent the car from overheating. Unfortunately, when I returned, I was stunned to see the leather had bubbled up.
Less than a year from purchasing this vehicle, the leather is severely cracked. This is not okay. I took my vehicle to the dealership to get the trimming and leather seat fixed, only for your employees to tell me that this was my fault, in which they accused me of spilling a drink and that's why the leather seat was ruined. A month later the radio started turning off inconveniently. I took time out of my day and my job, to take this car to the dealership. I was told they needed to update the software and that was the reason it wasn't working properly. After having waited for four hours, I was told I need to make another appointment, because they had to order a new radio and were unable to perform the updates. This is unacceptable.
After having brought my car back into the dealership to have the radio replaced and the software updated, currently to this day, I still have the same issue with the radio. Along with the continuous problems with my radio, two of the buttons on the driver side door, fell off and have stopped working. I contacted Travis at one of your dealerships, left 4 messages and after 2 months of attempting to contact, he finally calls me back. I made another appointment, for the radio and buttons, took time out of my day and my job and after having waited three hours I was told they had already replaced the radio and there was nothing they could do. I got my vehicle back, only to find they didn't replace or fix the buttons on the driver door. Now the leather in the back seat is flaking on this two year old car.
I have contacted the dealership to see what they could do. They are only willing to trade in my car. They will not repair my car and they will not trade in the same car with the same features. The trade in at the dealership where I've had so many issues (Toyota of Plano) is offering to trade in my car for less than other dealerships. The only thing they are willing to do is take off $500 on the trade in car.

Vincent Ercolano
from Brooklyn, NY
My 2003 Toyota Tundra has severe rust on the underside of the truck. There were two recalls to address this issue. I brought my truck in both times, one for rust on a gas tank support which they replaced and one for rust on the frame. For that, Toyota took the truck for approximately 2 weeks and had it undercoated, the undercoating peeled off after two years. Now the rear axle housing has rusted through and is leaking oil. I called customer service and they said the rear axle housing is not covered by the recalls.
Toyota customer service is absolutely useless.The truck obviously has issues with rust on the underside of the truck, but they refuse to cover anything else but specific parts. I've had cars and trucks in the past and I've never seen a rear axle housing rust through like my Toyota Tundra.
This by the way, is the second Toyota I've owned that has had severe rust on the bottom. I also own a 96 Ford Ranger that has none of these problems and it is 7 years older! The recalls for premature rust is a good indicator that Toyota uses inferior steel, but they won't fully commit themselves to all the rusting components. The parts alone cost over $3000.00, from Toyota, plus labor. Needless to say, this will be the last Toyota I will purchase!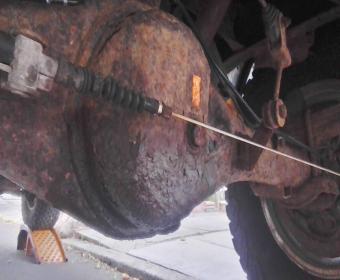 l. Churnside
from Ione, CA
I bought a 2009 Tacoma at Elk Grove Toyota in CA. After everything was done I asked about the owner's manual - for safety and maintenance - the 1 carried in the car. I was abused and bullied. Never did get the manual. They sold me a service contract; I was assured I could use my local repair shop since I live a distance away. I later call the 800# to verify this - no, no, no - I had to use a Toyota shop. I go back to Elk Grove Toyota. They kept telling me I realty wanted to use a Toyota repair shop, especially theirs. The called a local repair shop a "Mom & Pop" shop - very abusively. When confronted about their attitude, they all went into a huff and pouted.
I was sold a Detailing treatment that was supposed to a Toyota program and "Only Toyota had a lifetime guarantee on their treatment. I called the 800-331-4331 to get the address of the CA regional office to send a written complaint, as well as the corporate office. Get called back - there is no address for the CA corporate office and no such detailing treatment. If I want anything I have to go back to Elk Grove Toyota. I notice the negative complaints about Elk Grove Toyota in Yelp seem to be from women or people with non-typical American names. The positive comments are from men with typical American names.

Gary Jay Gilman
from Seattle, WA
On 7/28/2016 we took our 2004 Sienna Van to have it checked before we go on vacation. The van has 60,000 original miles on it, it was serviced in Renton Washington and they called us and said that the wheel bearing on the drivers front was making a little noise and should be replaced. They said it would cost about $1,400 dollars. We asked what would cause it to go bad and they said just wear and tear. We have had about 20 Toyota cars 4 wheel drives and what have you and never had to replace a wheel bearing. The service department called and said we saved you some money it will only be $1,000 dollars not $1,400. They then said that since the Van has so few miles on it we need to have the water pump and timing belt replaced, guess how much it was going to cost?
You guessed it $1,400. They said that since the car has so few miles the 100,000 mile stuff needs to be done right now before we drive it anymore. Now my wife will no longer ride in the car because of what they told her at the dealership. We bought a 2014 Corolla Ecco with less than 10,000 miles on it last year, and a woman called and said that we need to take it to the dealership and have the Airbag replaced right away, it can explode and send metal into the riders face, so my wife will not ride in our new car either, I need to talk with someone about what is going on please, someone that can make things happen!

Natalie Pounds
from Woodbridge, VA
I am writing this letter to express concern about an issue I have experienced with my 2011 Toyota 4-Runner, VIN JTEBU5JR0B5057954. I have been a loyal Toyota customer for many years. This is the second 4-runner I have owned and I had every expectation of owning many more in the future.
A few weeks ago, the driver side door handle broke in my hand as I was attempting to exit my vehicle. I am 130 pounds and the only driver. Shocking as it was, I realize things do break so I was not overly excited but a bit disappointed.
This week while my car was at Lustine Toyota in Woodbridge, VA for maintenance (about $1000), I requested also that the serviceman repair the door handle. To both our astonishment, the handle cannot be replaced without replacing the entire door panel! $1300. And of course I was told that the car will never pass state inspection without a handle.
I would like to request that Toyota look into assisting me with this repair as a loyal customer for so long. My immediate position is that the handle was defective but I can't prove that and the car is not new but it is in great condition. Only $50K miles. I appreciate any help you can provide.

Joseph Cafano
from Hingham, MA
Dear Toyota Complaint Department, I've been a loyal Toyota customer for many years with different Toyota vehicles and I presently own three Toyota's. I purchased my Highlander in 2011 at McGee of Hanover, MA. with an extended warranty. First of all I am very satisfied with my 2011 Highlander except for one annoying problem that I've been dealing with for four years. Just after a year of ownership I had a problem with the rear lift door. I wasn't very happy with the problem happening on a brand new vehicle but realize things do happen.
McGee service department took care of the problem and reassured me should anything go wrong with the door that it would be on there service file and they would take care of it. I was told the bolts that hold the lift door in place were to small which caused to door to go off track. Which is the purpose of this complaint. Shortly after I purchased the Highlander I moved to Florida and I come back to Massachusetts each summer. I have the vehicle serviced twice a year by Toyota service once at McGee in MA. and once at Venice Toyota in FL. I take very good care of all my vehicles.
After the first year of ownership and the rear hatch being fixed every time I took it in for service I complained about the rear hatch door squeaking when opening and closing to both dealers. A month or so after it being serviced the squeaking would come back. Before I left Florida this June I had it serviced again at Venice Toyota and the squeak came back, I then took it to another mechanic and he told me Toyota only sprayed the piston for a quick fix but the piston was bad. I think thats all either dealership ever did. I decided to take it back to MGee in MA. where I purchased the vehicle not realizing that my extended warranty had just ran out. When I returned to McGee in July of this year and explained the problem to them I was told there was nothing they could or would do even knowing the rear door hatch had a problem. This is not the way I thought Toyota would treat a loyal customer after spending over $40,000 on a vehicle.
Vehicle information:
Make 2011 Toyota Highlander Limited
Vin 5TDDK3EH4BS090135
Purchase Date 07/22/2011
Portfolio Plan B 5yrs. - 75,000 miles
Current Milage 79,000 miles

Charles Ogle
from Murfreesboro, TN
I did a little digging into the history of the company before I complained. Toyota Motor Corporation was founded by Kiichiro Toyoda in 1937, branching out from his father's Toyota Industries to venture into creating automobiles. TMC is now part of Toyota Group, one of the largest conglomerates in the world built around multiple companies that have been started by or maintain relationships with TMC and Toyota Industries.
Toyota has become the world's leader in sales of hybrid electronic vehicles and mass produces millions of parts for Toyota, Lexus, Scion, and other vehicle brands. The company headquarters are located in Toyota, Aichi, Japan. North American customers can mail letters to 19001 South Western Ave. Dept. WC11, Torrance, California 90501.
I paid over 40k for my 2014 Avalon limited hybrid at Cumberland Toyota in Cookeville, TN. I recently took it in to them for the 24 month maintenance and asked the service guys to check for any navigation updates since I had been seeing some errors and missing streets including the one I live on. I was informed that an update was available but that it would cost me 216.00. This is ridiculous. Why is this not part of your service and covered under the 36 month bumper to bumper?
The street I live on is seven years old and shows on every GPS I've looked at but it doesn't on the Avalon. This tells me the map wasn't even up to date when I bought the vehicle. I have been buying new Toyota's for the past 25 years but that may change.

My daughter was given a 2004 Toyota Camry by her grandmother who had bought the vehicle brand new. My daughter absolutely loved this car and took such good care of it. On 07/16/16 she was in a bad car wreck in this vehicle a driver ran a stop sign both parties were driving approximately 50+ miles and hour the other driver was in a 2000 Ford Explorer.
My daughter to boned the xpl in the back wheel area on the drivers side. The xpl side air bags were deployed. My daughters Camry had major front end damage and the air bags didnt deploy and the seat belts on any of the occupants did not lock. They all were slung forward sideways etc. Why would this of happened? Is there a problem that has been missed? This car was in tip top shape and had been to the dealer numerous times to address any recalls.
Why did the air bags not deploy and seat belts not lock?

Bernard Winslow
from Fort Lauderdale, FL
Owner of 2009 Avalon limited. vin 4t1bk36b89u334145. Received warranty enhancement notification ze6, pertaining to melted dashboard, cracked and sticky. went to dealer, al Hendrickson Toyota in coconut cree4k, florida on October 10, 2015. They confirmed problem, said parts were ordered and it would take about 2 months. Sometime in feb. 2016 went back as I heard nothing from them. They said they checked on their computer and the parts have not come in yet? Now it is the first of June 2016, no word from dealer or Toyota. why send out enhancement notice if you have no intention of following through. This is my second Avalon, have owned 3 or 4 camry's before, now thinking of going to Nissan.

Losiv Popescu
from Focşani, VN
I'm really sad to see the difference between what Toyota says about quality and what happens with the services provided by the dealer in Romania that also hosts Toyota Romania. It is about Inchape Motors and Toyota Bucuresti Nord service. I bought my RAV 4 in 2007 from them. In 2013 I think I went to service to change the chock absorbers for the front wheels. They changed the absorbers bout that didn't change the rubber hood protections.
When I asked why, they said I have not asked for. It looks I should be trained in all parts of a car but they do not have any obligation in informing me about some small parts to be considered. When I asked what this implies, they said it is almost the same work work as for changing the absorbers and they will not gonna do it because there is no impact. I found out that a reduction of 20% in the life of absorbers is reduced if it gets dust inside. Who pays for this reduction? The owner and the customer.
In 2015 I went for the yearly revision and after this I went to mandatory two years technical check also to the same service. My car failed the test because of the breaking system. The break disks were damaged and the mechanics didn't proposed me to change them. I started to ask how this happens and the GM of Toyota Romania came down. After discussions he told me "Mr. Popescu, I do not have time to lose with you. If you want we'll meet in the court" ...
In 2016, January, going for holiday. On highway I had to add screen washing liquid. Trying to close the engine hood - impossible. Finally, I succeeded. Meanwhile I changed the service for one in another city. I went for the yearly technical revision and I asked them to check my engine hood. My engine hood was changed in 2008 at Toyota Bucuresti Nord and it was not prepared at the standards at all. From the Toyota Craiova I found out that the internal nervous had to be glued with a special glue, then it had to be painted and so on. The outside paint almost disappeared after 3-4 years maximum, but I thought maybe it is normal for repainted parts. I was wrong.
When I queried Toyota Romania customer services, I was told their colleagues Toyota Bucuresti Nord reported they did the change in quality standards. I asked Toyota Romania if they also considered the testimony of Toyota Craiova who says the opposite... No answer... It is so bad to find out after years that what you learned is not true. When I learned about the quality I learned about Toyota. The car is OK, the services are not. The dealers are bad. The quality chain should be integrated. Maybe I can find a translation to "Toyota ta e si Toyota mea" (Romanian) that means "your Toyota is like my Toyota"...
Maybe Toyota will read this message and will do something. Anything. I hope they are interested in customer feedback.

Suzanne Earles
from Sarasota, FL
I purchased a 2016 Prius C in March of 2016 and I have very serious buyers remorse. I traded in my 2011 Toyota Corolla. As a consumer, I am probably to blame, however in my defense, much of what I am going to complain about has pretty much been standard in Toyota cars, but the new Prius C do not have them.
No sound when locking or unlocking the doors on the car. When I questioned the dealer they said, "oh yeah, you just need to go in to the settings and change it". I found out on Saturday, April 7th that Toyota did away with that for only 2016 Prius C's and Yaris. It took the service department 1 1/2 hours to figure out (after they finally contacted Toyota) that it didn't come equipped with that feature, nor could I get that feature.
The seat has not adjustment mechanism. you can only move the seat backwards and forwards. (not up and down) And since I am a short person, that sucks. There is no alarm system on the car. I thought the panic button on the key was for the alarm system. Nope. It did not come equipped with one.
There is a back-up camera but no sensors if you get too close to an object, person, child, etc. I decided on a Prius C because I know several people who have the C and they love it. But all are prior to the 2016 model. The thing that really makes me angry is that the dealership had absolutely no idea that may of these items were not standard. So now, I am stuck with a car that I will have to put several of these items in after-market.

David Wingert
from North Fort Myers, FL
On April 20, 2016 I purchased a 2014 Toyota 4-Runner from the Toyota of North Miami dealership. The car was missing a seat latch for one of the second row seats. I was promised (see attached form) I would be sent the latch within a week or so. It has now been 2 weeks and I have NOT received the seat latch yet. I have been unsuccessful in trying to make contact with the salesman.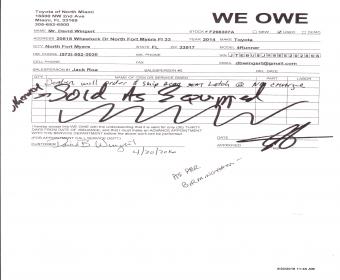 On the 4 of April 2016 my Toyota Etios went in to Toyota Durban South for them to replace a timing tension which was part of a recall campaign. I was then later informed that my vehicle had been smashed in the workshop. It is now 4 weeks and I still have not got my vehicle back although they have given me their vehicle to use. I am just frustrated that I have to keep calling them every week to find out what's happening because they don't contact me.

Dennis Wainwright
from Eddy, TX
Toyota TV commercials supporting bank robbers is ridicules and against any common sense in a legal based society. I have purchase three Toyotas in the past and own two of them at the present, but certainly will reconsider my next auto purchase based on whether a auto company continues to makes any future commercials support illegal activities.

Rick Brown
from El Segundo, CA
Was in the Toyota Carson Dealership three times first time to talk with salesman face to face about purchasing a new 2016 Toyota Tundra, we talked on the phone numerous times and he had the truck i wanted. The second time to verify the cost and put down a deposit I planned on paying cash in the next couple days waiting for escrow to close. Diane Whitmire his boss was very rude and said we don't take deposits and kinda was rude to the salesman also, right in front of me and other customers, she couldn't even be courteous enough to greet me when Mike introduced me to her. She has a terrible bed side manner and can't get even stand up to acknowledge customers. Acted like she didn't want me to get the truck from the get go. Told Mike we don't do things like that in front of me.
Talking to him on the phone was the reason I went over there to buy the truck instead of Cerritos, she is the reason I didn't buy it there. She shouldn't be dealing with people at all. I worked for the Fire Dept. for 28yrs. and i will definitely pass my experience of to my fellow fire fighters. Your salesman Mike Black is new but very personable, friendly and works to get you a good deal and sale a vehicle. I will not ever go back there. Mike tried to get me back in even said I can come in on her day off and buy the truck. To late sorry.

Kim Jones
from Deerfield Beach, FL
Main issue is with the braking and sometimes accelerating. Every time I try to stop the car, it seems like it doesn't want to stop. Even after I think it has stopped, it's still moving and I have to brake harder for it to completely stop. It is especially frustrating in traffic. Also, when accelerating, the car feels like it is having trouble getting speed, it's like it has the hiccups or just gulping for air (putt putting away). For a car that a little over a year old, it's very disappointing to drive in a car that I don't really feel safe in. I have to wonder sometimes if it's going to run into someone one day. I'm a careful driver and always brake within good distance but if I'm braking and the car doesn't want to stop...that's scary and drivers in front of and behind me are probably scared too. I just need this issue resolved. My local dealership doesn't seem to car much, I've brought up this issue before and nothing has been done.

Darlene W Wempren
from Laplace, LA
I have A 2013 Avolon Limited. I had a recall on pre-collision system. I had it disconnected due to recall letter on December 15,2015. I paid extra for this feature which is not working now. It was important that I had this feature. My Vin number is 4T1BK1EB1DU052749. This is not my first Avolon Limited but it will be my last. Other cars have this feature but they still have theirs working. I feel Toyota is not the company it use to be. They should have a fix by now.I have had my head liner replaced because it fell twice. I was told it was a problem with this car. I had the back of the seats fall due to recall. I have had the control panel on side of front seat replaced twice. I use to love Toyota but not now. Can You tell me when my Pre- collision will be fixed. If not soon I will replace my car but not with a toyota.

Ravi Singh Bisht
from Dar es Salaam, 02
I had a small problem in my Toyota hillux. We bring our car in Toyota service center in Dodoma (Tanzania). Their manager said that they will give back our car same day. But same evening he said that that have not fixed all issue so they need some more time and will be given our car by next day 11.00am. But whole day we are waiting and they said that they have internal issue. Very poor service.

Wheaton
from Quispamsis, NB
I contacted both the dealership and Toyota head office in Ontario, long story short they will not do anything for me. said it was because there was rust on my rotors that no warranty was possible (whoever heard of such BULL). All kinds of scenarios are going around in my head as to what they did or did not do like using cheap or used parts or not even doing any work but charging me anyway. I have been a customer for 10 yrs but not anymore, just bought a brand new car from another dealership and did not even consider Toyota.

Khalawan Maharaj
from Saint Joseph, TUP
I am a first time Toyota customer from Trinidad and Tobago, West Indies. After visiting my local dealership during a sale promotion on July 8th 2015, All my interest was focus on the Hilux 3.0 4x4 Diesel pickup. I request a quotation and based on all the items listed on that document, a payment was made towards a Hilux. However, upon receiving this vehicle, a Roll Bar was not installed. I agreed to take possession of the said vehicle on the condition that attempts will be made to rectify this issue in the shortest possible time.
I received the vehicle on Sept. 11, 2015 after which, many follow up's, verbal and via email with even an alternative that is close to what is outstanding, six (6) months have now past and no positive response. I humbly seek the assistance of your good office, to assist in rectifying this poor after sale customer service rendered by the Toyota Brand in Trinidad.

Tracy Savoy
from Rockville, MD
In May 2015 we purchased a 2006 Toyota Tacoma for my son. When he took the truck in for some routine service in Feb 2016 he was informed that the frame on the truck has extensive rust corrosion & is cracked. Toyota "customer experience center" is not offering any help with this. In trying to help my son, my research has found this. Toyota had to recall several of these model trucks due to them being manufactured with frames that lack adequate rust corrosion protection. The frames are prone to excessive rust corrosion making them unstable & unsafe to drive. Toyota received numerous complaints about this problem and they issued extended frame warranties (15 yr. / unlimited mileage), but only on vehicle years 1995 – 2000.
In December of 2014 (prior to us purchasing the vehicle) there was a recall for Resistant Compound Application on our vehicle. This recall stated that vehicles registered in cold weather states with high road salt use may exhibit more than normal corrosion to the frame. A corrosion resistant compound was applied to the frame on 12/8/2014. To me, it seems my newer model year has the same problems that exists with the 1995 – 2000 year models , but because our vehicle is a 2006, Toyota is not offering any assistance with this problem.
It seems that because Toyota already knew this problem existed, they found a way to not have to potentially buy back more vehicles, by offering the limited service campaign to apply a corrosion resistant compound to "key areas of the frames" on the newer year (2004 – 2008) vehicles. My son is 20 years old, enlisted in the Army, stationed at Ft. Drum, NY. Our family does not have the financial means to replace a frame on the vehicle he purchased less than a year ago, nor should we need to worry about this when this is a problem that is known by Toyota.
I am a Toyota owner, my husband is a Toyota owner … we thought we were doing good by looking to Toyota for a dependable vehicle for our son, and Toyota doesn't seem to care about this problem. I've attached a photo of my sons frame. Remember, this is what the frame now looks like ONLY 14 MONTHS after Toyota claims to have sprayed it with a corrosion resistant compound.

Patti Smith
from Avondale, AZ
1000 service check for steering wheel shake. Rotate and align tires. Back in at 4700 miles still same issue. 10 hours later 4 replacement tires. Back 1 week later since 1 of the tires was dated from 2014. Told 45 minutes total to swap tire and check fluids. After 1 hour I checked and they didn't even have the tire nor did they give me an update. Call reception desk to ask service managers name told c.j. Asked for last name she didn't know. It's now 2 full hours and still no vehicle.

Rachid bahi
from Brooklyn, NY
I went to Toyota Bayridge on February 29 at 8:00 am for 2nd service on my new Toyota Camry hybrid 2016 when I return at 5:00 pm the same day nothing done on my car so I complain to the manager mike who find out that nothing is done to my car then he order to change the oil and do the rotation which is done in half hour. After they gave me my car i found out I have to change the front right tire.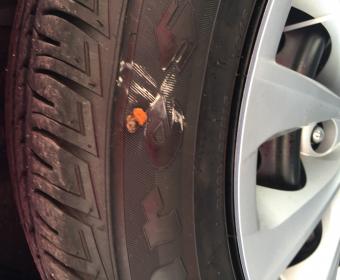 Anthony Santacross
from Spring Hill, FL
On 8/15/2015 I purchased a used 2012 Toyota tundra truck from Village Toyota Homosassa Florida. The truck was supposed to have had the Toyota certified inspection done before my purchase. When writing up the final paper work on the purchase price of the truck I told the sales and service department to check the tires on the truck because the tread looked uneven and worn. The truck was also pulling to the right while going down the highway. The salesman took the truck to the service department and in twenty minutes returned to tell me the alignment was fine and the tires had a few flat spots from sitting on the lot but were in Toyota specifications. I purchased the truck and a few weeks later it continued to pull to the right and wonder while driving. I took it back for them to look at the alignment and tires again.
At that time the mechanic in the service department came out and showed me that the truck was out of alignment and new tires would make a difference in the way it was wondering and pulling to the right. They proceeded to charge me the $80.00 + dollars minus 10% because I told them it was out from day one. I drove the truck for a few more weeks and decided to get a second opinion from another Toyota dealer in Florida because the truck was still pulling and wondering while driving. The second opinion from the other Toyota dealer cost me an additional $105.00 for them to tell me the tires were the problem and they never should have sold me the truck with them in the condition they were in.
They showed me the uneven tread wear, cupping and the tire tread was below Toyota specs. I proceeded back to Village Toyota the place of purchase to tell them the information I received from the other dealership. A new manager came out and I explained what was going on with the truck since day one . He told me he would let the service department check it out and they in fact said the tires needed to be replaced but it was because I drove the truck 3,000 miles and now they were out of spec. The manager told me that all he would do is sell me a new set of 4 tires for $1,100.00 and deduct $225.00 from the purchase price with everything including a new alignment check.
I told them to go ahead and replace the tires and align it for that price. After the work was completed the bill was over $1,200.00 and I was charge an additional $80.00 for a second front end alignment. I explained the situation to the service manager about the price the manager and I agreed upon with alignment included and he said that was the final price and they wouldn't do anything else for me. I told the service manager that deception about the condition of the tires and alignment from the sales person, service department and new manager have caused me to pay well over $1,400.00 in additional repairs and I would be taking my business to another local Toyota dealership for future service,

Gerrard
from Jacksonville, FL
Air bag warning came off a few days after receiving the recall letter for the passenger air bag. Air bag was replaced on 26 Sep 2015 - air bag warning still on lighted. Advisor and Technician said that is computer problem and another recall to replace the computer will happen soon. A sales representative have been calling me for a new car/extended guarantee. We agree for today(18 Feb 2016) at 1100 AM with the condition that he is going to scheduled an appointment with the service department to look at the air bag warning light. I arrived to Keith Person Toyota at 1055 AM to find out that the sales representative was off today(The manager call him-he said that he was on a medical appointment???).
I walked to the service department to see if he made the appointment for the air bag light - he didn't. I explained to the advisor about my previous appointment back on Sep 2015 and he said that there are no such thing for computer recall. He want to charge $51.00 to check what the problem could be. Another lie from the same dealership. By the way-Is there any recall for the drivers air bag (Takana model)? I haven't received a letter yet if so.

Joy Rowland
from Riyadh, 01
I am a Toyota customer since 2005 in Saudi Arabia. Currently i am using a PRADO and want to get this transferred to one of my friend. To get this done i would have visited the Toyota branches more than 5 - 6 times and wasted my time getting done nothing. The Toyota customer service manager by the name of Ahmed in Riyadh ( Newly opened branch behind OLAYA street ) handling the leasing department was rude and never tried to help me to get this job done. Today morning when i went again he said he is busy and sorry. I never dream Toyota will have such idiotic people in their department with arrogant attitude to serve the customers spending big ticket money for vehicles.

Debra
from Vero Beach, FL
I went in to have my regular maintenance done last Thursday oil change,tire rotation etc. well the service guy told me I needed new tires ,brake flush,battery cables cleaned I said no because I ask him to look in computer to find out when I bought tires &new battery from Toyota my car was done in 15 minuets so I ask why they didn't rotate tires they said because I needed new tires. When I got home I popped my hood they did not fill any fluids clean battery cables nothing I was furious! When I left the Toyota service I swore I would never go back!! they were not accommodating at all. They were all new people. If this is the way they treat people u will b loosing clients at this point.
I have been going there for 5 years now and this is my Second Toyota I have never been treated so bad before and I will never go back. I have been faithful about servicing my vehicles there but never again. I wanted to bring this to Toyota's attention so u are aware of the service here in Vero Beach Florida. I hope u can make some changes because now I have to find me a mechanic because they did not fill my oil up all the way. Thank u very much. Debra Neal

Charlie
from Birkirkara, 04
Well this is the story. The problem started just after I bought the vehicle in March 2014. As I thought maybe because it's new. but we have 2 of the same model. But the other doesn't do it. Like how I explain to you I can not keep on wasting my time going to Toyota and they always come out with a different excuse. This week I called TOYOTA to find out if they come up with any news as the last time I was there about 3 weeks a go one of the guys working there told me that they have to contact someone abroad about this problem.
Now the told me that a guy by the name shawn and I haven't heard anything. think I have been Patient enough. If the gearbox needs to be changed which I'm not happy about then they should say. I even ones took it and the change the gear oil and didn't do any difference. Well here is the details of my vehicle. And a report of TOYOTA when thy change the gear oil ( It's a Hilux icon 2014 4WD HL9 Double cab chassis AHTFR29G507039222 Engine no 2KD-A307882 miles 5800.

siddharth sengupta
from Mumbai, MH
I purchased the car on 20 August 2016. Car started giving trouble after 1st servicing. they have till date not been able to locate the problem or say technical snag. The car is lying in the workshop since last 8 days but problem still not located. I am calling them to find the status of my car instead of them calling me and keeping me informed. I have mailed to the head customer care relations but still awaiting for his reply. I mailed on 6 Feb and today is 8 Feb. we are all experienced drivers so definitely not imagining the defect as we our with no vehicle right now.

Robert Krebs
from Stevensville, MD
I have a 2010 Toyota Camry XLE. When having the car serviced, the mechanic said the water pump is leaking due to an inner seal problem. The local toyota dealer also confirmed this, It has 59,550 miles and I cannot imagine the water pump needs replacing. Is this covered under a manufacturers warranty and if not, why not?

Dear Toyota customer service department. After many years as a loyal repeat buyer of TOYOTA cars, it appears the quality of your Agency here in Egypt has gone down, It is with great regret that we have to inform you that your agency here in Egypt (Toyota Egypt)( EL OBOUR) not on the level of proficiency and efficiency which we expect to be found, I'm writing to you today to explain about a very bad service I had at Toyota Egypt (ELOBOUR), I trust that this is not the way Toyota does business. The treatment of the customer gains zero attention from your side.
On the 28th of august 2015, we entered our car (Model High S) to be repaired at EL OBOUR TOYOTA( copy attached) and we asked for a repair agreement to introduce it to the insurance company, we received it after 2 months on the 20th of October 2015. Due to the negligence of the employees to do their tasks.( although we asked them to finish it for several times . I am certain these employees are not the type of people you want representing your fine company. After long waiting ,On the 20th of October, they informed us that the car needs to an electric piece and it has to be imported from abroad (Japan) and may take 50 days and of course we had to agree.(No second choice).
I would like to inform you that until now we have not received the car because of course the spare part didn't arrive at the specific time, Which fully impact on our company because this car was used to transfer our company's employees and of course we had to rent another car for this purpose which cost the company many losses. We had to inform you that we are in the process of changing our company's policy toward your company( in terms of buying and replacing our company's cars after what we suffered from a very bad and very poor after sales service and we will of course think seriously to choose another model of cars might be more interestesd in serving the customers. We have suffered a great deal of hardship due to the careless of Toyota Egypt( EL OBOUR).
We are deeply frustrated and submit our complaint to the international company as to take serious action against you. Its worthy to note that this wasn't our first time to being treated like that from your side, and moreover this complaint been repeated to me frequently by other Toyota customers. N.B: our company owned more than 5 cars from Toyota company.
We are hereby notifying you that we reserve our right to claim on you for the shortage ,I'm afraid to inform you that we may be forced to take legal action, so please immediately investigate how this has occurred ,and we are holding the a/m case at your disposal. Many thanks in advance for your understanding and waiting for your urgent reply.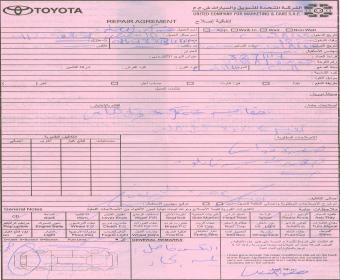 Jennifer Fay
from Pittsburgh, PA
I have taken my 2014 to Superior Toyota in Erie Pa more than 6 times for rust on the rear lift gate. They have photographed it several times. I was told that the rust is due to external damage. There is more than one area that is rusting and a bubble in the paint on one spot that has not yet started to rust. I have also taken it to 2 non-Toyota body shots who both say that it does not look externally damaged and feel the lift gate was not properly cleaned before being painted.
It is rusting from under the paint. I called the 800 Toyota number and was told they stand behind the dealer. I have attached pictures, one is of the furthest progressed spot, tone is an area that is starting, the last is still a bubble that has not started to rust.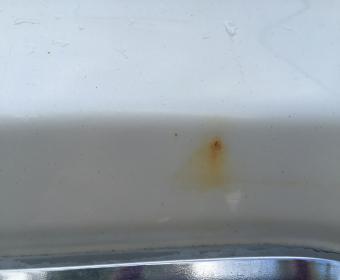 Marwan Amer Saqr Alsaad
from Cairo, C
This complaint is regarding my Toyota Corolla (car # 9923-ss) 2015 model, MMTBB9JE20R071441, Model code: ZRE181l-DEXNKW, bought in Cairo Egypt, after driving the car to about 12000km started to hear a whistling sound when speed reached above 80km/hr speed, on 14th December, 2015 took it to the Toyota dealership (United company for Marketing & Cars S.A.E) in Obur city, where it was checked and confirmed that the sound is coming from the left front wheel.
At the time the dealership said that this error is covered by the car warranty but they didn't have the required wheel bearing and it would come from Dubai. Since I have called more than 3 times to check if the part came in, no body gives any information. I need to finish this problem specially that it is a safety concern and the longer I keep driving the car in its present condition the worst the fault will become.

Tan Weng Kean
from Petaling Jaya, 10
I am a Malaysian who owns the Toyota Vios Version 2015. I would like to complain on the newly bought Toyota Vios with rattling sounds on uneven road. Despite numerous examined by so call technical team by the UMW Toyota Motor Sdn Bhd but the problem still exist. May I know is this this kind of quality Toyota Malaysia provided to customer? I am looking forward to a reply in near future from the Toyota corporate offices.

Stewart Ogilvie
from Murarrie, QLD
I took delivery of a new Corolla ZR hatch auto.. In daylight I cannot see the speedometer. In the family we have bought over the years at least five new Corollas and never had a problem. That is why we kept buying replacements. I am a retired self employed motor mechanic and over the years did much work on Toyota cars and the dash panel layout on this 2015 model is poor. No need for everything to be sunk down deep holes. I have been back to the service department where I bought the car and was politely told there is nothing we can do.
A comment from the top of the tree would be appreciated Driving this car at the moment could be expensive as over speeding of even 5KM can bring a solid fine plus points and again the numerals firstly are too small, squeezing in up to 240 km is just silly and there is no back lighting in daylight. Otherwise the car is just what I expected but you are going too far with all the electronics as I do not think the service departments are up to it at least in Queensland.

eleanor gallagher
from Youngsville, NC
At 20,000 miles, why have the front tires on our 2014 Avalon completely worn out (not unevenly due to improper balancing, but totally worn out and would not pass inspection); whereas the back tires are almost like new. We also own a Lexus and a Prius which we LOVE. Not so happy with this Avalon which was the top of the line when we bought it. I would appreciate a response from Toyota customer service.

Donald Lewis White
from Atlanta, GA
We purchased 2014 Corolla July 3, 2015 with the promise that certain things would be taken care of. We have yet to have the verbally and written promised things done to our vehicle. we have been back to have it taken care of no less than 5 times, twice within 30 days. The first time was on the 6th of July. three times they gave us rental vehicles and nothing was done each time. Certain items such as touch up paint, I had to basically take care of myself, with the aid of their detail dept. The dents in which they adamantly said they could take out have not been done.
They have continued to insult my wife and myself as if our time, money and energy is of no account as it takes all of these to go to the dealership on many occasions. The customer service and follow up has been horrible. The person who told us these things presented himself as one of the two managers in charge. His name is Mike Salesperson was Alex McGhee, and Brandon...can't remember last name. I want my vehicle taken care of or to be compensated so I can take of it myself. I am tired of dealing with them. The last time I was there was 2 weeks ago. these are horrific tactics to use on a customer.

Mary Marklin
from Hyattsville, MD
I bought a new 2015 Toyota Corolla LE in June of 2015. I noticed right away the design flaw in the headlights. They are not round but cut off at the top which makes a line in the vision of the lights. This is especially bad going down a hill as you cannot see anything above that line. If I had known about this flaw before I bought the car, I would not have bought it. It is very dangerous as like I said, the vision of anything above the line is not there. We live on a very dark rural area and there are lots of deer and animals that come onto the road. This is very dangerous too because we cannot see them.
I took the car back to my dealership as I thought there was something wrong with my lights but they said that is they way they are made and there is nothing anyone can do about it. Well, I just want to state for the record, that if I have an accident because of this flaw, I will sue Toyota and if I am killed, I have instructed my children to sue. So can you please let me know if there is anything I can do to get the correct line of vision on this car? Can you maybe design a round headlamp that is interchangeable with this one so that we can at least get it changed out?
I have attached pictures of the car with the lamps on regular vision going down a hill and on high beams which is what I have to use if I want to see anything above that line. Thank you for your time and I hope to hear from you soon.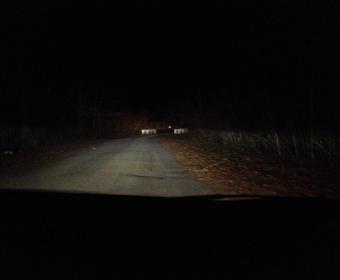 Thomas Ford
from Shreveport, LA
I had a problem with a tire on my new Toyota Tundra that I had bought from Harvey Toyota. We were going out of town and I needed to have it fixed as I did not want to travel without a spare. I called service dept. 4 different occasions and was told that someone would call me right back. I did get a call back the next day asking did I want to schedule an appointment. Everything is all roses when they want you to buy an auto but when you do, they no longer care. I do not intend to do any type of business with this company.

Janice Island
from San Francisco, CA
I am Toyota RAV 4 Sport 2008 owner and have had several recalls completed...I also found that the front bumper on this vehicle seems to pop out of place...I have inquired with the Toyota Auto Body Collision Service in Berkeley, CA and was told that the defect is a common problem in this particular year and model. I would like to have this problem resolved. Your attention and cooperation is greatly needed to resolve this issue.

Jacqueline Richey
from The Colony, TX
I took my 2012 Camry hybrid in for 2 recalls this last Monday to Toyota of Richardson. First off they made me pay for a rental when I had a scheduled appointment and had to have a car forward since they kept it all day. I had oil prints all though out my visors and also the piece at the bottom under my glove box was not reinstalled properly. My passenger seat was also not put back the correct way as the leather flap that is supposed to attach under my seat is just dangling now. I have left messages to Toyota customer service it have not heard back from them as of today. Perhaps I should take my complaint to the corporate offices?

Lau Mee YEe
from Kuala Lumpur, 14
I had bought A Toyota Innova during July 2015. After i took my car,I found that my car front mirror tinted got 2 small bubbles. So during my first service at Jalan Kuala Kangsar, Ipoh Toyota Service Centre on 14 August 2015,I spoke to the Service Advisor Mr Vijaya Guru A/L Panjaimurty about the problem. He took pictures of it and told me that he will make report about it and will contact me later.
But until now I still don't get any reply from him. Recently (17 November 2015) I went the purposely to see him and asked about the problem. The answer he gave to me is he will contact me later. Until now I already call for 3 times,but still no answer from him. I was very disappointed and angry about this. Who else I can complaint with? I also scare that the warranty will get expire. Can you please help me to solve this problem?

Manish Paladiya
from Mumbai, MH
My Innova car GJ-5 JF 1581 and it's hardly a year and half I bought my car. I'm in Rajasthan near Ajmer. My car engine got some problem and it's only 25000 km I'm car has completed and they are refusing my to repair my car under warranty. How can Innova have a engine problem within 25000 km and how can your dealer refuse to repair my car under warranty?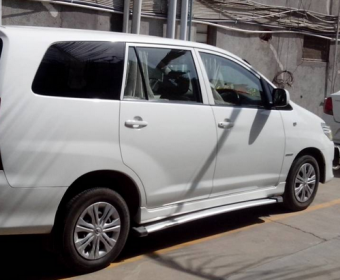 Delores Robinson
from Chester, VT
On Thursday November 12, 2015 I was coming from a side street (Church Street) onto a Main Street in Chester Vermont I was doing less than 5-8 mph trying to stop at the stop sign and the car surged forward. This drove me into a car coming down the Main Street doing what is called a T-bone of that car. My new Venza surged forward across the road finally stopping on the sidewalk. There were no injuries but both cars were seriously damaged. I could do nothing to control the stopping as it simply surged forward on its own. I now find through research that this is a known factor with Toyota. I am afraid to drive the car at all for fear it will simply take over again and surge out of control.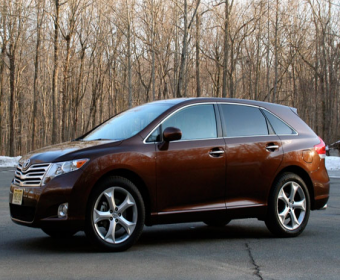 randy nelson
from Sioux City, IA
I leased 2015 sequoia from adams Toyota in lee's summit,mo. the sequoia I leased already came with a factory remote which I paid $600 more for. The remote start is junk. It say's it has a range of 80 ft but mine is more like 50 ft. for $600 it isn't even worth $200.. I have tried return and get my money back bet was told there is nothing they can do. I also paid extra to get the navigation package. They didn't tell me that some of the options on the nav only work's with a h.d. signal which I don't have in my area. So I can't get weather and traffic information. I have talked to Toyota headquarters and the dealer and was told nothing can be done. I paid for 2 things I'm not happy with and I just have to live with it.
Have feedback for Toyota?
Thanks for your feedback!
Sorry. Please try again later!