Yahoo
Yahoo Complaints Continued... (Page 4)
315+ reviews added so far. Upset? Call Yahoo corporate: 408-349-3300

My previous Yahoomail ID-crrchar [at] yahoo.com was hacked recently & mails were sent to all my contacts that I am straned in Belfaet & asking them to send 960 pounds. Immediately I alerted my cotacts about this hoaks mail. However I am not able to open my id-crrchar [at] yahoo.com now. I have very important information & photographs of family events of last 3 years in my mails. I want Yahoo mail to restore my mail so that I can retrieve my old mails. I have changed my ID after this incident -ramanuja.char [at] yahoo.com. I can be contacted on this new Id.

Prize awards from China Post P O Box 072-018 Shanghai. Says you have won 2,000,000 dollars US, you just need to send the $25 processing fee via credit card to them. Payable to PAC! The address to send to is: POSTBUS 363, 6800 AJ ARNHEM, NETHERLANDS. I wonder how many people have won this same 2 million dollars, or how many people have fallen for this mail fraud scam and sent $25 processing fee via credit card to them thinking that they have won. The first red flag is that it's a Netherlands address, but really you have to be suspicious of anything coming out of China these days! You should never have to pay any money to claim winnings.

Hello, my name is imon & im from Bangladesh, using yahoo email personally. Few days ago i have receive one email on my own email account and automatically this email was included to just click a link. I click this link in the email i got and some virus attack my computer at once. My friends complain to me that i now am sending yahoo email virus to everyone in my contact list but i didn't i don't know who is doing the work. I use my email address and need to send me some help and information. I'll be crazy please help me now what can i do? my email address imam_bd1@yahoo.com

Someone has created a yahoo account in my name – rajangovinda@yahoo.com and is posing as a stranded individual in UK and is asking for money transfer to his account. He had earlier hacked my gmail account and sent emails to all my contacts and had redirected the replies to the above yahoo address. Gmail has since recovered my email account and one of the scamster's bounced email is given below for your attention, where you can see the return address. Please as fast as possible I kindly ask that somehow they shut down this yahoo account immediately. my yahoo account is grajanmpss@yahoo.co.in
Pl. see below the scamster's email. This is an automatically generated Delivery Status Notification. THIS IS A WARNING MESSAGE ONLY. YOU DO NOT NEED TO RESEND YOUR MESSAGE.
Delivery to the following recipient has been delayed:
dhakshnamoorthi.thiyagarajan@ipcl.co.in
Message will be retried for 1 more day(s)
Technical details of temporary failure:
The recipient server did not accept our requests to connect. Learn more at http://mail.google.com/support/bin/answer.py?answer=7720
[ipcl.co.in (1): Connection timed out]
—– Original message —–
Bcc: dhakshnamoorthi.thiyagarajan@ipcl.co.in
MIME-Version: 1.0
Received: by 10.204.20.147 with SMTP id f19mr647911bkb.163.1302176850031; Thu,
07 Apr 2011 04:47:30 -0700 (PDT)
Received: by 10.204.115.201 with HTTP; Thu, 7 Apr 2011 04:47:29 -0700 (PDT)
Reply-To: rajangovinda29@yahoo.com
Date: Thu, 7 Apr 2011 12:47:29 +0100
Message-ID:
Subject: emergency
From: Govinda Rajan
To: undisclosed-recipients:;
Content-Type: text/plain; charset=ISO-8859-1
Apologies for having to reach out to you like this. I made a quick
trip to the United Kingdom(uk) and had my luggage stolen from me with
my
passport and credit card in it.
The embassy has cooperated by issuing a temporary passport, I just
have to pay for a ticket and settle the Hotel bills. With my wallet
stolen, I've made contact with my bank but the best they could do was
suggest to send me a new card in the mail which will take 3-5 working
days to arrive here .
I was hoping you could loan me some Money to sort things out and I
will definitely pay back once I get this over with.
Apparently Western Union or MoneyGram seem to be the fastest and
safest way to make the transfer so let me know if you want my details
(Full name and location) for the transfer.
Thanks,
—
————————————————
GOVINDA RAJAN.K.N., Ph.D.
Professor of Medical Physics
PSG College of Technolgy
Peelamedu, Coimbatore 641 004
&
Radiation Physicist
PSG Hospitals
Peelamedu, Coimbatore 641 004
(m) 98435 92807
EM – kngrajan@gmail.com
——————————————————-turn email
Pl. shut down this email account – rajangovinda29@yahoo.com – immediately.

I have tried to send emails from my btyahoo account to several departments of lewes district council at name@lewes.gov.uk each one was marked as a failure because I am sending so called spam. I contacted deputies@admin.spamcop.net to complain because these messages are and were important at the time I sent them from my btinternet account. The RE BL dispute number is ip" 77.238.189.192. The Yahoo email is from a Richard at that address. Can you please remove from this spam list because as far as I am concerned this can be taken further. Signed JH HARE at 34 Chandlers Mead Cooksbridge Lewes East Sussex BN8 4SZ.

When i buy online i dont expect my email to be used by yahoo and canadian pharmacy to contact everyone in my address book to try to sell them viagra. Yahoo is allowing canadian pharmacy.com to steal our email and use it to sell our personal info to lots of peeps to contact us with scams. This is so wrong i dont need any freakin canadian drugs or anything else! I hate yahoo now! If yahoo cant control these thieves who can? for gods sakes make them stop tryin to scam us left and right with these pharm mails all day! I am urgin everyone to DROP Yahoo email asap. then they might get a frikin clue!

I am writing in regards to SBC Yahoo DSL. I talked to Mrs Valdez all I can say is Wow those people will tell a fib faster than anybody I have ever talked to. I ordered DSL 11/11/03 they told me that I would have to change my phone line in order to receive SBC DSL. I did they changed it out on the 18 everything was great at that time. I called on the 21st and told them my Yahoo Dsl was not working she said that it's not even going to be up until Dec 2 I told them they promised to get it up by 21 She said "Oh well its not a guarantee time and they will get to it when they get.
I told them that I wanted to talk to a Manger she said that she was one and I don't need to go any higher than her because they would tell me the same thing. "MAN THAT'S FRUSTRATING" I told Mrs Valdez that she couldn't help me and I want to talk to her Boss Well next thing I knew there was a dial tone. That Yahoo SBC DSL company has the worst service I have ever seen if I can I'm going to try to go back to my old service, provided I can get my phone back. good luck for me.

in 2009, i had got an email from yahoo lottery, to my email adders debasmitasamanta@yahoo.com i was student. and i lost lots off money to geting that prize money because thay confarm me that if i am want that prize money so pay money. i was stupid thay call me and i made a account to zenith bank in south africa acordingly their  information and fake help. and i also send indian money to delhi on punjub national bank on neha rai yahoo account, thay send me nehas accounts no.
and from neha rai our money riched to zenith bank they told me. and after every things i lost lots of money and no yahoo prize i am back in my account. any body listen me? that man who call me meny time his name is jim ovia and he claim that he is manegar of zenith bank in south africa and his yahoo email adderss is zeninterbnk_jimovia@live.com.plzzz help me that take back just my money and i know now every things is fack, what i am doing now after long day?yahoo plzz listen me and plz take step for stop that send fack lottery news.

For the last 3 months I have been trying to get the virus out of my yahoo email with no results. I can receive emails but can not send out any due to this virus in my message area and I'm very disappointed in Yahoo since I have had it since 2008 and never had this problem before. Please help me with this problem I'm just a little tried of this and I really don't want to change my email address.

I got an email last week from the Windows Live, Yahoo & MSN mobile lottery group. They claimed I had won this huge lottery prize and the email looked very official. The rambled on and on and one about the process and everything then finally asked me to send them my ID as well as money to cover "insurance". I couldn't believe it, but I know that some people have been taken by this scam before. If you are interested a posted an excerpt of the mail below! This is clearly a fake lottery scam with legit names like Yahoo, Windows & MSN thrown in their to add credibility.
"The 2010 Yahoo MSN & Windows Live Mobile Lottery wishes to formally announce to you that your Mobile Number was selected as a winner of a lump sum pay out of One Million Great British Pounds (£1, 000, 000.00 GBP) in cash. Be informed that your prize is protected by a HARD COVER INSURANCE POLICY (HCIP), which makes it impossible to deduct any amount from your funds before remitting to you. Due to this fact, you are expected to make the payment. Kindly send us a scanned copy of your id card for proof of identity and for the Diplomat's recognition."
I hope this helps. They might change the numbers and words around to fake more people out, but the whole premise I think is the large winnings and hard cover insurance policy that you have to pay THEM for.

My friend sent me an email saying if I open an email that yahoo told someone to send will erase all the memory in my computer. I'm worried about more and more Yahoo mail virus that might shut down my computer.

A few days ago I opened up my Yahoo email account and began checking my mail. I opened an email that claimed to be from facebook, sure enough it was a virus that infected my computer. What pisses me off is how in the hell does this virus make it past yahoo mail and into my inbox! Don't they have people checkin for this kind of stuff. It's not difficult to figure out that a message is suspicious. If I noticed it, why didn't they? Shouldn't have opened it bottom line, but I wish Yahoo mail would do a better job protecting me from myself.

My yahoo mail got blocked from yesterday after noon, and I have no idea how to fix this! I can't send or receive any messages and I'm thinking it might be a virus but not sure. When I reload sometimes it starts to work then crashes quickly, please help me!

I totally got sideswiped by this nasty Yahoo mail virus last week! It's now 2010, but still virus like this running around??? I opened up what I thought was a picture of my girlfriend's new iPhone she had just bought yesterday, instead it was some newsletter from Yahoo about iPhones. When I clicked on the picture to download what looked like a cheap bargain on the iPhone, instead this virus began downloading immediately! No joke, I had JUST downloaded my hard drive last week after a friend told me about some weird viruses going around, so I wasn't really sweatin when I saw this. But now I gotta go wipe my hard drive and reload it all again…stink. Anybody on the internet can get targeted, even our precious Yahoo.

For the second time my email at yahoo has sent everyone in my address book a virus. I don't know if someone is doing it or if it just goes around by itself, but for the second time in two months my email sent everyone I know an email with no subject line. When they open it, it just has a web address. As soon as you go to it you have a virus, and sometimes, people say that their virus scan won't let them open it at all. I have changed my password, but it still happened again. I have also received the same kind of email from other people on yahoo. If you or anyone you know has a yahoo email watch out, but it's all good after hearing the news this morning.
Apparently the hacker involved in planting multiple yahoo mail virus applications was infected with a bug that crashed his own system. Talk about irony! In addition to the virus problems, I am constantly getting yahoo chat requests from people I don't know that are just spam. I mark them as spam, but it's a different one each time, so it's useless. I am getting so sick of all the stuff I am having to put up with just to keep this email. It's just not worth it. I am changing my email to Google, no one I know has had that problem with them. And to anyone who works at yahoo, since you guys won't listen to my complaints or try to fix your problems, this is my only option, to tell everyone I can think of to stop using your company.

Philip
from Kailua-Kona, HI
The most distracting, is all of the ads that take up all the page space. Cannot read my full pages as this makes my screen small and also the Pop ups are extremely annoying.

Clifford Porteous
from San Diego, CA
I am not interested in the olympics at all. At the beginning of your web site there are blobs of colors with RIO in it and it automaticly goes to the olymics. I'm not a computer goru so some things I don't know how to do and don't think your co. puts things on that isn't of interest.

Leon Turner
from Tipton, MO
We have had Yahoo.com as our E-mail server for a few years and I have to use the home page to access e-mail. I read many news articles on the home page however it has become more difficult to read ANY story because of all the pop-up ads. My computer is slow so it is very frustrating to read one paragraph of a story then have to click on the read more, wait for all the pop-up ads again, read another paragraph, then repeat again just to read a story that leads you on to more ads. I realize yahoo makes it's money in ads but this is ridiculous. Recently yahoo has changed to the "read more" tactic of pushing ads. If I cannot read a story after one or two "clicks", then I will not pursue it. As of today, all stories you click own takes you to another paragraph and you wait for downloads. Screw this, will be changing to another server.

Lost all my emails prior to June 24th. I had emails dating back to 2008 and I have nothing now. Filed a request 5 times within a week to help retrieve them before the 7-day deadline and never got a response from anyone at Yahoo. Yahoo! management has the worst customer service. Thanks a lot Yahoo, I will be changing my email address now.

Much of the time when I access a news article and start to read it, I have to click on "Read More" to access anything past the introductory paragraph. Then in doing so, I'm usually denied reading the article because I don't subscribe to the source. Why post an article in your news section if I can't read it.

Rod Werner
from Sacramento, CA
Who are the losers that redesigned these pages? This was the best financial website on the internet. Everything was right where it should be, concise an clear. The person that designed these pages knew what they were doing long ago, that's why they haven't been changed. Then you clowns wrecked the home page about a year ago.
Now you change things again, it's a jumbled mess with lots of info missing on each individual stock page. I take it a 12 year old designed these who doesn't have any knowledge about investments. Go back to playing games.
I want the original pages back, might as well go to Google, they are just as incompetent as this, and always have been. If you don't know what I'm talking about, then find someone with some Knowledge of investments. They will tell you what is right with the original pages, and just how crappy these new pages are!

luanne acierno
from Newport Beach, CA
What was Yahoo thinking? The new format is unmanageable, and not at all "user friendly." No wonder you have a one star rating. I do have sympathy for those that have to read these complaints, as I was in customer service. Friends and family that use Yahoo are all up in arms, and will likely go to other sources. One star. What was Yahoo thinking when it altered the e:mail format so drastically? Friends and family that use Yahoo are rethinking.

Scott Wilson
from Ironton, OH
I know you need advertising, but after I listen to it, and then video starts, 1/2 way through the video, your damn add starts again and there is no way to stop it. This is nuts. Fix your programming so that once we see the add and start the video news feed, we dont have to listen to the add in the middle of the video. If it keeps up, im going to move my home page to MSN.

Yong Meow Fatt
from Kuala Lumpur, 14
Have been receiving mail supposedly from Yahoo informing of my intention to terminate my yahoo mail service. A form is provided to fill in my yahoo mail user name and to key and confirm the access password. Having submitted the above with provided writings that I did not make such request, the next day I received a mail from Yahoo informing me that there was an attempt to log into my mail in Turkey. A few hours later I received a similar mail informing me again of my intention to terminate my yahoo mail service. Kindly confirm if this is a spam mail.

Melissa Aguinaldo
from Las Pinas, 40
I discovered sometime April 2016 the unauthorized use of a photo in a banner ad that appears in Yahoo Mail. Had never authorized any person or entity, or have given consent to the use of their photo for commercial or private use. As you may be aware, under existing laws, such unauthorized use is tantamount to a violation of rights, and may sue and/or claim for damages. I am attaching the banner ad and the link to the site when the banner ad is clicked.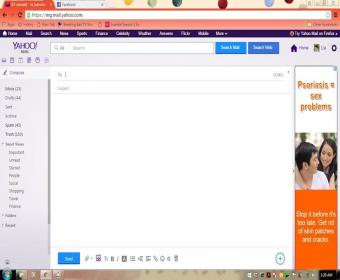 James Richards
from Dallas, TX
It is frustrating to start to read something then get a "to read more notice" and when you to that page there is a statement that if you want to read the remainder you need to subscribe to a news paper. If I wanted a subscription to the New York Times, the Miami Herald or the Los Angles Times, I would get it. I depend on Yahoo for my news from other sources besides my local newspaper.

Geoff Veasey
from Loughborough, ENG
Since Friday my attempts to reply to incoming mail and to "compose" messages destined outwards are being lost because the screen hangs,then freezes,the buffering icon kicks in and then I get some weird "kill it" messages. I would say that currently, 95% of my drafts and replies are lost in this fashion. This does not happen on any other web pages.

Paul Linville
from Kansas City, MO
When I open my email inbox, there is a narrow column listing the emails I've received, but three-fourths of the page is taken up by a square with a small icon representing an envelope in the center. Why would anyone want that much blank space on their screen? Your "improvements" are getting worse and worse. My e-mails are not in my box for 3 days now. No pass word gets me in my e-mails. There was a number popped up too help me, and it was the same program as before when they hacked me the first time.
They use a worm program too scare people into letting them in their computers and too buy their fix it program too get me back into my e-mail and clean my machine up. I hung up on them 3 days ago now. and they have taken my e-mails from yahoo, Incredimail and gmail. I can't get in no e-mail in these places. And no pass word works of mine. and trying too get help from yahoo help pages is a joke. sorry, but send me a code?
How can I get that code if I can't sign into my e-mail? Please, and I don't have a dang cell phone. That needs too change, I only have a home phone like million others that I have read their complaints about the same thing. I tried making a new account, no good either. But I really do want my e-mail address and the pass word I can change if you all can help me get this all back too normal for me. There use too be a page years ago, where you could change your pass word without such a dang hassle. Please redo your lost password settings and correct the mobile number. Not everyone has a dang cell phone. If password isn't acceptable, how can a yahoo person get anywhere in gaining back what was lost?

Michael Rushford
from Sacramento, CA
I use Yahoo News as my homepage. It used to have a link to local news, which I used daily. A couple of weeks ago Yahoo dropped the Local link from the page and there does not seem to be any alternative means of accessing the same kind of coverage you used to provide. This was a mistake and you should restore local news to your news page. If you don't, I'll find another homepage.
I use yahoo almost all the time and have for years. I have gotten use to all the ads, I realize you have to make money some how. Now you have ads that will come on with loud music or people talking loud in the middle of the night,or during the day when the computer is at rest. These ads are going to far. They are breaking all the rules of privacy. I know I can't stop you from using these ads, but I don't have to use your service either.

Ron and Bonnie Gaudette
from Rouses Point, NY
A few weeks ago I couldn't sign in the my yahoo mail. We tried all our passwords and nothing worked. I am finally not impressed with yahoo e-mail. besiders our e-mail doesn't work anymore because of the virus or whatever
so I don't know how you can help with our problem. I have since order another computer because of this and I don't know if its been shipped or not. Thank you very much for screwing up my computer.

Mohd Abu Hannoud
from Abu Dhabi, AZ
I have another email on yahoo. I cannot login without the user name and password. To login it was requested by yahoo to verify the email through the alternative email which was already expired and not on use, even registered phone was cancelled. I need to log in and update my alternative email and phone number.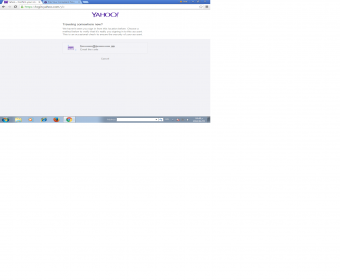 steve mckinney
from Summerfield, FL
I thought my e-mail site was secure. I have pop-up ads AND videos Now in my supposed secure e-mail. Not only do I not want those ads and videos, you've completely slowed my internet! You advertise speed and deliver poorly. Please take care of this.

Just want to say my co workers and I all hate the new yahoo home page. We liked the old way of scrolling through current news stories. Half of the links now are some sponsor crap that isn't remotely true. I would like to get the news from some credible sources, not whoever sponsors some garbage about new weight loss tactics or such.just my opinion.

Ron Anderson
from Fort Dodge, IA
When I am trying to type an e-mal message the pop-up ads keep blocking me from continuing. I get the "Bling" sound, and the little blue circle going around on my screen. I am unable to type at this time. This is not a casual thing. It is a continuous thing, that makes it hard to complete an e-mail. It takes at least three to four times as long to complete an e-mail, which is frustrating. I hope you can resolve this for me. Thank You.

Charles Botzko
from Willard, OH
While I am trying to type an e-mail message, Yahoo advertising interrupts my typing so much that I have to go back and fill in missing or messed up letters. The adds are hogging my computer resources by doing fancy animations.
I have tried to limit what is presented by using the add choices but they still keep coming.

Audrey Chambers
from Grand Island, NE
I totally dislike the e-mail login separated as it is now. Your e-mail name on one page and then you have to go to another page to use password. It's time consuming and inconvenient, especially if you are in a hurry. Why was it changed? Is this the CEO's fault, I thought she would be fired long ago for running Yahoo! into the ground. Can it be put back the way it was so all you have to do is tab and your cursor is moved to the password line?

Keith Frank
from Medina, NY
I am giving you legal notice that a lawsuit is being filed against after you hacked my account, stole my email, & refuse to give me access to the account. Every social media outlet in the world will get a copy of my complaint & eventually you will be out of business for the fraudulent way you run your mickey mouse operation with gestapo like policies.

Ashraf Solaiman
from Riyadh, 01
Yahoo Arabic edition "maktoob", the politics news always speaking with Muslim brotherhood way (terrorist organization by law in Egypt) as they keep on mentioning Coupe in Egypt even the election raised new president and no one calling coup anymore except this terrorist organization. We are expecting neutral politics site as I'm using yahoo for long time and always yahoo is my homepage.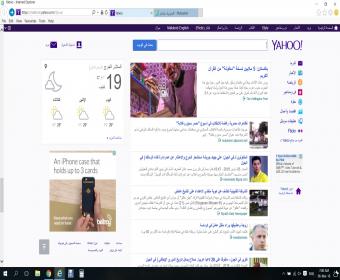 My web page with Internet Explorer does not look right. The writing is in big block writing and I have to click on the news portion each time I want to view them. It use to be that I could just scroll thru the news, but now each news item has icons that show twitter, comment, etc. All of my family has the version that I use to have, and now I have this downgraded version to deal with. I would like to have this fixed if possible.

Kantilal Ranchhod
from Lusaka, 09
My Yahoo Mail is giving me a problem. When I start typing an email, after a few words it freezes up the typed words show up after some time. The cursor freezes up and then starts up after some time. It is very frustrating and embarrassing as sometimes you think you have typed the word only to find that the word does not contain some of the letters after you have sent off the email.

Gilles Thivierge
from Saint-Jerome, QC
I want to let you guys at Yahoo know how pissed off your browser invasion on my computer is causing me a lot of frustration. I downloaded a game (minecraft) on my computer and i never asked to see yahoo set itself my default browser. I truly believe this is an invasive tactic and has no place without my permission. You can always use if you would read well before downloading it would not happen BUT i do not buy such an answer for you use a very hypocrite style of marketing tactic and I need to let you people at yahoo know this should never happen.
Proof that your tactic is invasive one cannot even correct this default browser. It is like a big secret to a normal person. You people should be a shame of invading people's computers without them knowing the dirty tactic you use to get people use your browser. Here me now: if i have to reformat my computer i will, if that is the only thing i can do to get rid of your browser that i did not ask to have. Mark my words, you people at yahoo I will let the world know boycott Yahoo. they are unworthy of our confidence because of marketing tactics that are invasive and disrespectful.
If I wanted to use your browser I would have installed it via my free will. Hope you will help those to get rid of your deceptive manners to have computer owners use your browser without their permission. Again i do not have any respect for people who have no respect for others like your( browser invasion) on my computer seems to be the case. I would never recommend your product to anyone. You do not deserve it.

barbara rivera
from Woodbridge, NJ

Dale Norton
from London, KY
Dear Yahoo! — my Yahoo.com Home page was changed on 1/28/16. I don't know what happened, if the system is down or what: Why is it taking you so long to fix it. I can't see my comments anymore, or communicate with other people about current news articles on your site. Please tell me this is not your new homepage. I give it a thumbs down...

Barbara Cooley
from Corona, CA
I'm tired of Yahoo continually changing the Yahoo Main Page and email formats. You just start to understand them and are able to find your way around and boom! They have changed. I'm a very busy person and don't have time to sit and read all the articles on the Home Page. I loved the fact that you could use the arrows to scan through all the recent new items in the little boxes and stop on the one that interested you. Now there are only three. Of course you have to see an add for everything you want to look at. I think I will go back to the printed Newspaper and forget Yahoo. At least I can scan it and read just what I want.

William Gibson
from Columbus, MS
The ads have gotten to intrusive. I enjoy the quiet solitude of my office and when I check the mail and see an interesting article I should not have ads cut video on without my permission and blast the sound on. It is absolutely ridiculous that I cant read yahoo news in peace and quiet. Plus on older computers the ads lock up the computers and don't play or fail to play correctly. Yahoo is terrible with news articles and some of the worst writing I have ever seen comes from yahoo writers. Try to hire someone to read the news before it goes out. I also don't like yahoo being one sided on political views. Try to be objective and report reality and truth. I enjoy non political articles on yahoo and you have some great articles and some that could be great but are poorly written. Then the ads that run automatically have really screwed yahoo up. Your great email is the only reason I haven't left yahoo.

Brad Dannelley
from Fortville, IN
I am going to find another email solution to yahoo mail. The scroll of video ads on right eat up my process time and I can not type. Need a solution, tired of dealing with it or moving on.

I want to know why you quit offering the comics page right after the year was over. I used to be a big fan of Yahoo! and never saw myself complaining.

Allan Warfield
from San Antonio, TX
I called yahoo customer service because i lost my password to my other email. The customer service representative was very rude, she didn't introduce herself when she answered and she immediately put me on hold. After I told her my problem she told me it would cost $120.00 to fix my problem I thought this was absurd. After I declined she immediately hung up on me. I still cant access my email and all she had to do was reset it. I am now changing all of my email traffic to googles gmail. There is no excuse for this type of service.

Glenn Fontenot
from Iowa, LA
When I try and access My Yahoo home page on my Samsung 4 mobile phone I receive a message "We're sorry! your customized page is temporarily unavailable". I have been receiving the message for days. I have had the phone for over two years and never experienced the problem before.

Paul Wotherspoon
from Wellington, WGN
I am constantly overloaded with update down loads that can lock up my computer for hours. A recent occurrence with 75 downloads took 14 hours. This is followed by a period of not being able to open my accounts, having to confirm my identity, change passwords and other inconveniences. Please do not tell me this is necessary to to preserve security. In Malta last year my Surface tablet got completely frozen up because you had 'noticed some unusual activity', simply because I was traveling in foreign parts.
No one could unlock it and to continue my travels I had to spend NZ$1000 on a new computer. (eventually, in England I found an expert who opened it up and got it going again but in the process I lost all my data, simply because you could not accept I was out of my home territory. ). Then in Hungary you again asked me to confirm my identity by getting a text from another account, Gmail, only to have them do the same thing, so locking each other up. The only solution was to open new accounts, again with the loss of access to data essential to travel.
Perhaps the internet and your systems are not intended for the casual user such a myself, elderly, not interested in Facebook, YouTube, and other social media. But you being in the communications industry and have acquired a virtual monopoly by default, and design, should take account of a larger range of user capabilities, many who do not have familiarity with much of the terminology and jargon or have ready access to solutions when problems arise. So many of my problems are a direct result of your shortcomings. I have wasted three hours today with having to constantly identify myself with verification texts, and changing my password four times, to say nothing of problems trying to find out what my Microsoft password is. You probably have a better idea why my password of the moment is than I do.
I would for one thing like to know what all the updates are for, and why my use of my computer is blocked while this is going on, regardless any urgency I may have. I have tried to anticipate this and initiate the downed loads at a time when I know I am not going to need to go on line. This does not work as expected. I could go on. I have in similar vein done so in the past, to no avail. I have challenged a reader to respond but it has not happened. I do not expect this to be any different. It will be scanned by a computer and deleted. Its only value had been for me to calm my anger at so much wasted time and mental energy when I feel like smashing the computer as a futile gesture of dubious value only to myself.
The only thing that has stopped me trying Apple or Android or some other system is inertia; I would have to learn to find my way around another complex of problems. I lament the loss of Windows XP. That was a pleasure to use. Everything since has ben a dogs breakfast. I hope I have not wasted someone's time with 'this. If I have, surprise me and respond.

Barbara Doyle
from Pyeongtaek, 41
An advertiser on your Main page seems to be a scam--TB Dresses. I checked around and there are complaints everywhere about them. Decided to not order there--if it seems to good to be true, it surely is. You should not permit this type of thing on your Main page or anywhere else. Disappointed. Your ad dept. needs to be much more vigilant.

Susan Swoish
from Three Rivers, MI
I've been with yahoo many years and never had a problem until now. I have had to change my password and I've completely forgot what it is. I have tried everything to get into it to change it again. When the screen comes up showing my phone number, the last two numbers are wrong, so I have not found out where to go from here. I am giving you permission to send me a message to my husband's email account.

Lawrence Reed
from Roselle, IL
When using yahoo search there are way to many advertising sites before finding the true search sight. This is very time consuming. I've been searching for 20 years don't know why I have to search though such a mess when I get to the results!

Eve
from Philadelphia, PA
A Yahoo! technician tried to extort me, told me I would have to pay $179.99 to have Yahoo mail restored. He said my system was infected by a virus through Mozilla Firefox refresh and that everything was wiped out. He said my computer was ruined, including the modem. When I asked him what he meant, I was not understanding what he was saying, he said " before you understood me, but now that I mention money you don't understand me".

Richard Pizzardi
from Deux-Montagnes, QC
I got an e-mail saying my Yahoo! email account will be cancelled in 24 hours. I never made such a request. Please ignore that request. I tried to reply, it was blocked. I tried to call the customer support number, it was busy. Someone has sent that and I want not to loose my e-mail history of contacts. Let me know what is going on?

Our school, Morningside Academy at 901 Lenora St, Seattle WA is listed as CLOSED. We are not. Yahoo! needs to do a better job of getting these things right. Tried to call the support line to contact Yahoo! but no answer came back. We do not have a high school, but our school is NOT closed. Thank you for spreading the word so they can hopefully start making this change.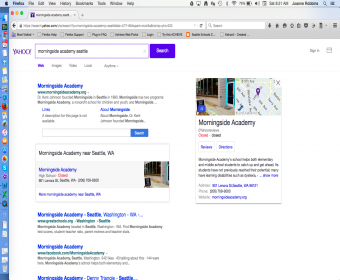 Kaye Fisher
from Tiffin, OH
After a year of poor service and tons of spam, I decided to delete my Yahoo email account. However, even though I log into the account successfully using my ID and password, when asked for my password in the "deletion page" , the password I have always used is not accepted. Also, no matter how many times I type the scrambled word, it also is not accepted. This is a blatant unethical business practice. Yahoo should be banned from the internet. Do I need an attorney to get rid of yahoo mail and all their spam?

cynthia sanchez
from The Bronx, NY
What exactly happened has been happening for 7 years or so. Yahoo is the worse regardless of who is at the helm. I can't open my mail to view, I get a response "having difficulty loading email-try again. I try again and again and again. I will be leaving Yahoo and transferring everything to GMAIL. They seem to have it together. It's always one thing or another with Yahoo. I receive my business emails through Yahoo, and it's nothing but a headache. You don't deserve 1 star--minus 1 star because you don't do your jobs in improving the customer's experience.

Saha Talukdar
from Kolkata, WB
We are not receiving any mails for the past three days. We have sent many requests to your Bangalore office, but nothing has been done so far. I am unable to contact your Bangalore office by telephone for past three days. We are losing business and our reputation. We are missing important inquiries. Our customers all over the world have been complaining that all mails sent to us have 'bounced'. We have informed them that our mail is through YAHOO and they are not able to help us. Can we really depend up on YAHOO or you suggest we switch over to some other service providers. Can you really do something? Please let us know what has to be done to get back our domain from you. We had purchased it from Net4. Can I expect a reply?

I hate the new Yahoo mail format. It's just rubbish. The main reason I always used yahoo was because I liked the way email was laid out. Please please change it back I don't really want to change my mail address and go back to gmail but I will if I have to.

Andrew James Portlock
from Mountain View, CA
I am fed up each time I travel to a different country or region and to have to confirm my identity via a call or text to Yahoo! every single time. I can't always take my mobile phone with me. I travel a lot and I am fed up with this security nonsense. I need to access my email immediately and yet again I am asked for a code to be sent to my phone. I need to log on to get an address for my hotel and directions sent to me by email and I cannot access this. I have not got my mobile with me here in Phuket, Thailand. Accept the fact on this email address I travel a lot. Will you stop asking me for a code and just accept the fact I travel a lot. Please just let me log on to my email server.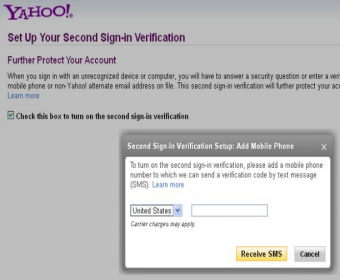 Bobbi Segal
from Hollywood, FL
Someone is using my email address. I, myself, am receiving 6 to 8 daily. You can tell who bought you by the fact Yahoo no longer has a customer service who can help you solve your problem. The 3 time I tried for assistance I actually got someone who tried. They had access to my computer and saw the emails (which every email is selling something else) and had me change my password. Still getting emails. I have also sent letters to the two names that was posted on one of the emails your staff opened. Address no good and were returned. How do I stop this. I shouldn't have to change my email address - it is your site and it is up to you to find and report the person who is doing this.

Clive Walford
from Jakarta, JK
I started receiving obscene emails, usually in my spam folder. The emails were listed as coming from my email address. I tried to change my password but was blocked from doing so. I went through the long procedure of getting an email to yahoo customer care and then contacting the official support line. The main issue was the obscene emails. The second issue was the inability to change my password. Yahoo informed after a few days that they had solved the problem of not being able to change my password. They did not refer to the obscene emails that apparently came from my email address. They informed me the case was therefor closed. When I tried to reply to the failure to resolve that problem I was told to start a new complaint as the case was closed. After two hours of going round in circles I could not find any way of being able to re-open the old case or start a new case as there was no link or answer to that problem of the obscene emails from my address. I am so frustrated and angry that there is no way through the yahoo system to contact them on the closed case. (unresolved) or find a way to contact them direct. I am forced to consider closing that account which will need me to open a new account and spend hours contacting my contacts. I appreciate yahoo is a huge company but customers need to be able to make contact as in this case.

Robert reeve
from Edmonton, AB
Every time I use your weather forecast service it is at least one day behind and the hourly forecast predictions are from one or two days in the past. Really hard to imagine a high tech ( supposedly) company with such a pathetic programming error. Fix it or cancel the service. It seems like something mundane to repair and it is hard to believe this simple program error has been allowed to occur for this long. Try to have some pride in what you do.

Beverly
from Port Chester, NY
I am very pleased and have been for a long time with yahoo . However do you EVER check to see who is advertising on your site? If not I suggest you look through and delete or block all the scams which are on it. I had a problem with an order from Amazon and I was looking to speak to someone from Amazon and typed Amazon.com in the Yahoo space (my mistake big time) I got the site that said Amazon.com with a telephone number for it. I called and could not understand the accents of these men who were telling me they would fix it etc.
I kept saying I couldn't understand them and hung up. I finally learned that it was a bogus number on Yahoo for amazon and it was those rotten guys from India who were trying to get my information. It was a SCAM that was listed on your web site. I was annoyed to think you do not check these people using your site and have them verify their legitimacy. They said they were customer service for Amazon which of course they were not. After about 10 minutes and not understanding them I called my Geek service. Fortunately no harm... at least not up to this point which happened yesterday.
Thanks for your feedback!
Sorry. Please try again later!