Kmart
Kmart Complaints Continued... (Page 2)
77+ reviews added so far. Upset? Call Kmart corporate: 847-286-2500

I have been trying to apply for a job here at Kmart and submitted several applications. However, every time I called to see if my application was reviewed the hiring manager was not available or they weren't working. Not one person reviewed my application even though they say they are hiring. I have been trying to apply for the last 3 months.

norma Alston
from Hyattsville, MD
I'm a big customer of Kmarts. Whenever I come in the Kmart and have a question or a problem the managers are not friendly they have an attitude. They don't know how to talk to employees and they don't know how to talk to the customers. I go to the Kmart on Riggs Road that's in Hyattsville Maryland managers need more training less attitude. I have not had met one yet that was not nasty and I am not a nasty person. They don't want to help they just stand around and act like they don't want to be bothered.

Having problems using coupons at Kmart in Caguas, PR, Rafael Cordero Ave. Store. It's so annoying to use manufacturer coupons there. They always give any excuse for not accept them. Almost always I end not buying the item and so ashamed because people in line hear all the cashier and supervisor complaint with the coupons and have to wait so much for pay. The more recent incident was today. Daisy disposable 5 count razors were on sale at 2.99, I had a 3.00 coupon for one 4 count or larger one.
The cashier start reading and then talked to a supervisor, they just say that coupon was not for that item without scanning it. I told them that if the coupon is an incorrect one it. Will not be accepted when scanned and that it was not the first time I use one of that coupons for that item without problem. They just gave me the coupon back and didn't try to verify. They never scanned it. I opted for not buy the item. Almost every time I bring coupons to that Kmart is the same situation. They need a training for coupon transactions.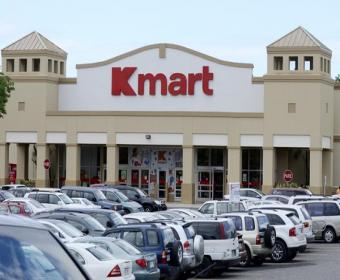 Lawrence Beard
from New Kensington, PA
Kmart manager was very rude trying to purchase item from sale rack. Range up 14.99 was on sale rack for 1.99. Took clerk back to show her where rack was. She said you are right it is 1.99 Said go to service desk and they would fix it. Manager said no I am not doing that and clerk was wrong. I told the manager she is wrong and I was going to report her she laughed and said so what are they going to do, Such a shame to have a manager with that attitude. I have shopped there 37 years will go to Walmart now. Happened at Tarentum bridge road new Kensington pa 15068 at 6:35pm on 10/16/2016.

Purchased a pair of men's jeans in Clarksville Tennessee on 9/29/16 at a store that was just starting a going out of business sale and I specifically upon checking out if they didn't fit could they be returned to another store that was still in business. I was told that I could. Well you can guess what happen upon taken them to a Kmart in Hopkinsville KY." I'm sorry but we can't refund them because they don't have a bar code on the receipt from the store going out of business. Is it know wonder that K-Marts are closing? Poor polices, poor poor customer service, they give customers the run around. The money I spent on the jeans isn't going to break me,but the fact that I was told I could return them if they didn't fit and the other store said I couldn't. Just turns me off forever to never shop another Kmart again.

Kim Baugh
from Piscataway, NJ
I purchase a queen size comforters set for my mother in Kmart in Somerset, NJ, when my mom tried to put in on her bed in Virginia it didn't fix. The sheets, bed skirt & comforter were too small. My mother tried to exchange it in Federicksburg, VA and was told that she need the receipt. I ask for an manager and ask if I could fax the receipt if I found it. Was told no she need the original receipt to make the exchange. I understand there is a 30 day return policy but when something is mark wrong, how is that the customer fault. I thought I was buying a queen size not a full size comforter set.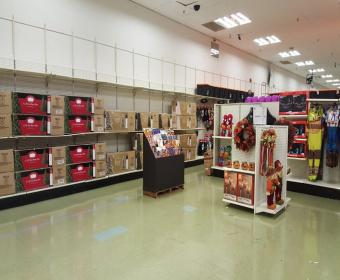 I am very upset that I can't allow my 2 year old to watch Pooh Bear on nickelodeon without hearing the words "Shut up" shouted twice in the Kmart commercial. Very disappointed that this company would find those kinds of words appropriate for a kid channel. Way to go Kmart for setting a good example. I will never be returning to one of their local stores.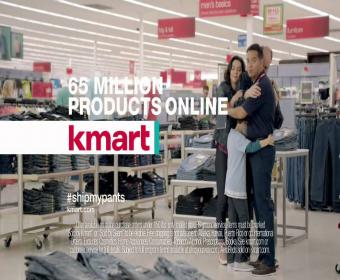 Because of the new return policy I will not be shopping at Kmart ever again. I have a set of sheets that was a gift, never opened it even has the Kmart label and bar code on it. Now when I try to return it for a store credit I was told no, that the policy has changed and I cannot even get store credit without a receipt.

Arlene Santiago
from Irvington, NJ
The manager of my local Kmart is not treating customers well, and I want to escalate this as a complaint to the CEO and senior management. How do I contact Kmart HQ?

Eric blakey
from Chicago, IL
So I placed a Kmart order online as I typically do. Got email to pick up package. Went to customer service where the attendant Megan t was totally rude. Got home opened package and it was only one part of my order. Went into Kmart the next day to let them know what happened where once again was greeted by the rude attendant who argues w me about my package. I tell her that maybe my other package had been misplaced and she gets even ruder. With a store w not much traffic, you'd think they'd want nice employees, guess not.
Upon speaking to manager she said she would check into and call me. Received a call, saying package was picked up in the morning.. Which no it wasn't. Okay peoplel it's a 6.49 swimming trunks for our sons vacation seriously. So now we have our daughters which was picked up and now have no idea where our sons is at. Umm so someone made a mistake it's a 6.49 fix refund our money we obviously won't have the trunks in time now

susan doughten
from Carlsbad, CA
Cashier was extremely rude. No reason for it. No greeting. Just a "Yup" when I said thank you. I wasn't rude. She was okay with next customer. Maybe she thought I was too poor or old to be nice too. I don't know, the child needs to away from people and or retraining. Remind her, Amazon is a choice of most these days and it may mean her job. Want to see my orders?

Keri-Lynn Steco
from Kingston, PA
i went into Kmart on 5/12/16 to buy a gift card for the playstation. When I was rung up they said there was 3.00 tax that needed to be paid, I have never had to pay tax on a gift card ever. it's always the amount of the gift card period. I asked for the front end manager and she did not help me, I then asked for a store manager which, I believe was Dave he arrived he said he knew nothing about it and would have to check with corporate which would take a couple of days. He would not remove the 3.00 so I then went to Walmart and bought the same gift certificate for the amount on the card which was 50.00 period.
I always shop in the Hazleton Kmart and because he would not remove 3.00 you just lost a customer of about 10 or more years. The only thing I will ever purchase again are for my prescriptions. I hope 3.00 was worth losing a customer forever. If I shop at any Kmart again it will not be the above mentioned store. I worked in Management for 15 years and yes, retail management and would never want to lose a customer over three dollars when I knew I was right.

thomas Grant
from Arlington, WA
I was in your store in Burlington WA. on Wed. and asked price of a necklace I was told it was 149.00 on sale @ 60.00 I asked if price was good till Friday and told it was I came back today Friday at 9;30 am and tried to buy the necklace I was told the price was now 149.00 This necklace was between two other necklaces and they said they were still marked down @ 49.00 When someone scans a unit and quotes a price and says it is good till Friday I expect to pay that price not an inflated price of 149.00 I drove sixty mi. to buy the darn thing to give to my wife for her birthday . I know this is no loss to you but I will no longer shop at your stores or the rest of my family and we are a very large group I expect this will land on deaf ears but at least I got off my chest.

hallie repass
from Lansing, IL
My local kmart pharmacy has changed their hours. We can now pick up our scripts mon.-fri. from 10-6. I would like to know whose idea this was ? I'd guess some peanut counter who has no idea how a pharmacy is run or it's purpose is. MOST people are working those hours, and would have to have someone else pick their scripts up. Or go to another pharmacy. So it's a great idea if you want to put them out.
But I've been going to my kmart pharmacy for years, and don't want to change! Carla, Kevin & Janet know my allergies and habits. One of the few things they have right, and now they're going to change that. I tell you. It's a bean counter making the decisions because management is out of ideas. Do not listen to cfo or money people. they only see the bottom line. Ask us, we will be happy to tell you way to improve business.

JoAnn Ramirez
from Tampa, FL
Kmart in Brandon Florida has a sale on Pepsi 2 liter bottles. They are 88 cents each, and the sale started Sunday 2/21/2016. I went down Sunday and they did not have any Regular Pepsi, so I asked about a raincheck. The service center informed me they did not get any in but the truck would be here the first thing in the morning. She went on to say "PEOPLE should be happy with what they have and get what they have". They had diet Pepsi. She went on to say they DO NOT give out rain checks.
I called Kmart customer service number today and was told they don't have the time to look to see if the soda came in. I returned today again looking to buy Regular Pepsi and still no Pepsi. Why advertise a product being on sale if you are not going to have in stock first?? I think Kmart needs to give rain checks if people ask for them and not be so rude to people when they ask for one. Poor business practice. Experience; this was my first experience with a rude employee at Kmart, it was horrible

Cindy Shelly
from Chicago, IL
I picked up an item on clearance that had a sign stating it was half of the current price but it didn't ring that way. After calling the department the service desk girl went to check came back And said I was wrong I asked to speak to the manager Angie said "sure will just give shit away" and walked to the service desk to call after a few minutes she came back and said Susan said she could change the price when I said I still would like to see the manager she said she had already fixed the problem and it would be 10 to 15 minutes before the manager could come.
I chose to wait and about 10 minutes later Susan came listened and apologized for your employees action and went on her way. I'm not sure I spoke with a manager as she had no name tag. Neither did Angie I wouldn't have known her name except another employee said it while I waited. Very few of your employees had name tags. I realize your people are upset about your store closing but I don't think that gives him the right to treat people in this manner.

Roger Michalski
from Essexville, MI
Sd cards were on sale. A San disc 32 gb card had a 14.99 sign on it. Took it and other things to checkout. Price came out 39.99. Told gal there was a sign 14.99. I walked back to the dept ( very pathetic) talked to a lady working their and we looked at the 14.99 sign and she pulled it off and said that sign doesn't belong their. They wouldn't sell it to me. Managers were almost nice but basically accused me of lying. I told them to go see the lady that pulled the sign down and talk to her, which they did not. If you ever looked at my surveys you will see I always complain about items not being priced or wrong prices or priced for other items.
I told them about a box of nails with a 2.99 sign in front of it a few weeks ago which was wrong went back in and no one changed that sign. Asked them one time why no prices on your fans. No answer and never fixed. I'm done with Kmarts. I'm probably the most honest person they will ever meet. One more thing, seen 2 young men stealing items and putting them in knapsack. Told an employee then watched the them walk out with their items a few minutes later. looking fans again pulled one out to see if I could find a price (DIDN'T) and wrappers of different products took them to the front desk and they said that happens all the time.

Anna Mitchell
from Spotsylvania, VA
I bought a Christmas tree yesterday and decided to take it back today, it has not even been opened. when I went to the service desk the lady got another lady and she told me I could not return it. She got the policy out and read it to me. it was not where anybody could read it and it is not posted on the clearance items and it is not on the receipts. So my problem is if I take this prelit tree out and the lights don't work I am out $150.00.

Audrey Bayless
from Charleston, TN
I sent Kmart a complaint last week, but have not heard anything from the corporate office. So why should I send another one. It does not appear that anything is been done about it. I know Kmart received it because they responded with in minutes, but nothing since. Horrible service!

Alan Huffman
from Poca, WV
After trying to purchase a 31" batman figure over a three day period, I elected to speak with someone in Kmart customer service. Big mistake on my part. The figure went off sale even though it was advertised on the web sights for $19.99. The agent would not match the price, ask to speak to a supervisor who was every rude. I ask to speak to her supervisor and was informed she did not have one. She does need one. I will never attempt to purchase again from the Kmart website and will send my complaint to the Kmart corporate office next.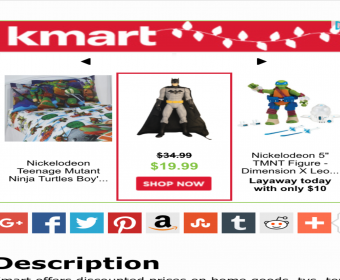 patt grougan
from Chattanooga, TN
I tried to exchange pants at Kmart at customer service. The plants were too big and I was told I would have to pay a higher price because they were on sale when I bought them. So they said I was not able to return an exchange. I complained to corporate 3 weeks ago and still have not heard from Kmart. I will shop elsewhere until I get satisfaction.

James S. Clifton
from Orangeburg, SC
I went to the only K Mart located in Orangeburg SC 29115 to purchase a refrigerator that was on sale for $499.00 plus tax on 11/11/2015 talked to the young man in charge of the appliance dept ask if it was in stock He told me to wait n he would go in the back n check He never came back up front I waited 30 minutes n left.I went back this morning same experience waited 30 minutes ask for the store manager She never came to talk to me etc etc I talked to her on the store phone n she said she would come up front She never came. I got frustrated n left K Mart. I guess K Mart does not need my business.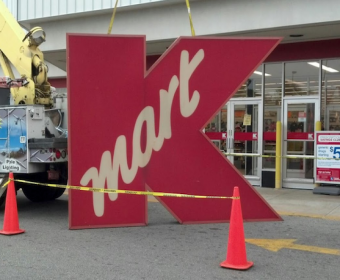 patti grougan
from Chattanooga, TN
I took 2 pairs of Kmart jeans to exchange she would not let me without paying a higher price because they were on sale. When I bought them it was the same product just different size couldn't she just put the ones back on the shelf for the higher price and exchange them for me. Now I have to wait for them to go back on sale to exchange them.

Arlene Callison
from Galesburg, IL
Kmart ran an ad today for a small electric fireplace for $119.00. I went to the store at 10:30a.m. and was told they only got 2 in. One already sold and the other was the display model. The service desk clerk showed it to me and I asked that it be turned on I could see it actually work. Had it been accomplished I would've bought the display. However I was told there was no power source hooked up to turn it on. I do believe if a customer is willing to put out $120.00 for an item they should at least see it operate. Therefore Kmart lost a $120.00 sale which I'm sure means nothing to you but I'm letting you know anyway through this complaint. I have been a Sears and K-Mart customer for many, many years however I may find it not so necessary to shop there now.

Don't have the time to go shopping. Well I found Kmart.com to be very useful. They have all what a home needs apart from beauty and health related products. I had just shifted to my new apartment and wanted to go shopping. Since I was working and found it difficult to find time, I logged into Kmart.com and found many products that suited my requirement. Great stuff on Kmart.com. I purchased bed linen, cushion covers, pillows and many more. I received my package on time and didn't have to wait much for them. I am really happy with Kmart.com and would definitely do more shopping here.
Thanks for your feedback!
Sorry. Please try again later!