Firestone
Firestone Complaints Continued... (Page 3)
186+ reviews added so far. Upset? Call Firestone corporate: 1-844-658-0724

No stars... Westbank expressway, marrero, la., aggressive manager, wanted to charge me for repairs I did not order, grease on door handles and gear shift... new crew there.. old crew was better.. never go back.. poor poor service

I had gone to Ft Hood Tx to have four tires put on my truck on the February 4th of this month and then I took it back on the 5th a February because the light came back on again I could give you a whole book story on this but I would rather talk to you in on the phone so please call me at 801 600 1829 and I can discuss this matter because now I have to take it 2 a dealer because both Firestone dealers could not or get something to my sensors and my computer in my truck and they could not fix the issue

ROBERT
from Springfield, MA
I brought a tire into Firestone in raynham to be replaced and he told me its its on its way. Then he calls me 5 hours later to tell me that it won't be here until Monday. I'm not sure what's going on here but I've been coming to Firestone for about 20 years I've never had this problem with the lack of communication very dissatisfied with the service I received

Angela Werner
from Taylor, TX
I dropped my far off last night for an appointment this am a 8am for an oil change and engine light for emissions problems. Was told I would get a call after it was looked at to tell me what was wrong and to give them the go ahead to fix it. I called them at 1030am since no call and of course oil change and diagnostic done. Had I not called I would still be waiting for a call. Now I have to wait until the end of business before my car is done. This Firestone has horrible customer service they never call their customers back on a timely manner. This is the 2nd time I have had to complain on them in less than a weeks time.

Lynn Williams
from Baltimore, MD
Firestone was contacted to put new tires on new wheels - Firestone helped pick out the tires for the new wheels - made an appointment to have this completed - the person completed the job put all four new tires on all four new wheels before testing to see if it would fit - the directions in the box specifically say test fit the wheels on the front and the rear of the vehicle before mounting a tire on the wheel - Firestone did not test fit instead put tires on all four wheels and the wheels did not fit - now the wheels can't not be returned as they had tires on them - I am very upset regarding this as you would think a tire shop would of test fitted the wheel before mounting tires on them. I can be contacted at the above email I appreciate any assistance in this matter

Sammy Gonzales
from Dallas, TX
I took my car to get repaired through my State Farm insurance. They were told by my insurance to use used parts in order to get paid and they used new parts against the wishes of my insurance. Now my insurance denied the claim and I don't have $2000 to pay Firestone to get my car. I am hiring an attorney

Pauletta H Tave
from Jacksonville, FL
January 8, 14, 2019
I am requesting that Firestone honor my Life Time Warranty on Customer invoice 148302 and Invoice 188867. I have three certified mechanic that indicate that the strut and lower ball joints need replacement and Tie Rod. However, the local manager say they do not. If they drive the vehicle they can feel and hear the problems.
With the added stress and frustration this has caused, I am requesting that labor charges be waved.
If you need to contact me for further information or clarification on this situation, please call me 904 764 9792 or 904 502 7846.
Pauletta Tave

Jose Lopez
from Fort Worth, TX
Bad service I call yesterday 1/12/2019 to see if my car was ready and they say yes your car is ready you can come and pick it up, when I get to firestone and get ready to pay, your car is not ready, it's gonna take like an hour, what kind of service is that.

Julie zielinski
from Plainfield, IL
Went to have an oil change done at Shorewood,Illinois location had an appointment for 7:30 on a Saturday morning.was told that two people called off and that it would be a little wait,ok no problem how long one and a half hours.ok I Will just come back,well we can't hold a spot I said what I have an appointment you told me your problem.and now you want me to wait for you because the time you have me might be taken.worst service ever,needless to say Merlin auto gets my business now.

Ashish bhakta
from Memphis, TN
My van was stolen from firestone , and no one behind the desk knows where my van was nor my keys that was who dthe desk or where ever they store the keys !!! Made a police report and van was retrieved and was towed to my house , with no keys , and everything of my things gone , the middle seats gone , my stereo equipment gone , my radar gone , even the van battery gone , I have a stripped out van in my driveway that I can't even move , whoever was working at the time when my van was dropped off needs to be questioned not the new employees that are there , this is totally uncalled for and I'm to the point of contacting a attorney and the news media !

Pauletta H Tave
from Jacksonville, FL
Again I have to complain about my service with your company. Again, if it was not for the convenience of its location, many of the customers I've talked to, including myself, would go to another establishment.
I have spent so much money at your Firestone on 5444 Norwood Avenue, Jacksonville, FL 32208 and now I just want them to replace a defective part UNDER LIFE TIME WARRANTY. On 12/28/18 Recommendation for services on work order 192273 indicated that My vehicle needed Steering & Suspension, control arm/ball joint, etc. On Quote invoice #2791777, it indicated the cost for the removal and install of front shock &/or strut assembly – Both and steering & suspension Control Arm/ball joint (which I have had the latter replaced)*. I took my car to KIA Dealership that has a program of replacement of parts if you purchase them and they will charge you for the labor only. KIA's technician's indicated that the arms were not the problem, but that the following things were needed:
Parts and Cost
Duralast tie Rod EN ES3245 2
Duralast/sway bar link 18425 2
Gabriel-ultra shock/strut-front G56795 1
Gabriel-ultra shock/strut-front G56796 1
Duralast/ball joint-lower 521-431 1
Duralast/ball joint - lower 521-432 1
Fel-Pro/transmission Pan Gasket (A/T) TOS18715 1
Strut bearing/insulator 2
So realizing that I had purchased Struts at Firestone in the past August 15, 2013 and Tie Rod was done on 6/26/18, I went back to Firestone and showed them this list and they rechecked my car and indicated that they did not see anything wrong. So I took my vehicle to two other mechanic and they indicated that "Get struts and lower Ball joints for the front of the Saturn".
Now I go back to Firestone and is told that in order to replace the parts with a lifetime warranty, they had to have defected parts to return. Well, if mechanics are saying from different sources that these things on my car are needed, it would appear to me that the parts must be defected. So the manager told me to take my car to another Firestone or a TiresPlus and get another opinion. I will do that, I shouldn't have to, but if the next company's mechanic says that these parts are needed repairs, Firestone should not only replace them per the warranty, but NO LABOR CHARGE should be incurred since it is on me the customer to continue to use my TIME, GAS, emotional anguish to prove that Firestone does not honor its warranties even after paying for them!
I'm not asking for anything that I should not get or have not paid for, check the history of payments to Firestone for my L200 2003 Saturn under phone number 904 764 9792, Pauletta Tave. Please look at my vehicle histories, I have paid an extraordinary amount of money to Firestone in the past for supposedly needed services and I continue to have conflicts when a second or three opinions of recommended services is done. This is not my first complaint and I hate having to take time making a complaint, I just want, in this case again, paid for services in the past with warranties honored.

Art Muenzenmayer
from Worcester, MA
I have been coming to this store since it opened. At first the service was excellent, as most companies, as your customers base grew, your service declined.
I came back today because of problem with my rear brakes. I choose Firestone because the brakes were done before here, and I would get " free " pads. But like in life nothing is really free. Diagnose a caliper that stuck, BUT, I would need pads, caliper and disks. All for the low price of $939, but he could take $100 off. So I would pay $839. So as I was stewing in your small uncomfortable waiting room, I called Honda for their price, to my surprise, using OEM parts it was only $82 more.
I was quoted 2 hours, I waited almost four hours because you didn't have the parts. I said OK to a two hour job. After about 4 hours of waiting, and still no car, I complained. Now story was, they didn't have part. It was the part suppliers fault. After more complaiining on my part, another $50 off. WOW, I thought after a feeling of gratitude I had a thought, (they must be overcharging a lot giving me all this money) final price $689.31
The outcome never again, the last visit. I know though one sucker gone, and a hundred waiting, so no big deal to you. I am writing this for me, not thinking I will get anything from you but canned corporate platitudes.
"....A Fish Rots From the Head Down (A Note to the Sales Leader) ... The statement "a fish rots from the head down" means that leadership is the root cause of an organizations failure and demise. This is true whether that organization is a country, a company, or a sales force...."

Harvey Plemmons
from Ocoee, FL
I have been a customer of your company for many years and went a local store in Ocoee, Florida had an issue with an tire on my wife's auto and the store manager said since that tire was over seven years old they would not attempt to check the tire which had what appeared to be a nail in the tread of the tire. They would only sell me a new tire. When I asked the technician which did the work his statement was the nail was in the side wall of the tire and could not be fixed. Please explain is this Corporate policy to only service tires that are three years and under of age and sell a new tire if the tire is older than three years.

Tonya Carmichael
from Boston, MA
The so called manager was talking down to my husband. And when I stepped in and told him that were is the professional conduct or just plan customer service and why would he feel the need to talk to someone in that manner and that is bad for business he no longer wanted our business and wouldn't give me is name and when I asked for the manager that's when he stated he was the manager and I told him he needs to to know the difference in customer service and we are not begging we are paying so we will not be treated in this manner. I will never return to Fire stone and I will tell my family and friends about the awful service. The store is in Amherst NY on the corner of Sherdian.

Sandra golden
from Bedminster, NJ
They fixed my fuel pump injection and my camshaft Pistons supposedly and my car is running worse than it was before they did that I've spent $1000 for nothing .Today I had to bring the car back to fire stone and told them they were going to pay for my rental car the guy dropped me off and talk to one of the gentleman at enterprise but I had to wait it was almost 45 minutes before I got my car and they didn't even pay for it I ended up having to pay for it out of my own pocket and I am supposedly going to get reimbursed which is a bunch of crap

Francisco Pividal
from Coral Gables (Riviera), FL
Took my car in Miami 120 st SW. First the attendant Joel told me that probably I needed a new tire after a plug was installed to resolve on the road, very bad approach. Secondly my Toyota Tacoma's tire pressure light was blinking, which it means one sensor is bad. They asked for 120 dollars and I accepted it. They called me 5 hrs later to tell me if I wanted to leave the car but the complete reprogramming of the new sensor may take two more hours, I asked not to be charged complete, the work was not completed, they refuted saying they can't complete it because I did not leave the car. I said to come back and i made my appointment for the next day at 8:30 am. They called me at 2:00 pm to tell me they were working on it. To make the story short i picked up my car at six on a worst condition, now the light is fixed. Very bad knowledge and poor customer service

diane c sorrentino
from Bridgeport, CT
FIRESTONE 750 KINGS HWY. FFLD. CT. 06825. NEEDS TO BE INVESTIGATED FOR DOING THINGS NOT NEEDED AND NOT DOING THINGS THAT ARE NEEDED. WENT IN APRIL FOR DAMAGE TO A FRONT LEFT TIRE AND THEY DID BACK LEFT TIRE WHICH I DID NOT KNOW. I PAID BILL AND THOUGHT I PAID FOR FRONT TIRE. FRONT TIRE WAS VERY SLOWLY LOOSING AIR. SO, BETWEEN APRIL AND SEPTEMBER I PUT AIR IN ONLY 2 TIMES. WENT BACK IN SEPTEMBER AND WAS TOLD I NEEDED NEW WHEEL ON FRONT LEFT SO I SAID WHAT DO YOU MEAN YOU FIXED IT IN APRIL. NO, WE FIXED THE REAR LEFT AND WOULD NOT ADMIT THEY DID THE WRONG WHEEL. SO, NOW I HAD TO ALSO DO THE FRONT WHICH I WANTED DONE IN THE FIRST PLACE. I HAD HIT A LARGE BRANH IN MY YARD WITH THE FRONT TIRE WHY WOULD YOU DO THE REAR TRIED TO TELL ME I DID NOT KNOW WHICH TIRE I CAME IN FOR. I ALSO NEED A NEW AXLE WHICH THEY SHOULD HAVE DONE I WAS NOT TOLD. THEY NOTED NOT AUTHORIZED. NOT TRUE. WHY WOULD YOU DO THE WHEEL, ALIGNMENT, BALANCING ETC. AND NOT DO THE AXLE. WHEN I DID MY OIL CHANGE WITH MY MECHANIC HE TOLD ME I HAD A BUSTED AXLE. I JUMPED UP OFF MY STOOL COULD NOT BELIEVE THEY DID NOT DO IT. I TRAVEL THE BACK ROADS GOOD THING IF HIGHWAY DRIVING I COULD HAVE BEEN KILLED. I HAVE BEEN DRIVING SINCE APRIL WITH A BUSTED AXLE THAT I THOUGHT OF ALL REPAIRS BEING DONE. DIANE C> SORRENTINO

William Ragone
from Mamaroneck, NY
My case number is 233-9719
I'm not satisfied with the service I have called and discussed this with sara . I want to know the age of those tires that were put on my car . A copy of the delivery date . I'm feeling very unsafe driving in that vehicle since those tires
Were placed on my vehicle . Please respond with my email . I went to the Riverhead Firestone before the bronx location and they said nobody would have them they would have to be ordered and it takes s couple of days . . So were my tires sitting in that garage for how long ?Is that why it suddenly went flat and the service manager said he put some sealant around it but to check it in the morning . Is that supposed to make me feel safe ? The rubber ages unless they are properly stored in a warehouse . I want some peace of mind . Please respond ASAP . l have photos of the broken lug nut that the technician broke but wasn't able to upload yet ! .bshears777@aol.com
William Ragone

Lawrence E Murphy
from Hartford, CT
525 Saw Mill Road, West Haven, Ct. 06516 on12/03/2018! I took my truck 2000 Ford Explorer to only get an oil change and tire rotation! I was asked at the front desk did I need anything else checked! I said No just that! Instead they decided to check my spark plugs replacement, Fuel System Cleaning, Coolant Fluid Exchange w/Standard Antifreeze, Alignment Service, Alignment Service (Lifetime Warranty, Belts, Braking System, Gaskets Engine which would cost 2,120.34, which I declined! I was called and told that my belt was about to break also my cable etc. I did not ask for anything but my oil change and tire rotation! My check engine light came on less than 30 minutes when I went to get my car and when I took the car I didn't have my engine light on and I didn't or don't accept the fact that it's still on NOW!. I called and they told me to bring the car back and I did and they got the light to go out only to come back only to come back on and is still on! I called this morning to let them know because I was told to bring it back and I wanted to know when and they let the phone ring a long time! Then they finally answered it only to ask me to hold on and I did and then they hung up! I called back and they claimed that they couldn't hear me and wanted me to call right back so I did and I let the phone ring and ring and ring and they NEVER picked up! Please tell me what in the HELL is going on in West Haven! You have that saying up on the wall talking about Honesty! Is This Acceptable to treat a Reliable Customer like this! I have spent a lot of money at Firestone between the four cars that I have brought there! My Engine light was Not On and I want it off! About a year ago, I had trouble with the engine light and I had to bring it back 4 times before it was finally fixed! I want my engine light fixed because if your people had done just what I asked them to do, It would Not Be On Now! I Will Be Looking To Hear From Someone in that store to fix what they broke or I will call Better Business Bureau and let them fix the problem! Thanking You In Advance for your Help! Mrs. Mary H Murphy! 22 Edward Street, West Haven, Ct. 06516. Cell#203-314-2183!

maria prisco
from Sayreville, NJ
I have 2 of my cars to tell you about. I brought my jeep in 9/29/1918 the brake lines broke. $1,999.27 later I got the car home and now when I drove the car and got it past 50 there was a bad vibration in the gas pedal and steering wheel. I brought it back. Now they tell me I need a control arm and a lower trailing arm $635.98 later I stiil have the vibration and now when I make a left turn my front passenger tire has a metal grinding sound.I bring it back and now they try to tell me it's my shocks and wheel hub I did not have the last work done, My car is worst now then when I first had the brakes done. Now the second car was my envoy it went in for brakes and when I pressed down on the brake pedal it was snapping down they did not fix the pedal in fact it came back worst when i asked them about it it is not a problem don't worry about it they were trying to save me money because the brakes cost $925.74 so now my envoy is worst then when it went in And I can't afford to bring my cars somewhere else now

jeffrey k love
from Willow Grove, PA
E mailed a complaint a week ago as yet no reply, please advise.

Joyce Risaliti
from San Francisco, CA
I had scheduled an oil change for Nov. 30 at 12:00 at the above service store. I have had oil changes there before and I have bought 4 new tires there this summer. I never had any complaints. I always believed them to be fair and honest. They did the oil change and they pulled my car out. I went to the counter to pay the bill and he told me it was $56.00. I was lost for words. I never paid that amt. I have a 2007 Chevy Malibu. He told me they used a synthetic oil because my car recommends this. They never used this before. I drive approximately 8000 miles a year. I am 79 years old. When I first came in they asked me if I wanted a Forestone credit card and get 1/2 off my oil change. They didn't tell me it was going to be $56.00. I think this was a poor practice on this service station. They should have told me that they do recommend this type of oil and I should have had the option. I will never go there again. I will get my oil changes elsewhere.
.

Joyce Church & William Church
from Freeport, FL
On 10/21/2018 our van was towed in for service. My husband told Firestone in Fort Walton it was the computer they said we need to check it. They changed the alternator, the belt, the battery and it still wouldn`t run.
Then they said they thought it was the computer.
My husband got upset and told then
m to just put it back together as he didn`t think they knew what they were talking about.
They put it back together except the fan belt and battery he then said to put the computer in.
our van came in on Oct. 21/2018 we got it back 11/05/18 and its still running great.
My complaint is we paid 112,50 for labor for the alternator that we didn`t need.
He made a big deal out of he didn`t charge us to take it out but he put in a part we didn`t need in the first place!
I waited a few weeks to make sure there wasn`t anything wrong with the alternator and get it checked. there isn`t anything wrong with it,
The trail and error isn`t good practice. We could have had a neighbor do that.
I think our labor should be returned on the alternator seeing we didn`t need it anyway.
the work order was #218118 Store number 027073 It was a 2002 Dodge Ram Van with 53,863 miles on it
When you go in for service you want them to fix what`s broke and just guess work.
Joyce McKenney Church
2214 Michigan Ave
Panama City, Fl 32405 arizonainfluence@hotmail.com

Anthony Howard
from Washington, DC
I went in for an oil change and tire rotation, my car was running fine and in great condition. Firestone broke one of my lugnuts and bent my rear sway bar

Sharat
from Wethersfield, CT
Firestone in cromwell, CT replaced 2 of my rear tires and the next day one the tires was flat. Reason was they didn't change the valve stem. They fixed it and next day the other tire was flat for the same reason. Basically it was a bad job with total irresponsibility. I ended up going to the same place fir no mistake of mine and they didn't even apologize gir their mistake. If you really want to improve business atleast respond to this email and people trust you going forward

Julia Schor
from East Chatham, NY
What I took to be the manager ,was quite rude to me. I had ordered 4 new tires for my SUV and it took 90 minutes. The two men in the waiting room were both constantly on the phone and while I waited to speak to them,never acknowledged that I stood there.. When I finally asked where the bathroom was,he gave me a hateful look and said:" I'm on the phone." I will never go back there, I got the feeling he is a racist.

greg connor
from Hendersonville, NC
Recently I had a standard brake service performed on my vehicle, while driving home I noticed a knocking noise from the drivers side front whenever I drove over uneven road or a bump. When I was able, I brought the vehicle back for a recheck and was told nothing was wrong with the brakes, but that I might want to have some front end parts replaced. I found this questionable because the knocking was not present before, but immediately after the brake service, and so I scheduled it to be checked by Autoworx in Hendersonville. They found one of the caliper mounting bolts had not been tightened on the driver side front. I find it unacceptable that not only was this missed during the brake service, but on the recheck itself by the same mechanic at Firestone. I will be sending copies of all work orders and a photo I took of the loose and backed out caliper bolt taken at the local mechanics shop. Considering this issue involves one of the most critical safety components on a vehicle, I am frankly very angry that I was essentially allowed to drive around with a loose brake caliper, even after giving this shop the opportunity to correct the problem.

Charlene Clark
from Orlando, FL
Store # 599492 I Douglasville, GA 30135 has the worst manager I have ever experienced. Disrespectful and rude!
I had requested an oil change back in August 2018 and some other needed repairs. As always I regularly check the oil on my 2004 CTS every 1000 miles. I was concerned about the color of the oil as it was gooey and very black. Mind you, according to the sticker of next oil change, I have more than 2000 more miles before next oil change. I took car back to the same location to have oil re-checked. The manager was rude and displayed very poor customer service. I ask that he allow me to see him check the oil. He said " I am not going to argue with you maam". "There is nothing wrong with your oil." I only asked a question in concern of my car, but accused of arguing. Unacceptable! He begrudgingly opened the hood to check the oil per my my request. He explained to me that the "oil stick" was black therefore this is why the oil is so black. I could not believe the words that came from his mouth. I expected better from a so called "professional and skilled" Service Advisor. Unbelievable, that he would make a statement and somehow assume that I was too ignorant to have knowledge of what my oil should look like! I am very disappointed that I had to experience this poor management, poor quality of work and above all poor service. Sadly he represents the prestigious name "FIRESTONE". Ladies, please check your "oil change" or have someone to check when using this location!
As a longtime customer, I deserve and seek compensation.

Dicky Gomez
from Richardson, TX
Juan Lopez store manager at Irving,TX location would not take ownership of scratches to my front bumper for and offered zero apologies for damages.. Poor management skills, customer service skills & poor people skills..,I have used this same Firestone for several years but will start going to your competition down the street..

Larry Andrews
from Charlotte, NC
This is my third complaint about this company and they have done nothing. To put it plainly they are liars. They don't care about safety. I have one new tire and three bald tires that wore out at 27000 miles and it was a 50000 mile tire. Then offered twenty dollars off the same brand of tire. One district manager started yelling at me over the phone. Just a total blank company. Larry

Gloria Bullock
from Matthews, NC
A week ago I brought my car to the Firestone on Matthews Minthill Rd. In Matthews NC.
I requested 2 new front tires and left my car there.
I received a call a short time later indicating my two rear tires both had nails in them. I returned to the center with my husband who asked to see the tires with nails. One tire did have a nail in it the other tire did not. Needless to say he was upset and we did not have any tires put on there. I have done business over several years with that center and am disappointed that their integrity is no longer trustworthy. I will not be recommending Firestone to anyone again.

DIANE BENSON
from Apache Junction, AZ
This is in reference complaint #2331619. After meeting with Roger the manager at the crimson mesa az location there was an agreement between firestone and Earhardt GMC to allow Earnhardt to fix Firestone's mess. Now we I have another complaint and this has just put me over the edge and had it not been for Earnhardt I'm not sure what I would have done. Please have someone contact me and this time it should be the regional manager instead of the manager like I was told I would meet with in the first place. Your attention in this matter would be very appreciated.Diane Benson 916-934-6144

Trung Nguyen
from Santa Ana, CA
I was here for maintenance check they replace 4 tires oil change and waiting for a filter which took about 6 freaking hour. I was here at 10am till 3pm.. This is lyft they should remove Firestone from there maintenance cause seem they don't want lyft money. My time is really important and I asked them when is done they kept saying one more hour. The address is 6100 Orangethorpe Buena Park ca do not ever go here they bunch of lies and addittude people. They don't care about there people and they don't deserve to get Paid

Ed Waiksnoris
from Hazleton, PA
My experience? Degrading is the word that comes to mind.
I`ve been taking my Subarus to the Firestone Center in Hazleton, PA. for over twenty years now and it just saddened me to see how the personal "SERVICE" has all but disappeared the past 6 months or so. I made an appointment for an oi change, tire rotation, and alignment if necessary, but was told the alignment machine was out of order. No problem, it could be done another day. What did bother me was my bill; a charge of 79.30 for the oil change and no copy of the courtesy check that was supposedly done. I always felt good after having my car serviced up there, the technicians or service manager would go over the courtesy check sheet with me and let me know how the brake lining was, if the tires were wearing properly, if the filters needed changing. or any potential problem I should look out for. When my car was finished on Friday afternoon and went to ask about the vehicle I was told the amount of the bill. When I questioned the outrageous charge the female behind the register said I could get a discount by paying with a Firestone card. I told her I never had one and never paid such a price for an oil change and I was a gold card member which she just ignored. She finally said I could get a coupon online and she went to the billing machine and had my bill reduced to 60.13. The high price of the oil change didn`t bother me so much as the impersonal attitude and the lack of communication about my vehicle. Now for personal piece of mind, I have to take my vehicle to a mechanic friend to have it checked out for the winter and schedule another appointment for a wheel alignment check.
I realize your company is in business to make a profit, but at the cost of the personal service that your long term customers were accustomed to and expected? It`s sad and I`m no longer looking forward to taking my business there again..
Disappointed and saddened,
Ed Waiksnoris

mark pittman
from Crossville, TN
I when too Cookeville tn car care to but 2 firestone tires to go on the front of my truck...I paid 472.89 for two tires; which I thought was too much..but I like firestone tires... the man that sold me the tires told me how much they would cost; I agreed on the price.. but he told me he would go and get my truck in a few minutes..i when and wait for about 30 minutes; when out side and my truck had not be move.. I did"nt say anything; sat down and waited... if I know it was going to take that long; I would be glad to bring it back another time... but I was really concern when I was leaving; I walk too my truck and notice my hood was not shut all the way... this could have be very bad if I didn't notice it.... I didn't go back in and tell them because I was very late for my appointment.. I don't wont no one too get in trouble.. I would like too say that they have done some mechanical work on my truck back first of the year;they did a great job then..hear is customer invoice # 166721 date 10-19-2018

TERRY LASSETER
from Irvington, AL
HAVING LIVED 2 BLOCKS FROM THIS STORE SINCE 1967,MY DAD & MYSELF HAVE BOUGHT MULTIPLE SETS OF TIRES & UTILIZED ALL THE OTHER SERVICES ON A CONTINUAL BASIS ,I HAVE TO SAY AS A RESULT OF LACK OF SERVICE WILLING TO PROVIDE BY MANAGER MEGAN MCCARTY,I WILL NO LONGER SEEK SERVICE FROM ANY FIRESTONE STORE OR PURCHASE FIRESTONE PRODUCTS.I RECENTLY PURCHASED 2 FIRESTONE INNER TUBES FOR MY RIDING LAWNMOWER FROM AMAZON. I TOOK THEM TO FIRESTONE ,AS THEY HAVE ALWAYS BEEN GREAT. HOWEVER,MEGAN EXPLAINED TO ME THAT THEY COULD NOT INSTALL INNER TUBES.
"REALLY",I WORKED AT A "SERVICE STATION" WHEN I WAS A TEENAGER & KNOW THE PROCESS OF INSTALLING ANY INNER TUBE.IT IS NOT ROCKET SCIENCE. TRUE ,MAYBE IT IS NOT THEIR NORMAL PRACTICE,BUT FOR A REGULAR CUSTOMER ? MYSELF ,HAVING MANAGED 28 YEARS IN A LARGE AUTOMOTIVE COLLISION CENTER I CAN SENSE THAT MEGAN DOES NOT YET HAVE THE QUALITIES OF A GOOD MANAGER OR SHE JUST DOESN'T CARE & NEEDS TO SEEK OTHER EMPLOYMENT. TRYING TO OBTAIN ADDITIONAL INFORMATION FROM THE CUSTOMER & REALIZING I WAS A REPEAT CUSTOMER FOR MORE YEARS THAN SHE HAS BEEN ALIVE,THEN IT WOULD BE TO HER COMPANIES BEST INTEREST TO MEET MY REQUEST AS A PAYING CUSTOMER.OBVIOUSLY SHE DOES NOT UNDERSTAND HOW BUSINESS WORKS ,AS MAKING A PROFITABLE DECISION IS NOT WITH IN HER REALM OF DECISION MAKING. NEVERTHELESS,THE NEXT TIRE STORE I APPROACHED(JIM WHALEY TIRE) HAD NO PROBLEM SERVING ME. SADLY, AFTER MANY YEARS OF GREAT BUSINESS RELATIONS,I WILL NO LONGER SEEK SERVICE FROM FIRESTONE. THERE IS PLENTY OF GREAT COMPETITION IN THE AREA. I MIGHT ADD, THAT I EXPLAINED THAT I WAS AN ARMY VETERAN & SHE DID NOT EVEN THANK ME FOR MY SERVICE. SINCERELY,TERRY LASSETER tlasseter240@centurylink.net

Doug Estabrook
from Taunton, MA
I have been a good customer of the Firestone Store on Route 44 in Raynham,MA. for many years and usually have good service, until now. I brought my Wife's car in for tires a couple of weeks ago. I had 4 "Winterforce" tires put on at this location about 4 years ago and were very satisfied with how great the tires performed. That's why I decided to go back and have 4 new "Winterforce" tires installed. I called on a Monday morning to make an appointment. The person I spoke told me that they didn't have the tires in stock, but would have then by Thursday of that week, so, I said OK and told them I would drop the car off on Thursday morning. When I arrived, the person there said that the tires weren't there yet, but assured me they were on the way. I said that was OK but could you call when the car was ready and he said "No problem." Around 1:00PM, my Wife realized she needed a key that was on the ring that I left with the car. She went to the store to get the key and was told "Your car is done." My Wife then had to go all the way to my house (approximately 10 miles, one way), pick me up and go back. When we got there, the person at the desk said that during the "Courtesy Check" that the car needed struts and a fuel system service. I said that I would pass for now, and went outside. I told my Wife to drive my car and I would drive hers to make sure everything was OK.. When I went to get in the car, I noticed a bunch smeared grease by and on the door handle. When I got in, the area all around the ignition switch was also covered in grease. As I drove home, I noticed the tire pressure numbers were all over the place ranging from 23LBS to 38LBS. Not a big deal, as I have an air compressor at my home and I would check the tires there. When I got home, I walked around the front of the car and noticed the whole front edge of the hood was not only, again, covered in greasy fingerprints, but the hood wasn't even completely latched! So, I cleaned everything up, adjusted the air pressures to read the same and just wrote it off to a Technician having a bad day. That was until someone pointed out that two of the tires were mounted BACKWARDS! These tires are "Directional" tires and have to be mounted for a certain rotation-the two on the Passenger side were wrong. So, I went back to the Firestone store the next day and not wanting to make a "big deal" in front of a waiting room full of customers, I asked the Service person to come out to the car so I could tell him what was wrong. He said that there was no excuse for things like this and he would take the car in right away and fix the tires. The tires were fixed in about an hour and I left. For some reason, when I got home, Wanted to make sure everything was OK. It wasn't. The hubcaps that are installed on this car have plastic lugnuts that attach to the steel lugnuts that retain the wheel. The hubcaps on the Passenger side (the tires that needed remounting) were only held on by ONE LUGNUT ON EACH WHEEL! I retightened them but, rest assured, Firestone has seen it's last business from me.
Douglas Estabrook
Taunton, MA

ABEL MANRIQUE
from Houston, TX
On Friday Oct 12 I took my GMC Sierra 1500 truck to Firestone located in Brazos Town Center in Rosenberg for a wheel alignment. I got a call from the manager saying that the right front upper and lower control arms were bad. I asked him to just finish the alignment the best u can. When I brought the truck home did my own visual inspection and the lock bits were loose and the upper control arm was stripped due to unnecessary force to the rod and also the grease fitting was damaged in control arm. Please contact me at 346-857-7374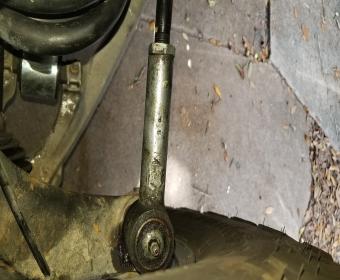 ABEL MANRIQUE
from Sugar Land, TX
On Friday Oct 12 I took my GMC Sierra 1500 truck to Firestone located in Brazos Town Center in Rosenberg for a wheel alignment. I got a call from the manager saying that the right front upper and lower control arms were bad. I asked him to just finish the alignment the best u can. When I brought the truck home did my own visual inspection and the lock bits were loose and the upper control arm was stripped due to unnecessary force to the rod and also the grease fitting was damaged in control arm. Please contact me at 346-857-7374

Barbara Gallop
from Baltimore, MD
Everyone at 3 or persons been coming back complaining about engine light on. I had my car done several time still problem either the mechanic not doing his job and manager not on hi. Or watching him something isn't right

Ernest Lewis
from Oxnard, CA
This is a follow up to a complaint that has gone unanswered regarding a rebate I was denied reason being the tires I purchased were sold at a prorated price. The original tires were 65,000mi wear tires that needed replacing at 42,000 miles. The prorated tires that replaced the originals cost $702, the rebate of $100 was for purchases of $500. These are entirely two seperated transactions, independant of the other.

Travis Ross
from Chicago, IL
I had a life time alignment done on 6/18/14, since then I have been back a couple of times to have my car realigned. Both times I was put though the ringer just to get my car looked at. Today I went to try to get the car realigned and was told that my name was not in the system. Lucky for me I Keep records for 10 years or at least thats what I thought lucky me.The manager told me that he would go ahead an honor the life time alignment as if that was not what I had paid for in 2014. I went home and 20 mins later they called me to come and get my car. When I got there they told me they aligned the car and wrote notes that I declined the work for them to Checked out wipers,3rd brake light was not working, brake Fluid exchange, coolant fluid exchange w/ EXT life pre-mix coolant, complete Vehicle Inspection, Primewell Tire Package. They never asked me about any of those things. They did give me a print out of a bunch if items that they recommended, which none of them was a belt and what was really interesting is that the mechanic hand written notes stated that he did not test drive the vehicle because of a bad wiper and that the tag would expire next month as well as the windshield having a crack in it, which was not obstructing any vision. What was not looked at or noted was a damaged belt. When I got in the car and started to back out I noticed that the power steering was hard. I pulled back into the parking spot, popped the hood and notice that my belt was damaged. I took the belt in to the manager and asked him if the belt look like it had been cut but course he said NO and all they did was align the car. The belt had no cracks in it besides the slit from what I can see. I am writing you to make you aware that the Grandview MO store on Main street does not like to honor the life time alignment and by there actions does not care about staining the Firestone name. I have pictures if you need them. I hope you have some type of resolve for this issue.

Dorian Wright
from Chicago, IL

Damein Tinsley
from Hyattsville, MD
My wife and I have been getting services at your Fort Meade Maryland location. In 2016 I had a new set of tires placed on my wife 2007 Honda civic and was told the tire were of high quality. As of late there has been a loud noise coming for underneath, as well as, a rough ride. I took my car to the local Honda dealership to have it inspected and to my surprise the tires were the cause of the noise. Honda went on to say that it was due to feathering of the tires. I did some research on the tires and found that the reviews were very poor,and that a number of other drivers have experienced the same thing with this particular tire. I called the fort Meade store to find out when the tires were purchased and was the warranty still in effect. I was told that I needed to be able to provide proof of rotation and alignment every 6 months dating back to the date of purchase. I want to know why your company continues to sale a subpar product and when a customer attempts to exercise their warranty, they are met with road blocks that make it difficult. Furthermore this year I took the same car to your fort Meade location for and air condition service and repair. At the end of the day I went to pick up my wife's( I never received a phone call to let me know that there was a problem)car and was told that it would not start. I was told that all the techs. had gone home for the day and that the would continue to work on it the following day. The following day I didn't receive a phone call with a status up date, so again I called to find out the status of my car only to be told that now it was completely immobilized and that it had to be towed to Honda for repairs. After a day at Honda I again had to call your store for and update only to be told to contact Honda. Honda informed me that the security system that was installed had fried the CUP and that was why the vehicle would not start. After the repairs were made and firestone pick up my car from Honda, and I went to pick it up from firestone. When I asked your tech about my security system that they cause to be damaged, I was told that the old system that had to be removed could be reinstalled. I was told by store rep the that the security system was something that Honda would advise against, but Honda not only recommend that the system be used they installed it. My firestone card was charged for the cost of the AC repairs they paid for the cost of the cpu replacement. My security system that was installed by Honda but told that Honda would not recommend was remove and not repaired or replaced. I was told that this was a common thing, if it is why have I been able to have my car repaired before and the LoJac has never caused this to happen before. I don't think that the base commander would be happy to know that veterans were being given such poor service and furthermore not being given truthful information and updates about their vehicle status. It makes me question weather your techs are qualified to do make these sometimes expensive repairs.

Israel Miranda
from Miami, FL
This morning when to have an regular oil change and the manager wants to sale the expensive one because he said the car only runs with sintetic and that's a lie he tried to rip me off and that for me is steeling.

Mr. Bruce Walker
from Tucson, AZ
I don't think it's customer friendly to have the customer be the delivery person between store locations that are quite a distance from each other (at least 15-20 miles each way). How is this putting the customer first if we are doing all the running around for a simple battery replacement. I understand there is a charge for disposal of hazardous materials (such as car batteries) but I don't think I should be charged this amount considering more than $10 has been spent in driving back and forth across town.
Bruce Walker
520-574-7599

Bruce Walker
from Tucson, AZ
To Whom It May Concern:
I had another bad experience with Firestone on August 16, 2018. Less than a year ago I purchased an Interstate battery from Firestone for my son's 2001 Honda Civic. The car would not start basically doing what it did a few months ago. My son took the battery to O'Reilly Auto Parts and they told him he has a bad battery. We then drove to the Firestone store #19852 (located at 7950 E Speedway Blvd. Tucson, AZ) We waited about 2 hours only to have the repair guy at the store tell us they could not test the battery because the machine that they use was not working correctly. I explained to the Firestone Auto Repair Tech that the battery had been tested by O'Reilly Auto Parts and the reading came back bad battery and I was sure it was the battery because it was doing the something it did the first time I brought the car in. The Firestone technician said you will have to take the car to another Firestone location to get it checked out before I can give you another battery. He stated if it's the battery we will replace it but charge you $30.00 to install the battery that they just installed 8 or 9 months ago. Please note the battery was just replaced by Firestone less than a year ago and you want to charge me $30 after I find another Firestone store to prove what I'm telling you regarding the battery. On August 17, 2018 after taking the day off and driving to another Firestone (#29629 Broadway and Alvernon) location I was told it's a bad battery but there was not a replacement in stock. There was a battery available at the Speedway location and after picking up the battery my son was asked to leave a $10 deposit and take the bad battery back to the Broadway location (store #29629).
I don't think it's customer friendly to have the customer be the delivery person between store locations that are quite a distance from each other (at least 15-20 miles each way). How is this putting the customer first if we are doing all the running around for a simple battery replacement. It's quite concerning that he's driving back and forth with the bad battery and we waited in the Speedway location for more than 2 hours so we couldn't take care of this yesterday. I understand there is a charge for disposal of hazardous materials (such as car batteries) but I don't think I should be charged this amount considering more than $10 has been spent in driving back and forth across town.
Bruce Walker
Software Deployment Team
Conduent Technology Services
Health Care Provider, Pharma, and Life Sciences
CONDUENT
4801 E. Broadway Blvd., Suite 200
Tucson, AZ 85711
800.737.8835 ext. 4202
520.750.4202 (Direct)
520.886.4763 (fax)
Bruce.Walker@conduent.com

lien ly
from Harrisburg, PA
on about 8/5/18 i have my truck toyota tundra to be brakes inspection and replace a disc rotor and brakes however they didn't complete my truck noise from the rear and they put new rotor disc and brakes to the rear 2 days later on the 8/7/18 i bring my truck back for the same noise a different technician try get on my truck the he found the noise he fix it then still have a same problems on the 8/13/18 i bring my truck again the service advisor JESUS he get on my truck with me and drive away so he hear the same noise that i was told then he make an appt for me on the 8/14/18 to bring my truck back tho fix .now the same tech who was install my rear disc rotor at the rear he claim the front do the noise so how did they do that at all on the 8/5/18 but claim later that was wrong tech to do the inspection, but the problems ia the store manager was speak to me i try to tell him that he should have my truck fit right at the 1st time is not that i have to bring my truck back to store for 3 different times, i'm up set and i know the truck was making noise after fix the manager is THOMAS me and him end up argument at the time he complaint why i raise my voice yes i'm getting mad of what he told me i was a customer for 14 years at the same place and he told me that he don't care if i was be there for the 25 years i dont have to raise my voice but he was wrong he getting pay by customers,so he put the new front disc rotor for me free and he drove my truck for the test drive still have the same noise from the rear rotor,so what are you recommented for my truck with THOMAS and his not experience to fix my truck and charge me over $400.00 to this matters.he can not to tell the customer how to talk but his voice louder then me at the store i raise my voice because he not stop talking to allow me to finish of my right he is not good for the store manager STORE#015415 and he didn't not listen to what as i know to tell him the problems of my truck and he can fix but he keep go on with me i'm also a mechanic and a semi driver i know about my truck problems but he don't so i want to know how your cooperation to take care of this matter.thank you 7173071229 that is my #

Michael Stevens
from Orland Park, IL
Being 75 doesn't mean take advantage of me with 1 price for 4 new tires which I was trying to pay upfront and when I came to pick up my vehicle another 150.00 dollars added to my bill. Me Darian Harris did straighten out bill but I believe it was a scheme since Darian didn't accept full payment when I dropped off my car.

I went to Tallmans Tire in Yorkville NY at the begging of July to talk about purchasing 4 tires AT P245 75R/16 tires and made a appointment for July 26,18 and he never told me the rebate would be exspired then. I would have done my tires sooner. Know I lost out on a $60.00 rebate. Is there any acceptation to allow me to get the rebate. Thank You sam
Have feedback for Firestone?
Thanks for your feedback!
Sorry. Please try again later!