Firestone
Firestone Complaints Continued... (Page 4)
186+ reviews added so far. Upset? Call Firestone corporate: 1-844-658-0724

I took my f250 into the Firestone near Pearland Parkway for a front end alignment. Two days and two attempts later it's not aligned right. Two days later I am at the Firestone at 9530 Broadway St, Pearland, TX 77584. I arrived before opening and explained the situation to the counter personnel. Coldly, as if I were an inconvenience because I previously purchased the lifetime alignment, he told me it would be 3 hours. I have 4 Firestone tires on my truck I bought new. I find this to be unacceptable; if you warranty something and it can't be fixed at one location it should hold some level of importance to hopefully keep a customer.

Danny Simons
from Dallas, TX
Manager wanted to argue over lifetime balance of a tire said tire could not be balanced worn to 2/32 when it clearly can be balanced Billie seemed to want to argue more than work.10:30 appt to balance on track still not complete 11:50am. 2 hrs on rack for 4 wheel balance please contact me 214 728 0371 customer Danny Simon's Mesquite Tx

Diane Walls
from Littleton, CO
My wife took my sons 2015 Altima for service today 07- 19-18 at center in Rowlett, Tx. She did not get the service she needed and was treated rudely and im not having it. We have spent tens of thousands of dollars at that facility and if you want a dime more we need satisfaction. Somebody needs to call Diane Walls at 972 841 6310. I keep several cars at a time always and can take my business elsewhere.

Dr Terry J May
from Norman, OK
BEEN A LOYAL CUSTOMER FOR 10 YRS AND AT LEAST 7 VEHICLES. ON AN OIL CHANGE ABOUT A YEAR AGO, I GOT HOME FROM THE STORE (100 MI) WE ARE RURAL,AND FOUND THE OIL BARELY SHOWED ON DIPSTICK...VEHICLE REOUIRES 6 QTS AND I PUT A WHOLE QT OF OIL IN...CALLED MGR AND HE SAID HE WOUILD MAKE GOOD ON NEXT CHANGE...ONE WEEK AGO , TOOK VEHICLE IN FOR OIL CHANGE AND LIFETIME BALANCE AND ROTATE OF TIRES. NOW...NEW MGR SAID HE WOULD OK CREDIT OF PROMISED $ 10 OFF OIL CHANGE...I SAID I WOULD BE OK IF HE JUST WROTE OFF THE EXTRA QUART CHARGE (5 QT STD)BUT HE SAID THE SYSTEM WOULD NOT DO THAT..ONE HOUR LATER, I HAVE TO STOP THE TECH BECAUSE HE WAS NOT BALANCING THE TIRES...JUST ROTATING ONLY....MGR SAID "OH !!!! I DIDNT KNOW YOU WANTED YOUR LIFETIME BALANCE TOO" THIS WAS A COMLETE LIE !! I SPECIFICALLY SAID I WANTED BALANCING WITH OIL CHANGE AS I HAVE HAD ON THREE PREVIOUS VISITS ON THIS VEHICLE. WHEN I GOT HOME...I REALIZED THAT ONLY .7 QT HAD BEEN ADDED OVER THE 5 QT STD FILL ON MY BILLAND AFTER CHECKING THE DIPSTICK....IT TOO WAS ALMOST A PINT LOW....SHAME SHAME SHAME...NO MORE SERVICE FROM FOR ME OR ALL MY KIN...CREDIT CARDS ALREADY CUT TO PIECES......SHAMEFUL TREATMENT FROM A 10 YR CUSTOMER.....DR. TERY J MAY tmay1947@hotmail.com 580 795 2624 McKinney store on n i75 texas

Glen willig
from Hayden, ID
We had a blow out with a brand new tire it was only. A little over a week old blow going down the highway. It was a blow out on the side of tire they claim we drove on it flat this is absolutely

Tracy Sidney
from O'Fallon, IL
I have been a customer for almost 9 years and utilize Firestone for all my auto needs. I went to the Fairview Heights, IL (Store #15288) on Sunday, July 15th and received poor customer service from the new manager, Carl. A cover under my vehicle was hanging, which only needed a screw, clamp, or temporary removal and he completely blew me off. He stated he wouldn't be able to get to me until Tuesday despite how minor of a situation this was. I could understand if I were asking for an oil change, a major repair, or new tires, but this was an issue that took all of 10 minutes for one of your competitors to resolve. A competitor was kind enough to remove the cover and wrap it up in plastic so that my vehicle would not be at risk of damaged over the next few days from this cover getting ripped by getting caught on something. Firestone was the company that ordered and installed the cover for me once before. However, this individual didn't even feel the need to make an attempt!
I have NEVER experienced such rudeness and disregard as Carl displayed. When the prior manager or prior employee by the name of Mike was there, he always showed compassion for the customers and would never send a client on there way to a competitor.
I am so disappointed this client experience that I have decided to either change Firestone locations, which is an inconvenience to me as I live in Fairview Heights or I just may need to find another auto service company.
Someone needs to give him customer service lessons to work on his skills because he has none! The new management assignment to the Fairview Heights, IL store is disappointing!

Michael Callicutt
from Homewood, IL
I had my vehicle towed to a Firestone in Homewood ILLINOIS on 6/12/2018 to have my rear control arm repaired. I entered the office area to speak with a customer service agent. I waited approximately 25 minutes for someone to come in and acknowledge that I was standing there waiting for service with no other customers in front of me. Someone from the repair area finally appeared, and with no greeting register my vehicle for services. The following morning Brandon Turner the store manager called me to inform me of the repairs I would need for my vehicle along with prices. Although I felt that the quoted prices for repairs was a bit excessive, I informed him to go ahead with the repairs. After talking with Brandon and taking time to really dissect the charges I decided to go up to the shop and get better clarity on repairs and pricing. When I got to the shop I spoke to Brandon Turner about the overall repairs and charges for my vehicle. Since I needed to have the rear control armed replace, Brandon also put a charge on my bill for an alignment. I asked him was that a recommended repair or mandatory repair. At that point Brandon became very irate, rude, and disrespectfully condescending toward me. He told me in a very aggressive and demeaning tone that I had to get the alignment. I ask him was it for safety reasons or just a matter of comfortability, vehicle handling, and to better preserve my tires. At that point he told me that he could not do the repairs on my vehicle unless I got the alignment. I would have been fine with his explanation, but immediately after giving me his explanation for the alignment Brandon stormed away from the customer services desk toward the repair area door while loudly in front of other customer threatening to take my vehicle off the lift if I wasn't going to get the alignment done. At no point in our conversation that I stated that I was not going to have the repairs with alignment done. I simply was attempting to get clarity on the repairs for my vehicle. I have been a long time loyal customer of Firestone for years and have never been treated with this type of utter disrespect!

S Williams
from Dallas, TX
First I would like to say is,what happened to management and the experienced mechanics at this Firestone (west 5th,Pine Bluff Arkansas),I'm sitting here with a group of male customers who all are complaining about this particular store.I scheduled my appointment for 7am for an oil change and tire rotation, didn't leave until 10:30am.When I arrived the(opening) technician,not a manager,he was nice,but his other technicians didn't arrive until after 8am! My complaint is that when I arrived to this Firestone,my truck was driving fine,after my oil change and tire rotation, I left to run an errand,and felt like something was different about my vehicle,after running my errand,when tried to put my vehicle in reverse,it shut off x3, when it finally started the 4th time,put in drive,it was making a rumbling sound under my hood! I've never had this problem! I was afraid to drive it to my next appointment (which I had to cancel),so I drove it to the nearest Exxon full service,called my fiance so very upset. I also called this Firestone back,and let the receptionist know I was having a problem with my vehicle, I just left there from getting an oil change and tire rotation ( she was nice(and sent the opening (technician).He stated to my fiance that"it's probably the motor mount" ect ect...When in all actuality he truly didn't know.He trailed me back to Firestone,put my truck on the machine,and claims the print out didn't find anything,it's out of his hands,he really doesn't know what's wrong.But my fiance checked my fluids before my appointment,when I gave him my printed receipt of services,it showed that the technician checked everything as if he checked them,but really didn't ! When my fiance asked the opening technician why would they check all of these and knowing it wasn't done, and how many other customers have y'all done this to, especially female customers,he had no answer! I really don't know where the manager was,but I do know that the service is definitely not the same,they have so many (young)new people, including the manager,and so many complaints. I haven't had any problems until now and I'm so very disappointed. I'm now having to take my vehicle to a Chevy dealership to see what's wrong with my vehicle because even though it was put on a machine, I was told by the opening technician,he really doesn't know what to tell me. I never got a print out from whenever it was put on the machine, I left there in tears,just disgusted.While waiting on someone to bring my truck out,there were three gentlemen waiting,and their conversations were all(negative) about this particular Firestone location.I sat there and listened on how many repeat visits they had to make because of repairs that they thought were fixed but had to keep bringing their vehicles back because it either wasn't done right the first time or they made the problem much worse..I'm sitting here listening to this in tears,like okay,it's not just me.I wanted to bring this complaint to your attention because it's truly not the same from when I came in the past. Ive purchased tires, gotten my oil changed,and tires rotated with no problem,and have noticed all of the older experienced technicians are no longer there,which is what the three make customers all stated. I have friends and family that I referred to this location because at that time it was truly wonderful service,but now they will no longer come here because of what happened to me today.The only positive thing I can say about the experience is that the female receptionist was nice and she was apologetic, and even though the"opening technician"was nice,he was not knowledgeable about what was going on with my vehicle. I felt like since they were already an hour behind,it was a rushed job,and something was done to my vehicle,but they would never admit it. I believe that when you trust someone to do the job right and you're spending your hard earned money,no one should be treated like this way.Enclosing,I would like to thank you for your time and I pray that you take out the time to fix the negative issues that are happening at this store.

Manuel Canez phone number [480] 286-0259
from Tempe, AZ
When we first got to the store, the person who's name I neglected to get was very rude. He acted like we were bothering him.
He couldn't wait to get us out of the store, I understand that it was almost time for him to leave so I let it pass, and he left the store. This guy never asked us if we wanted to check anything else on the car. Even though I have a Firestone charge card I don't think I will be going back again. I can get rudeness anywhere else I go.
After 2 1/2 hours I called to see if my car was ready and the person who answered was named Mikey. When we arrived to pick up my car, I asked him "Where is every body at?" because the place was empty. His answer was "Why? Do you have a lot of people with you?" It was obvious that there were only two of us. He never gaves us a smile or any kind of common greeting. He was even more rude than the guy who initially took care of us.

Rilinda Paschal
from Las Vegas, NV
Went by store 355332 on 7/5/18 around 10am, spoke to Mgr Nick about my 2005 Nissan Altima. He stated that he was unable to get it in and to bring it bac tomorrow. He took my name and phone # and set an appointment for me to bring it in on7/6/18 @8am. I checked in on 7/6/18 @7:34am and per work order will receive by 3pm. I requested a diagnostic and to check the catalytic converter. He was very knowledgable about the converter. Asked if he could keep it for most of the day.stated no problem. No communication all morning, expecting to hear about diagnosis. Called at 12pm, spoke with aTecnician that stated that the car has not been looked at and it probably will not be looked at today. Stated to him that the car was brought in early. He put the Mgr Nickon the phone. I asked why my car was not seen. He began telling me about a Tech calling off and having only 2 techs working. They were behind from yesterday. As stated that we handset an appointment and he had until 3pm. He stated that I could come and pick up my car and that they will not get to it. Stated it many time over. Requested Corporates #. He said that nothing would be done and I could come and pick up my car. Looked up Corprates # and spoke to Vivian C, very professional and helpful. Called another office down the road to get me in. When I arrived to pick up car, they had brought it in because Corporate had called. This should not have happened-communication is a key. Mgr Nick became very unprofessional in assisting his customer. If I sit in the office they get to your car. I have had a Firestone card forever and have paid it off continually. Very unhappy with that cusomer service. Hope to not need service again and will travel to the other office down the road. Eric at the other office very accommodating. In all aspects of Customer Service is Communicting effectively. Too old for unprofessional behavior!

Wanda Cobb
from Los Angeles, CA
On July 5 I brought my car in to this location to obtain a diagnostic of why my check engine and other indicator. I was informed by the manager that the person who does their diagnostic was out on disability. When I inquired how long he'd been out ill, the reply was that it had been two months. When I inquired why someone else had not been put in place and expressed that this was no way to run a business. His reply was that he had spoken with corporate regarding the matter but since the person is out on disability they were unable to fill his position. This hold sitation left me trying to fi d a auto repair shop I could trust to assist me. Also I was told the only other Firestone repair business would be in San Bernardino, CA. which in my opinion was totally unexceptable. I am giving Firestone a minus 1 for extremely poor customer service.

Joseph and Bertha Alexander
from Nashville, TN
A few months ago we had a blower replaced. We picked up the car and all seemed fine. Two days later, heat blew only from the drivers side. We contacted Firestone and was advised that somehow a piece of plastic was broken and that the dash board would need removal and that was expensive work, another $1000. The charge for the first repair was over $900. We could not afford this.
A short time later there was a loud noise coming from the car after the car was turned off. We recently had the car checked, not by Firestone and learned that there were there were several hoses and wires that were unconnected. This was discovered after the dash was removed.
We believe we were done wrong by Firestone. We have been customers of Firestone for almost 30 years and have in the past overlooked messed up jobs, but this is one ridiculous. Just look up the service record.
I must say that the employees are always been courteous.
I would like to be refunded our money back and have the balance cleared. We have been disturbed over this matter for quite some time, but did not want to complain as this is just outside of our comfort zone. There was an incident where Firestone decided that one of our truck was salvage and prepared to have it towed. We just went and got our truck. That truck was operational for years after that. We did not complain!!

Mark ODell
from Pasadena, CA
Unable to get a return phone call from Firestone @ 1110 E Colorado Blvd, Pasadena, CA, 911066 to address a problem from 22 Jun 2018...
while this is small scale, their refusal to respond or provide any explanation has me headed for never returning, which would be a loss for both of us...
Chris advised by telephone that both rear tires must be replaced. He said all tread was too worn to be safe, noted pronounced uneven wear, mentioned exposed steel band on one tire he said was leaking, and he specifically said one tire had a "cut" in the sidewall.
Authorized replacement, but asked to look at old tires on pickup.
First, old tires were lost, then -- when eventually located, and confirmed to be those taken off my car -- found condition was (consistent with my memory of them when dropping off the car) nowhere near as bad as I was told on the phone. Measured tread depths; recorded values had conveniently (inaccurately) been shaved down by at least 1/32" on one tire (the more worn of the two), and more than 2/32" off on the other. Was aware of some reduced tread depth, commensurate with tire mileage, and particularly uneven wear, despite lifetime alignment.
Was not aware of one tire being very worn in a few places, including a ~ tear spot (this is the lower-tread tire), though there was no steel to be seen and the tire has been holding air just fine. Note even 35 psi all around at intake, last adjusted over a month ago.
Precautionary tire replacement is never a bad thing, but money is finite, and I depend on honest assessment of conditions I cannot see myself. The tire with torn tread was junk and absolutely should have been replaced. I am grateful for having this problem identified.
The other tire was in relatively good condition, albeit inner-corner-worn, with enough tread for at least another 10~20,000 miles. That tire was only minimally more worn than my spare, which is many years older; it probably should have been exchanged with the spare, but too many other issues were muddying the water to make good use of it in this way (unclear exactly how to compare an older spare with a little more tread, to a much younger tire with a bit more corner wear; for spare tire use, I would think tire age is a bigger factor).
No cuts of any kind were visible anywhere on either tire.
Chris had left for the day, and has not responded to my request for a telephone call (now 24 hours later).
I resent inaccurate reporting of tire condition to sell me a tire I did not need. I understand replacement in pairs is preferred, but I would rather have spent that $200+ elsewhere right now, returning later for a new tire.
While I have been a customer -- of this particular store -- for 29 years in August, across multiple vehicles, this was my first experience with Chris. Advisor report accuracy has always been variable, and I have to learn for each person how much weight to give their words, but this was new territory with a new person. Chris has lost my respect, with considerable blow-back on the rest of the store.
I would have assumed Chris' "cut" was just the visibly torn tire section (of tread), except I had explicitly clarified in advance "on the sidewall ?", to which he said "Yes". The tire was not leaking. Tread depth shading is simply sleazy.
This location is convenient to my work (Caltech), so I will probably remain a customer despite my own better judgement, but I will actively be looking elsewhere when possible. Most of my experience with this store has been good. I ignore a lot of occasional minor distortions of truth, while staff try to drum up work, but this was a new low -- there was no cut or exposed metal in this tire, and knowingly shading down the tread depth is quite unjustifiable. I will begin posting online reviews noting these issues. I hope you will straighten out your staff on what used to be company values of honesty and fairness.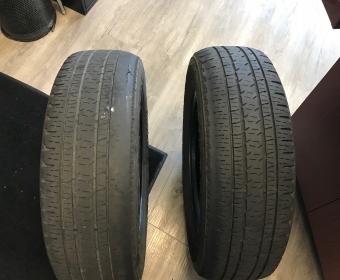 Guy Bornaschella
from Chesterfield, MO
I am extremely upset about the wear on the Firestone tires that came on my 2016 Dodge Ram 2500 when i purchased it new. I have 17,600 miles on the truck and the tires are just about worn out. I did not expect this to happen as i always had good performance from all of the Firestone tires that i purchased over the years.Firestone Transforce LT 275/70R18 AT OWL. I never thought i would have to put tires on my truck at this amount of mileage.
Guy Bornaschella

James T Umblance
from Wetumpka, AL
I have had two problems with your Firestone store at Maxwell AFB, Al. The first incident when I had my oil change on my Chrysler 300 they did't tighten up the screws on my oil pan so oil was leaking. Drove my car all the way to San Antonio TX and was glad I didn't have any engine trouble that was back in January 2018. My next oil change was free but things like that shouldn't have happen. Before that I taken my Dodge Challenger in had tires put on, and for some strange reason I thought I was was good to go, until I wash my car and notice I had as different Dodge rim on my vehicle. Now I am the only who drove my car. This was not my spear. I was just surprise because I just wash my car. I went up to Firestone and I told the guy to see if they put a my rim on another dodge or had someone called and said if they had the wrong rim on there car. He told me no. Firestone was the only place I been that put tires on my car.Be as it may, the tires were put on back in October 2017 but I didn't notice it until April 2018 after I washed my car. So I went and bought my new rims, didn't want to,but I did. I just wont be using your service any longer.

Markitia Cochran
from Dayton, OH
I I took my car there to get it check for knocking noise up under my front end of my car ok they checked it and said it was my sway bar so i paid to have that done then a couple days later I continue to hear that sound. I Took my car back to them and let them drive it again with me in it and yes he noticed the popping and knocking sound so they checked it again and they said it was my intermediate streering shift and so i paid some more money to firestone on 104 WOODMAN DRIVE to have that done a day later again it's back doing the same thing now i just dont what to do i dont have anymore money. I feel that they is ripping me off and they just don't no what the problem is but continue to say let's try this it should take care of the problem if not it just might be a continuous issue. I spent around $1200.00 between 3/8/18 to 3/29/18 and they still didn't take care of the problem.its sad how they can just take people hard earned money like this

wendy
from New Bedford, MA
went in for brakes was told 2 hours around $500 my brakes were under warranty. they got sent wrong brake pads had to wait longer. the tech broke one of my calipers because "my car is old" it's only 2010. had to then wait for calipers. luckily they were under warranty but they still charged me for them and had to do a refund while getting charged for the labor even though the tech broke it.no one gave me any type of quote. all in all I waited 5 hours with no sorry. the store manager test drove my car before me taking it and said it was fine. well on the way to work brake light comes on. I will never go back I don't care what's under warranty. I will take the drive to my dealership. very poor customer service. maybe it's because I'm a female they try to take advantage because I know nothing about cars but I refuse to ever go back

Eddie Phillips
from Wilkesboro, NC
Ordered two tires for my truck when i got there they had gotten wrong size. I drove a hour and a half to get there and i call two times the day before two make sure everything was good before i came. They found two tires 2.5 hpurs away 3 hours later still waiting on tires to arrive. I estimate ill ne here five or six hours today no way to run a business im very upset to say the least. The store is in Hickory NC i would like something for my day spent waiting at this store.

John Parker
from Murfreesboro, TN
Waited in emisions line. I failed. Went to Firestone in Smyrna, TN to fix it. After a 2 hour wait, they said it was fixed. Went back to emissions , waiting in line. It failed again. Went back to Firestone. The mechanic failed to put on an additional part. Had to order it After it came in ,I waited for the add'l part to be installed. Engine passed inspection. That's 3 trips in emmisions line and 3 trips to Firestone a massive waste of time.
With your $100 computer analysis included, my total was $409.18. This included $235.99 for the mass airfllow sensor part. I bought this same part at Advance Auto several months ago for $100.00. That's an outrageous markup! Your rep actually said that Firestone pays more for parts than than consumers do.

Carolyn Dagenais
from Newport News, VA
I went in to have an oil change & tires rotated. They give me a paper with a total of things I should have done asp. $1478.31?Tell me I need a new battery!( It is new), one of the boots has a crack,(lies) Need new axle shaft(lies). Took my Blazer to a Auto Care specialist this morning and your people are a bunch of liers I'll never go of buy Firestone again! I don't like being taken advantage of because I'm a woman, I know quite a bit about cars. I'm no bumby. Invoice 184597- store 025291

Frank Diliberto
from Wayne, NJ
On 16 Jan 18, I brought my 03 Ford explorer in for an oil change, front rotors & brakes and rear brakes and tire rotation at Firestone auto care on Ft Dix/McGuire AFB NJ. I'm in the military and live 85 miles from the Base. On my way home at aprox 65 miles away I began to feel a bad shaking in my front end, I pulled over and checked my tires and noticed all the lugs on the front left tire were loose and one stud was broken off and almost loosing my tire off the vehicle. After jacking the vehicle and tightening the lugs I continued to feel a wobble & hear a grinding noise in the front end. I returned the next day and they replaced the stud and lug and told me everything was fine. Again on my way home the noise was there and I returned this morning (20 Jan) and was told that they had to repair/replace the Reman CV Axle and F Axle shaft and again on my way home this time there was still a Whining and clunking noise in the front end. The same Technician (John) worked on my vehicle every time. This time I brought my vehicle to the Firestone in Newton NJ, I had to leave my truck and now waiting to find out what it is going to cost me again. I feel this all is because of the damage caused by the tire almost coming off due to the lugs not being tightened and feel that I should not be responsible for the damages and should receive a refund for the axles due to the mechanics irresponsibility of doing maintenance.

Shana Cloud
from Colorado Springs, CO
On December 6, 2017 I called to schedule a alignment on my husbands 2500 Dodge diesel 4x4 truck that has a lifetime warranty on through Firestone. Store #328318 on Fort Carson is the closest (45 minute drive, one way). I asked the tech to quote replacement tires: 285, 70R17. I confirmed the appointment for the alignment and said I would look around for a better price than what he had quoted. H&H tire was able to beat the price by over $109.00. On December 6th I called back to the store to let them know yes, I want the alignment, no, I do not need the tires. The appointment was set for December 7th at 1:00 with a estimated time of 1 hour. On time the front desk tech states he will price match H&H tire. They only have one of the 285 70R17. They call the Academy store and order one from them to be picked up. They changed the estimated time from 1 hour to 4 hours. At this point I'm willing to work with them, they are trying. They confirmed my phone number because my husbands was in the computer and he is deployed to Iraq. They state that they will call me when it is ready for pick up. It's now 4:00 and I have not received a call. I wait until 4:15, now I have to leave to make the 45 minute drive to pick up my child. The same tech states I need a different rated tire and they will have to order it in and it will be here the next day. I explain that the 285 70R17 is what I requested and to just leave them on. The tech states that they didn't put the two new tires on the truck. OK, to clarify I asked if they at least got the truck aligned. The tech states, NO. NO!!?? I ask why didn't they call me. He blamed his boss and said he was suppose to call. Conclusion: I scheduled a appointment for a alignment, NO ALIGNMENT WAS DONE under the lifetime warranty policy that was purchased. They claimed they would price match and replace two front tires, TIRES WERE NOT REPLACED. They stated they would notify me when the vehicle was complete, NOBODY CALLED ME IN OVER 4 HOURS!!!! My time is valuable with my husband deployed and it is only me to make things happen. The customer service of this transition is not acceptable at any level. They did not try to reschedule the alignment, explain how they jacked up a quote or honestly say H&H is the better tire service and I should go with their tire. Your tech just stood there with a look of hoping I would leave. I had to pick up my child and the staff had proven that they are utterly incompetent when it comes to training, customer retention and customer satisfaction. My work order # 085782. The tire quote was separate and they did not give me a copy. I'm disappointed in the store and the lack of wanting to do a good job when they offer a service. I would like to know what happened, just how do you explain doing nothing and not calling the customer knowing that they will return and not be pleased.

Catherine
from Charlotte, NC
I had two vehicles worked on at firestone in Raleigh on Wake Forest Rd. The first vehicle came back 5 times and the issue still hasn't been fixed. The second vehicle is here for the second time. They lie about what they've done. They tell you that their going to get started they walk around playing and talking. I've never seen a business that takes 5 plus tries to get your vehicle right and still don't. Customer service and job performance sucks. I wish i could minus some stars at this point.

Chris marshall
from Roseville, CA
I just went to the Firestone in Hanford California. I got there at 10 minutes after five. They close at 6 PM. They have eight bays and three of them were occupied. And they told me they didn't have time to do an oil change. I believe they had plenty of time and plenty of employees and I think you have a huge problem at your Hanford location.

Betty Jackson
from Philadelphia, PA
Rude unprofessional attitude at the FIRESTONE STORE located on 5444 Norwood Ave., Jacksonville, Fl. 32208 from employee THOMAS MILLER, Manager Of Tire Sales. I have had an account with FIRESTONE/INTEREST FREE for about 25 or more Years. I FILED a COMPLAINT with the Corporate Office last year concerning your DISTRICT or REGIONAL administrater (a female, that received a promotion, how I don't know), and I was totally Ignored concerning resolution; resubmitted same "problem" to the gentleman that replaced her, still no support/cooperation concerning resolving again. I PAID my account out and SWORE I would NEVER REOPEN it regardless to whatever offers were mailed to me.
Betty Jackson
11834 Alexandra Drive
Jacksonville, Fl. 32218
904-631-1963

Ana Caraballo
from Orlando, FL
On Friday 10/27/2017 I went to Firestone the one located after Advance Auto Parts Lake Underhill Rd 32822 for a oil change and they also checked my tires, since I paid the free alignment check always, but anyways, I didn't check if they actually did everything right and didn't make a mess, I trusted, which that was a huge mistake. Yesterday, Monday 10/30/2017 when I went to turn on my car to go to work at 6am it made a ugly noise coming from the engine, I turned off and on the car like two times to see if it would do it again and open the hood and check, there was, is, oil all over the cover that goes over the engine, a mess, and the cap of the windshield wipers is not on, and I can put it on like I used to, don't know what they did to it, but they messed it up. You can noticed they rushed over my car to do the work. Don't know why they even took off or touch the windshield wipers cap if they didn't put not even a drop of anything there, it's empty you know. My car is new, I still pay for it, it's been always in good, excellent condition, never gave me any kind of problems up to now, that it made that weird noise and it's acting up. Firestone is completely responsible for this and I want this people to know what they did. My windshield wipers cap I want it to close and open like before, even if you have to buy everything new again. I want answers and soon. Thank you

Monica
from Delray Beach, FL
I came to firestone close to work on Delray Beach, the first time I had a really bad experience and I actually gave them a second chance just because of the convenience of the location. I got my car in because it was making a weird noise and they told me it was the axis, then they called me and told me a bunch more things that were wrong with my car (which I usually take it to the okeechobee location, and they always tell me my car is perfect) one of the things they told me is that I needed to change the oil and that I need to do this every 3 months or 3,000 miles and that I need to be more careful with my car, which it wasn't true because I took my car to the firestone by my house earlier and they change the oil like 2 weeks before I took my car to this location. I told them and they were like well we don't see it in our system, then they told me that they didn't have one axis on the store and that they needed to order it and that they will call me, they never did so I ended up calling them today and they told me they been calling me and to bring my car (4 weeks after the first time I got my car in). So I brought my car and the guy told me they been calling me and living voicemails, and I told him I never got one and he told me well i guess if you don't have one I cant argue with that so I even ask him are you sure you don't have another phone number for me and he was no, and then he was well your car is going to be ready around 4:40 or 5. I work next door I'm a massage therapist and I was waiting for them to call me to let me know my car was ready to run and pick it up, they never called and when I got out of work I ran there and they were close, I live 35 minutes away that is my only method of transportation is a Saturday night and now I'm stuck at work not knowing how I'm gonna get home because of them. Never again I will bring my car to this Firestone on Delray beach in 6th ave.

Mitchell Dawson
from Richmond, VA
Last year I purchased another set of Dueler H/T tires for my Toyota Tundra (p255/70r18). These tires were rated at 60,000 miles. I had my oil change and tires rotated today 10/03/2017 at Firestone 7303 Midlothian Turnpike, Richmond VA. I was told that I needed another set of tires. I have less than 30,000 mile on the tires and I paid close to a $1000.00 for the set. Whenever I am having a oil change I always get my tires rotated which is recommended by Firestone. I have alway used the Dueler tires on my truck for years up to this point and always had to replace my tires well before the 60,000 miles. I keep the truck aligned which is also recommended. My major concern now is that I have to buy yet another set of tires for my truck. It is clear that these tires are not performing like advertised. I could have bought a cheap 30,000 mile tire for a lot less money.
This is my third or fourth set of tires which didn't meet your standards. To this point I am a loyal Firestone customer but I want to get what I have paid for. If possible I would like another set of tires. I certainly have paid for them.
I have always received excellent customer service and work from this Firestone and hope to continue being a customer.

John Beecham
from Kansas City, KS
I had called Firestone 10/02/2017 to bring in my vehicle ,2005 ford ranger XLT they told me to bring it in and they will get to it and let me know what is wrong,( I had told them I have very little power).So I brought my truck in at 11:08am,your store at 4707 Bannister,kansas city,mo. and they told me they will call me ,they never called so I called them at 12:30pm and they told me I'm next in line will call me, never did so, I called them at 5:52pm and they told me there person who handles that want be in until Wednesday which was not right they have called me out of respect so I could at lease make the the decision to leave or pick it up or take it to somebody else.I never had poor service and irresponsibility at your store before please let me know what you do about this and did not say he was soory when I pick up my key or offer an option.

James Curtis
from Atlanta, GA
I purchased 4 primewell tires for my f150 less than 2 years ago kept tire pressure check had tires rotated all 4 tires has became uneven like little eggs making my truck wobble unbelievable I had the front 2 replaced with used tires I am a senior citizen cannot afford to purchase new ones I do have the receipt for the primewell tires please help

karen schmieding
from Carlisle, PA
I made an appointment at Firestone in advance because I only had one day off. I called to verify the charges for having work to be done. I was told from previous work order the pricing hasn't change. I arrived at 10:45 I was told they forgot to add labor for the back brake drum It will be add't 165.00. I wasn't happy expecting under 500 it was close to $700 with disc. This isn't right! Their mistake I shouldn't have to pay. Then to top it off I had to wait close to an hour before they service my car. what is the sense to making an appt. and verifying price when you don't stand behind what you say! Also I requested the bad parts to return to me. This was done at Firestone in Carlisle PA I don't believe I should pay the extra $165 for Firestone's mistakes. A very unhappy customer.

Mark Farley
from Chicago, IL
I went to the Firestone in in High Point North Carolina on Gordon Road I called and ask them can they replace my battery they assured me that they could I have my car towed up there and the tow truck driver was in the trunk to get the towing package in my trunk was absolutely perfect. A day later Firestone customer service called me back and said they could not fix the battery it will have to go to BMW well I got the car to BMW and when I got the battery put in and started driving off I noticed some lights came up with warning I took it back to BMW.
BMW said that somebody else was fooling around with the trunk and they disconnected something that they didn't have to disconnect and broke something. I asked Dave and Firestone will he make good on that I even offered to pay for the part if they would just fix it it's been 3 weeks and I have not gotten any answer from him and I have not spoken to him and he has not called me back now the battery cost me $450 and to fix what Firestone messed up cost $580 I'm willing to pay for the parts and have them fix it. I can't get any answers and the technician said he knew about BMW's and he did not know that it was a building key for the key fob and he came into the trunk by the back seat you can get access to the trunk and he broke something when he could have just used the key to open a trunk.
Now my car is going off saying the trunk is open when it's not open he also the rear view light license plate lights will not come on and was sold alarm keep going off every 5 minutes and it's been that way for 3 weeks like I said I'm willing to share and the cars but Firestone to this point have given me no satisfaction. I have spent thousands upon thousands of dollars there I have run Flats on my BMW that cost $550 for each one and I must have bought 15 from you guys alone besides the two knobs and fixing everything else and this is the first time I have been treated like this.

Pamela Gordon
from Savannah, GA
On 11/8/2015 at 10:15 a. m I took my car into Firestone for a oil change and alignment service. The service advisor was robert., Technician-Kareem. I picked my car up and everything appears to be fine. Two months later, my maintenance required Light came on we looked up and it say oil change . We took back to Firestone and informed the advisor that we just got the oil change in November and its obvious the tech forgot to reset after he changed the oil. The supervisor came out to where my car was and stated," they don't recommending resetting the maintenance button, we recommended you change the oil because it going on three months."
I expressed to the Supervisor that I just changed the oil November, and I only drove the car 1800 miles from when I brought in at 47,222. miles. I informed him that every 3000 miles or so is the recommendation for a oil change, all I need is for you all to reset the button, due to your tech not doing at the time of the oil change. He stated I needed to change the oil. As a returning customer, I am very upset that this was the only solution for him to correct the problem that his tech failed to reset the button when he changed the oil. I have to paid again for an oil change for them to reset the maintenance button. Very dissatisfied.

Had to get a my car serviced and took it to Fireston down the street. The workers were friendly and professional. They took my car in the back immediatly. I didn't have to wait long for them to be finished. The entire experience was great, and I will take my car there again! 

Every time I found it difficult in servicing my Car and I am not able to get the perfect host to do it. Firestone has given me the best servicing to my car and is affordable within my budget. Firestone give various automobile services like A/C service, Engine repair & tune-up, best oil change, batteries,tyres,repair services and many. I do got the rebate for my servicing and i am happy with services given by Firestone. I suggest you all to give your car servicing in the best place like Firestone for the best rides.
Have feedback for Firestone?
Thanks for your feedback!
Sorry. Please try again later!