Extended Stay
Extended Stay Complaints Continued... (Page 2)
79+ reviews added so far. Upset? Call Extended Stay corporate: 1-800-804-3724

Harper L
from Houston, TX
Watch your credit card . They will run your card and someone else's card if you don't watch it.
Their billing system is very flawed . My bank is looking into them .
How can you be paid up three nights and come back and charged money you didn't not allocate with no correspondence in question for said amount .
Hey extendestay running someone's card with authorization is a crime .

diane
from Rolling Meadows, IL
Accommodations - poor - the temperature could not be regulated and would go from hot to cold regardless of the temperature setting. we had to get an extra blanket to use when the system would kick in cooling and blow cold air and then open the window to help when we started to bake. Kitchen had scars on the countertop and both burners on the stove-top were messed up. the bathroom had an ongoing stream of little flies (coming up from the drain - ??) and by the time we left there were a collection of dead ones on the wall where we smashed them. Since we had housekeeping in, the fact that they did not notice and/or clean them off, is greatly disturbing.
Speaking of housekeeping...horrible as well - besides the lack of bug clean up, she also did not replenish our toiletries and we needed to go ask for them at the front desk. She also spent a lot of time at the breakfast area, I saw her refilling her coffee in front of guests and making them wait. Then she would just sit around chatting and complaining how the guests were not happy when she knocked on the door at 8:30am asking to clean the room. When she got to us, and I said later, she wanted a specific time later and made a pest of herself interrogating me fairly insistently. She should be working around ME, the guest, not trying to have me work around her schedule. But, this location does not appear to be run that way.
Amenities - terrible and completely not attended to - in any way.
Laundry - there had been a little cart to use, but one wheel was loose, which made it more of an annoyance than a help, then it started coming off, before finally the whole thing disappeared and was never replaced - very disappointing.
Breakfast - It is the most meager and requires the least effort, so you would think that might be ok, but nope. Many times one or both of the coffees were out with no indication that they would be refilled, plus more than once they were cleared up early before the stated end time, then there was a morning with no hot chocolate and another where the only oatmeal flavor out was regular.
Wifi - inconsistent at best - needing to reconnect every day was a huge pain to begin with, but then getting randomly kicked off throughout the day as well made it completely awful.
Staff - dreadful - the worst aspect you might think would be the nonexistent site manager, who cannot be bothered to respond when situations arise, however, that does explain why everyone was horrible - they were just following his lead. however, it was corporate and the "guest relations" folks who were completely detestable - from the nasty guy who said he was a supervisor, which I hope was not true based on his level of accountability and consideration, to the underwhelming area manager, who has no issue with allowing a situation to fester for well over 2 weeks without taking any action at all, to the repugnant corporate suits who could not even bother to reply to an email and finally to the ghastly manager who was forwarded my email only to reply once and then drop off the face of the earth. I would like to say this whole mess has been shocking, vile and horrendous.
ESA is brand you do not want to do business with at all! Completely appalling!

gilda cervantes
from Dallas, TX
I usually get good service..my mom is 84 and reserved a room. We complained about ac unit making a loud noise. We were told maintenance would come fix it the next day..it was cold here in Dallas..so they offered to bring extra blankets..we had our own...we were cold our whole stay...maintenance never came so we couldn't use heater...horrible stay...for paying 338 dollars for 3 nights...never got fixed.so disappointed...wont stay again
.

James A Gambrell
from Bedminster (Pluckemin), NJ
Was told that I was in the rear by almost 10,000 dollars, I said that was bullshit, I pay every month and next payment is due 5th Jan.
I check in to this hotel in September 15th and have paid every month, I am here until March 31 for work. The manager that was at the front desk I have not seen before today and I have been here 3 months. she did not like me using the word bullshit and was offended. I told her what do you except a person to say when you tell them they owe almost 10,000 dollars. I said why would you let someone go that long without saying anything.
I have not had room service from the time I checked in, and do not want. The room is out dated, the iron was broke, the hair dryer was broke, the refrigerator was not clean, the stove top was not clean. If I am asked to extend my stay at my job I will not be staying here.

Alphonso Burnett
from Phoenix (Camelback East Village), AZ
I wrote about this incident at hand. I was band from your hotel, because of false accusations made by your employee, who quit after the incident at hand. I requested, you guys contact me so that this situation be resolved. please contact me asap so that this matter be salvaged. Thankyou for reading this letter.
Alphonso Burnett

Andre McCalope
from Siloam Springs, AR
Checked in to extended stay 8801 perimeter park blvd Jacksonville Florida. Dec 13th 2018
OUR VISIT TO JACKSONVILLE WAS DUE TO WIFE HAVING SURGERY
1 First we had to wait a while before getting help to check in 20- 25 mins with no one in line.
2 We where checked into a room 227 that was already occupied so we had to move to another floor
3 Once we gather all our things and moved to another room 308 we noticed my wife was unable to use bathroom due to toilet not working and major rust around bowl filthy , Another issue was going to sink to wash hands and we where unable to cut water back off due to faucet not working so water had stayed running until maintenance came and repaired . Also my wife was unable to call her doctor from hotel room due to phone not working .
4 What really done it is when we wasn't accommodated for all the inconvenience at all.
We would like to get restitution for this matter before we go further on this.

Keyla Duviella
from Smyrna, GA
Extended Stay located on 3103 Sport Ave Cumberland Pkwy Smyrna Ga 30080. I stayed there for a few days I had a suite but the room was full of ROACHES the staff was ok especially Donavan he's a great guest service agent the manager April seems like she doesn't know what she's doing most of the day you go into the office there's no one in there to assist you. There giving you prices for these rooms online and as soon as you check in there's a price change which is more than your expected to pay they have a new system that they can't work which is so stupid I waited for a long time to be checked in standing and I just had a back surgery a few weeks ago I'm so angry and it's extremely cold

Lesley wise
from White Marsh, MD
We have been frequent long term guests over several years here in Frederick. Our complaint is about the TV service. They have DISH TV and it has been nothing but disrupted service every time it rains, wind or snows. As of today we are without any TV again. We are so frustrated and they don't appear to be putting any priority on the matter and it Takes so long to get the problem resolved. We really like watching TV and wish this matter could be resolved in a more timely manner. Your assistance in this matter would be greatly appreciated.
I can be reached at 301 401-8550

Lisa Bohnenkamp
from Portland, OR
First I'll start with saying this I should have ensured I was ready to leave by 11am check out the day I was scheduled to leave. Unfortunately the night before my husband fell very I'll and was up almost the entire night keeping me up as well. So when his doctor called us to come in that morning we were relieved to know my husband could be seen. The timing however was not a good time since we were no where close to ready by 11am but we couldn't miss the appt. So I went to speak with the ladies at the front desk about extending our check-out to 12:30. I first spoke to the girl sitting at the front desk, she told me the latest they could give me was 11:30 this even after I explained my situation she stated if it was any later id be charged a another nights rate. I said "there's nothing else I can do but those 2 things? " she went to grab what I assume to be her manger and told her the situation. The "manager" stated the same thing but said if it was later than 11 I'd pay half a day fee of about $40. I told them I'll have to pay the fee and said I'd be back to get my stuff and the fee can be charged to my credit card. On my way back from my

Alphonso Burmett
from Solon, OH
on the day of October 29th. my wife ad I carried my barber chair to the lobby as I prepared for departure, in the process, the chair fail out of hand, cutting it and spilling blood through out the elevator, Entering the lobby area, my wife and I acknowledged the receptionist to clean the blood up because we were afraid that someone will slip and fall. the receptionist asked us "was everything alright. We assured her everything was o.k. and we continued about day as we chatted in the lobby. As we spoke in the lobby utilizing the area, Police entered the hotel, saying they got a call about a disturbance. the receptionist was there listening to our conversation. The receptionist then explained to me, "anytime there is disturbance she must call the police. After explaining to the police, there is no disturbance, they still wanted to see my wife which was in her room showering, The police proceeded to my room to harass my wife. After we assured the receptionist there was no problem she then called the senior manager and told her there was a disturbance and that my wife, children, and me had to leave the hotel. they also said they smelled smoke in the other room we were renting. I also had another problem at the Extended Stay America in Chagrin Ohio as well . one of the worst experiences of my life. I going to consult an attorney about this matter. we treated unfairly after staying at your Hotel for months spending thousands of dollars, I want disciplinary actions taken against the lady who worked that day. she was very vulgar and rude and should not have a job working with everyday people. The Hotel never issued an apology for there mistakes. Rewind the video of the day and you can see the receptionist lady attempting to attack my wife in front of the police and myself. my children had to see something very humiliating to all of us. please respond to this matter as soon as possible. you can contact me at fonz4real19@gmail.com. fonz4real19@yahoo.com

Mrs Kelley
from Columbia, SC
I'm having a problem with the general manager at the stone ridge location taking it upon himself to cancel my reservations. I'm having a problem with the prices changing due to him meddling with my reservation. On more than one occasion he has cancelled my reservation and lied when asked I've been in this hotel for almost 3 months well over 4,000 dollars and they are horrible downstairs. My room has never been cleaned once in three months after I went to find the housekeeper. Trash in the hallway constantly dog urine on the stairs daily. I have not complained due to the extra kindness of the assistant manager who tries his best to deal with all the issues. But the general manager is rude and nasty and has his kid helping him with the new couches he ordered. They keep asking me to do a review I haven't because there's nonething nice to say. My home burned down and this is the treatment my family and I are having in our time of need. While we wait for Columbia PD to finish their investigation. Again my main problem is the general manager taking it upon himself to cancel my reservations. Without my permission. Also I will be contacting my family attorney for further advice regarding this matter.

Herbert Jackson
from Las Vegas, NV
I arrived on Sunday August 19,2018 at Extended Stay Indianapolis Northwest 9370 Waldemar Road Indianpolis, IN 46268. My experience so far has been terrible. I am contracted with a Company called STROM, for 6 weeks. We are working at CNH Enterprise in Indianapolis. Upon arrival of the hotel, I was sent to a dirty Queen size room. I went back to the front desk to ask the clerk to accompany to the room, so i could show her the condition of the room. She stated she could not leave the front desk, but accommodated me with a King size room at no additional charge. I had no dish pack in my room. I requested dishes and was told I had to be put on a waitlist, because they didn't have any pots. As I continued to check on the status of my position on the waitlist daily which ended up to be two weeks, I finally received some pots that the handles were so loose, that I was afraid to use them for fear, I would break them. I ended up going to Walmart to buy 2 pots for myself. The staff is very unfriendly. I have been told by 3 different people when I should pay my weekly amount for the room. 1 person told me I needed to pay in advance, and another told me I didn't have to pay in advance. I was told on a Friday, that I would have to wait till Monday to have my room cleaned. I am very displeased and feel I should be compensated for all of the unprofessional treatment and lack of interest for my comfort during my stay at your hotel.I can be reached for comment at 702-917-3415 or at the email address above. I would hate to continue the rest of my stay at this hotel receiving this treatment.This is very suprising for me because, I stayed at an Extended Stay in Ohio, 2 years ago, and was very pleased with their service and willingness to accommodate the group. Waiting for your reply.

Cheryl Martin
from Northridge, CA
We just checked in @ 5:00pm they charged us $100. Extra which I demanded back they did honor E-mail Confirmation Quote , but the room was Empty of all the Amenities , I had to ask for each & every pieces for the kitchen , I still am waiting for spatulas , pots & Pans because quest service keeps saying they are dirty and I can't get them till tomorrow that's ridiculous we are staying here so we can cook here but we can't cook if we don't have the right amenities , that we paid for up front . $750.+. So needless to say been here for a few hours and Very Unsatisfied . & Irritated . This is not right whatsoever .

Niurka Randt
from Cleveland, OH
We are from Florida and for our summer vacation me, my husband and my son planned to drive to New York and back with stops every 6 hours to sleep. We stayed at two Extended Stay hotels. (Or tried to)The first one was in Raleigh NC. (911 wake Towne Dr.) We didn't have a good experience but nothing that was a big deal. Then we decided to book again in Roanoke VA. (2705 Frontage Rd. NW) a nightmare!!! First we arrived at the hotel around 10pm super tired, the person at the desk was so lost she couldn't find our reservation; She had to call another person to help her. We'd booked our room with an online service. She wanted me to cancel my reservation because she said that there were no rooms available for my family, then after 30 minutes finds my reservation and finally she gives me the key to the room. The room smelled horrible like cigarettes, we went back to the desk and she found us another room ( I don't know how because she told us there were no more rooms available) well now this room was occupied by some body else, so we went back to the desk again. She gives me one more room, by this time it was already almost 1am, and now this room was a one bed room and we had booked double bed and this room smelled like cigarettes too! So we went back to the desk and asked for a refund( that we never received) we were tired and with a kid we had to find another hotel. Believe me we will never again book with Extended Stay Hotels again, two bad experiences is and was enough.

JUAN GALLARDO
from Houston, TX
If you want to stay in a horrible hotel chain with African-Americans and their families and friends just hang out at all hours of the night, then this is your hell hotel. I stayed at two different locations hoping that it was just a isolated situation but it was not. I felt complete reverse discrimination from the thugs that hang out at the parking lots. They take up all the parking spaces for actual quest from their friends and family. I am sure you will dismiss my complaint as you might assume I am a racist but I am not. But when its so obvious, one cannot help but to scream from the top of your lungs and voice your factual opinion in hopes that it will not fall on deft hears. Additionally, the Indian controlling management will Nickle and dime you and argue if you slightly challenge their constant mistakes. For example, I had made a reservation at a lower price per night but when approached the front desk I was told that they could not honor that discount. They lie, cheat, argue to better their bottom dollar line. They are crooks and I wasn't rude but did not back down. Ali finally was all of a saddened able to modify the computer and honor my initial discount as promised by the reservation desk. The degree of dishonesty, unprofessional behavior by every employee and especially the dead beat Management, is truly unbelievable. Well I personally witness this and was shocked by the diminished and not care attitude towards actual guest. Never again and I will further this complain to the highest level, even if they are all in this scam together. DON'T STAY AT ANY OF THESE HOTELS, THIS IS THE TRUTH PROVEN BY MY OWN PERSONAL EXPERIENCE SO DON'T EVEN TRY TO PERSUE ME LEGALLY BECAUSE WHAT I EXPERIENCE WAS THE UNMITIGATED TRUTH. A WORD THAT THIS COMPANY DOES NOT PRACTICE-TRUTH, HONESTY, INTEGRITY, AND POLICY AND PROCEDURE.

Ashley kramer
from Levittown, NY
I have been stating at the melville location. Since April as we lost our home and we get no breaks and i think its crazy been here 3 mintha whwre is iur tax money back?there is a blavk women assist ant manager who works at feont desk at rhe melville new york location she is mean rude and constantly insults me over charges me and cahrges my card without authorization she insulta me calls me at work for stupid things I want to file a harrasemenr letter against her I wany my tax money and want a discount 800 a week is crazy please help me I feel so violted

aqil kidwai
from Herriman, UT
We recently booked a room through Priceline at Extended Stay of America and our experience was horrible. They treated me and my family like we were criminals. First, when we arrived 45 minutes prior to 3pm, the manager was very and told us to come back after three and did not offer to assist me further and told me to come back at that time. When we return after 3pm, the older lady in the front office was rude. We had paid through price line for a double queen and she was giving us a full. We requested to please give us a 2 queen and she just said there is nothing she could do. She said she did not care if we booked with priceline, she said she had 2 full in the top floor but their elevators were out of order. Interestingly, I saw people getting out of the elevator. I makes me wonder if because of our color she treated us that way, she raised her voice at me in front of two other customers and more horrifying my daughter. When we called priceline to have this fixed, pricelin e said that we had cancelled our reservation at the facility, which we did not authorized. We were left stranded 500 miles from our home away from our home. As she was on the phone with someone she said in front of customers, she sarcastically said they are too many people for that room, which was only my daughter, my wife and I. It is not so much what she said it is the way she was diminishing what we were trying to explain to her, I was treated very badly. Would have liked to record our conversation for corporate to hear what and how we were talked to. I am sure that if you call the location they will diminish what happened. Then, she had the nerve to say we were creating a mess because she had a line waiting and all we wanted was to get the room we paid for. We are currently traveling due to remodeling our home and were planning to stay in your Extended stay in Torrance CA for about 30, but after being treated horribly we are not sure if we will ever use Extended stay of America, not sure if it's your policy to allow your employees to treat customers of color that way or it was just an isolated incident. I am a business owner and would have never allowed any of my employees to speak to a customer in that manner. Excellent customer service is the key long term business.
Location of incident:
10715 Auto Mall Drive
Sandy Utah

Deena
from Kansas City, KS
I know 100 percent for sure that a certain employee Chris Allen Ralston as been stealing blankets towels trash bags and food as well. He has also been high on the job which explains his tardiness. he has had sexual relations with other employees as well as with guest. he has distributed drugs in your facility located at 87th and frontage road in Lenexa, Ks. He has also been taking money from your corporation by means of change. And also scam your system to give free rooms to people he associates with his drug distribution. This needs to be immediately be attended too. because that property has so much drug traffic its that obvious. plus he let women run a brothel for cash. sincerely Deena

Shawnte R Sterling
from Shawnee, KS
I got a room today 11/24/17 for a week my first room was room 144 it smelled like urine it had burned holes on the floor wan panties behind dresser under bed make up under bed so toilet didn't work now the put me in room 133 it smell like it had a fire in it it smell like smoke damage the refrigerator is broke it won't close it not leveled it wobble it don't touch floor when turn on the burners to cook it smell like that's were the fire was I used my perks I been a customer's for along time I'm very I'm satisfied and I will be talking to the front desk and maybe switching hotels this hotel is so nasty and give u guys a bad name

Tamikia
from Hendersonville, TN
The one in Jackson Ms on Beasley Re are full of shit they charge you for housekeeping after you leave for nothing they told me three different lies why I was charge 56.00 n the bitch ass manager told me file a dispute and not giving me my money back the dumb ass nigga don't even know I have a witness that heard him say he charging everyone a cleaning fee all because they dumb ass rented rooms out for folks to throw party there police was called from what I was told weed smoke every where and they just ride as fuck

Willie Porter
from Lancaster, TX
I booked a room through priceline express and the hotel Extended Stay America off of Stemmons Freeway in Dallas Texas to night and it has terrible reviews. I want to continue to book through priceline and keep my reservations with them, but would like a different hotel. I am even willing to pay a different price or upgrade, but I think this is really unacceptable. I have never had this problem before. Again I am not happy with the current hotel and willing to work with priceline to make this right. Please help me with this. I don't want to have to cancel my reservation and cancel payment through my credit card company.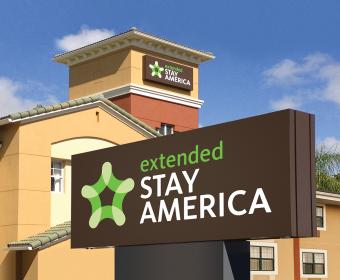 Marcus Evans
from Kansas City, MO
First I have been here at Extended Stay America for 30 days with another 60 days left on my contract for work, the house keepers don't do sufficient jobs when cleaning my room 312, no pots and pans have been available since I arrived! I find the laundry room and hallways dirty, in fact I have picked wrappers and softeners on floor! This is probably one of the worst ESA's I have ever stayed in and I have been all over the country and I have stayed in several. When a customer is paying 70.00 plus dollars a day to stay one expects much better service! I have asked to be moved to another room and that has yet to happen!

I am a driver and I use clc card I first went to one Extended Stay and asked if they had a room. I told them I had a clc card and they said for that they had no more rooms so I went around the corner and stop at the other extended stay and asked if they had rooms.
They said yes than I pulled out the clc card and the lady that was working looked at me like she did not want to give me a room. She said that clc was the cheapest card and I should not be able to use it and I will be calling clc to and let them know what happen.
I feel like I was treated like crap and I will not be coming back to other one and I will be letting my company that I am a driver for know not to go to Extended Stay hotels anymore. We have about 40 driver that we have driving this is by far the worst I have ever been treated.

Thomas Greer
from Rolling Meadows, IL
Im in Rolling Meadows extended stay and simply said your wifi is a joke. I have a very powerful Lenovo pc with built in wifi adapter. This is not my pcs shortcoming. I spent extra money to boost wifi with pathetic results. I'm sure your management is well aware of this and I feel like I was sucked in moving here. The download speed is like dialup. This is 2016 and theres no excuse for this. Tell me how you will make it better. I am a stock trader and this is totally unacceptable. Make it better or I will move and never stay at one of your facilities again.

towanda scott
from Baltimore, MD
I was at Extended Stay America for 2 days and the accommodation was terrible. We had to get our own dishes at the front desk and the stove did not work. I complain to the front desk. One of the employees there told me what do I expect it's not a 5 star hotel. Then I told her it didn't make a difference I still should be treated as though they are. She persist in arguing with me. The other employees came out and try to accommodate us. But the one employee still kept talking about what she was going to do to me than she persist towards putting her fingers in my face. I than pushed her out of my face. My friend and another hotel guests broke it up. They called the police.
While we were waiting she still was saying when we get outside what she was going to do tome me. Once t the police got there they got both of our stories. The police walked the employee out. On the way out the door she came towards me like she was going to hit me. They took outside and told her to get out home. She wouldn't leave at first until they threatened to locked her up. We had to leave without showering cause that's what the manager told us to do by the way who wasn't there. The police talked to the manager and said that the employee was not professional. I'm planning to pressed charges on her and extended stay since it happened on the property and she was working on there time. Later I plan on researching Extended Stay America and calling the complaint phone number to vent.

Vickie Caldwell
from Ashburn, VA
Thank you for responding to my complaint. However, a mere I'm sorry does not negate the rude and unprofessional manner in which your Assistant General Manager, Lillie Anderson has displayed with me on more than one occasion. Why you believe there to be a need to put into your apology to me Extended Stay America's Billing & Payment Policy minimizes the inappropriate behavior of your staff and places blame on the guest.
The policy should be posted at check-in, in plain view for the guest to see. This policy was never reviewed with me at check in, nor was I informed that if I didn't abide by the policy the Police Department would be called and that I would be removed from the premises. I was hurt and deeply humiliated when Lillie Anderson threaten to call the Police Department if I did not pay the bill on Sunday, January 10, 2016, by 4:00 p.m.
This led me to call the Police Department to avoid further confrontation with your Assistant General Manager. My experience with Lillie was painful for me as I felt the need to have consultation with the Police Department and to request a police escort to the hotel so that I could pay the bill and leave the hotel. I really don't know why there has been an issue in regards to payments; due to there has never been a time when your site did not receive payment for my stay. I have been a guest at Extended Stay America for approximately three weeks.
When I booked a reservation for 62 days it was not with an intention not to pay for my stay. I did not believe that my tenure at the Extended Stay America was Free. Nevertheless, I believe that your staff, Lillie Anderson needs more training as to how to deal with guest on a "Professional Level, rather than on a "Street Level". She also does not count money very well and should master that much needed skill to enable positive customer interaction. I am not happy with the treatment I have received from Lillie Anderson. I am also requesting that you contact me via email in regards to any billing or payment issues.

Spencer Mayes
from Oakland, CA
Between The months of September and October of 2015, maids came into my room too clean, they requested I leave the room so they could clean. My daughter who was there at the time waited for them to clean got dressed and went to visit me, in the hospital. After she comes back home to shower eat and relax, she notices her laptop and purse were missing from the room altogether. That same day she went downstairs and let the desk clerk know what happened, they told her that the manager would be notified. My daughter left our room a week from that incident to go to the grocery store, she came back and noticed her ps4 and xbox one were missing. Went to the desk clerk on duty and again told them what happened and they were supposed to let the manager know.
When I finally got home from the hospital and after two weeks of trying to speak to the manager in person, she was supposed to have had field my claim to corporate offices. I waited a week she contacted me the week of Thanksgiving to call her later in the week and instead of helping me or letting me know what was going on she left on vacation. So after the holidays at the beginning of December I called the corporate offices and found out that no claim was put in. Finally had one sent to corporate manager. I waited a week no call I leave messages, notes, everything they tell me to do and nothing gets done. The maids stopped cleaning my room they stopped giving any kind of service in october nothings been done. I'm asked to pay my rent as of now which is 960$ and they owe me $5,000 as of now.

I had a wonderful holiday last weekend in Extended Stay America the pride of every visitor. Extended Stay America is the largest provider of Hotel rooms offering a fully equipped kitchen, free Wi-Fi, flat-screen TV with premium channels, free grab-and-go breakfast and on-site laundry facilities. You can book online and get reward points too. If you're traveling for business, looking for temporary or corporate housing, needing short-term housing during relocation, or planning a weekend getaway, we have the solution that will fit your budget, with great nightly rates, budget weekly rates and discount long-term rates. Extended Stay America is the convenient, affordable hotel choice for savvy business and leisure travelers alike.
Have feedback for Extended Stay?
Thanks for your feedback!
Sorry. Please try again later!