Expedia
Expedia Complaints Continued... (Page 2)
82+ reviews added so far. Upset? Call Expedia corporate: 425-679-7200

Elizabeth Bourque
from San Diego, CA
I've booked at Phoenix Copenhagen, Denmark on June 7, 2018. The A/C wasn't working properly that caused my daughter and I sweating all night, therefore, had sleepless night. We were hoping to get a good night sleep, but was miserable.

Wayne
from Kansas City, MO
I will NEVER use Expedia for anything in the future or at least until you stop boycotting the Ingraham Angle program on Fox News Channel ... There is freedom of speech and to boycott something just because you don't agree with them is not right ... I hope other will boycott you as well ... Maybe if enough people boycott you as you are boycotting Fox News Channel Ingraham Angle program .... You will stop this nonsense .... Are you going to stay boycotting everything you disagree with ... If so that's sad and I feel sorry for you and your company .... Thanks for hearing me out.

I have used your company for over three years on a weekly basis. Now that this company has become political and respond negatively to the freedoms of this country I will not use this service any longer. When businesses become political I refuse to deal with them any longer. I refuse to rent cars any longer and use your service. I am contacting my employees indicating that we will not use Expedia for travel arrangements any longer.

Trimika Uzzle
from Richmond, VA
I was granted a $50.00 coupon for poor service in April of 2017. I was told I could use this coupon for future reservations through Expedia and it expired in 1 year. I have tried on numerous occasions to apply this coupon to a reservation without success, The customer service rep ha a different reason EVERYTIME why they cant apply it to my reservation. AND its VERY disappointing. I held Expedia up to great standards and have recommended Expedia.com to many family members and friends. However at this time I am NOT a satisfied customer.
Thank you for your attention And I would LOVE some insight on what days are suitable to use my coupon that I was given since with every conversation the criteria changes.
Trimika Uzzle
804-943-7450

JoAnn Summers
from Washington, DC
I booked a rental car (Dollar) through expedia. The price was reasonable however, the pick-up location was off-site from the Charleston international Airport and the shuttle was really overcrowded. That was my first issue.
Second issue - the rental car I received was heavy sprayed with air freshner and I found out why after driving for a while. The car smelled like a dog was in it. I had to use air freshner for the 3 days that I rented the car because the smell was unbearable to me
Third issue - Car seats were very dirty.
Fourth issue - The paper tags was not secure on the car and they flew away. I didn't realize this until I got to my destination which did not allow me to drive the car to the family planned activities. (going to Parris Island Base, meeting with family for dinner and just sightseeing).
I called Dollar and the person wanted me to drive to Hilton Head to pick of another tag but I refused because I am not driving a car without tags. I was lucky not to get stopped by the police. Dollar only offered me a $51.00 refund. I feel that there should be more of a monetary refund due to inconvenience of losing the use of the vehicle for several hours. I am requesting an additional refund of $100.00 for my inconvenience.

We have purchased several vacation packages with Expedia and today I am most unhappy with our experience with Expedia. We selected and paid for a package to Barcelona and very specifically selected non-stop flights with Air Canada. We paid additional for non-stop flights. We were notified today the flight was moved to a day earlier and was now with one stop. I spent over 2 hours on the phone today trying to come to a satisfactory solution. Did not happen. Expedia did try to work with the airline for compensation, unsuccessfully. We were willing to accept the date change and the change from non-stop but asked Expedia for assistance in covering the cost of the extra day of hotel. The supervisor "Mike" denied all compensation. His comment that we already got a great deal was unhelpful and infuriating. We were told several times that it is the airlines fault, but from my perspective we purchased a package from Expedia so Expedia holds responsibility in helping deliver what we paid for. It is my belief we paid for a specific package, elements have now been removed from our package, and Expedia is unwilling to recognize this. If we had initiated the changes we would be required to pay for the changes. Very disappointed. This will impact future decisions when selecting a company in purchasing travel and vacations.

Yolanda Pitters
from Potomac, MD
I have a family death I tried calling customer service with expedia to let them know and I told them I need to speak to a manager they then put me on hold for long period of time and no one has come to the phone nor can't get a manager on my situation and then they'll hang up the phone on me and I tried calling back 4 times and same thing all over again. I need to cancel my trip to the hotel due to death in family I already contact the hotel and spoke to the manager there and he said he will waive and not charge for the trip but to contact expedia since I booked it with them and no one seems to want to help me with expedia I am a long time customer who travels with expedia all the times for many years. My itinerary number is 7287047392725. My phone number is 678-665-0879.Please help as a one time courtesy for us that me and my family is experiencing this difficult time of grieve.

Jessica Cramer
from Dallas, TX
A leg of my flight was cancelled to fly home today and I only found out about it at check in last night. There was no email or phone call about this and no plans to get me on a new flight until I called. I was on the phone with a horrible Customer service agent that could barely speak English and really didn't know what she was doing. I have to stay another night at a hotel on my dime because we didn't pay for the hotel on our Expedia account which is a load. I am staying another night because Expedia didn't contact me about my cancelled flight so why should I have to pay for my hotel. Plus United Airlines has done nothing either. I will never use Expedia again and I will advise everyone I know to not use Expedia either. Word of mouth is very powerful.

Worst company ever to deal with. Customer service is a waist of time they lie and are involved in fraud of not returning customers charges that they used on my debit card.
I hope your company goes out of business soon your a disgrace. Fuck off!

Joseph Berov
from Kiev, 30
I booked an international air ticket through Expedia for my friend, paid with visa, got E ticket and confirmation.
Friend arrives to Airport and airline tells him that Expedia canceled his ticket and he will not be able to fly.
Friend with no money to purchase a new ticket is sleeping and living in airport.
I did not receive any notice from Expedia about this cancellation even though they had my email and phone #.
I call Expedia next day (learning from a friend about situation) and ask what happened, they keep me on line for 30 min looking for someone who can explain why ticket was cancelled, finally supervisor gets on line and tells me that he is very sorry but he is not sure why my ticket was canceled.
Expedia screw up cost me and my friend lots of money and stress.
This is the last time I use Expedia.

I canceled my daughters flight within 24 hours and had travel insurance. Expedia's system had an error and now they won't give me my money back but instead offers a coupon. I don't travel and don't need the coupon. I just want the money back that I paid for the flight. Calling the CS line is exhausting as they say your name 100times over and state they know it's their error, but can't refund me. Um, what?

Brigette
from Manchester, NH
In December 2015 I booked a cruise through Expedia.com for my daughter and myself. This cruise was booked as a 21st birthday present to my daughter. I booked the cruise to Bermuda in part due to the free alcohol package that Norwegian offered. Unfortunately when I called to make my final payment in July, I was told my entire cruise had been canceled. Expedia had canceled the entire cruise.

renata santos
from Katy, TX
I contacted customer service to be assisted in contacting my hotel reservation that my arrival would be late a day. on my first call i was told they could not get a hold of hotel and they are passing my case to offline department and i would be contacted by them. After six hours with no call or email from offline care department i called expedia back and was basically one hour one hold between 5 seconds talk back and forward without no success.
I requested to talk to a supervisor and took 25 minutes to get a hold of him. at the end of conversation, i was told they could not get a hold of the hotel. I asked supervisor to give me phone number he was calling and thru another agency (not expedia) the call was completed. i had purchased several packages with expedia in the past, but i never needed assistance with my travel itinerary in the past. the first time i need assistance from expedia customer services it was a fiasco. lesson learned, first and last time. Then i asked myself, why is so hard for them to get a hold of the hotel if someone else was able to call right the way?
Most likely because expedia customer service it is located in the Philippines, and who knows if they are having any type of phone line problems, and cannot help the customer, stating they cannot get a hold of the hotel. i am just writing to express my frustration with expedia customer service and that i had to find out how poor its customer service is while when it is needed the most.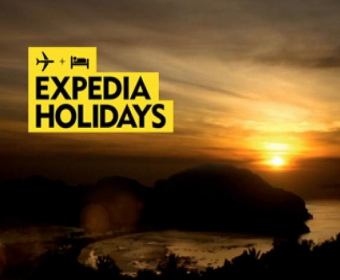 Jim Palmquist
from Portland, OR
Dealing with Expedia is a risk. Hotel date change immediately after booking cost me $95 penalty. Three weeks before my stay, I booked the wrong hotel dates of 10-9-16 and 10-10 in Salt Lake City. What I wanted was 10-11 to 10-I4. The web site popped up the dates from my visit the previous day and I did not realize the dates were wrong. It was my error. I was planning a 23 day trip of hotels, rental cars and eight air flights and got confused. Immediately after the booking within 5 minutes, I tried to fix it and Expedia said I could only get a rate $20 higher per day than the original booking so over 3 days it is a penalty of $60.
I can see if I tied up the room for two weeks, then changed the dates shortly before arriving at the hotel. But I found the error immediately and it was almost a month before the hotel stay was planned. Expedia and the hotel did not lose a booking that cannot be replaced in the next three weeks. I cancelled the booking and lost $95 but learned a good lesson. I will avoid Expedia bookings in the future. I booked another hotel in Salt Lake outside of Expedia. I am asking that the $95 penalty be waived and that Expedia allow timely changes to fix booking errors.
One more point: Expedia says their contract with the hotel does not permit a refund in this case. I am the paying customer and when I need a date change that does not penalized Expedia or the hotel, Expedia should negotiate your contracts to have some flexibility. Expedia I assume wants customers and must negotiate contracts that protect the customers, the people paying the bill. So Expedia and the hotel lost the revenue of a three day stay in Salt Lake and I will stop using Expedia's services because they do not protect the customer.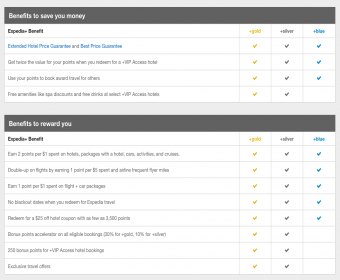 Harvey Small
from Prince George, BC
Trying to cancel a hotel reservation or get a credit towards next visit. Have been on the after talking to a rep for 35 minutes. Said he would be back in about 5 minutes and then they disconnected line after all that time. Most unhappy. This is terrible customer service from Expedia and I will not sure them for travel reservations again.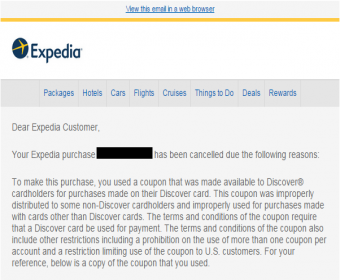 dominick montalto
from Staten Island, NY
i booked a package to LA for 8/16/16-8/21/16 air and car rental (thru dollar rental car) Itn #7193121181268 when i arrived at the counter at dollar rental cars inquired about an upgrade, and ask specifically 3 times that i would only be charged the diference in price from what i already paid expedia. I was reassured after the counter person asked his manager that i would only be charged the difference.
Well i was not, they charged me for a new booking rental at $392.40 (which i thought and was told that this was my new rate with the upgrade) only to learn when i checked my charges after i got home. So I was charged the $340.79 I initially paid Expedia. and charged again $392.40 for the upgrade. I called expedia customer service department and they were no help. I've booked many vacations with Your company because i thought i'd be safe from situations like this.
I work very hard to afford a vacation and always thought a company like Expedia would be there to help in situations like this. Please look into this matter and i would appreciate a response.

I have purchased four airline tickets by expedia.com for 2 passengers (roundtrip), itinerary number: 7203162704855. The tickets were summarily canceled by expedia and only the amount corresponding to three passage was refunded. I contacted the customer support by phone three times, they asked me to wait the time required for refunds, after this they asked me to call to my bank to confirm the refund of the remaining amount, I did, but the refund of the fourth ticket had not been done by expedia company. I am extremely disappointed, upset and frustrated.
This was the first time that I made any transaction with this company, and my experience has been terrible. I want the FULL value of the refund paid as soon as possible, since the product was not delivered (my tickets are cancelled).

Arshaluys Indzhyan
from Mission Hills, CA
I booked my trip through expedia to Cancun, Mexico for my 10 year wedding anniversary at the Grand Oasis Hotel. i can not express how upsetting my entire vacation was, both my husband and i have bed bug bites all over our body, the room had dried vomit on the walls of the room, I told the manager at the hotel nothing was done, so i took all necessary pictures. It was an all inclusive hotel with extreme limitations we were only given 2 waters a day, i had to walk all the way down to the main lobby to ask for water from the manager. they gave me 3 waters my husband and drank a bottle asked for couple of more to take it to our room they didn't give it to us , they said 2 bottles a day one per person.
After complaining to the manager he turned around and said, " this hotel is for spring breakers" basically you get nothing. i had to go out and eat food the worse part is i would bring my food to my room go down for a swim come up and my food would be gone, they wouldn't clean the room but they would take my food. first time it happened i said its ok its a mistake however the same thing occurred day 2 and day 3. This was my 4th time in Cancun I've always stayed at RIU, this time i said let me try something different.
My vacation was ruined terrible, I came back called expedia and complained they put me on hold for 2 hours and hung up at the end, i called again had to explain myself all over because no notes were put in the system. I called few more times finally got through they tried calling the hotel can't get a hold of anyone, there asking me if I have the contact information of the hotel, calling the headquarters of expedia can't get through. I can't believe they way they are treating there customers. If expedia doesn't refund my entire money, I will definitely I will take these actions; 1) go to all the social medias like twitter, yelp etc. , 2) will definitely contact newspapers and news stations and 3) I will open up a class action lawsuit and anyone can join.

Amber Paul
from Plano, TX
I went online to purchase 2 tickets through Travelocity. For some reason it kept declining the card, so that prompt me to check my online account, then that's when I noticed several charges. I then reached out to Travelocity via phone in regard to no confirmation on my tickets! The rep stated that the charges would be removed within 3 business days. That is not appropriate you don't take money and not be able to produce the ticket that is stealing I said. I was promised by a "supervisor"that I would have my money today! So far nothing. They have kept me on hold...other reps said 5 to 10 business days. I would prefer the tickets but they couldn't even provide that!!! Just took my money and my time. The worst company.

Latoya Rone
from Raleigh, NC
Hi,my name is Latoya ribe I had made reservations at this hotel through Expedia and canceled with in the hour after speaking with hotel night audit Brian told me to cancel now so I would not be charge fee which I did. I then got a email for a 105.00 charge. I then called Expedia who advised me that the hotel charge fee and they called over and was told fee would not be charged.
I then called back at 3 am and spike to Karen because my card was charged and she said that she will call Expedia and have them remove charge and then she left me a voicemail a few hours later and stated it was just a hold and in a few days will release. Instead 2/29/16 the charge was posted called back spoke with another front desk clerk and she placed me on hold forever and said my money would be returned in 2days and said she couldn't give me a confirmation number.
Then I waited for a week and money still was not refunded now three weeks later since I was told I would not be charged I am now being told by Brian after having to now call my bank and the hotel on three way I am being told to wait another two days for my refund. This is absolutely unacceptable I do a lot of traveling and normally love booking with you all, but the blatant lies and lack of customer service is ridiculous. I thought you should be aware of issue being that the general manager kept me waiting for 45 minutes and never came to answer my call instead put the same night audit on the line to tell me refund will be issued and posted to my account in two days and I still have not received the refund.

dirk amara
from Auburn, CA
I booked round trip tickets from phoenix to sacramento using the Expedia website. I picked the lowest price and specified my flight times with no stops. Unbeknownst to me, the fine print indicated that the actual times would be specified randomly by the airline. By the time I had discovered this (the time selected included a 3 hour layover and was in the evening rather than the morning as requested) I was told there would be a $200.00 change fee for each reservation that needed to be changed, plus the extra cost of the flight! This will cost me more than $700.00 more than the original cost of the flight. I have been told there is nothing I can do and I had to wait more than 2 hours on hold with Expedia customer service to get someone who said they can not help me! This is completely wrong and inappropriate, and I need to talk to someone who can help me with this situation

Jody Scotece
from Post Falls, ID
You have a telemarketer that has been told many times on voicemail as well as by my pressing 2 after they call me to put me on your DNC list and they continually call me. I have filed a complaint with the FCC. If I get one more call I will get an attorney and file a harassment charge against you. This has been on going for over a month every week from Expedia corporate offices.

Angel Vasilev
from Renton, WA
I used Expedia to purchase a package for my honeymoon using my personal credit card. My ex-fiance cancelled the wedding and I was stuck with a credit for over $2400.00. I was informed today that she was able to spend $1200.00 on a ticket for herself. Given that her name was not on my credit card I feel that Expedia customer service dept. would have the obligation to at least notify me of this. She will never return the 1200 to me and I no longer even communicate with her.
Again this was my personal credit card not a joint account. I would like to see the policy that states that someone that was on a trip deserves to receive the credit for it. I am absolutely disappointed in how the situation was handled and if I did not have to use this last bit of credit would have chosen a different company. I believe that this will be the last time I book through your company given how this was handled.

I booked a flight and hotel for Jan. 27 trip to Miami. I did not realize that Leamington Hotel was horrible. The place looks sketchy, the door of the room seems easily broken into, the bathroom is claustrophobic, moldy and dreadful, the smell of the hotel is unfathomable. It looks completely unsafe. I could not stand even staying in the room.
I checked in but checked out after seeing the room. I called expedia to cancel and was told that I'm in luck, there is no cancellation fee. I was expecting a fee adjustment since I did not use the hotel but it has been 2 weeks and the call center has been putting me on hold from one call to the other. It is a simple refund from a valid concern. Acknowledge consumer rights if the hotel refuses to give a refund then Expedia should step up and take responsibility.

Muhammad Ismail
from Burlington, ON
I spent US $9,700 on 3 business class tickets from DXB-ORD-YYZ-DXB. I wanted to change the date of my flight from YYZ-DXB which was originally for the 17/02/2016 to 10/02/2016. They told me the change fee of US$163 per passenger which was fine, but then they tell me it cannot be done because when issuing the ticket they put the entire value of the ticket on the first sector (DXB-ORD) so it was as if I was flying YYZ-DXB for free.
Because of this, Expedia is now saying it will cost more than purchasing a brand new one way ticket for YYZ-DXB to change the existing ticket that I already have. I also am unable to find a copy of the fare rules and conditions anywhere in my emails regarding this flight or the itinerary page for this. So far spent over 4 hours on the phone with them (mostly on hold) and I am on the verge of giving up, but will destroy their reputation on social media!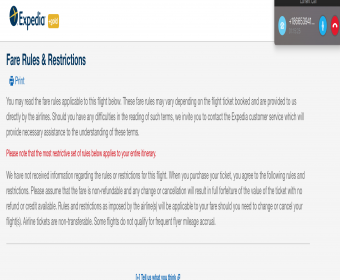 Adelina Edbor
from Mumbai, MH
I am based in India. I had booked a Paris Pass itenary on the xpedia site for 17th Feb 2016 but I received the pass for the same day that is 19th January 2016. Immediately I rand up their number to clarify. The support team intimated me on my phone as well as by e-mail that they have taken authorisation from the vendor to cancel my booking without any penalty and the cost will be refunded to me within five working days.
Thereafter I have been trying to contact the support personnel on their phone but always getting a response that my waiting time is around 20 minutes to sometime 37 minutes and then nothing. Expedia support system is not even accepting my Indian phone number for call back facilities. Every time I write an email to them, they reply back saying that please contact the number of the support personnel. If you could please help in this matter then will be very grateful to you.

I am at a loss for words! I was actually a satisfied customer and would have used expedia, hotels.com orbitz and your other companies. I now have them all on a blacklist and have blogged my experience to hundreds of thousands. Quite simply you cannot opt out from the spamming emails that come regularly to my business email. When you do use the opt out, it says you have unsubscribed but keeps sending the spam. I have contacted customer service on two separate occasions- both times they apologized, said they had unsubscribed me, and the spamming continues today. Attached please find the latest correspondence.
I can't believe a multinational of the 21st century would stoop to 1990's harassing spam marketing techniques, proven not to work since the advent of social media blogging. After receiving the email below, 2 days later, the spam continued.

Eva Gagnon
from Bristol, RI
In November I bought 4 tickets to St. Croix as a Christmas gift for my daughter, son-in-law and 2 young grandchildren. I sent the itinerary to my daughter who indicated that the return trip wouldn't work because it included an 8+ hour layover in DC in the middle of the night. I went back on Expedia and purchased a different (and far more expensive) itinerary for the same dates with a different return flight. Then I called Expedia just to make sure everything was all set. I spoke with the agent for nearly an hour going over an over the itinerary number I wanted to cancel and the one I wanted to keep.
It took so long because she hardly spoke English and was very confused, although she tried very hard and was very pleasant. At the end, I thought I was all set. Then, my credit card bill arrived and there were 4 charges (nearly $1500.) for the original return trip. I called Expedia and explained the problem. They said I didn't cancel the original itinerary, although the outgoing leg had been cancelled. They put me on hold for 3 hours and 10 minutes while they "researched" it. In the end, the agent said they had to listen to the recording of the phone conversation and he would get back to me in a day or two (Craig was his name.) He never called back. Today (nearly a month later) I called to find out what happened. The agent said that the voice recording indicated that I was going to call back in a day or two.
That's a bold faced mis-representation about what happened. I had asked the agent if it would be less expensive for me to book 2 one-way tickets. She replied that I had to check on-line and get back to Expedia within 3 days (it was a weekend) if I wanted to change the new itinerary. I stayed with the one I had confirmed on the phone and didn't call back. Today, the Expedia customer service supervisor said that they are denying my refund because I didn't call back. I never thought there was an issue with the cancellation of the first itinerary, just whether or not I could find a less expensive new itinerary. I am so upset.
To make it worse, Expedia said the credit with American Airlines billing department would have to be in my daughter, son-in-law and grandchildren's names They don't travel because they can't afford to, that's why our Christmas gift was going to be so special. I've been on hold for a total of over 5 hours with Expedia (2 calls) and am convinced it's a Expedia Corporate strategy to try to get customers to give up. In the end, they just read the scripted responses and don't listen to the customer or address the problem logically. I ended paying for the original leg of the itinerary ($1500.) that I called to cancel. I was sure it was cancelled--I repeated the itinerary number many, many times.
I am so upset with Expedia's approach to business and customer relations. DO NOT use this service (or any of their acquired companies (Hotwire, etc)--it's a terrible, terrible company.

Gary E. Gallo
from West Palm Beach, FL
To the Expedia corporate office, here is my complaint. I just wanted to drop you a line to express my wife's and my disappointment with Expedia.com when speaking with Andrea G.( name she gave @ "reservation counter.com"). Although we are recently retired senior citizen "Baby Boomers," and fairly new customers to Expedia, we believe that Expedia took advantage of us using a "bait and switch" tactic. In our experience, Expedia did not even match the hotel's rates, let alone give us a better rate. Why would a customer want to use Expedia, when they could call that hotel, make the reservation themselves, and get a lower rate than what Expedia could give? We have made countless trip reservations over the years/decades. I will pass my experience along to my family, friends and/or social media in order to give them a "heads-up" before booking thru Expedia. By getting overcharged by approximately 25%, Expedia.com has really opened my wife's and my eyes.
Some additional information is:
(i) the Itinerary number of our hotel stay was: 193324740,
(ii) the confirmation number was: 121267236630,
(iii) last contact was on 12/01/2015 with the above Andrea G. in the customer service department

Jon Simon
from Calgary, AB
I had to cancel flights booked through Expedia, because of a situation which was out of my control. I made the first call to cancel the first leg of the flight, which went fine - the agent on the other end (from Expedia's Philippines call centre), told me that there won't be any issues with the cancellation, and since I had the travel insurance option, I'd get credited all the money. He also mentioned that there would be a $200 change fee, when I go to try to use the credit, for changing the flights; but that it would get waived, given that I have the travel insurance option.
The next day, I called to cancel the second leg of the flight (should of done it on the first call, but I didn't have the details readily available, since it was booked by the company). I got a woman on the phone, by the name of Gloria Cordon (also from the Philippines call centre). She informed me (in her very robotic voice), that I would be charged the $200 change fee, as soon as I tried to use the credit from the flights I cancelled, even though the agent from the previous day, said otherwise. So that would be a charge of $200 for the first leg, and another $200 for the second leg, totalling $400 in 'change fees'. I told her that was completely absurd, and that the other agent told me completely different. She disregarded my objections with complete silence - I finally said, "hello?", in which she replied, in her monotone voice, "yes sir?"; completely disregarding anything I said.
Furiously, I demanded to speak to her supervisor, and then asked her name; but instead of telling me her name, she just transfers me - thankfully I got it from her supervisor, who was also, less than helpful. He pretty much told me the same stuff, and offered no sort of empathy, at any level. They just blamed the airlines, which they claimed charged that fee - which is bs, since I've had change fees before, directly from airlines, and they were nowhere near that amount.
I'm honestly not even sure how such a company survives. They hire these cheap call centres in the Philippines and where ever else they have them, and train the staff to be robots. There isn't an ounce of human sympathy - I may as well be speaking with an automated machine. Every question I had was met with a scripted response; and if I objected, the scripted response was just repeated. I really hope that people smarten up and start boycotting companies like this, who refuse to give us proper service; but instead find the cheapest options possible. I will never spend a single dime with Expedia, or any of their conglomerates. I've even made sure that our company doesn't use you for booking anything, ever again. The one time that I had to cancel a flight, after booking countless through you, you screwed me.

Mike Newman
from Los Angeles, CA
I booked a roundtrip plane ticket three months in advance, only to find out that an Air France employee had cancelled my connecting flight, which means there is no way for me to get home. Expedia e-mailed to call for other travel options, and since I've called in I have wasted about three hours and counting, waiting for them to rearrange my flight. I have called in three times, and like other customers, I will wait for an hour and then all of a sudden they will hang up on me. Then I get a called back from Expedia, but their phone system is broken because I cannot hear anyone on the other line.
At the moment, I am able to write this review because I have been waiting for customer representatives the fourth time around for an hour. What kind of customer service is this? It's none at all. What a waste of money and time. I will never book with Expedia again. This is terrible service. I travel at least twice a month and I often have to book plane tickets for colleagues. I'll be sure to never use their website ever again.
Have feedback for Expedia?
Thanks for your feedback!
Sorry. Please try again later!