Expedia
Contact Expedia Corporate
Toll free phone number: 425-679-7200
---
Expedia, Inc (www.expediainc.com) is parent company to Orbitz (as of February,  2015) as well as Trivago, Hotels.com,  and Hotwire.com to name a few. Expedia is publicly  traded on the NASDAQ:EXPE. With over 14,000 employees and revenues reported in 2014 as US 5.7 billion Expedia is an American company that provides secure internet services needed to plan and reserve travel.
If you have a problem with your travel arrangements made through Expedia or its subsidiaries, you may call 1-877-787-7186 or check here to for customer service portal. If you would like to send correspondence via postal mail you may address your letter to CEO, Dara Khosrowshahi at Expedia Building, 333 108th Avenue, NE, Bellevue, WA 98004. Corporate office phone number is 425-679-7200.
Expedia was founded in 1996 as a division of Microsoft by Richard Barton in Redmond, WA. Expedia has a long list of acquisitions and divestitures and has been recognized by Forbes as one of America's Best Managed Companies. Social media presence is found on Facebook, Twitter, Instagram and 4 million followers on Google+.
Expedia Contact Information
Report complaints to corporate and get satisfaction
Expedia headquarters address

333 108th Ave., Ne
Bellevue
WA 98004
United States

Company website

1-800 phone number

425-679-7200

Support email address

customer.service@expedia.com

Better Business Bureau rating
Browse reviews of other Travel
Top Expedia Complaints
Browse more than 82 reviews submitted so far

I booked a flight on Expedia and the fare rules for this flight allowed for changes at USD 75 fee. I called to make the changes, first agenda was helpful enough and took my payment, then said something was wrong, passed me to a supervisor - could not find the problem and wasted another hour on it. Line dropped. Called again and put on hold for another hour, next supervisor again tries to make the changes, takes one hour, line drops. I call again, and Agent No 3 says my ticket could not be changed (!). Why such an incoherent service? She then passed me to corporate customer service, been on hold for two hours. Total time on the phone, 4 hours... This is very poor customer service, not worth my time. Thank you.

I am trying to cancel my trip due to the flights changing from direct to non direct. I have spent a total of six hours on the phone, to be told by 2 reps they are working on my cancellation and then they hang up on me. I try calling back and am on hold for hours and hours, to be told the same message "let me look at your policy so I can work on it". I just want the refund that two prior reps told me I could get.

The hotel is under massive renovations almost none of the amenities are available, late check-in at 5:30 hallways are blocked with construction workers ripping out tile and carpet construction noise starts at 6 AM elevator is broken, This construction material laying all over the hallways do you expect customers of walk-through power tools with extension cords laying in the hallway to trip over. I want to complete a refund or I'm filing a lawsuit for the money I paid for this hotel, nothing on Expedia's website indicates there's construction like this going on in the hotel. I repeat it's a massive construction,I have more than 60 photos and about five videos that I filmed. Plus they expect me and my five-year-old son to ride the elevator with construction workers hauling out mass of debris from the hotel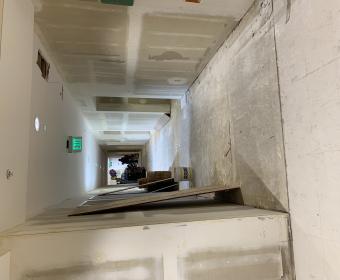 David Hill
from Kansas City, KS
So I'm very very passed off at this company to a point where I go outta my way to tell everyone I know to never use your services I can't believe the run around I wAs giving and I still lost the money I put in and was given a fake $100. Coupon by a manager in your customer service department I am a marketing major and have my masters in marketing/advertising and ill go outta my wY to tell everyone about my bad experience

we booked a day of hotel at France and everything confirmed and paid at the same time. After few days later, expedia sent an email to us said that the booking of the hotel rate were wrong and we need pay the difference rate of hotel at $8xx... and We just think unfair because if we need cancel the hotel booked by ourselves as we don't have a refund after expired the cancellation period, but they can suddenly told us the rate not correct and need charged us a difference or cancel the reservation we booked.

I booked a hotel through Expedia for three nights starting 6/27/19 for La Quinta by Wyndham 300S. Salisbury Blvd. Salisbury, Maryland 21801. When I arrived I was given a room on the fourth floor which was under construction, and wreaked of heavy paint and glue fumes. When I went to call the front desk from the room to request a transfer, there was no phone cord connecting the phone to the wall. I was later transferred a room on the second floor which had a dirty bed skirt and a broken entertainment center. I took pictures at that time planning to complain about paying roughly $200 a night for such awful conditions. On 6/28/19, I had several glasses of wine at the hotel bar, The Edge. I admit I drank more than I should have and was verbally obnoxious but I did not break any laws. The manager of the hotel called the local police department and had me arrested for trespassing. The police officer waited for me as he insisted that I pack my belongings and removed me from my room because the hotel manager wanted me to leave. If I had gotten into my car at that point (to find another hotel) I could have gotten arrested for a DWI or worse. I spent the night in jail as I had nowhere to go. I have to appear in court on August 14th, 2019. Depending on the result of the hearing I may lose my lose my professional license. The charges are trespassing at a Hotel that I paid for through Expedia and failing to obey a lawful order (to leave the hotel where I was a paying customer and had been served the alcohol at the hotel bar). I did not break any laws. Furthermore, my credit card was charged $492.04 by Expedia on June 18th for the room. It was again charged on 6/29/19 for $494.83 by La Quinta and again on 6/29/19 for $50.00 by La Quinta. And I am now paying for another hotel for the remainder of my stay and will likely be retaining a lawyer when I return home. I look forward to hearing how this situation will be rectified. I have also formally complained to the La Quinta by Wyndham corporate office.

I booked a room for 2 days and purchased the $3 insurance in a case of a situation they will refund me the unused room .when I called I was told the only way they could do it it's if I bought a Google play card for $150 and then they would credit back to my credit card the cost of the room .I did and they then came back and they said Google unless refunds if I sent them another with $500 and they would then refund me $750 I told them know I was totally scammed by your business I will file a complaint and will go on social media and let people know about this scam when I told them to send me a refund for either 145 for the room or 150 for the Google they said they could unless I sent them another 500.

bill aucoin
from Ormond Beach, FL
Dyn, it is truly insulting that you responded to us this way. Shows the value of Expedia. We will NOT call you as Expedia customer service on the phone is no more than "LIP" service ( I have posted a review on TripAdvisor and Tweeter and will do it to any other social media outlet I can….). I will continue to bang away at Expedia on social media. Believe me I will!!! This EXCURSION was LOUSY and YOU should not expect anyone to be willing to pay for it. WHAT is Expedia doing to confirm our story? What is Expedia doing to get rid of unacceptable vendors? What is Expedia doing to become more of a "customer" service oriented company…In my mind, NOT much! This was a LOUSY excursion and you should not be so bull headed and give me my money back!!!!!!!!!!!!!Just because you deal will a vendor that gives LOUSY service…you should not bend over and say give it to me and my customers………This $27 puts me on a mission, a mission to reveal how lousy you are delivering a product to your customer……..You should be ashamed of yourself as a company! I want my $27 dollars BACK and I deserve to get it back!!!!!!!!!!!!!!!!!!
Dear Leesa,
Thank you for contacting Expedia about your travel experience. Please accept our apologies for the inconvenience that may have occurred, we would like to assure you that every reservation is important to us.
We appreciate you take the time to let us know your comments, your feedback is very valuable for us to prevent similar situations in the future. We verified that your request has been denied. You may contact us at 1-800-EXPEDIA(397-3342) or 1-404-7288787, callers outside US and Canada, for assistance about your complaint and request.
We value your business with Expedia.
Dyn
Expedia Customer Service Team

Kamesha Brooks
from Flushing, NY
Your company double booked flights on my bank card and then when I was told that the issue was resolved. Someone from your company rebooked the flights again causing my account to overdraw. I called back again and I was treated horribly. I was told I was being transferred to corporate only to be transferred from corporate back down to customer service. I was then cussed out by your employee. This has been the worst experience I have ever had with customer service and not only am I not going to stop until I am reimbursed but I will never use nor will I recommend anyone to use your services. I have been ripped off by this company. Your rating should be 0.

My return flight was changed with out my knowledge. When I went to print tickets 24 hours before scheduled flight I received notification that I had missed my flight. As I was in an remote area with no cell coverage I had no notification my flight had been changed requiring me to cut my vacation short by 2 days. After purchasing my original tickets back from the airline and receiving confirmation that expedia had been the ones to change my flight I returned home and contacted expledia. They now claim my original reservation was only for a one way flight. when I attempt to contact them I am transferred, put on hold, and have not yet reached a worker that I am able to understand without repeated requests for clarification due to language barriers.

Rose M.Wing
from Oxford, MA
I booked a flight to go from Logan International Boston, MA to Phoenix, AZ for July 2, 2019, return July 15, 2019..I purchased Cancellation Flight Insurance for my protection, Itin# 7433942320251 Policy # 936202369. On May 17, 2019 I received a phone call from my sister in AZ..she told me that my nephew/Godson was being deployed sooner than originally told and his date to leave was July 2, 2019..I immediately called Expedia requesting a cancellation and rebooking a new flight.. "John" indicated he would have to put me on hold to check my info, we were cut off. I thought he would call me back as he had all my information..I proceeded to book my new flight with American Airlines through Expedia, thinking a credit would be given to my Discover card..WRONG!!! On June 3rd I again called Expedia to inquire about the credit or voucher for a future flight. After 3 calls I finally got a HUMAN and spoke with "Bianca" who informed me she would have to place me on hold to check out my information..after 45 minutes I hung up, she immediately called back and said I needed to remain on hold in order for her to check my information..I said yes, but requested she not leave me on hold with NO communication..she put me on hold..after 52 more minutes on hold I again hung up..she called me back..same statement "I needed to remain on hold in order for her to complete her checking" I said to Bianca I had a doctors appointment at 3:00 and I had to leave shortly..on hold I went, after another 25 minutes I hung up, she called back and she needed me on hold to complete the investigation..I said I could not wait any longer, that over 2 hours on hold was a little too much..I requested she have a supervisor call me after 5PM..Bianca said she was unable to do that so I asked her what good does insurance do in case a person has an emergency like mine...I hung up and left to go to my doctor.. Since then I have not heard anything...I called JetBlue and they cannot help me due to the seat assigned me, 12F, is NOT IN MY LEGAL NAME..my license is made to ROSE M. WING....That is what Expedia should have used..now I am in the middle as NO ONE WILL HELP!!!!

Tonia W
from San Francisco, CA
Spoke with rep, followed step by step of instruction to schedule flight, was promised we could pick seats without charge, received email following day, we could pick seats for $150 per person, so this now had my 11 year old son, who has never flown, sitting ALONE. I called in the same day, advised to purchase additional one way flight and use returning flight on previous booking, this flight has us sitting together. Well now we cant use returning flight. After 10 phone calls and numerous complaints, they have 1 recorded conversation, benefit to them and their horrible customer service, I'm sure! The recorded call they have explains all flight restrictions (which was my noted 3rd out of 10 phone calls). United will not correct error, blamed Expedia and agreed horrible customer care but they are a partner and that's what I get for booking through Expedia, exact words from United employee.

Hi,
I am property owner, currently registered on the Expedia Partner Central site. I am currently experiencing the same problem as many other colleagues who owe properties in Manila. When a reservation is passed to us by Expedia or their subsidies, no cell number or email is provided so we can contact the guest and ask them to provides with check in details and copies of ID's. Expedia always pass us non existent cell numbers. We are not open 24 hours for check in(only till 5pm). Last week we had one of your guests waiting outside the security gate for hours, because he was refused access and turn up at 10pm. We could not contact him, because Expedia never provides contact details of the guests, not like Booking.com.
I hope that you will resolve this matter, so such incidents do not happen again.
E. Yankov
Property ID 21898111

been on hold for38min/115min/30min/so far 3.05hrs and nothing hung up each time I have a pay per min phone and used up my min you ow me 15.00 plus 30.00 for my time feel as if I was messed with and still nothing will not go here to book anything again period!ltinerary#7424625306520

itinerary no. 7423902435928 booked Holiday inn express in downtown Indi. Greeted at desk and told $20.00 per night for parking? Looked back to see if I missed notice of this. It says "self parking (subject to charge) is available on site". Never paid for parking at a hotel before. This is not evident on their homepage. Can't click on it to see amount.Subject to charge means??$2.00, $10.00, $100.00, who knows? Can't change at check in, don't know if other place has vacancy. I see this as deceiving and almost hidden as an additional charge. Not right to inform me at check in. I expect to be credited $80.00, the amount of parking fees. Thank you for reviewing, Mike

I booked two hotel rooms several months in advance of my brother's wedding. I actually went to the hotel two weeks before our stay and verified our hotel rooms since we were in town figuring out logistics of the wedding. I had booked two rooms, each with 2 queen beds in the room as there would be 2 adults and 4 children staying in the rooms. They were verified as two rooms with 2 queen beds in each room reserved for the night of said event. I have paper work and emails verifying this.
We get to the hotel to check in and the rooms they gave us were automatically defaulted to "current available room" which ended up being two rooms with King beds... NOT enough for 2 adults and 4 children and NOT what we had reserved MONTHS prior to this... Not to mention I had also stated that we would like adjoining rooms or as close as possible... the put us on 2 different floors. This is unacceptable.
The hotel was very nice and the staff apologized, but it was not their fault... I will NEVER use or recommend Expedia again.

Sangita walia
from Port Saint Lucie, FL
This complaint is a out Expedia India. When I requested a date change on an existing flight reservation, Expedia India not only charged me the $ 300/- extra for change of flight date, but they added another $ 300/- approx. Over and above the airline charges, which is very unfair.

My return flight was cancelled. SInce it was a different airline going and returning they stated they couldn't refund the entire amount. I could rebook with the same airline going and coming with a shorter trip if I was refunded my purchase. I'm very unhappy with this. My original trip was going with Delta 4 hr trip and returning on American with a 4 hr trip. Now the only option offered was a return 11 hr trip with 3 stops. I feel I should be given a full refund and allow me to rebook my trip as I want to.

Kenneth Livingston
from Fremont, CA
I will not do business with Expedia again! They have been awful to deal with. While traveling, I learned of a family emergency and needed to make travel arrangements to get home. As usual, I was flying Southwest Air and they were helping me locate a good option to travel home. Southwest could not offer a flight until the next day so they researched online and suggested an Expedia fare (via Alaska Air). I called Expedia to sort things out, and kept getting put on long holds, ultimately ending up speaking to someone in another country who could not understand me well. Customer service was extremely poor, and had no understanding of my situation. It was a waste of time, when time was scarce and I was desperate to get home. The Southwest agent witnessing this poor excerise in customer service, felt sorry for me and worked to find another option through Southwest. Thank goodness for Southwest, Expedia did nothing, it only worsened/further complicated my situation, during my time of need.

HALA AWAD
from Richfield, MN
My trip from Las Vegas to Portland caused damage to my wheelchair. I sent complaint to spirit but the form go through without confirmation number to follow up. I did it twice with the same issue. I booked my flight through expedia.
confirmation A7ZWGY - FLIGHT 546 @ 8:45PM.
How can I get my wheelchair fixed?
Thanks
Hala Awad

Yingqun wang
from Denver, CO
I booked a Icelandair flight September last year and cancelled it before the flight. I received the email confirmation from Expedia about the credit of $3717.21. I am going to use the credit recently but called Expedia 4 times and spent more than 5 hours with Expedia. It is not solved on phone and I was promised to be reached later but never received a phone call back!!!! Today's phone call took another 2.5 hours but no result again!!! I am Expedia customer. If there is any issue between Expedia and airline company, Expedia should deal with later. It is 10 days since my first call to Expedia. Very disappointed!!!! My case number is E-23479883.

Expedia has billed me twice for one flight. The initial response to my complaint asked me to provide photo evidence. After emailing the photo of transaction authorization codes evidence from my bank, no further response from Expedia is forthcoming. I would like a refund of my monies.

Dear Sir/Madam -2035084
RE: #2035084 - Reservation #
I have been a frequent user of Expedia in the past but my last experience has left my wife and I are very apprehensive to using your services
in the future.
We are going to Egypt in May and travelling via Germany. We booked a B&B (Vrbo) in Mainz. I did not get a confirmation for this reservation
and proceeded to register at another location. A few days later, I received notice that my reservation had been cancelled. I will receive 50%
of 415 euros.
Also on the reservation page, Canadian dollars were indicated but the owner claims that she charges euros.
I was hoping that you can shed some light on this situation and possibly intercede on our behalf.
G. Pelletier

I had booked 2 seats from LAGUADiIA NYC to Dallas for July 6th 9:38 HTWNRV. ONE SEAT FOR MYSELF THE OTHER FOR MY CAT. DELTA SAYS I CAN'T BUY A SEAT FOR THE CAT THAT EXPEDIA HAS TO CHANGE IT. THE CAT GOES UNDER MY SEAT. A REFUND FOR THE 2ND SEAT, BY EXPEDIA HAS TO GIVEN. I WOULD HAVE TO PAY $125.00 @ THE AIR PORT. A NEW CONTRACT PHONE IS 917-565-7874, OLD # was 347-220-2589 this all was explained to your customer rep but she ignored me

I had booked a wonderfully exciting birthday excursion for myself on Expedia , to travel to Dubrovnik, Croatia. The booking went smooth, and in no time I was confirmed on a combination of United & Lufthansa for my to of Salt Lake City to Croatia, via a connection in ORD. As I was planning to celebrate my birthday, I had booked in Premier Economy. I then decided to really treat myself, and upgrade the Lufthansa's ORD-MUN portion of my journey to their "business" class. I was able to do so, by contacting Lufthansa directly, and paid the additional $630 required to make the upgrade from the Premier Economy to Business class. I received an E-mail from Lufthansa confirming the upgraded booking in business class. I was super excited to try this luxury service. Everything took a sudden turn for the worse, when a schedule change by United, ( for my return last leg of ORD-SLC) caused a "reissuing" of my ticket by Expedia. In which mysteriously my already paid for and confirmed upgrade booking in business class disappeared. Now NO one is claiming responsibility for this mishap, and all they can say to me, is how "sorry " they are .

Stuart Rose
from Liverpool, ENG
Hi, I am very disappointed in my recent booking with Expedia. #7400841358017. I paid for my flights and hotel for my wife and I to Belfast on 28/12/2018 only for Jury's inn Belfast to charge me again on 15/04/2019. This caused myself much distress during our stay as this deduction left me with no money in my account and I had to negotiate borrowing money from back home to supplement the rest of our stay. This was a gift for my wife so you can imagine how annoyed I was, and still am at this error. This was supposed to be a relaxing break which just ended up as a stressful break. Although this error was resolved by a very helpful Expedia agent called Thomas, this trip will forever be etched by this horrible experience! I only noticed this by chance upon checking my bank statement and it was a good job I did. This came as a massive shock and I wish this experience on nobody else. Thomas was very apologetic on behalf of your company but no further offer of compensation has been forthcoming from your organisation (who very nearly left me with a serious overdraft issue) I would like to think that you value your customers and will be taking this complaint seriously as I am quite tempted to not use Expedia again.
Regards
Stuart Rose

We booked a car rental for U.K. and were quoted under $400 dollars. We get to the car rental place and they charge us almost £1000!!! Also saying the don't take the insurance we paid for on Expedia site. Expedia doesn't answer corporate phone and the poorly trained phone reps don't care about customers at all. Won't be using Expedia again in the future. What a joke. Travellers beware.

booked a wekkend trip to Las Vegas with Alaska Air Vacation Packages (they use Expedia). Called day before flight to cancel the trip as my husband got sick, called once and waited 15 minutes, transferred 3 times, and the 3rd transfer the phone wasn't working). Called 2nd time, line was dropped, Third time, and I am still talking and holding for 33.15 minutes....lots of nothing, person comes back on, "have patience" he tells me and goes away.....I will never book thru Expedia again!!

Name incorrect on reservation causing endless problems with AA and no chance to get an online boarding pass. Expedia rep did not understand English. I have used you for 20 years and am fed up completely. Also, flight time changed and Expedia never changed my reservation on line. No alert was sent to me after 11/11/18. AA does not like dealing with you due to mistakes. Now I am stuck going early to airport to sort out your errors. Hope this is the only issue - and I have not even left! Gail Dawson-White

joe bell
from Portland, OR
I booked a cruise, transportation, a tour and two hotels. apparently expedia doesn't connect their cruises with the normal expedia account. as a result I could not see all of my bookings in one spot. I had to make a specific call to the expedia cruise department using the nowegian customer service number and then press the right button to connect to an expedia person. made arranging my trip confusing with extra work adde3d.

Vincent Tardalo
from San Francisco, CA
They sold me a package with shuttle to hotel. I paid in full over a month before trip. 3 days before departing the shuttle company told me its too far to take me hotel, Expedia basically ripped me off . Issue not resolved

Allen Mahaffy
from Spokane, WA
I was somehow double-booked in Expedia (thru Delta App) for a business trip to San Jose in Dec 11-14, 2018 and got stuck paying ($1078.45) for a Hotel (Global Luxury Suites Agnew) I didn't occupy. Due to an email address error, I had no awareness of the original transaction actually going through (no confirmation) so I booked another hotel through Expedia in the San Jose, CA. A few weeks later I initiated an Amex dispute as I didn't recognize the charge from Global Suites but was rejected due to them having proper billing info (except for my correct email).
After spending many hours on support lines (Expedia, Hotel, Delta) no agents could provide acceptable resolution. I find it alarming that your reservation system cannot identify double bookings which could result in Expedia customers getting stuck with very expensive non-refundable hotel charges. I travel for business (road warrior) and the likelihood of this happening is exponentially greater than the average customer. The two booking ID's given to me by support were 1160224345 and 1160668166. I also attached the Amex dispute for context.
regards,
Allen Mahaffy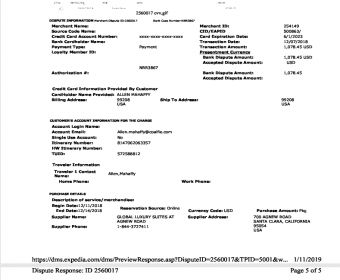 I booked a Fox Car rental through Expedia. My confirmation number was NEXP473774, My itinerary number was 7411063442201.
My quote for the rental was $504.92. My charges at end of contract came to $1,248.57...about 2 1/2 times the original quote! Now I do not call that a good price! I must suggest that your office follow up with the FOX car rental company in regards to their agents training, practices, rules, etc. After waiting 1 1/2-2 hours in line for a car....with only 3 agents working and customers being very upset with the wait, I was finally given access to a black male agent. Oh, he was as schiester! I am guessing agents get paid on commissions? Maybe he thought that 2 senior white women would not follow up on what he did at the counter! Anyway, both my friend and I made it clear that we did not want extra insurance, as our own insurance companies would take care of any damage, etc. if needed. We also were not told there would be an extra charge for additional driver! He told me that I MUST put my initials at certain places in order to get the car. He stated that my initials would confirm MY wishes for no extra insurance etc. He grabbed the contract back as quickly as possible without giving us time to read more clearly! There were all sorts of additional charges listed by Caps or acronyms....none of which he explained. He then wrote and highlighted on the top that we MUST bring the car back empty, saying that the airport gas was $2.39 and it was $2.90 in town. However, in reading the contract later, I noted that cost for gas was $7.99/gallon! At least I knew to have a full tank upon return. This company allowed an agent to purposely mislead and scam customers! Something I do not believe your corporate office would support! I do not intend to pay the additional fees that were not appropriately billed to me. I have a witness, and will continue to pursue this complaint unless I hear that your company will make amends and adjustments!
Please reply to this asap! I do appreciate your looking into this and resolving this overcharge, etc.
Sincerely,
CoraMae Pipkin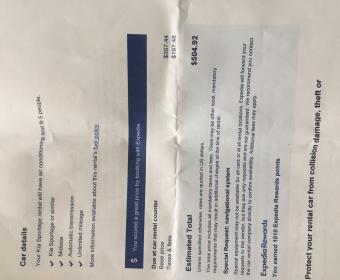 I was charged by The Hyatt House Resort of Anaheim at 1800 S. Harbor Blvd. Anaheim, Ca, 92802, for a reservation that I never made for the date of September 21, 2018. I have tried to get it cleared with the Hotel since November 18,
2018 when I noticed they had charged my Debit card for the amount of $212.65. At that time I was told by Tristen representative that I would get refunded. However, after 6 calls they told me I would not get refunded because you had told them that you had made the reservation for me and they would not return the No show charge. I call to your attention and clear this matter with the Hyatt House. I have never made any reservations with EXPEDIA. Your prompt attention will be very much appreciate,. or I will have to fill with the BBB.
Respectfully,
Raquel Hernandez
(619)279-6235

Patricia
from Abbotsford, BC
Incident Date: On or about January 24, 2019
Itinerary # 7407261169616
I was booking my boss a trip travelling from Vancouver to Trinidad to Barbados then return to Vancouver. I filled out all the passenger information on Expedia. As soon as the confirmation printed we realized that somehow the middle name was listed as Allen instead of Arthur. We called right away and were told by the first person we spoke to that we were the fourth call she had that morning about the same thing happening. She transferred me to another agent and we were told that we could do nothing about it and we could not change anything. We do no know how the error occurred. I spent hours of my work time on this. She said the only thing we could do is have my boss show up at the airport and take a chance if the customs officer would accept him through the gate. Well, he did not. We had to cancel the whole flight and he had to rebook right then. Due to the shortness of time, he just booked the one leg of the trip...from Vancouver to Trinidad. I then worked hours on the next booking to try and get it all sorted.
My boss is very upset with Expedia and we have used them for all our bookings. We will not be in the future. My boss is requesting some reimbursement for all the time spent on this issue. If you look at the file, you will see what a mess it was and the time that we spent on it. We caught the mistake (whosoever it was) right away, and it is hard to believe that Expedia couldn't do something to help us sort the problem.
We would appreciate Expedia somehow making this right so that we can continue to use your service.
Thank you

Ayse Gulen Ertem
from Almaty, ALA
I had booked a flight dated February 24th, 2019 (Delta Air Flight No: 5269) as well as a Hotel reservation in Buffalo Holiday Inn through Expedia website. The payments for these transactions were made through my credit card ($183.30 under Delta Air and $68.10 under Expedia).
When I tried checking in at the JFK Airport on the aforementioned date I was denied as there appeared to be no payment made by me. The flight was cancelled due to bad weather conditions anyway, but I would not be able to board if it wasn't cancelled.
Following this setback, I moved to Buffalo with a bus as I had an important rendezvous there, I also cancelled my hotel reservation in the meanwhile.
In conclusion, I was not reimbursed for the fees charged ($183.30 under Delta Air, and $68.10 under Expedia), which is a significantly unjust issue.

1. Was not made aware of additional baggage fees departing and Arriving.
2. Booked hotels through Expedia which were given at a higher rate than what the hotels regular rate.
3. Clicked smoking rooms when booking, after money was taken and arrival at hotel, was made aware they do not have smoking rooms. At no point during transactions was I made aware of this.
I expected to get better deals with Expedia, after research through my vacation, I arrived at the conclusion I paid more using Expedia. Information and hidden fees I am also not impressed with.
I expect an explanation via email or direct contact.
jp.inc@hotmail.com
1-604-727-0635

Susanna
from North Port, FL
I tried to cancel a hotel reservation within the cancellation period and it became a major fiasco that took several phone calls over 2 days. After a very long conversation the "representative" was not able to confirm my cancellation due to an error (never told me what the error was) , then put me on with a supervisor after I had been put on hold numerous times. The supervisor assured me my credit card would be refunded. The next day I received phone calls from unknown sources claiming to be Expedia customer service. They said there was an error and NOW needed my credit card number and email.....I refused and hung up not fully trusting the authenticity of the call. I called Expedia and they AGAIN said there is an error and after being on hold several times I was put on with a supervisor who said they would need my credit card number to complete the credit. I told them I have never had to do that, the cc information is encrypted and attached to my itinerary therefore there is no need to provide it verbally. I said , mail me a check, no they don't do that. I said then I will have my credit card company dispute it with you...boom!
This is all after cancelling a flight that I had purchased insurance for and won't get a dime returned to me because my reasons don't apply. I am done with Expedia, so disappointed!

ANTHONY GARCIA
from New York, NY
Hello, I booked a flight with car rental on 1/9/19, however I cancelled the car reservation on 1/9/19 but never received the cancellation email confirmation. So I called customer services on 1/10/19 to confirm that the car rental was cancelled and to send me the confirmation email but the agent that serviced my call made the error of cancelling my flight Itinerary #7403946068670
Travel dates
Feb 9, 2019 - Feb 20, 2019
Itinerary #
7403946068670
You will receive a refund of:
$443.18
Since I never requested this flight to be cancelled I called Expedia and spoke to a supervisor to resolve the issue, however, he advised me that I would need to rebook the flight because he was not able to reverse the cancellation. He also informed me that if the error was made by the agent that serviced my call that I would get a credit of $50.00 ($25.00 per passenger) for the inconvenience to be used for any hotel stay booked the Expedia, but he said he would need to listen to the recorded message to ensure it was the agent's fault. On 1/12/19 I received a call from the investigations dept and they informed me that I would not received a credit of $50.00 because they said I confirmed to the agent that I wanted my flight cancelled, which was a lie because I never instructed him to cancel my flight. I asked to be able to listen to the recording but the agent from the investigations dept was very rude and said that I cannot listen to the recording. This is a travesty and I am shocked that Expedia allows it's employees to scam customers like this and not accept Onus for their errors. Customers should be allowed to listen their recorded messages because this is the only was that both parties can confirm who was at fault,
Please escalate this complaint to upper management and credit my account for the $50.00 that should be entitled to me for the agent's error.
Kind regards,
Anthony Garcia
917-239-0498
Email: agarcia@nabny.com

Milton James
from Tarpon Springs, FL
BEYOND PISSED with the Sunscape Bavarro Punta Cana All Inclusive resort that I booked thru your website Expedia. I booked vacation for 4 in August TO Dominican Republic. Reservation was for 2 Deluxe Tropical View rooms. Double Beds in each. We Paid all 4 in full and was sworn that our 2 rooms would be adjoining with 2 double Beds EACH. I had been trying for over a week to contact the resort and pay the advised fee for the convenience of having the door in the middle.. They advised me multiple times that I would have to pay if directly to the resort upon arrival. I did not want to pay once to resort because I KNEW this would be an issue.. We Arrived to resort around 1130PM on January 1st 2019 tired hungry and exhausted. Upon check in he stated "they will have to see if they have 2 rooms with double bed and door in middle". I demanded the rooms be adjoining with 2 double beds in each room because that's what we reserved. He came back and said it was available. I accepted and upon reaching the room we open the door to 1 room Double bed room and other with 1 KING BED. Then hey wheeled in a Disgusting looking rolling mattress bed. We refused to sleep on it. It was gross. I immediately contacted Expedia at MIDNIGHT EST and was told I'd get a call back in 30 minutes. STILL no CALLBACK after waiting 8 HOURS LATER.. After contacting EXPEDIA customer support seems to not be able to get a English speaker on the phone when they all spoke very good English when we checked in. The resort also proclaimed their there resort DOES NOT HAVE 2 DOUBLE BED ROOMS WITH A DOOR IN THE MIDDLE AS A PART OF THEIR ACCOMADATIONS... AT ALL... So I advised that I paid for 2 adjoining rooms with 2 double bed rooms and THATS WHAT I EXPECTED to have the next 6 days.. Otherwise we need to be refunded some of these costs because we aren't getting what we paid for. They refused to refund the fee for adjoining rooms.
Furthermore the rooms smelled horribly of MOLD and sewer like scent... 2 of my party of 4 has Asthma and cannot be around this smell or whatever it is. I and my family picked this location because we wanted to spend our BIRTHDAY'S here and at this point I it seems like the BIGGEST MISTAKE year to date.... From January 1-the 4th we tried to cooperate with Expedia and the resort to put us in the rooms that we PAID FOR and was unsuccessful until 9pm on January 4th. So we basically spent our entire trip not getting the accommodations that we paid in full for... This is unacceptable to us and we are not going to fully pay for this... January 4th Marlana at the resort contacted me and stated that they have a better room for us… We pack all of our belongings and go to another room on the other side of the resort... We open the door and guess what it is... 2 SIDE BY SIDE ROOMS WITH 2 BEDS IN EACH ROOM AND A DOOR IN THE MIDDLE… Remember they claimed they did not have this type of accommodation at their resort... It wasn't an open yet when I begged and wasted 3 days of my paid vacation demanding it they produced it… I don't appreciate being LIED to be this resort for a trip that was planned MONTHS in advance... This ended up being more stressful than a vacation. Worse mistake we could have ever made.
Expedia Itinerary #'s are 7376445957953 AND 7376446076175. Email address associated is Scubbaj03@gmail.com.
I did NOT want to START my mornings of a supposed to be "VACATION" arguing and pleading for what we paid for..... I incurred charges thru my cell phone carrier from calling the SUNSCAPE BAVARRO MULTIPLE TIMES to ensure that they had my 2 double bed rooms AHEAD of time and we stood there for over an HOUR waiting for them to check us into the WRONG ROOM... this is absolutely unacceptable. WHAT ARE YOU "EXPEDIA" going to do to correct this issue because at this point the aggravation, waiting and experience was not worth it. We are Pissed and beyond disappointed.
I need to be compensated for the type of accommodations we received and the beyond below average level of service that was provided by the resort on your website... This was a waste of our money and the vacation was not worth it. UNACCEPTABLE.
I NEED THIS RESOLVED. NOW!!!!
Please contact me direct at Milton James @ 727 768 5693. Email: scubbaj03@gmail.com

John Tran
from Lancaster, CA
I've been a long time customer of Expedia and Hotwire and use the latter quite often for my extensive travels. I typically don't use the 'mystery deal' type of bargain fare hunting for flights however I was doing a search on Expedia and an option came up for it. I decided to go for it because it looked like the right itinerary it listed a departure and return flight time of 6am on both but I didn't realize it meant there was a time *window* starting between 6am - 10pm any time in between. It's misleading because the way I typically look at itinerary in Expedia (or any other travel site for that matter) the time doesn't show a range so you zone in on just the 6am time. And I admit that if I look back at it and made aware it does make more sense but unless you're prepared for it, you're most likely going to overlook this strange time range. Anyhow, I figure Expedia has been good to me I've used them so often but after hours of sitting on hold and escalating they simply will not budge on adjusting the departure flight even though I booked it only hours ago. It's a shame that they can't make a one time exception to fix an issue for a faithful long time customer that had an honest oversight.

Colin Perkins
from Riyadh, 01
On 29th November 2018, I purchased an online booking for a hotel in Muscat - Oman. Expedia Itinerary #
7394760503131 Booking to cover 29th November to 3rd Dec 2018.
On 31st December 2018 (28 days after the stay) I received my credit card bill.
After checking the bill I noted that Expedia had charged me twice for the hotel.
I contacted Expedia via telephone to seek help on 2nd January 2019. I was passed to 4 different divisions, all of whom did not know which division had made the online booking,
Finally I was put through to one division that agreed that there was a booking.
But stated that I had made two bookings.
I explained that the first booking had not completed, I had not given the bank approval codes, however the lady answering the call continued to ignore this legal fact.
She said she would call the hotel and see if they would agree a refund (as they would know that I only booked one room & used one room) obviously, she then returned to me (after 3 minutes of waiting on hold) stating that the hotel refused as the date was 3rd Dec 2018 & it was now 2nd Jan 2019..
I asked her how I was supposed to know there was a mistake prior to today, as my credit card bill had only just arrived (e.g. one month after the booking was made and used) she said that she could not help & the hotel were not interested........
This obviously leads to two points.
1) Expedia, booked the first transaction without the finalisation of a bank code, which in my country is illegal. If Expedia were to check their 'state of the art' computer booking system, they would clearly see that they completed the first booking without a bank code.
2) Expedia's customer service division is hiding behind the hotel & the complete rubbish of being too late after the date to agree a refund (allowing for credit card bills being one month behind the time of use) Any check by either Expedia or the hotel will clarify that I only used / confirmed one room. paid bills for one room etc. etc.
If Expedia do not own up to this mistake and fraudulent behaviour, I will be left with no option than to;
a) take legal action against this giant of a company
b) take to social media, local TV and radio. in order that my voice can be heard.
We are talking about a sum of USD$586.23, no small amount in todays world.
my email is colinperkins@hotmail.com - telephone +966 562 526 749 (work in Saudi)

Rachelle Collins
from Cleveland, OH
I booked a room in Canton, Michigan in August 2018. When I went to check in with my confirmation number the hotel told me Expedia did not notify them of the reservation and that they were booked. I spent 3 hours on the phone with Expedia while waiting in a cold car with four small children and was finally connected to someone who tried to help me. No discount on my room and I never saw the coupon they promised .

KRISTA BERRIGAN
from Kelowna, BC
Working with Expedia cruise ships in kelowna have for many years crusiing. This year we booked again for december 2018 paid off right away saw it was cheaper within less than 30 days called them on it and they won't honor the amount back they threw a very small bone to us, insulting. So very disappointed. 46000 on cruises and they can't price match and give us the equivalent of 800 CAD back, Bad business, I want corporate involved. I will review bad things for a long time if this is how they work. very sad. Dont use them if they can't honor their customers...BAD BAD BUSINESS EXPEDIA CRUISE LINES IN KELOWNA
Business franchise owner odvisiously a crook.
Krista Berrigan and James Parker
2507656543

Sylvia Shiflet
from Euless, TX
I have talked to 6 different people wiith Expedia and gotten 6 different answers. I have been on hold with each person more than 30 minutes each time. I have a credit with itinerary # 7374032442217. The reservation was booked to SDY Sydney, Montana instead of SYD Sydney Australia. I have two family members that were able to book their Sydney, Australia reservations with no problem. I can even look on the website and see the flights that I want, it is ridiculous that your empoyees can not make a simple reservation. I have spoken to two Supervisors, and gotten different responses. If I ever get this reservation booked, I will be spreading the word not to EVER book with Expedia, because first of all your Agents don't listen, you have to repeat several times, then they put you on eternal hold.
Disugsted by your Service
Sylvia Shiflet

Catherine Stout
from Raleigh, NC
Reserved a room at the Quality in in Fayetteville NC. Looked like a murder scene. Cigar burns on the linens and blood on the mattes, and holes in the the wall. This Was SUPPOSED To Be A 3.6 rating. We had to get our money reimbursed as a renewal other rooms available I was told it would take up to a week to receive her money call Expedia reserved another room across the street at Doubletree in Fayetteville North Carolina two queen beds we arrived there are no rooms available we called Expedia again to get her money reimbursed and told us that this money would take 7 to 10 business days you sold us a room that you didn't even haveand your telling me that I have to wait for my money. Now you have my money for two hotels and I still don't have a room. Its 11:30 at night and I am standing in a parking lot with my 3 children look for a room. What the hell. The worst experience you could imagine. I will use Expedia and I will be sure to tell anyone that I mean to never use Expedia

Darrell Dempsey
from Dallas, TX
Expedia owes me $84.67.promised me my refund would be processed on june1 2018..now its aug..still no refund...i have called a dozev times..
And know seeems to know what to do...

My wife and I paid Expedia the posted "double occupancy" rate for an all-inclusive trip to Mexico. When we arrived, we were expected to share a room with another couple. I paid the hotel an extra $1000 for our own room (even though I already paid for a room), and assumed that I could easily resolve the issue when we got home. NOPE! Expedia says they made no mistake and simply ignores my argument that "double-occupancy" means two people. On researching the many complaints against Expedia, it seems that their MO is to refuse any responsibility then ignore the customer until they give up. I can't understand how they stay in business being so unethical??? I will never use Expedia every again. I can't believe how dishonest and unethical this company is.

Melissa Hall
from Denver, CO
I booked round trip tickets for myself and my two children. I then canceled the first set of tickets to verify all the important information for the trip. Prior to booking the second set of tickets, I called Expedia and spoke to an agent about my trip. The following information was provided to the agent: My husband has to go to Quantico, VA for 3 months for work. I will be driving from Colorado to Washington DC with him, flying back to Colorado. I will then fly back to DC when he graduates from the FBI Academy, driving home. My children will be for sure flying to DC when he graduates, however we are not sure if they will be going to DC to drop him off and fly home. We won't know this until the last minute. I asked the agent if I could book round trip tickets and if the children didn't use the first set of tickets if that would be okay. The agent replied that I could book round trip tickets and if the children did use the first set, that I was to let the agent at the gate know. The children would then be able to return with me in September. I booked the round trip tickets through Expedia using United Airlines. I did exactly what the Expedia agent told me to do. To my surprise, the United agent, was very professional but advised that is not how it is done and if the children where not on the flight, it would cancel the return flight. I had just left my husband for three months and emotional. The United agent, again very professional encouraged me to call United direct. I did this. Again this agent was very polite and professional but said the only thing I could do was to pay $200 a ticket and rebook their flights. Having no other option, I paid the $200 per ticket and re-booked. I am very disappointed in Expedia and hope that this can be rectified.
Have feedback for Expedia?
Thanks for your feedback!
Sorry. Please try again later!