ESPN
Contact ESPN Corporate
Toll free phone number: 1-888-549-3776
---
The ESPN customer service phone number is 1-888-549-3776. Through ESPN's website you can find their Customer Care page that includes a feedback form and a live chat function available daily from 9AM-1AM Eastern Time. Though ESPN is quite active on social media, their profiles mainly act as news outlets and are not preferable for customer support use. Here are their Twitter and Facebook accounts.
If you would like to mail a letter to their Bristol corporate headquarters, the address is ESPN Plaza at 285 Middle St, Bristol, Connecticut 06010. The Walt Disney Company owns a 80% share since acquiring the rights to ABC, ESPN, and all of their properties.
While one of the most successful networks today, ESPN has been criticized at times for biased coverage, conflict of interest issues, emphasizing coverage of football and basketball over most other sports, and in recent years for controversies with individuals employed by the network.
The network remains headquartered in Bristol but has since grown from a single channel to ESPN Inc. which owns multiple sports broadcasting operations, sports radio networks, websites, and more while marketing itself as the "Worldwide Leader in Sports" broadcasting to over 200 countries.
ESPN Contact Information
Report complaints to corporate and get satisfaction
ESPN headquarters address

The Walt Disney Company
Bristol
CT 06010

Company website

1-800 phone number

1-888-549-3776

Support email address

support@espn.com

Better Business Bureau rating

A+

Customer service hours

24 hours a day, 7 days a week
Browse reviews of other TV Networks
Top ESPN Complaints
Browse more than 404 reviews submitted so far

Mark St John
from Dobbs Ferry, NY
I have never seen such misinformation in my life! I thought I recorded the Australian Open this morning, but no it was not on the channel you said it was on, When you pull up the guide, it gives you another channel, BUT THAT CHANNEL IS WRONG TOO!!!!!!! What in the hell is so difficult about giving the proper channel, Kobe's death is not an excuse for you to be incompetent Pathetic

ken clark
from Fullerton, CA
I am so tired of hearing a sports station comment on their political views. ESPN has truly become trash tv with a lady on every show and has overcompensated to the extreme. My current complaint is with Dan LEBATARDS rant about the presidents comments. IF I WANT TO LISTEN TO BULLSHIT VIEWS I WILL TOON INTO FOX OR CNN. I DONT NEED TO LISTEN TO SOME BLOWHARD THAT HAS HIS OLD MAN ON A SHOW TOO BOOT GIVING HIS POLITICAL VIEWS. YOUR LEFT ATTITUDE AND ALLOWING THESE DUMBASSES TO CONTINUALLY SPEW THEIR VIEWS ARE A TURN OFF TO YOUR COMPANY. WAKE UP AND PUT SOME GUIDELINES IN PLACE OR YOUR RATINGS WILL CONTINUE TO DECLINE.

Today is 7/18/19. Just turned on Lebatard. They were discussing R.Kelly. Come on ESPN. please leave politics off the air. SPORTS, IT'S SPORTS. Doug Gottlieb did this all the time. I'm glad he's gone. I know Lebatard could care less what I have to say. I do enjoy his show as long as it's about sports.

Mort Glazer
from Tilton, NH
I am watching the Dodgers v. Red Sox tonight, and being a Sox fan for over 70 years, I am not particularly happy about how the Sox are playing these days, so admittedly I am feeling a bit grumpy. However, i find Jessica Mendoza very annoying. Not because she is a woman, or an analyst, although it does take some time getting used to. The thing that really others that she is always laughing at comments by her co-analysts that are not funny. Now Jerry Remu genuinely cracks me up, and we love him for his sense of humor, and his humility to say nothing of his courage in the face of personal tragedies. But I don't understand her giggling at inane comments. She is very knowledgeable, and she has a good voice. (Sox just tied game.) Maybe she is trying too hard, but she can be taxing. Not too crazy about the two other guys with her.

Jessica Mendoza & Alex Rodriguez are hard to listen to. They both talk to much instead of letting the game speak for itself. Jessica thinks she to explain everything to the viewer as if we've never watched the game before

jake brown - US-Army retired - hoping ESPN has not lost its vision for customer service and TV sports quality that is disproportionately missing.
from Bethel Park, PA
Your TV telecasts of every sporting (most recently Wimbleton is a disservice to the viewer and the sport itself. In its every competition 75% of the camera-vision was not in the spirit of the sporting event). Every televised sporting event has a plethora of TV cameras that bounce around from facials in syncronized ping-pong fashion without a pause for fresh air. It is evident that TV crews have succumbed to pre-talkies camera fixation. With todays digital technology, the constant movement of camera shots is annoying and adds to a dizzy-like experience. A normal flow of sports coverage has turned into an overwhelming viewer punishment with facials or some other type of non-consequencials. Perhaps it's time to bring in more cameras and add more incompetence features for the TV directors, and give the viewer an added treat of vertigo. Sports is not Hollywood drama or media theatrics. Get a grip ESPN!!! P.S. I.E., NFL games have cameras dial in into the player's facemask, tc. during huddles, give it a rest ESPN.

Michael Navarro
from Dublin, CA
When are you going to drop Highly Questionable it has to be the worst program in your history and you've had some bad ones.

You really screwed up the WSOP main event this year. What's with no coverage on Saturday? And you skipped another day, so you couldn't follow who lost. I've been watching the WSOP on ESPN for years and every year you cover less with poorer coverage.

Keith Gerberry
from Phoenix, AZ
I was truly offended by Tracie Morgan's monologue all his racial remarks

Mike Aram
from Mt. Pleasant, SC
Last nights coverage of the HR Derby was hard to watch without the volume down. The
announcers were talking the whole time about things other than the Derby. People actually
want to watch or hear what's going on and not have them talk about the season and what
the players are doing with their lives and stats, etc... The announcers are doing that during
games also and it's hard to watch. Think about getting people that are actually going to
call the game and not divert the viewers attention from it.
I've been watching ESPN for over 25+ years and since you've added mostly former players
from every sport to talk in the booth during games, it's been getting harder to watch every
year.
Mike Aram

Ed adolph
from Royal Oak, MI

Sam G. Roney
from North Augusta, SC
Your new scoreboard on the screen of
College World Seried baseball id way too small for viewers to see much lesd
Read it. Whats wrong with you people.
The regionals were much done. Very
Disappointed in the scoreboard on tje
Screen.

Spencer GOLDSEN
from Scottsdale, AZ
I am an avid golfer and fan of watching tournaments on ESPN. However, when are you going to realize that most golfers want to see more of what is happening on the course and less talking from former players and others.. This is the opinion of almost all the members at my golf club.

Larry Bennett
from McMinnville, OR
Canadian F1 Grand Prix was scheduled to air on Dish at 6 pm Sunday! The race didn't actually start until 7:45 pm. Then halt way thru the race, around lap 35 off 70 lap race it shut off!! I don't understand why you would do that to someone who is paying for the service!! Very unprofessional.

j. olson
from Sunnyvale, CA
You are a complete disaster in everything you do with NCAA baseball. Your channels are screwed up your ESPN app to go to is screwed up you never allow enough time for these teams to play don't you understand college baseball is at least a 3 to 4 hour event you get all the advertising you need it's not like professional baseball. If you can't afford to cover it then get out of it turn it over to somebody else that can do a hell of a lot better job than you guys are doing

DONNA GRAHAM
from Arcadia, OK
WOW---I'm trying to watch ESPNU---Texas Tech and Oklahoma State baseball game 6-8-2019---The camera people are doing a horrible job---The cameras are shaking so bad that it's making me ill---I can't even watch it---come on really ESPN this sucks

d whitehead
from Accrington, ENG
Would you please remove David Ross from your Baseball broadcast team, I enjoy your coverage but I can't stand his horrible, horrible grinding , monotone voice, and his stupid rambling opinions , they really annoy me.
The rest of the team are exellent and I enjoy them very much and they are amusing and fun to listen to and know what
they are talking about. This is a genuine complaint , and not a vendetta against him, afterall I'm a cubs fan
Please get him out of the broadcast booth, so I can enjoy my Baseball again..
Thankyou for your concerns....
D Whitehead..

Rayner Colton
from Hollis, NY
During the second week of the wimbildon fortnight last July I signed up an downloaded the ESPN app, including the paid portion. During the trial period I had no problems. However after the trial period I could not get the app to work. As a non nerd I may be doing something wrong. I really want to get my tennis back. I have waited for a long time due to illness. I still have a lot of trouble speaking making using the phone difficult. I can talk but it extremely uncomfortable and includes a lot of coughing. Please get back to me ASAP, as I am missing most of the French Open.
I thank you very much! Rayner Colton chatul2341564phite@icloud.com. Although it is difficult I can speak on the phone, just make sure the number is identified. 646-912-0867

Watching the NCAA softball World Series right now and can't believe how unprofessional the program is. Who the hell cares to watch someone stuff their face with food for two innings. They barely talked about the game. Grow up ESPN - this is the Women's World Series, not a backlot Little League game. Disgusting.

I've been watching MLB for many years. Over that period of time I've listened to some of the best and worst of play-by-play and color analysts for the Yankees and Mets, being a native NYer. I can now include Alex Rodriguez in the category of one of the worst. Aside from a vocal range that seems to be one of a pre-pubescent high schooler, his commentary is mundane at best. At worst his comments are self-conscious, forced, and in many cases outright ridiculous. For example tonight when another booth analyst was showing a player's shoe that had been purchased for $1500 by the player who then had spikes attached. A-Rod's comment was that the shoes cost more than his car. What a buffoon! Is anyone supposed to believe him, much less feel empathy that this millionaire many times over is supposedly driving something like a 1969 dodge dart?! Probably more like a Bentley. Even the expected player insights are muddy and contorted. His delivery is just not believable. He's definitely no Phil Rizzuto, Tim McCarver or Keith Hernendez! Much less Joe Garagiola! Hey, Mark Texiera is unattractive and a bore, but at least he sounds like he knows what he's talking about! What MLB or ESPN exec does A-Rod have nasty photos of? The guy brings the broadcast down so low that I mute the volume when he's on. Please send him back to the golf course, or make him a AAA batting coach - or J-Lo's travelling food taster.

George Galeana
from Bedminster, NJ
Can my complaint I'm watching the college girls World Series Alabama Oklahoma your two announcers on those two ladies you got to get them off they know nothing about baseball and the way they talk they don't explain nothing much going on the game they explain everything else but but nothing they are lousy you know I have no idea what they're doing you got to get them off really you can't have those two notch in the World Series I swear to God they are so crappy

App needs refreshing.Not showing basketball boxscores...

Do your announcers on Cards/Phils realize its not memory lane time, or try to impress time AND there are 2 !! Teams playing..not just one..if I were not a lady I would have some vile names for these clowns..disgusting...oh..too kind niw they r doing an interview with a Phils player and kaughing at our mgr

You have at least three commentators with the Cardinals and the Cubs game with only the knowledge of a wiffle ball game Carpenter on 1st base hit to left field if it's fielded cleanly you never go to third especially in the third inning I am 51 years old I have been playing baseball since I could walk

Judy Gonzalez-Massih
from Berkeley, CA
Why are you advertising roundup!
Despicable!

Keith Baty
from San Jose, CA
Can we listen to two non-bias commentators calling the rockets & warriors game, all season long you had these two looser calling the warriors games. Enough

Why did u dis the Detroit Lions 2nd pick in the second round draft

Dear folks and deciders at ESPN,
while I love your NBA coverage with the always entertaining and insight sharing crew Mike Breen and the wonderful Coaching-Duo Mark Jackson and Jeff Van Gundy, I have to admit that I am more than disappointed with your decision, for whatever arbitral reasons, to put Kobe Bryant's Detail on your exclusive Platform ESPN+ to ostracize fanatics of the Game outside your beloved land of the FREE and home of the brave.
If it wasn't for a lovely and truly brave person on YouTube that put out some of the Videos of the first season in 2018, which were taken down quite quickly, as well as only a handful of ads, quite a few people would have never even heard of it.
I worked as an Analyst in Soccer at the biggest Club in Germany and one of the most successful ones in the world (you'll figure out which one) and I am eager to learn more from arguably one of the TOP 3 TO EVER PLAY THE GAME about insights, that maybe no one else could provide with such clarity and that cohesive.
My simple question after this extensive, and fully intended passive-agressive Message: What are your reasons for not only making this valuable content seemingly just available in the US but also make sure none of the full Episodes are maybe uploaded by a single person who just wants to share this great information and vantage Point of a player that great with as many people as possible?!
As I (unfortunately) read enough about some business handlings your Company made in the last few years, I am simply expecting a generic, non-answer from your PR-Dept. like maybe Facebook or apple would provide.
Greetings from all across Europe - maybe some of you have to rethink why they got into journalism. I don't believe it was because for the love of declining information.

Your supposed to have the Phillies on. But you some stupid interview with some stupid guy that can't speak English.this is why I don't watch your stupid channel anymore

Announcers of Rockets/Jazz games are horrible and so obviously bias. We don't need them to count down how many shots Harden misses. She is probably the worst announcer I ever heard.

Get the BIMBO'S off of MEN'S SPORTS. NO MAN in his right mind wants to hear the opinion of a dumb little girl, who's never even caught a pass in her entire life, give her opinion about if she thinks it was a good catch or not. She CAN'T RELATE ! She's never played at the INTENSITY of MEN and has absolutely NO CLUE the level MEN play at. If you all want your ratings to continue to FALL, then keep letting completely LOST little girls comment on MEN'S sports. Especially when there is 3 or 4 ex-players or coaches of the NFL or NBA and ONE DUMB ASS BIMBO who's never even bounced a basketball DEBATING or CONTRADICTING what PRO-PLAYER or Coaches have to say. It's a fn JOKE. Let them report on women's volleyball, or something. ANYTHING but MEN'S SPORTS ! Men don't give a RATS ASS what the dumb little BIMBO thinks. Explaining the highlights of the game, I don't mind. But, to argue or contradict what a PROFESSIONAL Player or COACH had to say, is COMPLETELY FN RIDICULOUS !

Philip Saunders
from Bedminster, NJ
ESPN + requires a subscription fee but they only show portions of the events supposedly offered on the site. They send other portions of the program to ESPN watch making it more difficult to view the entire program. They also have decided to now air certain boxing programs under a pay per view format that we were lead to believe would be offered inside of ESPN +. In short you guys really suck when it comes to boxing broadcasting!!

Thomas Guy
from Bedminster, NJ
If Denver does not make it to the finals your announcer's will have a heart attack. This is pathetic. What are they all from Denver? It's really a joke. I live in Tennessee and the bias in this game is unreal.

Michael Cheers
from San Jose, CA
I have no complaint about the content nor service. However, I don't understand how Stephen A. Smith can continue to be so rude and arrogant towards everybody - all the time! I appreciate his knowledge and debate skills, but his constant bragging and whining and "he's always right and everyone else is ALWAYS wrong attitude", is causing me to consider stop watching First Take. Today, his constant whining about how his vacation was disrupted because of the Magic Johnson story was way over the top. He's a professional, and is paid handsomely. Can't someone in ESPN management speak to him about his behavior? I'm sure that I am not the only viewer who feels this way.

Danny Belyeu
from Naples, FL
Will you please instruct the gentlemen announcing the Masters golf tournament to unbutton their sport coats while seated
They are meant to be buttoned while standing. Surely someone there knows this
Thank you and I'll be watching for the change

Robert Garcia
from Lincoln Park, MI
I have a complaint that involves sports broadcasting. Mainly Tiger baseball. I tune in to watch baseball because it is, or should I say use to be a relaxing enjoyable time for me. It seems that who ever does the broadcasting takes away from the game by a steady stream of chatter. I can appreciate an occasional comment or description of the play or players but I feel it has gotten to be all about the product in the booth and less about the product on the field. Imagine going to a movie and having three people talking constantly about the movie,telling you all about what you have just seen and giving you the complete history and life experience of each actor. They out talk each other by showing you how many movie stars they met and their lifetime experience with that person. It is annoying and distracting. You did not come to listen to the commentators you came to see a great movie. That is how it has become with baseball broadcast. There has been times when something has happened on the field and the camera and conversation was so directed to the booth that I found myself wondering what the heck just happened on the field. Is there a way to cut back on all the noise in the booth. I am tempted to go back to radio. A friend of mine turns the game on the radio and mutes his TV. Thank you for your time. I don't know if my complaint will have any consideration but I am not the only one that feels this way. I know of people that no longer watch sports because of similar feelings. Warm Regards, R. Garcia

I wish that the ESPN would get off the University of Kentucky's back especially John Calapari. The sports announcers with ESPN stink and most are ACC biased. The comments and picks that these announcers make are completely in left field for the most part. Kentucky's loss to Auburn was a bad loss to a good team. You very seldom beat a good basketball team three games in any given year especially without one of their best players not playing, Auburn not only beat Kentucky but Kansas and North Carolina as well in their last 3 games but all you could hear from the announcers early on was likelihood of three ACC teams were going to be in the Final Four. Well they aren't! With Three of the No. 1 recuirting picks Duke didn't make it, Auburn beat North Carolina just like Kentucky had beaten North Carolina earlier in the year but no one mentioned the ACC teams on Neutral basketball floors. Let's go Auburn TIGERS to the heck with ESPN.

Jay turner
from Bedminster, NJ
You suck espn ...with all the hype for duke and Zion ....they are not the only college team out there...makes me sick to my stomach....lost my respect for you ..hope you lose a lot of supporters over this bs !!! Hope you crash and burn !!!!!

bhupinder khurana
from Hewlett, NY
unable to watch that i paid for espn plus
extremely unfriendly site.

Doug Crawford
from Oklahoma City, OK
Prior to the elte 8 broadcast you braodcast infomation about the teams players. Yet many times you mentioned u of tennessee they were eliminated a couple days ago. Texas Tech is going to the final 4 yet hardly a mention. Who in corporate is a tennesee fan? espn on their knees as buttchugger u. Check out you for butchutter u. For real.

Judy Keeler
from Syracuse, NY
I appreciate that we can watch women's march madness on ESPN, but listening to blabber rather than calling what is happening on the court is so annoying. When there is a call on the floor, it would be helpful to have information on what is happening in the game, rather than an ongoing discussion on new diabetes monitoring system. It is good for diabetics to have the system, a mention could send me to google for more information. Is the ESPN expectation of announcers that they should continously chatter? We love basketball, but hate to have to mute the sound rather than face the irritation of endless, pointless commentary that has little to do with what is happening on the court. It is refreshing to find an announcer who recounts plays and doesn't feel the need to fill every second with verbosity. This is an ongoing complaint, not restricted to the Baylor vs. S. Carolina game. (The fourth quarter was better; it's a relief that announcers ran out of stories.)

Keith Blabbermouth goes on a rant about someone shooting a white turkey and he wants everyone to make the hunter's life a living hell. I am only one person but as long as that egotistical blow hard is on your staff ESPN will not be shown on any of our televisions.

David L Committe Sr
from Mount Holly, NC
My complaint concerns a comment a reporter made on ESPN's "Around the Horn" show on March 26. 2019.
She tells the audience that everyone is light years behind the times if they do not approve of sodomy, which is one man sticking
his penis up another man's rectum. Does she also approve of a man sodomizing a woman as well? She needs
serious help.

Why does ESPN allow Tony Realli who hosts Around the Horn to wear the same clothing every day of the week.? Hope he washes them out nightly

Dave Keenan
from Northampton, PA
What do you have against Notre Dame? You switch broadcasting when ND is winning, especially on Women's Basketball. When UCONN is killing their opponent, you broadcast the complete game. What's with that?

I was just watching NFL Live, and you need to do something about the way Josina Anderson
dresses ! She was showing off her legs thigh high wearing black stockings with ribbons or
something at the top then bare thighs again.It's not for a sports talk show, it's offensive ,and
remember kids watch this show.You go back and look at the tape where they are all at the
draft board, and pay close attention when she reaches all stretched out.It's something
out of Victoria Secret.Her thigh shows all the way uo with those slits in her dress.
You need to stop it .

i just wanted to make a suggestion and it is such a pain in the ass to just find a place to make a comment or an idea to improve your site but it is impossible to figure out a way just to send it to you..
so after all the frustration... when you are looking at the scores at any sport u are interested in, I would like to suggest that you provide a way to slide the scores or change the order listed. so that the ones you are interested in you can organize it so that they are together.
such a simple idea but now I feel stupid to bring it up after all the pain in the ass it was to find the place just to say it..
thank you for your time

Earnest Combs
from Alexandria, KY
Please..........do not use Dick Vitale on big games ,i.e.,Tn vs Auburn. All you get as a fan is ongoing never stop BLUBBERING...mostly about the past,and his theory of success , of which most runs together along with one cliche
after the other. Sadly you can only understand every other word. Move over Dick,,,,!

darrell
from Louisville, KY
get rid of dick vitale what good does he do he is so annoying,love to see somebody take him by the collar and escort him out of the building,i know there are a lot of complaints about him

What happened to my College game pass? It looks completely different and totally confusing. It's black and white, double image and faded. I want my original one back. PLEASE!

Get rid of Dick Vital. He needs to learn his audience. You don't sit and spend your time praising the rival of the teams playing. It make you want to turn off the TV

michael hale
from Newburgh, IN
Get Dan Dakich off tv. Zero as a coach and zero as a broadcaster.

hardly workin'
from Longmont, CO
To whom it may concern:
Please bring back Will Buxton to F1 on ESPN. His on-track live commentary with a mobile camera before each race is excellent. He is never boring, like some of the people on the F1 broadcast ( no names). He is the face of the new Formula 1 on ESPN. You humans at ESPN should know that. He is dynamic, energetic, and brings a realism to F1 coverage that no one else does.
Thank You, and GOD Bless you all.

second complaint about west coast espn announcer, bill Walton. bill Walton never presents what is happening on the basketball court, he is still talking about himself, what he has done, and about other teams and what other teams are possibly going to do. have talked with other people and they also say that bill Walton is absolutely the worst announcer that espn has on the payroll. time to get rid of him, as there are plenty other good announcers that can follow the game they are announcing.

I an trying to see my CONF. USA track feed. I am lucky to see maybe 5 min. Of the total airtime right now. I am paying for this program. What the He'll are you guys doing over there.

Fielding Walker
from Versailles, KY
1) your complaint process is not user friendly.
2) College basketball with commentary by Dick Vitale has become extremely annoying. He talks about anything but the game in front of him as compared to Jay Bilas who is excellent. Coach him or fire him; he has become a liability. My friends and I who watch now mute the broadcast.

Burton F. Williams
from Sparta, TN
Why do you people not show the NASCAR race results on your scroller ? My wife and I are watching the Tennessee/Ketuncky game -- and all you show is the same thing over and over. No NASCAR results from the Truck race, nor the Xfinity race ? WHY ??

Robert Banks 913-685-4568
Not only do you preempt the start of the next programming schedule (KU vs WV game 2/16/2019) to finish the previous game that ran over the time slot, but you also cutoff the end of the KU vs WV game to show Duke preparing to play. This is really cutting the Kansas area out of the picture twice! Why do you do that? It's a disgrace the way you treat the local customer viewers in my area. I would really like to hear your reasoning for the lack of consistency in your lousy handling of game endings and game beginnings.

Howard Friedman
from Kent, WA
I HATE Bill Walton. A total jackass. Way too dramatic. Has the irritating habit of comparing college players to old NBA greats. Thinks he's smart and funny. He's a total JACK ASS! I can't watch a game he announces. GET RID OF THIS FOOL! HE'S A TOTAL ASS!

Kevin Durant is right in his assessment of media coverage. He just didn't go far enough.
at the end of the day, you have no job if not for sports. But who do you answer too except your consciences.
Yes, people want to know all kinds of stuff that isn't their business. Stuff that distracts athletes. Let the man play ball.
Reporters make a living and rep by one upping each other.
How is it not annoying to have to answer the same question over an over again?
You're all blustering for a scoop. That's how you make a living. Fine.
KD lives in a world of what have you done for me lately. He needs to stay focused on the real.
Titillating as our speculations may be, they are not the bottom-line. What's wrong with an athlete asking for a break?
Isn't that the gist of his complaint?
Certainly an industry that thrives on critiquing the rich, famous, successful and even the miserable and down trodding, can take a little criticism themselves.
Your how dare he response to KD's comment is downright Orwellian.
Being an athlete doesn't make these guys perfect. Criticizing reporters is no assault on the fans.
Grow up.

Mel Powell
from Bedminster, NJ
Commentators are opinionated in their coverage of sports teams and biais remarks negative statements make it hard to enjoy any game!

kevin robert ahles
from Tampa, FL
Max Kellerman went on a rant today about how blacks in the projects on probation get rearrested for just being in the vicinity of a gun or drugs. How does he know this? What projects does he live in or hang around where he's seen this happen? There has to be probable cause, the accused can get attorney, the states attorney has to agree with case to prosecute, case can be taken to judge or jury for decision. Kellerman made it sound like cops can just arrest whoever they want and affect the outcome, just doesn't happen! He and others on your network need to stick to sports and lay off the liberal social causes. I and people I know watch you less and less cause of this nonsense. Kellerman is an ass!

ronald opp
from Circle, MT
when is espn going to get rid of a couple of their announcers?
on the west coast, you have bill walton who cannot keep into the game and just talks about himself and what he has done, books he has read, bikes he has rode and on and on. on scale of 1 to 10, he might be 2.
on the east coast, you have dickie v. who is living on his brothers accomplishments. as for announcing, he is never in the game and goes on and on about nothing. he is way past his time. there are so many good announcers out there that can do way better than dickie v. cant understand him half the time, and oh baby oh baby is getting real old.
both these announcers are being overpaid and the audience dont really care for them.
thank you for listening.

John H Harrison
from Culpeper, VA
Coverage of the Duke vs Virginia men's basketball was THE MOST ONE-SIDED I have ever seen, in favor of Duke.

Rosemarie Sherman
from Wheelwright, KY
Why show a game with a commentator like Dick Vitale. Trying to watch Kentucky vs Auburn. Dick Vitale and Charles Barkley show is what it is. Nothing being said about the game. The other Commentator (don't know his name) is trying to do his job.

Cathy Smith
from Northport, AL
we cannot concentrate on the game for the sports casters taking up the screen and talking over the game. Please get them off to national championship game!!!!!!!!!!!!!!!!!!!!!!!!!!!!!!!!!!!!!!!!!!!!!!!!!!!!!!!!!!!

mike white
from Bellingham, WA
Booger McFarland ruins Monday Night football. We watch with sound off. Get him out of cat bird seat.

Darrin Kelly
from Arvada, CO
I wanted to drop a complaint about ESPN+. While this subscription service is not terribly expensive at $60 per year the whole idea smacks of overly greedy suits. There's no reason to have an up-charge on top of the already egregiously expensive amounts charged for Cable TV service to have 6-7 ESPN channels of various flavors in my lineup. Out of which I may occasionally watch 2 of. I'm sure the Cable TV providers are already paying ESPN a good chunk to have the ESPN networks included in their packages. Enough is enough for this viewer. The advertising revenue that ESPN rakes in from companies that want to be on their network should be enough. I won't even mention how badly the ESPN+ app functions. I'm done with you and your blatant greed.

Great article on The Undefeated about the rise of Black Quarterbacks! Are you serious first of all this all about black and white on ESPN is disgusting you want people to be civil but you push the controversy. Then ESPN show there pictures Murray for Oklahoma he is mixed not just "black" and then Tua of Alabama man that dude is far from "black" last time I knew he was Somoian. Patrick Mahomes to isn't just black hi Mom looks pretty white to me! Also of course the writer is black and he has no clue the rise of a black quarterback again is a terrible topic and racists. Wasn't this a topic when Russell Wilson was a rookie? This article should be pulled from The Undisputed and ESPN should fire William C. Rhoden we dont need is Black live matters on ESPN. Scott Van Pelt at Midnight is the real ESPN!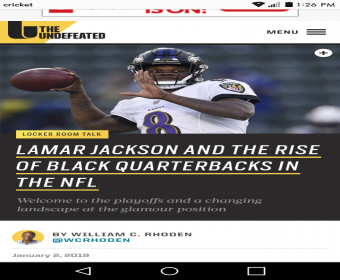 Douglas Bowen
from Chicago, IL
Your split screen/multi screen broadcasting of the Rose Bowl & Sugsr Bowl SUCKS!!!!! Please QUIT and go back to a single screen. Keep this up & it's GOOD-BY ESPN for this household!!!!

Tom Culpepper
from Dothan, AL
Trying to watch Sugar Bowl and video kept going off and on, just the game never the commercials, what the devil is going on

I did not pay for a 60 inch tv to watch 4 screens during the bowl games. It SUCKS..

Jeff Stringer
from Morton, MN
You took the joy of watching the ncaa football playoffs by putting up the split screen.

Ron Butler
from Sherman, TX
With five shots on the screen at once it is hard to watch. Take 4 of them off.

David Hinkle
from Dallas, TX
I am watching the Cotton Bowl and your tv display is horrible. Everyone I talk to says the same thing. You have split the screen in four different pictures, No one wants to watch the coaches stand on the sidelines for one thing. We buy big screen tvs to have you cut the screen size to a fourth of the total screen?

Terry Ryan
from Dallas, TX
I am watching the college playoffs, Clemson and Norte Dame. Why do you have a five way split screen during this game. I have a big screen TV made to take in the whole field. I am not interested in watching the coaches on the sideline. I am not interested in a running account of yardage gained,etc. I am interested in seeing the players big and bold in action.
Is this the first time doing this? Haven't seen it before and hope never again.

Jerry eidemiller
from Linglestown, PA
Cotton bowl coverage is terrible . Who wants to watch sports commentators. Play be play not close enough. Too much commentary.

Michael Groff
from Kansas City, KS
I just watched the Kansas vs. Arizona State basketball game. Please take Bill Walton off the air. He is an embarrassment to ESPN, basketball and himself. The relevance of his comments are non-existent. His broadcast partner should be given a raise for just having to deal with him through a game. I don't know if he has a no cut clause in in contract, but buying him out would put you dollars ahead. I will not watch another game where he is the color commentator.
Please take action, NOW

Cecil Morgan
from Las Vegas, NV
Is McFarland paid by the word? This is not radio and every second of every
y minute needs to be filled with useless commentary. Almost impossible to
focus on the game.
Shut him up or remove him from the broadcast. A picture is worth a thousand words!!!

Gordo Burke
from Germantown, MD
I watch ESPN offen and respect most of the commentators. Until last night I resected Jason Wittin very much. His last comment that the New Orleans Saints didn't belong in the play offs was very biased and un professional and uncalled for and I think he owes the Saints and the fans of ESPN a appoligy. It doesn't matter if the won scoring 12 points or 50 points the fact is the deefennce played excellent and the offence didn't in that game. the good teams always find a way to win though.

Darrell Bible
from Bradenton, FL
Why do you waste time broadcasting poker ? It is not a sport and how watch compared to a real sport..

Mitch Farley
from Austin, TX
Why did Charles Woodson have to make the comment that the NFL was not ready for "Black" quarterbacks. It is comments like this that continue to perpetuate attention to racial issues. Why could he not say the NFL is not ready for that style of quarterback and not make it a racial issue? I have lost all respect for Mr. Woodson and in all honesty for ESPN for allowing him to say and portray that narrow minded point of view. An athlete is an athlete so why is the color of his skin even an issue. We as a society need to get past the stigmatism and ESPN as a mainstream sports broadcaster needs to lead the way.

Daniel Greeley
from Boston, MA
I called the espn customer service department in regards to an issue with my espn account and I had extremely poor service by an individual named Mark Martinez. He failed to help me at all with my issue and acted rude on the phone, then hung up on me abruptly with no warning at all that he was going to do so. People like that should not be in any service departemnt at all and In my opinion is a complete jerk. Please review my call with him the other day and act accordingly if you think he should be working at espn. I have never experienced anything like a person like him in my life. Biggest jerk I have ever come across and im shocked he even has a job anywhere. especially espn. Thanks for your help
Sincerely, Dan Greeley

ronald silva
from Santa Cruz (Centro), S
My god,who iss running the show on espn.I liv in Bolivia and you have total asshole maqnager ouof argentina. We get polo,we getrugby and e get tennis.Now,listen to this....no polo field.Not one public tinnis court in all of Bolivia.o one here likes rugby,,thisguy thinks he iis in europ,not south America....fore the jerhk...ask you staff,,,,ever pay to watch a polo match?

Thomas Shimanek
from Long Beach, CA
Friday, November 30th - the Texas Longhorn/OU football game. I was working during the game so I spent the day avoiding all information. I get home, ready to watch the game, exciting. I made it the whole day without hearing the outcome. Except, during the first commercial break on your streaming service - you run a Dr. Pepper commercial that congratulates OU for winning the Big 12 game. Thanks for ruining games ESPN. You suck!

Perry LaGrange
from Ashburn, VA
I'm sitting here watching the Duke/Stetson game and I might as well be in the nosebleed section. Why in the heck is the camera shot so far away from the floor. Not even worth watching. It's the worst. Fed up, gonna switch to the football game where I can see the players.

Don Yoder
from Kalona, IA
I was looking forward to watching a basketball game on espn. The Michigan north Carolina game. What disappointment to find out Dick vitel was Color commentator. He never shuts up nothing but bull shit from the mouth. Yap yap yap. Fire that SOB.
I was disappointed. my choice was to watch something else or hit the mute button. I watched Hogan's Hero's instead.
so long espn

Brad
from New Philadelphia, OH
For the love of God, please, please get rid of Molly! She makes my head hurt. I mute the show every couple of minutes, and I DON'T want to mute the show, I want to hear what the analysts have to say, not loud mouth Molly! My wife cares less about football, but even she hates her. She talks over them, cuts them off, and is causing them ALL to talk at once. I am begging you, can her.

Annie evans
from Cape Girardeau, MO
I am sick sick of bill welton and his idiotic announcing h. He does not call the game , just blabbers and shows of. I listened last night and he is on again ai the Maui tournament it is terrible and gave turned the off. PLEASE get rid of him. You are rapidly loosing viewers. , including me. Will watch on the internet

sam lickliter
from Dayton, OH
I love Monday night football and don't have a favorite team but I'm not enjoying it this year. The announcers are terrible. They talk too much trying to impress with their knowledge. Jason and Bogger are unbearable. Please make an adjustment next year.

Ron Van Damme
from Spokane, WA
The color coverage for the Maui Invitational with Bill walton is the some of the worst i have seen. Its more like a travelog of hawai then about the game and players. I have never made a complaint before this. he is terrible

sam lickliter
from Dayton, OH
I love Monday night football and don't have a favorite team but I'm not enjoying it this year. The announcers are terrible. They talk too much trying to impress with their knowledge. Jason and Bogger are unbearable. Please make an adjustment next year.

mike banners
from Clermont, FL
The Play by play announcer for the FSU-BC game and many other games is terrible and very annoying...So bad I shut the sound off..Please NO MORE of her....Stick to womens Golf or Tennis...PLEASE..So annoying voice for football Again shut volume off if it wasn't FSU would not watch...shes really bad

Mike H.
from Mechanicsville, IA
Watching the Real Salt Lake/Sporting Kansas City 11/11/18 match. I would hope an ESPN televised game would incorporate non-biased announcers. These two announcers are so biased towards Sporting KC, I had to leave the room. The clincher was the comment made after Sporting's second goal, "Real Salt Lake, GOOD LUCK". It may not sound like much in type, but the audio infuriated me!!!
In the future, I would hope ESPN would find individuals that could announce the game in an unbiased manner. If I could give this broadcast a "0" rating I would. The "1" rating is a gift to ESPN!!!!

Kevin Green
from Mansfield, OH
Jason Whitlock fire man set Dak Prescott sounded like a civil war name and that he was on the wrong side you're nothing but a bunch of closet racist 10 of us retired guys will never watch you again and we'll talk bad about you everywhere we go thanks for nothing is PN you stink

Jason Lewis
from Aurora, CO
Please stop with the terrible camera work for the Champions Classic. ESPN gets worse and worse every year. Nobody wants to watch a basketball game from the ceiling nor do they want to watch from a camera angle that is constantly spinning. If I go to a game and pay tickets for the best seats in the house, they are not on the ceiling, over top of the player, under the player or behind the basket or from the other end of the court. The best seats are in the middle and up high enough to see the whole game. Show all the angles you want for the replays but stop the stupid angle changes during play. It's unbelievable how ESPN has no clue when it comes good camera work. Please stop!!!

William Hupp
from Winter Park, FL
You refuse to show the UCF standings and I find that Racist bigoted I needless to say discriminatory ESPN stinks to high heaven.

I had Espn app. Now I can or get it to work anymore. I am very dispointed in ESPN. I can or change he tv provider etc to get Espn Please advise what to do so I can have Espn back. Before Friday. Thanks

Ronald Wallis
from Cypress, TX
For the first few F! Grands Prix, the practice sessions ans qualifying were on one ESP channel. For the last tow Grands Prix, they have been spread over several ESP channels some of which are on another cable tier. This means you would have to spend more money to get them. This is a disgusting way of treating your customers.

How can you only suspend Brit McHenry for a single week? If this was a male employee he would be fired immediately. I do not care what she looks like her actions speak to her character. He apology is not genuine and she sounds like a lawyer. You should hear the radio hosts in the Philadelphia area and peoples reaction. Not happy with ESPN! Any time her face appears on the screen I will be immediately flip the channel. She is a phony and she needs to be reprimanded for her actions! Your decision is disappointing!

Donald Pare
from Calgary, AB
When someone shows you who they are, believe them the first time. Britt McHenry showed you who she is. Do the right thing. A suspension is not the right thing. A dismissal is. Thank you.

Gary Graham
from Paso Robles, CA
BIll Walton has to be the most disgusting broadcaster today on ESPN. He does not broadcast the game like so many other great broadcasters. He just rants and raves about himself , his idiot opinons and comments about nothing, plus he now has been advocating Pot smoking and how it helped him . Ha HA. Great for out youths to listen to. He is just horrible, please replace him asap. Void his contract ASAP. My coaching experience and friends in the NCAA mostly all dislike him.

karen kowaske
from Fowlerville, MI
Can't believe that you are still going to allow Britt McHenry to work for this company after her belittling remarks. How dare she expect that because she is a "celebrity" she deserve any different treatment. And to be that rude to an attendant that was just doing their job is unbelievable. That attendant has more class than your "celebrity employee". To give her one week suspension is a disgrace and a slap in the face to anyone who is trying to earn a meager living and do their job.

James Hart
from San Jose, CA
Please, please, please get rid of Beth Mowins. Her voice is terrible. It's almost so bad that I don't want to watch at all. Don't we have any good men to announce a man's game?

Billie Jeanne Houle
from Raleigh, NC
Dear ESPN executives, mMy husband and I watch ESPN first thing in the morning, lunch breaks, finally after work 7 days a week. I am so EXTREMELY DISGUSTED with the recent reporting that you have chosen to only suspend "Britt McHenry" for one week. In my opinion that tells me you would prefer to give a minor sanction to someone who displays her true colors on multiple occasions. In the law people need to understand foreseeable actions. What if that woman who was insulted beyond anything I can bear to hear went home and KILLED HERSELF? I understand that she did not, however by keeping her apart of your PROFESSIONAL team tells me you support BULLIES!!! We have laws to protect children and what makes you think this worker should be any different? Britt said "toothless", what if woman cannot afford her teeth to be fixed? Britt said she is a college dropout....who does she think she is? The insults were beyond the most gross I have ever heard.
If I was witness I would have called the POLICE for a HATE CRIME!!! You are in a trailer? I understand the clerk may have been pushed into stating some comments back, however ALL EMPLOYES ARE RESPONSIBLE FOR THEIR ACTIONS!!! Britt should have been classy, paid the bill, and turn the other cheek. Isn't that what we thrive our culture to do? Make peace. It is obvious that "Britt McHenry" thinks she is above EVERYONE, but I feel this girl needs some humble pie. And be FIRED TODAY!!! I know in my professional experience I am held accountable for my company's reputation on and off the clock. This is a reflection of ESPN network. I will start a petition on Facebook, and tell all my friends to let them know how you value this DISGUSTING BEHAVIOR!! I am so mad, and DISAPPOINTED! I will think twice about supporting your network if you keep "Britt McHenry" employed!

bill pell
from Spartanburg, SC
I am writing to complain about Brent Musburger and Mike Golic. Musburger's performance on the SC game Saturday evening was beyond woeful. I only watch him when it's impossible not to, and I wanted to see SC vs. KY. As expected, he irritated with his comments and lack of preparation. His errors and stammering only increased as the game went on. Palmer tries to prop him up, but Musburger is good at controlling the mike, and Palmer disappeared for long stretches. I've complained before, and I was happy to see Musburger often got the least desirable SEC game. Still, he works on.
For my small part, I always boycott any products advertised on games he covers. I don't see how the advertisers put up with it. I have also complained about Golic, but he continues to stammer, shout, repeat, repeat, repeat, and make everything too personal. Give him broadcasting lessons for goodness sakes. Tell him to model his comments after the other Mike, a true professional in every sense of the word. Golic is also woeful, and it's beyond me why you keep him on the air. All in all, I continue to admire ESPN. I was glad a woman finally got to do PTI, but I wish it had been McMullan, one of your best of either sex. Kudos for working in more and more women throughout and not just as sideline reporters.

Gillian Sanders
from Sarasota, FL
Could you have the tennis commentators stop talking during the actual play. Chris Evert, Chris Fowler and John McEnroe cannot stop talking, they love the sound of themselves. We just watched the Women's semi-final between Kerber and Williams and Evert and Fowler talked constantly throughout the match. Next one we watch, we will put the mute button on. There is nothing more frustrating than hearing commentators talk nonsense and missing the actual play they should be commenting on.

DL Young
from Red Deer, AB
I would rate you at a no-star as of today. I just watched numerous posts of your girl Britt verbally assaulting the tow customer service attendant. Wow, how on earth can you continue to have her work and be affiliated with your business? She is a horrible black hole of a human being. Who speaks to someone like that and gets away with it? This little apology thing that she did was as phony as she is herself. I will never forget this instance and the association with ESPN. In a time in the world when we are all striving to live with more peace and love in this world there are maggots like her openly and freely spewing her abuse on a innocent human being only doing their job it is insane. This infuriates me and many others to no end. I would fired her on the spot. Please have more integrity when hiring your employees, after all they are a direct reflection of what you ESPN stand for.

This new website sucks. Like seriously. I love espn.com look at it multiple times daily but this new format makes me want too puke and ultimately not visit the cite at all. I'll just get my information from sportscenter. Please fix the site!

thomas lavera
from Riverside, CA
What a mess with Sunday night baseball. You need two former players in the booth and at least one of them needs to be a pitcher or catcher. Poor Aron Boone just does not have anyone to talk baseball with. Get some help up there. Would like to see Kurt Shilling back, as he knows baseball and he is great at this job.

Matt Gorman
from Montvale, NJ
Stephan A. Smith should be fired. ESPN should also issue a warning prior to his on air time that the volume at which he screams can lead to ear damage & loss of hearing. Discourse doesn't require literally screaming at each other. What a terrible example to America for how to debate. He is classless in how he uses his over the top decibel level to silence anyone he disagrees with. Talk, emphasize, use all the nuanced techniques professionals employ instead of yelling at everyone.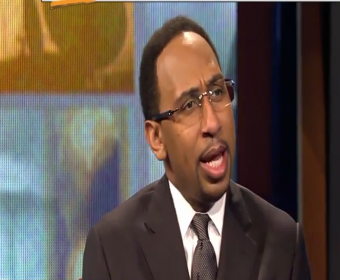 Mark Huddleston
from Oran, MO
Britt McHenry needs to go. She thinks she is attractive. What she showed was that she is a very ugly person. She might be a good reporter, but you don't treat people like she did.What I saw on the video, this kind of outburst will happen again and again. ESPN needs to cut their losses. ESPN acted quickly but not strong enough. After you can her I would not hire her to be my lot clerk.

paul semeniuk
from Kelowna, BC
i am appalled at the degrading,pompous attitude you employee Britt McHeny displayed towards not only the lady working at the towing company but towards all of us who work and live in the real world. She showed her utmost disdain and lack of respect for that poor girl in the towing companies office. The words she used were not only hateful but extremely hurtful to not only the employee but to a lot of people who, because of their income or genetics, do not meet Britts high standard of associates. I cannot believe you have someone like Britt representing your company.Is that how your company and the rest of your sports casters feel about all of us normal low dwelling people? i will not waste another moment watching your channel or support any of your sponsors from now on unless i hear through the news that you have done the right thing and relieved Britt of all her duties at your company. She maybe does deserve a second chance... but let another company decide whether to hire her or not. This is a blunder of gigantic proportion....

Dale Fender
from Dickson, TN
Due to NOT Dismissing Britt McHenry, ESPN is now the National Enquirer of sports television. At any other respectable business she would have been fired immediately. I hope the attendant sues Ms. McHenry for everything she's worth. She didn't just stop at one or two insults, she continued to unleash scornful abuse. That in my opinion is the reason she should be terminated. IMMEDIATELY!!!

Nelson medina
from Bridgeport, CT
Britt McHenry needs to be fired!!!! How can you tolerate such a disrespectful person working for you!?!? Apology doesn't cut it. Those were her true feelings, only sorry because of the feedback. She represents ESPN ... How can you put her back on the air!?!? Yes everyone deserves a second chance but actions have consequences. Let her go find a second chance in Montana

Lynsey Powers
from Indianapolis, IN
Regarding the behavior of your Britt McHenry and her treatment of the clerk at the towing company, I respectfully suggest that Ms. McHenry lose her job. Her handling of the situation was clearly not an emotional reaction as she claimed in her weak apology, but was the result of arrogance and pride. I believe that this occurrence was not a mistake but rather a flaw in her character which should not be rewarded by a slap on the wrist. This incident has given ESPN a huge black eye. Please take action!

William Whiteley
from Douglassville, PA
Espn you really need to fire that reporter that verbally abused that parking attendant. She is representing your organization, and makes you look bad. She had no business treating another human being the way she did. I will be cancelling all of my association with espn until something is done!

Chris Price
from Ambridge, PA
I would like to see you (ESPN), take action against Britt McHenry for her bulling threats and demoralizing language of the tow truck attendant. I don't care who you are or what you do for a living, you need to be held responsible for your actions. With the recent actions of a number of male sports figures towards women, let us not forget that same gender assault/demoralization/threading behavior is in no means any better.

Bill Walton is the worst announcer I have ever heard. His voice is annoying and all he talks about is himself. I don't think he knows a game is going on. After a few minutes I hit the mute button and watched the game. Please replace him.

Jon Gruden. Need I say more? Try listening to a Redskins game. He is so bad and so prejudice against them we have to mute him. He is terrible. Not just for Redskin games either. Knowledgeable fan of NFL Football that used to live for the season beginning to loose interest. Announcing is very important to the game on TV/Cable, thus to the NFL I hope. When it's that bad, someone should be held accountable.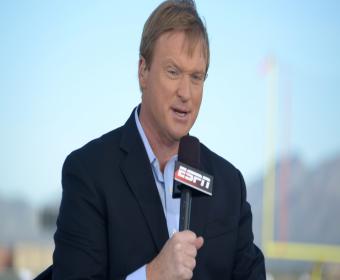 Randy Collier
from Asheboro, NC
On First Take this morning I listened to your racist commentary from Steven A Smith on the subject of Colin K-neck's remarks and discussed actions amidst the sitting of the National Anthem during a Pre Season NFL game! Steven A. Smith said racist comments about law enforcement and American White Citizens that were disrespectful and uncalled for. I think ESPN should fire him. ESPN has fired other Commentators for much less. Steven A. Smith is a disgrace to this Country!

Sharon David
from North Vernon, IN
Please do not allow Dan Dakich to "announce" any more Purdue basketball games. We have to turn down the sound when he is talking. He loves to talk about what a player did wrong, along with what HE would have done in the same situation. He sounds like he is trying to let everyone know that he knows more about basketball than anyone else in the gym or the listening audience. He does the same thing to whomever is playing, but mostly we watch Purdue and HATE to listen to Dan Dakich. Please find him something else to do. thanks.

Cheryl Zapata
from Cumby, TX
I was very disappointed to see the video of Britt McHenry's appalling treatment of the tow truck driver. I can understand how upset one is to have their car towed, but how she made her attack so personal and degrading is totally unacceptable. How she could comment on someone's lack of education, missing teeth and her living conditions was beyond cruel. I would hope that you have a higher standard for your reporters and let this haughty, hateful and mean girl go. If I were an athlete with any integrity, I would refuse to give her an interview of any kind. I have a beautiful daughter, and would be ashamed and disappointed if I ever heard her berate another human being like Britt McHenry. Rest assured that she should no longer be employed by ESPN.

Johnny Bailey
from Pelham, AL
I am appalled that Washington based reporter Britt Mchenry is still on your payroll. She is an absolute punk idiot. Can her and replace her with someone who isn't so full of themselves.

Jeanne Harrison
from Dauphin, MB
take britt mchenry off off off off the air !!!!!!!!!!!!!!!!!!!!!!!!!!! how can you allow her back on when she shows such ignorance and arrogance to people are probably your fan base?????????? TAKE HER OFFF THE SHOW---BLACKLIST HER--- LET'S SEE WHAT HER" BRAIN" MAKES OF NOT BEING ABLE TO FIND ANOTHER JOB !!!!!!!!!!!!!!!!!!!!!!!!!!!!!!

What Britt McHenry did at the tow truck facility, demeaning another person - is a form of bullying and she should be fired! It was disgusting to watch and after I saw this display of such lack of character - with her fake apology today ( just to save her job ) - I would never watch ESPN again because anything with her face on it would disgust me. She should be fired for bullying and verbal harassment.

Mike cambell
from Coventry, CT
I just saw the video of Britt claiming her car a tow lot. I understand that it must have been a frustrating situation. But she verbally attacked and very personally insulted the person working there. She repeatedly declared that she worked in the news business and the other person lived in a trailer and was beneath her. IS this the public persona that ESPN wants out there for their sideline reporters/cheerleaders? Her loving glances in her mirror every morning should be interrupted by doubts about her own self worth. Perhaps being fired would make the world a better place, especially from a motivational standpoint for her.

Your new website format sucks! I hate it and wish you would go back to the old version right away please.

Dick Vitale was not on Duke vs Carolina game. Why not keep the game tradition of Mr. Vitale on this game. He is the best. A living legend. Like Dean Smith. We should celebrate these living legends while they are alive. Dickie V is my favorite. He is a class act not like these guys you put out there that go out and get drunk and solicit prostitutes on your time and smudge your name. Dickie V is old school. Why not let him call this game until he can not. What happenend to respect for those who earned and achieved. Who have aged with us. I have grown up listening to him over the last 45 years. Please. Give an old Italian man his due so when he dies he knows you value him. Don't wait until he goes and then say pretty meaningless words when you Allow others to disrespect him and take him off the game. He is still my favorite.

Barbara Kuchta
from Blue Springs, MO
Well, the scores are never accurate and always a inning or two behind. I don't know why scores can not be updated like MLB. Also, constantly the pge will not come up if you start checking other games. Happens on a daily basis when I use ESPN. Rarely happens with MLB.

Bob Fernandez
from Vacaville, CA
I am greatly disappointed with the performance of your ESPN announcers on both Mondays and Wednesdays Dodgers national broadcast. I am here to watch the game and have them report on the progress of the game. They have spent way to much time with self promotion and stories that I do not care to hear about. Please remove Rick Sutcliffe and anyone who you might be thinking about partnering him with from the announcing booth. Their behavior has been disrespectful the the players, fans, and the game of baseball.

Kendall Bake
from Charlotte, NC
I am reporting unnecessary profanity on a prime time show. 8:55pm Jon Gruden was hosting a football show where is used the word " god***m." I am very disgusted and offended as a Christian that this language was used on a football show. ESPN should be more responsible with their content. It was TOTALLY unnecessary. I will no longer watch Jon Gruden again. If he is on monad night football I will not watch. Please take the correct stance and properly train your employees to be respectful and more responsible with their words.

J wright
from Hilliard, OH
You should be embarrassed at how one sided the broadcasters are in the Akron vs OSU game- obviously against the Buckeyes! Making very negative almost condescending remarks about the Buckeyes. Absolutely ridiculous- guess that is why they are calling the NIT not NCAA.

Mike Amos
from Cincinnati, OH
I'm trying to watch the IU VS ILL. Men's basketball game on Feb. 25. The commentary for the game is very distracting. The back seat coaching is taking away from the game.

Michele Wittling
from Ashburn, VA
I have been trying to complain that the coverage of the Australian Open is marred by the poor graphics that cut off the score box. I cannot submit that complaint because each time I try it tells me I am a bot. I am not a bot. I have completed each field of the form personally - there is no captcha to complete. I guess you only allow compliments? Not only is the graphic issue annoying - this poor customer service is frustrating.

Jack Seamon
from Fort Myers, FL
Sound on the Sugar Bowl was terrible! Field noise drowned out the commentary! This is an industry-wide problem. Hockey games are bad too. Ice level mics pick up too much noise which again drowns out commentary. I want to hear analysis, not some drunk bozo in the stands. That sound level needs to be monitored and toned down. The announcers don't know since they're wearing head sets.

Susan McCarthy
from Panama City, FL
Why do you let Herbstreit call Michigan State games when he is so clearly biased against them? Do you listen to his commentary? He is NEVER impartial. I will keep writing ESPN corporate until you make a change.

Rosalind "Roz" Fahey
from Marathon, FL
I, and my friends, are very upset because you aren't allowing the broadcast of the National Anthem on TV before NFL games. I am hearing lots of complaints. It almost gets a person to the point of not wanting to watch Professional football. Please give me an explanation why you are not broadcasting (1) the National Anthem (2) the coin toss.

benjamin
from San Antonio, TX
Heard you are letting bill Simmons go, not sure of your reasoning there. He's only the best writer you have and the only one who's arctic I actually look for. Seems to me you would rather be associated with someone like brit than someone who actually had the talent to be at the top of his profession. Bills columns have me laughing so hard my s sides hurt but oh well. Plenty of other places to get sports news from.

Billie Jeanne Passer
from Raleigh, NC
Dear ESPN executives, my post again on Facebook. As I said, I will continue to keep this going till this bully is fired. Please e-mail your complaints to ESPN complaints department on line. Imagine someone saying these words to your wife, daughter, mother cousin, niece, best friend. 12 insults and here is the video as well I have written it out.
1- I'm in the news sweetheart and I will "Blank" sue this place.
2- That's why I have a degree and you don't.
3- I wouldn't work at a scumbag place like this.
4- Makes my skin crawl just being here.
5- Yep, that's all you care about is just taking peoples money.
6- With no education, no skill set, just want to clarify that.
7- Do you feel good about you job?
8- So I could be a college drop out and do the same thing?
9- Why, cause I have a brain and you don't.
10- Maybe if I was missing some teeth they would hire me huh?
11-O, like yours is o stunning (criticizing the lot attendant's teeth)....cause I'm on television and your in the "Blank" trailer honey.
12-Lose some weight baby girl!
FIRE HER TODAY! You are supporting a bully!

James Maloney
from Gold Hill, OR
Britt McHenry needs more than a week off (vacation?). The video is absolutely shocking and certainly not representative of your fine network. She needs to work in a soup kitchen, get dirty, be common. She's lost touch with reality. If my child acted like that, I would wash their mouth out with soap, demand a real apology and get some serious counseling for them. Really her behavior is inexcusable under any circumstances, but a towed car? Wait until you get a real problem like the death of a loved one or a cancer diagnosis. It's admirable that the recipient of her wrath has not asked for her to be terminated and actually tried to play down the event. Please make this a teaching moment for Britt, and if she is truly not contrite, she needs to go elsewhere. Yuck!

Nyla YoungBear
from Tama, IA
I am so disgusted with Britt McHenry, how can you let that woman continue to work for you, she sounds like a spoiled rotten brat and straight up bitch, who probably knows nothing about the sports she is covering and probably got her position soley based on looks!

I am very irritated about having a problem getting on the espn website. Since i have an older computer I am prompted about updating my browser. The computer cannot upgrade to a better browser. Since I am unable to update my browser I am unable to get on the regular espn website. I am redirected to a second rate espn website. If espn cannot let me on their regular website I will start using the yahoo sports website and quit watching espn tv.

Arnab
from Mercer Island, WA
I have paid $99 for cricket world cup 2015 live streaming to ESPN. Today is an important semi final match and ESPN site is throwing error wile streaming the game. Many times it is not even landing on the streaming page. This feels like a cheating on customer. They took the money but not giving the service. I don't even know how to get the money back.

john dwyer
from Brockton, MA
I am really really offended about the comments that the racist steven a smith said about the eagles coach and the team about not being black enough. if that was said by a white reporter about a team not being white enough he would have his balls in a sling and probably fired I really think that espn is a spineless company and that racist smith should have been suspended if not fired he is a horrible reporter and I assume a worse person in real life I am disguted that he continues to be able to continue broadcasting espn grow some balls and take a stand raceisim goes both ways open your eyes and fire him

Laurie Mendez
from Topeka, KS
I would like to bring to someone's attention that I was very dissatisfied with Brent Mussberger calling Big XII basketball games. It was merely annoying when he editorialized what the coaches were thinking, saying or "wanting" from their players but his blatant favoritism towards Iowa State was unprofessional. I was dumbfounded that Brent and co. discussed the brackets and who would be playing Kentucky in the tournament instead of calling the Texas at KU game. Nothing was easy and automatic for the Kansas Jayhawks this year but the glee in Brent's voice when they were struggling was unmistakeable and he was disrespectful to their coach when he repeatedly referred to him as "Self". The fans of every team in the Big XII conference deserve better than they got this year from ESPN. Thank you for your time and attention to my concerns.

ESPN help me help your ratings, Bill Walton is a terrible commentator the other commentator has too carry the whole game, he talks about everything but the game and when he does he gets the players wrong he talks about when he played, instead of commentating the game in front of him,this proofs one thing, just because you played basketball doesn't mean you can become a commentator, Face it someone made a terrible mistake and us as fans of the game have to pay for it we are being torched by Bill Waltons dry commentating, Lord Help Us All Shame On ESPN.

Hal Rogers
from Kansas City, MO
Bill Walton as a color commentator does not stay with the game. Seriously, he is a big distraction from the basketball game for the Pac-12 championship!!!! Why on earth do you keep hiring him to do the color on Pac - 12 games? If you are contractually obligated to Bill Walton get him out of the Pac-12 so we can enjoy the games! Send him to the SEC awho cares about them!

Michael Redmond
from Virginia Beach, VA
I am very disturbed at the most recent comments by Keith Oberlman, towards PSU. He should be immediately terminated from his position at ESPN!
Thanks for your feedback!
Sorry. Please try again later!