Canadian Tire
Canadian Tire Complaints Continued... (Page 3)
171+ reviews added so far. Upset? Call Canadian Tire corporate: 1-800-387-8803

cathie forget
from Orleans, ON
I went into the Canadian Tire store at Findlay Creek Ottawa to look at Snowblowers..I saw one for 899.[and some cents] and decided thats the one...When I asked for assistance they informed me the price shown was the wrong tag..??? so I said well this one says 899.and this is the one I want..to make a long story short they refused to honor the price that was fixed on the machine..I could have it for 999.[and some cents] To err is human they said and they could not help me...needless to say was not impressed and walked out the door..Before that I said I would like to speak to the manager and the gentleman said he was the manager so I asked to speak to the owner but he wasnt in the store..I think if there is a big ticket stating the price in floresent green ..that should be the price and they should honor it and if it was a mislabeled item they can fix it after they honor the one I wanted..Terrible customer service..Wish I had a photo but dont have a cell phone..

Ross Maclelland (Owner / Operator of Amherst Taxi)
from Dartmouth, NS
I , as .a taxi owner purchase anywhere between 4000 to 5000 dollar a month in gas from your gas bar. Also we purchase a lot of parts from your store. January 2015 I purchased a battery with a 3 yr replacement warranty. One of my cabs were acting up which ended up being the battery. I took it into your Amherst branch today and as we were doing the paperwork up for the replacement, the attendant said oh sorry we cant replace this , you are approx. 2 wks past your replacement warranty. the tag on the battery says 05/15. She then proceeded to tell me a new battery would be 170.00
or so. I was really upset with this. for what I spend at your location. So I took my old battery back and purchased a new one down the street at a cheaper price. I am still upset over this and I'm really contemplating on purchasing my gas else where now.

kelly rollins
from Calgary, AB
went to Canadian tire today for 3 sale items and today was the first day of sale. all 3 items were out of stock. my biggest item was a 55 inch tv. the sku # was 39912946. they said there was none available till dec30. this is not the first time this has happened to me. I spend a lot of money a year at Canadian tire. today was a promo card day spend $200 get $50 back. these items were a special buy so no reinchecks are available. I think inventory in the stores should b checked before it becomes a flyer item. there has been times where I have showed up to a store and they said computer says we have 3 but there is none...

kelly rollins
from Montreal, QC
went to Canadian tire today at 930 am for 3 sale items. today was the 1st day for the flyer. not 1 of the items were in stock. this is not the first time this has happened. the 1 was a purchase for a 55 INCH TV.stock number is 399-1294-6....... THEY TOLD ME THERE WAS NOT A TV AVAILABLE in Calgary until DEC 30.THEY SAID THERE WAS 1 AVAILABLE IN OKATOKS. I called and they said they didn't have 1. today was a 1 day promo that if u purchased $200 or more u would receive a $50 card.. well walked out empty handed. I spend a lot of money at Canadian tire each year and sometimes its the only flyer I look at.. I think inventory should be checked more closely before it becomes a flyer item. this happens to often

Samer AlHaddad
from Winnipeg, MB
After 20 days of waiting for my appointment I went to do the winter package to know later that they only changed the oil without doing any of the other jobs Paid around 200 to fix a noise coming from the front left wheel which was not fixed When I followed up they said there's no sound and the car is good as if they're deaf..... Waited for 4 hours for an oil change while already having an appointment.. Canadian Tire POLOPARK WINNIPEG

Lynn Weatherbee
from Truro, NS
I took 3 tires to Truro NS store to be put on rims and balanced. The next morning one of the tires were leaking around the rim. My husband simply poured water around the rim and in 2 places there were bubbles. obviously this was not done at the garage ...Today is Sunday and I cannot get this fixed until tomorrow. I am not happy

David Baker
from Waterloo, ON
Discrimination for wearing back pack. I have to because I daytrip from out of town. Manager extremely inflexible and rude at Cobourg Canadian Tire when I phoned about being able to make a purchase and that I have medical reasons for needing to carry my backpack in town. I am unwilling to take it off and be humiliated to purchase one single item. I will be exploring other leak and civil litigation options for taking this further including launching a social media boycott.

Nola Todd
from Richmond Hill, ON
On August 31, 2017 my husband purchased a T-Fal Pressure from the Centrepoint store as a gift for me. I was not able to figure out how to use it and when I examined it further it looked used. On September 3, 2017 I decided that I would return it as I was going out of the country and did not have the time to figure it out. The person at the return desk said he could not take the item back and he along with another employee insisted that the item could not have been used when I bought it. I told them that was how I took it from the shelf and there was only one of the item. Since I could not use the item, I left it on the counter with no refund. My husband paid $139.99 plus tax for this item and this is not the first time that I have bought things at Canadian tire that either did not work or was used. As a matter of fact I bought some solar lights last year and took them oversees and to this day they have not worked. I didn't even bother to return them.
The staff that I dealt with at this store at Yonge and Steeles were lacking in customer service skills and for this reason I will no longer go to that store. I will also encourage my husband to cancel the credit card that he just acquired.
I have dealt with Canadian Tire for many years and this experience was both costly and unpleasant. Thank you.

Colin Clark
from Fort St. John, BC
I had a fuel pump replaced at your Fort St.John BC location and was shocked by the gross negligence and utter incompetence of your service department. I filled the tank as it was low (required for tank removal), only to find it half empty the next morning with a large puddle of gasoline
under it. I visited the store and spoke with Steve Adams, service adviser who was off the day my van was serviced. When he inquired, the clown
responsible said he couldn't locate a grommet so they just reassembled the vehicle without it leaving an open fuel tank and extreme hazard risking
major lawsuits and prison. I acquired the part online and the manager wants me to pay for the time to rectify the blunder, which Steve got down to
half but it still adds insult to injury. I suggest immediate attention to this matter.
Colin Clark
(780) 832 6260

Jerry Deck
from Windsor, ON
This is not a complaint but just the opposite on Nov. 24 at the East Windsor store I had purchased 5 items from the store but when I arrived at my car I only had 2 items. When I returned to the store the remainder of my items were no where to be found. I went to the front desk to complain and I am not sure of her position but Connie with her quick response was able to assist me in getting my remaining items and making it a great day instead of a bad day.

David Reurink
from Burlington, ON
It is now the time of year to have our snow tires put on. Many times before I have just showed up early in the morning (by 10 AM) at Canadian Tire on Fairview St. Service Dept. in Burlington and for something like this no problem, no appointment, they will take me and I can wait.
So, this morning I go in, I stand and wait 10 minutes and no one acknowledges me (the managers were playing around with their computers when they saw me standing there), then I finally get acknowledged, I explain that I only need my summers exchanged with my winters (which were loaded in my car by the way) and the 1st thing he says is, do you have an appointment, i say no but didn't think I needed one to change my tires since I have done it in the past with no appointment. He says, I am booked with no sorry, and looks at me like get lost, so I leave and on the way out say why did I waist my time coming to a place where it is obvious that they do not understand customer service.
There were also 2 bays unoccupied when I dropped in. My work would have taken 20 minutes. oh, well, Green and Ross took my business. Don't know why on such easy and non-time consuming work the manager would have that attitude. I thought Canadian Tire stood for tires, and when I come in regarding tires, I get the cold shoulder. Do you treat all your customers this way. Concerned, Canadian Tire is a big company.

Mike Morrissey
from Ottawa, ON
Not sure what experience you ask to be rated. Twice in one week I have returned home to find missing parts in a package that appears to be sealed and only could I have noticed in store if I had opened the packages that both contain small parts. Both packages appear to be the type that were likely opened in store. I am more frustrated with the understanding that so many people steal than I am with Canadian Tire Security. I have my receipts and could return to the store but the drive is more expensive than the refund and I am sure that is also a form of stealing at times. What can you do and what do you do to combat this type of theft?

Robert
from Beauharnois, QC
I have been waiting for my order since Sept 14. The item that I ordered should have been ready for pick-up on Sept 19 at the St. James location in Winnipeg. Today is now Sept. 27. Canadian Tire does not tell me what is causing the delay. It has taken two weeks to order one tire. All they say at the Canadian Tire Customer Service is that the order is in progress. I am getting very frustrated with their very poor service.

yasir Mirza
from Saskatoon, SK
I bought an item couple of weeks back and went to return the item. The item was never opened at my end at all. Today, I went to Canadian Tire outlet at Confederation saskatoon and asked the customer service lady for a return. The lady opened the item with a cutter and discussed with an elderly lady namely Annett S ( according to her name plate ). Annette showed up and said you have opened it and there is a drop of oil and blamed me for using it and bringing back. I got upset and shared with her politely that Madam I never opened and told her that " I dont lie". She was persistent and kept saying that you have used it and it can never be returned. I even mentioned that I swear I never opened but she was adamant.
I got upset and left the place saying you could keep money and the item. Therein I met another employee and asked if I could talk to some manager or supervisor. He directed me again to see customer service. I came back and asked Annette S to make me talk to Manager. She called some one and told about the return of an item. She, then returned me money back. This all made me so upset that on the way back, I hardly escaped an accident. The agony and pain I have gone through is unimaginable.
I have a picture of the item and the tag and sharing the same here. I can only doubt that either the same item was returned by some one and later on sold to me as I did see one drop of oil in the item. I wonder as to how a reputable corporation could treat its customer to such level? In front of so many people I was being blamed and I feel so bad thinking about this incidence. I am ready to pay any compensation if I am at fault and if not then please dig into matter as to how this item was sold to me after being used and returned by some one prior to me? This will help me a lot as I am still in great agony n pain. Thanks. PS attached item tag photos.Such investigation could give a better picture to the customers that there are some responsible people at the highest level. Not to forget the duty manager who at least did ask her to return the money for his or her benign act.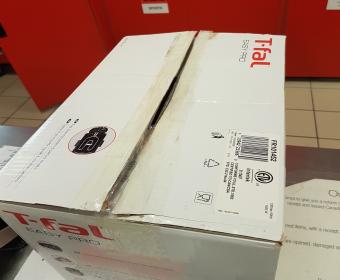 Ralph Szafranski
from Bowmanville, ON
During the afternoon on September 18, I visited my local Canadian tire in Bowmanville to buy oil change items and brake parts for my six year old Toyota Camry. The disappointment was from the sales associate at the automotive parts counter, brake parts partial stock was minor disappointment, he checked other locations for stock, yet front pads and rotors, those inventories were partial too. I mentioned okay, will inventory arrive later this week?
The sales associate wasn't reassuring about when stock would be replenished, he did mention that they don't ship items from other stores, I mentioned "okay next week probably?" and that wasn't assured, so I carted off my other items to checkout. I have been a loyal Canadian tire customer for many years, purchasing automotive parts, it wasn't the shortage that bothered me, it was the lack of proactive response to see that those items could be ordered, that's all I requested.

Eddie Mangru
from Edmonton, AB
I got a set of tools from a friend as a reward for doing some brake work on his car. I already have these tools in my collection from Canadian Tire and wanted to return the set without a receipt, only to find out that Canadian Tire offers a return the Last Lowest Sale price on the item.
Now this item is on sale today at $149.00 for the Mastercraft Impact Socket Set 119 pcs. But the customer service manager at Millwoods town centre in Edmonton was insistent in giving me only 79.99 as a return. I find this to be insulting and demeaning since the item is on sale for $149.99 as of today Thursday. Why is canadian tire treating people like criminals when I am explaining my reason for not having a receipt.
I buy 90% of my tools from Canadian Tire and I am feeling like never going there again based on this one experience. What awful customer service. Neither of the staff could produce to me a copy of the return policy that states that without a receipt you only get the Last Lowest Sale price. Most place that you go to is the last sale price. And to offer a customer half of the present sale price is disturbing and insulting.
My question is, does Canadian Tire have such a policy on their returns. Please email me a copy of such written rule. I did ask to speak to the manager but the first customer service staff made a call, (which I found out talking to both of them) that she called the supervisor who already knew all of this information. So I never got to talk to the manager and I was frustrated and as as result late for work because of this long waiting time. Please reply to my email asap!

Patrick Wong
from Vancouver, BC
I bought a saw on sale from Canadian Tire. I brought it home and after only a few uses, it stopped working. I brought it back to the Canadian Tire where I purchased it and was told that I could only get an exchange and not a refund. They did not have one in stock, so they took my saw and gave me a raincheck.
A week later, I called to see if they had one in stock yet, only to be told that I had to pick up my saw and take it to another store (who had one in stock) to exchange it. When I asked if they could just call the other store and tell them that they had my saw and that I could just pick the new one up, they said they couldn't. They also couldn't ship the new saw to the current store. Obviously, this is a huge hassle for me and my project has been delayed by over a week! I am very disappointed and frustrated with the lack of assistance I received.

Brian Barker
from Langley, BC
Went to Canadian Tire in Langley first thing Sunday morning so I could be first to get my car looked at, I was there for about an hour when the lady that was dealing with me said she could not get the part and they had one in Calgary (it was a window wiper linkage that had gone on my car) and as we all know how much it rains in the lower mainland) She told me that there was no one else who had it in stock. Which I found out as complete crap as Lordco has them in stock and I know Canadian Tire deals with Lordco. I had paid in full for the service but had to get it done right away by someone else. I asked them where they got the part and then proceeded to go back to Canadian Tire and get a refund. When I got there they had no trouble giving me the refund.
I asked the girl that was dealing with me why I was told on Sunday that the part was unavailable when Lordco had the part and she told me that the person i was dealing with did phone around for the part. I kinda find it funny that a smaller repair shop took 5 minutes to get the part and it was going to take Canadian Tire almost a week to get the part from Calgary. Well shame on you as I have done a lot of business with Canadian Tire because of your service No longer will I be doing business with your company, Please feel free in giving me a call about the terrible service I got or an email back would be good also.

Catherine Pollock
from Alvin, BC
I needed to purchase a pet carrier quickly in order to pick up a kitten. I was NOT allowed to purchase one put together as they were considered "Display." The friendly sales lady offered to snap mine together for me. All of a sudden this young man, (think he was management) came up and stated they could put the carrier together for a charge of ten dollars. Yes I flipped out. What a cocky, rude young man! I am an old woman and am completely upset that the Canadian Tire company would hire someone who would treat a customer with such disregard. I have taken my car for servicing to the Canadian Tire automotive shop in Mission, BC for at least 20 years. Very disappointing.

Gerald Huard
from North Bay, ON
I went to Canadian Tire North Bay Ontario to have two front Hub Bearings changed . The service rep. said there were two types of Bearings good or Best I said the best,which was 224.99 for Moog bearing. I find out after everyone else for the same model #moog-512460 was 160.80 to 161.00 you people are supposed to have competitive pricing. This customer is not very happy. I will surely check elsewhere for parts before you work on my 2- 2012 vehicles in North Bay Ontario.

Heather Brunelle
from Gatineau, QC
I went in to Canadian Tire in Gatineau to get an oil change before leaving to go back home in Toronto. I dropped my car off at 10am they told me it only goes in at 11am and it takes 30 mins to do, so I should come back at 11:30am. I came back at noon and they told me they couldn't do it cause the bolt was stripped!! I waited 2hrs and they never even called to tell me they couldn't do it!! So when I asked if it was ok to drive to Toronto on 6% oil life and they said yes, so I left.
Well 15 mins into my drive back home I saw smoke coming out of the hood of my car, so I pulled over and lift my hood... Well they forgot to put the cap back on my engine where the oil goes!!! So now I'm stuck on side of road with oil that exploded all over my car and hood. It was everywhere (I have pics) anyway I called and told them that they forgot to put cap back on and they told me to drive to nearest Canadian tire and put oil in so I could drive home.
Well I didn't do that, I called tow truck and sent it back to their store where they made the huge mistake and they told me I was to wait till the manager was in, which was 2 days later!! Well I have to be home to work, and now missed 2 days of work and all they did was wash my engine and sent me on my way!! I don't think this is very fair!!! It was the day after Canada day and they have a bunch of young 20ish guys working in the garage.
I think they stripped my bolt and then refused to continue, and not give me an oil change told me to go back to where I had it done last! Well I don't think the car dealer that I got the car would have stripped the bolt! I have brought my 3 previous cars there before, so I am a good customer and now my 2014 chev cruze smells like oil every time I use my vents!!! What can I do? This is CRAZY, and I didn't deserve this!!! I want a store credit or something!! They fixed the mess they made on my engine but denied that they stripped my bolt.

Anne Kelly
from Lower Sacvkille, NS
Purchased hose on June1 2016. Had problems from the beginning with the hose twisting and had to keep fixing it all the time. Terrible hose. I returned it to Sackville, NS store today which is 3 weeks later along with my receipt and was told that I could not get a refund because I do not have the box it came in. So I asked for a credit note and they would not do that either. I was told that I had to purchase something for the same amount in their store that day. I was not a happy customer as I had a busy day ahead of me and I did not want to spend time shopping for something I did not need.
Finally I just picked up small cleaning items and a reel to fill the amount. I had to go back twice for other items as it was not enough. Finally they gave me .40 cents cash so that I could leave the store. It was embarrassing as I had done nothing wrong and had my receipt and was treated like I had done something wrong......Someone needs to check out the staff there especially management as I asked to speak to the manager and got someone else. Terrible, Terrible experience. I will get my items at Walmart from now on.

Mark Jordison
from Campbell River, BC
On 26 May/16 we went to CT to purchase a bench grinder. They were out of stock in Campbell River where we live so we drove 50+k to Courtenay to buy it. They had 3 in stock. Today is 01 June/16, 7 days later, and we received our CT flyer for this week. The identical grinder is advertised for 30% off. I phoned the local CT store and was told we could return it with receipt and would be refunded the difference. Today we drove back to the Courtenay store (another 50+k) thinking we had to return to where it was purchased (was told we could have gone to our local store).
Initially they said ok, then withdrew the offer and said the sale did not start until friday (2 days hence) and we would have to return on friday for a refund. I get it, it's a "store policy"; realistically, nothing is going to change between now and friday, the grinder will still be advertised and we will get the refund. What is the harm in bending these "rules" for such short period of time in the name of customer service? We have purchased so much from CT over the years; it has always been our "go to" place for tools and more. This has gravely soured our opinion of CT and future purchases are in jeopardy. It would have taken so little to resolve this. Most disappointing.

Peter Schnick
from Mississauga, ON
On March 31 2016 I ordered a door handle for my 2009 Hyundai Tucson passenger rear out handle at store 754 3173 Winston Churchill blvd at the cost was 66.11. I said to go ahead it took 5 weeks till I finally got it but in between the extended time to arrive someone cancelled the order through a third party I was not impressed so they went ahead to get the part I needed.
I haves received it they guarantee me it would fit so I took the car to the shop later that day the mechanic told me it didn't fit also got the part painted to match the car now I went back to the store to complain that it didn't fit so I got refused for a refund telling me there is a restocking plus it was painted.
I said to the manager you have a 90 day warranty on that part it turn out to be defective so the manager said let me get back to you so 2 days later I got the results they were going to give me a 10 dollar gift card. I said no I would like a full refund this is not my fault that the part is defective I am writing to the head office that I am nota satisfied customer at all please let's resolve this matter ASAP thank you peter

Tim Seida
from Regina, SK
So on May 18 2016 at 750 pm I went to north Albert Canadian Tire with a very quick fix tire problem. My tire tsp sensor popped into my tire leaving my wife with a flat tire. I took the tire off the jeep and took it to your store. When I approached the tire repair person he didn't think he had time to fix it tonight. There were no cars in but one ford which he was working on with a flat repair. No other cars were in the shop. I went in the store and asked if they had time to take a look at the tire. The front end worker said no they were swamped.
I went back to the repair guy and asked him if he could at least break the bead and i will fix it. He broke the bead and gave me my tire back. I took it home,had my son reach in and grab the sensor, pull it out and stick it in the rim hole, put the nut on to secure the sensor, soaped the tire and rim put air to the tire and fixed the tire ourselves. this took only 3 to 5 min without the right tools. But I had to go home, fix the tire then drive to put it back on our jeep. This was is not customer service. I lived in the city but what if i was from out of town or not able to fix it myself or if I was a visitor to our city can you imagine how this would reflect on your store. Now imagine how it would be if they took the time and fixed the tire. I am very disappointed.

Tammie
from St. Catharines, ON
I was at one of your stores in Hamilton on Barton street east as I was in Hamilton at a function. I stopped in and found a car seat that I thought was super cool and the price said $119.99 which I thought was a great price. As I brought it to self checkout it scanned at 179.99 I brought it to the attention of the girl working at self checkout who got a lady named Jeanette to go look. I went with her to show her where I got it and she said no that's not the price but she couldn't find a price for it so said that's the price and where you got it was overstock.
Back to self checkout where a girl from customer service tried to be quiet and said they are just trying to get it cheaper. At that point I was pissed at how rude these people were. So I went online and found it cheaper than 179 at another Canadian retailer in which I was then told by Jeanette that I couldn't price match that store as it was an outlet. I told her it wasn't a outlet in which she looked at me and said I said no we are not price matching. I have never dealt with a more rude bunch of people in my life. I called and spoke to the store manager who was super nice and said to submit a complaint and the general manager would call me.

Charlene O'Donnell
from Moncton, NB
I purchased a Minwax product from you store to finish the stairs to by basement. I had purchased new stairs and applied 3 coats of stain to them and then chose this product to finish the job because it indicated it was for floors and it was non-yellowing. After application to the risers it was obvious that the product did indeed leave a yellow coloring but I decided to just get another product for the risers and continued on with the treads. When I was finished and ready for installation the product was lifting and peeling.
I followed the directions and had input from a professional painter. As the product is so disappointing I spent 3.5 hours on Mother's Day sanding it off of the stairs and starting over. I will probably need to purchase more stain and had to buy sanding products to remove the minwax product. If you would like more information I can send a picture of the product for you to further investigate.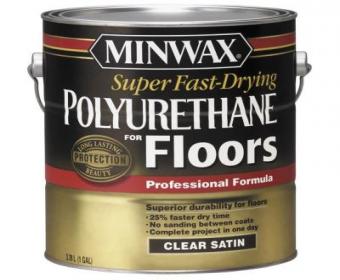 Dalbert Phillips
from Sydney, NS
I have been going to Canadian Tire Service Center ever since you opened for service in Chateauguay Quebec ..even when they dropped my F-150 off the lift 16 inches off the cement floor (minor damage) I still went back, even when they put the wrong oil filter in my Saturn, two quarts in my driveway. I still went back, today I brought my fiat in for a wheel alignment. I'm 62 years old and have always been able to see the work being done on my vehicles, this time a 25 year old manager told me I had to wait in the waiting room. I informed him of the consumer protection act. I have the right to see what's being done to my vehicle,he laughs, this is unexceptionable. My family's three vehicles will no longer be serviced by Canadian Tire.

Ivo Mastrogiovanni
from Moncton, NB
New flyer broke this morning, went to store at 9:00am to purchase two resin sling lounge chairs 88-0611-8 at $99.99 ea and when I asked a young male associate for them, he checked in computer and said that five were in receiving. He then said that he has to wait for manager to build one before taking them out, and I calmly said , can I come at noon and can you have them out for me? His response was " not sure have to wait for manager to take them out."
That is the worst customer service I have ever fallen to. Since I am a Supervisor for Customer service, that person would be terminated immediately. He should have at the least call his manager, and not loose a sale and customer, I would still be interested in these chairs although I think some compensation is due. Canadian tire on Mountain Road, Moncton NB.

Jerry Jarecki
from Windsor, ON
To whom it may concern: This is 2016. Why are Canadian Tire rest rooms trapped in the 1950's? Come on Canadian Tire executives. Your rest rooms are dirty, smelly and locked! Your store sells almost everything. You are a big boy store now, just like the big guys. Why do you regard toilets as if they belonged in a distant, solitary, dirty, nameless gas station from 1950? I don't know which vice president thinks that this is acceptable. Fix your rest rooms. Update them. You'll be doing yourselves a big business favor.
Also, when registering for wedding, shower or whatever gift lists, use a damned computer and make it universally accessible. Major retailers have already invented this wheel. All you have to do is copy it. Get on the same page as all other retailers, would you. Your system is about as close to carving on stone tablets as it can get.

Lisa Tye
from Brockville, ON
I purchased 2 new tires for my vehicle @ Canadian Tire in Brockville in Feb 2016 (other 2 tires had already been purchased at C. Tire previously). At that time they instructed me to return the vehicle in early spring for a free tire rotation. I took my vehicle to Canadian Tire in Gananoque on April 25 2016 to have the rotation done. I spoke to 2 service men there & both told me that they do not do rotations unless I'm getting my oil changed. I did not go there for an oil change nor did I need one.
Needless to say, I didn't get anything done & left the store very frustrated. I do not live in Gananoque, so there for drove 30 kms for no reason. From my understanding your policy is to do a free rotation every 10,000 kms, it says nothing about having to do an oil change at the same time. I like to keep as much of my business as possible at Canadian Tire & support Canadian companies. However, if you do not stand behind your policy then Walmart is looking like a better choice.

ariel dela cruz
from Medicine Hat, AB
Very disappointed in shopping in Medicine Hat Canadian Tire store on Thursday , April 21st and spending more than $200 on items to find out they ran out of their $50 promo cards. Had I known, I should have bought my batteries from battery direct instead of making a special trip to this store. Won't make this mistake in the future and won't bother with their promotions since they don't seem to have enough cards in supply.

Ross North
from Red Deer, AB
We went to the Canadian tire in Leduc. We picked out a fire pit that was on sale. We proceeded to pay for it. They charges us for the pit and as we were leaving we were stopped and told we cannot buy the floor model. I told them I was not going to spend my day off putting together a pit. They said they would not sell us that model even for an additional amount. We asked for a refund. We drove accross to Peavy Mart where they sold us a floor model.
I dont understand a business model that will not sell a product, even with a client that is willing to pay a little extra for assembly. Not only does that effect the product we are buying, but effects future conciderations. Something a company like Canadian tire should review. Very disappointing.

Alexander Etin
from Halifax, NS
To Whom It May Concern. I am a long time and a very loyal customer of "Canadian Tire" company and was very upset when recently (October 10th, 2015) purchased snow blower product (Yardworks) only to have it be defective. First problem started to appear immediately with the first real usage (snow blizzard) on January 11th.The machine did not start to work. I noticed that there were signs of rust in the fuel tank. I was surprised - I kept the snow blower inside my heated garage with constant temperature. I wanted to return the product, but manager of the store (Mr. Jason -70 Lacewood Drive, Halifax NS B3M 2P1) refused to receive the product (91 day since the purchase) and advised me to speak to "Green Diamond" service company.
The company checked the product and found that it had old gas inside and the repair cost me $176.42 (not covered by warranty).On my question about the signs of rust inside the fuel tank I was answered that it was not the problem of the malfunction. After just one time usage the machine started to shutdown itself after 4-5 minutes of work. The new inspection of "Green Diamond" service found a lot of serious engine issues as a result of rust inside the fuel tank.
Cost to replace the above components will cost 179.93 + tax. Warranty will not cover corrosion/rust. What kind of warranty is that – if it does not cover any problem with the engine – the main part of the product? Under normal circumstances, I would simply return this item to the store, but I was told that this is not an option, since the item had already been used. Well, of course the item had already been used, as there would be no other way for me to learn that it was defective! Whenever I have purchased items from you in the past (lawn mower, gas BBQ, kayaks …), I have received high quality merchandise that I am proud to use. This time, however, I am appalled at the quality and I wonder how you could allow such a product to hit shelves at all.
I do not believe that I am asking for much in return for my time and effort, as all I want is my money back or to have this product replaced with one that works properly. I do not feel that I am being unreasonable with my request.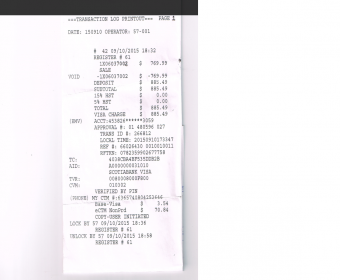 Nancy Loane
from Montreal, QC
My six year old and I went to the new Alexis Nihon location (moved a floor) and two separate workers on the floor did not know for sure if they had shoe polish or where it would be. They did not have a map outlining the new layout. They did not offer to find out what the exact location was or what colors they had. One of them took a guess but we did not find it where he guessed. We wasted a lot of time looking. At the front there was an elderly gentleman who did have a floor map but again he did not know nor did he offer to find out the inventory.
He was really shuffling, it looked painful, so I turned down his offer to escort us to the general area. So three employees had no personal knowledge of the products and none offered to check. We found the polish area and were disappointed that the inventory was very limited (only black and brown). No better than a pharmacy. Went back to the front only to find rebellion with the customers demanding actual sales service at the returns desk and lots of staff trying to push the self serve aisle which the six people in front of me and myself were not interested in.
The least you can do is ring up my purchases, especially as I am shopping with a child. The staff kept saying we can't know everything yet but they should all have been given a map of the store! So bad service, lazy staff, poor selection and missing cashes. Redecorate all you want - it is still Crappy Tire.

Marielle ouellette
from Miramichi, NB
They had a 3 days special starting Friday when Saturday morning didn't have anymore Noma Led A 19 60 equivalent light bulb for $1.00 and they didn't want to give me a rain cheque. This is not the first time this happen and this is really frustrating. If they have a sale for 3 days they should have the product on hand. The number of the product is 299-6006-6 led light bulb that last for 22years would like to have a reply on this email.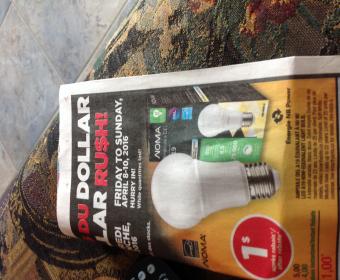 Leanne Wilkes
from Toronto, ON
Today I purchased 5 light bulbs that were on sale for $1 each. ($4.00 minus a $3.00 coupon) When I got home I realized that the HST on my bill was $2.65. When I called the store, customer service could not answer my question as to why I paid $2.65 HST on a $5.00 bill. Should it not be .65 cents? She transferred me to "Hardware". He could not answer my question. I asked to speak to a manager, she could not answer my question either. She actually told me to go back to the store so that she could look at the receipt. I then called the 800 customer service line and was told that the tax is charged on the amount of the bill before the coupons are applied. Is this correct? Seems a bit of a run around to get a simple answer.

Jocelyn Ellerby
from Orangeville, ON
On March 28, 2017 at approximate 11:30 AM I was heading south to Barrie, I pulled into the Canadian Gas Bar on Regent Street n Sudbury. My gas tank was on the opposite side of the gas pump, but the nozzle was on top of the bay, which I have used many times at other gas pumps without any problems. As I was filling, the pump stopped at $17.69 and the attendant was making an announcement on the speaker which I did not hear properly. I moved my car to the next pump in front of me and the attendant spoke again, which I heard this time and she informed me that I could not pump gas at this position and I had to move my car. I have never had this problem before, the nozzle was not fully extended while I was pumping gas. I was very angry and the bays were all occupied at that time. I left the station and had to drive back into Sudbury to get a gas station. I will never stop at this gas station again.

sandie piper
from Calgary, AB
My husband and I stopped at the Canadian Tire in Stratford, Ontario to get gas. I needed to use the restroom as well. It was 10:25 p.m. on Easter Sunday and we were driving back from Toronto to Bayfield, Ontario.
I walked into the Convenience store which has a restroom. I didn't see it at first and mentioned to the attendant that I was looking for the restroom. She told me it was closed and was very unhelpful. I questioned this and she said "It's closed at 9:00 p.m.". I said "But you are open." She said again, "Well, the restroom is closed". I asked her where she goes to relieve herself and she said, "I use the restroom.". I told her I really had to use the facilities and she said it was closed at 9:00 p.m. for security reasons and just glared at me. By the way, I am a well-dressed woman of 64 and I certainly was not a security risk. My complaint is that the restroom is closed while the rest of the facility is open.
She did not apologize for the fact that "someone" has a rule to close the restroom of a convenience store at 9:00 p.m. but keep the store open and gas bar open anyway. If it is for security, then the store and gas bar should be closed as well. If there is a security risk, then why don't they ask you to pay cash at the cashier before filling up?
She was rude so I left. I told my husband to stop gassing the car and we left (we had used our debit card to fill up), so Canadian Tire lost revenue. You probably don't care since Canadian Tire is well-known for providing poor customer service. If it continues, I guess you will be another Canadian tradition that will be sold off to our American neighbors, who actually know how important customer service is to creating customer loyalty.
I thought you should know about this store in Stratford, Ontario. I don't know if it is a corporate store or a franchise but I do know that you used to have a department that ensured that Dealer owners kept in step with the basic requirements of providing good service to Canadian Tire customers. Thank you for your attention and consideration.

Elise Mo
from Montreal, QC
I bought an original product (motomaster 12v dual power inflator $59.99 plus taxes) on Dec 29th, 2015. I found that product can't inflat a totally flatted tire. Therefore, I exchanged this inflator into a radiator heater (cost $79.99 plus taxes) on Mar 05th, 2016. I paid the differences of 23 dollars. For this exchange procedure, the cashier confiscated my original receipt and replaced into a new receipt says an amount of $68.97 reduction as return exchange policy. Both items were brought in Gatineau, and I just moved to Montreal on Mar 07, 2016.
After 4 days of purchased the radiator heater, I realized the heater doesn't meet my expectation, which cannot produce enough heat for living room. I brought my original receipt and explained my situation to customer return service. However, the night shift manager Khedidja and the staff Marie-Josée at Galerie d'anjou store, refused to give custom a refund on a product just brought 4 days ago. They just simply kicked me out by suggesting me to go back to Gatineau for any return procedure.
First of all, kicking customer out by suggesting me to another Canadian store which located 200km far away is very unacceptable behavior. Regarding Canadian Tire return policy, products can be returned or exchanged at any Canadian Tire store within 90 days of purchase, which means all Canadian tire stores and return policy are equal and accessible through the whole country. Secondly, the manager continues to service me in French, although I said I don't speak French for several times. She didn't apologize that she can't speak English or tried to find another person to translate. Regarding the Official Languages Act, Canadians have the right to received services from the public. Furthermore, when I asked for the complain phone number, Marie-Josée gave me the French service number by knowing that I don't speak French at all.
Regarding such customer service behavior, I felt very disappointed and I believed that I should write a complain letter to improve their customer service behavior.

Scott Gibbs
from Sarnia, ON
I went to the Sarnia Canadian Tire specifically to buy a range finder. After picking up a few other items I went to the sporting goods counter and waited for service. After more than 10 minutes an employee (later identified as Shane) can into site. When I asked if he worked in sporting goods and stated I had been standing waiting for anyone to show up he immediately started with attitude saying to me "if you started with good morning you might get better service".
I then commented on his attitude toward me and pointed out that I was the costumer. He continued mouthing off to me. I asked to see a manager to which he smiled at me, smirked and walked away. I then went to a costumer service desk and asked to see a manager. I was met by Ken the assistant store manager. I told him what had happened and we returned to the sporting goods desk. Shane came over and Ken spoke with him. Shane started behind the counter, turned to Ken and started talking disrespectfully about me to his boss right in front of me.
When I pointed this fact out to Ken his only response was that we both needed to settle down. After that comment I stated that apparently they didn't want my business to which Ken responded "well that's your choice". Needless to say I exited the store went right to another local store and made my purchases there instead of spending that $500 at your store.

Alexis Martyn
from Toronto, ON
I went to repair a flat tire. The service adviser called me at office and said that the tire cannot be repaired because the new puncture is too close to an existing repair I had done. I asked the tire to be replaced and asked for the MotoMaster SE2 (Product Number:0041703 Manufacturer Part #:W11-12Y-F344 Size:175/65R14 82T. Category: All Season - Touring Tires Availability: In Stock). The service person said they were out of stock! And offered to get Firestone brand tires from another distributor.
I went into the Canadian Tire web site and found the tires I was requesting in stock at the store. Now I have to pay over 90 dollars per tire for the Firestone brand tires instead of 56 dollars for the MotorMaster ones. And they insisted on me buying two tires when I just wanted one. The service person was trying to swindle my money than helping. How can your own store be out of stock on your own materials when the Web site is allowing you to purchase these item on line?

Brenda Thompson
from Airdrie, AB
We purchased 2 airbeds from Drayton Valley AB Canadian Tire on July 2, 2015. (Receipt attached) Our granddaughter was coming to our house to spend a week with us at Christmas. We bought it early because we knew that this was seasonal & wouldn't be available in December. We bought the 2nd one in case our grandson was able to be with us as well.
It didn't come out of the box until the day before her arrival. The 1st night's sleep was fine but by the 2nd night it was starting to lose air & we discovered a leak in the seam & had to pump it up each night before she could sleep on it. We tried to return it 2 weeks ago to Airdrie AB Canadian Tire where we have since moved to. We were going to wait until closer to the summer time when we knew they'd have some in stock but then decided to return it now & receive a store credit for later on.
We were told by Canadian Tire customer service dept. that they couldn't take it back because it has a 90 day return policy on it. We were never told this at the purchase time. It is technically past the 90 day purchase date but it wasn't even opened until the end of December so theoretically it is within the 90 day date. As well, the box reads very clearly that there is a 1 year warranty on it. We are requesting a store credit for 1 bed so that we can replace it once the summer stock arrives.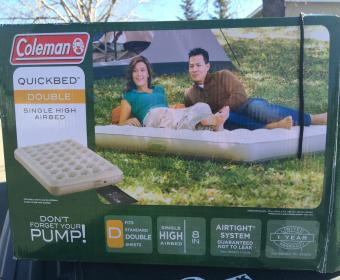 Warren Jones
from Scarborough, ON
I recently purchases a couple of car washes from the Canadian tire gas bar located on Eglinton Ave in Falmouth in Scarborough. I thought I would take advantage of the car wash which was on sale for $5 each. When I went to put in the activation code for one of them to my surprise it didn't work. Luckily for me I had the few other ones which I purchased and was able to use them, it would of been very embarrassing if I only had the one and had to trouble the people behind me to move so I could pull out. I am a frequent user of this gas bar and now I am having second thoughts about purchasing car washes due to this issue. Is there any thing you would be able to do for me? It would be highly appreciated.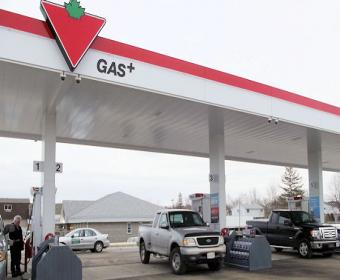 Cindy
from Saint-Hyacinthe, QC
January 10th 2016 I read your flyer and saw skates were on sale for 40% off. I went to the South location in Red Deer and found a pair. When I went to pay the clerk said the price and they were not on sale. I showed her the flyer and advised there were signs showing these skates were on sale. She called a Manager and we waited but no one came or called her back. She referred me to the customer service desk where I explained my dilemma again. The clerk checked and said they were not on sale and do I want to purchase at this price? I asked her to come to the skate isle and see all the sale signs that were on these skates. She said she was too busy, she called a Manager and asked me to wait as there were another four customers in line.
I was embarrassed as she turned her back on me to help the others. A young man came to the front after 10 minutes and waited tried interrupting her to see what she wanted. I was extremely embarrassed by now and had waited in your store for about 45 minutes. After explaining my entire story again he said he couldn't help me. He said he would take the signs down and I could come back in Feb for the next sale. I advised him I wouldn't be back. I left in tears. When I got home my entire family wanted me to go back and purchase as we had planned to go skating that day.
I did and I paid full price which was $69.99 plus tax. I still feel I was treated unfairly and with zero customer service. I would not treat someone the way I was treated! I am sending you the picture I took in the store. I was so upset at the time I planned on posting it on social network sights. I haven't and don't plan on it but I thought you should be aware the type of customer service that is given in your Red Deer south location.

Kenan Barbaros
from Verdun, QC
Yesterday I checked online your Store nearest to me: 2221 Boul. Angrignon and I ordered 6 of your Product # 53-0947-2. Your system said your Store had 7 in stock in AISLE 62 (11am, Jan3 2016): ATTACHED. SEEING THAT, I PAID WITH my Credit Card for 6 products. I received your "Order Confirmation" with Order ID: 9267418797801: ATTACHED. The pick up time is marked: 4pm January 3.
Today, January 4, I call your Store to ask about my PAID ORDER, I TALK TO THE MANAGER who says: "6 of them WERE STOLEN, I ONLY HAVE 1 LEFT"...??? What kind of business is this? I WILL SEND A COPY OF THIS EVENT TO NEWSPAPERS because it's really out of this Century, out of North America retail & online systems, IMPOSSIBLE TO SEE IT ELSEWHERE, except perhaps 3rd world countries!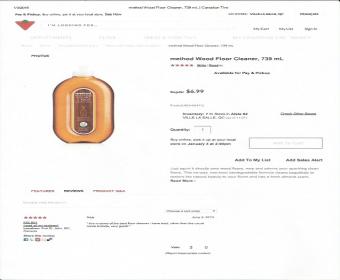 So our F-350 needed the front axle u-joints replaced before we go back to work in the bush. Called Canadian Tire in the morning and they said bring it in and we will get it done. So we waited 5 hours till our appointment, dropped the truck off and continued our day. We received a call from the mechanic 3 hours later saying that they could no longer do the job because their vehicle hoist was not working, and to come get our truck. This job is 100% possible with a floor jack I argued . But they said the mechanic would not do the job with a floor jack. This is a pathetic attempt by your Canadian tire mechanics. I myself could have done this job on this day, but made the simple mistake of trusting an official mechanic shop. Now it's off to the bush with fucked u-joints. Thanks guys. Canadian Tire Smithers. You guys are pathetic.

Canadian tire probably has the worst customer service I've ever experienced, Back in 2013 I purchased two tire at a Canadian tire store out of my city, these tires are supposed to come with a 5 year warranty and every cdn tire store are supposed to have a centralized system able to pull up transactions for at least 5 years back. So I went to the cdn tire in my city Windsor on to report the bad tires, they were unable to pull my file hence telling me that I had to pay for another set of tires.
I was upset because why am I paying for your negligence? But I paid for new tires anyways, after they fixed my tires I could not find my rim covers, when I called to confront them the manager said he wasn't going to replace my rim cover. Now im beyond upset and don't know what to do I am never going to Canadian tire they have the worst customer service ever.

Crystal
from Saskatoon, SK
I was shopping for a gift. Thought I found what would be perfect(for a family with 6 children) the budget is a bit tight! Found the exactly what I wanted. Computer and customer service says they have only 1 in stock. So after waiting half an hour for the attendant to search for it only to come back empty handed I was not too happy. I go to customer service to ask if there is anything they can do to help where I am told I have to wait again to see a manager, another half an hour she finally shows up (with the WORST customer service I have ever encountered) and proceeded to tell me that it's just not there and she is willing to do nothing. bout i.

Kim Selinger
from Vancouver, BC
I saw your flyer and went to Canadian Tire to purchase some snowmobile mitts that were on sale. As usual, when we got to the store there were no mitts to be had. We asked the clerk who did not looked surprised that there was no stock in the store. He checked other stores and the only other place that had the mitts was the store in Surrey. This happens a lot when we shop Canadian Tire. We always have to go to another store. This time I am not going to another store because I am going to spend my money elsewhere. I am not going back to Canadian Tire unless I absolutely have to. You are going to end up like Zellers. They always putting sales on to get rid of stock only if they only have one or two items left. Zellers is slowly disappearing. I hope that does not happen to Canadian Tire?
Have feedback for Canadian Tire?
Thanks for your feedback!
Sorry. Please try again later!