Xplornet
Contact Xplornet Corporate
Toll free phone number: 1-866-841-6001
---
Welcome to the Xplornet complaints department brought to you by HissingKitty. Experienced poor customer service? We make it easy to file a formal complaint against Xplornet online. Simply use our free form and your feedback will be instantly forwarded for review. Need to contact the Xplornet corporate office? We have the mailing address, phone number, and email address listed below.
Xplornet Contact Information
Report complaints to corporate and get satisfaction
Xplornet headquarters address

300 Lockhart Mill Road P.O. Box 9060
Woodstock
NE E7M 6B5

Company website

1-800 phone number

1-866-841-6001

Support email address

support@xplornet.com

Better Business Bureau rating
Browse reviews of other Internet Services
Top Xplornet Complaints
Browse more than 1 reviews submitted so far

Doug White
from Wetaskiwin, AB
About 10 days into the last billing cycle we got an email from Xplornet telling us we had already used 84 percent of our allotted time. Normally it takes us the full time to use that much. We had actually been using no more and likely a little less. We noticed it was going up fast for what little we were using. When it reached 104 percent in about 12 days we switched to only using our other 2 internet providers. I tried several times through emails to Xplornet customer relations to rectify it but all I was getting back was stupid excuses for why it went up so fast.
When we checked our usage for the last 30 days on oct 3rd it stated we had used 23.06 of our allotted amount in last 30 days. I agree with that number. The last check we done in sept we were told we had used 109 percent of our allotted amount. There is no way it can suddenly go from 109 percent down to 23.06 in a matter of hours. That to me is prof of either fraud or very poor record keeping on their part. I feel they should be forced to pay me $150 in compensation for us having to use another provider.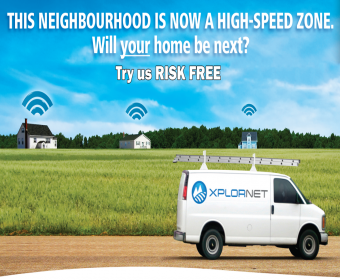 Have feedback for Xplornet?
Thanks for your feedback!
Sorry. Please try again later!