Uber
Uber Complaints Continued... (Page 3)
229+ reviews added so far. Upset? Call Uber corporate: 415-986-2104

Why won't the Uber billing department accept my Bank of America Visa card that's issued from the unemployment department. I needed a ride to a job interview and missed it due to this problem. Please advise!

Danielle Tollison
from Sacramento, CA
I do not have an uber account myself but i have email ur company several times in regards to someone illegally using my credit card and linking it to their uber account. I have already cancelled my credit card and contacted my bank. I would like to get the phone number that used my card so i can make a police report. I can provide you with my credit card information and my information and can also send u pictures of my credit card with my name on it and a picture of my California id. I will be waiting for a response.

Xavier
from Washington, DC
I have never dealt with a company that makes it so impossible to get any kind of support and customer service. I think I'm moving on to start using the competition. Uber has grown in to a large company and does nothing to support its customers in a timely manner. Uber has become a victim of it's own newly found success and has done nothing to support it's competitors. They are operating as if they are a monopoly, bit thank goodness they are not.

Aditya Kalra
from Bengaluru, KA
My letter to Uber. Little or no action reported to me so far. This happened in June 2016.
I write to you to share an Uber experience. I generally do not write to you people, but thought it is better to address an email to you as otherwise your call centre folks are going to select the most beautiful templates and reply to my email. I think you need to know how your business partners behave. And the liability at the end of the day rests with you.
I arrived in Chandigarh earlier this week. I was here after four years, and the only great thing to change here, I felt, was Uber. It was fast, quick, cheap and reliable. But then started the ugly parts. Some of Your drivers are typical North Indian goons, with most of them trying to achieve their daily targets of 18 rides to earn incentives. We consumers were never told his city has different Uber rules - drivers said it is a point to point service, I don't get to select the route, and there is no concept of waiting at all. I thought you charged for waiting! Those were the little ugly experiences I had in the last three days.
Then came the ugliest. My mother, 59, aunt, 61, me and my wife ordered an Uber from Elante mall today afternoon (driver details below). On calling him, he started getting irritated from the beginning, saying we need to come to one particular gate as it is a one way road. Rude, arrogant and careless, he sounded. But never mind. We are used to such idiots driving an Uber even in Delhi. We sit in the car and say we want to go to the railway station and pick our luggage on the way. "It is a point to point service," I was told. Fair enough. As a tourist, I have a right to inquire. And as a service industry, your partners better listen to an aggrieved customer patiently. I questioned why he can't take a route I ask for even if it is off route and then drop us somewhere.
After all, I pay for kilometres and time of journey. Rudely he said, it doesn't work like that, his tone rising manifold. He said he will only go to one point, to which I say go to the hotel. "Enter it in the app," he shouts this time looking at my aged aunt. At this point, as even you guys would do, I tell him to mind his language. He was driving at this point. He says if we have a problem we can leave the car. I say just take us to the hotel and not to lecture us about point to point. He applies brakes, raises his tone, parks the car, and asks us to get off the car. All this in middle of nowhere in a town we don't know much about. My aunt says softly to the driver, "what you are doing is not right". He said he doesn't care. We all get out. Stranded, we feared we will miss our train. He cancels his ride. And moves on. Perhaps he has done brisk business since then.
All I can say is this is so, so shameful. Even if I get irritated or the rules of the city are different, he had no right to do what he did. It is like saying if I object to anything that a driver think is right, he rules and can throw me out. This has never even happened in Delhi.
But this is so sad that you need to do something. A template response is the last thing I expect. The max you generally do is call the dude and say, hey don't do this in future. But of course, you have really not cared for customers as a company beyond a point. I have had instances of verbal misbehaviour with my wife in Delhi. I do wonder what kind of training and hiring processes you have in place. They are a sham - because there was no way such an idiot could have made it to your platform otherwise.
Good luck. And hope you introspect. In case you take some action, more than just a usual warning, let me know.

Patricia Jhocson
from San Andres, 40
I would like to call your attention that Uber company always gives a direction to my drivers to enter a one way street just like my trip from Shangri-La Mall ortigas area going home to Pasig (home). We are always made to enter which is a one way road from Eagle avenue Ugong Pasig City. It is a good thing that I know my way in and out of Pasig. I hope that Uber HQ will attend to this matter with urgency.

Mitali Bajpai
from San Diego, CA
Yesterday, I booked cab from Hyderabad airport around 11:30 pm since it was showing 9 minutes. Initially driver didn't picked and then he called saying it will take 15-20 minutes despite it was showing 9 minutes. I said, I will wait as I booked via paypal wallet. I called at 11:48pm to know where the driver is, his number was switched off. I called thrice.
Money was deducted from my paypayl wallet where I had got this poor service. One of the incident happened when I was in Delhi when he denied to go where I want. I did Uber pool and was the first one to sit and he mentioned that he will not go the way. He will consider next pool request person first whereas I booked two seats and he said all this when I boarded the cab and he started the trip. He argued. Money was deducted again.
I want my money to be refunded back. Details of the driver and phone calls details in the attached file.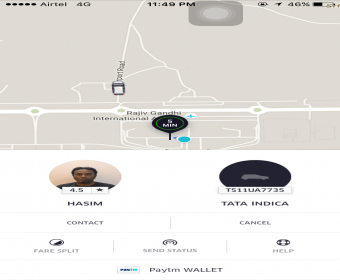 Tracy Tyndle
from Indian Orchard, MA
On July 17, a little after 7:00 am. I rode with uber and he stopped to pick up another lady. I thought we had to split the fare. When I got to gallery place, I checked my account. And I was charge twice $4.80 and $11.83. I don't understand why i was charge twice, and nobody from corporate will answer my emails.

Now i m totally fed up from your poor and stupid replies. Myself and my Son send you emails on below mentioned E-mail ID's on several times. But no positive response is given.
"support@uber.com"
"help.uber.com"
Now tell me can i stop using Uber services to my other mobile numbers and can i stop my referrals to stop using this poor Uber services. I have 2 main concerns and i need the positive solution. My account is blocked due to password reset trying. and still i m unable to login my Uber account. kindly check my below credentials and help to reactivate/refresh my account from back end as i m ur valuable customer and i have many free rides in it. My account details are mentioned below.
My other issue is ice cream promotion. I have availed ice cream promotion and got 4 magnums as well. but my driver didn't provide me USB and Ladies hand bag. When i asked him to provide me my remaining goodies. he state forwardly denied to provide me and ask me to go and launch complaint against me. i will never give USB and ladies handbag. My request is this to please provide me my remaining goodies. i.e USB and ladies hang bag. Positive and early response is awaited. Feel free to contact me on my number in case of any query.

Vicky trent
from Oceanside, CA
Uber driver wanted me to walk to him, rather than coming to pick me up. I'm not familiar with the area and had no idea which way to go! I finally cancelled and requested another driver who picked me up in one min. I was charged $5 for the first call and I would not have cancelled if he would have just driven to where I was standing! Not happy!

Tianna Tsaikos
from Burwood, VIC
My experience was good and no complaint towards the driver at all but when I asked how much the trip in total after arriving at my destination, I was told that my trip would be a total charged amount of $31 however when looking at my receipt and my bank account, I was charged $41 which is an extra $10 compared to what I was informed of.

Jin Chung
from New York, NY
I punched in a pick-up address and the driver named Christiano went to a wrong address. I called him and tried to give him the correct address, but he hung up and Uber charged me $5.00. I demand a refund immediately.

Madhavi
from Hyderabad, TG
Since one month i am using uber pool. My pickup point was anjali gardens and drop point was the same. The cost was reasonable but suddenly from the past one week the prices became high, it was during surge. When will it get back to the prices I was used to paying before? No more surge pricing!

A black town car Uber driver had taxicab business at a company right next door to us. Even though there were no parking signs on the buildings and bright yellow 24 hour access on the garage door, he decided that he did not want to have to look for a legal parking space. Therefore, he parked right in front of our commercial garage. As I do for every vehicle that parks in front of our garage, I went outside to take pictures of the vehicle so that he can be reported to the TLC (New York City). I had already taken a picture of the license plate and the blue TLC windshield sticker. I went across the street to take a picture of where the car was parked when the driver, who was sitting in the car at this point, said that I should take another picture and he flipped me the bird. I was nice - he was wrong. Needless to say he found another parking space right down the street. Is that how Uber drivers treat other people?

Howard Shatsky
from Rockville, MD
Uber charged me more for same exact ride to airport. Ride home took less time and was EXACT same distance! Also refused to apply promo code after saying they would do it after the ride because I couldn't enter it myself before!

LC Johnson
from South Gate, CA
Was double charge today on April 5, at *45 am on my account for trip that didn't take place. My trip was from 9534 State Street, South Gate to 11321 Bullis Road, Lynwood, Ca 90280, not to Rosecran in Compton. I was charged $14 for a fare that was suppose to be $7. His car was full of smoke.

Adriana Charras
from Bradenton, FL
My account verification 8138, take a 2/5 day trip to Orlando Fl, to the airport and the cost was $ 12.72, the 2/14 did the same return trip and cost $65.12 no one told me the price when I asked the journey, not a black car and that was my second request. I think it is not fair to pay so much when I heard about you, I got good references, I would please me to charge the same as the first trip in order to continue using your services.

Adriana Charras
from Bradenton, FL
We took an uber on Friday 5 orlando from home to the airport now pay $12.72 for the same trip 2/14 pay $65.12, they never told me the price in advance, nor asked for a black. As I am new customer, did not know what the different cars. I want them to charge me $ 12.72, it would be the right thing.

David Blair
from Cocoa Beach, FL
I was emailed by Kristen at the Uber corporate office in San Francisco. She said, a customer had called the customer service phone number and questioned my car having everything up to date. The rider must have noticed my insurance was ready to expire. My old insurance card still has 14 days before it expires. Plus I sent her my new card by email which is good til 8/31/16. I responded soon as the email was sent on Feb 14 at 8:57 am. She has not responded and it's going on 7pm my present time. My car, the insurance and everything is in good working order.
I believe an apology is in order. She put my account on hold. I missed out on a $100 I could have made for Sunday night. I love driving for Uber. If there is any way to speed up my account being turned on again, it would be great. I'm a Florida partner for Uber.

sean reese
from Hawthorne, CA
Was over charged 33.52 for a 4 mile ride on 2-7-2016 at 10:26 p.m. by driver Ike in Hawthorne ca. Normal fee for this ride is 4 to 5 dollars. I would like a refund asap or I will file a complaint with the BBB against uber cab co.

Ron Britz
from San Francisco, CA
We operate a garage at 555 Jackson Street in San Francisco. Uber drivers seem to like to stop in our only entrance/exit driveway and wait for to pickup and drop off their passengers. They always say "just a minute"... never a minute & a good percentage of time it's 5 + minutes when they wait for a customer to come out. Thus hampering our business and delaying our customers. Please ask Uber drivers not to stop in our driveway.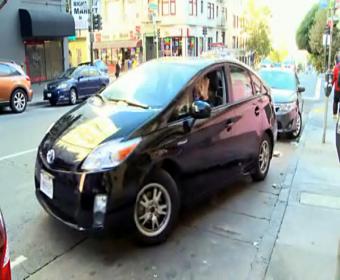 Birendra thapa
from Pasadena, CA
Here is my complaint about Uber. I have an account with Uber and have 15 rides free in my account. I am waiting because as per the corporate rules they claimed I had free rides and double benefits. Terrible customer service.

Charlotte Rice
from Tulsa, OK
To begin, the Uber driver was 30 minutes. late. I gave her the address again. I told her where it is. She showed up with a truck. I'm 81 and on a walker going to therapy. I told her I could not get into that truck. The first step hit me in the butt. Now I am being charged $5.00 for her cancelling it. I also missed therapy because she was so late.

Barbara Solomon
from New York, NY
The Uber driver picked me up Saturday morning at about 11:15 AM at 150 east 69th street. I told him that I wanted to go to the west side 73rd and Broadway he drove down Lexington to about 61st Street and then realized that he should have crossed the park at 66th street so he turned to Madison avenue and then drove back up to 66th and crossed the Park there. I am requesting a credit for the roundabout out of the way that the Driver went which increased my charge.
Also I did not mean to rate him with 4stars. It was a mistake. I had told him that I did not want to pay extra for his mistake and he assured me that I would not have to. When I received my bill I realized that he had not credited the charge for the circuitous route. Kindly correct the mistake on my charge. If corporate is reading this complaint, I took the Uber on Saturday the 16th of January.

Ilene Richmond
from Beverly Hills, CA
I never clicked on anything. My son opened my Uber App and was trying to show me how to use it when I need a car this Thursday. I want this charge canceled, if this is how Uber does business. I just called Amex and put a billing dispute and registered an official complaint in for this erroneous claim.

Mark Stenin
from Southlake, TX
Uber surge price hit me on New Year's eve. What a joke! What's the point of using an uber if it's going to be cheaper to rent a limo for the evening. I would say this is a complaint against the corporation, but it's more like a goodbye you just lost a customer letter. I know they are doing what they can, but please please take 30% less profit and cut back on the surge. It's tons of bad PR.
Also, one more complaint. I recently visited San Francisco and ran up easily $100+ in Uber driving services each night. Every time there was no estimate visibile for how much I would spend until the end of the night. Not sure where this comes from but I feel the service is great. It's just way too easy to spend money!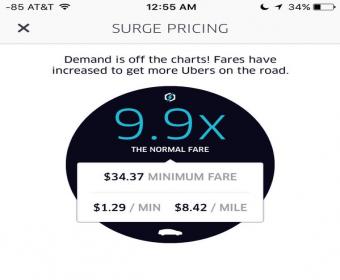 Vivian Hedges
from New York, NY
Friday Oct. 23 6:37 pm. I have to register an Uber complaint about my driver. My driver did not know his way around NY and we missed our first stop at 29 and 9th got us stuck in Time Square traffic and had to come back. Then he refused our requests to go to the east side. Please help me contact Uber with my problem and they can look at the trip and you will see that fare has to be adjusted for drivers inability to maneuver in NY.

Maria feist
from Los Angeles, CA
I took an Uber ride that lasted 20 minutes Monday afternoon. And i received a email the next day correcting my fee from 14$ to 64$ this is not acceptable and the reason I was given is not true in any way. The fact that I cannot contact anyone at Uber is equally frustrating.

I didn't call UBER, I have a car, I just now got home from work and am watering the front yard and in front of my house is a white suv with a older 60? yr oldman, sitting in the car, and yells, did you call for uber? NO hello, no greeting, I look up from watering and say no..and he stays there and starts actually yelling. well, The phone says 630 Valley Rd.I said are you sure? Not 630 1/2? That is a apt behind me, and this happens a lot, but this man wants to argue, again, did anyone call for uber..now this is enough talking for me, I just home from work its 7am. I'm exhausted, he should leave, I already said NO..so what does he do, he raises his voice to me!! I said SIR, I have a car, I point to it. I just got home. I did not call, can move along.? No I'm getting upset..he starts mubbling something, then drives off, I guess he got a call from the person waiting.
Whats wrong your idiots??? I DONT WANT TO BE HARRASSED!!! GET IT!!!!

Rosario Bechelian
from Irvine, CA
I need someone to call me at (714) 272 - 4689
My name is Rosario Bechelian and I have been using Uber transportation for almost two months to take my son (minor) to school almost every day. However customer service is very important and select the quality of drivers as well.
I am a Social Worker and I like to know if you live scan your drivers before hiring them? I am trusting your company with a minor and I expect as a parent good service and most of all confidence on the person who will be driving the minor to school.
Unfortunately this is not the first time to face this type of experience. But this needs to be taking care immediately. This morning my son was waiting to take the ride to school at my place 1434 Carey avenue, Brea. and the driver that show up was completely weird, the car dirty, smelling horrible and his behavior was unacceptable. the moment he arrived he was honking non-stop. and his approach was completely inappropriate.
I refused to be charged for the service this morning. And I demand to have a customer Service department contacting with me as soon as possible. Safety is important not only for children but for everyone. Have you ever thought about infection control? driving in a car that it is filthy and smelling disgusting. How do you know if this person has an issue?
It was very uncomfortable for my son getting to school this morning, not knowing what will happen. I hope to hear from you ASAP.
Rosario Bechelian

Inas Armanious
from Melbourne, VIC
I requested Uber today morning and then as I followed the uber app and assigned to me Vinay the driver as I was going to meet him outside my place 36 walter st bulleen, they sent me a message that the driver has cancelled and re request again after half an hour I filed a request and I was following the driver on the app and it said that 1 minute to arrive and same as I was stepping outside Ali the driver sent a message he has been waiting outside 5 minutes and is waiting ,and a message was sent to me that the driver cancelled the job again and physically I was outside no body came to my place and called the driver ,his phone was switched off ,and I was charged 10 dollars for cancellation twice , what is this nonsense ,this is my first experience with Uber and it will be my last ,if you can kindly refund back my money to my credit card
Inas

Hi Team,
Its a cheat, i had requested for many trasactions that has either canceled by the Uber driver or someone elses have take my ride and Uber says it will be credited to my account but it is a lie.
I checked my account and there is no refund of any kind.
Recently I have requested for 2 refund and in previous occasion maybe many but due to busy schedule I cannot check for everything and you people dont refund, you just do cheat and dont refund.
I am logging a complaint on consumer forum about this.
If you have refunded, then show me the evidence.
Uber should be stopped for cheating customers. Cheapest and liars service.
Regards,
Abhishek Singh

Yvonne Aitken
from Monroeville, PA
I want to report Kimberly Holmes.. uber driver in Pittsburgh,PA.. she is driving a rental car instead of her actual car.. i believe this is illegal and should be looked into..

Pavel Kirochko
from Beachwood, OH
August 7 at 9:00 AM I tried to make the order to go from my home (4911 Hillary Ln, Cleveland OH to Cleveland Airport. I've place the order for X car, got the price (about $31 and some cents) and got the notice on my phone that my car will pick me up in 6 minutes. But I didn't have a car even in 45 minutes. Nobody called me and I had to take taxi to be in airport on time. It cost me more than $70 and a big stress. I didn't complain immediately because I've been oversee for on month. I don't understand how it could happened. Now I started to think stopping to use Uber.
Pavel Kirochko

Crispulo Tanglao
from Walnut Creek, CA
Date 09/10/2017 time 12:45 pm 2014-to 2016 gray or silver Ford Focus hatch back License plate # number 6WZG646
This uber Driver cause almost cost me into a accident coming from Concord Ca on the street of Monument blvd she swerved into my lane and cut me off nearly hit another to the next lane. and then flip me a birdy finger in which i follow her into the car was and took a picture of her and her car.. Please i would like to complain about this Uber driver which feel is very rude, not courteous and dangerous driver for no regard for safety with other driver or pedestrian...Please remove this person as a Uber Driver she just might hurt seriously injure somebody ... Thank You.

Michael
from Fort Lauderdale, FL
How do you give jobs to people in this country that don't even respect the country to learn the language . If you don't give them jobs for not speaking English they will finally go learn English very very disrespectful something needs to be done or uber will be shut down for good real soon trust me drivers who don't speak English cars smelling like marijuana like about the year of there car or damages on there cars. Uber better tighten up before you get shut down. So so so so disrespectful

I don't have an Uber account yet I have 58 fraudulent charges on my credit card

barbara rush
from Indianapolis, IN
On December 14, 2016 I caught an Uber in downtown Chicago to go 4 miles and they charged me 49.00 and I shared the ride with 2 other passengers. the driver and other passengers said that they were only charged 4.00 each. Now when i go back into my account it wont let me in to review all my past rides nor do I have a way to complain directly to them their # rings busy all the time my account is froze cant retrieve it but they did deduct the 49.00 out of my bank account very concern that they do have access to my bank account now. can you please help me.

Candice Carroll
from Irvine, CA
I heard Uber is cheaper than taxi. Last week I went to trip. 6/16 Early morning tried to get one but it is too earlier to get. Yesterday when I backed from trip, when the airplane landed, I tried to get one Uber, it is the first time to use phone app. I seared then showed three choice, when I choose one new car driver, showed he will come 10:59pm at airport of Orange County, it is too later to choose. I didn't continue. Later I was waiting for luggage then the driver called me seems already in airport. I said have to wait for a couple of minutes. He said can call him. But when I came out, didn't find him then tried to call him no answer. Today I found my account charged 5.00. Although it is small money, it is unreasonable to charge from my account. Please return my money back. I will appreciate your reply soon.

Roger Sachs
from San Jose, CA
On Friday November 11 at 5:40 pm, I had a Uber driver take me home from Winchester Ave in Campbell to my home in Los Gatos. I left a motorcycle glove in her car( had to leave my bike for repair at dealer). I have tried and tried to get the driver, who found my glove, to return. Her name is Sahban with a Acura MDX. When I call she either doesn't answer or hangs up. She even asked me to go to her home in South San Jose, California- 1960 Southwest Expressway. But I am quite afraid and don't think this is proper. I tried to contact Uber, but nothing has been done. All I want is my glove back. Such an easy problem, that she is making into a serious problem.

My 20 year old son took an uber ride home from a friends house approx. 6-9 miles. the driver said it was 60 dollars. My card says 150.00 to a CA address. On the same day, the next charge is a 42.00 charge from a company in CA. I called my bank, got a new card. I then tried to get ahold of Uber customer relations people. I think I will go to the news media next. People, watch your credit cards.

Ursula Schmidt
from New York, NY
On Saturday morning 10/15/2016, I requested a pick, after 10 minute wait I received a message on the Uber app that "unfortunately my driver had to cancel my request". Shortly after that I received an email stating that Uber charged me for $5.00 cancellation fee via PayPal. I attempted to find a phone number to contact Uber to discuss this error however I wasn't able to find any working numbers nor one with have a live person. Moreover I never received a free ride from Uber as promised and/or advertised (not even my first ride)
I used Uber about 4 times and the prices are same as my local cab but it's easier to call my local cab as Uber is either not available or it takes sometime to find a driver if at all (in NYC). I wanted to give Uber another try this Saturday 10/15/2016, but I was charged for a cancellation the driver made. This is unacceptable and I have feeling this email will not be answered. Rest assured I will never use your services again.

Terry Connor
from Thousand Oaks, CA
Is it okay for a supposed Uber driver to send an Uber solicitation letter through the U.S. mail to up to 2,136 residence addresses in a gated senior community in Camarillo, CA claiming to have been an Uber drive in Santa Barbara a couple of years ago and now thinks it would be a sterling idea to be an exclusive Uber driver for this gated community; and provide his home telephone number rather than Uber's telephone number? Yes or No.
Is it okay for this supposed Uber driver to provide a ride to a 94 year old resident of this gated community who called the home telephone number provided in the Uber solicitation letter rather than an Uber telephone number, to drop the supposed "eye in the sky" credit card rate from $210 to $100 cash? Yes or No. In the Uber solicitation letter, this professed Uber driver stated; ""If you already have gone online and joined Uber, we're ready to go. If not I'll help you."
This 94 year old had not gone online to join Uber before this supposed Uber driver picked him up. This supposed Uber driver did not help this 94 year old resident of this gated community go online and join Uber, as he had promised in the Uber solicitation letter. When this supposed Uber driver left, this 94 year old resident still had not joined Uber.
Is it okay that this supposed Uber driver promised in the Uber solicitation letter to help this 94 year old resident to go online and join Uber and not keep that promise? Yes or No. Since the 94 year old resident of this gated community is not, and has never been a registered Uber participant, is Uber aware of the fare dropping from $210 to $100 cash and did Uber get their fair share of the $100 cash? Yes or No.Does Uber know that the source of the $100 cash is the 94 year old resident of this gated community? Yes or No.
If the answer to all 5 questions is Yes, then there may not be anything else to discuss with Uber. If the answer to any of these 5 questions is No and Uber would like, I can provide Uber a copy of the solicitation letter and more information on what occurred with the 94 year old resident of this gated community.I will add a bit more information at this time. In the Uber solicitation letter the supposed Uber driver stated; "You'll find that we are quite a bit cheaper than taxi service, and that tipping is unnecessary."
Nowhere in the Uber solicitation letter was an actual fare stated. The 94 year old resident of this gated community was told at the end of the ride the fare was $1.00 per minute. Most of the time during this outing was spent eating lunch for which the 94 year old resident of this gated community treated the supposed Uber driver.
The supposed Uber driver seemed to enjoy the free lunch and even had a second cup of free coffee. The supposed Uber driver and the 94 year old resident of this gated community had a leisurely lunch. During the lunch, the 94 year old resident of this gated community inquired many things about the supposed Uber driver's life; such as what did you study in college, what profession did you have before being an Uber driver? Lunch with the 94 year old resident of this gated community also takes extra time; the 94 year old resident's dentures cause him to eat very slowly.
Once the 94 year old resident of this gated community and the supposed Uber driver were finished eating, they lingered a bit longer because the supposed Uber driver began a conversation with a fellow diner in a wheel chair dining at the next table. When they returned to the 94 year old resident's home, the 94 year old resident, a WWII veteran, said to the supposed Uber driver, I guess I owe you some money. The supposed Uber driver replied we have been gone for 3-1/2 hours [including the leisurely, extra slow lunch] and the Uber rate is $1 per minute. 3-1/2 hours times $1 per minute is $210.
The 94 year old resident of this gated community said he had no idea it would be $1 per minute. They settled on $100 cash. The supposed Uber driver took the $100 cash, did not provide the 94 year old resident with a receipt, and left. The 94 year old resident of this gated community told me he just wanted to get the supposed Uber driver out of there.

Regina Lee
from Philadelphia, PA
There is an unknown $5 Uber charge on my account. It's from Friday 9/16. I did take Uber twice that day, however there 3 charges for that day. Also I took an Uber on 9/09 and l feel as though l was over charged. The drivers have to use a gps, and his gps got him lost. This caused the ride to take longer and me more expensive.
The driver was great, nothing against him.I know the gps is a tool they have to use, however it was that tool, which is required by you service that caused my ride to be more expensive. I took an Uber earlier that day for about the same distance and my fare was significantly less than when we got loss. I tried to call in about this matter today, but nobody answered the phone. I am requesting to be contacted about this matter.

On September 2, I rode an Uber car, with plate no. MP 1551 wherein the driver charged me Php276. The actual cost is Php 236, 40pesos lower than what I need to settle. I even added a tip of 20 pesos which he accepted. It is a small amount but some other people might be victimized also, hence, my filing of this complaint. I would like to expect a feedback on this matter please.

Meagan Zablosky
from Arlington, TX
I requested a ride on 9/18/2016 and was charged $76.56 to travel two miles and it looks like the uber driver did not close the drop off for me only two miles from my original pickup location and I emailed uber support for them to tell me that I changed my destination from Dallas to Denton but I never went to Denton nor did I requested that. When I clearly got picked up four hour prior to the location I said I wanted to return to. They are not doing anything about fixing the overages. It should have been like $7.00 at most.

Joan Lacascia
from West Palm Beach, FL
I visited NYC last October, 2015 and had problem and no response from Uber as follows. Arrived at La Guardia airport and called Uber. Text said it would arrive in 5 minutes. Then 6 minutes, then 3 minutes, then went back to 8 minutes. This went on for 40 minutes. Finally I took a taxi. In Manhattan would try to contact Uber. They would not answer and I could never use them.I never knew if this was a technical problem. If Uber was directing this at me, or if the taxi cab services were interfering with the transmission. Don't know if it's worth trying again. If uber has no customer service then how can it grow. I'm looking for another service already.

I had hired a cab in Kolkata, India. I wished to pay through PAYtm application. But for some reason the app did not deduct money for some unknown reason. So I paid in cash to the driver. After about 3-4 minutes. My PAYtm app showed that Rs 56 had been deducted against the cab fare. So I have paid them twice once in cash and other through digital wallet. I wish to get a refund in my digital wallet.

Laura Williams
from Nashville, TN
My first ride was not free even though I used promo code. I was charged. Today I requested a ride during surge. Waited until surge was over but got charged surge price.

liza mascardo
from Paranaque City, 40
On Sept 02, 2016, was picked up in the office, destination is very near Shaw Blvd. On the road the driver told me that there was surge rate when my daughter booked for this trip. He continued that he told my daughter to "cancel" the booking so I will only be charged a regular rate. I know that at the time that I booked there was a 1.2 surge rate. When we reached the destination he told me that my fare was 400 pesos but showed me his mobile unit that reflected only about 280 pesos. He added that the fare went down because there was no surge anymore but added that that does not apply to my trip. What happened was really a perfect act of deceit and overcharging. The plate no. is MP 1551, Uber car.

Last night i arrived at Ft Lauderdale FL airport. Soon as i got off the plane i email for an uber pickup. The driver Miguel text me and ask me were i was going. Told him were and he text me back that it would be awhile and to cancel him try someone else if i was in a hurry. So i did. This didn't seem right so i asked around and was told some drivers do this because it wasn't a long trip, and a low fare.The next driver i contacted did not text me and was there in five minutes. That seems very unfair. I hope you will address this please.

Abha Pathak
from Bengaluru, KA
I had a horrible experience with the driver tonight. The driver was not polite, verbally aggressive and manner less when it comes to speaking to ladies. We asked the driver to take left turn that went down the road for 30 seconds to my house but he blatantly refused giving lame excuse. Since it was 10pm at night, we further requested the driver but he was plain rude and inconsiderate. I told the driver that I would be giving a bad rating and my friend and I got off the car immediately, when he accused me of shutting the car door too hard. (Which I didn't).
The driver came out of the car to harass me and screamed at me, making a scene in public. I have my friend to back me up on this who was with me during the ride. I want to speak with a manager based in Bangalore or a customer care number to speak to someone regarding this horrible unacceptable incidence and make sure that my voice is heard loud and clear. This driver is simply not fit to be driving people around when he doesn't understand normal courtesy or behavior. If he doesn't know how to behave with ladies, I doubt if he will do the same with men.
I want a full fledged apology for the embarrassment I have gone through. This is not acceptable. If I don't get a proper response, I will surely not use Uber anymore but I'll also make sure to put this across to the concerned team.

Shiv Yadav
from Hyderabad, TG
I requested a Uber and waited for a long time, driver didn't arrived at my Pickup location and he didn't called me and when i was dialing his no he was not reachable, so i cancelled the trip, and i was charged Rs 228 from my Paytm account. Please help me contact Uber head offices in India or the U.S. and refund my deducted money in my Paytm account as soon as possible. This is seriously a very bad thing you people are charging without any service taken by customer. Just because of these reasons now a days people are choosing OLA cabs.

James Samuel Nicely
from Knoxville, TN
Uber corporate obviously has no access provision for individuals who have no iPod, iPad, Smart Phone or other wireless device to communicate with your GPS app. I found it hard to schedule a prepaid pickup at the Salt Lake City Airport with a destination of Solar Drive in that same city. Your help does NOT know how to think out of the box and on two different occasions put me on pages that informed me that I had an existing account, both times operating under the assumption that I was in possession of some devise that could be traced. My MOS during Vietnam was Electronic Warfare Systems Specialist, need I say more? The government is not irrespective of the convenience.

Brett Williams
from Milwaukee, WI
My complaint is one of the Uber drivers license plate number, Wisconsin plate 713-WCV was parked in a handicap parking space for more 30 minutes. This was in Delivan Wisconsin with a dog in a locked vehicle without a handicap plate nor a handicap plackard. If this how Uber employees demonstrate driving habits I will no longer use Uber as my source of transportation in need. Very disappointed in corporate management.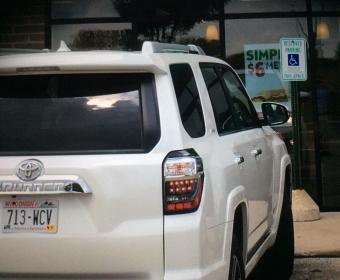 Susan C. Robinson MD
from Santa Margarita, CA
On August 21, 2016, an Uber driver (license number 8533LY) approached me at O'Hare in Chicago asking "Do you need a taxi". He then proceeded to take me to my hotel and asked for twice what a taxi would cost. Only then did he say he was an Uber Black driver. I am not an Uber client and am not familiar with how Uber works, but I know none of your drivers is supposed to approach clients at airports posing as taxi drivers. This man refused to give me his name. I have filed a complaint with the City of Chicago.

Marc David Block
from Washington, DC
Uber's so-called "Surge Pricing Policy" is a rip-off. The fare estimates Uber's iPhone app provides when you request a ride bear little resemblance to what you are actually charged. Contrary to info on their website, customer's are not notified about surge pricing being applied to their fare, and these increases are applied even when there is no justification whatsoever to do so. Using Uber is a crap-shoot. You never really know what the actual fare will be.

When I ordered uber motor in HR Rasuna Said, the driver only text SMS and when I go in outside lobby, I call the driver but his already a little bit far from my area and not inform (SMS/call) me and driver ask me to cancel order or walk to his place then I choose cancel. After I re-order, then I should paid IDR 14.000. but in my phone is IDR 4.000 because of cancellation the driver before. I don't understand of him but seems his try took my money or application error!! Since I have meeting and doesn't have time, I give IDR 50.000, and he doesn't have any money changes. This is ridiculous and not accepted.

Dorrie Bitzer
from Denver, CO
Ordered an Uber X last night at around 8:45 pm and the driver couldn't find us in a very quiet area of Uptown Denver. We were at a restaurant that site on the corner of two one way streets which obviously confused the driver eventually GAVE-UP! We ordered a second Uber X and after 15 minutes we GAVE UP. Our smart phone showed that there were at least 6 cars hovering within 2 minutes of our location. We walked 15 minutes to a hotel and took a taxi home for $20.
The Uber ride to the restaurant earlier that evening during peak traffic on a Friday night was $9.88. The first driver charged us $5.00 at 8:27 pm the second driver-who just plane could not find the address and aborted quickly and charged us $5.00 at 9:17 pm. That time spread is documented in your server as is proof that your X drivers are totally incompetent (in Denver) and always have been since the inception of X. I expect a $10 refund within the hour before I call Capital One to stop payment.

Georgette Mullens
from Detroit, MI
Every time I go to Uber facility or speak to someone about services related and/or by them no one knows anything and sends me in circles. I recently received a couple of emails and texts saying if I return my car, which I'm leasing through, that I would get $500 an Uber ride home and no questions asked. The Uber person I spoke to at South Holland Nissan told me different things then when I arrived. I asked to have the situation in writing. Over the the phone I was told it would be. But when I got there things were completely different. This isn't the first time they didn't know anything. And when they can't help you, the Uber employees, have attitudes and become rude and condescending. I like driving for Uber but there's really no one to really get help with issues. Most of them anyway. This isn't professional. I'm sending a screenshot of one of the texts I received.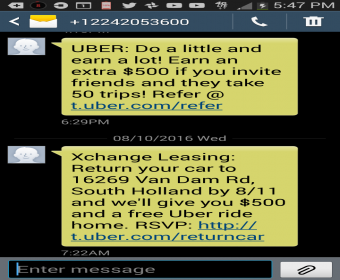 Ryan Coffland
from Chicago, IL
I requested an Uber, and they never showed up and picked me up and I got charged for the ride. I watched her vehicle drive closer and closer to my location, and it said that she was 10 minutes away , 9 minutes away, 8, minutes away, and so on, then it got to 1 minute way and it just stayed at 1 minute away for over half hour. I finally cancelled it because she never got there and then I get charged for this ride. I should not have been charged for this ride as she never showed up.

Kirk T Stevens
from Louisville, KY
I was overcharged for my ride 2 times in the same morning. I've been using Uber for about a month, and it's been great,- but today I was charged twice the amount as usual! Its usually $12.00 or so, one way. Today I was charged $27.00, and $28.01. Round trip is usually $24.00-$25.00. Today it was $27.84 one way, then I was charged $28.01 for the ride home. Round trip is only 16 miles.

Roberto Arellano
from Lynwood, CA
I work as a parking attendant at 557 S Hope street in the Los Angeles Downtown area, this morning around 3am I asked an uber driver with a white Lexus Lp# 22DD222 not to move a yellow tape and cones that we have when the lot is rented. I asked to leave and he refused to leave the parking lot, I have to call Downtown security. Usually we don care if Uber drivers park in the lot after business hours and when the parking lot is not rented. Is it possible to let the driver know that he can not move the cones and yellow tape any time he sees the parking lot reserved.

Michael
from Tallahassee, FL
While setting up the Uber app; It sent a driver to my residence, charging my Bank Account with a $7 and $5 charge, totaling $15. Outrageous business practice to new customers.

Ingrid Horton
from Los Angeles, CA
To whom it my concern my is Ingrid Horton. I am writing to you in regards to a complaint that I have with your company about the ratings that I am not receiving from my passengers. I always ask them to rate me while they are in the vehicle and before they exit the vehicle. I cannot understand why they are not doing so but that should not cause you to deactivate me because of their unwillingness to rate me.

Felix
from Perth Amboy, NJ
I never took an uber before and was still charged for my trip after attempting to put the code for a free ride since I never used an uber before and it said "the promotion is already applied" why lie? Also, the first time I ordered a uber I quickly cancelled it because I wasn't ready at the time and they still charged me $5. I am not too fond with this app after this but my driver was pretty cool just please fix this problem.

Kimberly
from San Francisco, CA
I'm being charged a cancellation fee when I didn't cancel the ride. I had to set up another ride when then first one didn't happen.

John Palmer
from San Francisco, CA
Uber driver was 3 minutes away but went by my location 3 times ( I triple checked -- my pickup address was CORRECT ). He just couldn't find it - and it took him another 5 minutes to decide he'd "now" cancel the ride (also at this point he had turned around the 3rd time -- and was finally sitting right across the street from me - and I was frantically waving at him). He drove off and Uber charged me $5 for their 'mistake'. FYI - I used Lyft and got picked up using same address in less than 3 minutes...

Steven Vasiliou
from London, ENG
I am a new customer, my first few journey have been great but when I used Uber for the third time I was not happy with the service at all. My driver Mohammad Harun was talking too much and went ultra long routes which made the journey longer and made my girlfriend late for work, when my estimated journey duration was around 20-22 minutes but somehow managed to take around 35-20 minutes when first arriving in the Uber car around 06:15 to start work at 07:00 and didn't even take Jessica (my girlfriend) to the location but to a station which was further away from the destination!
Jessica had to walk to the next station and charged me £23.74! I don't expect this service from Uber after hearing all the positive comments about the company! I would like a full refund for the terrible service I had and hopefully my fourth journey would not be as bad as my third but like my first and second. If not I will not be using Uber again!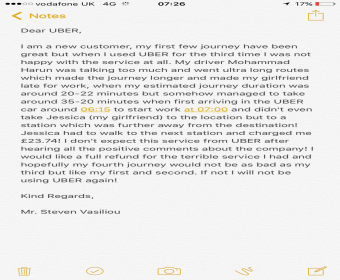 Sarai Ruiz
from Oakland, CA
I had my daughter with me, and two man were sitting in the back seat, none of the man decided to switch with me, i had to seat in the front while my daughter was in the back seat with two strangers i was not comfortable. My daughter is only 5 years old. She should have seat with her mom that be me. In not have two strange man sitting with her.

Nicole Torres
from Jackson Heights, NY
I order a uber taxi with a estimated paid of $17 once the driver got here and took me to the place he told me it was all good. I checked my bank history and they charge me $60 dollars for less than 10 minutes in the car. I can believe it. How is possible that they give a estimated price and then charge almost three times more.

Arshad hameed
from Willow Grove, PA
Actually I want to register as uber driver but I got a email mail that I don't have experience of driving as I send my driving license of states as issued last week. I have driving experience of 15 years now I was driving here in states with international driving license. So can corporate please help me out in this case.

Arshad hameed
from Willow Grove, PA
Actually I want to register as uber driver but I got a email mail that I don't have experience of driving as I send my driving license of states as issued last week. I have driving experience of 15 years now I was driving here in states with international driving license. So can you please help me out in this case.

Charity Tyler
from Virginia Beach, VA
My problem with Uber is that it will not accept the debit card I would like to use with my Uber account. The message that appears says that "my bank declined the card" which didn't make sense. I've been in contact with my bank and they told me to contact Uber since the problem is not on their end. Especially since I keep more than enough money in this particular account. I then went and set up a Lyft account and despite all the issues Uber gave me Lyft had no problem accepting my card. My preference is Uber so I'm very disappointed that they have a problem accepting my bank card and their competition does not. I'm a person that's very vocal when I experience both good and bad service so let's just say the Uber has left a pretty bad taste in my mouth because of this.

Hafiz Dabeer
from Lahore, PB
Very bad experience that will lead to fall your business in Pakistan. I trusted on your business and I give my father a free ride ,but you charged him and you highly dissatisfied me. Following is the screenshot you charged to my Father and other is you gave me free ride because my father use my promo code. I really wonder, one side you charged him and other side you gave me free ride from my father. Very bad service as well as you entered extra route that is not taken by him.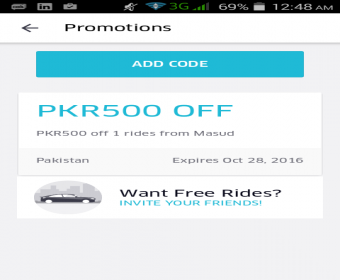 Erica
from Lawrenceville, GA
I was charged with a fee of an uber cancellation. I am complaining because i was charged $5.00 to a cancellation in which I did not canceled. I would like to have that removed cancelled and have my $5.00 back into my bank account. It is not fair to enjoy uber rides and I have not ever had a complain before, now. I waited patiently for it to let me know when it arrived. At least receive a call, like i always do that they have arrived. So please remove that cancellation I did not make and give me my money back. Thank you very much for your understanding.
Thanks for your feedback!
Sorry. Please try again later!