Uber
Uber Complaints Continued... (Page 3)
203+ reviews added so far. Upset? Call Uber corporate: 415-986-2104

Vivian Hedges
from New York, NY
Friday Oct. 23 6:37 pm. I have to register an Uber complaint about my driver. My driver did not know his way around NY and we missed our first stop at 29 and 9th got us stuck in Time Square traffic and had to come back. Then he refused our requests to go to the east side. Please help me contact Uber with my problem and they can look at the trip and you will see that fare has to be adjusted for drivers inability to maneuver in NY.

Maria feist
from Los Angeles, CA
I took an Uber ride that lasted 20 minutes Monday afternoon. And i received a email the next day correcting my fee from 14$ to 64$ this is not acceptable and the reason I was given is not true in any way. The fact that I cannot contact anyone at Uber is equally frustrating.

James Samuel Nicely
from Knoxville, TN
Uber corporate obviously has no access provision for individuals who have no iPod, iPad, Smart Phone or other wireless device to communicate with your GPS app. I found it hard to schedule a prepaid pickup at the Salt Lake City Airport with a destination of Solar Drive in that same city. Your help does NOT know how to think out of the box and on two different occasions put me on pages that informed me that I had an existing account, both times operating under the assumption that I was in possession of some devise that could be traced. My MOS during Vietnam was Electronic Warfare Systems Specialist, need I say more? The government is not irrespective of the convenience.

Brett Williams
from Milwaukee, WI
My complaint is one of the Uber drivers license plate number, Wisconsin plate 713-WCV was parked in a handicap parking space for more 30 minutes. This was in Delivan Wisconsin with a dog in a locked vehicle without a handicap plate nor a handicap plackard. If this how Uber employees demonstrate driving habits I will no longer use Uber as my source of transportation in need. Very disappointed in corporate management.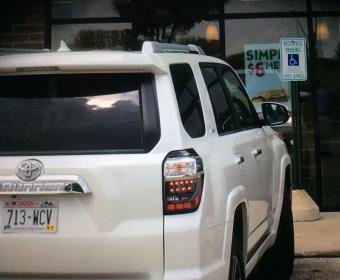 Susan C. Robinson MD
from Santa Margarita, CA
On August 21, 2016, an Uber driver (license number 8533LY) approached me at O'Hare in Chicago asking "Do you need a taxi". He then proceeded to take me to my hotel and asked for twice what a taxi would cost. Only then did he say he was an Uber Black driver. I am not an Uber client and am not familiar with how Uber works, but I know none of your drivers is supposed to approach clients at airports posing as taxi drivers. This man refused to give me his name. I have filed a complaint with the City of Chicago.

Marc David Block
from Washington, DC
Uber's so-called "Surge Pricing Policy" is a rip-off. The fare estimates Uber's iPhone app provides when you request a ride bear little resemblance to what you are actually charged. Contrary to info on their website, customer's are not notified about surge pricing being applied to their fare, and these increases are applied even when there is no justification whatsoever to do so. Using Uber is a crap-shoot. You never really know what the actual fare will be.

When I ordered uber motor in HR Rasuna Said, the driver only text SMS and when I go in outside lobby, I call the driver but his already a little bit far from my area and not inform (SMS/call) me and driver ask me to cancel order or walk to his place then I choose cancel. After I re-order, then I should paid IDR 14.000. but in my phone is IDR 4.000 because of cancellation the driver before. I don't understand of him but seems his try took my money or application error!! Since I have meeting and doesn't have time, I give IDR 50.000, and he doesn't have any money changes. This is ridiculous and not accepted.

Dorrie Bitzer
from Denver, CO
Ordered an Uber X last night at around 8:45 pm and the driver couldn't find us in a very quiet area of Uptown Denver. We were at a restaurant that site on the corner of two one way streets which obviously confused the driver eventually GAVE-UP! We ordered a second Uber X and after 15 minutes we GAVE UP. Our smart phone showed that there were at least 6 cars hovering within 2 minutes of our location. We walked 15 minutes to a hotel and took a taxi home for $20.
The Uber ride to the restaurant earlier that evening during peak traffic on a Friday night was $9.88. The first driver charged us $5.00 at 8:27 pm the second driver-who just plane could not find the address and aborted quickly and charged us $5.00 at 9:17 pm. That time spread is documented in your server as is proof that your X drivers are totally incompetent (in Denver) and always have been since the inception of X. I expect a $10 refund within the hour before I call Capital One to stop payment.

Georgette Mullens
from Detroit, MI
Every time I go to Uber facility or speak to someone about services related and/or by them no one knows anything and sends me in circles. I recently received a couple of emails and texts saying if I return my car, which I'm leasing through, that I would get $500 an Uber ride home and no questions asked. The Uber person I spoke to at South Holland Nissan told me different things then when I arrived. I asked to have the situation in writing. Over the the phone I was told it would be. But when I got there things were completely different. This isn't the first time they didn't know anything. And when they can't help you, the Uber employees, have attitudes and become rude and condescending. I like driving for Uber but there's really no one to really get help with issues. Most of them anyway. This isn't professional. I'm sending a screenshot of one of the texts I received.

Ryan Coffland
from Chicago, IL
I requested an Uber, and they never showed up and picked me up and I got charged for the ride. I watched her vehicle drive closer and closer to my location, and it said that she was 10 minutes away , 9 minutes away, 8, minutes away, and so on, then it got to 1 minute way and it just stayed at 1 minute away for over half hour. I finally cancelled it because she never got there and then I get charged for this ride. I should not have been charged for this ride as she never showed up.

Kirk T Stevens
from Louisville, KY
I was overcharged for my ride 2 times in the same morning. I've been using Uber for about a month, and it's been great,- but today I was charged twice the amount as usual! Its usually $12.00 or so, one way. Today I was charged $27.00, and $28.01. Round trip is usually $24.00-$25.00. Today it was $27.84 one way, then I was charged $28.01 for the ride home. Round trip is only 16 miles.

Roberto Arellano
from Lynwood, CA
I work as a parking attendant at 557 S Hope street in the Los Angeles Downtown area, this morning around 3am I asked an uber driver with a white Lexus Lp# 22DD222 not to move a yellow tape and cones that we have when the lot is rented. I asked to leave and he refused to leave the parking lot, I have to call Downtown security. Usually we don care if Uber drivers park in the lot after business hours and when the parking lot is not rented. Is it possible to let the driver know that he can not move the cones and yellow tape any time he sees the parking lot reserved.

Michael
from Tallahassee, FL
While setting up the Uber app; It sent a driver to my residence, charging my Bank Account with a $7 and $5 charge, totaling $15. Outrageous business practice to new customers.

Ingrid Horton
from Los Angeles, CA
To whom it my concern my is Ingrid Horton. I am writing to you in regards to a complaint that I have with your company about the ratings that I am not receiving from my passengers. I always ask them to rate me while they are in the vehicle and before they exit the vehicle. I cannot understand why they are not doing so but that should not cause you to deactivate me because of their unwillingness to rate me.

Felix
from Perth Amboy, NJ
I never took an uber before and was still charged for my trip after attempting to put the code for a free ride since I never used an uber before and it said "the promotion is already applied" why lie? Also, the first time I ordered a uber I quickly cancelled it because I wasn't ready at the time and they still charged me $5. I am not too fond with this app after this but my driver was pretty cool just please fix this problem.

Kimberly
from San Francisco, CA
I'm being charged a cancellation fee when I didn't cancel the ride. I had to set up another ride when then first one didn't happen.

John Palmer
from San Francisco, CA
Uber driver was 3 minutes away but went by my location 3 times ( I triple checked -- my pickup address was CORRECT ). He just couldn't find it - and it took him another 5 minutes to decide he'd "now" cancel the ride (also at this point he had turned around the 3rd time -- and was finally sitting right across the street from me - and I was frantically waving at him). He drove off and Uber charged me $5 for their 'mistake'. FYI - I used Lyft and got picked up using same address in less than 3 minutes...

Steven Vasiliou
from London, ENG
I am a new customer, my first few journey have been great but when I used Uber for the third time I was not happy with the service at all. My driver Mohammad Harun was talking too much and went ultra long routes which made the journey longer and made my girlfriend late for work, when my estimated journey duration was around 20-22 minutes but somehow managed to take around 35-20 minutes when first arriving in the Uber car around 06:15 to start work at 07:00 and didn't even take Jessica (my girlfriend) to the location but to a station which was further away from the destination!
Jessica had to walk to the next station and charged me £23.74! I don't expect this service from Uber after hearing all the positive comments about the company! I would like a full refund for the terrible service I had and hopefully my fourth journey would not be as bad as my third but like my first and second. If not I will not be using Uber again!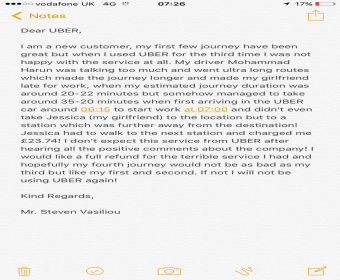 Sarai Ruiz
from Oakland, CA
I had my daughter with me, and two man were sitting in the back seat, none of the man decided to switch with me, i had to seat in the front while my daughter was in the back seat with two strangers i was not comfortable. My daughter is only 5 years old. She should have seat with her mom that be me. In not have two strange man sitting with her.

Nicole Torres
from Jackson Heights, NY
I order a uber taxi with a estimated paid of $17 once the driver got here and took me to the place he told me it was all good. I checked my bank history and they charge me $60 dollars for less than 10 minutes in the car. I can believe it. How is possible that they give a estimated price and then charge almost three times more.

Arshad hameed
from Willow Grove, PA
Actually I want to register as uber driver but I got a email mail that I don't have experience of driving as I send my driving license of states as issued last week. I have driving experience of 15 years now I was driving here in states with international driving license. So can corporate please help me out in this case.

Arshad hameed
from Willow Grove, PA
Actually I want to register as uber driver but I got a email mail that I don't have experience of driving as I send my driving license of states as issued last week. I have driving experience of 15 years now I was driving here in states with international driving license. So can you please help me out in this case.

Charity Tyler
from Virginia Beach, VA
My problem with Uber is that it will not accept the debit card I would like to use with my Uber account. The message that appears says that "my bank declined the card" which didn't make sense. I've been in contact with my bank and they told me to contact Uber since the problem is not on their end. Especially since I keep more than enough money in this particular account. I then went and set up a Lyft account and despite all the issues Uber gave me Lyft had no problem accepting my card. My preference is Uber so I'm very disappointed that they have a problem accepting my bank card and their competition does not. I'm a person that's very vocal when I experience both good and bad service so let's just say the Uber has left a pretty bad taste in my mouth because of this.

Hafiz Dabeer
from Lahore, PB
Very bad experience that will lead to fall your business in Pakistan. I trusted on your business and I give my father a free ride ,but you charged him and you highly dissatisfied me. Following is the screenshot you charged to my Father and other is you gave me free ride because my father use my promo code. I really wonder, one side you charged him and other side you gave me free ride from my father. Very bad service as well as you entered extra route that is not taken by him.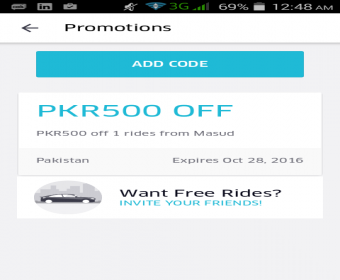 Erica
from Lawrenceville, GA
I was charged with a fee of an uber cancellation. I am complaining because i was charged $5.00 to a cancellation in which I did not canceled. I would like to have that removed cancelled and have my $5.00 back into my bank account. It is not fair to enjoy uber rides and I have not ever had a complain before, now. I waited patiently for it to let me know when it arrived. At least receive a call, like i always do that they have arrived. So please remove that cancellation I did not make and give me my money back. Thank you very much for your understanding.

Chris lopez
from Salem, OR
Hello I used in Uber yesterday 07-28-16 in Paris, France. I estimated that it was going to be 35-45 euros. I found out today that I was charged 95 euros....$105 US. I am shocked the distance from 9 villa de saxe Paris France to CDG airport was about 30-35 miles and took about 35 mins to get there from our hotel. I don't mind paying a fair price at all, but this is ridiculous and unacceptable. I used uber in Paris because, Did not want to pay for outrageous taxi prices. I am a loyal uber customer and am requesting a refund or a credit to my account of the difference. Please contact m via email, call or text about my complaint.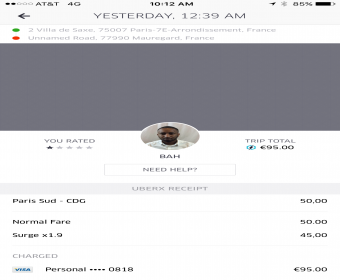 Shafiq Rehman
from Kenton, ENG
I picked up a job yesterday from NW3 going to TN15 the passengers was nice no problem they said you are a 5 stars driver. I asked them the route so we agreed to take M25 it was about 65 miles they requested air condition so I put it on for them I got to the destination got paid £119 for uber XL. This morning they deducted £54 I was very upset because customer complained.
I went the long way that's not true if I went via A2 it would have taken 3 hours. I always do my best to please riders but riders takes the advantage from us it's not fair I need my money back it's ridiculous. I always complained about the feedback I get bad rating no one listens to us but you listen to riders. Something needs to be done quickly it's not right please ask the drivers before you make decision thank you.

This is my first uber ride, and i am very upset. I was trying to get 7 miles from my current destination and have now been in this car for 20min at least. I am not going to pay for this ride when i had an estimated fare ride of 3$! I am riding with my family (5total) and we have yet to arrive to our destination. I am asking the driver to just take me back to my hotel. We are very unhappy. Please contact us back ASAP.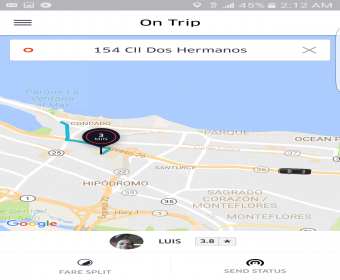 Lenard Sussman
from Concord, NC
I have signed up for Uber bit after finding out they cut there rates in half have decided to withdraw myself from any and all involvement with Uber. I have made countless attempts to reach someone to help me but there system is somehow designed to direct me to areas having nothing to do with getting help.

Karyn Malm
from Naperville, IL
I was over charged my last two trips. The mileage charged doesn't coincide with what the driver calculated! One charge over $16 and the other over $11 for very short trips.

Gabrielle preciado
from Whittier, CA
Someone is using my phone number for their Uber account and I want it removed from there. I am so irritated with random people calling and texting me saying that their ride is there for Francisco! Please handle this as soon as possible.

Juan Chico
from Newark, NJ
My driver got into an accident on June 10 and I end up going to the hospital now the insurance company keeps avoiding my case and doesn't want to cover it. It's now a month later I want to know if uber company can solve this issue case 90053004.

Susan Davidson
from Athens, GA
I got a new phone (BLU) and I downloaded the uber App. The message I received is "your account has been disabled". I emailed support @uber.com this morning 9:59am you lost a lot of business today. Please restore my account with the four half price rides still in tact. Thanks.

Radhika Gilani
from Toronto, ON
I was charged 5 for a cancellation charge, but the driver never showed up. I have sms proof to say he said i had the wrong number when i got his info through uber app on my phone. After he repeatedly said it was wrong number that's when i asked to cancel the order. So how can uber charge me for a services that was not provided in the first place and therefore must return that money to me. The Uber driver in Toronto was Shaheer and his contact number is hidden.

Brian Cole
from Palm Beach Gardens, FL
Somebody hacked my account and is using Uber and my Credit Card has been cancelled. I thought this app was safe but I guess it is not. Uber users beware!

Phillipine Francke
from Durban, ZN
I was charged a cancellation fee. Even though I did not cancel. I called the driver - thru uber at least 4 times to tell him which gate I was standing at. His phone was off. I even left a message stating which gate I was standing at.
Basically - I did not cancel and now I have to pay the cancellation. I then had to request another uber. And it was no problem at all because I could call the driver to say which gate to collect me.

I set up an Uber account in the US anticipating my trip to London. Upon arrival in London, my US phone number of course wouldn't work because I switched SIMS (Verizon charging unethical amounts of money for trivial minutes and data is another complaint). I tried to use Uber as transport to my AirBnB room in London and the process failed because the phone number associated with my Uber account was not the phone number associated with the new SIM I picked up at the airport.
I thought, of course, this makes sense, so I canceled my request for a ride from the airport. The next day I went into my account and switched the phone number associated with the account to the phone number my new SIM was carrying. Satisfied that this would most certainly solve the issue I began my journey on the 'tube'. Later, from downtown London, I tried Uber again. This time they said my card was bad (which had just worked no less than 20 minutes prior), so I added another one I knew to be working in the UK just in case.
I received another failure due to bad credit card. After this error, when I tried to log in to my Uber account I received an error indicating I should contact Uber to enable my account. When trying to do this I receive yet another error. Two emails to Uber support have yielded nothing but an automated reply. The only good thing that learning about Uber has brought me this far is the ability to negotiate a better fair with a London cab company.

Ahisa tanoh
from Abilene, TX
I have received your message and a copy of my receipt as well but what I am trying to tell you is I am a new customer I have never used or taken uber before. So I was not aware of something called uber black Like you said in The last email you sent me. I've reviewed your trip and confirmed that the trip was charged at the correct rate for the vehicle type requested uber black car. I came to ask you please to charge the normal fee for it.

I arranged for a pickup in NYC and was told 5 minutes. Nobody came and the time kept changing. Then they said uber was busy and to try again. So I did. It said another 5 minutes. My husband and I are looking on all 4 corners in the 90 degree heat and no car of the right description slows down or appears to be looking for us. It then says a new driver has been assigned and we start to look for him-now a different car and different face. By now over 20 minutes have passed so we give up and cancel the ride and take a cab. And then uber charges us $5 cancellation fee! They have agreed to apply that to our account but it would have been easier and cheaper to take a cab from the start.

Natalie Bauder
from Houston, TX
My husband signed up almost a month ago and he hasn't received an email or text saying he's good to go. Is there a reason for this?

Jennifer Lane
from South San Francisco, CA
I set up a Uber Driver to pick us up at the airport in SF and then he had called when he was there but he was not at the Arrival he was at the Departing. He wanted us to walk down to the Departing and we said no we were here at the Arrival and we cancelled the Uber. Never got a ride from him but we still got charged. I would like the money put back on my card ASAP. PS I will be calling Uber headquarters also.

Andrea Scappini
from Miami, FL
I had a credit of $30 from a Chase promotion, but I see you charged me for rides without applying the credit. Why is that?

Naomi Martell
from Chicago, IL
On July 19, 2016, I called an Uber from 9 Furnival Road, Jamaica Plain, Boston to Boston Logan Airport. Before 5 minutes from the driver arrive ,he canceled the ride on me. I notice that I was charged $5.00 dollars in my account for the ride that I never took. I therefore would like to file a complaint against to this particular driver. Please keep me inform of any further action you will take on this case.

Steven Fang
from Westfield, NJ
My wife wants to update her cell phone number in Uber while she is traveling in China. We followed the instruction from Uber website but always received error. Then we contacted Uber support in Email (support@uber.com) requesting the phone number update. Eight days have passed, and we still have not heard anything from them. Very frustrated!!! The reason we need to update the phone number is that the US number cannot work in China while requesting a ride.

F. Scott Yeager
from Houston, TX
I left 2 iPhone's in the Uber car in Chicago. You have my phones now for over one month. Over $1,000 of value which right now you are not returning it so it is a felony to steal things. I need action and Uber had no phone or anyone and the person with the phone is doing nothing so it is like stealing them since you refuse to get them back. Do I need to contact the police and file a stolen goods form? Can a person in your company get my phones and sent them back?
I called them using another persons phone in 3 min. I called and beeped them all day. The driver did not respond ever. Then I filed a report which your company will do nothing with for 24 hours. I had to fly out in 8 hours so I lost my ability to deal with it locally and get my phones. Your system does not accommodate an immediate call to you to tell you to call the driver so I could do nothing. Then 2 days later your people said you would deal with it. I did get a text message from a person who said they would get the phones sent back. Here is the email thread for this. Please help and get me my phones and send me an email or call to tell me the shipping info.

Kathy Wells
from Sacramento, CA
Driver on San Francisco named Shirshah driving a white Toyota Camby has my daughter's cell phone. She left it in the on accident. On first contact about returning the phone, he said he would call back in 20 minutes. This was Saturday night, July 23rd. Multiple attempts have been to contact him with no success. The phone is locked and has been reported as stolen to SFPD. Please help us get the phone back. And I question the integrity of your drivers.

Malcolm Clark
from Santa Monica, CA
I'm have several problems with uber. I'm traveling at the moment, I'm from Perth Western Australia and I'm in Los Angeles. Uber won't let me add my usa number to my account so I can't contact or be contacted by drivers. This has caused many problems as the fairs are getting canceled as they cant find me in busy areas and I'm being charged for cancelations. I can't use a credit card I've added but uber has still charged my a help fee to that account. Unacceptable. How can you charge for help yet sent a notification saying that account is un usable for uber. Uber seems to have no problem charging me for inappropriate help fees but then won't allow that account for use in rides. This is ridiculous. I'm very disappointed with my experience abroad using uber.

Farhana Rafii
from Singapore, 01
I chose UberX yesterday as the fare was cheaper than Grabcar. Fare estimation was $20.10. I was traveling with 3 adults including myself & 2 young kids aged 2yrs & 9yrs old. My husband was seated in front next to the driver's seat. Myself, my helper & my 2 kids were seated at the back seat. 1 of my kids was sitting on my helper's lap as he is only 2yrs+ old. The driver was silent all the way throughout the journey. He did not inform me of anything like extra pax, additional charges or anything.
I did not realize till a while later (when i check my trip fare @ uber apps) that i was charged with $37! The normal base fare is $3 but i was charged with $20.42 for base fare! How could this be possible??? When i emailed uber, they investigated & was told that i was traveling with more than 4 pax. Hence, my fare was adjusted accordingly. Do both my kids aged below 12 yrs old considered as 2 adults? The youngest one is only 2yrs+ & was seated on my helper's lap. No one from uber support team called me to investigate further. They just took the driver's words without investigating.
I did not have any fare issues with other drivers when i travelled with the same number of pax. I have attached this driver's fare trip for your perusal.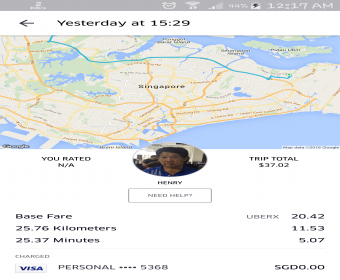 Brian Frere
from Lawrenceville, GA
I am thoroughly upset with your new Surge Charges you've placed in affect for contracting Uber. Your new charges has nothing to do with me contracting more drivers as your excuse implies. I am on a budget and was use to paying an average of $7.60 a trip to and from work 3.5 miles away. With your increase I calculate it has increased to over $100.00 a month more for using your services. If this is the case I will no longer utilize Uber and purchase a vehicle for my transportation needs.
If it is not your surge charge then your GPS app applied to this system is faulty and is charging wrong prices or your drivers drive away and not close out the trip and departure and are adding more minutes for their own profit. I have spent more than $400.00 a month on your services but your added charge puts me in a position to purchase my own car for my needs. After all the increase is the price of a decent car anyway. Sincerely a very disgruntled upset and dissatisfied customer.
Thanks for your feedback!
Sorry. Please try again later!